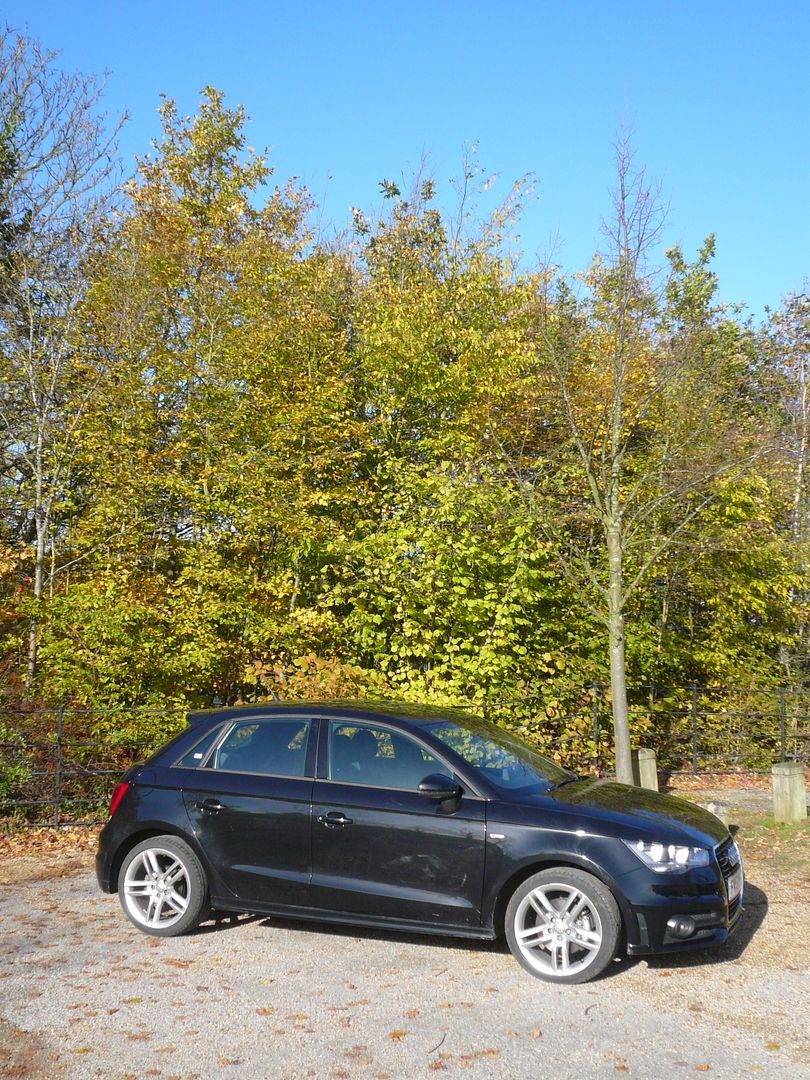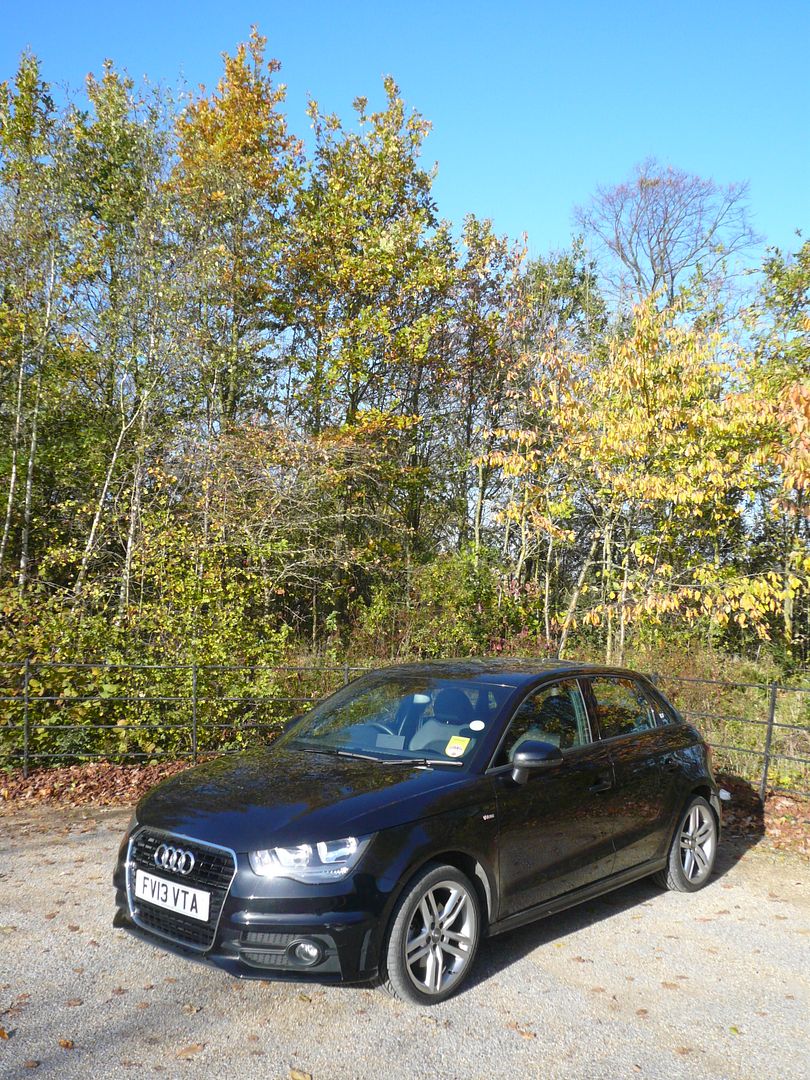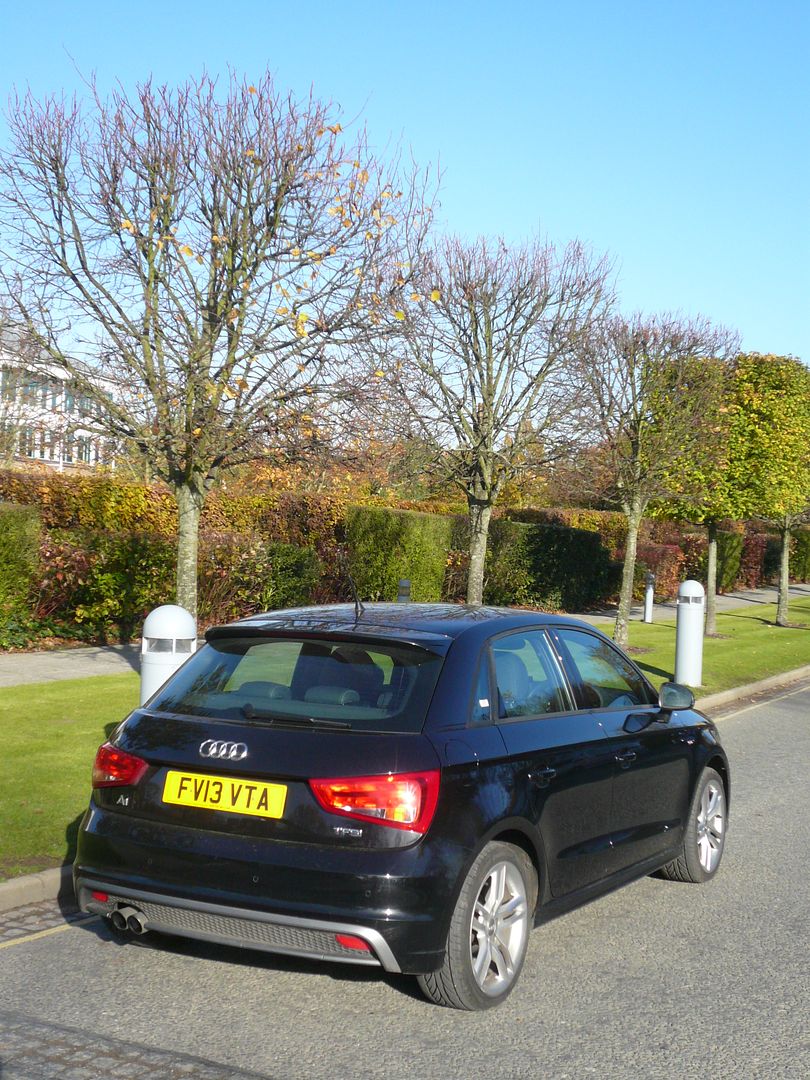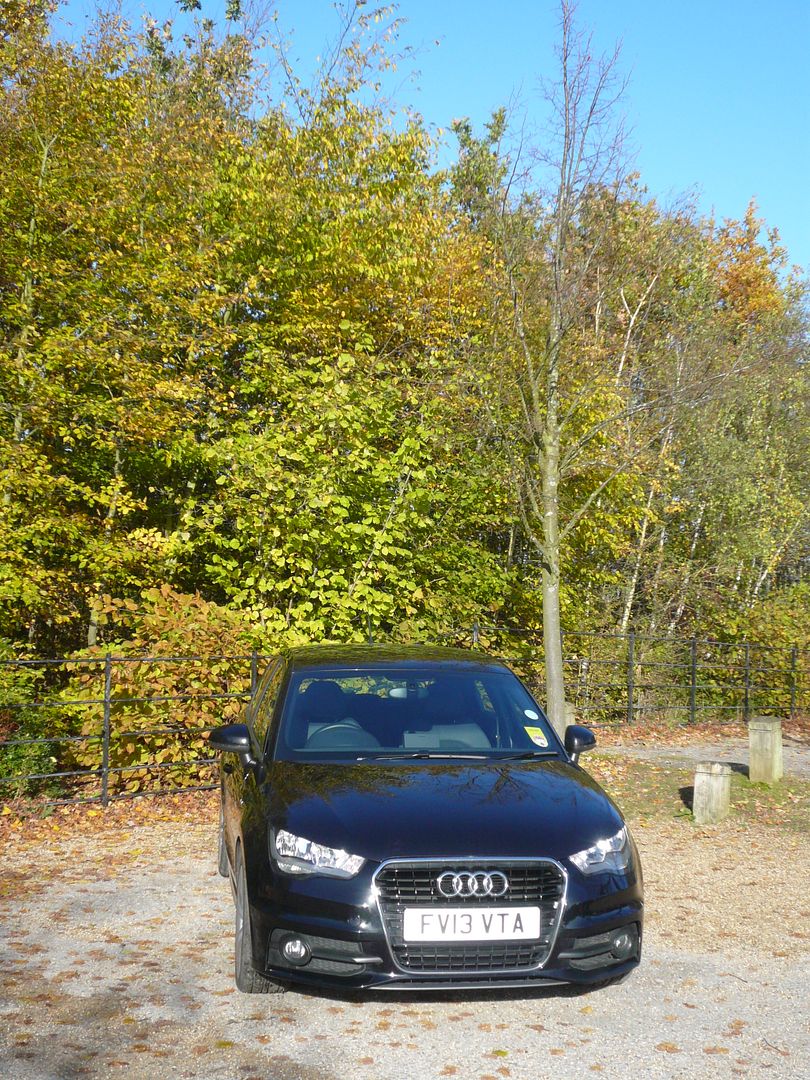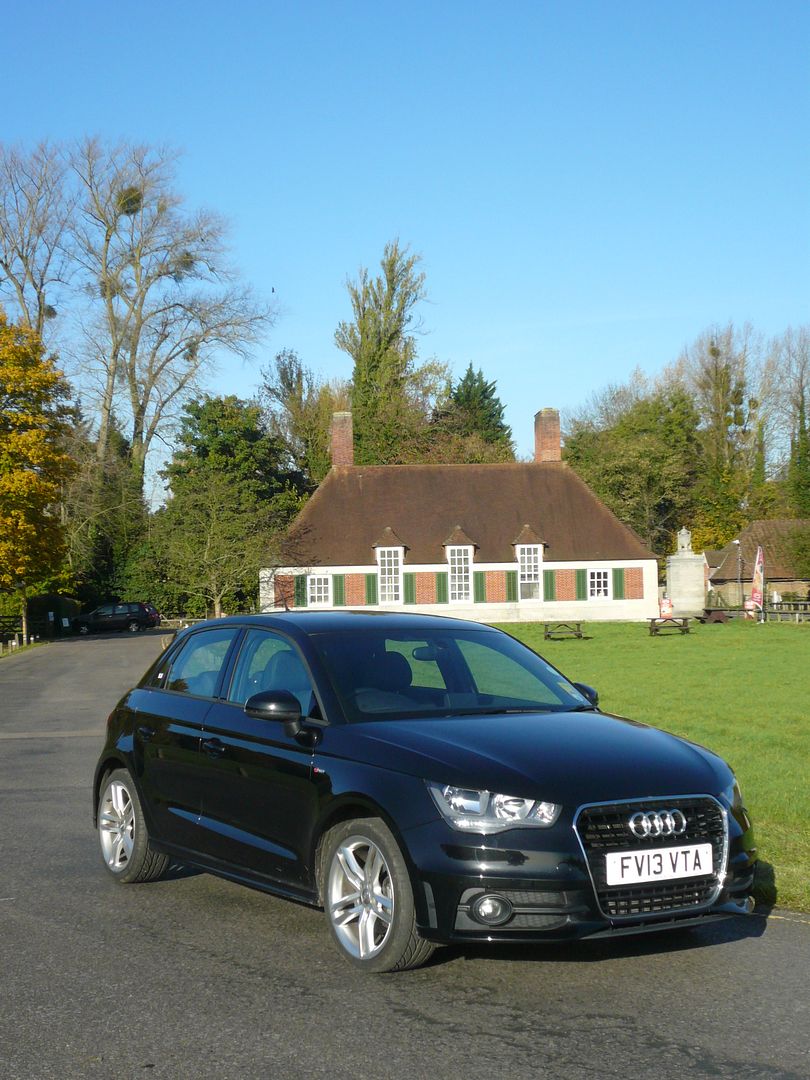 I have written many times before about the unpredictability of car allocation by the rental companies, and this test is just another example. For a one-way trip to Heathrow, I had reserved a Group C car, and even took the time to write a note on the booking asking for a Leon (as I enjoyed the last one so much, I wanted another go) or an Astra (as the current model continues to elude me). But when I arrived, I was asked if I would mind taking an S-Max, as the location had a glut of them. "Not a problem", I said, especially since it was now 6 years since I last sampled this highly regarded people-carrier cum family activity vehicle, so someone was dispatched to go and get it out from the parking garage inside the bus depot, while the paperwork was issued. A couple of minutes later, the guy returned to announce that it was boxed in, and a few minutes of keyboard tapping later, a new vehicle was allocated to me, an Audi A1. I last sampled one of these far more recently, but as I rather liked it, was not unhappy at the prospect, knowing that Hertz' A1s tend to be the slightly elongated 5 door model which Audi call Sportback. What I did not know was that they are mostly automatic models, and what I should have guessed was that it would turn out – like far too many UK rental cars these days – to be black. Still with the prospect of some nice sunny weather in the 24 hour rental period, the photographer in me was less distraut than is sometimes the case, so I completed the pre-existing damage checks, bade the staff farewell, and took the car back home, ready for the journey to the airport.
Initial Audi A1s were offered only with three doors, but it did not take long before the inevitable five door model was added to the range. Premiered at the 2011 Tokyo Auto Show, it went on sale in the UK in early 2012, with a range of engine and trim options that closely matched the three door model, at a price premium of around £600. In addition to the extra side doors, the Sportback model is a barely discernible 6mm taller and 6mm wider. Those are sufficiently small differences as to be barely noticeable. Of course what is, is that getting into the back of the Sportback is a whole lot easier than with the 3 door. Once installed, though, the amount of space is not really any different. Compared to a MINI, this car will feel particularly welcoming for the rear seat occupants, with sufficient leg room available unless the front seat is set back as far as it will go, in which case there is not much space left for the rear seat occupant's legs. There is also a reasonable amount of space for their knees, but what they will notice is that as you sit relatively upright, the rear headrest, when positioned just on top of the rear seat backrests are so low down that they support your back rather than your head. Headroom is actually not that limited, but even the moderately tall or long in the body will need to set the headrests up high for any level of comfort.
Last time I sampled an A1, I had nothing to carry around apart from myself, but this time on airport duty, I needed to get my suitcase and lap top bag in, so could test the boot out properly rather than with a visual assessment. The Sportback's boot is exactly the same as that of the 3 door. My suitcase, the same one as I have been using for the last couple of years more or less completely covered the entire boot floor area, though there is enough depth that I could easily have put another one or perhaps two on top of the first, and still left the parcel shelf in situ. The laptop bag squeezed in alongside it. Of course there is far more space available by flipping the rear seats down. You only lower the asymmetrically split backrests, and they drop down onto the cushion. Inside the cabin, there is a good sized glovebox, modest door pockets, a deep cubby area in front of the gear lever which includes the two cupholders. Rear seat passengers in the Sportback do better than in the 3 door, getting pockets on the doors.
The Sportback is offered with the same extensive range of engine options as the 3 door model. That means an array of both petrol and diesel engines, all of them familiar, as they see service in a wide variety of other models in the VW Group. There are two diesels, in 103 bhp 1.6 and 143bhp 2.0 litre guises, and 2 different capacity petrol units, an 84bhp  1.2 and a 1.4 litre, offered in regular 121 bhp guise, a 141 bhp version with cylinder deactivation  and a far more potent 185 bhp model. The test car had the regular 1.4 TFSi petrol engine, but this time coupled to the automatic transmission. It proved to be a willing and refined unit, but the change to the automatic gearbox gave quite a different impression. Whereas my assessment of this engine in the manual car was that it gave the little A1 a decent level of performance, here it felt that much more sluggish. If you left the gearbox to its own devices, acceleration could best be described as modest, and the transmission seemed content to pootle along in the highest ratio it could. Work the Sportback harder, and it proved that there is ample potency under the bonnet and you can achieve similar levels of performance to the manual car, but in Drive mode, you will need to work at it. There is a Sport mode as well, and this did sharpen things up somewhat, making the gearbox more willing to do things. I concluded that for the manual car, if you were looking for the "straining to get off the leash" feeling that you get in a MINI Cooper, you may well be disappointed, and the same is far more true here, but then the A1 is more about being a refined small car, not a pocket rocket, so perhaps this is not totally unexpected. There is a Stop/Start system, and this seemed to work as you would expect, firing the engine very quickly the moment you released pressure on the footbrake. This was yet another rental car which on collection appeared to be full, but within a few miles, the needle moved off the mark. Even so, I was surprised when, 150 miles later, I went to fill it up, and needed to put in 28 litres before the pump cut out. If I had consumed all that fuel, it would mean average economy of just 25.1 mpg. However, I did have the trip display showing average fuel consumption, so assuming that it is at least broadly accurate (and these things tend to be these days), the true consumption was a much more acceptable 40.2 mpg. Considering that the majority of the test miles were done at a steady speed on the motorway, then this is nearer to what I would expect. Needless to say, there will be further words with Hertz! For my tastes, the steering felt a bit over-assisted, and slightly lacking in feel. It was nothing like as bad as the preceding generation Audi A3, or indeed many other small cars that I have sampled recently, but I would have preferred more weighting to it, to give me a better sensation of what the steered wheels were going to do. The majority of the test mileage was the motorway trip to Heathrow, with just a few miles on the afternoon I collected in quest of photography locations. Between the two outings, I was able to include a couple of flowing A and B roads, but was not really able during my tenure to push the car that hard, so all I can say about the handling was that it seemed benign and to allow me to tackle bends at the speed I wanted, and indeed that I would tackle them at in my own cars, but the A1 does lack the ultimate "wheel in each corner" and "roller skate" handling that so characterises the MINI. Despite the S-Line badging, the ride in this car was good, with it coping with the ever growing number of potholes with aplomb. There were no issues with the brakes, which did exactly as you would expect. Thankfully, unlike its larger stablemates, the A1 still has a proper pull-up lever handbrake, fitted between the seats.  Visibility in a relatively small car with a hatchback should not present undue problems, and the A1 did not. Despite the thick pillars that are the norm these days, there were no significant blind spots and the Audi proved easy to position on the road and to park up.
The overall ambience, design and quality of fit and finish inside the A1 is where this car really shines. The interior of the Sportback is identical to the 3 door, and that is no bad thing. The dash is utterly conventional, with a rounded binnacle covering the two main dials. The large rev counter and speedometer contain a small fuel gauge and water temperature gauge in their lower portions, and all are crisply marked and easy to read. There is a flip up screen in the top of the centre of the dash, which is used not just for the satellite navigation where fitted, which was not the case in the  test car, but also to show  the audio unit selections and other vehicle information. I cannot help feel that this set-up, which you simply swivel up or down manually looks so much neater than all these cars where it looks like someone stuck an iPad half onto the dash. The functions that are displayed on this screen are all the audio unit info (there is no separate display unit for the audio system lower down in the dash) as well as a slightly simplified set of buttons and a rotary dial, MMI style, that are mounted in the middle of the dash, and which are very familiar to those used to other Audis. The graphics for the audio selection looked just like those I recall from my old S6, so they are now from at least one generation back compared to the ones I see in my current car. Three rotary dials below this lot operate the air conditioning system. The other switches and column stalks will look familiar, too, as they are all from the corporate parts bin, with indicators and wipers operated off a pair of column stalks and lights from a rotary dial to the right of the wheel. It is all an object lesson in simplicity, clarity and looking classy, and despite some manufacturers getting closer, has yet to be bettered by anyone.
In common with the rest of the Audi range, the A1 is offered in SE, Sport, S-Line and Black Line models, with an Amplified Edition also offered.  Equipment largely build up from the entry level SE, with everything fitted to that car available on the more costly models. Even SE models have alloy wheels on 15″ tyres and electrically heated door mirrors that incorporate indicator repeaters. Inside the SE, you will find a 3-spoke Sports steering wheel, a steering wheel adjustable for height and reach, air vent sleeves in matt black, manual air conditioning, front floor mats, electric front windows, heat-insulating glass windscreen and side windows, heated rear windscreen, non-smoking package and washer fluid level indicator. The standard Audio Unit is Audi's Concert radio/single CD player with MP3 file compatibility and 6 speakers in front and rear and 2 tweeters, an SD card reader and AUX-IN socket. There is a manually retractable 6.5″ display screen on the top of the dash.  Sport models have front fog lights, polished tailpipes, 10 spoke 16″ alloy wheels, sports suspension, bluetooth, lumbar adjustment for the front seats with their own style of cloth upholstery, a 3-spoke leather Sports multi-function steering wheel with aluminium inlay, air vent sleeves in high gloss black, the Driver's Information System, aluminium trim for control switches, glove compartment, door handles and door sills, a leather handbrake grip and sports gear knob with aluminium trim and contrast colour interior panelling. The S-Line is easy to distinguish from other variants, with S-Line body styling, comprising a radiator grille in high gloss black, front sports bumper, side skirts, rear bumper with diffuser, an S-Line roof spoiler, S-Line badges on front wings and its own style of 17″ alloy wheels, sports suspension, black sprint seat trim in a mix of cloth and leather, embossed with S-Line logos, a 3-spoke leather Sports multi-function steering wheel with aluminium inlay, S-Line badging and perforated leather trim, black upholstery with silver stitching, black cloth headlining, door sills with aluminium inlays and S-Line lettering and an LED interior light package which includes illuminated door handles, footwell lighting, illuminated vanity mirrors, illuminated glovebox, front reading lights and ambient lighting of the centre console. The Black line models gain 18″ alloys, an upgraded Audi Sound System, and electronic climate control, and is externally distinguished by xenon lights, rear privacy glass and black trim on the grille, number plate and fog light surrounds. The Amplified Edition is available in Misano Red with a black roof, or Glacier White with a black roof, with a Brilliant black styling package which means that you get a radiator grille frame in highly polished black, with radiator grille, number plate holder and fog light surrounds in matt black, an exterior décor stripe in matt look, an S-Line roof spoiler in Brilliant black, exterior mirrors in Brilliant black, rear diffuser in high-gloss black, tailpipe trims in high-gloss black, Xenon Plus headlights, including LED daytime-running lights, rear LED lights, automatic headlight adjustment, dynamic range control and headlight washers, along with bi-colour 17″ alloys. Whilst inside, the seat trim is offered in black or white with colour matching piping in red or white, there are body-coloured sleeves around the air vents, drilled steel pedals.  There is an extensive range of options available, with the idea that owners can personalise their cars, though not on the same scale as MINI, Fiat 500 or Adam.
Although the memory of the 3 door manual gearbox A1 was still relatively fresh in my mind, I have driven plenty of different cars since that test in June, so I deliberately refrained from re-reading my own conclusions until I had penned what I thought about this Sportback automatic. Only with a first draft completed did I go back to that earlier report, and what I found was that my assessment was more or less the same. Except for the automatic gearbox. Although I have warmed considerably to these over the years, not least as my main car has been fitted with one since 2008, I could not help feel that on the evidence of this test car, unless you really are going to do a lot of urban motoring in an A1, you would be better off with the manual transmission. The automatic, smooth though it proved to be, simply blunted the performance too much unless you were really quite brutal with the throttle, meaning that this A1 felt a bit lethargic. Apart from that, all the Goodness of the A1 remains. Those who regularly carry people in the back will appreciate the convenience of the extra doors in the Sportback, though there is a price tag for that, over and above even the far from cheap 3 door model. So, if you are prepared to stump up the not inconsiderable purchase price, which is only just short of £20,000 for this model even before you raid the extras listing, you will be getting a beautifully finished, very refined small car. As I said as a conclusion to the previous test, a true Audi, but shrunk to B-Segment proportions.