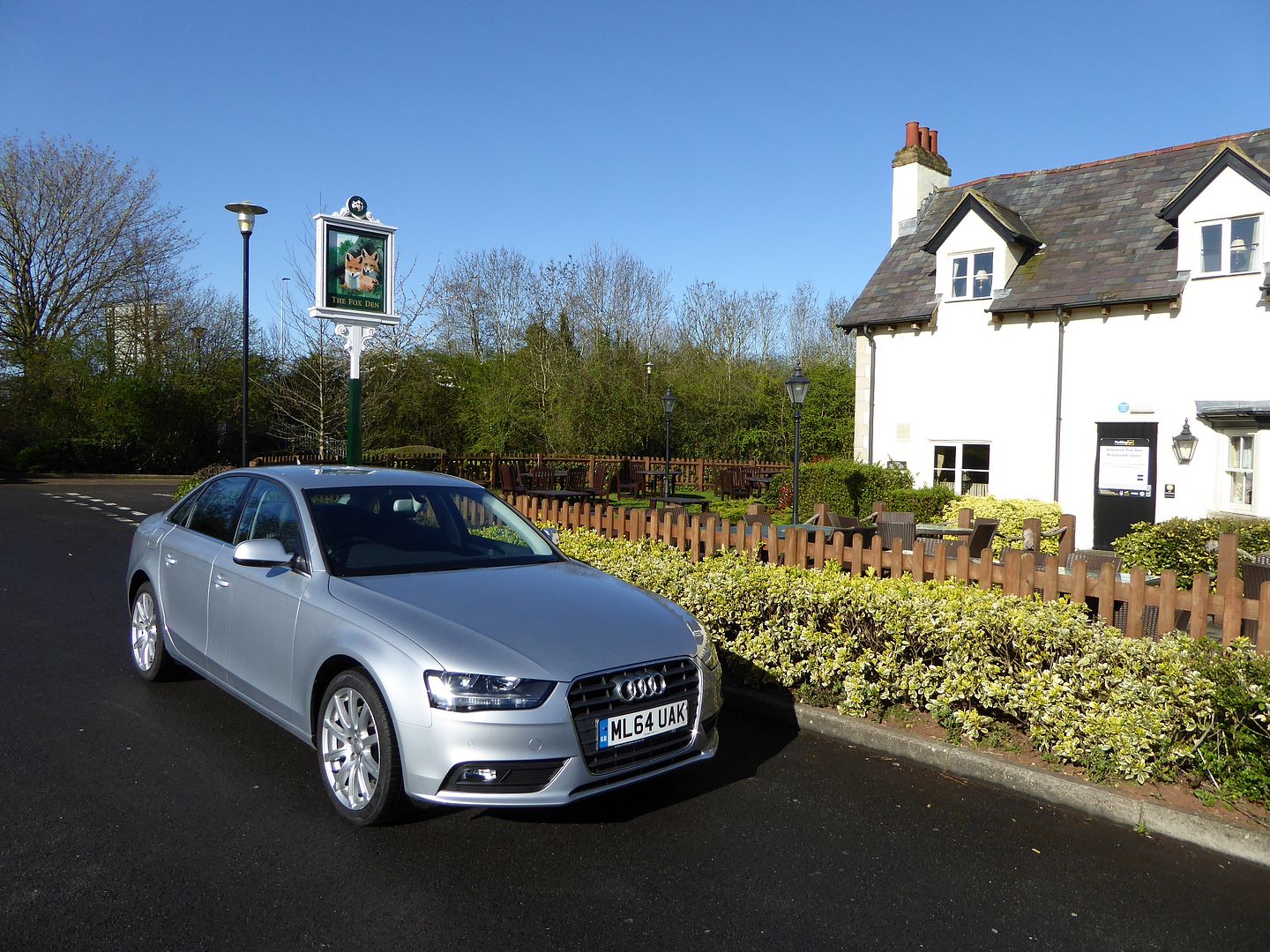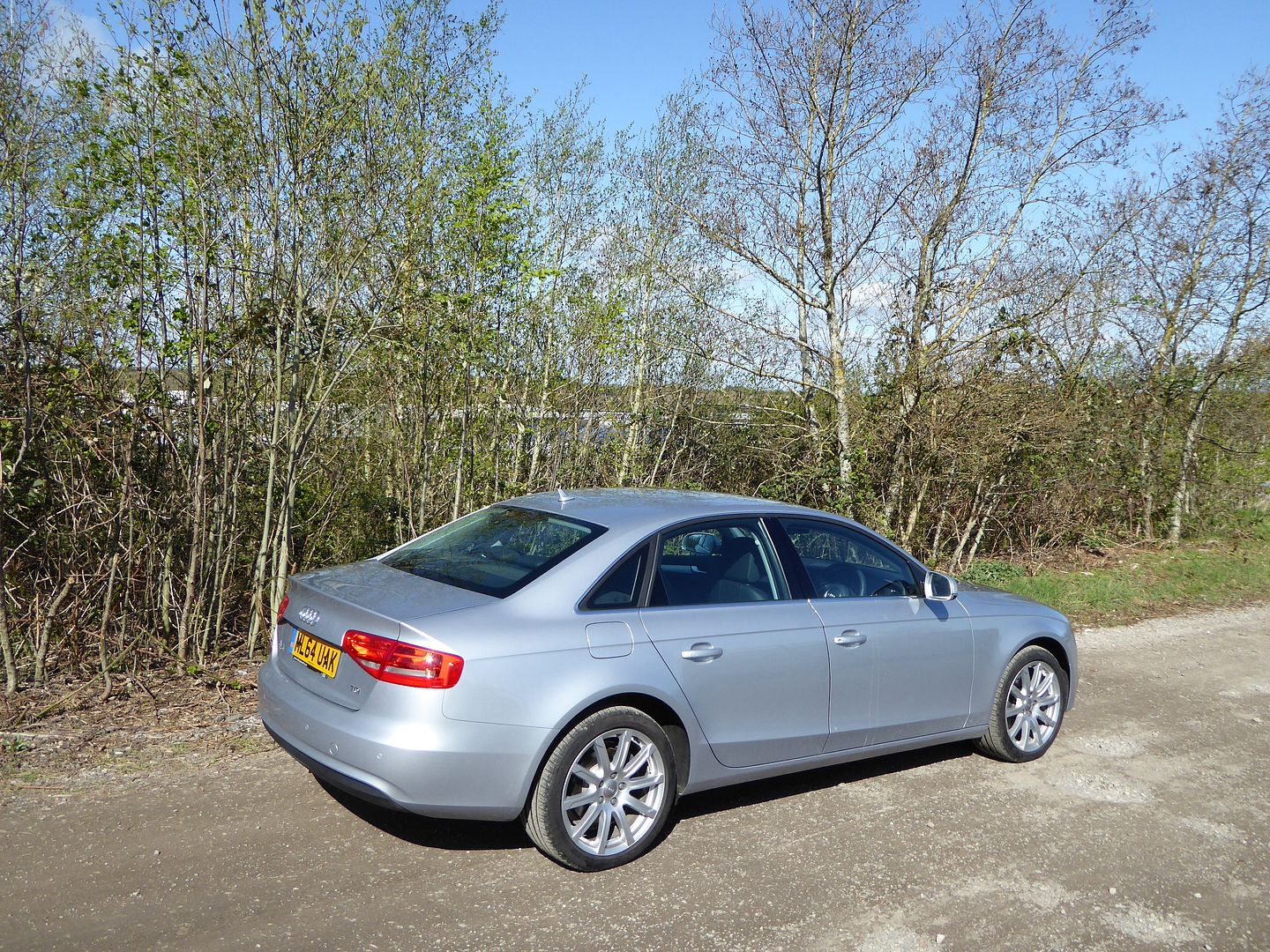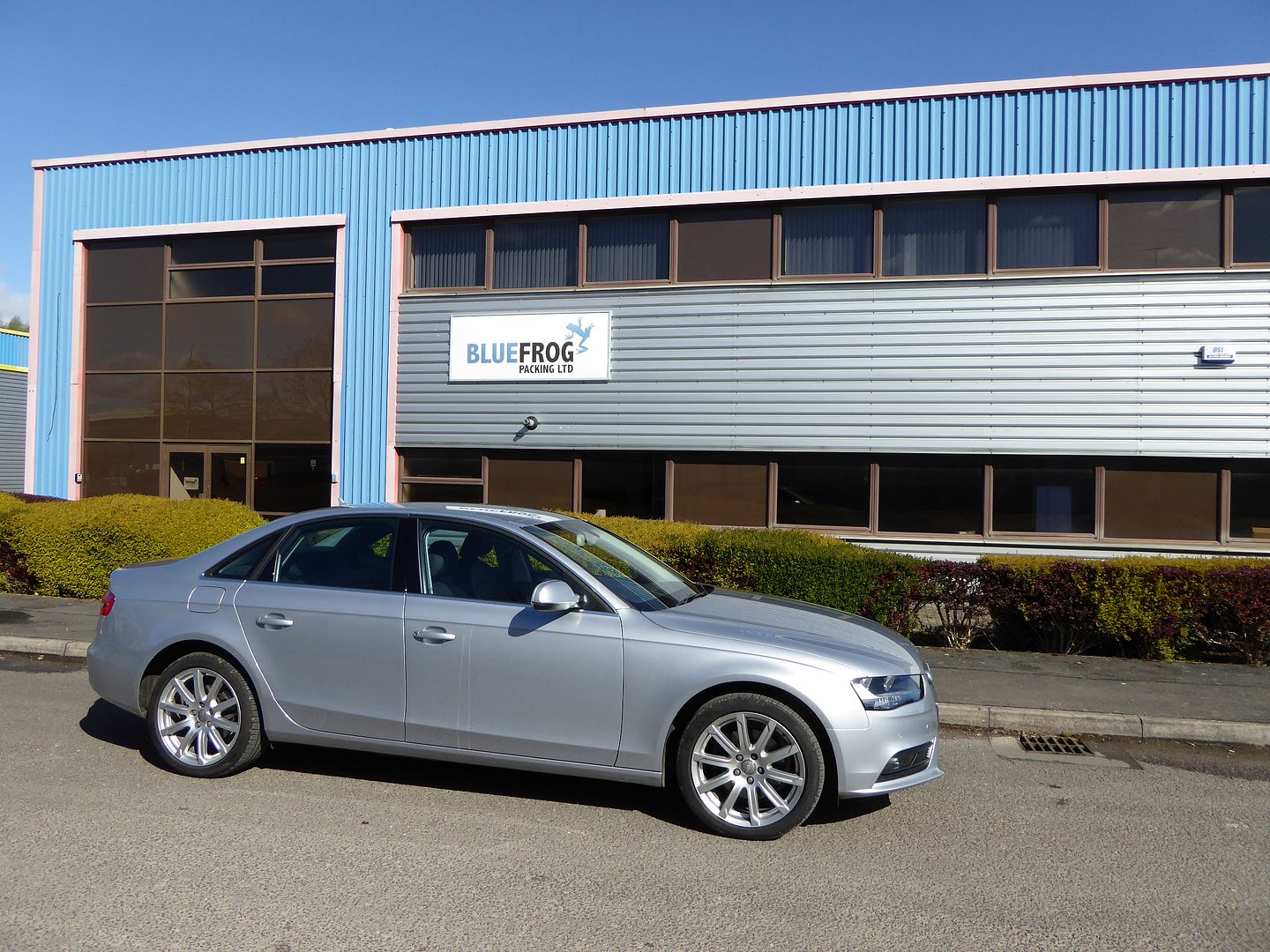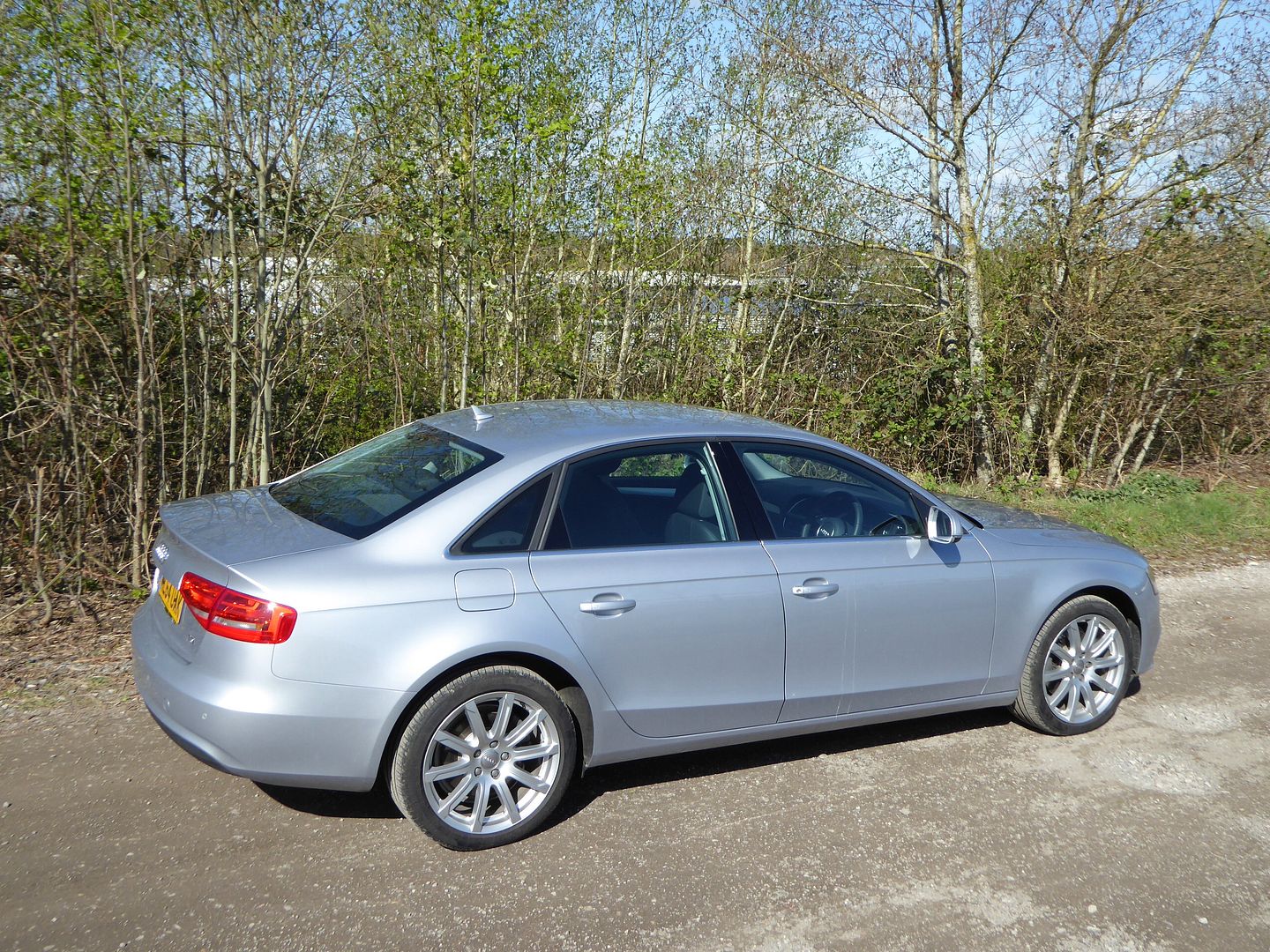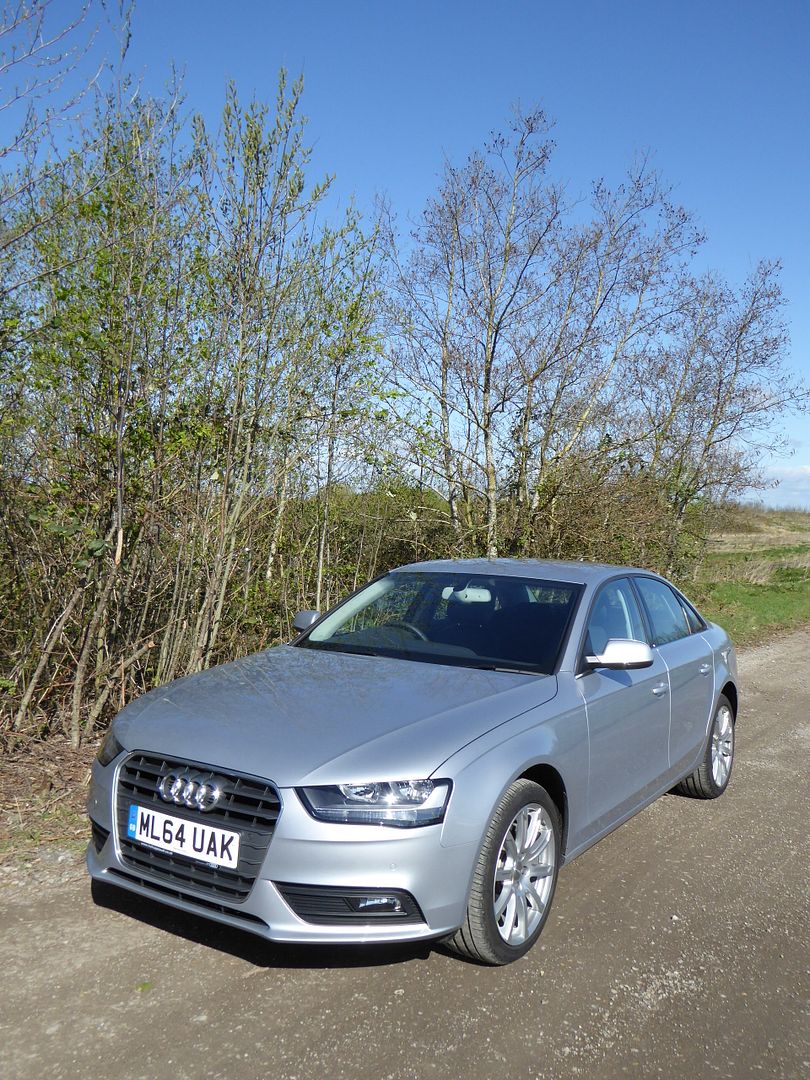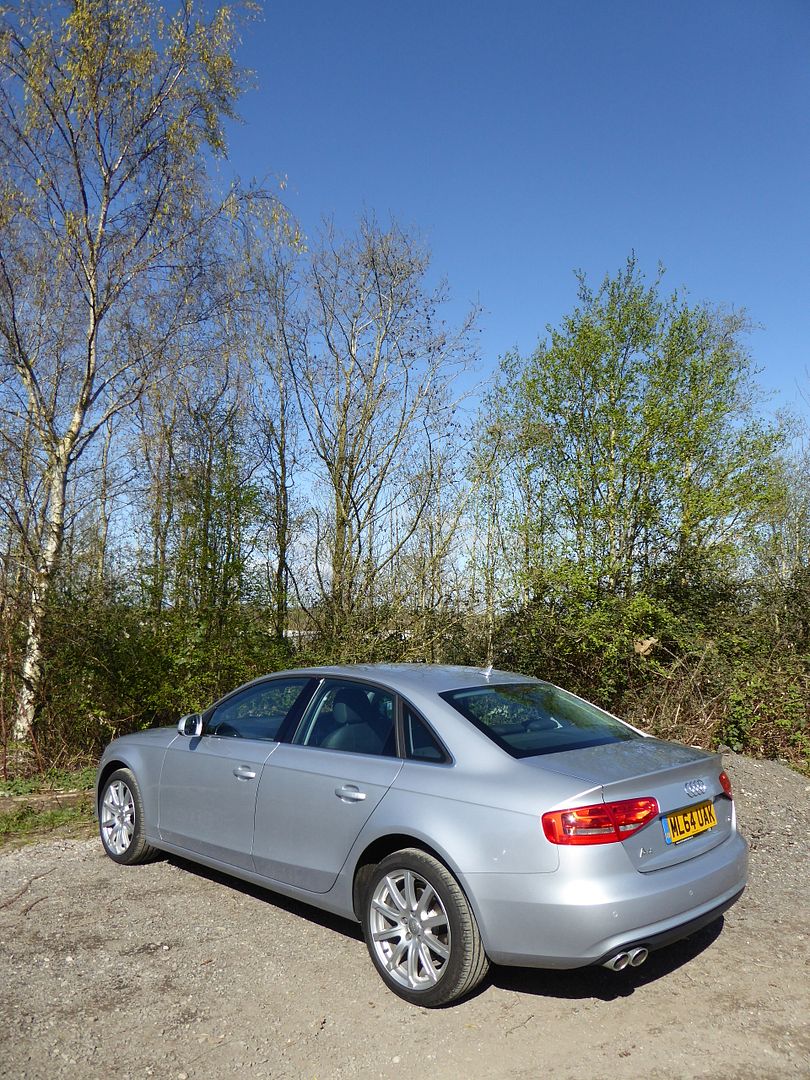 Just three days after handing the keys of a deeply impressive Mazda 6 2.2d back to Mr Hertz, a car which my experiences confirmed to be right at the top of the D-Segment class, I got the chance to sample something of similar size and specification, but with a premium badge on it. The list price of the Mazda was £22,895, which makes it highly competitive with cars such as the Ford Mondeo, Vauxhall Insignia, Peugeot 508, Toyota Avensis and even the VW Passat, but none of those are thought of as "premium" despite what their manufacturers try to tell us. If you want a car that is, which in reality is most likely to mean something badged BMW, Mercedes or in the case of this test car, Audi, then you will have to pay several thousand pounds more for the privilege, this A4 model listing at £29,320. Not only will the car cost more to buy, it will likely have servicing and parts prices commensurate with its perceived desirability, and even though you may well retain more of the value when you come to sell it (though there are chinks in that now that the market is awash with 2 and 3 year old examples that have ended their initial PCP ownership period), there is no doubt that you are paying a lot more cash, so the question is what you get for the extra expenditure.
The Audi A4 needs no real introduction, as the model is familiar having been launched in its current B8 guise at the 2007 Frankfurt Show, going on sale in the UK in early 2008. Add in the A5/S5 Coupe models which came a few months earlier, and this is a car which I have sampled in more guises than almost any other current production model, and thanks to taking delivery of an S5 Sportback in May 2012, which I have driven for 53,000 very enjoyable miles, with which I am personally more than a little familiar. Commercially, the A4 models, in Saloon and Avant guise, are far more important than the A5 Coupe. Cabrio and Sportback cars, of course, but despite the naming they should all really be considered as a single family. Get this one wrong, and Audi face disaster, so it is no surprise that the B8 generation was a careful evolution from its predecessor. This range is built on a variant of the Audi Modular Longitudinal Platform (MLP), which as well as bringing with it the cost advantages of platform sharing with other models in the VW Group solved the problem of earlier A4 models whose wheelbase was limited due to the relationship between the engine, transmission and front axle. The MLP allows for a reduced front overhang, resulting in a greater wheelbase length without the same increase in overall length, and effectively redistributes the centre of gravity slightly rearwards, improving handling by better balancing vehicle mass between the front and rear axles, something which had also occasioned critical comment from the UK press in the past. At launch, the increase in wheelbase by 6.3 inches gave the car best-in-class legroom and the extra length endowed it with the biggest boot, Important, for sure, but not necessarily enough when faced with the might of the BMW 3 Series and Mercedes C Class as the main rivals. With model cycles of these cars now out of phase, any advantage at launch is likely to last only a year or so before the others catch up, and indeed that proved to be the case, with the UK press raving about the Audi's rivals. Interestingly, the German press tend to be less convinced of their supremacy and often rate the Audi as their favourite. Sales were strong, as you might expect, and my early experience of a test car in Portugal in 2009 showed me why, as it was that little better than its predecessor in almost every way. A facelift came in 2011, with redesigned LED headlamps and tail lights, front air dam with fog lamps, and closely set twin exhausts. Interior changes included a three-spoke steering wheel and a redesigned ignition key and the controls for air-conditioning, infotainment, and electric windows gained chrome clasps. Other detailed interior changes included larger steering column stalk switches first seen in the D4-series Audi A8 and a simplified layout for the HVAC control panel, for example with the temperature setting for the heated seats now being directly set by a single button, no longer controlled using the MMI dial. These are typical of the sort detailed updates that a manufacturer will apply these days, requiring a trained eye (or a current owner) to spot the differences.
Of course there were updates to the mechanicals as well, though the timing of these has not been confined to that of this facelift, as Audi have continued to develop the engines which are offered in the A4 and related A5 models. Although the capacities may be familiar, there is work constantly on improving their efficiency, especially to get the all-important CO2 numbers as low as possible. The majority of A4 models sold these days are diesel powered, as is the case with the model's competitors as well. Four cylinder A4 TDi models for the 2015 model year all use the same 1968cc engine,.but tuned to give either 148 or 177 bhp in the "regular" models and 136 in the economy optimised TDie (CO2 emissions of 112 g/km) and 163 in the TDi Ultra which has the lowest CO2 emissions at 109 g/km. Even the standard TDi models fare well here, with CO2 numbers of 119 and 120 g/km for the 148 and 177bhp cars respectively., There is also a V6 engine 3.0 TDI, which puts out 237 bhp and generates 149 g/km. Petrol engined cars are all turbo-boosted these days with a 1.8 litre TFSi unit offered with a choice of 120 bhp (151 g/km) and 170 bhp (134 g/km) and a 2 litre unit which puts out 222 bhp and 155 g/km. Quattro four wheel drive is available on the more powerful models. The test car came with the 177 bhp 2.0 TDi, coupled with the standard 6 speed manual gearbox. This was the first time I have experienced this particular tune of the engine, although I have come across it in other incarnations a number of times before. Every time I do, it seems that not only has the power output and the efficiency improved, but so has the smoothness and refinement, and that was certainly the case here. This has to be one of the least diesel like diesel engine on offer at present. There is very little aural evidence even when you start it up that it is going to need refuelling from the black pump, with the characteristic diesel rattle almost completely eradicated. Underway and that is definitely your conclusion with only very minimal diesel-chatter audible at idle and low speeds. Of course you will be aware that you are driving a diesel, as the torque is the clue and there is plenty of that. The power cuts in from low down in the rev range and there is quite a wide band before you need to change up to make the most of the available acceleration. That does also mean that you can stay in a high gear with the rev counter reading not a lot more than 1000 rpm if you really want. There won't be much acceleration til you get to 2000 rpm, but if you wanted to avoid changing down, you could without the engine protesting. Not that changing gear is any hardship. This is another aspect that has continued to improve. VW Group gearboxes used to be slightly notchy but they have got ever smoother in recent years so that the lever will now slot from ratio to ratio with consummate ease and a nice precision. Even engaging reverse, up to the left alongside first gear always engaged readily. A standard stop/start system cuts in and out unobtrusively. You can still get the car in gear ready to go marginally faster than the engine restarts, but the delay is less than was the case when these systems first appeared on cars like this. Sixth gear is really there for steady speed cruising, and when you get there, overall noise levels are very low indeed. The test car came with "some" fuel in it, and I was asked simply to return it with the same amount, which calls for a certain amount of guess work. Accordingly, I can only report the fuel consumption as recorded by the on-board computer, but my experience suggests that this tends to be pretty accurate. It reported an average of 51.3 mpg, which is an impressive total, no doubt helped by the fact that there was minimal mileage in traffic and plenty of it at a steady speed on the motorway. The UK press consistently complain about the steering and handling of this car, and indeed all Audis. I am still not sure why. There is plenty of feel, with the well-weighted set-up giving you plenty of clues as to where the steered wheels are going to go, and for ordinary road use, there is nothing to cause the sort of gripes that they repeatedly trot out when they use words like "wooden". I think their real issue is that at the limit, the car understeers, but let's be honest and ask how often a car like this is ever going to be driven in such an extreme way. On the mix of motorways, A and B roads where I tested this A4, there was nothing to cause me to reach for the "demerits list". There is not much body roll unless you really press on, and I know from the last three years that the chassis can handle nearly twice as much power and the same findings will apply. Nor is the ride "brittle" as Autocar recently accused an Audi of being. The SE Technik comes on 18″ wheels, but lacks the stiffer suspension of the S-Line models, and that probably helps matters, though my experience of S-Line and indeed the S5 (on 19″ wheels) is that the ride is well-judged, absorbing the bumps well, and not pitching or causing the sort of unpleasantness that can come with softer set ups. There were no issues with the brakes, which operated smoothly and progressively. There is an electronic handbrake, always regrettable with a manual gearbox car. It did generally disengage as soon as you pressed the accelerator, as it is supposed to, but if you are manoeuvering very gently such as doing parallel parking on a slope, it does not always do so, making life harder than it should be. Final driving attribute to consider is visibility. Generally it is good, with a generous glass area and a good field of vision from the mirrors. Clearly with the saloon bodywork, there is more car sticking out beyond the base of the rear window than there is with the Sportback design, but the parking sensors did help me judge when getting close to an obstacle.
Opening the door of the A4, and it all looked very familiar, as the same design is used throughout the A4 and A5 ranges including in the S and RS models. It took more than a second glance to spot all the detailed differences from my car. There were not many. The dashboard unit is exactly the same, even down to the use of brushed aluminium trim inlays in front of the passenger, around the centre console and as the surround for the instrument binnacle. It just lacks the quattro badges that are on the steering wheel and in front of the passenger. There is no doubting the quality, with impeccable standards of fit and finish and the textures are all pleasing both to the touch and the eye, so whilst the press are now moaning that it looks a bit old fashioned (presumably because there is not what looks an iPad stuck precariously on a surface somewhere!), I have no complaints. Of course I am very familiar with how everything is laid out and operates, but even if I were not, it would be hard to declare that this is anything other than easy to use. There is a large cowled moulding which covers not just the instrument display but which goes right across the central part of the dashboard, embracing the display screen for the audio, navigation and on-board computer functions. Apart from the lack of an S5 logo in the bottom of the dials, they are the same as you will find in the S5. There are two large dials, a speedometer on the right and rev counter on the left. These flank a central digital display area which presents information in a number of separate rows – the top area for audio unit selection, the middle for a function you can cycle through such as a digital repeat of the speedo, or various averages on speed and fuel consumption, and the bottom for the odometer and trip mileometer as well as the external temperature. Smaller dials for water temperature and fuel level are outside the larger pair. All are the model of clarity and are easy to read at a glance, though I must admit I tend to rely on the digital speedo between the dials rather than the larger analogue unit. Twin column stalks are straight from the VAG parts bin. The left hand one operates the indicators, whilst the right hand one does the wipers and has a button on the end of the stalk to cycle through the onboard computer displays. A rotary dial on the dash to the right of the column operates the lights. The centre of the dash contains a colour display screen for audio unit functions, which is mounted high up and fully integrated into the dash. The graphics may look a little dated now, but they are easy to read at a glance, which is the important thing. Below this are a pair of air vents, and then the audio unit with CD slot and the mixture of rotary dials and buttons for the climate control system. The electronic handbrake is a small button to the right of the gearlever. Central feature on the console, behind the gearlever is a rotary dial for the MMI system, and is surrounded by a series of additional buttons. Unlike base trim SE models, where you find a lot of blanks, this one was as populated as in my S5. You will find here buttons to operate the MMI system and to switch between major functions such as navigation, audio and car information. There are repeater buttons on the steering wheel boss, which allow you to operate many of the audio unit functions. The cruise control system is operated by a stubby stalk mounted to the lower left of the wheel.
Cars like the A4 need to score highly on matters of practicality and comfort, as they will likely be used either for high mileage company use and/or as family transport. Certainly in terms of roominess, the A4 is class competitive, Successive model generations of the A4, like all its rivals, have grown in every dimension a few inches every time, meaning that what was once a little compact inside is now endowed with enough space for a family of 5 and their luggage. There is little difference in the passenger compartment between the A4 Saloon and the A5 Sportback. Only the change in roofline threatens to make much of a difference, to headroom for those in the back, but in fact, it does not. For those in the front seats, there are no differences at all, apart from the frameless doors of the Sportback. There were complaints at the UK launch of the A4 and A5 that there was something of an offset driving position, more evident in manual gearbox cars with the clutch pedal too far to the right. I've never noticed it, and indeed can think of plenty of cars where this is far more pronounced. The seats are slightly different from those in the S5, with separate headrests, and adjustment is a mix of manual for fore/aft and seat height, but electric for backrest angle and lumbar support. Standard seat covering in the SE Technilk is Milano leather, not quite as nice as the Nappa leather of my car, but still very pleasant to the feel and to look at. There were no issues in getting comfortable, although I did not drive this car on any particularly long trips in the two days of my test. Unlike the S5 Sportback, which is deemed to be a strict 4 seater, and consequently only has 4 seat belts, there are 5 in the A4. I did not have any passengers, but if I had, those who were allocated a back seat would have found decent levels of space for two adults, with ample width for a middle passenger but anyone sitting here would need their legs to straddle the transmission tunnel and rearward protruding central armrest, air vents and cubby area. Otherwise there is plenty of leg and knee room even when the front seats are set well back. Headroom is not an issue. There is a drop down central armrest. Although not quite as generous as that on the Sportback, the boot is a good size, a nice regular shape that extends back quite a long way, as well as being wide, and decently deep. There is some space under the boot floor around the space saver spare, and there is a large cubby set in the trim panel on the left hand side of the boot, in which in my car I store a couple of large bottles of water, and de-icer and a scraper. The rear seat backs are asymmetrically split, and simply drop down onto the seat cushions to give a much longer load space. It is not quite flat, sloping up slightly, and there is no protection between the end of the load area and the front seats. Inside the cabin, there is a good glove box, modest door pockets, a lidded cubby between the front seats which can be slid back a couple of inches, as well as a couple of cup holders and small oddments slot where a conventional handbrake would be and three slots for tickets or credit cards to the left of the gearlever.
The A4 range expanded from two trim variants to four a while back. That means that as well as the SE and S-Line, you can now also choose the SE Technik or the Black Edition before personalising your car with the extensive options list. SE trim covers most of the basics. 17" x 7.5J '5-spoke' design alloy wheels with 225/50 R17 low rolling resistance tyres and locking wheel bolts with a space-saver spare wheel except on Saloon TDie 136PS models which have a tyre repair kit are the visual clue. All models have Automatic Start-Stop function, a misfuelling inhibition for diesel engines and Recuperation for optimal energy utilisation. There are Cosinus cloth seats with manual height adjustment. Asymmetrically split-folding rear seats are included. The Audio and Communication system is a 10 speaker including 180 Watts subwoofer Concert radio which includes a single CD drive and SDHC memory card reader which are both MP3, WMA and AAC compatible, with a 6.5" colour centre display with MMI operating logic, AUX-IN connection, the TP memo which automatically saves traffic news when driving, DAB digital radio reception, a Bluetooth interface for hands-free mobile phone connectivity and voice control for telephone functions. There is an airbag system for driver, front passenger, front side and head airbag with front passenger airbag deactivation switch, a rest recommendation system which analyses driving behaviour based on steering, pedals and gear lever movements. If the system detects a change in driving patterns it can, via audio and visual effects, notify the driver of the possible need to take a rest. ESP including a limited-slip differential is on the front-wheel-drive models. You also get a First Aid kit, front and rear fog lights, ISOFIX Child seat mounting – for front passenger and outer rear seats. A light and rain sensor – automatically switches the dipped beam headlights and windscreen wipers on/off depending on the light and rain conditions and also includes coming home/leaving home function which delays the deactivation of the front and rear lights after locking and automatic activation of the lights when unlocking. Reversing is made easier with parking sensors which acoustically indicate the distance to obstacles; measurement is by ultrasonic sensors integrated discreetly into the bumper. Inside there is 3-zone climate control with separate air distribution and digital display for driver and front passenger, with the system includes air-conditioning controls in the rear centre console for rear passenger compartment. There is a 4-spoke leather multi-function steering wheel adjustable for height and reach, a 12V power socket in the boot (except on TDIe 136PS models), an acoustic windscreen for reduced, outside noise, aluminium trigon inlays, an auto-dimming rear-view mirror, cruise control, door sill trims in Aluminium optic, a Colour Driver's Information System with energy-saving tips and rest recommendations which shows the radio station or track title, telephone control, menu and other display information from the infotainment system such as navigation (if fitted) and also including an on-board trip computer with short and long-term trip memory, outside temperature display, digital speedometer and door or boot open warning. There are electric front and rear windows, an electromechanical parking brake with drive-off assistance function through an automatic release when driving away and emergency braking function whilst driving, acting on all 4 wheels. There is a front centre armrest including 12V power socket, an interior chrome package, a rear armrest, an auto-opening boot lid on saloon models. 4-cylinder models have twin exhaust pipes on the left hand side whilst 6-cylinder models and the 2.0 TFSI Avant and allroad models have one exhaust pipe on each side with chrome exhaust trim. The exterior mirrors are electrically operated and heated. There are halogen headlights with electric headlight range control and daytime running lights. The main addition on the SE Technik, which costs an extra £1000 is the MMI Navigation system plus, a Hard Disk based system which has a topographical map display, with places of interest and town models in 3D, on a high-resolution 7" colour TFT display. The system offers three alternative routes, with the ability to scroll along the selected route and manoeuvre within the map, using 7-digit postcode recognition. It includes a split-screen mode for route information, dynamic route guidance (TMC), intersection, zoom function, motorway exits and lane recommendations in Driver's Information System (DIS). Also included are 2 SD card readers, a single CD/DVD player, a 40GB hard drive and Jukebox (20GB) for storing and managing music files in WMA and MP3 format. European navigation data is included. Additional functionality is available when combined with the optional Mobile telephone preparation. You also get the Audi Music Interface – connection for use with stereo audio sources, USB and MP3 devices including Apple iPod generation 4 onwards and Apple iPhone. The Audi parking system plus, with acoustic and visual park assist system for the front and rear with MMI screen display, with measurement is by ultrasonic sensors concealed in the bumpers is included. SE Technik cars can be recognised from the outside by standard metallic paint and their 18" x 8J '10-spoke' Exclusive design alloy wheels, though on the 2.0 TDie and TDi Ultra cars there are 17" x 7.5J '5-spoke' design alloy wheels with 225/50 R17 low rolling resistance tyres and Milano leather upholstery is included. The popular S-Line package adds 18" x 8J '5-twin-spoke' design alloy wheels with 245/40 R18 Y tyres, with TDI ultra models featuring 17" x 7.5J '5-spoke' design alloy wheels with 225/50 R17 low rolling resistance tyres. There is Sports suspension 20mm lower than standard with stiffer spring and damper tuning for more direct contact with the road and sportier handling (S line Sports suspension 30mm lower than standard – available in lieu of Sports suspension at no charge). Inside there is a 3-spoke S line multi-function steering wheel with paddle shift for automatic models, black headlining, front Sports seats including electric lumbar support trimmed in Sprint cloth/leather upholstery with S line embossing, Jet grey stitching to upholstery, steering wheel, gear lever gaiter and floor mats, matt-brushed aluminium inlays, a perforated leather gear knob and S Line sill plates. Outside there are headlight washers, the S-Line exterior styling package including side skirts, front and rear bumpers, diffuser insert in Platinum grey, S Line badges on wings, rear LED lights, side radiator grilles in black honeycomb structure, a single frame front radiator grille with high-gloss black horizontal bars and Xenon headlights with LED daytime-running lights. You will pay £2555.00 extra for that lot. The Black Edition is a further £1500 on top of the S-Line. For your money, you get 19" x 8.5J '5-V-spoke' design alloy wheels in matt titanium finish with 255/35 R19 tyres, the Audi Music Interface – connection for use with stereo audio sources, USB and MP3 devices including Apple iPod generation 4 onwards and Apple iPhone with a Bang & Olufsen sound system with 14 high-performance speakers and 2 amplifiers which create 505 Watts of surround sound, balanced to suit the specific acoustic properties of the car's interior. There is also Audi parking system plus – acoustic and visual park assist system for the front and rear with MMI screen display; with measurement is by ultrasonic sensors concealed in the bumpers. The big identifier is the external Black styling package with the front radiator grille frame and window surround in high-gloss black, with radiator grille and number plate holder in matt black. Avant models include black roof rails. There is Privacy glass – dark tinted from B-pillar backwards on Avant models and all bodystyles get Gloss black exterior mirror housings, an enhanced rear spoiler on the luggage compartment lid, and a dynamic front bumper with large air inlets and blade in high gloss black, side sill trims and diffuser frame in high-gloss black. Inside there is a 3-spoke multi-function flat-bottomed steering wheel with paddle shift for automatic models and Piano finish black inlays. Needless to say, more than half the massive brochure is given over to itemising all the options which range from paint finishes and upholstery choices to different wheel trims and inlays as well as things like a sun roof, all of which could add thousands of pounds to the base cost.
When you are used to a high spec model in a range, as I am with the S5 Sportback, there is an almost inevitable temptation to berate the cheaper lower spec model for all the things which are missing on it. And yet, even though the engine of a 2.0 TDi model sounds and behaves quite differently from the 3 litre supercharged V6 of my car, and I had to change the gears myself, I found the A4 to be just as appealing as my Sportback. It is still, nearly 8 years after launch, a very agreeable car., and one which would doubtless be something that anyone who buys one would enjoy. But I return to that nagging doubt about the gap between "premium" and not. There is no getting away from the fact that this car does cost quite a lot more than a Mazda 6, and in the cold light of day, it is hard, in purely objective terms, to be sure that you are getting true value for extra £ that you spend. For sure the interior of the Audi is a nicer place than the Mazda, though it is not as roomy, and in my testing the Japanese car was the more economical of the two. Both drive well, but again the Mazda probably just edges it thanks to the excellent steering and handling. By all means, choose the Audi, and enjoy it, as you surely will, but if you cannot quite reconcile the cost difference, if you go with something as excellent as the Mazda, revel in the fact that it is also a very capable product, and better value for money.