The last few years have seen a huge focus on customer loyalty. Even before the onset of social media, consultants and commentators were telling those who have goods and services to sell that it is far cheaper to maintain a customer relationship over more than one transaction than constantly to be on the hunt for brand new customers, and initiatives like Loyalty Cards, which started in the airline industry quickly spread to many other types of business, as one way of trying to do this. With tools like Facebook and Twitter at their disposal, a disaffected customer can do far more than simply vote with their wallet, of course, as they can communicate their frustrations – however fair and accurate – to a much wider audience than was ever possible when all you could do was tell your mates in the pub, so companies selling things have had to resort to ever more tricks and techniques to try to keep their customers happy and loyal. At the same time, we have seen the massive increase in emphasis on Brand. The quest to "keep up with the proverbial Jones'" was ever there, but in the twentyfirst century, this has meant a huge shift to buying products from what are perceived as "premium" brands, or those with specific associations that accord with characteristics with which the purchaser wishes to be associated. The motor industry has had to deal with both of these phenomena, something which was always a little more difficult than it is in some sectors, as – the likes of recent upstart Tesla excepted – they have traditionally sold their products through dealers, so have never had a direct relationship with the end-customer, and many of the customer experiences that cause such issues and hence social comment arise from the dealer experience as much as the car itself. Advertising has focused ever more on brand and brand values, of course, and there have been numerous attempts to try to bolster things where there are brand perception issues, with new marques (the creation of Lexus and Infiniti, for instance, to distance themselves from the humble Toyota and Nissan) as well as the introduction of new model names to avoid association with one with a poor image (when the Chrysler Sebring became the 200, as an example) as well as unashamed links to the marque's heritage and glorious past history. In this context, it was perhaps not a surprise that  in the early part of 2016, Abarth, a brand with a glorious past, that many of its target buyers would be largely unaware about, conceived a global program called The Scorpionship, which they announced with much fanfare just ahead of the March Geneva Show. All current and prospective owners were encouraged to join up, with the promise of special offers and events that would amplify everything that the brand stood for. The hope that all the various Abarth Owners Clubs would tie themselves in closely to this new venture fell at the first hurdle, as the terms and conditions for so doing were too limiting, and certainly in the UK, for reasons that Abarth UK do understand, this element has yet to happen, but many marque devotees did sign up almost immediately. And then they waited. And waited, And waited. Literally months later, a credit card-sized membership card arrived in the post, and all this did was to beg the questions: "what do we do with it". In September, the first answer came. Abarth were planning to hold a parallel set of "Abarth Days" at five different race tracks, in five different countries. They would be free to attend for all Scorpionship members. That was the catalyst for many more to sign up, of course, as suddenly it seemed like there was good reason to belong. In typical Italian fashion, the whole thing seemed to be done at the last minute, with minimal notice and not a lot of information about what to expect, other than teasers which said that you would be able to drive your own car, or one of Abarth's on the track, as well as various other attractions. Co-ordinating dates over five tracks was probably one of the harder things that was attempted, but this meant that the UK venue for this mid October event would be Silverstone, and – naturally – I went along to see what was on offer.
NEW CARS
If you distill things down to real basics, Abarth, just like any other manufacturer is interested in selling new cars, to generate revenue and profit for the shareholders, so it should surprise no-one that one of the key elements of the day was the chance for people to have a good look at, and to drive, the current range. Accordingly, there was a good collection of brand new cars on show, and with much that is new in 2016, just this aspect was a key attraction for the day.
The first customer 124 Spider cars reached their expectant owners in the last few days of September, with Abarth Owners Club's founder and chair, Bertie Bryant, taking delivery of the very first one, and fellow member Jay Tee getting his on the road only a few days later. But for most people, this would be their first chance to look at this important new model in the range. So there were plenty of them to inspect. It is understood that an initial allocation of 200 cars is either in the UK or en route. Many of them are already sold as there are plenty of eager buyers who have been waiting patiently for this car, but further supplies will arrive in due course, and Abarth clearly need to find buyers for them. , though it is quite likely that there will be be a waiting list for the car for a while. That means no discounts, so anyone who wants one of these cars will be paying  from £30k for the privilege of a car which in the metal, I think, looks better than the Mazda MX5 with which it shares much under the skin. Initial reaction from the UK press has been that the changes that make an Abarth as opposed to the regular Fiat version are significant and make the car an absolute blast to drive. Autocar gave it 4.5 stars out of 5, a verdict they rarely bestow on any Italian car unless it comes from Maranello. The Abarth 124 Spider was developed in parallel with the Fiat model. It does cost a lot more, and there are those who think you don't get enough extra for your money, but those who have driven it will tell you otherwise. You do get more power. The 1.4 MultiAir turbo unit jumps up from 138bhp to 168bhp, while torque also increases by a modest 10Nm to 250Nm, which gives it a  0-62mph time of  6.8 seconds, which is half a second quicker than the 2.0-litre Mazda MX-5. The top speed is 143mph. It weighs just 1060kg meaning a power-to-weight ratio of 158bhp-per-tonne, and with the new Record Monza exhaust system it sounds great even at idle, as the Abarth UK staff demonstrated many times during the evening. The Abarth version gets a stiffer suspension setup than the regular Fiat 124 Spider, with Bilstein dampers and beefed-up anti-roll bars. Bigger Brembo brakes also feature, with aluminium calipers. It can be had with a six-speed manual or six-speed automatic transmission with paddles, and the latter gets a Sport mode for quicker shifts. The car seen here was sporting the 'Heritage Look' pack, which is a no-cost option. It brings a matt black bonnet and bootlid, plus red exterior trim detailing and is likely to be popular. The £29,565 starting price gets you standard equipment such as cruise control, climate control, Bluetooth, a DAB radio and satnav, plus Alcantara black and red (or pure black) seat trim. The automatic gearbox is a £2,035 extra, while an optional visibility pack brings LED DRLs, auto lights and wipers and rear parking sensors. There will be more powerful versions to come, including a monstrous 300bhp Abarth 124 Rally which was shown at Geneva earlier this year.
What is known as the Series 4 version of the familiar 595 only reached the UK a few weeks earlier.  After rumours had circulated all winter following the launch of the facelifted Fiat 500 last year, Abarth finally unveiled the Series 4 at the end of May. Initially, we were told that the cars would not be available in the UK until September, but that came forward somewhat, with dealers all receiving demo cars in June, and the first customers taking delivery in July. Even so, for many people present, this would have been the first time they would have seen these cars in the metal as opposed to in various PR and launch photos and the myriad of pictures on various continental European websites  Three versions of both the closed car and the open-topped C will be available, all badged 595, and called Custom, Turismo and Competizione, as before. The most significant changes with the Series 4 are visual, with a couple of new colours, including the much asked for Modena Yellow and a different red, called Abarth Red, which replaces both the non-metallic Officina and – slightly surprisingly – the tri-coat pearlescent Cordolo Red. as well as styling changes front and rear. The jury is still out on these, with many, me included, remaining to be convinced. At the front, the new air intake does apparently allow around 15 – 20 % more air in and out, which will be welcome, as these cars do generate quite a lot of heat under the bonnet. Competizione models for the UK retain the old style headlights, as they have Xenon lights as standard, whereas the Custom and Turismo cars have reshaped units. At the back, there are new light clusters and a new rear bumper and diffuser. Inside, the most notable change is the replacement of the Blue & Me system with a more modern uConnect Audio set up, which brings a new colour screen to the dash. Mechanically, there is an additional 5 bhp on the Custom (now 145) and Turismo (now 165 bhp) and the option of a Limited Slip Diff for the Competizione, which is likely to prove a popular option. Details of the interior trim have changed, with a filled-in glovebox like the US market cars have always had, and electric windows switches that are like the US ones, as well as a part Alcantara trim to the steering wheel in Competizione cars. Certainly the new red colour looked good, and is expected to be a popular option. Needless to say, these cars created a lot of interest throughout the day.
Still a hit with marque enthusiasts, despite the rather ambitious price tags are the 695 Biposto cars, and as there are still a number of these models in the UK dealer network, it was highly appropriate for these to be on display as well, and they were, both the "standard" car, in Performance Grey and the later Record Edition in the striking colour of Modena Yellow. First shown at the 2014 Geneva Show, this 2 seater (that's what Biposto means in Italian) is nothing other than a road legal version of the 695 Assetto Corse Racing car, a vehicle which has its own race series in Europe. Although the car is road legal, it was envisaged that the majority of people who buy one of these cars will use it on the track and quite frequently. So it was conceived accordingly. That means upgrades to all the important bits – engine, brakes, suspension, gearbox – and some fairly drastic measures to save weight which resulted in a car which generates 190 bhp and 199 lb/ft or 250 Nm of torque with a kerb weight of just 997kg. That's enough to give a 0 – 60 time that is under 6 seconds, and a top speed of 143 mph. Those are supercar figures produced by a city car. There's more to it than that, though, as the changes that go to make a Biposto are extensive, and they have been well thought through, so this is a long-way from being a hastily conceived or tuned up special. Ignoring the limited edition cars which arrived during 2015, the "regular" Biposto is only offered in Matt Performance Grey paint, and the car is visually distinctive, with a new front bumper, rear diffuser, wider arches, new skirts and bigger roof spoiler. Although the engine is still the same 1.4 T-jet that features in the lesser 500 and 595 cars, it has been reworked here, with a new Garrett turbocharger, larger intercooler, altered fuel rail and an Akrapovic exhaust system. Buyers can choose between the standard five speed gearbox or an optional race-bred dog-ring unit mated to a mechanical limited slip diff. The standard car's MacPherson strut and torsion beam suspension has been reworked, too, with altered springs, wider tracks adjustable ride height and dampers with more resilient bushings, using Extreme Shox technology shock absorbers. The brakes are upgraded in line with the extra power, featuring  305mm Brembo discs and four pot calipers up front and 240mm discs with single pot calipers at the rear. The wheels are lightened 18″ OZ and attached via a titanium hub, shod with bespoke 215/35 Goodyear tyres. In the interest of weight saving, a number of standard trim items are removed, including the regular door trims, air conditioning, the rear seats and some of the sound deadening material. Even the standard air vents have been changed so they are covered by a simple mesh. In their place is plenty of polished carbon fibre, a titanium strut brace, racing seats and harness, as well as special trim features such as new pedals, tread plates and a race inspired digital display on the dash where the radio usually sits. Only a small number have been sold in the UK, and of these quite few were bought for export, so this is and is likely to remain a rare car.
CLASSICS
In keeping with the idea of pulling in as much brand heritage as possible, there was an assembly of classic Abarth models here, as well. Many of these were sourced through the UK's premier classic Abarth specialist, Middle Barton Garage, whose enthusiastic and renowned proprietor Tony Castle-Miller, had worked hard to get a fantastic collection of different model dating from the late 1950s to the 80s, by which time the marque had been absorbed completely into the Fiat empire, and was being used more like a model trim rather than as something separate as is the case these days.
Oldest of the classics were a couple of examples of the 750GT Zagato. The first Abarth 750 GT appeared in early 1956, and was the first Abarth product to use standard Fiat bodywork, that of the little 600 saloon. Fiat delivered these cars incomplete, to make it easier and more cost effective for Abarth to carry out their performance modifications. Rather than the 633 cc original or Abarth's own 710 cc model, the engine now displaced 747 cc thanks to a one millimetre wider bore and a stroke increased by four millimetres. Sharper cams, lighter flywheel, a bigger carburettor, and a myriad other traditional tuning tricks were employed; as a result power nearly doubled, up from 21.5 to 40 bhp. Claimed top speed was 80 mph. As well as the "standard" car, a  special model was then built with a Zagato body, known as the Fiat Abarth 750 GT Zagato. It was launched at the 1955 Salon di Torino. The original model was also offered in a more luxurious variant for export (called "America", as it was almost strictly meant for the United States) and a stripped down model with lower, uncovered headlamps and smaller taillights for the domestic Italian market. The "America" also has a different layout around the rear license plate.  The all-aluminium bodywork has Zagato's famous "double-bubble" design and Abarth's tuned derivazione engine with 43 bhp. Aside from the floorpan, not much of the Fiat 600 remains in use for these cars. It had a top speed of around 90 mph and proved popular. Around 600 were sold. By the time of the appearance of the Abarth Zagato Record Monza 750 Bialbero, the bodywork had been unified into a separate model with a rather large hump on the engine lid, made necessary by the taller twin-cam motor. There were then three distinct models 750 "Double Bubble", 750 Record Monza and 750 "Sestrieie", this last having a single cam pushrod engine and the majority built with a steel body and a very small number of Alloy cars, just one of which is known to exist today. The 750 GT Bialbero model appeared at the 1958 Turin Show; along with various alterations to the bodywork, it had the new twin-cam engine with 57 bhp at 7000 rpm. The first series constituted 100 cars, enough to homologate the car for the Gran Turismo competition category. The "Record Monza" was the most successful racing Abarth in the USA under the Franklin D. Roosevelt Jr Racing team, (Abarth cars winning over 700 races worldwide), including both Sebring with the 750cc Bialbero engine and Daytona under 1000cc races in 1959 widely believed to have had the first 982cc Bialbero engine. The Sestriere had upright headlights and two very large air intakes on the engine lid much wider than a double bubble. The Sestriere was believed to be the last model produced for Abarth by Zagato, due to disagreements between Abarth and Zagato, so Abarth developed the 750 GTZ with a twin cam engine and the body evolved by Sibona and Basono into the Bialbero 700 and 1000 models. which were first seen in 1960. They are equally rare these days.
The first Fiat 600-based Abarth to be fitted with the larger 982 cc development of the 600 engine was the Zagato-bodied Berlinetta, similar in appearance to the 750 and 850 Monza models. It was first shown at the October 1960 Paris Motor Show and has 91 CV at 7100 rpm. Twin Weber carburettors and a 9.3 to 1 compression ratio help reach this considerable output for a one-litre engine. Claimed top speed is 205 km/h (127 mph). A bewildering variety of slightly different bodystyle elements appeared over the years, with covered and uncovered headlights, different engine lids, taillights, and window arrangements, as well as a later long-tailed design which also received a longer nosecone. Since these cars were largely handbuilt and often to order, it is hard to say what is original and what may have been modified after many years of competition. This evolved into the 1963 Abarth Monomille, which also has the pushrod 982 cc motor and was sold alongside the twin-cam Bialbero as a lower-priced, less complicated alternative. Bodywork was in the style of Zagato's, although it was executed by Abarth themselves. The cars carry a "Carrozzeria Abarth" badge.
Most Abarths of the 1960s were based on regular Fiat models, and there were some of these on show as well. Smallest of these were those based on the Nuova 500, and there were a couple of them here. For the 595 SS, Abarth increased the engine capacity to 594 cc, just under the limit for the European 600cc racing sedan class. High compression 10:1 pistons were used together with a special camshaft, a specific alloy sump, Abarth valve covers and air filter, propped up engine lid and wheels were fitted and of course the exhaust system was a special in house model. This package together with lowered suspension, flared arches and 10 inch rims amounted to what was known as the Assetto Corsa SS model. These cars have become very rare as many were crashed in competition or simply rotted away due to bad rust protection in the 70s  A number of recreations have been built, and these are likely such. So, not original, but still nice and still a lot of fun.
The larger 850TC actually predates the 595/695 cars. Officially known as the Fiat-Abarth 850TC Berlina (Turismo Competizione, or "touring competition"), it  was introduced towards the end of 1960, using Fiat 600 bodywork with some modifications, most notably a boxlike structure ahead of the front bumper which held the engine's oil cooler. The rear wings were usually blistered, to accommodate larger wheels. The engine is a four-cylinder model based on a Fiat unit, with 847 cc capacity and 51 hp. Overall length is 3,090 mm (122 in), overall width is 1,400 mm (55 in), height is 1,380 mm (54 in), wheelbase is 2,000 mm (80 in), and its front and rear track are 1,160 mm (46 in). The fuel tank holds 5.9 imperial gallons, and its empty weight was 793 kg (1,748 lb). The 850TC remained in the price lists until 1966. In 1962 the 850TC Nürburgring was introduced, with 55 PS at 6500 rpm. The name was intended to celebrate the class victory of an Abarth 850TC at the 1961 Nürburgring 500 km race. There followed the 850TC/SS with two more horsepower; this was renamed the 850TC Nürburgring Corsa towards the end of the year. Between 1962 and 1971 the 850cc and 1000cc class cars won hundreds of races all over the World and were commonly called "Giant Killers" due to their superior performance over much larger cars, culminating in a famous dispute with SCCA authorities in the USA when Alfred Cosentino (FAZA) was banned from running his 1970 Fiat Abarth Berlina Corsa 1000 TCR "Radiale" engine because his car was faster (mainly in wet conditions) to many V8 Mustangs, AMC AMX's and Chev Camaro's etc. The SCCA authorities dictated FAZA and Cosentino be forced to use an early design engine a non "Radiale" engine from 1962 model in his cars but still achieved 51 Victories from 53 races. The most victories in SCCA racing history, Thereby cementing the superiority of the Fiat Abarth Berlina Corsa over larger and more powerful cars.
There were a couple of examples of the OT cars, an OT1600  Saloon and an OT1000 Coupe. These were based on the contemporary Fiat 850, and were offered in the same bodystyles, so as well as the Berlina, Coupé seen here, there was also a Spider version, and over time they had ever increasing engine displacements. OT stands for Omologata Turismo or "touring homologated", and at the time, this also included two-seater sports racing cars. The first was the  Fiat-Abarth OT 850, introduced in July 1964. Its Tipo 201 engine was the regular saloon's 847 cc inline-four brought from 34 PS to 44 PS; top speed went up accordingly from 120 km/h (75 mph) to 130 km/h (81 mph). The OT 850 could be distinguished from the standard Fiat model by its Abarth badging, an asymmetric front ornament with the Abarth shield on the right hand side and the "Fiat Abarth" script on a red field on the left, and wheels with cooling slots. From October of the same year it became available in two guises: OT 850 Oltre 130 ("Over 130"), almost unchanged from the initial model, and OT 850 Oltre 150, with a 53 PS engine, front disc brakes and a 150 km/h (93 mph) top speed. The Fiat-Abarth OT 1000 was introduced in October 1964. The engine displacement increased to 982 cc, it produced 61 PS and 58 lb·ft of torque. Front brakes were changed to disks. OT 1000 Coupé and Spider came along in October 1965. Compared with the saloon version, the engine was a more powerful Tipo 202 producing 62 PS and 79 58 lb·ft of torque. Top speed was 155 km/h (96 mph) for the coupé and 160 km/h (99 mph) for the spider. The coupé was facelifted in November 1968 concurrently with the regular Fiat 850 Coupé, receiving a full-width grille and twin round tail lamps. The  Fiat-Abarth OTR 1000 was launched alongside the OT 1000 Coupé, and based on the 850 Coupé bodyshell as well. Its type 200 engine had an all-new Abarth-designed cylinder head with valves arranged in a V instead of parallel—hence the R in the name, standing for Radiale, radial. The combustion chambers were shaped as two spherical caps, one around each valve; there was a inlet duct per cylinder, each fed by one choke of the two twin Solex carburettors. Abarth claimed an output of 74 PS at 6,500 rpm and a top speed of 172 km/h (107 mph) for the road version. The OTR was set apart from the OT 1000 Coupé by a rectangular front grille bearing the Abarth badge, needed for the front mounted radiator. That was far from the end of the story for in April 1966, Abarth introduced the OTS 1000. It used the OTR 1000 bodyshell, with a standard head OT 1000 engine but output upped to 68 PS  and top speed to 160 km/h (99 mph). The FIA homologated it in the GT class in 1966. Abarth later developed several modifications, including a new inlet manifold for two twin-choke Solex carburettors. This gave birth to the OTSS 1000 or OT 1000 SS. Both OTS and OTSS were restyled in November 1968 like the OT 1000. Larger capacity OT models appeared in November 1966 with the launch of the OT1300. Visually identical to the OTR 1000 save for the widened wheels, it used a Fiat 124-derived engine displacing 1,280 cc. Engine power was 74 PS and the top speed was 172 km/h (107 mph), both the same as on the OTR 1000, but thanks to the simpler engine the car was cheaper. It was restyled in 1968 together with the 1.0-litre OTs. Wilder still was the OT 1600 Mostro (model 136/C), an extreme variant based on the 850 saloon body, unveiled at the October 1964 Turin Motor Show and nicknamed Mostro, monster. It was fitted with a Tipo 236 1,592 cc twin cam, twin spark engine from the Fiat-Abarth 1600 Sport racing car. The 1.6-litre put out 155 PS and had a  top speed was 220 km/h (137 mph). The rear wings were greatly enlarged to clear wide rear alloy wheels.
Fiat completed the purchase of Abarth in 1971, and the first model to appear bearing the by-now legendary name was the Autobianchi was the A112 Abarth, which was introduced in September 1971 at the same time as the Elegant. This was the most powerful and sporting version of Autobianchi's supermini that had been introduced in 1969, as a sort of market-taster for the commercially more significant Fiat 127. The A112 was prepared by the motorsports division of the Fiat Group, at first with a 982 cc engine, obtained by increasing the stroke, coupled to a sportive exhaust, a twin carburettor, and a different camshaft. In 1975, displacement was increased to 1,050 cc, while power climbed from 58 HP to 70 HP at 6600 rpm, for a weight of only 700 kg (1,540 lb). The two engines were offered in parallel until production of the smaller unit ended in late 1976. The 1975 model was also the first A112 to use a 5-speed manual gearbox. These changes turned the A112 into a nervous machine, much admired by young performance enthusiasts. The car was entered in various rallying events throughout Europe and even spawned a one-make trophy: the Campionato A112 Abarth spanned eight editions, from 1977 to 1984, and adopted contemporary Group 1 rules, which meant nearly-stock cars. Some famous Italian rally drivers, including Attilio Bettega, Fabrizio Tabaton and Gianfranco Cunico, were among the winners of the championship. The increasing popularity of the A112 in historic rallies and hillclimbs led to the reintroduction of a one-make trophy, called Trofeo A112 Abarth, in 2010. Abarths have often led hard lives, having been preferred by young owners with aggressive driving styles. Formula One driver Olivier Panis is one of many to have crashed an A112 Abarth. Never sold new in the UK, there are only a few of these cars in the UK, and they always attract lots of interest whenever they are seen.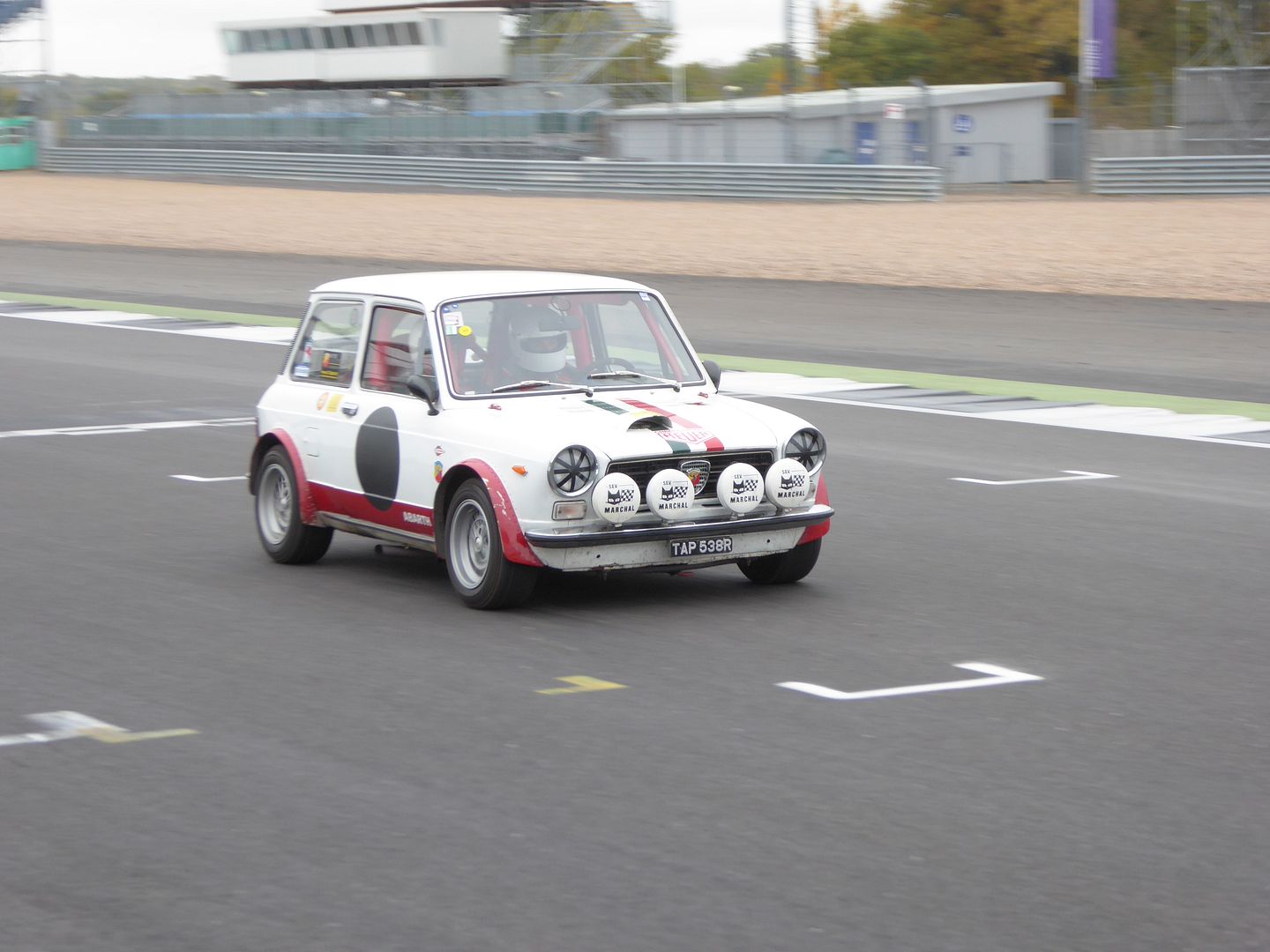 The next car on which the Abarth badging appeared was the Fiat Abarth 124 Rally, a sport version of the established 124 Spider, in November 1972. Its main purpose was to receive FIA homologation in the special grand touring cars (group 4) racing class, and replace the 1.6-litre Fiat Sport Spider rally cars which were presently being campaigned. At the time 124 had already won the 1972 European Rally Championship at the hands of Raffaele Pinto and Gino Macaluso. The 124 Rally was added to the Sport Spider range, which included the 1600 and 1800 models; the first 500 examples produced were earmarked for the domestic Italian market. Amongst the most notable modifications over the standard spider there were independent rear suspension, engine upgrades, lightweight body panels, and a rigid hard top. In place of the usual rear solid axle, there is independent suspension from lower wishbones, the original trailing arms, an upper strut and an anti-roll bar. At the front a radius rod on each side was added to the standard double wishbones. The Abarth-tuned type 132 AC 4.000 1.8-litre, twin-cam engine was brought from the standard 118 to 128 PS by replacing the standard twin-choke carburettor with double vertical twin-choke Weber 44 IDFs, and by fitting an Abarth exhaust with a dual exit exhaust. The 9.8:1 compression ratio was left unchanged. The transmission was the all-synchronised five-speed optional on the other Sport Spider models, and brakes are discs on all four corners. Despite the 20 kg (44 lb) four-point roll bar fitted, kerb weight is 938 kg (2,068 lb), roughly 25 kg (55 lb) less than the regular 1.8-litre Sport Spider. Engine bonnet, boot lid and the fixed hard top are fibreglass, painted matt black, the rear window is perspex and the doors aluminium. Front and rear bumpers were deleted and replaced by simple rubber bumperettes. A single matte black wing mirror was fitted. Matte black wheel arch extensions house 185/70 VR 13 Pirelli CN 36 tyres on 5.5 J × 13″ four-spoke alloy wheels. Inside, the centre console, rear occasional seats, and glovebox lid were eliminated; while new features were anodised aluminium dashboard trim, a small three-spoke leather-covered Abarth steering wheel, and Recaro corduroy-and-leather bucket seats as an extra-cost option. The car carried Fiat badging front and rear, Abarth badges and "Fiat Abarth" scripts on the front wings, and Abarth wheel centre caps. Only three paint colours were available: Corsa red, white, and light blue.
The Abarth X1/9 Prototipo was developed in 1973 to replace the 124 Spider Abarth as Fiat's main rally car. Ultimately, the parallel 131 Abarth project was chosen over the X1/9 as the main rally competition platform. The X1/9 Prototipo used an 1840 cc engine (a bored out 1600 cc 124-derived unit) with a custom 16-valve cylinder head fed by twin 44 mm Weber IDF carburettors. Externally the cars sported flared wheel-arches, a small "duck tail" spoiler and an F1 style air intake designed to feed the carburettors cool air from above the cars roof. All the X1/9 Prototipos were raced in the traditional Abarth lime-green/yellow and orange/pink colour scheme. The prototype nature of the X1/9 Prototipo project means that the exact number of cars produced is impossible to define. Components and entire body-shells were routinely swapped and replaced as part of the development process, but it is believed that 5 genuine cars were produced. Several replicas have since been produced.
Fiat launched the Strada 130TC in the UK in 1984. Based on the earlier Ritmo 125 TC (which had not been sold in the UK) this family-sized hatch was powered by a 1,995 cc engine with power output increased to 130 PS. This was achieved by replacing the single Weber carb used in the 125 TC with twin Solex/Weber carburettors on a side-draught manifold, and via improved cam profiles. The 130 TC had a top speed of 195 km/h (121 mph) and accelerated from 0 to100 km/h (62 mph) in 7.8 seconds. It was fitted with Recaro bucket seats in Britain and it remained the only 1980s European hot hatch to continue to use carburettors instead of fuel injection. Ignition timing was controlled electronically. Although appearing outwardly similar to the restyled 105 TC with its lower door and wheelarch trims, the 130 TC could be distinguished by its polished four-spoke alloy wheels (continued from the earlier 125 TC), aerodynamic perspex front door wind deflectors, and lower hatchback spoiler. The powerful twin-cam was mated to a close ratio five-speed ZF manual gearbox and the car had superior performance to its contemporary rivals, which included the Volkswagen Golf GTI, Ford Escort XR3i, Vauxhall Astra GTE and the MG Maestro. In its day, it was faster than all of them, but it found relatively few buyers.
OWNER CARS
Since the event was aimed very much at current owners, it was no surprise the main car park was simply full of Abarths. I did not count the total present, but it was well into the hundreds. Many of these were cars belonging to people who are active members of the Abarth Owners Club, and so are very familiar to me, but there were plenty of cars that I don't recall seeing before, as well. Being assembled together like this made for a colourful and comprehensive display of the 8 years since the rebirth of the brand, and although there have – until the launch of the 124 Spider – only been two basic model types, there was surprising variety among the cars on show.
The vast majority of cars here were the 500-based models which have been sold in the UK since the spring of 2009. For the first few years, Abarth were selling around 100 a month, peaking slightly in those months when the registration plate changes. More recently, and no doubt helped by an increase in the number of dealers from the early days when only a dozen covered the whole country, including two in the Channel Islands and one in Northern Ireland, numbers sold have gone up markedly. That means that there are now around 10,000 of these cars on our roads, though you can still go several days between spottings. And when you do see one, although you will be no doubt that it is an Abarth as opposed to a Fiat, telling the different versions apart is difficult, to the point of impossible. There are differences that have come in as the model has evolved, but with the exception of badging for 595, 695 and the Limited Edition cars, you really need to be a marque expert to be sure exactly what you are looking at, and even then, it is hard to be sure at just a quick glance. It used to be relatively easy, when the model was first launched, as there was only one version as shipped ex works called the 500. It had a 135 bhp 1.4 litre turbo-charged engine coupled to a five speed manual gearbox, with 16″ alloys as standard, and the option of 17″ wheels, and a colour palette comprising of two whites (BossaNova White, the standard colour, or the pearlescent Funk White), Red (Pasadoble), Pale Grey (Campovolo) or Black. If you wanted more power – 160 bhp – then you could order an Esseesse kit, which came in a large wooden crate, containing new wheels, springs, an ECU upgrade, the Monza exhaust system and badging. It was dealer fitted and could be applied at any time within the first 12 months or 10,000 miles from registration. Needless to say, it proved popular. As were many of the optional extras, with stickers for the sides, a large scorpion for the bonnet and even a chequered pattern for the roof among the personalisation options offered. Several of the original style of cars were here.
Whilst a sliding glass sunroof (Skydome in Fiat/Abarth parlance) was an option from inception, fans of open air motoring had to wait until Geneva 2010 for the launch of the 500C models. For the first few months these cars only came with the robotised manual gearbox, which limited the appeal in the eyes of some, but they also introduced us to the "bi-colore", a series of two tone cars, with upper and lower halves of the body painted in different colours. It took us a while to get used to this, as no other production road cars had been painted like this for some time, but now this is seen as yet another of those marque defining attributes, and (perhaps with the exception of the rarely seen Rally Beige and Officina Red combination that would come for 2014) in the eyes of many this distinctive look enhances the appeal of the cars still further.
There have been a number of Limited Edition models over the years, not all of which have been offered in every market where the Abarth is sold. Among the earliest of these was the 695 Tributo Ferrari, which was unveiled at the 2009 Frankfurt Show, reaching the first customers during 2010. Developed in collaboration with engineers from Ferrari, the 695 Tributo Ferrari used the same 1.4 Turbo T-Jet 16v engine as the standard cars, but further developed and with a different Garrett turbocharger which raised power to 180 hp. It came with an MTA (Manual Transmission Automated) electromechanical transmission with paddles, unique to this version 17 inch alloy wheels with performance tyres, Brembo 11.2″ multi-section discs with fixed 4-piston calipers, "Record Monza" variable back-pressure "dual mode" exhaust,  Racing Grey wheels and rear air intakes, Magneti Marelli Automotive Lighting xenon headlights, "Abarth Corsa by Sabelt" seats in black leather upholstery with carbon fibre shell and seat base, black leather steering wheel with red leather inserts and a tricolour hub, Jaeger instrument panel, non-slip aluminium foot wells, Scorpion racing pedals, special kick plates and a plate bearing the vehicle series number. This Tributo Ferrari was sold in four different colours: red, as seen here in this homage to the Tributo, Abu Dhabi Blue, yellow and grey. More red and yellow cars were made than the other two colours. It was expensive when new, and to get round homologation issues, the cars were initially "sold" in Italy, and treated as "pre-registered" on arrival in the UK which made the paperwork process complicated, and also meant that dealers could charge what they thought people would pay. Many of the cars have since been exported, so there are not many currently on our roads. Indeed, there were no examples present here, though there was one evocation of the model, made up to look very similar.
Having used the legendary 695 badging from the 1960s on the Tributo cars, at the 2012 Geneva Show, Abarth dusted off the 595 name that had been used on the less powerful of the Nuova 500 based cars of the same generation, and created two new versions which we should think of as Series 2 cars, the 595 Turismo and Competizione, both of which could be bought in either closed or open top C guise, with either the 5 speed manual or robotised automated gearshifts. Both models had the 160 bhp engine as standard. Effectively they were a replacement for the Esseesse kit, and it meant that the cars were produced complete at the factory, rather than needing the dealer to undertake the upgrade (and the associated paperwork), though Abarth did not withdraw the Esseesse kits from the market for some while. Turismo, as the name suggests was aimed slightly less extreme in intent, featuring standard leather upholstery, upgraded dampers and climate control, Xenon headlights and Alutex interior details. The sportier Abarth 595 Competizione replaced the leather seats with Sabelt cloth sport seats and Alutex with aluminium, while adding p-cross-drilled brakes and the Record Monza dual-mode exhaust.
Some new colours were introduced, and very soon one of those, Record Grey, frequently combined with a tan interior became one of the most popular choices. There were several examples of this popular colour here and there is no denying that this combination suits the Abarth shape very well.
At the 2012 Geneva Show, Abarth also showed the 695C Edizione Maserati, a limited production version of the Abarth 500C convertible with the 1.4 Turbo T-Jet 16v engine rated  at 180 hp,  a 5-speed electrically operated manual Abarth Competizione gearbox with steering wheel controls, Maserati "Neptune" 17″ alloy wheels with performance tyres, Brembo 305 mm brake discs with fixed four-piston caliper and special shock absorbers, Record Modena variable back-pressure "dual mode" exhaust, Pontevecchio Bordeaux body colour, Xenon headlights with dipped and driving light functions, sand beige Poltrona Frau leather seats with containment strips featuring single-layer padding and the pista grey contrasting electro-welding, black leather steering wheel, aluminium pedal unit and sill plate, carbon fibre kick plate, boosted hi-fi audio system. Production was limited to 499 units, and around 20 of them came to the UK, so Neil Potter's car to be seen here is definitely one of the rarest of recent Abarths.
Rumours started to circulate towards the end of 2014 that Abarth were going to upgrade the Competizione model, so as better to bridge the gap between the Turismo and the 190 bhp 695 Biposto that had been added to the range earlier in the year. It was Geneva 2015 when the result was finally shown to an expectant fan base. Most exciting news was that thanks to a bigger Garrett Turbo, the engine had been tweaked to 180 bhp, and with reduced CO2 emissions. A standard spec that included Koni Dampers, Brembo brakes, Xenon lights, Sabelt seats, Climate Control, parking sensors as well as other refinements that had been added like the TFT instrument display all proved very compelling, so not long after the first cars reached the UK  in June of 2015, I found temptation too hard to resist, and as is well documented here, swapped my 2010 car for one of these. At the time I ordered it, Cordolo Red, a tri-coat pearlescent paint which shimmers in bright sunlight looked set to become one of the most popular colours of the lot, even though it is a cost option. Indeed, the Launch Edition models were all offered either in this colour or Scorpion Black, with black wheels. Surprisingly, the colour has not been carried over to the Series 4 cars.
A new colour was announced with the new Competizione cars, called Podium Blue, but it was not going to be immediately available, and there were no accurate representations of exactly what shade it would be. Rumours circulated on Abarth forums and Facebook Groups all summer, with lots of guessing and no real facts, although we had been assured that it was not the same as the Abu Dhabi Blue that had featured on a very small number of 695 Tributo Ferrari models in 2011. It was October when the first cars reached the UK and those who had taken the gamble could see for themselves whether they had got it right. Common consent is this is a stunning colour. A rich blue, it changes shade in different lights. I think it looks fantastic. Combined with yellow stickers, as at least Lake District resident, sadly not present here, has done, it looks even better. It seemed to become the most popular colour for new cars, and there were several models here painted this way.
Having spent all the time since the re-launch trying to get everyone to understand that Abarth is a separate brand, a separate company, even, within the Fiat empire, things got more complicated in late 2013 when at the Frankfurt Show, the then latest special model was revealed, as it came with Fiat badges on it. This is the Fiat-Abarth 595 50th Anniversary Edition, produced, as the name suggests, to celebrate 50 years since the introduction of the first of the Nuova 500-based 595 models. Mechanically identical to the 695 Tributo Ferrari and Edizione Maserati models (who said that the Italians don't keep things complicated with their naming), this one boasted the 180 bhp version of the T-Jet engine under the bonnet, and the automated gearbox. The cars are easily distinguished by their matte white paint with red stripes, which looks fantastic when new and clean but which does require special care to make sure it stays looking that way, as well as special badging. Other items in the spec sheet included 17″  alloy wheels with 695 Magnesio Grey design embellished and a red liner, Brembo 305 mm floating brake discs, fixed four-piston caliper, special shock absorbers, the sonorous 'Record Monza' variable back-pressure dual mode exhaust,  Xenon headlights, red leather sports seats with white inserts and red stitching, an Abarth logo-ed black leather steering wheel with red inserts.  299 were built, of which 50 came to the UK. The car's problem was its price: £29,850 was simply too much for most people to justify, and the cars remained available in the showroom well into 2015. There was one example of this version parked up.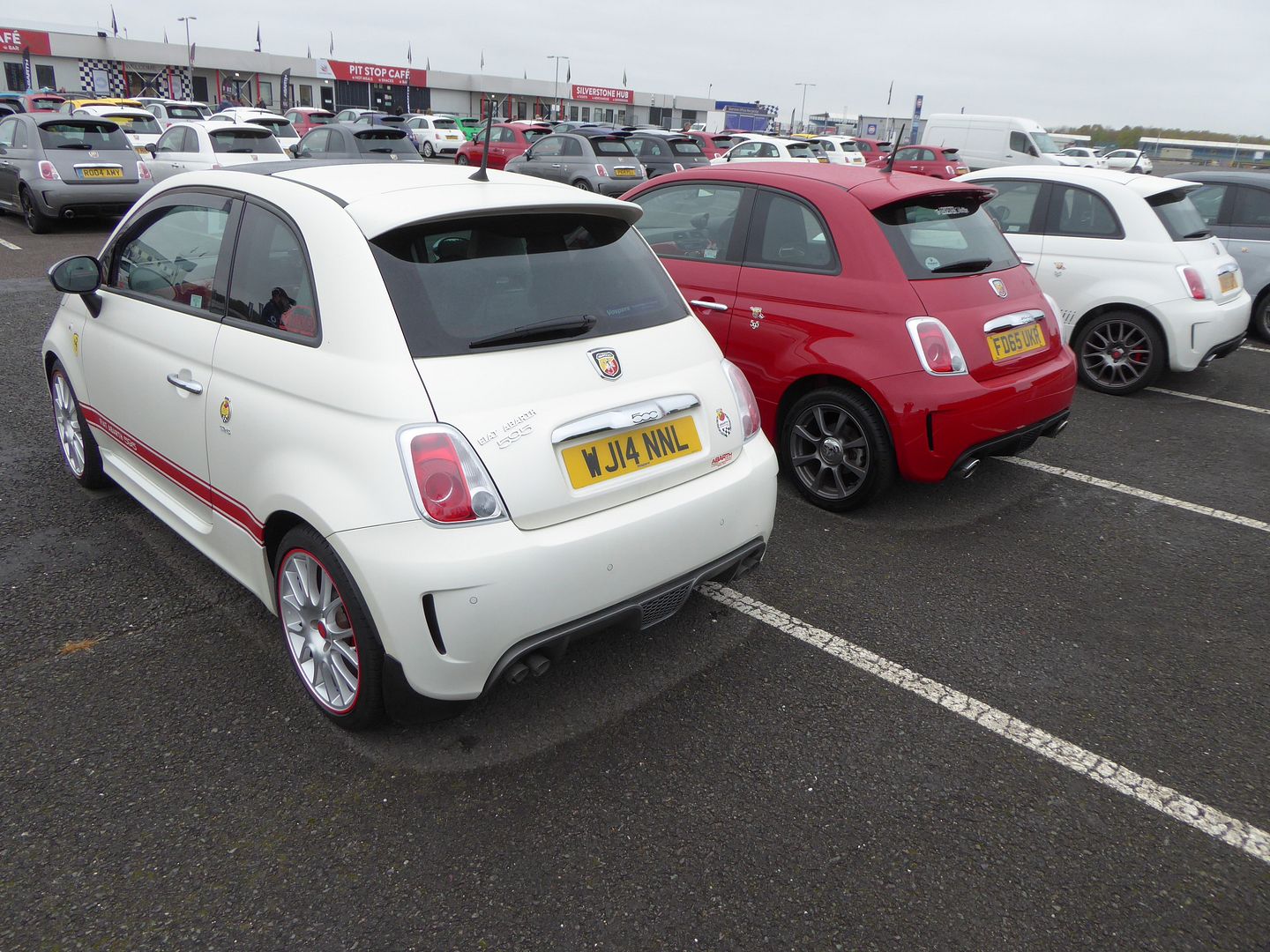 Far more affordable, and justifiable, is the 595 Yamaha Edition, which was launched in the autumn of 2015, so we were told, to celebrate the brand becoming an official sponsor and car supplier of the MotoGP championship. Developed in partnership with Yamaha, apparently, there are a number of  new design features and performance enhancements. Powered by the 160 bhp version of the T-Jet petrol engine, the specification also includes lowered suspension, a Record Monza exhaust system and Koni shock absorbers and visually you can identify one by its 17″ matt black alloy wheels, painted brake callipers, darkened windows and Yamaha badging. Inside there's a flat-bottomed steering wheel, aluminium pedals and more Yamaha badging. As with all Abarth models, there is an options list for those who wish to personalise the car still further. Seen here were a couple of examples of this version.
At around the same time – also in the autumn of 2015 – Abarth announced another special edition, just for the UK market. Called the 595 Trofeo Edition, just 250 examples were produced. The idea was to give buyers a generous heap of equipment for a very modest increase in price, made all the more tempting by a special finance offer. The upgrades to the Trofeo Edition over the standard Abarth 595 were mainly cosmetic. Brake calipers and wheel centre caps were colour coded to contrast one of the three exterior paint colours (red, black, or grey), as well as a unique set of 17-inch alloy wheels, rear privacy glass, and specific 'Trofeo Edition' decals and badges. All of these upgrades would ordinarily cost an additional £1,275, yet the Trofeo was priced at £15,150 – £540 more than the regular 595. There was one of these cars here.
Although they've only been available for a few weeks, there were a surprising number of Series 4 cars here. In many cases, I know these are not the first Abarth that the owners has had, but a timely upgrade into the latest model from one (or more) earlier cars.
Abarths are not for everyone. And that means that many owners are proud to own a car that is not just rare, but which not everyone "gets". Inevitably that means that many want to personalise their cars even beyond what is offered as standard by the factory. Even back in the early days when there were few different variants and a limited colour palette, it was reckoned that no two cars at any Abarth Owners were quite the same, thanks to the options list including not just a choice of exterior and interior colour, but also several different wheel designs and an array of stickers for the side, roof and bonnet of the car. And that was before people applied their own creativity and personal touches. Many owners apply their own modifications, some purely in the interests of power, or handling or stance, but plenty also with aesthetics in mind. Some of the changes are quite subtle, and you need almost a trained eye to spot things like different centre caps for the wheels, or to wait until darkness to notice that the slightly yellowy glow of the lights has been changed for a purer white. Look carefully at the array of cars here and there were plenty that show one or more subtle mods. Andy Newton's beautiful bi-colore 595C is a case in point. Supplied ex works in a colour combination which is surprisingly rare, given how everyone seems to comment favourably on how good it looks, he has undertaken all manner of additional modifications to come up with a car that is absolutely unique.
Some of the changes that get made are more obvious, of course, and that is especially the case where the owner decides to do a partial or full body wrap, in a colour that is not offered as standard. There were three such present here. Stephen Fletcher's car, in bright green, is affectionately known as "The Pea", and is a striking transformation of what started out as a Campovolo Grey 500 Esseesse. Despite the fact that I am usually quite a purist, preferring originality, I have to say that this bold colour really suits the car. Whilst I've seen this car a couple of times before, there was another one in a sort of bluey-purple colour which I had not. Again, it won't be for everyone, but it certainly catches the eye, and it reinforces the point that bold colours work well on this body shape. Third car in this category is Laura Croft's heavily modified car. the body wrap – which changed earlier this year from simply being some rather large orange stickers on the side to a full wrap, is a colour you won't miss wherever the car is. Among other changes are a sound system that more or less defies belief for the number of decibels it can put out, so if it is turned on, your ears will probably tell you before your eyes do that she is on the approach. Not for everyone, but she loves it, and that is what counts.
Rather more restrained, or so you would think til you get close up, are the sort of changes that Jack Slade has made to his Scorpion Black car,  "Black Betty", with a bonnet wrap and some subtle details picked out with red highlights making his car also unique.
When Abarth were selling 500 and Punto-based cars, the sales ratio was around 10:1. Abarth Punto sales ended in 2014, and since then sales of the 500/595s have rocketed, so the ratio of cars is now a lot greater than that, so it should surprise no-one that there did not appear to be that many of the larger car here. In fact there was still a good showing, with both the initial Grande Punto and the later Punto Evo well represented, and most of the colour combinations of each (the palette was restricted to White, Red, Black and Campovolo Grey) were also evident.  The Grande Punto was the model to relaunch the Abarth brand, being first seen at the 2007 Frankfurt IAA Show, and going on sale in 2008. Initially the Abarth Grande Punto was released with a 155 PS  1.4 turbo engine, but from 2008, there was available an Essesse kit, which could be installed at official Abarth service centres rather than in the factory. Amongst various refinements included uprated brakes and suspension, the Essesse kit provided an uprated power output of 180 hp.The cars were only ever sold with the three door body and sported enough external differences to be easily identifiable as something that bit special. There are around 350 of them in the UK.
The Punto Evo was launched at the 2010 Geneva Show, with the cars reaching UK buyers in the summer of that year, and it incorporated many of the changes which had been seen a few months earlier on the associated Fiat models, the visual alterations being the most obvious, with the car taking on the nose of the associated Fiat, but adapted to make it distinctively Abarth, new rear lights and new badging. There was more to it than this, though, as under the bonnet, the T-Jet unit was swapped for the 1.4 litre Multi-Air, coupled to a 6 speed gearbox, which meant that the car now had 165 bhp at its disposal. Eventually, Abarth offered an Esseesse kit for these cars, though these are exceedingly rare. For those in the know – which never seemed to be that many people – this was a really capable and desirable car, and the owners love them, lamenting the fact that the model had quite a short production life and has not been replaced.
To create more interest in the model, in 2012 Abarth introduced a limited edition version called the SuperSport. Easily identified by the distinctive black bonnet, just 199 of these were built, of which around 120 are registered on UK roads. These cars had many of the options from the Punto Evo included as standard. Power came from the the 1.4-litre MultiAir turbo engine, tuned to produce 178bhp and 199lb ft of torque, up from 165 of the standard Punto Evo, giving the SuperSport  a 0-62 time of  7.5 seconds and a  top speed of over 132mph. To help put the power down, the SuperSport was fitted with wider 18″ wheels and optional Koni FSD dampers. Standard equipment included the Blue&Me infotainment system with steering wheel controls, automatic climate control and a popular option was the  'Abarth Corsa by Sabelt' sports leather seats. The SuperSport was available in the same colours as the regular Punto Evo, which means white, grey, black and red. The last of these is the rarest by some measure, so it was good to get a couple of these here.
There were a few examples of the new 124 Spider in the car park as well.
ON TRACK
The whole point about holding the event at a race circuit was so that attendees could get to drive cars on the track. By paying a premium, this could be in your own car, alternatively, you could sign up for one of Abarth's demonstrators, and there were also slots to be taken around the track by a racing professional, which certainly showed what these amazing little cars can do. Proceedings were halted around lunchtime so that a massive cavalcade of cars, including most of the classic models could all circulate at one, and this also gave those not driving the chance to get some photos of almost the entire Abarth history. It was an opportunity many grabbed, and there were lots of stunning photos circulating from later in the day of the rare sight of quite so many different Abarth models all together. I include mine, taken from near the Start/Finish line.
AND FINALLY
Providing a neat link to the newly launched Fiat 124 Spider was an example of the original, whose name has been reused for the latest cars. The first 124 Spider made its debut at the Turin Show in 1966, and continued in production until the mid 1980s, bearing the badge of its designer, Pininfarina, in later years when it remained popular in the American market. Early cars had 1400 and 1600cc engines, and these were gradually enlarged first 1800cc and then 2 litre, with fuel injection being added for more power and emissions compliance during the 1970s. Fiat spotted the potential of the car for more than just boulevard cruising, though, so in November 1972 they announced the Fiat Abarth 124 Rally, an overtly sporting version. Its main purpose was to receive FIA homologation in the special grand touring cars (Group 4) racing class, and replace the 1.6-litre Fiat Sport Spider rally car which had been campaigned. At the time, the 124 had already won the 1972 European Rally Championship at the hands of Raffaele Pinto and Gino Macaluso. The 124 Rally was added to the Sport Spider range, which included the 1600 and 1800 models; the first 500 examples produced were earmarked for the domestic Italian market. Amongst the most notable modifications over the standard spider there were independent rear suspension, engine upgrades, lightweight body panels, and a fixed hard top. In place of the usual rear solid axle, there was a Chapman-type McPherson strut independent suspension, supplemented by a longitudinal torque arm. At the front a radius rod on each side was added to the standard double wishbones. The Abarth-tuned type 132 AC 4.000 1.8-litre, twin-cam engine was brought from the standard 118 to 128 PS DIN by replacing the standard twin-choke carburettor with double vertical twin-choke Weber 44 IDF ones, and by fitting an Abarth exhaust with a dual exit exhaust The 9.8:1 compression ratio was left unchanged. The transmission was the all-synchronised 5-speed optional on the other Sport Spider models, and brakes were discs on all four corners. Despite the 20 kg (44 lb) 4-point roll bar fitted, kerb weight was 938 kg (2,068 lb), roughly 25 kg (55 lb) less than the regular 1.8-litre Sport Spider. The bonnet, boot lid and the fixed hard top were fibreglass, painted matt black, the rear window was perspex and the doors aluminium. Front and rear bumpers were deleted and replaced by simple rubber bumperettes. A single matte black wing mirror was fitted. Matte black wheel arch extensions housed 185/70 VR 13 Pirelli CN 36 tyres on 5.5 J × 13″ 4-spoke alloy wheels. Inside, the centre console, rear occasional seats, and glovebox lid were eliminated; while new features were anodised aluminium dashboard trim, a small three-spoke leather-covered Abarth steering wheel, and Recaro corduroy-and-leather bucket seats as an extra-cost option. The car carried Fiat badging front and rear, Abarth badges and "Fiat Abarth" scripts on the front wings, and Abarth wheel centre caps. Only three paint colours were available: Corsa red, white, and light blue.  Seen here were examples of the AC and later CC generation cars.
Not everyone came in an Abarth, or even a Fiat, and I did spot this car parked up at a discrete distance from everything else, a Gallardo Spider.
Although I was feeling pretty exhausted, and arrived late and did not stay all that long, meaning I did not get full benefit of all the activities on offer, there is no doubt that for most people this event absolutely hit the proverbial spot, and there were lots of very appreciative and positive comments flying around for days after. Although it would have consumed a fairly hefty slice of the Abarth 2016 marketing budget (and factor in another 4 similar events in Germany, Spain, Italy and Belgium), that must be considered a success. Customers were made to feel important and valued, many got the chance to drive the latest cars and would no doubt be following this up with visits to their local dealers with cheque book in hand, and a lot of people had a very good day out. No wonder that it is planned to repeat Abarth Day in 2017.