There's been a lot of coverage lately of major manufacturers announcing that they will not be attending the world's largest Auto Shows. It started a couple of years ago, but in 2018, the numbers of absentees have swelled with the recent  Mondial de l'Automobile in Paris lacking at least 15 names that you really would have expected to have booked significant stand space. The reasons cited are generally variants of the same thing: in an era where social media rules, the impact of a surprise announcement on Press Day, when just about every one of your competitors and other market participants is fighting for coverage is far less than using other means of grabbing the public's attention at a time when no-one else is trying to do so. Couple that with the growing trend for an ever more frustrating series of what I have heard referred to as the "pre launch cadence", of leaks, teasers and so-called exclusive pre-announcement previews, and the element of surprise is largely gone. And with all the information you need available online, the relevance of the massively costly to put on Auto Show is under some serious doubt. And yet, the paying public still attend in huge numbers. Paris might have lacked those 15 brands, and there was nothing much that was genuinely new that was unveiled in the days leading to the show opening, but it was packed, heaving with people all day, and that was on a week day. It was against this backdrop that I made plans to head to California for a week's vacation carefully time to take in the Los Angeles Show, one I have attended every year bar one since about 2004, and always enjoyed. Although the LA Show is not the lead show to be held in the country, that honour still going to Detroit, it is situated in the biggest car market of America, in California, and, taking place ahead of the Detroit Show, there are always plenty of new models unveiled there. I've always enjoyed it, as not only is there plenty to see, but the logistics work well. The LA Convention Centre, where it is held, is just to the south west of the Downtown area, effectively at the point where the 110 and 10 freeways intersect, so it is easy to get to, and there is ample parking on site. The venue comprises too large halls, and a couple of smaller ones. Crucially, as it would turn out for 2018, once you have parked up, everything is connected together so there is no need to go outside, and on a day when 2″ of rain fell out of the sky, that was rather important. There was also a lot to see that was new: more than 60 debuts, either globally, or of cars making their first public appearance on North American soil. I arrived just as the doors were opening, at 10am on that very wet Thursday, and stayed for over 10 hours leaving at around 8:15pm, with over 1250 photos stored on the camera, and my phone telling me that I had walked around 16km. Here is what I saw:
ACURA
Acura had a large stand, and seemed to be reflecting a new-found confidence now that the controversial styling of a few years ago has been all but consigned to history. The most important car on display was the 2019 RDX crossover, which is all new for the upcoming model year. and which stands a much better chance of conquest sales in the premium mid-sized crossover segment than did its predecessor.
Acura have a larger crossover as well, the MDX, and this was also well represented here.
Three saloons feature in the range: ILX, TLX and RLX. The first of these is based on the previous generation Civic, the second on the Accord and the third is larger than any current Honda saloon. Whilst worthy enough, none has found much favour in the market, lacking any evident supremacy over a raft of very able competitors.
Centrepiece of the whole display was the NSX, still a car that you only tend to see at shows, not yet being very evident out on the roads even though it is a good couple of years since this eagerly awaited second generation model went on sale.
Final couple of cars on show were racers.
ALFA ROMEO
Alfa Romeo returned to the US market with the launch of the 4C model, though this was never likely to sell in significant quantities, so it remains a rare sighting on US roads. There was one example of the Spider version here.
Now that the Giulia and Stelvio are available, American Alfa dealers have some far more mainstream products to sell, and indeed I have seen several of both on the roads of California during this trip. There were several examples of both models on this very popular stand, including the well-rated Quadrifoglio versions of both.
Final vehicle on the stand was a race car.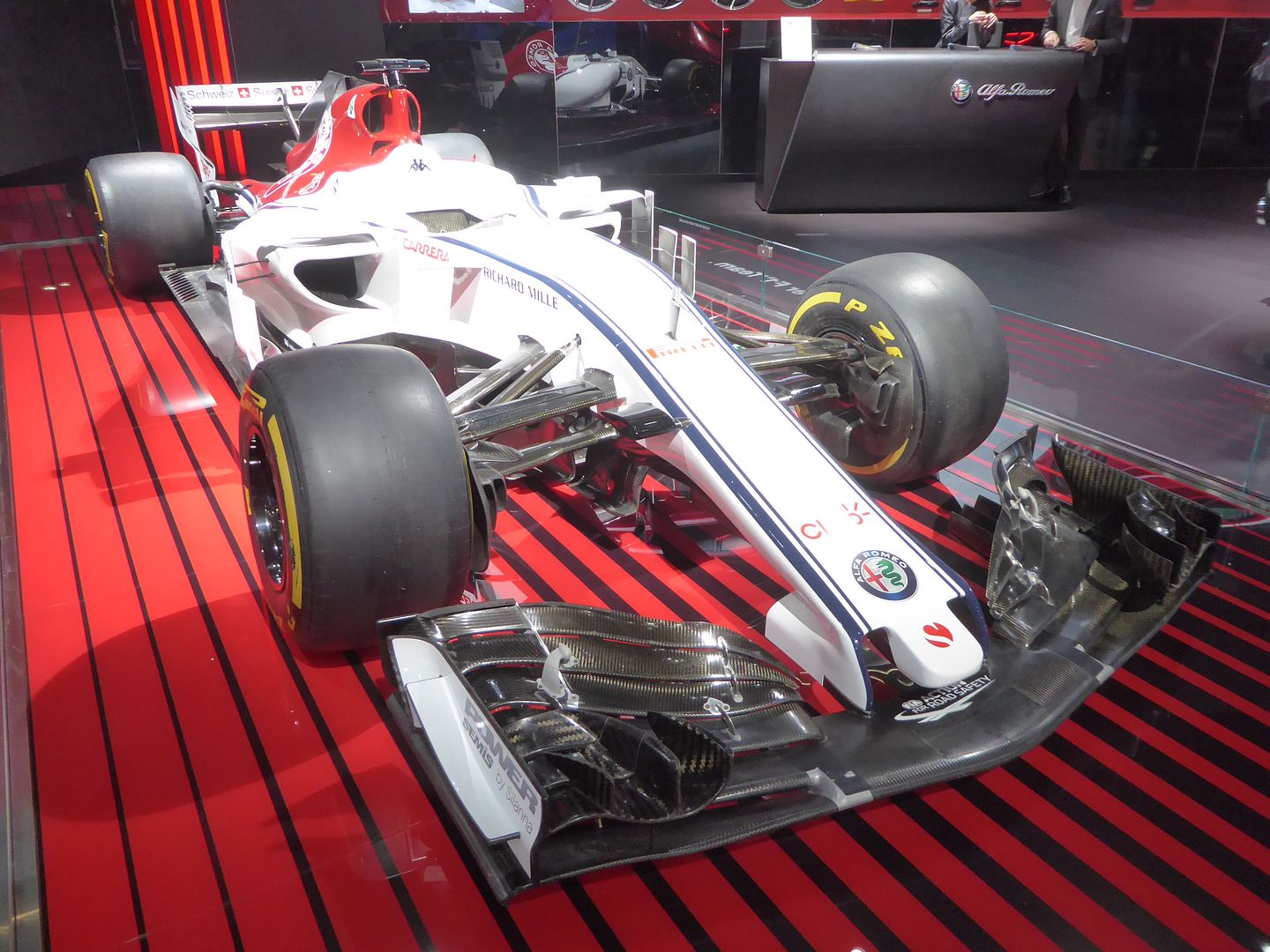 ASTON MARTIN
Aston Martin themselves did not have a stand here, and indeed have not done so for some number of years, but the brand was well represented once again, with the Galpin Motors display which filled an entire hall. One line across the width of the hall contained examples of the current range, with the new DBS Superleggera at one, a trio of DB11 models including the AMR and Volante versions in the middle and a couple of the Vantage cars at the other end.
AUDI
Audi had a large stand, as ever, and there were lots of cars on it. However, the one that I – and, I suspect, a lot of other people really wanted to see, the eTron GT concept was not there. It would seem that as soon as the press were gone, so was it. I get really annoyed at the manufacturers who do this. If they want people to come to a show that they paid a lot of money to attend then they should show some respect for the paying public and leave things on show that they made a big song and dance about with the press. I also understand that the PB15 concept which was a Paris had been as well, and that was also gone.
So that meant on the raise platform across the side of the stand, there were three cars, one of which is very new, and the others of which are also pretty new, certainly to the US market, all having been released within the last year and all at the top of the range. Newest of the trio was the eTron e-tron SUV, which U.S. customers can purchase from $74,800. This is a car that you can buy as an alternative to either a Tesla Model X or even the Mercedes-Benz EQC. It's fully-electric, and powered by two asynchronous motors, working alongside a 95 kWh battery pack. Exact EV range figures have yet to be released, but according to reports, you should be able to drive the e-tron SUV roughly 250 miles (402 km) on a single charge. You will also be able to accelerate from zero to 60 mph in 5.5 seconds, before maxing out at 124 mph (200 km/h). The show car (a 55 quattro model) doesn't feature those fancy Virtual Mirrors, a system that utilizes small cameras instead of traditional mirrors, sending live images to a pair of displays located within the e-tron's door panel. Yet, we'd argue that regular mirrors will do too – besides it's not like there's a shortage of tech onboard this crossover. Its cabin is about as modern as they get in the industry nowadays. In the end, if you want an environmentally-friendly crossover from Audi, then the e-tron is going to have to do. However, if you don't mind waiting, you could hold on and get the production version of the e-tron GT Concept, coming to a dealership near you by the end of 2020.
Joining it were the latest generation A8, poised to go sale in America a year or so after it reached European markets and the Q8 crossover that premiered in the summer.
This was also the first US Showing of the latest generation A6 and A7, a single of each of which graced the stand.
There were plenty of the more established models. At the bottom of the range are the A3-based models, and it was the potent ones which were here, an S3 and an RS3 Sedan.
From the A4 family. there was a saloon and an AllRoad. America does not get the regular Avant version any more.
The A5 family was also represented by the more potent ones, with Coupe and Sportback versions of both the S5 and the RS5 here. This last has yet to go on sale in Europe, but as America does not get an RS4 Avant, they were given earlier access to the more accommodating body of the Sportback to complement the established Coupe model.
Sole representative of the TT family was this TT-RS.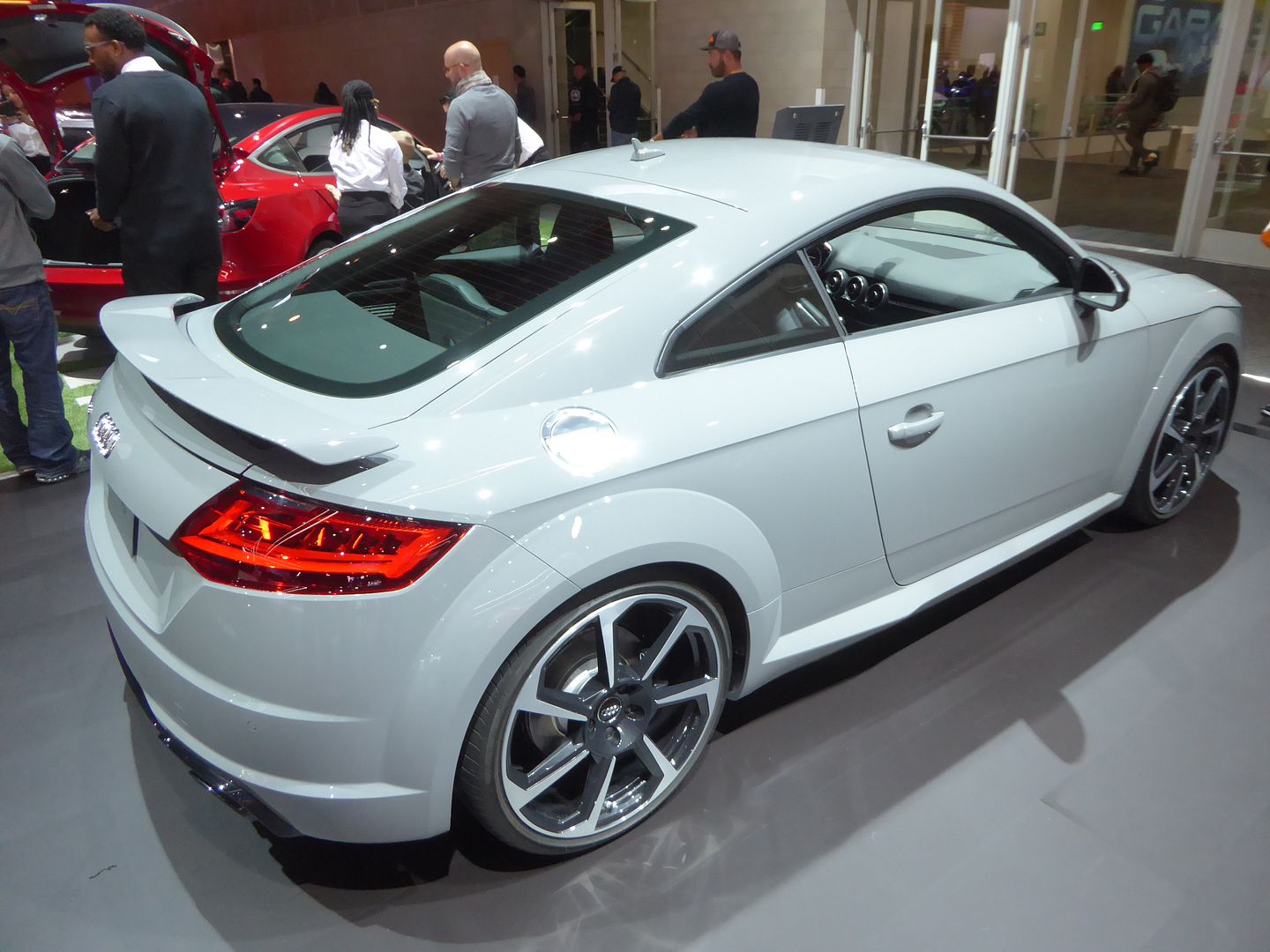 Although there was no real evidence of it on the stand, apart form a low key presentation of an R8 Spyder surrounded by a rope barrier, this was actually the debut of the facelifted second generation model. Set to go on sale in Europe early next year, the facelifted models have a more aggressive design as they adopt a wider single-frame grille and three hood slits that pay tribute to the iconic Ur-quattro. Elsewhere, designers installed a new front splitter and more aggressive air intakes. Additional styling changes are limited, but Audi says the model has a new three-piece engine cover that is available in either plastic or carbon fibre. Speaking of options, there will be up to three exterior styling packages which add "various highlights to the front splitter, the side trims and the diffuser." The updated model also offers two new colours – Kemora Gray and Ascari Blue – and optional high-gloss black badges. Interior changes are limited to new colour options which include "pastel silver with rock gray contrasting stitching, palomino brown with steel gray stitching and black with utopia blue stitching." The range-topping model will also be available with an R8 performance design package with leather and Alcantara upholstery as well as carbon fibre trim and Mercato blue accents. In terms of performance, the R8 V10 has an upgraded engine that now produces 562 hp and 405 lb-ft (550 Nm) of torque – an increase of 29 hp and 7 lb-ft (10 Nm).  Thanks to the extra power, the coupe accelerates from 0-62 mph (0-100 km/h) in 3.4 seconds before hitting a top speed of 201 mph (324 km/h). The 5.2-litre engine in the R8 V10 performance is also more powerful than its predecessor as it develops 611 hp and 427 lb-ft (580 Nm) of torque.  These are modest improvements of 9 hp and 14 lb-ft (20 Nm).  This enables the coupe to run from 0-62 mph (0-100 km/h) in 3.1 seconds and hit a top speed of 205 mph (331 km/h). While Audi was coy on specifics, the company confirmed the 2019 R8 has a revised suspension which promises to provide "even more stability and precision."  Furthermore, the standard power steering system and the optional dynamic steering system have been retuned to offer improved feedback and response. Sticking with handling, the facelifted R8 has an enhanced Electronic Stabilization Control system which helps to improve braking. In the range-topping model, the 62-0 mph (100-0 km/h) distance improves by up to 4.9 feet (1.5 metres) while the 124-0 mph (200-0 km/h) distance is up to 16.4 feet (5 metres) shorter than before. Other performance updates include 20-inch ultralight milled wheels with "new summer and sport tyres which convey even more precise handling." They join familiar carbon ceramic brake discs and a carbon fibre-reinforced polymer / aluminium front stabilizer as options.
The stand was completed by the presence of three Audi crossover models (the small Q2 is not sold in the US), the outgoing Q3, the SQ5 and the Q7.
BMW
BMW were also a culprit of removing a concept, as it is understood that their rather boldly styled iNext had been here for the press. It certainly was not there when I visited. But following a busy few months, there were lots of new cars that were on show, so this large stand – busy most of the day, but far less so than the equivalent one had been at Paris – had plenty of interest. Though I have to say that I was not exactly convinced by the visual appeal of some of those new cars. In fact, none of them appealed – far too "busy", with surfaces, vents, grilles and other details that are just too much.
That certainly applies to the new 8 Series. The Coupe version was released in the summer and it was joined by the newly revealed Convertible. Set to go on sale in the United States in March, the M850i xDrive Convertible follows in the footsteps of the 8-Series Coupe but adopts a retractable soft top which can be raised or lowered in 15 seconds at speeds up to 30 mph. The roof isn't the only thing new as the convertible has a unique rear end and automatic rollover protection system which can deploy two high-strength aluminium roll bars within a fraction of a second. The rest of the design largely carries over from the M850i xDrive Coupe as drivers will find an aggressive front fascia with a wide grille that is flanked by adaptive LED headlights with laserlight technology. The convertible also has trapezoidal exhaust tips, LED taillights and 20-inch M lightweight alloy wheels. Customers looking for a sportier appearance can order the optional M Carbon Exterior Package. It adds an assortment of carbon fiber goodies including new mirror caps, a rear diffuser insert and "air intake bars." The cabin also echoes the coupe, but there are new controls for the soft top and the optional neck warmers. The latter option adds air vents to the front seat headrests and the air flow can be automatically controlled to adjust for vehicle speed. Another feature that is unique to the convertible is the standard wind deflector. It can be positioned behind the front seats or folded up and stored in the boot. Other interior highlights include a M Sport steering wheel, heated sports seats and illuminated door sill plates. The model also comes standard with Merino Individual leather upholstery, an ambient lighting system and a 12-speaker Harman Kardon audio system. Rounding out the highlights are a head-up display, a 12.3-inch digital instrument cluster and an infotainment system with a 10.25-inch display. A number of different options will be available including heated / ventilated front seats, glass accents and a Bowers & Wilkins diamond surround sound system. Power is provided by a 4.4-litre TwinPower Turbo V8 engine that produces 523 hp and 553 lb-ft (748 Nm) of torque. It is connected to an eight-speed automatic transmission and a standard all-wheel drive system. This setup enables the convertible to rocket from 0-60 mph in 3.8 seconds before hitting an electronically limited top speed of 155 mph (250 km/h). Since the M850i has been designed to slot underneath the M8 Convertible, the car has been equipped with an assortment of performance features. These include an Adaptive M suspension and an Integral Active Steering system which enables the rear wheels to turn in up to 2.5 degrees to improve agility. Other highlights include an optional active roll stabilization system and a standard M Sport braking system with blue calipers. As with most modern cars, the 8-Series Convertible comes with an assortment of driver assistance systems. Standard features include park distance control as well as collision and pedestrian warning systems with a city braking function. The optional driving assistant professional package goes even further as it adds Active Cruise Control with Stop & Go, Lane Keeping Assistant with Active Side Collision Protection, Lane Departure Warning, Active Blind Spot Detection and Crossing Traffic Warning. When the M850i xDrive Convertible arrives at dealerships this spring, the model will carry a base price of $121,400 (excluding a $995 destination fee). That means the drop top will cost $9,500 more than the M850i xDrive Coupe which arrives in the United States on December 8th.
Even more visually challenging is the new X7. This looks uncannily similar to the concept version which was shown here a year ago, and to which I expressed my general aversion at the time. It was finally revealed in production form about a month ago. Seeing it in the metal serves to remind just how big this thing really is. Well, it needs to be if it is to compete with Mercedes' soon-to-be-redesigned GLS. The X7 is 203.3 inches (5,164 mm) long, 78.7 inches (1,999 mm) wide (excluding the side mirrors!), and 71.1 inches (1,806 mm) high. It also has a generous wheelbase of 122.2 inches (3,104 mm). The X7 accommodates up to seven passengers on three rows of seats in a luxurious ambiance typical of BMW X models. Even with all seats in place, the boot is big enough for 11.5 cu-ft. It expands to 74.9 cu-ft when folding down the second and third row of seats. In the United States, the 2019 BMW X7 will offer two powertrains. The "entry-level" xDrive40i features a 3.0-litre turbocharged inline six-cylinder that produces 335 hp between 5,500 and 6,500 rpm and 330 lb-ft (447 Nm) of torque from 1,500–5,200 rpm. Paired to an eight-speed automatic transmission that drives all four wheels, the engine allows the BMW X7 to sprint from 0 to 60 mph in 5.8 seconds. The range-topping engine is the xDrive50i which is BMW's designation for a 4.4-litre twin-turbocharged V8 unit. It produces 456 hp is between 5,250 and 6,000 rpm and 479 lb-ft (649 Nm) of torque from 1,500 to 4,750 rpm. Equipped with the same transmission, the V8-powered X7 is six-tenths of a second quicker than the six-cylinder model, covering the 0-60 mph sprint in 5.2 seconds. Both models have a top speed of 130 mph (209 km/h). As with most BMW SUVs, the 2019 X7 will be built in Spartanburg, South Carolina, starting right after the show. It will arrive in U.S. dealerships in March 2019 with starting prices of $73,900 (xDrive40i) and $92,600 (xDrive50i) — excluding $995 destination.
Alongside it on the stand was the new X5, which was first unveiled in June. Looking instantly recognizable, the redesigned crossover has a more assertive appearance as it adopts a massive chrome grille and a sportier front bumper with large air intakes. Moving further back, the X5 adopts edgier bodywork and a distinctive character line that kicks up in the middle of the rear doors. Other notable styling features include front fender vents and slender LED taillights which eschew BMW's familiar L-shape. The model also has a chromed dual exhaust system and a tailgate-mounted spoiler. A number of styling packages will be available and xLine variants will have matte aluminium accents, additional brightwork and 19-inch alloy wheels. The M Sport models go in a different direction as they have additional body-colour components, larger air intakes, high-gloss black accents and 20-inch wheels. Overall, the X5 grows 36mm (1.4 inches) in length, 66mm (2.6 inches) in width and 19mm (0.7 inches) in height. The wheelbase is also slightly longer than before as it now stretches an additional 42mm (1.6 inches). The evolutionary styling continues in the cabin but the X5 features higher quality materials, new switchgear and updated technology. Drivers sit behind a new steering wheel and find themselves facing a digital instrument cluster. It resides next to a 12.3-inch infotainment system featuring improved menus and more customization options. Elsewhere, the X5 has chromed air vent surrounds and a digital display for showing the climate control settings. The crossover can also be equipped with ambient LED lighting and heated/cooled cup holders. Speaking of options, BMW will offer a four-zone climate control system and a 30 percent larger panoramic glass roof. Customers can also order a 20-speaker Bowers & Wilkins Diamond Surround Sound System and a rear seat entertainment system which includes two 10.2-inch displays and a Blu-Ray player. While the toys are nice, many people buy crossovers for their practicality. These shoppers should be happy to know the boot holds 22.7 cubic feet of luggage and that can be expanded to 65.6 cubic feet by folding the rear seats down. The X5 will continue to be offered with an optional third-row seat. However, buyers who typically haul seven-passengers should possibly choose the larger X7. At launch, the X5 will be offered with a total of four petrol and diesel options. Starting with the petrol units, the base engine is a turbocharged 3.0-litre inline-six which develops 340 PS and 450 Nm (332 lb-ft) of torque. It enables the crossover to accelerate from 0-100 km/h (0-62 mph) in 5.5 seconds before hitting a top speed of 243 km/h (151 mph). Buyers looking for something more powerful can opt for the X5 xDrive50i which has a twin-turbo 4.4-litre V8 producing 462 PS and 650 Nm (479 lb-ft) of torque. While this particular model won't be offered in Europe, it runs from 0-100 km/h (0-62 mph) in 4.7 seconds and tops out at 250 km/h (155 mph). Despite growing concerns about diesel engines, BMW is sticking with them and will offer two in the new X5. The entry-level unit is a turbocharged 3.0-liter six-cylinder developing 265 PS and 620 Nm (457 lb-ft) of torque. The real standout is the performance-oriented X5 M50d which has a quad-turbo 3.0-litre six-cylinder engine with 400 PS and 760 Nm (560 lb-ft) of torque. It allows the crossover to run from 0-100 km/h (0-62 mph) in 5.2 seconds and hit a top speed of 250 km/h (155 mph). Regardless of which engine is selected, all will be paired to an eight-speed automatic transmission which sends power to a rear-biased all-wheel drive system. Additional variants will be added in the future including a plug-in hybrid and a high-performance X5 M. Sticking with the performance theme, the redesigned X5 now comes standard with a Dynamic Damper Control system. The model can also be equipped with four-wheel steering and a limited-slip rear differential. Customers can also order an air suspension which can lower the vehicle to ease cargo loading or raise the ride height by 40mm (1.5 inches) to improve off-road capability. Speaking of the latter, the X5 will be offered with a new off-road package. It includes the aforementioned air suspension and limited-slip differential as well as underbody skid plates. Other goodies include off-road focused displays and a dedicated controller for adjusting the X5's drive modes which include gravel, rock, sand and snow. An assortment of driver assistance systems will be available including familiar options such as Lane Keep Assist and Traffic Jam Assist. A new addition is the Emergency Stop Assist system will which safely bring the vehicle to halt if the driver becomes incapacitated due to medical emergency. The X5 has just gone on sale in the United States.
Rather more modest in size, though an enlargement of the car it replaces, is the new 3 series, and there was a single example of this on the stand. Although the 3 Series is not quite the sales force in the US that it is in Europe, this is still a crucial car for BMW, and it was more or less constantly being scrutinised by the public, so it was one of the most difficult to photograph.
Something rather smaller is the new Z4 sports car, the long-awaited joint venture with Toyota. Launched earlier in the year, the press drive recently took place in Lisbon, and a number of reviews have recently appeared, suggesting that this is less hard core and more grand tourer than you might have been expecting. Besides the M Performance model, the 2019 Z4 lineup also includes the sDrive20i and sDrive30i models. All three engine variants will be available in Europe, while the U.S. market will skip the entry-level sDrive20i and only get the higher-powered sDrive30i and M40i. The M40i features a 3.0-litre turbocharged inline six-cylinder petrol engine that produces 382 hp in the United States. In European markets, however, the Z4 M40i has a lower power output of 335 hp (340 PS) at 5,000-6,500 rpm. You can blame stricter emissions regulations for that. The peak torque stays the same on both continents, though: 369 lb-ft (500 Nm) available from 1,600 to 4,500 rpm. The six-cylinder engine is mated to an eight-speed Steptronic automatic transmission that drives the rear wheels. Consequently, the Z4 M40i covers the 0 to 100 km/h (0-62 mph) sprint in 4.5 seconds (0-60 mph in 4.4 seconds). Top speed is limited at 155 mph (250 km/h). Besides the more powerful engine, the M40i variant also benefits from additional performance-enhancing features as standard. Those include the 10-mm (0.4-in) lower Adaptive M Sport suspension, M Sport brakes, and M Sport differential. Performance-wise, the next best thing to the M40i is the sDrive30i. It packs a turbocharged 2.0-litre four-cylinder unit producing 255 hp (258 PS) at 5,000-6,500 rpm and 295 lb-ft (400 Nm) of torque from 1,550 to 4,400 rpm. Fitted with the same automatic transmission, the Z4 sDrive30i goes from 0 to 100 km/h in 5.4 seconds (0-60 in 5.2 seconds) and tops out at 155 mph (250 km/h). Finally, the sDrive20i uses the same turbo-four unit in a lower state of tune of 197 PS (194 hp) at 4,500–6,500 rpm and 320 Nm (236 lb-ft) between 1,450 and 4,200 rpm. Its performance is comparable to a hot hatch: 0-100 km/h takes 6.6 seconds and maximum speed is 240 km/h (149 mph).
New to the range in the last 12 months are the X2 – a crossover based on the X1 that trades style for space – the latest generation X3 and the corresponding X4, and an example of each was on show.
Established models from the range on show here included a 440i Gran Coupe, the refreshed in 2017 5 Series and a couple of examples of the 7 Series.
Three examples of the electric cars were here: an i3, as well as a duo of i8 cars, a  Coupe and a Roadster.
The M cars were presented in a line at one end of the stand, the end adjacent to Mercedes, and there were three here: an M2 Competition. an M4 Convertible, and the very potent and now exceedingly pricey M5  Competition.
BUICK
Buick had nothing new to unveil at the show so their stand comprised examples of each of the current range of cars, to serve as a reminder of what they offer. And it is a bit of a mix. Three of the ranges are thinly disguised Opels, something which will presumably not persist now that Opel is part of the Peugeot empire and not part of GM. The Encore is a close relative of the Mokka X, the Cascada an even closer version of the Opel Cascada and the Regal and Regal TourX are adapted from the Insignia.
The mid-sized Envision is actually made in China, though I am not sure anyone has told Donald Trump that yet. I drove one earlier in the year and it was pleasant enough, but ultimately rather unremarkable.
At the top of the range are the LaCrosse and the Enclave. The former is an executive saloon which is actually rather good, but whose death sentence was announced just before the show opened, as part of GMs' massive cost-cutting exercise. Reason given is because of the market swing to Crossovers, and that is where the Enclave comes in. Buick's version of the Chevy Traverse, though with styling which is quite different, I actually spent a day with one of these just prior to attending the show, and was favourably impressed.
CADILLAC
There was also nothing new on the Cadillac stand, though this was the first time I got to see the XT4 that was premiered earlier in the year, close up. And this was the car given star billing with a large turntable display for one of the many examples that were on the stand.
The XT5 competes in a class above the XT4, as the name would suggest. Replacing the SRX, when this model launched a couple of years ago, it did not get a particularly positive review. I've yet to try one.
Top of the SUV range is the Escalade, offered in standard and extra long versions. Announced at the Show is a new Sport Edition, which will be available on Luxury, Premium Luxury and Platinum models, featuring gloss black exterior trim that includes the front grille, window surrounds, body side mouldings and more, as well as a set of 22-inch alloy wheels finished in an exclusive Midnight Silver. As you might have guessed already, the new Sport Edition package is just a styling upgrade, leaving the mechanical bits of the Cadillac Escalade untouched. Cadillac's large SUV is still powered from a 6.2-litre V8 rated at 420hp, which is enough to send the heavyweight Escalade from 0 to 60mph in less than six seconds. Cadillac offers both 2WD and 4WD configurations. The additional features of the 2019 Cadillac Escalade include a 12.3-inch digital instrument cluster, the company's latest infotainment system that offers pretty much every connectivity option available, Magnetic Ride Control suspension, a 16-speaker Bose Centrepoint audio system and more. "Two decades after its introduction, the Escalade remains the segment's benchmark and sales leader," said Steve Carlisle, Cadillac president. "The Sport Edition extends that momentum in response to customer and dealer demand for a dark and aggressive look." Pricing for the 2019 Cadillac Escalade Sport Edition is set at $84,790 (including destination charges. The Sport Edition package on its own is priced at $2,700, with Cadillac to open the order books in early 2019.
The ATS saloon has been discontinued, leaving just the Coupe model in the 2019 range. It was the potent ATS-V Coupe version which was on show here.
There was also a dramatic looking CTS-V model here – a sort of rival to the M3 and AMG C63, at least in the eyes of Americans, and this was joined by the "ordinary"  CTS as well.
The range was completed by the XTS and slow-selling CT6.
CHEVROLET
One of the vehicles rumoured to debut at the Show was one which would resurrect the Blazer name. It did not feature in the reviews I found online, so I assumed that the unveiling had been deferred to some later date, which meant I was quite surprised when I got to the Chevrolet stand to find that it was indeed there. I was rather surprised that more had not been made of this, as it was the only new GM car, of any brand, on show.
There were subtle changes to some of the other models. These included a new look for the Camaro, I had seen one of these cars on the road the day before with lights ablaze, and thought the front lights looked different and this was the confirmation that they have been changed, as indeed have the rear ones.
Two examples of the Corvette were here, too.
The Impala – announced to die during 2019 was not here – but there were examples of the rest of the passenger car range: the Spark, with a slightly updated front end look, the now quite long-lived Sonic, the  Cruze in four door sedan and five door hatch, as well as the Malibu.
The full range of crossovers were here, too: Trax, Equinox, Traverse,  and the massive Tahoe and Suburban.
Chevrolet's all-electric duo were also present, the Bolt and Volt.
The big news, of course, concerns the trucks. The new Silverado was on show here, presenting its rather controversial new front end design. Reading the reviews, this is not the only feature which may not appeal, as the latest model did not emerge unscathed by the critics. As this is GM's biggest selling model, and a great profit engine, this could be quite a worry for the Corporation. Joining it were examples of the slightly smaller Colorado.
CHRYSLER
There are only two models in the Chrysler range now, and indeed the future for this particular marque is looking somewhat unclear. There was nothing new here, so this was a chance to catch up with the Pacifica minivan, seen in multiple different versions including the hybrid one, as well as the 300 luxury sedan.
DODGE
Dodge did not have any new products for regular customers on display at this year's Show. But they did exhibit a unique Dodge Challenger SRT Hellcat Redeye, however, one that only Santa Claus can use. It's a "muscle sleigh" that replaces reindeers with the Dodge Challenger SRT Hellcat Redeye's 797 horses. Created for Dodge's year-end "Upgrade" commercial, it is actually a real 2019 Challenger SRT Hellcat Redeye tailored to Santa's very particular tastes. As you can see, the muscle car lost its roof and doors, got its windshield cut in half, and replaced the wheels for sleigh tracks. The cool sleigh also features dual exhaust tips, six-piston Brembo brakes, and seven-passenger seating. Actually, it doesn't have seven seats but the elves aren't as big as humans so the sleigh has room for six of them plus Santa. In the commercial, Santa stares at his centuries-old sleigh and tells his elves that it's time for an upgrade. The elves then work their magic and put a Dodge spin on Santa's classic sleigh, turning it into the flashy vehicle you see here. While you can't actually buy the Challenger SRT Hellcat Redeye sleigh, Dodge will sell you Hellcat Redeye Reindeer T-shirts on its customer website. More holiday merchandise will follow, including the same version of the sweater worn in the commercial by Bill Goldberg — the professional athlete playing the unconventional Santa. That's not all: in early December Dodge will launch a series on its social media channels that will chronicle the process of overhauling Santa's sleigh. The series will reveal the revealing the reasoning for many of the sleigh's new features.
Production versions of the Challenger and Charger were in some number, ranging from the entry level V6 3.6 engined cars to the Hemi models, including the bonkers-mad HellCat versions.
There was no sign of either the Journey or the Grand Caravan, leaving just the Durango to represent the crossover type vehicle from Dodge's range.
FIAT
Following a mid-life makeover revealed this summer in Europe, America's Fiat 500X brings similar enhancements for 2019 to the Show. Chief among them is an all-new 1.3-litre MultiAir III turbocharged four-cylinder gasoline engine. Replacing both the 1.4-litre MultiAir turbo unit and the 2.4-litre Tigershark, the new engine delivers 177 horsepower and 210 lb-ft (284 Nm) of torque. That's almost the same power output as the 2.4-litre engine but with an extra 35 lb-ft (47 Nm) of torque. The facelifted Fiat 500X features a standard nine-speed automatic transmission that promises "quicker acceleration and smoother shifting" than before. Also standard is an all-wheel-drive system with a disconnecting rear axle for improved fuel efficiency. Previously, AWD was available only as an option on select trim levels. The styling updates are quite subtle and include new front and rear fascias, LED DRLs and taillights, and available LED headlights. Additionally, customers will be able to choose three new exterior colours: Italia Blue, Vibrante Green, and Milano Ivory. Inside, the refreshed 500X brings new cloth seats, a redesigned steering wheel wrapped in Techno-leather, and a 3.5-inch TFT display. Another update is the standard Uconnect 4 infotainment system with a 7-inch touchscreen. The interface offers Apple CarPlay and Android Auto connectivity, Bluetooth hands-free calling, voice command, and streaming audio.
Finally, Fiat says the 2019 500X brings nearly 70 safety features — including the newly-available Adaptive Cruise Control and Front Park Assist. Notable active and passive safety features are Blind-spot Monitoring, Rear Cross Path detection, and ParkView rear backup camera with dynamic grid lines. The 2019 Fiat 500X will offer three grades (Pop, Trekking and Trekking Plus), with prices starting from $25,785 (including destination). The facelifted crossover will arrive in Fiat studios in spring 2019.
Completing the line-up were examples of the 500 including the all-electric 500e, and a 124 Spider Abarth.
FORD
With Ford's announcement a couple of months ago that they would be concentrating on crossovers, pickups and the Mustang, abandoning the traditional family saloon and hatch segments of the market altogether, this stand looked quite different from Ford stands of previous shows. Divorced fro Lincoln, who were displaying the South Hall, it had moved from a position to the right of the main entrance doors into the West Hall, now positioned further back, and with a massive stage in the middle, to separate out the passenger vehicles from the trucks, and also, probably, to hide the fact that there was simply a lot less on display than in previous years.
Prominence was given to the Mustang like never before, and there were several of these on show, including a couple of special edition cars, the Bullit and the even more exclusive RTR. This was launched at the SEMA Show in Las Vegas a couple of weeks prior. The full name of this drift-oriented version is the Series 1 Mustang RTR Powered by Ford Performance. The unique thing about it is the adjustable suspension. You can move the anti-roll bar (sway bar in US parlance) links to dial in oversteer and change the balance. Just 500 of the kits will be sold at selected Ford US dealers, starting in early 2019. It can be fitted to any Ecoboost or GT Mustang has the separate Performance Package 1 fitted.
Even more sporting Fords were this GT and a NASCAR Fusion.
Sole example of the remaining saloon car models in the range will be the Fusion, and there was one of the electric versions here, the Energi as well as a model fitted out in Police Interceptor spec.
That meant that most of the display comprised crossovers, which start with the EcoSport, and progress up to the Escape, both familiar to Europeans.
Next up is the Edge, which has just received a mid-cycle update. There were a couple out on the floor, and then a further example, in ST guise (which replaces the old Sport labelling), positioned in the large stage area.
Final pair of models in this part of the range are the Explorer and the full-sized Expedition, and there was one of each here.
There was also a Transit and the smaller Transit Connect for visitors to inspect.
The main truck display was on the other side of the stage area, and so appeared quite separate from the passenger car part of the stand. Here were to be found a number of examples of the Ranger and full-sized F150, still American's best-selling vehicle.
GALPIN's HALL OF CUSTOMS
Galpin is a local dealer, which has been operating for close on 100 years. Based in San Fernando, north of the city, they have not just a series of franchises for new cars, but have also built a world-renowned business in modification and tuning. For the past few years they have filled the small hall that sits part way between the larger South and West halls with examples of their art, and this year was no exception. They also had a couple of historic models out on display in the main corridor, and these included a Model T from early in the firm's history and a more recent racing Pinto.
Galpin are probably best known for their Fords, as they are the world's largest volume Ford dealer and there were a number of Blue Oval products in the display. Several of these were Mustangs, with a second example of the new RTR  here joined by the limited production Bullit version along with its 1968 model.
Customised models included the latest Explorer and a rather special Raptor, as well as a Pinto and E Series van from the 1970s.
And there were two out and out competition inspired cars here, the latest GT owned by YouTuber Jordan Maron (CaptainSparkelz), and no, I'd never heard of him, either, and – something of a rarity for American eyes – an RS200. This one belongs to Ken Block. Needless to say, it is not quite standard. The car runs Fifteen52 Forged three-piece Evo SC wheels, 18″ Toyo Proxes R888R tyres, KW Suspension custom coil overs with a custom interior and exterior finish.
A couple of Honda models had been subject to some personalisation.
There was quite a contrast in the Jaguar models shown, with customised versions of the latest E-Pace and F-Pace set against a beautiful looking restored Series 1 E Type.
The latest Lincoln Navigator is hardly subtle, or, in the eyes of many, a thing of beauty. Whether this is any form of improvement, only you can judge!
There was no Lotus stand at the show, but there were a couple of Evora models in here, the only model that the Hethel brand has been able to sell in America for the past few years.
Whilst the very garish customised new CX-5 was absolutely not to my taste, I did like the classic Mazda models on show. The more familiar of this pair of rare classics was a Cosmo 110, but it was the baby car, am R360 Carol which really appealed. No doubt about it, this car was the "coolest car of the day". It was generating a lot of interest, even if few seemed  to have any idea as to what it might be.
This duo of Porsche 911s were painted in the same eye-catching colour.
Other cars in the Galpin display included a modified VW Atlas and some relatively standard looking Volvo models.
GENESIS
As the number of models expands, the decision to make Genesis a separate brand starts to make sense. There are now three, all of them executive saloons, but this will grow to include a series of plush crossovers in the next couple of years.
The G70 is new, just going on sale, and there were lots of these on the stand. By all accounts, this is a very impressive vehicle, and indeed it was accoladed as Motor Trend's Car of the Year whilst I was out in the US, and if it really does drive as well as it looks, it is not hard to see why it was chosen.
Joining it were a couple of the established G80 models and one of the top-dog G90.
GMC
GMC offer a parallel range of trucks and larger crossover vehicles to Chevrolet, but each is that bit more costly, reflecting slightly better trim and upgraded equipment levels. They sell in large numbers, but not as great as the Chevrolet versions. The big news here, as it was on the Chevrolet stand was the arrival of the next generation full-sized truck, the Sierra, and several of these were on show, along with the smaller Canyon.
Yukon and Yukon XL are the GMC equivalents of the Tahoe and Suburban, and they only differ in relatively small details from the Chevrolet alter egos.
The smaller models, the Acadia and Terrain do actually look quite different from the cars with which they share everything under the skin.
HONDA
Consumers can't seem to get enough crossovers and Honda is happy to oblige as, in one of the few surprises of the show, it has resurrected the Passport moniker on an all-new model which will slot in between the CR-V and Pilot. Set to go on sale early next year, the 2019 Passport is larger and more rugged than the CR-V but sportier and more compact than the Pilot. As a result, the model promises to provide a unique blend of "on-road driving refinement and off-road adventure capability." Sporting a matte black grille that the echoes the Ridgeline, the Passport features a rugged exterior with black plastic body cladding, an increased ride height and standard 20-inch alloy wheels. The model also comes equipped with LED lighting units and a dual exhaust system with chrome tips. Moving into the cabin, drivers will find a Pilot-like interior with a four-spoke steering wheel and a 7-inch display in the instrument cluster. The Passport also features a tri-zone automatic climate control system and a six-speaker audio system with a 5-inch display. Higher-end variants pack on the features as the mid-level Passport EX-L has heated leather seats, a moonroof and an 8-inch Display Audio system with Apple CarPlay and Android Auto compatibility. The model also boasts power front seats, HomeLink and a rearview camera with dynamic guidelines. Touring and Elite variants go even further as they have GPS navigation, ambient interior lighting and a ten-speaker premium audio system.  Other highlights include heated rear seats, gloss black interior trim and a 4G LTE Wi-Fi hotspot. In terms of practicality, the Passport has best-in-class passenger room and total interior space. There's 41.2 cubic feet of room behind the rear seats, but that can be expanded to 77.9 cubic feet when the seats are folded down at the push of a button. If that's not enough room, there's an additional 2.5 cubic feet of storage space underneath the rear floor. Power comes from a 3.5-litre V6 engine that produces 280 hp and 262 lb-ft (354 Nm) of torque. It is connected to a nine-speed automatic transmission which can be paired to an optional torque vectoring all-wheel drive system. Since the Passport was designed to venture off-road, all models are equipped with an Intelligent Traction Management system which has normal, sand, snow and mud modes on all-wheel drive variants. Honda says the system helps to make the Passport "more capable off-road" than many other competing crossovers. Speaking of capability, the Passport rides on Honda's Global Light Truck platform and shares much of its underlying structure with the Pilot and Ridgeline. Thanks in part to this rugged construction, the Passport can tow up to 5,000 lbs (2,268 kg) when properly equipped.
The larger Pilot has been recipient of a mild update for 2019, with the new grille a recognition point. I drove one on my last trip and was favourably impressed by what is a competent, of not that exciting a car.
There was one example of the Fit, a car better known to Europeans as the Jazz. This one has quite a different sort of buyer profile, appealing far more to the youthful buyer in America than is the case in Europe.
The Civic was well represented, with the three different body styles all on show. The Coupe remains a US market oddity, one of the last survivors of the bodystyle in its class, but consistent with the sporty image that the Civic retains in American eyes. The four door sedan is the big seller, and for this generation, the 10th with the Civic name, it is joined by a five door hatch that is actually made in the UK. That is also the bodystyle for the Type R, and there was one of these on the stand as well.
Up a size and there are two offerings: the Accord is now only sold as a four door saloon, albeit with a swooping rear end that looks like it could be a hatch. It comes with a choice of petrol or hybrid engines, and is a big seller for Honda, still, even if its sales lead has been usurped by the CR-V. Similarly sized is the new Insight, which, just like the last car to bear the name is a Hybrid only car, aimed at taking the fight to the Prius, but with far more conventional looks.
If you want a futuristic car with wacky looks, then look no further than the Clarity. Initially offered as a fuel-cell hydrogen powered car, there are now two further versions available, full electric or a plug-in hybrid. Its appearance is certainly, erm distinctive.
Other models on show included a lightly refreshed HR-V, the top-selling CR-V, the Odyssey minivan, and Ridgeline pickup.
Completing things here was a race car.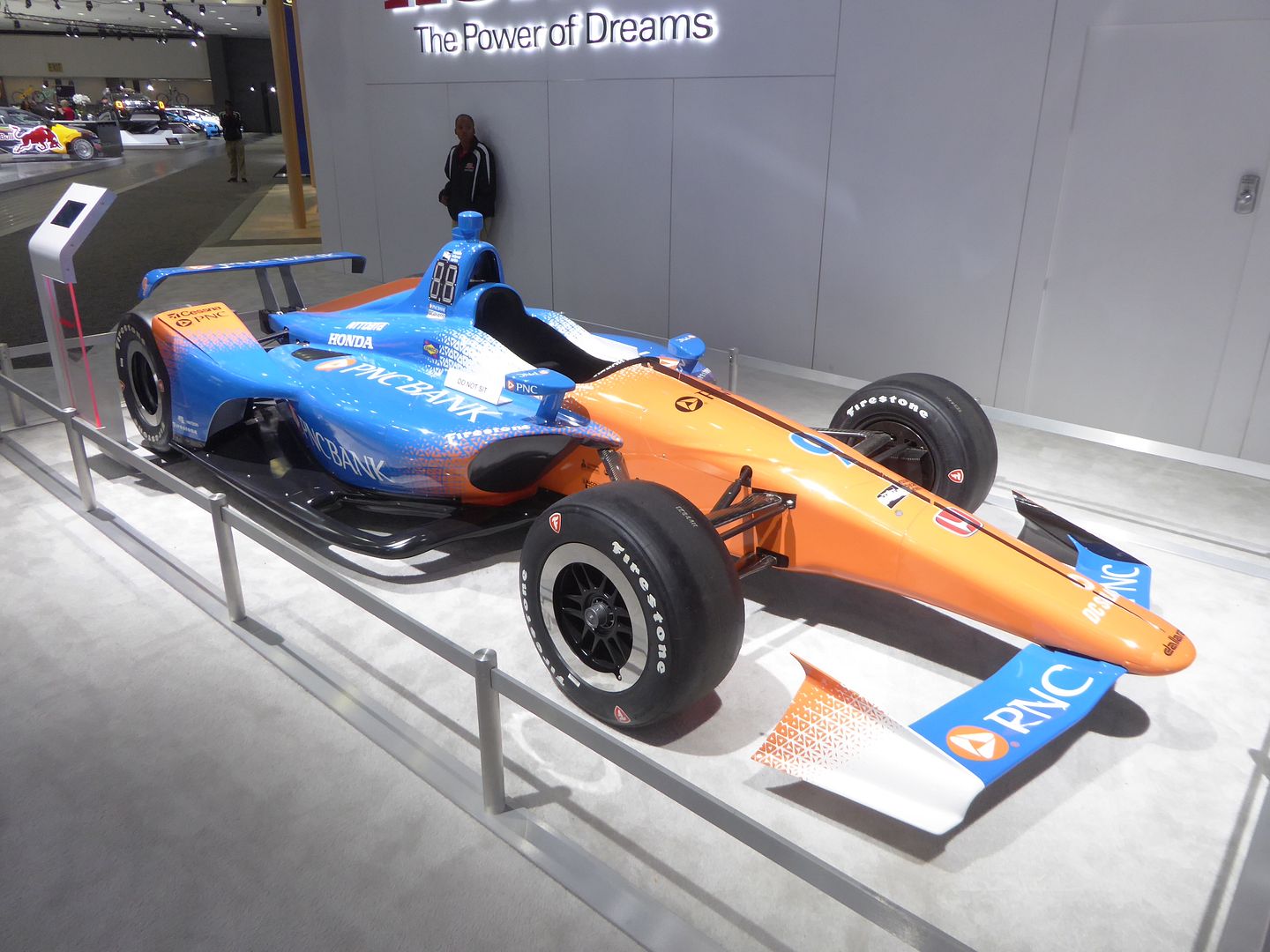 HYUNDAI
Korean giant Hyundai had the same position in the South Hall that they have occupied for a number of years, but this time, instead of having a line of car facing the wall, they turned their display through 180 degrees, and the cars were lined up facing into the hall, where there was more line and they were more obvious. It was the ideal way to highlight their latest model, the Pallisade, with which this automaker is venturing into a segment of the market it's never previously competed in. Premiering at the Show, the Palisade is a gargantuan, three-row, eight-seater SUV that will chase volume sales around the world, particularly in the U.S. Power for the Palisade comes courtesy of an Atkinson-cycle 3.8-litre V6 direct-injected engine delivering 291 hp at 6000 rpm and an estimated 262 lb-ft (355 Nm) of torque. All of this power is sent through an eight-speed automatic transmission with a multi-plate torque converter that can be paired with both two-wheel and HTRAC four-wheel drive configurations. When compared to rivals like the Toyota Highlander, Honda Pilot, Nissan Pathfinder, and Ford Explorer, the Palisade slightly edges out all of them in terms of peak power and torque, albeit for the Pilot which has an identical torque figure. To ensure a comfortable ride and good stability, Hyundai has outfitted the Palisade with 18-inch wheels and 245/60 tyres as standard while offering 20-inch shoes with 245/50 rubber as an option. Parts including the front steering knuckles and rear carriers are made of aluminium while lightened front lower arms have been developed to reduce unsprung weight. One of the key elements of the aforementioned HTRAC all-wheel drive system offering as an option, are the various different modes it offers, including Normal, Sport, and Smart. In addition, there is a Snow Mode that optimizes traction and driver control in slippery conditions. The system does so by adjusting front and rear torque distribution, left and right wheel slip control, engine torque, and shift patterns depending on the available traction levels. HTRAC also incorporates an all-wheel drive locking-differential function. All 2020 Hyundai Palisade models come with a plethora of safety features as standard. These include Forward Collision-Avoidance Assist with Pedestrian Detection, Blind Spot Collision-Avoidance Assist, Lane Following Assist, Rear Cross-Traffic Collision Avoidance Assist, Safe Exit Assist, High Beam Assist, Driver Attention Warning and Smart Cruise Control with Stop and Go. One optional safety feature is Rear Occupant Alert which uses an ultrasonic sensor to detect movement of children and pets in the rear seats and reminds drivers to check the rear seats when exiting the vehicle. If the vehicle detects movement after the driver leaves the vehicle, it will honk the horn and send an alert to the owner's smartphone. The Palisade also comes with seven airbags as standard and Hyundai expects it to receive a five-star NHTSA crash rating. In terms of the vehicle's design, Hyundai has ensured that it fits in line nicely with smaller models like the Hyundai Kona and Hyundai Sante Fe. Consequently, there's a large front grille that perfectly matches the LED headlights, LED daytime running lights and turn-signal mirrors. Hyundai didn't just want to give the Palisade presence when designing it and have ensured that it is also quite aerodynamic with an impressive 0.33 coefficient of drag. Elements like the A-pillar angle, rear spoiler side garnish, and an optimized front cooling area help to achieve this relatively slippery exterior. Step inside in a selection variants and owners will find premium quilted Nappa leather. There's also One-Touch second row seats that can be easily folded away with the press of a button. It's the same story with the third-row. Each and every Palisade seating row incorporates numerous USB outlets. At the front, there's a 12.3-inch fully-digital TFT centre instrument cluster as well as a 10.25-inch TFT infotainment screen. Also found within is Android Auto, Apple CarPlay, a Qi wireless charging pad, and an Infinity audio system with Clari-Fi and QuantumLogic Surround Sound technology. A Heads-Up Display has also been developed for the Palisade, capable of displaying information such as speed, Smart Cruise Control status, navigation, Blind-Spot Collision Avoidance Assist, Forward Collision-Avoidance Assist, speed limits, Lane Following Assist and audio system data. The 2020 Hyundai Palisade will be offered in Beckets Black, White Cream, Lagoon Silver, Steel Graphite, Sierra Burgundy, Moonlight Cloud and Forest Rain.
Parked behind the main line of cars were a couple of the second generation  Veloster models, including the new N version. I'd seen, and indeed, heard one of these out testing on the Angeles only a couple of days before the show, and it sounds good.  This is the first taste of Hyundai's N cars that America gets, as the much-praised i30 N is not going to sold in this market.
I had also seen the latest version of the Accent out on the same day but in this case, it was one of four cars being used as a comparison point by another manufacturer. This one debuted last year, and from some angles looks little different from its predecessor, but look hard enough and you do eventually spot the differences. The rear lights are the easiest way to tell them apart.
Also on the front row of display cars were the latest versions of the Elantra and Sonata. The latter was facelifted a year ago, with new rear styling being the recognition point. Similar changes have been made to the smaller Elantra Sedan as you could see from the car parked here. The model known to Europe as the i30 is sold in the US as the Elantra GT, and there was one of these in the lineup, too.
Three crossovers completed this long line of cars: the Kona, recently updated Tucson and the all-new Santa Fe.
Hyundai have been doing lots of research with alternative fuelled cars, and there were examples of the different approaches that they offer, here. The much praised Kona EV was joined by the Ioniq and the new fuel-cell Nexo.
Final car on the stand, and one making another Show appearance, following a premiere at Geneva earlier in the year was the 'Le Fil Rouge' concept. This striking design is an attempt to unify its past, present and future designs all at once. The new concept introduces the brand's Sensuous Sportiness theme, which will be embodied by all future Hyundai vehicles, from sedans to SUVs. The goal, aesthetically, is to create "emotional value and desirability" while achieving harmony between proportions, architecture, styling and technology. "Le Fil Rouge is a reinterpretation of Hyundai's design DNA that originated from the brand's historical Hyundai Coupe Concept in 1974," stated Hyundai design boss, Luc Donckerwolke. "Building on our long history of creating distinctive and sporty character in vehicles, we will open a new era for Hyundai design." This concept is said to have a proportional character based on the golden ratio – a mathematical ratio found in nature. This is achieved through a long wheelbase design, large wheels and short overhangs. Meanwhile, the dash-to-axle distance provides a comfortable driving position, whereas the high belt line completes the overall aesthetic. Other notable exterior features include how the front and rear pillars, as well as the roof, blend into the silhouette of the concept, whereas the interior design mirrors what you see on the outside thanks to what Hyundai calls 'Tube Architecture'. The cabin design differentiates between the needs of the driver and passenger. Where the front passenger seat is meant to maximise comfort and offer sufficient leg room, the driver's seat is designed with optimised ergonomics in mind. Also worth pointing out is how the wrap-around architecture of the cabin emphasises depth, in turn creating a calm and spacious environment for passengers, according to the Korean automaker. As for what type of technologies one might find on-board the Le Fil Rouge concept, there is a two-way air ventilation system, high-tech fabrics and a panoramic floating display with haptic feedback.
ICONA
Pretty much the first vehicle I saw, as it was positioned in the lobby at the top of the stairs up from the west entrance was this bizarre creation, the Icona Nucleus. It made its world debut at the Geneva Motor Show earlier this year, and was now making its American debut here. Indeed, Italian design company Icona, who created it, was present for the first time at the auto show in California, despite having established its Icona Design Los Angeles studio in summer 2016. Hiring 20 people including designers, modellers, and engineers, the studio receives more than 40 percent of his revenues from U.S. clients.
The rest comes from international projects from customers in Europe and China. Icona also has design studios in Turin and Shanghai. The Nucleus Concept is the project that put Icona on the map thanks to its futuristic design and "human-centred mindset." Some would argue that a car that doesn't allow humans to drive isn't quite "human-centered" but we'll let that slide because Icona doesn't see any reason for people to drive in the future. Icona Nucleus is basically an autonomous car that embodies Icona's vision for the future of mobility. It's a Level 5 fully autonomous vehicle whose interior is freed up from the constraints of a typical automobile driven by human beings. There's no steering wheel or dashboard inside; instead, the cabin is described as a mobile living space "where the focus is no longer the road but the destination." The Nucleus' lounge-like cabin features six seats including a couch for added comfort. There's plenty of room inside, given that we're talking about quite a big car. It's 5.25 meters (17.2 ft) long, 2.12 meters (6.9 ft) wide and 1.75 meters (5.7 ft) tall. Despite the rather massive body, it has a low drag coefficient of 0.25, thanks in part to an underbody diffuser and wheel arch aero blade extensions.
INFINITI
Infiniti had nothing that was new to show on their stand, so this was an opportunity to reacquaint myself with the current range. Most of them feature in the Hertz fleet, and I've driven all bar the Q!70 saloon in the recent months, and found them very agreeable vehicles, but they compete in a tough sector of the market, and have no real stand out feature which would make their selection a no-brainer over other premium rivals. ,That said, I would take any of these in preference to the corresponding Lexus without pause for thought. The newest model in the range is the one which does not feature at Hertz. This is the QX50, which takes from not just a predecessor of the same name, but also the slightly larger QX70. Most notable feature about this is that it has a variable compression engine in it, which is supposed to offer efficiency advantages in performance an economy. It would be interesting to try it myself.
I have driven the QX60 and QX80, and both are agreeable, though the latter is massive, and with its 5.6 litre V8 engine, does have quite a thirst. There are no significant changes to either for 2019.
Nor does the slow-selling QX30 change, or indeed the other models on offer, the Q50 and Q70L sedans and the Q60 Coupe. All were well represented.
Final car on the stand was a concept, about which there was no information, which half negated the point of displaying it, I would have thought!
JAGUAR
Sharing a stand with sister company Land-Rover, British marque Jaguar's display reflected the transition from maker of graceful saloons, of which there were lone examples of each of the XE, XF and XJ, to one of crossovers, of which there was an E-Pace and the yet to be available on the market F-Pace SVR.
There were also a couple of the new I-Pace here, and this was the model getting all the focus from both the stand staff and indeed the public.
The range is topped off by the F Type, and a lone example of this still lovely sports car was here, too.
JEEP
Newcomer on the Jeep stand was the eagerly awaited Gladiator, the first pickup from the brand for many years.  The Jeep Gladiator will offer four trim levels — Sport, Sport S, Overland and Rubicon. The latter will be the most off-road-focused and will feature aluminium-bodied 2-inch diameter Fox shocks, full-length sidebars, an additional bar for the bed area, and 33-inch mud-terrain Falken M/T tyres with C load rating. The Gladiator Rubicon will also offer the option of steel bumpers. The JT truck will ride on a 204-inch (5,181-mm) frame, making it 31 inches (787 mm) longer than the Wrangler Unlimited. The truck has a 137-inch (3,480) wheelbase, adding 19.4 inches (492 mm) to the four-door Wrangler's wheelbase. The added length is necessary to accommodate the 5-foot (1,254-mm) steel bed. Despite the massive footprint, the 2020 Gladiator will deliver an impressive off-road capability. In top Rubicon trim, it offers an 11.1-inch (282-mm) ground clearance, an approach angle of 43.6 degrees, breakover angle of 20.3 degrees, and departure angle of 26 degrees. It will also have 30-inch (762-mm) fording ability. Compared to the Wrangler, it features bigger axles, brakes, wheels and a suspension with longer rear link arms set lower for better control and towing ability. As previously revealed, the 2020 Gladiator will have a 1,600-pound (725-kg) payload and a towing capacity of up to 7,650 lbs (3,470 kg). At launch, the 2020 Jeep Gladiator will offer a standard 3.6-litre V6 Pentastar engine rated at 285 hp and 260 lb-ft (352 Nm) of torque. The petrol unit will be paired with a standard six-speed manual gearbox or an optional eight-speed automatic driving all four wheels. A diesel option will arrive in 2020 but it will only be available with the automatic transmission. There are no details about that engine, but it is likely to be an improved version of the 3.0-litre EcoDiesel V6 that also equips the Grand Cherokee and previous-generation Ram 1500. Said engine is expected to deliver 260 hp and 442 lb-ft (599 Nm) of torque. The 2020 Gladiator will be the only convertible pickup truck on the market to offer a removable hardtop, a removable soft top or both. It's also the only truck to offer a fold-down windshield. Jeep says the bedsides are shorter and lower than on full-size trucks, for easier loading and unloading. The pickup's tailgate will come with a halfway-down option as well. The new truck will offer over 80 safety and convenience features, including an "Off Road +" button for driving on sand and rock crawling, a forward-facing camera, Off-Road Pages for the infotainment screen, and more.
The Gladiator is based on the latest Wrangler, of course, which was itself launched at this show a year ago, and which is finally on sale. Showing a careful evolution, visually, from its predecessor, this was in fact an all new design and by all accounts, the update made it significant more refined, without losing any of the legendary off-road capability.
The expansive stand had plenty of space for several examples of each of the rest of the range: Renegade, Compass, Cherokee and Grand Cherokee. These included the utterly bonkers Trackhawk version of the Grand Cherokee, complete with its 707 bhp.
KARLMANN KING
Out in the lobby area was this, perhaps the most bizarre creation of the entire show, and certainly one of the largest. This is the Karlmann King, arguably the most bonkers take on the Ford F-550 ever. This luxury armoured truck was built by Chinese company IAT and it will set you back at least $2 million. Go all in with the options list and you could be looking at $3.8 million, which would be enough to land you just about any hypercar on Earth. Of course, a hypercar wouldn't be able to provide you with such high levels of safety, luxury and comfort. While this truck may not get you where you need to go quickly, it will sure enough get you there safe, thanks to its armoured bodywork and massive dimensions. The Karlmann King is 2.5 metres (8.2 feet) wide and weighs no fewer than 6 tonnes (13,227 lbs) – it could probably plough through most obstacles on the road. Its Ford-sourced 6.8-litre V10 engine is said to produce some 400 HP, which might sound like a lot, but given how much it weighs, it only results in an 87 mph (140 km/h) top speed. As for when you just want to cruise around and relax, that's when features such as ambient lighting, its retractable widescreen TV, refrigerator, Nespresso machine and electrically operated pop-out tables come into play.
KIA
Kia have one of the largest stands of any single brand in the West Hall, reflecting the extensive range of cars that this Korean giant now sells. Pride of place went to the new third generation Soul. Whilst this remains something of a vehicle with minority appeal in Europe, the Soul is among the biggest sellers of all cars in its class in the US, achieving big volumes, so this is an important car. Although it has a similar overall shape to its predecessor, it has undergone a plethora of significant changes. The new 2020 Soul adopts a boxy silhouette but pairs it with a number of futuristic styling elements, particularly at the front. For example, there are a pair of slim headlights that rest above black accents and an enlarged black front grille. Also included in the new fascia are daytime running lights. The rear of the updated Soul also looks radically different than the outgoing model and includes eye-catching taillights that extend up the C-pillars. Speaking of the C-pillars, the South Korean automaker says that they've been designed to resemble airplane wings. The C-pillars also feature the 'Soul' badge. In terms of powertrain options, there's quite a few. Base models will come equipped with a 2.0-litre, naturally-aspirated four-cylinder engine delivering 147 hp and 132 lb-ft (178 Nm) of torque. This engine is mated to either a six-speed manual or an Intelligent Variable Transmission (IVT). For those looking for more performance, there is a 1.6-litre turbocharged four-cylinder on offer with a seven-speed dual-clutch as well as 201 hp and 195 lb-ft (264 Nm) of torque. Then we come to perhaps the most important new Soul, the 2020 Soul EV. The car features a 64 kWh battery that supports Combined Charging System DC fast-charge as standard and is paired with an electric motor pumping out 201 hp and an impressive 291 lb-ft (394 Nm) of twisting force. Kia hasn't released performance details and has yet to reveal the car's EPA-estimated range. Among the details we do know is that the 2020 Kia Soul EV includes four driving modes: Eco, Comfort, Sport, and Eco+. These modes automatically adjust power output, regenerative braking, air conditioning and heating settings, while also setting speed limits to help manage the efficiency of the powertrain. Additionally, the Soul EV includes smart regenerative braking that's operated through the paddle shifters, allowing drivers to slow the car and capture kinetic energy to boost range. There's also a Brake and Hold System as well as a Smart Regen System which adjusts the regenerative braking level based on a vehicle being detected in front. Inside, Kia's designers took inspiration from the world of music and created a series of "shapes and textures that reflect acoustic inspired elements to create a full sensory experience." One key interior inclusion consists of sound mood lighting that can be synchronized to the music playing through the car's audio system. There's also wireless charging, available dual auto climate control and a set of special tweeter speakers. The 2020 Kia Soul comes available with a 10.25-inch HD colour touchscreen with split screen function and a rear view monitor with parking guidance. Android Auto, Apple CarPlay, and Bluetooth are all present. Should customers so desire, they can also option an 8-inch Head-Up display and a 640-watt Harman Kardon audio system with an amplifier, 10 speakers, and a dedicated subwoofer. In terms of safety, the new Soul can be optioned with Kia's Drive Wise system. This includes Forward Collision Avoidance, Lane Keeping Assist, Lane Changing Assist, Driver Attention Warning, Blind-spot Collision Warning, Rear Cross Collision Warning, Smart Cruise Control, and High Beam Assist. The ICE-powered 2020 Kia Soul models will be offered in GT-Line, X-Line, and EX Design Collection guises. Of these, the X-Line is perhaps the most interesting as it's designed to look more rugged than the rest. As such, it features body cladding, chunkier fenders, off-road accents, bespoke 18-inch wheels, fog lights, optional two-tone paint, and different 18-inch wheels.
Now on sale is the 2019 Forte, the latest version of which looks  – to my eyes, at least – rather neater than its predecessor. There was only one road version on show, and it was in a fenced-off display, along with a race car.
Making another appearance here was the Telluride concept, a model we can expect to see in production guise very soon.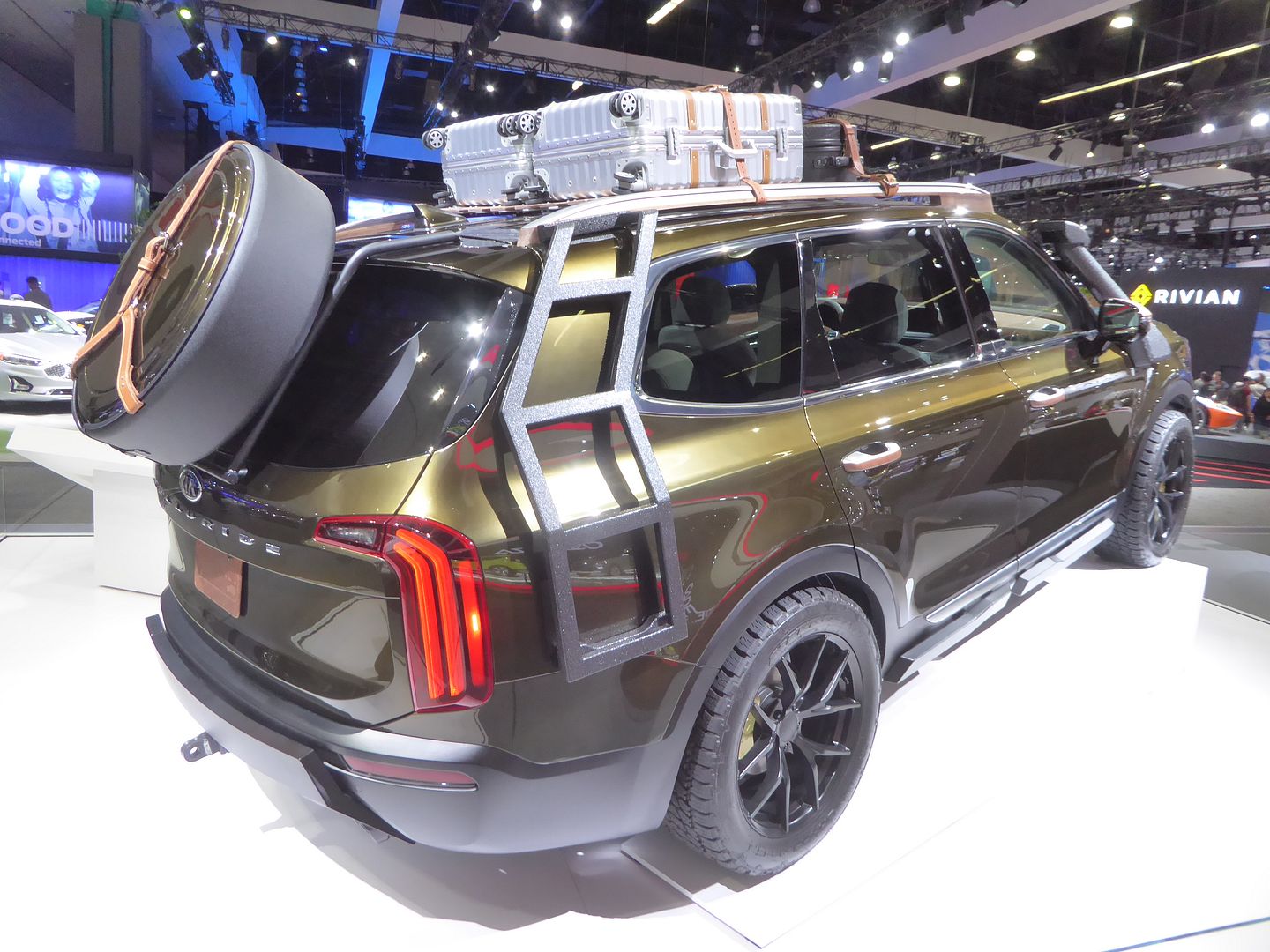 A car you could climb into and scrutinise in detail was the Stinger, and there were several of these well received sports saloons on show. Among them was one decked out in the livery of Western Australia police. Those driving enthusiastically around the Perth area should be warned that this is quite a potent new weapon!
Less prominent, at the far end of the stand were single examples of each of the rest of the range. This starts with the Rio, a small saloon which was updated in 2017. There is a hatch model as well, but this was not shown.
The Optima is Kia's entry into the full-sized saloon segment, available with a choice of petrol and hybrid powerplants, and it was the latter which was presented here.
Kia have some larger saloons as well, which sell in relatively small quantities, as the market is still adjusting to the idea that this brand is a competitor for longer established segment rivals. The latest Cadenza is a couple of years old now, whereas the larger K900 is just becoming available in a new second generation. There were a couple of these on show, including a mildly customised one, which you really could not miss, given its very bright blue paintwork.
The Kia Soul EV wasn't the only electric vehicle to bow in Los Angeles as the automaker also staged the North American debut of the 2019 Niro EV. Looking largely identical to the standard model, the electric variant is distinguished by an enclosed grille which features an integrated charging port. The crossover also has "Arrowhead" LED daytime running lights, revised side skirts and aerodynamic 17-inch alloy wheels. Motivation is provided by a 64 kWh lithium-ion battery pack which is mounted underneath the floor. It sends power to an electric motor that develops 201 hp and 291 lb-ft (395 Nm) of torque. This enables the model to accelerate from 0-62 mph (0-100 km/h) in 7.2 seconds before hitting a top speed of nearly 104 mph (167 km/h). Of course, the Niro's most important specification is its 239 miles (384 km) range. This numbers bests the Chevrolet Bolt by 1 mile (1.6 km), but is 19 miles (30.5 km) less than the Hyundai Kona Electric. When it comes time to recharge the battery, owners will need approximately 59 hours with a Level 1 charger featuring a 120 volt connection. Since most drivers don't want to wait over two days, owners can also use a 7.2 kW Level 2 charger that reduces the time to 9 hours and 35 minutes. Drivers with even less time can use a DC fast-charger to give the Niro approximately 100 miles (161 km) of range in 30 minutes. After 75 minutes, the car can be given an 80 percent charge. Kia didn't mention pricing, but confirmed there will be two versions of the Niro EV in America. The entry-level EX variant comes equipped with leather and cloth seats, a four-speaker audio system and an automatic climate control system. The model also has heated front seats, a wireless smartphone charger and a 7-inch touchscreen infotainment system. Moving up to the EX Premium rewards buyers with LED headlights, a power moonroof and an auto-dimming rearview with HomeLink. Buyers will also find heated / ventilated front seats, a heated steering wheel and an 8-inch infotainment system with GPS navigation. Both models also come standard with an assortment of driver assistance systems including forward collision warning, forward collision-avoidance assist, and lane departure warning. Other features include lane keeping assist, rear cross-traffic alert and smart cruise control with stop and go.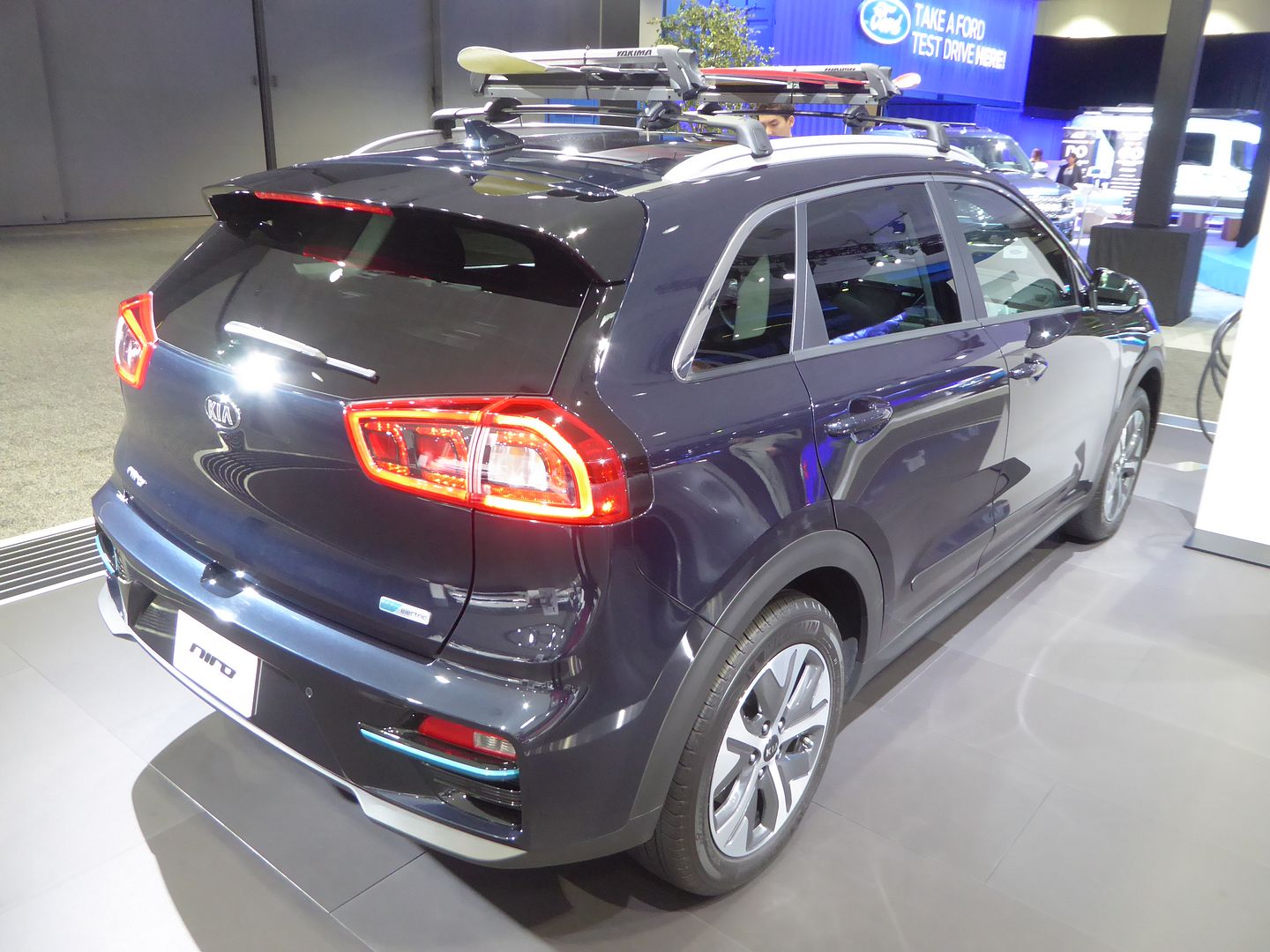 Completing the range were examples of the well-rated Sportage and Sorento crossovers as well as the Sedona minivan.
LAMBORGHINI
There was no official Lamborghini presence at the show, but I did come across this lone Huracan Spider on a stand down in the Kentia Hall.
LAND ROVER
Although the second generation Evoque was officially unveiled the week before the show opened, it was not here, as it will be some time before it reaches American soil. That meant that there was nothing new on the Land Rover part of the shared JLR stand. There were examples of all the current range here, from the outgoing Evoque and Discovery Sport, through the Velar to the fifth generation Discovery (badged as such in the US, unlike its predecessor, which was called the LR4), the Range Rover Sport and the top of the line Range Rover.
LEGO
There's been a huge resurgence in the popularity of Lego in recent times, and proving that this interest is not confined to Europe, there was an examples of a full-sized Lego car here. This was a Porsche 911, and it complex shape was made using what were described as "large parts".
LEXUS
Whilst Lexus continues to struggle in Europe, the brand is seen very differently in America, enjoying big success right across the range, and doing far better than the other two premium Japanese brands that were created around the same time, Infiniti and Acura. Although hybrid versions of some of the models are offered to American buyers, most of them are still sold with conventional petrol engines. Newest model in the range is the UX, a crossover which will effectively take the place of the now discontinued (for America) CT200h, as the brand's entry point. There were a couple of them on show. Assuming you can accept the looks, which are as polarising as the rest of the range, the biggest issue I see here is that the space in the rear seats would appear surprisingly limited.
Replacing both the outgoing front wheel drive ES and the rear wheel drive GS models, the latest ES went on sale a few weeks ago. The rear end, around the boot lid appears particularly awkward to me, but that is unlikely to deter those who want a posh Camry, which is effectively what this is. It is headed to Europe in the coming weeks, but to expect it to sell in any greater volume than the outgoing GS did would show a level of optimism that is probably unfounded.
There are two other traditional saloons in the range, the smaller IS and larger LS.
Lexus have four more crossover vehicles to offer, the smaller pair of which we see in Europe, the NX and RX, and the larger ones, the GX and LX, we don't. A 7 seater RX model was announced last year and is now an established version in the range, selling strongly.
Hopes were high with the RC, but initial interest in this in Europe has dwindled to negligible, with monthly sales across the whole continent not reaching three figures now, and the recent very mild facelift is unlikely to change that. Attention has shifted to the larger and more costly LC, and that is certainly the car which was getting a lot of the air time here. That said, they are not a common sight on the roads, even in California, the car's natural market.
In the central area of the lobby by the doors to the South Hall were a series customised Lexus models. Usually, I would not give these much more than a second glance, but as the display included one of the rather nice LF-A supercars, I was drawn to go and take a closer look.
LINCOLN
Lincoln had their own stand in the South Hall this year, a reflection of the fact that we will see an increasing divergence between their products and those of sister company, Ford, and also since most of the other prestige and premium brands were in this hall, they probably relished their siting, right opposite arch rival Cadillac. They had one brand new car on their stand, the Aviator. Arguably one of the best-looking production Lincolns of recent years, it remains very close to the concept that shared the same name earlier this year. Envisioned as Lincoln's answer to a growing mid-size luxury market, the Aviator inspires to become one of the brand's best selling models. But that won't be an easy feat with strong two-and three-row competitors like  two- and three-row heavy hitters like the European Audi Q7, BMW X5, Mercedes-Benz GLE and Volvo XC90. "Aviator represents the very best of our brand DNA and signals the direction for Lincoln vehicles going forward," says Joy Falotico, president, The Lincoln Motor Company. "It offers elegance, effortless performance and unparalleled comfort – a true representation of Lincoln's vision for the future." While Lincoln could have unveiled the Aviator as a concept with an outlandish design with no hope of reaching the production line, it didn't. Instead, it unveiled an SUV with a design largely ready for the street and this is clearly visible with the road-going model. It may not be quite as attractive as the concept but as far as three-row SUVs go, it looks pretty good. Key design elements at the front are LED headlights and a large, muscular chrome grille. There's also a number of elements at the rear that look virtually identical to those of the concept, including the slim brake lights and the horizontal light bar that joins them. Inside, the Aviator's resemblance to the concept continues. There's a plethora of beautiful leather surfaces, a digital gauge cluster, and a large central infotainment screen. Seat controls on the doors, similar to those used by Mercedes-Benz, are also present. It will come fitted with all the latest tech that Lincoln has to offer and then some more, including the brand's first model to allow owners to use their smart-phones as a key. Also new to Lincoln is an available "smart" suspension that enables Aviator to "see" most potholes or uneven pavement and immediately make suspension adjustments to keep the ride as smooth as possible. According to the company, the Adaptive Suspension with Road Preview uses an advanced forward camera to constantly scan the road, "seamlessly adjusting the suspension as needed". As with other Lincolns, the new 2020 Aviator will come standard with the company's suite of driver-assist features, albeit upgraded and  bundled under the "Lincoln Co-Pilot360 Plus" name. The Plus version adds Traffic Jam Assist, Evasive Steer Assist, Reverse Brake Assist and Active Park Assist Plus. Sharing its underpinnings with the next Ford Explorer, the new Aviator comes with standard rear-wheel drive and optional all-wheel drive. The base engine is anything but that, as it's a 3.0-litre bi-turbocharged V6 that puts out 400 bhp and 400 lb.-ft. of torque paired to a 10-speed automatic transmission. And if that's not enough (…especially in RWD form), Lincoln will soon offer a Plug-in  Hybrid variant projected to deliver 450 bhp and 600 lb.-ft. of torque. The PHEV will offer two driving modes, the "Pure EV" that uses only electricity and the "Preserve EV" that utilizes the internal combustion engine only. The company did not release any other details on the powertrain. Aside from North America, the new Aviator will also be sold in China, with further details on pricing, availability to be announced.
Lincoln offer two slightly smaller SUVs and one larger one, and there were all three of these on show. The largest of the lot, the Navigator, a vast thing, was attracting plenty of attention, and the general view seems to be that this machine really is a significantly better one than the rival Cadillac Escalade (though a new one of those is due within months).
Smaller than the Aviator are the MKC and the Nautilus, this latter  revamp of what had been known as the MKX, and a close relative of the Ford Edge.
There are two conventional saloons in the range, the MKZ, a close relative of the Ford Fusion, but with rather more radical styling, and the larger Continental. There were single examples of each on show, both finished in a rather attractive blue colour.
MASERATI
Making its North American auto show debut was the Levante GTS, one of a number of versions of Maserati's first attempt at the SUV market place that was on show here. Originally unveiled over the summer, the Levante GTS is a high-performance crossover which features a twin-turbo 3.8-litre V8 engine that produces 542 hp and 538 lb-ft (730 Nm) of torque. The engine is connected to an eight-speed automatic transmission which sends power to a standard all-wheel drive system. This setup enables the model to accelerate from 0-60 mph (0-96 km/h) in 4.0 seconds, before hitting a top speed of 181 mph (291 km/h). Besides the powerful V8 engine, the crossover features a sportier front fascia with larger air intakes. The model also comes with a modified rear bumper and 20-inch alloy wheels featuring a dark grey finish. Inside, the cabin comes nicely equipped with 12-way power front sport seats and a heated sport steering wheel. Other niceties include heated / ventilated front seats, a 14-speaker Harman Kardon audio system, a limited-slip differential and a Skyhook air suspension with electronic damping. Pricing starts at $119,980 which means the model significantly undercuts the range-topping Levante Trofeo that has a base price of $169,980. The latter model also has a twin-turbo 3.8-litre V8 engine, but it produces 581 hp and 538 lb-ft (730 Nm) of torque. Thanks to the extra power, the crossover rockets from 0-60 mph (0-96 km/h) in 3.7 seconds and onto a top speed of 187 mph (300 km/h).
A lone example of the Ghibli was joined by several of the larger Quattroporte and there was one of the elegant but now quite elderly GranCabrio. All Ghibli, Quattroporte and Levante models now feature an updated infotainment system and a revised shifter with a "more intuitive shift pattern, shorter travel and improved operation."
MAZDA
A real highlight for me, and indeed for most people was the launch of new Mazda 3, a car which proves that you can still design a car that meets all the various challenges and still produce something that looks good. I do hope that many rivals – and those who style more expensive cars as well – took a good look and then went and hung their heads in shame at the frankly gawky, over-fussy and plain hideous things they have perpetrated! Described as the "dawn of a new era," the redesigned model is an important vehicle for Mazda as it is their first car to use the Skyactiv-Vehicle Architecture and the new Skyactiv-X petrol engine. The latter features a Spark-Controlled Compression Ignition (SCCI) system which promises to combine the best attributes of both petrol and diesel engines. Putting those items aside for a moment, the Mazda3 has a new interpretation of the company's Kodo design language. The automaker says it has an extremely simple "single motion" to its overall form while also being elegant and expressive. Both the sedan and hatchback feature an evolutionary design, but the sedan is the real star of the show as it adopts a number of styling cues from the Vision Coupe concept. Starting up front, we can see a prominent grille with chromed wings which flow into slender headlights. Moving further back, there's flowing bodywork and a dynamic greenhouse. The rear is also pretty sporty as it features an integrated trunk spoiler, slim taillights and a dual exhaust system. While the exterior styling is evolutionary, the interior changes are more significant as cabin is more upscale than its predecessor. Mazda was tight-lipped on specifics, but the company adopted a "less is more" approach which resulted a minimalist design. Key highlights include a three-spoke steering wheel, a freestanding 8.8-inch infotainment system and an upholstery dashboard pad that resides above a generous swath of chrome trim. Mazda also noted the interior parts have been given their own unique grain which is "designed to express the richness and warmth of genuine leather." Another unique feature is the gearbox surround which "incorporates a laser-engraved black layer covered by a second clear layer to present a glossy black finish with a look of deep transparency." In essence, it's a classy version of gloss black trim. Among the other changes are an improved telescopic steering wheel that now features an additional 10 mm (0.4 inches) of movement. The center armrest has also been lengthened, while the cup holders have now been relocated in front of the shifter. Under the bonnet, there will be an assortment of different engines depending on the market. Mazda didn't mention specifications, but confirmed there will be 1.5-, 2.0- and 2.5-litre petrol engines as well as a 1.8-litre diesel. The company didn't mention the displacement of its Skyactiv-X engine, but noted it will be paired with a new M Hybrid system that "supports greater gains in fuel economy, and achieves higher levels of driving pleasure and environmental friendliness." On the dynamics front, the Mazda3 will be offered with an improved i-Activ all-wheel drive system which works in conjunction with the company's new G-Vectoring Control Plus system that recently debuted on the 2019 CX-5. The car also adopts a new suspension which uses MacPherson struts in the front and a newly developed torsion beam setup in the rear. Mazda says these changes and other changes enable the car to accelerate, turn and brake in a way that "feels natural and intuitive, like a tool you have been using for many years."  Moving onto safety, the Mazda3 offers an assortment of driver assistance systems such as Front Cross Traffic Alert which uses side radars to detect approaching vehicles at blind intersections. The car can also be outfitted with a Cruising & Traffic Support system which can automatically accelerate, brake and steer the car during traffic jams. Last but not least, engineers developed a new Driver Monitoring system which uses an infrared camera to monitor the driver and determine if they're drowsy or distracted. If the system determines the driver has become "dangerous," it will sound an audible alert.
There were lone examples of the rest of Mazda's range, every single one of which is in my opinion, among the best-looking in its class. There's just one saloon car, the Mazda 6, which had a big update last year, with a new interior trying to make it feel more upscale than before.
There are three crossovers: the small CX-3, mid-sized CX-5, both of which are familiar to Europeans and the larger CX-9, which probably is not.
Final car on the stand was a Miata (as the MX-5 is still known in America) in hard roof RF guise.
MERCEDES-BENZ
Mercedes had a huge stand area at the far end of the South Hall, and even then, there was only room for a small selection of the different models that this German giant offers. Three cars were selected for presentation on a raised platform. Commercially the most significant of these is the new GLE, a direct rival to the also all-new X5 in the premium SUV class, and that can fit for the first time up to seven passengers. With the previous GLE being on the market for so long, it's no wonder that the new generation is significantly overhauled in every area. Highlights include the new 48-volt E-Active Body Control suspension, the MBUX multimedia system and the new electrified powertrain in the GLE 450 4Matic. The latter is combining a straight-six petrol engine with the EQ Boost system, making it a mild hybrid with a set of rather impressive figures: 362hp (367PS) and 368lb-ft (500Nm) of torque, with an additional 21hp and 184lb-ft available from the EQ Boost over short periods. Mercedes says that the electrified GLE 450 is capable of a 0-62mph (100km/h) in 5.7 seconds and of a top speed of 155mph (250km/h). A plug-in hybrid version will be added to the range on a later date. The rest of the US range includes the GLE 350 and GLE 350 4Matic, both powered by a 2.0-litre four-cylinder turbo with 255hp and 273lb-ft of torque. And yes, there's an AMG version, complete with a V8, coming. The Euro-only diesel engine range includes the four-cylinder GLE 300d 4Matic, offering 241hp (245PS) and 368lb-ft (500Nm) of torque; the six-cylinder GLE 350d, with 268hp (272PS) and 442lb-ft (600Nm) of torque; and the GLE 400d, with 325hp (330PS) and 516lb-ft (700Nm) of torque. The six-cylinder diesel models are the first SUVs in the world to comply with the Euro 6d emissions standards, which will become mandatory in 2020. Working in conjunction with the new Airmatic air suspension, the E-Active Body Control controls the springs and dampers individually in order to counteract not only body roll but also pitching and squat. There's even a special "Curve" function, which makes the new GLE lean into bends in order to eliminate most of the centrifugal force and further improve comfort levels. But perhaps the biggest party trick of the new E-Active Body Control is its ability to help the GLE free itself if it gets stuck off-road; the system starts to automatically raise and lower the suspension several times, improving the ground pressure of the tires.  Αn SUV rocking itself free? That's something we need to witness. The interior features the twin-display setup with the latest MBUX infotainment system that debuted in the smaller A-Class, featuring a pair of 12.3-inch screens and the optional Interior Assist voice control system. The third row of seats is optional while luggage capacity is now up to 29.1 cu ft behind the second row. Sales start imminently.
The latest CLS may not seem new to Europeans, but it is to Americans, having only just gone west across the Atlantic, so one of these was at one end of the display.
Third of the cars showcased this way was the limited-edition AMG GT R Pro. This has been designed with a particular focus on racetrack performance and has come to life thanks to the automaker's experience with the AMG GT3 and GT4 racing cars. There are four key areas where the Pro stands out from other models; through its suspension, lightweight construction, aerodynamics, and appearance.
Mercedes-AMG has developed a set of new coilovers for the GT R Pro where the compression and rebound can be easily adjusted through a dedicated dial on the damper. The car also utilizes an adjustable carbon fibre torsion bar up front and an adjustable, hollow steel bar at the rear. Additionally, the AMG GT R Pro comes outfitted with Uniball spherical bearings not just on the rear lower wishbones like the 'normal' AMG GT R but also on the upper wishbones as well. The sports car also features a carbon fibre shear panel on the underbody that promises to improve rigidity and add stability. Elsewhere, the 2020 Mercedes-AMG GT R Pro comes outfitted with ceramic composite brakes as standard and wears a set of lightweight AMG Performance five-spoke forged wheels offered exclusively in titanium grey.  Aerodynamics also separate the AMG GT R Pro from other models. Up front, there is a new apron that incorporates carbon fibre canards to improve stability at higher speeds. Mercedes-AMG has also developed air slots in the front fenders to reduce front-axle lift while at the rear, there is a small carbon fibre aero element on each wheel arch. Rounding out the upgrades enjoyed by the car are standard-fit Carbon Packages I and II that include new carbon detailing across various elements, including the wing mirrors, rear spoiler, and rear diffuser. With AMG GT3 racing driver Maro Engel behind the wheel, an AMG GT R Pro prototype recently lapped the Nurburgring in 7:04.632. Like the 'standard' AMG GT R, the Pro features a twin-turbo 4.0-litre V8 engine with 577 hp and 516 lb-ft of torque between 1900 rpm and 5500 rpm.
There are updates for 2020 to the lesser Mercedes-AMG GT 2-door models as well, and a couple of these cars, one coupe and one roadster were on display. Viewed from the outside, the new family of AMG GT sports cars take some inspiration from the 4-door coupe, particularly with the inclusion of different LED headlights. The rear diffuser is also different while the tailpipe outlet has been modified to reflect the shape of the AMG GT 4-door coupe. With this in mind, base AMG GT models now have two round tailpipes while the quicker AMG GT C has trapezoidal shaped twin tailpipes. Meanwhile, the AMG GT R retains its large central tailpipe and continues to be flanked by two further tailpipes hidden in the diffuser. Customers of the 2020 Mercedes-AMG GT also have newly-designed 10-double-spoked forged wheels in titanium grey at their disposal. Changes have also been made to the sports car's interior. Most significantly, a fully digital, 12.3-inch instrument cluster now comes standard alongside a 10.25-inch multimedia display on the centre console. The instrument cluster offers a number of different display styles, including 'Supersport' which borrows cues from motorsports, such as a prompt for when the driver should change gears. Mercedes-AMG has also fitted new buttons across the centre console which include coloured displays. Also updated is the steering wheel. From 2020, the AMG GT gets the same AMG performance steering wheel as the AMG GT 4-door coupe and updated C63. This new wheel has a flat-bottom section and is wrapped in black nappa leather/microfibre or in all-microfibre depending on spec. The wheel also includes galvanized paddle shifters as well as integrated Touch Control buttons that control functions of the digital dash and multimedia displays. A round controller is also found on the wheel. By using this controller, drivers can change between driving modes. Perhaps more important than all these updates, however, is a new AMG DYNAMICS driving mode. This new mode optimises the transverse dynamics to offer higher lateral acceleration, better traction, and load change reactions. The system is able to anticipate vehicle behaviour based on the driver's actions and a series of sensors. Mercedes says this system provides the driver with a very authentic driving feel "with high cornering dynamics and optimum traction as well as high stability and predictable handling." The 2020 model year also welcomes the AMG Track Pack This system is a standard part of the COMAND infotainment system and when active on a circuit, detects and records more than 80 vehicle-specific sets of data ten times per second. The system can then be used by the driver to analyze and improve their driving skills. Power for the 2020 Mercedes-AMG sits at 469 and 465 lb-ft of torque while the AMG GT C has 550 hp and 502 lb-ft of torque. Pricing and availability details have yet to be announced.
Yet to go on sale, and by all accounts going to be extremely expensive indeed, is the AMG GT 4 door saloon (which is actually a 5 door hatchback!), and there were a couple of these on show. This is quite an elegant looking design, and it is going to be blisteringly fast, but the premium over an E Class or a CLS is going to be massive, so it will be interesting to see how many people really think it worth the extra.
Other AMG models on display included a couple of Cabrio cars, the C43 Cabrio and visually very similar E53 Cabrio, as well as a GLC63 Coupe.
Attracting plenty of interest was the new G Class. Although this was revealed in 2017, it is only in recent weeks that supplies have started to reach dealers. Although it looks very similar to its predecessor, underneath, it is all a lot more contemporary, most of which will make it rather more civilised to drive and to ride in, which is probably what customers would want.
The rest of Mercedes' crossover range was represented with single examples of the gargantuan GLS (the new version which had been half-expected for this Show did not make it), the GLC in regular and Coupe guise and the small and rather underwhelming GLA.
Talking of underwhelming, the CLA was also here, probably its last major Show before a new – and hopefully rather better – version debuts early in 2019.
By that time, the new A class Saloon will be on sale, and there was one of these here. This will become the brand's entry level car in America, though final details of pricing are still awaited. It is not going to be that cheap (probably starting at around $35,000). The interior is very like the A Class hatch which has wowed some, and rendered others aghast at the chintzy and gawdy detailing which seems to be the way all Mercedes models come these days. At least you can actually get into the rear seats of this, unlike the CLA, and there is modest space when you get there.
The stand also comprised examples of the C Class, in Saloon and Coupe guises, as well as the E Class, and the high-end S Class was represented by both a regular saloon and a Maybach version.
MINI
MINI is one of those brands that does not attend that many of the world's major Shows these days, but they were here, with a large stand which contained examples of their current range: 3 and 5 door hatches, the Cabrio, Clubman and the second generation Countryman which included one of the Hybrid models.
MITSUBISHI
You have to take your hat off to Mitsubishi, as they have kept going despite having a very limited model range, and struggling to come up with much that is new for several years now. It's a shame, as if you go back a couple of decades, the brand had a strong image, not least off the back of success in world rallying. There is ample evidence to suggest that Mitsubishi hasn't completely forgotten the most exciting of those passenger-car nameplates that it's abandoned as it has increasingly headed down the crossover path. It's just applying them to crossovers instead. Like the Eclipse (Cross), and this – the e-Evolution concept. It may look familiar, and that is because the Diamond-Star automaker first revealed this concept at the Tokyo Motor Show last year, and showed it in Europe earlier this year at the Geneva show. Now it's brought to North America for the first time. Borrowing (at least part of) its name from the legendary, rally-bred Lancer Evolution, the e-Evolution cuts the rather sporting profile of a high-waisted, low-roof crossover coupe. Its sharp angles, low overhangs, and swept greenhouse open up (with doors not unlike those on the Mazda RX-8) to a cockpit that's as futuristic as it is racy, with a widescreen display across the dashboard behind a small, U-shaped steering wheel that looks like it could belong on a fighter jet as much as a rally car, with high-backed seat shells and two massive glass roof panels. What really sets the concept apart from the Lancer Evo, though, arguably more than its higher-riding form, is its all-electric powertrain. There's an electric motor for the front wheels and two more coupled together for the rear to provide through-the-road all-wheel drive with electronic torque vectoring (which Mitsubishi calls Dual Motor Active Yaw Control) and Super All-Wheel Control. It's a high-tech piece of kit, then, and one that signals where Mitsubishi intends to go as a manufacturer of crossovers and electric vehicles – but one with considerable rally experience behind it. With Tommi Makinen in the Lancer Evo, the Japanese automaker won the driver's title in the World Rally Championship four years running in the mid-late 1990s, and with the Pajero, took overall victory in the Dakar Rally no less than a dozen times (including seven in a row). And whether it puts it into production (in some form) or not, the e-Evolution concept shows that it hasn't forgotten its victorious past as it moves in a new direction forward under new leadership.
With the demise of the Lancer, the only model range that is not a crossover is the diminutive Mirage, sold as a hatchback or as the even more ungainly G4 saloon. These are cheaply produced cars that most rank as about the most unpleasant new vehicle on sale in America, with an unbearably noisy and thrashy three cylinder engine which delivers racket but not much go. The whole car makes it all too obvious it was produced in Asia for less demanding Asian markets, with a feeling of universal cheapness which is not quite matched by the price tags. No-one seemed to be paying the cars much attention, and they did not exactly have pride of place on the stand.
There were plenty of examples of the three crossover vehicles in the range. Newest of the trio is the Eclipse Cross, which went on sale earlier in the year, following slightly mixed reviews.
The other two models are both badged Outlander in America. The smaller one will be familiar to Europeans as the ASX, but here is called the Outlander Sport, though there is very little that is exactly Sporting about this car. Quite a decent product when it was first launched in 2010, a couple of minor facelifts have not really been enough to keep it anywhere other than as a class also-ran.
Final model is the Outlander itself. America is only just getting the PHEV version which has proved surprisingly popular in Europe, where Mitsubishi found that they have something of a market unique, combining the large and practical body of the Outlander with the tax efficient hybrid technology. Sales were so strong that with limited supply of the batteries, America has to wait a long time to get their hands on this version. I suspect it will face more of a struggle to get market acceptance in the US, where the tax regime is different, there are emerging other competitors with hybrid technology, and the brand is relatively weak.
NISSAN
There were two Nissan models making their debut here. Neither were completely new, but rather, both were the mid-cycle update to familiar models, but this was enough to give them star billing on the raised display area at the back of the stand. First up is the 2019 Nissan Maxima, and while it doesn't look radically different to the 2018 model, there are a number of noteworthy changes present. Looking at the refreshed Maxima from the front, you'll no doubt realise that there is a different bumper that seamlessly incorporates a pair of small foglights in blacked-out faux air intakes. Also found up front are refreshed headlights with LEDs and a more complex inner design. The design alterations aren't limited to the front as viewed from the rear, a serious of alterations catch the eye, including updated taillights. Additionally, the new rear fascia incorporates integrated quad-tip tailpipes as well as a subtle spoiler in Maxima SR grade. Nissan has also developed new 19-inch Hyper Silver Platinum Reserve Package wheels for the sedan and added a new colour, dubbed Sunset Drift, to the car's palette. Inside, Nissan has outfitted the 2019 Maxima with a new seat insert pattern and charcoal headliner and pillars for SR and Platinum Reserve Package grades. There is also a new instrument panel, door panels, steering wheel inserts, stitching, seat materials, headliner, pillars and A-pillar speaker grilles, all of which vary depending on the grade level selected by the customer. All grades other than the Maxima S also receive a revised SiriusXM Satellite Radio with Advanced Auto Features and revised Nissan Door to Door Navigation. In addition, Nissan has confirmed that the refreshed Maxima receives its Safety Shield 360 package as standard which includes Automatic Emergency Braking with Pedestrian Detection, Blind Spot Warning, Rear Cross Traffic Alert, Lane Departure Warning, High Beam Assist, and Rear Automatic Braking. This package comes standard on the Maxima Platinum as part of the SR Premium Package. Beneath the skin, the 2019 Nissan Maxima is powered by a 3.5-litre V6 engine, the same powertrain as the outgoing model. All up, the car delivers 300 hp and 261 lb-ft (353 Nm) of torque and comes standard with an Xtronic CVT transmission as standard. The 2019 Nissan Maxima will be sold in five different grade levels: S, SV, SL, SR, and Platinum. Pricing and availability details will be announced at a later date.
Second of these, and following a last minute tease, was the 2019 Murano. Looking instantly recognizable, the updated crossover has been equipped with a sportier front fascia that features triangular air intakes and additional chrome trim. Designers also installed a more pronounced V-motion grille which is flanked by updated LED headlights. Additional styling changes are limited, but the 2019 Murano features new LED fog lights and restyled 18- and 20-inch alloy wheels. Rounding out the changes are updated taillights and three new exterior colours called Sunset Drift Chromaflair, Mocha Almond Pearl and Deep Blue Pearl. Interior changes are likewise modest as the range-topping Murano Platinum now comes with semi-aniline leather seats and diamond-quilted inserts. Drivers will also find "dark wood-tone" trim and contrast piping on the seats, centre console and armrests. Lesser models also receive some minor updates as S, SV, and SL variants now come have either metallic or light wood-tone trim. Murano SL and above grades also gain a NissanConnect infotainment system with improved navigation.  The updated system now has 3D building graphics and satellite imagery as well as premium traffic information and point-of-interest online search capabilities. On the safety front, all Muranos now feature Rear Door Alert and Intelligent Driver Alertness systems. As expected, the model can also be equipped with the Safety Shield 360 suite of driver assistance systems. The suite includes automatic emergency braking with pedestrian detection, blind spot warning, rear cross traffic alert, lane departure warning, high beam assist and rear automatic braking. Under the bonnet, the Murano's 3.5-litre V6 engine carries over and continues to produce 260 hp and 240 lb-ft (325 Nm) of torque. It is connected to an Xtronic transmission which can be paired to an optional all-wheel drive system. The 2019 Murano will arrive at U.S. dealers next month, but there's no word on pricing.
This was the first chance I had to see the latest Altima undisgused (I saw a camo-ed up one about a year ago testing on the Angeles Crest Highway). It looks very much like a Maxima, though the details are different enough that it should not be too hard to tell them apart. As a static object, it impresses, with a much higher quality feel to the interior. What is like on the road is no doubt something I will find out before too long, as this car tends to be a staple of the rental fleets, and with a couple of models exiting the market, it is likely to become ever more prevalent.
There was no sign of the Versa, and that could because a new one is imminent. I know there is one under development, as I saw a camo-ed up version, up on the Angeles Crest Highway, a couple of days prior to the show, being put through its paces with a quartet of rivals, and the car looked like it was production ready under the disguise. A new Sentra can't be far off, either but there was one of these on show, now one of the oldest models in the Nissan range, and never a car that got rave reviews even when new.
Speaking of old, though, it is the firm's sports cars that go back the furthest. There were single examples of both the 370Z and the GT-R here, and neither seemed to be generating much attention, something that would not have been the case even a couple of years ago.
The second generation Leaf was unveiled here a year ago, and has been on sale for most of the time since then. It is understood that a new version with extended range was planned for release here, but the difficulties with the CEO and his summary dismissal and arrest meant that Nissan decided not to do so. One for Detroit, I would imagine.
There was a full complement of Nissan crossovers on show, ranging from the small Kicks, which as replaced the Juke in the US in recent months, the Rogue Sport (a US version of the car Europeans known as the Qashqai), the Rogue (an XTrail in European speak), the Pathfinder and the gigantic Armada.
POLARIS
Polaris has been making these three-wheeled fun cars for a few years now, and a few have found their way even to the UK (I've seen them on show at Prescott more than once), so they may well be familiar to many people. They had a display in the lobby area here, once again, and it always seemed to be busy, with plenty of people wanting a look and to sit in the cars. For the 2019 model year, Polaris has streamlined its Slingshot lineup, ditching the old 'LE' moniker and opting instead to go with four, easy to understand specs. The entry-level S model is priced from $19,999, and comes with a GM-sourced 2.4-litre four-cylinder engine (as do all the versions), good for 173 HP and 165 lb-ft (223 Nm) of torque. It also has Electronic Stability Control and ABS disc brakes. Move up in the range and for $25,499 you could have the Slingshot SL, which adds a 7-inch multi-touch display, 18″ front and 20″ rear wheels, a 100-watt Rockford Fosgate audio system, a backup camera and premium stitched seats. Then you have the SLR, which is a more extreme version of the SL, priced from $28,999. It comes with a Sparco steering wheel, shift knob and pedal covers, sport bucket seats and a larger rear wheel for increased performance. Last but not least is the Slingshot Grand Touring, which costs $29,499. This is more of a long-distance option and comes with Ride Command with navigation, a taller windshield, quilted comfort seats and a Slingshade removable roof option – it's the only Slingshot you can use when the weather turns against you.
PORSCHE
Porsche have an entire hall to themselves. It usually gets very busy, and with the new 911 on show this time, I suspected that would be the case this year, so it was the first place I went. I am sure that in the time I was in there, the Porsche staff outnumbered the public, so that meant I could get a good look, and take some photos very easily, which perhaps why there are quite so many. Such a contrast to Paris, where it was just too hard even to see, let alone photograph the cars.
There have been so many leaks and teaser photos of the 992 in recent months, that there was not that much of a surprise, certainly surrounding the final production car's appearance, or that all we are seeing now are a handful of variants, with far more to come in the months ahead. Even so, in the 55-years since production of the Porsche 911 commenced, just seven generations have been released. Consequently, the launch of a new one is always a very special occasion. In 992-generation (8th) guise, Porsche aims to improve the world's most-enduring and arguably greatest sports car in history in every facet, ensuring that it topples all its rivals and is ready for the dawn of electrification. As leaked images of the car have shown, the new 2020 Porsche 911, codenamed 992, isn't a dramatic departure from its predecessor. While the same can be said for most new-generation 911s, the 992 receives perhaps the most modest styling changes of them all. At the front, the new Porsche 911 looks largely the same as the outgoing model. Alterations include new headlights, revised air intakes, and different horizontal LED daytime running lights. Of course, there are also some more subtle changes present, including a reshaped hood with different lines, while all models now get enlarged fenders, regardless of trim and/or how many wheels are driven. Perhaps the most obvious styling tweaks come at the rear. For example, there are now sharp taillights connected by a light strip similar to the one Porsche first showed to the world with the Mission E. Porsche's designers have also crafted a new bumper but as is typical of 911s, different variants will utilize different bumpers and feature bespoke tailpipes. As for the rest of the vehicle's design, as anyone who knows about the 911's history is aware, it is much the same. That means there's the same muscular arches, sporty wheels, and curved roofline, though, now, the door handles sit flush with the body and extend out when pressed. Base Carrera models get 19-inch wheels at the front, 20-inch in the rear, while Carrera S variants sit on larger 20s and 21s respectively. One thing you may not notice with the new 992 911 is that its front overhang has been elongated to meet updated pedestrian impact protection regulations. Additionally, the 2020 911 will only be offered solely in wide-body guise. The front track has also been widened as have the wheels in a move that will increase grip at all four corners. Inside, some more considerable changes are present. For example, Porsche has incorporated a new instrument cluster, revised switchgear, and a larger 10.9-inch infotainment display. Porsche says the more angular design of the dashboard was inspired by the 911s from the 1970s. The slightly longer wheelbase and 45mm increase in front tracks promise some improvements in space too. While the new Porsche 911 may not look very different, upgrades found beneath the bodywork promise to make it the best (and fastest) model to ever be adorned with the brand's most iconic nameplate. Found across the range are a selection of new-and-improved twin-turbocharged 3.0-litre six-cylinder engines. Porsche first introduced these with the 991-generation 911 and for the 992, has worked its magic once again. For example, the engines now feature new die-cast aluminium manifolds. This, alongside other touches, sees power for the base 911 Carrera jump from 370 hp to 385 hp while the Carrera S now has 450 PS (444hp) rather than 420 PS (414hp). The latter in rear-wheel drive form reaches 100km/h in 3.7 sec (60mph in 3.5 sec) and in 4S all-wheel drive trim, in 3.6 sec (60mph in 3.4 sec), making both models 0.4 sec faster that the older respective Carrera S / 4S cars. This advantage is increased by another 0.2 seconds with the optional Sport Chrono Package. Top speeds are now 308 km/h or 191mph (911 Carrera S) and 306 km/h or 190mpg for the all-wheel-drive version. The fuel consumption on the European driving cycle for the 911 Carrera S is 8.9 l/100 km (26.4 mpg US / 31.7 mpg UK), while the 911 Carrera 4 S records this figure stands at 9.0 l/100 km (26.1 mpg US / 31.4 mpg UK). Similar power gains will be made among other 911 derivatives as they come to market. Customers of the Carrera and Carrera S are treated to a seven-speed manual transmission as standard but if they so desire, can opt for a new eight-speed dual-clutch. This new unit comes from ZF and replaces the seven-speed PDK we've come to know and love. The 911 Carrera and Carrera S will also be available with an optional four-wheel steering system. While that might not sound right, it's actually a real thing. In a world first (according to Porsche), the standard "Wet Mode" uses sensors under the wheel wells to detect the amount of water on the road to precondition the stability control and anti-lock brake systems accordingly, and warn the driver. The 992 also gets a camera-based warning and brake assist system fitted as standard, which detects the risk of collision with moving objects and initiates emergency braking if necessary. Night Vision Assist with a thermal imaging camera is optionally available for the 911 for the first time.  The Adaptive Cruise Control option includes automatic distance control, stop-and-go functionality, and an innovative Emergency Assist function. The 911 Carrera S costs from 120,125 euros in Germany and the 911 Carrera 4S from 127,979 euros, including tax. In the United States, the 2020 911 Carrera S has a base MSRP of $113,200, while the 2020 911 Carrera 4S will start from $120,600, each not including the $1,050 delivery, processing and handling fee. You can order both now, but they're not expected to reach U.S. dealers until summer 2019.
The 991-based range is not quite finished, and there was yet one more last version making its debut here, the spectacular 911 GT2 RS Clubsport, powered by a 3.8-litre flat six twin turbocharged engine, producing 690 HP (700 PS). Technically, this is the racing version of the road-legal 911 GT2 RS (991.2), and if you want that gigantic rear wing hanging off the back of your Porsche, you're going to have to make sure to purchase one of the first 200 units, because that's all they're making. "For the upcoming years, our customers will not only race the GT2 RS Clubsport on track days but also at international motor racing events. We are currently holding very productive talks with the race organizer SRO," stated Porsche VP of motorsport and GT cars, Dr Frank-Steffen Walliser. Power for the GT2 RS Clubsport goes through a rigidly mounted seven-speed dual clutch gearbox (PDK), eventually reaching the 310 mm (12.2 inches) wide rear wheels. According to the German automaker, traction and braking performance is aided by the positioning of the engine (behind the rear axle), as well as by the six-piston aluminium monobloc racing calipers up front. The front axle boasts 390 mm (15.3 inch) diameter brake discs, while the rear has 380 mm (14.9 inch) ones. Weighing in at just 1,390 kg (3,064 lbs), the Clubsport comes equipped with PSM (Porsche Stability Management), traction control and anti-lock brakes. The driver can of course adjust these assistance systems separately, or switch them off completely via a switch positioned on the centre console. Other easy to spot interior features include the removable carbon steering wheel and colour display (taken from the 2019 Porsche 911 GT3 R), as well as the massive safety cage, Recaro racing bucket seat and six-point safety harness. You also get air conditioning. In order to keep the weight down, Porsche had to employ solutions such as the CFRP roof with removable escape hatch, lightweight CFRP hood with quick release, removable CFRP rear hood with quick release, 115-litre FT3 safety fuel cell (refuelling through front hood) and the previously-mentioned massive rear wing, which is also CFRP (Carbon Fiber Reinforced Polymer). As for the electrical system, there's a Cosworth ICD with integrated data logger for the instrument cluster, a sport Chrono watch and boost gauge in a vintage finish, Porsche Track Precision Race App, Integrated Lap Trigger, a lightweight and leakproof 60Ah lithium-ion battery in the passenger footwell, an emergency cut-off switch and tire pressure monitoring.
A reminder of how the legendary 911 story started, more than 50 years ago was provided by this beautifully presented early example of the model, which was almost tucked away, well hidden from view.
In fact, the first cars that you would see as you entered the Porsche hall were this pair, the e-Hybrid Panamera and Cayenne, showing the direction where this brand is headed, just to stay in the game.
There were a couple of examples of the facelifted Macan here, a car making its Porsche its North American debut, following its unveiling in the summer. Looking instantly recognizable, the updated crossover features newly standard LED headlights and a modestly revised front fascia. Bigger changes occur out back, as the Macan has been equipped with a "three-dimensional LED light panel" that echoes the one used on the Cayenne and Panamera. In North American, the crossover receives a revised colour palette that now includes Chalk, Dolomite Silver Metallic, Mamba Green Metallic and Miami Blue. These colours largely carryover from the European variant, but Chalk appears to replace the Crayon option. Moving into the cabin, drivers will find a larger 10.9-inch infotainment system which now comes with a WLAN hotspot and Porsche Connect Plus. The latter features an LTE phone module and a SIM card reader. Speaking of technology, the Macan gains several new options including a Traffic Jam Assist system. Designed to work in conjunction with the adaptive cruise control system, the technology enables the Macan to accelerate, brake and keep itself centred in its selected lane at speeds up to 40 mph (64 km/h). Other new options include a 911-inspired GT Sport steering wheel, a heated windshield and an air ionizer. A turbocharged 2.0-litre four-cylinder engine resides under the bonnet and it produces 248 hp and 273 lb-ft (370 Nm) of torque. It is connected to a seven-speed dual-clutch gearbox which enables the crossover to accelerate from 0-60 mph (0-96 km/h) in as little as 6.1 seconds before hitting a top speed of 142 mph (228 km/h). While the powertrain carries over, the Macan rides on an updated chassis that promises to be more comfortable than its predecessor. The crossover also has 18-inch alloy wheels that are shod in newly developed tires which have better performance characteristics. The 2019 Porsche Macan will arrive at U.S. dealers next summer, though you can put your order in now. Pricing starts at $49,900 excluding a $1,050 destination and handling fee – and of course, any packages that you will most definitely find on readily available dealer-lot cars.
Final part of the display included a trio of GTS models. Considered by many to be the optimum version of most ranges, the ones shown here, all in the same shade of red were a  718 Boxster, and the Panamera and Panamera SportTurismo.
RAM
A separate brand, but part of the FCA empire, and indeed the one that is contributing to a strong 2018 sales performance in America, there were lots of trucks and vans to see here. RAM launched their new full-sized truck, the 1500, a few weeks ago, and unlike its GM rivals, which got very lukewarm reviews, the press were really impressed by these, finding much to praised including the particularly well-resolved interiors. In recent weeks, the RAM 1500 has overtaken the Chevy Silverado in the sales charts, and comparing the two visually, it is not hard to see why. Several were on display, and there were also examples of the outgoing design.
Also here were the baby models in the range, the CityMaster and ProMaster, which are RAM-badged versions of models familiar to Europeans as the Fiat Doblo and Ducato. These have not been that well received States-wide, being criticised for feeling under-powered and a bit on the small side, but there's not that much competition, so they remain an important part of the range.
RIVIAN
Perhaps the greatest surprise of the show, and certainly the busiest stand of them all, came from this brand that you've probably never even heard of. Earlier this year, the company announced that they had acquired a former Mitsubishi factory in Illinois, and that is where they will produce the vehicles that they showcased here, the fully electric R1S SUV and the related R1T Pickup truck. I can imagine Elon Musk was gnashing his teeth at the announcement, though there is going to be a two year wait before customers get their hands on either. With the R1T, the dawn of the electric pickup truck is upon us, or as Rivian call it, an 'Electric Adventure Vehicle' with a range of more than 400 miles (643 km) and enough room to seat five adult passengers comfortably. "I started Rivian to deliver products that the world didn't already have – to redefine expectations through the application of technology and innovation. Starting with a clean sheet, we have spent years developing the technology to deliver the ideal vehicle for active customers. This means having great driving dynamics on any surface on- or off-road, providing cargo solutions to easily storing any type of gear whether it's a surf board or a fishing rod and, very importantly, being capable of driving long distances on a single charge," stated company founder and CEO, Rj Scaringe. Aside from having room for 5, the R1T also packs and integrated, watertight bed, and has a large 12.3 cu.ft) front trunk (frunk). There's even more storage room beneath the rear-seat floor, as well as underneath the bed floor ( 7 cu.ft), while the lockable gear tunnel offers a significant amount of cargo capacity if you're looking to fit longer items such as skis, a snowboard, tent, stroller or perhaps golf clubs. The R1T is much more than just an eco-friendly pickup truck. Its quad-motor system sends 147 kW of torque to each wheel, resulting in a grand total of 14,000 Nm (10,325 lb-ft) of torque for the entire vehicle (3,500 Nm of grounded torque per wheel). Buyers can choose between three different battery pack configurations: 105 kWh, 135 kWh and 180 kWh, all of which capable of maxing you out at 125 mph (201 km/h). Range also differs between the three, with the latter offering 400+ miles (643+ km), the mid-spec one 300+ miles (482+ km) and the entry-level one a good 230+ miles (370+ km). The fastest model can accelerate to 60mph (96km/h) in just 3.0 seconds. "The beauty and elegance of our quad-motor setup isn't just about brute power; this architecture provides instantaneous torque with extremely precise control at each wheel, which is completely game-changing from a dynamics perspective, both on- and off-road," stated executive director of engineering and programs, Mark Vinnels. You can achieve approximately 200 miles (321 km) of range in just 30 minutes of charging, thanks to the battery's fast charging function. Also, there's an 11 kW onboard charger that's meant to facilitate rapid charging at a Level 2 charger. According to Rivian, the R1T was designed to communicate strength, while also featuring a modern stance, acknowledging the performance and technology integrated into the vehicle. The R1T boasts short overhangs, high ground clearance and aggressive approach and departure angles, all courtesy of Rivian's unique 'Skateboard' platform, which packages the battery pack, drive units, suspension, braking and thermal system below the height of the wheel. Also interesting is the design of the lighting units, where you have signature 'stadium' headlights out in front, working alongside a horizontal daytime running light strip, extending the entire width of the vehicle, much like the taillights. As for the interior, Rivian says that's a premium environment, that just happens to invite rugged, daily use. Materials used throughout include sustainably sourced wood, whereas high-wear areas of the cabin feature durable and innovative materials that can be easily cleaned. Of course, you can't build a modern fully-electric pickup truck without having it offer its passengers high levels of connectivity and safety. Rivian's connected car platform operates on a high-speed Ethernet backbone, allowing for over-the-air software updates. There's also a cloud-ecosystem for data exchange. The in-vehicle experience also consists of a 15.6-inch touch screen infotainment display, working with a 12.3-inch digital instrument cluster and a 6.8-inch rear touchscreen display. When the R1T launches, it will feature a "robust hardware suit" reliant on camera sensors, radar, lidar, ultrasonic and a high precision GPS coupled with high definition maps. The truck will have 'Level 3' autonomy for highway operation, whereas city and off-road driving will be facilitated by a range of self-driving features. Pricing for the R1T starts at $61,500 after Federal Tax credit, with first deliveries arriving in late 2020. Rivian will initially produce fully-equipped versions first, with the 180 kWh and 135 kWh models available at launch. The base variant will arrive about a year later.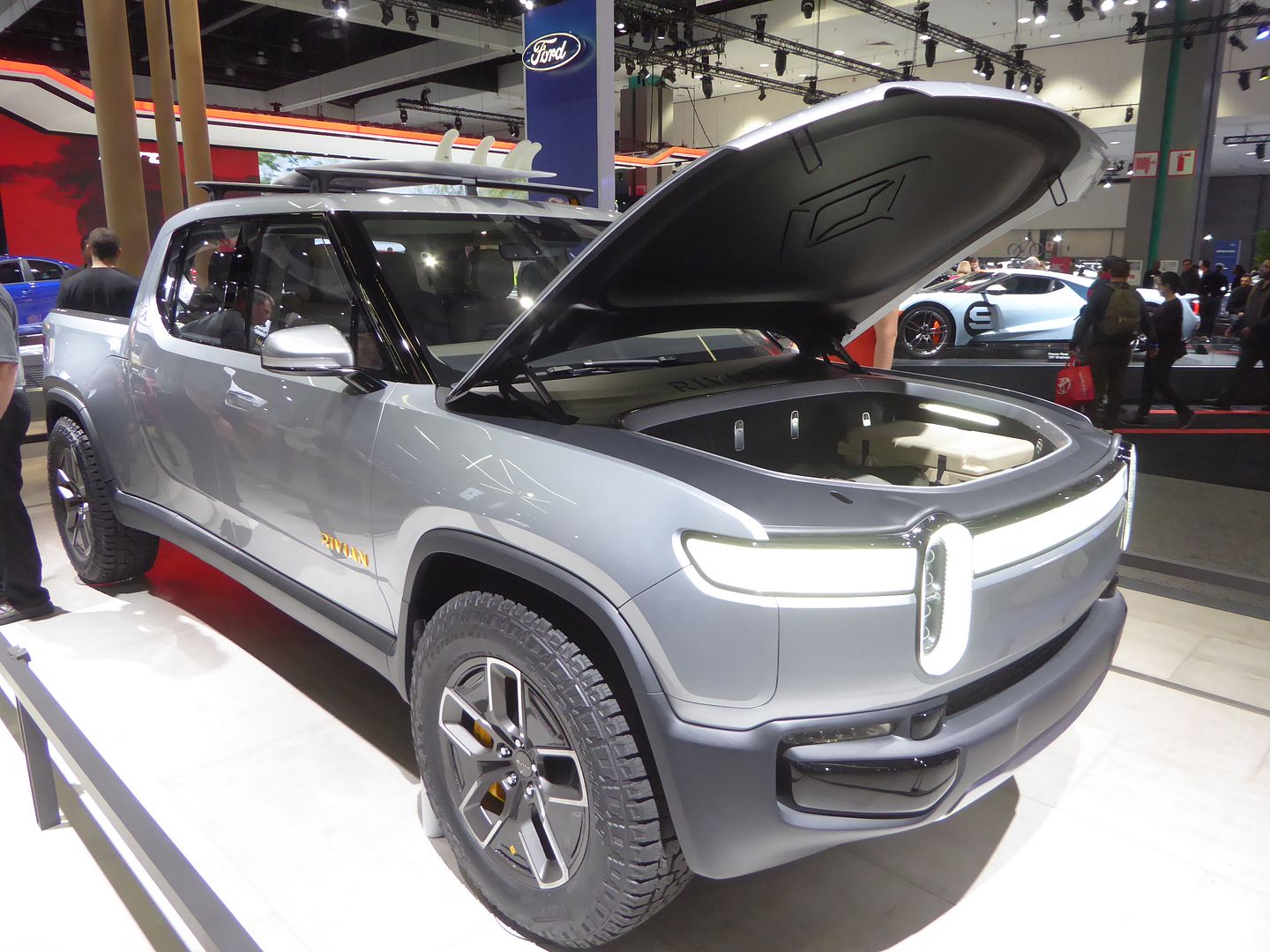 The R1S is largely identical to the electric pickup but it features unique styling aft of the A-pillar. The biggest change is the new body style which results in the R1S having longer rear doors, a gently sloping roof and a more practical interior that can set up to seven people. Like the R1T, the R1S will be offered in multiple configurations and the base model will have a 105 kWh battery pack which powers four electric motors. This setup gives the SUV a combined output of 402 hp and 412 lb-ft (560 Nm) of torque. In terms of performance, the entry-level model can accelerate from 0-60 mph (0-96 km/h) in 4.9 seconds, hit a top speed of 125 mph (201 km/h) and travel more than 240 miles (386 km) on a single charge. The mid-level model has a larger 135 kWh battery pack and a combined output of 753 hp and 825 lb-ft (1,120 Nm) of torque. Thanks to the extra power and larger battery, the SUV can run from 0-60 mph (0-96 km/h) in 3.0 seconds and travel in excess of 310 miles (498 km/h). The range-topping variant has a 180 kWh battery pack and is the only version of the R1S to come with a five-seat interior. The model also has slightly less performance as it is rated at 700 hp and 825 lb-ft (1,120 Nm) of torque. As a result, the dash to 60 mph (96 km/h) takes an additional 0.2 seconds but its range is 410+ miles (659 km). While the powertrains carryover, the R1S is shorter than the truck as it measures 198 inches (5040 mm) long. The SUV is also slightly taller and weighs 44 lbs (20 kg) less than the R1T. At launch, the R1S with only be available with the two larger capacity battery packs. Pricing starts at $65,000 (after a federal tax credit) and the first deliveries are slated to begin in late 2020. The company didn't have much else to say about the R1S, but the model will come equipped with a 12.3-inch digital instrument cluster, a 15.6-inch infotainment system and a 6.8-inch touchscreen for rear seat passengers. The R1S is also slated to have a Level 3 semi-autonomous driving system as well as an assortment of "self-driving features focused on enabling active lifestyles."
SMART
Despite pitiful sales, Smart remains on sale in the US. Only the ForTwo is offered, and the lone example here was tucked away almost apologetically, at the back of the Mercedes stand. Not surprisingly, no-one seemed to be paying it any attention.
SUBARU
With Subaru sales in the UK struggling to get into 4 figures, it is hard to appreciate just how popular this slightly quirky Japanese brand is in the UK. nearly 750,000 examples of the range find new buyers every year, with the twin benefits of standard all-wheel drive and the advanced safety features that are on all the firm's products make them especially popular in the snow belt. As such, there was a large stand here. Highlight was the launch of the XV Crosstrek Hybrid, Subaru's first plug-in hybrid. Set to go on sale next year, the 2019 Crosstrek Hybrid features an all-new "StarDrive" powertrain which consists of a 2.0-litre boxer engine, two electric motors, a symmetrical all-wheel drive system and a Lineartronic continuously variable transmission. One of the electric motors functions as an engine starter, but it can also be used to as a generator to produce electricity for the 8.8 kWh lithium-ion battery pack. The second electric motor powers the car while also recharging the battery via regenerative braking. This setup enables the Crosstrek Hybrid to have a combined maximum output of approximately 148 hp. While that doesn't sound like much, the car can accelerate from 0-60 mph (0-96 km/h) one second faster than the standard Crosstrek which has a 2.0-litre four-cylinder engine that produces 152 hp and 145 lb-ft (196 Nm) of torque. Improved performance isn't the only benefit as the Crosstrek Hybrid can travel up to 17 miles (27 km) on electricity alone at speeds up to 65 mph (104 km/h). Overall, the car has a combined range of 480 miles (772 km). Styling changes are relatively minor as the plug-in hybrid is distinguished by blue headlight projector rings, unique silver trim and special 18-inch alloy wheels. The model also has plug-in hybrid badging, rear charging port and an exclusive Lagoon Blue Pearl paint job. The interior largely carries over, but the Crosstrek Hybrid has two-tone leather seats with blue contrast stitching. Drivers will also find blue trim and hybrid-specific displays. The 2019 Subaru Crosstrek Hybrid has a base price of $34,995 and model comes nicely equipped with a leather-wrapped steering wheel, heated front seats and an 8-inch infotainment system. The car also has an EyeSight driver assistance system which provides adaptive cruise control, lane keep assist and pre-collision braking. Other safety features include a blind spot detection system and rear cross traffic alert.
The latest Impreza, which went on sale in the UK earlier in 2018, and of which I have yet to see a single example on the road, has been around for a couple of years, and there was one each of the hatch and the saloon model. I drove a hatch earlier in this trip and found the engine and CVT gearbox to be the weak point, just as the UK press had said about the 2 litre cars, Heaven help the 1.5 litre ones we also get!
A size up, there is the Legacy sedan, now selling in relatively small volumes compared to the Outback, which is effectively the estate version, with a raised ride height, and the brand's best seller in the US.
New earlier this year as a next generation Forester, and when I saw this in the metal, I could see that the visual changes are more extensive, especially at the back than I had first thought. It reaches Europe during the next few weeks.
There are still a couple of overtly sporting Subaru models offered, though even in America, they are not volume sellers. One is the BRZ, which now outsells the Toyota 86 by a small margin, completely unlike in Europe where the ratio is massively in favour of the Toyota version, and there is also the WRX, which became a stand-alone model rather than just a heated up variant of the Impreza a few years ago.
TESLA
Tesla had a small stand here, and it was always busy, reflecting the popularity of this brand, especially in California, where the cars are a very common sighting on the roads. After all the well-publicised delays in ramping up production of the Model 3, it is not able that these cars are now finally available in number, as I saw plenty of them on the roads during this trip. There was space on the stand for just one example of the three production vehicles, the Models 3, S and X.
TOYOTA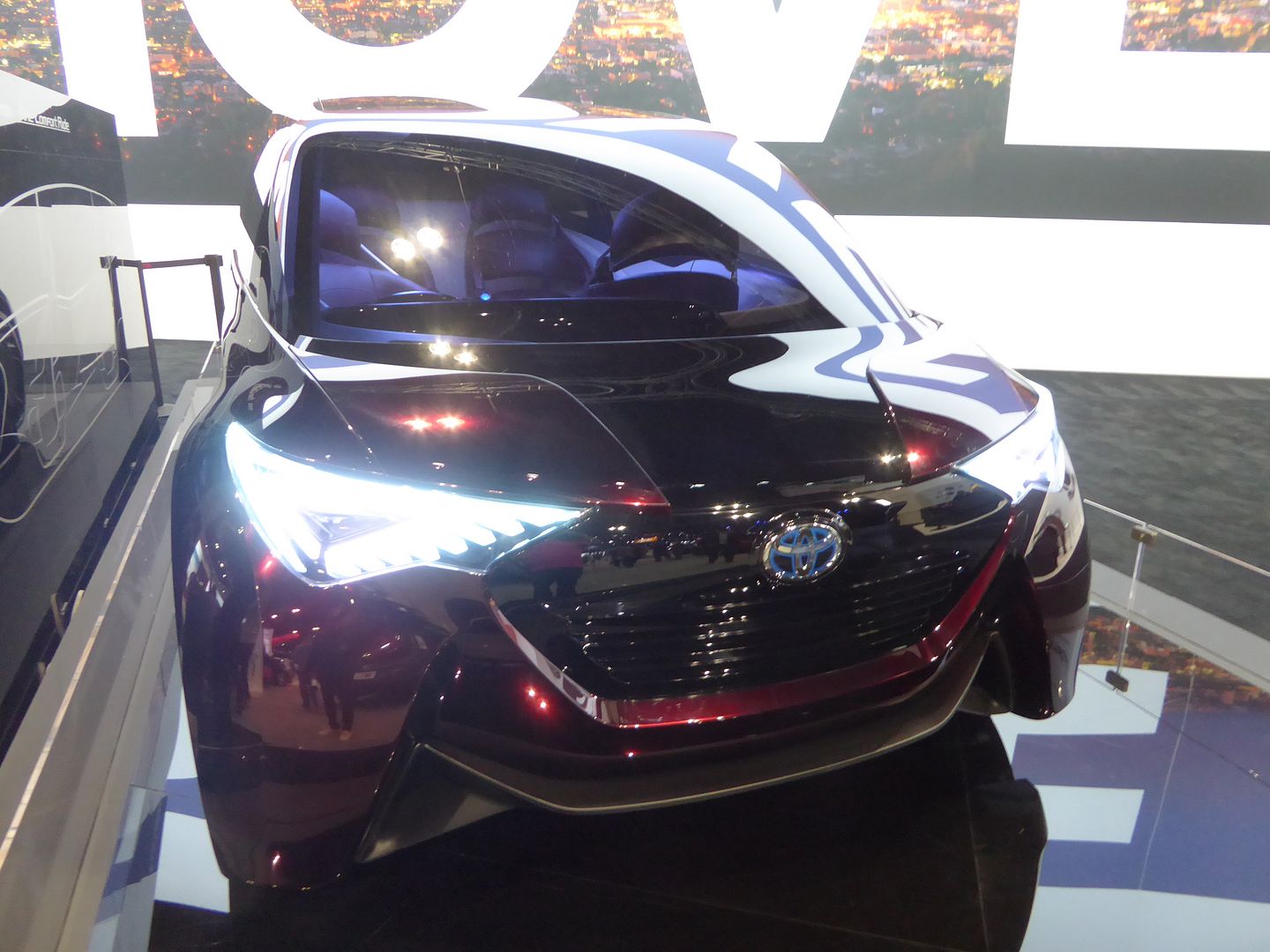 Star turn on the Toyota stand was the new 2020 Corolla Sedan. Toyota rolled out the all-new Corolla in hatchback form earlier this year, and followed up with the European wagon version in Paris, and the sedan version at the Guangzhou show in China just a couple of weeks ago. Introduced at the Guangzhou International Auto Show in China today, the new Corolla Sedan will be offered in two different flavours. These include the (somewhat) self-explanatory Sporty in North America, China (called Levin), Japan and other regions, while China, Europe and other select markets will (also) get the higher-end Prestige. The 12th-generation Corolla sedan shares its mechanical and styling genes with the latest Corolla hatchback. Without trying to alienate its broad consumer base, the new compact sedan has a more angular and aggressive design, especially up front, though the rear is more conservative than the hatch. Inside, you won't find any differences with the five-door model, with the sedan boasting the same design and tech-rich features, including the Entune 3.0  infotainment system with Apple CarPlay and Amazon Alexa compatibility. Base U.S. models will get a 7-inch touchscreen, while higher end trims, an 8-inch display. Like the other Corolla models, the sedan is based on the Toyota New Global Architecture (TNGA) platform. It measures 4,640mm (182.7 in.) long, 1,780mm (70.1 in.) wide and 1,435mm (56.5 in.) tall, with a 2,700mm (106.3 in.) wheelbase. The wheelbase remains unchanged over its predecessor, but the new Corolla sedan has wider front (+0.47 in.) and rear (+0.87 in.) track dimensions. Furthermore, the front overhang was shortened by 1.3 in., and the rear overhang extended by more than half an inch, while height was reduced 0.8 in., and the hood lowered 1.4 in. for better forward visibility,  which was achieved by mounting the engine lower. Toyota promises that the new architecture, which includes a multi-link rear suspension instead of the previous model's torsion beam set up, and a revised MacPherson strut front suspension, brings with it improved driving dynamics as well as higher levels of ride comfort, quietness, and safety. The North American model will get three engine choices, starting with a base 1.8-litre inline-four with 139 horsepower paired to a continuously variable transmission carried over from the old Corolla. Moving up to the SE and XSE models gets you the new Corolla hatchback's 2.0-litre four-cylinder pumping out 169 hp and 151 lb-ft (210 Nm) of torque found in the hatchback. The XSE is offered only with a CVT, but the SE can be had with six-speed manual with an electronic rev-match feature. As well as bringing this new Corolla sedan to North America for its debut at the Show, Toyota revealed full details of its hybrid powertrain in the process. While the Japanese automaker will continue offering its mainstay economy sedan with conventional powertrain options, it's also rolling it out with a hybrid for the first time. Adapted from the Prius, the powertrain combines a 1.8-litre naturally aspirated inline four with a pair of electric motors and a continuously variable transmission, The system delivers a combined output of 121 horsepower (90 kW) and fuel economy projected at upwards of 50 miles per gallon. It also employs a new Hyper-Prime Nickel battery that sits flat under the rear seats (instead of the trunk) for a lower center of gravity and better packaging in the TNGA platform. And it incorporates a trick "preload" differential that channels torque to each of the two front wheels individually to combat the kind of "rubber-band" acceleration typical of many hybrids and provide "linear acceleration response [that] may take some by surprise." As you might expect, the Corolla Hybrid will feature both Normal and Eco driving modes, as well as an EV mode for pure electric motivation over short distances. But it also offers a Sport mode that increases the amount of power available for acceleration. And the regenerative braking system is designed to work with the shoes in the wheels to offer more stopping power. The Corolla Hybrid rides on its own set of 15-inch alloys with low-rolling resistance tires, and offers all the safety and infotainment technologies you'd expect from a major automaker's latest product. Pricing has yet to be announced for the US market, but you can expect to pay a premium for the Corolla Hybrid over the conventional version as it joins Toyota's growing petrol-electric lineup alongside the Prius, Prius Prime, Prius C, the Mirai fuel-cell vehicle, and hybrid versions of the Camry, Avalon, RAV4, and Highlander. Sales in the United States and Europe will begin in spring 2019, with the new compact sedan to gradually roll out in more than 150 countries and regions around the world after the second half of the year. It will be interesting to see how well it does, as the current car has been on a steeper decline than some other cars in its class, and is now comfortably outsold by the Honda Civic in the US. Toyota clearly think this will reverse that. "We have striven to design new models that are eye-catching, and fun to both ride in and drive," said Yoshiki Konishi, chief engineer of the Corolla. "By enhancing not just the fun factors that are unique to cars, but "connectivity" functions to create new value, I wanted to make this new model a car that enriches mobility for customers around the world."
Available before that will be next generation RAV4, which was first shown at shows around the world earlier in the year.
It was not all about the new RAV4, or the 2020 Corolla, though. Toyota also had a thing called the TJ Cruiser, a concept vehicle whose initials stand for 'Toolbox' and 'Joy', believe it or not. As for 'Cruiser', that term is of course a very established one within Toyota's automotive portfolio. When Toyota first presented the TJ Cruiser Concept, they stated that it was designed "for drivers with lifestyles where work and play dovetail seamlessly." It has the roominess of a cargo van and the rugged design of a boxy SUV. It actually looks so "butch", it sort of reminds of the Knight XV, which is a Ford 550 Super Duty-based armoured vehicle. Alas, here are the types of features it has: special protective coating on the bonnet, roof and wings, a sturdy suspension system, 20-inch wheels, all-wheel drive, sliding rear doors (like on a van), large load area, deck boards, tie-down points, plus a basic yet modern interior. The dashboard almost looks like it belongs on some type of futuristic Wrangler, which fans of the "genre" will certainly appreciate. It also looks like something off a Citroen C4 Cactus, but let's not nitpick too much. The Japanese automaker based the TJ Cruiser Concept around its Toyota New Global Architecture, or TNGA, and fitted it with a 2.0-litre hybrid powertrain, although full specs remain undisclosed. Don't count on this being the last you see of something like this, as elements of it are rumoured to be heading to some form of production model in due course.
Toyota certainly win the prize for the noisiest stand. At very frequent intervals, there was a rather crass game show, "Higher or Lower" with some questions trying to big up how good Toyota is in the US. Talking to staff on neighbouring stands, it was driving them mad, as they had to listen to it all day long. I thought it excrutiating enough just to hear it on the odd occasion as I walked by. There were never more than a few people joining in, all, I assume in the hope of winning some rather naff prize.
There was a NASCAR version of the Camry on the stand, and the door was open I peered it, at what was an incredibly primitive and uncomfortable looking cabin. The girl "minding it" encouraged me to get in and then in exchange for an email address, snapped a selfie of me, which did come through. And no, I am not posting it here!
The C-HR reached American shores some months after it went on sale in Europe. It has not been anything like as successful as it has been in Europe, probably because the packaging limitations mean that a lot of Americans will see it as simply too small. Several of them were on the stand here.
A new generation Avalon, Toyota's largest saloon, was unveiled at Detroit earlier in the year and it went on sale a few weeks ago. Just as with the last one, this is the Avalon, we are told, which will appeal to a much younger demographic. That did not happen last time round, despite swoopier styling and the adoption of some more trendy design features in the cabin, and I am not convinced it will happen this time, either. This was my first chance to see one in the metal.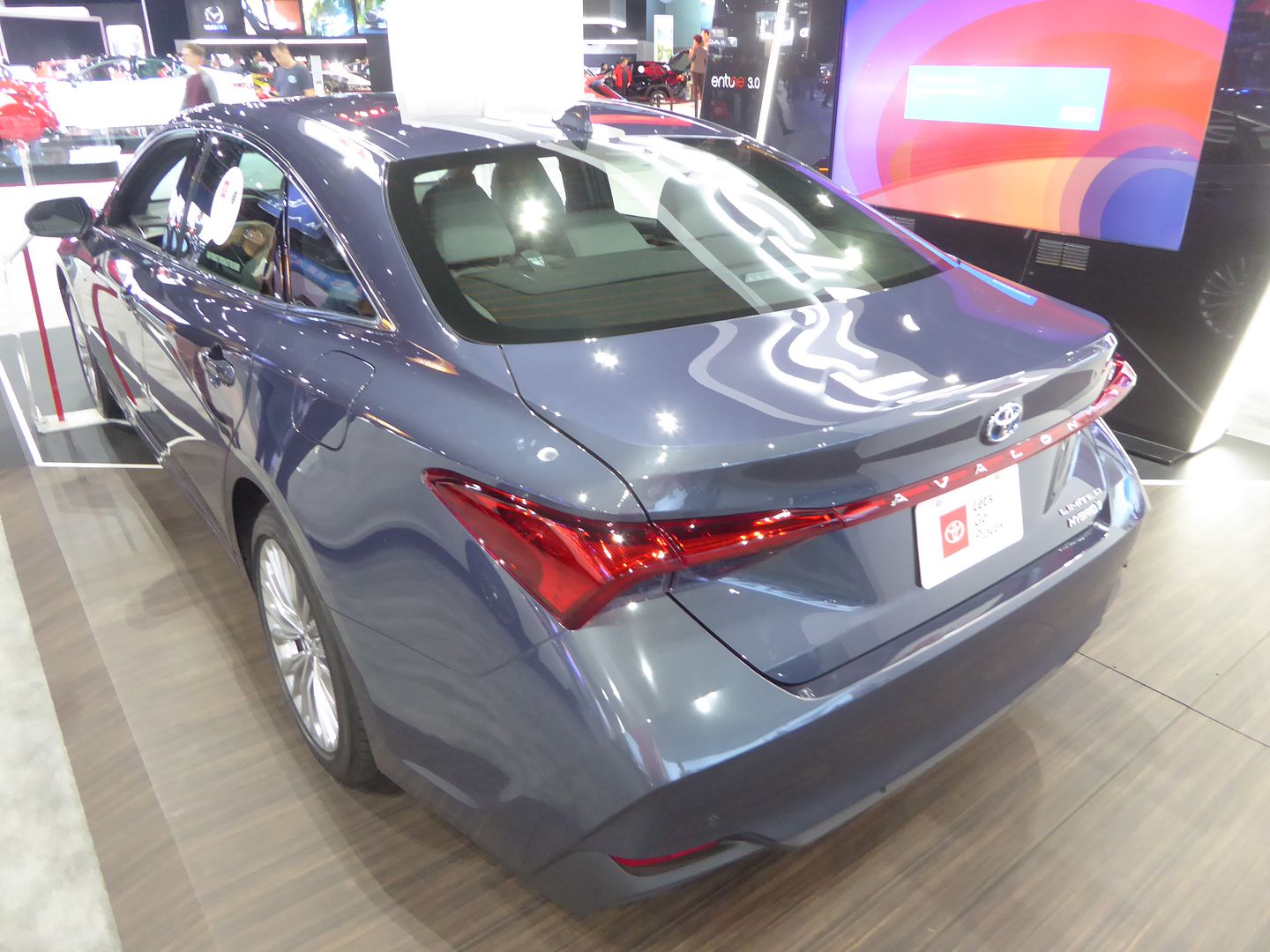 Also making their debut here were TRD versions of the 2020 Avalon and Camry, both billed as "track-tuned sedans that enthusiasts have been asking for." I can't imagine that anyone who buys an Avalon, and few who choose a Camry have been doing any such thing, but someone somewhere must have been convinced by the business case for producing these rather odd-looking machines. Both cars have been equipped with a retuned suspension that features new shock absorbers and lowering springs that reduce the ride height by 0.6 inches (15 mm). The cars have also been outfitted with thicker braces that increase torsional rigidity. Besides the suspension changes, the Avalon and Camry have a beefier braking system that features 12.9-inch front discs and two-piston calipers. For comparison, the standard XSE variants have 12-inch discs with single piston calipers. On the styling front, both models have an aerodynamic body kit that includes a front splitter, new side skirts and a boot-mounted spoiler. Designers also installed a rear diffuser, red pinstriping and TRD badges. From there, the changes are model specific as the Camry TRD sports new 19-inch wheels with Bridgestone Potenza summer tires. The wheels have a matte black finish and each one weighs 3.1 lbs (1.4 kg) less than the standard 19-inch wheels found on the Camry XSE. The Camry also has a more aggressive suspension which features stiffer coil springs and sway bars. Toyota says roll stiffness increases 44% in the front and 67% in the rear. Rounding out the changes are a gloss black grille, a catback exhaust system and three two-tone paint jobs. The car also has black Sport SofTex front seats with red accents and embroidered headrests. Drivers will also find red seat belts, TRD-branded floor mats and a leather-wrapped steering wheel with red contrast stitching. The Avalon TRD is a bit more restrained, but the model has 19-inch matte black wheels which each weigh 4.5 lbs (2 kg) less than those found on the Avalon XSE. The sedan also has black Sport SofTex front seats with ultra-suede inserts and red accents. Owners will also find TRD logos on the headrests, floor mats and shifter. Both models are powered by a 3.5-litre V6 engine that produces 301 hp. It is connected to an eight-speed automatic transmission which features a sport mode and paddle shifters. Following their debut at the Los Angeles Auto Show, the Avalon and Camry TRD will go on sale in the fall of 2019.
Toyota Prius sales are falling in the United States – down almost 50% from what they were a few years ago. Many will tell you that the styling of the current generation is just of polarising that it has put off far more people than those who like it or who can live it, and this may be true, though another explanation could be the fact that there are more hybrid vehicles on offer than ever before, and also that the whole market is shifting to crossovers. Whatever the reasons, Toyota is trying to rescue Prius sales by introducing the 2019 model at the Los Angeles Auto Show. The biggest change is the addition of an electric all-wheel drive system which used to be available in only a handful of markets such as Japan. When equipped, the car comes with an additional electric motor that powers the rear wheels at speeds up to 43 mph (69 km/h). The electric motor is powered by a newly developed Nickel-Metal Hydride battery that has been designed to provide excellent performance in cold weather. The battery fits under the rear seat and doesn't have any impact on the interior as the model still offers 65.5 cubic feet of cargo space. Toyota says the Prius AWD-e should be one of the most fuel-efficient all-wheel-drive passenger cars in America. This seems possible as the company believes the model will have a fuel economy rating of 52 mpg city, 48 mpg highway and 50 mpg combined. For comparison, the front-wheel drive Prius L Eco is expected to have a fuel economy rating of 58 mpg city, 53 mpg highway and 56 mpg combined. While Toyota was slow to offer the all-wheel drive Prius in the United States, the company has high hopes for the model. If their estimates are correct, up to 25 percent of Prius sales could come from all-wheel drive variants. Besides the newly available all-wheel drive system, the 2019 Prius adopts a new front bumper and restyled headlights. The same changes are echoed out back as Prius fans will find more traditional taillights and a reworked bumper. The model also gains a revised steering wheel and two new exterior colours called Supersonic Red and Electric Storm Blue. All 2019 Prius hatchbacks will come standard with the Toyota Safety Sense P suite of driver assistance systems. They include a pre-collision system with pedestrian detection, lane departure alert with steering assist, automatic high beam headlights and full-speed range dynamic radar cruise control.
The Prius V was discontinued at the end of a 2017, and there was no sign of the now quite elderly Prius C here. But there was plenty of presence of another alternative technology vehicle the Mirai, revealed a few years ago, as a hydrogen-powered fuel cell vehicle. To give people a better look at how the technology is packaged, one of the cars was shown on its side. That had the advantage of you not needing to behold its still very controversial styling.
The rest of Toyota's crossover range was well represented here, too, with Highlander, 4Runner and Sequoia all available for inspection.
Finally, a significant corner of this large stand  was given over to pickup trucks, the large, and increasingly brash Tacoma and even bigger Tundra.
VANDERHALL
Displayed in the Kentia Hall was this. Luckily it has a large logo on it, to tell me what it was, otherwise I would have been scratching my head. Vanderhall Motor Works is an American Vehicle Manufacturer based in Provo, Utah. It manufactures hand-made three-wheeled autocycles designed for sports driving, touring, commuting and city driving. Vanderhall Motor Works was founded in 2010 by Steve Hall. Hall, who had been a CAD designer at Novatek, spent five years prototyping before offering his designs to the public. His initial model was the Laguna: a three-wheel roadster that is federally classified as a motorcycle and passed final testing for NHTSA and EPA certification in 2016. In 2016, Vanderhall officially produced three autocycles models: Laguna, Laguna Sport Premium, and the Laguna Bespoke Motoring Experience. Each features a 1.4-litre, 200 bhp GM four-cylinder, turbocharged engine with a GM 6-speed automatic transmission. Vanderhall's flagship model, the Laguna, features a hand-laid carbon-fibre body. It also has several patented components, including the non-welded cross-hatched front grille and tab-in-slot aluminium monocoque chassis. In 2017, Vanderhall introduced the simplified Venice model. It features a step-over beltline in lieu of doors and a 180-horsepower version of the GM 1.4-liter turbocharged engine, mated to a GM 6-speed automatic transmission with optional sequentially manual shifting. In 2017, Vanderhall previewed the all-electric Edison² roadster at the Long Beach International Motorcycle Show (IMS) and again at the 2018 Consumer Electronics Show (CES). The 2019 model-year Edison² will have the equivalent of 180 total horsepower from twin electric motors, matched with a 30 Kilowatt-hour battery to give the vehicle up to a 200-mile range. In 2018, Vanderhall announced a Speedster model at the annual Sturgis Rally. The 2019 Venice Speedster is a minimalistic iteration of the Venice with the passenger seat deleted. A fixed tonneau cover provides increased storage while serving to reduce buffeting and enhance design appeal. It shares the Venice's 1.4 litre 180 bhp GM four-cylinder turbocharged engine and 6-speed automatic transmission. The 2019 Carmel is Vanderhall's latest release. This model brings more luxury and convenience to the Vanderhall lineup. With front entry doors, a wider cabin, and provisions to accommodate a removable canvas cap shade, the Carmel offers additional comfort. Powertrain is a 200 bhp GM 1.5-litre turbocharged four-cylinder engine with 6-speed automatic transmission.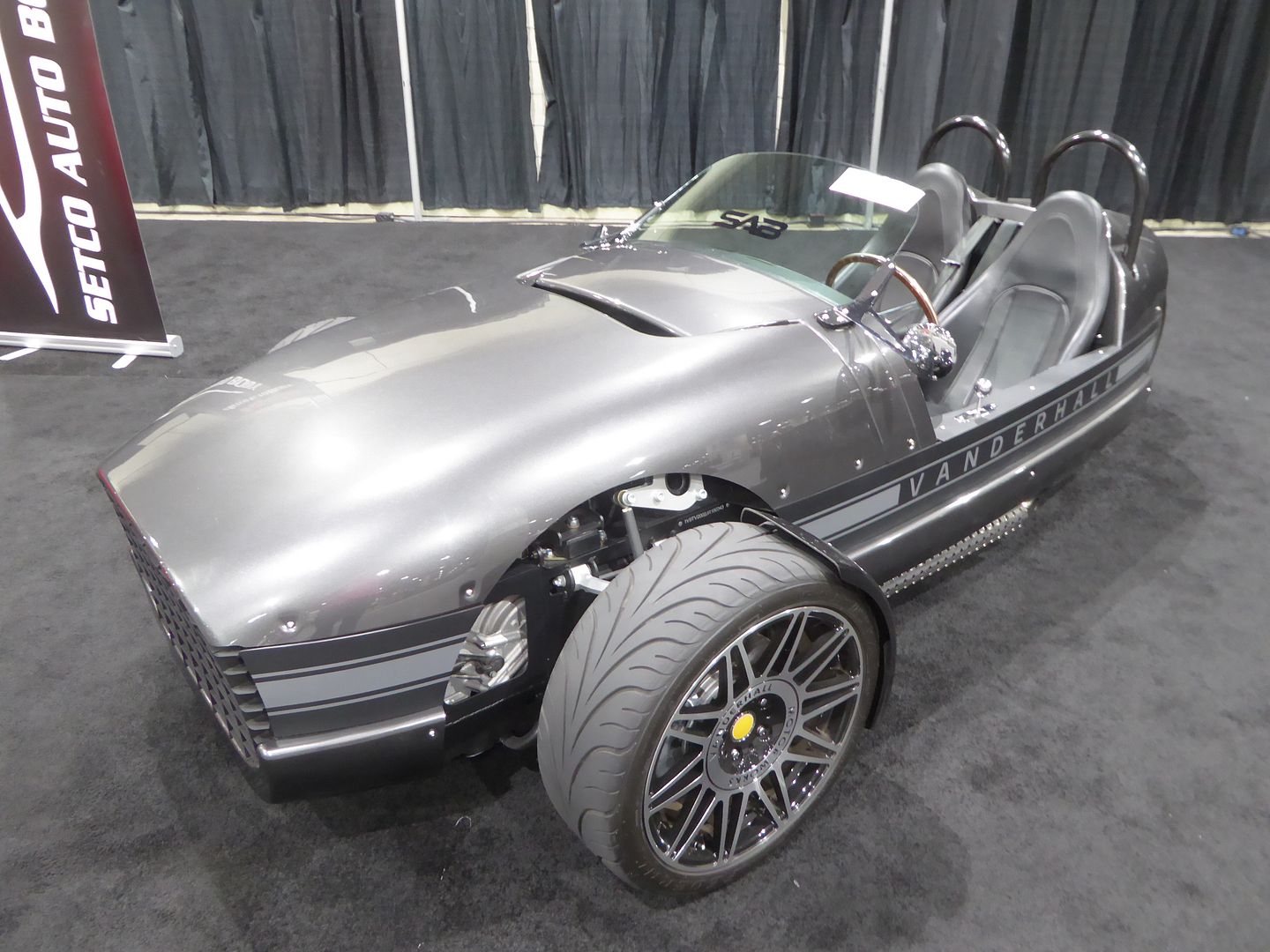 VOLKSWAGEN
Without doubt, the star of the expansive Volkswagen stand was this ID Buzz Concept Cargo. Unveiled earlier this year in Europe, this electric panel van study was making its North American debut here. According to the automaker, a production version of the van (sans those sweet decals), could launch by 2022.  The cute concept gains a new livery in the process as VW re-imagines it as a support vehicle for the I.D. R electric race car that set a new Pikes Peak record this year. Based on the Modular Electric Drive Kit (MEB), the I.D. Buzz Cargo is the commercial vehicle version of the I.D. Buzz concept that debuted at Detroit last year. It can cover up to 340 miles on a single charge. As with its people-carrying counterpart, the electric panel van could enter production as early as 2022 in Europe. VW says the I.D. Buzz Cargo is capable of achieving ranges between 200 and 340 miles on the WLTP cycle, depending on the size of the battery pack. That's because the automaker envisions two battery packs for the all-electric van. For covering "fairly normal distances" in the city on a daily and weekly basis, the entry-level 48 kWh lithium-ion battery should be enough. For customers needing greater range, VW could also offer a 111 kWh pack. Either of the two batteries feeds electricity to a 201hp (150kW) electric motor mounted on the rear axle that drives the rear wheels via a single-speed transmission. If the market will require an AWD version, all VW will have to do is add a motor on the front axle. As it is, the vehicle's top speed is electronically limited to 99 mph (159 km/h). Longer than the I.D. Buzz minivan, it has a payload of 1,760 pounds. Charging the bigger battery to 80 percent capacity takes 30 minutes with a 150 kW DC fast charger. VW says the battery is also compatible with inductive charging. Similar in size to the VW Transporter, the I.D. Buzz Cargo is 198.7-in (5,048-mm) long, 77.8-in (1,976-mm) wide and 77.3-in (1,963-mm) tall, with a wheelbase of 129.9 inches (3,300 mm). Styling-wise, it looks just like the I.D. Buzz Concept except it has no rear lateral windows. Besides the smaller glazed area, another significant difference is the 4.2-in (106-mm) longer rear overhang. That translates into a substantial cargo compartment with a payload of 1,760 pounds (798 kg). For the LA Auto Show, the vehicle is outfitted with a workbench and parts for the I.D. R in the intelligent shelving system.
And that ID R Racer was here, too. With a time of 7 minutes and 57.148 seconds, the VW I.D. R all-electric race car shot straight to the top among record-setting machines that have gone on to tackle the Pikes Peak International Hill Climb. Its nearly 8 minute-long journey was filmed from a helicopter, and the 12.42 miles (20 km) just flew past, as the I.D. R's electric motors howled in the background. The I.D. R is equipped with two electric motors, combining for a total output of 671 HP and 479 lb-ft (650 Nm) of torque. Thanks to its carbon fiber / Kevlar composite chassis, it only weighs 2,425 lbs (1,100 kg) – resulting in a staggering 0-62 mph (100 km/h) time of just 2.25 seconds. With Romain Dumas behind the wheel, the I.D. R proved over 16 seconds quicker than the previous record-holder, an 875 HP Peugeot 208 T16 driven by Sebastien Loeb back in 2013. Also, one funny quirk about the I.D. R is the significance of its racing livery. You can see that the car is wearing number 94, which is the numeric equivalent of the letters 'I' and 'D'.
However, what caught my eye first, as I approaced the VW stand were a couple of Golf models, a GTi and a Golf R  as these were painted in particularly bright colours, neither of which I had seen on the model before. I am not entirely sure of the green on the R, but the bright blue could work and is certainly a change from a sea of grey cars. plus GTi, regular, Estate and eGolf.
A new version of the Jetta went on sale in the summer, following an unveiling earlier in the year. These Mexican built cars are VW's biggest sellers in the US. There are no plans to export the model to Europe, where sales of three-box cars of this size just don't sell in any quantity.
Also specific to the US market is their version of the Passat. Larger than the European model, this one dates from 2012 when it won the Motor Trend Car of the Year award. It has received only minor updates since then. A new model is expected during the next few months.
A couple of months ago, VW announced that the Beetle won't be around for much longer and the German manufacturer decided to celebrate the iconic car with the release of the Final Edition at this Show. The Beetle Final Edition, available in hardtop and Cabriolet guises, will be sold exclusively in the United States and feature a number of styling tweaks to distinguish them from less models. Inspiration for the Final Edition has been taken from the 2003 Beetle Última Edición (Last Edition) which was introduced as a send-off the Beetle of the time. Customers of the 2019 Beetle Final Edition will be able to opt between two unique colours of Safari Uni and Stonewashed Blue for the exterior paint, both of which pay tribute to the Beetle Última Edición. For those that don't want to make such a statement, the car is also available in Pure White, Deep Black Pearl, and Platinum Grey. Exterior modifications are rounded off with body-colour mirrors, 17-inch wheels, and a sunroof for the coupe. Swing open one of the two doors and you'll find cloth and leatherette seats as well as a leather-wrapped steering wheel. Volkswagen has also fitted stainless steel pedals, ambient lighting, and an automatic climate control system. There's also a 6.3-inch Composition Media infotainment system, gloss black trim, and keyless entry to enjoy. Those wanting a little more can step up into the Beetle Final Edition SEL. This trim level adds Bi-Xenon headlights, LED daytime running lights, and LED taillights. It also has 18-inch wheels, diamond-stitched leather seats, and a Discover Media infotainment system with GPS. All Final Edition models have a 2.0-litre turbocharged four-cylinder with 174 hp and 184 lb-ft (249 Nm) of torque mated to a six-speed automatic transmission. Prices for the 2019 Volkswagen Beetle Final Edition SE coupe start at $23,045 while the Cabriolet starts from $27,295. Base prices increase to $25,995 and $29,995 respectively for the Final Edition SEL coupe and Cabriolet.
The stand also featured several example of the crossover models from the range: the regular and elongated Tiguan and the Atlas. The new Touareg that went on sale in Europe in the summer will not be offered here.
VOLVO
I'd read in the pre-show material that Volvo were indeed going to attend this show (one of few, globally, that they do now frequent), but that there would be no cars on the stand. This seemed a little bit odd, but was all to do with them wanting to present a future view of transport and mobility to the press. I was quite surprised when I got to their stand to discover that in fact, it was well populated with cars. I asked one of the stand staff about this, and she said that it had always been their plan to display cars, especially given the square footage that they had booked and paid for, but that the press had simply not bothered to listen to, or to read what they were told, and lazily assumed that what they got on Day 1 would apply for the whole show. So this is a rare case of the public getting more than the press do. And hurrah for that!
Most numerous model on the stand was the new S60, and this was the first time I had seen one in the metal. Looking like a slightly smaller S90, I think it could do very well in markets that give it a chance, as the interior is as elegant as you get with any Volvo, and it has all the brand's other virtues of a nice relaxed driving experience, plenty of safety features and other tech, and an image that is far from the thrusting German premium brands.
Pride of place on the stand actually went to the V60 in Cross Country form. The BMW 3 Series Sports Wagon rival starts at $38,900, excluding a $995 destination charge. The price corresponds to the base V60 T5 FWD model in Momentum trim level. The V6 T6 AWD Momentum is priced from $43,400. The base T5 powertrain is a 2.0-liter turbocharged Drive-E gasoline engine that produces 250 hp and 258 lb-ft (350 Nm) of torque. The engine is mated to an eight-speed automatic transmission that sends power to the front wheels. Customers who want their V60 with all-wheel drive are forced to upgrade to the T6 engine that comes with standard AWD. It's still a 2.0-litre petrol engine but it features both turbocharging and supercharging for a total of 316 hp and 295 lb-ft (400 Nm) of torque. In this case, the same eight-speed auto is linked to an AWD system. The entry-level Momentum grade comes standard with LED headlights, panoramic moonroof, the Sensus Connect touchscreen interface, and an exclusive city-weave textile interior. Momentum also brings a suite of standard driver assistance features. Those are highlighted by City Safety which helps mitigate or prevent accidents at intersections and with pedestrians, cyclists and large animals. The mid-range R-Design (from $43,900) brings a more dynamic appearance courtesy of gloss black window trim, mirror caps, and front grille. Interior upgrades include the Nappa leather sports seats with open grid textile, heated and perforated leather steering wheel with gearshift paddles, and leather-wrapped gear shifter. Finally, the range-topping Inscription grade adds bright chrome window trim and front grille accents on the outside for a more luxurious look. Inside, it brings driftwood inlays, leather comfort seats with four-way lumbar and power cushion extensions, and four-zone electric climate control, among many other things. The first units of the mid-size premium wagon will arrive in U.S. dealerships in early 2019. The V60 will be offered exclusively via customer order production to allow customers to fully customise their vehicle.
The larger V90 model has been on sale in the US for a year or so, and there was one of these at the back of the stand. Like many brands these days you have to look quite hard to tell this apart from the V60 (there are design differences, especially in the details, but they are quite subtle).
With the recent arrival on US soil of the much lauded XC40, Volvo now has a range of three crossover models, and all of them were here, the still new XC60 joined by the second generation XC90.
THE KENTIA HALL ("THE GARAGE")
There is a third hall to the venue, situated downstairs under the main South Hall, and this is used for an array of trade stands, with mainly after-market products on offer comprising everything from accessories, books, toys and models to displays of some of the wilder creations of the customisation industry. As in previous years, I have a quick wander around, to see if anything catches my eye. Trouble is, more of was likely to catch my stomach, with an array of excess that was just not to my taste at all. So, let's confine the photos from this part of the event to a single one (there were a couple of cars already shown above), which is of the two "Big Rigs", Mack trucks that had been housed quite easily in the spacious setting.
THE GRAND TOUR
With the third, and what we now know as the final studio-based series of the Grand Tour about to begin, there was a large stand representing the show situated off the corridor connecting the two halls together. Clearly, the motivation was to get people to sign up for an Amazon Prime subscription, but what they had was eye-catching and engaging. Video clips from the show were playing on large screen that you could not help watching even as you walked past, and there were a number of games you could join in. Two cars caught my eye, a Porsche 918 which was set up so you could selfie with it, and a
Rocket One, the adapted version of the Mustang created by Hendrik Fisker a couple of years ago.
No question about it, I enjoyed my day here. Rather more than I did at the Paris Show. There was enough to see that it kept me there for those 10 hours, with lots of new cars, and a series of displays which really did look like the manufacturers were trying, unlike the very low budget appearance to many of the stands in Paris. The glitz and glamour of Shows of yesteryear felt like it had not completely gone from this one. From a personal point of view, I also loved the fact that it never really got busy. Week days always are quieter, and the fact that you could buy a cheaper ticket by attending Monday to Thursday evidences the fact that the organisers know this, and it has to be admitted that the torrential rain probably deterred a lot of people from setting foot outside at all but even so, the first two hours were so quiet that it almost felt like having a private viewing. Great for me, but it is not going to help all the business cases that justify attendance by the manufacturers. I am told that had I gone at the weekend – and the show is open over two consecutive weekends, I would have had a very different experience. The dates for 2019 have already been announced – slightly earlier than this year, the Show will run from 22 November to 1 December. I plan to be there.