Inspiration to go and have a look at this amazing collection of cars came from my good friend Andy Convery. He had watched an episode of Harry's Garage on YouTube, where Harry had wandered among a number of the cars that were on show in advance of Silverstone Auction's May 2021 sale. The location was Stoneleigh, only a few miles south of his Coventry home, and a location I could easily get to. A quick phone call elicited the fact that it would be possible simply to turn up on the day, so that is exactly what we did. The auction was broken in to three parts, with the automobilia lots up first, starting at 10am, and we were advised that this might be the best time to be looking at the cars, and whilst we were not the only ones who were doing so, there were only a handful of others on the same mission. How man of them were potential serious bidders I do not know, as the cars would not go under the hammer until 2pm and by that time we had adjourned in quest of other activities for the day. We did see the first auction and the start of the bike auction, and noted that there were a few bidders present in person and a bank of people manning phones and screens to receive remote bids – the way of the modern auction even without Covid restrictions in place. There were certainly some lovely cars on show, which we knew having watched that video and seen Silverstone Auction's own online catalogue, and here they are:
ALFA ROMEO
No question, this was the stand-out car for me, not least because I did not know precisely what it was. The answer is that it is an Alfa Romeo 1900 ATL. Not heard of that? No nor had I! The great Italian coachbuilding houses have been sadly decimated since the '60s, unable to face the challenges of a world in which car makers can competently design and produce even their low volume models in-house. Back then, this colourful industry was very much in its pomp, made buoyant by the growing momentum of the Italian economic miracle, its attendant industrialisation, and a wealth of homegrown talent. Nowhere else could you find such a happy blend of artistic and technical skill when it came to styling and fabricating motor car bodywork. Iginio Alessio, General Manager of Alfa Romeo at the time and a true enthusiast at heart, was concerned for the future viability of the independent Italian coachbuilding industry as the arrival of the 'unibody' chassis design was threatening to put the 'Carrozzerie' out of business. Consequently, Alfa magnanimously offered official contracts to Touring to build the sporty 1900 Sprint Coupé and to Pininfarina to create an elegant four-seat Cabriolet and Coupé. The availability of a suitable chassis and power train combined with Alfa's fatherly approach to a number of small design houses, meant that wherever there was a talented stylist and a competent engineer, a sporty, speedy Alfa Special would appear. Most of these would fade away after one or two misguided efforts but ATL (Autotecnica del Lario) were one of the exceptions and survived for nearly twenty years in the city of Lecco in Lombardy becoming known for their good-looking, rapid and nimble little coupés. This superbly styled Alfa Romeo is currently not UK-registered having just arrived directly from the shores of Lake Como. No factory records from ATL exist, however, there is very little doubt that this spectacular piece of motoring artwork is the product of this talented team of artisans. All the ATL coupés differed very slightly in terms of detail but the 'House Style' is instantly recognisable and no one else created such a distinct design. Our vendor resides on the shore of Lake Como, a stone's throw from the original ATL workshops, and one or two of the older residents remember the cars well. The restoration of this particular Alfa Romeo 1900, now finished in a period shade of Verde Inglese (British Racing Green), we are informed, commenced in the 1980s but was mothballed, unfinished until being presented to the present owner on the occasion of his 23rd birthday, at which point the rebuild recommenced. Once completed, it has been used sparingly in its spiritual home. The chassis is constructed in the 'Superleggera' style consisting of varying diameter steel tubing with boxed in sections to which all mechanical ancillaries are attached. The voluptuous bodywork consists of a hand-formed, thin gauge aluminium body suspended over the birdcage framework. Motivation comes from Alfa Romeo's four-cylinder,1900cc twin cam breathing through twin Dellorto carburettors offering surprisingly punchy performance and a classic Alfa driving experience. Selling for £202,500, I reckon the buyer got something of a bargain.
ALPINA
Compared to BMW's in-house M-Division, Alpina vehicles place more emphasis on luxury, higher torque and more sophisticated automatic transmission. Higher quality materials are used inside along with extra sound proofing, a more aerodynamic body kit, tuned suspension, 20-spoke alloy wheels, custom exhausts and more paint options. Based on the standard BMW 330i E46, the B3S uses BMW's legendary straight-six, enlarged to 3,346cc now generating a conservative 300bhp (compared to 228bhp in the standard 330i). Engines built by Alpina have a reputation for smoothness, gently purring at idle but a quick blip of the throttle gives the game away leaving you in no doubt that this is a performance machine. It uses a ZF 'Switchtronic' five-speed automatic gearbox with manual operation effected by buttons on the steering wheel (up and down). All these tweaks add up to an incredibly quiet and relaxed environment yet, in the real world, the B3S is about as quick cross-country as anything else, with the exception of a well-driven, modern 911. T2 WEM ( originally registered as W7 Jam) was registered on the 4th of June 2004 finished in Estoril Blue, undoubtedly one of the most attractive 3-Series colours ever, with a Black Leather Sports Recaro-style interior and a complementing Navy Blue soft top. Numbered at 238 on the dash plaque, this fabulous example has only covered 36,3570 miles from new in the hands of four keepers in total and is supplied with its original Alpina wallet containing the handbooks and stamped service book. It was most recently serviced by BMW Blue Bell Crewe on 25/01/2021 at 36,280 miles, and has a current MOT until December of this year. Supplied with an optional wind deflector to complete the roof down package, the B3 has just had all four alloy wheels totally refurbished so this stunning Alpina Cabrio needs nothing apart from a proud new owner. The BMW E46 is one of the most competent and capable motor cars in recent years and when transformed by Alpina, adding power, luxury and poise, it becomes really special. It sold for just £16,875.
ASTON MARTIN
Oldest of 9 Aston Martins on offer was this one. The DB 2/4 Mk III (normally known as the Mk III, even at the time of its introduction) was the final evolution of the Feltham-built David Brown Astons and was the fastest and most refined of the early post-war cars. Production lasted from 1957 through to 1959 and the Mk III retained the Willie Watson-designed 'LB6' which had already been extended from 2.6 to 2.9-litres but was further developed by Tadek Marek for the III and now offered 162bhp at 5500rpm on twin-SUs. Other improvements included for the first time ever on an Aston, disc brakes, the hydraulically operated clutch was new as well, and an optional Laycock-de Normanville overdrive became standard after the first 100 cars. From the outside, the major difference was the grille which stylist Frank Feeley adopted from the DB3S racer and the stylish aperture was just what the road car needed replacing the horizontal bars of its predecessor which over time could look like a bad day at the dentist. The same signature shape was echoed inside with the new instrument binnacle which finally placed all the instruments in front of the driver Unbeknown to many, the DB Mk III is another 'James Bond' Aston Martin, appearing in Ian Fleming's novel 'Goldfinger', though by the time the book made it to the screen the DB5 was the current model, so that was used instead. According to a copy Build Certificate, Chassis 'AM300/3/1403' was delivered to its first owner, a Mr Cook of Long Island, New York on the 15th October 1957. The certificate also states that the car was delivered in left-hand drive configuration, finished in Desert White with a red leather interior and the engine number on the build sheet matches the car's current engine. An old advert from 2008 in the history file shows that this Mk III Drophead was in storage for 40 years in the States. Having subsequently resided in another collection with little use these past few years, it appears that this car really has not had much use at all during its lifetime. Indeed, the odometer shows 37,698 miles which could well be correct given the circumstances. Pleasingly, the Aston is accompanied by its Assured Provenance Certificate and Inspection Document from Aston Works. Presented to auction on a NOVA, with UK Taxes paid, this special and rare car will need an element of re-commissioning before it can return to the road having spent some time in storage. According to the AMOC records this was the first Mk III DHC to be completed. There are 3 chassis numbers ahead of this one (1391,1392 and 1402) but this car was apparently finished before those. This is a very rare car, indeed, we believe only 84 DB Mk III Drophead Coupés were ever built making this example a very exciting and rare opportunity to join a rather exclusive club. It fetched £218,000.
The culmination of Aston Martin's long-running line of DB six-cylinder sports saloons, and thus considered by many to be the last 'real' Aston, the DB6 was introduced in 1965, updating the DB5. Although recognisably related to the Touring-styled DB4 of 1958, the DB6 abandoned the Carrozzeria Touring-developed 'Superleggera' body structure of its predecessors in favour of conventional steel fabrication whilst retaining the aluminium outer panels. Increased rear-seat space was the prime DB6 objective so the wheelbase was now four inches longer than before, resulting in an extensive restyle with a more-raked windscreen, raised roofline and reshaped rear quarter windows. Opening front quarter-lights made a reappearance but the major change was at the rear where a 'Kamm tail' with spoiler improved the aerodynamics, greatly enhancing stability at high speeds. These many dimensional changes were integrated most successfully, as the DB6's overall length increased by only two inches. The Tadek Marek-designed six-cylinder engine had been enlarged to 3,995cc for the preceding DB5 and remained unchanged. Power output on triple SU carburettors was 282bhp, rising to 325bhp in Vantage specification, complete with triple Webers. Borg-Warner automatic transmission was offered alongside the standard ZF five-speed gearbox, and for the first time, there was optional power-assisted steering. High profile owners in the early days included HRH Prince Charles, Paul McCartney, Mick Jagger, Twiggy and Peter Sellers. DB6/2563/R was delivered new to H.W motors Ltd for J.F.P Tate, Esq. finished in Capri Blue with Dark Blue Connolly hide (VM 3282) and dark blue carpets. Although subsequently resprayed, the Aston is still presented today in the same Capri Blue with its very nicely aged original interior. The Aston Martin Heritage Trust Certificate confirms the specification being right-hand drive and fitted with a Borg-Warner, 4-speed automatic gearbox plus non-standard equipment including chrome roadwheels, heated rear window, three-eared hub spinners, Fiamm horns, a powered aerial and Avon Turbospeed tyres. The car was in daily use early on in its life and regularly serviced and maintained including a cylinder head overhaul and front suspension rebuild in 1967. It is still matching numbers, today, unlike many DB6s. The car's second owner was a Mr Pitkethly in 1984 who sold it, in 1992, to a Mr Hine who, in turn, later sold the DB6 to Le Riche 'Automobile Restorers' of Jersey in 2002. A little later, Le Riche were persuaded to part with the Aston by a Mr Hoy of Jersey (Reg. J 6929) who kept the vehicle until its export out of Jersey in December 2009. The next change of ownership was to Aston Martin Works Ltd. in April 2014, who sold it to the owner prior to our vendor. He appears to have cherished the car judging by its lovely overall condition today, and covered less than 600 miles in nearly 4 years. This car retains much of its originality, character and is still on its original number plate. It's matching numbers throughout and presented in the original colour of Capri Blue, a rare hue for a DB6 but one that really suits it making the big GT look slimmer and lighter somehow and will, without a doubt, turn heads as it continues to age gracefully. It is also noted that the automatic four-speed gear box has received the 'Chapman' upgrade, and this is very clear when you experience the smoothness of the shifts. OPC 308D is supplied with a fascinating history file direct from the current private owner who has had it for the last seven years, covering very few journeys but all of them memorable we are assured! This one sold for £191,500.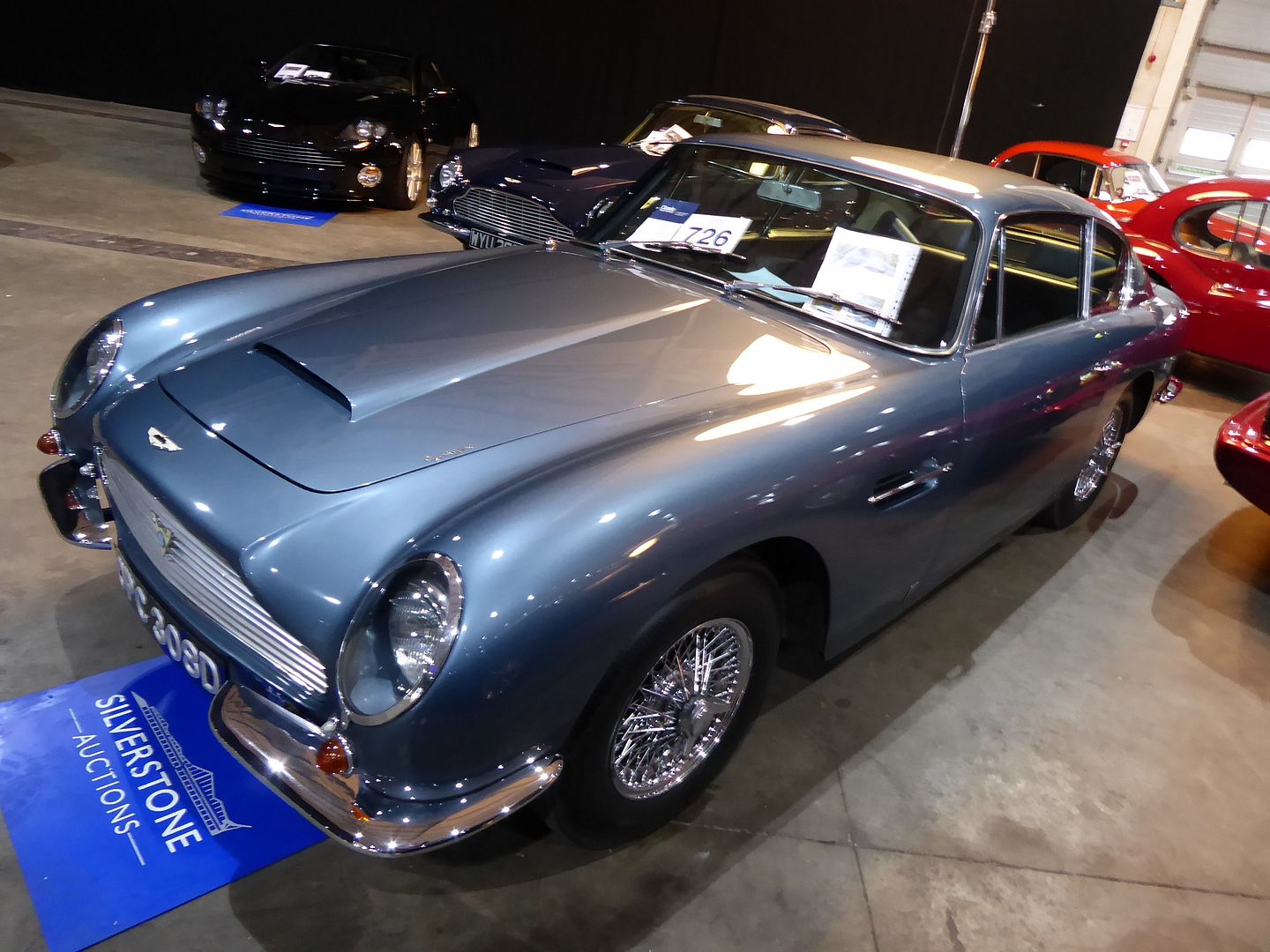 DB6/3566/R was supplied new on 22nd August 1969 by Sundridge Park Motors in Bromley, finished in factory Pacific Blue with a Natural Connolly hide interior. Initially registered as CN19, the first owner also specified a number of additional factory-fitted options including PAS, heated rear screen, front seat belts and chrome wire wheels. Records held within the history file indicate the first owner retained the car for some 8 years and it has subsequently passed through the hands of a further 6 owners until our vendor acquired the car October 2015. Whilst being delighted with his acquisition it was our vendors intention to improve the cars driveability by replacing the auto gearbox and commissioning a professional conversion to a Tremec 5-speed manual, with all the additional works including a new carpet set associated with such a conversion. Whilst in the custody of the engineers, it was noted that the engine was not performing correctly and suffering oil pressure issues. With the ambition to own a reliable and driveable DB6 our vendor commissioned a complete engine rebuild and upgraded to 4.2-litres. Such works were entrusted to Aston Martin specialists Warren Heath who duly completed a comprehensive £18,000 build including a dyno-test prior to installation. Details of the build are contained within the history file. MOT records verify, in addition to benefitting from an MOT valid until February 2022, the car has been used sparingly since the engine and gearbox work having covered only 700 miles. This is clearly one for the true DB6 driving enthusiast having benefitted from significant expenditure during our vendors ownership with desirable upgrades and maintenance. Details of the car's life and work carried out over the years are contained in the interesting owner's file, including factory build sheets, previous owner history, and an Owner's Handbook. This one sold for £196,000.
Considered by many to be the last 'real' Aston Martin, the DB6 was launched in 1965 replacing the outgoing DB5. The wheelbase was now 4″ (100mm) longer than before, resulting in an extensive restyle with a more raked windscreen, raised roofline and reshaped rear quarter windows. Opening front quarter-lights made a reappearance, but the major change was at the rear where a 'Kamm' tail with spoiler improved the aerodynamics, greatly enhancing stability at high speeds. "The tail lip halves the aerodynamic lift around maximum speed and brings in its train greater headroom and more luggage space", declared Motor magazine, concluding that the DB6 was one of the finest sports cars it had tested. Tadek Marek's proven six cylinder engine, which had been enlarged to 3,995cc for the preceding DB5, remained unchanged offering 282bhp on triple SU carburettors rising to 325bhp in Vantage specification. Premiered at the 1965 London Motor Show, the DB6 Volante marked the first occasion the evocative 'Volante' name had been applied to a soft-top Aston Martin. After 37 Volante convertibles had been completed on the DB5 short-wheelbase chassis, the model adopted the longer DB6 chassis in October 1966. A mere 140 DB6 based Volantes were manufactured, and of these only 29 were specified with the more powerful Vantage engine. According to a copy of the original build sheet, this right-hand drive, Mk1 DB6 Volante was delivered to its first owner, a Dr Frank Sondheimer of Kensington Palace Gardens, London on the 11th February 1967. DBVC/3611/R had been ordered in Sierra Blue with grey interior and a matching convertible roof and specified from new with Borg-Warner automatic transmission, 3.54:1 limited-slip differential, chrome wire wheels, a power-operated aerial, 7 pints of antifreeze and power-assisted steering. From the Aston's history file, it appears that its first owner retained the car until May 1980 when he sold it to a gentleman based in Lyon, France. The third owner was also French but it seems he moved to Switzerland at some point during his ownership of the DB6. The fourth owner was also based in Switzerland, having purchased the car on the 14th January 2002. There is a further invoice from 2006 from a 'Sammy Garage', a restoration company based in Geneva, prior to the car being exported from Switzerland. There are various invoices in the file from the cars time in France and Switzerland along with a 'Livret D'entretien et D'utilisation' booklet for DB5/6 Volantes. The DB6 is presented to auction on a NOVA with UK taxes paid and as #3611/R has spent the past 10 years or so in a large private collection of carefully selected Aston Martins, it will therefore need fully recommissioning before returning to the road. The very pinnacle of British open-top motoring in the 1960s, this beautiful DB6 Volante has, at some point, been fitted with a manual gearbox and upgraded to 'Vantage spec' ensuring that, once returned to the roads, this will be a real driver's car to use and enjoy. At £380.250 this is cheaper than these cars have been in recent times.
The six cylinder William Towns styled DBS had been around for a couple of years anxiously awaiting the V8 engine that had been especially designed for it. In early 1970, the DBS V8 was finally ready to become one of the fastest cars available at the time. The 5.3 litre Tadek Marek-designed engine was able to develop around 320bhp, which gave the ability to reach 160mph; all this with space for four people. Demand for the car was great with production reaching 402 examples within just two years. From April 1972, the DBS V8 received a mild restyle and a new name. The 'DB' was dropped as David Brown had sold the company and the car became known simply as the 'Aston Martin V8'. The most visible change was the adoption of two 7″ quartz iodine headlamps and black mesh grill, the design of which was the work of the original designer, William Towns. This Aston Martin V8 according to its accompanying Heritage Certificate was first registered on the 10th October 1973 and finished in Cosmic Fire Cambridge Blue with Burgundy leather. Now offered in todays modern yet classic Mendip Blue with Cream leather and French Navy Blue piping upholstery, this example is in fabulous condition and has been with six owners from new. Purchased in April of 2016, as a stalled restoration, the late current vendor decided to commence upon a full nut and bolt recommission spanning four years. With parts supplied by Aston Engineering and work completed by Aston Martin specialists and the engine by Chase Engines, resulting in a final bill of circa £50,000. Having been restored over the past years, with a hugely thorough and well documented and photographed history file including its Heritage Certificate, this car is an eminently usable classic, however, we feel that it's better considered as an ongoing project. Growing rapidly in popularity with collectors and enthusiasts alike, the restoration of these V8s from the 70s now makes sound economic sense for those looking at a long-term investment. ONR 4M is offered for sale with V5C Registration Document, original Instruction Book (complete with service vouchers) and sundry paperwork and found a new buyer for £48.375.
At the Geneva Motor Show in 1999, Aston Martin introduced the long-awaited Vantage version of their successful DB7. Sporting a Cosworth-designed, 5.9-litre V12 producing a creamy 420bhp, the car was super-quick and was electronically limited to 185mph. The V12 had a serious appetite for air compared to its 6-cylinder predecessor, demanding a larger intake and other modifications to the frontal airflow were made to aid cooling. Other changes included chassis and braking upgrades, to cope with the increased performance and Ian Callum enlarged the grille, added fog lamps and re-styled the valances to give the car a more purposeful look. The Vantage interior leather trim was cut and sewn at a special trim shop at Newport Pagnell, where the carpet and wood veneers were also prepared. The 5.9-litre V12 Vantage Volante, costing over £100,000 at its launch, remained in production until 2004. Offered here is a DB7 5.9-litre V12 Vantage Volante automatic, supplied new to its first owner on the 11th September 1999 by Grange Aston Martin. This attractive example is finished in a classic combination of Pentland Green Metallic with an Olive Fawn leather interior and a dark green mohair hood. The original service book is stamped over 18 times, predominantly by the supplying dealer, but also by marque specialists. A whole host of work was completed in 2016 by leading Aston Martin authority R.S. Williams which included: four new tyres, fresh fluid and filters, new F.E.A.D belt, new front brake discs, new catalytic converter and sports exhaust fitted, ignition coil, removing and renewing fuel lines, new ABS sensor, re-fitting of the passenger airbag and a new mohair hood. The invoice for this work totalled a substantial £17,255. In July of this year, the car received its annual service at a marque specialist, by which time it had covered around 43,000 miles. Supplied with a UK V5c, desirable 'V12' cherished registration, MOT until 5th August 2021, both sets of keys, and its original handbooks and service book, this incredibly well-maintained DB7 Vantage Volante is in fine order. It has covered very few miles since its service, and DB7s of this calibre rarely come to market. With the prices of its DB predecessors continuing to rise, this well-cared for DB7 surely ticks all the boxes for any serious car collector or marque enthusiast. DB4, 5, 6, and soon the DB7 Vantage. It won't be long, though at just £28,100 for this one, they are still relatively affordable!
Aston Martin returned to the James Bond franchise in the 2002 film 'Die Another Day' starring Pierce Brosnan as the eponymous secret agent. The film showcased the brutish good looks of the Vanquish, cutting edge engineering and incredible performance. The Vanquish was built in two versions, a two-seater and what became known as the '2+2' with a couple of child-friendly rear seats filling the space that in the two-seater was occupied by a shelf for a golf bag or other luggage. Aston Martin's first power unit of its type, the 6.0-litre, 48-valve, V12 engine developed 460bhp at 6,800rpm, with 400lb/ft of torque available at 5,500 revs. A pleasing blend of up-to-the-minute technology and traditional materials, the interior was dominated by an imposing aluminium centre console extending from fascia to transmission tunnel. Connolly leather upholstery, Wilton carpeting and quilted Alcantara headlining emphasised its Aston Martin heritage for, despite its advanced specification, the Vanquish was built like all other Astons before it, one at a time and by hand. Production ceased in 2007, by which time the UK list price had risen to over £185,000. Supplied new by JCT600 in May 2002, the Skye Silver paintwork is complemented by Pacific Blue upper and lower leather upholstery, matching Wilton carpets and Smoke Alcantara headlining. In addition to the already luxurious specification, the first owner selected a further comprehensive list of additional cost options including Red Brake Calipers, Heated Seats & Heated front screen, Navigation System, Premium audio and a Fire Extinguisher. The history file demonstrates regular and consistent servicing by Aston Martin main dealers with the most recent being carried out in November 2020 @ 10,341 miles by Aston Martin Birmingham. The comprehensive history file contains the current MOT Certificate (29/4/ 2022), many previous MOT's, the original factory order and build sheets, along with the original stamped Service Record and Owner's Manual. This Vanquish clearly has had nothing but the finest maintenance and servicing despite its low mileage of some 10,500 miles at the time of cataloguing. Having had just two previous owners, the car presents very well and still retains the incredibly rare and complete glove-box mounted accessory pack which includes a branded metal-bound notebook, tyre pressure gauge, a Leatherman-type multi-tool and torch all in a fitted casement. Further included and unusually remaining with the car are two Aston Martin umbrellas correctly stored within the boot lid. With an invoice on file showing that this beautiful V12 Vanquish changed hands for £147,000 in November 2002. It sold today for an undisclosed sum.
The Vanquish was built in two versions, a two-seater and what became known as the '2+2' with a couple of child-friendly rear seats filling the space that in the two-seater was occupied by a shelf for a golf bag or other luggage. A pleasing blend of up-to-the-minute technology and traditional materials, the interior was dominated by an imposing aluminium centre console extending from fascia to transmission tunnel. Connolly leather upholstery, Wilton carpeting and quilted Alcantara headlining emphasised its Aston Martin heritage for, despite its advanced specification, the Vanquish was built like all other Astons before it, one at a time and by hand. Production ceased in 2007, by which time the model had been upgraded as the Vanquish 'S' and the UK list price had risen to over £185,000. The Vanquish is yet another 'James Bond' Aston Martin, having featured in 'Die Another Day' starring Pierce Brosnan as the eponymous secret agent. The car offered here is an example of the revamped Vanquish 'S' that superseded the original version following its debut at the Paris Auto Show in 2004. The most significant upgrade concerned the engine, which now produced 520bhp, an output good enough to whistle the 'S' up to 200mph, a figure only recently exceeded by the Aston 177 and the, previously optional, Sports Dynamic Pack of enhanced steering, suspension and brakes came as standard with the 'S'. It was the last of the line of hand built Aston Martins, the last model to be produced at the Newport Pagnell factory and, with only 375 built in right-hand drive, is now a very rare car. At circa £185,000 when new in 2005, exclusivity had its price. It sold for exactly £100,000.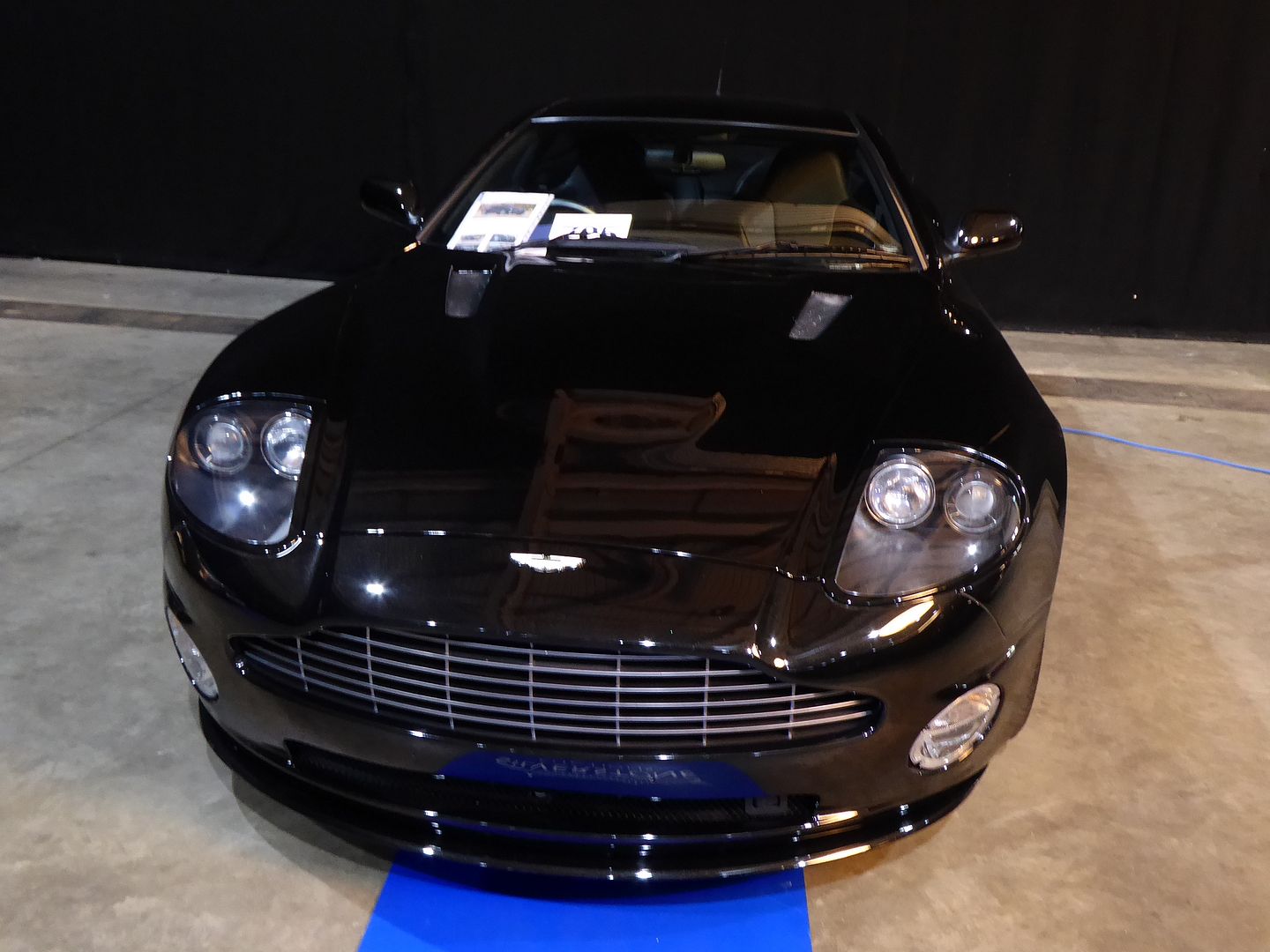 Launched at the 2003 Frankfurt Motor Show, the exceptional Aston Martin DB9 promised to be one of the most sought after 'Supercars' of the decade. Henrik Fisker's flowing design retained all the good looks of its predecessor, the highly acclaimed DB7. Weight was kept low by the use of aluminium and composites for the bodywork, whilst power from the 5.9-litre V12 was a healthy 450bhp, providing the Aston with acceleration to 100mph from a standstill in only 10 seconds, and on to a near 190mph maximum speed. Weight distribution was a perfect 50:50 thanks to the front / mid-engine layout with a rear-mounted sequential transmission. Most DB9s were delivered with a six-speed ZF automatic gearbox featuring paddle-operated semi-automatic mode, perfect for pootling around town or continental touring. The DB9 was aimed at, like all proceeding Astons, a certain type of owner; an enthusiast who appreciated the speed and soundtrack but also the refinement and discretion. At nearly twenty years old the DB9 has aged phenomenally well, indeed the silhouette is near identical to the current models offered by Aston today. Residual values have plateaued for good examples in recent years and although buying a used supercar is a decision not to be taken lightly, buyers can be reassured by an impeccable main dealer service history. Supplied by Stratstone Aston Martin on Western Avenue, London on the 3rd July 2008, the car was to return there for subsequent services in its early life before being looked after later by main dealers. Offered to auction in a very agreeable condition, the black leather interior shows gentle wear and presents far better than similar mileage models we have seen with lighter coloured interiors. The well-stamped service book displays the diligence of its four former keepers. The car is ready for summer jaunts having just been serviced sixty-nine miles ago in April and the MOT is valid until December 2021. It sold for £33,100.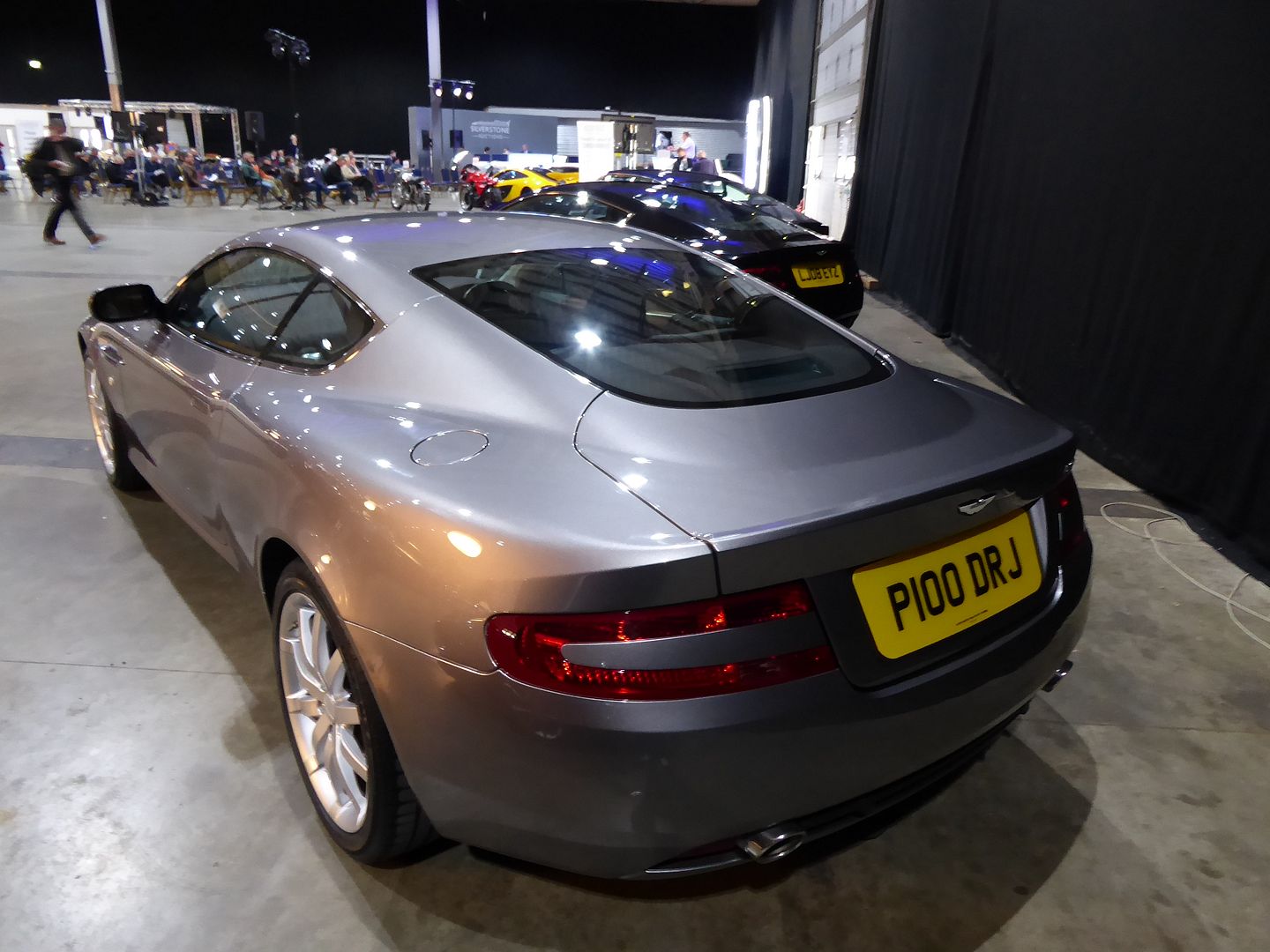 The sleek, 'super-formed' aluminium body of the DB9 was initially designed by Ian Callum but, inevitably, was influenced by his successor, the next director of AM design, Hendrik Fisker. The new model was powered by a third-generation version of the now familiar 5.9-litre V12 which, in the DB9, generated around 470bhp enabling 0-60 in 4.6 seconds and a top speed of 190mph. The '9' was the first of what was to become a long line of production Aston Martins to use VH (vertical/horizontal) architecture using super-formed parts in the chassis and foot well as well as the body panels. The individual die-cast, extruded or stamped aluminium elements of the VH platform are bonded with strong adhesives and self-piercing rivets to make a lightweight but stiff backbone. The body shell weighed 25% less than that of the DB7 but has double its torsional rigidity. This process also allowed Aston Martin to retain high levels of engineering accuracy in producing a car at a higher volume, ensuring chassis performance was up to the ever-increasing levels of engine power. Aston Martins have always made the interior of their cars very special places and their attention to detail is everywhere within the cabin, however, it's probably typified by the attractive starter button which is made of toughened glass and sand etched with the Aston Martin 'wings' logo. This beautiful example has been enjoyed by just two owners from new and led a very sheltered life having covered just 8,600 miles since April 2005. Superbly presented in Tungsten Silver over Iron Ore Red leather, it has been maintained regardless of cost, despite the meagre mileage, judging by the nine stamps in the service records, initially by Lancaster Sevenoaks, two from Harwoods of Sussex, and then one by Edinburgh. The last service was carried out by Aston Martin Edinburgh and, although fully invoiced, the Service Book was not stamped, however, this is easily remedied we imagine. The car has just had a fresh MOT in readiness for the sale and comes with the number plate P100 DRJ. Examples such as this rarely come to market and with two keepers and just 8600 miles this is one special motor car and will no doubt grace any collection or simply use and enjoy. It sold for £34,875.
AUSTIN HEALEY
The 100S was developed throughout 1953 and 1954, and what emerged was a car that looked very similar to the standard 100 but was, in fact, built by hand at the Healey Works in Warwick, where scores of improvements and modifications were incorporated to make it more competitive in racing. As with any race car, weight was always a principal concern, and to lighten the 100S, an all-alloy body was used, along with an alloy substructure. To further contribute to weight savings, the standard cars bumpers were shed, as was the large glass windscreen and the weather equipment, which included the top and side curtains. The result was a curb weight of just 1,876 pounds. The 100S was a purpose-built racing car from the beginning. The engine was also highly modified, resulting in a power increase from 90 to 132 brake horsepower. This was achieved by dozens of modifications, with the most apparent being a specially designed aluminium Weslake cylinder head that required the intake and exhaust manifolds to be on opposite sides from those of the production cars. Although ostensibly still an Austin engine, they were actually built at the Morris engine plant in Coventry. Among other notable features of the 100S are the brakes. Dunlop hydraulic disc brakes at all four corners were cutting edge in the mid-1950s. The early Dunlop systems used a Plessey mechanical pump to energize the braking system. However, with advances in disc brake design, the pump was believed to be unnecessary, and Healey and Dunlop installed a new design in the Cooper 100S chassis. Through trial and error, the final set-up was determined and used on the subsequent 100S Healey's. This particular Austin Healey BN1 with an all-alloy body is delightfully finished in Old English White over Lobelia Blue, with a dark blue interior. Now rebuilt and restored in homage to the renowned 100 S, this is a real head-turner. Attention to detail has clearly been at the forefront of the builder's thoughts to the extent that even the engine has been reconfigured to appear as a true 100 S with a Weslake aluminium head, high compression pistons, left-hand side twin SU carburettors and intake, alternator and a side-exit exhaust. The rear axle has also been uprated complete with LSD. It also has the correctly shaped front grille and contoured surround, differing from the original 100/4s, and disc brakes are fitted all round. Within the spartan cockpit, you will find further attention to detail including the correct type of slotted seats, 140 mph speedometer and correct oil temperature gauge, all adding to the period view through the Perspex screen. Externally the large Monza filler, louvred bonnet and bonnet strap all add to the appeal. Later additions include a Toyota five-speed gearbox with suitably mated clutch and prop shaft, rack and pinion steering and telescopic dampers to further enhance the driving experience, and a full tonneau cover keeps out the worst of the weather. For the avoidance of doubt, this is a beautiful example, extremely well executed and not just a 100/4 with a few bolt-on bits. With a guide price at a fraction of the cost of the genuine article, the new buyer who spend £45,000 to acquire probably got something of a good deal.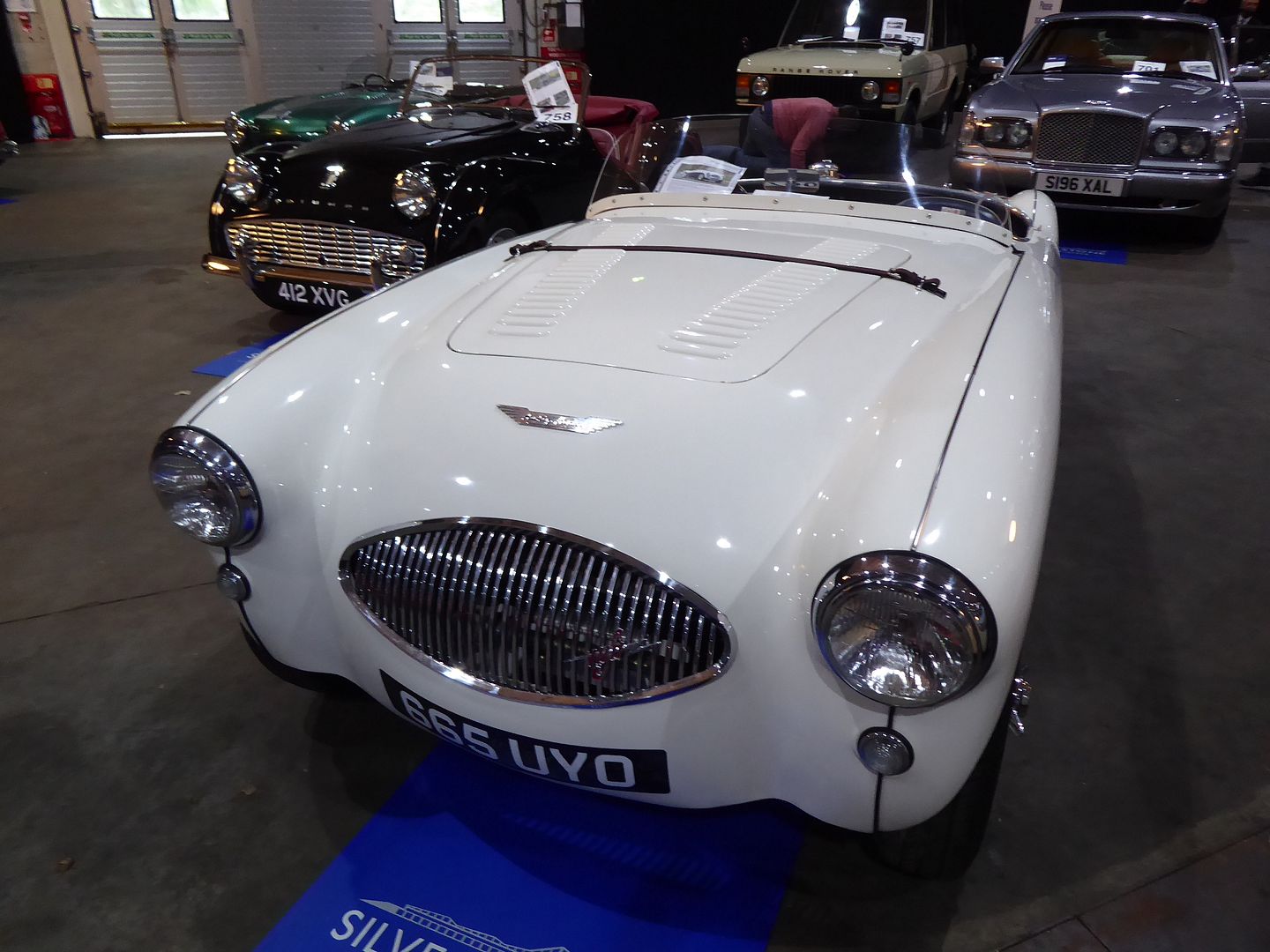 BENTLEY
Introduced in 1982, the Mulsanne Turbo marked the renaissance of Bentley as a marque in its own right, after years of essentially being rebadged Rolls-Royces. By adding a large Garrett AiRresearch turbocharger to the standard Mulsanne, for a 50% boost in power, Bentley created a motor car that was comparable to supercars of the period, such as the Aston Martin Lagonda and Ferrari 400i. Just 516 were hand built before being replaced by the Turbo R, making this a rather rare example of a vehicle that has a special place in Bentley's history. Despite the car's size and level of luxury, performance was impressive with the 6.75-litre, twin-turbo V8 producing 295bhp and offering 0-60 in 7.4 seconds and 135 mph. JSB 214Y is quite exceptional being one of only 322 right-hand drive Mulsanne Turbos manufactured and with a mere 4,896 documented miles from new. It was purchased from Jack Barclay Limited in Berkley Square on 25th May 1983 by Mr. Archibald D Kelly of Kilmacolm, a shipping entrepreneur who owned shipyards in Glasgow and Belfast. He purchased two Rolls-Royce and another Bentley at the same time and all four cars were pampered and kept in his heated garage sitting on polished parquet flooring. It's superbly finished in the factory launch colour scheme of Cotswold Beige over bespoke Magnolia Connolly leather with a matching hide headlining in Magnolia, Top Roll in Brown and Knee Roll in Magnolia. Complemented by the Burr Walnut veneers and dark brown carpet, this rarely chosen colour combination works really well, adding to the overall impression that this is a very special motor car. At the time of purchase, he had the private registration number, ADK 1, assigned to the car and it was used lightly over the years. The following owners obviously felt the same way as the warranted mileage today is only 4,927. The accompanying vehicle history file includes all factory handbooks, with separate invoices to document ongoing maintenance including basic servicing, reconditioning of the brake pumps, new gas spheres, re-charging of the air conditioning system and recent Avon Turbospeed tyres. The car last received attention in December 2020 at a marque specialist when it was freshly MOT'd and one or two minor maintenance issues were addressed in return for £2,279.89 There can't be many other examples of the Mulsanne Turbo this original and at this tiny mileage, but even so, this one failed to find a buyer on the day.
Introduced in 1995, the Bentley Azure was based on the platform of the Continental 'R' Coupe which had been launched originally in 1991. By definition, a fully strengthened luxury convertible to seat four adults very comfortably, accommodate their luggage and hide an engine sufficiently powerful to propel the entire ensemble towards the horizon in a linear fashion is never going to be a small car and the Azure often surprised with its substantial presence. Power came from the company's stalwart 6.75-litre V8, fed by a single inter-cooled turbocharger producing in the region of 380bhp which, when mated to a General Motors-sourced, four-speed automatic gearbox enabled this superbly designed Bentley to silently waft up to 60mph in an impressive 6.1 seconds. Owing to the limited space at Bentley's Crewe factory, the Azure was assembled and finished by Pininfarina, significantly adding to the vehicle's production costs. The selling price varied, naturally, with the specification, the options list was deliciously indulgent, but the base price was around £200,000 when new. Offered here is a fine Bentley Azure that's accompanied by one of the most comprehensive service records that we have ever seen, the 27 dealer stamps even necessitating a second service book. Ordered new from Jack Barclay, it returned every year with the exception of 2010 to be serviced which is testament to the thoroughness of its one and only owner. Ordered in Aurora Basecoat over Magnolia leather and Spruce Green, the green theme was even extended to the badges. It's supplied with all the service books, manuals and a bespoke car cover. The most expensive convertible in the world, at the time, is now offered at a more realistic level and in terms of comfort and style, there is no finer way for four people to arrive anywhere. It found a new buyer for £77,625.
Built and designed in Crewe under BMW's short-lived stewardship and named after a famous corner at Le Mans, the Arnage Green Label was to be all new, and featured BMW's proven 4.4-litre V8 with the addition of twin-turbos and some serious engineering input from the brains at Cosworth. With 349bhp and 420lb/ft, the car had impressive mid-range and low-down punch, weighed less than the out-going model (and those that followed it), and boasted a five-speed automatic gearbox which offered greater flexibility and much improved economy over the, somewhat Neanderthal, four-speed 6.75-litre previous arrangements. The Arnage cost over £170,000 when new in 1998 before any bespoke options were considered. Our vendor and her late husband ordered this delightful example early in the production run and it was delivered to them on the 'Glorious' 12th of August, 1998. It has subsequently been fastidiously maintained by the supplying dealership, Michael Powell of Leicester, and more recently by her local Bentley dealership for sentimental reasons. This immaculate has covered a mere 5,967 miles but, regardless of cost, it has been serviced annually and the original grey book pack proudly displays 22 Service Stamps with further addendums. This remarkable Bentley was specified from new in Silver Tempest, with a lovely Cotswold leather interior, enhanced by a Wildberry roll top, carpets, seat piping, steering wheel, gear lever, sun visors and lots of lovely Burr Oak veneers. Used only occasionally, for family weddings and the like, our vendor has decided that the need to downsize means 'head over heart' and the time has come to part with the family Bentley. These cars represent the epitome of British luxury with enormous 'kerbside' appeal. It's difficult to imagine a vehicle that in terms of style, performance, looks and sheer presence offers better value for money and this astonishing example from one family ownership, with less than 6,000 miles, a full service history and on offer at 'No Reserve' seems to be a once in a lifetime opportunity. It sold for £39,375.
In 2010, the Bentley Continental GT saw its first significant redesign since its launch in 2003. Ushering in a suite of new models, this reinvention of the quintessential modern Bentley took the Continental's peerless craftsmanship, exquisite style and substantial power output and pushed it to an entirely new level. The redesign introduced new technology, greater efficiency, state-of-the-art materials, a sleek new silhouette, and a sportier feel. Among the second generation models, the Continental GT Speed was introduced in 2012 and was designed to embody the perfect balance between exquisite luxury and an exhilarating drive. In creating the GT Speed, Bentley's chassis engineers brought the car 10mm closer to the ground, laying the foundation for a sportier driving experience than that of the basic Continental GT. Equipped with the Mulliner Driving Specification as standard, it featured diamond-quilted leather seats, indented leather headlining and embroidered winged 'B' emblems on the headrests. Drilled alloy pedals, a knurled sports gear lever, and the Jewel fuel filler cap recall Bentley's long racing heritage. With a peak output of 616 bhp, (slightly more than the McLaren F1 when it was first launched) the GT Speed is capable of accelerating from 0 to 60 mph in 3.9 seconds (0-100 km/h in 4.1 seconds) and rocketing on to a top speed of 205 miles per hour. Offered here, is a superbly presented, 2013 GT Speed supplied new by Jack Barclay, stylishly finished in Thunder Grey paintwork with diamond-quilted Beluga leather interior, lavishly equipped from new, and generating a purchase invoice in excess of £200,000. It has been fastidiously maintained, correctly stored and was most recently serviced in November 2020. It's accompanied by the original book pack with service book stamped up to date, spare keys, old MOTs and will be supplied with a new V5c once the private registration is removed. Our vendor is a well-known client of Silverstone Auctions and has a small private collection of cars, meaning the Bentley was only used occasionally and has covered just 29,600 miles from new. Recently fitted with four new, model-specific tyres, this lovely example is on the button and ready to be enjoyed by its new owner. Unsold on the day, it is now on offer for £57,500.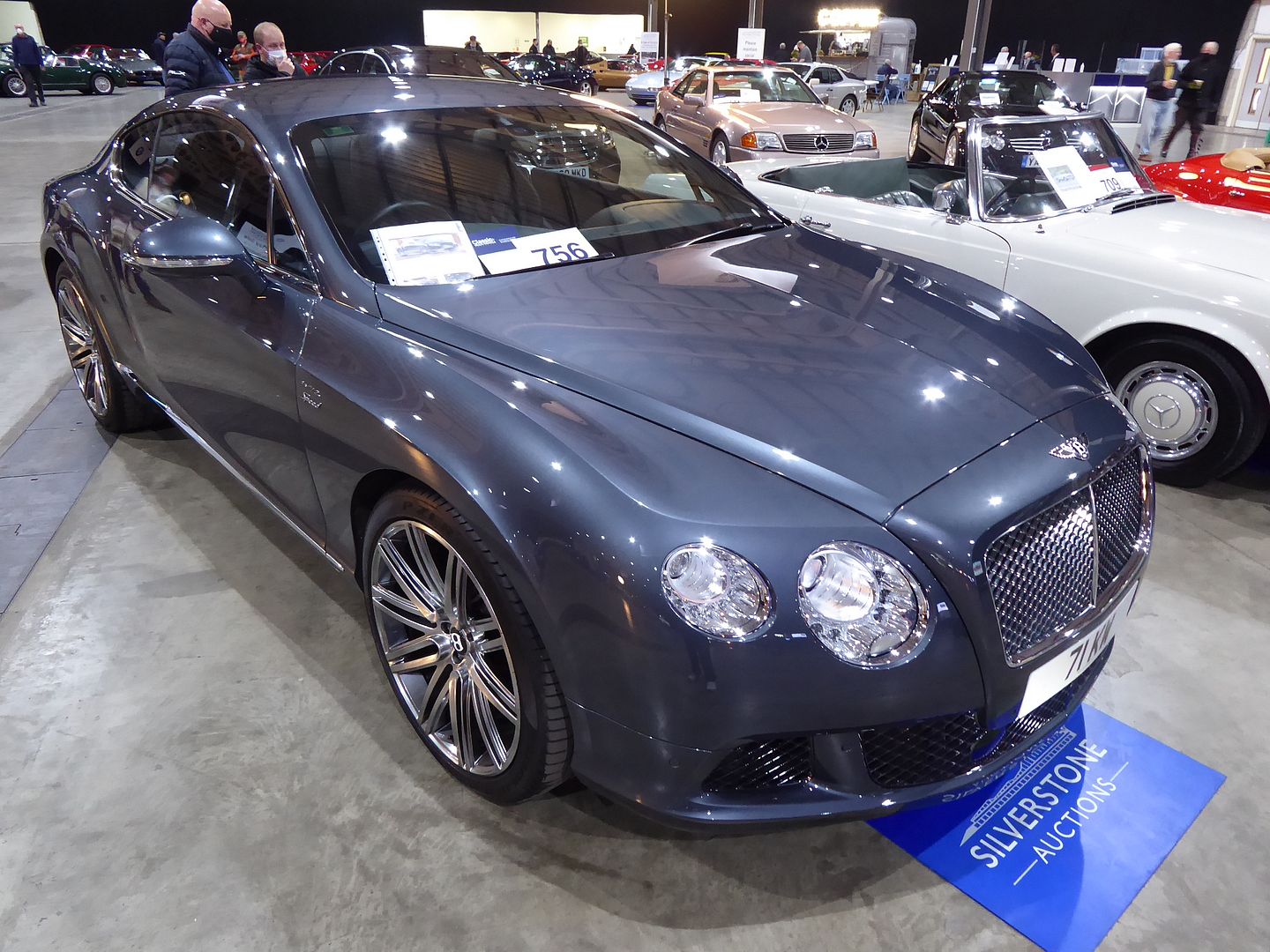 BMW
Of all the BMW Z cars, the Zukunft tag is arguably most fittingly applied to the Z1, a car that even now, thirty years after it first went on sale, looks fresh and modern. The Z1 used a skeletal frame on which the body panels were mounted, making it incredibly stiff, banishing scuttle shake and giving the car superb handling. The body panels were made of plastic, mounted on a substructure of hot-dipped galvanised pressed steel and the seams were continuously zinc welded, adding 25 per cent to body stiffness. The side panels and doors were made from General Electric's Xenoy injection-cast thermoplastic, the bonnet and boot lid were glass-reinforced plastic and the whole body was painted in a special flexible lacquer. State of the art thinking was evident in every aspect of the car's design. Those magnificent doors were operated by toothed belts which lowered both the window and door at the touch of a button. It could be driven with the soft-top closed or open; windows closed or open; or doors open or closed and, with everything open, the fun Z1 is said to feel just like a four-wheeled motorcycle! The car used the innovative Z-axle suspension set-up at the rear and also featured some clever aerodynamics, the front being designed to create a high-pressure zone ahead of the wheels to induce downforce whilst the aerofoil-shaped rear silencer helped to decrease turbulence and lift. The engine is one of BMW's finest in the form of the M20B25 unit taken from the E30 325i. The Z1 is special in every sense of the word, it's special to look at, to sit in and to drive and importantly, as the years have passed, people have clearly started to appreciate it as prices have soared. This is a marvellous little car with almost universal appeal and is, without a doubt, one of BMW's finest moments of the past thirty years. G264 TTO was first registered on the 15th of March 1990 and is a genuine UK-supplied, left-hand drive car unlike so many other examples that have been offered on the open marketplace. Finished in Top Red with a black and grey interior, it's been relaxing in our vendor's 25-car collection for some 27 years and appears to have had just two keepers prior to him. It has covered an indicated 52,258 miles but has been rarely used during our vendor's ownership. It's accompanied by a small history file including 16 old MOT Certificates, an original service booklet and a current MOT (no advisories) valid until the 10th of January 2022. It sold for £28,688.
The Z3 was the first modern mass-market roadster produced by BMW, as well as the first new BMW model to be assembled in the BMW Spartanburg plant in the US, with some major components – such as the engine and transmission – being imported from Germany. The Z3 was introduced as a 1996 model year vehicle, shortly after being featured in the James Bond movie 'Goldeneye'. While the film was number one at the box office, sales of the car peaked, and it was sold out by the time the car was launched. The Z3's design was a tad contentious at the time, it seemed that the market wasn't quite ready for such an Avant-Garde styling exercise from conservative BMW, but today the distinctive styling is regarded as a real virtue. The length of the bonnet and the short rear-end are complimented by swooping wheel-arches and side-vents, plus its purposeful yet comfy cockpit feels like a nice place to be. However, it wasn't until 1999, when BMW installed the performance version of one of the most beloved six-cylinder engines in the car industry, the 3.2-version of the S50 engine from the E36 M3, giving 316bhp at 7,400rpm and 260 lb-ft of torque, that the Z3 became an interesting driver's car. It could now sprint to 60 mph in 5.2 seconds and on to a maximum speed of 155 mph, aided by uprated suspension, an LSD, a wider track, and larger brakes, all combining to create a proper sports car experience. Today, these cars possess a real feeling of integrity and a distinctive 'old-school' charm; UK's Top Gear declared it "'the best handling car in the business." Apart from the engine transplant and performance upgrades, the interior of the Z3M received a mild-makeover too and bits of chrome were added, plus a host of 'M' upgrades to differentiate the Z3M from the standard car. With instant response from its naturally aspirated performance engine and a throaty growl from its quad exhausts, the Z3M is now considered as the last bastion of proper BMW sports cars. Today, the Roadster is appreciated for its timeless design, with these special cars now becoming rarer and much sought-after. Brightly finished in Dakar Yellow, this lovely example was specified from new with full black leather, air conditioning and heated seats. Its former keeper was keen on club events and car shows and consequently it was prepared and detailed with that in mind. It would appear that with the pandemic having put paid to car shows for some time, the owner chose to move it on. Spectacularly well presented with an engine bay that's 'showroom fresh', this sparkling little roadster and its new keeper would be very much welcomed we are sure at future events or, it may be, that he or she will be too busy enjoying the car for themselves. It's supplied with its full leather book pack, extensive service history including old MOTs, invoices and two sets of keys. The car was sold for £20,475.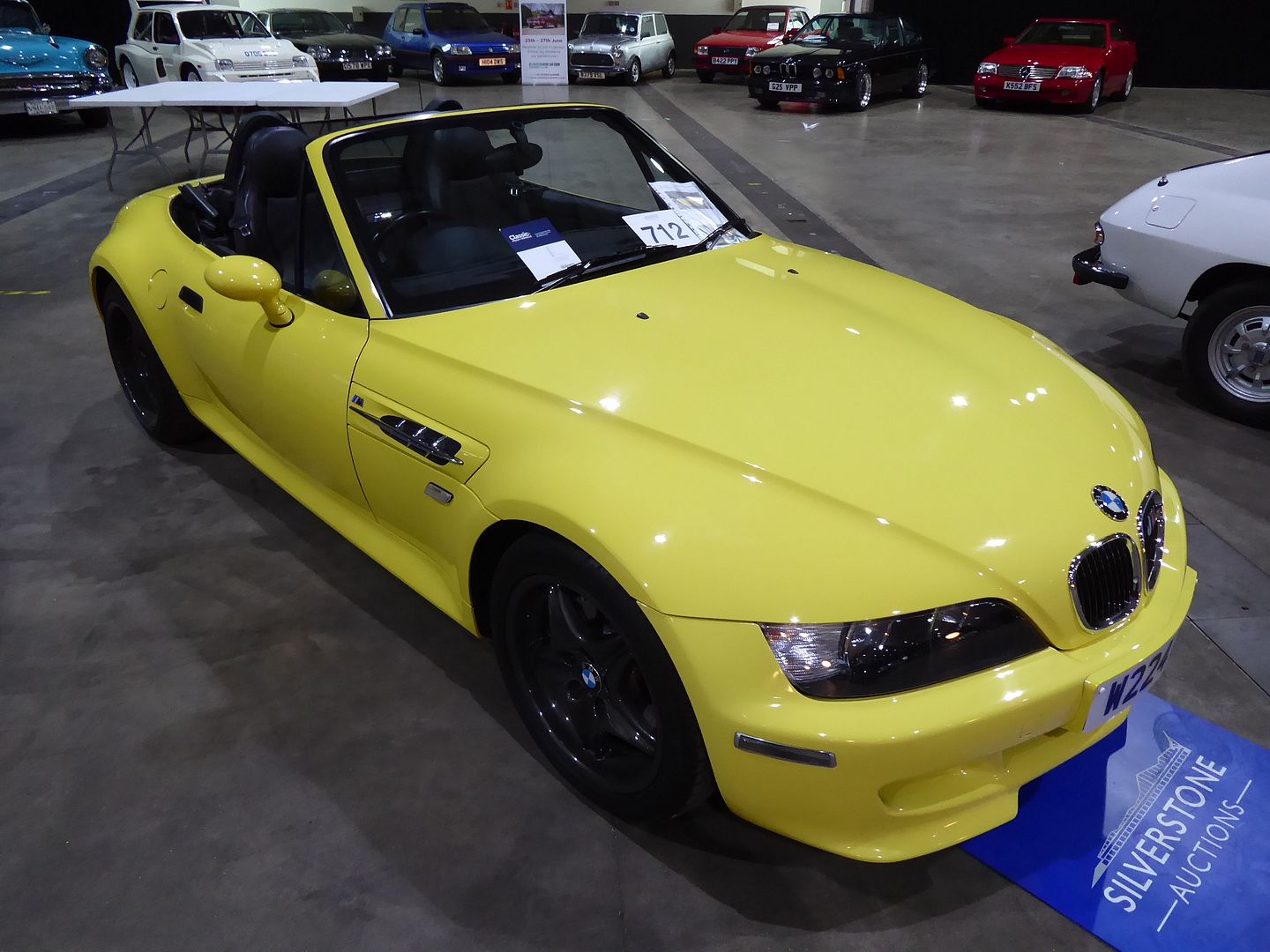 CHEVROLET
Now in its eighth generation, the Corvette began life in 1953 with the C1 – a model that inspired a generation of young Americans and gave the Ford Empire a nine-year headache. However it was the C2, the immortal Sting Ray produced between 1963 and 1967, that really set Chevrolet's cash registers ringing and left us with the most desired and collectable Corvette to date. Designed by Larry Shinoda under the guidance of the legendary Bill Mitchell, influences on the Sting Ray's unique and unforgettable form are said to include: the E-type Jaguar, a Mako shark once caught by Mitchell, the 'Q Corvette' concept car of 1957 and the 'Mitchell Sting Ray' design exercise. By the autumn of 1959, elements of the two unique Corvettes had been built into XP-720 – the design programme that led to the production of the Sting Ray as we know it. The aims for the new car included: improved passenger accommodation, more luggage space and superior ride and handling and with this, in mind, a new ladder chassis was created for the car by Zora Arkus-Duntov, the most important element of which was the move away from a live axle to independent rear suspension, courtesy of lateral struts, radius rods and transverse leaf spring. The independent front suspension was much as before, as were the recirculating ball steering and there were a number of drive train options available including four small block V8 engines, three transmissions, and six-axle ratios. One major innovation was that the C2 was available in both Convertible and Fastback Coupé form. The latter initially featured a dramatic split rear window, but this was discontinued a year into production and consequently, the 'split-window' cars are now by far the most desirable. The Corvette has since become widely known as "America's Sports Car" and has become synonymous with freedom and adventure, ultimately becoming both "the most successful concept car in history and the most popular sports car in history" Built in St. Louis Missouri, this very rare and desirable 'Split-Window' C2 is the Holy Grail of Corvettes with production only running for one year. Having had just four owners in total, this 'black plate' Sting Ray spent its entire life in California before being exported to the UK in September 2014. Prior to that, the car's second owner had placed it into dry storage in 1980 where it remained until 2011 emerging ripe for restoration with a complete and total chassis-up rebuild taking place over the next two years. Restored to original specification and NCRS ( National Corvette Restorers Society) standard, this matching numbers example finished in Saddle Tan with a Tan interior is one of just 1,505 Powerglide examples to roll off the production line and remains stunning throughout with an attention to detail that is rarely achieved, even the radiator has the correct year date stamp! Factory options include the uprated 300bhp L75 engine, Powerglide 2-speed auto transmission and electric windows. Not only chosen as a cover car for 'Classic American' in 2017 with full feature, this outstanding Sting Ray, wearing the appropriate registration number VET 661, is also included in the coffee table book 'The Art of the Classic Sports Car' with photography by James Mann, copies of both are included within the comprehensive history file that accompanies the car. The hammer came down on this one at £88,875.
Seemingly not included in this particular auction was this 1957 Bel Air, one of the most highly rated of all Chevrolets among enthusiasts. The story of these cars starts in 1955, when Chevrolet replaced the entire range of cars, producing what are sometimes referred to as the "Tri-Five" range, which would live for three years. Revolutionary in their day, they spawned a cult following that exists in clubs, website and even entire businesses that exclusively cater to the enthusiasts of the Tri Five automobiles. All featured a front-engine, rear-wheel-drive layout. 1955-1957 were watershed years for Chevrolet, who spent a million dollars in 1956 alone for retooling, in order to make their less expensive Bel Air models look more like a Cadillac, culminating in 1957 with their most extravagant tailfins and Cadillac inspired bumper guards. In 1955, Americans purchased 7.1 million new automobiles, including 1.7 million Chevrolets, giving the company fully 44% of the low-price market and surpassing Ford in total unit sales by 250,000. The Bel Air was an instant hit with consumers, with Base One-Fifty models starting under $1600 and featuring a six cylinder engine. The introduction of the new optional 170 hp 265ci V8, coupled with the Powerglide automatic transmission quickly earned the model the nickname "The Hot One". In the first year of production, the oil filter was considered an option, although not having it led to significantly shorter engine life. With three basic model lines of 150, 210 and Bel Air and a range of body styles from 2 and 4 door Sedans to Coupes, Convertibles and Wagons, there were as many as 19 different Tri-five models available. The 1956 cars saw minor changes to the grille, trim and other accessories. It meant huge gains in sales for Chevrolet, who sold 104,849 Bel Air models, due in part to the new V8 engine introduced a year before. By this time, their 265cid V8 had gained popularity with hot rodders who found the engine easy to modify for horsepower gains. This wasn't lost on Chevrolet's engineers, who managed to up the horsepower in 1956 from 170 hp to 225 hp with optional add-ons. The average two door Bel Air in 1956 sold for $2100, which was considered a good value at the time. Prices ranging from $1665 for the 150 sedan with six cylinder engine to $2443 for the V8 equipped convertible, with Nomad models running slightly higher. Bigger changes came for 1957, including the large tailfins, "twin rocket" bonnet design, even more chrome, tri-colour paint and a choice from no less than seven different V8 engines. While in 1957, Ford outsold Chevrolet for the first time in a great while, years later the used 1957 Chevrolets would sell for hundreds more than their Ford counterparts. As the horsepower race continued, Chevrolet introduced a new version of their small block, with 283 cubic inches of displacement and 245 hp. They also introduced a limited number of Rochester fuel injected 283 engines that produced 283 hp, the first production engine to achieve 1 hp per cubic inch. For all intent and purposes, this made the 1957 Bel Air a "hot rod", right off the production line. It was available with manual transmission only. The base 265cid engine saw an increase from 170 to 185 hp as well. While not as popular as the previous year's offering, Chevrolet still managed to sell 1.5 million cars in 1957. Today, a 1957 Chevrolet Bel Air like this one is one of the most sought after collector cars ever produced.
FERRARI
There were no fewer than 20 Ferrari models here all in one corner of the hall, These were not on offer on this day but instead will be sold at the National Ferrari Day at Sywell in a couple of weeks time.
The Ferrari Dino was built to honour Alfredo 'Dino' Ferrari who died of muscular dystrophy in 1956. He was the only legitimate son of 'Il Commendatore', and unlike any previous road-going Ferrari, the Dino utilised a V6 engine (Tipo 156) which Alfredo himself had developed and advocated during his lifetime. Enzo Ferrari vehemently answered his critics when he said: "For reasons of mechanical efficiency he finally came to the conclusion that the engine should be a V6 and we accept his decision." The new Dino 246GT was an absolute delight from all angles, its beauty, handling, engine note, mid-engined layout, unusually good all-round visibility and comparative affordability made it absolutely irresistible. The voluptuous bodywork, which many people regard as the prettiest ever to grace a road-going Ferrari, was designed by Pininfarina and built by Scaglietti and covered a tubular chassis that carried wishbone independent suspension at each corner. The 190bhp engine, with four overhead camshafts, was mounted transversely behind the driver and in front of the rear axle. Power to the wheels was transmitted via drop-gears to the transverse 5-speed gearbox, in unit with the differential and engine sump. With rack and pinion steering and a mid-engined configuration, it was a revelation in terms of road holding and stability, nothing had been made like this before and it left its larger V12-engined siblings in its wake. This was a very modern car and a real step in Ferrari history announcing a new age for the company in concept and design. Sparkling acceleration and a top speed of 145mph combined with a comfortable interior and some usable boot space meant that it was a genuine 'Grand Touring' car. Proving a great sales success, production of the Dino 246 finished in 1974 with 2,487 finding homes. The 246GT was built in three series – L, M and finally E with the M-Series cars, produced between September 1970 and July 1971, being the rarest and the lovely example on offer here, is indeed, one of those M-Series cars. Finished in Rosso red with black leather upholstery, it was delivered new to its first customer in Rome in 1971 built, naturally, in left-hand drive as it remains today, pleasingly also retaining its original engine, gearbox and colour scheme. It arrived in the UK a few years ago during March 2015 and immediately joined our vendor's private collection. A 'NOVA' was obtained clarifying that all UK taxes and duties had been paid, but the car has never been registered in the UK which could be advantageous, post-Brexit, should its new owner wish to export the Ferrari to Europe. From the car's history file we can see that whilst living in Germany, the Dino was treated to a three-part restoration between 1997 and 1999 addressing all areas of the bodywork, suspension and paintwork with invoices for 16,850 DM, 5,769 DM and 2,317 Euros during this period. It also confirms a complete engine rebuild in 2014 costing 30,000 Euros (invoice in file) with very little use since. The file shows both 'Fahrzeugbrief' and also the 'Fahrzeugpass' are present, as are copies of relevant bills for the work already described above. The Dino 246GT is an automotive Icon, a word that is nearly always incorrectly used but, in this case, is totally appropriate and this is an opportunity for someone seeking to find one at a sensible investment level, and commence a journey of continuous improvement whilst still being able to drive and enjoy the car. It's been guided with a sale in mind and, as a left-hand drive European car, it may well appeal to our immediate European neighbours. This pretty little M-Series is available to view by appointment and viewing is strongly encouraged.
Offered here is a beautiful right-hand drive Ferrari Dino 246 GT and one of, we believe, just 488 examples manufactured for the UK market. Finished in Bianco Polo Park paintwork (20-W-152) with Rosso leatherette seats with Nero inserts and matching Rosso carpets. This particular example has been subject to a detailed restoration performed by highly-regarded marque expert, Nick Cartwright, with all invoices on file. Since the restoration, the Dino has remained in dry storage with little use and has recently received further attention from another specialist (invoice on file) to ensure that the car is presented on the button and ready to be enjoyed. Accompanied by its history file containing the detailed overhaul invoices from Nick Cartwright, further maintenance records including the recent re-commissioning for £8,000 by a regarded Ferrari specialist, a letter from Tony Willis confirming the chassis, engine and gearbox numbers match Ferrari records, images of the stamped numbers on each item, its MOT Certificate valid until May 2022 and, importantly, forming part of the sale is the tool kit which nowadays command quite a premium. In summary, this is a great opportunity to get behind the wheel of a super little V6 Ferrari GT from the 70s which ticks all the boxes being right-hand drive, matching numbers, beautifully restored and absolutely on-the-button ready to be enjoyed. With restoration projects recently changing hands for sums in excess of £200,000, we believe the guide on this example is rather appealing.
This is a 1974 "Chairs and Flares" car, a name given to those cars with the slightly flared wheelarches and with ribbed seats. Finished in its original shade of Nocciola Metallizzato with Pelle Nera interior, this is one of just 72 to leave Maranello in this colour. Originally supplied through Automobile Specialists Pte Ltd. Singapore to the Sultan of Pahang, Malaysia, it has had only two custodians since.
Like its big brother, the 330P3, the Dino 206S was bodied by Drogo's Carrozzeria Sports Cars and utilised a multi-tube frame with alloy panels riveted to it for additional stiffness, in essence a semi-monocoque structure. Ferrari's intention was that 50 of the cars would be built, qualifying it as an FIA Group 4 Sports Car, but the financial difficulties that would lead to Ferrari's merger with Fiat three years later prevented that optimistic goal from being met and in the end only 18 of these wonderful, quick, beautiful sports racers were built. Consequently, what started out as a Dino 206 S (for Sport) became known as the Dino 206 SP (Sport Prototipo). Offered here is a truly remarkable 206 SP re-creation constructed using a 1971 246 Dino GT as a base with the chassis re-engineered in the USA and an all-alloy body beautifully hand-crafted in Italy. This car started life as an American-spec Ferrari Dino supplied new in 1971 and at some point, when Dino values were at a low ebb, a high quality conversion was undertaken. Documents within the history file confirm that Jim Carpenter, a well-regarded Ferrari specialist based in Arizona, would be responsible for the Chassis modification and an all-Aluminium hand-crafted body would be commissioned by Giordenengo in Italy. The '71 246 GT chassis was professionally modified to accept a longitudinally-mounted Ferrari 206 Dino alloy block engine which, we understand, had been uprated with 'motorsport' pistons, a balanced crankshaft, connecting rods and flywheel. Reportedly never raced, the car was exported to Germany with all copies of registration papers on file and later imported into the UK. Once in the UK, the car was subject to further attention from highly regarded classic specialists, Sherwood Restorations. The scope of work included some bodywork, a full re-paint in Rosso Corsa, a new custom-made windscreen (with a spare also produced which accompanies the car), a cabin re-trim and various other works to bring this fascinating 206 SP re-creation up to its best. It must be noted that the standard of finish achieved is remarkable and any inspection of this vehicle is highly recommended with no disappointment expected. Accompanying the car is an equally fascinating and detailed history file including a copy of the FIVA Identity Card granted in 2012, current UK registration papers (V5c), copies of previous German registration papers, details and invoices for restorations works by Sherwood Restorations, invoices from other more recent mechanical maintenance works, old MOT Certificates, correspondence between previous owners and Jim Carpenter, the Ferrari Owners Club UK and copies of paperwork from America. In summary, this is a very attractive, well-engineered, highly versatile 206 SP re-creation that can be enjoyed as a well-mannered sports car or perhaps used in competition. The overall quality of finish is remarkably good, the Targa roof can be removed and neatly stows in the rear, the visibility from the cabin is superb, the controls are light and extremely responsive, the engine fires on-the-button and sounds keen and healthy and we are informed that the handling at speed is sublime. It's also worth noting that this example is recorded in the 'Ferrari World Book' – Handbuch Der Ferrari Seriennummern 1947-2007 which records 'Chassis 01508 – Type 246 Red Dino 206 Replica' which certainly underlines its provenance. To re-create this 206 SP replica today to this standard would cost a fortune, with a donor potentially costing as much as our lower estimate and we believe we believe, at this guide, this gorgeous little red Ferrari represents superb value.
The ultimate expression of Ferrari's fabulous line of V12 front-engined sports cars, the 365 GTB/4 debuted at the Paris Salon in 1968, soon gaining the unofficial name 'Daytona' in honour of the sweeping 1, 2, 3 finish by the Ferrari 330P4 at that circuit in 1967. Pininfarina's Leonardo Fioravanti, later the famed Carrozzeria's director of research and development, was responsible for the influential shark-nosed styling, creating a package that restated the traditional 'long bonnet, small cabin, short tail' look in a manner suggesting muscular horsepower while retaining all the elegance associated with the Italian coachbuilder's work for Maranello. One of Pininfarina's countless masterpieces, the influential shark-nosed body style featured an unusual full-width transparent panel covering the headlamps, though this was replaced by electrically-operated pop-up lights to meet US requirements soon after the start of production in the second half of 1969. Air conditioning was optional, but elsewhere the Daytona remained uncompromisingly focussed on delivering nothing less than serious performance. At the time of its introduction in 1968, it was the most expensive production Ferrari ever and, with a top speed in excess of 170mph, was also the world's fastest production car. Deliveries commenced in the second half of 1969 and the Daytona would be manufactured for just four years; not until the arrival of the 456 GT in 1992 would Ferrari build anything like it again. Offered here is a beautiful, UK-supplied, right-hand drive Ferrari Daytona delivered new on 3rd August 1972 through Maranello Concessionaires Ltd. and is one of only 158 built by the factory in right-hand drive. It's presented in glorious Rosso Chiro with a Nero interior and grey carpets, the colour combination it wore when new as confirmed by the recently attained Ferrari Classiche 'Red Book' which also attests to the matching engine and gearbox numbers. Two large and detailed history files accompany this Daytona including copies of records from the DVLA database indicating that Sir Elton John, of 14 Abbots Drive, Wentworth, Surrey owned this car from 1973 to 1975. The two files document this example's entire history from original purchase order through to the most recent maintenance invoice. Also found within the files are MOT Certificates dating back to 1977, correspondence between the original owner and Maranello Concessionaires, further previous registration documents, invoices for periodic maintenance from 1972 to date and details of some major overhauls over the years. The overall condition of this Daytona is very good, the Ferrari Classiche 'Red book' indicates that the engine, chassis and gearbox numbers match the original build data, and the chassis is correct and original along with the body. Panel gaps generally appear very good and the Rosso Chiro paintwork retains a deep gloss and even finish across the beautiful Pininfarina-designed and Scaglietti-built bodywork. The interior was refinished in 2017 to factory specification and today looks lovely with the leather having settled in a little. Accompanying the car is the Ferrari Classiche 'Red book', the aforementioned history files, the original Ferrari 365 GTB/4 book pack, and a spare Immobiliser fob. On test the car fired into life with ease and, although only driven a short distance for the photo-shoot, performed rather well. In summary, this is a chance to take ownership of a true legend – the Ferrari Daytona with the added cachet of Sir Elton John provenance. 'I think its going to be a long long time' before another opportunity this good presents itself.
Having reasserted itself at the top of the supercar hierarchy with the first 'Boxer'-the 365GT/4 BB-Ferrari went one better with its successor, the 512BB introduced in October 1976 at the Paris Auto Show. For the new car, Ferrari abandoned its long-standing practice of denoting a model by the capacity of an individual cylinder and adopted the Dino-type nomenclature where '512' indicates 5 litres/12 cylinders. The increase in engine size from the original Boxer's 4.4-litres was made, not so much with increased power in mind, but to enable the 512BB to meet increasingly stringent emissions targets without a loss of performance. Displacement was increased by enlarging both bore and stroke, whilst in addition, the compression ratio was raised, and lubrication changed from wet to dry sump. Quoted power remained the same (but may have been more truthful) at 360bhp, and torque was improved to 332 lb/ft at 5000rpm which, coupled with revised gear ratios, made the 512 much more tractable. Styling changes were subtle, with a small chin spoiler added to the nose, NACA ducts added in front of the rear wheels, larger rear arches to accommodate wider rear wheels, and finally, four tail-lights replaced the six on the 365. The car presented here is a 1979 Ferrari 512 BB (Carburettor), chassis number '28443', and is one of only 101 right-hand drive, 512 BB models delivered new to the UK importer, Maranello Concessionaires Ltd. The original colour scheme was Rosso Corsa with Nero/Rosso hide trim and Rosso carpets. Ordered by the official London Ferrari dealer HR Owen Ltd., the car was taken to Lanzarote by its first and only private owner and has covered a mere 21,952 miles from new. Its original UK registration was 'CYF 45V'. During 2015 the Ferrari underwent a no-expense-spared restoration, which included a complete engine rebuild by marque specialists, Graypaul Ferrari of Nottingham, together with an overhaul of the suspension and brakes (all with corresponding invoices). It's supplied with a history file containing the original order paperwork, Canary Islands registration and technical inspection (MOT) documents, an owner's manual, and numerous invoices, including one for an interior re-trim in March 2015. With the value of V12 Ferraris from the 1960s and 1970s having increased dramatically, users and investors alike have recognised the potential of the Berlinetta Boxer series.
The name 'Testarossa', literally Redhead, became synonymous with Ferrari sports racing cars in the '50s and '60s and was resurrected at that seminal 1984 launch. Housing a sweet and free-revving 4.9-litre flat dry-sumped V12 engine producing 390bhp, now cooled by rear-positioned radiators, the car was capable of a respectable 0-60 mph time of 5.2 seconds and a top speed of c180mph. Produced between 1984 and 1991, some 7,177 Testarossas were made in total. Once again, time showed Pininfarina's design to be durable, and throughout the 1980s, the distinctive 'strakes' were echoed in other design disciplines from cars to kettles. However, although the design may have seemed to be 'of the moment', the Testarossa proved itself to be a well-built car, and despite its 'Eiger-rivaling' list price, turned out to be Ferrari's most successful model ever. The final evolution of the model (sometimes called '88.5' models) featured a lot more changes than just the new five-stud wheels. There were modifications to the steering column, suspension – including the dampers, a wider track and new brake discs. From 1989, Testarossas ran the 'B'-spec motor with KE-Jetronic and catalytic converters. Today, the Testarossa is a design icon, symbolic of eighties culture, and despite a period in the "boondocks", its popularity is returning rapidly. It's not a surprise really since the Testarossa offers a rare package of serious performance, practicality, and reasonable comfort and confidence-inspiring handling at high speed that becomes almost addictive. The car presented here is a LHD, ex-US 1987 Ferrari Testarossa, originally sold by Cornes Motor Inc. of San Diego, CA for $135,050. Interestingly, it was bought new by prominent Californian car collector/show-winner Kenneth C. Smith of La Jolla, CA. Silverstone Auctions have contacted Mr Smith and he confirms this; unsurprisingly, all his cars are kept and maintained to the highest of standards, with many examples winning prizes at shows. We understand, but can't confirm, that he was the car's single US owner, although there may have been one more, however, it's academic as the condition is exceptionally original and unmolested and wholly commensurate with the indicated mileage of 14,280. It was imported to the UK in 2019 by our vendor (who lives for half the year in the US) and went straight to Graypaul Ferrari in Nottingham for full recommissioning (including a full belt service, plus some other minor work – please see history file) where they commented they had never seen a more original Testarossa. Accompanied by its original paperwork, book-pack and luggage (still in their factory bags), this is a real opportunity to acquire a Testarossa which has been preserved in fantastic condition, has exceptionally low mileage and is ready to give much more fun and adventures – and its in black, quite the most complimentary Testarossa colour. Our friend, contributor, and revered car expert, Harry Metcalfe, had coveted a Testarossa for a long time to join his collection, fulfilling that aspiration in 2014. He comments that the magnificent engine dominates the experience with that unique flat-12 howl and that using/living with a Testarossa is far easier that people think, with visibility, usability and servicing being wholly acceptable; he states that he'll certainly remain a Testarossa owner for a very long time! Why not join him?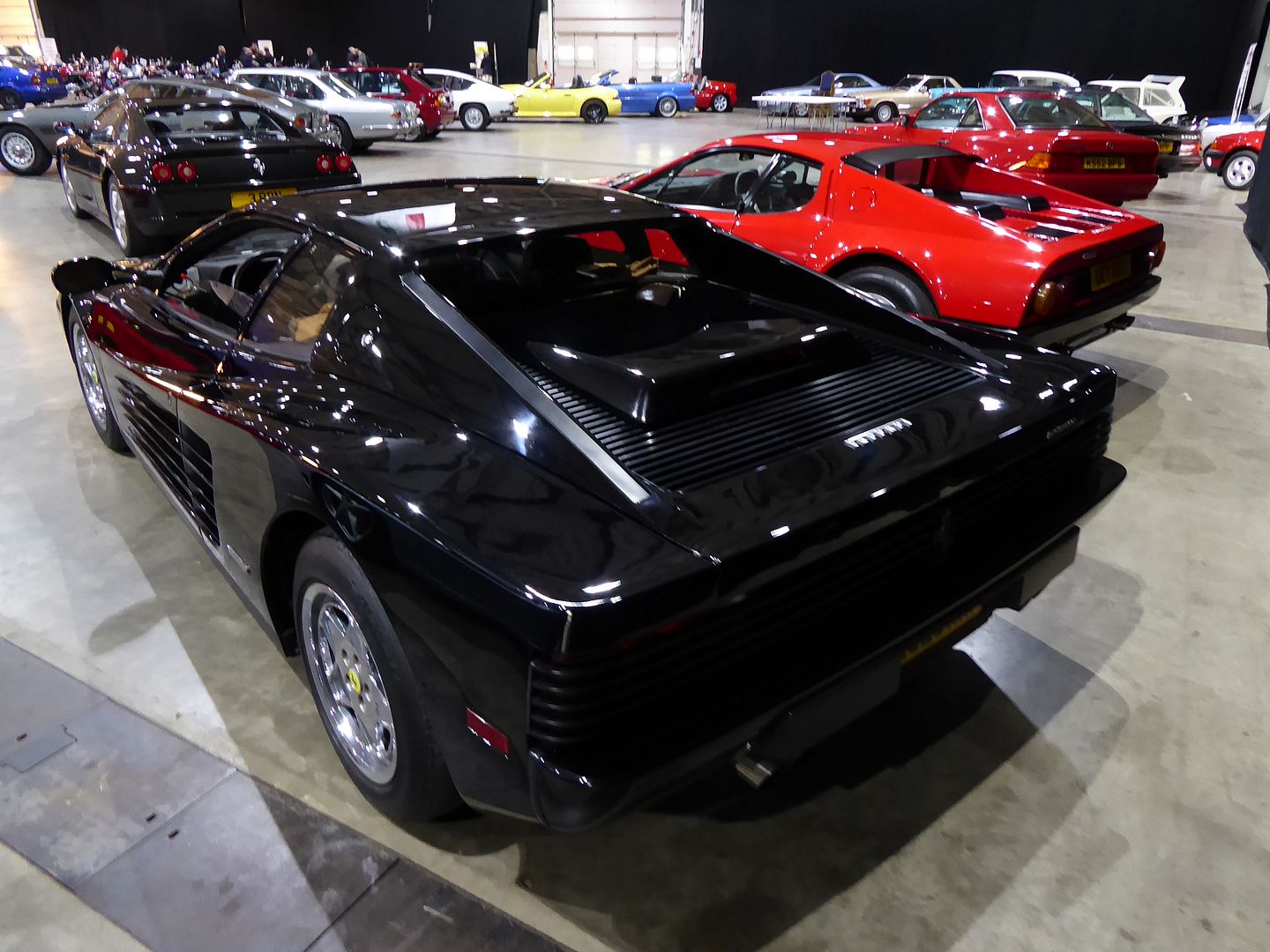 Inheriting the proportions of its predecessor, the F355 was outwardly a much better-resolved proposition, both aesthetically and aerodynamically. However, beneath the fabulous styling and smoother skin, were further major advancements, including power steering, variable damping, and a 100cc engine enlargement. The longitudinally mounted 3496cc V8 generated a market-leading 380 horsepower at a spine-tingling 8,250 rpm and the gearbox now had six speeds with a revised synchromesh making gear changes so much smoother. New electronically adjustable shock absorbers varied their stiffness within milliseconds to suit the road surface and the result of all these developments was evident around Ferrari's 1.86 mile Fiorano test track when the 355 was two seconds a lap faster than the 12-cylinder 512 TR. The F355 Spider (most of us like Italian convertibles to be called Spyder, however, Ferrari have always insisted on Spider) debuted in 1995, its Pininfarina-penned lines honed by even more hours in the wind tunnel. To make up for the lack of a roof and the associated loss of torsional rigidity, the 355's structure was cleverly strengthened without making the Spider any heavier than the Berlinetta. Pininfarina is very experienced in designing convertible roofs for other manufacturers and their efforts here have resulted in a blend of elegant style and aerodynamic performance and, for the first time in a Ferrari, the semi-automatic soft-top was powered electronically. Initially, the Spider was fitted with the 6-speed manual transmission, prior to being offered with the innovative, electro-hydraulic F1 transmission, however, over time, it's become accepted that the manual box is that much more satisfying to use and that has tended to be reflected in the car's value. Sitting on the cusp between analogue and digital, the 355 is considered the forerunner of all modern Ferraris and, as the last of the hand-built cars before the 360 and later descendants moved to mass production, will inevitably slip into the role of 'Classic Ferrari' with ease becoming increasingly sought after as time goes by. On offer here is a truly stunning F355 with striking black paintwork and black/grey interior including the highly sought after carbon bucket seat option. It spent a period of time, correctly stored off the road probably explaining the modest mileage of just 17,500 at the time of consignment. In 2018, it was released from storage and subjected to a complete mechanical overhaul from front to back at a cost just shy of £11,000 carried out by Ferrari specialists, AML Performance Ltd. in Macclesfield. This included; cambelt, pulleys and tensioner, clutch and clutch bearings, front and rear brakes, period-correct front and rear tyres, water pump and ancillary belts and hoses. Prior to the extensive recommissioning service, it had obviously been well looked after as is evident from the comprehensive service record including many belt changes by Ferrari main dealers, Maranello in Egham and Lancaster in Colchester. The car's most recent service was in May 2019 by Stratstone Ferrari in Wilmslow at a cost of £2,000 detailed on a copy invoice in the owner's file. In total, around £18,000 has been invested in the last nine months to return this wonderful Ferrari to the condition in which you see it today. Every iteration of the F355 is desirable, however, if you really enjoy extending your Ferrari, the Berlinetta with a manual gearbox and carbon buckets is undoubtedly the way to go. This is a really lovely example offered with its original Ferrari book pack, tools, V5c, an MOT until June 2022 and appears very sensibly guided.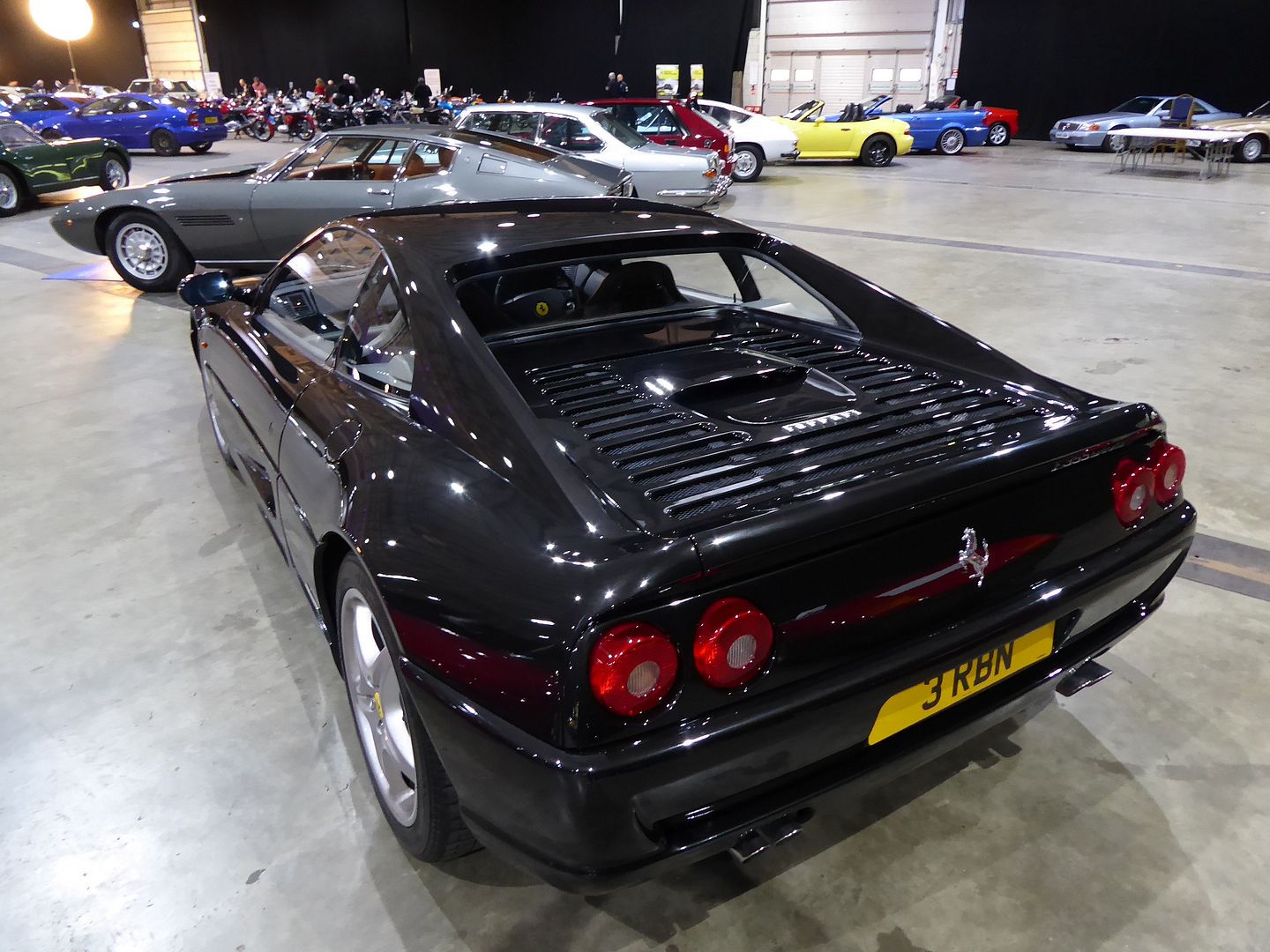 This UK-supplied, RHD, F355 Spider was specified from the factory in Giallo Modena with Nero Connolly leather upholstery and a black fabric hood, all of which it retains. The engine runs on the earlier Bosch Motronic 2.7 engine management system with dual-mass air-flow meters, which is generally accepted as delivering more responsive performance and a sharper engine note. First registered on 1 November 1995, it has evidently been well maintained throughout its life, with regular servicing carried out exclusively by Ferrari main dealers and independent specialists. Our vendor acquired the car in January 2017 and has invested around £18,000 since then on mechanical and cosmetic refurbishment with renowned Ferrari specialist, John Pogson's Italia Autosport. Today, the bodywork presents in good order, with no evidence of panel damage, with neat shut lines all around the car and the paintwork is impressive, having been the subject of a £1,300 detailing session. The finish has been resprayed either partially or wholly by a previous owner, and while it is not spotless, with some neatly touched-in stone chips and other minor blemishes, including bubbling on the driver's sill cover, this is a smart example that still turns heads after nearly 25 years on the road. It rides on the original 18-inch magnesium alloy wheels, which look superb, with no kerbing marks or scuffs in the paint. The black fabric soft top is in good order, showing no rips or tears, and with a fully working mechanism. Bidders should note that the leather tonneau cover has been misplaced, so is not included in the sale. In the cabin, the black Connolly hide is still in great condition, with only minor wear and a few small scratches on the driver's outer bolster, but in general, the leather presents well with good colour. Sticky plastics are a common issue with these cars, but the centre console switches and knobs are in good order, although the air vents would benefit from refinishing in the future. The trim all looks original with no puddling or slackness in the leather. The only known upgrade is an Alpine stereo head unit with Bluetooth and USB connectivity. The last scheduled maintenance was conducted in October 2020 at 34,247 miles (current mileage 34,253), when DK Engineering carried out an annual service, oil change, inspection and MOT. In December 2019, Ferrari Specialist Italia Autosport conducted a service at 34,220 miles. Prior to this, in December 2018 at 34,185 miles, the same workshop carried out a major cambelt replacement service, with new cam oil seals, new auxiliary belts, and new hydraulic tensioners and bearings. The cam cover breather hoses were also replaced, along with the engine oil, oil filter, air filter and fuel filter. The water pump was last renewed during the 2016 service at Lancaster Ferrari. The most recent MOT test was on 06/10/2020 at 34,247 miles. Accompanying the car is a complete book pack, including the owner's manual and stamped service record, as well as numerous invoices that support the comprehensively documented maintenance history – and even the original purchase invoice. A full tool kit is also present, along with three sets of original keys and immobilisers. This lovely example presents in a great factory colour, with low mileage, a very well-documented service history, and is now ready to be enjoyed by its next lucky owner.
Offered here is a simply beautiful, UK-supplied, right-hand drive Ferrari 360 Spider F1 tastefully specified in Grigio Alloy (Light Silver Blue) paintwork with a Crema leather interior. The carpets were optioned in Blu Scuro (Navy Blue) along with the power hood and the roll bar finished in Crema to match the seats with Navy Blue stitching to match the hood and carpets. Further options include red brake calipers, electrically operated seats, coloured upper dash and steering wheel in Blu Scuro, front 'Challenge' grilles and a 6 x CD changer. This, best of breed, example has been enjoyed by just one owner from new and has covered only 9,300 miles in this time. It has been maintained correctly by the supplying dealer only with the original service book displaying 17 stamps with the most recent entry in July 2020 for an annual service with fresh fluids including gearbox and A/C gas. Accompanying this Spider is its original book pack with the aforementioned service book stamped up to date, the history file with supporting invoices, old MOTs, original purchase orders, the UK V5c, current MOT valid until May 2022, and spare key with both spare fobs (including red). Also included are the Ferrari tool kit and a fitted car cover. Rarely do examples of the Ferrari 360 come to market in such well-preserved condition and supported by such a comprehensive service record. The 360 is a good looking modern classic that is fast becoming sought after and if you are to use your sports car only on sunny days, then let it be a drop-top Ferrari. In a really stylish colour combination, this is a car in which you would be proud to arrive at any function, having enjoyed that glorious Ferrari V8 soundtrack on the way there, and, if the function were to prove a little boring, the drive home could be the high-spot of your day.
Built between 2004 and 2009, the F430 was the successor to the very successful 360M. Declared as "70% new" the new engine complemented the new F1 gearbox, a new differential and a new chassis. Pininfarina and Frank Stephenson were responsible for the new design which was universally acclaimed and to prove popular with both enthusiasts and buyers. The complex variable valve-timing system was uplifted from the range topping Enzo, as was the dry-sump oil system and a very high compression ratio of 11.3:1, with a variable air flow plenum chamber and an enormous electronics brain operating not one, but two, Bosch Motronic ME7 ECU's. All this produced an excellent 483bhp (21% more than the outgoing 360) offering 0-60mph in just 3.7 seconds and a top speed of 196mph. This particular, UK-supplied, right-hand drive F1 was supplied new by Maranello Sales of Sevenoaks in Kent to the late TV chef Gary Rhodes on 22-7-2006. Gary was to remain the sole registered owner up until July 2017 when it was sold by Silverstone Auctions to our current private vendor at an amazingly low mileage of 558. Since then, our owner has kept this matching numbers example in outstanding order and regularly serviced but limited his use, so the mileage today remains exceptionally low at 1,313 in total. The factory options specified when new by Gary were: Rosso Corsa with Nero leather, Yellow calipers, a 6 x CD changer, pre-wiring for a battery charger (present today), electric seats, red stitching ,Scuderia Shields, rear park-distance control, Challenge Stradale wheels, Carbon driving-zone, Carbon engine-bay trim, a space-saver wheel, Pirelli tyres, Yellow rev counter and 'Nav Trak'. Servicing, despite the tiny mileage, has been regular and allows the mileage to be warranted as genuine with services (including cam belts) carried out in 2009/2013/2015 and 2016 by Lancaster Colchester, 2017 by FTech Engineering in Exeter and finally, in August 2019, by Dick Lovett in Swindon at 1,177 miles. The car was then driven home and not used during the COVID crisis. To find an original UK, right-hand drive car with just two owners from new, with all original panels and original paint, that has covered such a nominal mileage and with such excellent provenance is extremely rare. The Ferrari is accompanied by its original leather book pack (with all books present), factory toolkit, car cover, battery charger and an MOT valid until late August 2021. Simply stunning and one for the serious collector.
The Ferrari F430 made its first appearance under the bright lights of the 2004 Paris Motor Show replacing Maranello's time-served 360. The two share a rear mid-engine layout and occupy roughly the same footprint with a 102-inch wheelbase and approximately 177 inches between their bumpers, but that's about where the similarities end. As its name implies, the F430 is powered by the new F136, a 4.3-litre, dry-sumped, V-8 which was factory-rated at 483 bhp and 343 lb/ft of torque. It was the first Ferrari V-8 to move on from engine-architecture that dated back to the single-seat racers from the 1950s. The F136 benefited directly from Scuderia Ferrari with its four-valve cylinder head and valves being sourced directly from the company's Formula 1 programme. The complex variable valve-timing system was uplifted from the range topping Enzo, as was the dry-sump oil system and a very high compression ratio of 11.3:1, with a variable air flow plenum chamber and an enormous electronics brain operating not one, but two, Bosch Motronic ME7 ECU's. Performance was excellent with 62mph making an appearance in just 3.7 seconds and a top speed of 196mph. The engine could be paired with either a six-speed manual gearbox with Ferrari's signature gate or the F1 electrohydraulic six-speed automated manual. The F430 served as the debut platform for a small dial on the steering wheel to control the car's five drive modes. The 'Manettino' control reconfigured the car's stability control, its throttle response, its electronic dampers, and even its active rear differential. About six months after the Berlinetta debuted, the F430 Spider joined the line up with a neat roof panel that tucked away above the engine bay at the touch of a button. This particular Spider was first registered on the 1st of October 2007 and has been enjoyed by two keepers in total over its 14 years. It was supplied originally by Graypaul Motors Ltd of Edinburgh finished in Giallo Modena Yellow with a complementing Blu Scuro (Dark Blue) interior with Yellow stitching and a matching Blue top. The car was shipped very early on to Monaco where it was maintained by G Cavallari Monaco Motors, Ferrari Dealers in 2008/10/12/ and then 2014, returning back home and being serviced by Graypaul Edinburgh in 2016 and 2018 and lastly by Graypaul Nottingham in March of this year and the stamped service records from these dealers support the indicated 9,900 miles. The car comes with its original tool kit and full book pack including the all important service booklet showing the above stamps all within its leather bound case. SN57 FCY was specified to a high level from new and including Yellow brake calipers, a Carbon-ceramic braking system, Daytona-style heated seats and a high power Hi-Fi with subwoofer and much more. The F430 has represented fantastic value for money since the arrival of the 458 and this brightly hued 'F1' Spider with an excellent spec, impeccable main dealer history, perfect mileage and sensibly guided will inevitably sit at the top of the list for potential buyers.
The Ferrari 575M Maranello (Type F133) is a two-seat, two-door Grand Tourer launched by Ferrari in 2002 and was essentially an updated 550 Maranello featuring minor styling changes from Pininfarina. Further developments included a redesigned interior and substantial mechanical improvements, including bigger brake discs, a larger and more powerful engine, improved weight distribution, refined aerodynamics and fluid-dynamics along with an adaptive suspension set-up (the four independent suspensions are also controlled by the gearbox, to minimise pitch). Two, six-speed transmissions were available, a conventional manual gearbox and, for the first time on a Ferrari V12, Magneti Marelli's "F1″ automated manual gearbox. The 575 model number refers to total engine displacement (5.75 litre), whilst the 'M' is an abbreviation of modificata as featured on the later cars, meaning "modified" in Italian. This particular car was supplied new to British rock legend, Eric Clapton, on 19-3-2003 by Maranello Sales of Egham, Surrey. It's a UK-supplied, right-hand drive, all matching numbers car finished today in its original colour combination of Giallo Fly with Nero Daytona leather upholstery. Eric has signed the service book which was a request at the time by its second owner, TV personality and Virgin radio star, Chris Evans, who acquired the car direct from Eric and kept it up until 2010. So two petrol-head celebrities provided exceptional early provenance for this particular car, before being owned by Silverstone Auctions MD, Nick Whale. Our vendor acquired this car directly from Silverstone Auctions in July 2011 at a mileage of 10,000 and has cherished it ever since throughout the car's life. Today the mileage is 18,318 and the service history is complete and on-time throughout, warranting the indicated mileage. The original factory fitted options were: Fiorano Handling-kit 2 (factory fitted, not dealer added), Satellite navigation, interior carbon pack- including dashboard, centre-console, door trims, F1 paddles, seat sides and entry sills, Hi-fi system with sub-woofer, rear parcel shelf finished in leather, Yellow brake callipers, Scuderia wing shields and a 'Tubi' exhaust. The fastidious private owner has supplied a proper detailed history file with all information present including a full service history (including cam belts changed on time) with mostly Ferrari main dealers and the odd respected specialist. The most recent service was conducted by Dick Lovett, Swindon in August 2019 at 18,155 miles and the car has not been used since due to Covid restrictions. It's supplied with a factory battery conditioner, original Ferrari book pack with all the service and hand books, the factory tool kit remains intact in its original leather cases and a factory car-cover is also included.There are 14 service stamps in the service book to verify the car's mileage and perfect maintenance record, along with a current MOT (no advisories) valid until late September 2021. This remains a very attractive Ferrari with outstanding provenance to support future values, and an excellent car to use and enjoy today, knowing very few 575s – if any – can boast such an interesting backstory.
Offered here is a beautiful UK-supplied, right-hand drive 575M F1 first registered on 13th December 2002. Superbly presented in classic Rosso Corsa with a Nero leather interior it was specified from new with Daytona seats, the F1 paddle-shift gearbox, 19" Modular wheels, red brake calipers and Scuderia Ferrari wing shields. Pleasingly, the tool kit is present with the spare wheel, original cover, Ferrari battery charger, spare keys and its original Ferrari book pack containing the service book stamped to date. The maintenance record is excellent with the most recent major service including cam-belts dated May 2019 at a Ferrari specialist. Also supplied with the 575M is a detailed history folder containing the original purchase invoice from HR Owen, a wealth of supporting maintenance invoices, current V5, current MOT and old MOTs corroborating the 21,142 miles displayed on the odometer at the time of cataloguing. This lovely, three owner example forms part of a small private collection and has always been correctly stored in a heated garage. Consequently, the Rosso Corsa paintwork retains a deep gloss and the black leather interior shows very little sign of wear, in fact, the overall condition of this car is remarkable. Today, the 575M Maranello offers a very useable 'modern-classic' Ferrari GT that is both powerful, good looking and comfortable. Mechanically the 575M has a reputation for excellent reliability when maintained correctly, so you wouldn't hesitate, given the opportunity, to book a few days off work, turn the key, and aim for the Scottish Highlands, enjoying the sweeping roads and beautiful scenery whilst the locals enjoy the sight and sound of one of Maranello's finest GTs howling through the Glens.
The Ferrari 599 succeeded its predecessor, the 575, in the summer of 2006 and brought the front-engined V12 Grand Tourer into the modern age. Whereas the 550 and 575, even at their introduction, always felt like modern classics, the 599 was every inch a new-age Ferrari. The all-aluminium chassis, F1 SuperFast gearbox, F1-Trac stability and traction control, magnetic semi-active dampers and carbon-ceramic brakes, all wrapped in aggressive, aero-optimised bodywork with minimal overhangs and maximum presence. Top billing, though, went to the engine – a lightly modified version of the Enzo's 6-litre V12 with a mighty 611bhp at 7600rpm, endowing Ferrari's new series-production flagship with truly sensational performance with 0-62 in 3.7 seconds and a top speed of 205mph. Of the 3,500 Ferrari 599 GTB F1 Fioranos produced globally, the United Kingdom's share, as is the norm with right-hand drive Ferraris, amounted to under 10% of the total production. Online resources confirm that there are currently 301 examples registered in the UK. According to the accompanying copy Bill of Sale, this car was supplied new by H.R. Owen, London on February the 1st, 2008 in Grigio Silverstone with a Nero leather interior. Well optioned by the first owner, the extras brought the total price to £217,503 and include carbon-ceramic brakes (£11,495), carbon fibre driving zone, Scuderia Ferrari shields, 20in. Monolithic alloy wheels and electric Recaro 'Daytona' seats in black leather. Prior to purchase from HR Owen by our vendor in 2014, the car was owned by legend and noted Ferrari enthusiast Eric Clapton. Supplied to auction in exceptional condition with leather-cased book packs and stamped service book, a hard-cover book titled "Ferrari 599 Fiorano", historical invoices, battery trickle charger and a selection of Eric Clapton books and DVDs. A copy of the V5C showing the registered ownership of the car in Mr Clapton's company name is also included. The MOT is valid until 28th February 2022 and the mileage was some 19,500 at the time of cataloguing.
Understandably, Ferrari uses the coolest 'go-faster' tag in the known-universe sparingly. History shows that only twice before has 'The Scuderia' attached the ultimate mark of speed and desirability to the rear of a road car. Those two cars were the 1962 250GTO and the 1984 288GTO – both were defined by performance and an intention to go racing. 'Gran Turismo Omologato' is the full description, and homologation was the purpose in both cases, albeit with vastly differing outcomes. The 250 enjoyed a great career, but the 288 GTO was born of the Group B regulations that never delivered the Porsche 959-versus-GTO-at-Le-Mans battles we all craved – leaving it as simply the fastest and most desirable Ferrari road car of its day. So how does this new car, launched in 2010, based on a road machine and with no specific intention to go racing, justify the name? Well, according to Ferrari, it does so by taking much of the technology from the track-only 599XX and making it available with a numberplate: it 'homologates' the XX for road use. The aims of this project were, in fact, very simple. Besides translating some of the new technologies wrought through the XX project into a road application, the intention was to extract maximum circuit performance from the 599 package, but still retain enough usability for the car to be a viable road car. The 599 is not an obvious base for a lightweight sports car. It may boast an aluminium bodyshell, but it's a big machine with a 6.0-litre V12 wedged between the front wheels. The path to sharper responses has of course embraced the standard methodology: make it lighter and add more power but it's the sheer number and scope of the changes that impresses, helping to justify its 2010 price tag of £299,300 and underpins Ferrari's assertion that this is much closer to being a 599XX with numberplates than a 599 HGTE-Plus. For starters, engine power rises from 612bhp to a staggering 661bhp; internal friction has been reduced by 12% through all manner of tweaks: DLC (Diamond Like Coating) for the tappets, super-finished cam lobes, a new shape for the crankshaft weights and a new design of piston skirt. The compression ratio rose from 11.2 to 11.9 and the breathing was completely overhauled. Ferrari has crafted a new aluminium intake system that uses shorter runners and saves 2kg, the exhaust system is 'hydroformed' – effectively blown into shape, thereby avoiding the heavy seams that come with even the best welding. The process thins the metal from 1.5mm to 0.8mm and saves a remarkable 15kg over a standard system and throughout the car, an impressive 100kg has been shed. Gear ratios are down 6%, the car now hitting its claimed 208 mph maximum on the 8400rpm rev-limiter. If the engine work is comprehensive, the chassis goes even further: new springs, dampers, electronic systems, wheels, tyres and a new generation of carbon-ceramic brake that uses, for the first time in a road car, a ceramic pad material. At Fiorano the car is brutally fast, lapping a second faster than any other Ferrari, and that's despite weighing 300kg more than a 430 Scuderia. The GTO's list of go-faster aids is bewildering. It uses the now familiar F1-Trac system to harness those 661 horses, but it now has SCM2, which is a second-generation 'Skyhook' damper – the type with magnetized fluid that can alter viscosity through electric current. The main difference on the GTO is that it is fitted with three accelerometers from the XX that relay real-time data to SCM2, whereas the GTB's dampers have to use approximate data. It's very, very clever stuff. The latest F1 automated manual is superb, giving 60m/s shifts at Fiorano (that's 40m/s faster than a GTB) yet able to slur the action in town. The noise? The outside world is treated to about four-fifths of the Le Mans soundtrack but, in its upper reaches, the V12 gets sharp, angry and altogether glorious. Performance is other-worldly, Ferrari claims it'll do a standing km in 19.9sec, which makes it one of the fastest cars ever made in 2010. You could go on about this machine for an entire website – the thinner glass is 5.5kg lighter, forged wheels and titanium bolts save an eye-popping 22kg, and Sabelt's snug carbon seats trim another 17kg. It's a detail masterpiece, a track genius, a road tonic and yet another great Ferrari. Oh, and it fully deserves the badge. The car presented here is as close to a new 599 GTO as you are likely to find, a 2011 example with just over 1,600 miles covered and, in a condition, which wholly reflects this. The car has a very high specification with Rosso Corsa (not Rosso Scuderia) paintwork, Grigio Silverstone Opaco roof, full Alcantara interior with Tessuto inserts, Rosso stitching, stitched prancing horses and Rosso harnesses. It is supplied with all of its original and complete book-pack (its specification-specific Classiche document was retained by the original owner, but ordering a replacement from Ferrari is straightforward), covers, radio/key code cards and spare key. Being offered for sale from a discerning private collector of best-of-the-best classic and modern-classic cars, this GTO has been serviced / looked after by the famous 'Cornes' dealership of Japan, then DK Engineering and Dick Lovett Ferrari in the UK, and is undoubtedly one of the best examples available anywhere. Bought by our vendor in 2015 from DK Engineering who described it as 'an exceptional example', going on to say in an accompanying letter in the history file 'it is without doubt one of the best condition cars we have seen recently, especially in regards to the underside (of the car) which I looked closely at in the process of the service and PDI carried out in our workshops'. There is all the reassurance you could want about its ownership/servicing in Japan, its meticulous transportation to the UK (photos & paperwork etc.) and its subsequent full inspection with one of the UK's most revered Ferrari specialists. Regarded by many Ferrari enthusiasts as 'ultimate modern-day Ferrari', with that tangible GTO magic well and truly present, the associated kudos of knowing what that really is, and enough power and go to satisfy the demands of drivers seeking thrills from any one of the current crop of supercars, the 599 GTO might just be the high-tide mark for normally aspirated, big-engined sportscars full-stop.
The 612 Scaglietti was the replacement for the 456 and is larger and more spacious with serious presence, but still displays the deftness of touch of the legendary House of Pininfarina. As a mark of respect for their decades-long working relationship, Ferrari named the 612 after the legendary Sergio Scaglietti, whose famous design house 'Carrozzeria Scaglietti' was responsible for the look of some of the most stunning coachbuilt Ferraris in the fifties and sixties. The design of the 612 is said to have been inspired by the 1954 Rossellini-Bergman custom 375MM, which was commissioned by film director Roberto Rossellini for his lovely wife, the actress Ingrid Bergman. The model features deep side scallops and large headlights together with a long, sleek silhouette and the result is an imposing, unusual looking car, projecting dynamism and power. This sporty front-engined rear-wheel drive Berlinetta is a paradox Ferrari, being an energetic car to drive, yet also having four full seats for passengers, making it suitable for longer journeys and city use too. A genuine departure from previous GT models, the 612 Scaglietti's transaxle transmission sees the rear-mounted, six-speed, F1 gearbox working with the limited-slip differential in a shared function and this, combined with the first-ever all-aluminium body on a 12-cylinder Ferrari, makes for fantastic dynamics as well as improved comfort and safety. The car presented here is a 2007 Ferrari 612 Scaglietti, boasting an impressive specification including Daytona seats, 'Scuderia Ferrari' wing shields, leather diamond pattern headlining and factory-fitted HGTS (Handling GTS package), a £7,505 option. This low mileage car, having covered a fully verifiable 16,500 miles, has wanted for nothing in terms of servicing, storage, and ownership. With a full-service history (at Ferrari main dealers and one service at marque experts DK Engineering), this car has always been garaged, used as a 2nd/3rd car and is in simply immaculate condition. With just two discerning private owners (plus Ferrari Meridien Modena originally) you could not hope to find a better 612; one to buy and keep.
FORD
In January 1990, the third generation Sierra RS Cosworth was launched, this time with four-wheel drive. As early as 1987, Mike Moreton and Ford Motorsport had been talking about a four-wheel drive Sierra RS Cosworth that could make Ford competitive in the World Rally Championship. Ford Motorsport's desire for a 3-door "Motorsport Special" equivalent to the original Sierra RS Cosworth was not embraced as, the more discreet 4-door version, was considered to have better market potential. It was therefore decided that the new car should be a natural development of the second generation, to be launched in conjunction with the face-lift scheduled for the entire Sierra line in 1990. Launched to huge acclaim with the full title of Ford Sierra Sapphire RS Cosworth 4×4, the RS Cosworth 4×4 was aimed at the family man who wanted practicality and performance. In recent years Silverstone Auctions has offered the finest examples of 'Fast Fords' and indeed we have led the market with our results, but it is rare for us to offer a Ford in such superb condition and with such impeccable provenance as this example. On the 6th February 1991, its first and only registered keeper took delivery of this lovely example which was finished in Magenta with a Raven interior and Recaro seats trimmed in black leather. For the next twenty years the car was to be lightly used. The accompanying ten MOT certificates show incremental mileage increases during the 1990s in keeping with online MOT history, and the last MOT test was carried out on the 21st May 2019 at 13,735 miles. From 1993 to 2015, before going back to the original and current registration number, the car was issued with the private registration number "H2 JBG" which corresponds with the historical MOT test certificates and is linked to the online MOT records for the car for the period. The service book shows four stamps at 1,557 miles in March 1991, 6,491 miles in November 1991, 12,600 miles in July 1998 and 13,438 in May 2015. It's presented to auction displaying an odometer reading of some 13,865 miles at the time of cataloguing, with a book pack that includes a Ford-RAC Membership Card, previous MOT certificates, seven tax discs and the aforementioned service book. The history file includes invoices, historical Ford main dealer documents and a spare key. The car did not sell on the day and is on offer now for £69,000.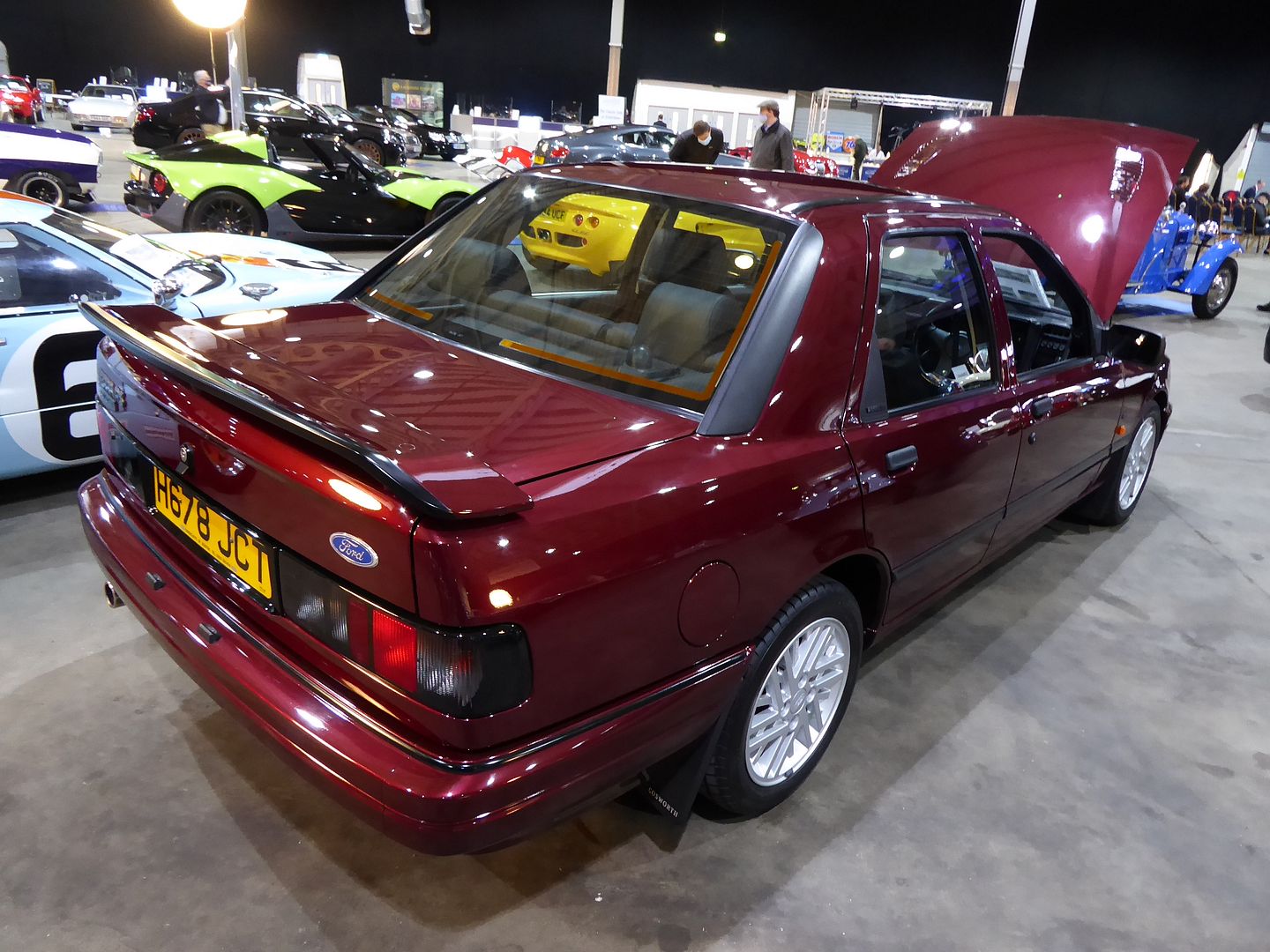 One of the star cars that was parked right up by the auctioneer's stage, was this Ford GT. Always keen to celebrate its rich history, Ford unveiled the new Ford GT to a stunned crowd of international media at the 2015 North American International Auto Show in Detroit. Developed in secret, Ford's intention from the start was to return the Blue Oval to Le Mans in 2016, seeking a class win fifty years after Ford swept the podium at the 1966 24 Hours of Le Mans with the GT40. While the 2005 Ford GT was a retro-inspired homage to the original GT40, the new Ford GT was designed with motorsport at its core, utilizing cutting edge design and advanced materials throughout its construction. At its heart was Ford's well proven 3.5-litre V-6 Ecoboost engine which was based on the power unit from the best-selling F-150 pickup truck. However, this was anything but a truck engine and the GT's engine was fitted with upgraded turbos, an aluminium intake manifold, unique camshafts, and a bespoke dry-sump lubrication system. Despite its relatively small displacement, power was rated at an impressive 647bhp and this was fed to the road through a seven-speed dual-clutch gearbox. The chassis was a radically designed carbon-fibre monocoque with lightweight aluminium front and rear subframes. Each body panel is made of carbon fibre with a distinctive aerodynamic channel running from the rear of the doors to the rear of the car and 'Active' aerodynamics and adjustable driving modes and ride height ensure that the car is always properly set up for road or circuit use. This striking 2018 Ford GT has had just one owner and is presented in the super stylish colour combination of Liquid Grey with Ingot Silver stripes and 'Launch-control' trim. Ordered new, and initially registered to Alan Mann Racing, this is an exciting opportunity to own a Ford GT with a name attached that is synonymous with Ford Motor Sport, GT40s and Le Mans. Ordered in November 2017, the build was finished in May 2018 and the car was delivered new in July 2018. The full specification includes; Liquid Grey Tri-coat paint, Ingot Silver dual stripes, gloss carbon package, 'Launch-control' trim, English EU instruments, 20″ Satin-Silver wheels and silver brake calipers with black decals. To date, this stunning example has covered just over 1,000 dry miles, been stored correctly, had its first service completed at 'GT101' and somewhat unusually for a car that's covered only 1,000 miles, is accompanied by its first MOT. Accompanying this GT is the complete package from new including the build box – used to select your full specification, spare key, bespoke fitted car cover with ID number, battery conditioner, and images of the build in a presentation folder. Also forming part of the sale is a detailed history file with correspondence from Alan Mann Racing to the Ford GT Concierge team, Ford GT purchase agreement, the current V5c registered to Alan Mann Raging, EU Certificate of Conformity and the invoice from GT101 for the first service. In summary, this is a rare opportunity to own one of very few UK-delivered Ford GTs, tastefully specified and in 'as-new' condition. It did not sell, and is available for anyone who can offer £690,000.
Another of the cars which did not appear to be in the auction was this now rare Escort Cabriolet. Made by coachbuilder Karmann, these first appeared the same year as the five-door estate (1983) as a riposte to the successful VW Golf Cabrio. It was the first drop-top car produced by Ford Europe since the Corsair of the 1960s. The Escort Cabriolet was initially available in both XR3i and Ghia specification, but the Ghia variant was later dropped. It was updated in parallel with the bigger selling hatch models, with this generation ending production in 1990 when a replacement was launched.
JAGUAR
Widely regarded as the most desirable Jaguar of all time, the legendary C-Type was launched in 1951 with one aim in mind – to win the 24 Hours of Le Mans. Success was immediate when a factory C-Type driven by Peter Walker and Peter Whitehead came home some 7 miles in front of the second placed Talbot-Lago entered by a French team. In 1953 the feat was repeated in spades with C-Types coming home in 1st, 2nd and 4th – being helped enormously by the fact that they now had disc brakes on all four wheels. That it was also arrestingly beautiful was just a bonus, a classic example of form following function. The C-Type was powered by a tuned version of the 3.4-litre engine from the contemporary XK120, initially producing some 205bhp in SU carburettor form, but rising to 230bhp with Weber carbs fitted. The lightweight tubular chassis was designed by Bob Knight and the aerodynamic body by Malcolm Sayer. Only 52 C-Types were made in total before it was replaced by the D-Type in 1954 and, if you could ever find one for sale, it would cost you several million pounds. Offered here is a beautiful and well-constructed, all-alloy bodied, C-Type tool-room copy. Not to be confused with other 'replicas' often seen at events and on the market, this example is extremely faithful to the original, convincing enough, we understand, to have secured entries into some of the worlds most prestigious events such as the Mille Miglia Retrospective. UK-registered as a 1959 'Historic' vehicle and believed to have been built around 30 years ago utilising components including the chassis, steering and suspension sourced from Peter Jaye, an engineer renowned for building similar exacting and detailed C-Type replicas. Today, this faithful tribute wears a glorious patination and is on-the-button and performing well partly due to a recent professional engine rebuild with less than 1,000 miles use since, so nicely run-in. On offer from a private collector who has owned both genuine C and D-Type Jaguars, this is a great opportunity to own a tool-room copy C-type, professionally engineered, well maintained, on-the-button and ready to be enjoyed as a road car or with a little development possibly used in competition. It sold for £150,000.
Launched in 1954, the Jaguar XK140 was broadly similar to, though more refined than, its XK120 predecessor, major engineering changes being confined to the repositioning of the engine 3-inches further forward and the adoption of rack-and-pinion steering as used on the racing C-Type. The suspension and brakes remained much as before, though with stiffer torsion bars at the front and telescopic shock absorbers replacing the previous lever-type at the rear. Outwardly the newcomer was distinguishable by its revised radiator grille, rear lights incorporating flashing indicators, and larger bumpers – the latter adopted to withstand the cut and thrust of urban parking. The power unit remained Jaguar's well-tried, 3.4-litre, twin-cam six, which now produced 190bhp in standard trim thanks to higher-lift camshafts and revised porting. This particular XK140 SE was dispatched on 21 April 1955 and being chassis No 814105 was the 105th left-hand drive XK140 to roll off the production line, now beautifully presented in Jaguar Maroon with Tan interior it first saw the light of day in Hornburg, Los Angeles, USA becoming the property of Mr E D Thompson. We believe it remained in California before returning to the UK in 2015, sun-bleached as you would expect, but superbly solid and ripe for restoration, so solid, in fact, that the chassis has had no repairs whatsoever. A comprehensive rebuild followed including a full body refurbishment, engine/gearbox/overdrive stripped, checked and refurbished as required, a Kenlowe fan fitted, replacement wiring loom, complete interior retrim including all woodwork, chrome work refinished where necessary, suspension stripped, checked and refitted with uprated rear springs and new shock absorbers. Recently finished and now ready to be enjoyed once again, so fresh is it that a period of running in should be observed to achieve the best from this beautiful and instantly recognisable Jaguar Coupe. This one sold for £51,750.
OSU 398 was delivered new in 1958 to its first owner in America where it remained until returning to the UK in 1989. A major restoration followed including conversion to right hand drive by J E Brittain, finished in Sunburst Red with Black interior. After purchasing the car in 2004, the present owner entrusted VSE Engineering, the renowned Jaguar Specialists, with the task of providing added motivation with touring and regularity type rallies in mind. Their 'Clubsport 3.8' engine breathing through 2″ SUs seemed to fit the bill and further upgrades included an alternator kit, competition-geared starter, 9.5'' clutch, all-synchro overdrive gearbox, sports exhaust system, adjustable shock absorbers, poly-bushed suspension, uprated rear brake callipers and servo and to top all of those off a set of 16" chrome wire wheels were sourced and fitted. More recent works include uprated rear springs and replacement hub oil seals. In 2007 there followed a full bare-metal restoration with wings and doors removed, a photographic record of which is held within the comprehensive history file. Extensive re-chroming was also undertaken at this point. More recently, in 2019 the seats were retrimmed in hide with matching replacement carpets. Now on the button and ready to be enjoyed as intended including, regardless of being exempt, an MOT certificate, issued on 23 April 2021 without advisories, testament indeed to the care that our vendor has taken with the XK during his spell of custodianship. A superb example that has clearly been cherished for many years only available today due to the present owners age and lack of recent use, an opportunity not to be missed. But it clearly was missed, as the car remained unsold.
Most of us imagine that the trend amongst the world's top manufacturers of exotic automobiles to release an air-brushed artist's impression of their new ultra-desirable, hugely powerful, impossibly good-looking, we're only making a few, don't ask how much and anyway they are all sold, model is a fairly recent phenomenon, however, it's not. Way back in 1961, Jaguar Cars did just that with their forthcoming E-Type and the only difference was that the forecast list price for the new model was about half of what you thought it might be. Sir William Lyons' savvy move of restricting the sale of the first 50 or so cars to established racing drivers or celebrities only fuelled demand still further and magazine articles have been written about just how far potential customers would go to be moved up the rapidly expanding waiting list. Naturally, when the car was launched in May 1961 it caused a sensation with newspaper headlines focussing on the car's (optimistic) top speed of 150mph and remarkable looks, however, there was a lot more to the E-Type than a pretty face. With a claimed 265 horsepower available, the E-Type's performance significantly furthered the standards set by the preceding XK models, partly because it weighed around 500lbs less than the XK150, but mainly because aerodynamicist Malcolm Sayer used his experience gained partly with their C and D-Types but mainly from prototypes E1A and E2A to create one of the most efficient shapes for a high-performance sports car. The fact that this low drag design was also one of the most elegant shapes ever to sit atop a set of four wheels was a bit of a 'win-win'. Only in terms of its transmission did the E-Type represent no significant advance over the XK150, whose durable four-speed Moss gearbox it retained. But, of all the versions of Jaguar's long-lived and much-loved sports car, it is the very early 3.8-litre cars built prior to February 1962 (retrospectively known as 'flat floor') which, for many enthusiasts, remain the most desirable. Around 2,000 of the early cars were built with a flat floor under the pedals but the driving position was not ideal for taller drivers so changes were made to the footwell creating a recess for the driver's heels. The lovely Jaguar E-Type offered here is an early 1961 Series 1 3.8-litre Fixed Head Coupe, "Flat Floor". It's a left-hand drive car, finished in Old English White with a black leather interior and chrome wire wheels and has been subject to a ground up restoration at a cost of around £100,000. Its fully matching numbers status is supported by corresponding paperwork and a Jaguar Heritage Certificate. One of only 680 'flat floor' fixed-head coupés, Chassis number #885325 was completed on 16 December 1961, and subsequently supplied to a Mr. A. S. Anderson through Jaguar Cars, New York in early 1962. According to the accompanying Jaguar Heritage Trust Certificate, the car retains its numbers-matching, 3.8-litre six-cylinder engine and cylinder head, and remains fitted with a four-speed Moss gearbox. Complete with tool roll, original Shelley jack, three ring-binders of photos and invoices detailing the restoration, and in Concours condition throughout, this venerable Jaguar truly is a sight to behold. With the values of very early Roadsters continuing to bloom, Coupés will not be far behind, and an early, flat floor, matching numbers, FHC in classic colours with lots of history, may turn out to be a very sensible investment.
Dating from June 25th, 1964 this is Number 1,738 of the 1,799 right-hand drive, Series 1 E-Types produced by Jaguar. The original supplying dealer was Murkett Bros. of Bedford and the first lucky owner was a Mr J.G. Marriott. It was exported to Guernsey in the early seventies before being sold and subsequently re-imported by Lionel Jeanneau to a new home at the prestigious Waterside Inn in Bray, Berkshire. The car changed hands again March 1993 with 26,000 miles showing and subsequently was subject to a continued program of upgrading, improvement and refurbishment. In 1997, it was treated to a bare metal repaint with the original Opalescent Golden Sand giving way to Jaguar Signal Red. Some fifteen years later, in 2012, it was treated to a fresh coat of Signal Red by Classic Chassis Services who also carried out a total rebuild of the engine, chassis and all major components. The work even extended to replacing the wiring loom and re-trimming the interior. The history file contains an account of the work done by Jaguar specialists Ladd and Glen of Streatham, London including Coopercraft brakes front and rear with discs, adjustable dampers all round, the dynamo and electrics were upgraded to run an alternator and a Kenlowe Fan was fitted to aid reliability. New chrome wire wheels complete with Dunlop Aquajets were fitted and performance was further enhanced by a stainless steel exhaust manifold. The history file also contains the original buff logbook, the owner's manual and thirteen old MOTs.
The retrospectively titled Mark 1 – Jaguar's first unitary construction saloon – was replaced in October 1959 by the closely related, albeit extensively revised, Mark 2. Slimmer windscreen pillars and deeper side windows greatly enlarged the Mark 2's glass area, and the deletion of its predecessor's full-sized rear wheel spats allowed the rear track to be widened, a move which increased roll resistance and stability. Otherwise, the running gear remained much the same as before, with independent front suspension by wishbones and coil springs, leaf-sprung live rear axle, and Dunlop servo-assisted disc brakes (optional at first on the Mark 1 but standard from November 1957) on all four wheels. A redesigned dashboard with speedometer and rev-counter ahead of the driver and the six toggle switches and four minor gauges grouped centrally, established Jaguar's layout for years to come. According to the Jaguar Heritage Certificate supplied by the vendor, 288 AVA was manufactured on the 9th of March 1961, distributed by Ritchies of Glasgow and first owned by A G McFadden & Co Ltd of Glasgow. Finished in sparkling Opalescent Silver Blue with a gently-patinated Light Grey hide interior, this 3.4-litre, manual gearbox with overdrive example has been enjoyed by just five keepers in total, the current being a Main Board Director of Jaguar Cars, and has clearly been cosseted all its life. The radiator was replaced and rear seat belts installed in 2019 along with a full service by Clarke's Jaguar and Classic Motor Cars Ltd. (CMC) of Shropshire to the tune of £3,200. Prior to our vendor, the previous two owners entrusted the car to Classic Motor Cars for regular maintenance and there are invoices in the file going back to 2011 detailing some £23,000 of investment suggesting that this lovely Mk2 has been looked after with no expense spared. The car is supplied with an interesting history file containing a Mk 2 Operating, Maintenance and Service Handbook along with a selection of old MOTs and a hand-written booklet from previous keepers detailing work carried out over time, a nice touch. Having covered just 44,739 miles from new, supported by the documented history, this venerable Jaguar has not travelled far in its 60 years and would be a welcome addition to any collection, however, we feel that it should really be out and about, doing the things that sporting Jaguars from the Sixties do best. Sale price was £33,100.
Conceived as a stylish, comfortable and long-legged Grand Routier, rather than an out-and-out sports car like the preceding E-Type, the XJ-S made use of the Jaguar XJ6/XJ12 saloon platform and running gear. Shorter in the wheelbase than its saloon siblings, it debuted as a V12-powered Coupe, with six-cylinder and soft-top versions following in the 1980s. It had a lot to live up to and comparisons to its iconic predecessor are dismissed, with hindsight, as unfair whilst Jaguar were sensibly long-sighted with their launch and ambitions for the model. Nippy, impractical British sports cars were difficult to sell during the 1980s as the market segmented. Aston Martin's V8 Coupé catered for the very wealthy and Lotus' futuristic Esprit was the car of choice for those who were image concious. The XJS, however, was the perfect car for the successful gentleman of a certain age wanting a stylish, comfortable sports coupe that cut a dash, moreover it was particularly popular with women. By the time production had ceased in 1996, 115,413 coupes, cabriolets and convertibles had found homes. We are told by our vendor, the daughter-in-law of Mr Miller, the car's first owner, that this XJS was ordered on the Jaguar stand at the 1989 Paris Motor Show. Resplendent in Signal Red with a Magnolia leather interior, the car was delivered by British Motors of Monte Carlo, who were not just the concessionaires for Jaguar but also Rolls-Royce, Bentley and Aston Martin. Registered '7279 MC' as an official Monaco resident's car, a privilege afforded only to the very wealthy, it was lightly used by Mr Miller, hardly ever in the rare event of rain, and maintained by British Motors' service department as documented by the historical invoices on file. When the car left Monaco for repatriation to the United Kingdom in 2016, the odometer showed a mere 29,786 kilometres had been covered, as confirmed by the original odometer-unit supplied with the car. When our vendor and her husband moved back to this country permanently, the Jaguar was registered with the DVLA on 22nd June 2016. The odometer unit was changed by Jaguar main dealers Grange Welwyn to a mileometer unit and the digits updated to match the original kilometres in equivalent miles of 18,508, prior to an MOT the next day at 18,510 miles. Subsequently, the online MOT history shows incremental increases over the years corroborated by Grange Welwyn's service receipts and, indeed, the car has only travelled some 582 miles since 2016. Whilst in the UK, the car has been maintained, and MOT'd annually, for largely sentimental reasons and as it's unlikely to be used much by the family, as a left-hand drive car on British roads, it's now regretfully offered for sale. At the time of cataloguing, the indicated mileage is 19,100 and the car is presented to auction in superb overall condition having obviously benefited from its time in Monaco. The scuttles are in very good order, however, we note that there are dings to each of the rear bumper chrome quarter blades but the buyer should be able to find replacements with relative ease. There is evidence of wear to the driver's side seat bolster, common with all XJS and indicative of short journeys, Monaco has only thirty miles of urban roads after all. In conclusion, it is rare to offer a low mileage, Monaco-delivered Jaguar from single British family ownership, benefiting from little use in a largely dry climate. The history file includes reams of historical and more recent invoices from Jaguar main dealers, a spare key, the Heritage Certificate, the owner's manual and the current MOT which is valid until 22nd April 2022. Unlike most of its contemporaries, this venerable XJS has spent twenty-seven years being much admired in Monte Carlo amidst acres of brightly coloured exotica and being offered valet-parking outside the Café de Paris, a rare honour, simply because the Monésgasque appreciate classic British style. Smart examples of Jaguar's big coupé, in all its iterations, are becoming increasingly sought-after, and this low-mileage, Signal Red car with a detailed history and lovely provenance is worth a closer look. It sold for £23,400. which sounds like a good price to me.
Offered here is the final evolution of the Jaguar XJS, hand-built at JaguarSport at Bloxham, the high-tech facility that had been home to XJ220 production. Launched in 1988, JaguarSport was a 50/50 joint venture between Jaguar and Tom Walkinshaw's TWR (not to be confused with Jaguar-Sport), a relationship that had begun with the famous TWR prepared XJS' that dominated Touring Cars in the eighties. The JaguarSport XJR-S may have looked similar to their production counterparts but differed immensely with many parts unique to the model and of course its 6.0-litre V12 engine.The engine was rated at 318hp and was 700cc larger than the previous 5.3 litre V12. A modified intake system and a low-loss true dual exhaust system was part of the car's advanced specification. The suspension was further developed by TWR with increased coil spring rates and the Bilstein shocks, front and rear, were specially tuned for the XJR-S. Externally, the cars were modified with a subtly aggressive body kit and host of modifications inside included a full Connolly Autolux leather interior. Only 115 were built in right-hand drive and consequently are very rare. This beautifully presented, post-facelift, 331bhp XJR-S has lived a rather cossetted life and certainly the last two owners searched out the very best available for their collections. Finished in Flamenco Red with a Magnolia interior, having covered only 70,960 miles and recently benefitting from a ceramic wax polish the car's stunning condition would make it a worthy addition to any collection of rare Jaguars . In addition to ownership documents, older MOTs and a wedge of invoices, the substantial history file contains a copy of Jaguar World from 2015 which features this car. Quite rightly 6.0-litre XJS derivatives are being sought out and, in this condition it was something of a bargain selling for less than £23,000.
JOWETT
The Jowett car company were not one of the biggest names in the British automotive firmament and their cars were decidedly 'quirky' but they did generate admirers, especially the sporty Jupiter two-seaters. John Surtees owned one, as did Peter Ustinov, and so did John Willment, legendary race-team manager. Power came from a tuned version of the 1,486cc flat-four overhead valve unit in the Javelin and had twin carbs and a higher compression ratio to develop 60bhp – good for a top speed of 85mph and a 0-50 time of 11.7 seconds. It drove through a four-speed column change gearbox with synchro on the top three gears. With a chassis designed by ERA, the Jupiter was an instant success with a class win at Le Mans in 1950, a class 1-2 in the 1951 Monte Carlo International Rally, an outright win on the 1951 Lisbon International Rally, and a class 1-2 at Dundrod in a gruelling 4-hour race on public roads in 1951. Just 899 Jupiters were built in all, including special bodied cars, of which just 561 were right hand-drive. Around half of all cars produced are thought to survive today and all are highly sought after. Plans were being made for a Mk 2 model when the company went out of business in 1954. Its design shared much with the fibreglass-bodied Jupiter R4 which never entered production either but, in the case of the R4, three prototypes were made with two still believed to exist. So, the Mk 2 was never going to see the light of day, well not quite. A Jowett enthusiast discovered the Mk 2 plans and drawings in 1979 and in 2008, Jowett enthusiast and restorer Allan Fishburn acquired those drawings and began building a one-off Jupiter Mk2 using the chassis and engine of a damaged Mk1A Jupiter. We understand it was more or less completed around 2011. Our vendor takes up the story; "I purchased the Jowett in 2016 after falling for its shape and unique design from Alan Fishburn of Bradford, a craftsman who had built this Jowett Special from the original factory drawings. Shortly after this it went to TW Brotherton of Blockley who removed the bulk of the aluminium body panels and set about restoring the car to a high standard. This involved fabricating new engine bay and boot panels, and realigning all panels and a bare metal respray, this took a total of 296 hours and over £10,000 of receipts. Images can be found in the history file. The result was an outstanding unique vehicle. Shortly after this I sustained a serious back injury, and the car was put on hold. A year or two so later, determined to finish it, a new wiring loom was fitted along with new instruments. The car was then taken to MB Restorations in Bradford, who had rebuilt Jowett engines in the past, they not only rebuilt the engine with its Ford 5-speed gearbox but fitted a new aluminium petrol tank, custom radiator and grille and numerous other work, including the exhaust and brakes. Finally a £2,800.00 full quality leather retrim was undertaken along with a new tonneau cover. A full set of classic tyres were then fitted. Again thousands in receipts can be found in the history file. Since then the car has been in storage and has covered some 40 miles or so." The result is really pleasing and we imagine would have been of serious interest in 1955 to anyone considering the purchase of a TR3, MGA or Healey 100. It's finished in a lovely shade of Verde Isola and the professionally-trimmed interior looks fabulous in quilted Olive Green leather and dark green carpets, with Smiths white-faced instruments and an Astrali wood-rim wheel with a Jowett centre boss. Attention to detail is obvious everywhere including the Lucas P700-style headlights, split screen, flip-up fuel filler, twin exhausts and a set of period-correct Pirelli Cinturatos. A fascinating history file accompanies the car containing photographs of the restoration and of the Mk 2 on the Midland Jowett Car Club stand at the NEC, a copy of a photo of the Mk 2 'clay' model, copies of various technical drawings and invoices from the last few years totalling £28,652. Our vendor's financial involvement in this project is in excess of £50,000 but it has been sensibly guided at £25 – £30,000, roughly what you might expect to pay for a fifties 'big Healey' in need of restoration and it actually sold for a bit less than that. at £21,938.
KCC
Offered here is a replica of, arguably, the most famous racing car of all time, the Ford GT40 #1075, the only car to have won the Le Mans 24-Hour race twice (1968/9). Correctly titled as a 'KCC GT40' on the V5c, this example was imported from South Africa in 2018 by its present owner. This KCC GT40 replica is the South African version of the British KVA design developed in the 1980s by Ken Vincent Atwell, an ex-Ford engineer who had permission to take moulds from an original Ford GT40 in order to produce his design. Atwell licenced his design to KCC in Johannesburg. This 'Tribute' car replicates the exact body dimensions of #1075 taken from the original moulds of the Le Mans-winning car and featuring the widened rear arches. KCC #51 utilises Ford front and rear suspension components married to a tubular steel chassis and the rear suspension is an upgrade on the original Ford Granada design with Gaz adjustable dampers on all four corners. Pleasingly, this example is running a very desirable, period-correct and 'certified-block number' 1968, 5-litre Ford 302 Windsor motor which is in mostly standard configuration, making it more reliable and useable as road car. The engine is mated to a 5-speed, Audi Turbo gearbox and clutch which is the standard set up for many GT40 replica cars. Other mechanical features include a 'Bundle of Snakes' exhaust system, unique to GT40s, which has been professionally ceramic-coated to aid cooling and creates that unmistakeable GT40 soundtrack. Twin auxiliary cooling fans fitted in the rear also help with engine cooling The car also benefits from 3-piece, split-rim alloys, a cabin heater, air-conditioning and, to aid rear vision, a rear-mounted camera, very useful on such a low wide-bodied car. Paying homage to the original GT40s, this well-constructed example features an original set of Smiths GT40-style instruments with traditional 180 mph, mechanical speedo, bucket seats with GT40-style eyelets, 4-point racing harnesses fitted for driver and passenger, internal Aluminium badging and a push-button start, all adding to the authentic '60s feel. Externally, the decals faithfully replicate #1075 and sensible additions include a reversing light, fog lights and original helicopter style window vents. The rear window is glass, an extremely rare find on an early GT40 replica. On offer privately from a member of the GT40 Enthusiasts Club, GB after two years of enjoying this very special #1075 homage, we are informed that recent mechanical work includes a full service with new plugs, oil, filter, electronic points, coil and HT-leads and the car is now on the button with an MOT that is valid until January 2022. There can't be a petrol-head out there worth his octane-rating that's never fancied a properly-engineered GT40 re-creation and this seems like a remarkable opportunity. The car fetched £61,875.
LANCIA
The Fulvia Sport was a fastback two-seater based on Coupé mechanicals, clothed in a curvaceous and lightweight body, styled by Ercole Spada of Zagato design house in Milan, known for the immortal Aston Martin DB4 Zagato; featuring an innovative narrow angle overhead cam V4 engine and double-wishbone independent suspension, the nimble Zagato-bodied cars proved themselves well in motorsport, scoring highly in events such as the Sebring 12 hours and the Daytona 24 hours. In 1972, a Fulvia won the International Rally Championship; 'Road & Track' magazine describing the Fulvia as "a precision motorcar, an engineering tour-de-force." The characterful 1298cc DOHC V4 engine acquitted itself extremely well, continuing all the way through into the Series 2 cars. The second series Fulvia Sport was launched at the 1970 Turin Motor Show and changes included a 5-speed gearbox, revised suspension geometry, an upgraded brake system (using larger Girling calipers with servo in place of the Dunlop brakes), taller ride height, an alternator (in place of the previous dynamo), a taller final drive (compared to coupés), and wider tyres. The body was now all-steel, welded to the monocoque for better rigidity, and seated 2+2 passengers. The car presented here is a rare, UK-supplied, RHD car first registered in the UK during March 1972. Finished in Saratoga White paintwork with black leather upholstery and green carpet, it is well-known to the Lancia Club and specialists Omicron. Our vendor has really enjoyed this characterful car, overseeing the fitment of a new old-stock subframe fitted last year. We understand that the car benefitted from a professional body restoration and repaint in 2010 and has always been owned by marque enthusiasts, who have ensured its mechanical health. Accompanied by a large bundle of receipts for work carried out over the years, this is a healthy and very capable Italian sportscar. The Zagato-bodied cars are now very topical – Harry Metcalfe has a Sport 1600 which he loves and is currently restoring, high praise indeed. This one did not sell on the day.
This Lancia did, though. It fetched an amazing £208,500. Following their amazing seven years of success in the World Rally Championship for 'Group A' cars, which included four driver's titles and six consecutive Manufacturer's Championships, Lancia decided to release one, final, limited-edition version of their venerable Delta Integrale. Named 'Lancia Delta Integrale Evo 2 Edizione Finale', production was limited to just 250 and all were to be finished in Bordeaux Red with narrow yellow and blue stripes running over the bonnet and roof. Influenced by the wildly enthusiastic Japanese 'Deltisti', who were inevitably going to be the biggest customers, the standard specification included high-back bucket Recaro seats, black fabric interior trim, 16" Speedline wheels finished in Anthracite, push-button start, carbon-fibre trim details, Aluminium OMP pedals and passenger footrest, a Momo steering wheel, upgraded engine-management to 250bhp, special Eibach springs front and rear and an OMP strut-brace. Each car had a stamped, numbered plate next to the gear lever with this particular car being 'Number 092' out of 250. The engine and drivetrain were identical to the final Evo 2, except for the upgraded engine-management system, and still featured permanent four-wheel drive. Number 92 was delivered new to Japan in 1995 and, a few years later in 2008, was exported to Belgium and subsequently on to its only UK-registered keeper in 2009. The car has not been used much since, becoming part of a private collection stored indoors in ideal purpose-built premises, and presents today as it should for a car that has covered just a little over 3,000 miles from new. In February 2020, the little Lancia was sent to noted Integrale specialists, Walkers Garage Ltd. of Northallerton, North Yorkshire, where the history file reveals that £1,472 was spent on a full service including cambelts, a new battery, new fuel pump and a thorough going through to make sure it was running at optimum level. All the old fuel was drained and replaced at this time with new fuel filters fitted as well as new spark plugs and a thorough road test. Within the car's interesting history file are the original service books with some Japanese invoices, the export paperwork, recent invoices from Walkers and the spare keys. This is a very rare opportunity to own an example of the ultimate development of the iconic Lancia Integrale. The car is in outstanding order throughout and a real collector's dream.
LAND ROVER
There is a select group of British cars that are instantly recognisable for their silhouettes alone; the Morris Minor, the Mini, the Jaguar E-Type – and the Range Rover, all vehicles that merit that much-abused word 'iconic'. Although Rover's head of new vehicle projects, Spencer King, claimed that the design for a new 4×4 was merely a stopgap, the Louvre museum in Paris described the result of his collaboration with the engineer Gordon Bashford as an "outstanding piece of modern sculpture". And 50 years ago, the idea of a luxury off-roader that was capable of 91mph on the road was science fiction to the average Briton. Nor did the Range Rover have any direct rivals in 1970, the only other upmarket British car with four-wheel drive was the Jensen FF, but that was a Grand Tourer for the jet-set. Solihull-based Land Rover had considered a 'Road-Rover' to complement its rugged 4×4 as early as 1951, and by 1964 it gave serious thought to a new off-roader that would compete with the likes of the Ford Bronco in the US export market. The '100-inch Station Wagon' (the figure denoting the wheelbase) would feature a box-section chassis, permanently-engaged four-wheel-drive and the V8 engine that Rover had acquired from General Motors. On December 18th in 1968, management formally approved the name 'Range Rover' after rejecting 'Land Rover Ranger'. The great stylist, David Bache, undertook some refinements of the Bashford/Snell bodywork, including the grille and enhancing the horizontal crease line along the side of the car. Rover constructed several prototypes, and test cars wore badges reading 'Velar' to deter curiosity from the media. On June 1st, 1970 British Leyland invited the press to a trial at the Meudon Hotel in Cornwall. BL had spent so much on launching the Triumph Stag earlier that year it had limited funds for the Range Rover's promotion. Sales commenced on June 17th, with prices from £1,998. 'Autocar' magazine raved: "What is so good about the Range Rover is the way it carries out its multiple functions, serving equally well as tug, load carrier, cross-country vehicle and, by no means least, as an ordinary car suitable even for commuting in heavy traffic." Within months, the waiting list for the Range Rover prompted a black market in new models. The brochure referred to the "seven-days-a-week luxury motor car for all business and domestic purposes", an image that was emphasised by a guest appearance in The Persuaders!, when in the episode 'The Morning After', Roger Moore and Tony Curtis took part in a chase sequence showing-casing the Range Rover's abilities. Traffic policing further raised the profile of the Range Rover, and by 1971 it was employed by the forces of Cheshire, Kent, Staffordshire and Warwickshire. In 1976, 'Car' magazine had not "found a vehicle to challenge the Range Rover" while observing the Land Cruiser from Japan was "a nasty piece of work". February 1996 marked the demise of what had become known as the Range Rover 'Classic', following the launch of the second-generation Range Rover two years earlier, by which time some examples resembled a mobile gin palace. Many enthusiasts prefer the unadorned simplicity of those first models to a 'Chelsea tractor' that 'snever ventured off the tarmac. In the words of that 'Car' article of 44 years ago: "It really is just as happy in the deep mire of a forest as in the King's Road." and to quote 'Motor' magazine of 1975: "It isn't perfect, but there are so few cars which even begin to compete. We love it!" The car presented here is a 1979 Range Rover 'Suffix F' which was, according to its accompanying BMIHT Certified Copy of a Factory Record, built on the 9th May 1979 and despatched on the 21st May to BL Ltd. in France. Originally LHD and painted in Sahara Dust, our vendor's father sourced this vehicle specifically for restoration and subsequent driving enjoyment (unsurprisingly, the best Range Rovers examples for restoration, often come from warmer/drier climates). A remarkably solid example prior to the work, the gentleman entrusted renowned Land Rover and Range Rover specialists 'Famous Four' of Lincolnshire to carry out a comprehensive cosmetic overall of it, costing around £35,000 (receipts and a photographic record of works carried out is in the history file). Once Famous Four had carried out surprisingly minor welding repairs, they undertook a full restoration of the outer body panels, replacing the front outer wings with new Genuine Part versions, sourcing good use dry-climate doors, and fitting a brand new Famous Four lower tailgate, Famous Four apron and closing panel, along with all new rubber seals to finish, and re-trimmed the outer rear quarter panels in period-correct black vinyl. Existing parts such as bumpers, wheels, grille, and headlight surrounds were re-worked and painted. The interior was also re-trimmed to the customer's bespoke specification, and the results are a credit to those involved. Full mechanical re-commissioning was carried out and a fresh MOT completed, resulting in beautiful, highly useable machine. Some months after completion, a minor 'incident' occurred whilst the Range Rover was on display on the 'Range Rover Register' stand at Silverstone circuit; this resulted it in returning to Famous Four where just over £3,000 was needed to remedy some light damage to the rear offside wing. Silverstone Auctions have spoken to Famous Four about this Range Rover and to quote them, "that's a lovely vehicle, and drives really well." Sadly, the gentleman who commissioned the work sadly passed away, and today his sons have entrusted Silverstone Auctions to sell their father's Range Rover. It failed to find a buyer on the day.
LOTUS
Really rather splendid, this car has come from the collection of Steve Soper. The glass fibre-bodied Elan may only have been available initially as a Roadster Kit but its specification was very advanced and adhered to Chapman's "just add lightness" engineering philosophy. Power came from Harry Mundy's Ford-based Lotus 1558cc DOHC engine, it was fitted with disc brakes all round, and the independent suspension was set up to optimise ride quality and handling finesse, qualities for which this little car is still admired. It soon sired other derivatives including the Type 26R racer, the Type 36 fixed-head coupe, the Type 45 drop-head coupe, and the Type 50 Elan +2 of 1967. The 1971 Elan Sprint was essentially based on the Series 4 Elan bodyshell and was primarily designed to rekindle demand and improve the performance of the nine-year-old sports car. Conceived by Lotus Sales Director, Graham Arnold, the Sprint's most notable external feature was the horizontally split two-tone paintwork in half a dozen vibrant colours. Meanwhile, providing the 'go to match the show' a new big-valve cylinder head with high-lift cams and a raised compression ratio, the work of Engineering Director Tony Rudd, provided a 25% increase in power to 126bhp. The drivetrain was suitably toughened and braced and the front callipers were redesigned to cope with the increased performance which was brisk for the time with 60mph arriving in 6.6 seconds,100mph in 19 seconds and a top speed of 123mph. This lovely Elan Sprint was supplied new on 27/01/1972 to a Mr Marcantono of Newcastle upon Tyne in kit form; the car costing £972 and the engine/transmission costing £795. Both invoices are in one of the most comprehensive history files that we have ever seen. There are literally dozens and dozens of invoices (mostly from Midland's renowned specialist, Paul Matty), old MOTs, CDs containing many pictures and a completed record of all purchases during the car's life. Unusually for an Elan, this allows us to warrant the mileage of just 21,886 as genuine. It's one of the most original Lotus Elans that we have ever seen. In June 2014, 'Classic Cars' magazine thought so too as they featured this particular car in a four-page spread. The magazine article, which waxes lyrical about the superb originality of this car, is included within the astonishing history file. The condition of the car is also outstanding with the best door gaps and overall panel fitment of any Elan ever seen by us. All original tools, jack and service books/handbook are present and just 4 owners shown from new on the V5C; all of them keeping this car for extended periods and clearly enjoying the experience. They say the best is never the cheapest. This Elan Sprint drop head convertible is simply the best we have ever seen and represents a fantastic investment opportunity with outstanding provenance, from known ownership and in a completely ready-to-use condition. Steve Soper is one the most successful and legendary British drivers of all time and Silverstone Auctions is proud to offer his very special Elan Sprint for sale at our May Sale. He spent 20 years looking for the best Elan before purchasing this exceedingly special car for his own collection. Steve is one of the greatest all round drivers in the history of British motorsport. Not only one of the greatest saloon drivers of all time, but a man who competed five times at Le Mans, four times at the Bathurst 1000, three times in the World Super Tourers, twice in the Japanese Touring Car Championship, for six years in the German Touring Car Championship and eleven years in the British Touring Car Championship. His major wins have included the Nurburgring 24 Hours, the Spa 24 Hours, the Guia race and countless individual Touring Car races across the globe. Works drives were mostly with his beloved BMW and in their world dominating M3 Touring Cars, but other notable manufacturer' drives have included McLaren, Rover, Ford, Peugeot, Mazda and BMW at Le Mans. He is simply outstanding in a car and has continued to be so since his professional career ended, with many recent successes and race victories in historic racing around the world. We rate him as one of the best all-rounders of all-time and wish him continued success on the track and with all his exploits. It sold for £65.250.
Purity is a fragile and vulnerable thing and in August 1996, the revolutionary new Lotus Elise seemed to ooze purity from every extruded anodised aluminium and epoxy resin crevice, with nothing superfluous subtracting from the essence of this truly minimalist, focused little sports car. Although 'beautiful to behold' it certainly was, the time-honoured relationship between 'form and function' was clearly evident in the way it went and handled with its lightweight chassis-tub at 731kg failing to daunt the enthusiasm of the mid-mounted, 1.8-litre K-series engine, and its 118bhp was enough for a 0-60mph time in the low sixes allied to decent torque in the higher ratios. Clothed in two-piece 'clamshell' fibreglass bodywork, the featherweight two-door also featured all round double-wishbone, independent coil-over suspension, rack and pinion steering, four-wheel ventilated disc brakes, and a five-speed gearbox. Designer Julian Thomson and engineer Richard Rackham were keen to create a car with something of a motorcycle's feel, and they undoubtedly succeeded, as is evident as much in the aluminium-and-rubber interior and neat little Stack instrument panel, as in the car's dynamic intimacy with the road, the wind, and the weather. The Elise was a reaction to the corpulent world of leather, luxury, and levers becoming increasingly evident in Lotus road cars, and was an attempt to recreate Colin Chapman's early principles before he abandoned them in a move upmarket. The early cars were followed in 2002 by the Series 2 but the simpler, more demure Series 1 still defines the breed and this one owner, 1999 Pearlescent Yellow car is a perfect example. It's been completely refreshed very recently (April 2021) and our vendor, its only owner, has provided details of his life with the Lotus; The Elise was supplied new by SGT Garages of Maidenhead on 7 January 1999 with Driving lights, radio fitting kit, alloy window winders and leather trim as factory-fitted options plus a dealer fit "Janspeed" exhaust" for a total sum of £24,502.40. This one-owner car was used mostly in the summer and always garaged. The car was serviced regularly with the first service being completed by SGT on 7 January 2000 at a mileage of 10,354. The next major service was conducted by Lakeside Engineering on 17/12/2001 with the mileage at 15,310. Lube/filter servicing was then conducted by the owner until 2008 when the car also had a new exhaust and ball joints fitted by Brooke Kensington Ltd with 34,572 on the odometer. Browns garage of Thame, replaced the cam belt and water pump and completed a full service on 24 July 2016 when the odometer was showing 38,424 miles. Between 2017 and 2019 Williams Automobiles, Lotus dealer, replaced the alternator belt and Yokohama Advan rear tyres (42,419 miles), repair starter motor (42,974 miles), and replaced alternator (46,906 miles). The December 2020 MOT at Browns of Thame required a new catalytic converter and identified some other advisory work – mileage was 54,154. In February 2021 the car went to Bristol Classic Car Restorations for a full service and check over prior to sale. Work completed at a cost of over £5,000 includes: Hood repair, drivers seat retrim and knee/kick panel repair; New water pump; Refurbished wheels; New discs and pads; New adjustable shock absorbers all round; Suspension and ride height set-up; a factory-approved body shop for a comprehensive respray in 3-pack Pearlescent Yellow paint at a cost of over £4,000. Whilst the car has never been "pranged" the bodywork was tired with stone chip damage to the front clam-shell and door mirrors, and 2 minor grazes to the rear bodywork. In April 2021, Specialised Paintworks have resprayed both the front and rear clam-shells as well as the mirrors and parts of the doors at a cost of £4,000. I have invoices for all the above in a filed in the binder with other supporting documentation (MOTs etc.) The Elise is supplied with its Owner's Manual, the V5C, lots of invoices and an MOT valid until December, 2021. It's very seldom that we are presented with a car where its owner has had such a dedicated approach to servicing and maintenance and it's confidence inspiring. With over £9,000 worth of recent expenditure, this little Lotus seems very sensibly guided and it sold above guide at £24,975.
MASERATI
Introduced at the 1966 Rimini Concorso d'Eleganza, the Mexico, much like the Ghibli Maserati introduced in 1967, marked a notable shift in Maserati's design language and engine style. Named in commemoration of John Surtees' victory in the 1966 Mexican Grand Prix, the new four-seat Maserati featured a thunderous V8 engine developed from the type first seen in the venerable 450S racecar. The Mexico offered exciting performance and pleasing Vignale lines mixed with the luxurious practicality of having room for four adults. Silverstone Auctions are delighted to offer this extremely rare 4.7 Mexico, one of only six right-hand drive examples ever made with the desirable 4.7 litre engine and manual gearbox. This stunning example is also fitted with factory power steering, factory air conditioning, gleaming chrome Borannis and is finished in Argento with a lovely blue leather interior. Originally ordered for the Australian market, the order was then cancelled at which point the Maserati was bought by an Italian enthusiast, who owned it all the way up to 2006, however, in later years, it became sadly neglected. In 2006 the car, looking unloved, was discovered by a Mr Hughes who promptly bought it and imported it into the UK. CMC of Bridgenorth had in the past restored a couple of Jaguars for Mr Hughes and it was natural that he would entrust them with returning the big Maserati to its former glory. There are three huge restoration files accompanying this special car, two files contain pictures of the restoration (250 pages and 1,000 photos) and the third contains invoices and correspondence. Our vendor informs us that when you add up the receipts they total just over £150,000! When finally restored, the car remained fitted with its original KPH speedo and the odometer at the time was reading c20,000km. This was replaced with an MPH speedometer of the correct type taken from another car, and that was reading approximately 40,000 miles – this reading remained unaltered, despite the vehicle having only covered less than half this distance. Since completion, around 2,000 miles have been covered, suggesting a total mileage of around 17,000 miles from new, not warranted but as close as we can get. Our vendor is the fourth owner, having bought it from Sherwood Restorations in 2010 and it has formed part of his significant private collection ever since. With room for four, these usable V-8 Maseratis are long-legged classics from the golden era of Italian 'Gran Tourismo' and given the rarity and quality of restoration, this really is a special opportunity. Your earliest inspection is encouraged and very welcome. The guide price was surprisingly low for such an elegant machine, but the car did not sell.
This is a rare, right-hand drive, automatic, 1972 Ghibli showing just over 10,700 miles. There is certainly no disputing its tremendous impact. By any standard, the Ghibli was the most memorable Maserati of its time. More than four decades after its late-1966 debut, there are those who say it still is and, as road tests at the time proved, it was also a real performer. But for many, it was enough to simply gaze upon this vision in steel in abject admiration. It had been conceived in 1965-66 by Giorgetto Giugiaro, who was then Head of Design at Ghia, so it was no wonder that the world's motoring press sat up and took real notice of this remarkably gifted young Italian. Lines flow seamlessly from nose to tail, the proportions are perfect, and the result is a 'grand tourer' of classical beauty. Even the bonnet line has been kept remarkably low and sleek, with the smallest of clearance bulges, the whole thing is a masterclass in car styling. The car's underpinnings, however, were a bit more mundane sharing its basic chassis and running gear with the Quattroporte saloon and Mexico coupé although, having been designed as a two-seater GT, the wheelbase was reduced by 3.5 inches from the Mexico's. The chassis was tubular, stiffened by pressings, foldings, and fabrications, and it had to make do with a simple live rear axle on semi-elliptic leaf springs, however, like the Mexico it could boast disc brakes all-round. If none of this seemed very exciting, particularly next to its obvious competitors like the Ferrari 275 GTB and Lamborghini 400 GT, nobody seemed to mind, and it didn't hurt the car's performance or reliability one bit. Power came from 4719cc, DOHC V8, fuelled by four 42DCNF/9 Webers and producing 306bhp. The standard transmission was a ZF five-speed unit but an automatic gearbox was available to special order. Alas, all good things must come to an end. The Maserati Ghibli's demise came in 1973 with the introduction of its direct successor, the Khamsin which, whilst technically more advanced, wasn't nearly as inspiring to look at. 1,274 Ghiblis were built in total but, sadly, there still aren't enough to go around. Finished in the stunning combination of Graphite Grey with Tobacco hide, this, very rare, low mileage, right-hand drive, Maserati Ghibli is fitted with an automatic gearbox and air conditioning. We understand the car has only covered just over 10,700 miles and is accompanied by a very impressive history file showing that it has clearly been very well maintained throughout its life. Indeed there is a comprehensive photographic record of the body restoration by a company that more usually works for Aston Martin Special Projects Division. The fabulous interior leatherwork, incidentally, was also carried out by ex-Aston Martin employees. There are also details on file of an engine rebuild by McGrath Maserati. Our vendor acquired the car over 10 years ago from the son of the original owner who purchased the Maserati new in the UK but soon moved to Jersey, where it spent most of its life, hence the incredibly low mileage. In Jersey, it was maintained by Le Riche and there are significant invoices in the file for work carried out on the car. In more recent years, the 'Project Shop' based in Bicester have worked on a comprehensive program of improvements based on recommendations that came from a detailed report from McGrath Maserati, who also supplied the parts. The work began in September 2019 and was finally completed in March this year, costing the seller around £15,000 in order to get the car driving exactly as he wants and bringing the whole car up to his exacting standards. All areas of the car were looked at including steering, suspension, braking system, electrics, full underside detailing, back axle, prop-shaft etc. There is a detailed summary of all this work in the file and the Ghibli has subsequently enjoyed a 100-mile shake-down and a complete nut and bolt check as well as an independent MOT with no advisories just before the sale, ensuring the car is ready for its next owner to enjoy this summer. Offered with the aforementioned history file containing details of the work carried out over the years by notable specialists, an MOT and at a very competitive estimate when you consider the values of some its peers such as the Daytona. It did not sell.
McLAREN
With the MP4-12C, McLaren returned to the world stage as a road car manufacturer. It was logical that the company, famed for its Formula 1 success, would produce a flagship model to compete with the latest generation of hypercars from Ferrari and Porsche and the result was the extraordinary McLaren P1, the long-awaited successor to the F1. Looking to build the ultimate driver's platform utilising a hybrid powertrain, McLaren started out with a carbon fibre monocoque chassis, tipping the scales at just 90 kg. Carbon fibre was utilised for the body panels, creating the perfect harmony of weight savings and strength. McLaren's fanatical attention to detail shines through with its weight-saving efforts; even the interior carpet was deemed needlessly excessive and removed entirely. Furthermore, McLaren chose to leave the carbon fibre in the cockpit unlacquered, saving another 1.5kg and the windscreen glass was redesigned to be only 3.2-mm thick and reinforced with a thick plastic interlayer that allowed McLaren to save 3.5kg over the same item fitted to the MP4-12C. In total, the P1 tips the scales at a dry weight of just 1,395kg. The P1 is powered by a 3.8-litre, twin-turbocharged V-8 mated to an electric motor intended to fill the gaps in performance from the conventional petrol engine. This gives the McLaren a total output of 903 bhp (727bhp from the V-8 and 176bhp from the electric engine). Thanks to the car's monstrous power output and unique aerodynamics, including adjustable front and rear wings providing as much as 600kg of downforce at 160 mph, performance is nothing short of electrifying. 100kph takes just 2.8 seconds, followed by 200kph in 6.8 seconds, onwards to 300kph in 16.5 seconds (five full seconds faster than the venerable F1) and a top speed of 217mph (347kph). A high-density, lithium-ion battery pack powers the electric motor, which can be left to deploy automatically or selected by the driver, who thus has the options of using the petrol engine on its own, the electric motor on its own, or the two in combination. The battery can be charged by the engine or from the mains, with a full charge taking around two hours. As one would expect from a manufacturer that has been a mainstay of Formula 1 for the last 50 years, McLaren endowed the P1 with a number of competition-derived technologies in the form of IPAS (Instant Power Assist System), DRS (Drag Reduction System) and KERS (Kinetic Energy Recovery System). An original personal letter, dated 9th October 2013, in the accompanying history file from Frank Stephenson, the McLaren P1 designer, to this P1's first owner states that "It was with great pleasure that I was there with our team to witness you driving our very first baby out into the big wide world". Finished in Volcano Yellow with a black leather interior and Alcantara dash, this very special UK-delivered P1 has covered 3,666 miles from new in the hands of its two UK owners, who are from the same family. As you would expect, this special car has been exclusively looked after by McLaren main dealers with a variety of invoices on file detailing the expenditure the P1 has enjoyed over the years. The most recent service was carried out by McLaren Birmingham in 2020 and it's worth noting that the car had a replacement Hybrid battery in 2018. Also accompanying the car is a small-scale P1 car model, UK V5C, handbook, original Bill of Sale and various impressive McLaren literature books that accompanied these cars when delivered new. The P1 was a breath of fresh air, an instant icon and one of the most technically complex cars ever created. Indeed, Jeremy Clarkson described the P1 as "A game changer, a genuinely new chapter in the history of motoring". This very car is the first registered P1 of the 375 that were built, making it a must have in any collection of significant motor cars. Silverstone Auctions are extremely proud to offer such a special car to the open market and we welcome and encourage any inspection of this simply incredible piece of British automotive history. The car did not sell and is on offer now for £960,000.
MERCEDES-BENZ
The Mercedes-Benz SL 'Pagoda' was introduced in mid-1963 in 2.3-litre form and continued in production until February 1971 before being replaced by its successor, the entirely new and substantially heavier, R107 350SL. Over the years, the W113 quietly evolved from a nimble 'sports car' into a comfortable 'grand tourer' and was usually equipped with four-speed automatic transmission and air conditioning. The final evolution of the Pagoda was the 280SL, launched in November 1967 with a host of technical improvements, and is now seen as the most refined iteration of the W113 series. The robust new seven-bearing, 2778cc, M130 engine developed 170bhp and perfectly suited the automatic transmission. New one-piece wheel trims distinguished the last W113 but alloys were now an option. By the time production ceased in March 1971, some 23,885 had been made making the 280SL the most popular of all W113 variants. The car presented here is a 1970 RHD (first registered in the UK October 1970) 280SL automatic 'California Coupé', a 2+2 version (first introduced on the 250SL) that came with a rear bench seat occupying the space hitherto reserved for the convertible top. A removable hardtop provided the weather protection. Showing just over 12,000 miles and presenting in wholly commensurate condition, this car has been part of a dry-stored collection in Japan, where these cars are highly sought-after, and is now fully recommissioned and UK-registered. The colour combination suits the car extremely well and we are informed it drives and performs as well as any low-mileage 280 should. With limited history, but some Japanese paperwork showing 9,200 miles in 2015 and 10,700 miles in 2017, an Export Certificate, and now a UK logbook, this is one 280SL where its condition is testament to its mileage and closeted history. We welcome any inspection and are able to provide detailed, walk-around videos to substantiate the car's condition. This one sold for £82.125.
The 4973cc, R129 Mercedes-Benz SL 500 carried on the tradition of fast and reliable grand touring convertibles from Mercedes-Benz. Born out of the earlier 500SL – R107 models, the new SL500 featured many innovative ideas for the time such as controlled electronic damping, automatically extending roll-over bar and a more modern multi-link rear axle. A fully operating electric hood, windows, door mirrors and seats made this model easy and comfortable to operate and stopping power was aided by anti-lock braking for added reassurance. First registered on 15th September 1993, this fabulous V8, SL500 is offered in striking Metallic Champagne paintwork, with unmarked, electrically-operated heated seats in Beige leather with a memory function, a factory hard-top and factory rear leather seats. Having covered less than 2,000 miles a year since first registered, this example is described by the vendor as 'immaculate' and has a comprehensive service history. No less than 13 stamps can be found in the service booklet, mainly with Mercedes-Benz main agents with some recent specialist services. Most recently, on the 24th April 2020, £3,397 was spent with specialists 'Cotswold Prestige Cars' to bring it up to scratch, at 48,272 miles. The current indicated mileage is 48,387 . We understand that all the electrics are working as they should, the air conditioning is ice cold, and that the Sony stereo has a remote control, Bluetooth, and USB connections. We encourage potential buyers to have a good look underneath this car as it has been professionally undercoated, the exhaust system removed, cleaned/prepared and repainted in heat-proof paint, whilst the suspension parts, also cleaned and repainted, are a testament to the care that has been lavished on this super Mercedes. Sold with the cherished registration 'L7 SAC', finding a 5.0-litre example in this sort of condition, with this level of service history, is getting a lot harder. So much car for the money, this desirable V8 is in fine fettle and has many more swift and stylish miles to cover. At £16,513, it was one of the cheapest cars of the day.
A second example was also to be seen here in the group of cars at the back of the hall which appeared not to be part of this sale.
Offered here is a very rare opportunity to own 1 of 4, UK-supplied, Mercedes-AMG S65 Final Editions forming part of a limited world production run of just 130 units. The limited-edition special S 65 Final Edition model from Mercedes-AMG marks the pinnacle of the 6.0-litre V12 bi-turbo engine's long success story on board the S-Class Saloon. The special edition is aimed at collectors of exclusive vehicles and fans of superlative twelve-cylinder engines. With its stylish looks and cornucopia of of standard equipment, this saloon embodies a unique combination of performance and prestige value. Comprehensively specified with a high-gloss Obsidian Black paint finish, 20-inch multi-spoke wheels finished in special colour matt bronze, a black Nappa leather interior with copper-coloured contrasting topstitching, Rear Safety and Comfort Package, Warmth Comfort Package, Parking Pack with 360 Degree Camera, Individual Entertainment System, Energizing Comfort Control, Smartphone Integration Package Apple CarPlay, Android Auto, First Class Rear Compartment, Driving Assistant Package, AMD Drivers Package, Active Steering Assist, Panoramic Sliding Sunroof with Magic Sky Control, Multi Contour Rear Seats, Easy Adjust Luxury Front Head Restraints, Folding Tables in the Rear, Executive Rear Seats, Head Up Display, Electric Rear Sun-blinds, Active Speed Limit Assist, Night View Assist Plus, Burmester High End 3D Surround Sound System, TV Receiver, Ambient Lighting Pack with 64 Colour Choices and 10 Colour Schemes, Wireless Mobile Phone Charger, Heated Armrests Front and Rear and an AMG fitted Indoor Car Cover. This amazing Mercedes has covered delivery mileage only, and has been dry stored correctly from new, so we feel able to describe it 'as-new'. It did not find a buyer and is now listed at £178,000.
Another car on show here, but not apparently in the auction was this Mercedes 450 SLC. The Mercedes-Benz C107 coupe was built from 1973 to 1981 and was always badged as the 'SLC.' It was an elongated version of the R107, most commonly known as the '450SL.' It was also Mercedes-Benz's most expensive and top-of-the-line offering in the years it was produced, barring the custom order W100 600 series. Like R107, under the skin the SLC was virtually a W114 with a larger engine, and styling cues from the contemporary S-Class. This approach to developing low volume models, while not particularly interesting, proved far more profitable that the clean sheet design approach of certain contemporaries, like the Citroën SM. The SLC succeeded the saloon-based SE coupes and convertibles of the 1960's. The SL's wheelbase was stretched and the car received a fixed roof. Some feel the SLC suffered in terms of styling, being only a very large luxury coupe built as derivative of an SL and not of S class. Most criticism was directed towards the louvers in front of the C-pillars which, no doubt, were added to mask the fact that the full size windows could not retract completely. In the US, the SLC was further burdened with very large bumpers, far out of proportion to the design. In Europe there were 280/350/450/450-5.0/500 SLCs, in the US a 350/450 SLC, and later a 380 SLC, when the price of oil became a concern. The 1981 successor to the SLC has been inspired by SLC (front section) but an entirely different type of car – a large 2 door sedan with a more cohesive design. ' The new SEC was based on the S-class introduced in the autumn of 1979 (W126). SLC production reached 7.000 units in good years, with the United States absorbing the majority.
MG
A landmark in the history of MG, the TC was the first British sports car to sell in serious numbers globally, proving a huge success in America where it paved the way for generations of Triumphs, Austin-Healeys and numerous others. Launched in 1945, the TC may have been a mildly revamped version of the short-lived TB, but the formula of traditional sports car styling, sparkling performance and affordability made the latest MG a winner, with some 10,000 examples rolling off the production lines at Abingdon over the next five years. Some useful modifications were made to the TB's suspension, with new shock absorbers and conventional springs in place of the sliding trunnion set-up of the pre-war model. The willing 1250cc four-cylinder engine produced 54 horsepower at 5200 rpm, delivered to the rear wheels through a four-speed gearbox with synchromesh on second, third and top. With its upright radiator, separate wings and a fold-flat windscreen, the MG's steadfastly traditional appearance bucked prevailing styling trends, lacking amenities like bumper bars or even a heater – all of which only seemed to enhance the TC's appeal to hardy sports car drivers around the world. As evidenced by the accompanying buff logbook, this early example was originally the property of Major A T Goldie Gardner OBE MC, winner of three BRDC Gold Stars and a highly accomplished racing driver and record breaker both pre and post-World War Two. In 1939, his streamlined MG exceeded 200mph and took a number of 1100cc and 1500cc class records at Dessau, Germany. Indeed, between 1936 and 1950 he set over 100 international and national speed records in Europe and the USA and was a prominent member of the 'Brooklands 120MPH Club'. His close relationship with MG naturally resulted in him taking possession of one of the new TC models for his personal use in 1946. Registered in his name on 23 March of that year, he kept the car until 1948 when it passed to the Watson family of Purley, Surrey. In later years it was pressed into use by Ken Cheesman racing in MGCC events and, more latterly, by Alf Hodkins who used the spirited MG for Hill Climb events. In fact, the car still retains its race-inspired fibreglass wings and 16'' wheels from those exciting days, all now attached to a replacement chassis. In more recent years it has passed through the hands of MG Specialist Peter Edney and his father George before arriving with its present custodian in 2016, who in his own right is worthy of mention being a time-served MG enthusiast and MG race series competitor having owned twenty six MGs over the years. Described by our client as being mechanically superb and a joy to drive, still retaining its original registration number 'MG 6963', this is clearly an MG with a past that should be embraced and enjoyed to the full whether that be on the show field or even possibly back on the race circuit where it cut its teeth all those years ago. It sold for £19,500.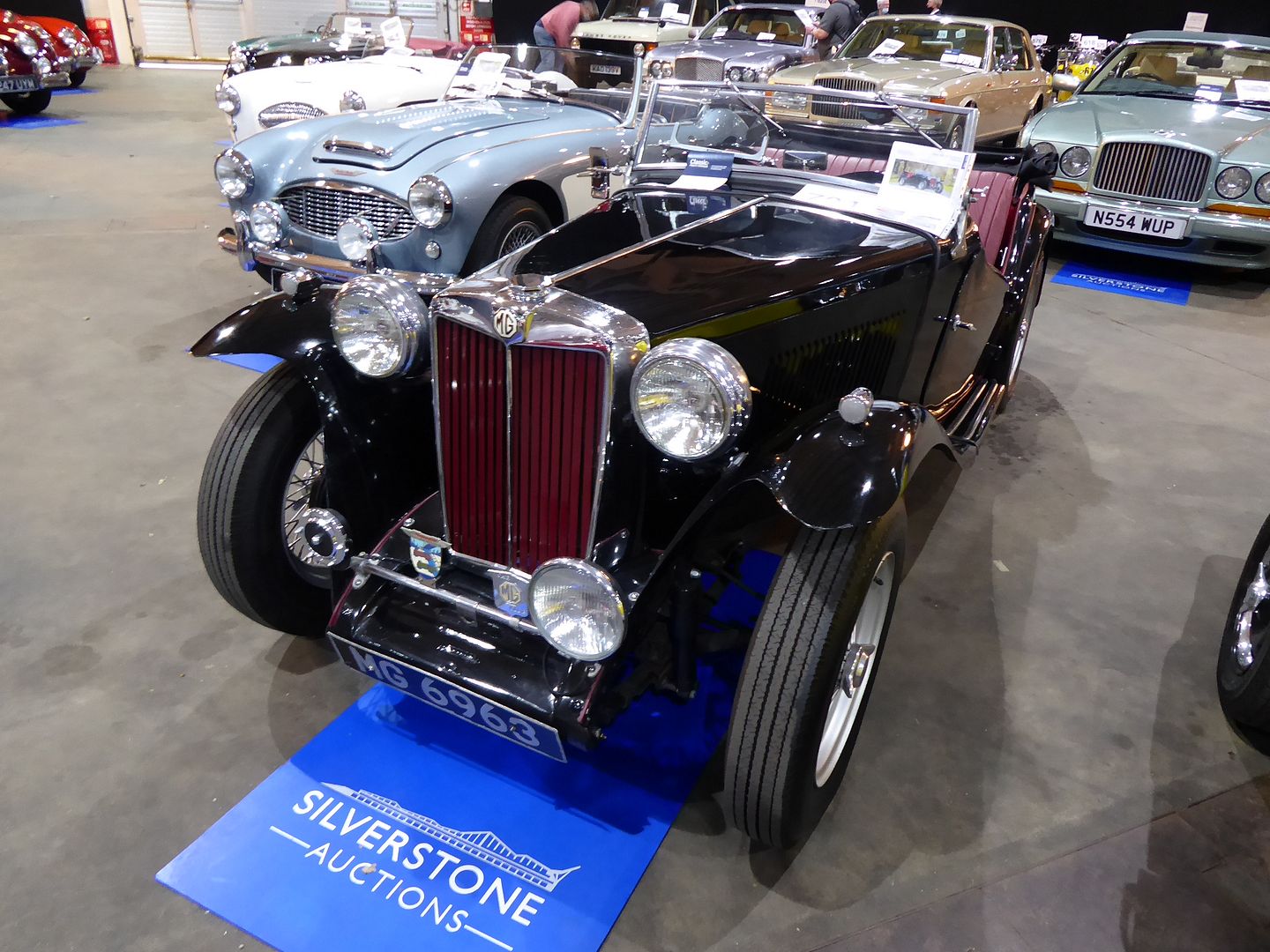 Created for the short lived Group B rally category, the 4WD mid engined MG Metro 6R4 of 1984 (6-cylinder, rally car, four-wheel-drive) was a world away from the best selling city car to which it bore only a superficial cosmetic resemblance. The competition car effectively only shared the name of the production Metro as it featured a mid-mounted engine with four wheel drive transmission enclosed within a semi-monocoque seam-welded tubular chassis. The development of this vehicle had been entrusted to Williams Grand Prix Engineering. The resulting car was shown to the world in May 1985. It was powered by a David Wood designed bespoke 3-litre V6 powerplant which used some of the engine architecture of the Cosworth DFV. It featured twin overhead camshafts and four valves per cylinder. The engine was a break from the norm, as it wasn't turbocharged as the majority of its competitors were. The engine was mounted back to front in the car, with the forward end of the engine facing the hatchback and the gearbox attached conventionally behind it and, therefore, in the middle of the vehicle. The four-wheel-drive was permanently engaged, and drove separate propshafts to the front and rear differentials. The rear differential was mounted on the side of the engine sump with one driveshaft running through the sump to the nearside rear wheel. Much of the outer bodywork was made of GRP, with the only exception being the roof panels (which were aluminium), the steel doors and the remaining panels from the original Metro shell. The doors were, however, concealed by plastic airboxes. Indeed, models now on show generally have stickers demonstrating where it is safe to push from when moving the vehicle, so as not to damage the bodywork. The 6R4 appeared in two guises. There was a so-called Clubman model which was the road going version which developed in the region of 250 bhp, of which around 200 were made and sold to the public for £40,000 (the homologation version). A further 20 were taken and built to International specifications which had a recorded output of over 410 bhp. At its launch in 1985, Rover announced that it would complete the necessary number of cars required for homologation by November of that year. This was undertaken at the group's large manufacturing facility at Longbridge. The car was to participate in the Lombard RAC rally in November 1985, and an example, driven by works driver Tony Pond, finished a highly respectable third, behind two Lancia Delta S4s. This good start was unfortunately not repeated, and although a 6R4 was entered in rallies at Monte Carlo, Sweden, Portugal and Corsica during the 1986 season, none of the Metros managed to complete a course. The majority of these problems were related to the V6 powerplant which suffered teething issues. Halfway during the 1986 season, Group B was banned (following a series of fatal crashes in which both competitors and spectators lost their lives). From that point on, the 6R4 was always going to be limited in front line competition, although they were run with limited success for the remainder of the year. A number passed into private hands and have proved formidable rally and rallycross cars. Despite the expiry of the 6R4's homologation the MSA still allow the cars to run in competition although engine sizes have been limited to 2800cc (single plenum engines) and 2500cc (multi-plenum engines). Austin Rover withdrew from the rallying scene at the end of the season, but in 1987 all the parts and engines were sold to Tom Walkinshaw Racing, whereupon the V6 engine reappeared in the Jaguar XJ220, this time with turbochargers added.
MINI
Father of the Mini, Alec Issigonis, was firmly against the idea of a performance version of his new baby, despite several long evenings of animated discussion with his good friend, F1 guru, John Cooper in the Royal Oak. However, after JC appealed to BMC Management, Issigonis' concerns were disregarded and the two good friends eventually cooperated in creating what rapidly became and still remains a legendary little motor car. The first cars used a 997cc twin-carb A-series, changed for a short-stroke 998cc unit from 1964. Front disc brakes were standard and Mini-Coopers stood out thanks to their two-tone paint schemes and special grilles. Speeds of around 90mph may not have been all-out fast, but the Cooper's handling brilliance turned it into a potent race and rally tool. 2021 marks the 60th Anniversary of the Mini Cooper so it's fitting that we are able to offer this delightful little 1961 Morris Mini Cooper 997 from the first few months of production. We understand that the early Mini Coopers were built in two batches, the first 150 cars in July 1961 followed by further cars in August/September 1961. Our vendor is a much-respected and knowledgeable Mini enthusiast and has spent some time researching this car. He has established that #KA2S4 159703, was completed on the 21st September 1961, is the 76th built of the second batch and consequently is the 226th Cooper (115th Morris) to be built. It was despatched to Reeds of Peterborough and onward to its first owner who registered it on 1/12/1961. Perhaps more importantly, exhaustive research has suggested that it's the 3rd oldest known survivor. OFL 94 looks fabulous in Tartan Red with a Black Roof and the correct Tartan Red and Gold Brocade interior. The indicated mileage is currently 45,640. In the owner's words; "This car was built on 21st September 1961 and I purchased it on 22nd April 2004 from a Francis Greaves of Chesterfield who had owned it for the previous 24 years.The car required a full restoration which I undertook over the next couple of years. I have some photos during restoration. Any parts that were incorrect were sourced and replaced with genuine replacements as it would have left the factory. These very early 997cc Coopers had quite a lot of changes in the first year of production notably the brakes and some interior details including speedo and temp gauges (in degrees). The brake calipers and brake intensifier fitted are 'new old stock' items as were many other parts. According to the DVLA history report, I am the 4th registered keeper and the Mini Cooper Register have confirmed the car is the 3rd oldest known survivor. The car has only done a very limited mileage since restoration, just to a few shows and was featured in an article in 'Miniworld' 10 years ago." Many might regard this car as a museum piece and it would certainly grace any Mini collection, however, we feel that as this year is the 60th anniversary of the Mini Cooper, this venerable little 997 should celebrate its 60th birthday in September surrounded by admirers. In pin-sharp condition it was guided at just £20-£25,000, but actually cost its new owner £31,500
A second Mini was also here, but this one appeared not to be included in this sale. This was a Mini 25. These were produced in July 1984, to celebrate the 25th anniversary of the car. They were based on the Mini Mayfair, with the regular 998 cc A Series engine. All cars were finished in Silver Leaf Metallic with Nimbus Grey exterior trim and were readily identifiable from the side and rear grey and red stripes with "Mini 25" logos. Inside there was luxury velvet with red piping, zip pockets fitted to front seats, red seat belts, leather-wrapped steering wheel. The spec included 12-inch wheels, 8.4-inch front disc brakes, full-width wheel trim with arch extensions, 1275GT instrumentation, tinted glass, stereo radio cassette and twin door mirrors. 3,500 were made for the UK and 1,500 for export markets.
NISSAN
n the world of GT-R geekery, being able to recite every model and its associated tweaks is like currency. First there's the obvious ones – Z-Tune, 400R and V-Spec. Then you've got the slightly more obscure ones – N1, M-Spec and S1. Based on the R33 GT-R, the 'LM Limited' isn't to be confused with the R33 GT-R 'LM'. The LM (not limited) was a one-off built for homologation so Nissan could go racing in the GT1 class at Le Mans and is housed at Nissan's Zama storage facility. The car presented here is an LM Limited, another model with its roots buried in Le Mans, but much more subtly. Only available in stunning Championship Blue paintwork, which was exclusive to this model, and featuring commemorative GT-R decals, a carbon spoiler blade and N1 cooling ducts/bonnet lip, all LM Limited cars were Series 2 models and were registered in 1996 – make no mistake, this model is right up there with the rarest of GT-Rs. Only 188 examples of the LM Limited were produced from May 1996; 86 of these wore the standard GT-R badge and the remaining 102 were built on V-spec models. Subtle but effective, there wasn't a different engine block like in the N1, and the interior didn't change at all. Powered by the legendary RB26 engine, it still sounds and goes very much like its predecessor the GT-R, plus it's starting to follow the family trait with interest and values on the rise in the past few years. To quote Japanese performance cars specialists 'Torque GT': "When you open up that glorious RB26 on an open road there is nothing quite like it, it's one of those distinctive howls that cannot be mistaken for anything else. The linear surge of power through the revs gives the GTR a very different feel to other high performance JDM metal". Everyone will have their own preference as to what kind of power delivery they prefer, but the RB26 feels unburstable and hugely addictive. The R33 GT-R LM Limited is a perfect example of a time where cars screamed personality, something that is often seen as missing in modern cars." So, if the homologation LM already existed, and Nissan never won any class at Le Mans with a Skyline, what was the point of the LM Limited? The short answer was to commemorate Nissan's return to Le Mans. Like having an ultra-successful big brother who could do no wrong, the launch of the R33 meant it had some Godzilla-sized boots to fill. But Nissan had the perfect solution in 1995 – a rejuvenated Le Mans program spurred on by both Nismo and GT-R fans. What better way to promote the new Skyline than to do something not even the R32 could boast? This specific car, 1 of the 102 V-spec examples, was personally sourced, bought and imported by our Japanese-performance-car-enthusiast vendor in 2016. As part of his collection, and having recently been SORN'd, he has used it sparingly with the indicated mileage now showing 56,000 (approximately). We understand the car was previously repaired in Japan, but we welcome any inspection. The car is not modified (apart from obligatory large exhaust) and is all the better for it, there being some room for improvement in minor areas. GT-Rs of this era are now rightly recognised as performance icons, with rarity and originality playing a big part in demand/values – this is real opportunity for both. It sold for £61,000.
PEUGEOT
Not featuring in the sale, or on the Silverstone Auction website was this 205 GTi. Peugeot launched their new "supermini", the 205 in January 1983, just one day after Fiat had presented the Uno, one of the car's principal rivals. It was an immediate hit, with smart styling and a range of engines which combined with sharp handling made it good to drive. Mindful of the success of the Golf GTi, in the class above, and how a small car with good handling could take more power, as the Mini Cooper had proved, Peugeot came up with the GTi in early 1984. The first models had a 1.6 litre XU5J engine, producing 105 PS, which was uprated in 1987 with a cylinder head with larger valves thus becoming XU5JA, which took the power output up to 115 bhp. Visually the car retained the good looks of the 3 door version of the regular models, but it featured plastic wheel arch extensions and trim, beefier front and rear bumper valances and judicious use of red badging and trim. The shell also underwent some minor changes, including larger wheel arches (to suit the larger wheels , and the suspension was redesigned and sat lower on the GTI with stiffer springs, different wishbones and a drop-linked anti-roll bar. Red was a dominant colour inside. The car was an instant hit. At the end of 1986, Peugeot followed up with a more potent model, the 1.9 GTi, whose XU9JA engine produced 128 PS. Internally the engine of this car and the 1.6 model are very similar, the main differences on 1.9 litre versions being the longer stroke, oil cooler, and some parts of the fuel injection system. The shorter stroke 1.6 litre engine is famed for being revvy and eager, while the 1.9 litre feels lazier and torquier. Outside the engine bay the main differences between the 1.6 GTi and the 1.9 GTi are half-leather seats on the 1.9 GTi vs. cloth seats and disc brakes all-round (1.9 GTi) vs. discs at the front and drum brakes at the back; as well as the 14-inch Speedline SL201 wheels on the 1.6 GTi vs. 15 inch Speedline SL299 alloys on the 1.9 GTi. The 205 is still often treated as a benchmark in group car tests of the newest GTI models or equivalent. Peugeot itself has never truly recreated this success in future GTI models, although they came very close with the highly regarded GTI-6 variant of the Peugeot 306. A cabriolet version of the 205, known as the CJ (or CT in France), was designed and partially assembled by Pininfarina of Italy. A CTi version, with the same plastic arches and wheels as the 1.6 GTI was also available. Only minor changes were made to the car in the next few years, with the most obvious visual change being the switch to grey bumpers and trim from black ones in 1990, along with revised lights. A new dashboard had been incorporated across the entire 205 range a couple of years before this. Sales of the GTI in the UK in the early 1990s were badly hit by soaring insurance premiums, brought about by high theft and 'joyriding' of cars of this sort. Increasingly stringent emissions regulations meant the 1.6 GTi went out of production in 1992, while the 1.9 litre was sold for a couple more years thanks to re-engineering of the engine to enable it to work properly with a catalytic converter, which dropped power to 122 bhp. Many of them had a hard life, but there are some nice original cars out there and people are starting to spend serious money in restoring them. It is the GTi models you see most often, and that was represented here.
PORSCHE
The Porsche 930 Turbo was a genuine 'Supercar' that defined the Seventies and Eighties and was one of the fastest production cars available at the time. It was first seen at the 1973 Paris Auto Show and full production commenced two years later. The basic engine underpinnings came from the Carrera 2.7RS which was increased to 3.0 Litres and, of course, turbocharged with technology gained from Porsche's 917/30 Can-Am programme. The bodywork received special treatment resulting in one of the most aggressive looking Porsches ever made with its wide arches and impressive rear whale-tail and the brakes came directly from the Porsche 917 race car. So successful was the formula that Porsche continued production of the Turbo in various guises until the late 80s, however the rarest of all are from the mid-70s, with the 3.0-litre the most sought after by collectors. The left-hand drive, 930 Turbo on offer here originated in Japan, and somewhat unusually is supplied with a comprehensive service history, detailing date and mileage as per the Japanese calendar. This can sometimes confuse, so our vendor has provided a breakdown of the same, how the calendar works relative to the days since the Emperor of the times reign began, rather than our own solar calendar. This confirms the mileage up to 100,000km and then there is a selection of invoices up to the current day and the car's acquisition by our vendor. The odometer currently reads 164,253km (102,658 miles). The car has been subject to a rigorous overhaul including a bare metal respray, as well as a thorough rebuild of the fuel system and brakes, new tyres, a full service and electrics check. It sits really well and gives the appearance of being well kept. The paintwork has a deep shine, the interior is very gently patinated and classic 911, the engine bay looks tidy and the five blade Fuchs alloys look unmarked and wear a set of decent Michelin Pilots. Low initial production numbers of the 930 (576 in 1976) have ensured that the 3-litre, 260bhp, 4-speed cars with whale tails, big arches and Fuchs alloys are the rarest and consequently the most sought after. It did not find a buyer on the day.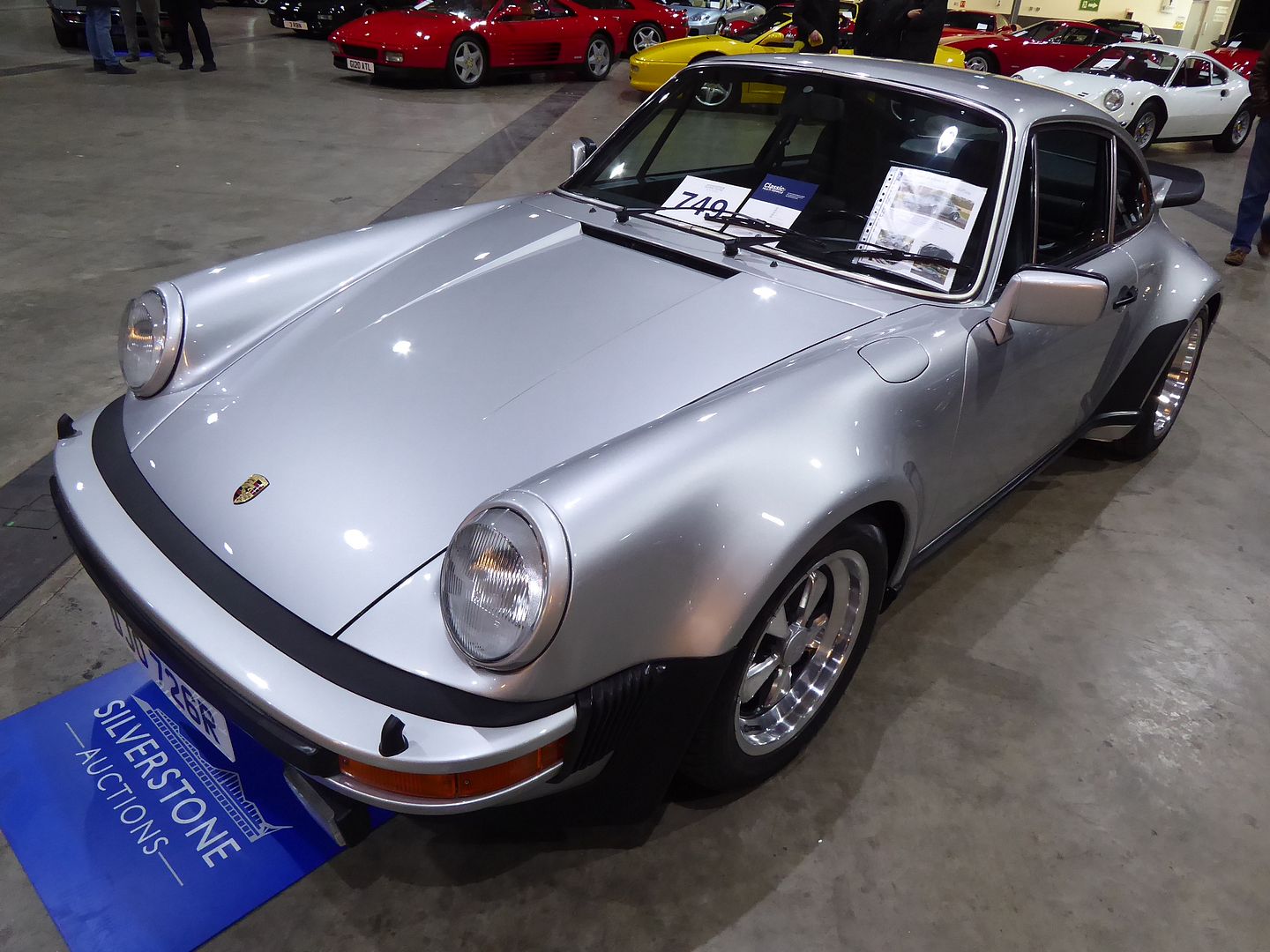 During 1977/78, the 930 Turbo's capacity went up from 3.0 to 3.3-litres and an air-to-air intercooler was positioned under the rear spoiler. The spoiler was re-profiled and raised slightly to make room for the intercooler assembly, and this meant saying goodbye to the signature 'whale-tail' and welcoming the equally distinctive 'tea-tray'. By cooling the pressurised air charge, power was increased from 260bhp to 300bhp, bringing the 0-60 mph time down to 5.0 seconds, and the larger engine helped reduce a lot of the turbo lag inherent in the earlier version. Porsche also upgraded the brakes to units similar to those used on the 917 race-car but was able to keep the original strengthened gearbox, which had the benefit of freeing up space inside the casing for larger and stronger gear clusters, with an impressive torque capacity of 475lb ft. From 1983, the engine was developed further and whilst the new 930/66 engine offered no more power, there was a significant increase in torque. This 1988 Porsche 930 Turbo 3.3-litre was delivered new by Ian Anthony (Wilmslow) Ltd. in January 1988.The vehicle is a genuine, UK-supplied, right-hand drive car, finished in Porsche Silver with Burgundy leather upholstery and the following factory options: Silver Metallic paint, Burgundy 'All Leather', seat heating left and right, Cassette-Radio Blaupunkt Toronto SQR 46, Sports seat, left and right, Electrical height adjustment, Amplifier, Sun moon roof and luggage compartment velour carpet. The car has been enjoyed by five previous keepers, covering just 116,000 miles from new, and during this time has received a lot of love and attention as can clearly be seen by the car's overall condition and service history. It sold for just under £85,000.
Offered here is a lovely, UK-supplied, right-hand drive 930 Turbo with just two owners and less than 22,000 miles from new that was supplied new by Dick Lovett Specialist Cars, Official Porsche centre and first registered on 1st August 1985. Our vendor purchased this example on 28th February 1987 from the supplying dealer and the purchase invoice details "a used 911 Turbo with 3,200 miles, finished in black, equipped with sports seats, rear air ducts, skirts and a deep front spoiler". The Turbo has clearly been well cared for with the original service book showing 21 years of servicing at the supplying official Porsche centre and further regular maintenance with other Porsche specialists. Accompanying this spectacular 911 is a history file containing the original book pack, with the aforementioned service book stamped up to date, our vendors purchase invoice from Dick Lovett, 20 MOT Certificates and a wealth of invoices for other specialist maintenance including a new Sachs clutch fitted at 21,000 miles. Also within the file are old registration papers and a current V5c indicating a return to 'C478 HMW' after our vendor's private number had been removed. Prior to the 911 arriving with us, the owner decided to have the car fully checked over at a Porsche specialist with a new MOT and, once complete, the Turbo was treated to deep clean and full paint correction at a multi-award winning detailer. The sparkling results speak for themselves and the Porsche is now mechanically and cosmetically spot-on and ready for a lucky new owner. That person paid £118,500 for the car.
The 993 Turbo, introduced in mid-1995, retained a tight hold on the torch of the most powerful 911 variant whilst continuing the general developments and improvements to the breed as a whole. Amongst the new features, was an electronically controlled, viscous coupling, all-wheel-drive system, something Porsche had not offered on a turbocharged model since the 959 and a system that greatly improved the car's usability. Under the engine lid, now topped with a sculpted spoiler tail with downturned edges, resided the 3.6-litre, flat-six fed by twin K16 turbos. Combined with bigger brakes, fatter tires, a wide body and a lower stance, the 993 Turbo had evolved into one of the fastest cars on the planet. With all four wheels helping to evenly distribute great handfuls of power, 0-60mph was dispatched in a staggering 3.7 seconds, 100mph whistled by in 5.7 seconds, and the linear forward thrust continued until the speedometer needle had said goodbye to 180mph and you were on conversational terms with the horizon. Offered here is a beautiful UK-supplied (C-16) 993 Turbo finished in Ocean Blue with Classic Grey leather interior, a colour combination that really suits the car. First registered on 5 January 1997 this example benefits from an interesting option list including 'Turbo S' body with side air vents on rear wings (X79), Carbon gear knob, carbon handbrake, leather-covered CD storage, electrically adjustable sports seats, top-tint screen and a sunshine roof. The speedometer indicated just 86,375 miles at the time of cataloguing and this mileage is supported by a detailed maintenance record. Forming part of our vendor's landmark performance car collection for 11 years, this Turbo has always been dry stored and used when good weather permits. Clearly well maintained, within the history file is the original Porsche book-pack with original service book stamped up-to-date, most recently all fluids and filters at 86,375 miles, February 2021. The file also contains a wealth of invoices for recent attention including an engine rebuild with new cam-shafts, valve guides, piston-rings and turbo seals (£16,000+), current V5c, old MOTs, tracker documents and a current MOT valid until 4 February 2022. This one did not sell at the Race Retro sale in March and was on show here but not actually in this auction.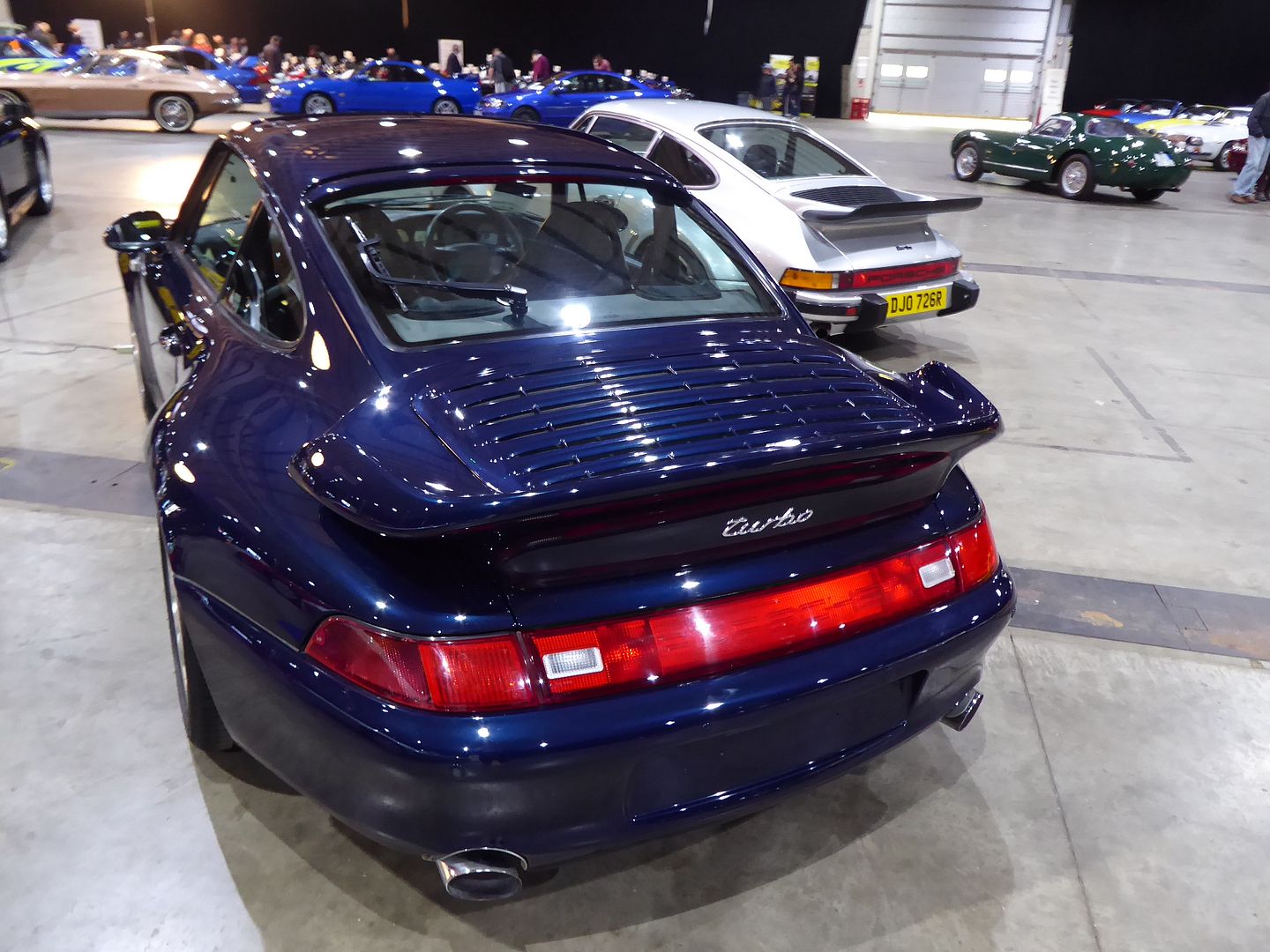 Critics immediately recognised the advances the 928 had made over the 911, and the car was universally praised as one of the greatest GT cars of all time. It handled, it was quick, it looked fantastic and it was comfortable. With the 928, Porsche created a serious long-distance Grand Touring car that could also tackle twisting B-roads with ease, thanks to super-direct steering, 50/50 weight distribution and a clever 'Weissach' rear axle that kept the car firmly planted on the road with the result that many testers found that their nerve ran out long before the 928's grip. If the 928 attracted any criticism at all, it was that it wasn't quite quick enough. The original 4.4-litre engine generated 240 bhp but, mated to a relatively heavy car, the performance didn't match the 911. So, in 1982 Porsche introduced the 928 S fitted with a 4.7-litre version of the engine and generating 310 bhp. This began to deliver the car's true potential, achieving a 0-60 mph time of around 7.0 seconds, but the larger engine's real trump card was its torque-rich, in-gear acceleration around the mid-range – 50-70 mph sprints or indeed any acceleration from 3,000 rpm was in the supercar league, or it certainly was then. The vendor of this smart, Guards Red, manual gearbox,1982 928S has been in hospital recently and unable to provide us with much history but, we understand that the car may have been involved in a competition run every year by Porsche GB for the employees of dealers to take a particular model and restore it to the best of their ability. We do know, however, that it was sent to Premier Panel Skills in Guildford (a Porsche recommended repairer) to complete the restoration. Pleasingly, the characterful original black leather interior still remains. The car is supplied with the complete factory workshop service manuals, original book pack and service book and some older MOTs suggesting that the indicated mileage of 98,000 may well be genuine. The front spoiler which is missing in the photographs will be provided with the car but requires a fitting kit. Unsold on the day, an offer of £28,800 would secure the car now.
Also unsold, this car could now be bought for £49,500. The 928 was the flagship of the Porsche range during the late 1980s and early 1990s and, although it was originally supposed to replace their 911 range, continued customer demand dictated otherwise. s the model's life neared its end in 1995, Porsche threw all the options at the car and replaced the Series IV with the final version, known as the GTS, which is now regarded as the best equipped, the best to drive and the best long term investment. For the GTS, Porsche increased the engine capacity to 5397cc and added a catalytic convertor, with eight balance weights instead of six to enhance smoothness. This DOHC engine produced 350bhp and enabled a top speed of more than 170mph. The GTS engine was smoother and more flexible than its predecessor and was quieter and easier to drive. Automatics were fitted with the much faster responding 'Dynamic Kickdown' gearboxes setting them apart from the previous models. Changes to the chassis included a wider rear track and larger brakes. Externally, the GTS differed from the S4 with its new style of alloy wheels, flared rear arches and a body-coloured rear spoiler. What Porsche wasn't advertising when the 928 was released was the price; it was among the most expensive cars on the road at the time. This severely hampered sales despite the model's high competency and long standard equipment list. Porsche discontinued the GTS model that year after shipping only 2,904 in total which, in 1994, was a problem- in 2019 however, it has resulted in a rare and incredibly desirable Porsche. This particular UK-supplied (C16) GTS-A was supplied through Merlin Cumbria in1995 finished in the traditional colour combination of Porsche Silver with black leather upholstery. The service book shows an amazing number of service stamps, over 30 in total, with a lot of early history with Merlin and AFN. The history file confirms the usual spend to maintain the car properly throughout its life, mostly with main dealerships and the current mileage of 65,800 is backed up by invoices, receipts and MOTs. The most recent spend was with Jazz Porsche Specialist in London in October 2020, when a £3,000 service was carried out and the air-conditioning compressor was replaced. Presenting beautifully and supplied with the correct and original book pack, including the maintenance book and the official handbook, the aforementioned history file and several keys, the car is now ready to enjoy this summer as we all return to normality and the pleasure of driving great cars like this once again.
The 944 is a luxury sports car that was built by Porsche from 1982 to 1991 and was a step-change evolution of the preceding 924 model. The car was the brainchild of the newly appointed Peter Schutz, the CEO of the Porsche company. The bodywork was revised with wider wheel arches (similar to that of the 924 Carrera GT), with a fresh interior and upgrades to the braking and suspension systems. With a brand-new Porsche designed and developed 2.5 litre four cylinder engine, the car had greater visual presence and the performance to match, plus better handling, stopping power and more creature comforts. In 1986 Porsche launched the new 944 Turbo featuring a 220bhp, 2.5 litre four-cylinder engine which was essentially a turbocharged standard unit but with strengthened internals to cope with the increase in power. The 944 Turbo was well received and sold well, prompting Porsche to revamp the model in early 1988. The 'Turbo' had been the basis of the highly successful and entertaining F1-supporting 'Turbo Cup', similar to today's 'GT3 Super Cup'. A decision was made to uprate the power of the full-race cars, and it was decreed that the power upgrade should be passed on to the road cars culminating in the launch of the Porsche 944 Turbo S (so-called 'Silver Rose' by Porsche enthusiasts). This model had a more powerful 250bhp engine and came with the 'M030′ option consisting of Koni adjustable shocks front & rear, 16-inch Fuchs magnesium forged flat-dished alloys wheels known as the Club Sport design (similar to the Design 90 wheel) and Brembo front brakes from the Porsche 928 S4. The uprated power plant of the Turbo S became standard for the Turbo from 1989 to the end of its life. These early 1988 Turbo S cars were supplied in a distinctive 'Silver Rose' (LM3Z) metallic paint with a complementing burgundy 'Studio' plaid cloth and all cars featured a stylised 'Turbo' script on the wing, as a gesture to previous hyper-performance Porsches. The Turbo S cost a huge 10% more than a standard Turbo and to widen customer demand, midway through 1988 any colour from the Porsche catalogue, along with any interior option, could be specified instead of the 'Silver Rose' scheme. It is believed that only 77 'Silver Rose' 944s arrived in the UK (out of approximately 1,200 examples world-wide). The car presented here is a genuine, limited-edition 1988 'Silver Rose' 944 Turbo, with the chassis and engine numbers conforming to the specific ranges for these special cars. Bought new by our vendor's father, who was then invited by Porsche to collect his car from the factory, which he duly did. He specified his car without the 'choice' burgundy Studio plaid cloth interior, and it was initially registered to his company, used and enjoyed by him every day for a number of years. He always ensured his beloved Porsche was fastidiously maintained, documented in its extensive history file. In the years ahead, he registered the car to himself, then his wife and now his son is the custodian of it – so for the whole 33 years, this car has been in the care of just one family. It has been used and enjoyed, as these well engineered machines were designed to do, covering some 203,000 miles – however, we understand that the engine was replaced by Porsche AFN in 1997 at 143,774 miles, due to an insurance claim (this is mentioned in the service booklet, but there is no corresponding invoice, enquiries ongoing with AFN); it has always been endowed with the highest level of mechanical care and, cosmetically, the car's bodywork is in very good condition. With limited space to store a modern-classic sportscar, our vendor (the son) has taken the difficult decision to sell it and hopes an enthusiast will buy and cherish it. He did ensure that the Koni suspension was all renewed and set up properly, only a few hundred miles ago, costing just over £3,000. In original condition with its original Porsche book-pack and a spare key, finding a Silver Rose from this type of ownership is extremely rare. The 944, the 968 and even the 928 are seeing their values rise in the wake of the '911 explosion' and the smooth and nimble 944 is now happily being recognised as a very desirable classic car. These rare, limited edition examples are much sought-after by Porsche enthusiasts for good reason! This car represents a very accessible route into owning an extremely limited-run Porsche. The car sold for £17,000.
SINGER
This re-bodied Singer Roadster doffs its cap to Monsieur Bugatti. It is very smart Special based on (it is believed) a 1947 Singer 10 Roadster which was first registered on 31 December 1947. It was re-bodied in to the current form in 1993. there are lots of Bugatti styling cues including the 'boat tail', wheel discs, cycle wings, aero-screens, engine-turned dashboard, side steps, external handbrake and more. The car is fitted with a 37bhp,1194cc, 4-cyinder engine from the Singer 10. Pre-war Singer radiator and cowl. There is a custom made black soft top with metal hoops, tonneau cover, fold-down windscreen (removable) and aero-screens. Delightfully finished in Bugatti Blue and recently retrimmed in grey, the car has been with the current vendor for the last 27 years and indicating 7,736 miles which includes extended touring holidays in France, Northern Spain and Portugal. This is unique in the proper sense of the word. It sold for £20,950.
SUBARU
Following the arrival of the new Impreza Turbo model in 1993, the Subaru/ Prodrive partnership made its long-awaited breakthrough on the world rally stage in August of that year when Colin McRae/Derek Ringer in the Prodrive-prepared Legacy won the New Zealand Rally, the marque's first major international success and the last event for the Legacy before being replaced by the Impreza Grp 'A' which debuted in Finland. The following season brought three more World Rally Championship (WRC) victories – two for McRae and one for Carlos Sainz – before Subaru finally achieved its long-sought goal of outright victory in the World Championship in 1995. In a closely fought contest, Subaru team-mates McRae and Sainz won five of the eight rounds between them – the split being three/two to the Spaniard – with the Drivers' Championship eventually decided in the Scot's favour by virtue of his greater consistency. Subaru also claimed the Manufacturers' title, a feat it would repeat in 1996 and again in 1997. Further Drivers' World Championships were secured in 2001, courtesy of the late Richard Burns, and in 2003 when Petter Solberg emerged triumphant. 'PRO-WRC 04008' was the eighth chassis to be built by Prodrive for the 2004 season and it was initially used by Petter Solberg to claim third place at Rally Turkey in June that year. On September 5 2004, Petter Solberg brought home this very S10 Subaru Impreza, World Rally Car '555 WRC', to famously win Rally Japan. It was his 8th and Subaru's 42nd WRC win. This special S10 led the rally from start to finish, claiming 11 stage wins and finishing more than a minute ahead of Sebastien Loeb. After the success of the important 'home win' at Rally Japan, 'PRO-WRC 04008' was returned to Prodrive in Banbury where it was fully stripped and rebuilt for Petter to drive at Rally Australia in November, where he, unfortunately, was forced to retire. The car was then returned to Banbury once more to be rebuilt for the late, great Colin McRae to compete at the Bettega Memorial Rally Sprint in Monza. At the end of the 2004 Championship, the car was fully rebuilt by Prodrive and sold on to a private team to compete under a new registration, 'UT53 SRT'. After having several different owners, the newly-formed 'Prodrive Legends Department' were asked to inspect 'PRO-WRC 04008' on behalf of the current private owner in 2019 prior to a possible purchase. Following a successful inspection, this S10 was acquired by him and sent straight to Prodrive 'Legends Department' to be restored by some of the very same technicians who had worked on the car in period. The brief was simple – to present the car exactly as it was during its victory at the 2004 Rally Japan. Pleasingly, the Legends department had retained all of the original documentation, including the specific build schedule for 008 at Rally Japan in 2004. This meant that they were able to precisely recreate the car as it was for that event for Petter, including all his particular suspension settings; preferred seat and pedal box position, and even the correct water bottle mount, replicating every aspect of the car during that event. The car sold for £369,000, slightly higher than the sale estimate. Strong money, for sure, but this is a very special car indeed.
Built to celebrate both the marque's 40th anniversary and its third straight WRC manufacturers' title, the 22B STi was billed as the production version of Subaru's already-iconic two-door World Rally Car. With its swollen wheel arches, high-rise rear spoiler and an 80mm increase in width, it was as close to Colin McRae's rally car as any mortal was ever going to get. It wasn't a homologation special but more of a road-going replica. The '22' in the model's name referred to the engine capacity, which was increased from 1994cc to 2212cc. Officially, the turbocharged flat-four developed 276bhp, but the actual figure almost certainly started with a three. The 'B', meanwhile, stood for Bilstein, the damper supplier. The 22B is endowed with a specially developed 2.2-litre EJ22-engine with unique forged pistons, a seam-welded bodyshell (supposedly identical in shape to the WRC), special gearing, a twin-plate racing clutch, strengthened drive/prop shafts, driver-adjustable front/rear diff and bigger brakes; the suspension uses unique forged aluminium lower links, rose-joined transverse links, inverted Bilstein dampers and unique Eibach springs, plus a set of 17-inch BBS alloy wheels with Pirelli P Zero tyres. Only 400 22Bs were built for sale to the Japanese domestic market, and supposedly, sold out within just hours of release. The car cost a shade under £40,000 in period, or close to £70,000 in today's money. Another 24 22Bs were produced for the export market, 16 for the UK, along with another 5 for Australia, and 3 prototypes (known to have been issued with the '#000 number'), belonging originally to David Lapworth of Prodrive, Colin McRae and Nicky Grist. The 16 cars officially imported to the UK (of which only, we understand, 12 were sold to the public) were sent to be modified by Prodrive. The UK cars differ from the privately imported 22Bs, not just in their three year factory warranty, but with revised gear ratios more suited to UK roads. The was achieved by changing the final drive ratio from 3.9 to 4.44 to lengthen the gearing. Cosmetically, the car got the headlights from the 1999 model, UK rear light clusters and driving lights (not fog lights) were fitted where the normal 22B has blanking plates. From the back, you can tell you're looking at one of the rarest cars in the world by the 'Type UK' and 'Prodrive' stickers. The price was £39,950, and demand for the cars was overwhelming. As a result of 50 or so 22Bs having been imported privately into the UK, Subaru had to wait until 1999 to register the 16 officially imported cars under the VCA's Single Vehicle Approval scheme. The car presented here is a 1999 Subaru 22B-STI 'Type UK' – the absolute 'Holy Grail' for these already very special rally cars for the road. We understand that a 'Type UK' has never before been offered at auction, so it is a real honour to be able to do so. 'Subaru UK' officially imported only 16 22Bs and passed them on to Prodrive for approved modification. When new, these cars came with a very special car-specific aluminium information booklet, granted to the first owner and hand-signed by the Sales Director of Subaru UK, plus a 'Special Instruction' booklet, Type UK badging to the rear and model-specific floor mats. Quite remarkably, as it is very common for the original owner to retain these items for posterity, the car offered here, some 22 years later, retains these invaluable items, plus its original service booklet, manuals, two original keys and two original Subaru alarm fobs. We understand this car, chassis #GC8 071690, to be the 16th example of this very short and special run. The car was originally sold new via Subaru dealer Quenby Brothers Ltd. of Baldock, Hertfordshire to its first owner, a Mr Stewart of Luton, on 13th March 1999, registered 'T782 RPP'. He ensured it was returned regularly for servicing on five occasions to its supplying main dealer. The car was subsequently sold as a Subaru Approved Car by Lancaster Pangbourne (Subaru) on the 6th December 2001 to its second owner, a Mr Mason of Burnley, then with 17,500 miles, registered 'CMN 22B'. It was then regularly taken for servicing to Subaru dealer H Robinson & Sons Ltd. of Rochdale on four occasions (up to 39,717 miles). Mr Mason went on to sell the car via Bowker BMW of Accrington in January 2004. Our vendor, a true Subaru enthusiast, then bought the car on the 10th February 2004, ensuring it was still under the Subaru 'Proven Two Warranty' scheme. He has also ensured the car has been regularly serviced, using such specialists as Cotton Competition of Preston, Prosport Ltd. of Stockport, and Lateral Performance Ltd. of Hertfordshire, and is up to date. Some choice enhancements were added including a full PPG helical synchro-kit (for TY752 gearcase) from Lateral Performance (fitted by Cotton Competition) in June 2008 (the original gear set still accompanies the car), an AP front brake upgrade in 2004 and a bespoke exhaust system by Powerflow in 2007, both done by District Garage of Bolton. Importantly, all of the original parts have been retained with the car, and could be easily refitted, but may require some recommissioning. The Bilstein suspension was fully refurbished by Bilstein in 2018, just c300 miles ago; the car is fitted with a Tracker and a Clifford anti-hijack alarm, plus it comes with a 22B car cover. This specific car is very well-regarded within Subaru circles, appearing in 'Car' magazine (January 2000), 'Auto Express' magazine (September 2010) and 'Modern Classics' magazine (March 2017). The car won Best OEM example of the day at JapFest/TunerFest at Brands Hatch last September. Silverstone Auctions are privileged to offer for sale such a rare and special car, considered by many as the 'ultimate Subaru' for the road. Indeed, for modern-classic collectors in America, they can now, as of 2023, legally import and enjoy these cars – what an opportunity! 'Type UK' 22Bs are hugely coveted and rightly so, and rarely appear for sale on the open market, which is no doubt why this one sold for £171,000.
TRIUMPH
Long famed for their rugged reliability and idiosyncratic good looks, the 'side screen' TRs have attracted a fanatical following over the years. The final evolution of the Triumph TR2/TR3 sportscar line (save for the American market TR3B), the TR3A was introduced in September 1957. It was never officially badged as such and was, in fact, a minor revision of the TR3 with updates including a new wide grille, exterior door handles, lockable boot and a full tool kit. Great fun to drive, its tough box-section chassis featured independent coil and wishbone front suspension, a leaf-sprung 'live' rear axle and disc/drum brakes. (The first British production car to have front disc brakes as standard). Fitted with a 1991cc four-cylinder OHV unit developing around 104bhp and 117lbft of torque, it was reputedly capable of 110mph. A great sales success on both sides of the Atlantic, the model provided a rather more visceral alternative to its MG and Jaguar competition. This example has been imported from the States within the last few years and is now UK-registered. It has been subject to a thorough ground up restoration to a Concours standard. It was decided to leave the car in left-hand drive with European Rallies in mind. The Gloss Black paintwork retains a deep shine and the shut-lines and panel gaps are factory standard (possibly a bit better) and the interior is spectacular with Cherry Red leather piped in White and deep red carpets. Dashboards often let a restoration down but this is one of the best we have seen. It has an immaculate engine bay to showroom quality and there is a brand new hood, tonneau and weather equipment. The odometer indicates 62 miles which, we imagine, is since the restoration. Looking close to standard on its steel wheels and accompanied by its Standard Certificate, this matching numbers 3A presents superbly and would be a joy to own. It cost its new owner £24,188.
VAUXHALL
Built in 1970 by Bill Blydenstein to run in the Irish Saloon Car Championship entered by McCanns Motors, the importer at the time of Vauxhall vehicles into Dublin, and to be driven by Des Donnelly. The car was built using the same know-how and engine that was fitted to Gerry Marshalls Firenza, ''Old Nail''. It won the Irish Saloon Car Championship in 1971 and 1972 and was then sold by Gerry Marshall. It was purchased by Philip DeFreitas, the General Motors Concessionaire for Guyana, South America who had enjoyed tremendous success racing both HA and HB Vivas. It was driven by him and his late wife, BRDC Member and well respected racer, Gabriel Konig, around Guyana and the West Indies until 1990 and was the most successful saloon in the Caribbean. Gabriel had met Philip whilst racing her Chevrolet Camaro in Guyana in 1972. Over the next sixteen years, it became the car to beat and famously won the 1980 Trinidad event beating imported state of the art Toyotas. During the eighties, it was shipped back to the UK by Gabriel Konig and, after a rebuild, it went to South Africa to compete in the International Sports Prototype series. In 2003, it returned to Europe and competed at Spa and various events in the UK until 2007. This Viva HC is fitted with a very rare Lotus Type 904 engine and impressively boasts a spare as only approximately twenty five units were produced. Vauxhall announced the arrival of the slant-four engine at the 1967 Earls Court Motor show and Colin Chapman quickly approached Vauxhall to buy some of these blocks to speed up the development of his own engine to break away from the Ford marriage. Before long this hybrid was running in the Lotus 62 and Formula 2. The Lotus Formula 2/904 was stroked by Bill Blydenstein from 2-litres to 2.3-litres capacity and had Cosworth pistons, a Faradon crankshaft/connecting rods, was dry-sumped and runs Tecalemit fuel injection, this combination producing around 290bhp at 8200 rpm. The gearbox is a ZF competition 5-speed and again comes with a spare mounted to the spare engine in its carrying frame. The rear axle is a Ford 'Atlas' competition item with fully floating half-shafts and a ZF limited-slip differential. De Dion rear suspension and disc brakes complete a very focussed specification for a 'shopping' Vauxhall. This little HC is a great survivor, an important part of Vauxhall's competition history and needs to be adopted by a new owner who is interested in campaigning this remarkable Viva. The comprehensive spares package alone with a spare Lotus 904 engine represents a high value in itself and makes it a very viable proposition and, with its international provenance would undoubtedly be welcome at Blue Riband historic events everywhere. It did not find a buyer on the day.
Founded in 1996, Triple Eight Racing has played a major part of the British Motor Racing scene winning over 130 races in various championships and is probably best known for securing both Driver's and Manufacturer's titles in the British Touring Car Championship. The driver line-up for its début BTCC year was Derek Warwick and John Cleland in the legendary Vectra and their crowd-pleasing antics still regularly appear on YouTube clips. However, in 2001 the Vectra was replaced by the Astra Coupé and in 2002 the Astra became the car to beat in the BTCC with drivers Yvan Muller and James Thompson alongside Matt Neal in the sister "egg-sport" car. Thompson eventually won the championship with Muller and Neal enjoying successes and the Astra became one, if not the, most successful car in BTCC history. Dovetailing neatly with their other motorsport projects, Triple Eight has developed a range of performance road cars including Vauxhall's fastest ever selling vehicle, the Astra, an achievement which the manufacturer celebrated by commissioning 100 bespoke 'Triple Eight' Astra T8 Coupés. A range of modifications were made to the interior, exterior bodywork and chassis of the standard Astra Coupé T8 Turbo (on which the 888 is based). The engine, however, is unchanged – which means 192 PS at 5400 rpm and 250Nm of torque between 1950-5300 rpm from the smooth, 2.0-litre, 16v turbo unit. To focus the already sharp handling, the Astra 888 Coupe was lowered and sat on Eibach springs and dampers. Seventeen-inch 'OZ Racing' alloy wheels were fitted, shod with 235/40 Michelin Pilot Sport tyres compared to the standard cars 215 width tyres and the brakes featured an uprated Ferodo pad material, giving improved pedal feel. The Vauxhall Astra 888 Turbo's standard interior was also given quite a makeover, including Sparco front sports seats finished in blue & black Alcantara. The same blue Alcantara is also used on the handbrake gaiter and gear change gaiter, while the alloy handbrake lever and alloy gear knob are unique 888 designs. The revised steering wheel trim is finished in blue Alcantara and black leather and the pedals feature 888 alloy extensions with the addition of a unique 888 alloy footrest. Finally, the centre console which houses the multi-function driver information display, ventilation controls and the audio system (CCR 600 stereo radio/cassette Player + four-disc CD autochanger in glovebox) is colour coded to match the Europa Blue exterior. On the outside, the car wears a unique 888 body-kit, comprising a front bumper splitter, rear wing, side skirts and wheel arch extensions to mirror those used on the BTCC race car. All Astra Coupe 888s were finished in Europa Blue 'pearlescent' paint. With proper enhancement to its driving abilities and a gutsy 187bhp 2.0-litre turbocharged engine, this is a real 'touring car for the road'. Writing about the car, and its 0-60mph time of 7.0 seconds, 'Auto Express' magazine stated: "With minimal turbo lag and the rasp of a sports exhaust behind you it feels even faster, though, and the punchy short-shift gearbox makes light work of building speed. The steering has been tightened, while uprated springs and dampers combine with the tarmac-scraping ride height to pin the 888 flat and balance it perfectly through the corners." The car presented here is #57 of 100 '888 Edition' examples produced, supplied new by Slaters of Colwyn Bay, and has always been owned by proper enthusiasts, formerly wearing registration number 'P888 VXL' for almost 13 years. It has covered just 62,000 miles (in 19 years) from new, comes with a full service history, all previous MOT Certificates, lots of paperwork, receipts and bills, and is described by our vendor as in "showroom condition". A fantastic opportunity to acquire a piece of Vauxhall motorsport history, and with so few examples produced, these cars are now a rare sight and have all the right ingredients to be a future modern-classic. It did not sell.
ZENOS
In 2012, a group of car industry professionals decided the time was right to produce a new type of lightweight high-performance sports car – one that combined maximum driving thrills with maximum accessibility, and Zenos Cars was born. Less than two years later, Zenos showed its first car, the E10, clearly demonstrating their single-minded determination to use innovation to benefit the experience it delivers to its owners. Production began a few months afterwards shortly followed by their second model, the E10 S, providing the same engaging experience with even more performance. In November 2015, Zenos announced the pinnacle of the E10 range, the E10 R, offering further development, performance and configuration options. The example offered here is a UK-registered, 2016 E10 S Roadster with a 1999cc, 16v turbocharged, four-cylinder GDTI EcoBoost engine. Developing [email protected] and 295lb [email protected], Zenos claim the 725kg machine can hit 60mph from a standstill in 4.0sec and power on to a top speed of 145mph. Showing 2,287 miles and recently issued with a fresh MOT, valid until April 13th 2022, this 'pocket rocket' British sportscar is ready for its next owner to enjoy some serious fun this summer. It sold for £20,250.
AND IN THE CAR PARK
When we arrived the parking area in front of the hall where the cars and bikes were housed was almost full, so once we were parked up, we did have a quick look to see if there was anything interesting that caught our eye. Not surprisingly, there were a few cars worthy of a photo.
First up was this latest model Alpina B5 Touring. As we approached, the owner got in and started the engine, but then paused, allowing for photos. He did not look up, so probably did not even see us. I later learned that this is Nick Whale's car and that it was indeed Nick who we had seen.
The M2 was first revealed in Need for Speed: No Limits on November 2015, before later premiering at the North American International Auto Show in January 2016. Production commenced in October 2015 and is only available as a rear-wheel drive coupé. The M2 is powered by the turbocharged 3.0-litre N55B30T0 straight-six engine producing 365 bhp at 6,500 rpm and 465 Nm (343 lb/ft) between 1,450–4,750 rpm, while an overboost function temporarily increases torque to 500 N⋅m (369 lb⋅ft). The M2 features pistons from the F80 M3 and F82 M4, and has lighter aluminium front and rear suspension components resulting in a 5 kg (11 lb) weight reduction. The M2 is available with a 6-speed manual or with a 7-speed dual-clutch transmission which features a 'Smokey Burnout' mode. 0-100 km/h acceleration times are 4.5 seconds manual transmission models and 4.3 seconds for models equipped with the 7-speed dual clutch transmission. Top speed is limited to 250 km/h (155 mph) but can be extended to 270 km/h (168 mph) with the optional M Driver's package. The M2 Competition was introduced at the 2018 Beijing Auto Show and succeeded the standard M2 Coupé. Production began in July 2018. The M2 Competition uses the high performance S55 engine which is a variant of the 3.0-litre twin turbocharged straight six engine found in the F80 M3 and F82 M4. The engine features a redesigned oil supply system and modified cooling system from the BMW M4 with the Competition Package, and also features a gasoline particulate filter in certain European Union countries to reduce emissions. Compared to the standard M2, the S55 produces an additional 40 bhp and 85 Nm (63 lb/ft), resulting in a larger and more sustained power output of 405 bhp between 5,370–7,200 rpm, and 550 Nm (406 lb/ft) at 2,350–5,230 rpm. The 0-100 km/h acceleration time is 4.4 seconds for six-speed manual transmission models, and 4.2 seconds for models with the 7-speed dual clutch transmission. Top speed is electronically limited to 250 km/h (155 mph), but the M Driver's package can extend the limit to 280 km/h (174 mph) which is 10 km/h (6 mph) further than in the M2. The M2 Competition also has a carbon-fibre reinforced plastic strut bar, enlarged kidney grilles, and larger brake discs of 400 mm (15.7 in) in the front axle and 380 mm (15.0 in) in the rear axle. Because of the new engine and cooling system, the M2 Competition is 55 kg (121 lb) heavier than the standard M2 at 1,550 kg (3,417 lb) for manual transmission models and 1,575 kg (3,472 lb) for dual-clutch transmission models. It remains in production.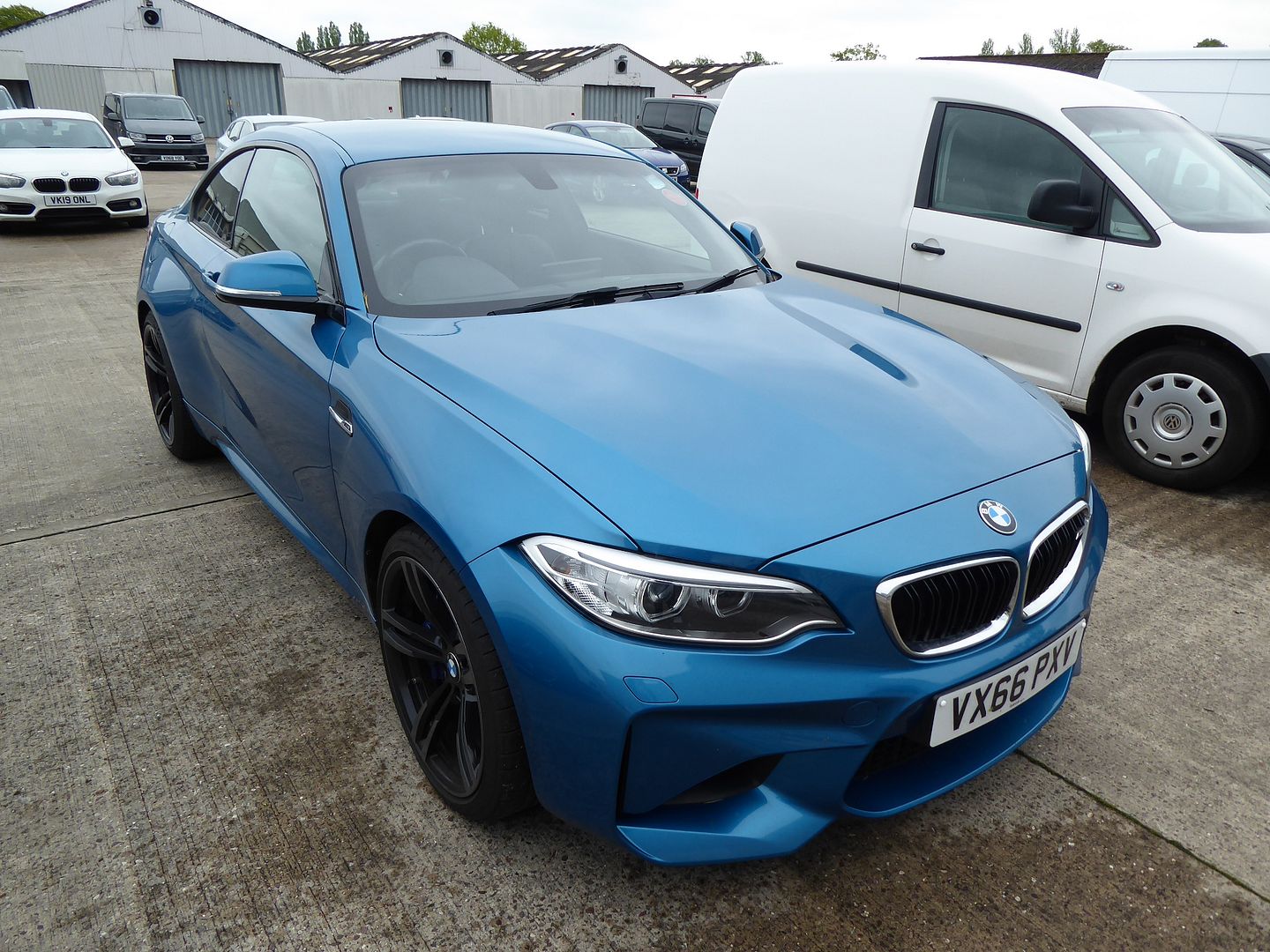 A further BMW of note was this E64 generation 650i Cabrio. The second generation of the BMW 6 Series consists of the BMW E63 (coupe version) and BMW E64 (convertible version) grand tourers. The E63/E64 generation was produced from 2003 to 2010 and are often collectively referred to as the E63. The E63 uses a shortened version of the E60 5 Series chassis and subsequently shares many features. The car initially drew criticism, due to its controversial styling and complicated iDrive system. The M6 model was introduced in 2005 in coupé and convertible body styles. It is powered by the S85 V10 engine shared with the E60 M5, and most M6s were produced with a 7-speed automated manual transmission ("SMG III"). The exterior was designed by Adrian van Hooydonk, based on the 1999 BMW Z9 concept car designed by the then BMW Design Chief Chris Bangle. The controversial rear styling, first seen on the E65 7 Series, was nicknamed "Bangle Butt" by critics. BMW described the styling philosophy as "flame surfacing", where concave and convex shapes meet to create sharp edges. To reduce weight, the doors and bonnet are made of aluminium, and the boot and front wings are made of carbon-reinforced plastic. The kerb weight is 1,490–1,930 kg (3,280–4,250 lb). Coupé models were unveiled at the 2003 Frankfurt Auto Show, and introduced on the market in mid of the 2003 model year. Convertible models were unveiled at the 2004 Detroit Auto Show, and released in mid 2004. Convertible models featured a non-conventional convertible top design with side fins and an integrated wind deflector that can be raised or lowered at any time. In March 2011, the BMW 6 Series (F06/F12/F13) began production as the successor to the E63. A total of 116,749 examples were produced.
We did exactly when we came back outside and there were a few (different) cars that caught our attention.
First to catch our eyes was another Aston Martin DB9, this one the open=topped car.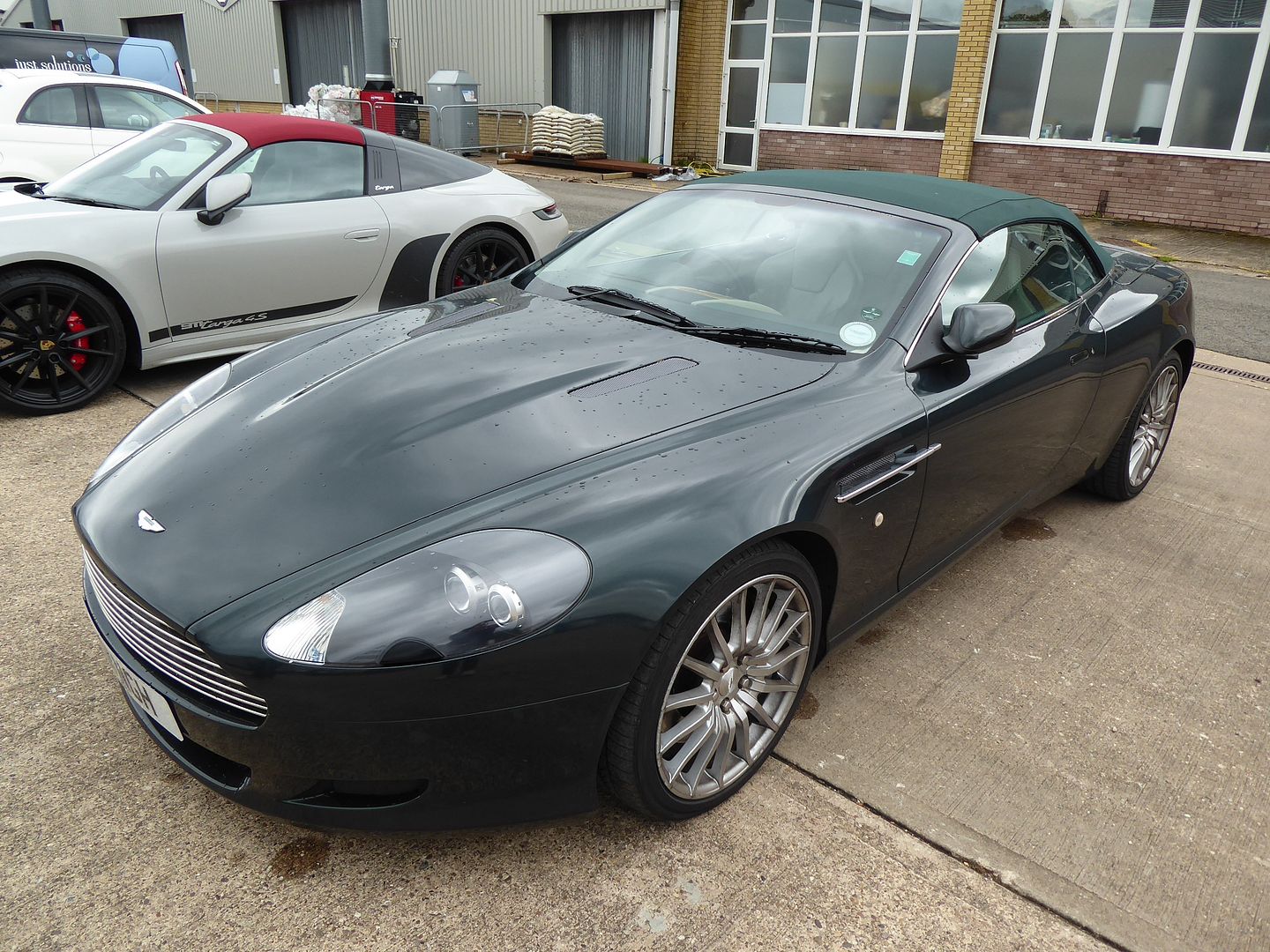 Next up was the W140 generation Mercedes S Class Coupe. The Mercedes-Benz W140 is a series of flagship vehicles that were manufactured by the German automotive company Mercedes-Benz from 1991 to 1998. On November 16, 1990, Mercedes-Benz unveiled the W140 S-Class via press release, later appearing in several February and March editions of magazines. The W140 made its public debut at the Geneva Motor Show in March 1991, with the first examples rolling off the production line in April 1991 and North American examples on August 6, 1991. Short (SE) and long (SEL) wheelbase sedans were offered initially, as well as the coupé (SEC = S-Klasse-Einspritzmotor (Fuel injection engine)-Coupé) body style C140 from October 1992. Like all Mercedes-Benz lines, the W140 S-Class was rationalized in late 1993 using the new "letter-first" nomenclature. The SE, SEL, and SEC cars were renamed the S-Class, with alphanumerical designations inverted. For example, the 500 SE became the S 500, and the 500 SEL became the S 500 L. In 1996 the coupé models following a mid-life update were separated into the CL-Class. As with its predecessor, the W126, the W140 was the first of the "next generation" of Mercedes-Benz models to feature the company's new design theme. This design was adopted for the new C-Class in 1989 and during 1991 for use on the facelifted W124 in 1993. Development on the W140 began in 1981, originally set for an October 1989 production start. From 1982 to 1986 several designs were reviewed, until December 9, 1986 when a definitive design by Olivier Boulay was approved. Several prototypes were tested onwards from early 1987 and the final production exterior design was frozen in September 1987, with domestic design patents being filed on February 23, 1988 and U.S. patents six months later on August 23. The design was said by lead designer Bruno Sacco to be influenced by Jaguar's XJ40 sedan and BMW's E32 7-Series. Before production started, the exterior appearance of the W140 was revised in the form of the grille on all W140s being recessed as opposed to a planned exclusive grille on the top model, a feature which later spread to the rest of the Mercedes-Benz range. In 1987, an 18-month delay was made from 1989 to 1991 to accommodate a V12 engine and a high-performance braking system. This resulted in the final development prototypes being completed in June 1990. Pilot production models were made from June 1990 to January 1991. The W140 introduced innovations such as double-pane window glazing, power-assisted closing for doors and trunk lid, electric windows which lowered back down upon encountering an obstruction, rear-parking markers which rose from the rear wings (discontinued on later vehicles, and replaced with sonar-assisted parking) and a heating system which, if desired, continued to emit warm air after the engine was turned off. For details like this, the W140 is often known as the last Mercedes to be "over-engineered," a Mercedes trait that was costing the company in product delays and overbudgeting. According to Motor Trend, this action reportedly caused project cost overruns and resulted in the departure of Wolfgang Peter, Daimler-Benz's chief engineer. The vehicle is believed to have cost Mercedes-Benz over $1 billion to develop. For the consumer, the W140 cost a considerable 25 percent more than its predecessor, the W126. The W140 was to feature air suspension as an option, but it was dropped shortly before launch because Mercedes was still perfecting the technology at the time. Mercedes chose to launch air-suspension (AIRMATIC) in the next generation S-Class in 1998. The W140 instead used a rear hydropneumatic suspension, first introduced on the W116 450 SEL 6.9 (introduced in 1975) to be used on the S 500 and S 600 models. Following the mid-year facelift in 1995, Mercedes-Benz made Electronic Stability Control an optional fixture to both sedan and coupé body styles in the W140 range. Both the sedan and coupé body styles were equipped with Acceleration Slip Regulation (ASR) traction control as a standard feature on V8 models after the 1994 model year (V12 models always had ASR standard), and then the 1997 model year for I6 models. Like its predecessor, the car was available in two wheelbase lengths (short W140 and long V140) along with the C140 coupé. In 1991, a new M120 6 litre 402 horsepower V12 engine joined the lineup for the first time with the 600 SEL and 600 SEC. A "V12" badge was affixed to the C-pillar. In 1993, the 402 bhp ( 408 bhp Europe ) V12 engine was slightly detuned to 389 bhp to comply with tighter emission control regulations in the United States and Europe. The V8 models were tuned down from 322 to 315 bhp. This de-tuning, among other changes, involved the deletion of the full-throttle enrichment circuit,. The W140 600 SEL was available with wooden rear ash tray covers, wood/leather shift knob, leather dashboard and a suede headliner, unlike the V8 and inline 6-cylinder models. Following the facelift in 1994, the S 600 was updated with a wood/leather steering wheel, a V12 badge on the wood/leather shifter, double needle stitching all over the interior and two tone nappa leather seating – further distinctions from its lower rung siblings. In June 1993, as part of the new corporate naming campaign, the model range was renamed. This resulted in all SE and SEL models now being redesignated as "S", being followed by the numbering. In late 1991, after worldwide launch, work begun on improvements to the W140. By the end of 1992, final design changes were approved and later patented(application) on February 27, 1993, exactly 5 years after the original W140 design patent application in 1988. In March 1994, the updated models were unveiled at the Geneva Auto Salon and went on sale in April 1994 in mainland Europe and in other markets during the second half of the year. The clear turn signal indicator lenses on the front and new taillights were the most obvious change, as was the grille including a new and distinctive one for S 600s. Headlamps were fitted with separate low H7, H1 fog, and high H1 beam reflectors in 1994; pre-1995 models used an H4 bulb and H3 for the fog lamp. In April 1995, "Parktronic" replaced the parking guiders on the rear boot lid. In 1995, the two tone exterior appearance was made to be monotone, low-beam xenon headlamps were added and the rear indicator lenses became clear. The changes were later introduced in June 1996 as 1996.5 models in Europe and 1997 models in the United States. The range was replaced by the far less bulky looking W220 saloon and C215 coupe in 1998 by which time Mercedes-Benz had built 432,732 examples, comprising 406,710 sedans and 26,022 coupés.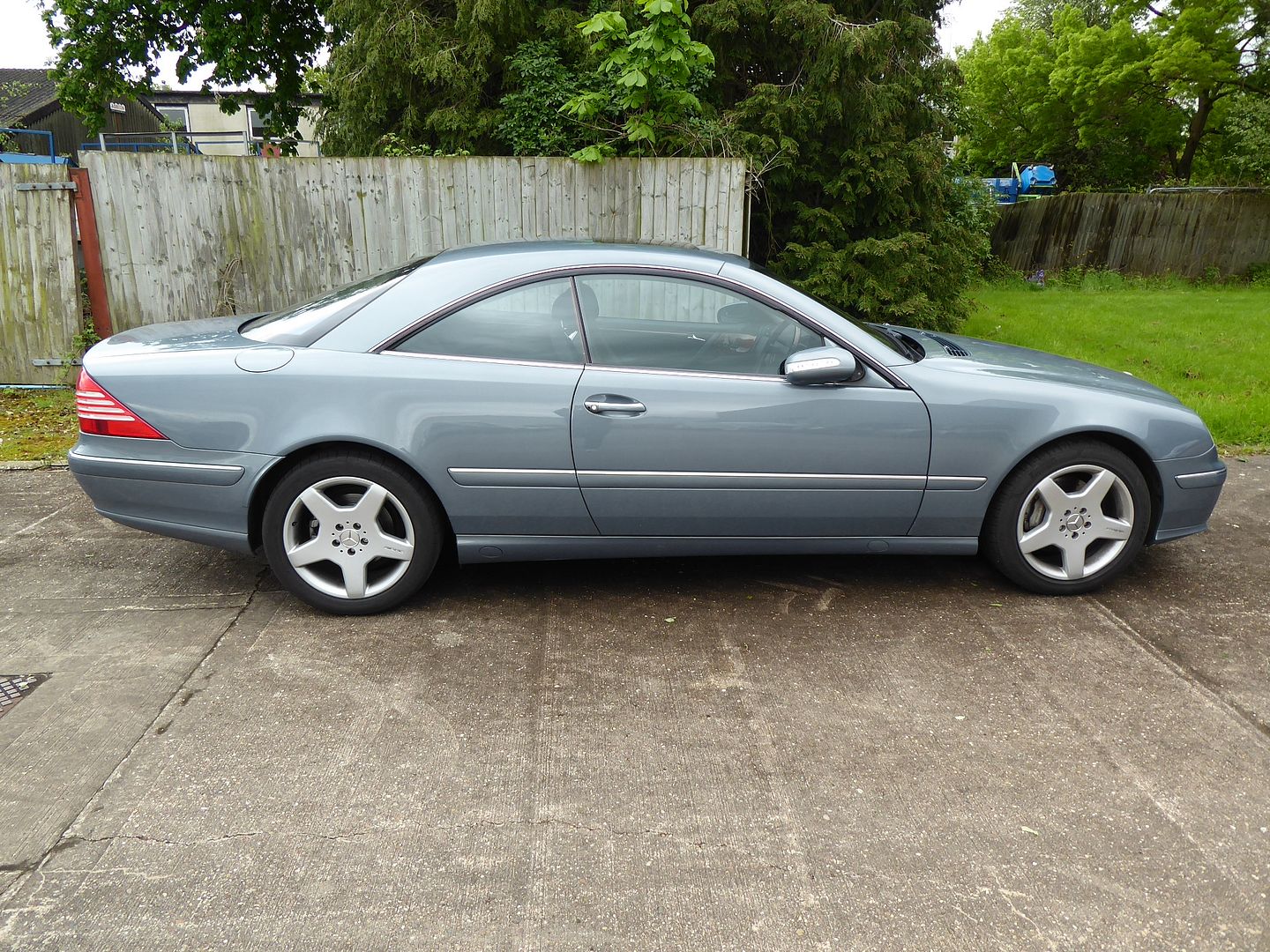 Although Porsche 911 of any generation are not that unusual these days, the Targa models are a relatively rare sighting.
And finally there was a Renault Avantime. Designed and manufactured by Matra, between 2001 and 2003, this one-box design without B-pillars was styled by Patrick Le Quément and was supposed to combine the space of an estate with the style of a 2+2 coupé. It was conceived by Philippe Guédon, head of the automotive division at Matra, who "believed that the children of Espace owners remained loyal to the car even after they had grown up and left home. As a result, the renowned estate was gaining a generation of new drivers." It used the Espace as a base, which imposed some constraints, such as the central instrument display, but the marketeers turned that into something they called a part of the innovative character of the whole vehicle. The one-box design eliminated B-pillars and featured an aluminium structure, aluminium panels for the greenhouse and a full sunroof of strengthened heat-reflecting glass. The interior featured four seats each with built-in seatbelts and Bridge of Weir leather. To facilitate access to the rear seats, two long doors featured a double parallel-opening hinge system (marketed as "double-kinematic") that maximized access with minimal outswing of the doors. Front side windows lowered automatically when either of the front seats folded forward to further facilitate entry to the rear two seats. Windows featured power-deployable sunshades, and the H-points of the rear two seats were higher than the forward two seats, giving the Avantime "theatre seating." The luggage compartment featured a retaining system using retractable straps, and all Avantimes featured a two-tone look created by the exposed aluminium of the greenhouse. The windows and panoramic sunroof could open automatically via a single, headliner mounted control, to give the Avantime an 'open air' mode. The Avantime was first shown in February 1999 in concept form at a press launch in the Louvre, and one month later to the public at the Geneva Auto Show — where it was referred to as a "Coupéspace" — and went into production two years later, after the subsequent engineering of the pillarless roof to meet safety standards. The Avantime's sales were poor. The car's fortunes were not helped by the introduction of the Renault Vel Satis (another large, upmarket Renault) around the same time. When Matra decided to pull out of the automotive production business in 2003 (partly as a result of the financial loss incurred by the poor sales of the Avantime), Renault chose to discontinue the Avantime rather than move its production elsewhere. 8,557 were built from 2001 to 2003.
This was an inspired choice of activity which I very much enjoyed. Given how stuffy the Auction houses can be when they are operating from another event such as Silverstone Classic or the NEC Classic, the simple welcome and the fact that we walked in and could look at the cars for as long as we wanted was a pleasant surprise. The remaining sales of 2021 are at major UK events, so I am not sure that a chance like this will present itself again this year, but I will certainly be looking out for any future such opportunity.