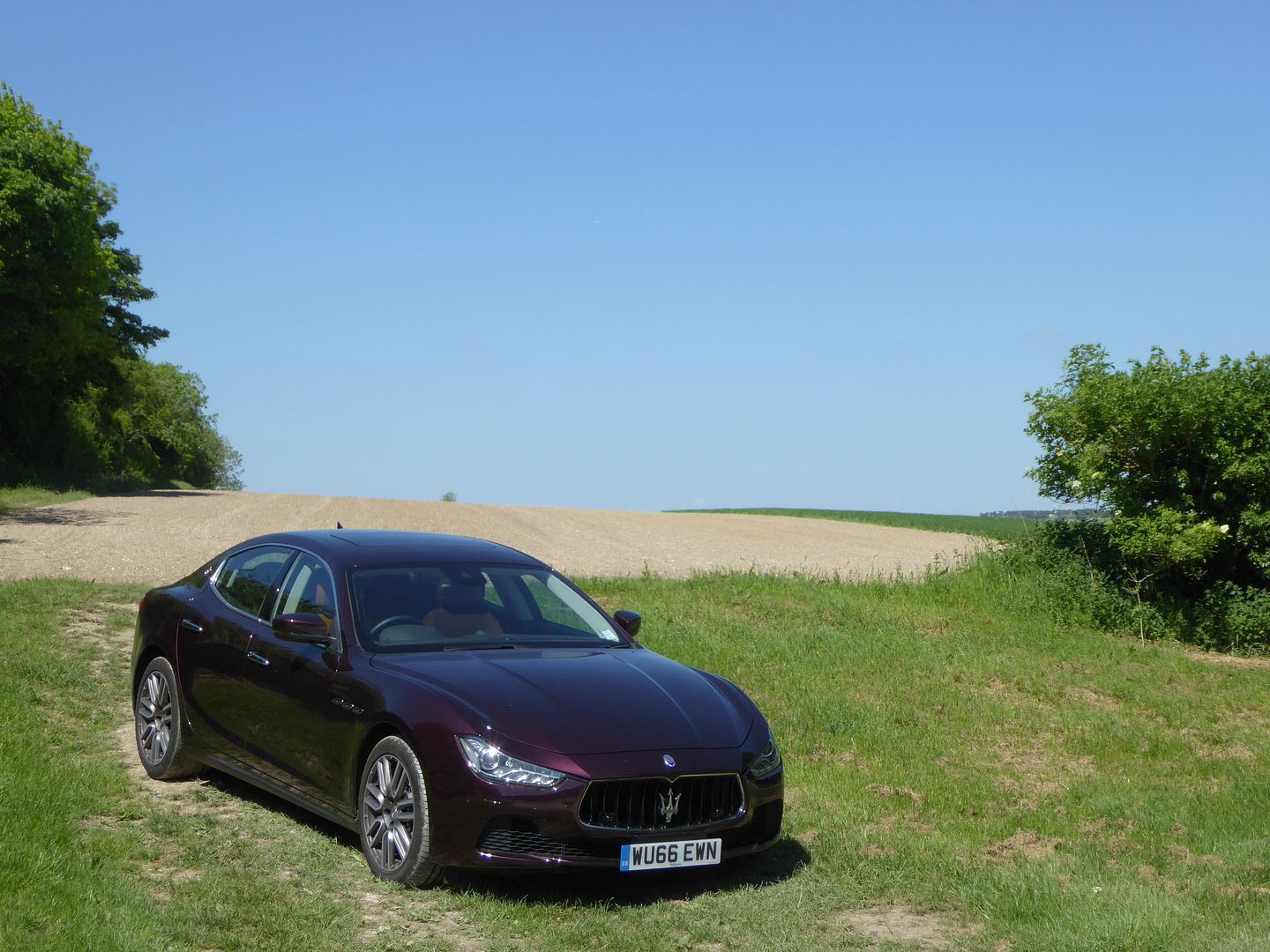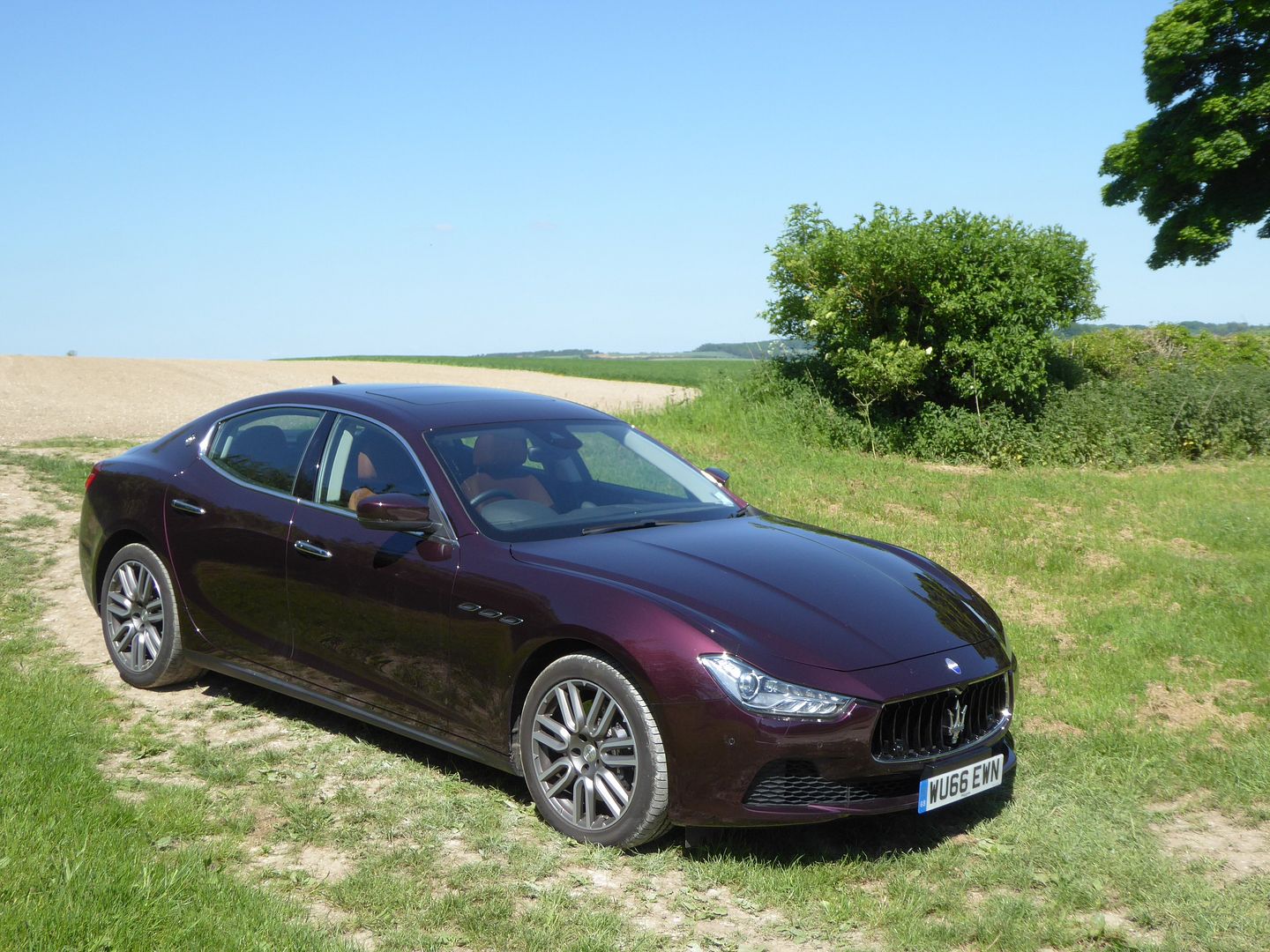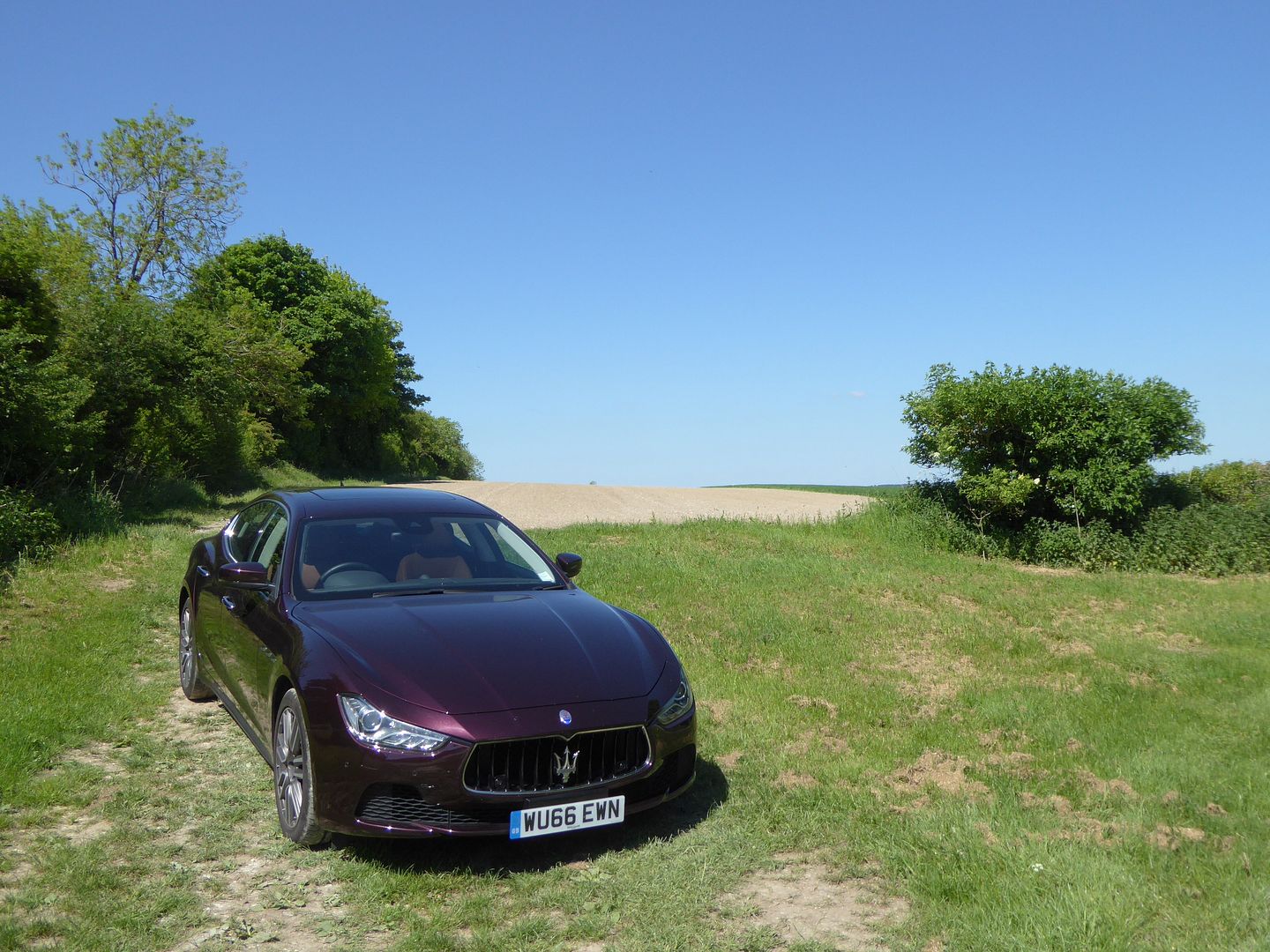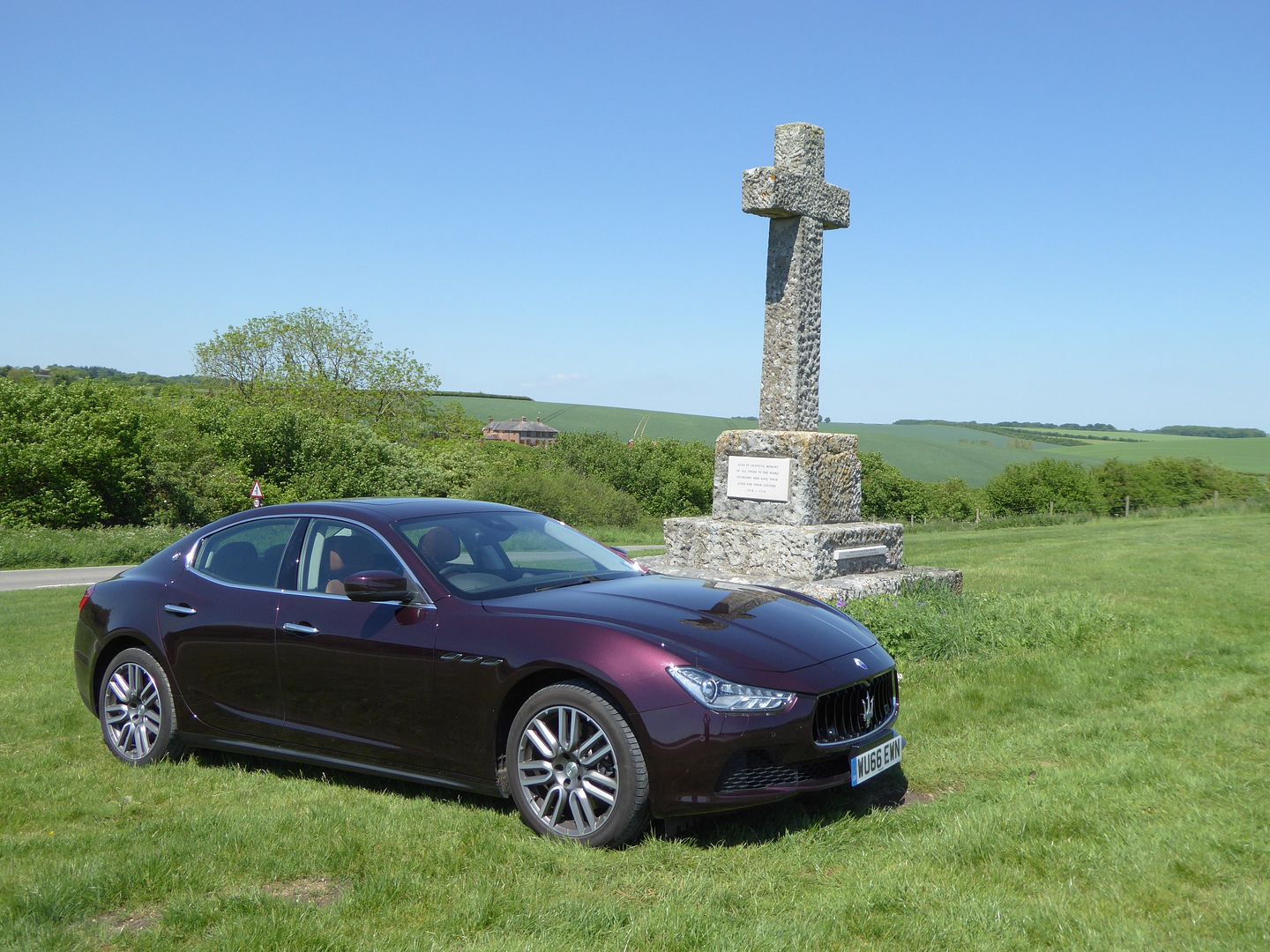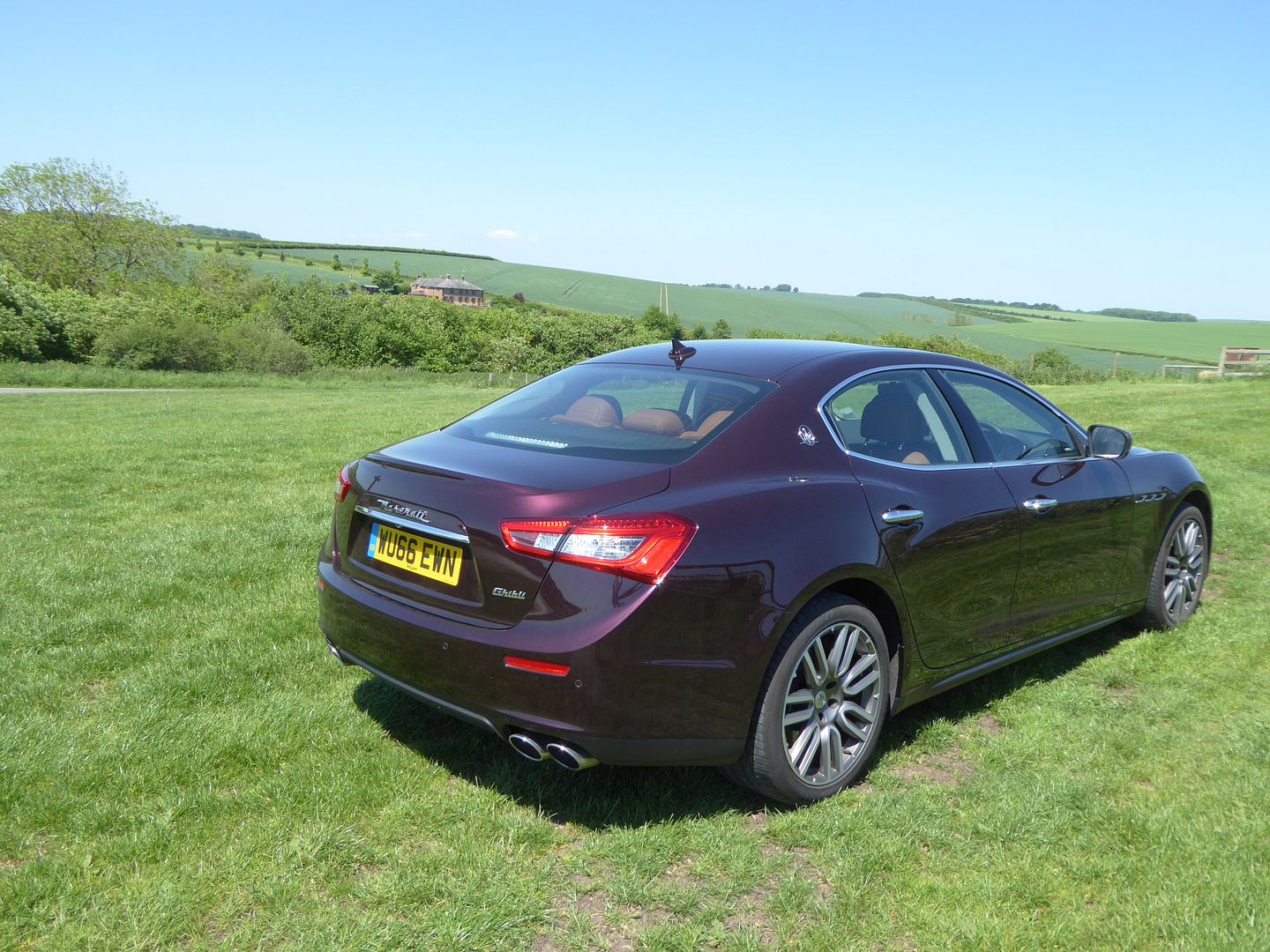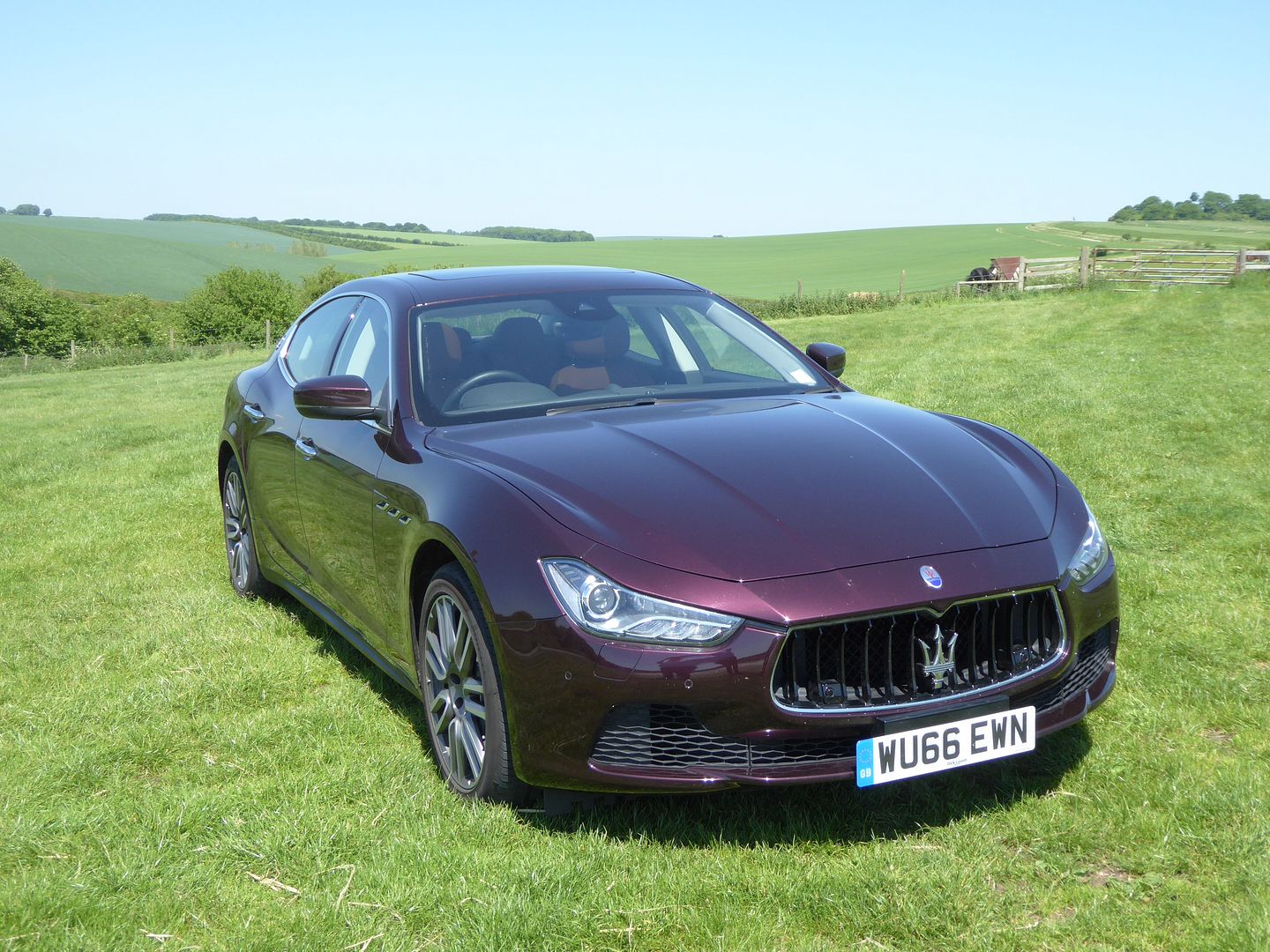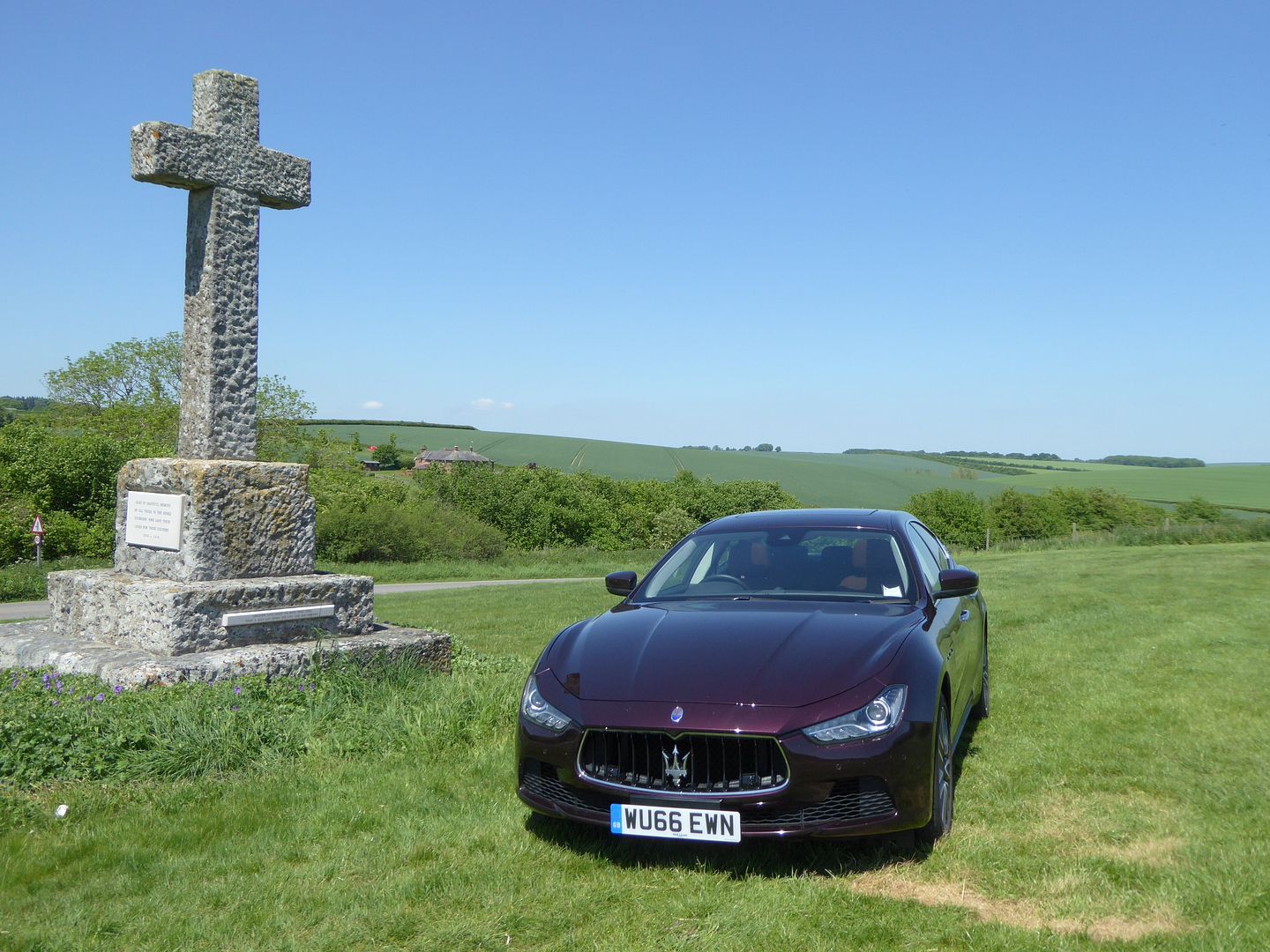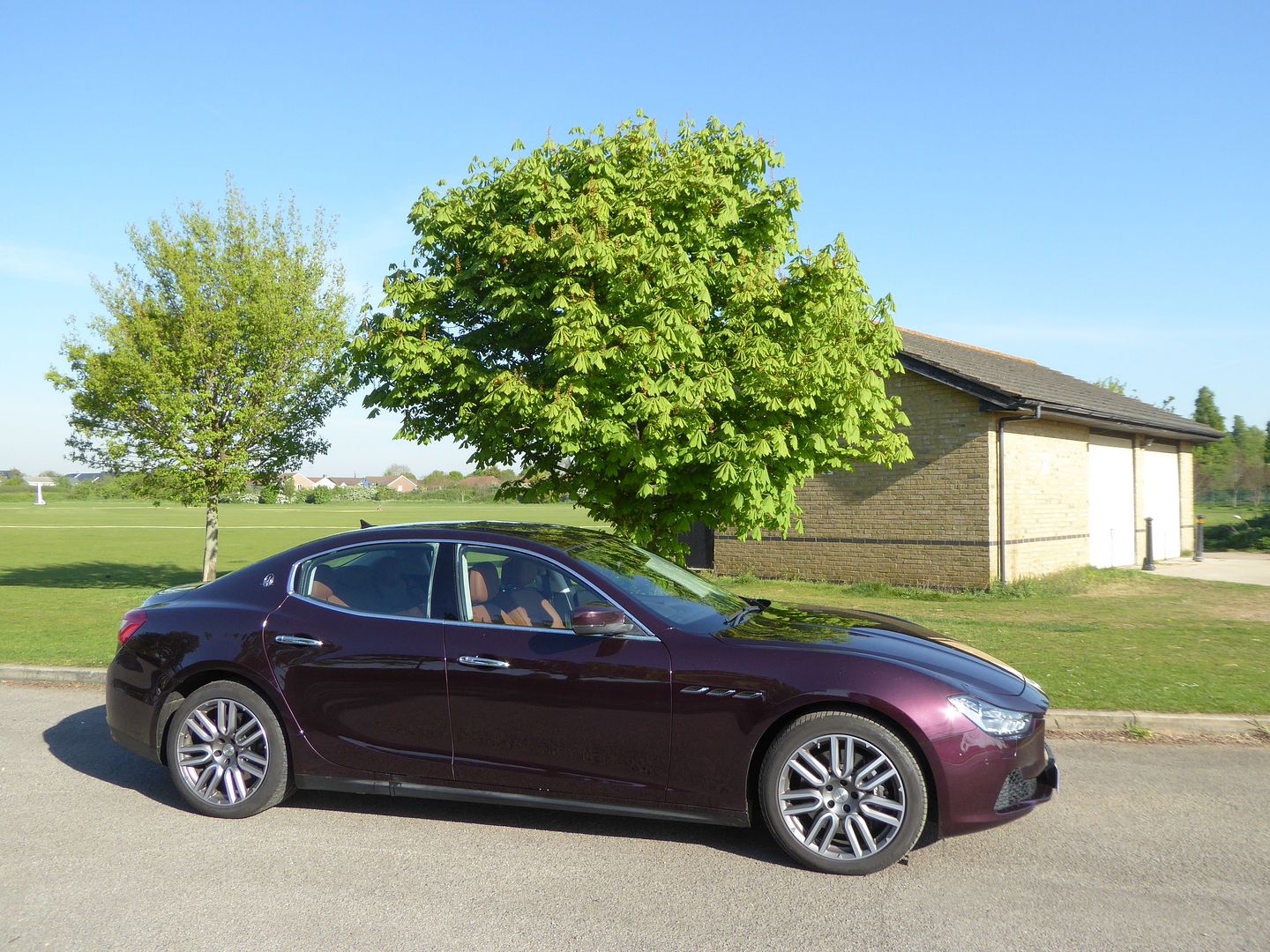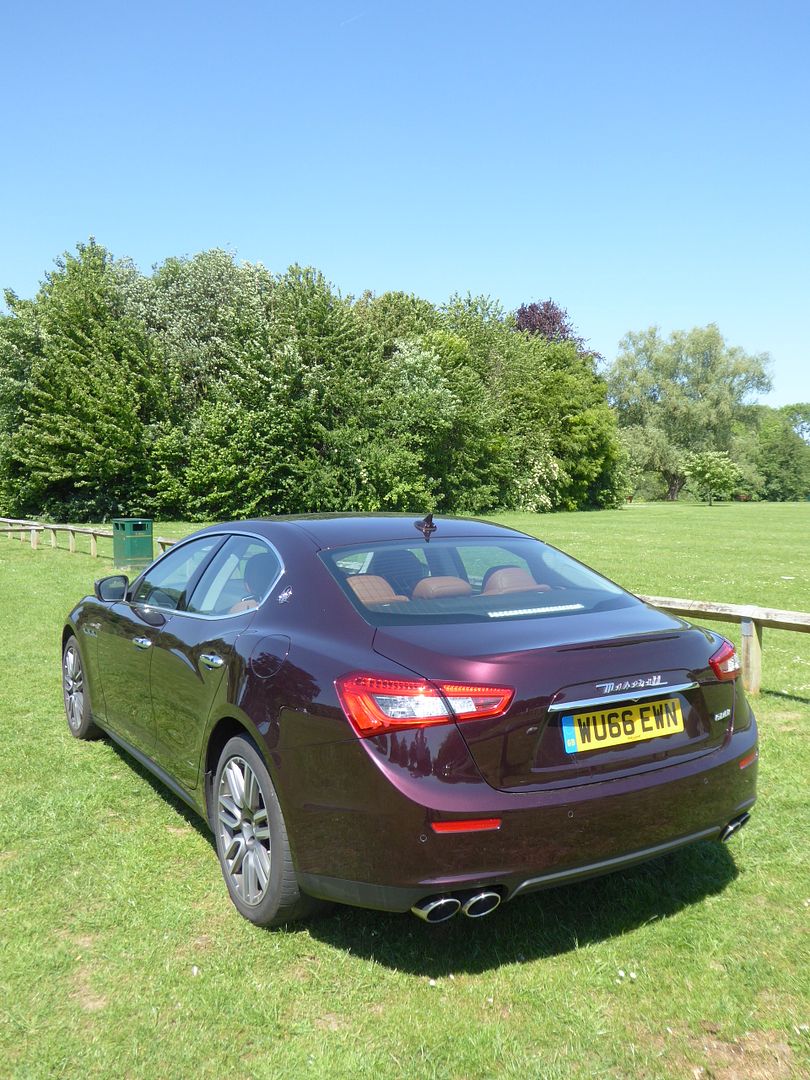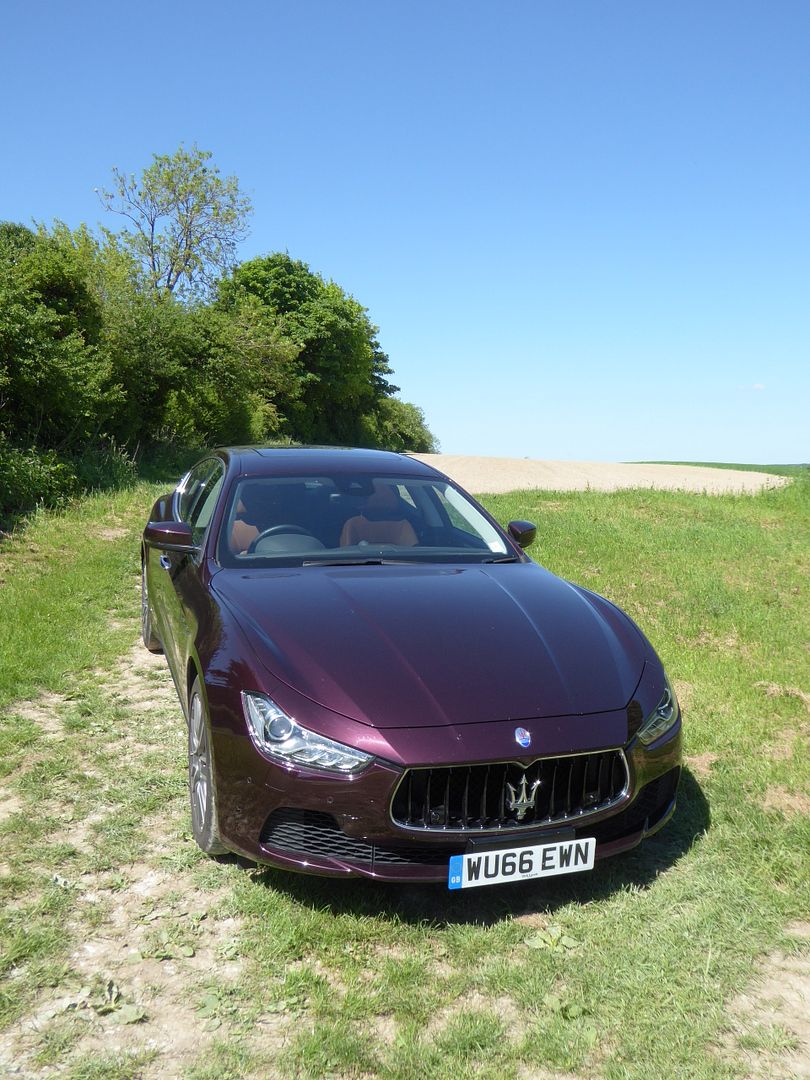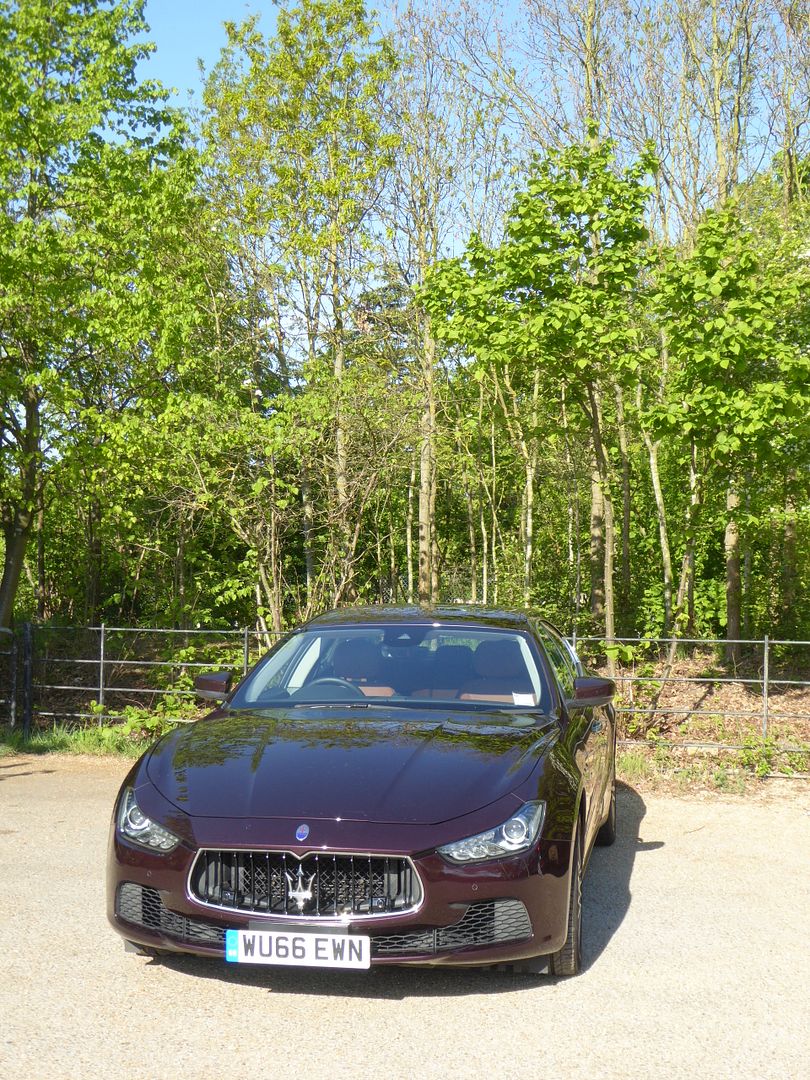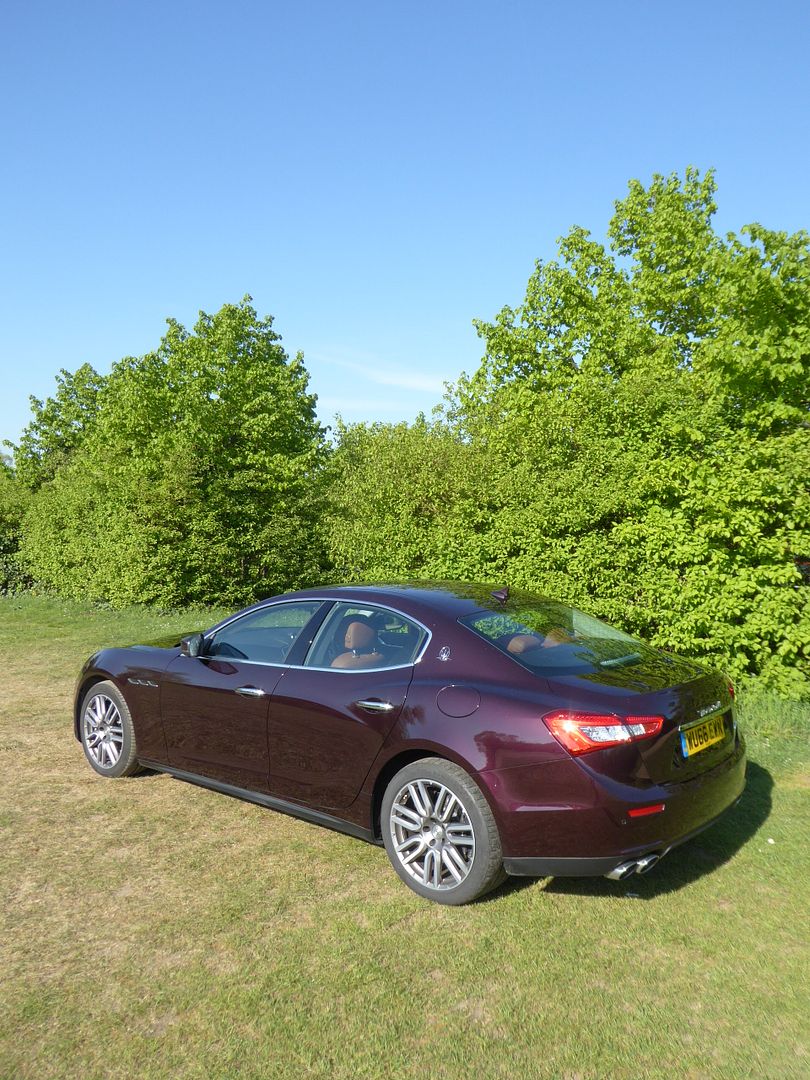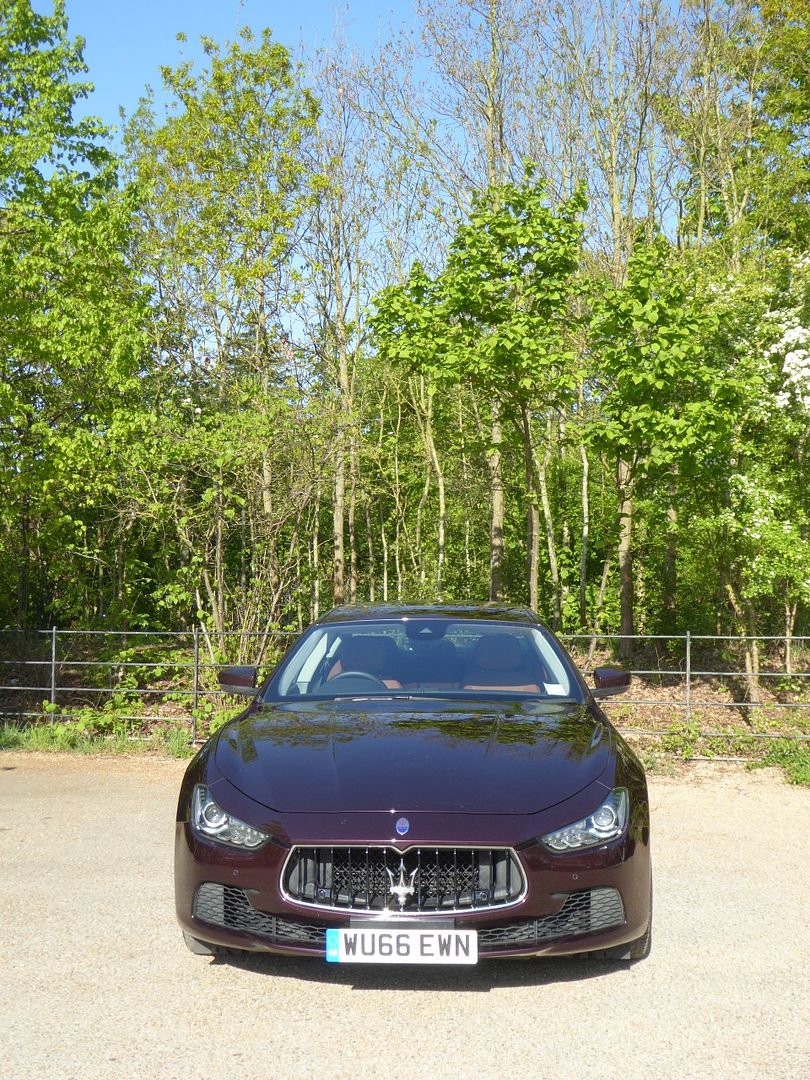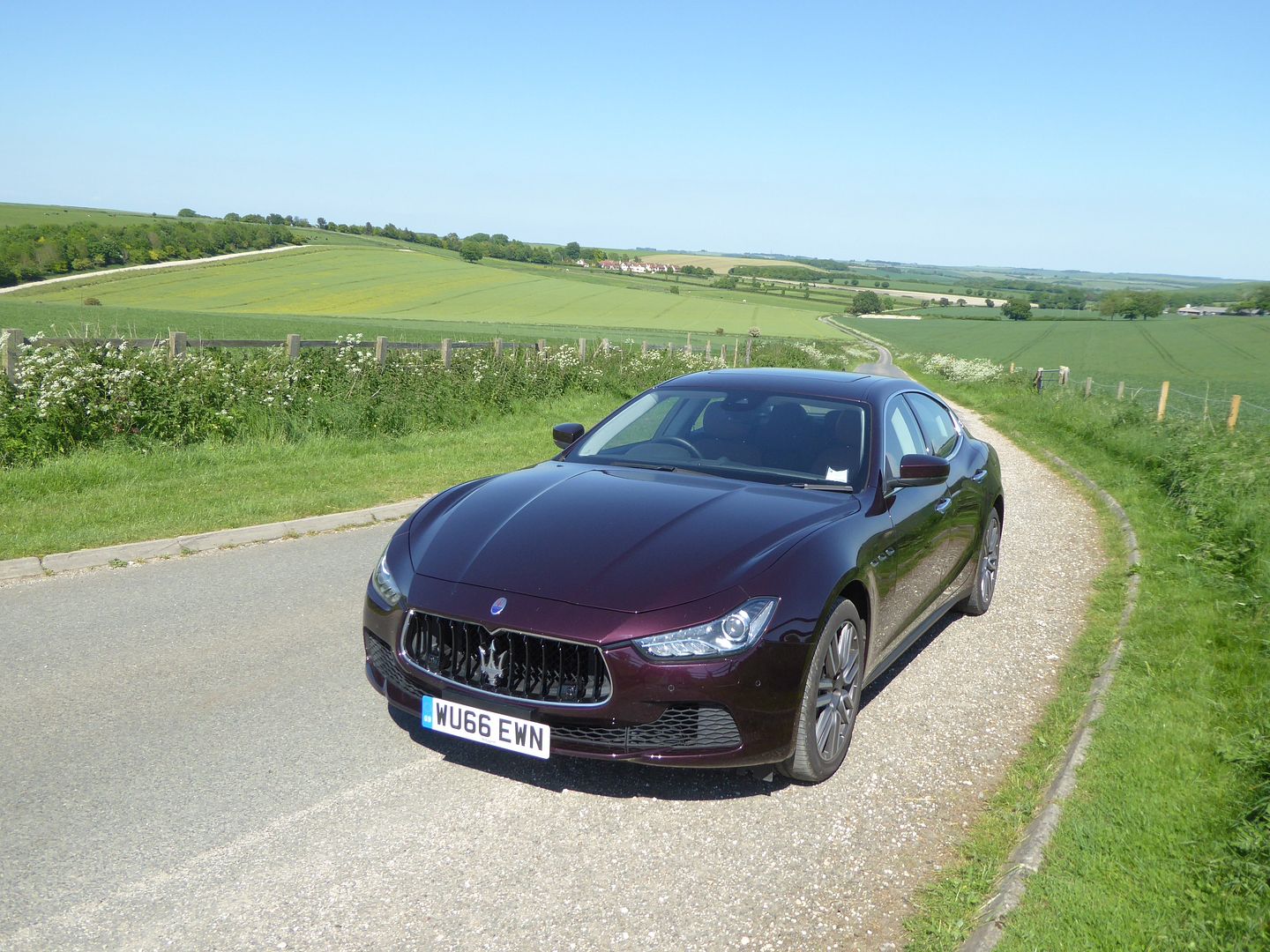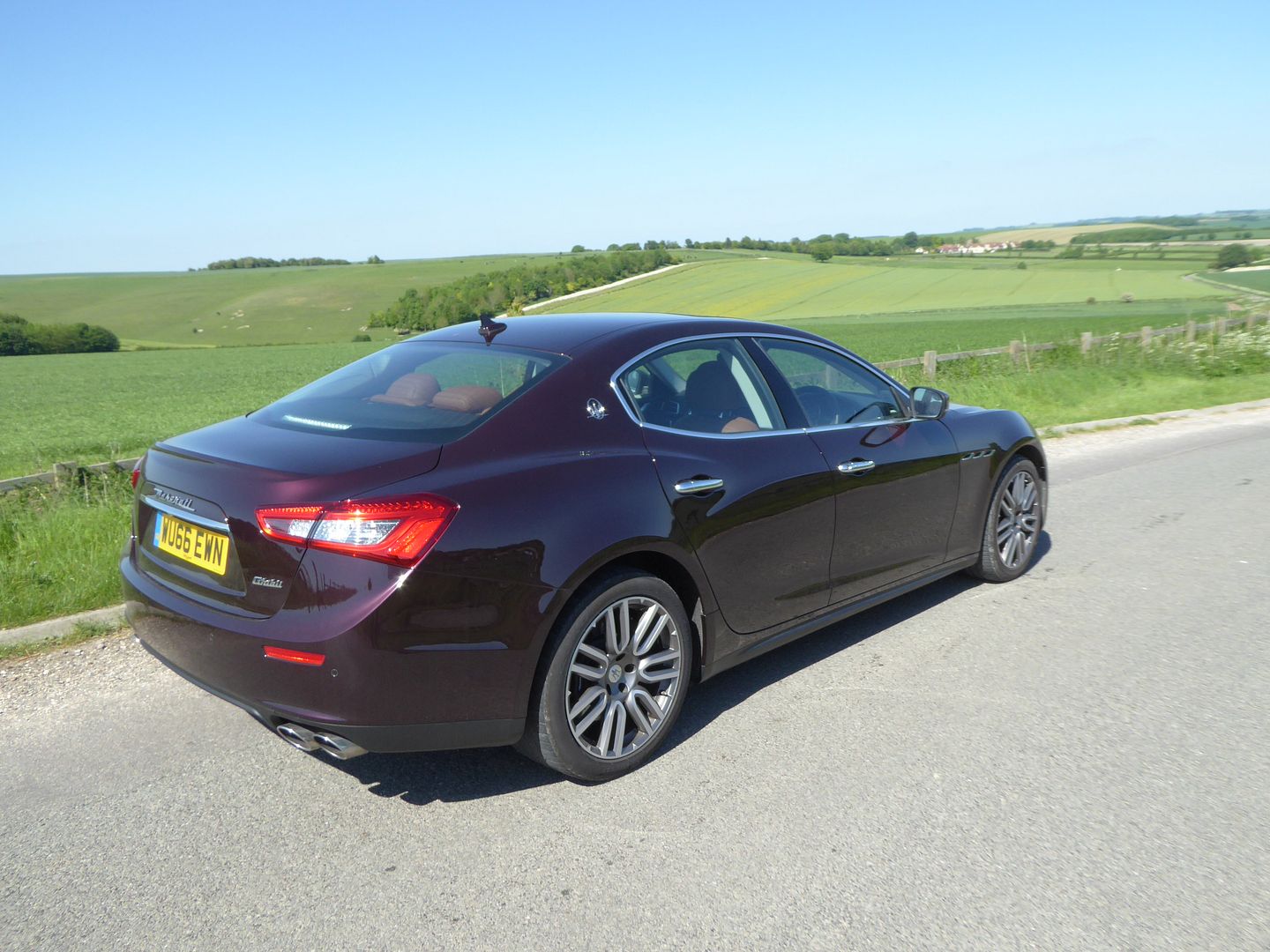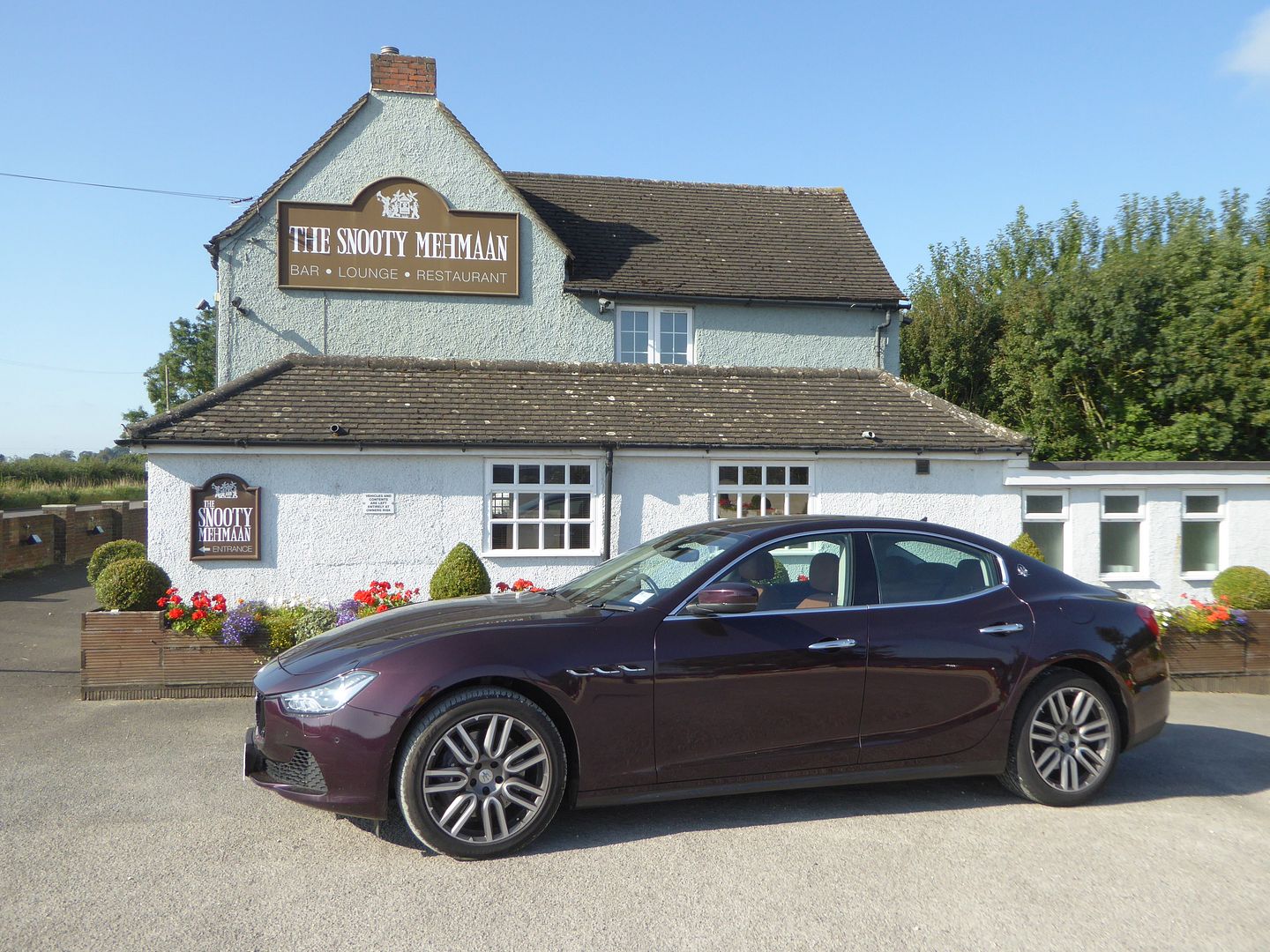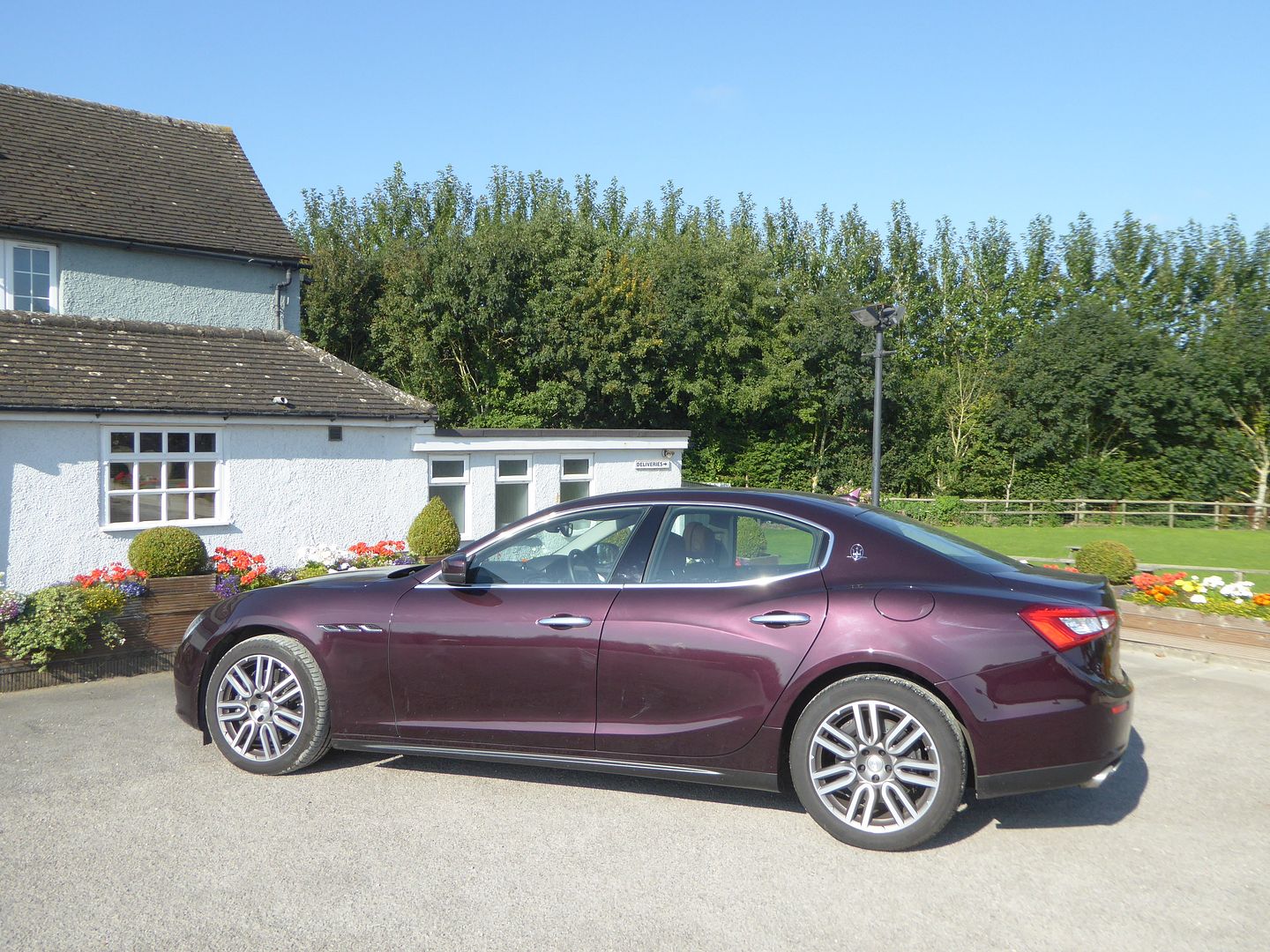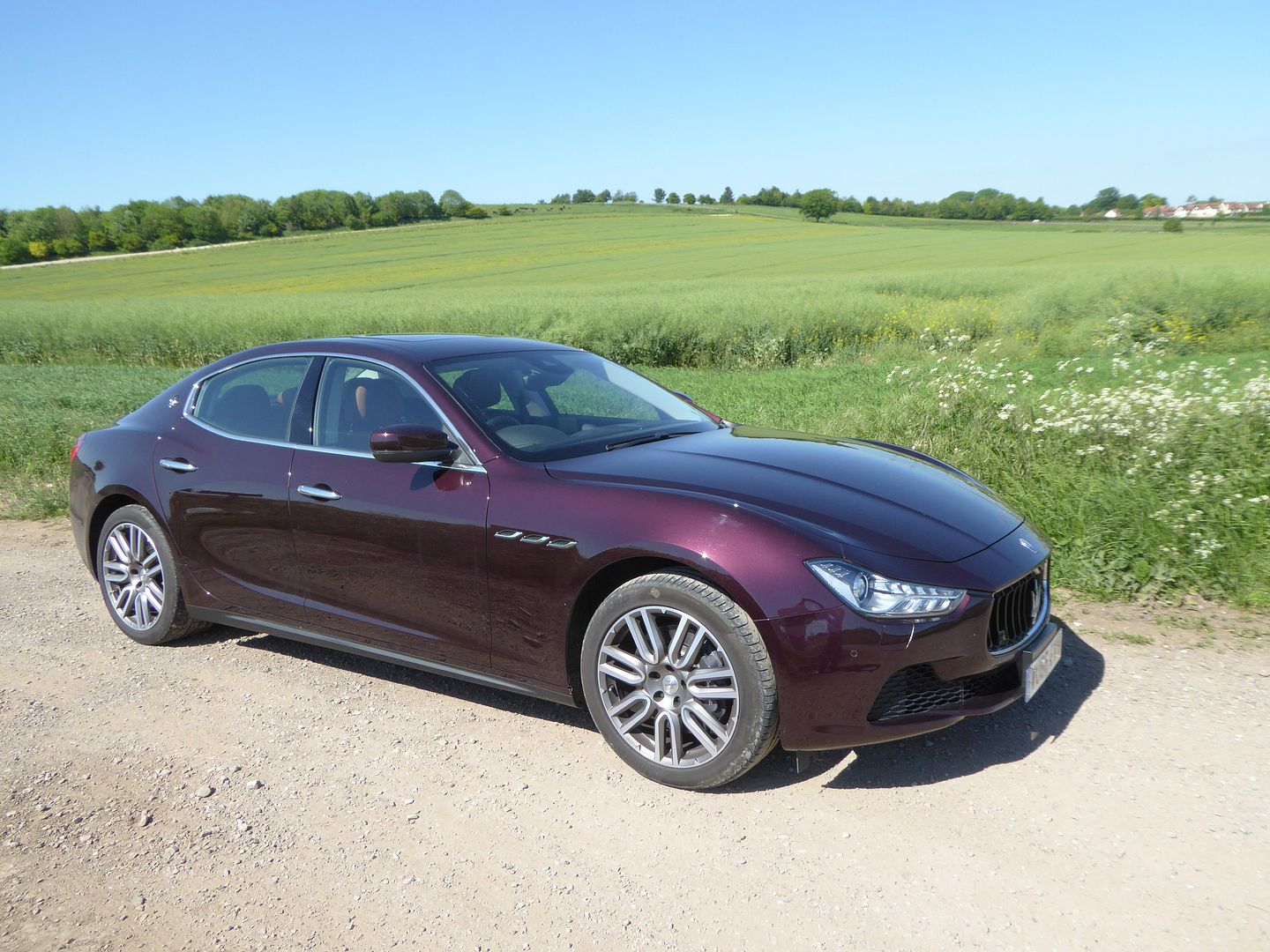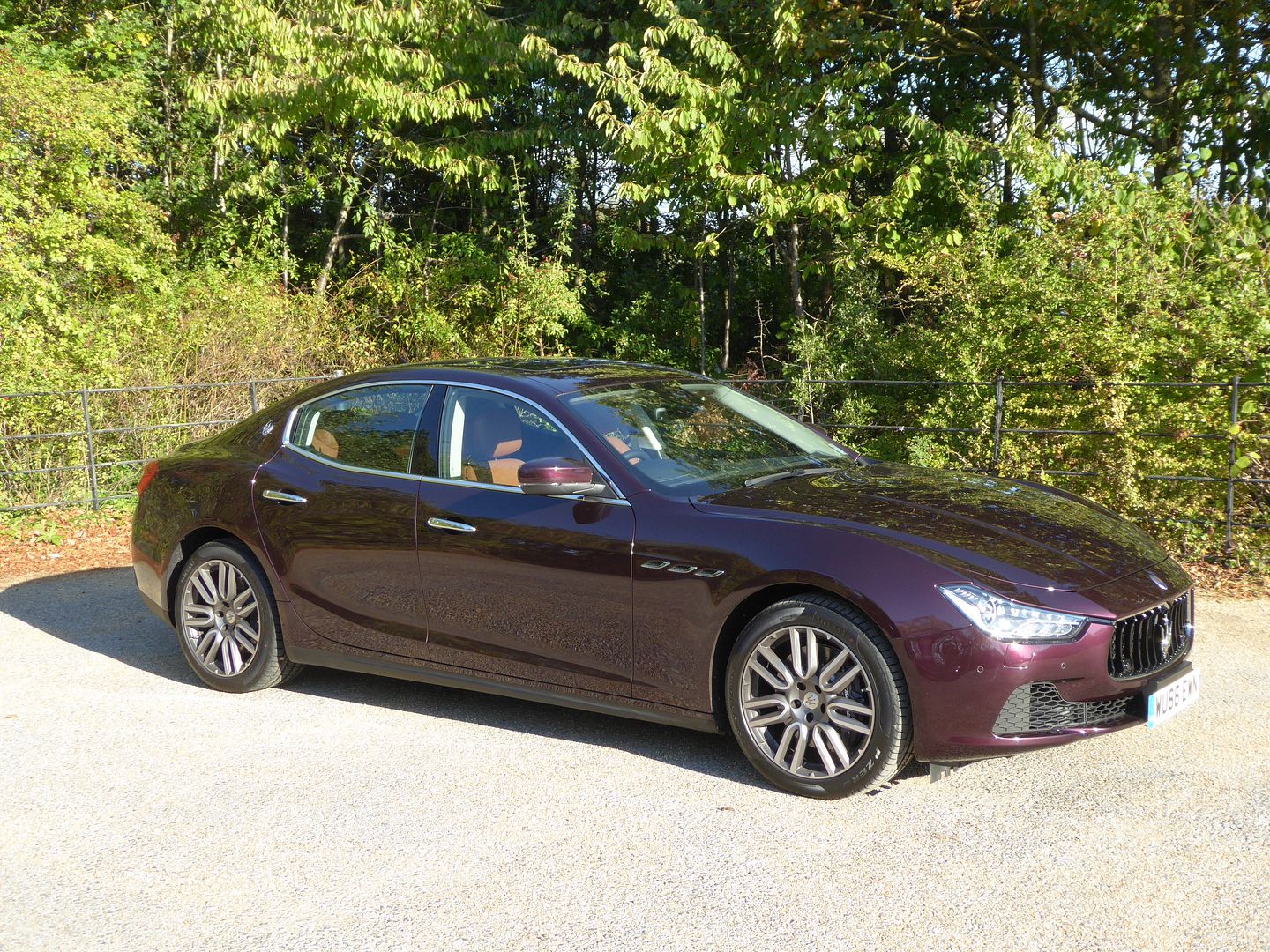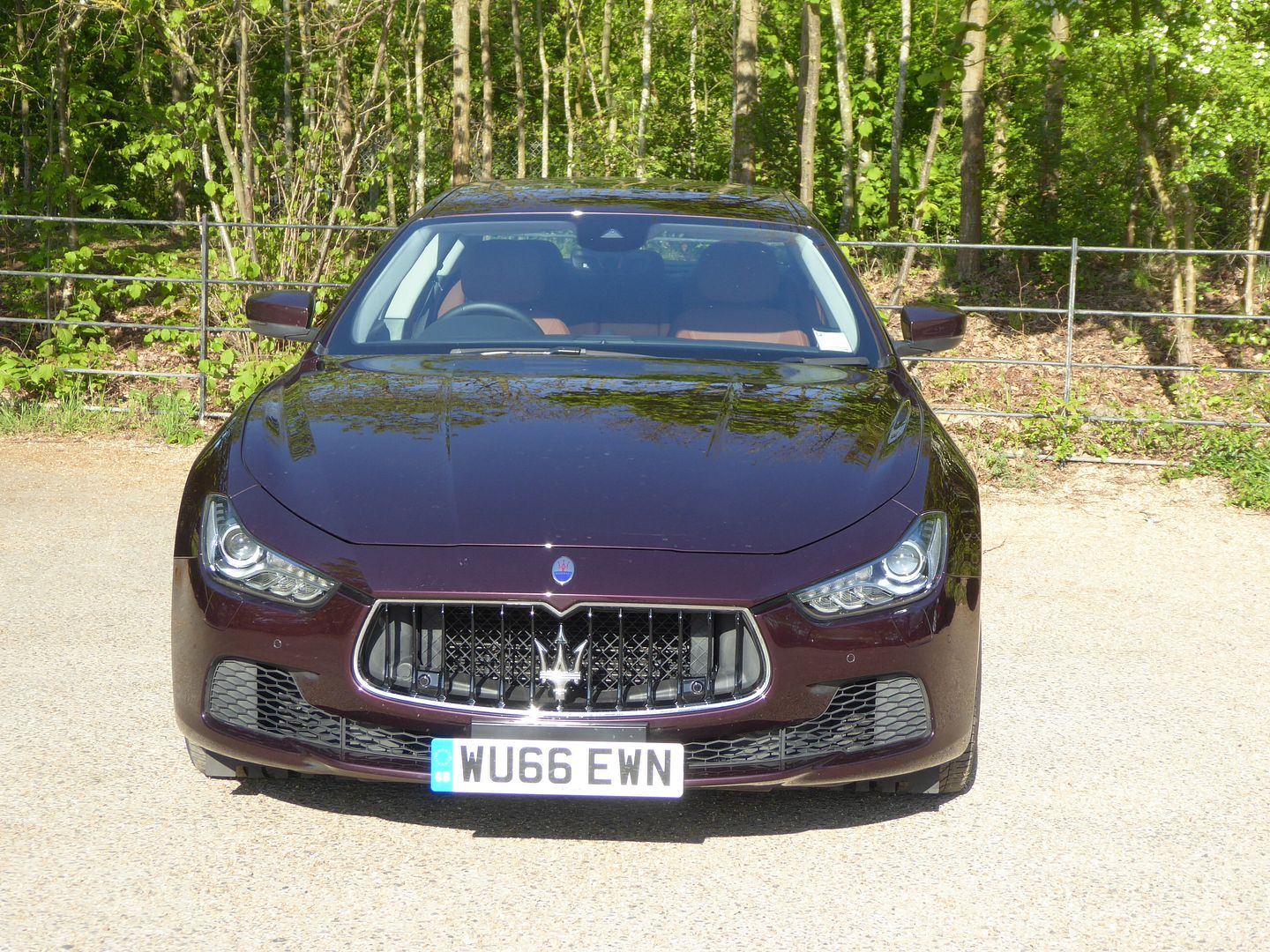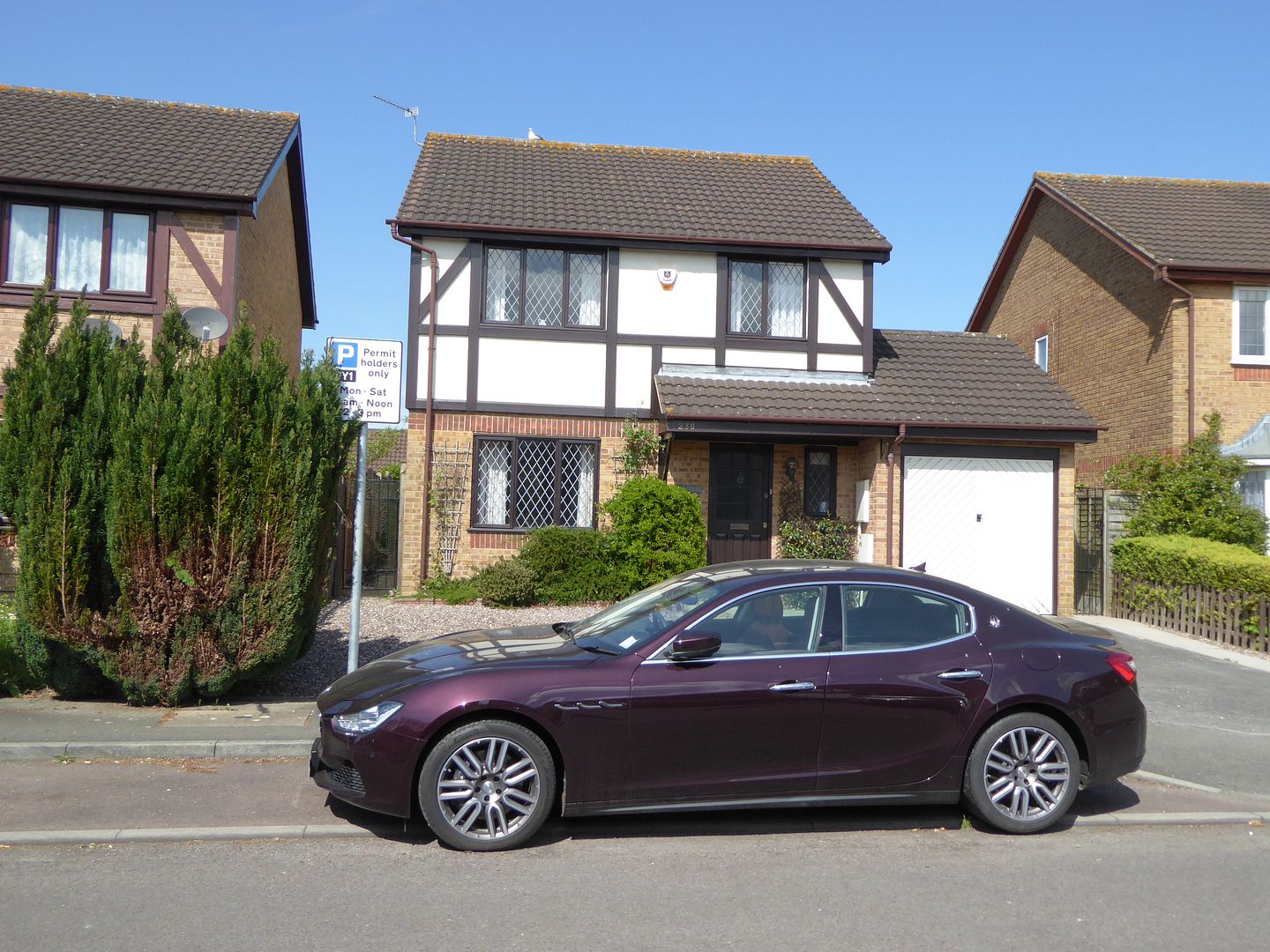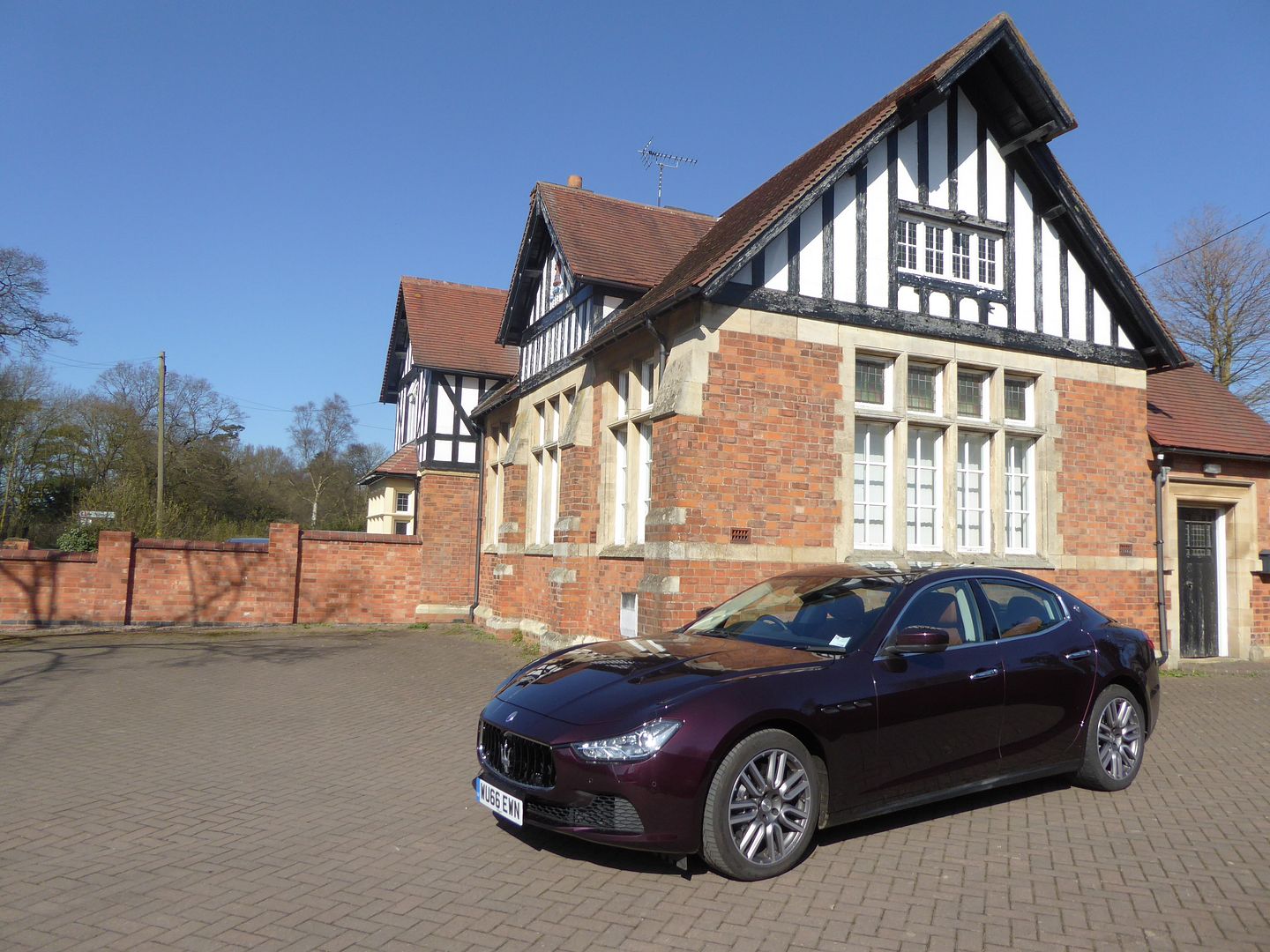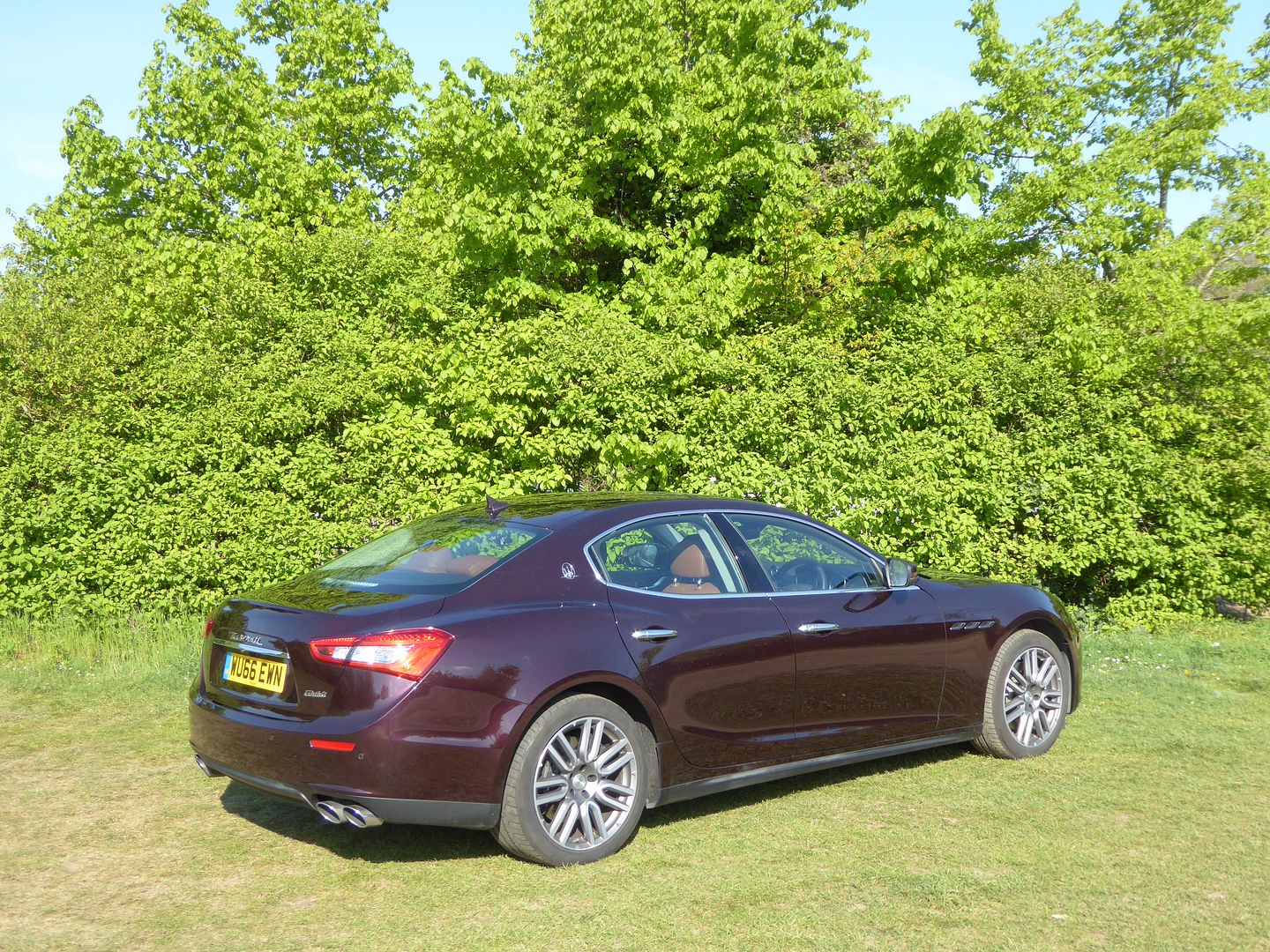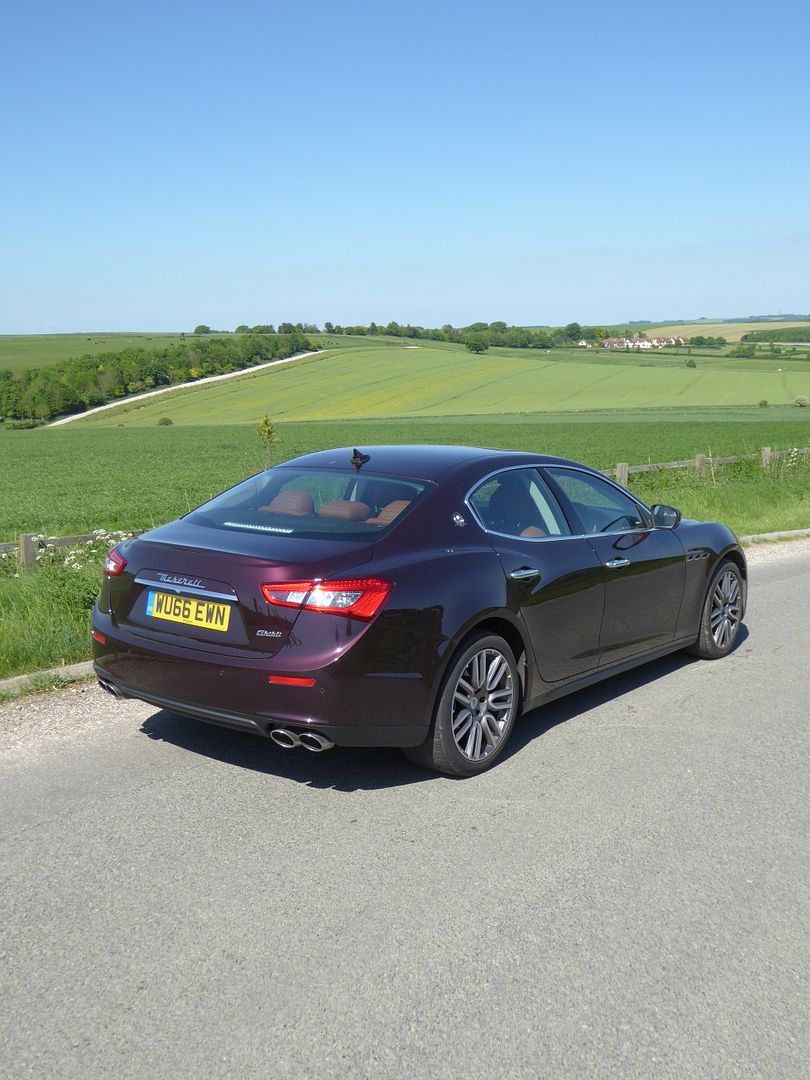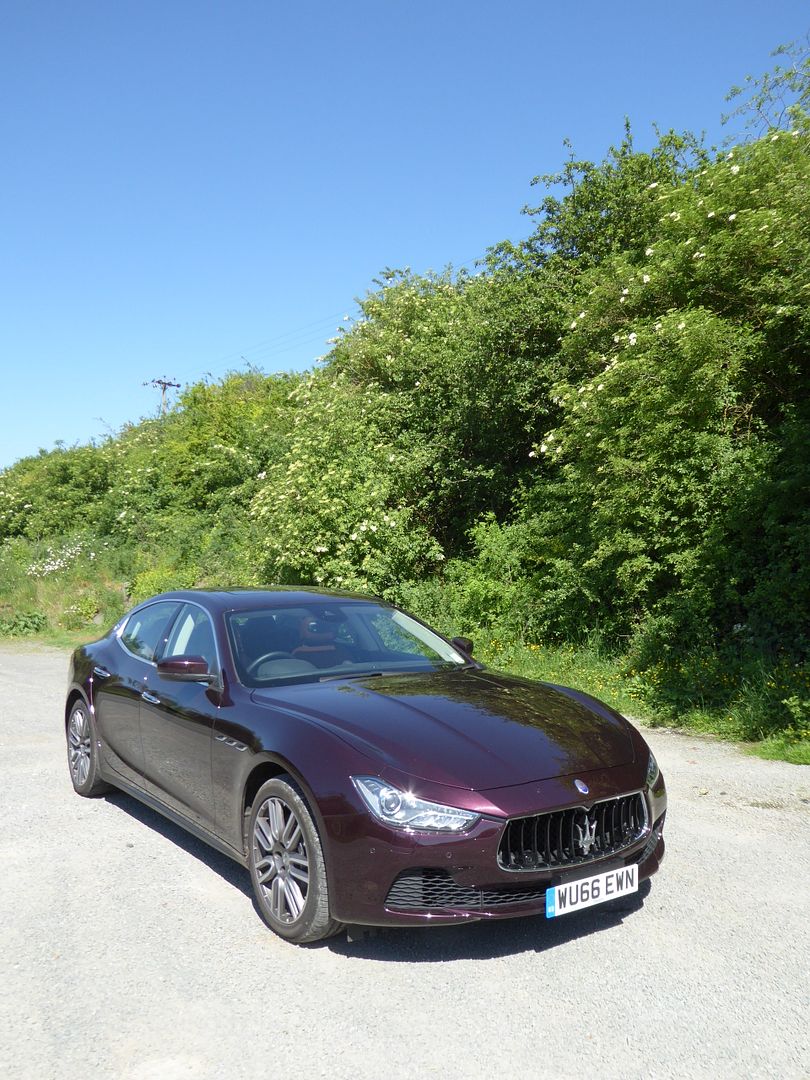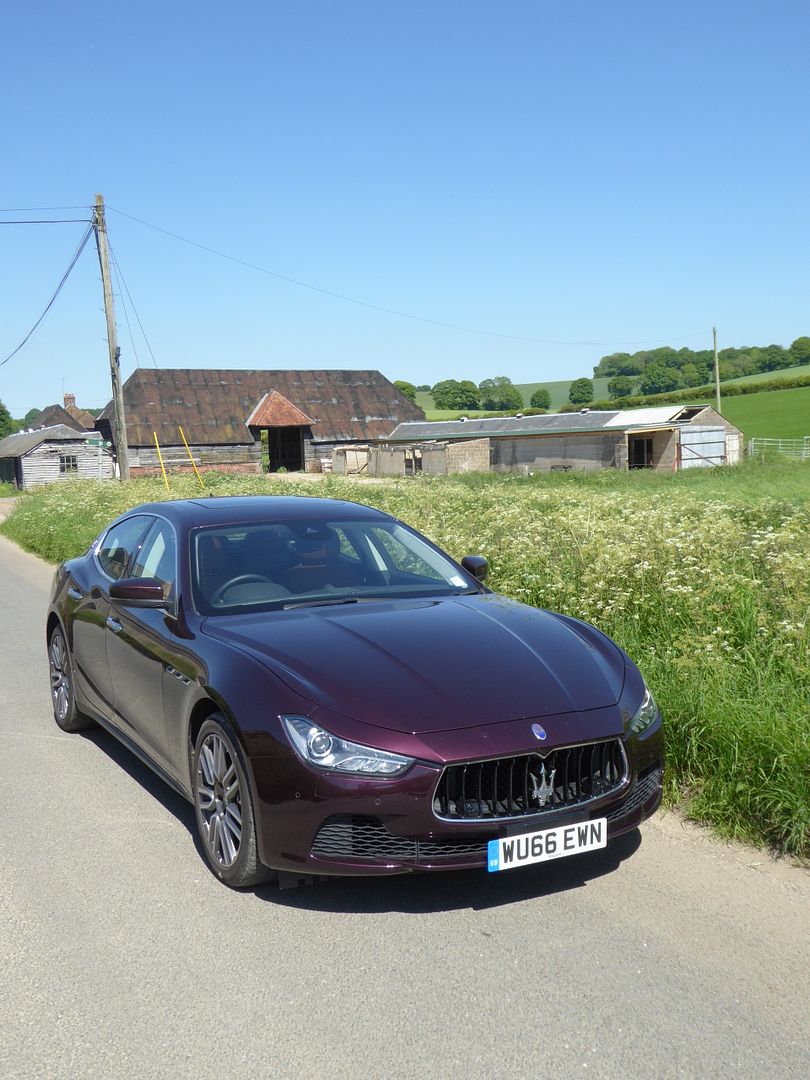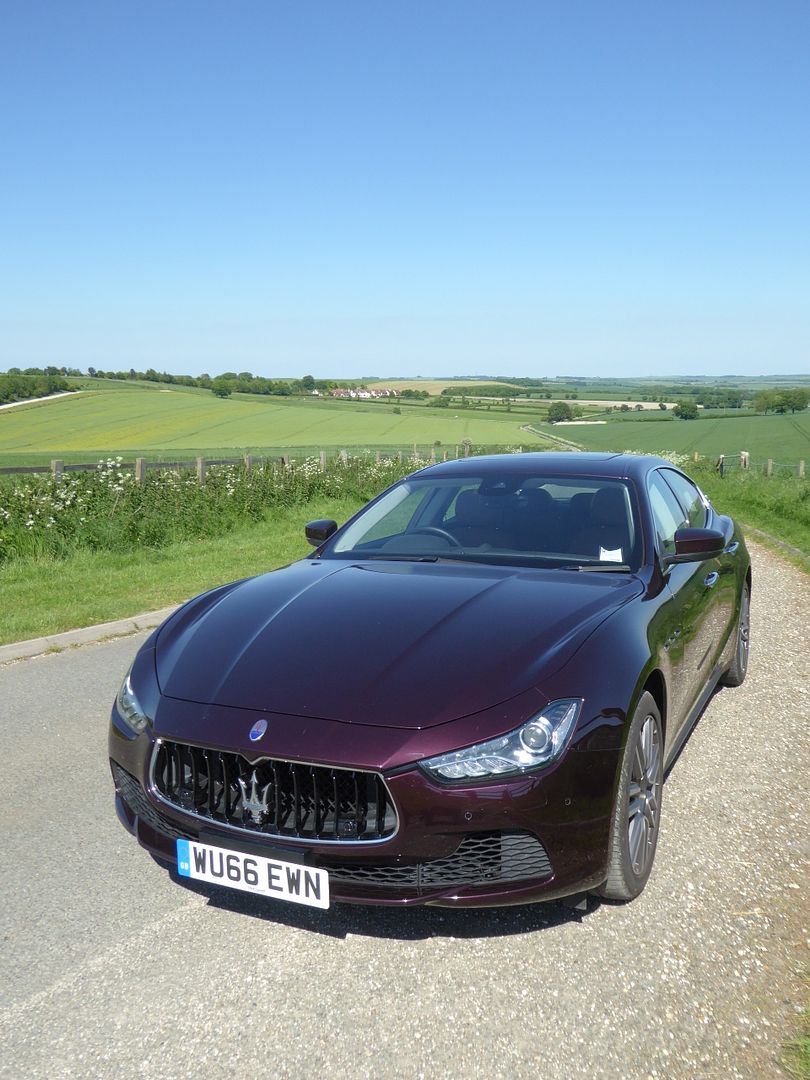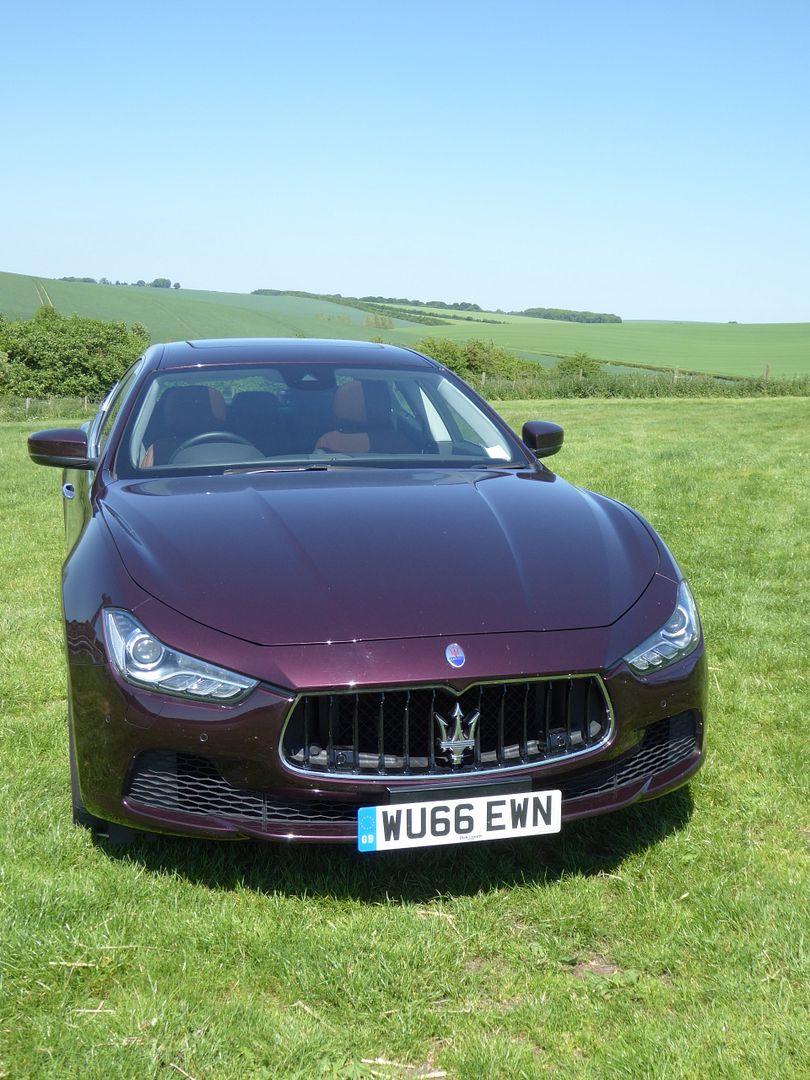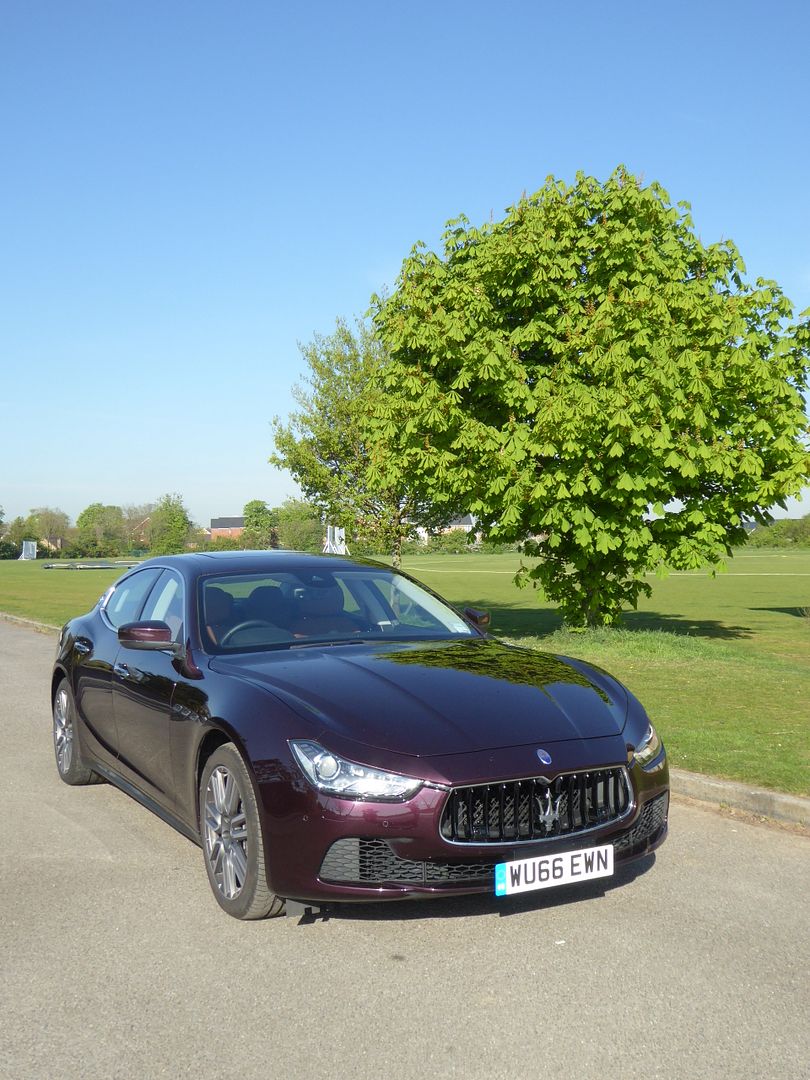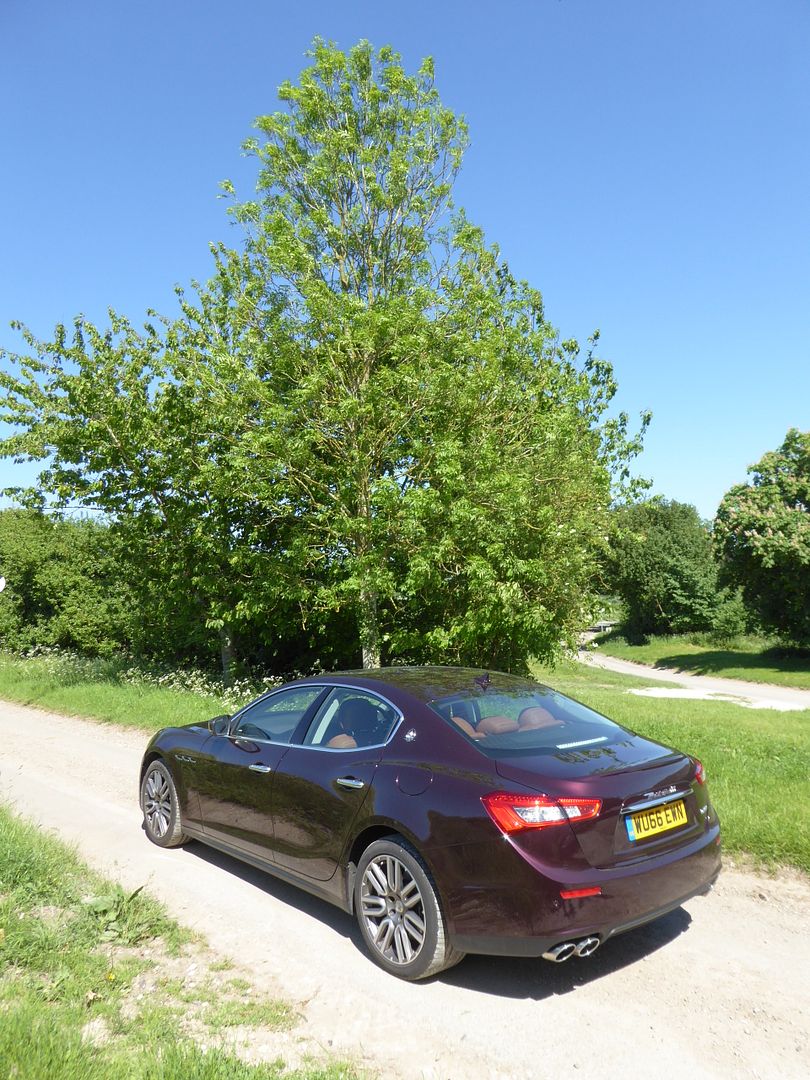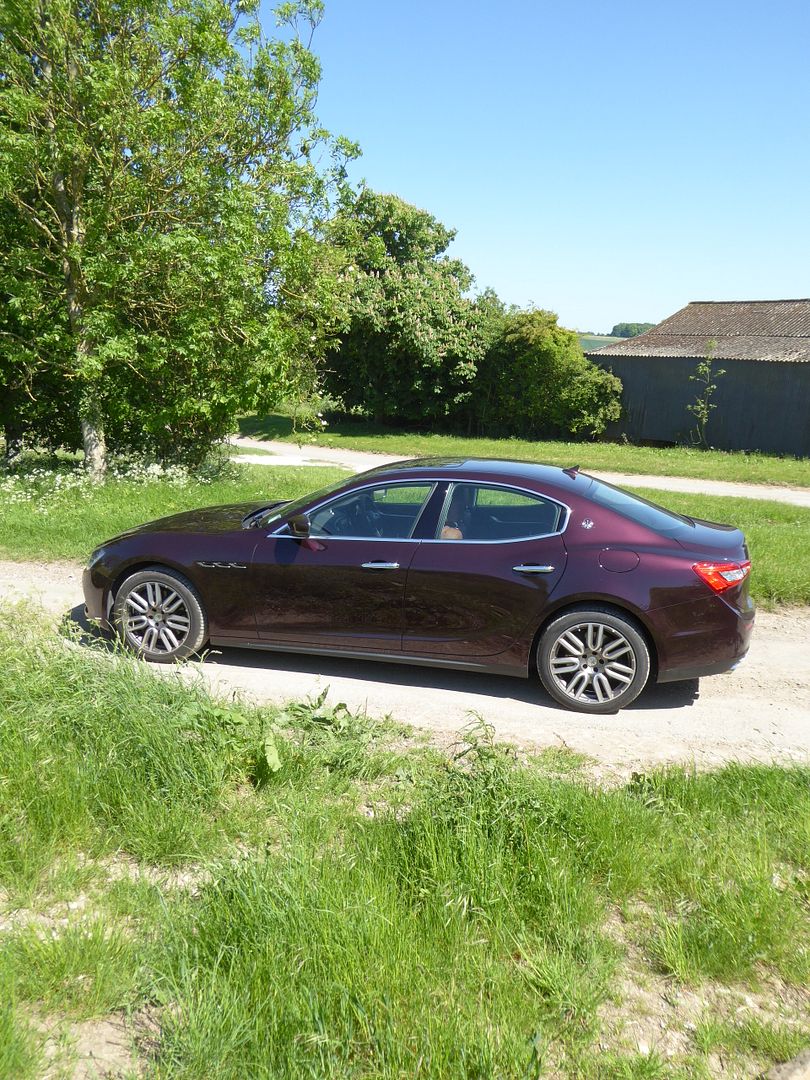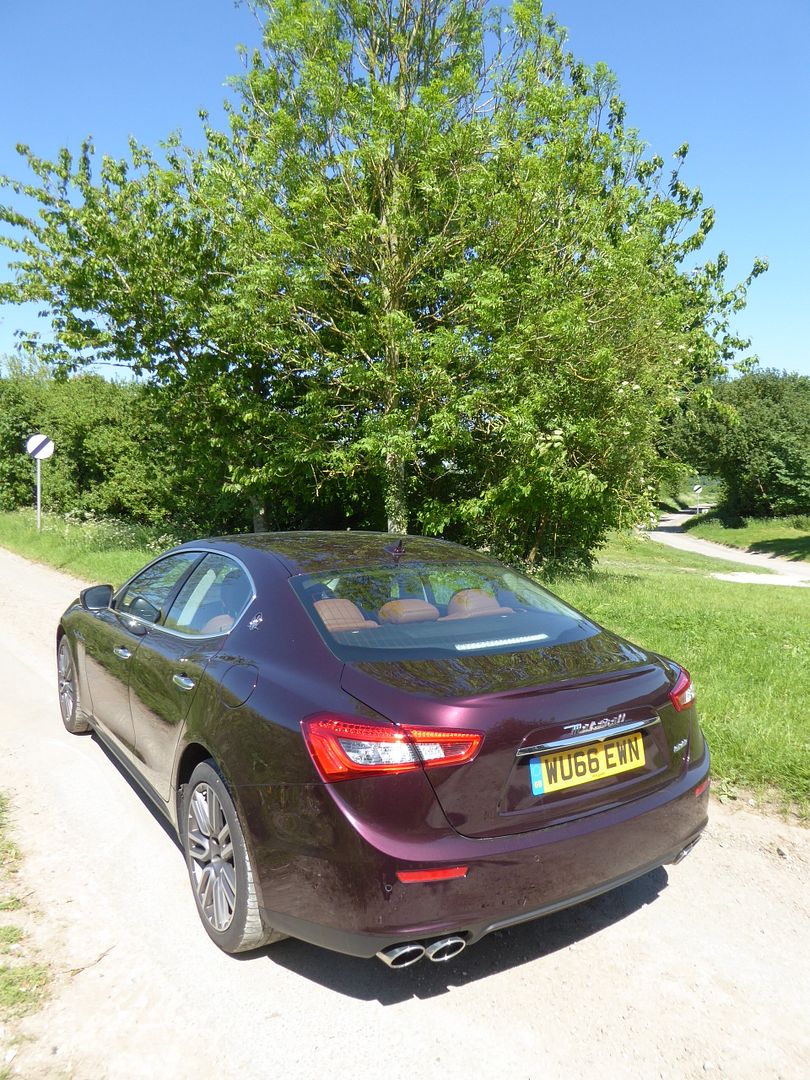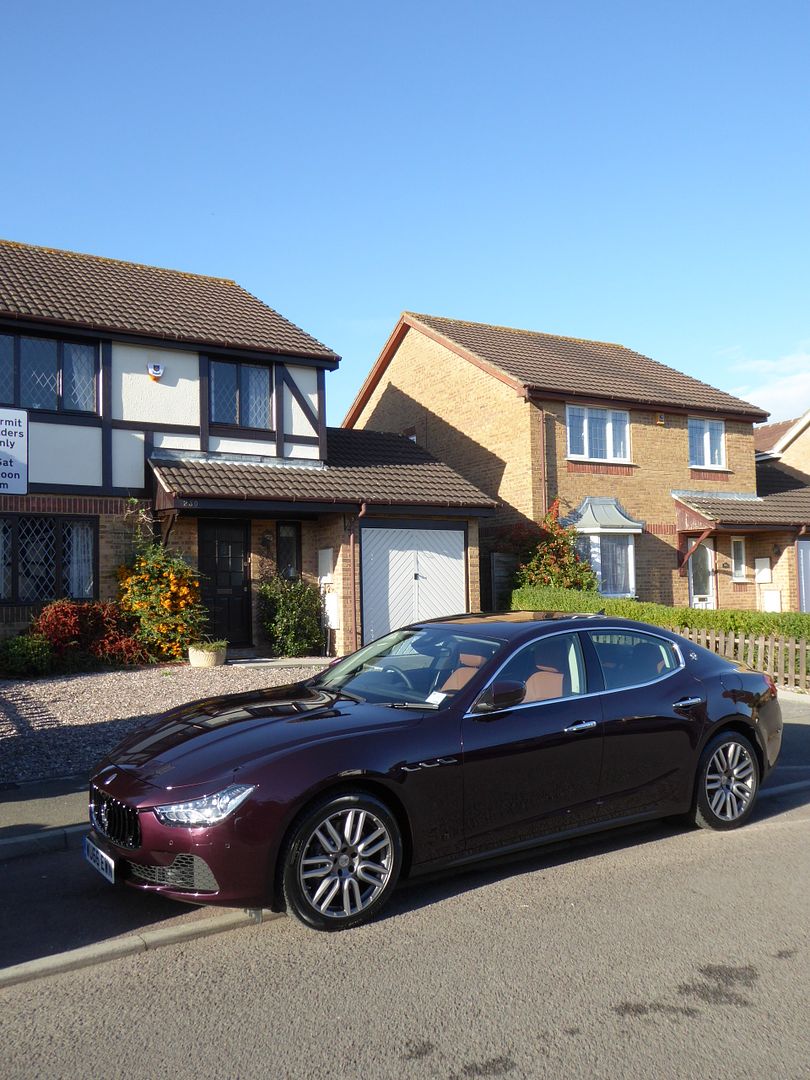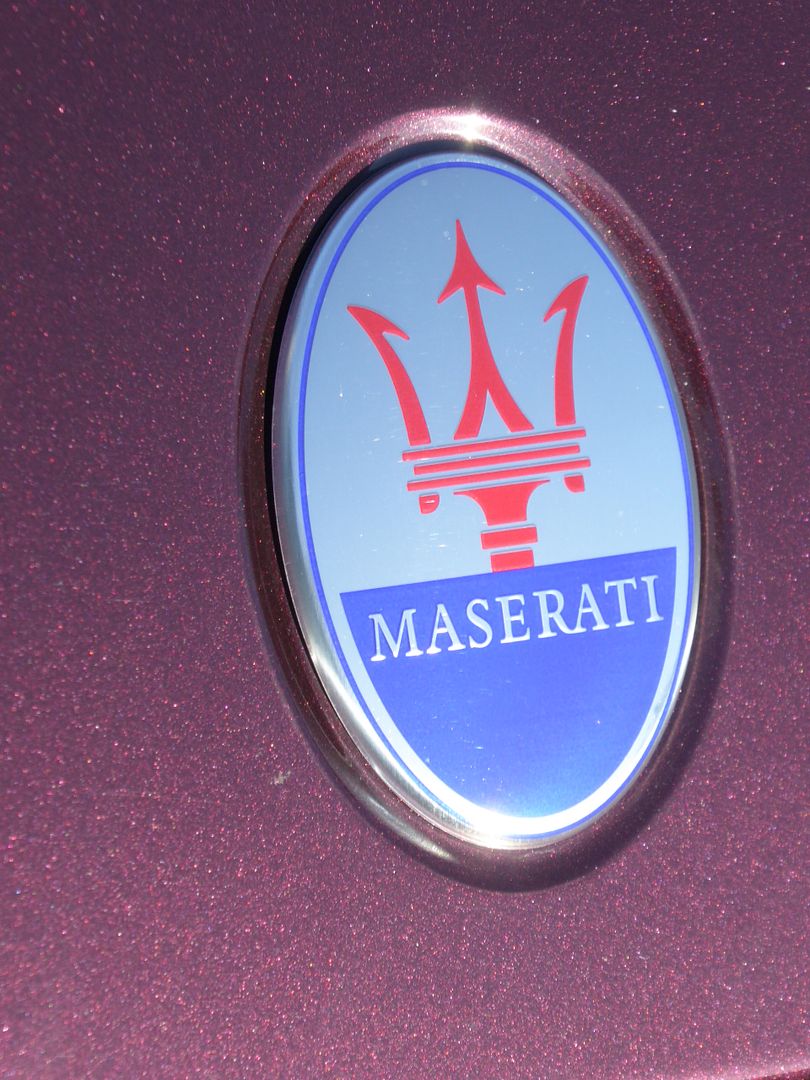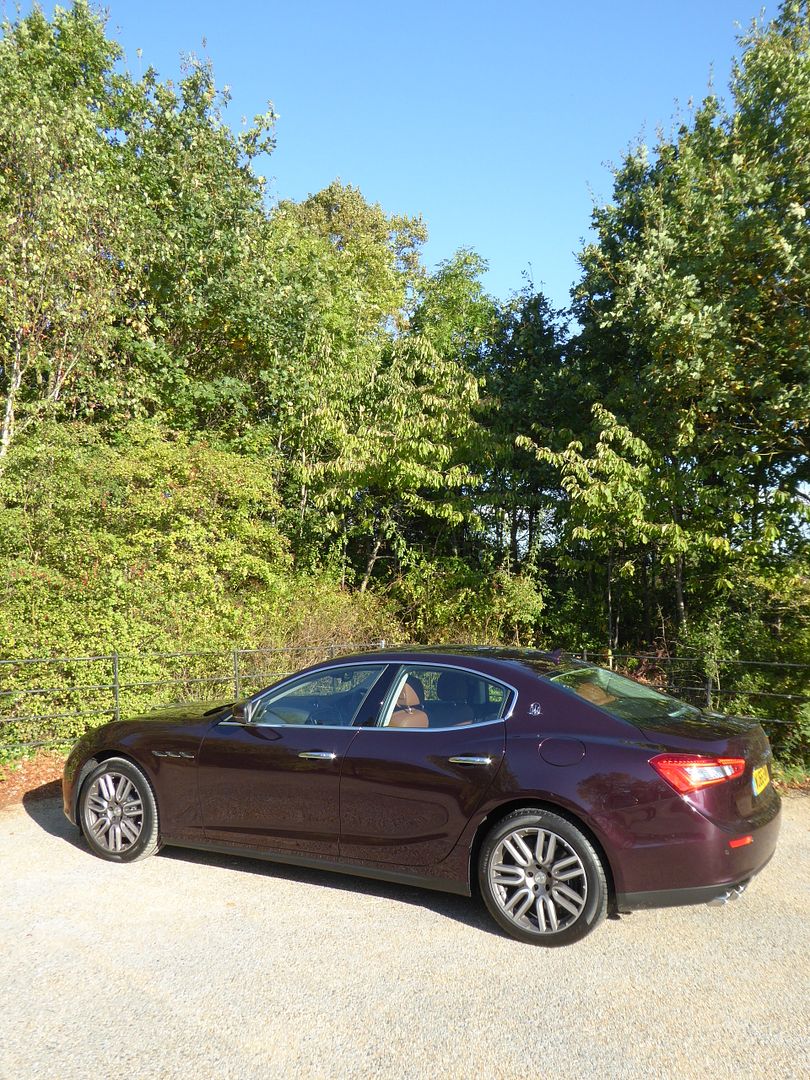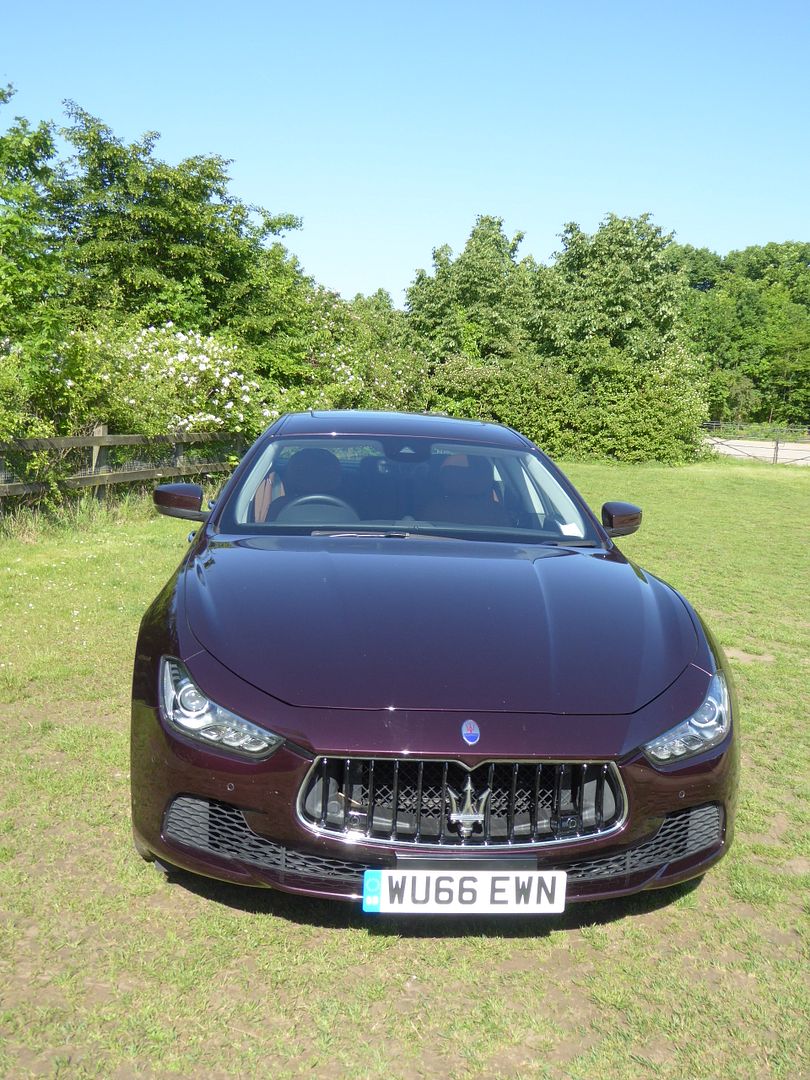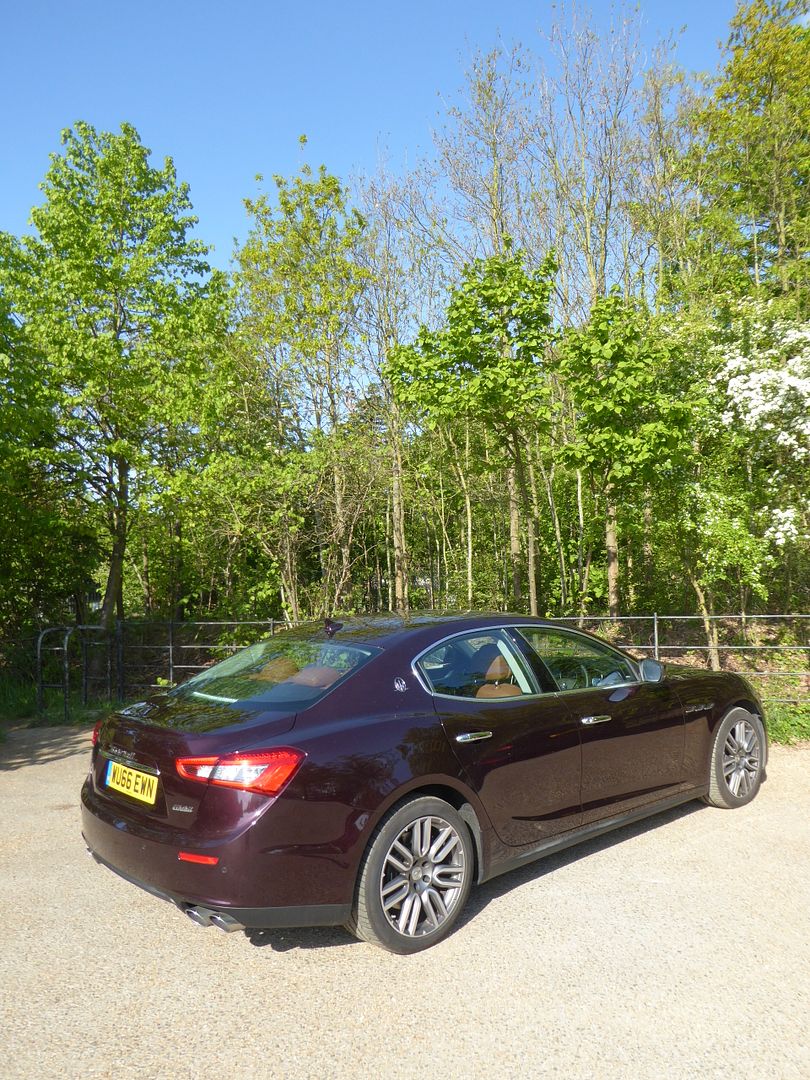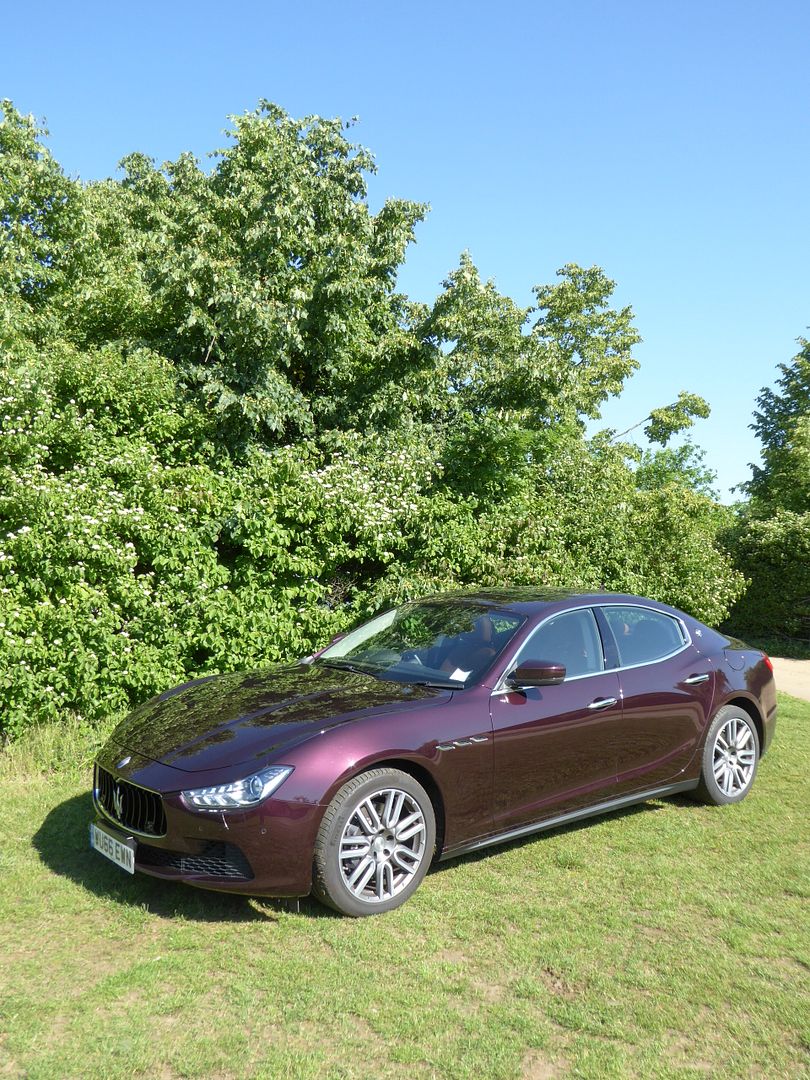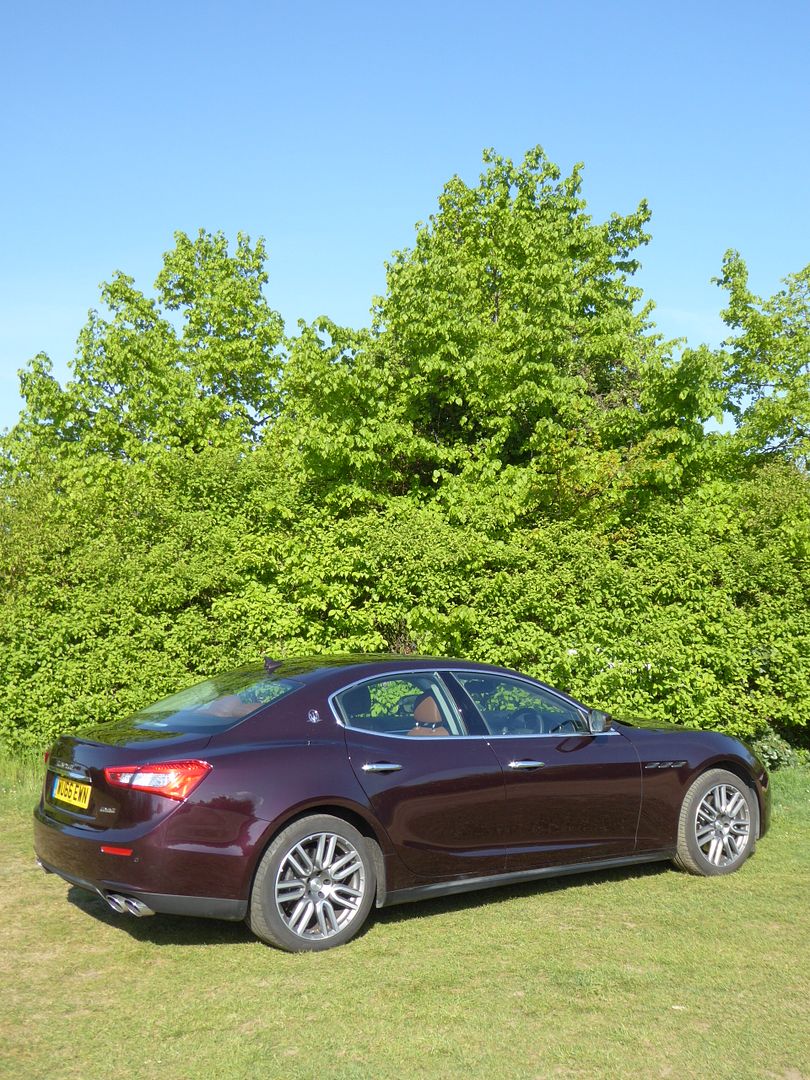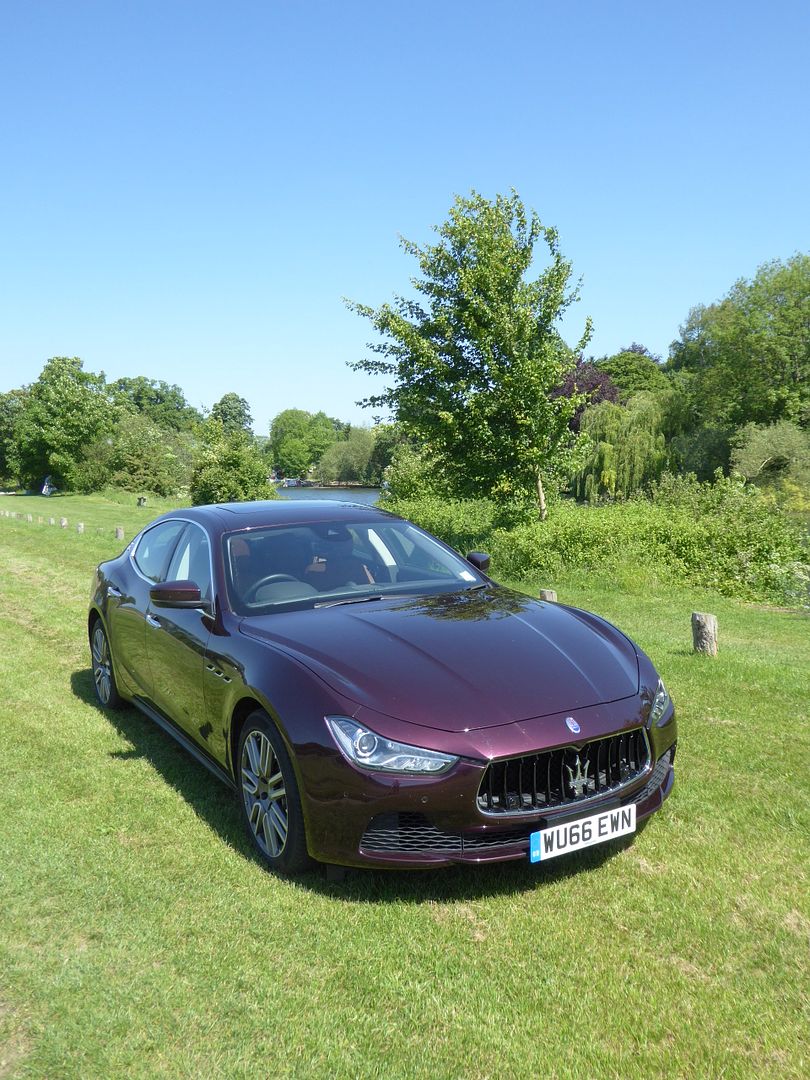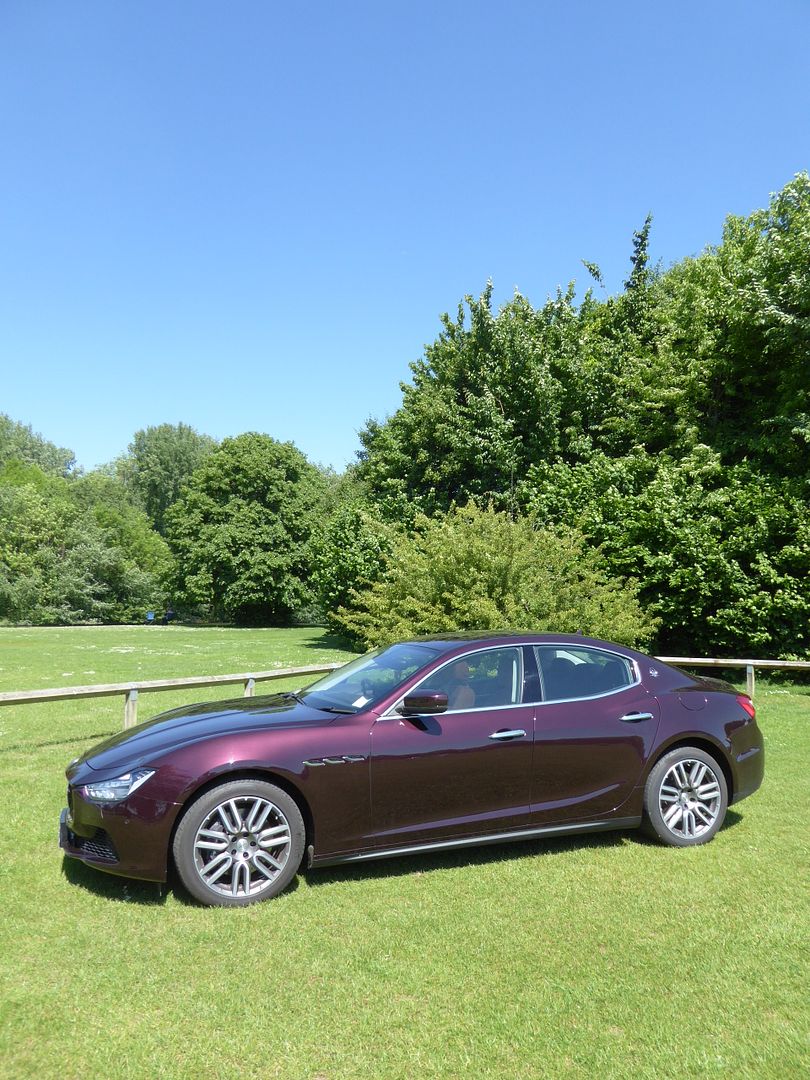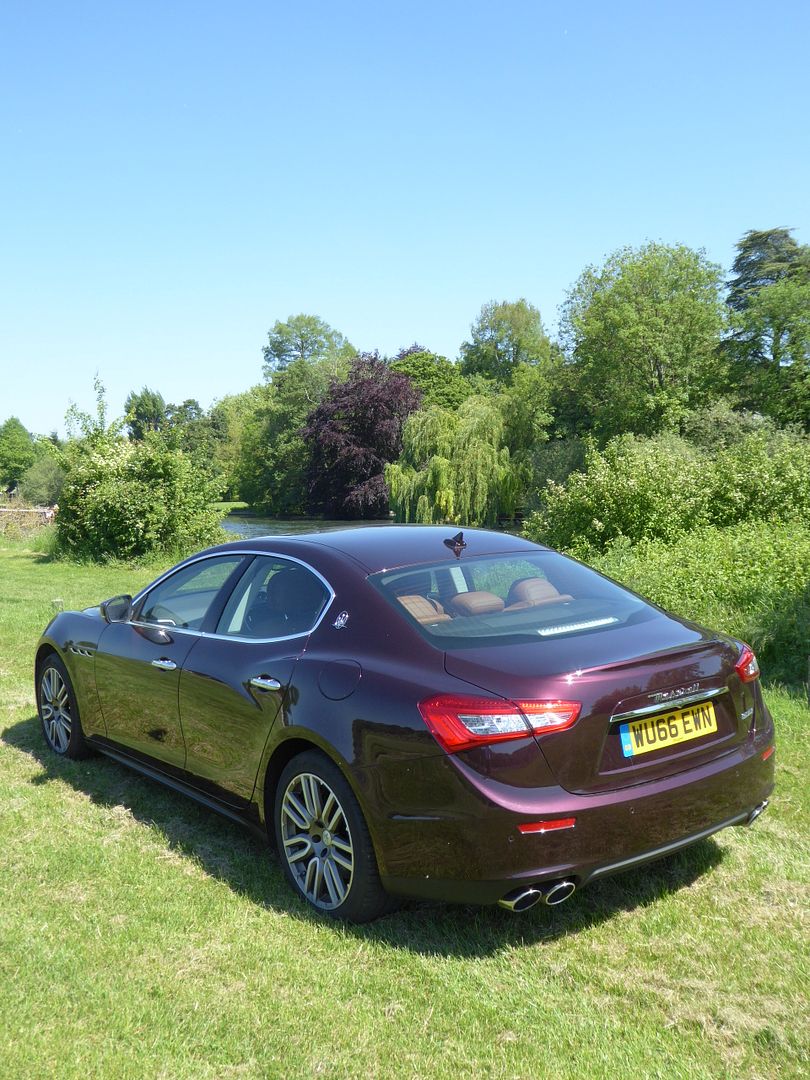 I should probably start this review with an immediate declaration. The car being reviewed is mine. I ordered it back in May 2016, having deliberated long and hard on what should replace my trusty Audi S5 Sportback. Like most cars these days, it was built to order, so there was a long wait, and it finally reached the dealer in September, whilst I was on holiday. Although I did have a test drive prior to signing on the proverbial dotted line, it was not that long, and it was accompanied, so it was not really appropriate to stop and get the usual sort and quantity of pictures that I collect with most test cars. Now I've had the Ghibli a few weeks, I have not only amassed plenty of photos, but I have had the chance to get to know the car rather better and can present my findings, and can explain why I chose a car which even in mildly modified 2017 model year spec (which my car is) has had only luke warm reviews from the UK motoring press.
I could answer the question by saying "It's a Maserati". Growing up, this was the sort of brand that I dreamed of, and on the rare occasion that I saw one, drooled all over. I never imagined that I would own one. The fact that I can, and that this is a car which I can drive every day and expect to cover 20 – 25,000 miles a year in, says something about how the brand has evolved from producing a small number of exclusive supercars a year, of course. In fact, with the exception of the mid to late 70s and most of the 80s, though, there has been a four door saloon in the range, called the Quattroporte. This has always been a large executive car, too large, really for my needs, and indeed those of many others, as congested cities, and tight parking spaces do make big cars something of a challenge these days, but when Maserati replaced the fifth generation – and to my eyes one of the most elegant saloons ever built – Quattroporte with two cars, a new model bearing the same name that was a bit larger and a smaller car that was aimed fair and square at the higher end of the German Trio of A6, 5 Series and E Class, suddenly, an elegant Italian express was something to consider seriously.
Most people's reaction to the news that I have bought a Maserati is along the lines of "gosh, isn't that very expensive". I guess it depends on your criteria for "expensive", as you could easily argue that any car with a list price that starts a few pounds under £50,000 is far from cheap, but then look on our roads and see how many people are driving new or nearly new cars that are priced within a few thousand of this, and it's not as out of reach as you might think. Indeed, when I got personal contract hire rates for a Lexus GS450h, you may be surprised to learn that the Maserati was actually cheaper per month.
A quick reminder as to what this car is. Founded by five brothers, over 100 years ago, Maserati came about because of their passion for motor racing. Indeed, if you ever come across any of the pre-war cars that beat the legendary Trident badge on them, they will be a race car, as that is all that the firm made, and some fabulous machines they all were, too, as the Modenese firm chased glory with everything from small and agile racers with 4 cylinder jewel like engines all the way up to the amazing (but not exactly successful) V16-engined car of 1930, then the fastest race car in the world.  Post war, the first road cars were produced, expensive grand tourers with beautiful bodies, many of them designed by the great coachbuilders of the day: Pininfarina, Zagato, Frua and Allemano. The first car produced in any quantity was the 3500GT of the late 1950s. This was really a 2 seater with room for small children in the back, so it was perhaps not a surprise when a true four seater emerged in 1963, the Quattroporte. And whilst two door coupe and convertible models have been central to the range ever since, there have also been a series of four door cars, many of them bearing the exotic sounding (to English ears, at least even if in translation it means no more than "four door") Quattroporte. The fifth generation to bear the name, launched in 2003, following the renaissance of a company bought and rescued by Ferrari, was a big success for the firm, and over 25,000 of the cars were made in the following years. An impressive total, but with every brand no matter how exotic and rarified needing to chase volume for economies of scale, even that was not enough, so with a corporate ambition of achieving 50,000 sales a year, the decision was taken to replace Quattroporte V with two cars. A new Quattroporte would grow in size and could be sold for more money as a competitor to the Porsche Panamera and even cars like high-end BMW 7 Series, the Audi S8 and the costlier Mercedes S Class models, leaving space beneath it for something a little smaller to take on the Audi A7, Mercedes CLS and higher-end BMW 5 Series and Mercedes E Class. It was called Ghibli, a name which Maserati had used twice before, on a stunning Giugiaro-designed Coupe and Convertible in the late 60s and on the heavily revamped follow-on to the BiTurbo cars in 1994. Purists were aghast at the use of the name on a saloon car, but when they saw it, their ire receded, as there was general acclaim that Maserati had clothed their new executive saloon with a body which combined elegance with plenty of Maserati styling features both outside and in. Both the Ghibli and Quattroporte VI were launched within months of each other, going on sale in the UK at the same time, the start of 2014. Both are based on the same platform, which whilst unique to Maserati does borrow elements from the wider family, which includes the American Chrysler 300 range, which shared much under the skin with the Mercedes E Class. The Ghibli is almost a foot shorter than the Quattroporte, but there is a strong visual similarity between the two. Line up them and look hard and especially from side on, they are easy to tell apart, though from the front and back, perhaps less so. Few would submit that this is an issue when the cars look as good as this, though.
In the UK, three versions of the Ghibli are offered, with the engine being the key difference between them. Some markets get a fourth option, which is an all-wheel drive version of the top spec model, but that is denied to British buyers. All Ghibli models have a 3 litre V6 and an 8 speed ZF automatic gearbox. Two of them are petrol powered and the third a diesel, the first time such a fuel type has been offered in a Maserati, but seen as an absolute essential to compete in this sector of the market. The petrol cars generate a healthy 330 bhp or even a better sounding 410 bhp in the S model, whereas the Diesel, which uses a unit from the Group's VM Motori subsidiary has to content itself with 276 bhp, but it does compensate with a rather encouraging sounding 600 Nm of torque, 100Nm more than you get with the less powerful petrol model. No longer limited to a maximum CO2 emission, as per the policy of my company's car fleet policy, I did look at the mathematics of the petrol car, as the list price of the entry level petrol car is not that much greater than that of the diesel. But when I got the numbers, it became very obvious why the vast majority of Ghibli models sold in the UK are Diesel powered. A much better residual value, along with what was described as "manufacturer" support meant a lease cost difference (at the mileage limit that I needed to include) of around £300 a month, and that's before you factor in the difference in fuel consumption. So, Diesel it was to be for this car.
Even before my search, I remembered that I'd heard a Ghibli Diesel before, the first time at the now extinct Stanford Hall Italian Car event not long after the car was launched, and was impressed by how good it sounded and how un-diesel-y it seemed to be. That is certainly true from the outside, especially if the car is in Sport mode, where an extra flap in the exhaust system opens up to generate an almost angry sound to the car. From inside, though, I have to concede that it is pretty obvious that this car will need to visit the black pump. Start the engine from cold, and it sounds like diesel engines of a few years all did, with that characteristic slightly rattly sound that has been almost eradicated from the very latest large capacity diesel engines from the German brands. It is most obvious at idle, but you will also hear it when on a trailing throttle. If you don't like it, the solution is to select Sport mode from the button in the centre console. As well as sharpening up throttle response and the steering, it changes the engine note, and you will enjoy the difference, as the rattle becomes more of an angry growl. You do have to select this mode every time you start the car up, the setting not being "remembered", and I will admit that sometimes I select it, and sometimes, such as when cruising at a steady speed on the motorway, I don't bother. Noise apart, this is an impressive engine. You might think that 276 bhp on a car of this size and weight would not be enough to make it feel brisk, but in fact it proves more than adequate, and the quoted 0 – 60 acceleration time of 6.3 seconds, which seems eminently achievable, confirms this. Credit for that must largely go down to the torque, of course. There is an 8 speed ZF automatic gearbox, and once underway it does an excellent and very smooth job at ensuring that the Ghibli is in the right gear for the occasion. The system "learns" how you drive and uses auto-adoptive software to recognise driving style and road conditions. There is a manual over-ride if you pull the lever back from the D position, or. if you ordered the optional wheel mounted paddles, you can use these for your own gearchanges. One thing I have noted is that when shifting back and forth between reverse and forward, such as if manoeuvering, you need to be sure you really have selected Drive and not just Neutral, the electronics seeming sometimes to get confused if you are shuttling back and forth, and yet on other occasions you just flick the lever back (it does not really move at the base) with no issues at all. Maybe this is something that I will get more used to. Gearing of the Ghibli is such that it will move up through all 8 of the forward gears at the earliest opportunity, using all those torques to ensure there is the requisite acceleration, to the benefit of economy and smoothness. The upper ratios are fairly close together, and the gearing of the 8th gear means that at motorway speeds, the engine is spinning at just under 1600 rpm. This means that the Ghibli's engine becomes very quiet indeed, and with low levels of wind and road noise as well, makes this the perfect long distance cruiser that is the car's design point. It also helps with fuel economy, as does the standard Stop/Start system, which cuts in and out pretty much as you would expect. Early indications are that an average of around 40 mpg is to be expected, and I was told by the dealer that is about typical of what other owners have reported as well. Combined with a decent sized fuel tank, this means that you can expect a range of at least 500 miles between refills, something which I know I will appreciate during a busy week. One less positive change associated with the move from petrol to diesel and specifically a Euro VI diesel car is the need for AdBlue. There is a 20 litre tank, but the latest emission standards mean that this will not last for the full distance between the 12,500 mile service intervals. Actual rate of consumption does depend on the type of driving you do, but typically, it would seem that you could expect to get between 5 and 6,000 miles from the tank, and there is a gauge in the instrument cluster to tell you how much further you can go before a refill. Be aware that when the tank is empty, the car simply will not restart, so it is not something you can ignore. And despite my best efforts, I have yet to manage to fill it myself. The tank is under the spare wheel, and has a narrow filler, with a flap in it, so if you could get a funnel with a thin but long spout, it might be possible. You don't want to spill the stuff, as it is highly corrosive, so I have had to give in and visit the dealer for a refill. You can select from five different driving modes. Sport will give you faster gearshifts at higher revs, whilst ICE (Increased Control & Efficiency), developed primarily for use in icy conditions is intended for a quieter smoother ride with gearshifts at lower revs. There is a manual version of both Normal and Sport modes which allows you to change the gears yourself, using either the gearlever or the optional paddles. I have not noticed much difference to fuel economy from using Sport mode, though I would imagine that if you were to push the car really hard, you perhaps would do so.
Although Maserati would like you to think of the Ghibli as a sports saloon, it was shrewd enough to realise that owners would also want something that was more of a comfortable long distance tourer, so the car should not be endowed with characteristics suggesting that Nurburgring priorities should preclude those of the M4. And I would say that they have largely succeeded. Driving the car in Normal mode, the suspension is pliant, giving the car a comfortable ride, with the lumps, bumps, ridges and potholes of our roads only proving a problem where any car would struggle to maintain composure. The steering is nicely weighted, with only modest effort required even when parking, and yet there is ample feel so you have a good idea where the steered wheels are headed. Rear wheel drive and perfect 50/50 weight distribution as well as mechanical limited slip differential  ensure that the Ghibli handles well, with plenty of grip, and negligible body roll evident, so the car can be hustled down twisty roads in a way that belies the overall size of the car. There are a number of advanced electronic control systems fitted, as you might expect, to ensure that even the exuberant do not get into trouble. Maserati Stability Control reduces torque from the engine if the vehicle begins to deviate from its normal trajectory or if a skid is detected. Devices such as an Anti-Slip Regulation, which reduces wheel spin and improves traction, and Motor Spin Regulation which prevents wheel spin when changing down suddenly are standard on all models. After having a Quattro-technology car as my daily driver for 13 years, and being bemused at all the traction issues with rear wheel drive cars such as BMW and Mercedes, I did wonder if the last laugh would be on me, with a rear wheel drive car and lots of torque. The answer so far has been "not yet", but I can certainly envisage that no amount of electronics will solve the problem here any better than they do for the German brands.
Large all-round dual-cast ventilated cross-drilled disc brakes, with six pistons at the front and four at the rear, combined with ABS and Electronic Brake Force Distribution mean that it will stop very promptly and in a controlled fashion when you need it to do so, with a quoted stopping distance of just 35 metres from 100 km/h. The pedal feel is excellent, with a nice progression as you press harder. There is an electronic parking brake, operated by a small button in the centre console alongside the gearlever. As this is an automatic, I don't set it, but you can hear it set itself as you switch the ignition off. It disengages as you put the car into gear and touch the accelerator, in a smoother way than happens with many of these devices.  Be in no doubt, this is a big car, and you will be reminded of this when you come to park it. Whilst it is easy enough to manoeuvre, and there are standard parking sensors which beep with increasing amounts of noise and the warning goes from green to amber and then red in the display in the dashboard, you will find that the car is wide, noticeably wider than the Audi which this car replaced. Whilst the tail is quite stubby, there is a very long front overhang, and I am sure that the sensors have saved me on a few occasions. A rear view camera is available as an option, though this is not something I specified. When out on the road visibility is good, with the door mirrors doing a good job at showing what is behind you, and only a small blind spot to remember. The mirrors fold in automatically when you lock the car, which does reduce the width of occupied space a small amount.
Open the door and look in the cabin, and your eyes will be delighted. Poltrona Frau Leather trim is standard, of course. and you can upgrade this to a perforated style, for extra money. I chose the Cuoio (a rich tan colour) – one of 5 choices which include black and red – for the upholstery, and to my eyes, this further enhances the very elegant appearance that you will see as you take in the interior. There are a number of choices for the trim inlays, of which the centre console is the largest item, and my choice here was for a matt wood finish called Radica. Other options include carbon-fibre and three other wood types. You get the choice of colour for the steering wheel, lower dash and headlining, the latter including an alcantara finish if you want. Facing the dashboard, you see something which is neatly styled, and by modern standards remarkably unfussy both to behold and to use and your eyes will almost certainly towards the ovoid shaped analogue-faced clock which is perched on the top of the centre of the dash – a true Maserati styling feature. A single curved binnacle shrowds the dials. There are conventional round dials for the rev counter and speedometer, with vertically stacked gauges between them for water temperature and fuel level. In the middle of the pack is the digital display area with a series of different menus and sub-menus which you cycle through my pressing buttons on the right hand steering wheel spoke. These will show you everything from a digital speed repeater to the level of AdBlue in the tank, trip computer functions, when the service is required, tyre pressures and any other warning messages. A clue to some of the design origins, perhaps, comes from the fact that there is only one column stalk, just as you find in Chrysler Group products and indeed the Mercedes that provided elements for them. Wipers are operated by twisting the end of the stalk. It has taken a bit to get used to this, and I have to say I would prefer a separate stalk, really. Lights, with an auto function, are operated from a rotary dial on the dash to the right of the wheel. My car features automatic dipping lights. The xenon lights are good in dipped mode, and give a particularly good level of illumination on those rare occasions when you can use main beam. There is keyless starting, with a button to press to the right of the wheel where you would expect to find a key slot. The centre of the dash is dominated by the display screen for the Maserati Touch Control. This is a new system for the 2017 cars, with an enlarged screen and with new functions and software to control it. It is touch sensitive and is used to control the audio unit (which includes DAB radio, but no longer gives you a CD slot), the navigation system, traffic information, phone integration and various settings for the car. The graphics are crisp and clear and the system is easy to use. Audio repeaters do feature on the left hand spoke of the steering wheel, where you will also find the cruise control. Below the display unit are the switches for the dual zone climate control. You can sync the two together. That means that all that is needed in the centre console are the controls to select the driving mode, the electronic handbrake, and the volume control for the radio. You cannot actually turn the radio off, you simply set the volume to zero which mutes it. This I can live with quite happily. What is less ideal is the fact that – and this seems to have become a characteristic of a lot of recent models – you have to "accept" the terms and conditions on the screen before you can select what you want it to say, every time you start the engine. And if you don't, then although your smartphone connection is activated, you can't answer an incoming call from the screen.
I chose the standard seats, and you may be surprised to learn that these are not all electric in their adjustment. Backrest rake is still done by a turn wheel on the side of the seat, but as this is something I rarely change, this really is not an issue. Seat height and fore/aft adjustment is done with switches on the side of the seat. There is a good range of adjustment, as is there on the telescoping in/out and up/down steering wheel so getting the perfect driving position proved easy. I often drive quite long distances, uninterrupted, so seat comfort does matter, and here the Ghibli scores well. Those leather chairs, as well as looking good, are also great to sit in for hours at a time. I did specify the optional electric sunroof, which means that there is extra light in the cabin, and there appears not be any discernible reduction in headroom.
The rear seats of my car rarely get used. Indeed, it was well in to the tenure of my last Audi before I discovered that there were only seat belts for 2 in the back. That's not the case here, where there are three belts, though the middle seat occupant may not want to sit there for long distances, as there is a sizeable transmission tunnel which means an occupant here would have to sit with their legs to either side. those in the outer seats should have no complaints there. There is a long wheelbase – the longest in the class – which means that occupant space here is good even with the front seats set well back. And with the seat set well forward, as it is to suit my driving position, there is masses of leg room. The Ghibli is a wide car, so shoulder room is plentiful, and there is sufficient headroom. There is a drop down central armrest, with cup holders in the upper surface, and there are a pair of air vents on the rear face of the central console. Space for odds and ends is available in the door bins and pockets in the back of the front seats.
The boot is a good size, if not quite as commodious as that of my old Audi S6. It is a nice regular shape, long from front to back, wide and with decent depth to it, and with a couple of tie-down points set in the floor. Under the solid floor is the collapsible spare wheel, which sits over the AdBlue filler (you do have to take the wheel out, and even then, the AdBlue is awkward!). There is a bit of space around it for odds and ends, though I have found I could put things like the de-icer and scraper in the pocket at the side of the boot, secured by a net. I've not yet been defeated by needing to put more luggage in than there is capacity, even when I have 4 people on board and plenty of luggage. The rear seat backrests are asymmetrically split and can be folded forward to provide a longer load area if needed. I have to say, I've not yet had the need to do so. Inside the cabin, there is a good sized glovebox, bins on the doors and a very deep cubby under the central armrest, as well as couple of small lidded cubbies in the central console and a small lidded area over the driver's right knee, as well as small area at the base of the centre console, which also hides the USB and AUX connection ports.
Maserati do not offer different trim versions as such, but there are plenty of options allowing you to personalise your Ghibli. Indeed, around 50% of the large brochure that I got when thinking about the car provided details for what is available. Everyone will need to choose a colour – with a couple of solid finishes as standard, and various metallic and pearlescent ones as cost options – as well as the trim inlays and the colour of the headlining and steering wheel and lower dash. After that, you need to remember that every box you tick will cost money. As well as the Rosso Folgore metallic paint, I confined my ticked boxes to the electric sunroof, 19″ alloys (from a choice of 7 different designs ranging from 18 to 20″), a collapsible spare wheel and the automatic dipping lights, and that was it. I understand that such a spec is about what most customers go for. You probably won't feel short changed, as there are plenty of standard features. These include bi-xenon auto-operating front headlights, front fog lights, LED taillights, cruise control, twin-chromium plated exhaust tips, Poltrona Frau leather upholstery, leather wrapped steering wheel and gearlever, the MTC control unit with 8 speaker DAB radio, navigation and Bluetooth and phone integration, 8-way adjustable front seats, and keyless starting. Delve into the options, and you can either order by line item, or in a series of pre-defined option packs. There are lots of these including: Convenience (rear-view camera and HomeLink); Cold Weather (heated front and rear seats, heated washer nozzles and power rear sunblind); Premium (auto dimming exterior mirrors, full electrical seat adjustment and easy-entry for front seats, power-adjustable steering wheel and pedals and adaptive front lights); Executive (Poltrona Frau extended leather upholstery, front seat ventilation, rear armrest with illuminated storage compartment; Executive Plus (as per Executive, with front seat ventilation and Alcantara headlining); Sport pack (sport suspension 19″ Proteo design alloys, painted brake calipers, sport pedals, Poltrona Frau extended leather and active shifting gear paddles).
Before I ordered the Ghibli, I did of course get a test drive. However, it was only for around 1 hour, some of if with the salesman behind the wheel, and some of it with me driving. There was no chance to take even a few photos of the sort that would usually accompany a test report, which is the reason why none featured prior to this. However, when the Ghibli went in for its first service, I was given a loan car, and despite what I had expected having seen a row of BMW and MINI models parked up outside (Dick Lovett also sell these, at a different site), I received a Ghibli Diesel, Indeed, it was the same car as the one I had driven on that short test drive. This was a 2016 spec car, and it also rode on the standard 18″ wheels. I had it for a whole day, so it was interesting to get the chance to see whether these differences were material to my assessment of the car.
The most obvious difference was inside, with the previous generation of the Maserati Touch Control infotainment system. This has a smaller display screen, with control knobs on either side, as opposed to the layout on the 2017 cars. Although it proved perfectly usable, and with graphics and a menu structure which is very similar to that on the new unit, there was no question that the new unit is preferable. Not a big difference, but a worthwhile one. Underneath this unit, the climate control buttons were completely different too. And again, whilst what I found here was easy enough to use, I preferred the 2017 set up.
Of more interest was the fact that this car came on the standard 18″ alloy wheels. Received wisdom is that whilst the larger wheels almost always look better on a car, there is often a ride penalty which may be too high a price to pay. That really did not seem to be the case here. By the time of this test, I'd driven my own car for long enough to be able to tell even quite a subtle difference, and I simply could not detect one and this was on roads with which I am pretty familiar. Ride, handling, grip and steering all seemed to be the same. But there is no doubt that the car does appear a little under-wheeled in the 18″ alloys, something that was pointed out by everyone who saw the photos I posted on the day I had the car. So that would suggest that apart from the initial cost and the fact that replacement tyres will doubtless cost a little less, there really is no penalty for choosing the 19″ wheels.
In purely objective terms, there may well be "better" cars out there in the Ghibli's class, certainly with diesel engines which sound less obviously derv-fuelled at start up. But selecting one of those, and becoming "just another" 5 Series of E Class driver largely misses the point. Those who select this car are doing so knowing that they are going against the tide and are choosing something which is special, which is different, and that will feel that way day-in, day-out, and yet also knowing that this is a car that you can live with on a daily basis and in which you can cover a big mileage without issue. And that's before you factor in the delight of every visit to the dealer, which really is like going to the Toy Shop, with a showroom full of fabulous cars awaiting you on every visit. As someone who has never been one who blindly follows the crowd, or even popular opinion in my choice of cars, the Ghibli ticks every proverbial box. It looks great, it feels special, and every drive feels like an occasion. I love it.