Regrettably, many car museums have closed in the last few years, unable to attract enough visitors to pay the mounting costs of opening to the public. Of those museums that have survived, we have seen a real bifurcation in approach. There are some very large, glossy, well lit establishments, in many cases funded by a single manufacturer as part of their heritage, where the cars are carefully displayed with lots of space around them, and where lighting is optimised to make the point that the museum staff want to get across. And then there are the other types of museum: small, intimate, slightly musty smelling, where all manner of artefacts are crammed into every available square inch of space. The Cotswold Motor Museum definitely comes in this second category. Founded in 1978, this museum, located in the centre of Bourton on the Water, in the Cotswolds, started out as the practical means for one man to display his ever expanding private collection of cars and motoring memorabilia. More and more items have been added, with large collections of signage, tools, vintage toys and other automobilia adding a great period feel to the various rooms of the display areas. Here is a pictorial summary of the main display items:
Austin Seven Swallow – a sort of precursor to what became the Swallow Sidecar Company, that became Jaguar.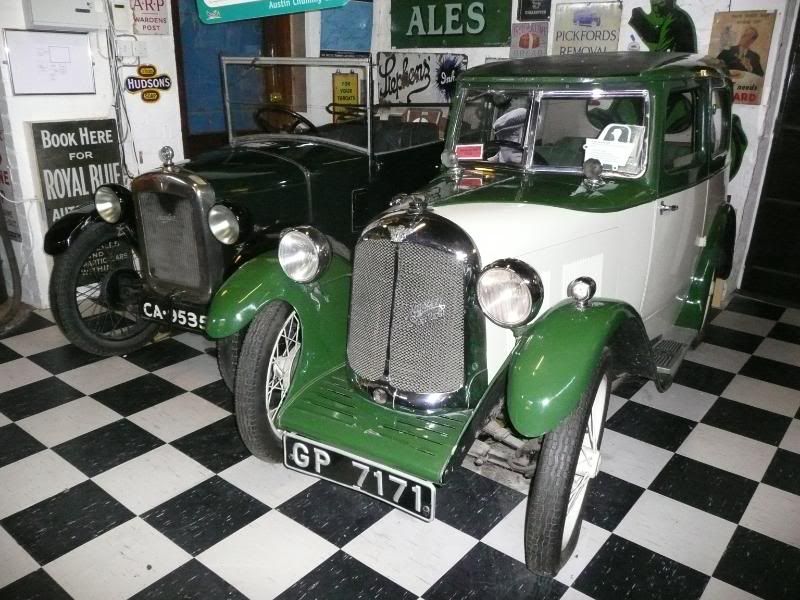 A regular Austin Seven "Chummy":
An Austin Seven "Nippy":
This is the American version, an Austin Seven Bantam, built under licence in the US.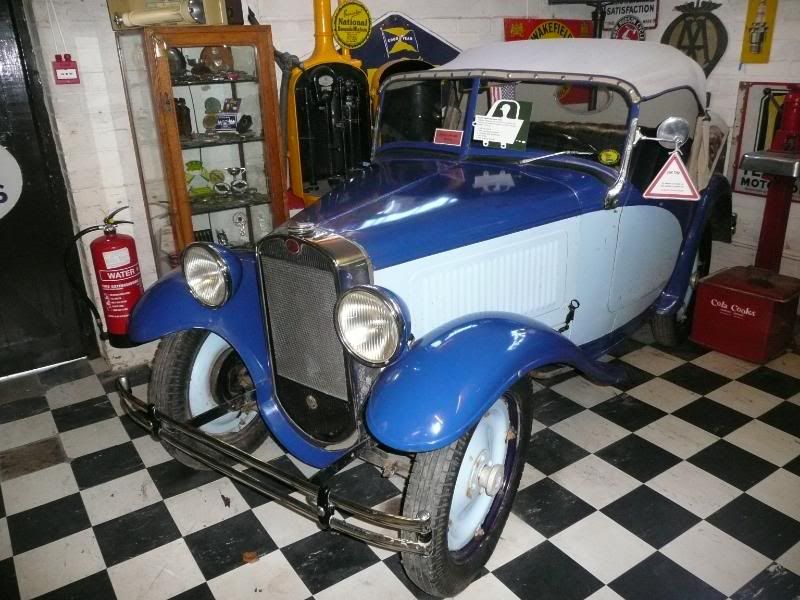 Big brother to the Austin 7 cars was this, the Austin Ten. The epitome of family car motoring in the mid 1930s. This is a 1937 Ten "Clifton", complete with the dickey seat that was still popular in those days:
A very rare 1922 Rover Van. Powered by an 8hp air-cooled, horizontally opposed engine, it is said that this vehicle was recongisable in the dark not from its lights, but from the glow emanating from the hot cylinder heads!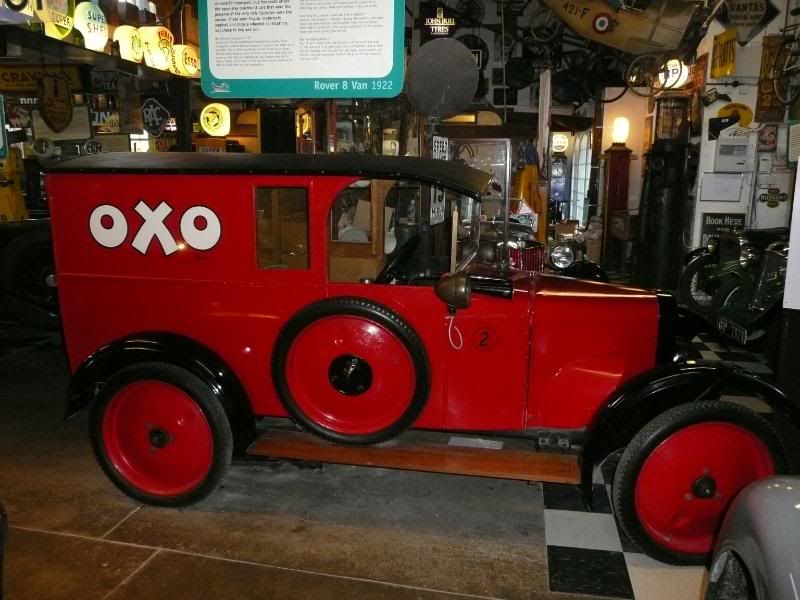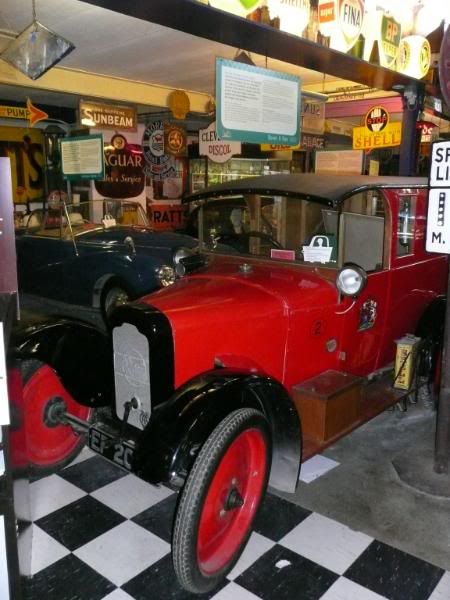 Sticking with Austin, this taxi from 1935 saw service until 1951 in London., and then was transferred to Birmingham. It is estimated that it has covered more than 700,000 miles. There were many regulations governing the design of Taxis, one of which was that a gentleman had to be able to sit in the rear compartment, wearing a hat, without the hat touching the roof! It was also noted that there was no rear view mirror for the driver, as this was seen as an invasion of the privacy of the passengers!
This is a 1933 Morris Minor. Marketed as a direct competitor to the Austin Seven, that was a little larger, a little bit more powerful, but offered for the same price. For some reason, though, it never sold in anything like the same volume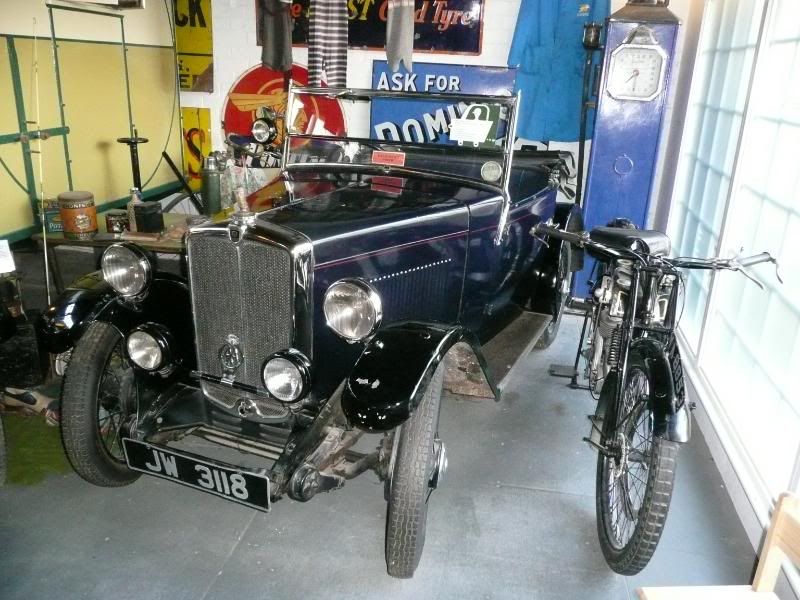 MG TD – very popular with the Americans. The GIs fell for the TC model, and wanted the latest model to replace it, and this was that car,
MG were also well known for their sporting saloons, and this YA Model – produced post-war, but based on a pre-war design – was just the sort of car that a Forummer would have aspired to in the late 1940s!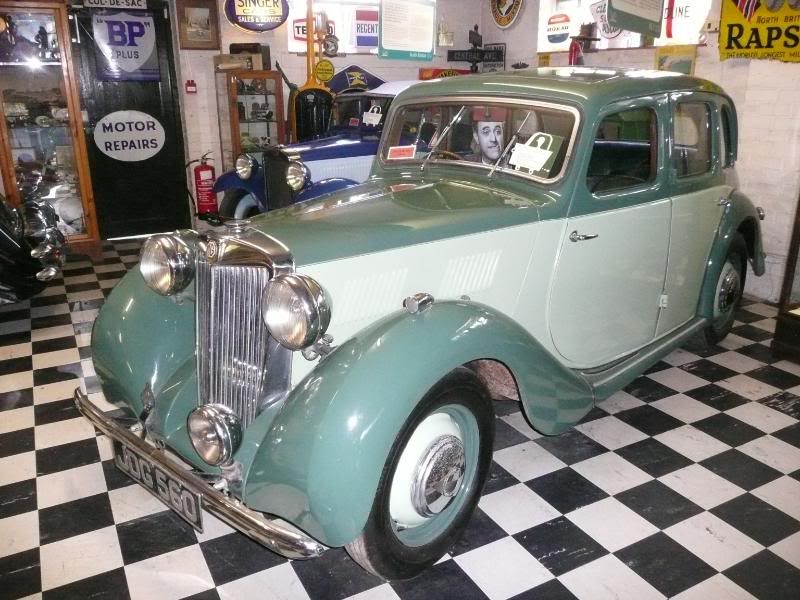 Riley was another marque that offered a touch of sportiness to its models, and this 1934 Kestrel is a good example of that:
The RM series of cars was launched in 1948, with 1.5 and 2.5 litre variants. A small number of dropheads were made, too, like this one:
A name that finally died out in the 1960s was Standard. In their heyday, these cars were seen as a cut above average, where "Standard" was used in the context of "setting a standard", not "ordinary, nothing special" as was later construed.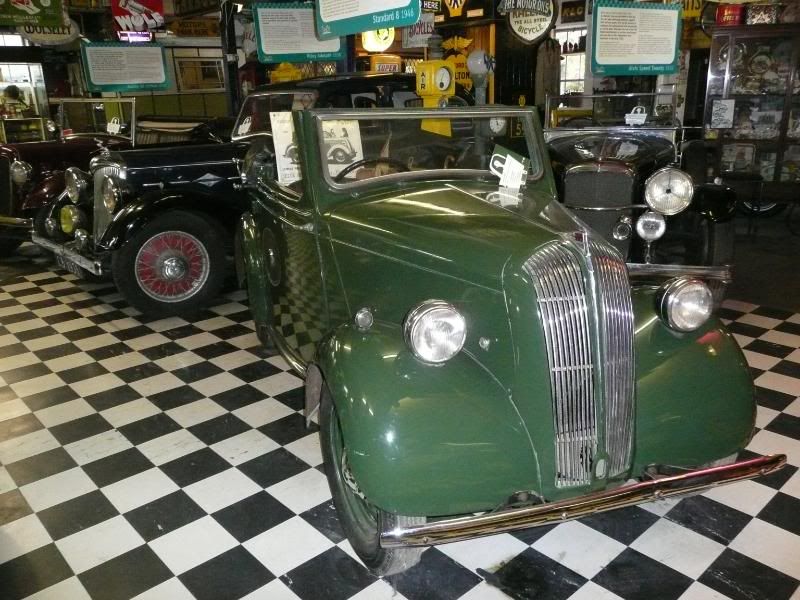 Another well known name, that stopped producing cars in the 1960s, was Alvis. This Speed Twenty model dates from 1932:
By the mid 1930s, Jaguar had built an impressive reputation for "grace, pace and space". This continued after the war, and this Mark V Drophead from 1950 would have been considered the height of elegance in its day.
If that was elegant, what followed was simply sensational. The XK120, launched in 1948 far exceeded Jaguar's dreams. They saw this as an image car, and one in which to test out their new XK engine before putting it into their new saloon car. Customer demand for this stunningly pretty, and very fast (in its day) car far exceeded their ability to build them! By 1954, the XK120 had been upgraded to this model, the XK140, which came with a larger and more powerful engine, and various other modifications: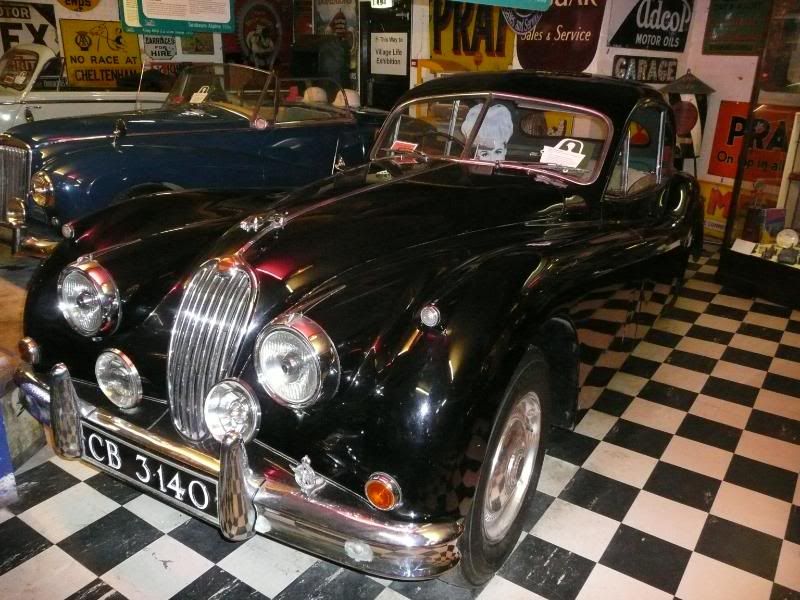 Meanwhile in Germany, the little known Bayerische Motoren Werke was starting to create a name for its sports cars, and sports luxury cars. This is the 327 model from the late 1930s: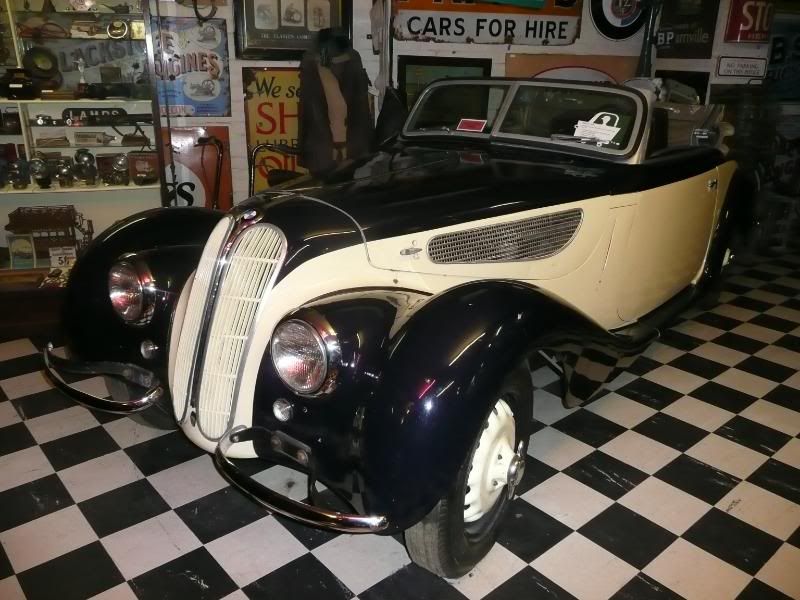 This Sunbeam Alpine, from the mid 1950s, was based on the popular Sunbeam-Talbot 90 sports saloon. The problem with this car was the cost. At £1100, when an MGA cost less than £800 and even an Austin Healey 3000 was £50 cheaper, it was simply too expensive to sell in the kind of volume that the Rootes Group were hoping for.
This museum is also famous for one small car: "Brum". And here he is: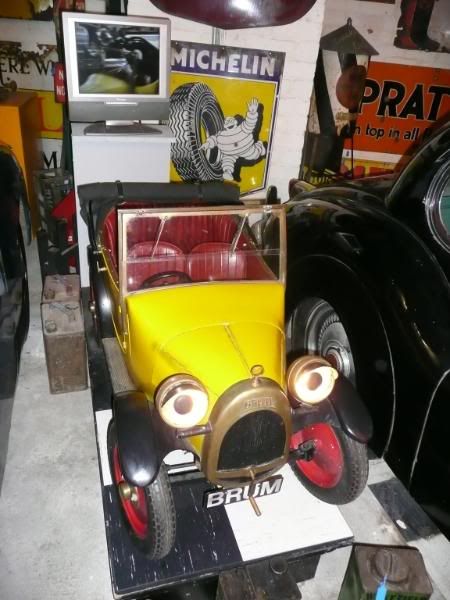 At this point, we left the main museum hall, thinking that was the conclusion of the visit, but were delighted to find another series of interconnected buildings with some additional displays in them. Apparently this "barn find" is a rare Triumph from the 1920s. Restorable, I am sure, but not quickly, cheaply or easily:
An example of the first Fiat 500, the Topolino: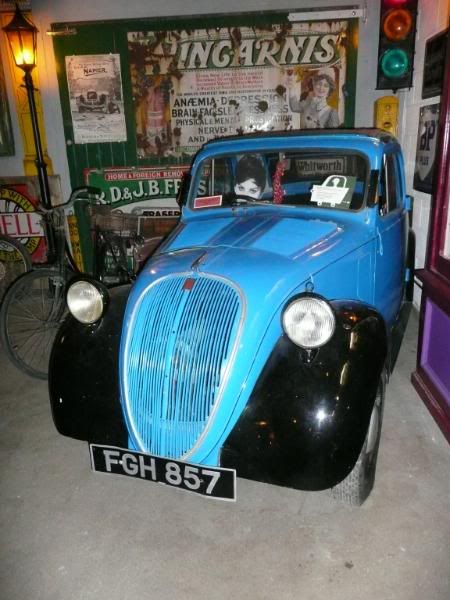 An MG 1100:
This Morgan three wheeler was interesting……. fast, too, with its 1100cc JAP engine. The idea of a single brake on the single rear wheel made me wonder if the folk who got it to its top speed in excess of 75 mph were brave or simply foolish!
Another Austin 7. This one was the Ulster model, and is by some amount, the fastest of the various Austin 7s on display.
Known as the "small Invicta". Dating from 1932, this 1498cc six cylinder ohc car was deemed to have "disappointing" performance for the brand: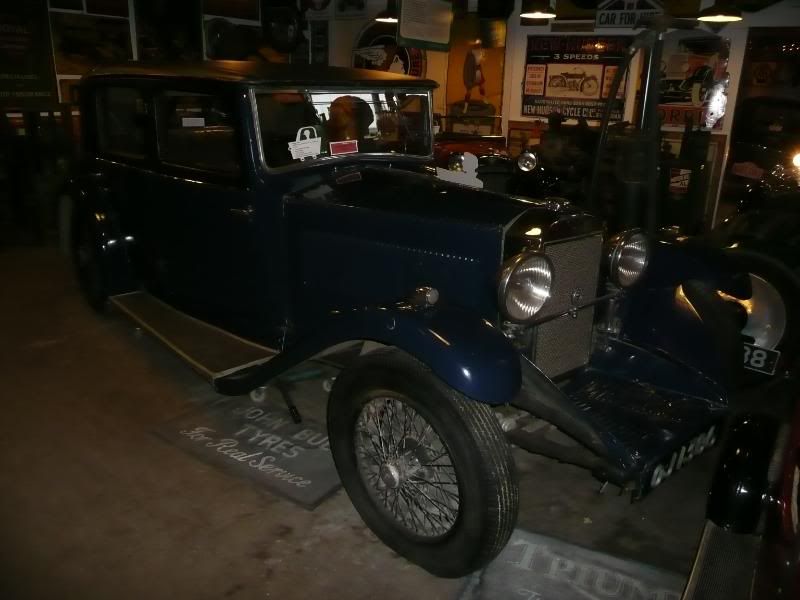 A few more modern vehicles concluded the main displays: A Mini Clubman Automatic, painted in the same Harvest Gold colour as my mother's Mini, which was the car in which I learned to drive:
The great domestic rival to the Mini was the Hillman Imp, such as this one: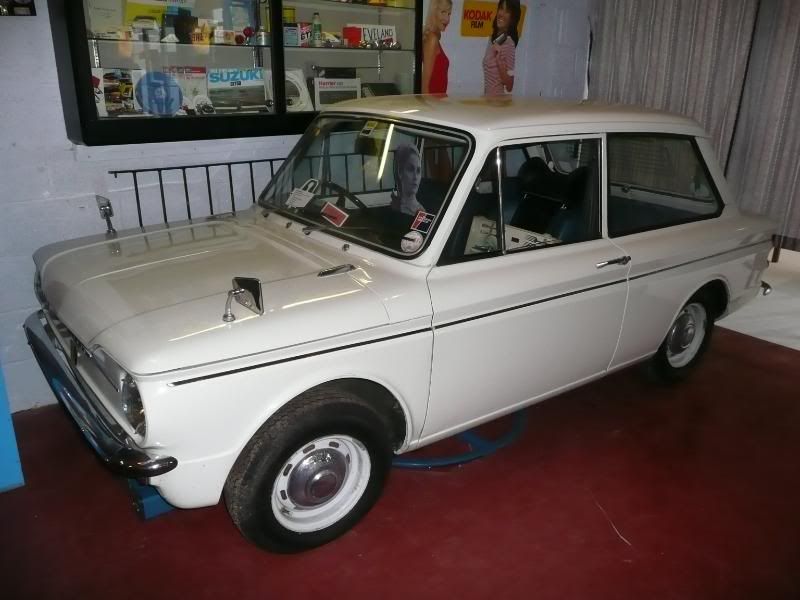 Slightly larger, and popular for town driving because of its incredible turning circle, was the Triumph Herald:
And one final car was this rather rare Volvo P1800ES. A hatchback coupe before the term had been invented.
The room after this was stuffed full of models and toys. Just one photo of that:
So, a fascinating collection, and a very absorbing hour or so, to review, before the serious business of testing out that V10 engine again! Oh, and one final thing………… on the seats of one of the Austin Sevens, we spotted a small, round shaped, stringed instrument……. sadly, it was in so much shade and darkness that the pictures did not come out. It looks like the Cotswolds have had a visit from the Cornish at some time, though…………… it was indeed a Banjo!!! (Mike?!)
2009-12-19 21:12:01