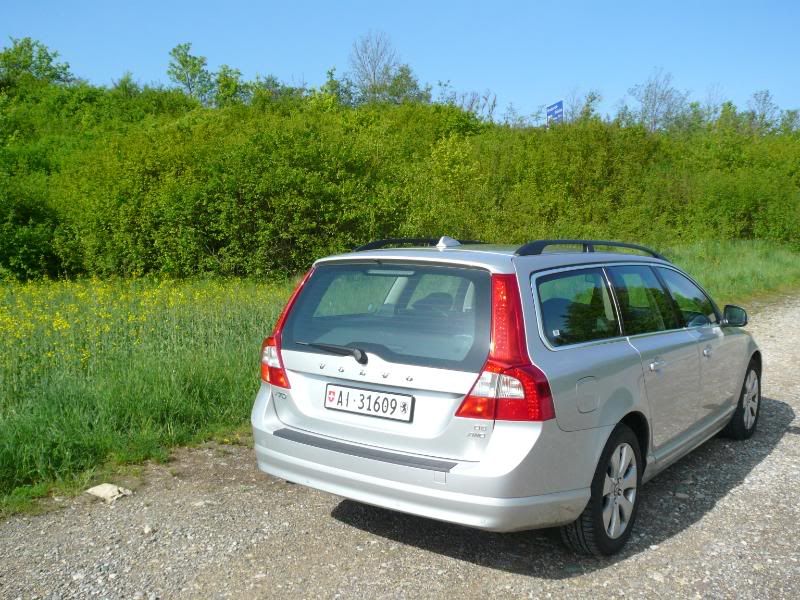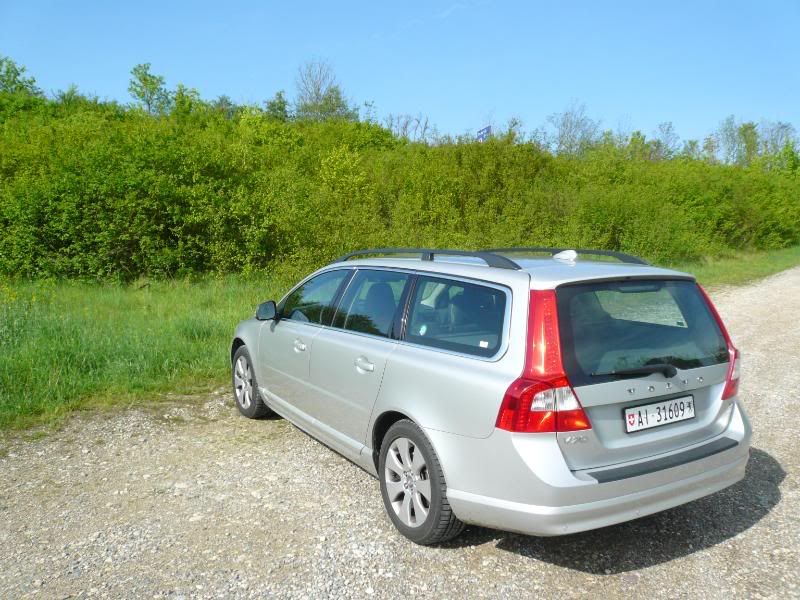 Thirty years ago there were no people carriers and the only SUV really, was the Range-Rover. Mercedes had just introduced the rather expensive W123-based "T" Class estates, so that meant that Volvo pretty much had the market in premium large estates at its command. People aspired to own one. Even my father, not exactly known for his interest in things automotive, did say on more than one occasion that he would rather like one. The Volvo was seen as a cut above the equivalently sized Ford Consul/Granada and the Victor or later Carlton. The cars were known to be tough and commodious. They were also known to be built like a tank, which meant solid and safe, but also stodgy and heavy to drive. Increasing affluence in society, and the desire to own premium brands brought more and more competition, and Volvo struggled to move with the times, until the master stroke of the early 1990s, when someone had the idea of sticking a potent 5 cylinder turbo-charged engine in the 850, and as if that was not enough, entering it for the Touring Car Championship. For a few years, a Volvo estate – especially in pale yellow – was a surprisingly cool car even in the face of the BMW 5 Series Touring, the Mercedes E Class and a myriad of other competitors. But life became harder and harder for Volvo, as everyone else had caught up with their traditional brand values at just the time that the market started to shift from large saloons and estate cars to SUVs and People Carriers. Although Volvo did eventually launch their own model in this sector, the much lauded XC90, they have never abandoned their core product concept, and the V70 estate remains a key model in their range. As Volvo faces an uncertain future, free from the Ford empire, it can only hope to succeed if it has strong and attractive products on offer. I secured an example of the latest V70 model, a D5 AWD with automatic transmission to see how good the latest version of this car really is.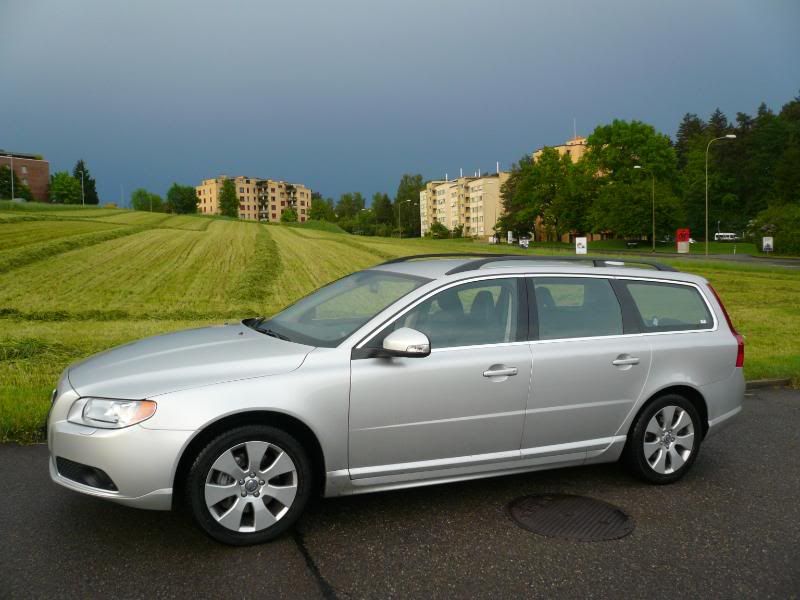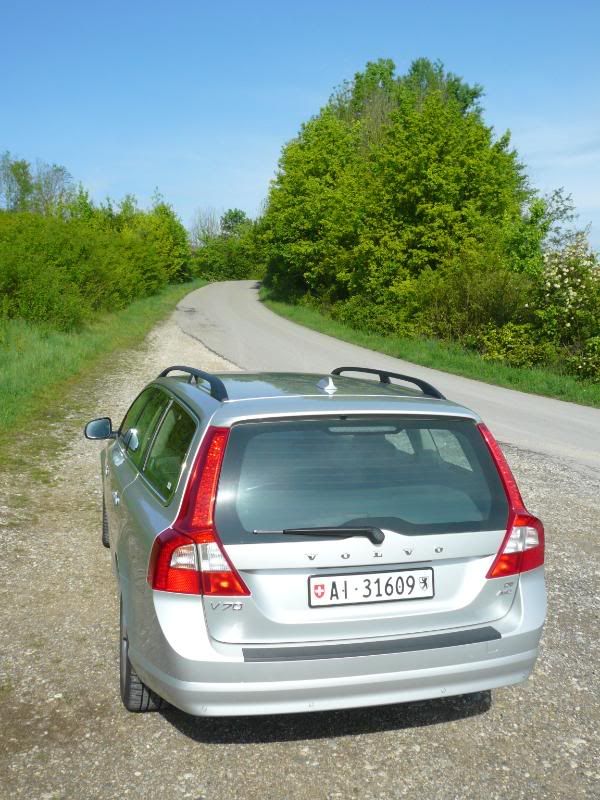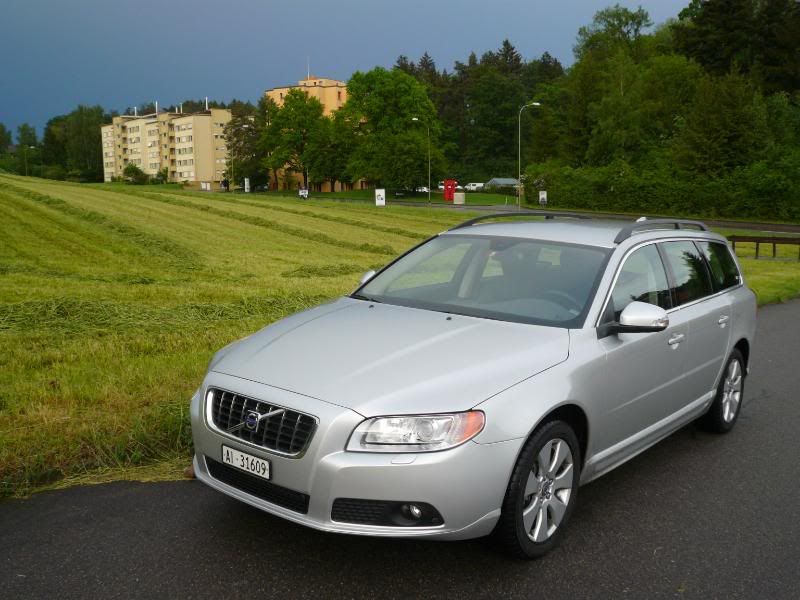 The D5 is the most powerful of the diesel engined V70 models, and delivers 185 bhp from its 2.4 litre 5 cylinder diesel engine. On the basis of the engine alone, this car is worthy of more than a second glance. Although you would probably not persuade yourself that this is other than a diesel when you start it up, it is far from clattery. It is not all that quiet when you press on more than gently, either, but the noise is far from typical diesel, and is surprisingly endearing. The 5 cylinder "thrum" is actually more evident in this car than in the old C70 T5 which I ran for a few months about 5 years ago (where it was both muted and surprisingly lethargic). 185 bhp is not that much for a large and heavy estate car these days, so you would not expect this car to be stunningly fast, and indeed it is not. However, the willing nature of the engine and the copious amount of torque, coupled with the 6 speed "Geartronic" gearbox that is so smooth that you are almost completely oblivious of gearchanges, means that in the real world, of main roads, and autobahns and minor roads, it was amply quick enough and was well able to gather speed to quirt past a slower car on the minor German roads where I tested it. The gearbox does have a manual setting, where you can flick the lever forwards for up and backwards for down, but after playing with this for a few minutes, I just let the automatic do the job for me, as it was so good at doing it. Average fuel economy – with the usual caveat about rental car fuel tanks not always being full – worked out at about 37mpg, which is OK, but nothing startling, for a large and heavy car.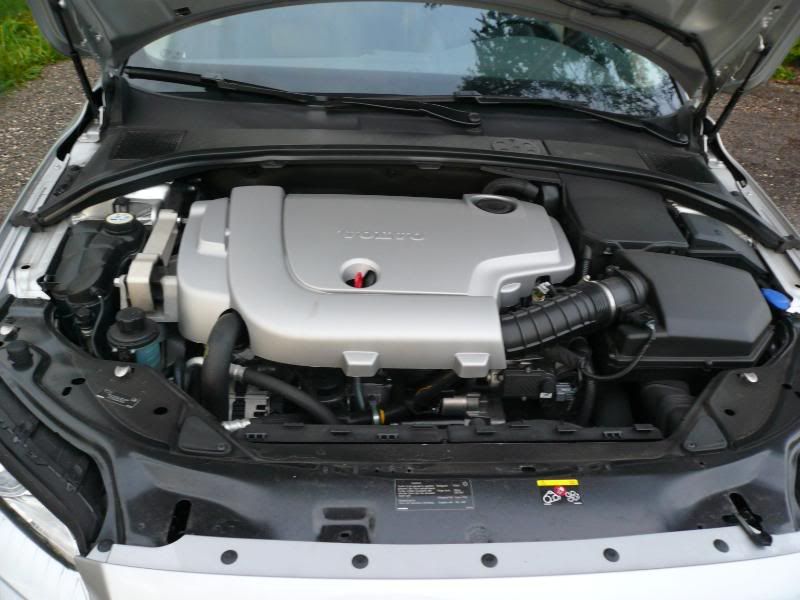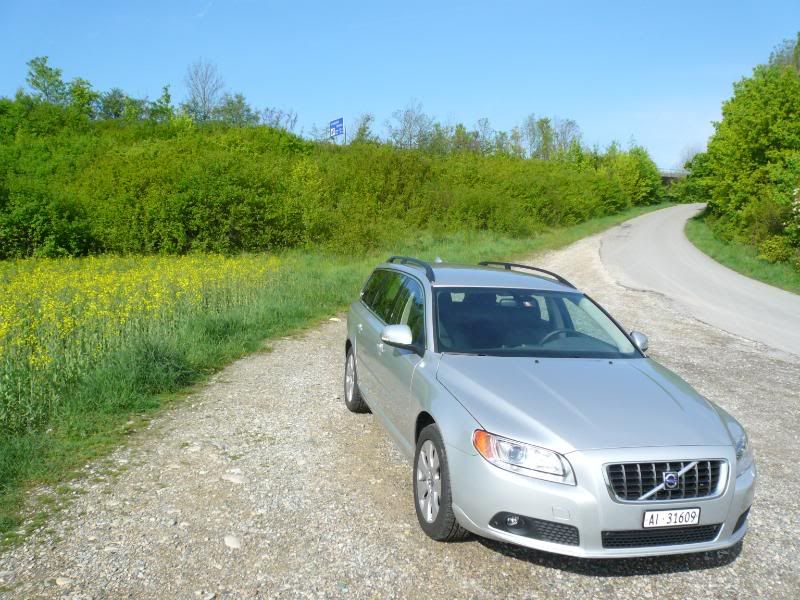 Although BMW, Audi and Mercedes would beg to differ, large diesel estate cars are not really bought as the ultimate in "fun to drive" machines, though the German brands have all discovered that actually the person who does need to carry plenty of people and luggage does also want something which he/she enjoys driving as well. Whilst this is not perhaps Volvo's priority, it is important, and here the Volvo does not score so well. There is nothing particularly wrong with the driving dynamics, but it is not really "fun". It's certainly not heavy from behind the wheel, and it proved surprisingly manoeuvrable, even without the extra "eyes" of the optional all-round parking sensors, which seemed to beep even when a kerb was rather close (it had a field day when trying to get the V70 back into the rental car return garage at Zurich Airport!).  Handling is OK, one up. I did not have the opportunity to test it more fully laden, and I was never really aware that I had an all-wheel drive car rather than the cheaper front wheel drive models. The steering is light, but not overly so, and I felt I had a reasonable idea of what the front wheels were trying to do. The V70 rides well, proving comfortable on all the surfaces of the Swiss and German test roads and the brakes gave no cause for concern. However, I quickly found that I was driving this car in the mode of a long distance relaxing cruiser, and in this it excelled. The days when the driver wants something more involving may prove a bit disappointing.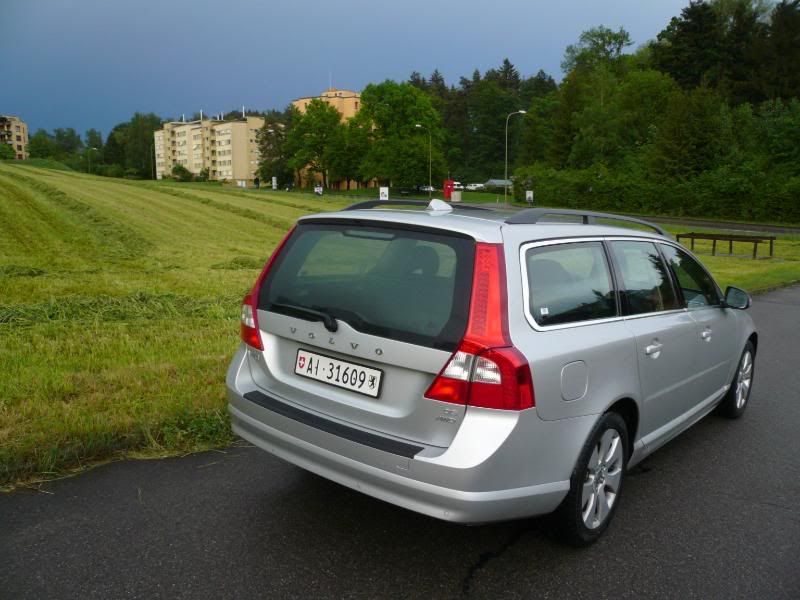 The test car was fairly new, having been registered in February and showing just under 6000 km on the odometer. When I opened the door, there was that unmistakable smell of new car mixed with that of leather. I have to say that the interior ambience of the test V70 was excellent. Beautifully finished leather seats, with a silky soft finish really did look and feel quite special (and they were also very comfortable), high quality plastics that constitute the dash moulding were set off by thin wood trim strips in the dash and on the doors. But this is wood of a completely different finish and texture to that which you would find in just about any other car. Whereas most manufacturers lacquer their plastic fake-wood so it is so shiny it looks dreadful, this mid-brown coloured wood is almost matt in finish, and looks just, well, elegant. Volvo call it "modern wood", and it would appear to be one of a number of optional finishes that are available. The dash itself is, as you might hope for from a Swedish design, functional, and elegantly simple. When you look closely, there is a lot there, but it does not look over complicated. There are just two main dials – speedometer and rev counter, with a horizontal bar graph for the fuel gauge set in the bottom of the speedometer, and arrays of warning lights on either side of and between the instruments. The stereo and climate control/air con controls dominate the centre console, which is actually of that floating design with a small cubby area hidden behind it, but which is in reality pretty useless. Besides, there are plenty of other cubby holes, with a generous glove box, door bins and a large centre cubby between the seats which as a separate cup holder area hidden by a roller blind in front of it. One thing I did notice is that with the driver's seat set low, which is where I needed it, the lumbar support adjuster was impossible to reach, as it was trapped between the seat and this central cubby. Whilst complaining of ergonomics, although the steering wheel adjusts for rake and reach, I could not get it in close enough to the dash for my liking, thus meaning my arms were more bent than I would want, with the seat adjusted to suit my bodily proportions. The stereo system, and speakers were very good, just like my old C70, and the climate control was easy to use, and effective at coping with the change from a cold start to a warm and slightly humid May day. Chunky column stalks do the usual things and there is a small – and this was a disappointment – light switch on the dash to the left of the column that was a bit fiddly and with no warning light to indicate that the lights were on or not. There is no longer a conventional key, but a "key equivalent" is inserted in a slot high up to the right of the main binnacle, and then, with foot on the footbrake, you press the "start engine" button. The electronic handbrake is a rather flimsy push/pull flap on the dash below the light switch. Its operation is indicated by a dash warning light, and I noted that there was usually a short delay of a second or two after you pulled the release before it disengaged.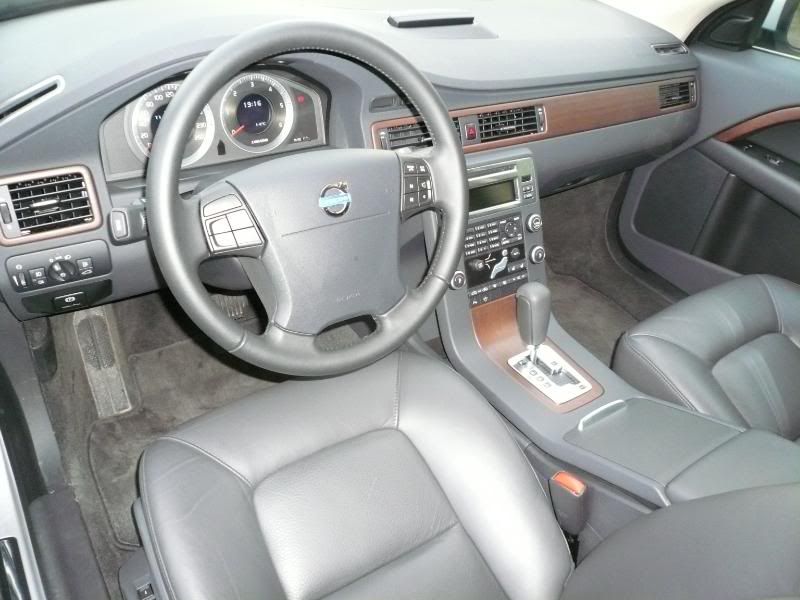 The raison d'etre of the V70 is, largely, as a practical family/load carrier. It's a big car, so there is plenty of space for three adults in the rear. The rear seats appeared comfortable from my brief trial of them, and each has a proper headrest which can be dropped down flush with the seat backrest when not in use, or for when you fold the rear seats. The back of this car is quite square and boxy, so you would expect a regular shaped luggage area and that is what you get. It is not all that deep from the rear window line, though, so if the retractable cover is over the boot, depth may be a problem. There are a couple of underfloor areas, which were being used to hold warning triangles and first aid kits, but these are only for small items. Either side of the boot, there is a metal channel with a couple of hooks in it, so it would be easy to anchor loose items. I was surprised that, unlike the last generation V70 model, the rear space extends simply by dropping the rear seat backrest – split asymmetrically – onto the cushion. This gives a long and flat load area, but it does mean there is no protection from items crashing into the back of the front seats – a surprising design feature given Volvo's interest in matters of safety.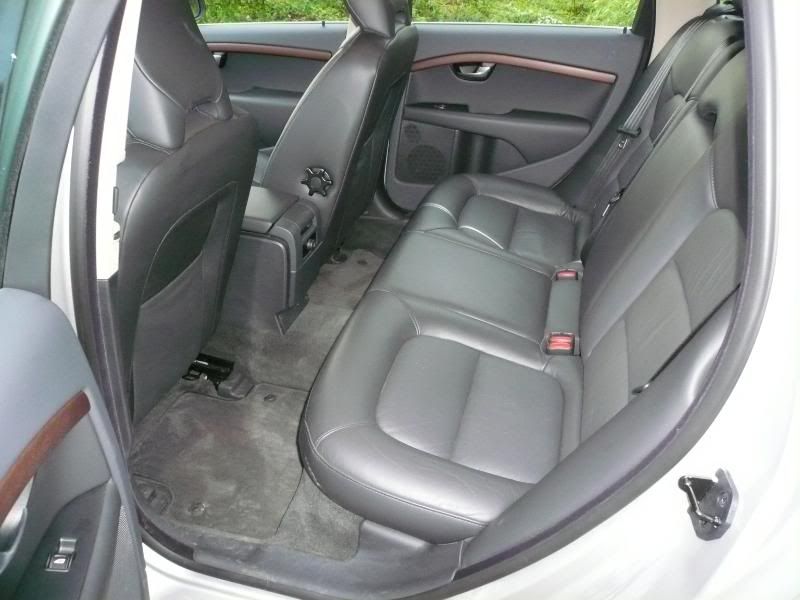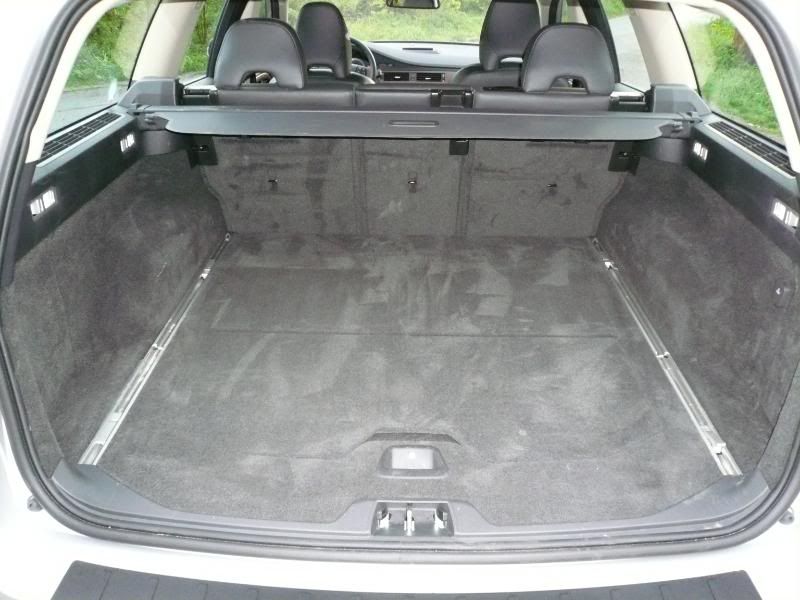 Model specifications vary from country to country. Perusing the Volvo UK website, it quickly became apparent that configuring your ideal V70 is far from the work of moments, with a bewildering array of choices, not just in engine and transmission, or even wheel size and colour, but also in types of seat trim and dash inlays. Rental cars in the UK tend not to have many options – apart from metallic paint – but without trying to do a detailed match against the Swiss Volvo site, it is hard to be sure which features on the test car would have cost extra. A quick perusal suggests that there were several options, including: the automatic gearbox, sat nav, heated front seats, the all-round parking sensors, the leather seats, the wood inlays to the dashboard, the electric rear tailgate close and of course the metallic paint. There were probably others. Suffice to say that the V70 is not a cheap car, but nor is it quite as eye-wateringly costly as a specc-ed up German equivalent would be.
Hertz Switzerland would appear to have taken delivery of these V70 D5 AWDs in their fleet to replace the Subaru Legacy, as a premium estate car. Neither would perhaps appeal to the archetypal BMW 5 Series/ Audi A6/ Mercedes E Class buyer, but they do both have their appeal as something slightly different as a large estate car. The Subaru impressed with its 3.0 litre engine and was fun to drive, and although roomy inside, was ultimately not a massive load carrier. The Volvo is less fun, but more relaxing to drive, and has a bit more space in it. There's probably a market for both approaches, as well as the German cars, but I am not sure how big it is, and how Volvo will cope when they no longer have the backing of the Ford Motor Company behind them. That said, if Mr Hertz wants to offer a V70 D5 again, it is one of those cars that I would not immediately try to substitute for something else – and I cannot say that about all the cars they offer. Far from it, sadly!
2009-09-18 07:56:29