2009 was the third consecutive year in which I have attended the Supercar Sunday event hosted at Gaydon, and it proved just as enjoyable as in 2007 and 2008. A wide variety of cars participate, some rather more unequivocally worthy of the title "supercar" than others, and some rather more in the state in which they left the factory than others. Some cars seem to appear year after year, but there were plenty of vehicles making their maiden appearance,m so there was lots that was of interest. Many of the cars attend as part of an owners' club activity, but some clearly are the result of an individual applying to bring his pride and joy along for others to enjoy. I have to say that perhaps I have missed a trick here and I should clean up the S6 and enter it next year. It would save the admission fee, and it would be at least as exotic as the row of Audi A5s (yes, A5s, not S5s that were scattered around the display areas!).
AC
Surprisingly few of these cars on show, but the Cobra was not totally conspicuous by its absence.
Alfa Romeo
An SZ, as you might expect at an event like this.
That was it, though there was a GTV tucked away, sort of not on display.
Aston-Martin
Surprisingly few Astons at the event, but I did spot these.
Audi
A quattro, of course. Look out for lots of events next year to mark the 30th anniversary of this ground-breaking car.
Now it is the R8 that dominates as Audi's super car, and there were a few of these, too.
Bentley
Two examples of 1930s Bentleys arrived. At the time, there was no such term "supercar", but if there had been, I am the "world's fastest lorries", as Ettore Bugatti called them, would have staked a defensible claim to be called "supercar".
BMW
Just the one car, a Z3M, on show
Caterham and Westfield
A good collection of the traditional 7 based sports cars was lined up.
There was also an example of the very rare 21 model.
Chevrolet
A Corvette – what else? Just the one, this year. No sign of the wild 1965 Stingray prototype that has been here in previous years.
Chrysler/Dodge
The Viper and it second generation successor, called SRT/10 for trademark/copyright reasons were well represented.
DeLorean
A group of 7 of these cars turned up, together, mid-morning, arriving with their gullwing doors all opened. A lone 8th car was tucked in among the other displays.
EB
Who? Well, quite! That's what the badge said. Along with the information that the car was designed by Pininfarina. Not one of his better days, it has to be said!
Ferrari
Several Ferraris, as you would expect. Nothing really unusual, which was mildly disappointing but there was a new California to look at.
There was also a Testarossa, which for me was completely spoiled by the wheels on it. Someone must think they are an improvement, but that someone is not me!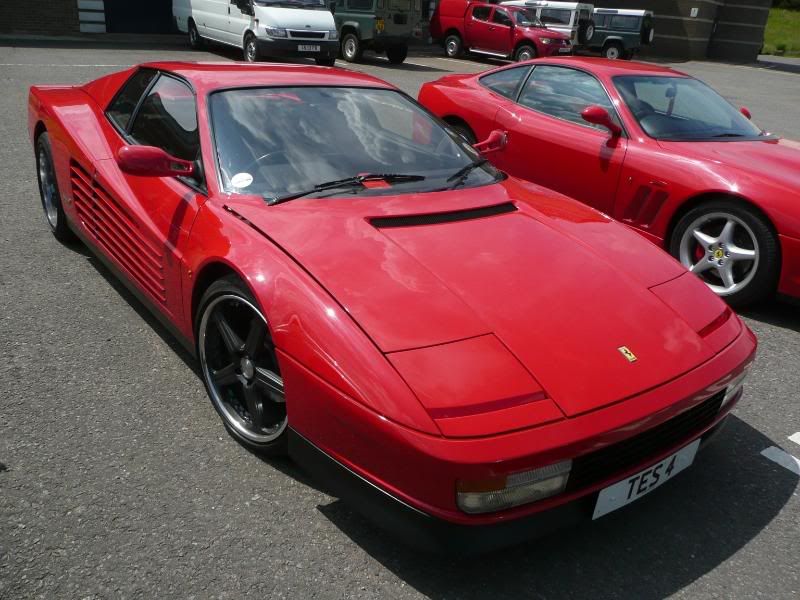 Fiat
A couple of the lovely Coupe models were included. Whilst not really supercars, these are super cars, and original ones are getting rare and prices will start to rise.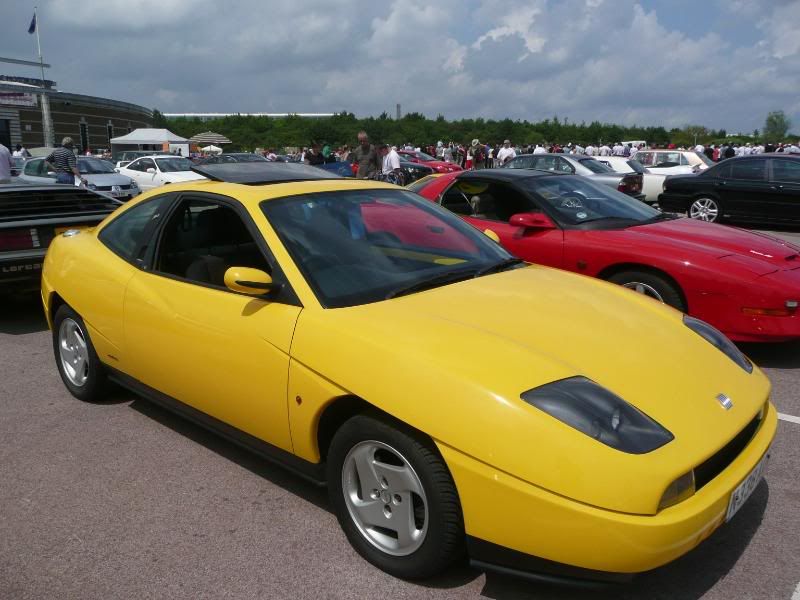 Ford
There were a couple of GT40s at the event. The yellow one I know belongs to a gentleman called Chris Notley, a friend the Roache family, and who I have had the pleasure of meeting on several occasions. Although his car was here, I saw neither him, nor Sandra, his wife.
There was a GT, the recent recreation of the 1960s model, too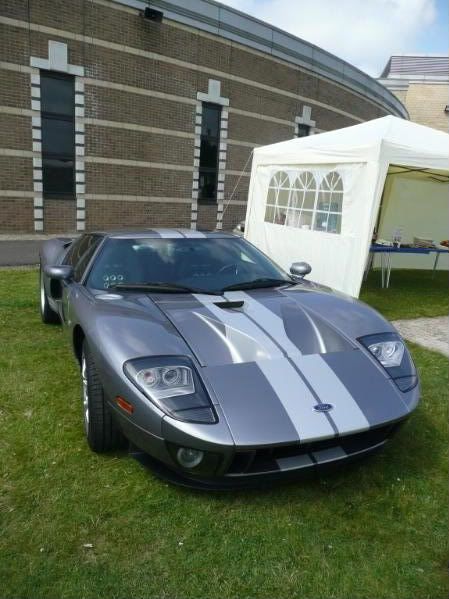 Is the Cougar really a "supercar"? Surely not, but this showing from the owners club reinforced the joy that these capable machines bring to their owners. Most of there were more than mildly modified, too, but I did find the odd original spec car among the fleet.
The American part of Ford was represented with a few Mustang, all of the latest generation.
Honda
A truly impressive display here, to celebrate the 20th birthday of the NS-X, with a vast number of cars, from early to late models.
The S2000 was well represented, too.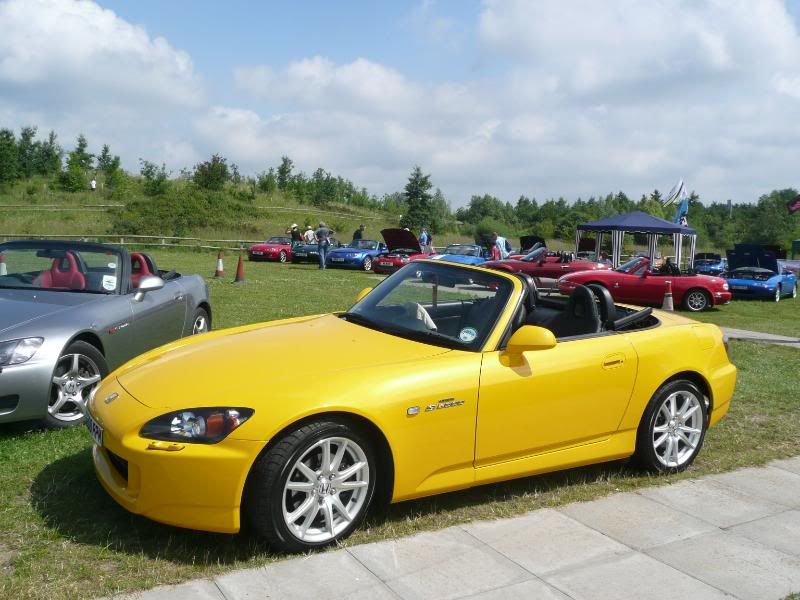 Jaguar
Most of the Jaguars here were the still elegant XK8 cars, and very fine they still look, too.
KTM
A couple of X-Bows were on show. They were different cars, showing how the design has evolved in the last couple of years – bigger in every dimension!
Lamborghini
There's always a good showing from Lamborghini at this evenat and this year was no exception, though most of the cars were the more recent ones, Gallardo and Murcielago, with a few Diablo and Countach.
The very latest Murcielago 670 SV was on display, in a specially roped off area.
Lancia
Not really a supercar, either, but who cannot love the Integrale? Just the one on show.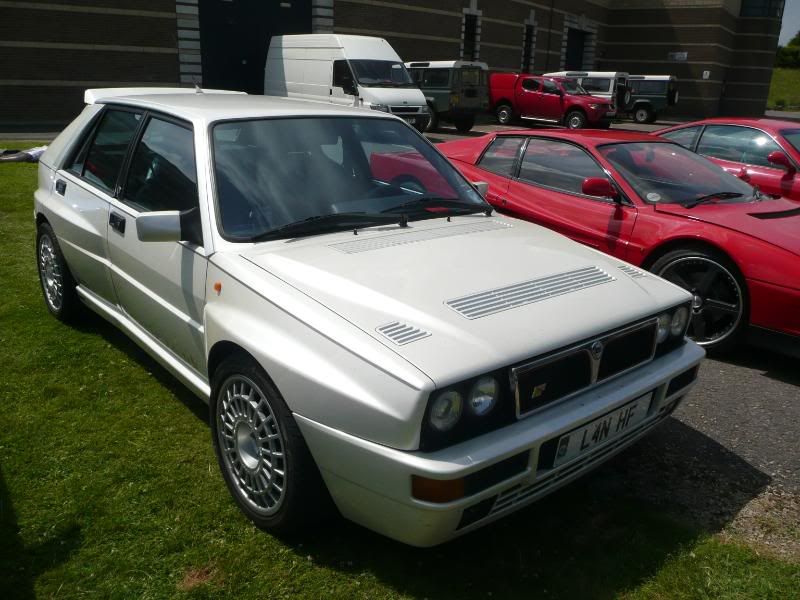 Lotus
Lots of Lotus to see. Huge numbers of Esprit in every hue imaginable.
A few current cars, too, Elise Exige and Europa.
Maserati
Not many Maserati. The Sebring was for sale, at £60k, there was a Khamsin and a Quattroporte. I think there were a couple of other recent cars, but they eluded the camera.
Marcos
A varied display of cars from this once proud Wiltshire manufacturer, ranging from the 3 litre model of 40 years ago, through a road-legal version of the Le Mans entrant LM600 to the last TSO model that promised so much when the firm went bankrupt.
Mazda
A strong showing from the MX5 Owners Club, with several representatives of each of the three generations of the world's most popular sports car
MG
The SV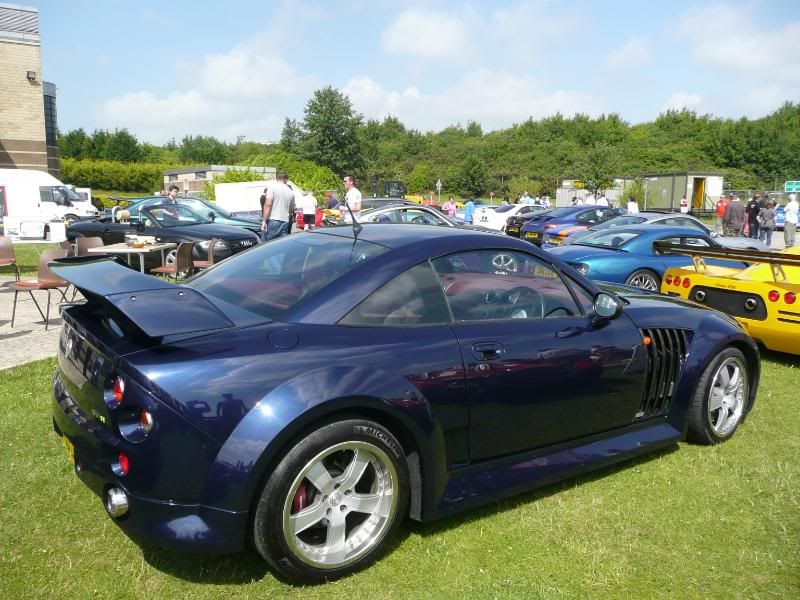 There was also an R V8 – that 1990s recreation of the MGB that was so popular in Japan.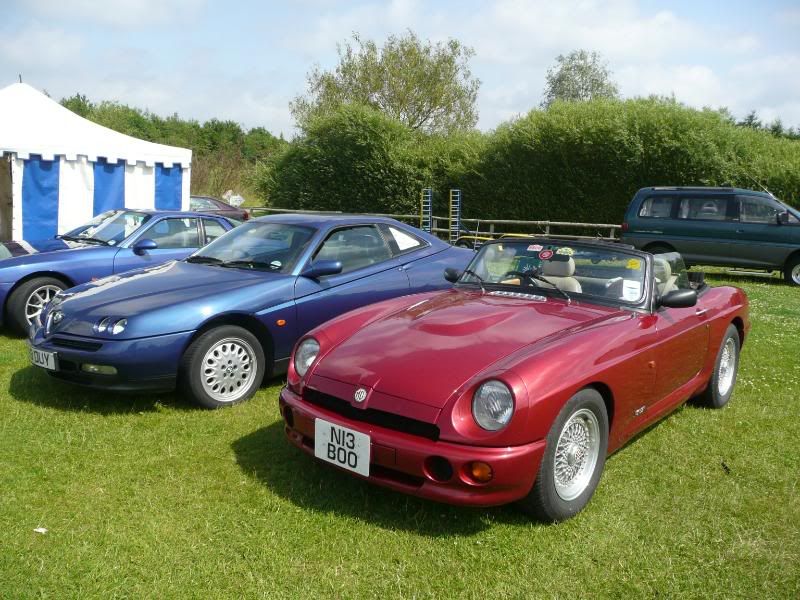 Mitsubishi
A significant number of 3000 GT and GTO cars – again, mostly rather heavily modified, and not to my taste. Chacun a son gout!
Nissan
Show-casing their latest cars, there was a new 370Z and a GT-R parked up for every-one to inspect more closely. Four owners, including David Yu, had brought along their new GT-R cars, too.
The owners had brought along a selection of Z cars, mostly of the "heavily modified" variety
.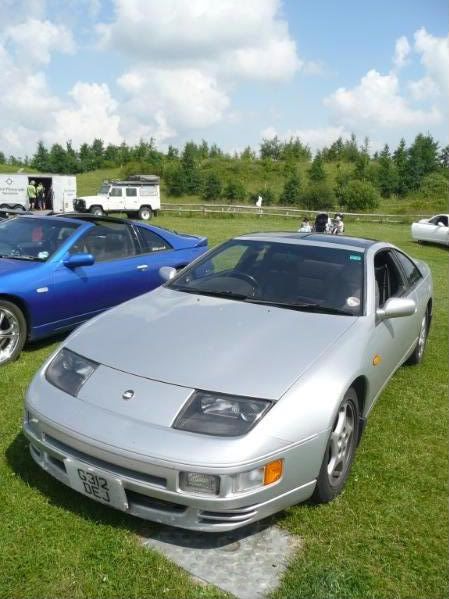 Noble
Another well-regarded British name, whose future seems unclear. This was one of the early cars.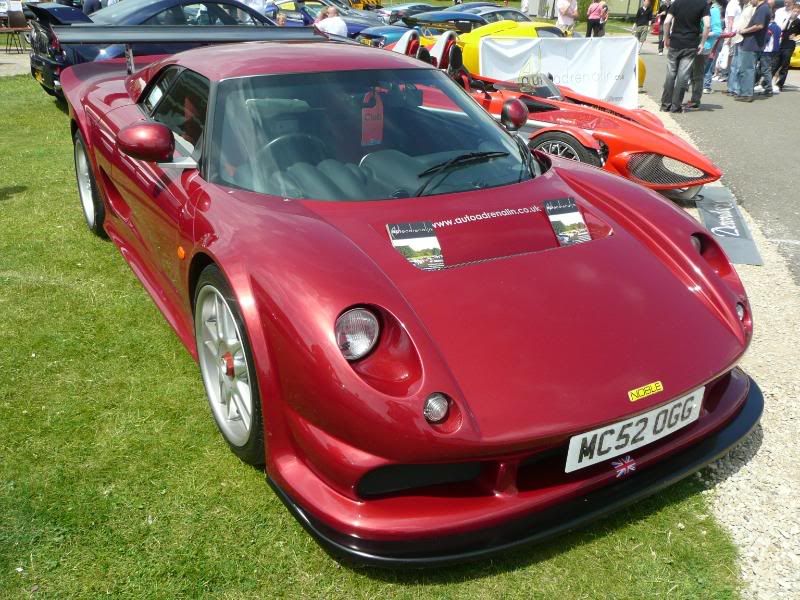 Plymouth
A Prowler – what else have Plymouth ever made, apart from their 60s and early 70s muscle cars which could possible qualify for inclusion at an event like this?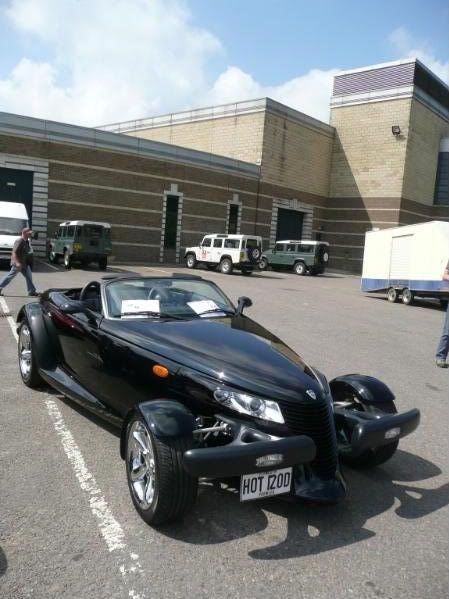 PontiacLone entrant here was a Firebird. Not one of the early cars, which i rather like, but one of the last generation cars which were so inspid that they caused the name to die.
Porsche
A good mix of Porsche cars, as you might expect, from the 4 cylinder 924/844/968 cars, though a couple of 928s to every generation of the 911 family, along with some of the latest cars from the current range.
TVR
Numerically, I would guess there were more TVRs than anything else, and a particularly colourful sight they made, as most of the cars were from the last 20 years or production – Chimaerae, Griffiths, Tuscans and Sagaris, in every colour of the rainbow. The noise they made when they headed for the arena was even better than the sight they made! What a sad loss now that the marque has left us!
Vauxhall
If a Cougar qualifies, then a Monaro certainly does, and there was one!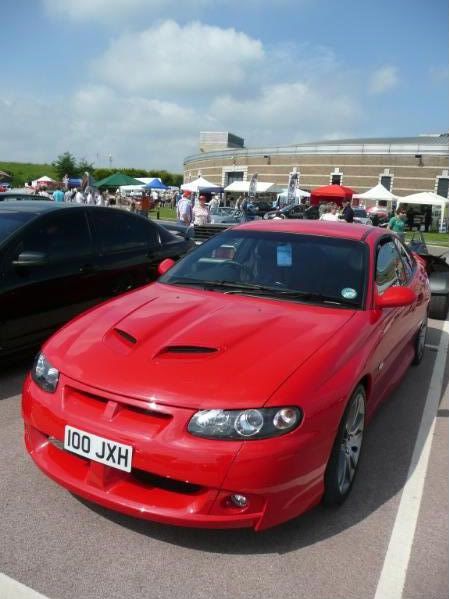 Ultima
There were a couple of these cars to see.
Misc
And finally…….We did a tour of the car park. There was not a lot of interest, to be honest, but my eye was caught by this rather nicely kept SD1 Vitesse. These cars are rare now, especially as well kept as this one.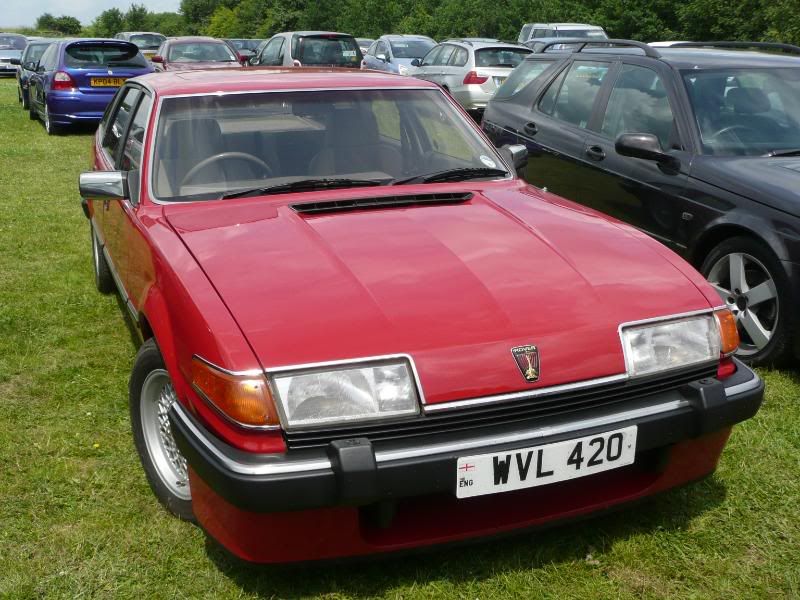 We adjourned to a local hostelry and met up with Piers, to hear his tales of derring do at the 'Ring and to quench our thirst, before heading back for a sumptuous dinner, thanks to Miriam Grazier. What a splendid day!
2009-07-17 11:42:02