Billed as an "end of season finale", the annual Italian cars event that takes place at Gaydon is one of three large shows organised by the "Auto Italia" magazine, and was for me an easy priority over and above a variety of different attractions taking place all at the same time. Although the sun struggled to stage much of an appearance through a thick layer of cloud, it did not rain, and a lot of different Italian cars turned up, meaning I went home far from disappointed. Here are some of the pictorial highlights.
ABARTH
There was a large display area for the latest Abarth cars just to the left of the bottom of the drive, with several examples of both the 500 and Punto available for detailed inspection. We had a good poke around both models, and also tried out the different seats available in the Punto. Static conclusion is that the optional seats, which lack a height adjuster, are something to be very sure you would want, and if there is a sun-roof fitted, you need to be very sure you can fit! Dan's head touched the roof, mine was not far off. Otherwise, the interior is a tasteful enhancement of the standard Punto, and definitely nicer to sit in than the Twingo. The 500 was not quite so good, with an incredibly thick-rimmed steering wheel and some cheaper feeling materials, but still not bad. After a gentle reminder from what was probably "the boss", one of the sales teams came over, and I am looking forward to receiving my brochures in the next few days!
There were plenty of Abarths in the rest of the event, too, suggesting that a reasonable number of these cars have been sold. Judging by the amount of Abarth regalia being worn, the brand is well on the way to be re-established in the UK.
There were a couple of historic 600-based models on show and this very rare Simca-Abarth Coupe
The oldest Alfa-Romeos present would surprise everyone, as neither of them were cars. As well as the Matta Jeep, which I have seen before at this event, there was a splendid 1957 Furgone (van) which had spent the first 20 years of its life in the northern Italian provinzia of Novarra (just outside Milano) and then been sent to Los Angeles where it formed part of an extensive collection of cars rented out to film companies. It returned to Europe a couple of years ago and has been subject to a fastidious restoration. Probably now better than it was when new, it looked absolutely superb.
Most of the many other Alfas at the event were rather more recent.I was delighted to see that the 164 was in attendance, with 4 examples on show. First to arrive was this white Green Cloverleaf car, which was not pristine, but not in too bad a shape.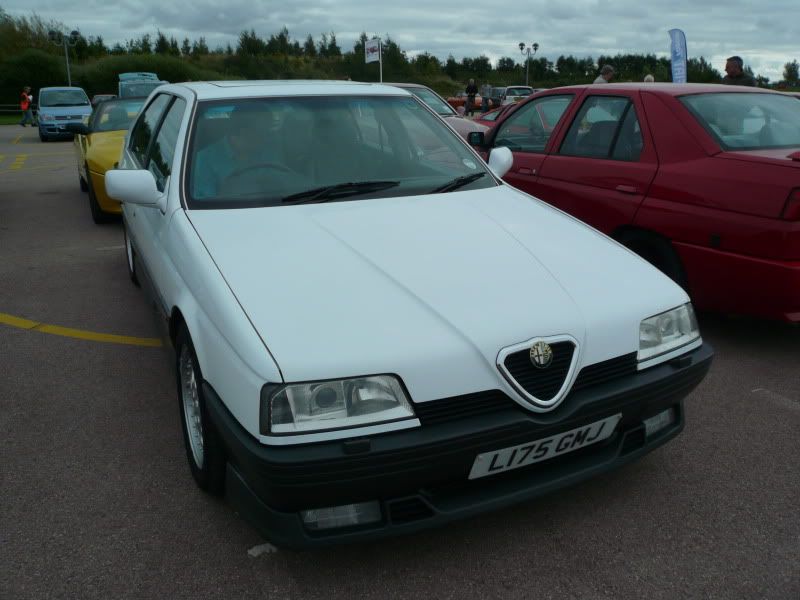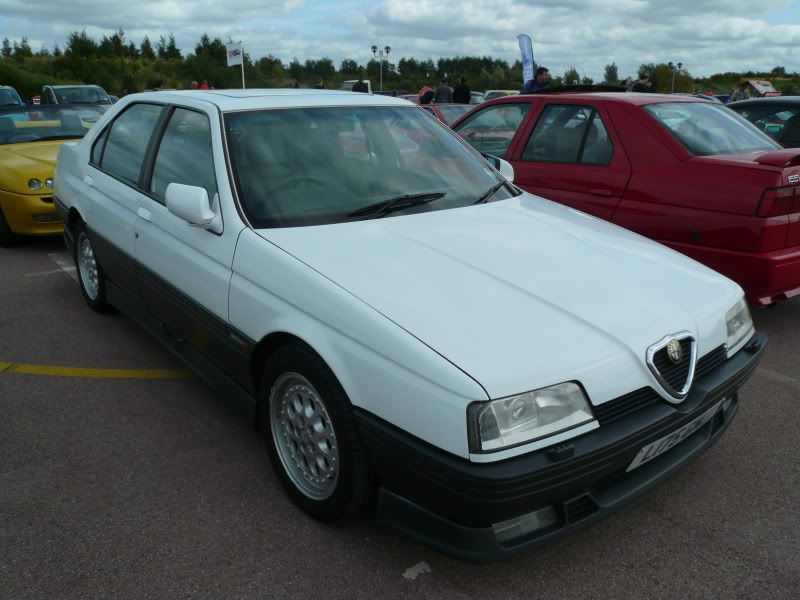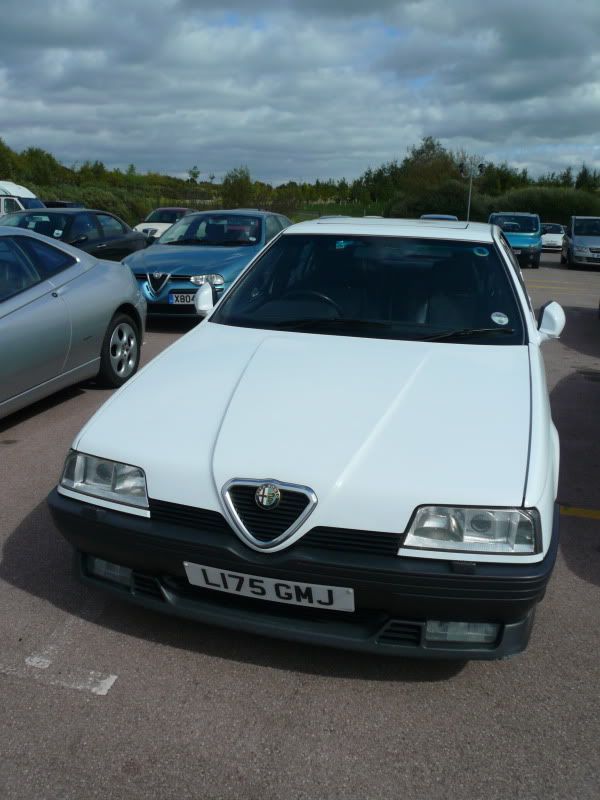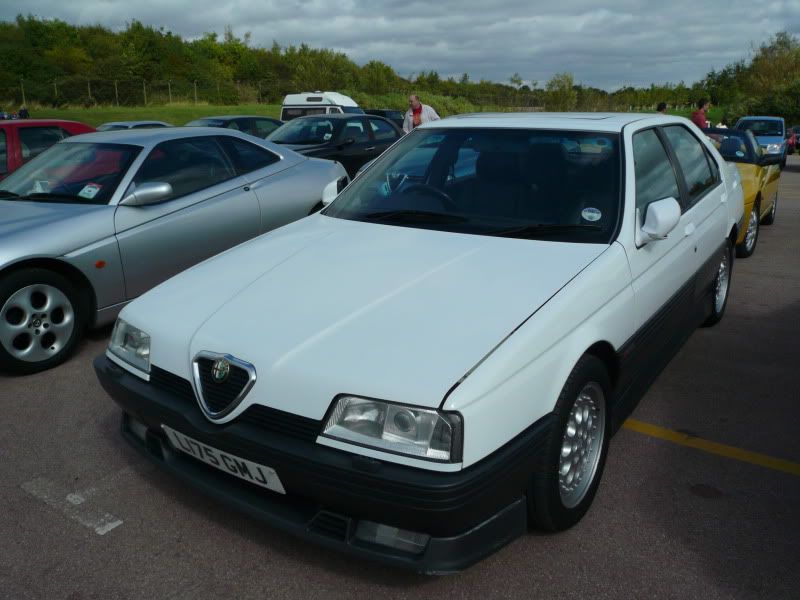 Second one to show up was another Cloverleaf, but in Alfa Red, and in rather better condition. It was for sale, at a whisker under £2700, but somehow I managed to leave my wallet in my pocket and resist the urge.
Third car was a 2.0 TS Super, with an inside almost identical to my much loved car, but with the big bumpers that, in my opinion, did not enhance the car, and not in one of the "better" colours.
Fourth car was a black Cloverleaf. Well cared for, but also lowered and with horrid wheels, my camera could not quite bring itself to record it. Sorry, sir, as you clearly loved your car, and the engine bay had been well polished, but it would have looked better still without the extra cladding and with normal wheels! There were a lot of Alfa GTs, a car that I still find to be really rather attractive, and clearly well appreciated by its owners.
There were plenty of 156s, 147s, 159s, Brera and Spider cars, as well. I like all of these, with the 147GTA a particular favourite.
There were a few MiTo on show. Interesting to see it along side earlier cars. Although you might think of it as a small car, it would appear taller and wider than the 147, and not much shorter.

One rather tatty Alfasud eluded my camera, as it would appear did the various Alfa 75s, but I did spot a couple of 33s, and there was one lone 146 and a couple of 145s to enjoy.
The GTV and Spider cars were well represented, and the "P" registered GTV in Tropical Green was rather like the car I owned for 18 months a few years ago.
The Montreal is also a favourite of mine, and a couple of them were on show.
The long running Spider was also in attendance, as you would expect. This is a Series 3 car.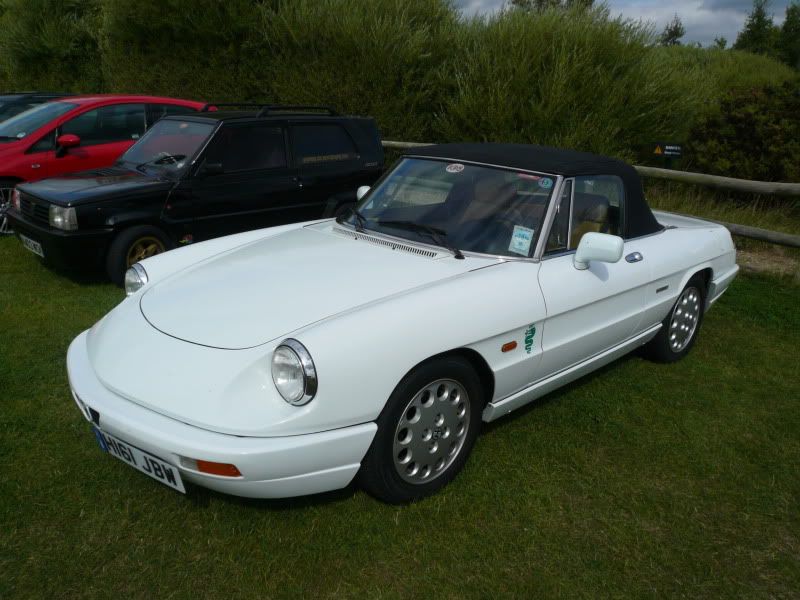 FERRARI
Highlight here was the bright yellow 599 H-GTE which was driven up from Italy. The car was reported to be at Dover at 9:30am, and was on site by mid-day, suitably fly-splattered.
Most of the other Ferrari models were recent 360 and 430 cars.
There was, however, this rather nice 246 Dino.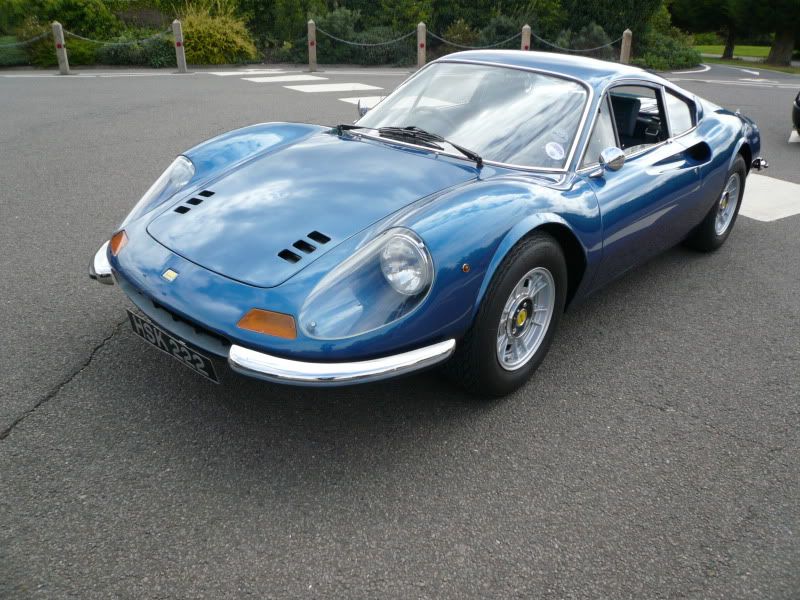 FIAT
Lots of Fiat cars, with a very strong showing by the Fiat Coupe Owners and also a gathering organised by the Fiat Forum, who seemed to have arrived complete with their own van, containing a massive gas barbecue, chairs and tables. All very organised.
Starting with the Coupes, there were in excess of 20 of these cars on show, in just about every factory colour, some more original than others.
The classic Nuova 500 always features where Fiats are on display, and the cars at this event were all ones that I have seen before.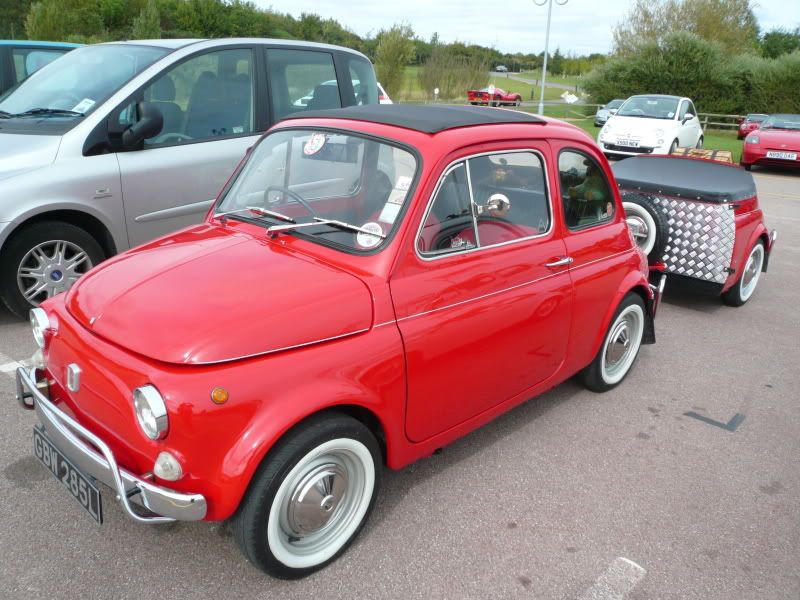 Less commonly seen is the 131 Mirafiori, and there were 2 in attendance: a late model Volumetrico (the supercharged car never officially sold in the UK) and a Sporting, finished in what I think must be a repaint, as these cars generally came in orange, or grey or black when new.
There were 2 of the Strada cars to see, a 105TC model and a second generation 70CL 5 door.
The yellow 128 3P is a stalwart of shows like this, but the silver grey one is a car I have not seen before.
A couple of Uno cars, too, one a Turbo ie and the other a regular 60S 5door.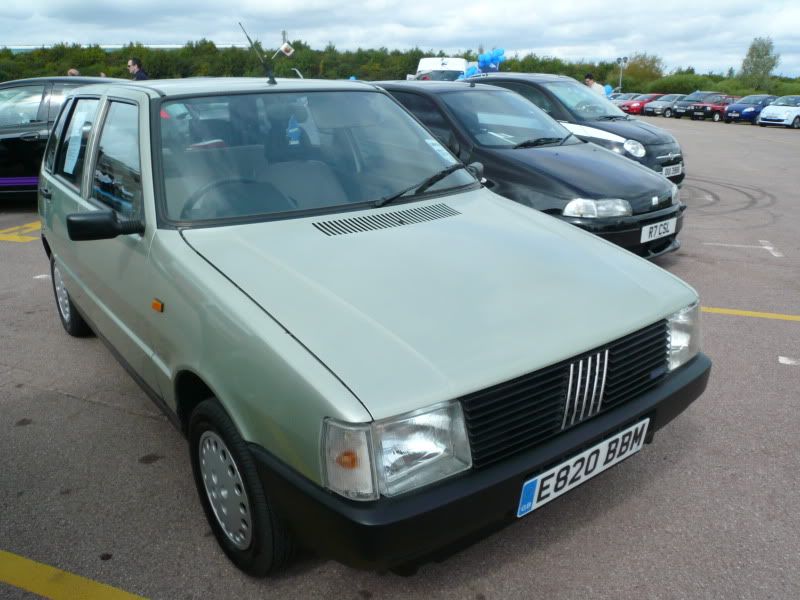 The Bravo/Brava cars, voted Car of the Year in 1995 are starting to vanish from our roads (probably a significant "scrappage scheme" car?), but that means that they are now starting to feature at classic events, as these examples testify.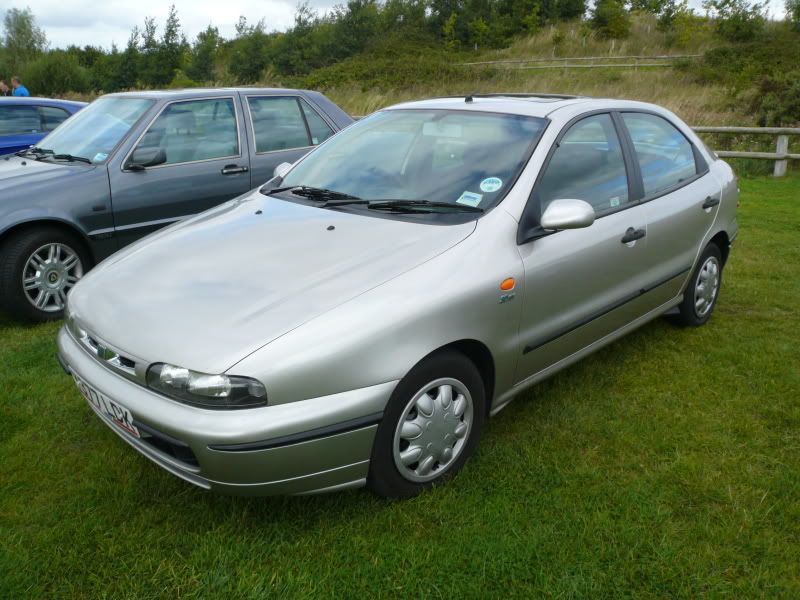 The Stilo might be thought of as too young to appear, but no, there were three: one of the limited edition Schumacher versions, an estate car and one of the last three doors with the revised grille.
The Multipla is now 10 years old, and both generations of the initially well-received car were on show.
Among the smaller cars, there was an example of the 126, in later Polish-made FSM guise. Memorably called "a masochists delight" by "Car" magazine in the "Good Bad and Ugly" when new, these cars are now rare in this country.
There were also a few Seicento cars, outnumbering the Cinquecento.
This Panda van is a common sight still in Italy, but was never sold here when new.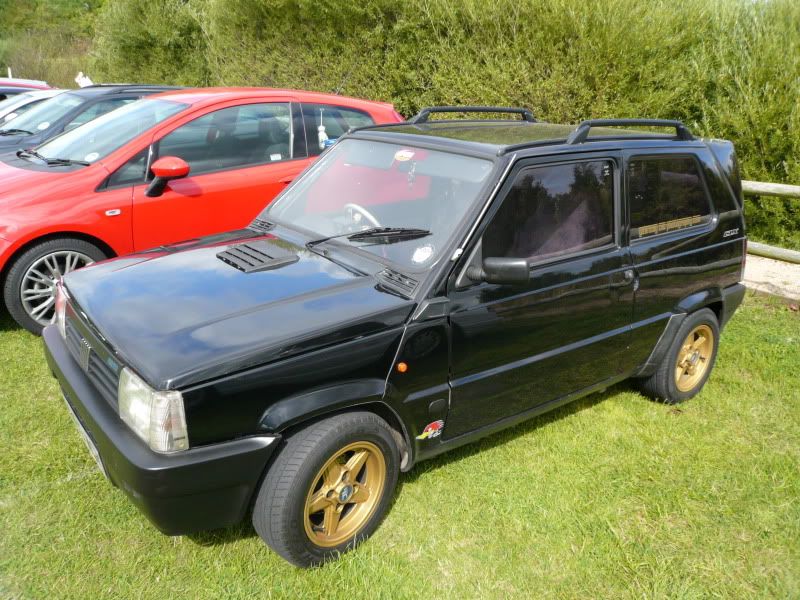 Rare sighting – away from the taxi rank at my local station – is this Croma, a car which sold in tiny numbers in the UK until Fiat gave up the unequal struggle.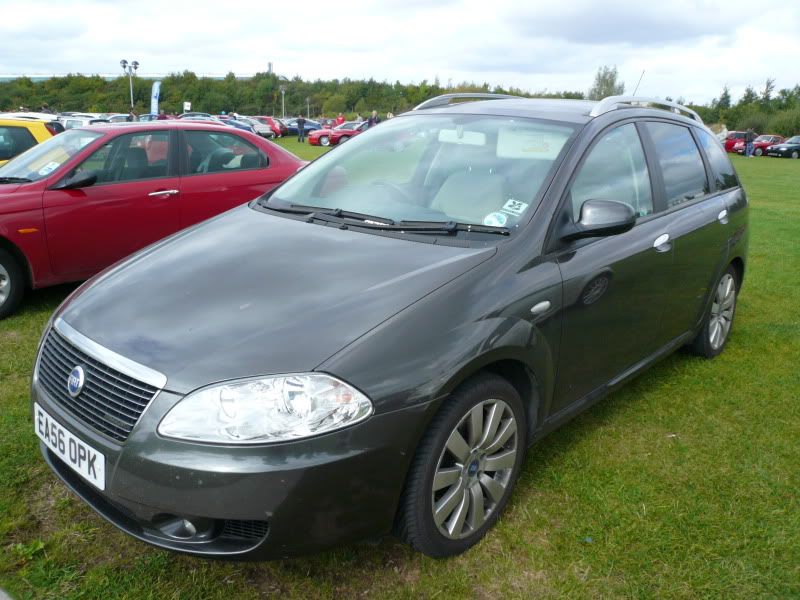 There were plenty of the latest products being proudly displayed by their owners, too:
6 Fiat Dinos were on show. 3 Coupe and 3 Spider. Splendid!
Oldest Fiat was a car I've now seen at a couple of events in 2009, a recently restored 500 Convertible.
There were a few other open topped Fiats from more recent times: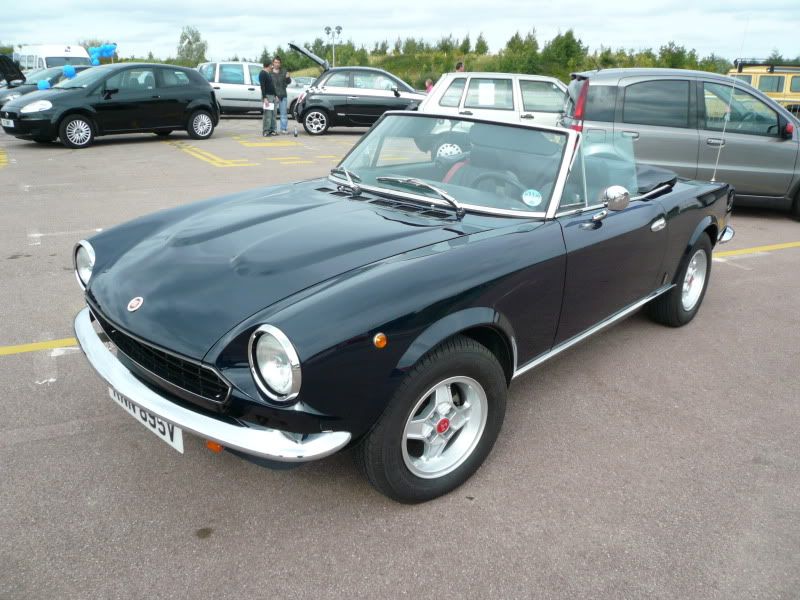 LAMBORGHINI
Not many of these cars at all. During the morning, in fact, there seemed to be just one, a black Espada.
A couple more cars arrived during the middle of the day and then at the end of proceedings, we found this Diablo with a particularly special paint finish. Believe it or not, this paint finish was consistent over the whole car, but as the light shone on different parts of it, the pink/purple hue turned green. Very odd and not something I could live with, for sure. The Diablo itself, that might be rather more compelling!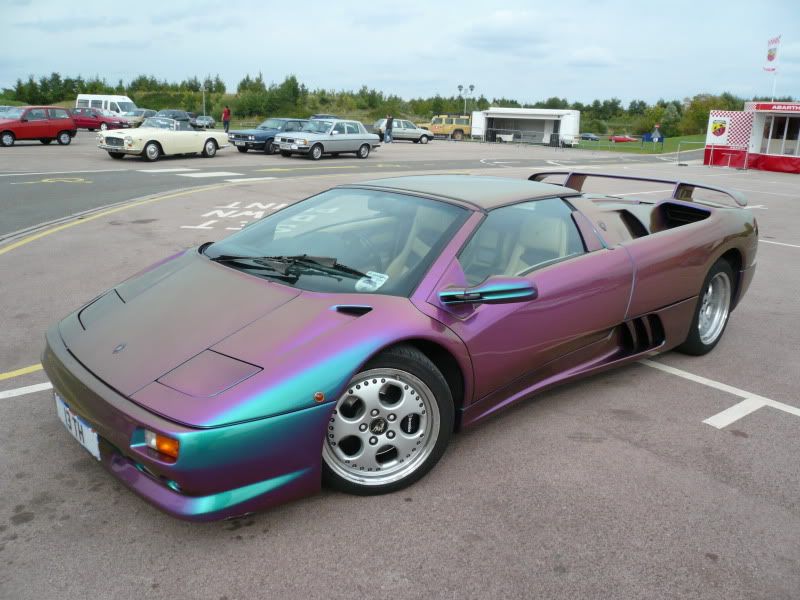 The other cars included this Uracco and this Diablo.
LANCIA
Some of the rarest cars of the event were from this once proud marque.
Rarest of the lot was this Series 3 Beta saloon. By the time Lancia were ready to launch this car in the UK, in 1981, the damage done by the publicity over the rust saga was long done, and the Beta name and the whole brand was struggling. In the end, it is believed that only about 50 right hand drive cars ever made it to the UK, and this is believed to be the only survivor. A sad end to a model which had for much of the 1970s, most of the market positioning now occupied by the 3 series, offering quality engineering and luxury for those who could afford better than a 1.6GL Cortina. The owner was chuffed to hear us comment favourably on his unusual car, especially as his wife wryly observed that they had driven "a long way" just to be there, arriving only at lunchtime.
Companion model to the Beta was the Trevi, a rather ungainly three box saloon launched in 1980. This 2000 automatic version is one of only 6 left in the UK, so also a pretty rare sighting.
The "Beta Boys" had a decent complement of the other models at the event, too, with Coupe, HPE and Spiders all on display.
Whilst the Beta enjoyed a good reputation initially, its bigger sibling, the Gamma did not, with much scorn placed on the use of a 2.5 litre 4 cylinder engine. Although these cars were far from trouble-free, the few that are left are now appreciated all the more, and when they look as elegant as this Coupe, who can be surprised at that?
Appreciated by everyone, of course, is the Stratos, and there were a few of the road going versions of these cars at the show, including one in dayglo green highlighter pen paint finish!
All three generations of the Delta were present. Numerically, there were more Integrale than anything else, but a couple of the second generation models were also there and, although I did not take a picture of it, there was a Dutch registered third generation car.
From the Lancia small car portfolio, there was a Y10, the follow-on Y and a two-tone Ypsilon.
The Thema represented more recent large Lancias, though none of them were the extrovert 8.32 model.
There were a few Fulvia cars, with the Zagato coupe represented by a nicely presented car and one needing more work. This is the former of the two.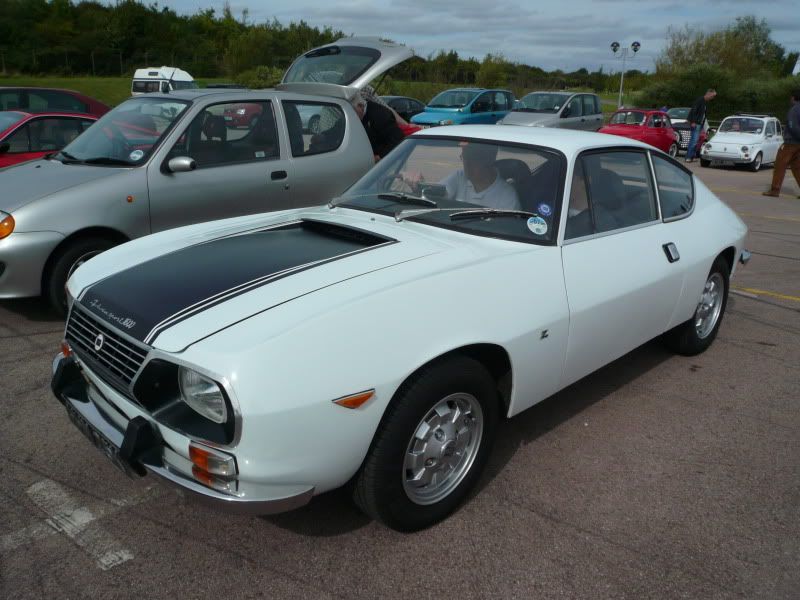 Oldest Lancia was this Flaminia 2.8 Convertible. Apparently, only a very small number of right hand drive cars were made and even in the UK these are now worth less than left hand drive cars.
MASERATI
There were a small number of Maserati at the event, mostly from the Biturbo or 3200/4200 generation.
This Merak was the oldest Maserati there, and whilst it looked good, it was making rather worrying noises as it left.
MINARI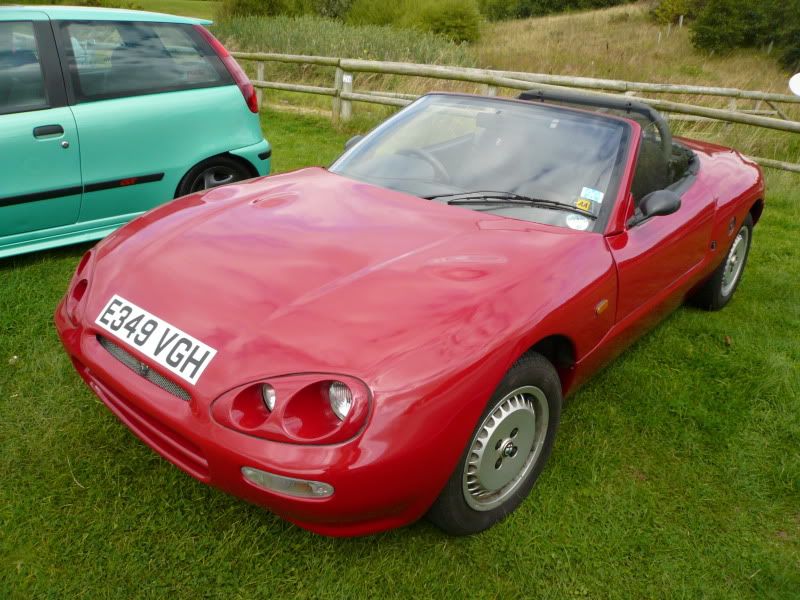 IN THE CAR PARK
So, a great day out, with lots of lovely cars to see. Made even better by the pleasure of the company of Dan, and a splendid roast dinner waiting for us on our return to Grazier Towers.
2009-09-07 12:33:38