When one of the Abarthisti suggested a mid-week meet for those in the London area, it did not take long before someone proposed the legendary Ace cafe as a potential venue. This well known landmark, situated to one side of the North Circular, just north of the Hanger Lane gyratory system came to the attention of car and bike enthusiasts some time ago, when it started to hold themed nights and people just turned up with interesting vehicles. What used to be a monthly occurrence has become far more frequent than that, and when we did some research, it turned out that there was something in their calendar just about every every evening. An Italian car evening seemed just right and it was quickly agreed that this would be the perfect setting for a dozen forummers to assemble.By the time I arrived, the forecourt infront of the cafe was packed with cars and bikes. Although we had an area reserved for Abarthisti, as I was in the Audi, the car park man was absolutely adamant that I would have to park up the road.
Although there was indeed a good mix of cars and bikes in attendance, my camera baulked at photographing some of them, as heavily modified Puntos are not really to my taste.
The rarest car in attendance was definitely this, the very lovely Lancia Hyena. These gorgeous coupes were built on Delta Integrale mechanicals, but Lancia quickly decided that they did not want the venture to go ahead and made it increasingly difficult for Zagato to get the parts they needed. Less than 100 cars were made, so they are super rare. When they do come up for sale, the asking price tends to leave little change out of £100,000.
Sadly, the equally nice Flaminia Zagato departed before I got the chance to point my camera at it.
There was one Nuova 500, which appeared oh-so-small next to the latest generation model: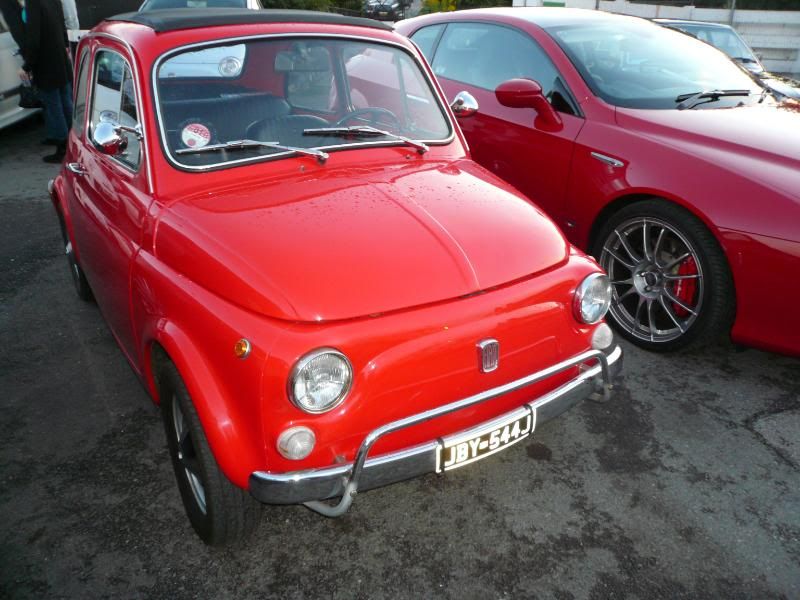 All told, there were 12 Abarthisti in attendance, though as well as my car being in Audi mode, one of the others was also a prospective owner, who is enduring the wait for his car, which he should get on 1st September. Even taking account of the fact that there are far more Abarth 500s than Puntos on the road, it was a bit of a surprise that none of the Abarth Punto models were on show. Many of the cars had, like mine, been supplied by Thames Slough, and it was nice to see that Ajay Paul, the salesman from whom I bought my car came along (we invited him), with his young son and he brought along a new Abarth 500C for us to have a look at. Thames also brought along the car they sponsored for the recent Celebrity race at the Silverstone Classic event as well.
Later in the evening, we were somewhat alarmed to discover that someone was busy wearing out the tyres on his elderly BMW E36 3 series coupe (almost certainly a 318!), by doing donuts round and round a mini-roundabout just beyond the cafe, much to the chagrin of the passing Royal Mail delivery lorries, buses and other motorists. We adjourned at about 10pm, having had a very convivial couple of hours meeting fellow Abarth forummers and seeing some interesting cars. On this experience, I would certainly say that the Ace Cafe events could be worth putting in the diary in the future.
2010-08-20 19:42:32