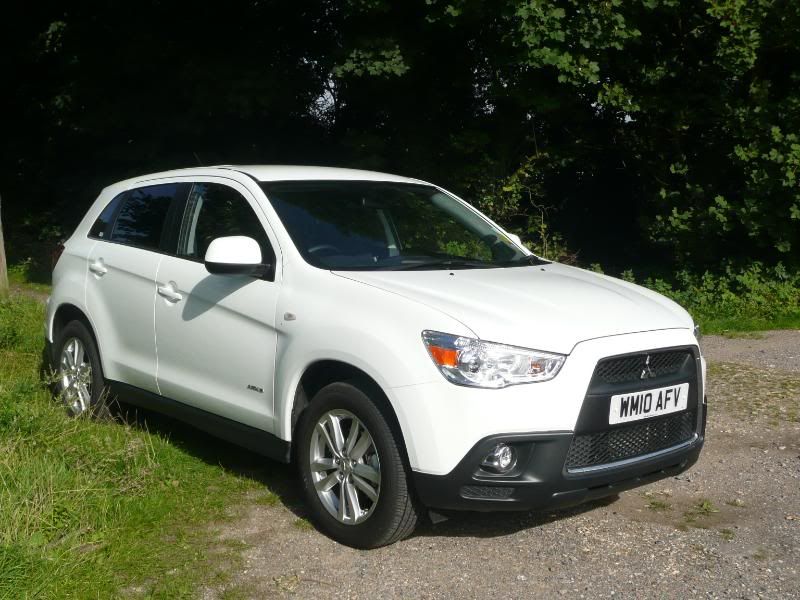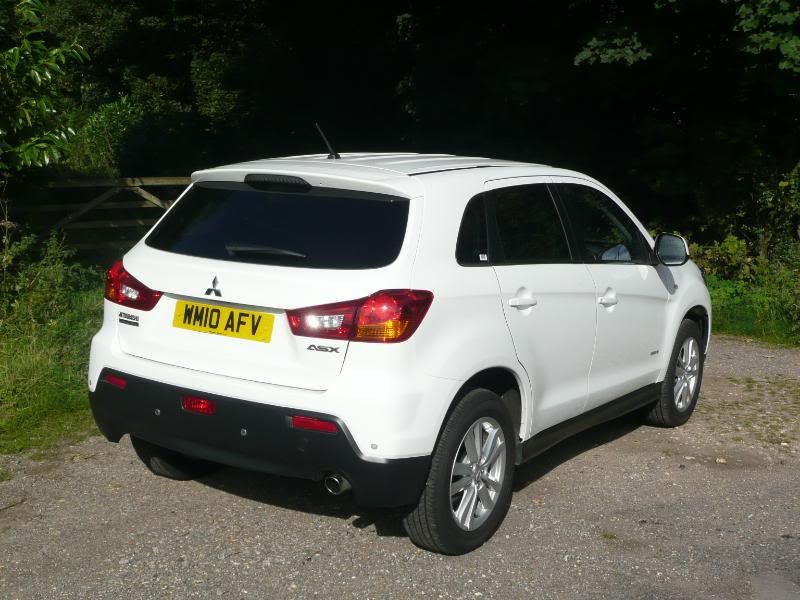 As all major manufacturers strive to grow their sales volume and market share by covering ever more niches, it should come as no surprise to find that as well as there being far more model types on sale, so entire new categories of car have appeared in the past few years. One of the biggest growth sectors in recent times has been of the family sized SUV, also known as the CrossOver or Faux Off-Roader, with models from Ford, VW, Honda, Toyota, Peugeot, Nissan, Hyundai and Kia all selling well. It should therefore have surprised no-one when Mitsubishi, a company who made a name for themselves with their large Shogun in the 1980s, decided to enter this market, with their ASX model, which debuted earlier in 2010, following appearances as Concept-cX  model back in 2007/8 . With the possible exception of their iconic Evo, Mitsubishi is a company that has struggled for several years, offering a range of competent but ultimately rather unremarkable cars, so I was intrigued to find out whether their latest offering was just another such product or whether it has genuine merit. As part of the UK launch, it would seem that Mitsubishi made a sizeable fleet of the cars available to Hertz, and it was one of these which was offered to me when I returned the Ibiza Ecomotive.

Like many of its competitors, the ASX is available in both front and four wheel drive and with both petrol and diesel engines. The test car was a front wheel drive model, fitted with the 1.8 litre DiD diesel engine, in which form it delivers 147 bhp. This engine is the first ever application of variable valve timing to a diesel motor, and is claimed that this has endowed it with 2 litre levels of performance and yet the economy and emissions of a lesser variant.  My rental ASX was in trim spec 3, and in honour of its eco credentials is badged Cleartec on the back of the car. What really surprised me is that Hertz class this is a Group D car,  which used to denote a Mondeo or Insignia, but now seems to mean an Octavia or an ASX., and perhaps other new-style family cars.

There is no slot for the ignition key in the ASX. When I got in the test car, I found the keys were simply sitting in the cup holder area, and indeed as long as they are somewhere in the car, all you need to do to fire it up is to put your foot on the clutch and press the "Start" button. At this point you are just about aware that the ASX has a diesel engine, but from here on wards, it is all but indistinguishable from a petrol. You do know it is a turbo, as you can hear the slight whine from this from time to time. The ASX also has a Stop/start system. Come to rest, take it out of gear and your foot off the clutch and the engine cuts out. There is a display on the dashboard to tell you, in case you had failed to spot that the revs had reduced to 0 rpm. Put your foot on the clutch and it fires again instantly. Having noted in a previous test car fitted with this system, an Audi A4, that sometimes firing the engine took longer than the time it takes you to put the car into first, I was relieved to find I had less issues with the Mitsubishi, and concluded that if this helps with emissions and economy then the initiative should be applauded. In this vehicle, the Euro V compliant engine develops 147 bhp, which is not a lot given the bulk of the car, but it actually felt to be more than adequate, endowing the ASX with decent performance.

The ASX has six gears, and although the "change up" indicator in the dash suggested that you could use 6th at low speeds, and hence so unlike the Ibiza Ecomotive that I had been driving before I got this car, I tended to rely more on my judgment than a warning light. As the ASX does enjoy ample reserves of low down torque, you can actually find reasonable acceleration from what you might otherwise have thought was too high a gear. The actual gearchange is slightly notchy, but you barely notice this. You do notice the odd shape to the gear knob, though, which unless you held it in a particular way was surprisingly uncomfortable. Something to get used to, I guess. There is an economy gauge fitted, and I never saw it reporting a fuel consumption of less than 30 mpg. When it came to the final reckoning, I got an average of 44.2 mpg out of the ASX from a mix of urban and motorway driving, which I feel is exceptional for a car of this size, and does vindicate Mitsubishi's claims for the new engine.  Although this is quite a tall heavy, car, the handling is decent enough, though there is something of a tendency to a modicum of understeer should you take the bends with a little too much gusto. The steering had far more feel to in that in the Ibiza, which was welcome, too.  There were no issues with the brakes, which had plenty of feel to the pedal and bite to the stopping bits in the wheels, and there is a traditional pull up handbrake lever between the seats, I was pleased to see. The ride seemed pretty decent, too. One advantage of the SUV-style body is that the seating position is that much higher, giving you the much cited commanding view over other traffic. It is true, you did notice it, without feeling you were sitting so far above everyone else. A combination of a reasonably large glass area, and some large mirrors meant that the ASX was easy to see out of and to position on the road, as well as to manoeuvre.     

Mitsubishis of yore used to be criticised – and deservedly so – for the low rent feel to their interiors. The ASX deserves no such brickbats. Whilst it is still nothing to worry Audi, it is at least class competitive. The main dash moulding looks like it was done using the same spec as you will find in a Ford Focus, with a softer touch than the texture would lead you to expect. Everything is nearly presented, though there are only a couple of silver strips down the centre of the dash to relieve the rather large amount of dark grey that constitutes the cabin. The main instruments, of which there are two, sit in a cowled dial, with some particularly clear and neat digital graphics between them for fuel level, odometer and trip computer functions. When you do press the "Stop" button, situated to the left of the wheel, the display changes to say "See You", which some might think is a little corny. The centre of the dash contains a good quality audio system and the climate control functions. There are some small switches to the right of the wheel, and everything else is done off column stalks. All the switches and buttons feel substantial enough. The seats proved comfortable, and I was able to get a good driving position, though there are less options for adjusting the seat than in some cars, with no lumbar support.

Trim level 3, the lowest level available with the diesel engine, brings you a few nice touches beyond those which everyone expects these days. Climate control, steering wheel mounted controls for the audio system and all round electric windows are probably now a given at this price point, but you also get a leather gear knob and steering wheel, auto wipers and lights, remote keyless entry and starting, cruise control, rear parking sensors and heated front seats, along with 17″ alloy wheels and rear privacy glass. Sadly it does not give you a spare wheel, limiting you to a repair kit, which is disappointing, but increasingly seems to be the case on new models. Even so, given that the list price of this car is currently £18459, and almost all of its rivals list at over £20,000, it has to be considered well equipped for the money.

The reason why cars in this class have become so popular, ignoring the image factor which may actually play a greater part in people's attitudes than one realises, is that they simply offer more space for a given footprint than a traditional saloon or hatchback. The ASX is no exception in this regard, as it is both shorter and narrower than a Focus.  You would never guess unless you get the tape measure out.  The extra height of the vehicle means that there is plenty of headroom in the car, and by setting the rear seats that bit more upright than you would perhaps find in a hatchback, there is both generous legroom and a decent sized boot. The rear seat backrest tilts so you can adjust the angle to suit the passengers. The luggage area can be extended by dropping the rear seat backrests forward, creating a longer and still flat loading area. Inside the cabin, there were a number of places to stow odds and ends, including a centre console armrest cubby, cupholder areas, a decent glove box, and door bins. The interior trim materials, although a bit sombre, looked to be tough and durable and capable of leading the hard life to which this vehicle might be subjected.    

Summing up, I rather liked the ASX. I don't think I would buy one, but that is more of a comment on the sort of car I would need or want to own. There were no significant weaknesses, and I have no reason to doubt that this car would be anything other than supremely reliable. It is roomy, decently finished, a civilised motorway cruiser, and pleasingly economical. It is also good value for money, costing less than almost all of its competitors, even the Korean duo of Kia Sportage and Hyundai ix35. Mitsubishi's future has looked a little imperilled for a while, but if they can produce a range of cars like this, they do deserve more success than they have enjoyed of late.
2010-09-04 16:35:36