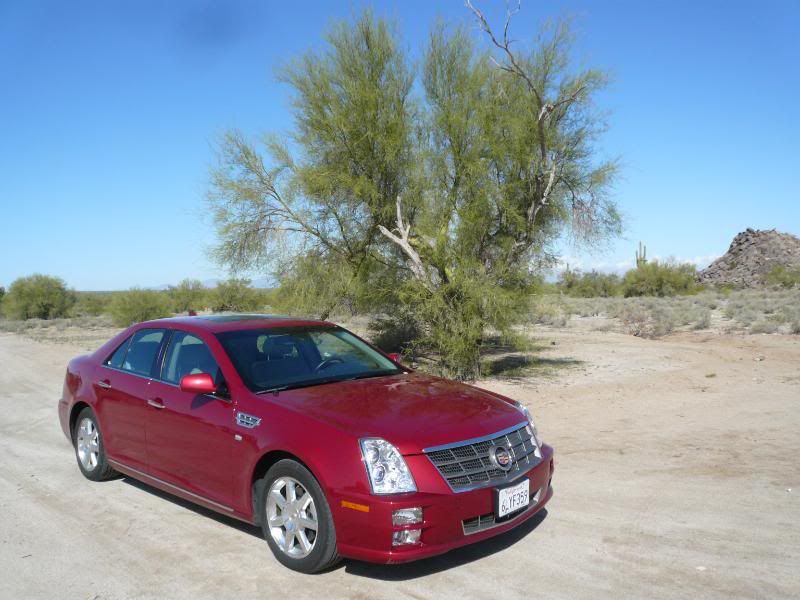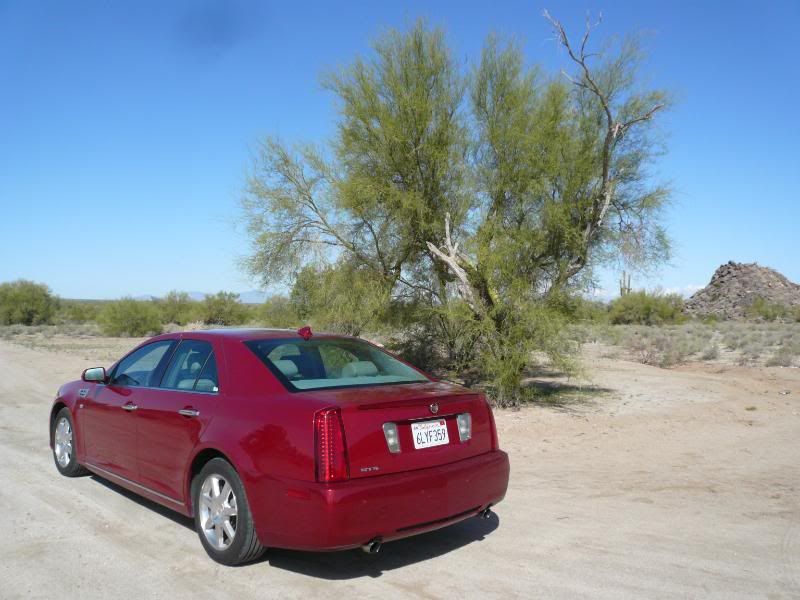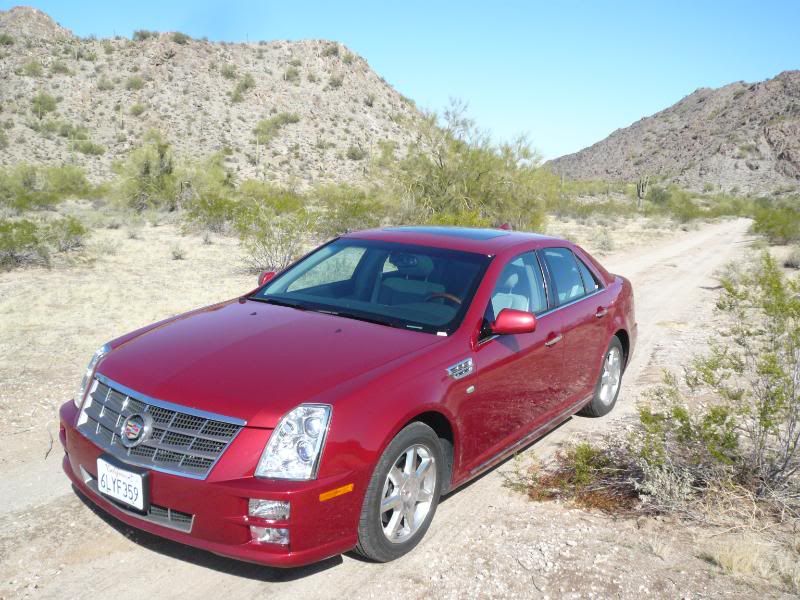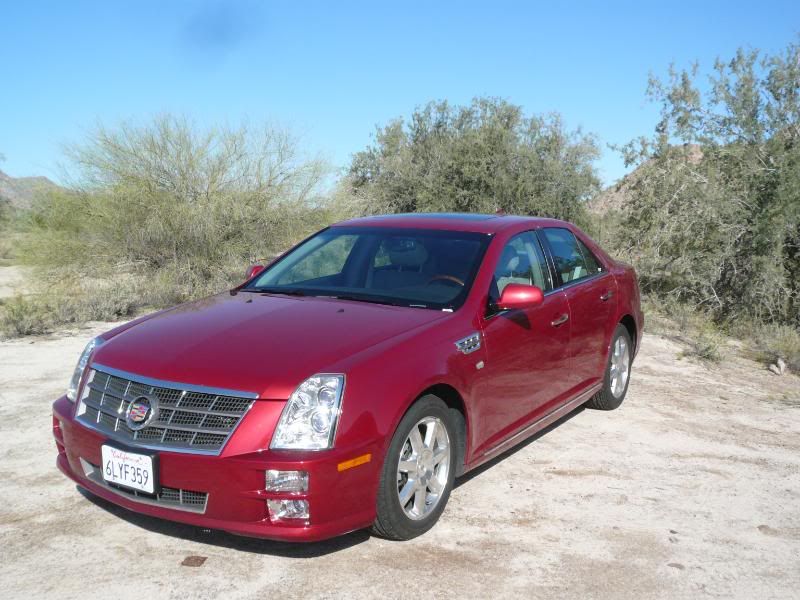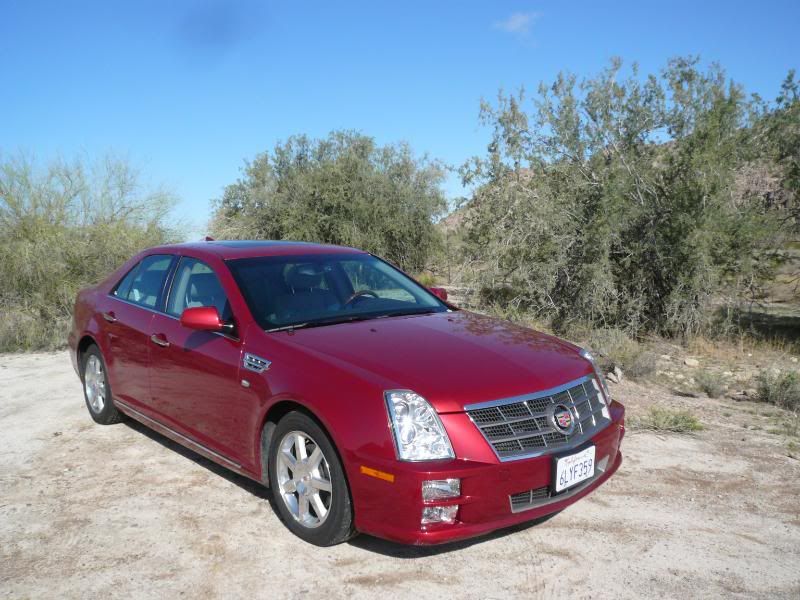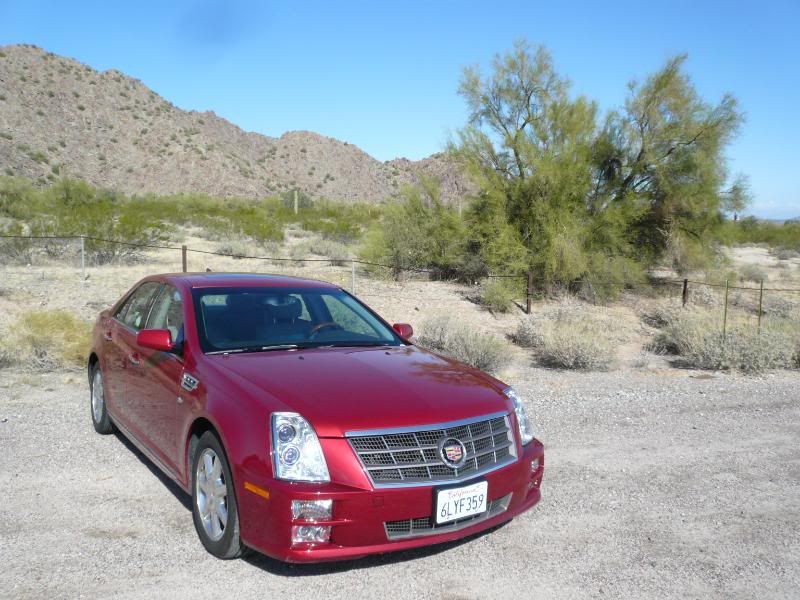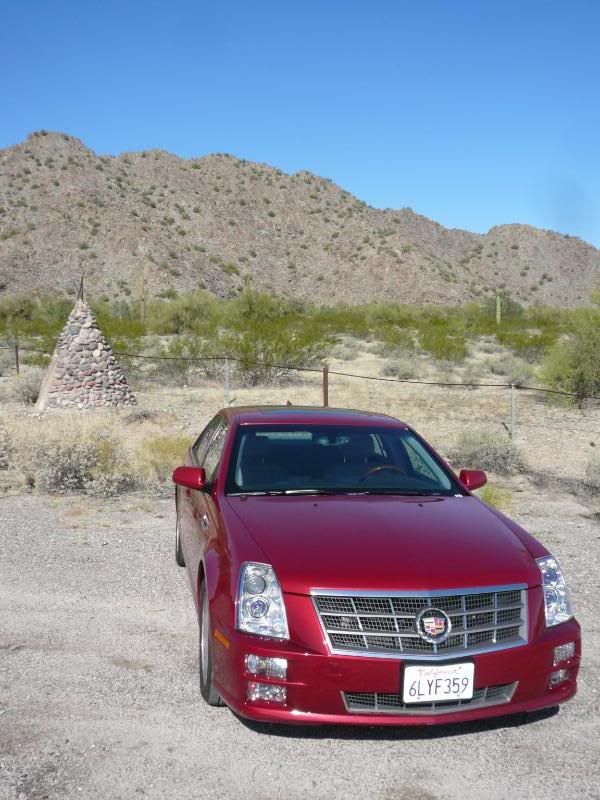 In the near future, it would seem, Cadillac will replace not just the STS, a car I have been testing for a few days, but also the larger DTS models with a single vehicle, currently expected to be called XTS. In many ways, this would appear to make a lot of sense, as although the current STS and DTS are aimed at quite a different kind of customer, it is doubtful if Cadillac can justify the expense of developing and producing two large saloons of similar size that are so different under their skins. To understand how they have got to that position requires a bit of exploring of Cadillac's history. The DTS, based on the same platform as the Buick Lucerne, is simply the latest version of the "large" Cadillac, aimed at traditional buyers, more than a few of whom are in the superannuated category. These days, it is a front wheel drive car. Cadillac's first effort to appeal to a younger market was when they launched a car called Seville back in 1975, which was then notably smaller than the DeVilles and Eldorado Broughams that had constituted their range for many years. A number of iterations of Seville later, saw the model line split into the STS (for Seville Touring Sedan) and SLS (Seville Luxury Sedan). When the current body shape was released in 2004, the latest car was simply named STS, and to try to appeal to a broader market, who wanted something a touch sportier than the old car, it came as standard with rear wheel drive, with all wheel drive an option. This is Cadillac's flagship car, and it is more expensive than the slightly larger DTS. Not for the first time, Cadillac claimed that they had something that was at least as good as their German rivals, and with the launch of the implausibly quick STS-V, they were certainly correct from a performance point of view. Sales volumes, however, reflect the fact that the market was not entirely convinced by the Cadillac marketing hyperbole, and the model has always struggled. From a peak of 33,500 cars shifted in 2005, fewer than 4,500 were sold in 2010. Having sampled a DTS a few years ago, it was now time to find out whether the slower selling STS car is superior or inferior to its more traditional stablemate, and whether the car is in fact any good.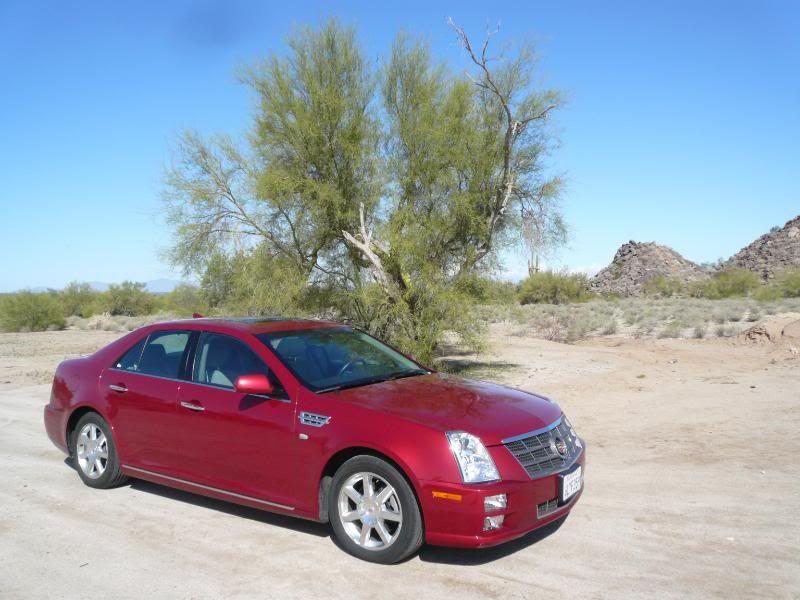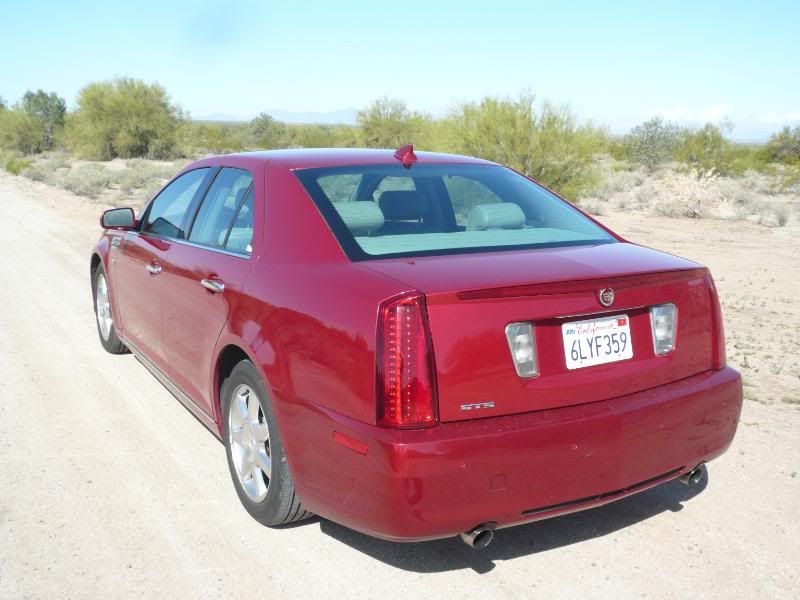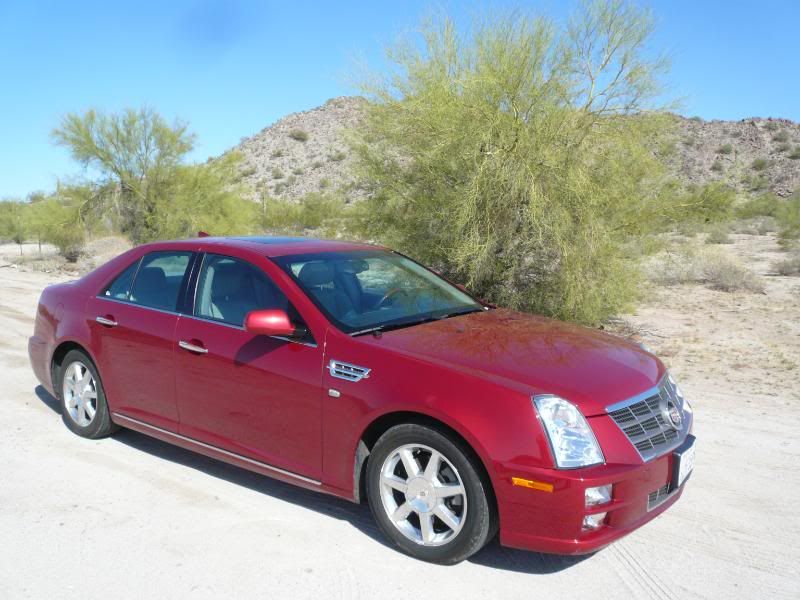 The STS certainly looks like a modern Cadillac, with the very edgy styling that is feature on all models. This was accentuated when the car received a mid-term facelift in 2007, at which point the grille was made larger and more aggressive, and chrome vents appeared in the side wings. Whilst you certainly would not mistake this car for any other brand, telling it apart from its smaller CTS brother, when you only get a quick glance at it may just be one of the difficulties that Cadillac has brought upon itself.  More recently, the model range has been simplified, with firstly the demise of the STS-V, and then for the 2011 model year, the deletion of the V8 cars, so now the only available engine is a 3.6 litre V6. All wheel drive remains an option, and there are a number of option packs which can be selected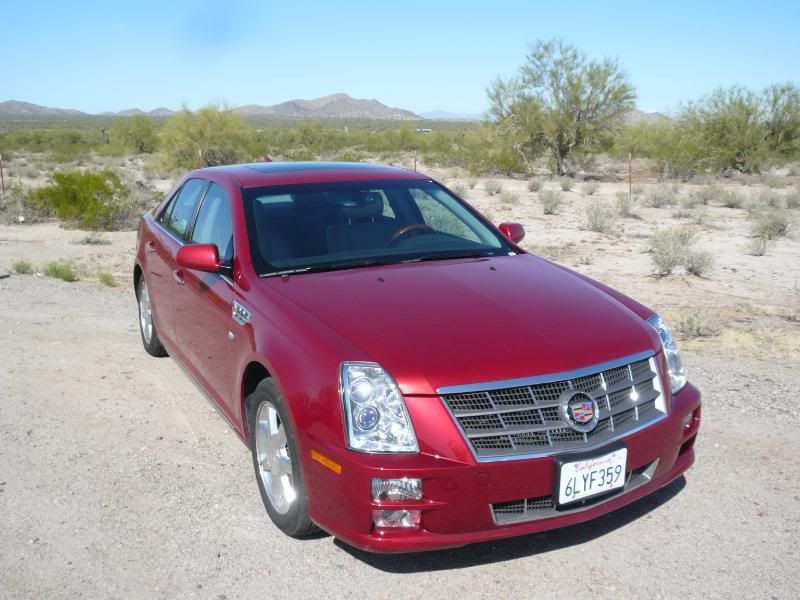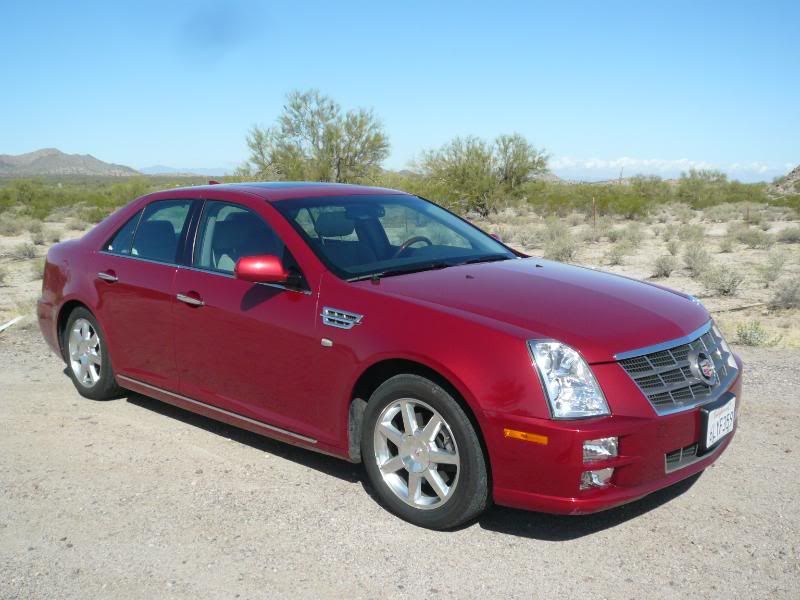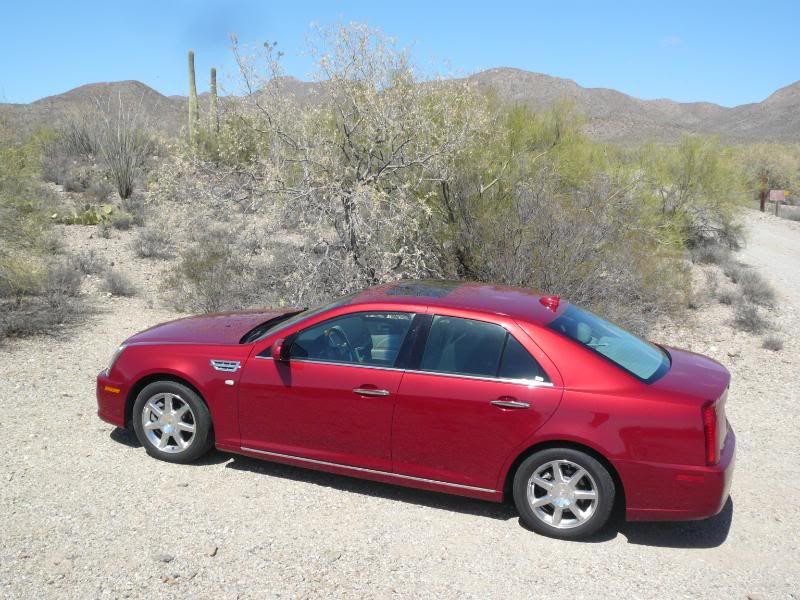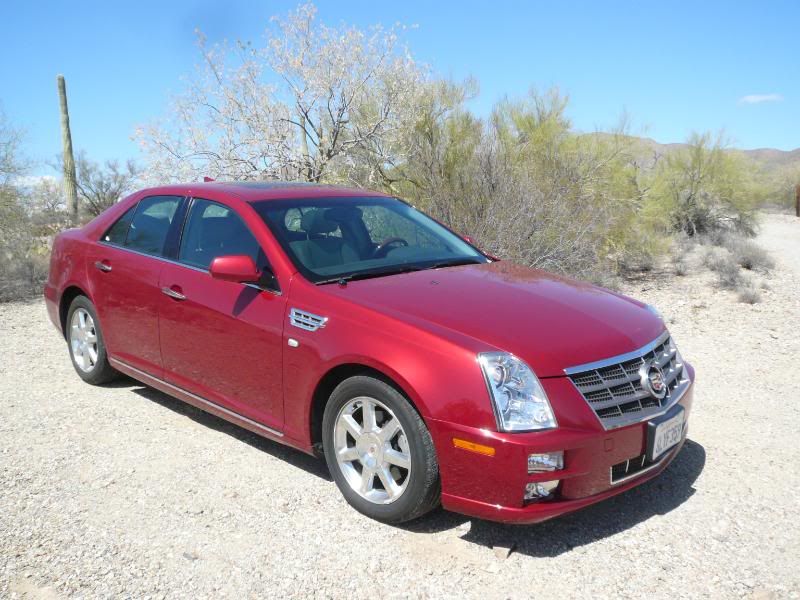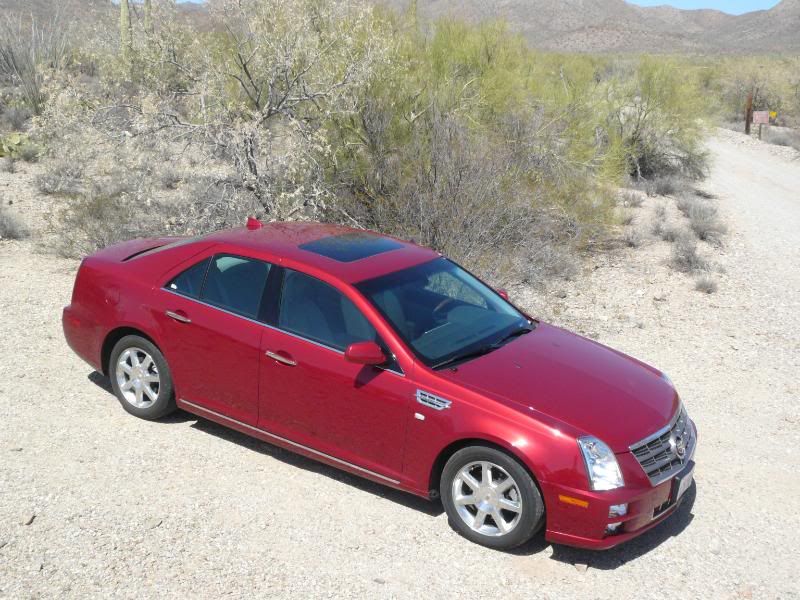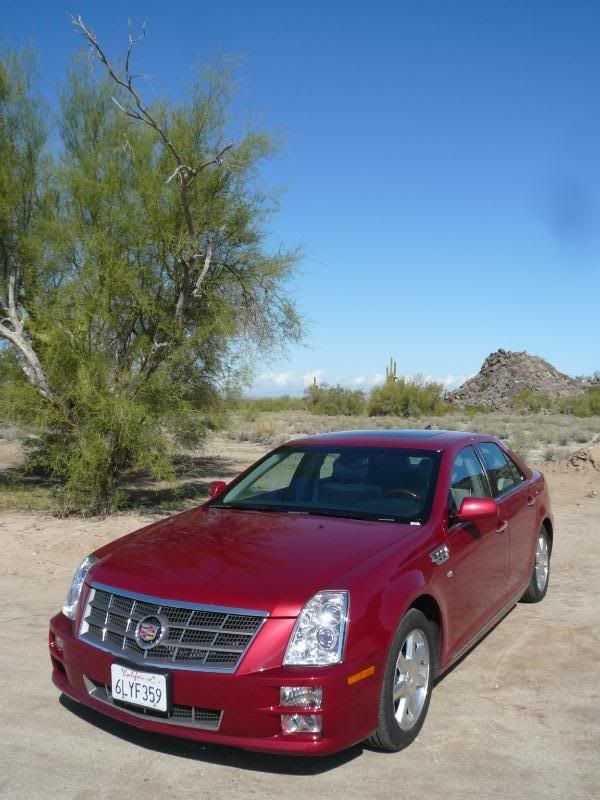 My test car, although a 2010 model year vehicle, came with the 3.,6 litre V6. This direct injection engine develops a fairly healthy 303 bhp, which is sufficient, Cadillac claim, to get the STS from 0 – 60 in 6.5 seconds. I was in no position to verify these claims, but I can report that the engine does feel like it has plenty of urge available. In normal traffic, you can barely use any of it, and I noted that at a freeway cruise of 75mph (legal in Arizona!), the rev counter showed less than 2000rpm. It was when I spotted this, that it occurred to me that this could be why the engine sounds so quiet from within the car. Indeed, to all intents and purposes, the engine on the STS is all but inaudible unless you really accelerate hard. In fact, I would go as far as to say that I think this could be the quietest I have experienced in any car in which I have ridden.  In fact, when you stand outside the car, and it is idling, until the point when the fans cut in, it is extremely quiet as well. Push harder on the accelerator pedal, though, and there is an almost serene waft of extra power at your disposal. If you get this with the vanilla V6 engine and 303 bhp, I can only imagine what the STS-V was like.
Standard transmission is a 6 speed automatic, with manual override. It proved silkily smooth in operation, and never seemed to be in anything other than the right gear for the moment. Because the engine is not having to do much work, it proved rather more economical than the Sebring I had turned in a few hours before collecting this car, with an average of around 26 mpg (US). Sadly, the accolades stop when it comes to the other driving dynamics. The steering is light, and lacks much in the way of feel. It is nothing like as bad as that in the Sebring (but then, apart from the old Toyota Sienna, little that I have sampled is!). Having come across a car that had just spun on a freeway intersection curve, I was not going to try anything too extreme, so can't tell you whether the fact that the STS is a rear wheel drive car means that it is good as the Ultimate Driving Machine, but I can be pretty sure that the answer is that it is not. For the way I drove it, it was fine. The suspension in the STS is firmer than it is in its larger sibling, a car noted for its old school American barge approach, but it is some way off European style, so what you get is a comfortable deportment over the road surfaces. The test was conducted in Arizona, whose road surfaces are generally very good, and massively better than those in impoverished California. No complaints about the brakes, which did exactly what they are supposed to do., There is a foot pedal operated parking brake, which I never used. The STS is a large car, but it is quite easy to position, and as the glass area is quite generous, it is easy to see out of the car. The door mirrors are small, though, and as such, visibility of what is behind and alongside you is not always quite good enough. When you engage reverse, the passenger side mirror tilts downwards, to give you a better idea of he location of the kerb.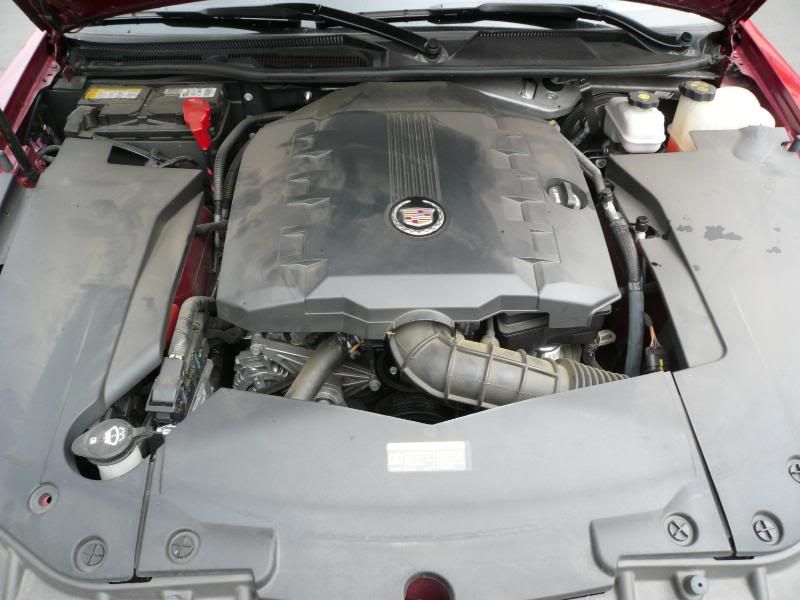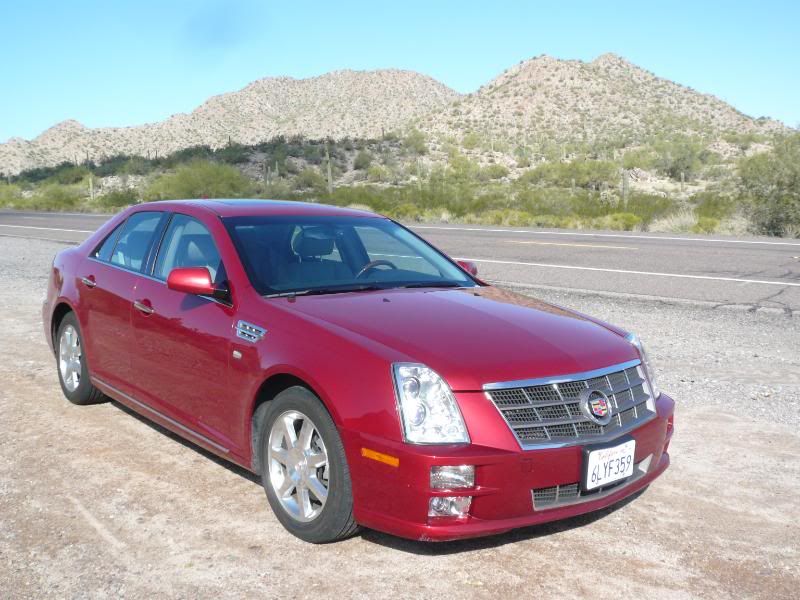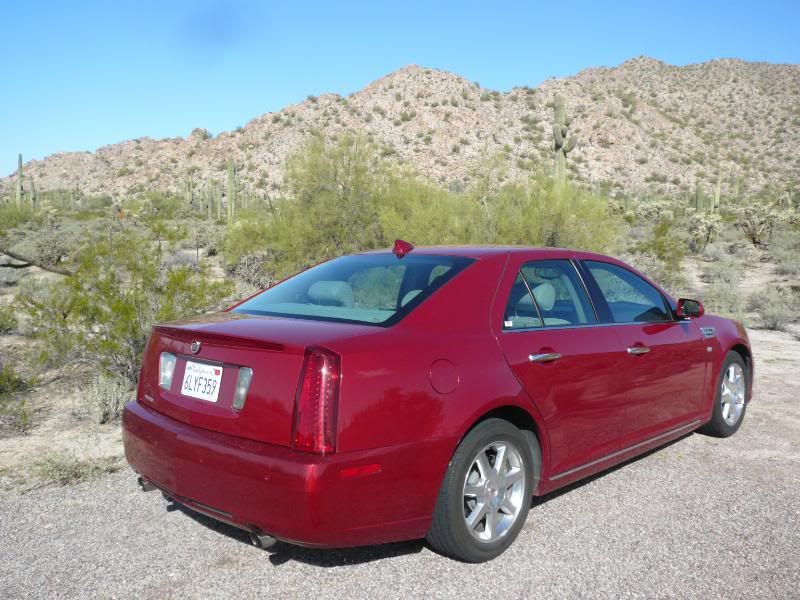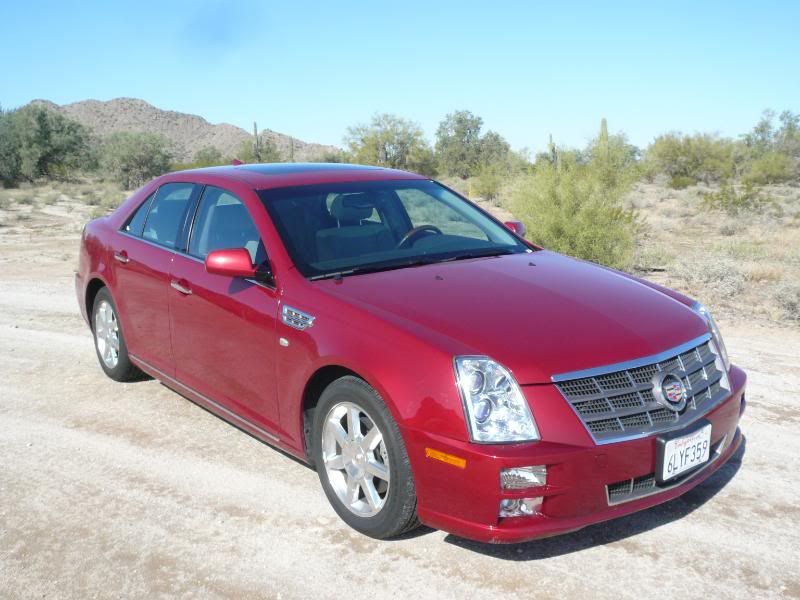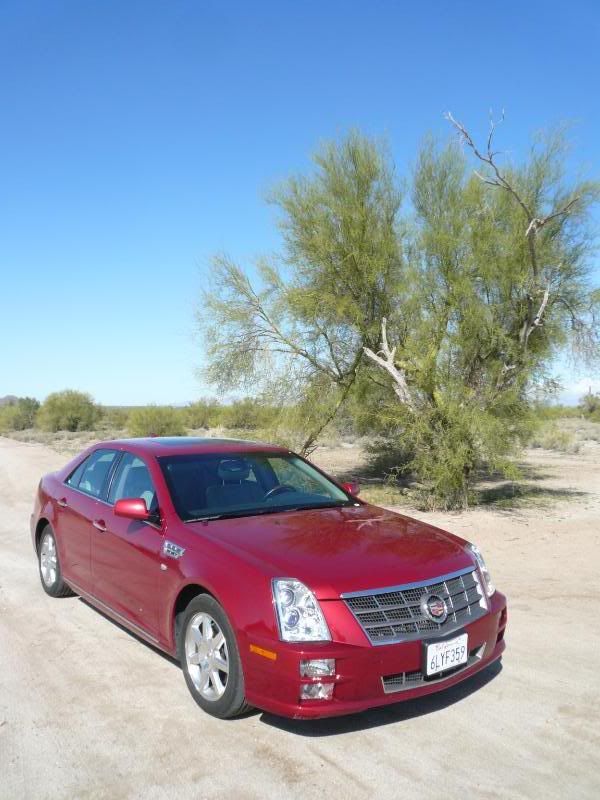 If the dynamics don't quite meet the standards of the erstwhile German trio of competitors, then opening the door and looking in the cabin will provide further evidence that Cadillac is not there yet. However, I would have to give them reasonable marks for trying, as the STS is not a bad effort. Compared to American cars of even the recent past, this one is quite nicely finished, with a swathe of brushed aluminium effect in the middle of the dashboard, some "wood" that is far less offensive than that usually encountered in American luxury cars, and decent quality plastics for the rest of the dashboard. It is not at Audi levels of design, quality or fit, but it is not too far off. The dashboard itself is refreshingly devoid of too many buttons, and it achieves this without needing to resort to any form of iDrive or MMI like control. There are three small buttons on each spoke of the steering wheel, which are neatly integrated, and a couple of multi-function column stalks, buttons to change the trip computer display to the left of the wheel, and just the audio unit and climate control system in the centre of the dash. Above and below this latter are a small, but very deep cubby hole and the ash tray, respectively. That is it. The dials are simple, and clearly marked and so easy to read. Indeed, everything about the controls was just so intuitive. My biggest gripe was probably the fact that the only clock display is at the end of a line of other things in the top of the audio system display, which I found slightly irksome, as it was not easy quickly to determine the hour of the day.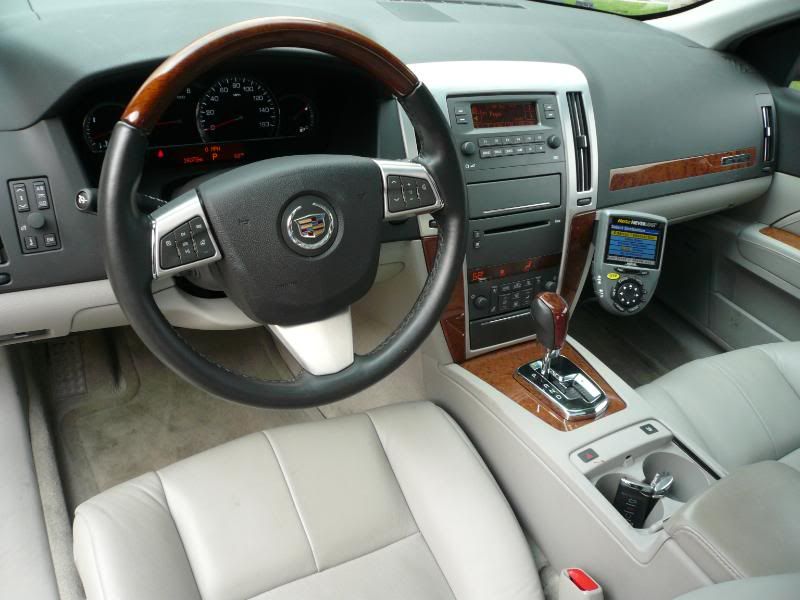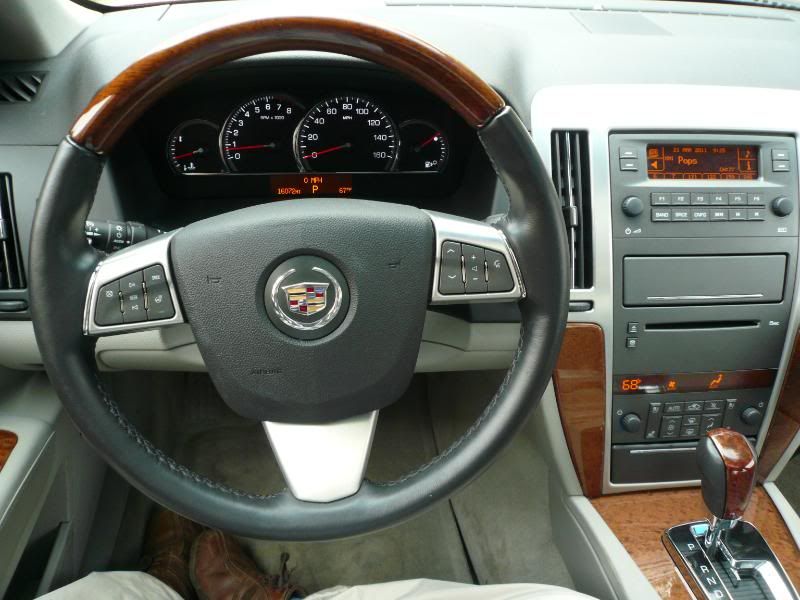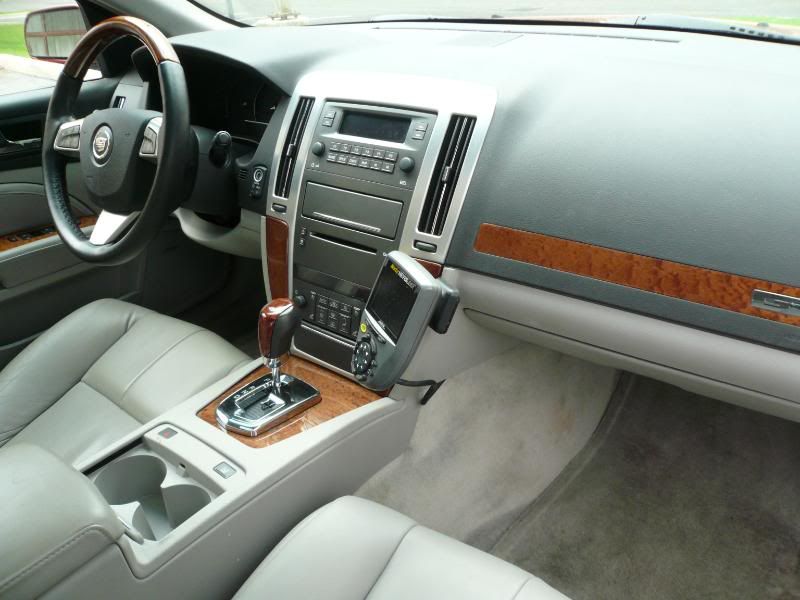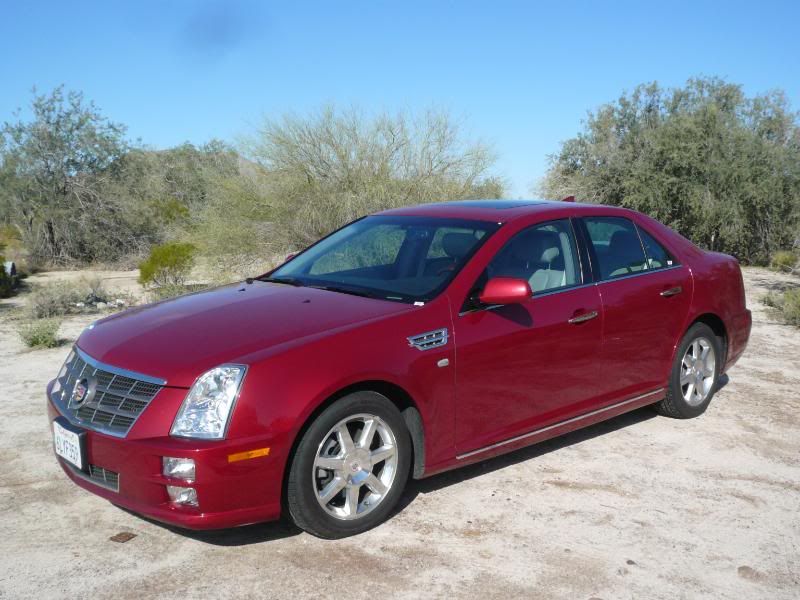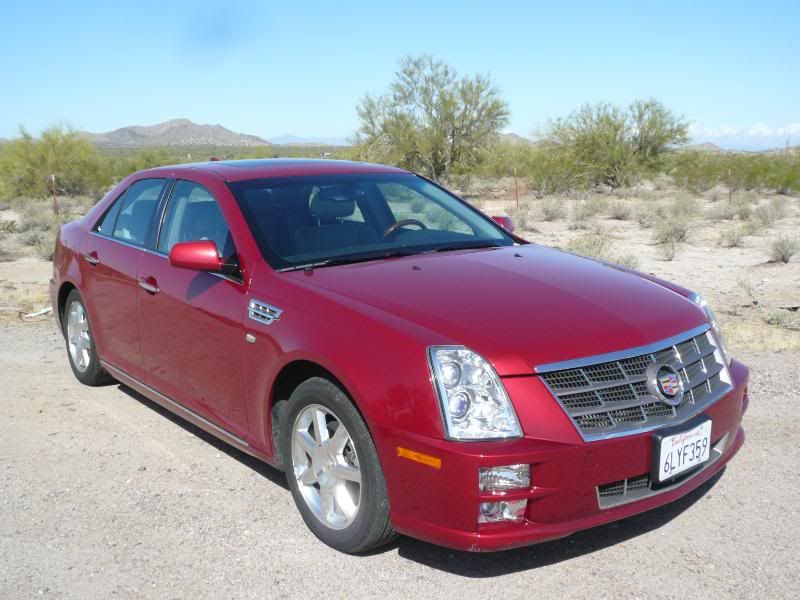 The STS is a large car, and at first glance, it looks like there is plenty of space for everyone, especially the rear seat passengers. However, move the driver's seat well back, and things become surprisingly tight. The boot is decently sized, though the opening itself is not huge, so getting things in will be more of an issue than whether they can actually fit there. There is a lockable ski flap accessible when you lower the rear armrest, so you could poke some small but long items through should extra length be needed. Inside the cabin, there is a glovebox, door pockets, and a deep cubby under the centre armrest for those little bits and pieces. Rear seat passengers get pockets in the back of the seats and door bins and that is it.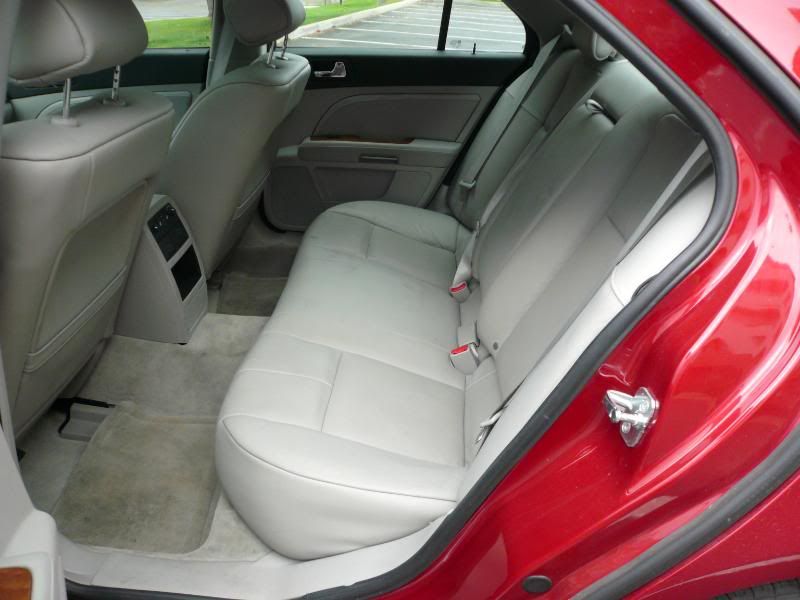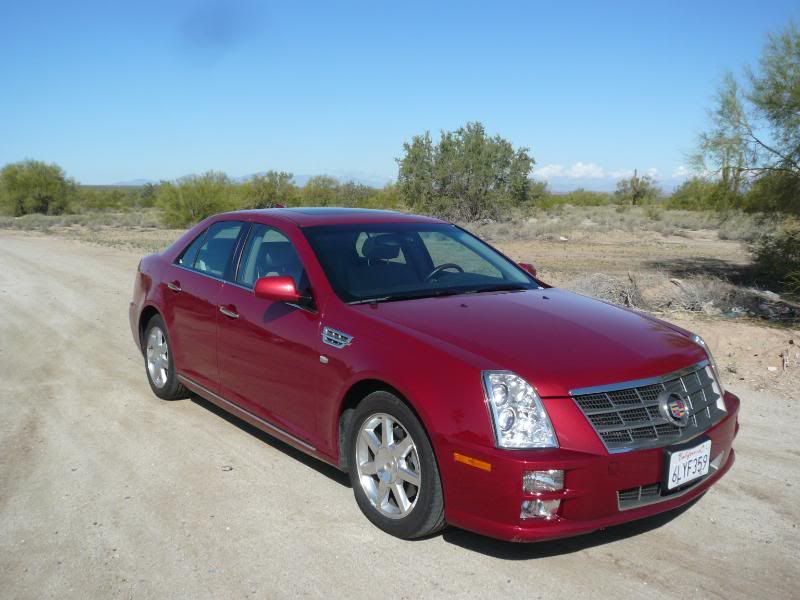 Although Cadillac would have everyone believe that the STS is a sports sedan, it is also a luxury car, and even in rental car spec, it came well equipped. The tilt/slide glass sun roof was an optional extra, but pretty well everything else was part of the standard spec. I know more than one person who would like the fact that as well as having seat heaters, there are also fans in the seats to cool one's anatomy. The steering wheel, a mix of leather and "wood", also has heating for the leather part. The leather used is of decent quality, and it features on the doors as well as the seats. I also appreciated the fact that there is electric adjustment for the steering column, though despite the fact that there was a large arc through it could be moved up and down, I would have preferred it to have been possible to move it even closer to the dashboard. Another useful feature was the keyless ignition. As long as the rather large key fob was near enough, all you had to do was put your foot on the brake, and press the button to the right of the column. There was a clear setting to be able power accessories such as the radio, too. ,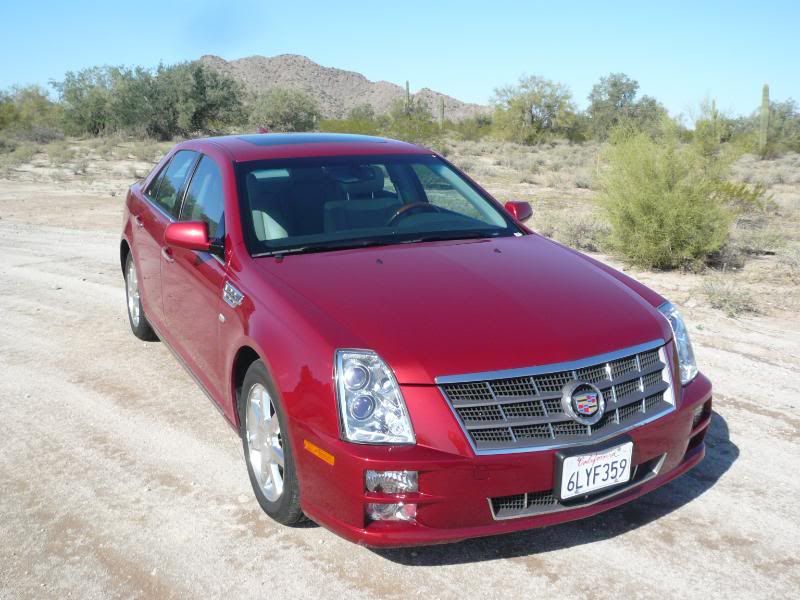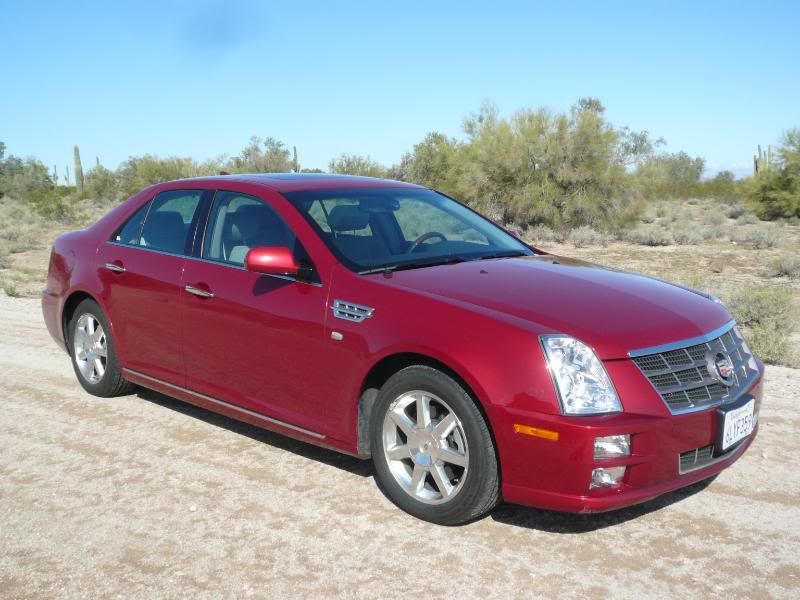 When Cadillac brought the STS to Europe, they wanted buyers to choose it in preference to a 5 series, E Class, an Audi or a Jaguar. Almost no-one did, and sales volumes were pathetic. I am not surprised, as although on paper, the STS may seem like a potential rival for these models, in reality, it is not really, as it lacks the sporting edge that they all deliver in their own different ways. In America, though, where it has the advantage of far more competitive pricing, and better dealer support, as well as the different market and driving conditions, it would seem to be a rather more attractive proposition. Whilst I would still struggle to consider this version as a sports sedan – unless the point of comparison is its DTS stablemate – as a comfortable luxury sedan in which to travel long distances on the freeway, it has much to commend it. In rental car land, where it is offered as a "premium luxury", a category which once would have yielded a Lincoln Town Car, and more recently a DTS, it is definitely the pick of the group, and not something to reject should you be offered one.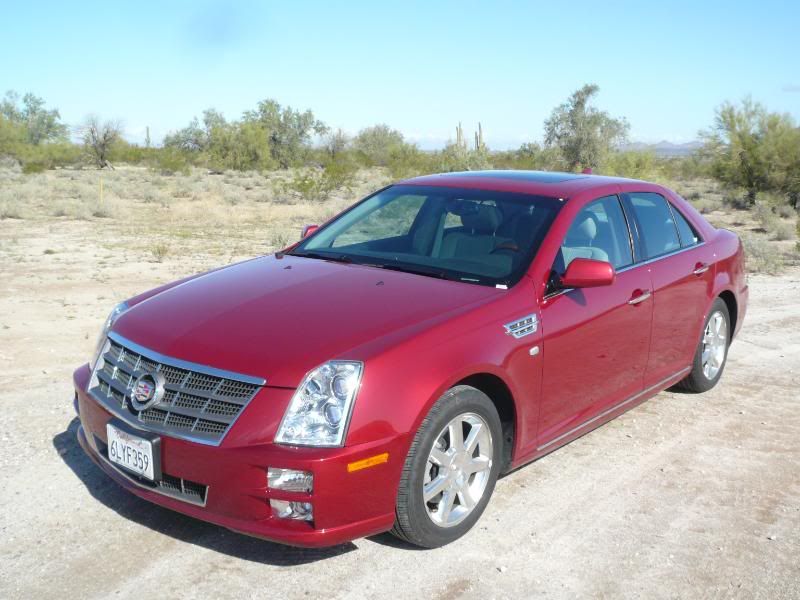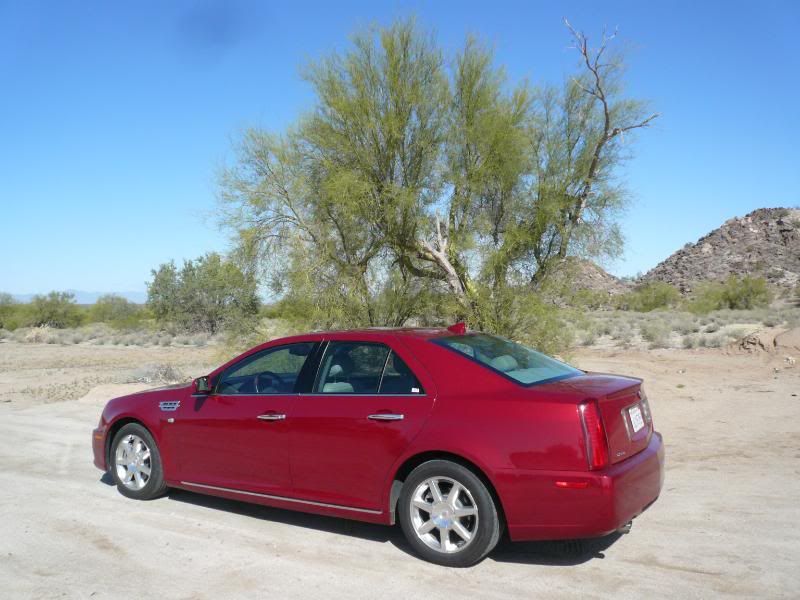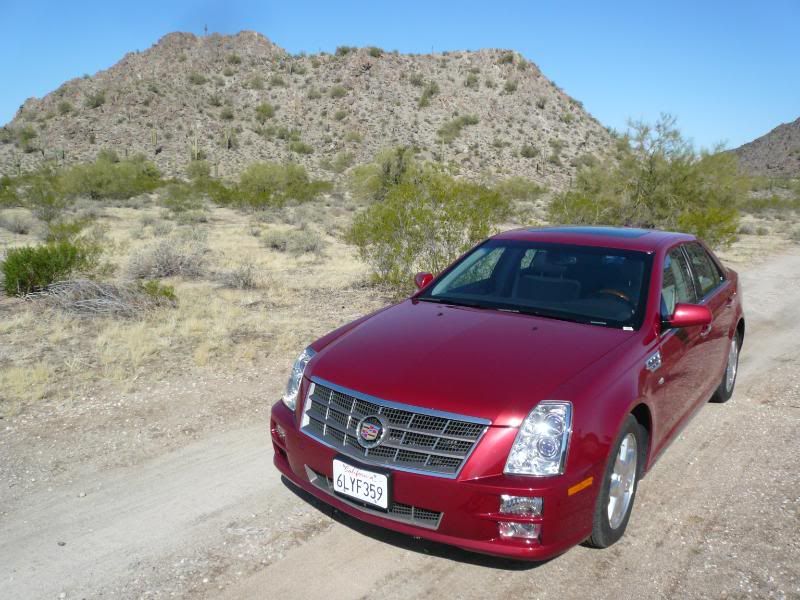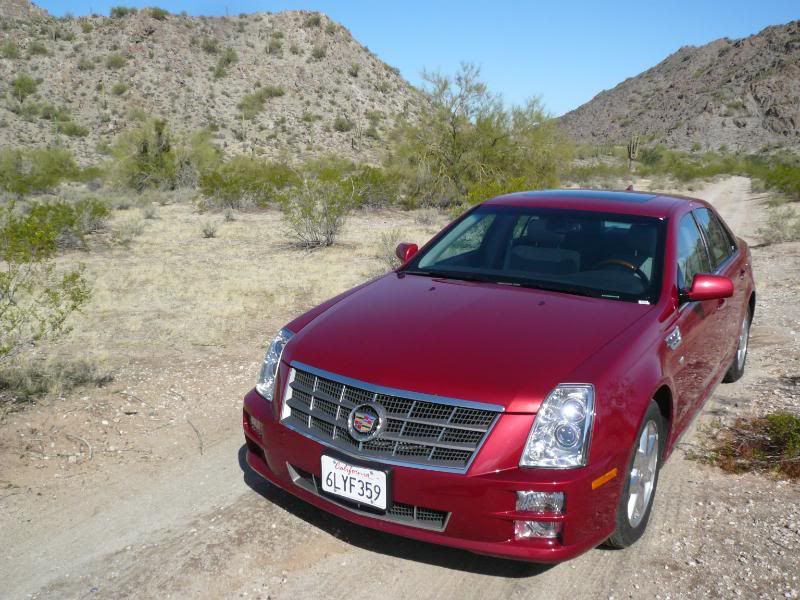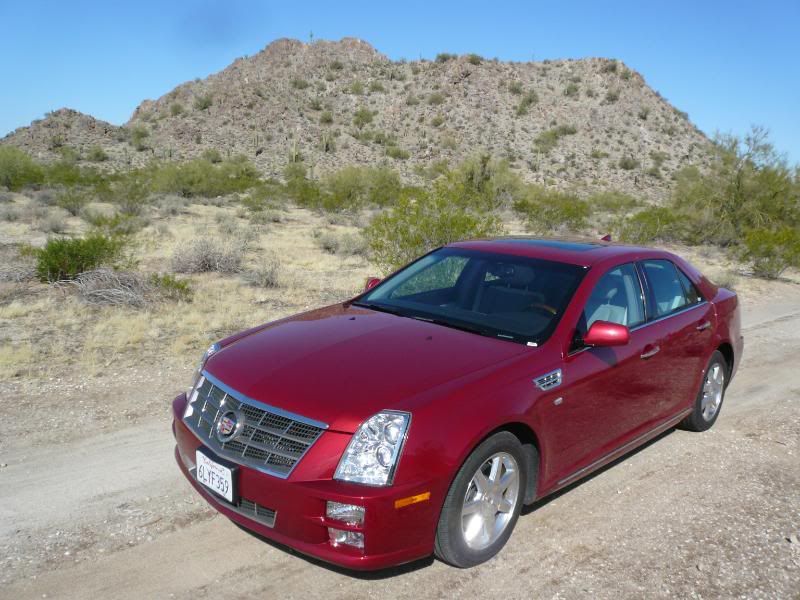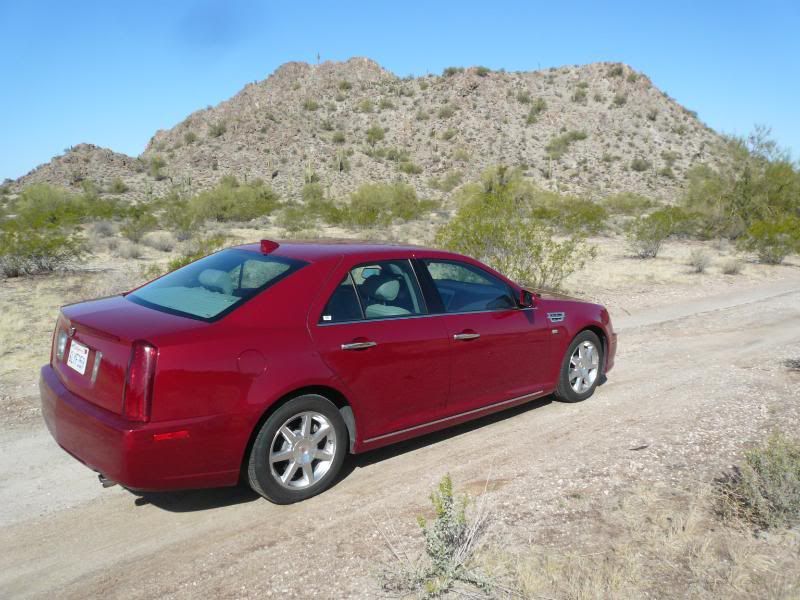 2011-04-08 11:40:21