I first sampled the Silverstone Classic event in 2007, and was utterly overwhelmed by the vast amount to see. Not only is this one of the largest events for historic racing in the world, but the Car Club and Owners Club stands amass over 6000 cars, which is more than even this enthusiast can absorb in a day. Accordingly, every year since 2008, I have booked a ticket for both weekend days of the three day meeting, trading exhaustion for the opportunity to see more of the cars and racing. In 2009, the event gained a new organiser who raised the ticket prices significantly, and like many I have baulked a little at paying what is now asked, but have always found ways to reduce the cost, usually by booking before the end of March when much reduced prices apply. In 2010, Abarth UK were offering free tickets to the Abarthisti, as there was a round of the Abarth Trofeo race included on the program, and I cursed the fact that I had been efficient and bought mine some months earlier. This was even more the case when I discovered that those tickets came with a parking position right in the centre of the circuit. With no Abarth Trofeo series this year, it was not clear what the best "deal" would be, until I spotted an ad by "Classic and Sports Car" magazine offering a pair of Saturday tickets for free for new magazine subscribers. Too good an offer to miss, so I quickly signed up, knowing someone who would appreciate the other ticket. Although Abarth had no free tickets, a late agreement meant that they were offering not just Car Club rates (2 for 1 tickets), but a treasured car park pass, with parking in the same spot as last year. All set with this, and then an invitation by Abarth for a Saturday evening barbeque (which was very good – thank you!), all looked set for an excellent weekend, as long as the rain that had dominated the weather for days could just go away. It did. Although Saturday dawned cloudless, by the time we reached Silverstone it was quite overcast, Sunday also dawned with clear blue skies, and the few clouds that did form dissipated again during the afternoon, meaning that I was able to enjoy an absolutely outstanding weekend, with so much to see that even 2 days were not really enough. There were more cars present on Saturday, but enough that was different came on Sunday that it was no hardship to meander around the displays again. Even by my standards I took a lot of photos, and yet still missed plenty. Here, then is what I did capture:
CAR CLUB DISPLAYS
ABARTH
Abarth UK was one of the manufacturers supporting the event, and a combined display area with Abarthisti meant that as in 2010, Abarth had one of the best locations at Silverstone. Three categories of car were on display:
The historic Abarths, most of which are familiar to the inveterate event attendee: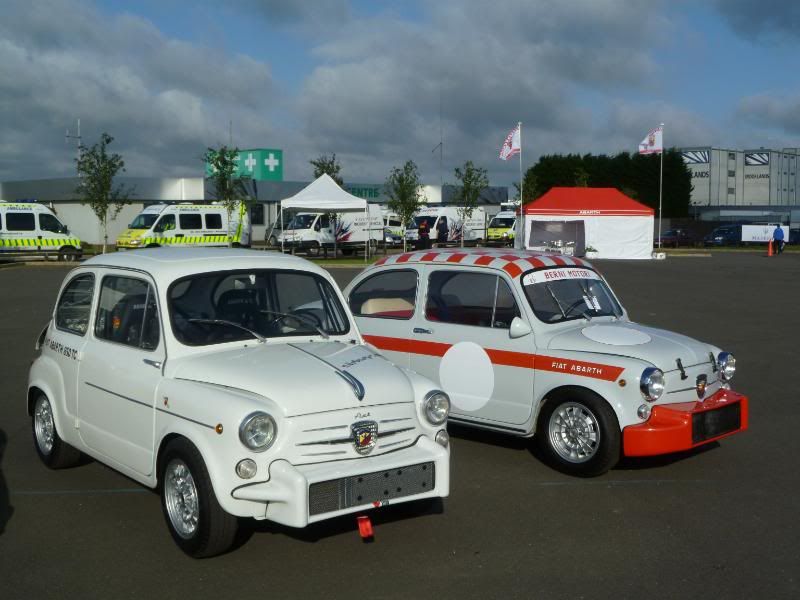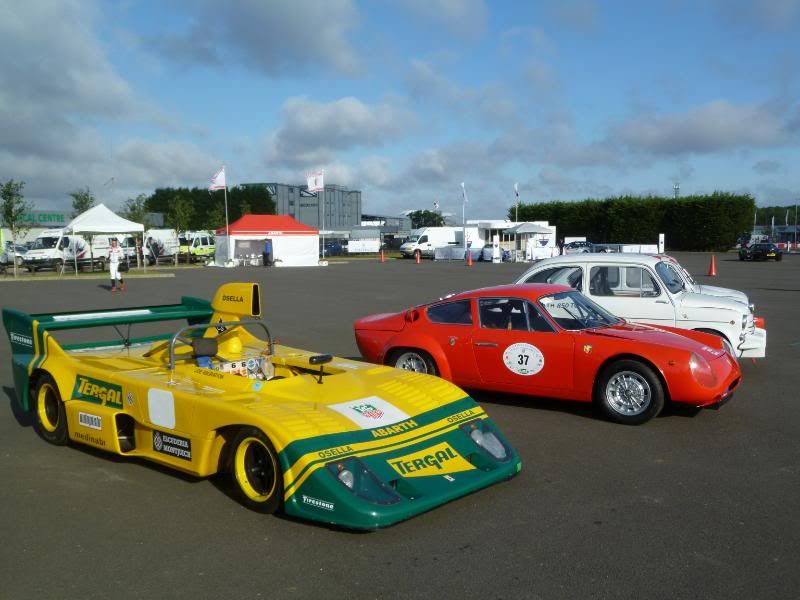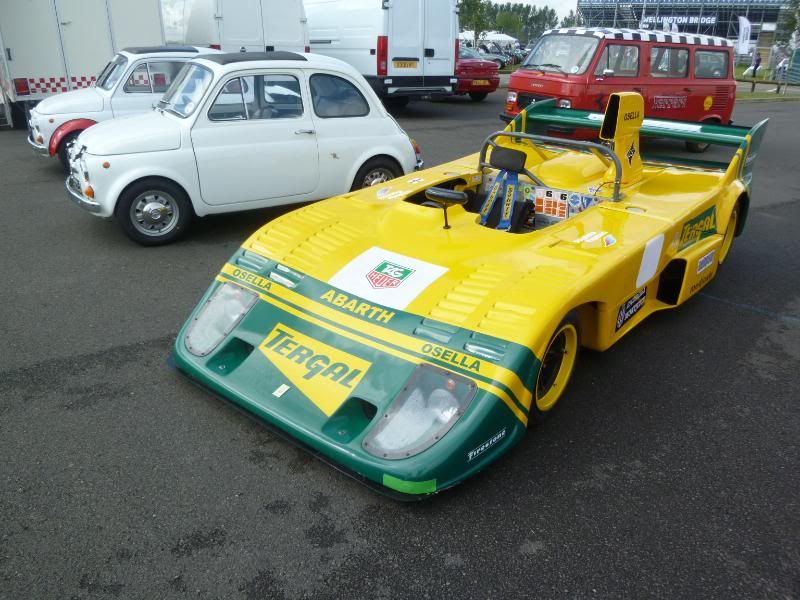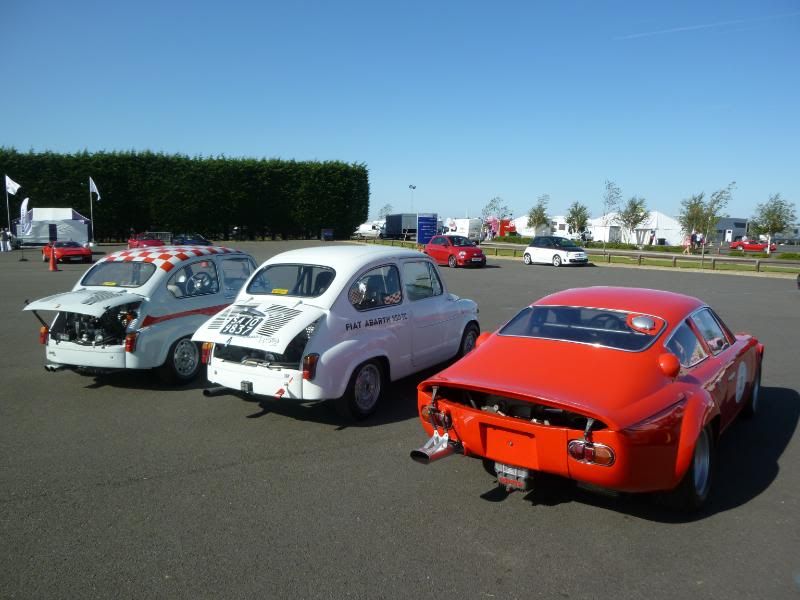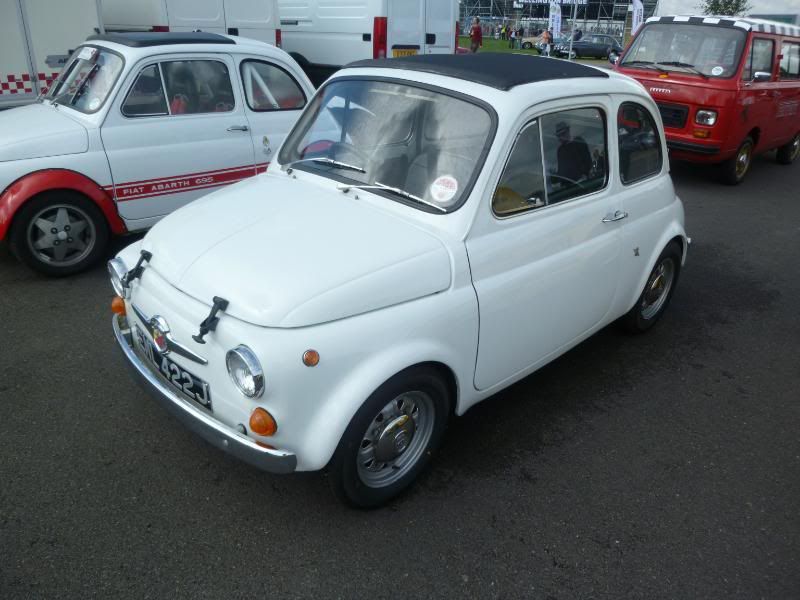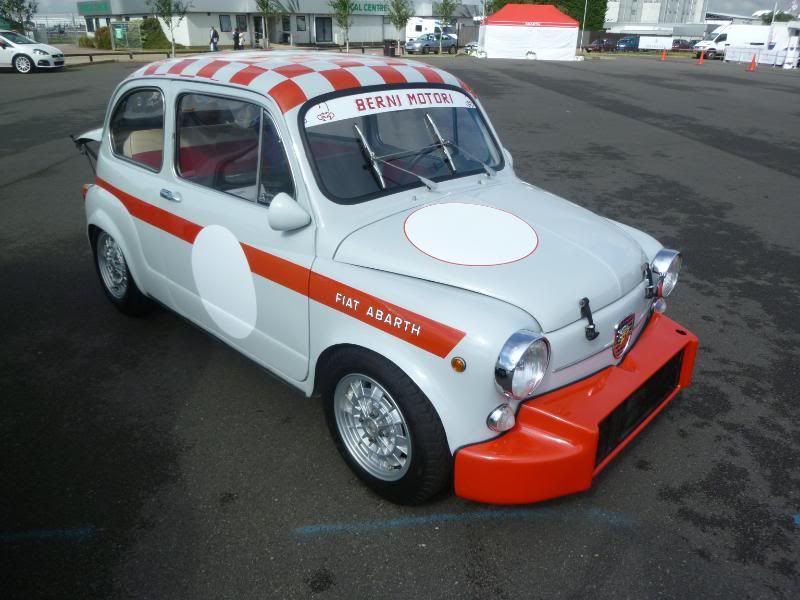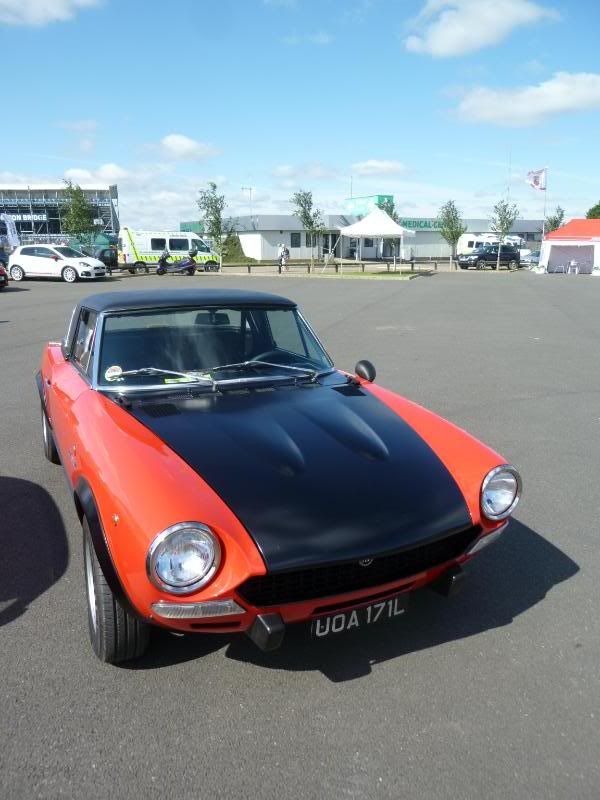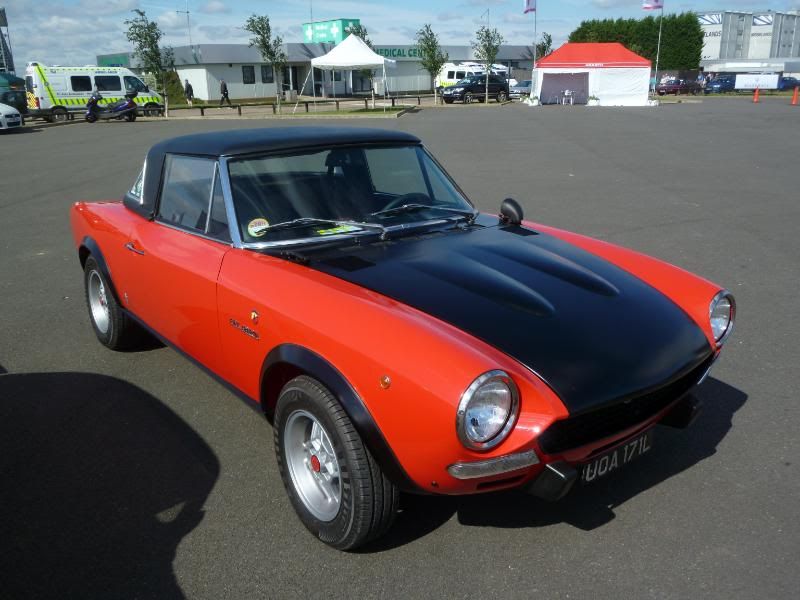 Examples from the current range, including another yellow Tributo model (this one was from Thames, unlike the Bauer Millett car which featured at Cholmondley) and Rockingham Cars brought along a red demo car as well.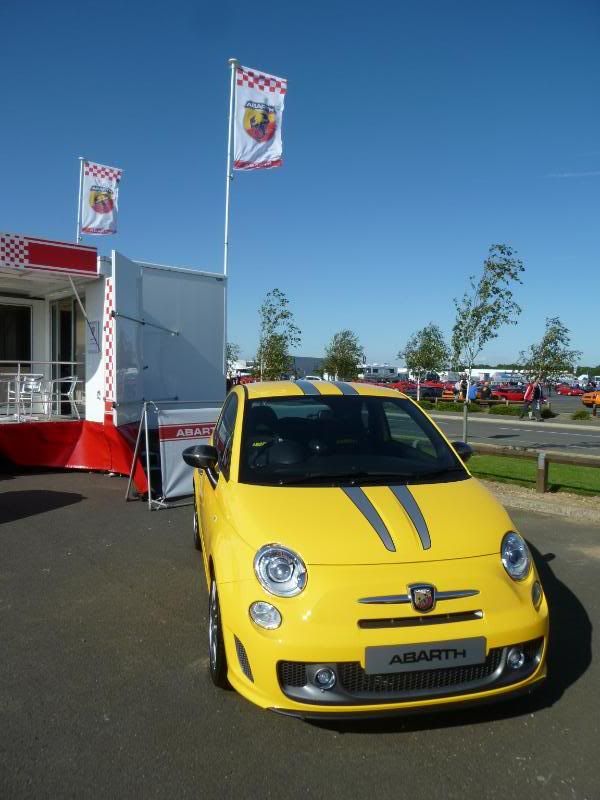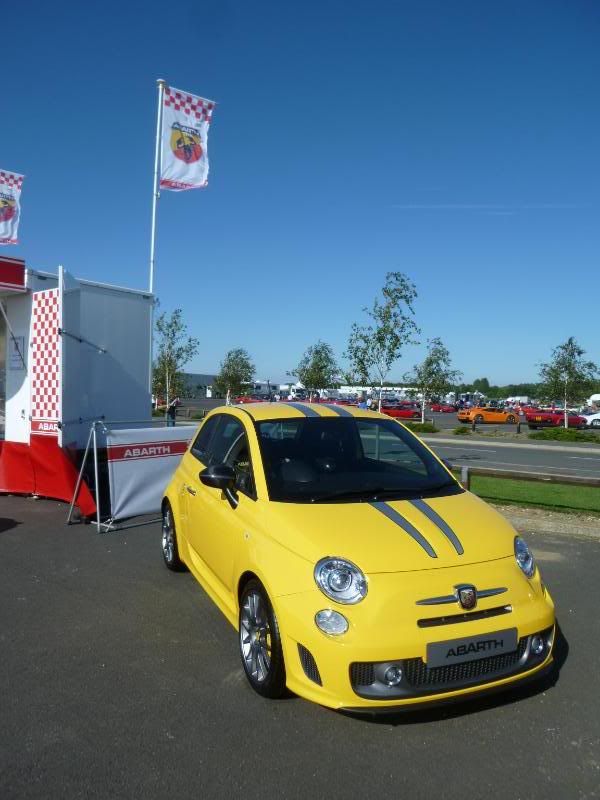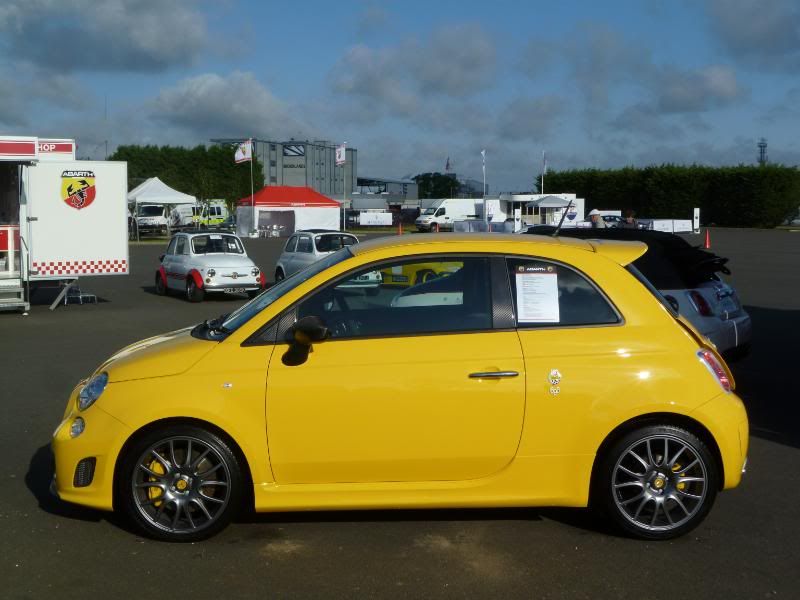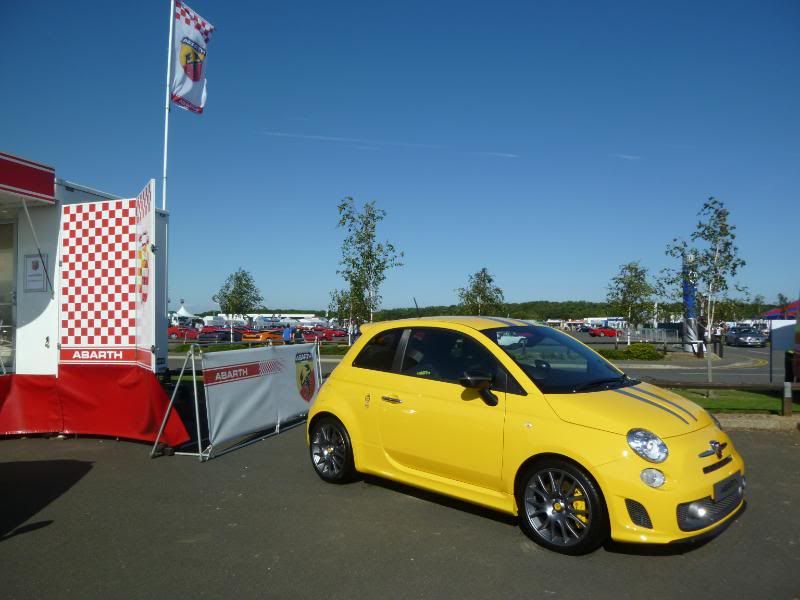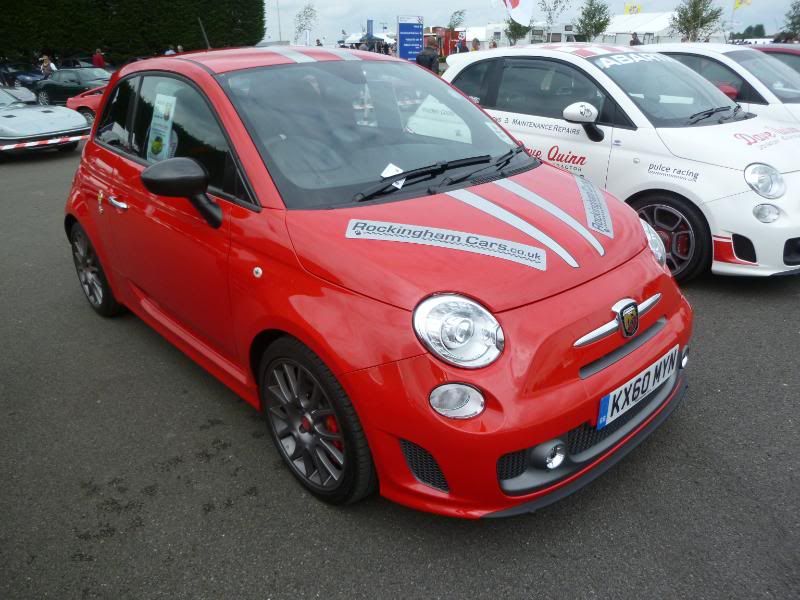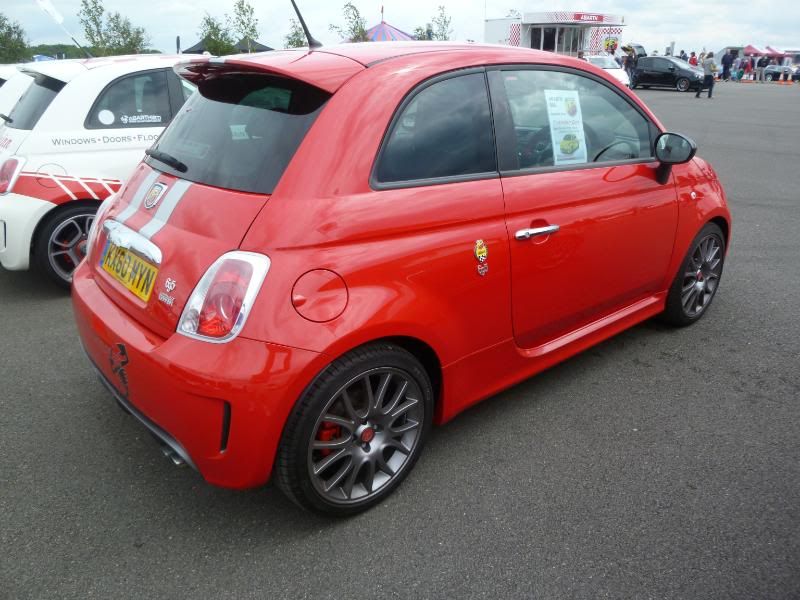 Abarthisti cars, with examples of 500, 500C, Grande Punto and Punto Evo.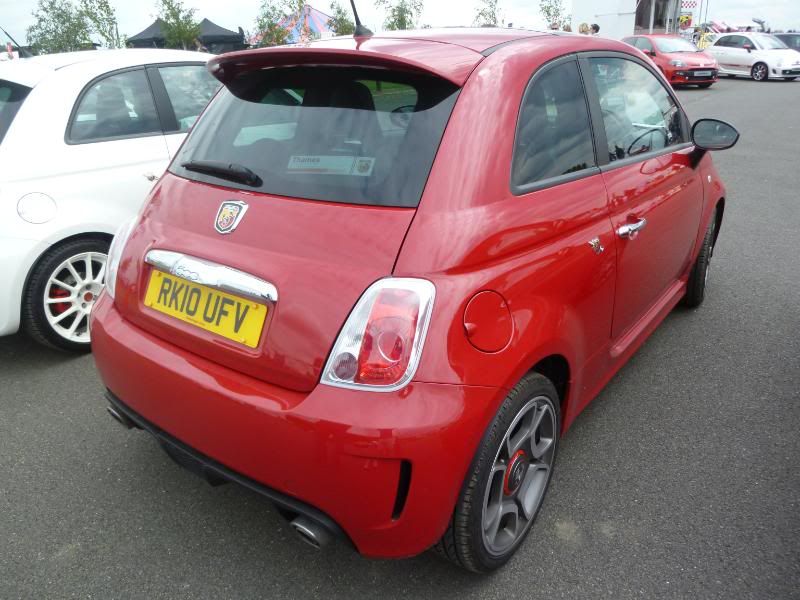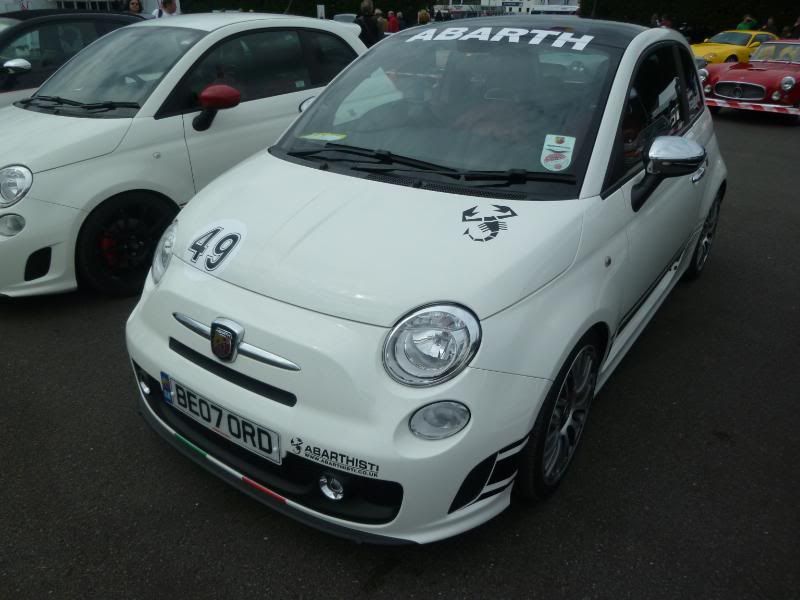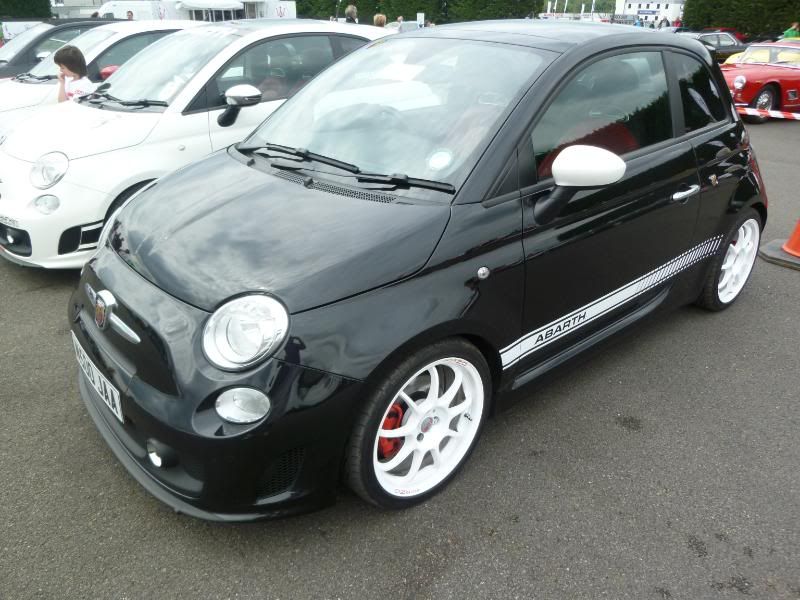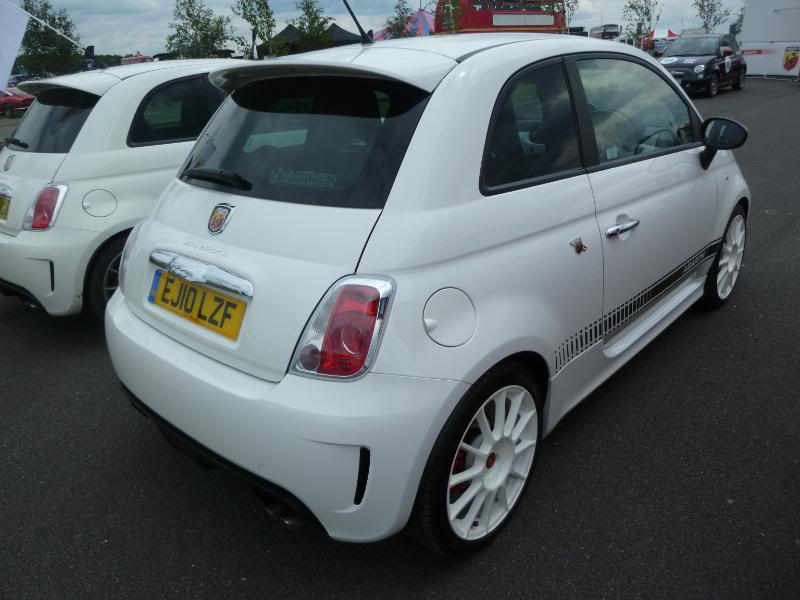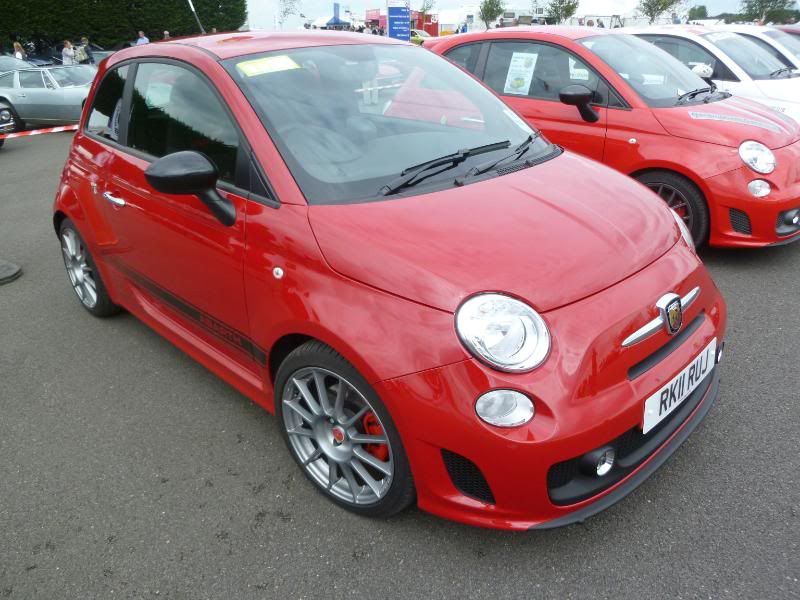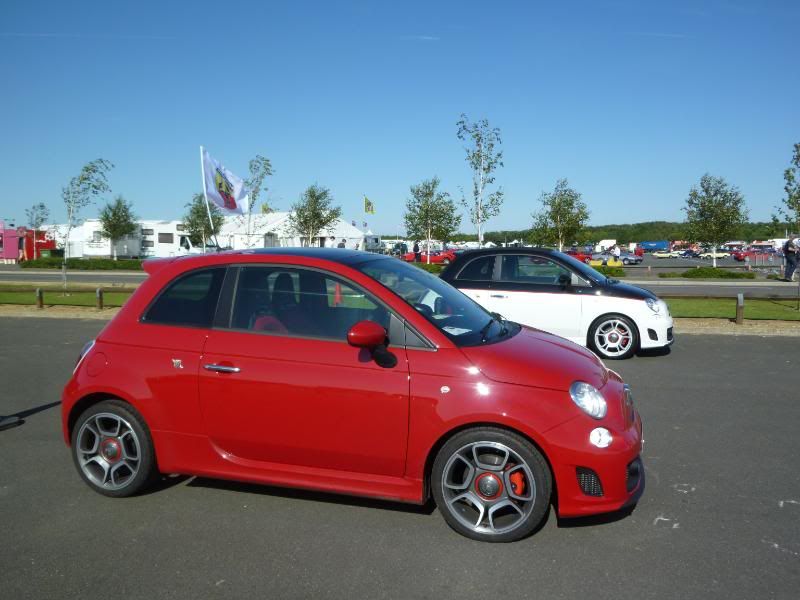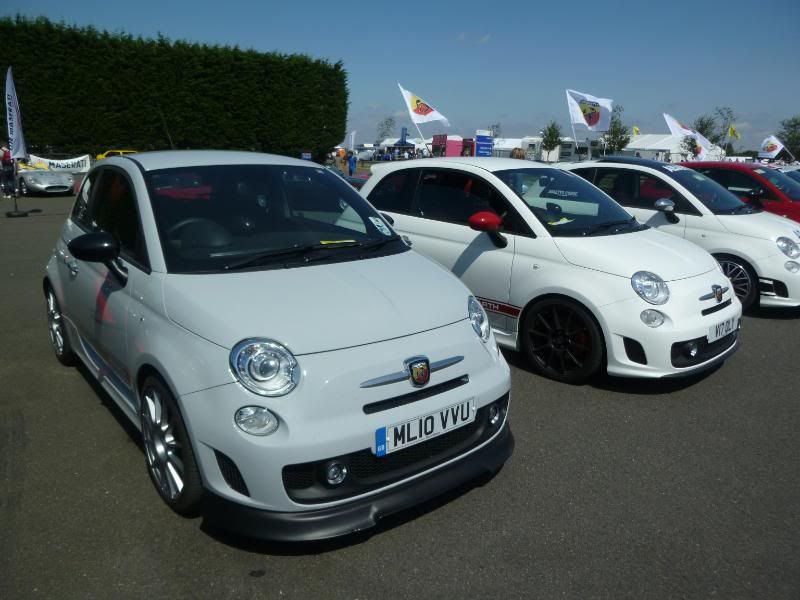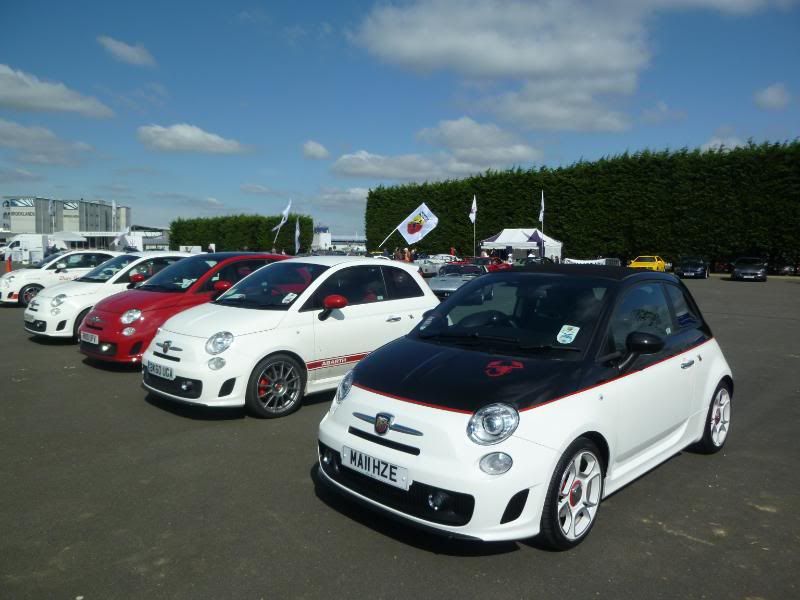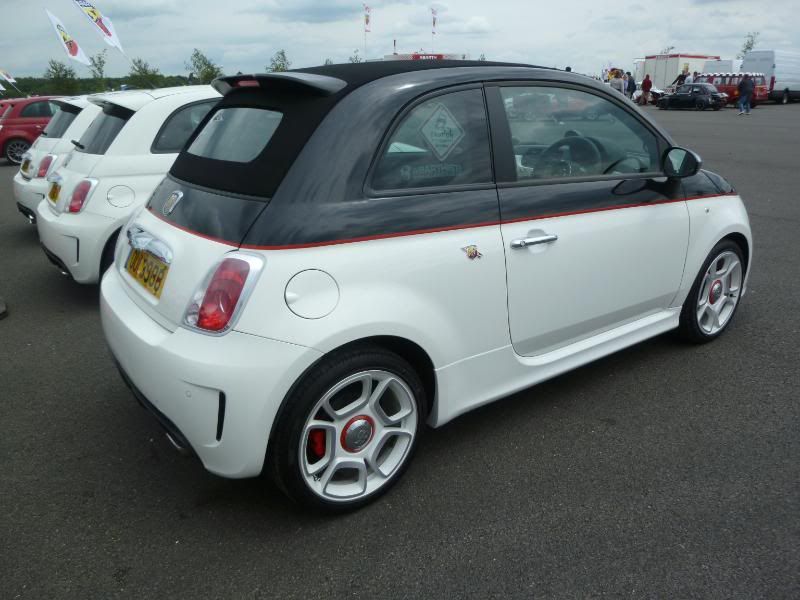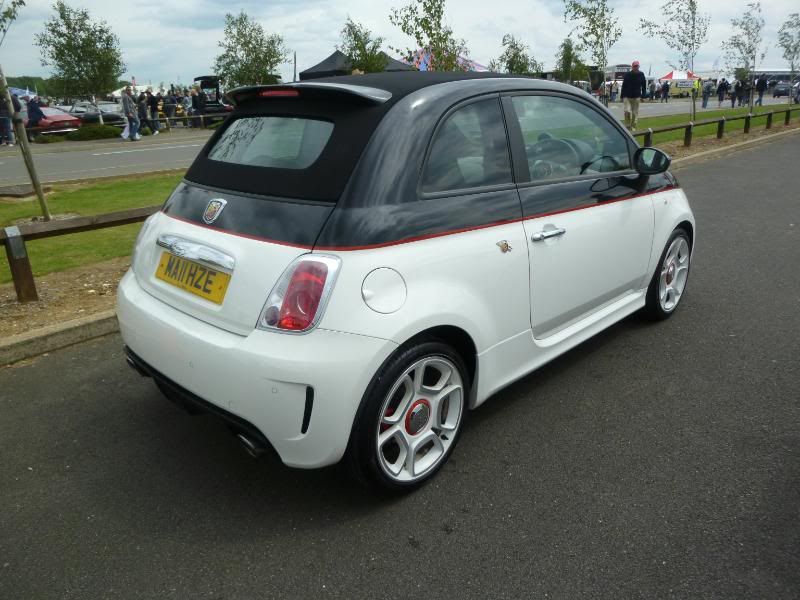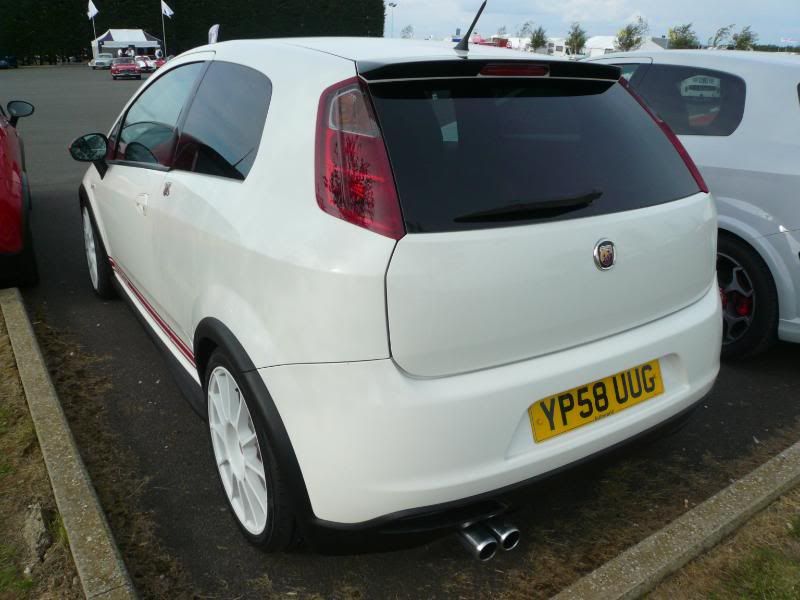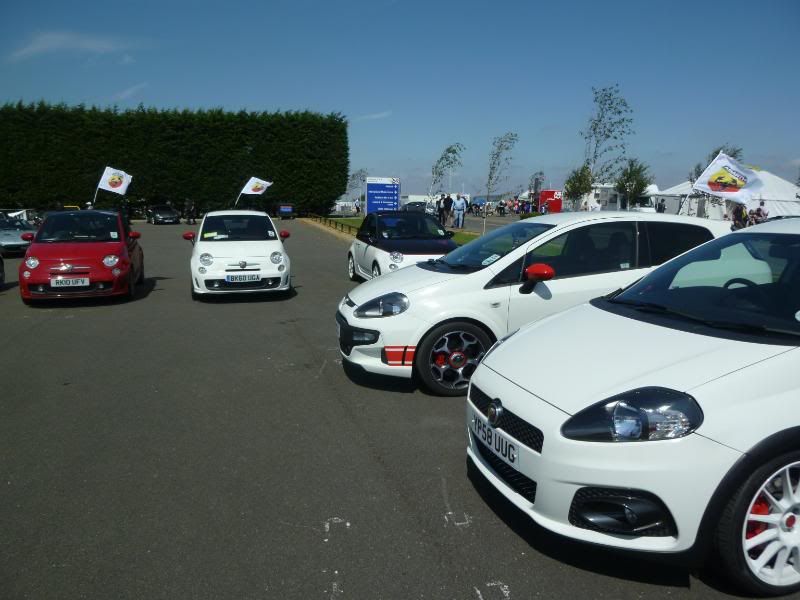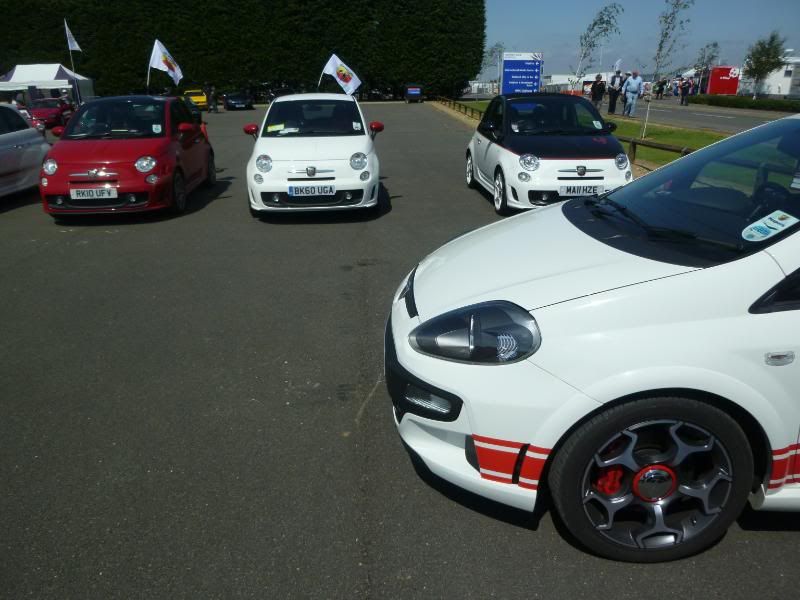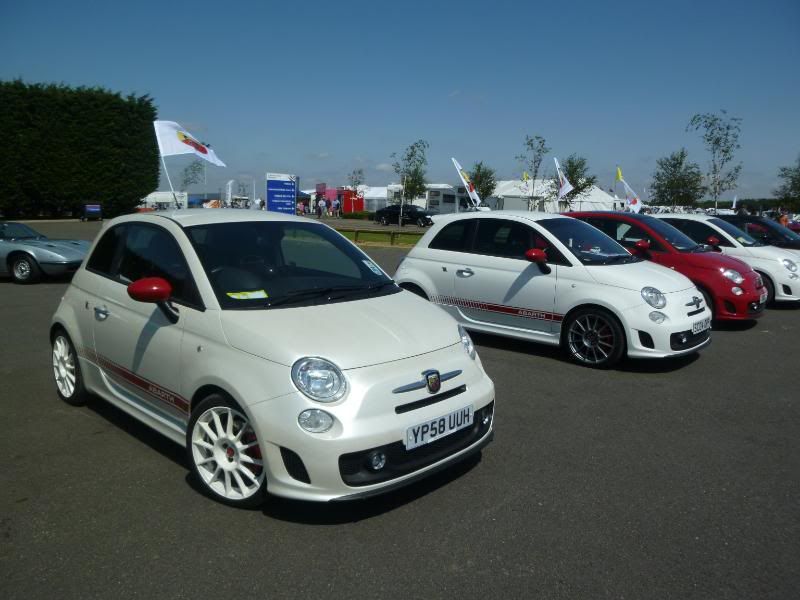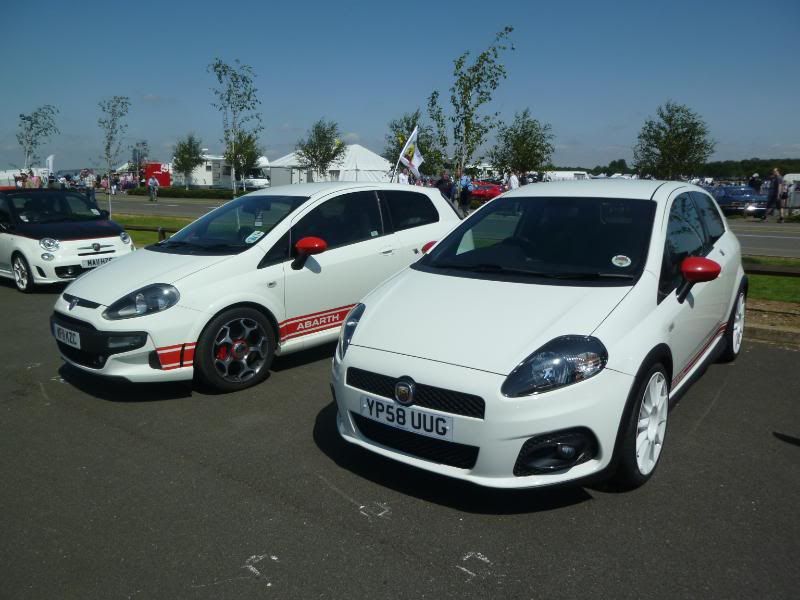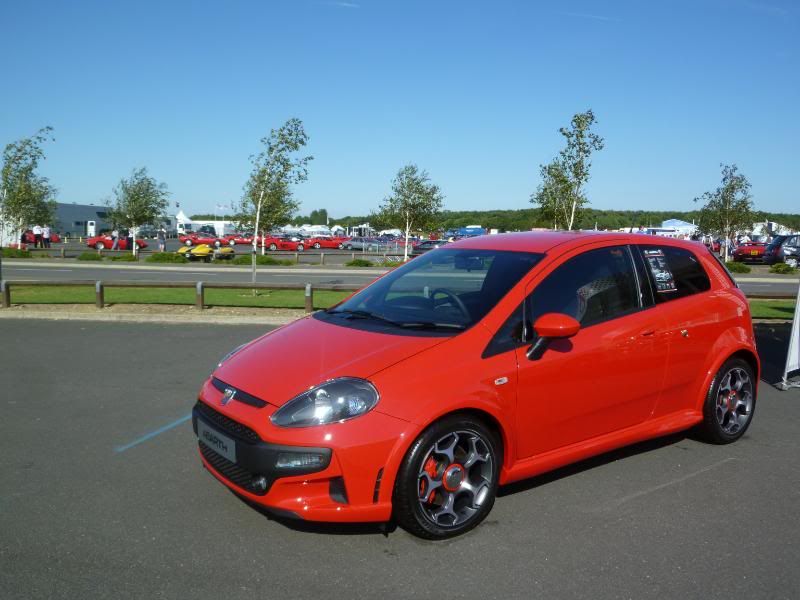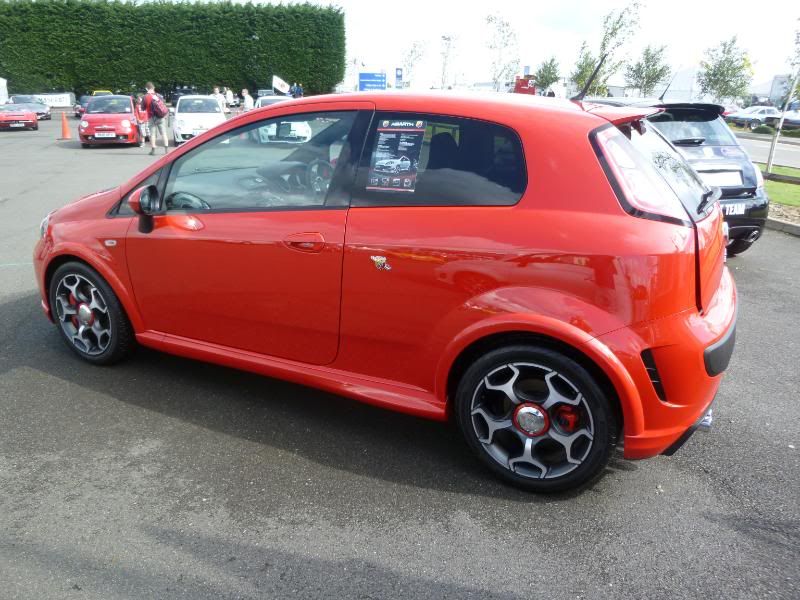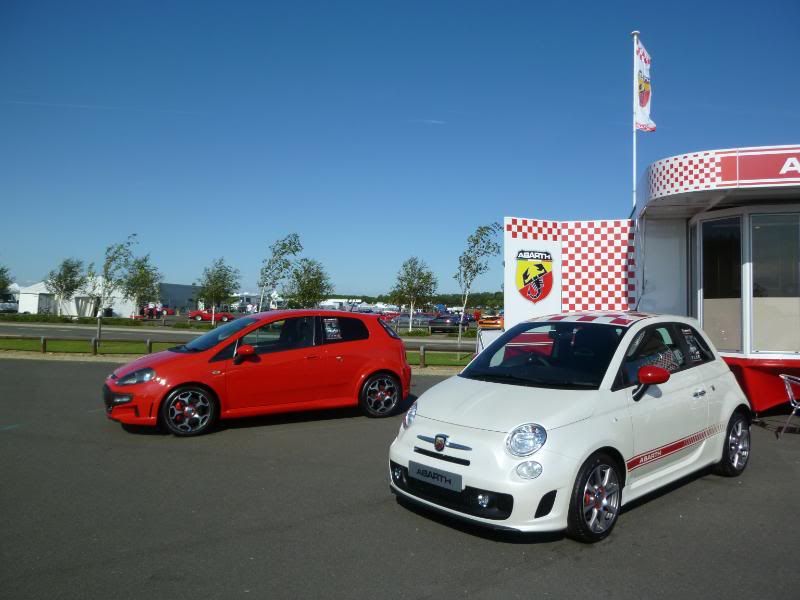 Many of the Abarthisti had decided to make a weekend of it, including a soggy night in tents on the Friday evening. Convivialities got the better of any early morning start, so I did not see much of some of them, and I doubt that they all saw that many of the cars and the racing. One of them did bring his recently acquired "Chopper" down, though, which was a real hit among people of all ages, as a dose of nostalgia!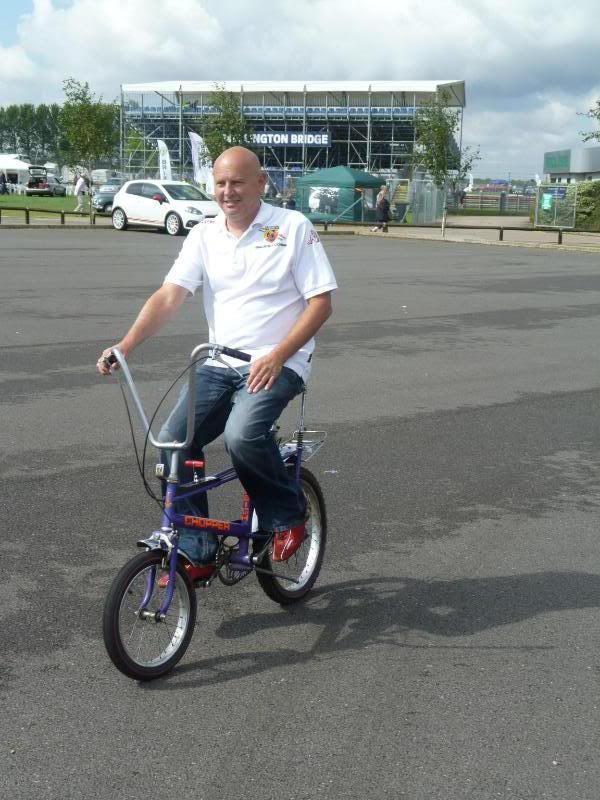 AC
Ace and Aceca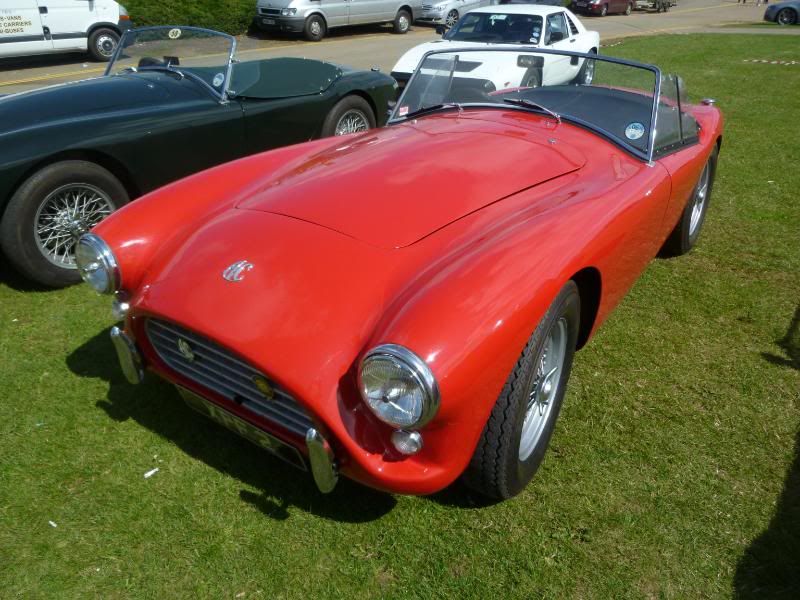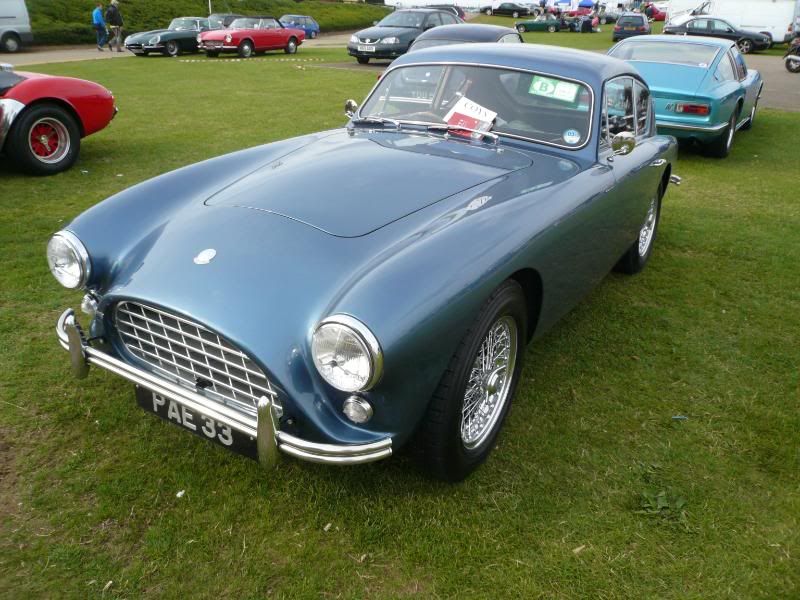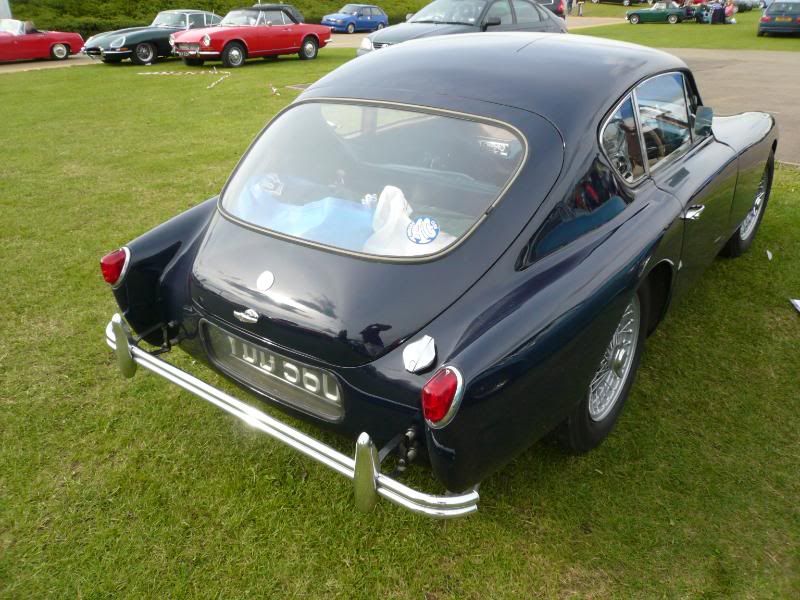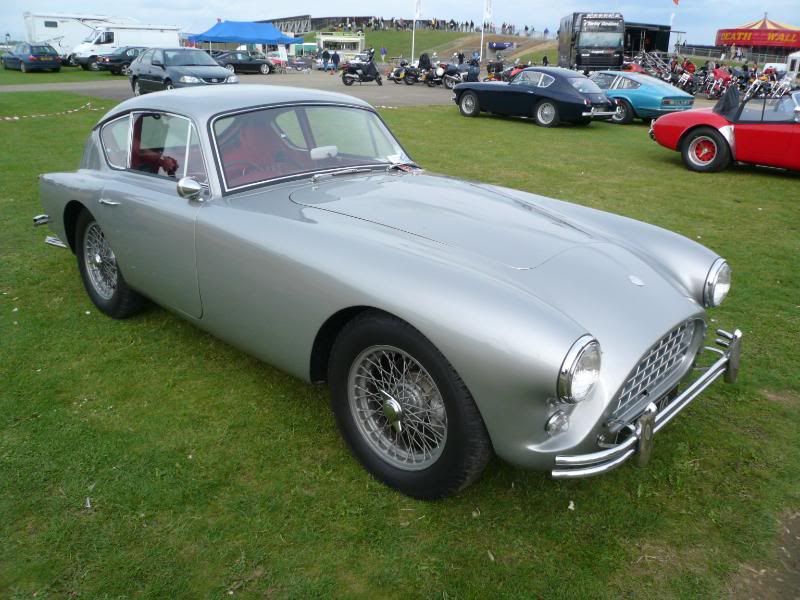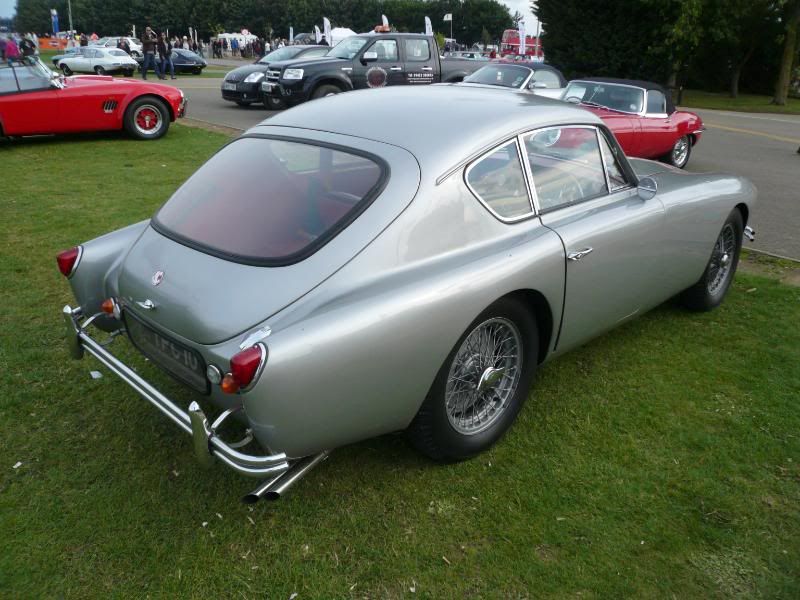 The rare Greyhound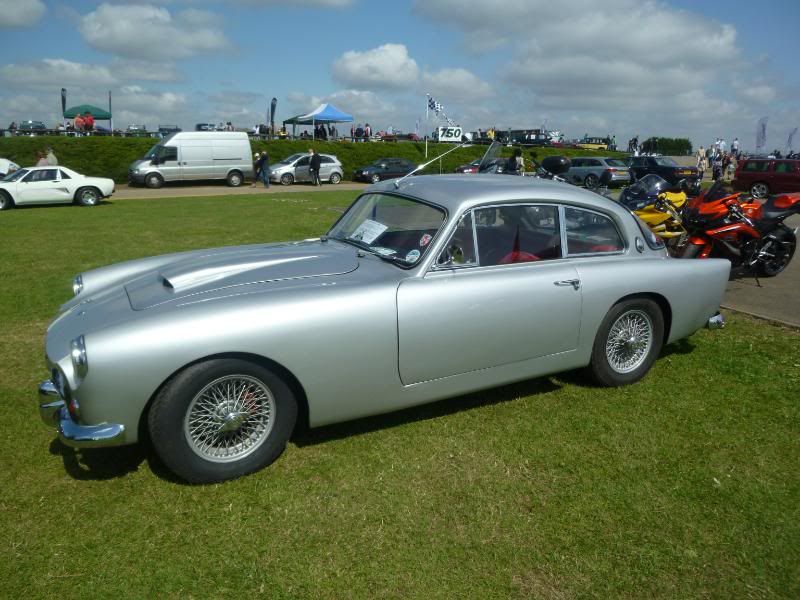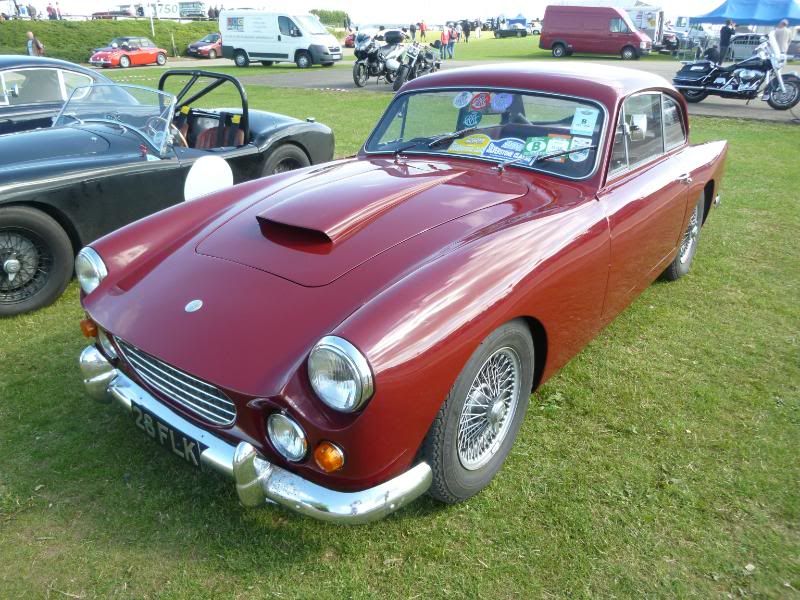 Even rarer is this elegant coupe, of which less than 80 were built, the Frua designed 428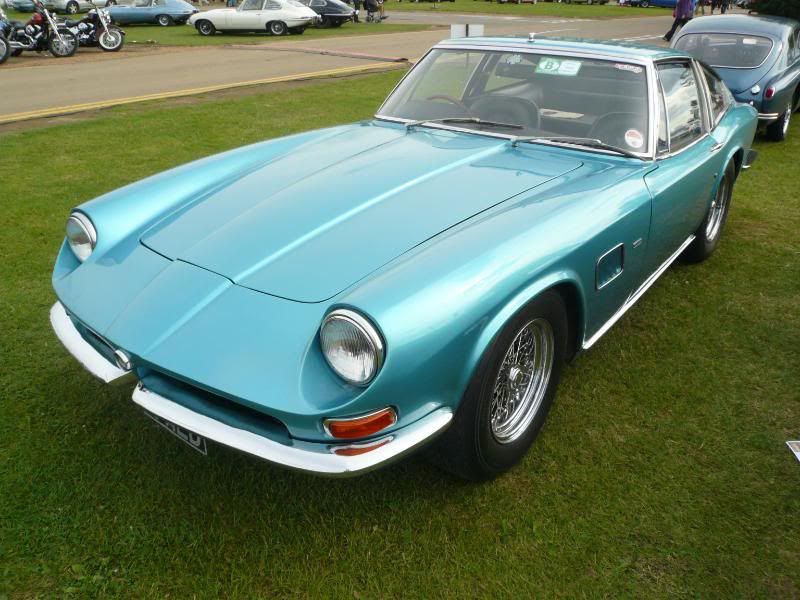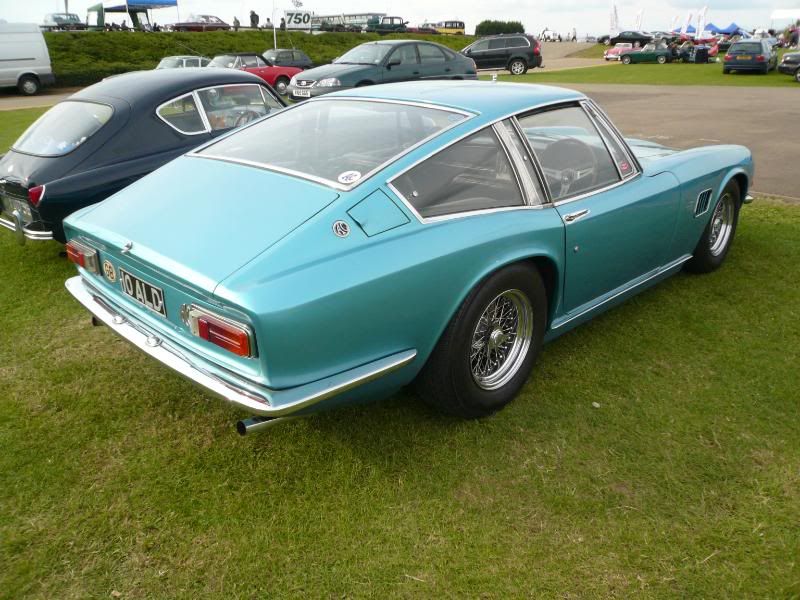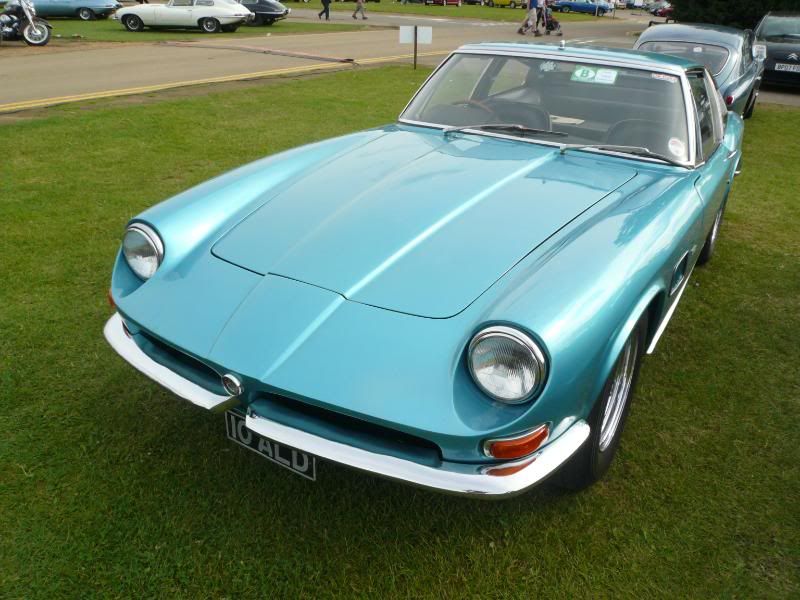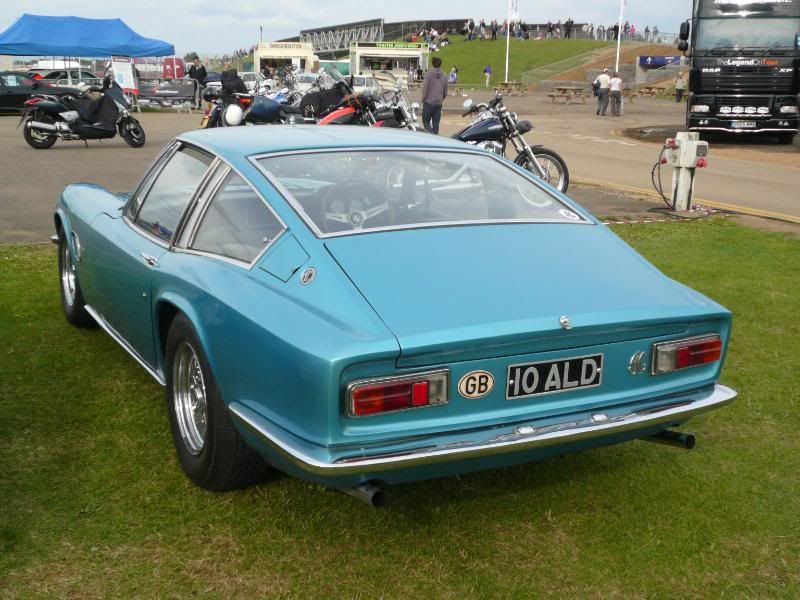 There was a lone ME3000 present on the Sunday.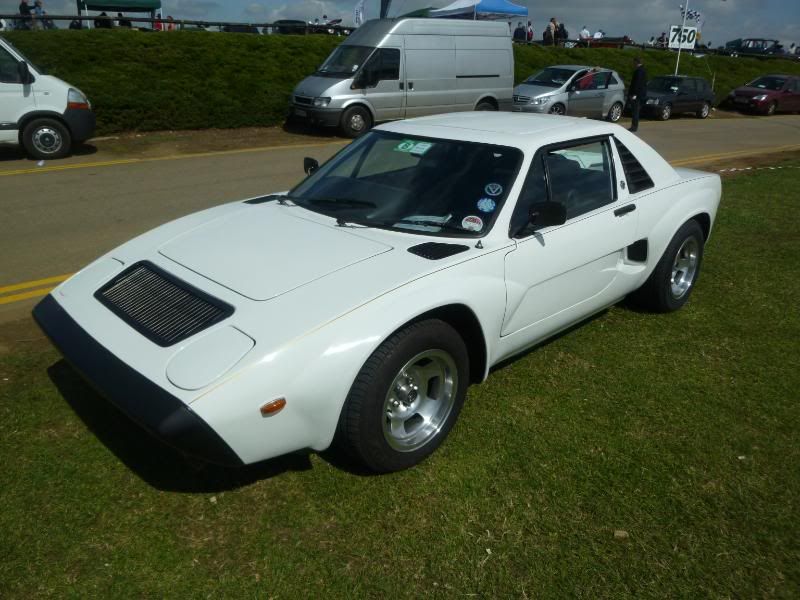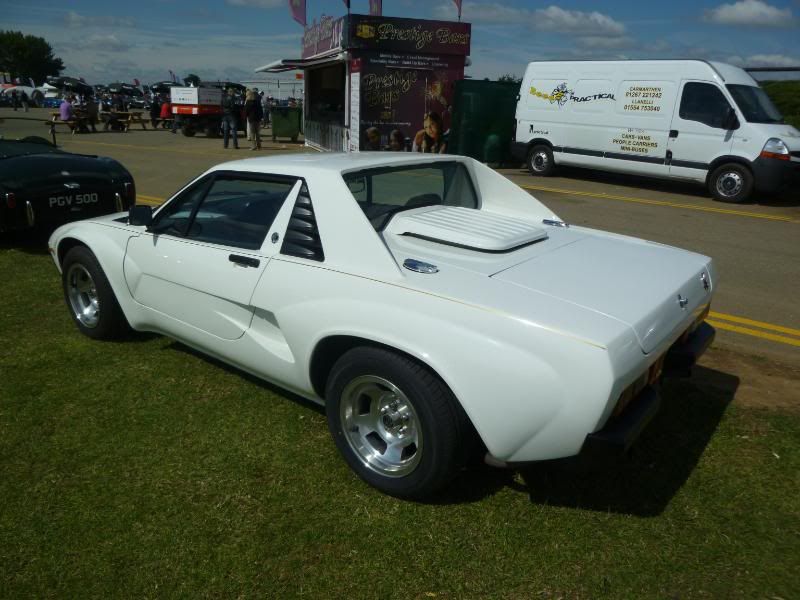 A large gathering of original Cobras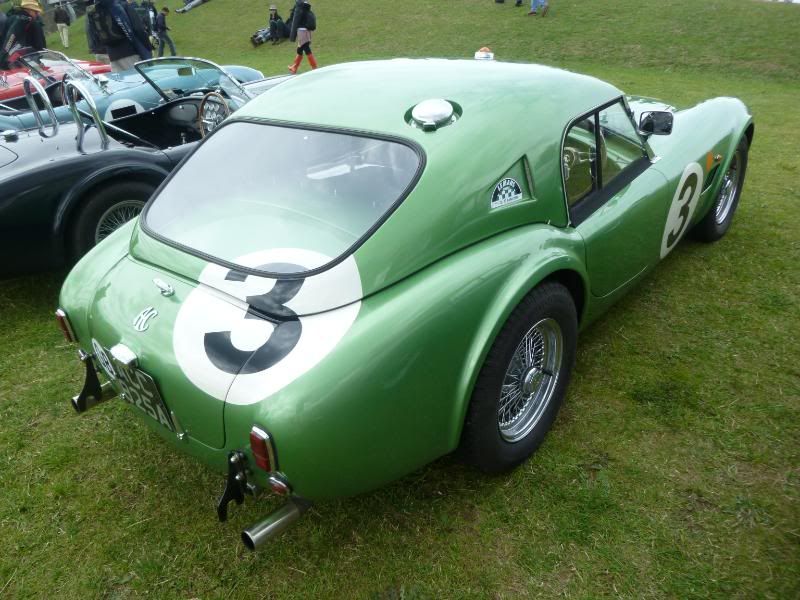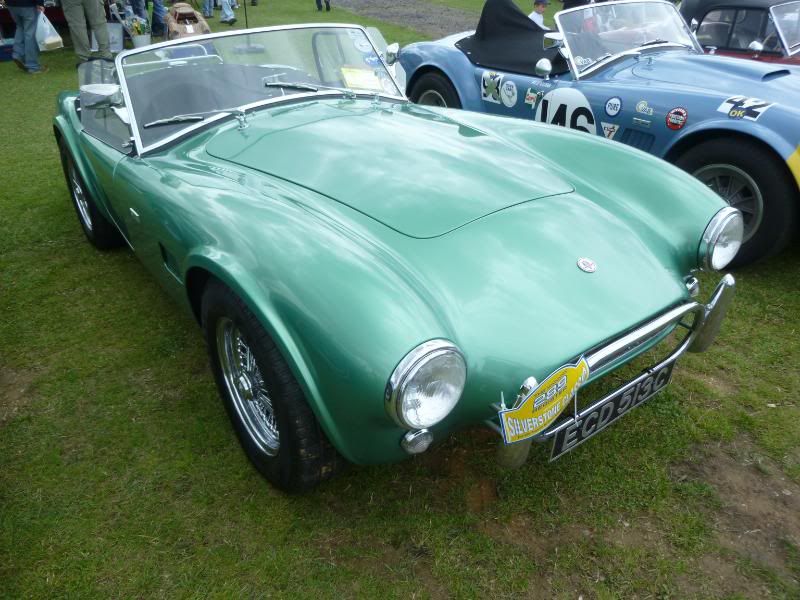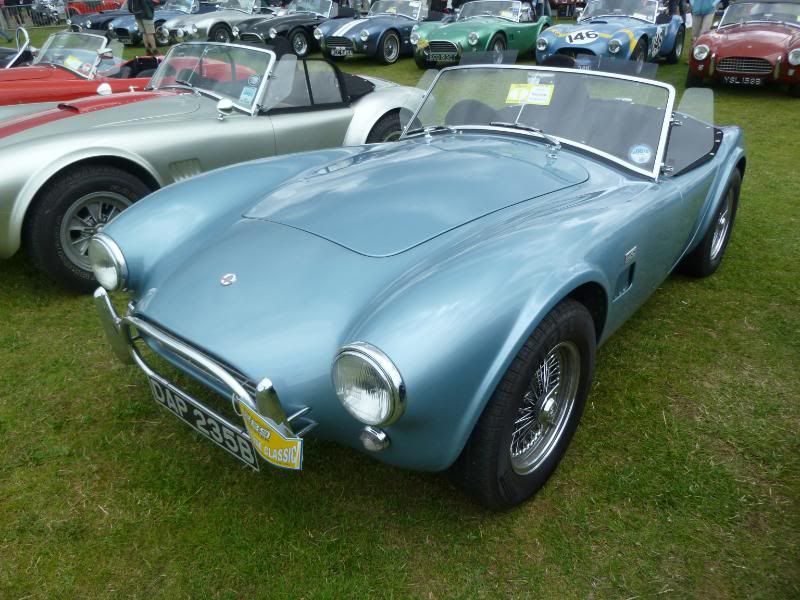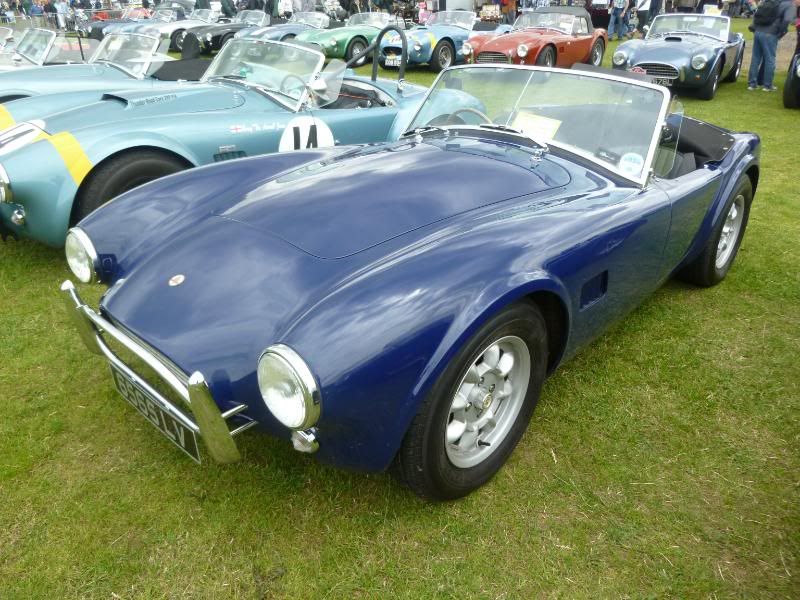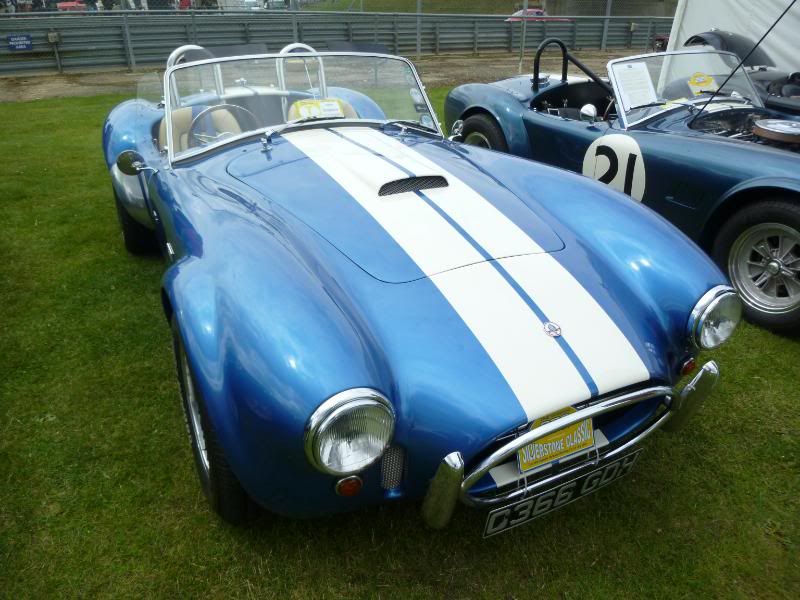 There were also plenty of Cobra replicas and recreations.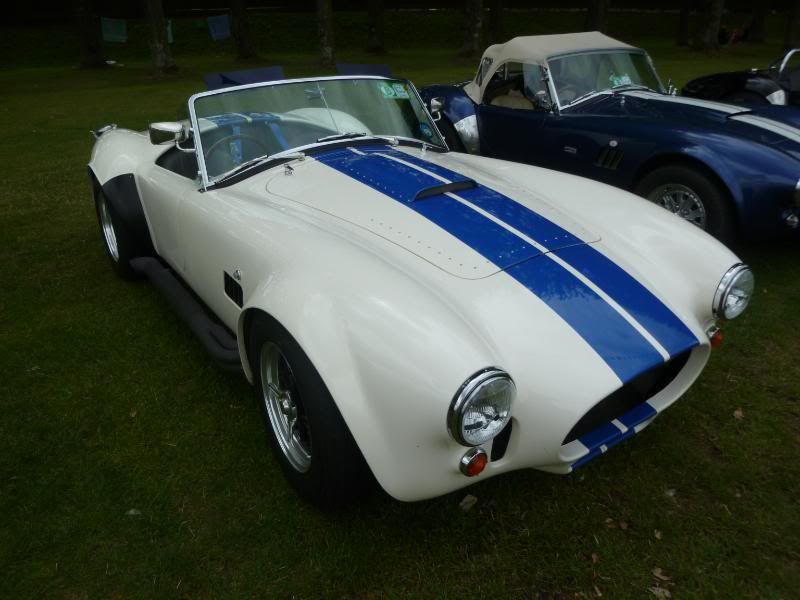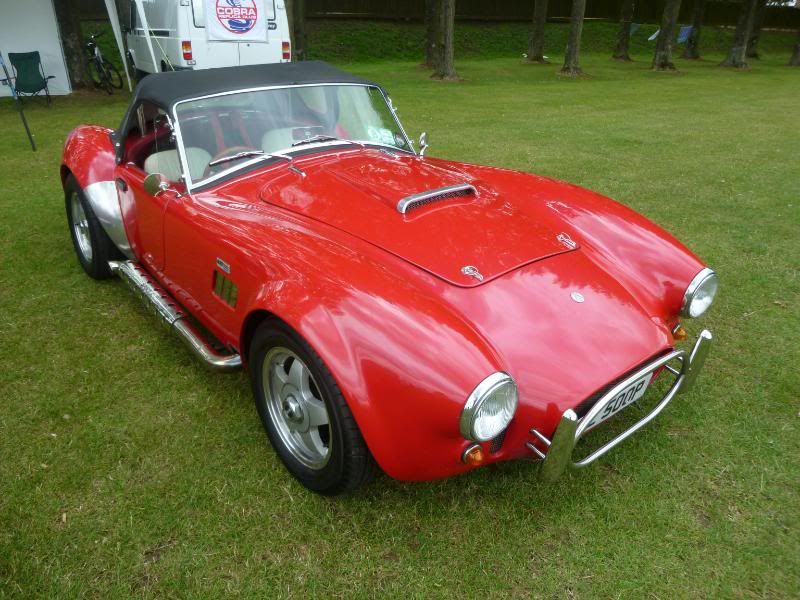 ALFA-ROMEO

I was a little disappointed by the Alfa presence this year. Maybe it is because the AROC have previously put on a huge showing with plenty of rare cars, but this year there was nothing that was particularly unusual,. Several of the event stalwarts were there, including an undepicted SZ and Robbie Webb's 1954 1900 SS Touring Coupe.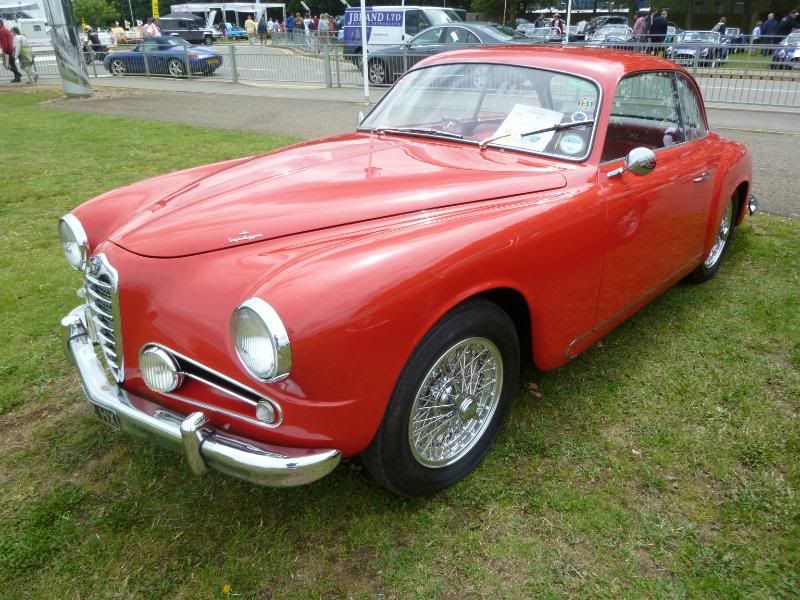 Other cars included a good number of Spiders, and 105 series Giulia and GTV cars.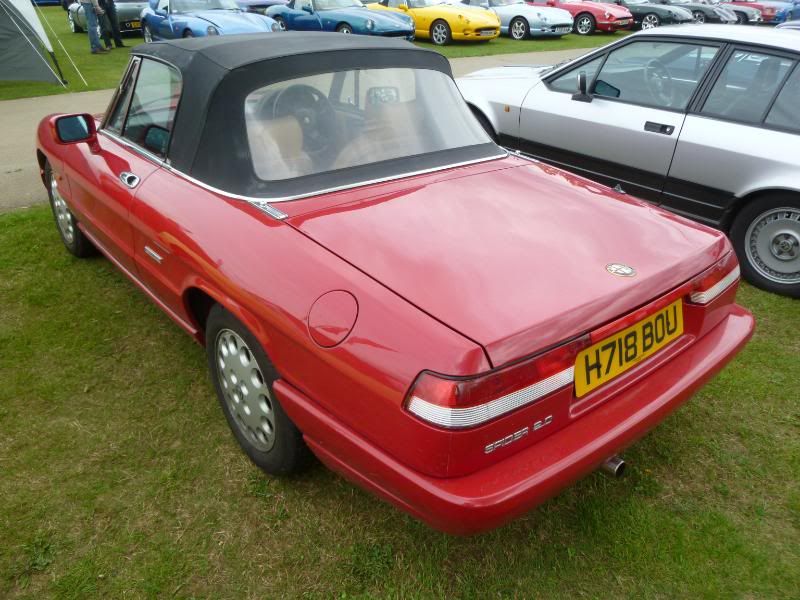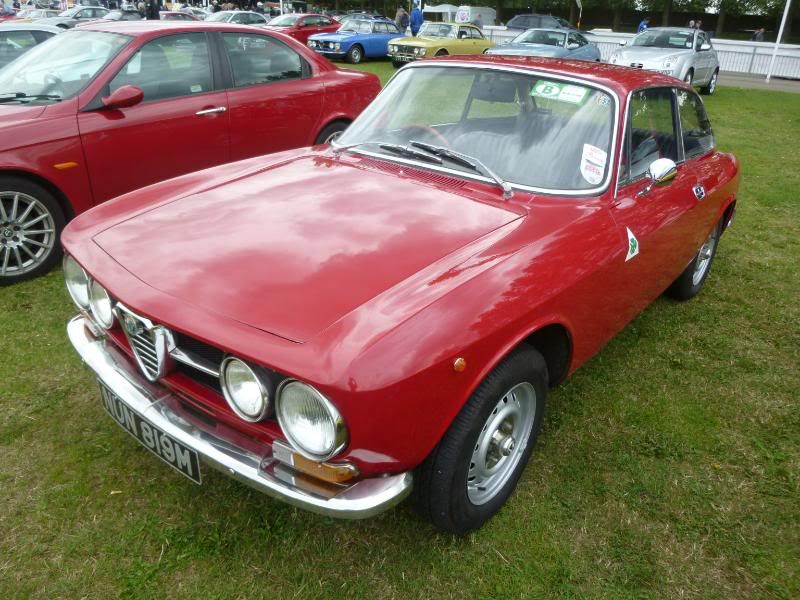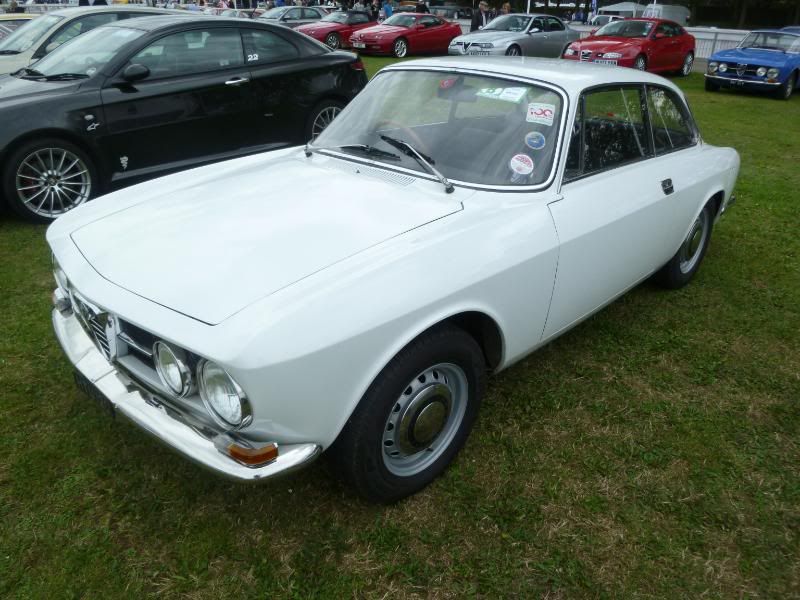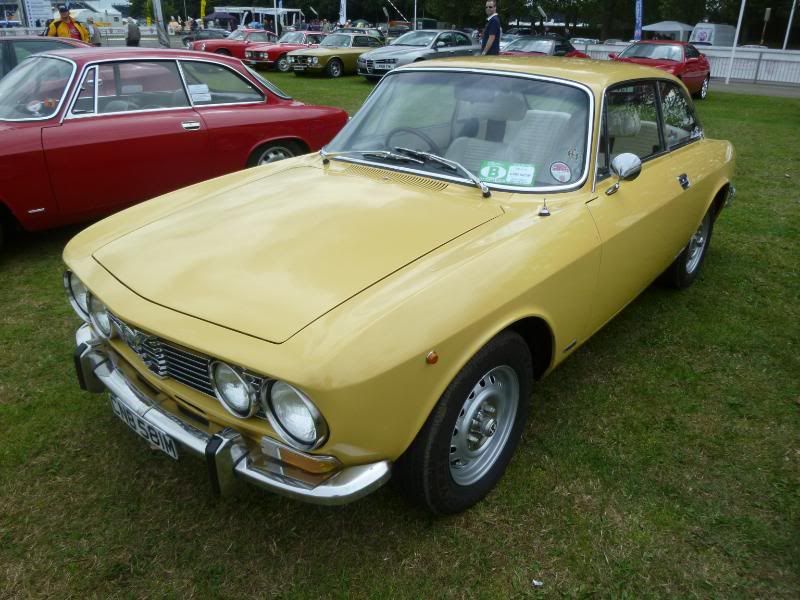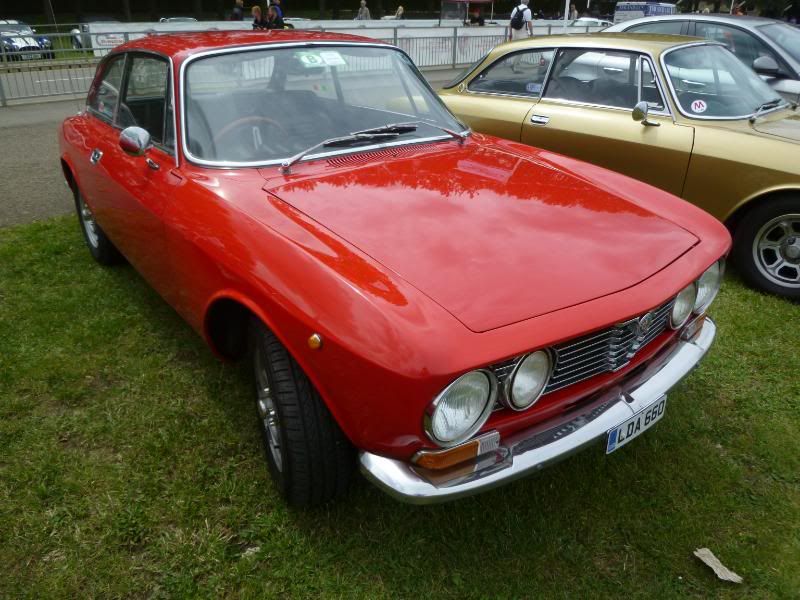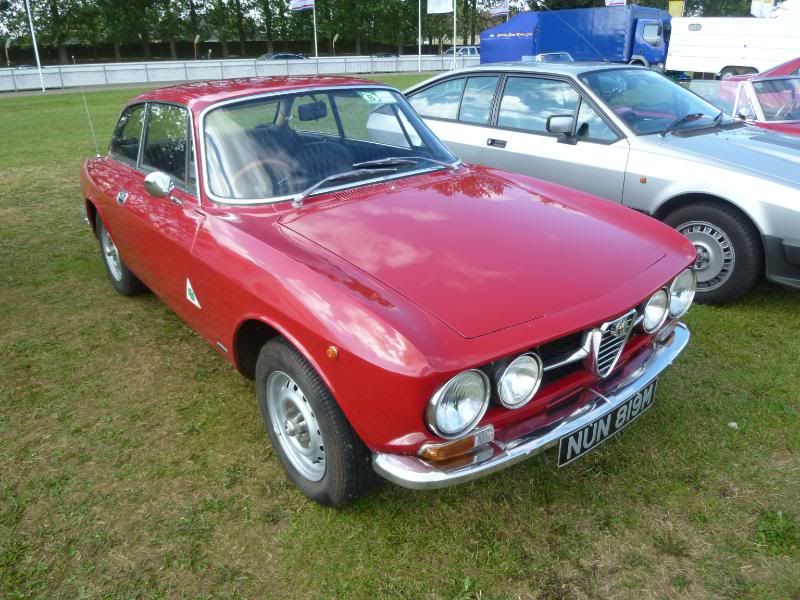 One of the nicest cars of all was this 2600 Spider.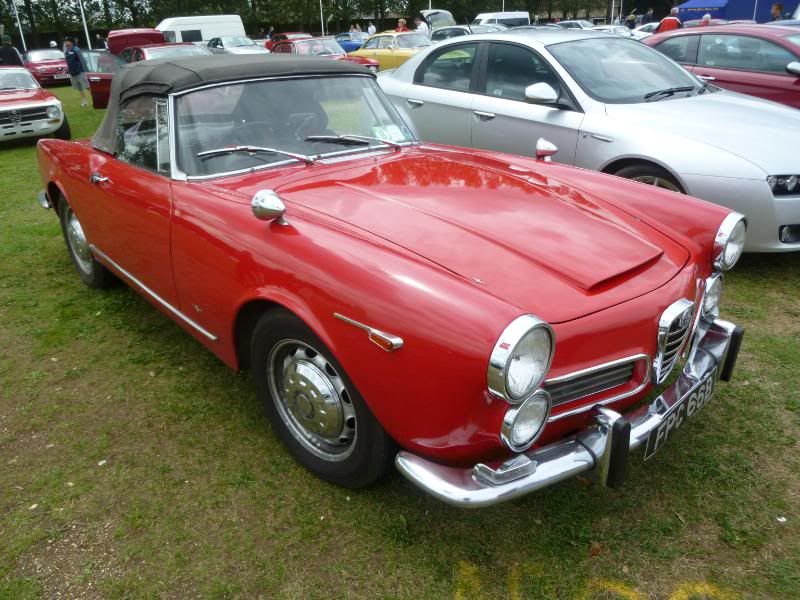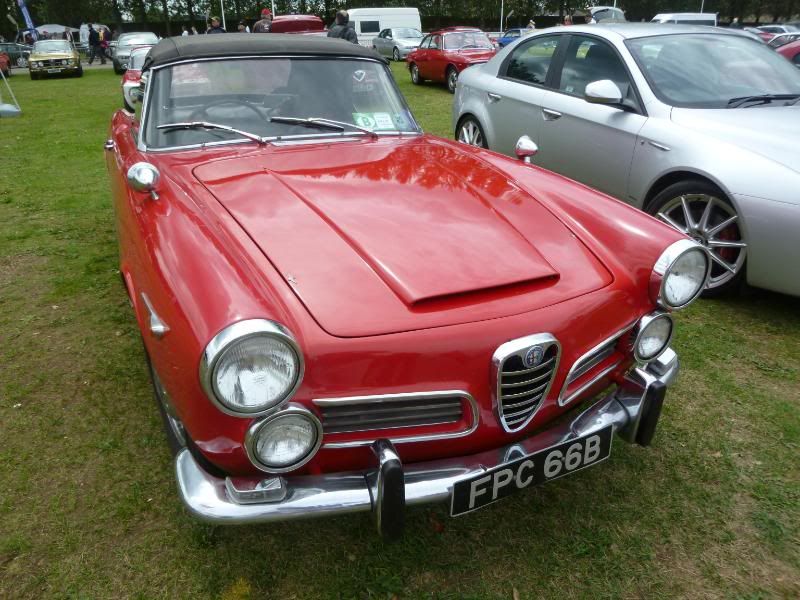 This Alfetta GTV was in excellent condition, too.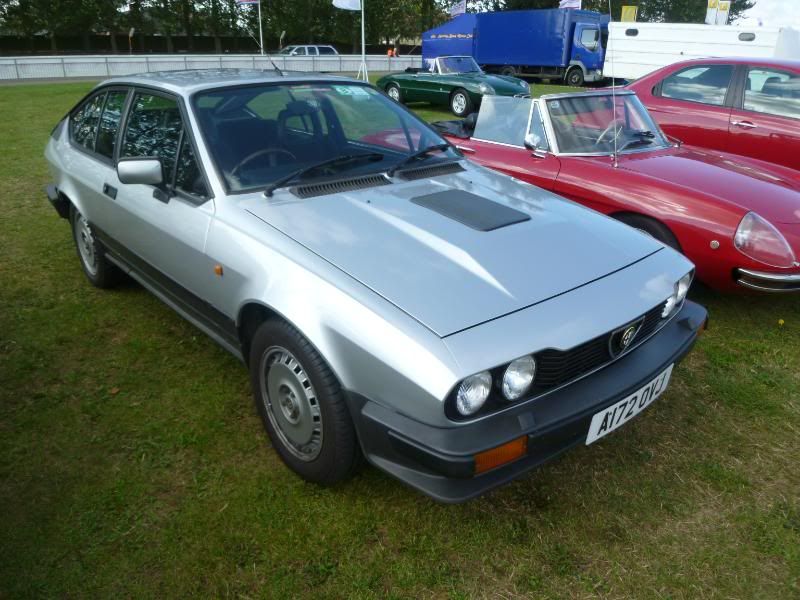 More recent Alfas were represented by a few 156s, a particularly rare facelift model GTV 3.2 V6 (Only about 10 of these were sold in the UK), and a 159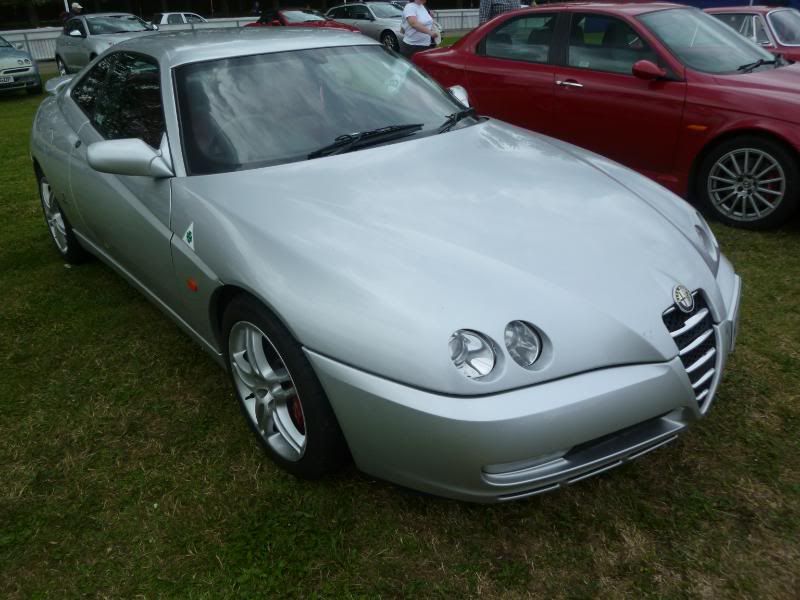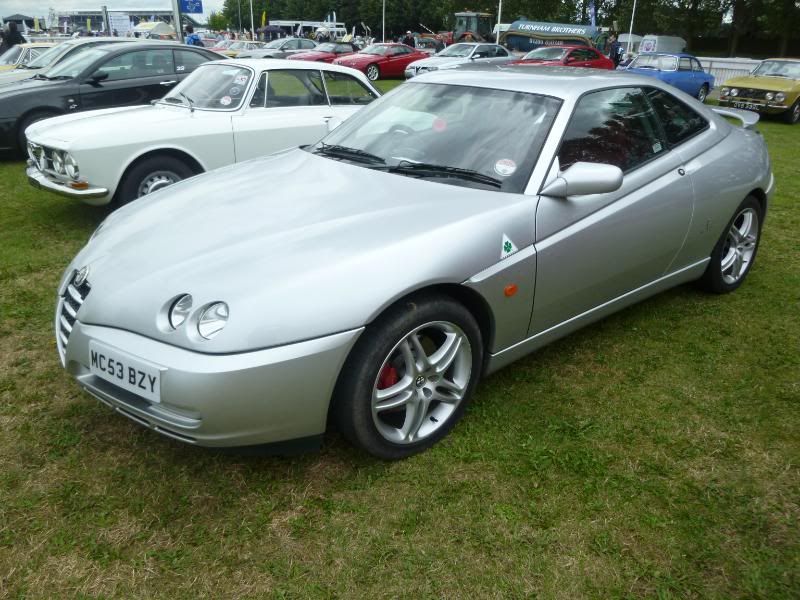 ALLARD
Think of these as a sort of pre-cursor to the TVR, a relatively small, light body with a powerful engine……… though Allard also made some enclosed tourers. There were representatives of all the different models made during the 1950s.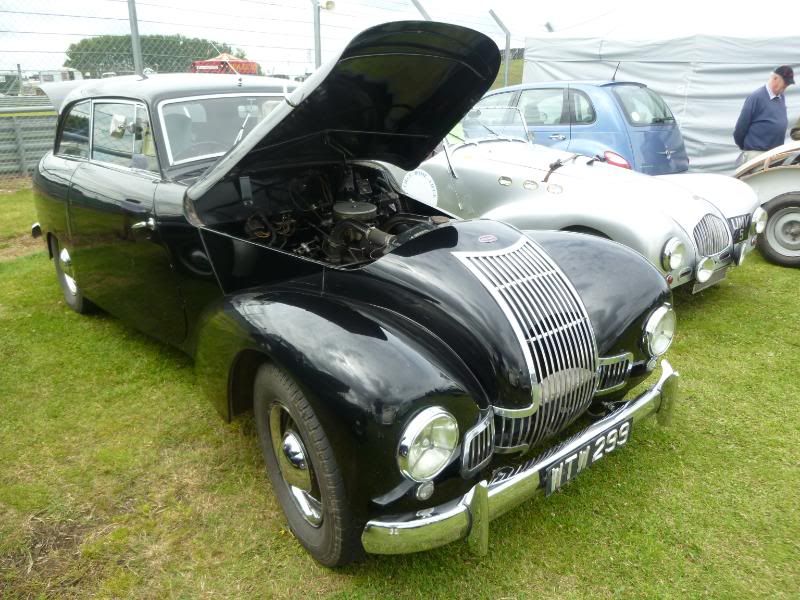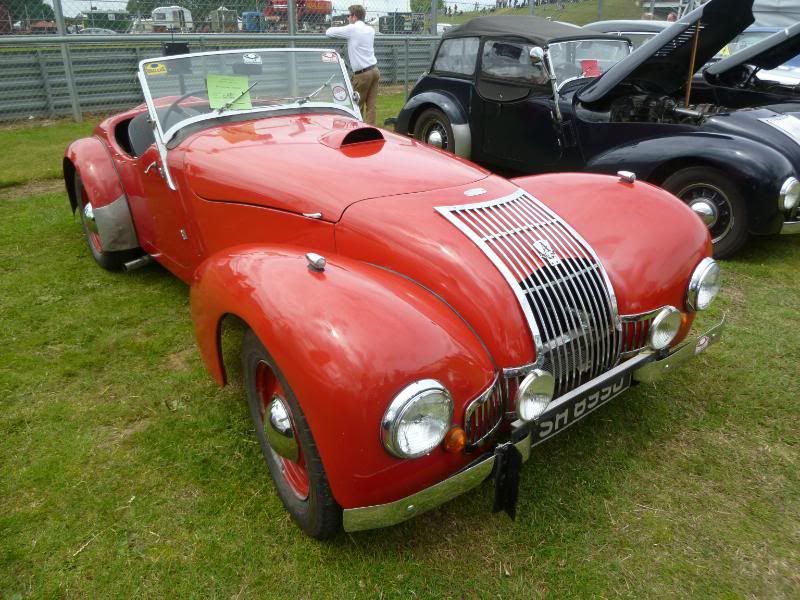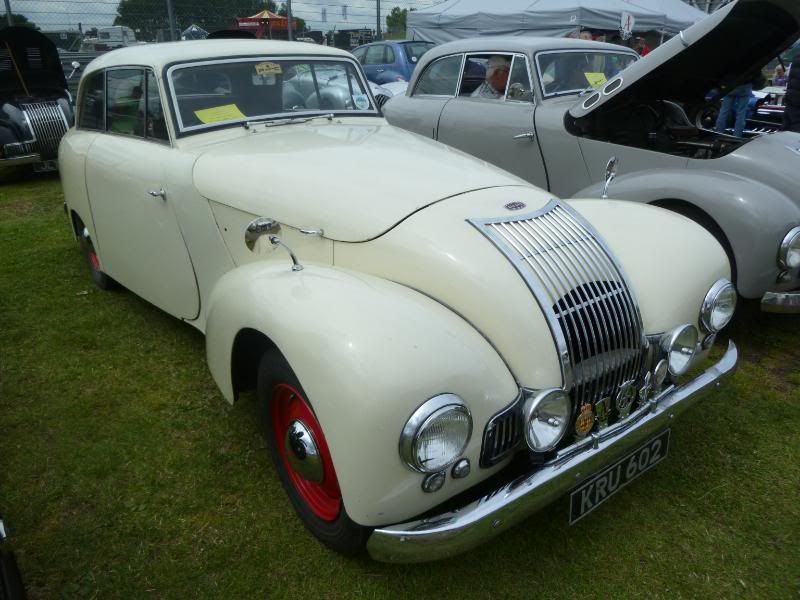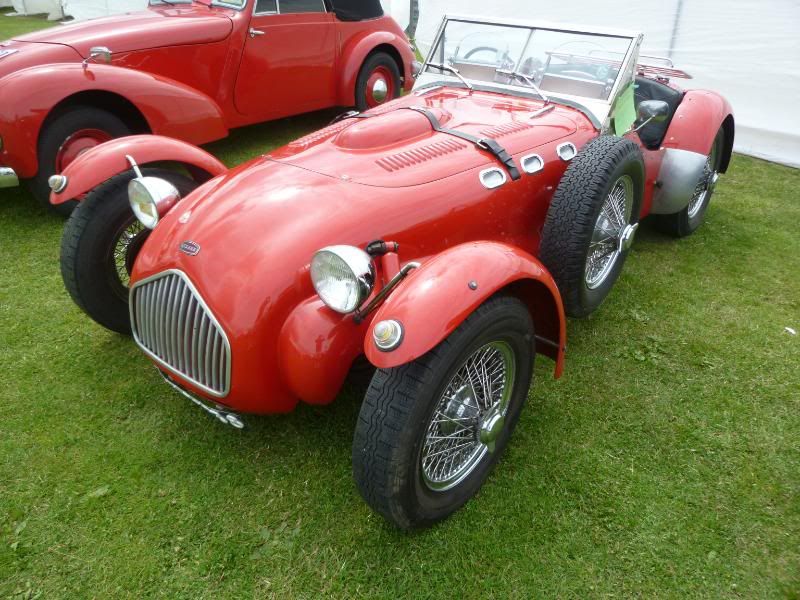 ALPINA
A small collection of Alpina models were displayed alongside the modern BMWs
ALVIS
Surprisingly few of these English Classics at the event. This one was from the Coventry Motor Museum's collection
AMC
A Javelin.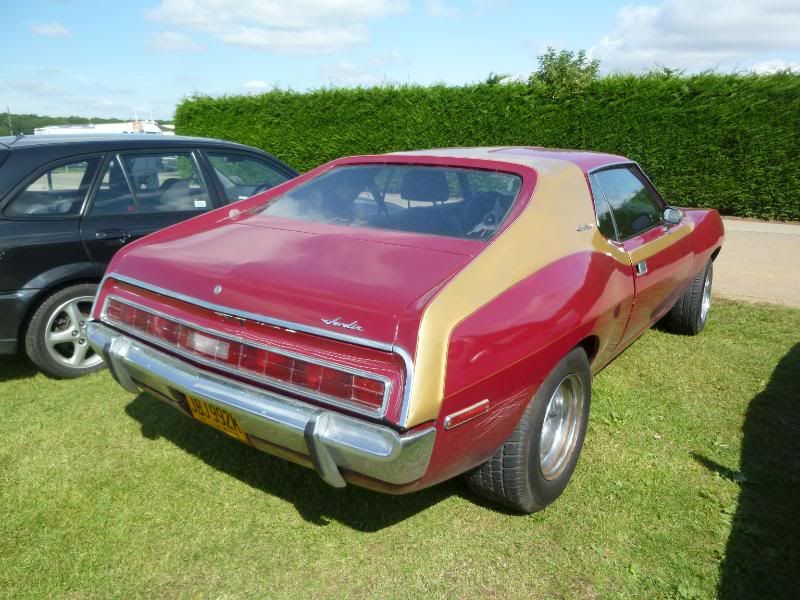 ASTON MARTIN

A vast display of Aston Martins was to be found just by the entrance to the pits. Highlight for many would be the racing version of the V12 Zagato. It has clearly had quite a knock on the offside front corner, and there is some green ape holding the headlight cover in place.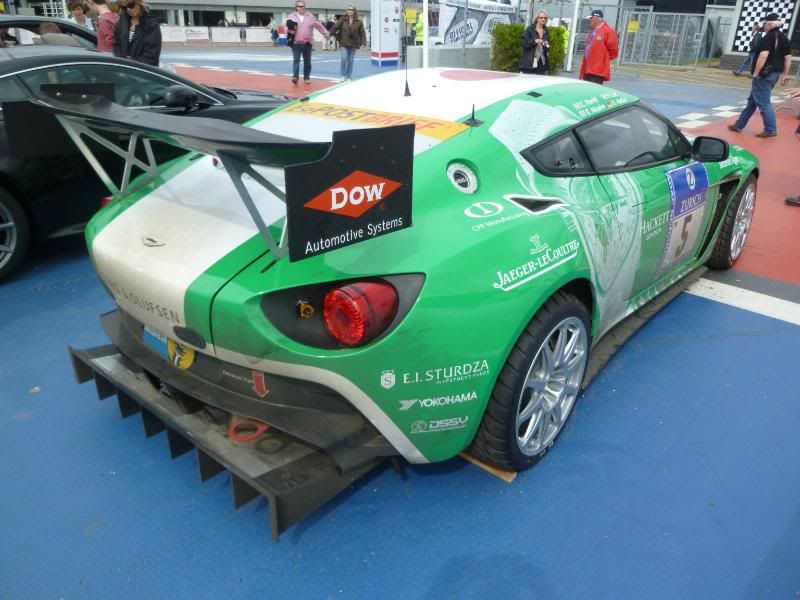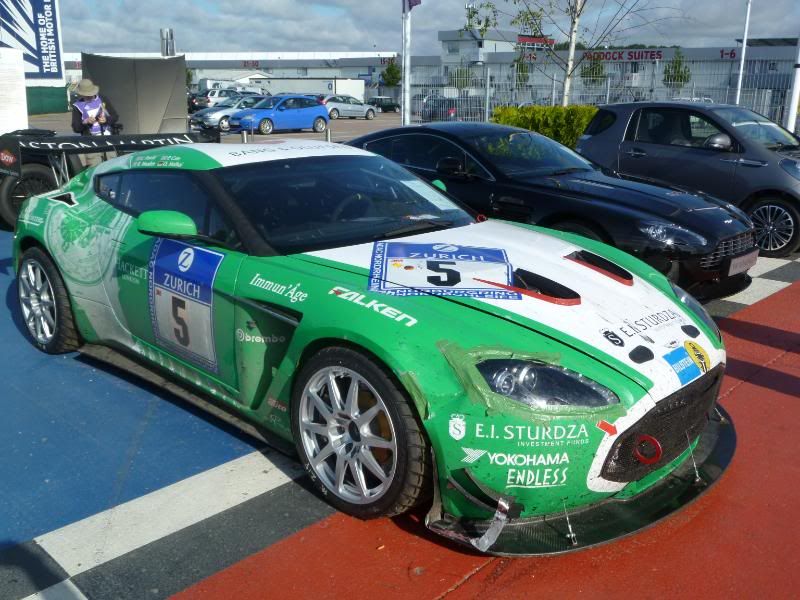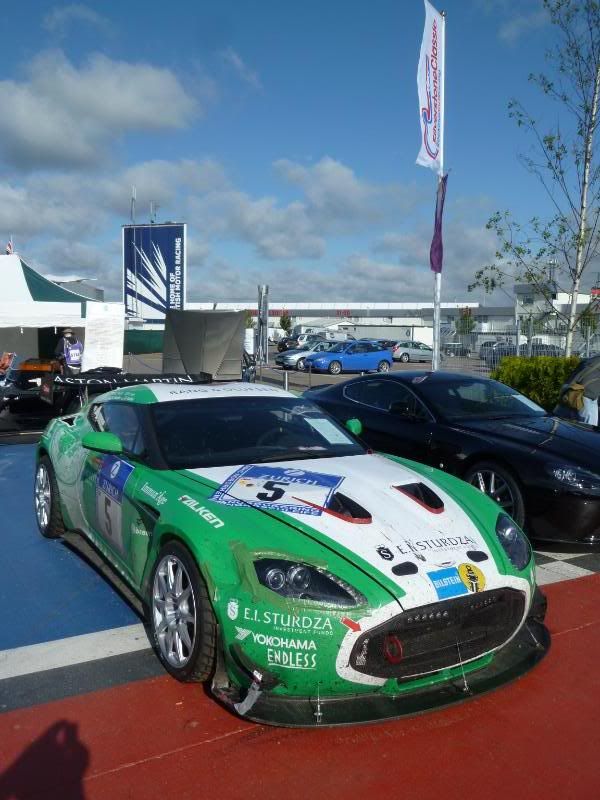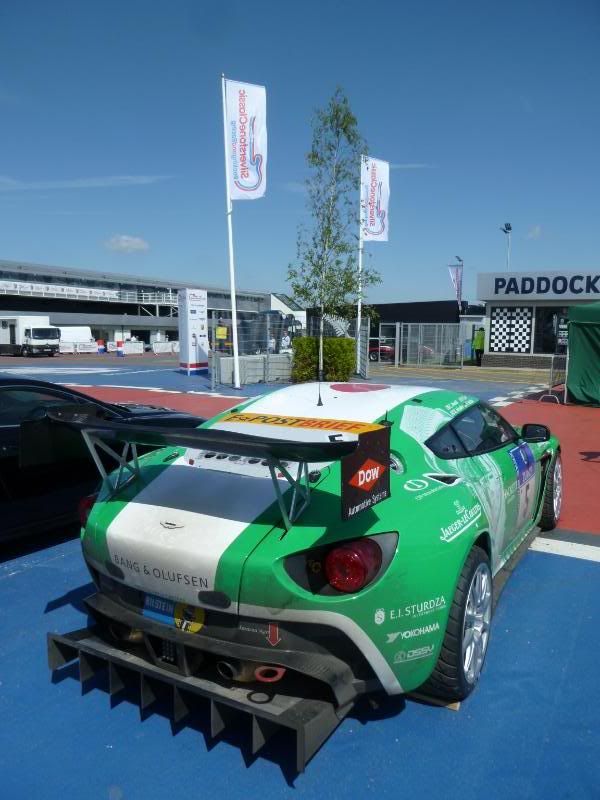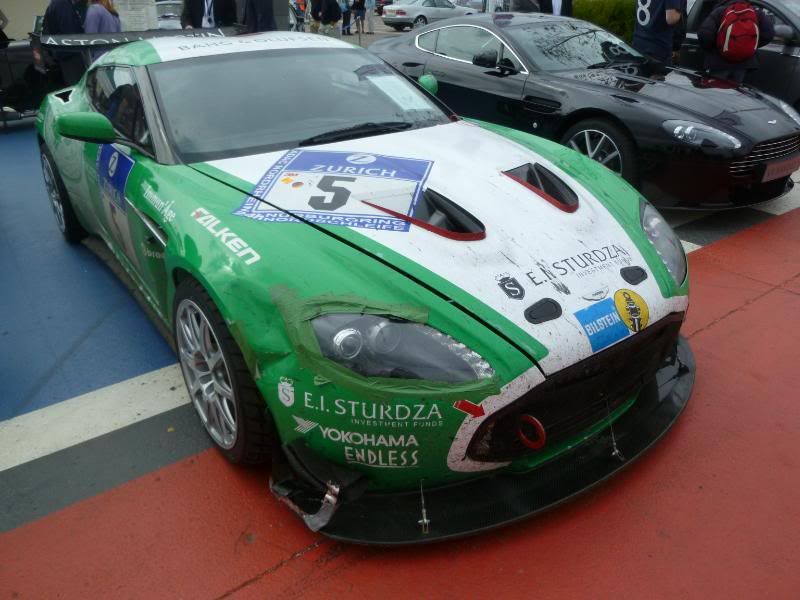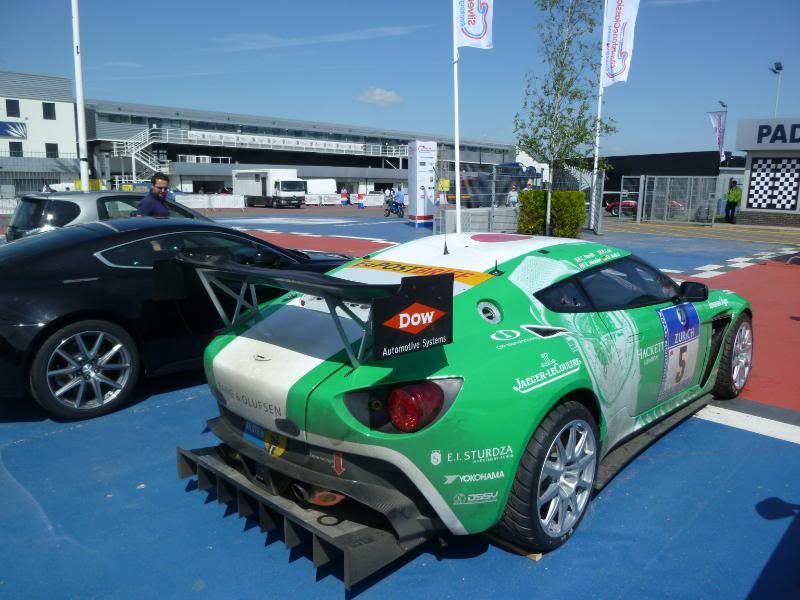 Flanking it were examples of the current range, with Cygnet, V8, Virage and Rapide all on show.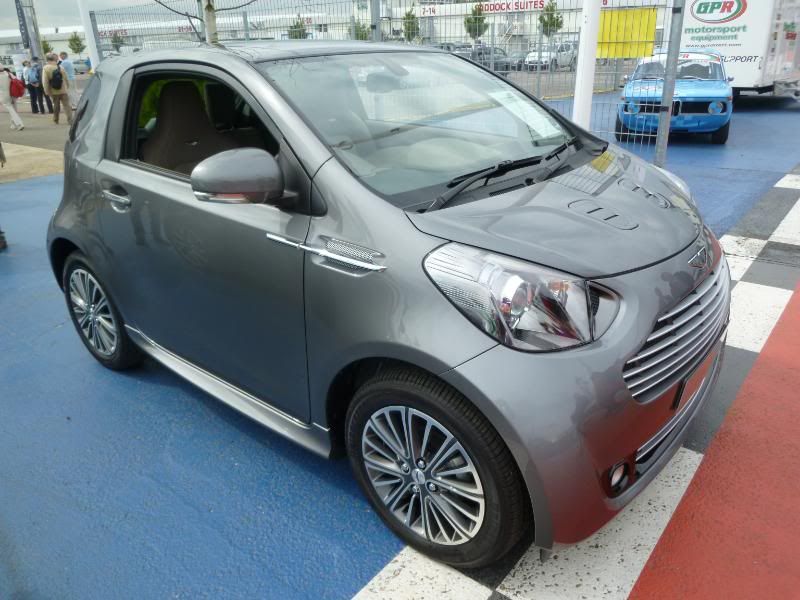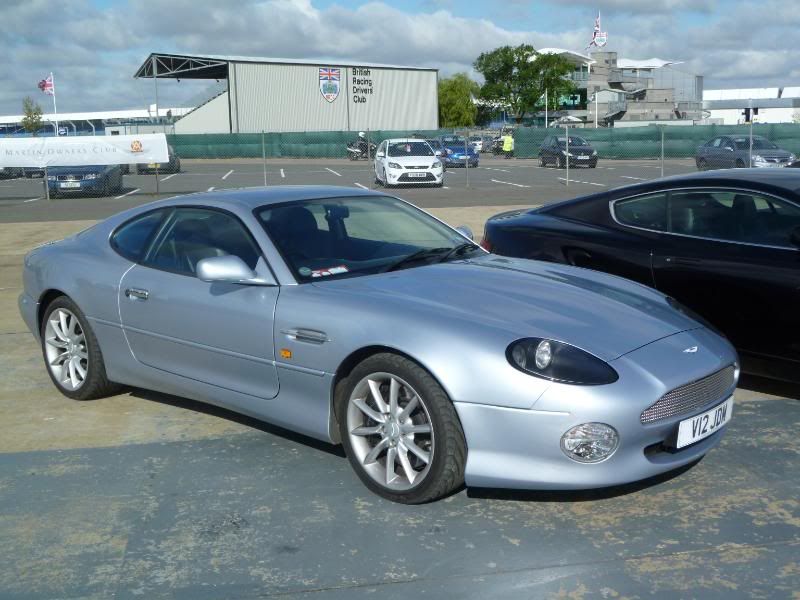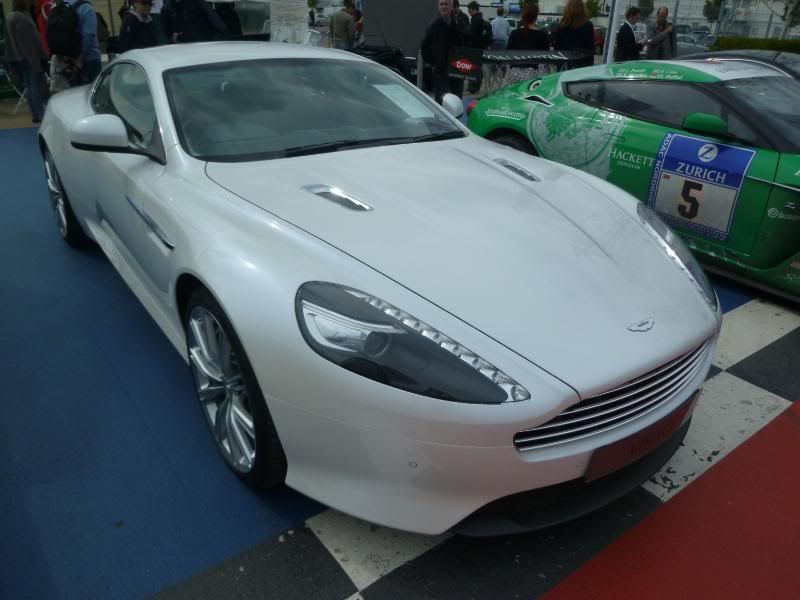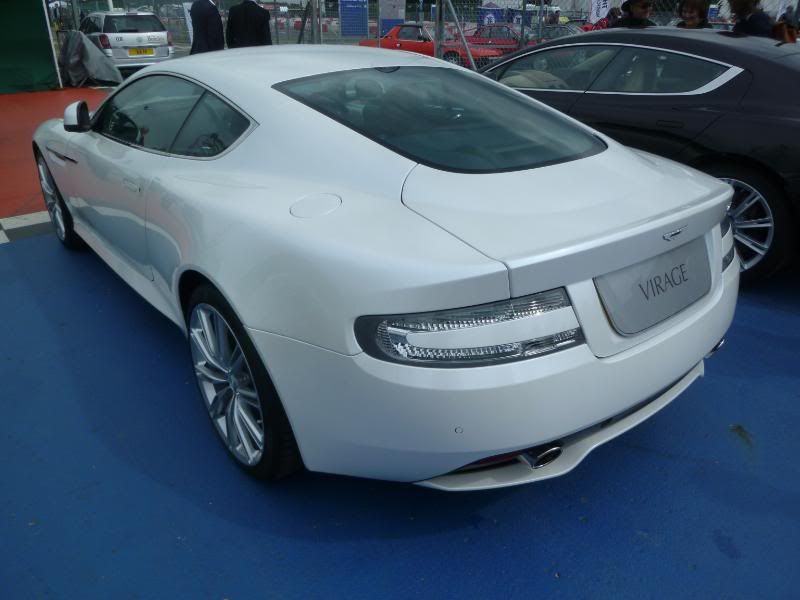 Behind these cars were a brace of the futuristic Lagonda model, one being the Series IV facelifted car with the edges softened.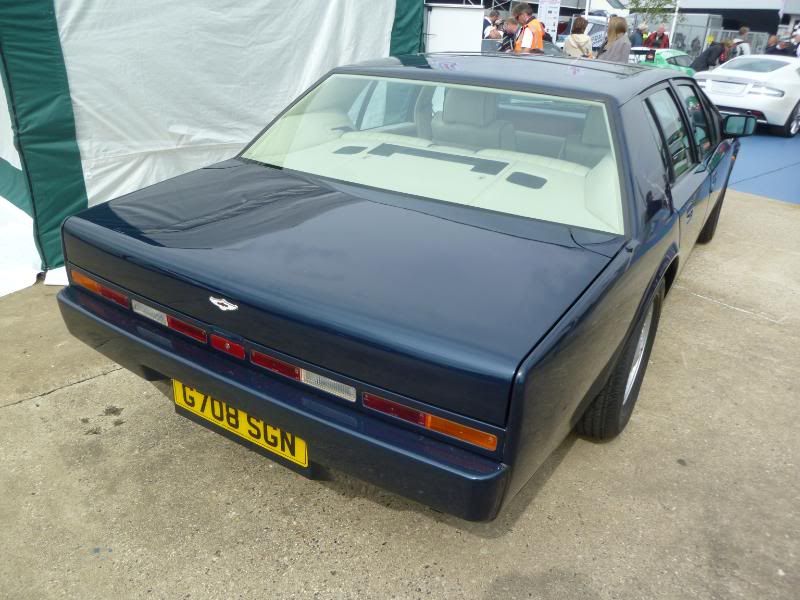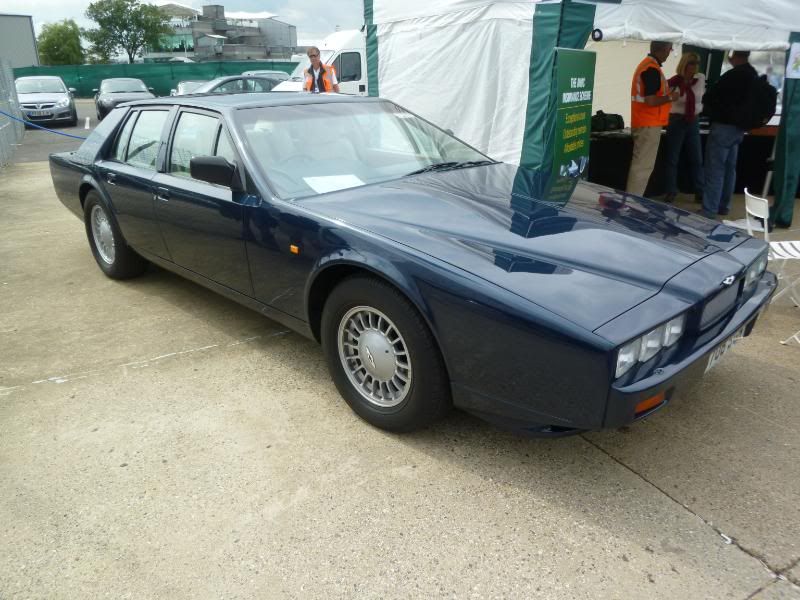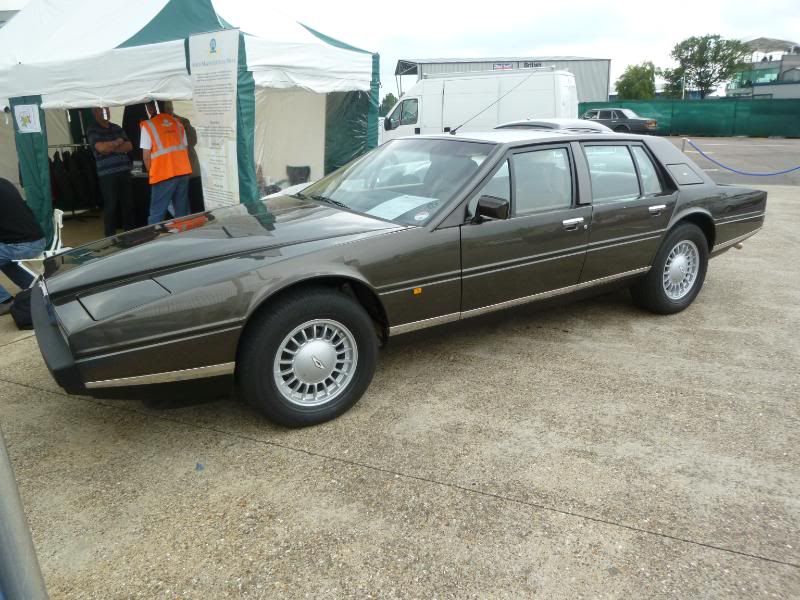 Oldest Astons on show were this pairing that appeared on Sunday.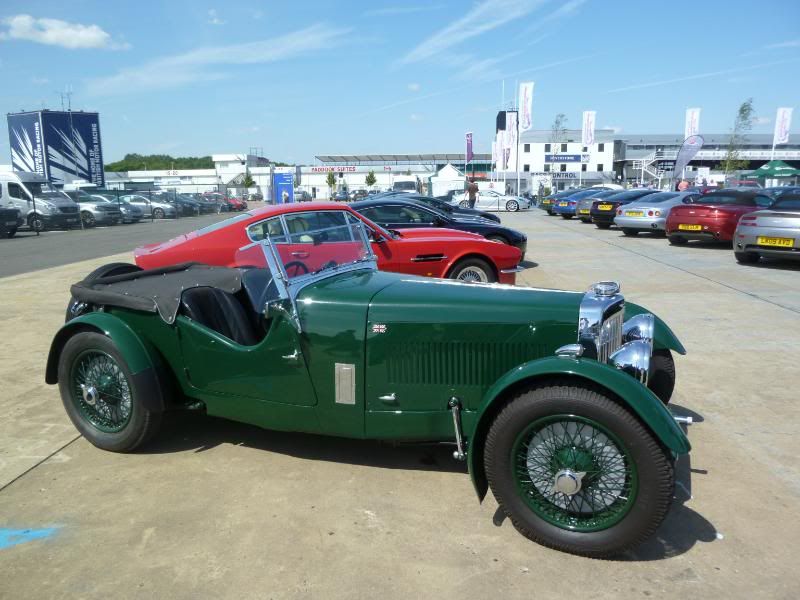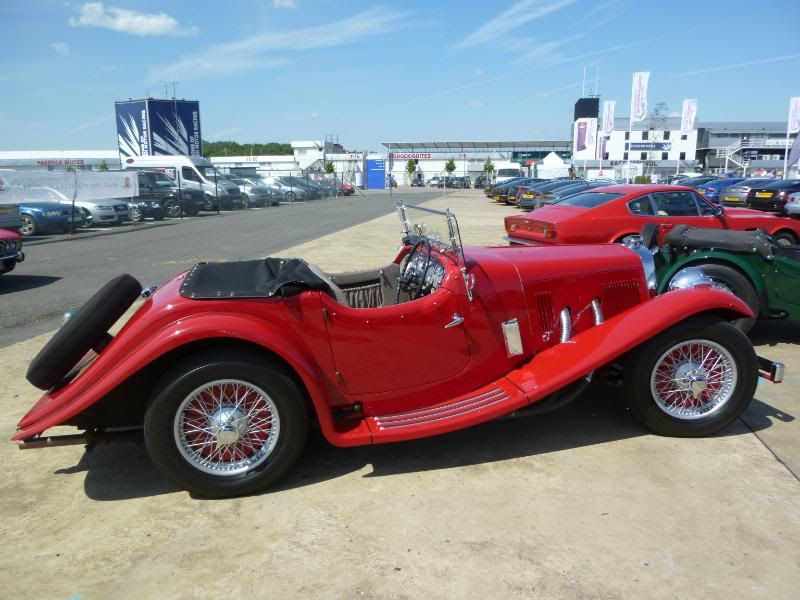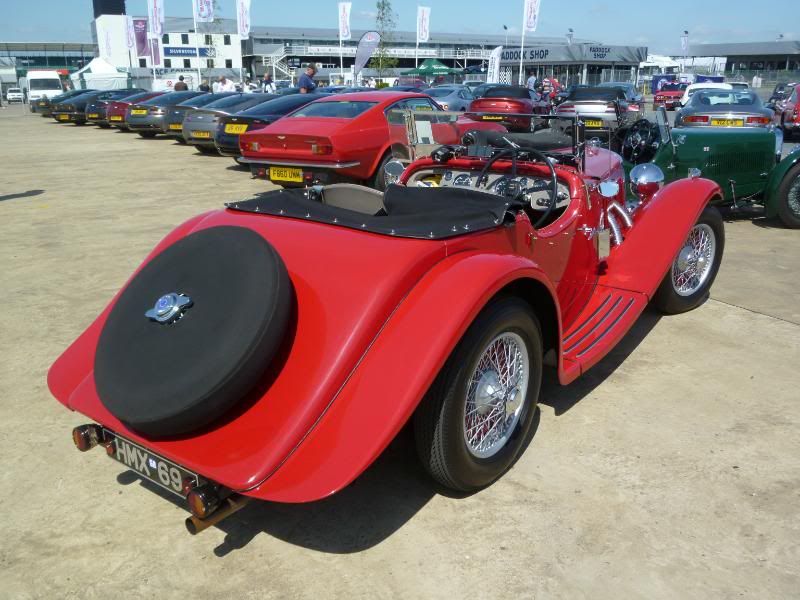 DB2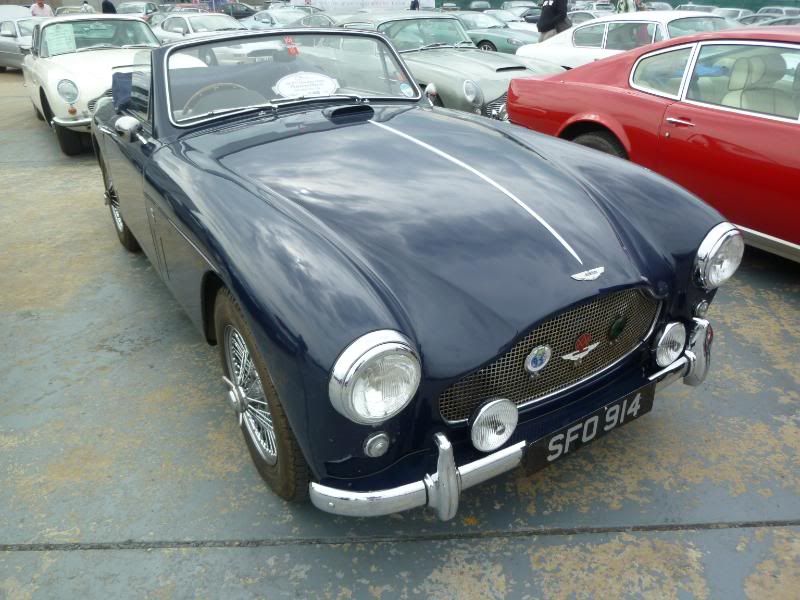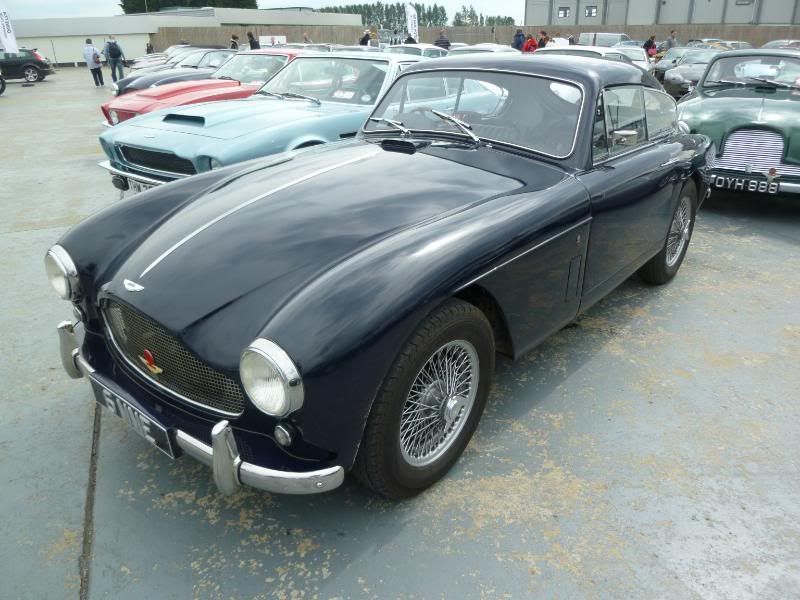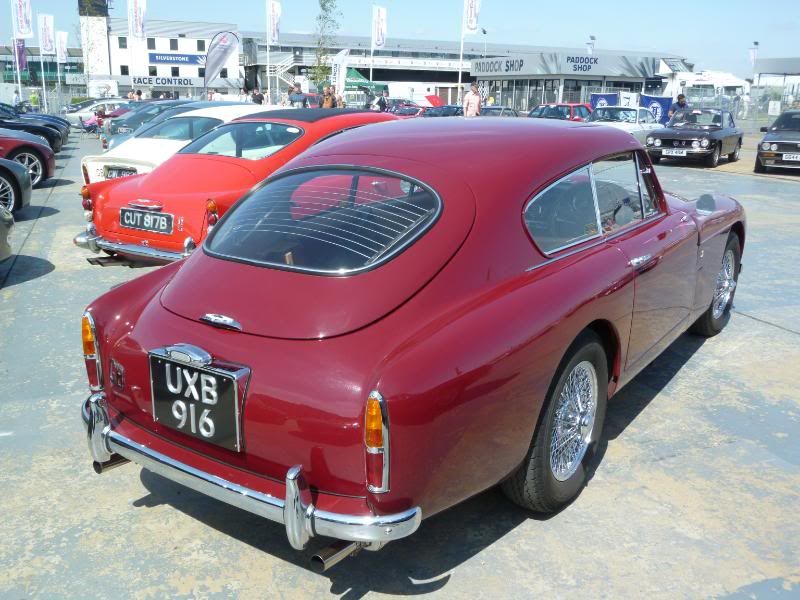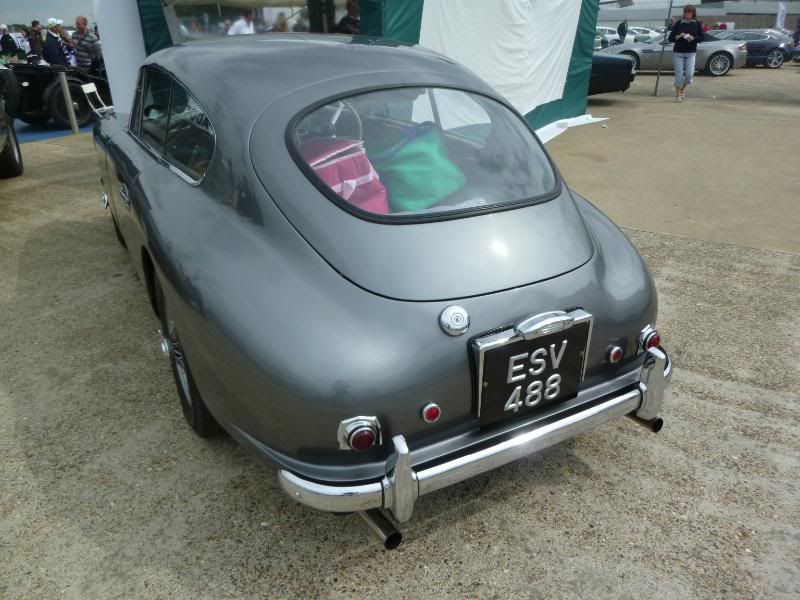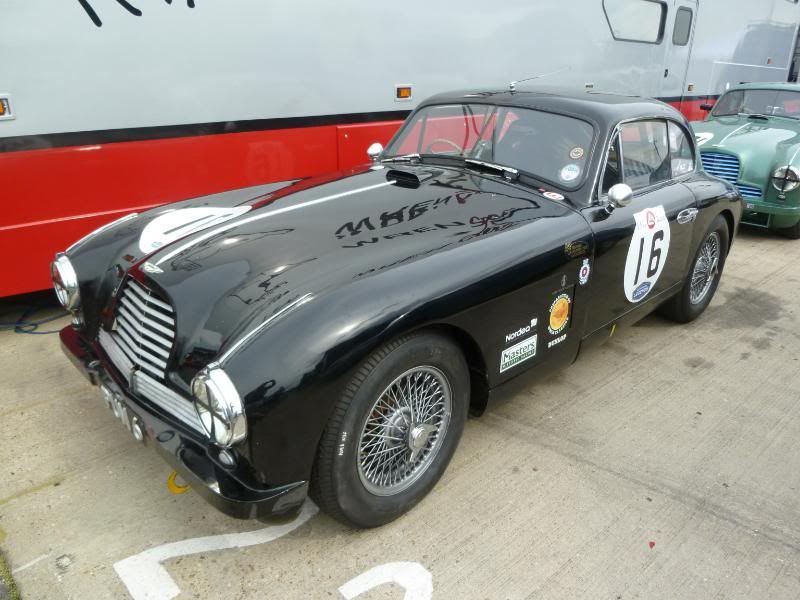 DB3S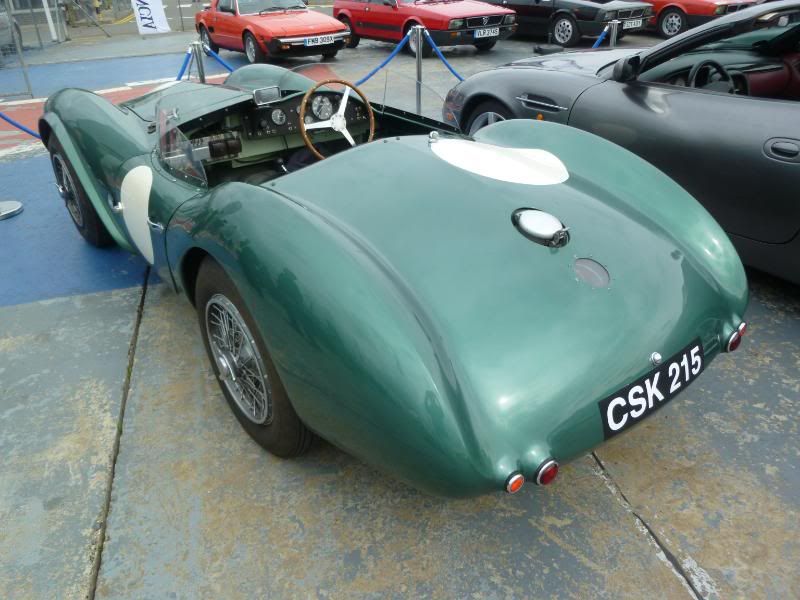 DB5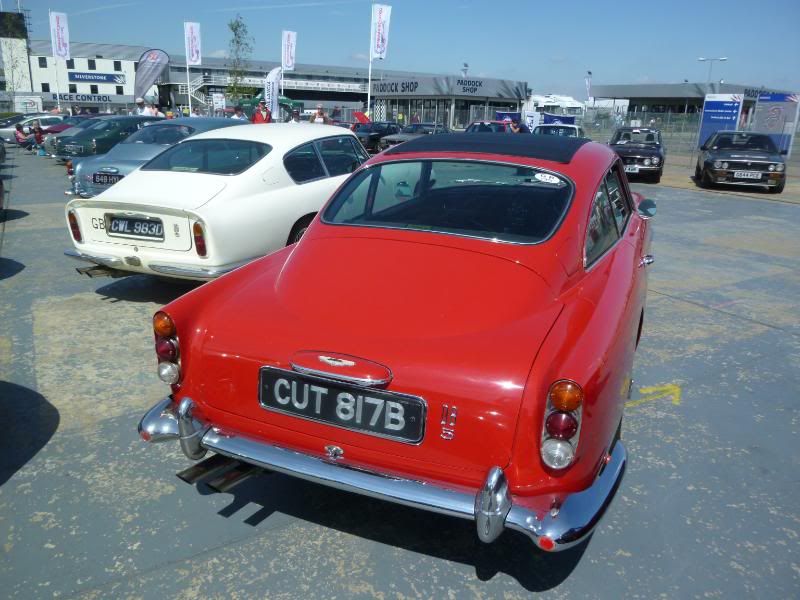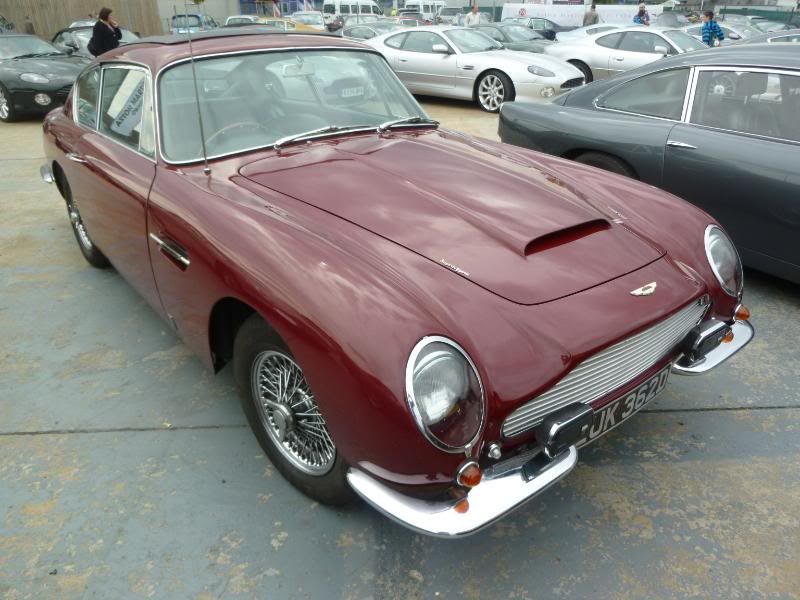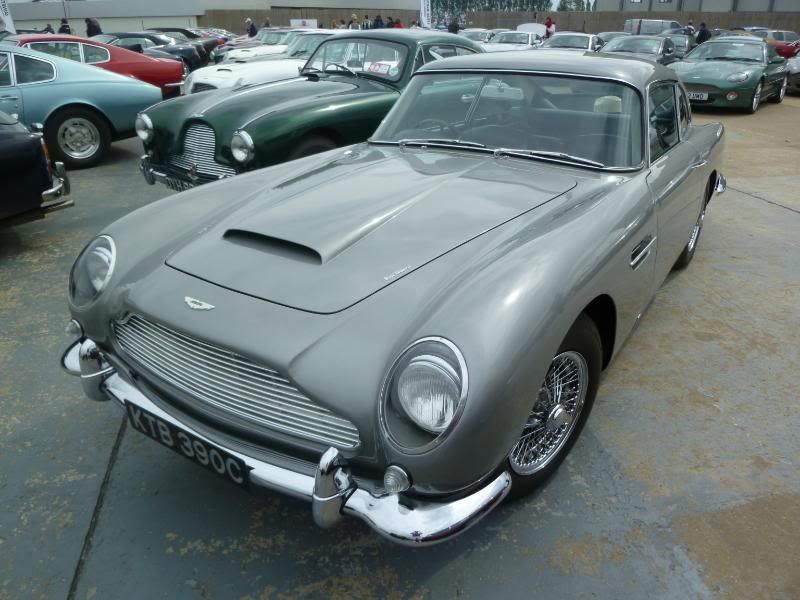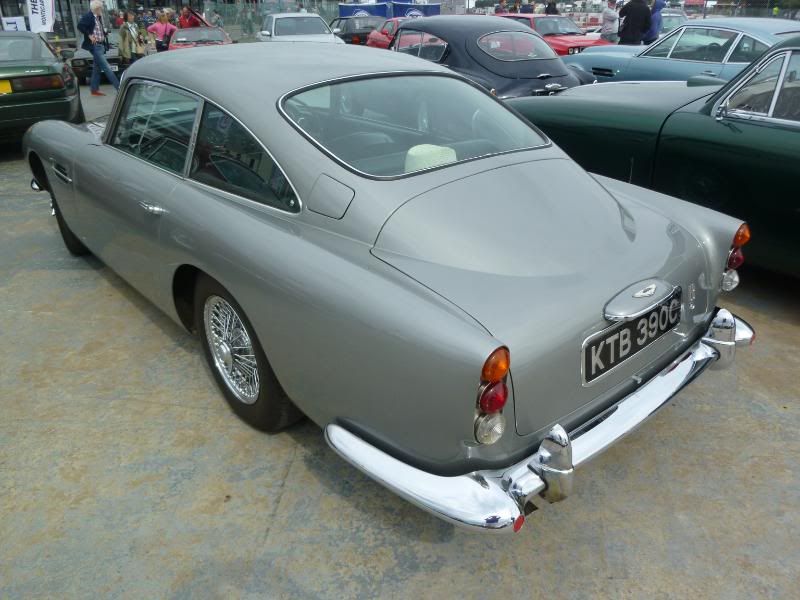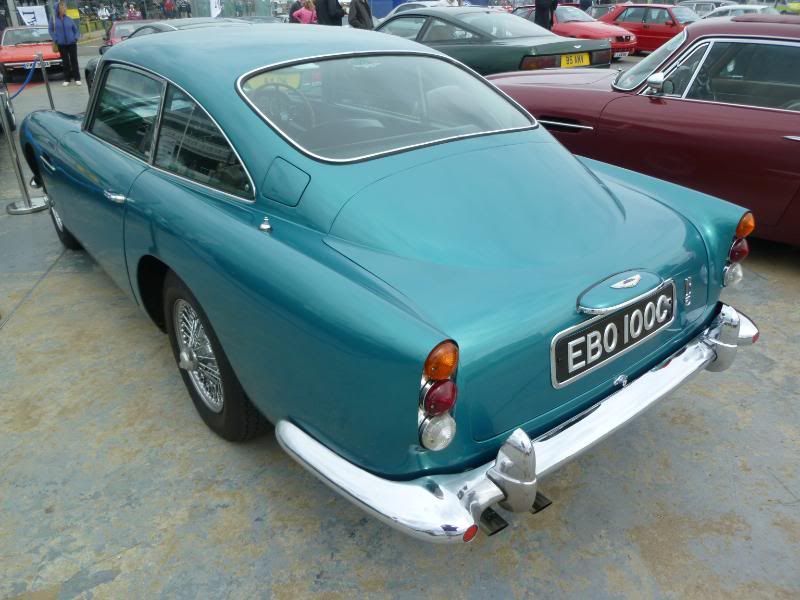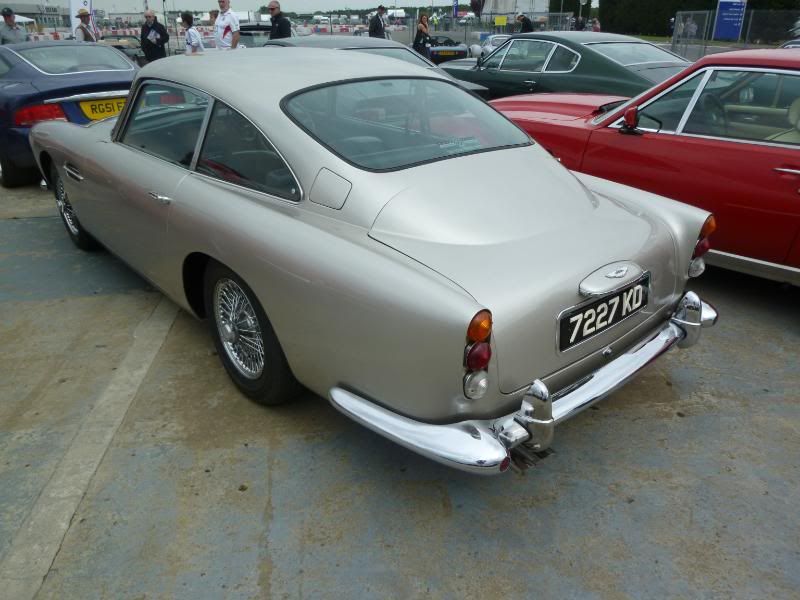 DB6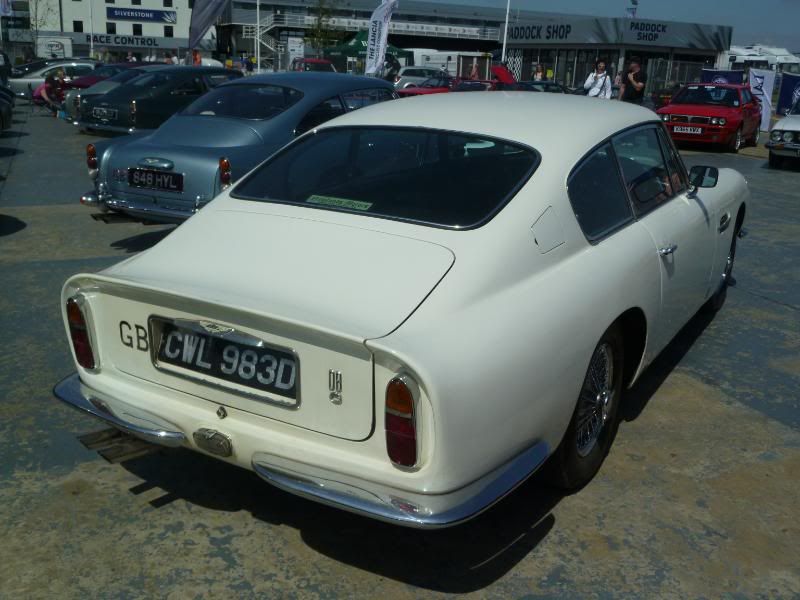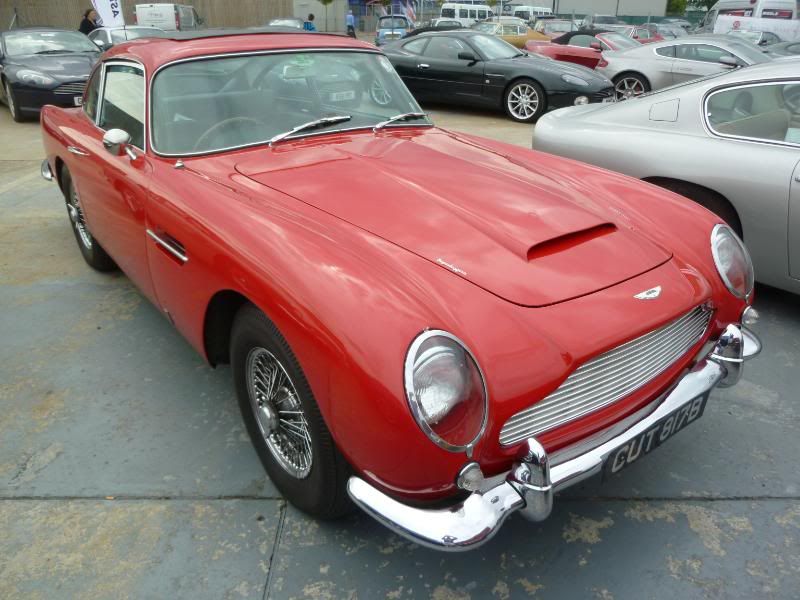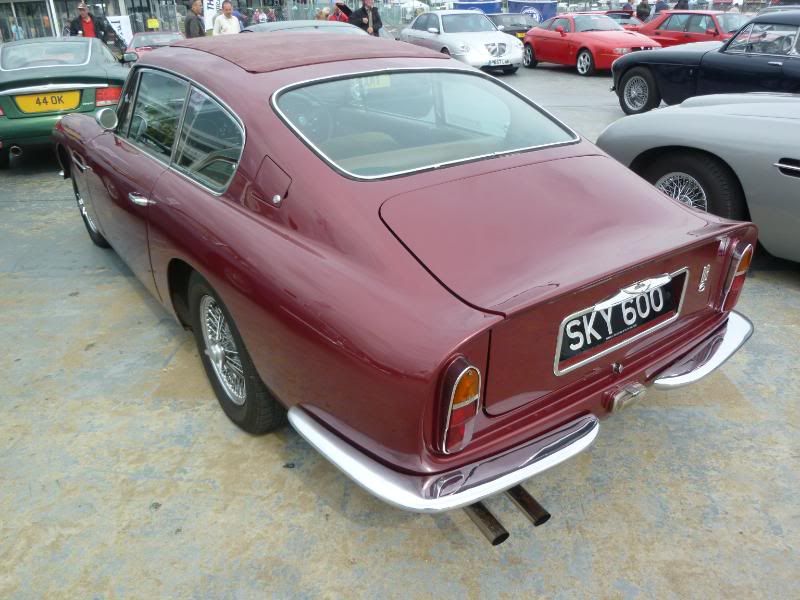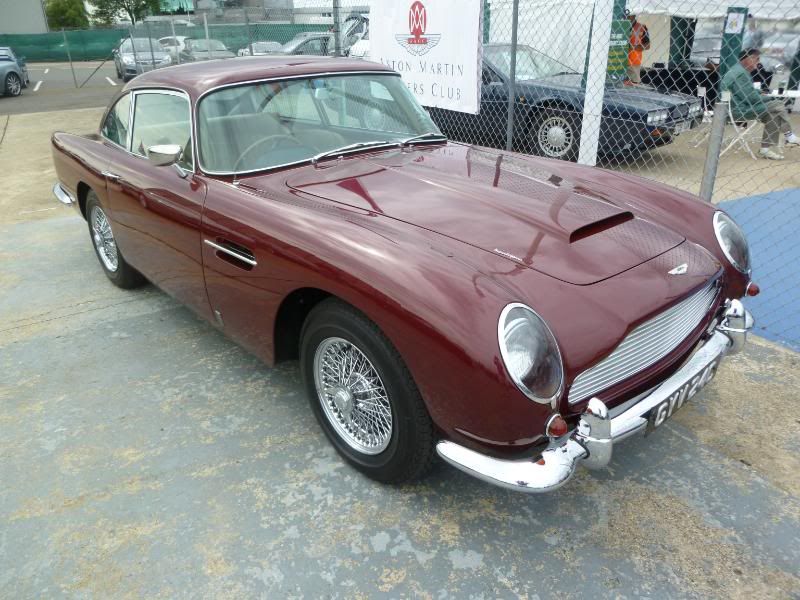 DBS, V8 and Vantage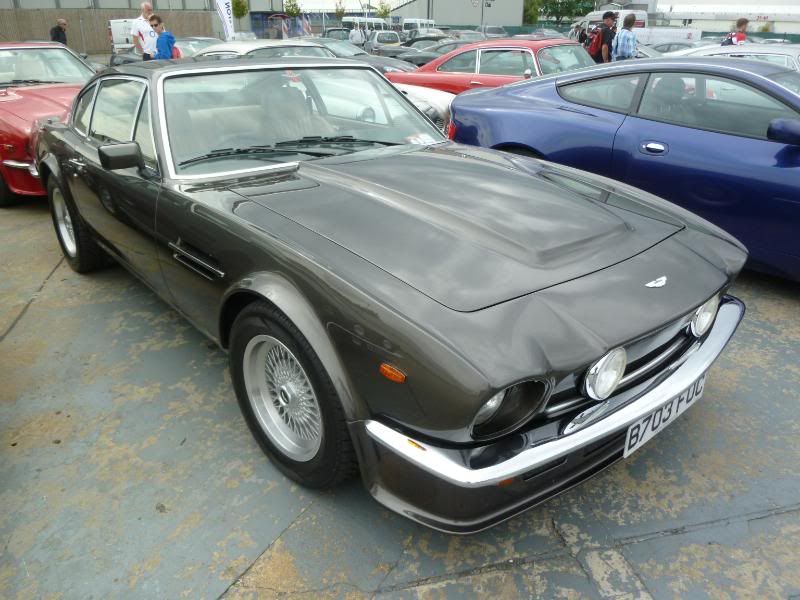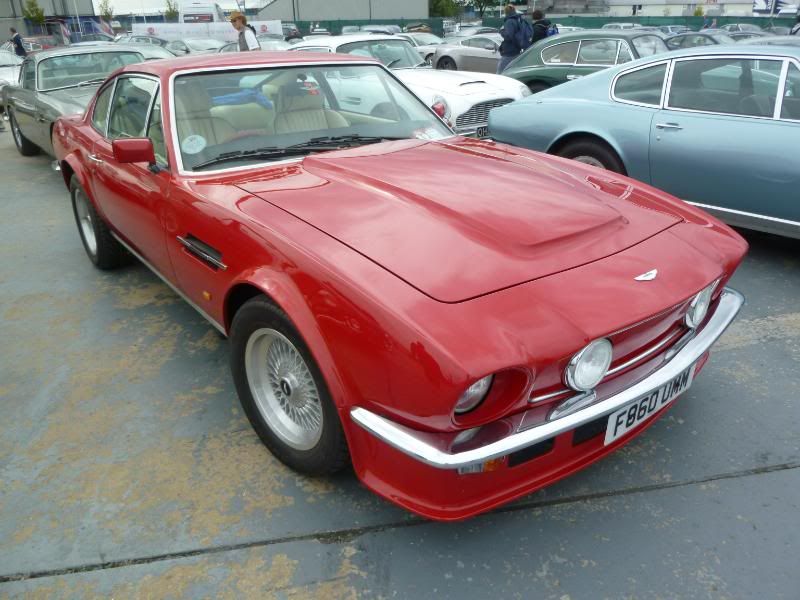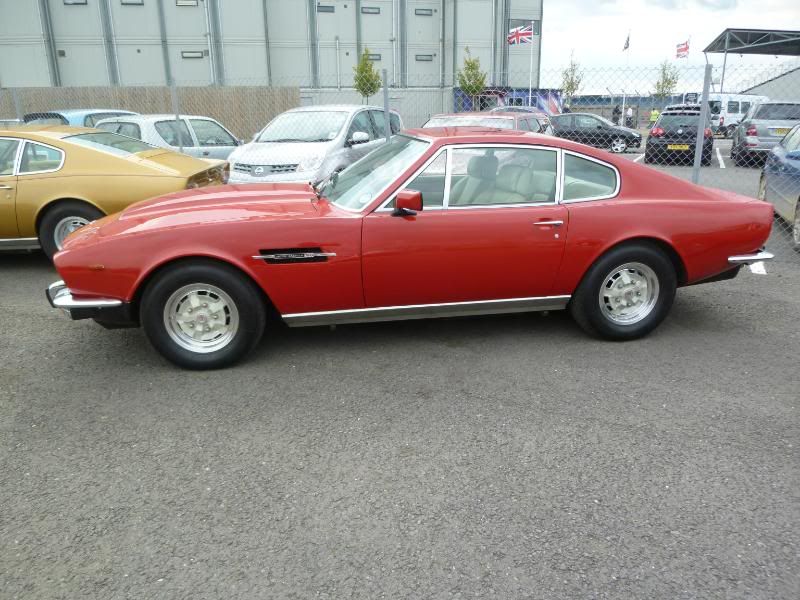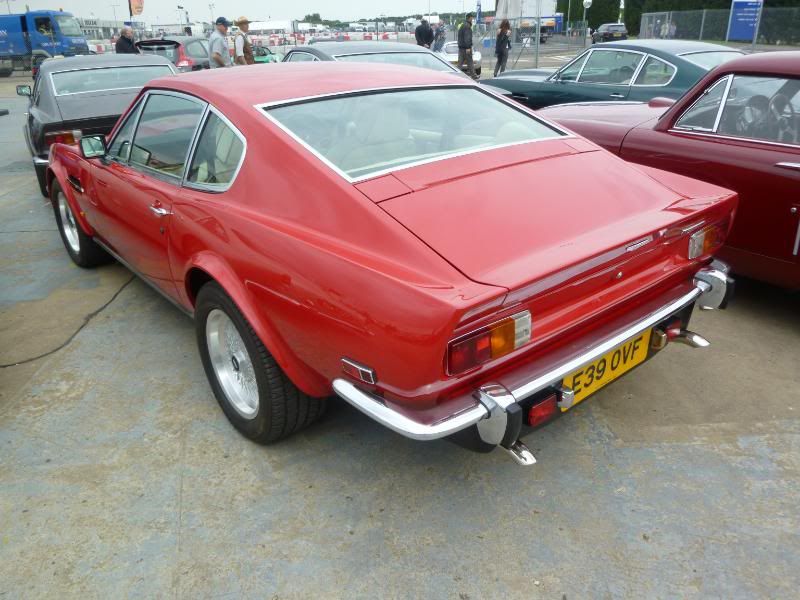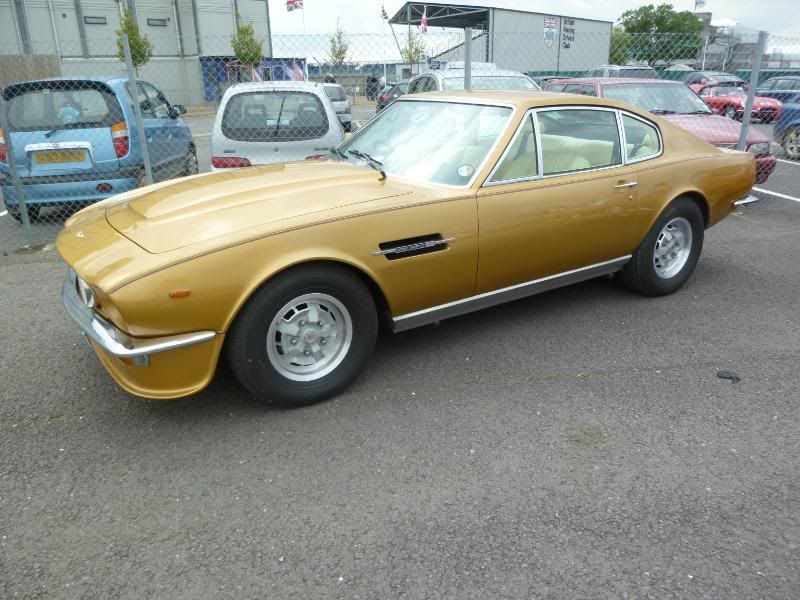 The late 1980s Virage generation cars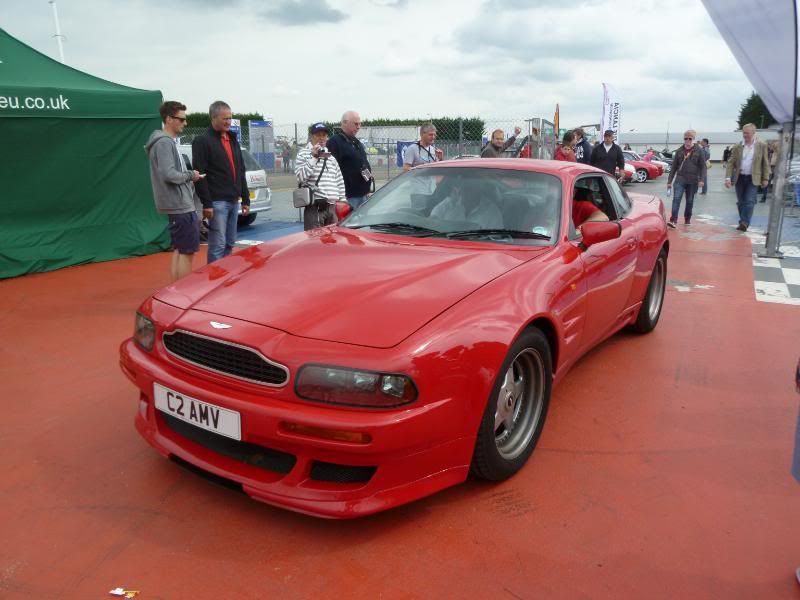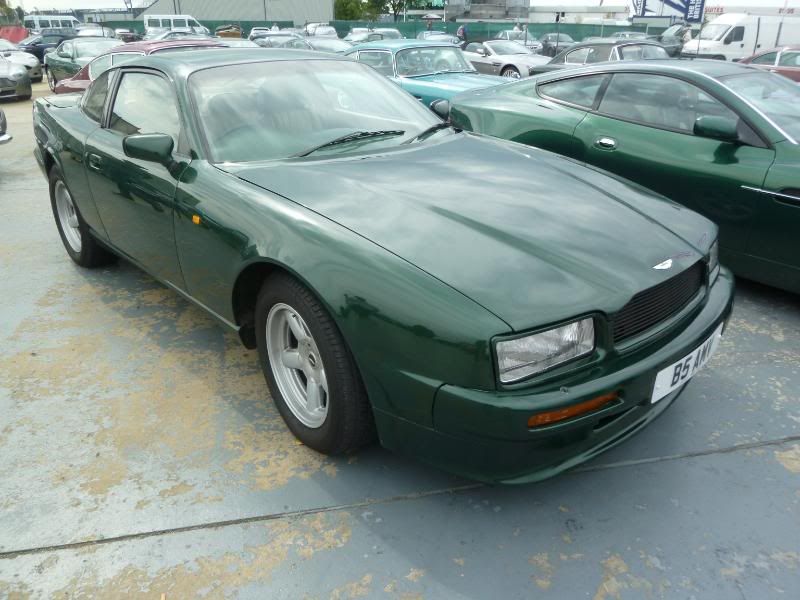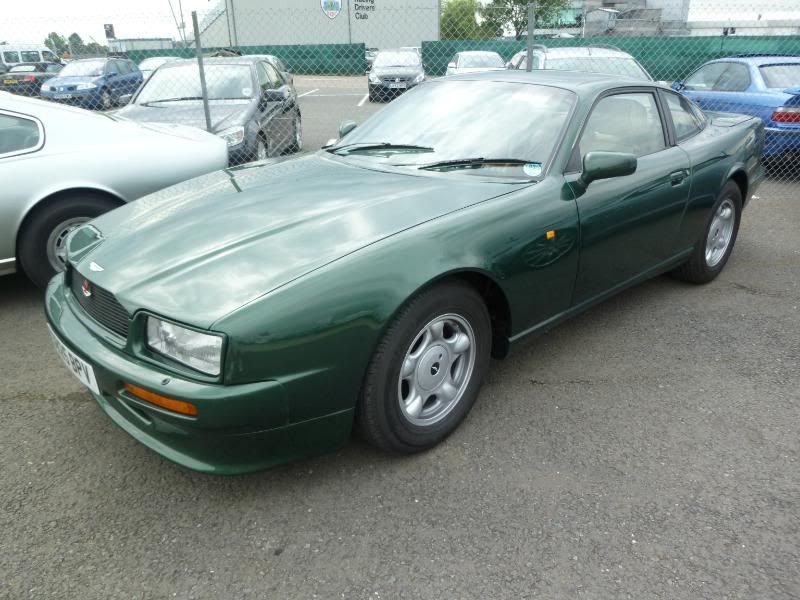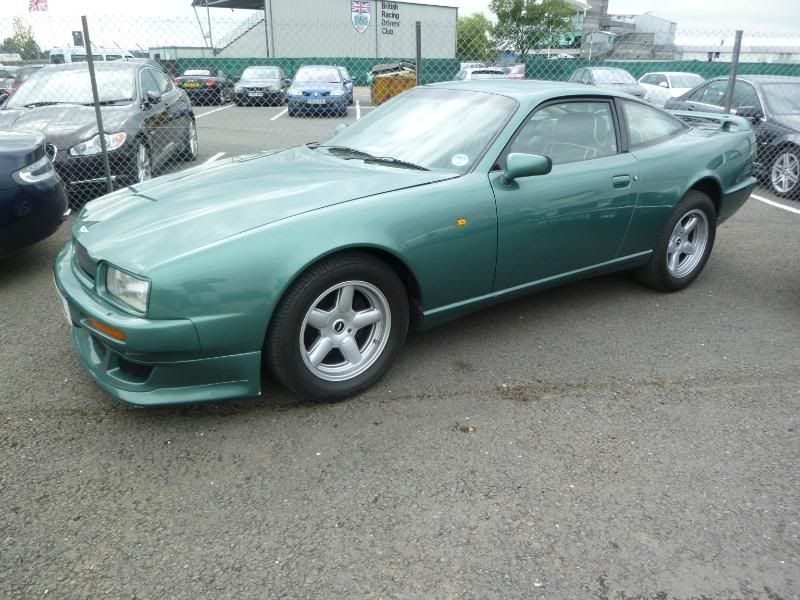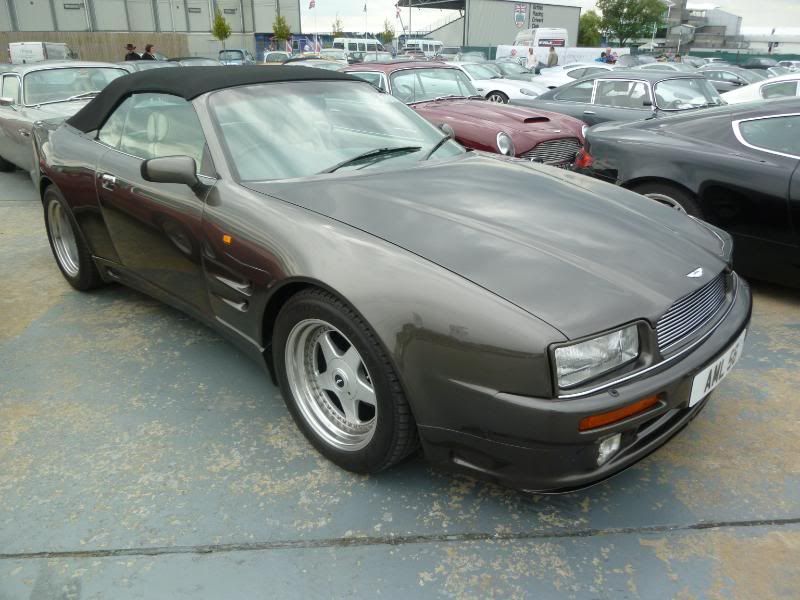 DB7
This is one of the very rare AR1 cars, designed by Zagato.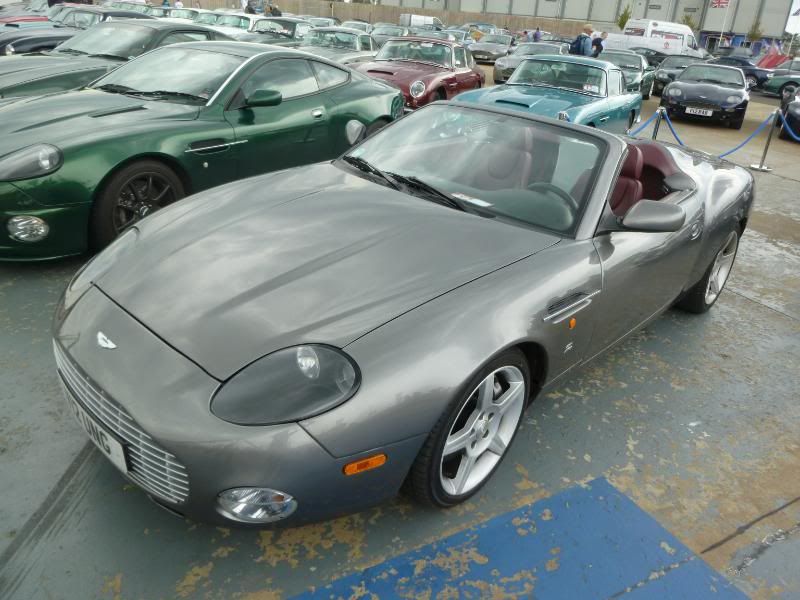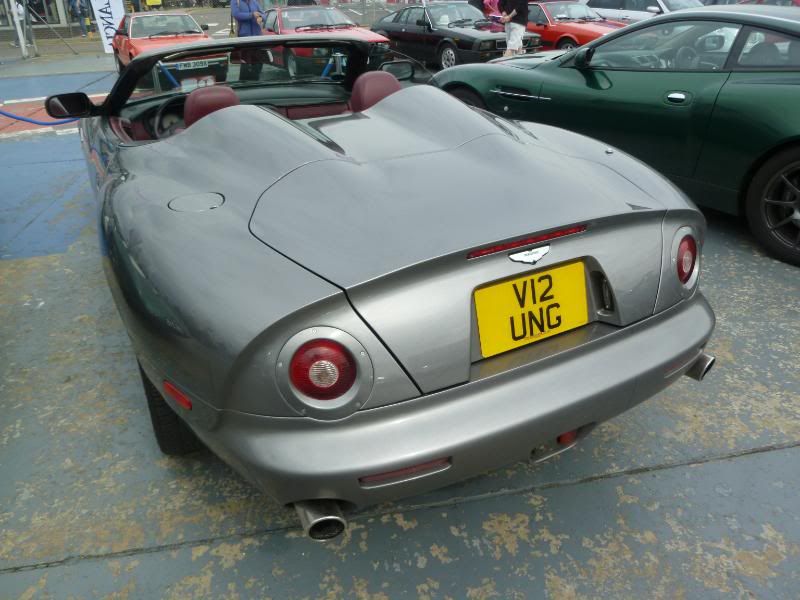 DB9
The current V8 Vantage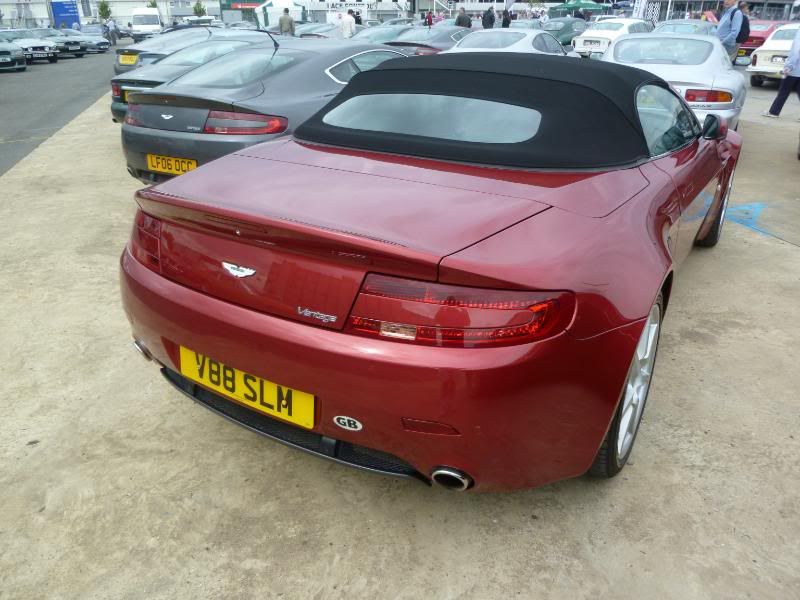 Vanquish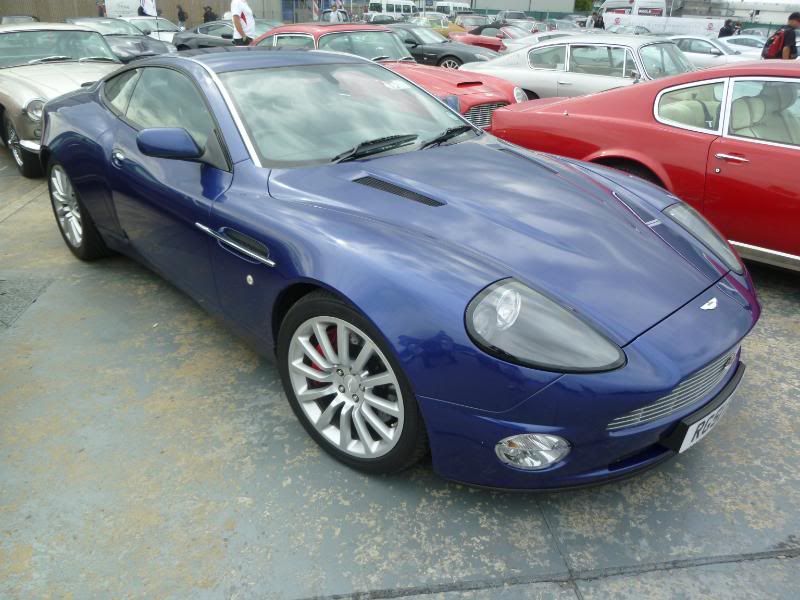 AUDI
No specific Owners Club display, but this Quattro was parked up among the Lotus.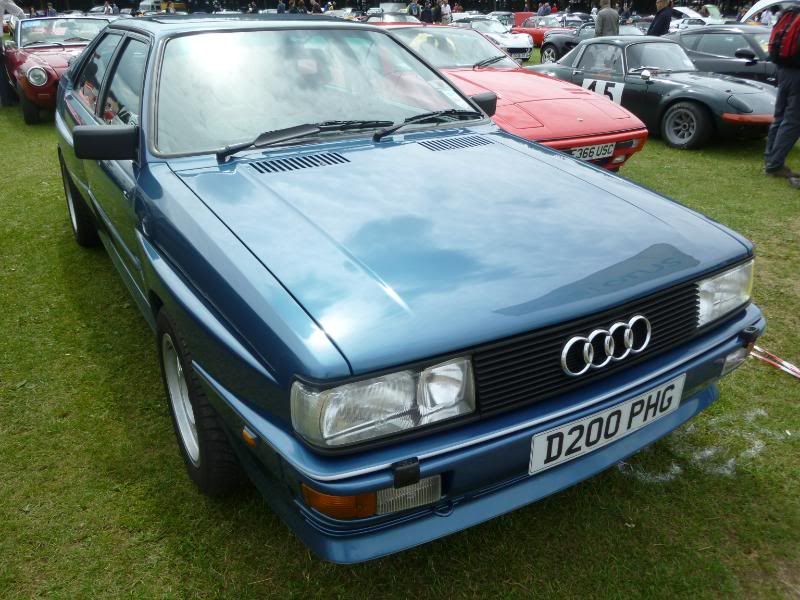 AUSTIN
Also from the Coventry Museum was this Gypsy, in fire brigade format.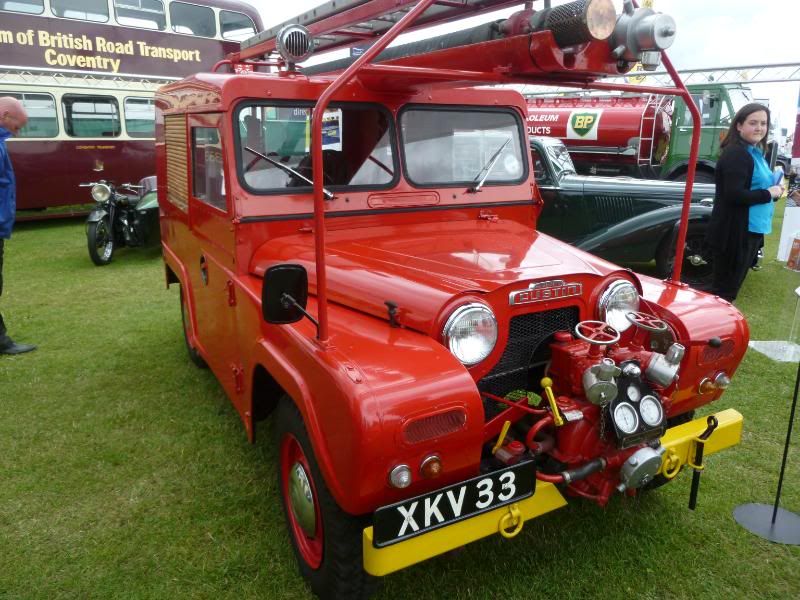 A 1985 Metro City X. Once a common sight, most of these have long since been recycled!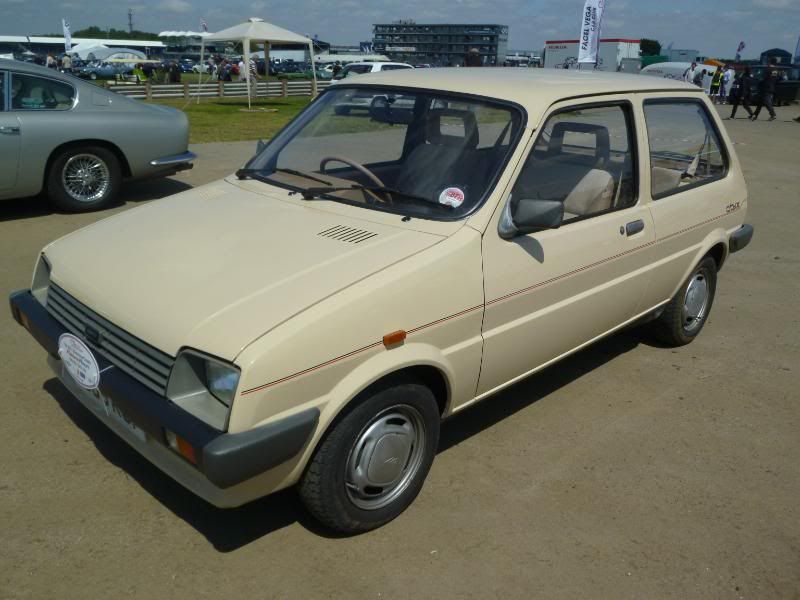 A50 Cambridge – archetypal family car of the 1950s.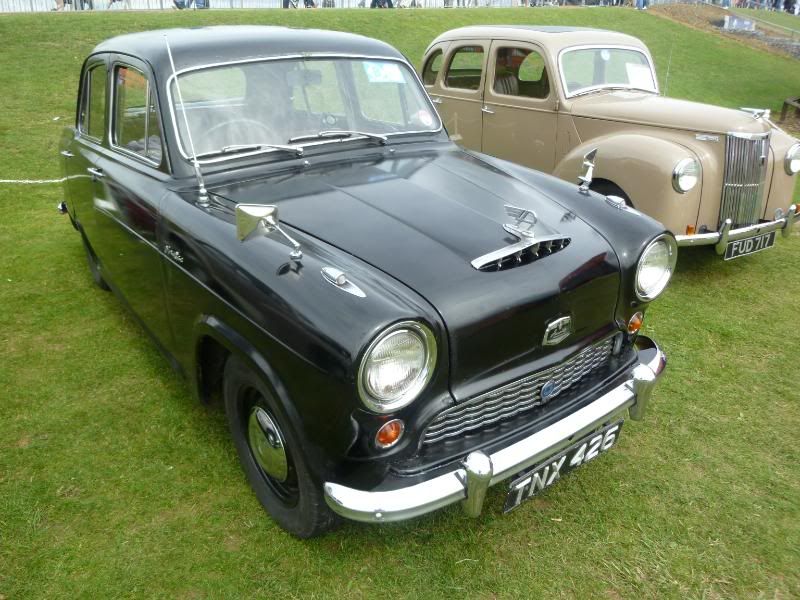 This was a real time-warp Maxi 1750, in excellent condition.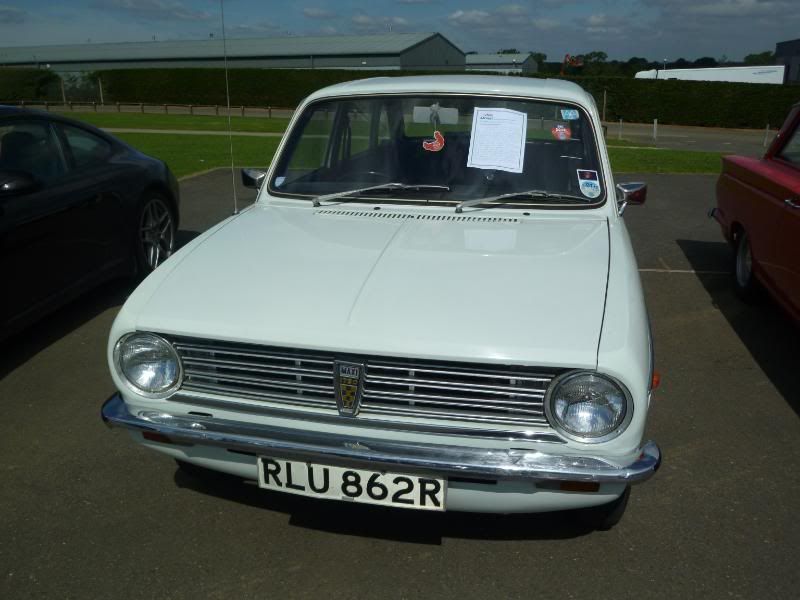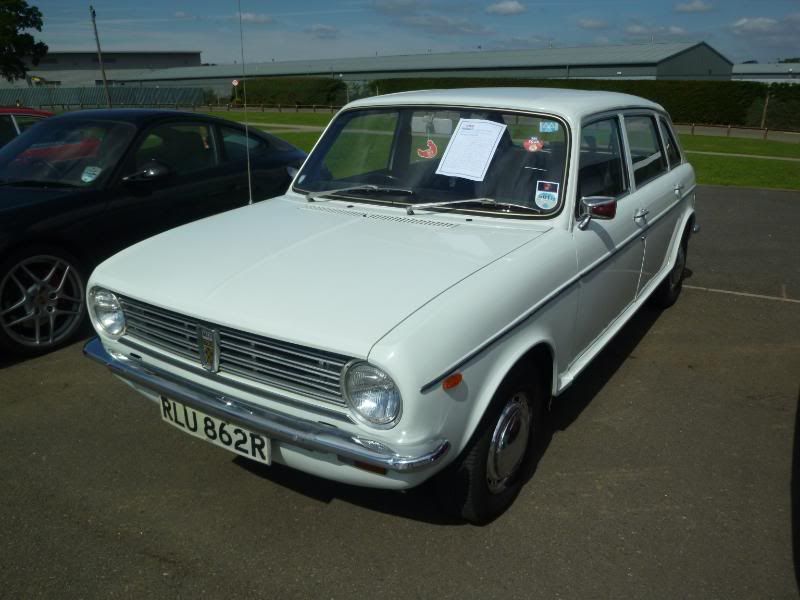 AUSTIN-HEALEY
Plenty of Sprites in both iterations.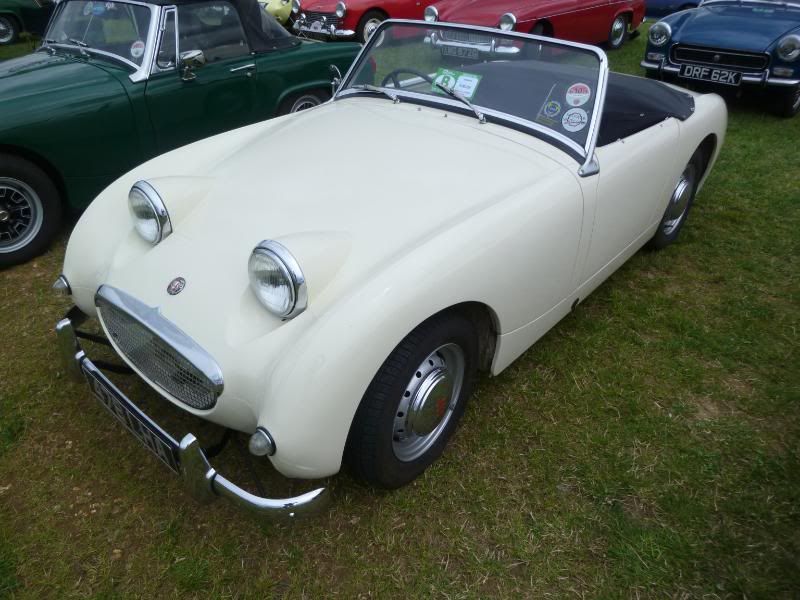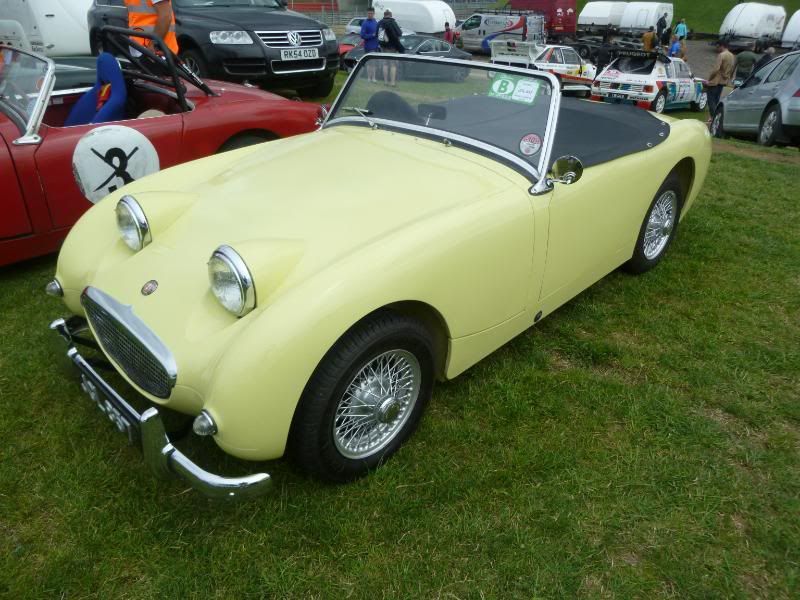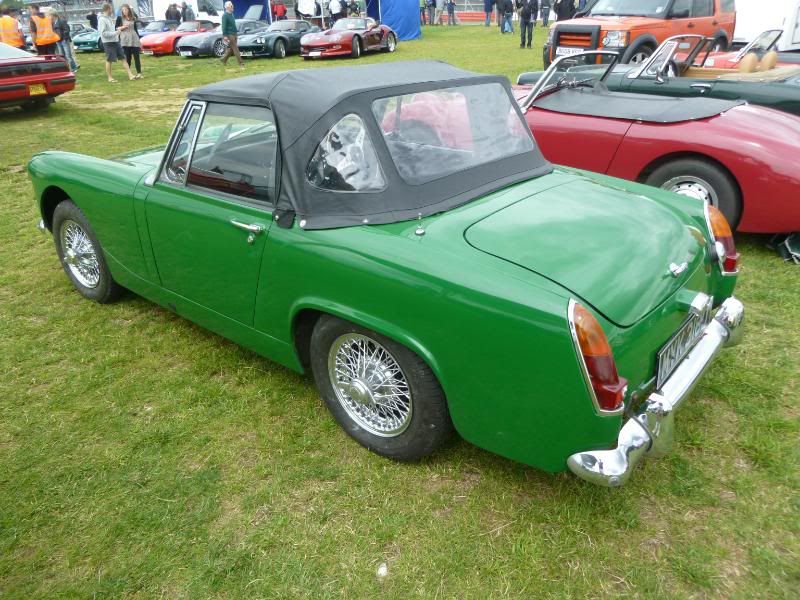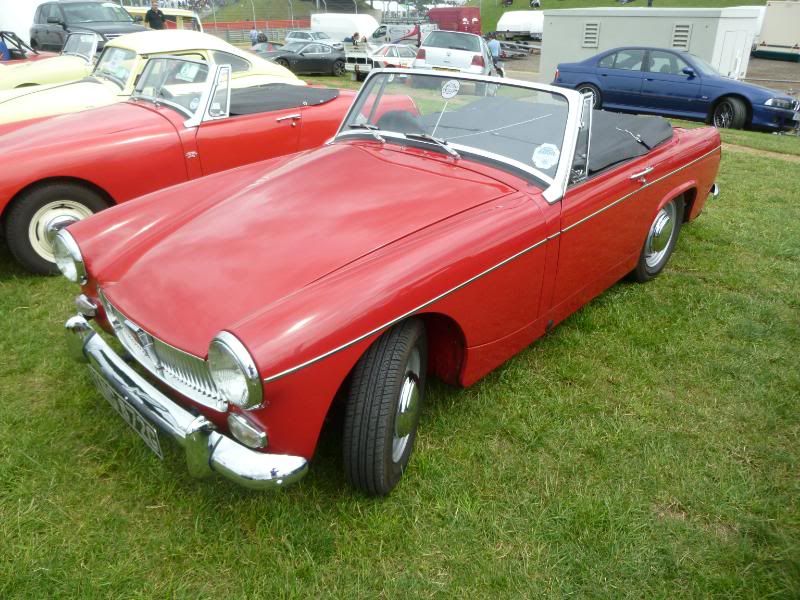 Even more of the Big Healey, with examples from the early 100 models through to the 3000 cars.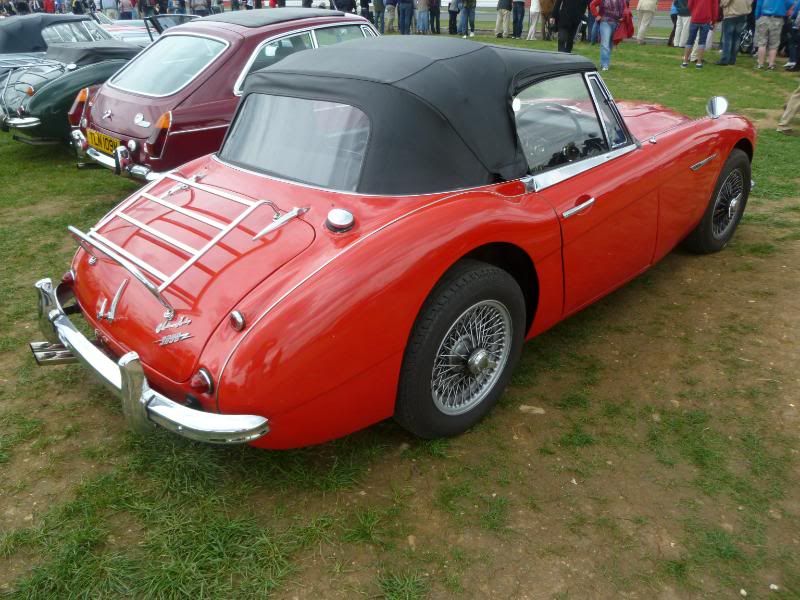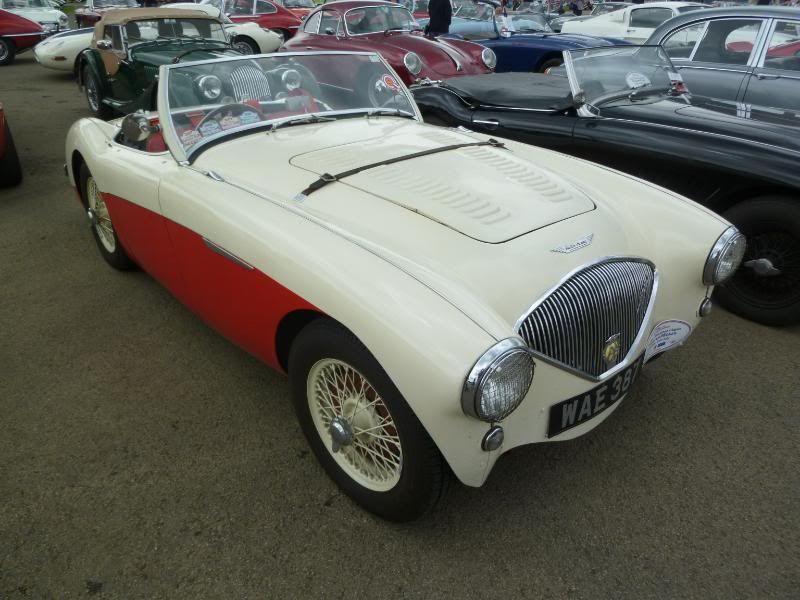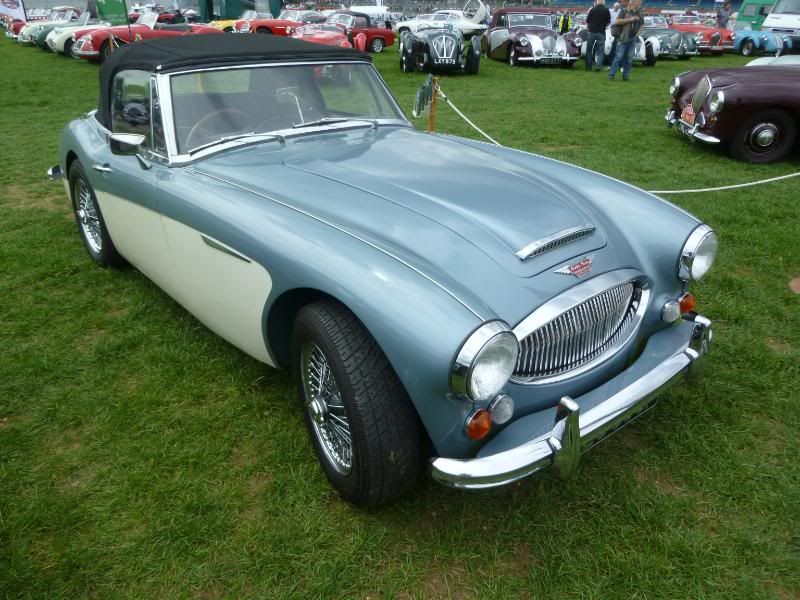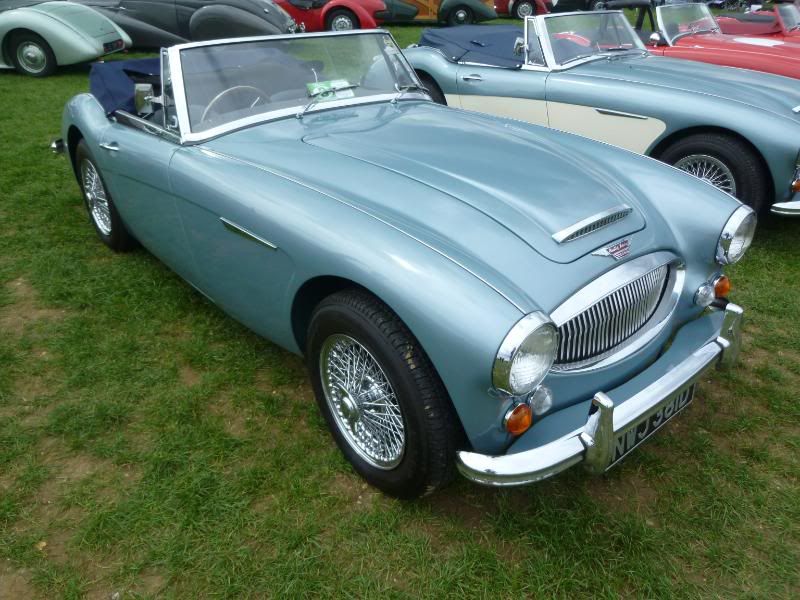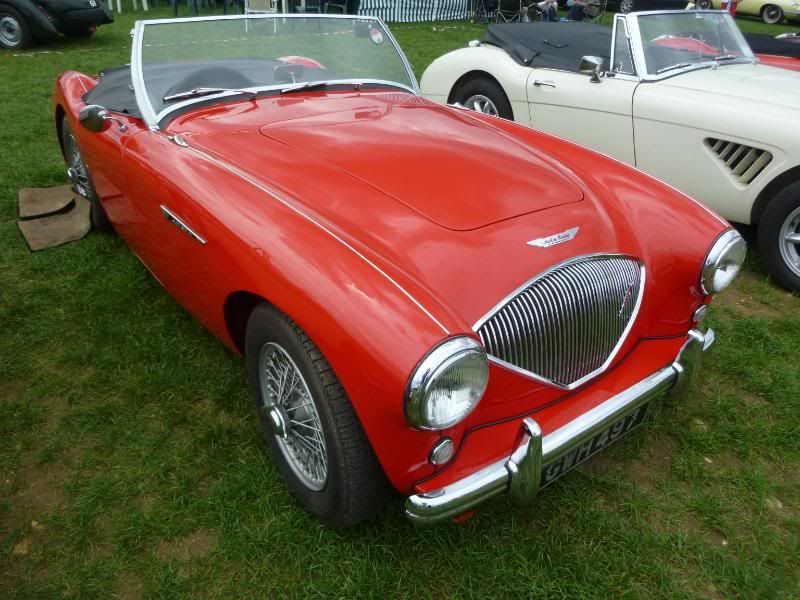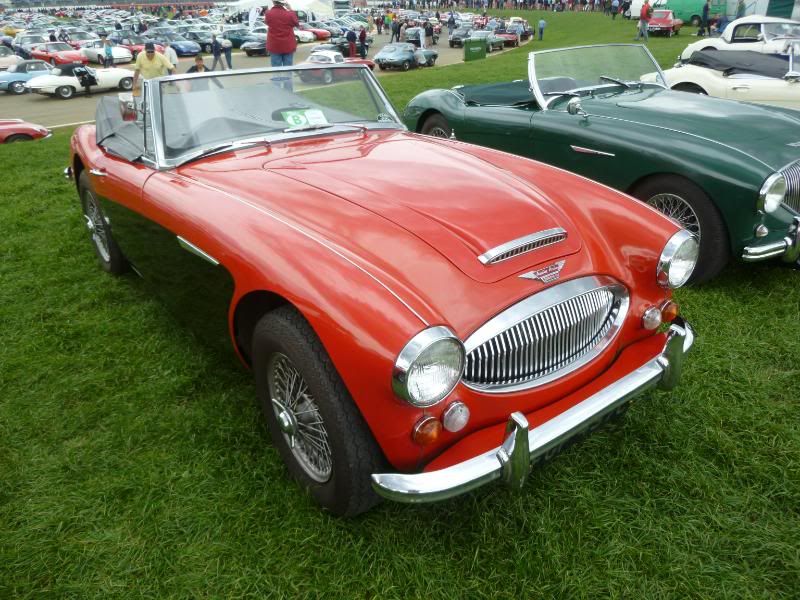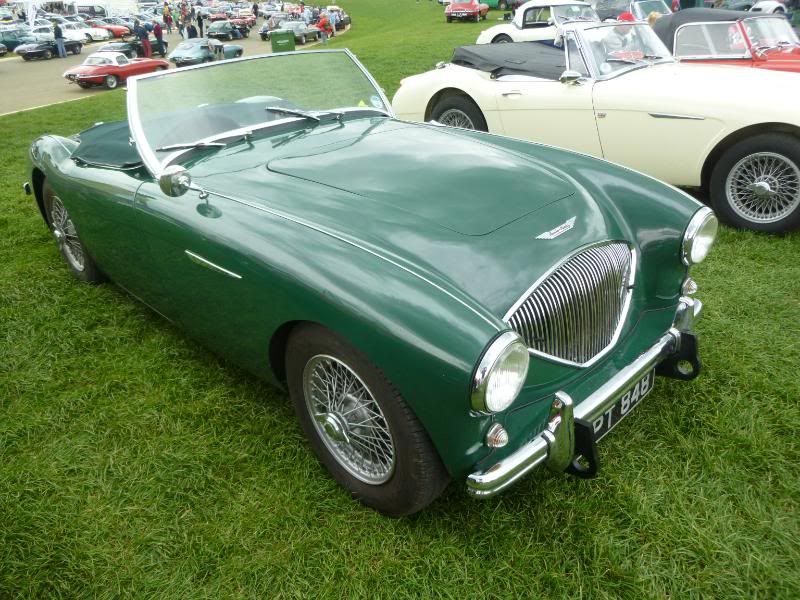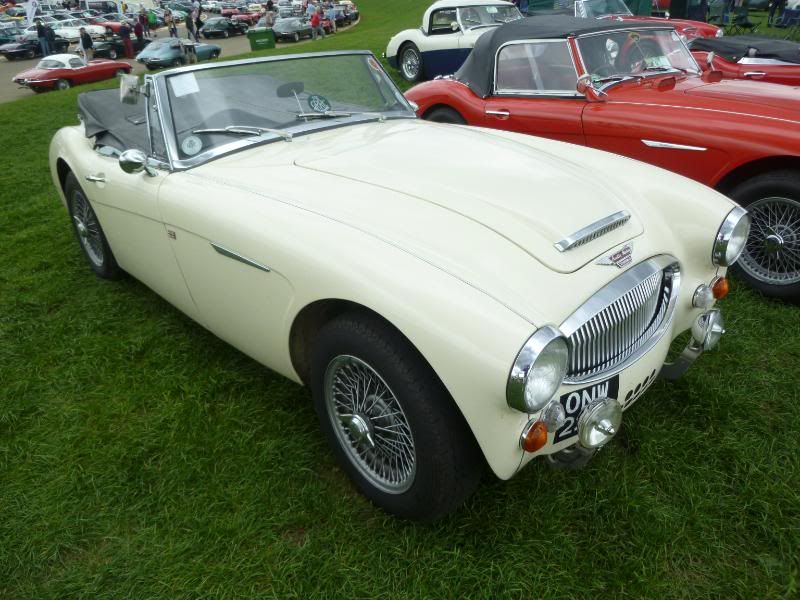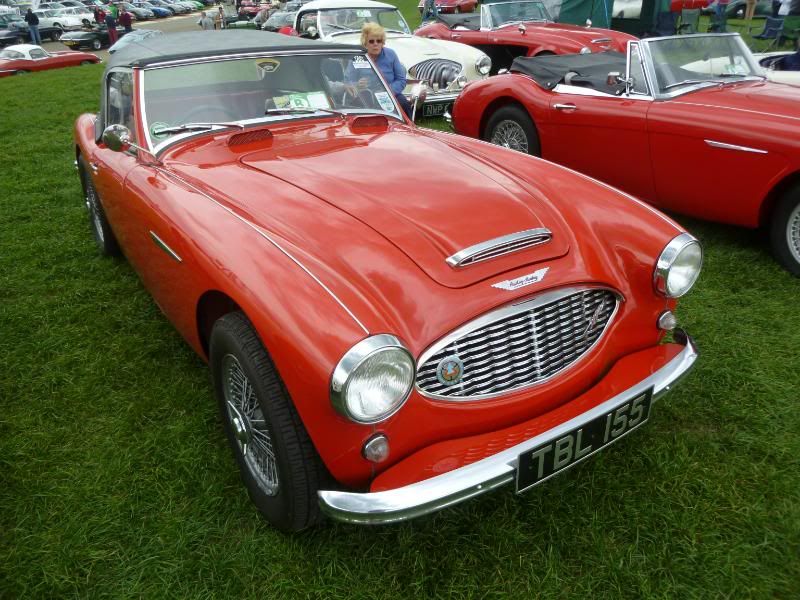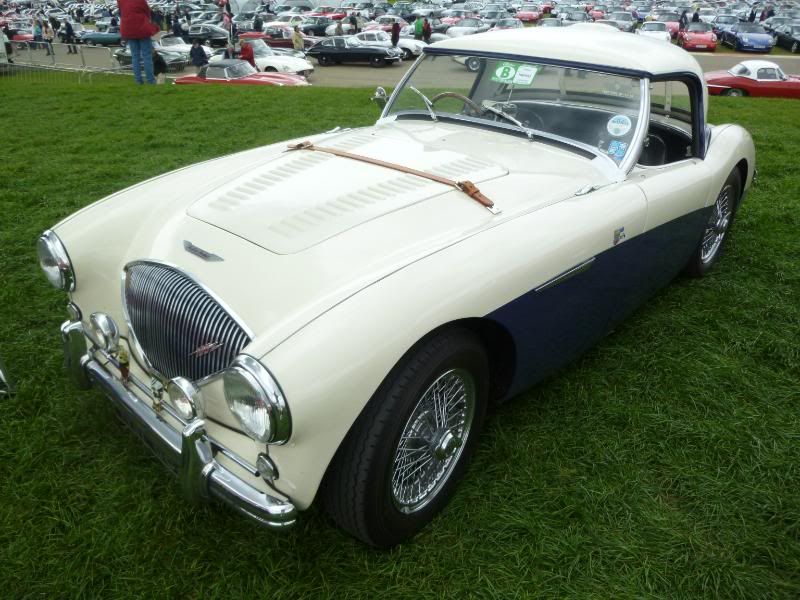 BENTLEY
A wide variety of cars from the Bentley Owners Club, ranging from the 1920s to the current day.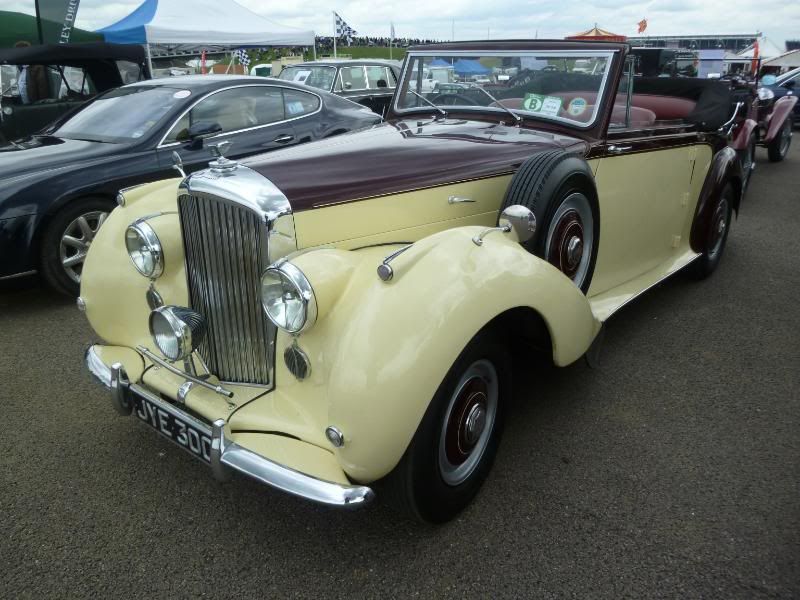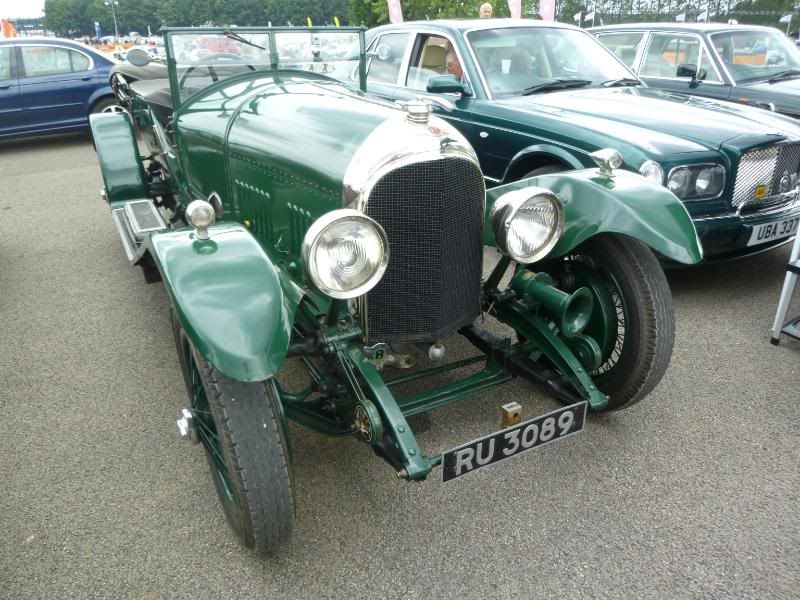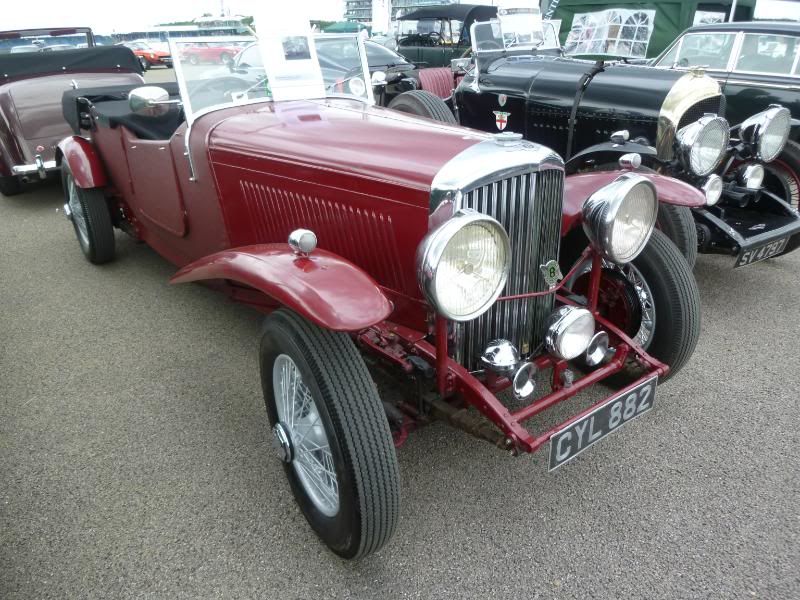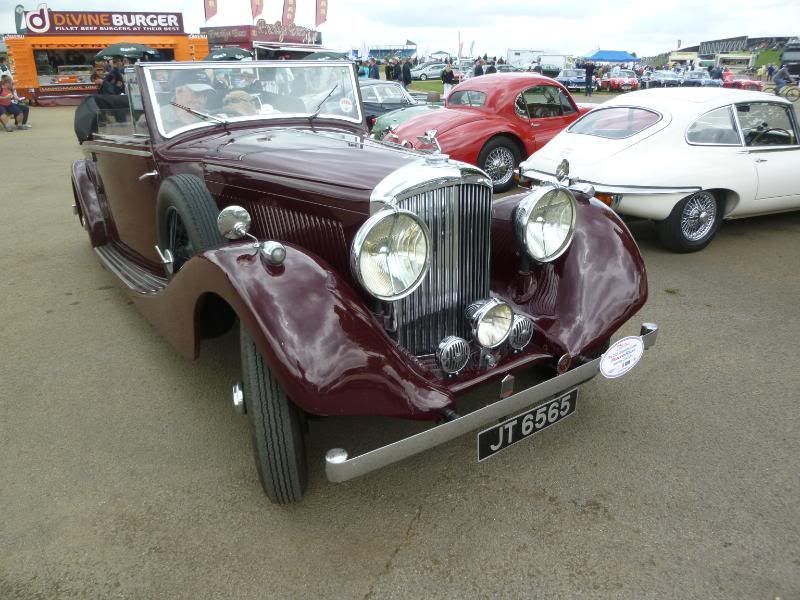 More recent cars included the rare T Series saloon, and a modern Continental GT Coupe.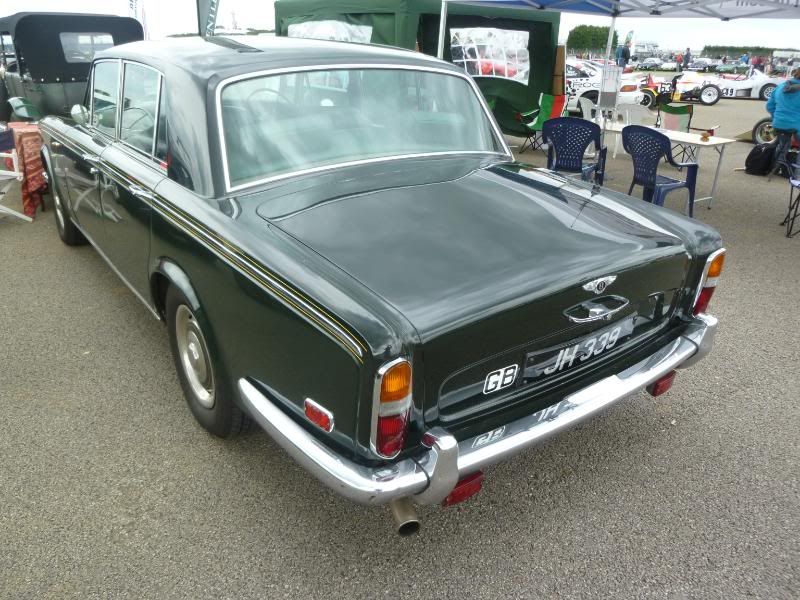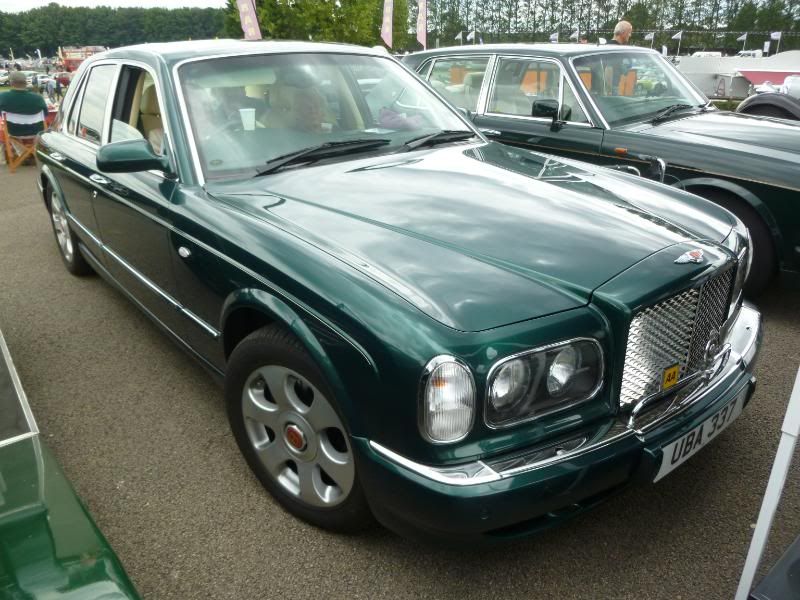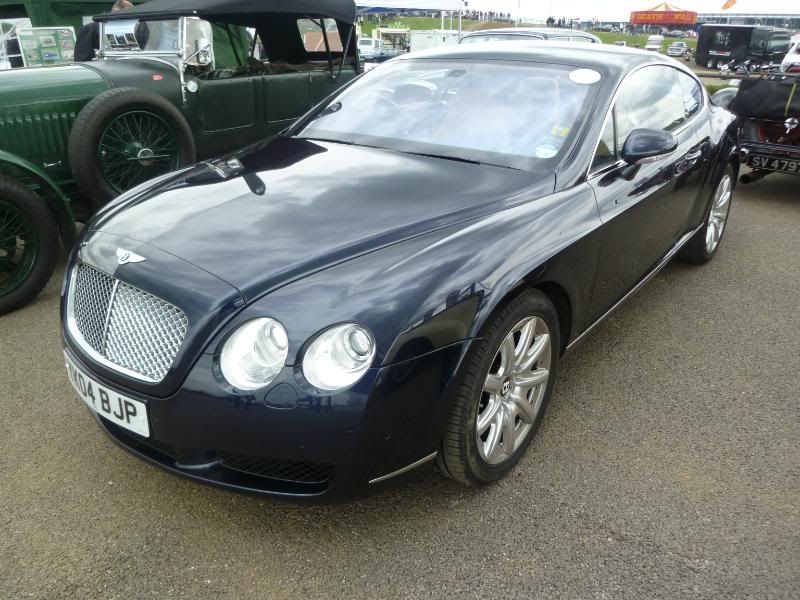 BERKELEY
A little known marque, this is the Bandit
BERLIET
A sporting machine dating from 1907.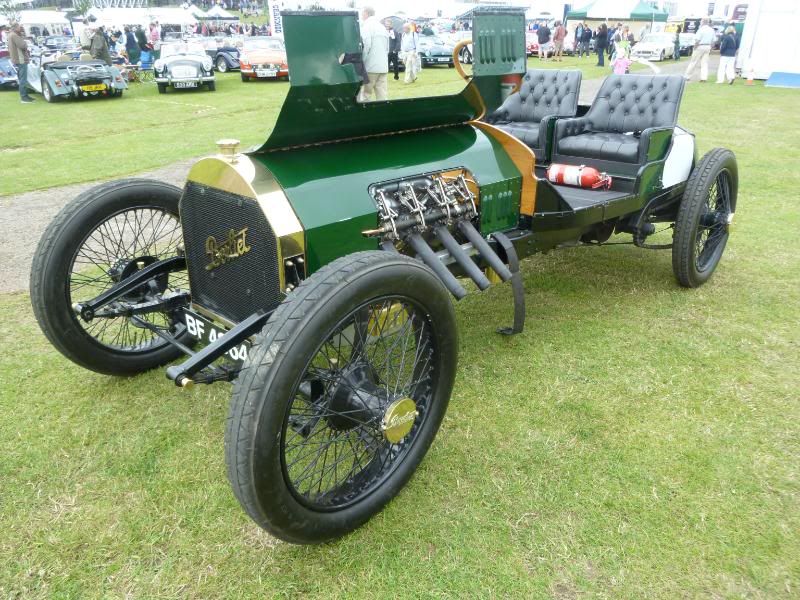 BMW

There were 2 separate displays, reflecting the split some years ago into the Historic BMW Car Club from the main BMW Car Club.
Highlight of the Historic displays were the brace of 507s, one of which was there on both days. The silver grey car was piloted by none other than John Surtees.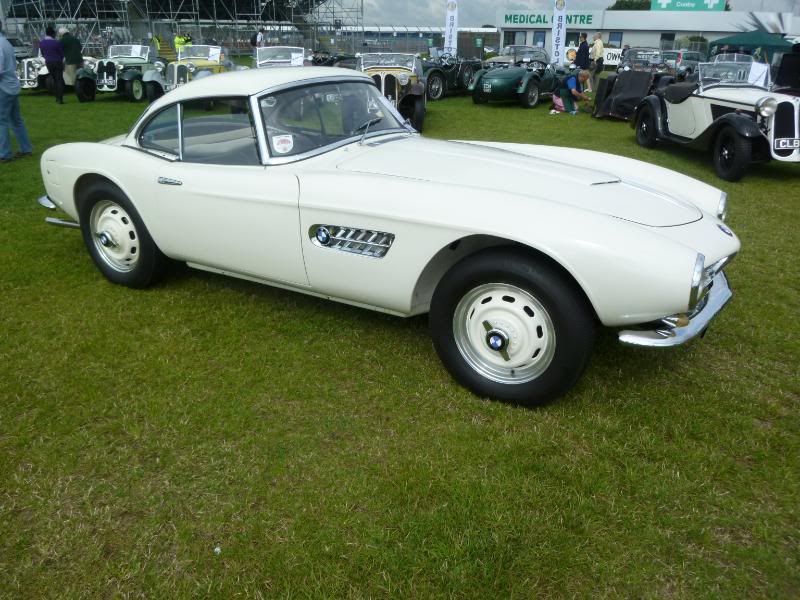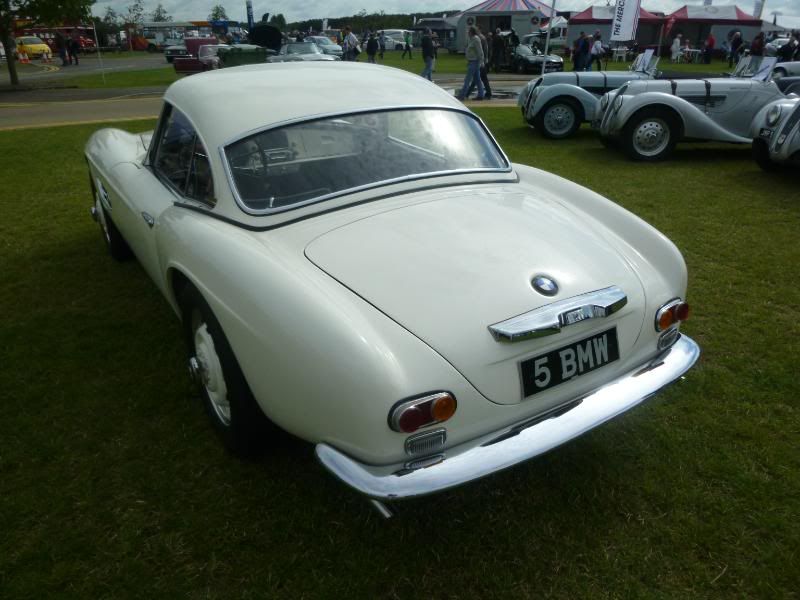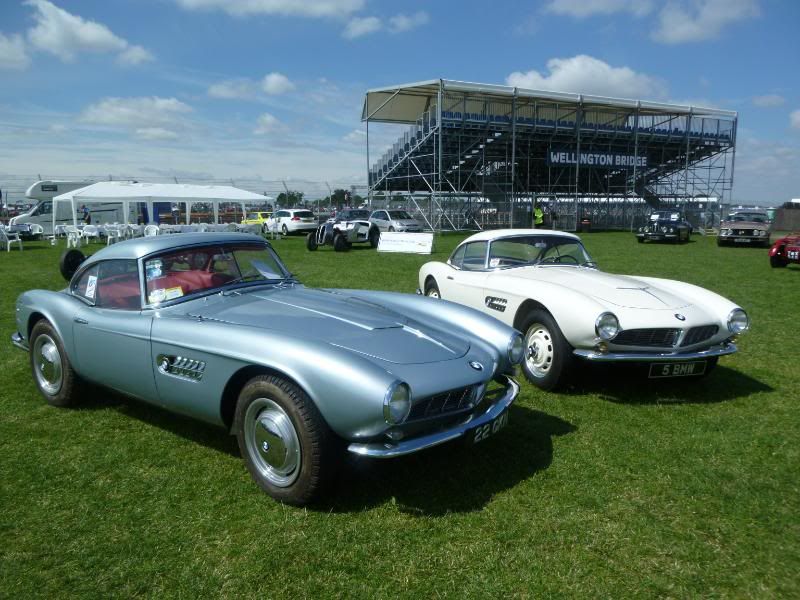 Equally rare is this 503 Convertible.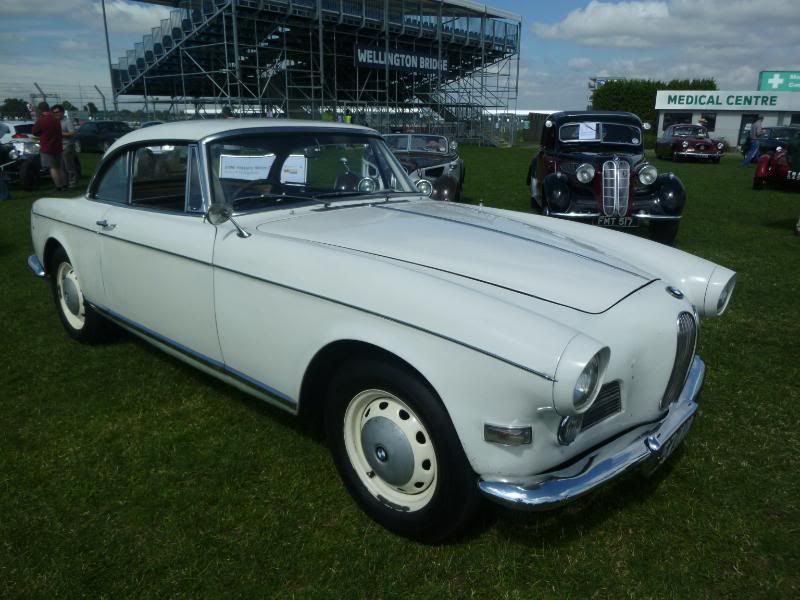 There were plenty of the sporting 319 models on show.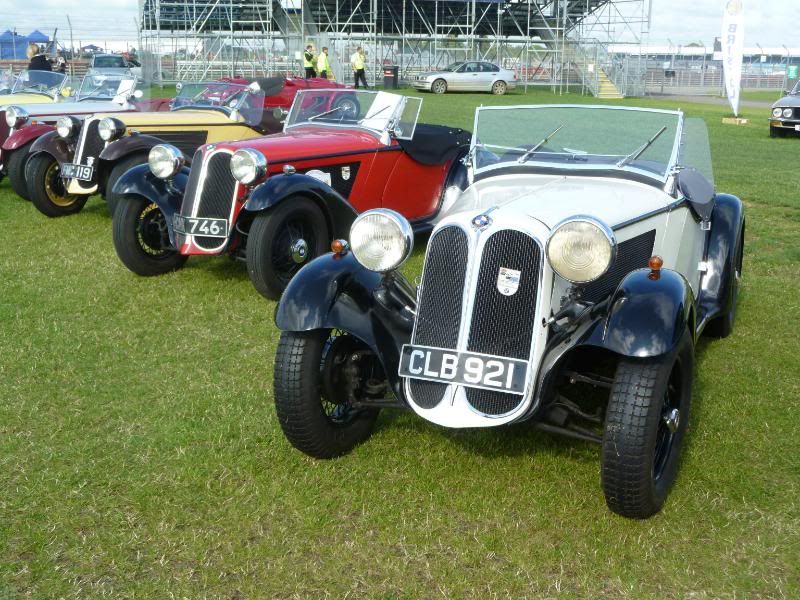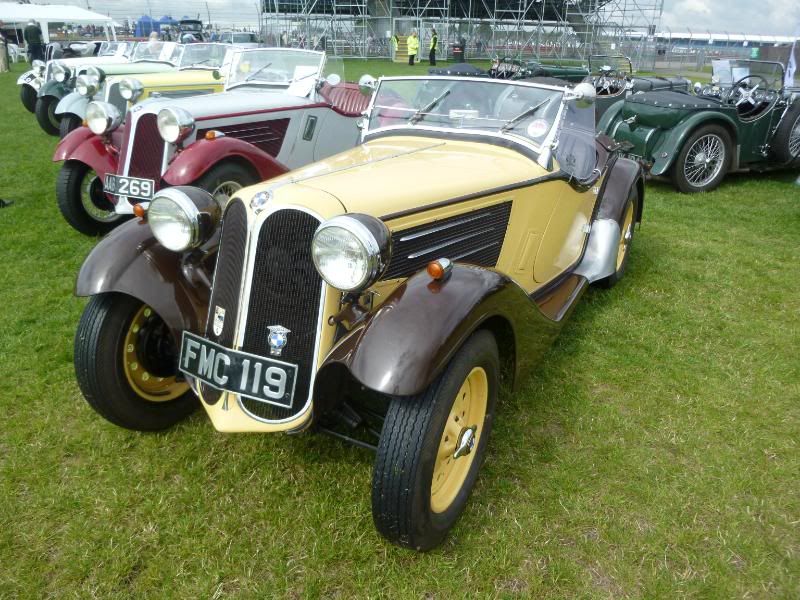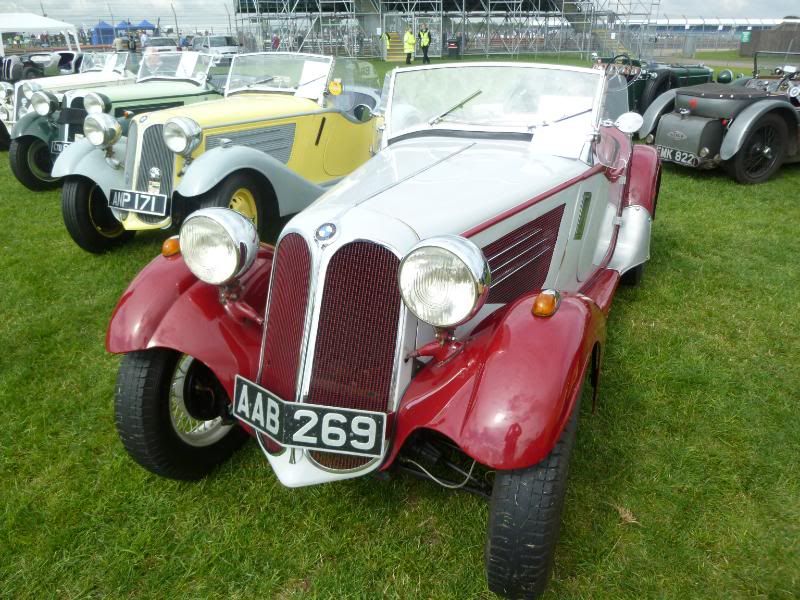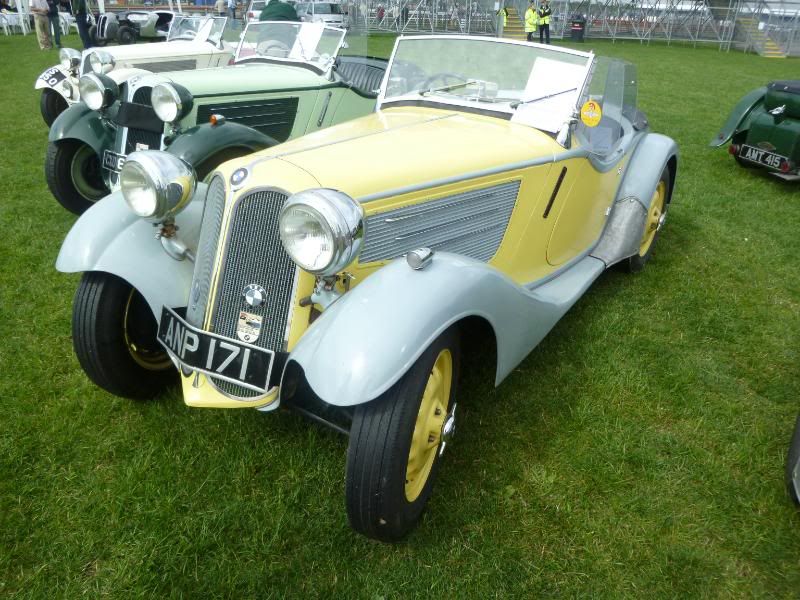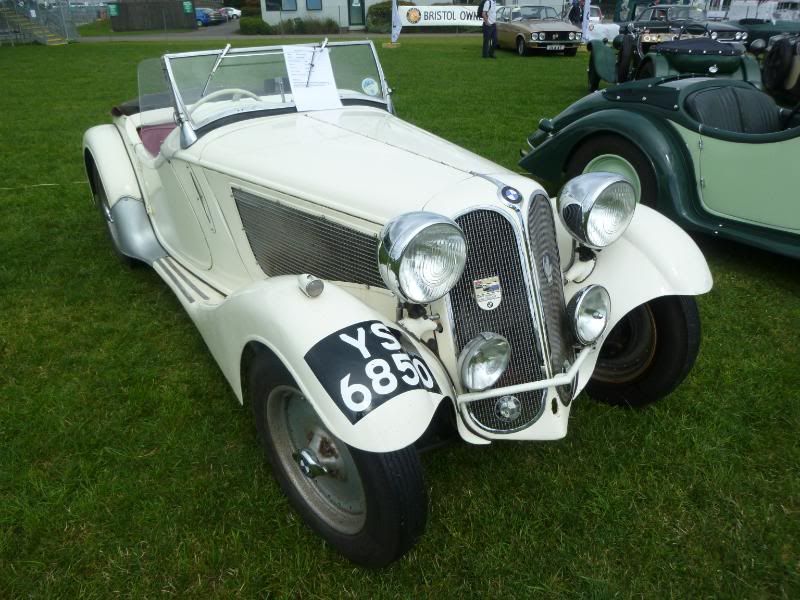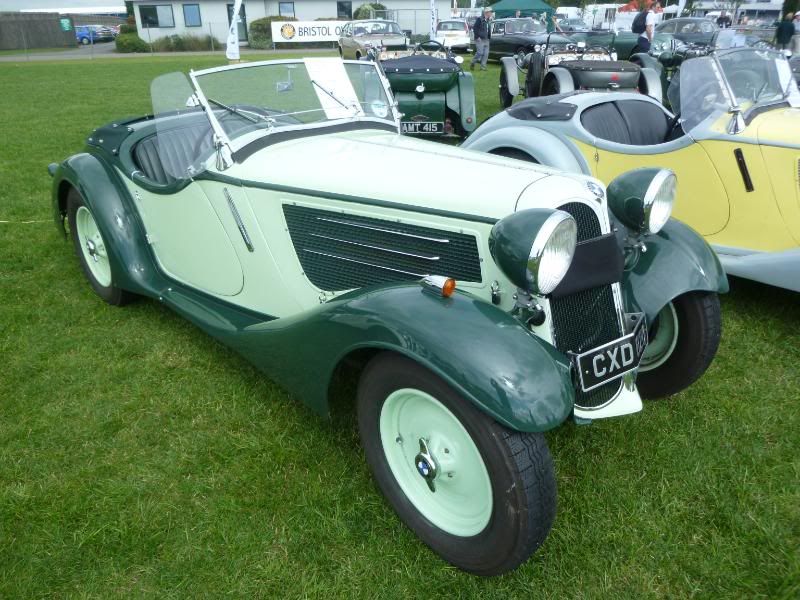 There were also a good number of the 328 sports car, a model celebrating its 75th anniversary.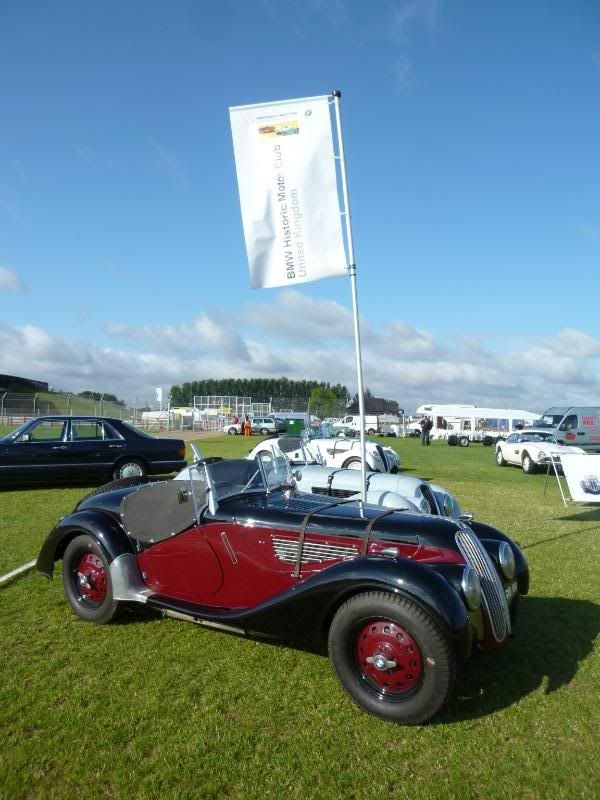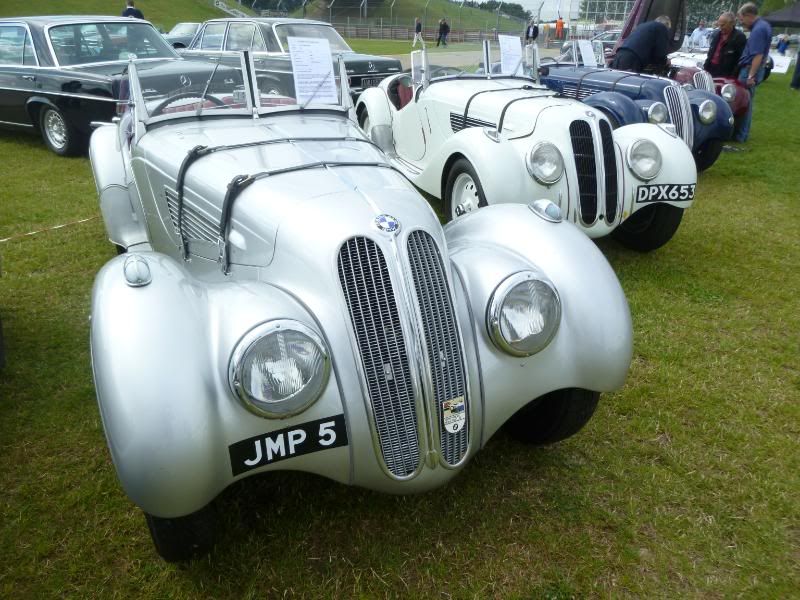 Other Historic BMWs included a couple of 327 models and some very early cars including a 315 and a Dixi, the car based on a licensed Austin Seven design.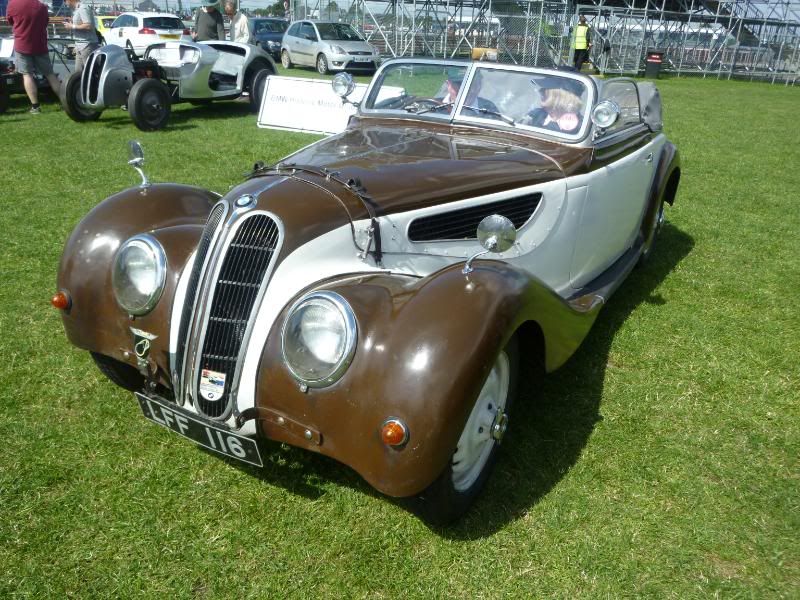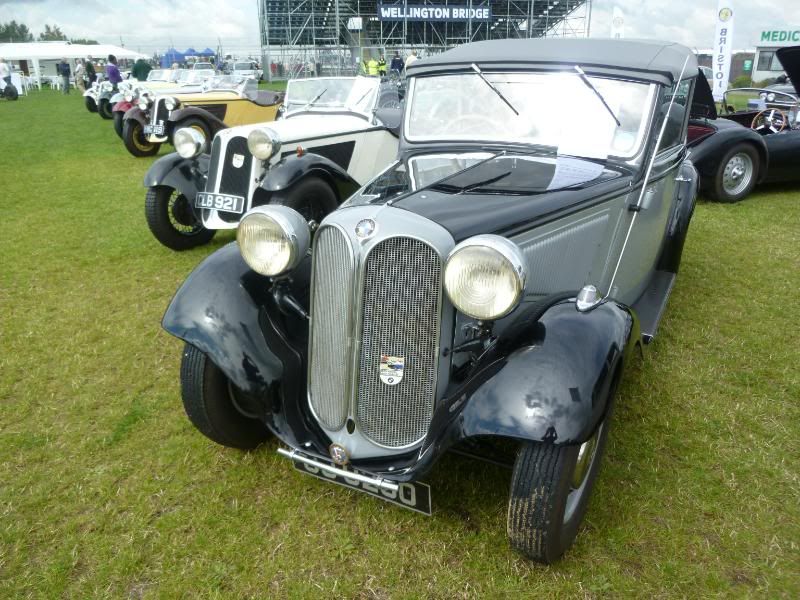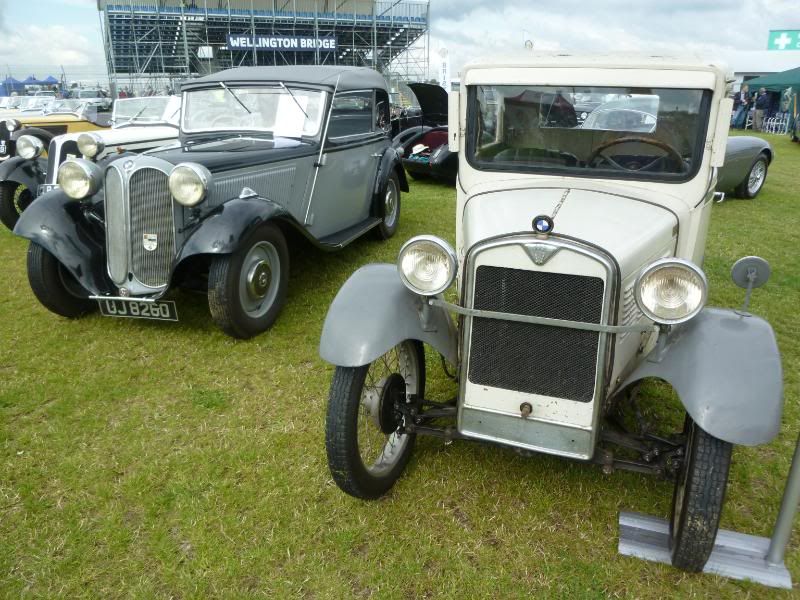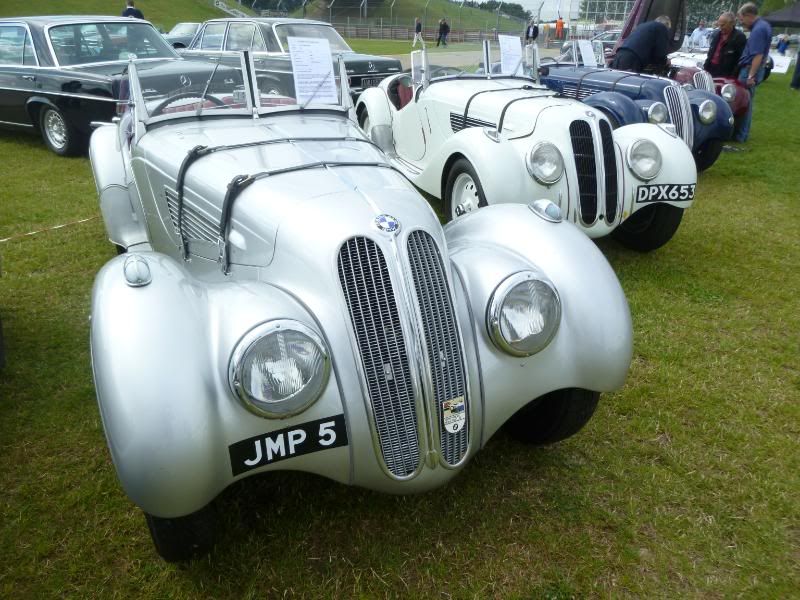 Of the 02 cars, there were a 2002 Touring and 1602 Cabrio on show, and an immaculate and very original second 2002 Touring was offered for sale in the trade stand area. At £8000, this was not as expensive as you might have expected.  The white 2002 belongs to David Evans of Classic and Sports car, and has amassed nearly a quarter of a million miles.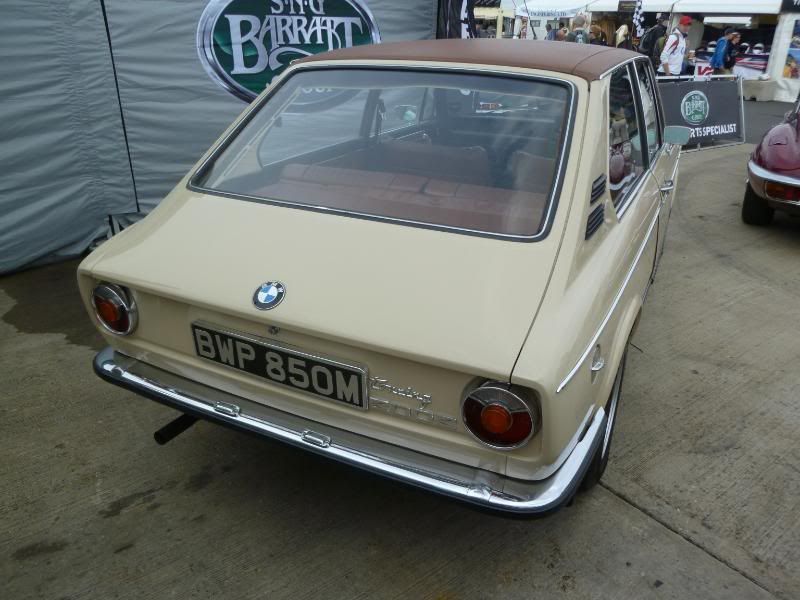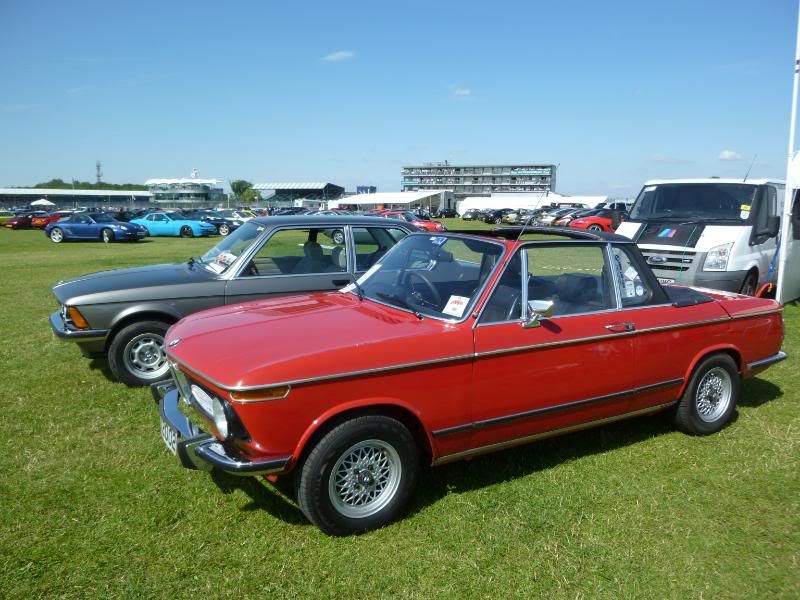 There simply were not that many modern BMWs on show when we got to the display area, and many of those that were there were not exactly original. There was more variety evident on the Sunday, though.
E3 model 2500. Very elegant.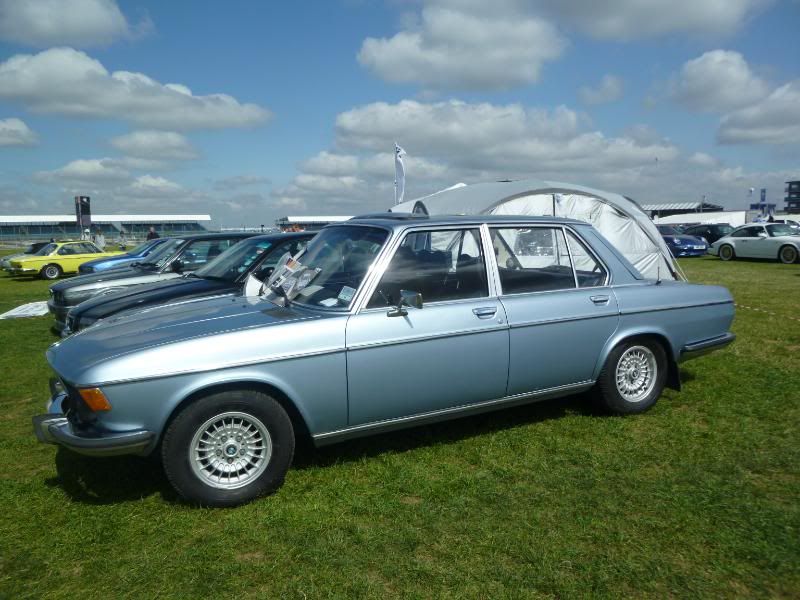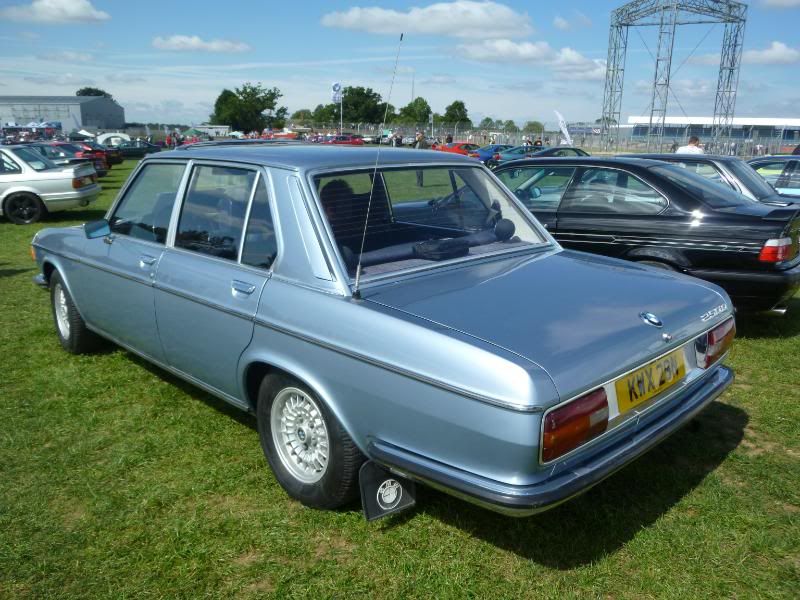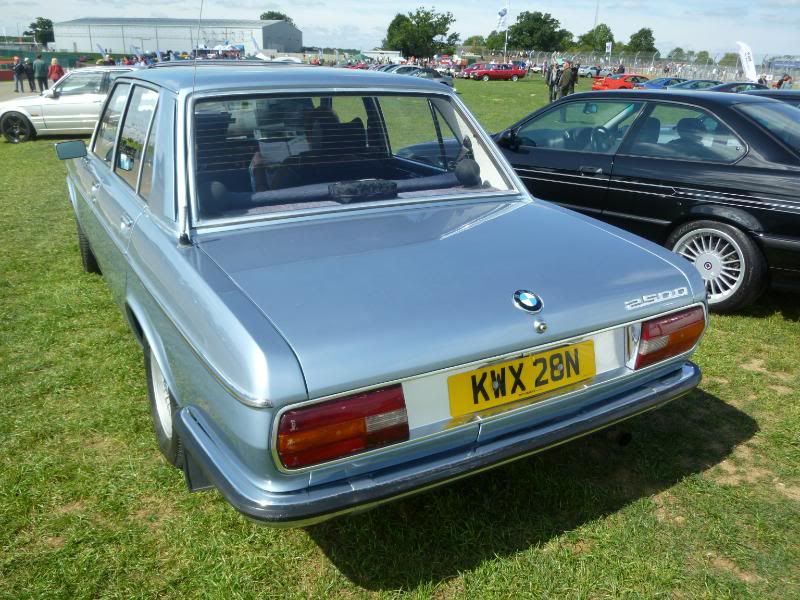 E31 8 Series cars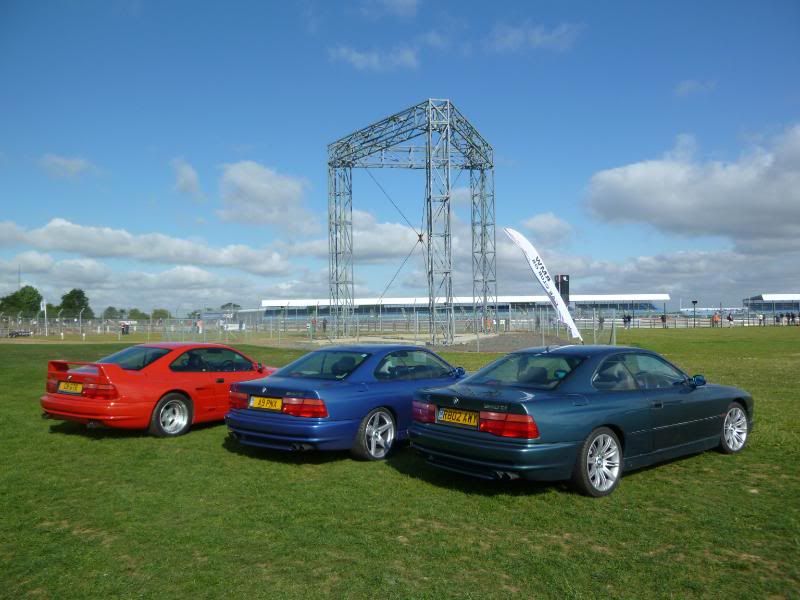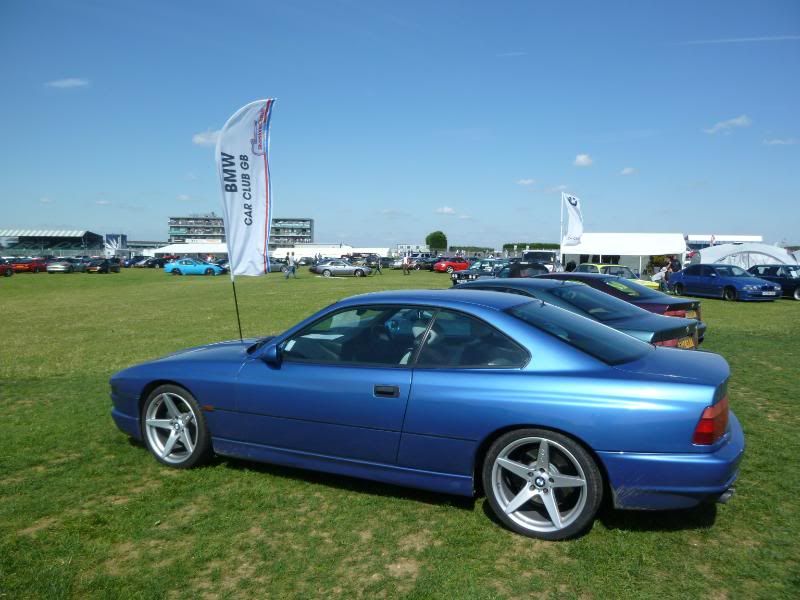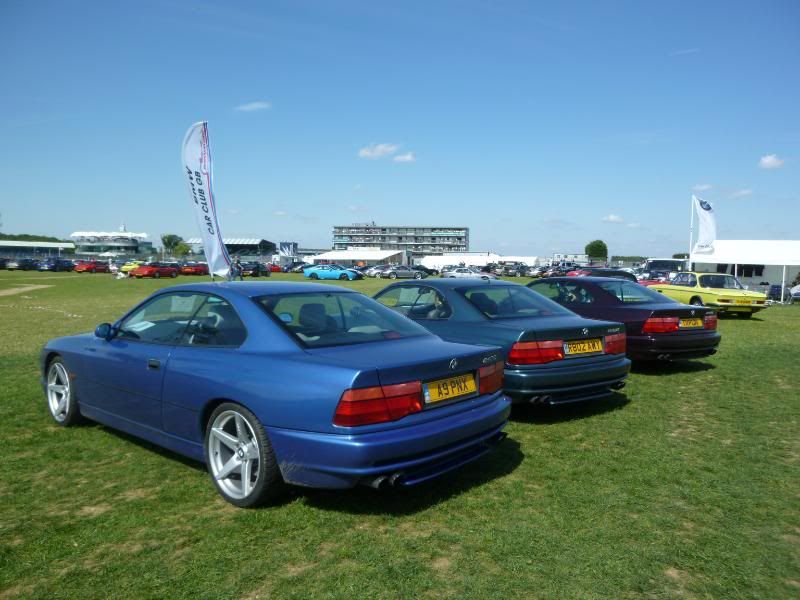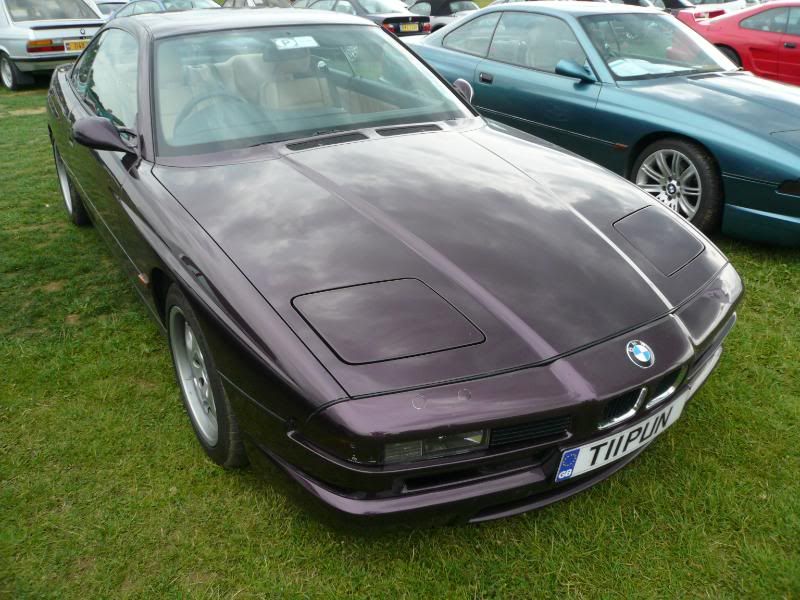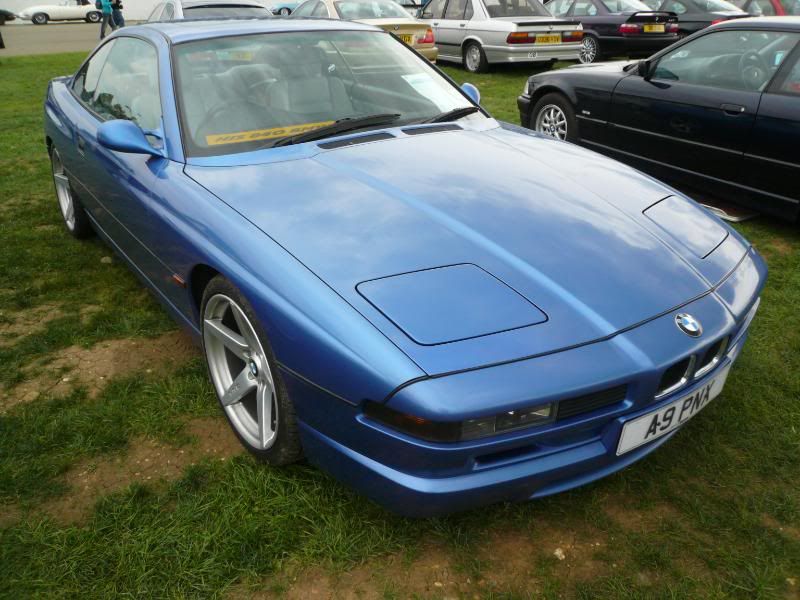 5 Series models from all generations.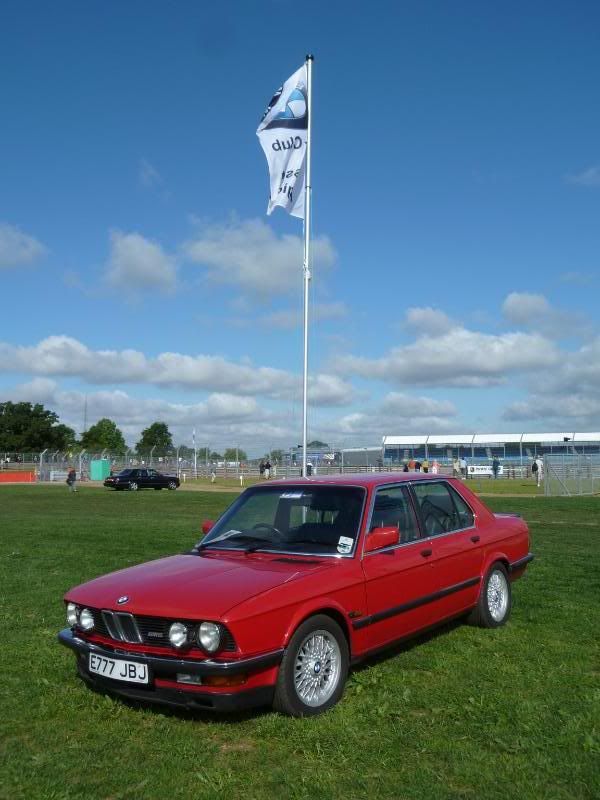 Some nice E30 M3s along with some less potent 3 series models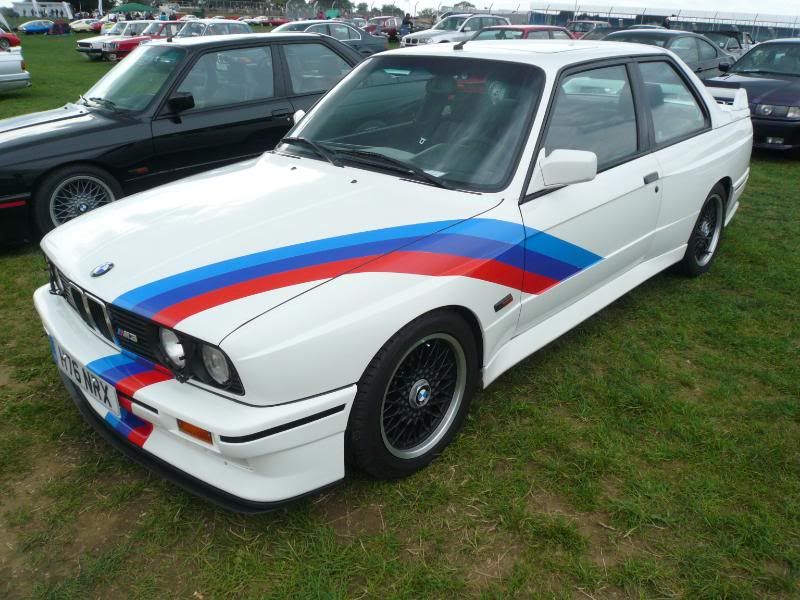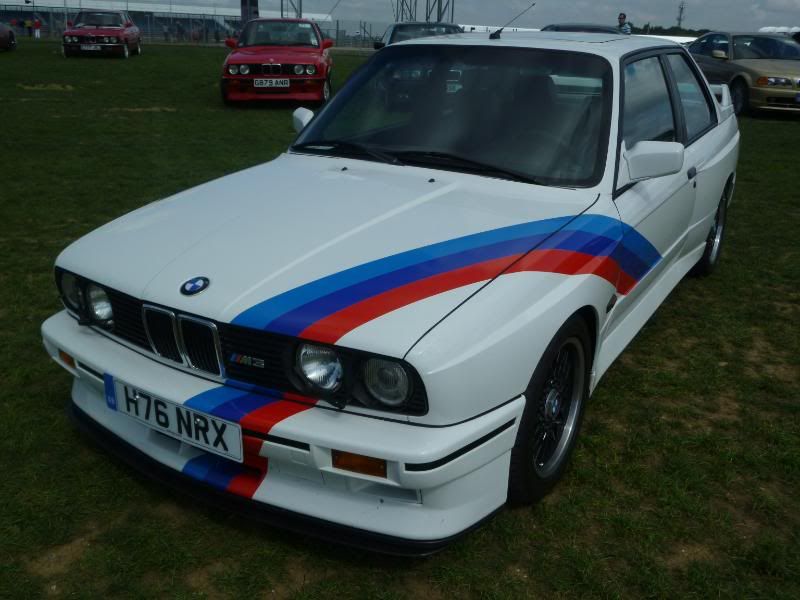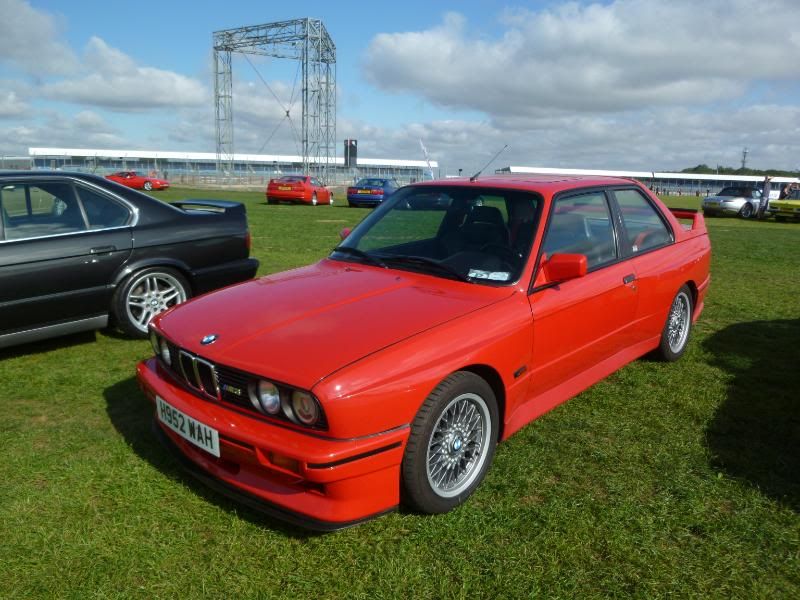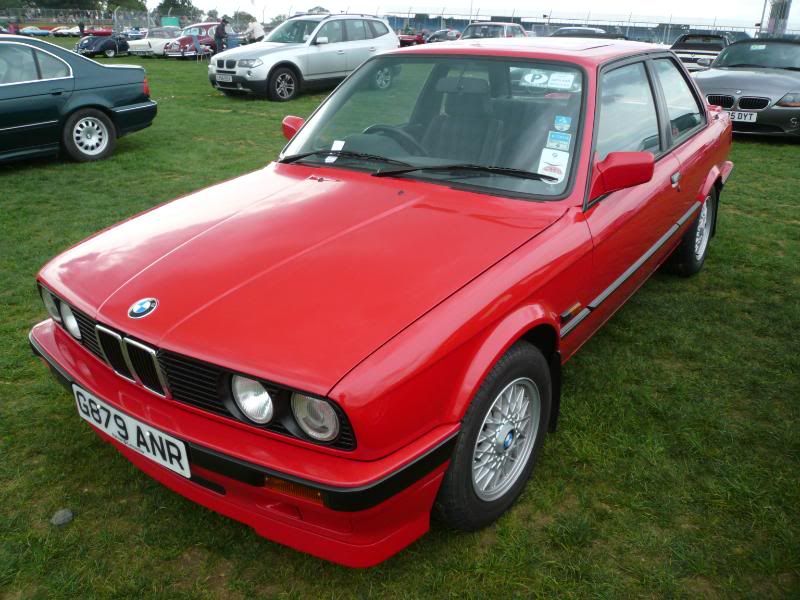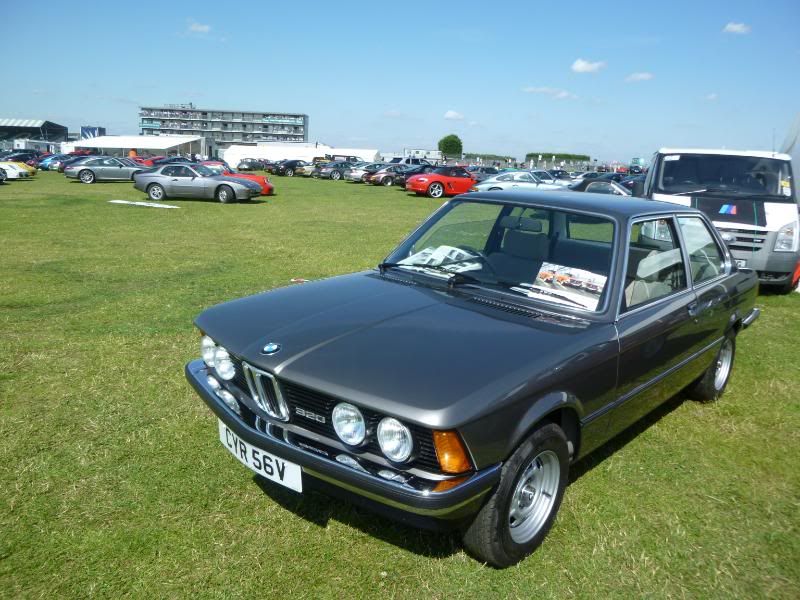 A trio of E24 6 series cars looked good on the Sunday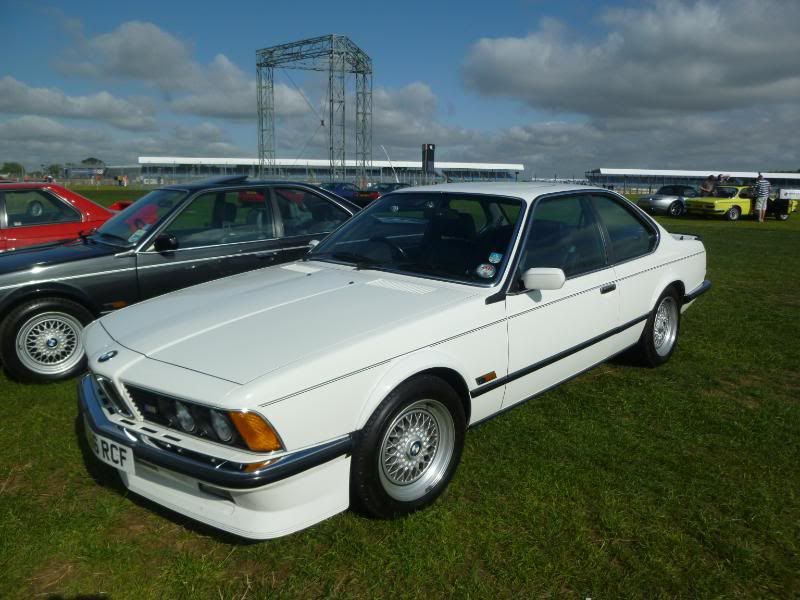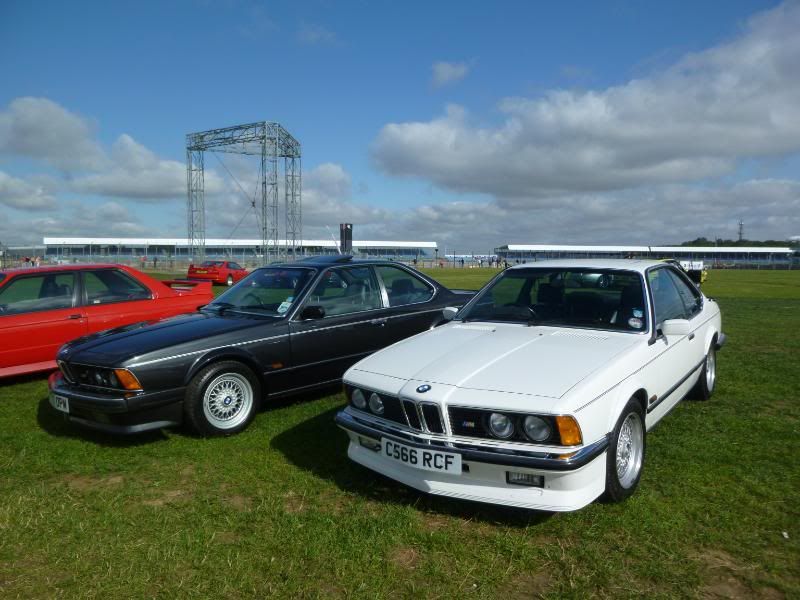 Better still was this nice E9 model 3.0 CSi..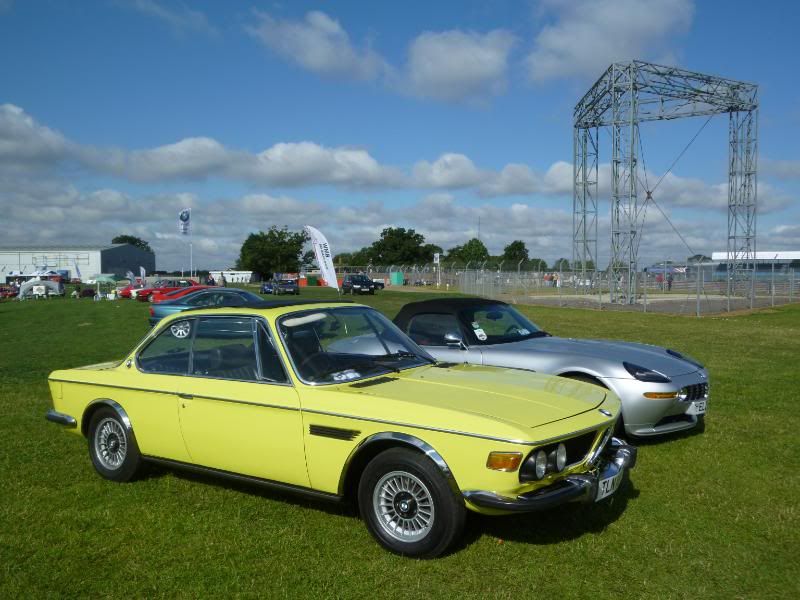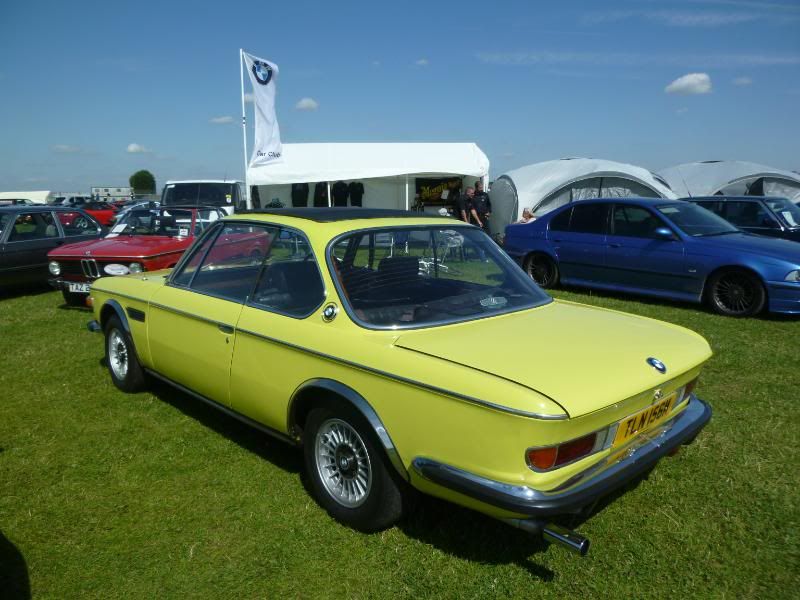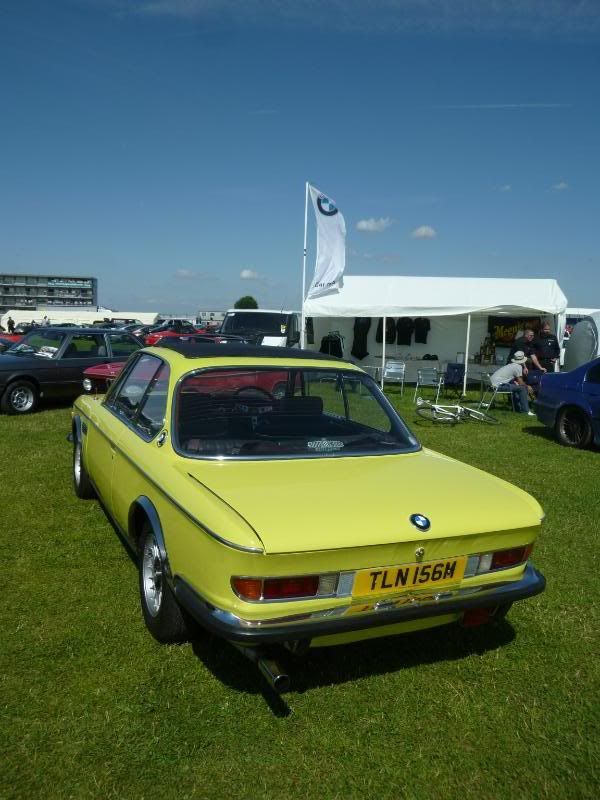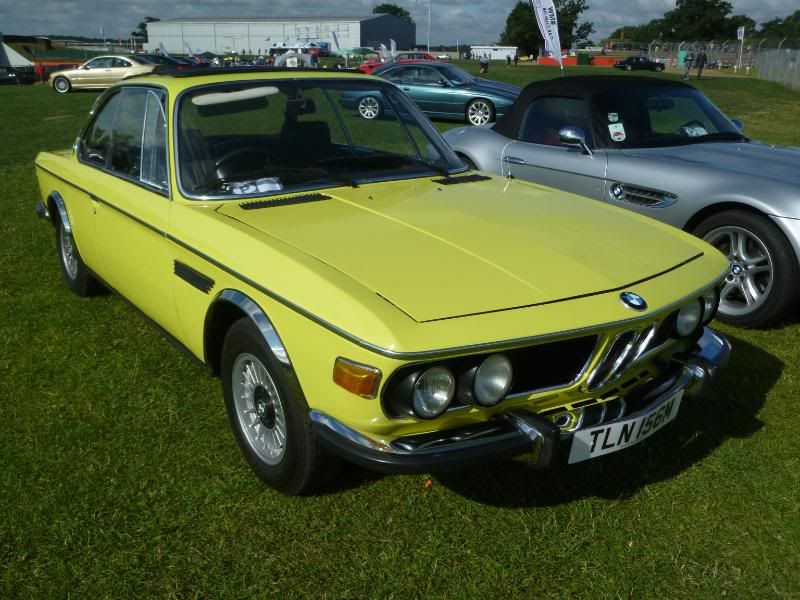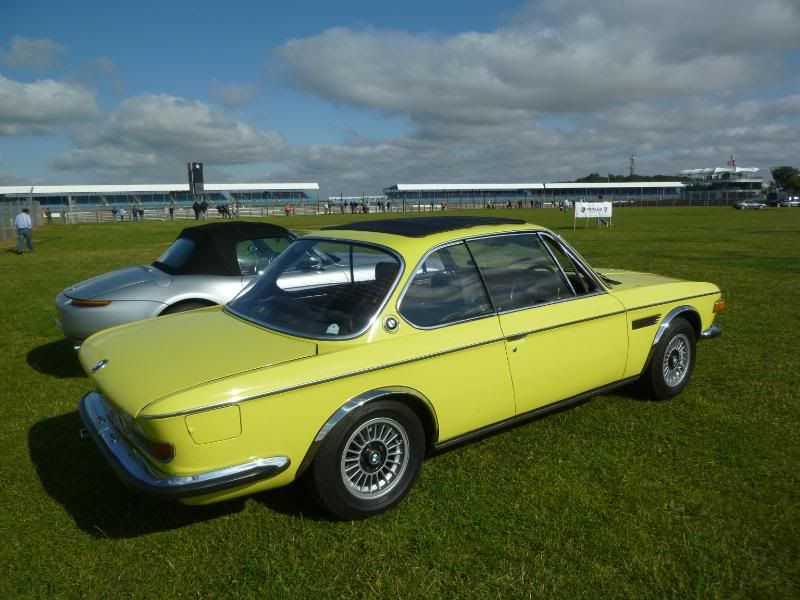 Having remarked on the way home on Saturday that it was a little surprising that there was no Z8 on show, this lacuna was filled on Sunday by a nice silver example.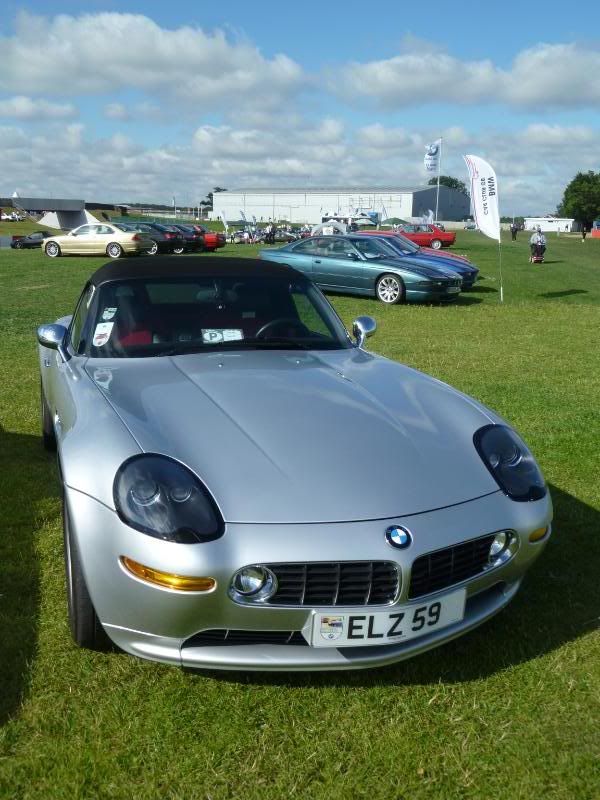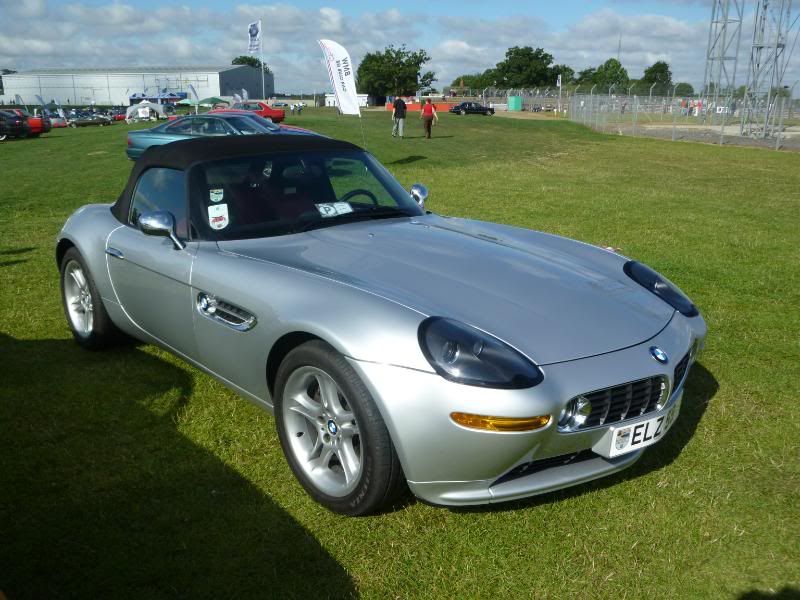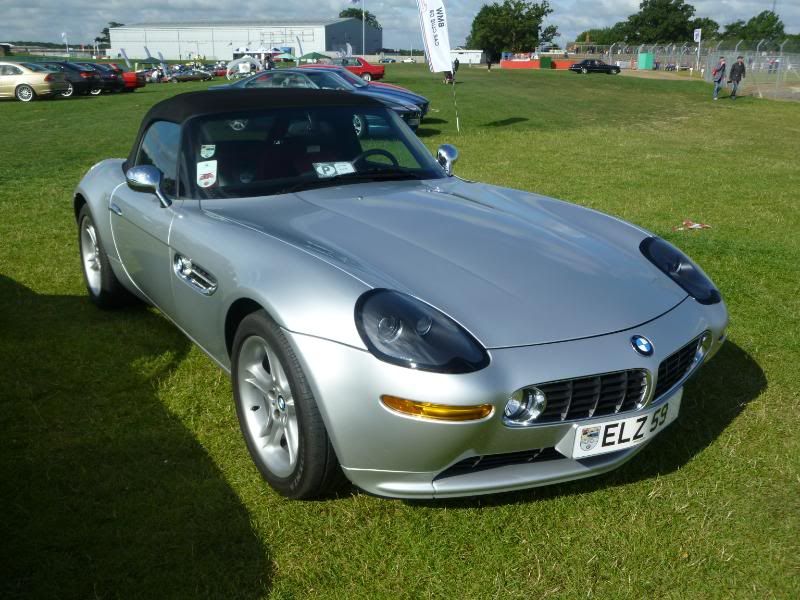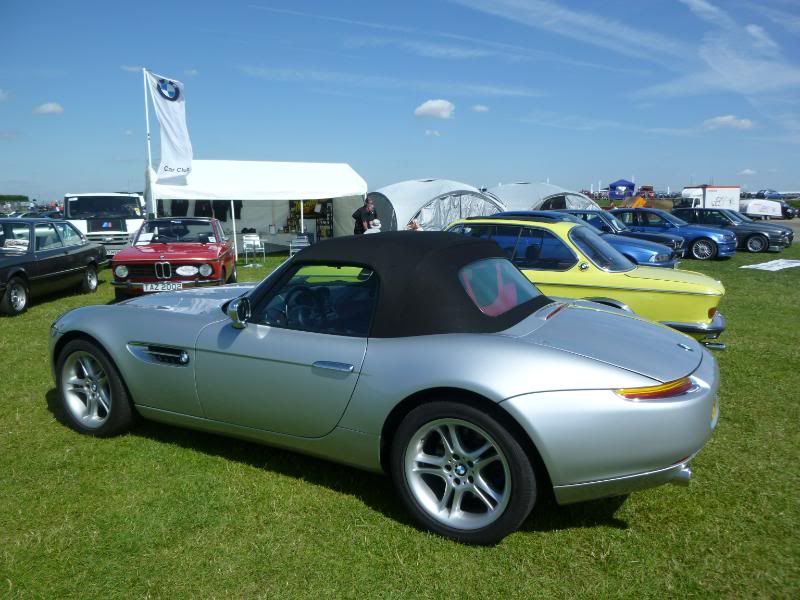 BRISTOL
400
402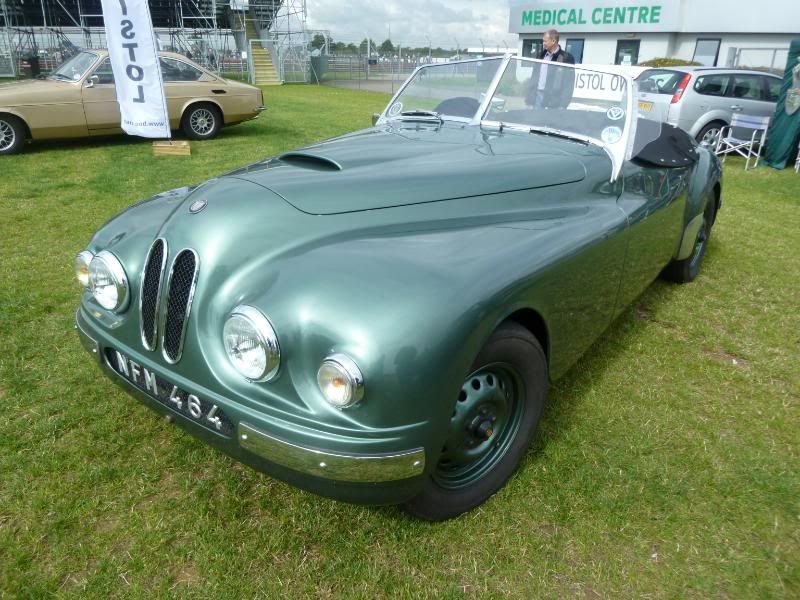 403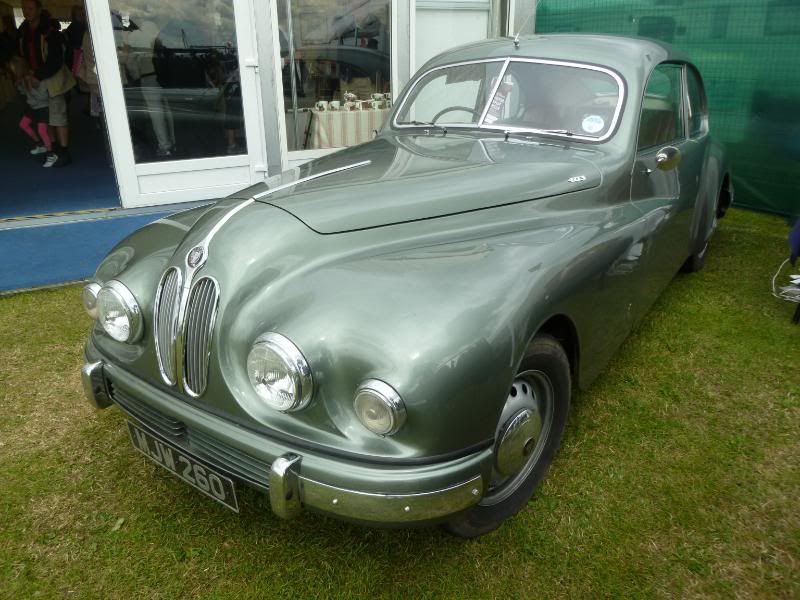 There was an example of both the four door saloon 405 and the far rarer convertible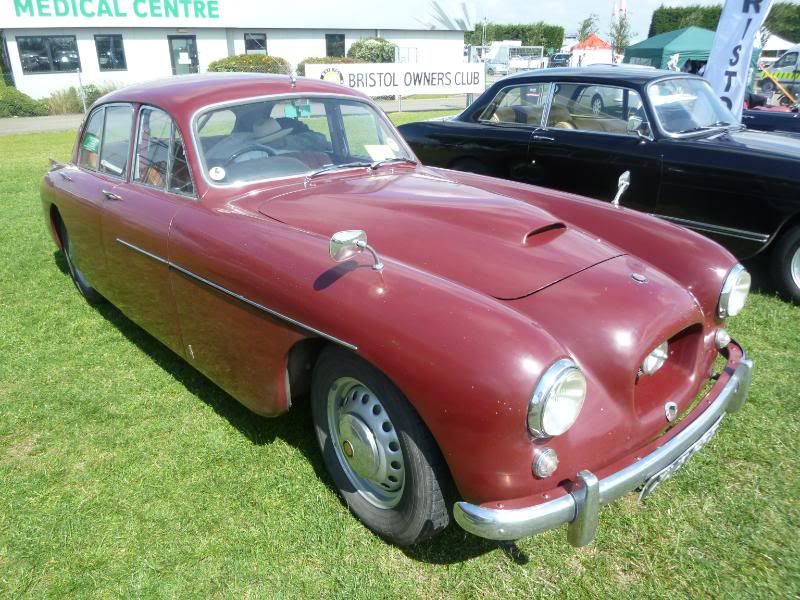 411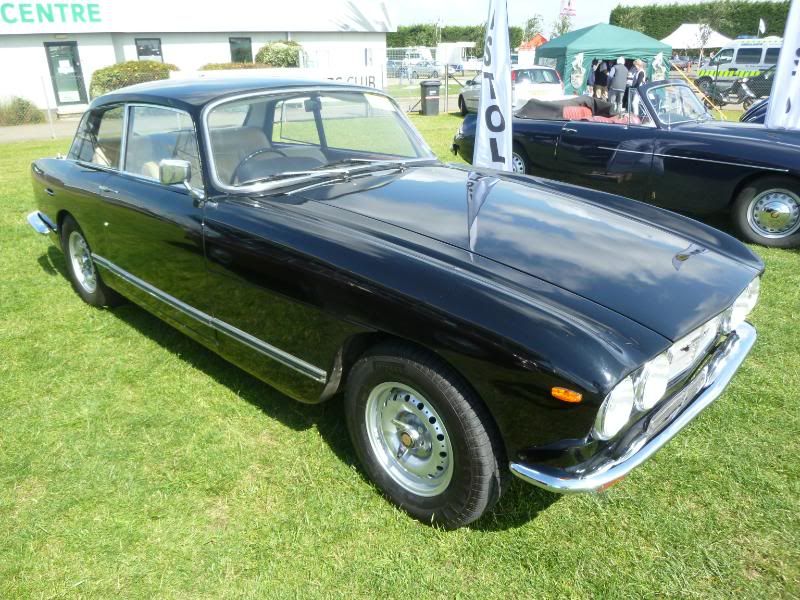 603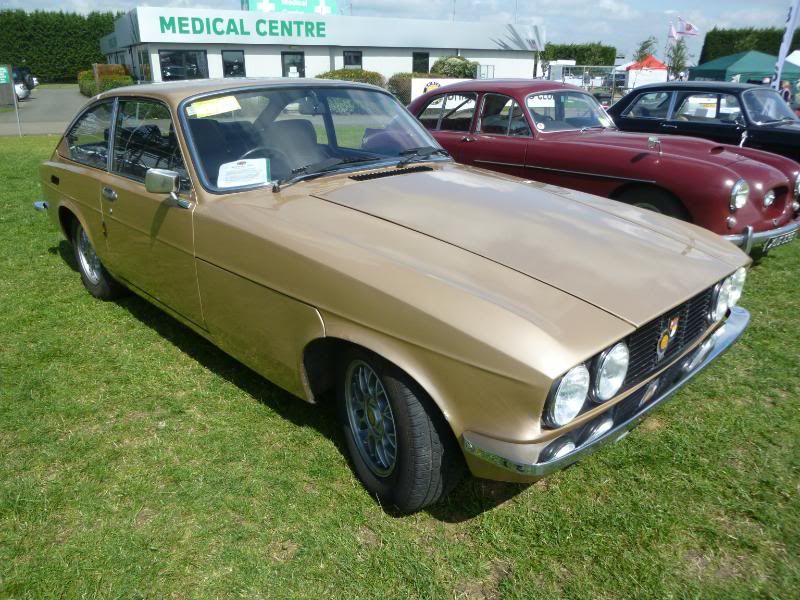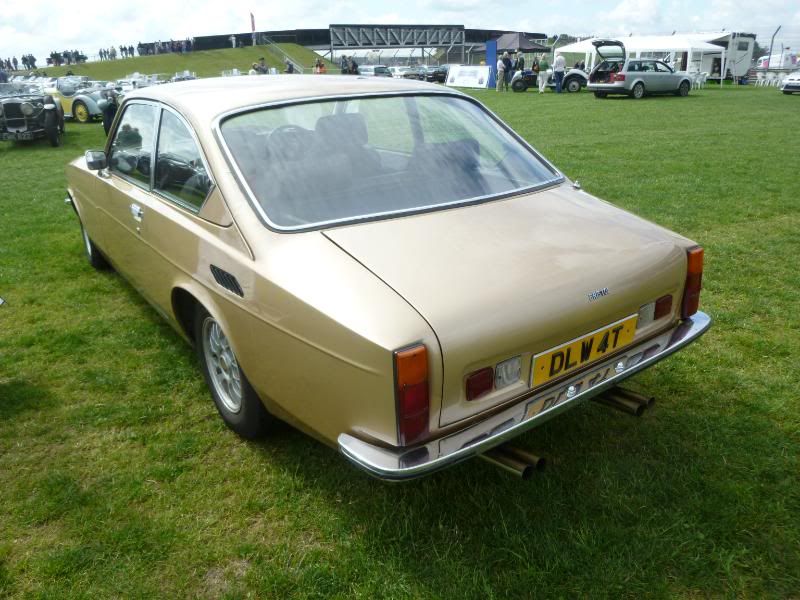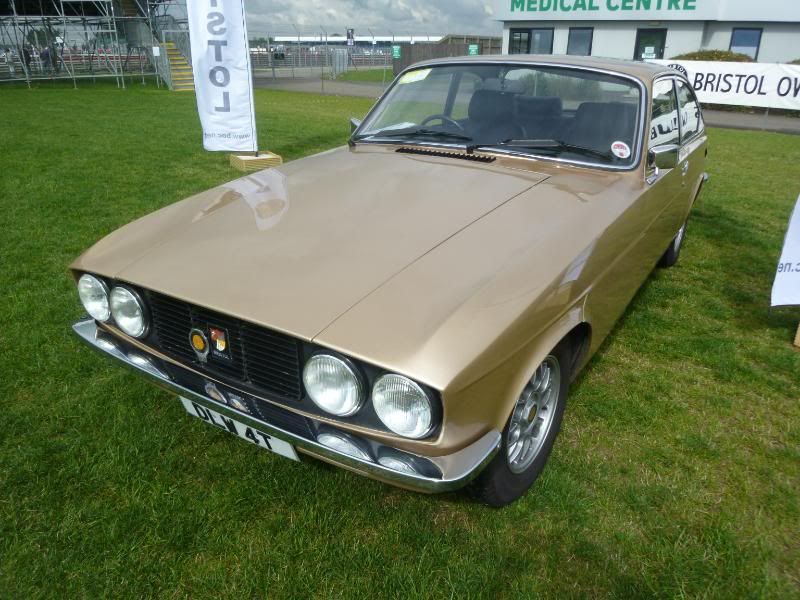 CATERHAM
A good representation of the Caterham here
CHEVROLET
Plenty of Corvettes, with examples of the car from the first generation C1 model all the way to the latest C6 cars.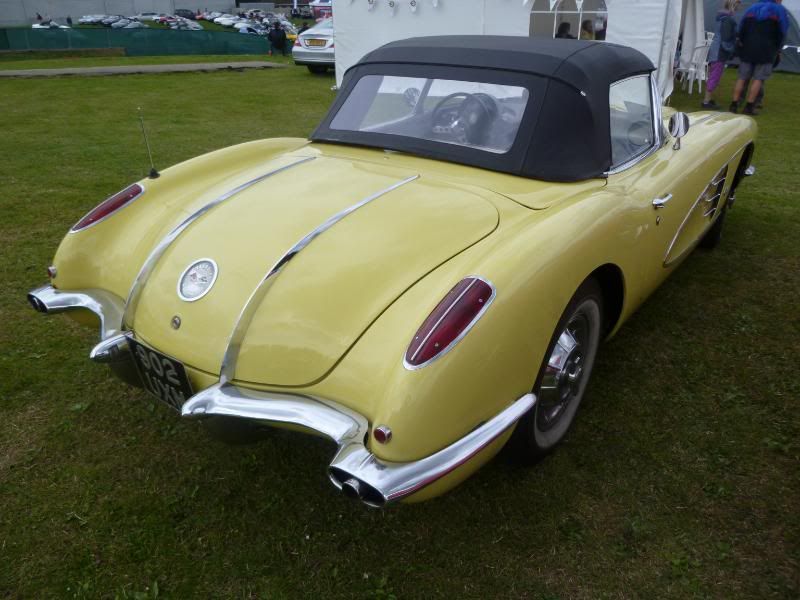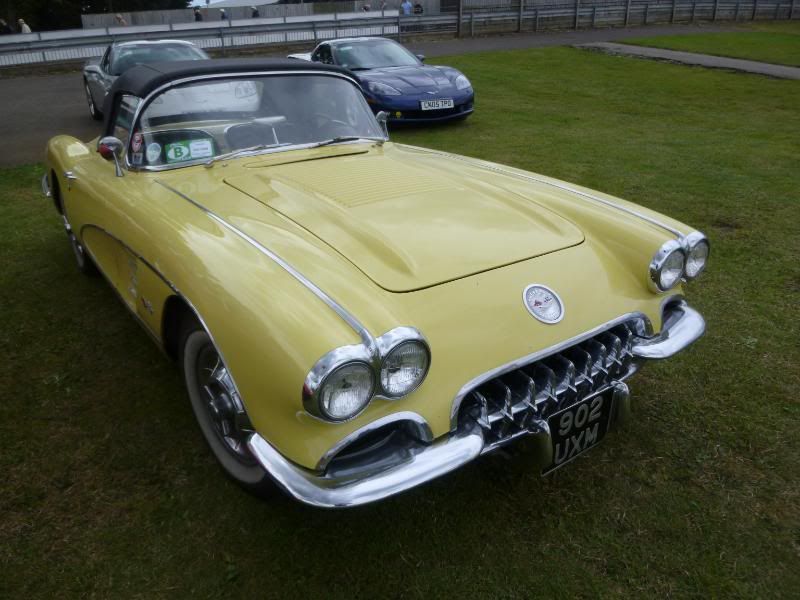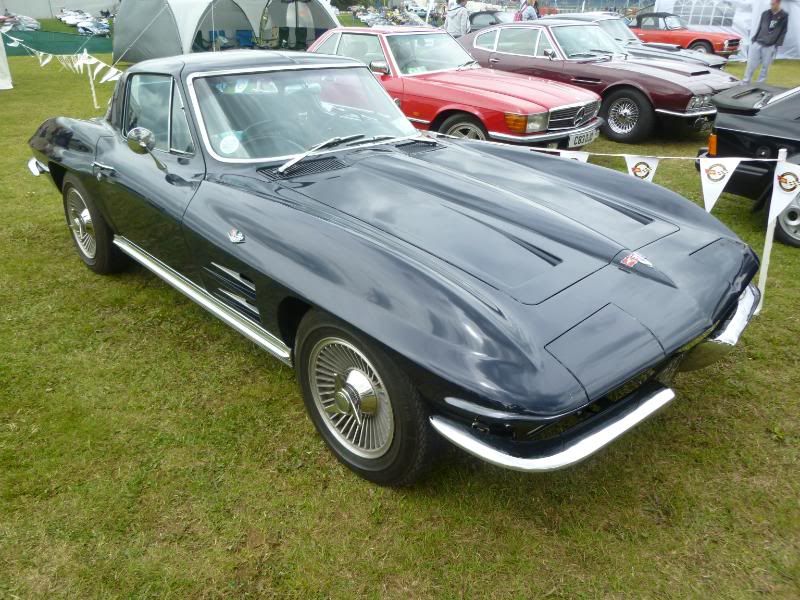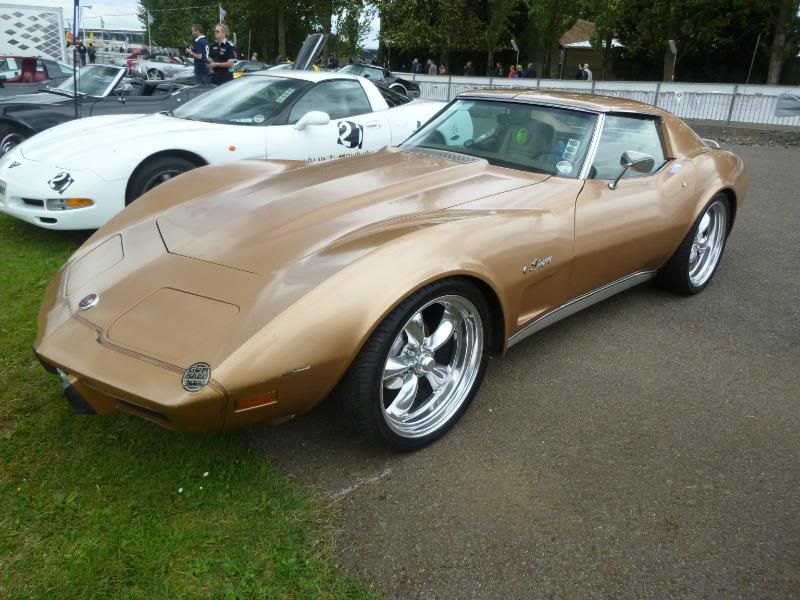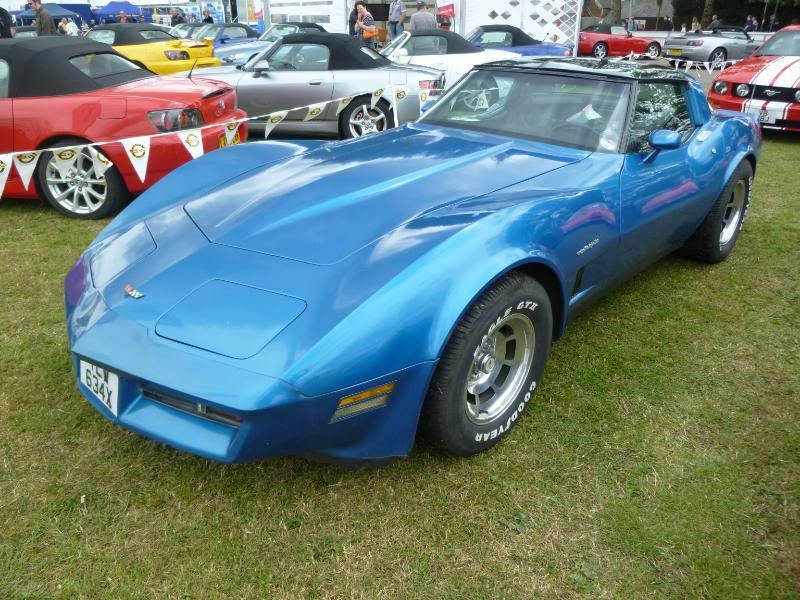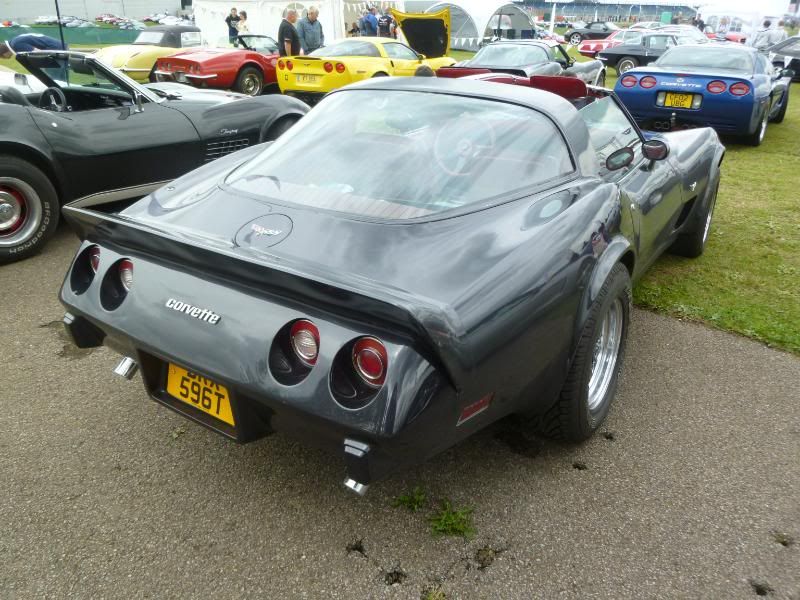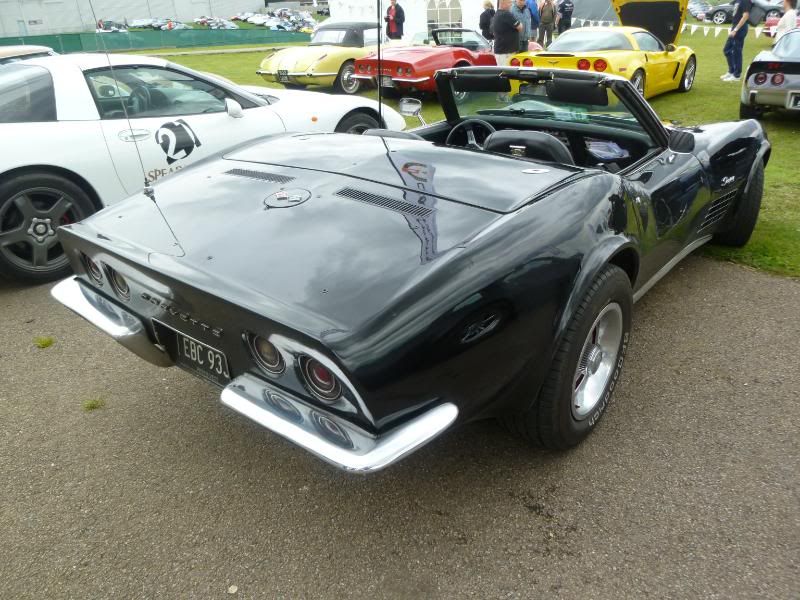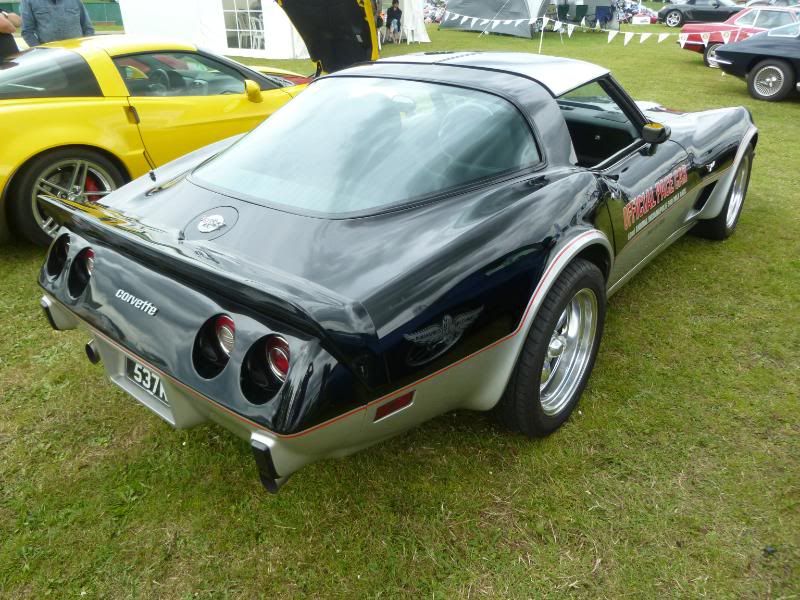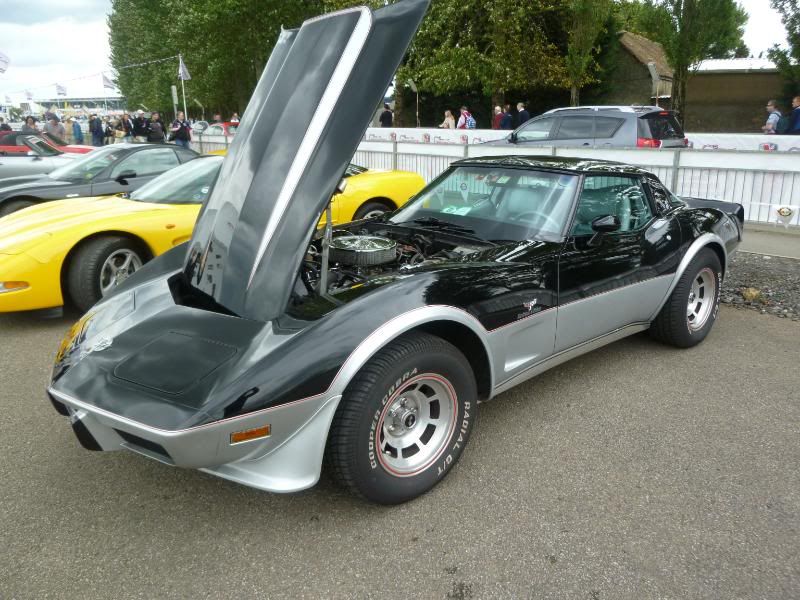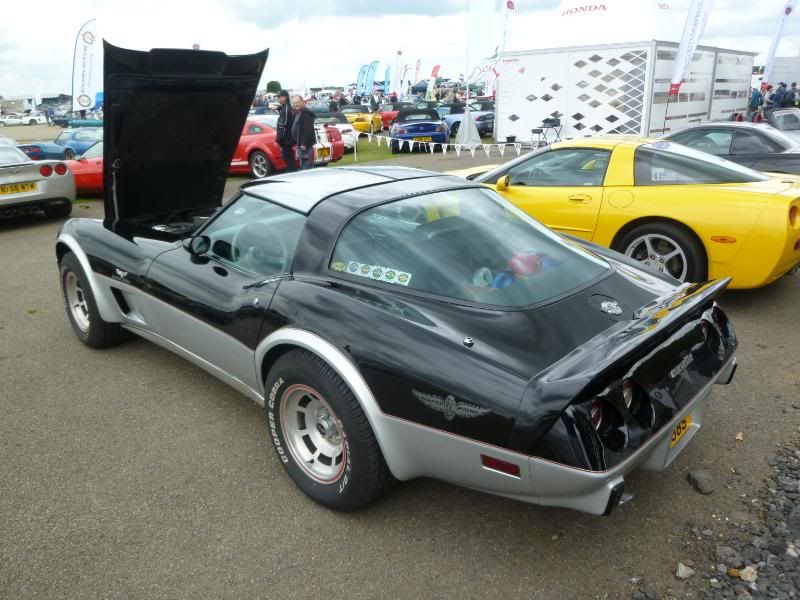 CHRYSLER/DODGE
A marvellous New Yorker.
A couple of the thunderous Viper models.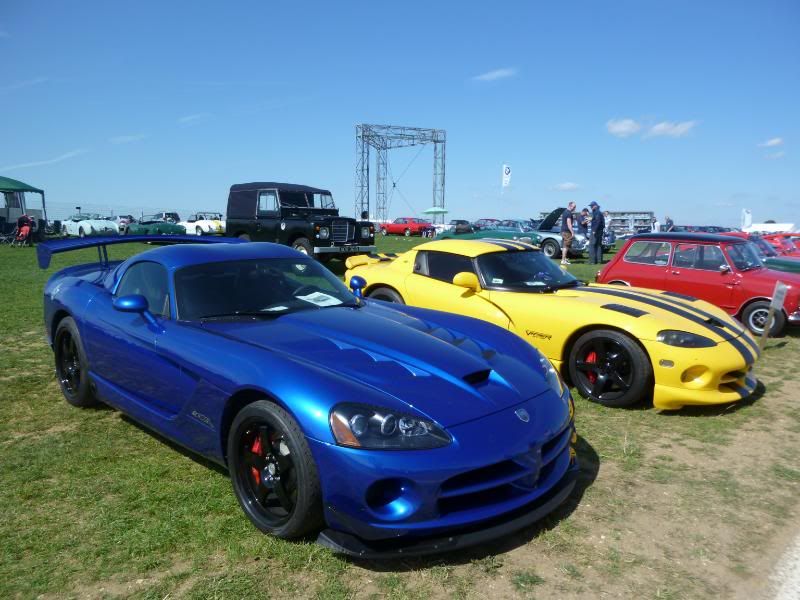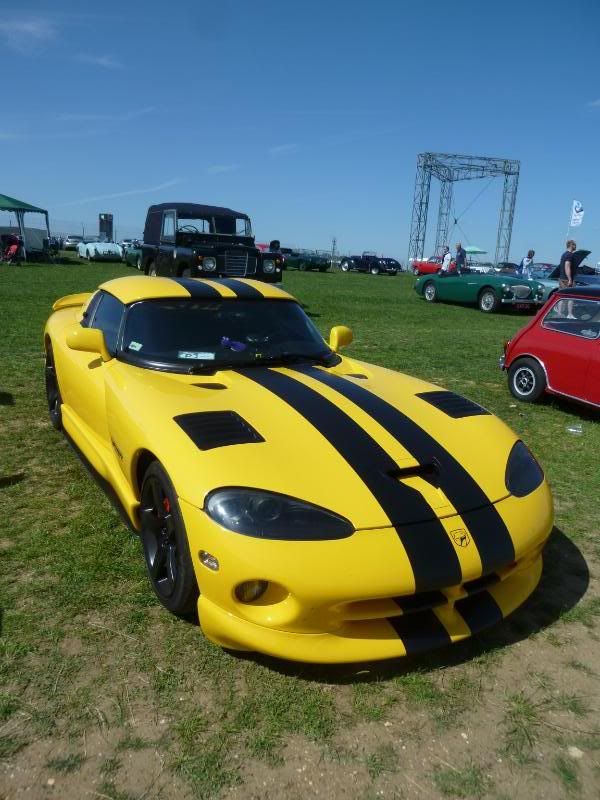 CITROEN
Not many Citroen on show, but there were a number of SMs to admire.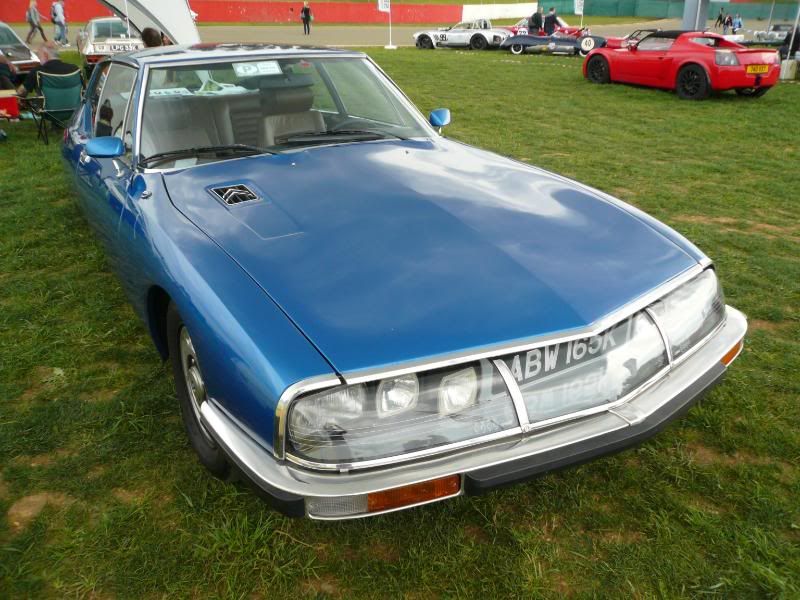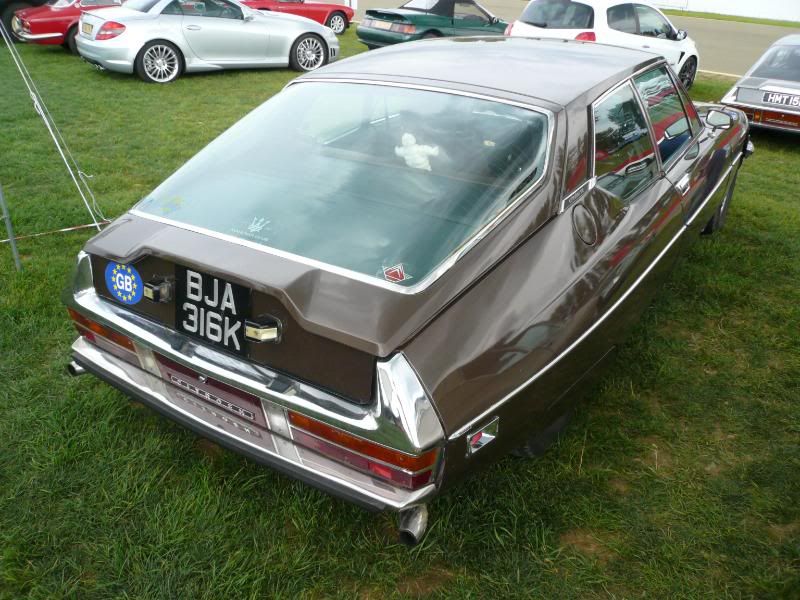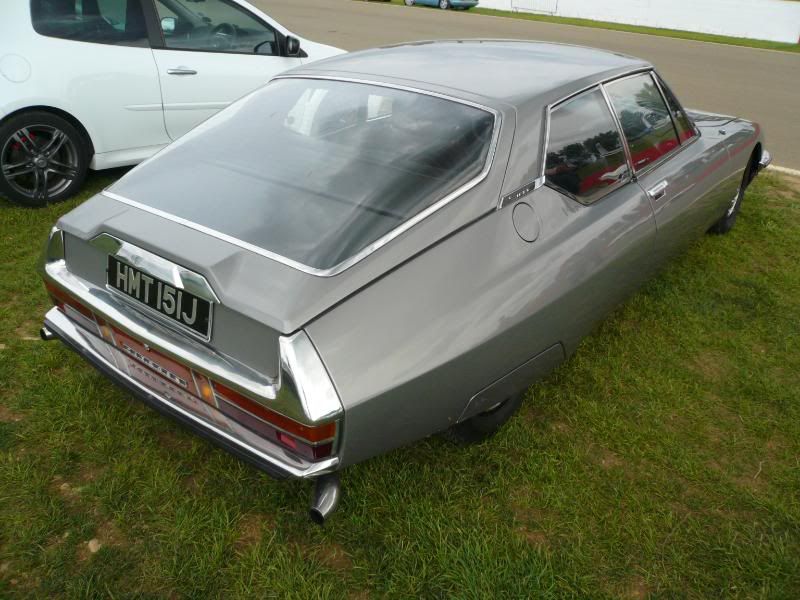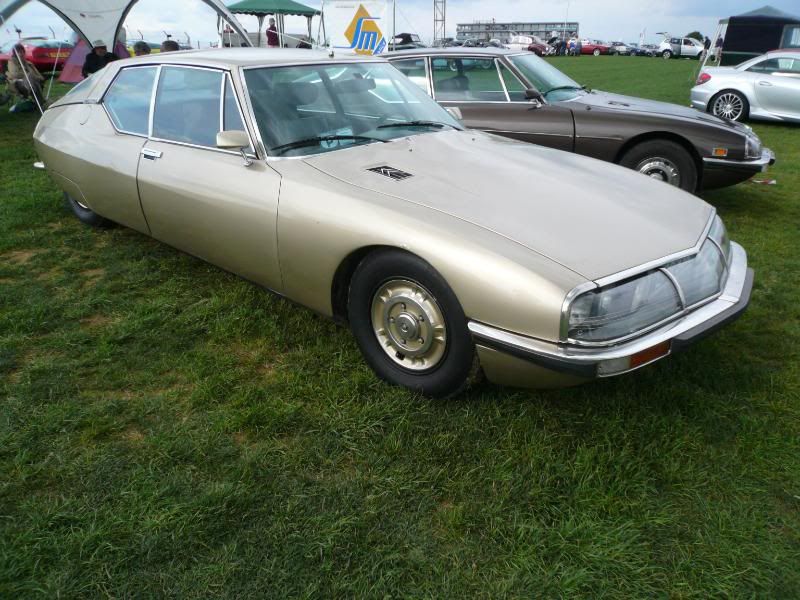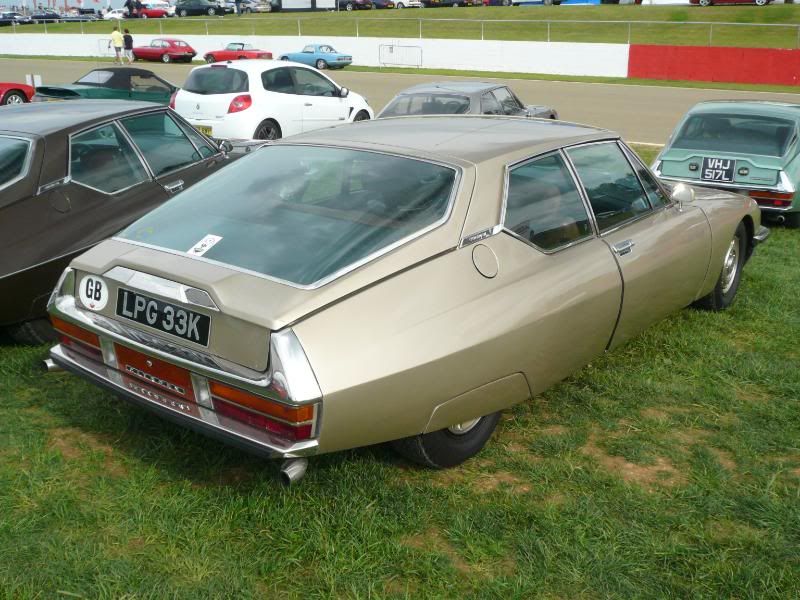 On the Sunday, this GSA was in evidence. I believe that this car belongs to David Evans of Classic and Sports Car, and it was good to see such a rare car in the metal, though disappointing to see that the magazine photos flatter its condition. He has far more work on this than his older and higher mileage BMW to keep it going, by the looks of things!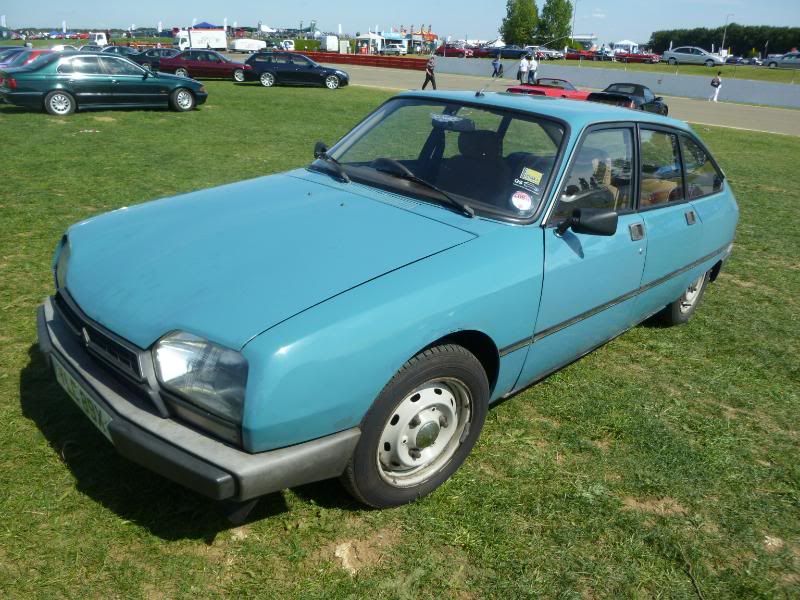 COMMER
DAIMLER
An unusual conversion of the XJ6 Series car, although in case this was the similar Daimler Sovereign. Despite the Swiss plates, it had right hand drive, and – very rare – a manual gearbox.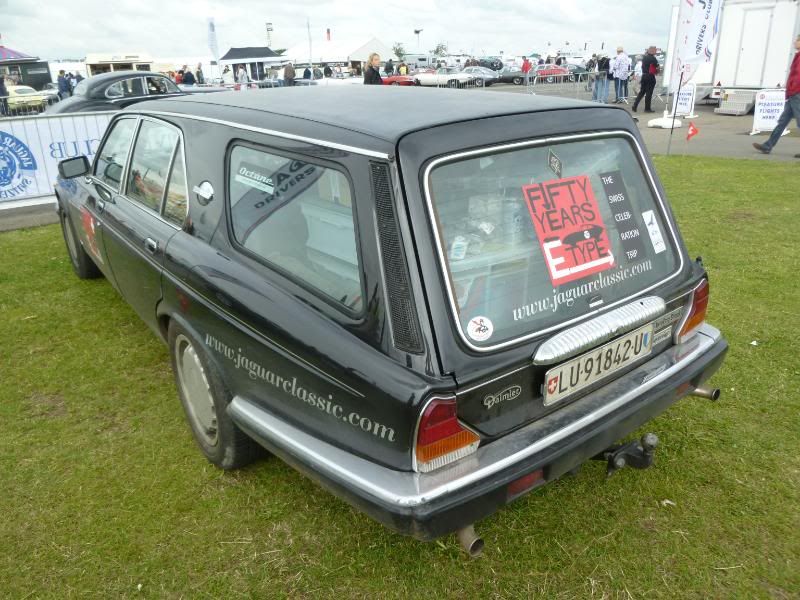 There were a few of the slightly gawky DS250 "Dart" sports cars at the event.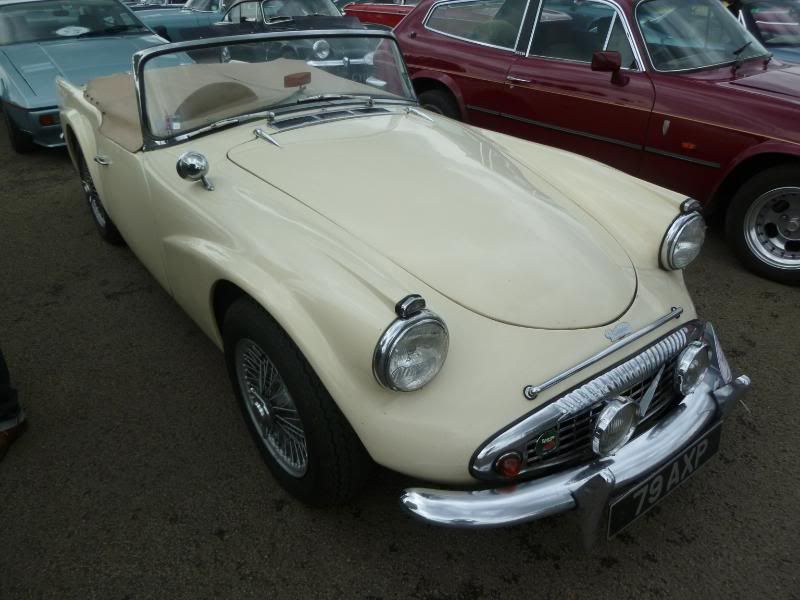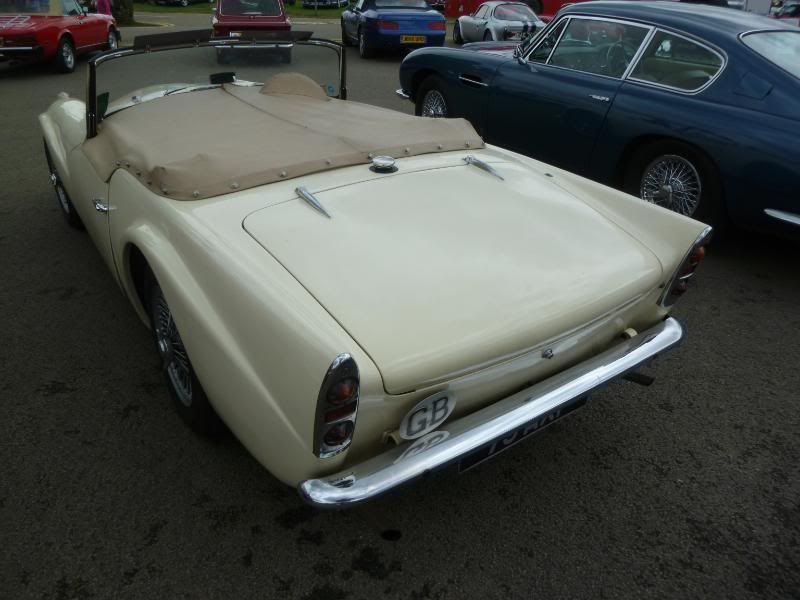 DATSUN/NISSAN
Several of the early 240Z cars were on show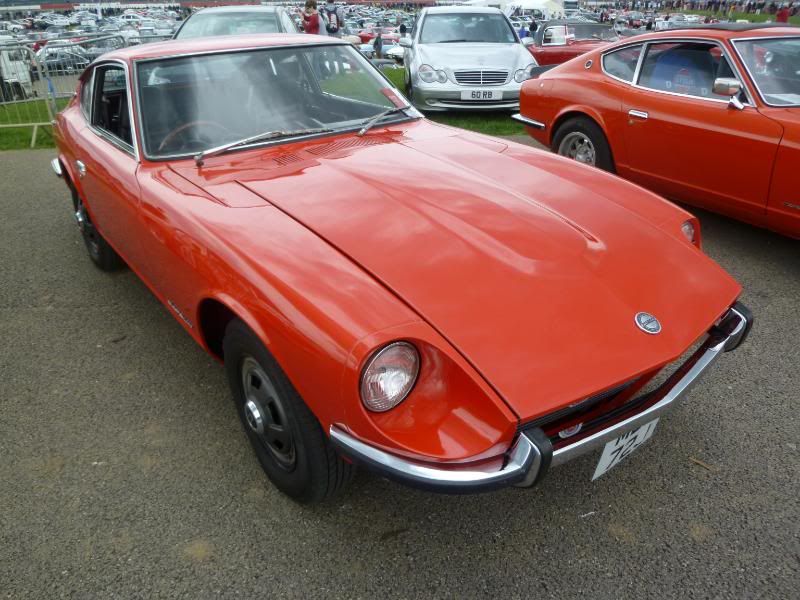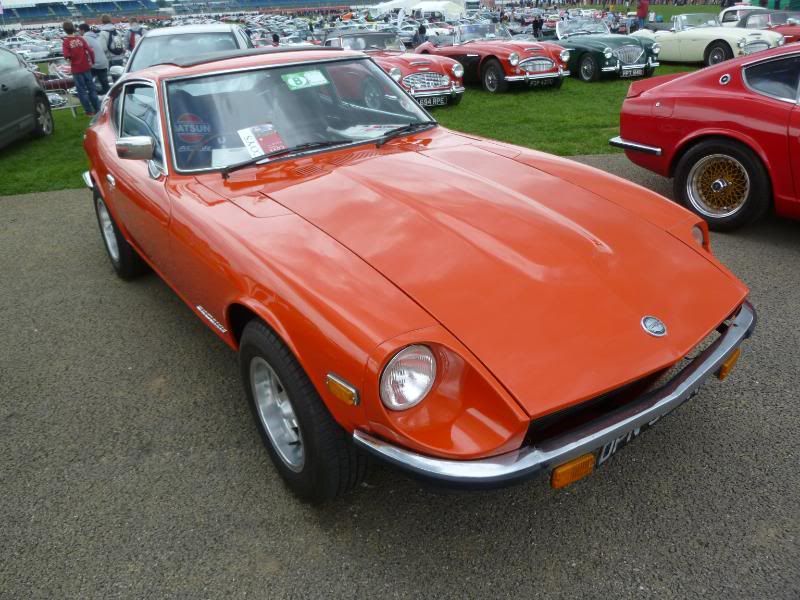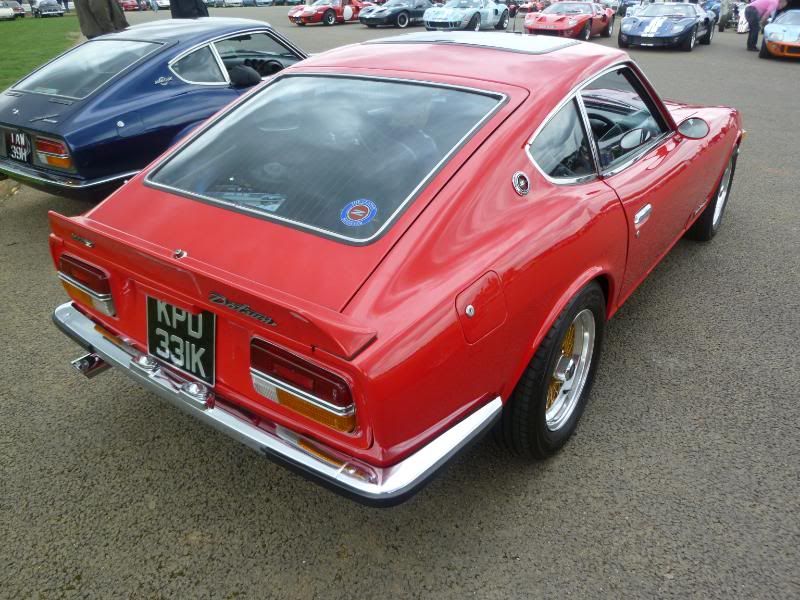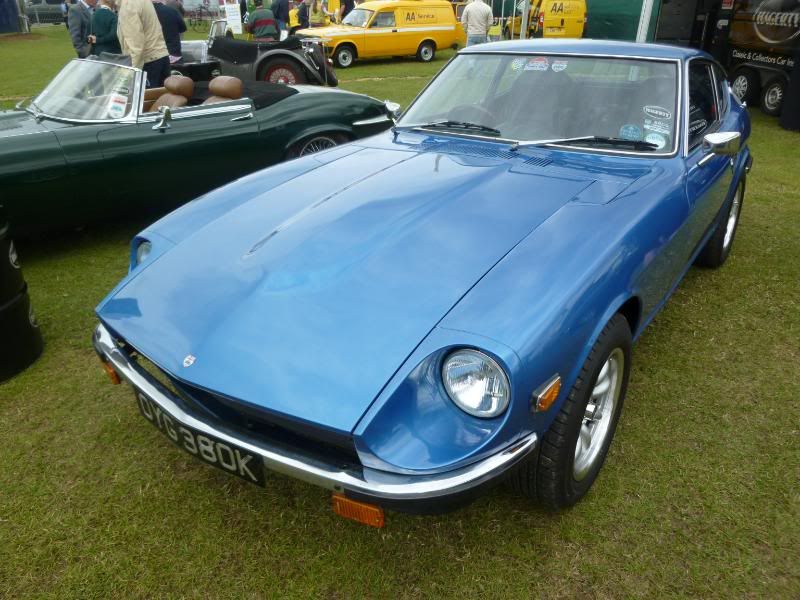 De TOMASO
On each day there were 4 Panteras, but they were not all the same cars, meaning that I got to see 5 different versions of this supercar.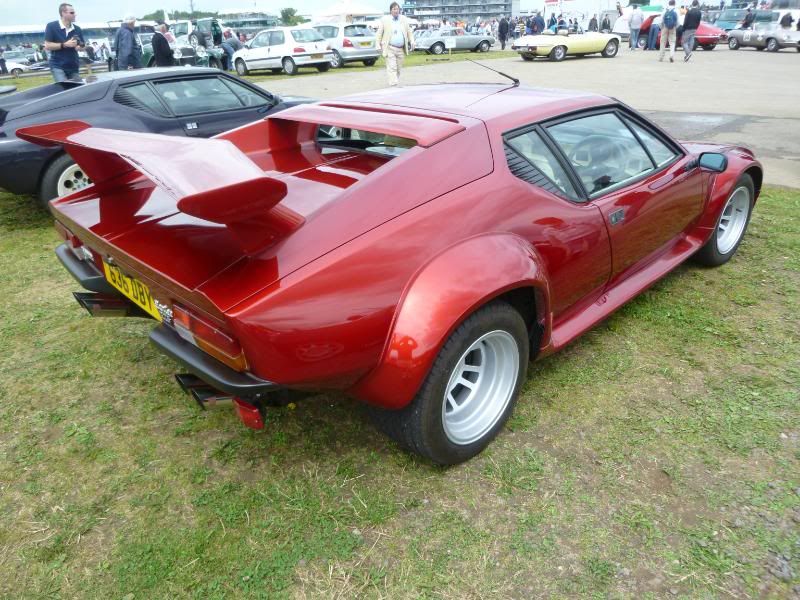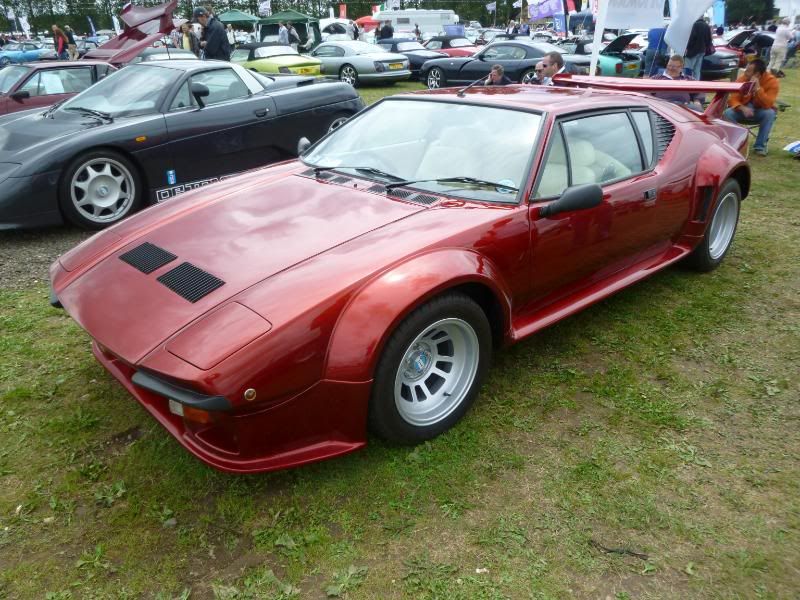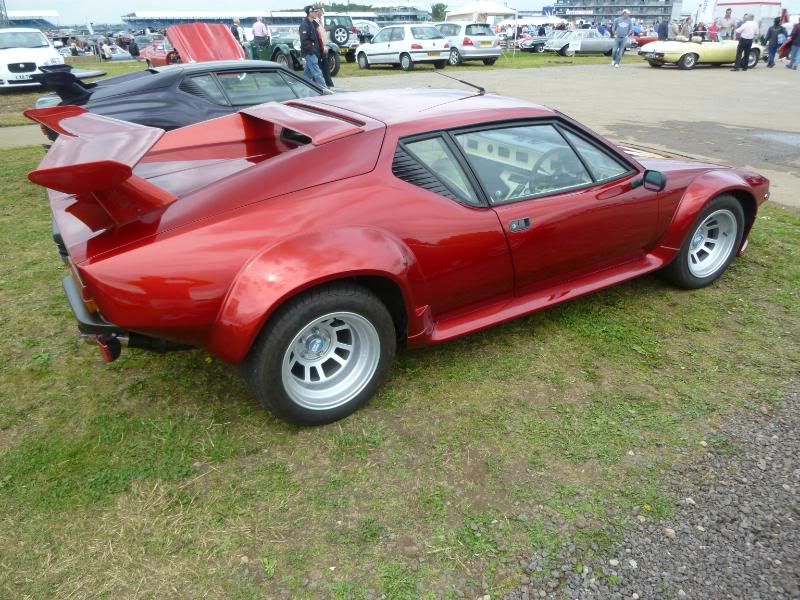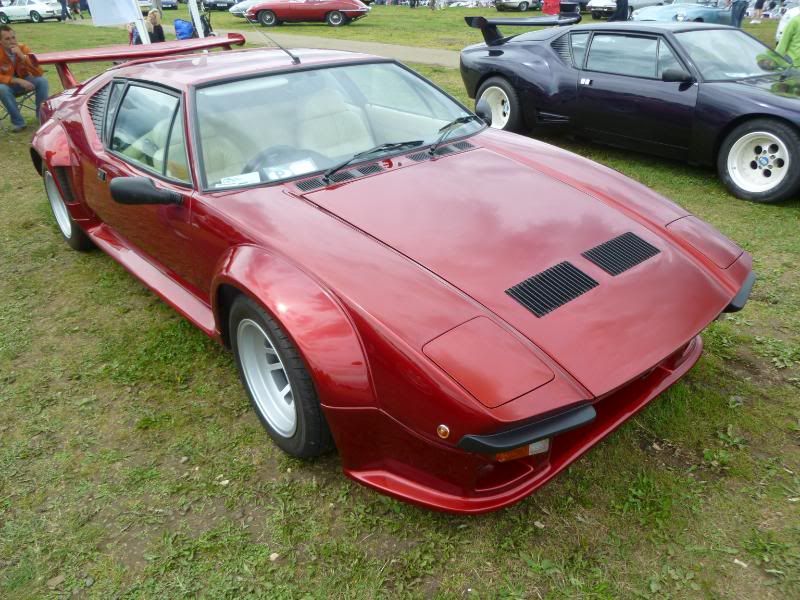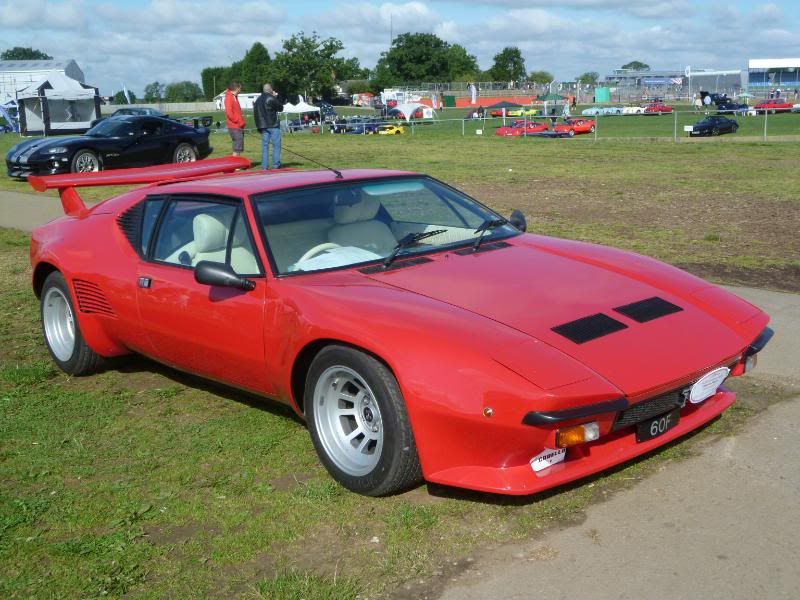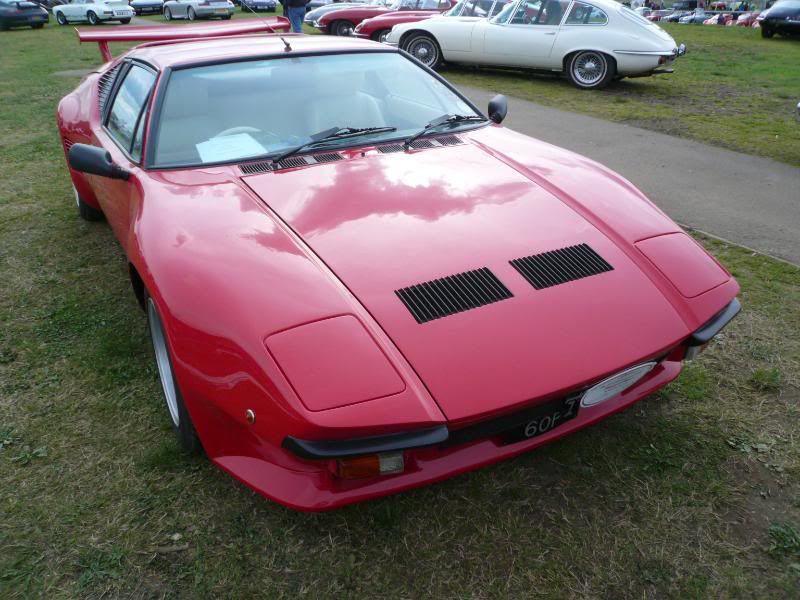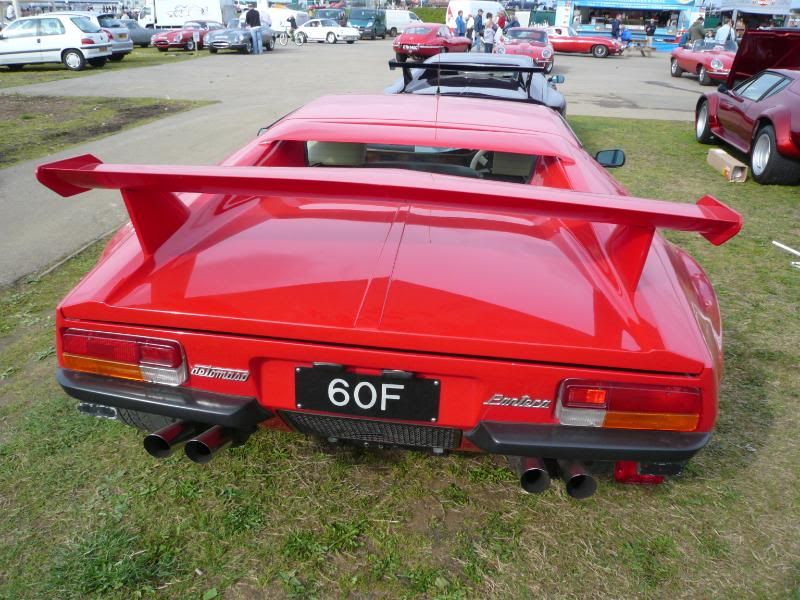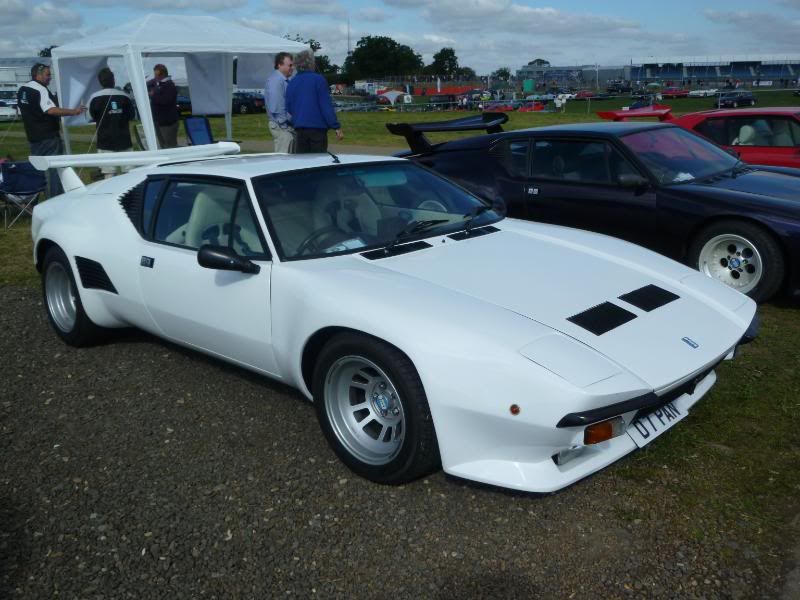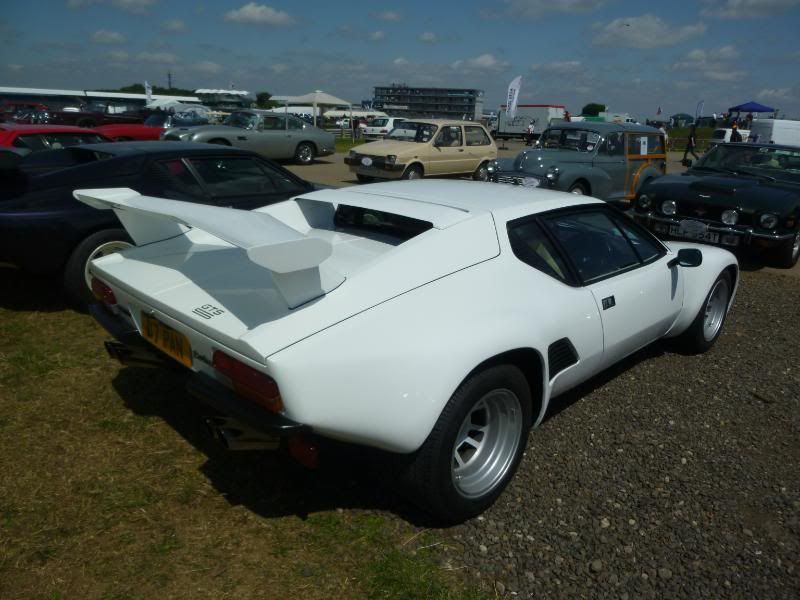 On Saturday. there was also a Guara, one of the rarest cars at the event, for sure.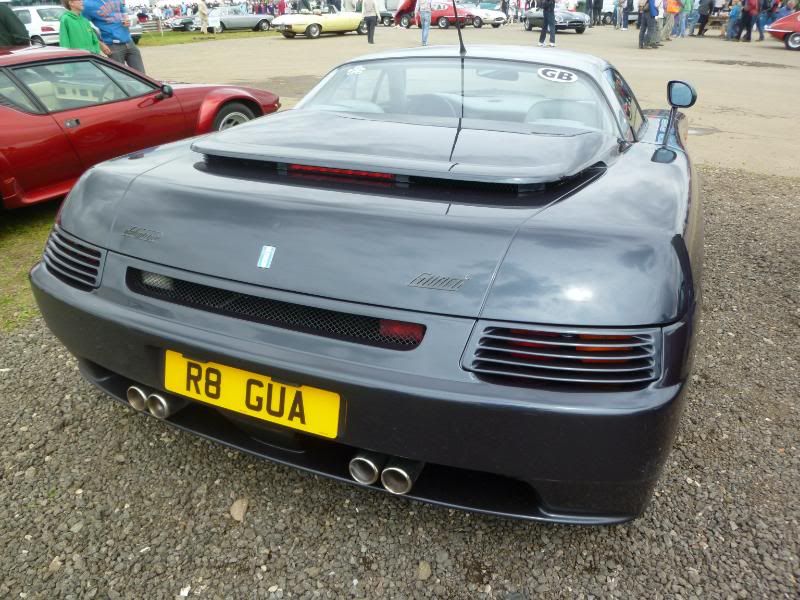 ELVA
The Courier, a small glass-fibre bodied sports car based on Triumph Herald mechanicals. What is less known is that Elva became the Elva-McLaren Company, and then later dropped the Elva (short for "elle va" – she goes) to become the McLaren that we know today.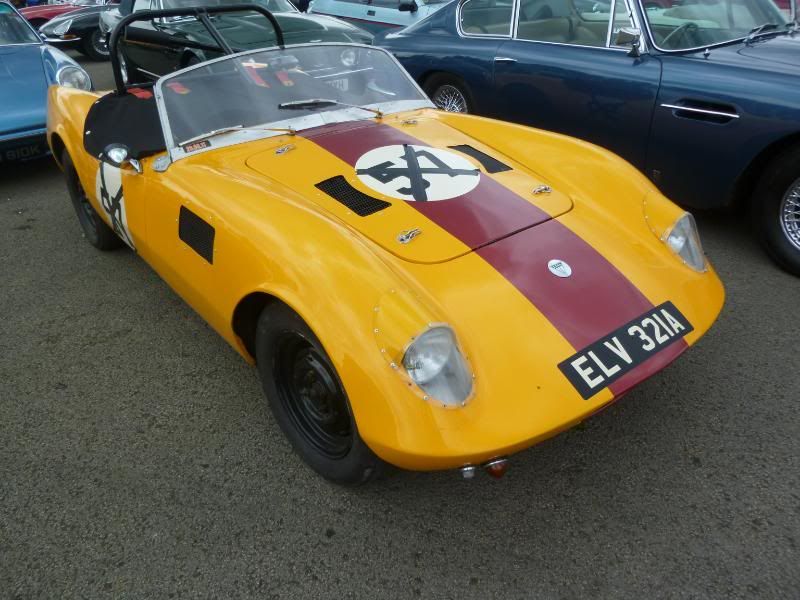 EVANTE
A small gathering of the 140TC cars, a small sports car made in homage to the original Elan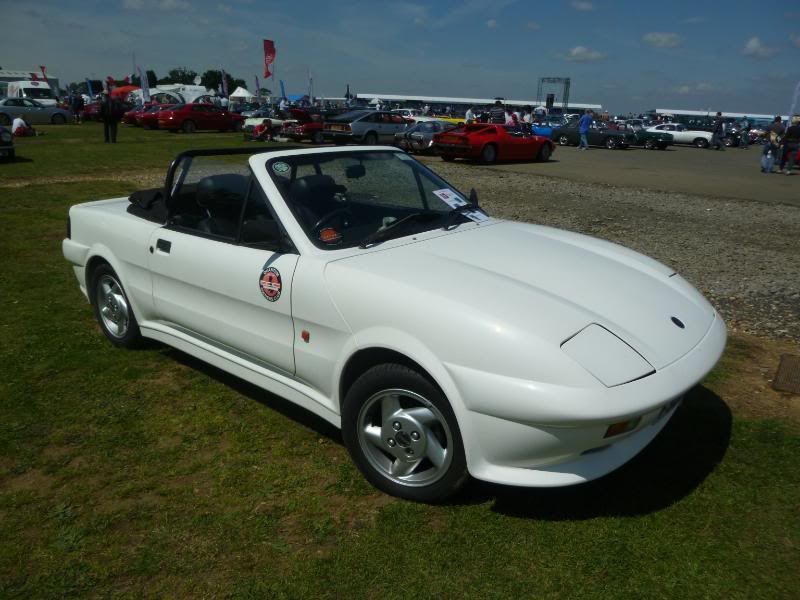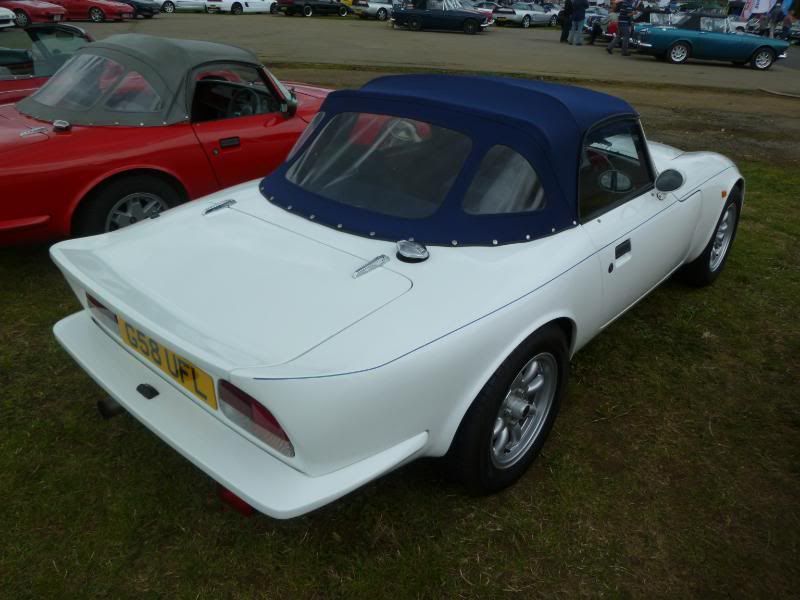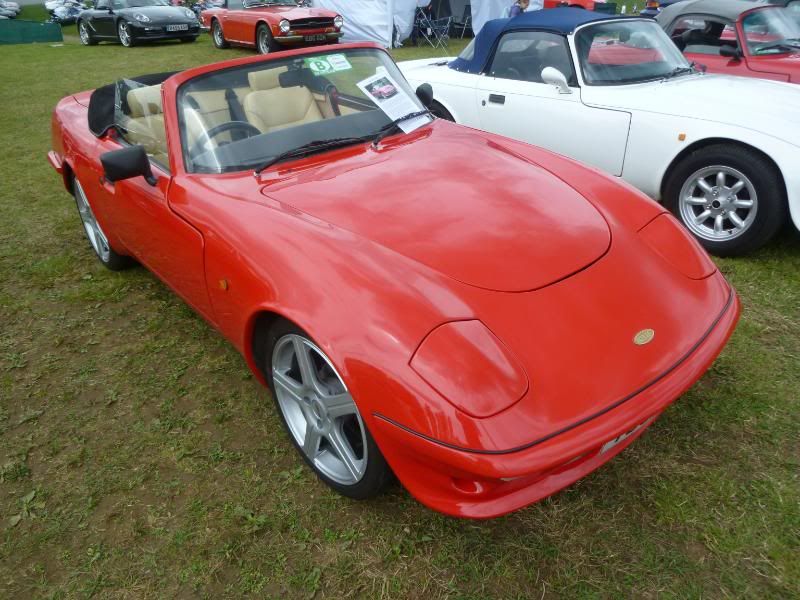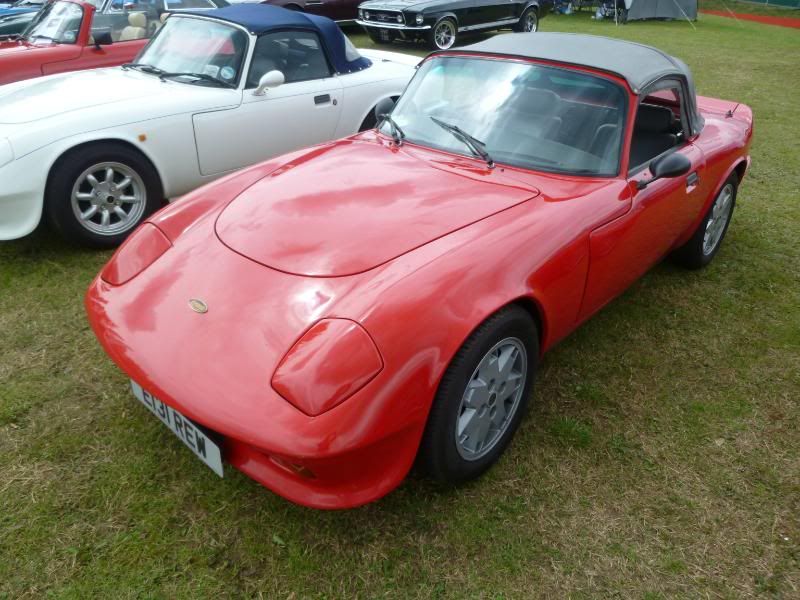 FACEL-VEGA
This Facel III was a revised version of the desperately unreliable Facellia, and was one of the last cars produced by this French marque.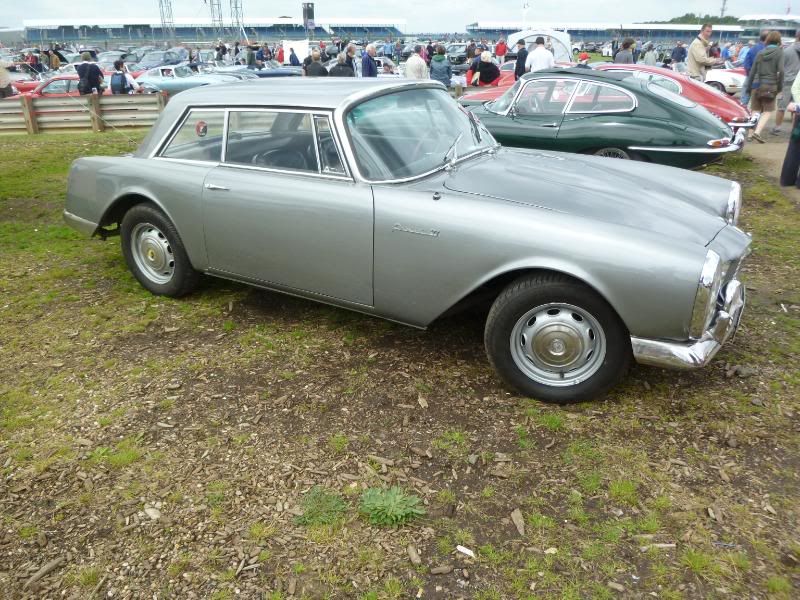 FAIRTHORPE
Another little known British marque that died out a long time ago. This is the Elektron.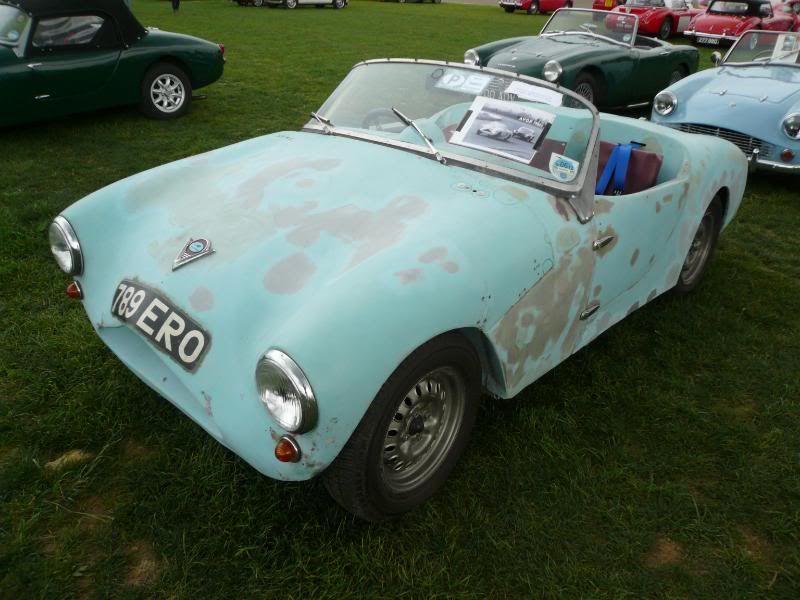 FERRARI

The Ferrari Owners Club always put on a good display at this event, and 2011 was no exception, with a vast number of the Prancing Horse cars on show. Pride of place, by the marquee, was reserved for a number of the more recent and particularly exclsuive cars, which included a pair of Enzos and of F40s, as well as a 575GTM racer.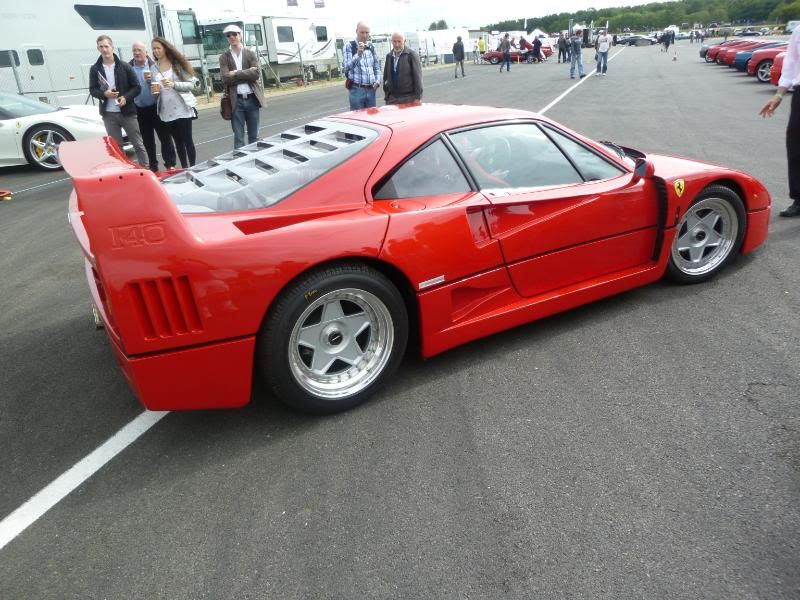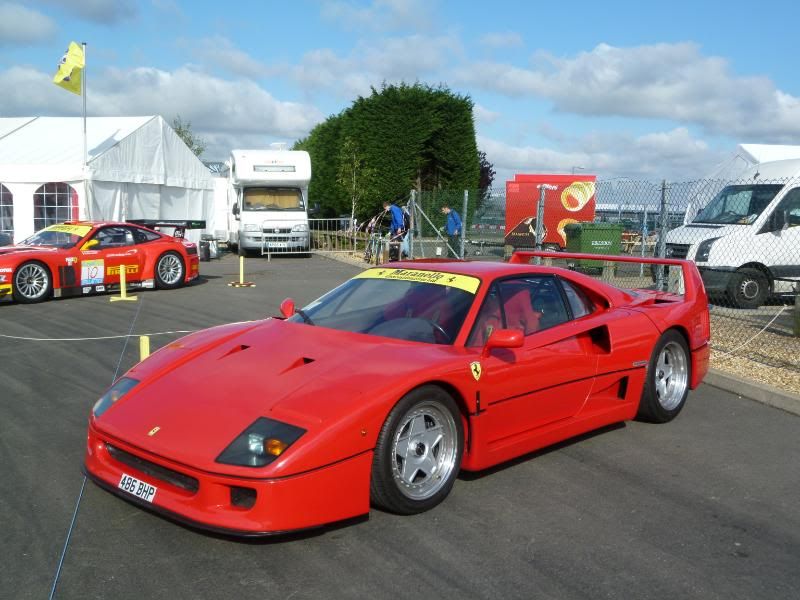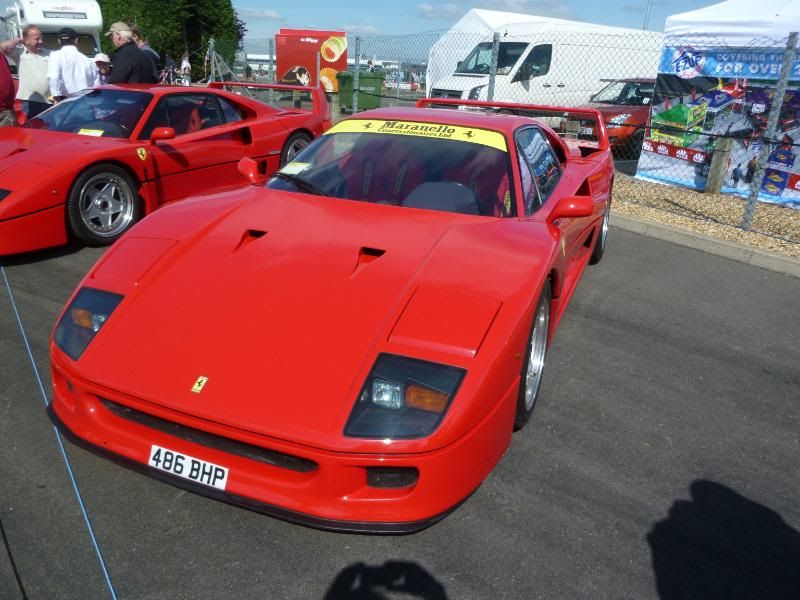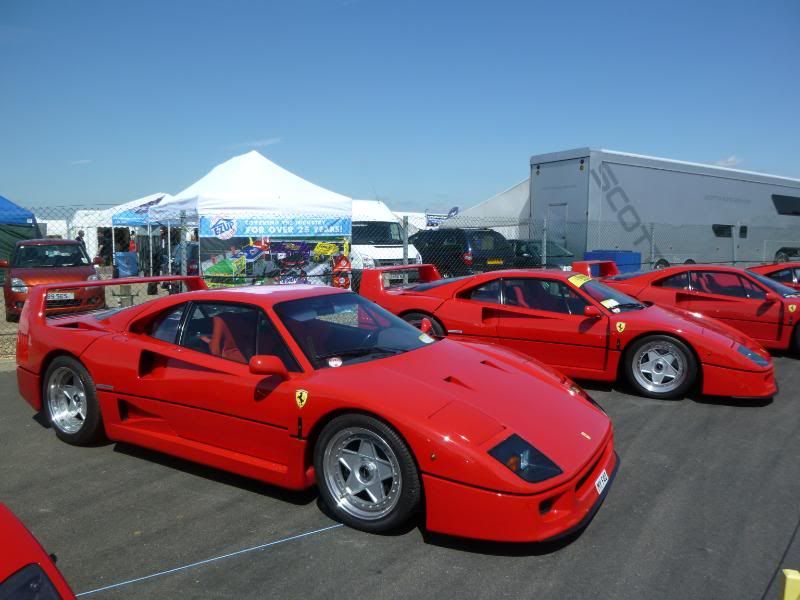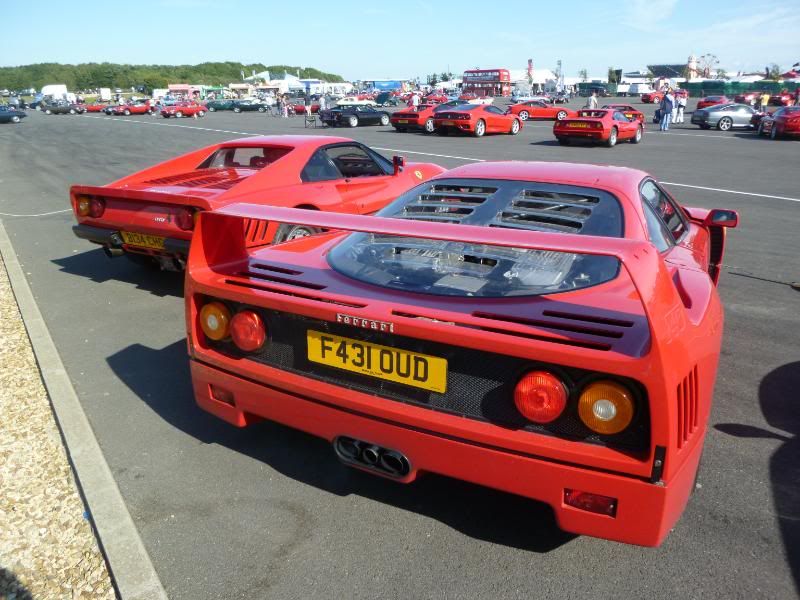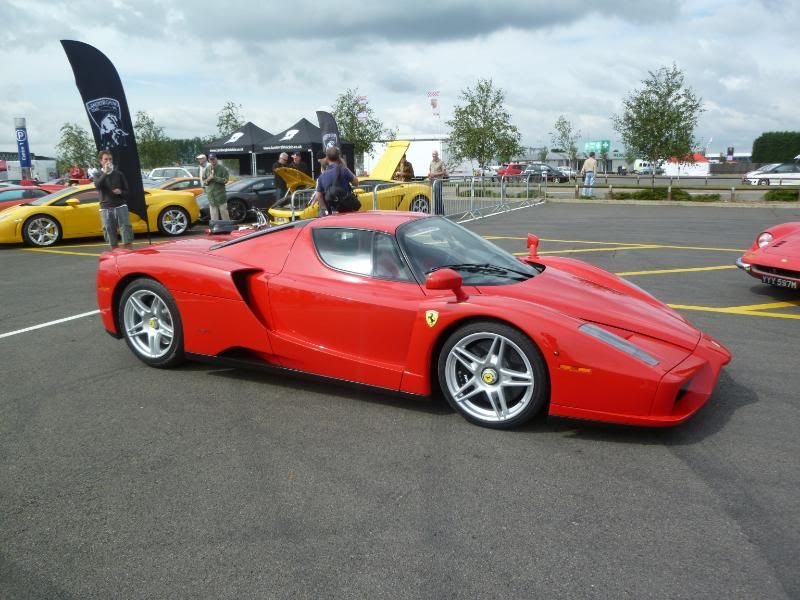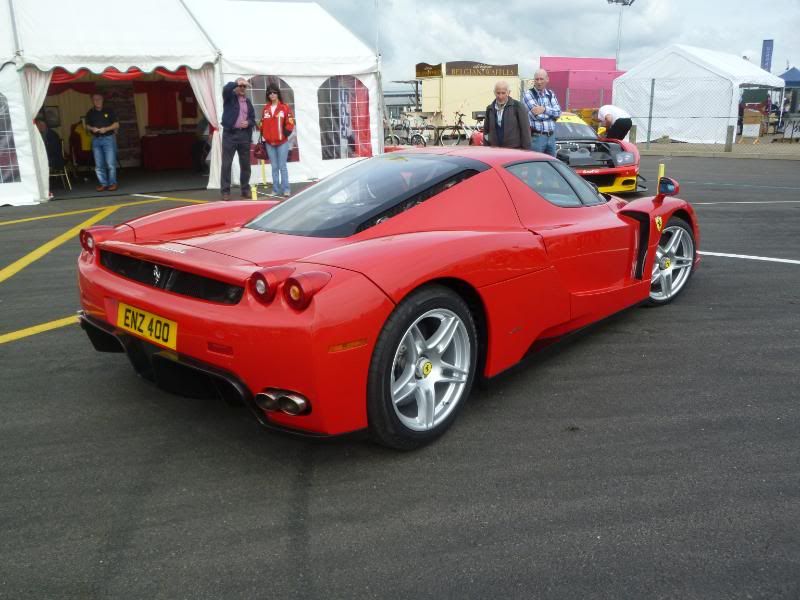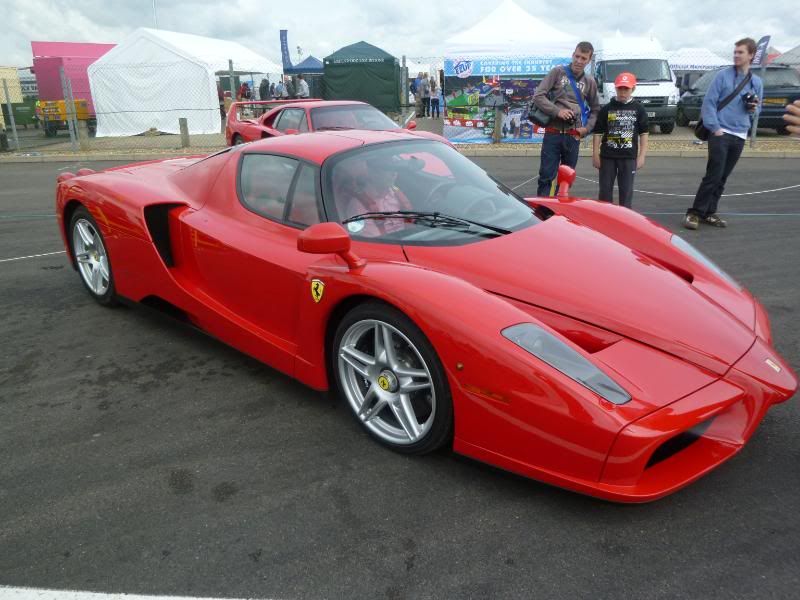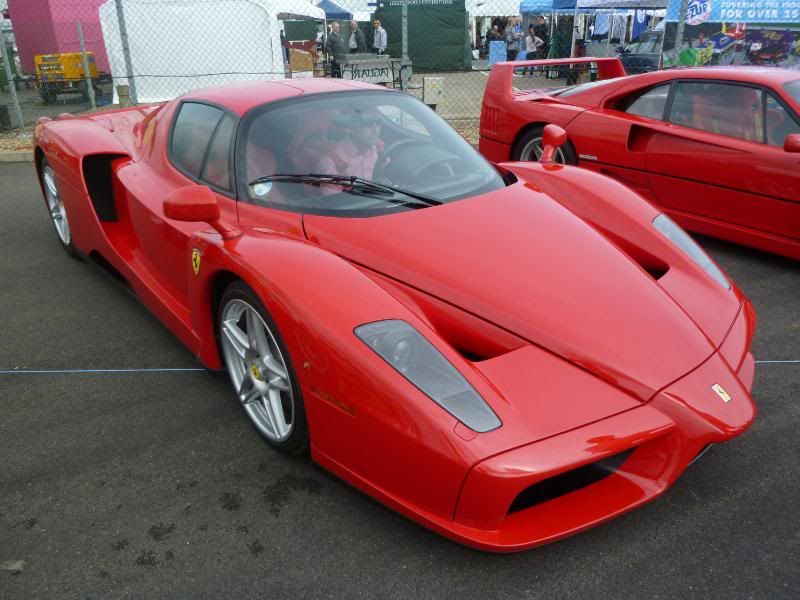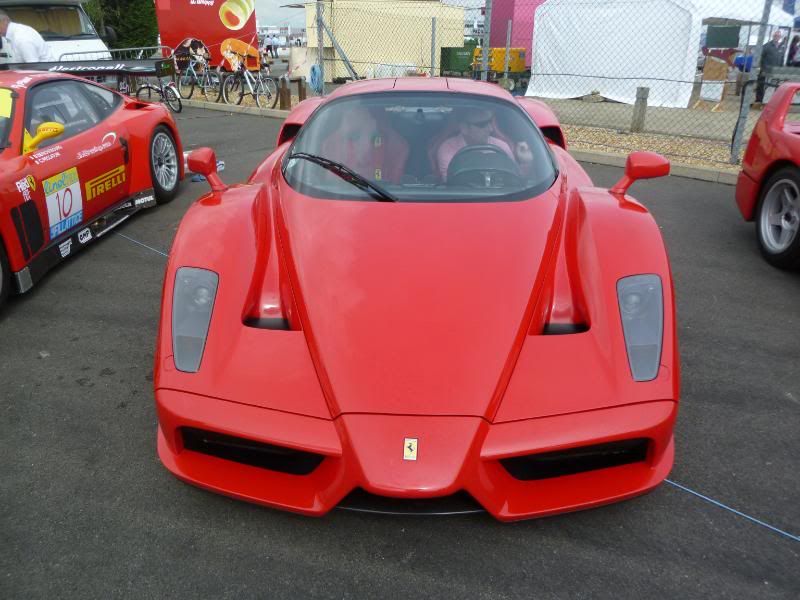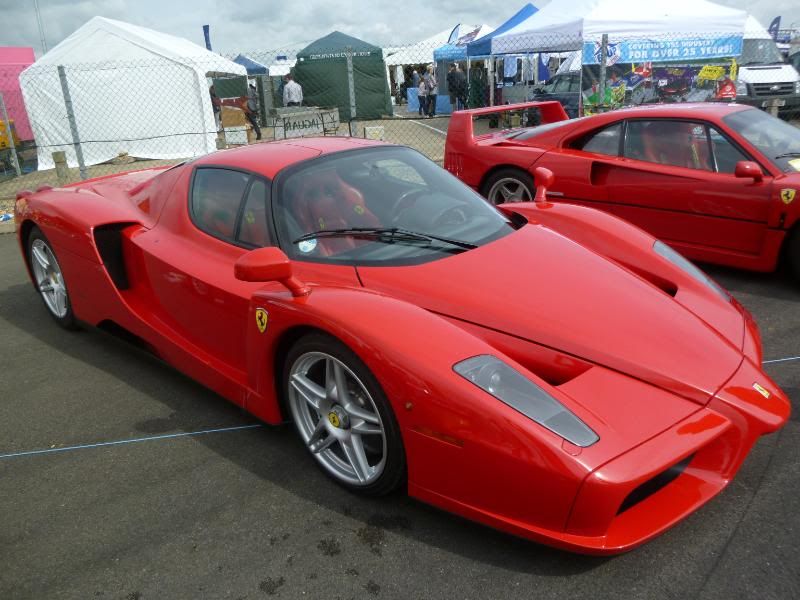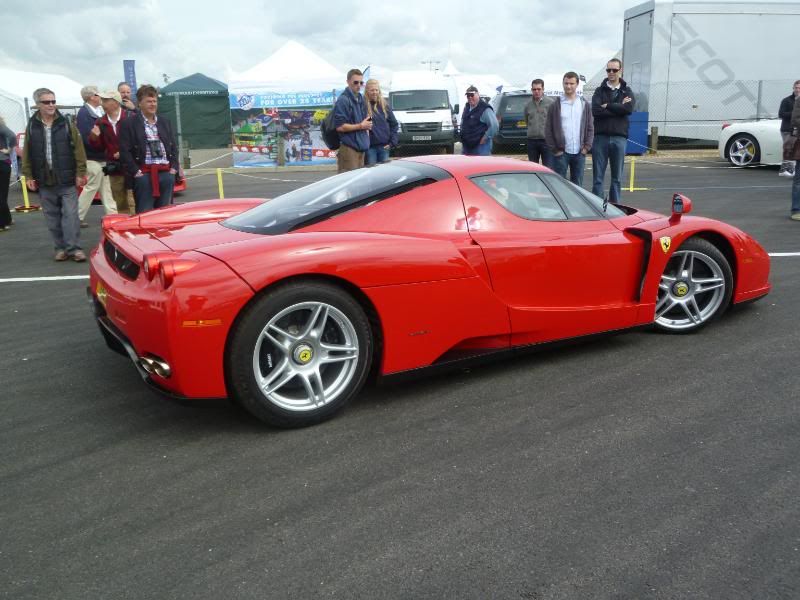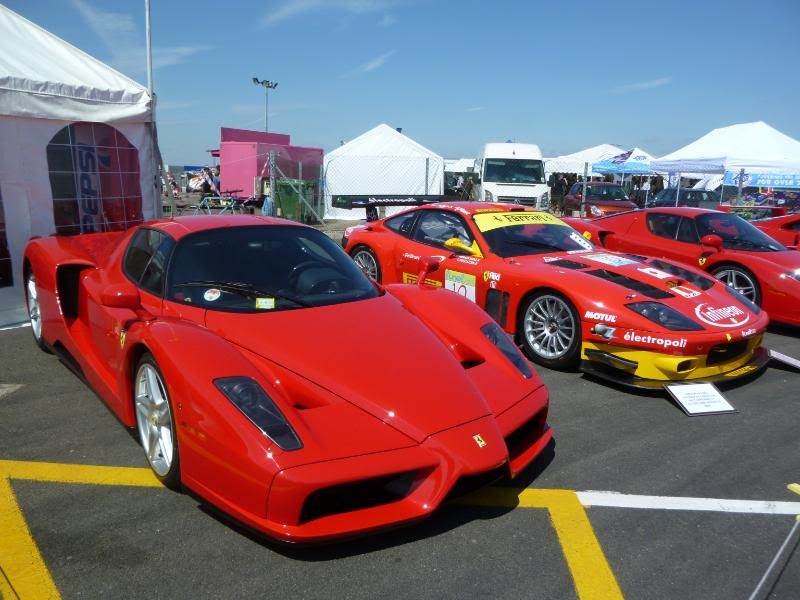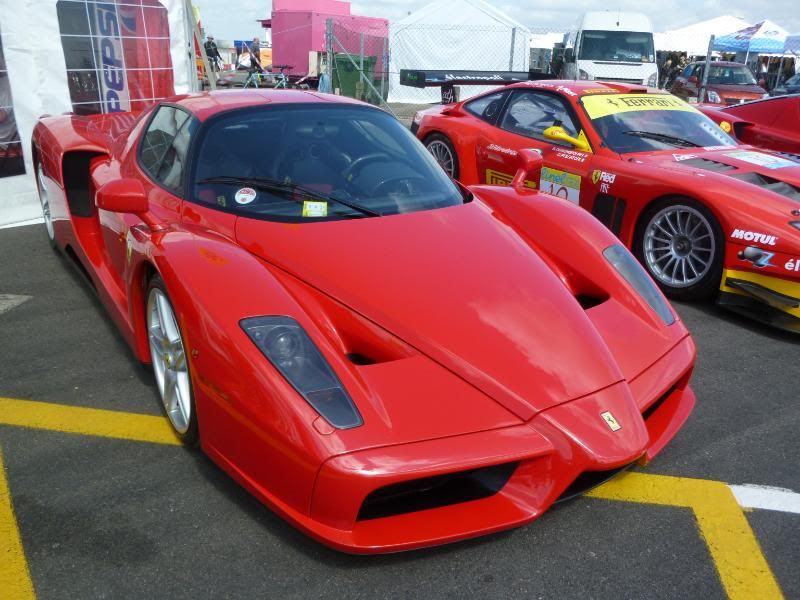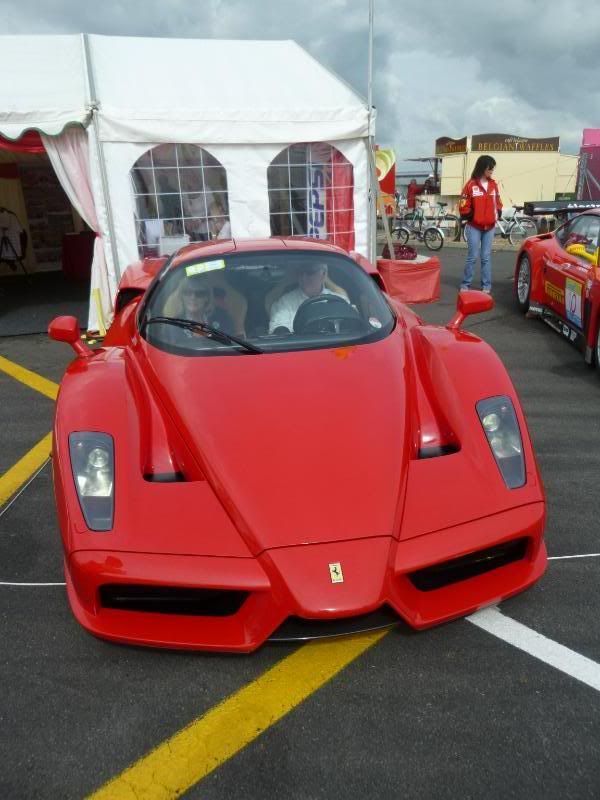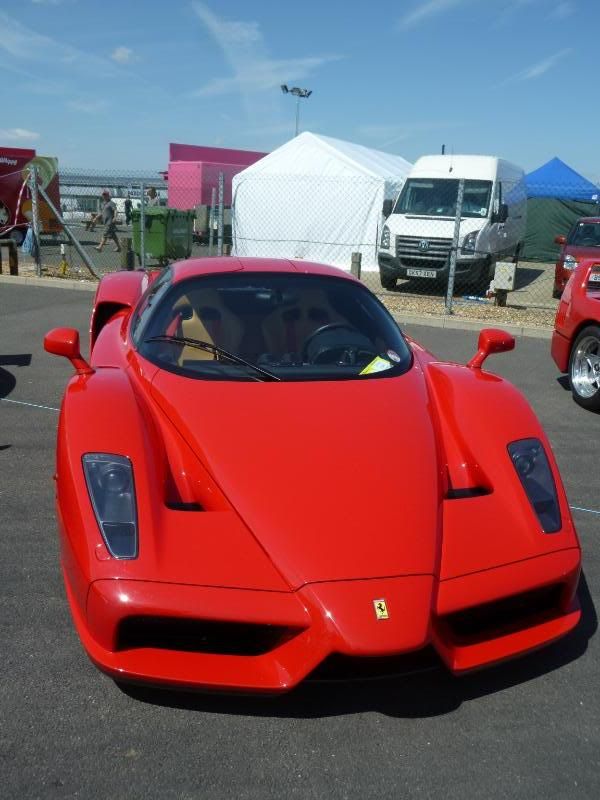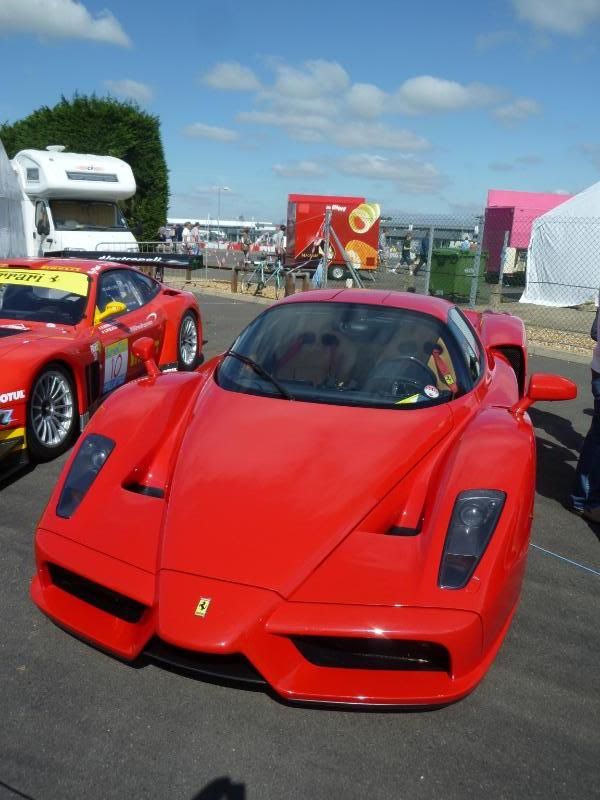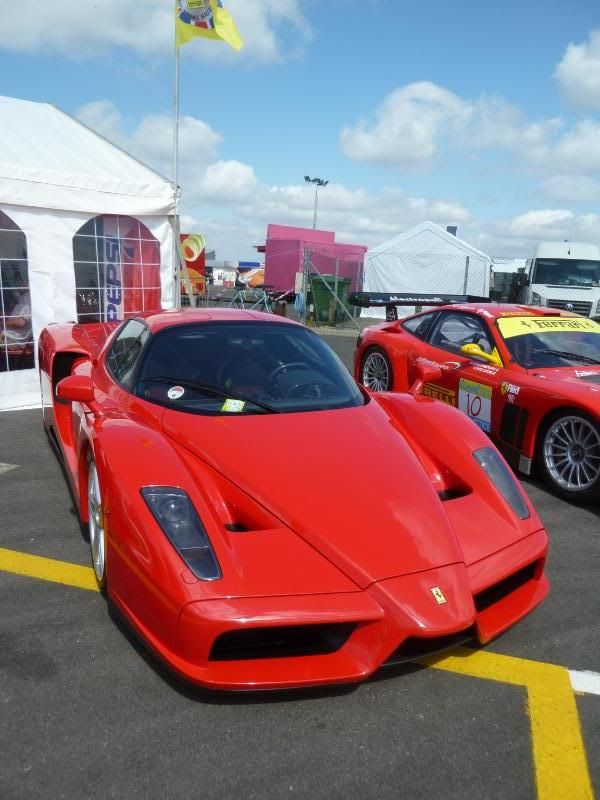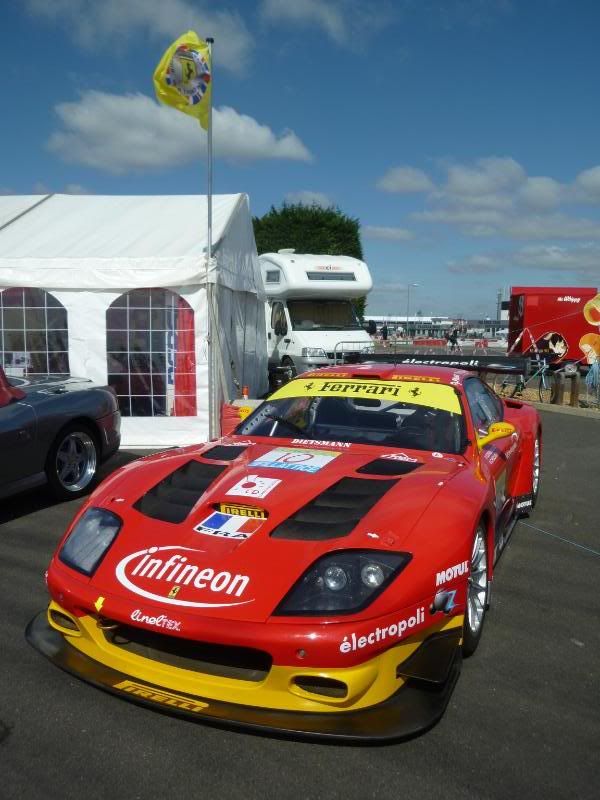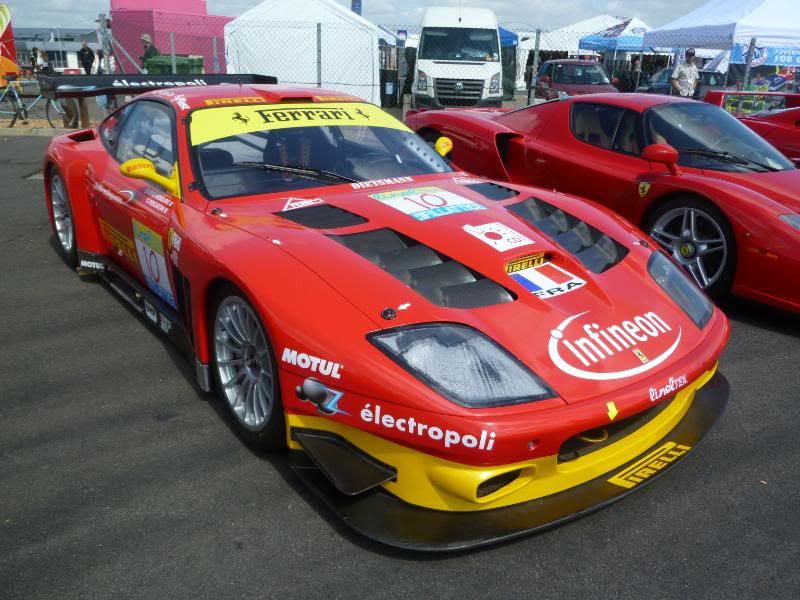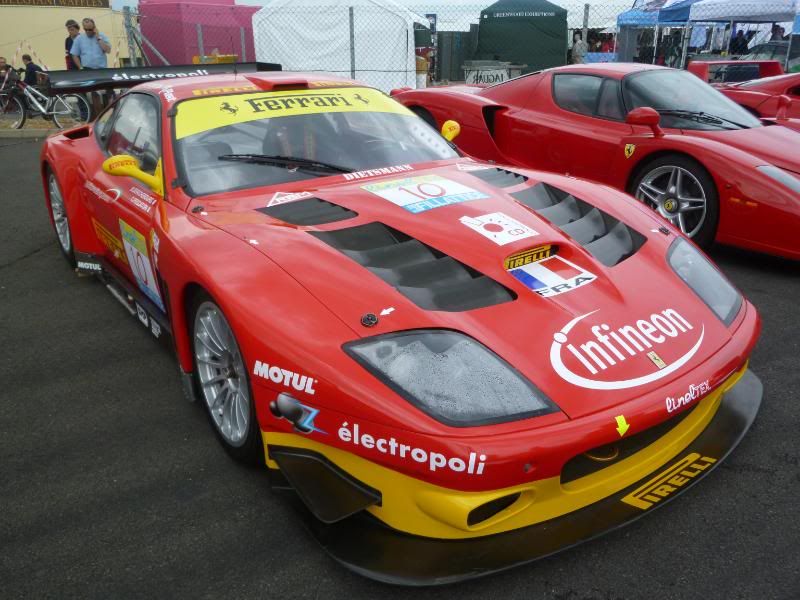 Nearly as special was a display area which included a 550 Barchetta, two 458 Italias, a 599 GTO next to a 599GTB and a California.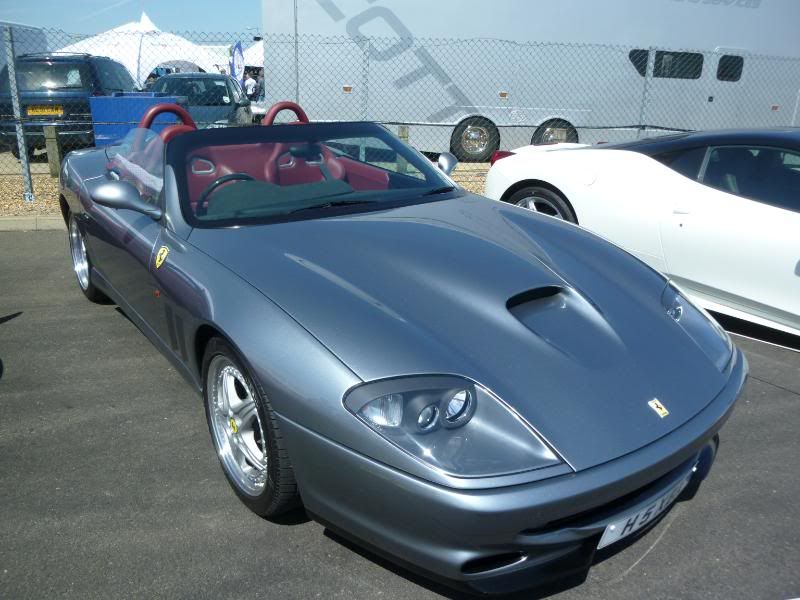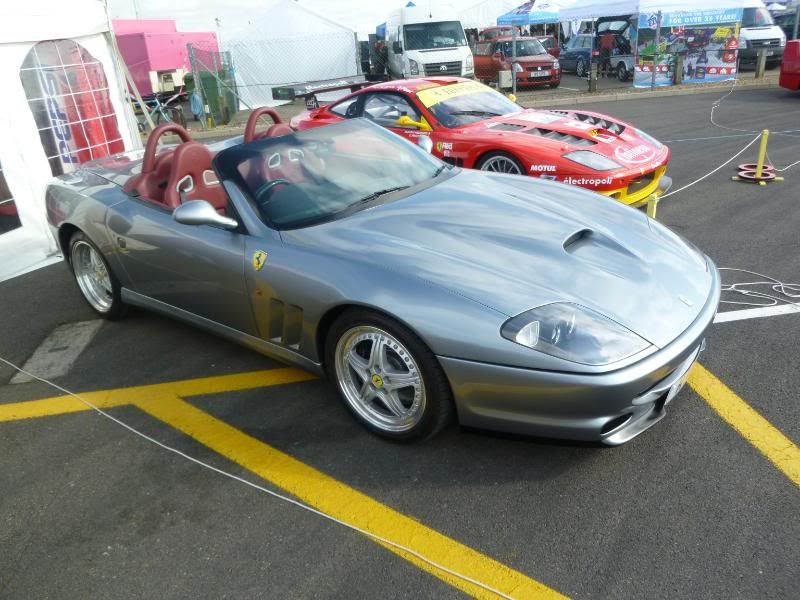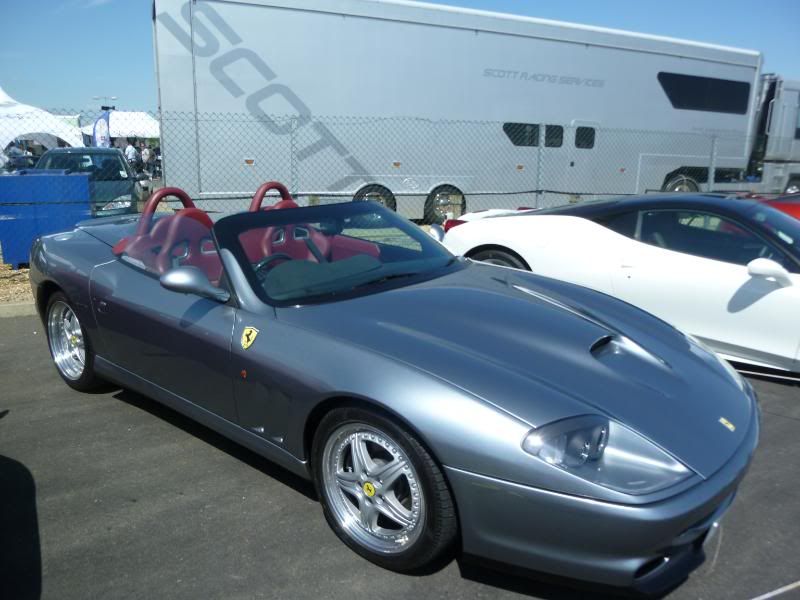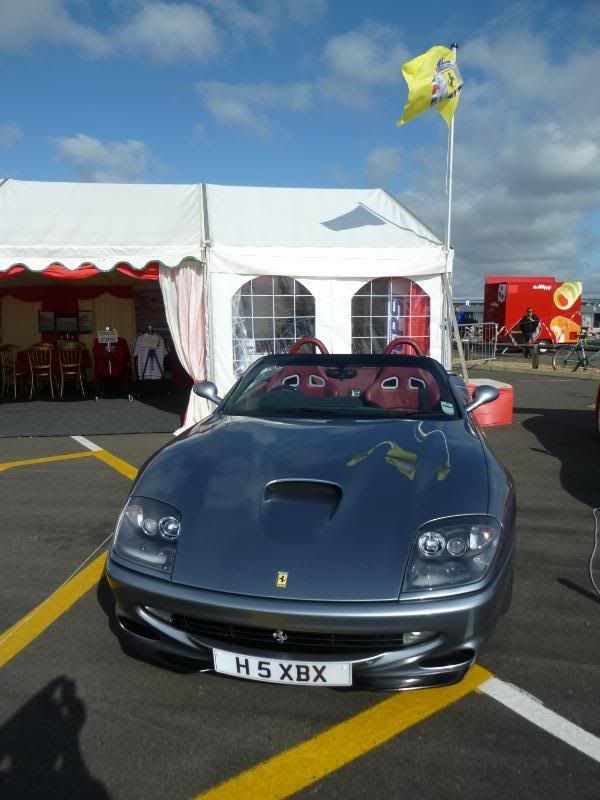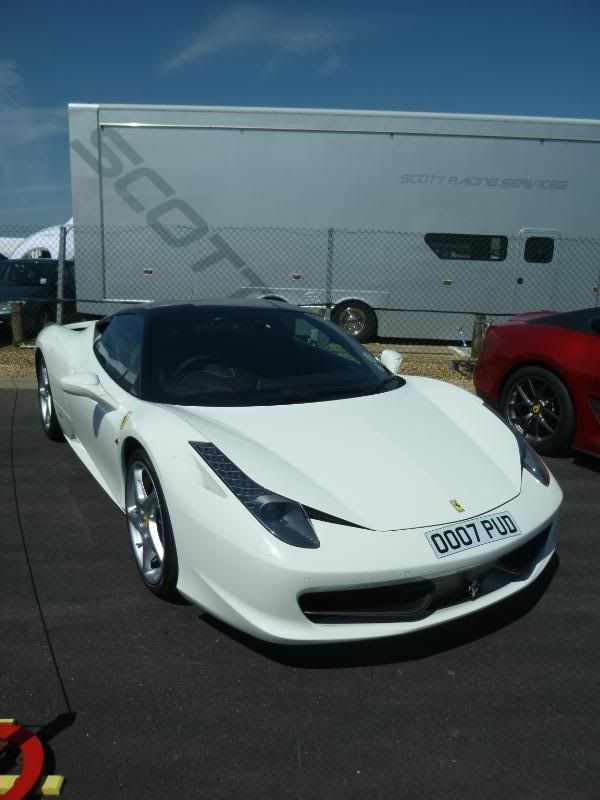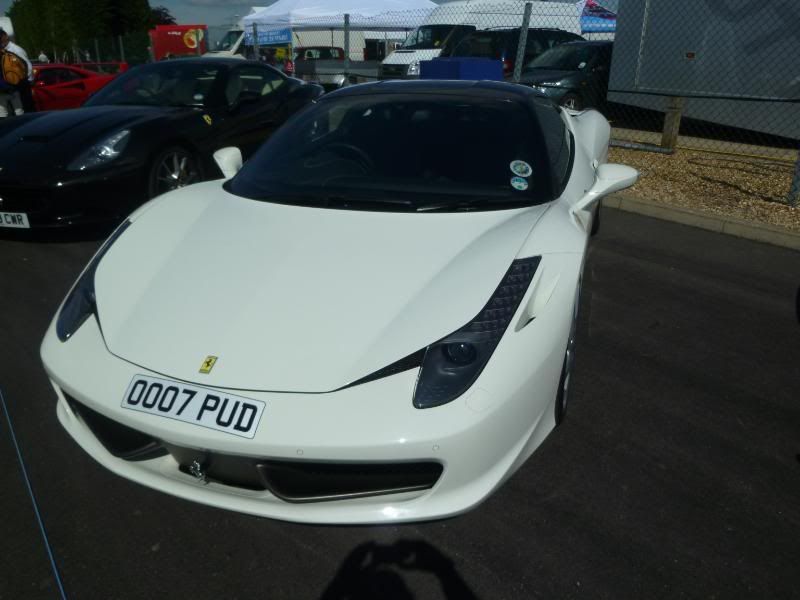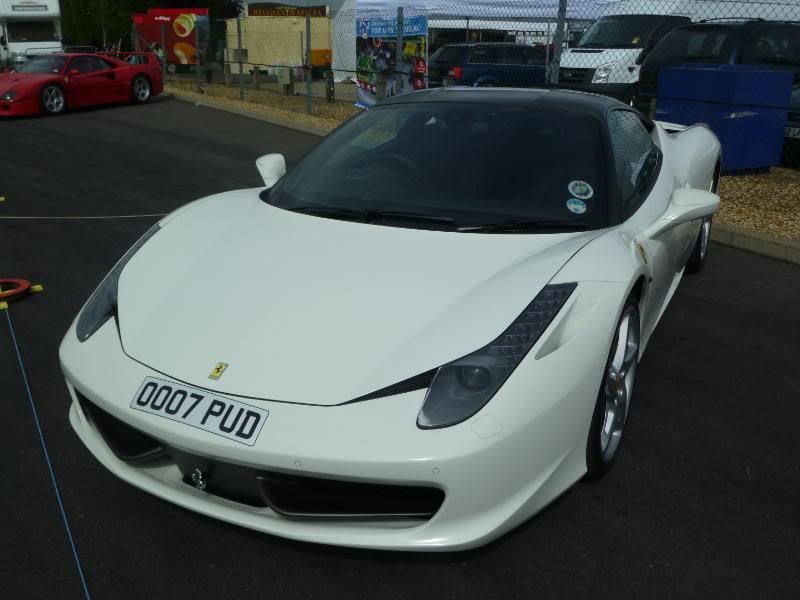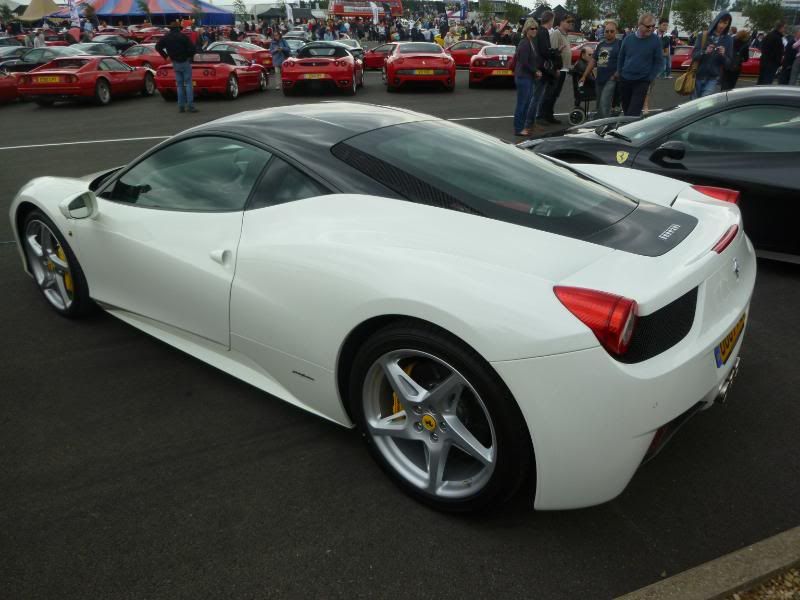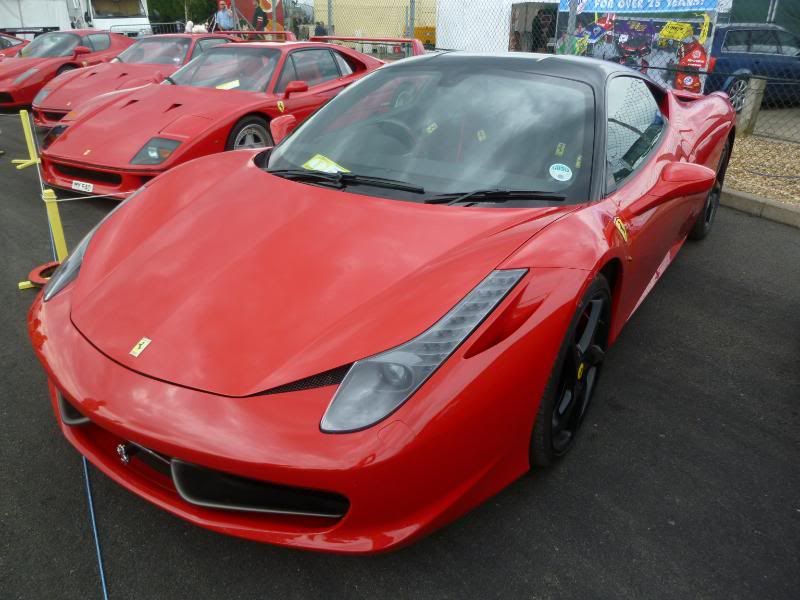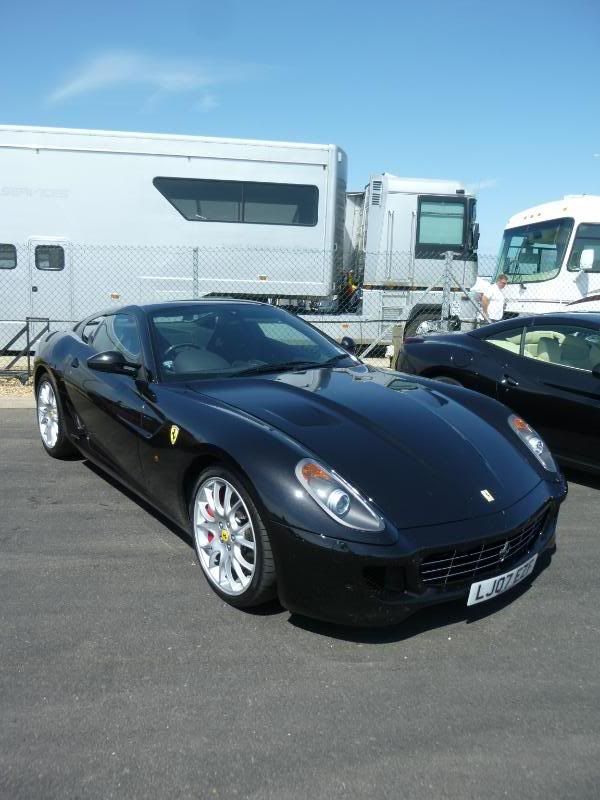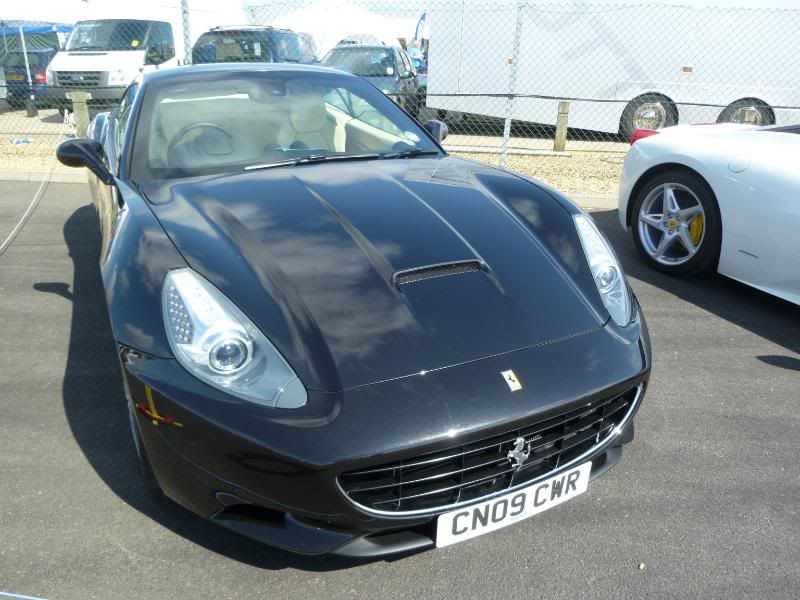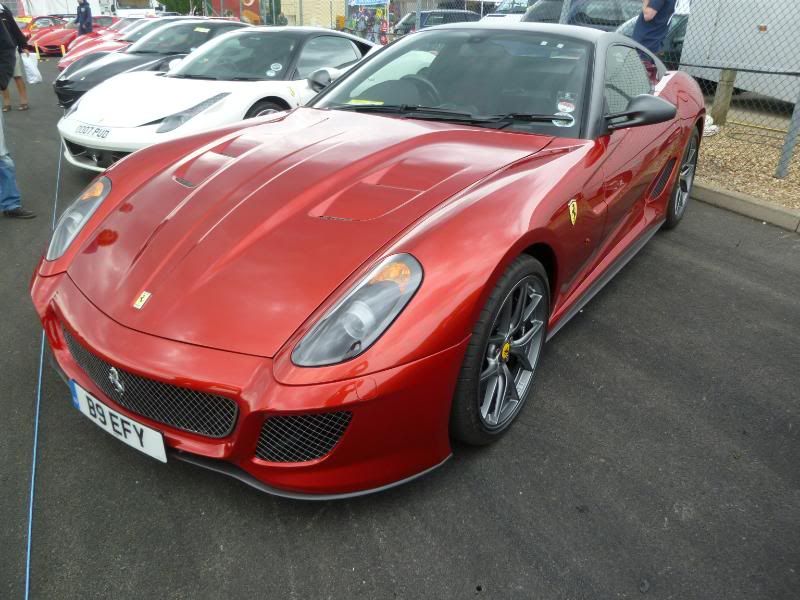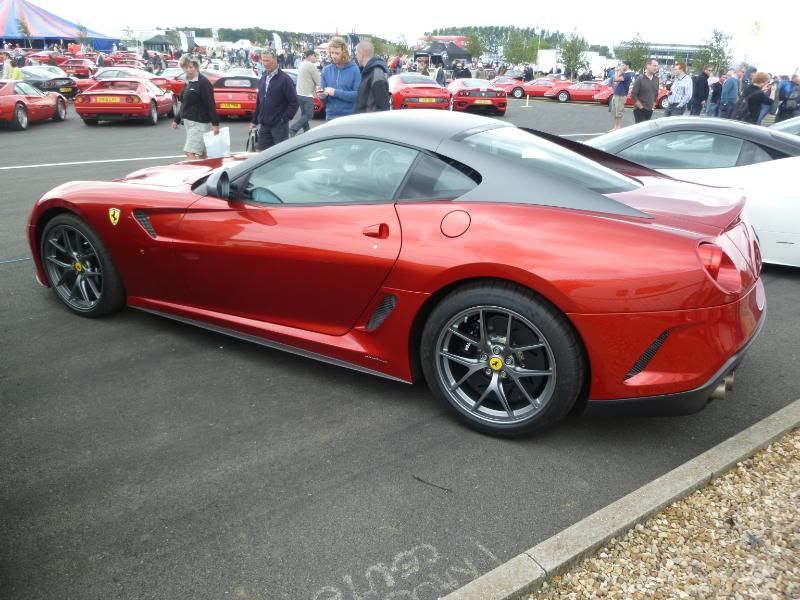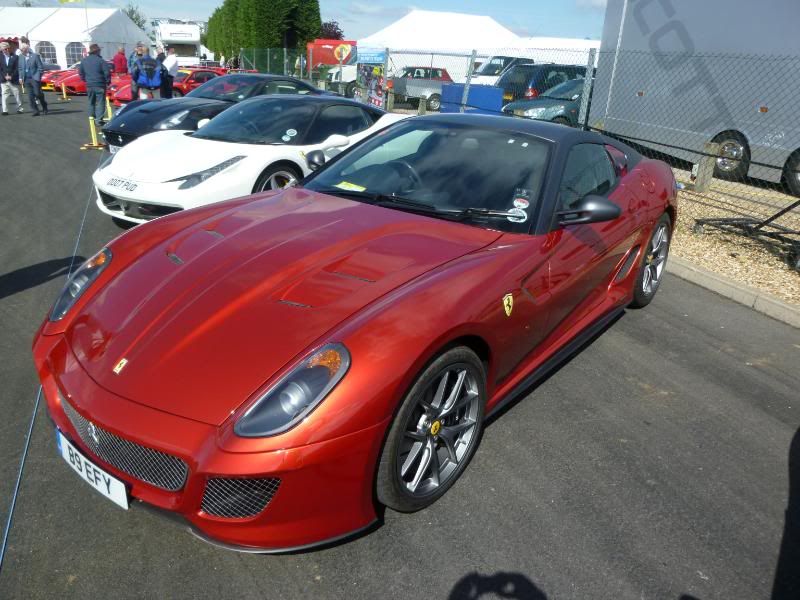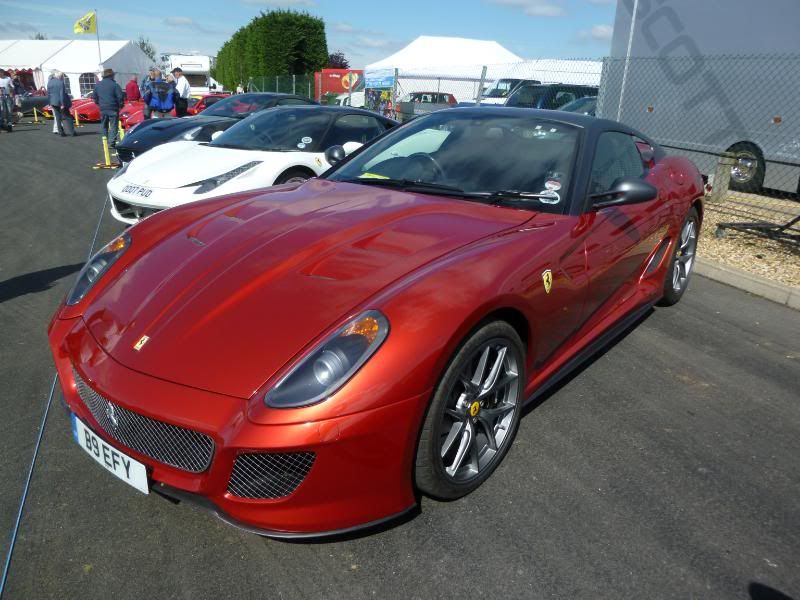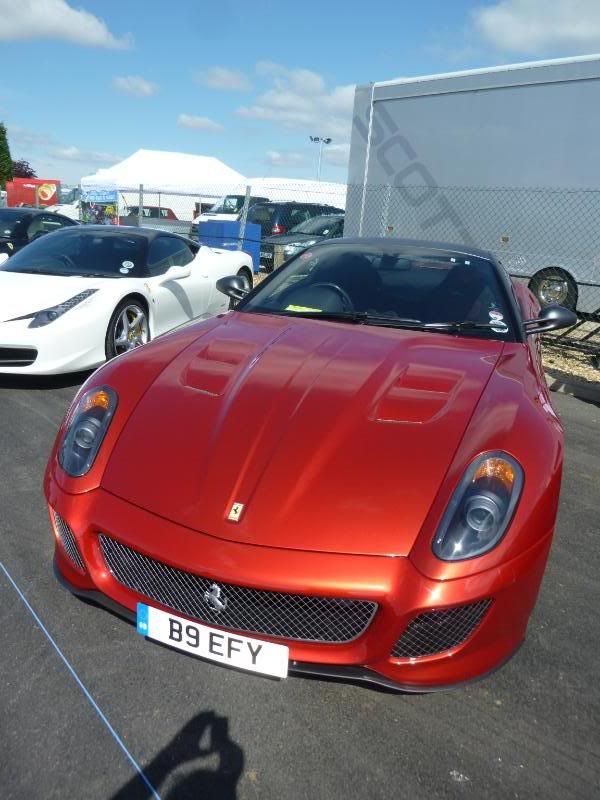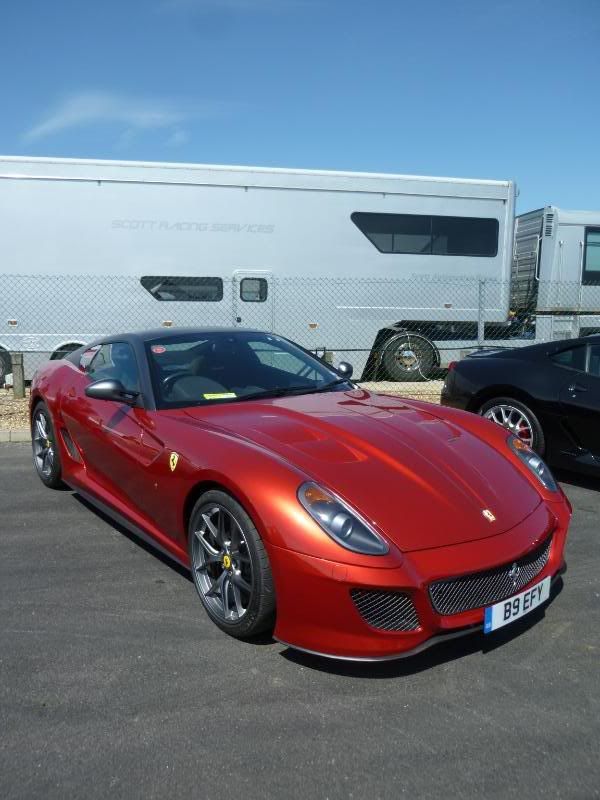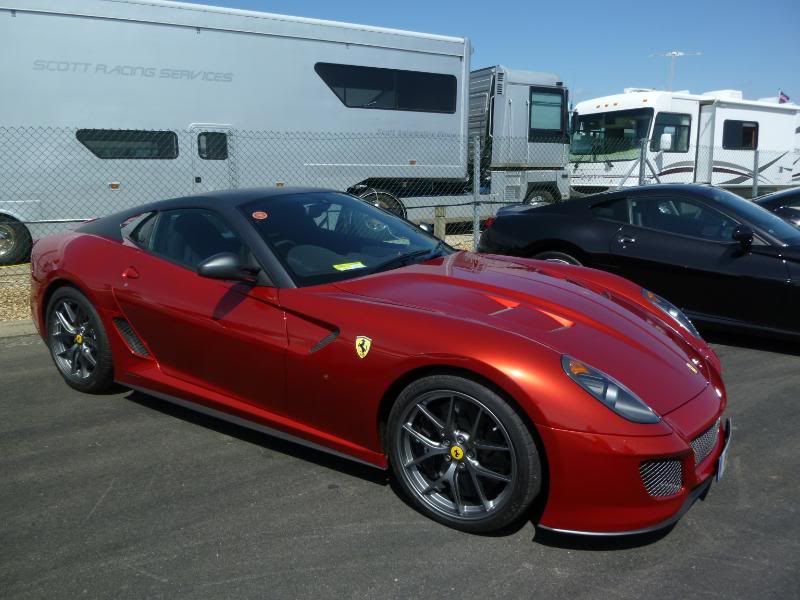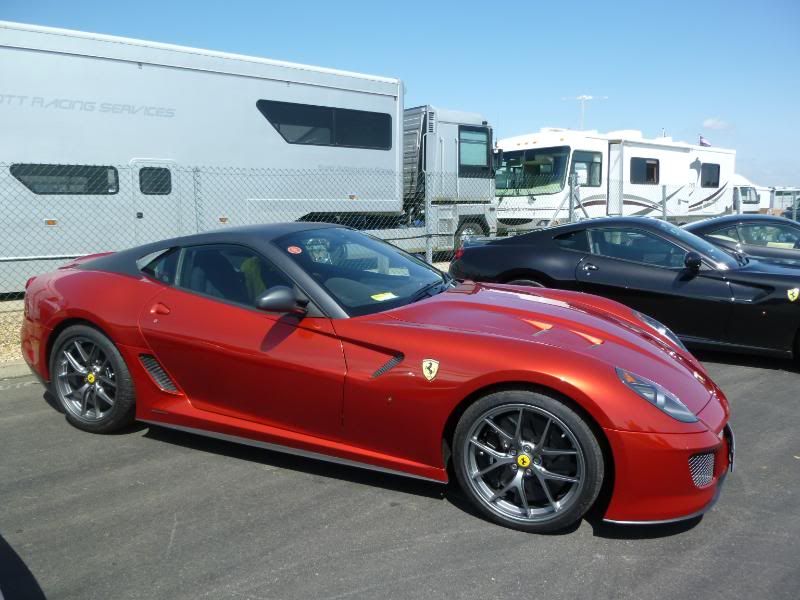 A 288 GTO arrived on the Sunday.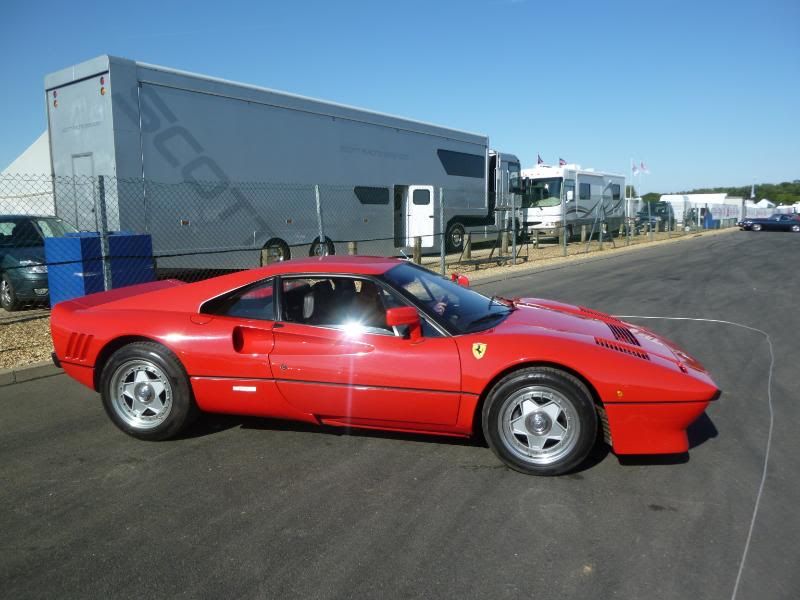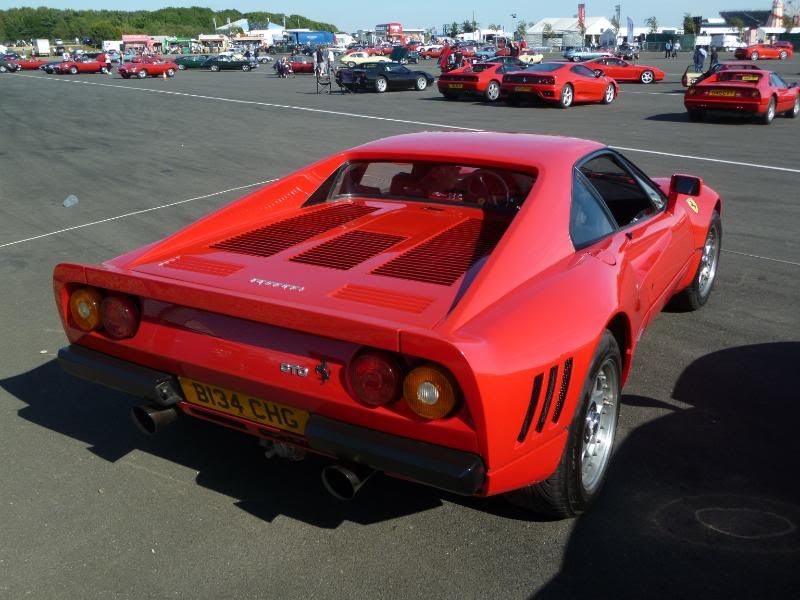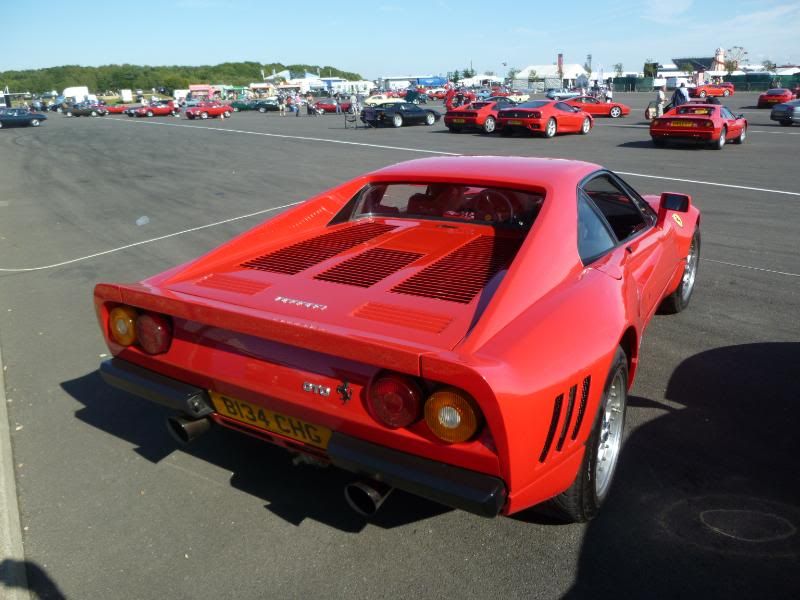 The historic Ferraris were very desirable, too, and the group included a couple of Daytona., a 365 Berlinetta Boxer, a couple of 275 GTBs, a 330, a 365 GTC/4 and on the Sunday, a historic TestaRossa and a 365 GT 2+2.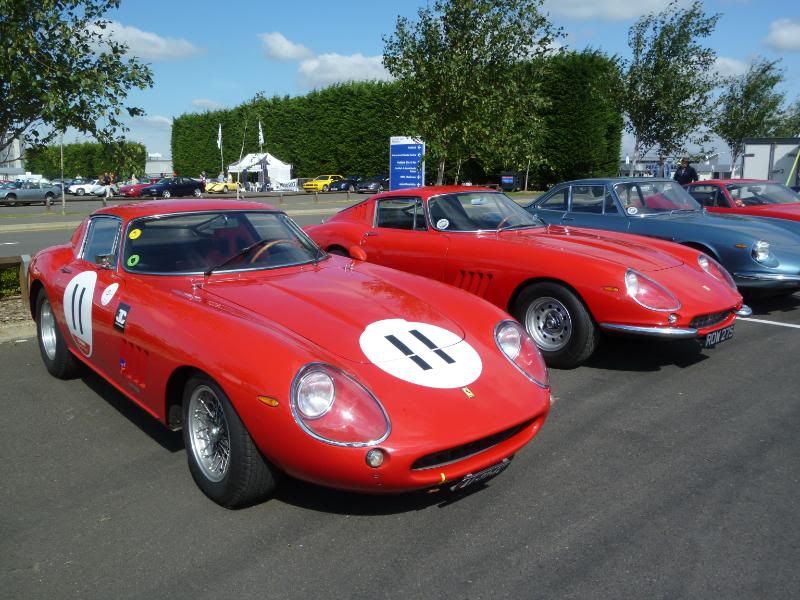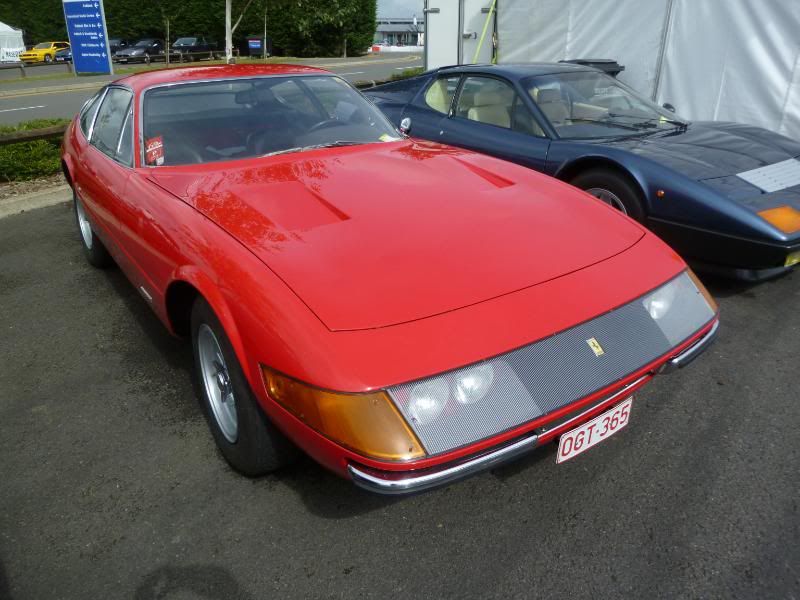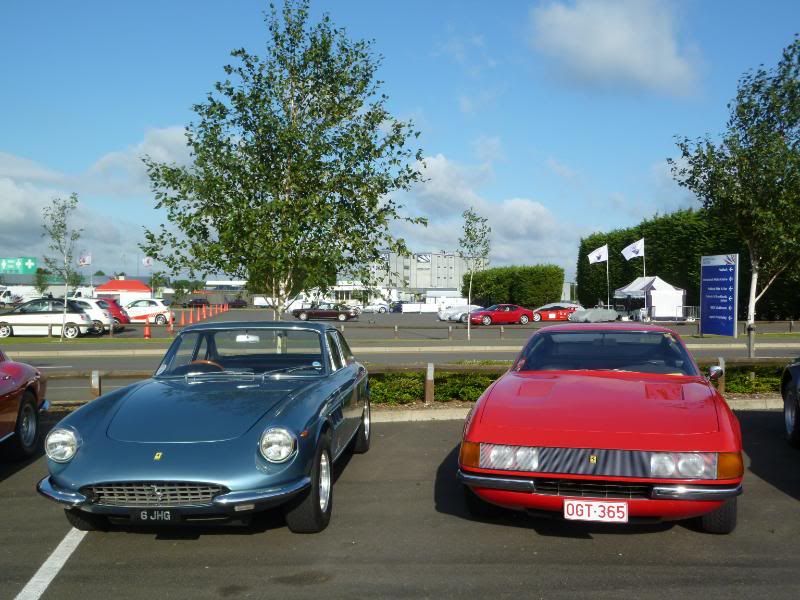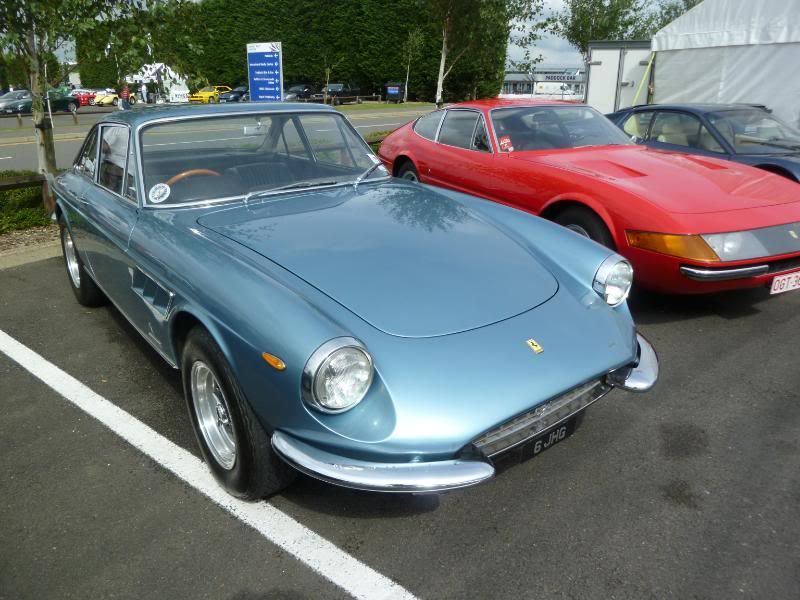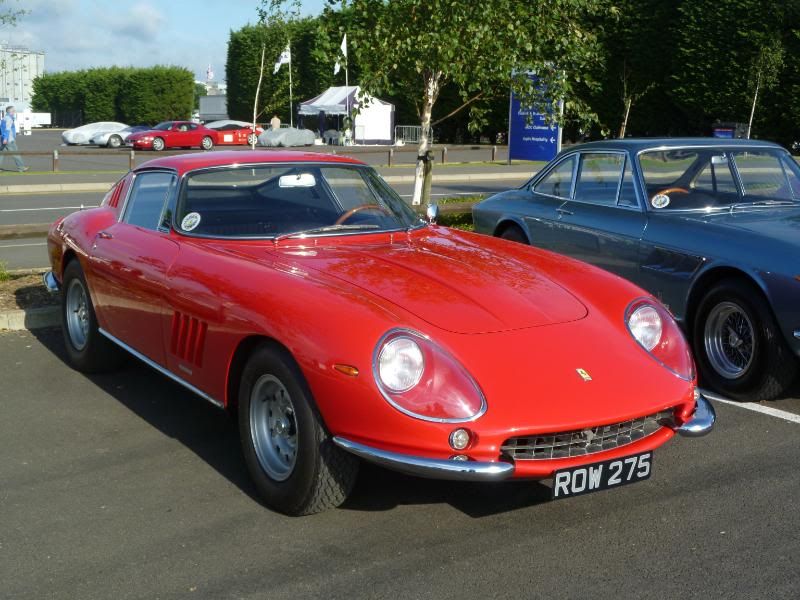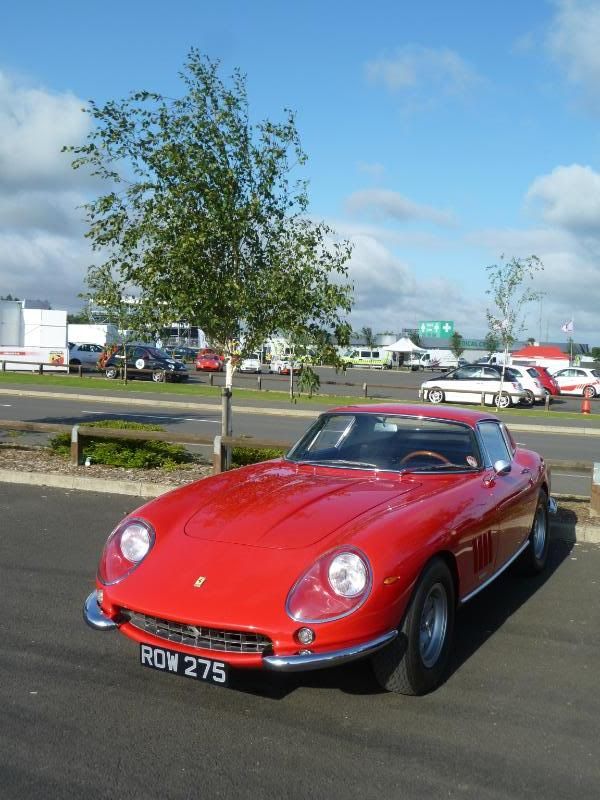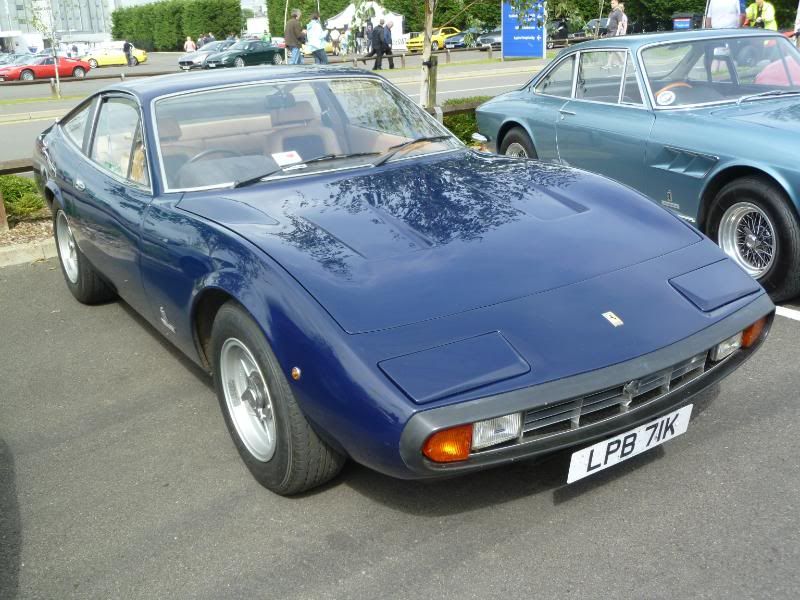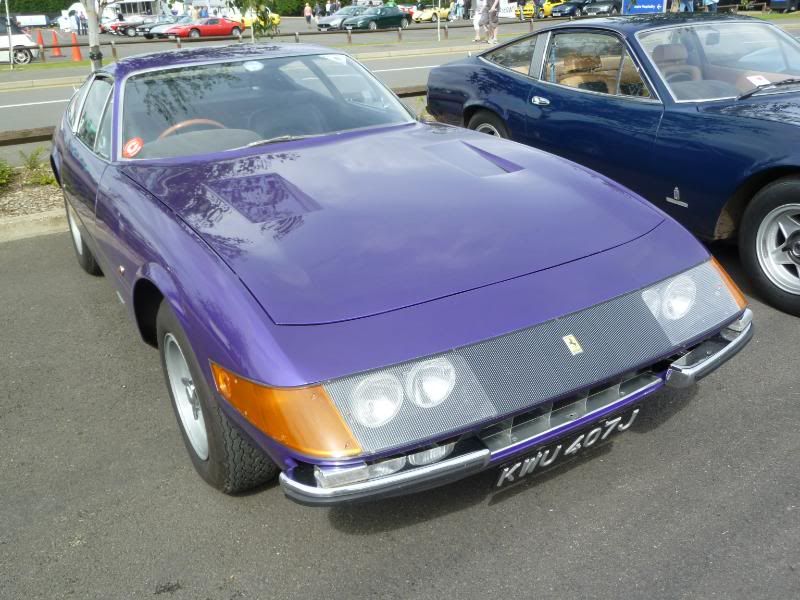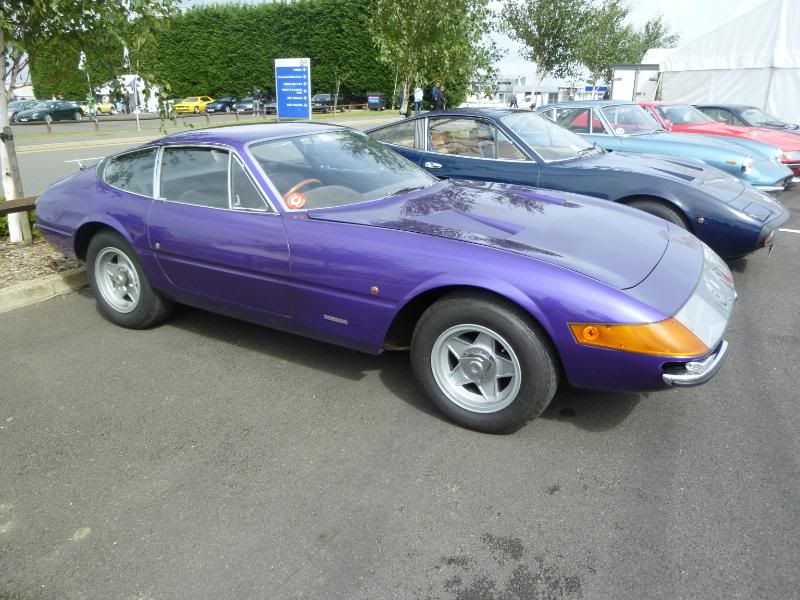 Most of the remaining Ferrari were red, and, lined up by engine type with the 12 cylinder cars in separate rows from the V8s, they made for an impressive sight.
Dinos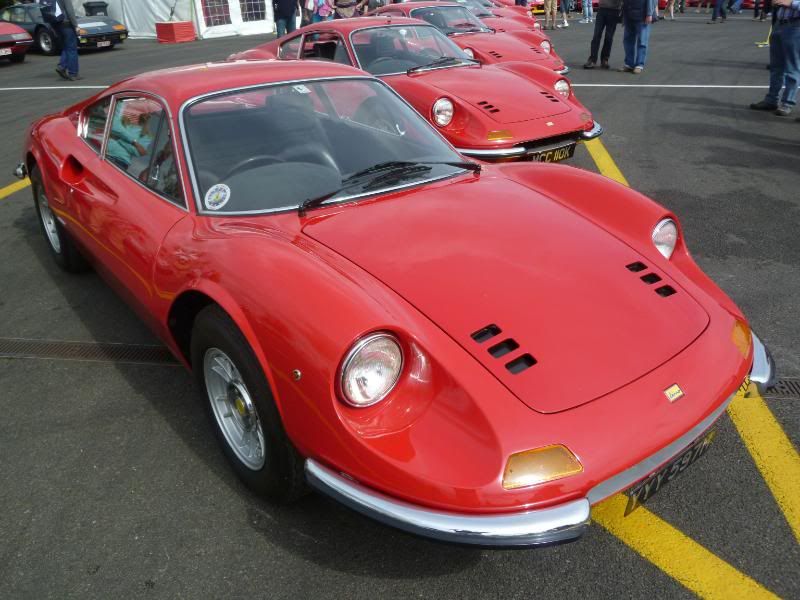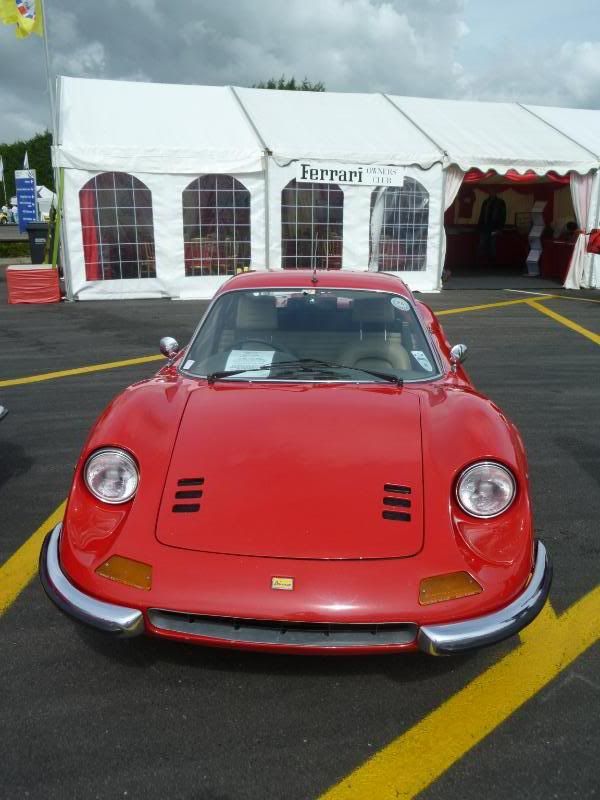 275GTS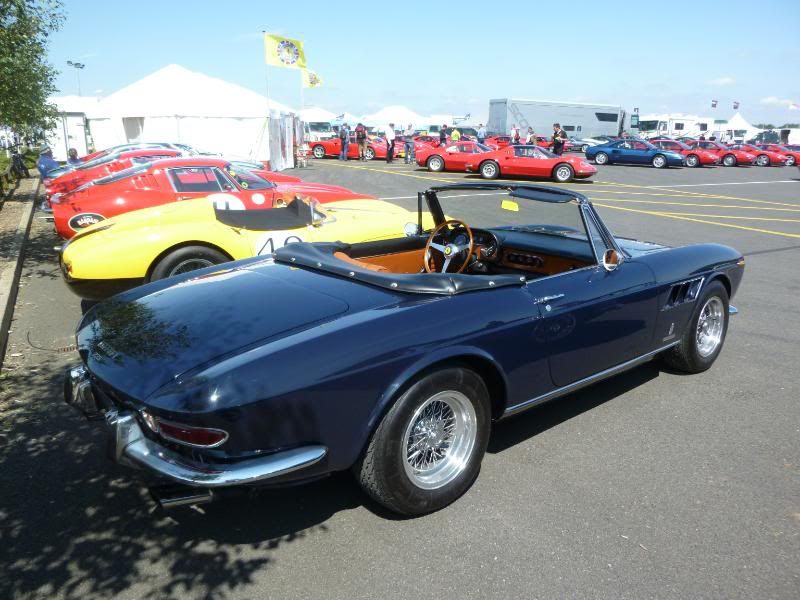 365 GT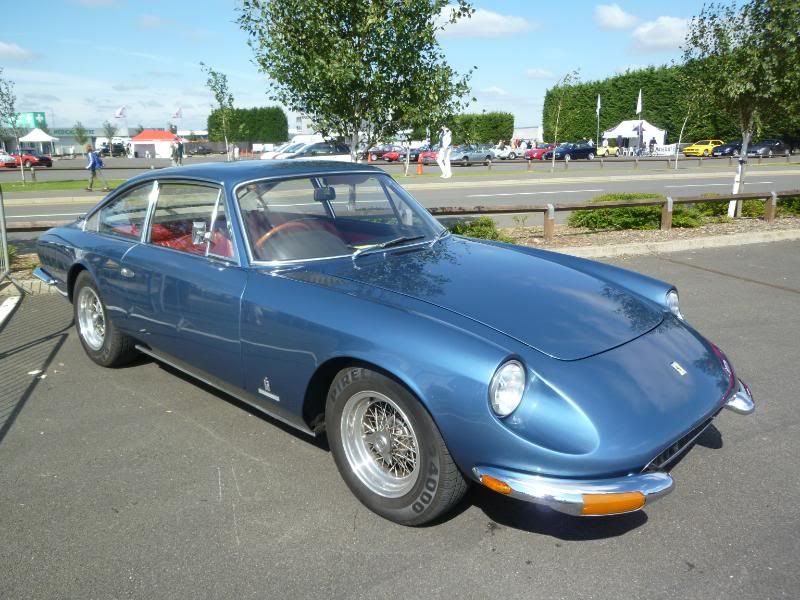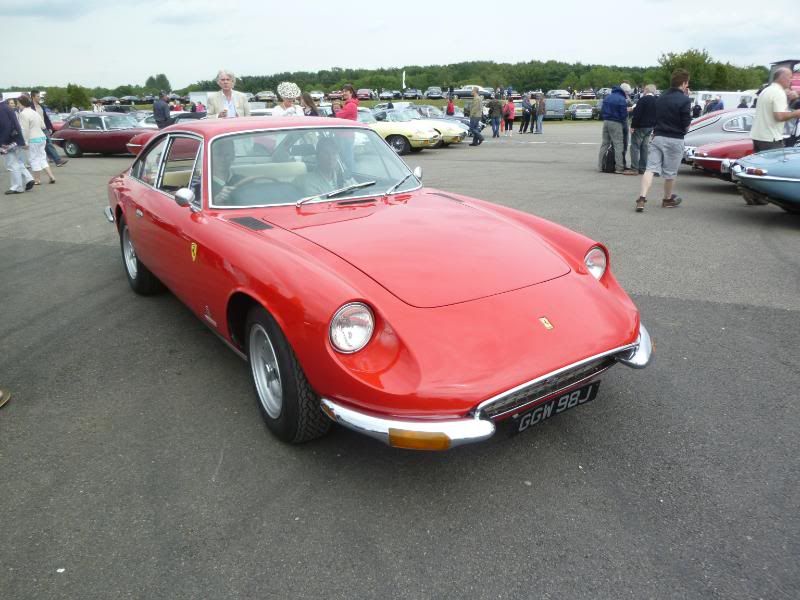 308/328 GTB/GTS

348/F355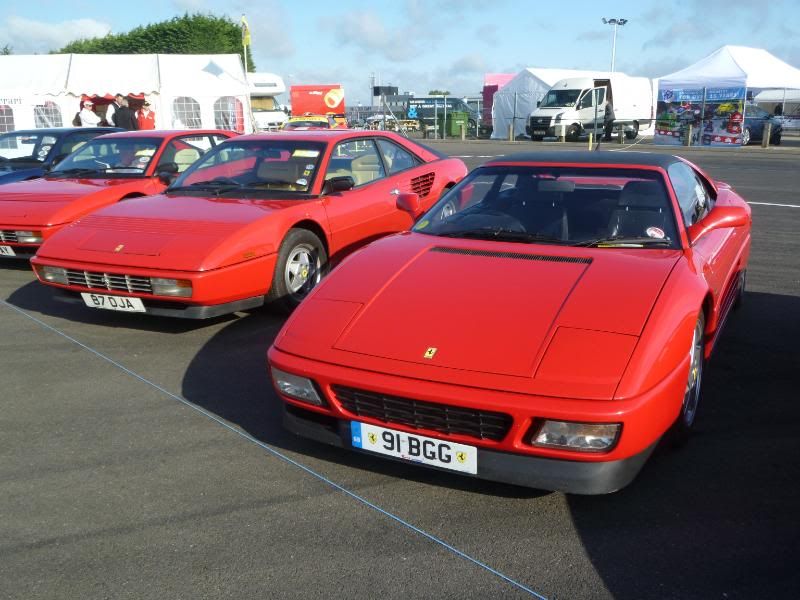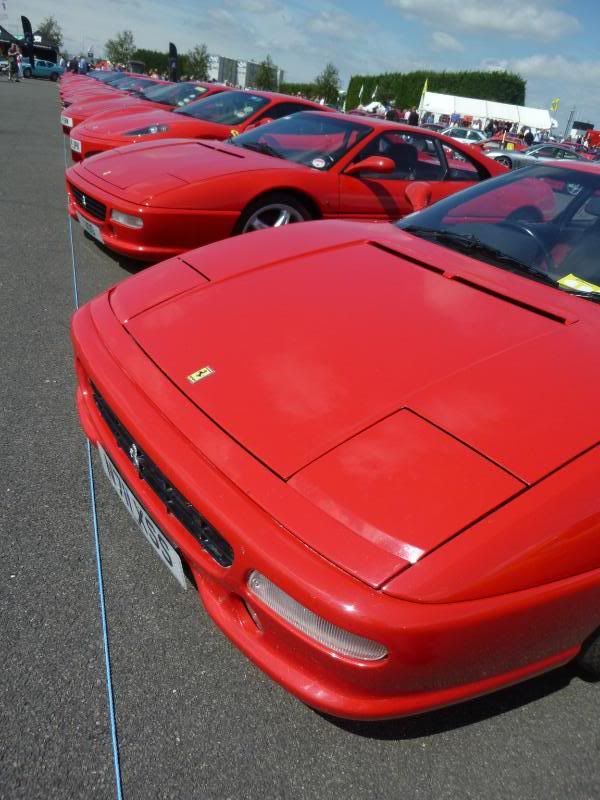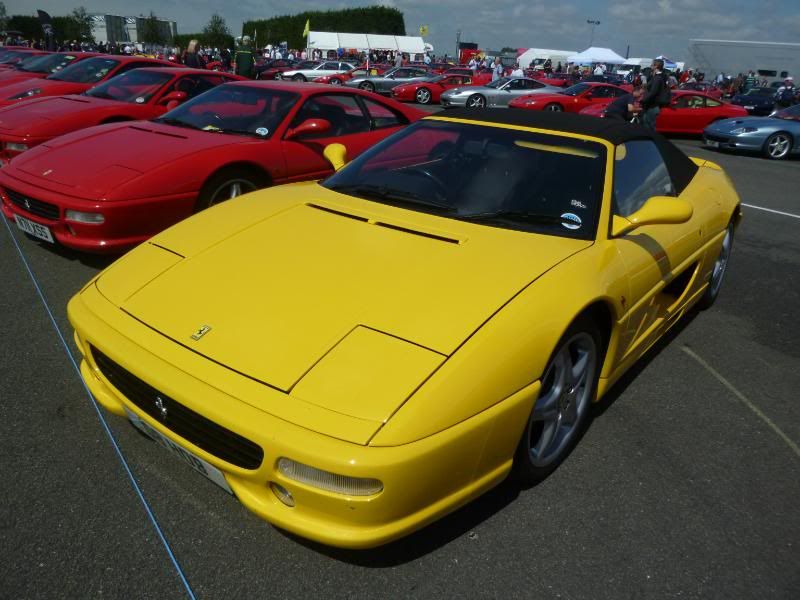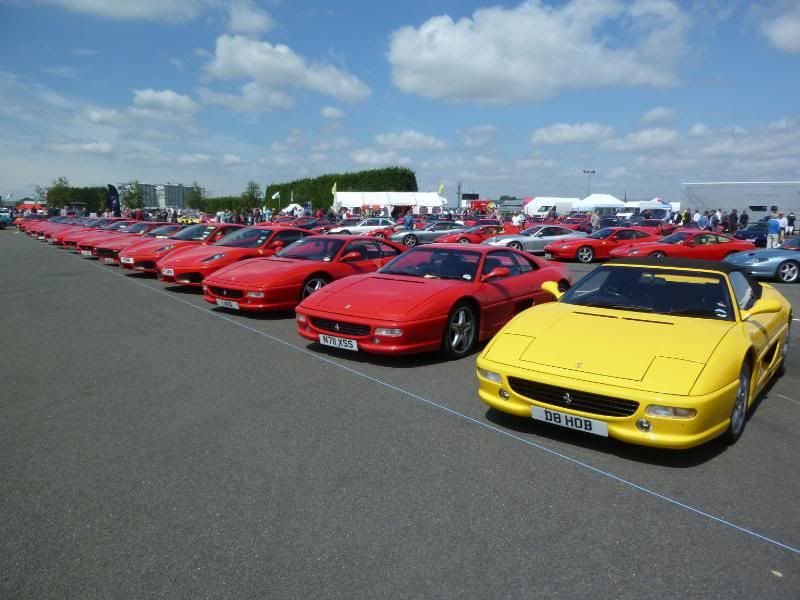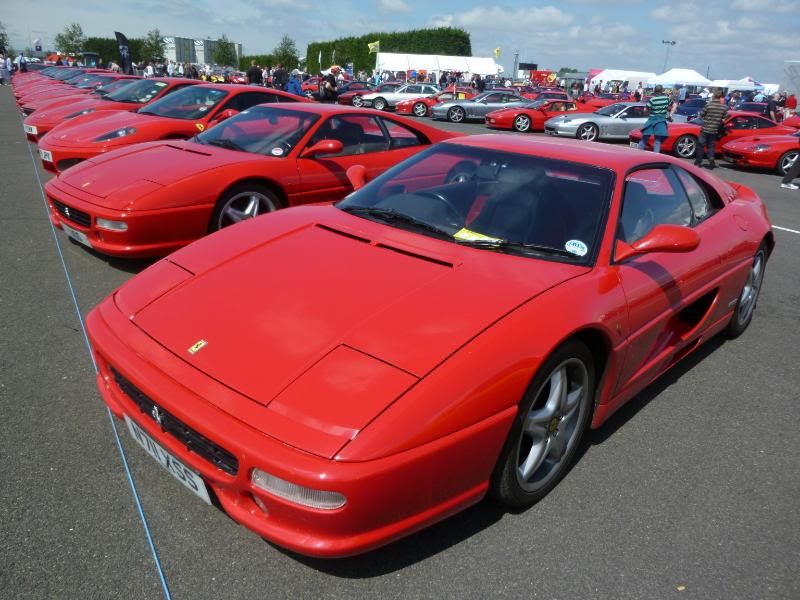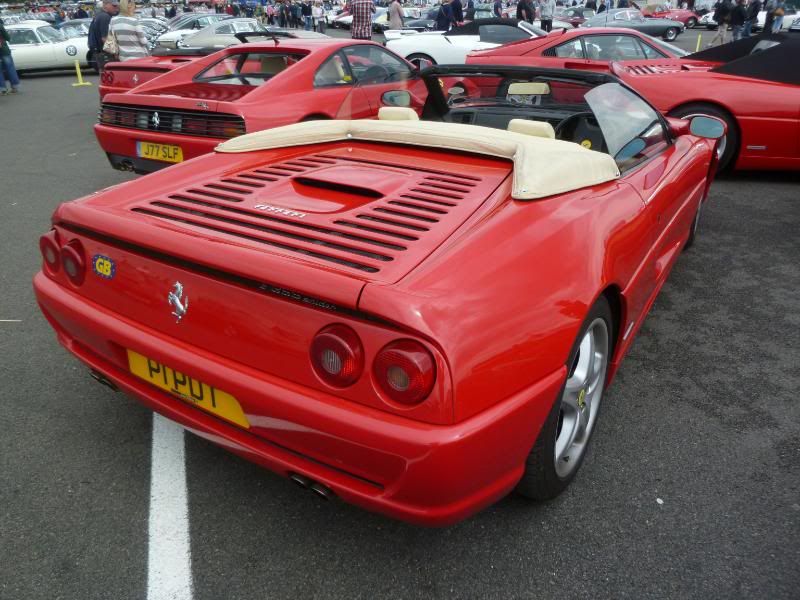 Mondial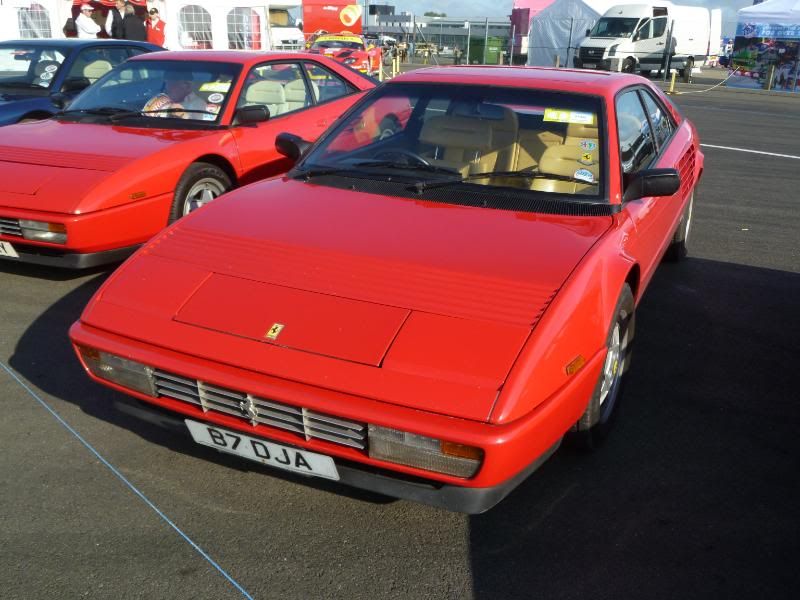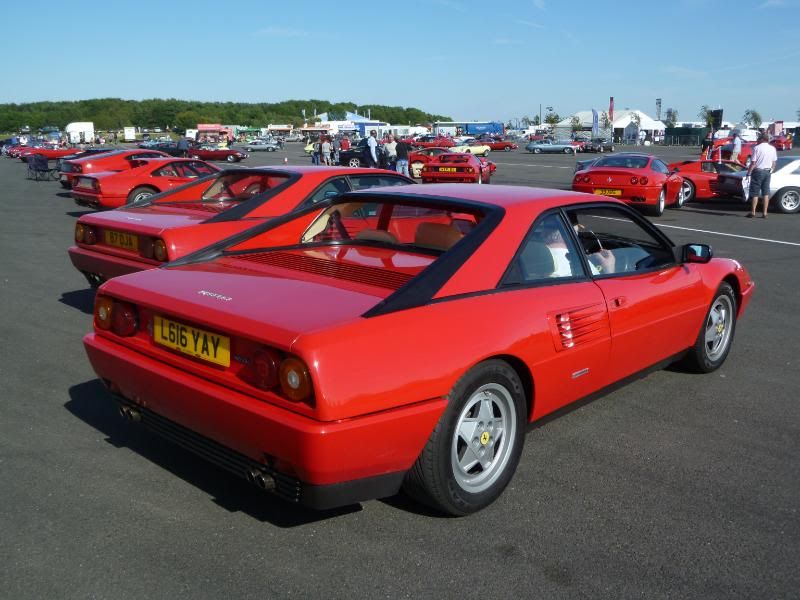 BB512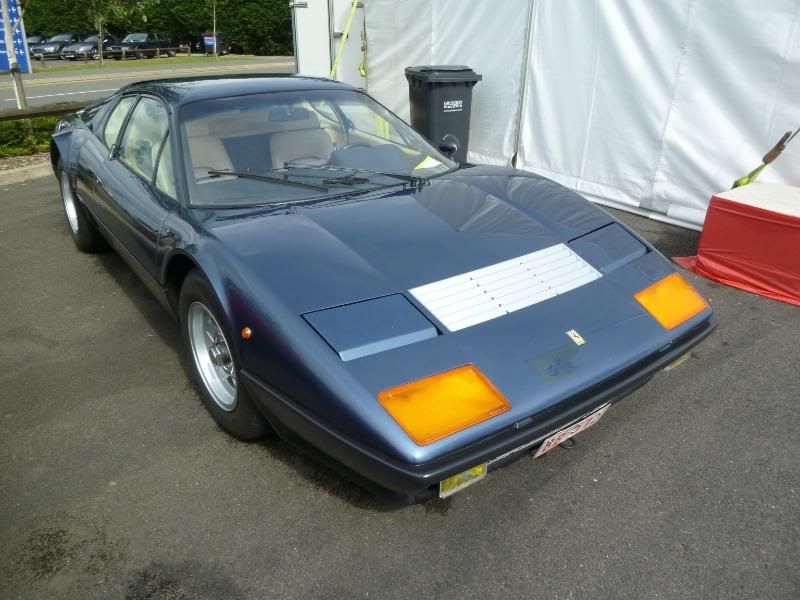 400i

550/575M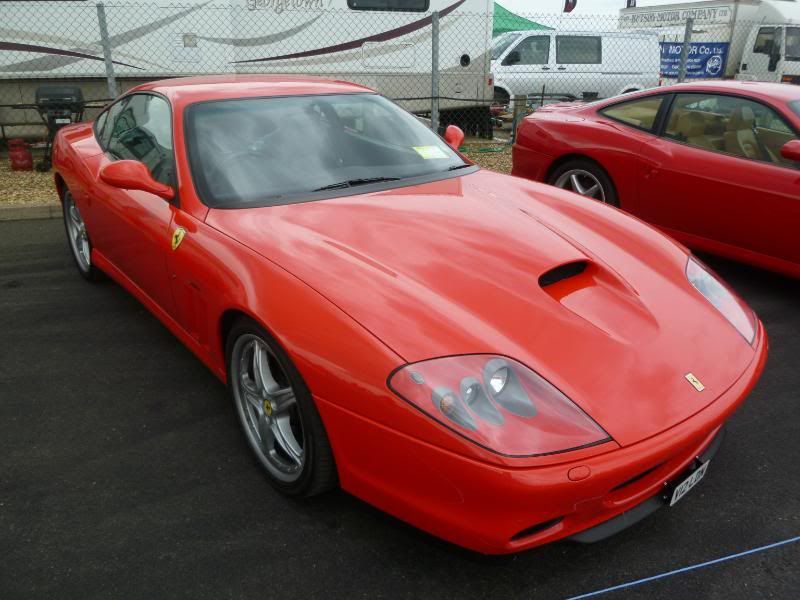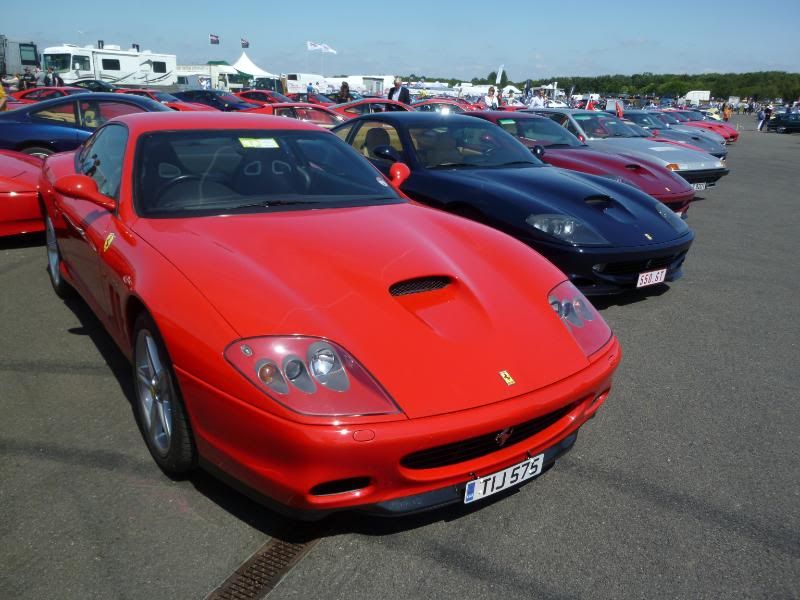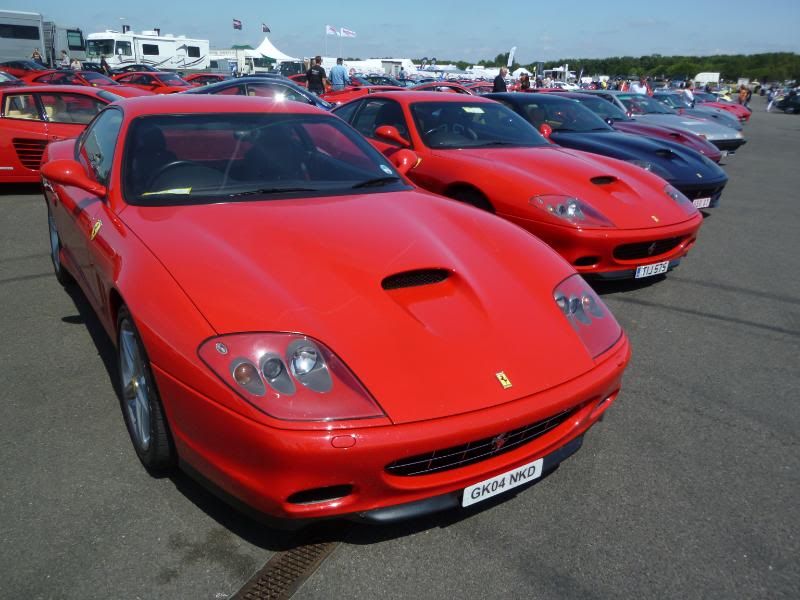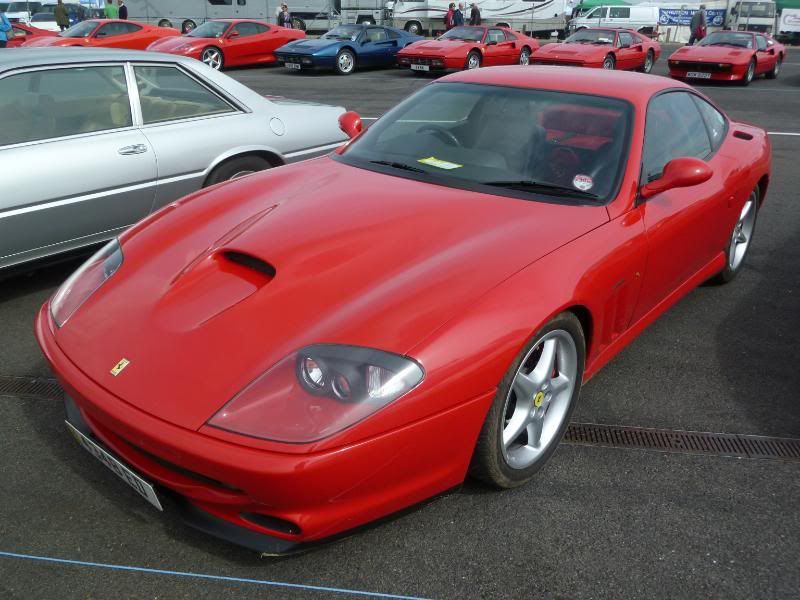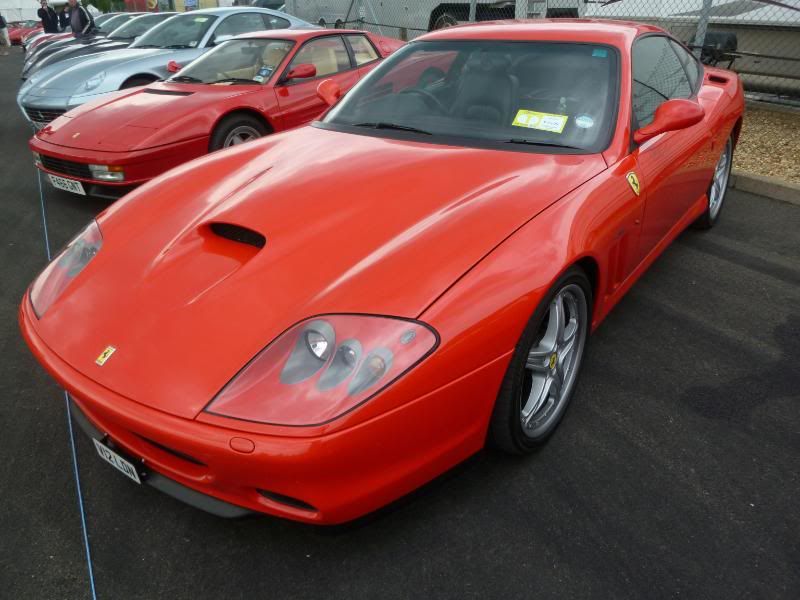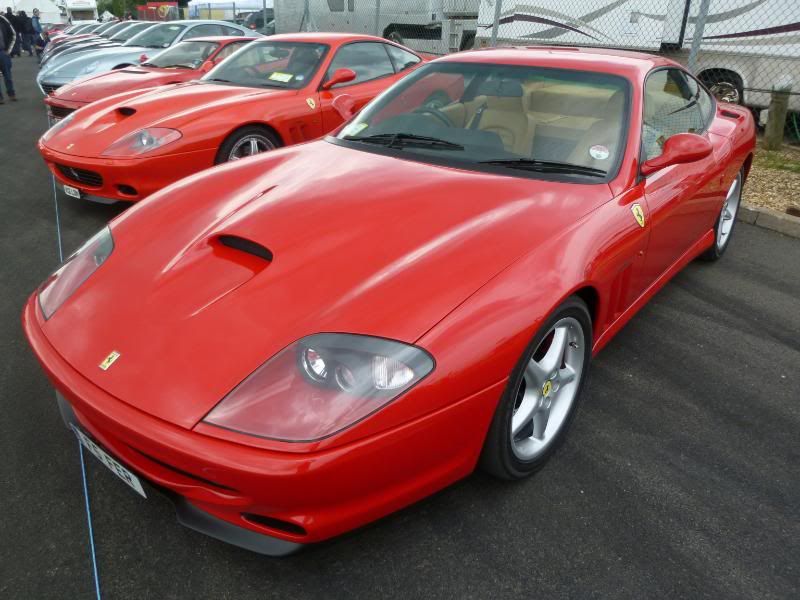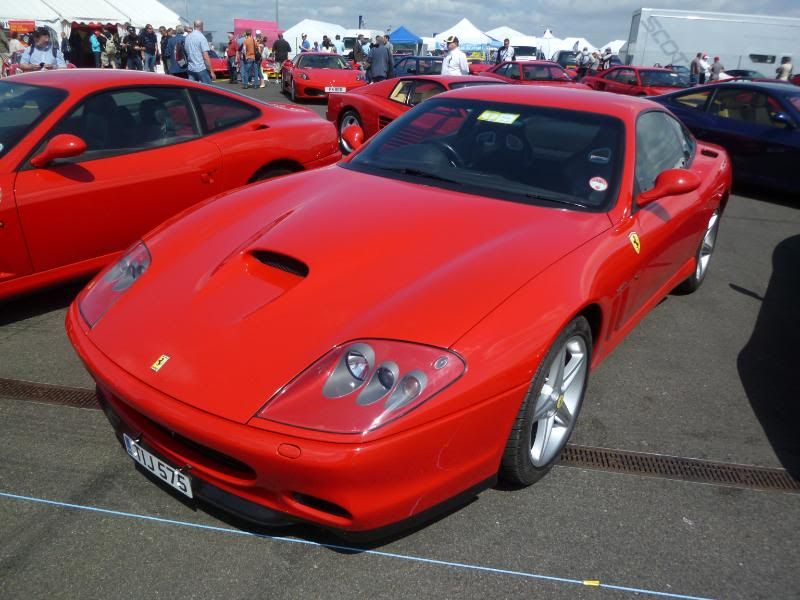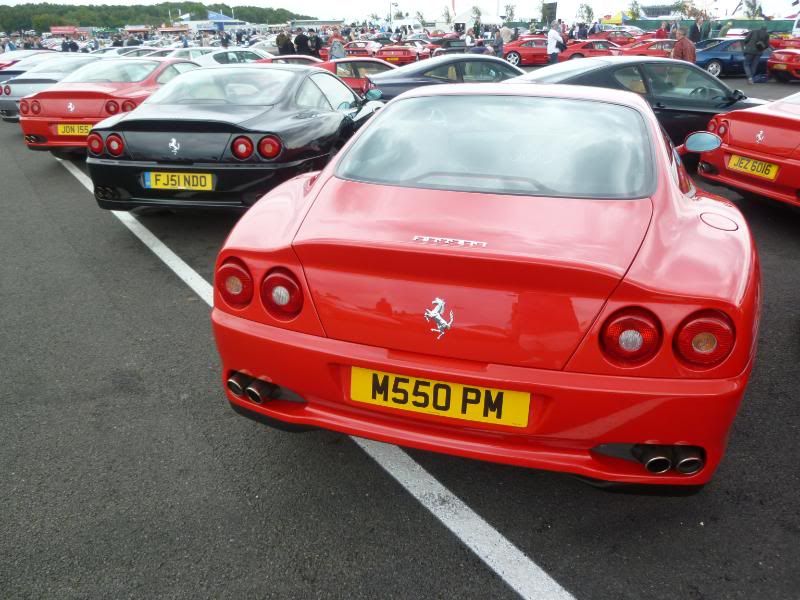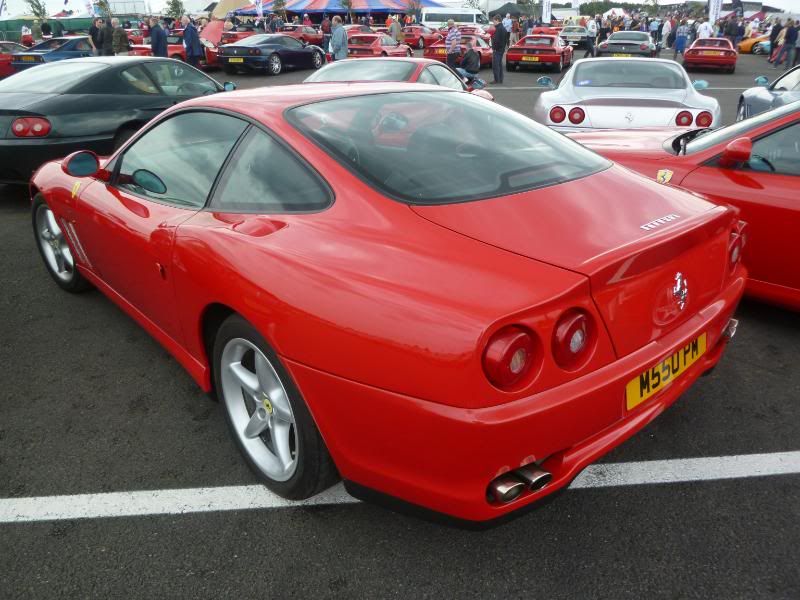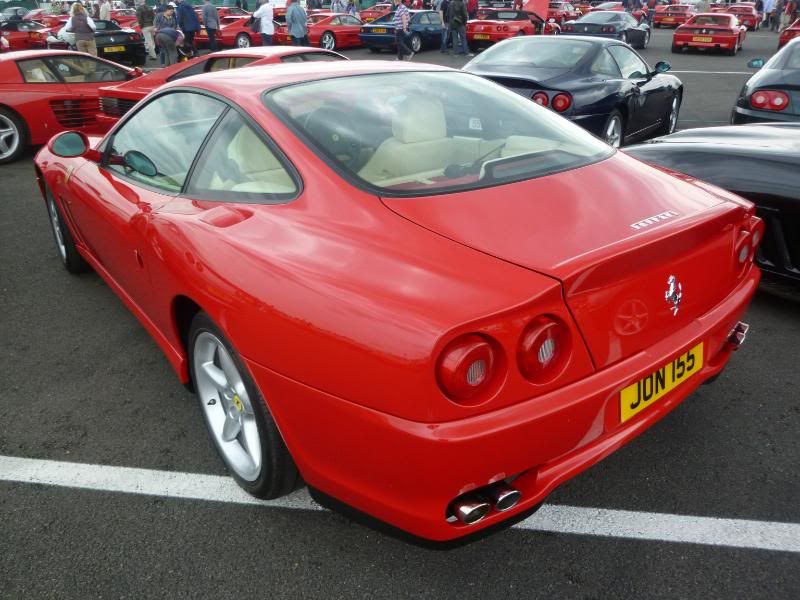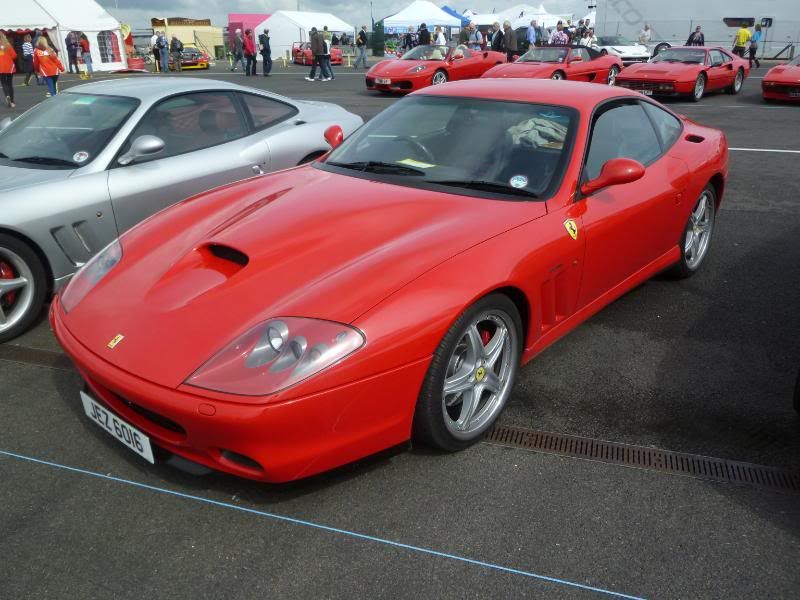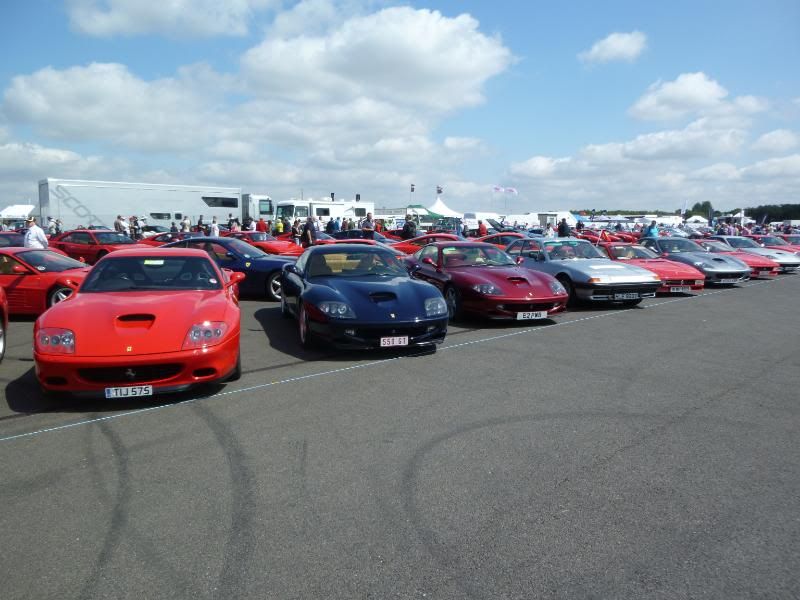 456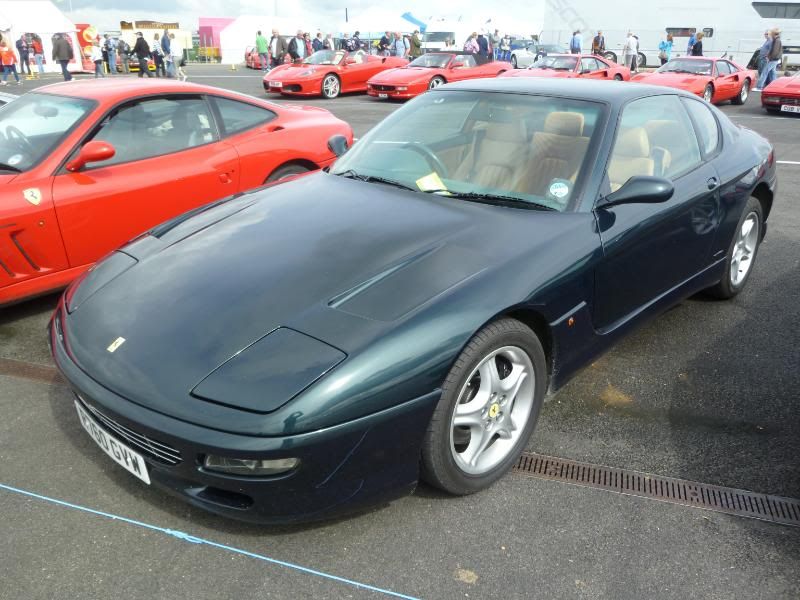 Testarossa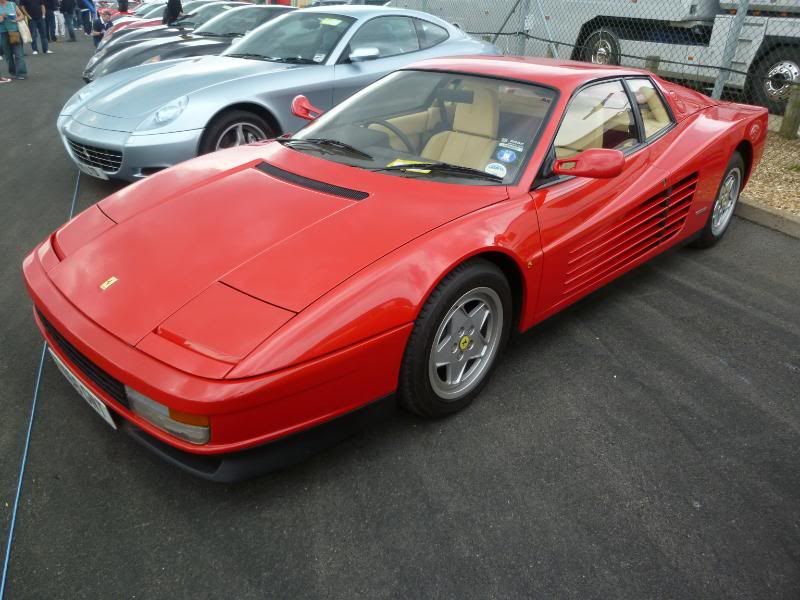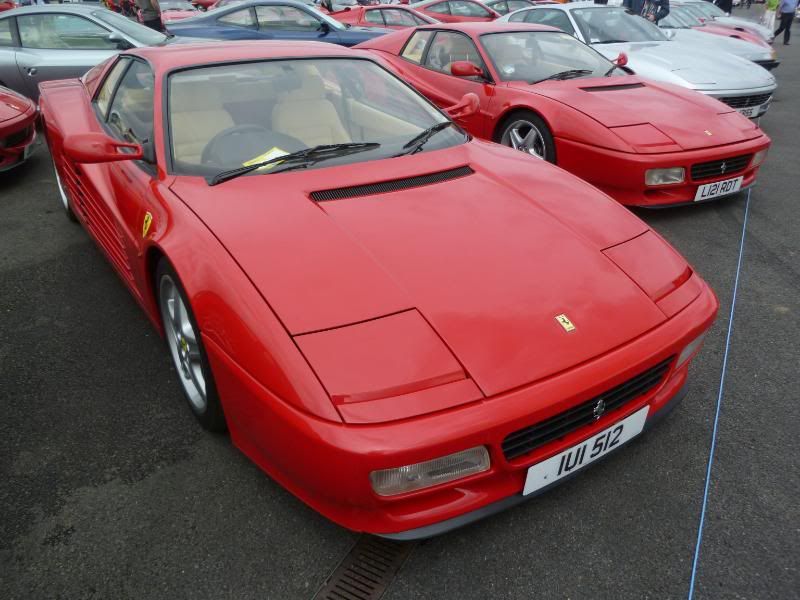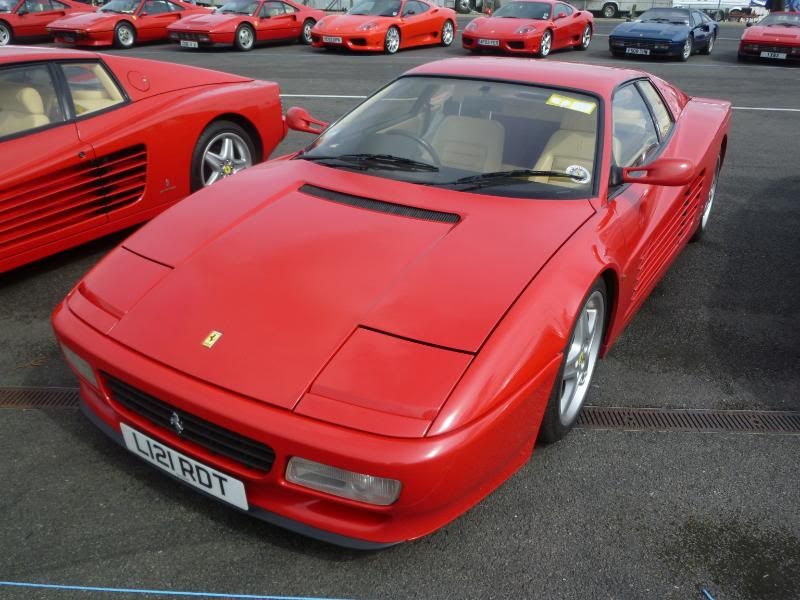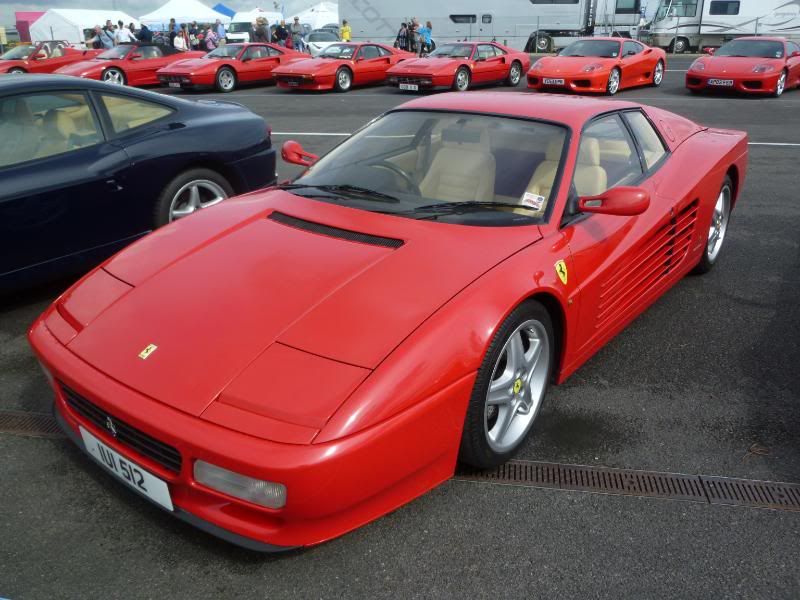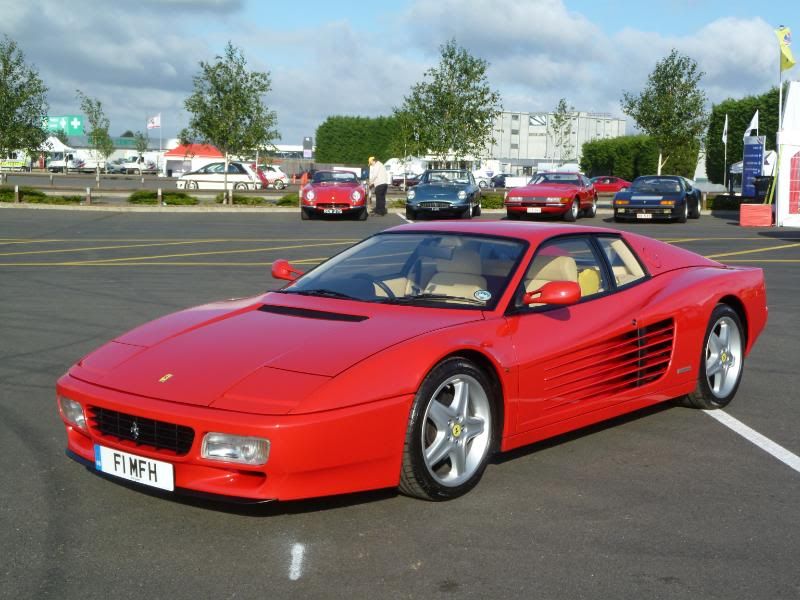 360/430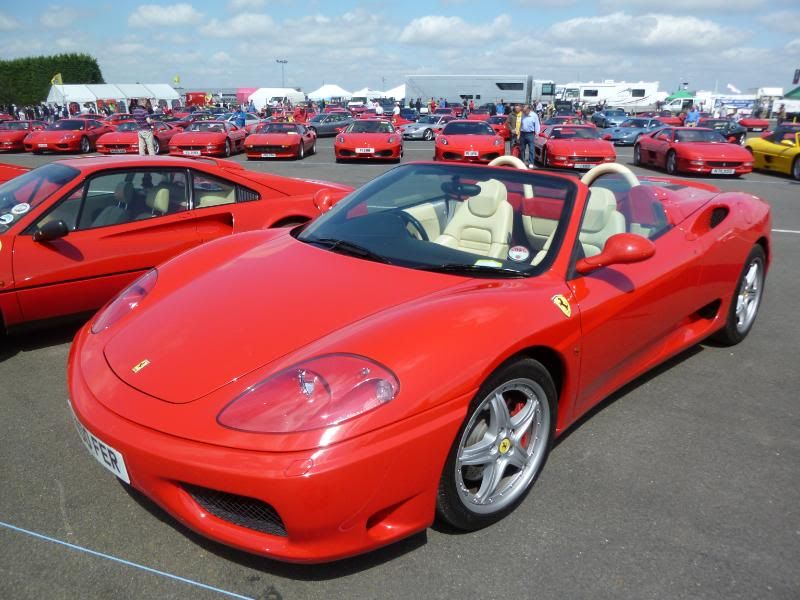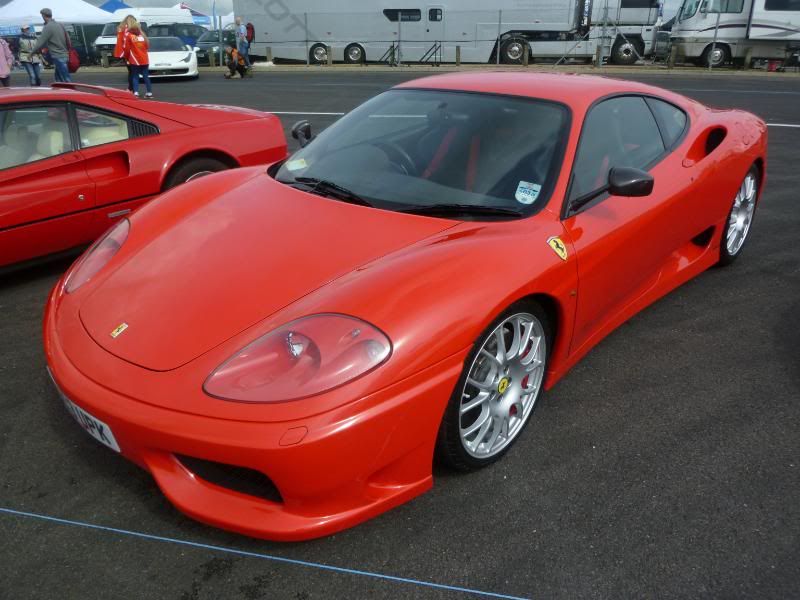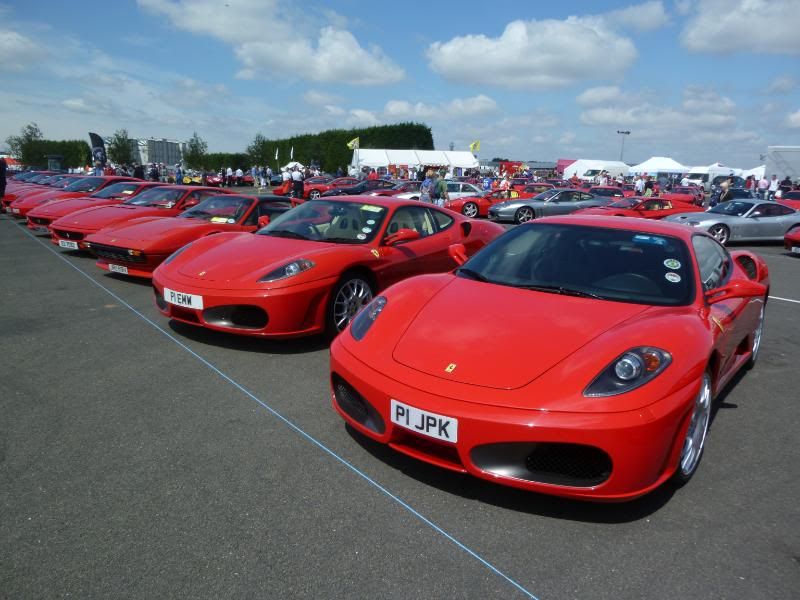 612 Scaglietti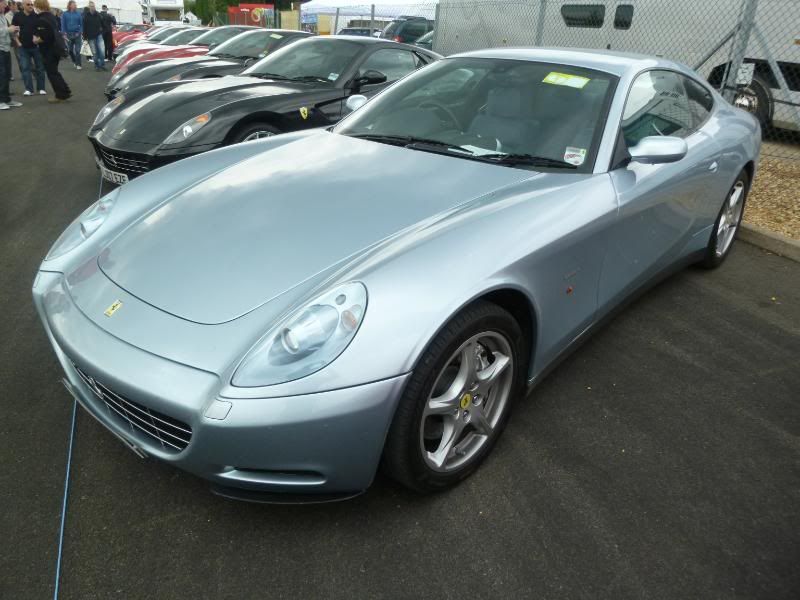 FIAT
There were not many Fiats at the event, but there was a lovely Nuova 500 on one of the trade stands, and an X1/9 had sneaked in at the end of a row of Lancias, and a 124 Spider was parked up by the ACs.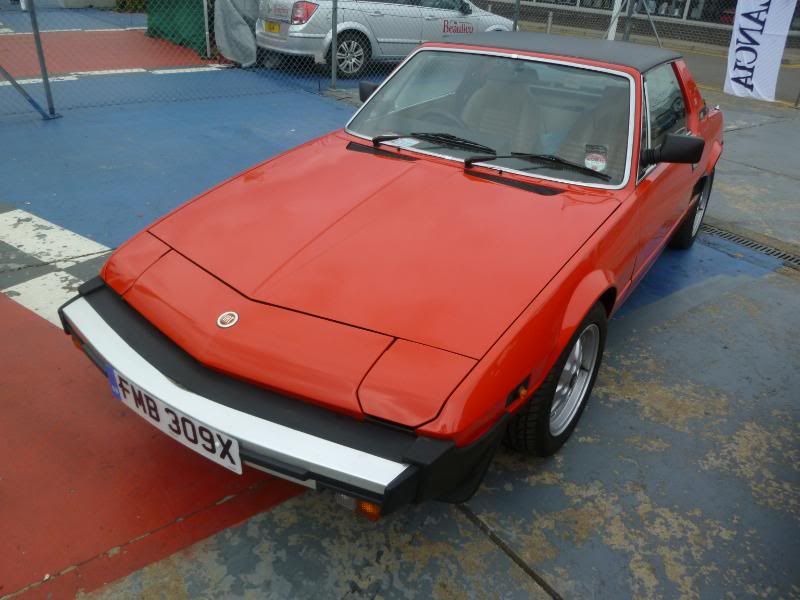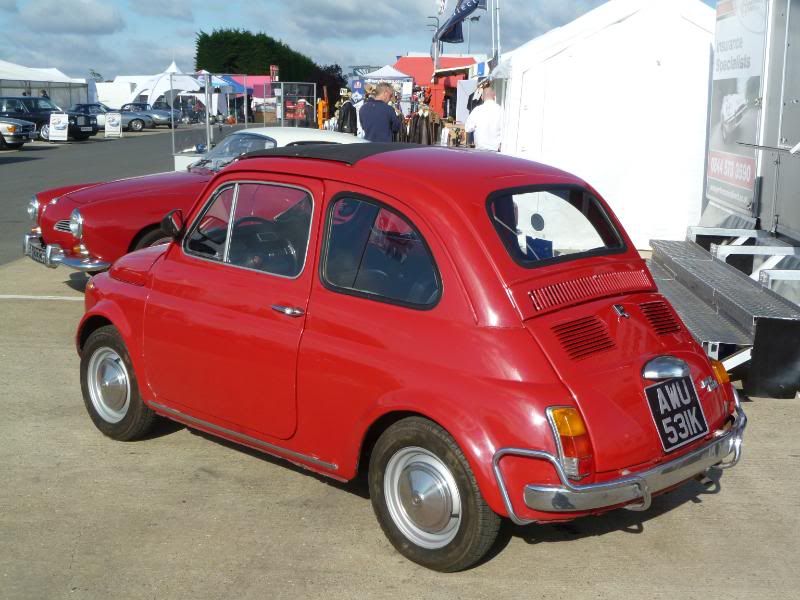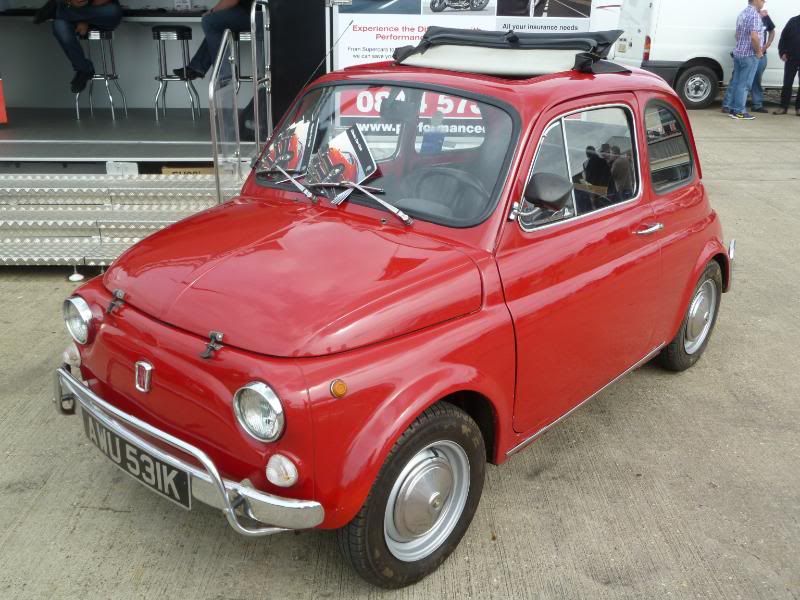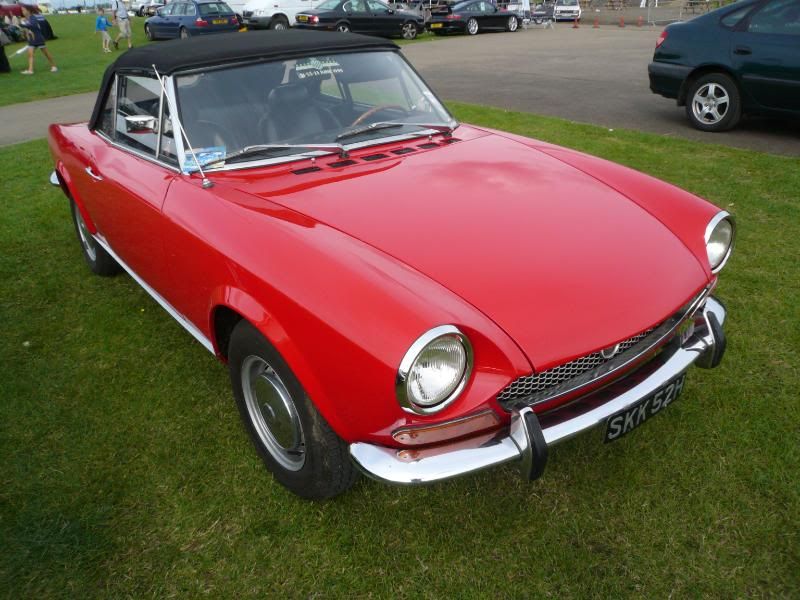 FORD
Not many Fords on show. This is a 1953 Prefect
Mark 2 Cortina in 1600E guise, along with a Mark 1 Consul Cortina.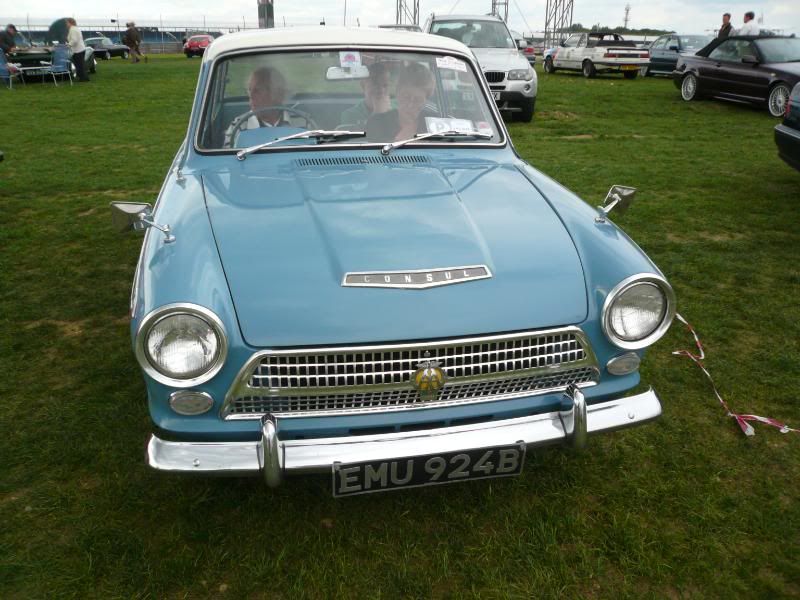 Escort RS2000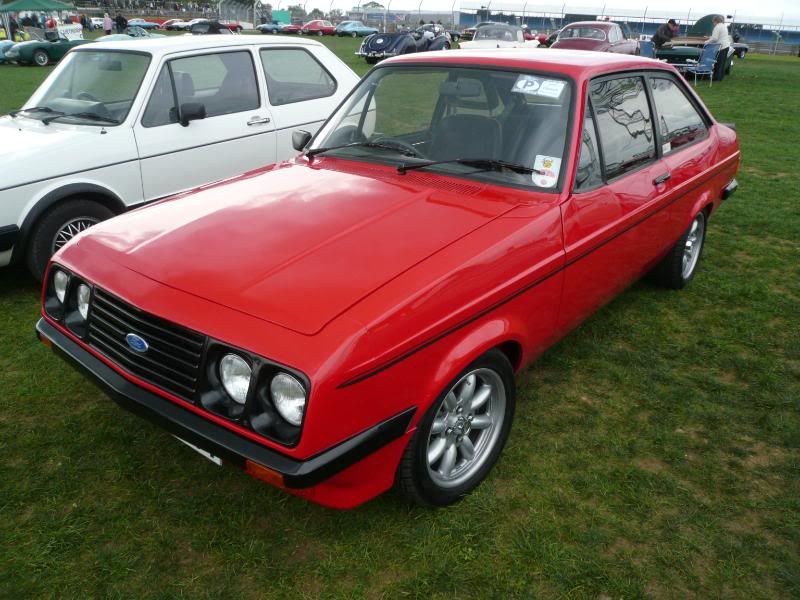 There were a few Mustangs in attendance, including both early cars and some of the current shape models. This last one was not quite a standard factory spec car.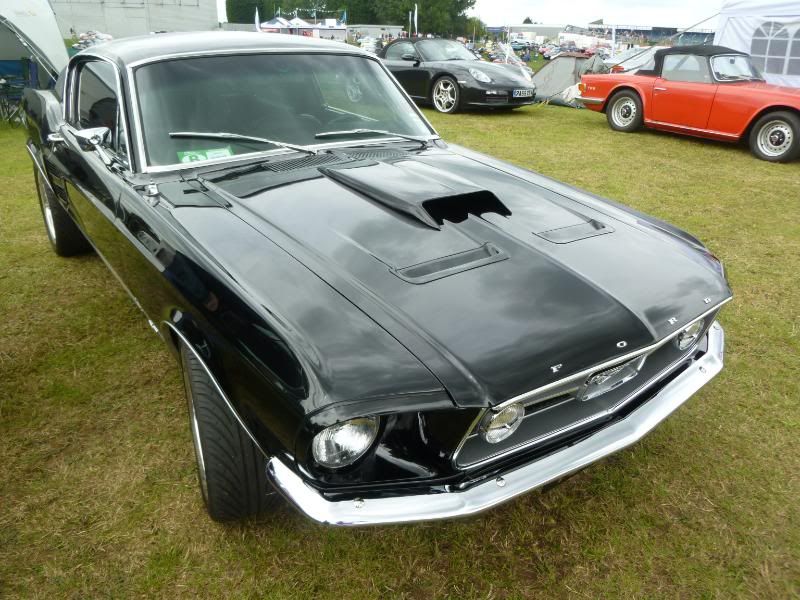 Also from the US was this Falcon, a car that Ford marketed as a "compact" in the mid 1960s.
The GT40 Owners Club had a variety of cars, some of which were well executed kit car recreations of this famous Ford.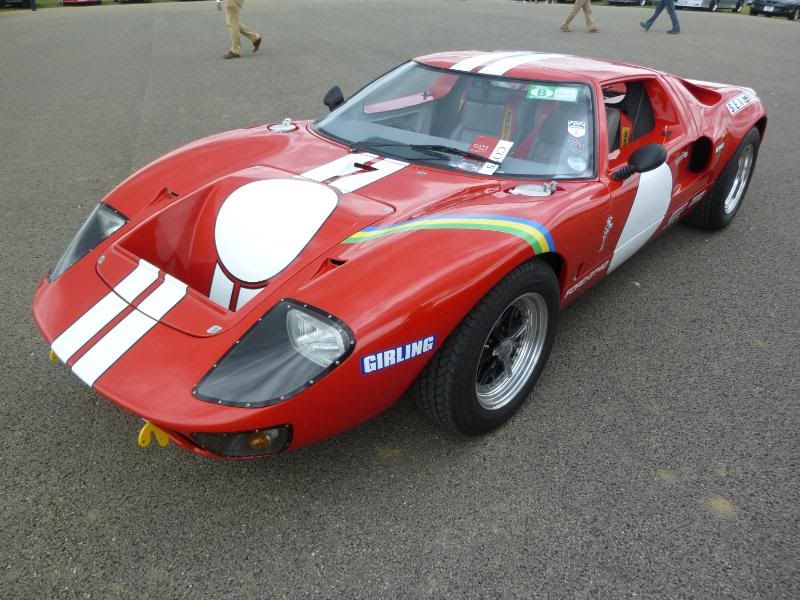 FRAZER-NASH
1954 Le Mans Coupe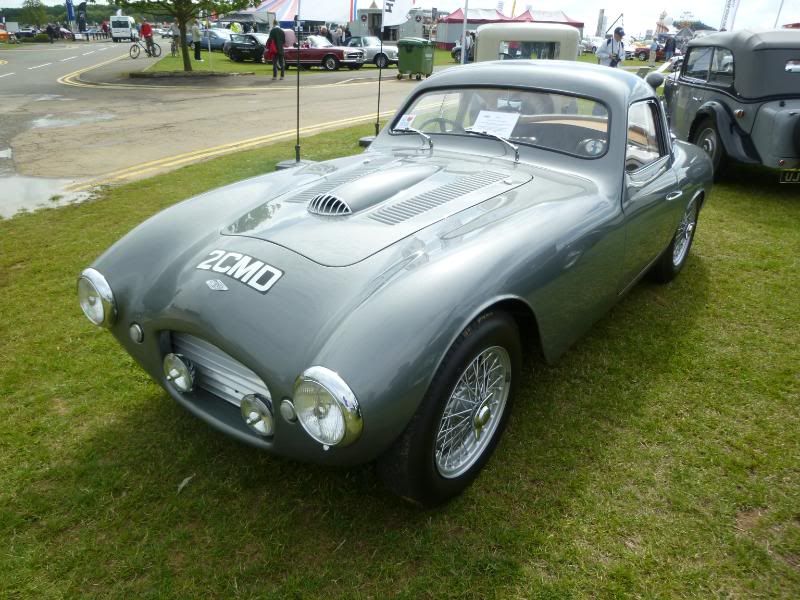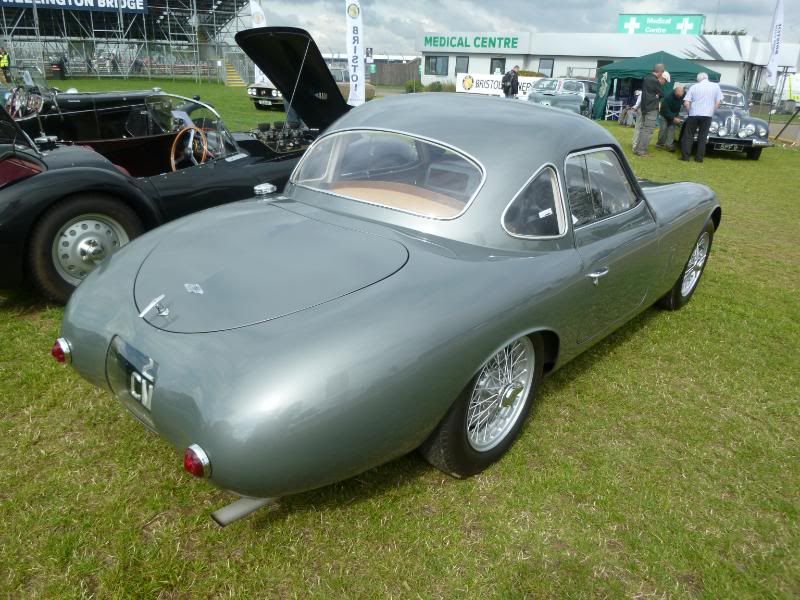 GILBERN
A GT, an example of the first car made by this Welsh marque.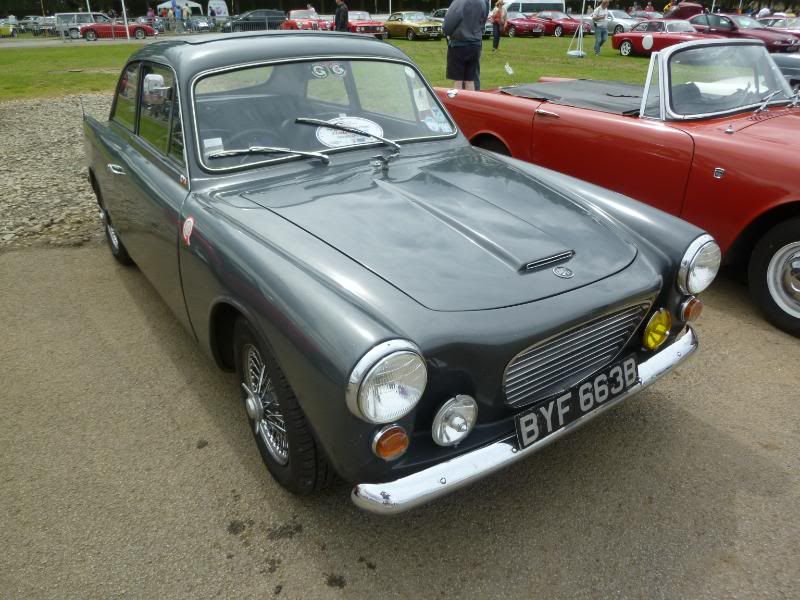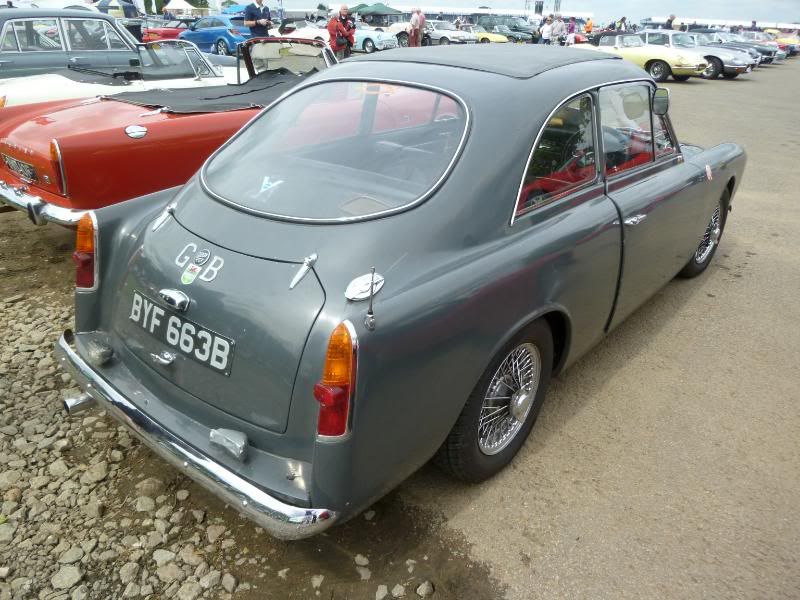 GINETTA
A small showing for this still extant marque. A couple of G4s, of G33s and a rare G32 Convertible were the cars on display.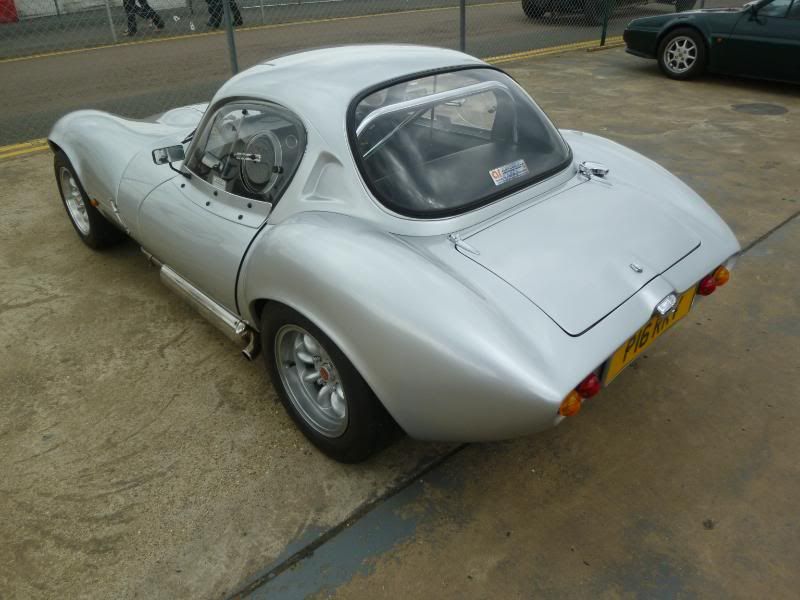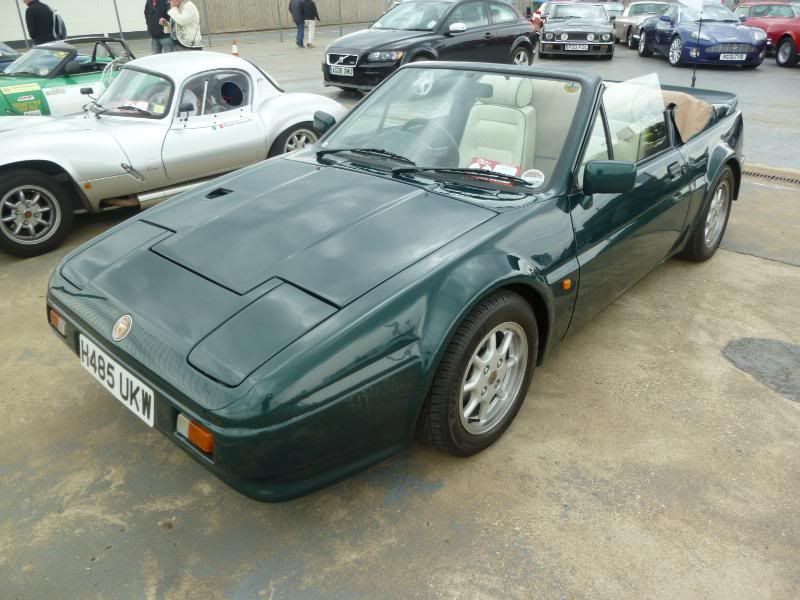 There was also a G10, the MGB based machine that sported V8 power. This is not the same car as the one that I saw at Ace Cafe a couple of weeks ago.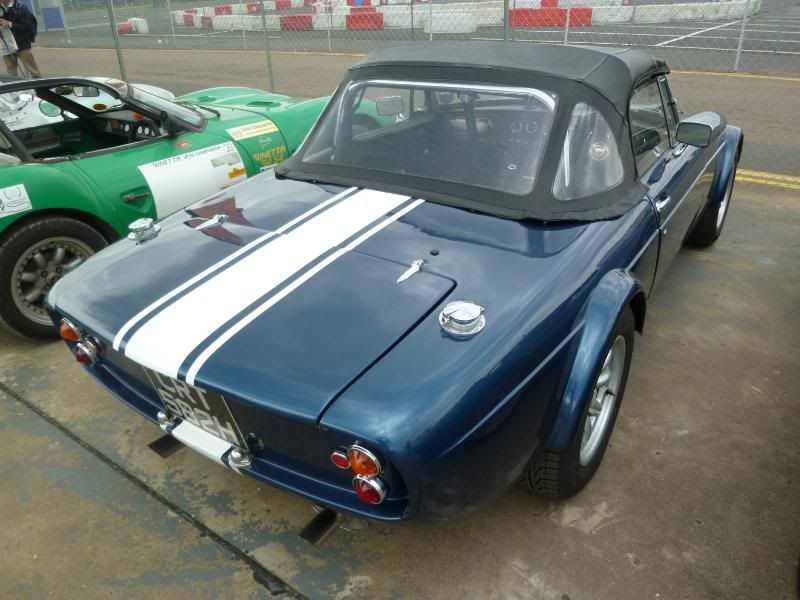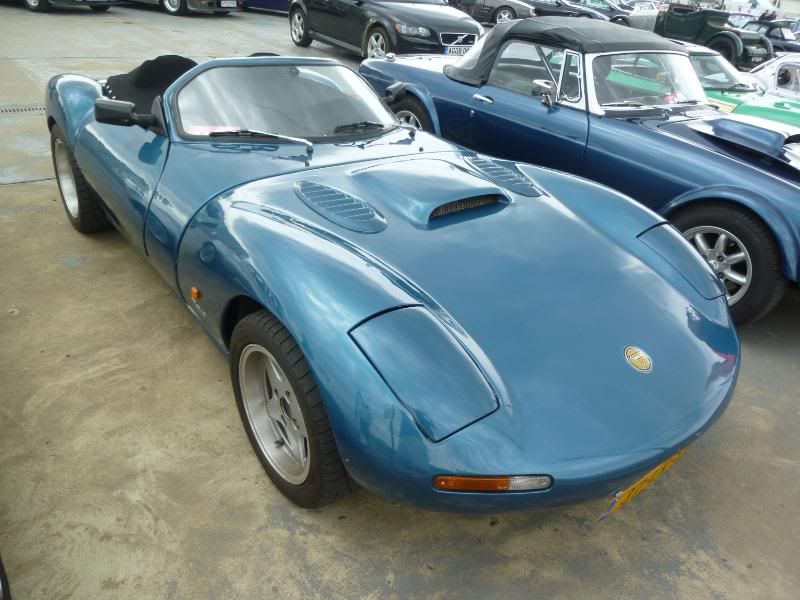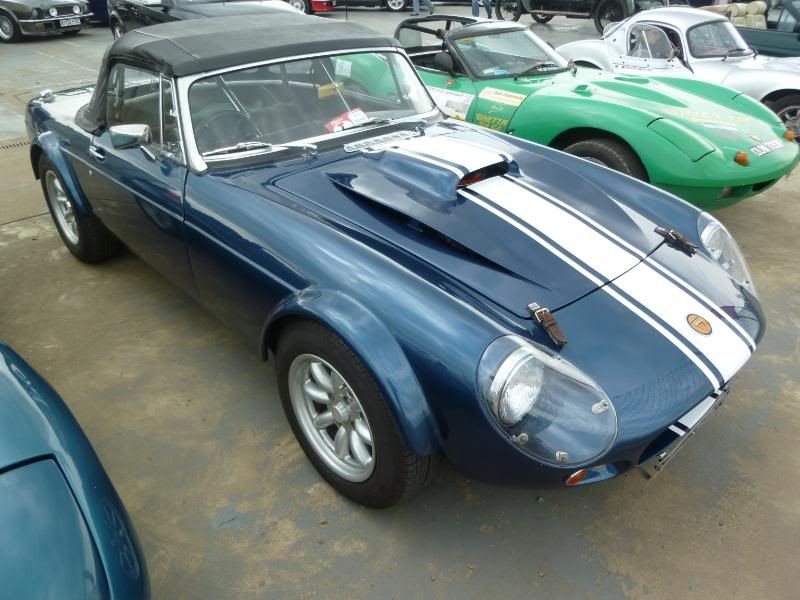 GTM
This event is about the only place where I ever see these diminutive vehicles.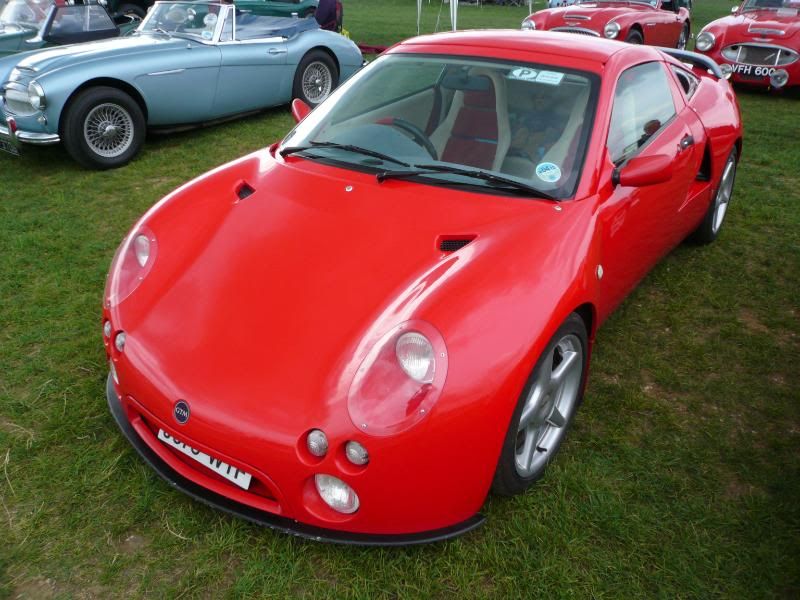 HEALEY
There was a great display of the cars that Donald Healey offered before his tie-up with Austin and the launch of the Austin-Healey 100. These were expensive cars, and the Silverstone was among the fastest vehicles available at the time. The estate body is a particularly rare car. Other cars included several Tickfords and Eliiott models.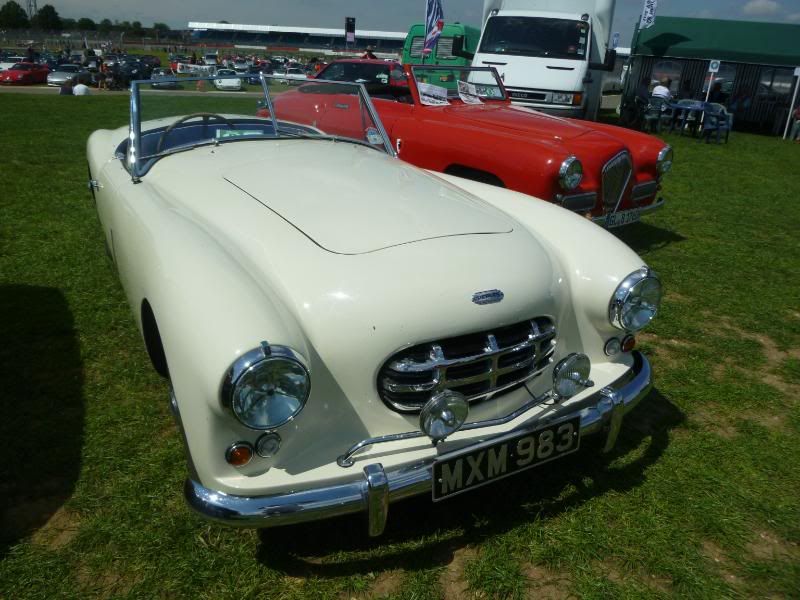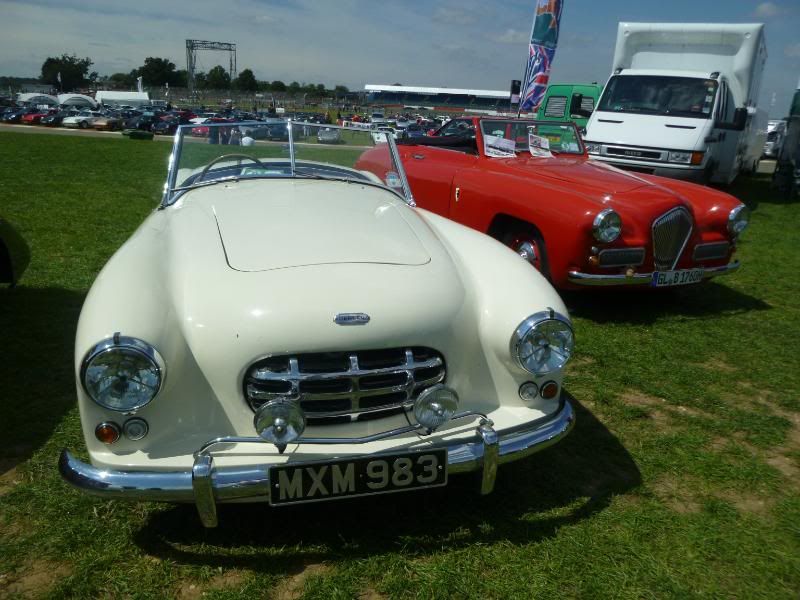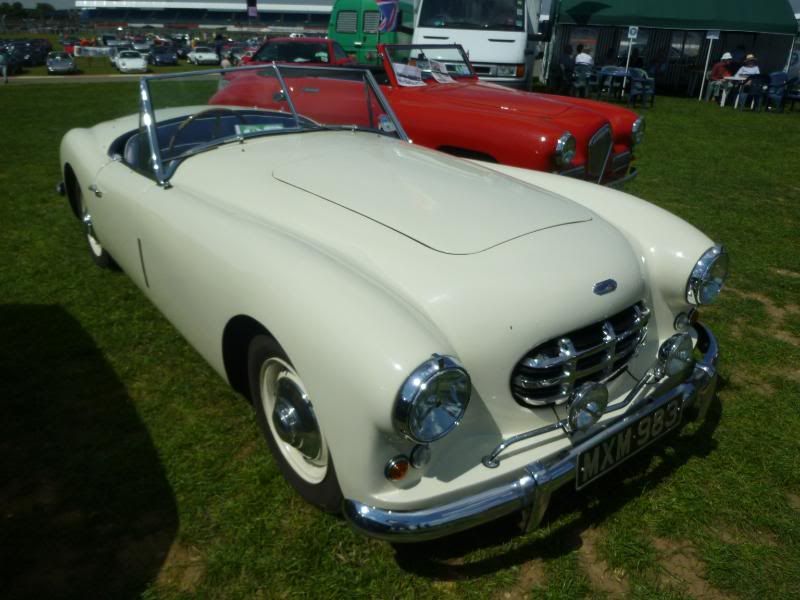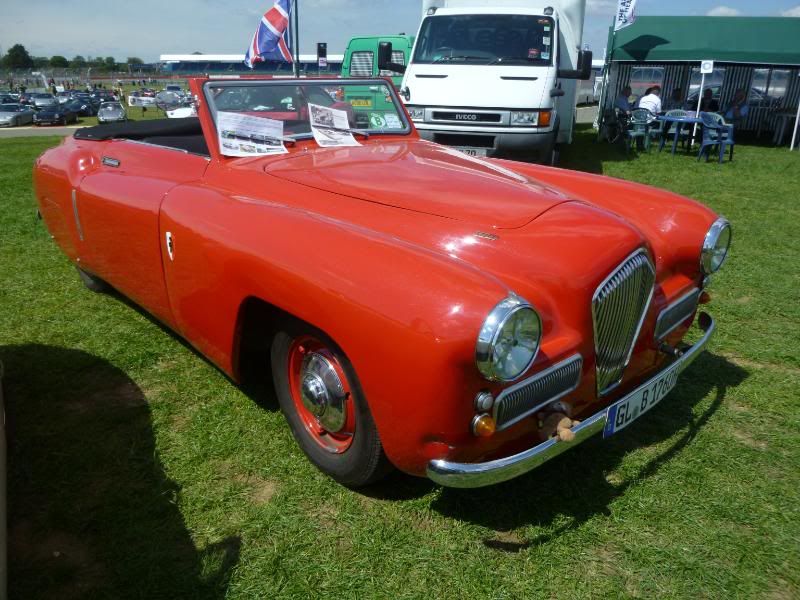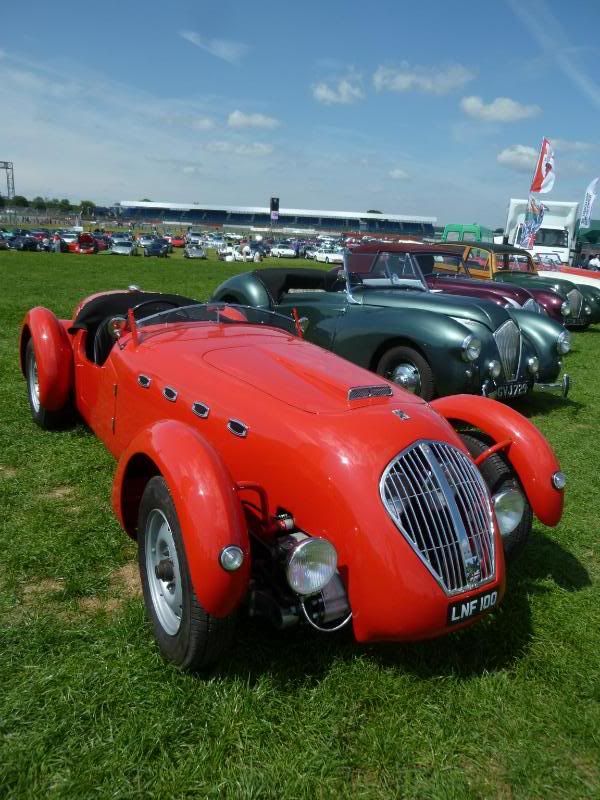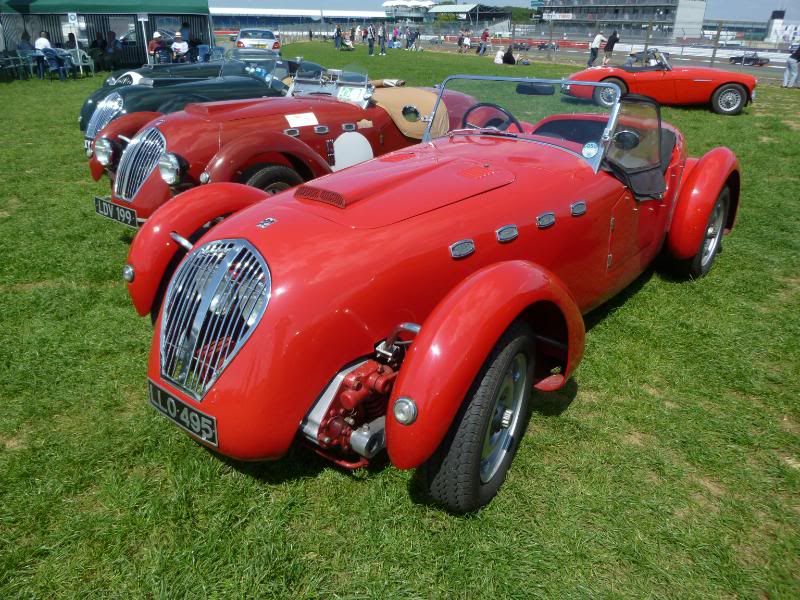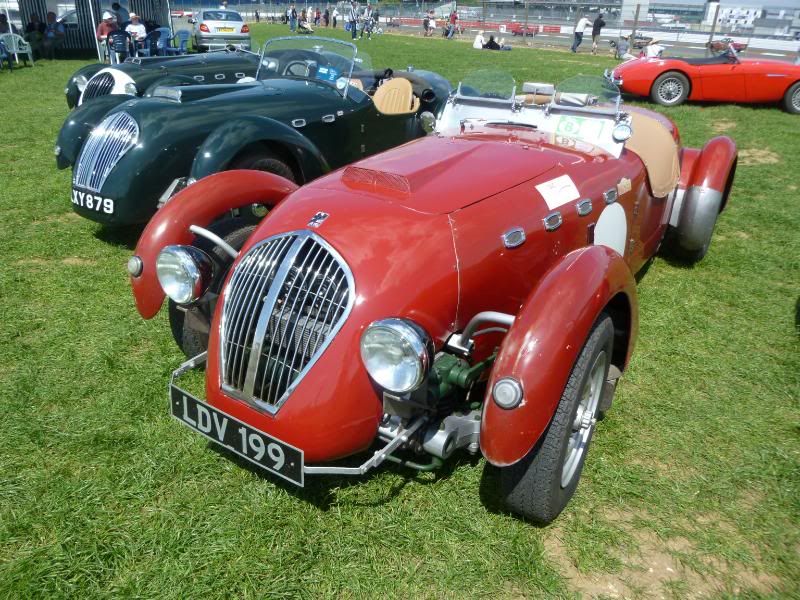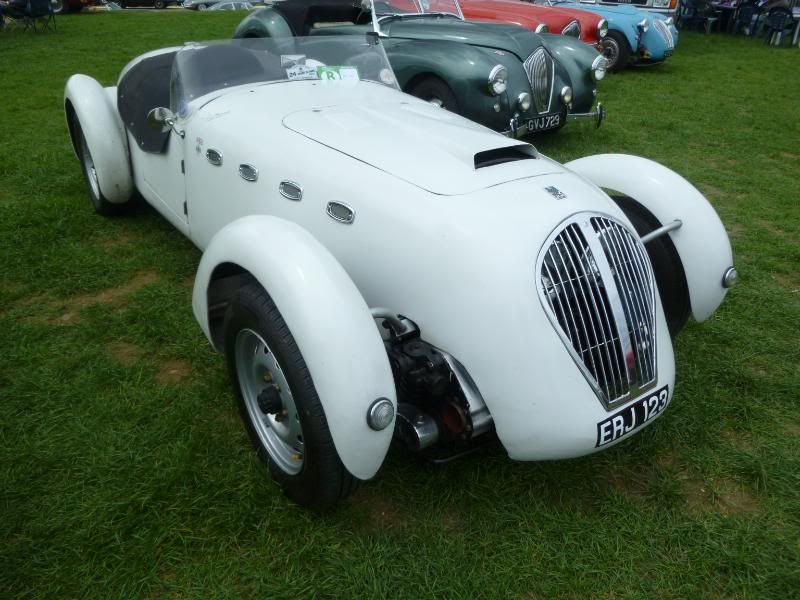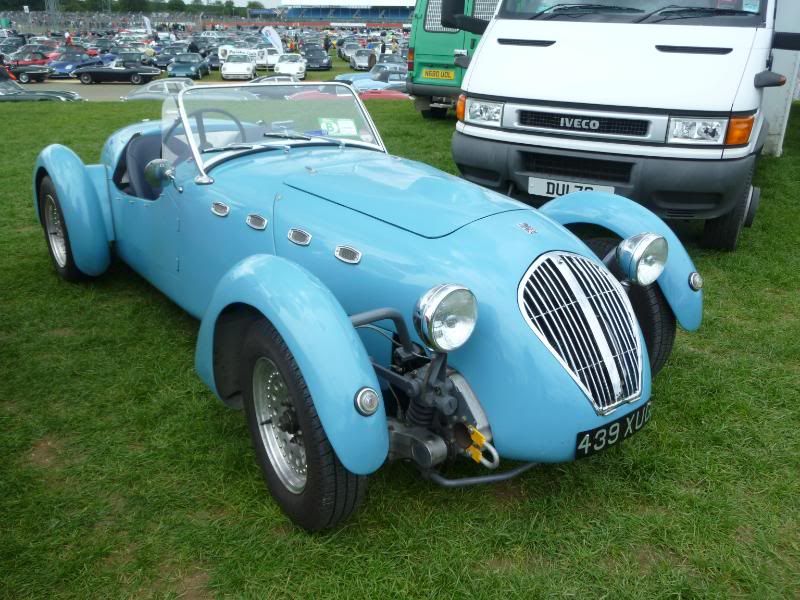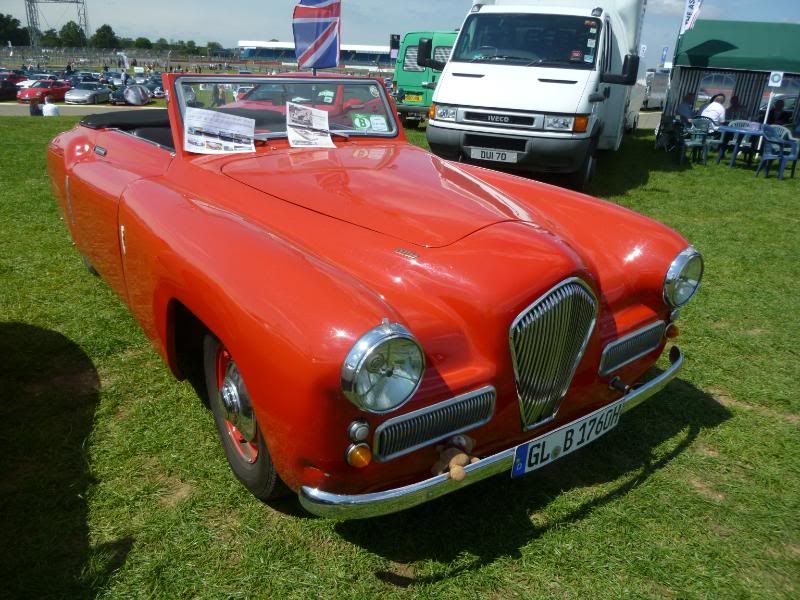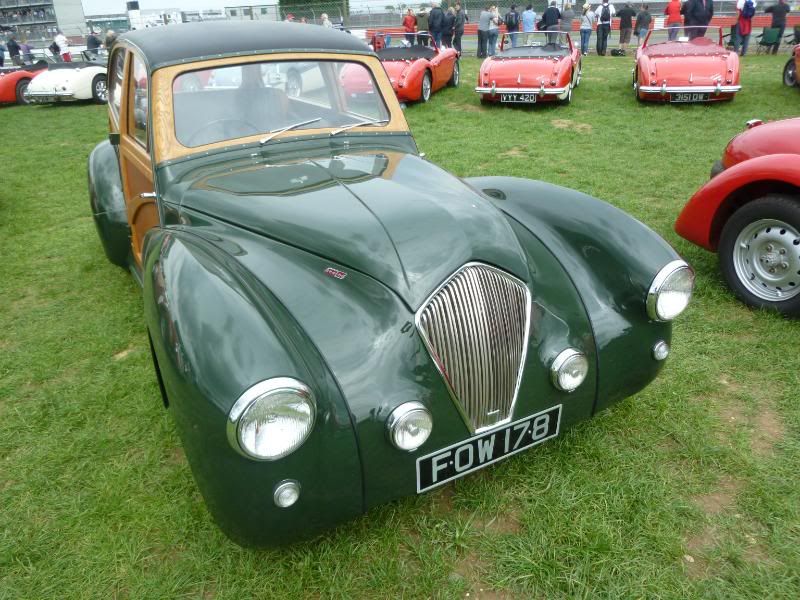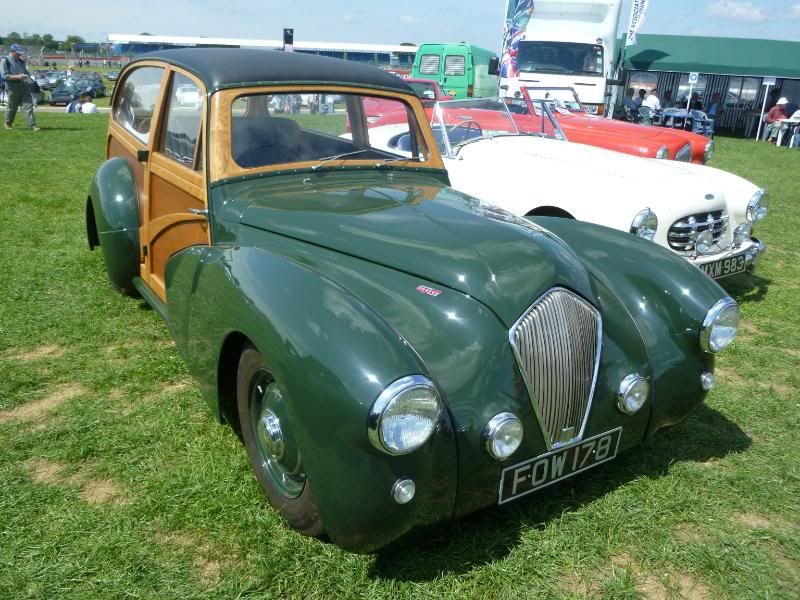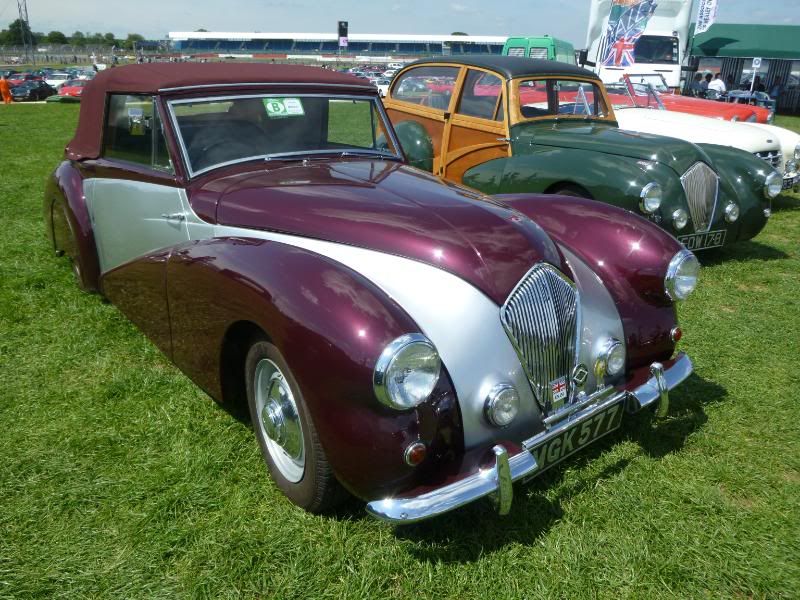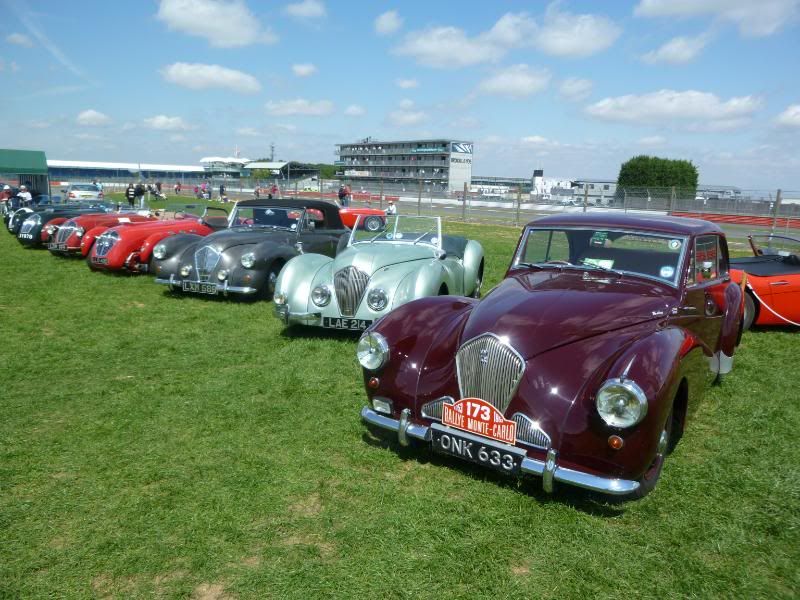 HONDA
Two separate displays. Larger of the two was for the NS-X, with an array of cars from early models to some of the last with the enclosed headlights.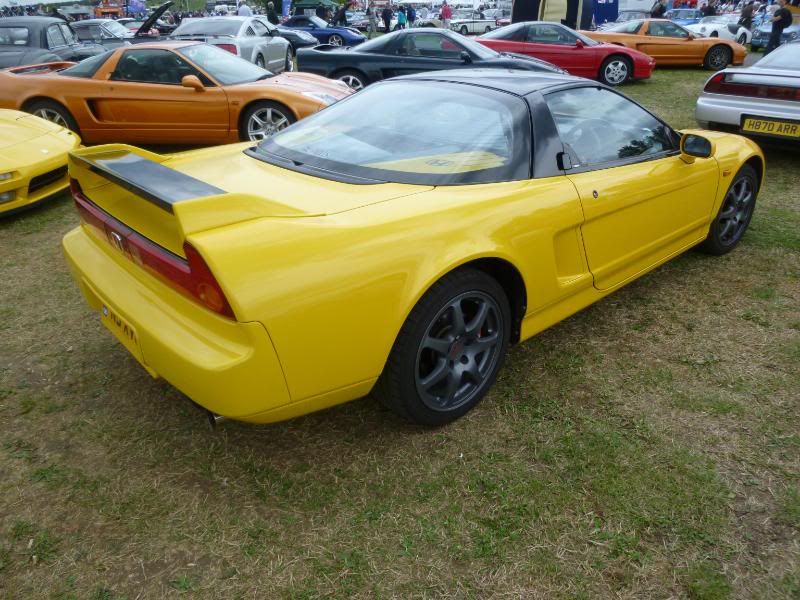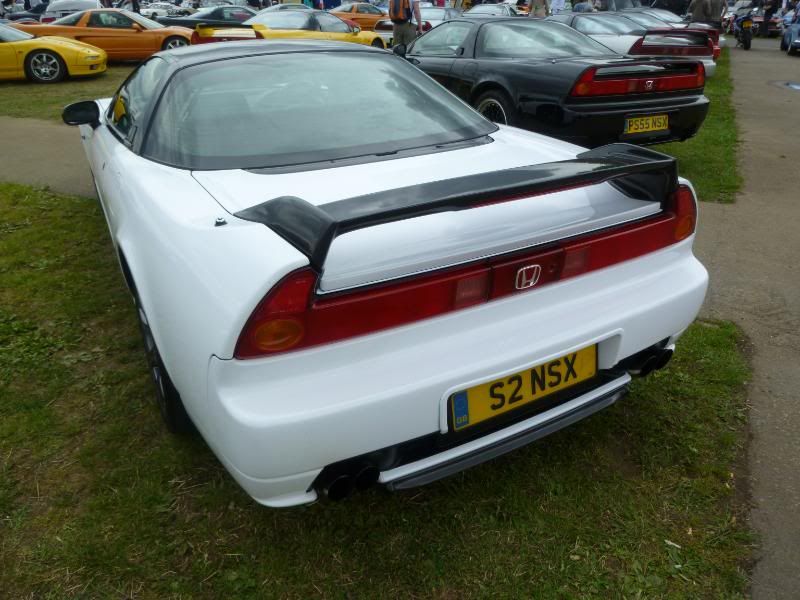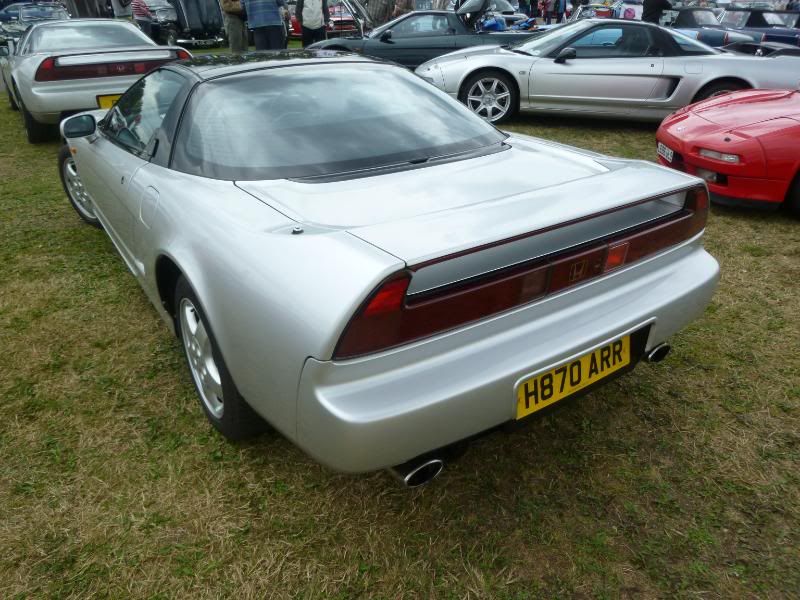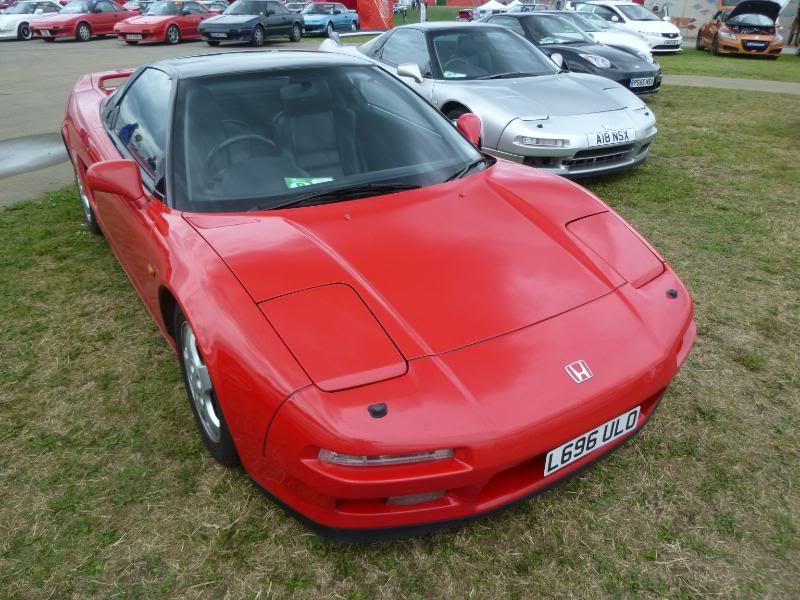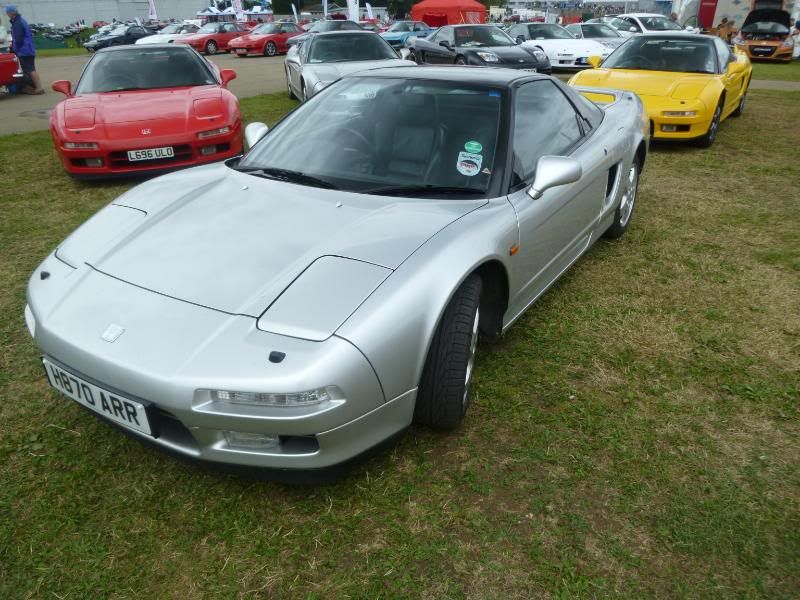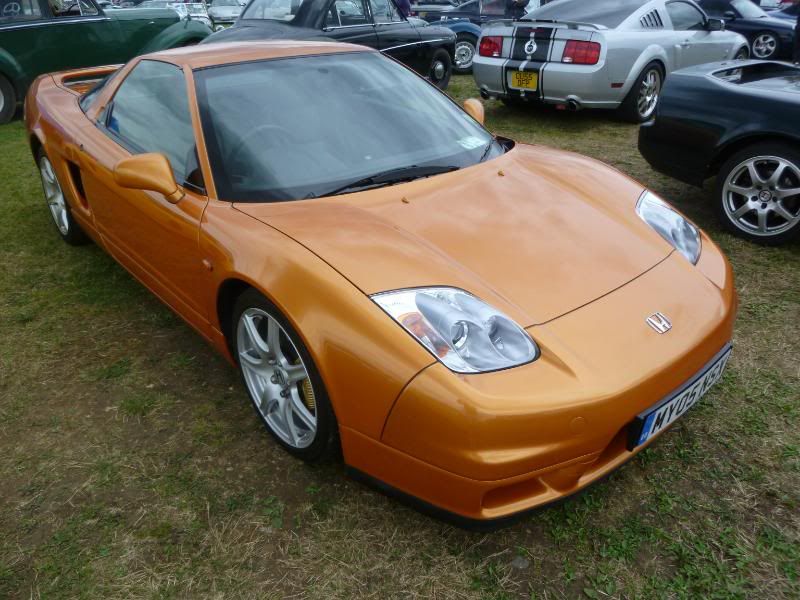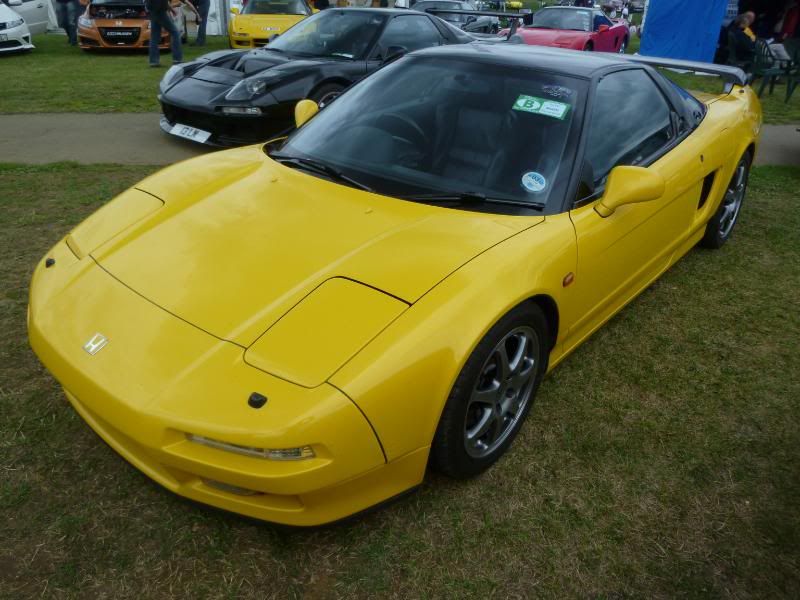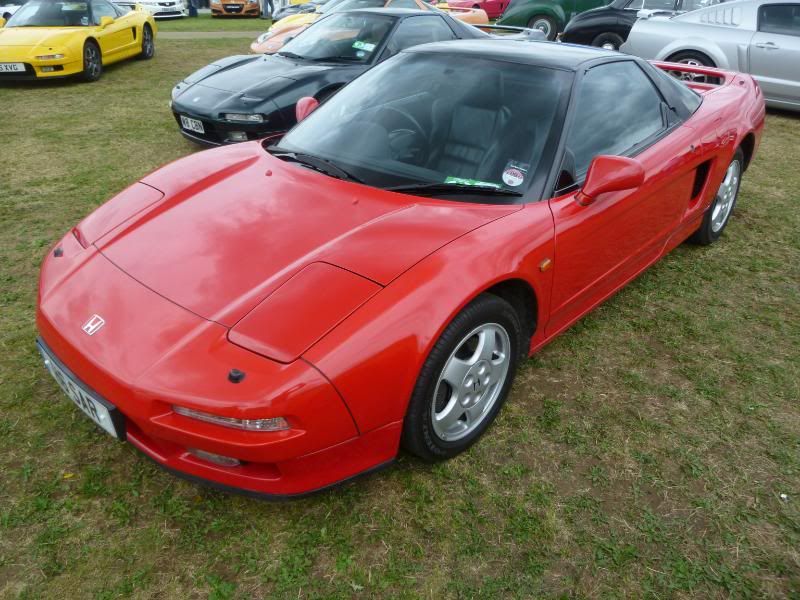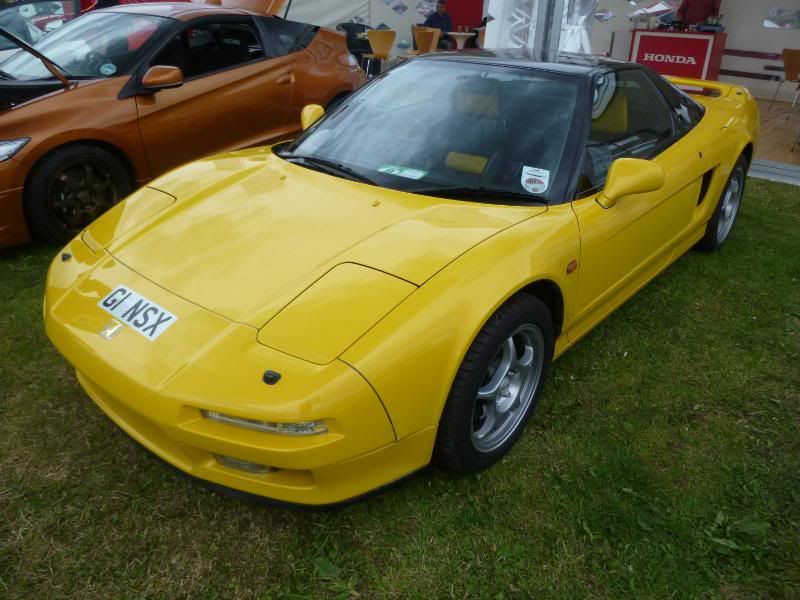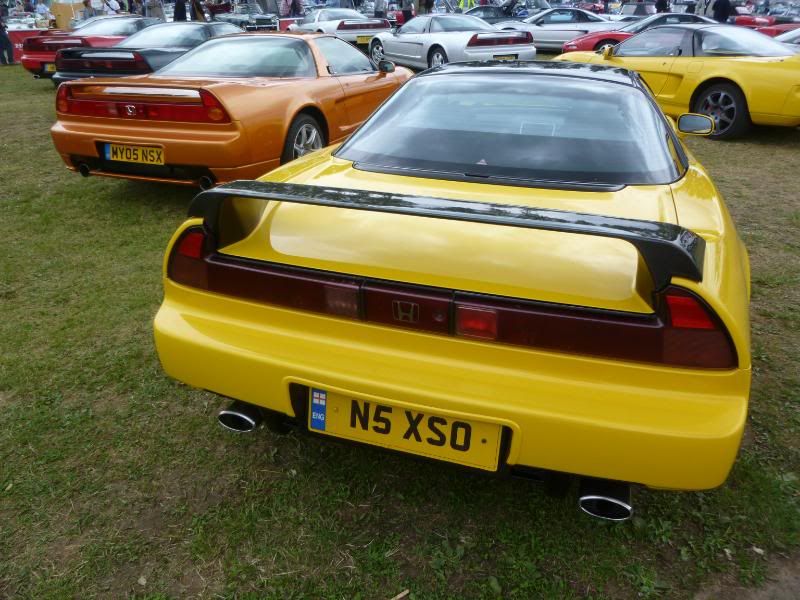 There were also plenty of S2000 and this car is surely a classic of the future.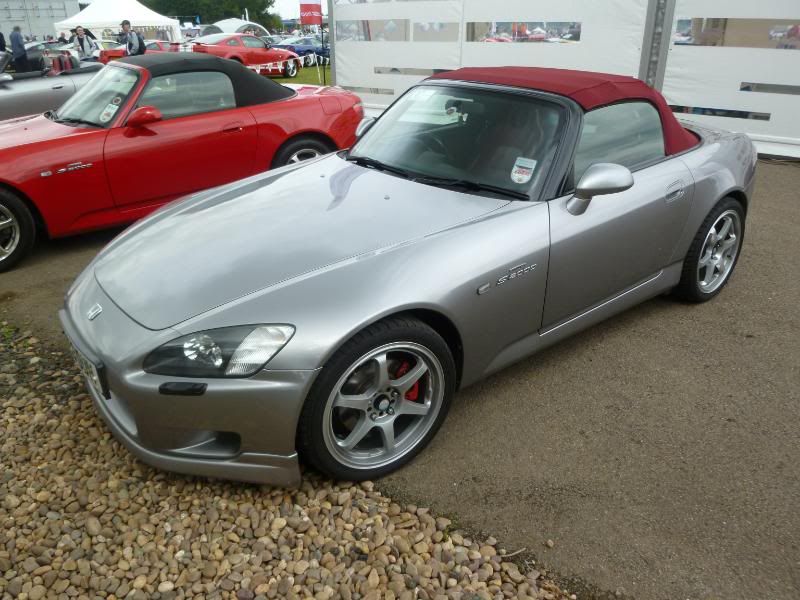 ISO
One Grifo is rare, seeing is even more special, so what does the sight of three in close proximity amount to? Look closely and you will see that the three are quite different, too.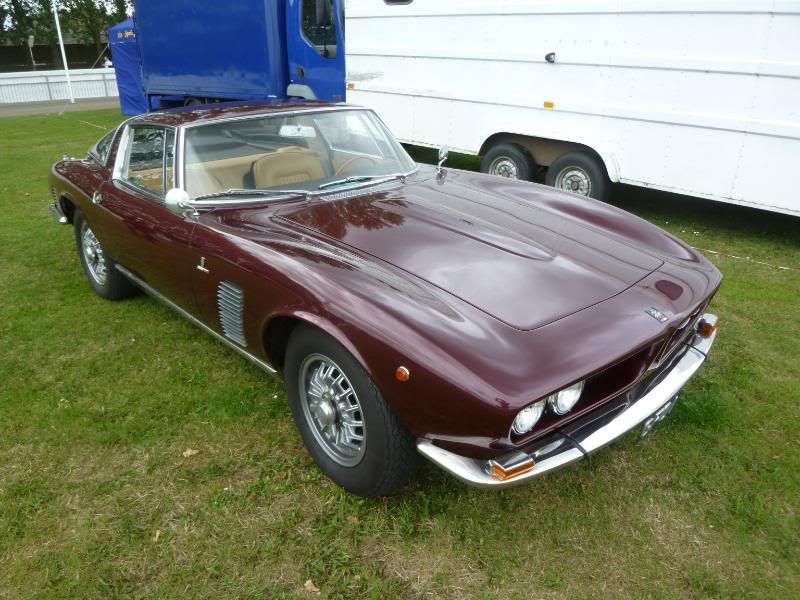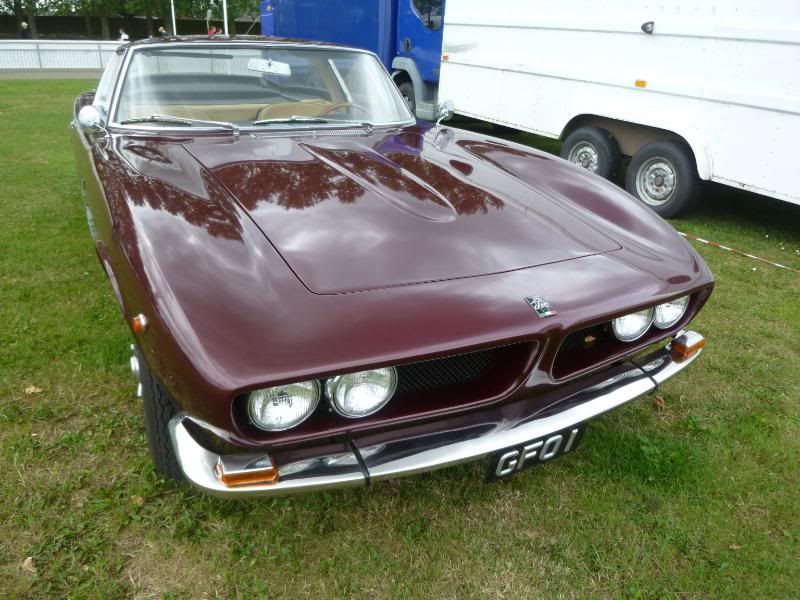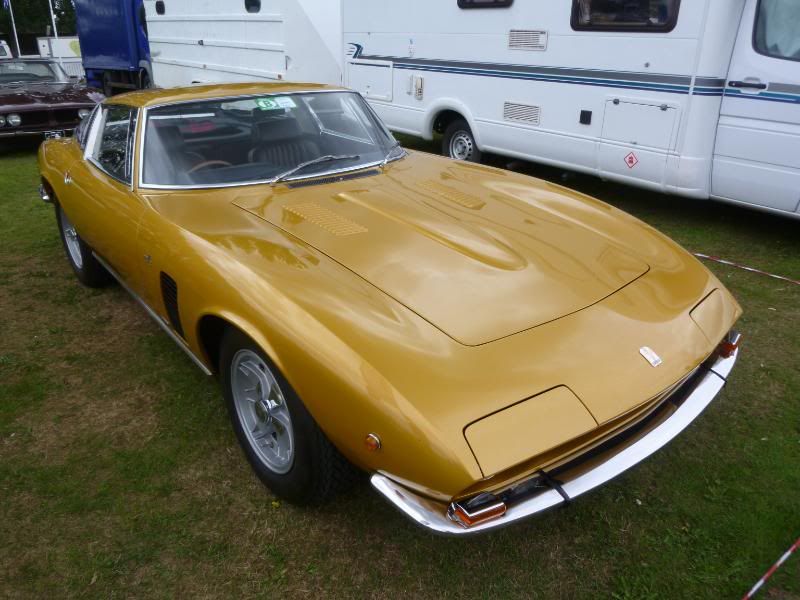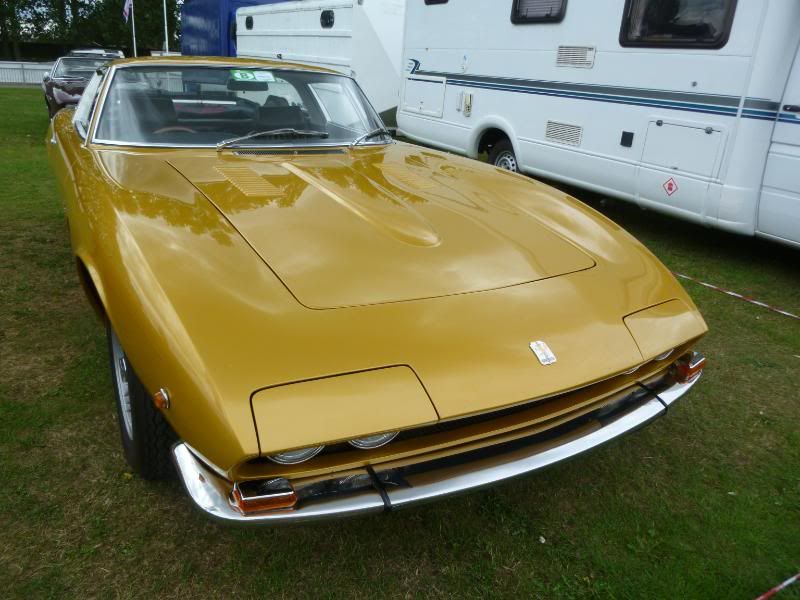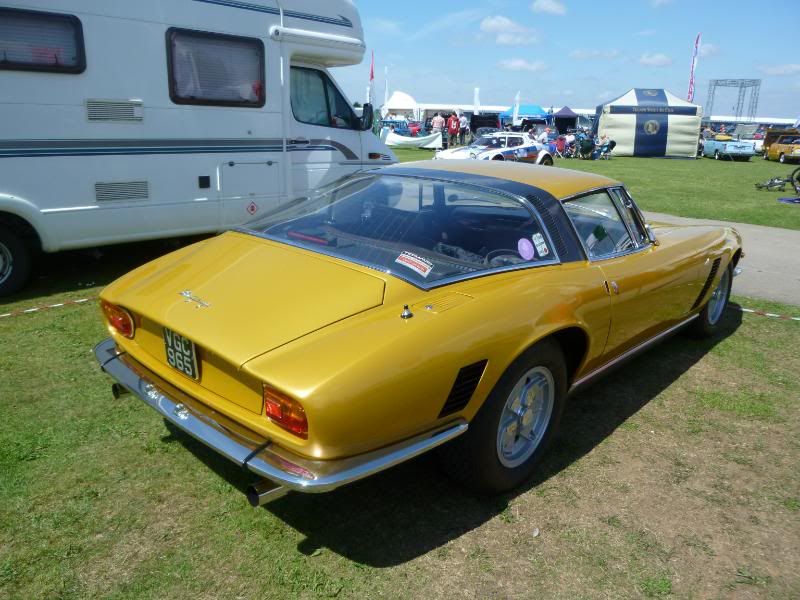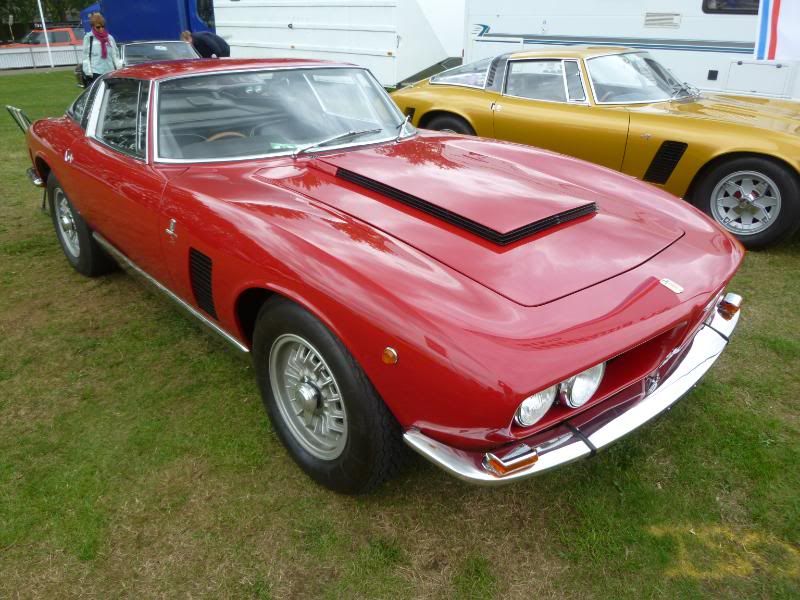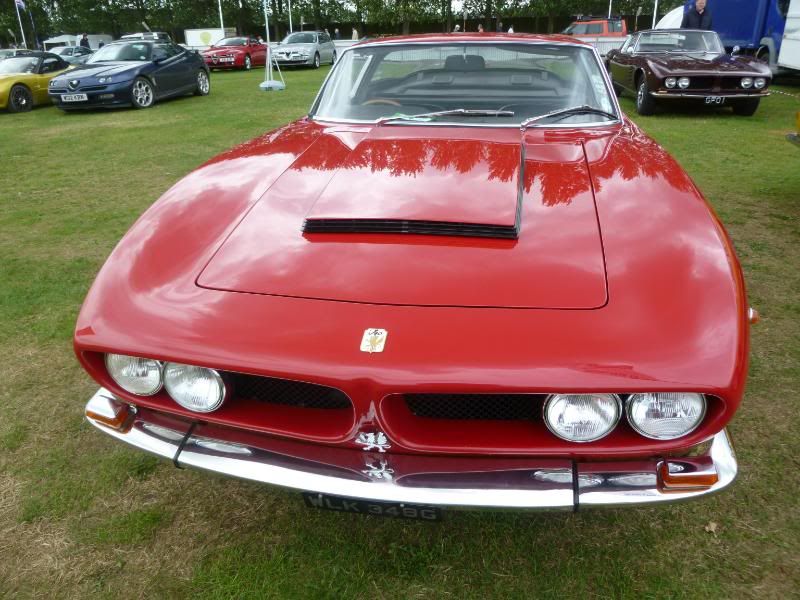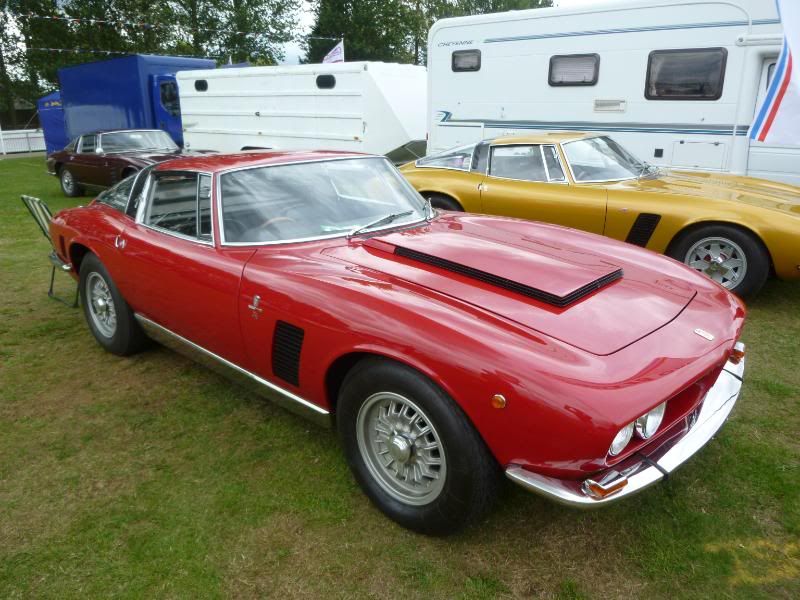 JAGUAR
By some margin, Jaguar was the dominant marque at the event, and this was no accident.
The declared intent was to gather together the greatest number of "E" Types possible, to help mark the 50th anniversary of the launch of this car. I have never seen so many in one place, and I doubt I ever will again, as not only were there a lot of cars from the UK, but owners from all over Europe and beyond had brought their cars to join in. There were huge numbers of them parked up in the centre of the circuit, and among other Jaguar Owners Club displays and then scattered around elsewhere. At lunchtime on the Saturday, they were all assembled for a parade lap around the circuit, which made for an evocative sight. It took a very long time to get them all back off the track and parked up roughly from whence they had come.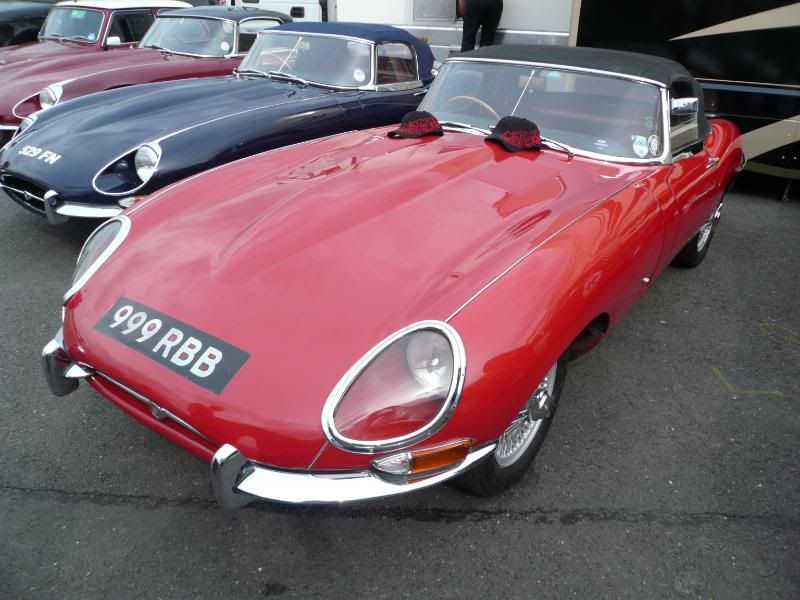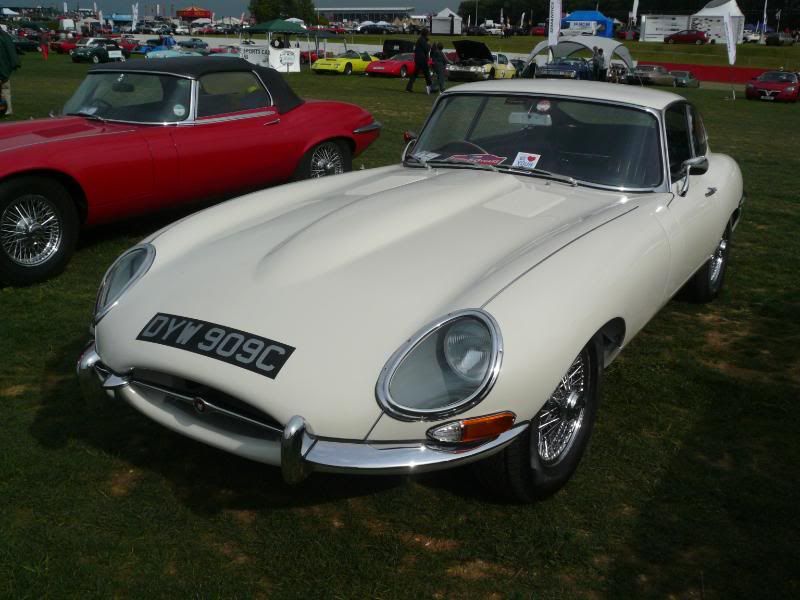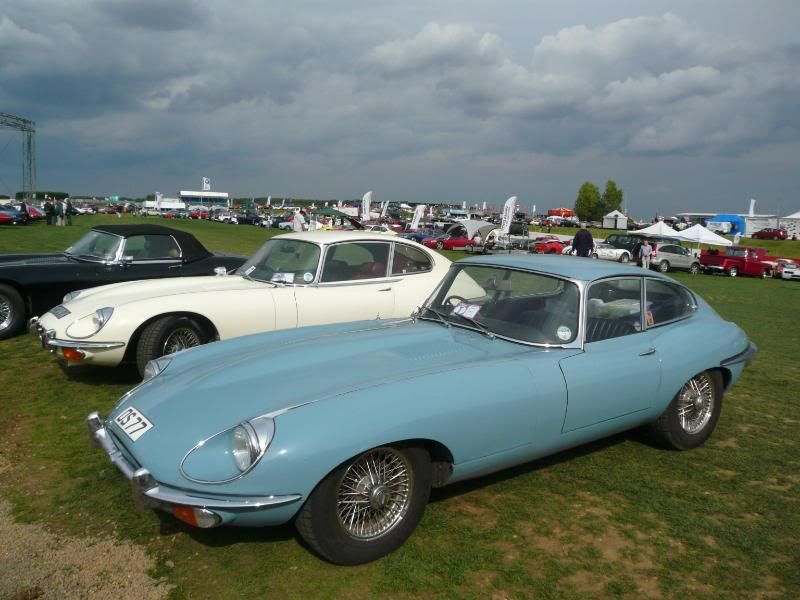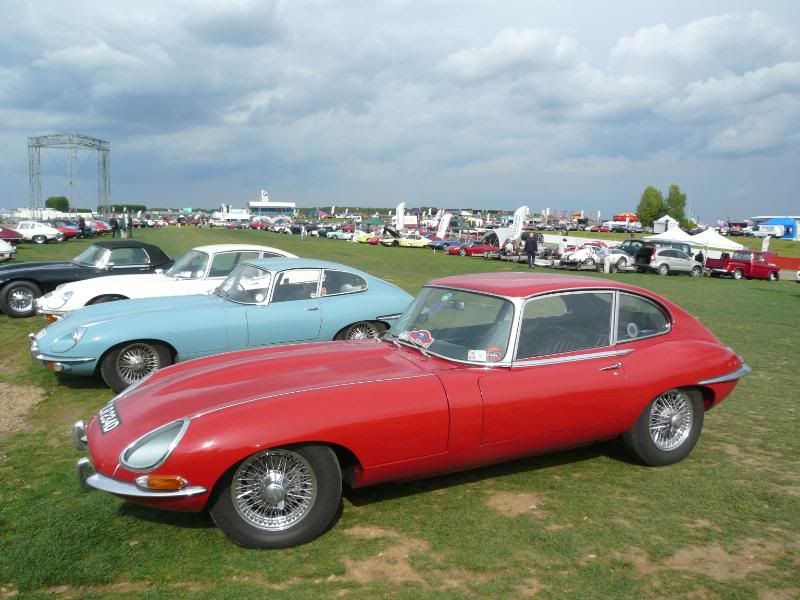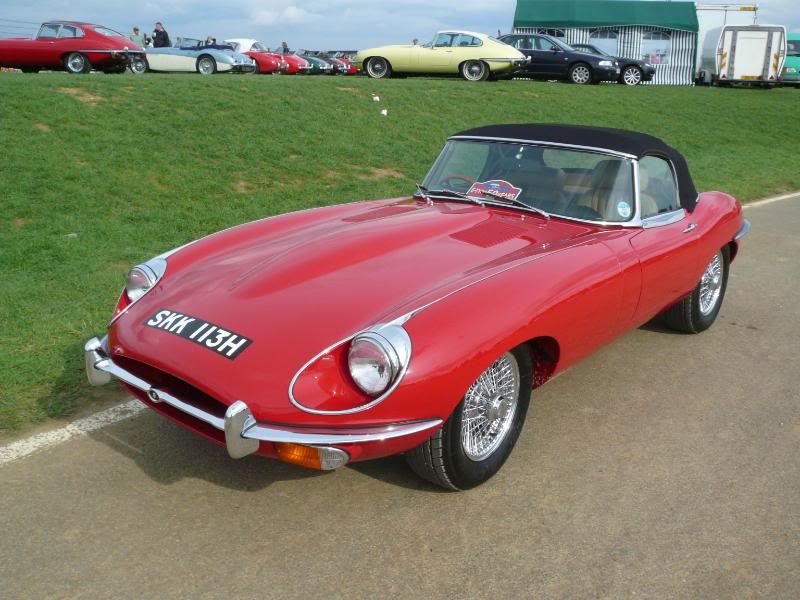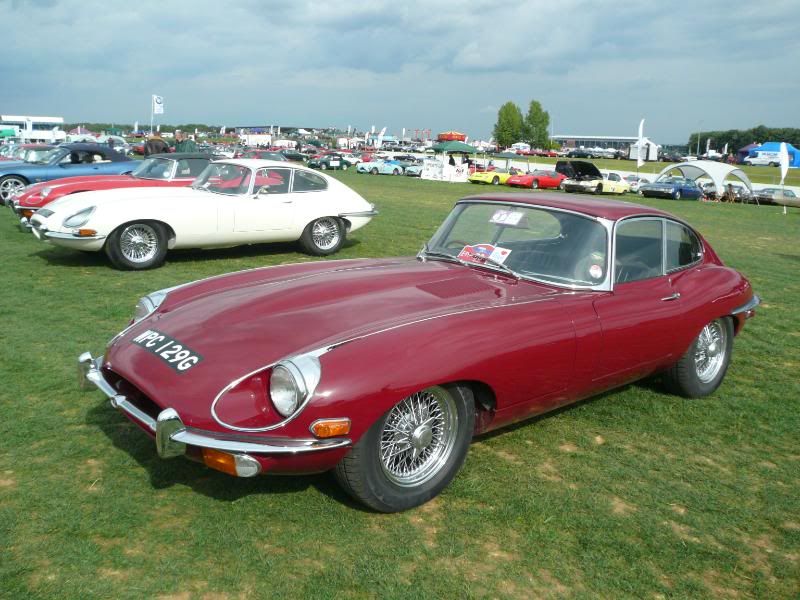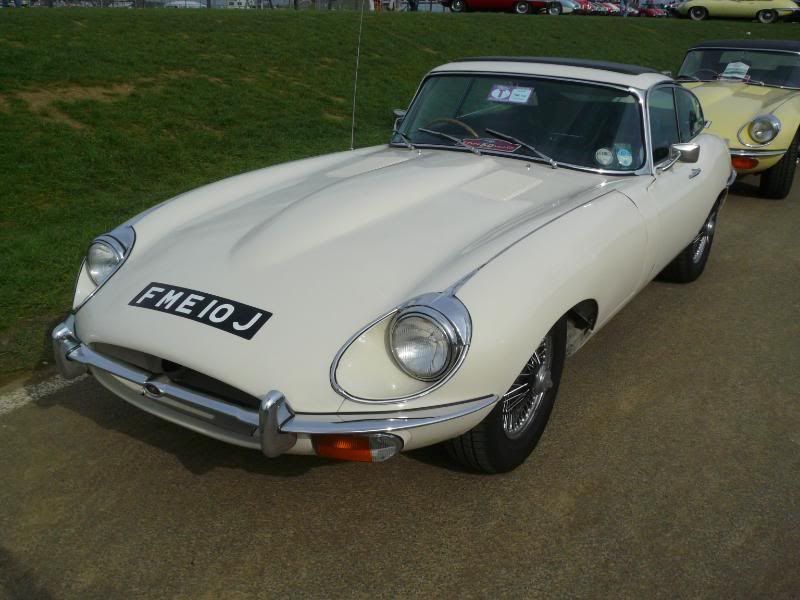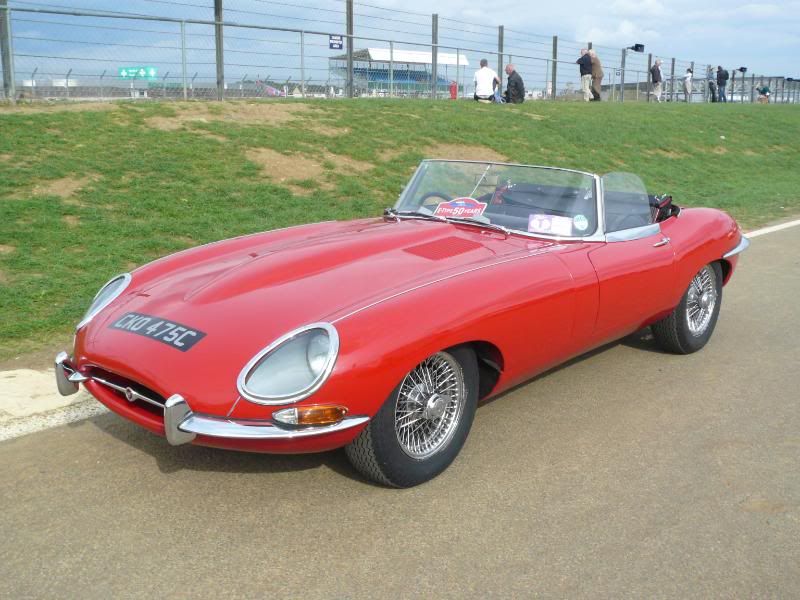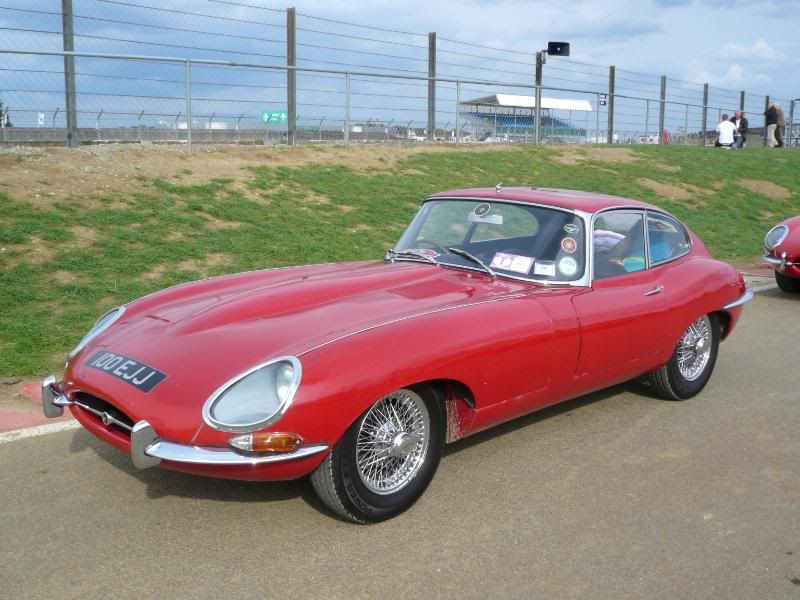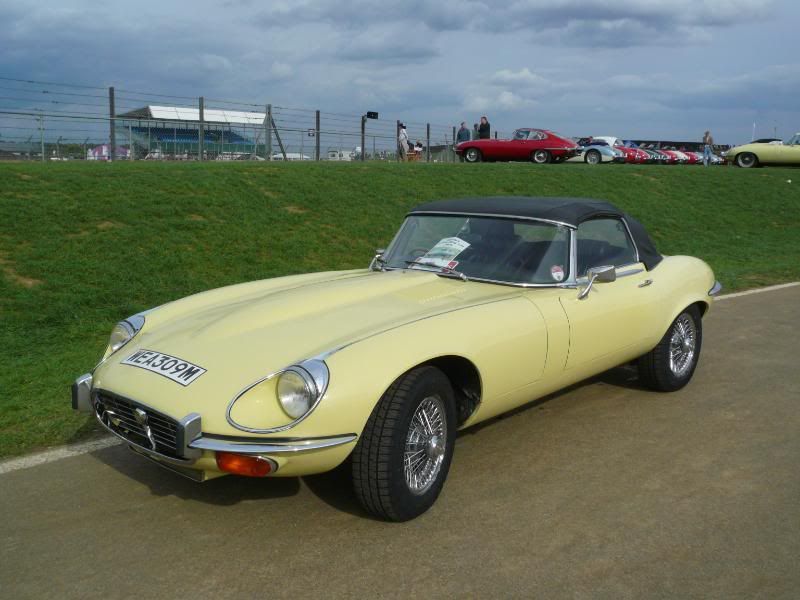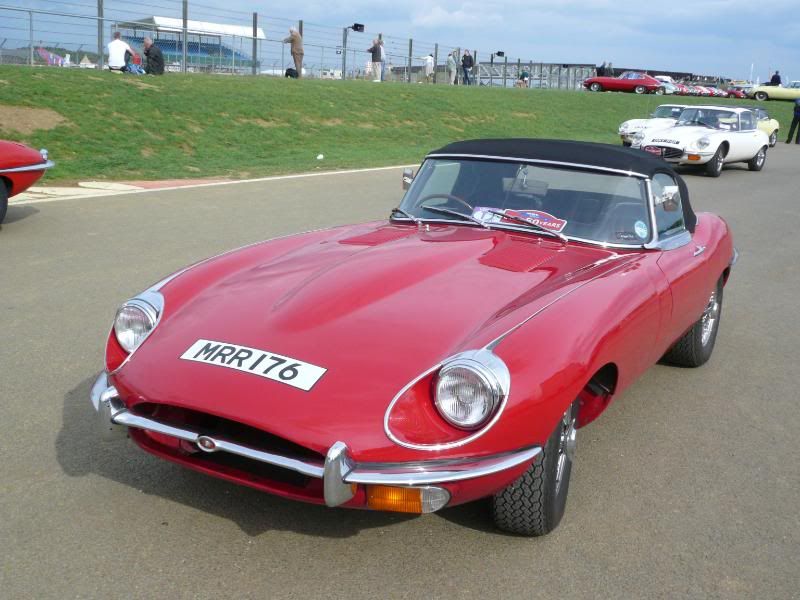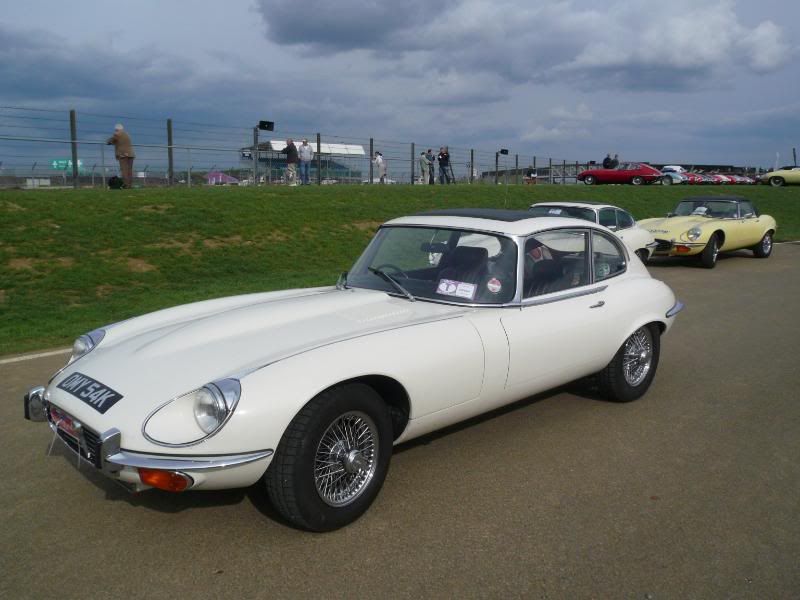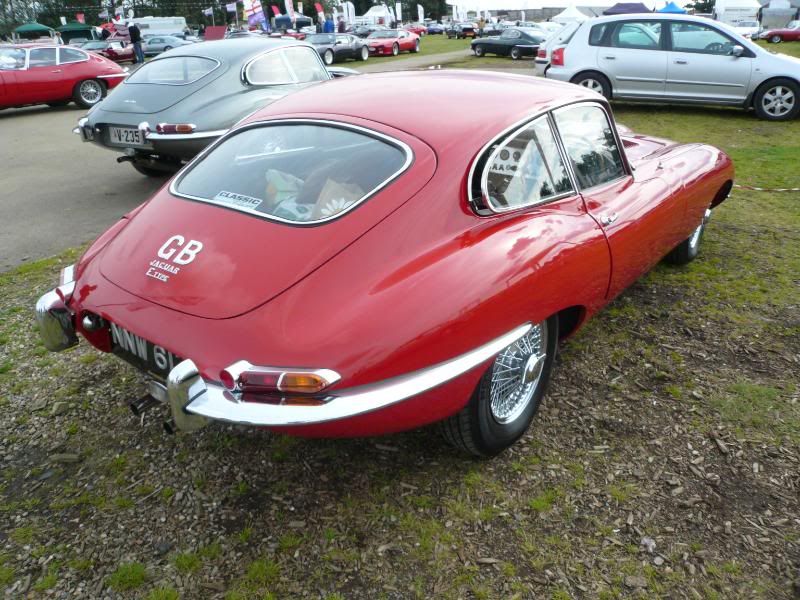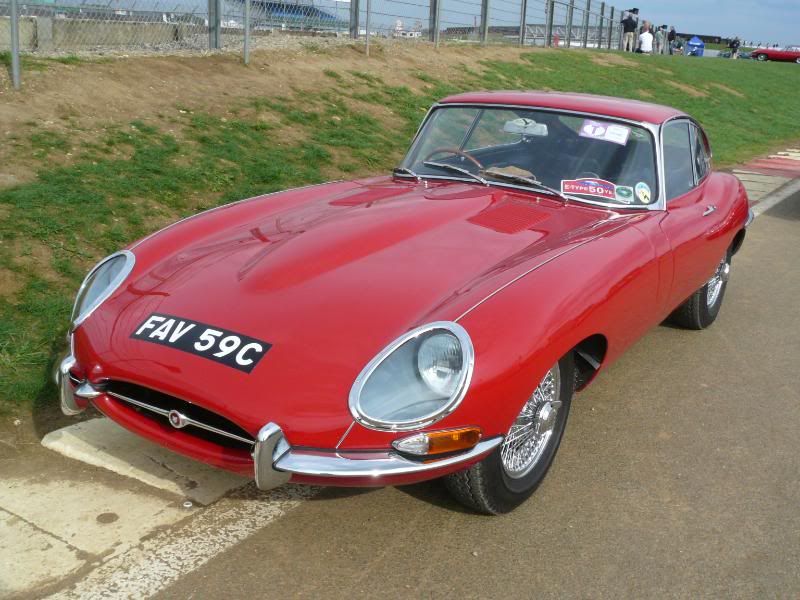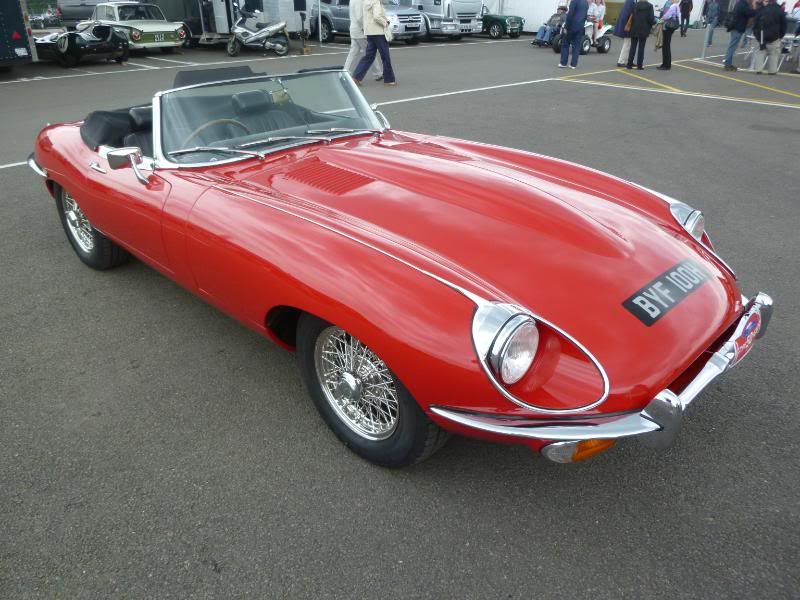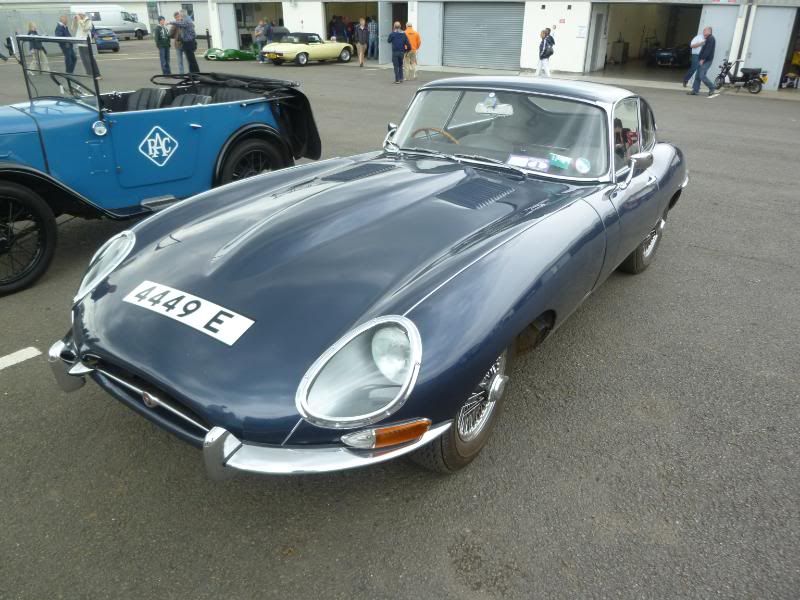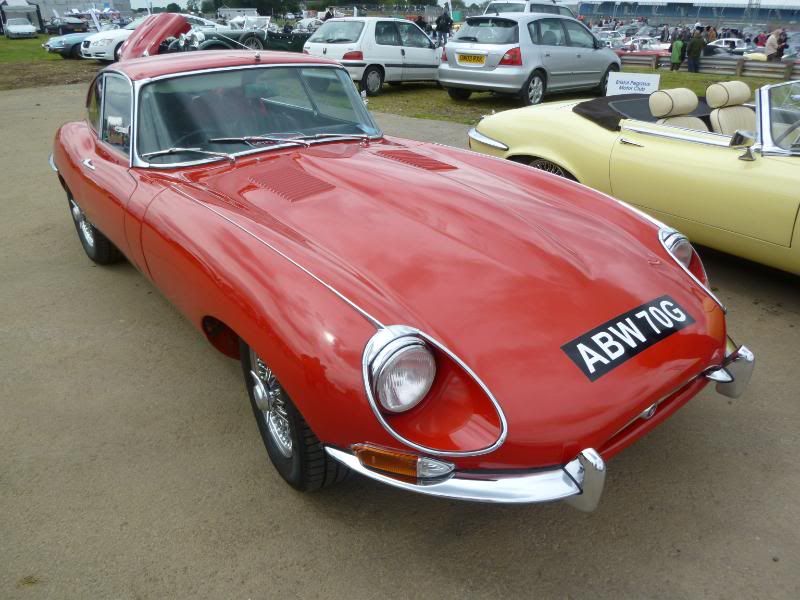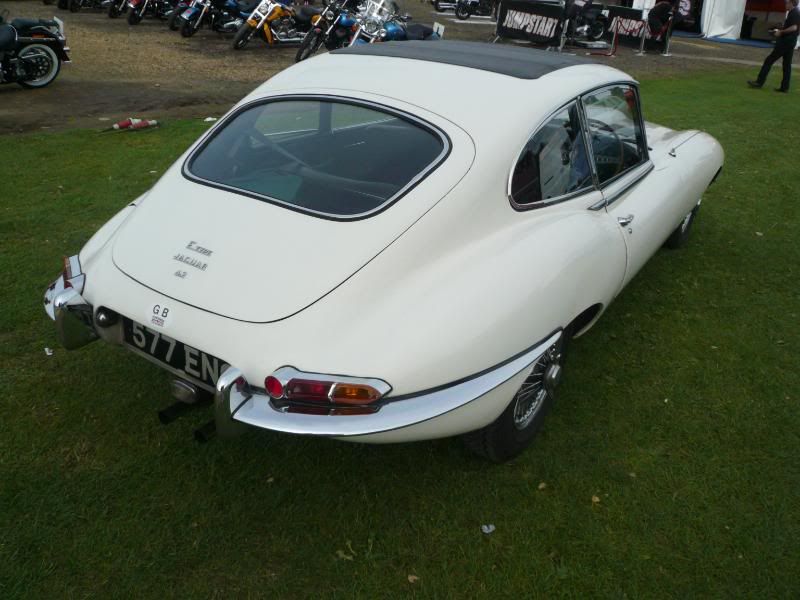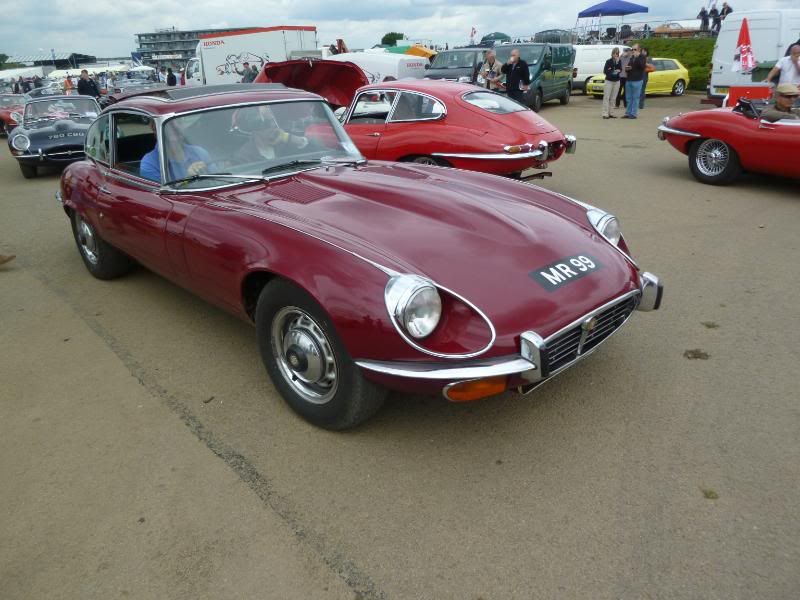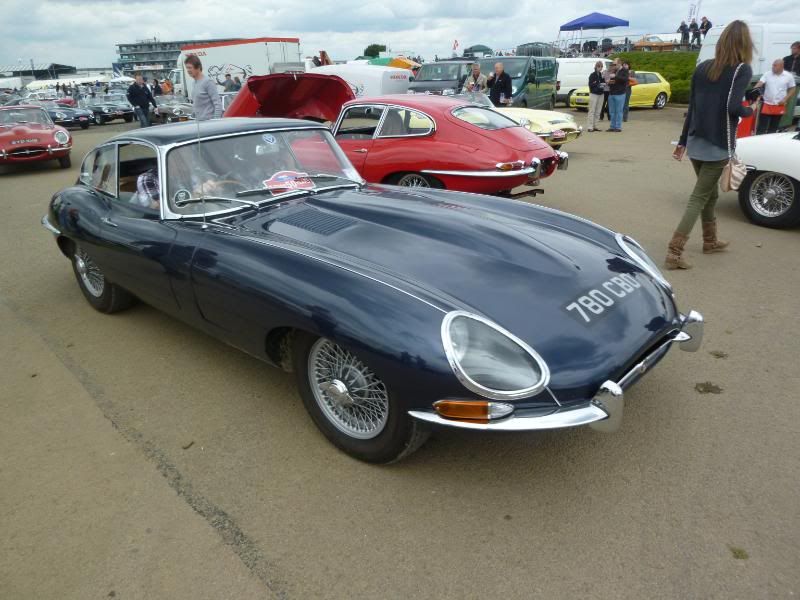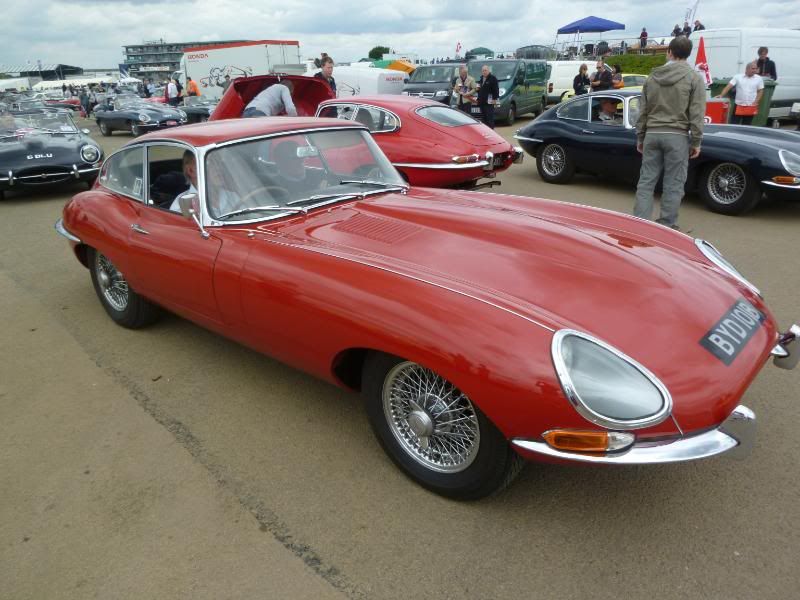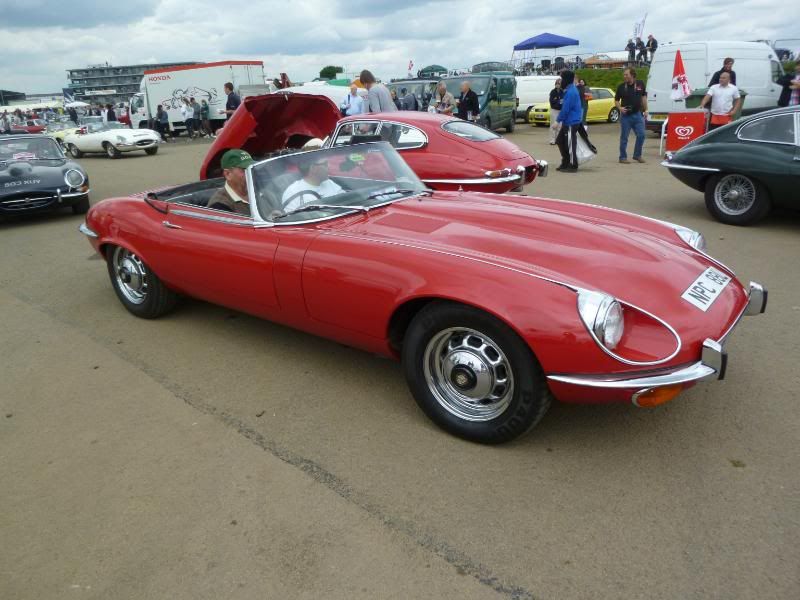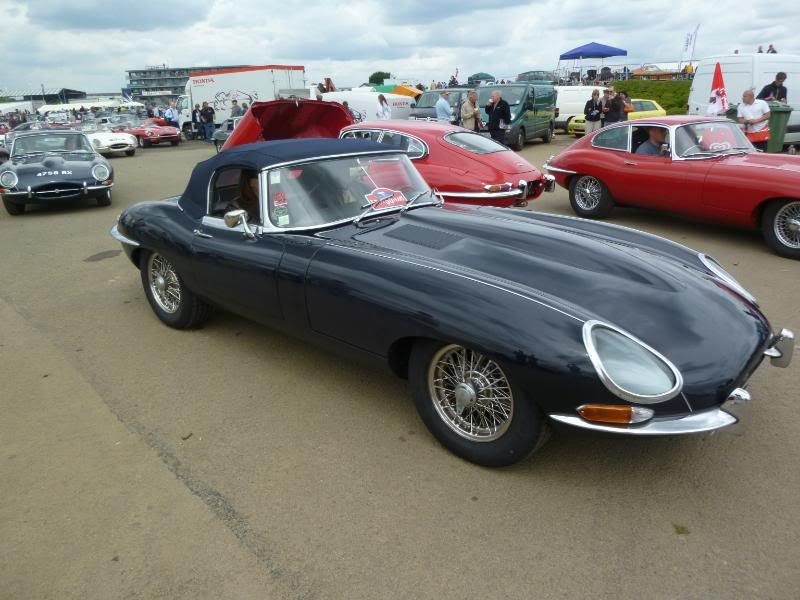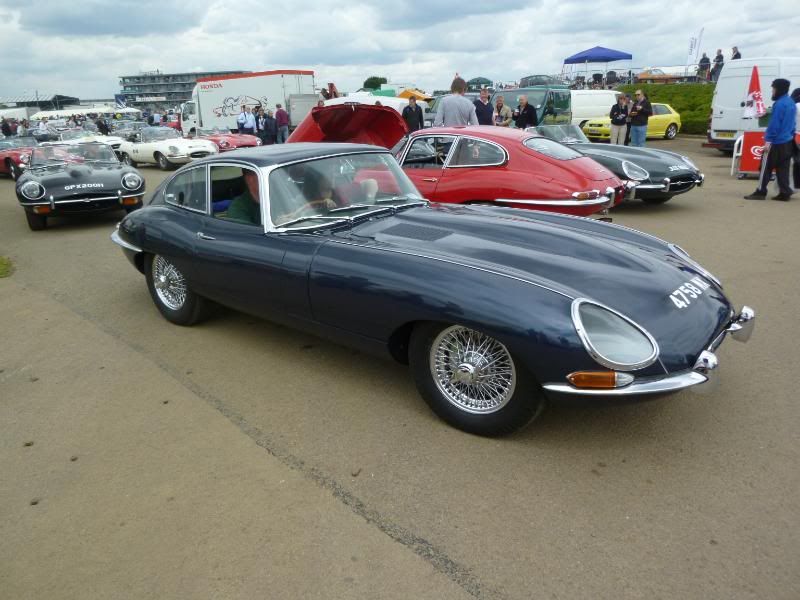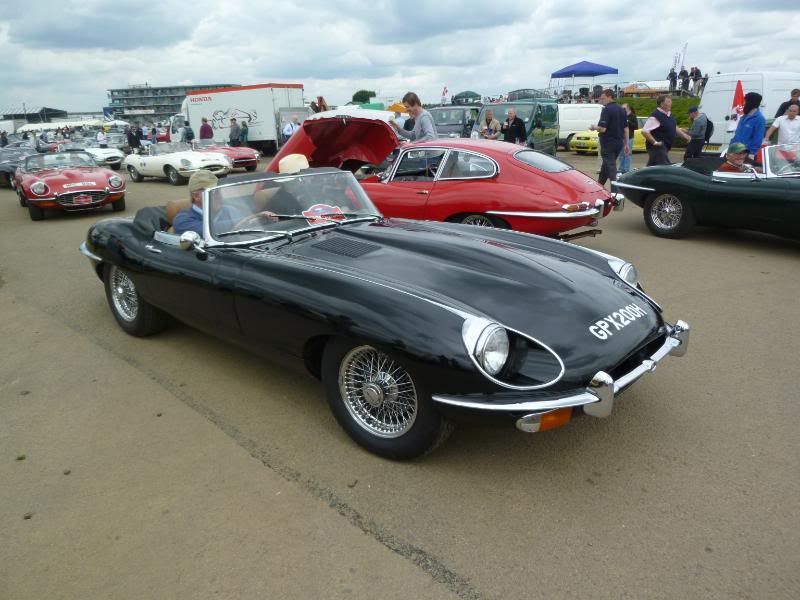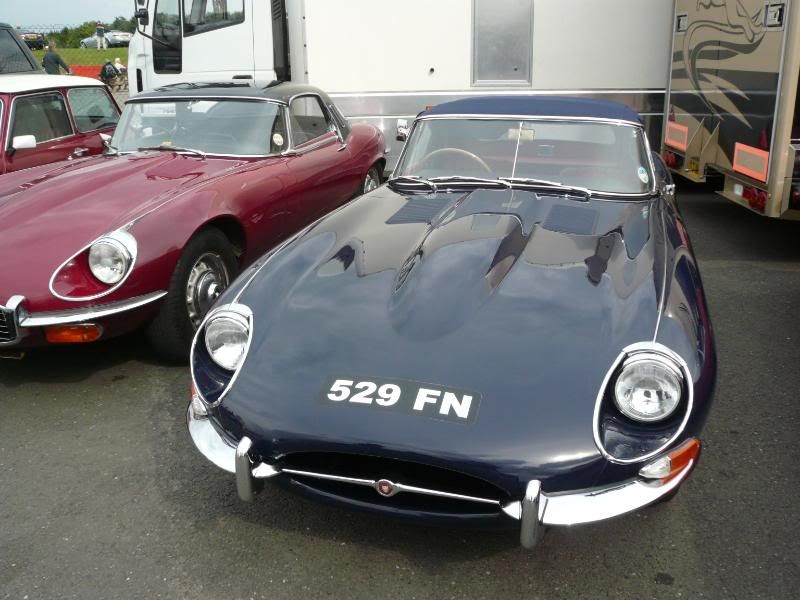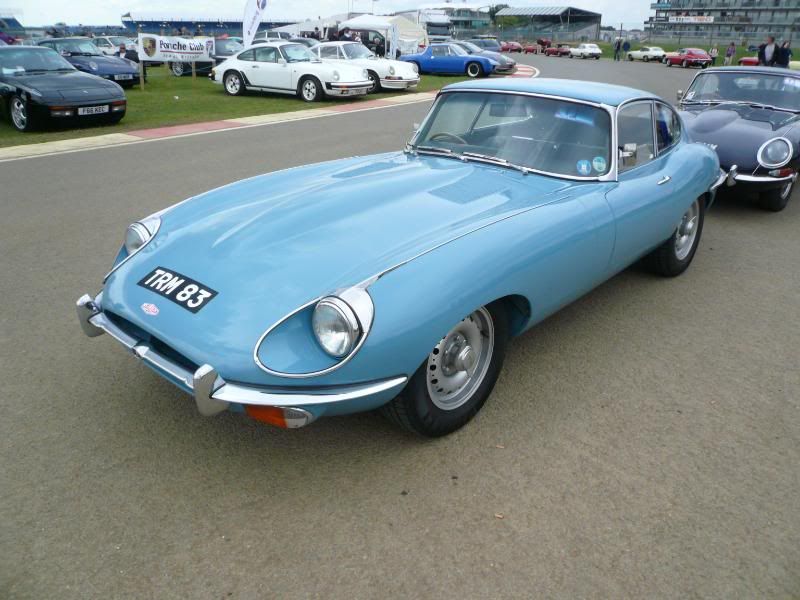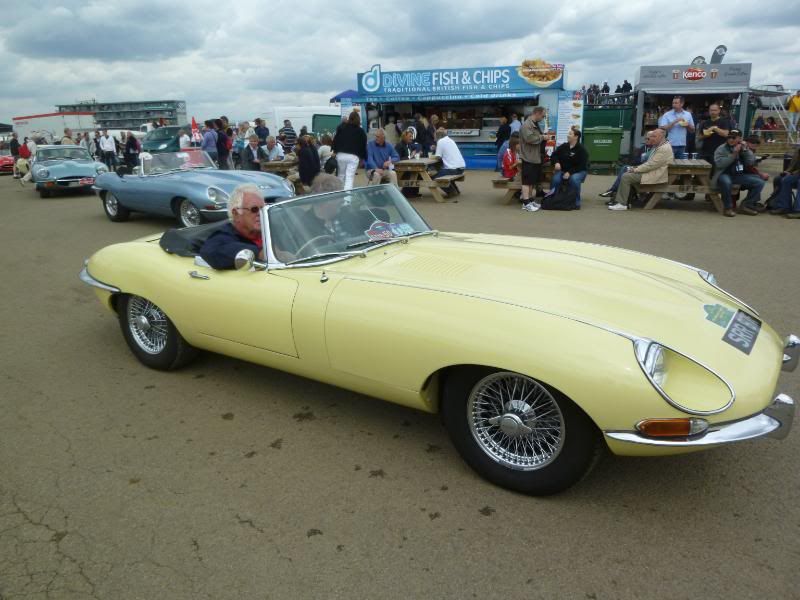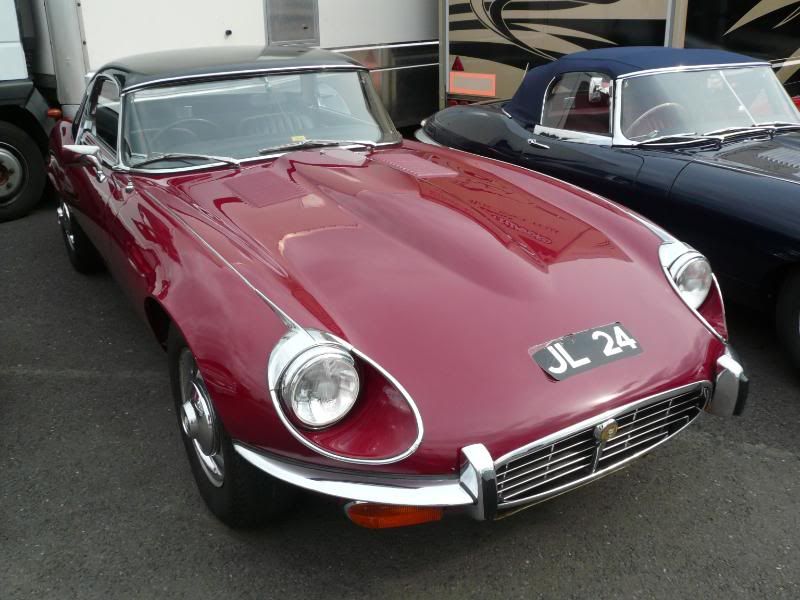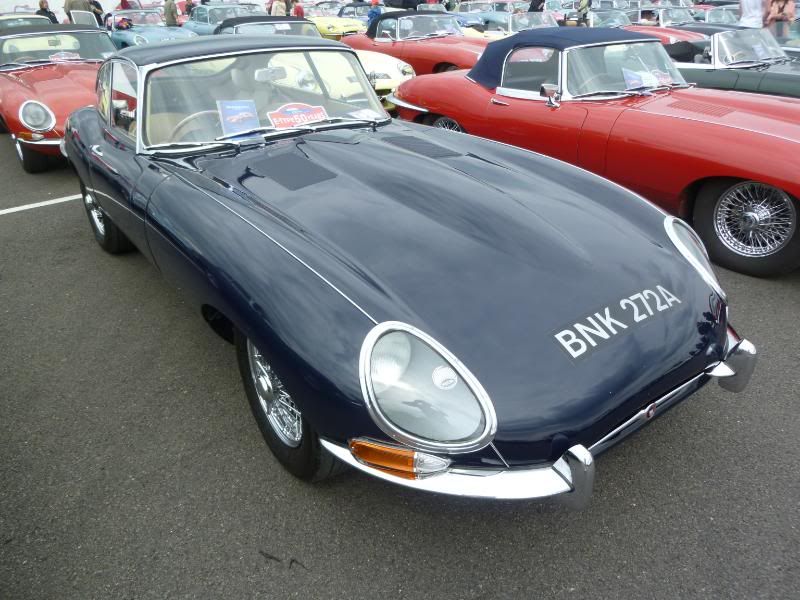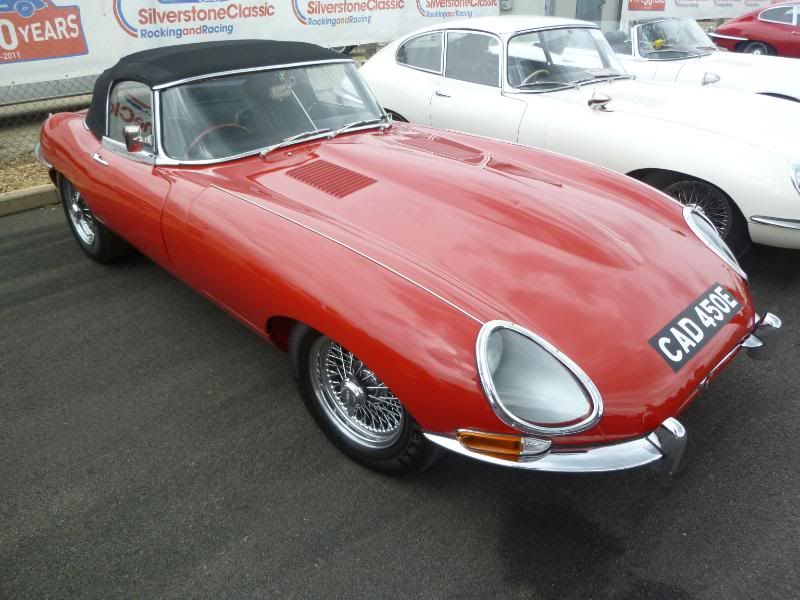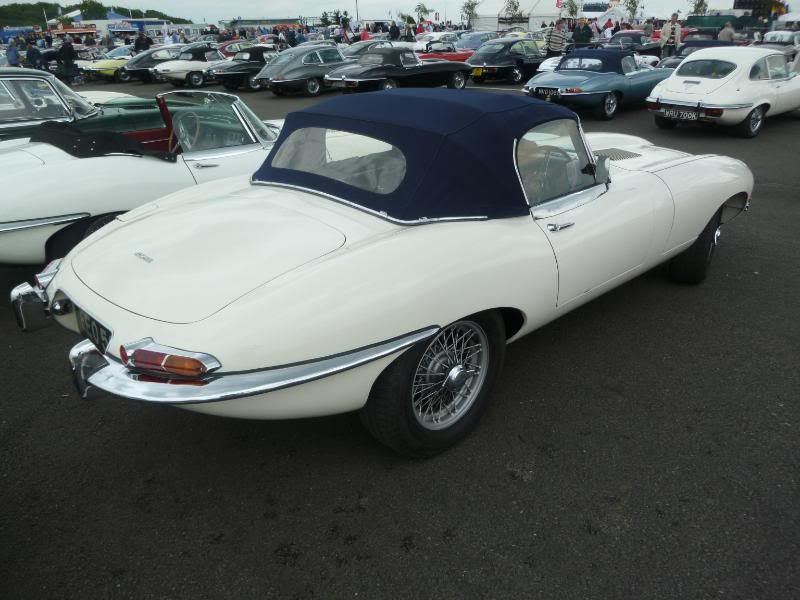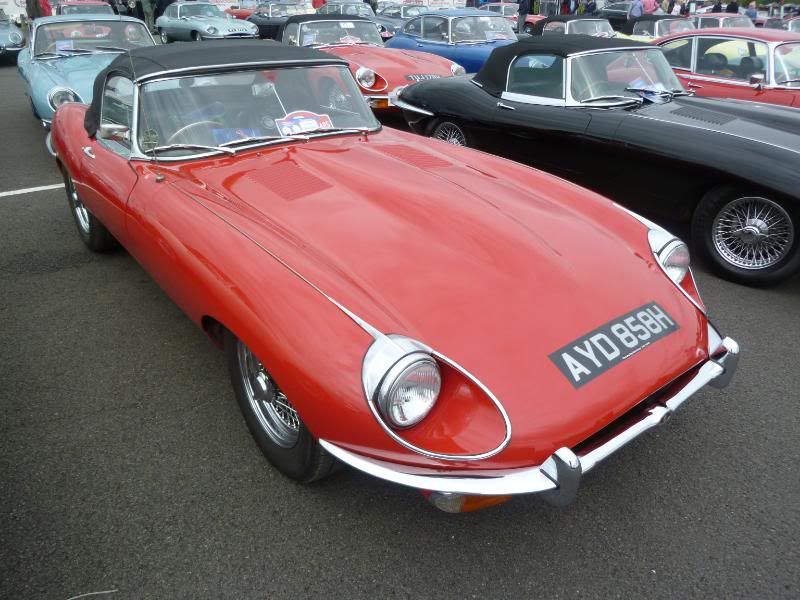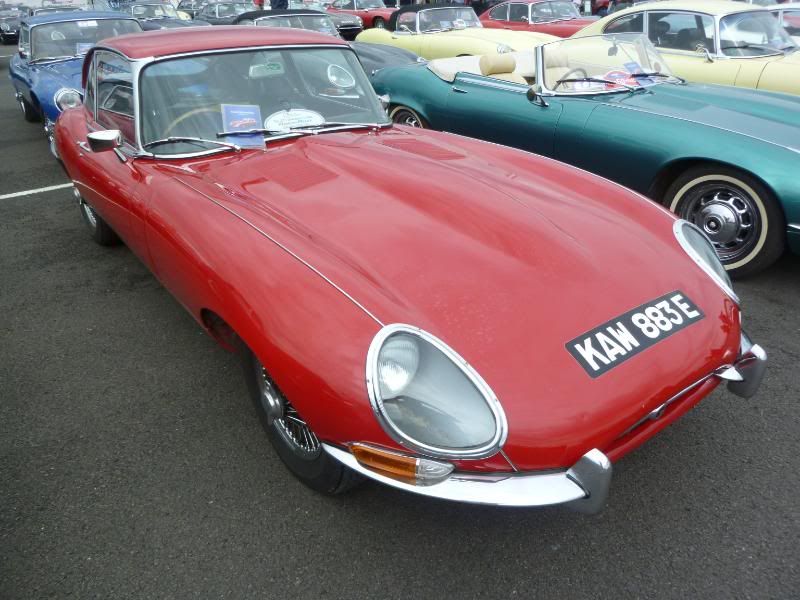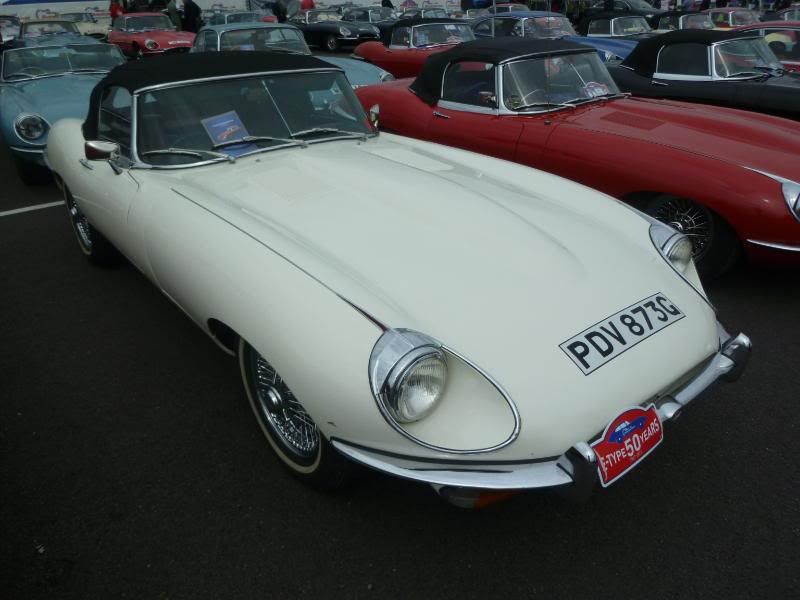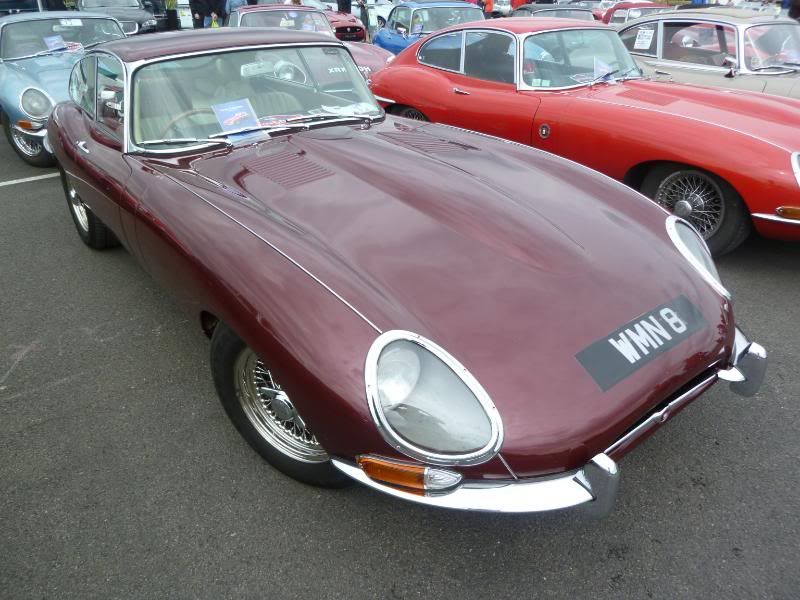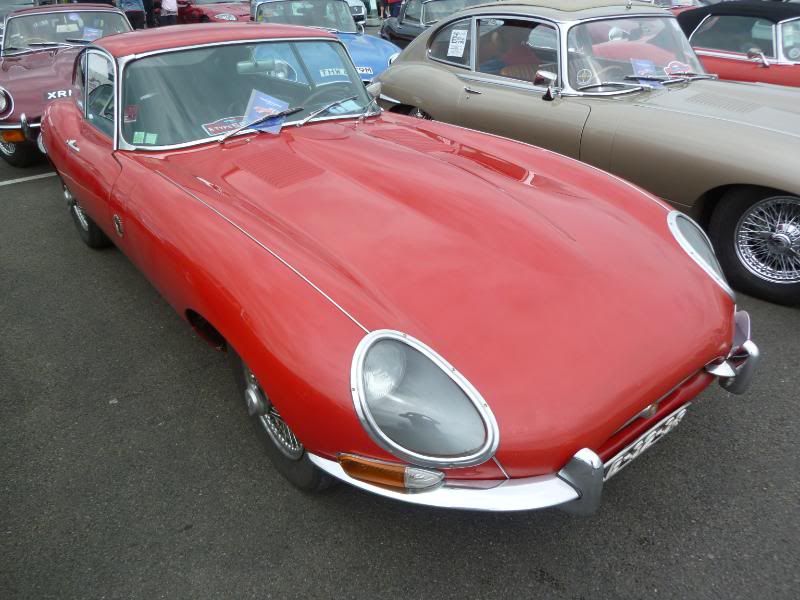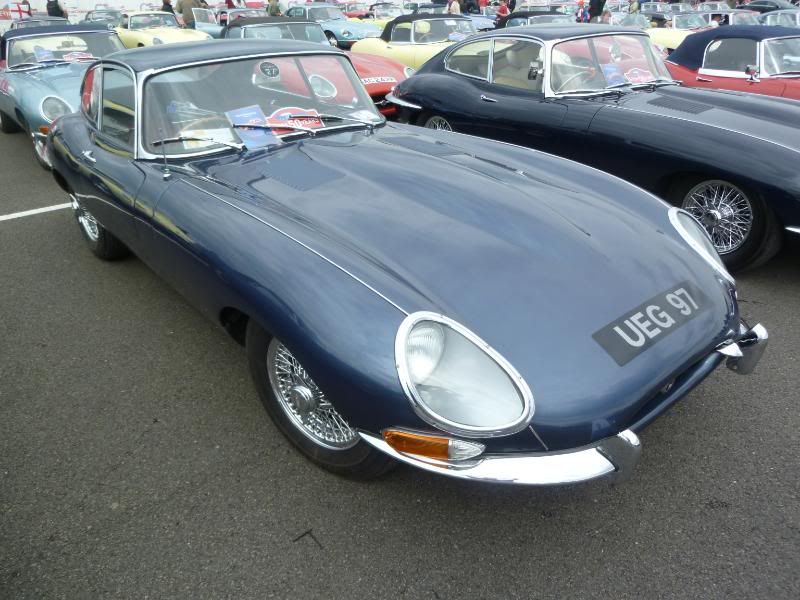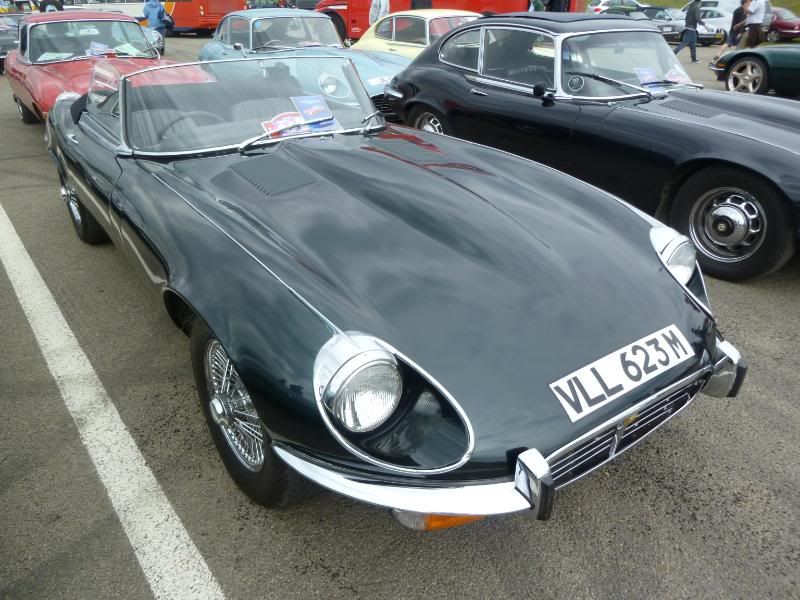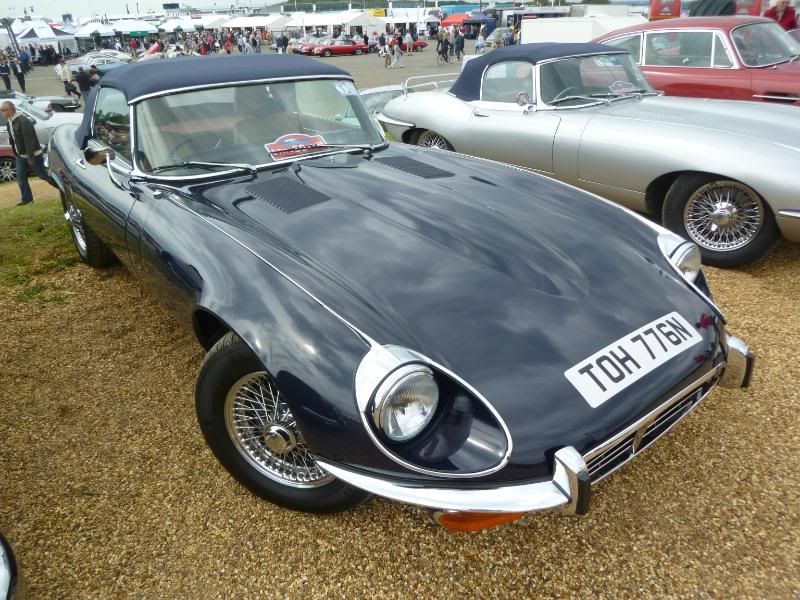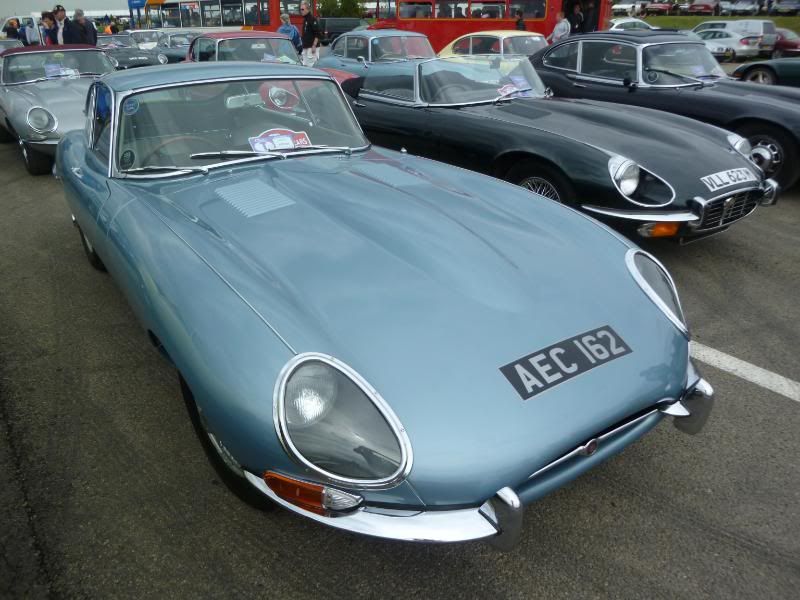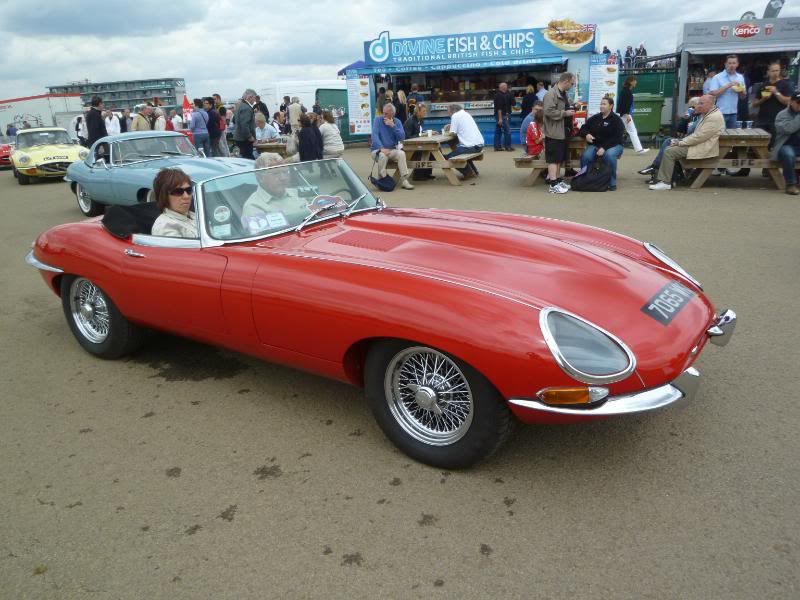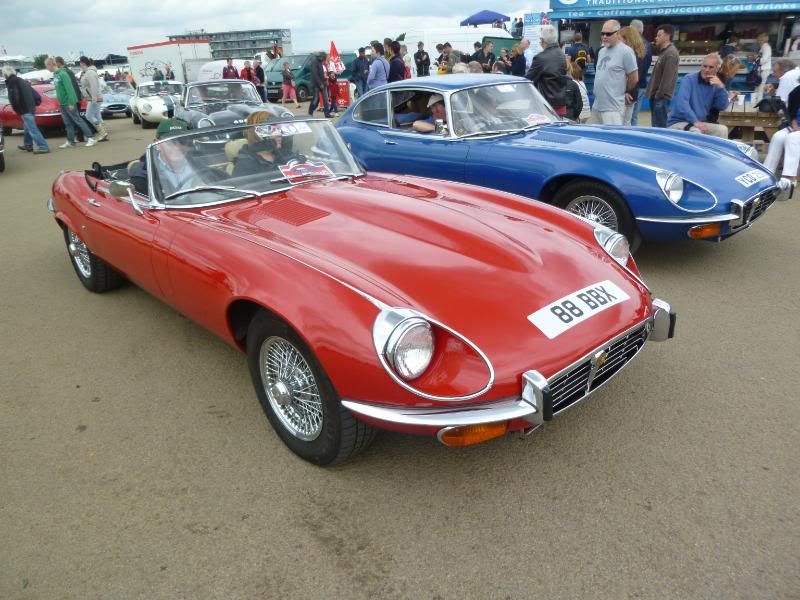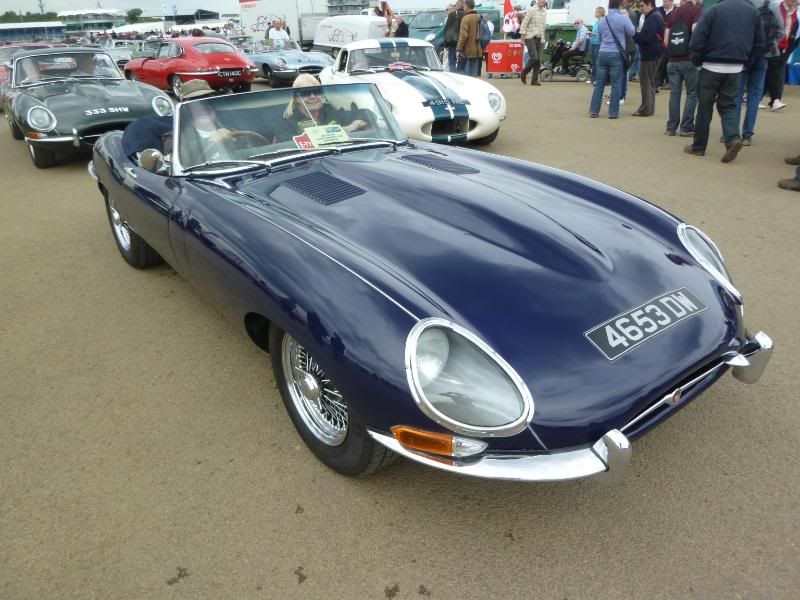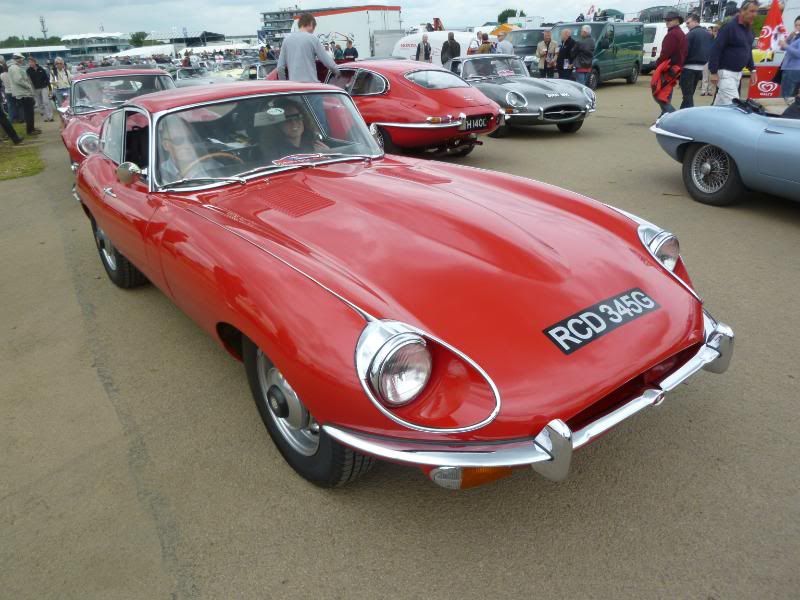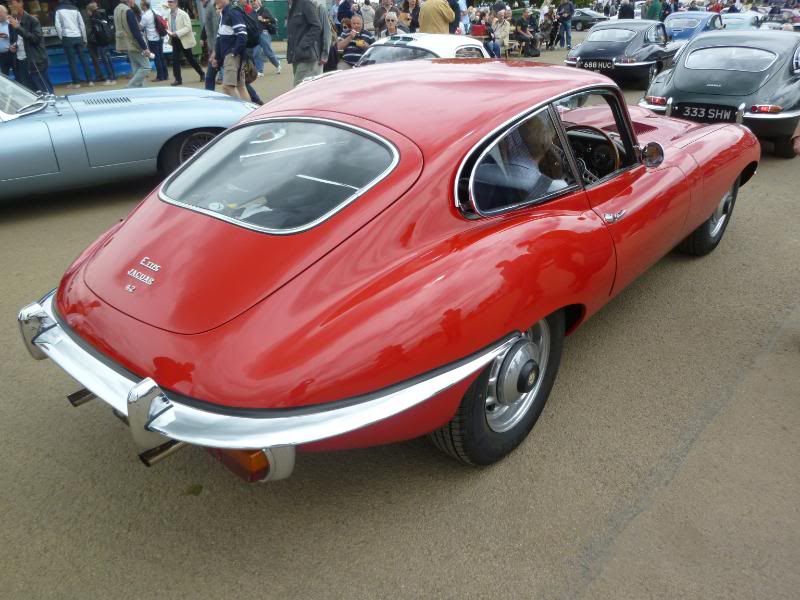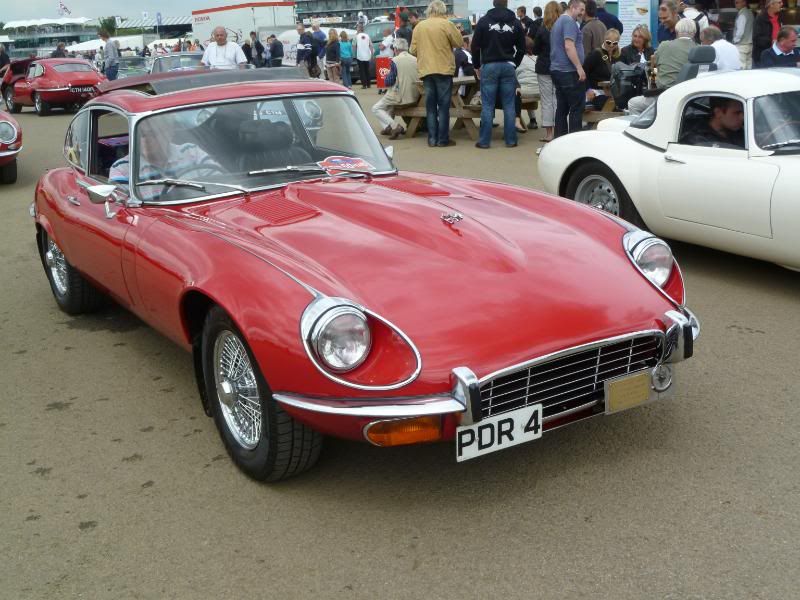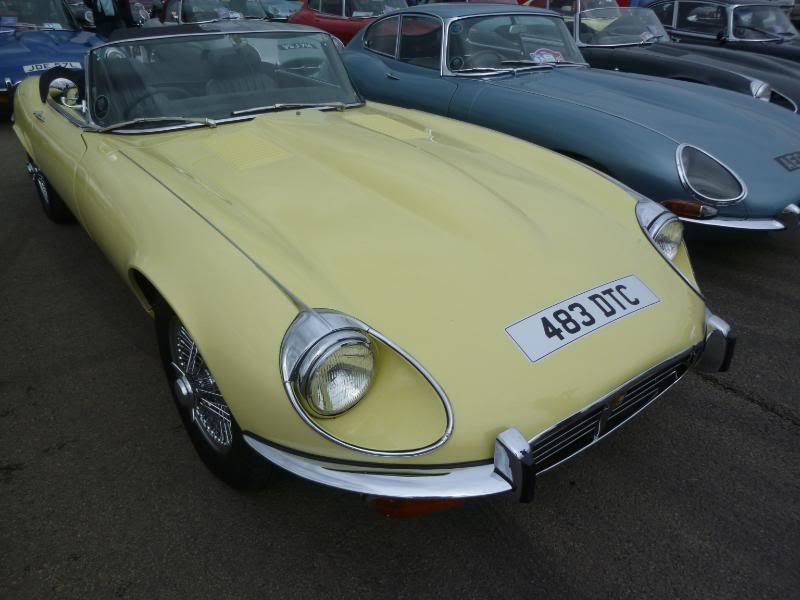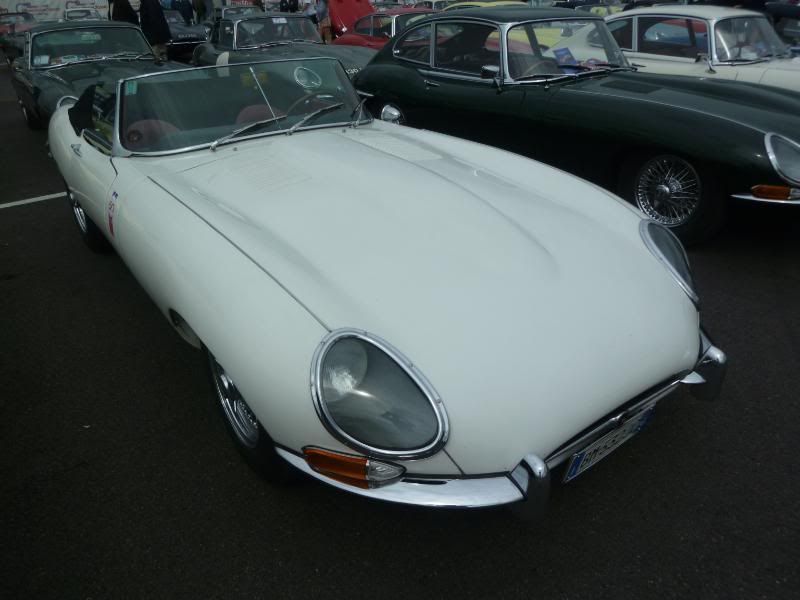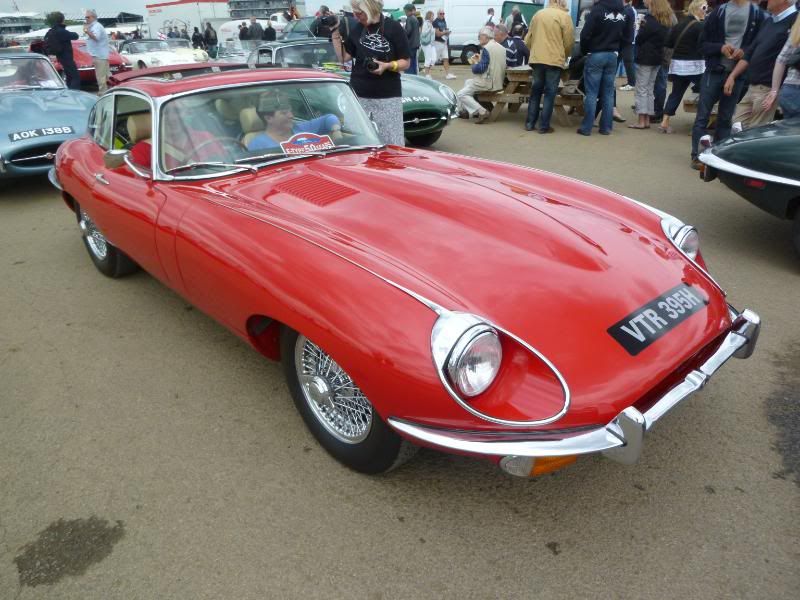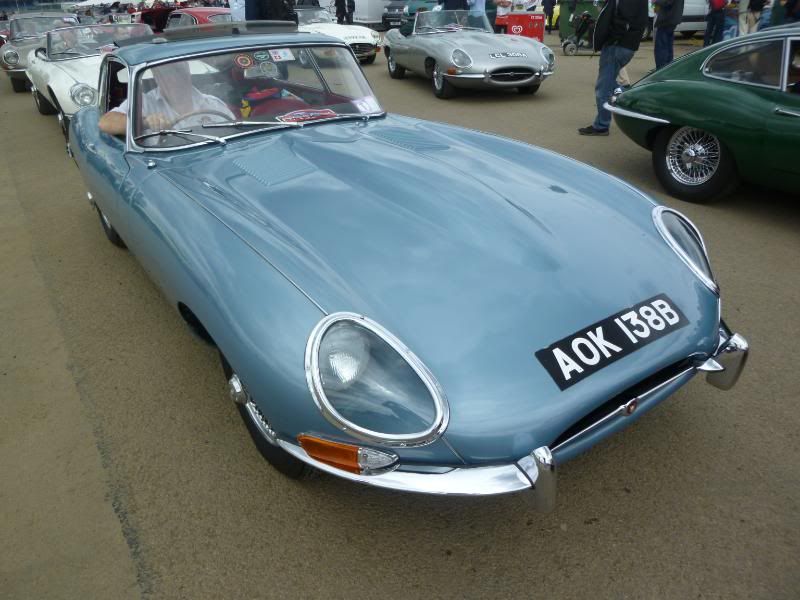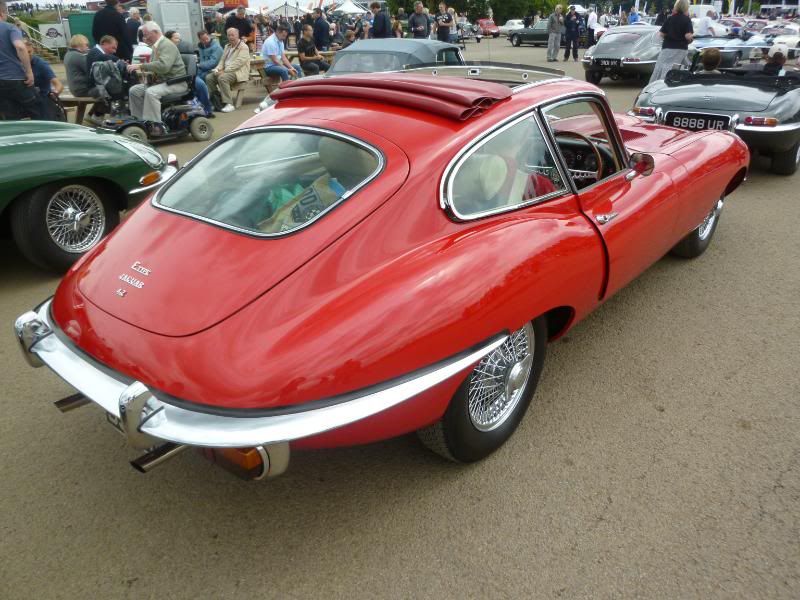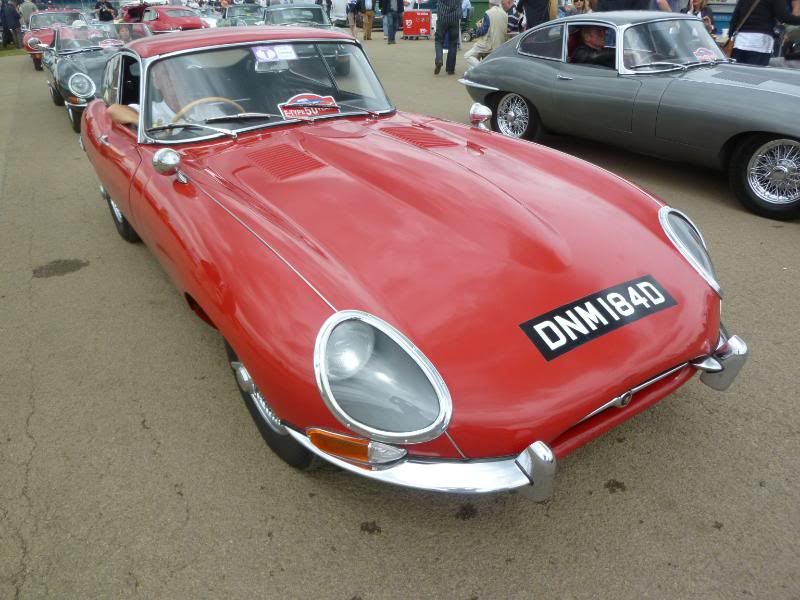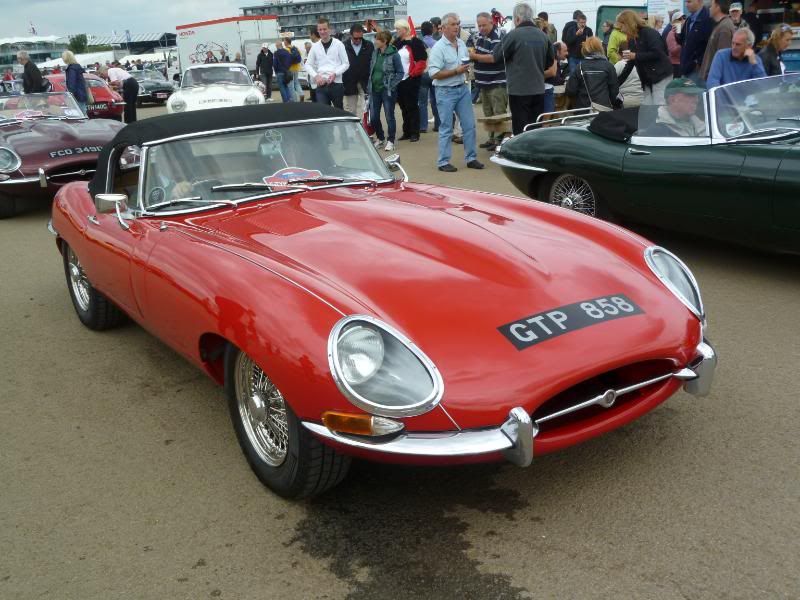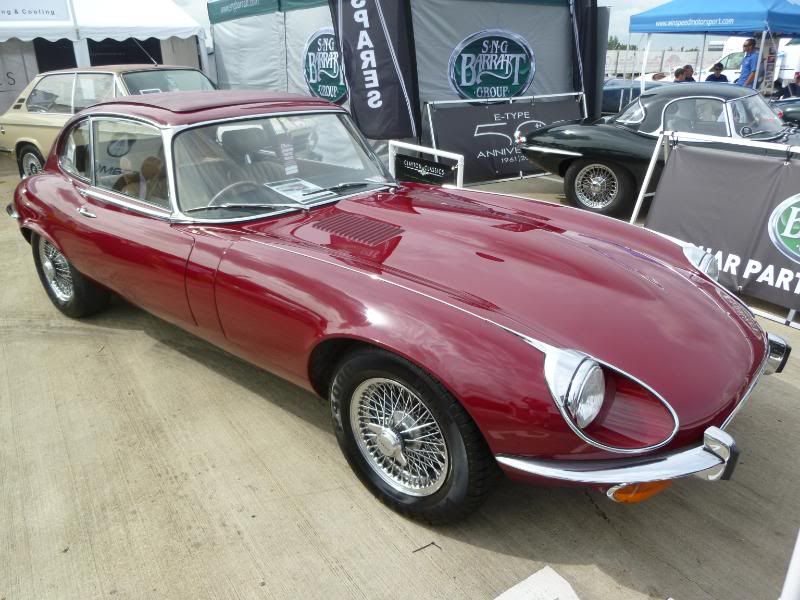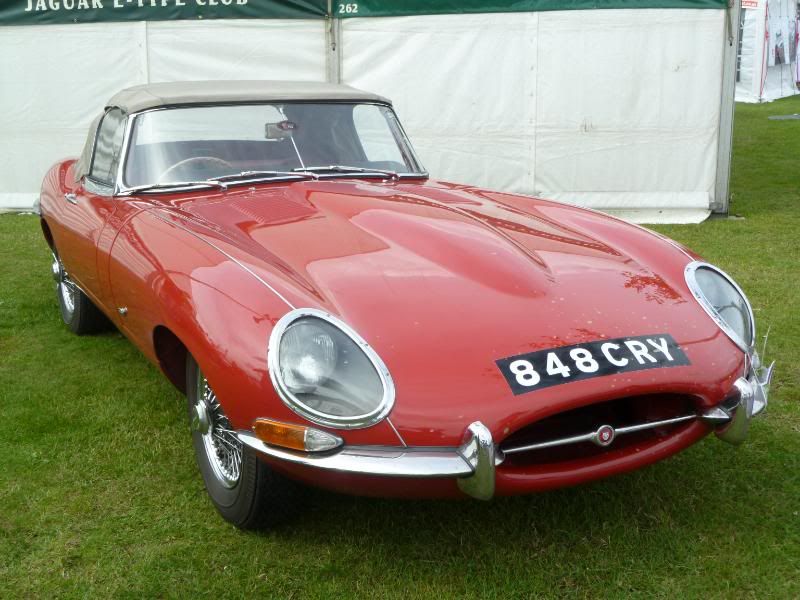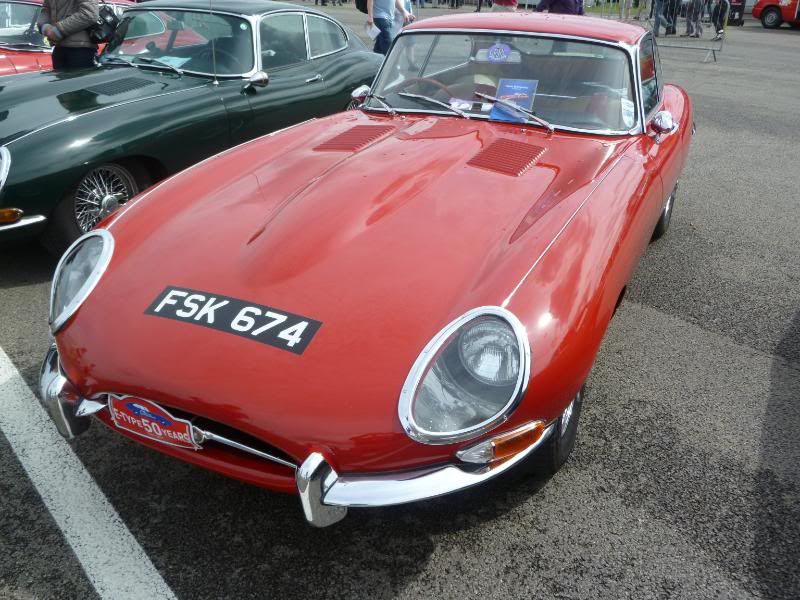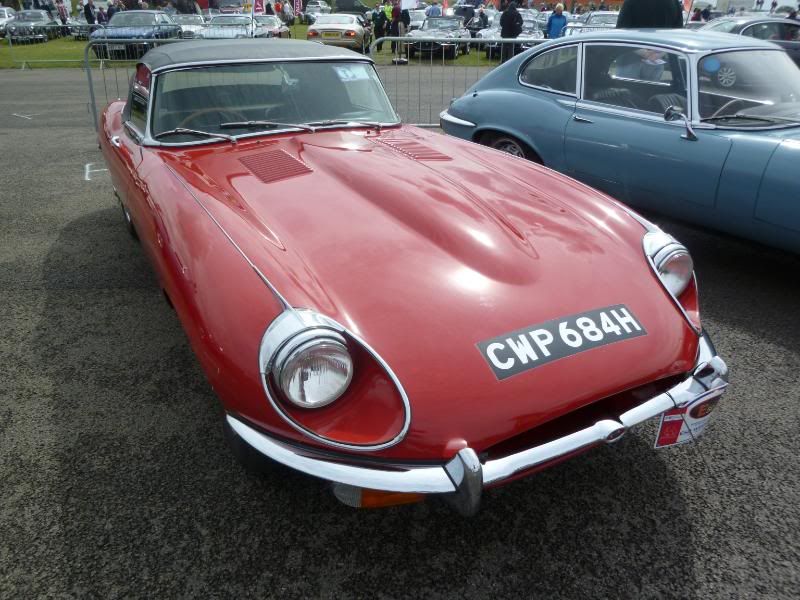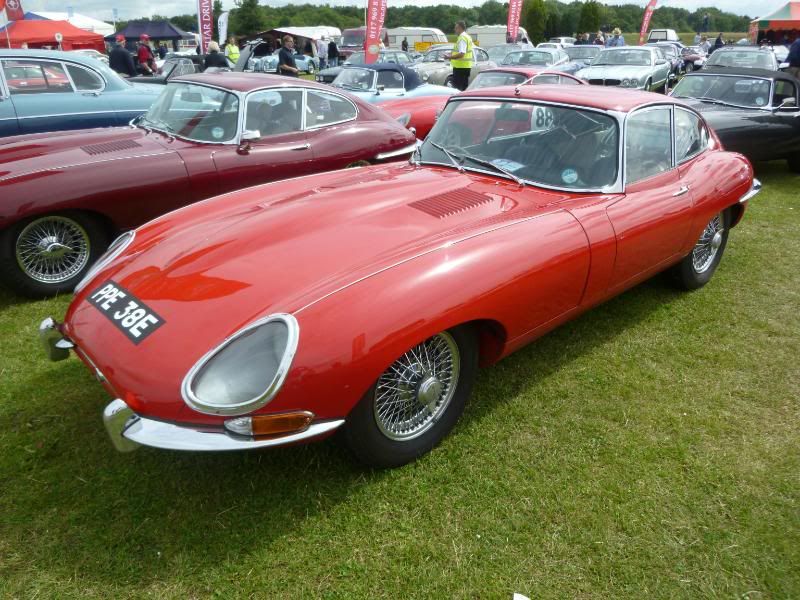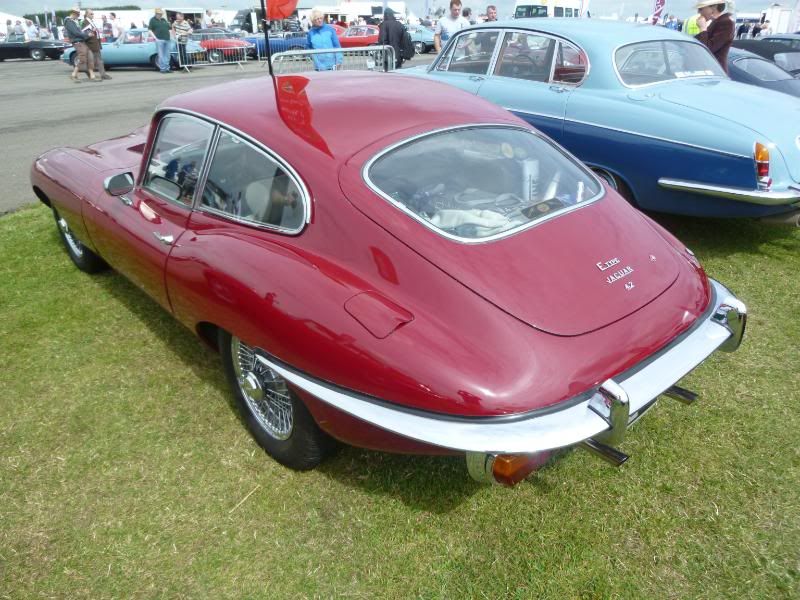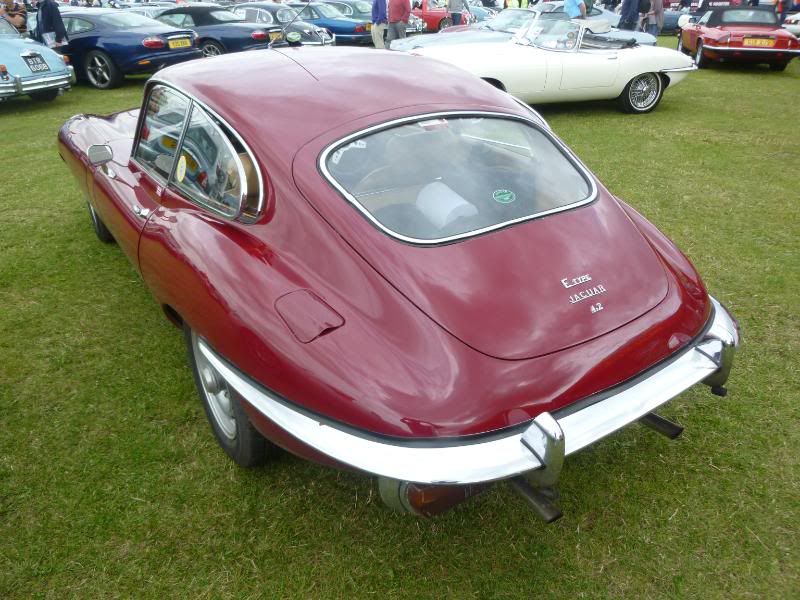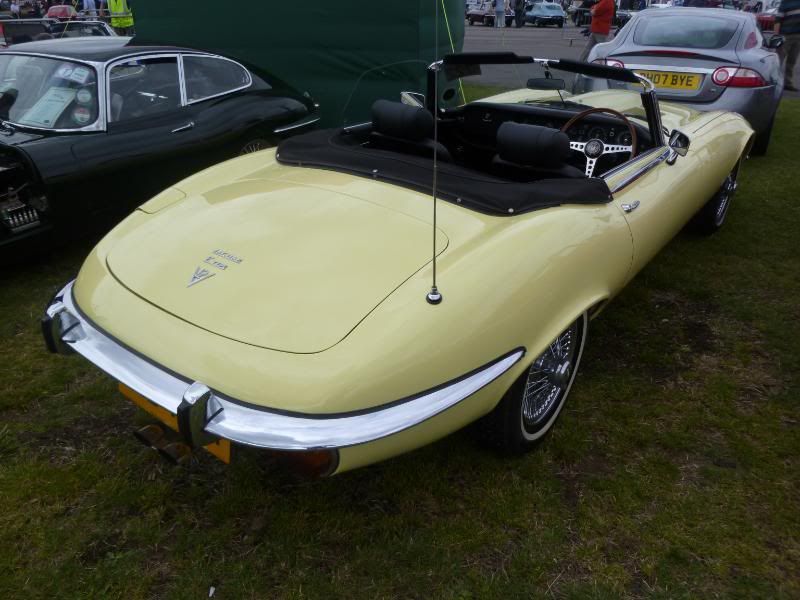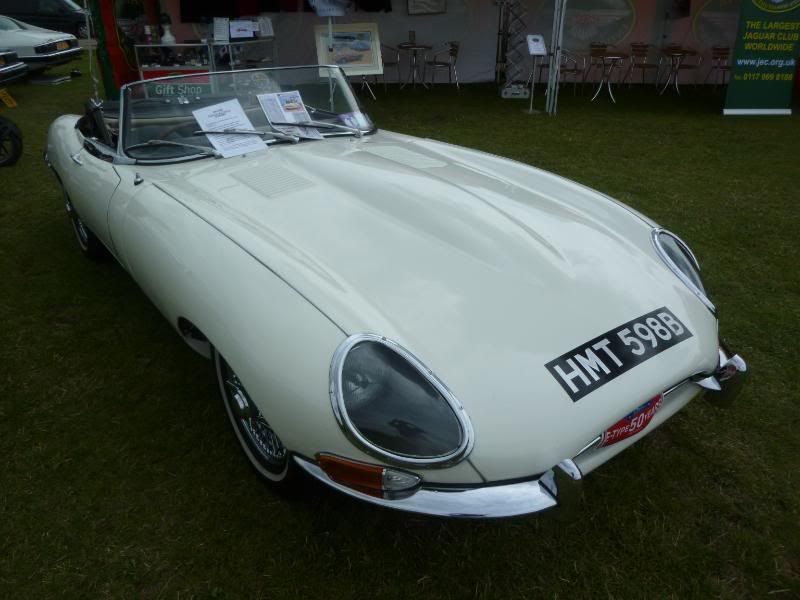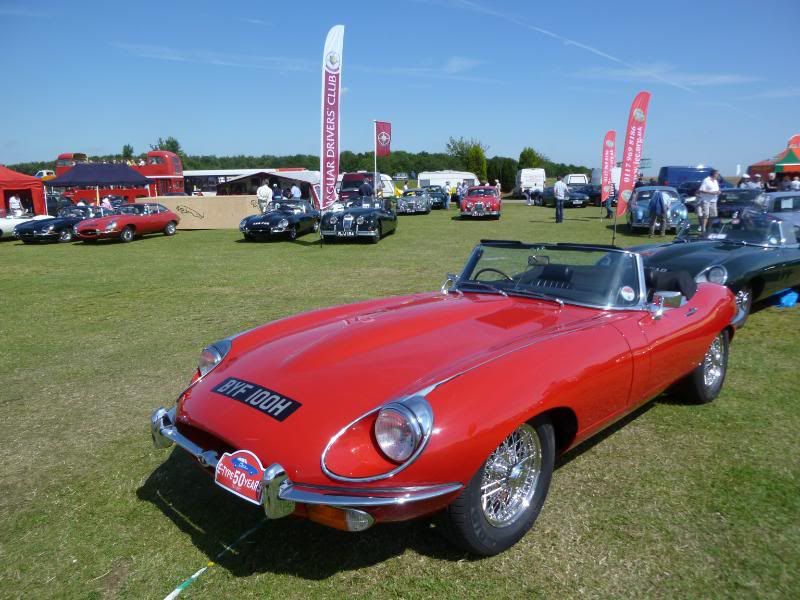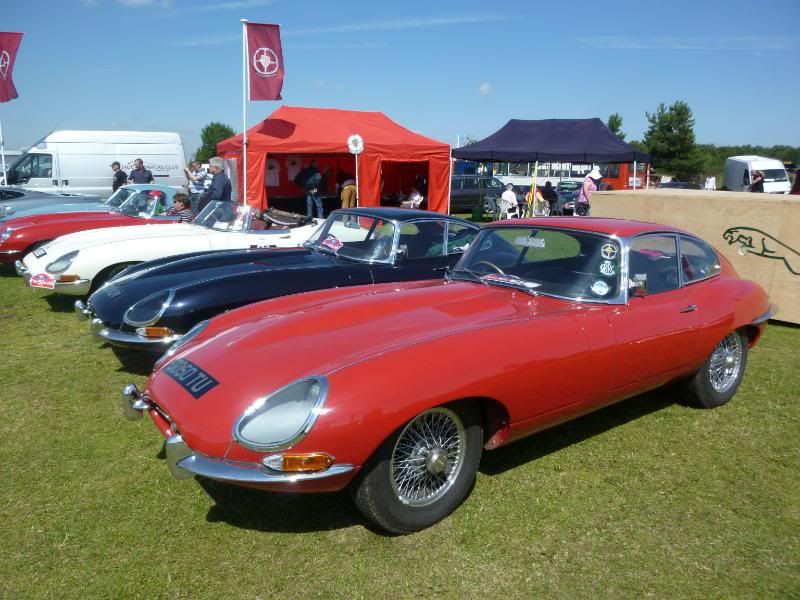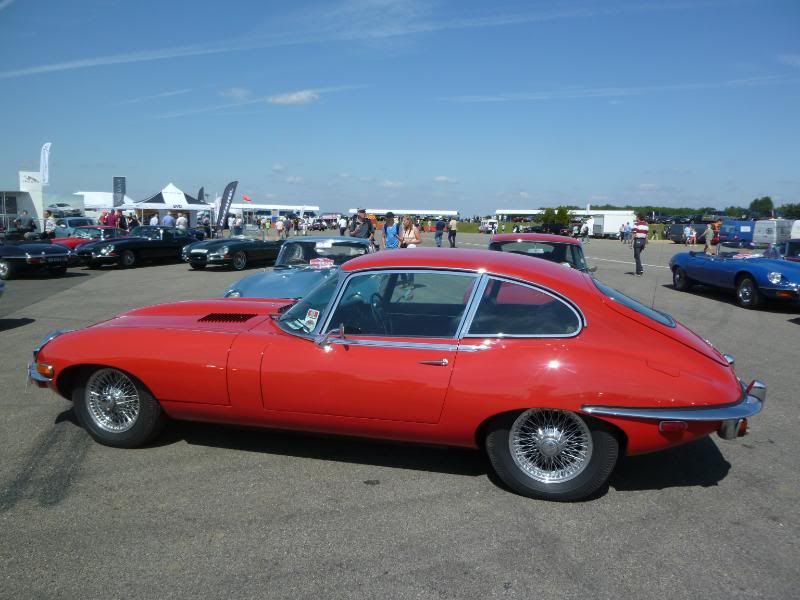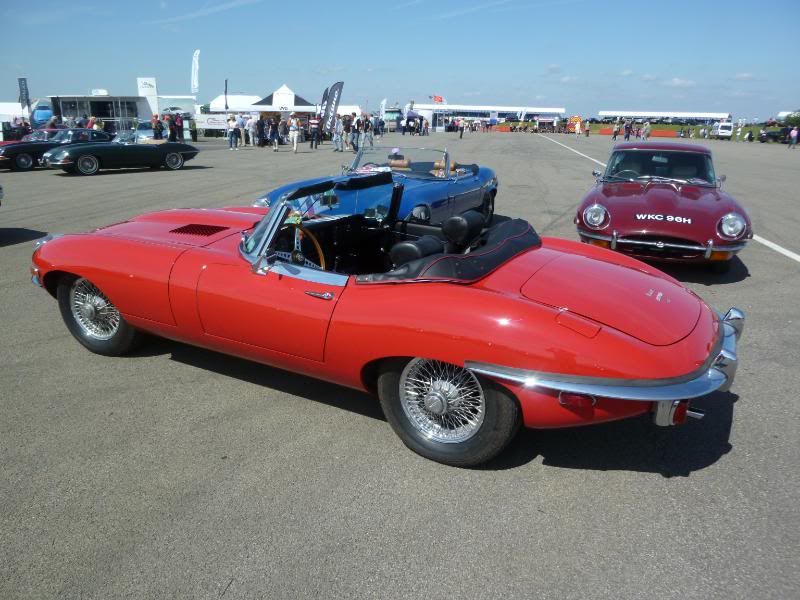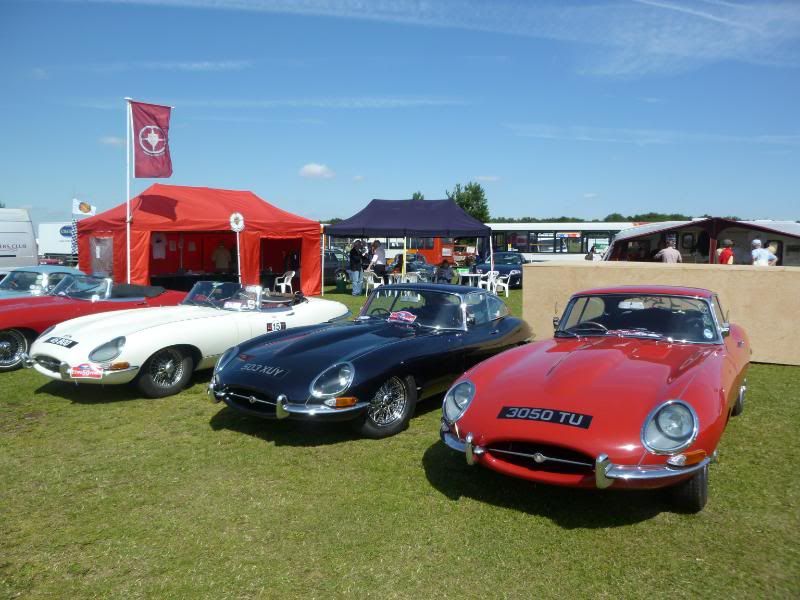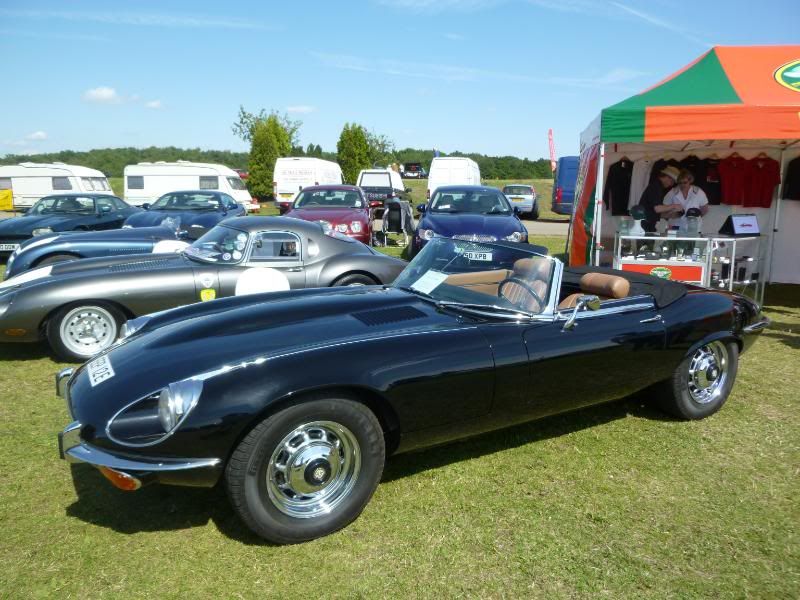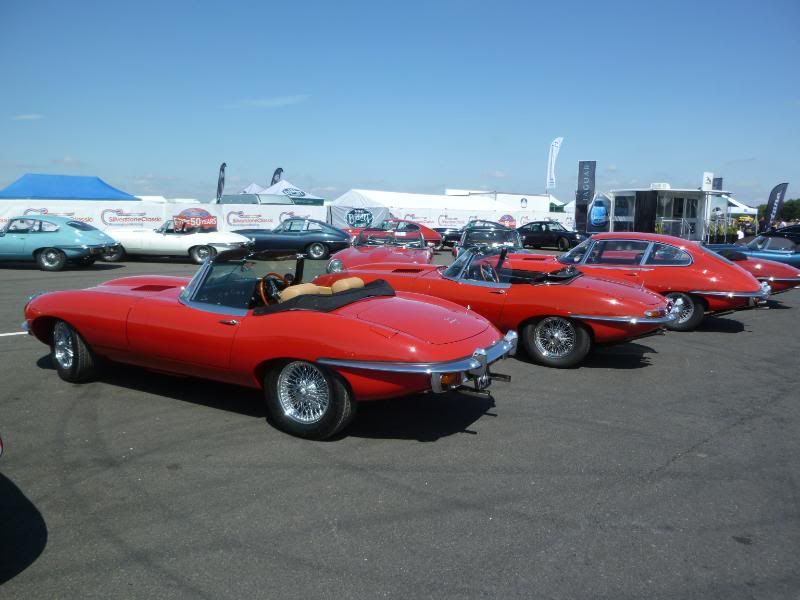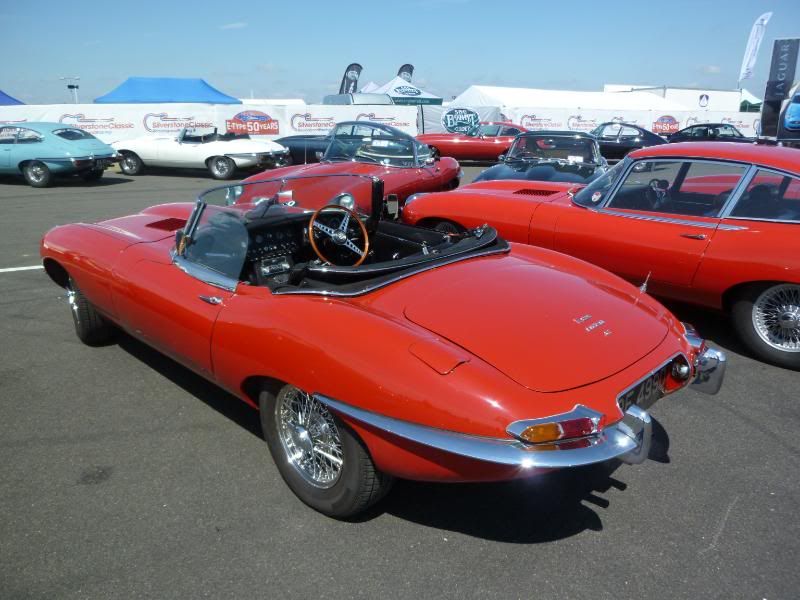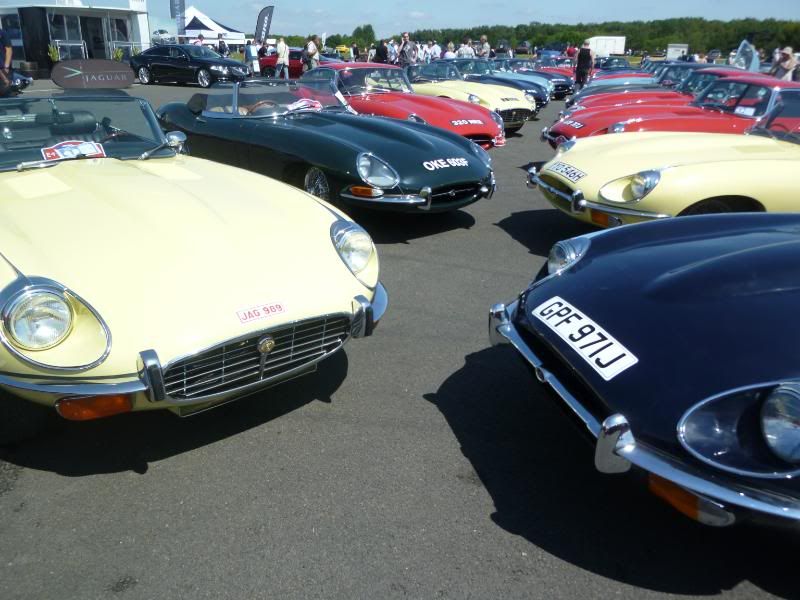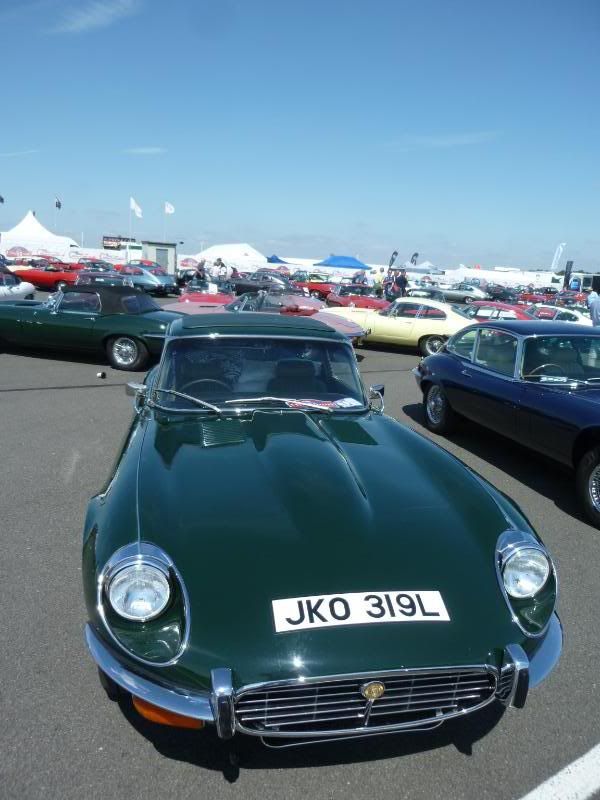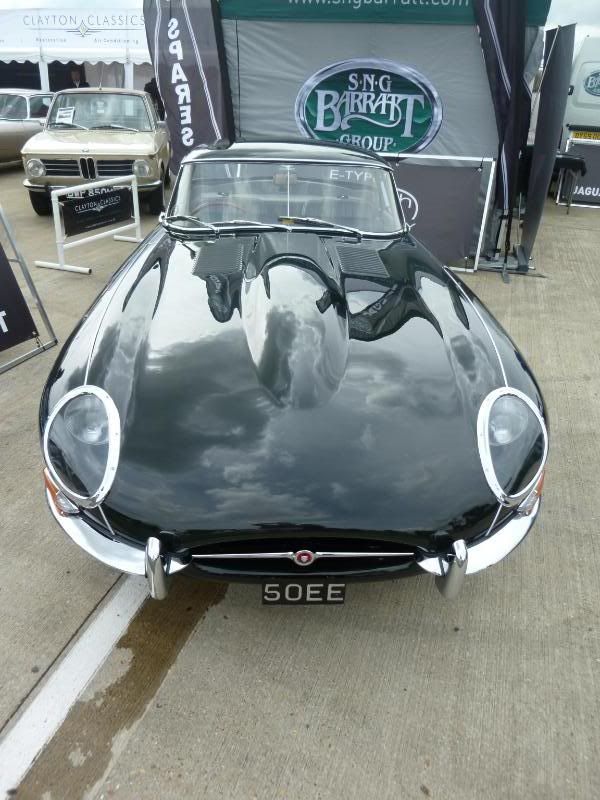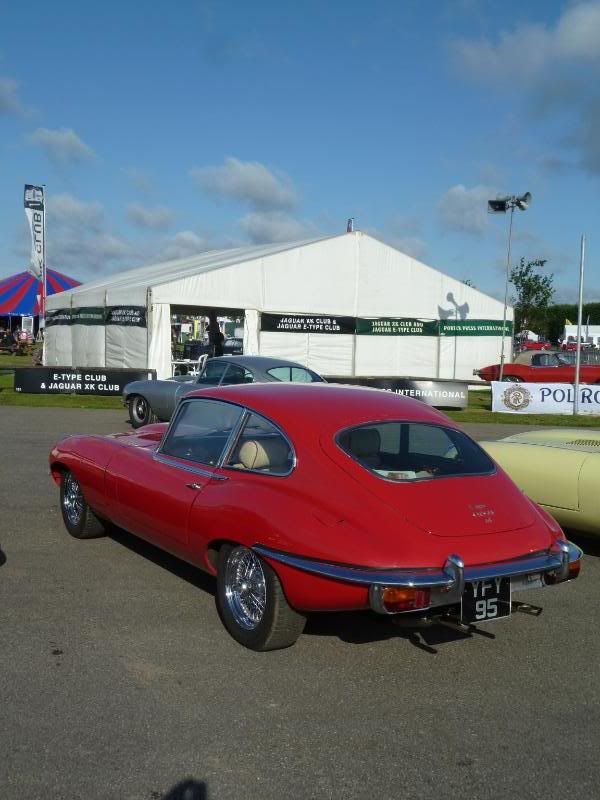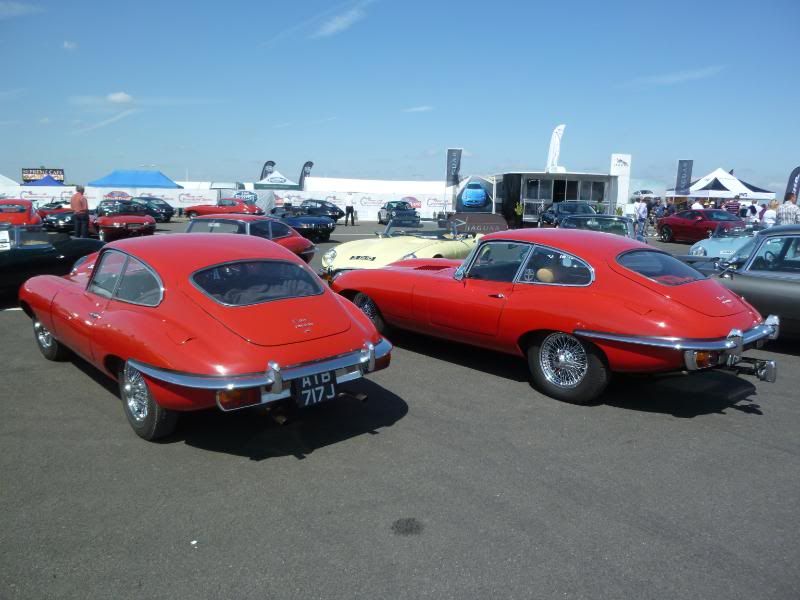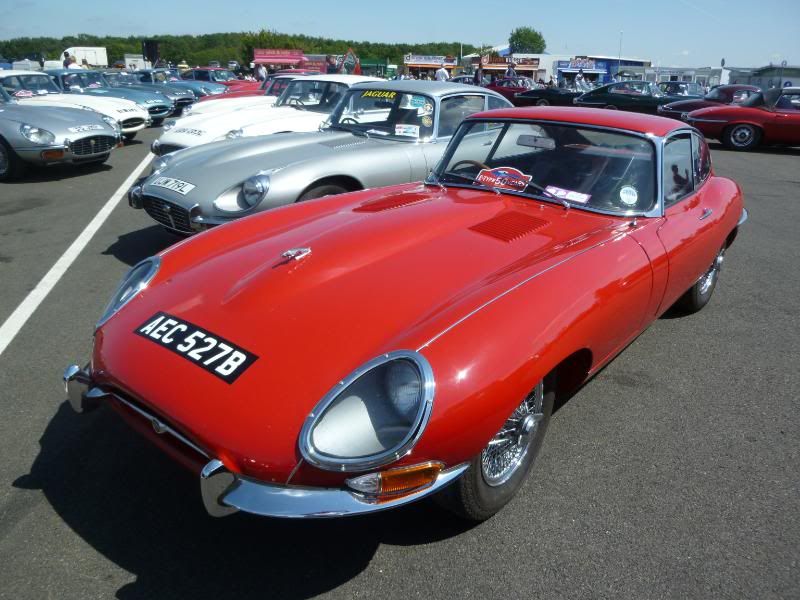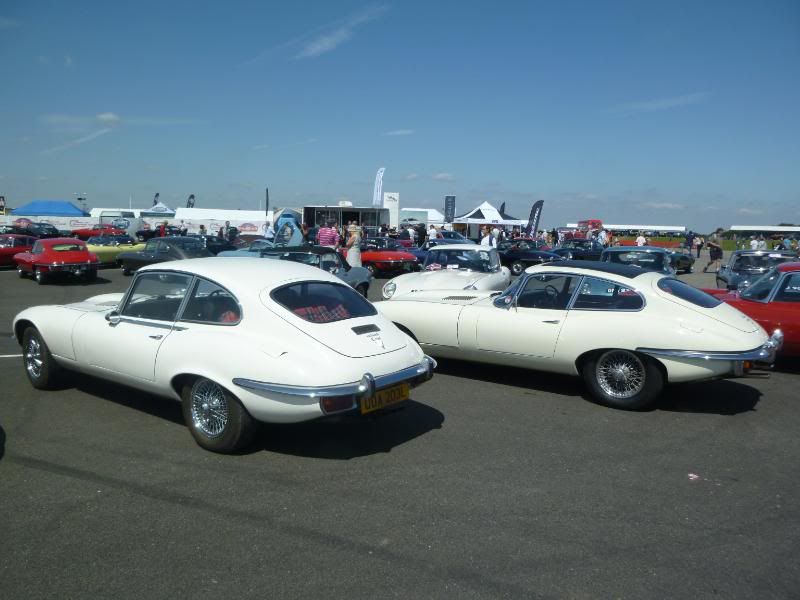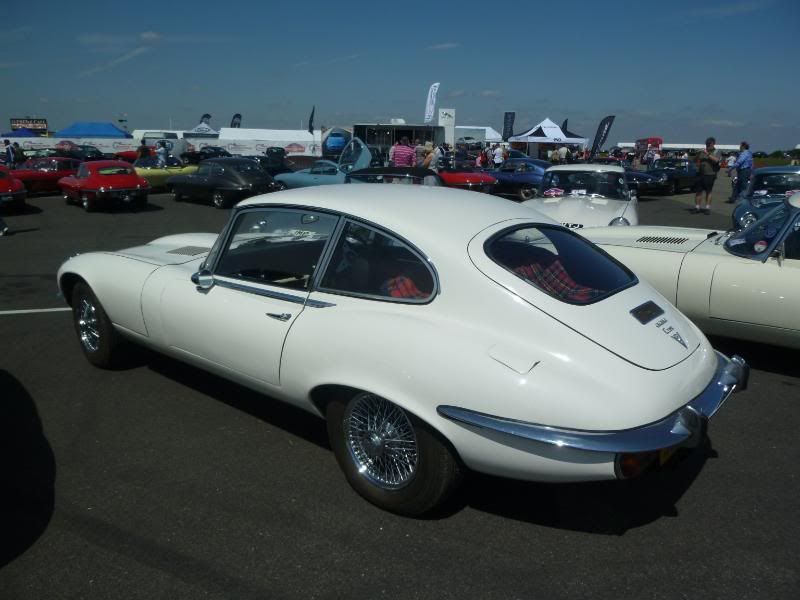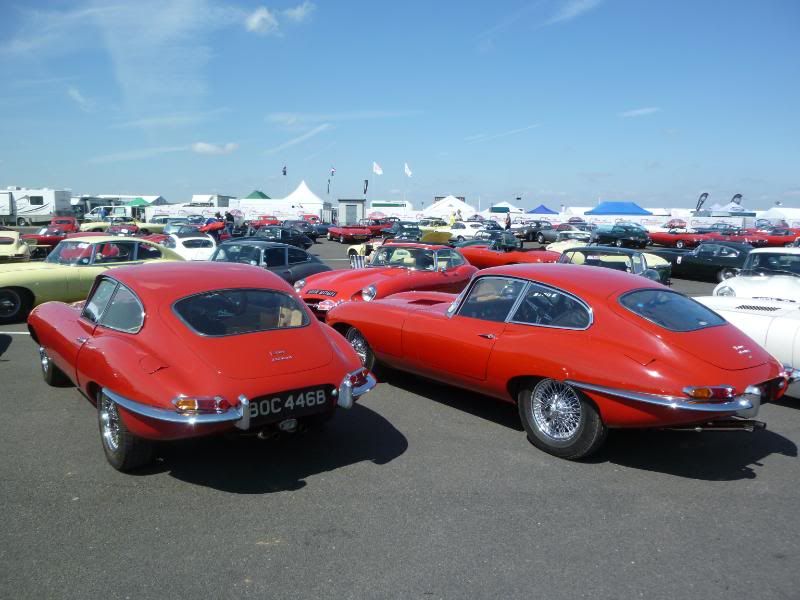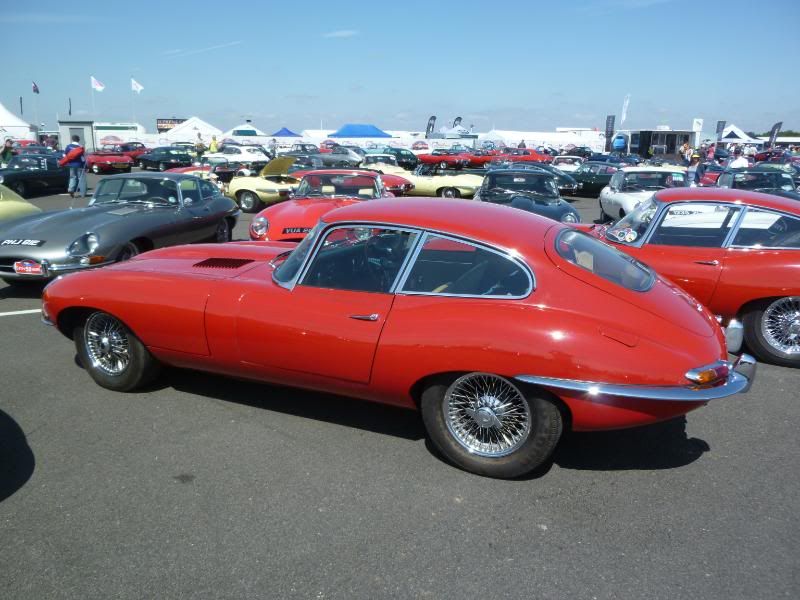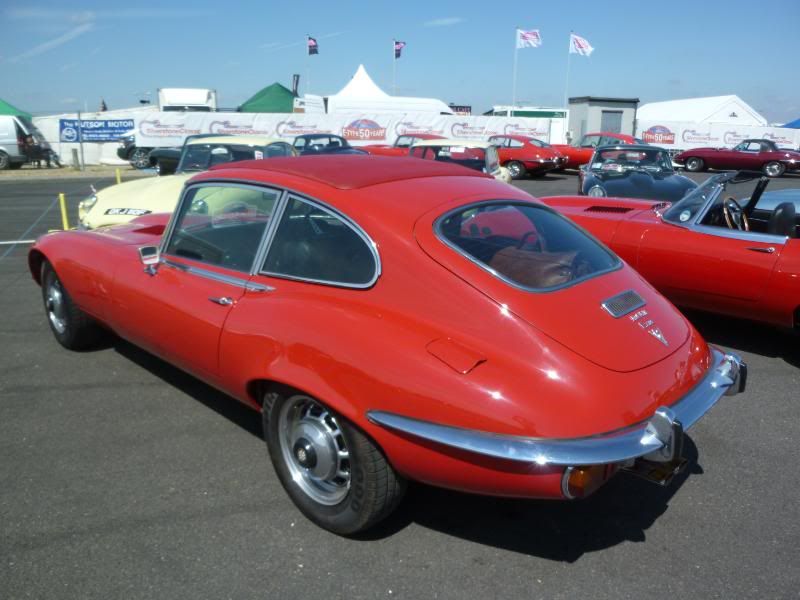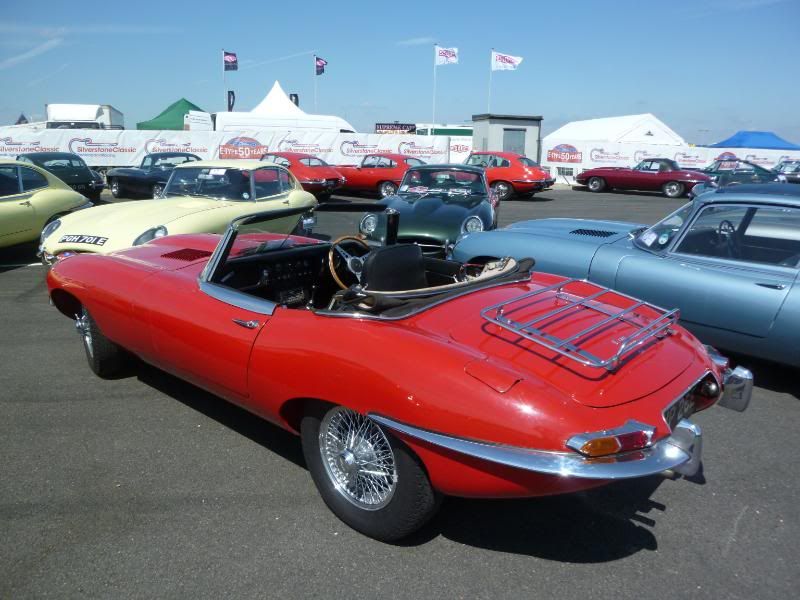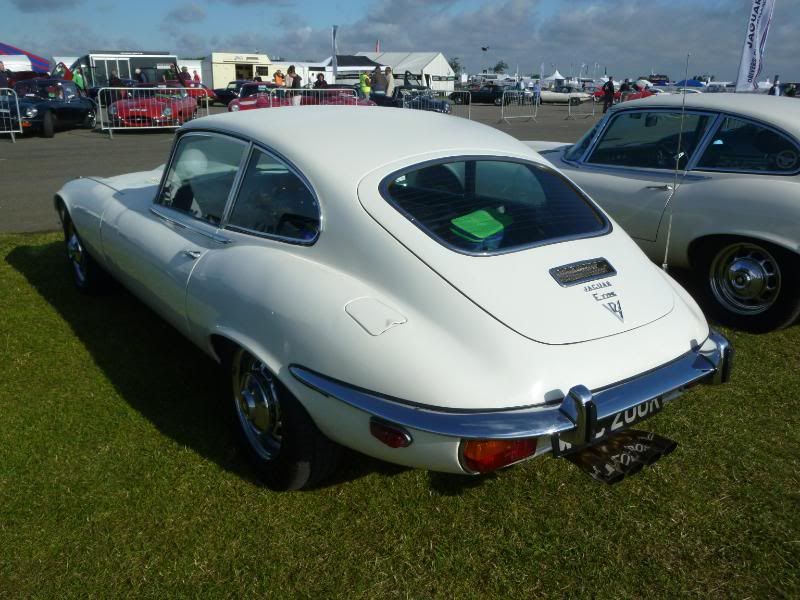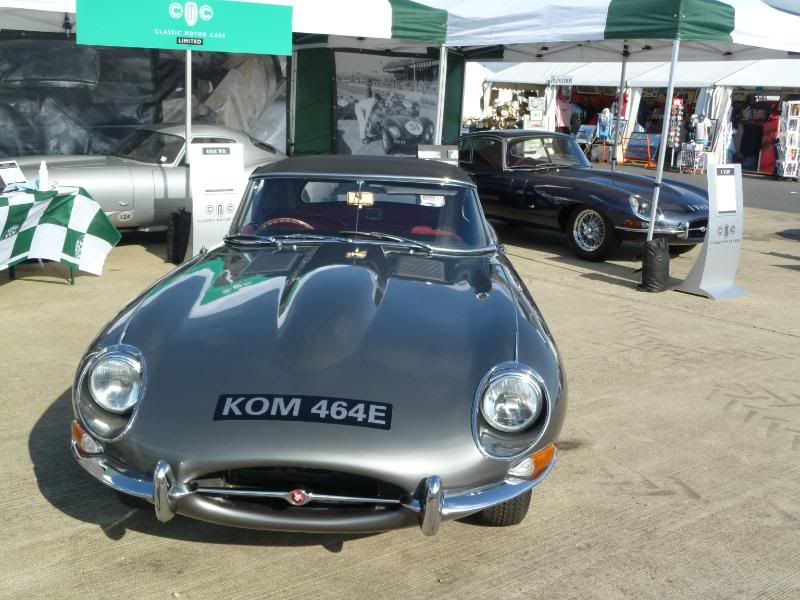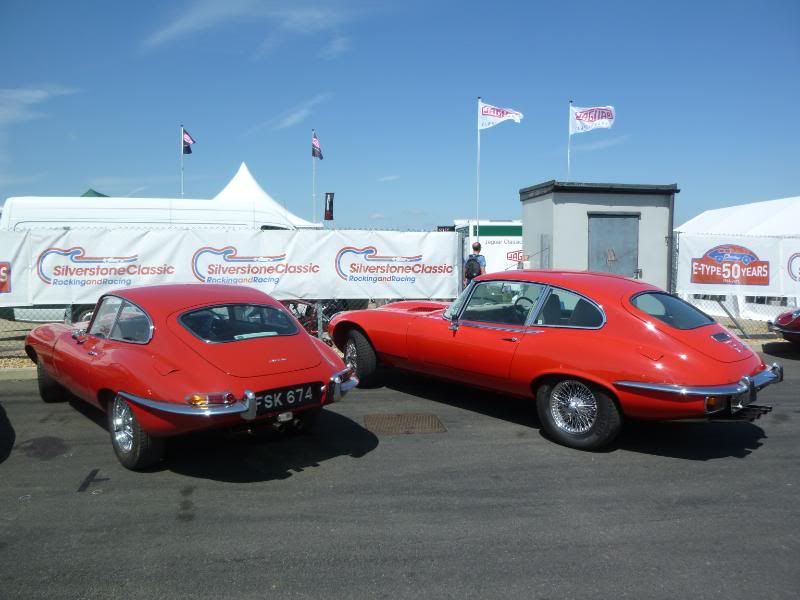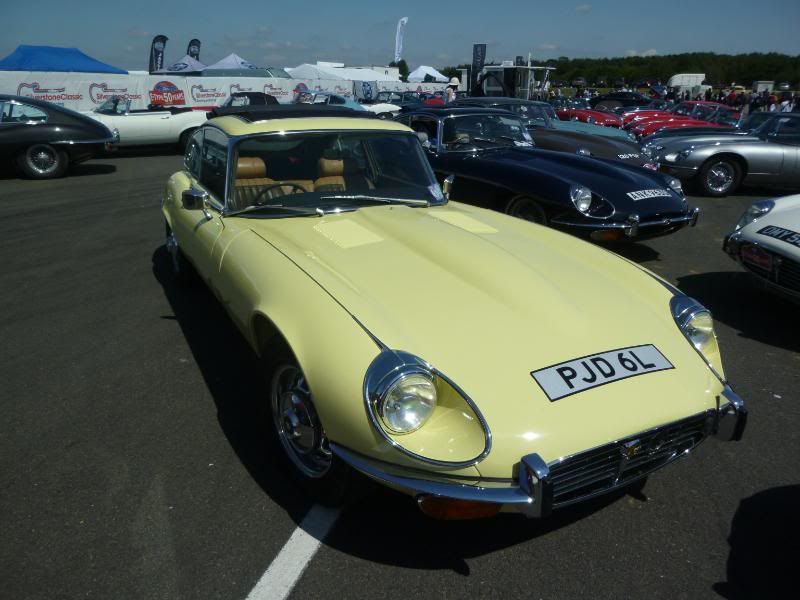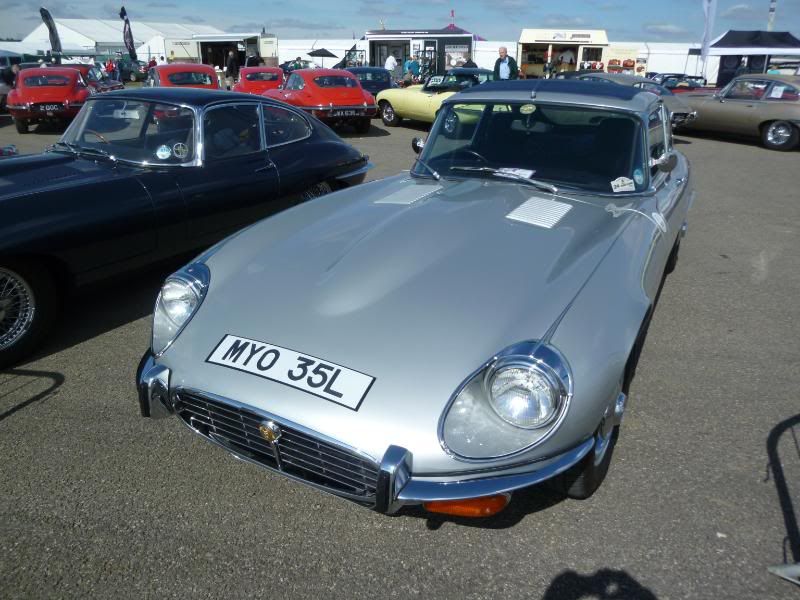 There were several historically significant cars present, including the first right hand drive car to be sold, the original Autocar Road Test car and the famous Lindner-Nocker car, recently restored.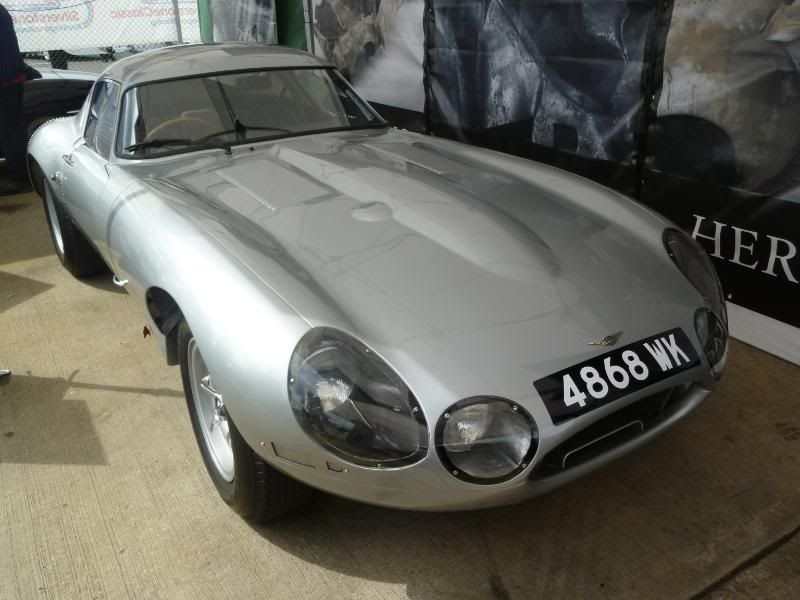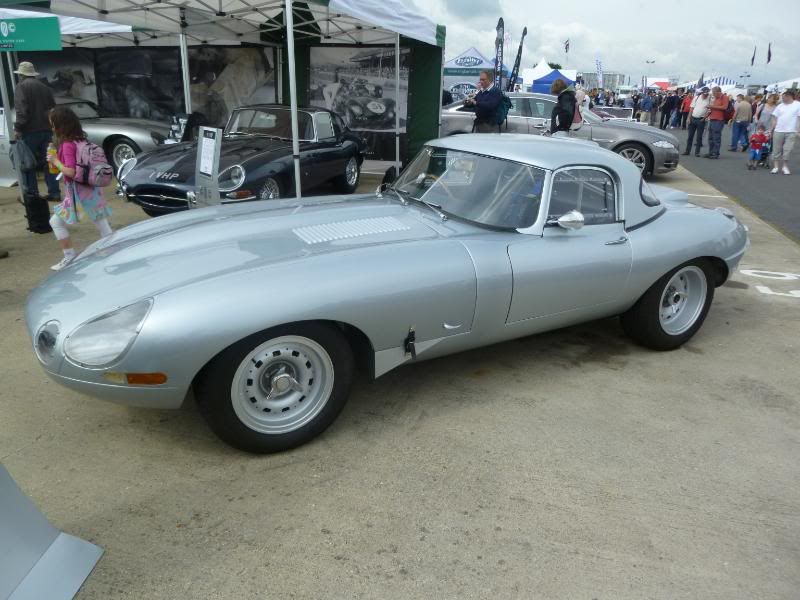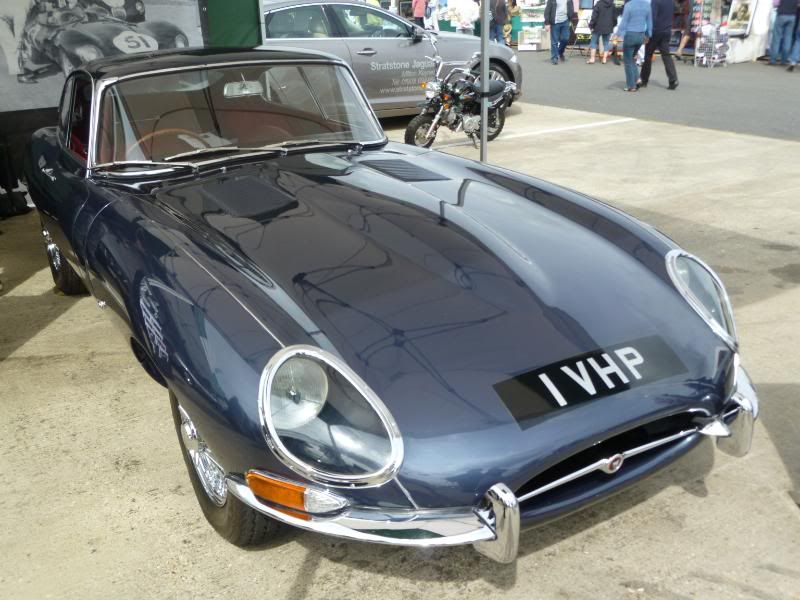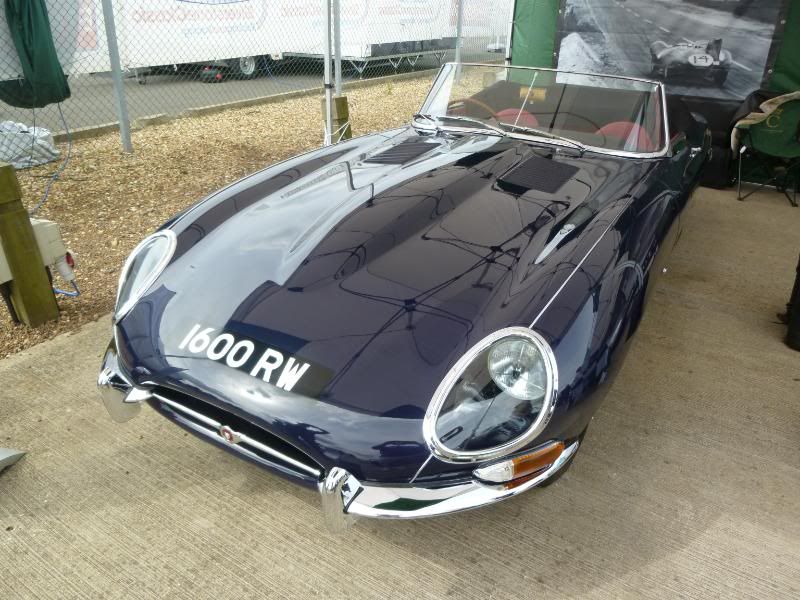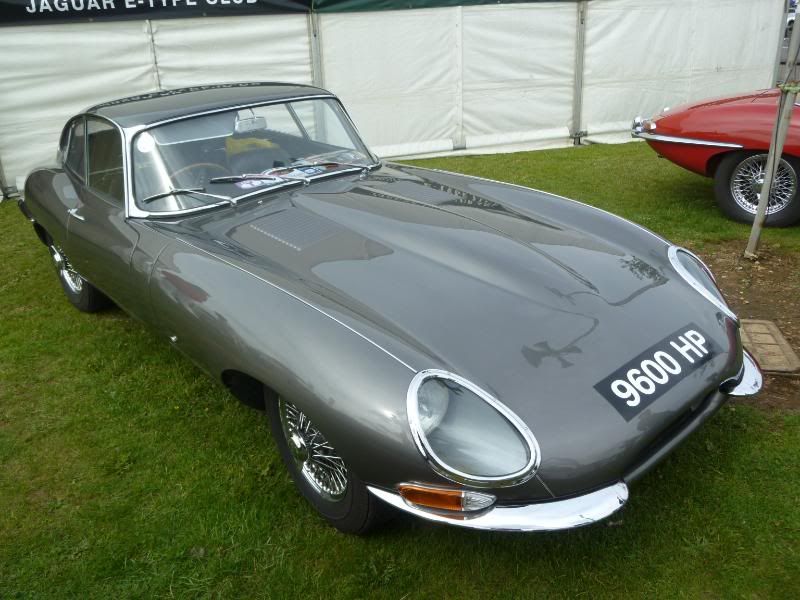 It was not just "E" Types, though, with a good array of the preceding XK120/140/150 cars to enjoy.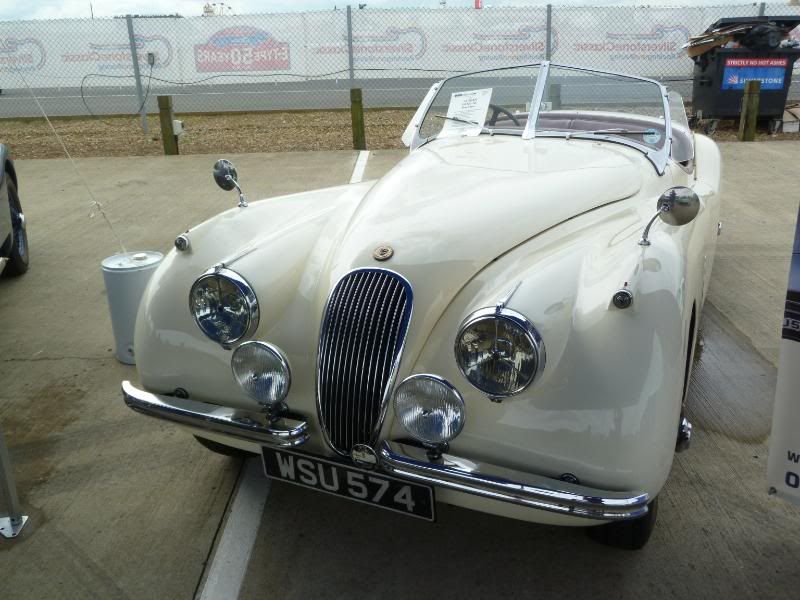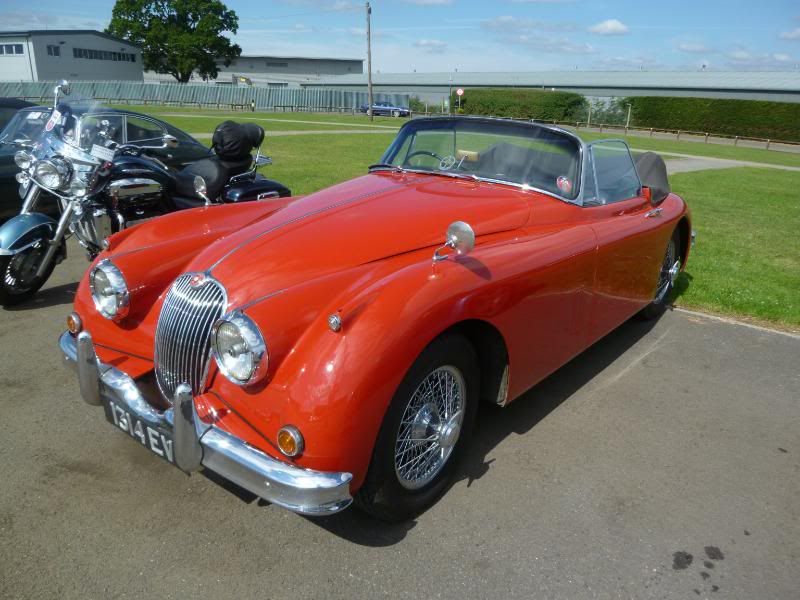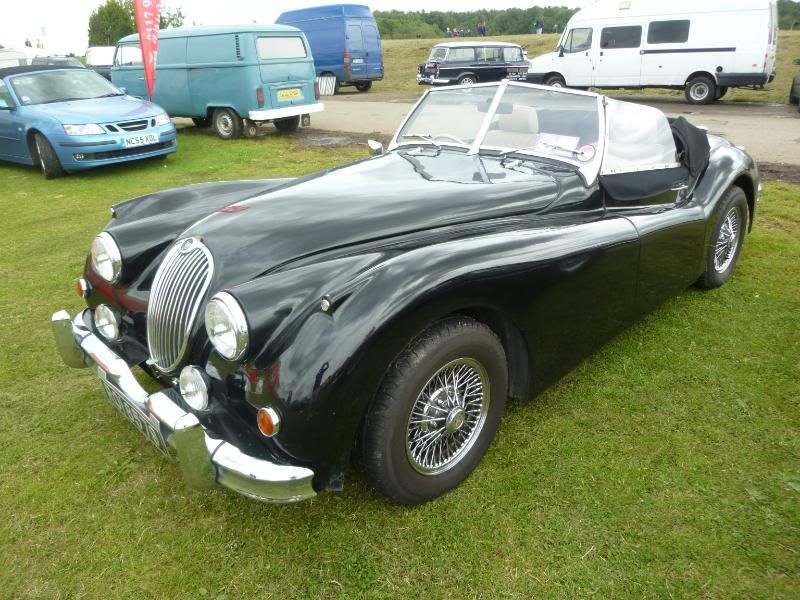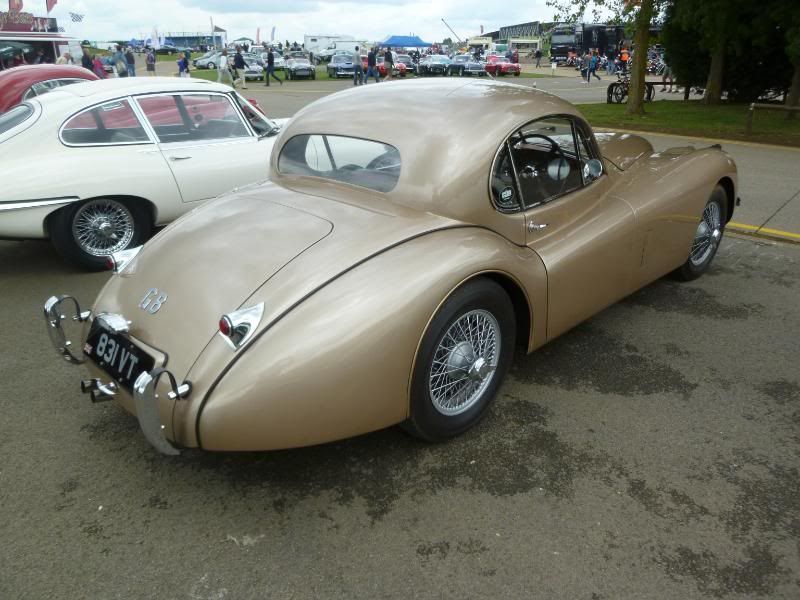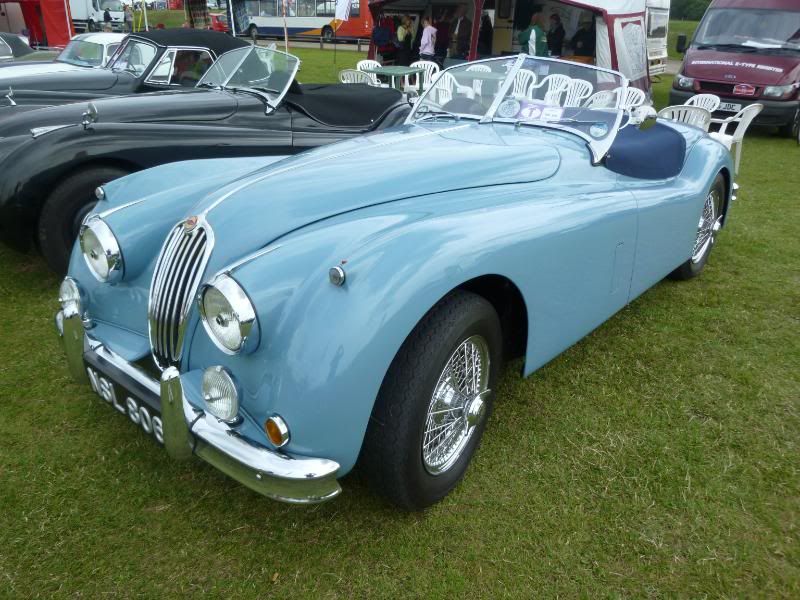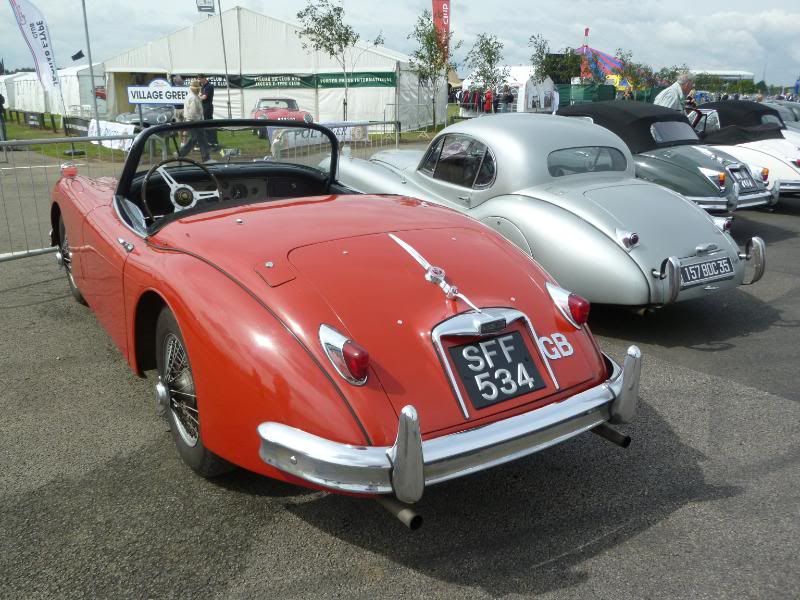 There were a number of "C" and "D" Type models to enjoy, as well as an XK-SS.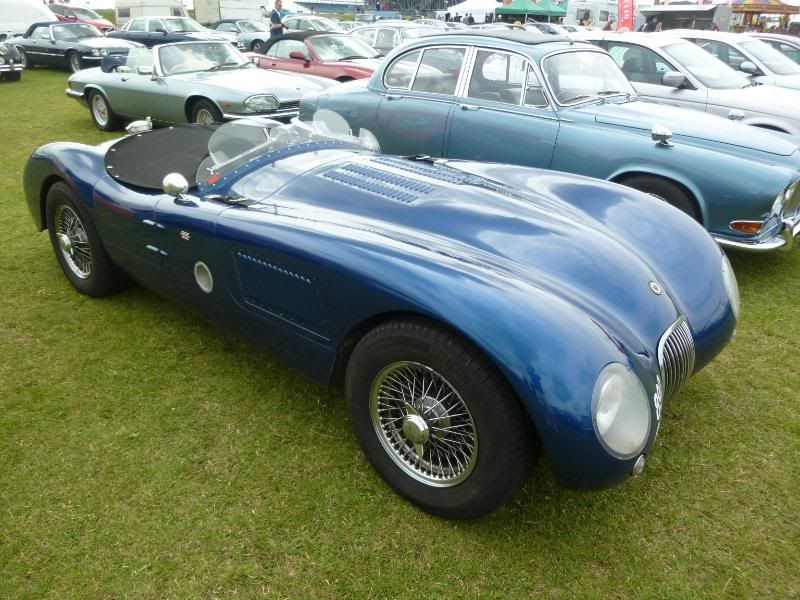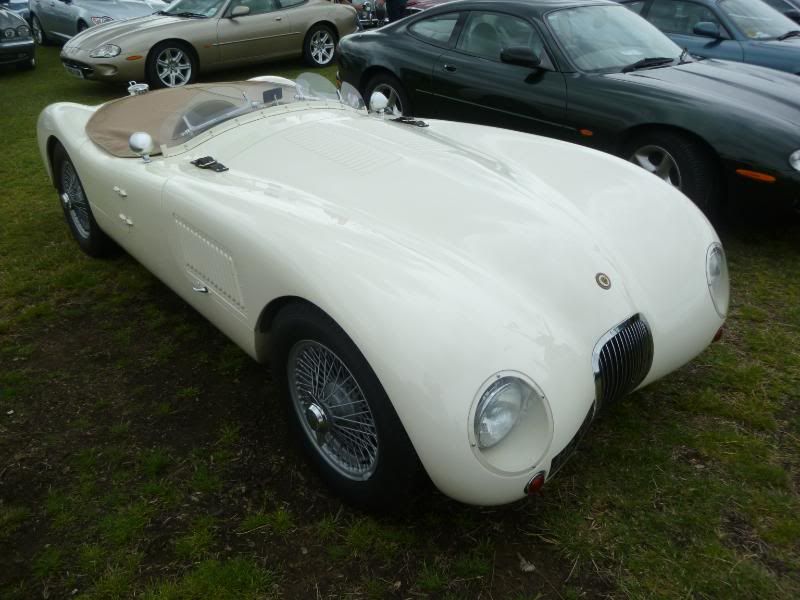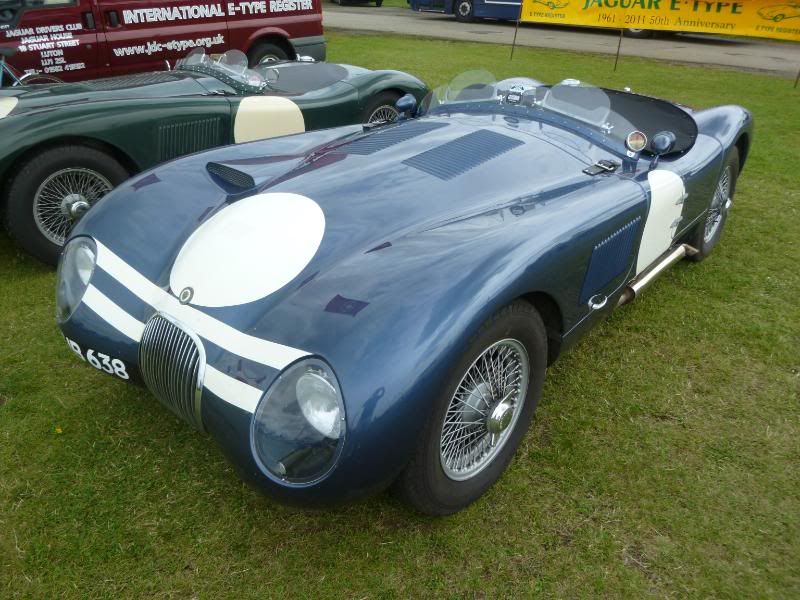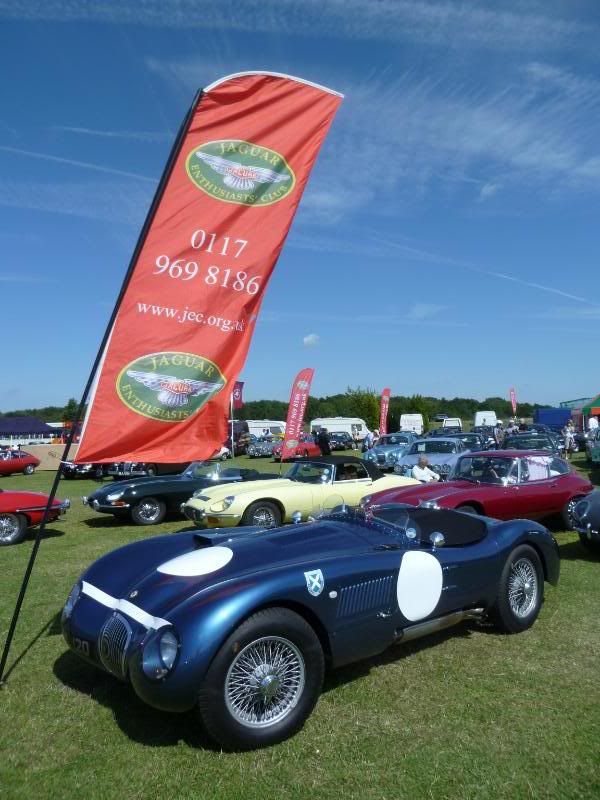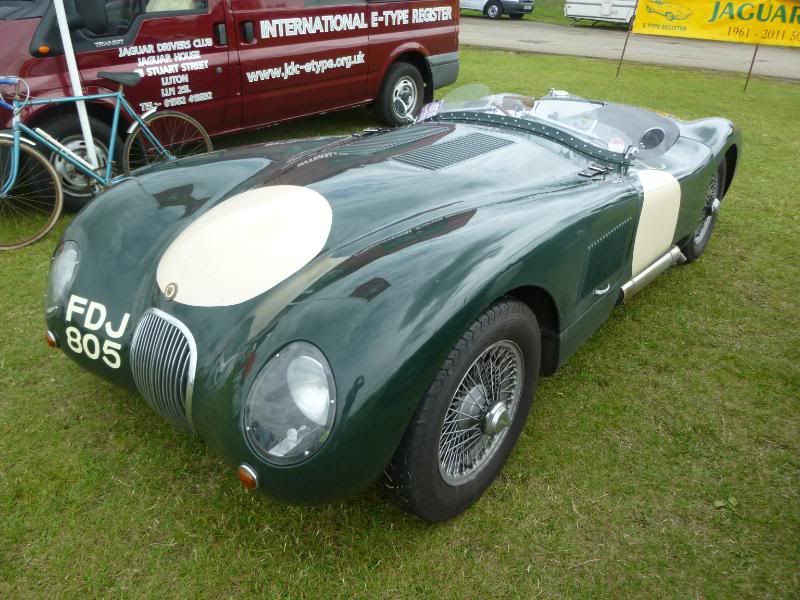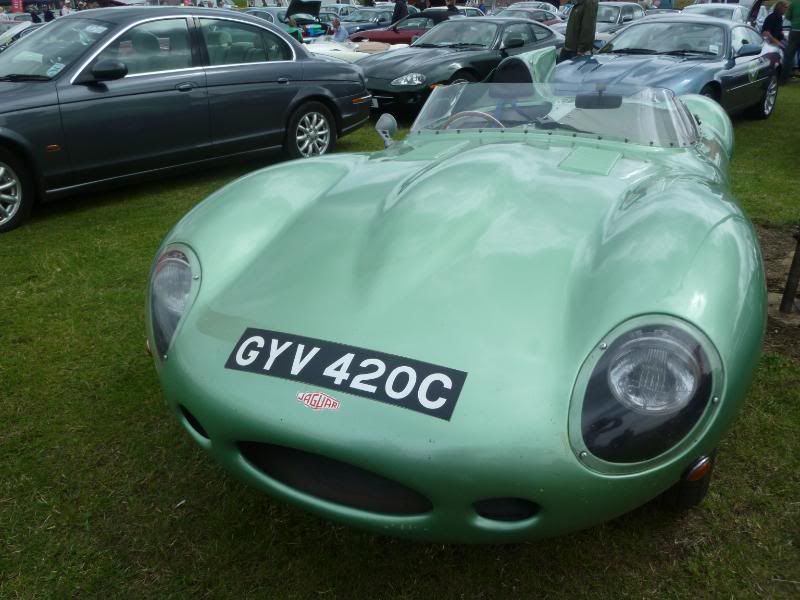 There were plenty of saloons, as well, with the 240/340/Mk2 cars the most numerous, but also lots of XJ6s, a Mark 10, a 420G and a number of recent S and X Types.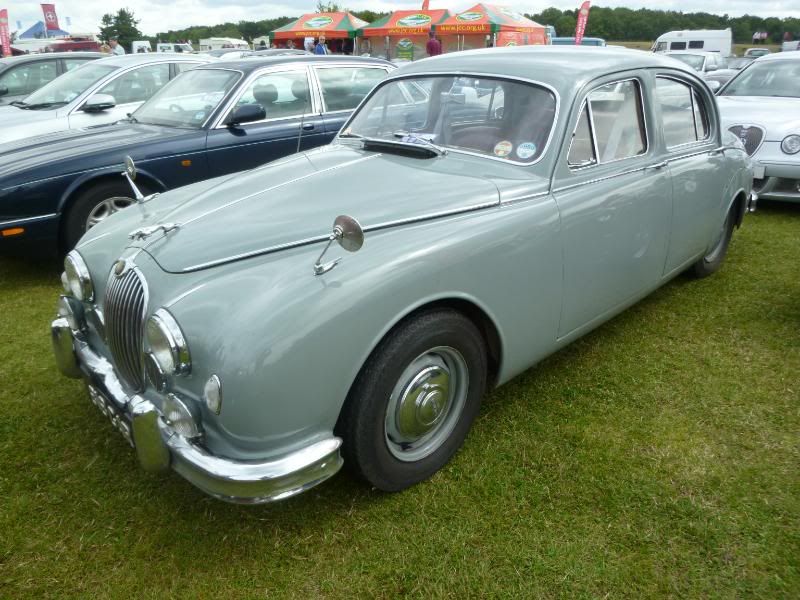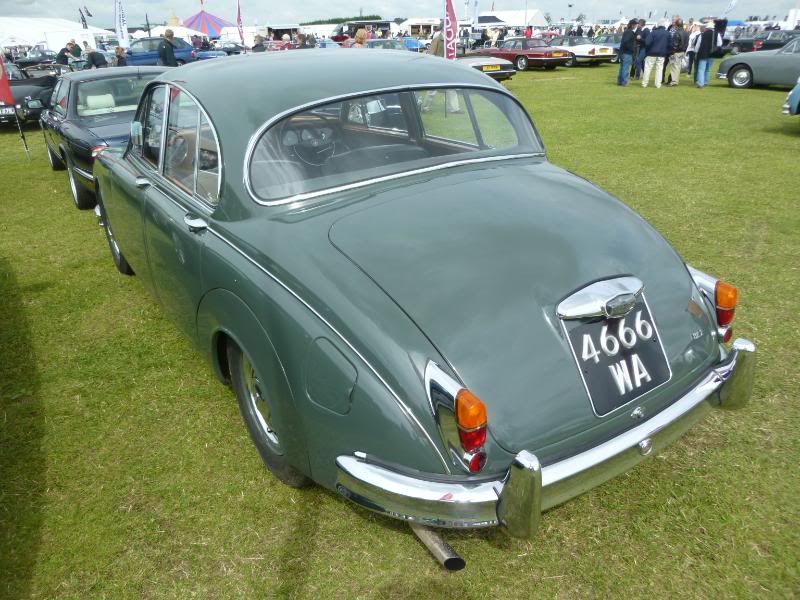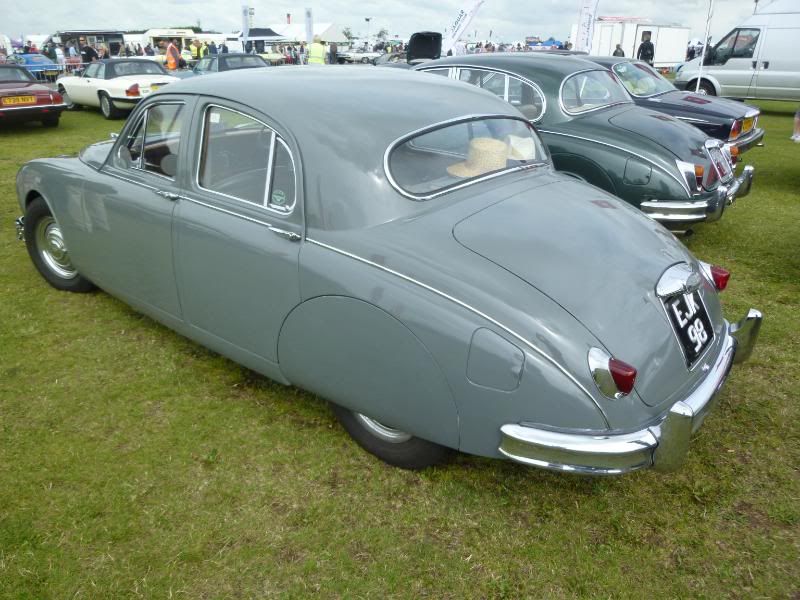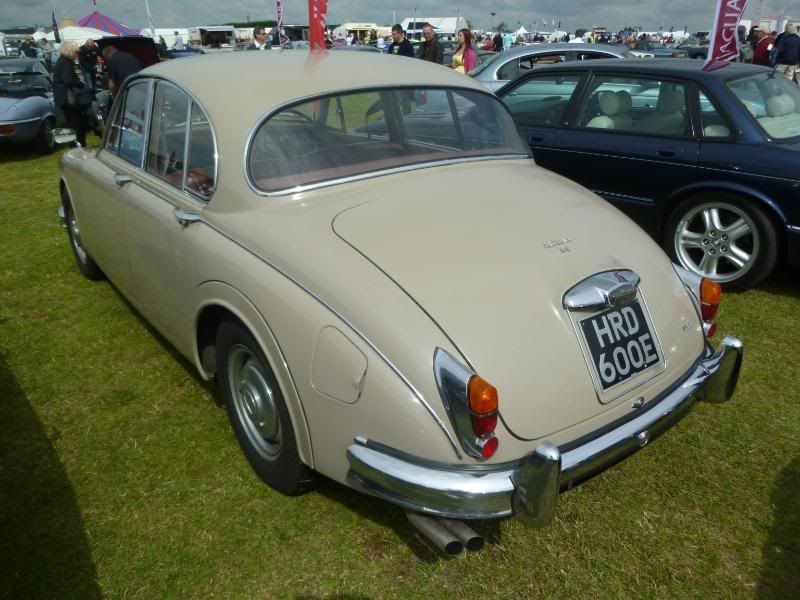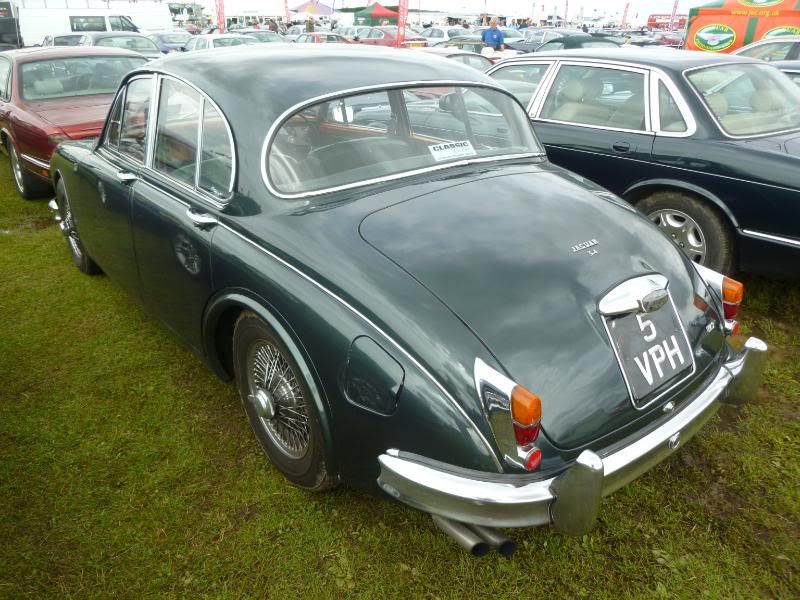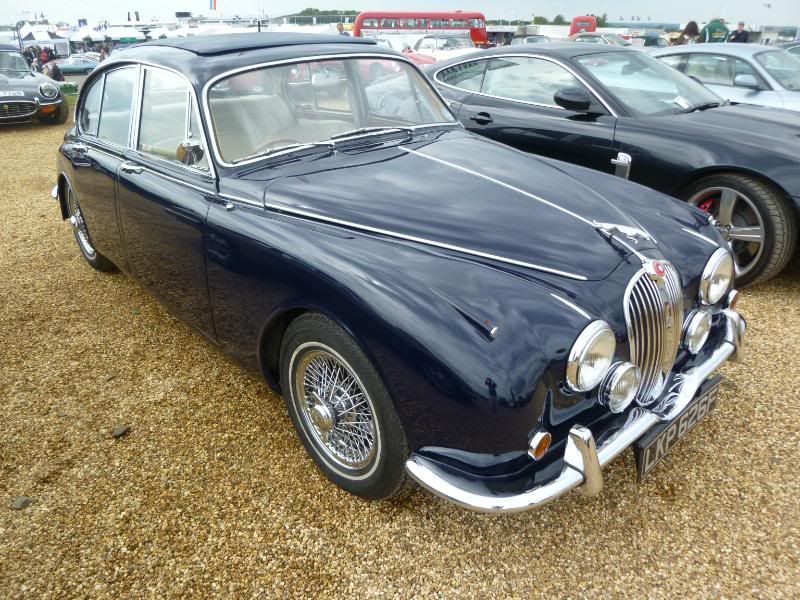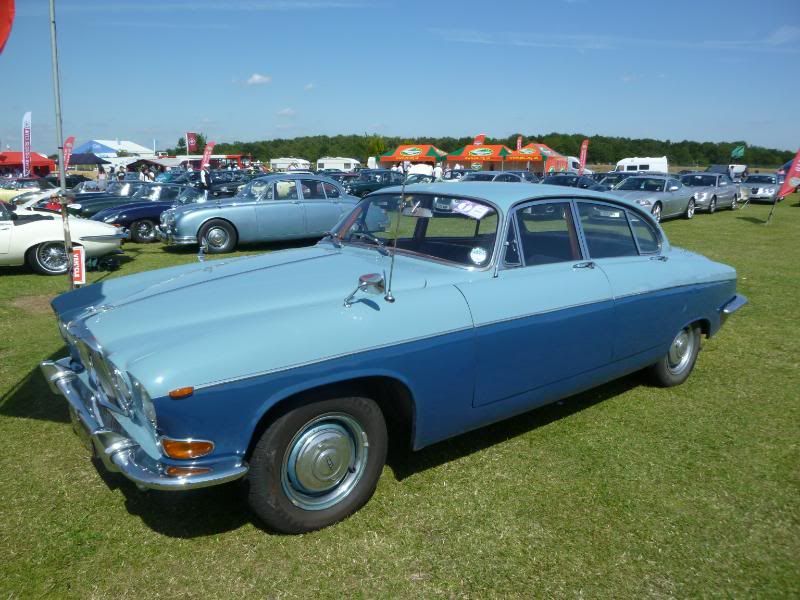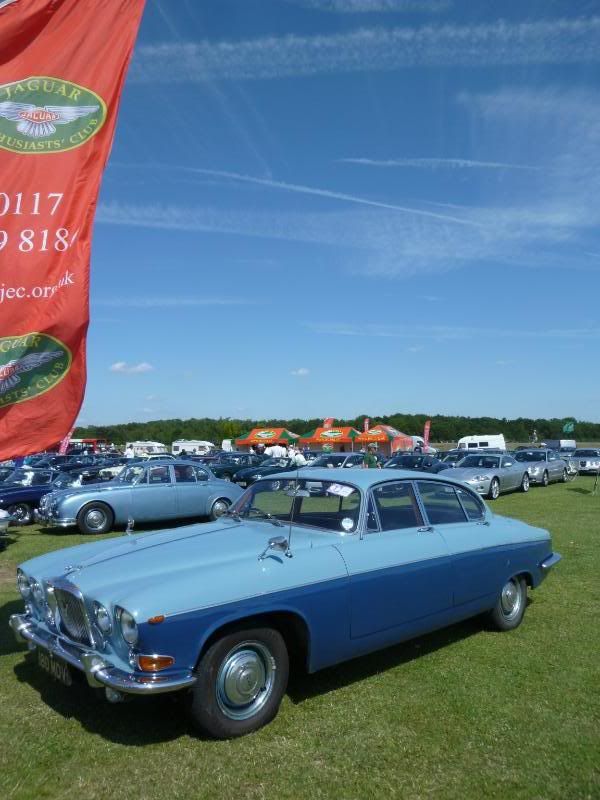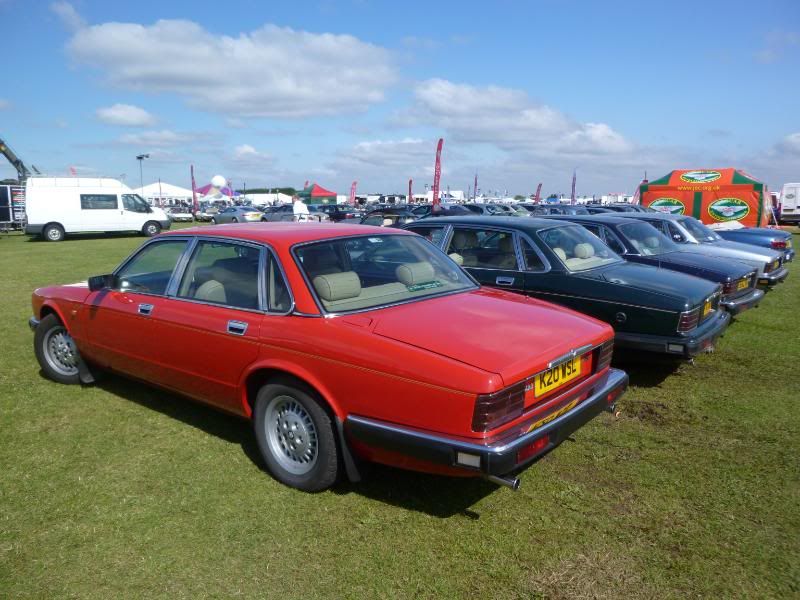 Lots of the more sporting models, too, including the XJS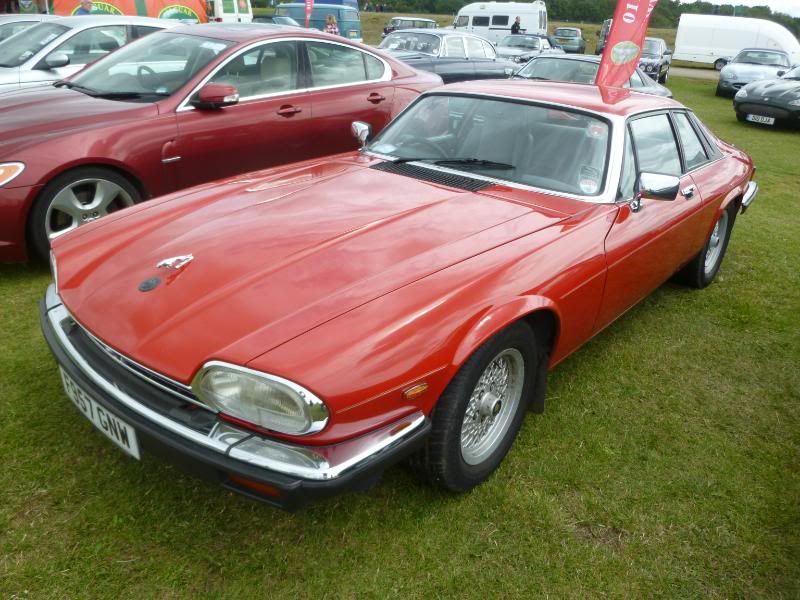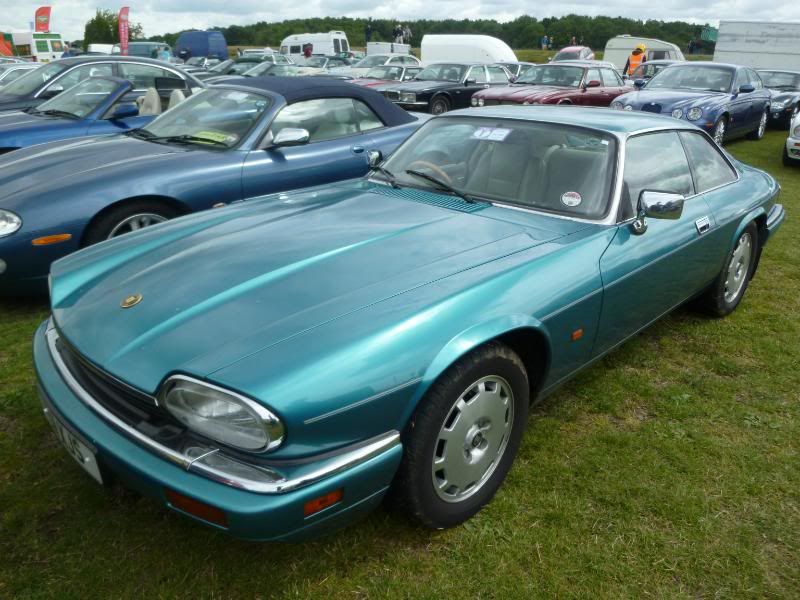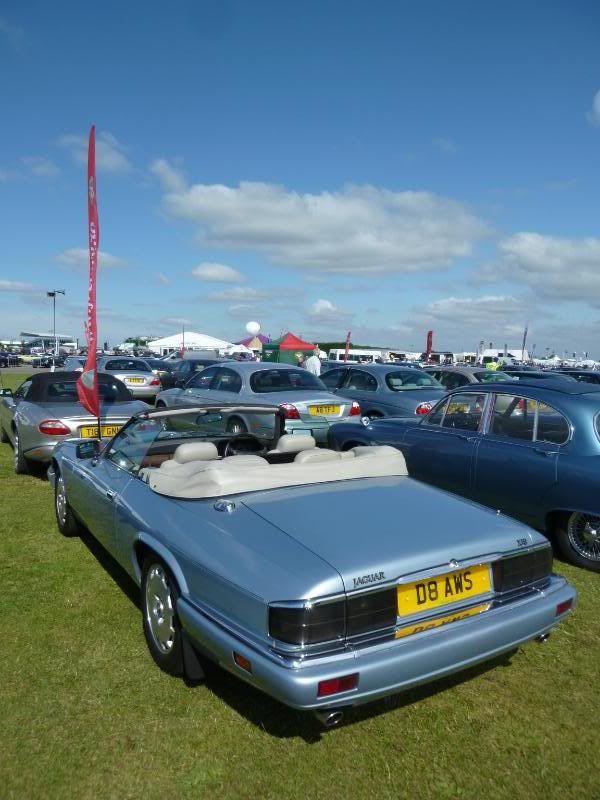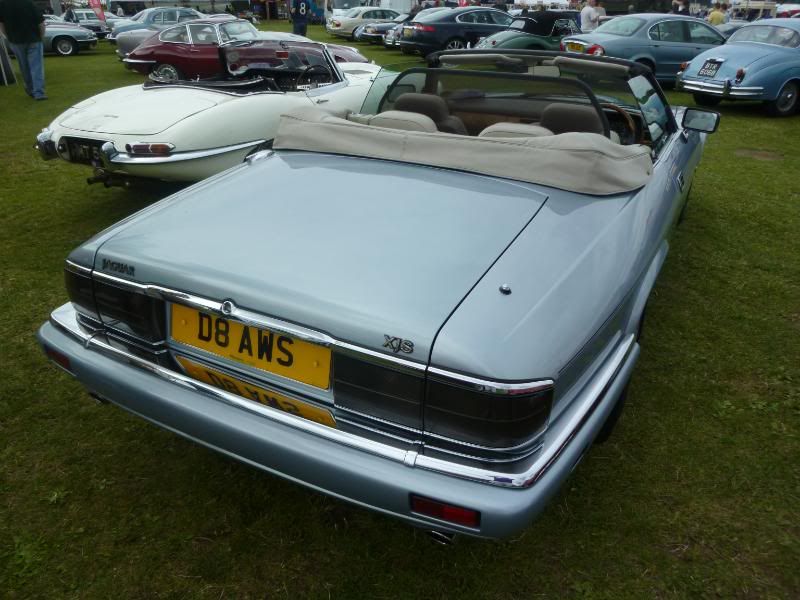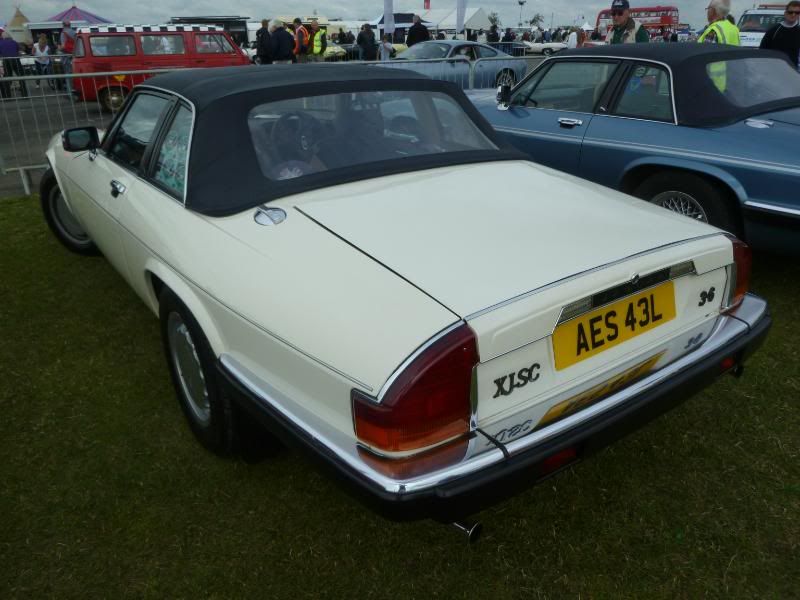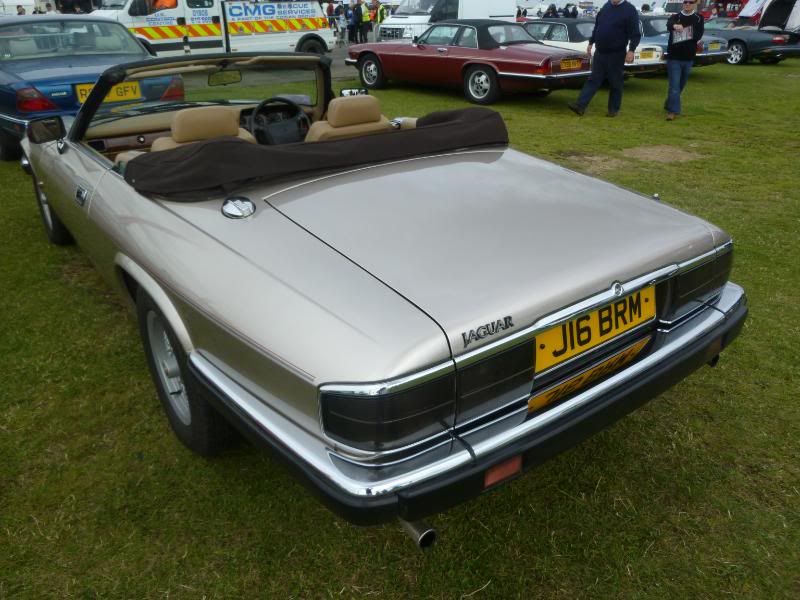 There were plenty of the more recent XK8 and XKR models, too, showing the popularity of these cars as sort of "instant classics".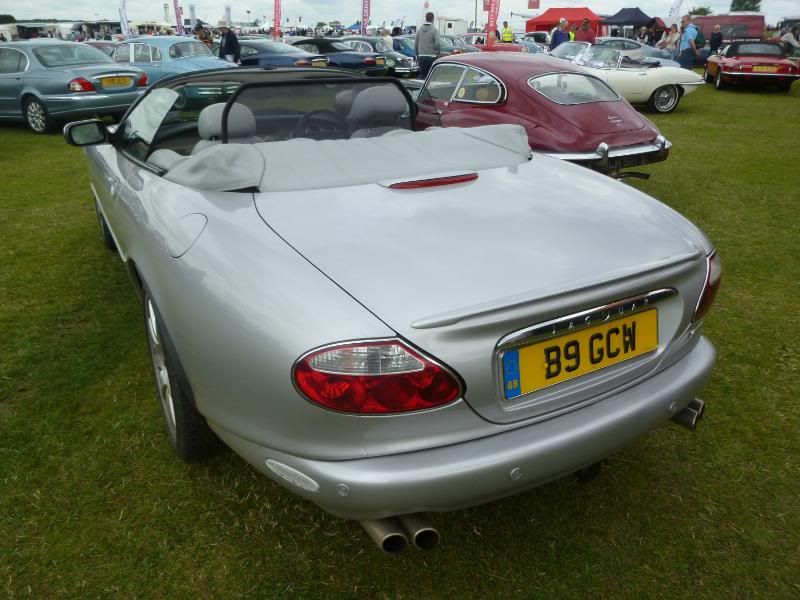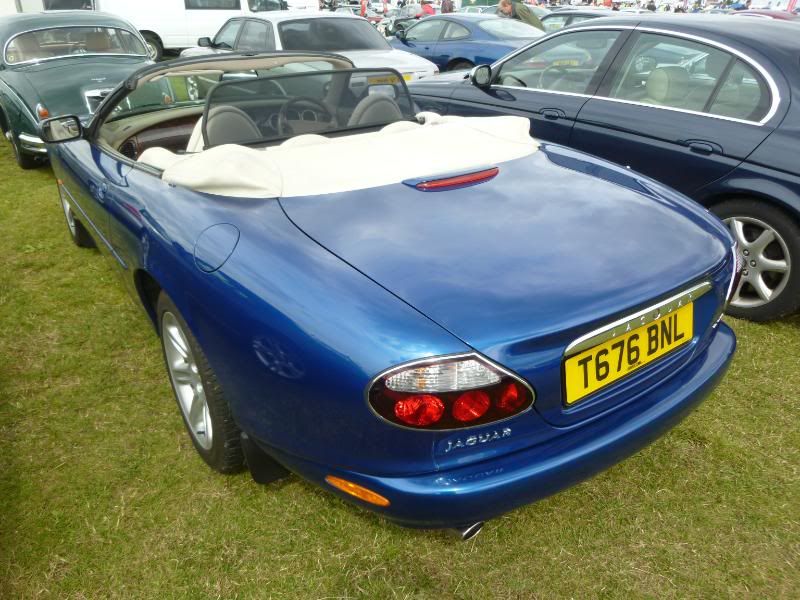 There was a lone XJ220 at the event on Sunday. It was whilst looking at this that I spotted Colin Stickland, known to this forum, with his two lads, taking in the same automotive legend, and so was able to catch up with him for a brief chat.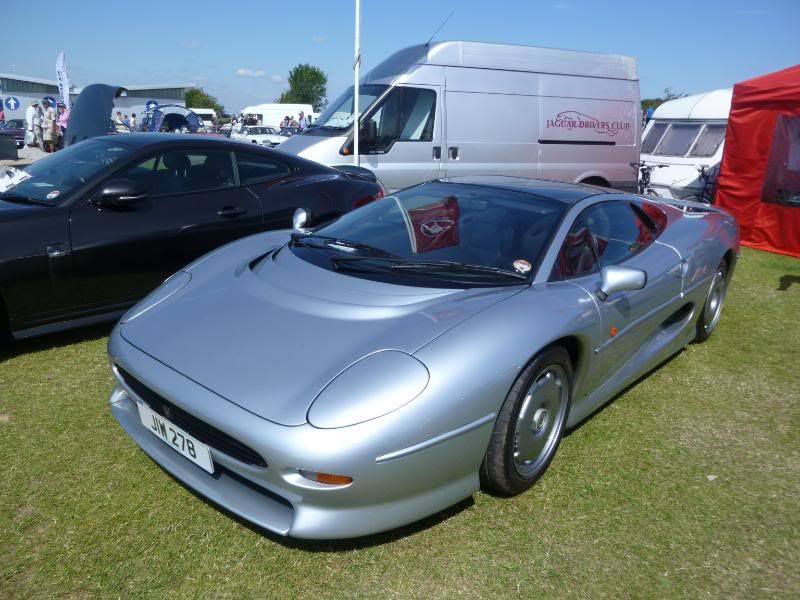 Jaguar UK had a stand where they could showcase their latest offerings, and the now familiar new XJ was joined by a facelifted XF and the new XKR-S.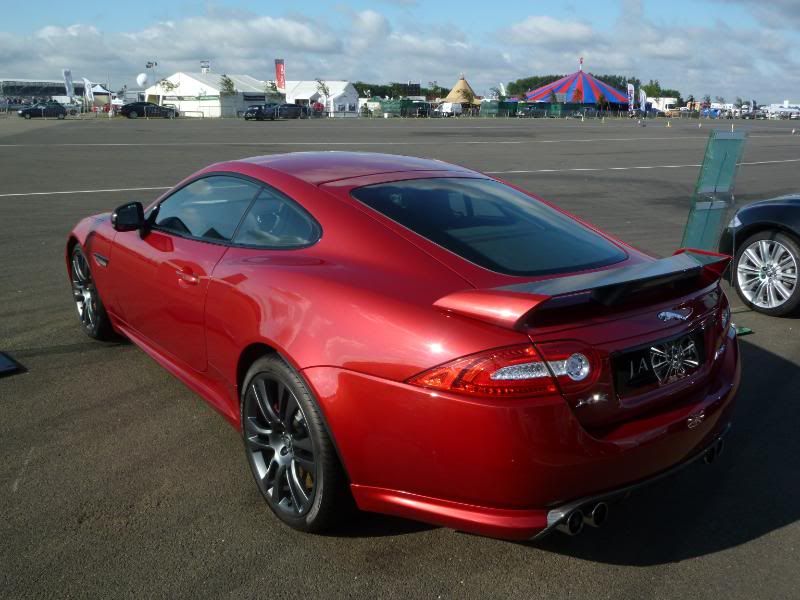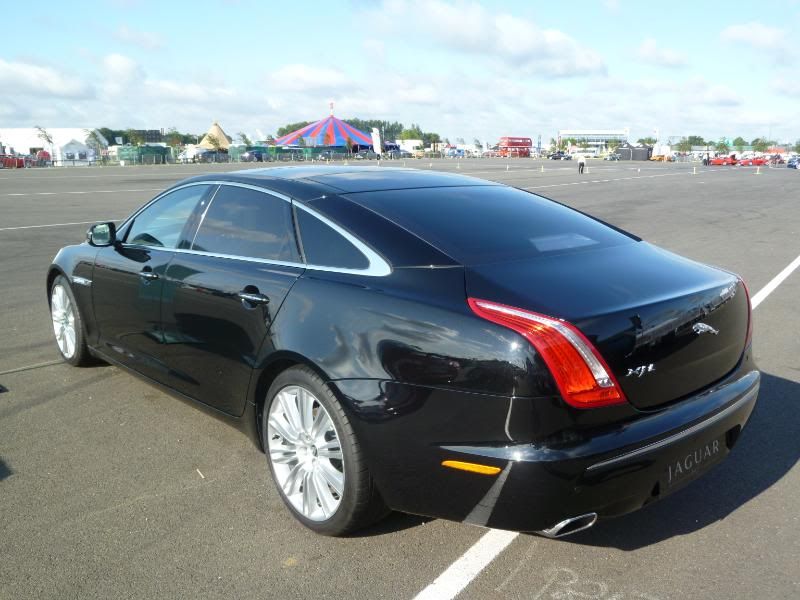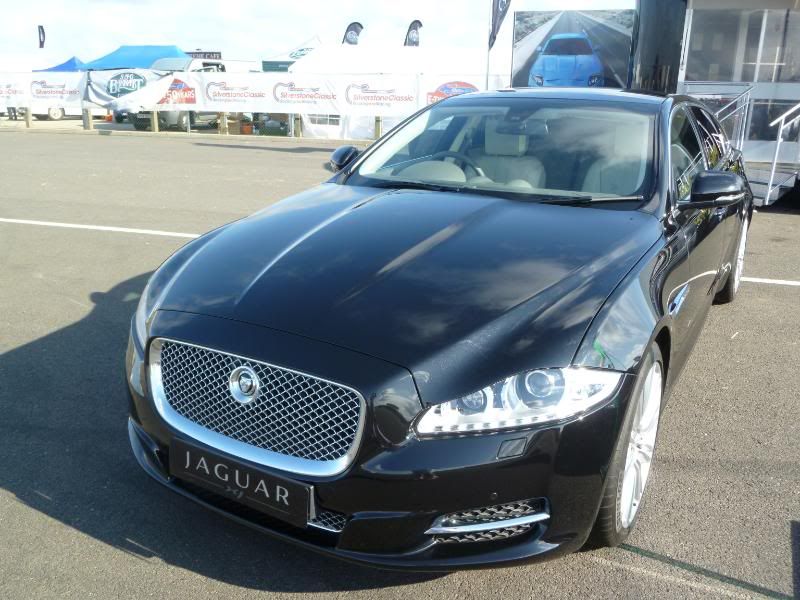 Oldest Jaguar on show was this SS100, which featured on the Hagerty stand.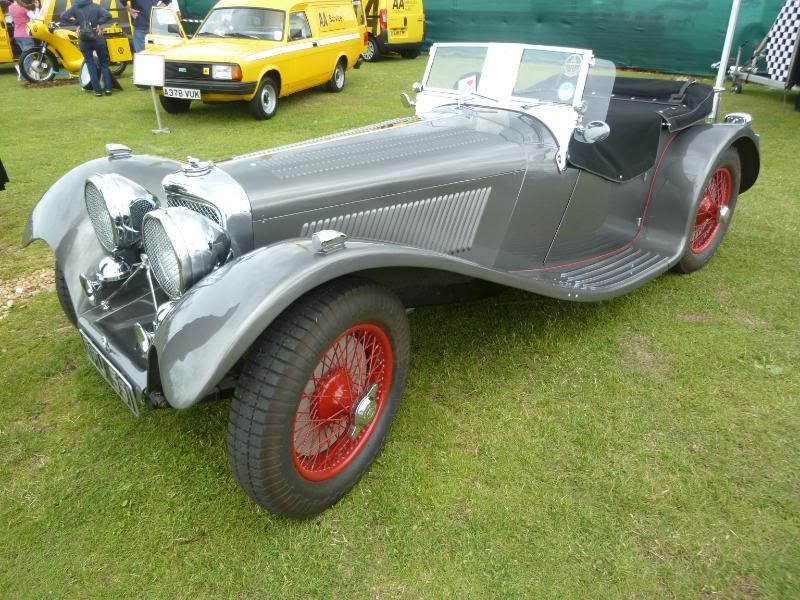 A Mark V.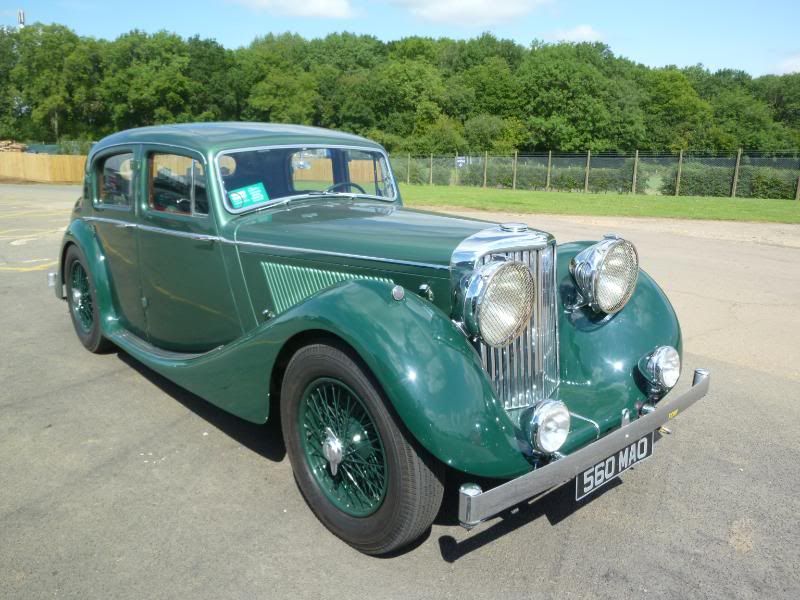 JENSEN
I did not come across a specific display at all, which is a little surprising, but there were a couple of the CV8 cars present.
JOWETT
A couple of the Jupiter models were the sole Jowetts at the event.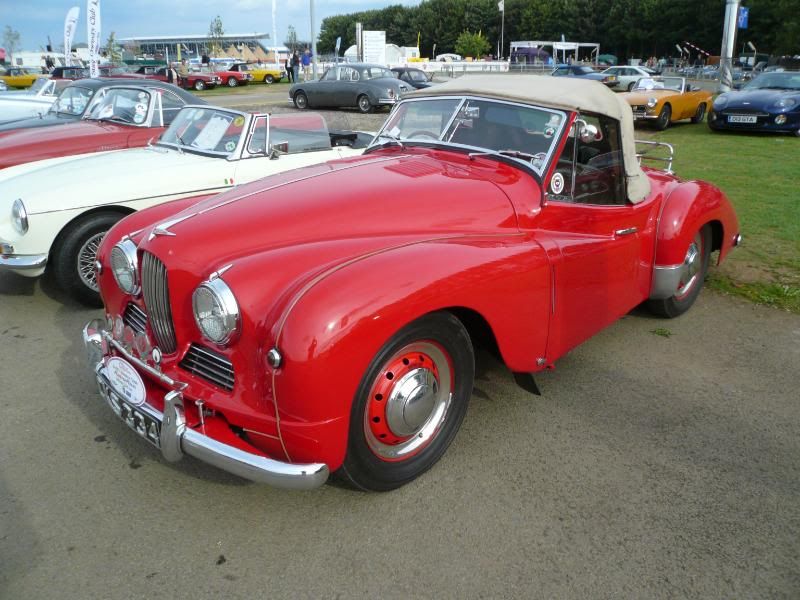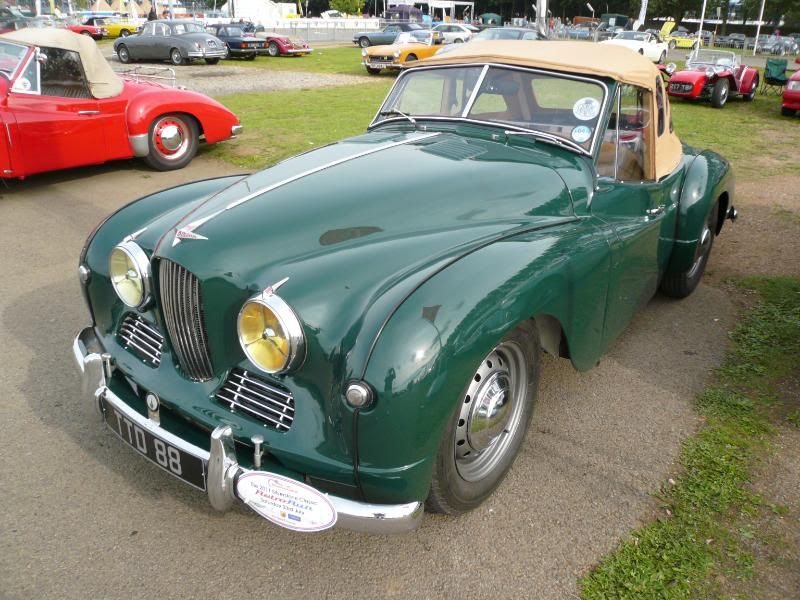 LAMBORGHINI
In previous years, Lamborghini has barely been represented at this event, but 2011 saw more cars than I can remember. Highlight for me was this Miura, which arrived late on Sunday afternoon.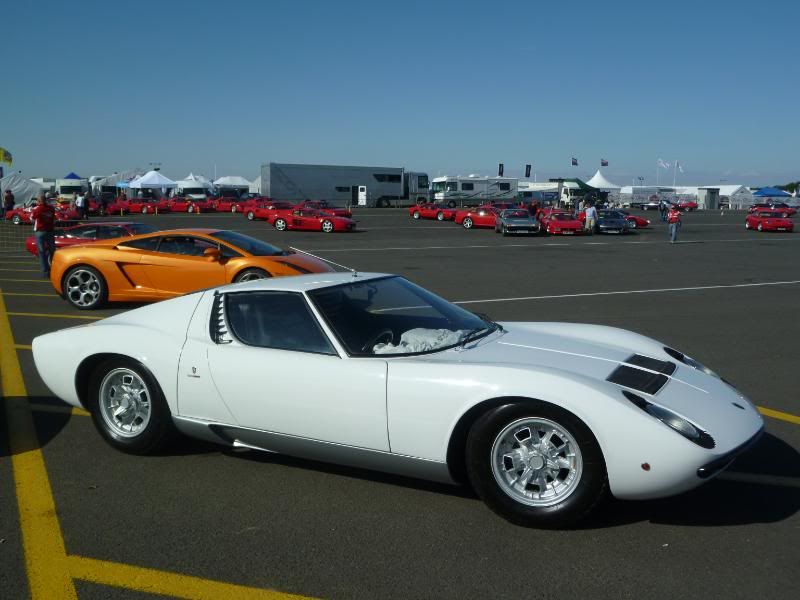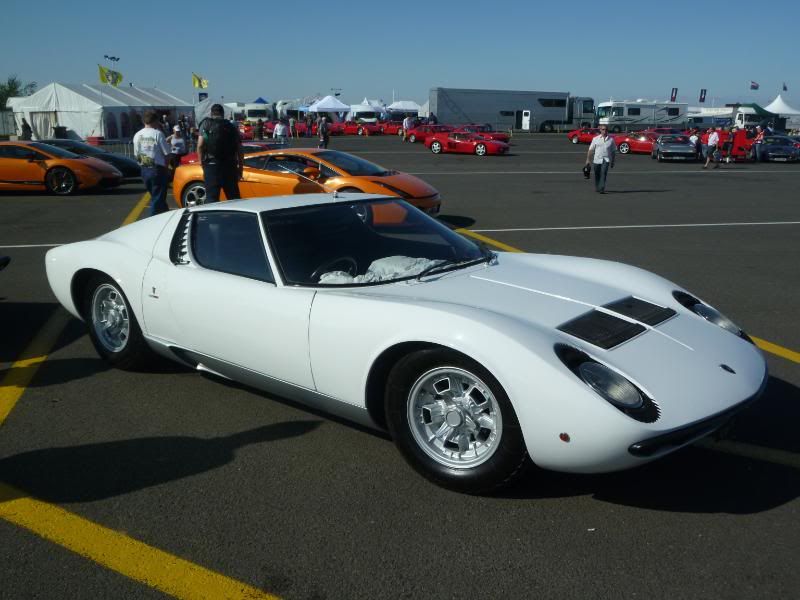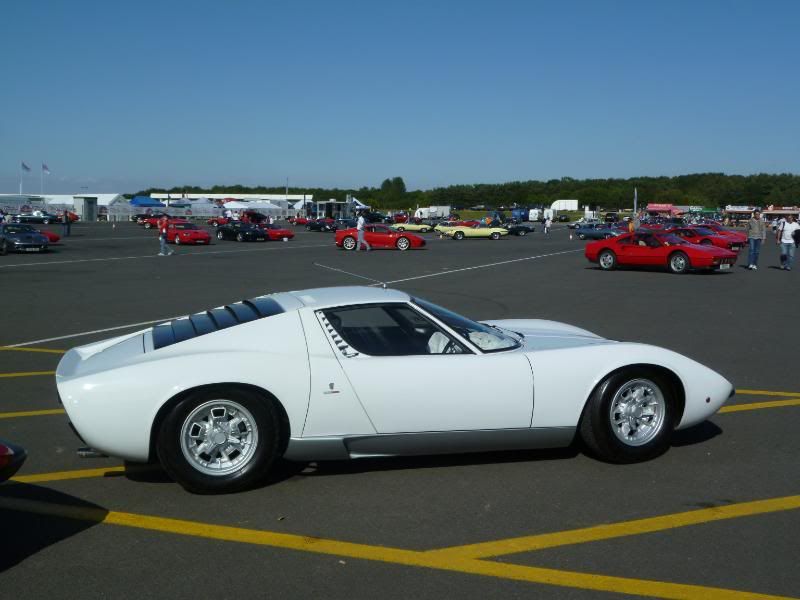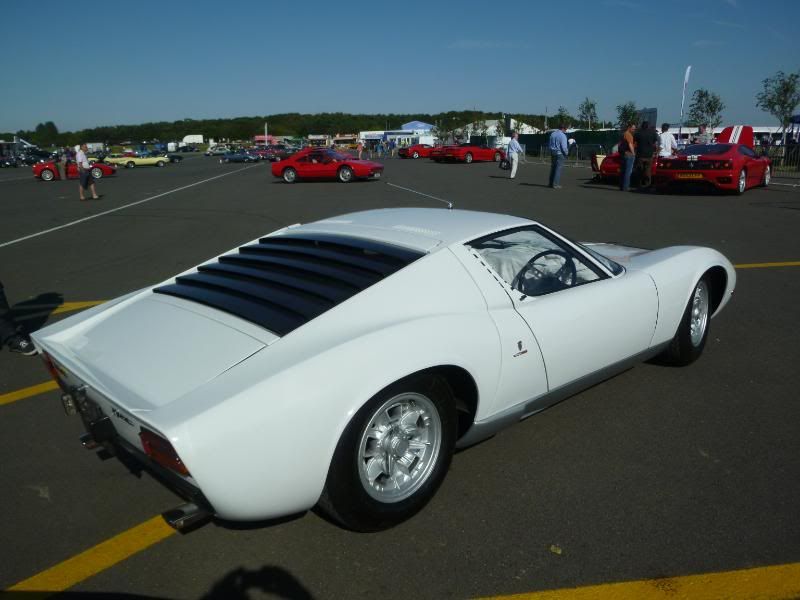 I don't recall seeing this particular Espada before, and with a paint finish like that, I am sure I would not forget it in a hurry!
There were several of the Uracco/Silhouette/Jalpa cars, including the very first right hand drive example of the last mentioned of this trio, a car recently and expensively restored.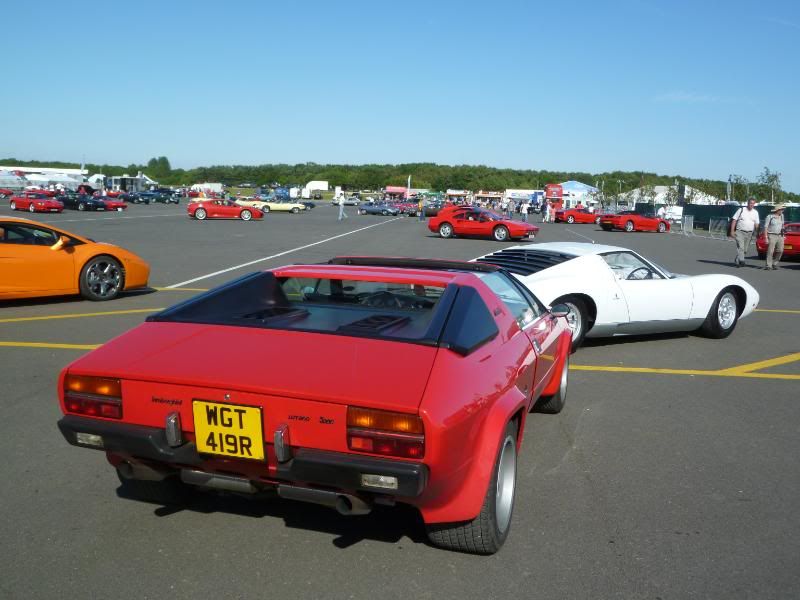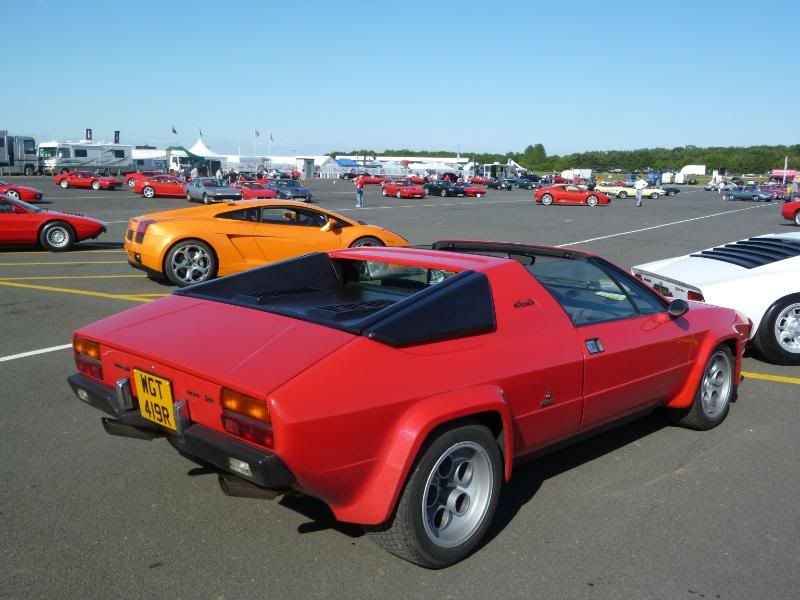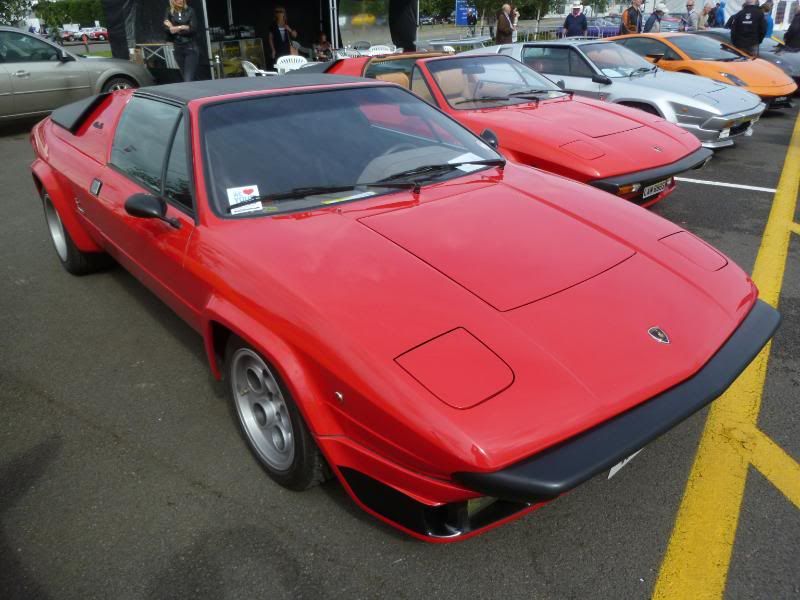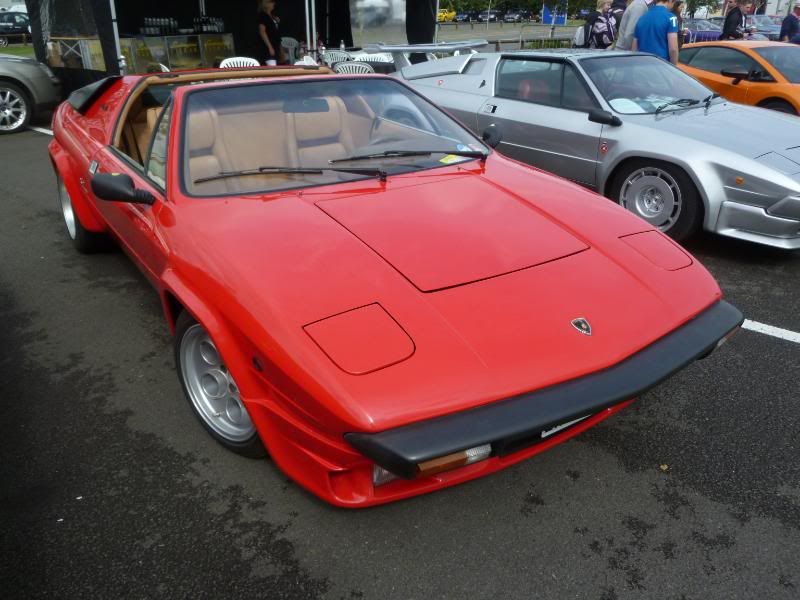 A couple of Diablos were joined by a single Countach.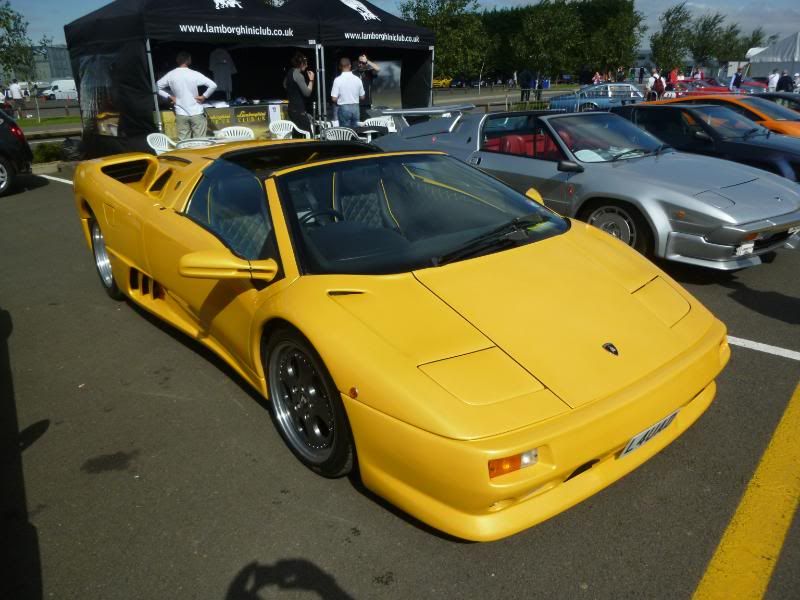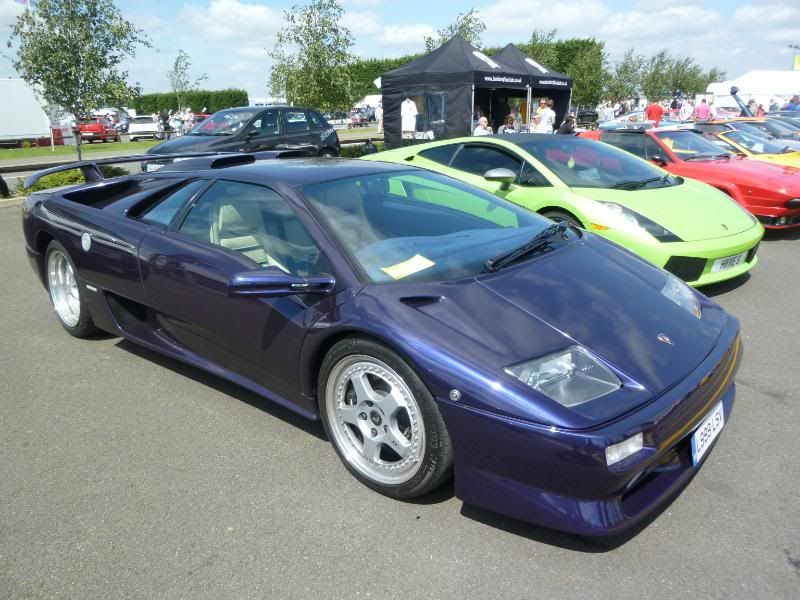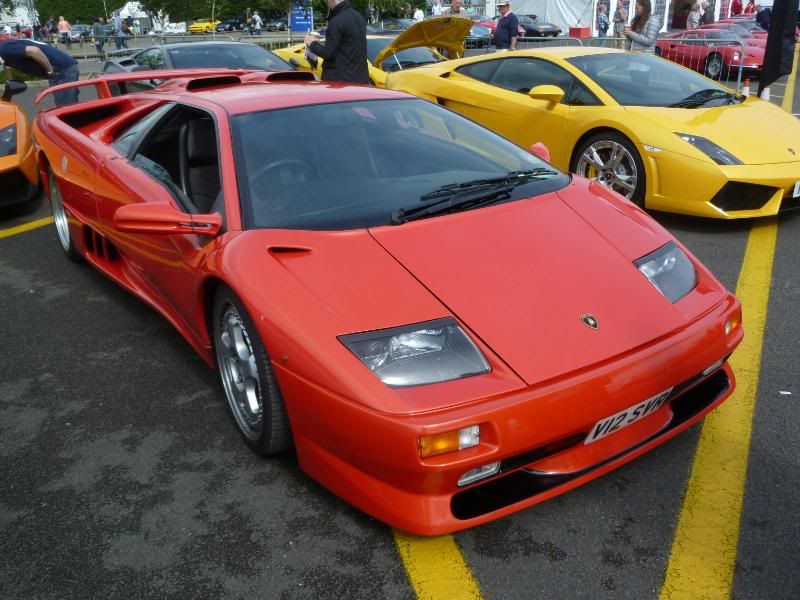 Current cars included a number of Gallardos and Murcielagos.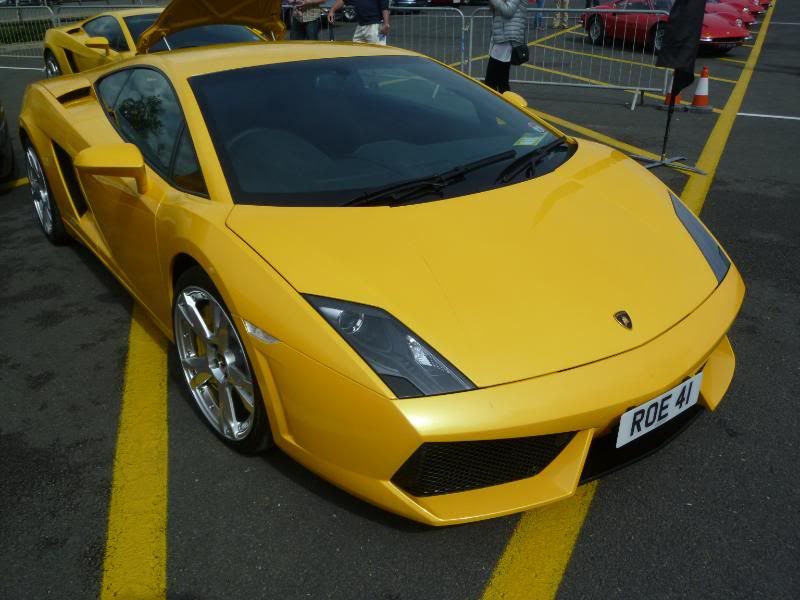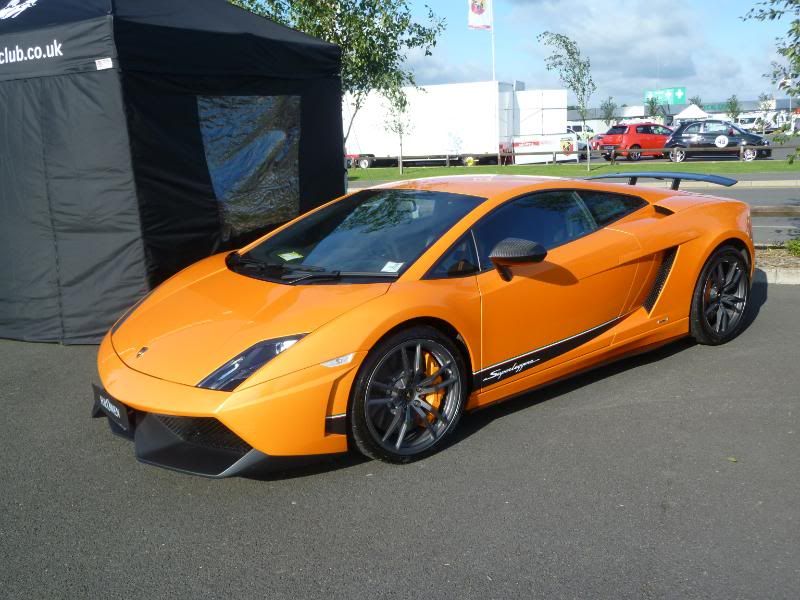 LANCIA

A very colourful display of the iconic Stratos. Who cares if some of these were replicas? They still made for a splendid sight.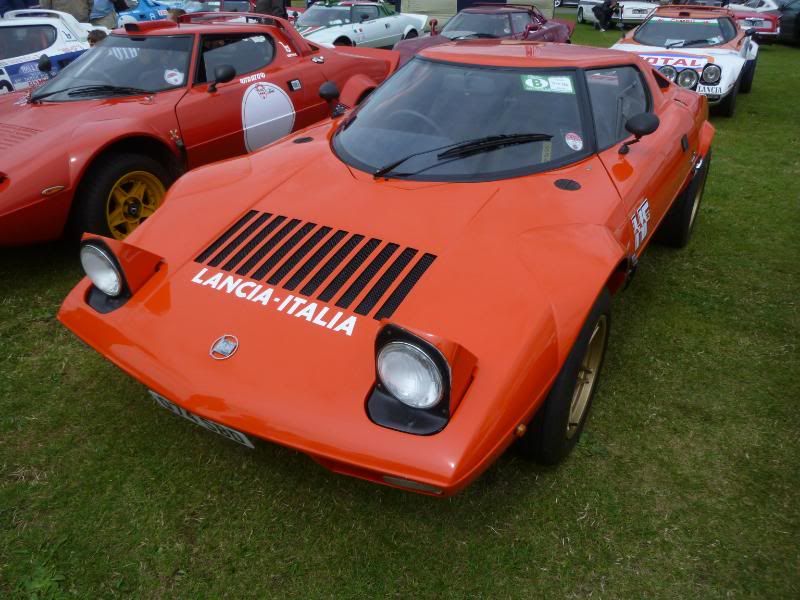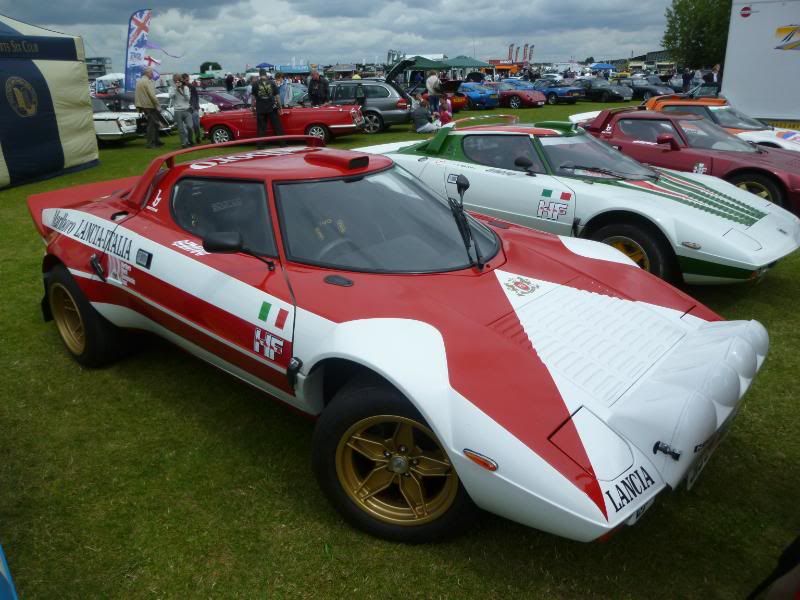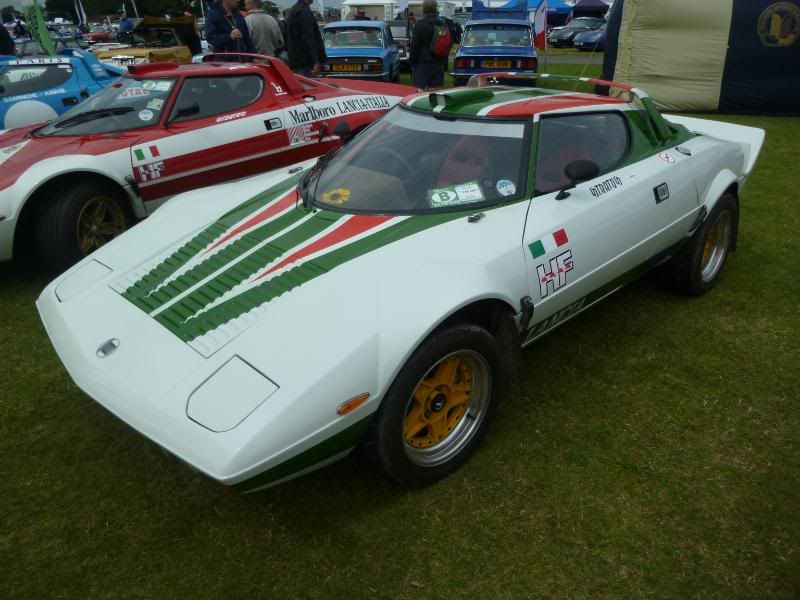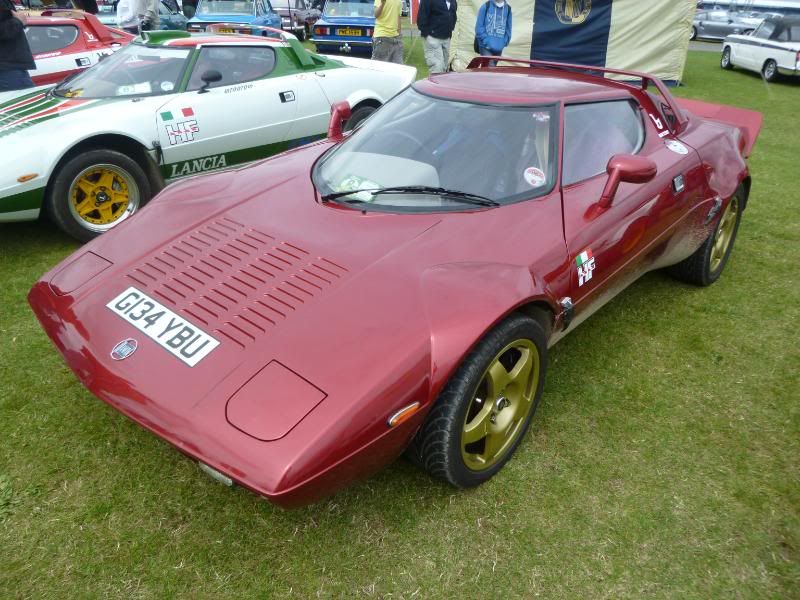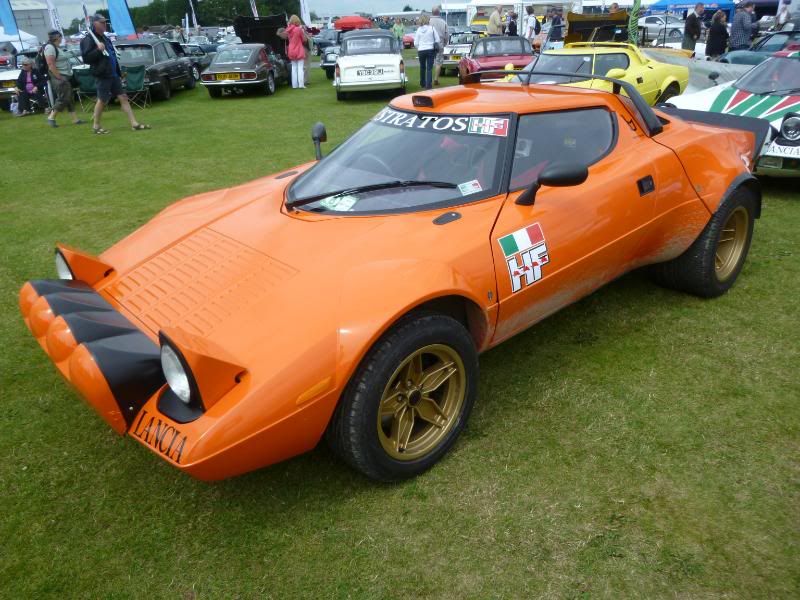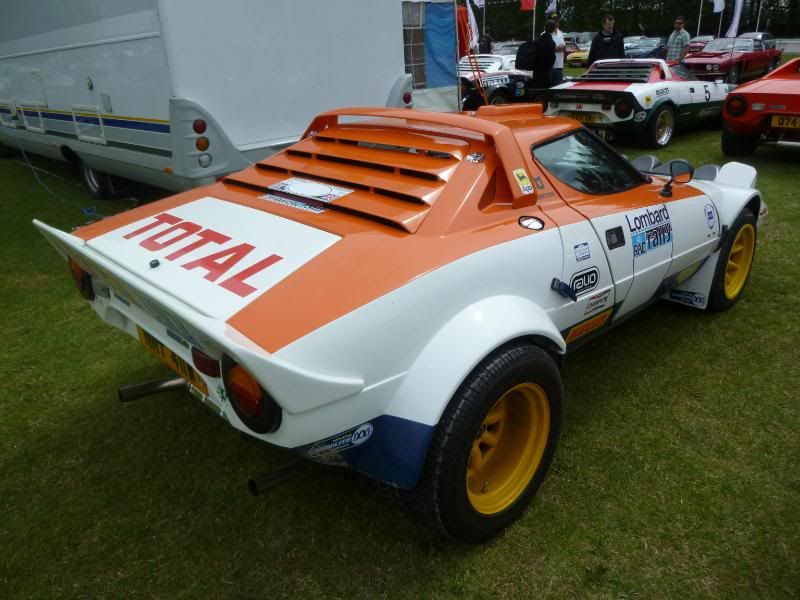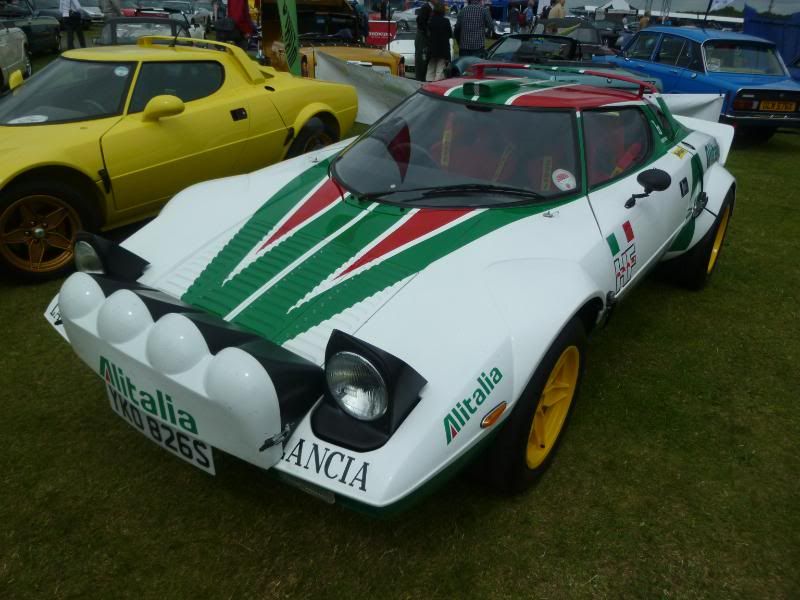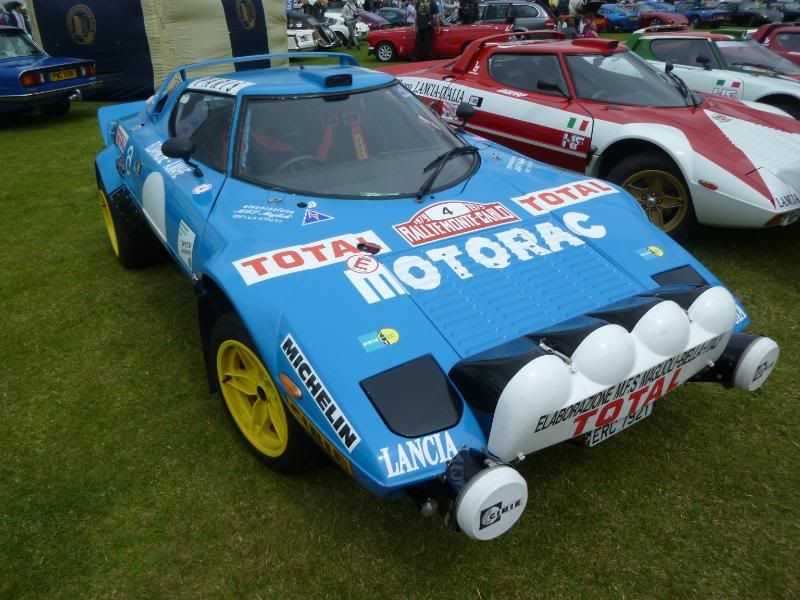 The Lancia Owners Club were parked up among the Aston-Martins, and those numerous cars in their display were Monte Carlos and Delta Integrales.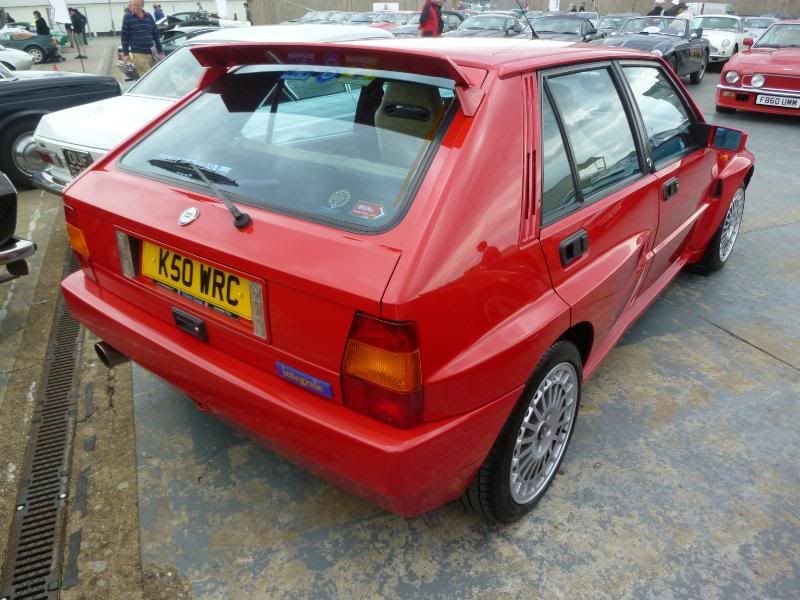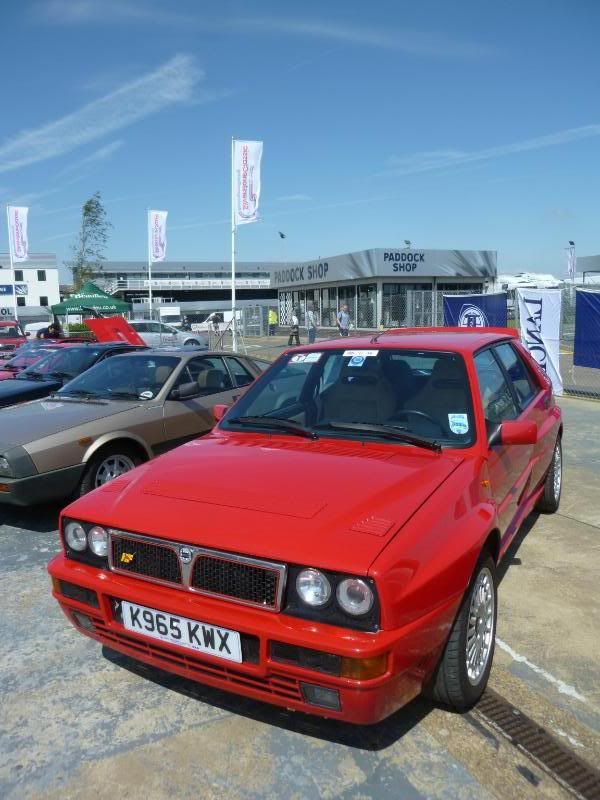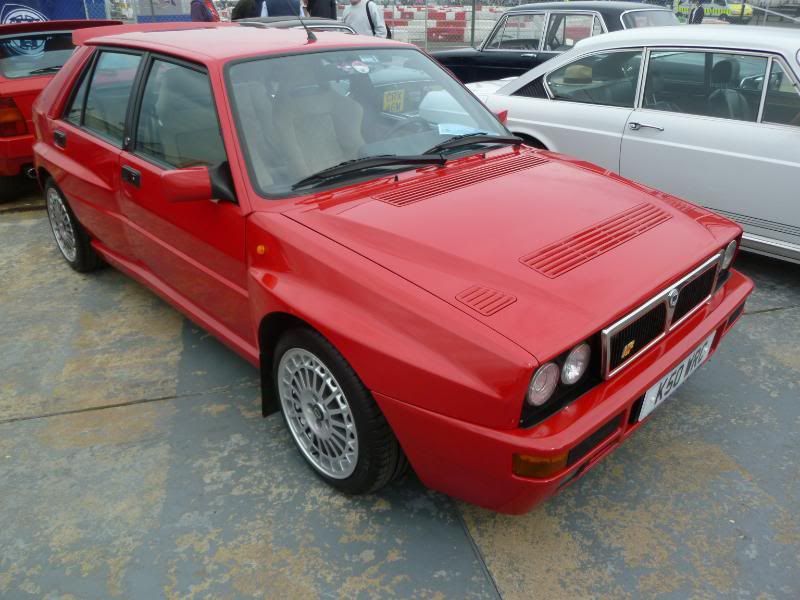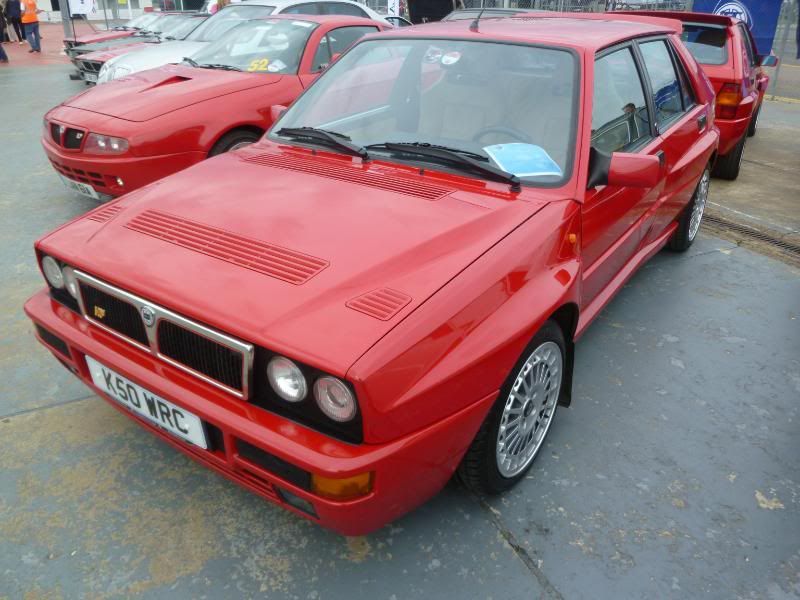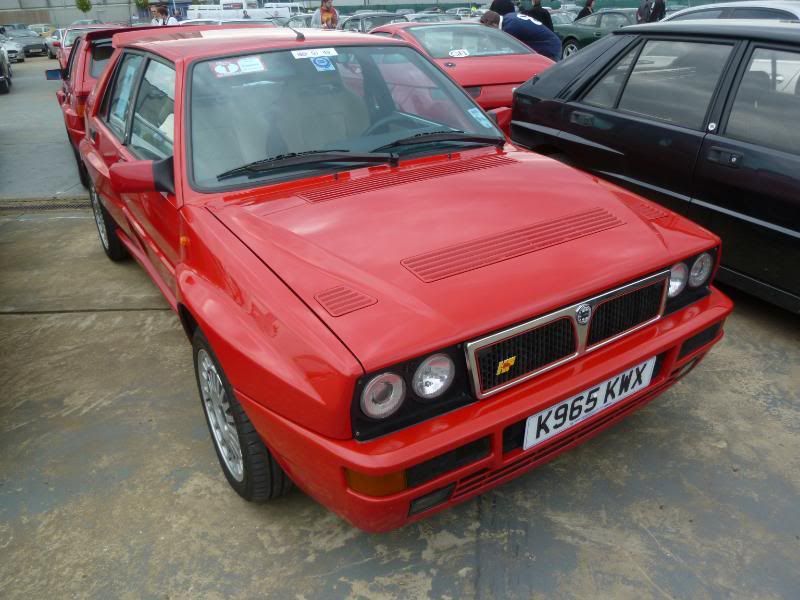 My favourite was this lovely 2000 HF Coupe, a very pretty early 1970s update to the earlier Flavia model. There was a Flavia Berlina as well.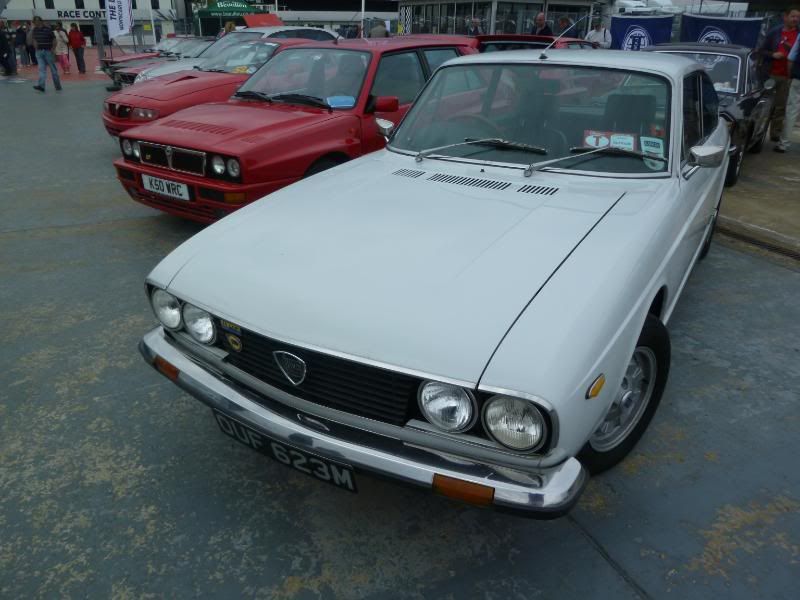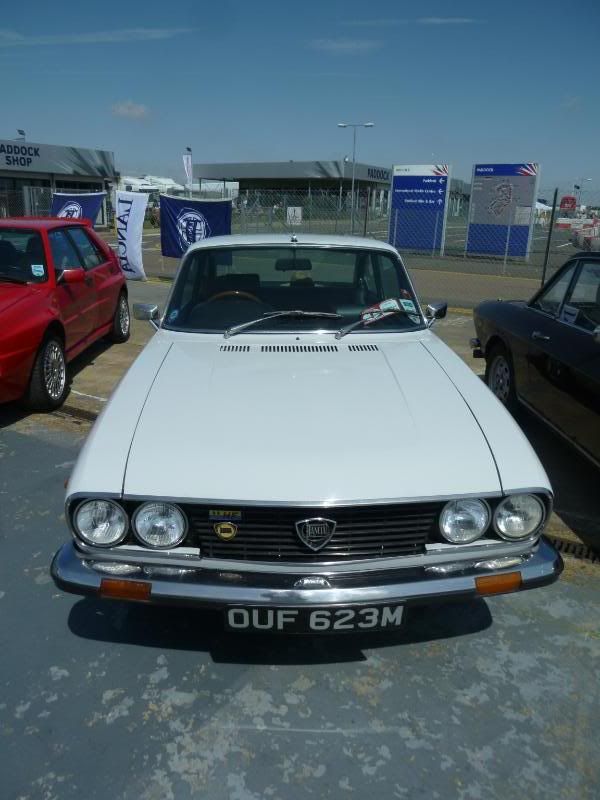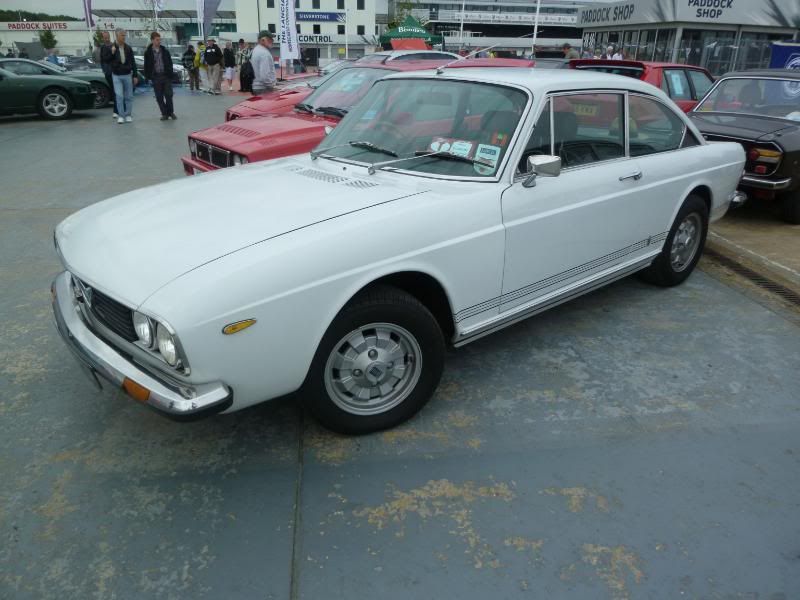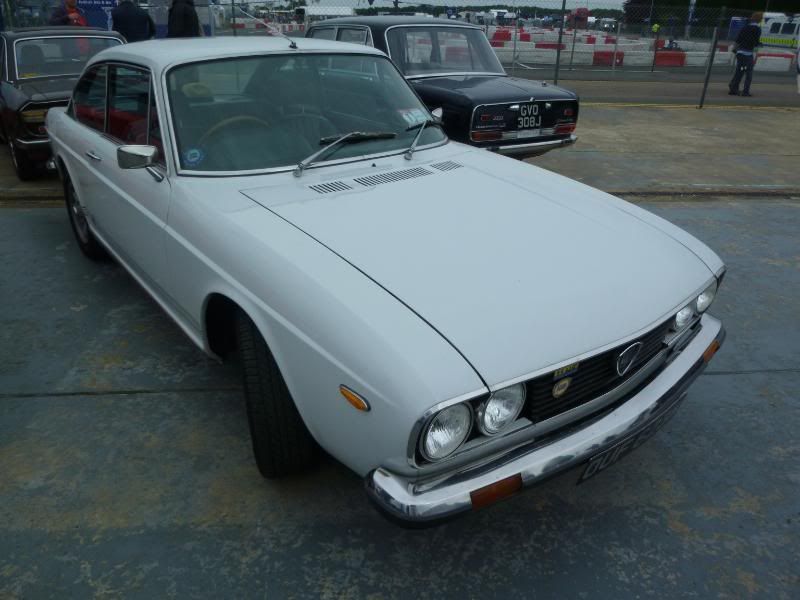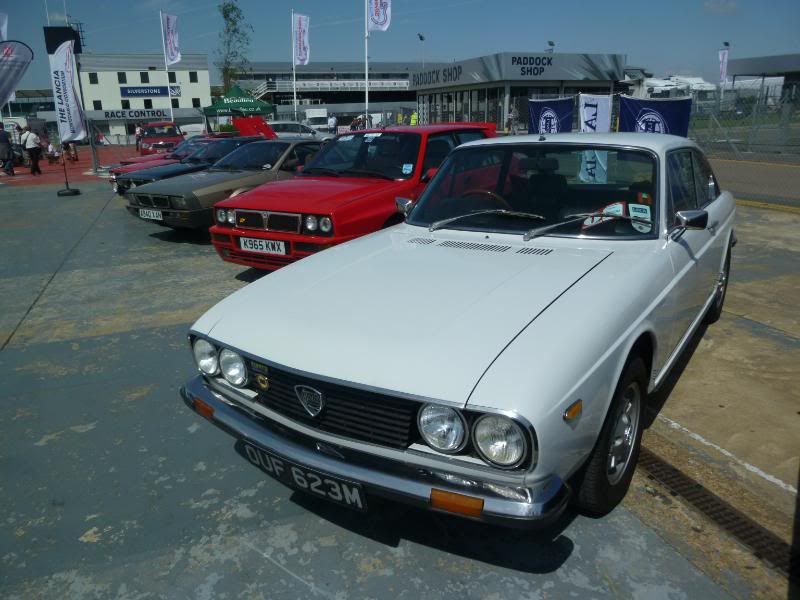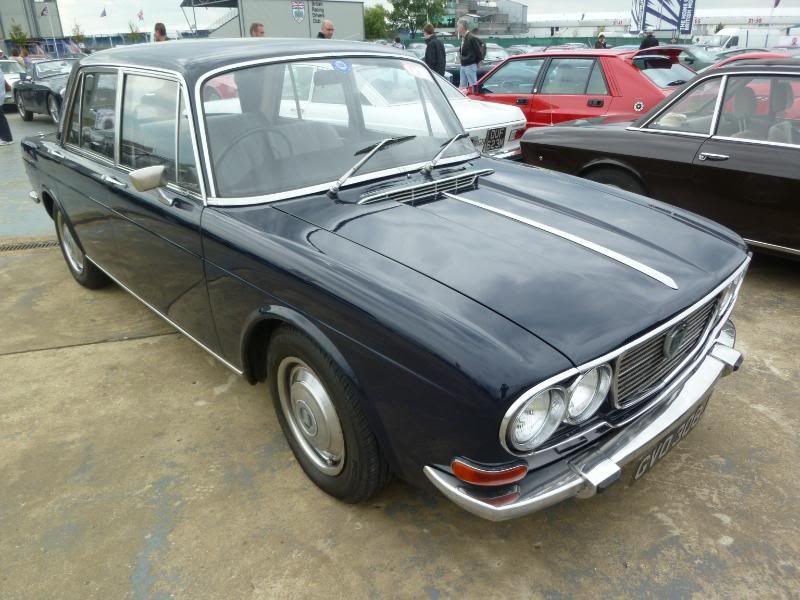 I also very much like the Fulvia S3 Coupe, and still wish Lancia would build the Fulvietta concept.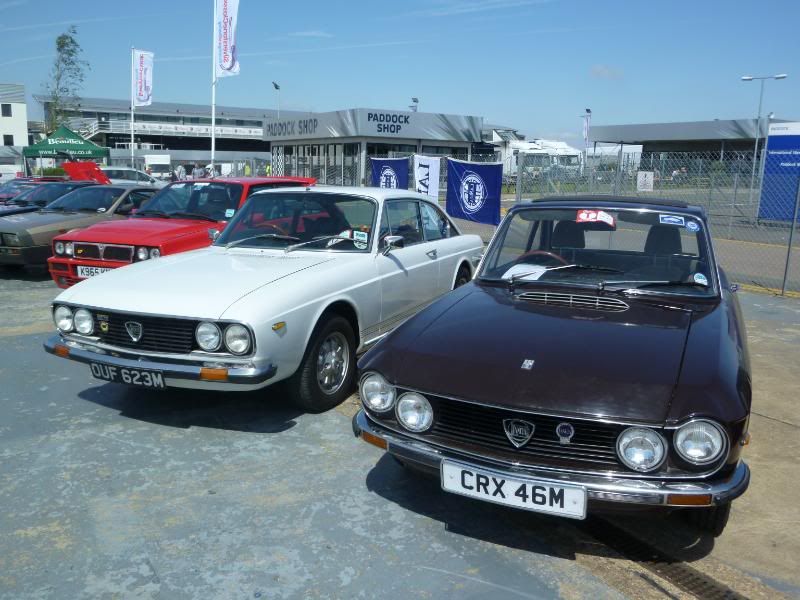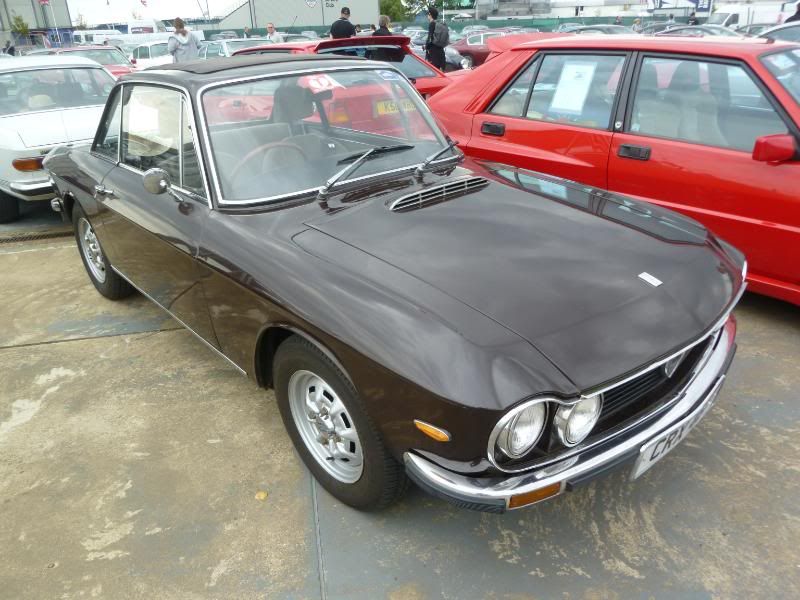 A Thesis is a very distinctive design indeed. Form your own conclusions whether you like the bold looks or not. I do.
The Hyena that I now see quite regularly at the Ace Cafe was also on show, though the owner departed minutes after we came across it.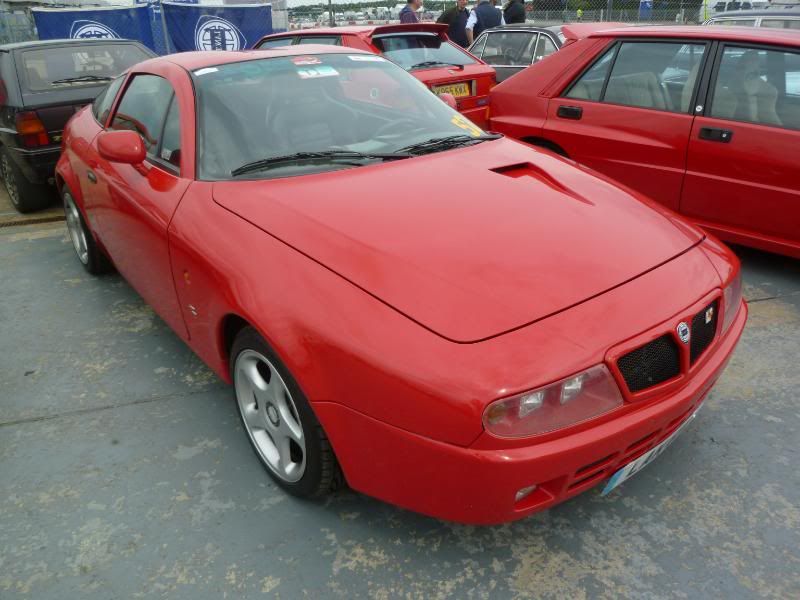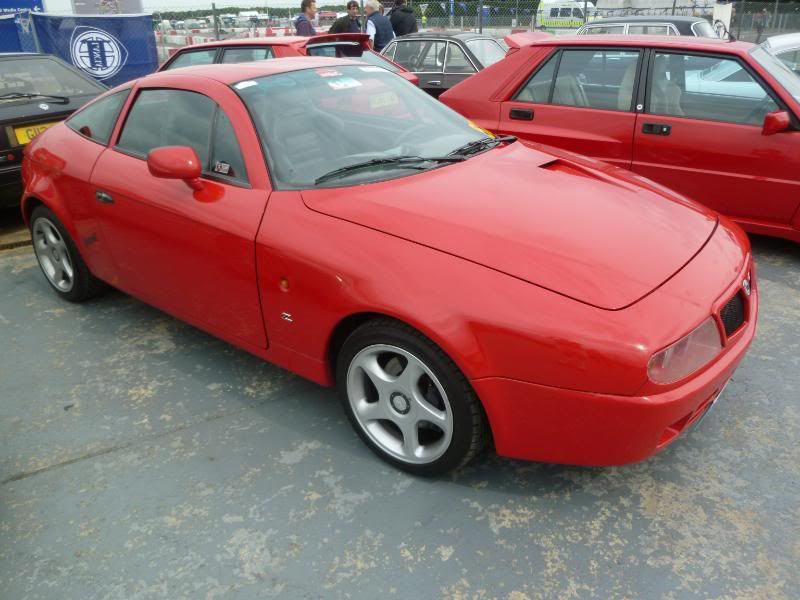 LEA-FRANCIS
A couple of these very British sports cars were at the event.
LISTER JAGUAR
Looking like it had escaped from the pits was this Lister Jaguar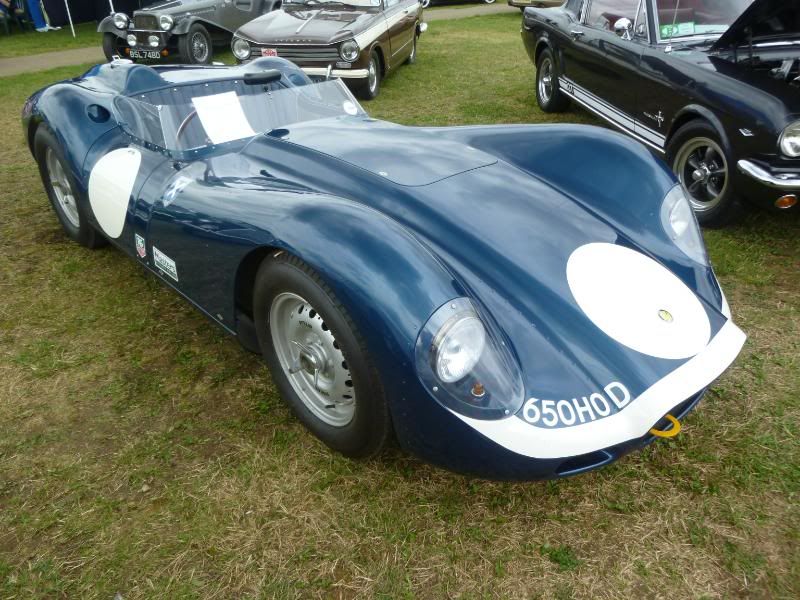 LOTUS
The local on-site dealer had a display containing the current range of Elise, Exige, Evora and recently superceded Europa.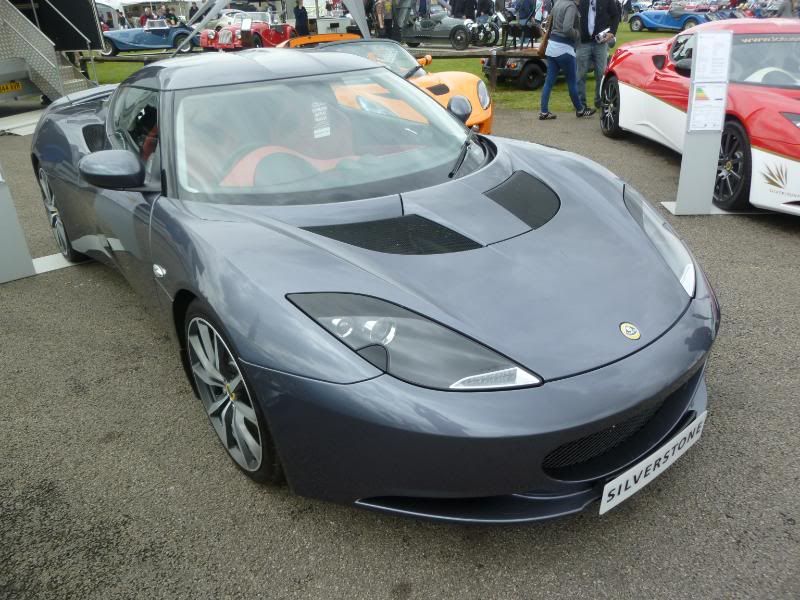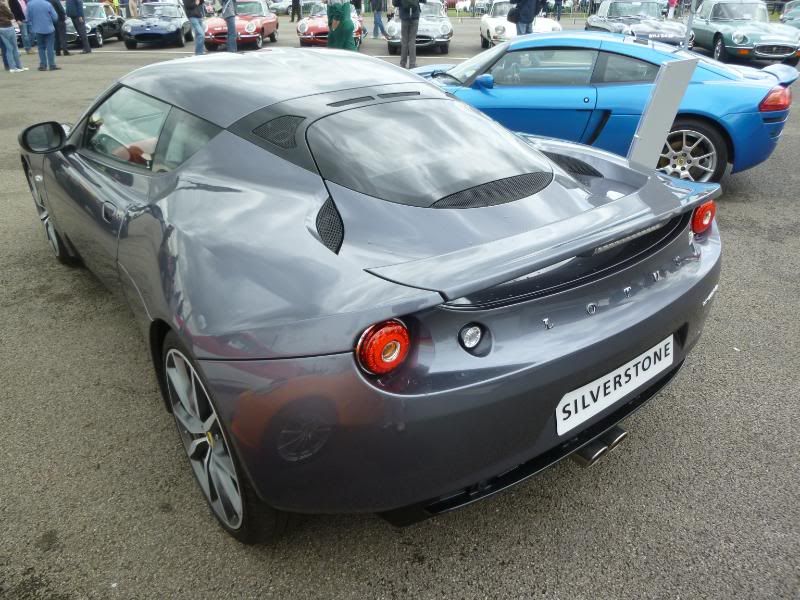 A vast display of Owners Club cars made for an impressive sight, with some very early and very rare cars indeed forming the highlight.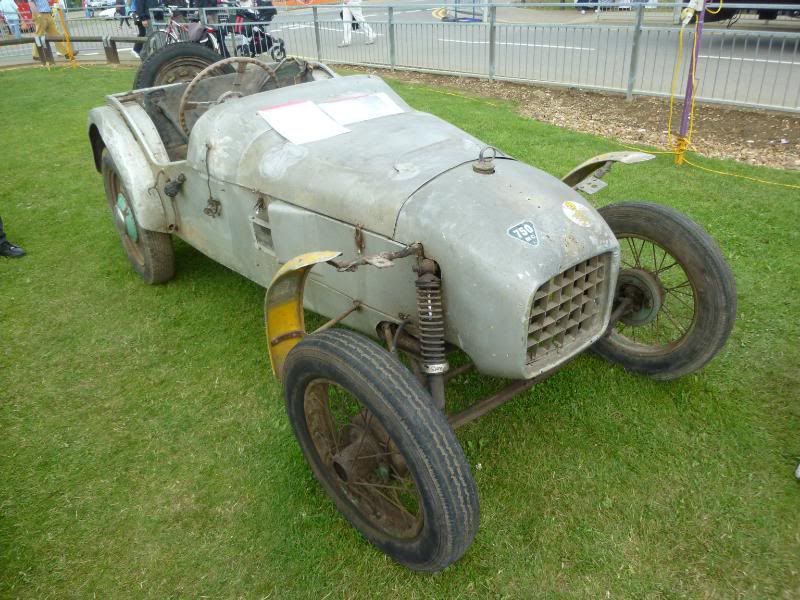 These racing cars included a Type 22, a Type 11 and a Type 18/21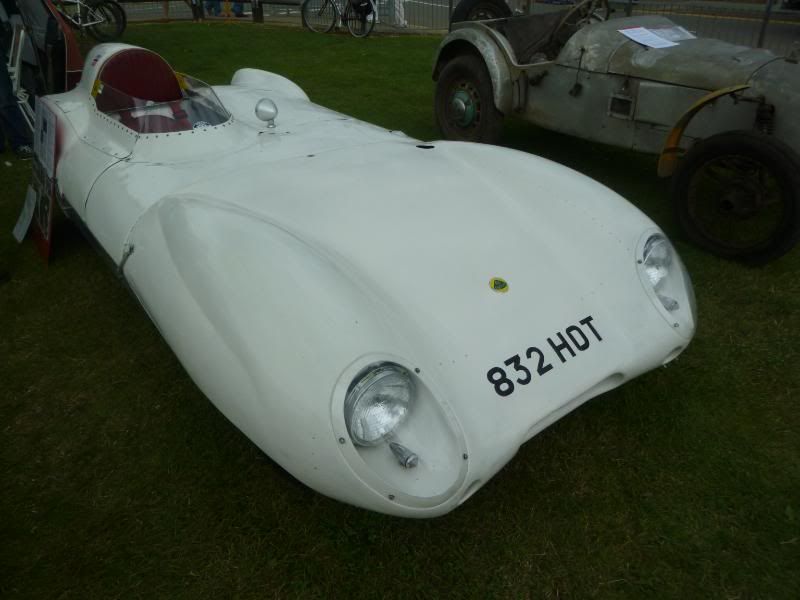 The first Elite.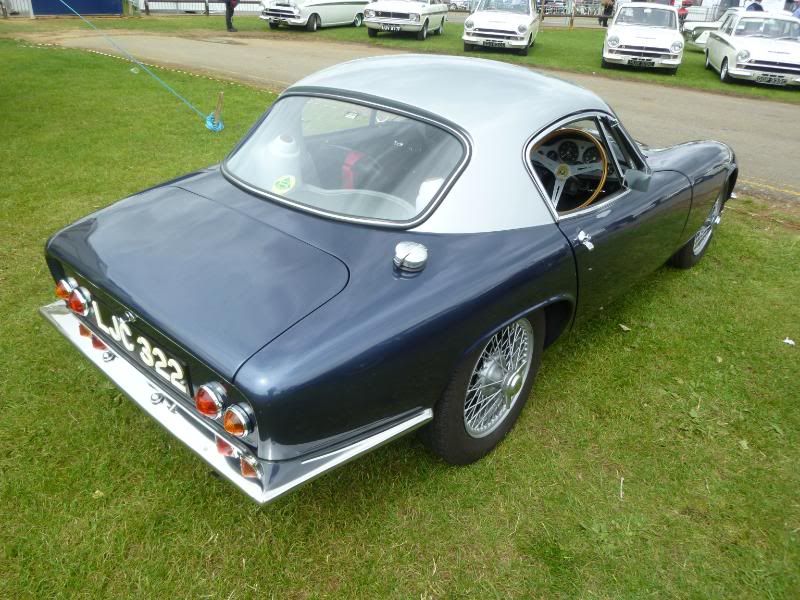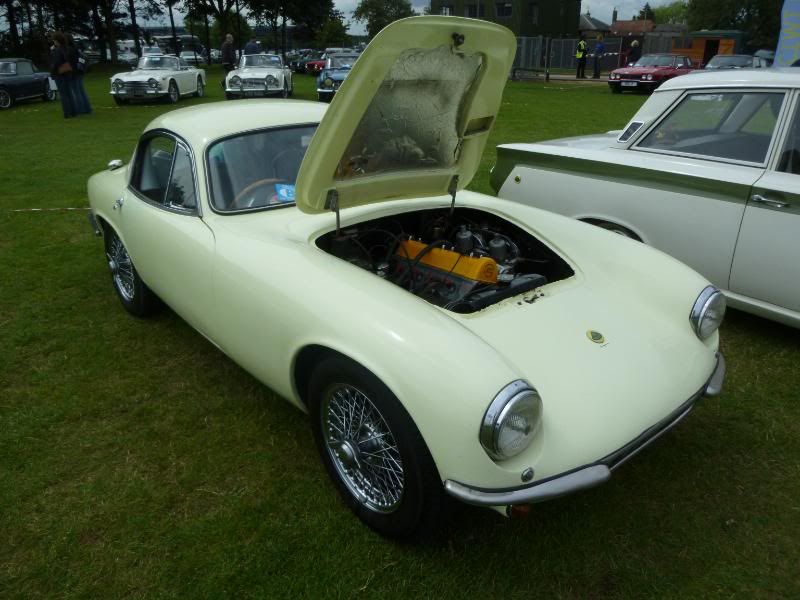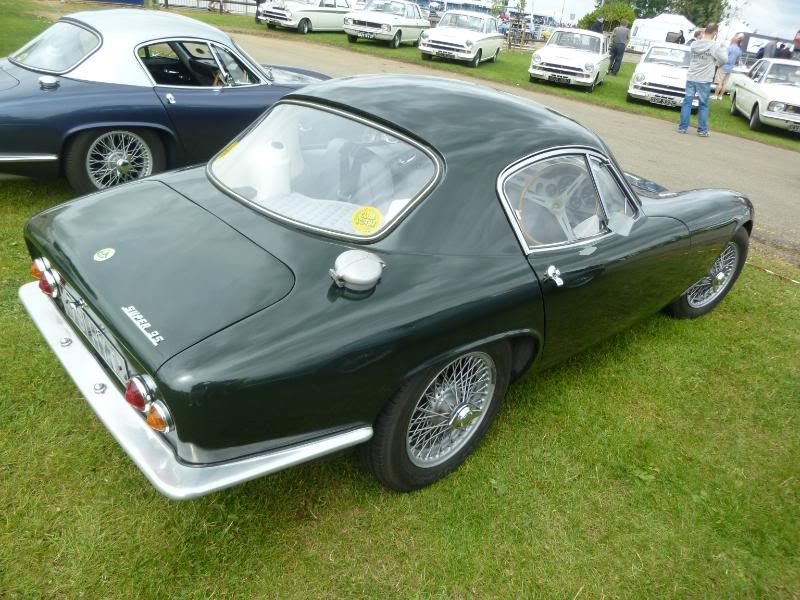 Lots of Elans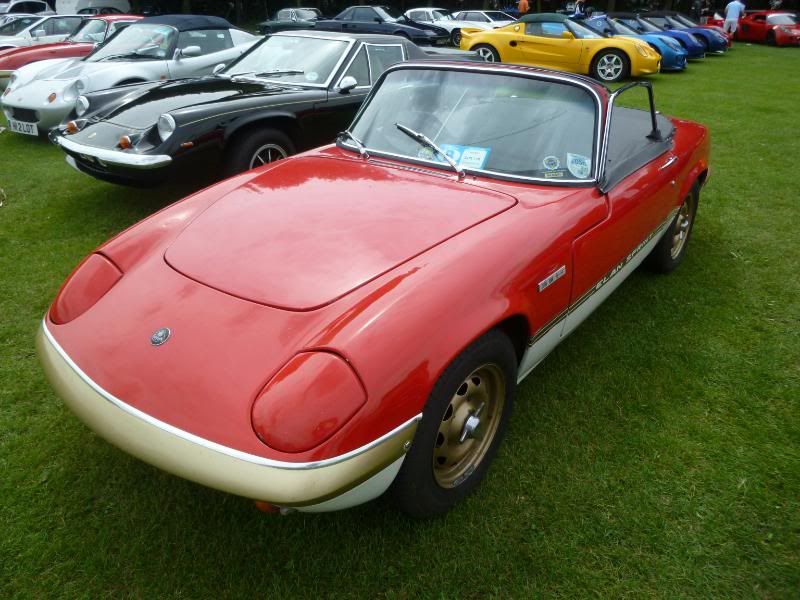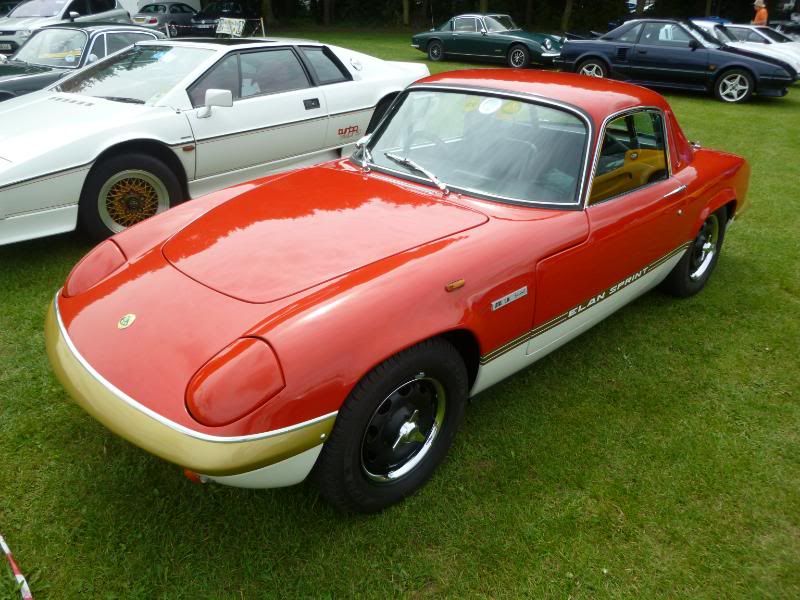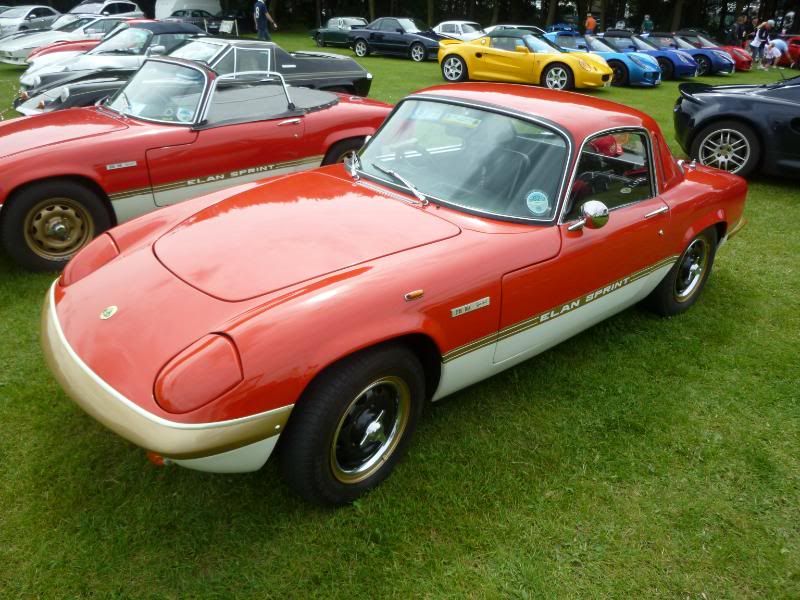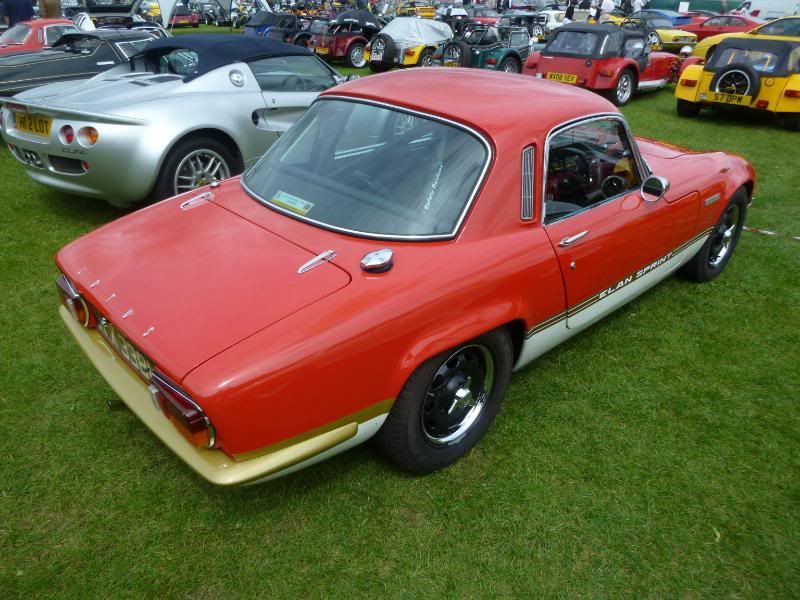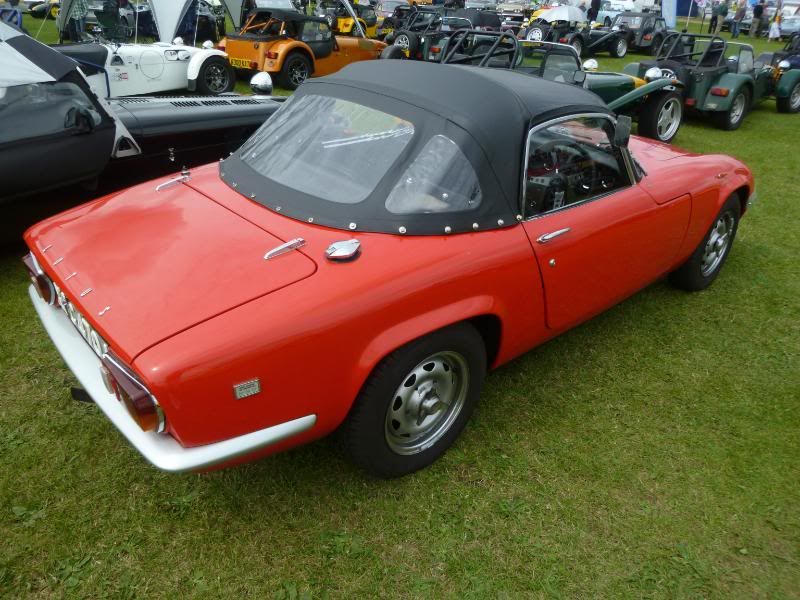 Plus 2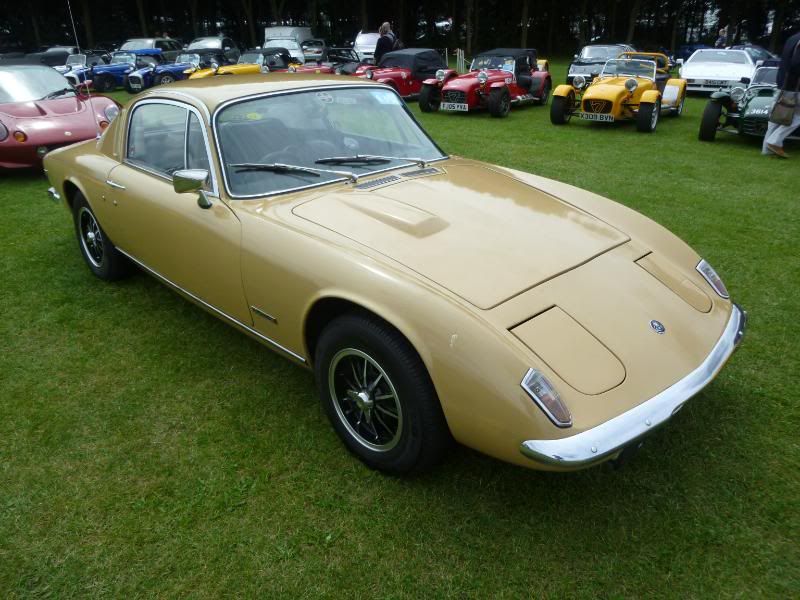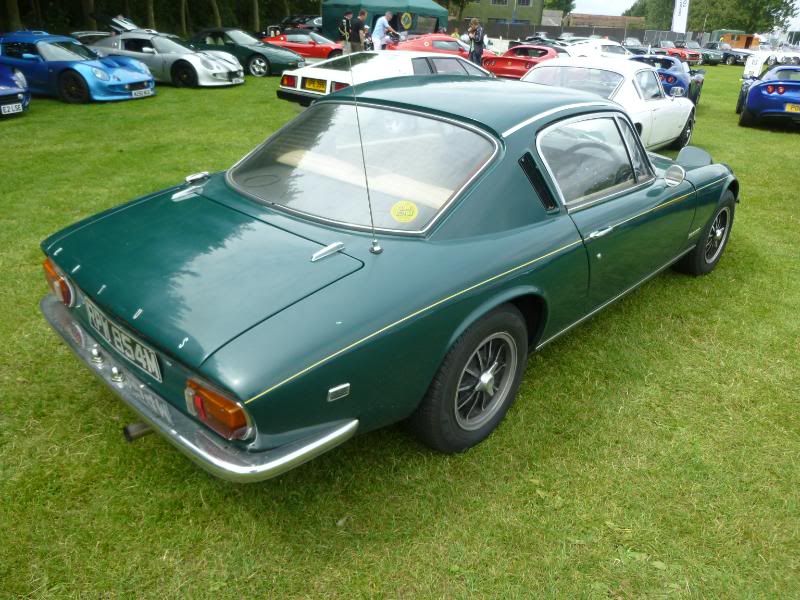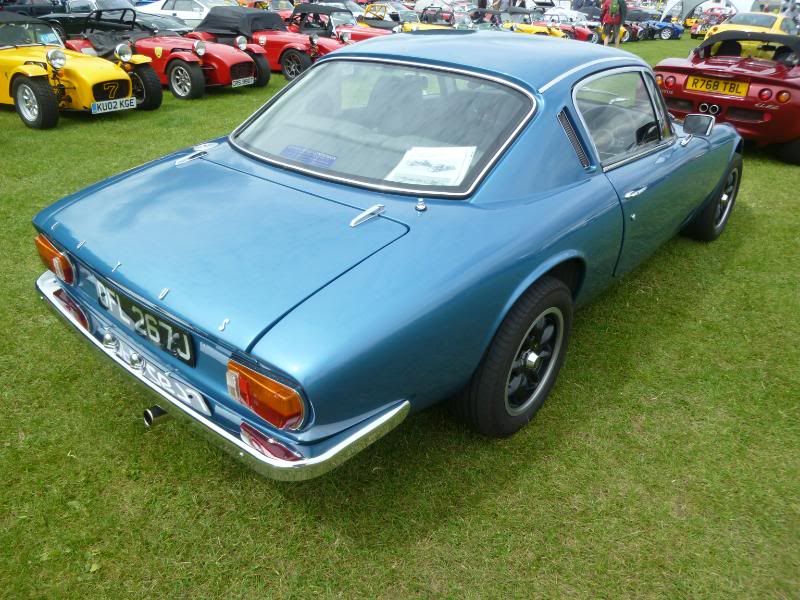 Europa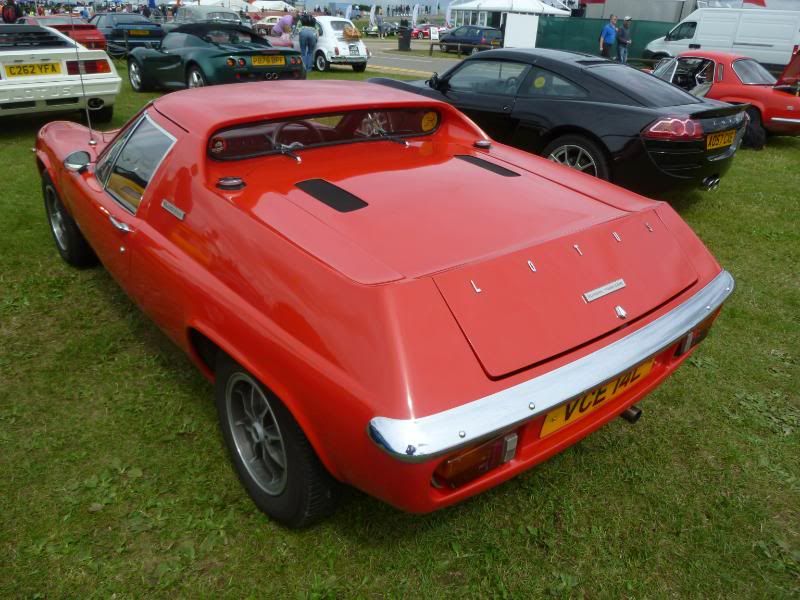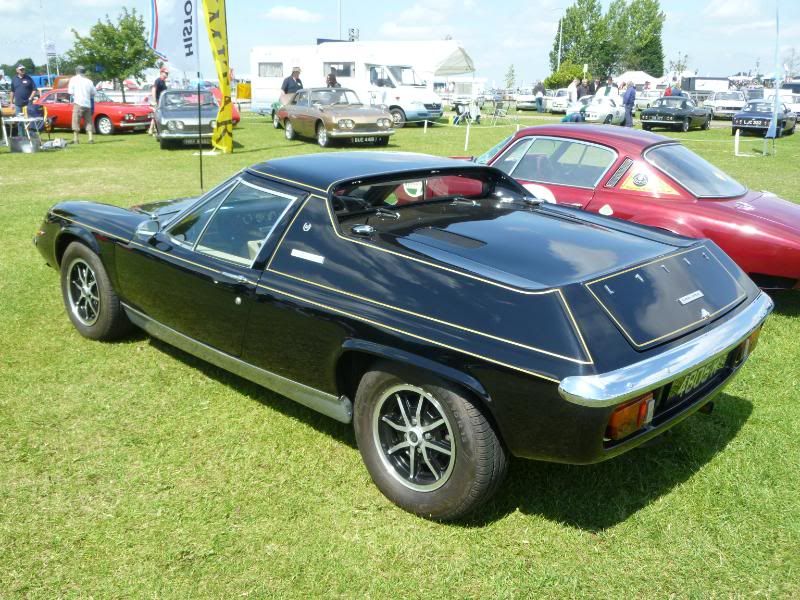 The Witerbottom styled Elite is now quite rare, but there were 2 of these on show.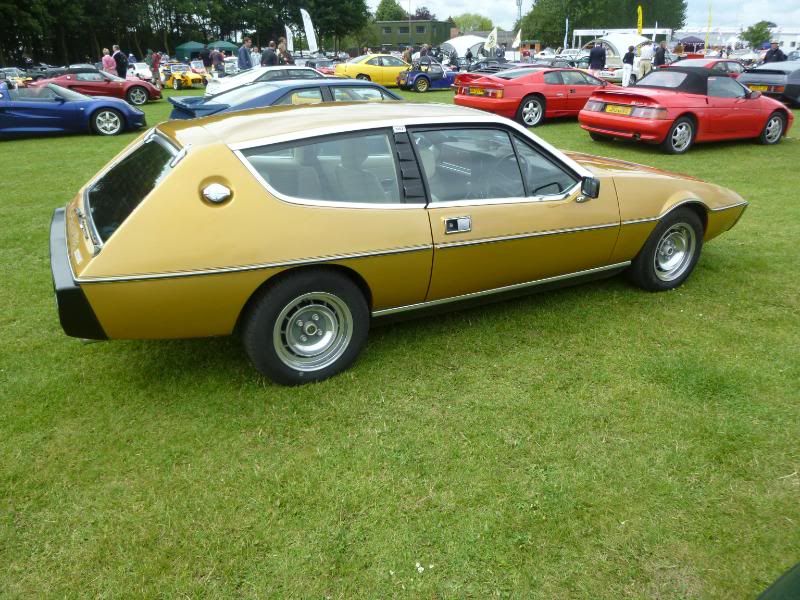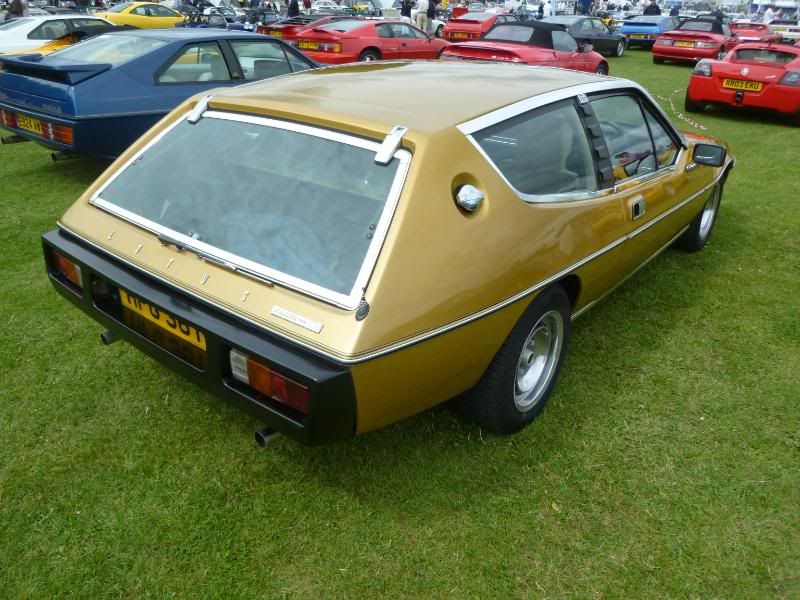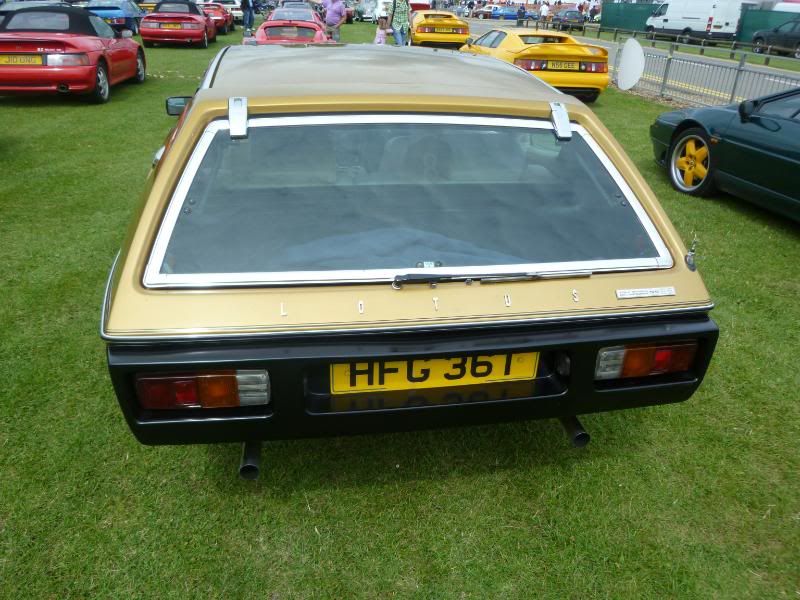 Eclat/Excel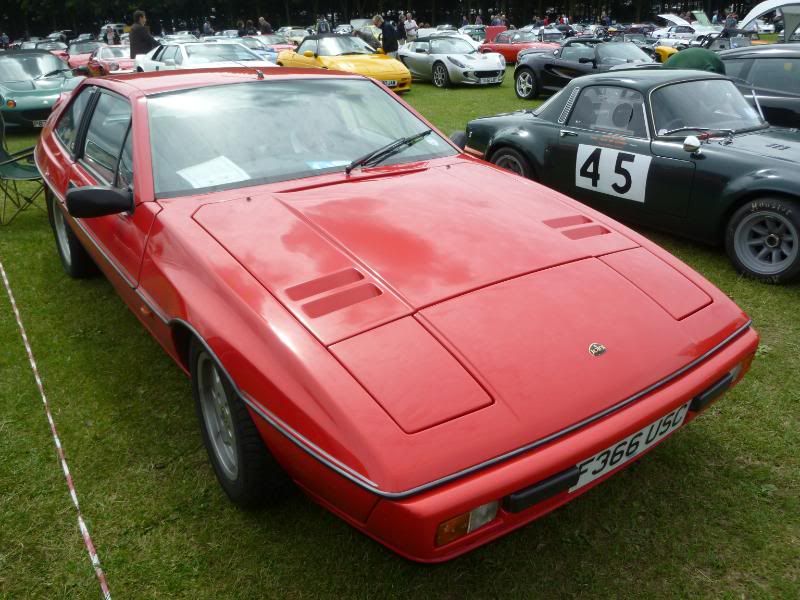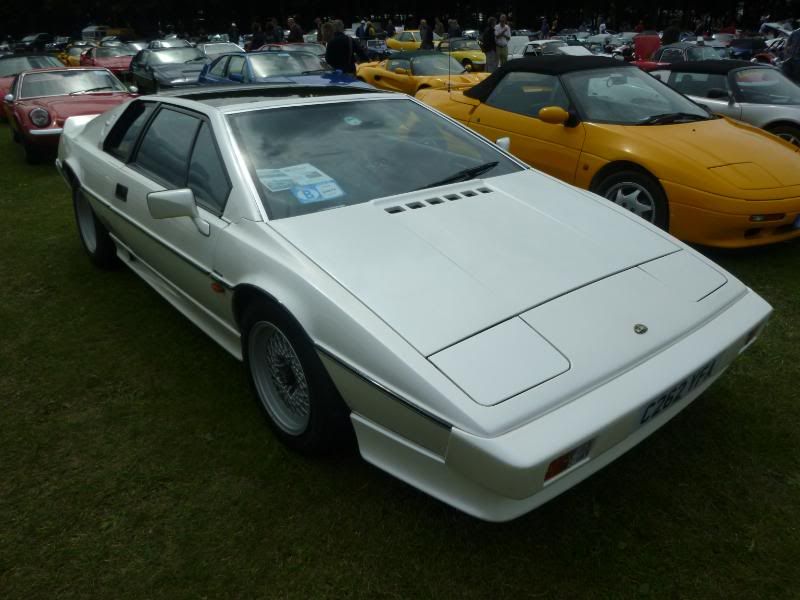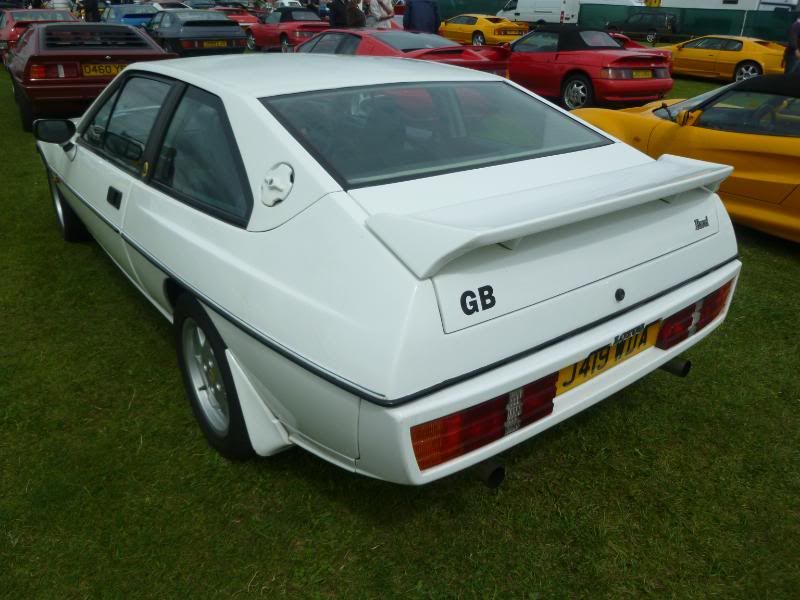 Esprit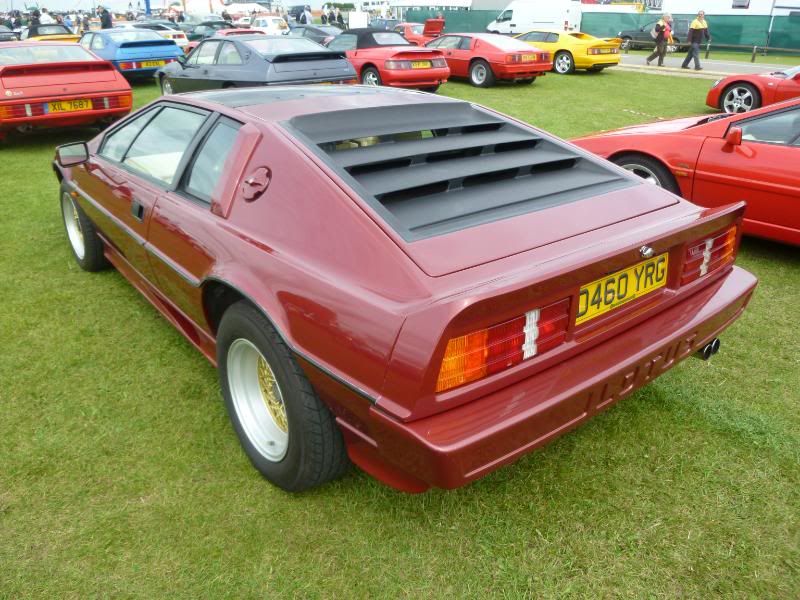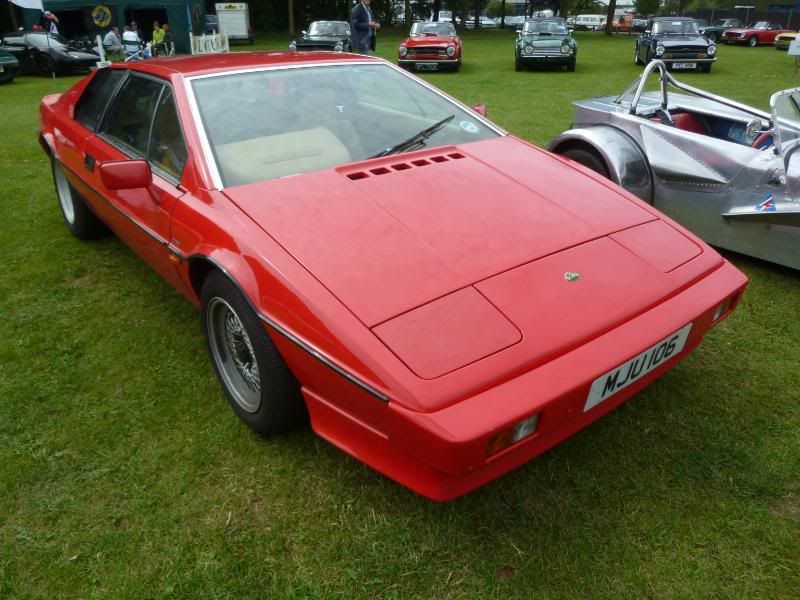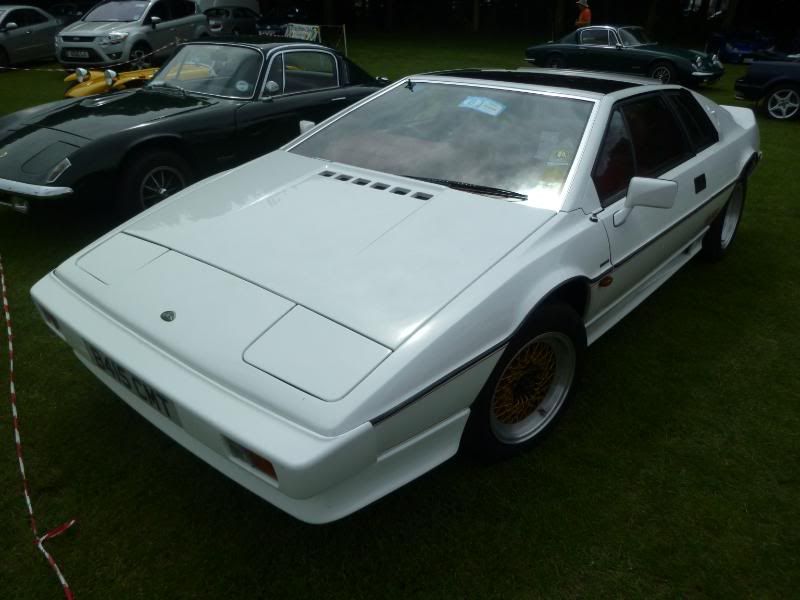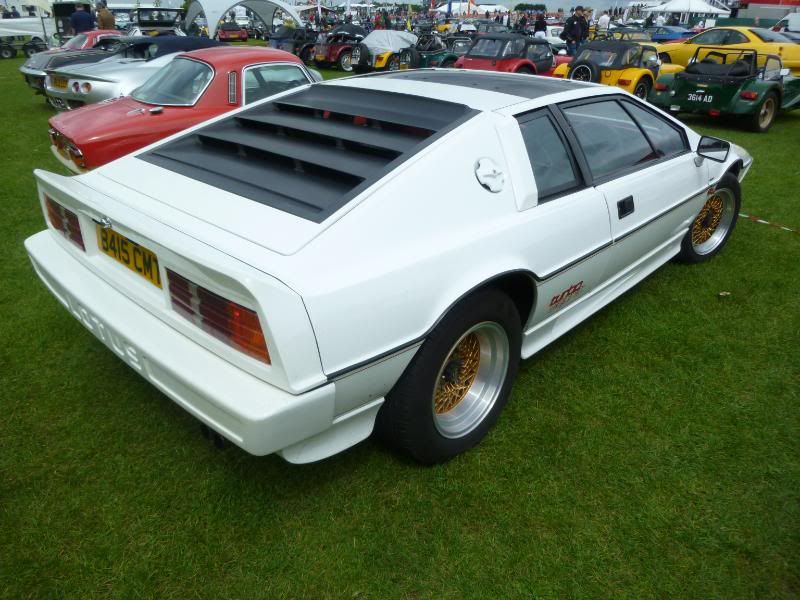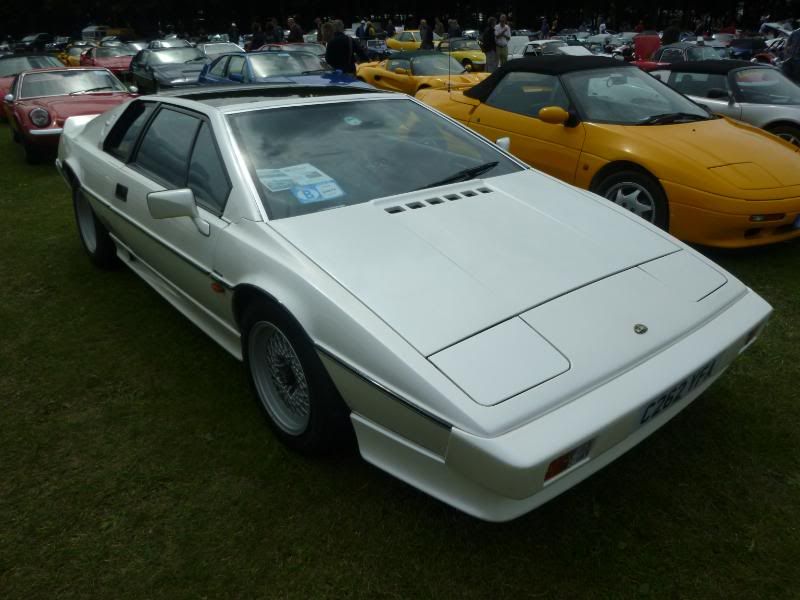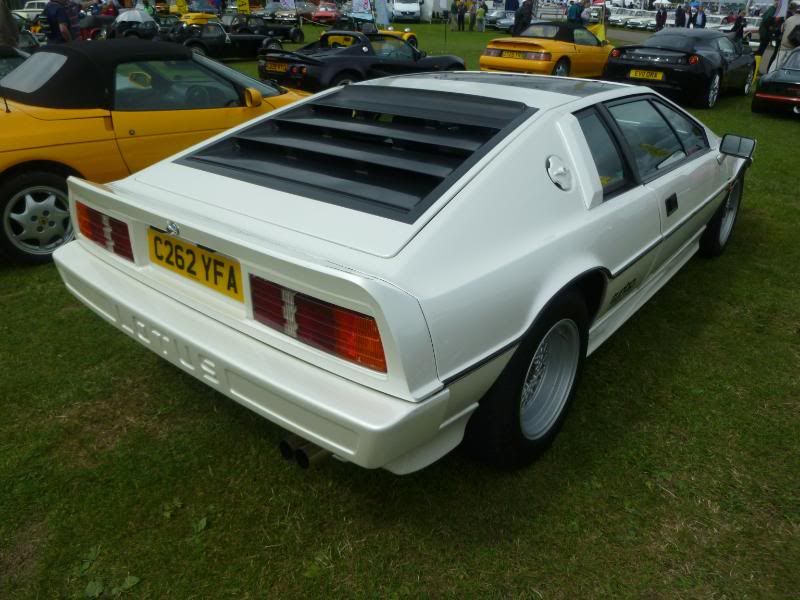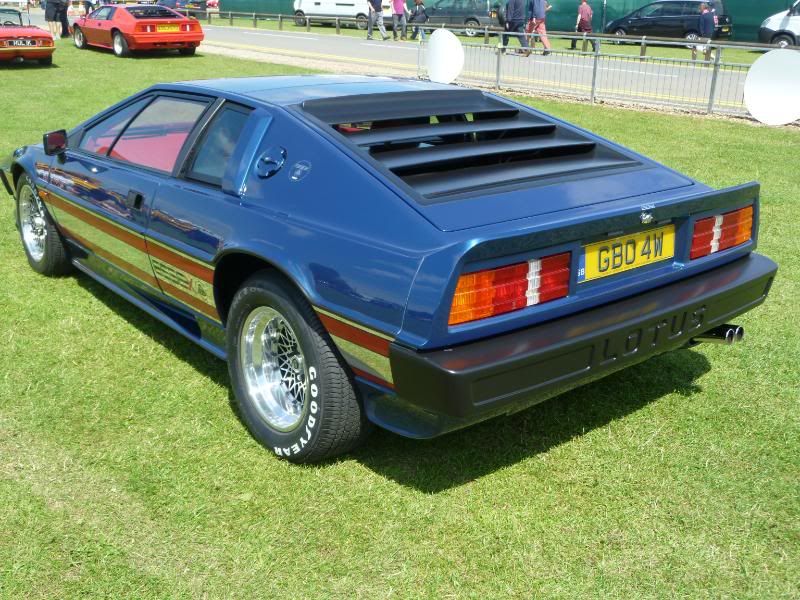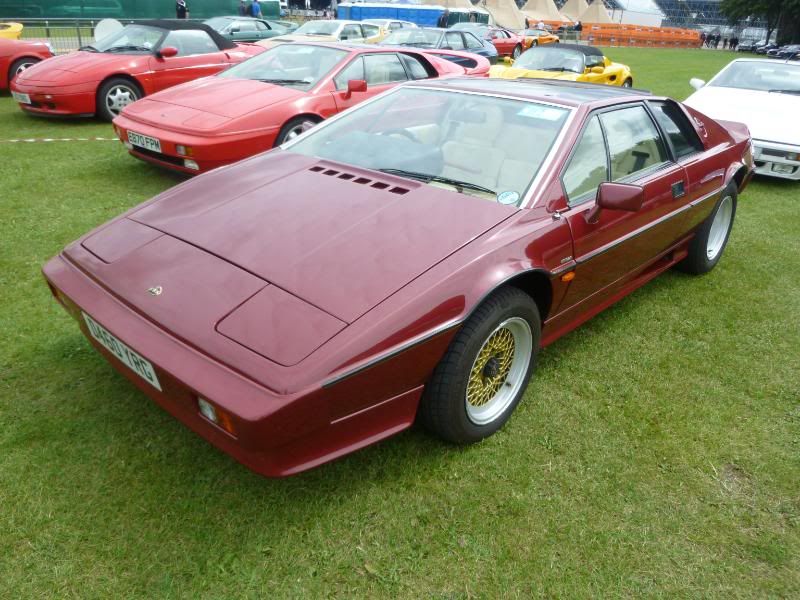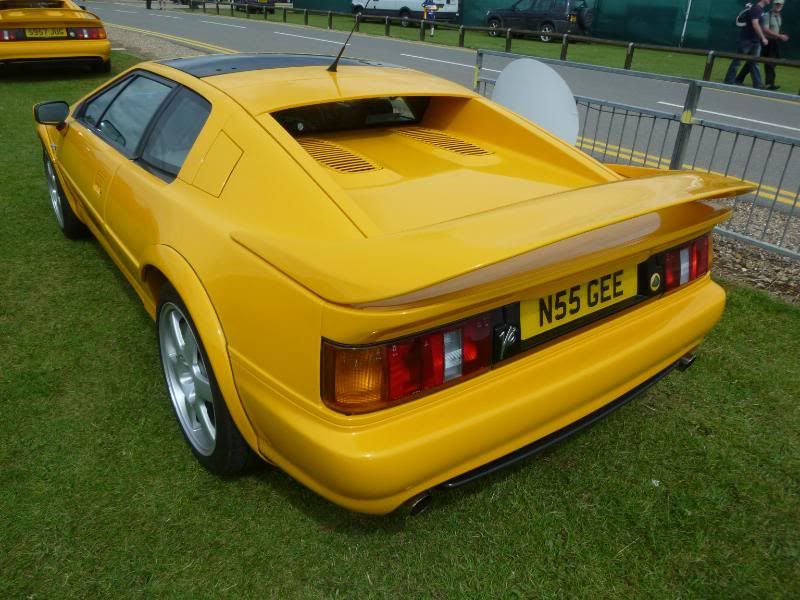 Front wheel drive Elan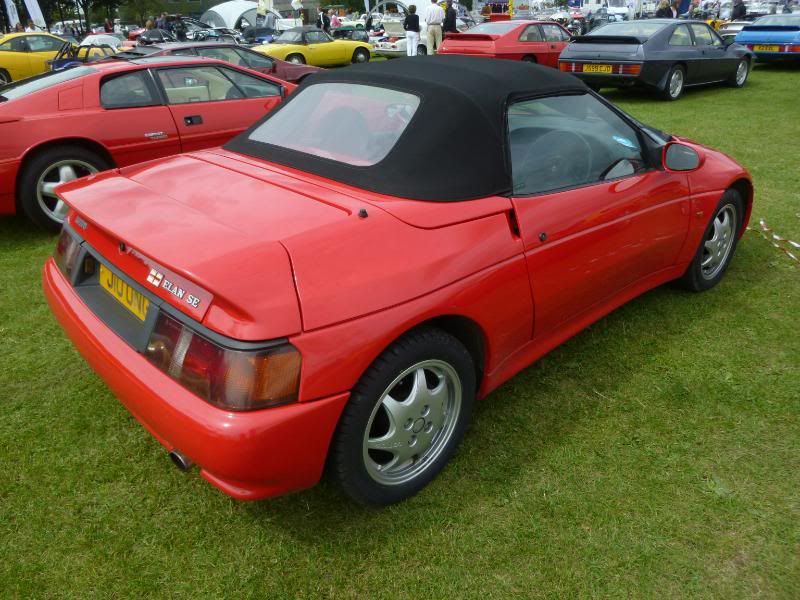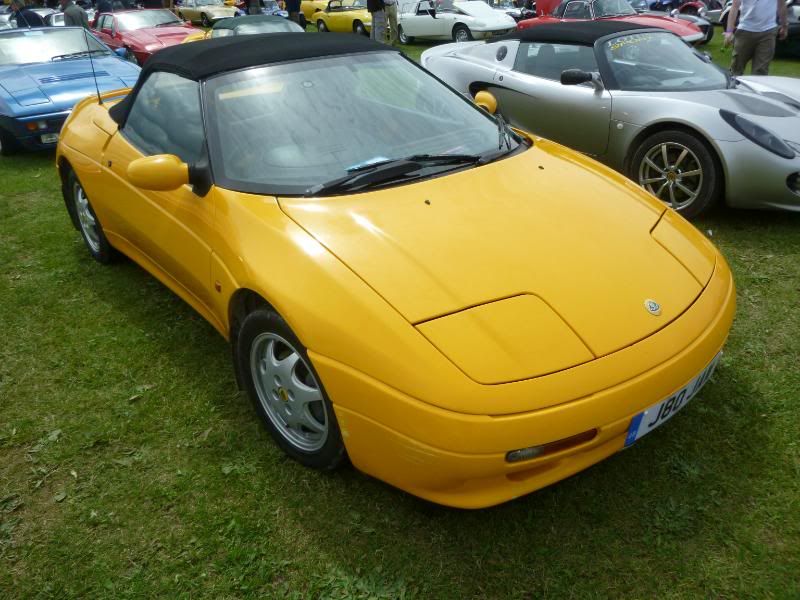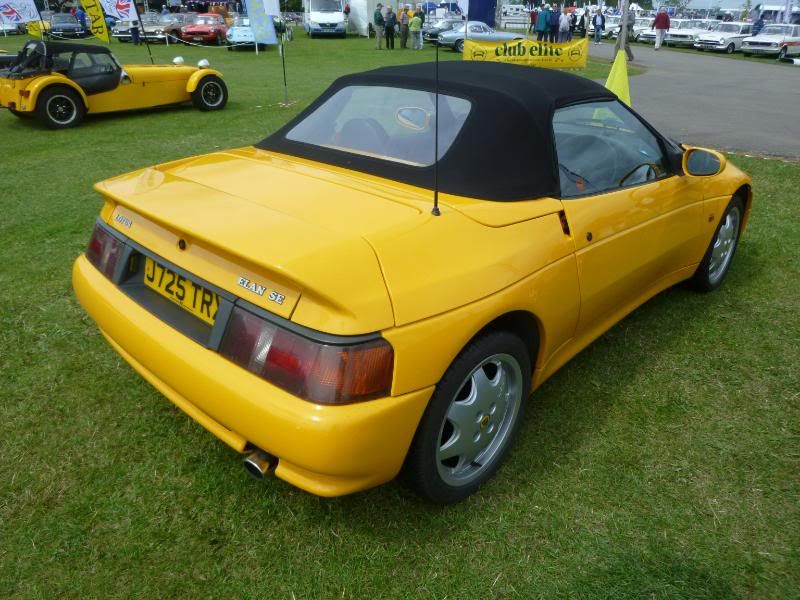 More recent cars included these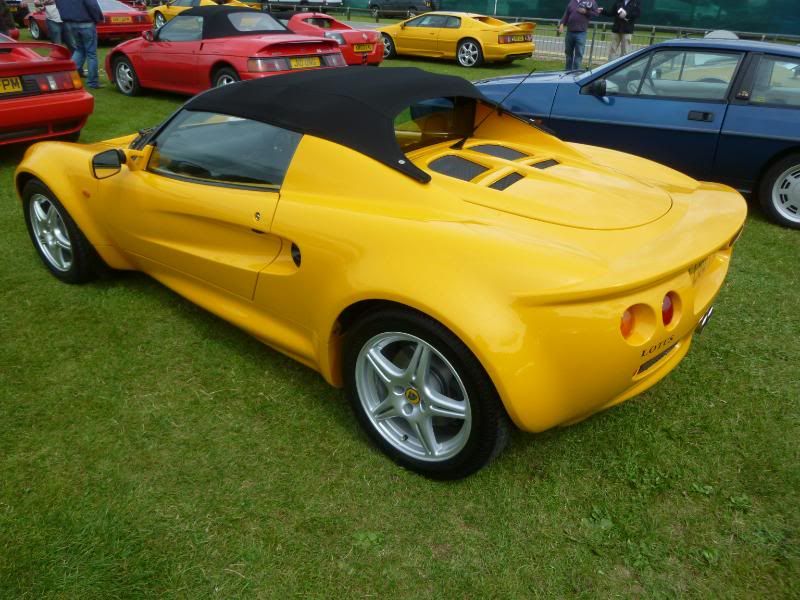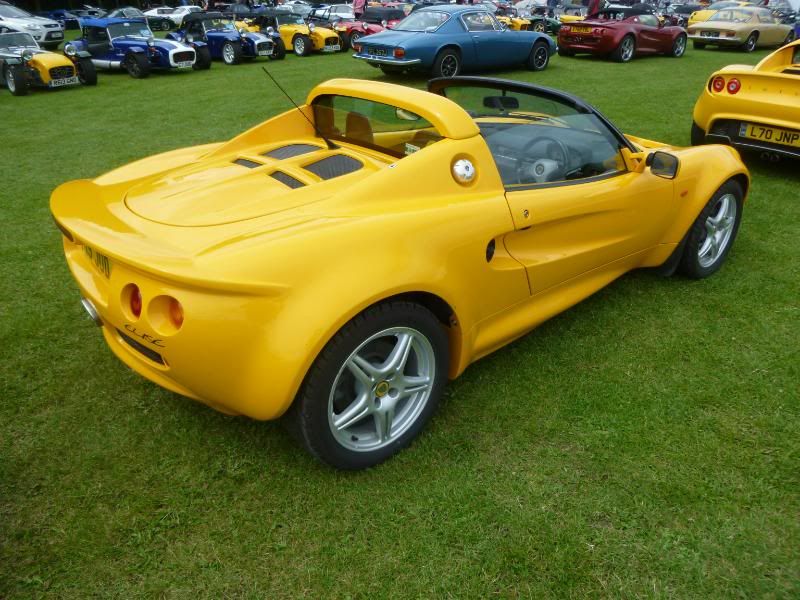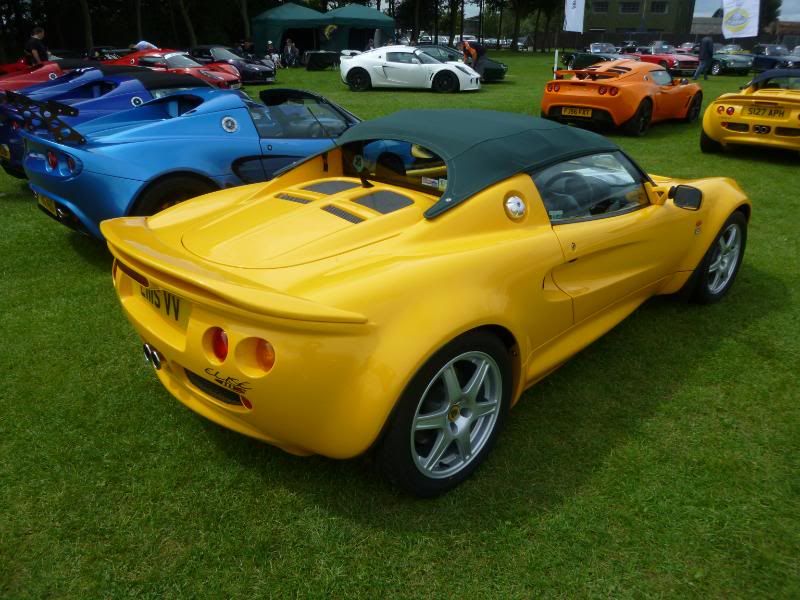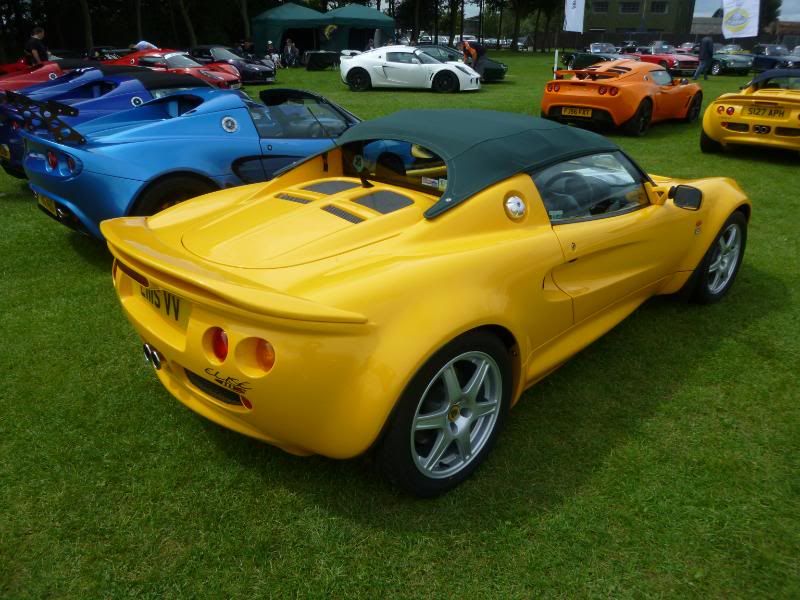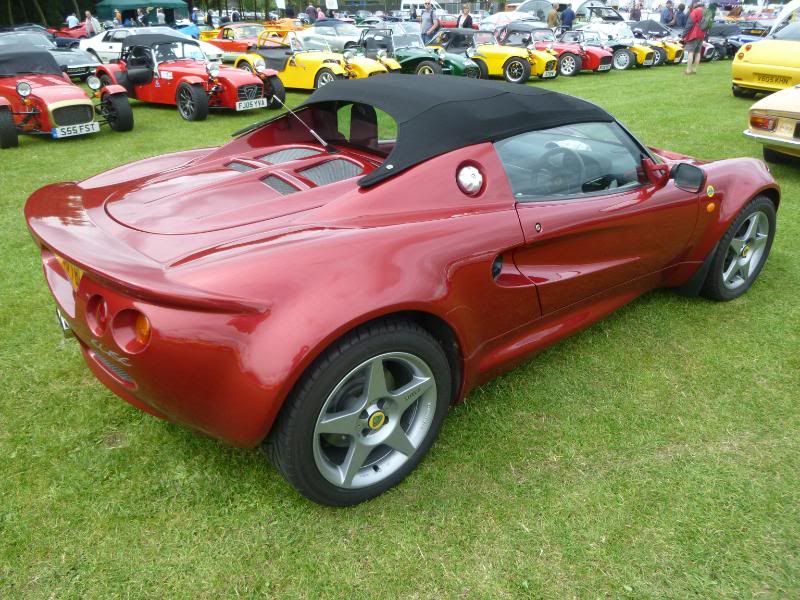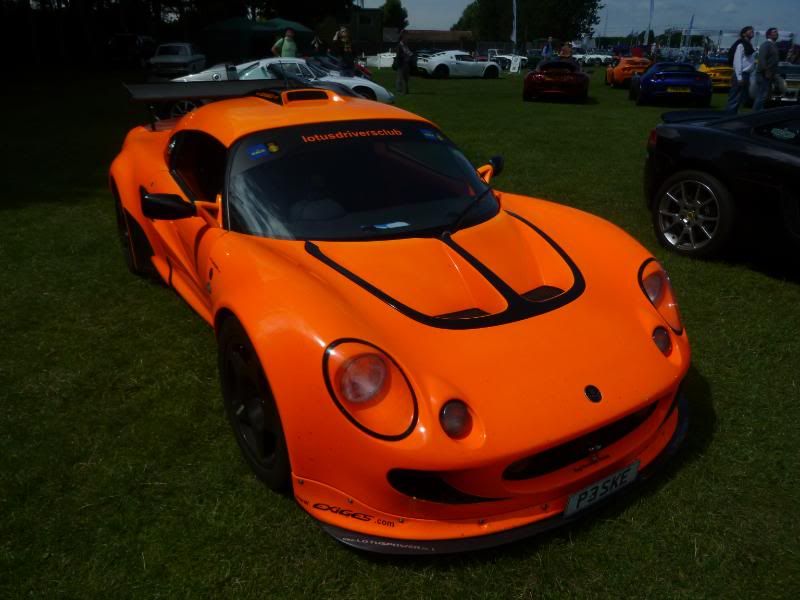 There were a number of Lotus Cortinas, with first and second generation cars parked next to each other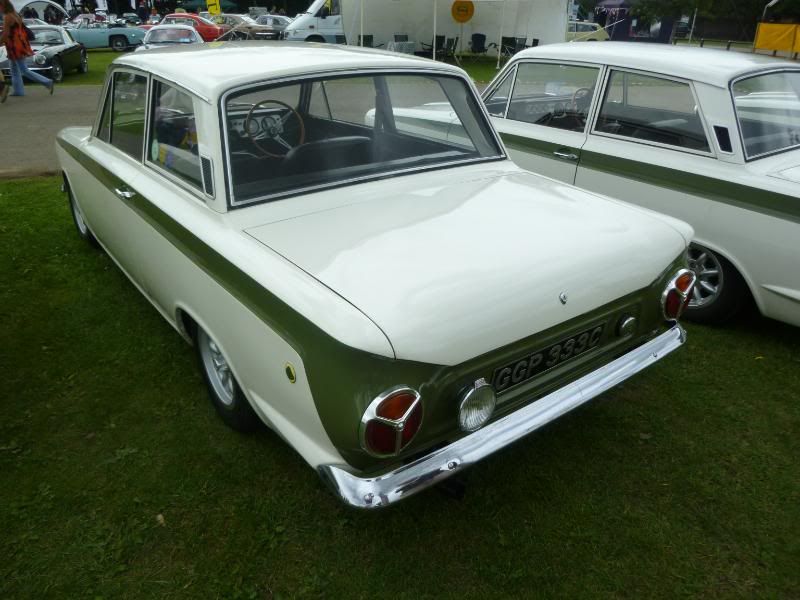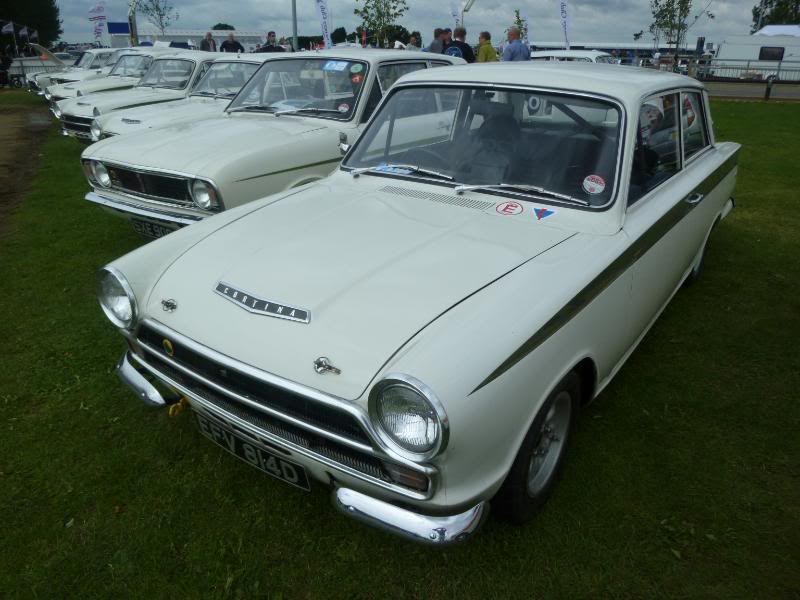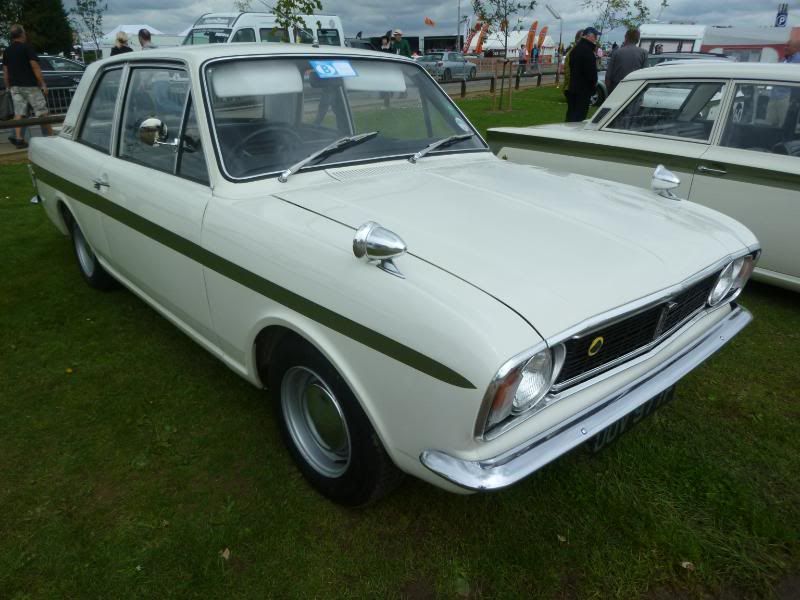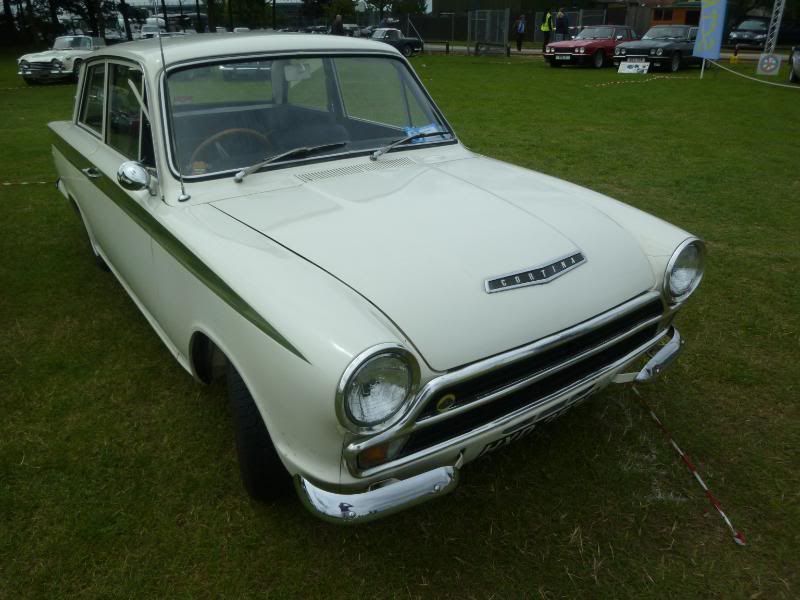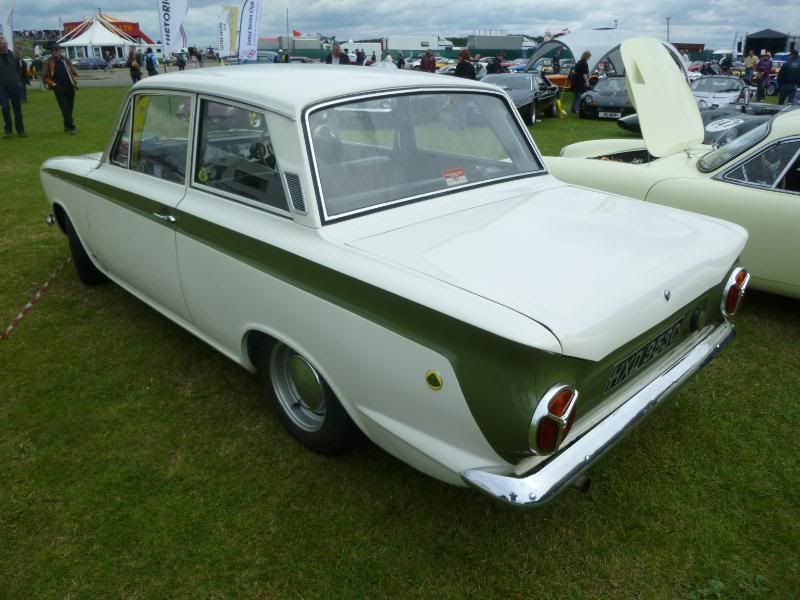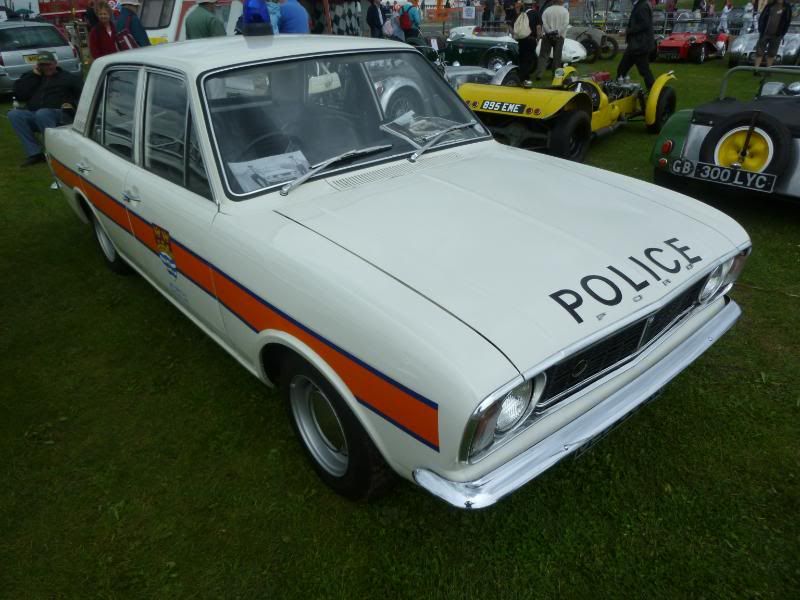 MARCOS


The Mantis is better remembered by those who are old enough by the Corgi toy that followed the 1970 Earls Court show debut of this four seater car than anything else. It is a rare car indeed, so to get 2 of them at  the event was quite unexpected.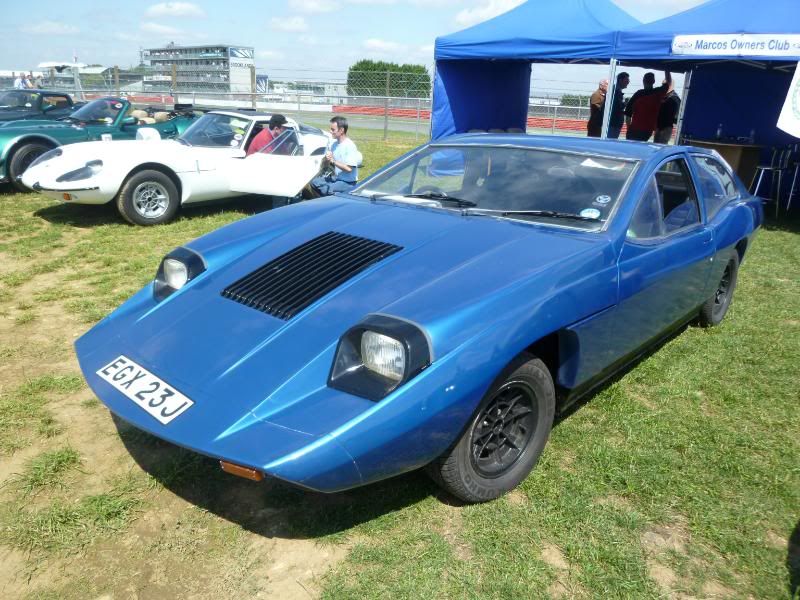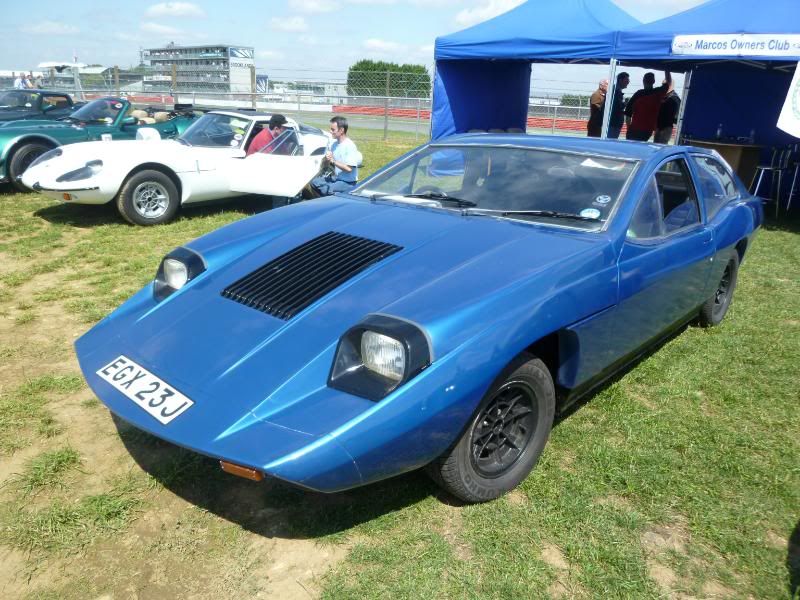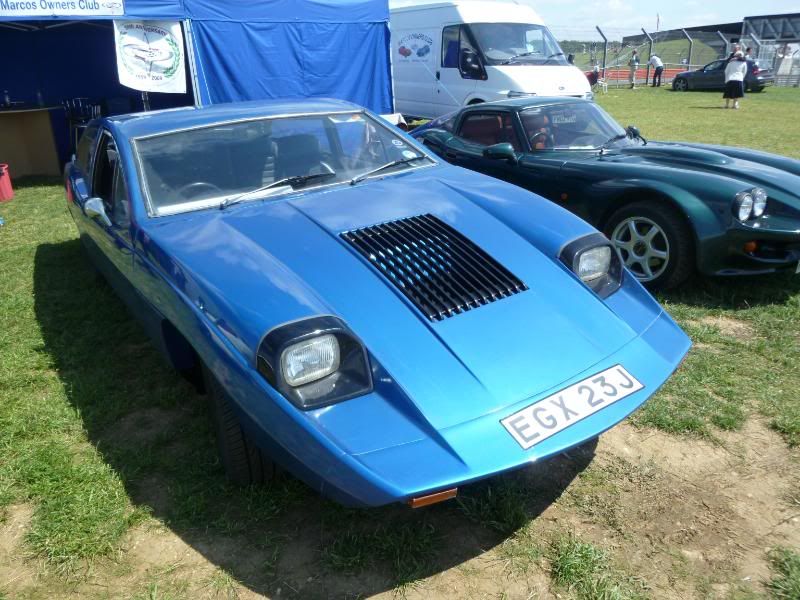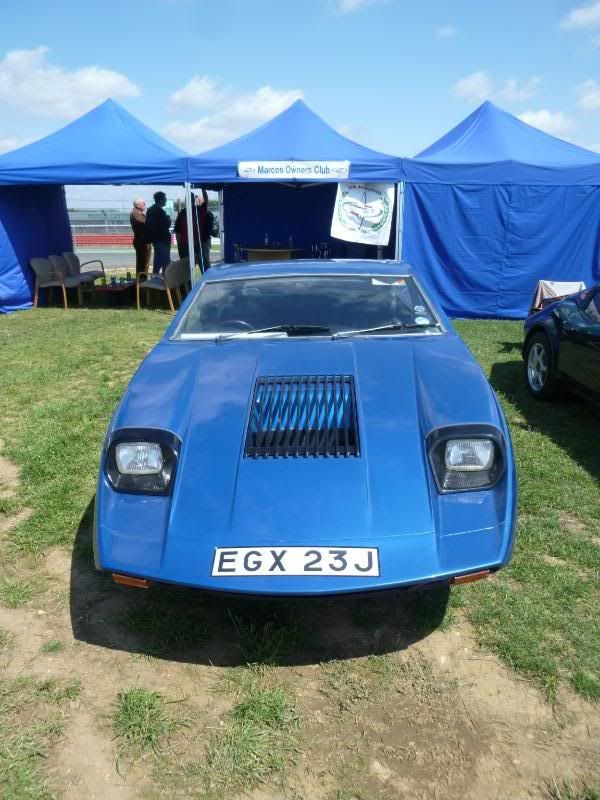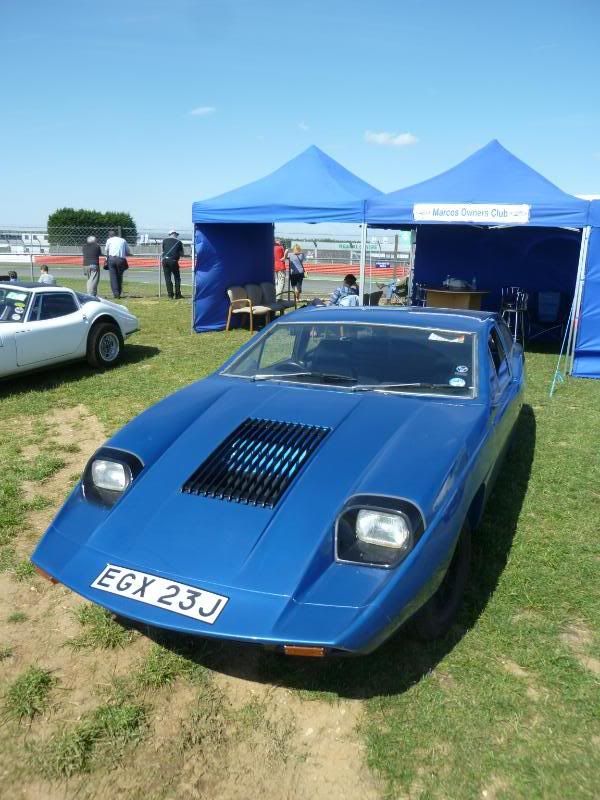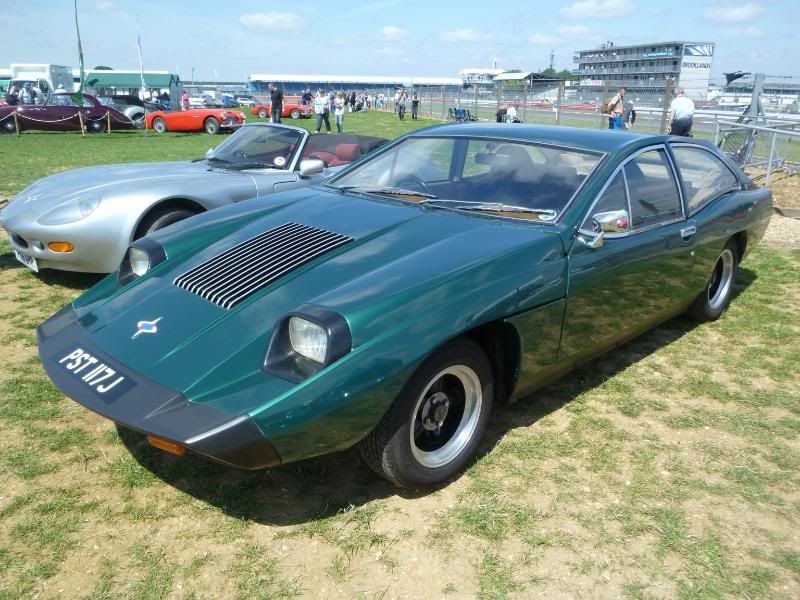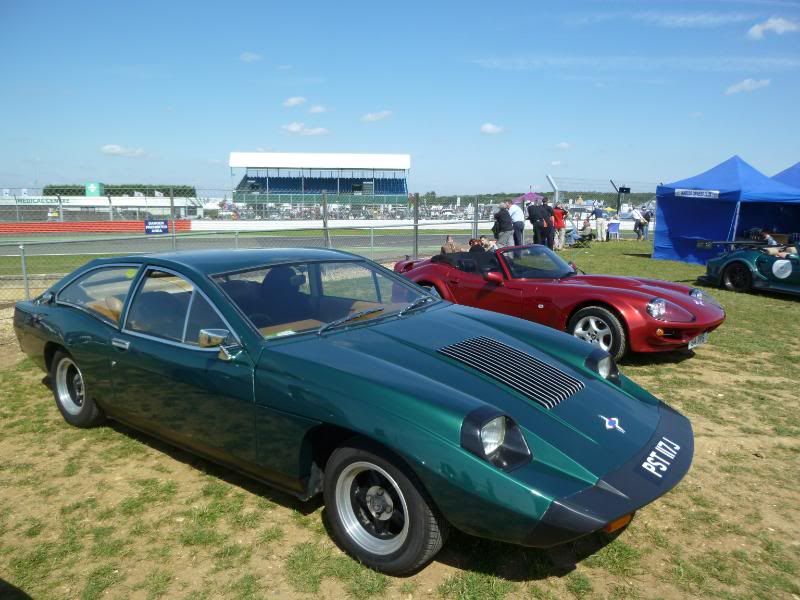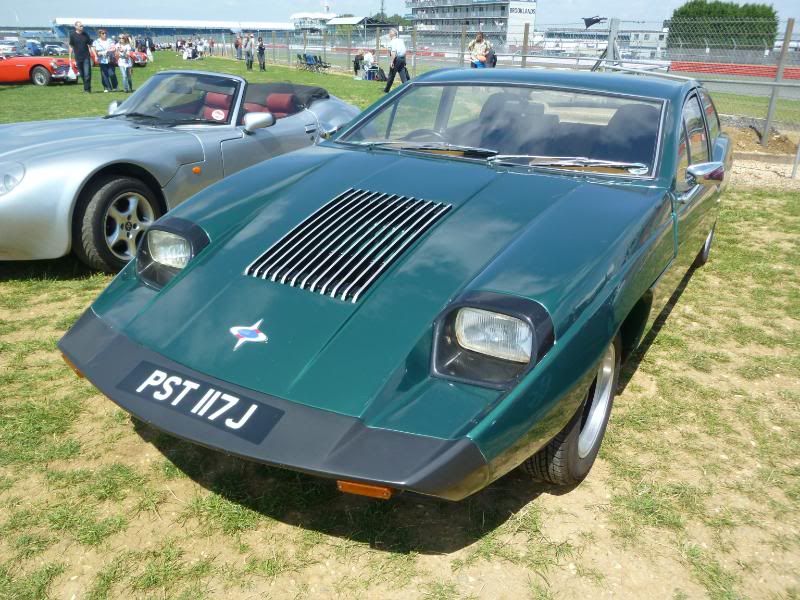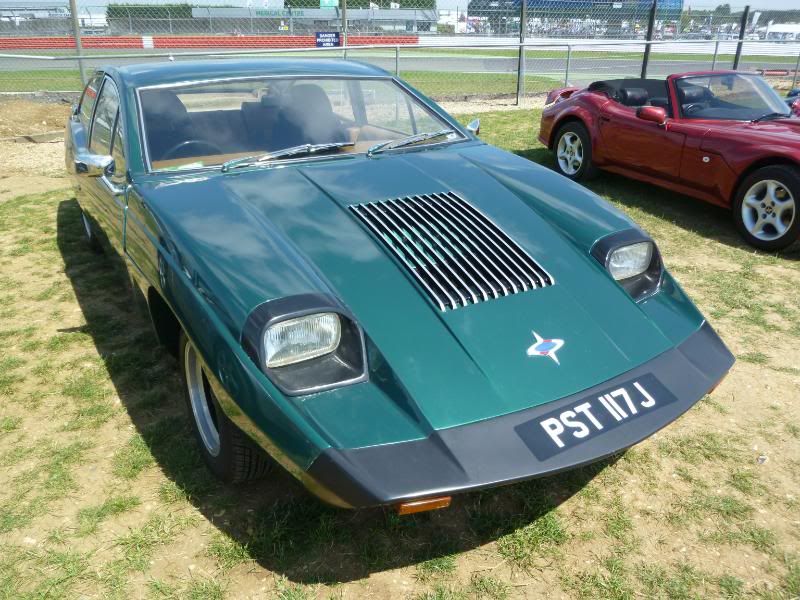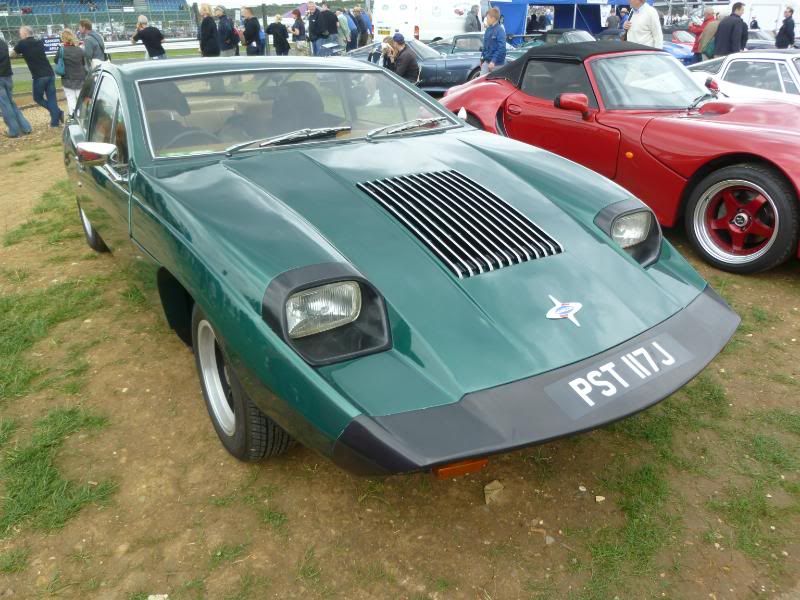 There were also a couple of the smaller Mini Marcos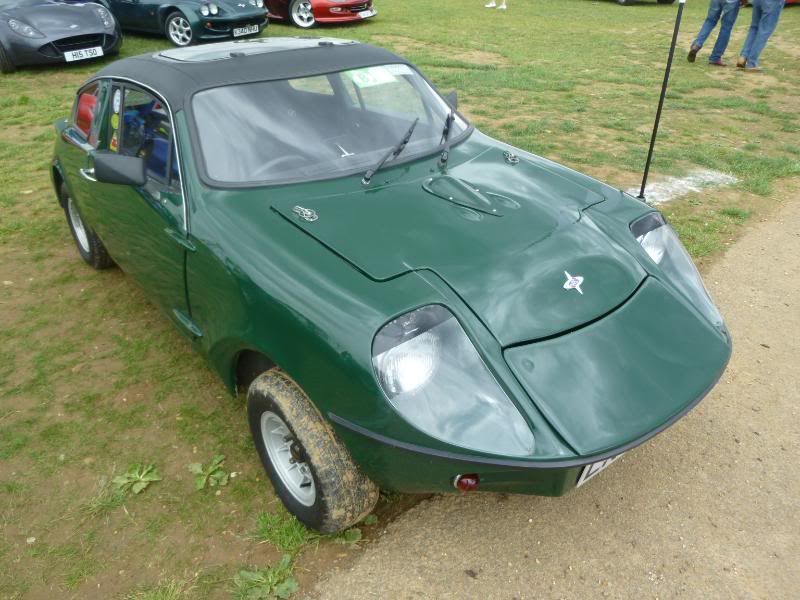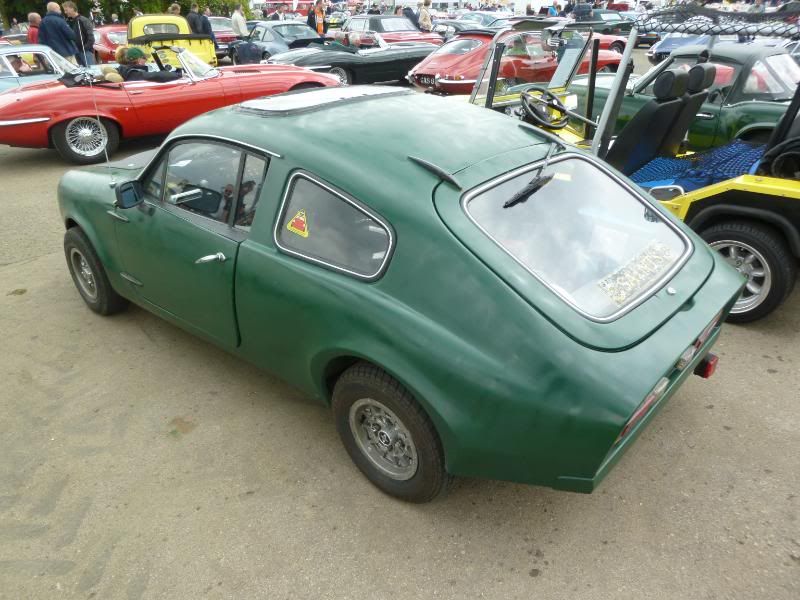 More familiar Marcos models showed the evolution of the 1800 coupe through 3 litre cars and the 1990s reincarnation as the Mantara, Mantula and subsequent development into the wild LM-based machines.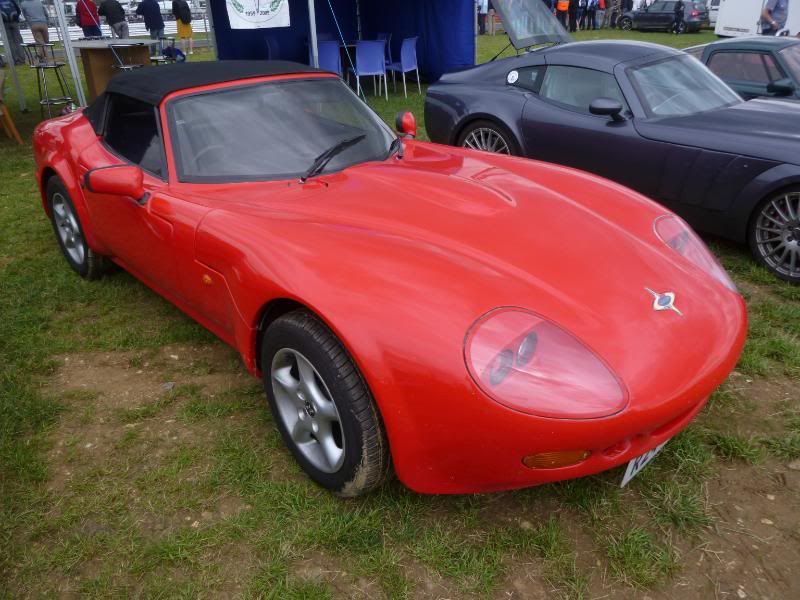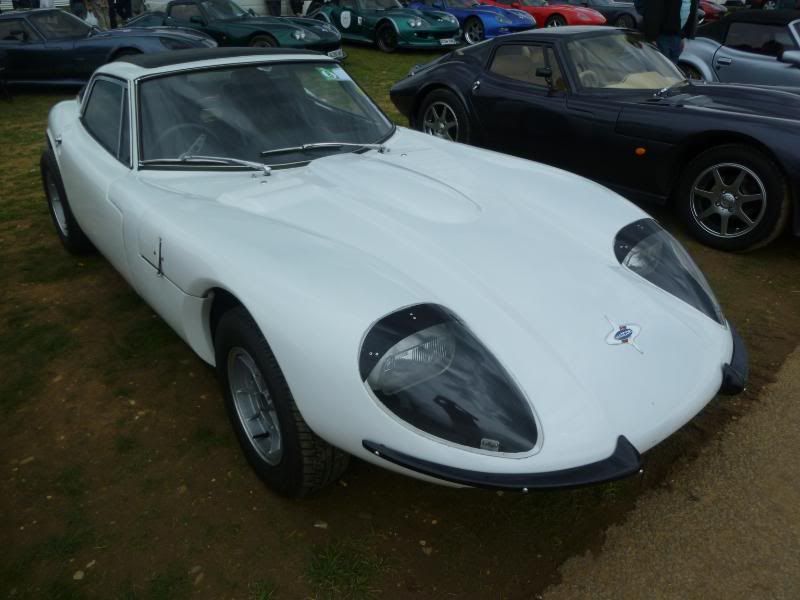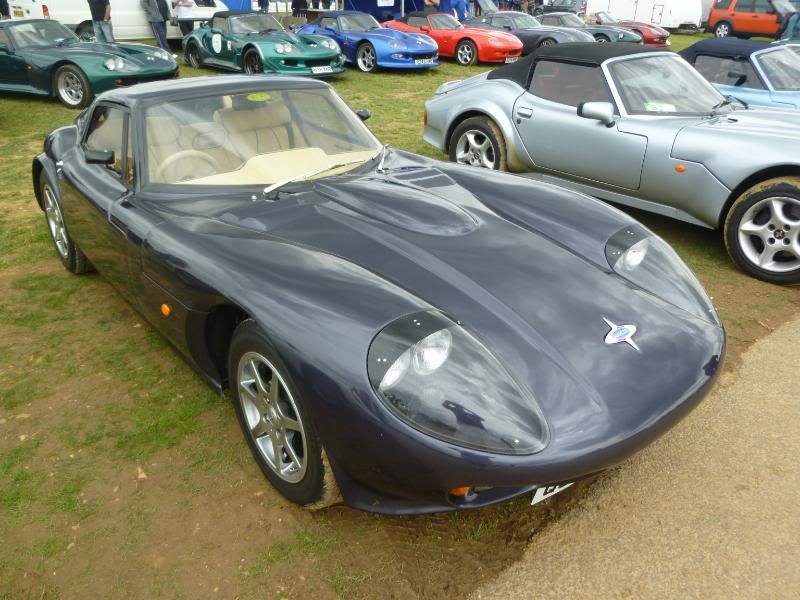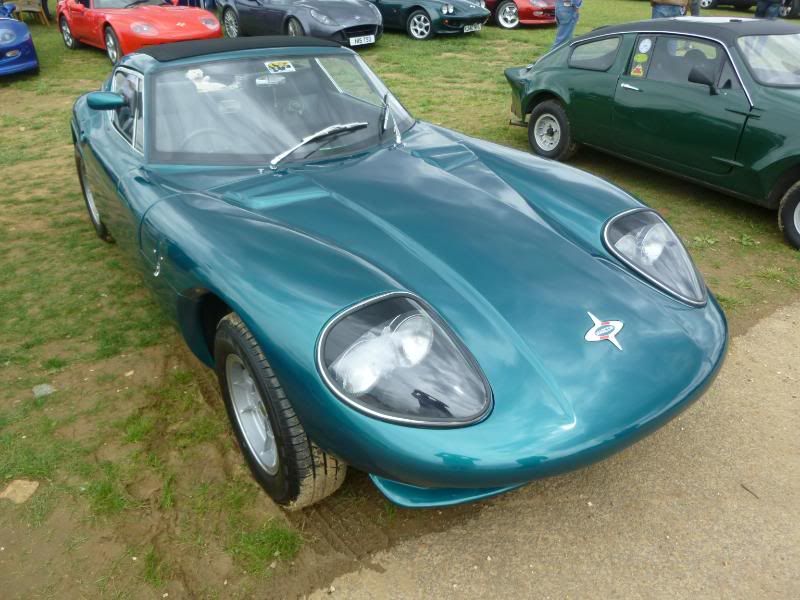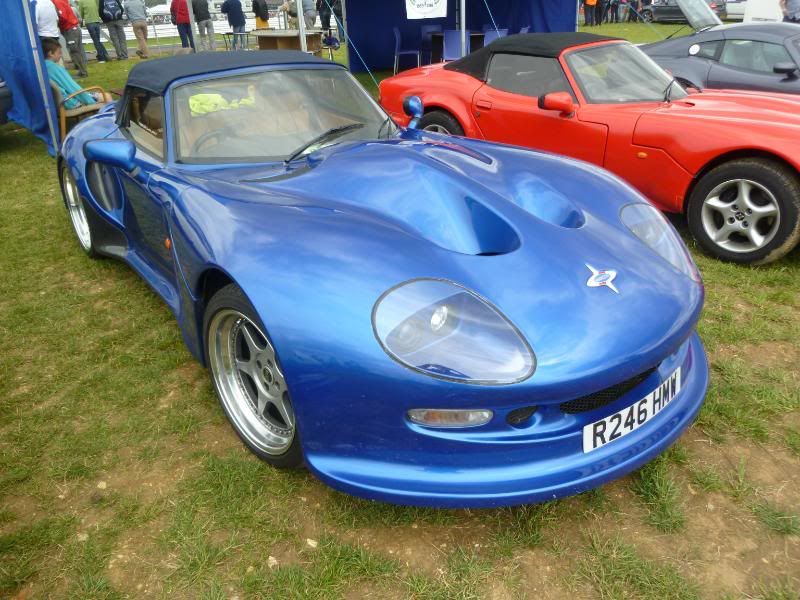 There was one of the TSO cars, a promising design cut off by the ultimate bankruptcy of  the company.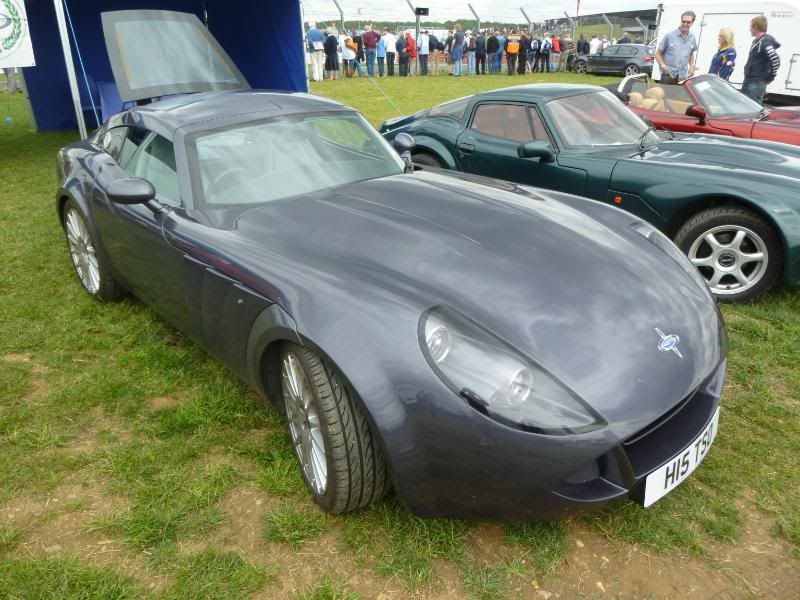 MASERATI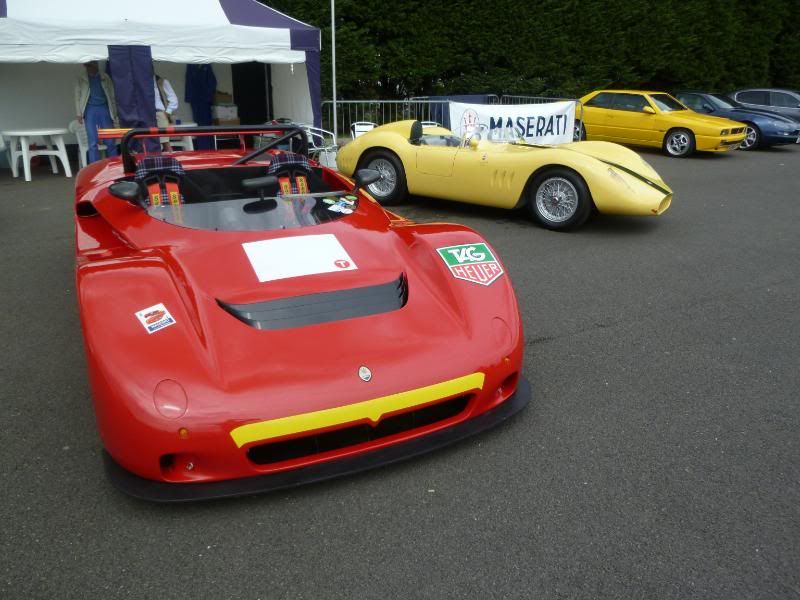 Just about every road car type produced by Maserati since 1959 was represented in a a display area next to the Abarths.
One of the very nicest of all the Maserati on display was this 1954 AG6S
There were two examples of the 250S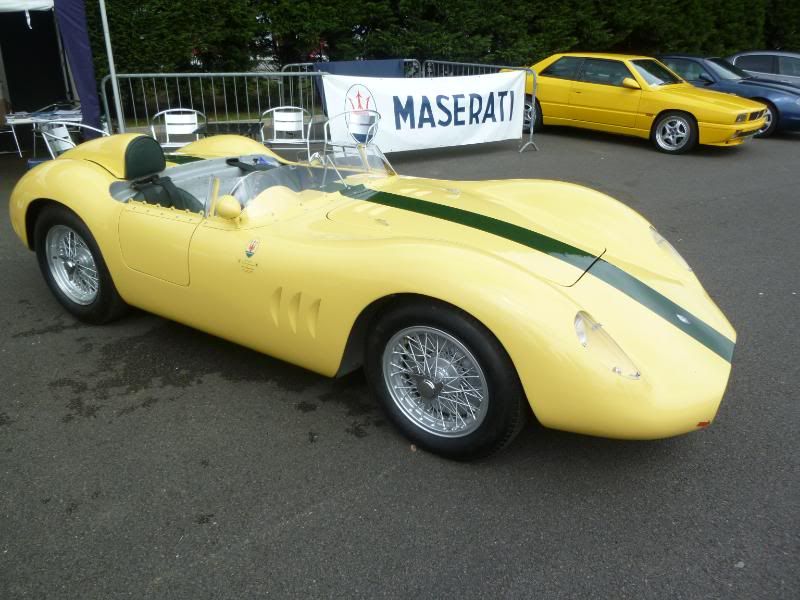 Osca 1600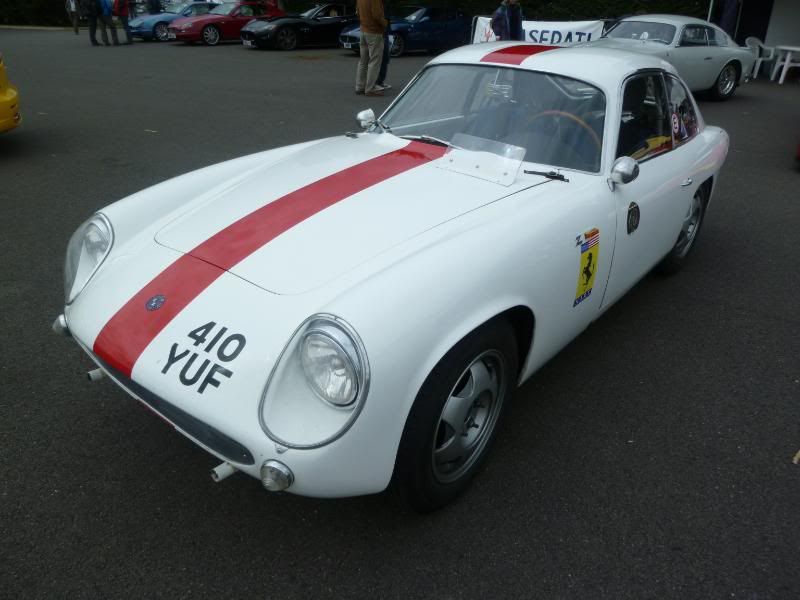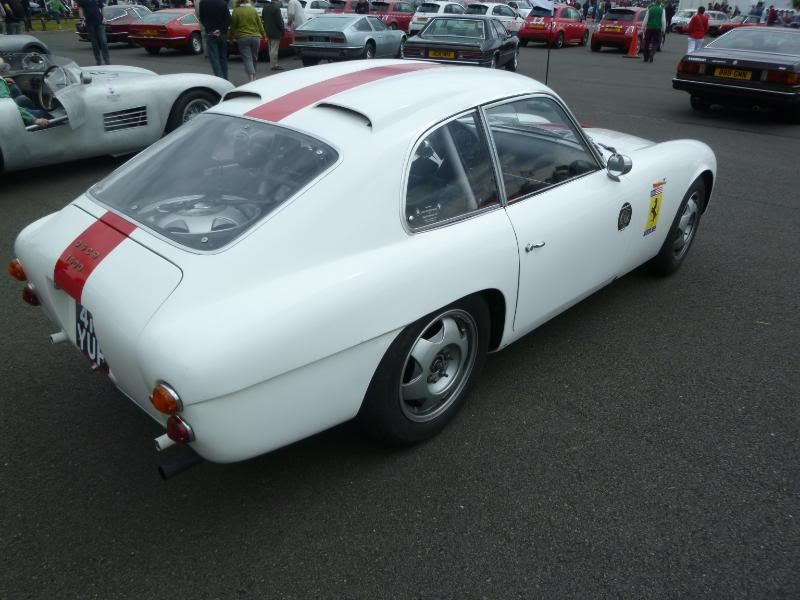 3500GT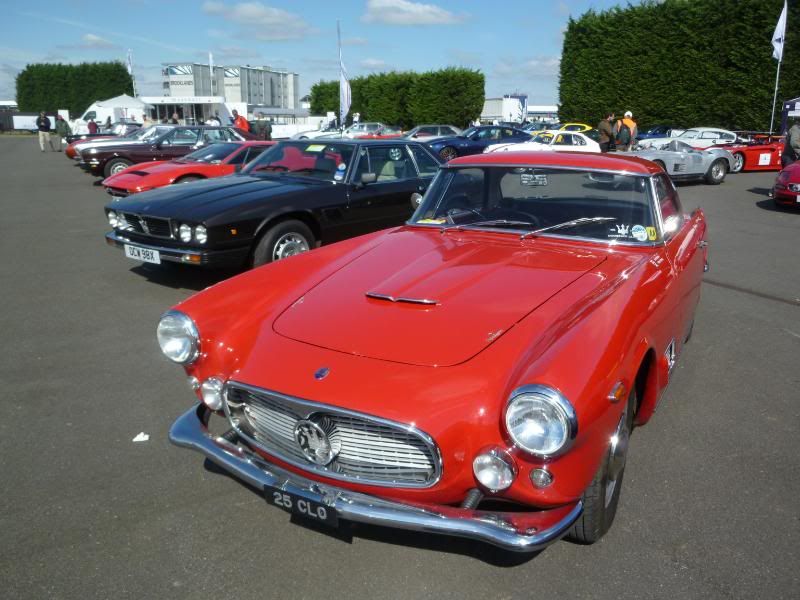 Sebring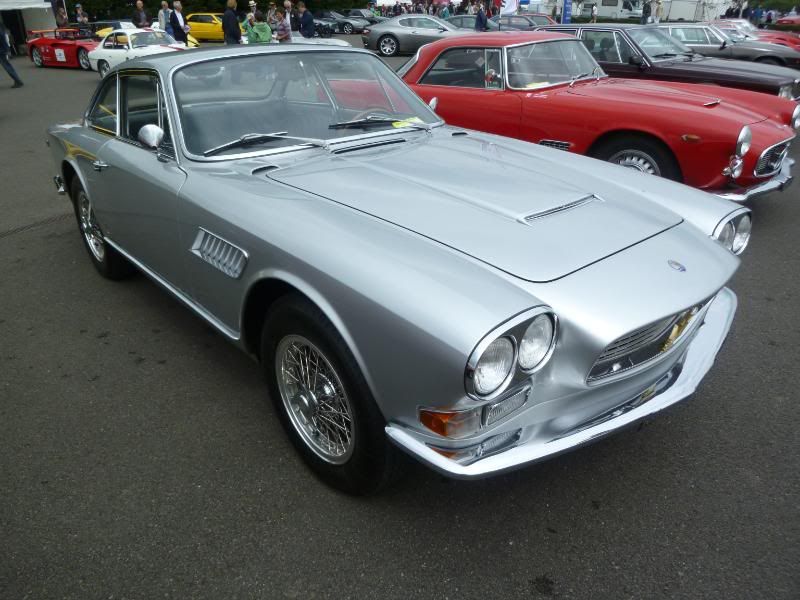 Mistral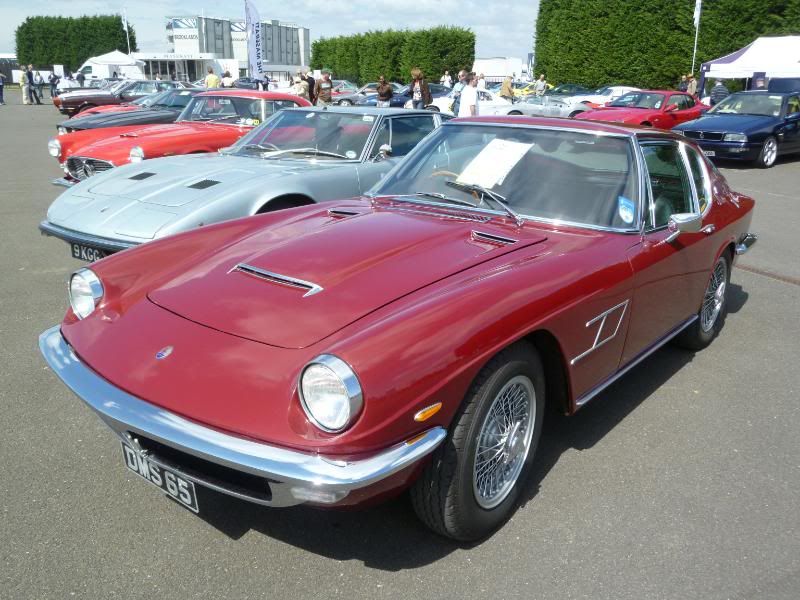 Indy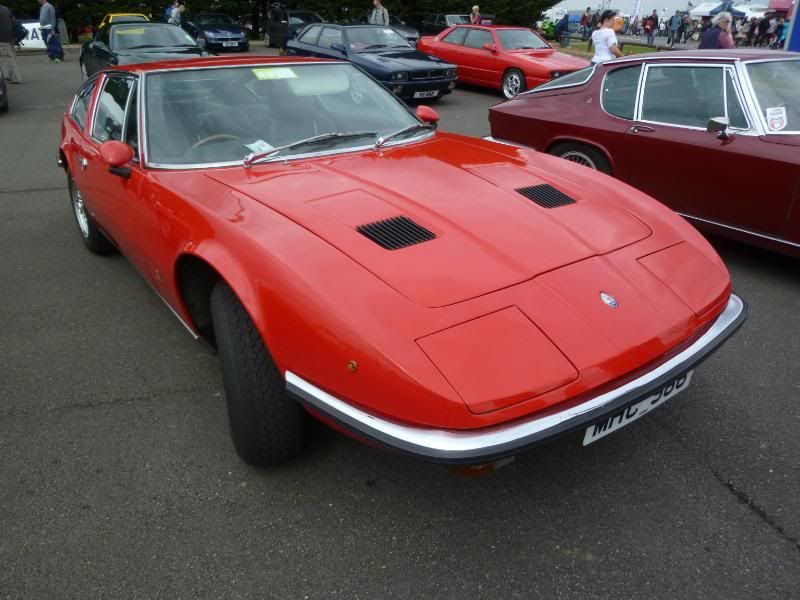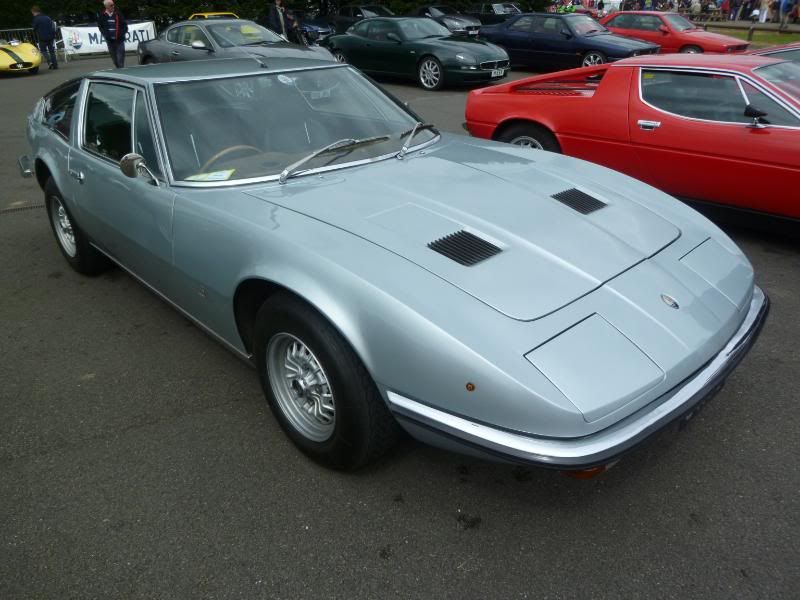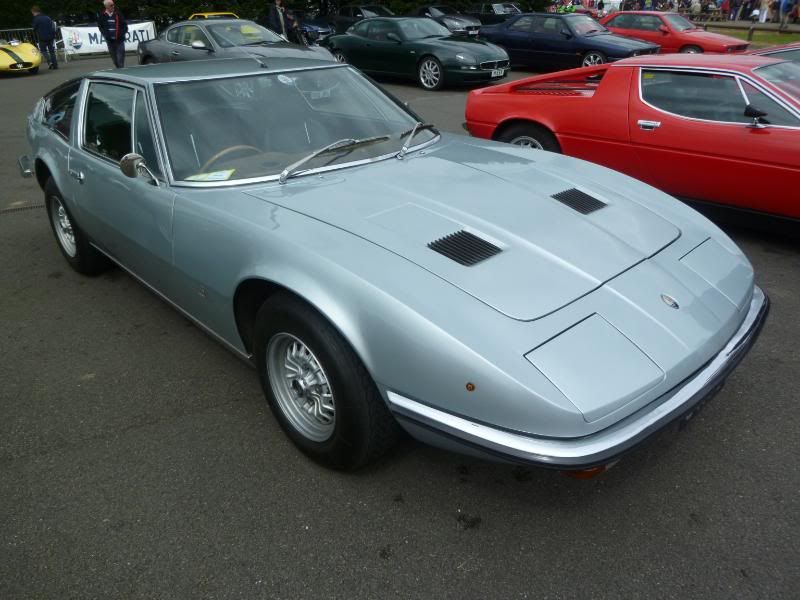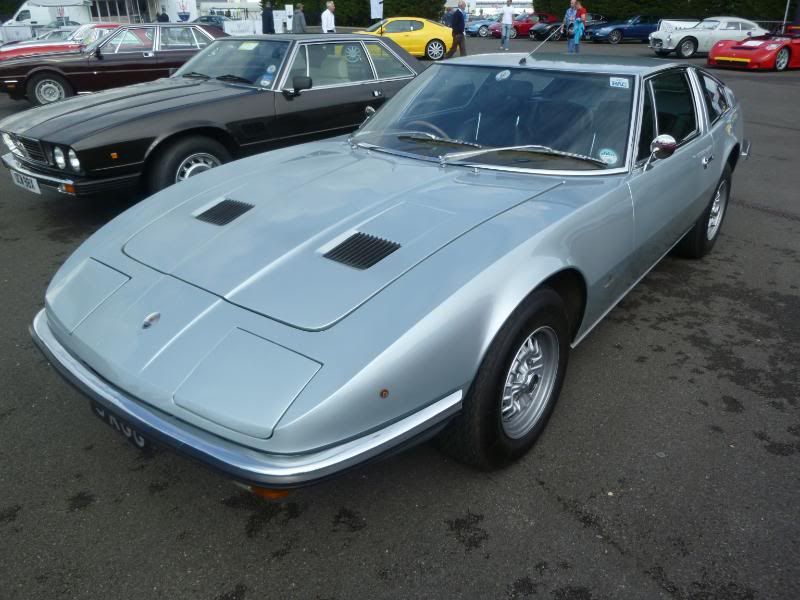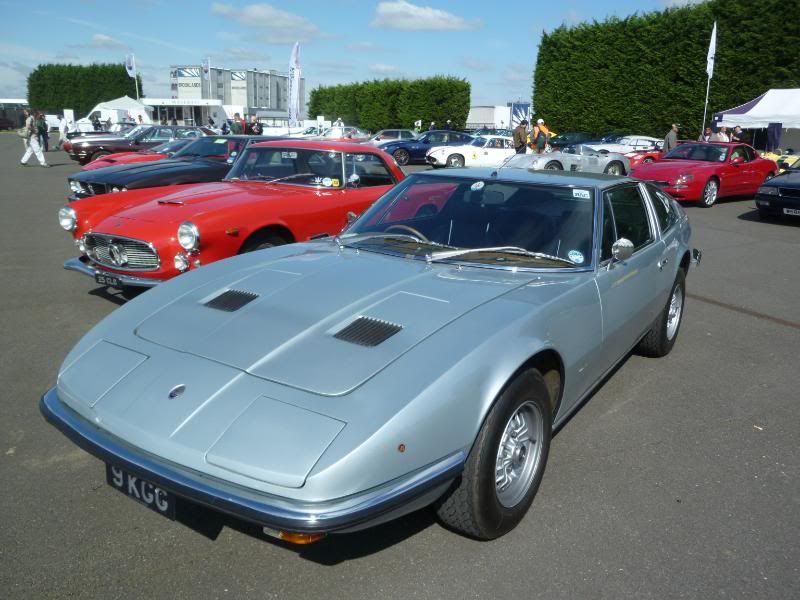 Ghibli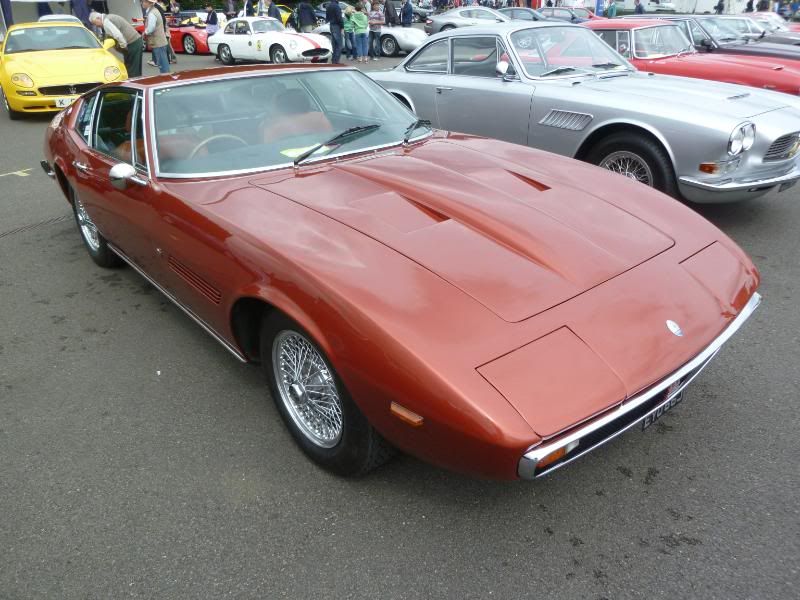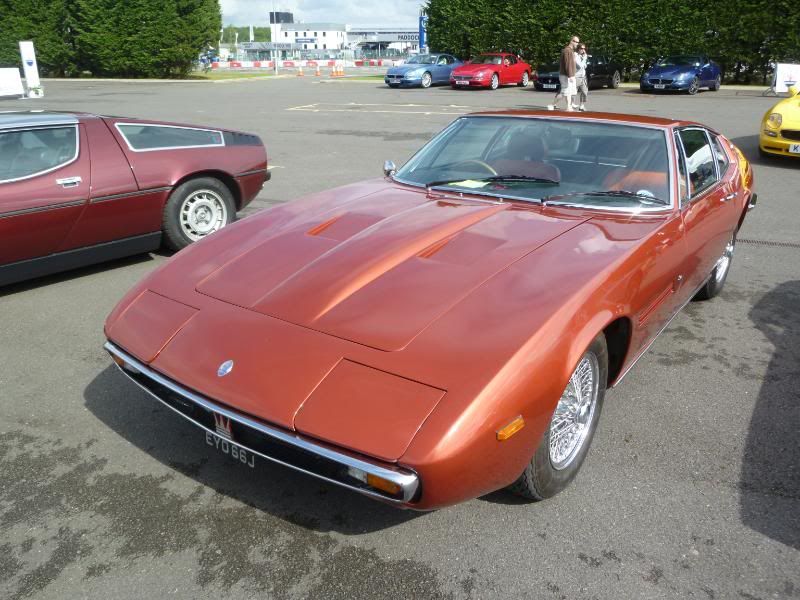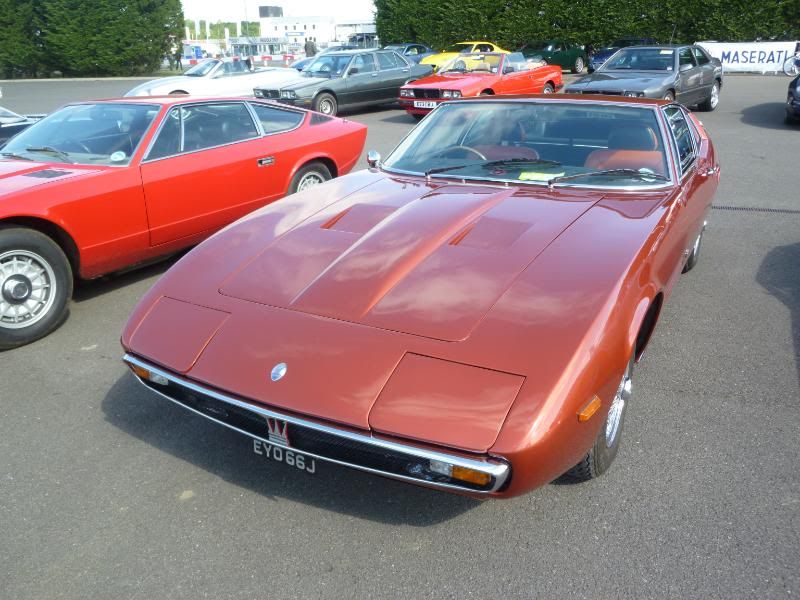 Merak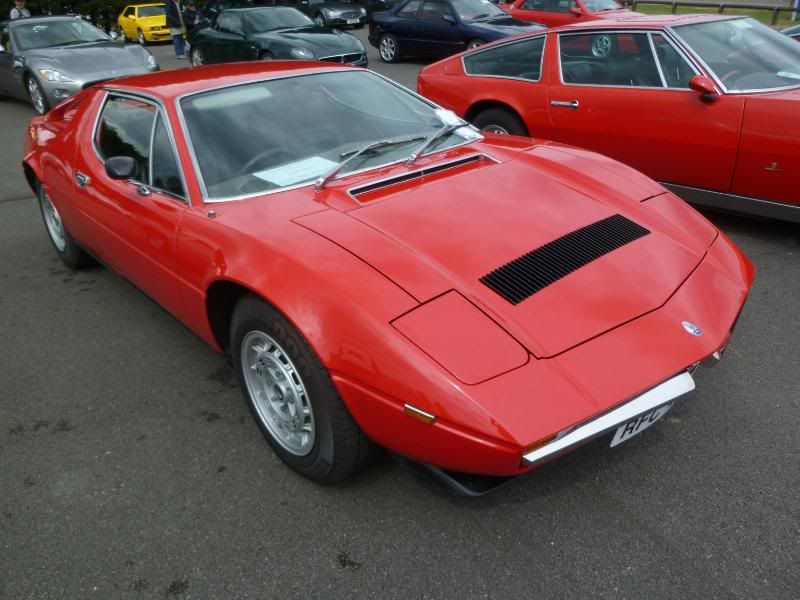 Bora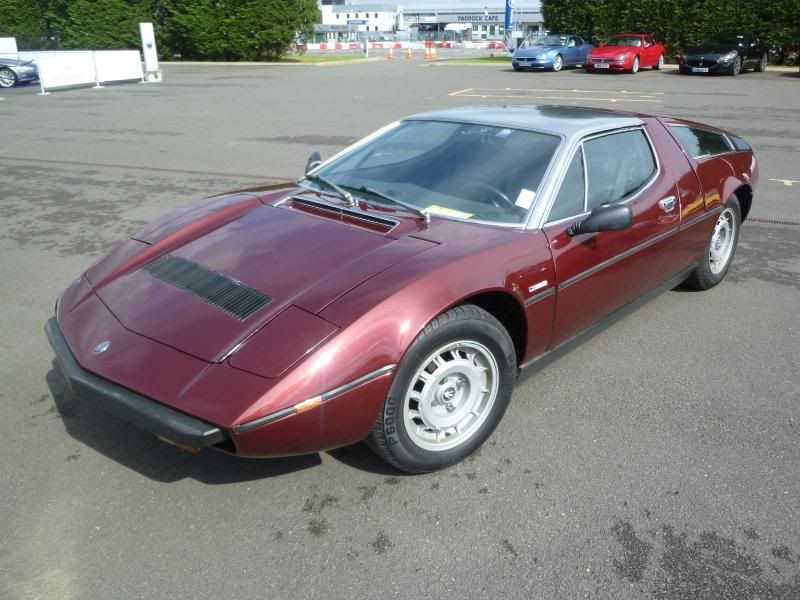 Khamsin
Third generation Quattroporte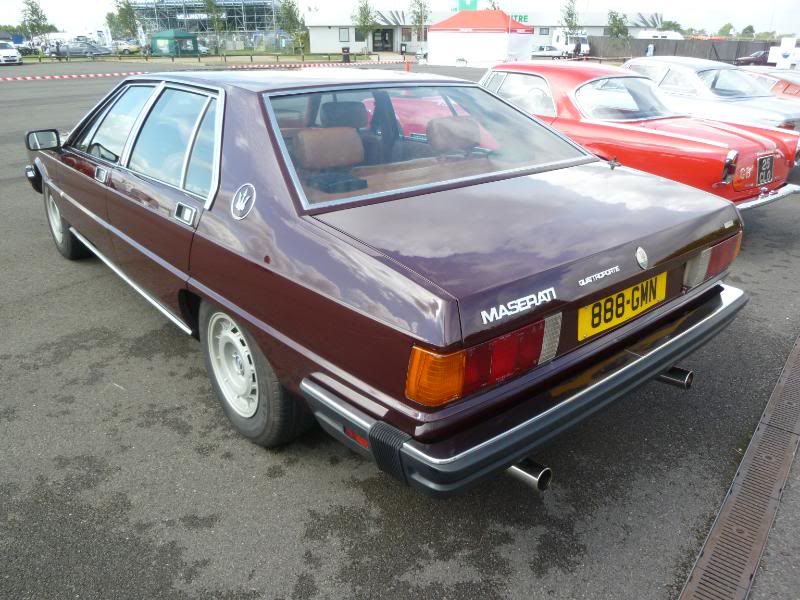 Kyalami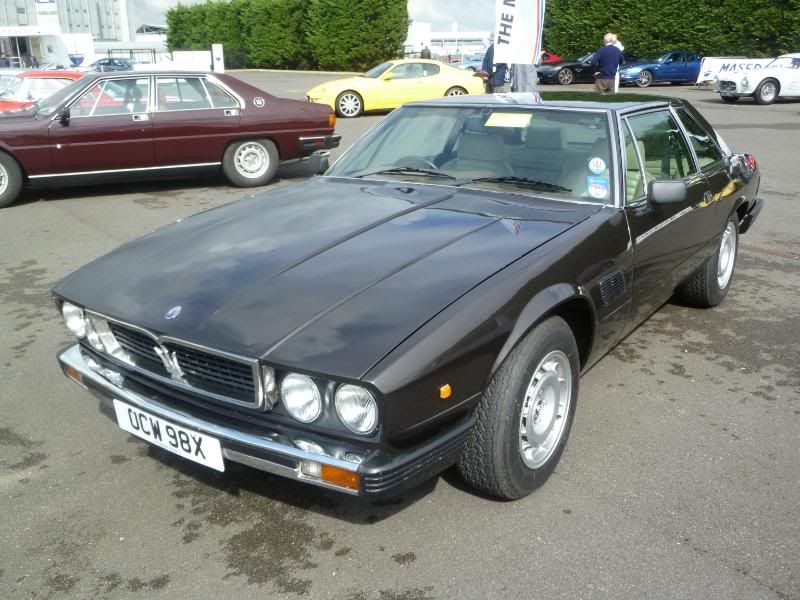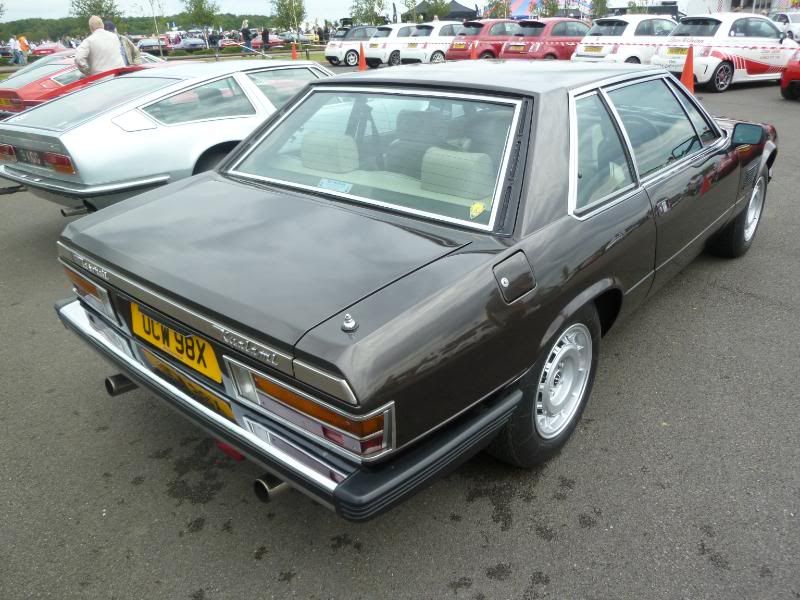 From the extensive family of Biturbo models, there were 2 door coupes, 4 door saloons and the spider, and in guises including the later Ghibli cars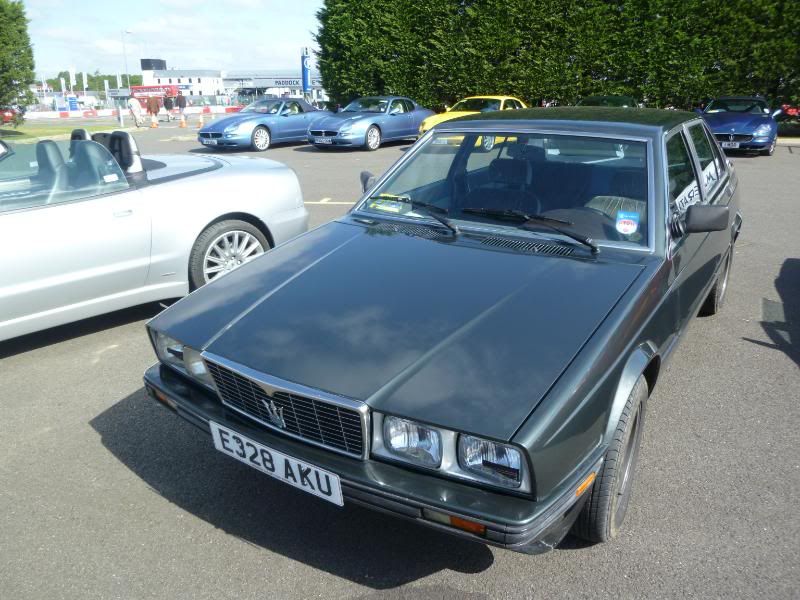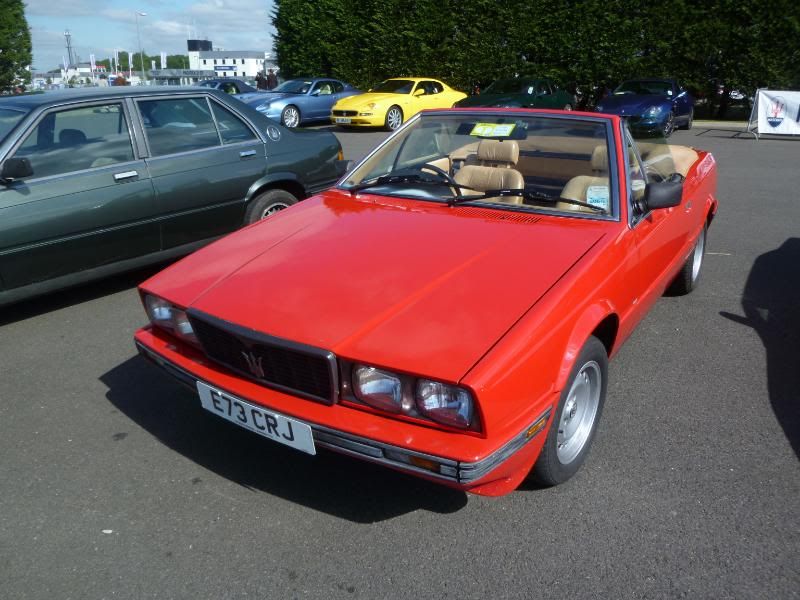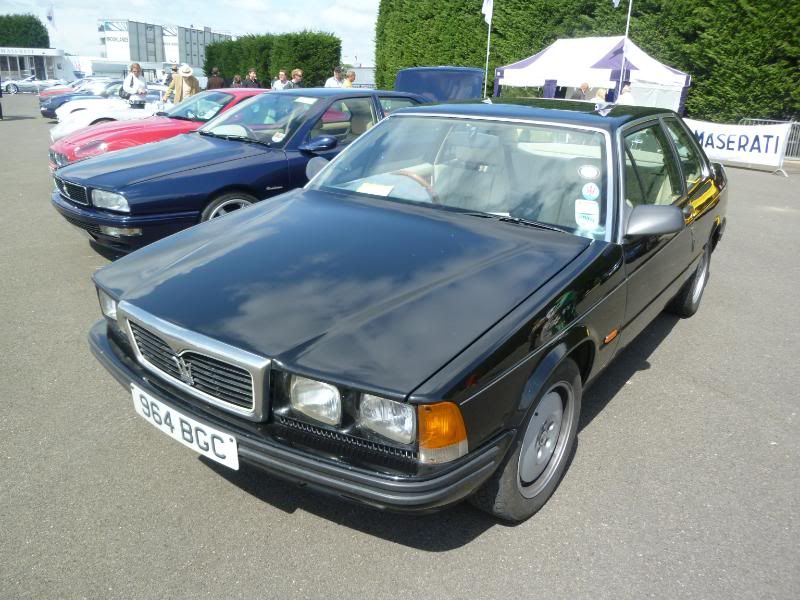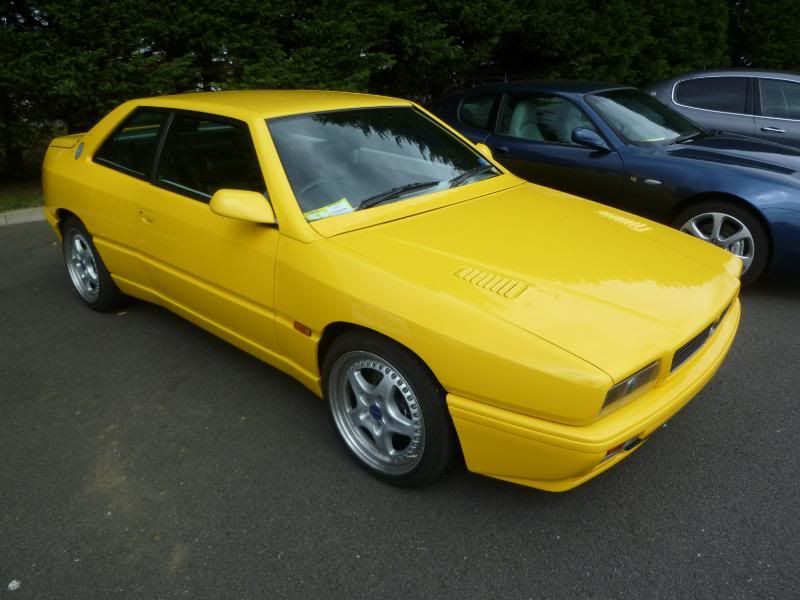 3200/4200 GT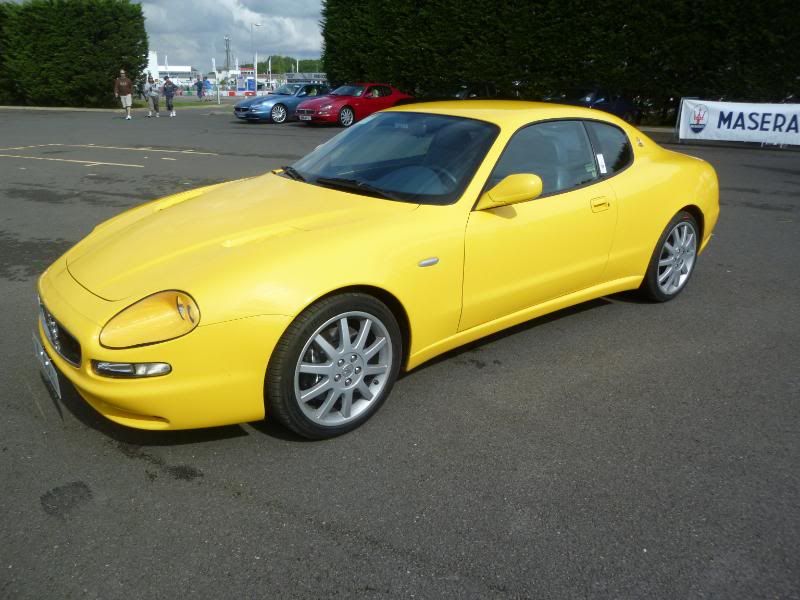 MAZDA
A vast display of MX5s, with plenty of cars from all three generations of the model, including a number of the recent CC cars.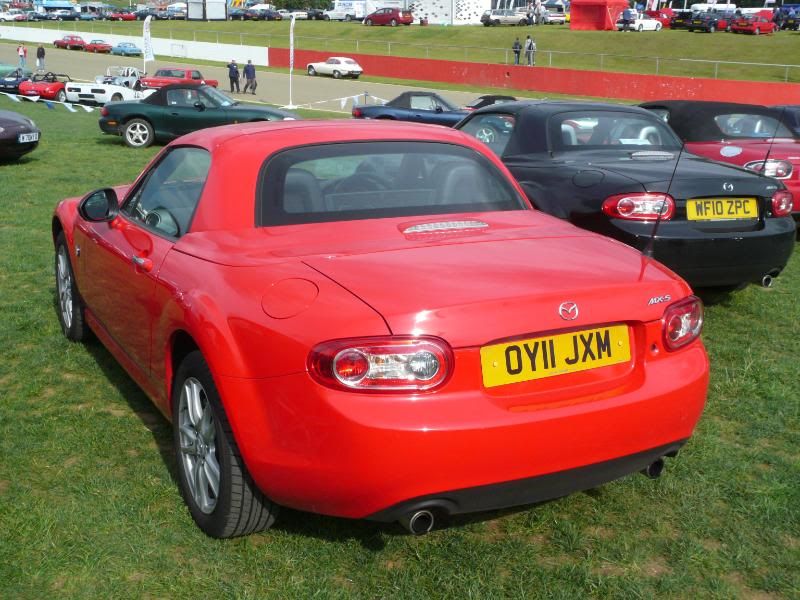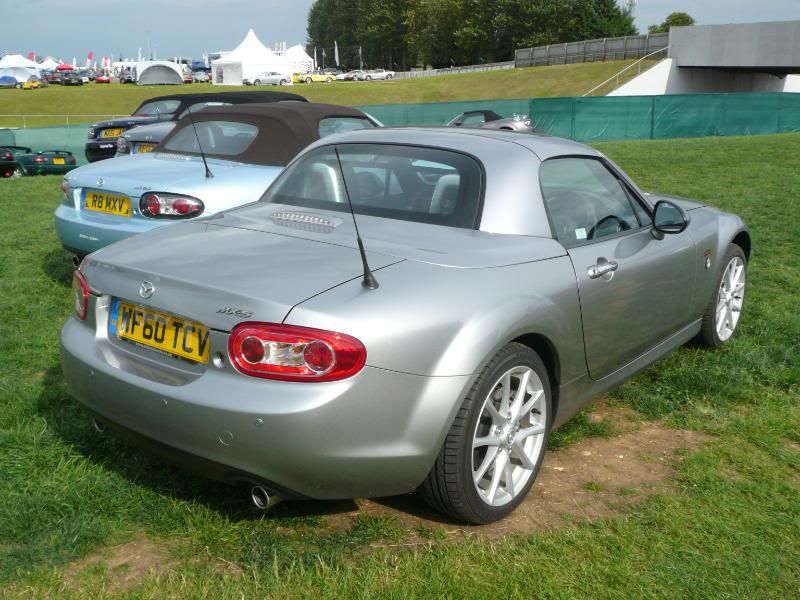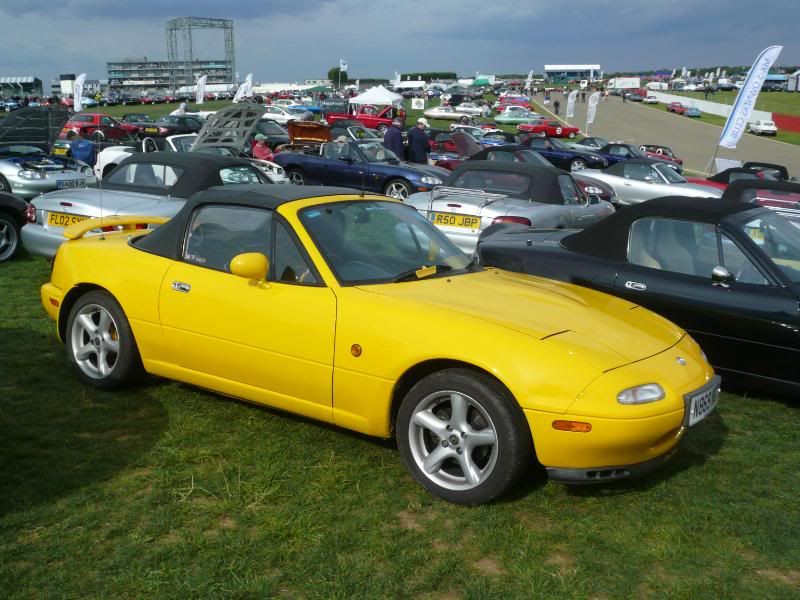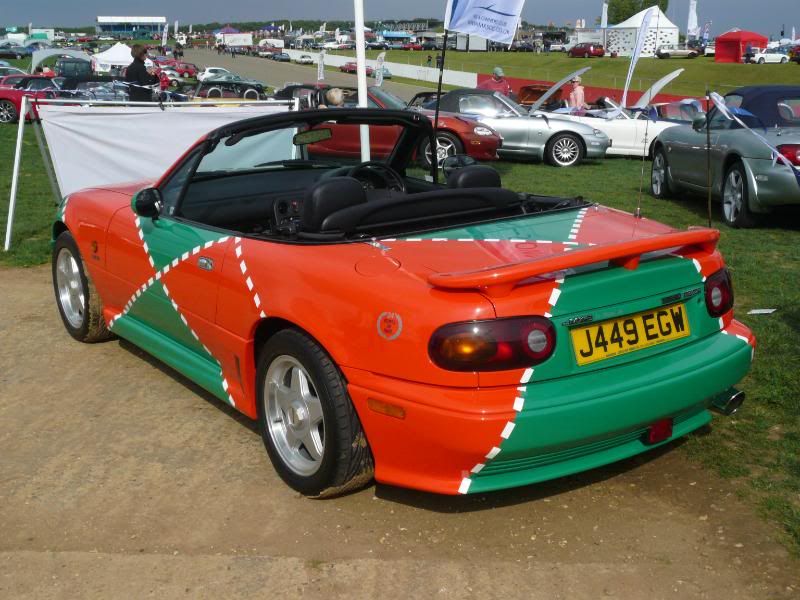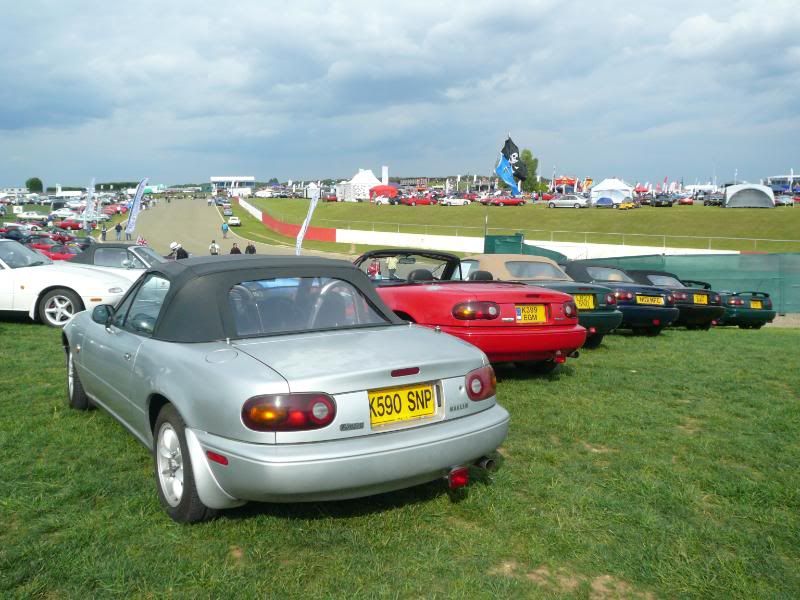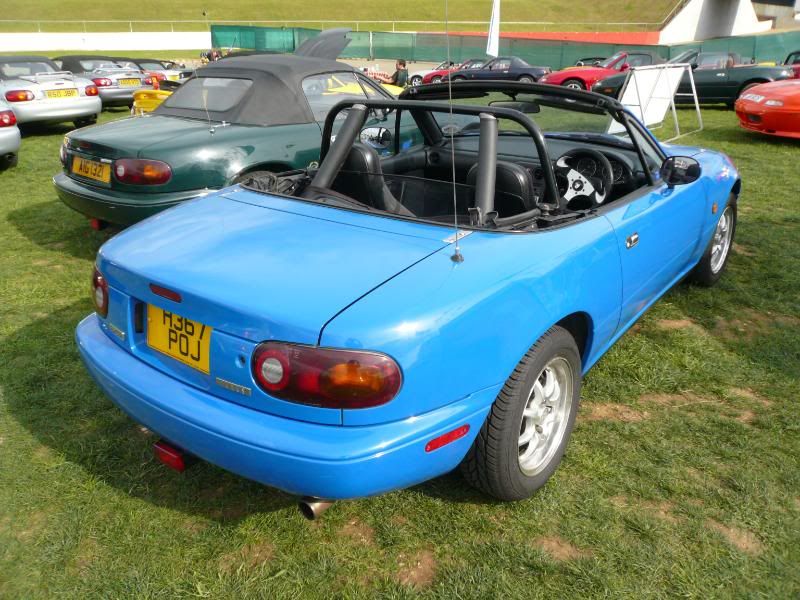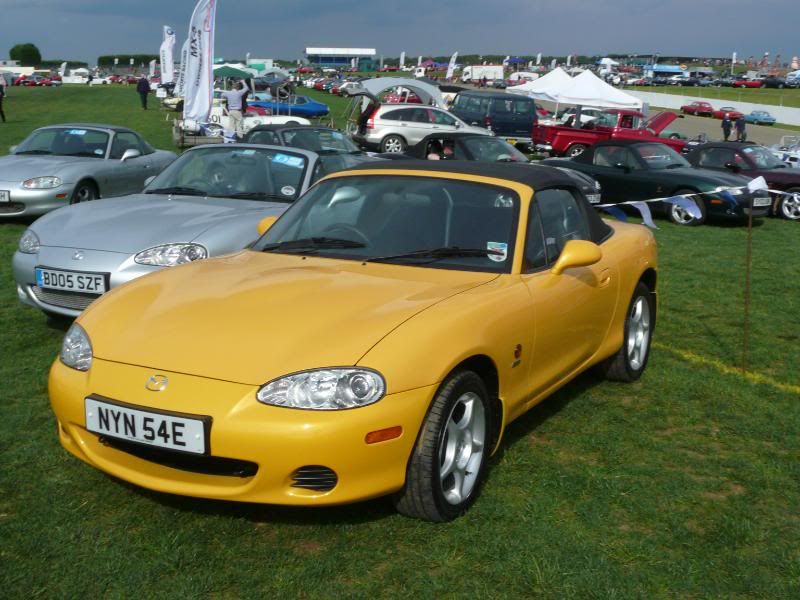 McLAREN
Easy to miss, this McLaren F1 was tucked up between two huge race transporters. The owner said he has driven 5000 miles in it in the last 7 weeks. After a long search, he finally located a car for sale and bought this one in Switzerland where it had been largely unused for a long time, and it needed a lot of work to recommission it. In his opinion, these cars need to be used.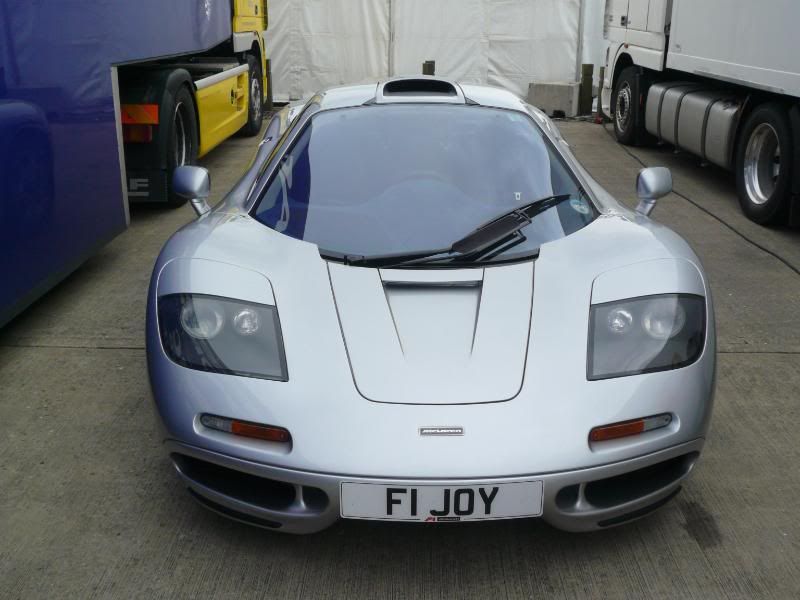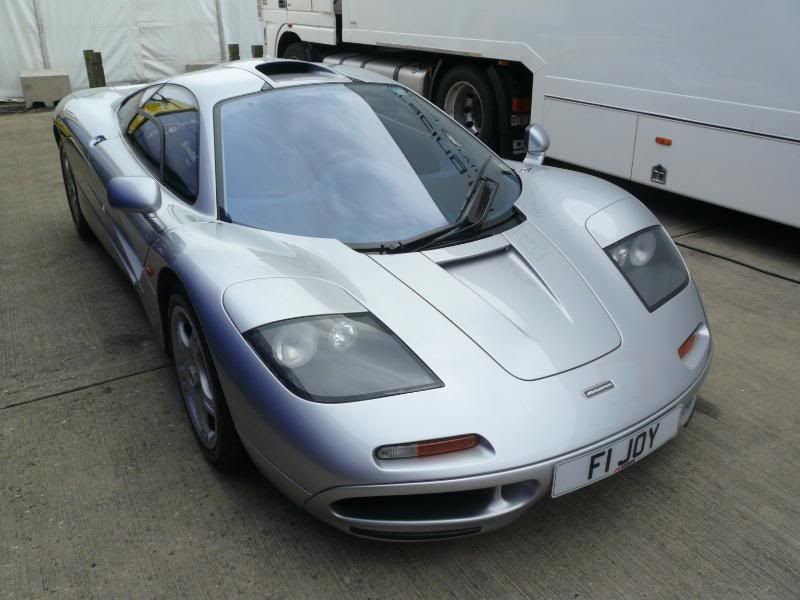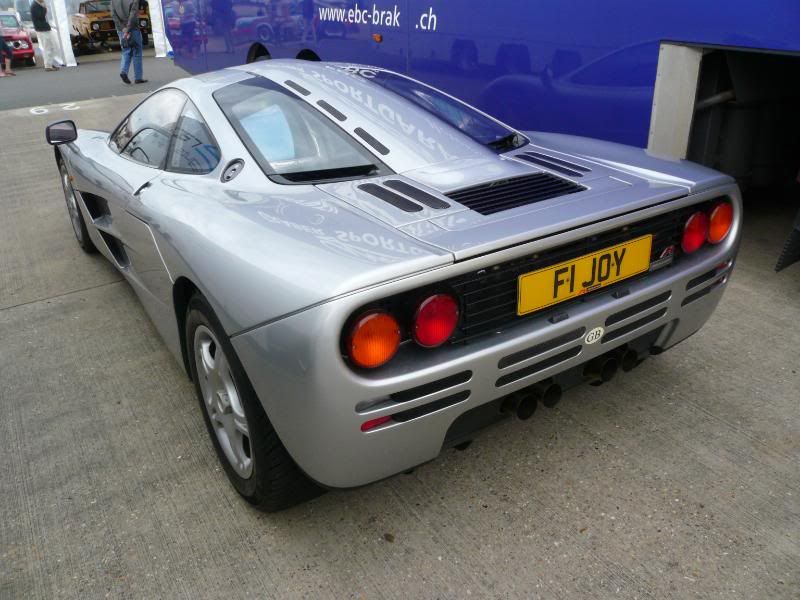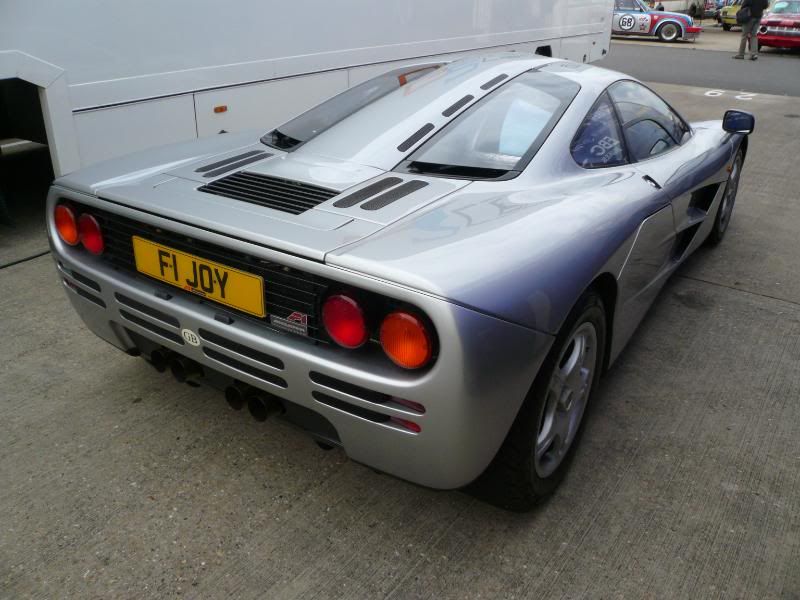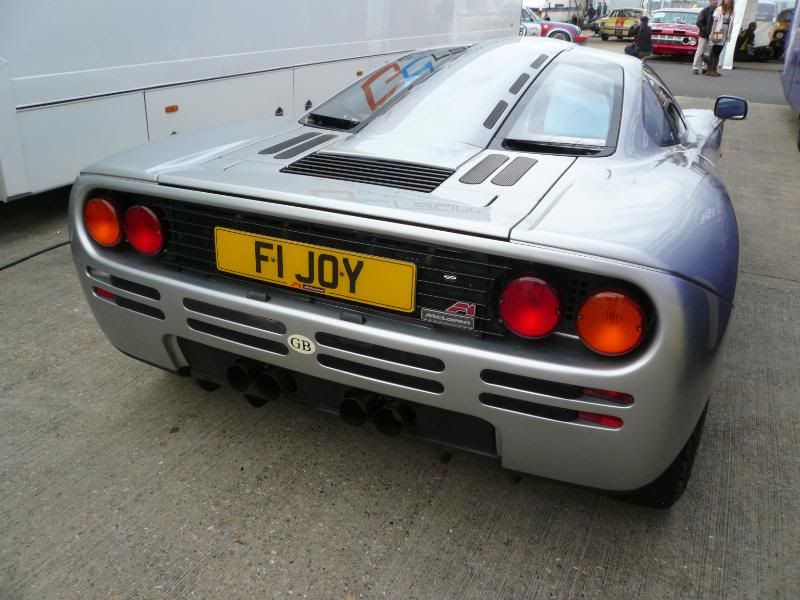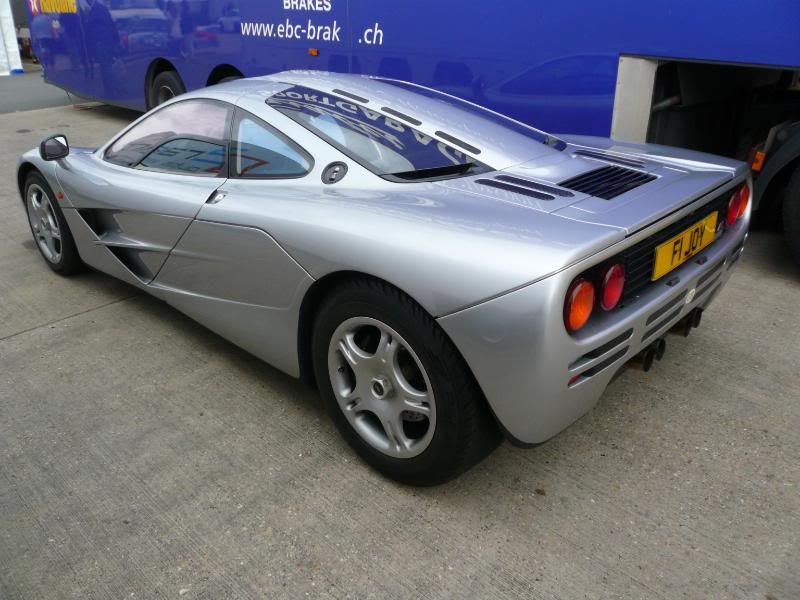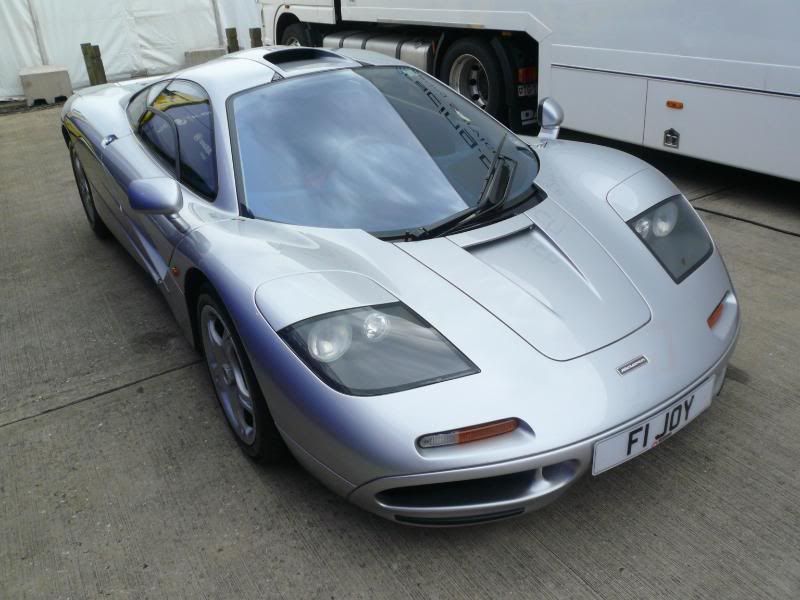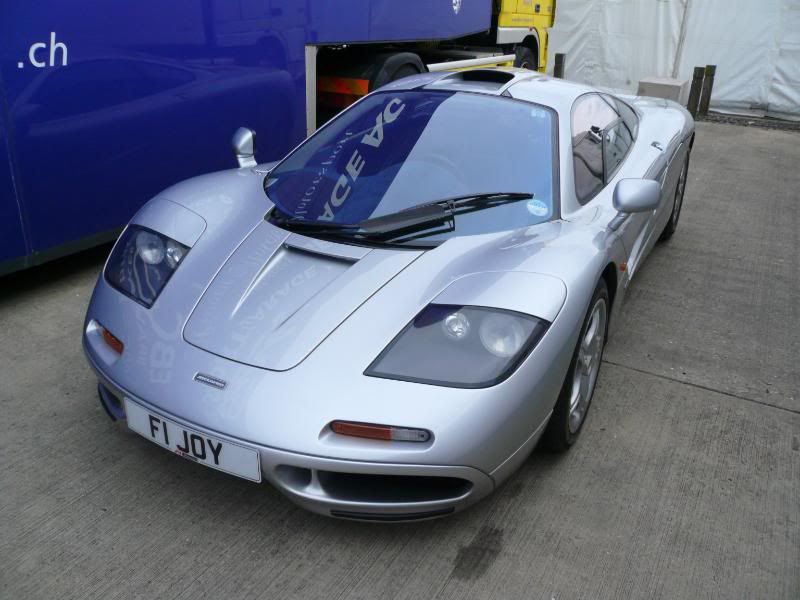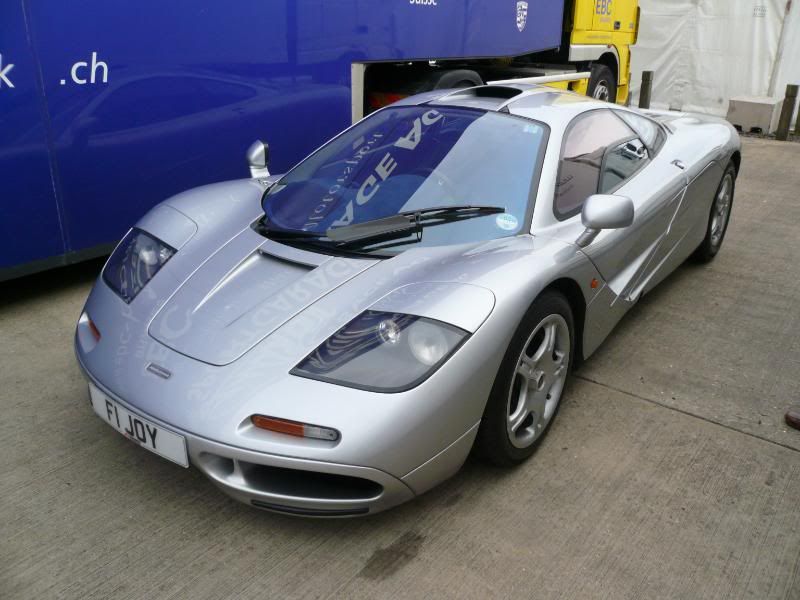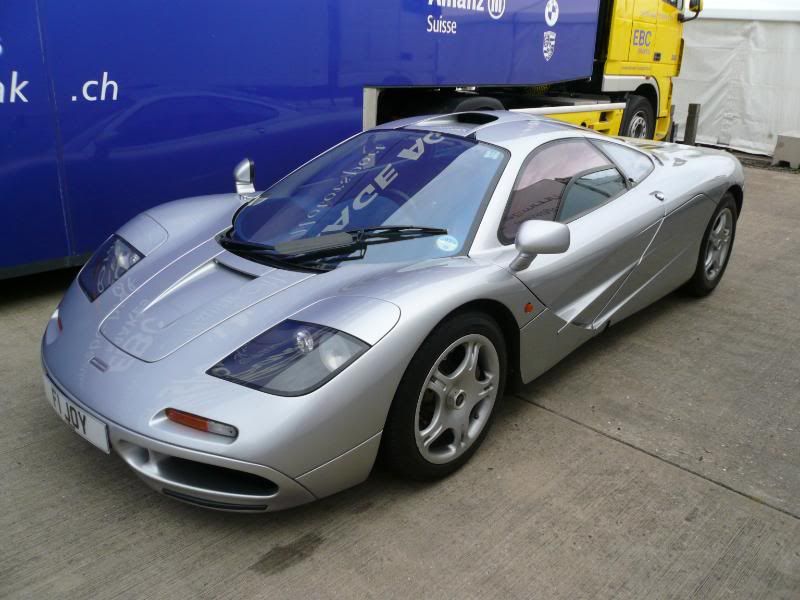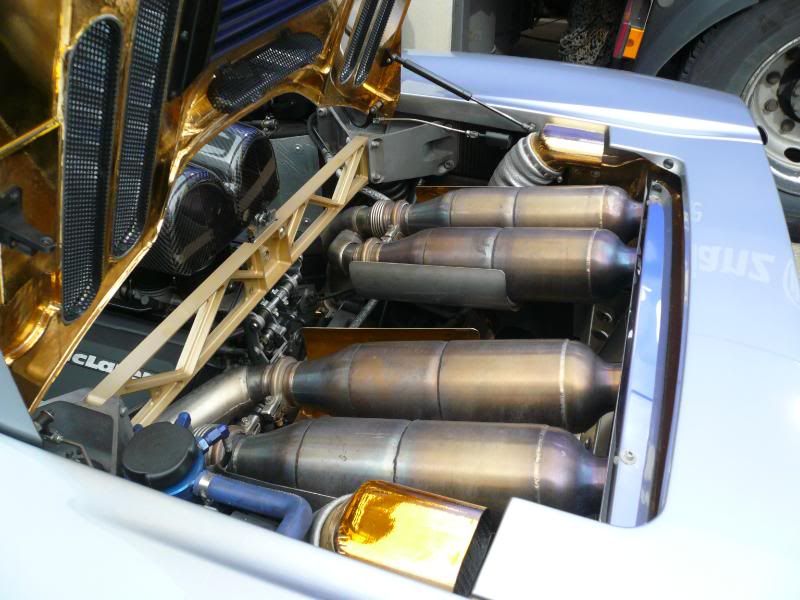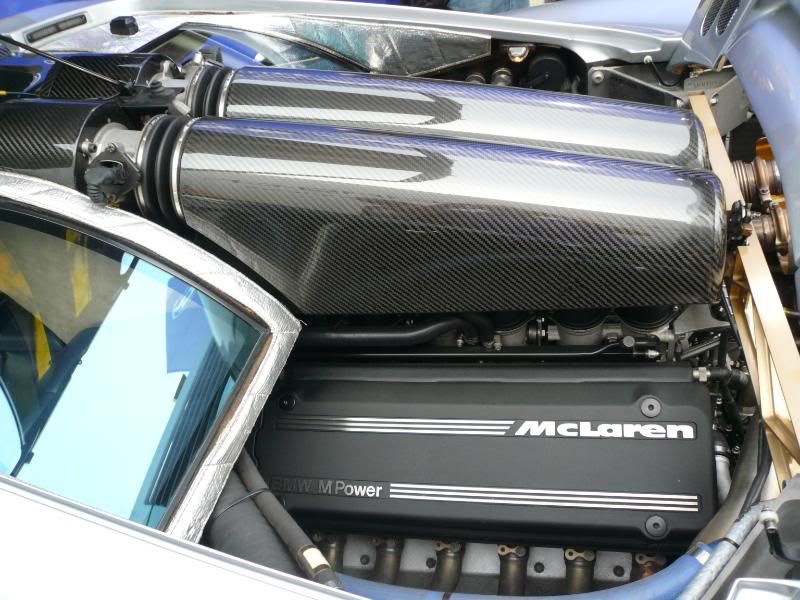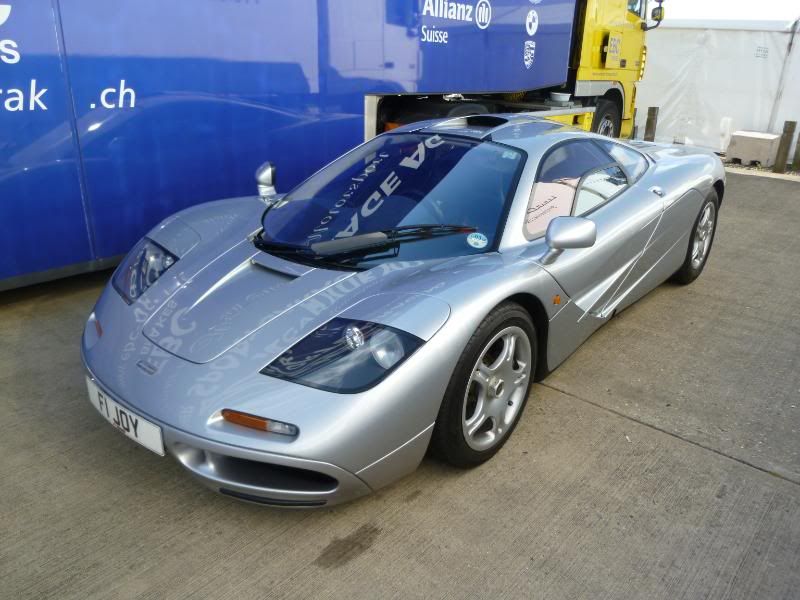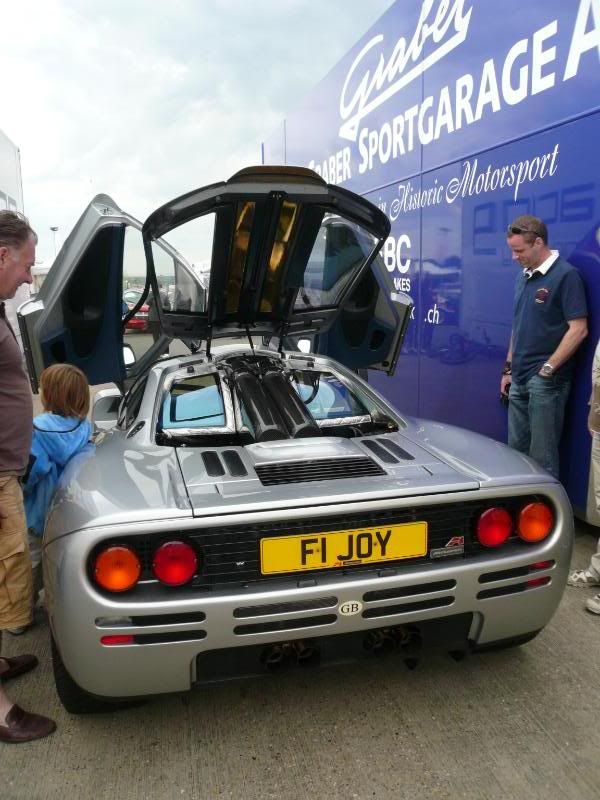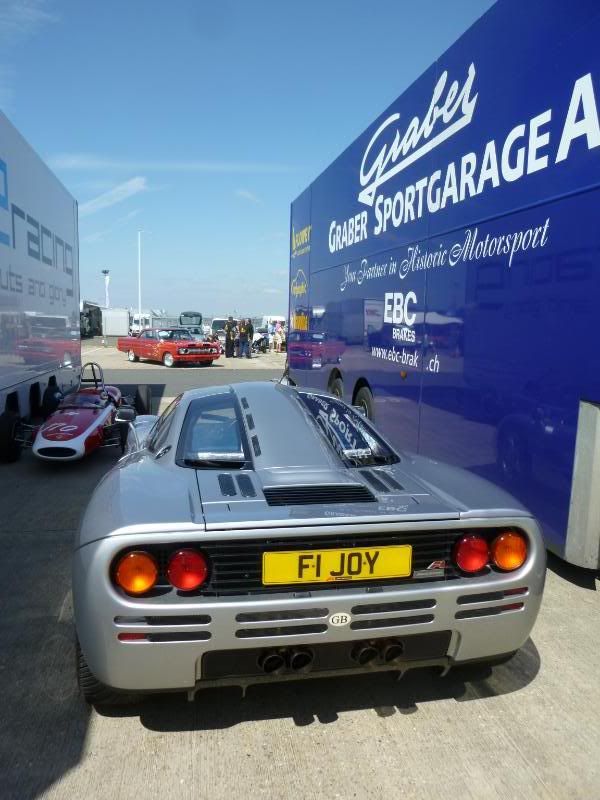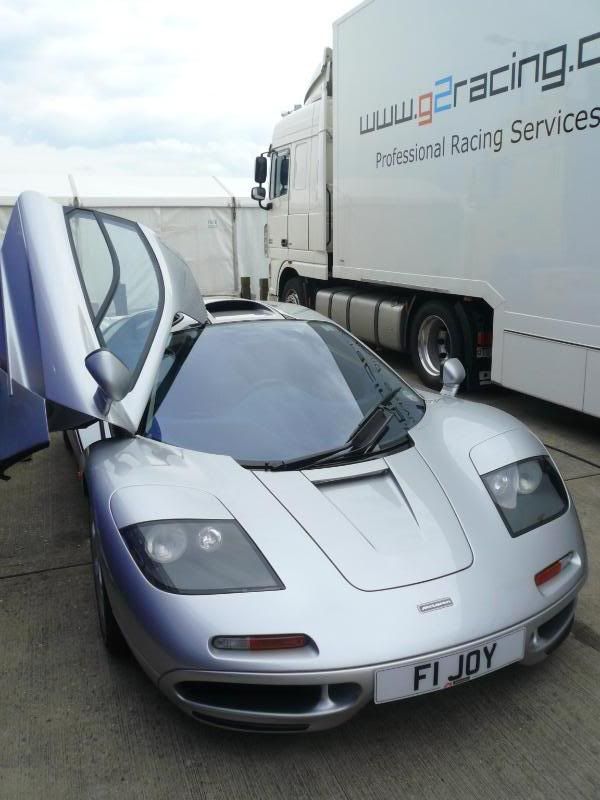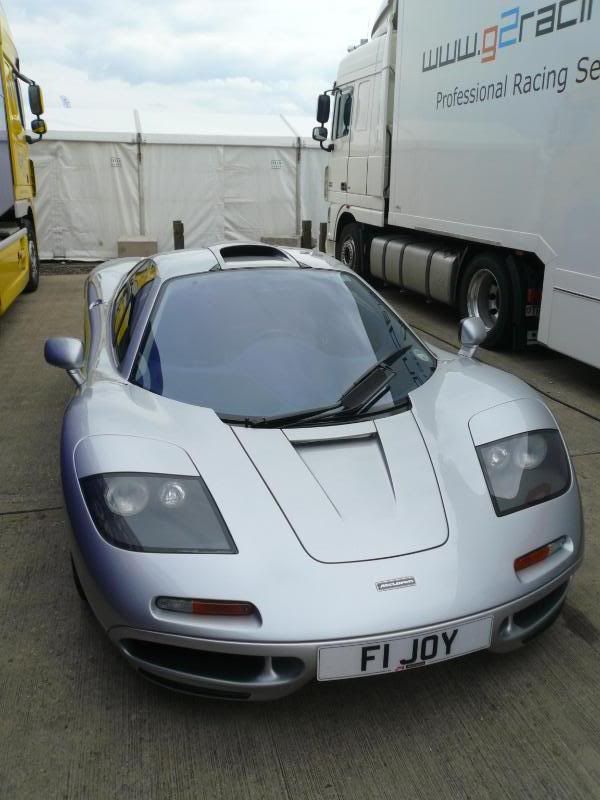 MERCEDES-BENZ


Most numerous Mercedes at the event, by some margin was the R107 model SL, with a vast array of models of every engine type on show. It was one of these cars which won the overall "car of the event" award.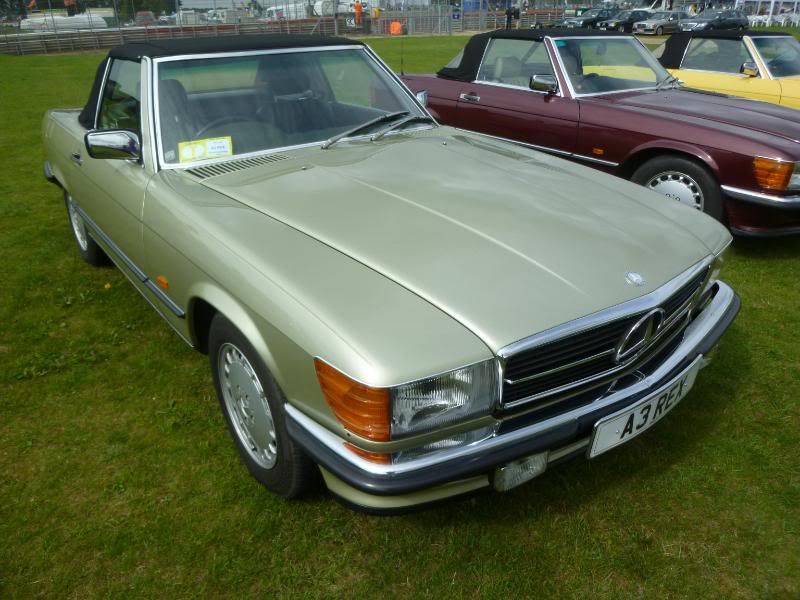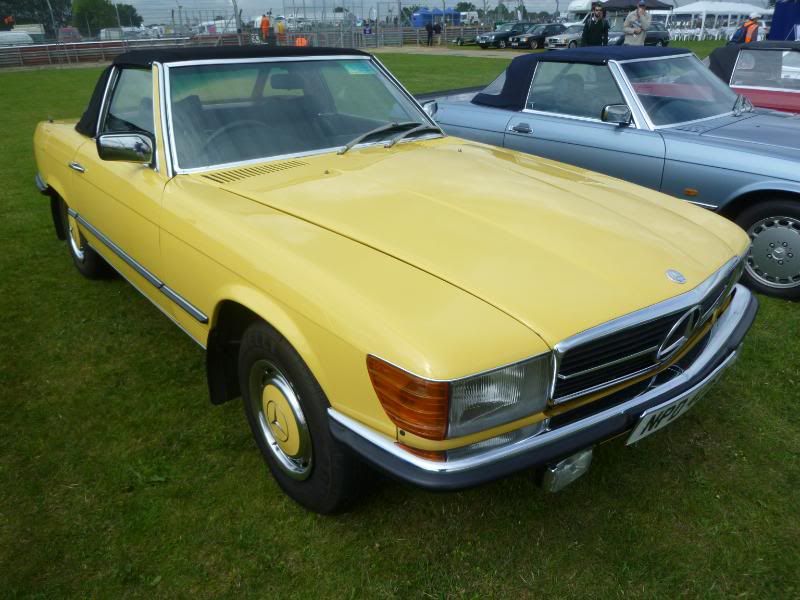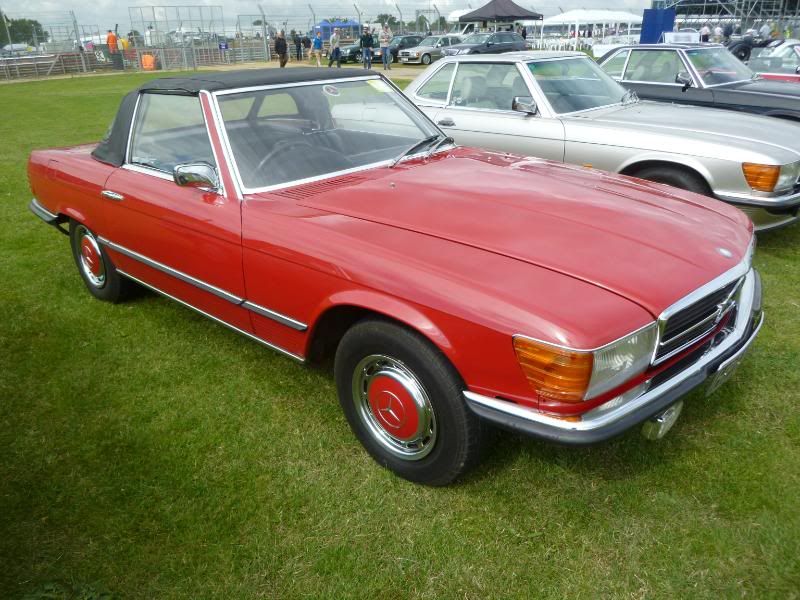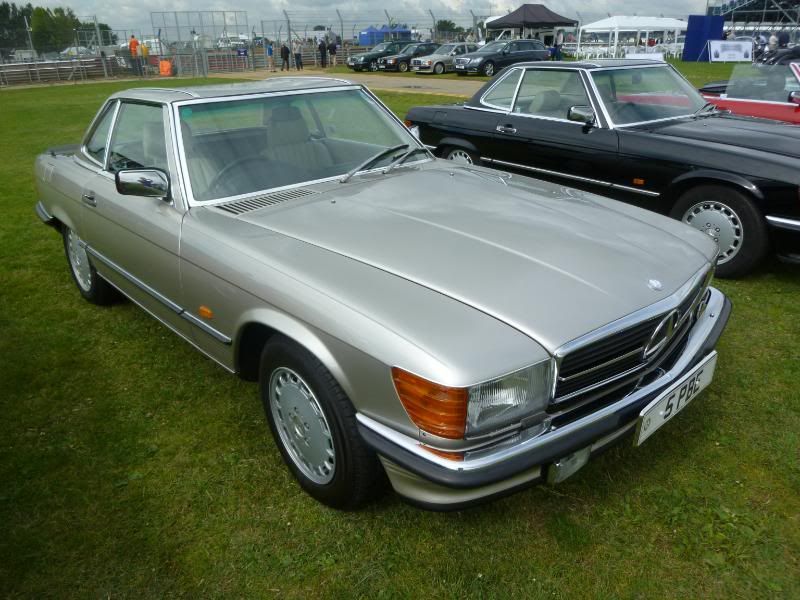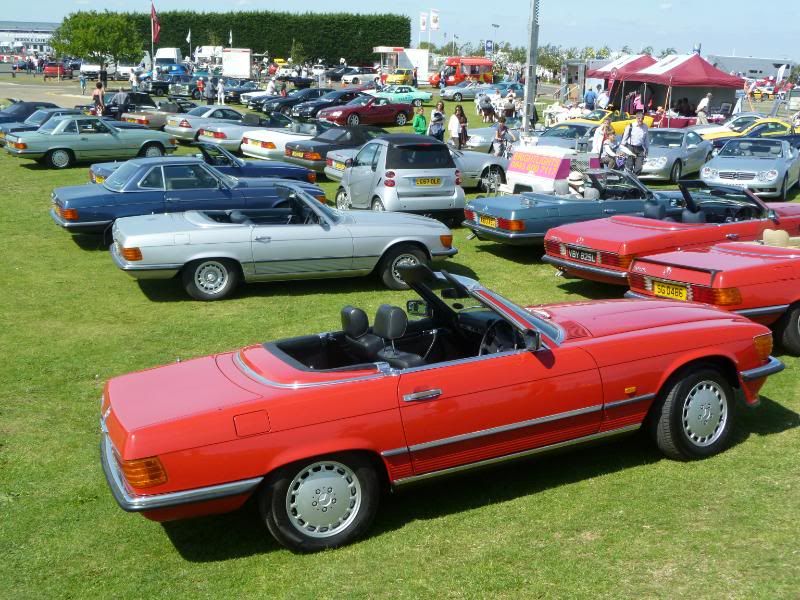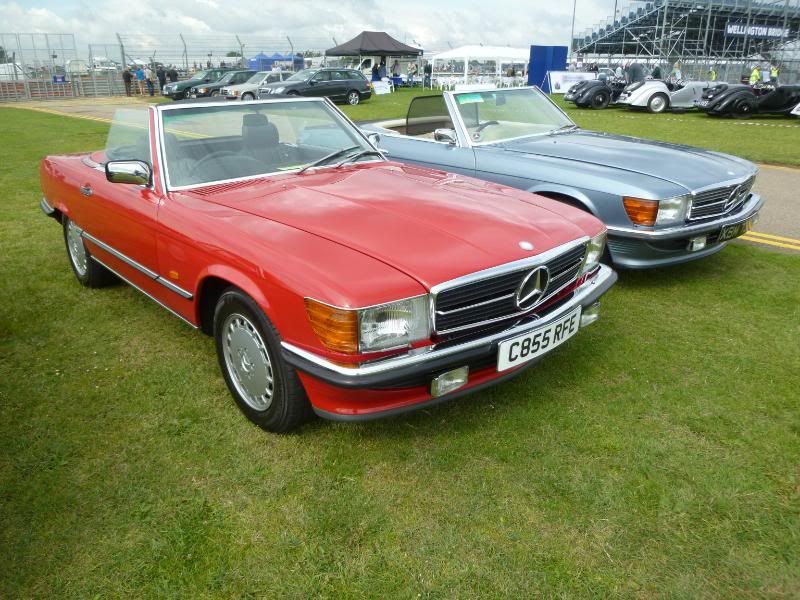 From the luxury end of the range, was a W100 600 model, this car being once owned by John Lennon's manager, as well as a W108 model 300 SE 6.3, a veritable "Q" car.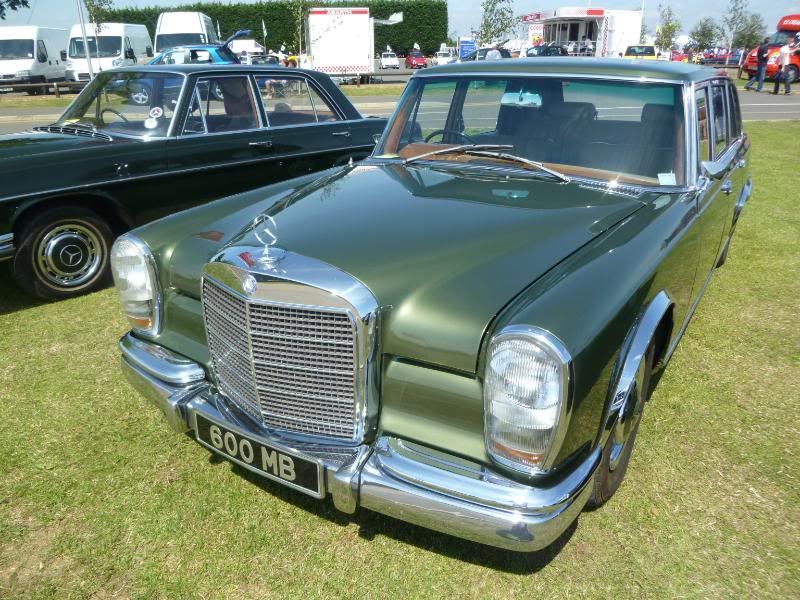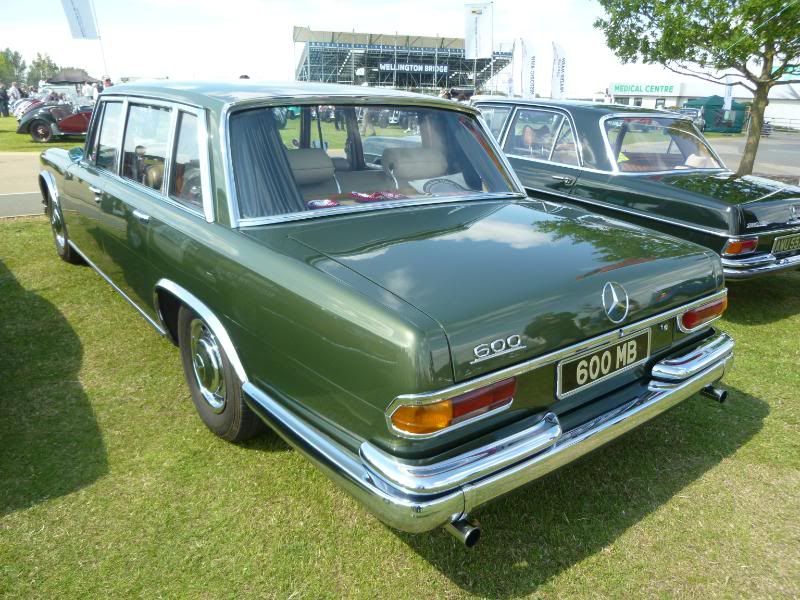 The "regular" W108 model 280SE looks very similar, but has less half the engine capacity.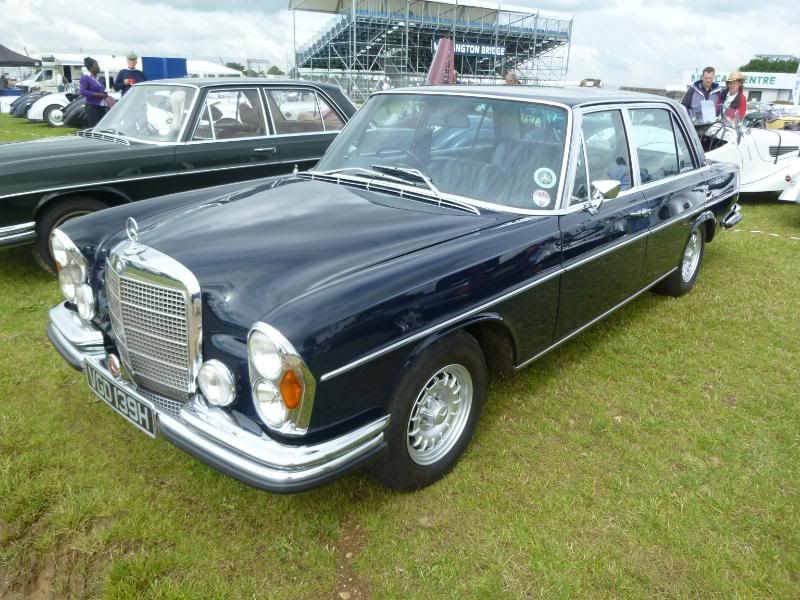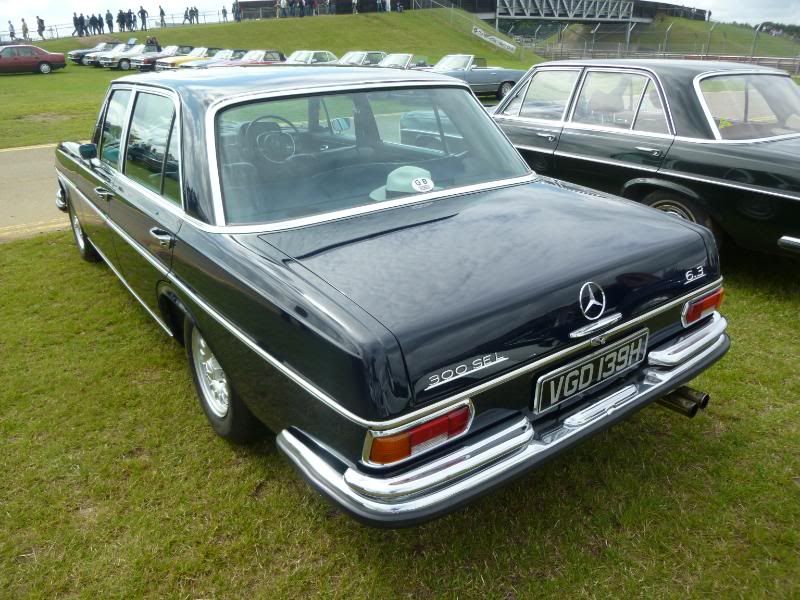 This 220SE Coupe was very nice indeed, as were the few W113 "Pagoda" SLs on display.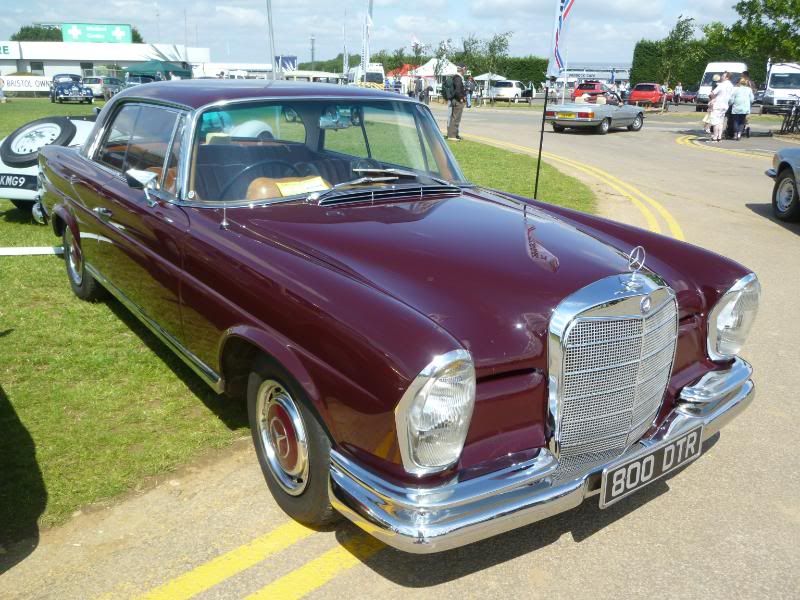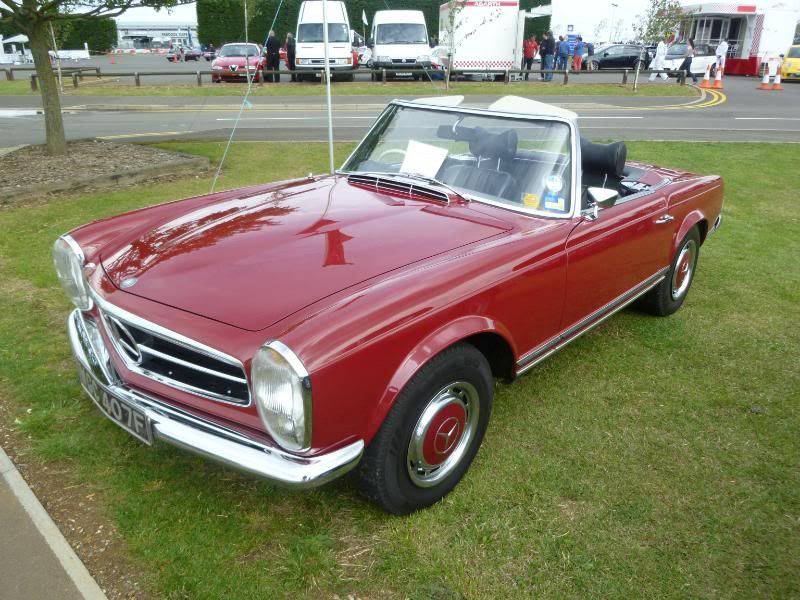 There were a few more recent cars, including the W124 convertible, more recent SLs  and an example of at least one of each of the SLK iterations (R170, 171 and the brand new 172). R230 SLs were there also, including this SL65 AMG. There was (but I do not appear to have photographed it), an R129 model SL73 AMG in attendance on the Sunday, with a bonnet plaque proclaiming that it was the 58th of 73 such cars and that it was built for the Sultan of Brunei.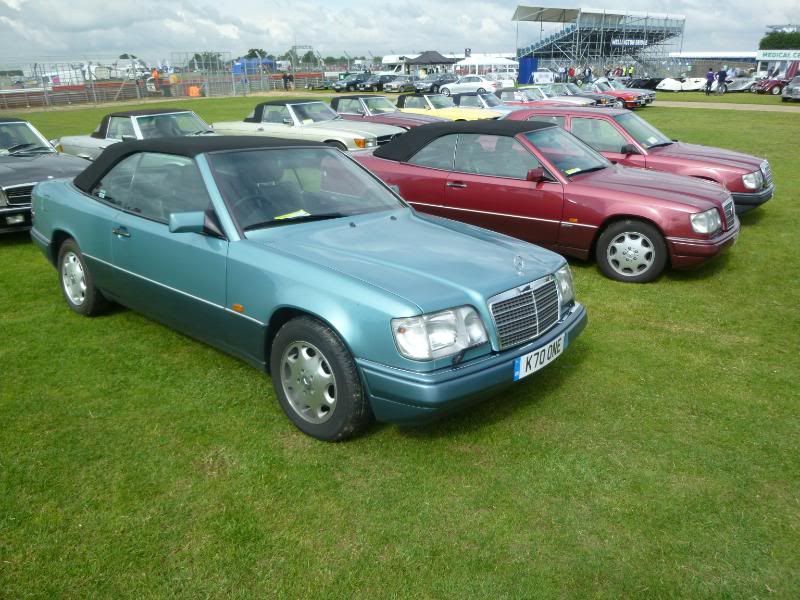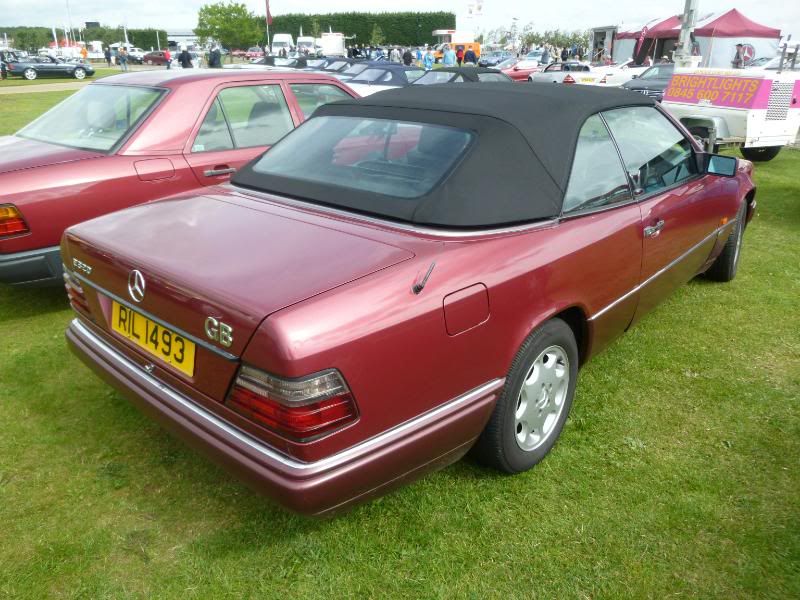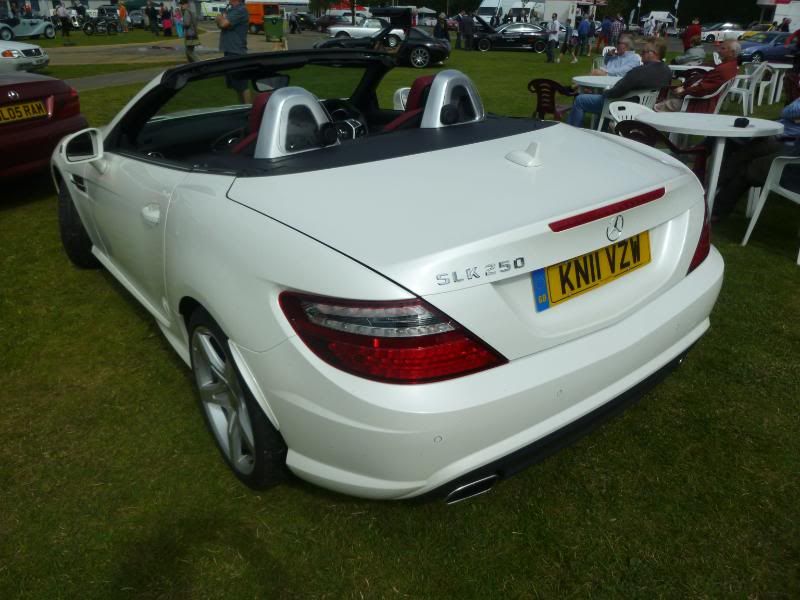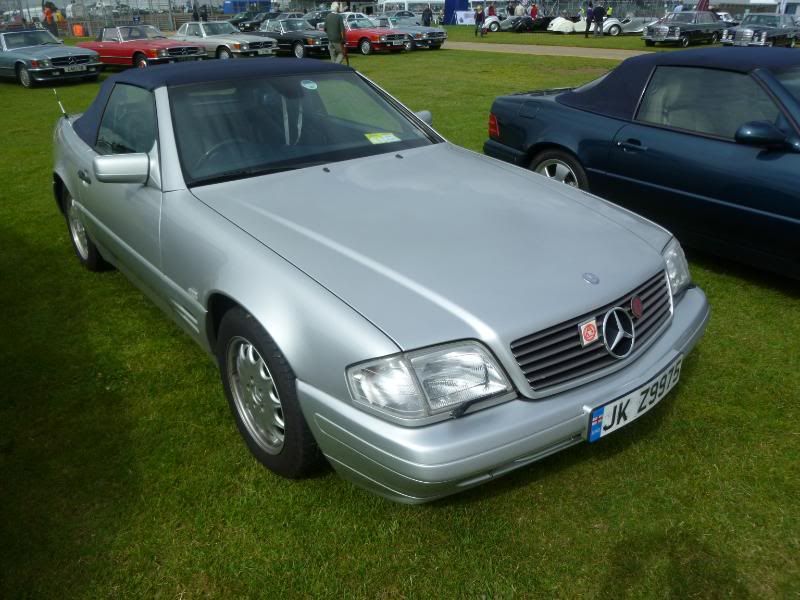 The latest SLS AMG was attracting plenty of attention, and indeed it is a very eye-catching model.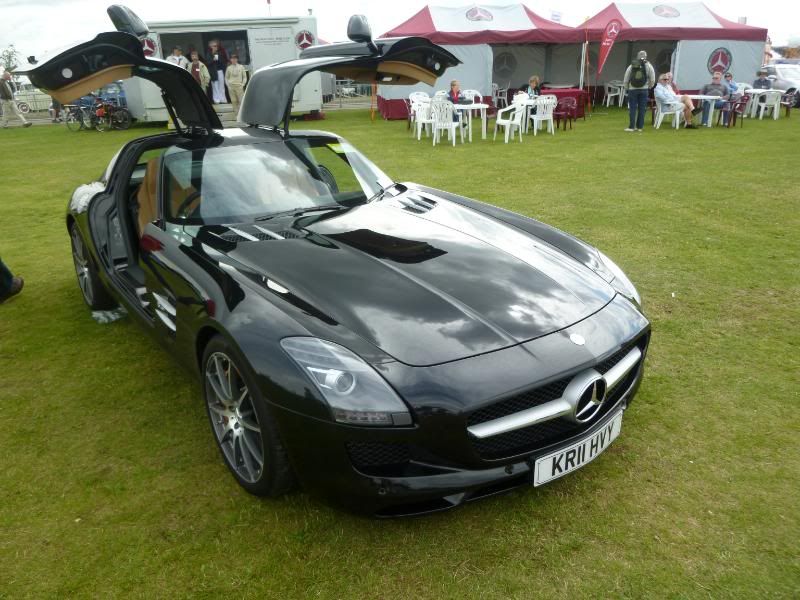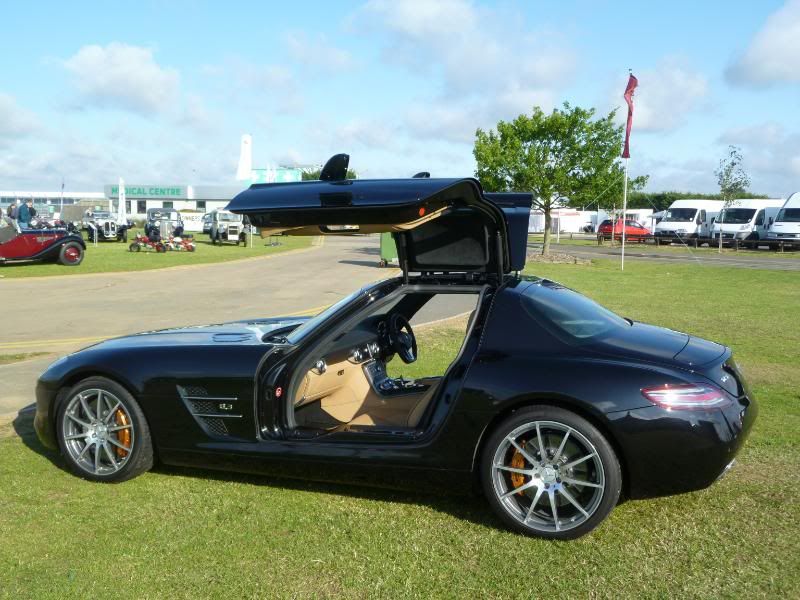 MG
This was about the oldest MG I saw at the event.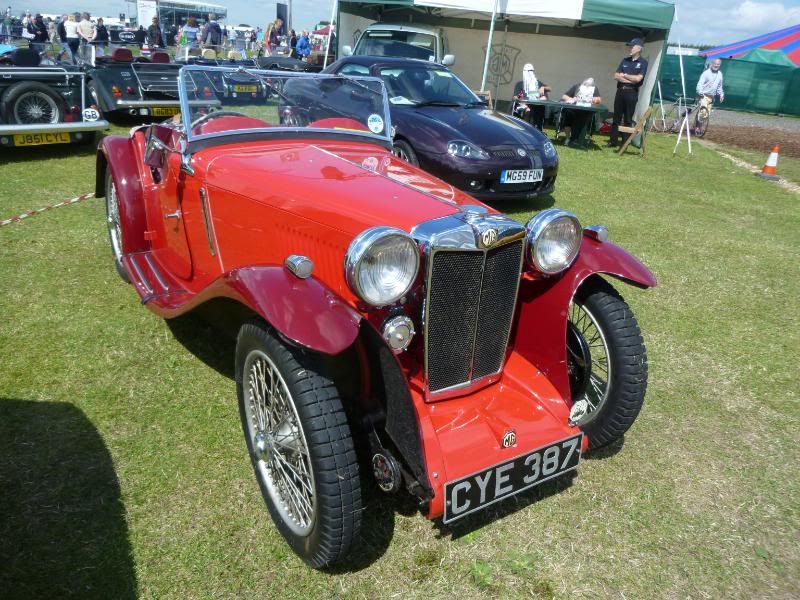 Plenty of the popular MGA, in roadster and rarer coupe guise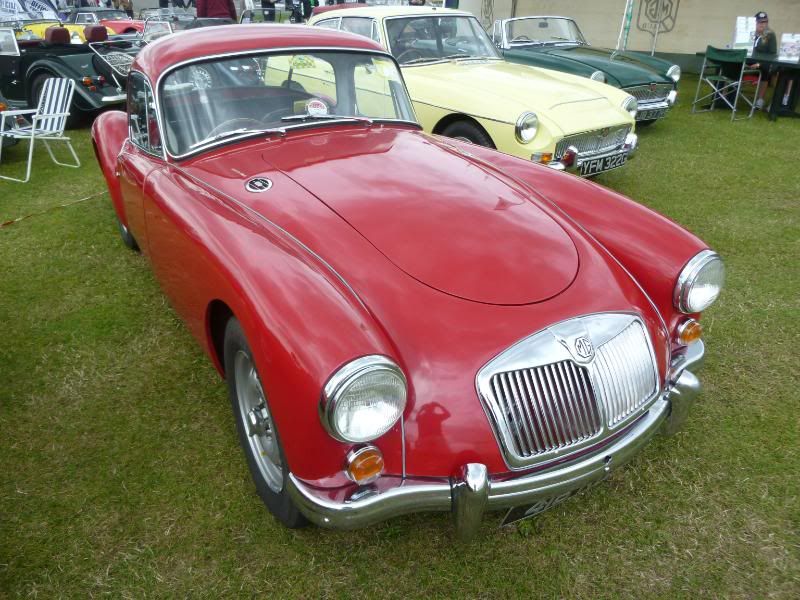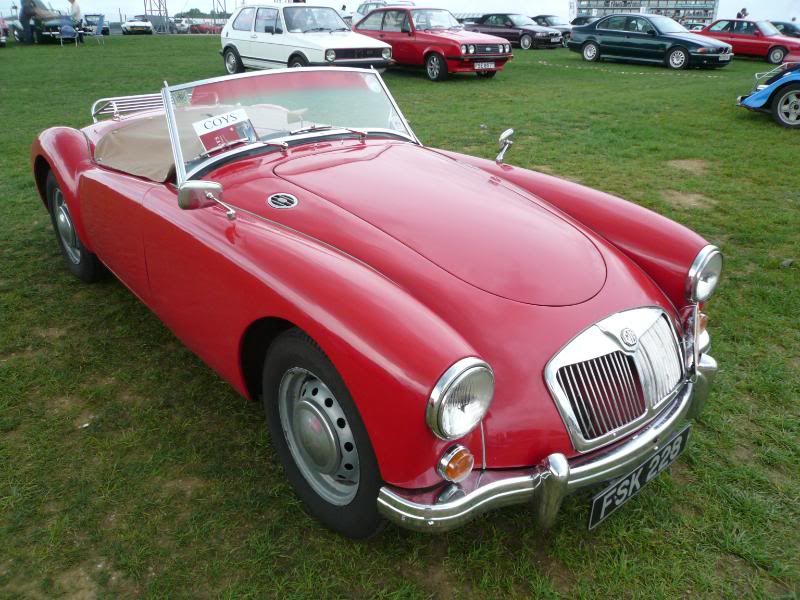 There were also plenty of MGBs, one of the most accessible classics around.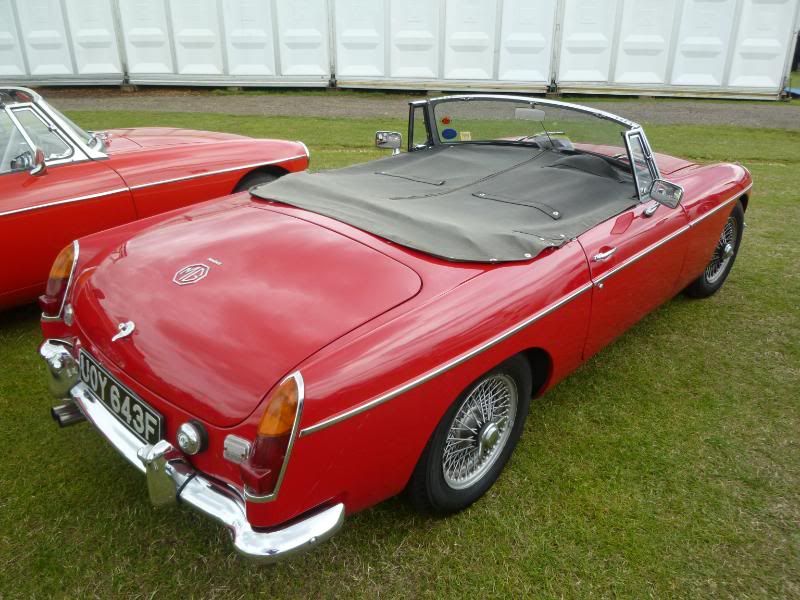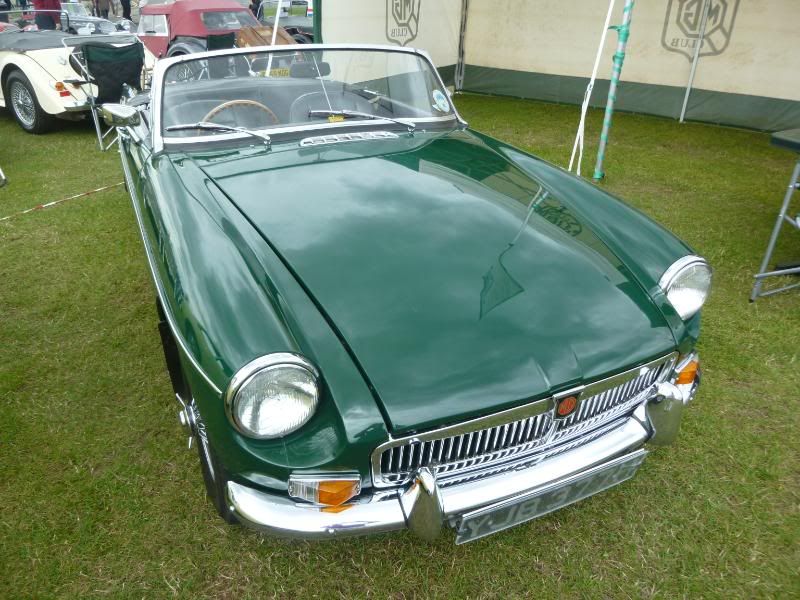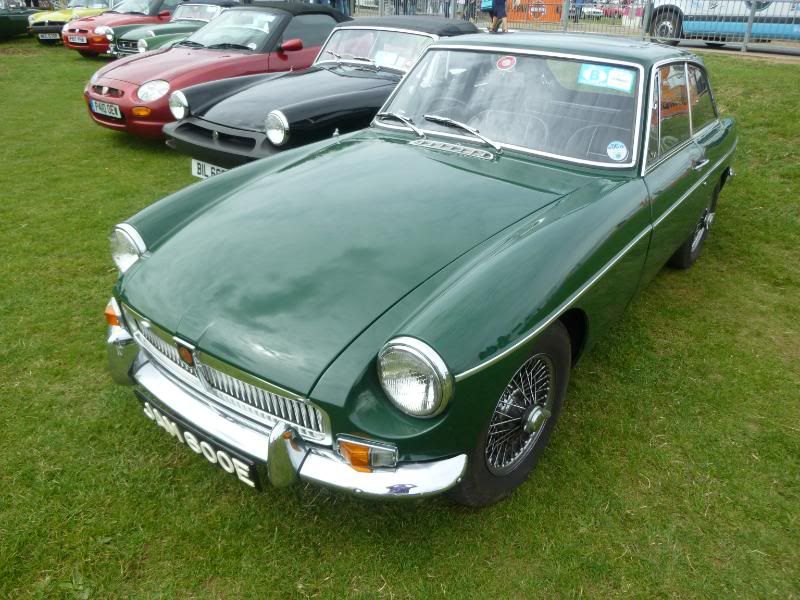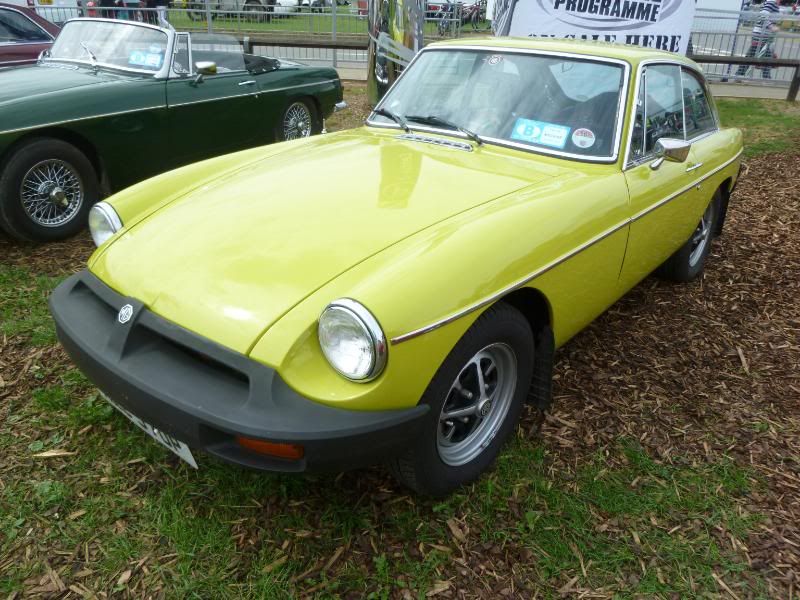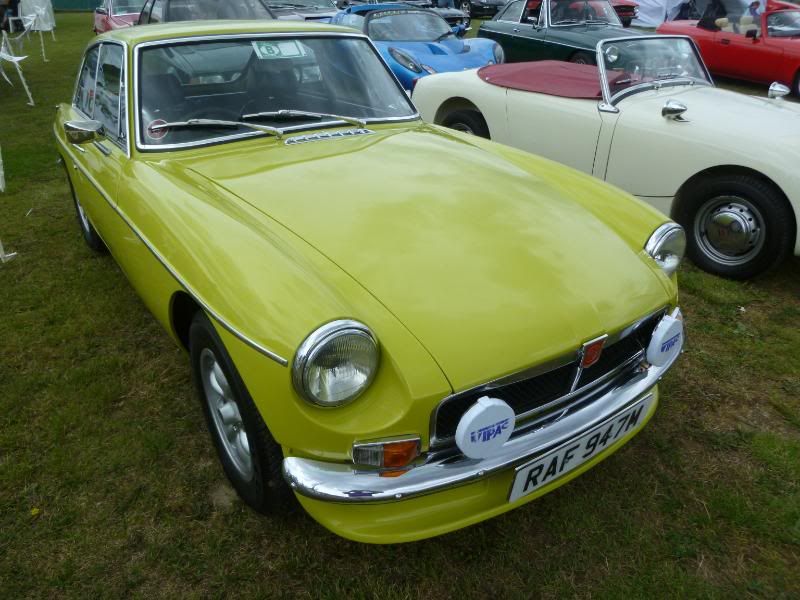 Plenty of the 6 cylinder MGC, too.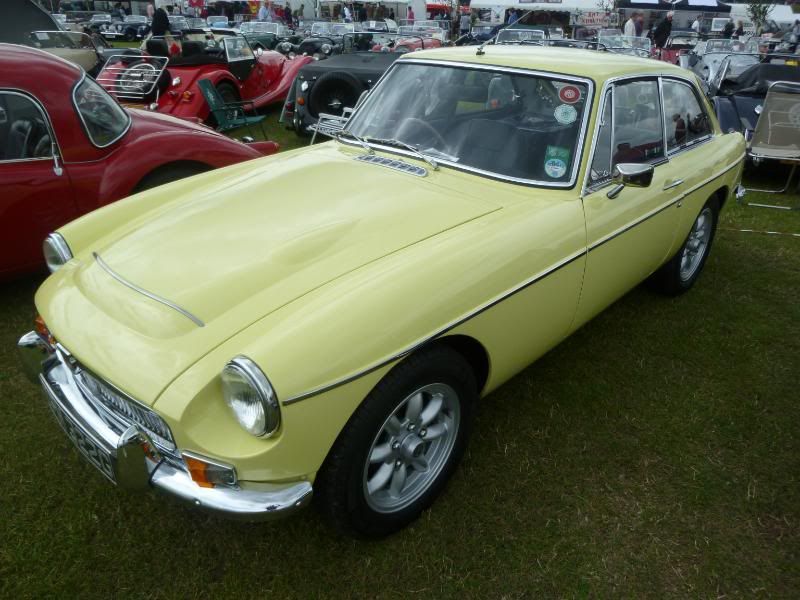 Midgets
MG R V8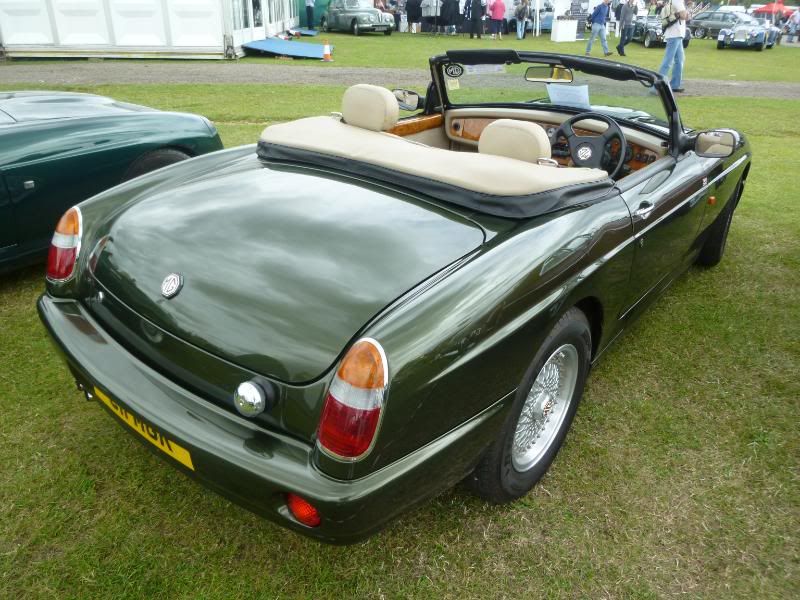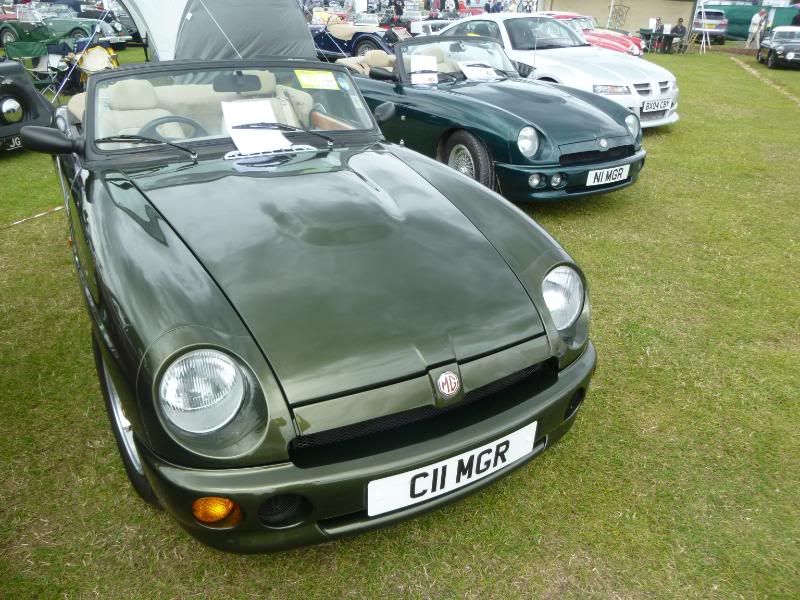 The rather wild looking SV-R. This one, rather unexpectedly, sported an automatic gearbox.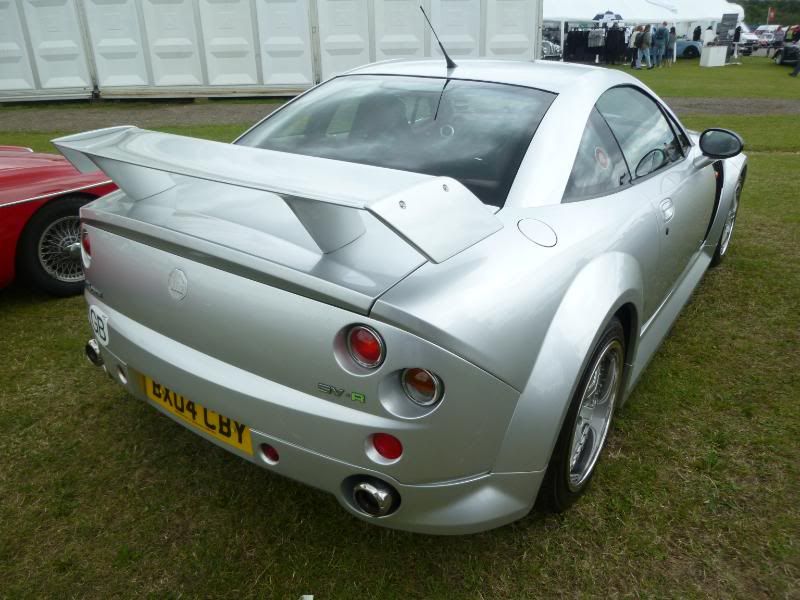 There were a fair few of the most recent MG sports car, with F, TF and the Chinese model TF LE500s on display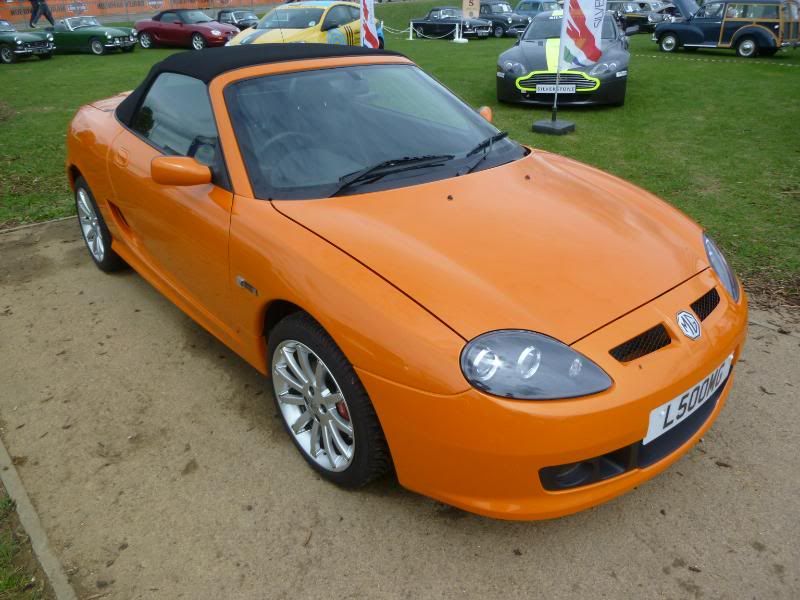 This ZS was the only evident recent MG saloon, a modern day version of the ZA/ZB Magnette, a couple of which were also on show.
MORGAN
A large display area, right in the middle of the circuit. Factory cars included the classic designs, as well as the SuperSport, and several production examples of the new Three wheeler, which was attracting lots of interest.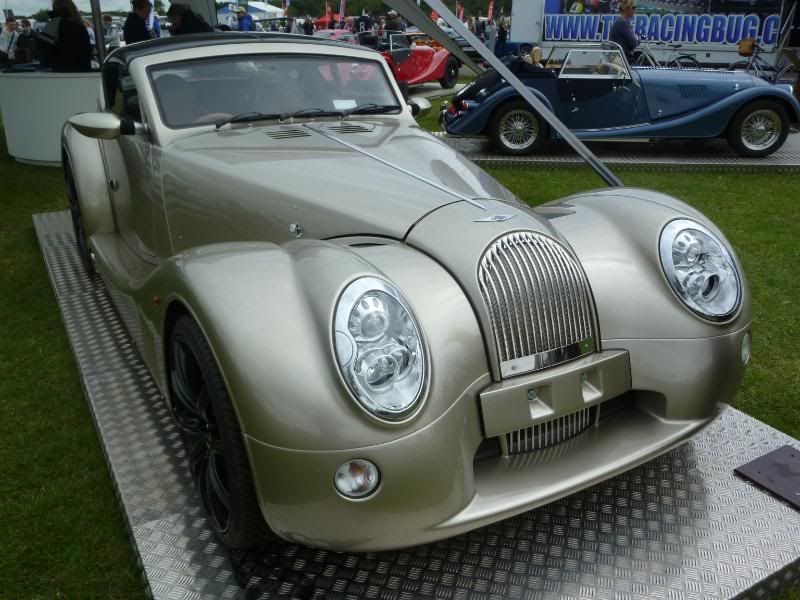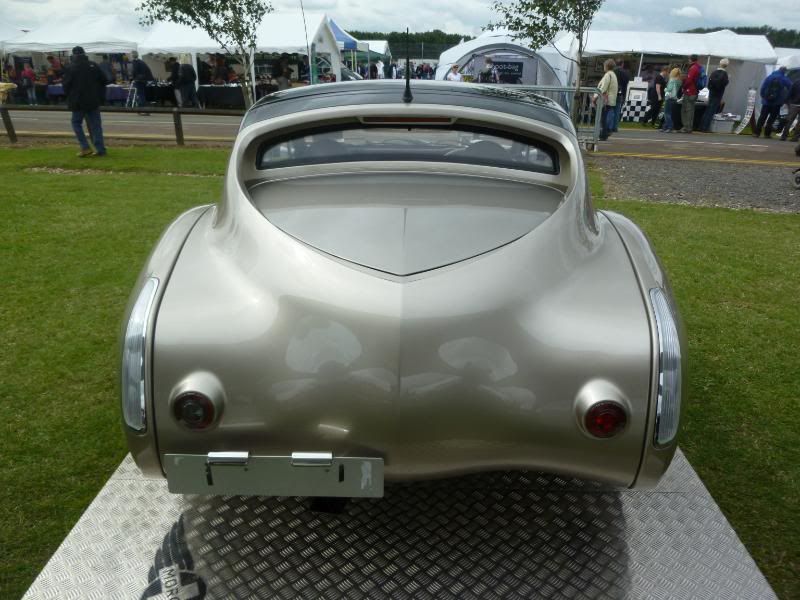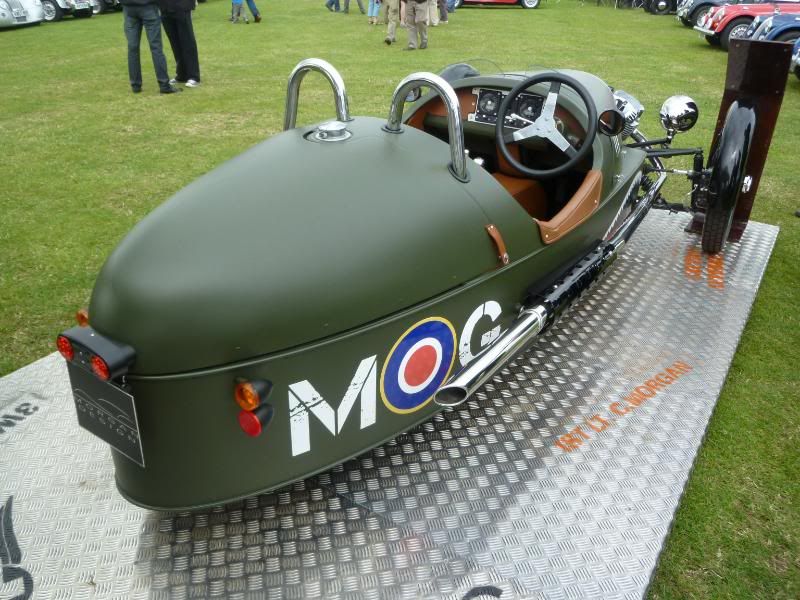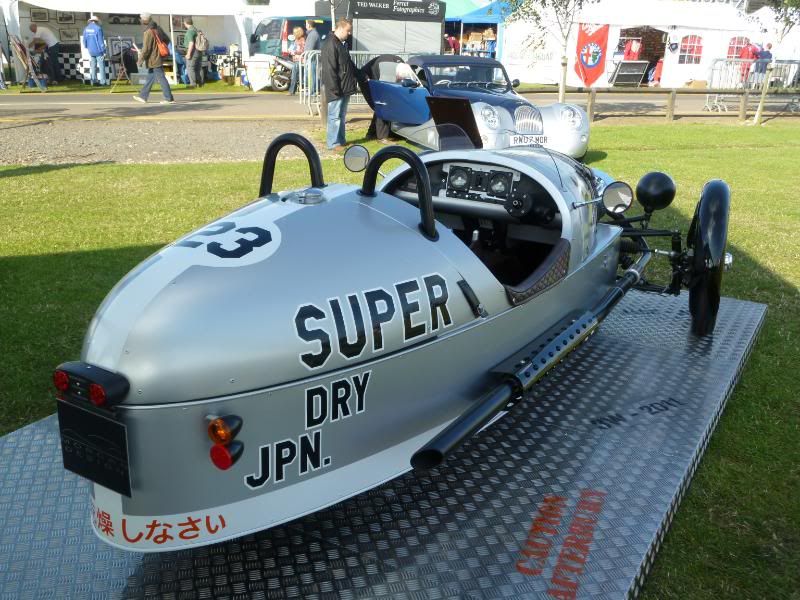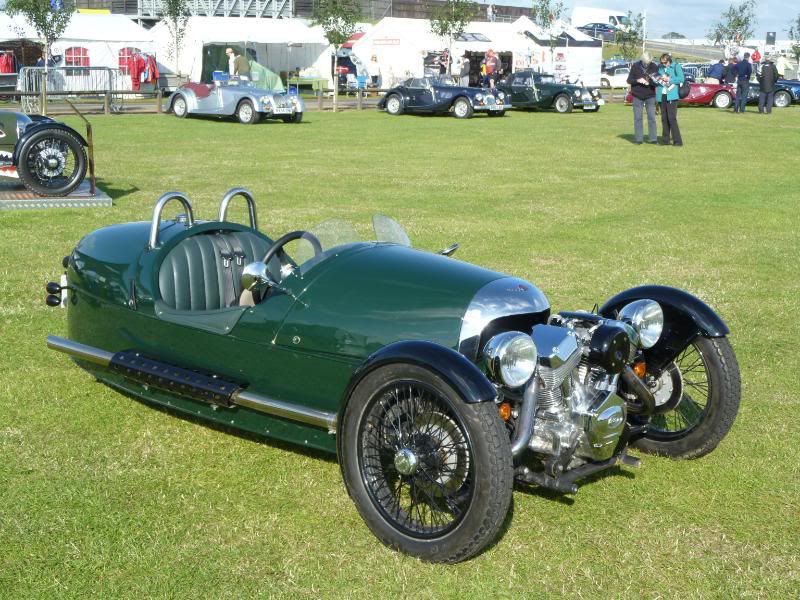 Owners Club cars were dominated by the classic design that has lasted almost unchanged for so long, but there were was a solitary Aero as well. No sign of an AeroMax, sadly.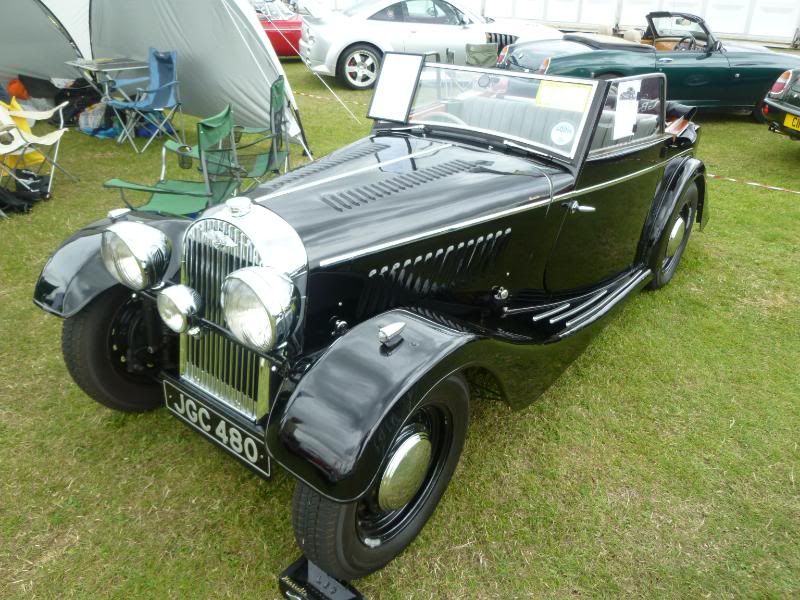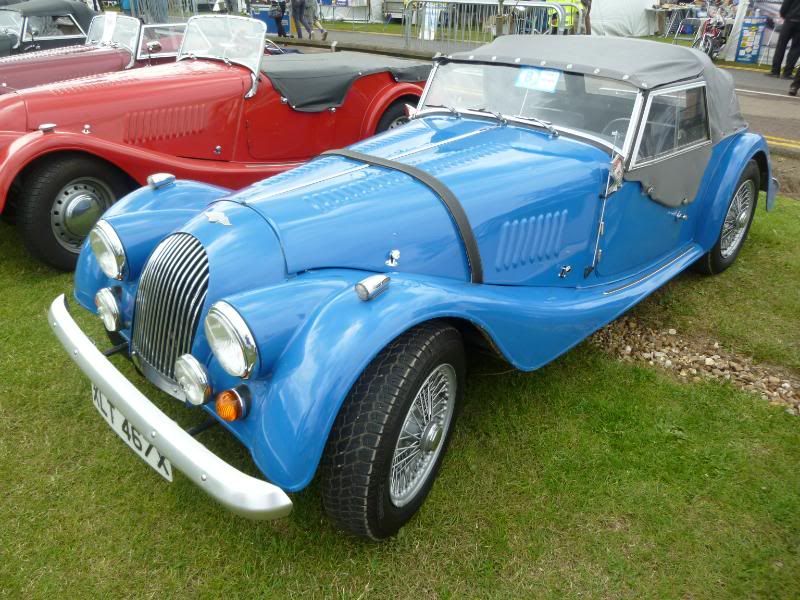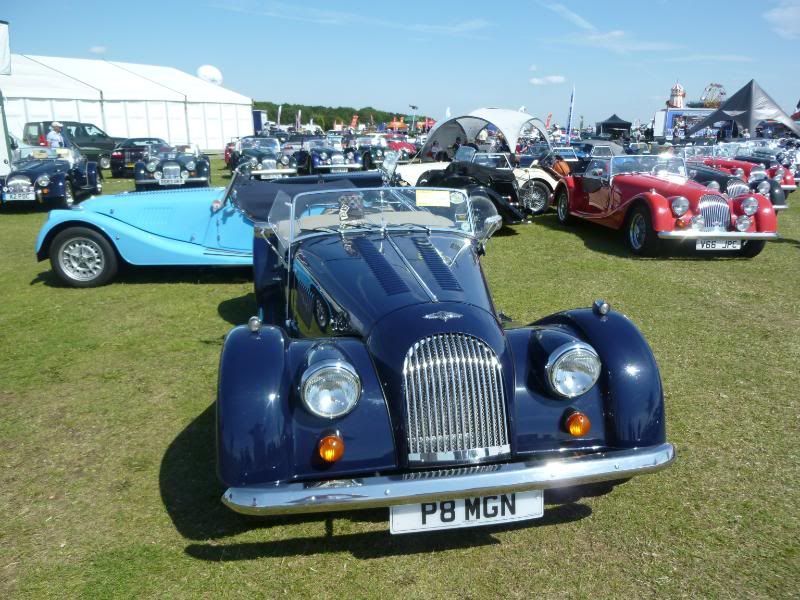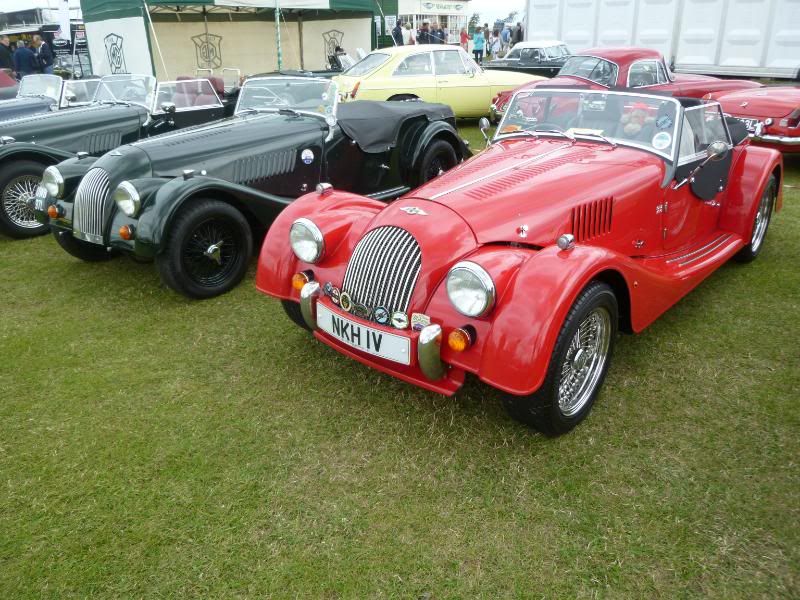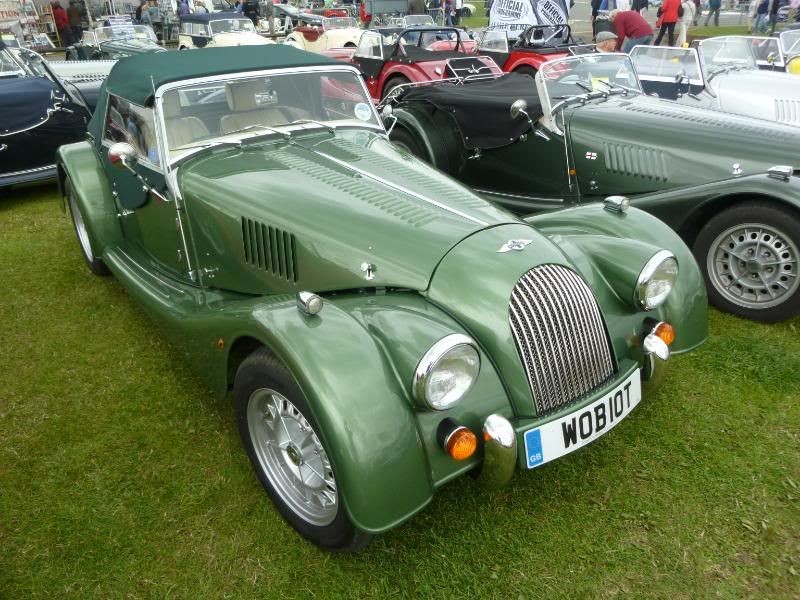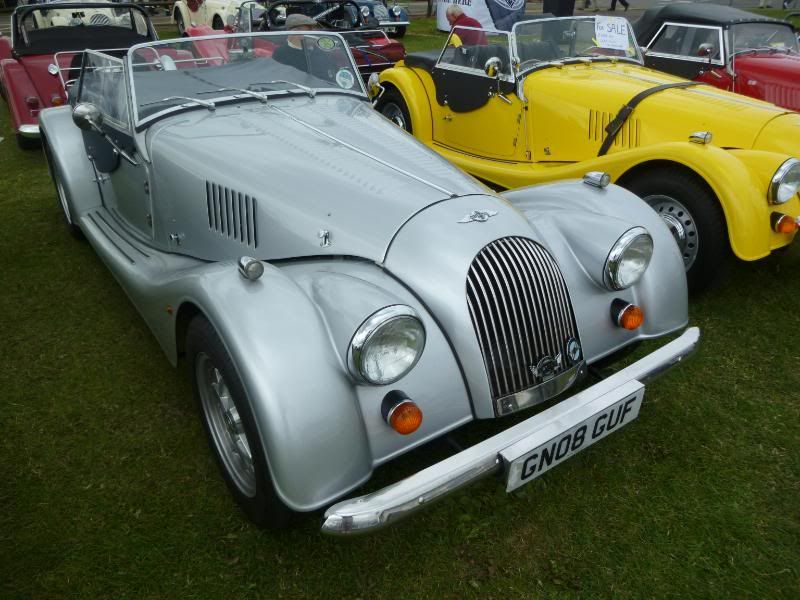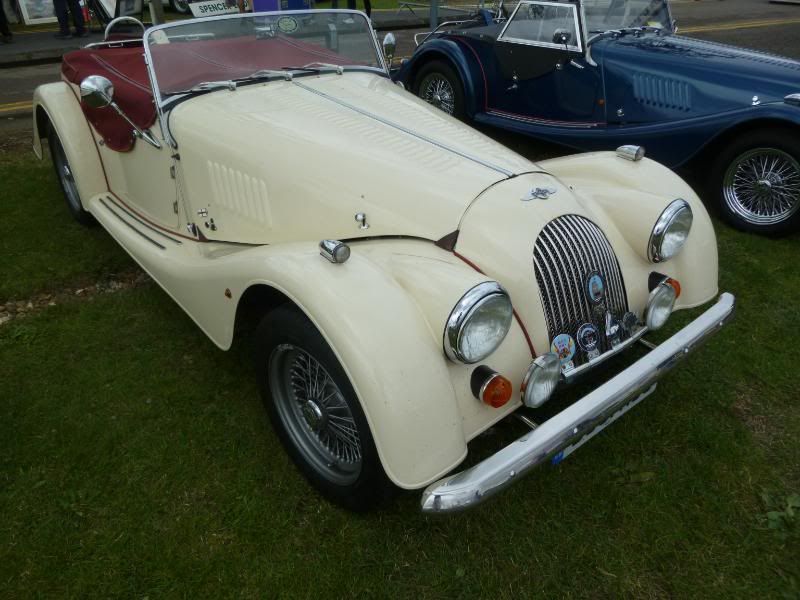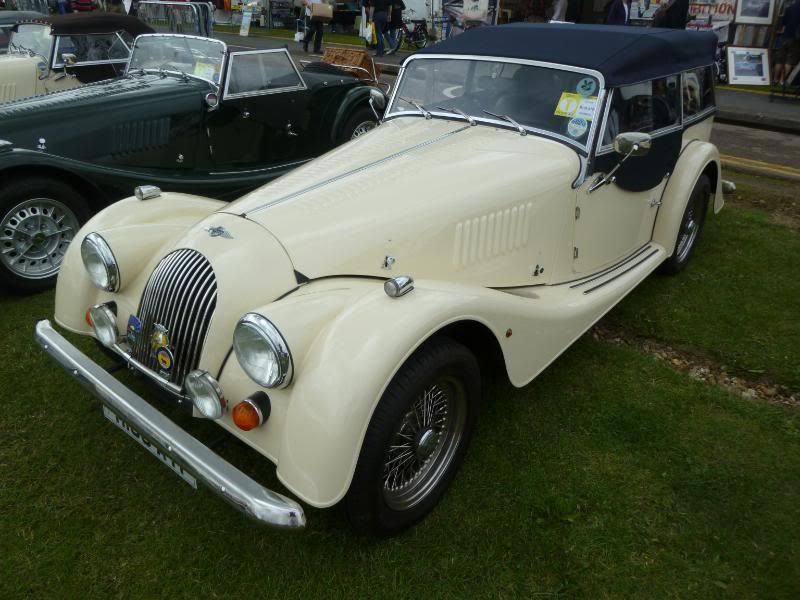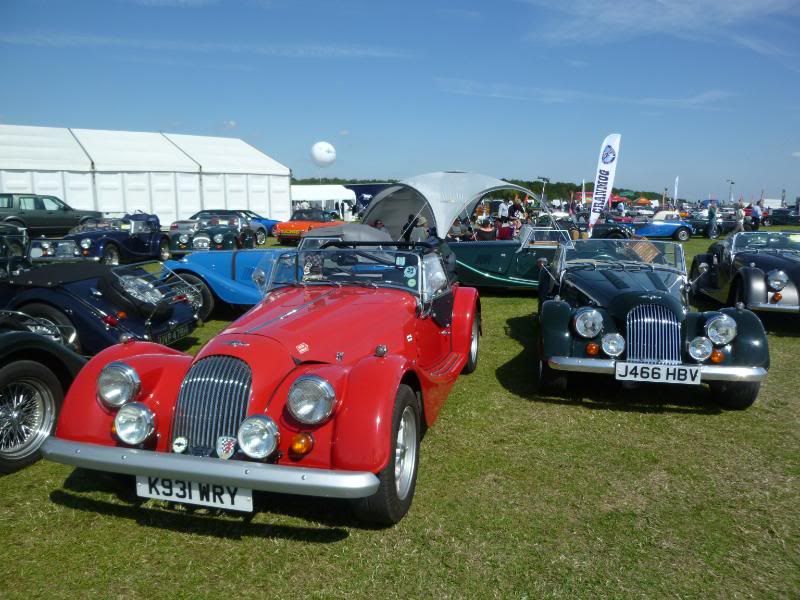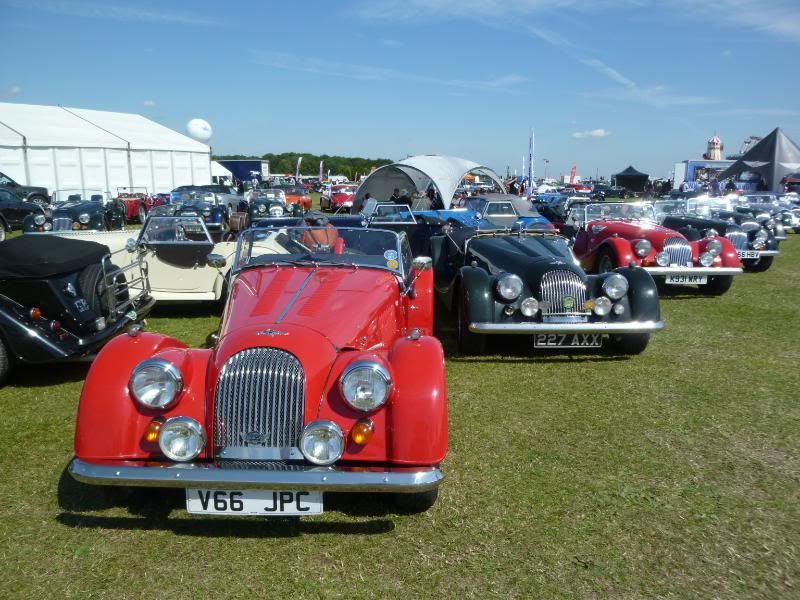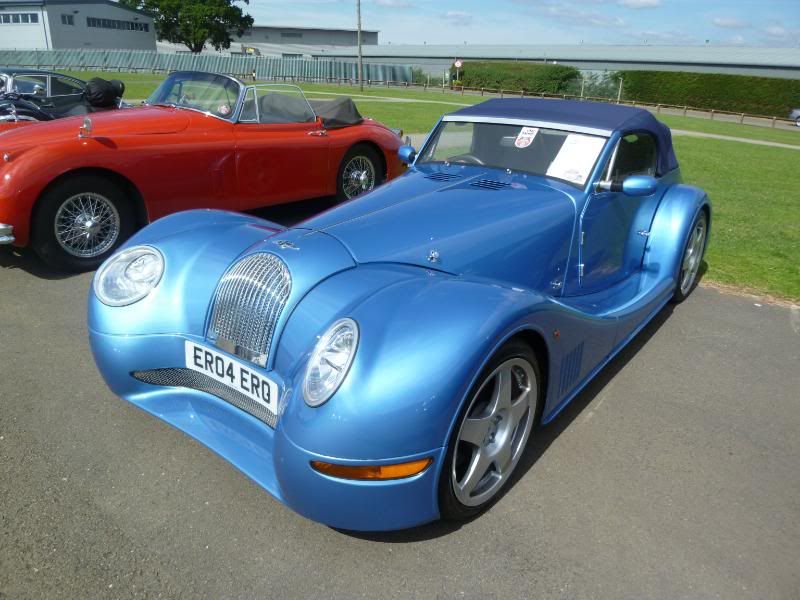 MORRIS

An Ital Van – once a common sight, but now all but extinct.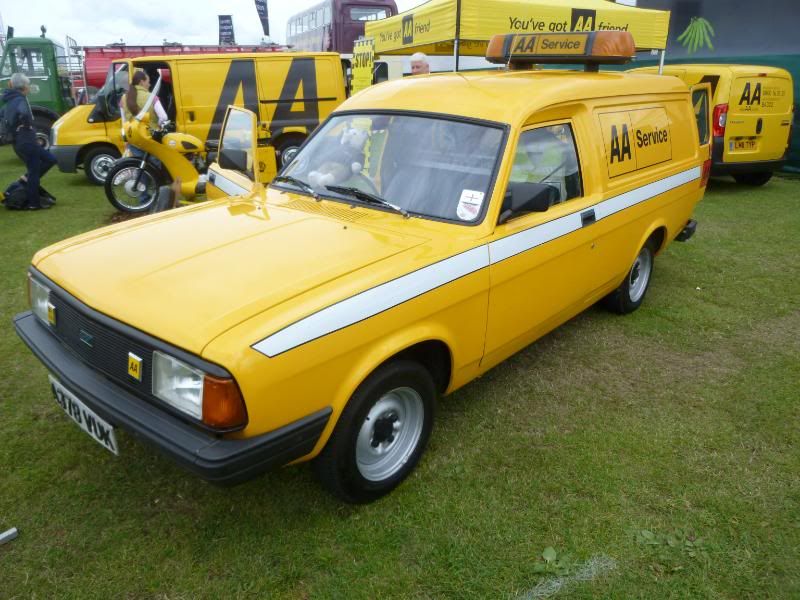 A few of the popular Minor models.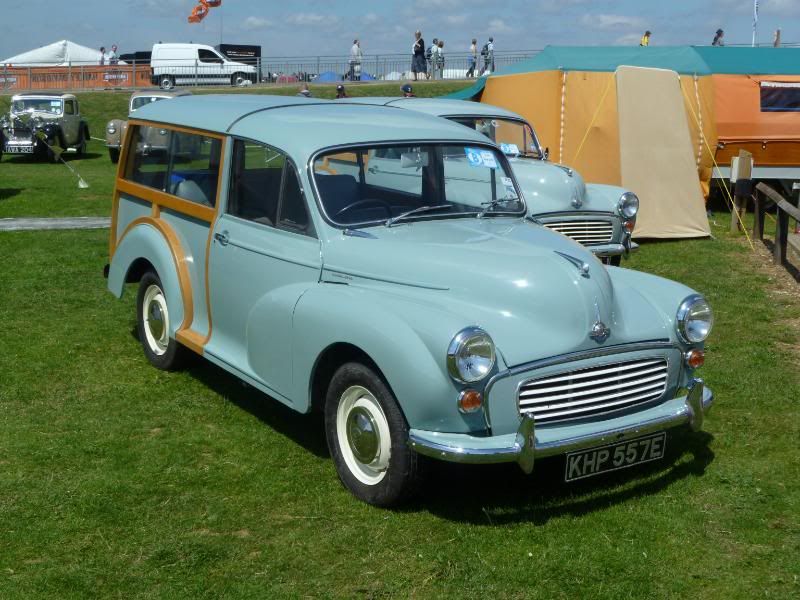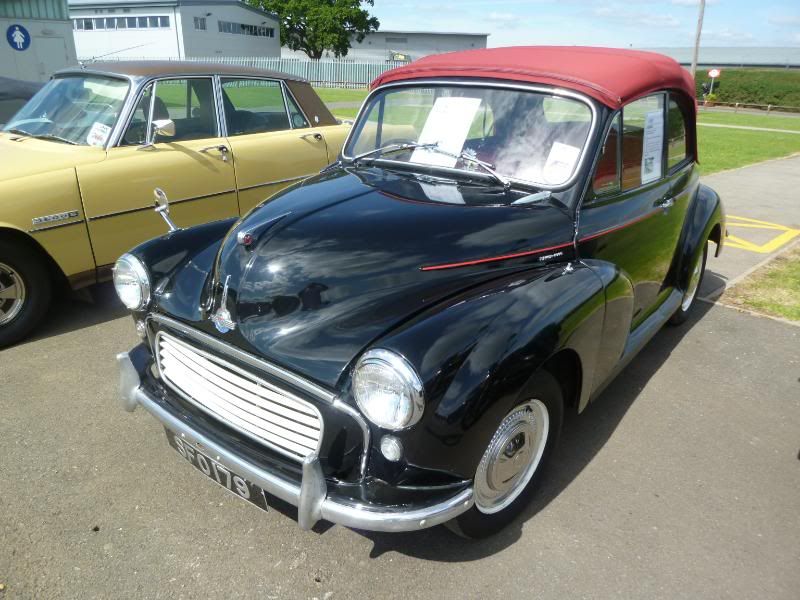 The J Van was a staple of the local tradesman in the 1940s and 1950s. A number appear to have survived and are now popular as an way of attracting attention and advertising modern businesses. One of them was in service as an ice cream van at the event.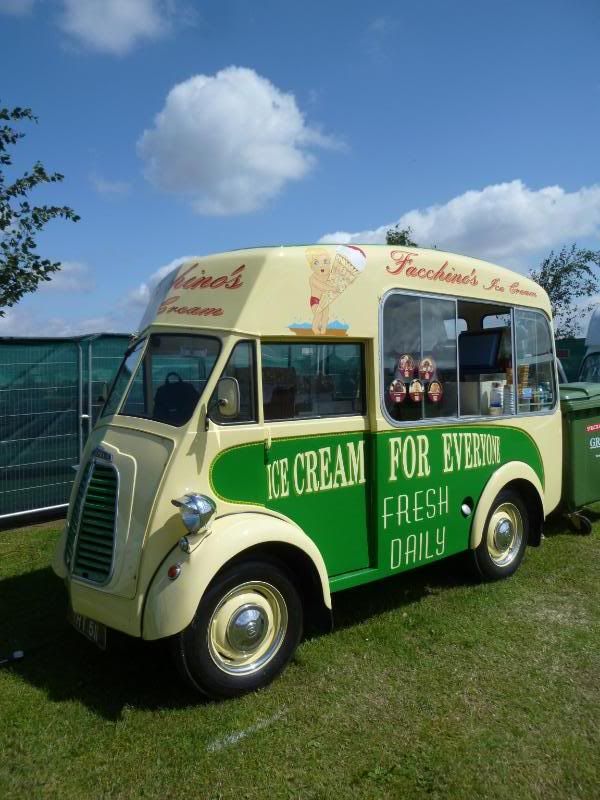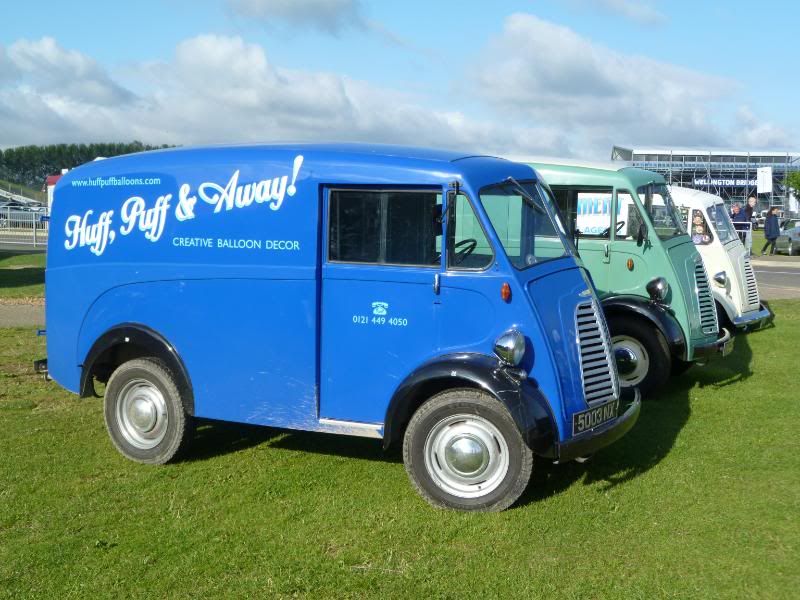 OPEL
Monza, in is later facelifted guise.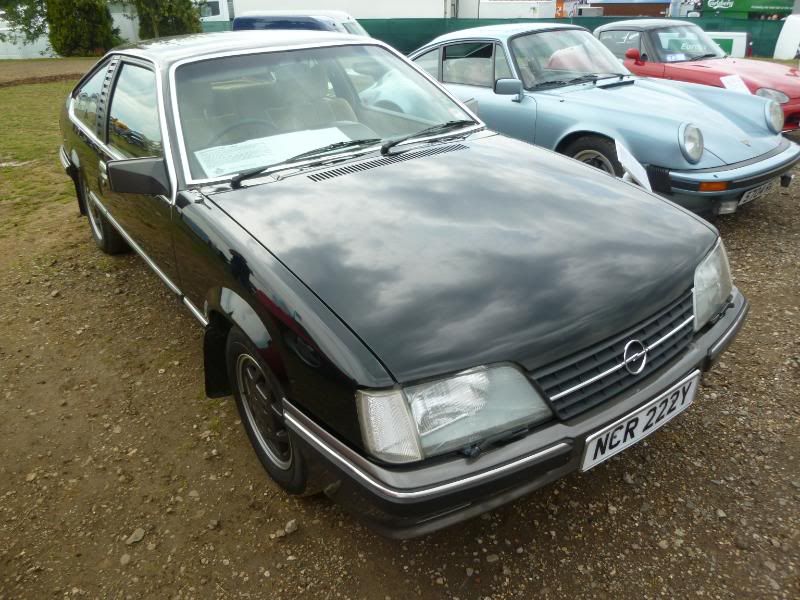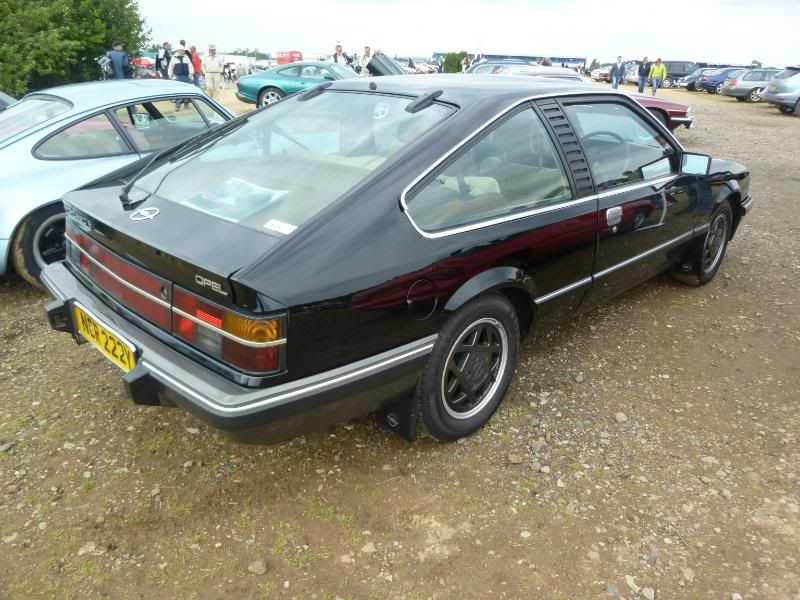 PAGANO
A new name for me. This Alfa pastiche is a Spanish produced kit car.
PEUGEOT
Barely any presence from this French marque, though there were a couple of 205 GTis parked up.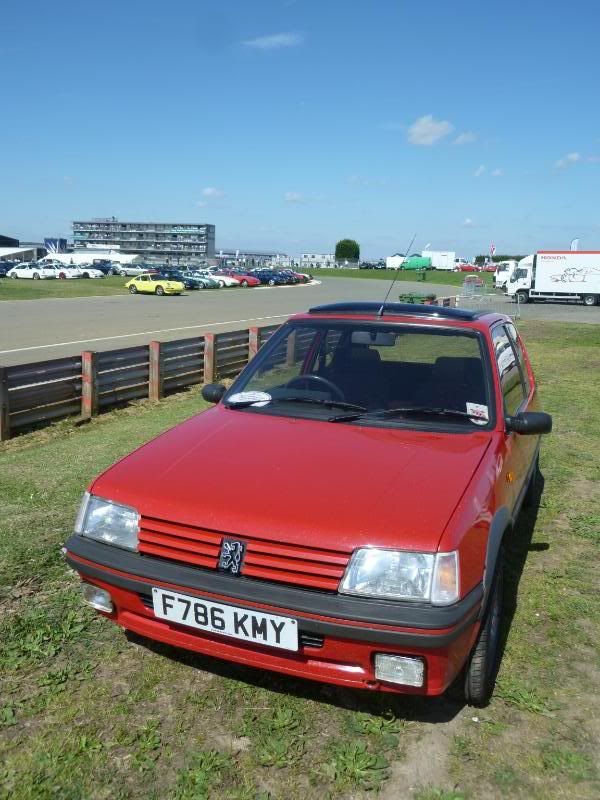 PIPER
A couple of the PM2 sports cars from the early 1970s. I have seen both of these at the event in previous years.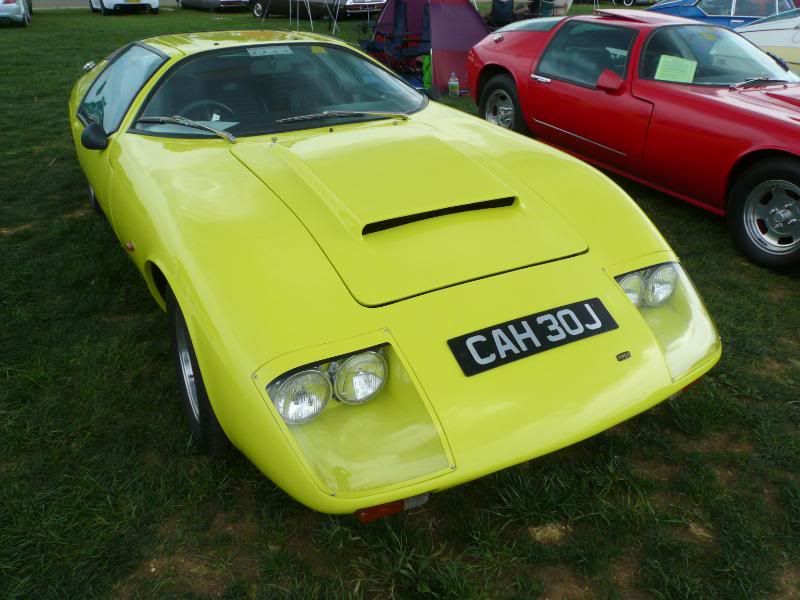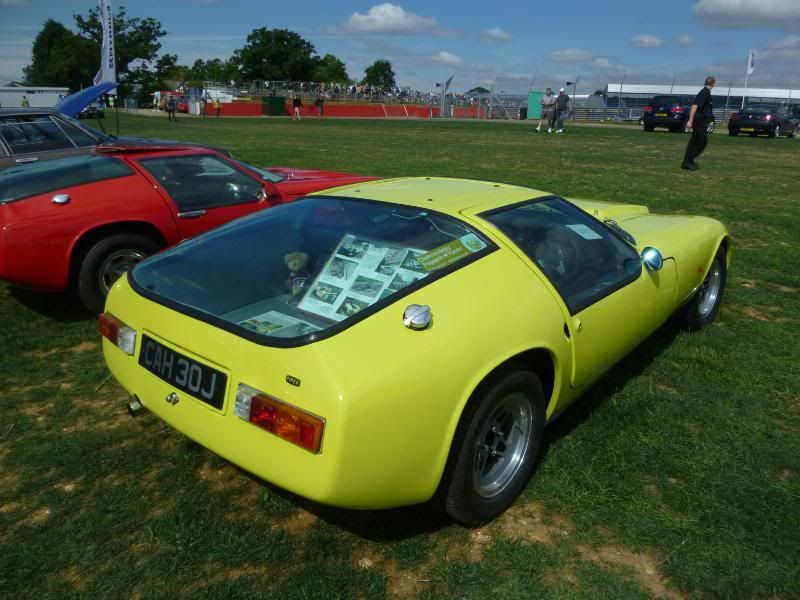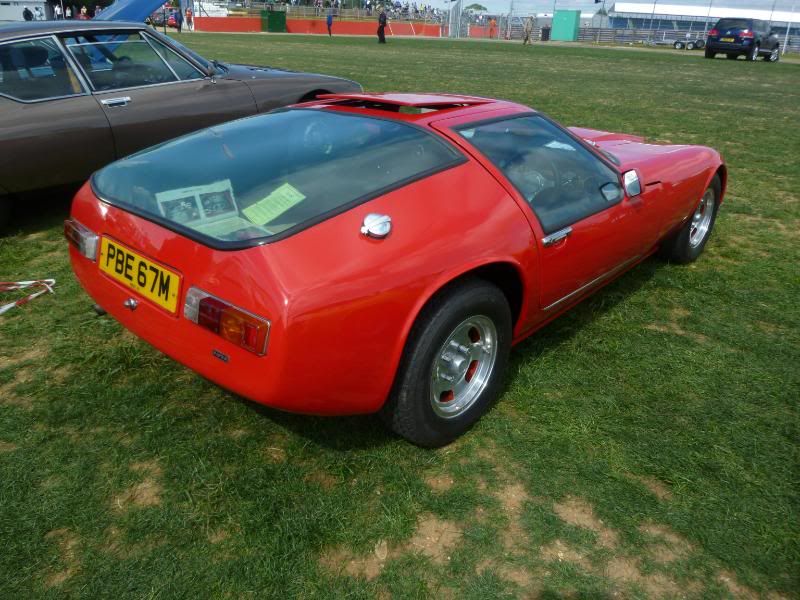 PONTIAC
A series of Firebird cars showed the evolution of this famous named American sports car.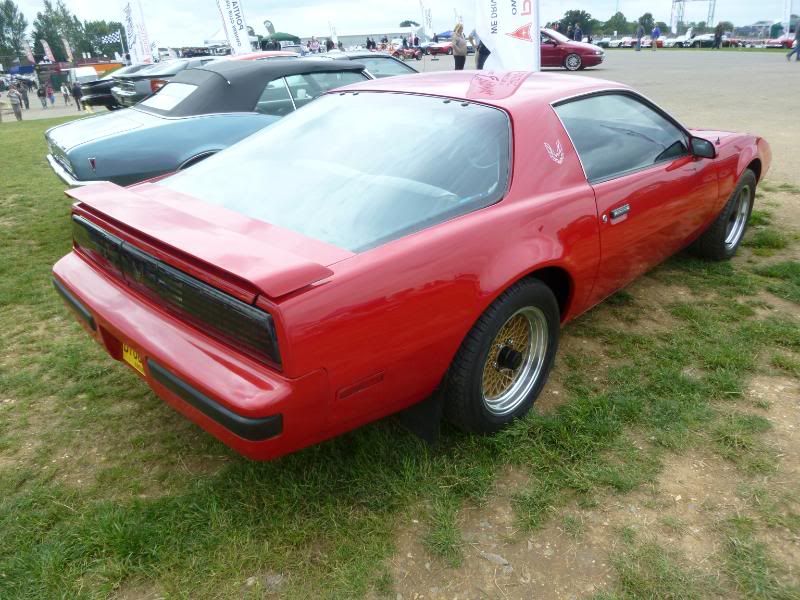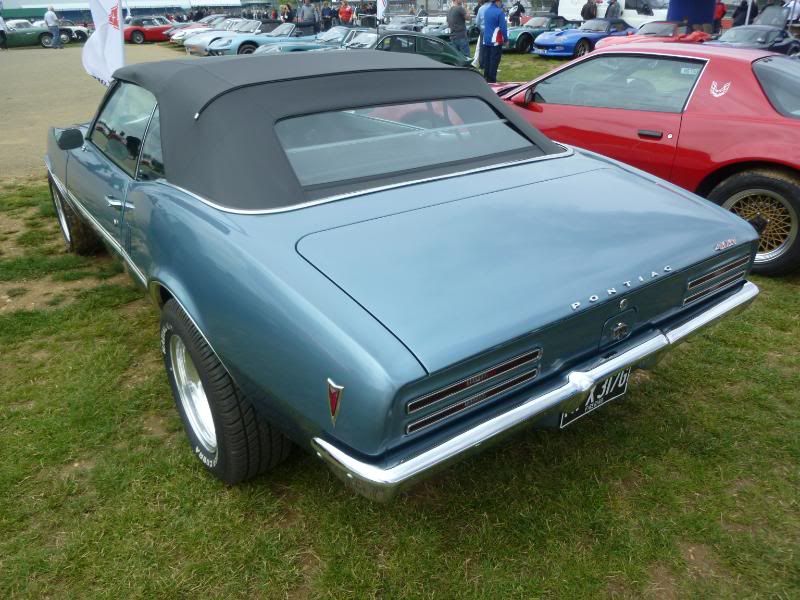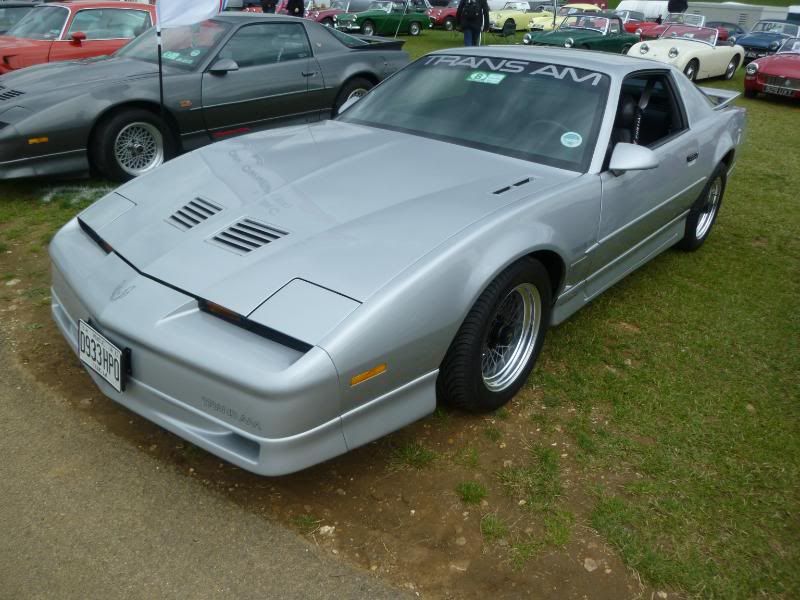 PORSCHE

A simply vast array of Porsche to look at, as in previous years.
356 models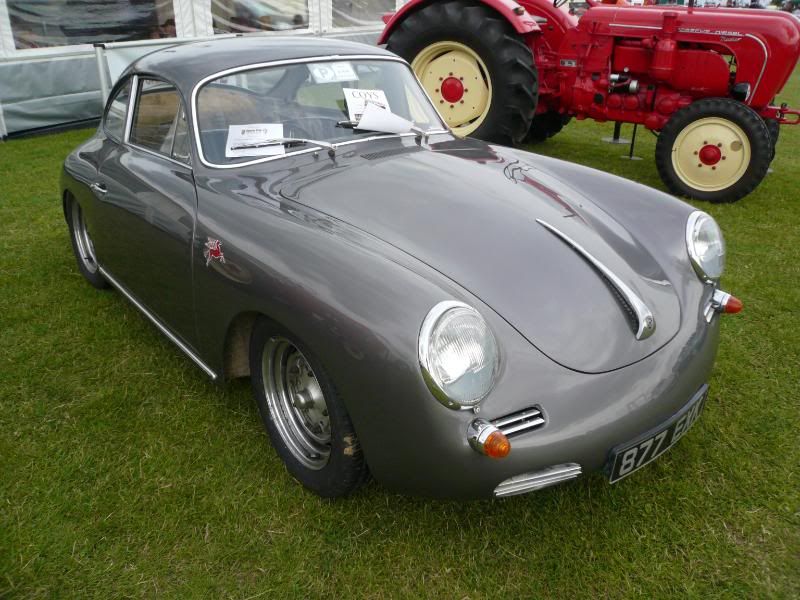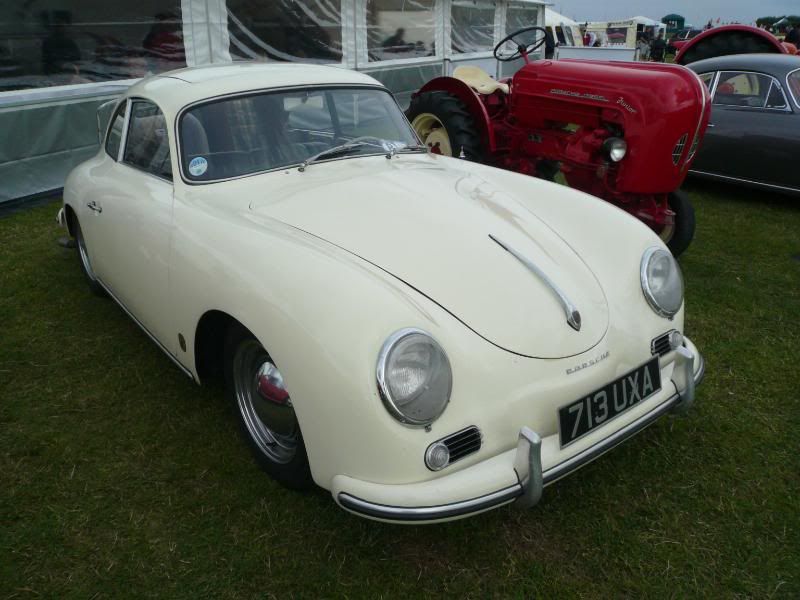 Only a couple of 914s.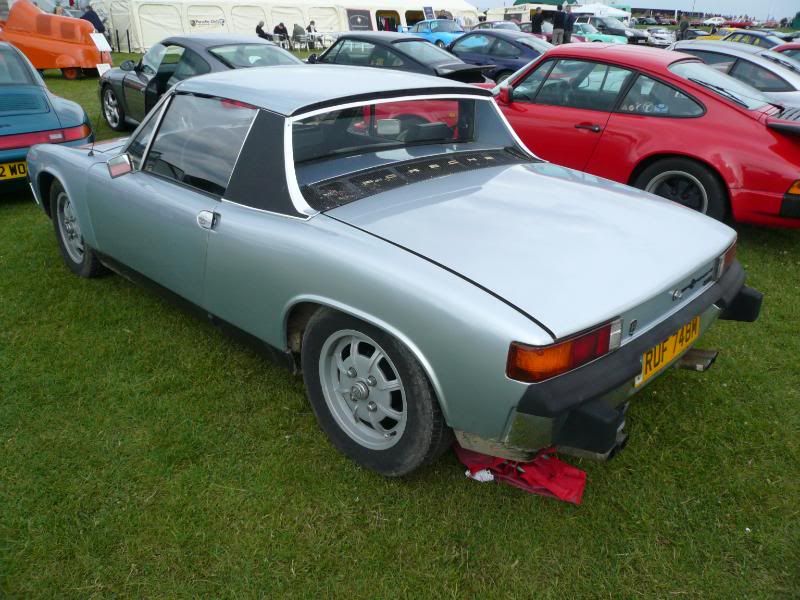 924, 944 and 968 cars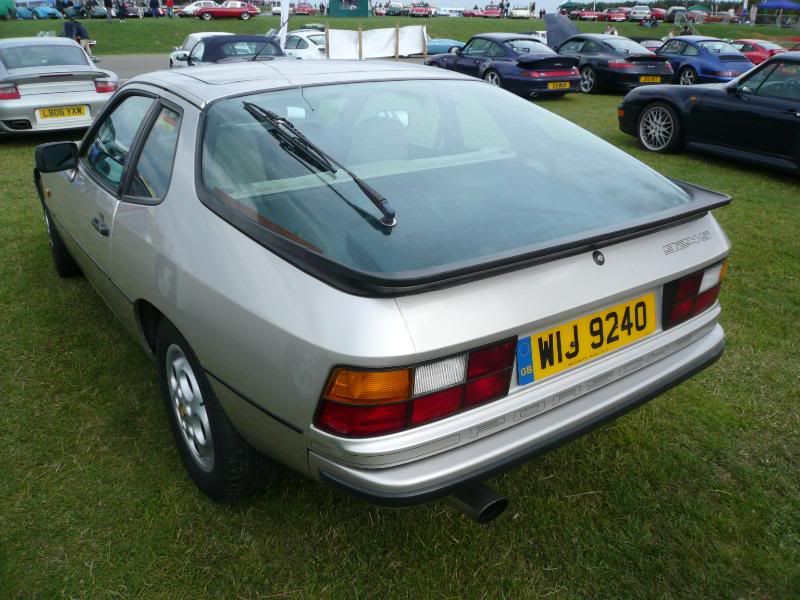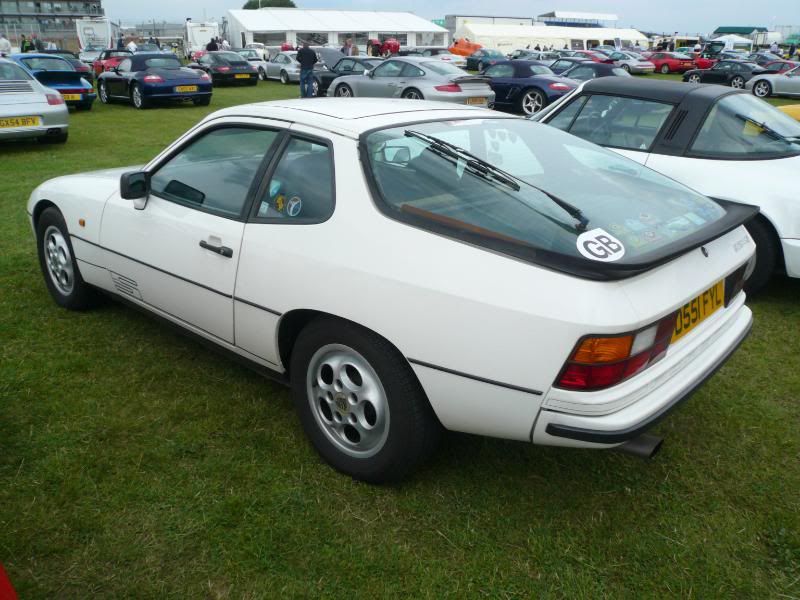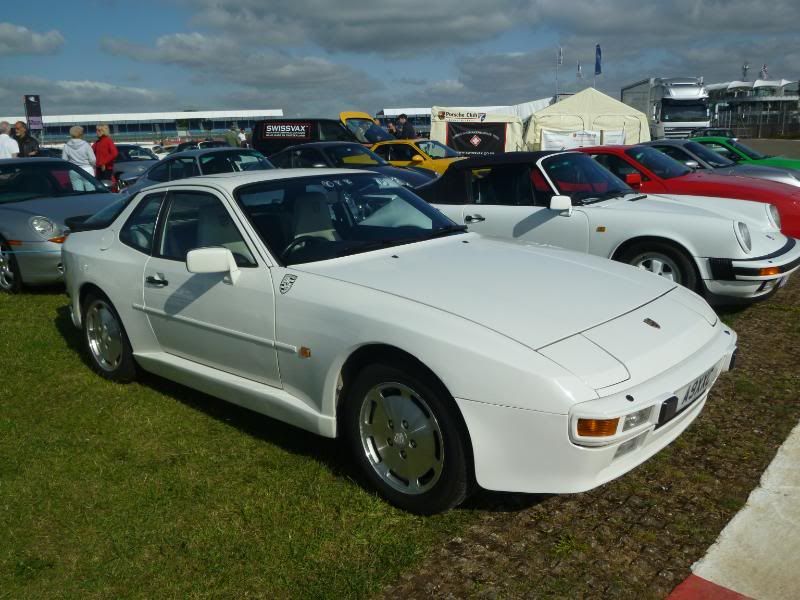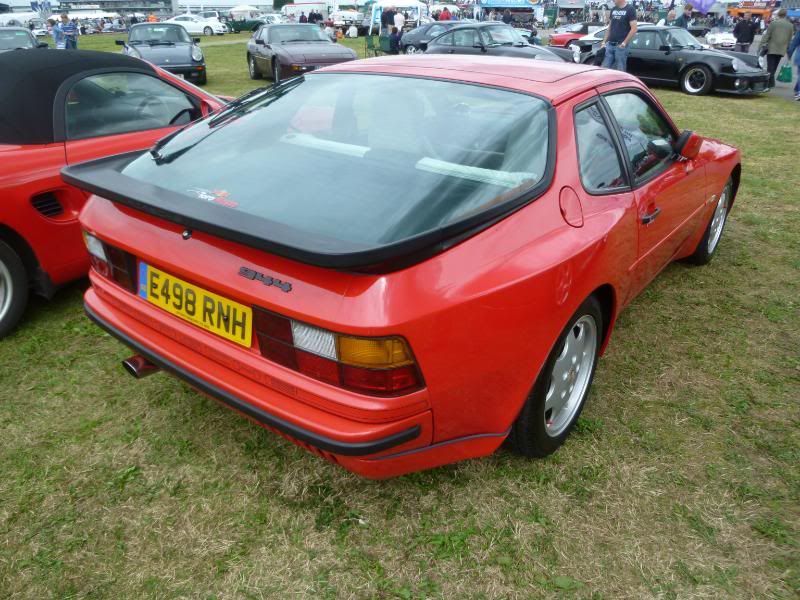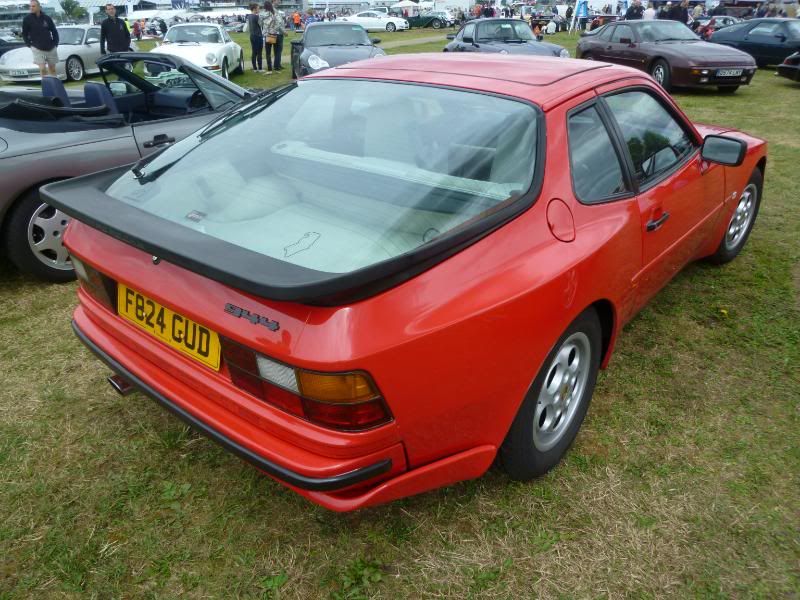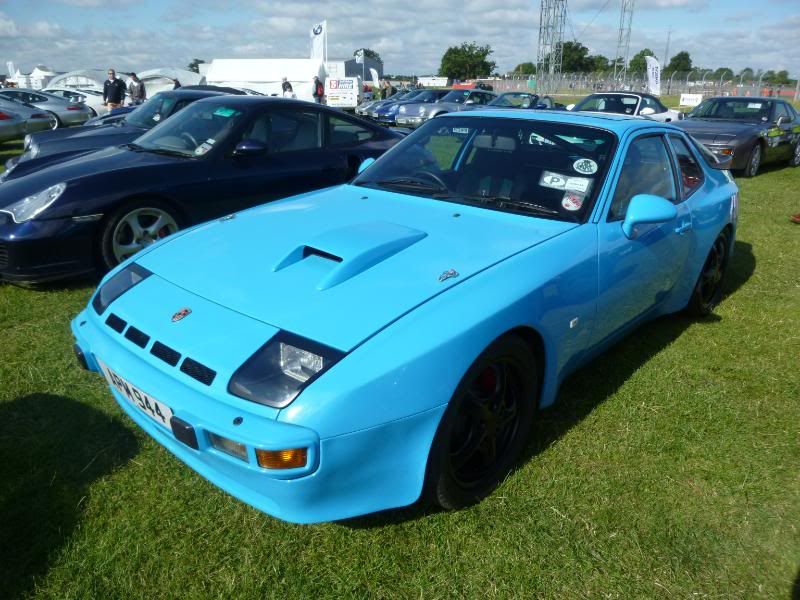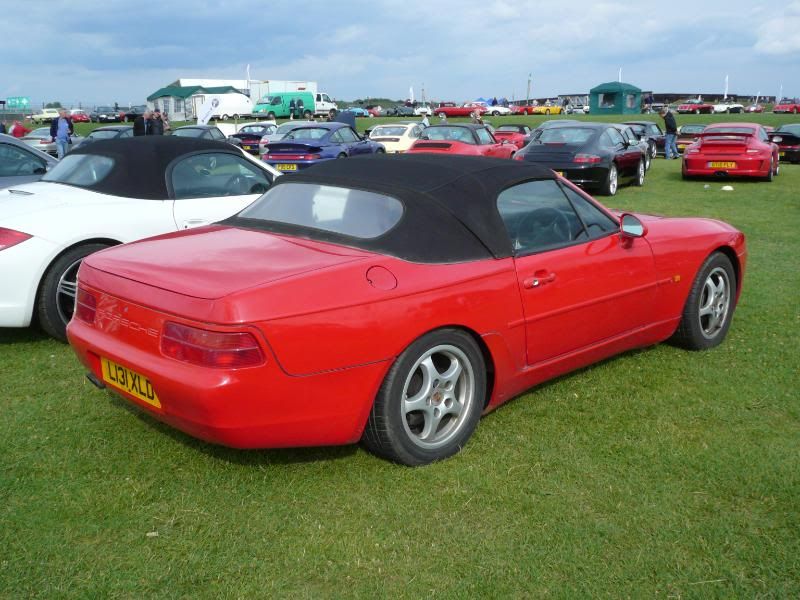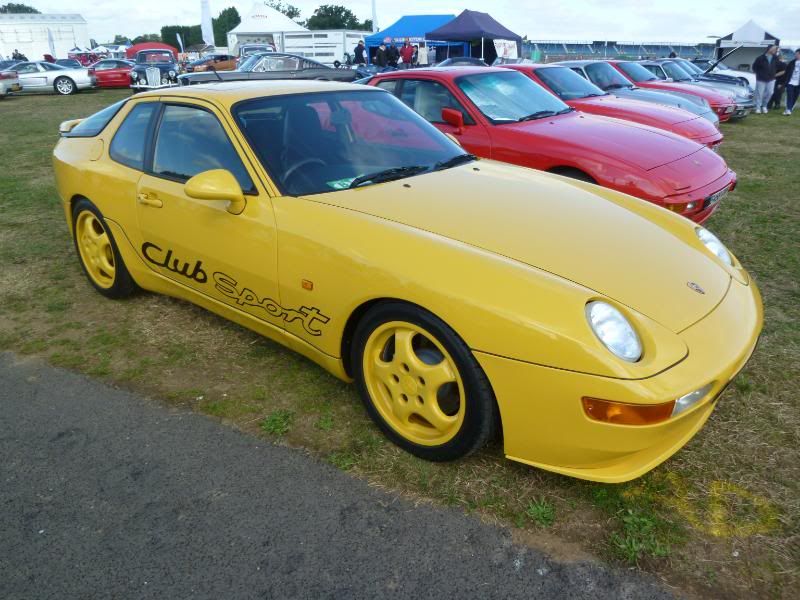 928s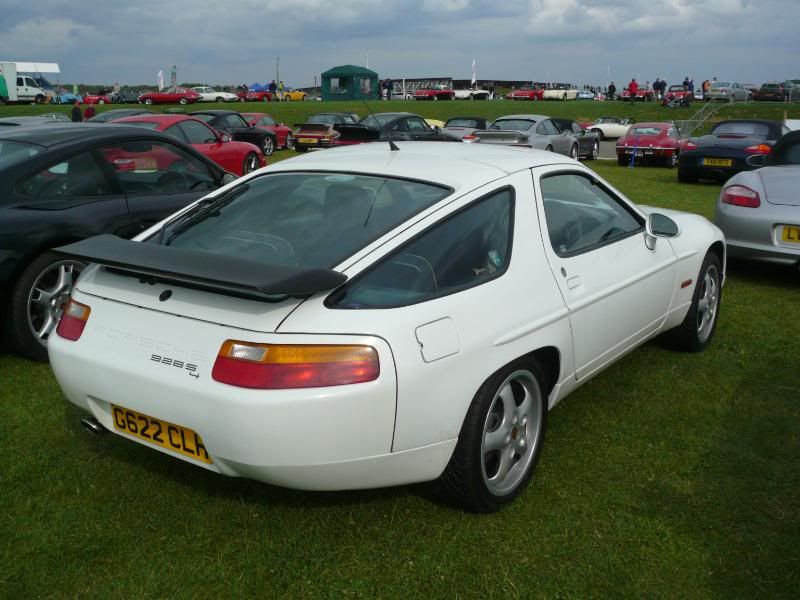 Boxster and Cayman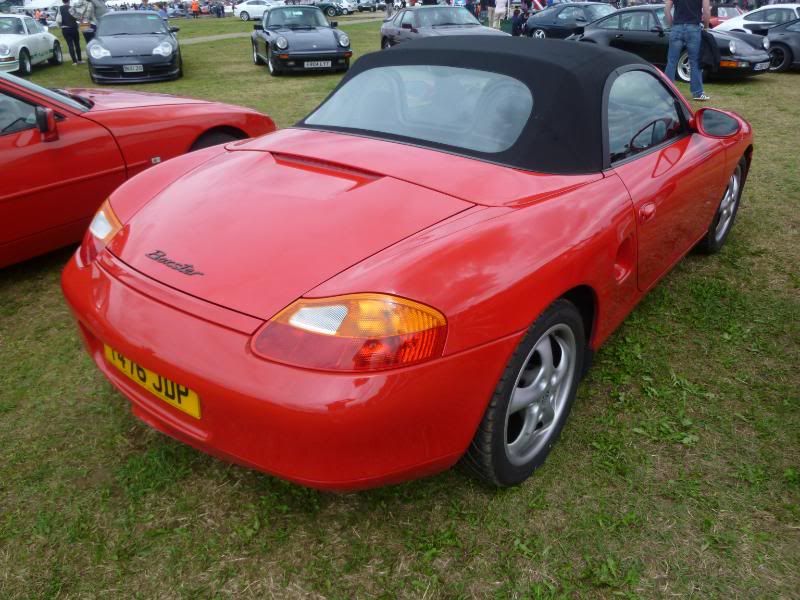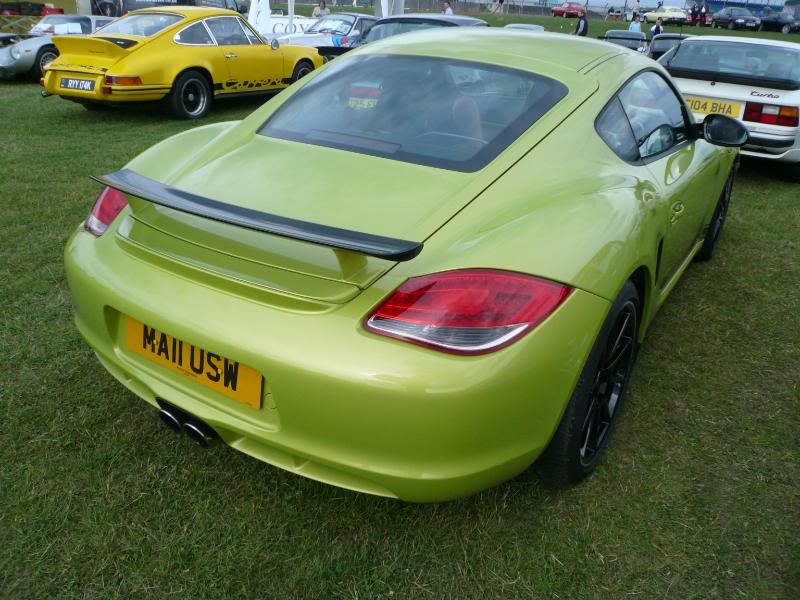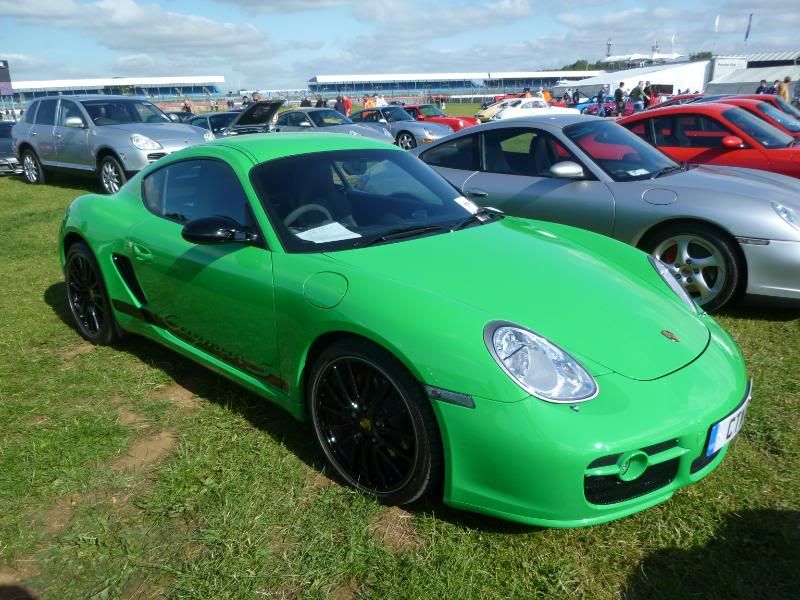 Just about every model type of the 911 was present.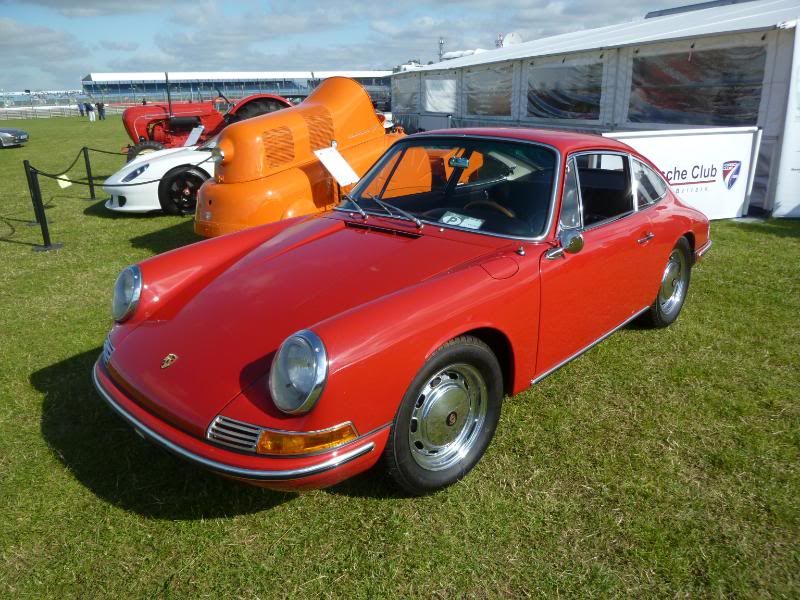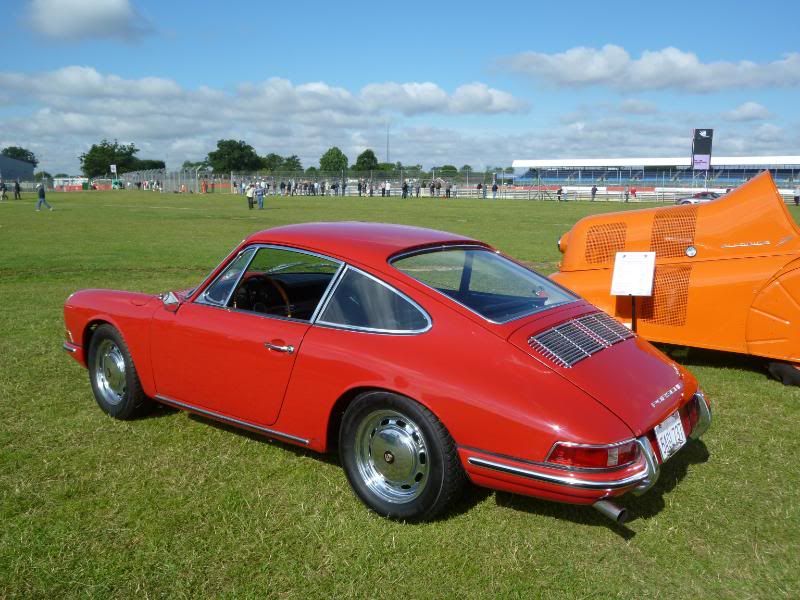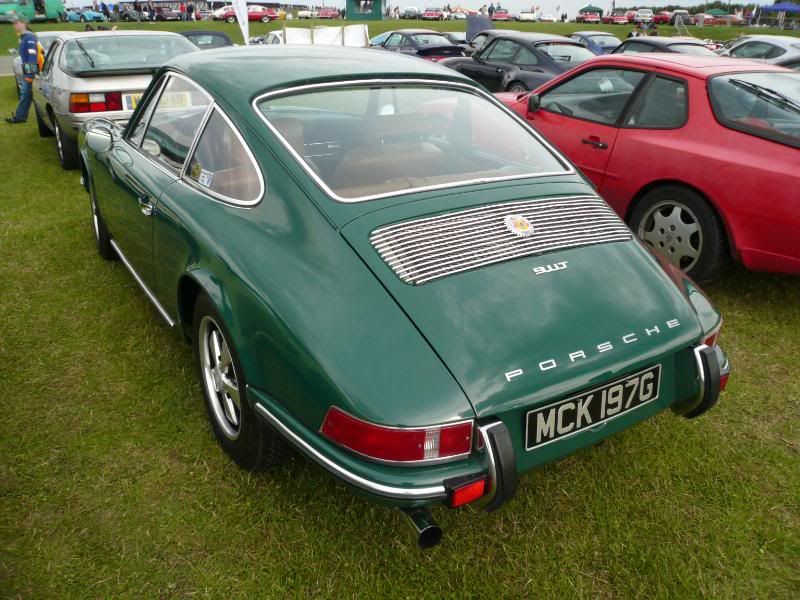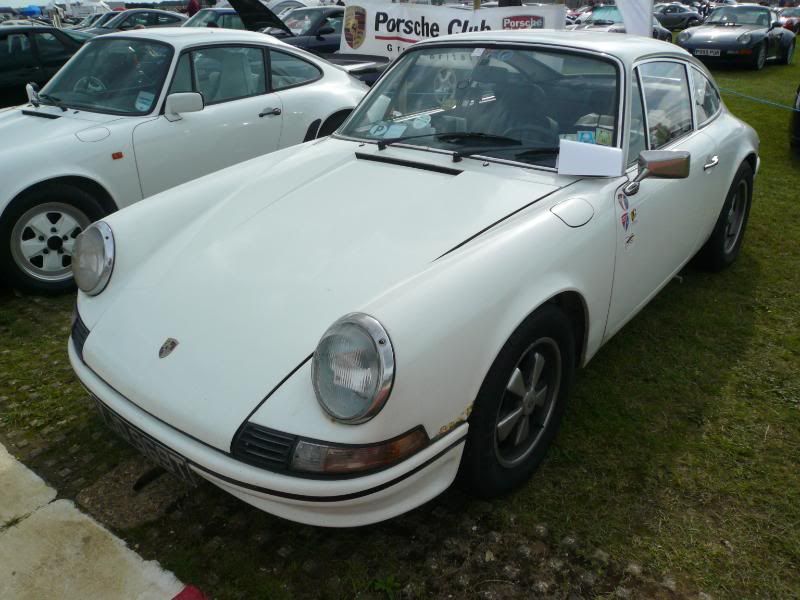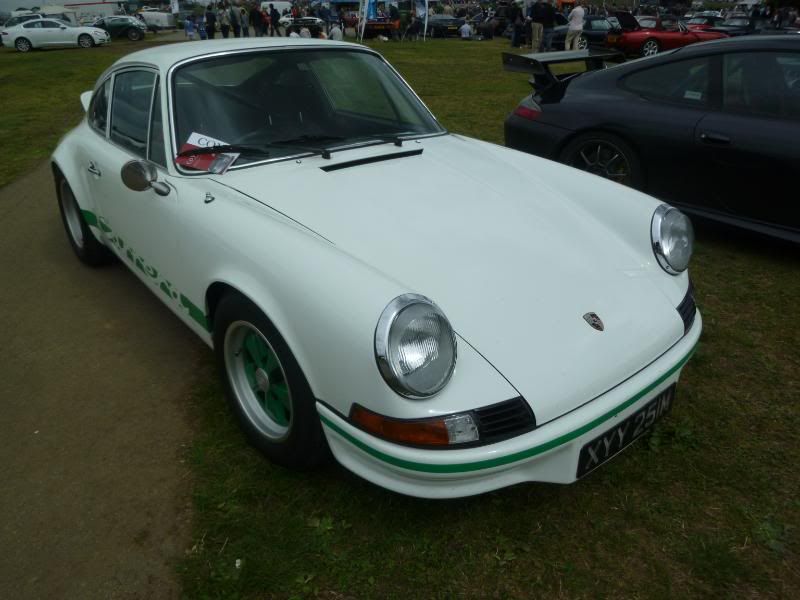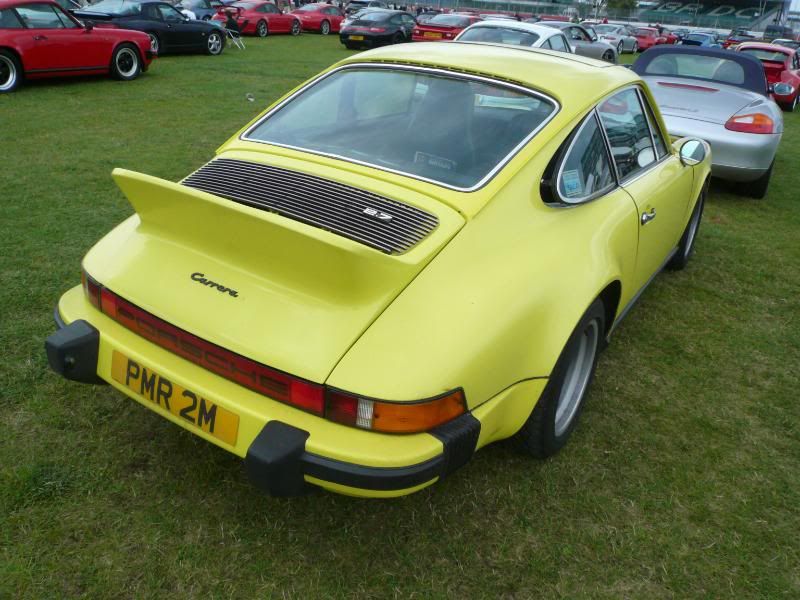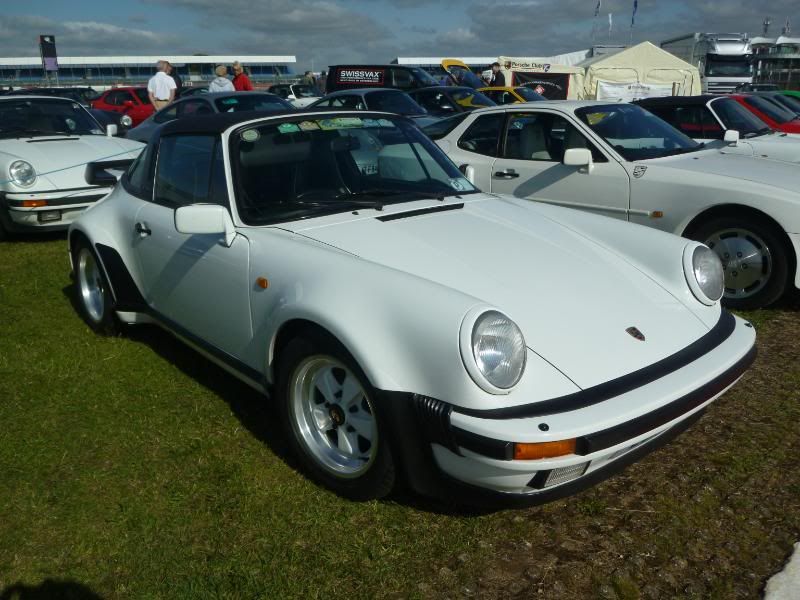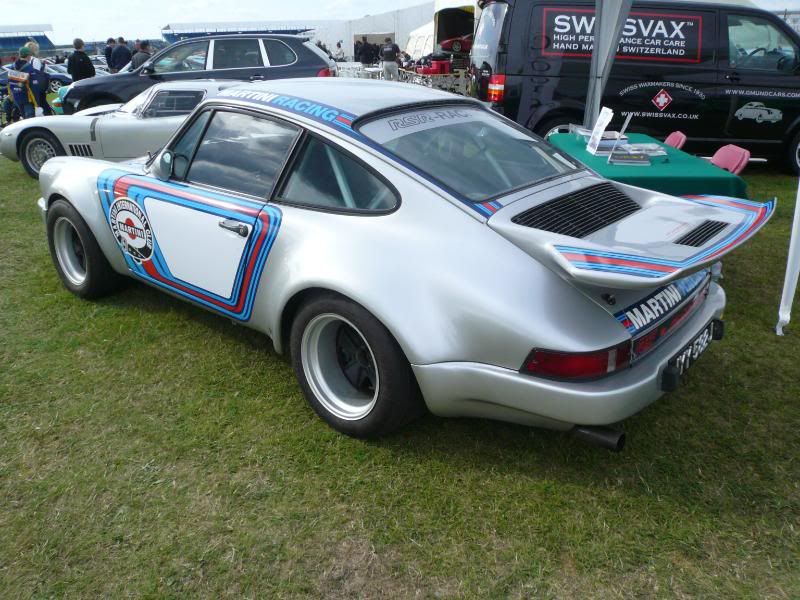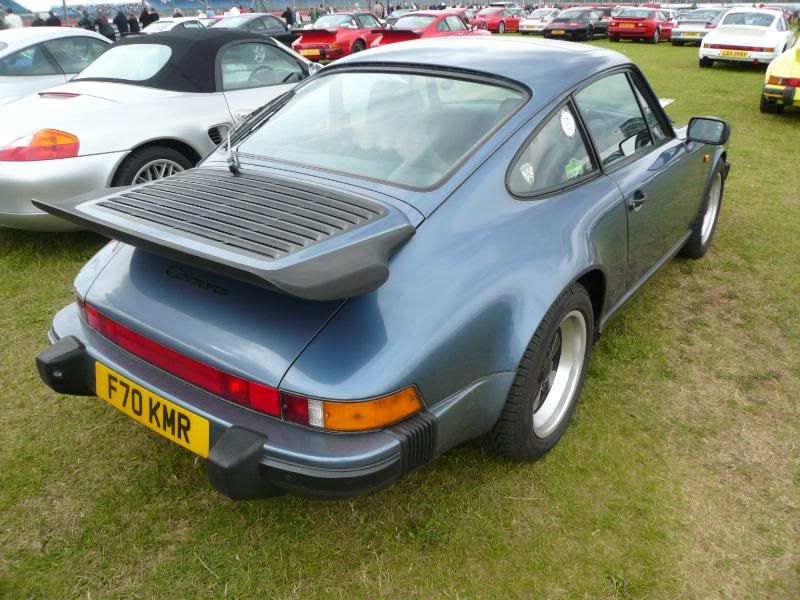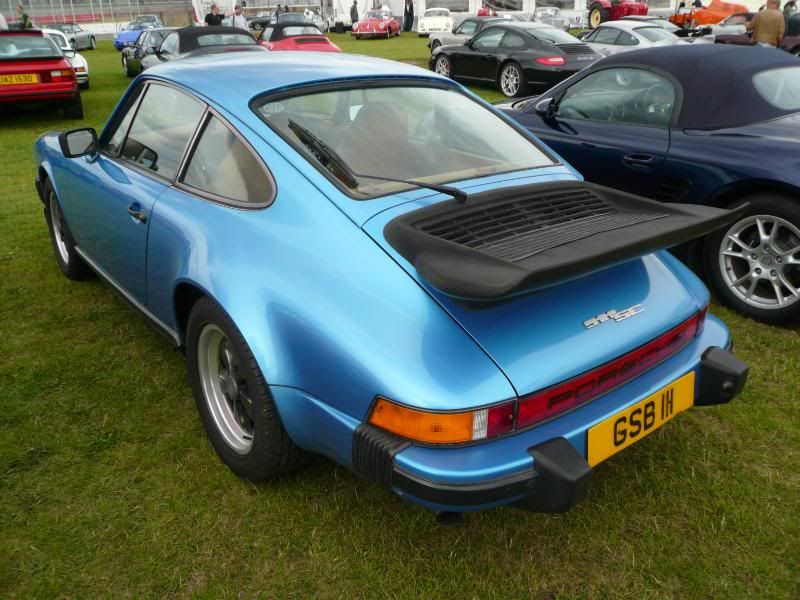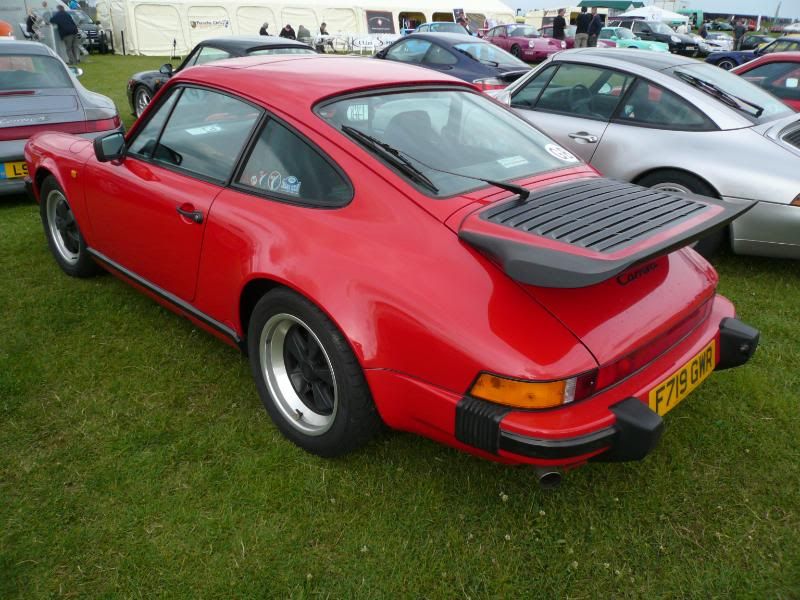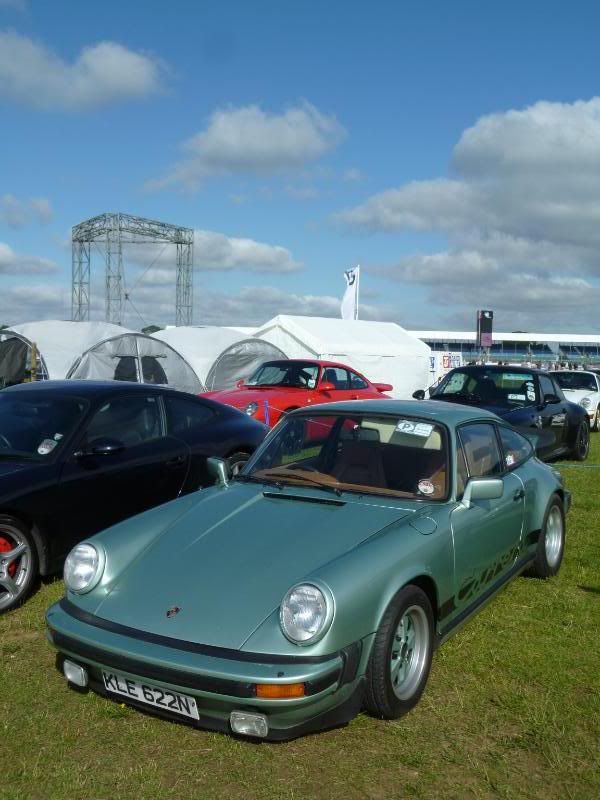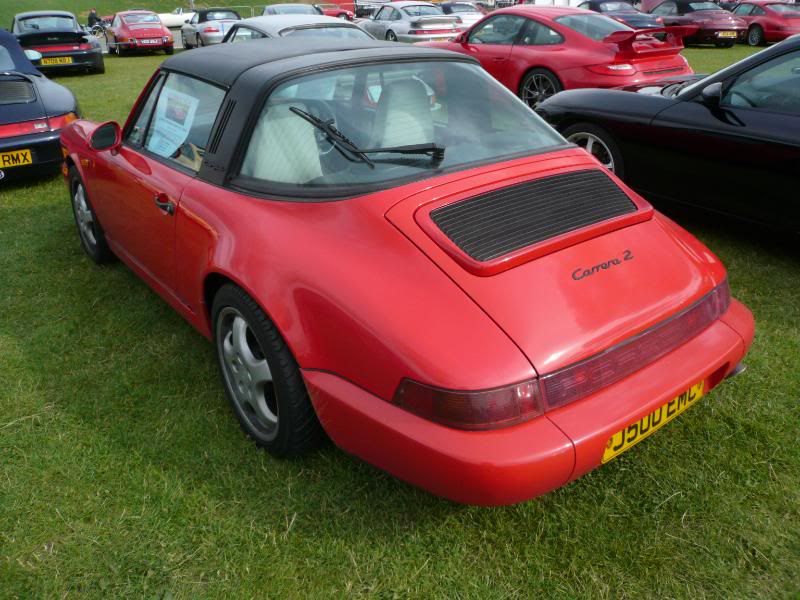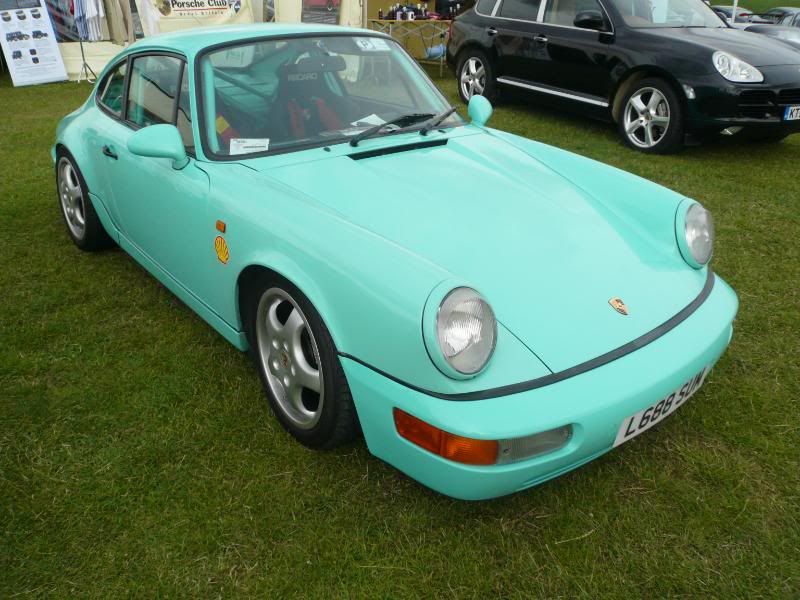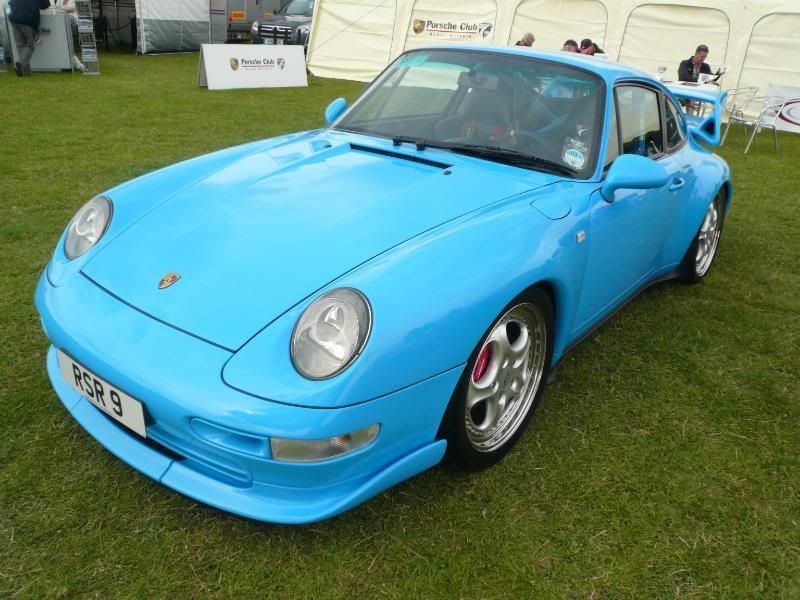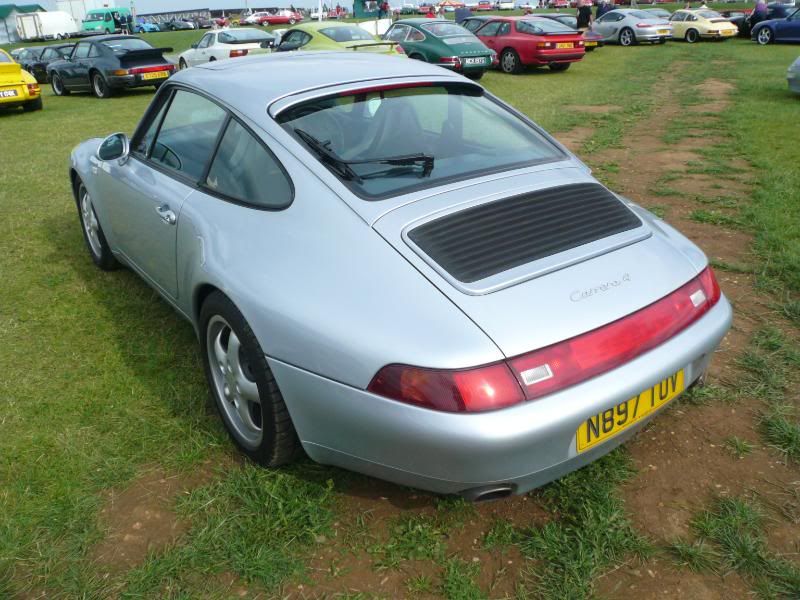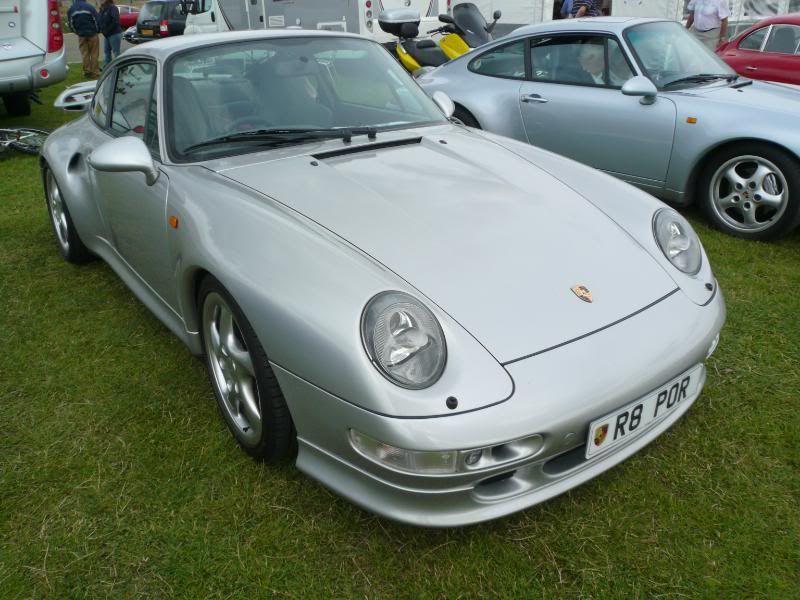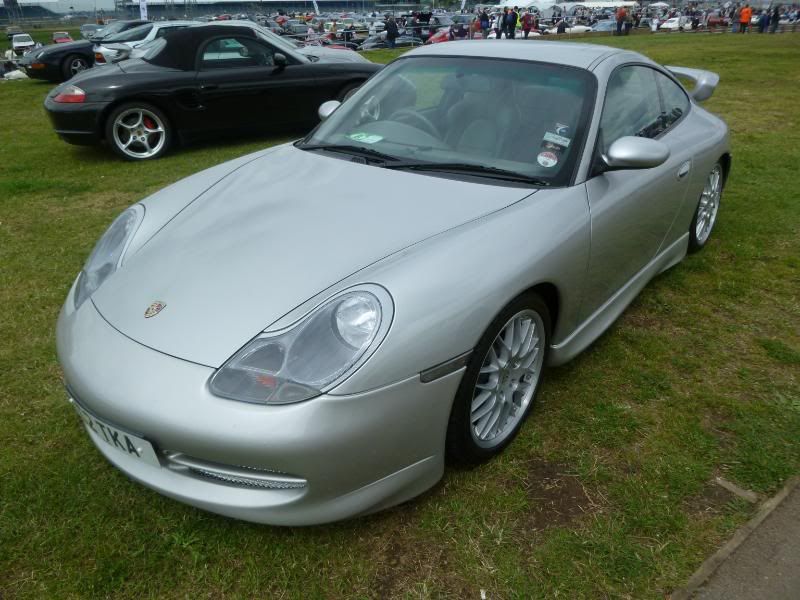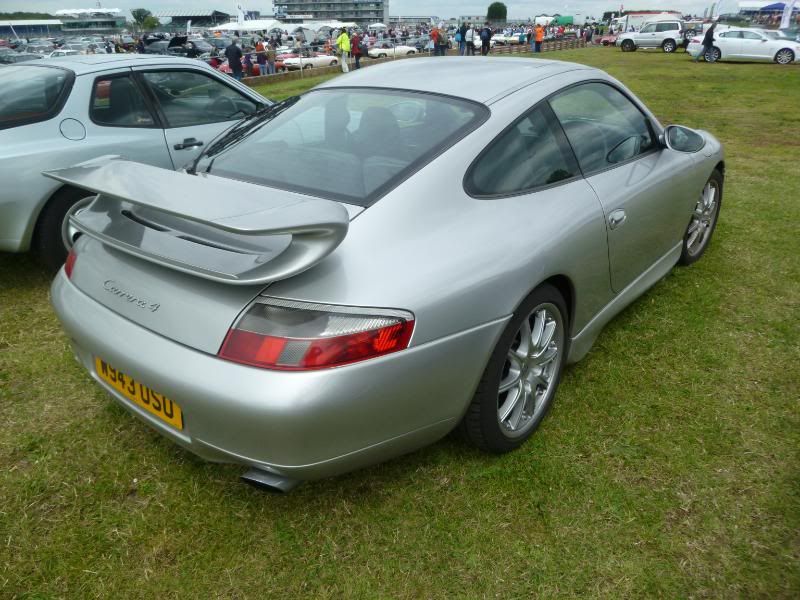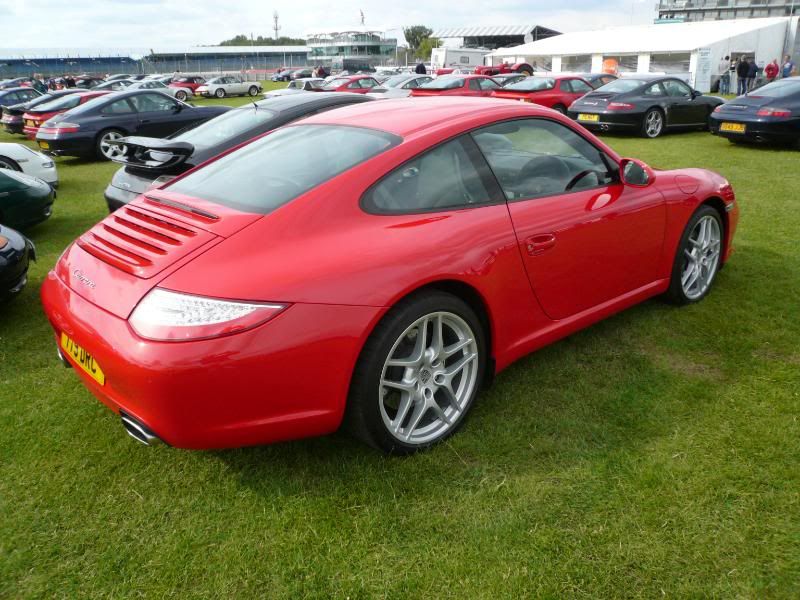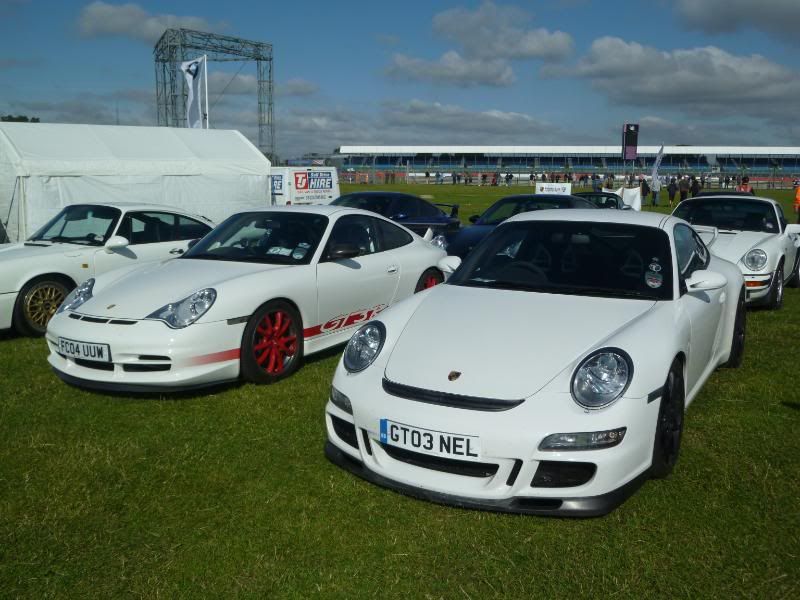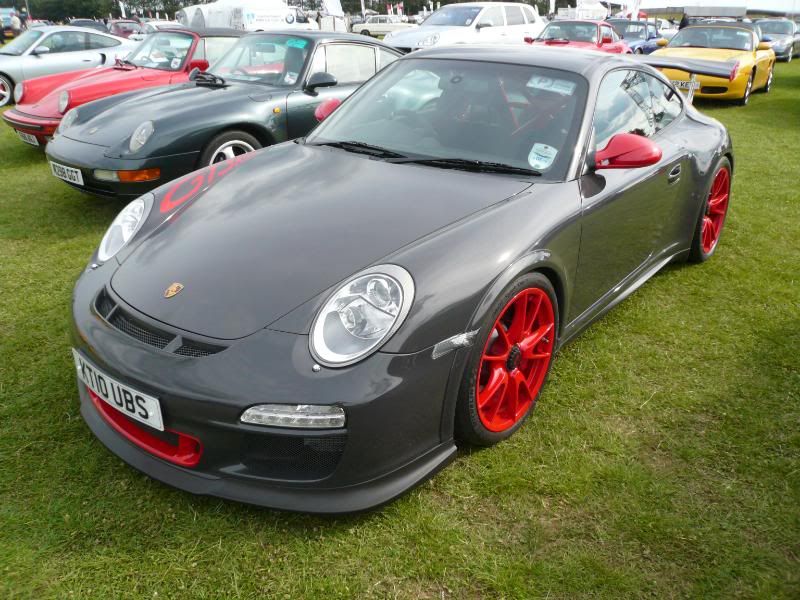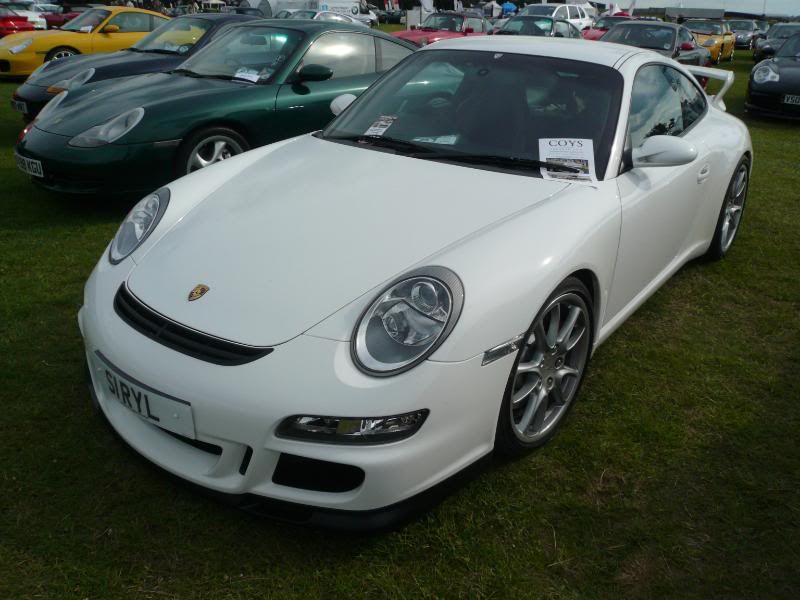 There was a single Carrera GT at the event on Sunday.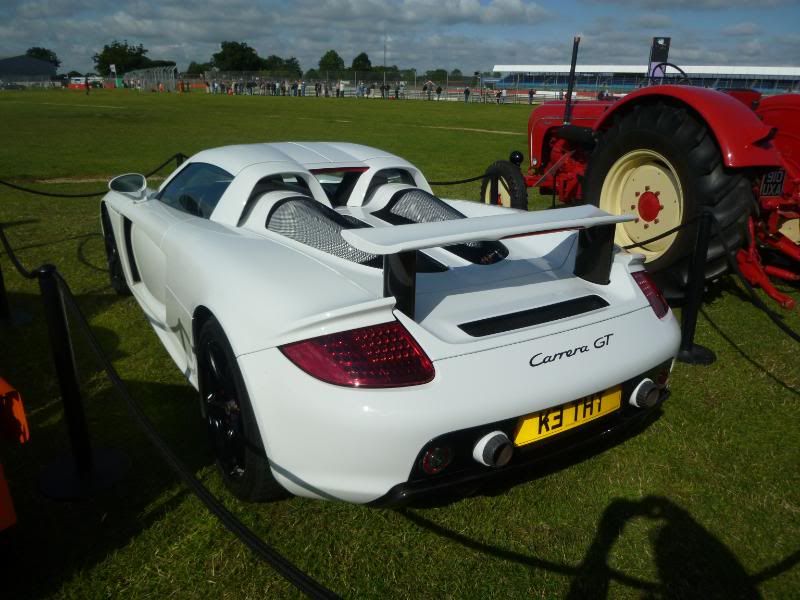 Porsche even had a trio of their tractors. These were made in the late 1950s and early 1960s.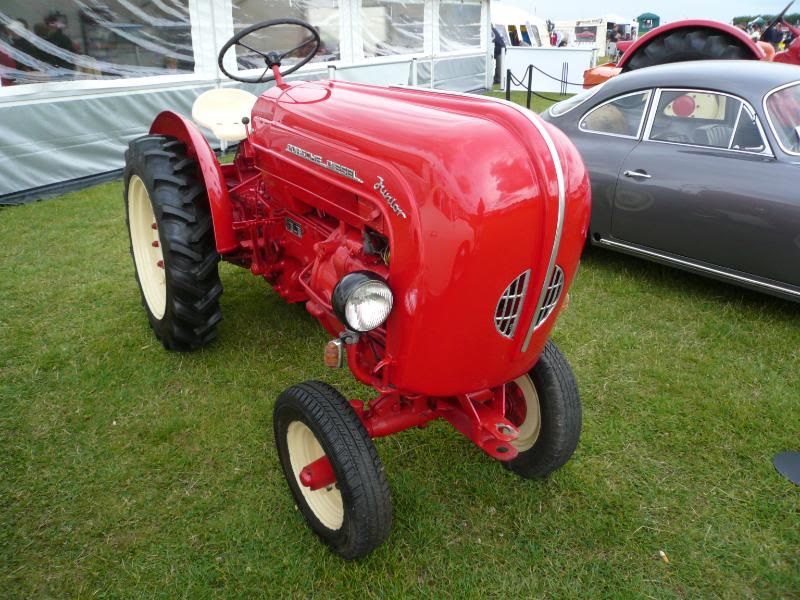 RELIANT

The early Sabre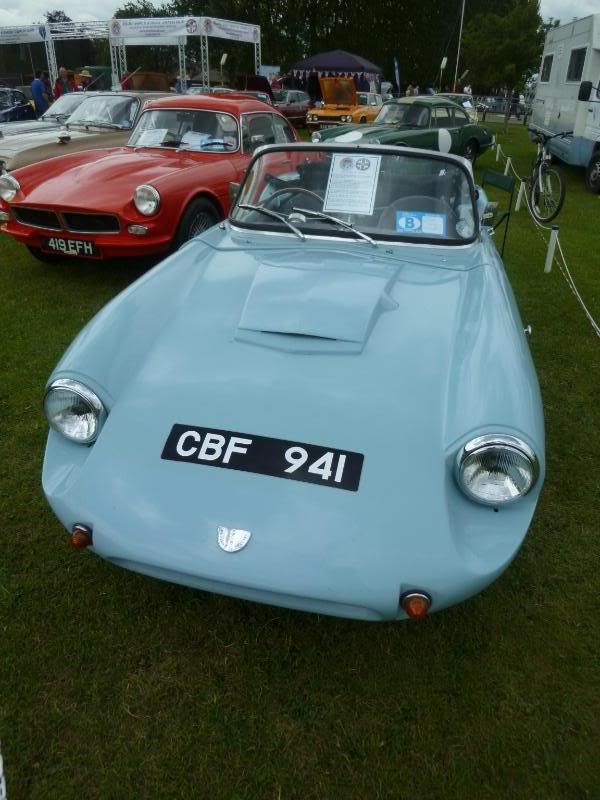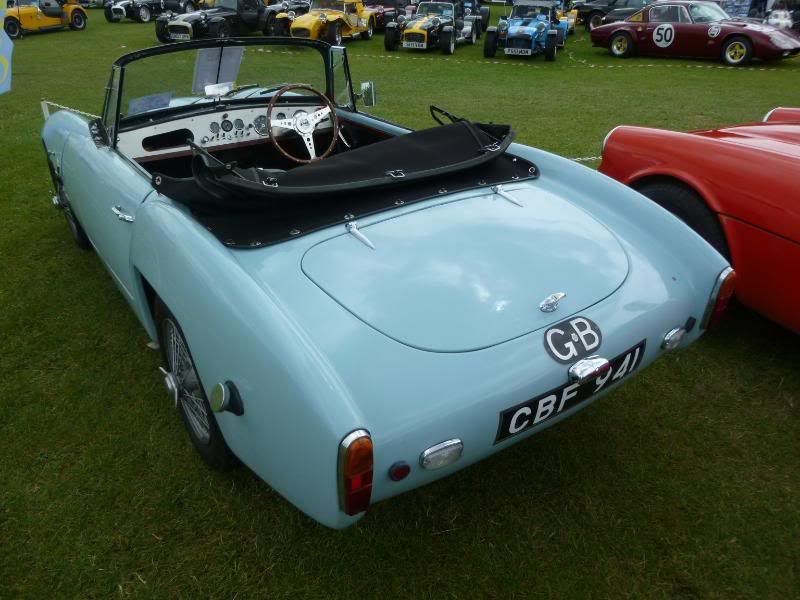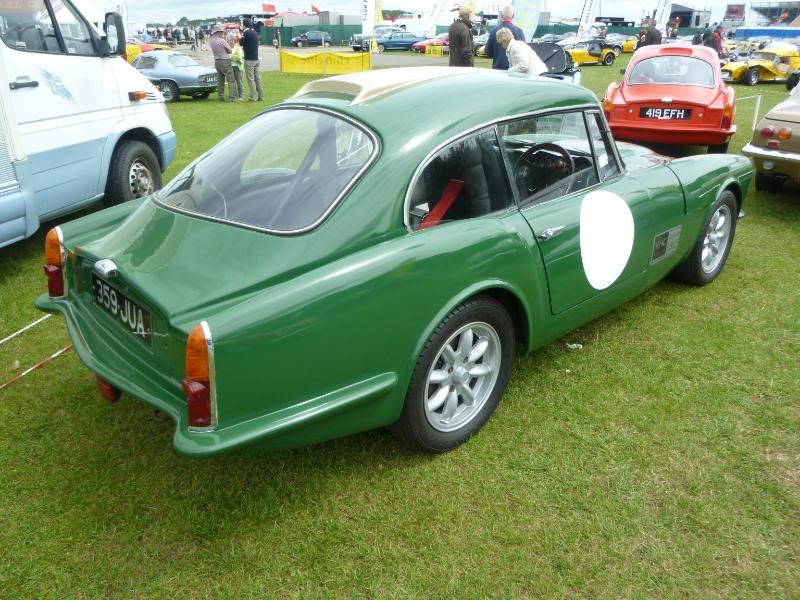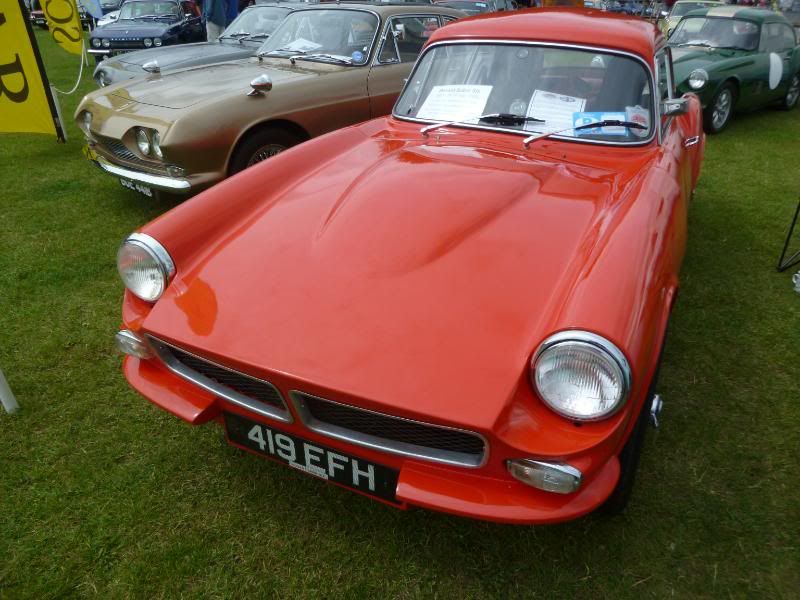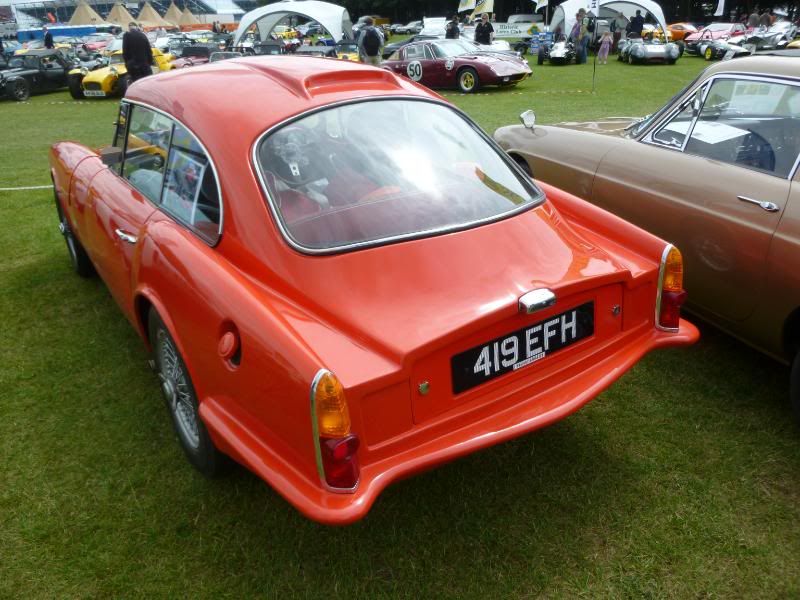 Scimitar started out life as a coupe, before becoming a hatchback and then some time after the 1975 facelift, a convertible. A small number of cars were assembled by Middlebridge in the 1990s and there was one of these in the display.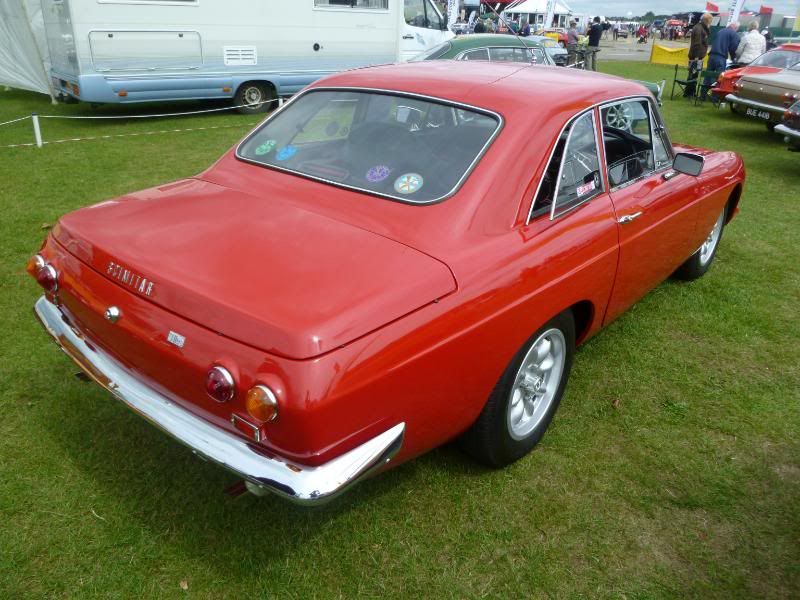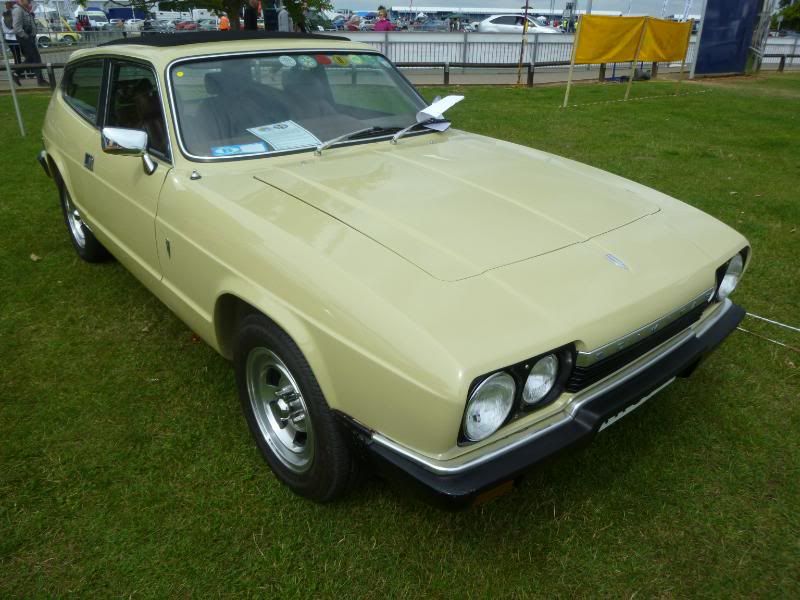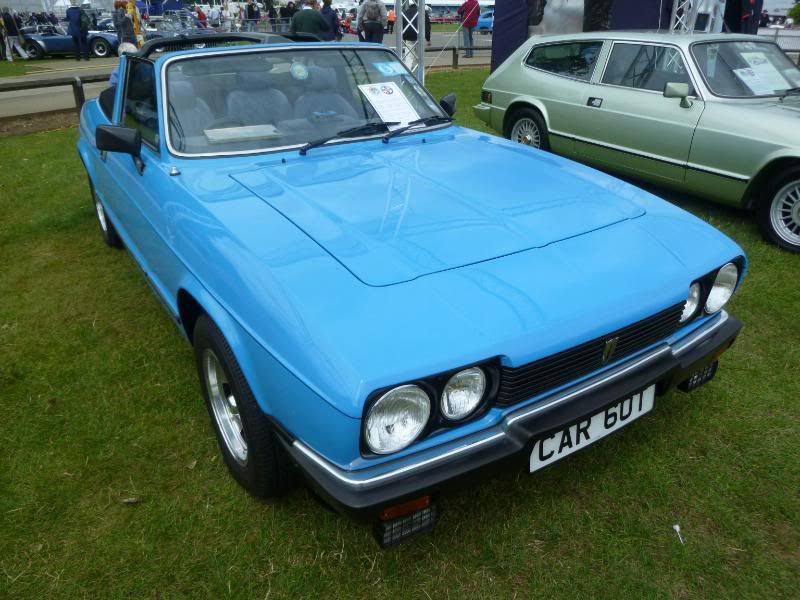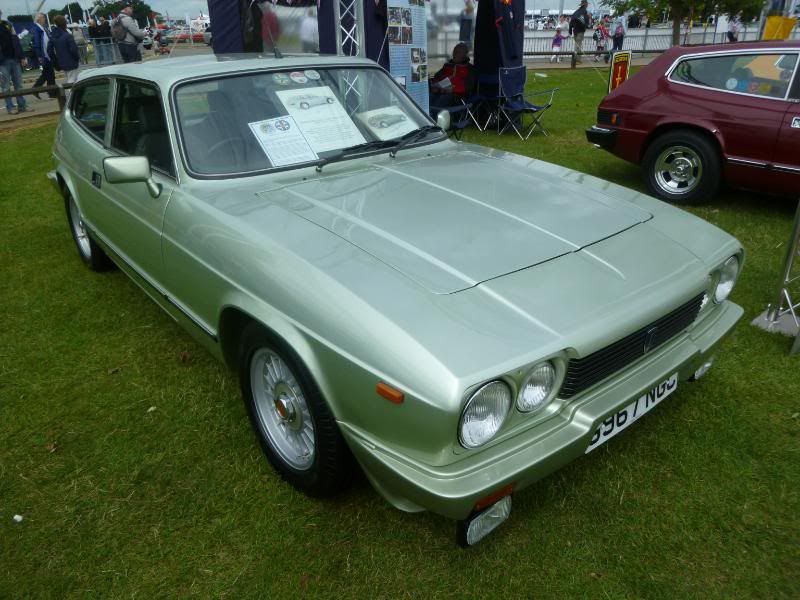 The last production car was the Scimitar SS1, a rather ungainly car which when facelifted looked a little less awkward and was rebranded the Sabre.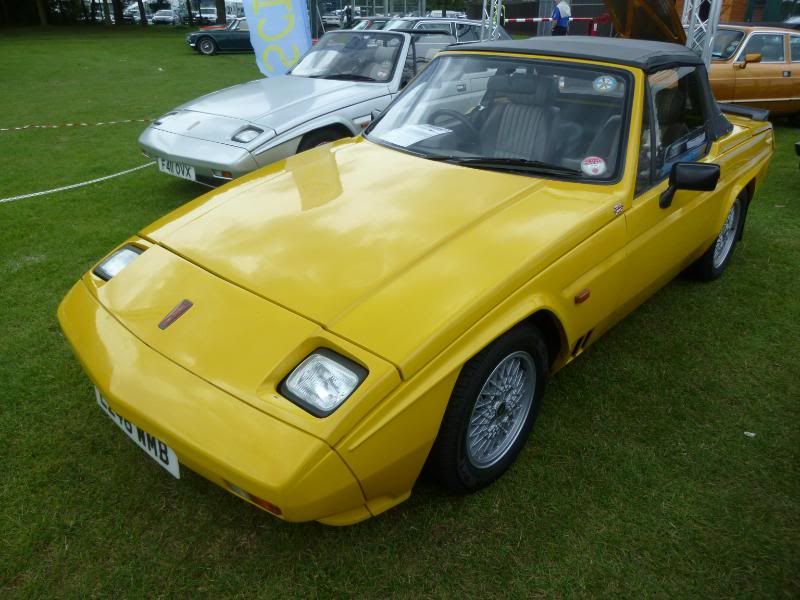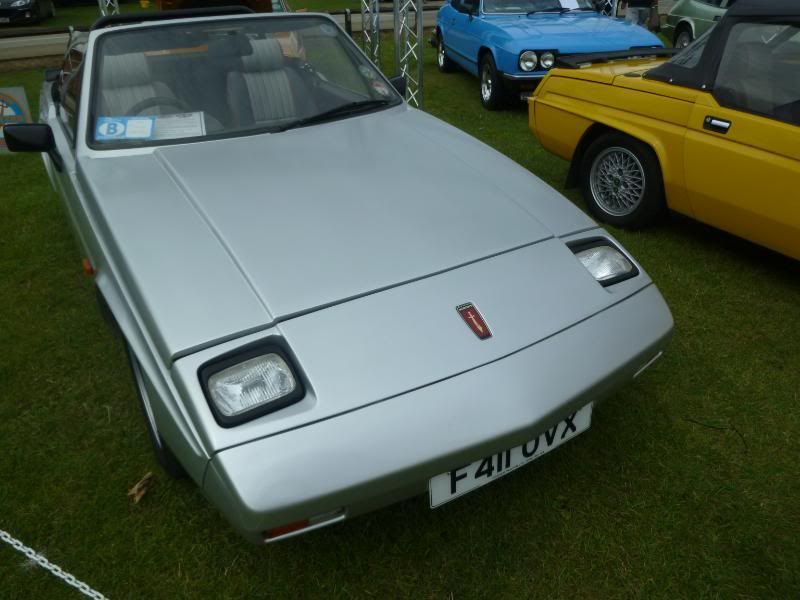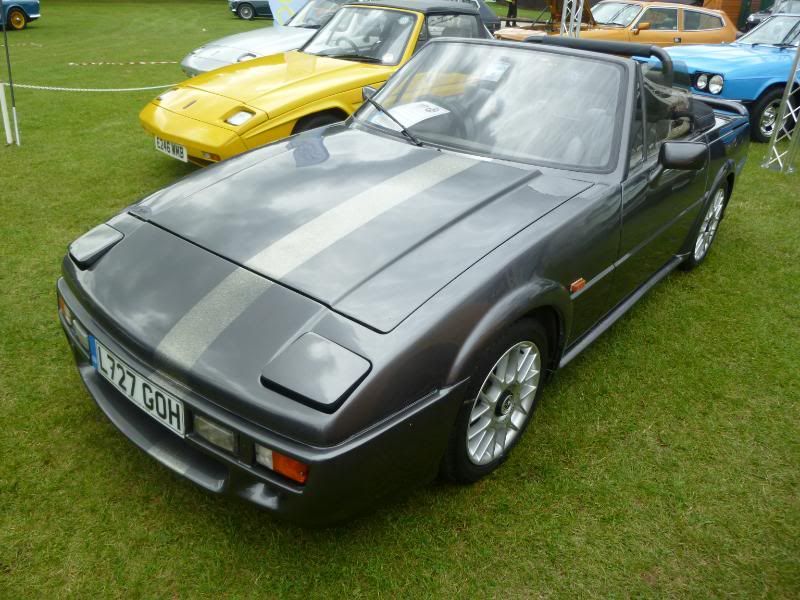 RENAULT
There were not many Renaults at the event, and all the ones I noted were sporting models, with a few Alpines (both A110 and the later A610/GTA cars) along with a couple of the first generation R5 Turbos.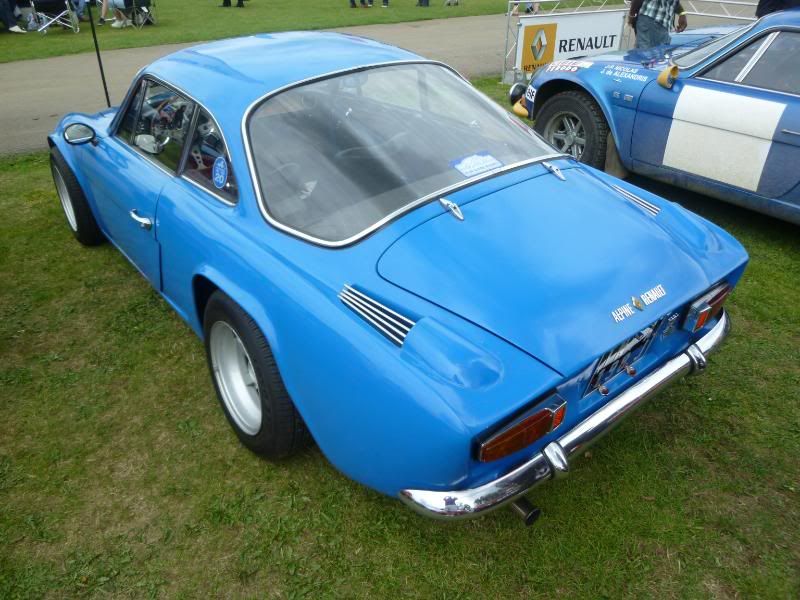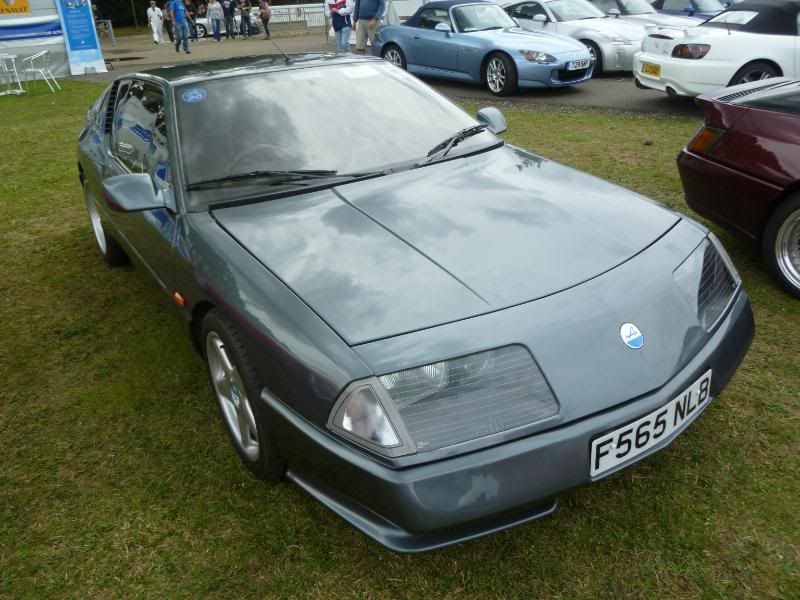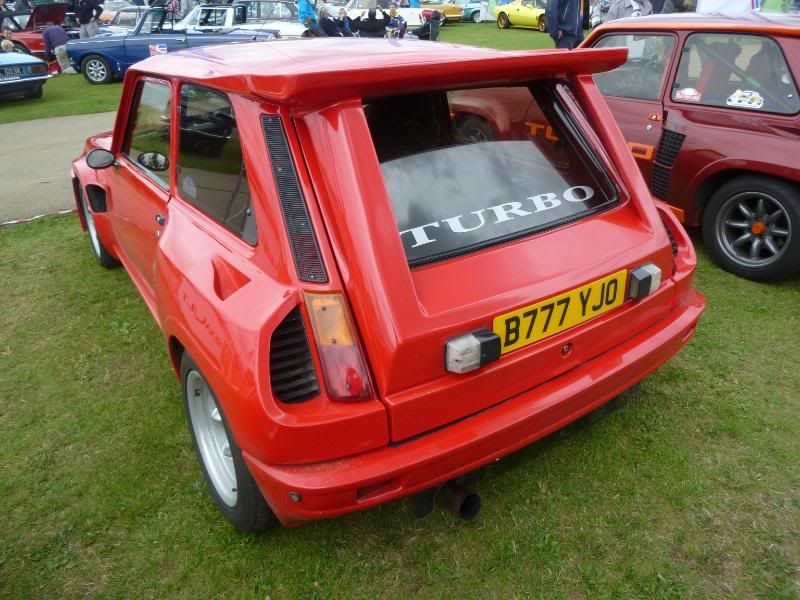 RILEY
Kestrel
ROLLS-ROYCE
There were a couple of Silver Clouds. The first of these sports an experimental narrow angle V8 engine rather than the usual 6 cylinder engine which was fitted to regular production models.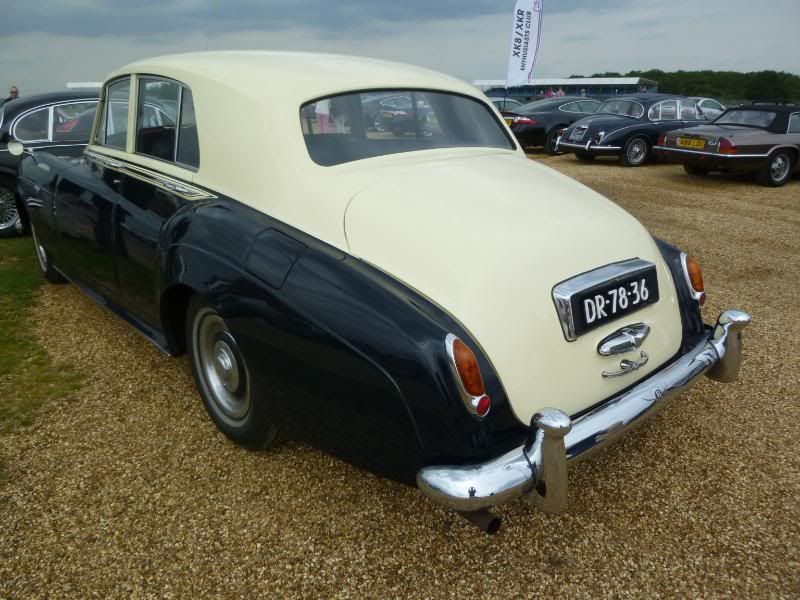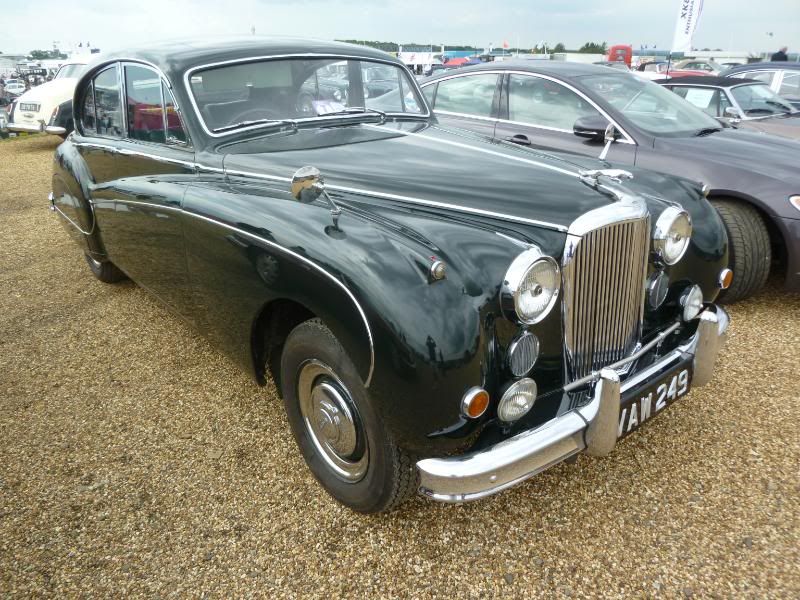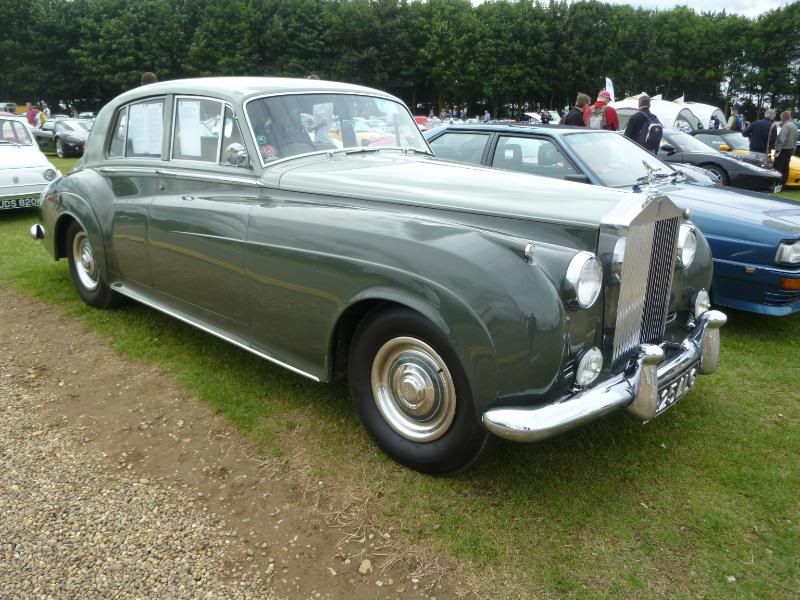 ROVER
This is a late model SD1, in very nice condition.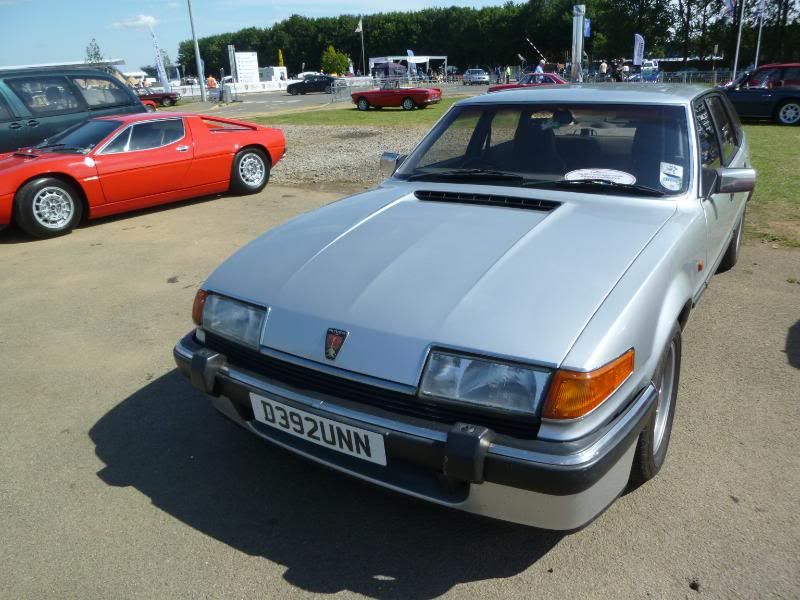 P6 3500 car.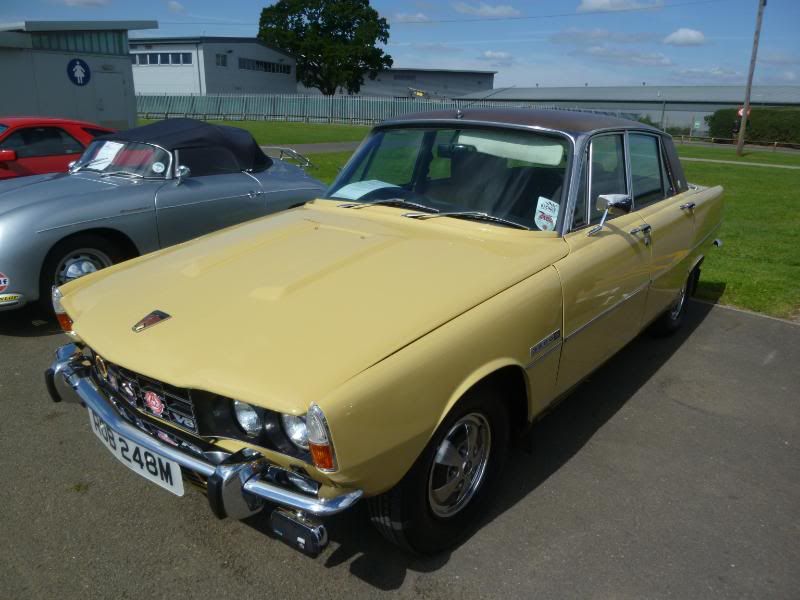 RUF
I found this just parked up around the back of the grandstands.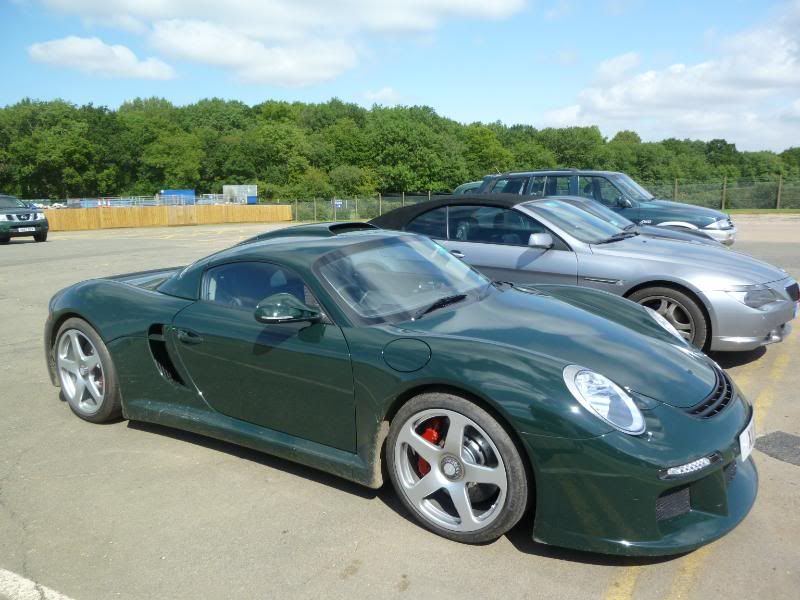 STANDARD
A pair of Standard Tens, though the one behind had received an engine transplant which made it significantly more potent.
SUNBEAM
Not as many Tigers as I had seen at Cholmondley, but still a good showing. I do like this car.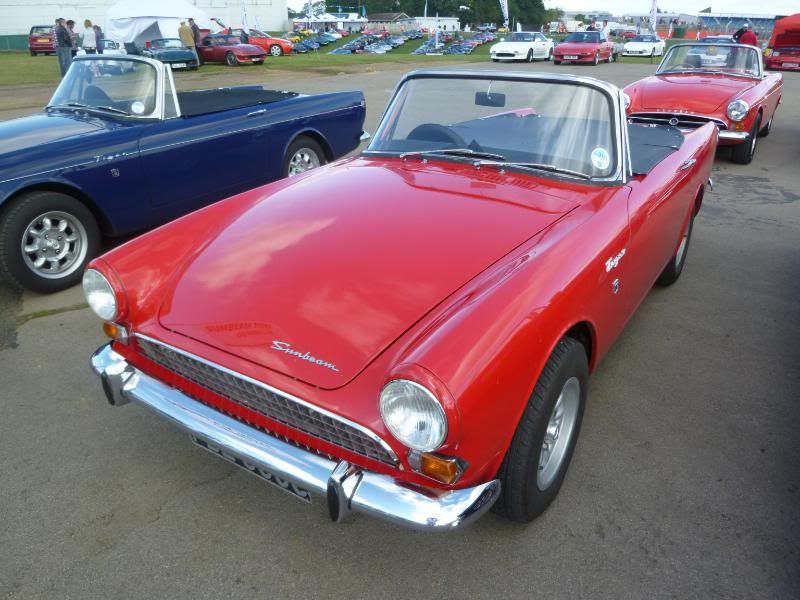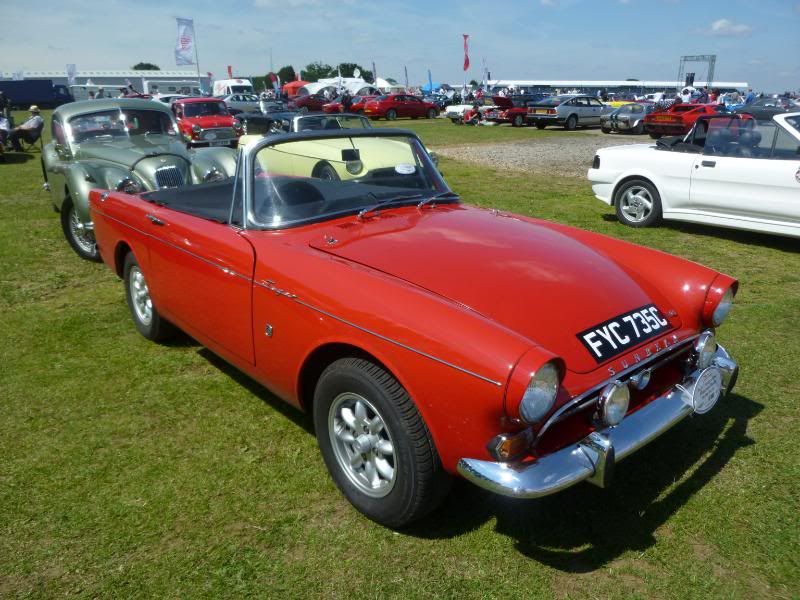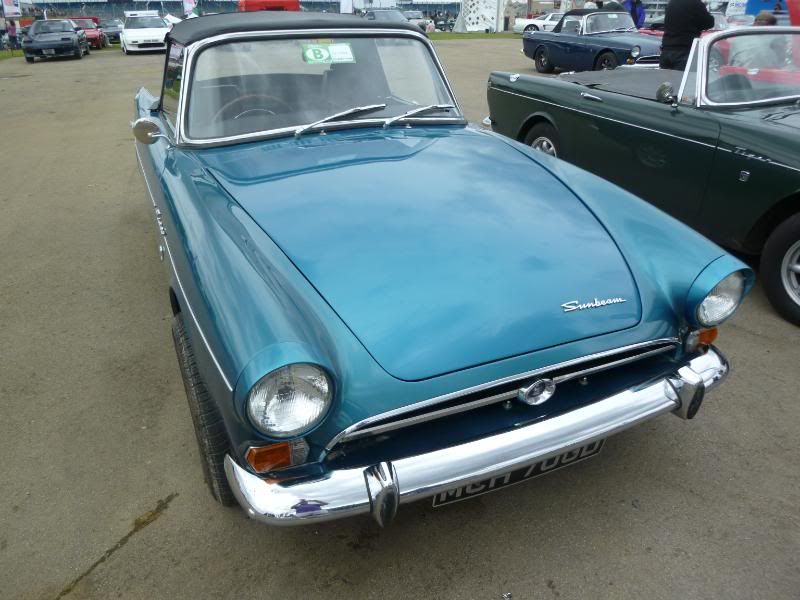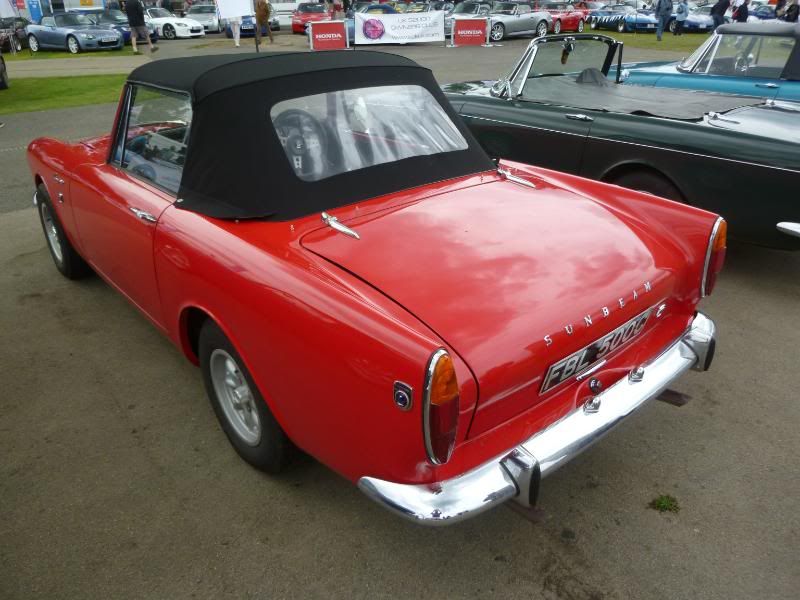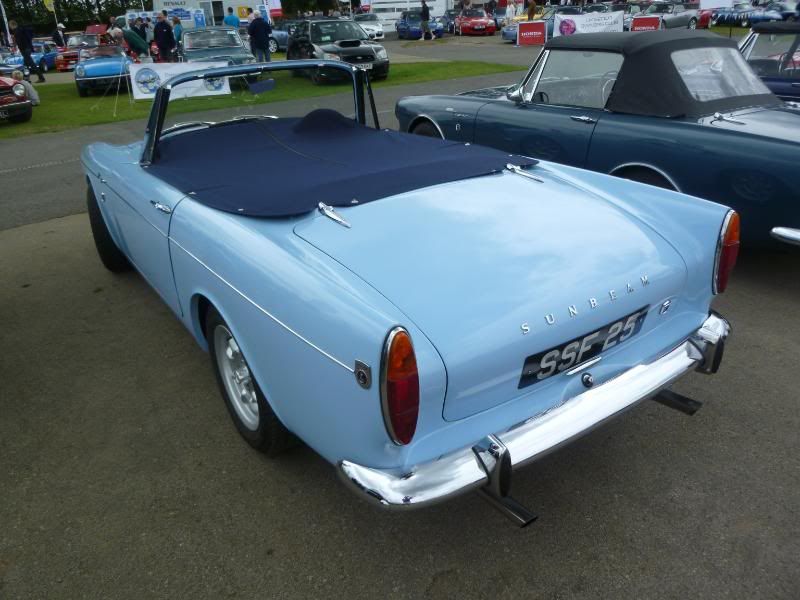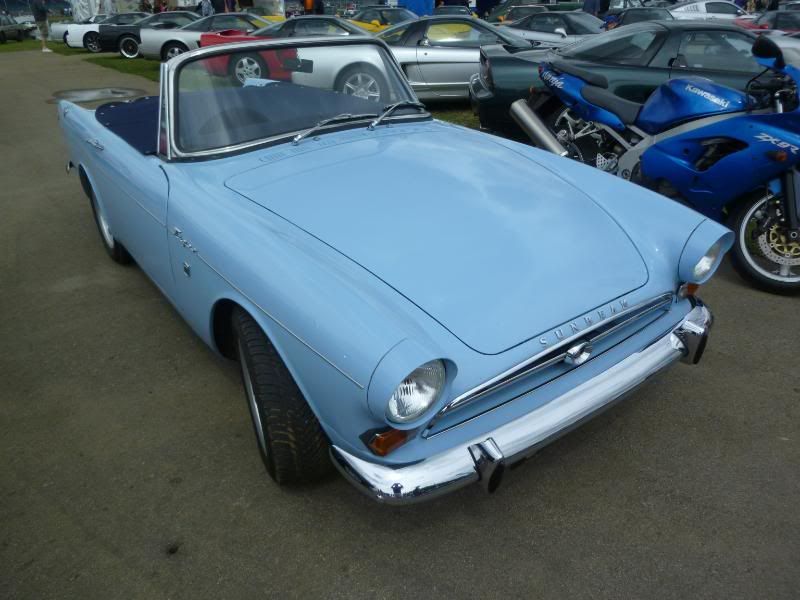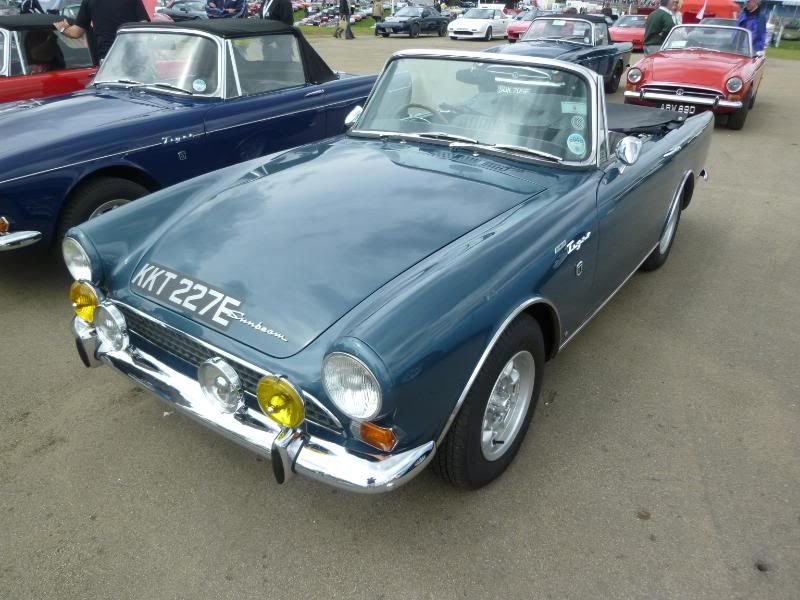 There were also a couple of the Alpine models that sold in far greater numbers than the Tiger.
This is an earlier Sunbeam Talbot model.
SUZUKI
The diminutive Cappuccino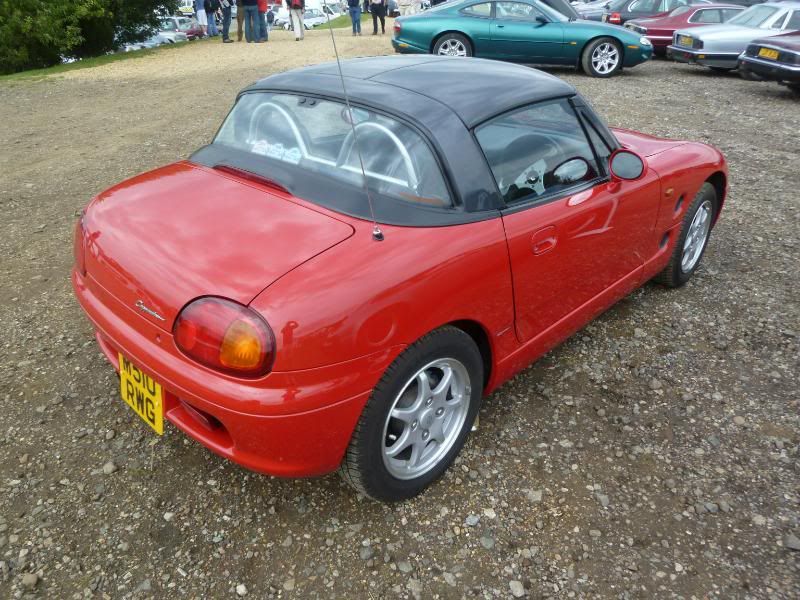 SWALLOW
The Doretti.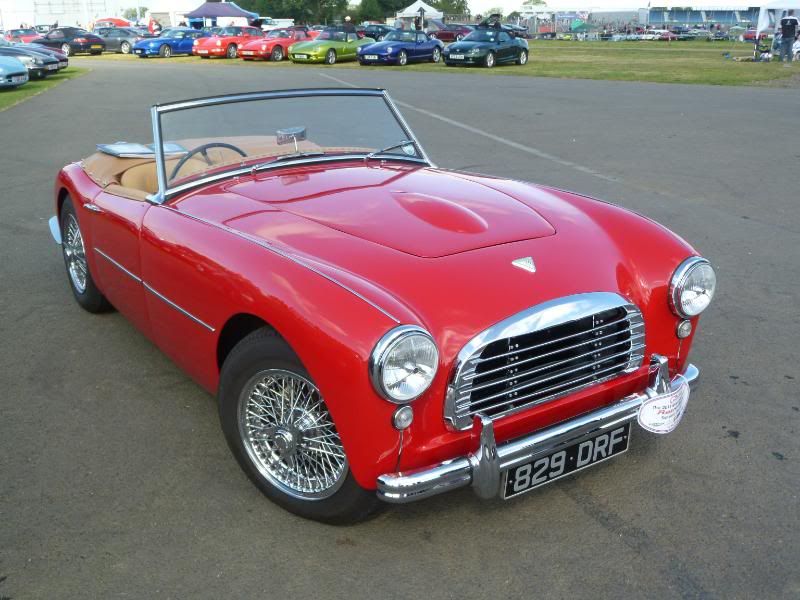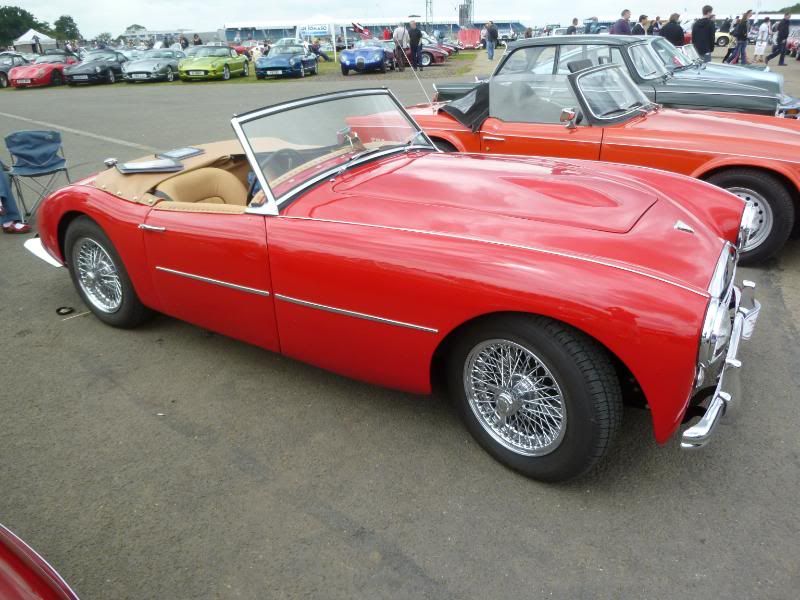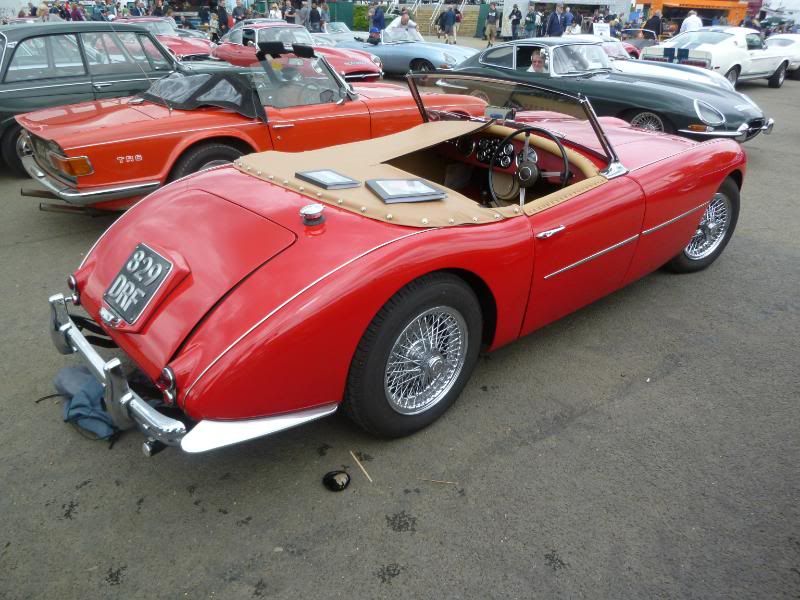 TOYOTA
The MR2 has now achieved classic status, and there were a number of the first generation cars on display.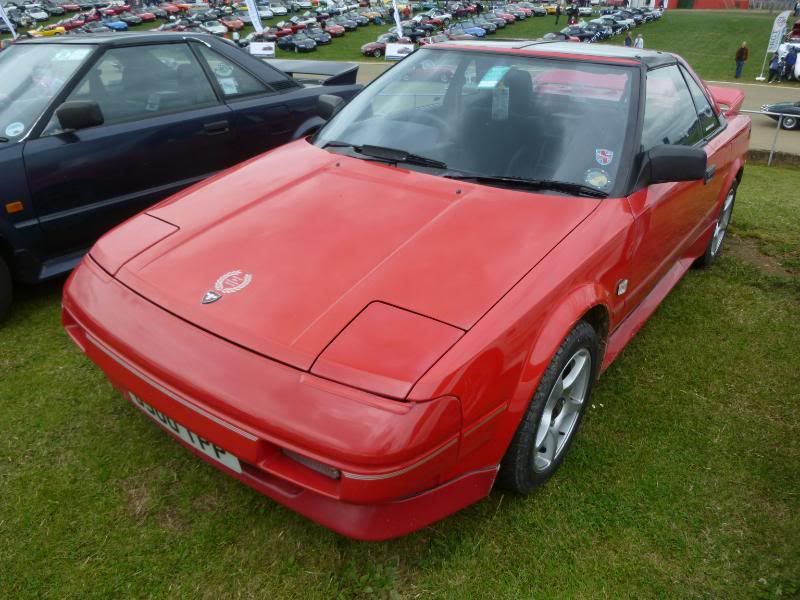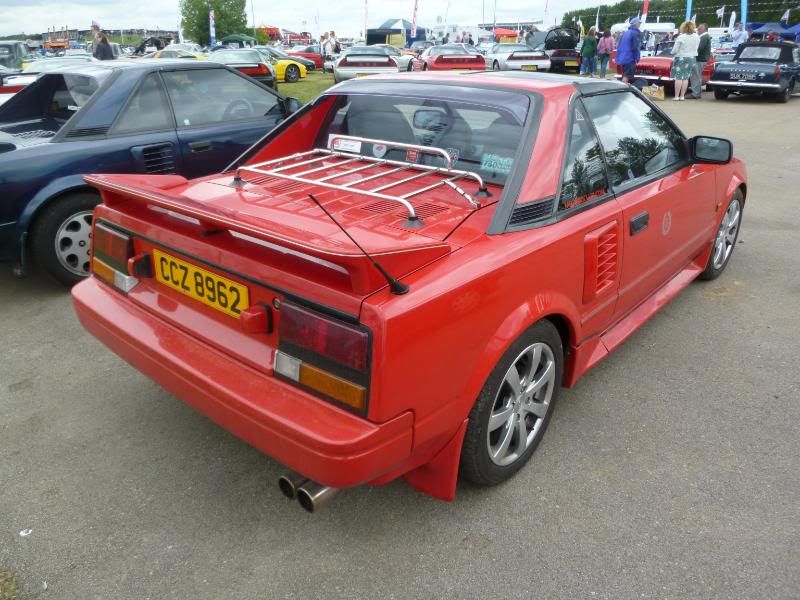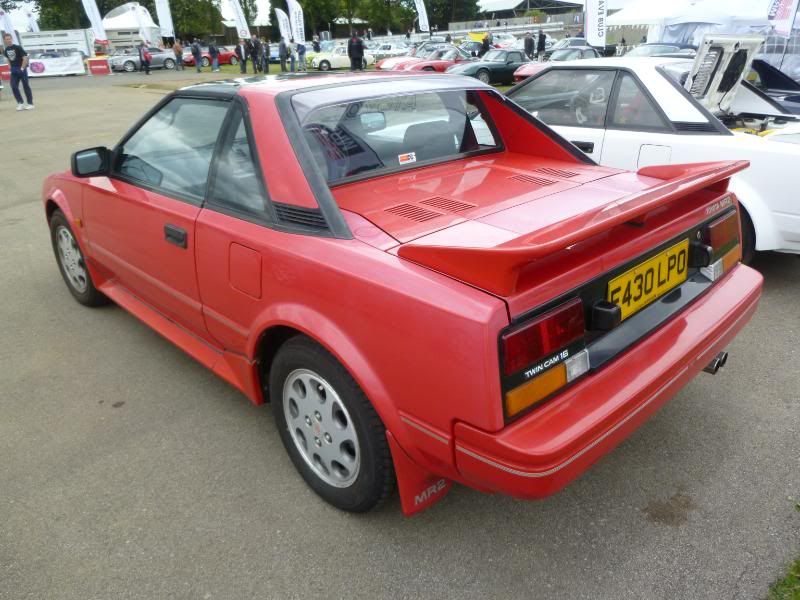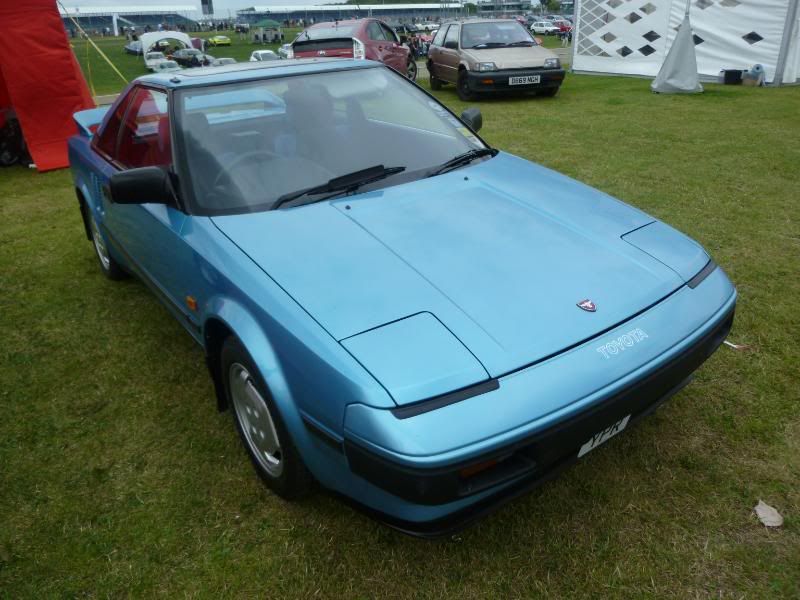 TRIUMPH


The Stag Owners Club had a large stand, and it was populated with models in most of the available colours.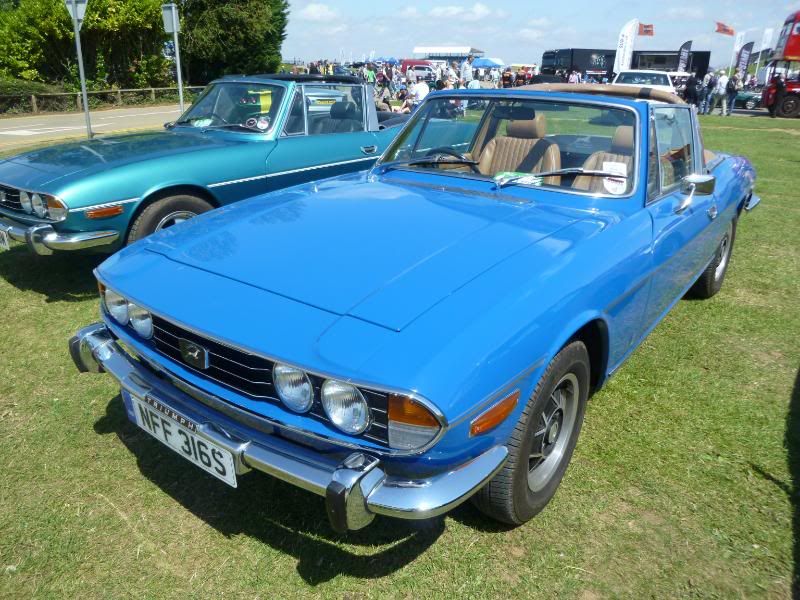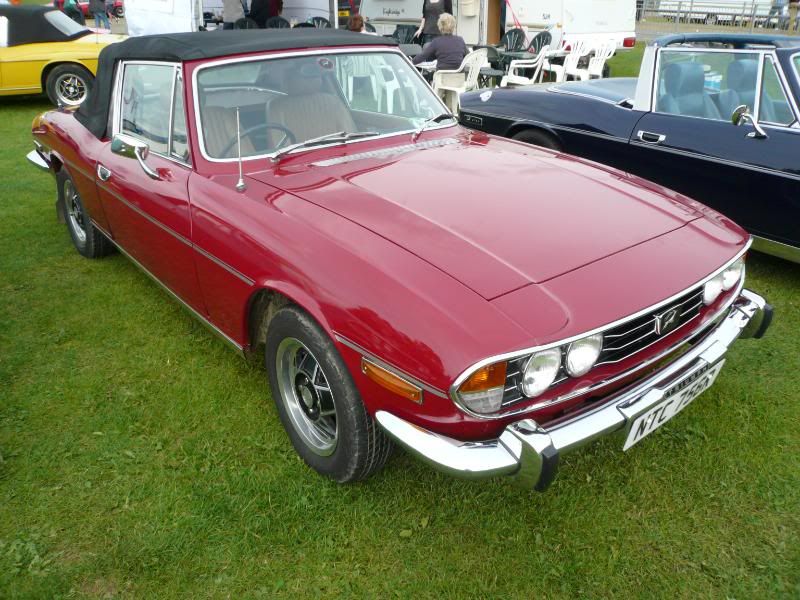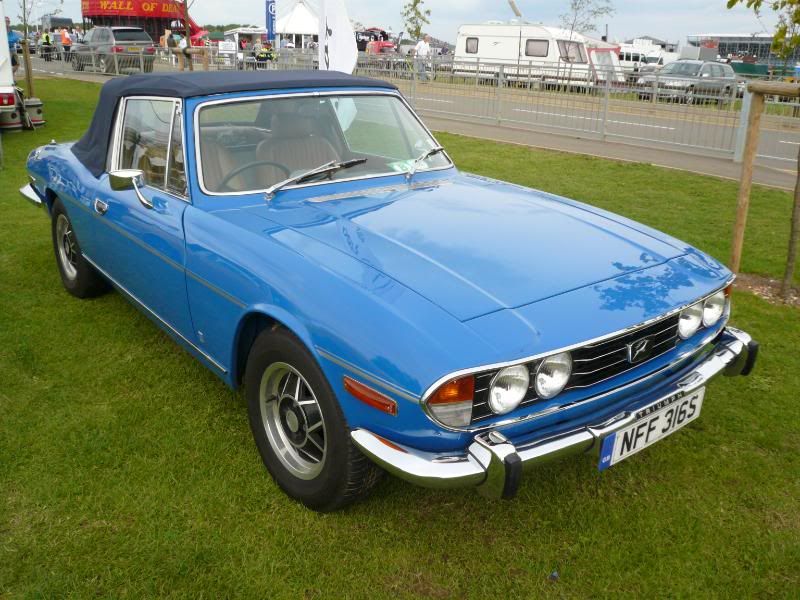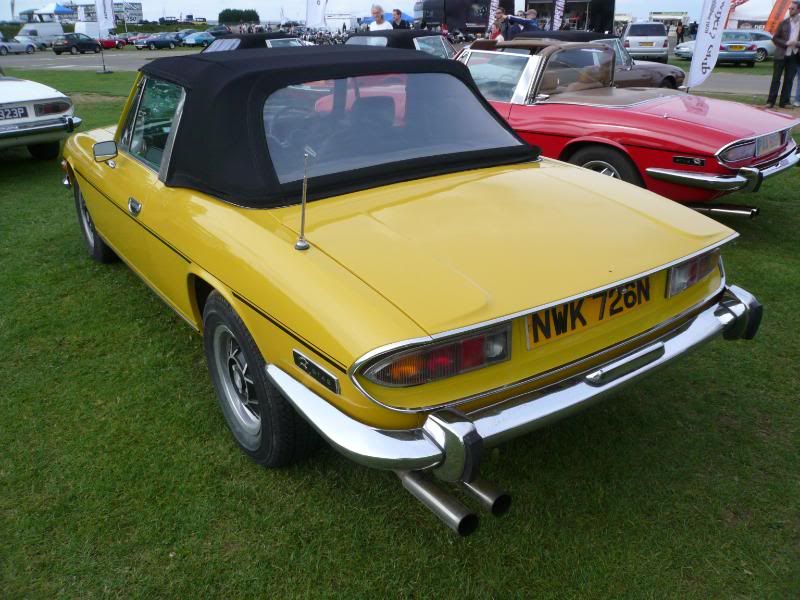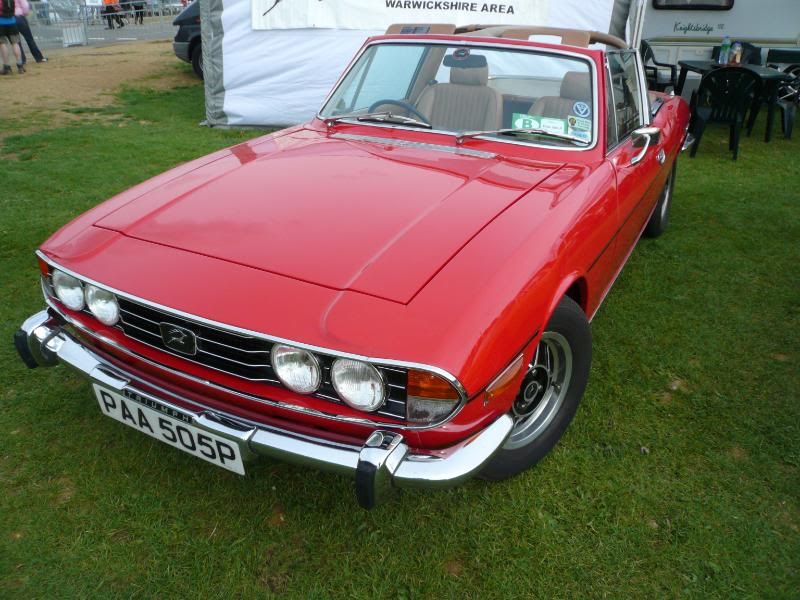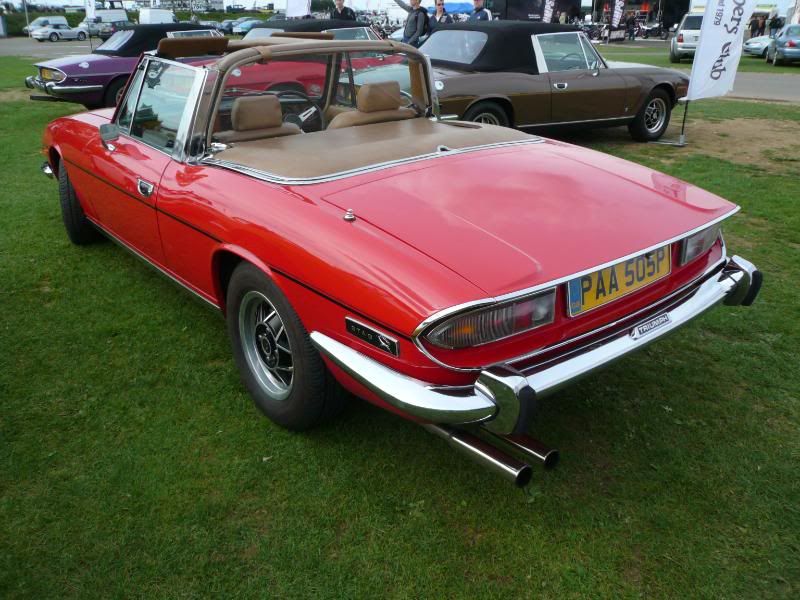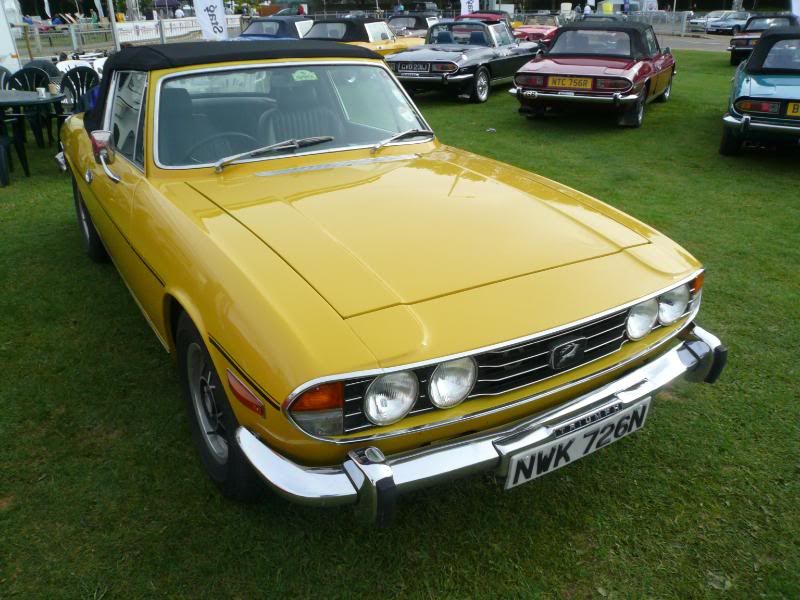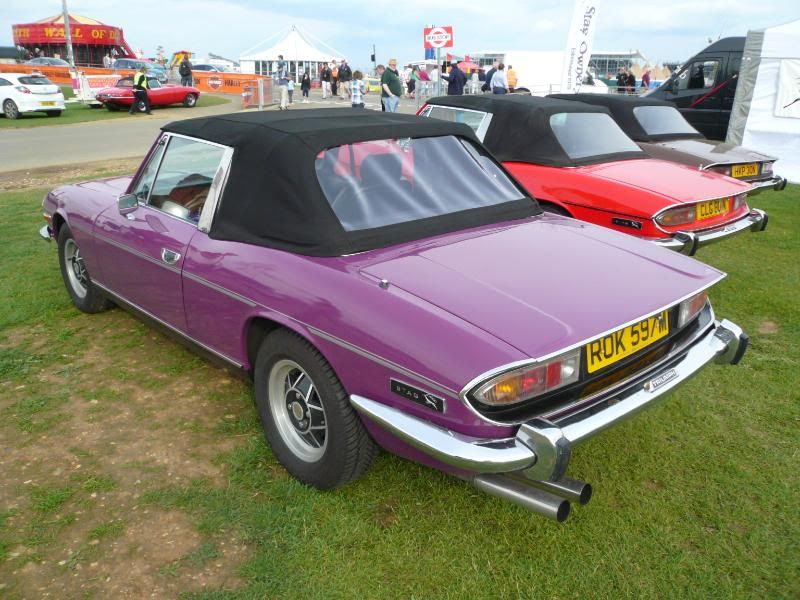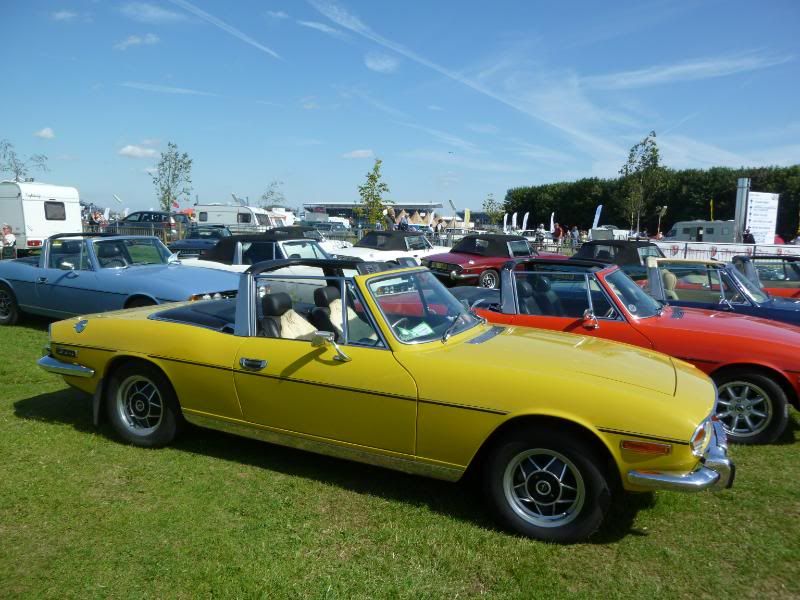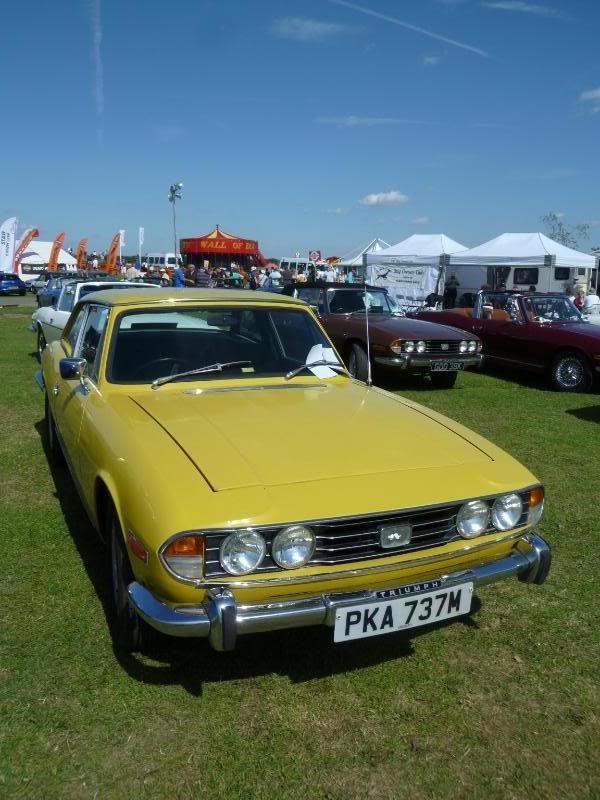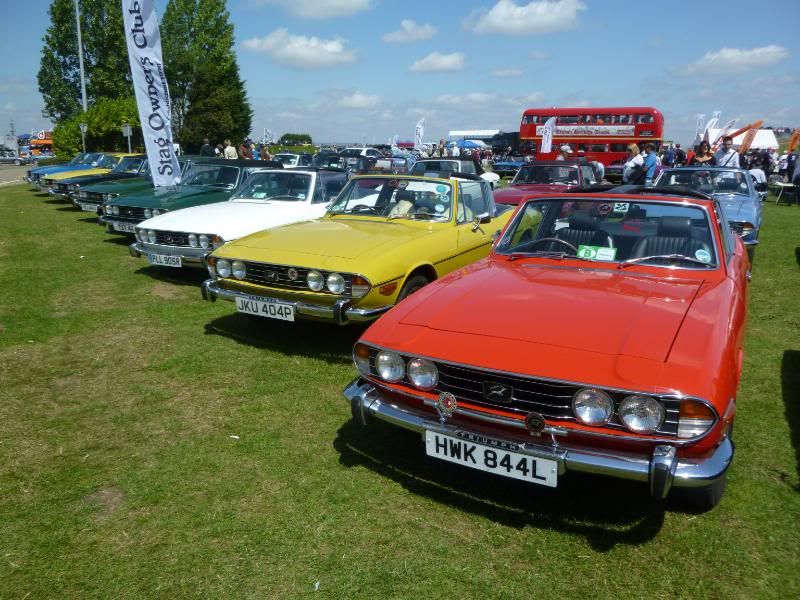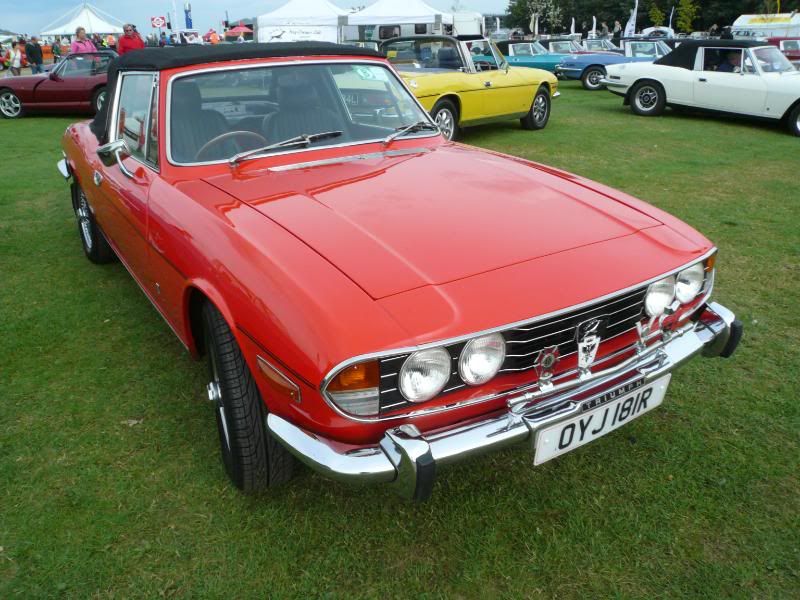 This Herald prototype is unique. Produced in 1965, it was a design concept for a hatchback that never made production. Restoration of the car finished a couple of years ago, and it still has the different side window treatment on either side of the car to see which one looks better.
There were several other Herald based cars on show, too.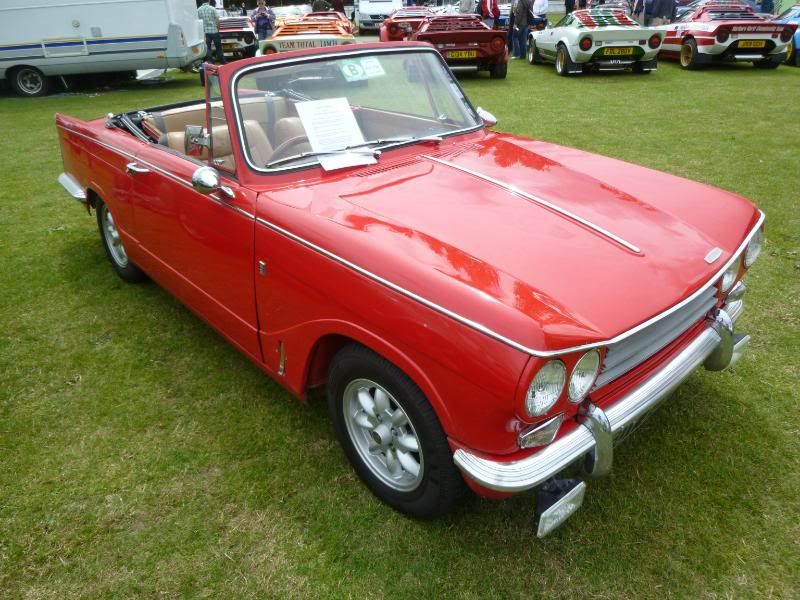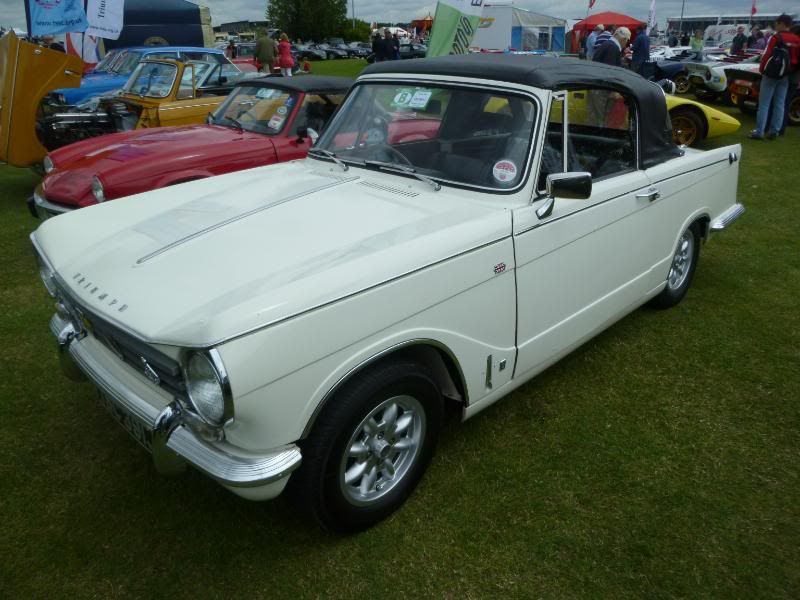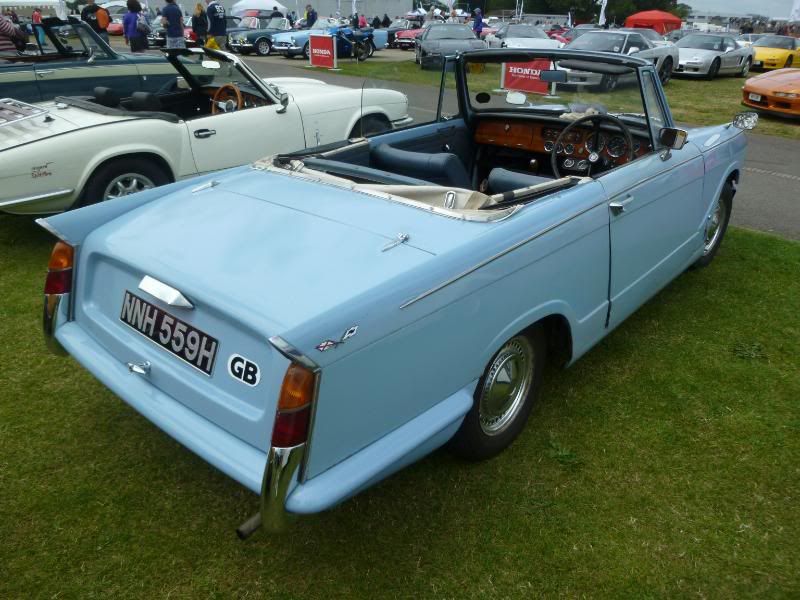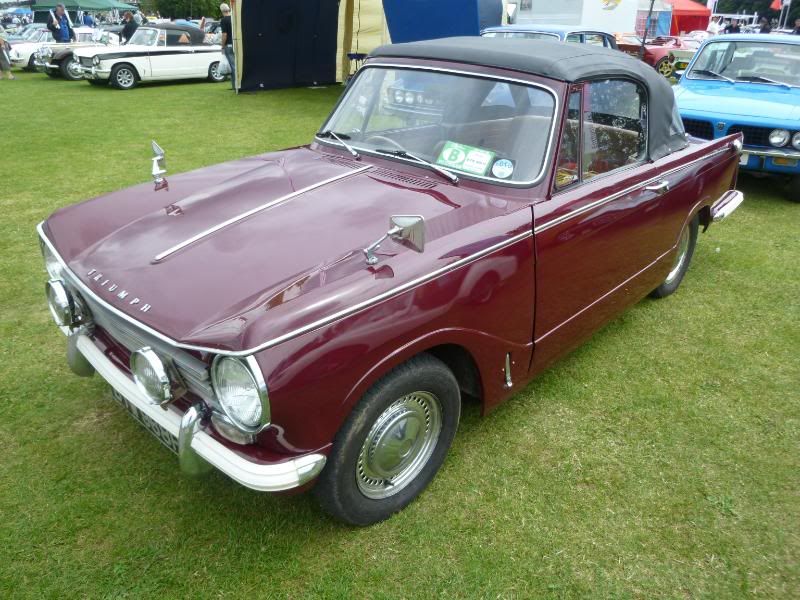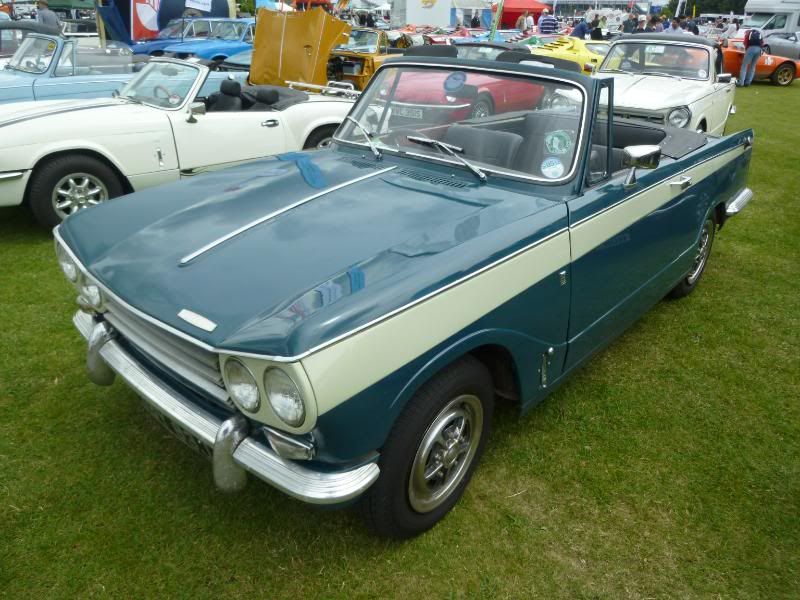 Several Spitfires and GT6s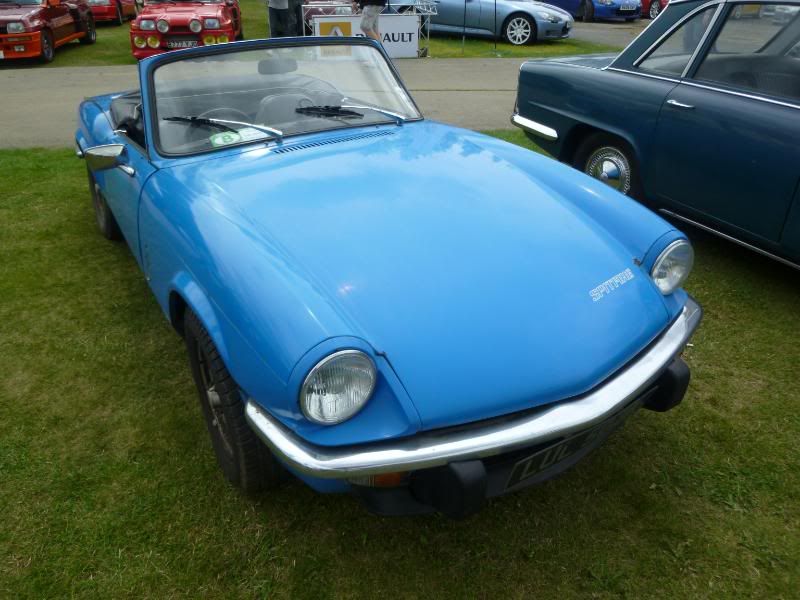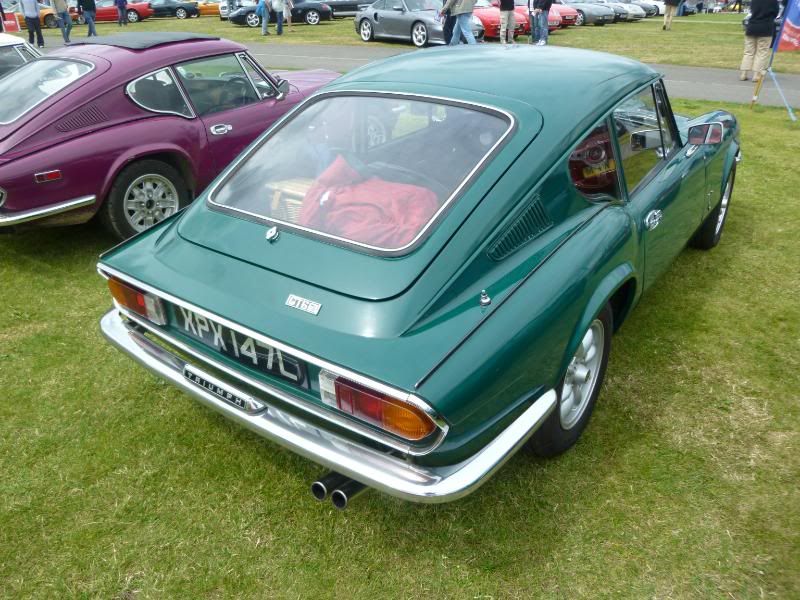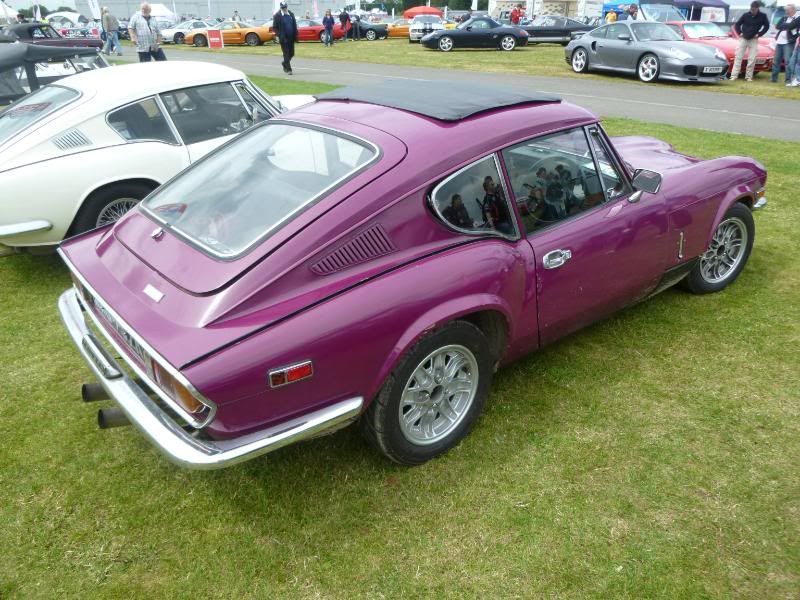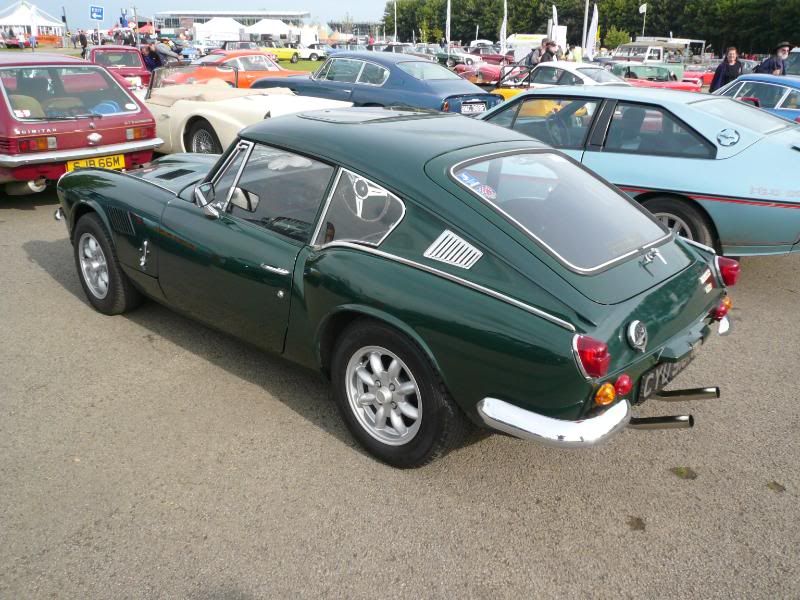 TRs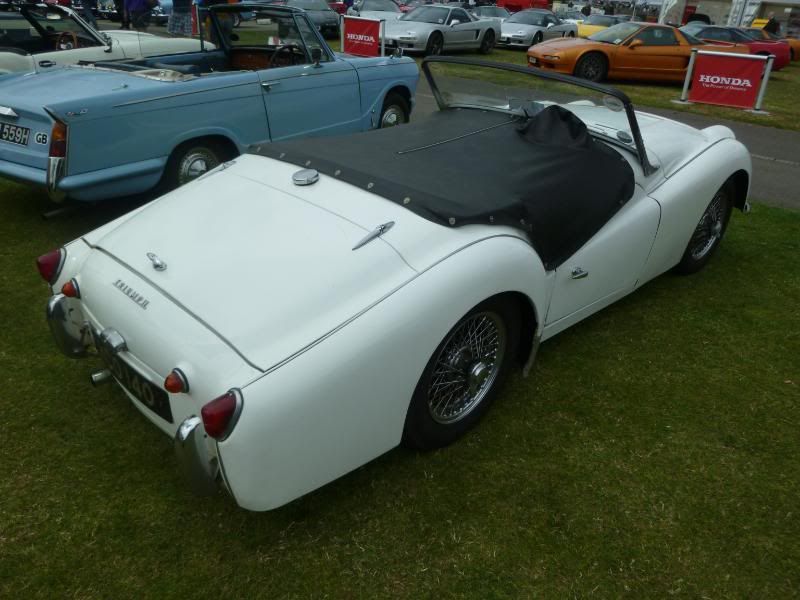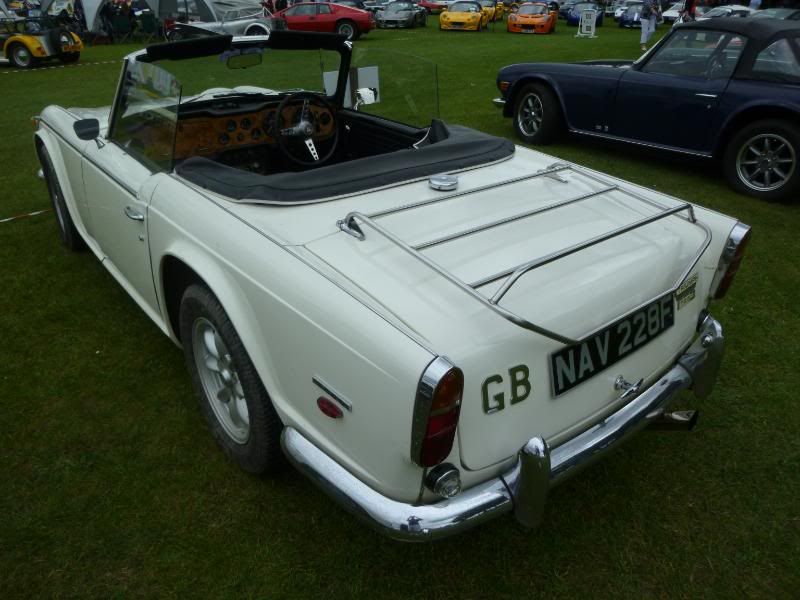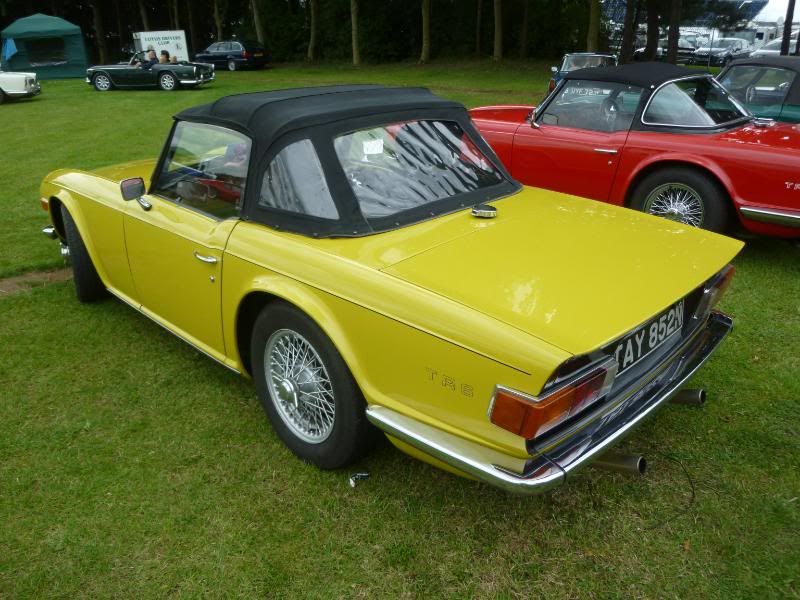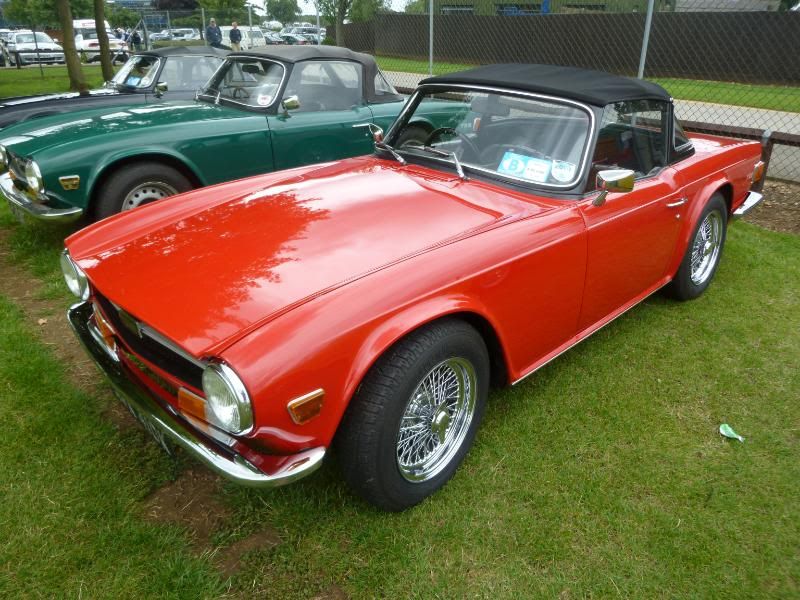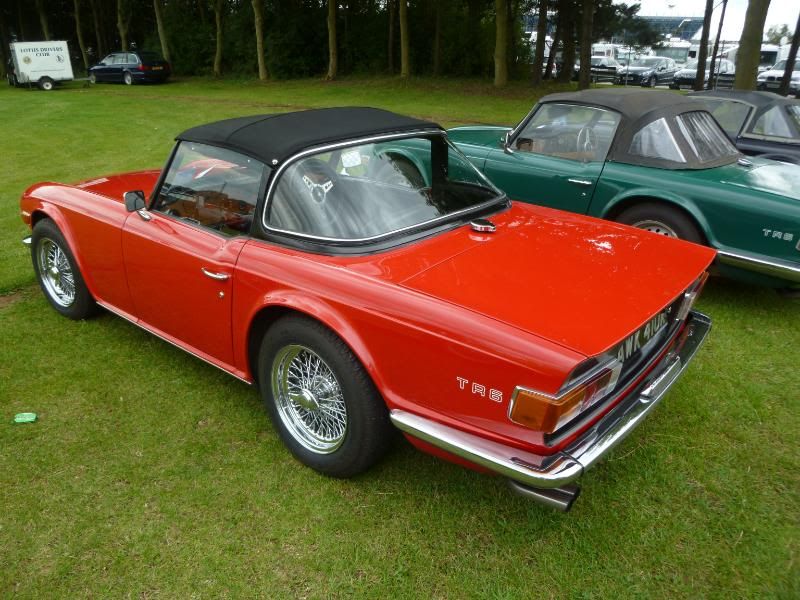 Dolomites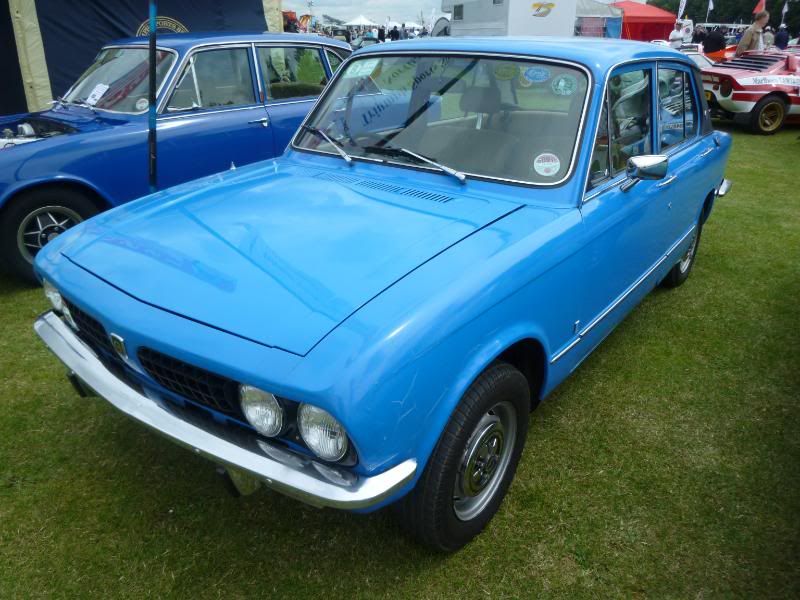 There were just a couple of the larger 2000/2500 cars.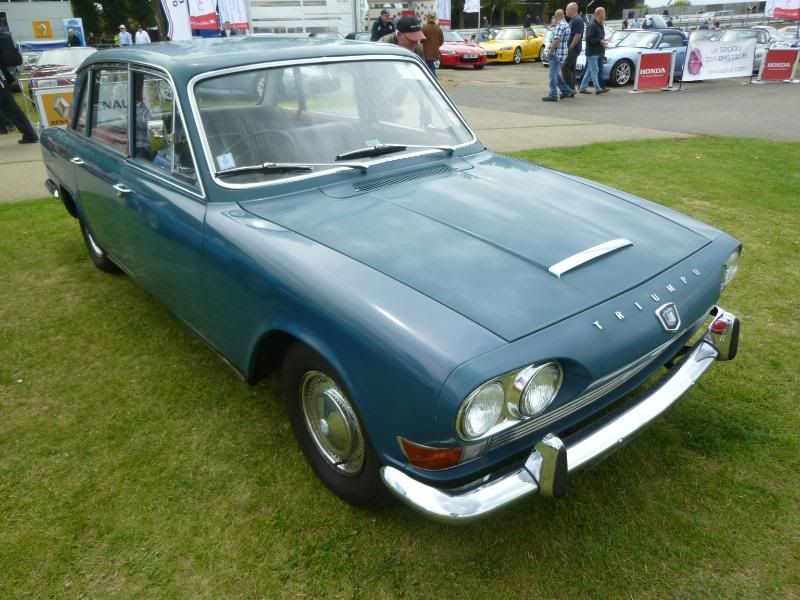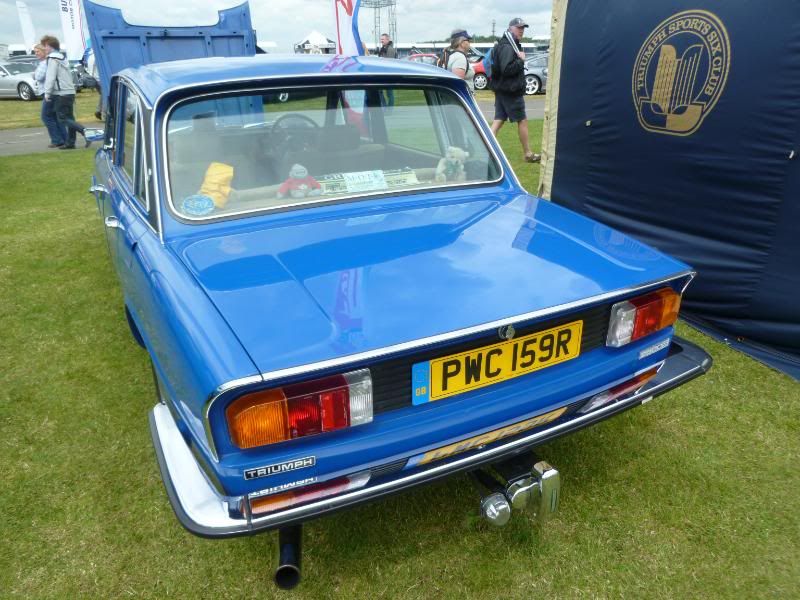 There were a few cars in the "for sale" area, as well, such as these nice TR4 and TR6 cars.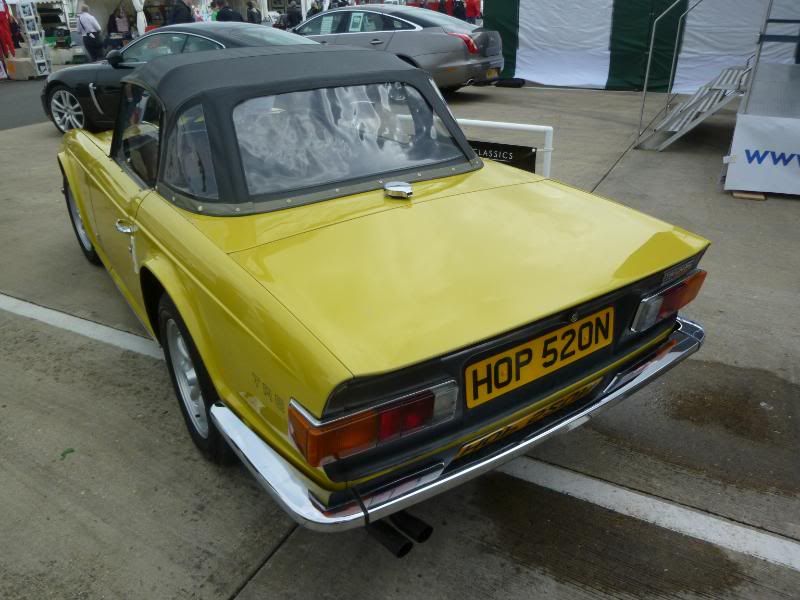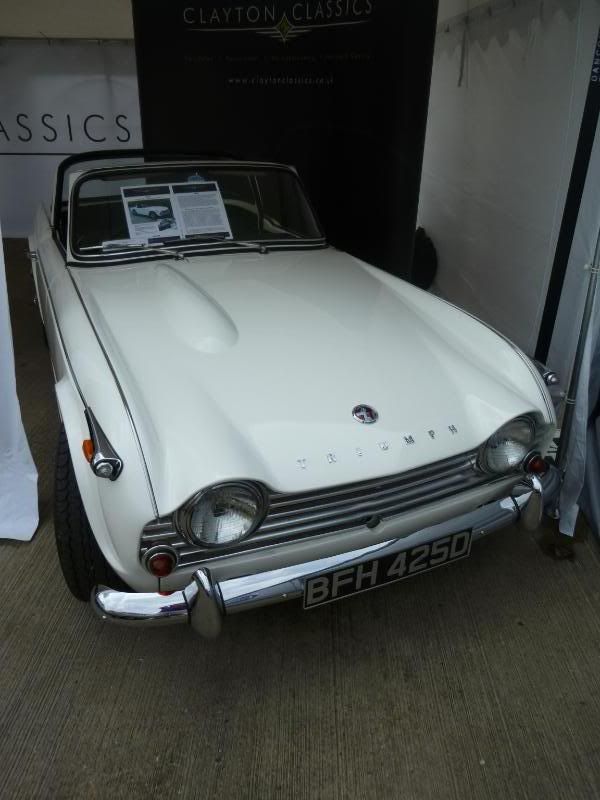 TURNER
A small showing for these little sports car. The founder, John Turner, died recently.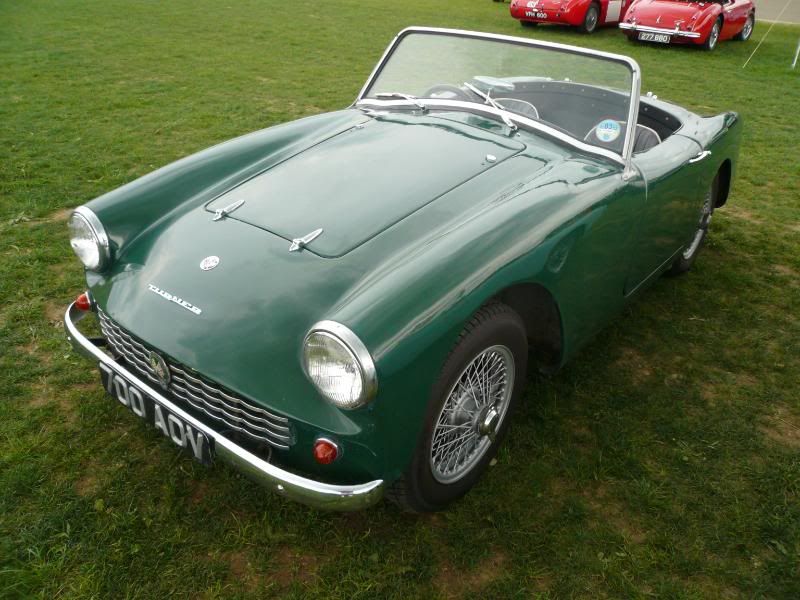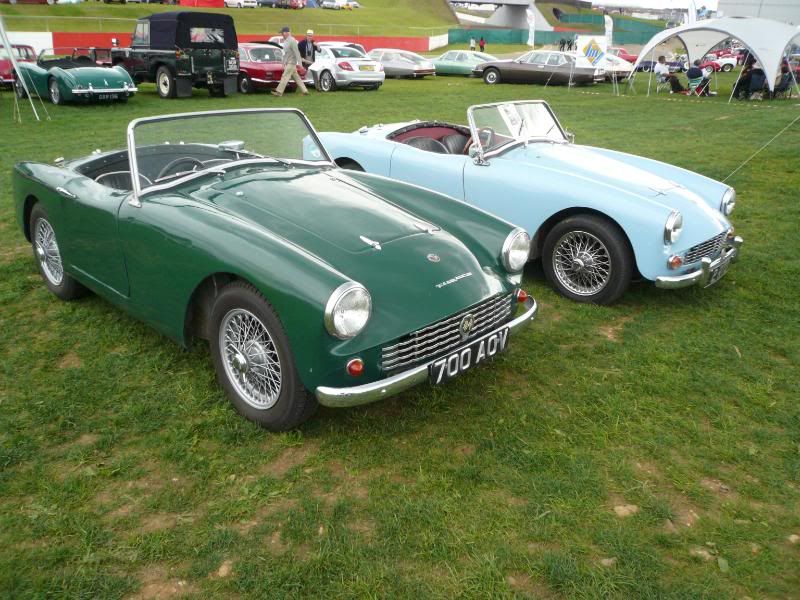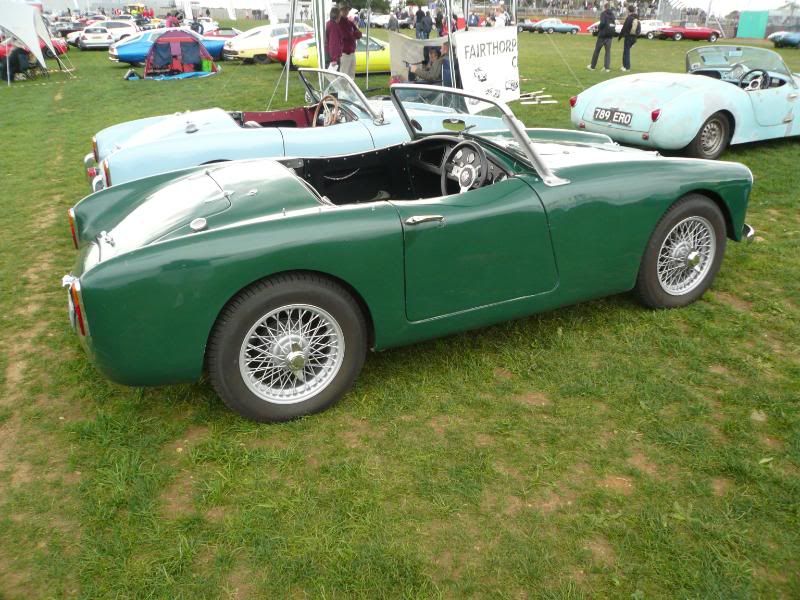 TVR

Lots of TVRs, and a very colourful display as a result.
Early cars were quite well represented with several of the 1960s Vixen and Tuscan in the group.

There were a few of the wedge era cars, including a Tasmin, a 350i and a 450SE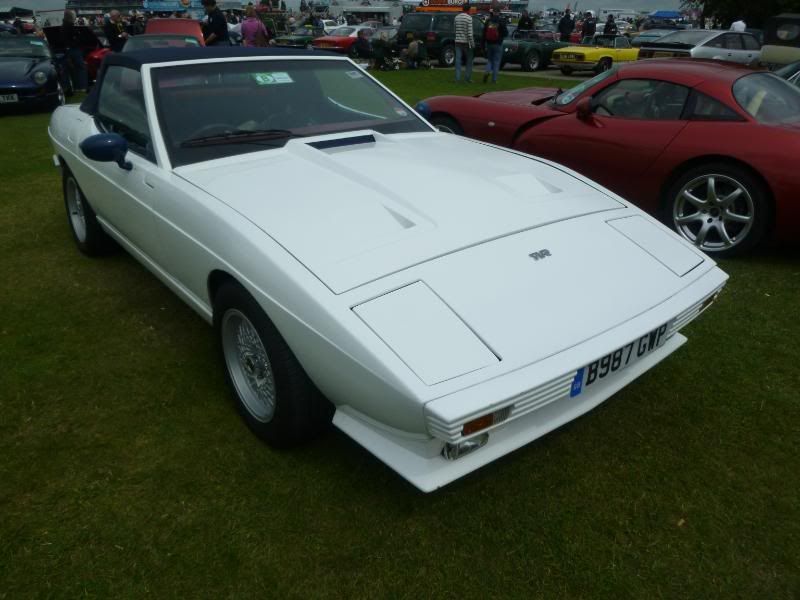 Several of the S model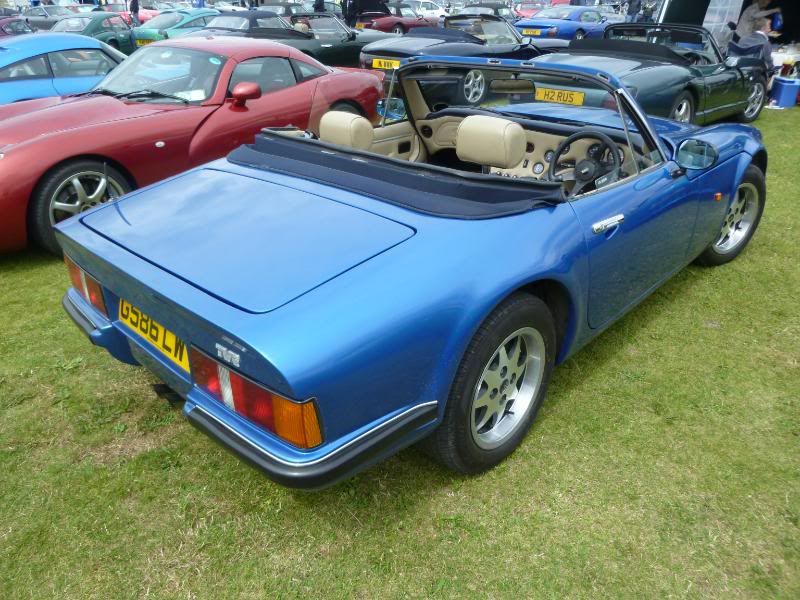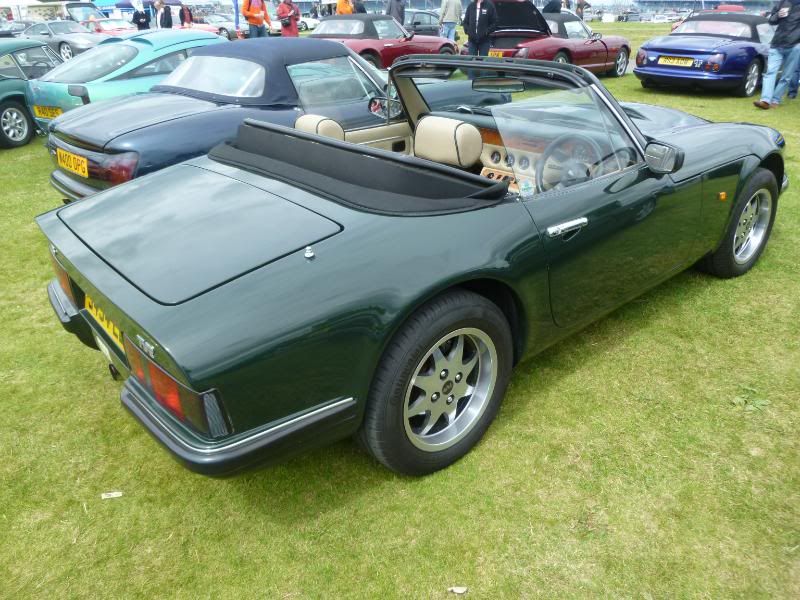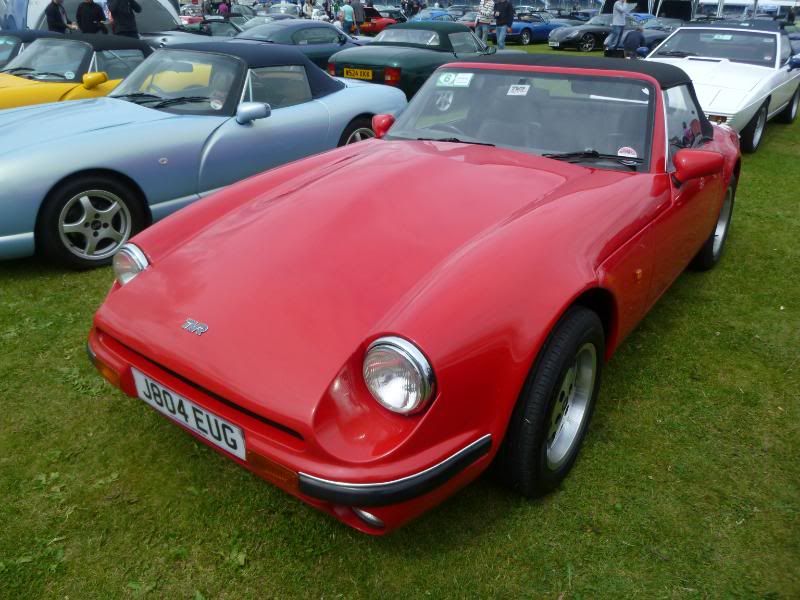 Far more of the more recent TVRs as you would expect with examples of every model type from Chimaera and Griffith through Cerbera, Tuscan, T350 to Tamora and Sagaris. Only a Typhon was missing.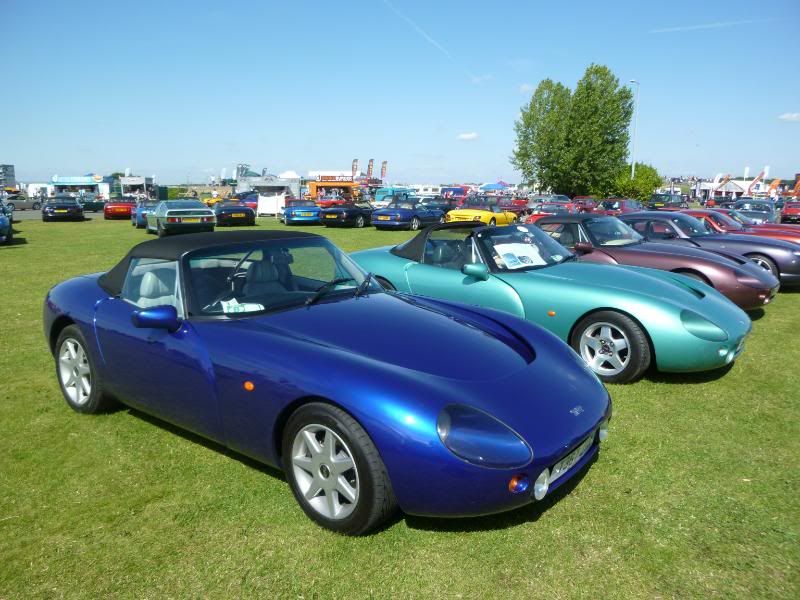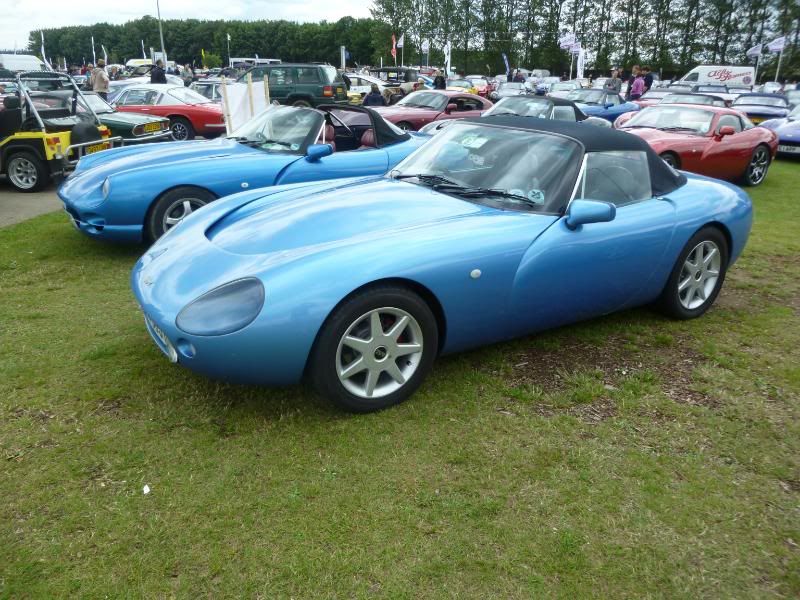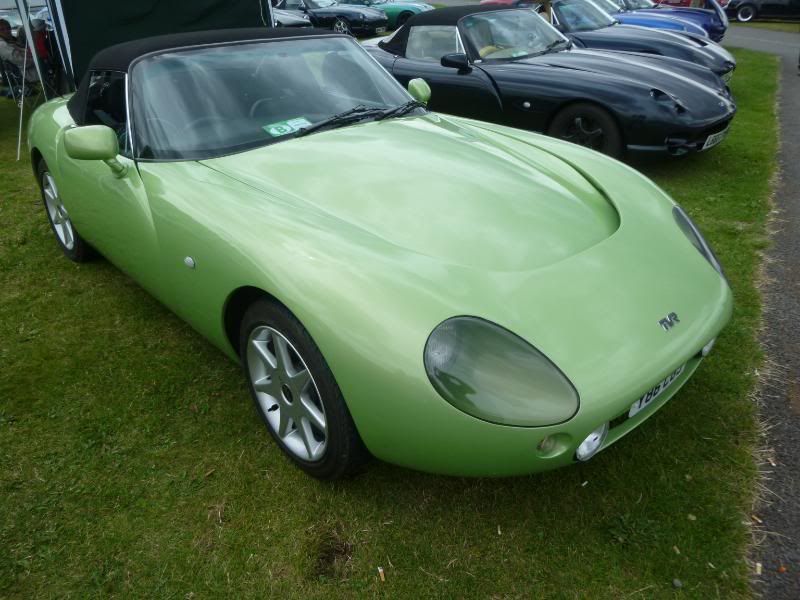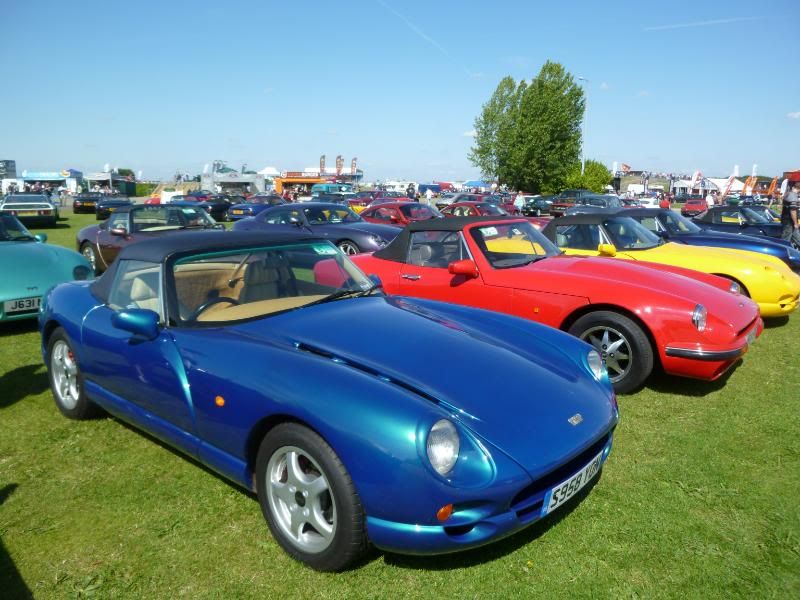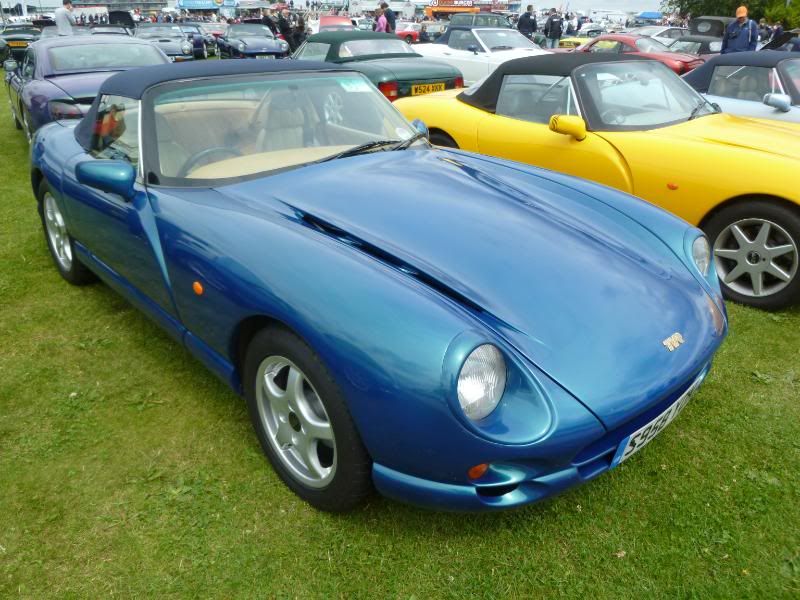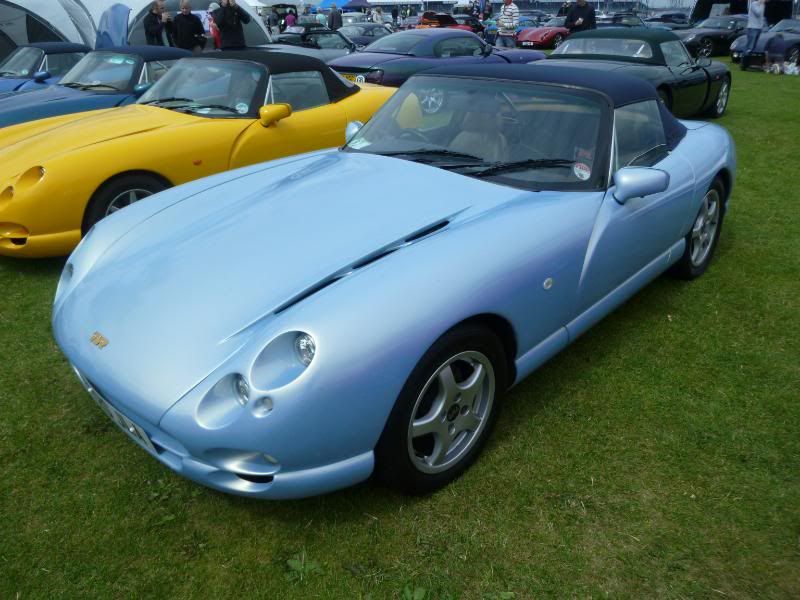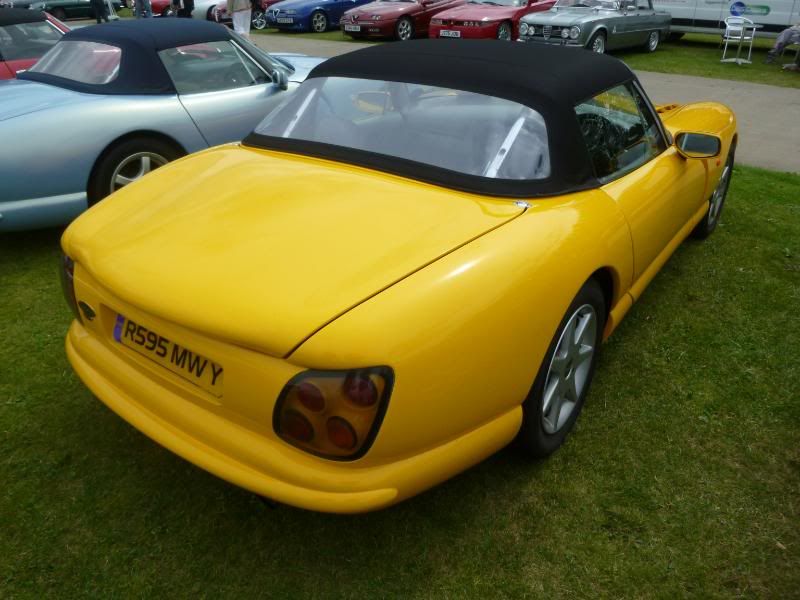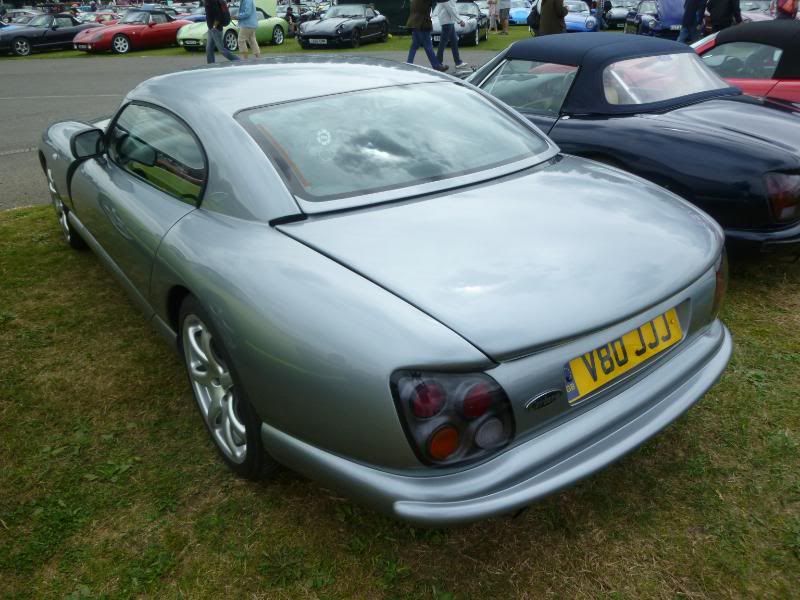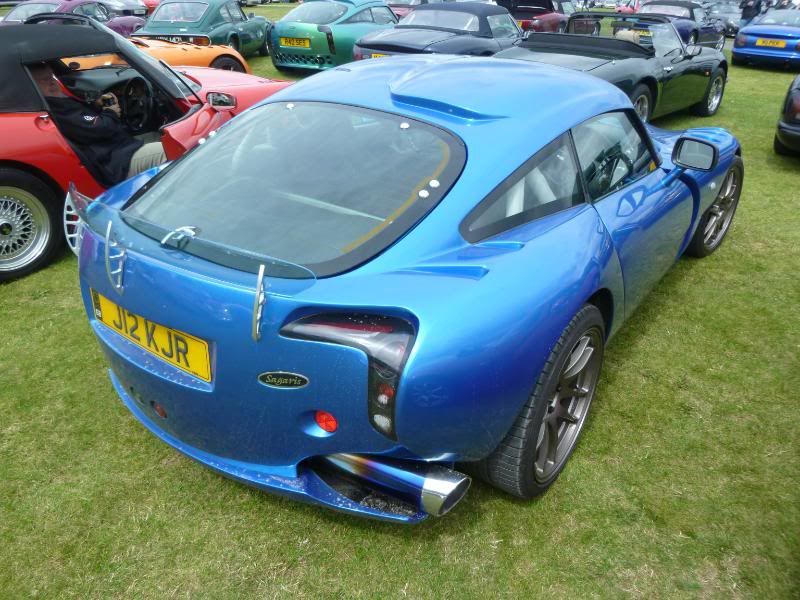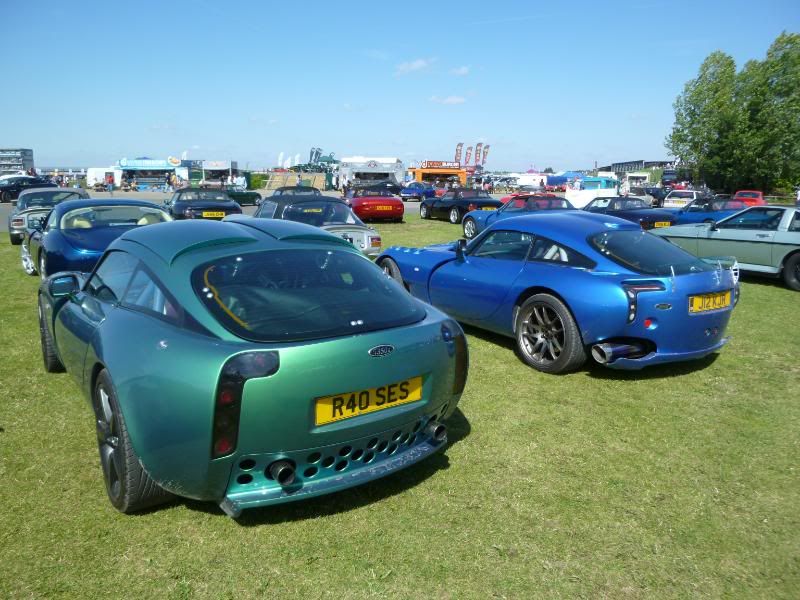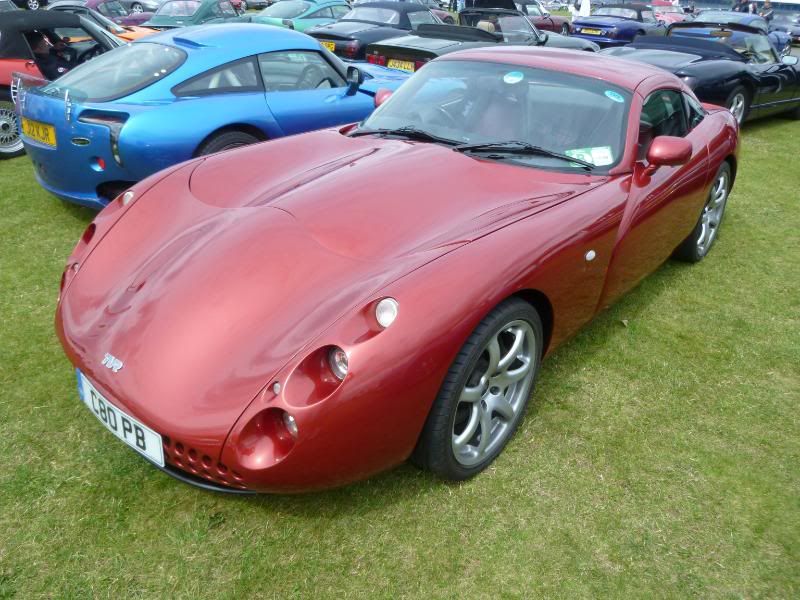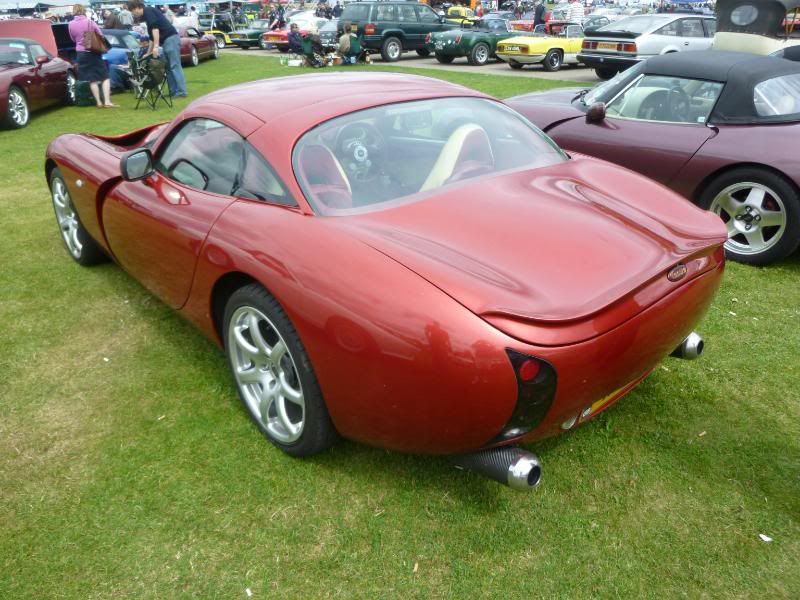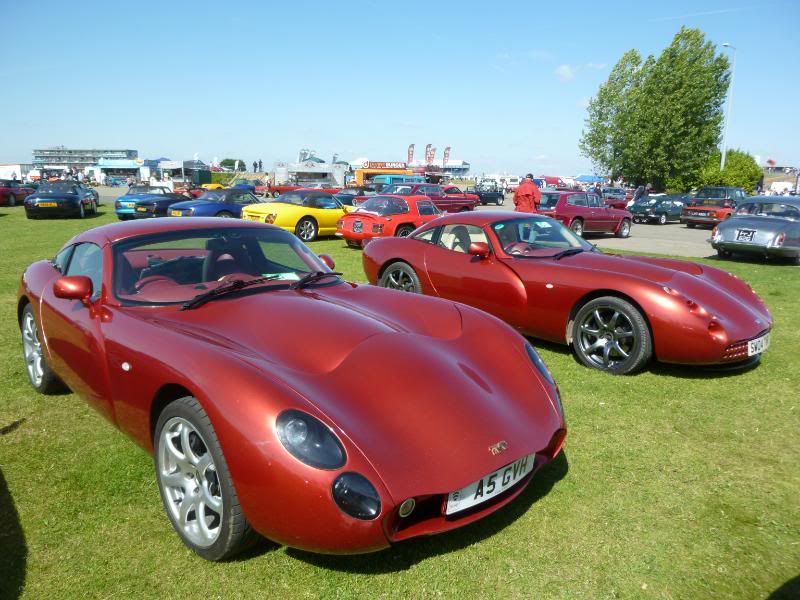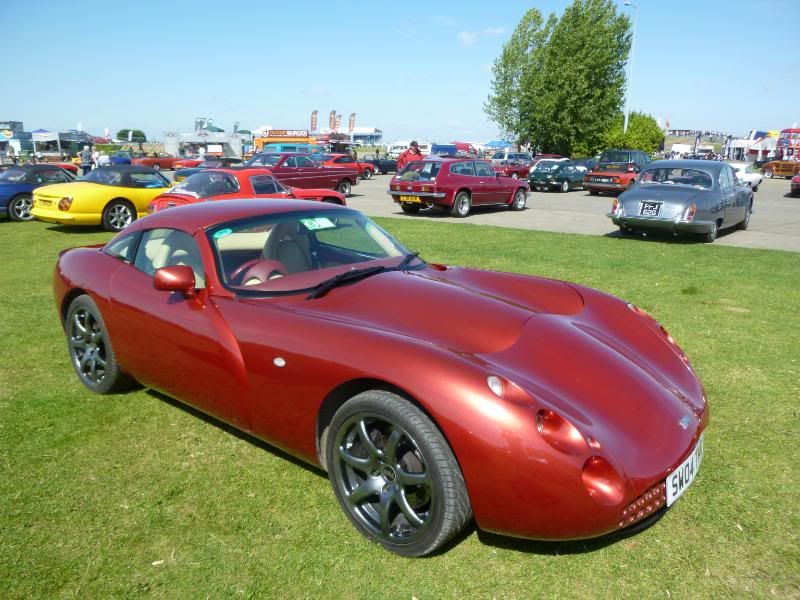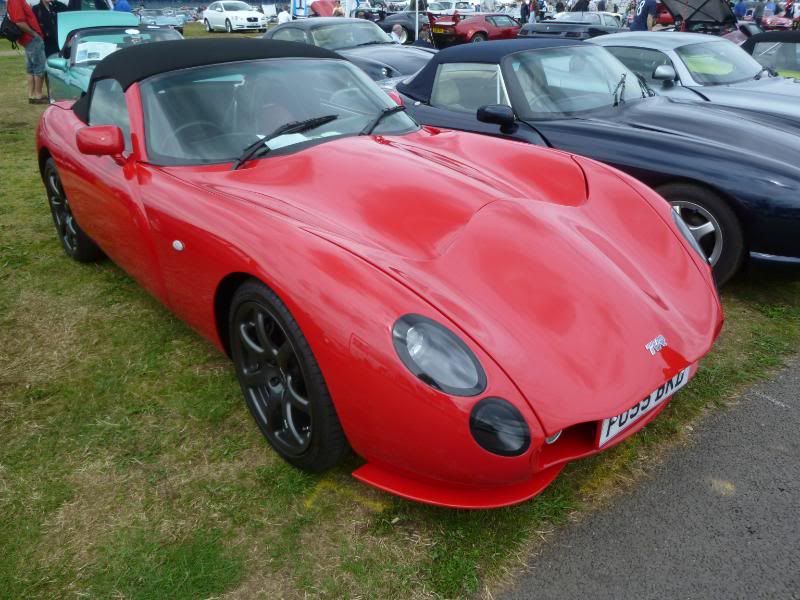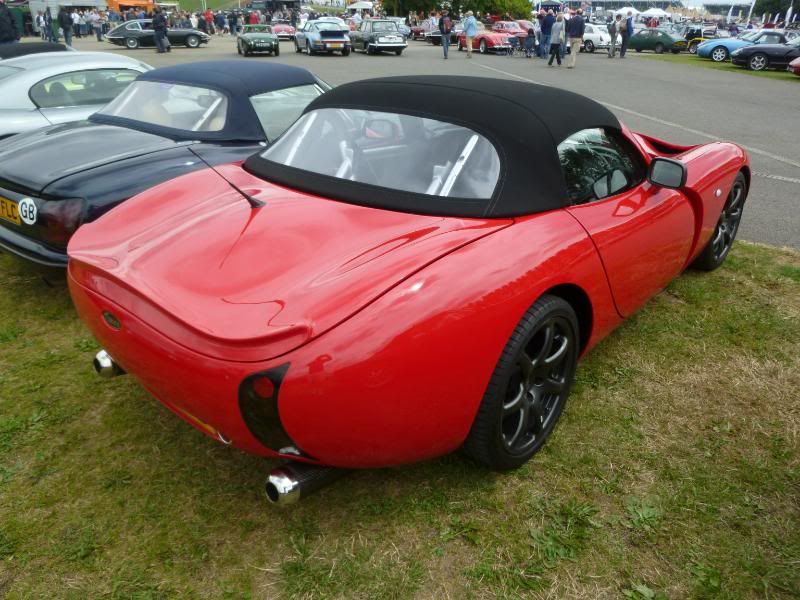 VENTURI
Just a couple of these French sporting coupes. The 400 GT is a late model.
VOLKSWAGEN
With no specific VW stand, it was a case of spotting the odd historic VW among the other cars, and this immaculate Type 1 Karmann Ghia stood out, as did a well presented mark 1 Golf GTi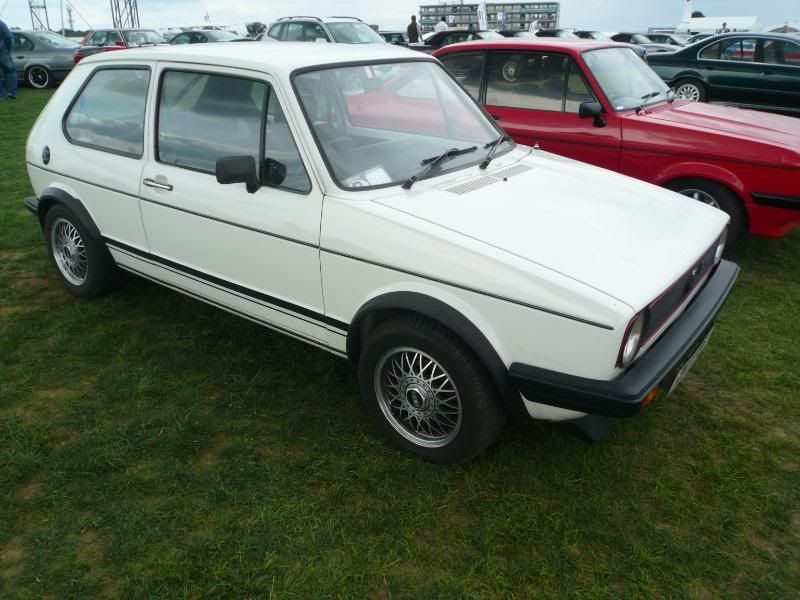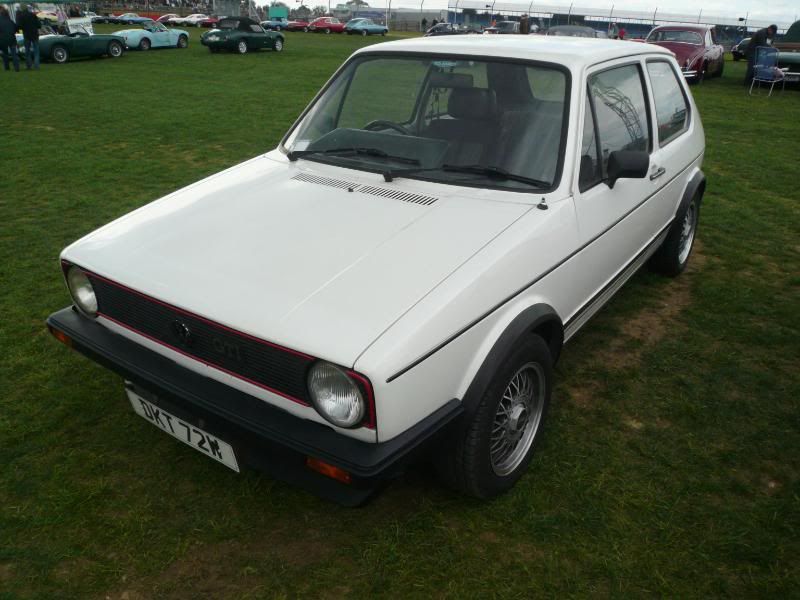 WOLSELEY
The Fifteen-Fifty was a revised version of the earlier 4/44, a sister car to the MG Magnette, and offered a better quality finish than Austins, Morris and Fords of the day.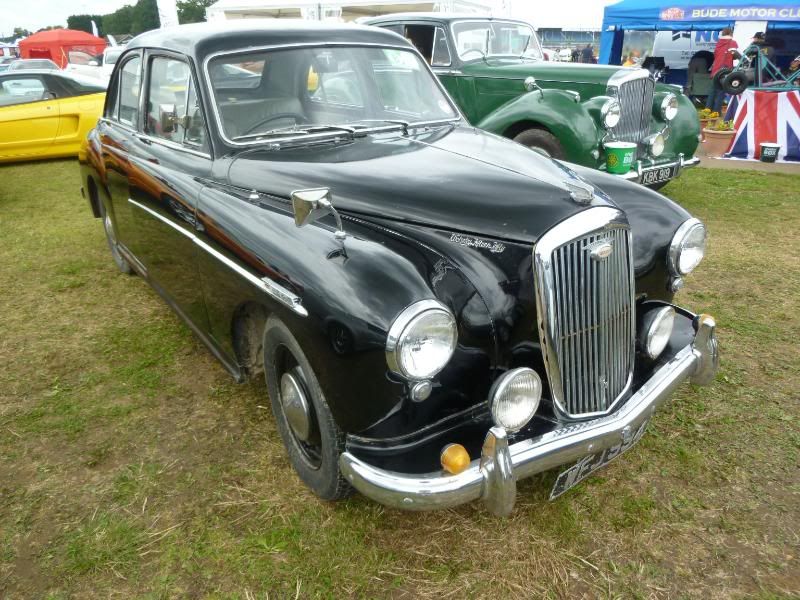 Back to PART IV

RALLY CARS

The Simply Sideways group had assembled a small array of historic rally cars. Judging by the state of most of them, I assume that they were in action somewhere nearby during the event.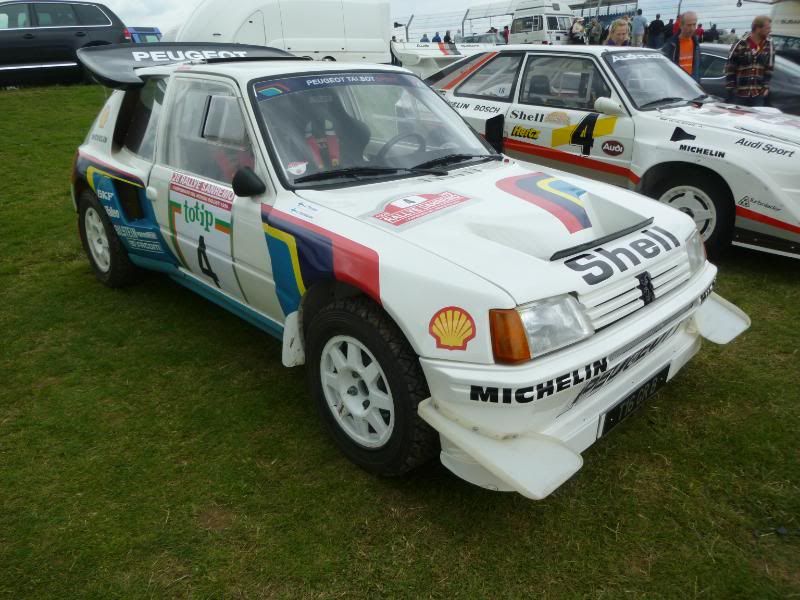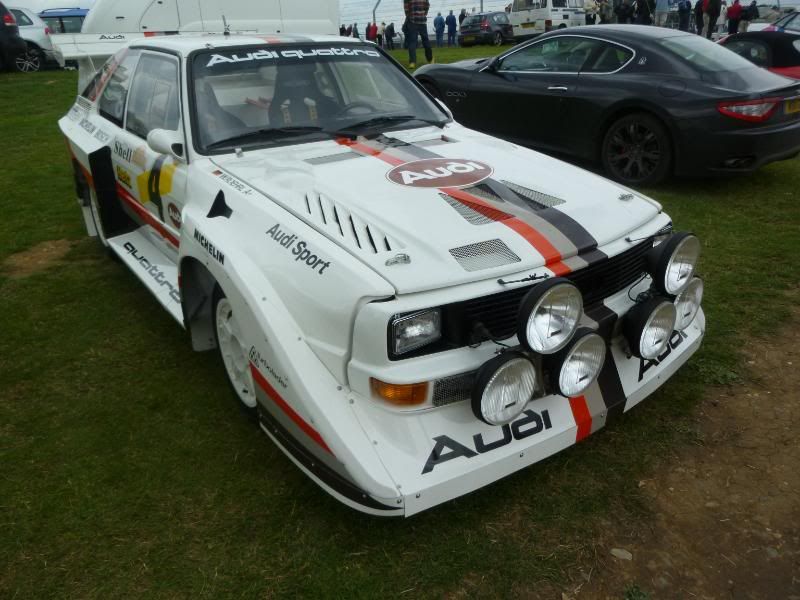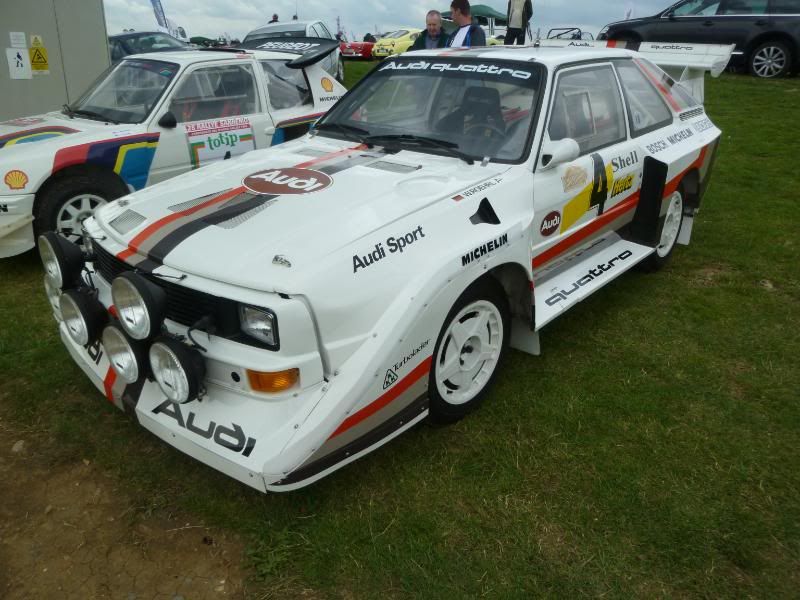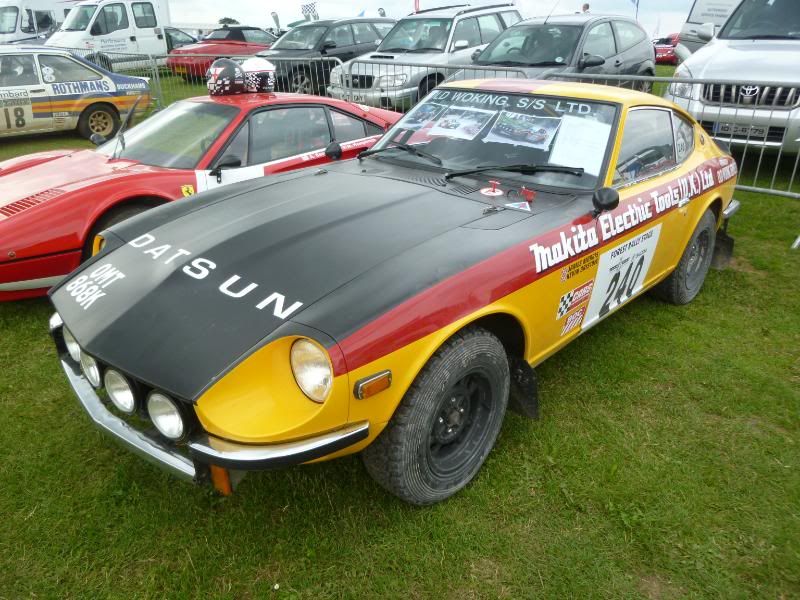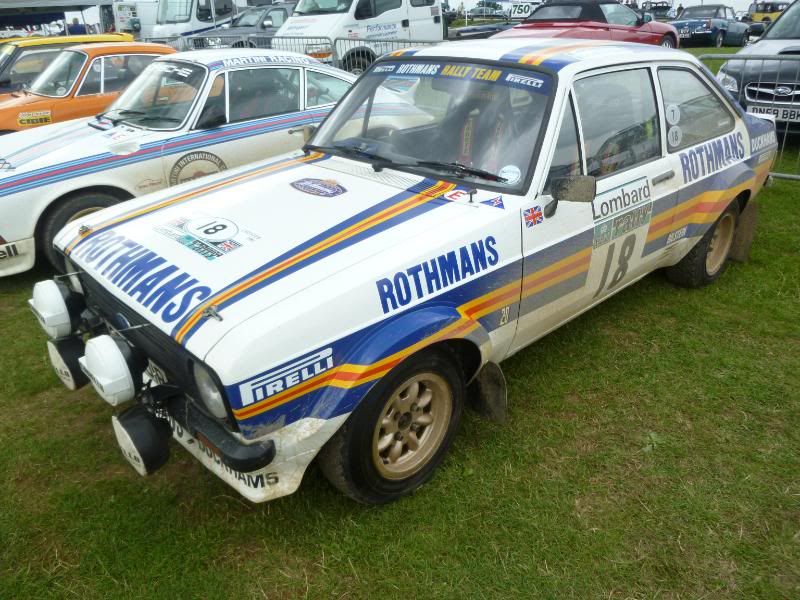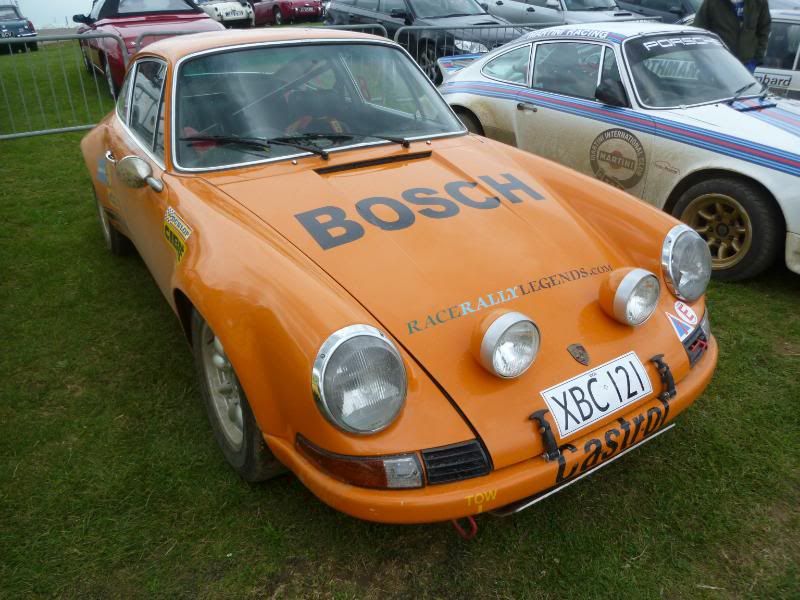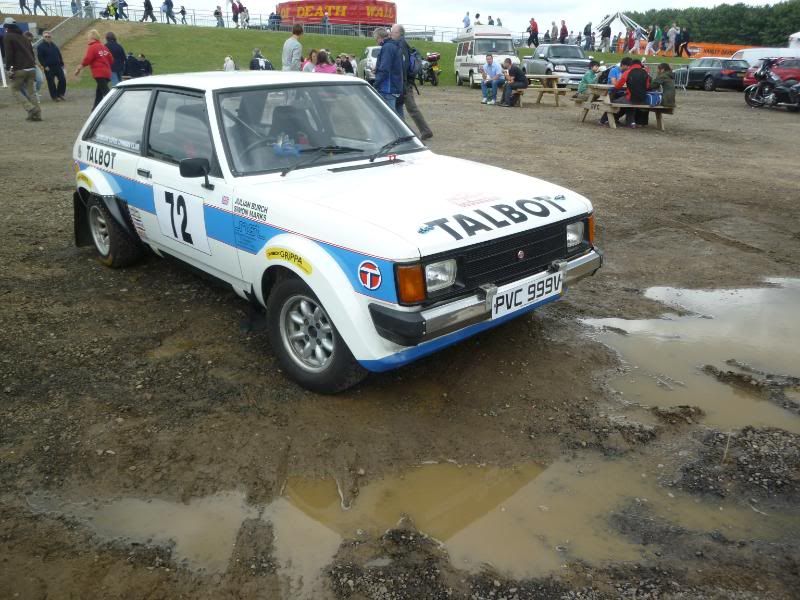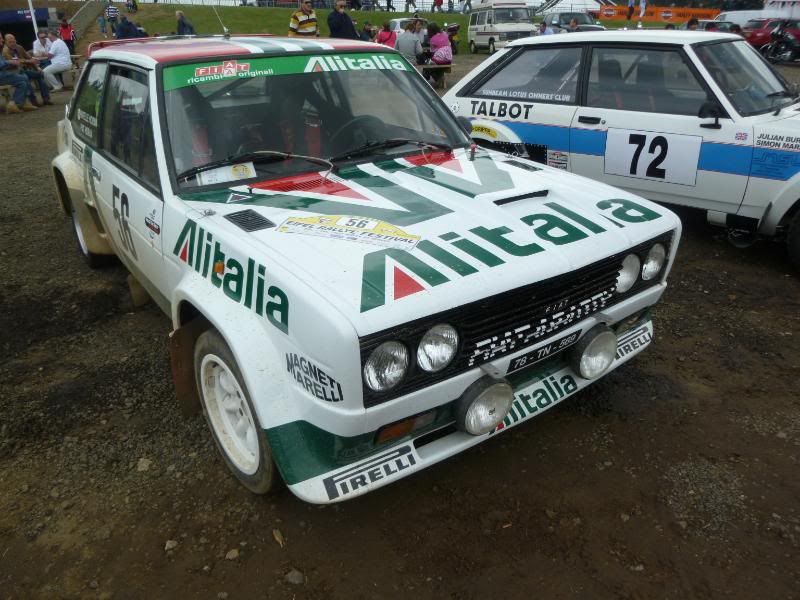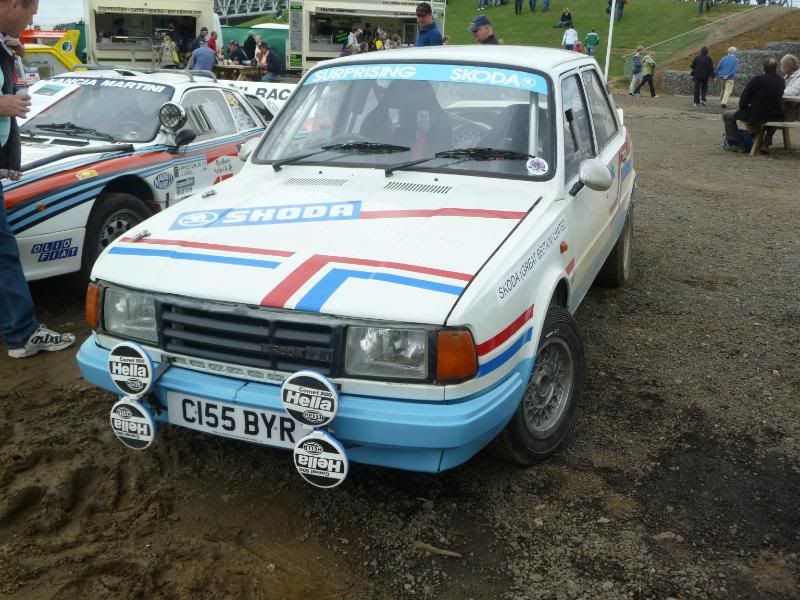 STEAM VEHICLES
A varied display by one of the bridges, the highlight for most people was to see a number of traction engines, a couple of which were in action showing how they could be used for jobs such as sawing through logs.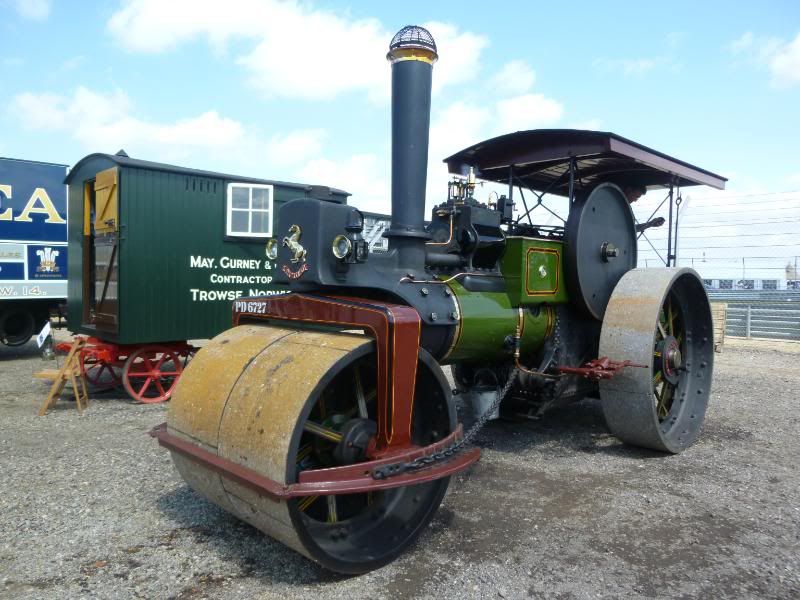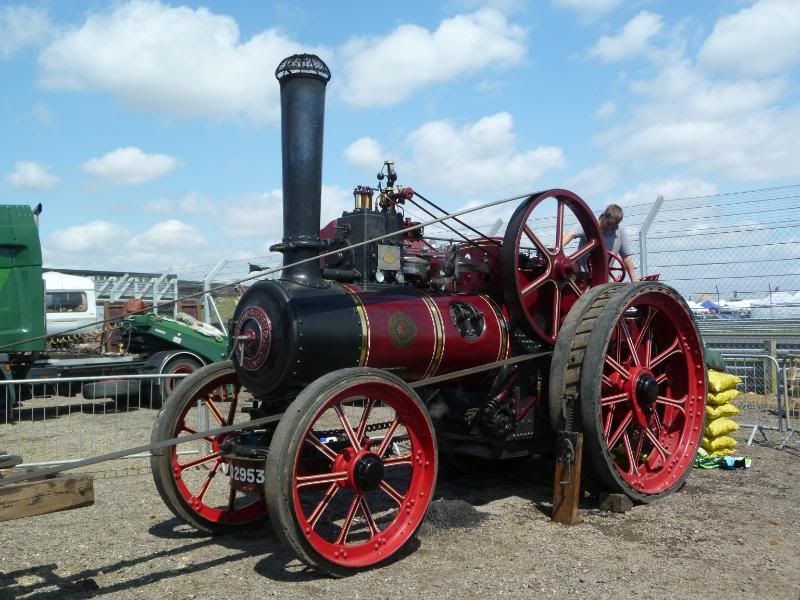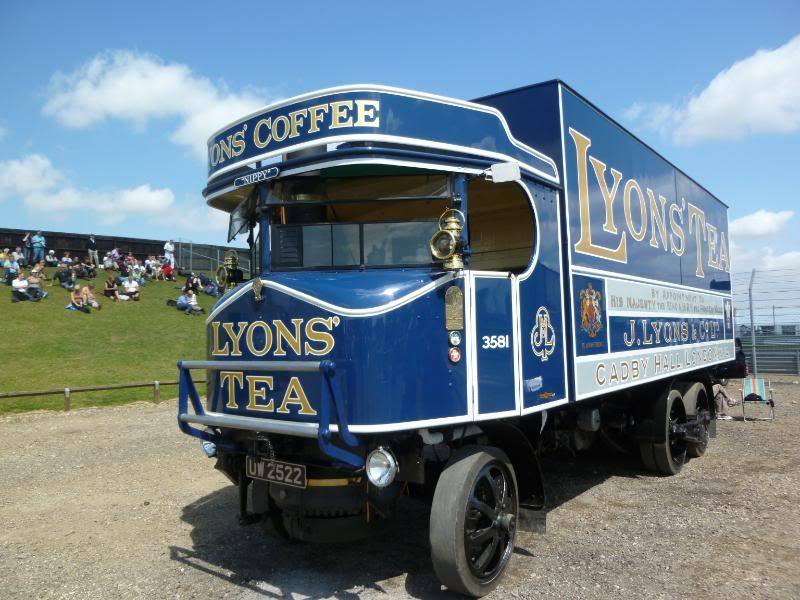 There were a couple of the Stanley Steam cars on show, and which made occasional trips around the infield, and there was also a steam lorry.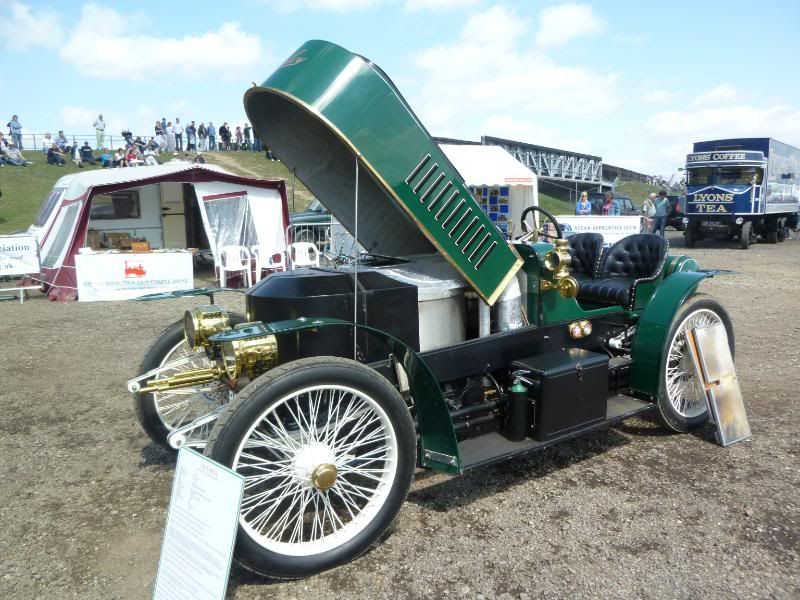 AERIAL DISPLAYS
During the lunchtime break on Sunday, the Amadeus Orchestra played a number of classic tunes, starting with Eric Coates' Dambusters march which was timed to coincide with an aerial display by 2 Spitfires. Not sure how this would have gone down with the many German attendees at the event, but it made for a fine spectacle. Earlier in the morning we were treated to a display of parachutists doing freefall dives from the sky.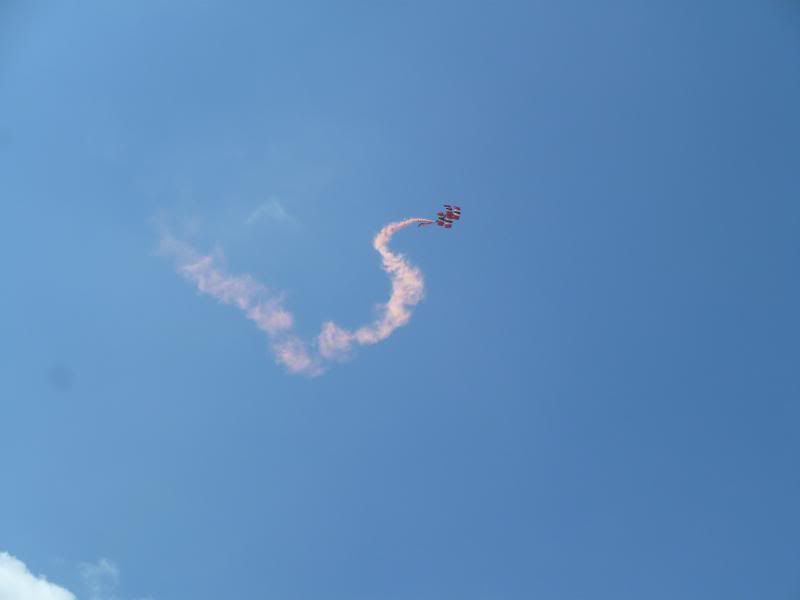 IN THE PITS & PADDOCK
Now that the new Complex is open, Silverstone is blessed with two Pit and Paddock areas, and both were in use. The old ones are called the National Pits and the new ones the International, with the former in use for morning races and the latter for afternoon activities. One of the joys at an event like this is that it is easy to gain access to absolutely everything and have a good look at the competing cars close up.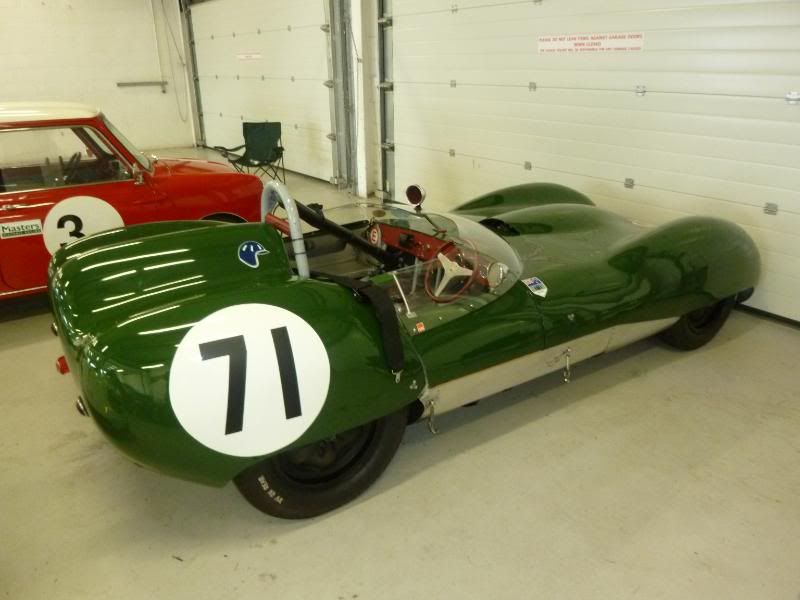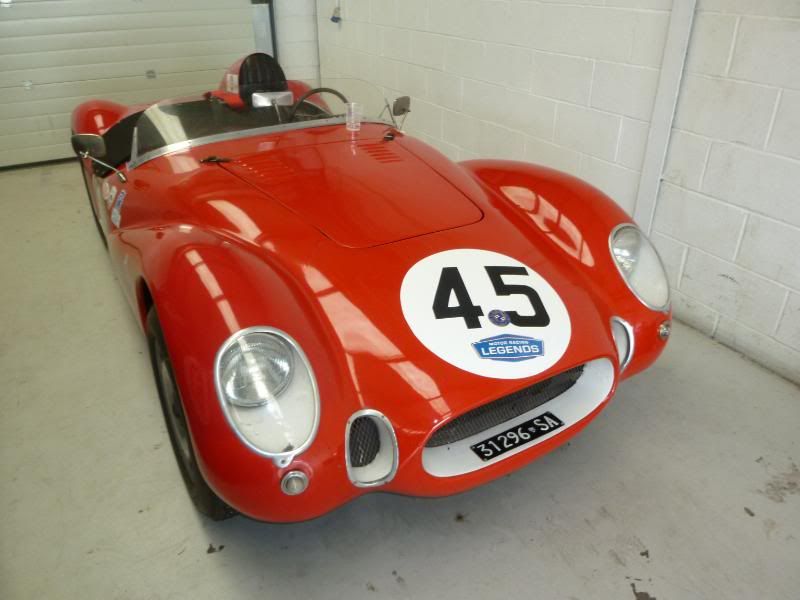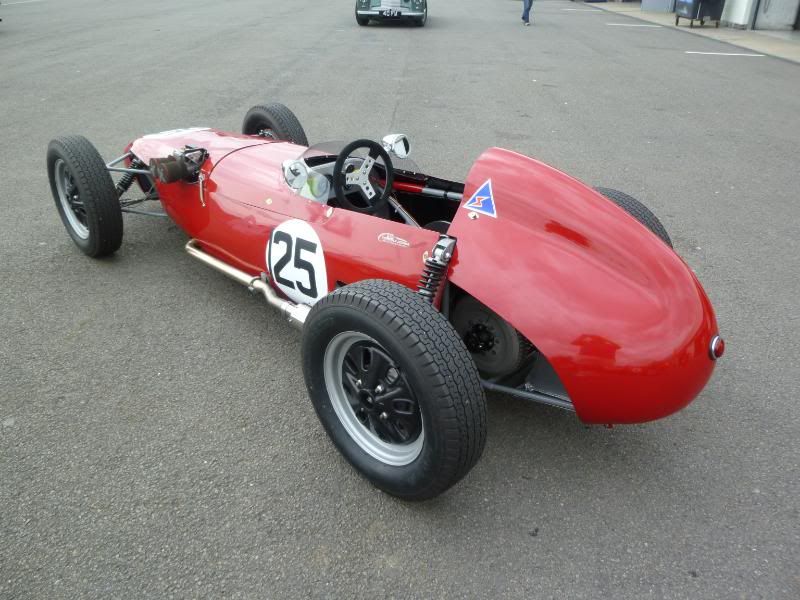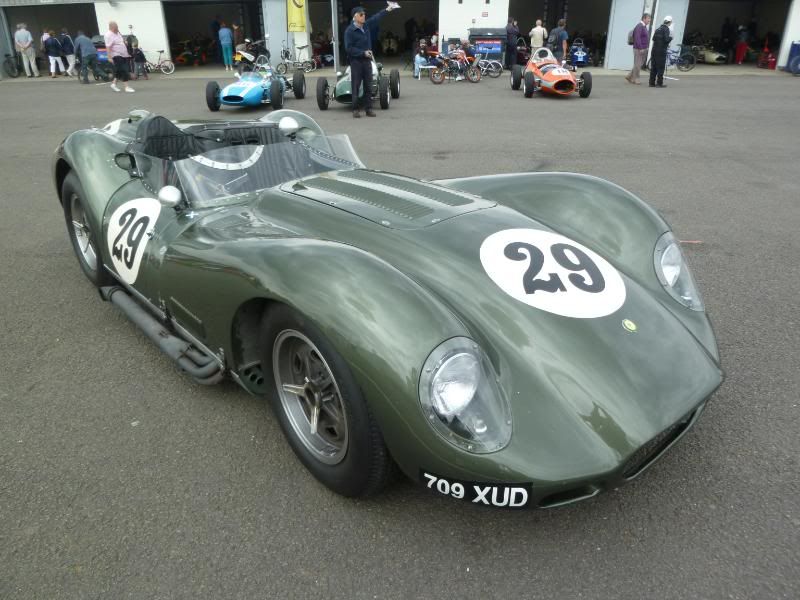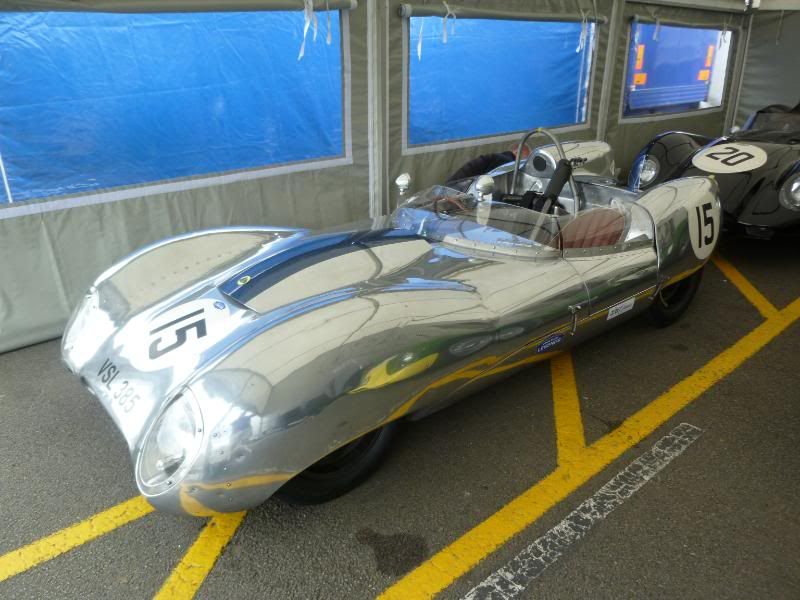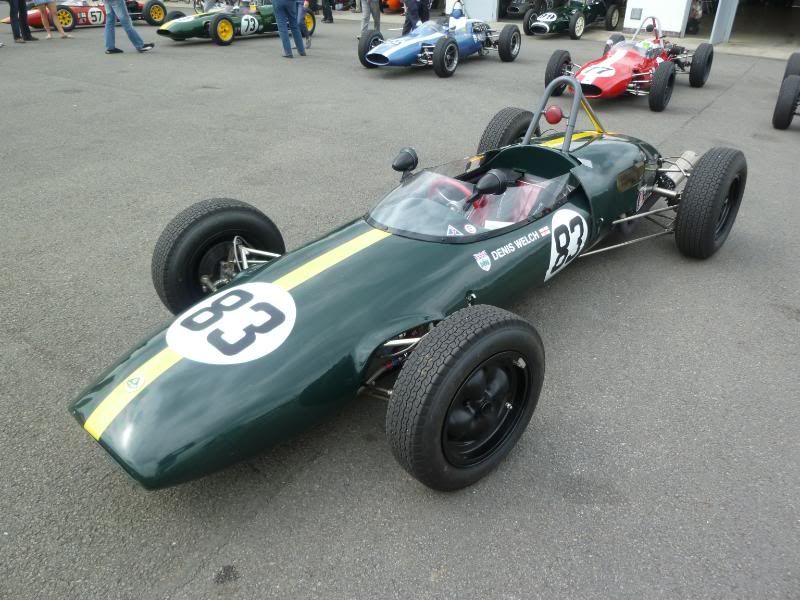 Plenty of Alfa Romeos ready for action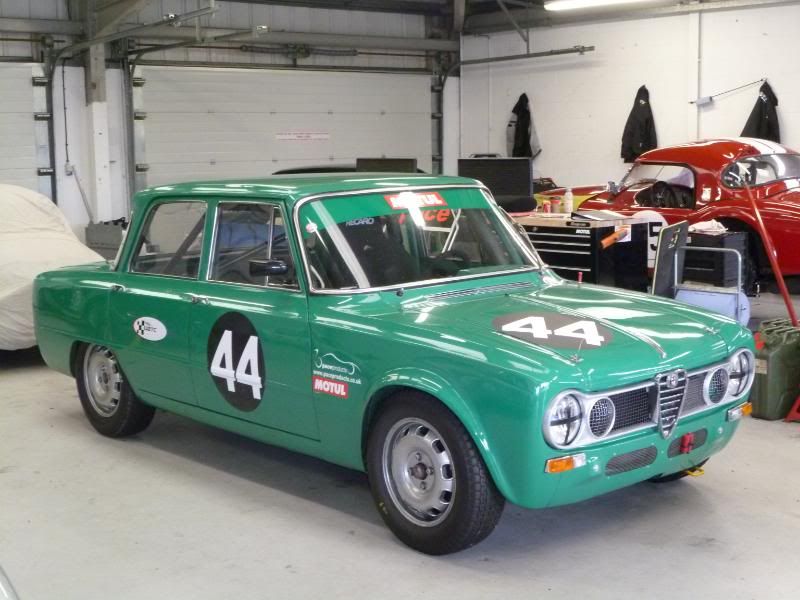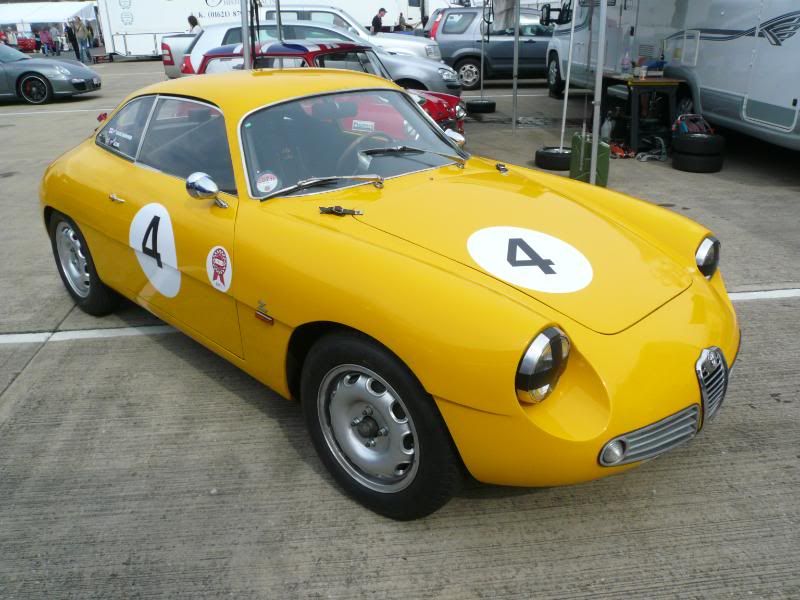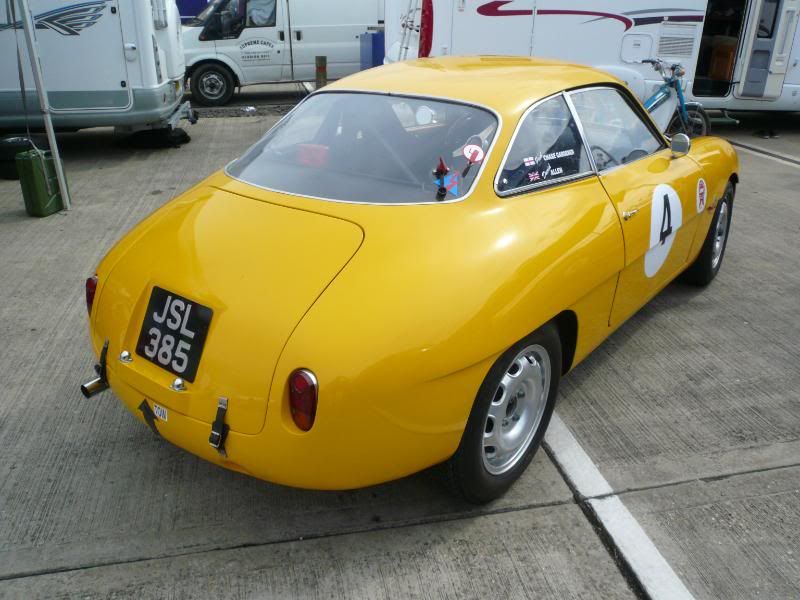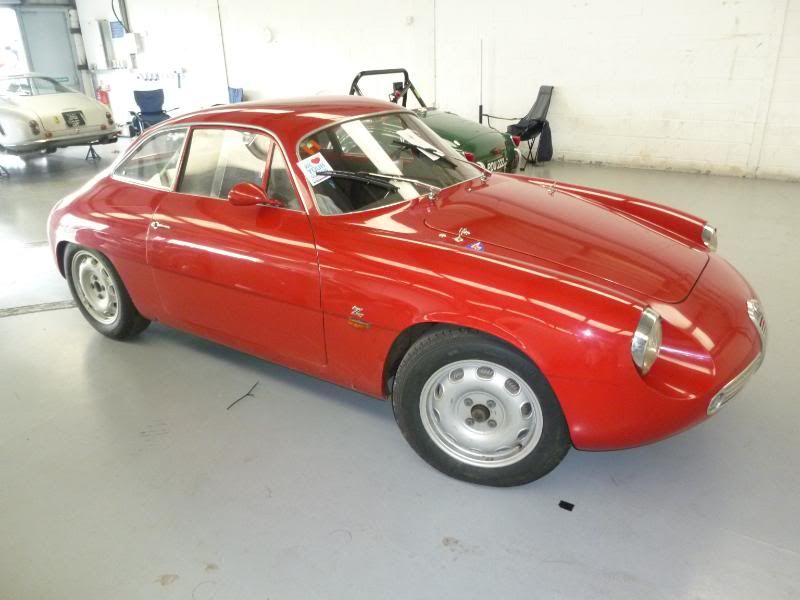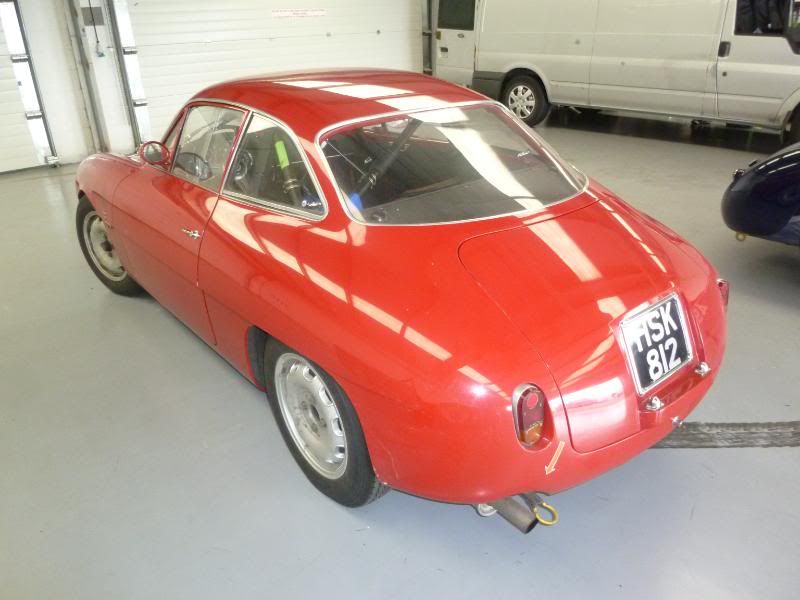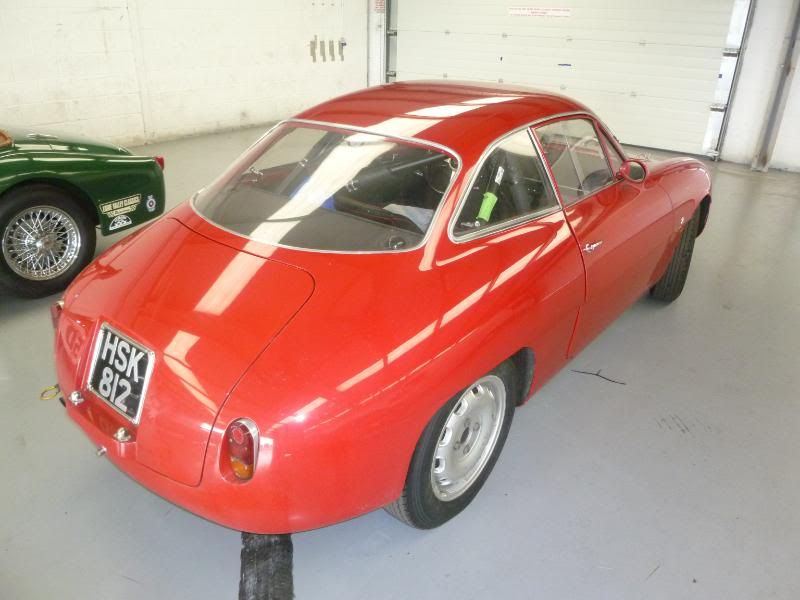 Aston Martins, too.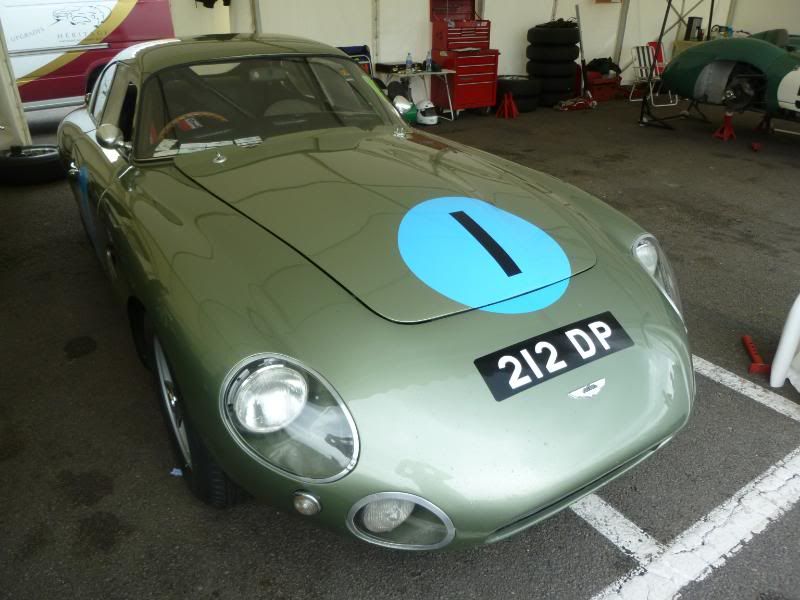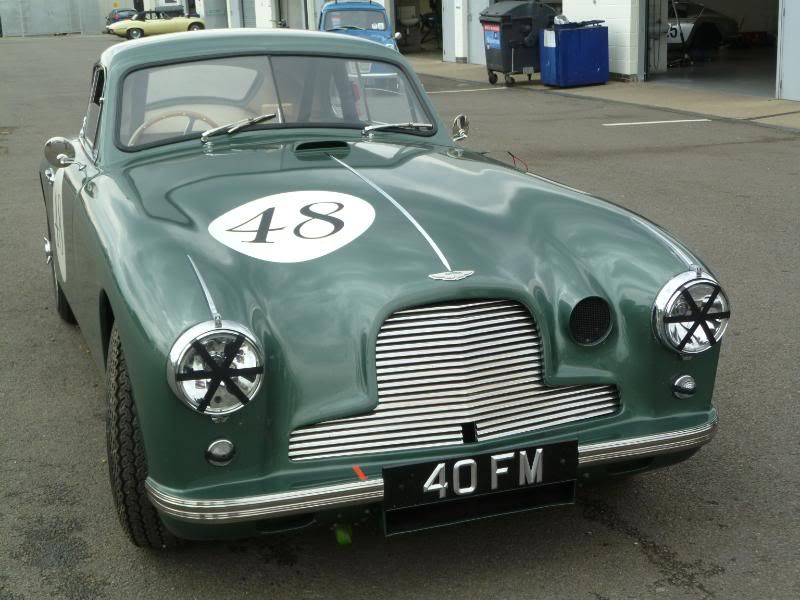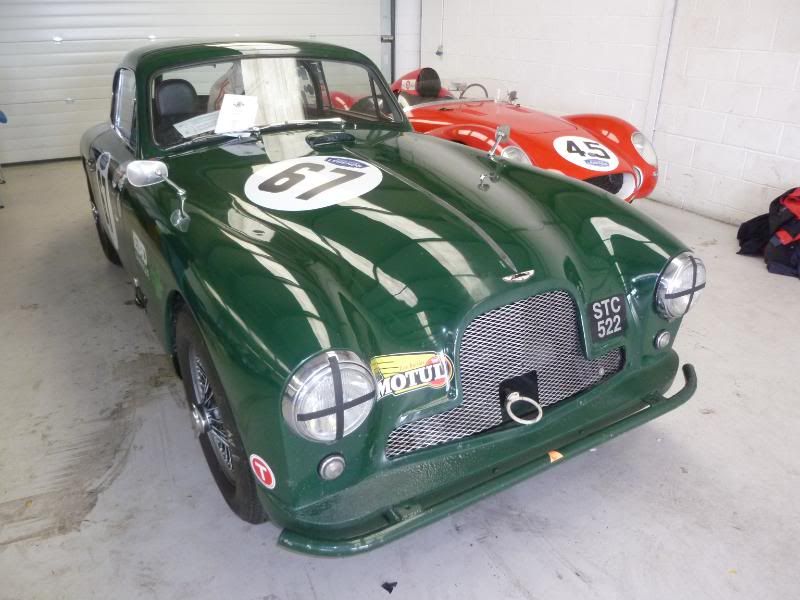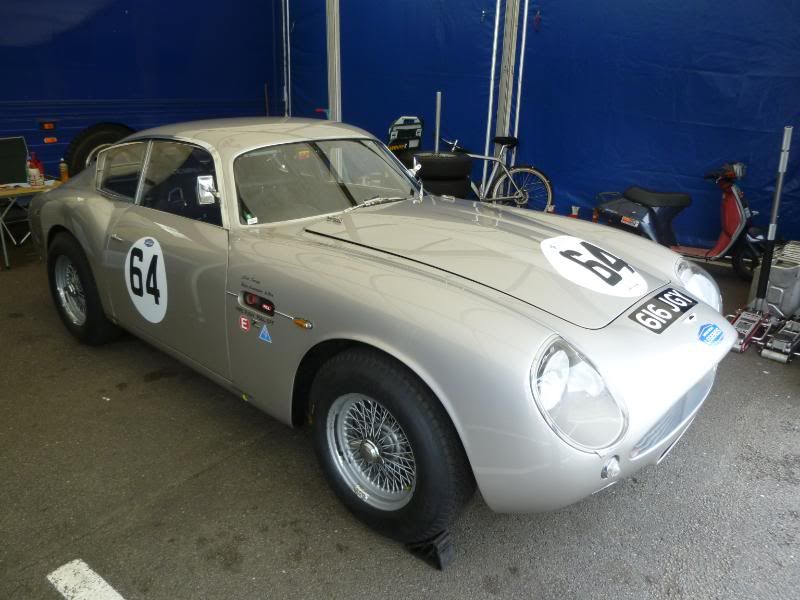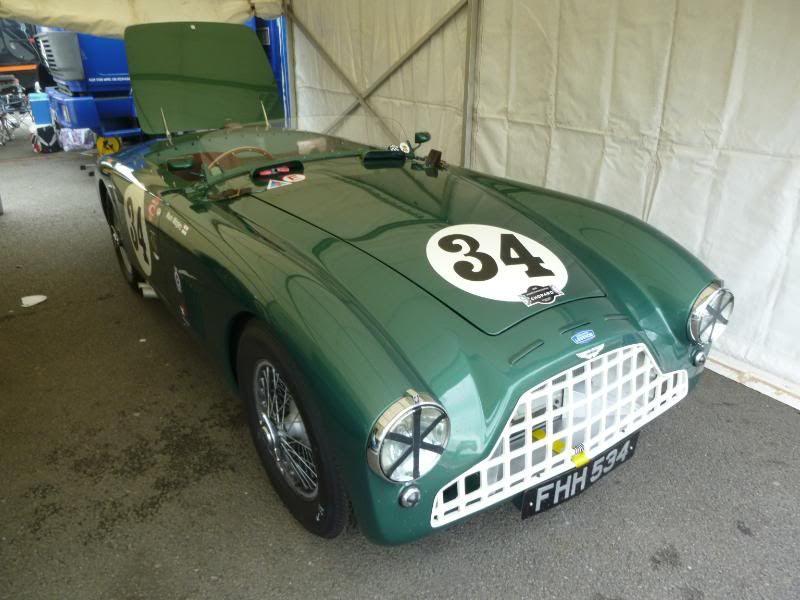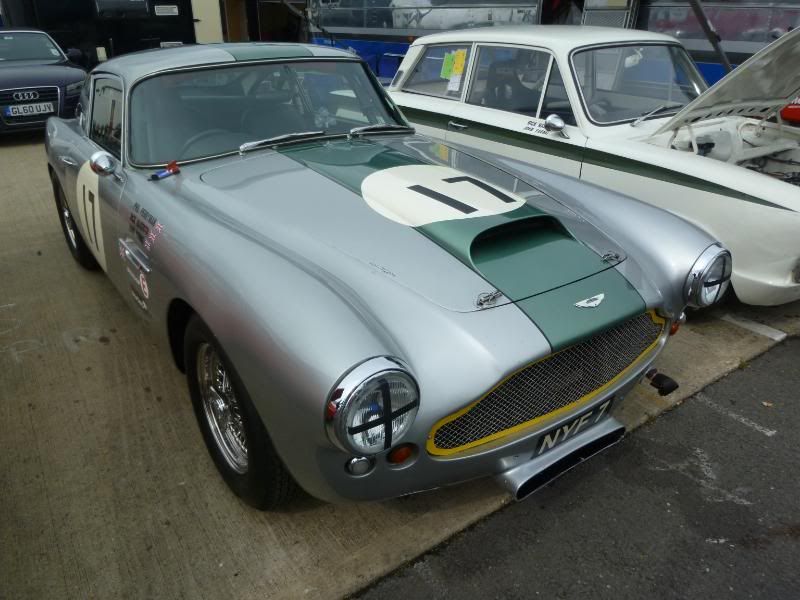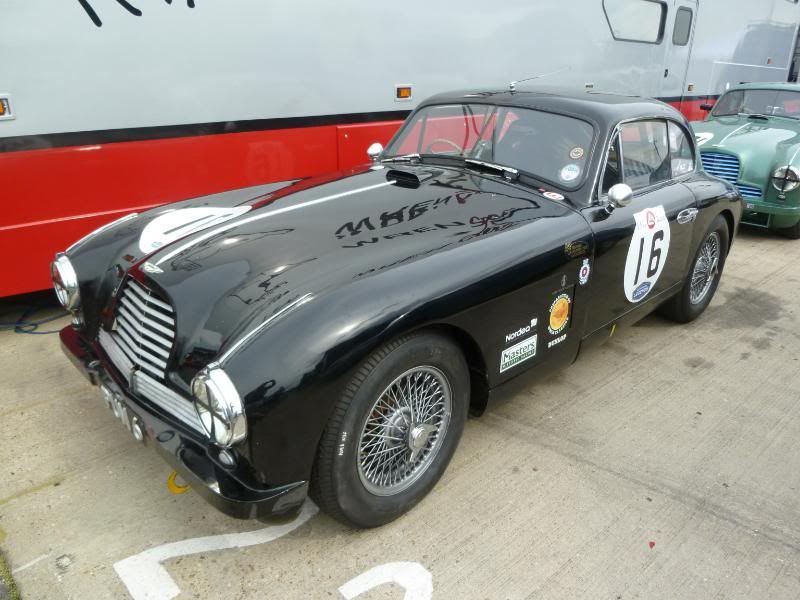 Three classic Abarths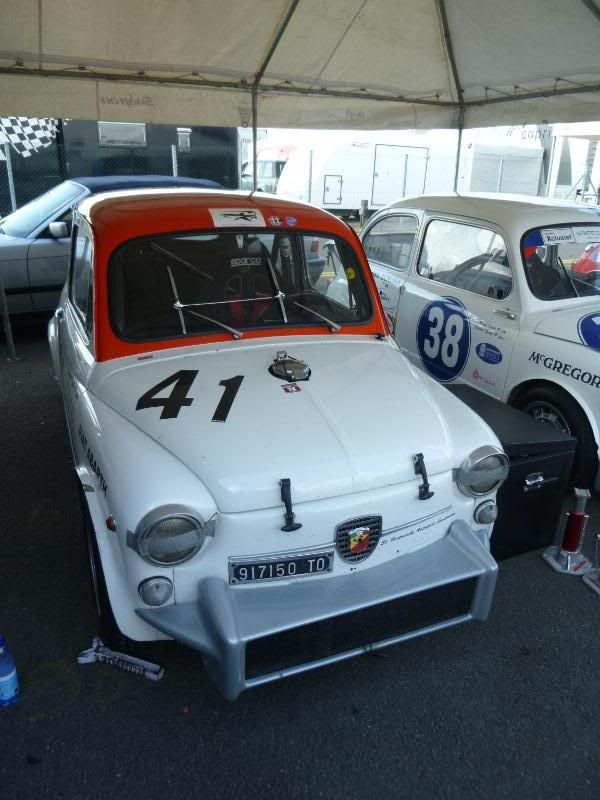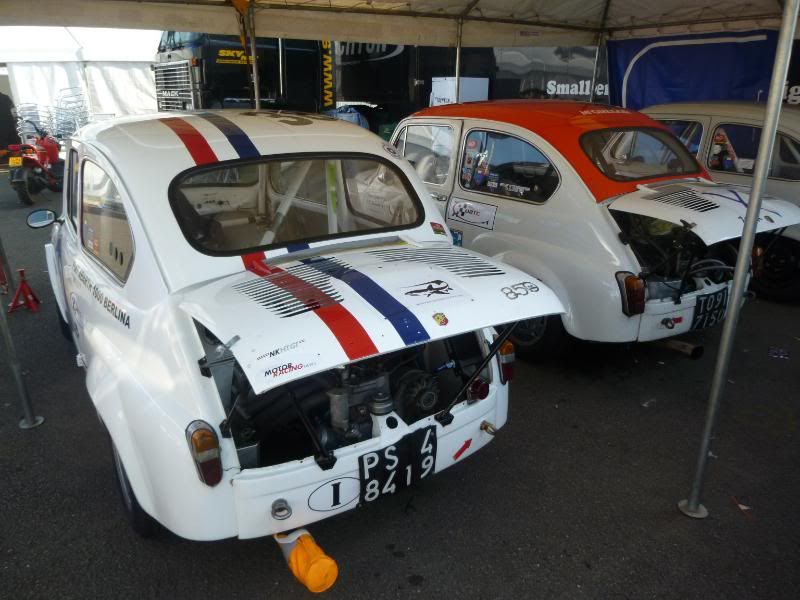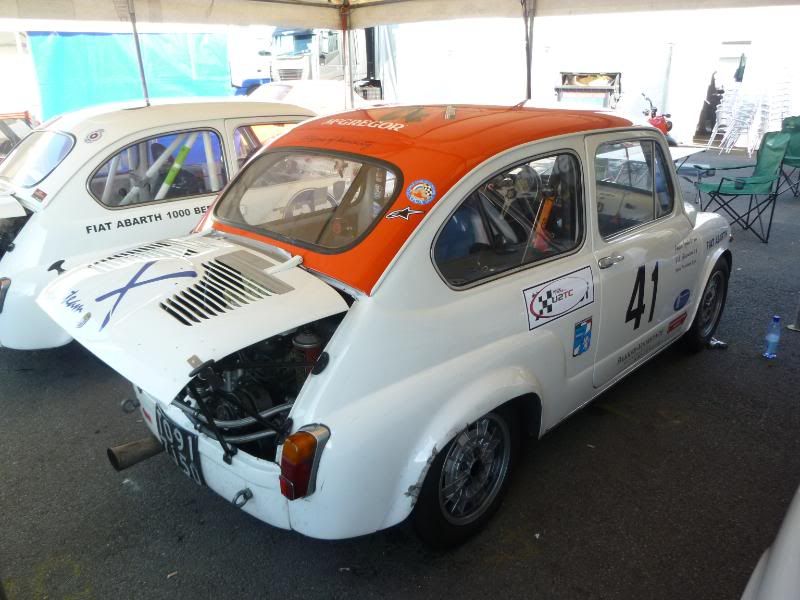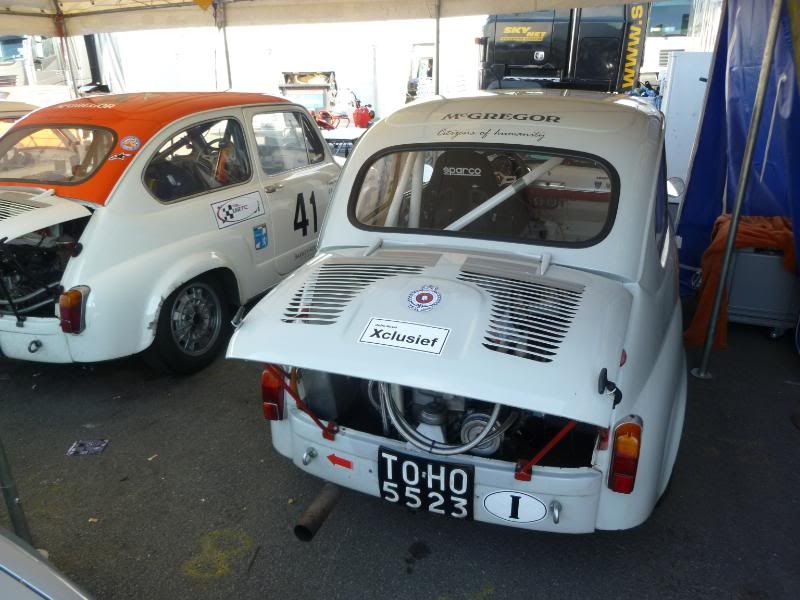 Other saloon cars included these.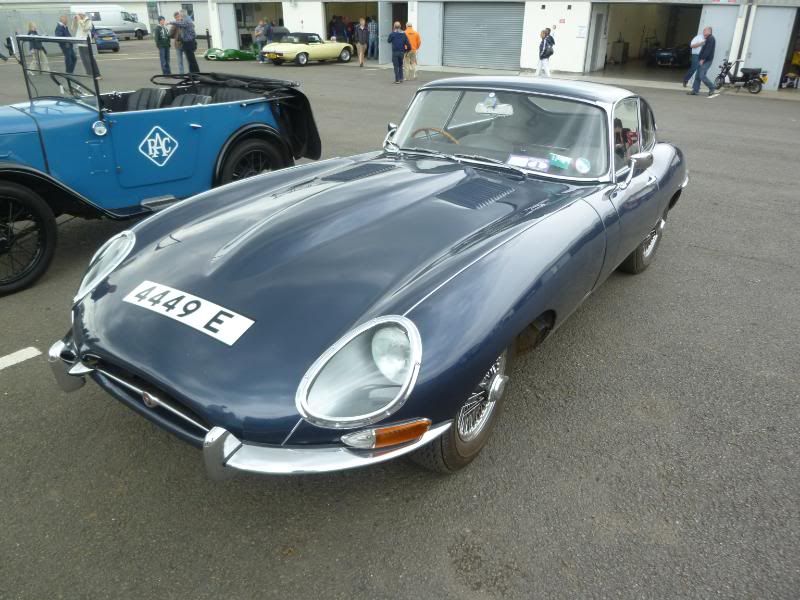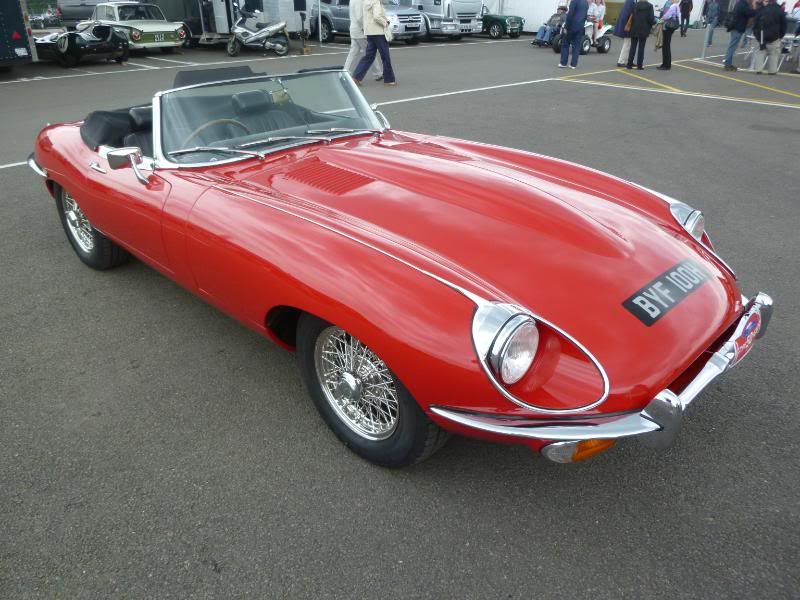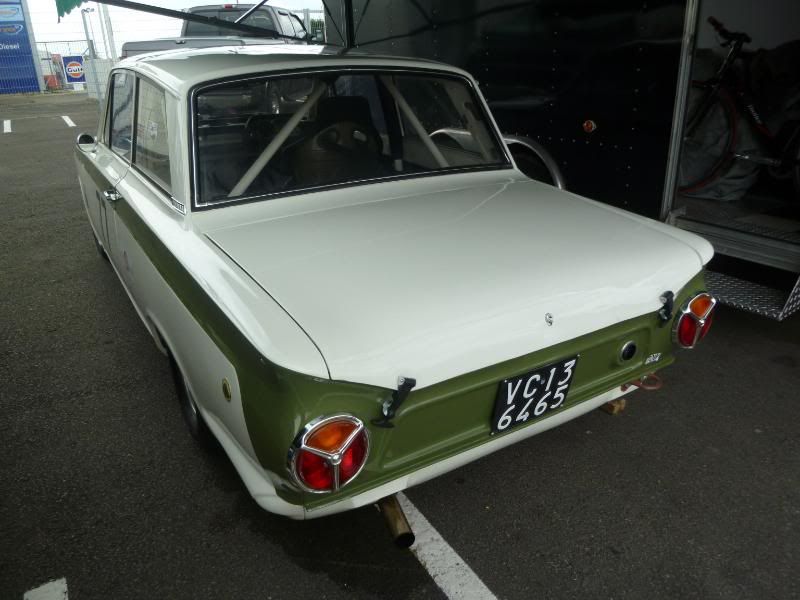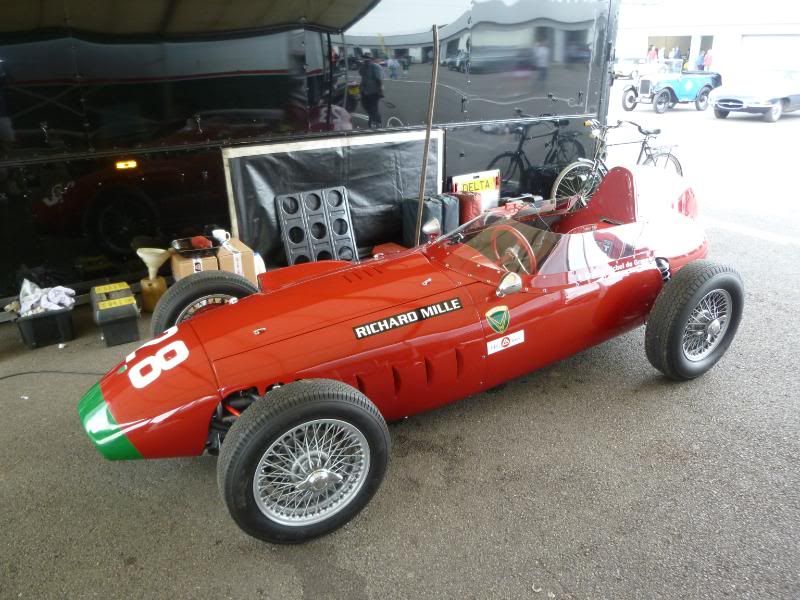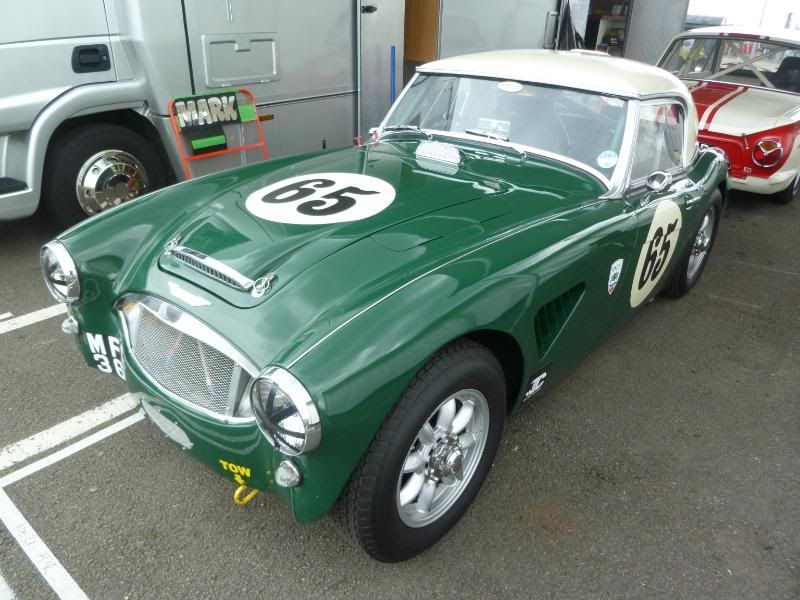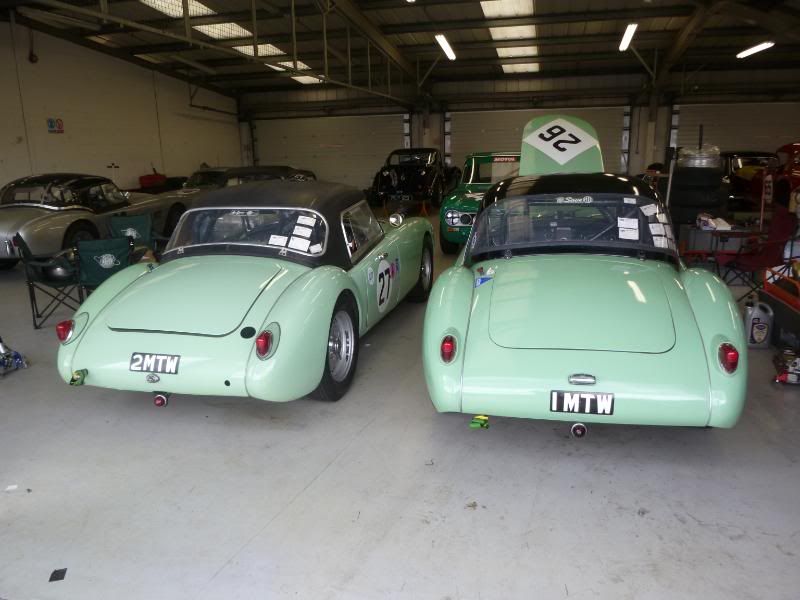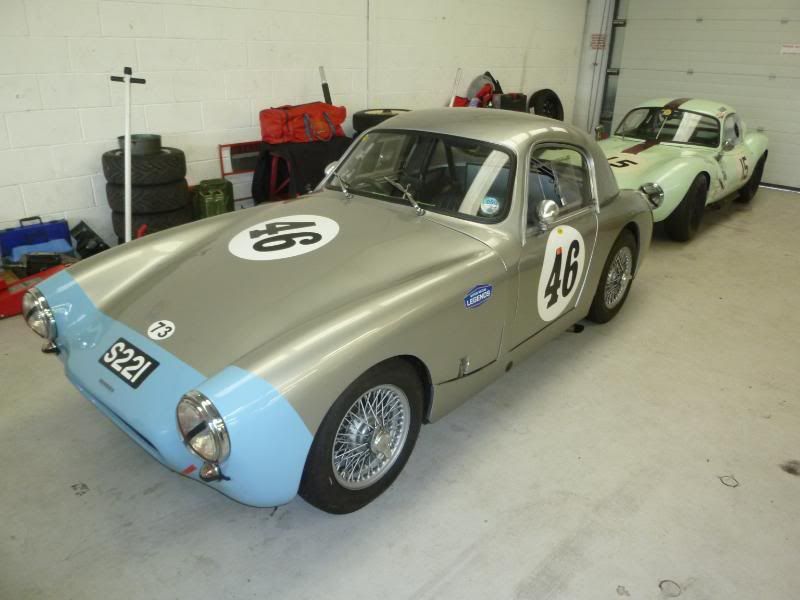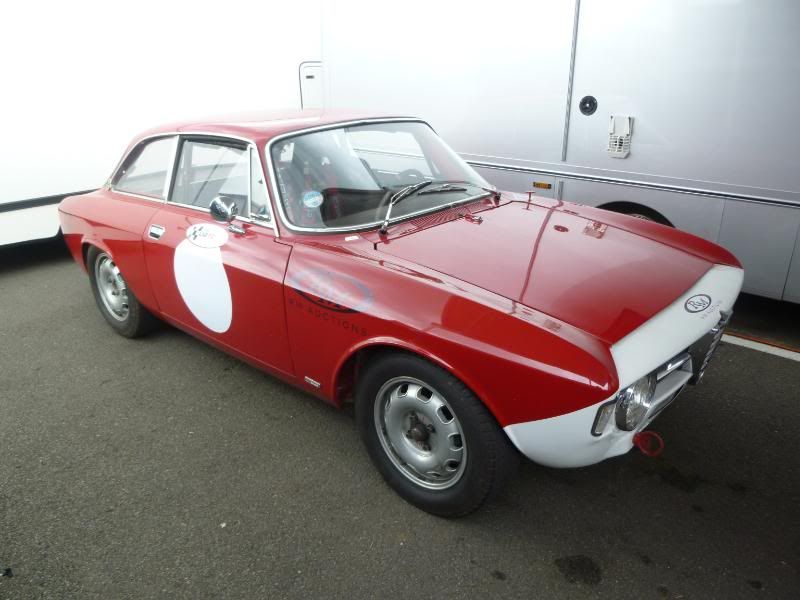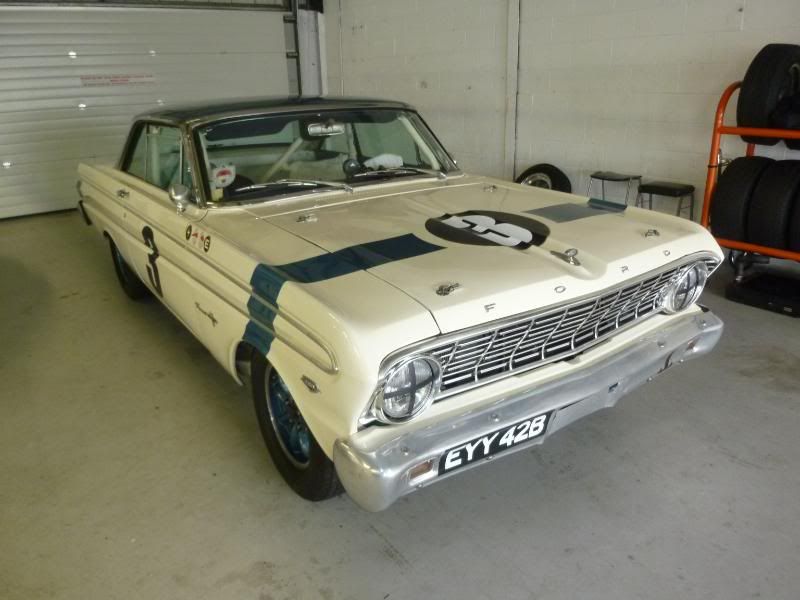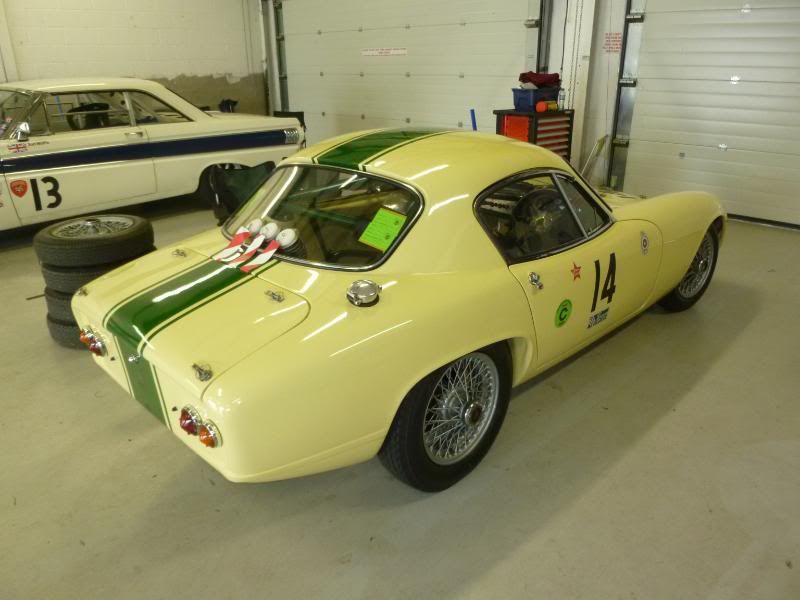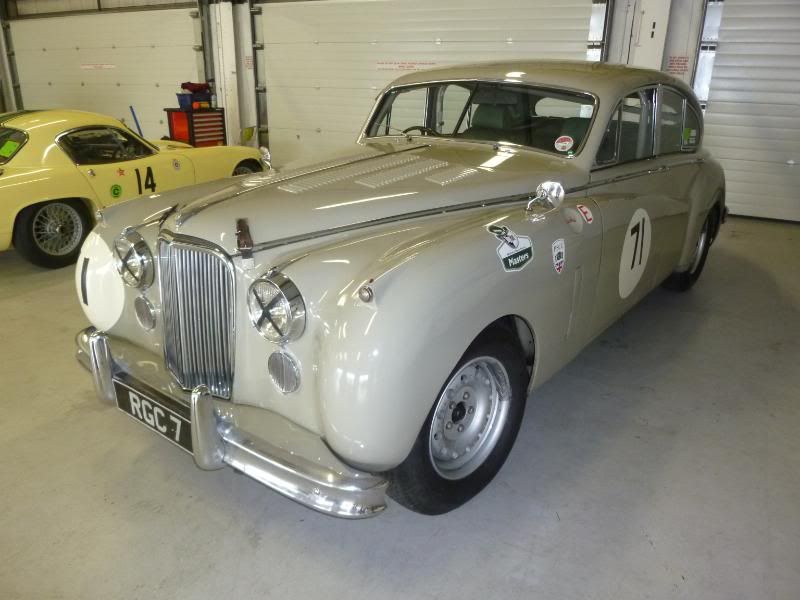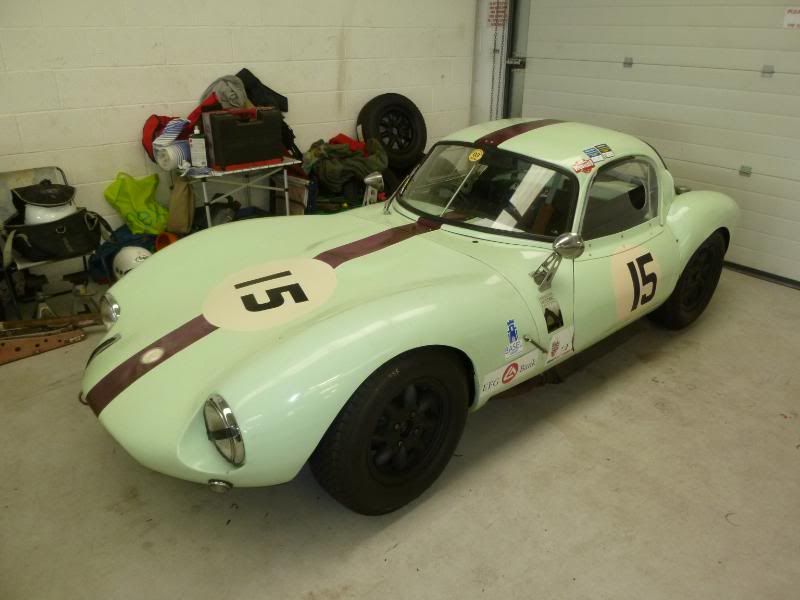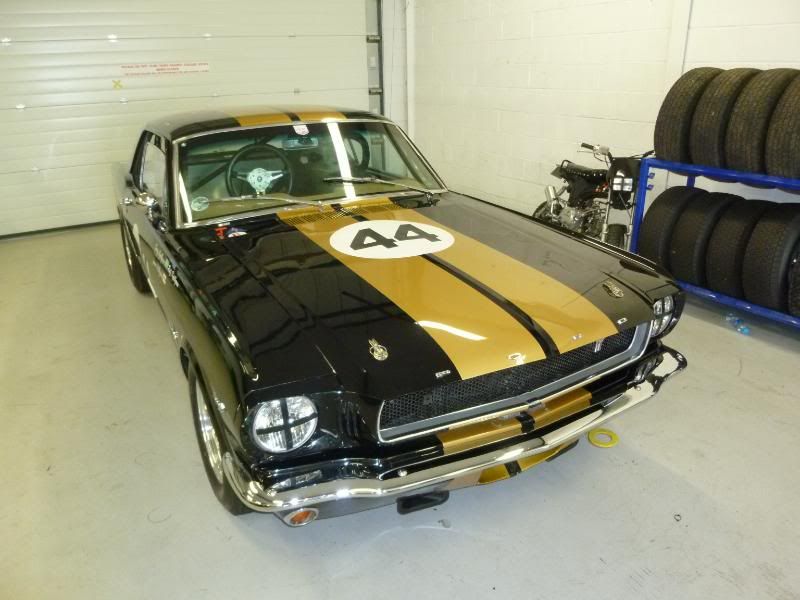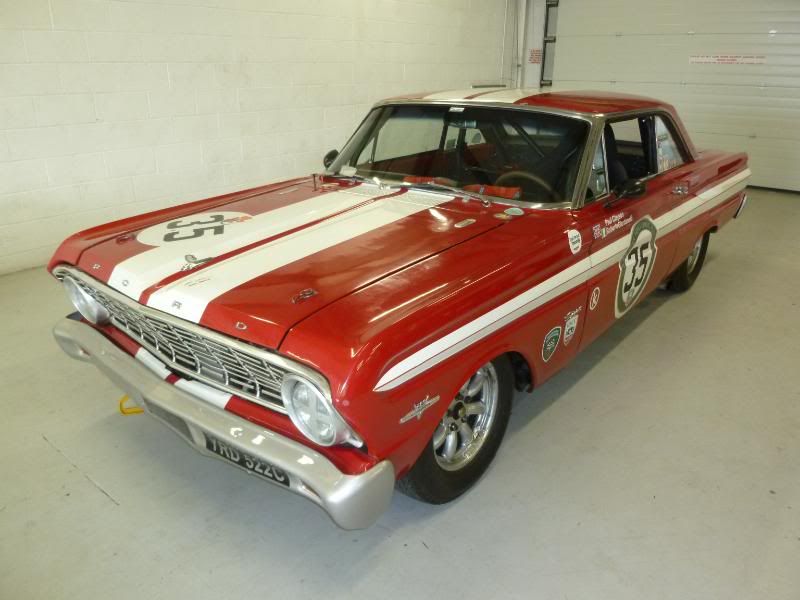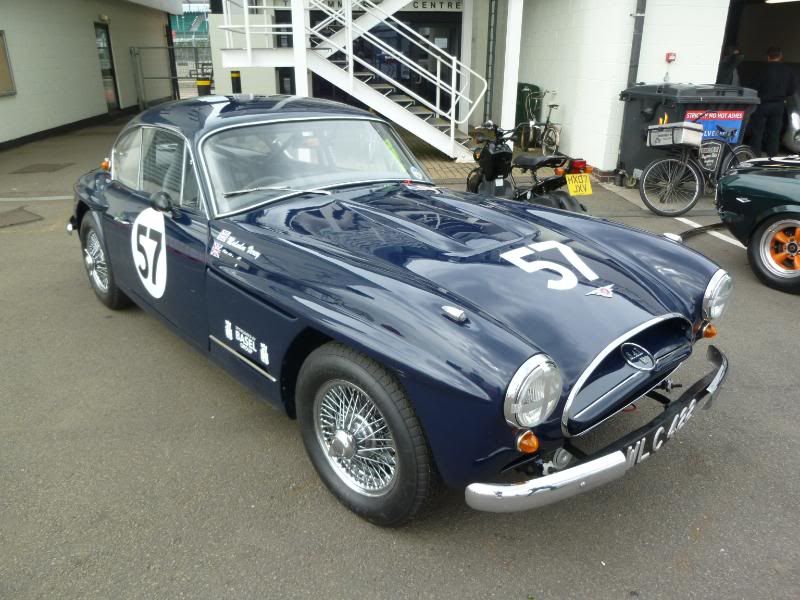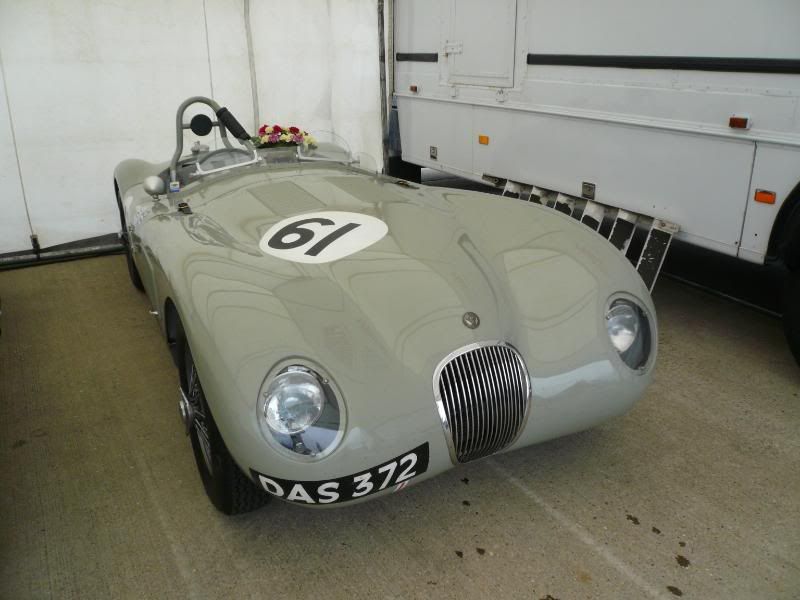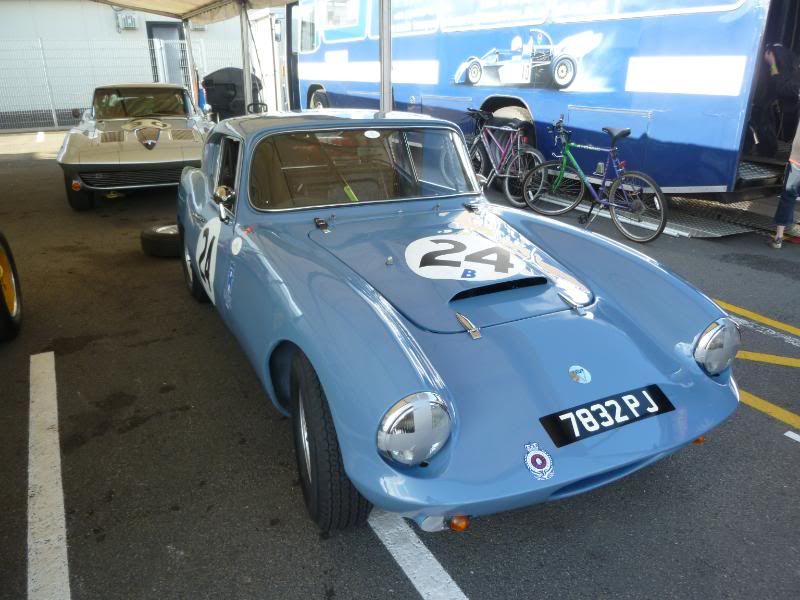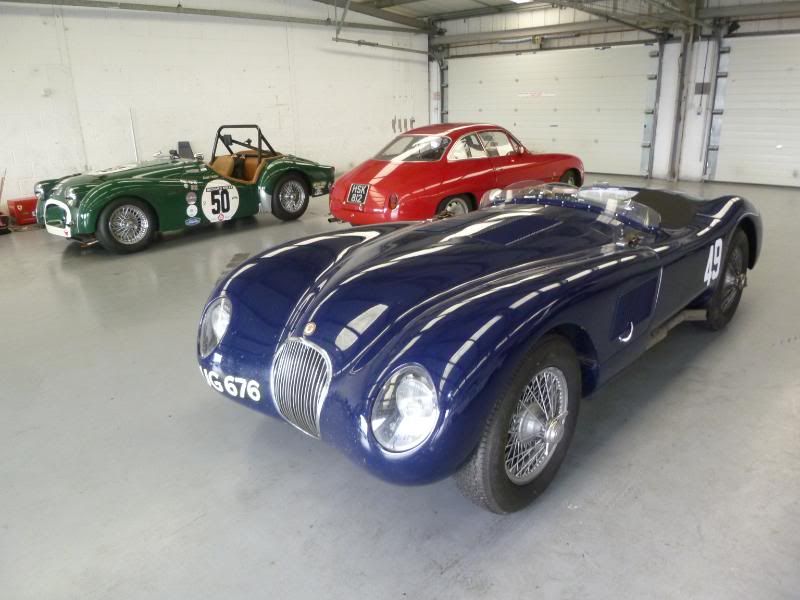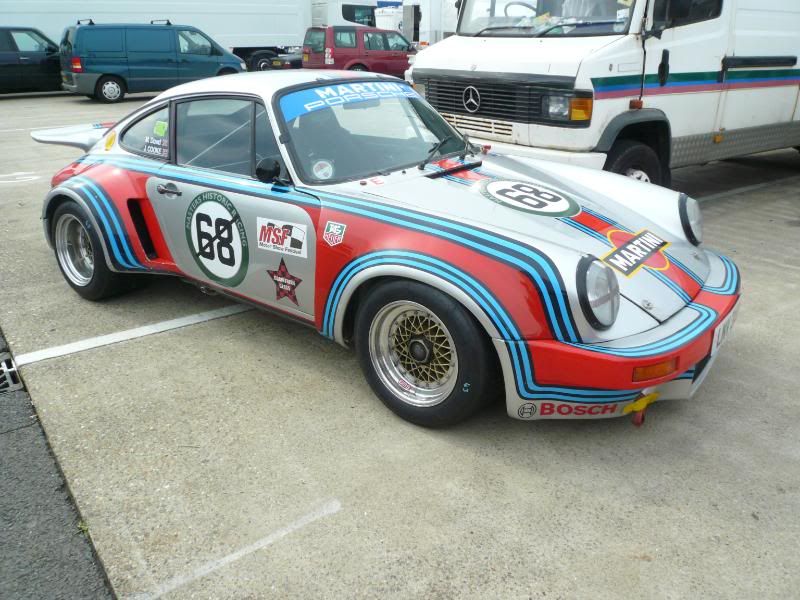 This Birdcage Maserati is a real favourite of mine. We also came across a spare Maserati engine, just in case the unthinkable were to happen.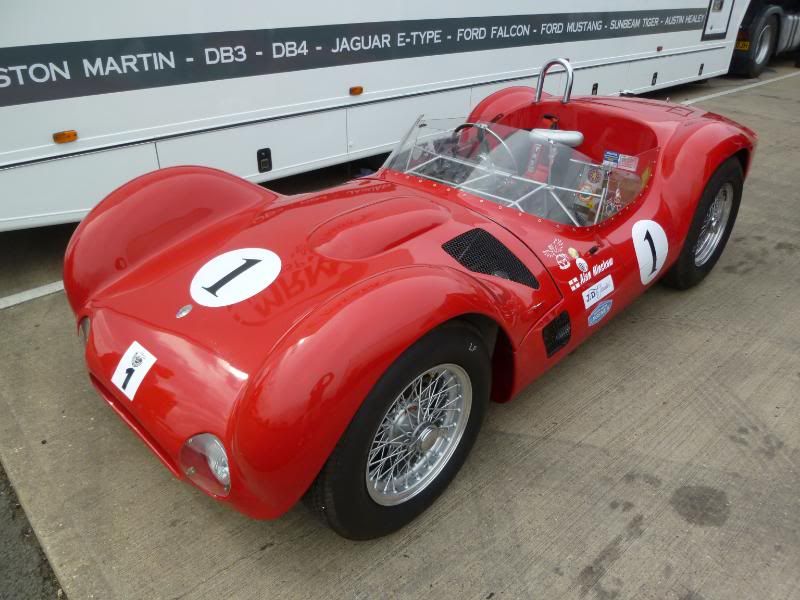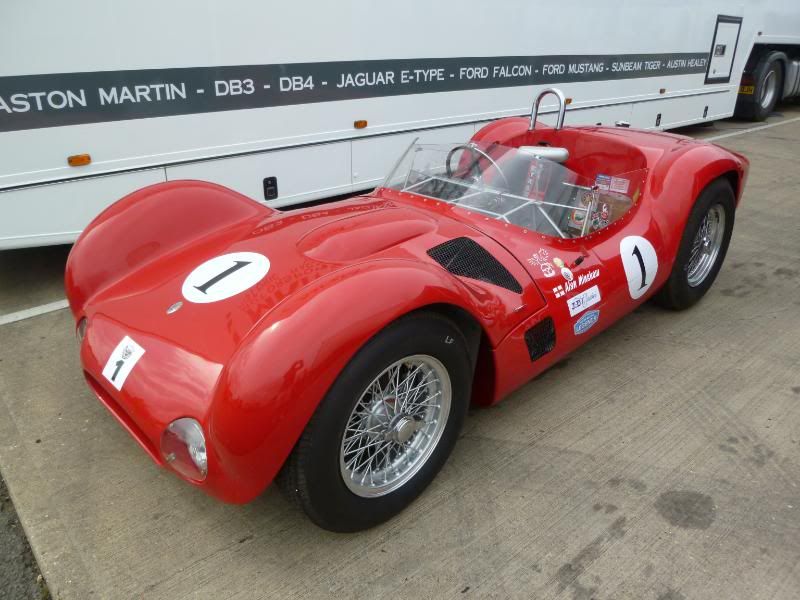 This closed top Ferrari Testarossa was rather unusual, as it is more often seen as an open topped car.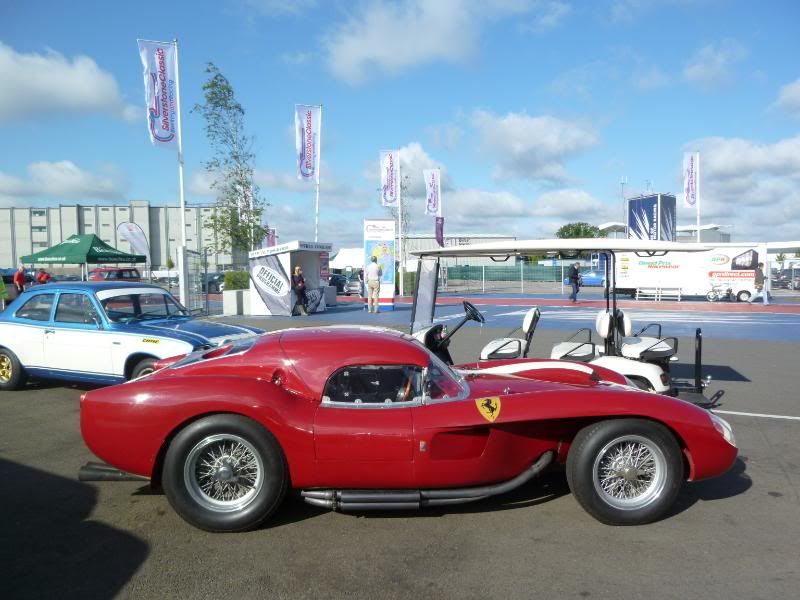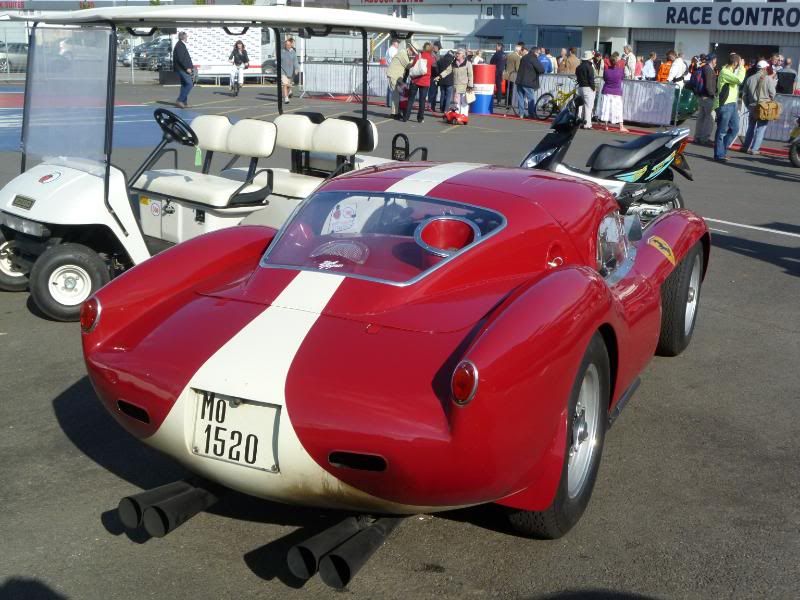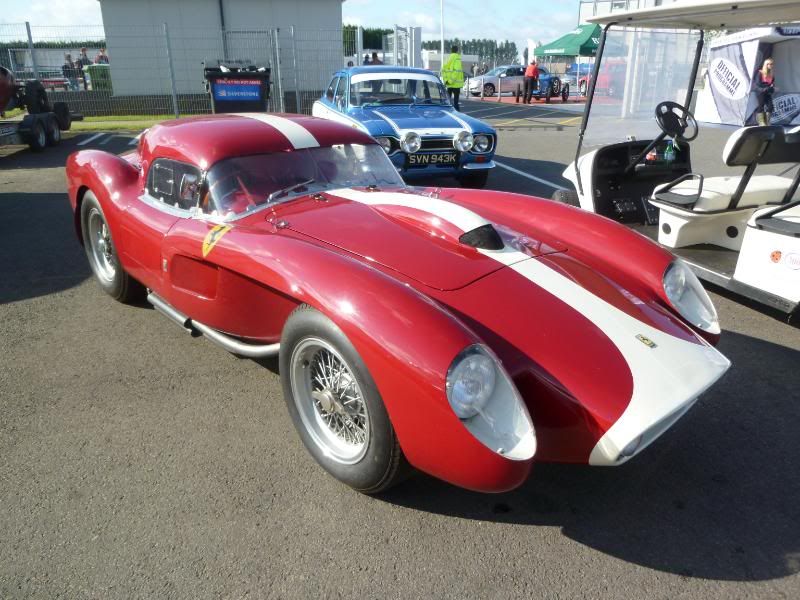 This trio of Ferraris were the other side of the transporter next to the McLaren F1. Fabulous, all three of them!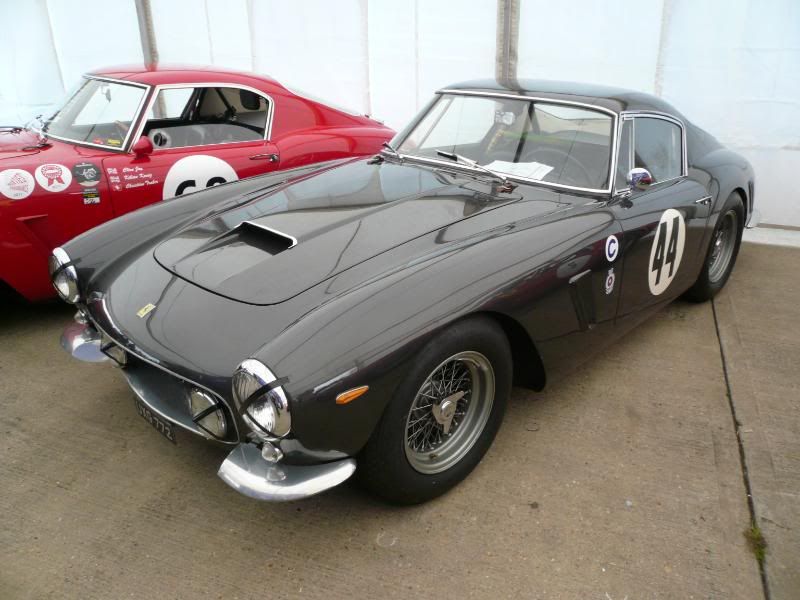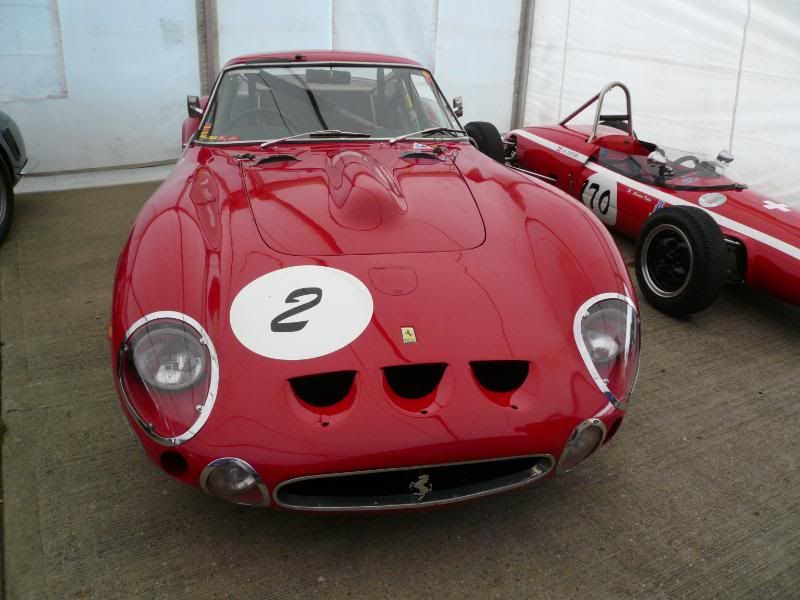 There were a couple of historic race transporters, the famous 1960 Commer based Ecurie Ecosse one and a BMC Competitions vehicle.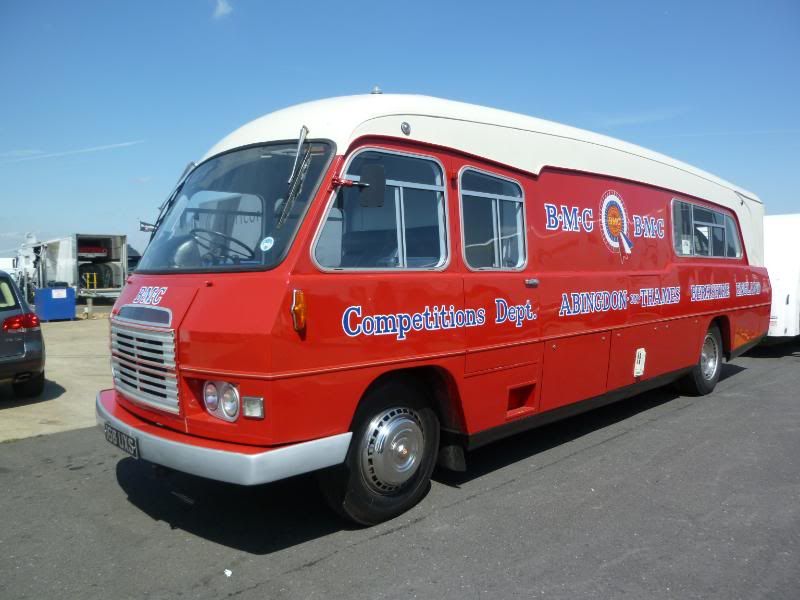 This pairing of old Austins in RAC livery were quite fun.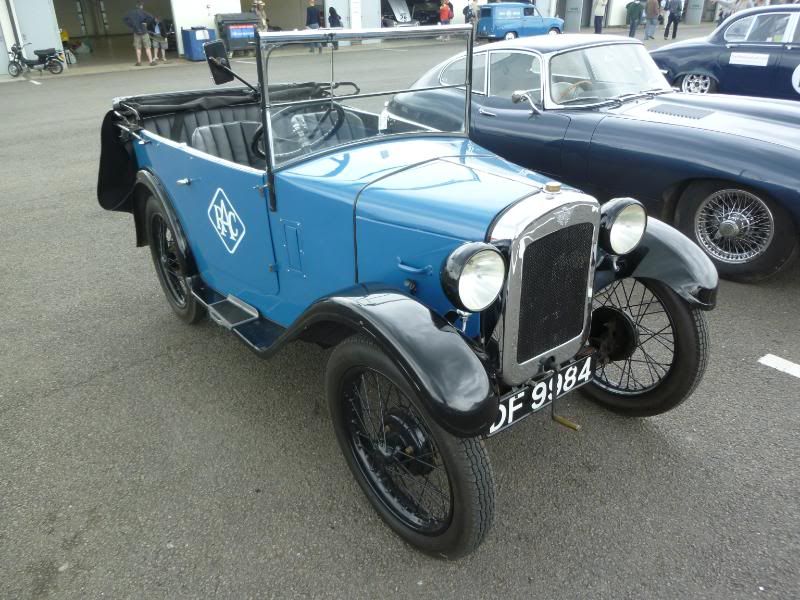 Overall, then a simply outstanding weekend. The arrival of sunny skies on the Sunday was much appreciated, but even without this, the vast array of machinery to examine and the brilliant races (which I did not even try to photograph, though I did watch several on the Sunday) make this an event worth the admittedly rather steep ticket price.
2011-07-26 04:49:16