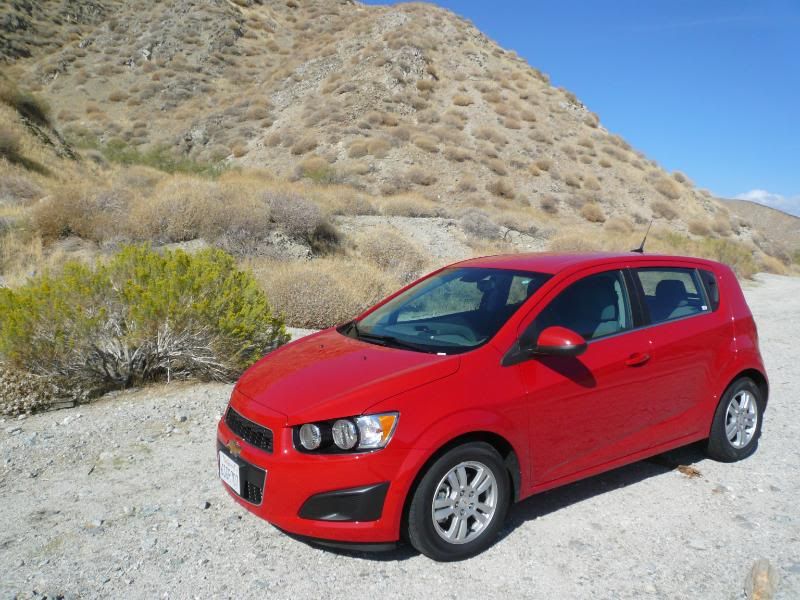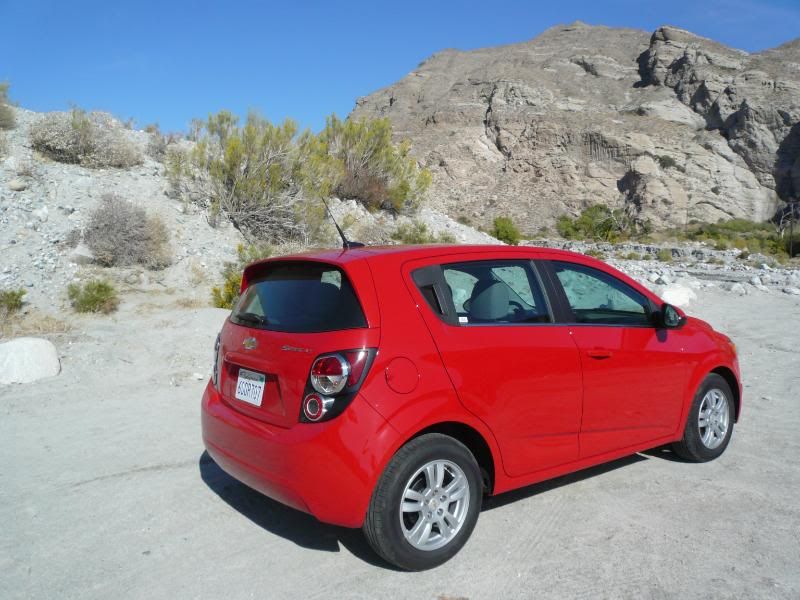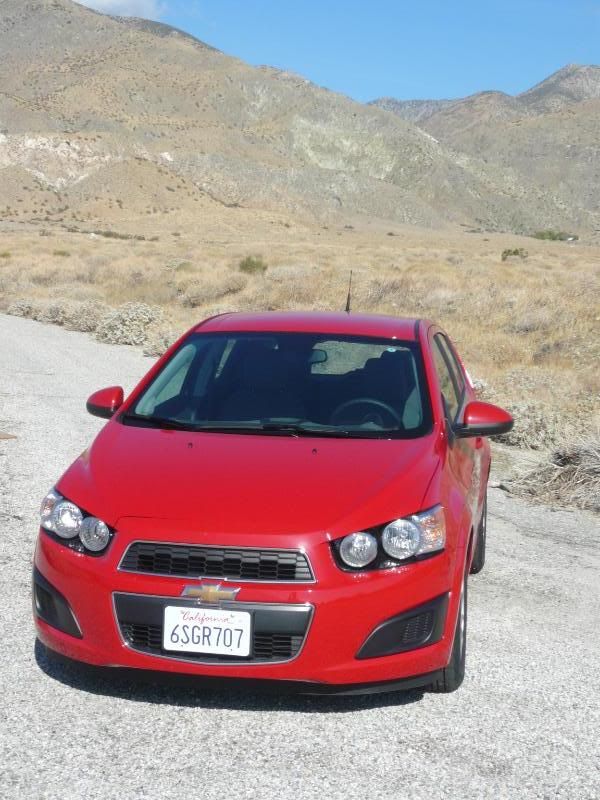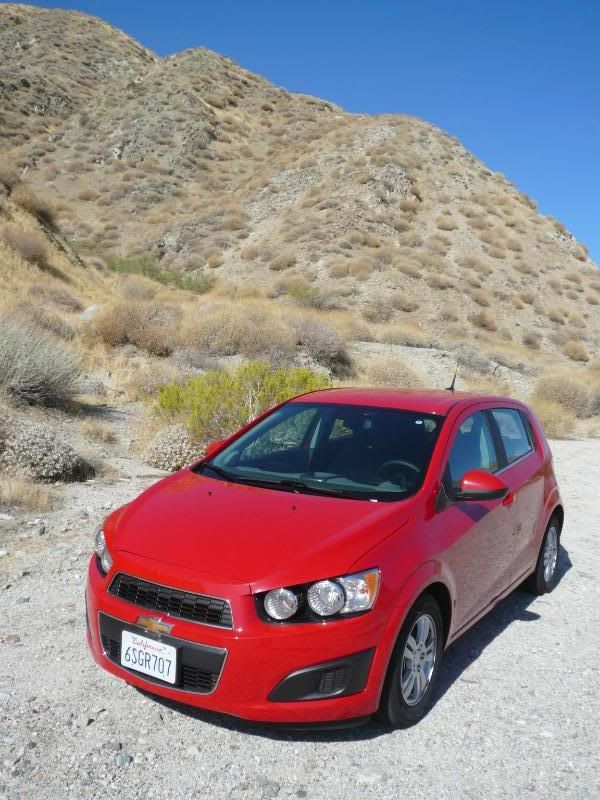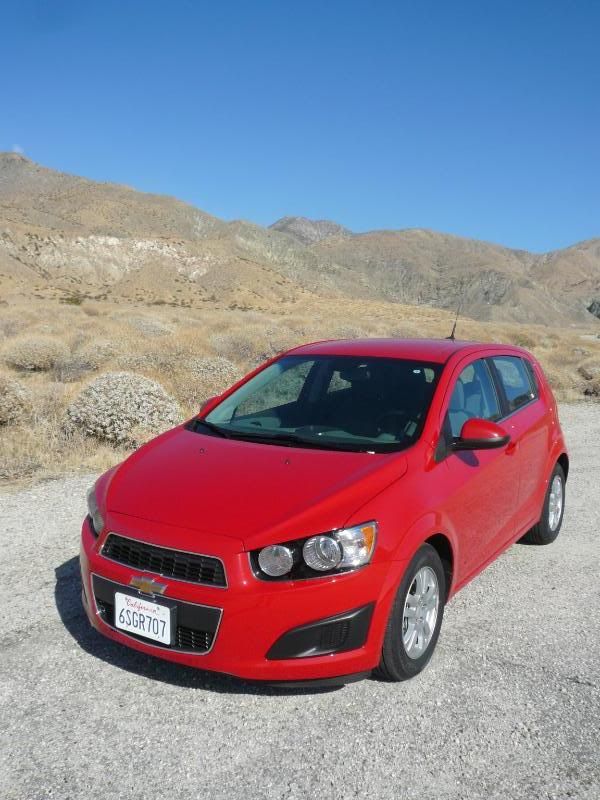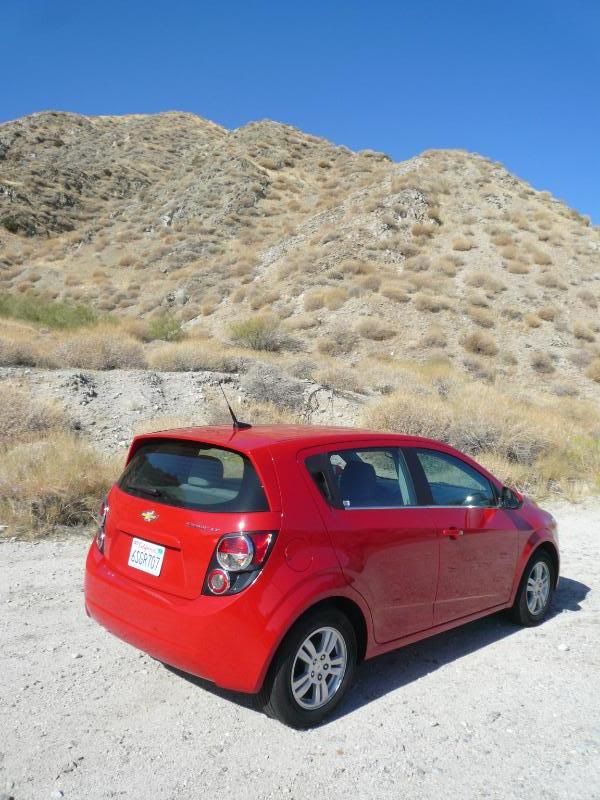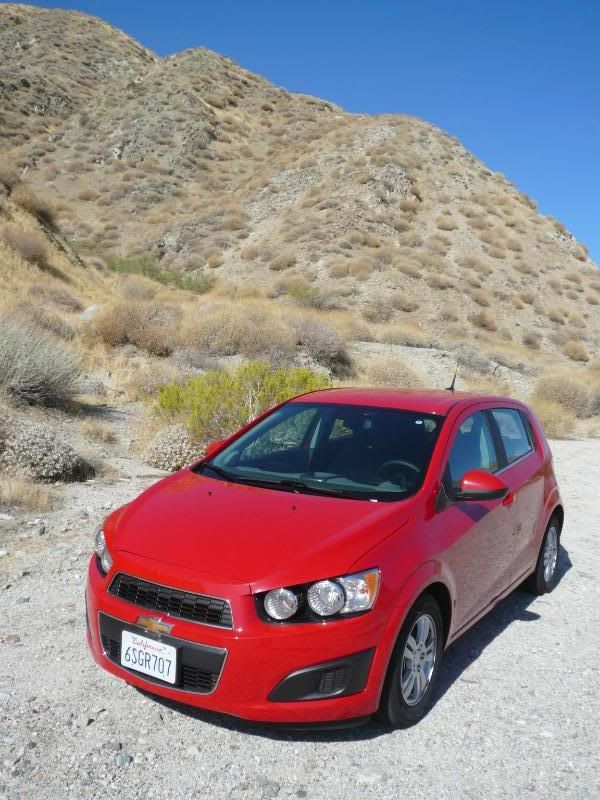 2011 marks Chevrolet's Centenary, and along with a number of celebratory events which have taken place around the world, the occasion has been marked with several new cars. Whilst the intriguing Volt has captured most of the headlines, it is the new sub-compact car that is of more immediate commercial significance. Purists will claim that this not a real Chevrolet, as the car's origins are indeed in Korea, but in the age of globalisation, such an assessment is no longer such a meaningful way of looking at things. Premiered earlier in the year, Chevrolet is clearly hoping for big things with their new small car, and as if to emphasise the differences, has chosen in America to change the name from Aveo to Sonic. Strangely, in Europe the car will continue to wear Aveo badges. Perhaps they perceive there to be not so much of a name stigma as there is probably far less brand recognition and hence prejudice towards the Aveo name than exists in the US. The latest car has yet to go on sale in Europe, and has only just hit the streets of America, so it was a bit of a surprise to see one at Hertz' LAX facility with my name on it. I had only booked a cheap car for the first two days of my holiday, as I was not expecting to cover many miles. With a poor weather forecast, I suspected that it was going to prove difficult to get any decent photos of whatever was allocated to me. With my flight delayed by 5 hours, and seeing that this car was in the photographically helpful shade of Victory Red, I was in no mood to wander around to see what else was on offer, so simply loaded up, and headed to my nearby hotel for a bed and some sleep. The weather was not as bad as predicted, and I even found some blue skies, so the question is, was the car also better than expected, or not?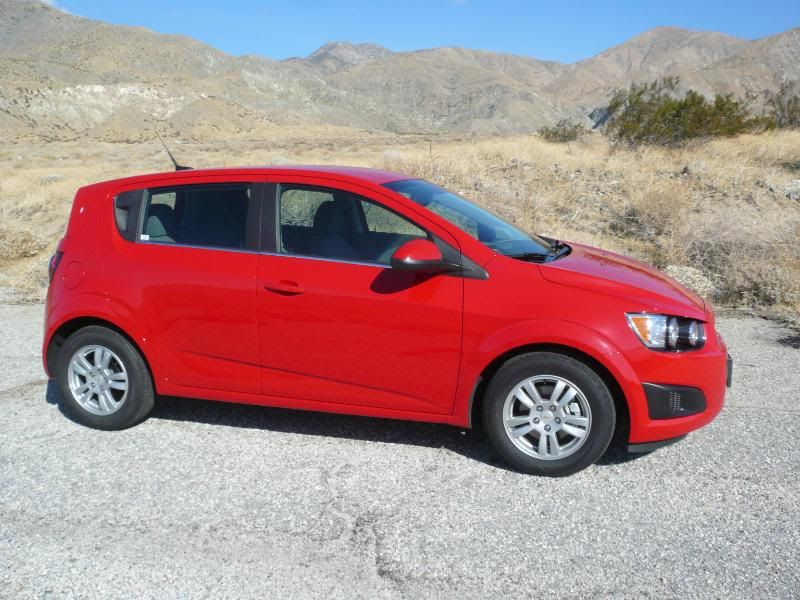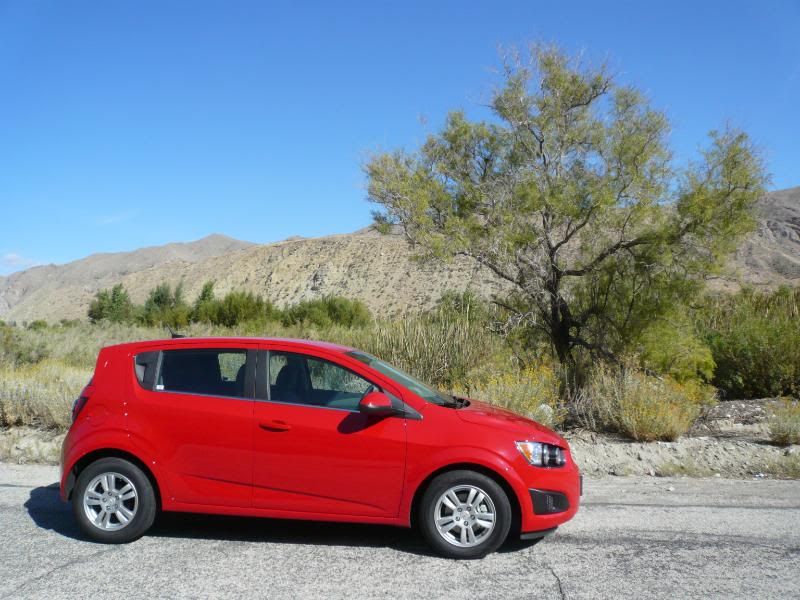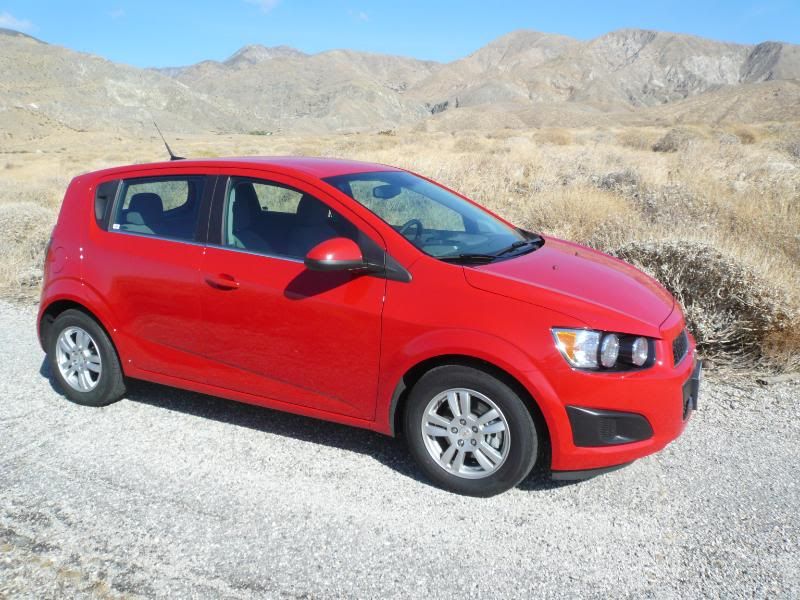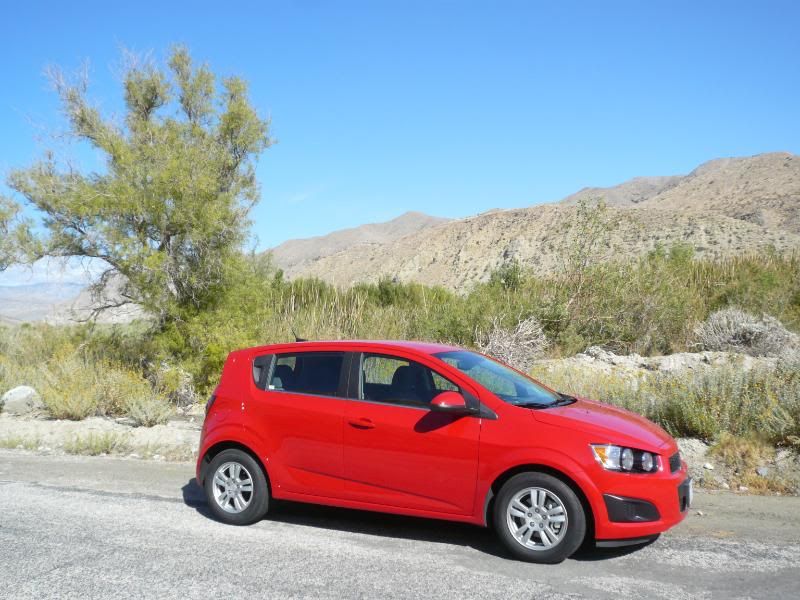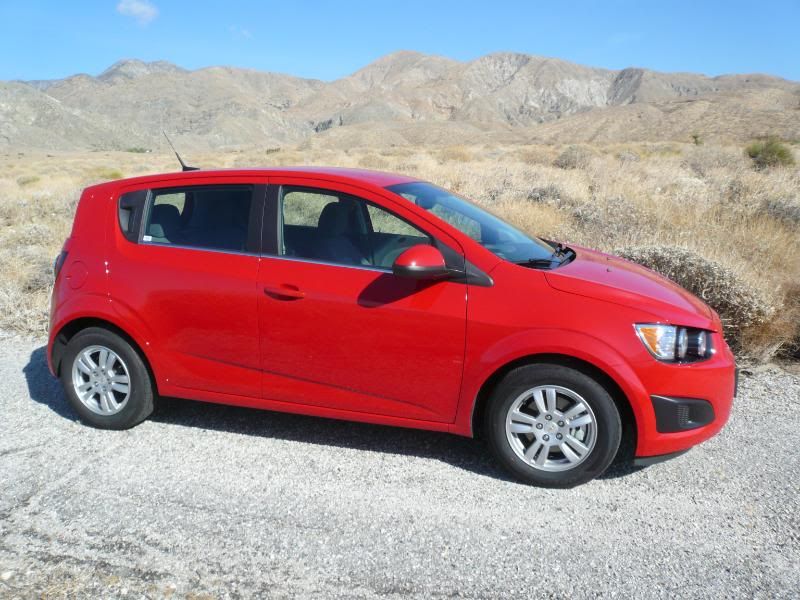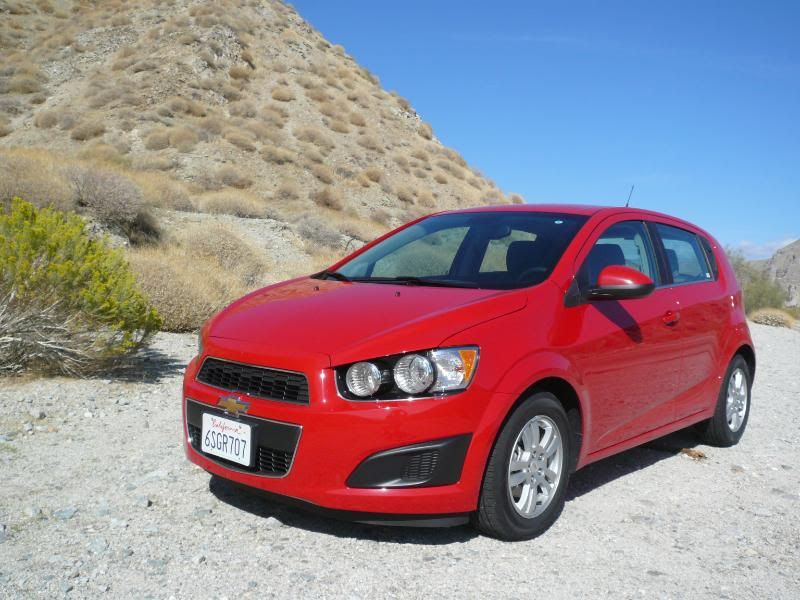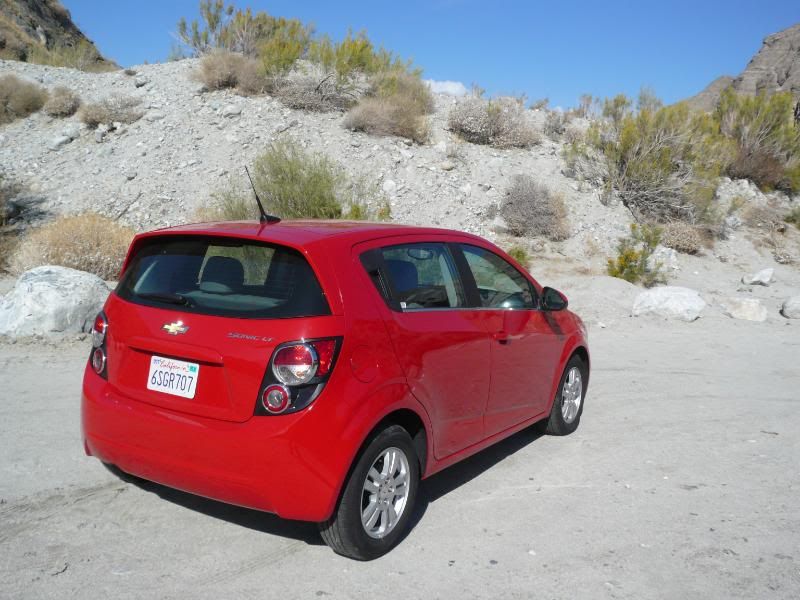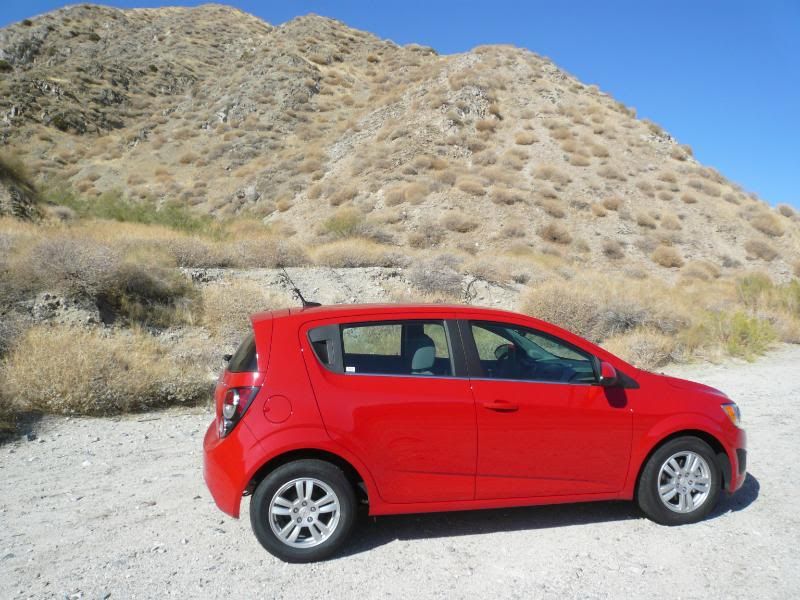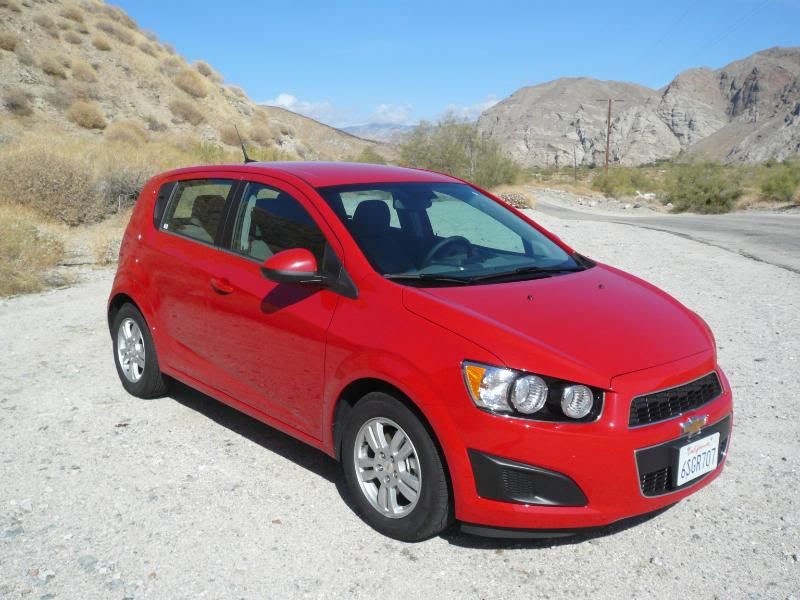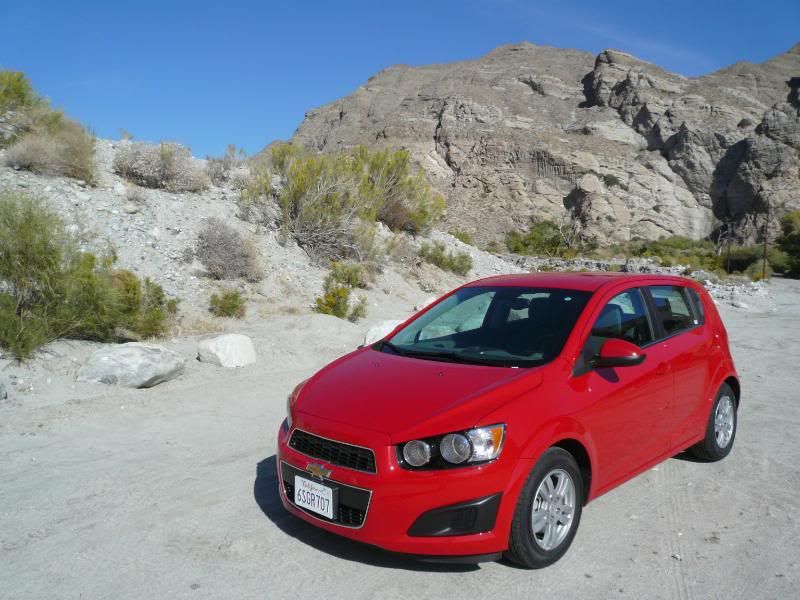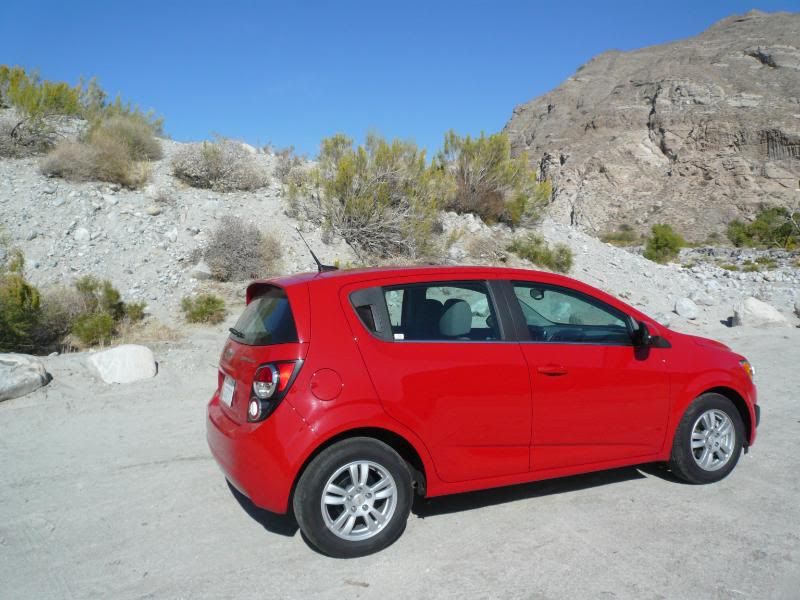 As with the Aveo, Sonic is sold in two body styles, a four door saloon and a five door hatchback. Whereas Europe will doubtless only see the latter, in America, a nation known still for favouring the saloon body style, having this choice remains important in the showroom. The saloon is the cheaper of the two. My test car was a hatchback, though I did spot a couple of saloons at the Hertz facility as well.  Although from some angles there appeared to be quite a visual resemblance to the Aveo, when you see the car in the metal, this is far less the case. Indeed, the front would seem to owe more to the Mitsubishi Lancer, with its prominent snout and a similar shape to the headlights. I was quite surprised to find that those twin lights are two separate round units and not the single covered unit with two lights inside as I was expecting. The rear door handles are "hidden" in the edge of the window trim, following the trend set by the Alfa 156, but whilst the overall style of this car is neat and inoffensive enough, I can't help but feel that the original Giugiaro penned Aveo/Kalos from which the lines of Sonic are clearly derived, looked that bit better. That car might have looked quite well conceived, but it was not up to much dynamically, so time to get behind the wheel of Sonic to see if things have improved.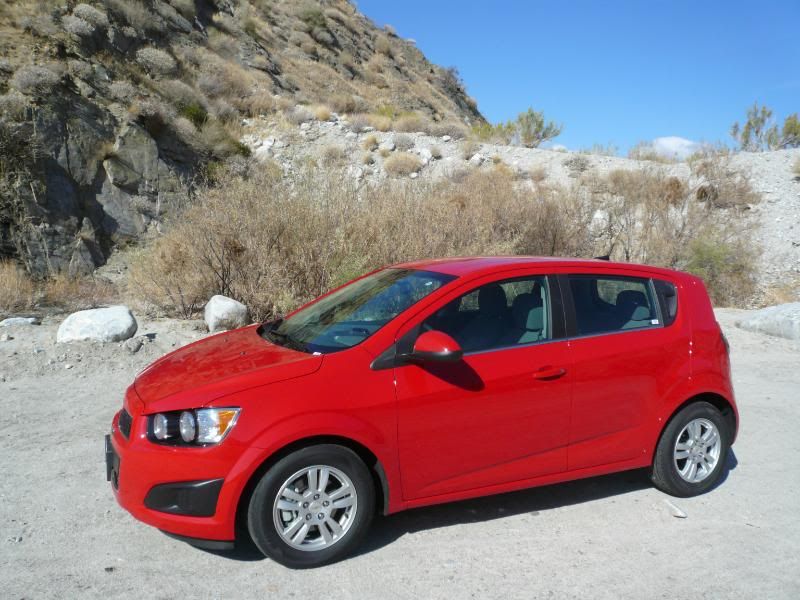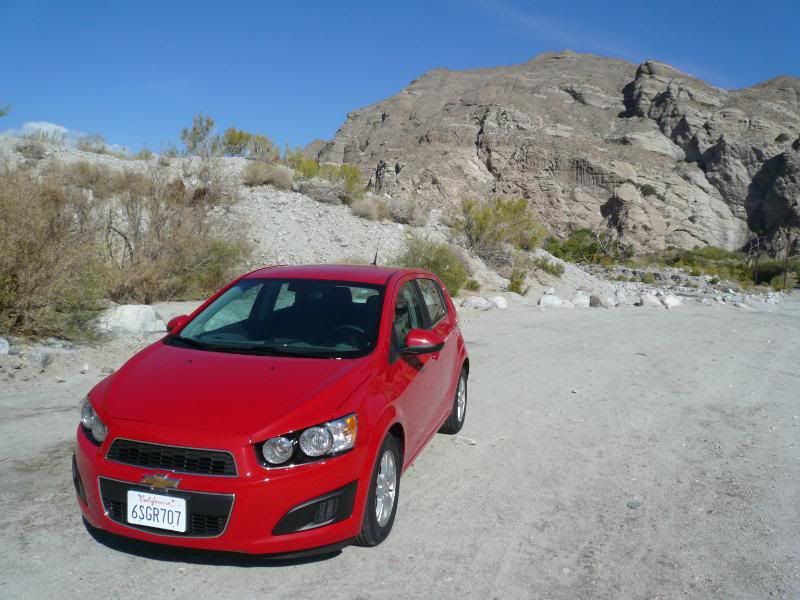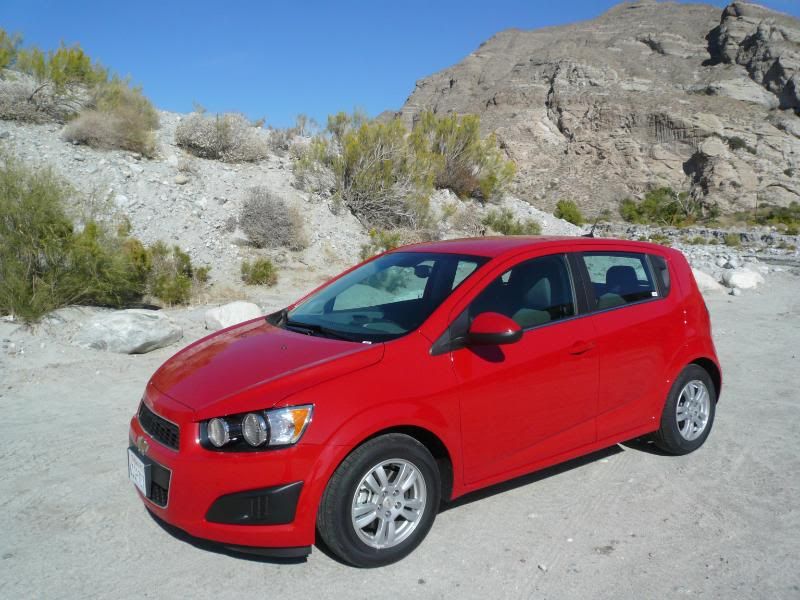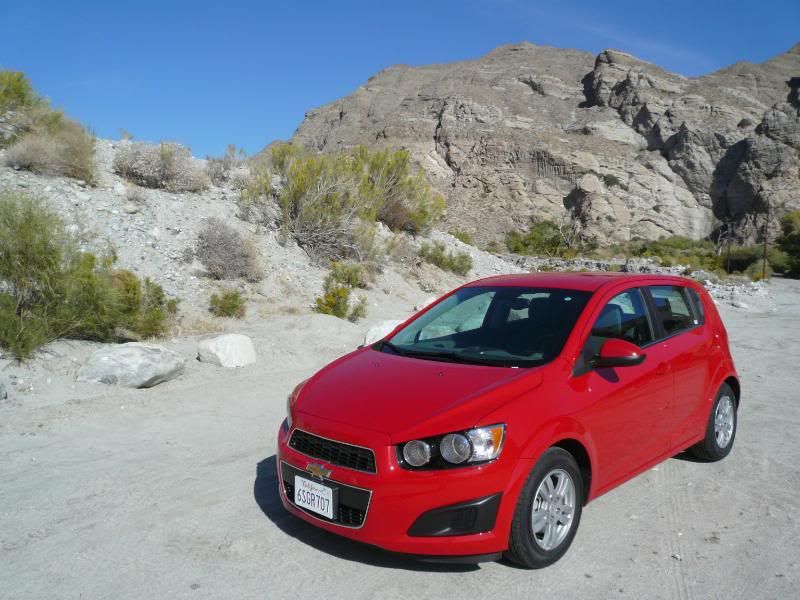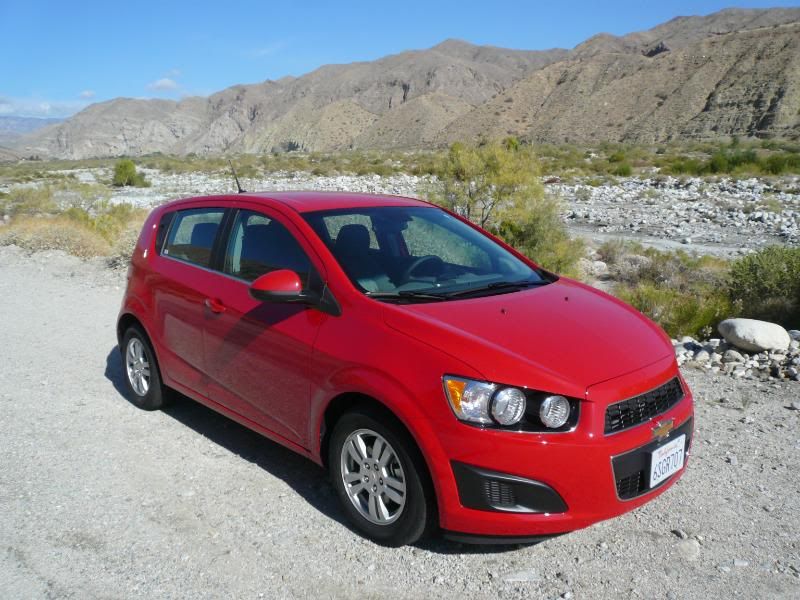 There are two engine options for the Sonic, a 1.8 litre 4 cylinder and a 1.4 litre turbo. With marginal power differences between them – 138 and 135 bhp respectively – it is hard to tell which would be the favoured one. The turbo does have more torque available, with 148 lb/ft at 2500 rpm, as opposed to 125 lb/ft at 3800 rpm for the bigger engined car. At present the turbo is only available with a manual gearbox, though this will change within months. My test car, endowed with an automatic gearbox, had therefore, by a process of logical deduction to be a 1.8, though there were no badges on the car or the engine to tell you. I am glad that I read that it generates a potent (for the size of car) 138 bhp, as you would never guess this from behind the wheel, as the car feels somewhat lazy. The engine does only generate 125 lb/ft of torque and that might explain some of the lethargy, and if you look at the weight of the car that probably provides the rest of the answer. If you rev the engine very hard there is reasonable acceleration, but left to its own devices, the natural inclination of the six speed automatic is to change up to top gear as quickly, and smoothly, as possible, which endows the Sonic with only very modest acceleration indeed. There is a manual mode available for the gearbox, with a small switch in the upper left side of the gearlever so you can manually override the gear changes if you want. Noting that this car has 30 bhp more than the Aveo which it replaces, it feels like something has been lost as that car was quite peppy. What has also been lost is the terrible noise problem that made the Aveo I car I simply could not tolerate on the freeway. The Sonic goes right to the opposite extreme and is very refined indeed. There are moderate levels of wind rustle, but otherwise this is a quiet and restful car on the freeway, which is not something that you can usually say about cars in this class.  Fuel economy was pretty decent, recording 32.4 mpg (US), which amounts to 39.4 mpg in Imperial gallons. The steering wheel is a plastic moulding, but it proved less unpleasant to hold than some others I have recently encountered. It would appear even to be connected to the road wheels, too, as there was decent feel giving some clue where the car was pointing. Not in the Ford class, for sure, but far better than the over light set-ups that seem to be becoming so popular in far too many cars. The handling proved quite predictable, as you would expect from a modestly powered front wheel drive car, though there was more body roll than you might hope for, as I found on swooping freeway intersections. The Sonic rides well, absorbing the rough surfaces of California's roads quite well.  The brakes felt a bit mushy, needing a firm push to make any effective retardation, though after a couple of days, I found this less noticeable. A pull-up handbrake lever is located between the seats.  There are two visibility problems to contend with. Most seriously, the door mirrors are simply not large enough, as they taper away a lot towards their outer edge, thus generating quite a significant blond spot. The very thick C pillar also makes over the shoulder visibility when reversing a particularly challenging experience, as I found out when trying to back out of car park spaces. You simply have no idea if there is anything come up along the parking line. Other than these two difficulties. the Sonic is an easy car to position on the road, and with a short front overhang and a back that is pretty vertical, it is quite easy to judge the extremities.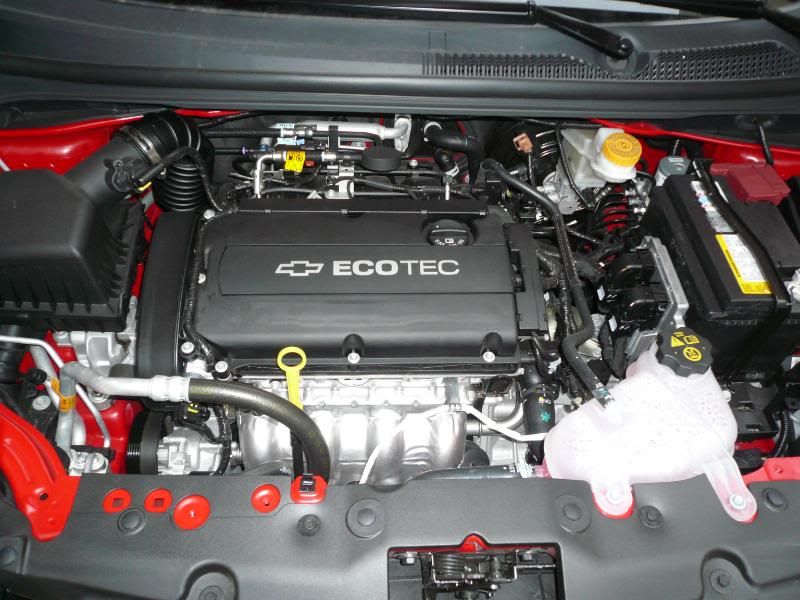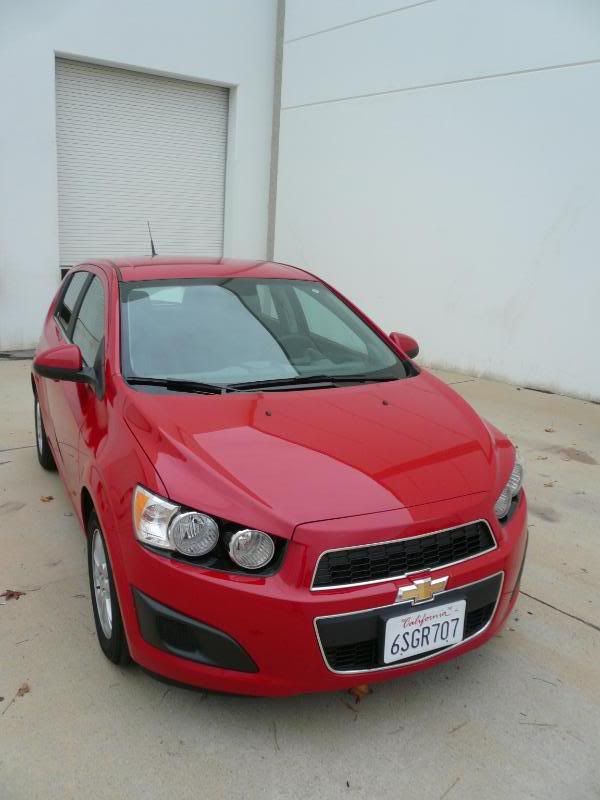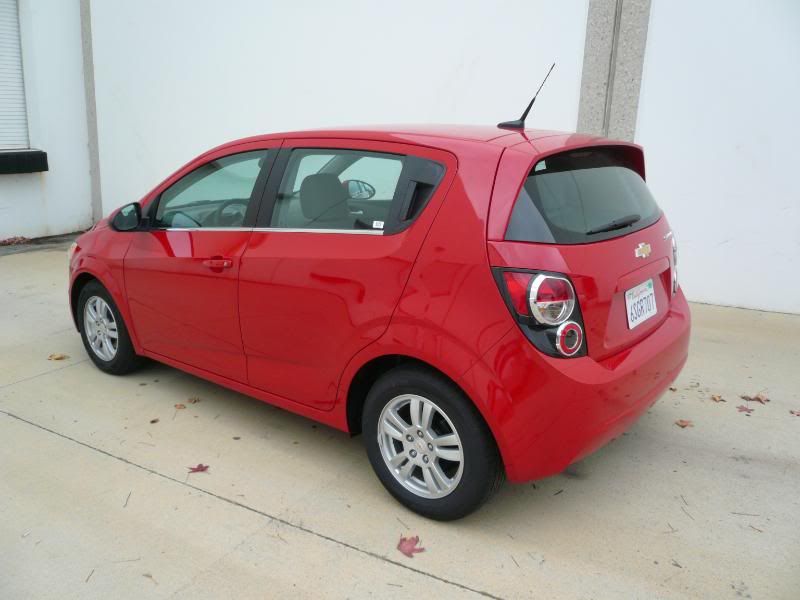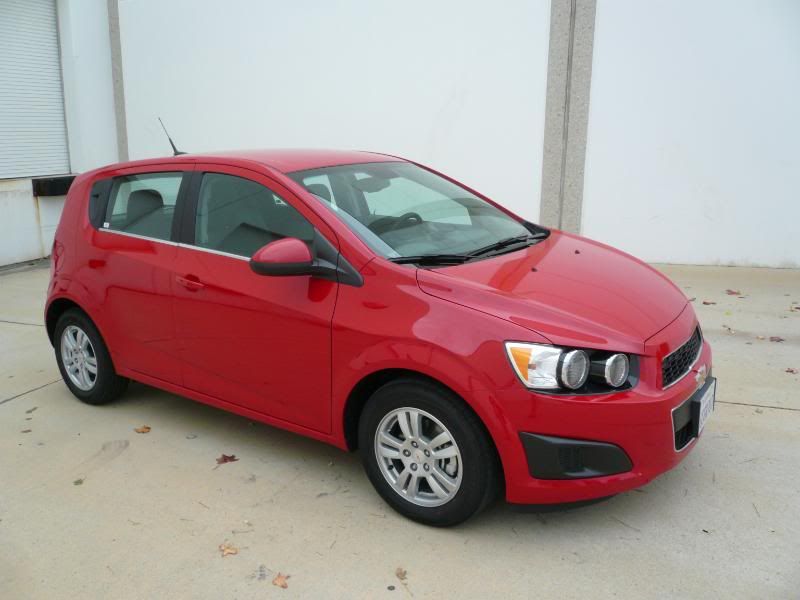 It is not just the noise problem of the Aveo that has been addressed, as one look inside the cabin will demonstrate. The Aveo was a mixture of horrid quality plastics and some even nastier fake wood, and was generally about as low rent as car interiors come these days. No such gripes about the Sonic which evidences good quality fit and finish and much improved quality of the plastics. The dashboard is different too, with a very unusual instrument cluster. There is just one dial, which is the rev counter, which has a cogged edge to it, then alongside it is a digital display area where you can find a bar chart for fuel level, a single readout for the speed and various trip computer and odometer functions. A row of warning lights are under this. It is certainly different. Decent quality column stalks do wipers and indicators, and the trip computer functions are cycled from a small button in the left hand stalk. A rotary dial on the dash to the left of the column does the lights. The centre of the dash contains an audio unit and below this rotary dials for the air conditioning, which it has to be said seemed rather puny. Even with the fan on its second of four speeds, there was hardly any air coming into the cabin, and the test did not even include particularly warm weather to challenge the system.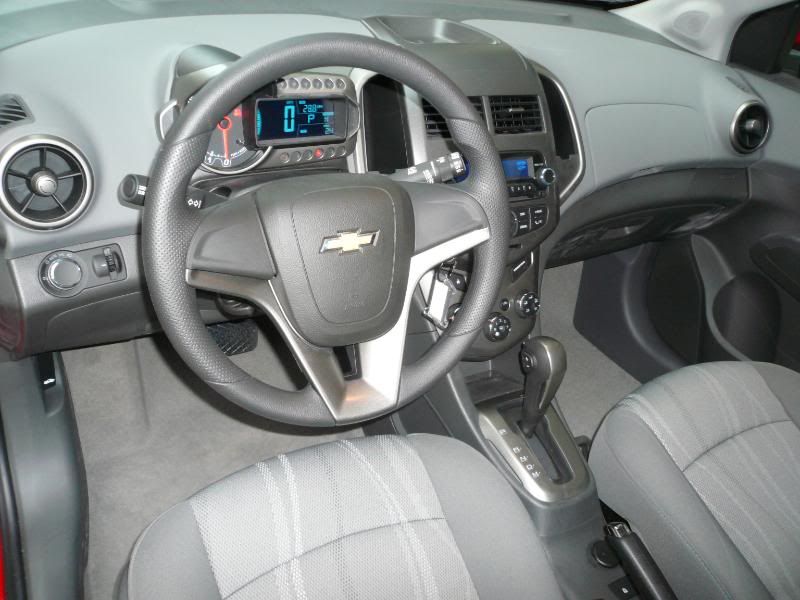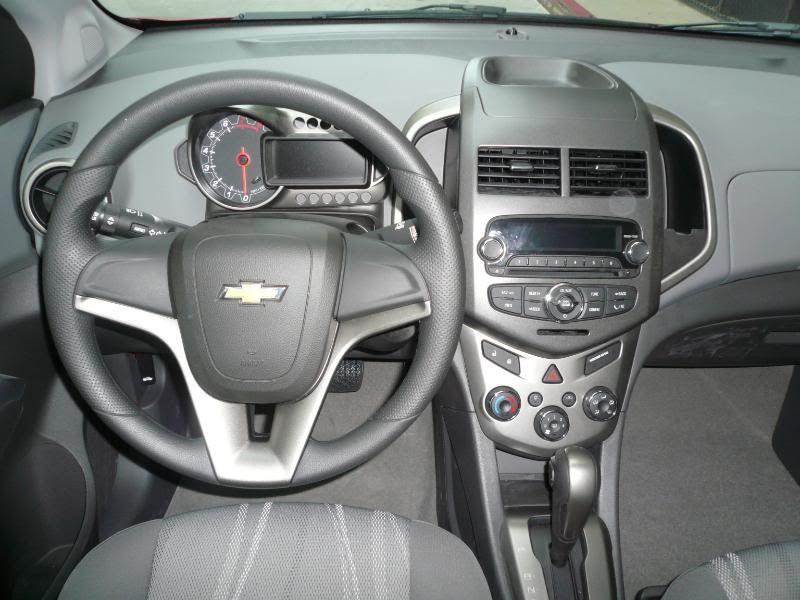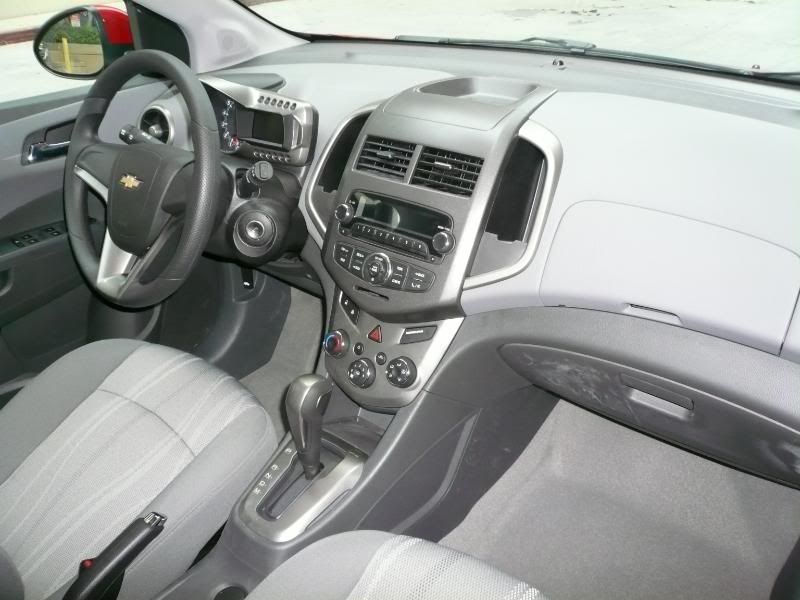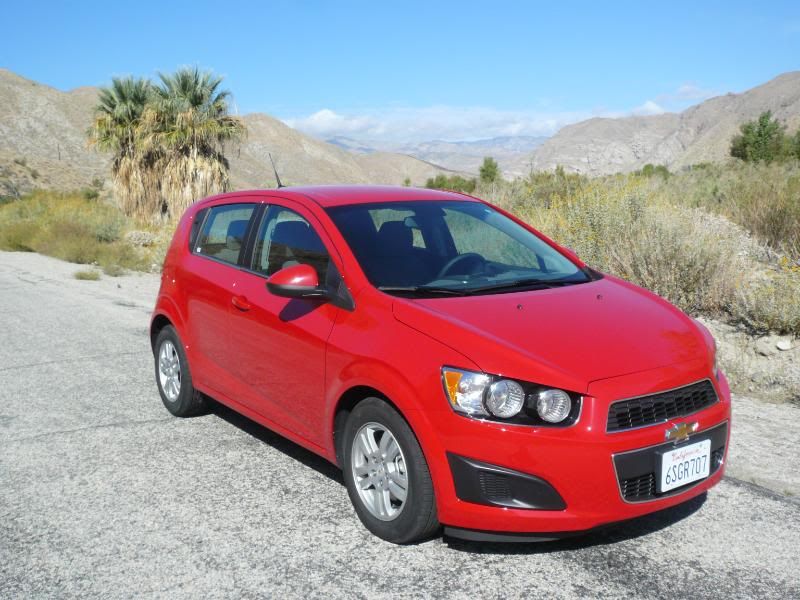 I had no problem in getting comfortable in the car. The steering wheel adjusts not just up and down, but in and out as well. The seats are moved, but there is a height adjuster, as well as the ability to alter the backrest rake in a series of steps, with a lever which is set well back and which was a little awkward to reach. There is a height adjuster on the seat belts, too. The seat proved comfortable, with good support, helping to dispel apprehensions that this is still a painful economy car, as came across with its predecessor. Space in the back of the Sonic is not overly generous, though two adults could fit in there without feeling unduly squashed, especially if the front passenger trades off some leg room for them. Shoulder room would be a real problem for a third rear seat passenger, so it making the car effectively a four seater. Chevrolet claim that the boot in the Sonic is larger than in many larger cars. I don't know they chose as their comparison point, as I have to disagree. My suitcase just about fitted in, covering the entire floor space, as there is neither that much room from front to back, or even from side to side. There is not a lot of height, either, though if you removed the false floor that would give you a bit more depth. In any case, my Laptop bag had to go inside the cabin which was not good. The rear seats are split and can be folded down individually, by dropping the backrest onto the rear seat cushion, creating a flat floor area. Inside the cabin, things are a lot better, with a split level glove box, large door bins, which are moulded outwards towards the front so they could accommodate a bottle, cup holders between the seats, a small cubby in front of the gear lever, a couple of small stowage areas on either side of the audio unit on the dash, and a recessed area on top of the dash.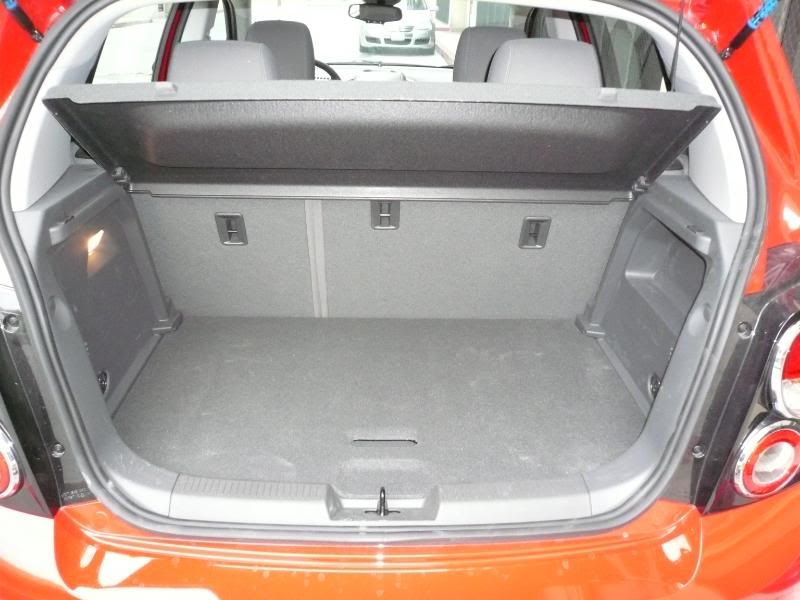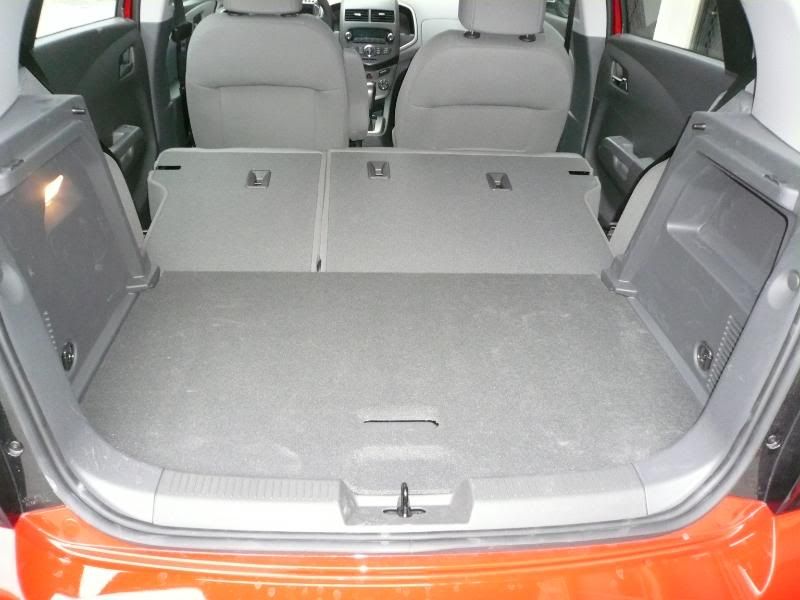 As with its predecessor, Sonic is offered in LS, and  LT trim, but  additionally, there is an LTZ level available as well. The test car was badged LT and was reasonably well equipped. Aluminium painted wheels do a passable impersonation of alloy and are a visual change for a car in this class, and there was air conditioning as well as remote central locking, electric mirrors, a much appreciated XM satellite radio, with CD, MP3 and USB connectivity.  Not that the Sonic is particularly cheap, retailing at $16,805, which is some way ahead of the entry level versions of cars like the Nissan Versa.  Looking into the specifications in more detail, it would seem that the differences between an LS and LT are that the latter has electric mirrors and windows, and upgraded audio unit including satellite radio and in the case of the hatchback, a load cover. Upgrade to the LTZ and you get larger 17″ wheels, front fog lights, a leather wrapped steering wheel with audio controls, heated seats and mirrors and cruise control.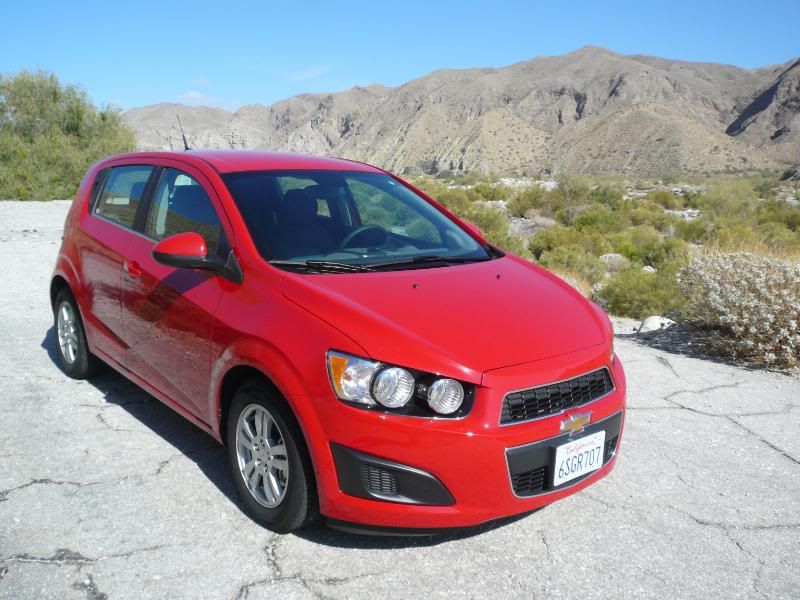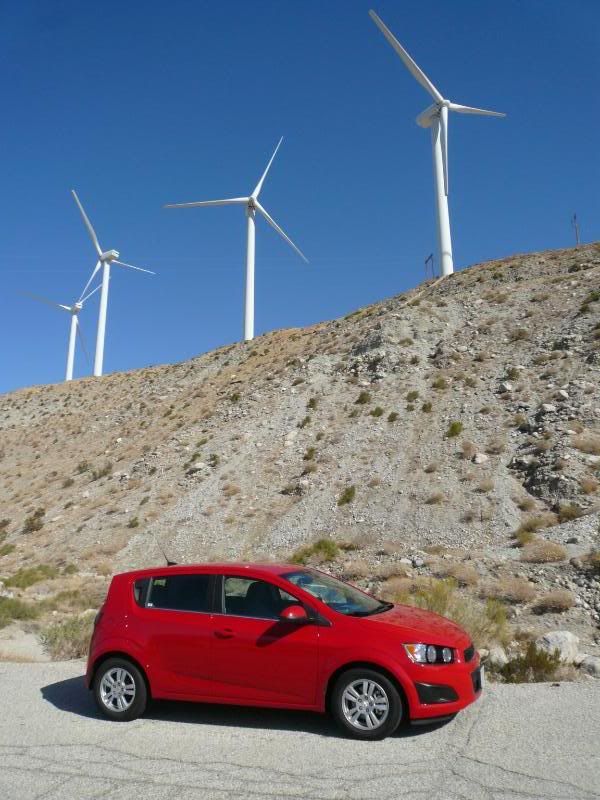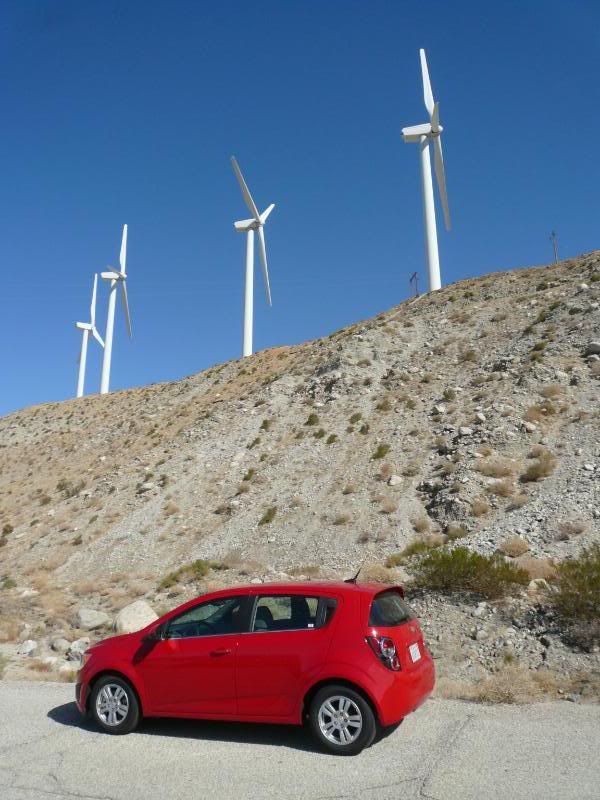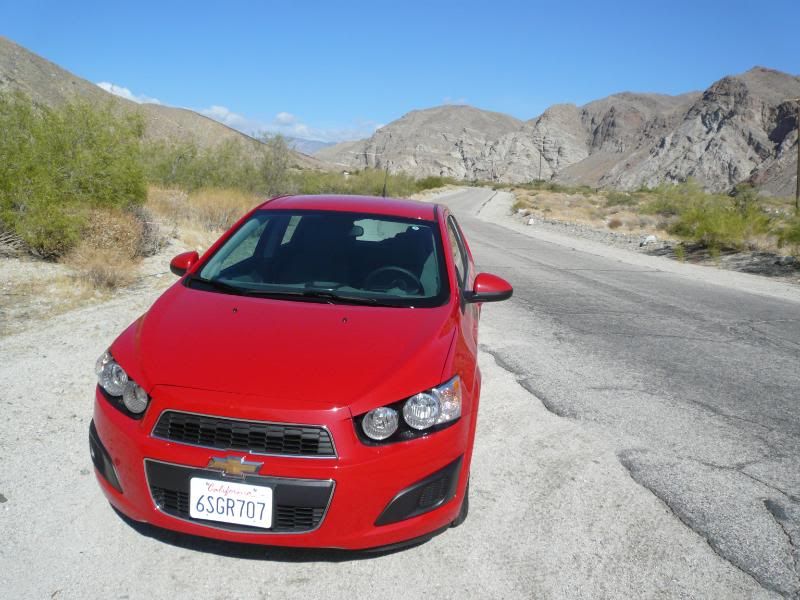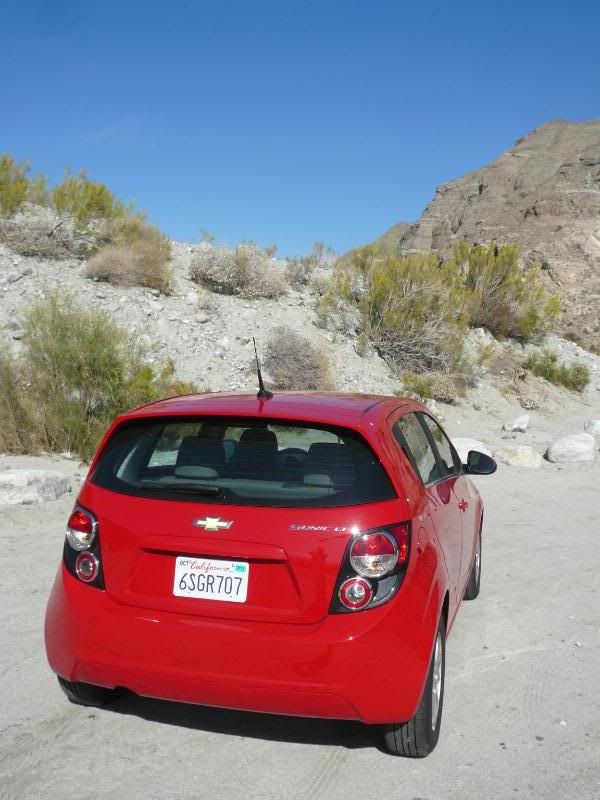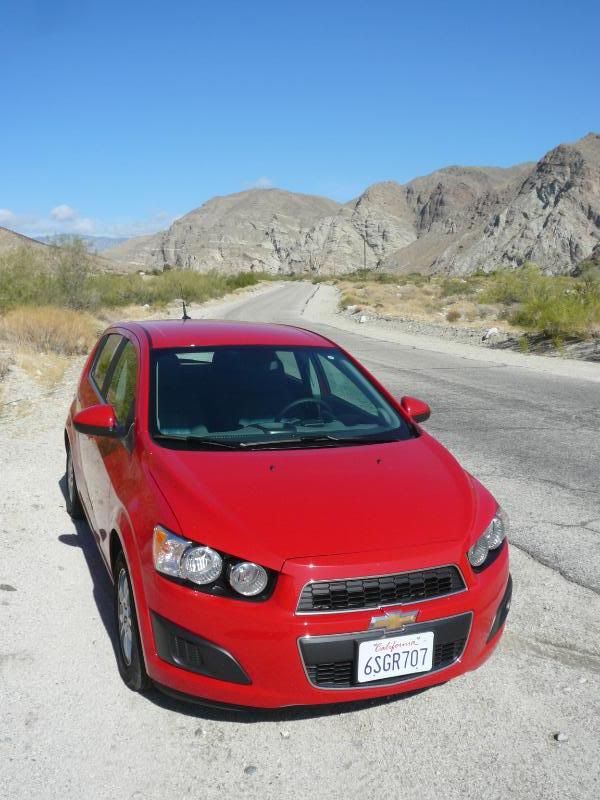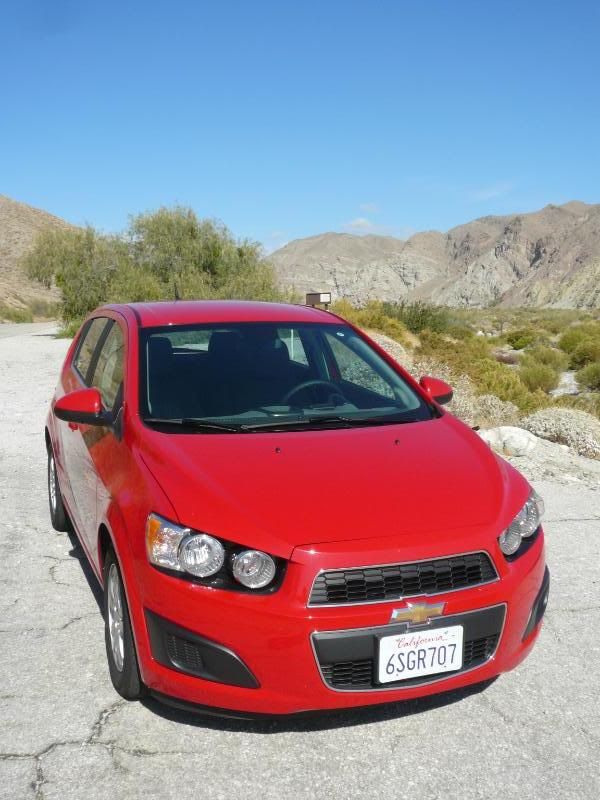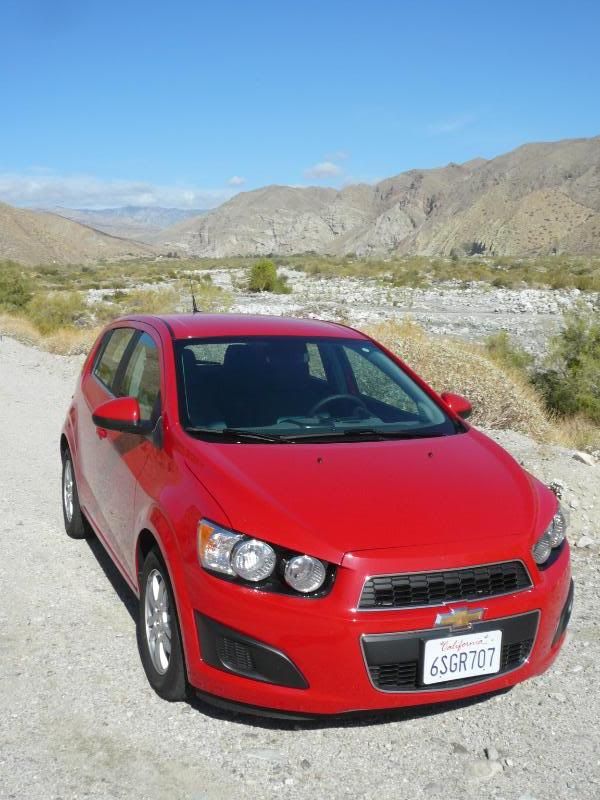 When I handed the Sonic back to Mr Hertz, the returns agent asked me if everything was OK with the car. I told him that I thought this car was a massive improvement on the Aveo, and he agreed. Hertz have only got a few Sonics, and they are all only a couple of weeks old, so they have not had a lot of feedback, but he did say that no-one liked the Aveo at all, and they ended up allocating most of them to protesting or desperate customers whereas he can see that the Sonic will not generate the same antipathy. Provided you can fit your luggage in it, as cheap rental car run-around, it acquits itself quite well, though I need to sample the rivals, all of which are new, and which include the US Fiesta, the latest Hyundai Accent, Kia Rio and Nissan Versa, all of which are said to move things on a lot from their predecessors,  before I can give the Sonic an unqualified recommendation. As to how it will fare in Europe, I think it will struggle. It enters the most competitive sector of the market, and has to do battle with cars like Fiesta, Polo, Jazz, Punto and Suzuki Swift, all of which are well established and deservedly popular.
2011-11-19 13:57:31