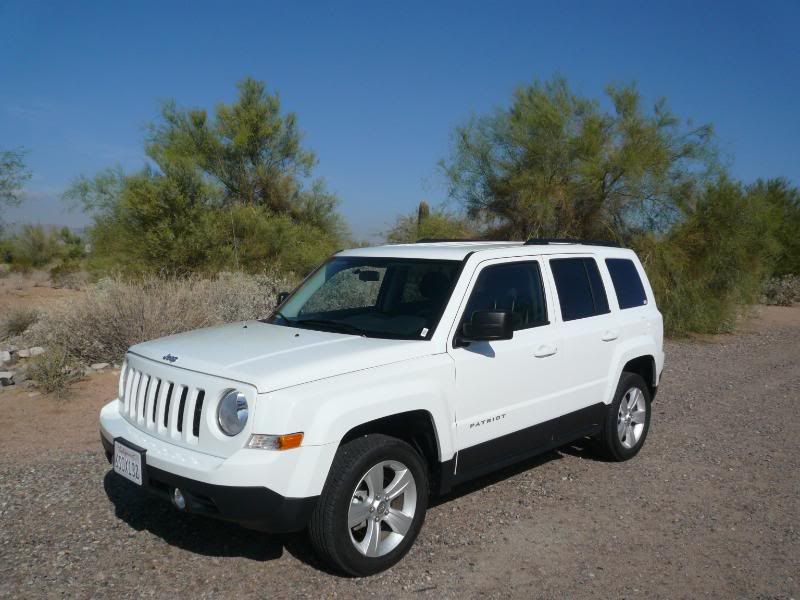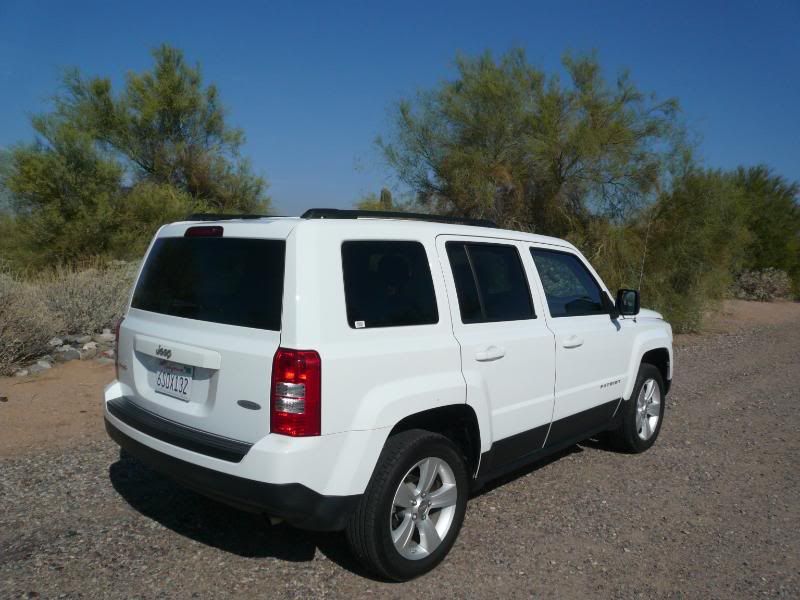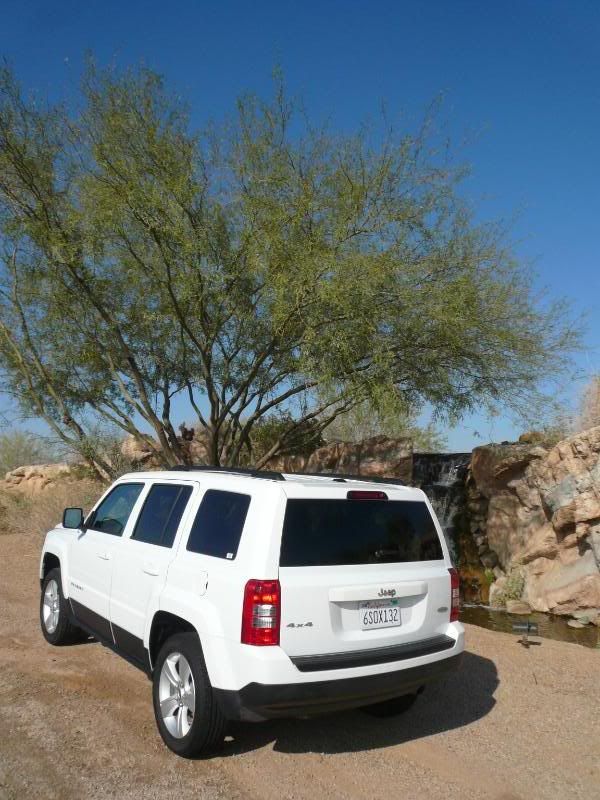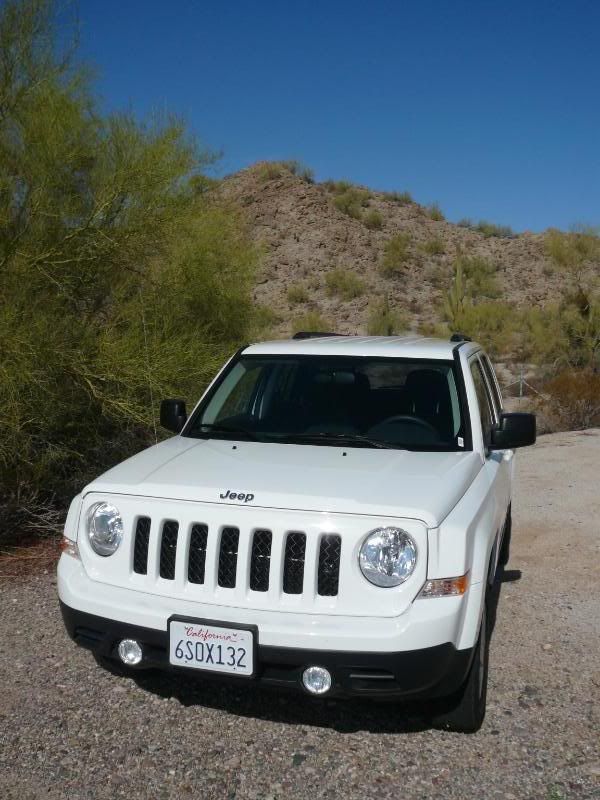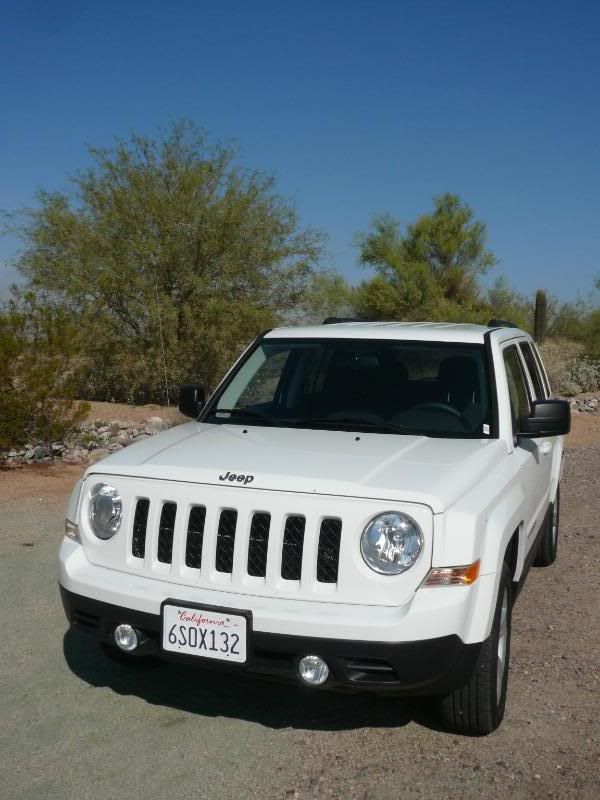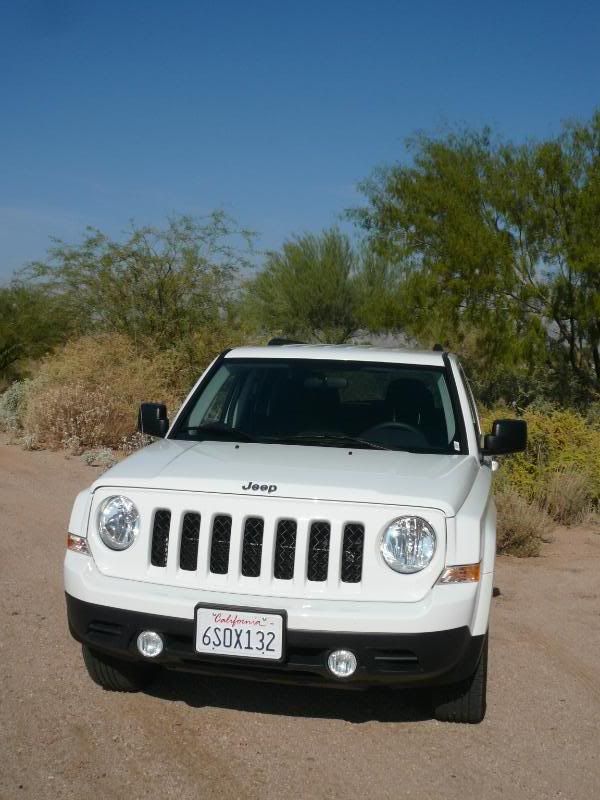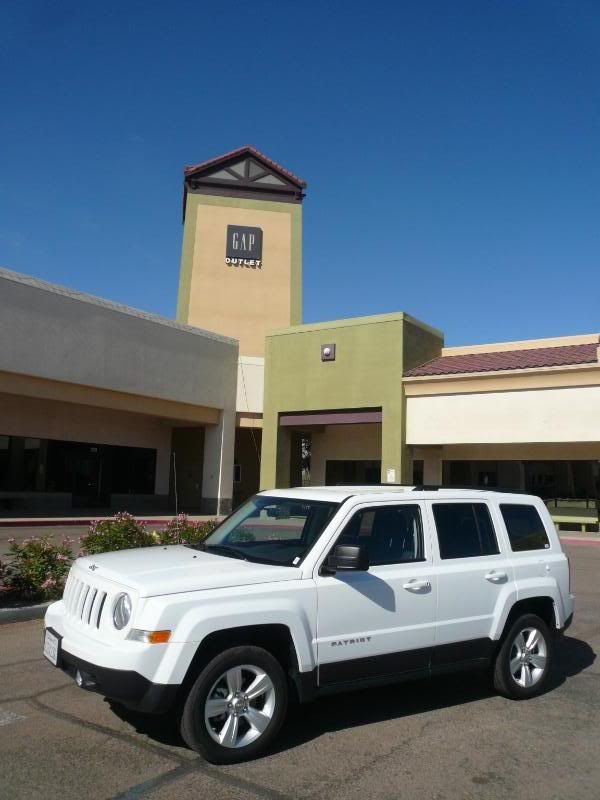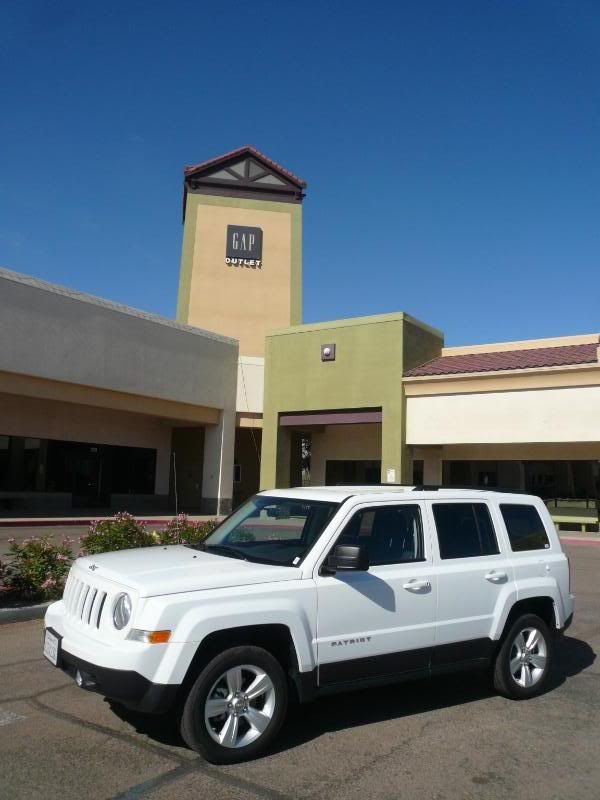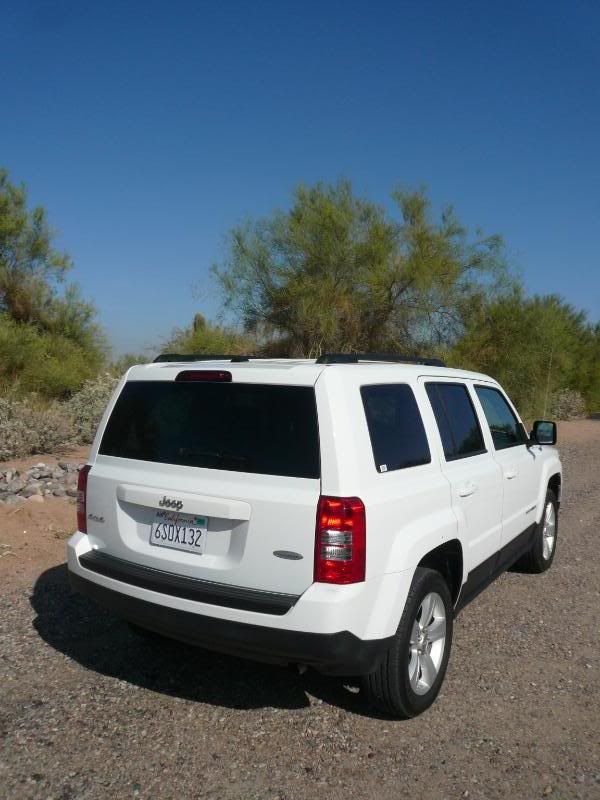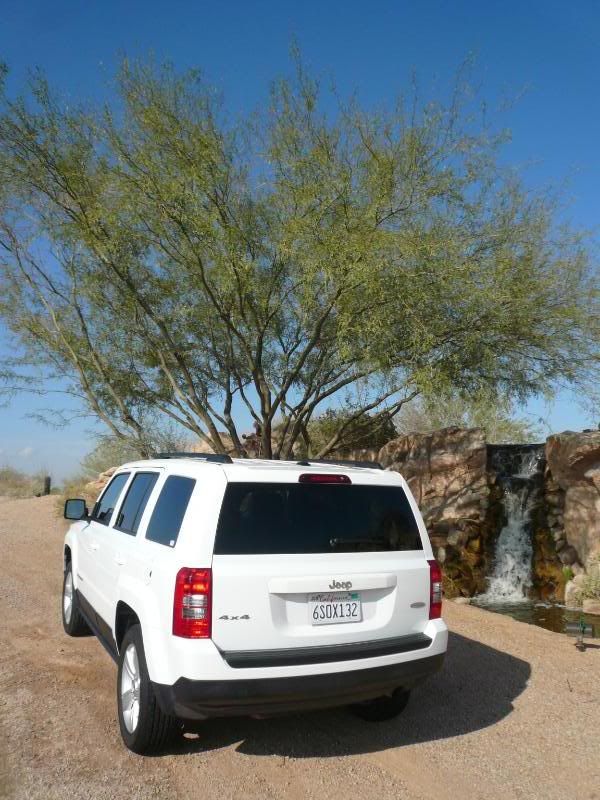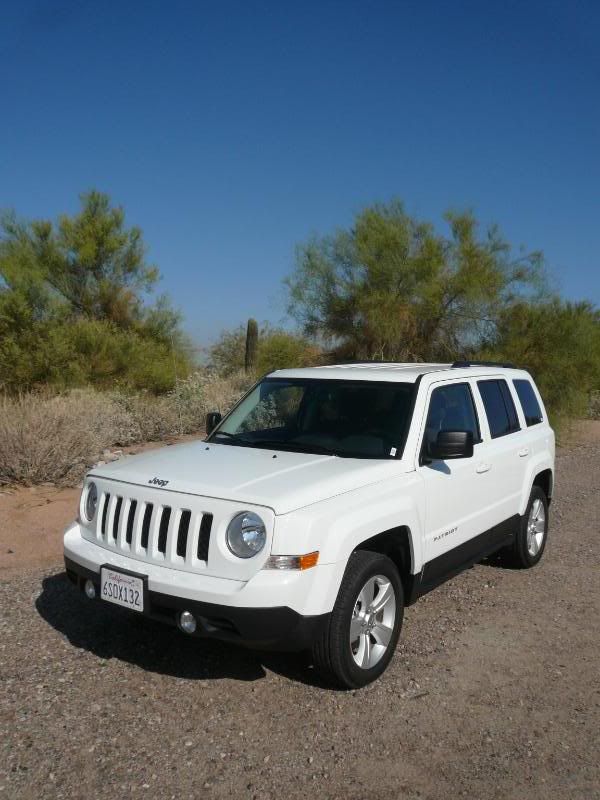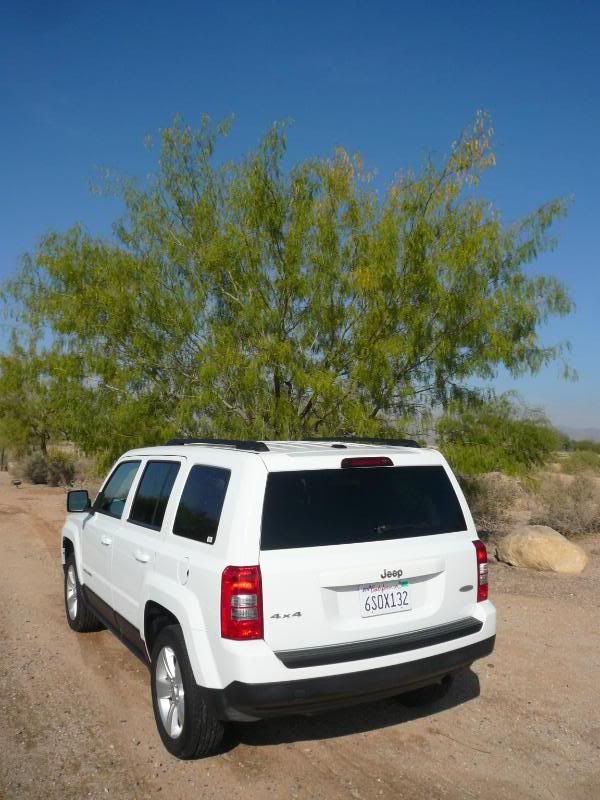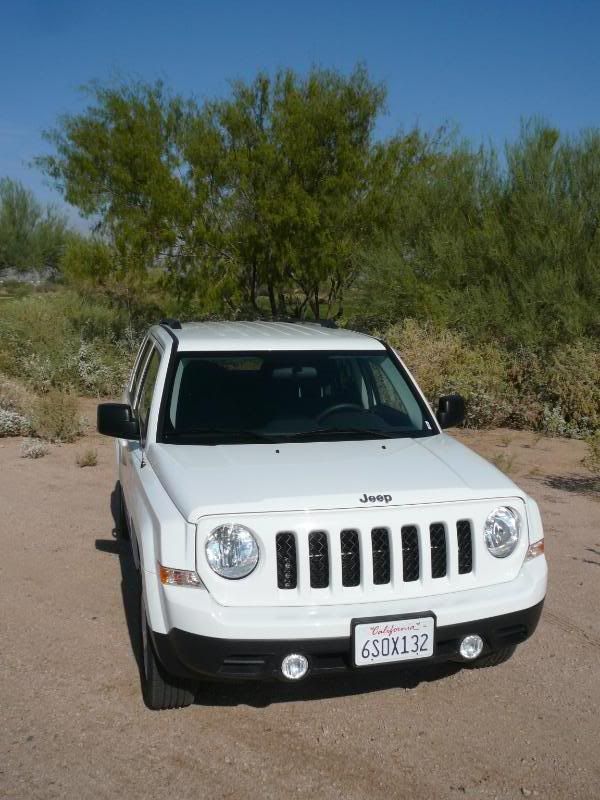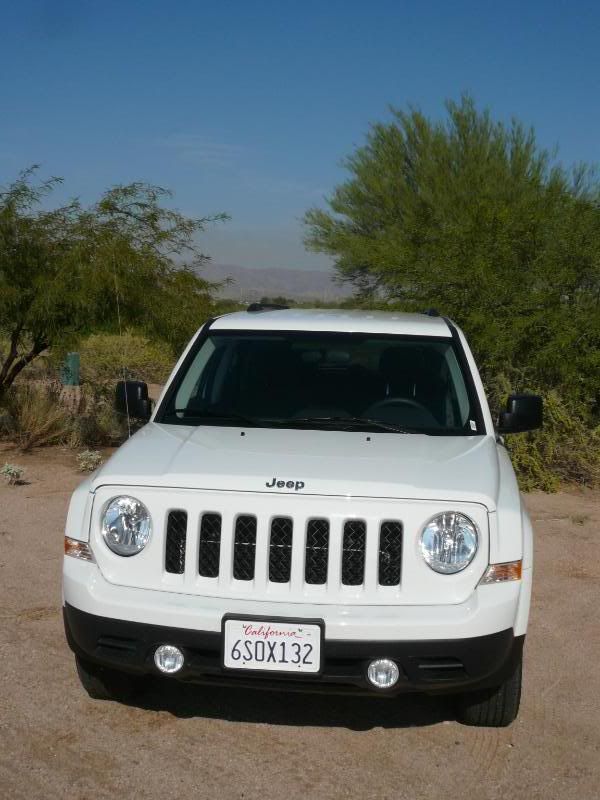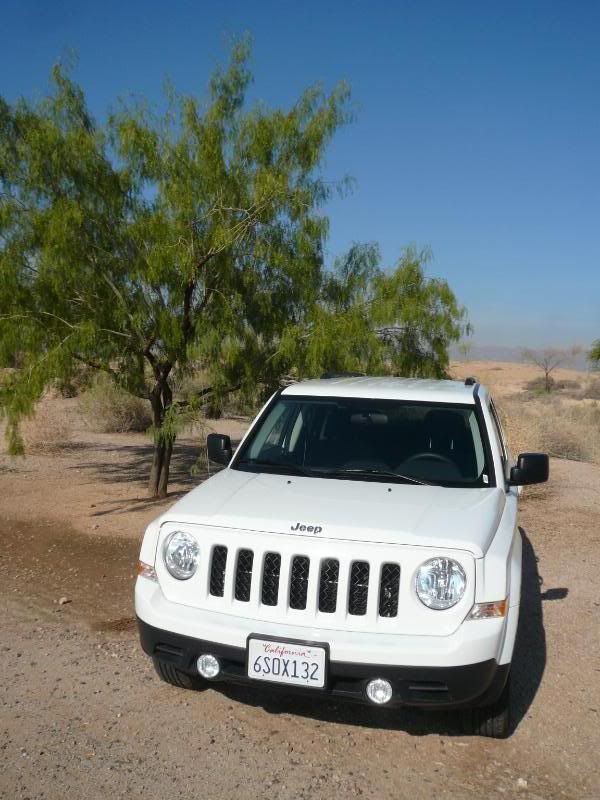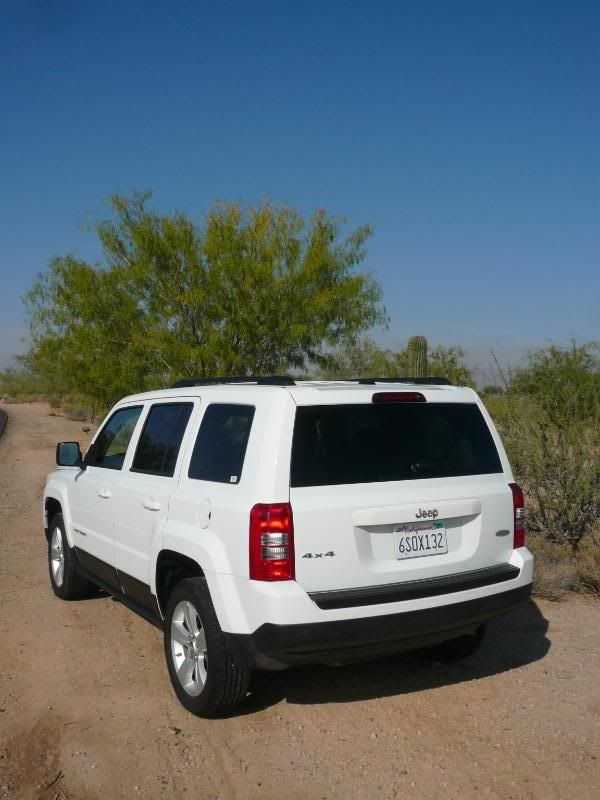 Jeep recently celebrated their 70th anniversary, and for most of that time has been known for producing an off-roader which is called Wrangler in its current manifestation and the more civilised Cherokee and Liberty SUVs. A few years ago, in a determined effort to increase the range of products offered, as well as adding the unloved 7 seater Commander, two cheaper models were launched, which were designed to offer both an entry point into the Jeep family and in the case of one of them, the Compass, to trade more on looks and heritage than true off road ability. Compass and Patriot might have looked like the real McCoy, but under their family look was a Dodge Caliber chassis, a car not renowned for impressing anyone much. Not surprisingly, the new twins hardly flew out of the showrooms. A few of them made it over to Europe, where, needing the oil burning powerplant that Americans shun with a passion,  they were saddled with the noisy and unrefined VAG Group Pump Duese 2.0 TDi unit. Their reception by the motoring press was not even luke warm.  When the Fiat Group acquired the entire Chrysler Corporation, which included Jeep, a program of immediate changes and improvements to existing products was instigated, and the results were shown in 2010 for inclusion in the 2011 model year. Patriot and Compass both came in for attention, with the latter getting a new family look front end which at least got rid of the gawky looks, whereas the visual changes to the Patriot were more limited. More was done inside the car, with an upgraded interior being the most obvious, and most needed alteration. I never got to sample the early model Compass and Patriot, but with Jeeps now back in the Hertz US fleet, when a 2011 model year Patriot appeared in the parking space with my name above it. I decided to take it out and see if the car is now any good.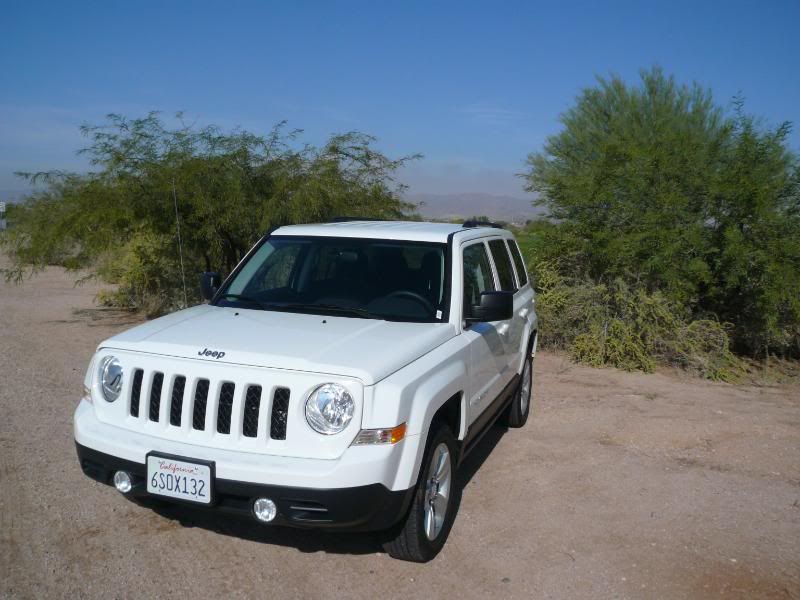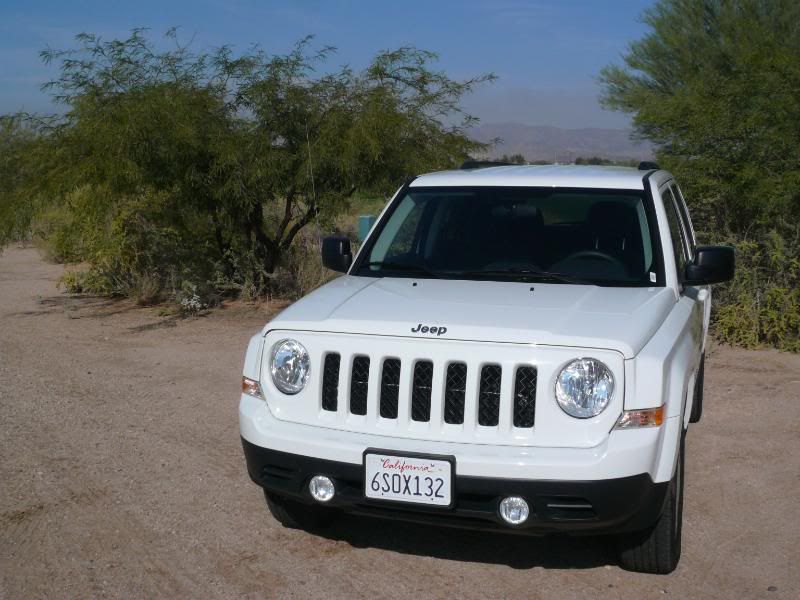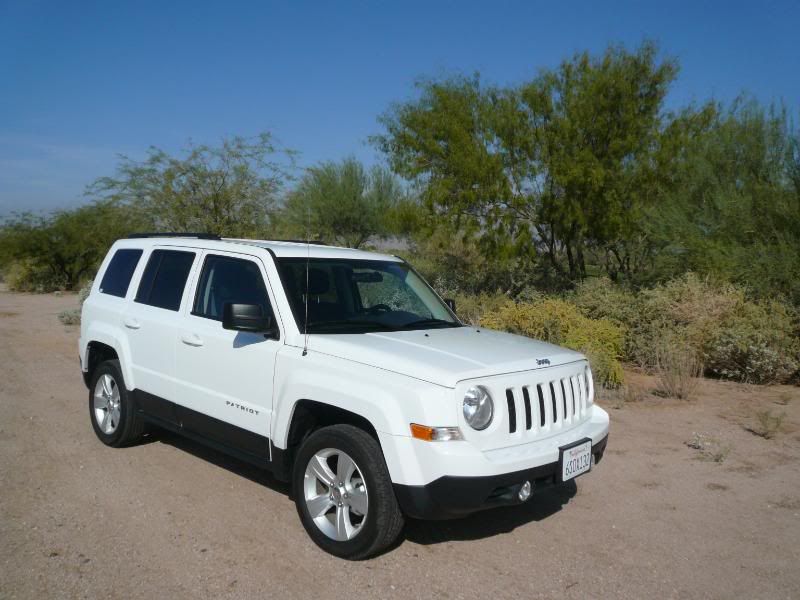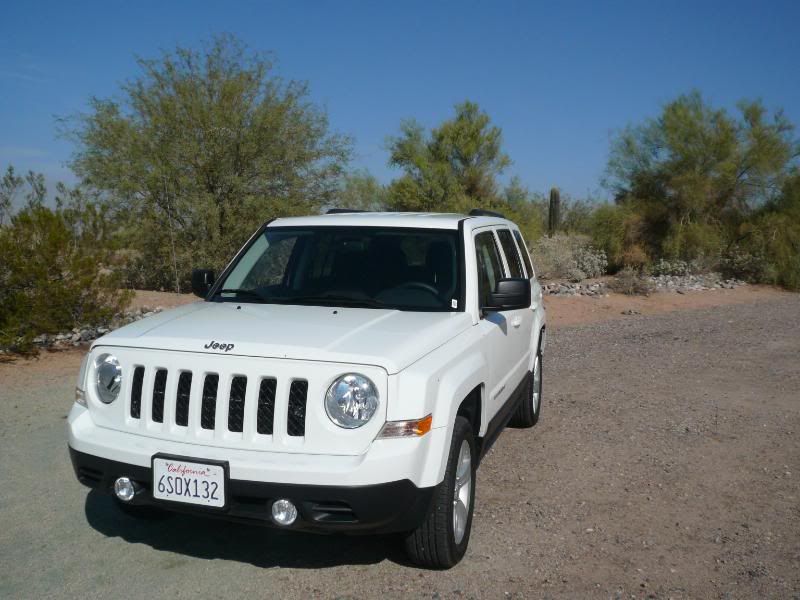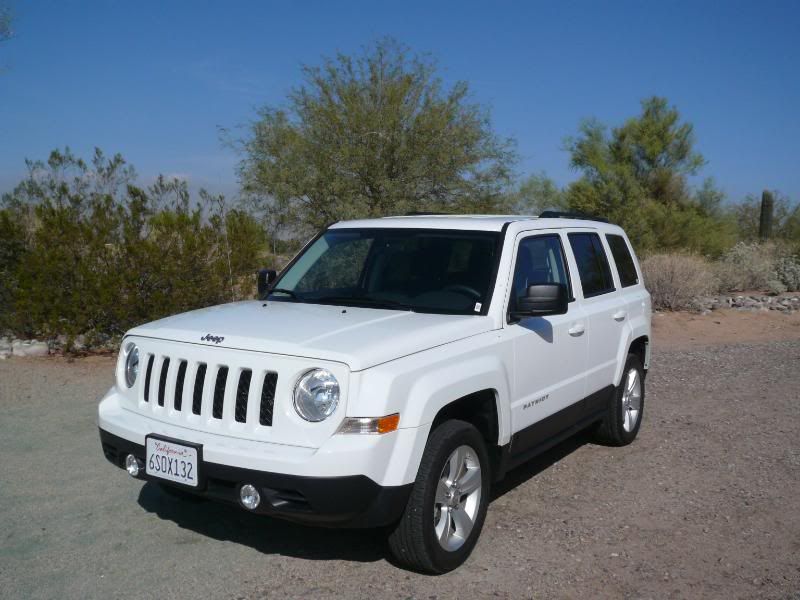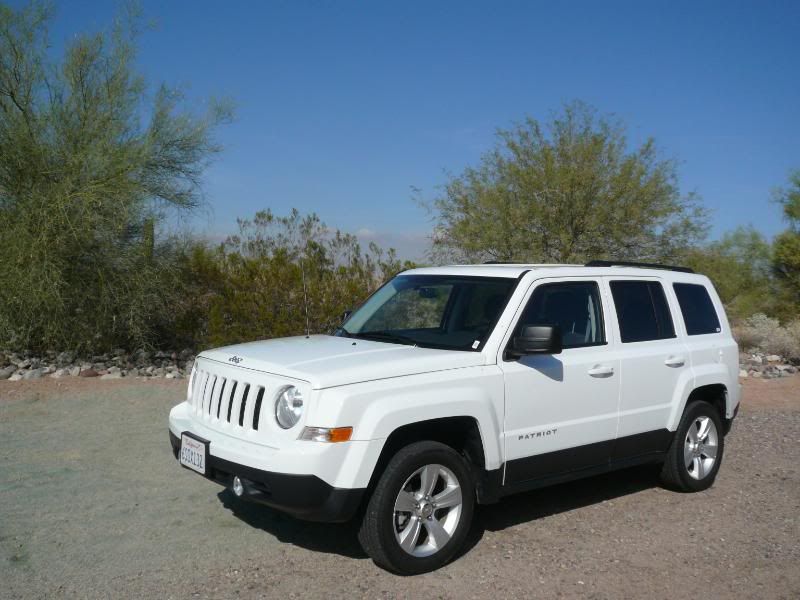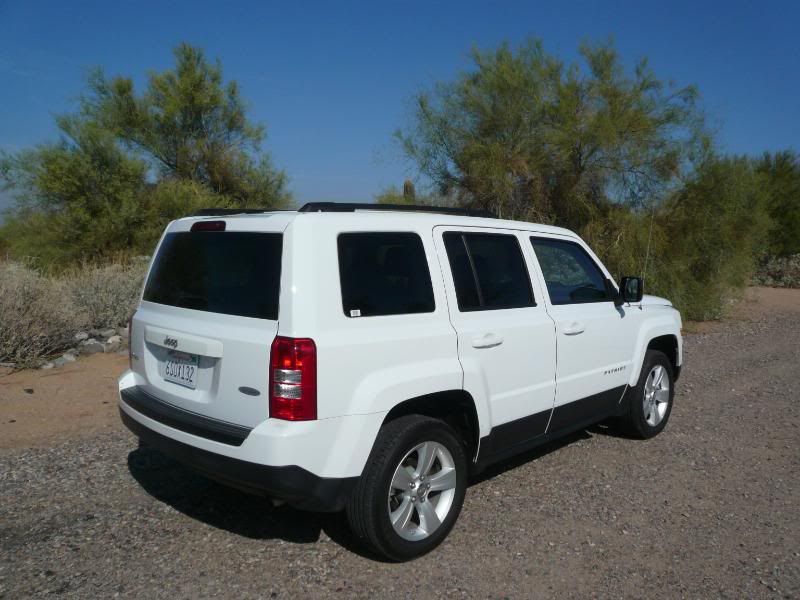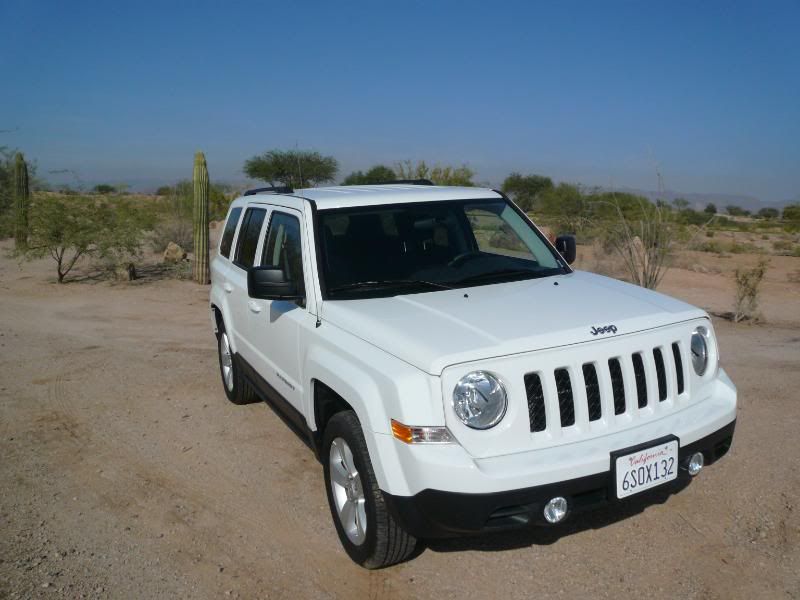 Much to the consternation of the Jeep traditionalists, Patriot (and Compass) are available without four wheel drive, though the test car was not so deficient.  Standard on the front wheel drive cars is a 158 bhp 2 litre petrol engine, while the four wheel drive models get the 172 bhp 2.4 litre 4 cylinder motor that sees service in a wide variety of Chrysler Group products. To be honest, 178 bhp really did not feel like that much, and the acceleration on the test can only be described as modest. It may not be helped by the fact that the Patriot is fitted with a CVT transmission, though it has to be said that this one suffered less than others I have driven where the gearing usually takes a little while to catch up with the most recent action from the accelerator pedal. More likely, the problem is simply that for a relatively heavy car such as this one, 178 bhp is not really that much these days. In all other respects, the engine proved unremarkable, being neither impressive nor unacceptably coarse.  If you calculate the fuel consumption by the amount of petrol I put in the car, it came out at 24 mpg US, which is 28.7 mpg Imperial, though as the fuel gauge had moved form showing full within 10 miles of setting off, I suspect the tank was "rental car full" and therefore the overall average is perhaps a little better than that. There is a leather wrapped steering wheel which was pleasant enough to hold, but you are never going to get much in the way of fun out of the Patriot. It is not that sort of car. The steering is reasonable, with some feel, and not overly light, and the handling felt predictable enough, with some understeer evident on swooping freeway intersection curves, and there is also some body lean on the corners. The ride was good enough, though the roads of Arizona are a far less severe test than those in neighbouring California. No issues with the brakes, which did their job well enough. though the central pull up handbrake lever, located between the seats is a particularly low quality thin and unpleasant device that clearly did not get the interior quality upgrade. The rear view mirror seemed particularly small, but the door mirrors on this car are large and help to give a good view of what is behind and alongside. In any case this is not a difficult car to manoeuvre, as judging the extremities is easy, and there is plenty of glass to the side windows meaning that there are no significant blind spot problems over the shoulder. I did not get the chance to sample the Patriot off-road, as Mr Hertz would doubtless object and void the rental agreement. Jeep call their system Freedom Drive, and it  can automatically shift power between the wheels as needed, with a switch allowing you to lock on a 50/50 front/rear split. Optionally, there is Freedom Drive II, which includes hill start assist, hill descent control and an off-road mode, This was not fitted to the test car, Although I did not get to sample it, Jeep themselves did previously badge the Patriot as "trail rated" which means that they are confident that this is a true off-road capable car, which was not the case for the Compass model, which was more of a fashion statement faux-roader.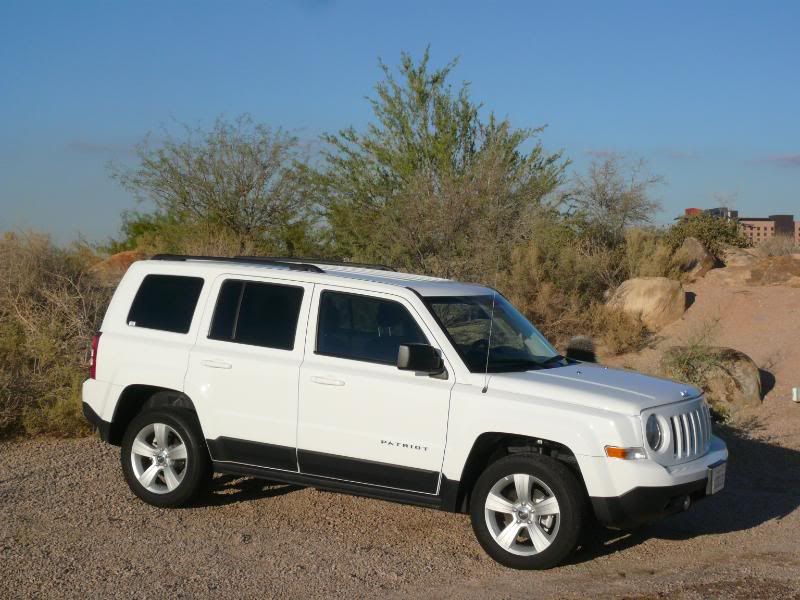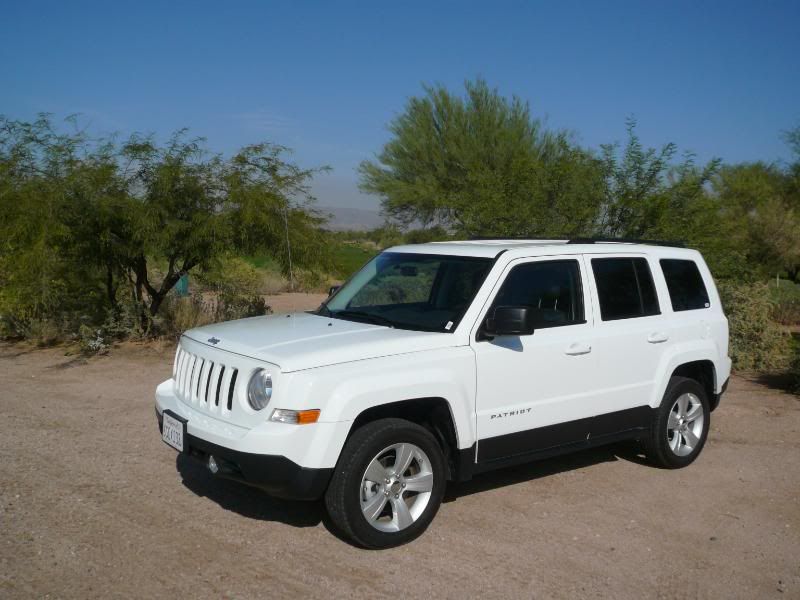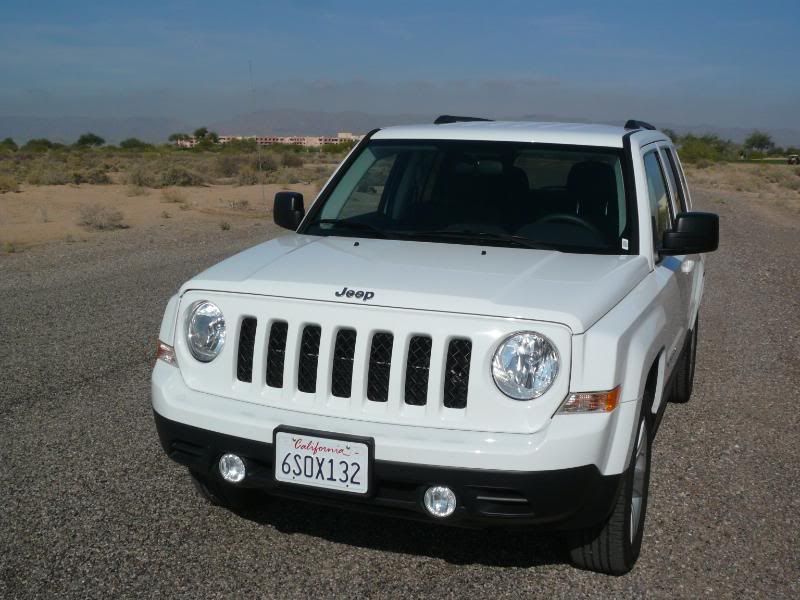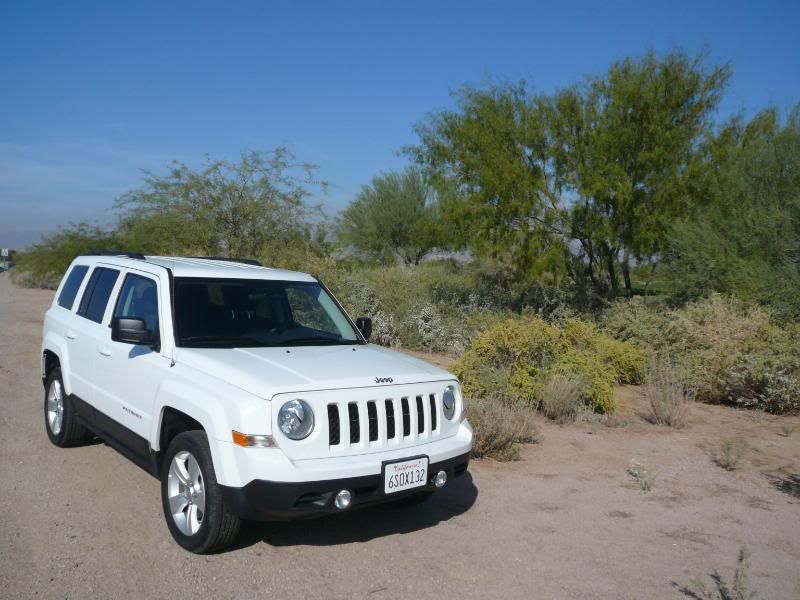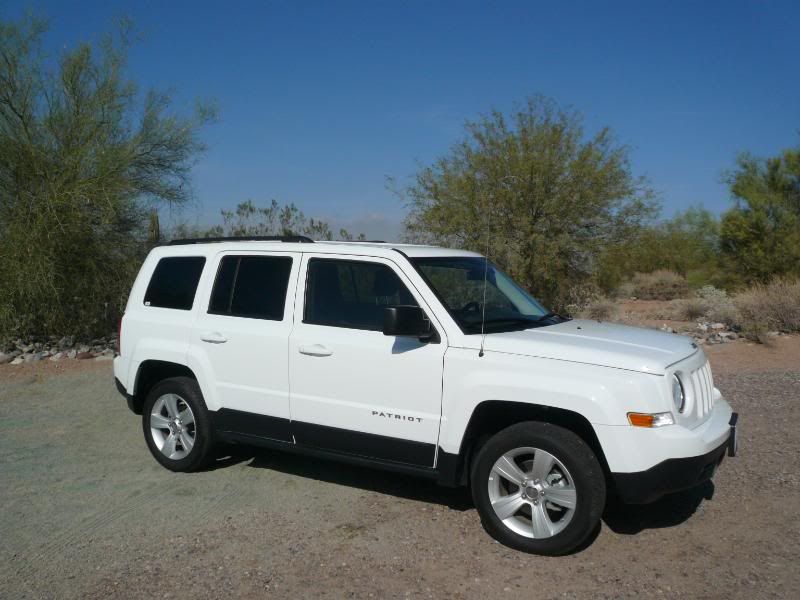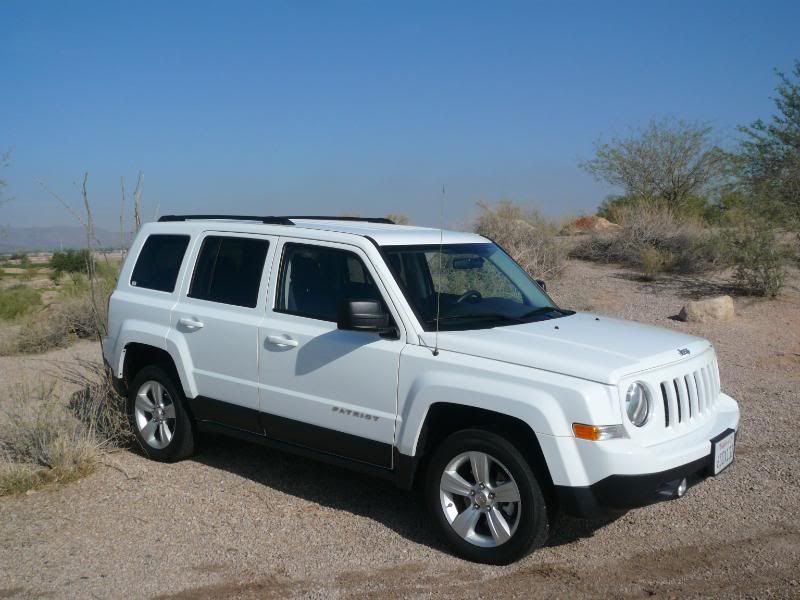 The cabin of the 2011 model may well represent a significant improvement on what went before, and trust me, it is, but it is still not going to win prizes for anything really. The fit of the materials is generally good now, which is not something which could be said before, but it still comprises a lot of hard and cheap looking plastic, and a design which probably does not help to give the impression of anything higher than low rent. Get beyond the perceived quality issues, and it is all decently functional. There are four neatly marked instruments under a single cowl, for speed, revs, fuel level and water temperature, with a small digital display area with those old style green graphics that appeared about 30 years ago and which now look pretty old fashioned (though I have seen worse examples recently!), with a simple trip computer button allowing you to cycle through the 2 trip meters and a temperature display. Small buttons on the steering wheel handle this, and they also repeat some of the audio unit functions. Chunky column stalks operate the indicators, lights and wipers. The centre of the dash comprises a decent quality XM satellite radio audio unit and the rotary dials for the air conditioning. There is a large central housing for the gear lever, which protrudes on an angle, and falls easily to hand. The switch for four wheel drive is almost hidden at the back of the cupholder recess between the seats, though I guess this is not something you need often or when on the move. Above the glove box there is an open shelf in the dash which would be useful for small odds and ends.  .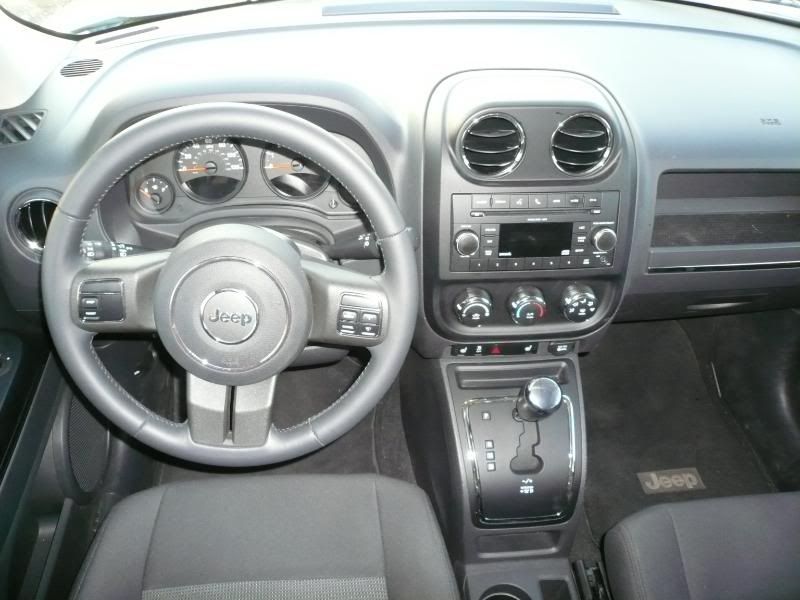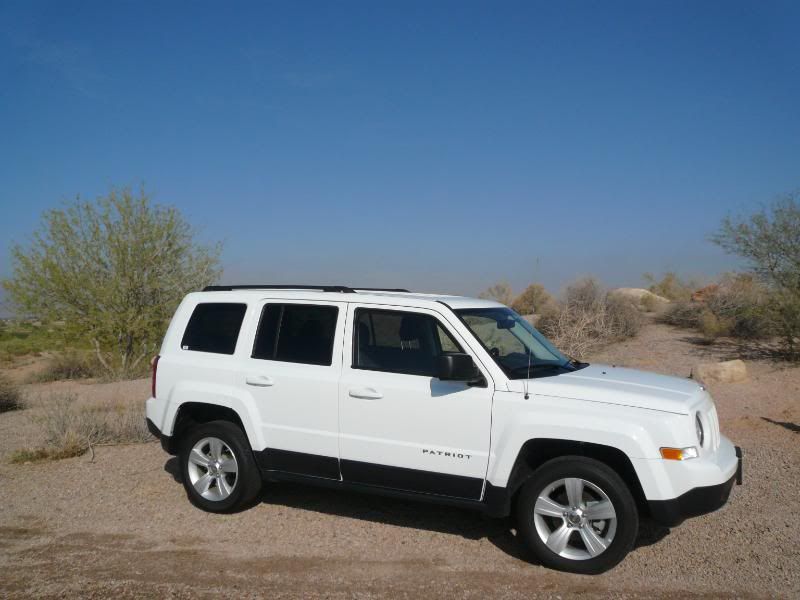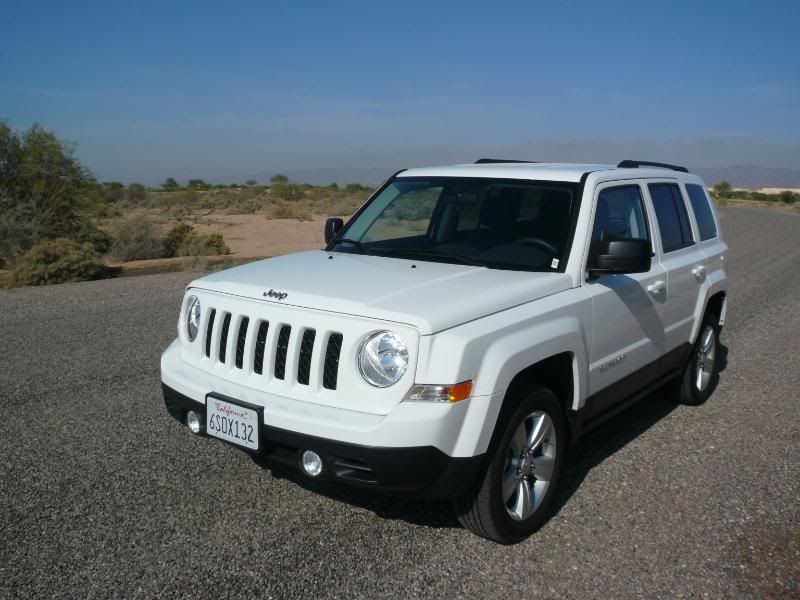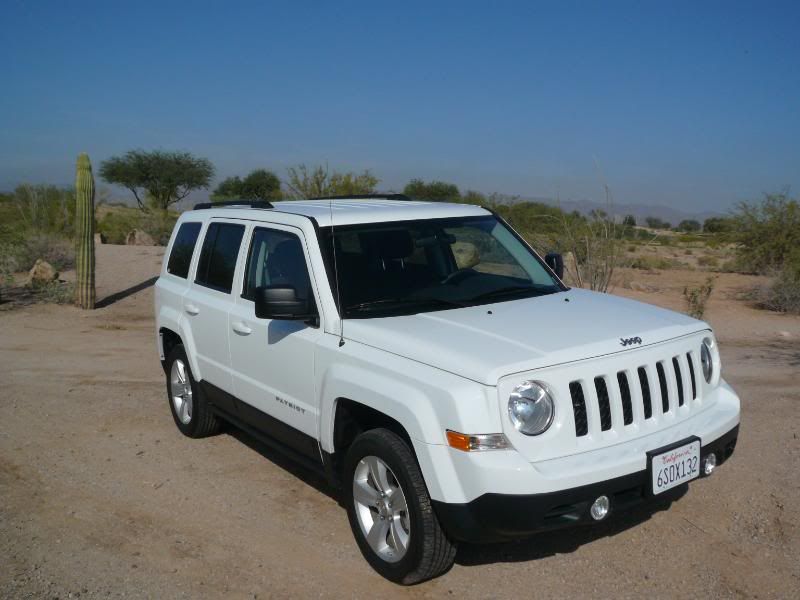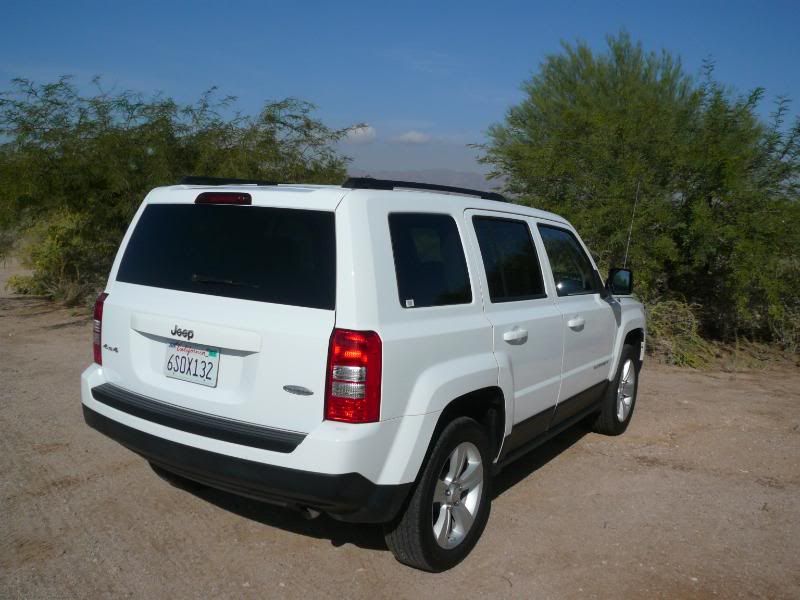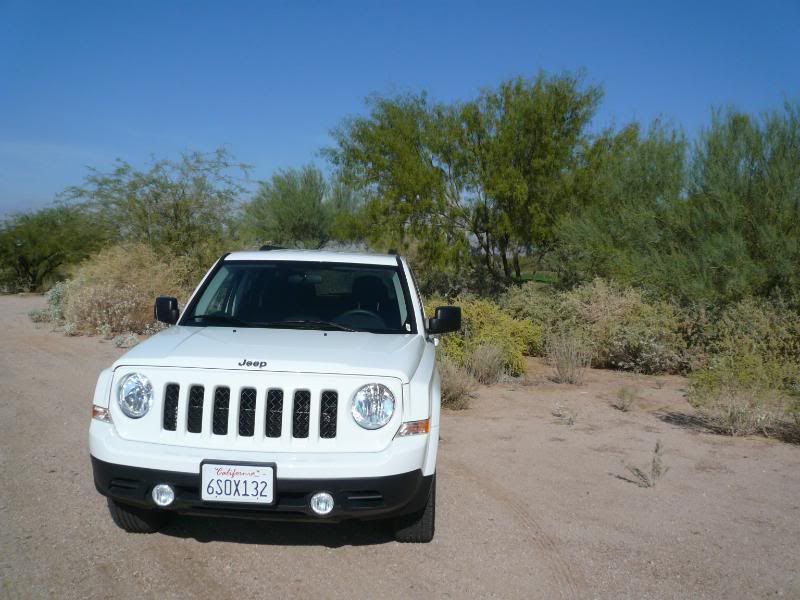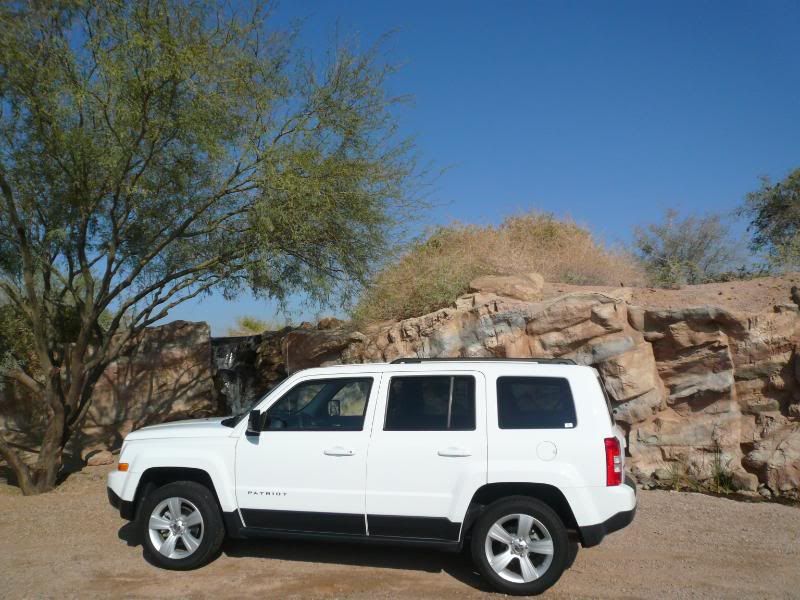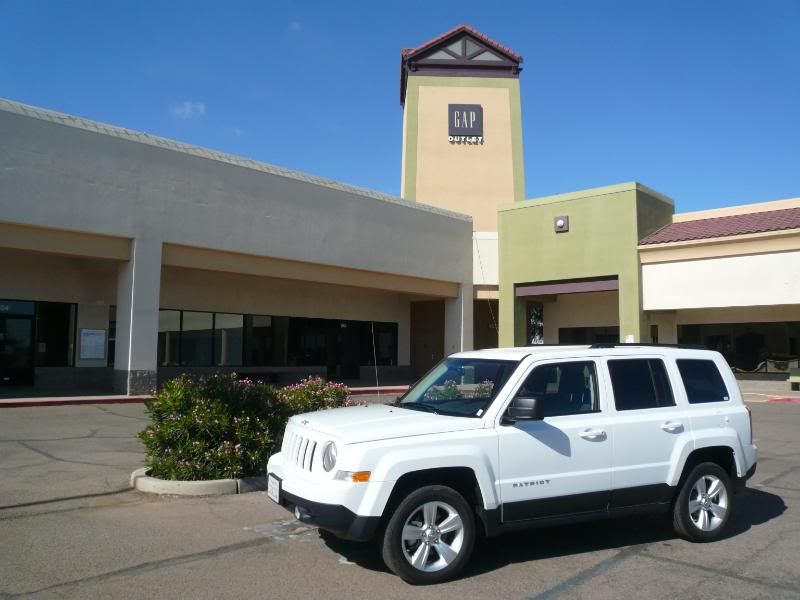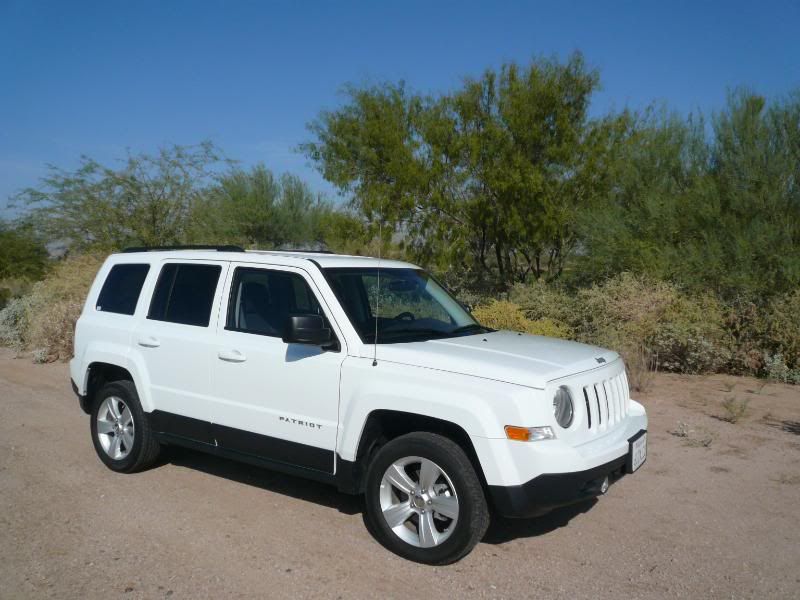 One reason why people buy cars like this is for the amount of space and the higher seating position that comes with their boxy styling, and in this respect the Patriot would probably not disappoint. Although it is as easy to get into as a regular car, you did sit that much higher than such vehicles, giving you that slightly better view of what is going around you. The seats themselves were quite comfortable. Covered in a slightly velour like trim, they had manual adjusters for height as well as the usual back/forth and backrest angle. The rear seats are fairly upright, but there is a lot of space for legs and heads and a reasonable amount for shoulders. The tailgate does not lift particularly high, and people taller than me would need to be careful to make sure that they did not bang their head on it. Once open, it reveals a reasonable sized cargo area. There is a false floor, and some additional stowage space is available here on top of and around the spare wheel. The main boot is of a regular shape, with a recessed cubby on the right hand side. As is usual with rental cars, the load cover was not present. The rear seats are asymmetrically split and the back rests simply fold down onto the cushion, allowing for a significant increase in luggage capacity. Inside the cabin, there are modest door pockets, a small bi-level cubby under the central armrest, a drop down glove box and a shelf above it, in the dash. Rear seat passengers are less well provided for, as although there looks like there ought to be something in the rear face of the central armrest unit, there is nothing there for them.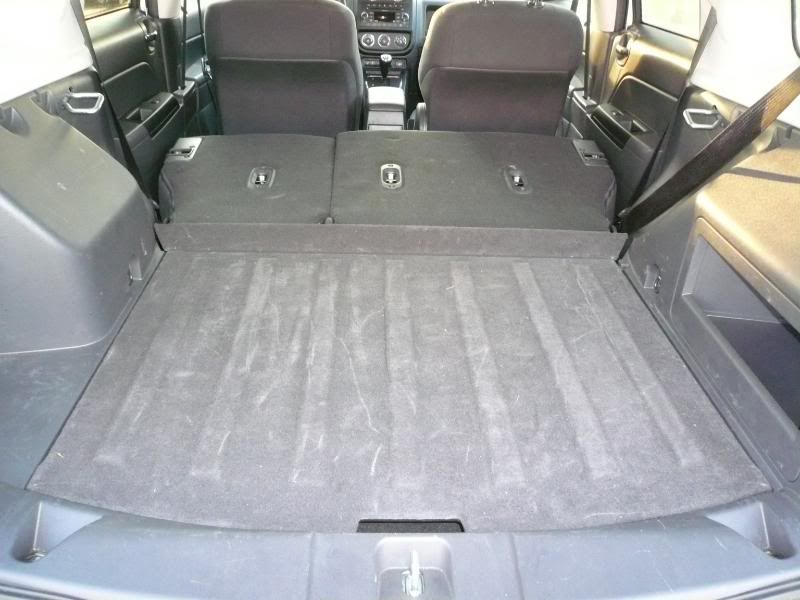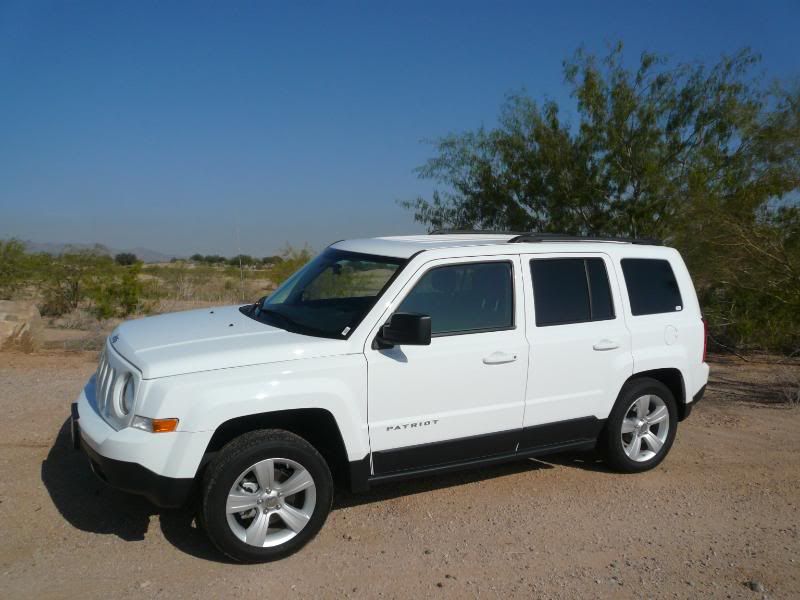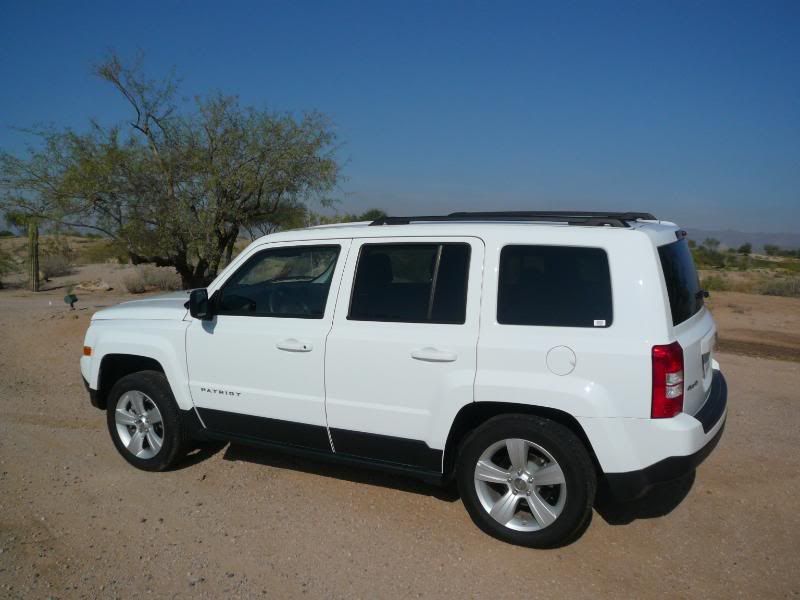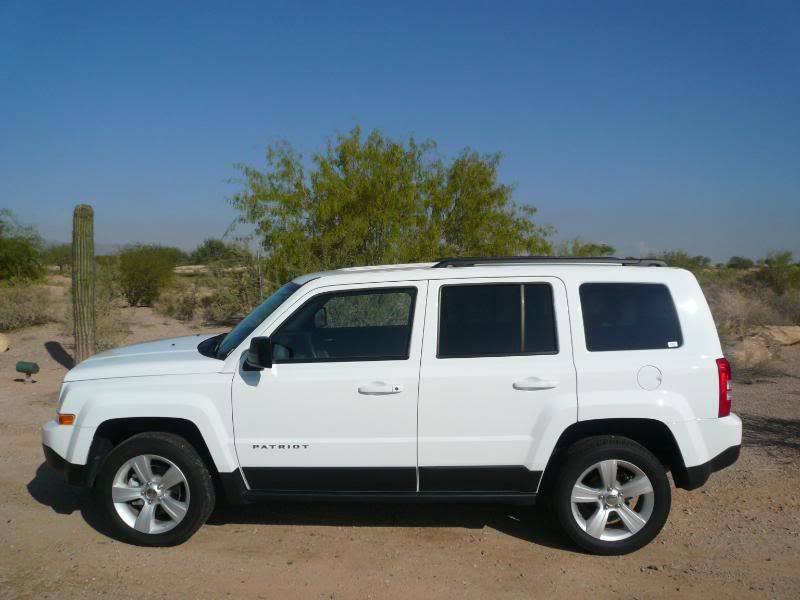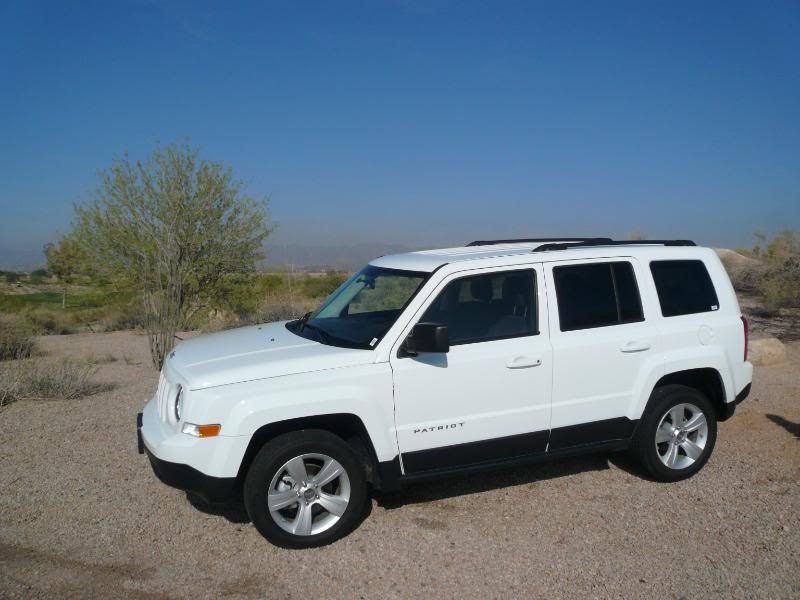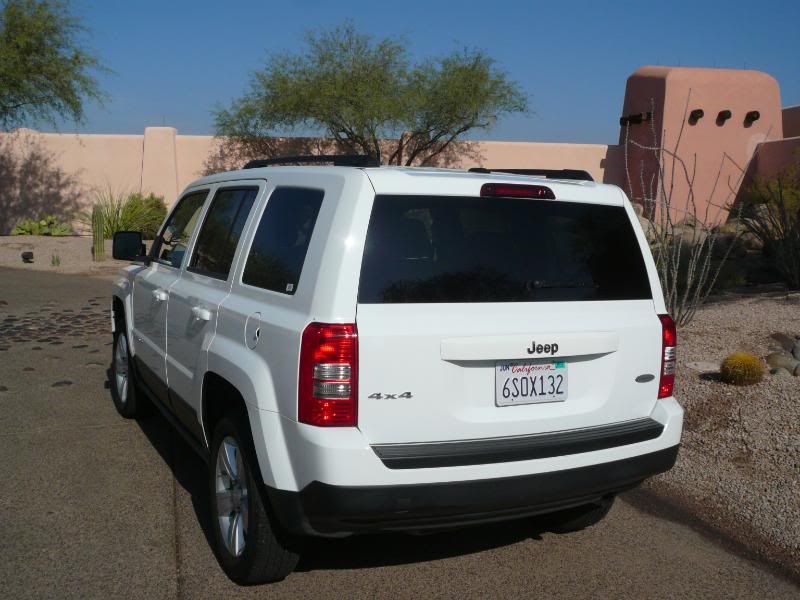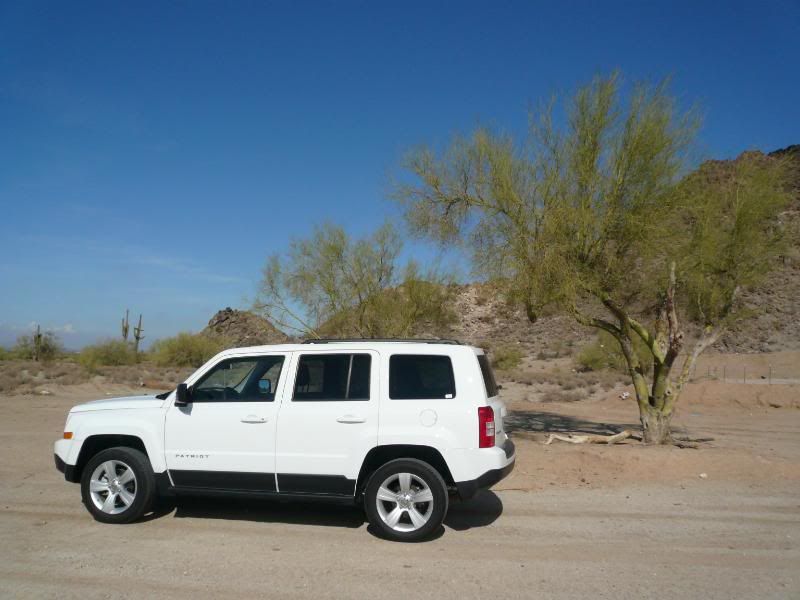 The test Patriot was badged Latitude, which is a new name that came in for 2011, and along with Latitude X represents the top spec model in the range. Entry level cars are badged Sport. By selecting a Latitude, you get all round disc brakes, 17″ alloys, air conditioning, power operated windows, heated front seats and mirrors, a height adjuster for the driver's seat, a fold flat front passenger seat and a leather wrapped steering wheel. Go upmarket to the Latitude X, and you get climate control, leather seats with power adjustment and an upgraded audio unit. The Sport does sound a bit basic, but this is represented in the relative pricing,  which starts at $15,995 for a front wheel drive model. A 4WD Latitude like the test car comes in at $17,695. but go to the Latitude X and the cost rockets to $23,895. One thing did surprise me, and that was to see an old style spindly radio aerial sprouting out of the top of the front wing. These are rare on any car now, thankfully.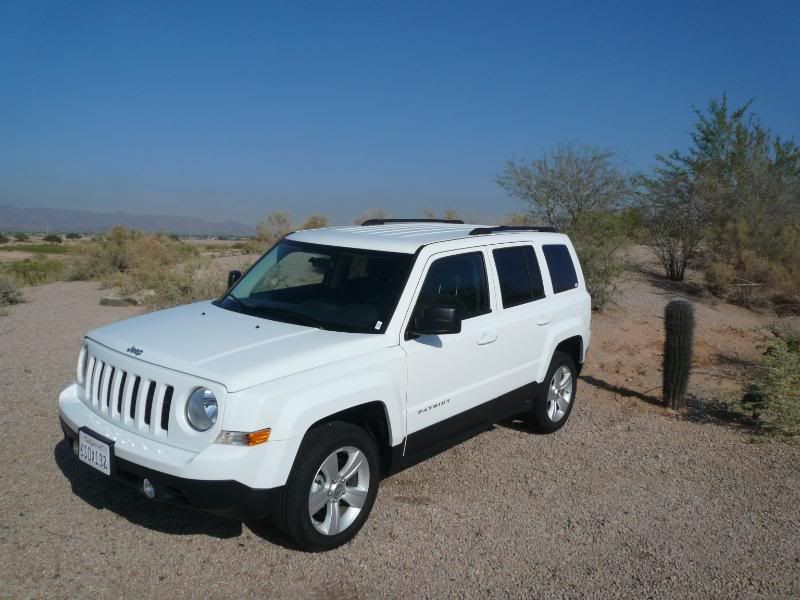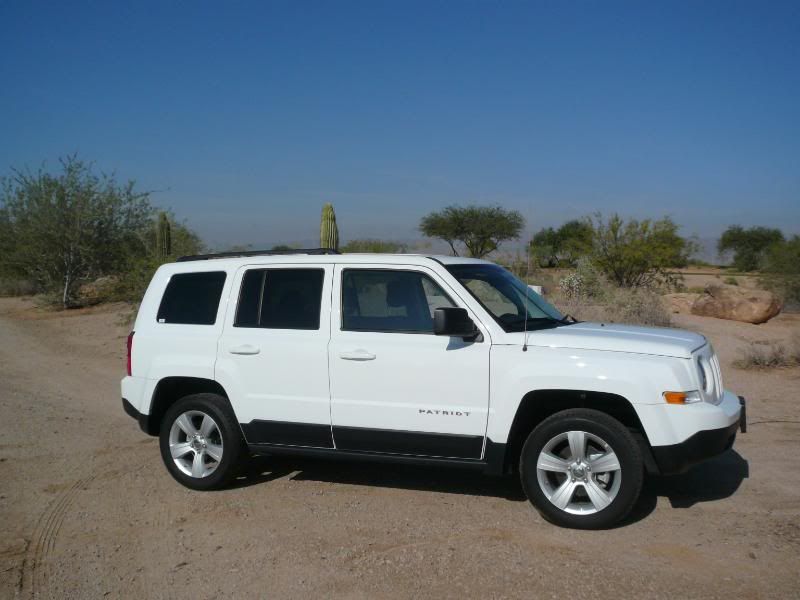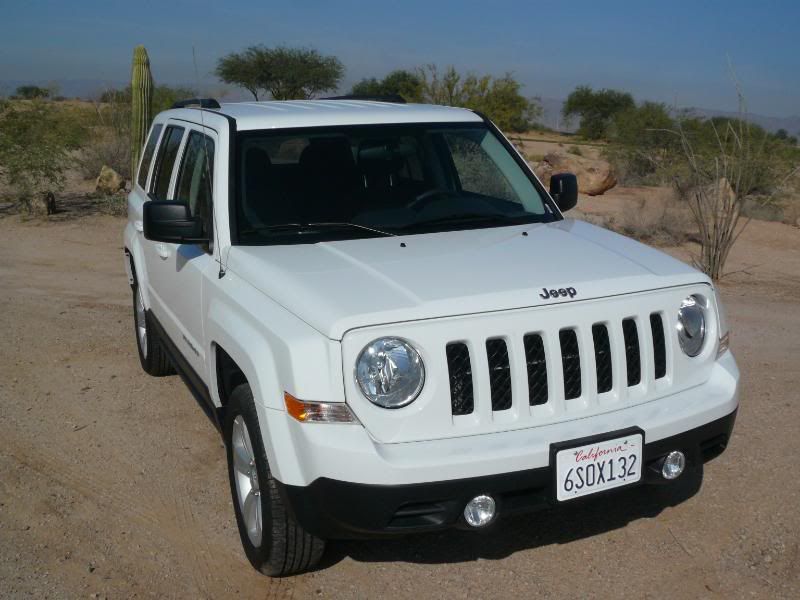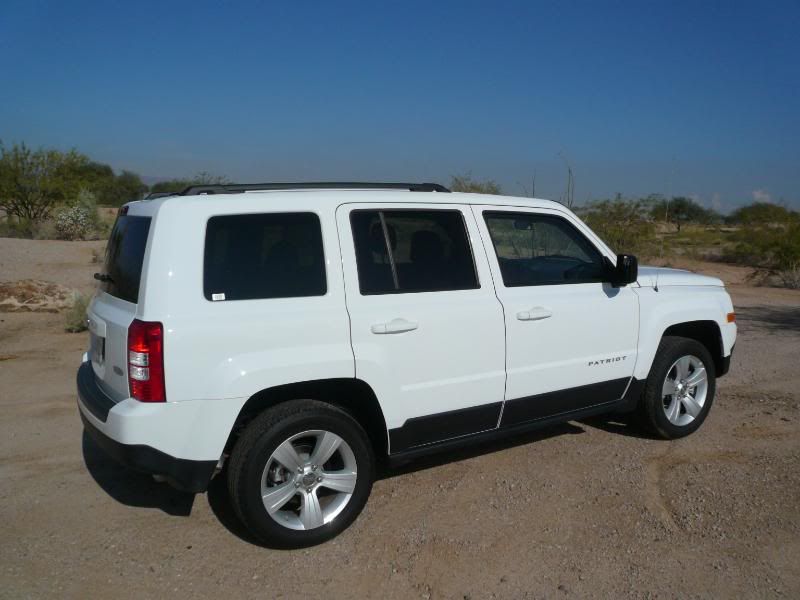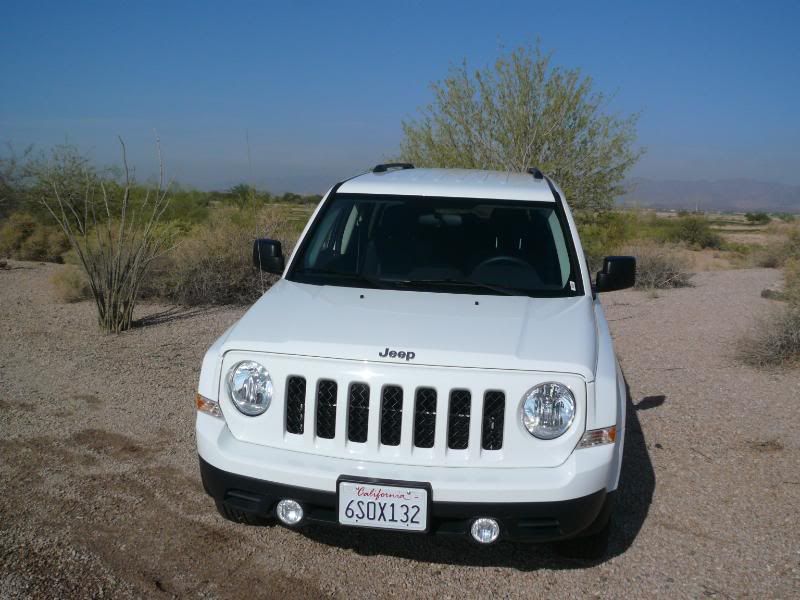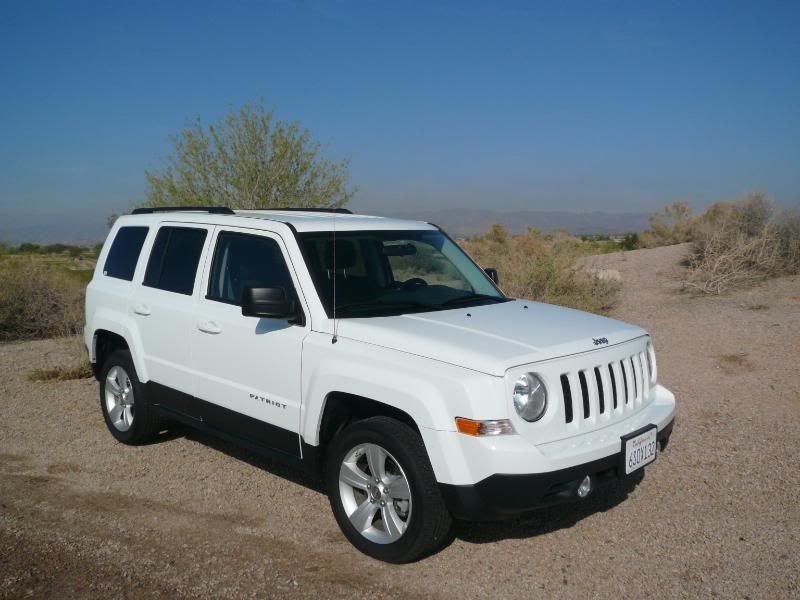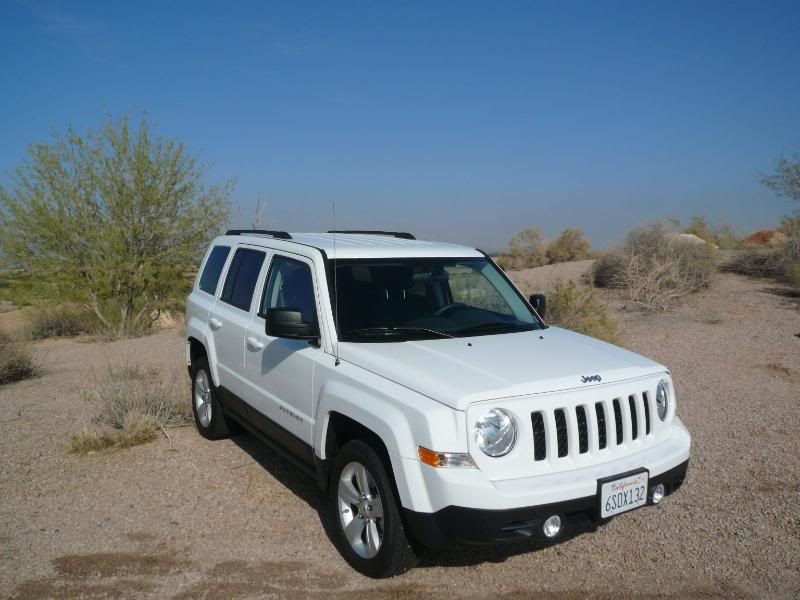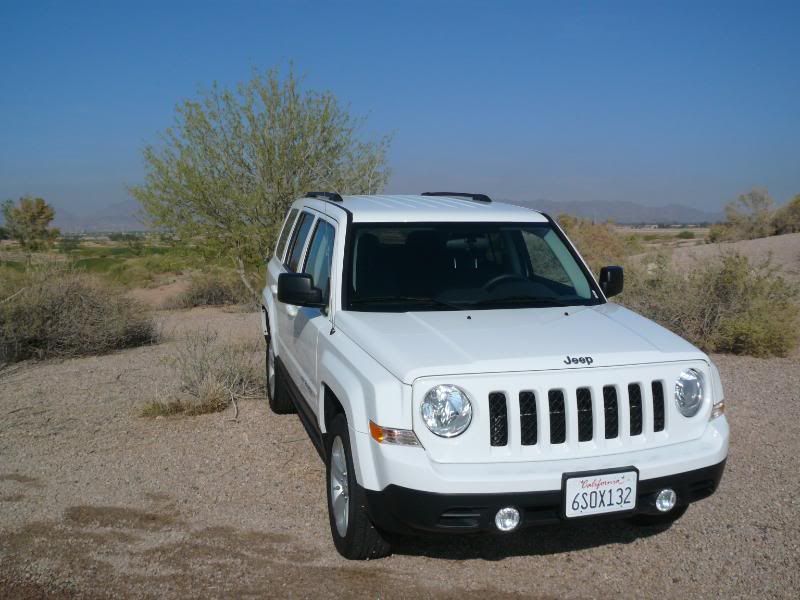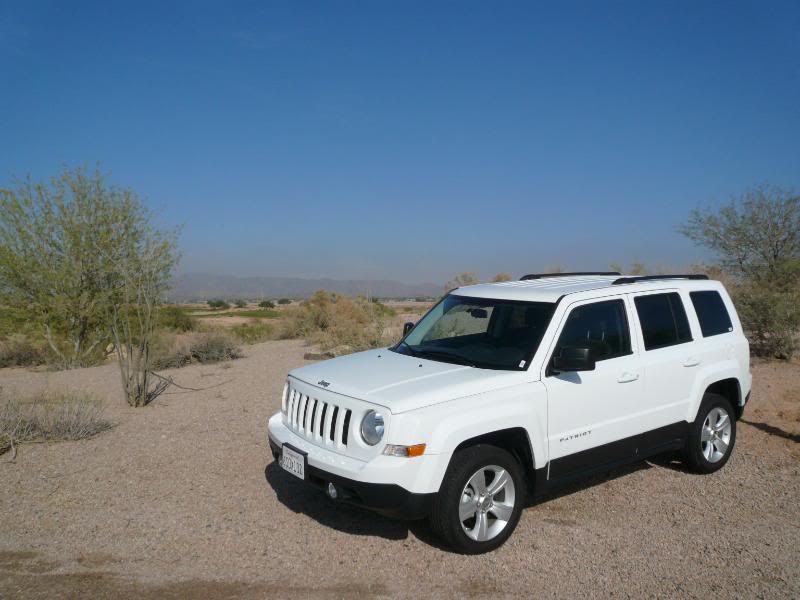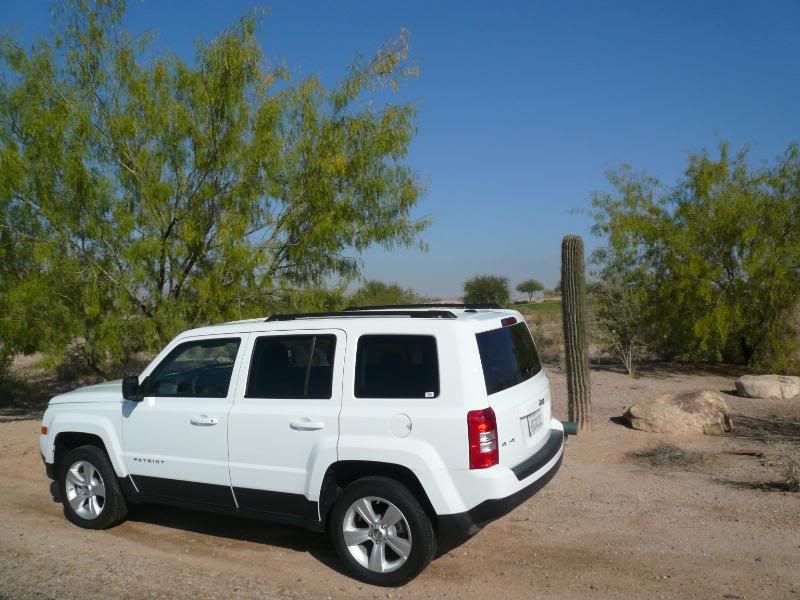 Conclusions? Hard to say, really. There is nothing particularly stand-out for this car. It is not actively unpleasant, in a way that the early Compass models allegedly were, but nothing really strikes you as particularly good either. For those who want a roomy mid-sized vehicle, it would doubtless serve well, and if you needed the feeling of security from Jeep's renowned off-roading ability, it could well be worth a look, but for everyone else, I am not sure that I would put it to the top of any shopping list. As a rental car, it is an interesting experience, though I can think of swifter and quieter ways of getting around for the same cost. 
2011-11-26 10:34:32