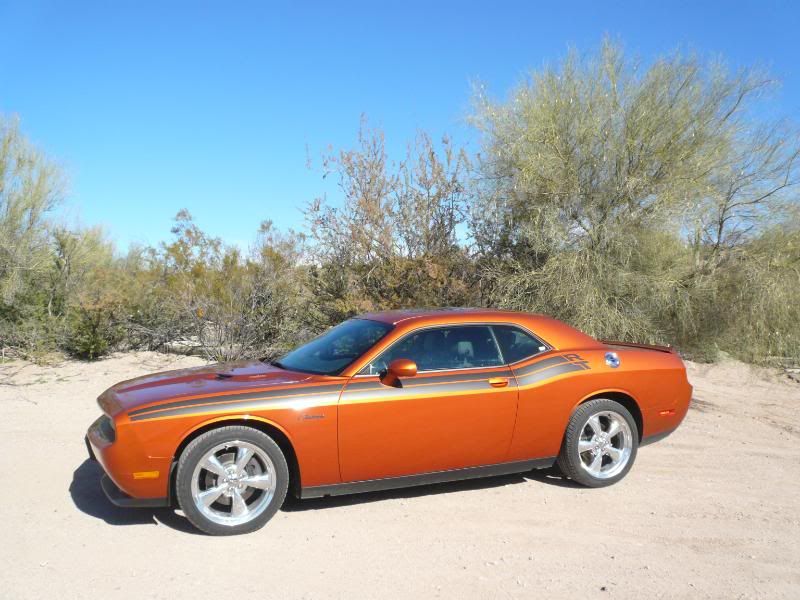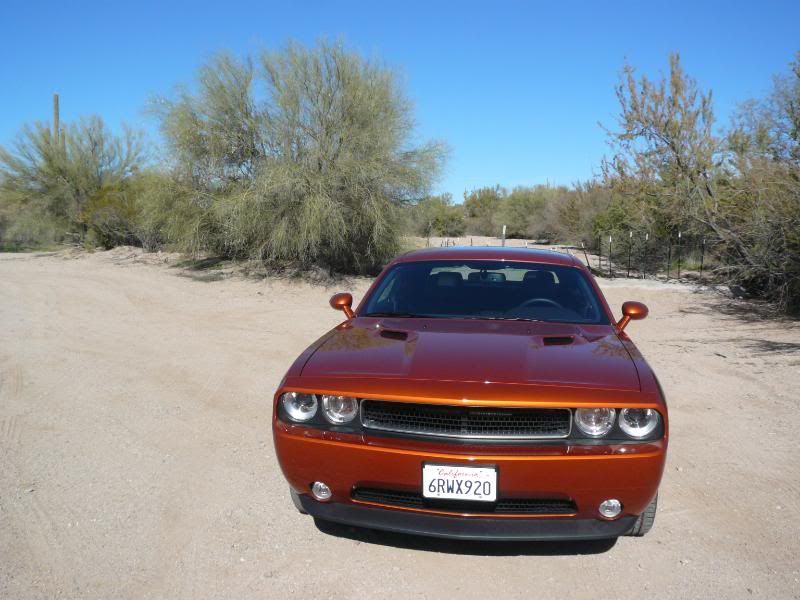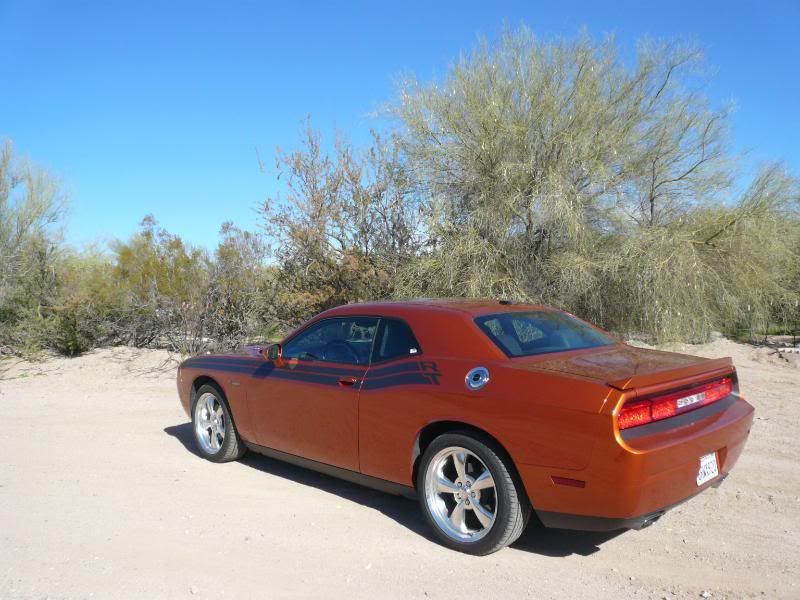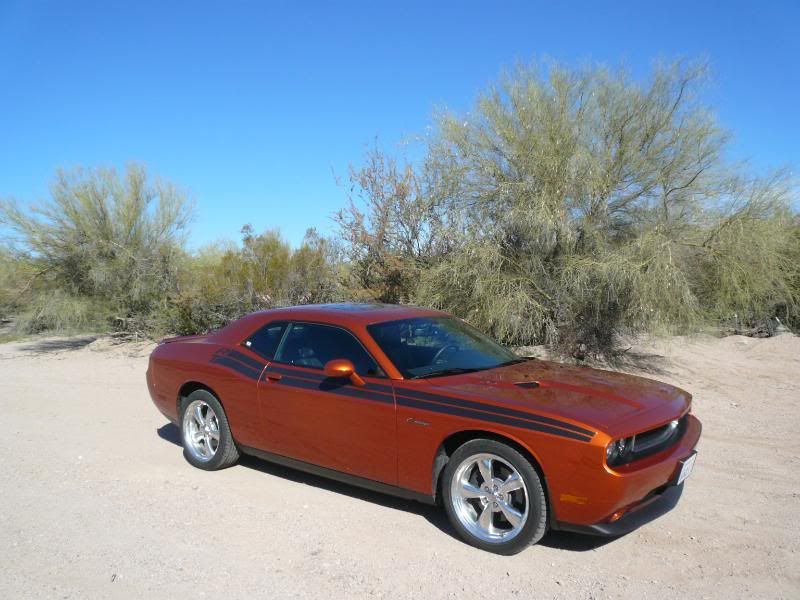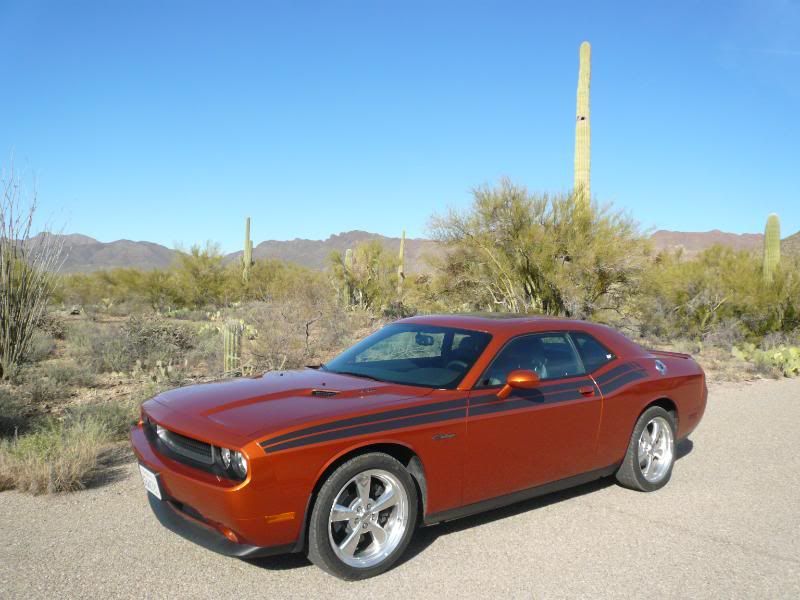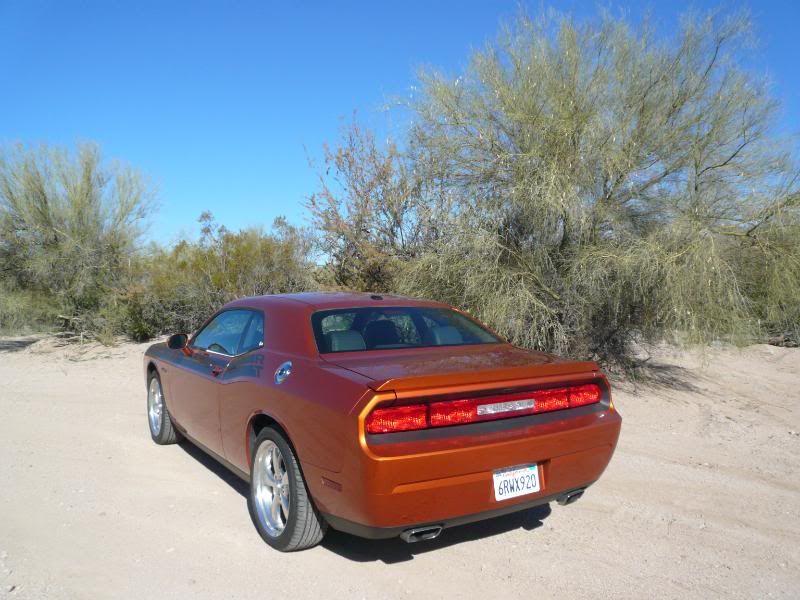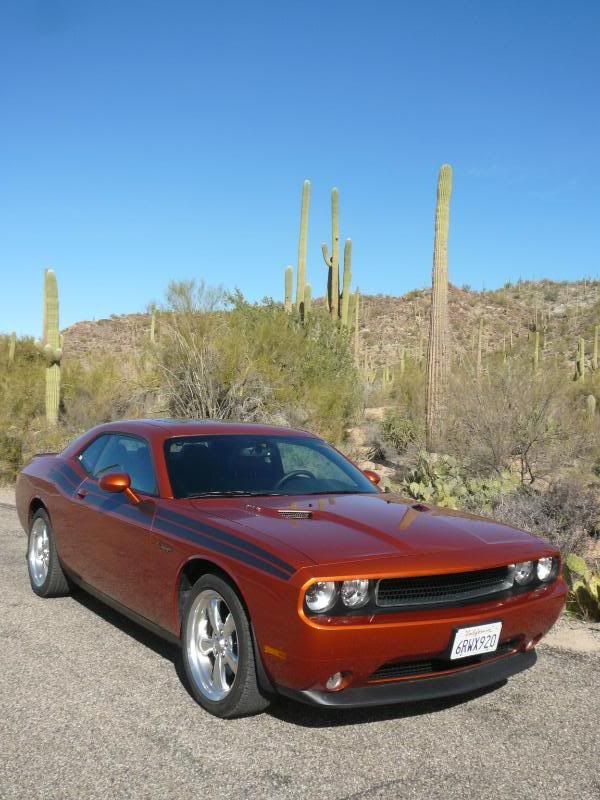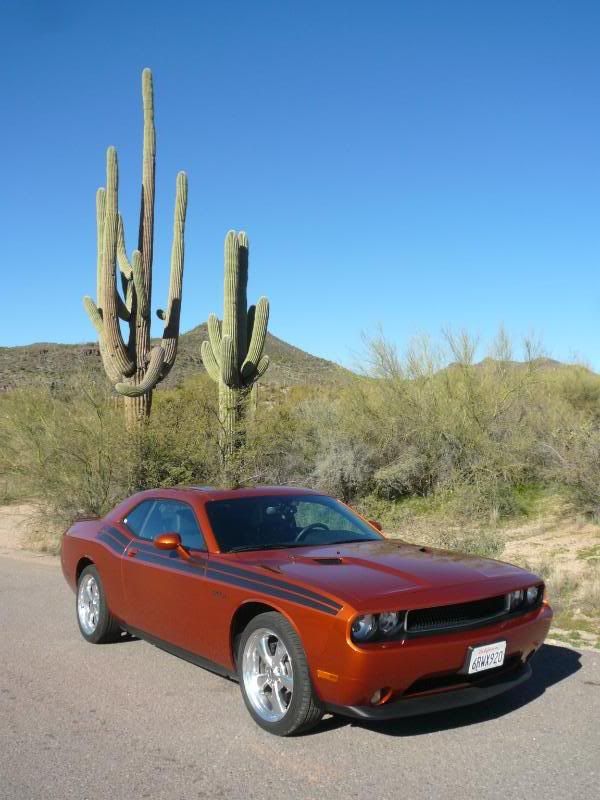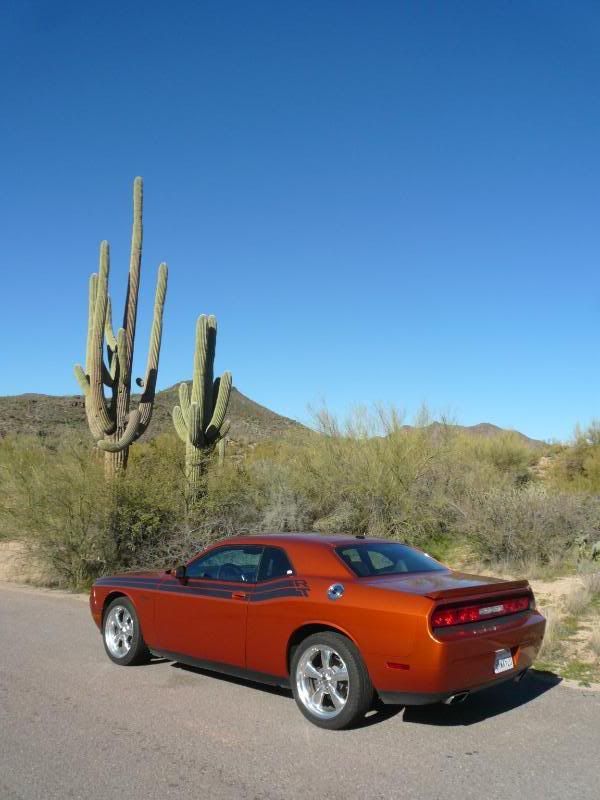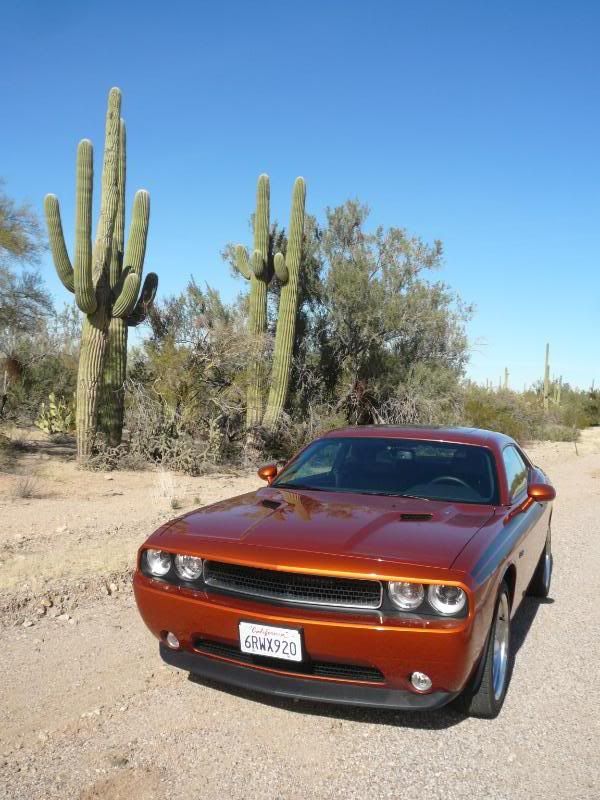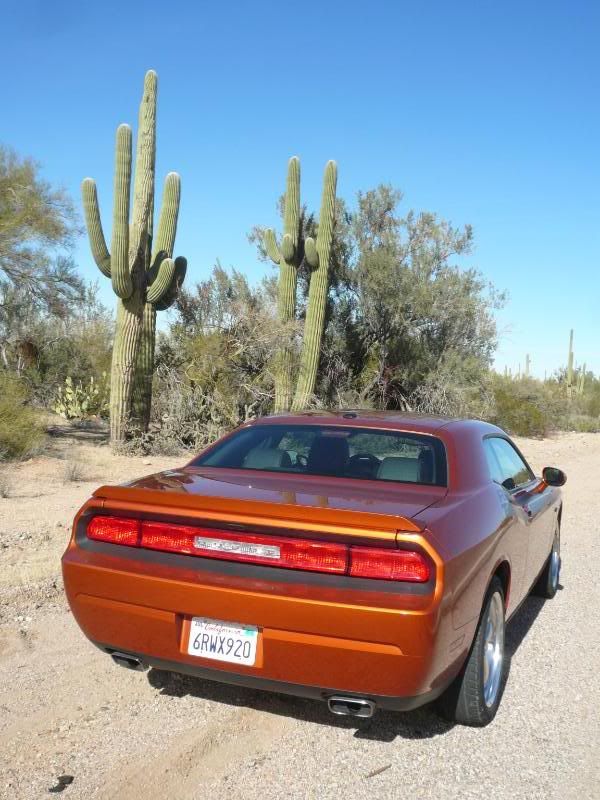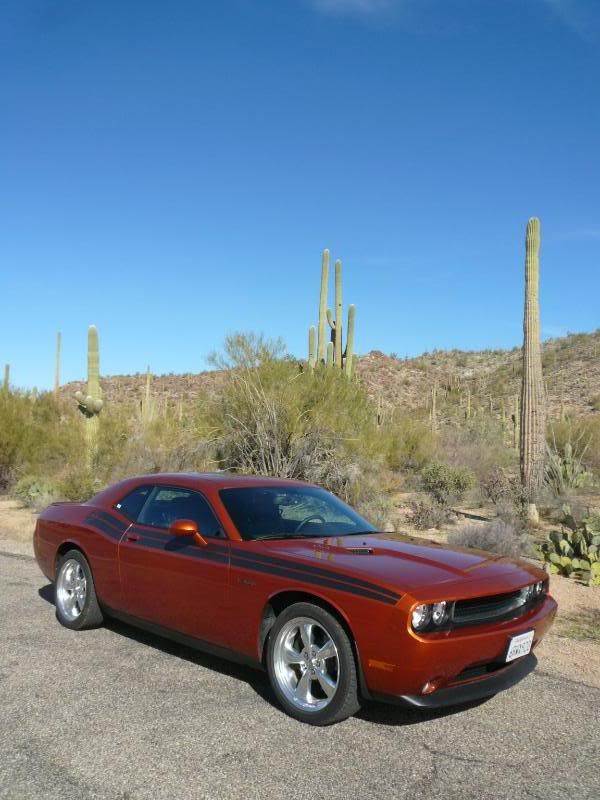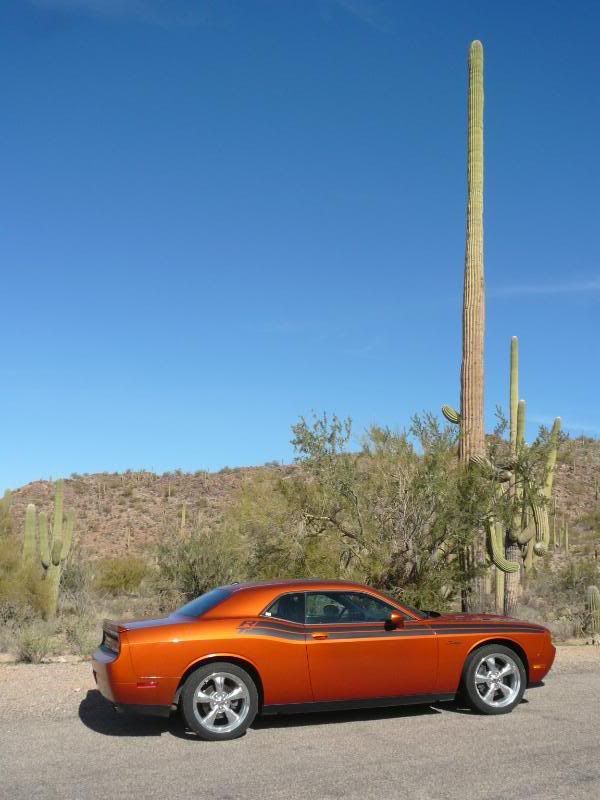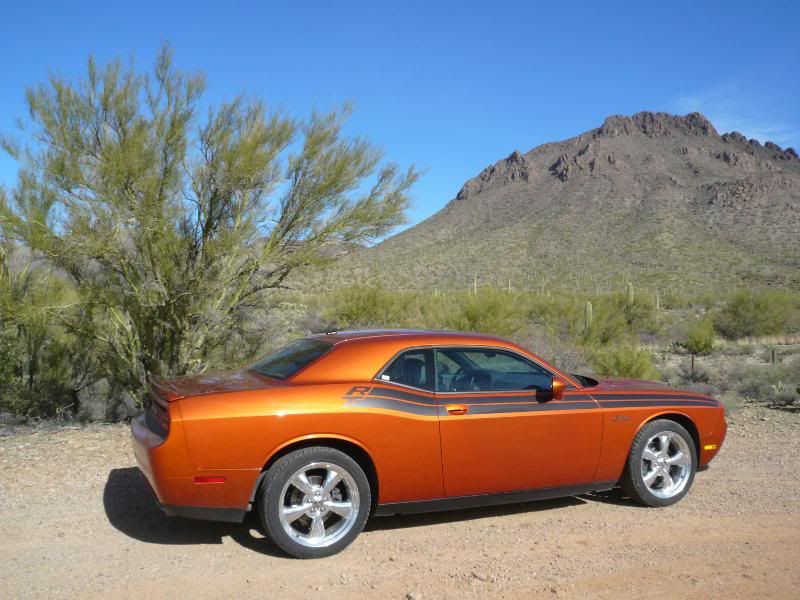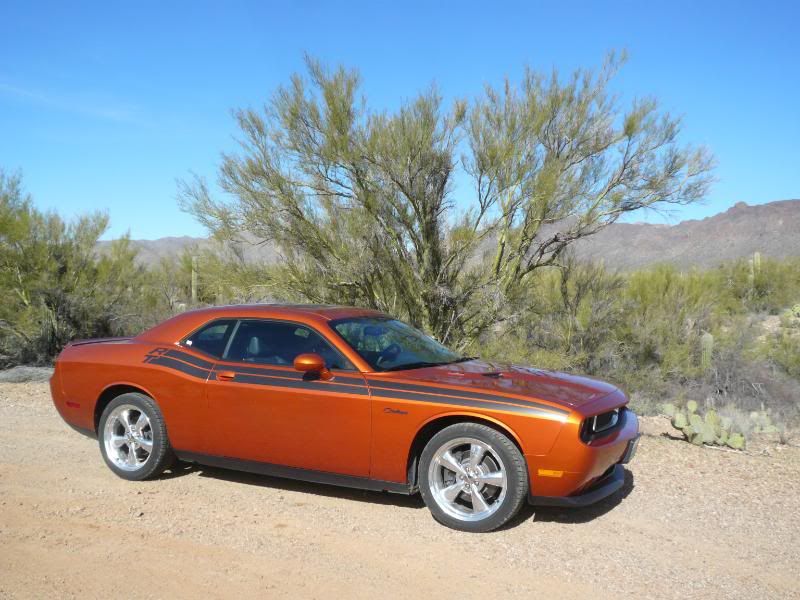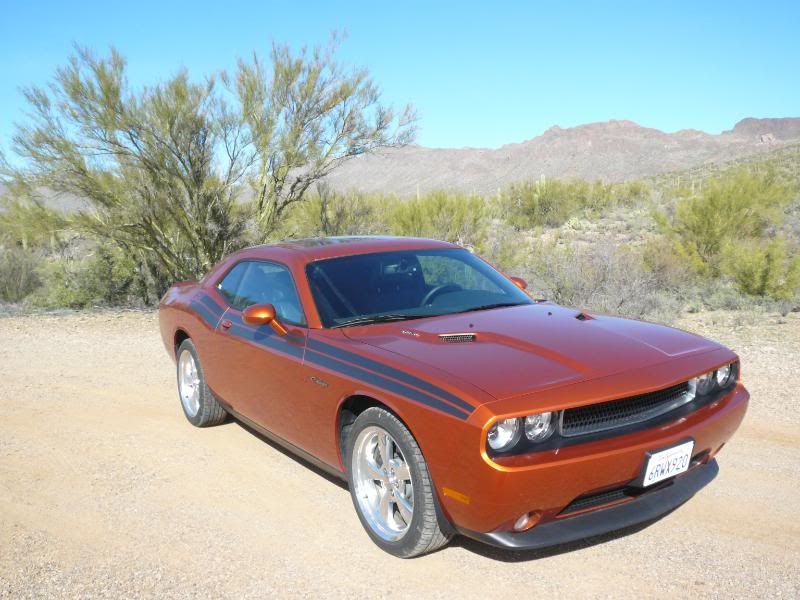 A couple of years ago, I managed to get behind the wheel of Dodge's Challenger, and was disappointed. The car I sampled was a "rental spec" SE model, at the bottom of the range, fitted with a rather weedy 250bhp 3.5 litre V6 engine which meant that it just was not fun to drive. Coupled with an interior trim of dubious quality and an outside appearance that suffered from small wheels and which looked good but a teensy bit dull, I concluded that although the raw material was there, this was not the car it could and should have been. I postulated that the Hemi engined machines could lead me to forming a very different conclusion. My only challenge was how to get hold of one. When Hertz launched their "Adrenaline Collection" in 2011, it seemed that the sourcing difficulty was over, as the three cars that they offer include not just the Mustang GT and Camaro SS but a fleet of Challenger R/Ts, all painted in a very distinctive burnt orange colour that Dodge call Toxic Orange. Arriving at Phoenix's Sky Harbor airport, my mind was more on the Camaro SS Convertible that was a tantalising 48 hours away than the cheap economy car that I was due to pick up as an interim rental. But this was the holiday period, and the rental car garage was pretty devoid of cars at late o'clock on the Thursday between Christmas and New Year. The  Corolla with my name on it had no appeal at all, but when the Hertz agent offered me a Challenger for a paltry upgrade fee, I hesitated not a second before handing her my credit card and signing on the dotted line. It was to be mine for 2 whole days and even though it was well past midnight, it really was case of adrenaline generating excitement to get the better of tiredness.
There never was anything wrong with the way the Challenger looks. It combines a style that pays homage to the much loved cars of the same name from 40 years ago with modern touches. This one, riding on full fat 20″ alloy wheels, and with bonnet scoops looks so much more purposeful than the rental SE model of 2 years ago. That car was finished in white, which also did little to emphasise any sporting potential of the car, whereas in a vibrant colour such as Toxic Orange, it looks so much better. For sure this is not a colour for the introvert, but then Hemi engined MOPARs never were for the quiet retiring type. I'm rarely a fan of stickers on cars, but in this case (just as with Abarth) they look right, so the large black decals that go down the sides of the car and tell everyone that this is an R/T just seem right. There are even small badges on the bonnet proclaiming that this is a Hemi-engined car – not that you are likely to forget once you fire it up, but we will come to that – which you can see side on from the driver's seat. Absolutely top marks for appearance then, so that's one set of disappointments crossed off the list.
Open the door and look inside and it is clear that the new owners, the Fiat Group, order of improvements to cabin quality that permeated to most Dodge and Chrysler products for 2011 have had their effect here. With the last car I moaned about a gap between the dashboard and door casing that was so wide and uneven that you could get your little finger in it. Not any more. Build quality has clearly taken a big step forward, with no such issues to report any longer. The overall dash design has not changed, and at first glance it still looks a little square and perhaps slightly cheap, but in fact it is made from decently soft touch slush mouldings and is perfectly acceptable. There is a new steering wheel design, with buttons in the two spokes for trip computer functions on the left and cruise control on the right, and two further buttons on the reverse of the wheel to change the audio unit channel selections. The wheel itself is leather covered and felt at least as good to hold as that in my Audi, which is not something I could have said before. The dials have not changed. There are four of them, each with a white background and black markings, and they are a little fussy and hard to read on the move. With even increments of 20mph marked on the speedometer careful interpolation for 35 and 50 mph speed limits is called for. The central part of the dash in this car, along with the centre console has a carbon fibre effect inlay which is reasonably subtle and looks better than the rather garish "plasti-minium" of that SE model. The audio unit does not look to have changed, though at least this time the digital clock display features along with the selected channel. There is a satellite radio included though, which is always welcome as US radio is otherwise pretty dire and very local in reach. The R/T has automated climate control, operated with three rotary dials below the audio unit. Overall, the whole ensemble is an improvement on what went before, so that's another disappointment dealt with.
However, you select a Hemi for what it is like to drive. I got in, and noted that you now get keyless start, with just a large button where the key slot used to be. I like this feature as it means that you just leave the key in your pocket.. With window open, I pressed the start button and the entire rental car garage that had been completely still and silent until that point reverberated with the joyous sound of the V8 as it burst into life. At this point, I was pretty sure that my third and most significant disappointment from the SE model was about to be blown into the history books. Even on the short journey from the rental car garage to my hotel, my first impressions simply grew stronger, as it was clear that here is a car that is just begging you to do something naughty. Late night antics in Phoenix in a very distinctive rental car are perhaps not the best way to start your visit there, so I resisted the urge to do much other than drive with the window down all the way to the hotel for some sleep and pleasant dreams of the fun days to come. The next morning was my first chance to get a more detailed impression, and I was not disappointed. This car is a winner on sound alone, but flex your right foot more than just very gently and it races forward with an eagerness which could have me addressing the Sheriff on all too frequent a basis. Automatic versions of the R/T generate 372 bhp, 4 less than the manual cars, from their 5.7 litre V8 engine, and it is clear that you would need a track or a speed-limit free autobahn to see the true best out of this car, but even in more normal driving on a mixture of freeway, rural roads and urban streets, this car amused and entertained, and with its sonorous engine note, the satellite radio was almost superfluous. Actually, when cruising at a steady speed, the engine noise level is quite subdued, so this is a restful long distance cruiser as well.
This version of the Challenger is fitted with Chrysler's Multi-Displacement System Cylinder Deactivation. The idea is that when the engine is operating lightly, it shuts off some of the cylinders, to save fuel. You can tell that it is in operation because there is a status message in the bottom half of the speedometer, but you certainly cannot feel or hear it. It seemed pretty effective though. On the freeway trip to and from Tucson, when I was averaging 75 mph (the speed limit!), and the engine was spinning at around 2000rpm, the Challenger displayed an average consumption of 25.6 mpg US, which equates to 30.56 mpg, a mightily impressive figure for a car of this power and weight, and one that I can only dream of from my Audi. Of course, no-one buys a Hemi for its parsimony, and my test average was rather worse than this, coming in at 21.0 mpg. Bear in mind that a significant proportion of the 450 test miles were on the freeway, so you can see that if you enjoy the power and sound, the consumption will start with a 1 and not a 2 as the leading digit. Just as well that fuel is (relatively) cheap in Arizona, though I did treat this car to 91 octane fuel rather than the regular 85 octane slurp that goes in all other rental vehicles!
The original Muscle Cars were always all about straight line speed, as the power that they developed was generally far more than their simple suspensions could cope with. Things have got far more sophisticated with the recreated machines of the twentyfirst century, but even so, those who care about ultimate handling prowess would probably be better entertained by buying a Mazda MX5 or a Lotus Elise. Frankly, the Challenger is perhaps rather too big and heavy to be particularly wieldy down a twisty road. Or at least that is was I thought. It turned out that I was perhaps half right. The steering is well judged, with appropriate weighting and gives you a good feel of where the road wheels are pointing.  This is a rear wheel drive car, and it handles like one. With lots of power and torque, a modicum of care is needed on public roads, but to me it felt safe and predictable, and actually pretty good to take on windy roads. 20″ wheels are not usually a recipe for a good ride quality, as plenty of people have found out, but actually the Challenger rides well, probably thanks in no small measure to its long wheelbase and weight.
For one heart stopping moment, I thought I was going to have test the panic stopping abilities of the brakes when a luckily lightly traffic-ed and dead straight I10 freeway a Chevy Tahoe not far in front of me suddenly lost control and went into a violent spin gyrating several times in a cloud of smoke, before heading off onto the central reservation. He cleared my path (and he was OK, though very shaken I would imagine!), and I did not have to slam on the anchors, but from more moderate use, I can report that they seemed perfectly fine. There is a foot operated parking brake pedal, to the left of the footwell.  One thing that was not so fine was visibility. Forwards was fine, but judging the back of the car was not easy, requiring you to trust your mirrors but thanks to the very thick rear pillars, there was a huge blind area over your shoulder which made oblique junctions something of a nightmare. Indeed, I would say that this is the one really negative thing I found with the car, and it would worry me on a frequent basis.
Large leather seats are fitted to the R/T, and they are electrically adjustable up/down and back and forth. It was easy to get a comfortable driving position, although it was clear that the seats were shaped for people of larger build than me, so a little more side support would have been nice, and I guess essential for anyone who really wants to exploit the full performance of this car. The seatbelt is mounted a very long way back, and low down, but there is a thoughtful guide on the top of the front seats through which the belt can be slotted, making it much easier to reach.
Of the three un-amigos, Mustang, Camaro and Charger, the Dodge is by some measure the largest, and this is evident when you look at the back seats. They are actually usable by real people. Adult sized people. Only the front seat backrest tips forward, so clambering in and out is a bit of a struggle, but once in, there is plenty of space for tow, and three could fit at a pinch. Leg and head room are in plentiful supply and there is a wide central armrest which has cup holder on its upper surface. With relatively small side windows and the black trim of the test car, there is not that much of a feeling of light, though the glass sunroof doubtless helped matters more than somewhat. The boot is a decent size, too. The only challenge is the size of the opening slot, which is quite narrow between the rear light clusters, but this would easily accommodate a week's luggage for the car's occupants in a way that a Mustang and a Camaro could not. The rear seat backrests can be folded forward, too, for some extra carrying capacity if required. Inside the cabin, oddments space is limited to rather meagre door pockets, a decent glove box, a deep cubby under the central armrest and a thing slot alongside the cupholders on the centre console. Rear seat passengers have map pockets in the back of the front seats for their on-board detritus.
Aside from the engine, there are not that many differences between an SE and an R/T. You do get upgraded brakes and suspension, to cope with the extra power, and there is a limited slip differential. Outside, you can tell from the rear spoiler and the front fog lights even if there are no stickers to advise that this is an R/R. Inside you get automatic headlights, and a satellite radio. The test car featured the Classic Quick Order package which brings with it leather seats, heated for driver and passenger, a further upgrade to the audio unit and 20″ alloys. The R/T costs $5000 more than the SE model, but when I reveal that the list price is still only $29895, it is clear that this is something of a bargain.
I might have been disappointed by that SE spec Challenger of two years ago, but that is definitely not the conclusion for this R/T model. Oh no. I absolutely loved this one. Only the over the shoulder visibility detracted from what otherwise was a fantastically enjoyable car. During my tenure, several perfect strangers paused simply to tell me that they liked this car, so it's clearly not just me to whom it appeals. For sure, this is just my sort of car: luxurious and comfortable enough, with a cracking engine. When the Hertz agent asked me if I had liked it, the grin on my face told him all he needed to know, but I did add words. It is clear that these cars are very popular rentals, as they are spacious enough for more than 2 people with their luggage in a way that the Mustangs and Camaros are not. So, whilst I love them too, I have to conclude that as a truly practical car for more than a couple of day's fun on vacation, the Challenger R/T is probably the one to pick. Now, how do I get hold of the top dog model, the SRT8?