2012 marked the 10th time that the Race Retro event has taken place. The format is simple – bring together an eclectic mix of cars and bikes with a motor sport connection, display them in 4 exhibition halls at the Stoneleigh complex, add in some trade stands, a large collection of rally cars which can be exercised on a special stage, invite some "famous names" to both drive the cars and to be interviewed and let the crowds come and enjoy one of the first motoring events of the season. It's a formula that has worked for me ever since 2007 when I first attended, and has always attracted a number of other Forummers. This year we were lucky to get a dose of spring weather, with sunny skies and temperatures a good deal warmer than previous Race Retros. Despite spending the whole day at the show, arriving within minutes of the gates opening and not leaving until closing time, we struggled to get to see everything, but we did try. Here's a summary of what diverted us during the day.
INDOOR EXHIBITS
ABARTH
As was the case for the past couple of years, Abarth UK was the only manufacturer supporting the event, and displaying brand new cars for sale. These were mixed with a display of classic models, sourced from Middle Barton Garage (a well known specialist for the marque) and a couple of privately owned cars. The new cars were all familiar and constituted a 500, a manual gearbox 500C and a Punto Evo.
The classic models included the Abarth-Simca 2000 that is a regular at many shows and events, along with a 595, a 124 Spider and an 1000TC
This classic 1000TC was displayed elsewhere in the show
AC
The 1964 Shelby Cobra, which was raced by Jack Sears when it was new.
Another Cobra was rather more dazzling.
ALFA ROMEO
Probably my favourite car of all at the show was this, the 1929 Alfa-Romeo 6C 1750 Super Sport Zagato, shown on the Brooklands stand. I did not recall ever seen such a car on display in their museum, but then I spotted the fact that the car was for sale and the owner was quoted as a lady called Carol Churlis, whom I had seen on a mobility scooter earlier in the day, and everything kind of klicked into place. I've talked to Carol at events before now, and recall her telling me that she has had the car for around 50 years, having paid a pittance for it. I've never seen on the scooter before, so wonder if she has now got a medical condition which is forcing the sale of this lovely car. That must be a real heart wrench if it is the case. Sadly, even if I remortgaged the house, sold my kidneys and cashed in the pension fund I still could not afford this car, but gosh would it be a great asset to own and enjoy.
There was a second 1930s Alfa on show, too. This one is the even more valuable 1935 8C 2300 Monza. It was created from a pile of parts and can regularly been seen in action in historic race events.
This Junior Zagato was offered for sale. Not perhaps a car for everyone, but I am sure that driving would change a few people's minds if they found the styling not quite to their taste.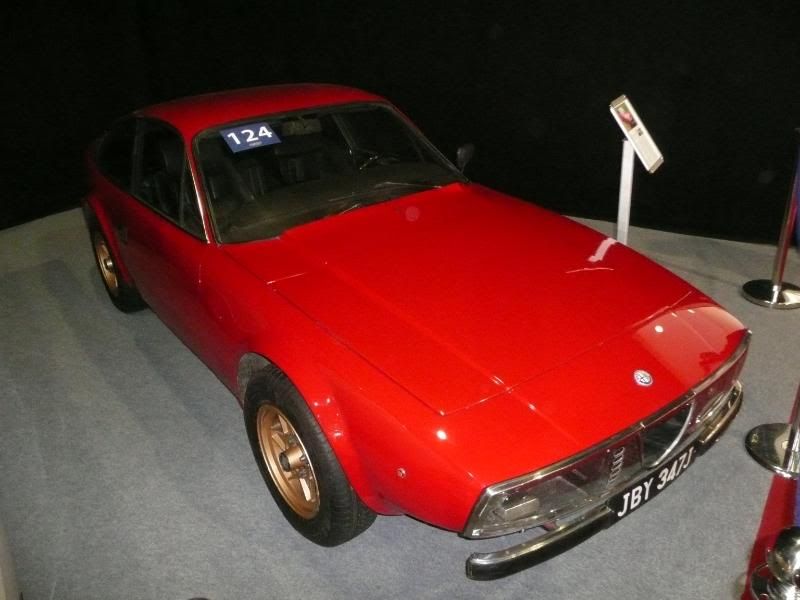 Other Alfas included these
ASTON-MARTIN
AUSTIN-HEALEY
Two Big Healeys, a 100 and a 3000 model. The latter was the car in which Pat Moss competed successfully in the early 1960s.
BRM
There was a large stand in the entrance to one of the halls, as a promotion for the BRM Day which will take place at Bourne in early October. It was dominated by the 1959 Leyland Tiger team transporter, which could accommodate three racing cars. A 1962 BRM P57 1.5 litre V8 grand prix car, which was driven by Graham Hill, was displayed emerging out of the back. Damon Hill will be at the wheel of it when it is in action later in the year.
CHEVRON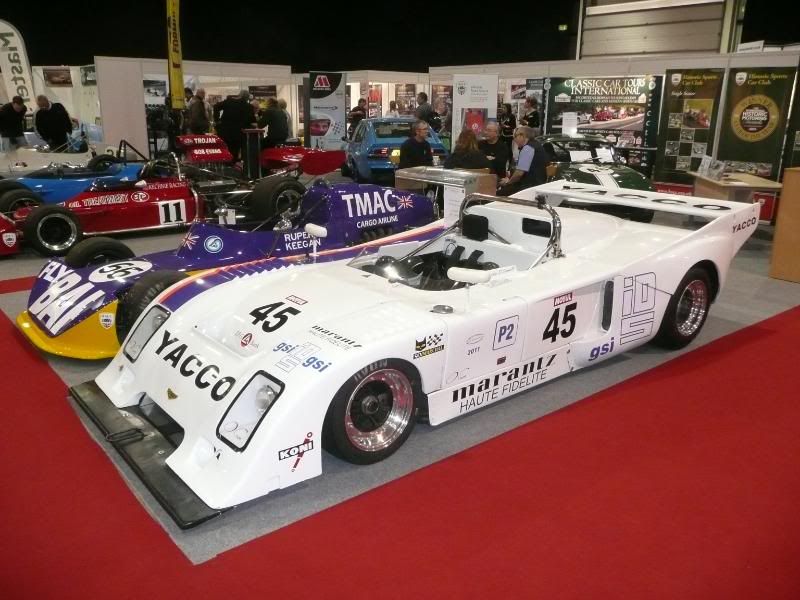 De TOMASO
Group 4 racing Pantera
FERRARI
1960 Grand Prix Ferrari 246 Dino which won the Italian Grand Prix that year in the hands of Phil Hill..
FORD
This is the only 1963 works example of the Lotus Cortina, and as such is a rare and significant car. Like the Shelby Cobra it was also piloted by Jack Sears. A regular road car and another model were also on display.
Rear wheel drive Escorts are now highly prized for motor sport events and there were a couple on show here, along with a rare and immaculate surviving Mark 2 1.3L saloon from 1979.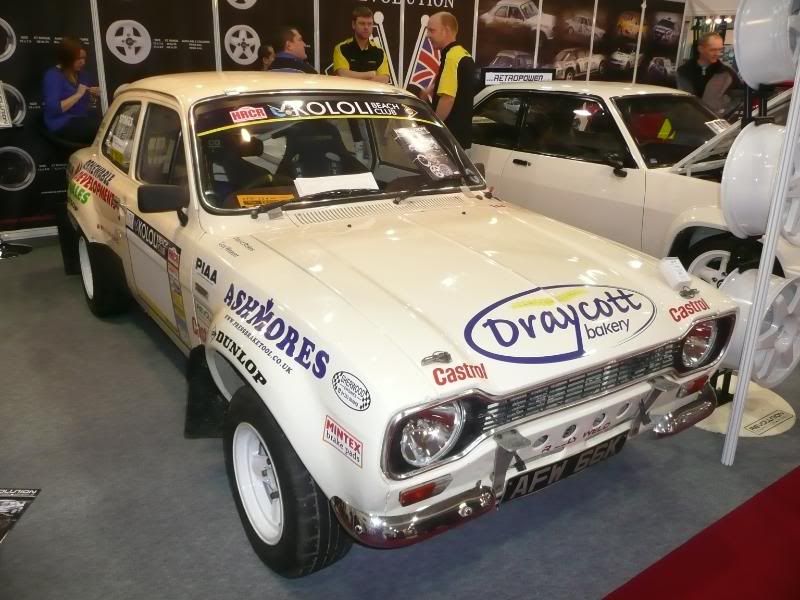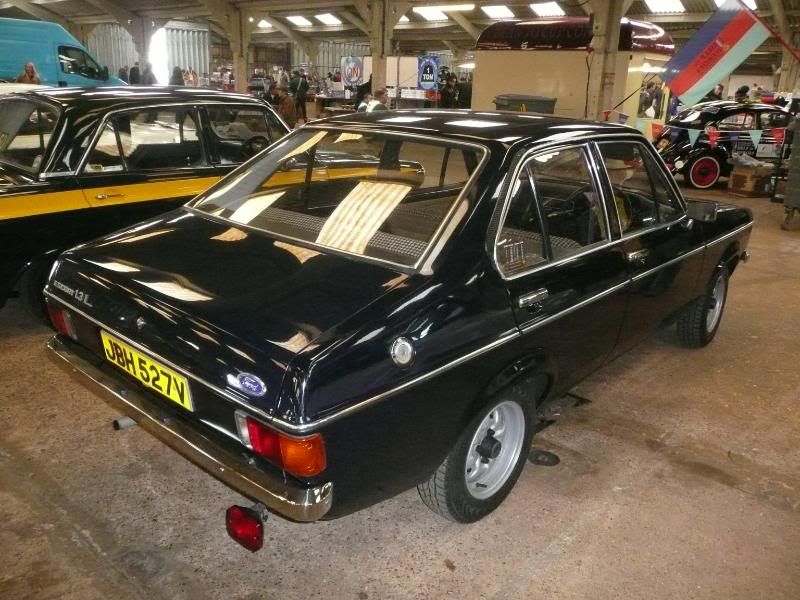 n RS200 featured in a display of various 1980s machine
s
Two road cars from the '50s were this Escort van and a Series 2 Zodiac
This Classic Capri was for sale – not a sales success when new, this car had a short production life of just 3 years.
GINETTA
G4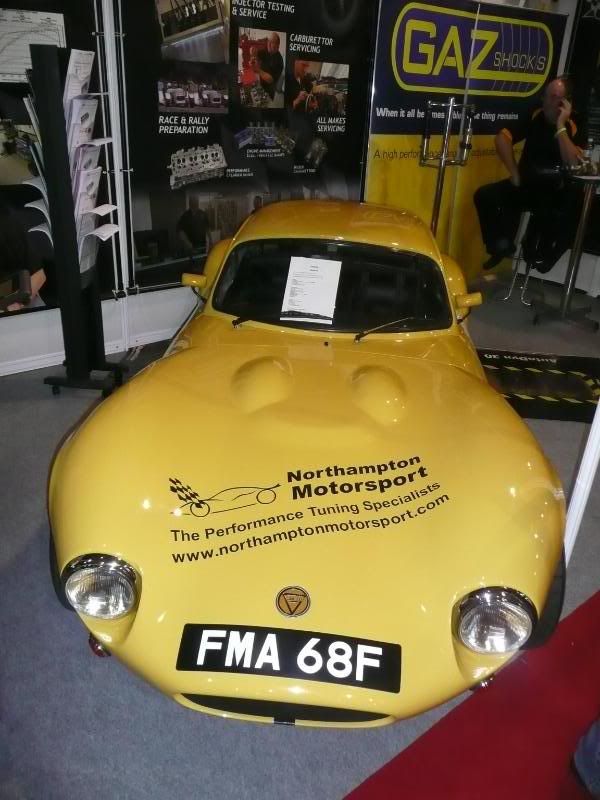 JAGUAR
After the large number of E Types that dominated this event last year as part of the 50th anniversary celebrations, there were surprisingly few Jaguars on show this time.
The very elegant XJC. This is one of the first cars produced, dating from autumn 1975. Sadly these cars sold in small numbers and production ended after a couple of years and fewer than 8000 cars built
LANCIA
Once again, the Lancia Owners Club had a large stand in the corner of one of the halls, with a number of cars from the 1980s and 1990s to enjoy.
LOLA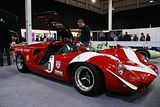 LOTUS
Type 24
Among the road cars that were for sale were an Elan and one of the last Esprits made before production ceased in 1999
MAZDA
This was the first time that this Group B RX7 has been exhibited at this show.
McLAREN
Can Am racer.
MG
If it has not yet come to your attention that 2012 is the 50th anniversary of the MGB, then it soon will, as there will be all sorts of celebratory events during the year to mark the half century of one of Britain's best loved sports cars. Two historically significant cars were on show in the foyer, to greet those arriving at the show. The older of the pair was raced at Sebring by Christabel Carlisle and Denise McCluggage and the other was the first MGB GT works entry, which took a class win at the 1967 Sebring 12 hours, driven by Paddy Hopkirk and Andrew Hedges.
There were several more historic MGBs scattered throughout the displays
Other classic MGs ranged from a 1930s M Type Midget through the MGA to a 1980s Maestro.
MINI
Few Minis in the show this time, either. .
MORGAN
A three car display included an example of the latest Three Wheeler.
MOSKVITCH
Definitely one of the rarer cars of the day. Moskvitch enjoyed a brief period of sales success in the UK in the early 1970s, offering a family saloon for less than the price of a Mini. Quality was patchy and after the Consumers Association published a damning report on the lack of safety, sales evaporated almost overnight, in favour of the equally shoddy Lada. Amazing though it may seem, Moskvitchs competed in a number of motor sports events and were not completely hopeless. They are all but extinct in the UK now, though.
"NANETTE"
The Brooklands Museum displayed the Nanette Special, a low-slung vintage special driven by Felix Scriven. Fresh from a recent restoration, this little-seen machine is powered by an ex-Parry Thomas 1847 Four cylinder Hooker engine.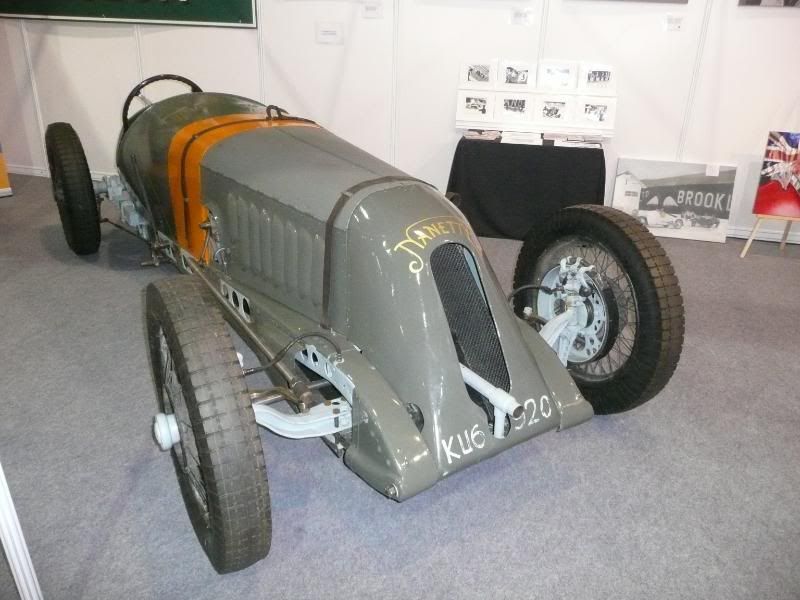 PEUGEOT
This 205 Turbo 16 was another highlight for me – a splendid machine indeed.
PORSCHE
2012 marks the 30th anniversary of the fabulous Group C racer, the 962 and in honour of this, the displays included the prototype 956 that made its debut in the '82 Silverstone Six Hours driven by Jackie Ickx and Derek Bell which was matched with the Blaupunkt Joest Racing 962-116. This car came third in the 1988 Le Mans 24 hour race, driven by Frank Jelinski, John Winter and Stanley Dickens. A separate display stand also contained another 962, which was the second placed car in the 1988 event. This one was driven by Hans Stueck, Derek Bell and Ludwig. For many people, me included, these fabulous machines were among the highlights of the event.
This RS61 Spyder, one of only 14 built, belongs to Sir Stirling Moss. He bought it for $1.7m to celebrate his 30th wedding anniversary.
Dating from 1970 were a couple of the legendary 908RS car in Gulf and Martini colours. We noted the fan mounted about 3 inches behind the driver's head. Not a good place, for sure!
This 924 was one of the cars offered for sale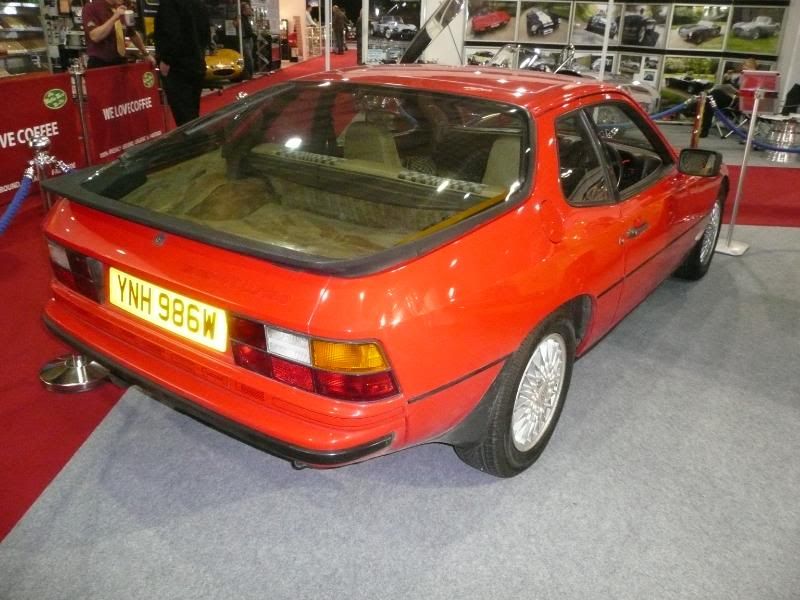 ROVER
A somewhat modified P6 car.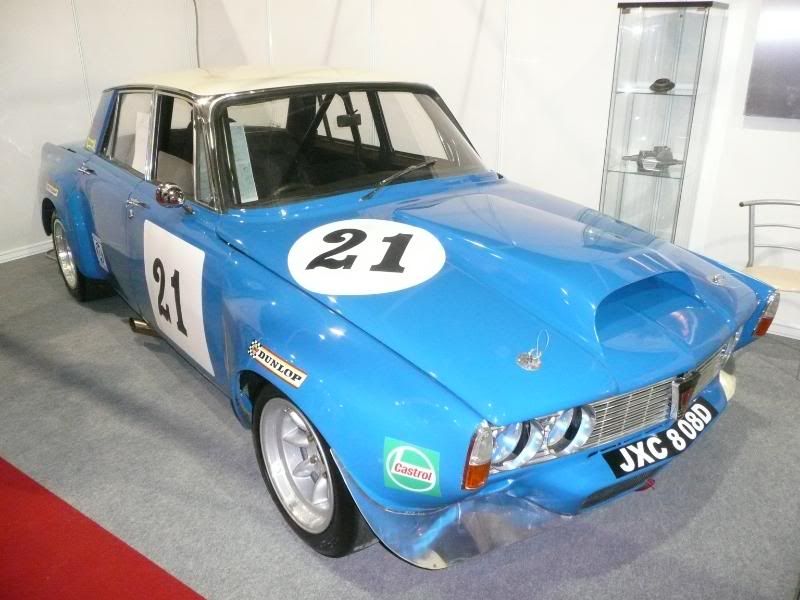 STOCK CARS
A colourful display of historic F1 and F2 historic stock cars included Pete Hill's tribute to his childhood hero Don Evans. The truck-based chassis features an 8 litre V8 and genuine pre-war Topolino body. Running on worn old tyres from Hill's Austin Westminster, it is apparently a lot of fun to drive with the back stepping out at the whiff of throttle.
TALBOT
Not perhaps the first car you would think of, even for entry level motor sport, was this Talbot Samba.
Rather more familiar was this Sunbeam Lotus, complete with period video playing showing its driver, Jean Todt.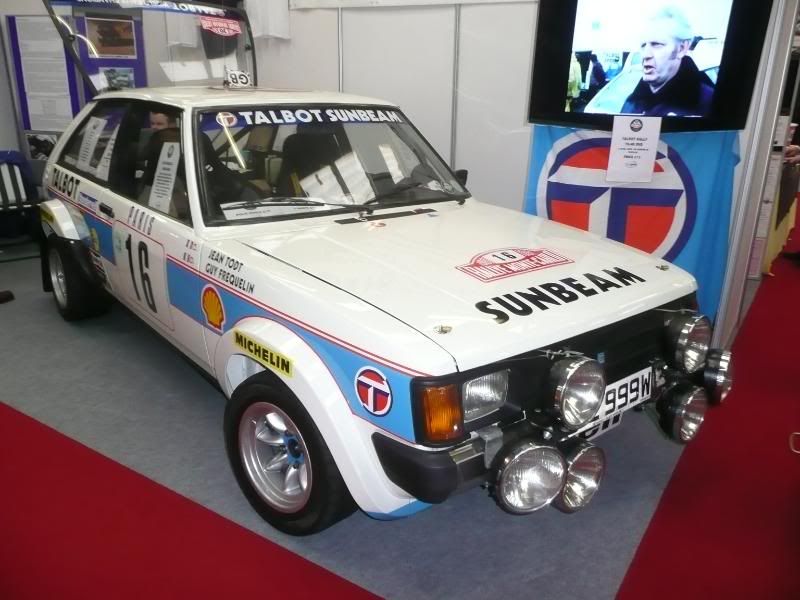 TOJEIRO
Shown on Octane magazine's stand was this 1953 Tojeiro-MG car, a car driven by Sir Stirling Moss when it was new.
TRIUMPH
One of the more unusual cars at the show was the Triumph SLR, which has newly arrived at TR Enterprises to be prepared for selected FIA GT racers this season. Based on a TR4, the body was fashioned by Williams & Pritchard and built up by Chris Lawrence. After debut at the '64 London Racing Car Show, it was raced by Neil Dangerfield and Lawrence.
There was also a regular TR4 on display.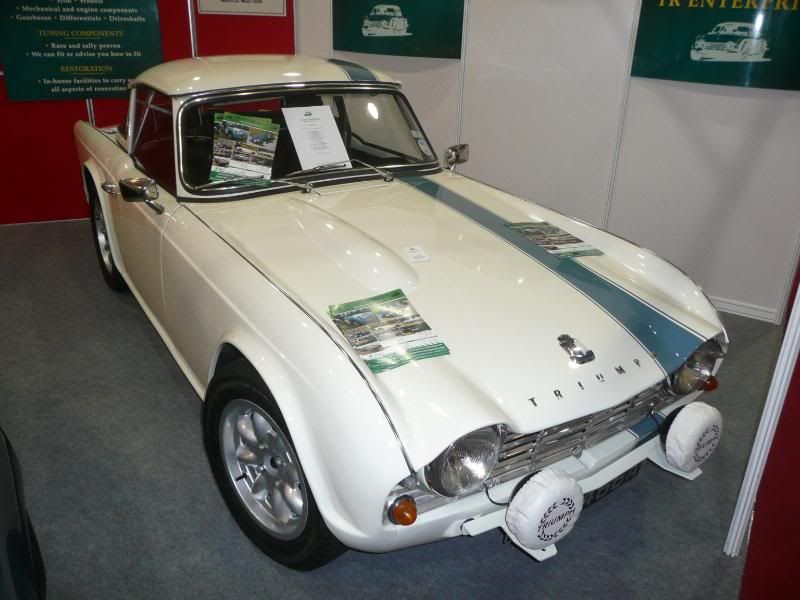 TROJAN
T100, F5000 car.
TVR
A colourful display of racing TVRs.
VAUXHALL
Vauxhall's rally heritage with the successful Chevette was presented in the form of a rally car and both the HS and HSR road cars.
Silver Bullet was at the event as it was last year. This unique car belonged to its designer, Wayne Cherry for a number of years before the current owner was able to acquire it from Vauxhall Heritage. This is literally a one of a kind car, made in 1974, and which belonged to Wayne Cherry (GM design director) for a number of years before it finally left the clutches of Vauxhall in 1985. A small number of Firenza Sports Hatch cars were subsequently made, all in black. Although conceptually similar to this, there were a number of differences between this car and those, of which the change from 6 to 4 headlights in the droop snoot nose is the most obvious sign
VOLKSWAGEN
This rather nice Type 2 Camper was for sale.
YARDLEY
Formula 1 car from 1975.
MISC OTHERS
MOTOR BIKES
There was quite an array of motor bikes, with Honda being the featured marque, but plenty of other brands were represented including several Nortons.
RALLY CARS
As in previous years, a number of notable rally cars from the 1960s to 1990s had been assembled both for display and for use on a specially constructed special stage. Many were driven by their current owners, but some former rally stars were in action, too, reunited with cars they drove 30 or 40 years ago. Notable among these was Bjorn Waldegard, who consistently took his ex Kenyan Safari Porsche 911 up the bank on every lap, alarming more than a few spectators. Jimmy McRae was also in action on the Sunday. The inimitable Tony Mason was the commentator.
IN THE CAR PARK
One consequence of arriving early and spending the whole day in the halls or watching the rally car action was that by the time we returned to the car park, most of the other visitors had gone, so I am sure we missed lots of interesting vehicles. These are the ones that remained that attracted the photographer's attention.
Abarth Punto Evo – not sure who owns this one. No-one on that forum has yet said that they were at the event.
Ford F150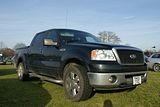 Land Rover Discovery G4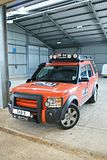 Lotus Omega
Mitsubishi Starion
Opel Manta 400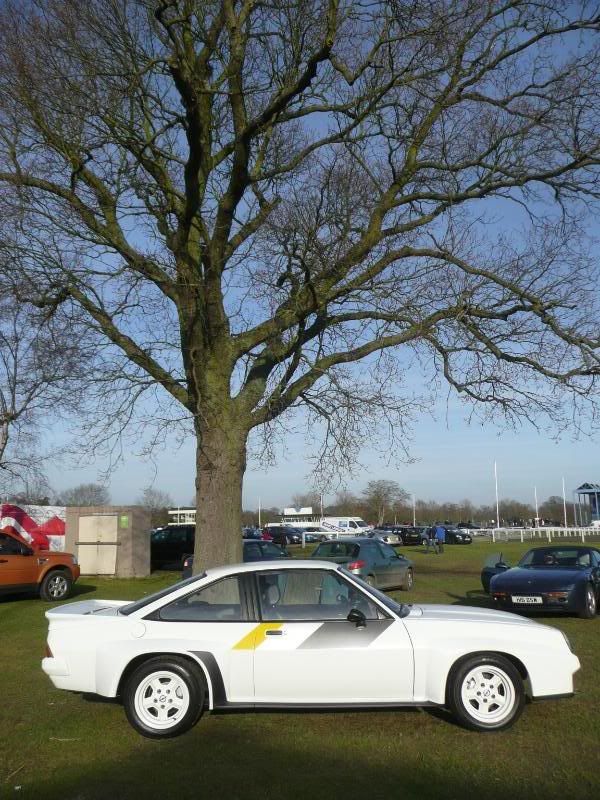 Pontiac Firebird Trans Am
1953 Pontiac Super 8
Renault Avantime
Subaru Impreza WRX ST
i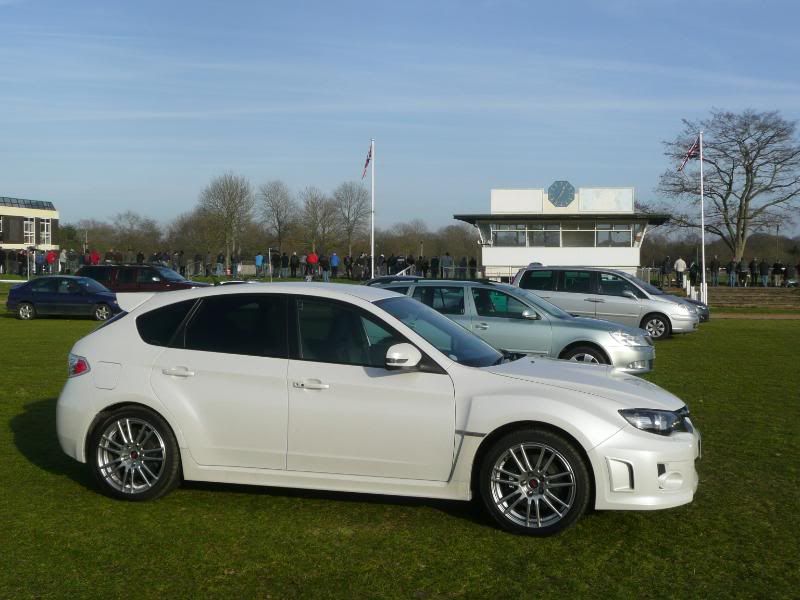 ……….. and finally, all three forum cars were blue. This was the first chance to see Andy's latest acquisition, and a very fine car it is
A good event, but with tickets retailing for £25 plus a £1.50 credit card fee, the price has crept up to a level which will have some people pondering whether to attend in 2013. That said, it is understand that total visitor numbers in 2012 showed a small increase over 2011.2012-03-02 20:24:52