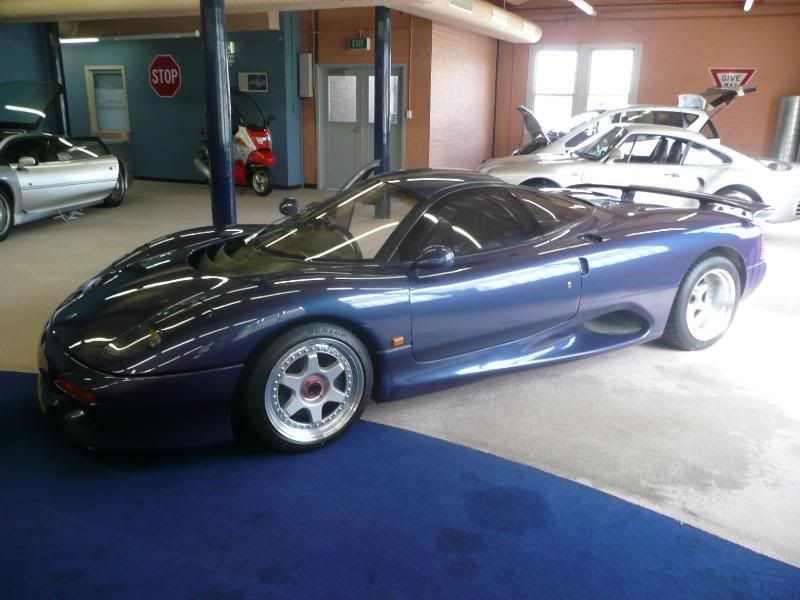 When doing my research to see what there might be of automotive interest in the Melbourne area, I was surprised to find that there was a museum on the very street on which I was staying. Granted it is located at 749 Collins Street and my hotel's address was 205, so it proved quite a long walk, but when I found that opening days included Tuesday, Wednesday and Saturday, I took a detour on my wander around the centre of Melbourne to investigate.
Lindsay Fox founded a trucking company in 1966, when he was fresh from military service, and from humble beginnings and a single vehicle, his business grew rapidly. Rebranded as LinFox, it is a well known name in Australia and has since expanded in some other markets as well. Fox now owns an impressive collection of classic and sporting vehicles which have been acquired over a period of about 20 years, currently amounting to around 120 cars. Only 50 are on display at any one time. Indeed, when I arrived, the receptionist apologised for the fact that three notable Ferraris (288 GTO, F50 and Enzo) had been sent across town for a display at the Grand Prix. There was still plenty of interest, though, and the location also includes the Sir Henry Royce Foundation Gallery, one of just three in the world. Even the building housing the museum is significant. Located in the Docklands area of Melbourne, the Queens Warehouse was built in the 1890s as a Custom House, replacing two earlier edifices. It was initially used for the storage of seized, detained confidential and bonded goods. Accordingly, the strong room has walls that are 1 meter thick, reinforced by railway track both vertically and horizontally. In 1908, half the building was taken over by the Commonwealth Stamp Printer. In 1913, the whole building was turned over to the Commonwealth Note Printer, leading to the printing and distribution of the first paper currency in Australia that year. The museum was installed in the building in 1997.
So, on to the cars.
MERCEDES-BENZ
Two notable vehicles are in the entrance foyer area. A 190E 2.5-16 Evolution and a rather special 600 Pullman, one of the previous owners of which was a certain Ringo Starr.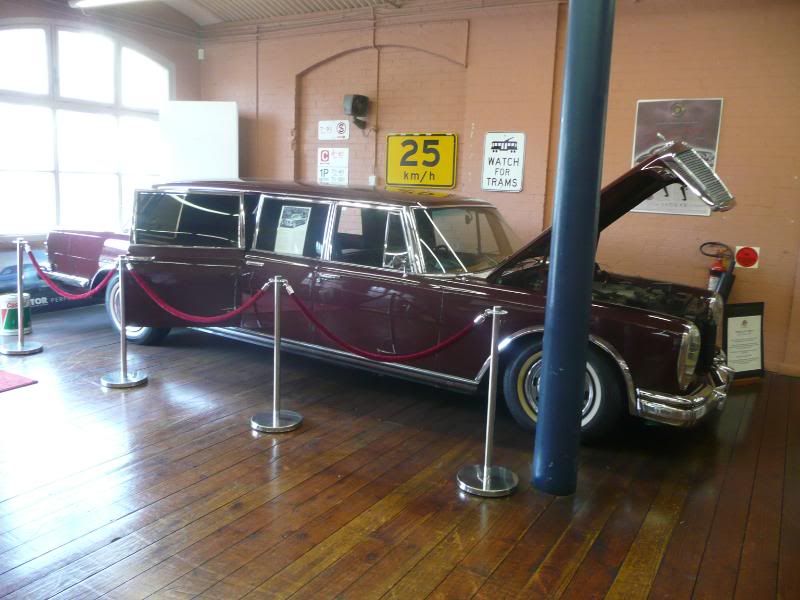 Centrepiece of the main Mercedes hall is a stunning 600 Landaulette. Just 59 of these cars were built, and they were all different in at least some details.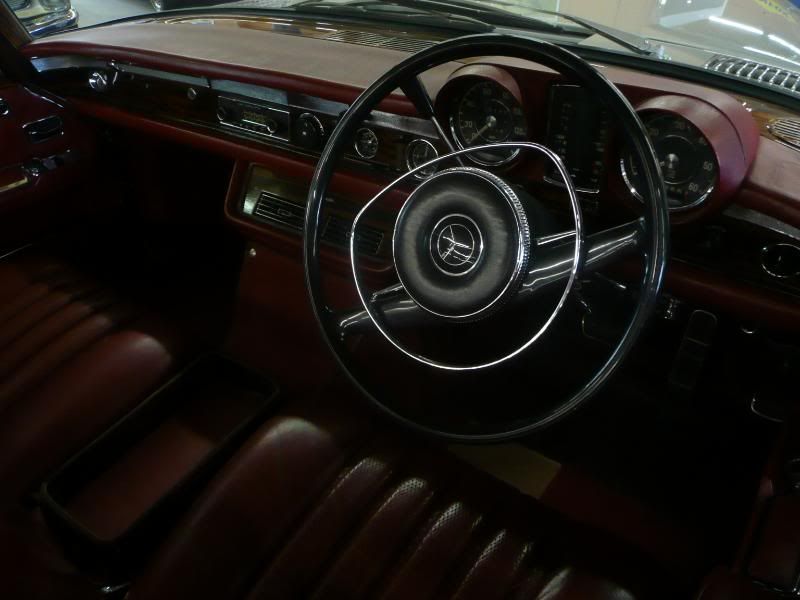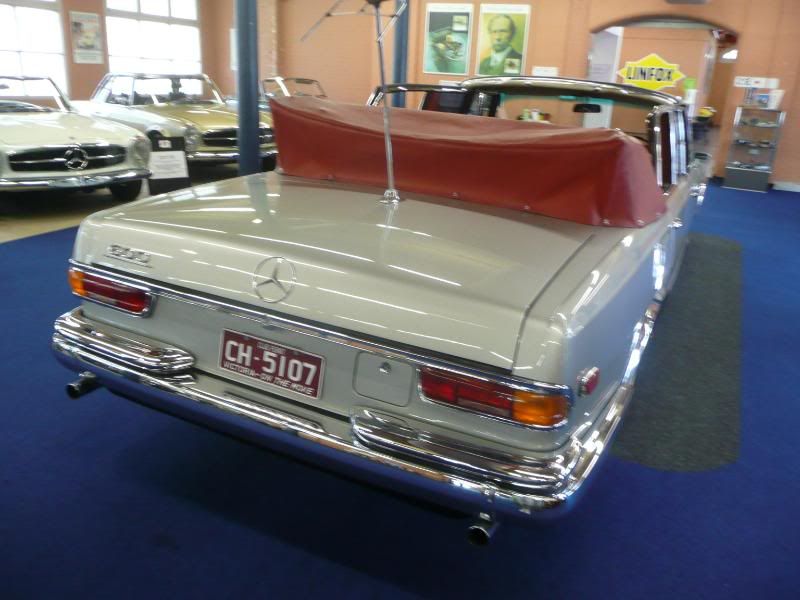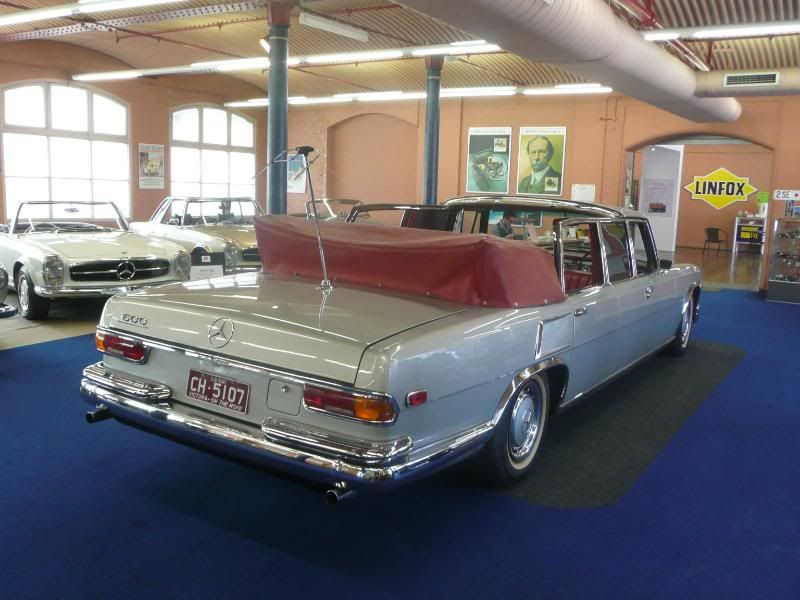 The oldest Mercedes was this  200 Cabrio, a splendidly restored example of a car that was built from 1934 to 1937.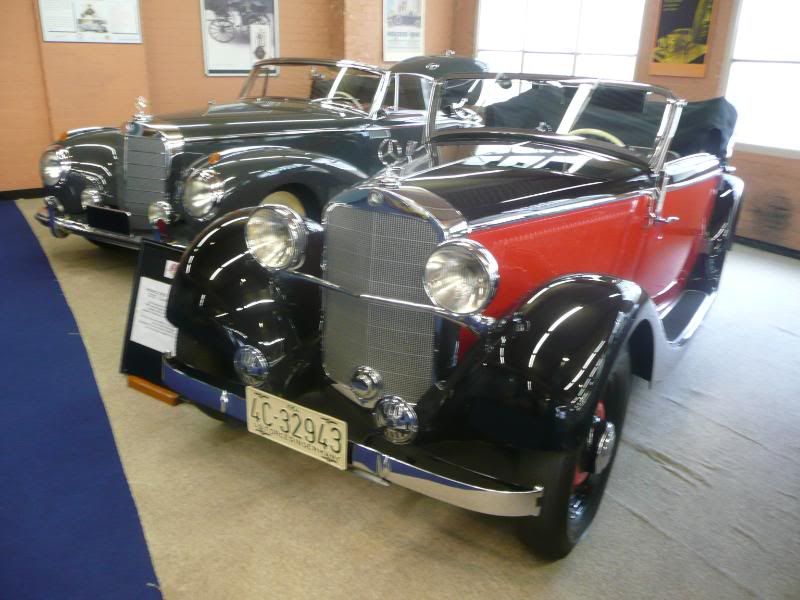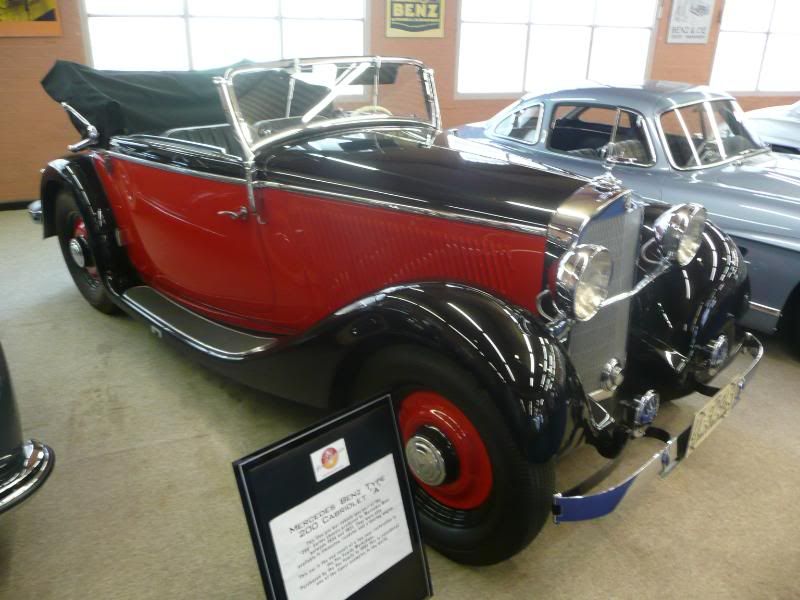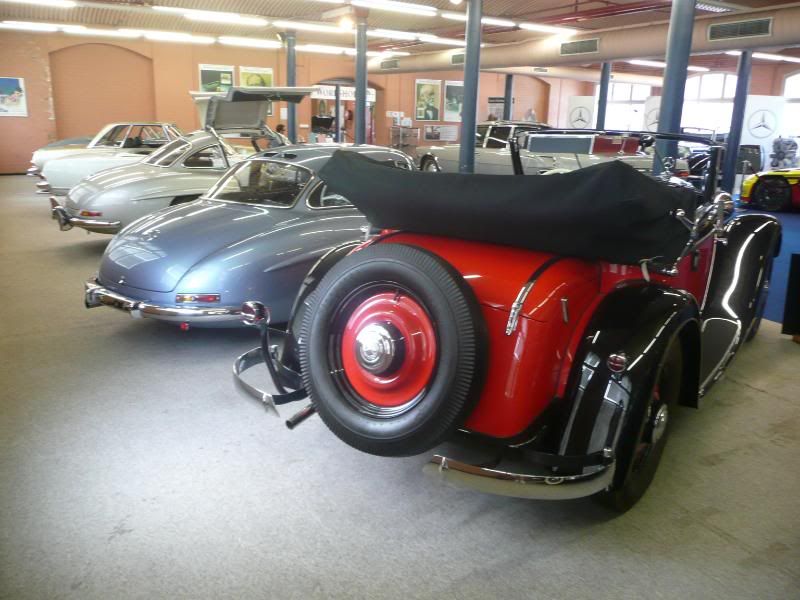 Dating from 1937 was this Mercedes 540K Cabriolet B. One of the most luxurious cars of its day, this is a rare right hand drive example. Allegedly, it was used by von Ribbentrop, the German Ambassador to London prior to the outbreak of World War 2. Generally these cars could only be afforded by the fabulously wealthy, and that is true even now, as following a full restoration in the US in the late 1980s, it is estimated to be worth round AUS$5m.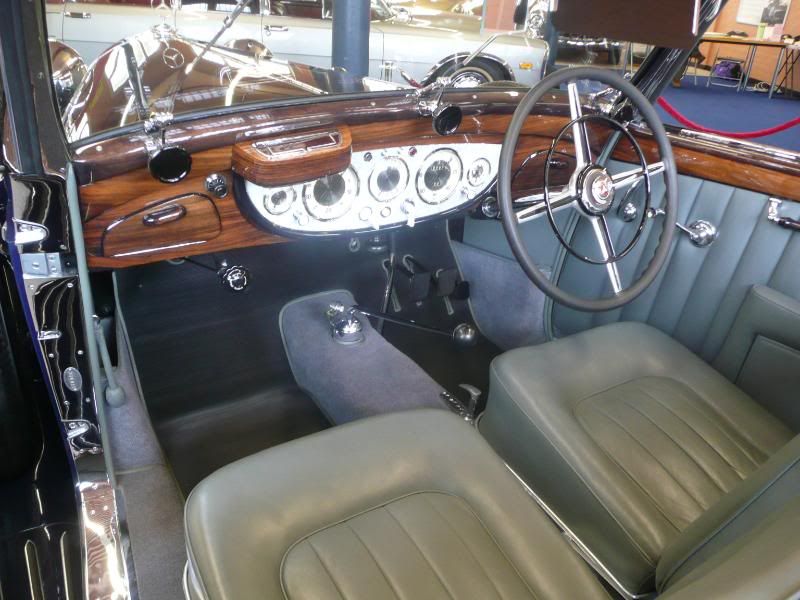 Also aimed at the wealthy was the 300S Cabrio dating from 1954. Only around 300 of these cars were made, many of them being bought by movie stars and other well-off people in the austerity years of the early 1950s.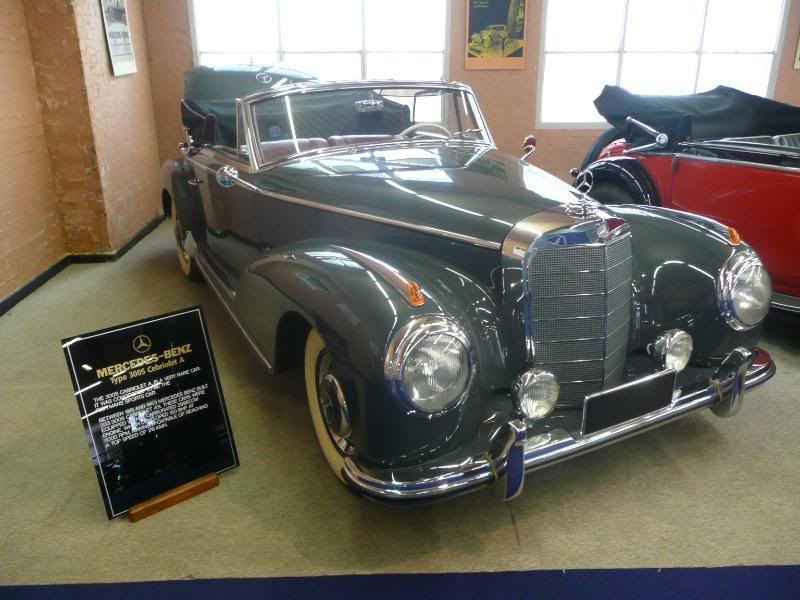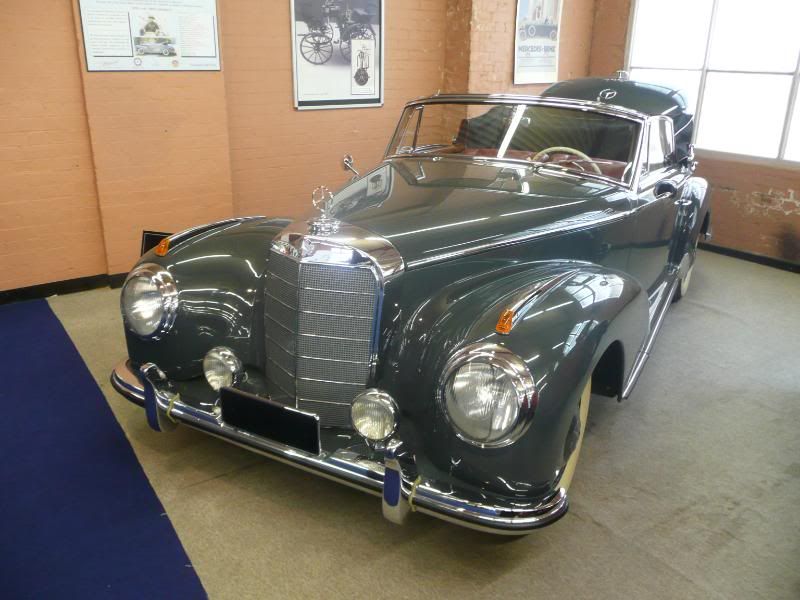 As if one 300SL "Gullwing" is not sufficient, there were 2 on display.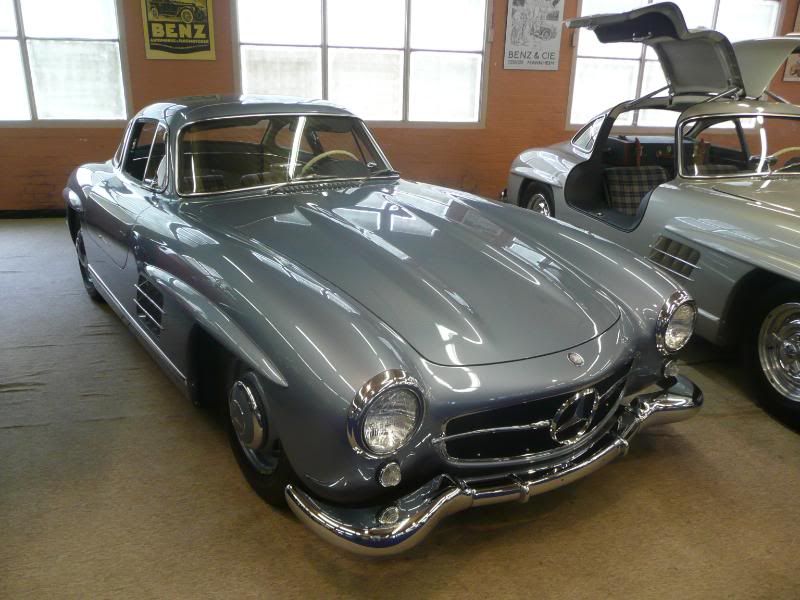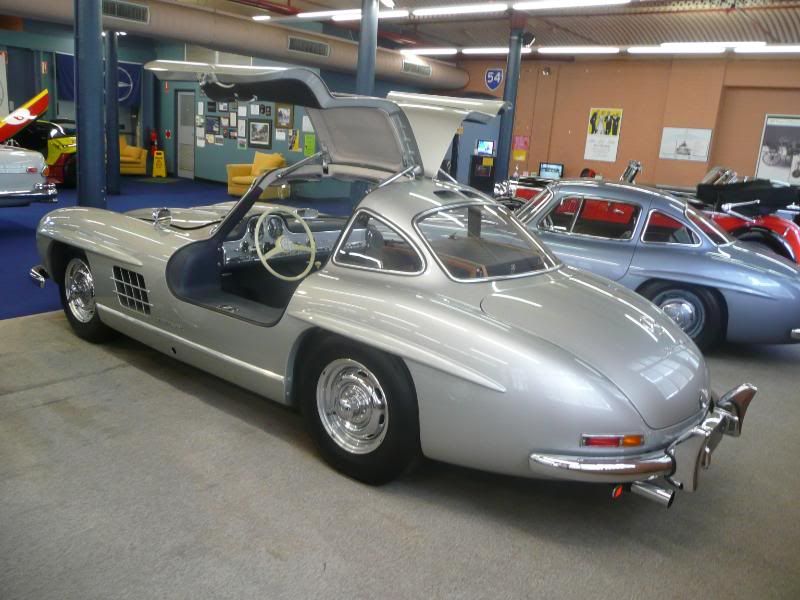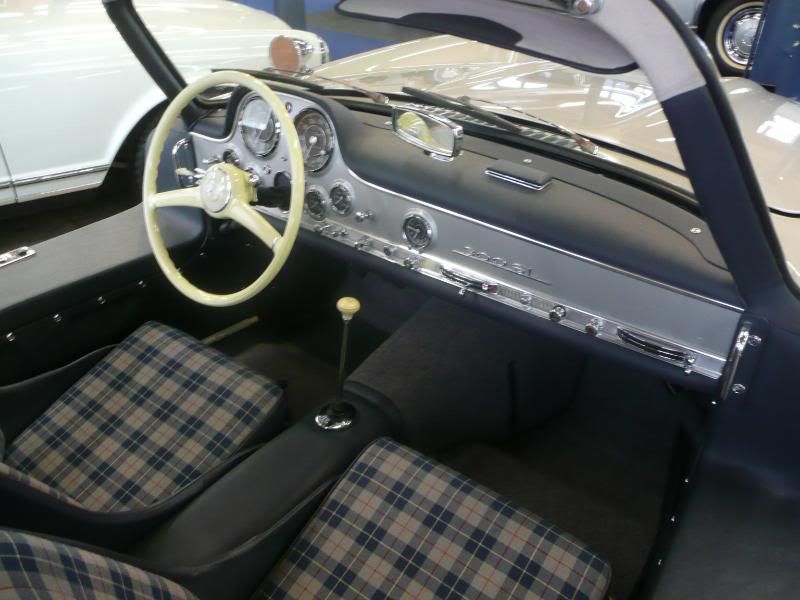 There was also an example of the cheaper off-spring, the 190SL.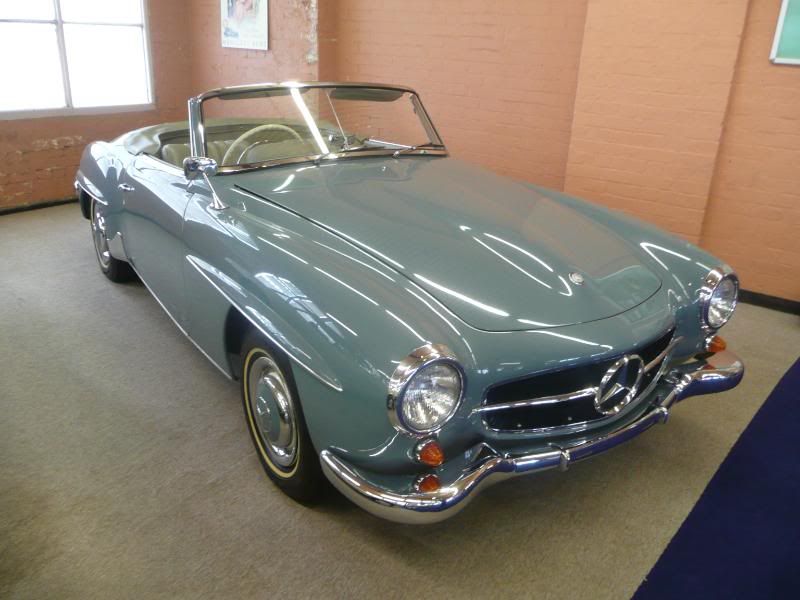 Successor to this car was the W113 "Pagoda" 230SL and there was one of these, along with the later 280 SL. These are splendid cars, but the market has realised that and prices for these are now getting well beyond affordable.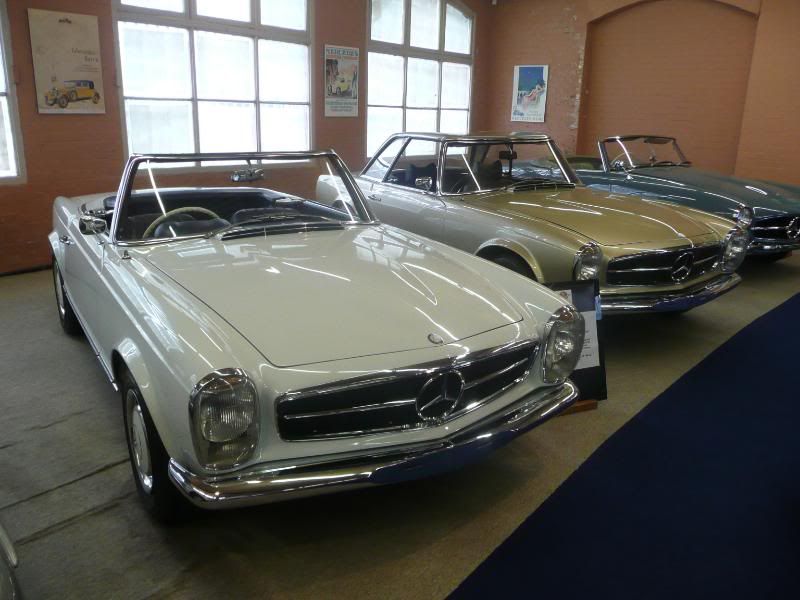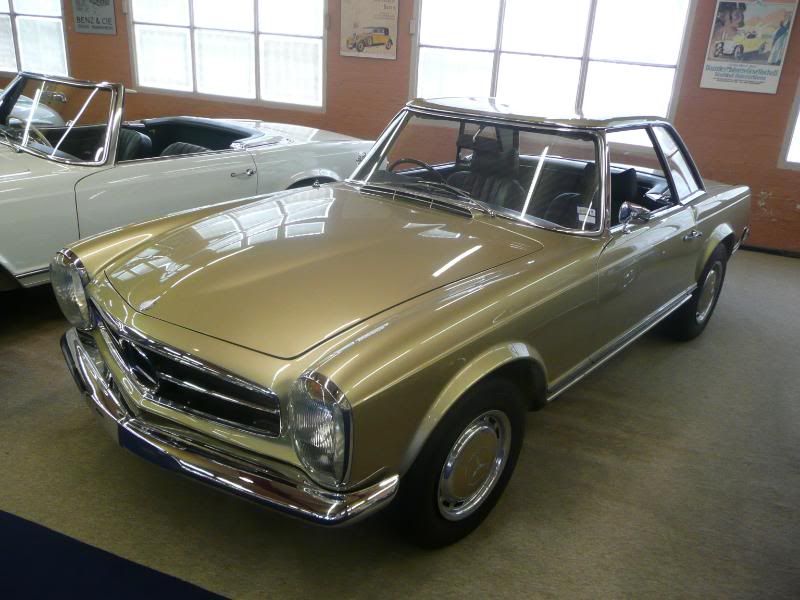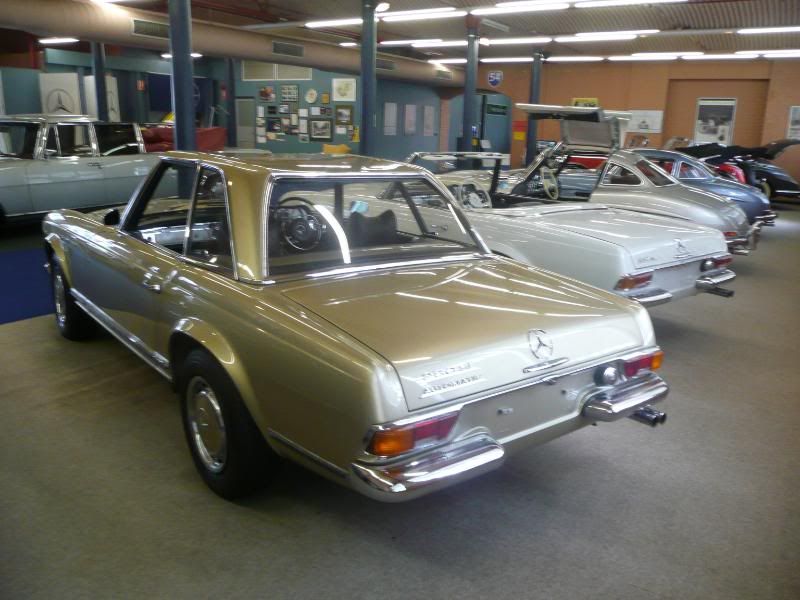 Nestling in a corner was what looked like a modern A Class. But closer inspection revealed that it had an engine in the back. And the front. This is an AMG A38, one of just 4 built. Mikka Hakkinen has one, David Couthard has one, Mercedes kept one themselves and this is the fourth.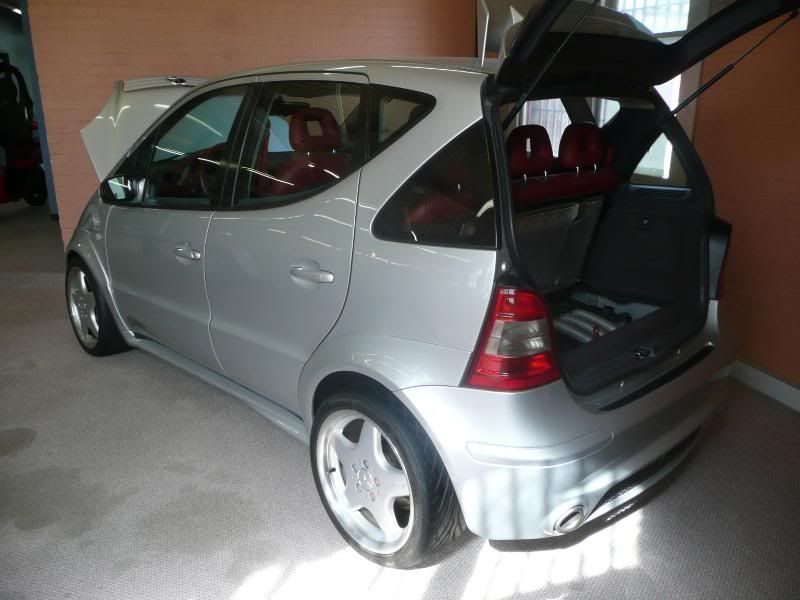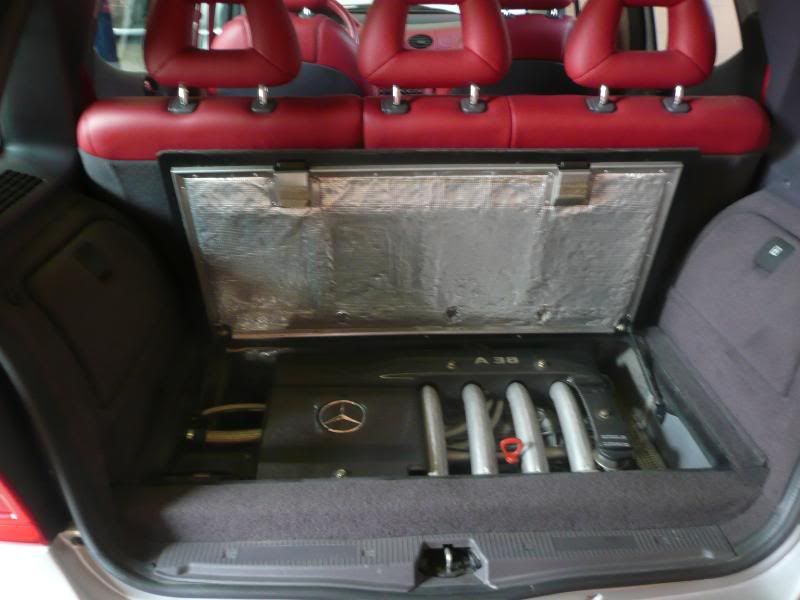 From more recent times were two of the McLaren SLR based cars including a rare Stirling Moss Edition.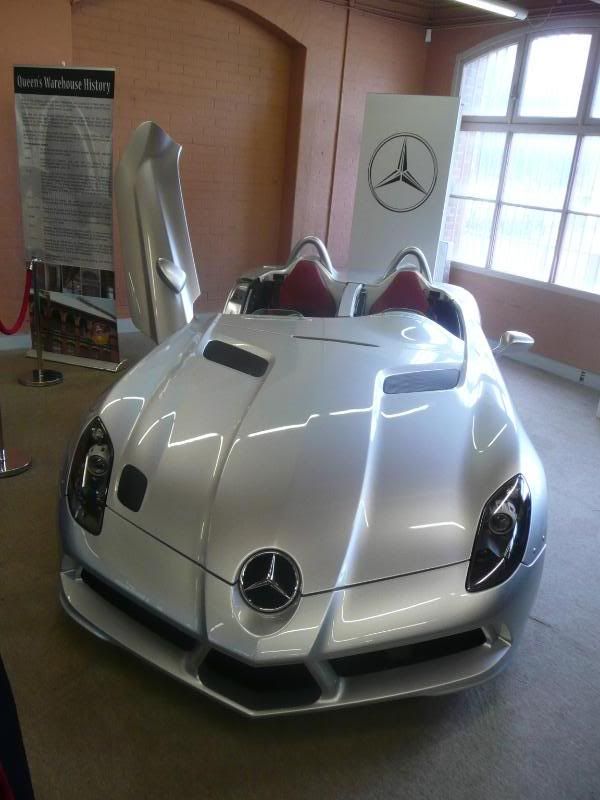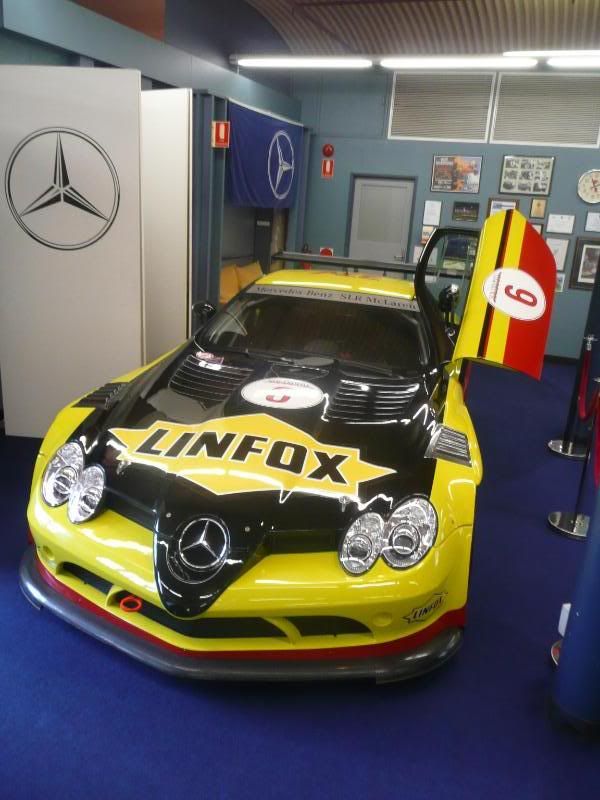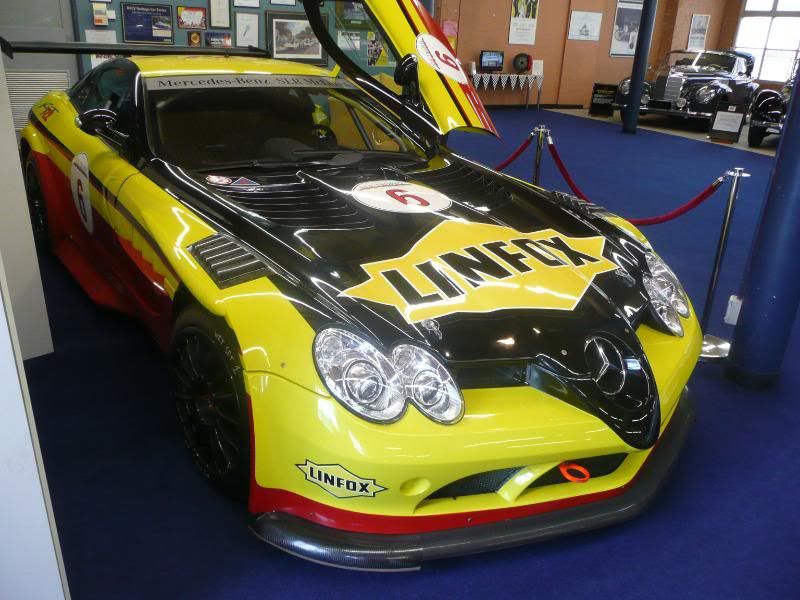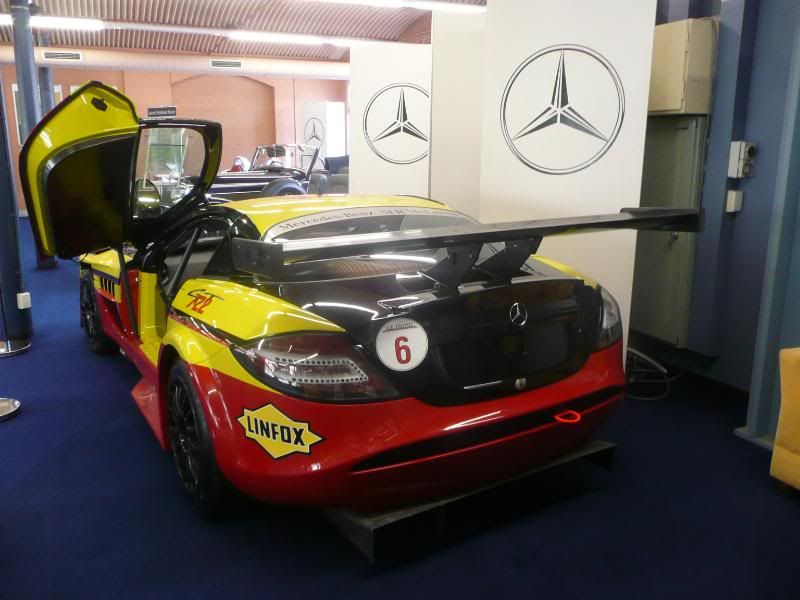 FERRARI
With three of the notable cars out on loan, just the F40 was on display. As ever, though, this car seemed to be attracting more interest from the other museum visitors than anything else. It really is a striking car even now, in its 25th anniversary year.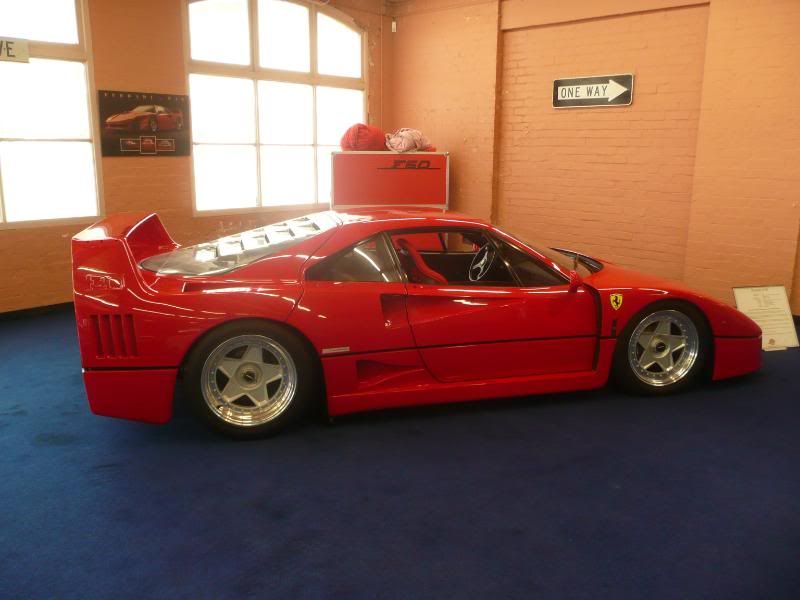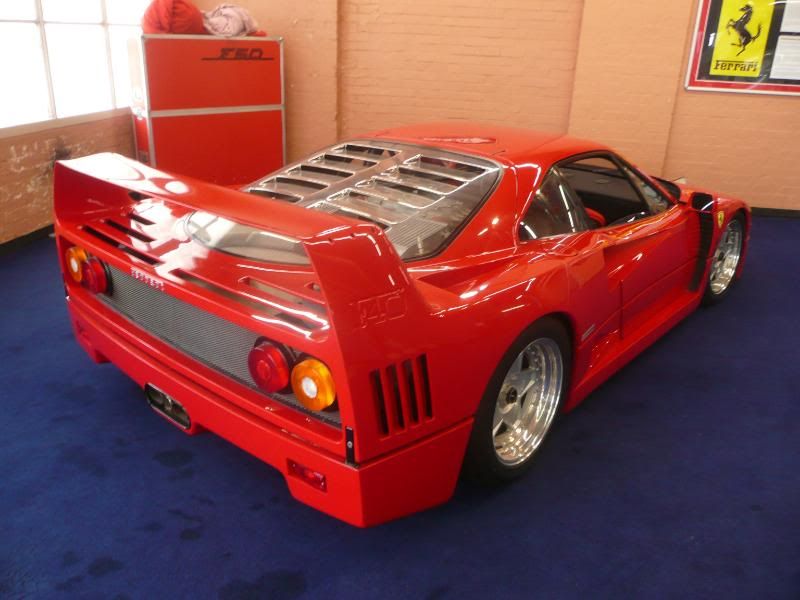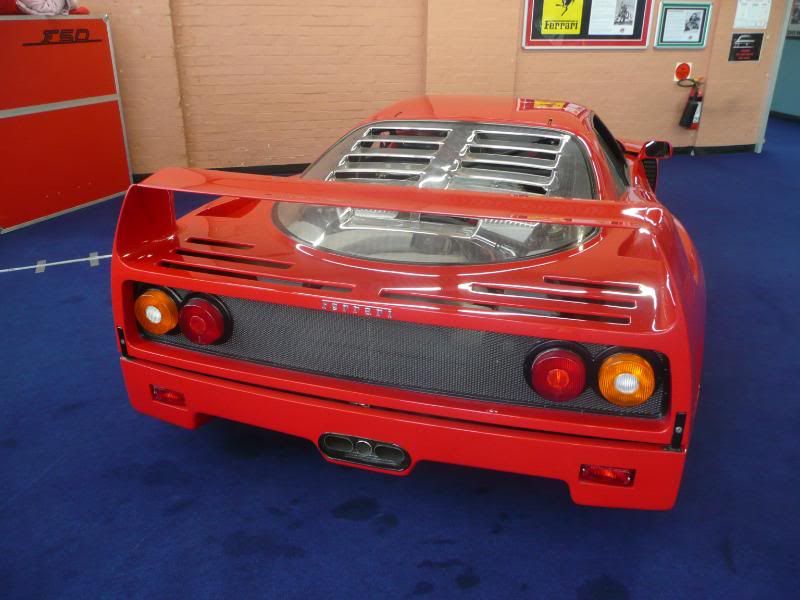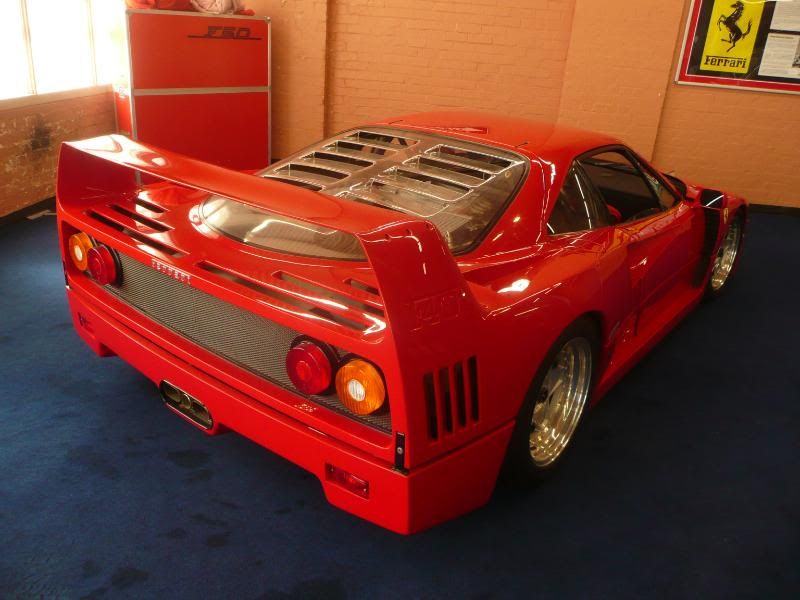 PORSCHE
This 550 RS Spyder is the only car of its series to come to Australia when it was brand new. It bears chassis number 56. which makes the car made after the one in which James Dean met his untimely end, as his was numbered 55. In 1956 it was driven by Stirling Moss in the Ardmore Tourist Trophy in New Zealand, where it won, and it also gained first place in the 1500cc class New Zealand Grand Prix driven by Frank Kleining.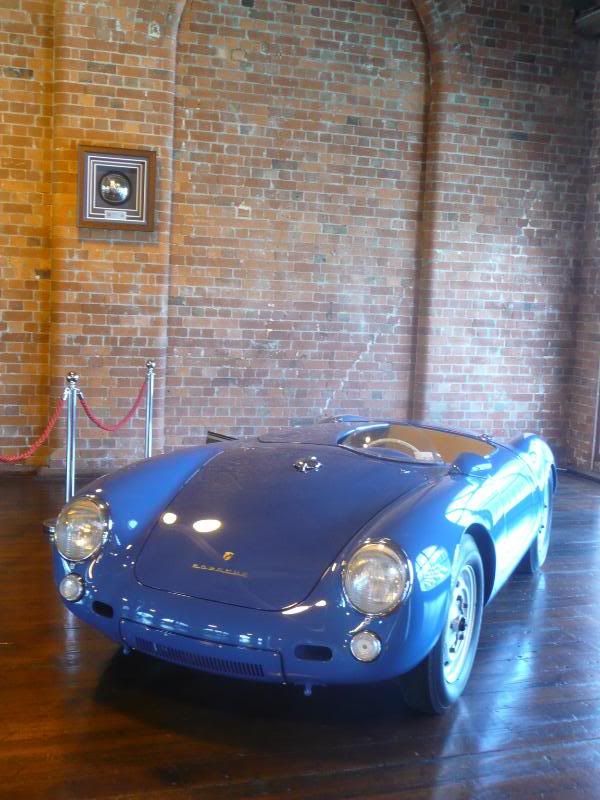 This 718K RS came later as a follow on to the 550. This particular was discovered in America, in a rather forlorn state and brought to Australia for restoration.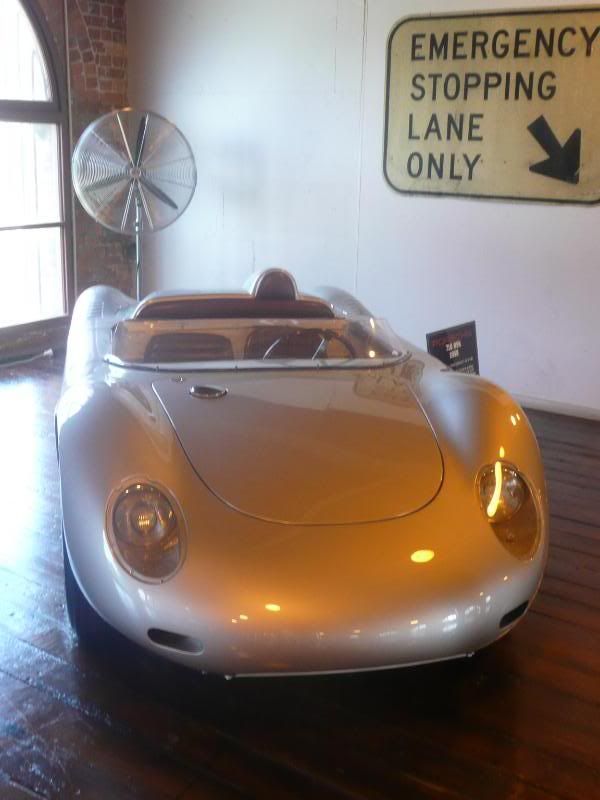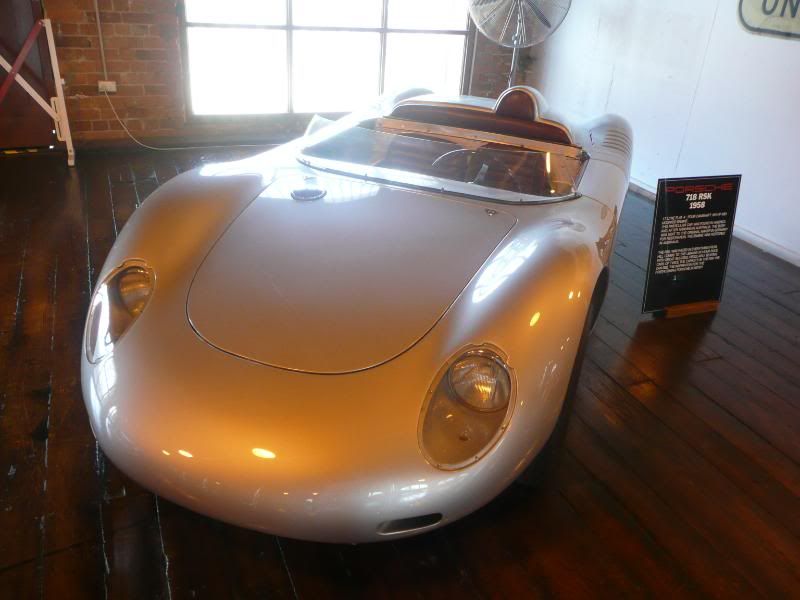 There were a couple of 356 Coupe models on show..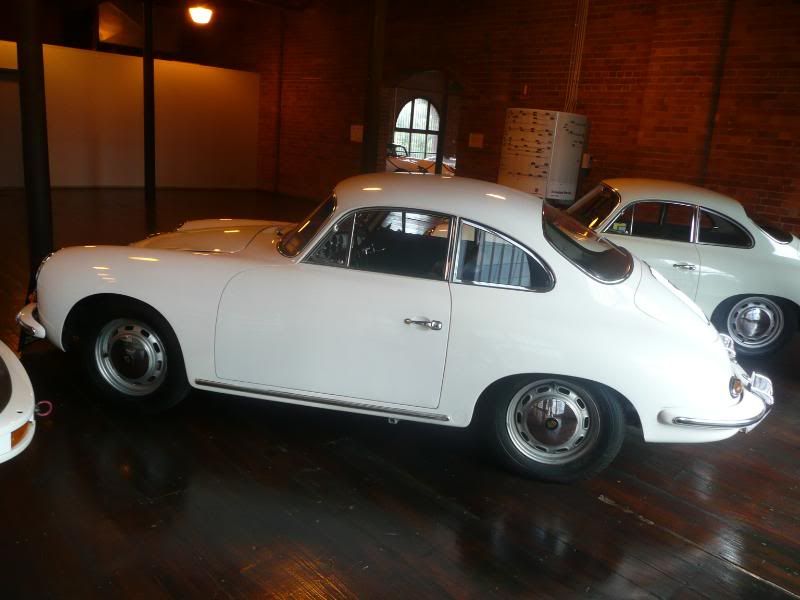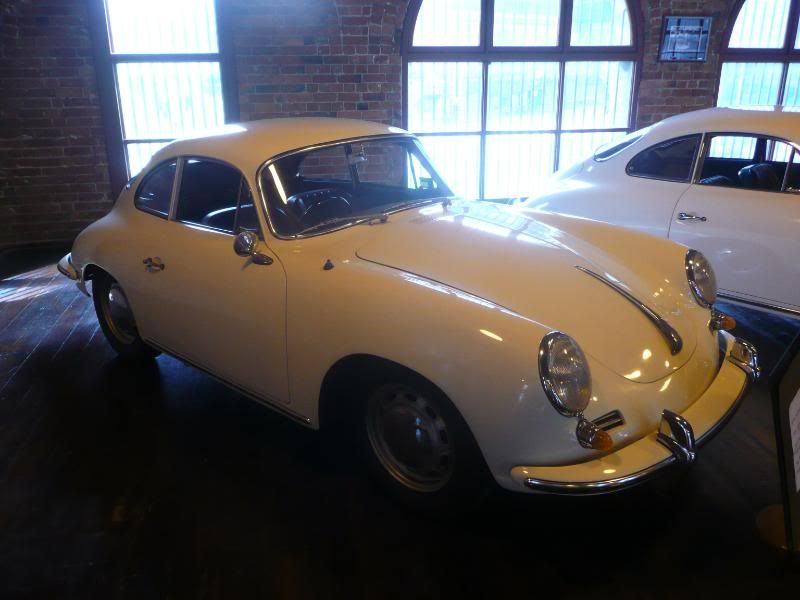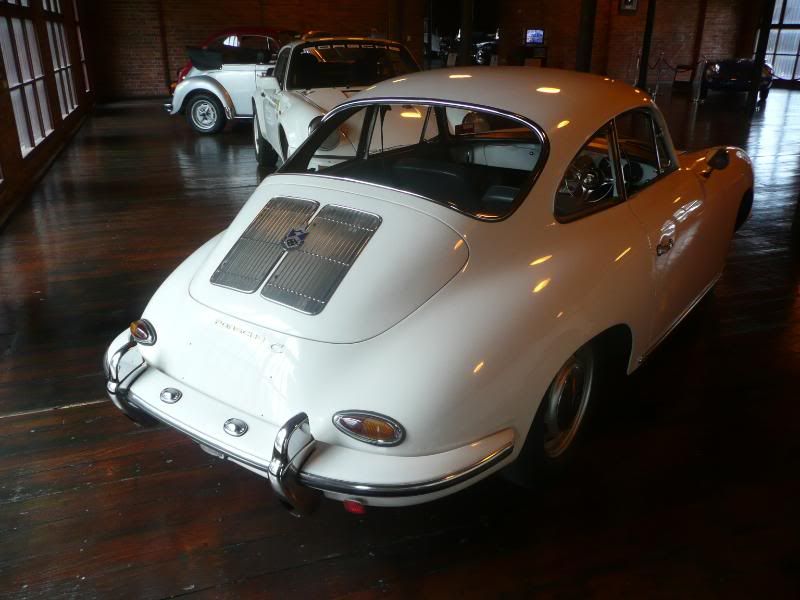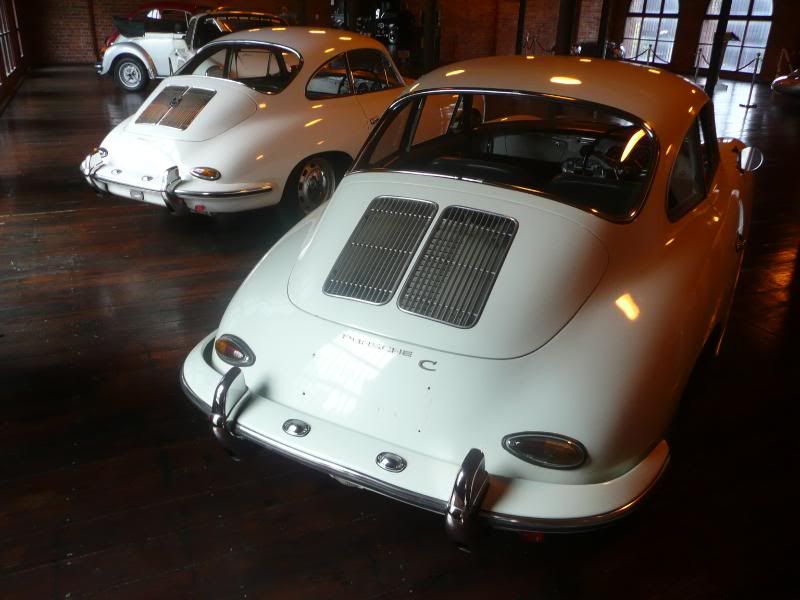 This car acted as a prototype for some of  the advanced technology which underpinned the 959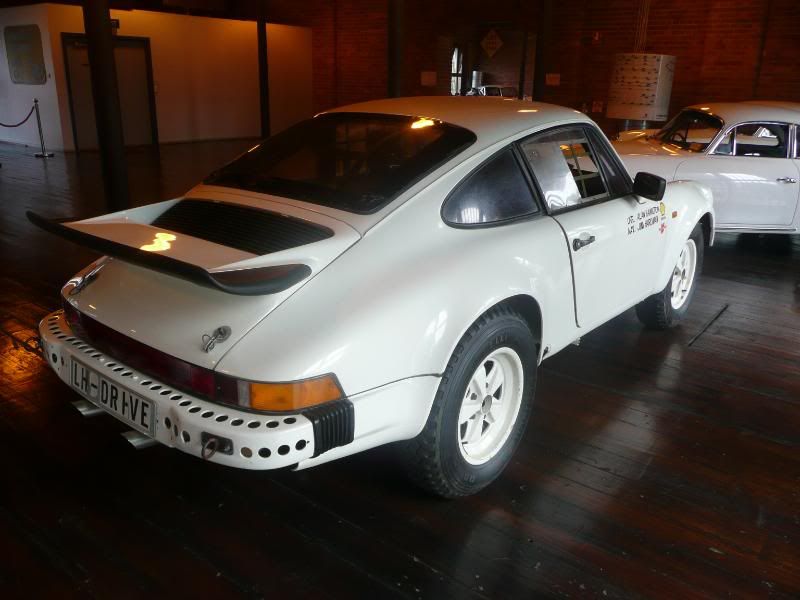 And this is a 959. Still one of my favourite Porsche cars ever.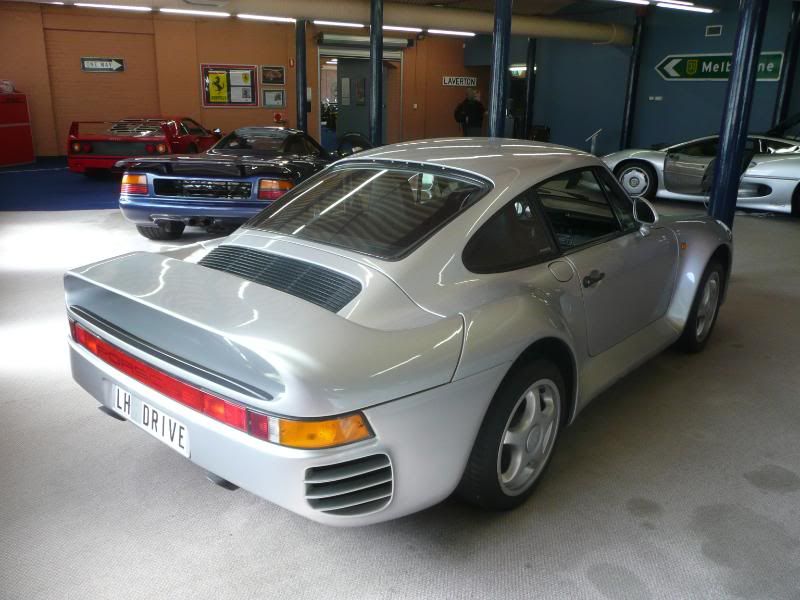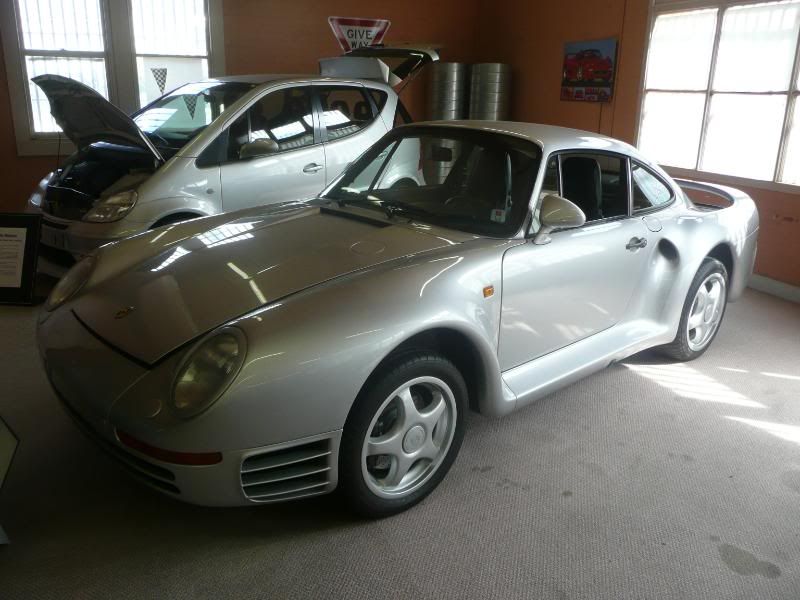 VOLKSWAGEN
Not quite as exotic as the other exhibits, but this pair of Beetles are examples of a car that was as significant in Australia as it was in so much of the rest of the world. The 1303 Cabriolet has covered just 63km since 1976. The 1300 Saloon dates from 1975. Like all the cars in the collection, it is in outstanding condition.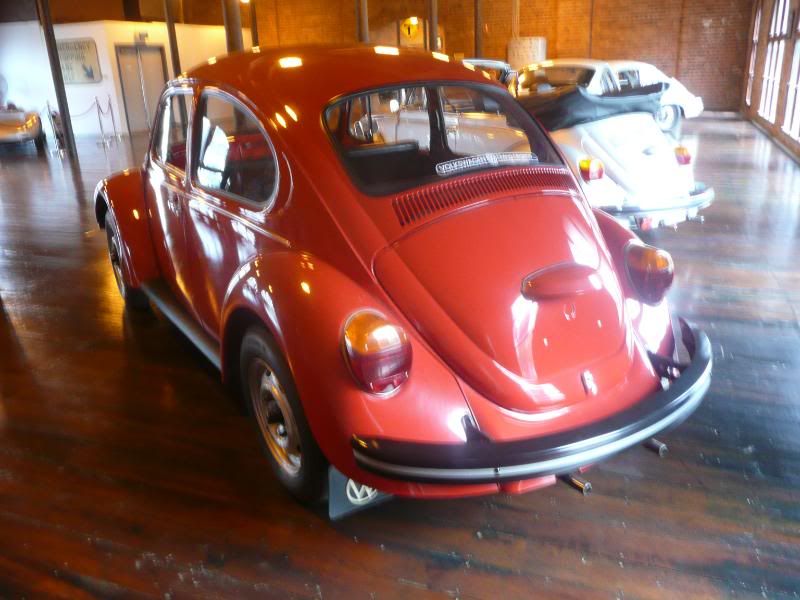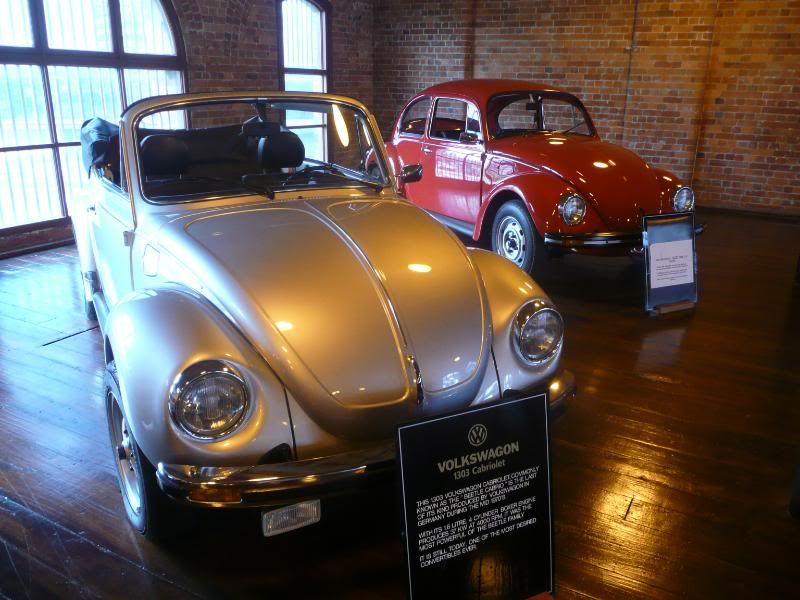 BMW
An example of the C1, BMW's brave attempt at city transport that presages Renault's Twizy by some 15 years.
JAGUAR
This display case contained a fascinating array of different Jaguar models.
The oldest full-size Jaguar on show was this lovely 1950 Mark V Drophead Coupe.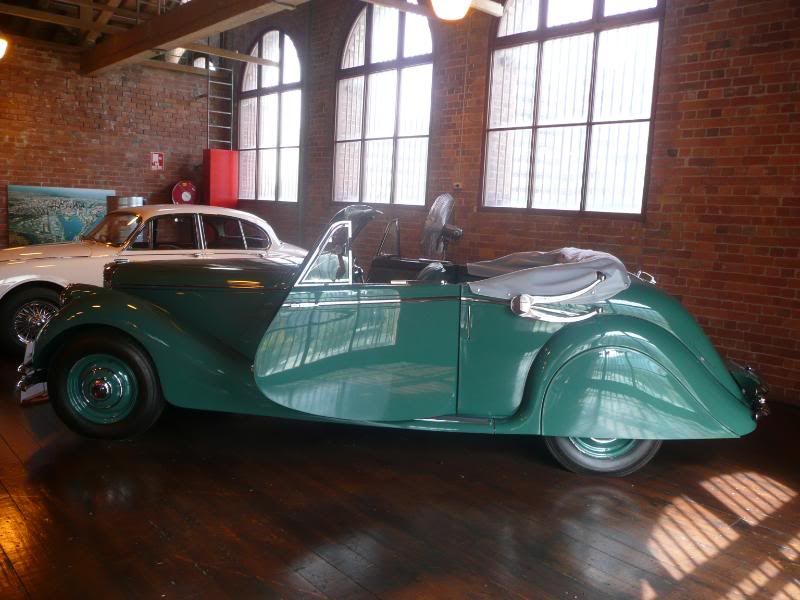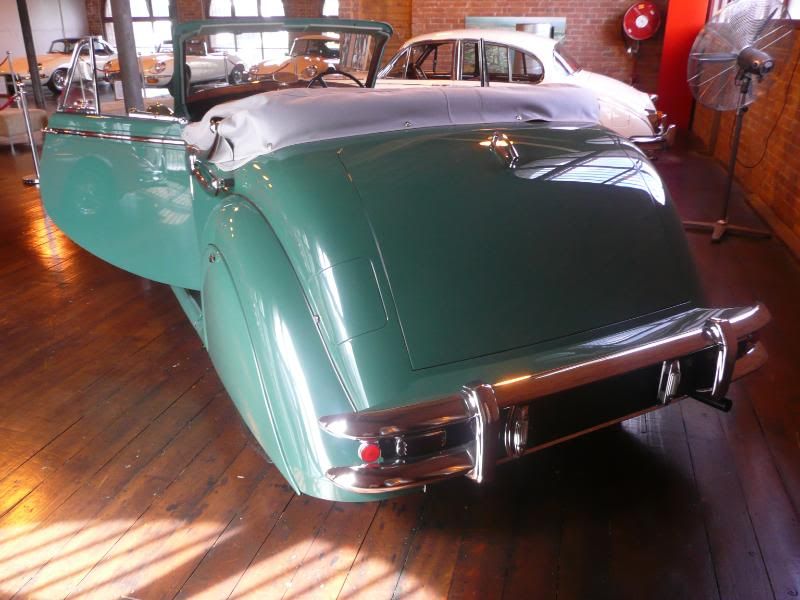 There were 4 of the fabulous XK cars, showing the evolution from the initial XK120 through the XK140 to the final XK150 cars, with a convertible and a coupe of this last on display.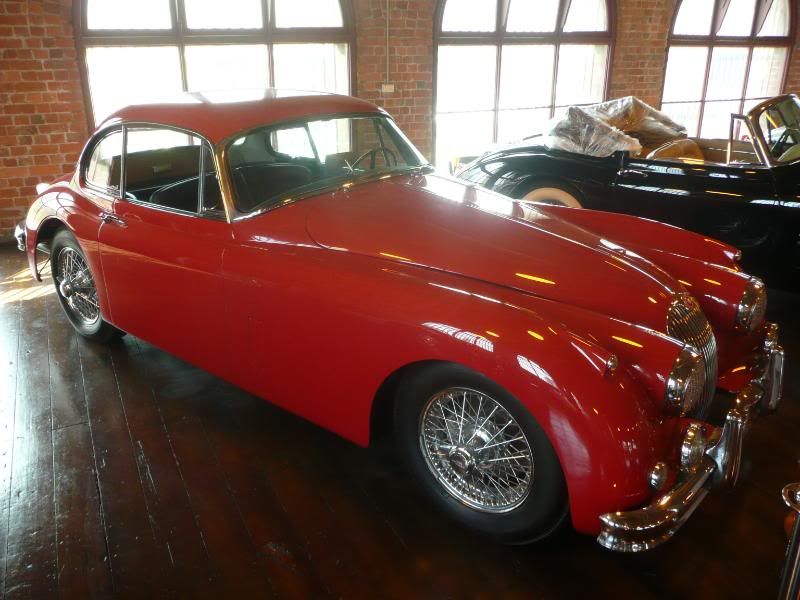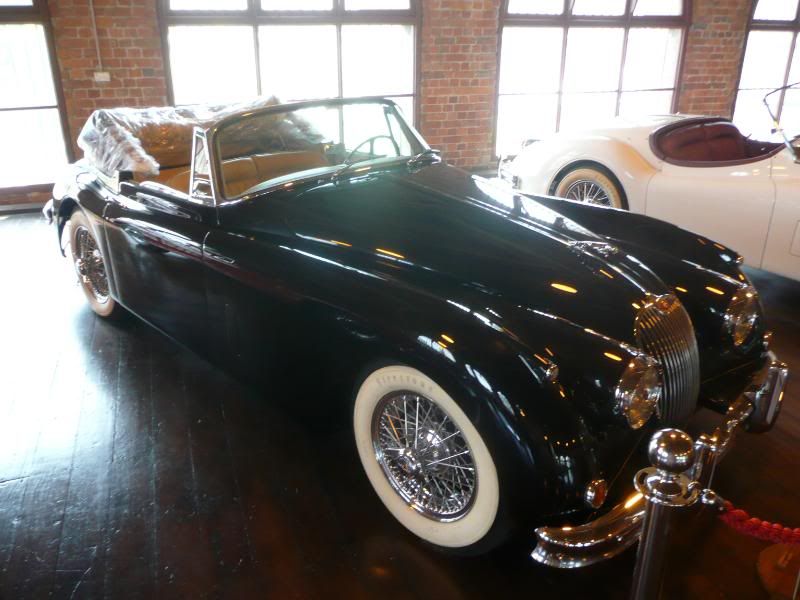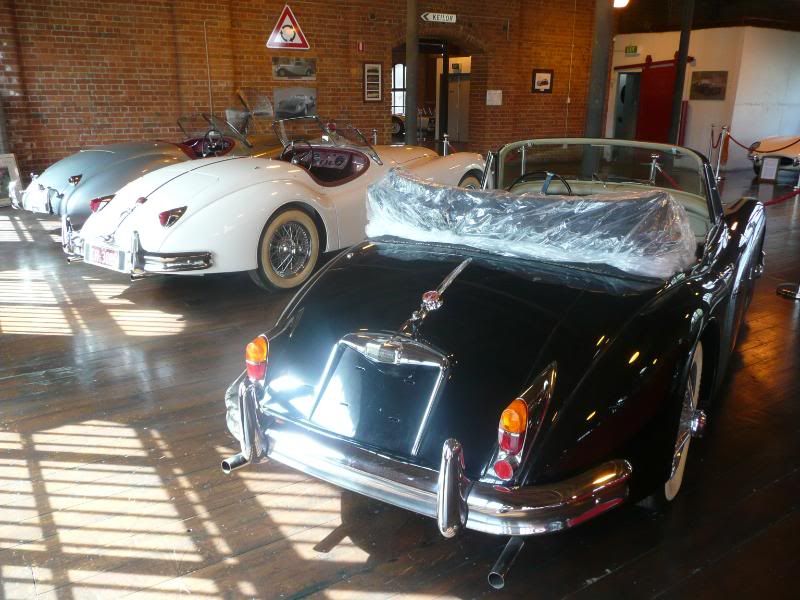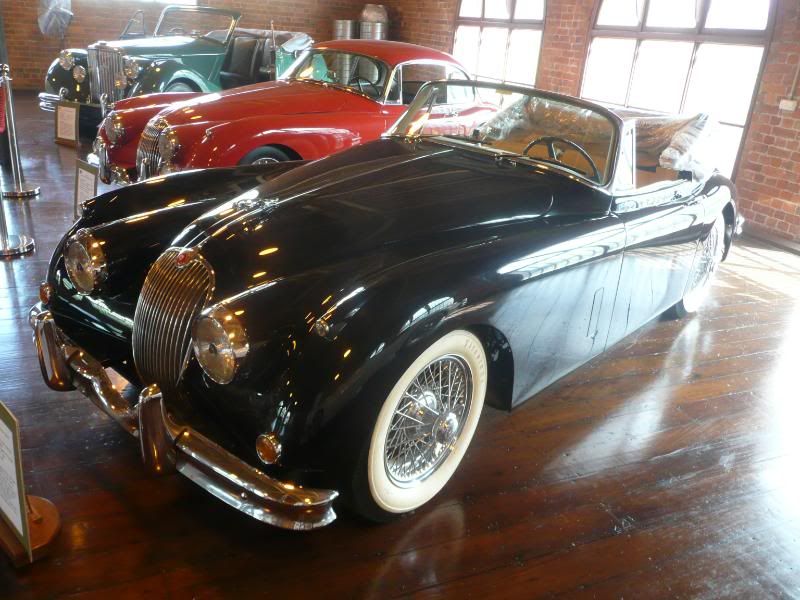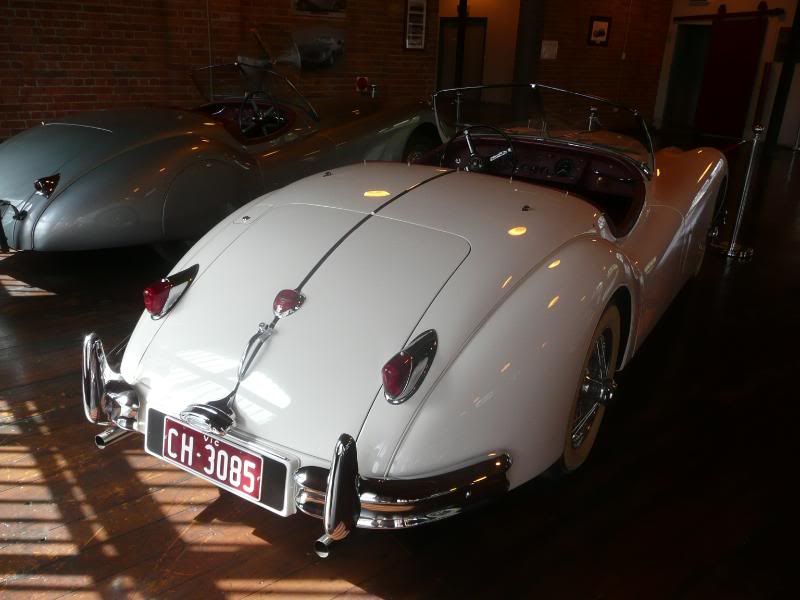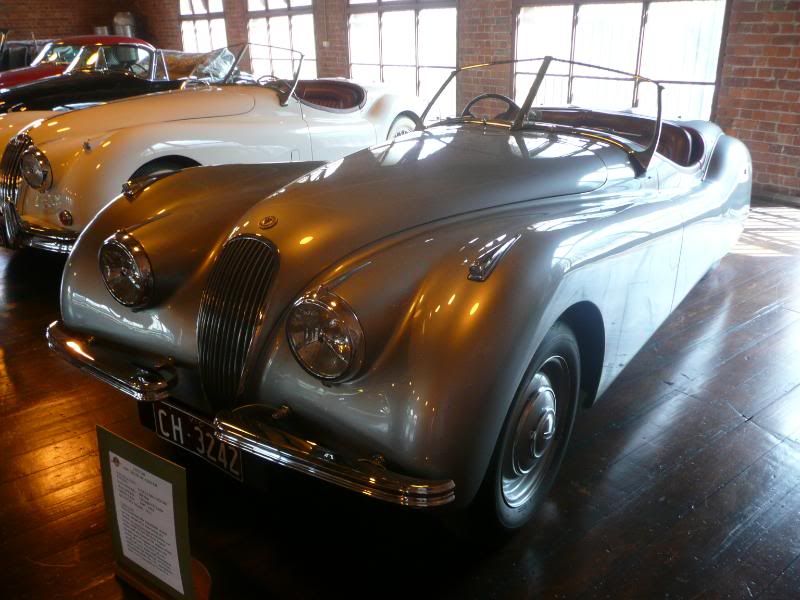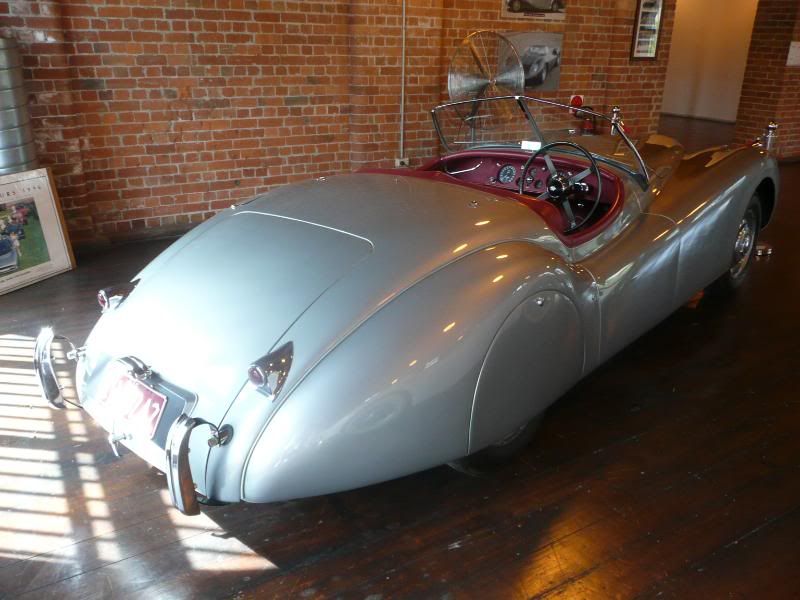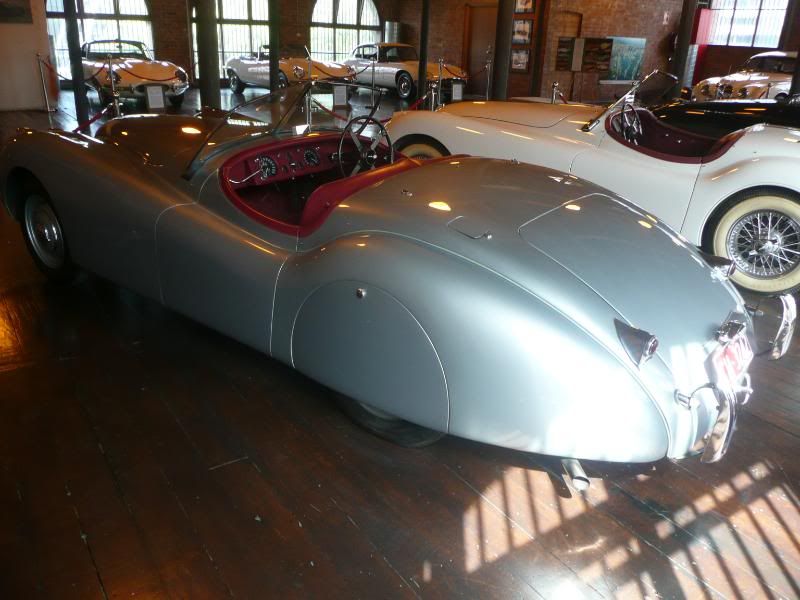 Three E Types showed the evolution of this much loved sports car from a 1964 drophead to a Series 3 V12 car.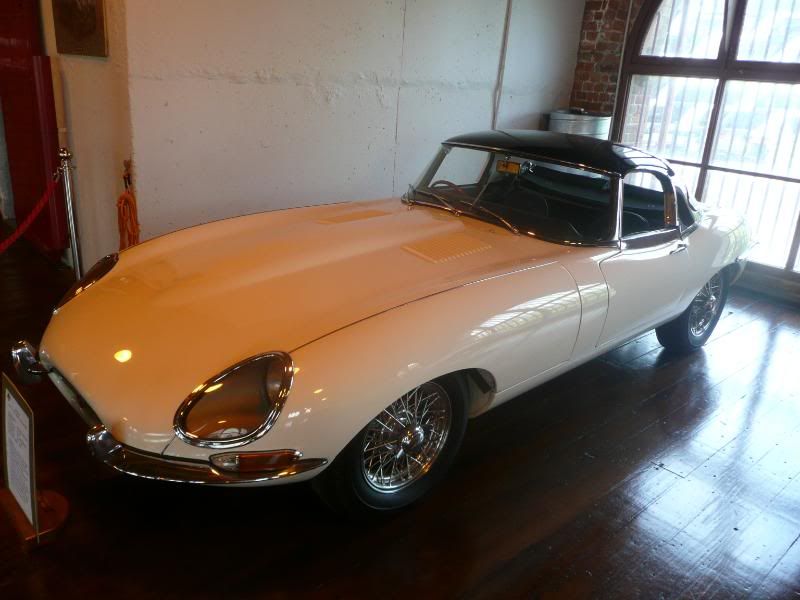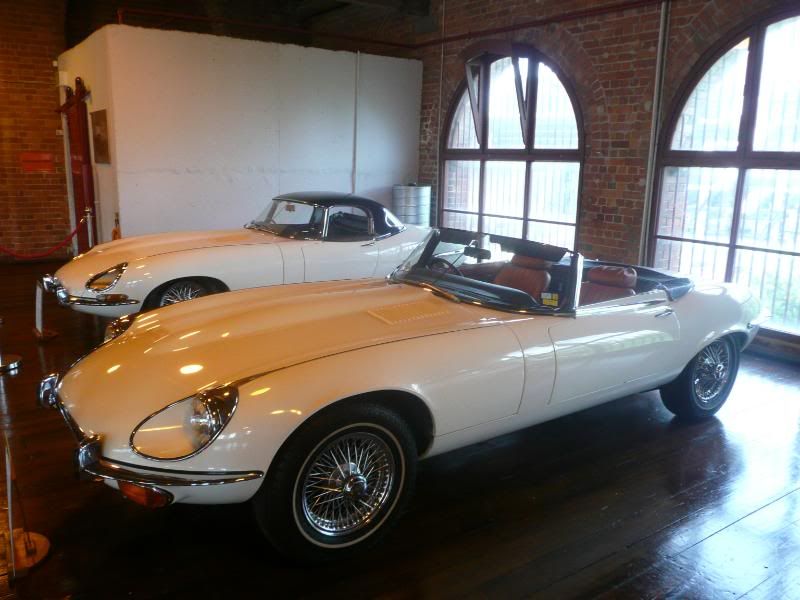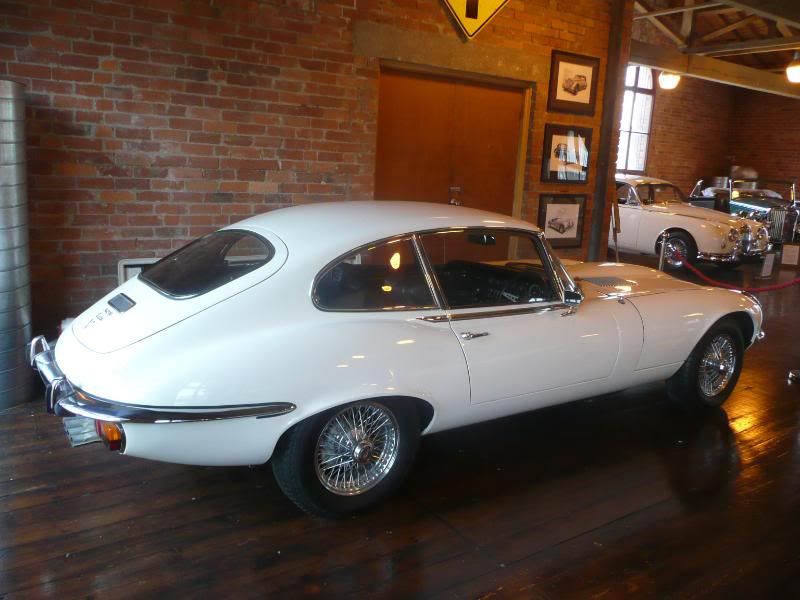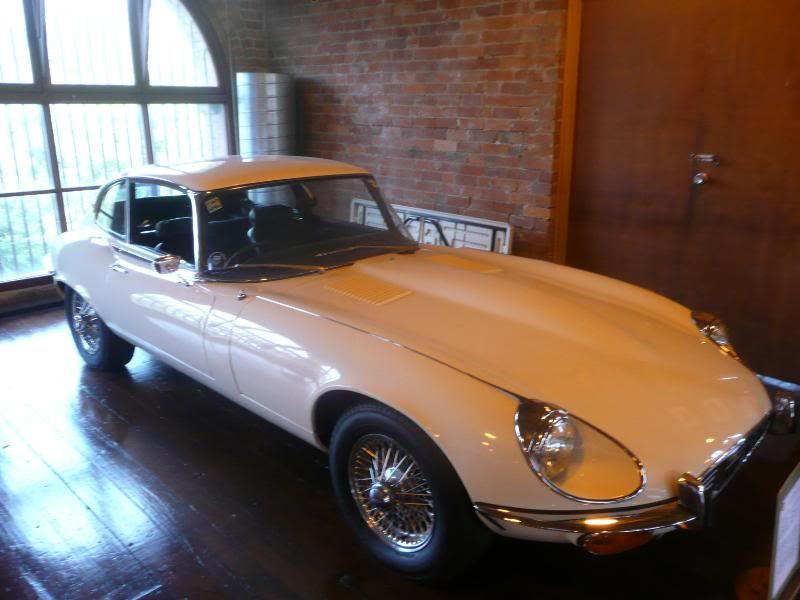 Final Jaguar in the upstairs gallery was a 1965 Mark 2 3.8, the much loved saloon that Jaguar have struggled to recreate in quite the same way in more recent times.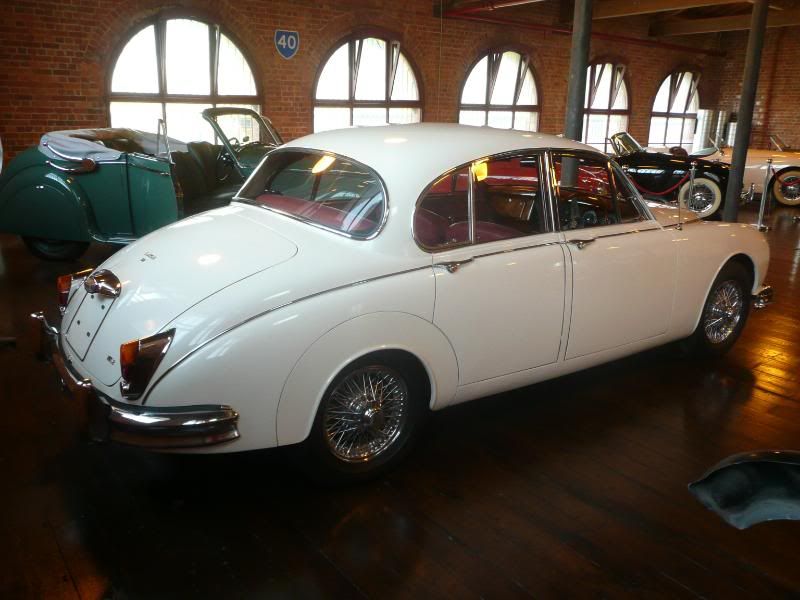 Downstairs were 2 stunning supercars, the XJ220 and one of the 50 fantastic XJR15s that were built in 1991. Epic!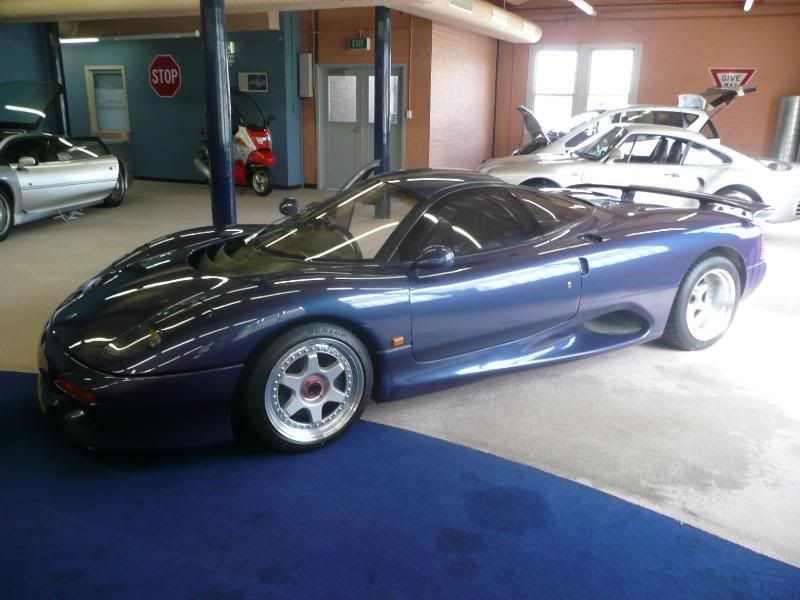 ROLLS-ROYCE and BENTLEY
As well as the cars, there are a number of other items of memorabilia, and three display cases full of models. Sadly the light was such that no matter how I tried, all pictures of those showed reflections.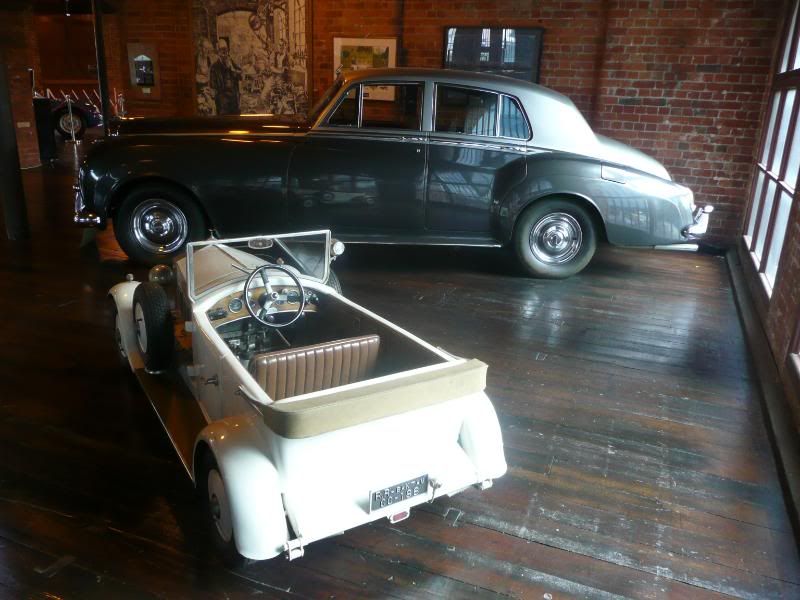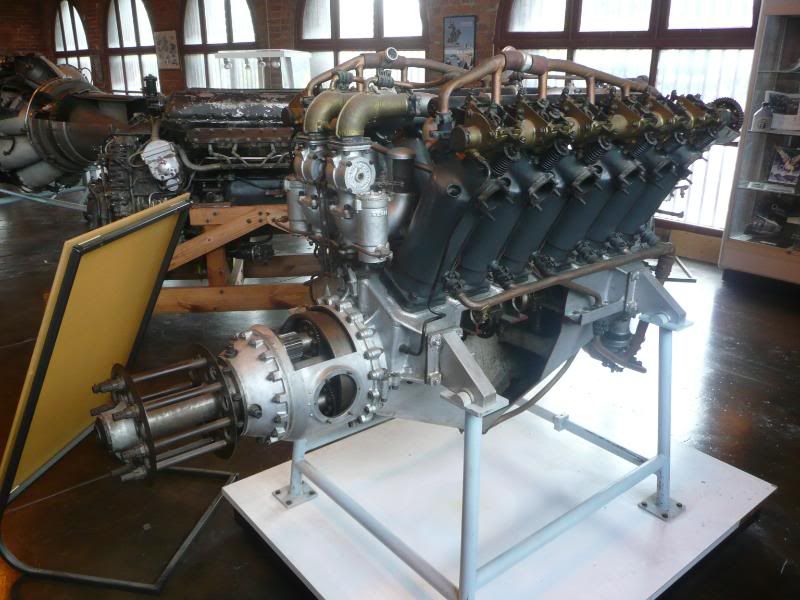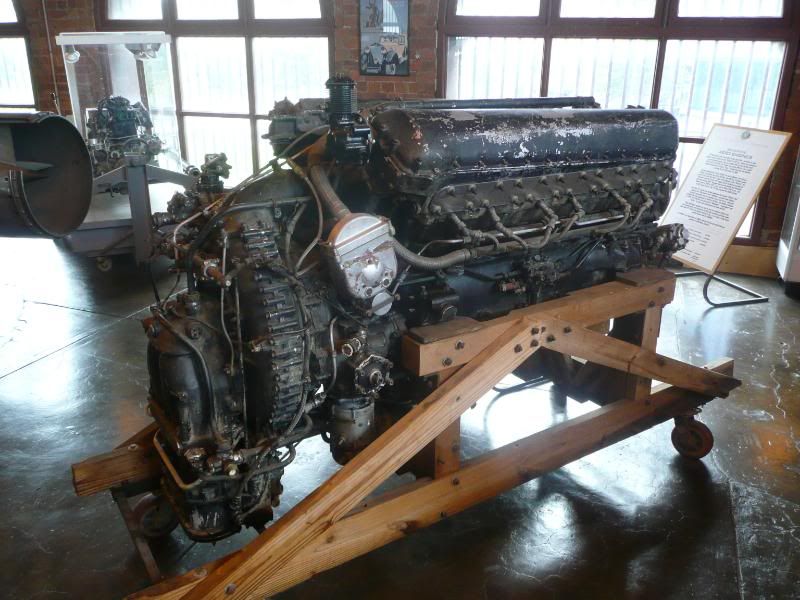 1934 Bentley 3.5 litre Derby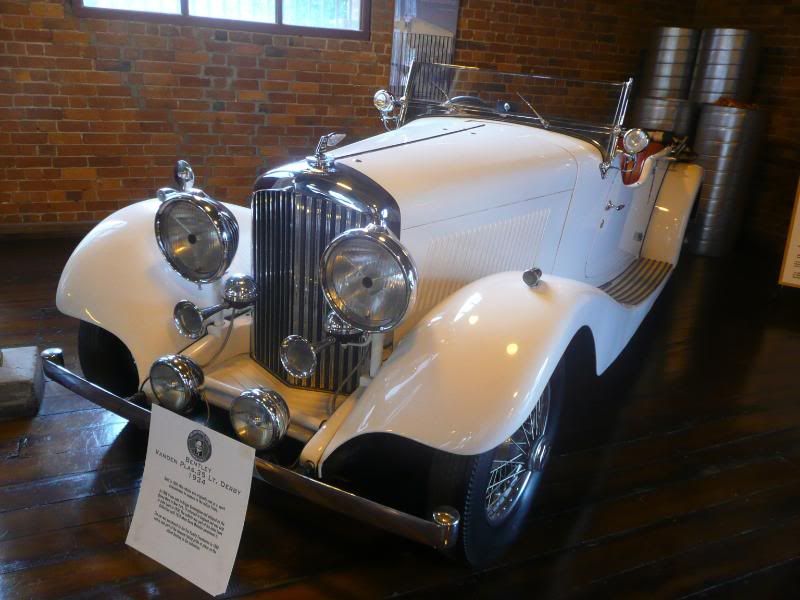 This is a body for a 1911 Silver Ghost made in Australia by Charles Wright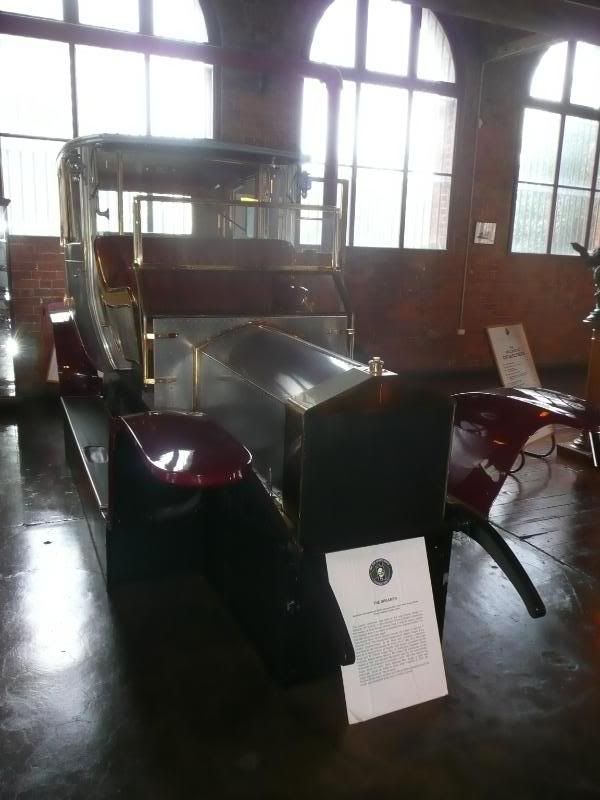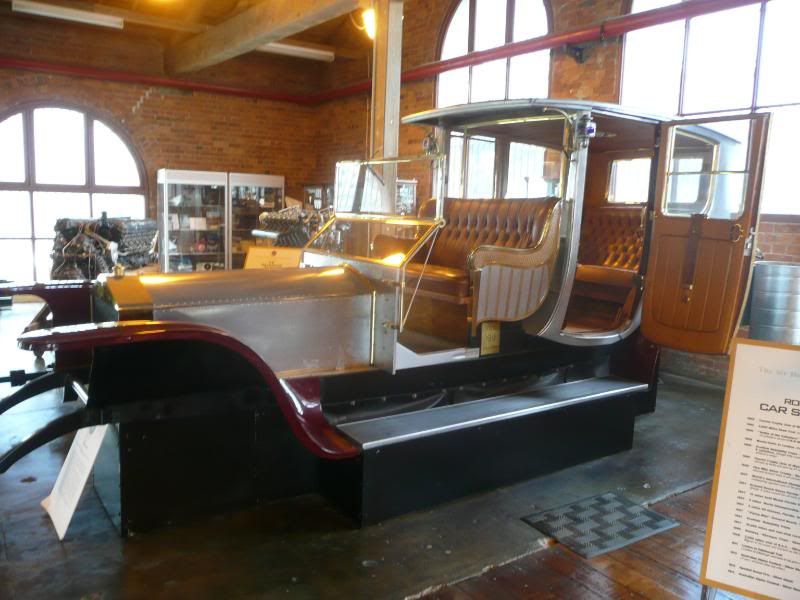 1952 Silver Dawn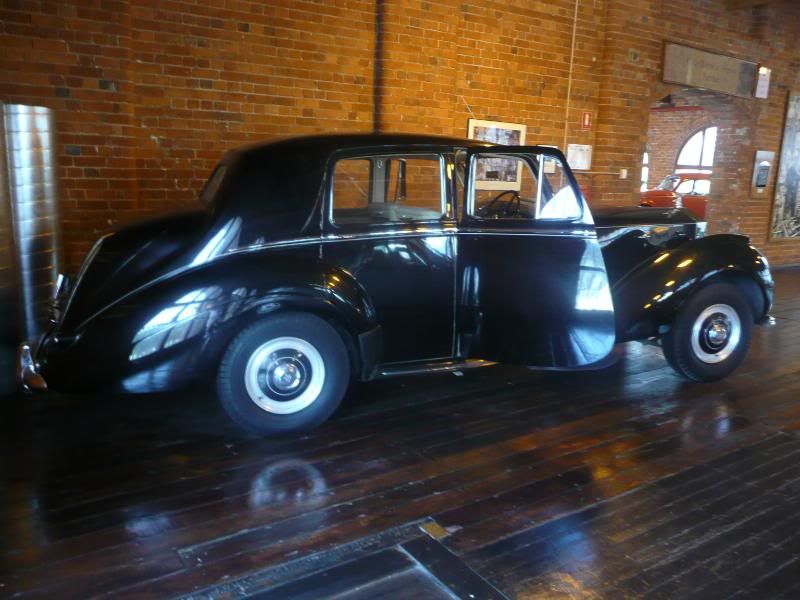 1958 Bentley S Type
Silver Cloud Mark III Drophead Coupe with Mulliner Park Ward body. These cars are often nicknamed the "Chinese Eye" because of their slanting headlights, but on this car they did not slant. Even so, this is a supremely elegant car, and one I would very much relish wafting along the roads of the Riviera.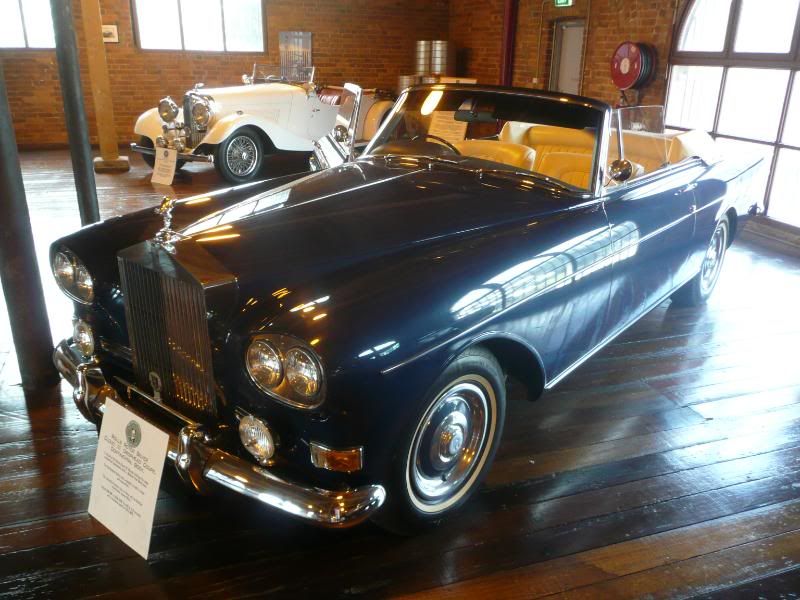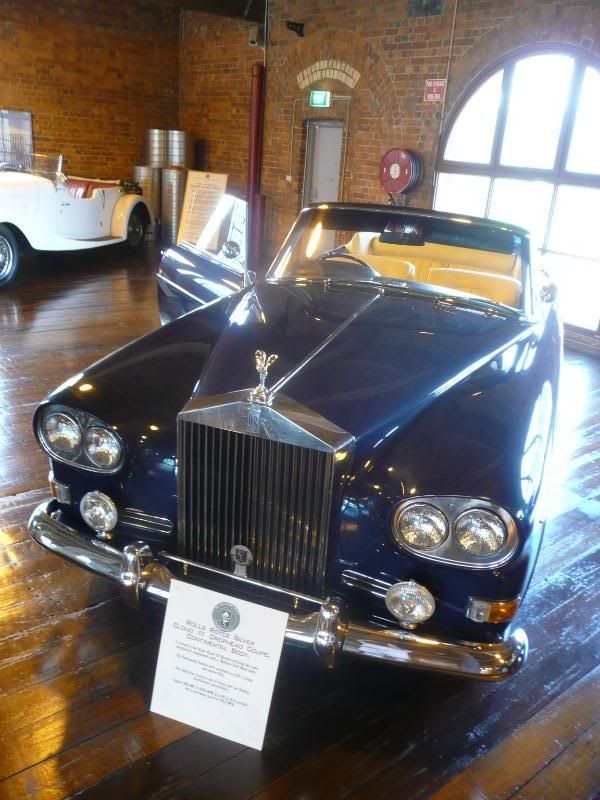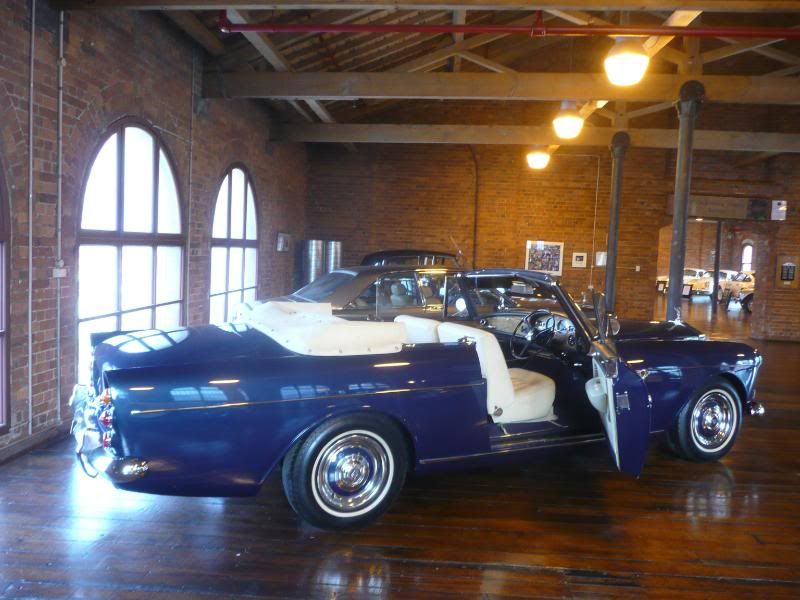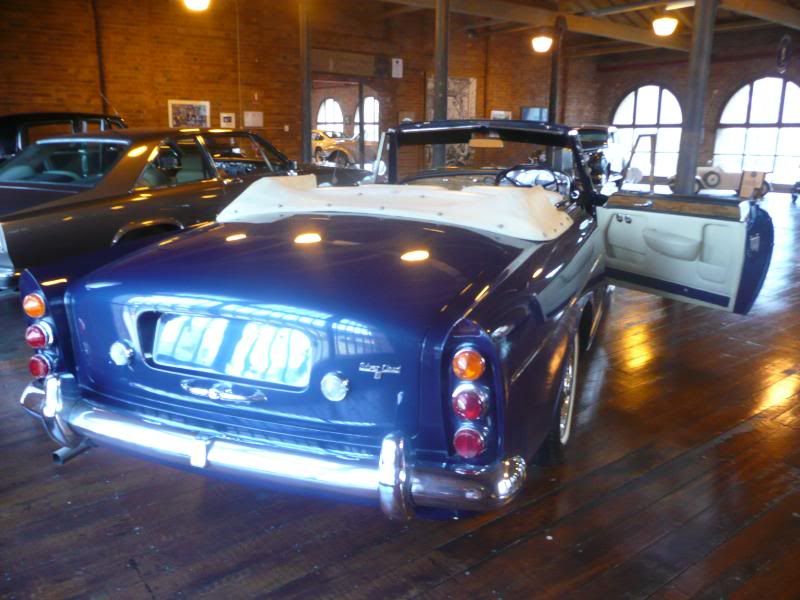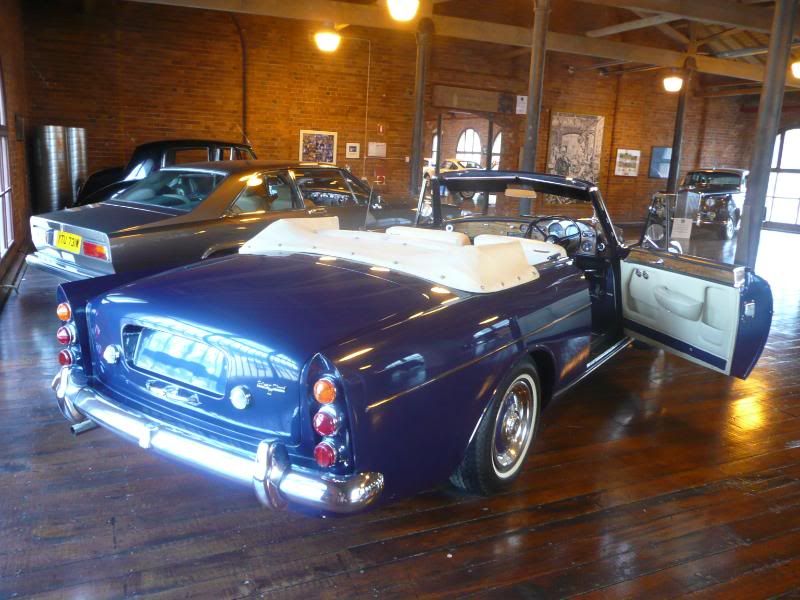 This is a 1980 Camargue Turbo. It is the sole surviving prototype Turbo car, as the other one that was created was destroyed by fire in 1983. This car Incorporates many of the changes that came with the Silver Spirit as well as its unique turbo engine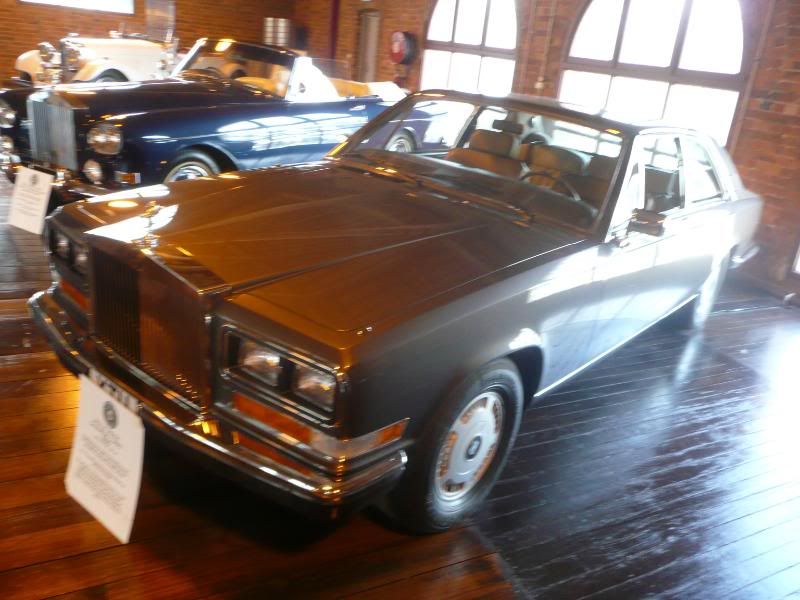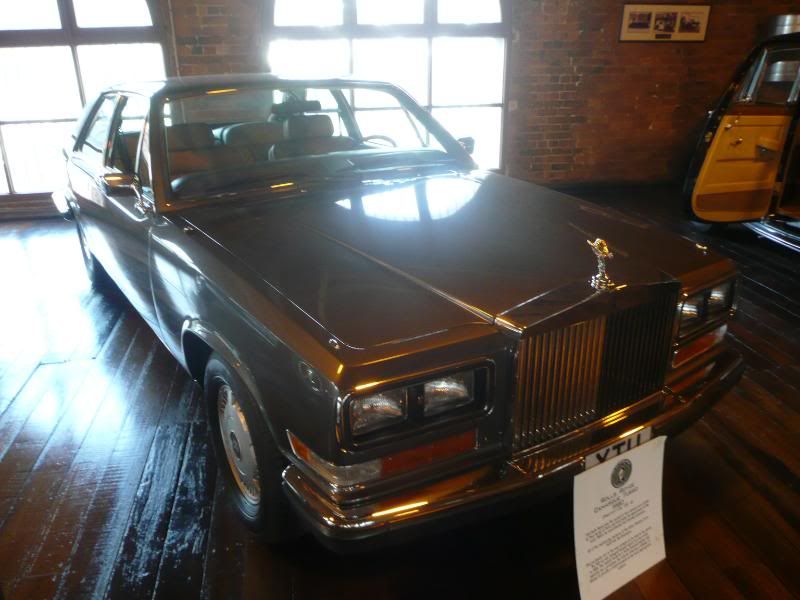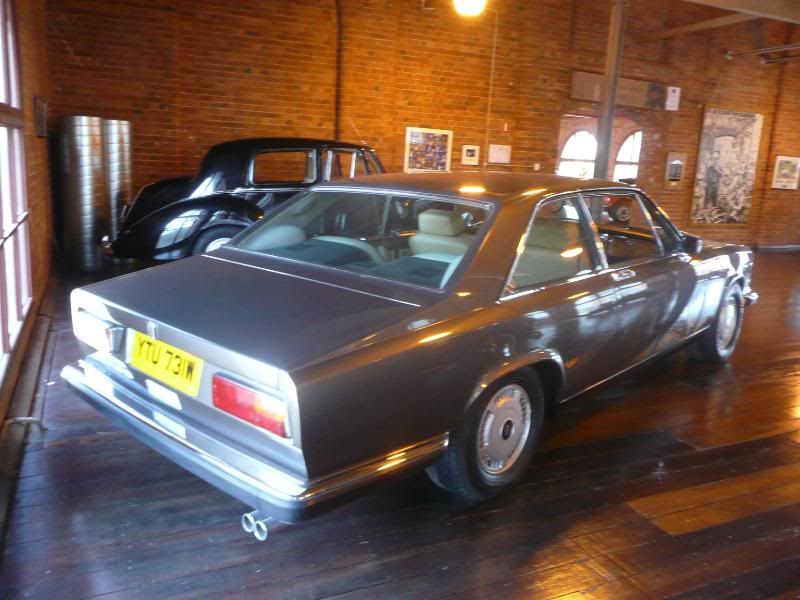 More information can be found at the museum's website: www.foxcollection.org.au
2012-03-23 03:04:12