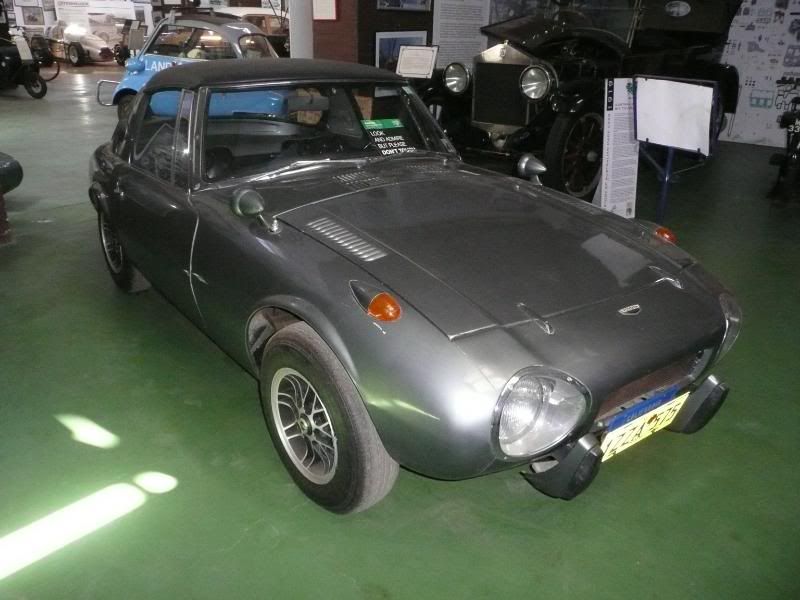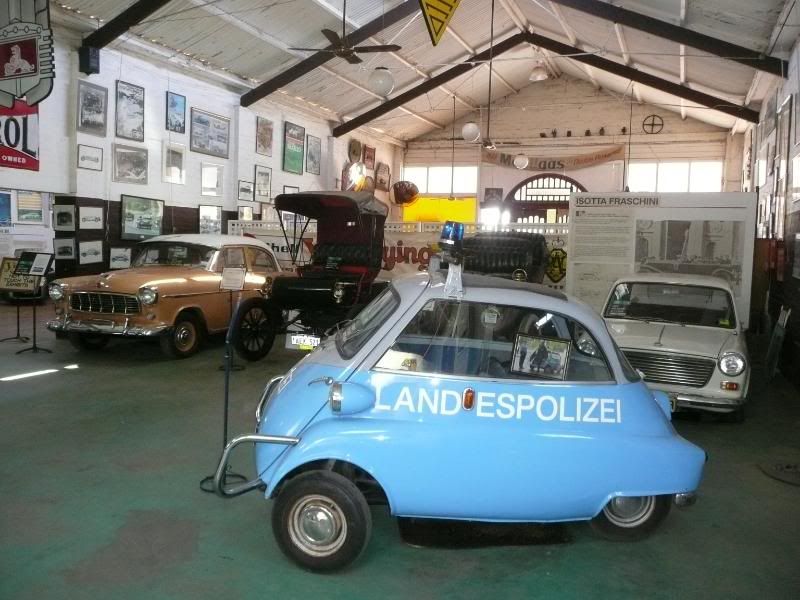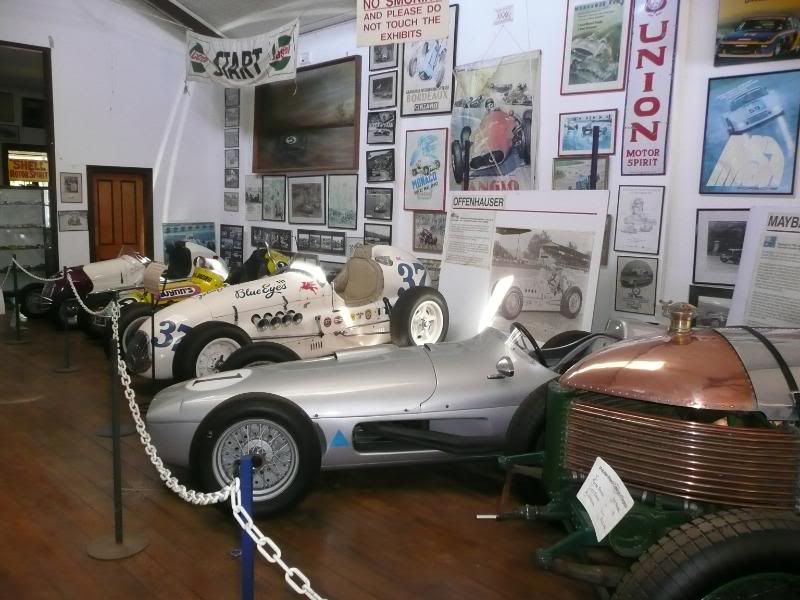 Located about 90km north east of Perth, on edge of the Western Australian "wheat belt" is a small country town called York. It amounts to little more than a single street, albeit one with very nice period buildings from over 100 years ago, and right in the middle of the town is a Motor Museum. A more unlikely location, you probably would not conceive. This is home to the private collection of Peter Briggs, a septuagenarian who has amassed a large quantity not just of cars but other motoring memorabilia, and accordingly who opened a museum in 1979. He also used to own much of the content of the now closed Fremantle Motor Museum, but when the lease ran out on that building, some of the cars were moved to York and others were sold. I paid my AUS $8.50 and went into a Aladdin's Cave of things automotive. This is definitely a museum of the "old sort". No glamour and gloss and bright lights here, just piles of "stuff", and some rather elderly signage to tell you about the cars, but there was plenty of interest, as documented in this report in the three main halls of the museum.
TOYOTA
Toyota established themselves very quickly in the Australian market in the mid 1960s and have sold strongly ever since. As such their cars constitute an important part of Australian motoring history. Several Toyota models greet the visitor, as the first cars in the largest display hall.
1978 Corolla 30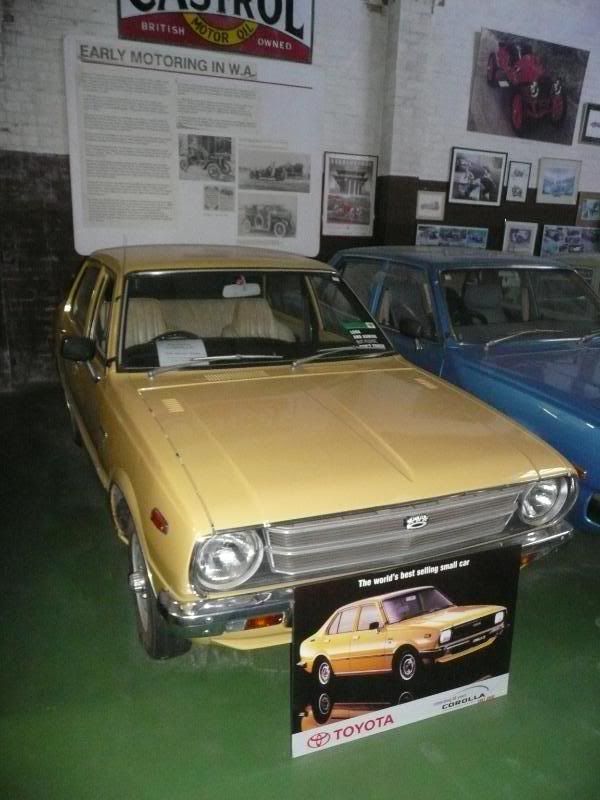 1978 2000
1967 Corona 1500
This 700 model dates from 1964.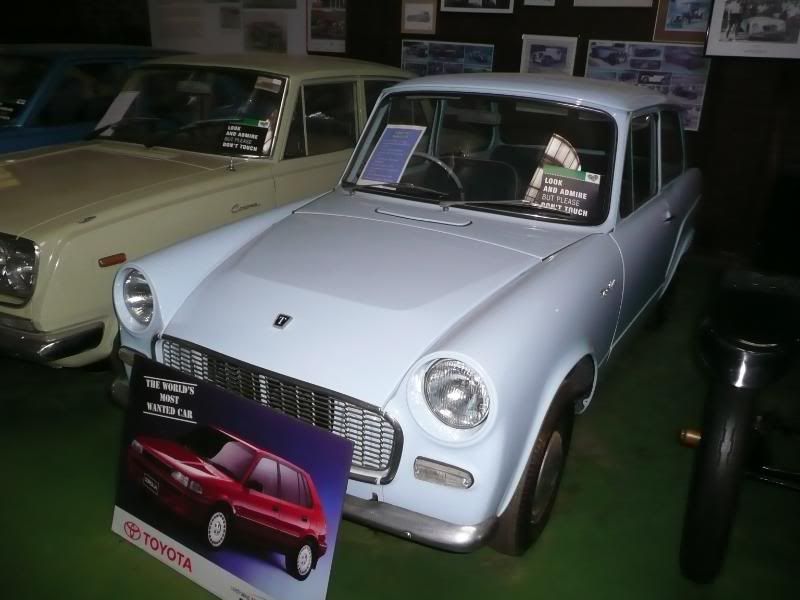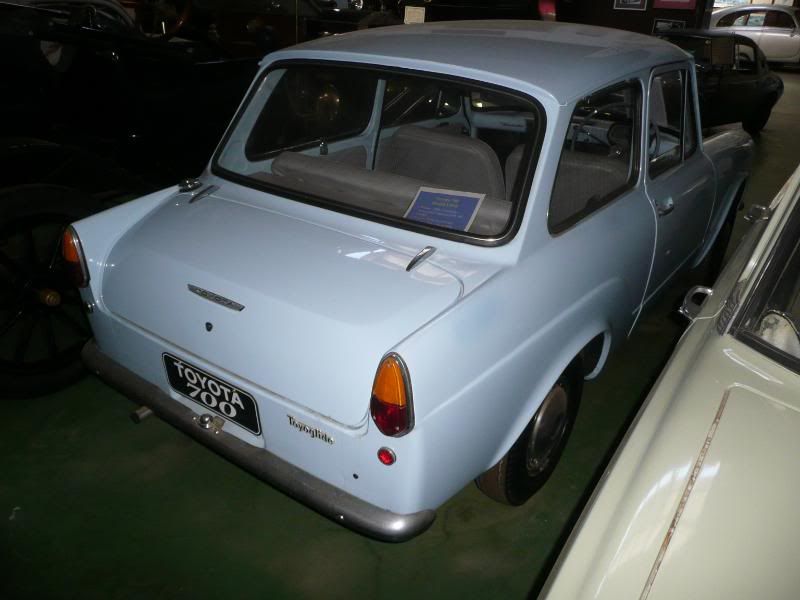 This 1966 S-800 was imported from California. Not sold officially there, either, 26 of them were taken to America to test the market, but the car was deemed too small to be likely to sell well.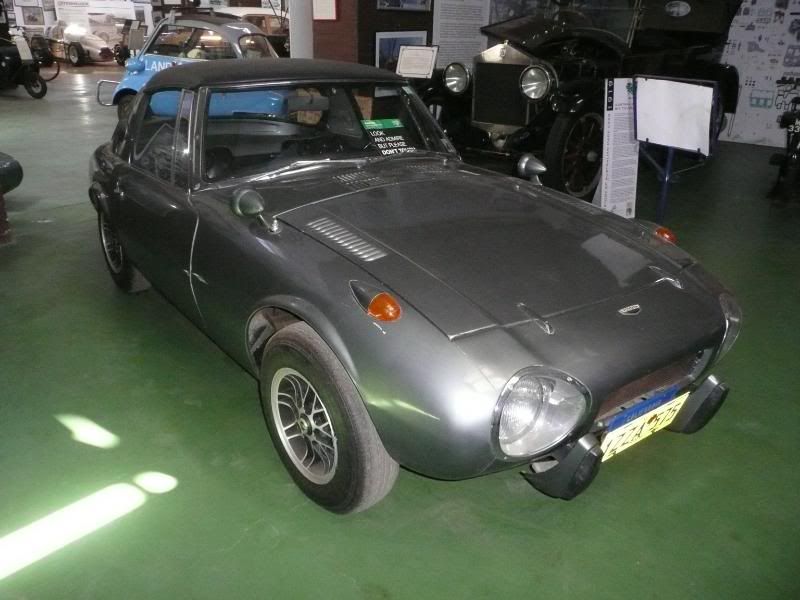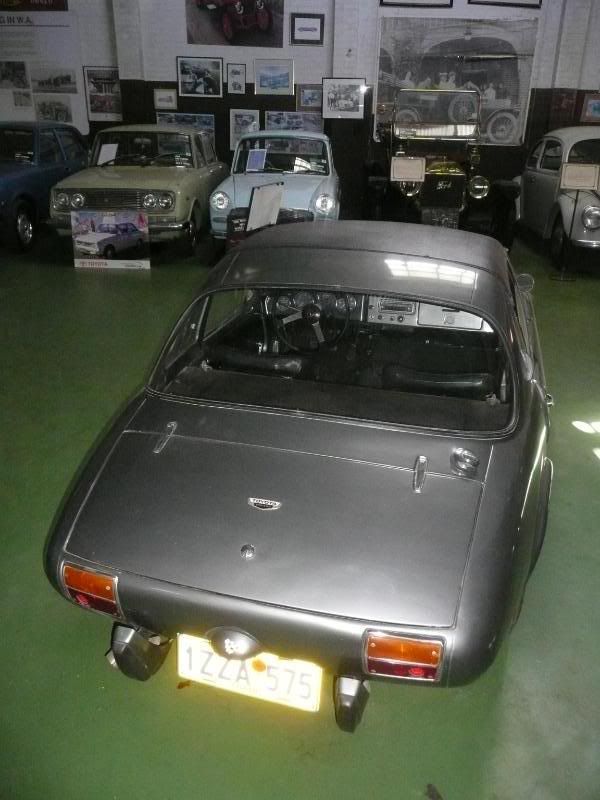 EARLY CARS
1898 De Dion Bouton Tricycle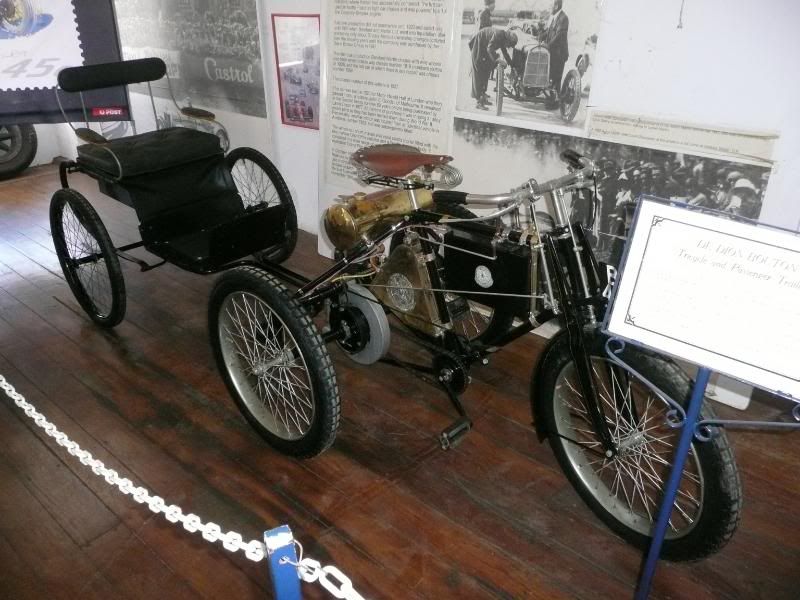 This 1901 Clement was one of the first vehicles imported to Australia and was used by the Governor of Melbourne for a few years.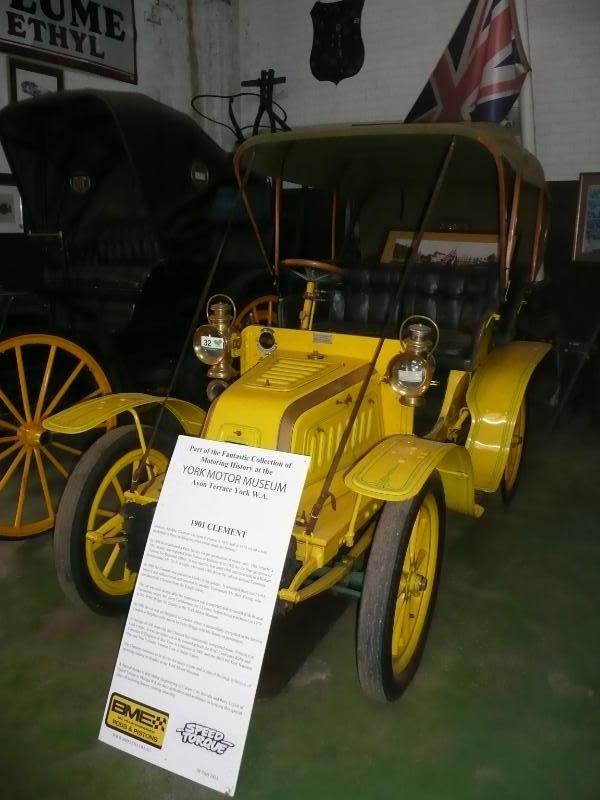 An early sales "success" was the 1903 Curved Dash Oldsmobile, and several of these were sold in Australia
1906 Holsman Highwheeler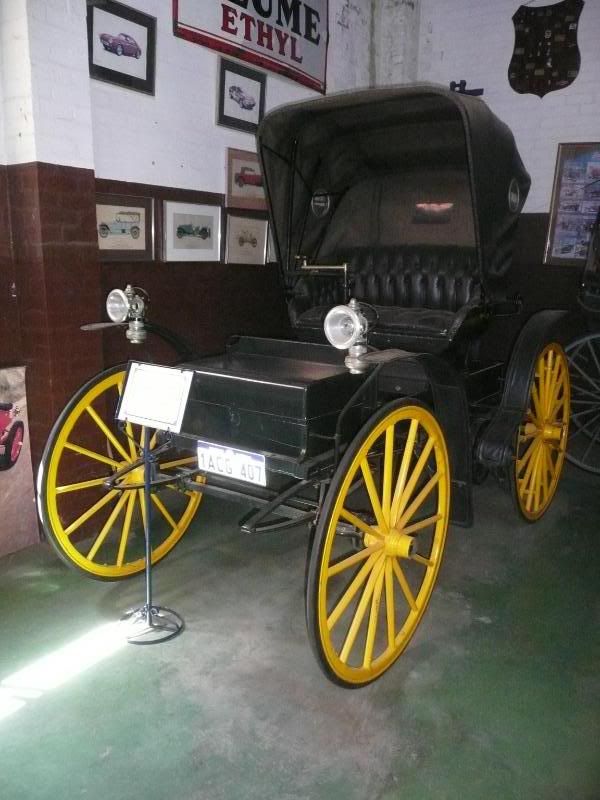 1906 Cadillac Open Tourer Model C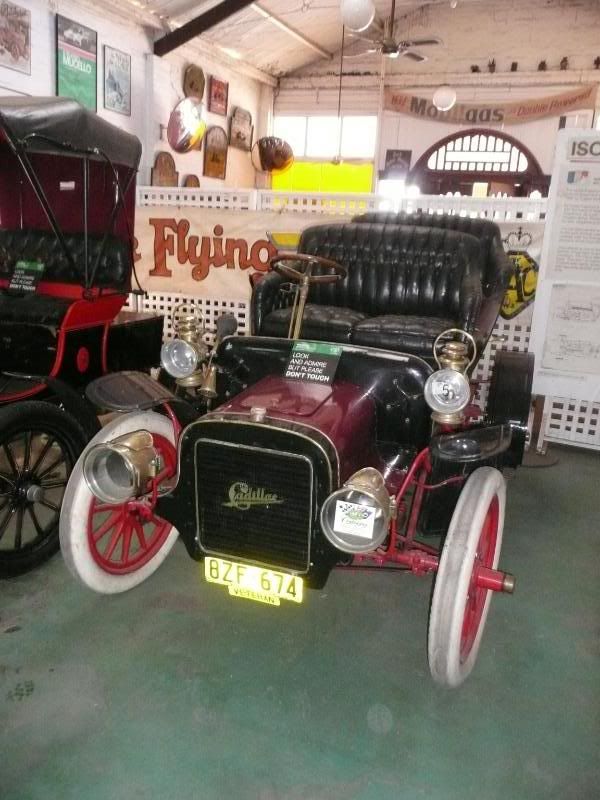 1907 Fiat Brevetta Landaulet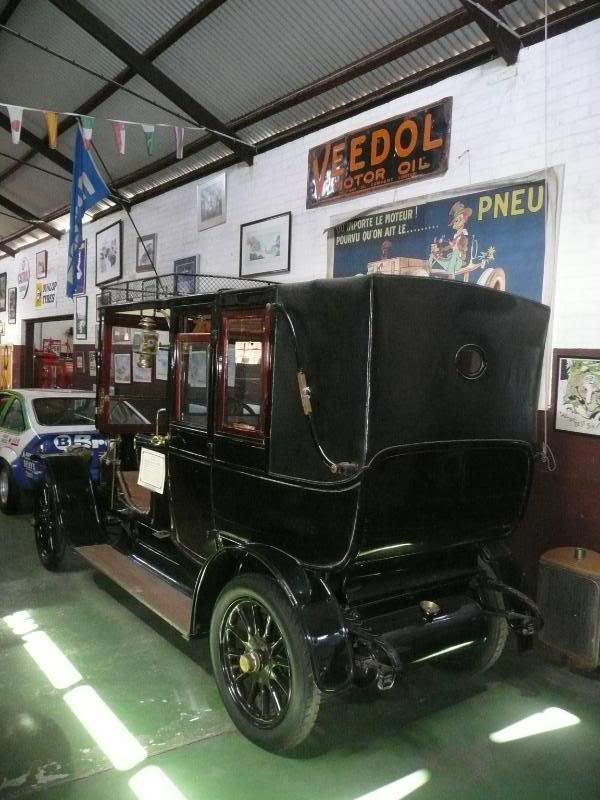 1910 Bedelia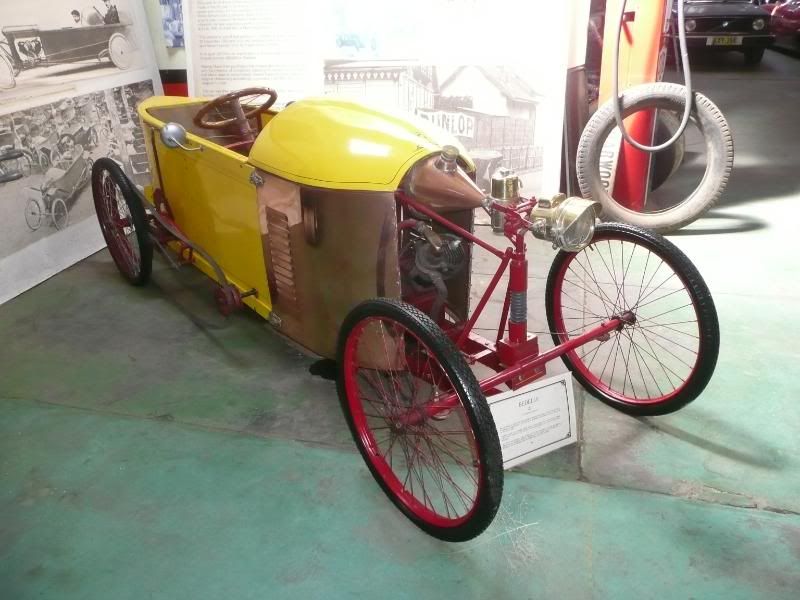 1913 Peugeot Bebe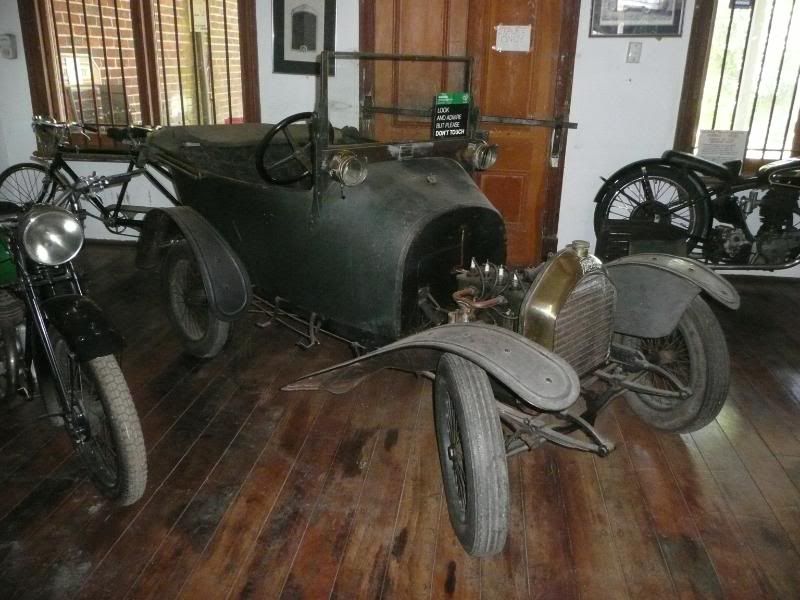 1914 Rolls-Royce Silver Ghost with Barker body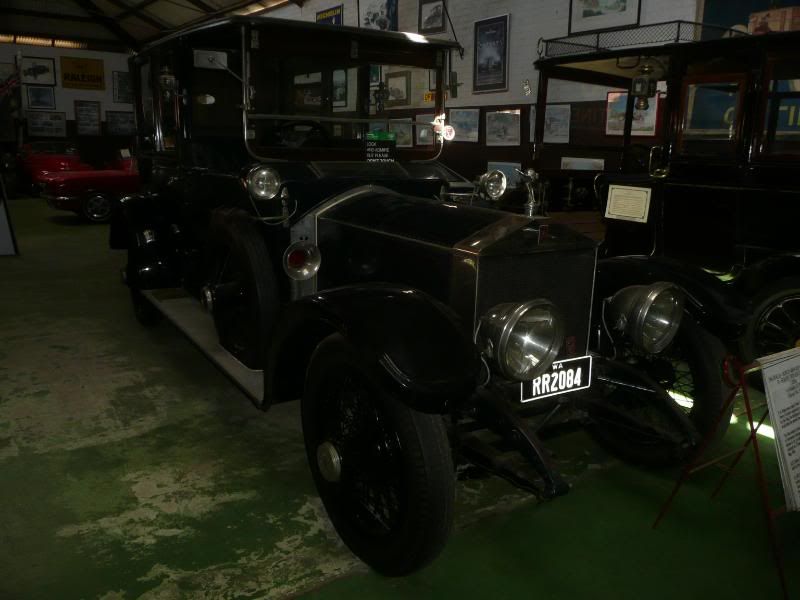 Dennis Fire Engine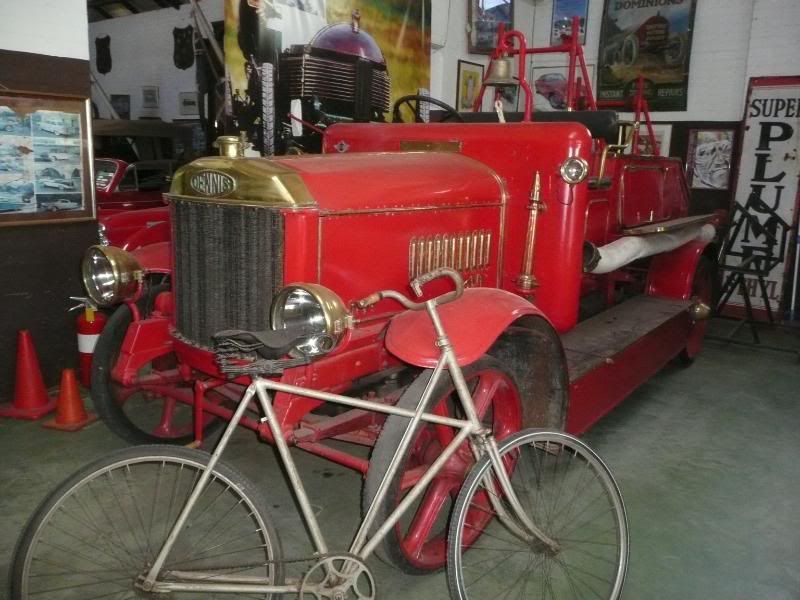 3 litre Bentley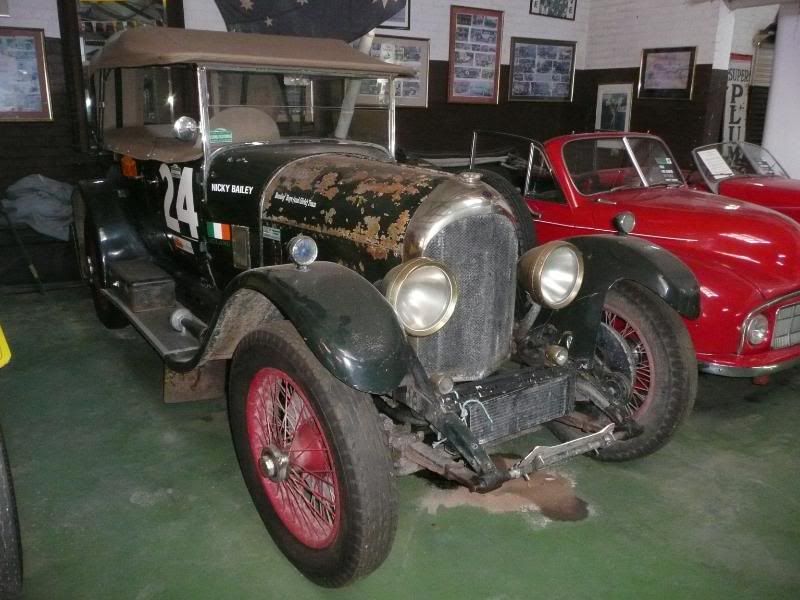 A very pretty MG Coupe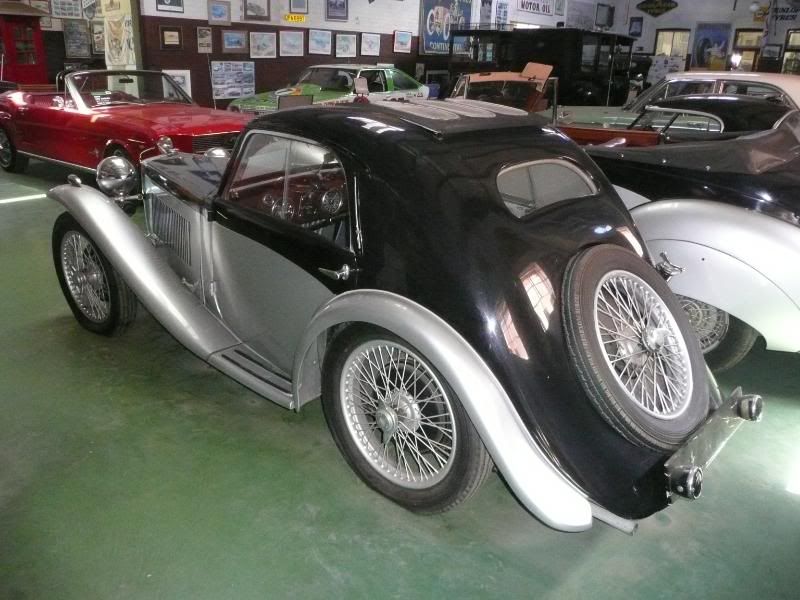 1938 Carter Electric Invalid Tricycle. Hmm!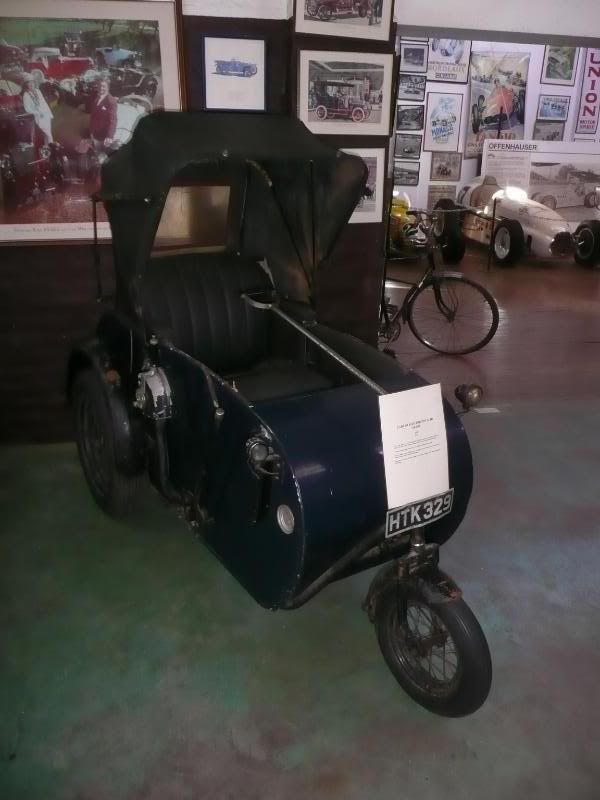 POST WAR CARS
This VW Beetle dates from 1946 and is believed to be not only the oldest in Australia, but from the first 100 cars ever made. It was acquired by VW Australia in 1961 when they were seeking the oldest car and found this one, which had been owned by the same family since 1951.
An early Morris Minor Tourer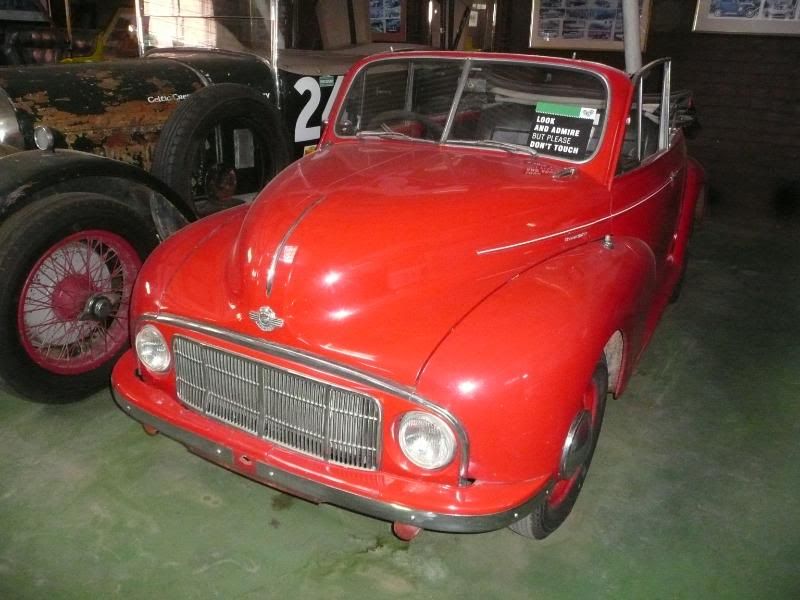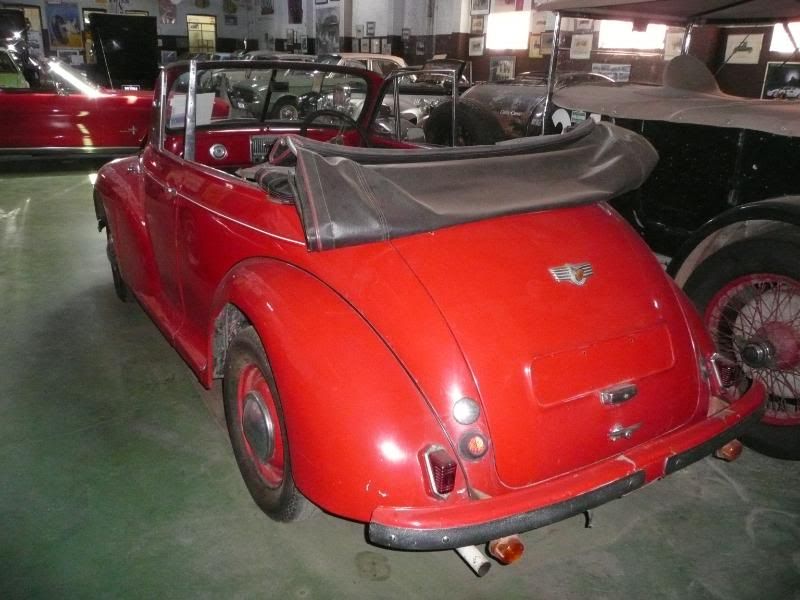 1952 Jaguar XK120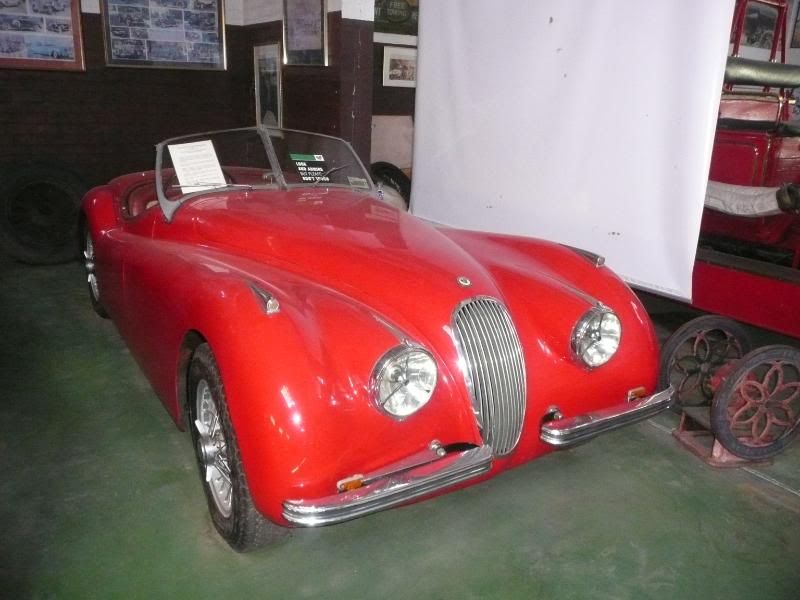 This 1952 Tatra Tatraplan T600 is just one of two such cars in Australia.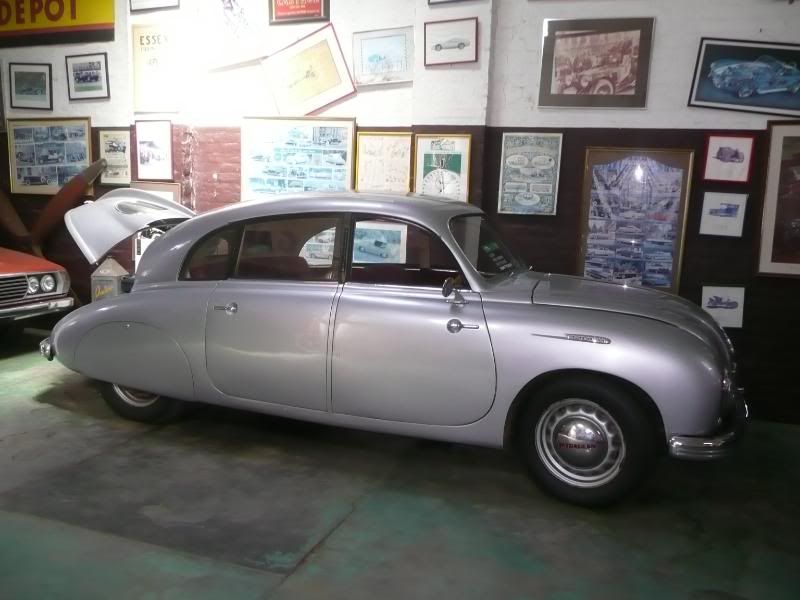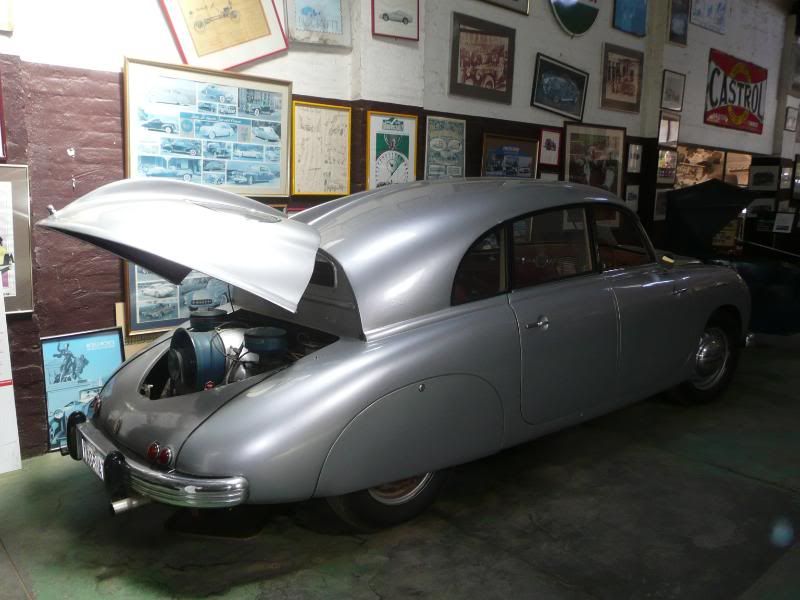 1954 Alvis TC/100 Grey Lady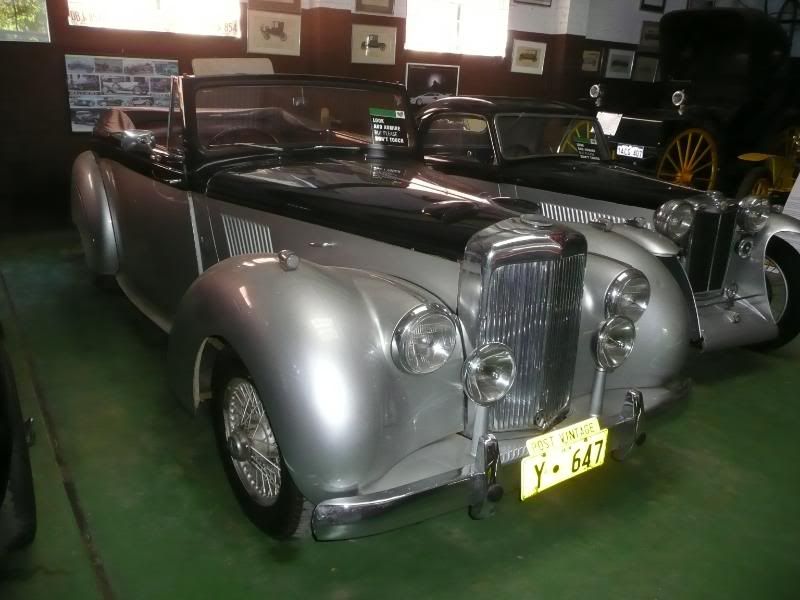 1956 BMW Isetta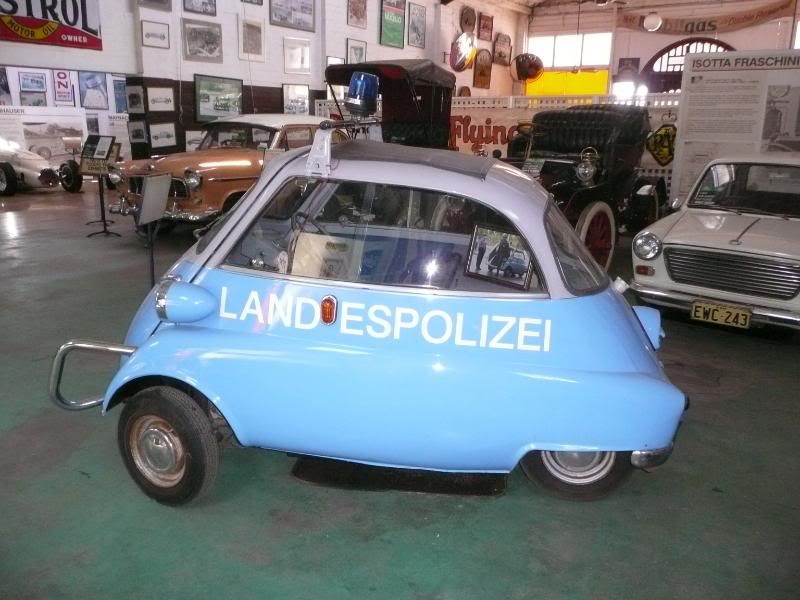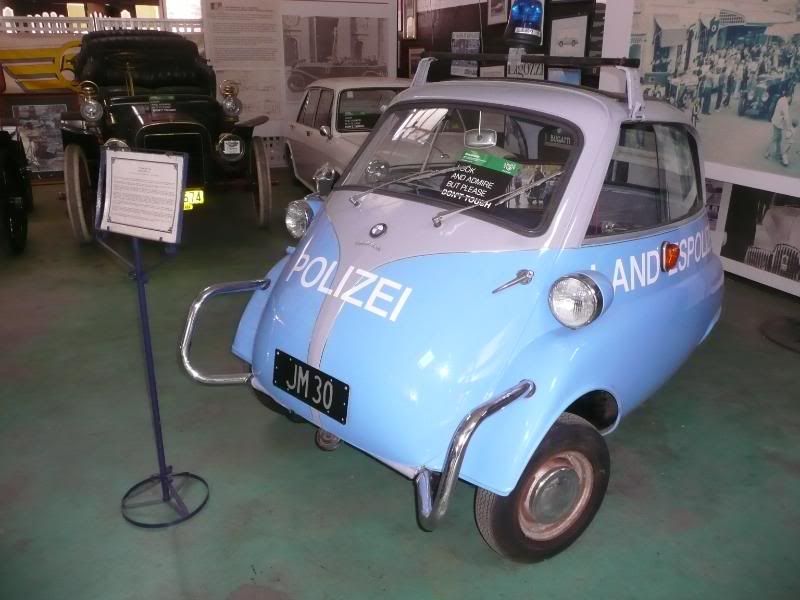 1956 Austn A35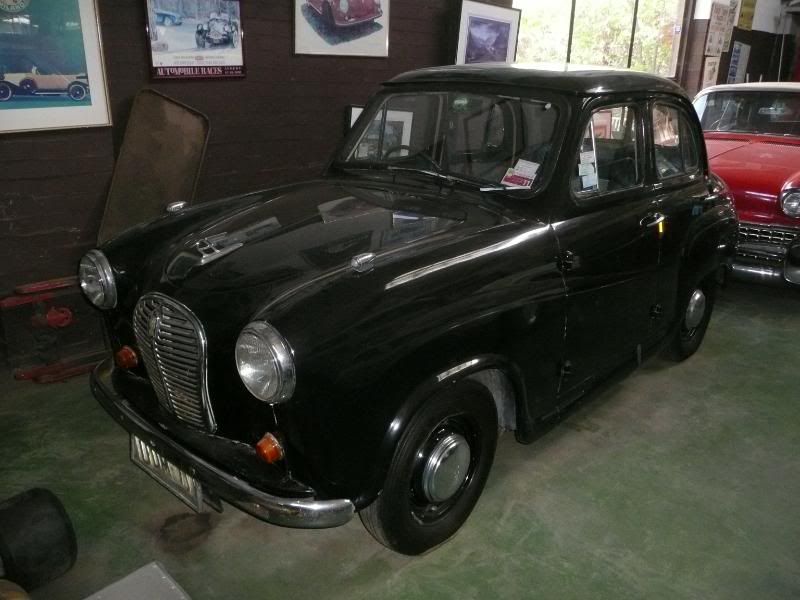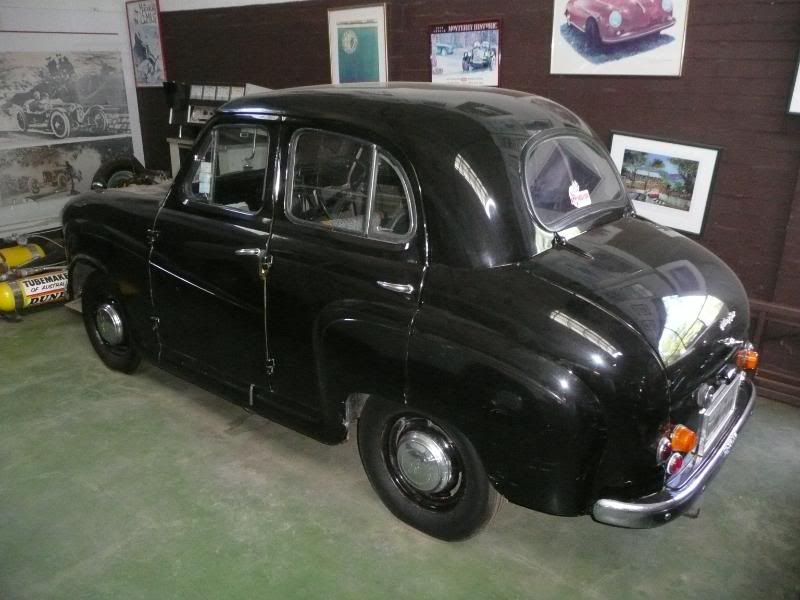 1957 Holden FE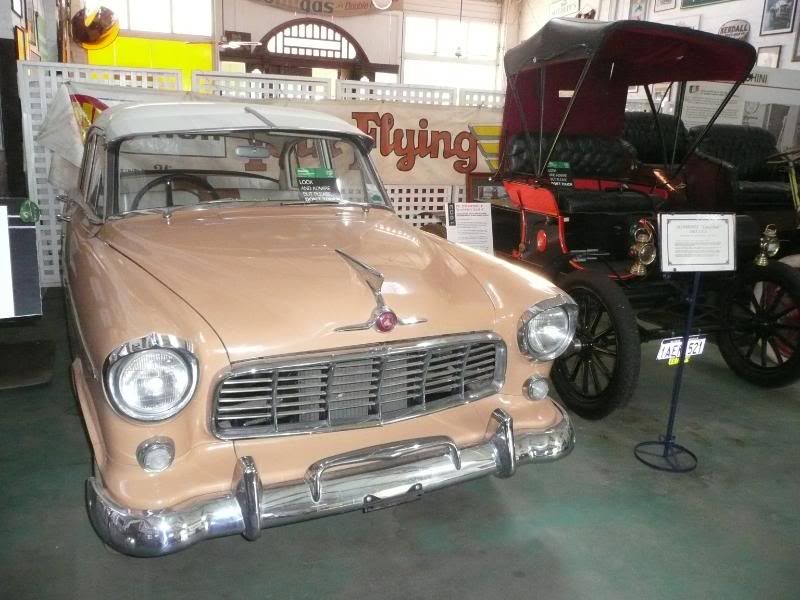 1959 Messerschmitt KP200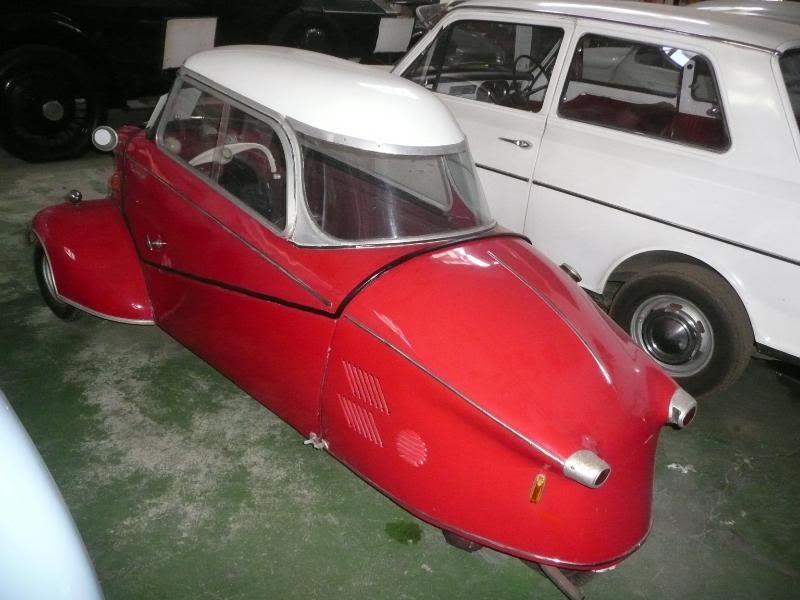 1957 Cadillac Eldorado Convertible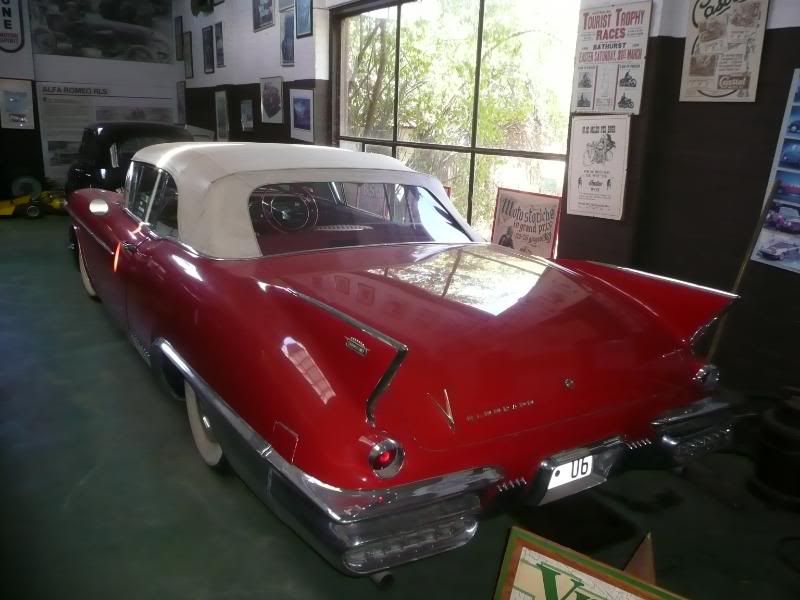 An example of one of the first Ford Falcons, this is a 1960 Falcon FK car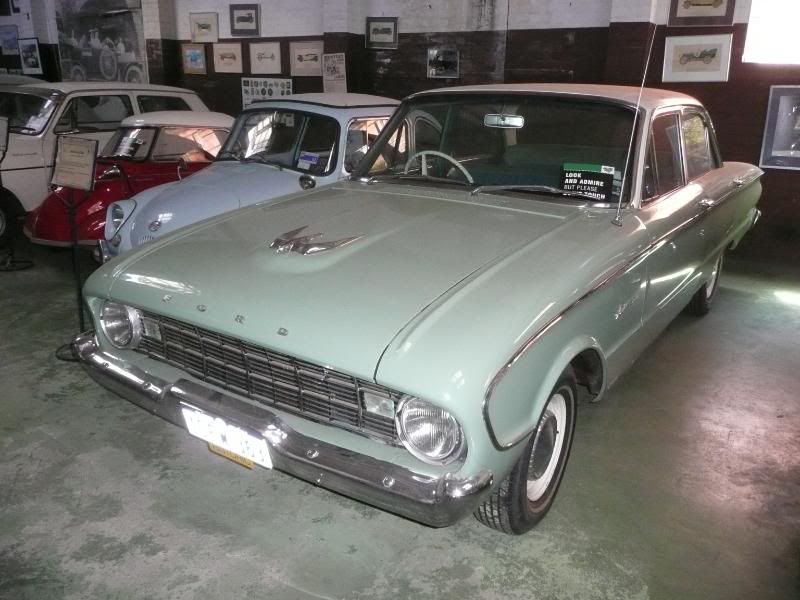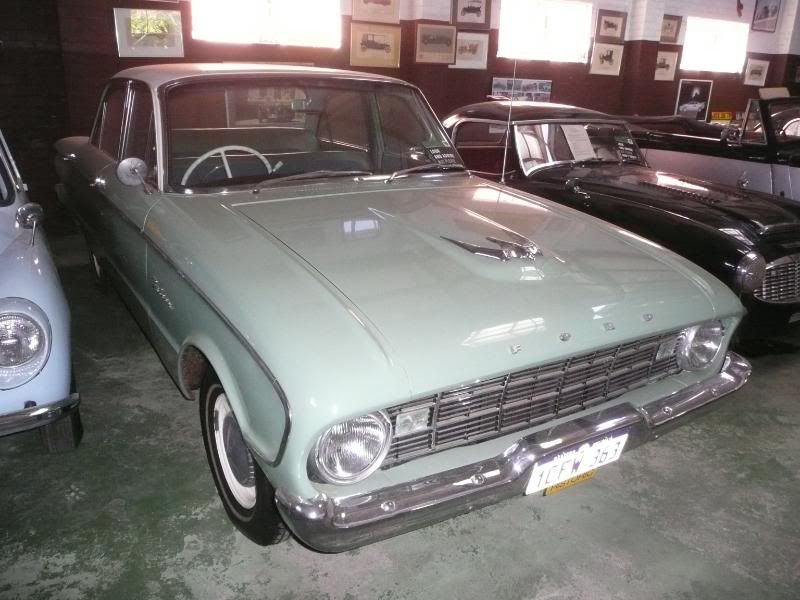 1961 Subaru Type K212, sporting Biaa badges on the back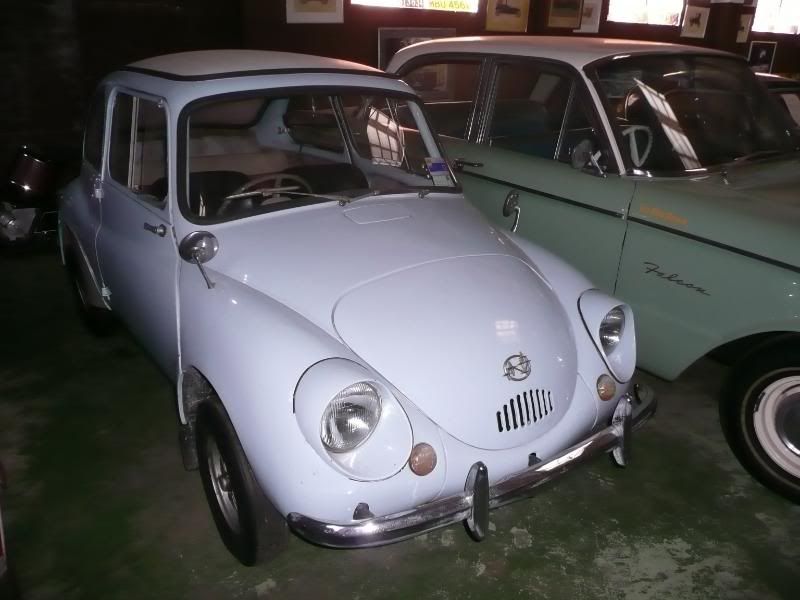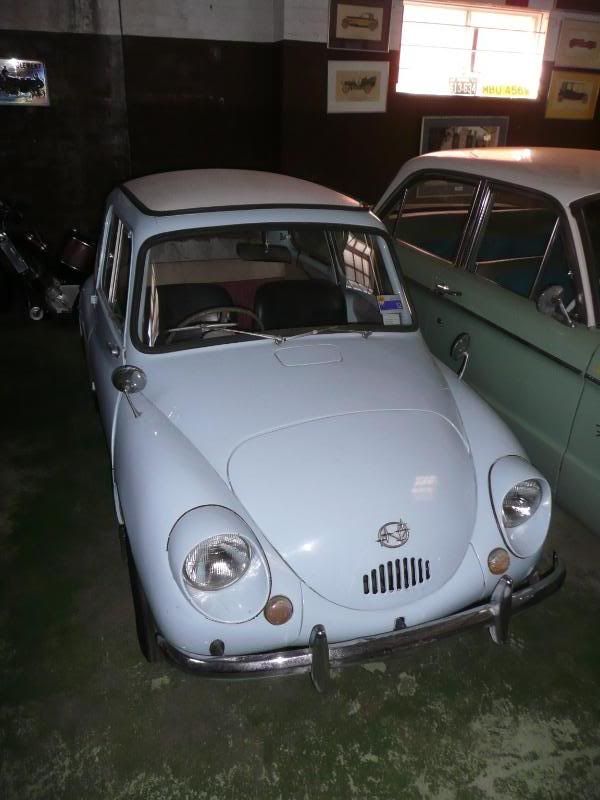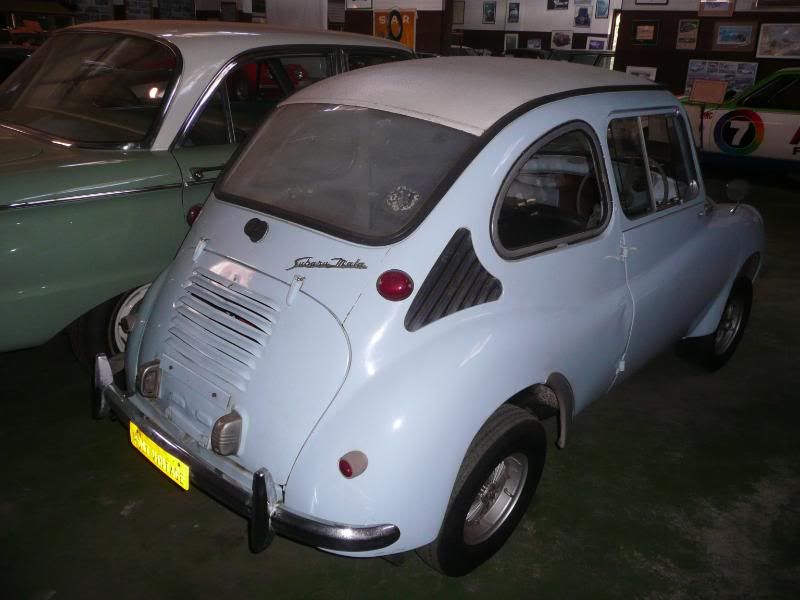 Austin Healey 3000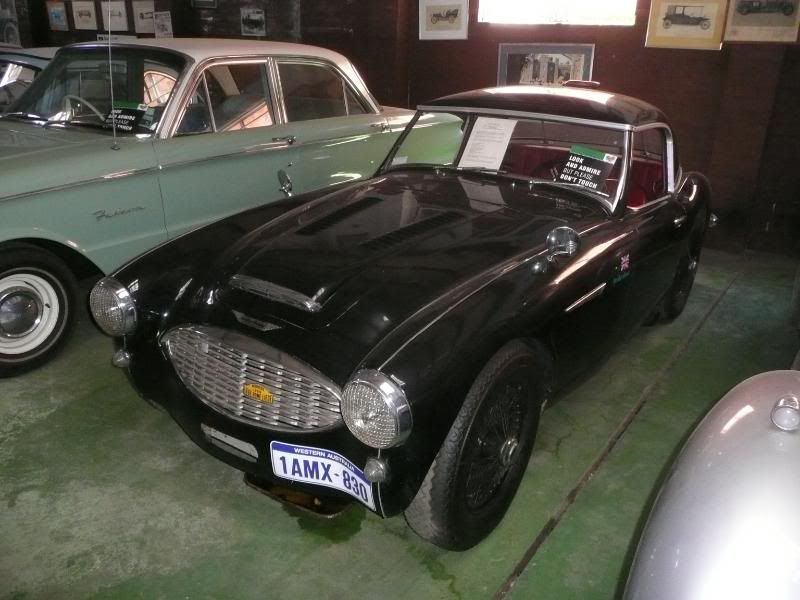 An early Ford Mustang Convertible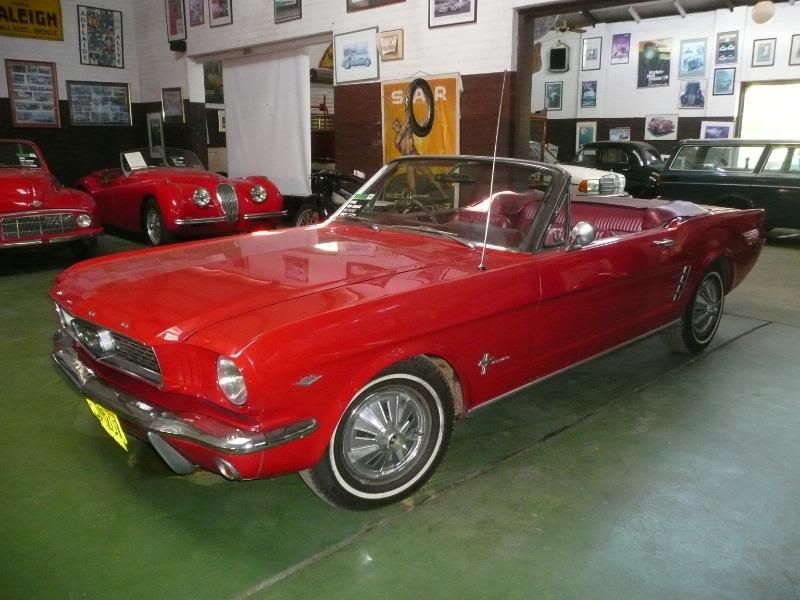 1965 Vauxhall Viva HA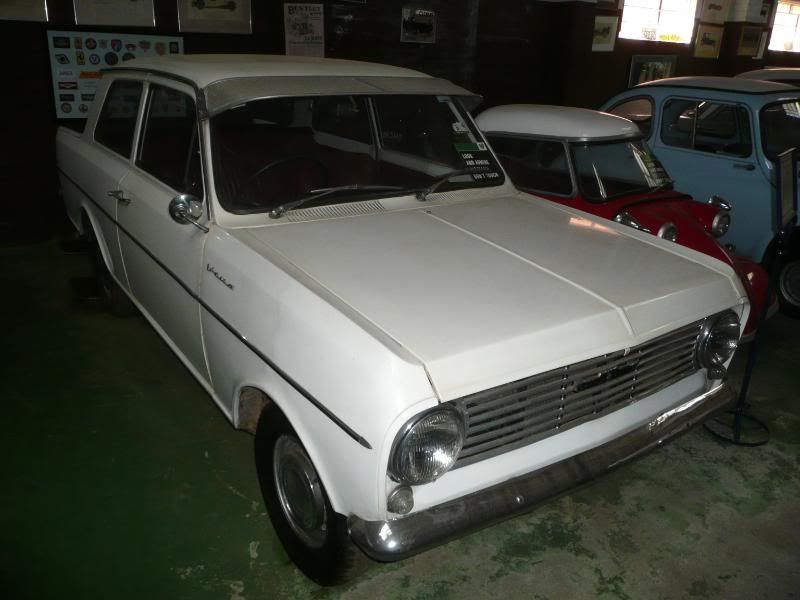 This Mark 2 Morris 1100 had clearly been sitting in a corner for a while, as the Hydrolastic suspension had clearly gone very flat leaving the car looking somewhat neglected
1973 Leyland P76. This was a large V8 engined saloon designed specifically for Australia, but the timing of the launch could barely have been worse, coming just before the 1973 Oil Crisis. Production of the car lasted only just over a year, and it is now widely viewed as a commercial disaster even though the initial reviews were quite positive. This was a top of the range car, and was unrestored. The seat trim was particularly brash.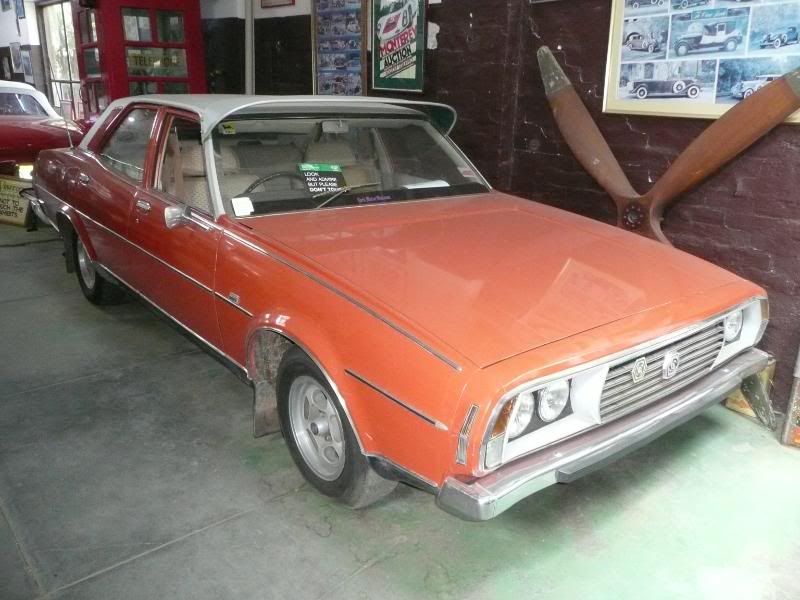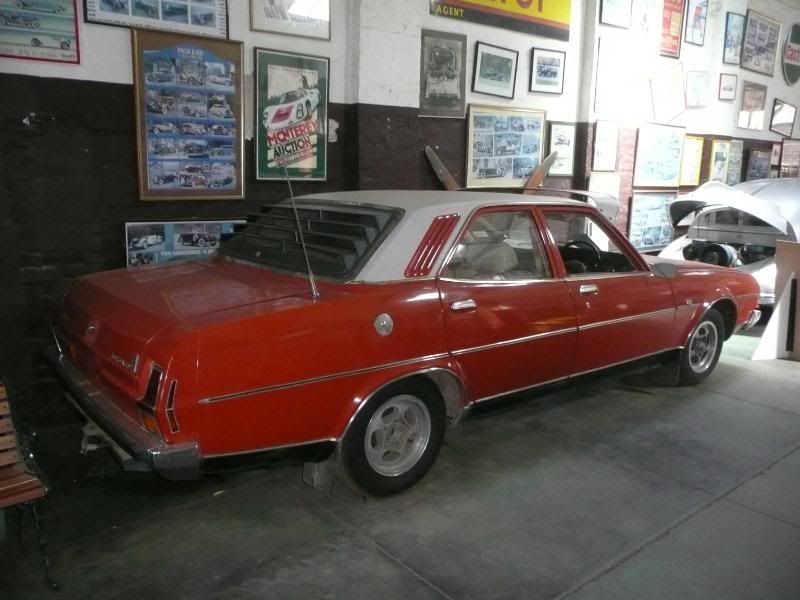 1978 Volvo 245 L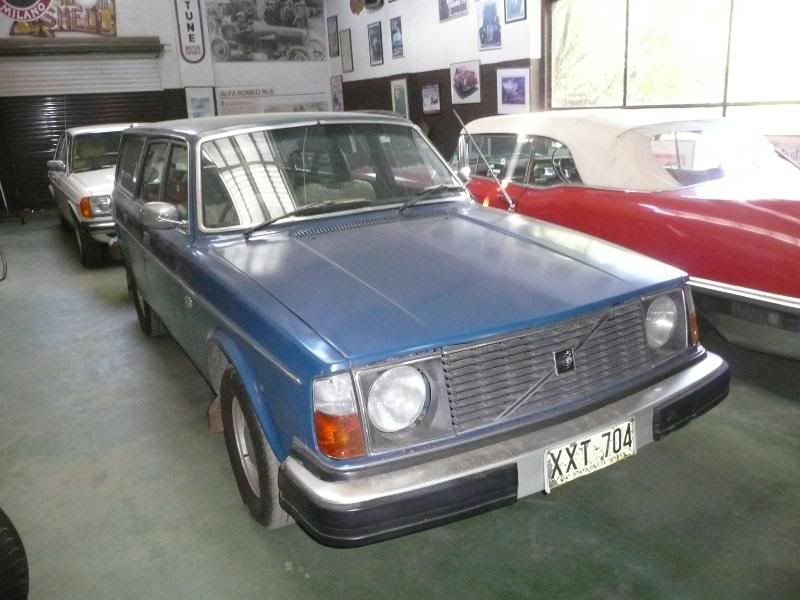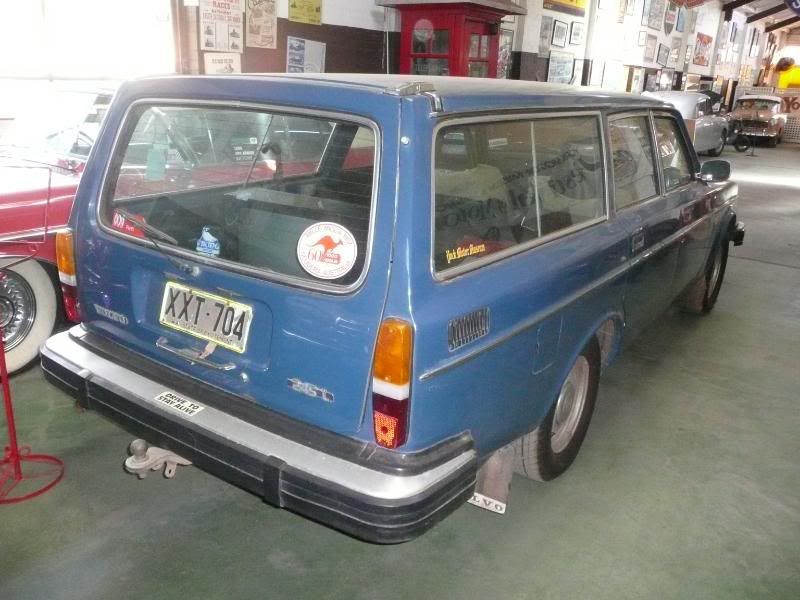 1982 Mercedes 300D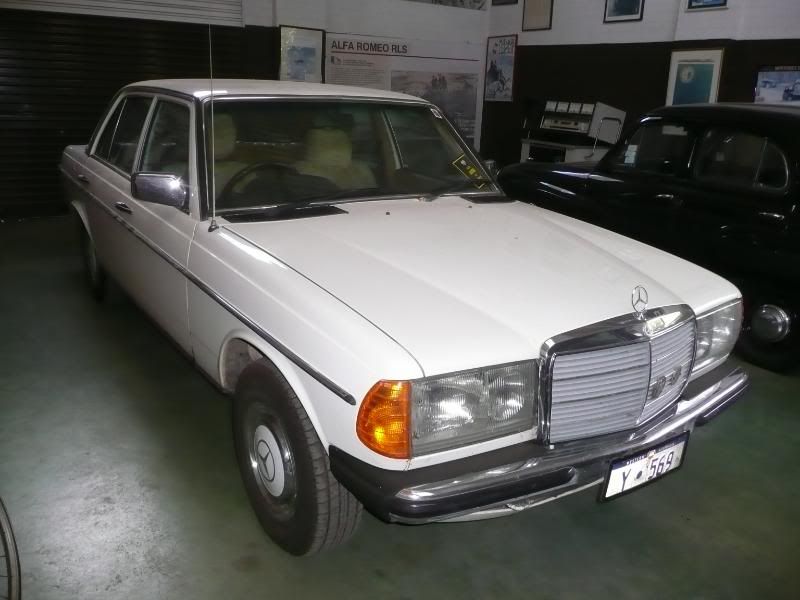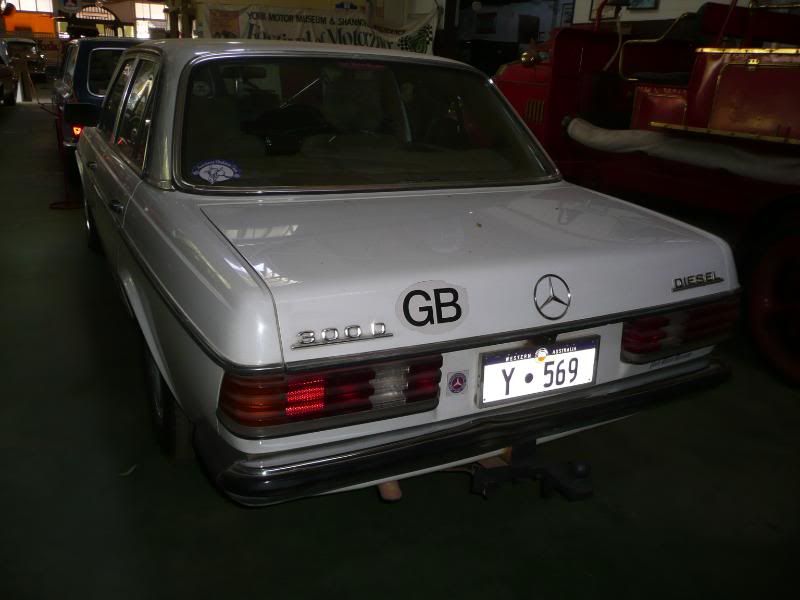 MEMORABILIA
There's everything from children's pedal cars, to diecast models, books, posters, enamel signs, old tools, scattered throughout the museum.  Bicycles and motorbikes also feature.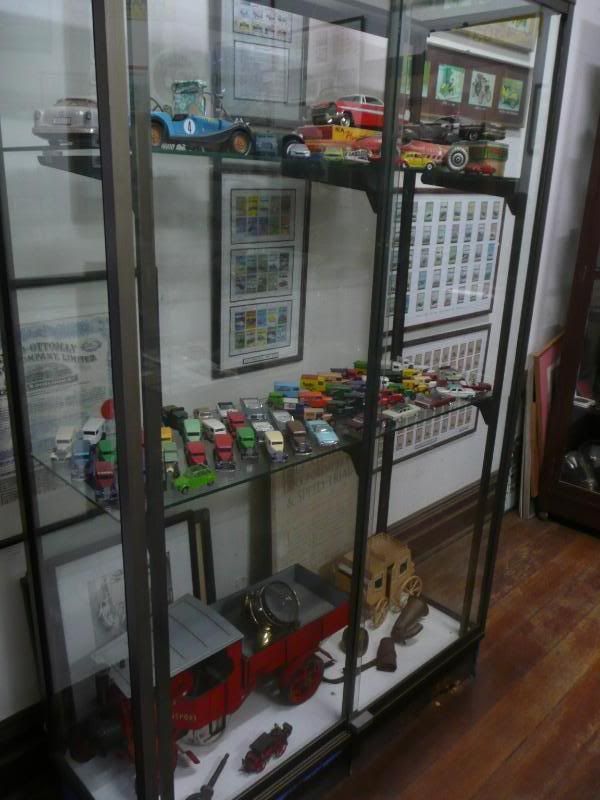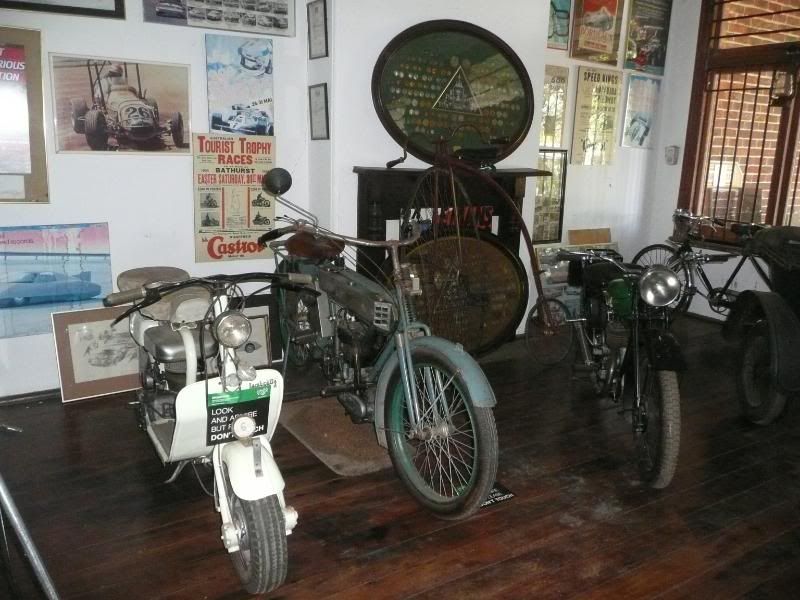 MOTOR SPORT
This 1946 Midget racer might look small, but with a V8 Ford engine to power it, it was rapid. Such special creations were popular in the post war period as the car alongside evidences.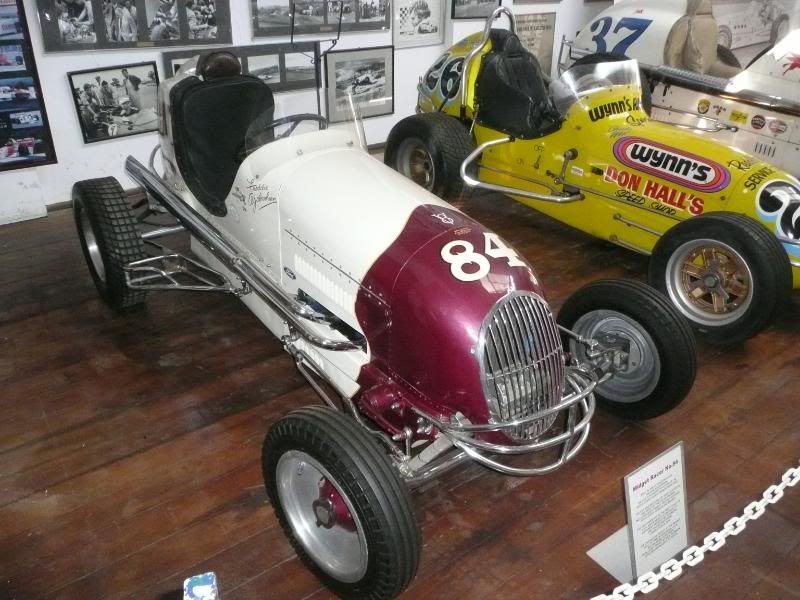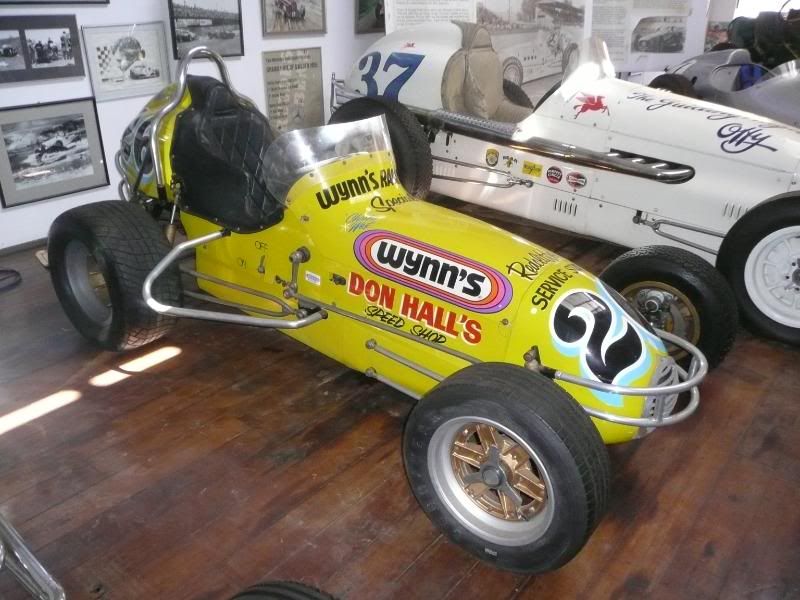 The Offenhauser Indianapolis racer was built by the famous Frank Kurtis in 1952.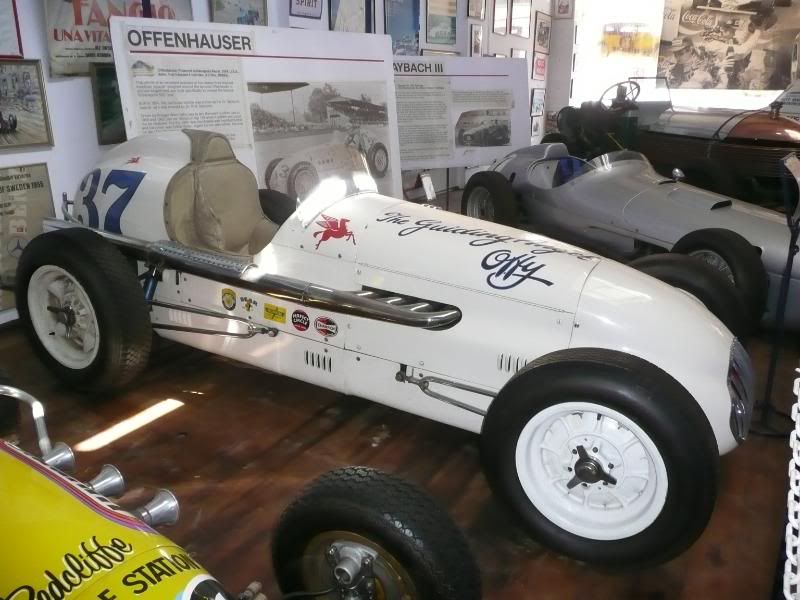 Maybach III was the third of a series of one-off cars that were specially constructed for racing, and this one won the New Zealand Grand Prix in 1954, driven by Stan Jones father of the 1980  F1 champion Alan Jones.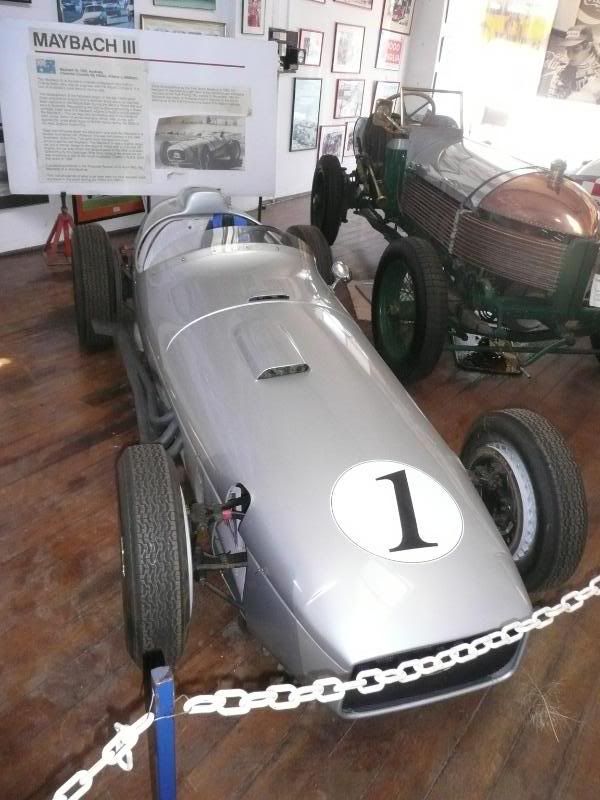 This Napier dates from 1904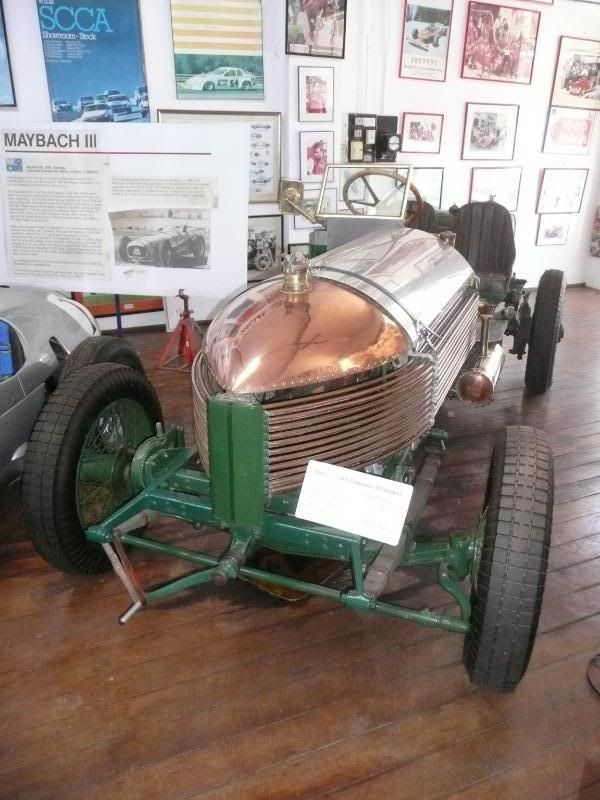 This is actually a replica of the 1956 Holden FJ Sedan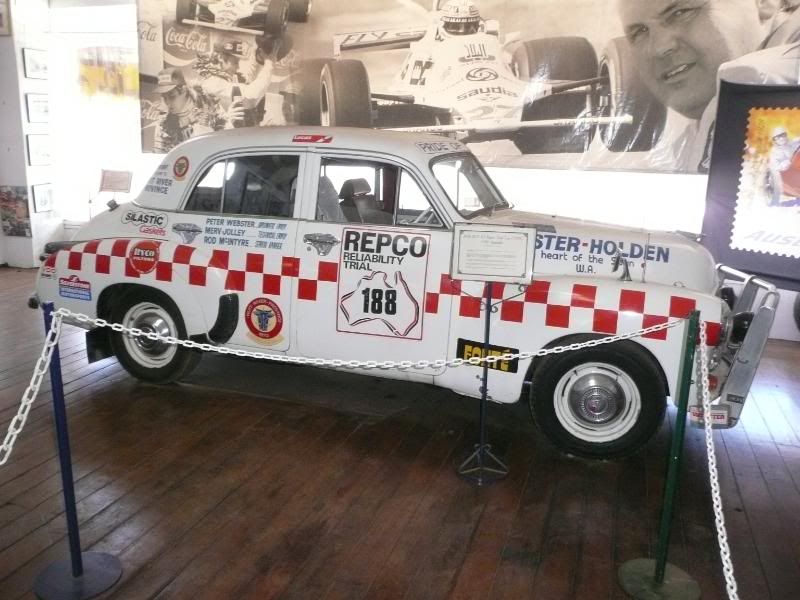 The 1978 Holden Torana A9X was extremely successful for a couple of years, scoring an impressive tally of victories in the Touring Car Championships of 1979 and 1980.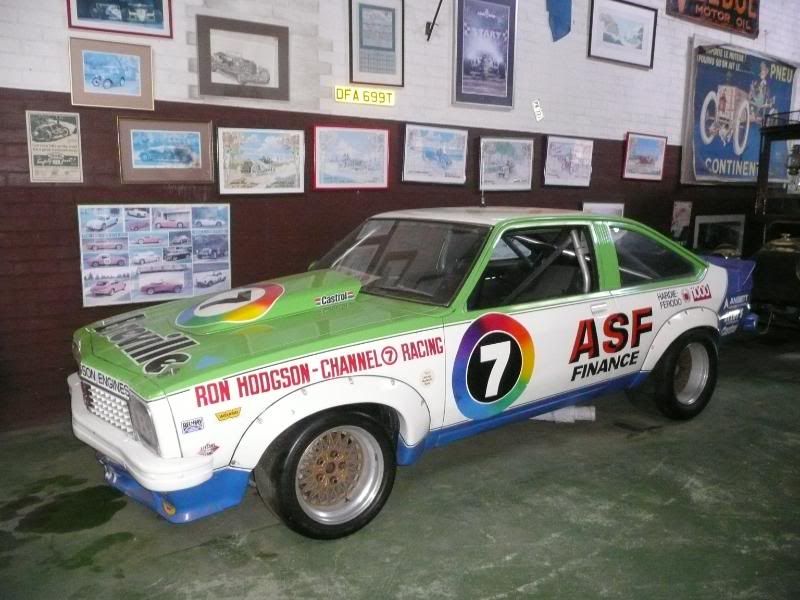 An absorbing place for an hour or so, though without air-conditioning, be warned that it can get very hot in the museum.
More details can be found at the museum's own website: http://www.yorkwa.com.au/Motor.Museum/index.htm
2012-03-27 09:14:16