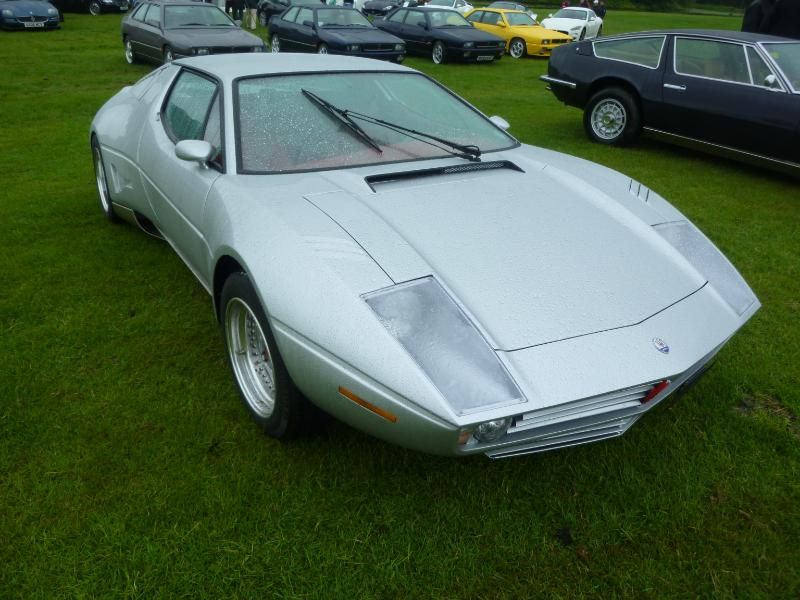 We may have enjoyed some splendid summer sunshine and cloudless skies at Prescott at the end of May, but just one week later, and things looked very different. The forecast proved remarkably accurate, and the warnings of constant rain all day and temperatures that would struggle to make double figures were all such a contrast to the preceding days, but given that they were not even a surprise, it was almost inevitable that they would have a marked effect on the Auto Italia organised event at Stanford Hall, and so, sadly, it proved. In days leading up to it, we had joked that if the weather was good there would likely be 200 Ferraris, and if it rained, that there would be 20. That proved optimistic, as only 5 showed up! Although at 10am it looked as if the event was going to be very sparse indeed, and we all vowed we would probably leave by noon, several more cars did arrive, and with plenty of variety, there was enough to see to keep us diverted until well into the afternoon, when the cold and wet really did get too much. Not until after a spectacular display at very low altitude by the Abarth stunt plane, the presentation of various concours prizes and several trips around the displays amassing in excess of 200 photos. Despite sheltering under an umbrella, there are rain spots evident on some, for which I apologise now!. Anyway, enjoy the varied cars of those who decided to brave the weather, presented here.

ABARTH
As if to prove that at least some Abarthisti think they are waterproof, there was a strong showing of 500 and Punto cars, with examples of all model types and in the case of the 500s,most available colours. All the Abarthisti Puntos were white, with the addition of a grey one parked up chez Fiat Forum.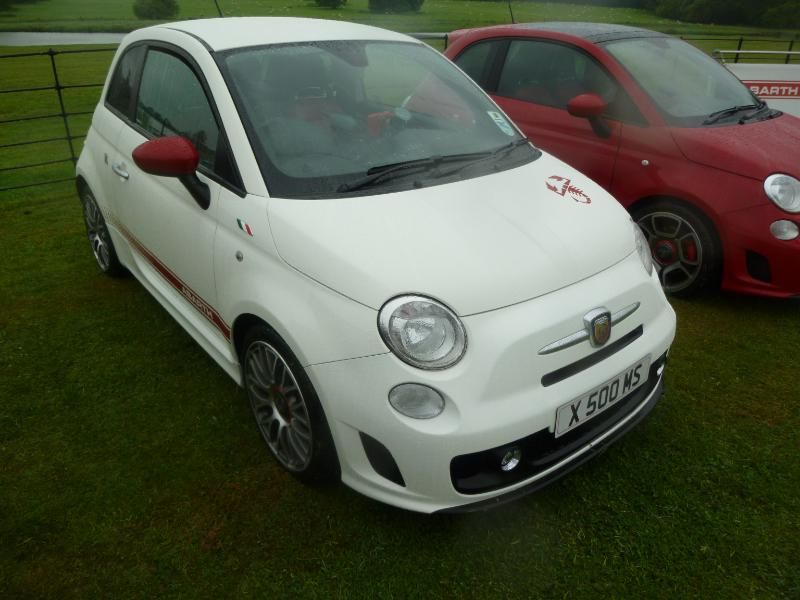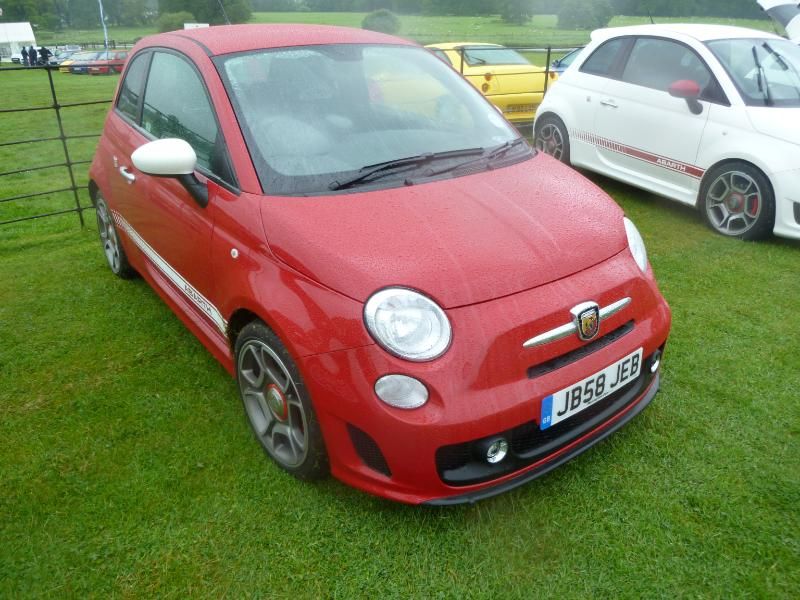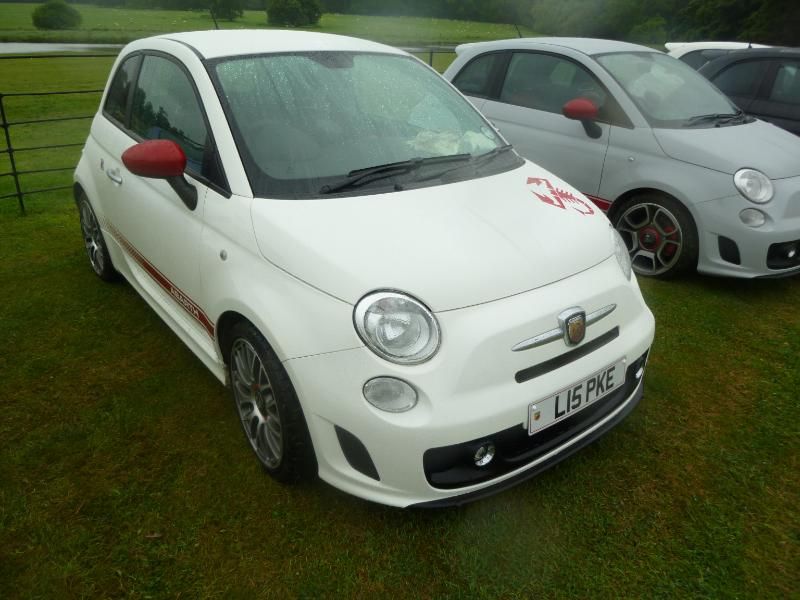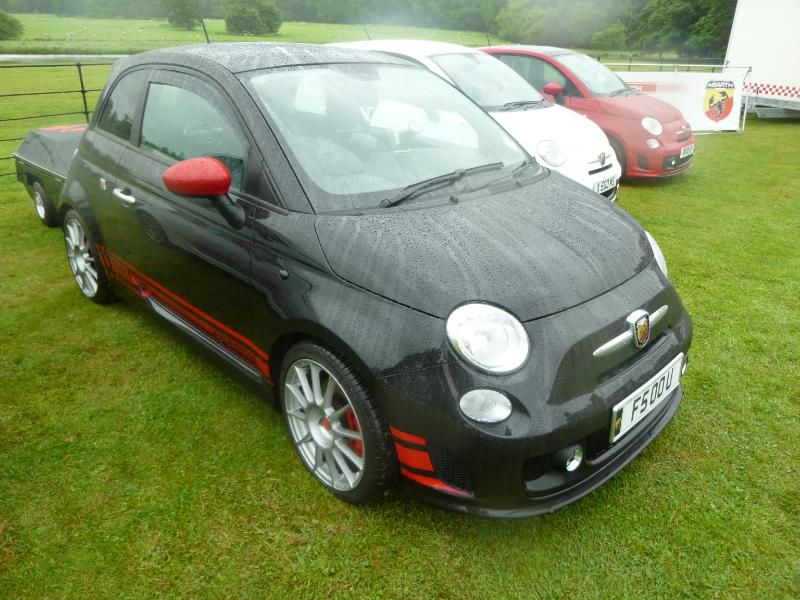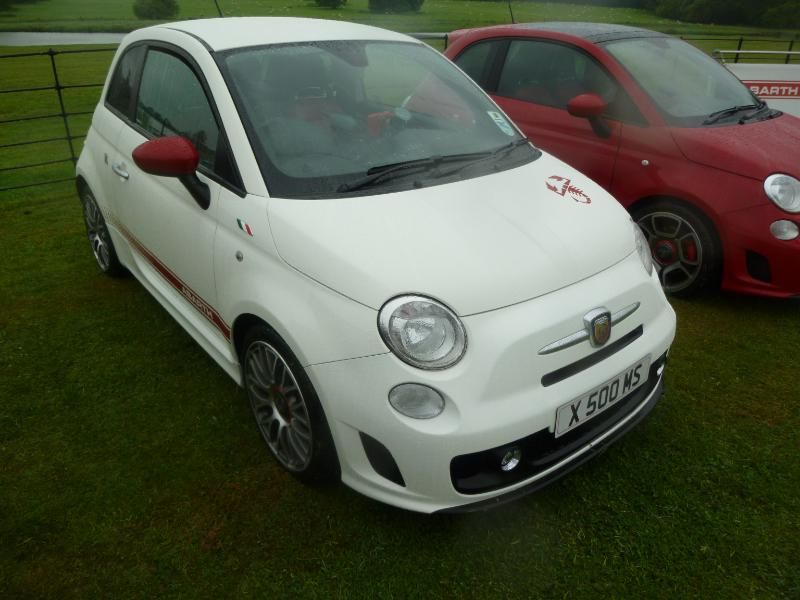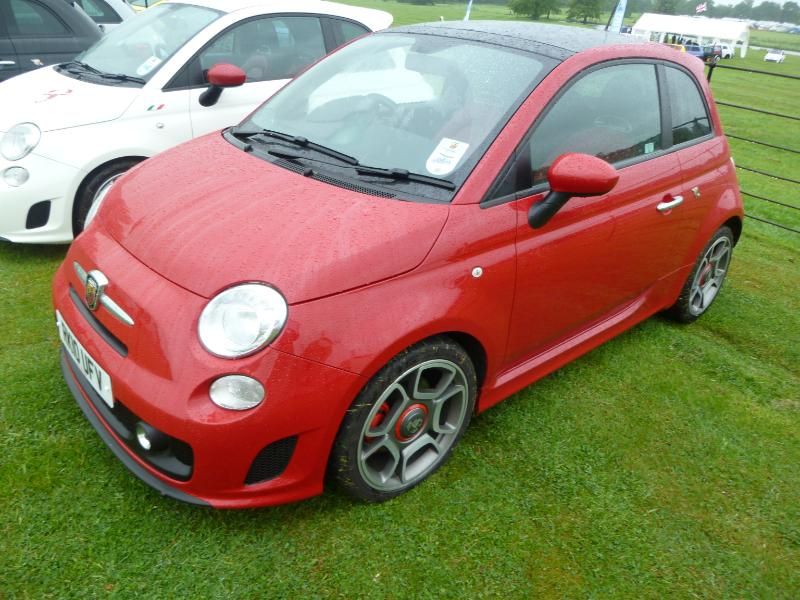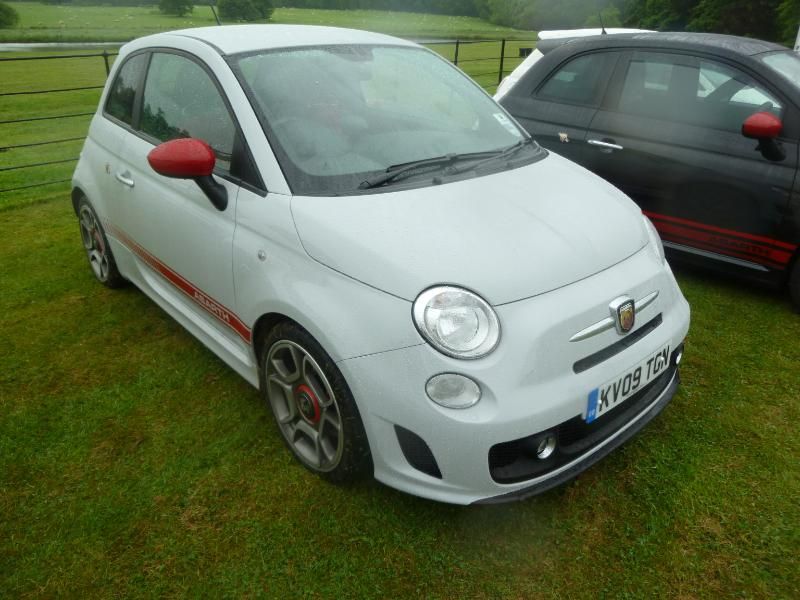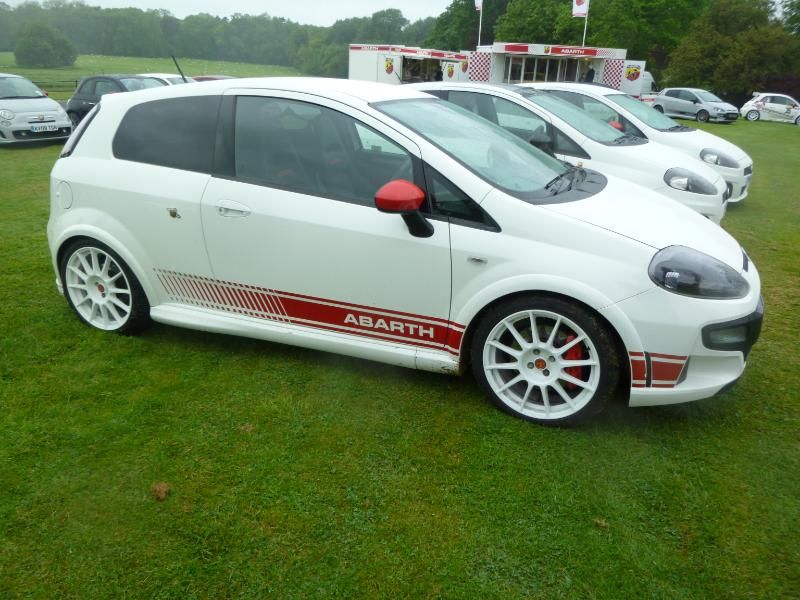 Initially the only classic Abarth was Mike Foster's lovely 1000TC that he brought along to Donington. He was the deserved concours winner for this lovely little car. Later it was joined by a trio of other models brought along by Middle Barton Garage, with a 595SS, the Tornado model that features a 1.6 Lotus engine in the back of the car and the 1300TC based on the Fiat 850 Sport Coupe.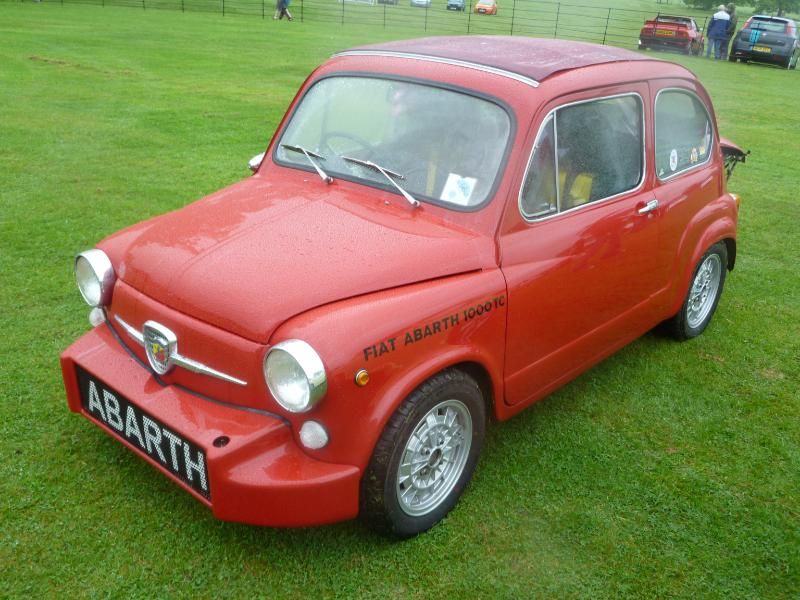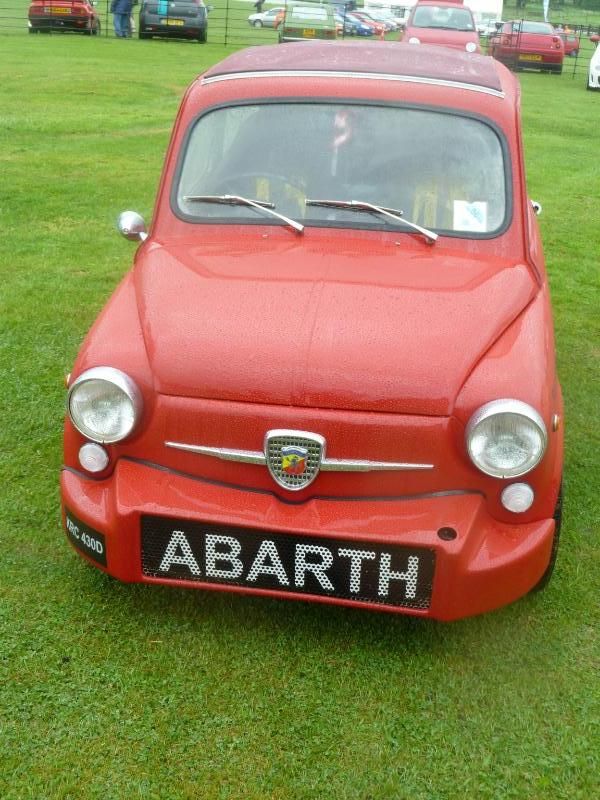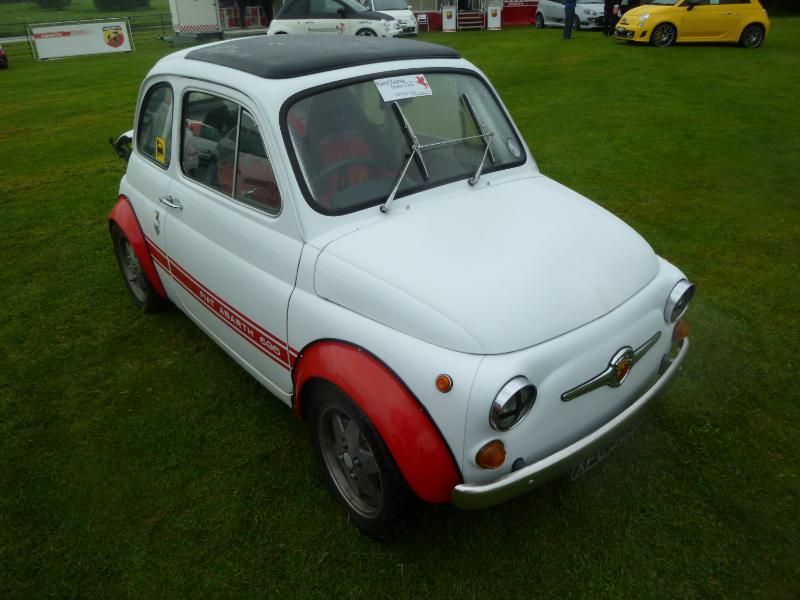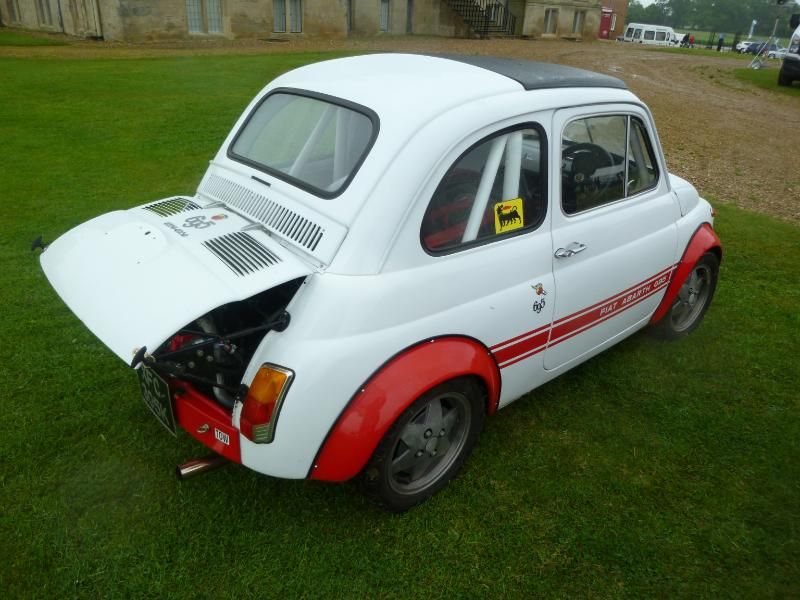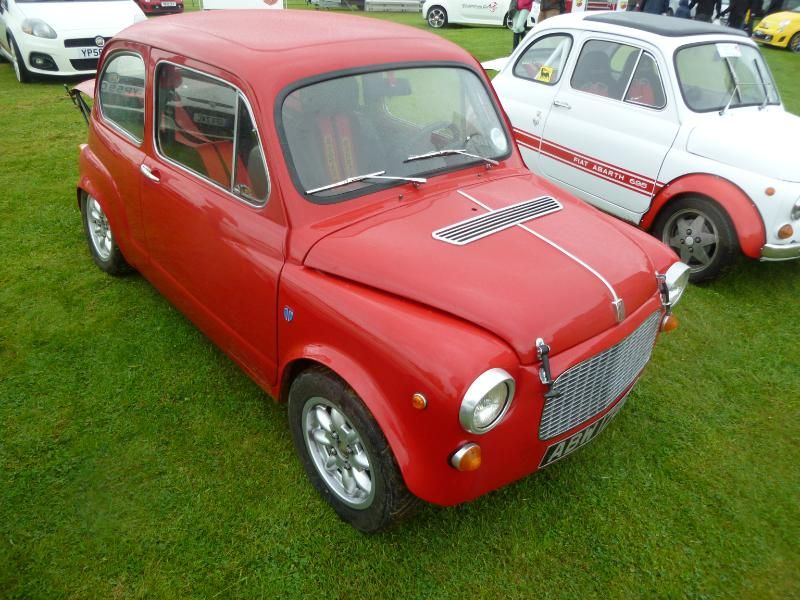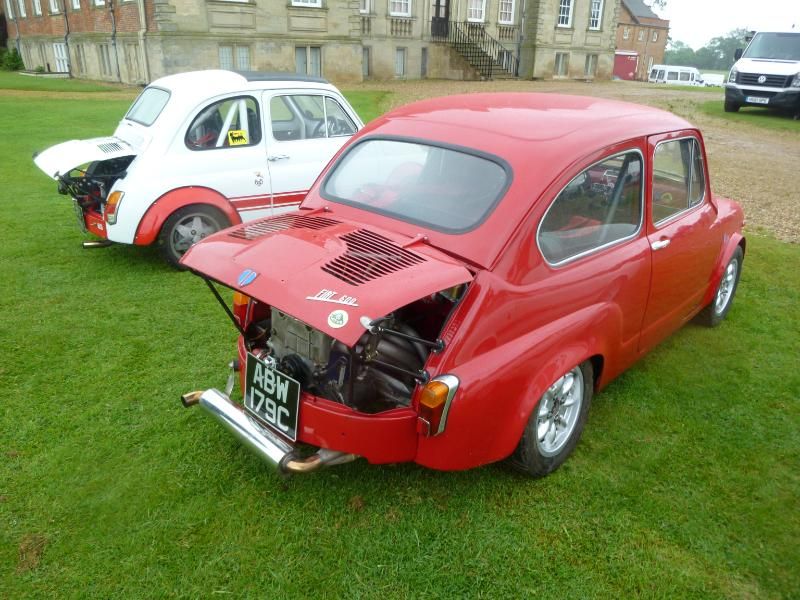 Rockingham Cars, the local dealer, had a varied display of models ranging from the Punto Evo through a 500 Trofeo car to one of the 695 Tributo Ferrari models.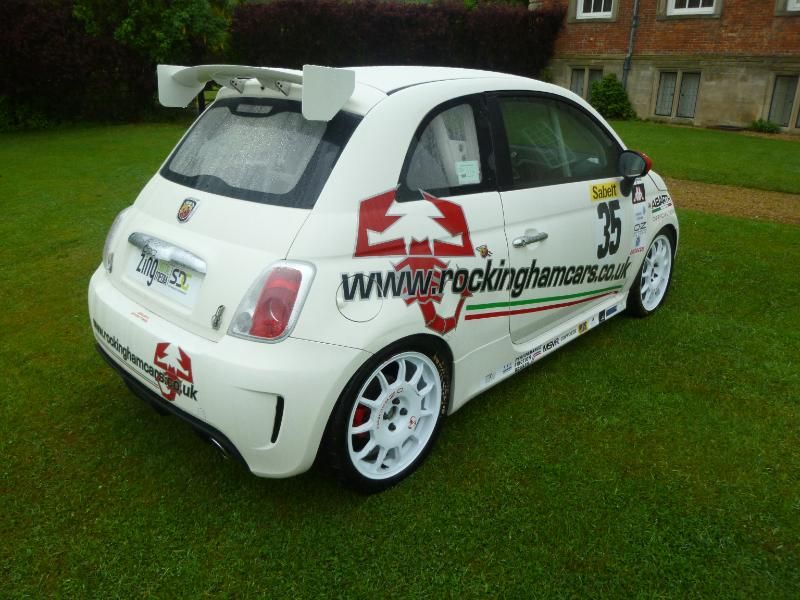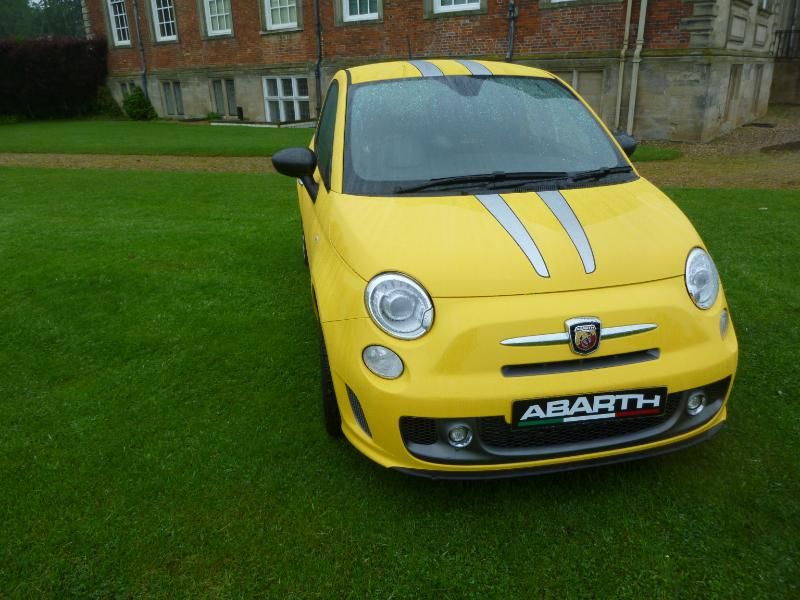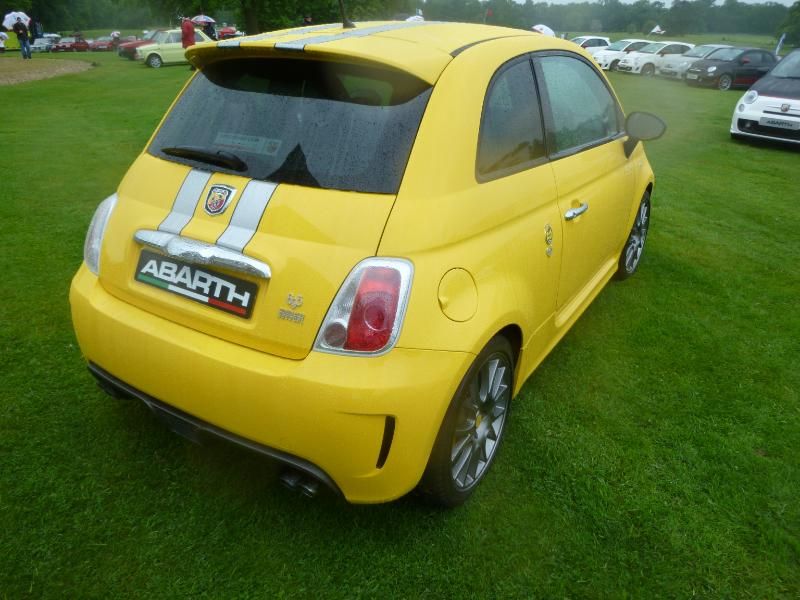 ALFA ROMEO
2012 marks the 50th anniversary of the Giulia model, and there were three of the Berlina models at the event, showing some of the different versions in which this car was sold during its 15 year model life.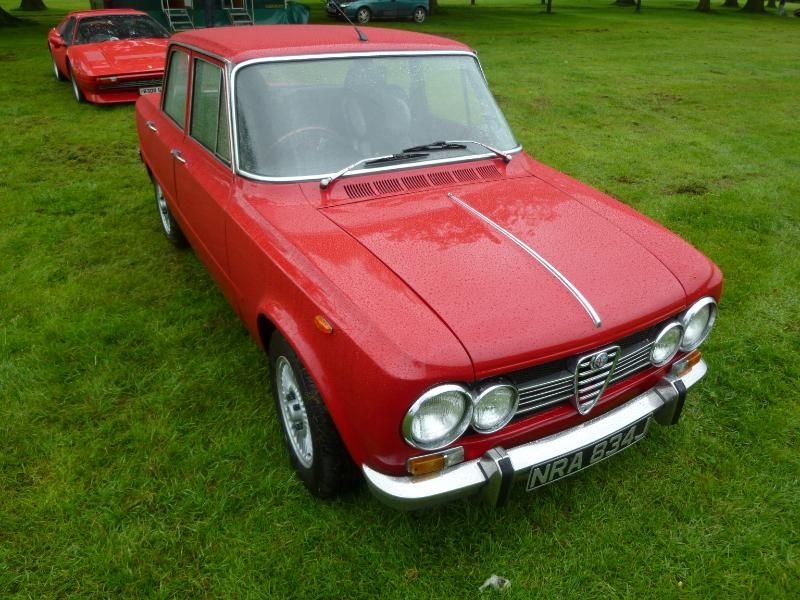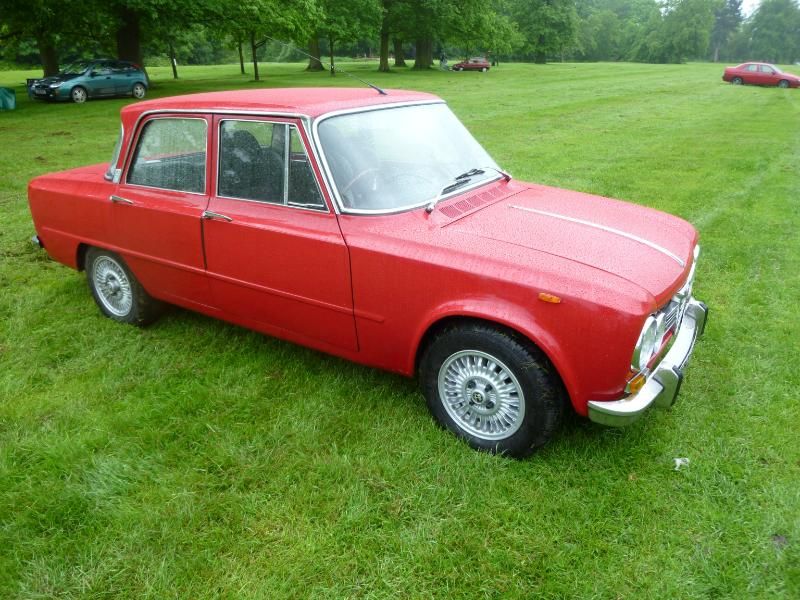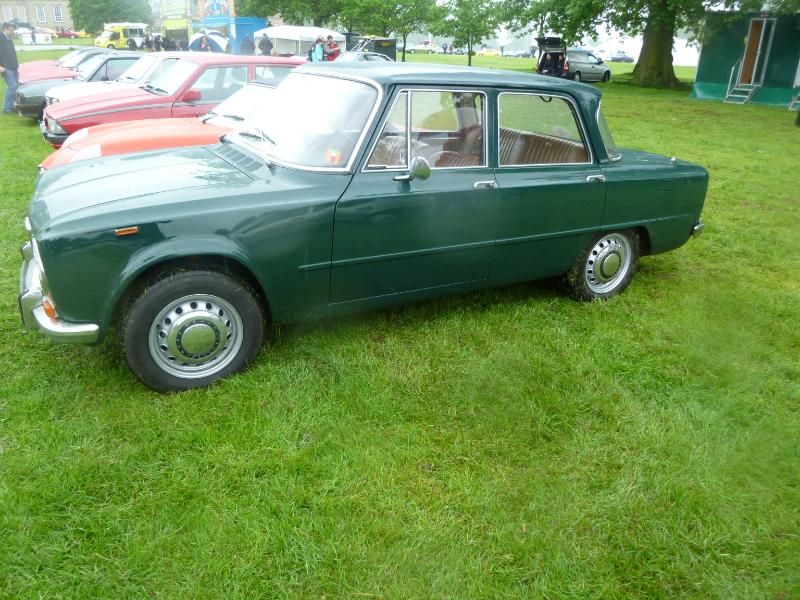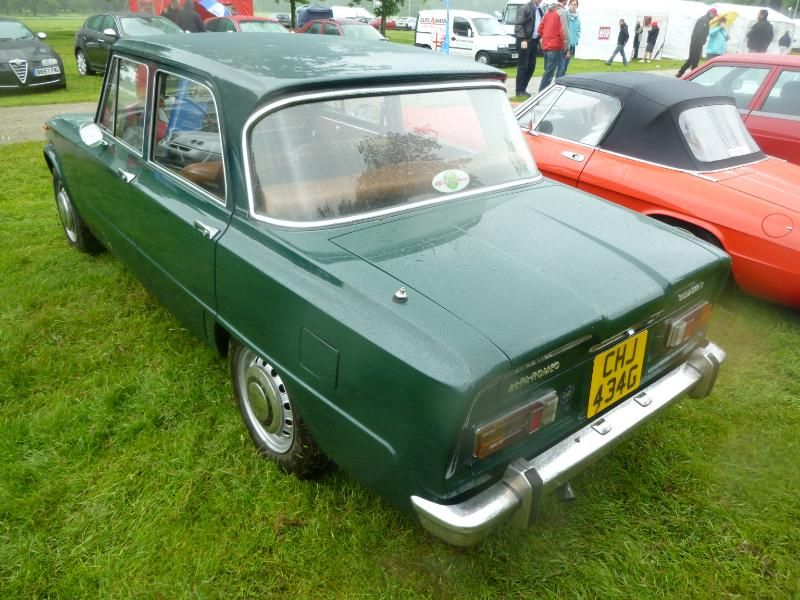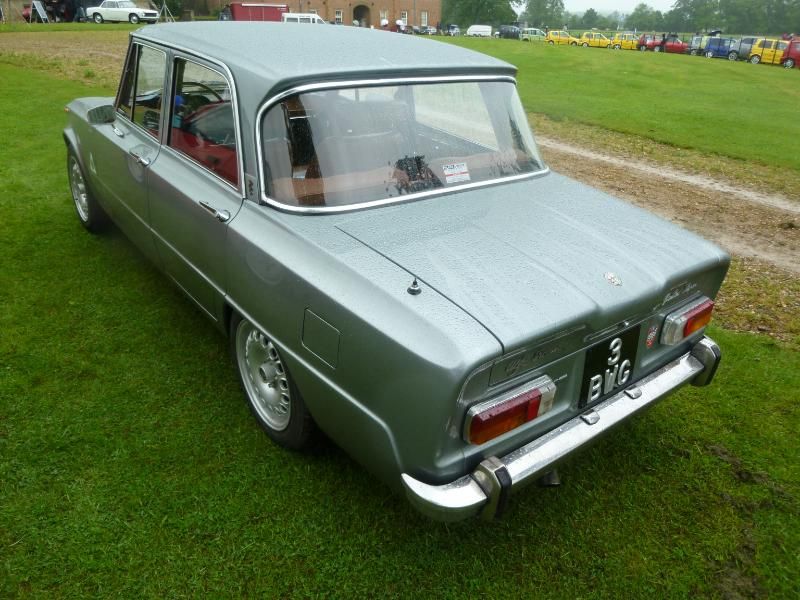 There was but one of the Spider cars, a series 2 model.
A lone Montreal arrived during the late morning.
A Series 2 AlfaSud Berlina was joined later by a Series 3 Ti model.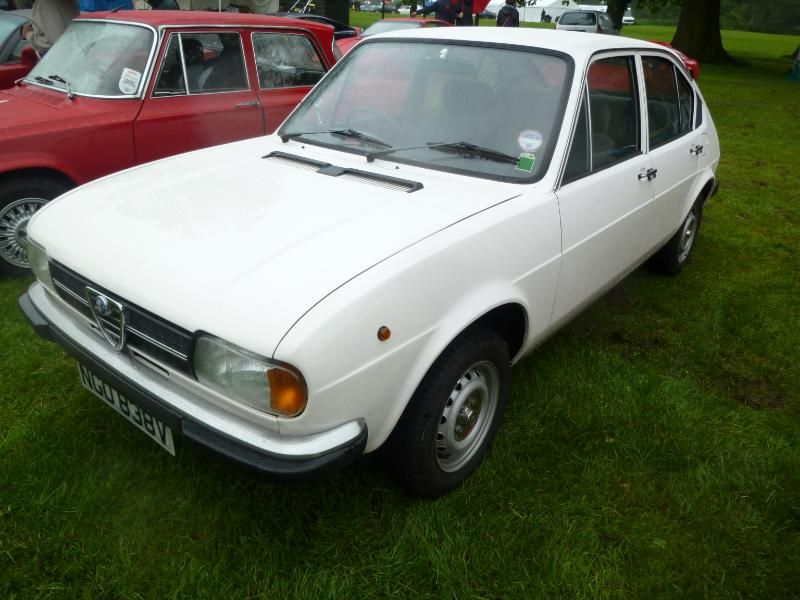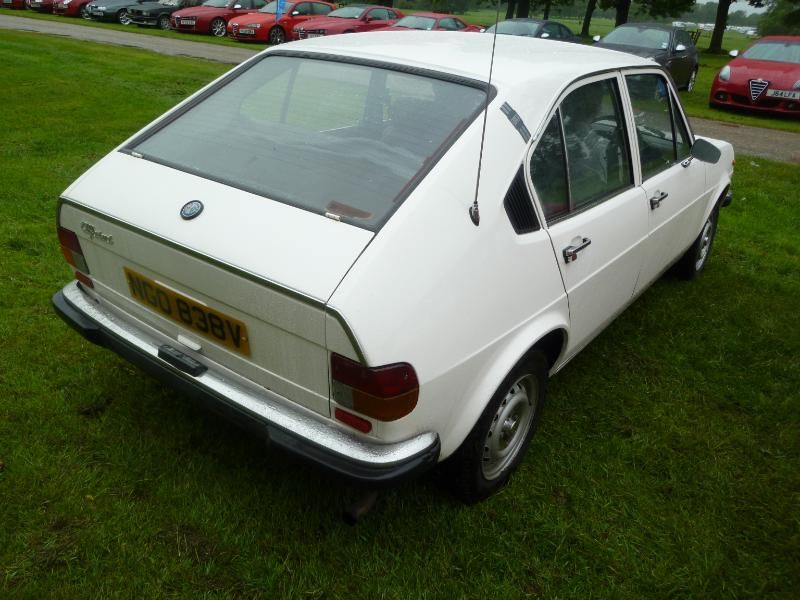 Replacement for the AlfaSud was the 33 and there were two examples of these, one of which was the very rare second series SportWagon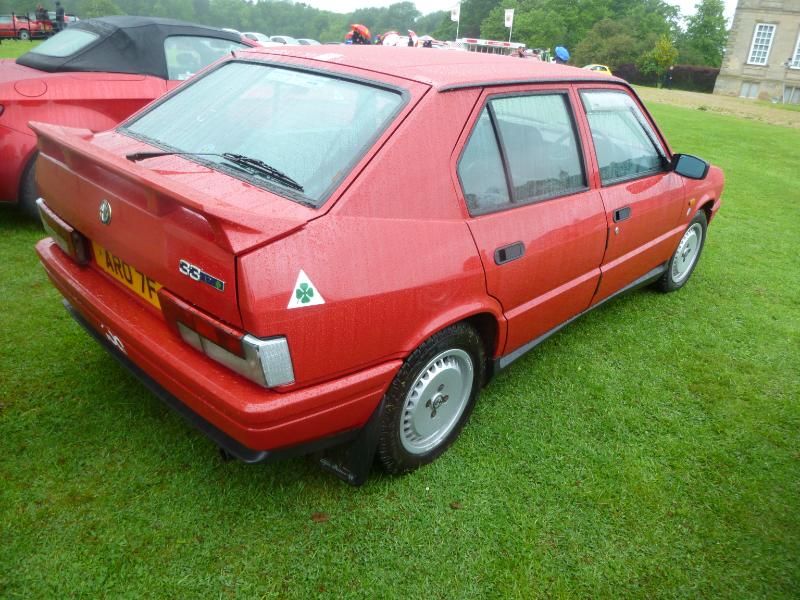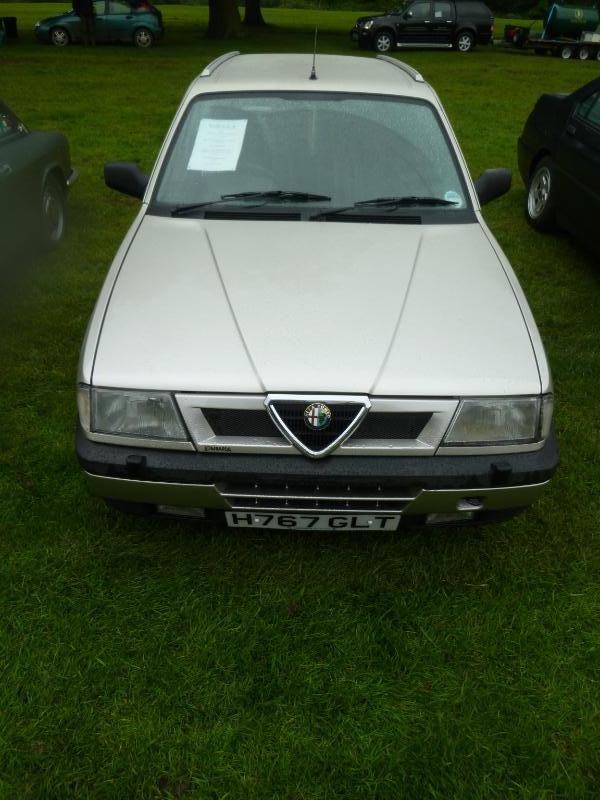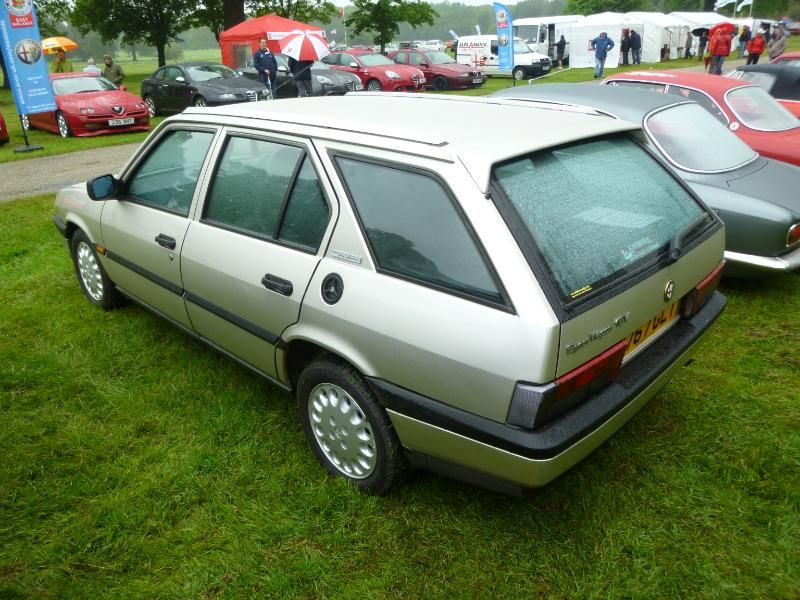 There was just a single 116 series Giulietta, a late model RS car that appears quite regularly at events like this.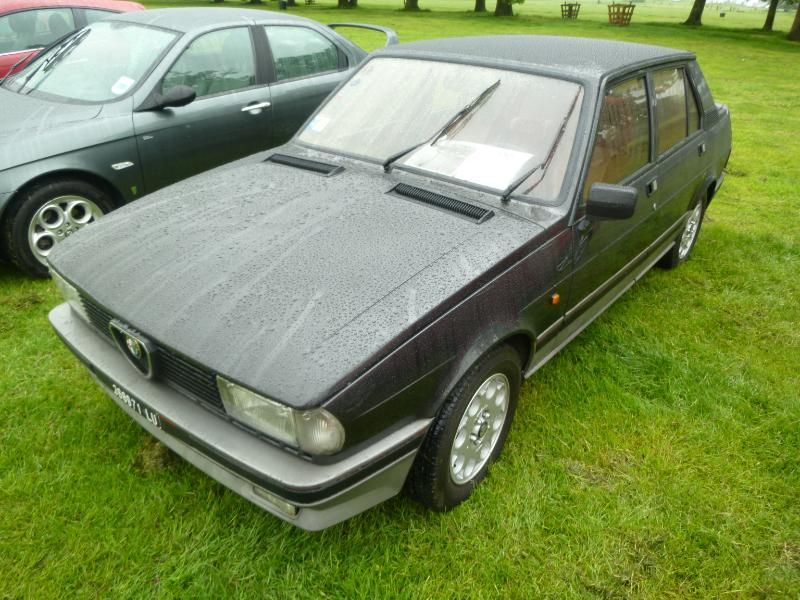 There were a pair of late model 164s. The red one was awarded the prize of "Best Alfa". This turned out to be an ex Fiat press car which had then been sold to someone who kept it for more than 10 years. The current owner found it recently on eBay and did not have to do much to get it to the splendid condition in which it now appears.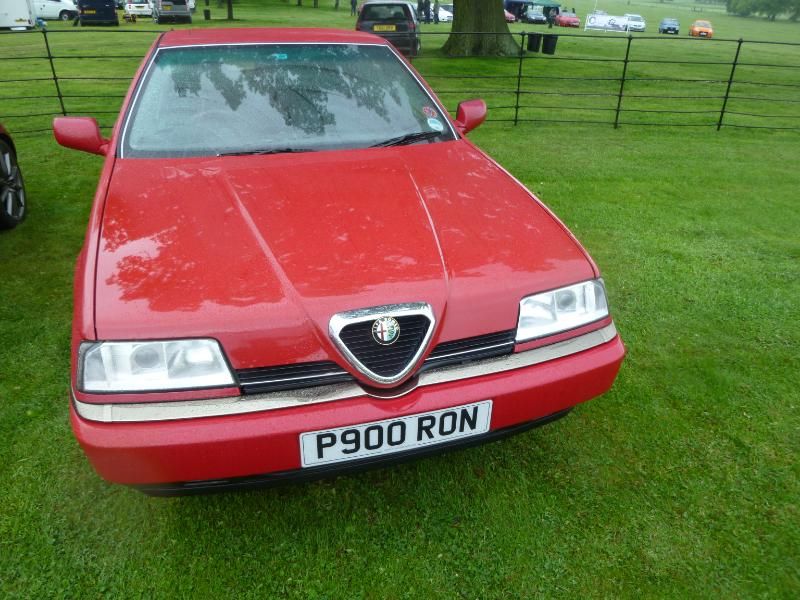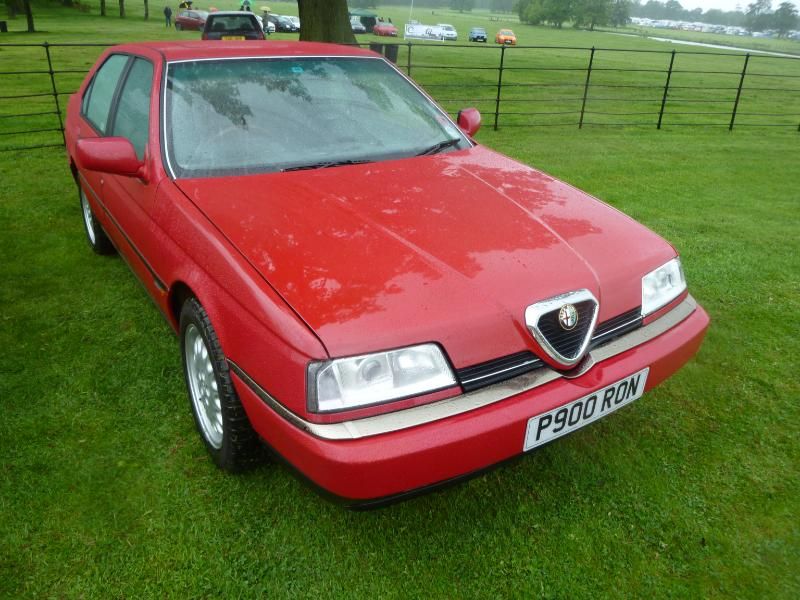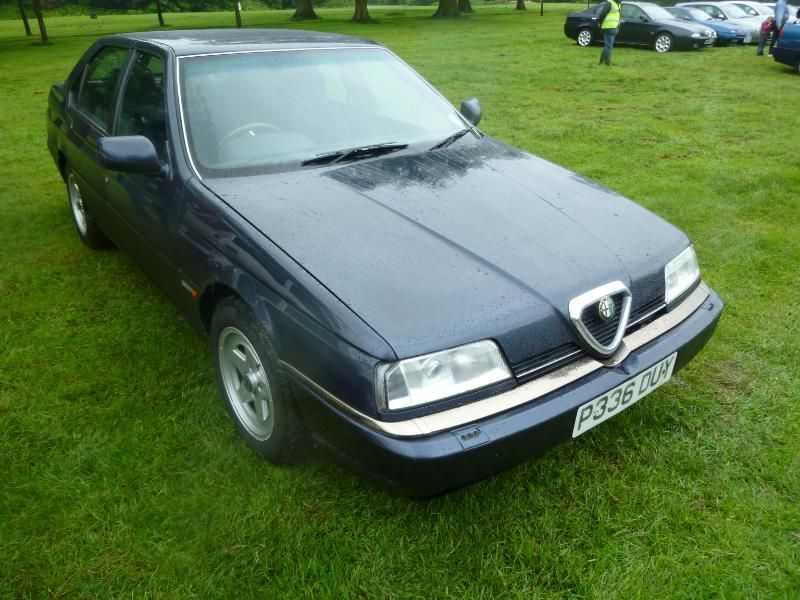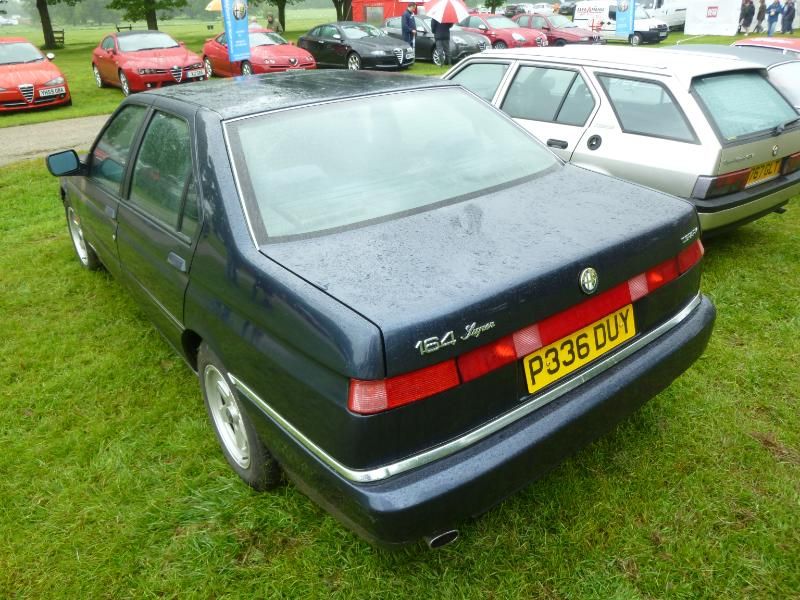 There were a couple of 75s, both in splendid condition.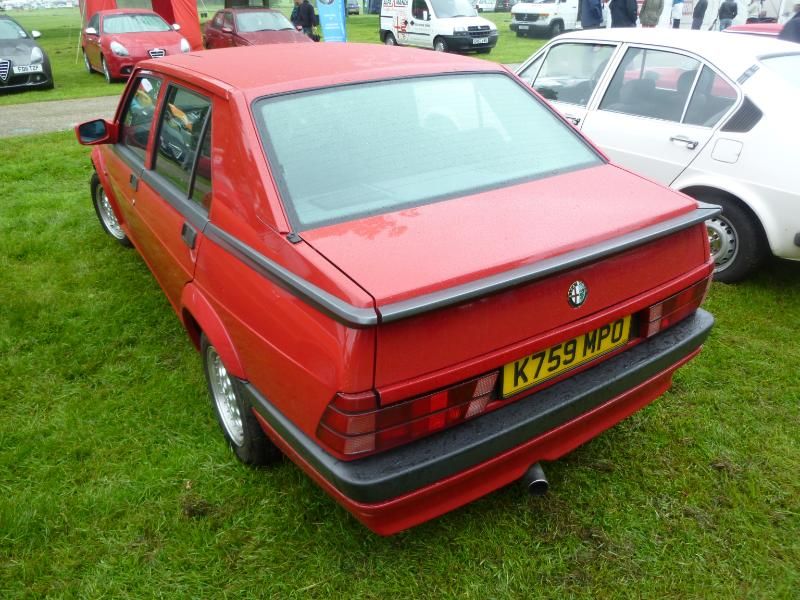 There were more 155s.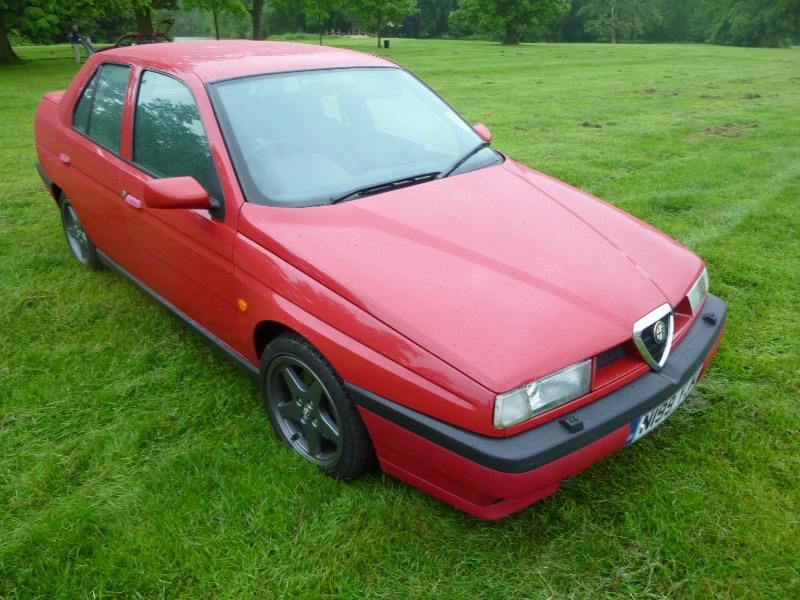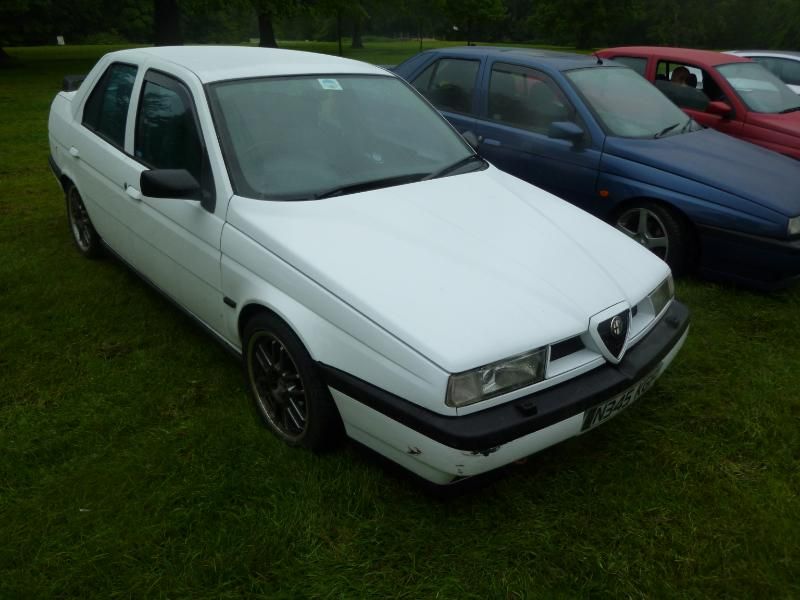 Three SZs appeared by lunchtime, all of them in characteristic red.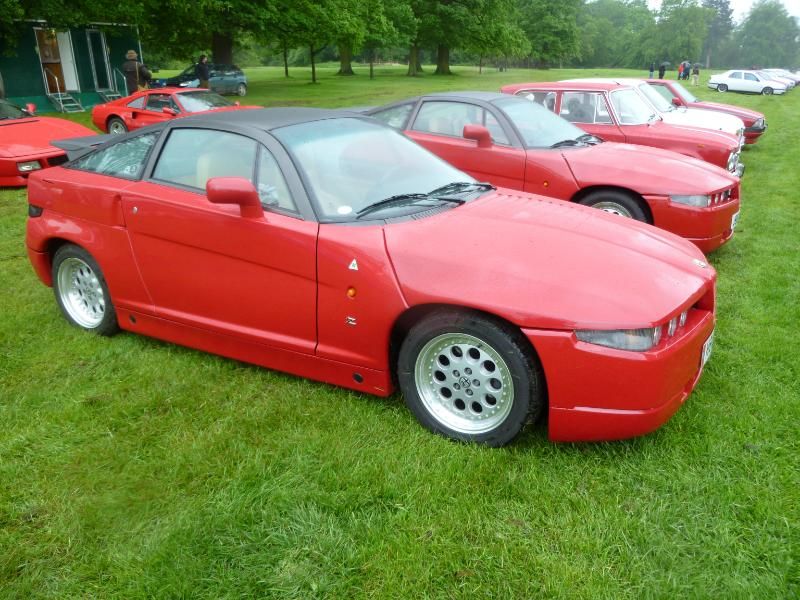 There were a couple of 166s.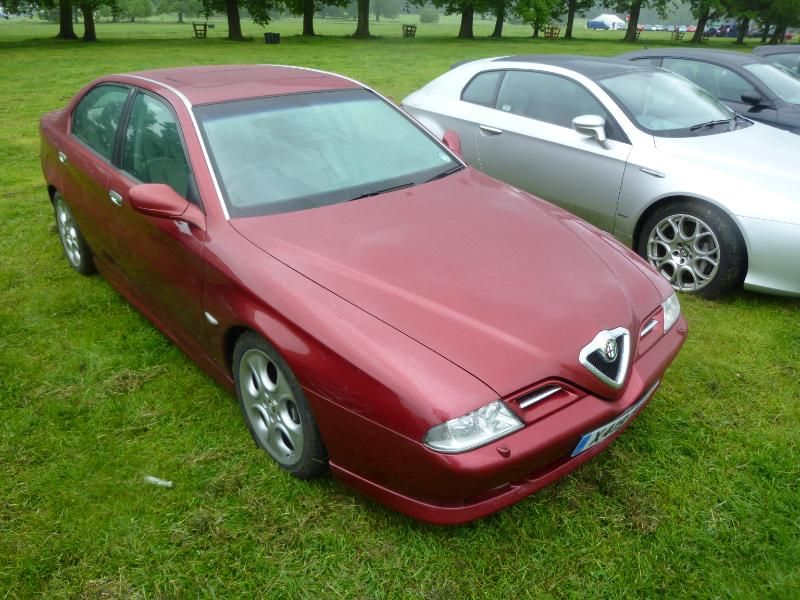 Several of the 916 series GTV and Spider models.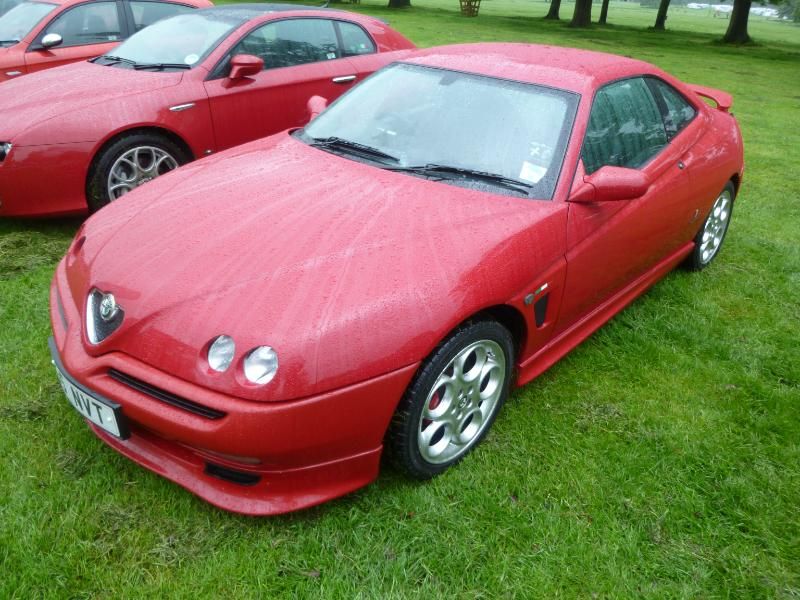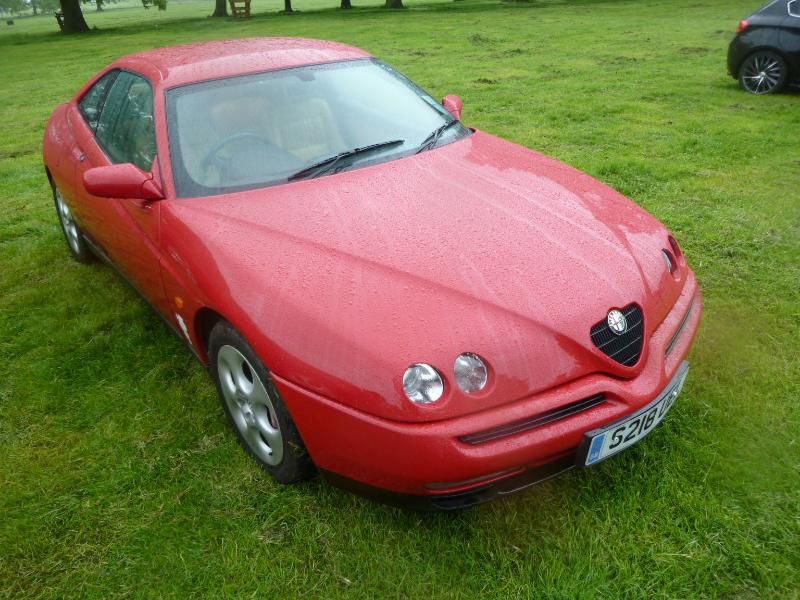 There were a few 147s showing the pre- and post-facelift cars. Draw your own conclusions on the styling changes!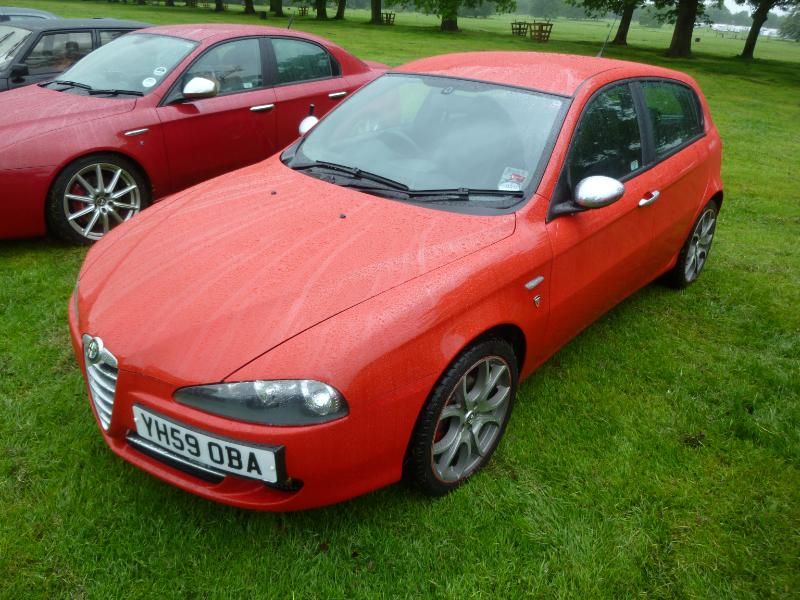 There were several of the lovely GT cars on show, including one in the rarely seen hue of dark burgundy, as well as couple of Brera/Spider models .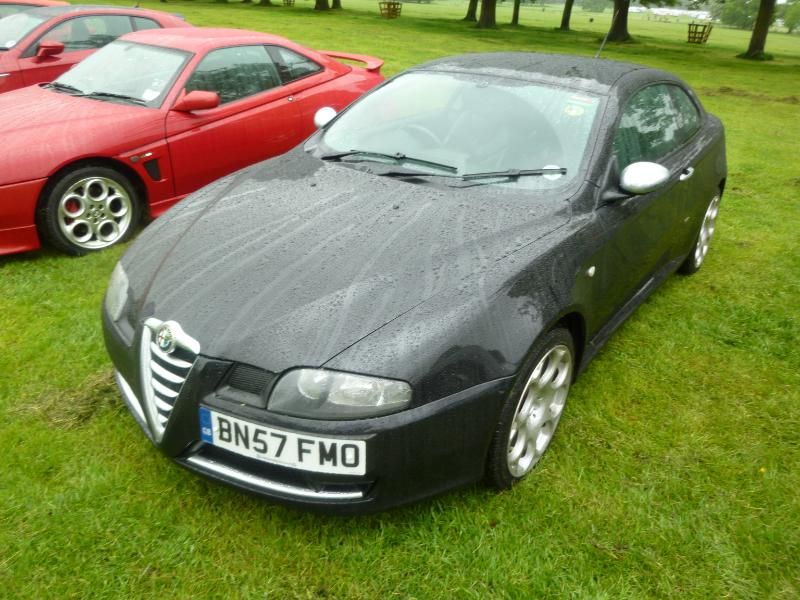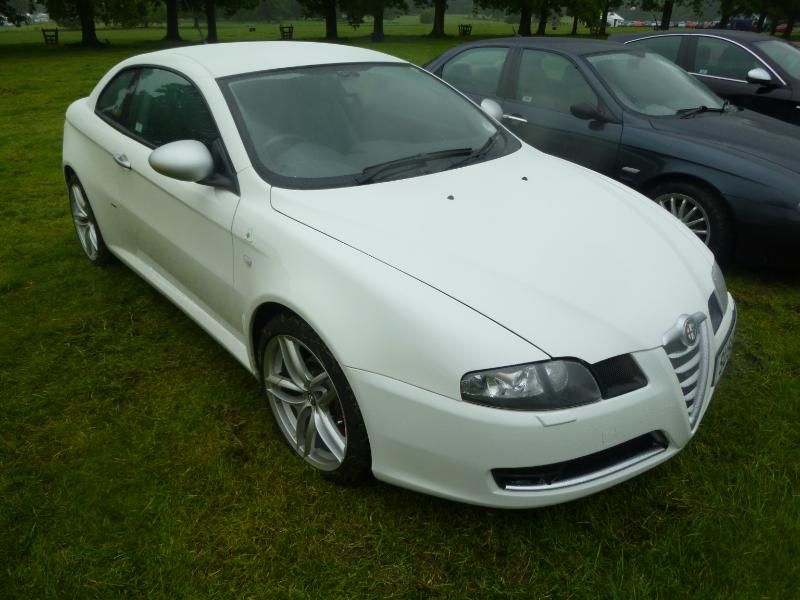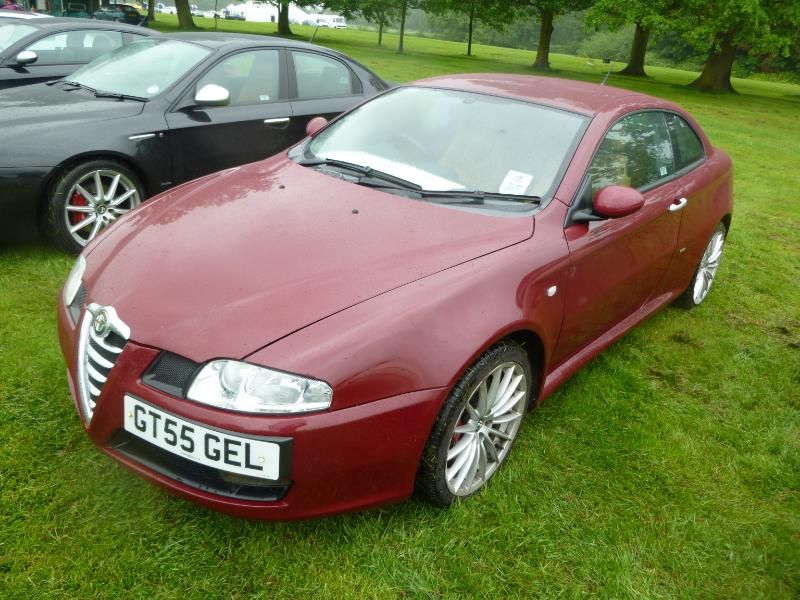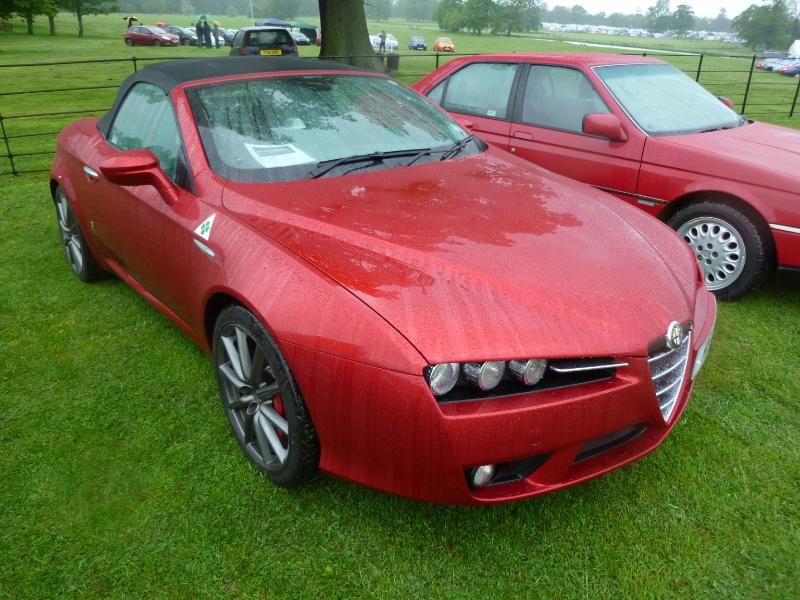 It is clear from the number of MiTo and Giulietta at the event that these cars are already well accepted by Alfisti and must be en route to becoming classics of the future.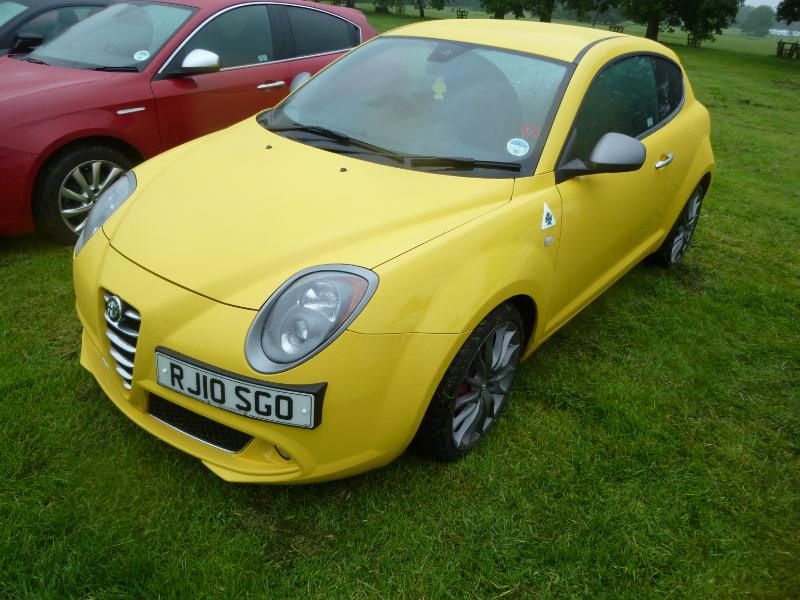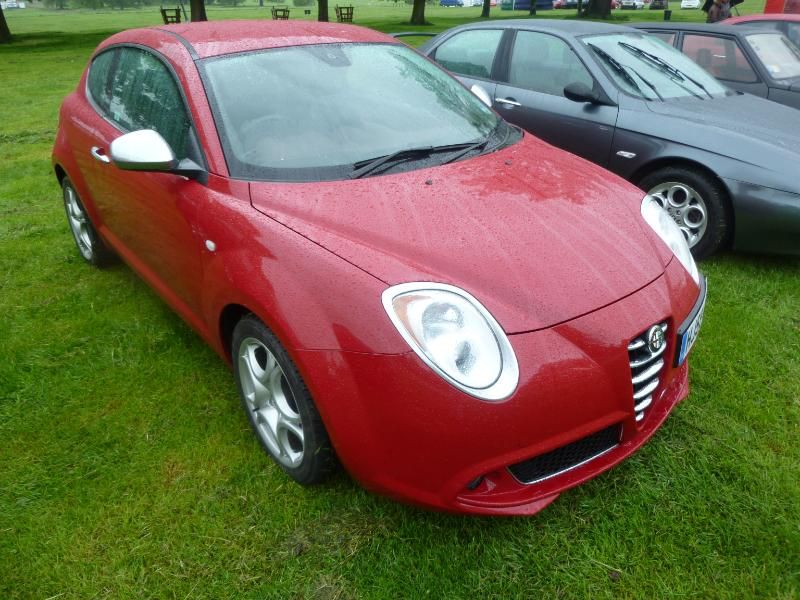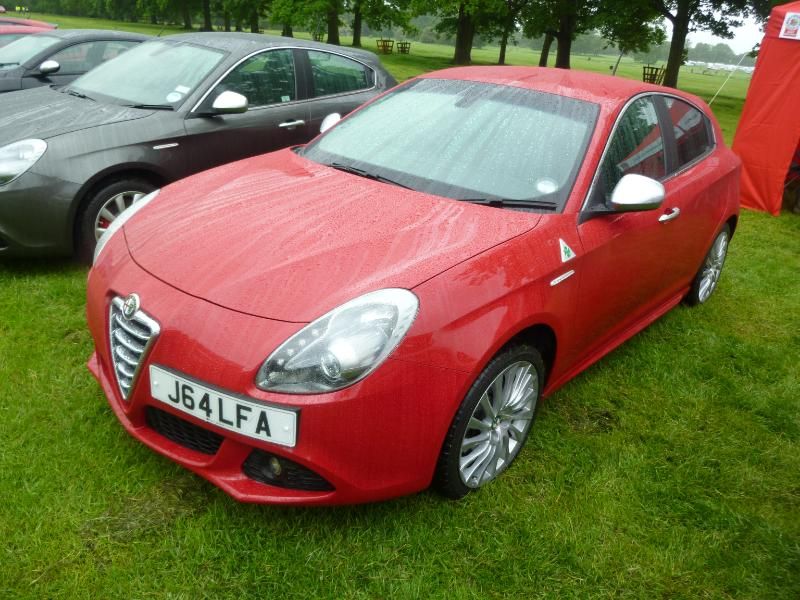 A lone 8C Competizione arrived and took pride of place in the central arena.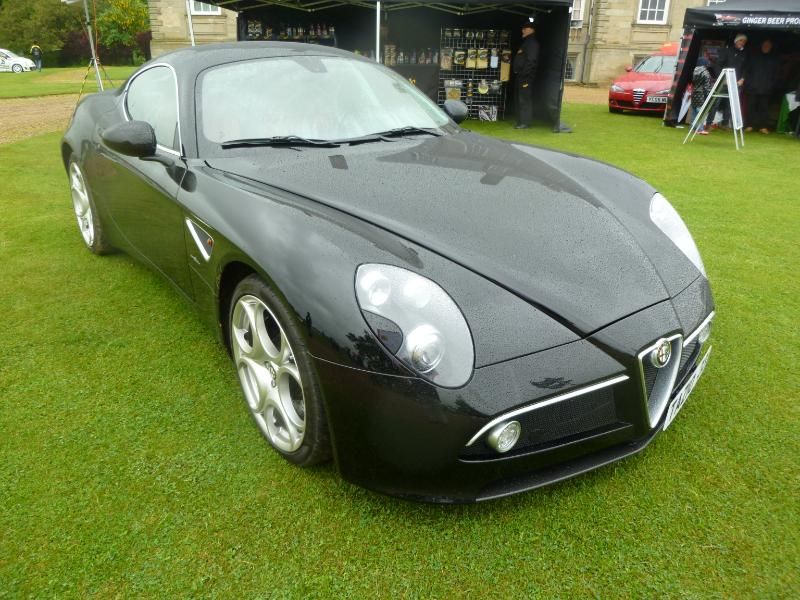 FERRARI
First Ferrari to appear was this 308GTS, and for a long time, it looked as if it would be the only Ferrari of the day.
Later, a couple of 348tb models arrived.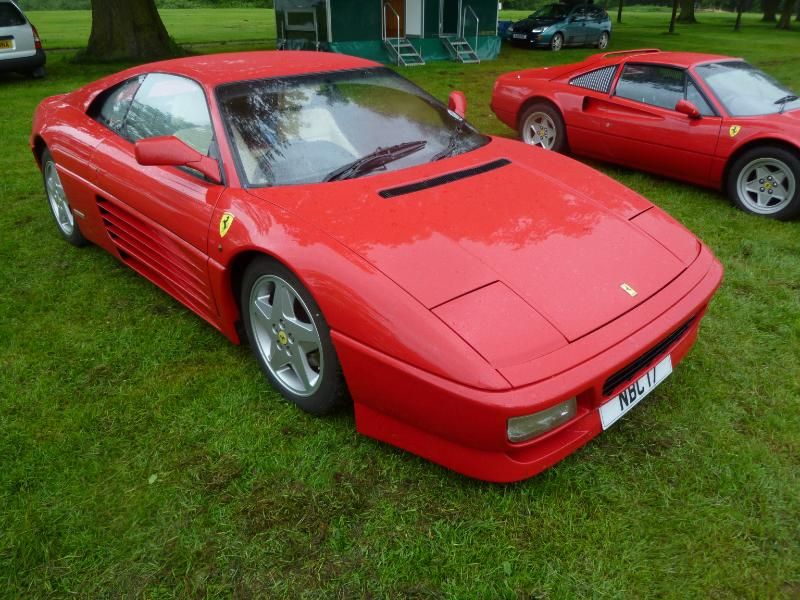 Rarest Ferrari of the day was this 365GTC.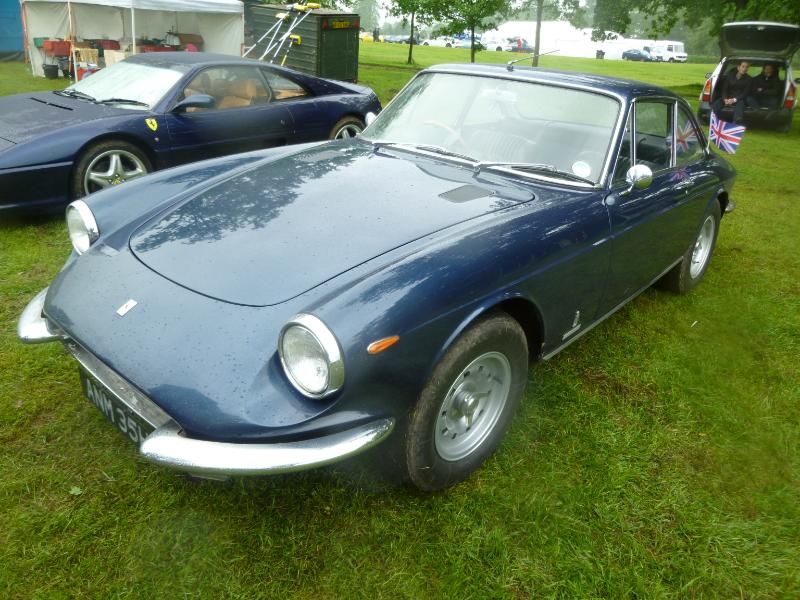 FIAT
There were a wide variety of Fiats at the event, with several rarely seen models on show.
The 127 is a rare sighting indeed these days, and the few survivors tend to be the facelift second and third series cars, so seeing this one from the first series was a real treat indeed.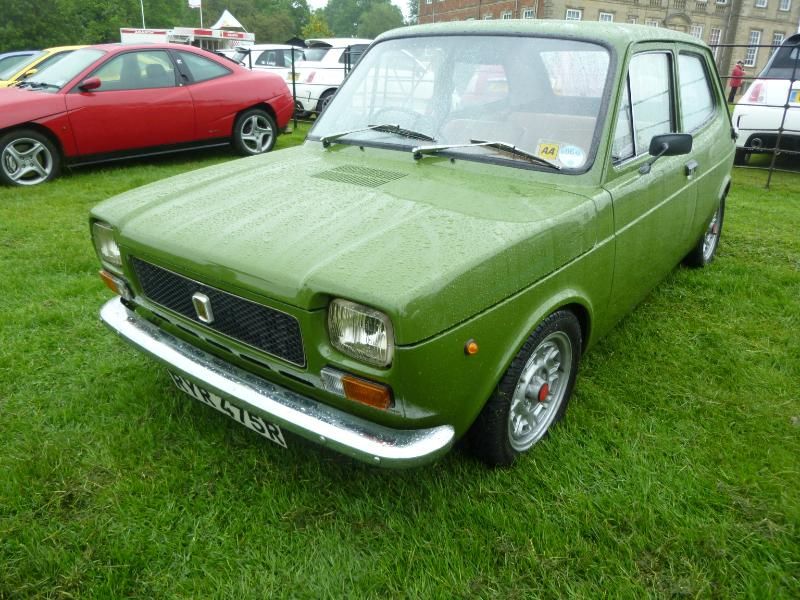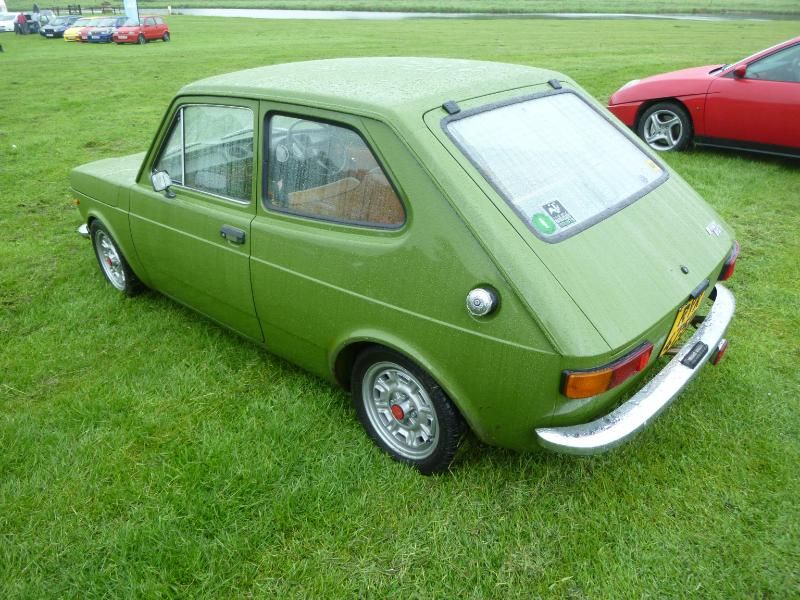 This 131 Supermirafiori dated from the closing months of production of Fiat's mid-sized saloon.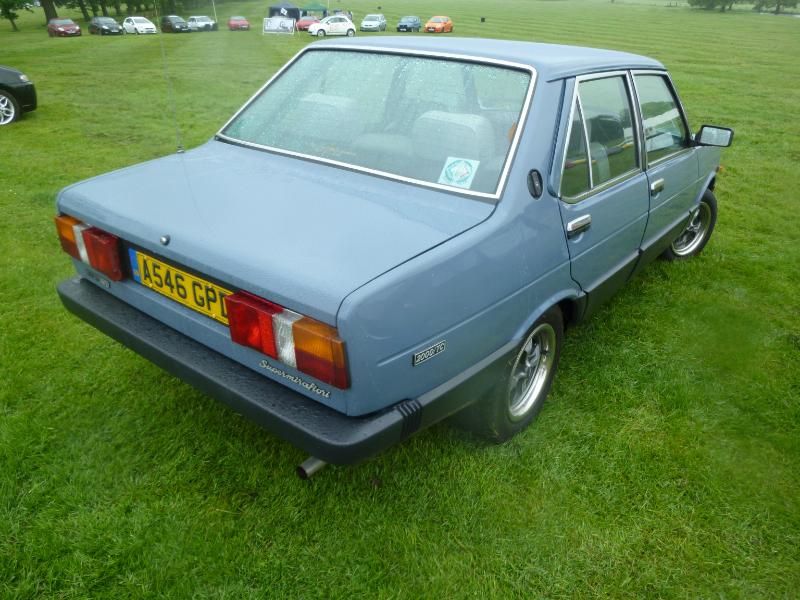 From the Strada range were this pair, one of only two such 105TC models left on UK roads and the almost as rare 130TC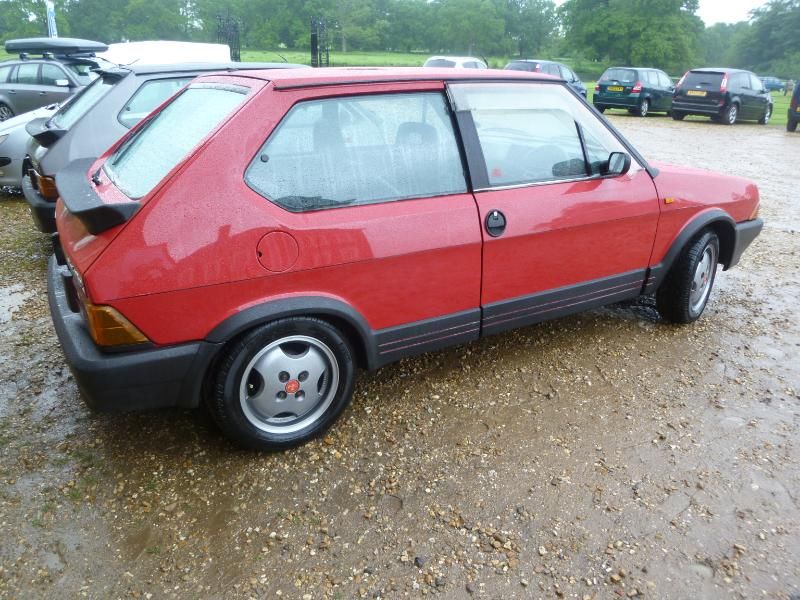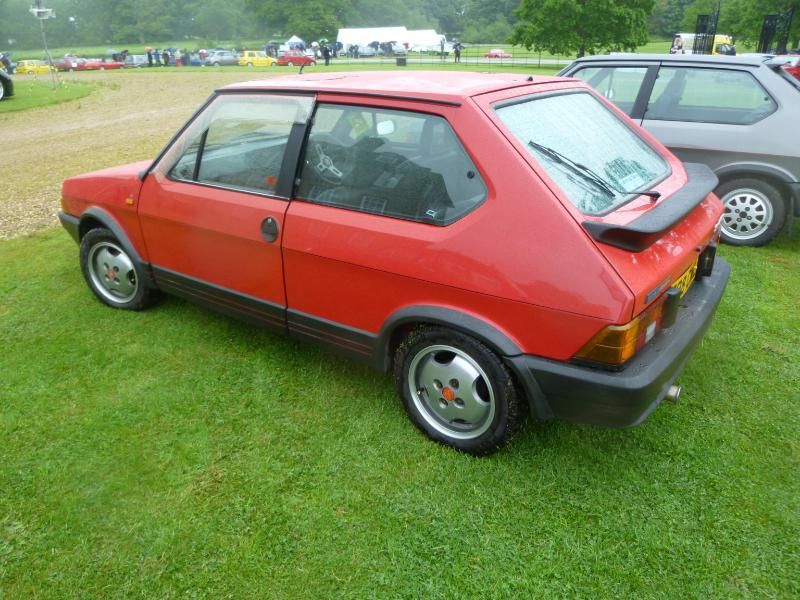 This Uno Turbo is another rare survivor. Not quite original, as the suspension had been lowered, it was still nice to see it.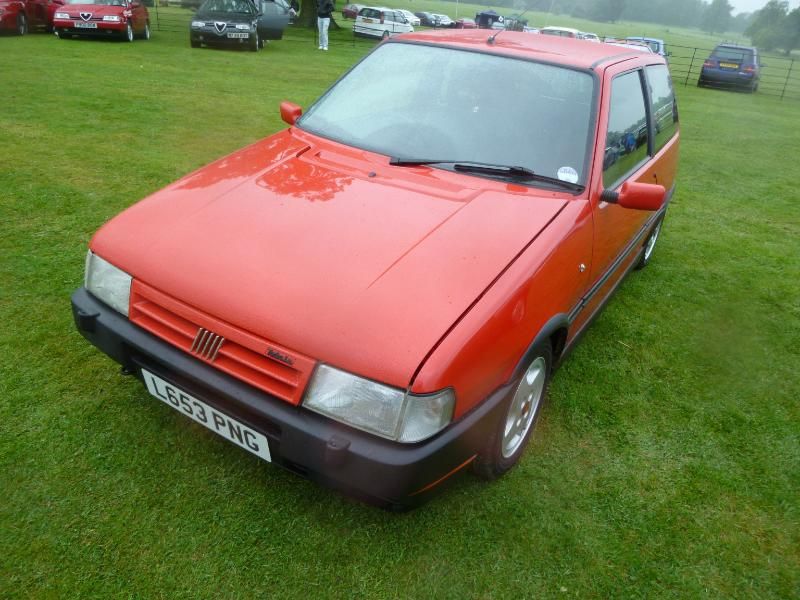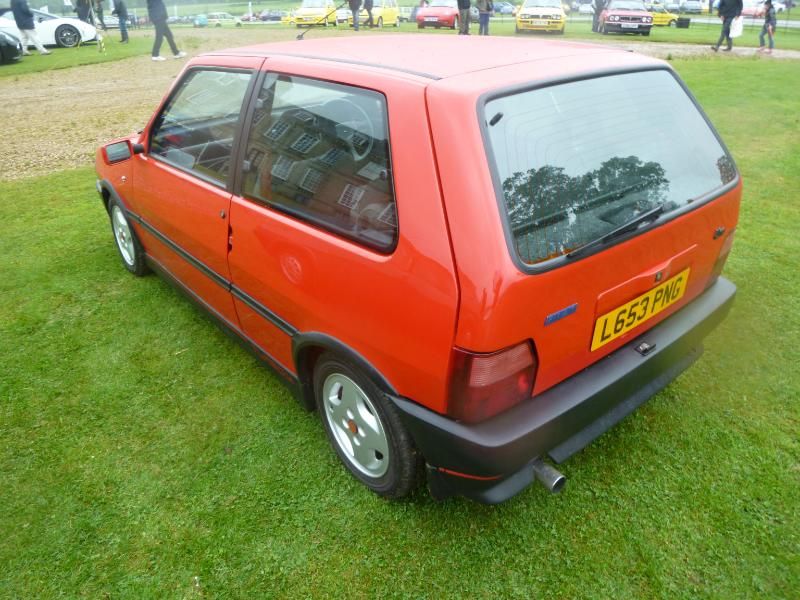 An early first generation Panda.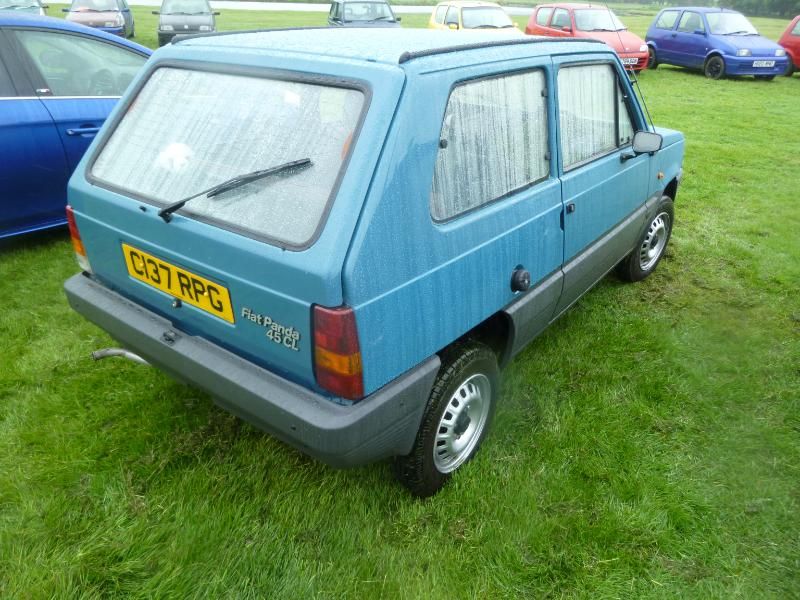 The Cinquecento and Seicento models have proved popular as a cheap and charismatic classic and there were several of these on show, some more original than others.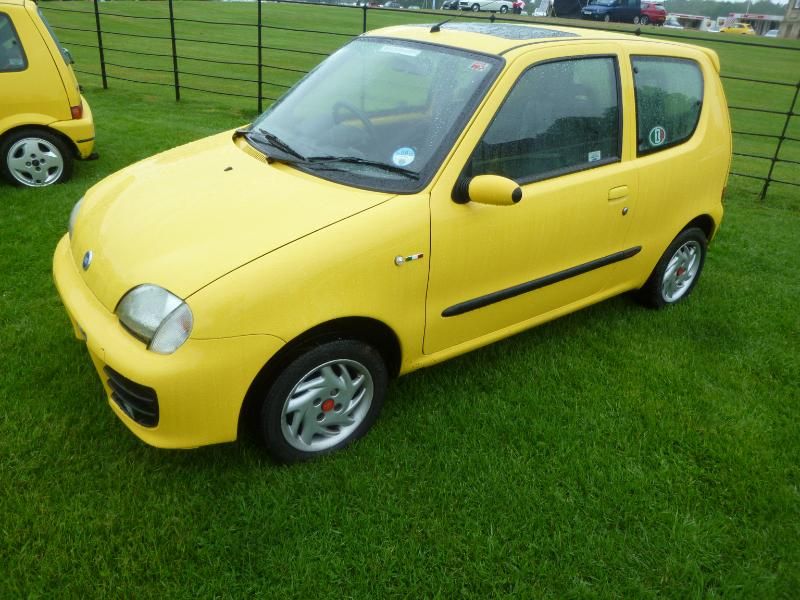 The Stilo never sold anywhere near the high expectations that Fiat had for it, but the three door models do appear to have something of a following, and there were a couple of these on show.
There were plenty of recent Fiats, too.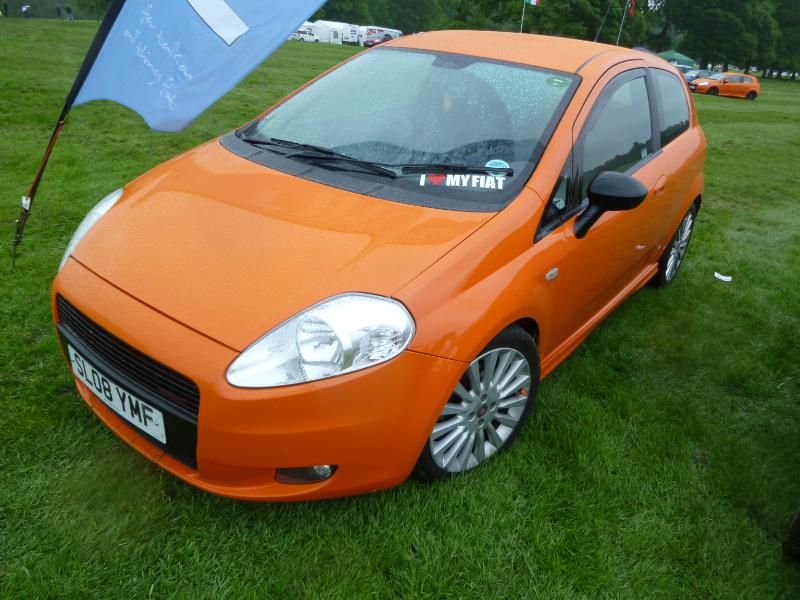 A quartet of Coupe models, all in different colours.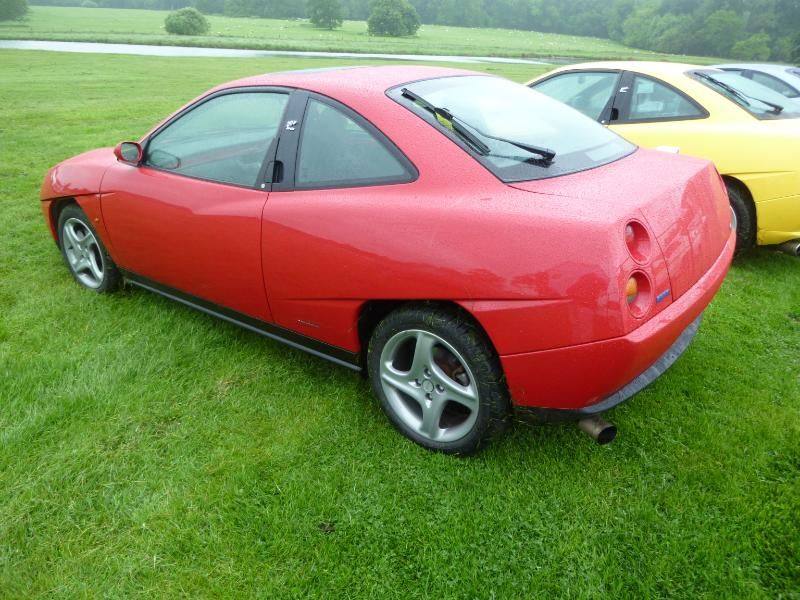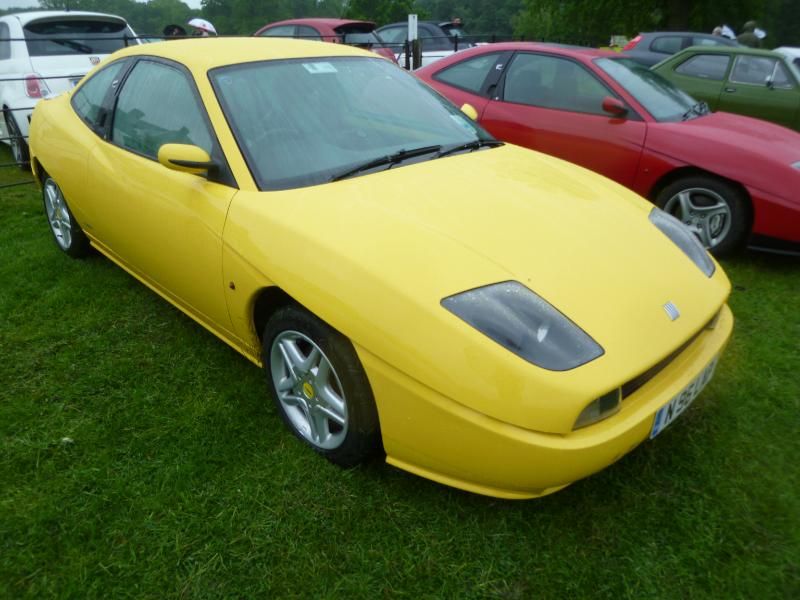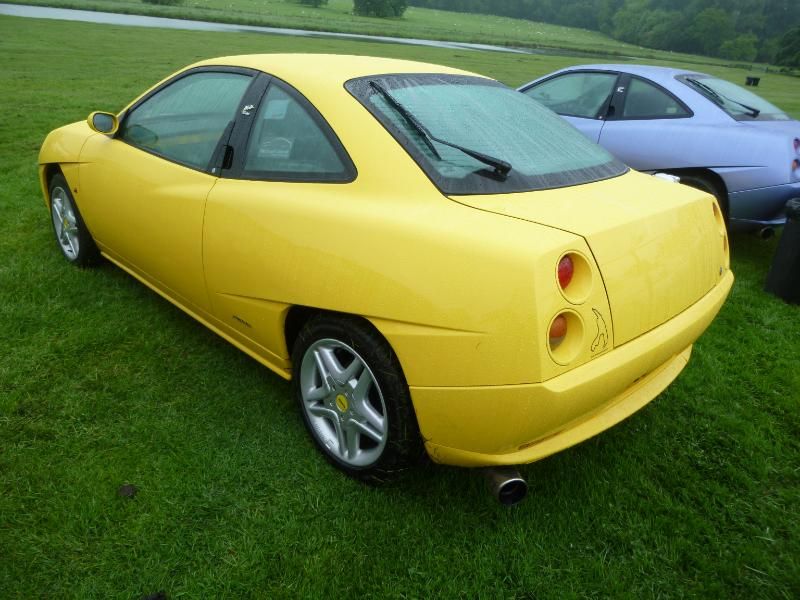 INNOCENTI
A white IM3 Coupe was parked up right in the centre of the event. These elegant cars were based on the Austin-Healey Sprite, and were offered in both convertible and coupe forms.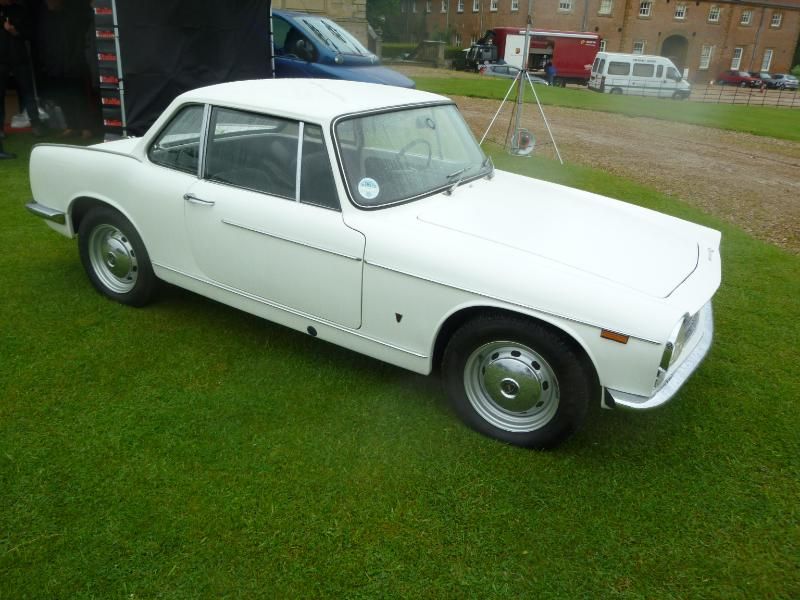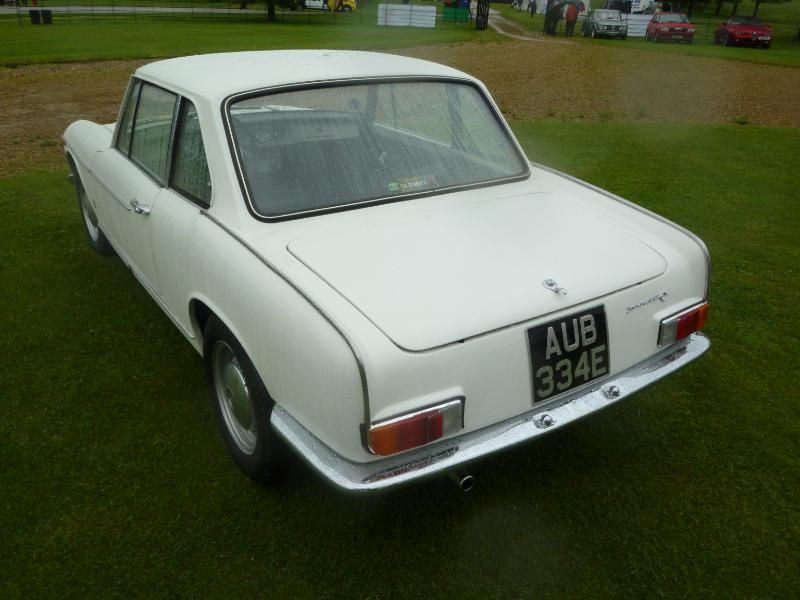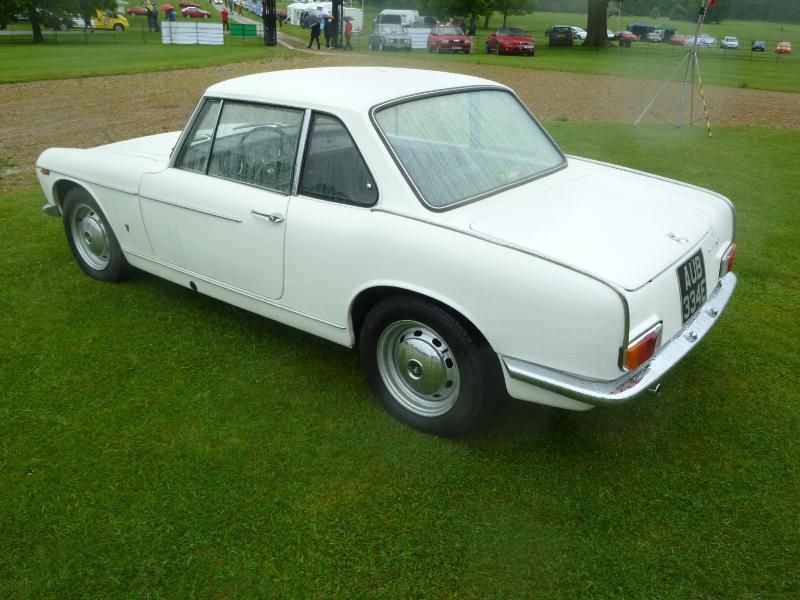 LAMBORGHINI
Just the one car, a Gallardo Spider in Performante guise.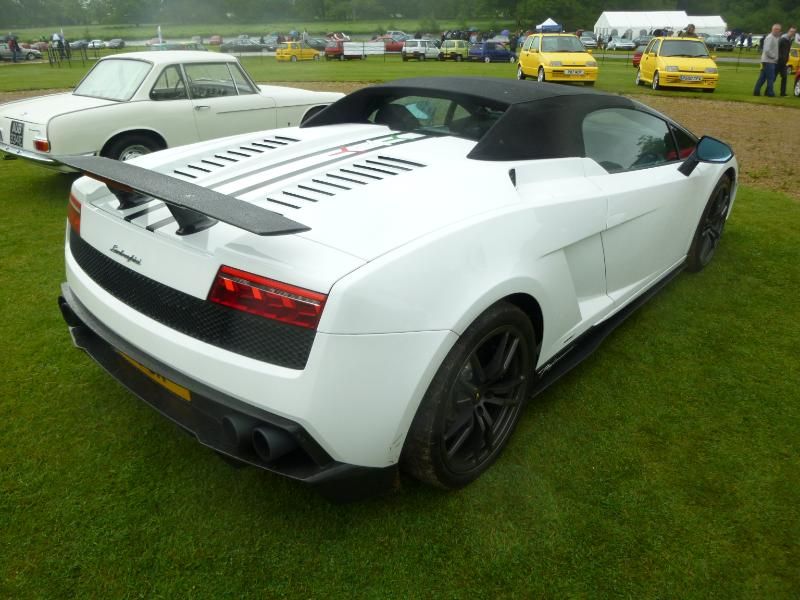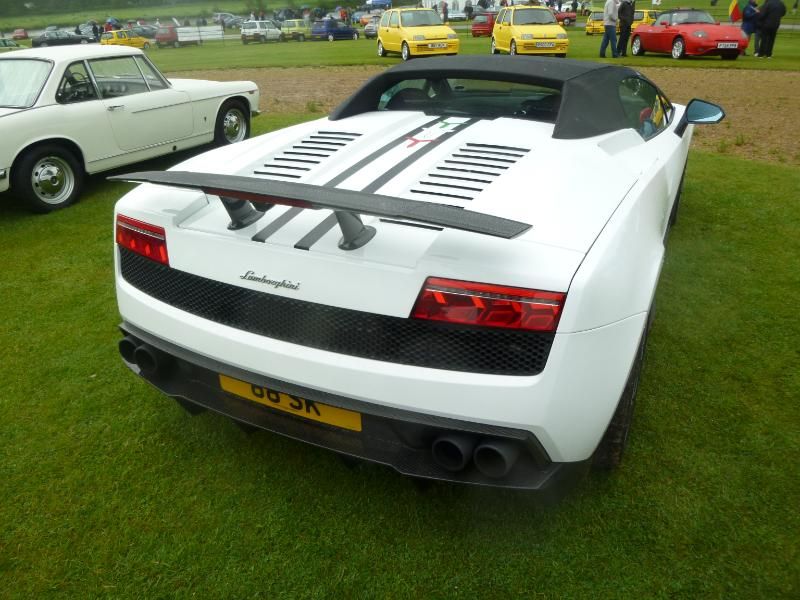 LANCIA
Initially it looked like there were going to be just 2 Lancias, both Delta Integrales. More joined the initial duo during the day.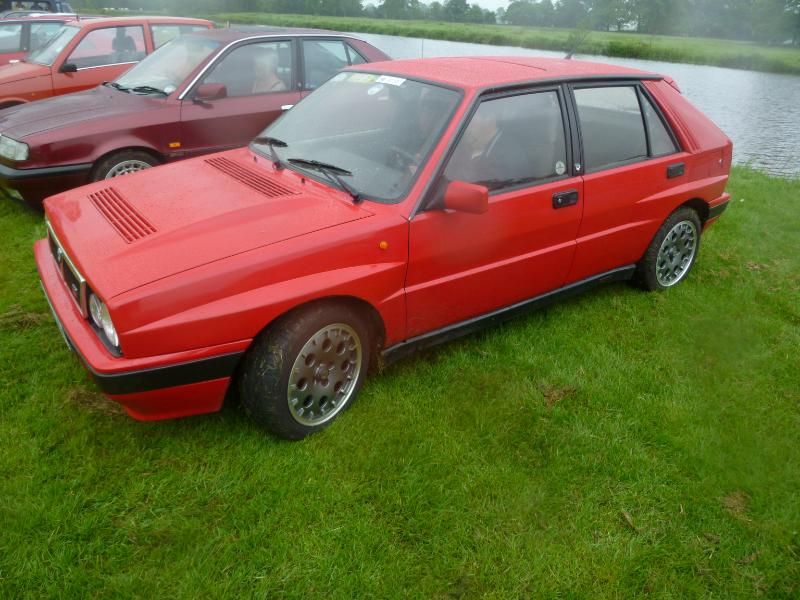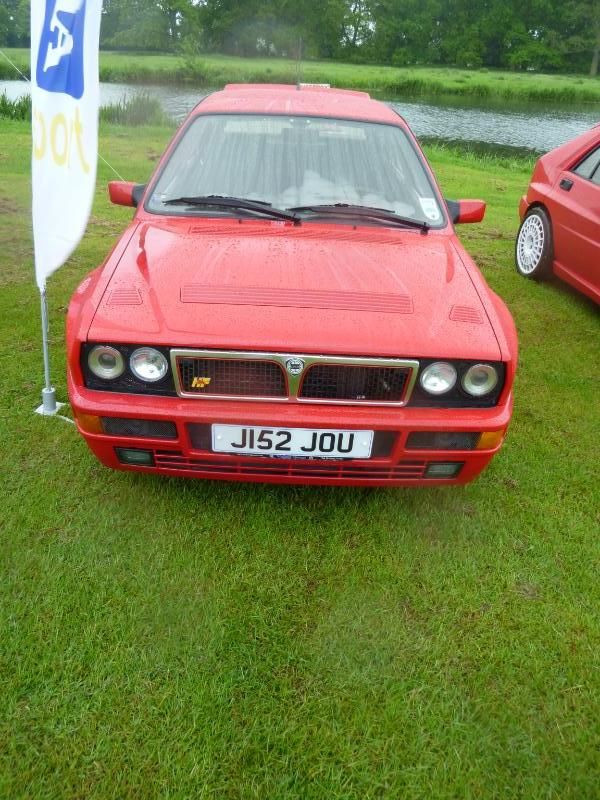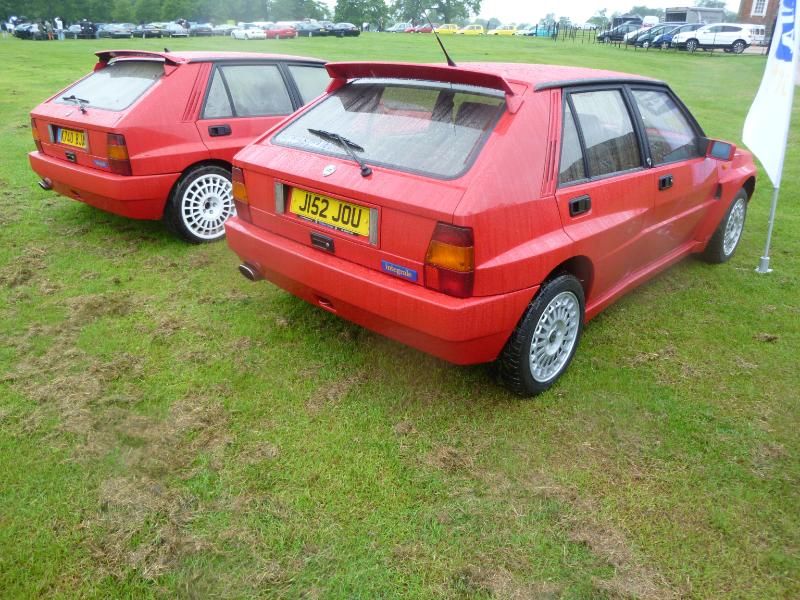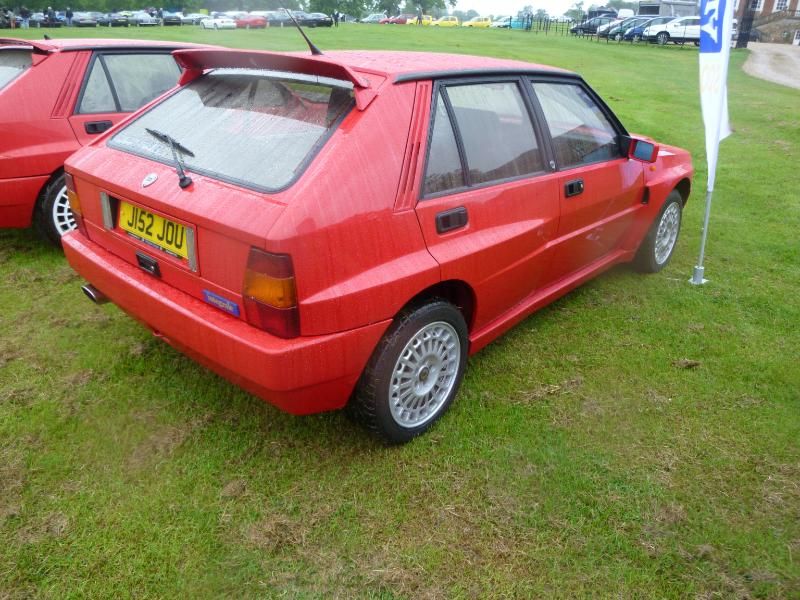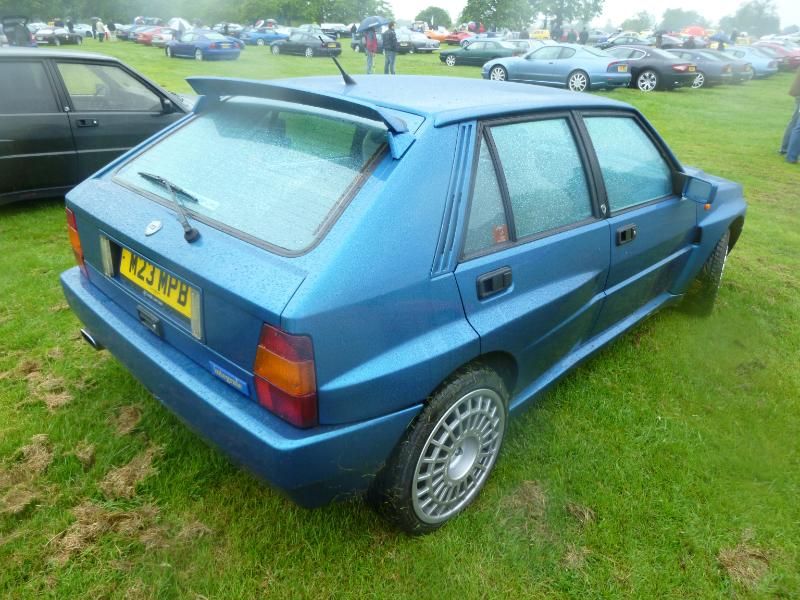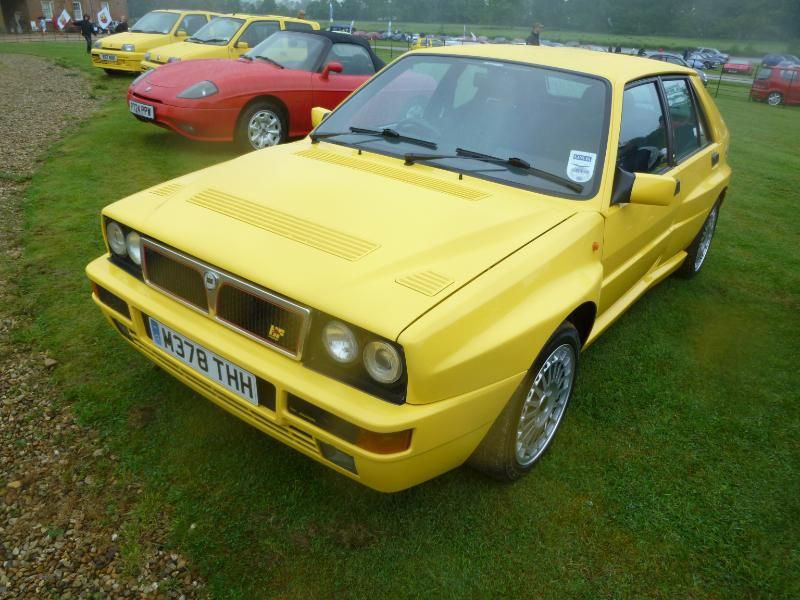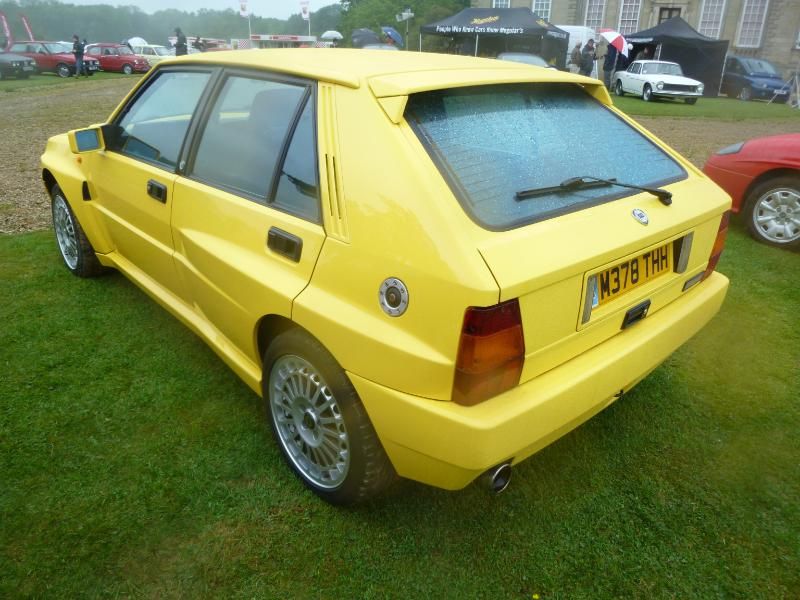 Surprisingly, they were outnumbered by the Dedra. When did you last see 5 of these cars at once?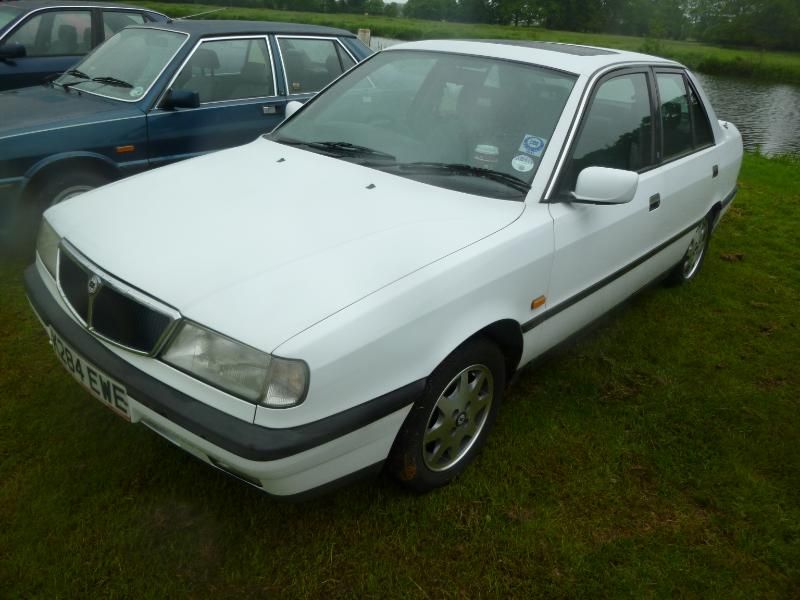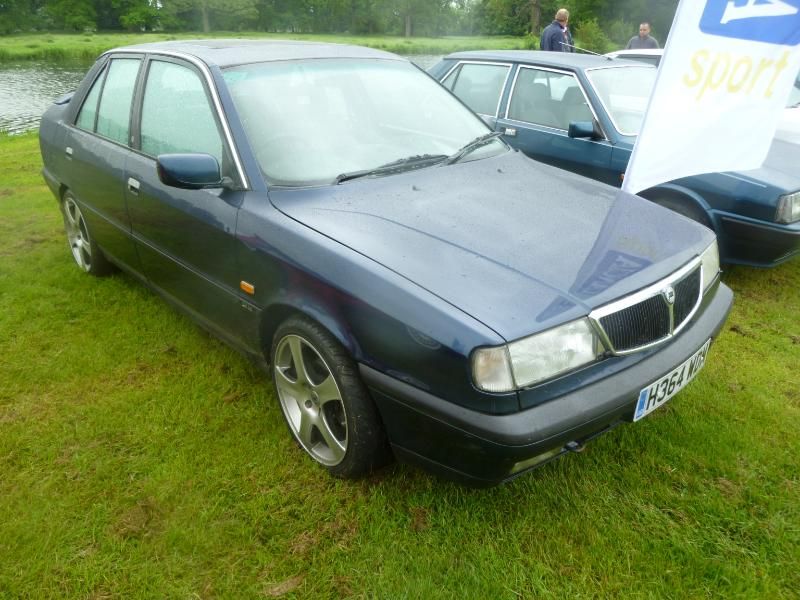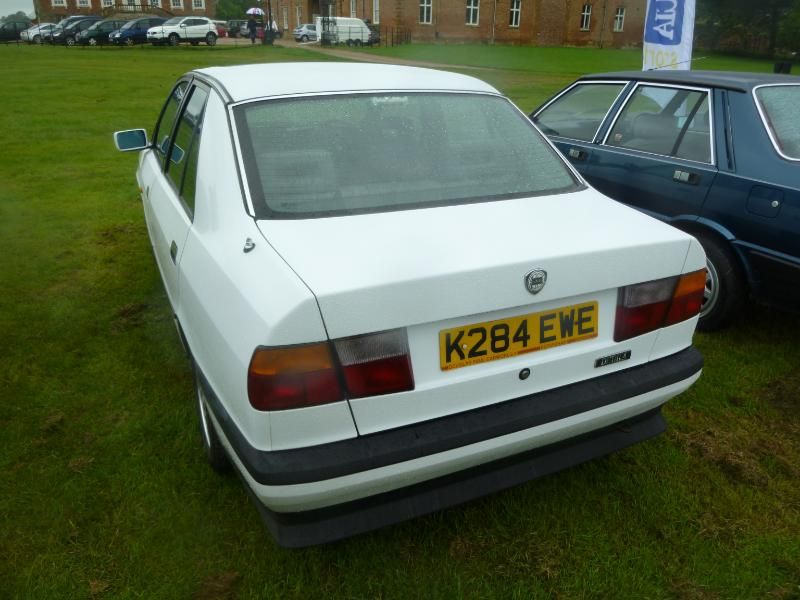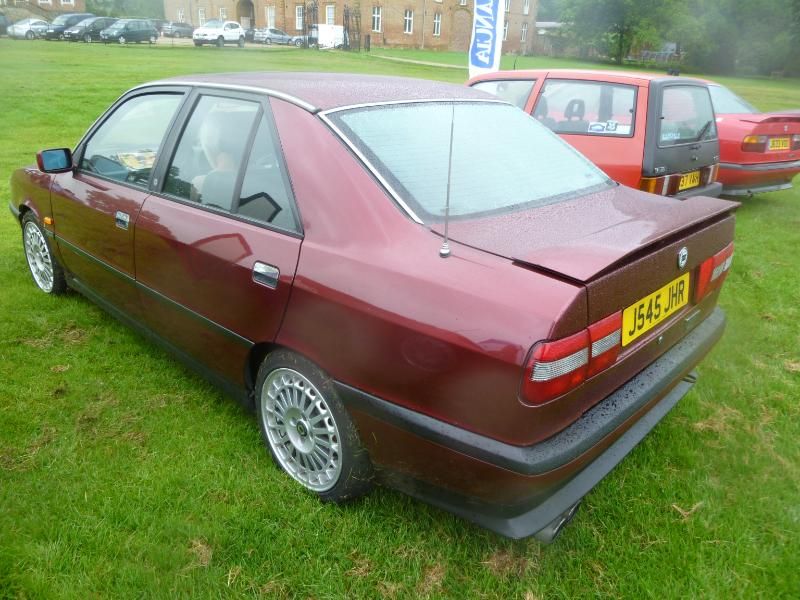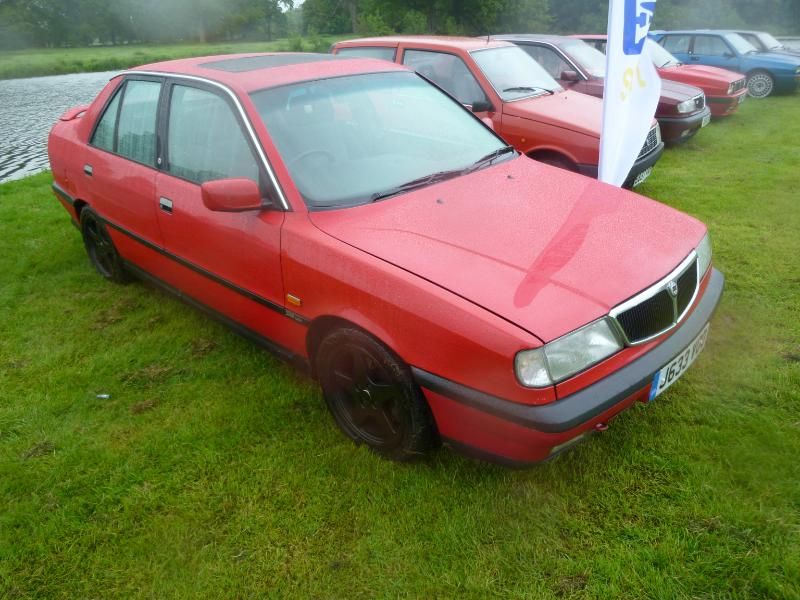 There was also a Prisma, the forerunner to the Dedra, a Y10 and a Thema Turbo which has covered 210,000 miles and yet looked still almost factory fresh.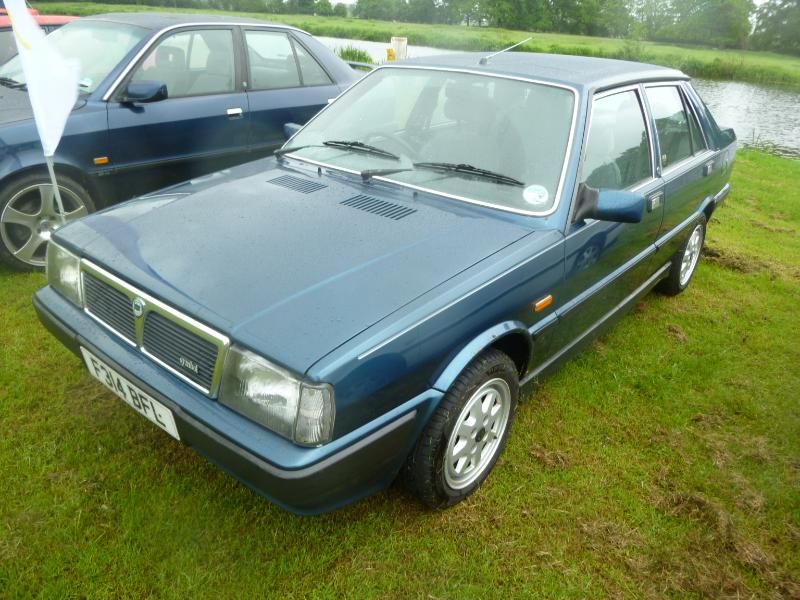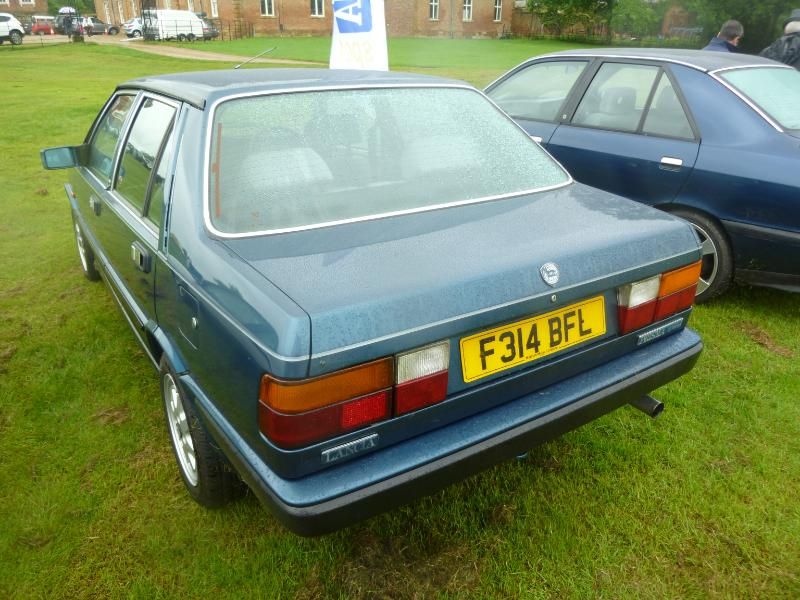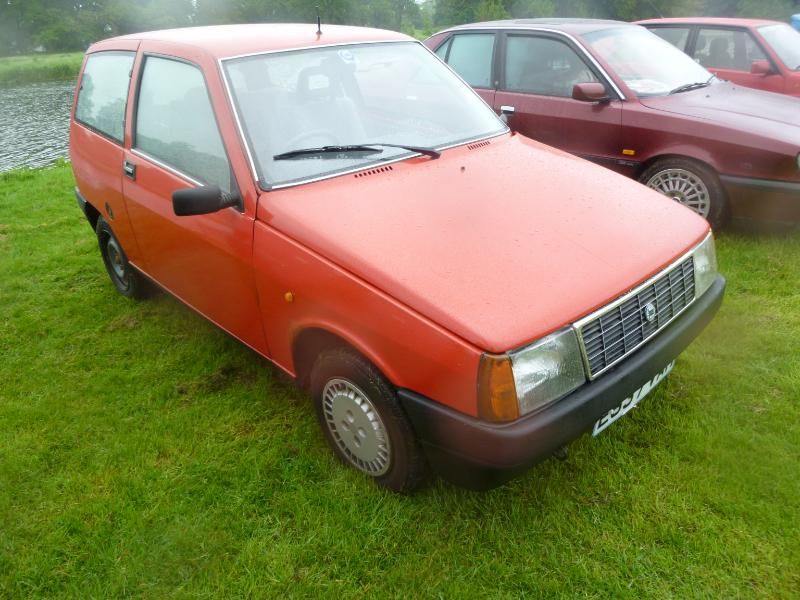 Lone representative from the Beta range was this Volumex Coupe model.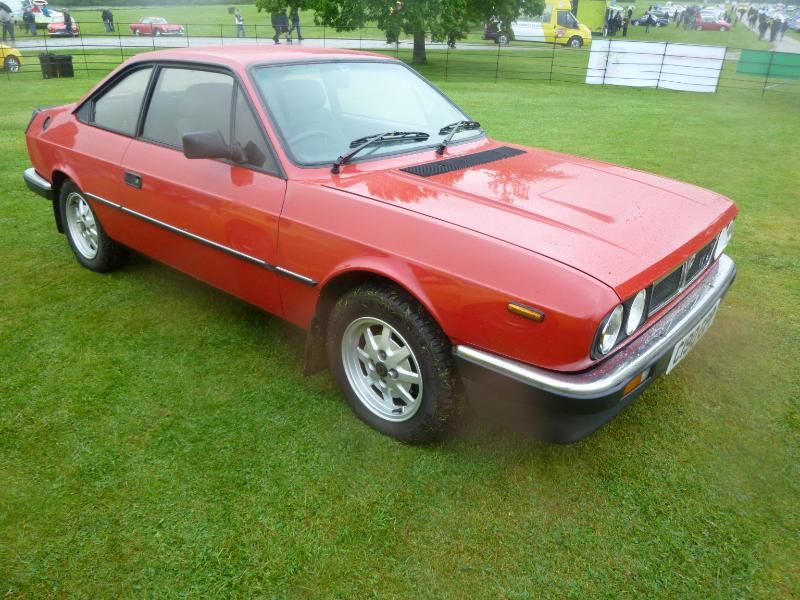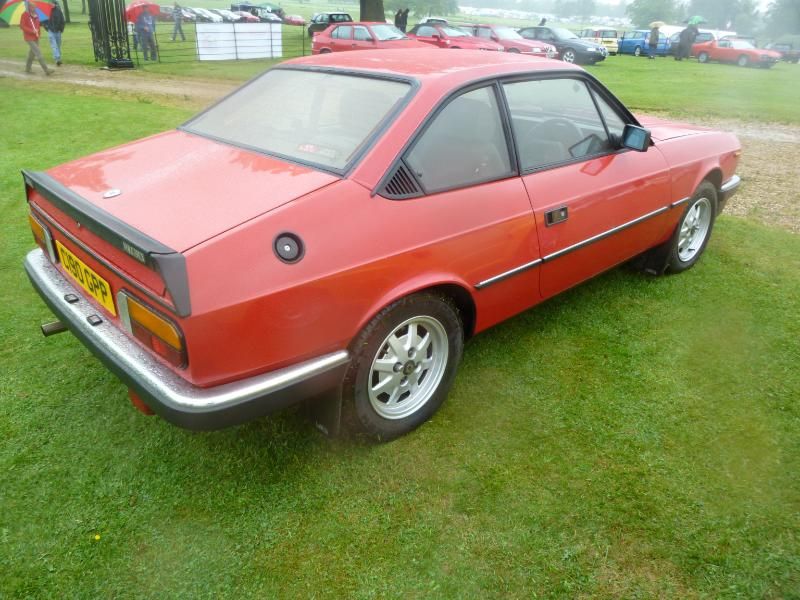 MASERATI
There were more Maserati at the event than any other marque, Indeed, at one point it looked like they would outnumber all other marques put together. Maserati owners are clearly made of far hardier stuff than Ferrari or Lamborghini people, though it must also be revealed that they do have their Annual Meeting the day before this event, which is one reason why they always make such an impressive showing.
Oldest car was this fabulous A6G Coupe. This particular car is a former Pebble Beach contestant, and it is not hard to see why.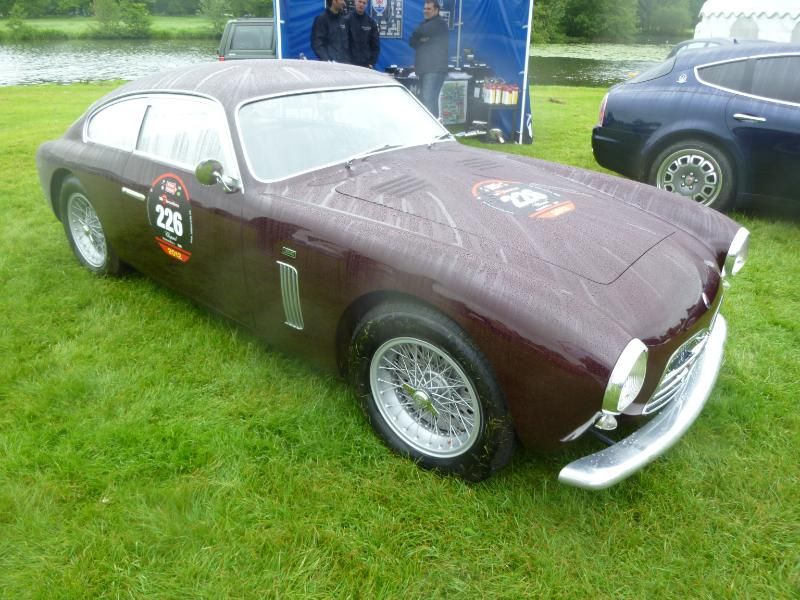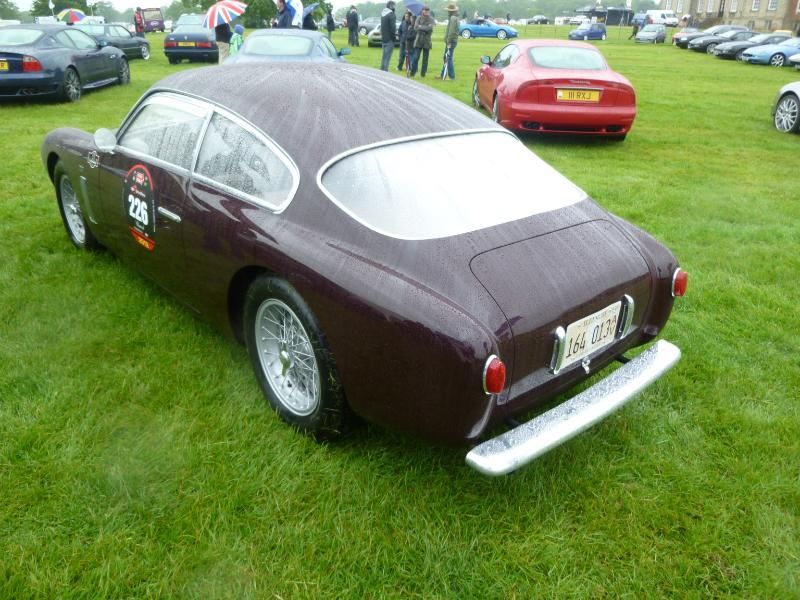 Another rarity was this lovely Touring bodied Quattroporte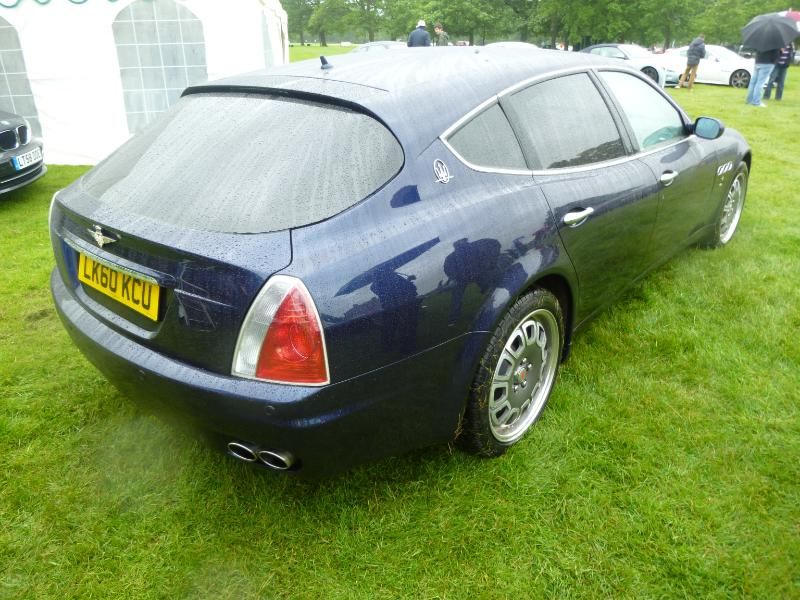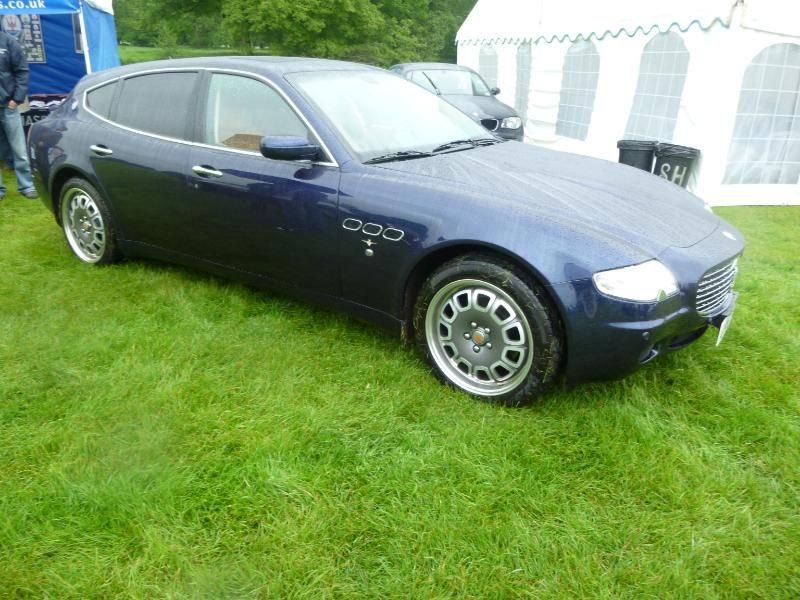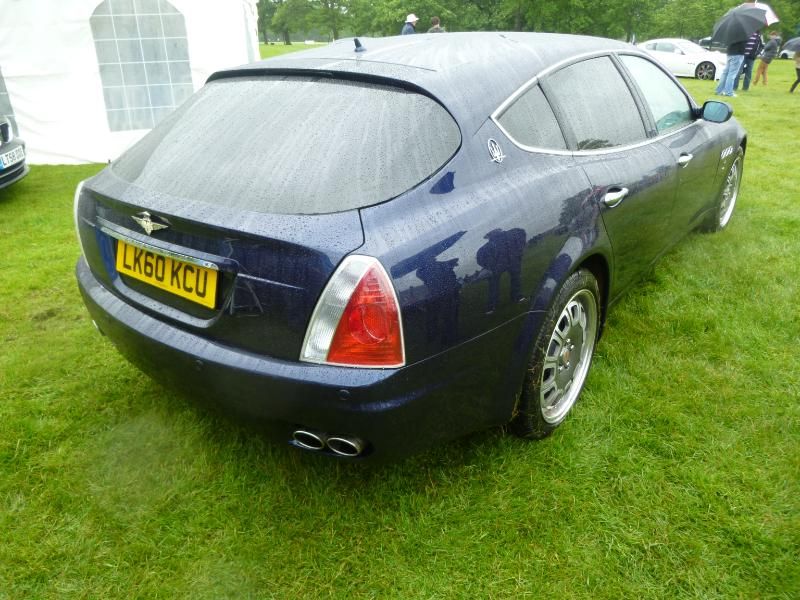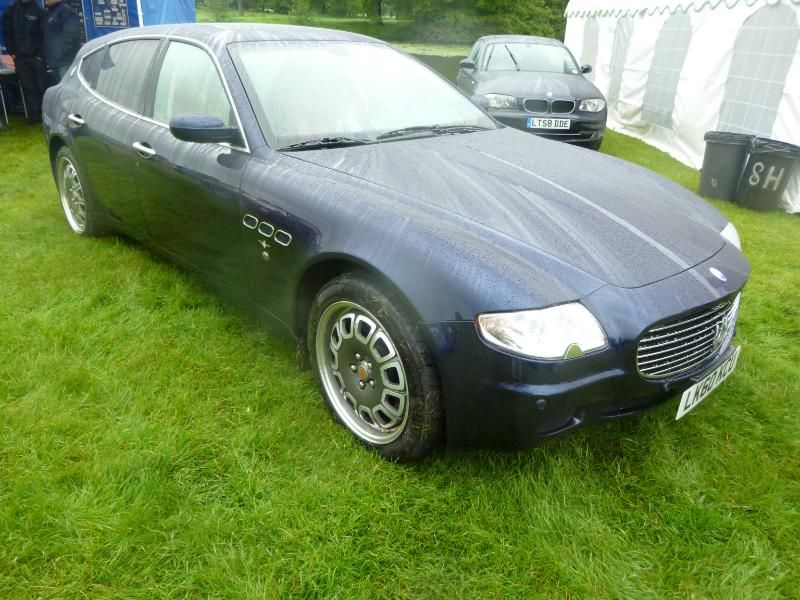 There were three of the 3500GT cars from the early 1960s. Lovely, all three of them!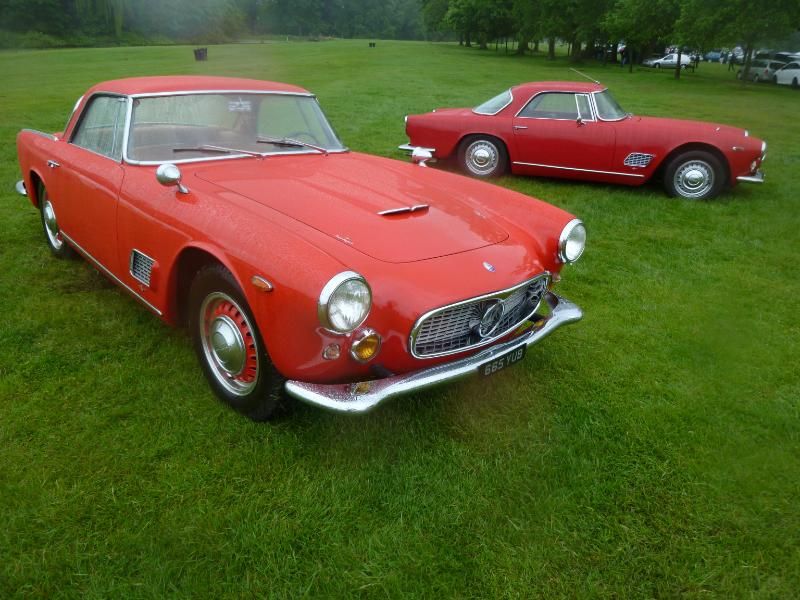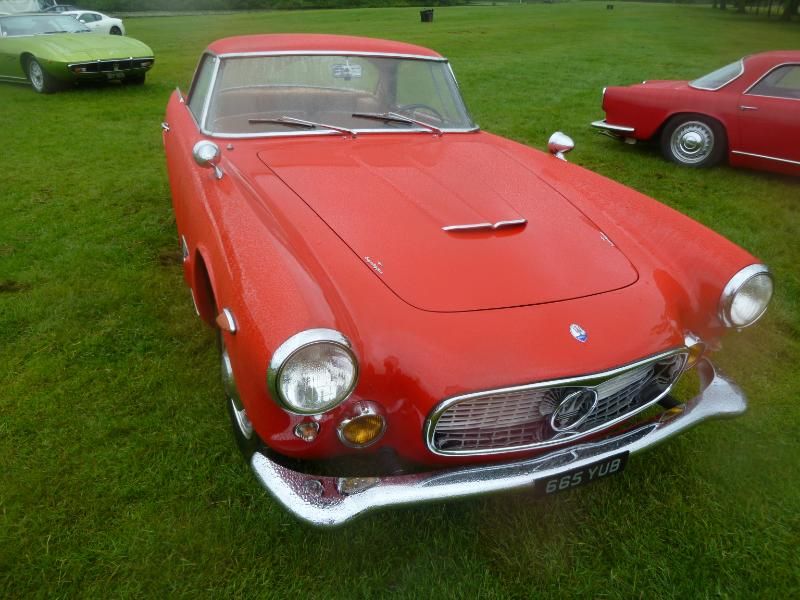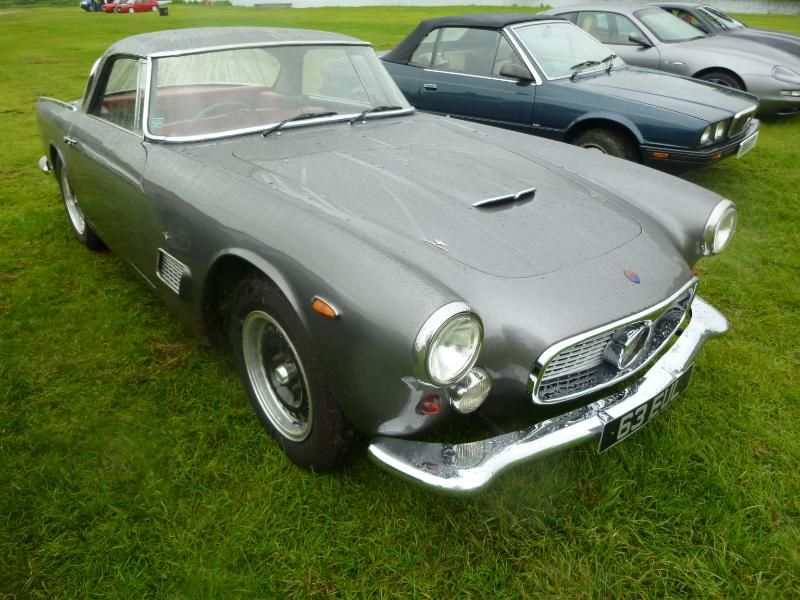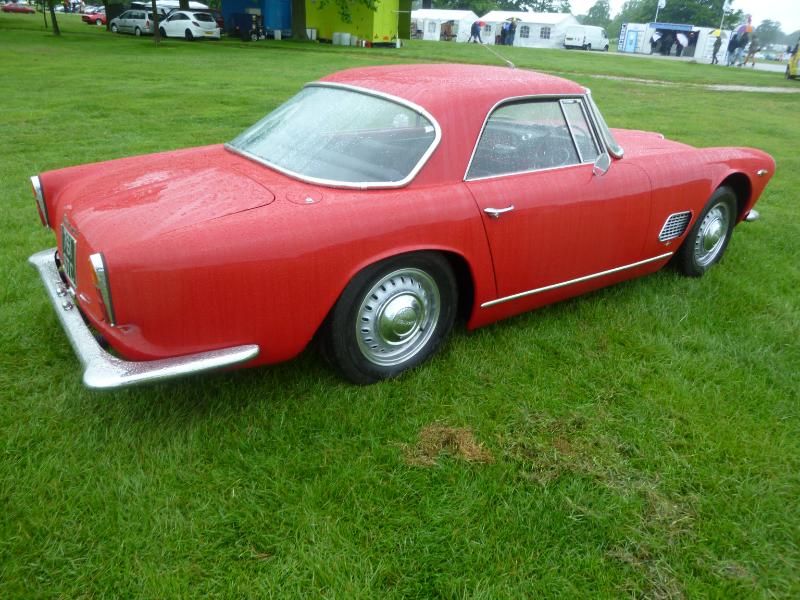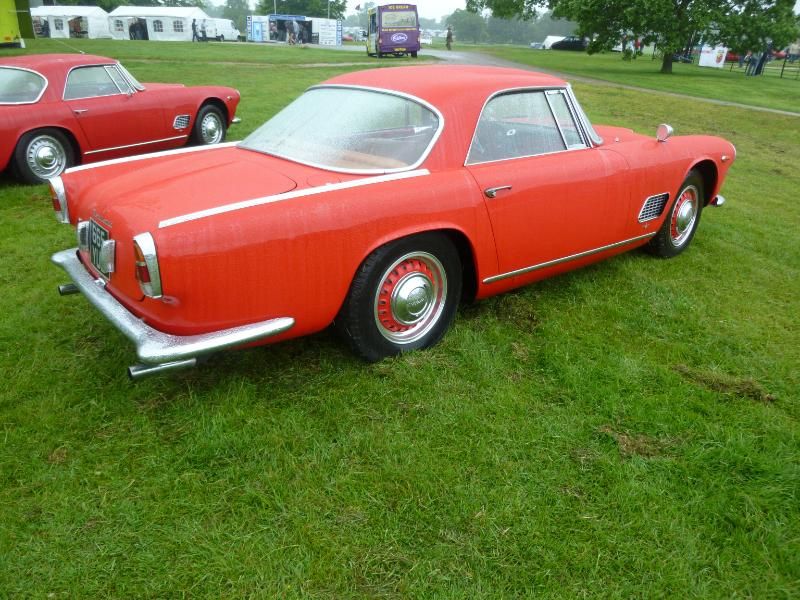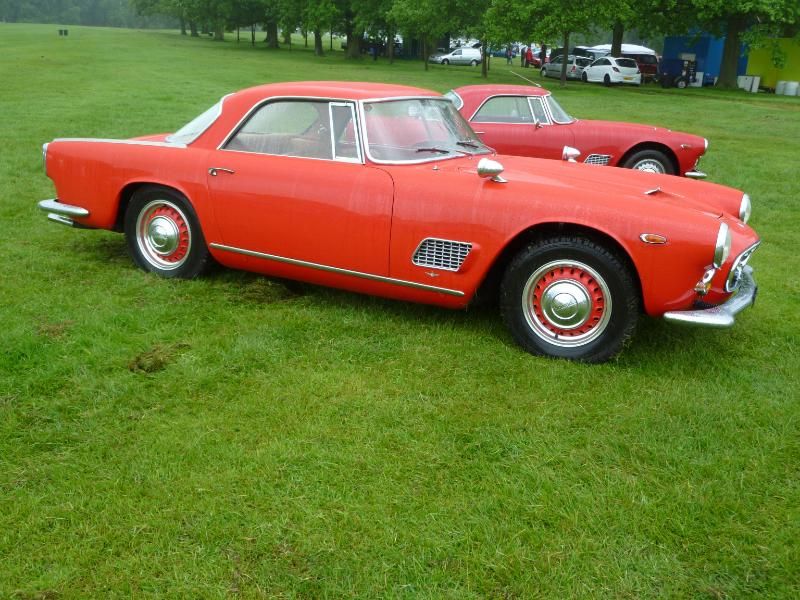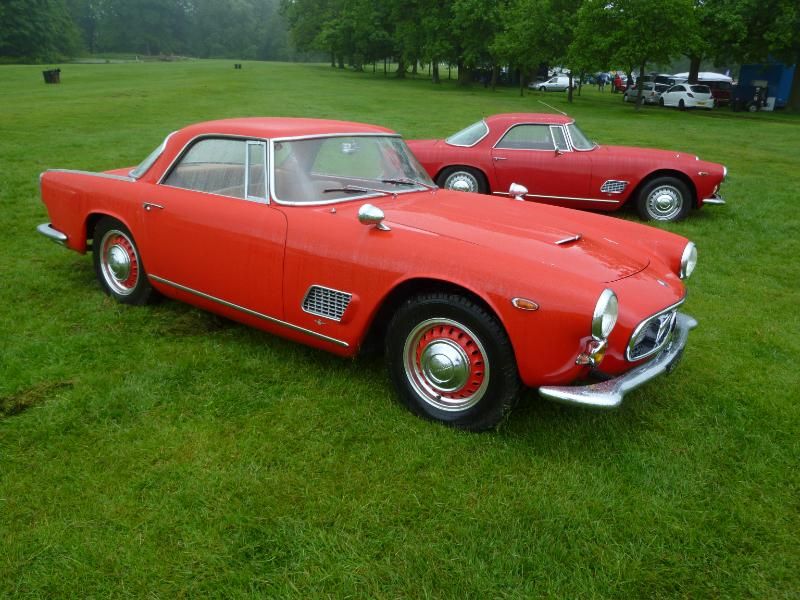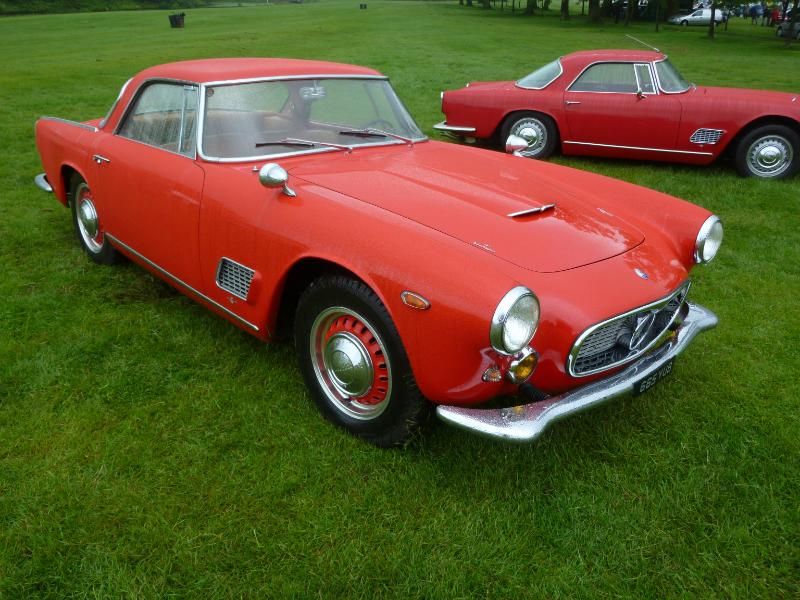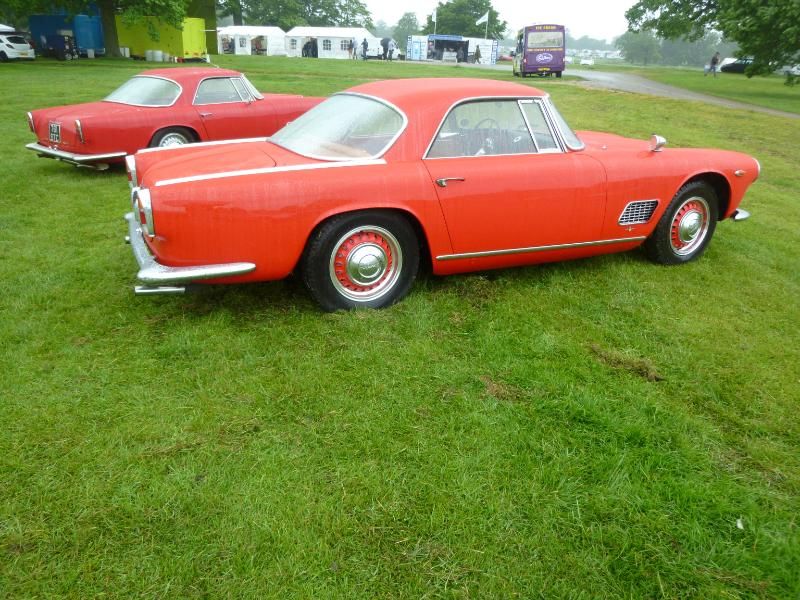 This Mexico was one of the Concours prize winners, and deservedly so, too.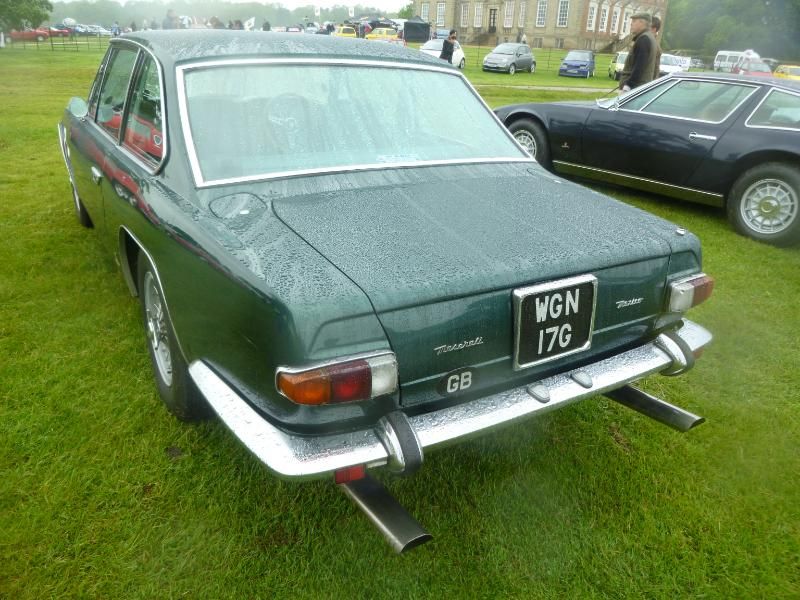 Many of the Maserati were truly droolsome, and none more than this duo of Ghibli SS models.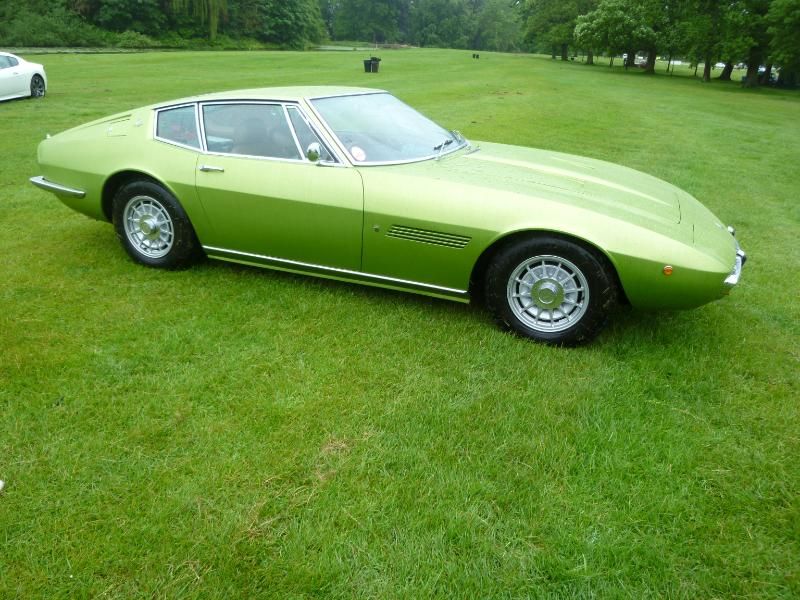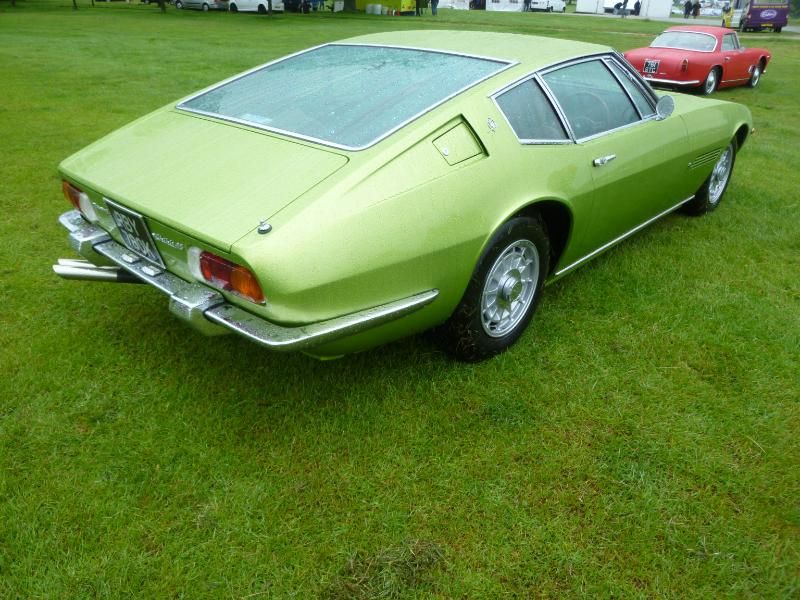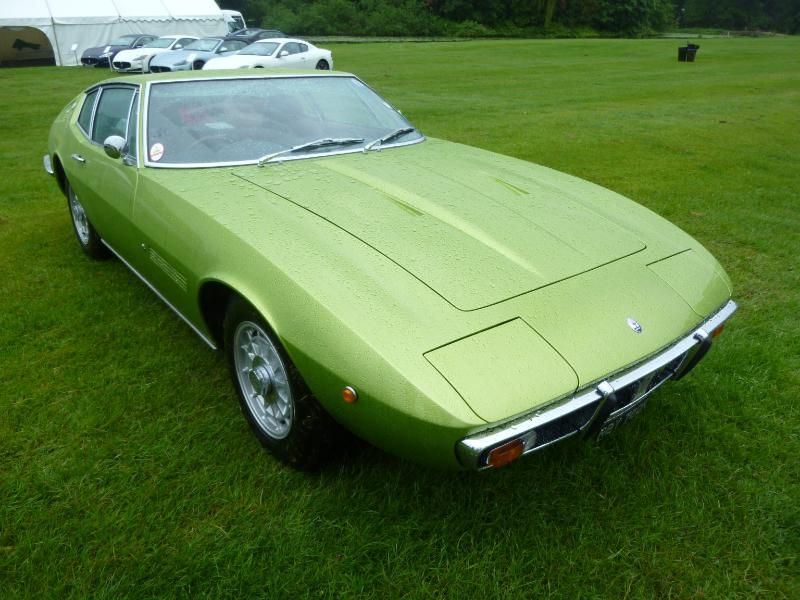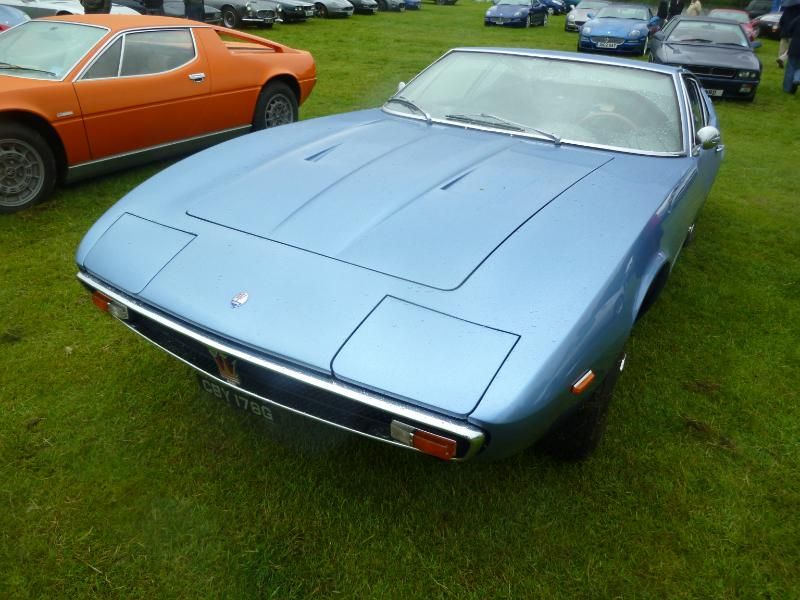 Also nice was this Indy.
The Khamsin celebrates its 40th anniversary this year.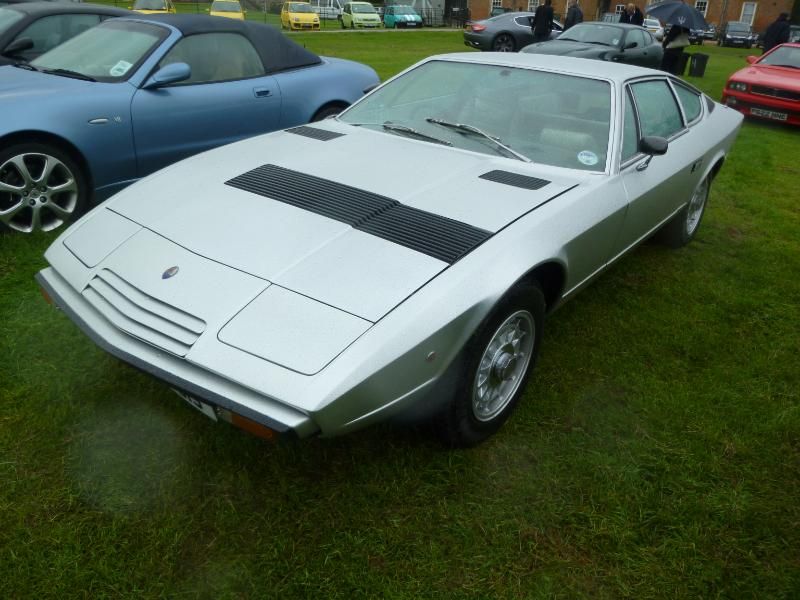 Two Meraks were joined by a special one-off model.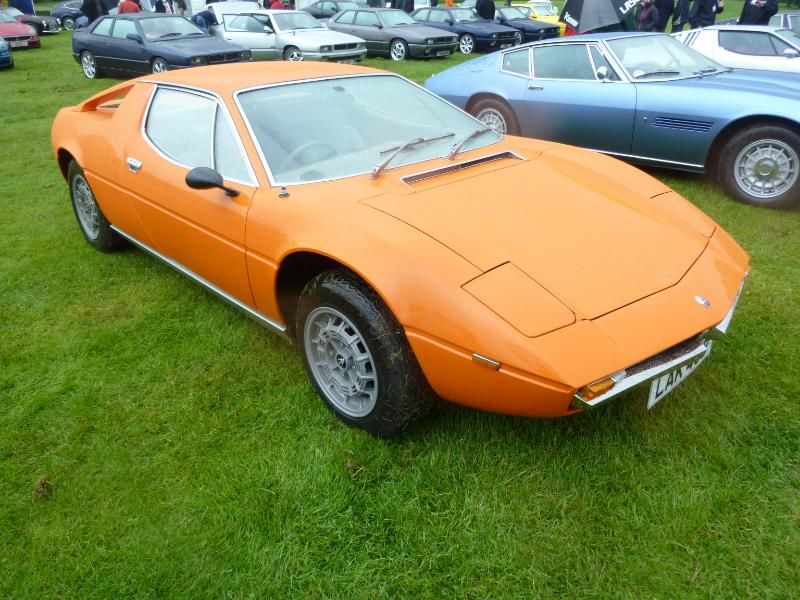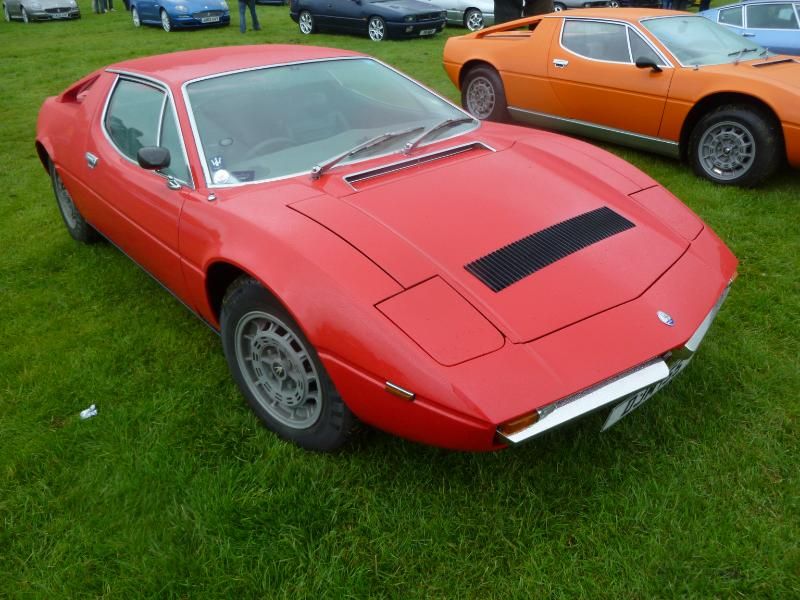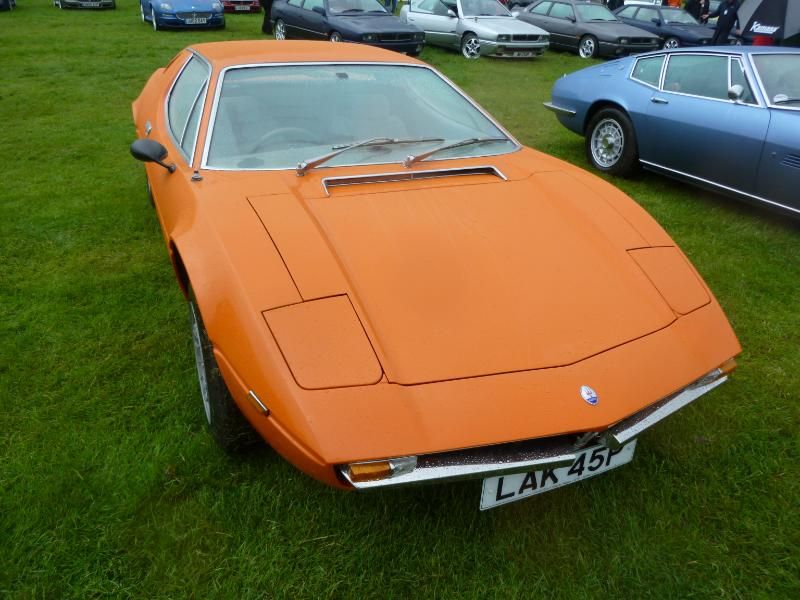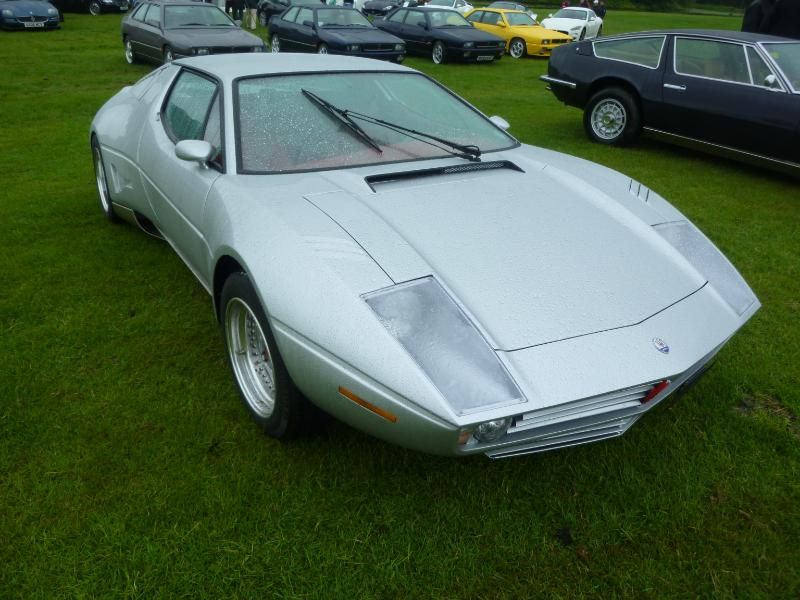 The Biturbo generation was represented by a number of cars, mostly from the later part of the long production life of this car, with several Ghibli models on display.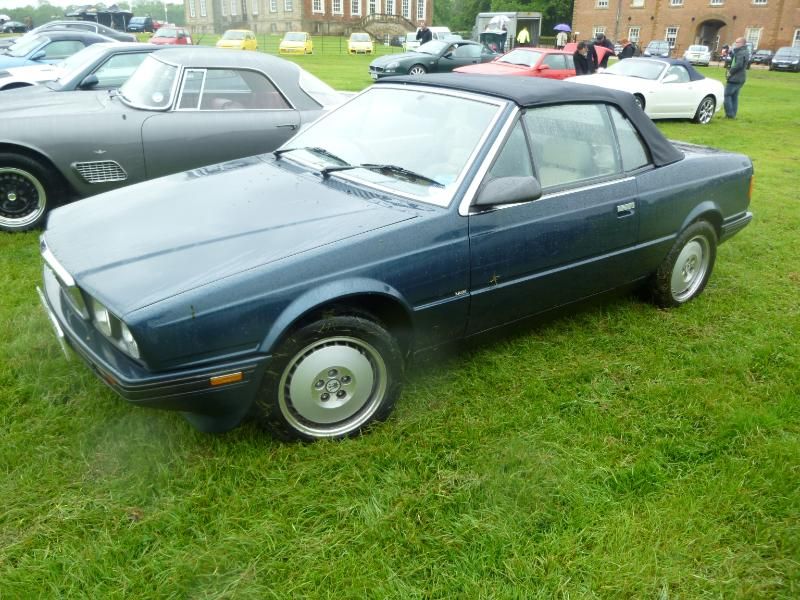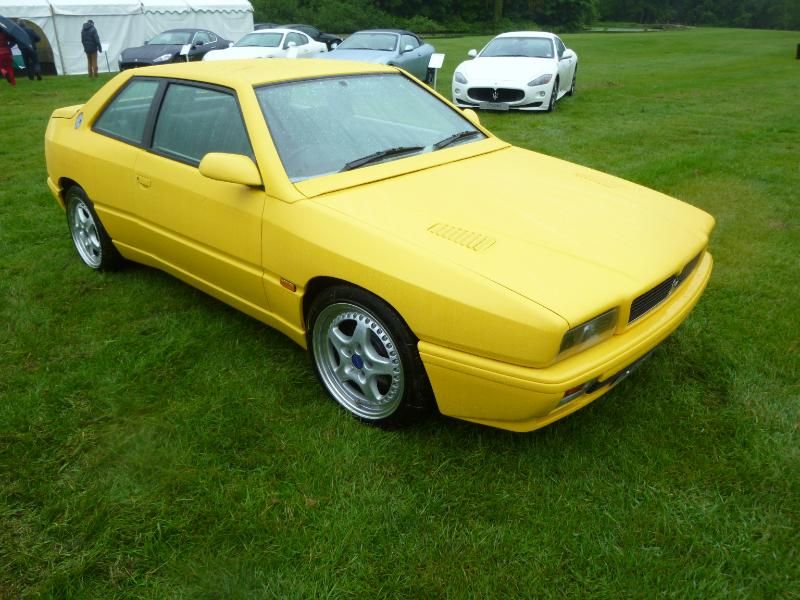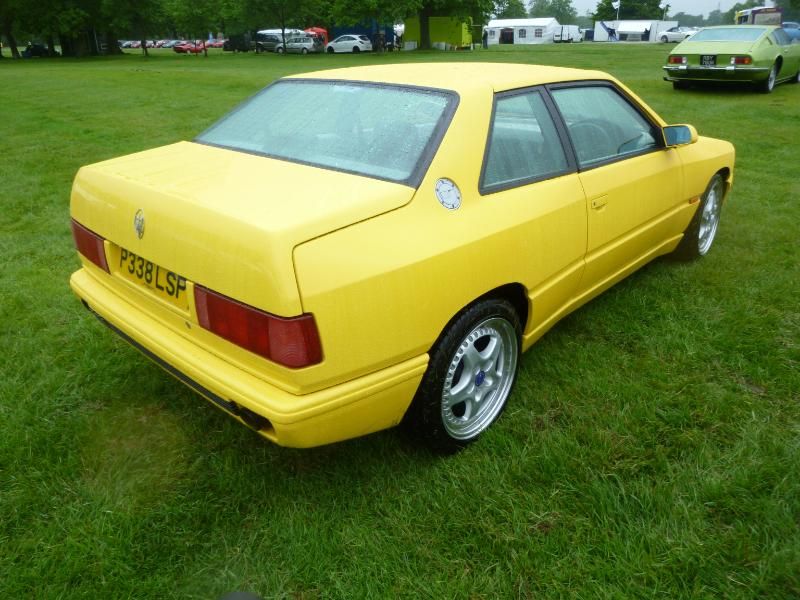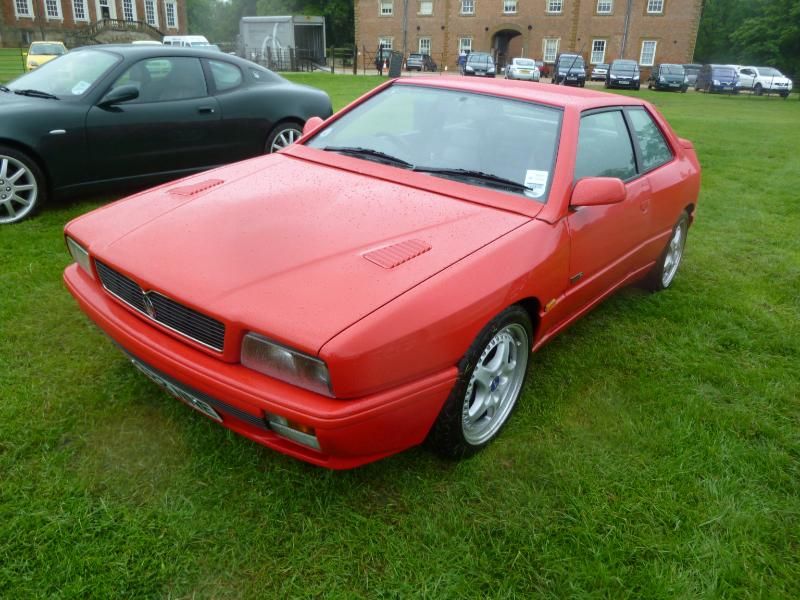 There were also plenty of the 3200 and 4200 GT and Spider cars, too.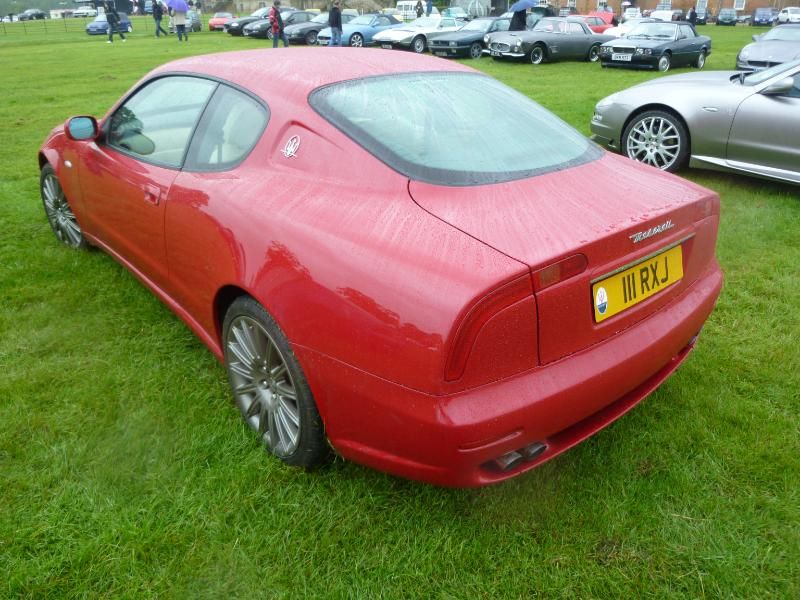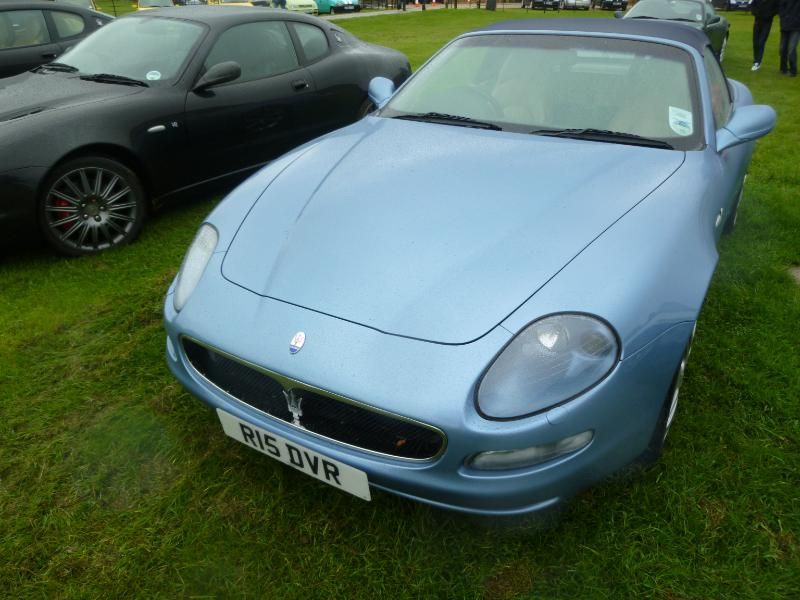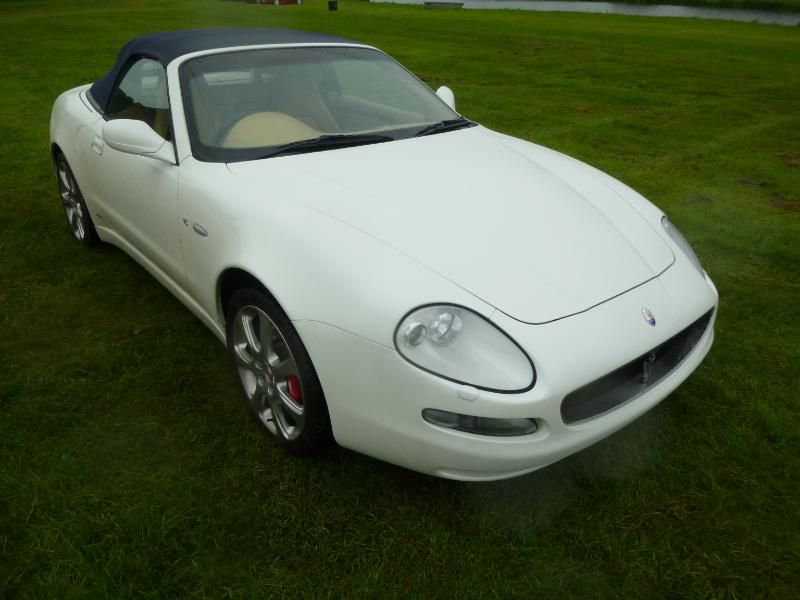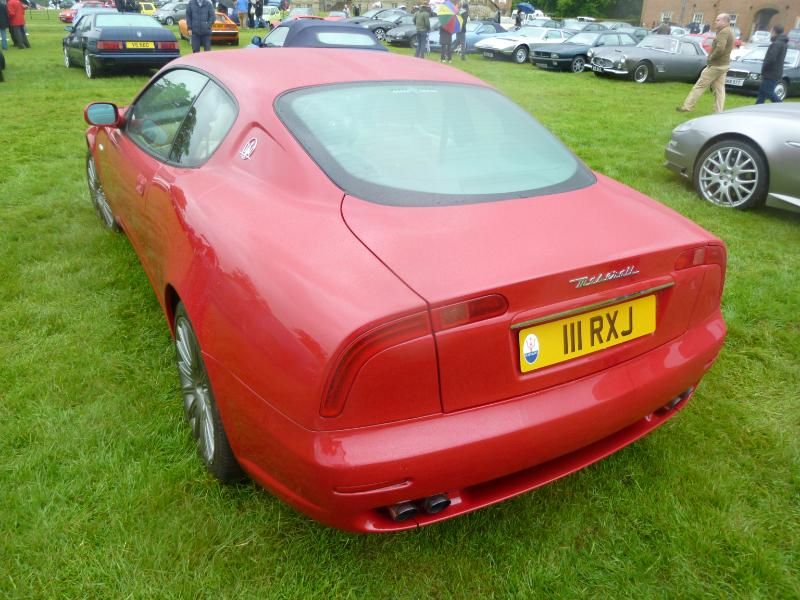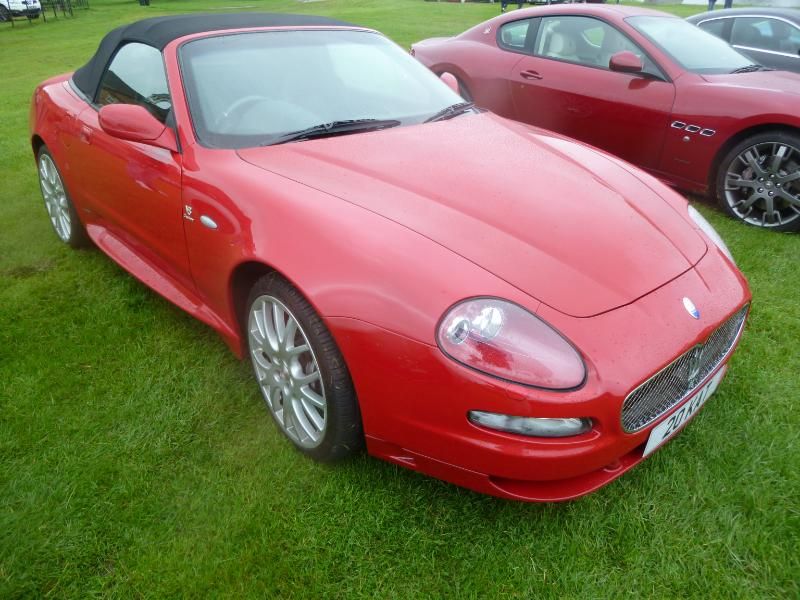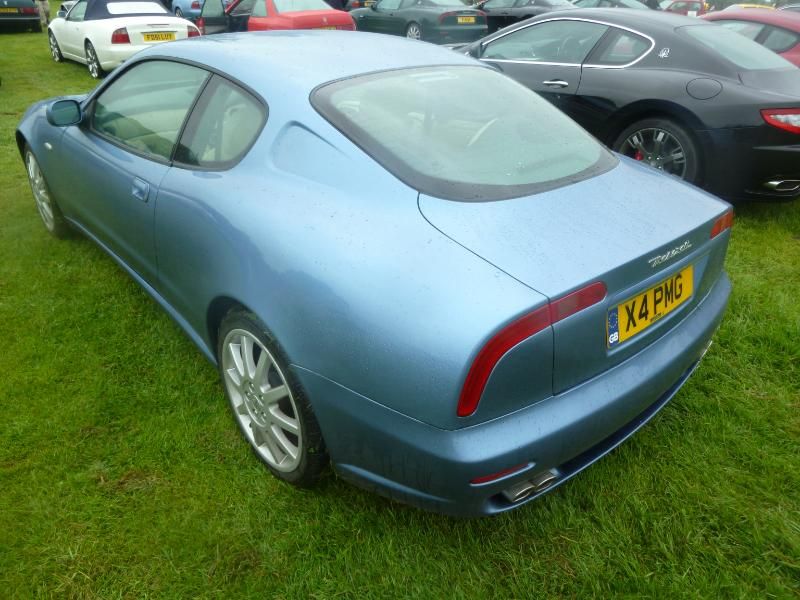 There were plenty of the current model GranTurismo and GranCabrio cars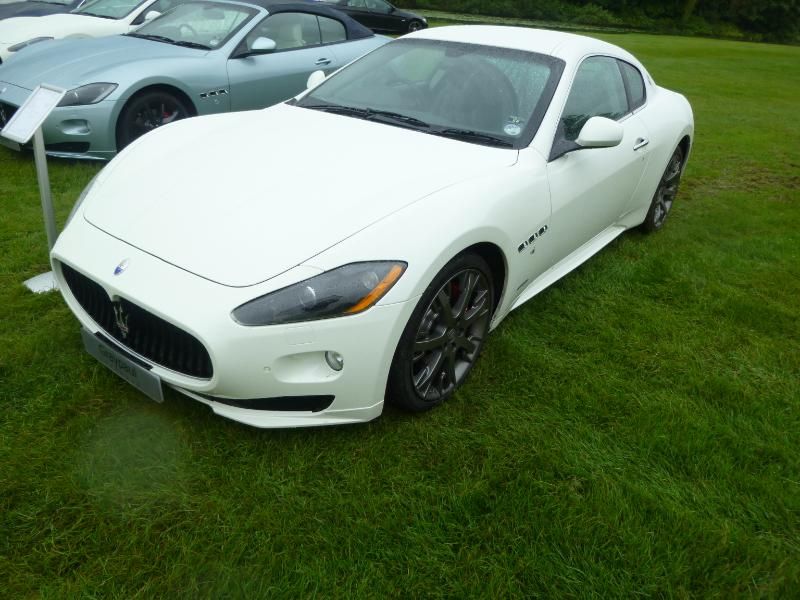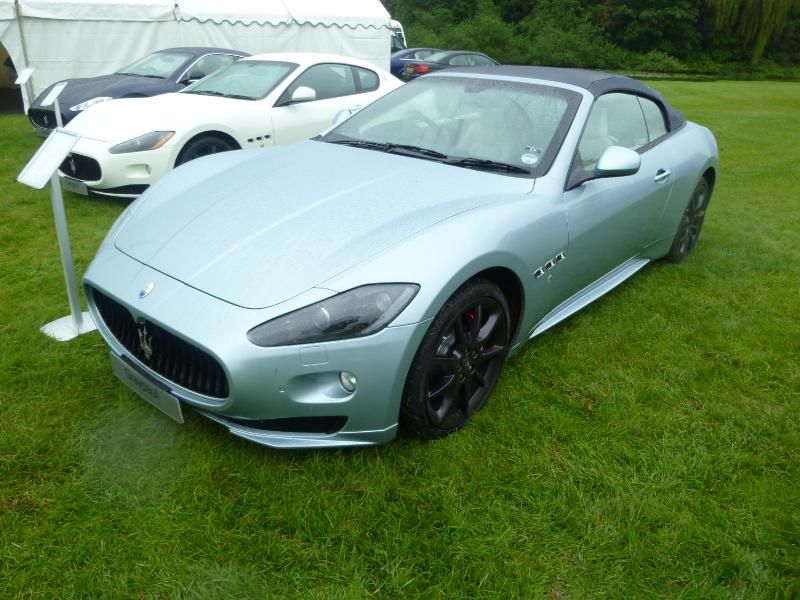 The weather really did challenge this event. For those who decided to brave the elements, it was worth enduring the cold and damp, but a lot of people clearly did stay away. I have it on good authority (from Michael Ward no less) that as this event has been challenged by poor weather almost every year, it will be moved to a new date in early July in 2013. Consideration is also being given to expanding the format to cover non-Italian classic cars as well. Get all that, the greater quantity of Italian machinery that has been evident in previous years and some sunshine, and this event really would be a winner. Look out for more details of that 2013 event in due course.
2012-06-03 18:09:30