In planning my timetable of events for July, my attention was caught by the late July "classic" meeting at Shelsley Walsh for three reasons: firstly, this is a very enjoyable venue in its own right, with many of the same attributes as Prescott, but generally on a smaller scale and a slightly more intimate feel; the fact that the Saturday program was one of many special events celebrating the 50th anniversary of the launch of that much loved British sports car, the MGB; and the fact that "Classic and Sports Car" magazine were sponsoring a concours on the Sunday which promised a diverse collection of interesting cars over and above the sort of variety that can be expected in the car park and the paddock. I decided to book a ticket for both days, which proved to be a good move, as there was much that was different over the two days, with only a few cars competing for honours on the hill on both days, and very different contents of the car park. The weather gods were generally kind, though there was a 20 minute downpour on Sunday morning, which arrived with a few  minutes warning when the sky went very black over the top of the hill, giving every one plenty of time to dive for cover.   The "Classic and Sports Car" concours was particularly delightful. Apparently all rather informal, with people declaring their desire to include their car when they arrived, a panel of judges led by Simon Taylor spent an hour wandering among over 100 hours and had the very difficult task of selecting a "winner". In the end they selected 15 cars which were then asked to parade up the hill at the start of the afternoon proceedings, with 3 cars selected as "best" based on their age, and an overall winner which they declared was a unanimous choice. It cannot have been easy to select even the 15 cars.
In addition to the Concours, there were a number of other Owners Club displays, along with a special exhibition of Sunbeam cars celebrating the Centenary of the marque and of Austin Sevens marking not just the 90th anniversary of Sir Herbert's Baby, but also the 90th anniversary to the very day since the first Austin Seven came to Shelsley. With a full paddock of a wide variety of cars on both days there was plenty to see, and that's before I mention the added "attraction" of a competition for attendees to turn up in "period" dress. Few men seem to have bothered. but there were plenty of ladies wandering around in the high fashion of yesteryear.  With apologies for some slight "fogginess" on the lower left of some of the photos from the second day, here are some of the highlights.
IN THE CAR PARK and THE CONCOURS
ABARTH
There was a different 500 model parked up on each day, and I don't know to whom either of them belonged.
AC
It's not just the MGB celebrating its 50th, but also the AC Cobra and the 289 Owners Club had a display of these 7 litre machines on both days.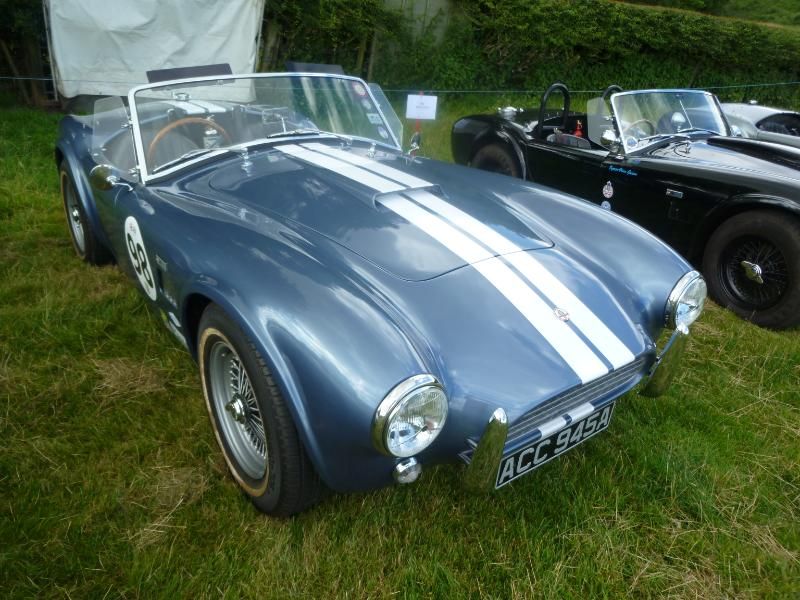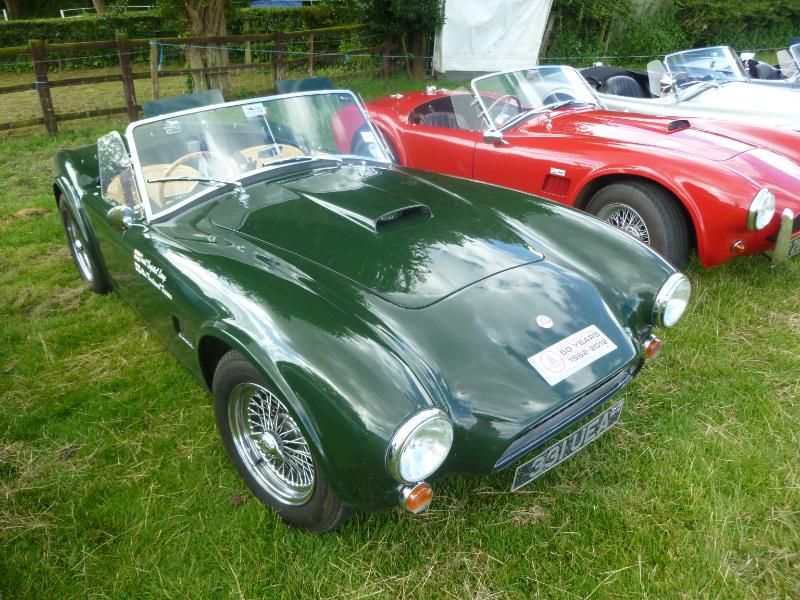 ALFA ROMEO
On the Sunday, the Giulietta Owners Club had a special display area with a collection of these lovely cars on show. Most were the achingly pretty Spider, but there was also a lovely Berlina Ti and a Sprint, and a more recent 1750GTV was a welcome interloper.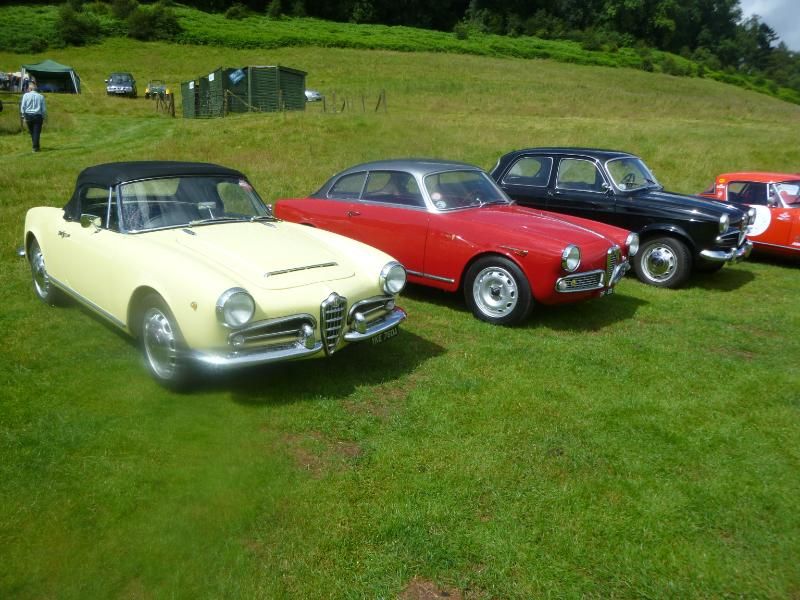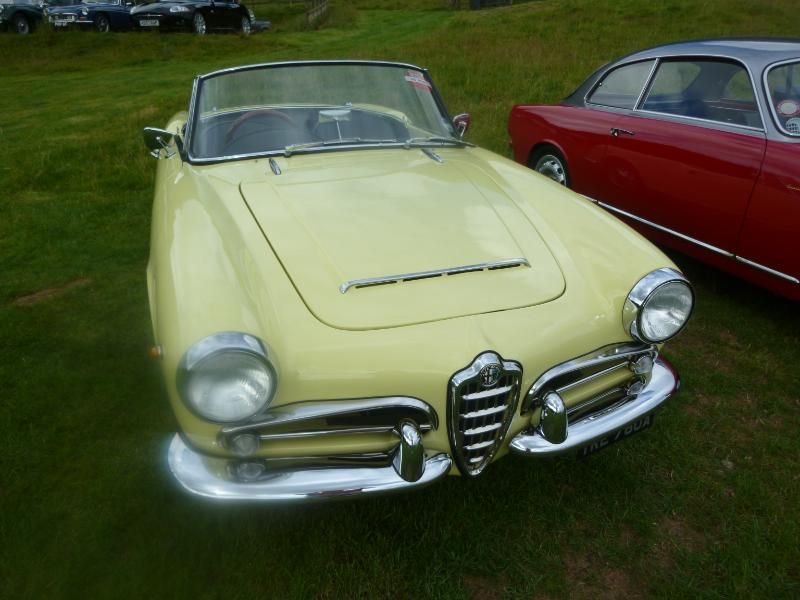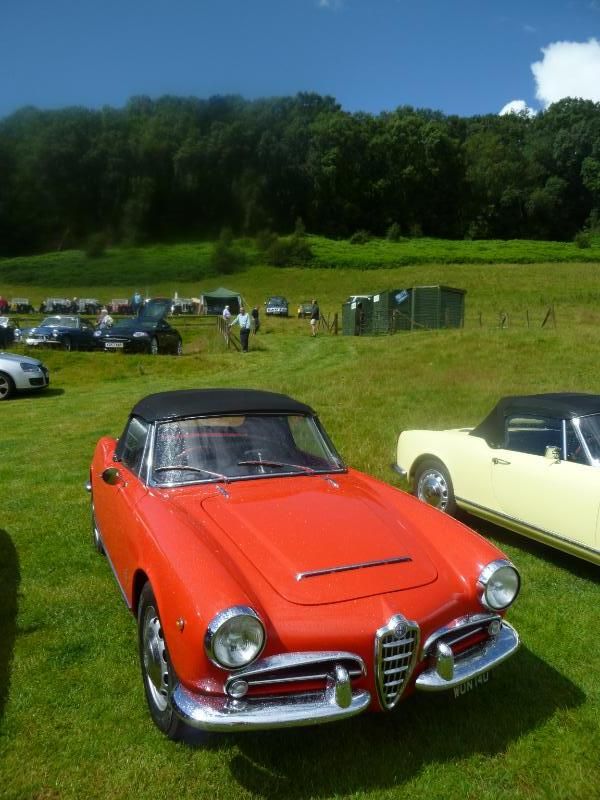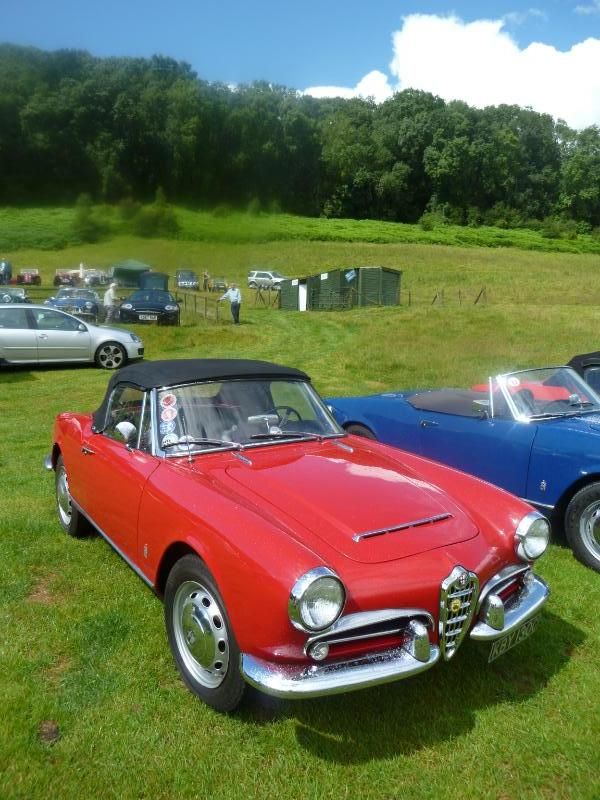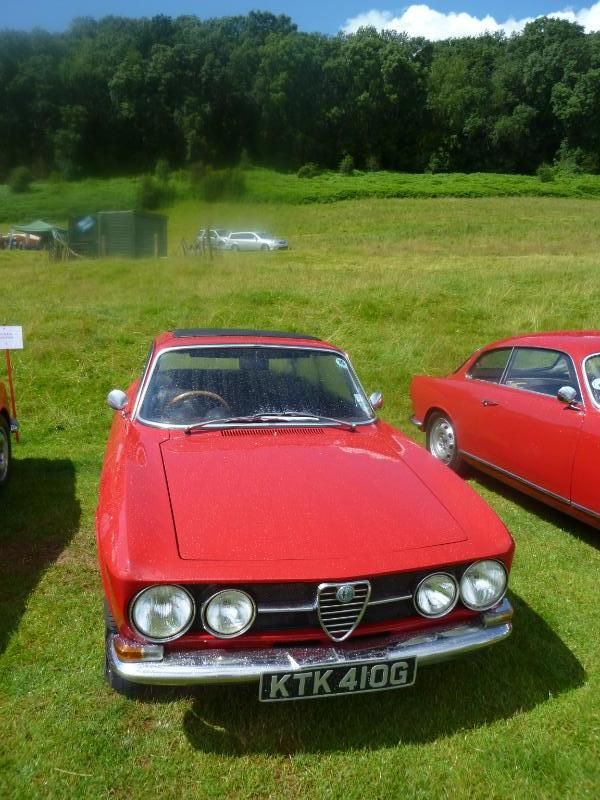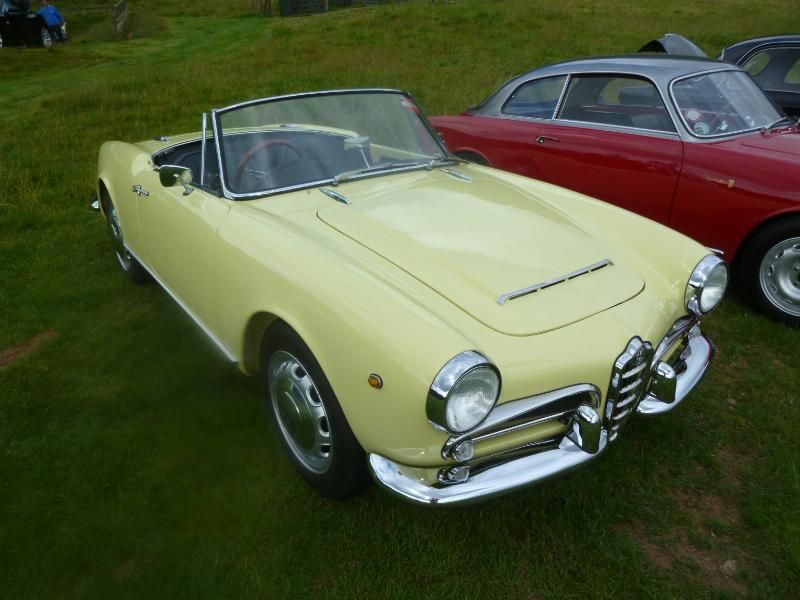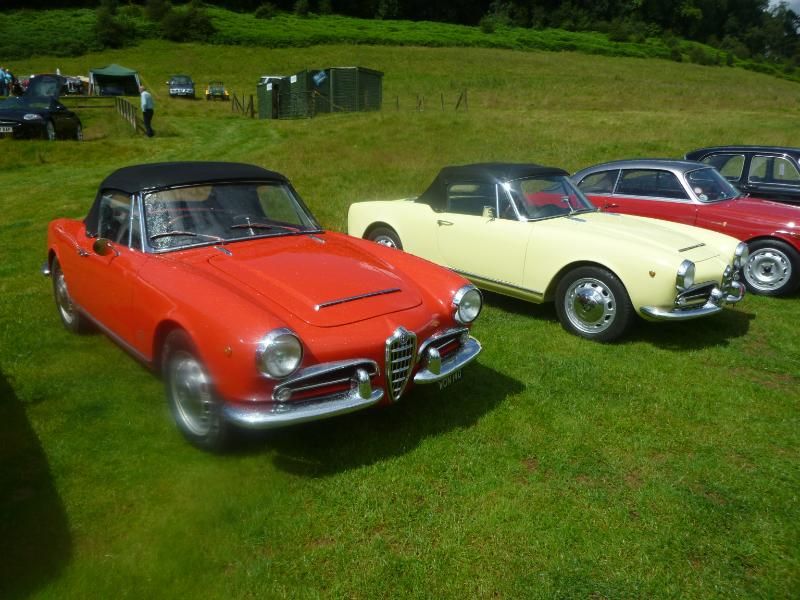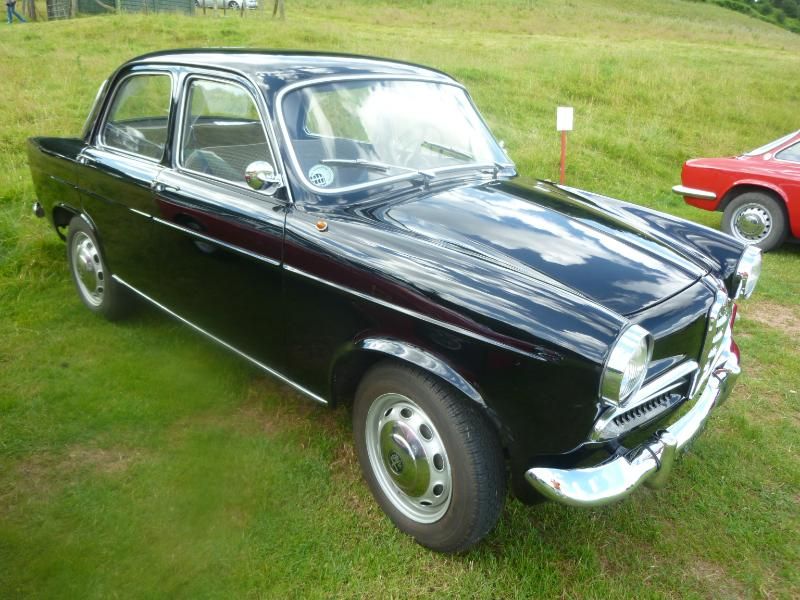 There were plenty of other interesting Alfas in the car park, with models ranging from a number of the 105 series Spider through some Giulia Berlinas, and an Alfasud Sprint to a red 164 Super which is a regular at events like this in the Midlands.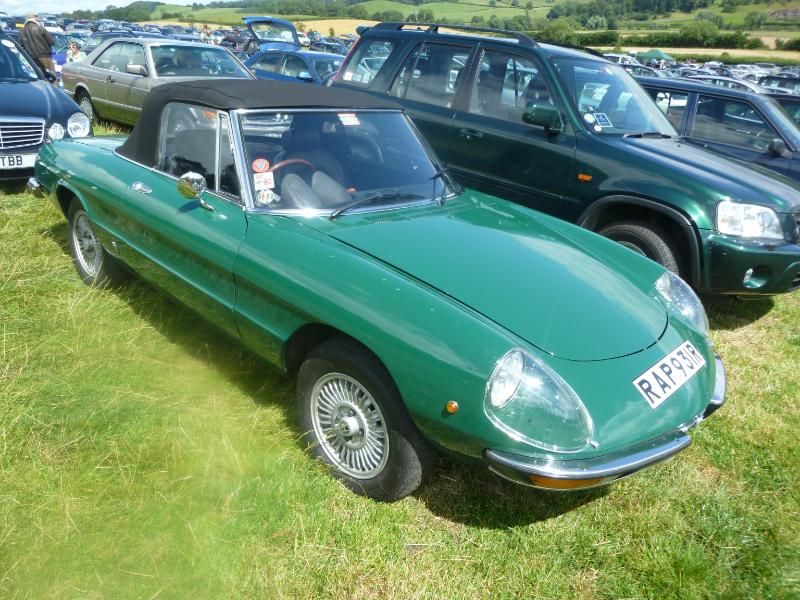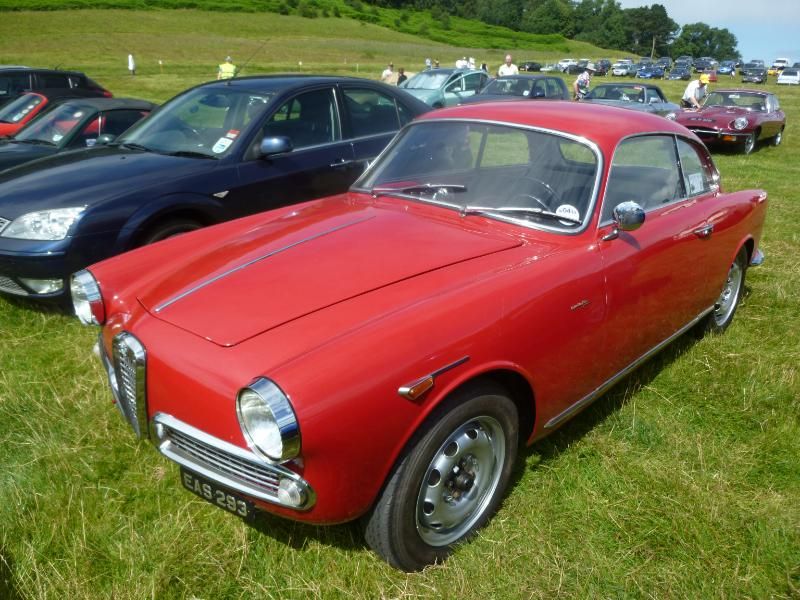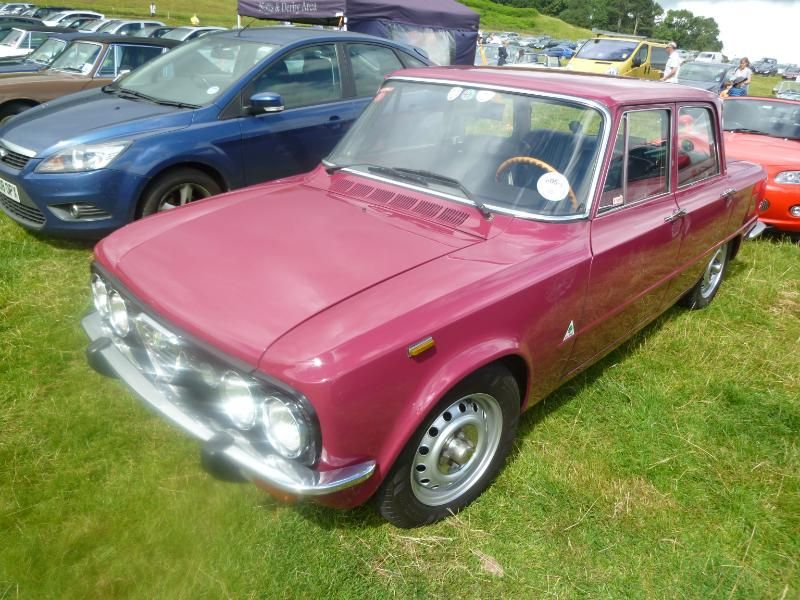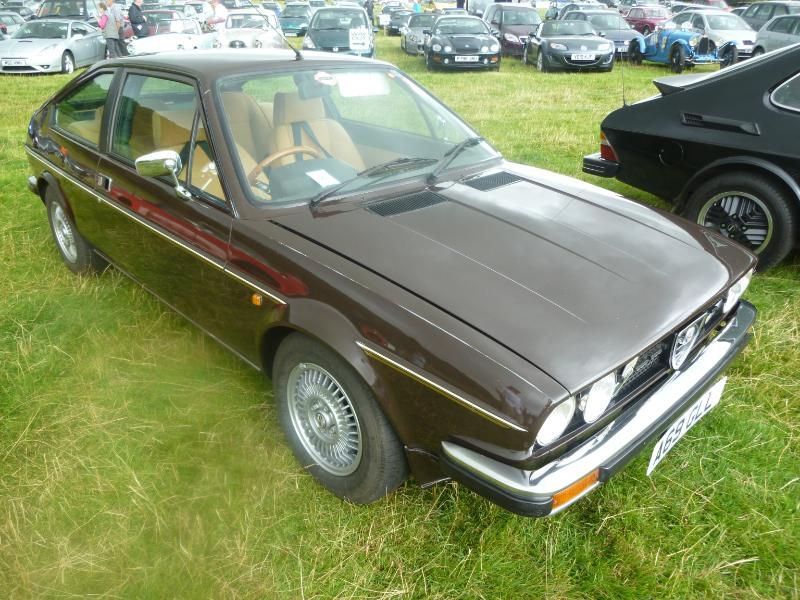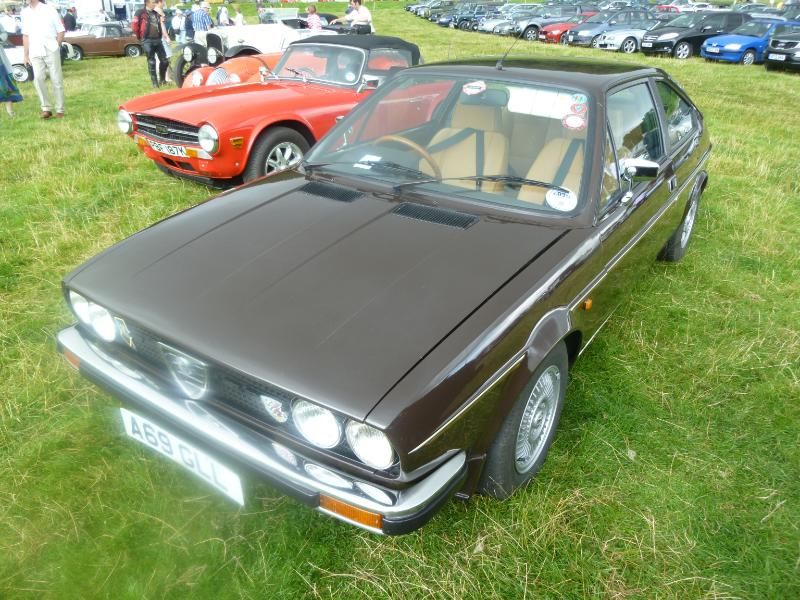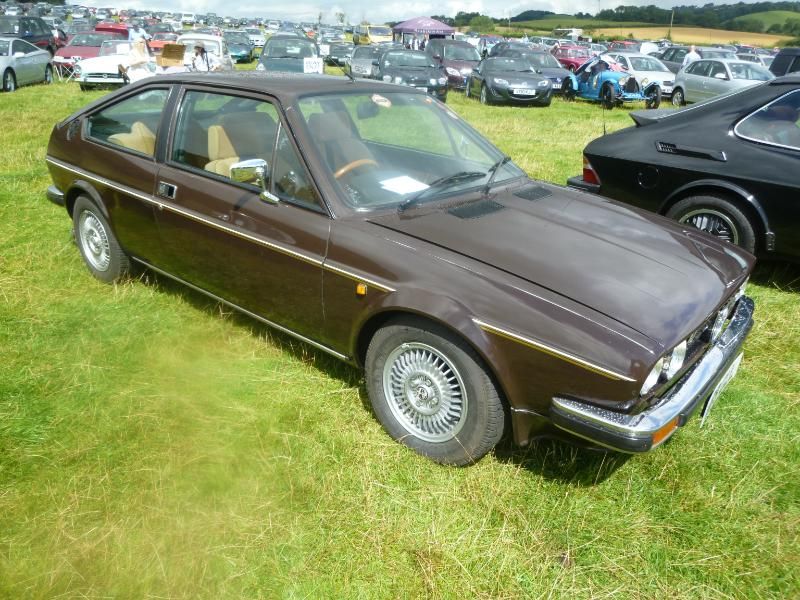 ALLARD
This lovely 1952 P1 was one of the Concours winner. A car similar to this one did well in the 1952 Monte Carlo Rally, driven by one Stirling Moss. This particular car has recently emerged from a particularly lengthy restoration program.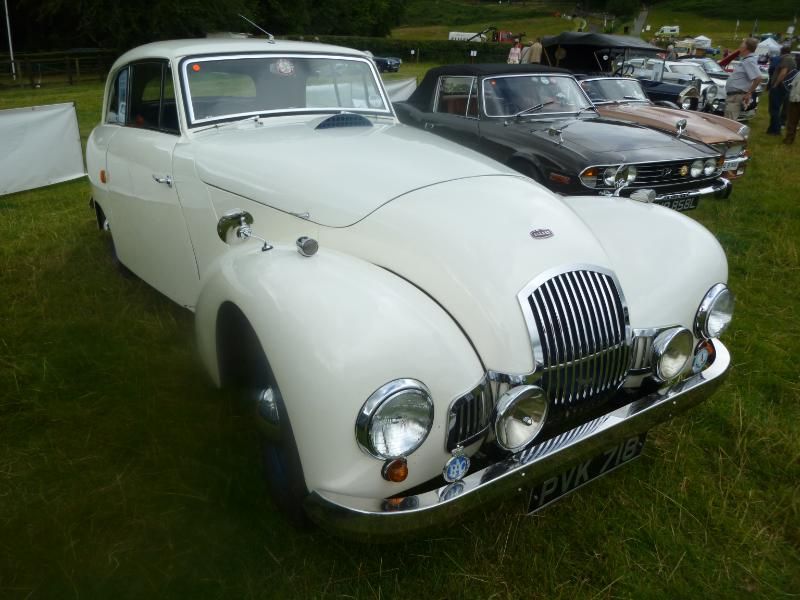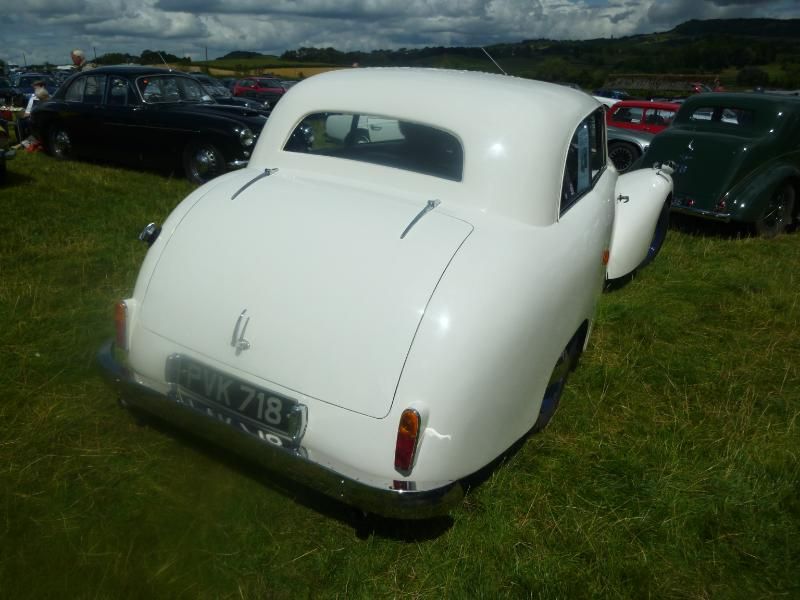 ALVIS
Overall concours winner, universal choice of all the judges, we were told, was this a very rare Graber Alvis. Graber was a Swiss coachbuilder and the designs that they produced in the 1950s influenced the shape of the regular TD – TF production cars. In addition, a very small number of cars were made to their own design, of which this is one.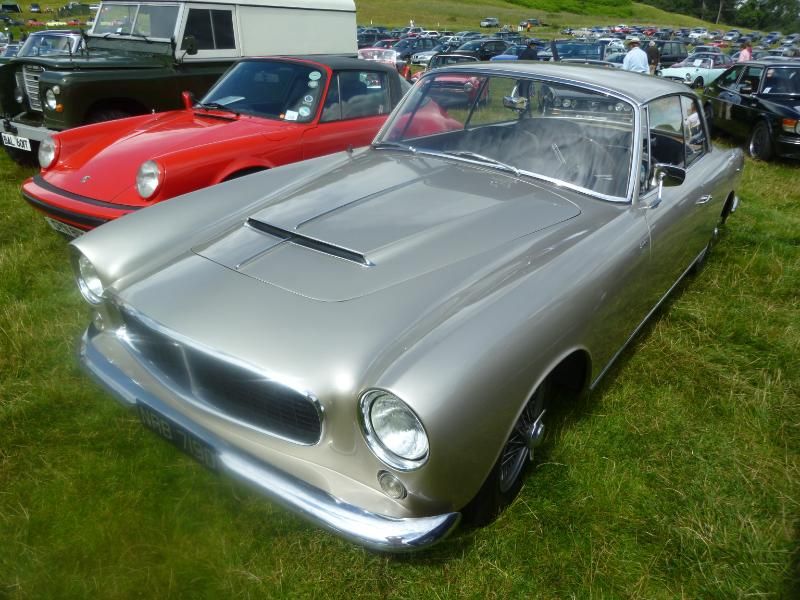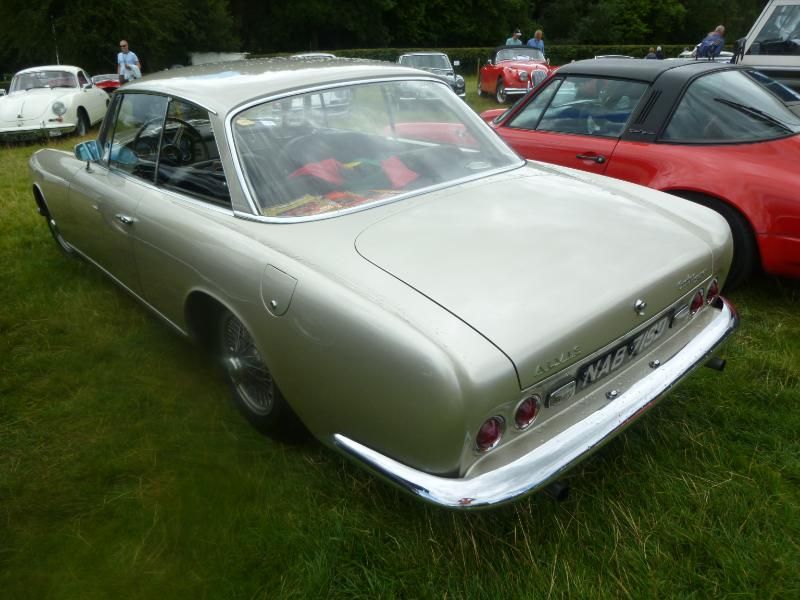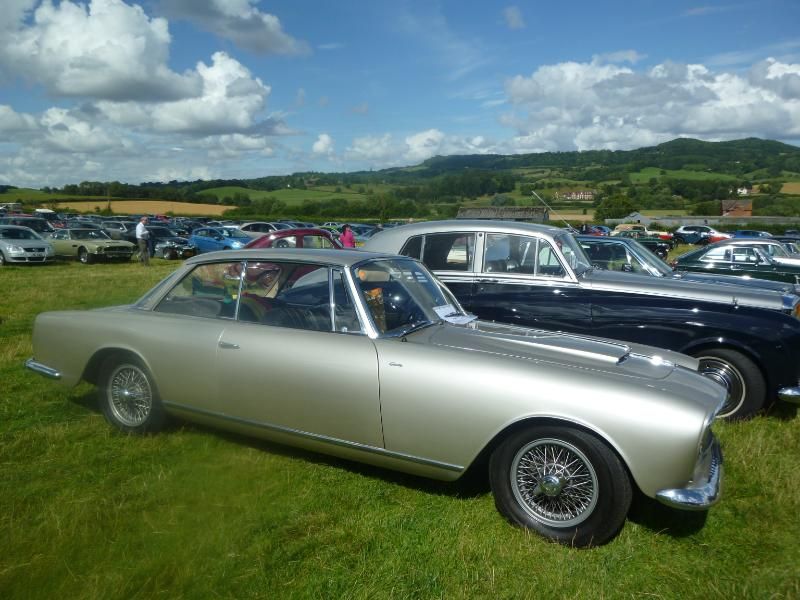 There were a couple of Speed 20s from the 1930s, as well and a TC21/100.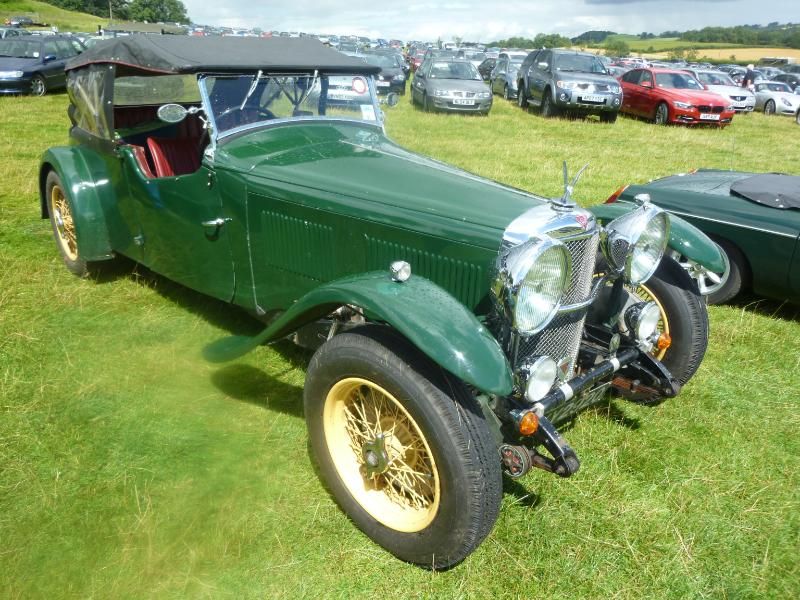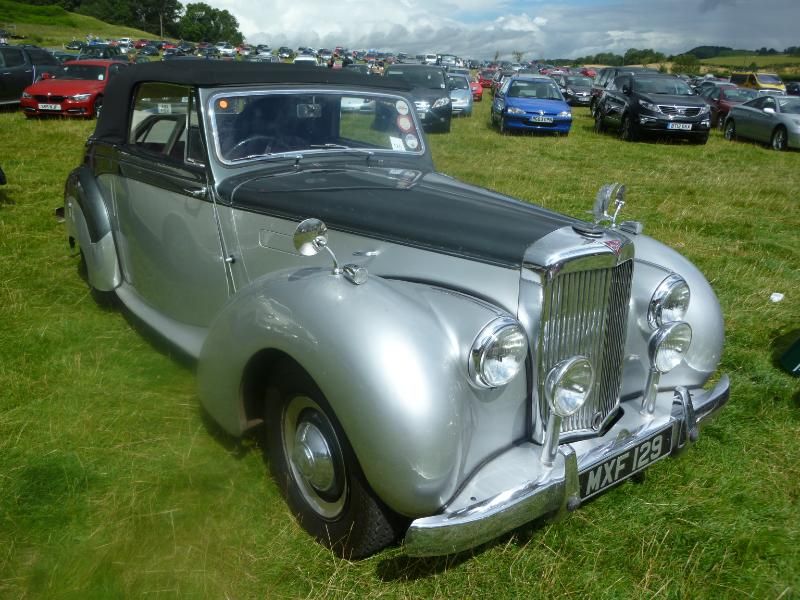 ASTON MARTIN
On the Sunday there was a long line of contemporary Astons parked up across the bottom of the car park area, with cars ranging from the V8 Vantage and DB9 to the Rapide and a Cygnet.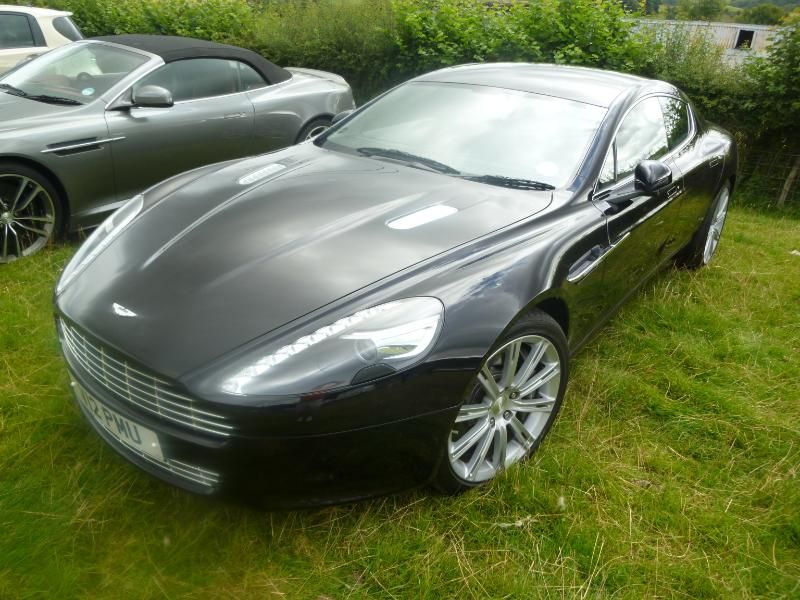 Other Astons in the concours included some earlier DB models, and there were still more in the rest of the car park.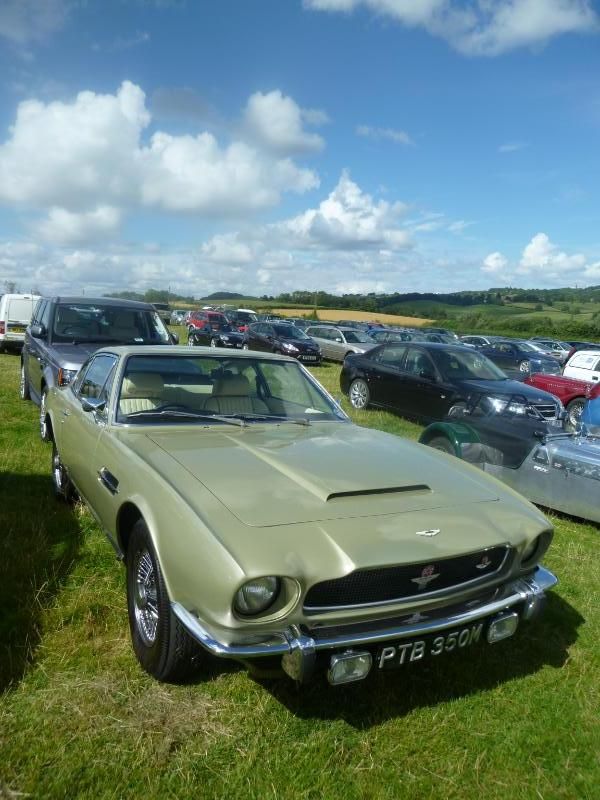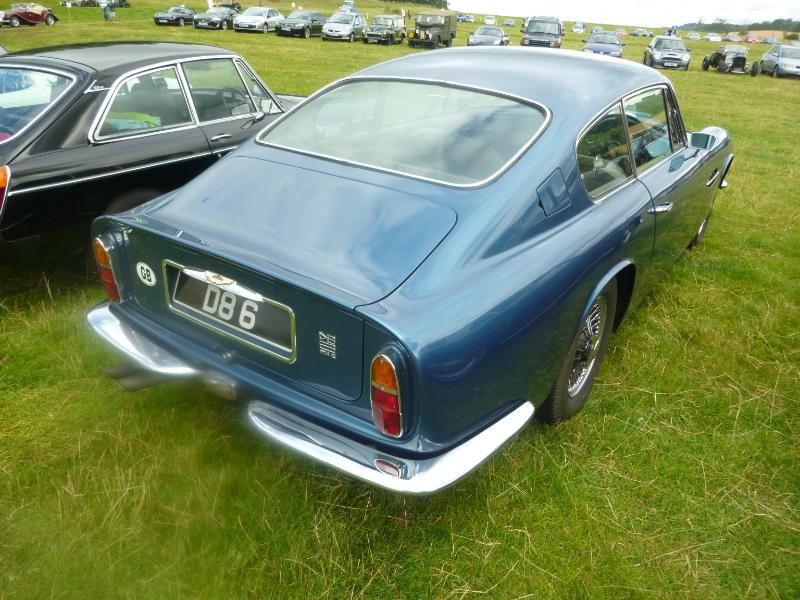 AUSTIN
Oldest Austins were a special display of the diminutive Seven, commemorating the 90th birthday of this small British car.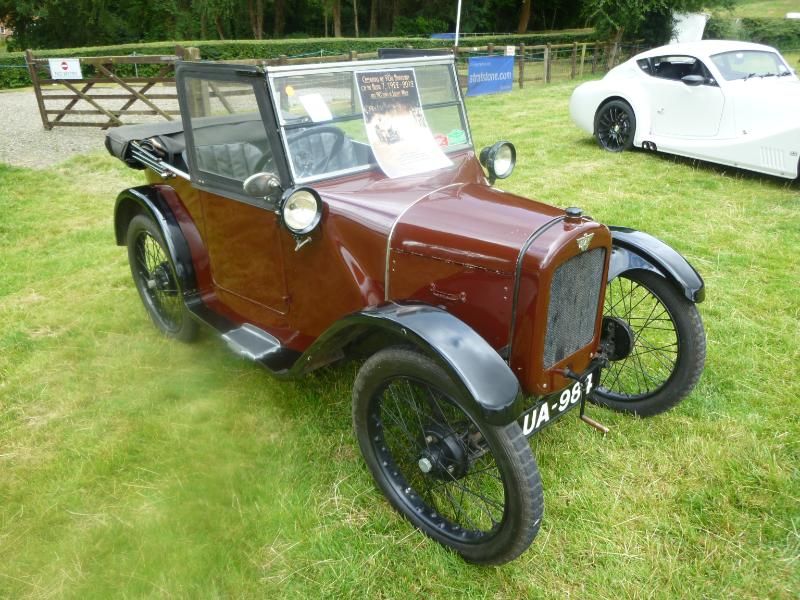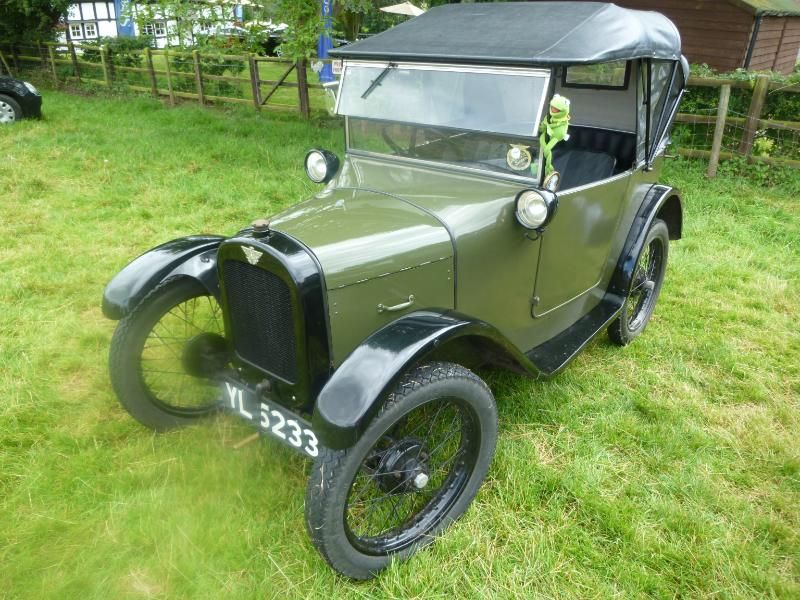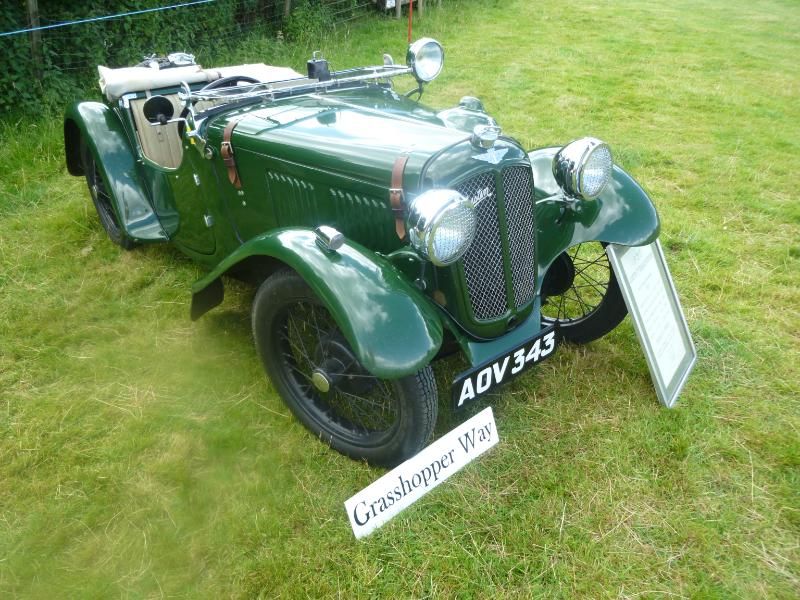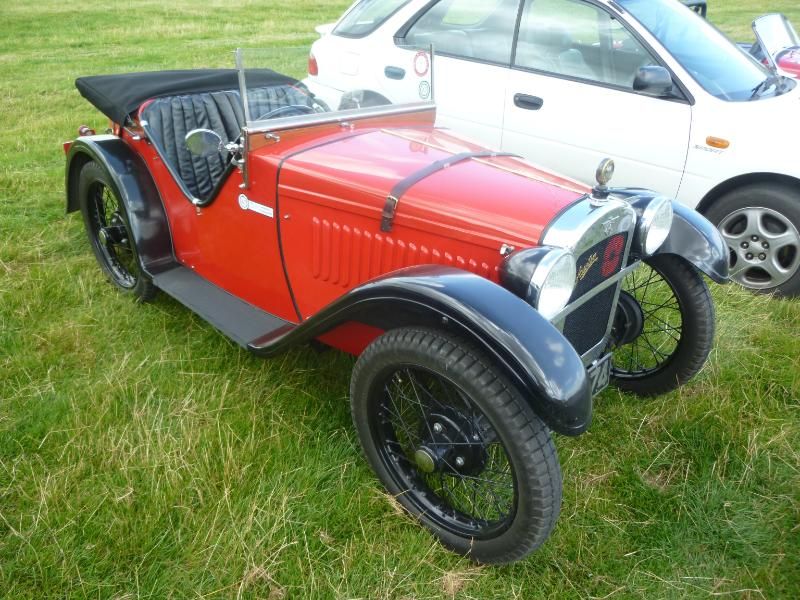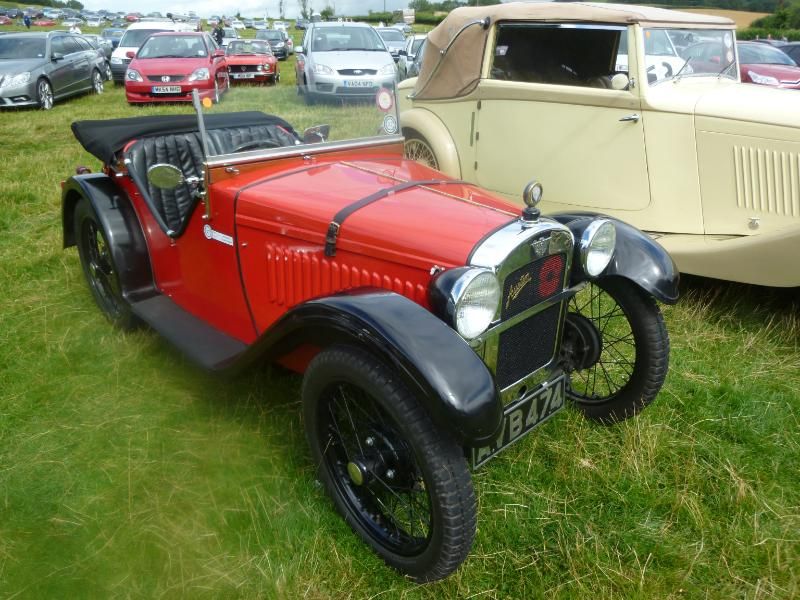 This A135 Princess was really rather splendid.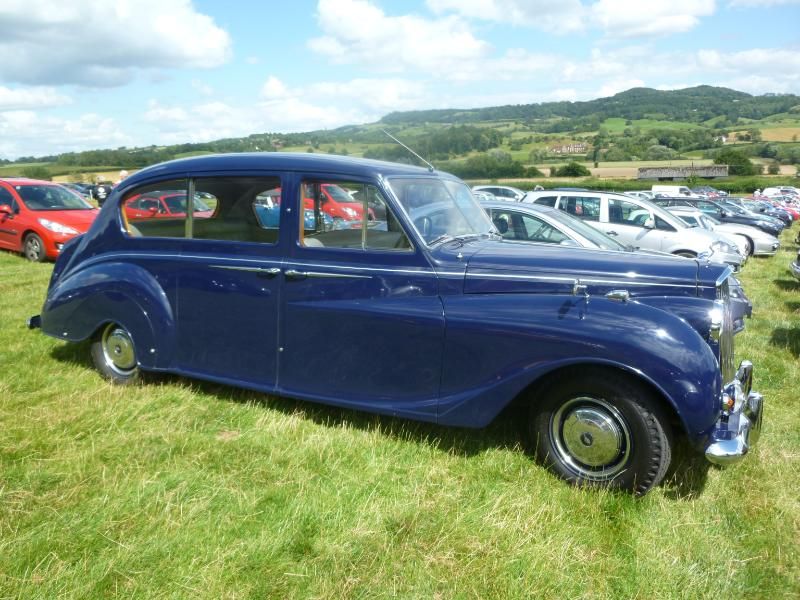 AUSTIN-HEALEY
There were plenty of the popular Big Healey on show. A very rare genuine 100M was selected as one of the Concours winners.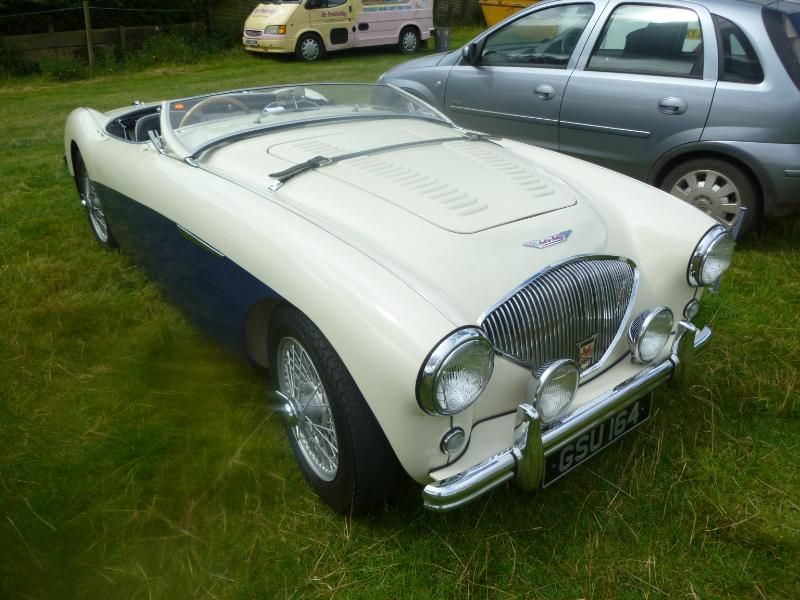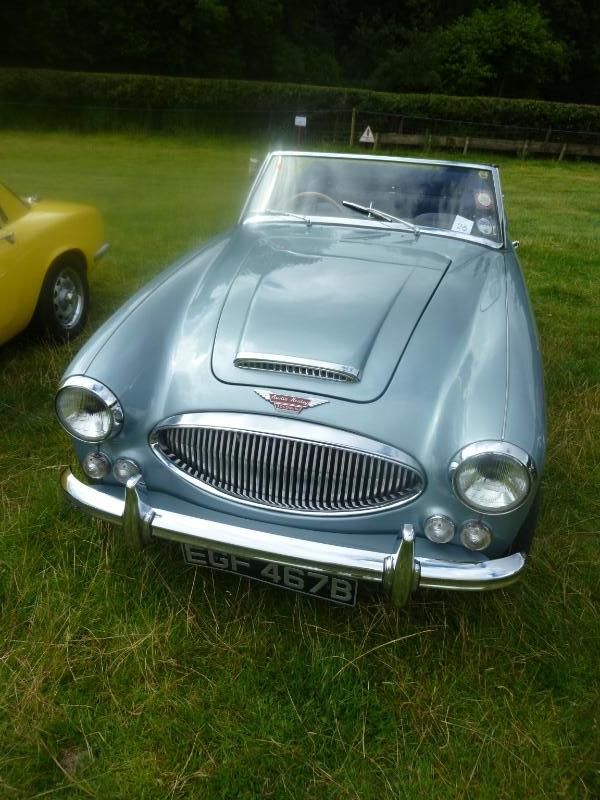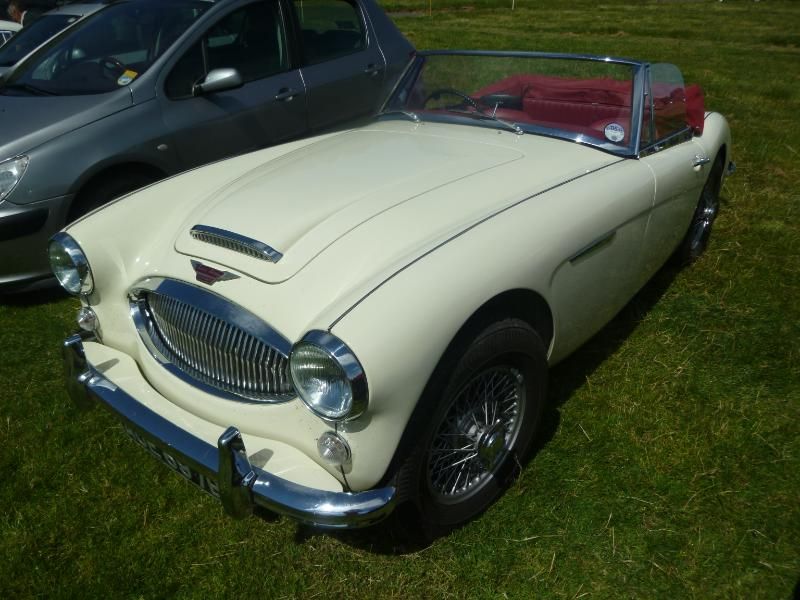 BENTLEY
Several classic Bentleys included a lovely 1930s 4.5 litre Coupe and a 1950 S Type, and more recent cars included a Continental R and a SuperSports GTC.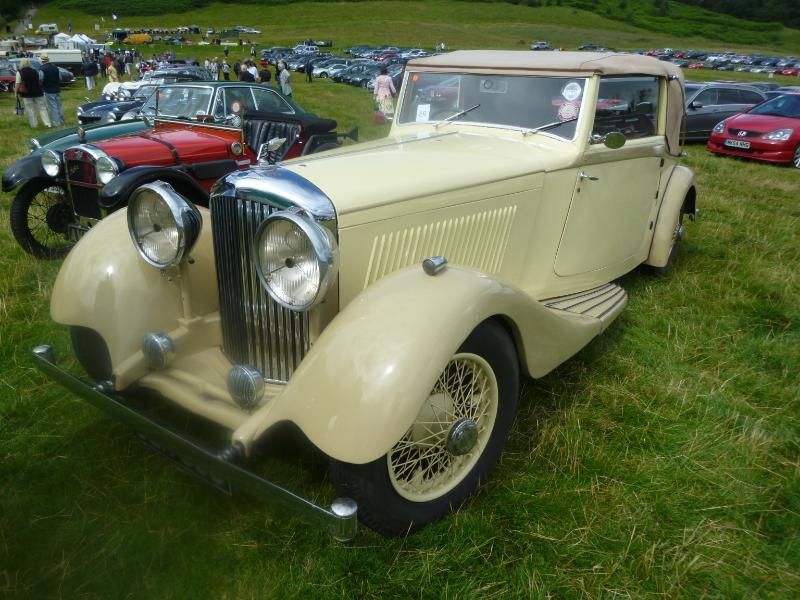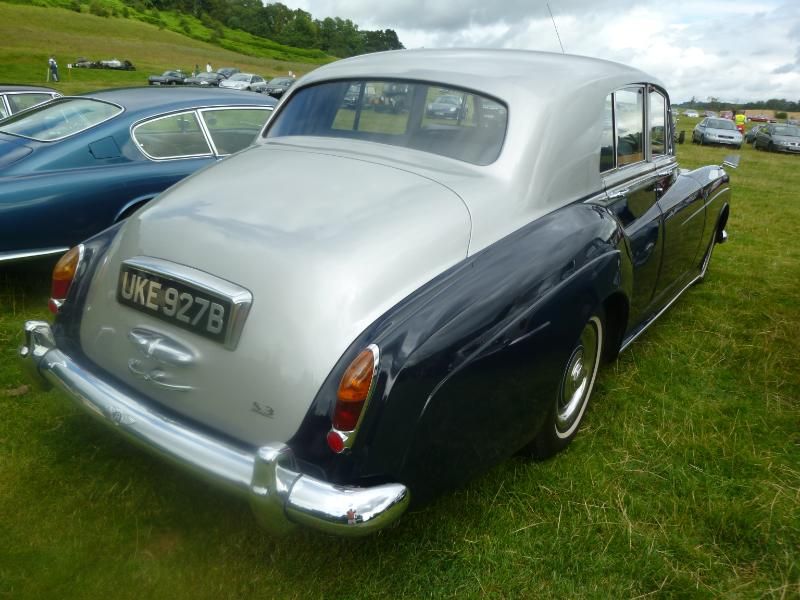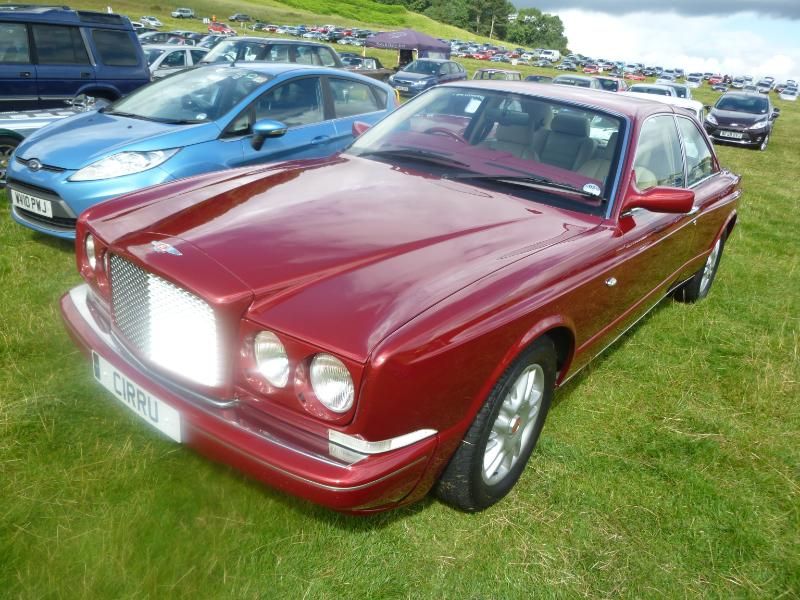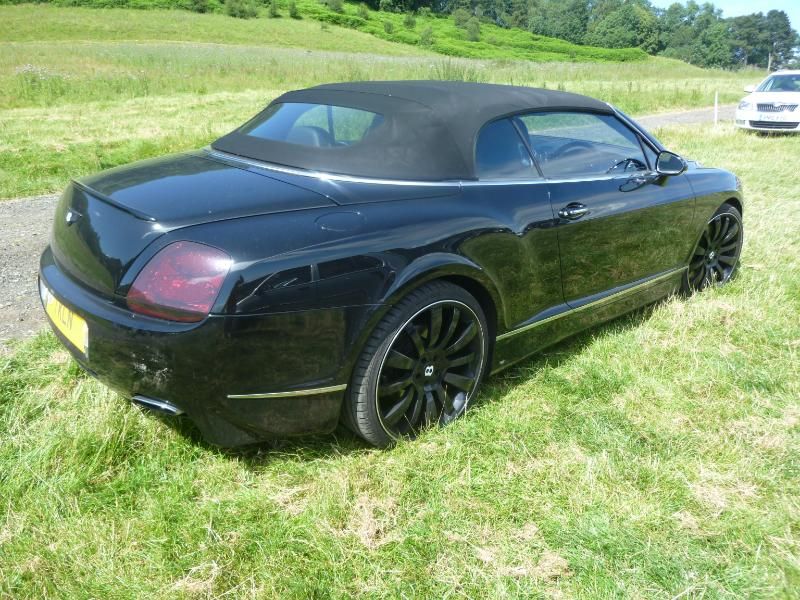 BRISTOL
The only 4 door car that Bristol have ever made was the 405, and this is a rare sighting, so I was quite surprised to find that there were 3 at this event, along with an early 408.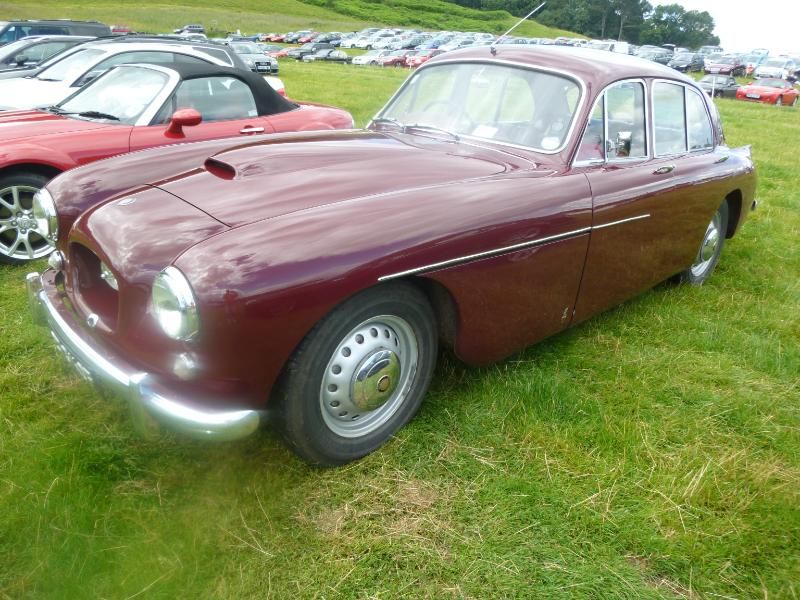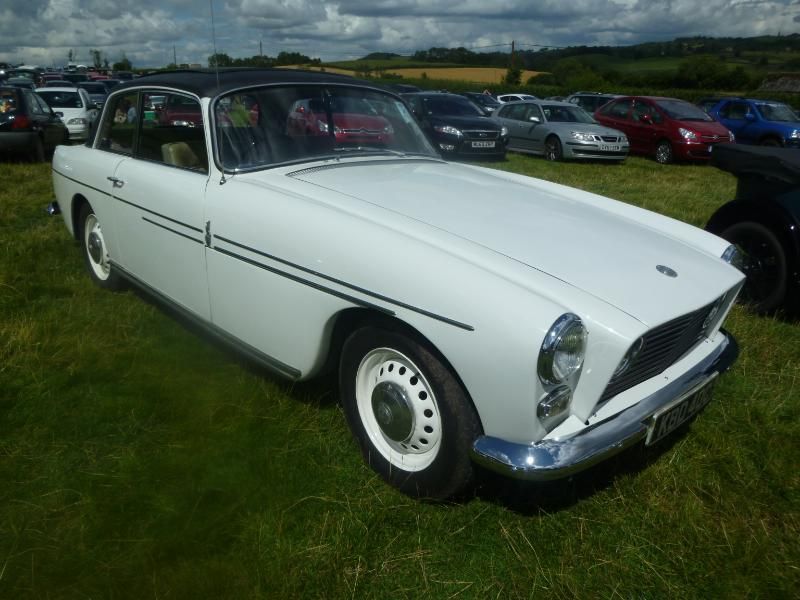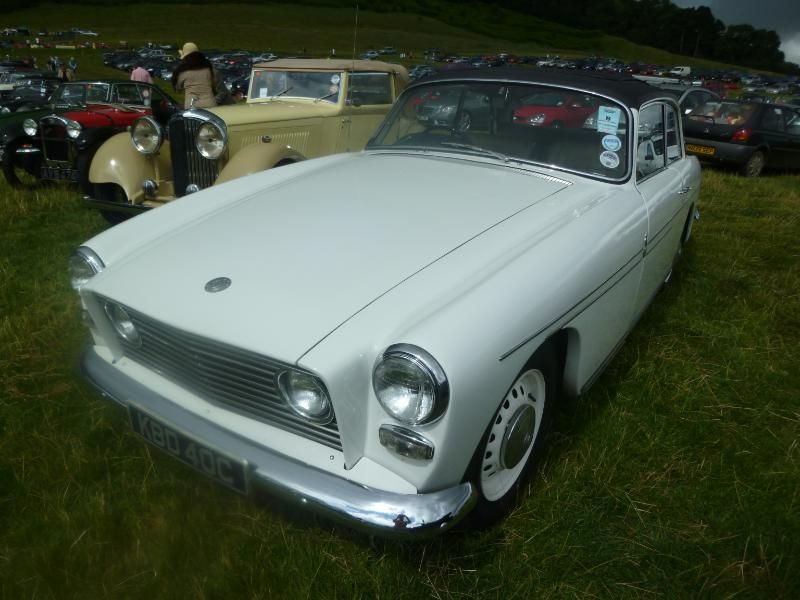 BUCKLER
The Buckler was a sports car based on Ford Popular mechanicals.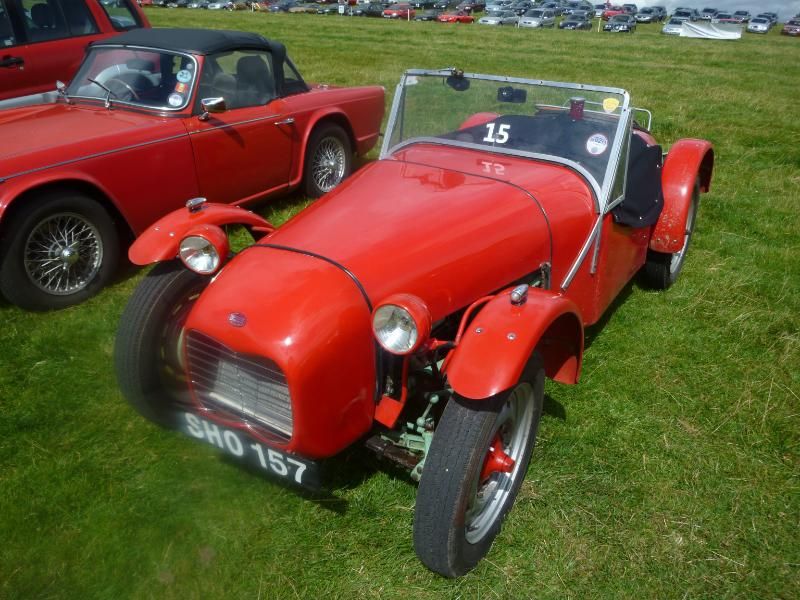 CITROEN
An early 2CV model as joined by the same C4 Rosalie car that I had seen at this venue for the VSCC event at the beginning of the month.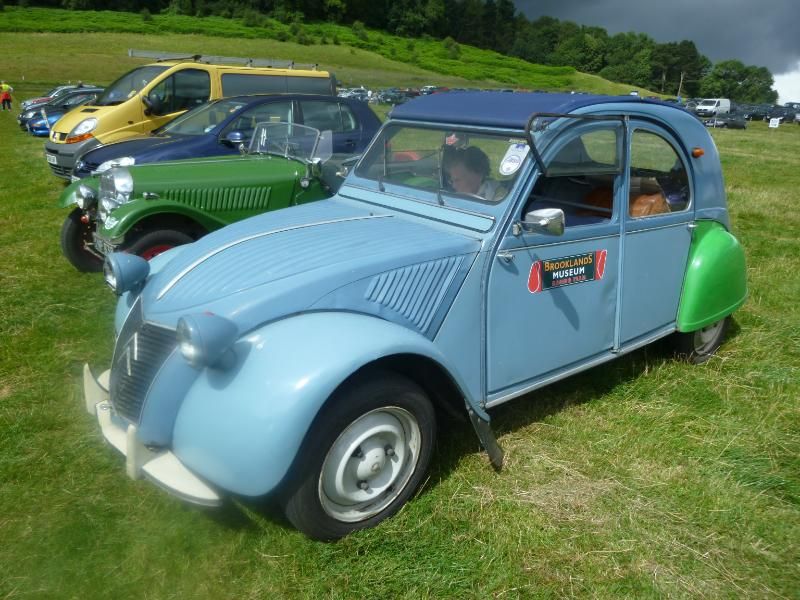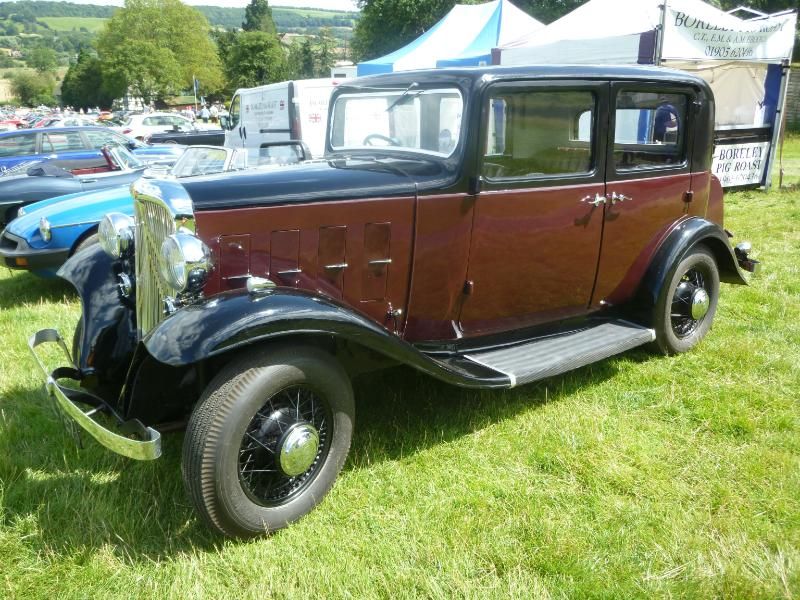 DAIMLER
A lovely 1930s model was joined by a V8250 saloon and a DS250 "Dart".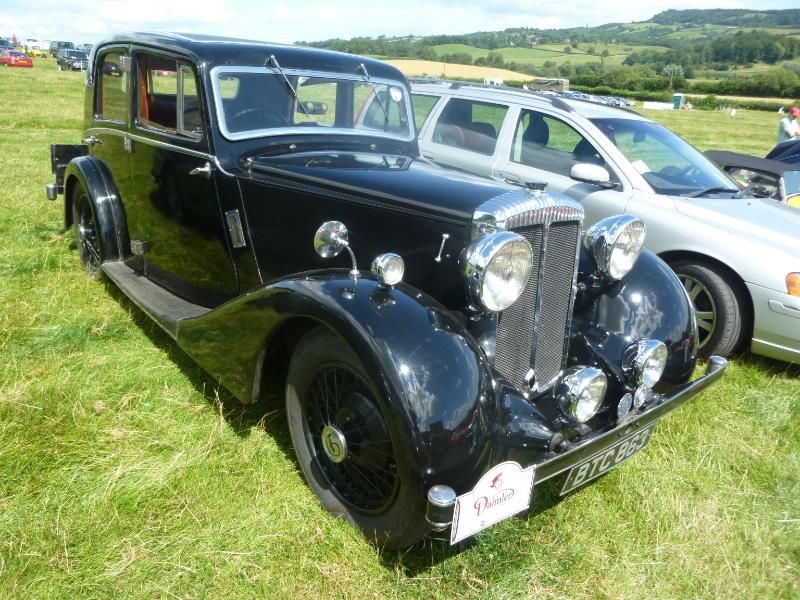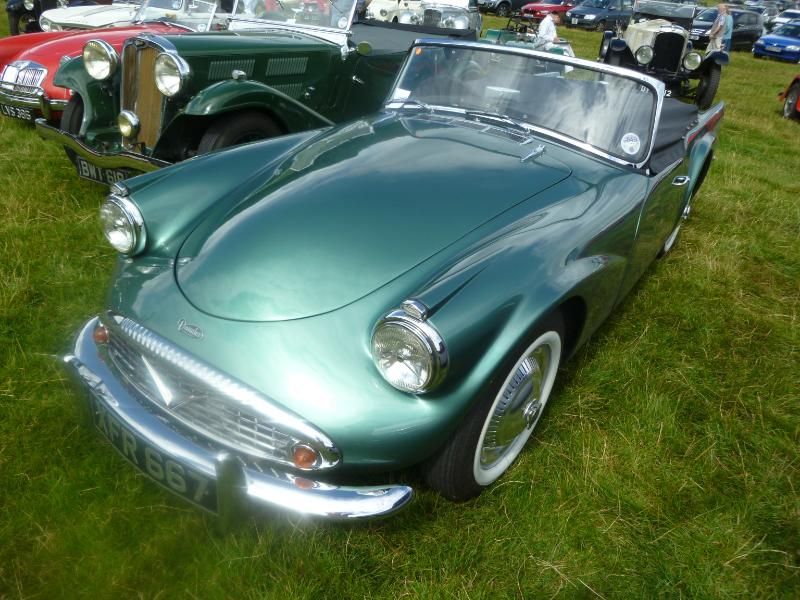 DELLOW
I am absolutely certain that I have never seen so many Dellows gathered together in one place as were at this event, with over 10 cars present on the Sunday. Dellow made a series of relatively low cost cars in the late 1940s and early 1950s,  based on trusty Ford mechanicals which became very popular for low cost motor sport and which could also be used as an every day car.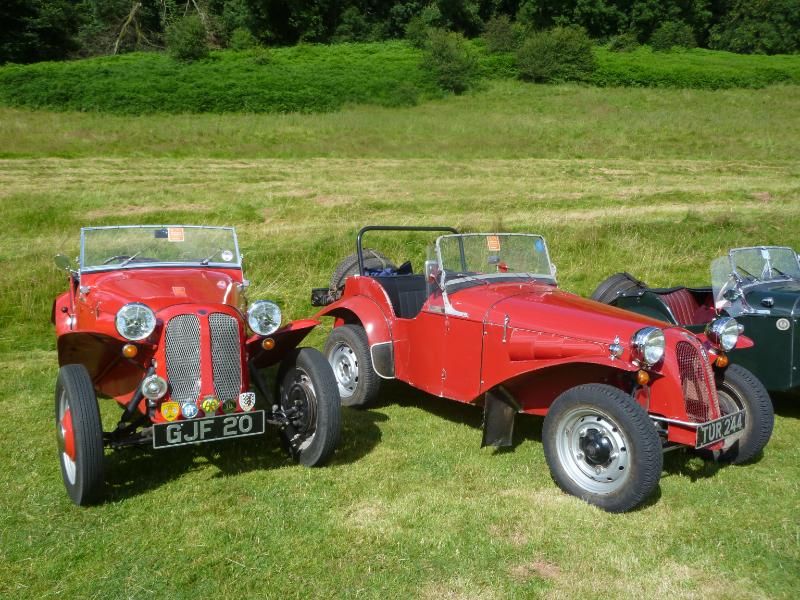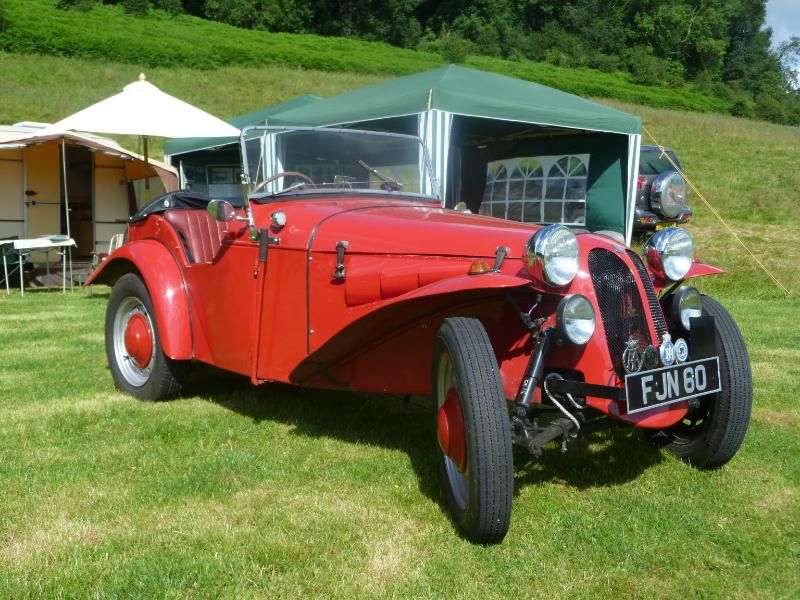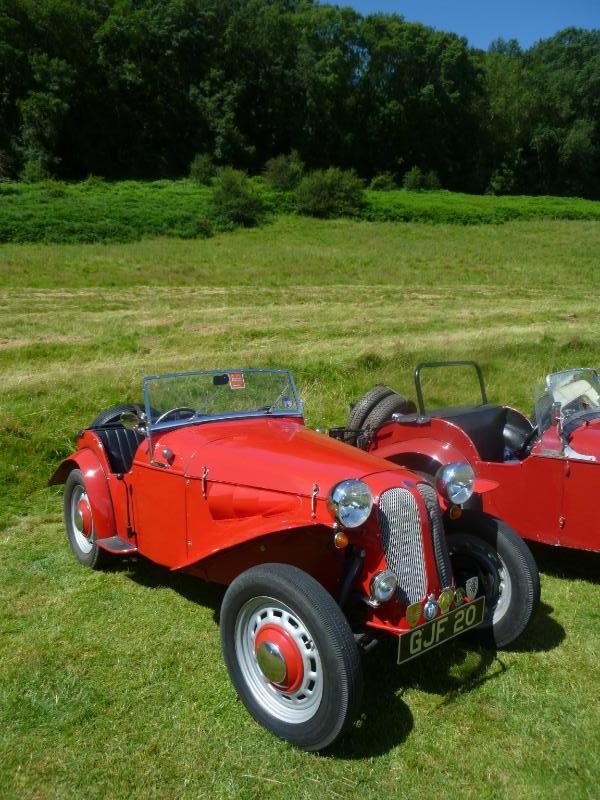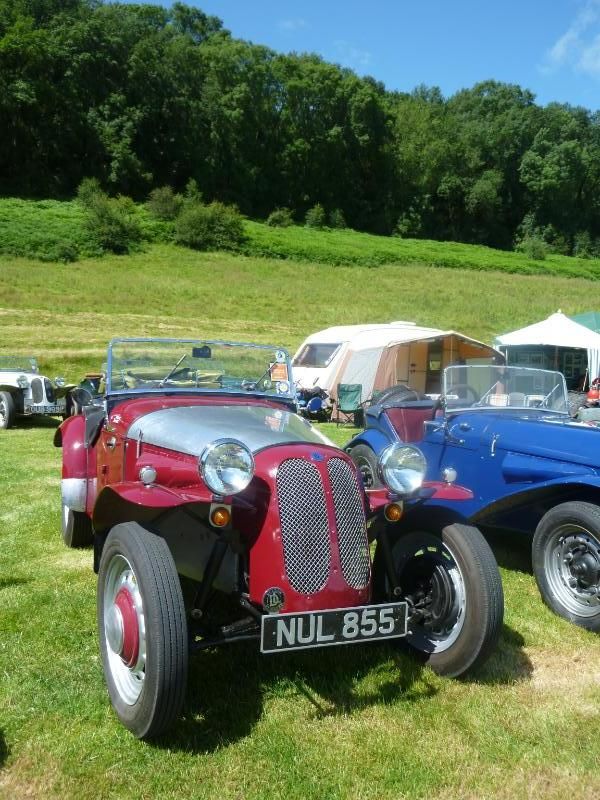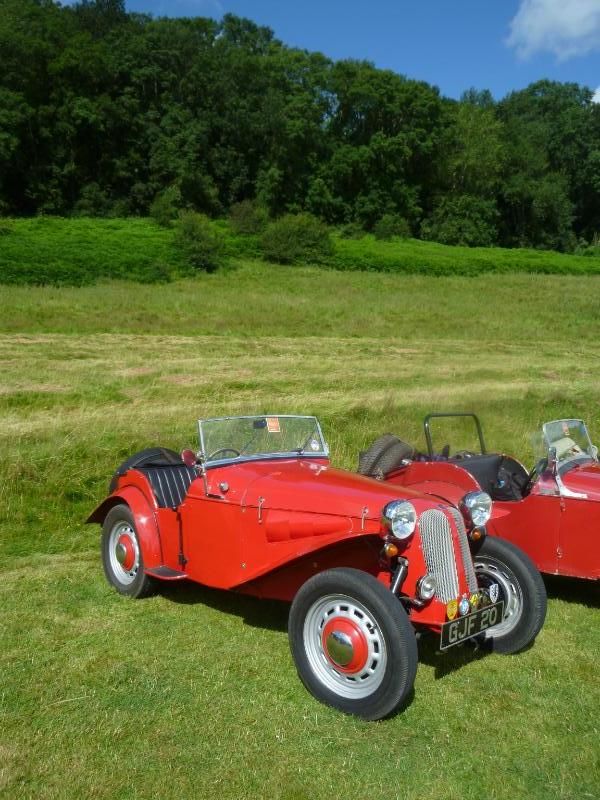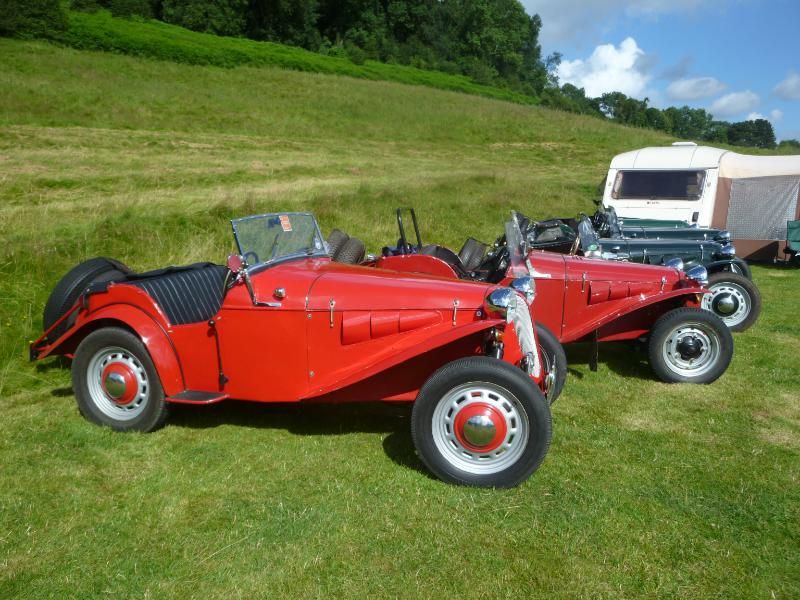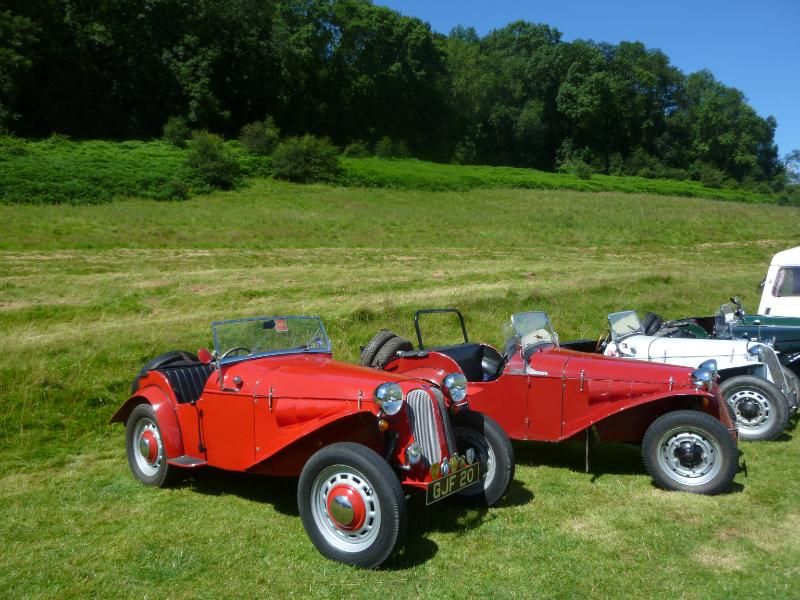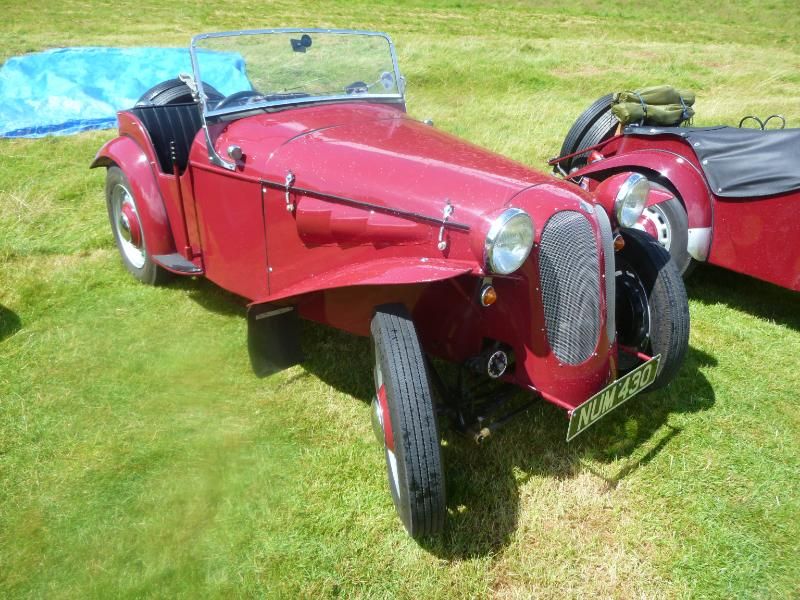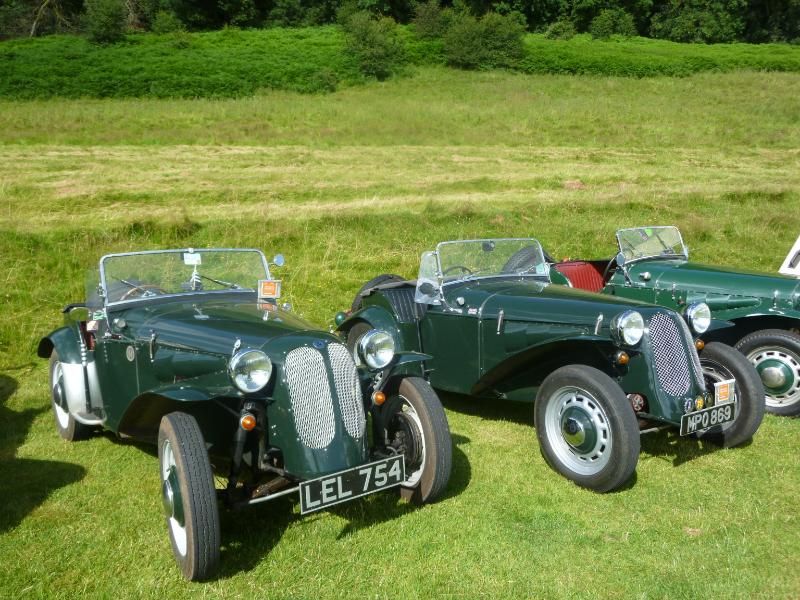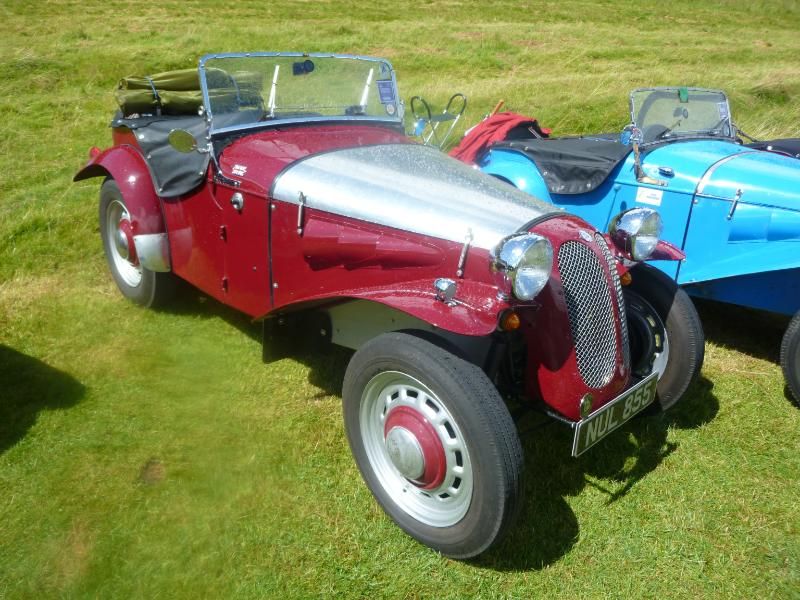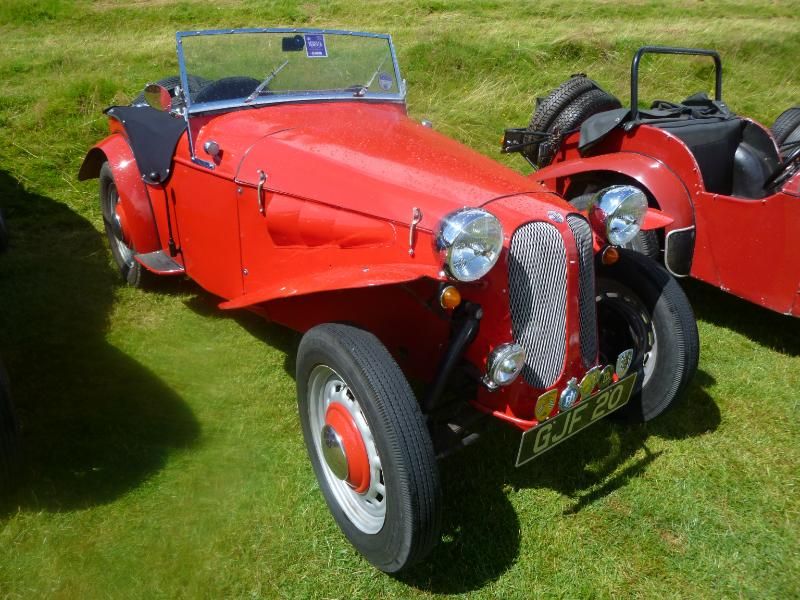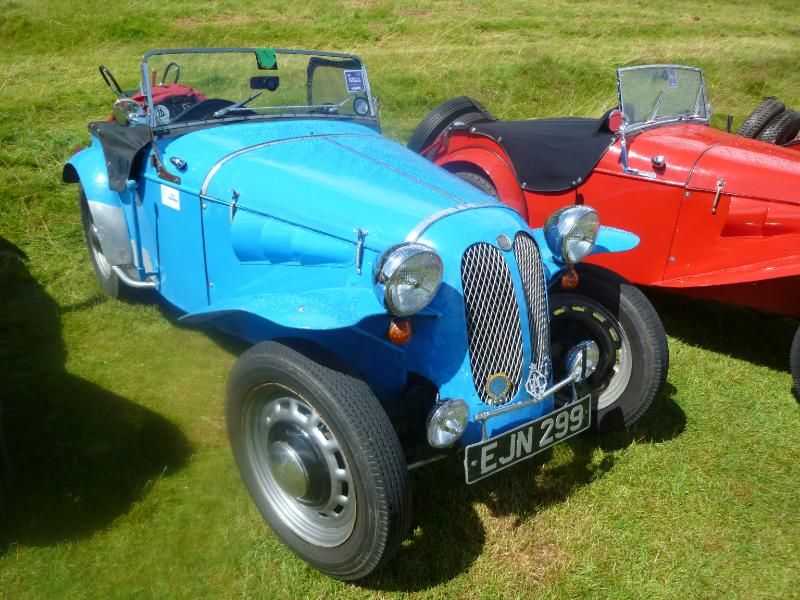 FERRARI
Very few Ferrari in attendance, but this 458 Italia was cheekily parked in a line of Astons.  Elsewhere I found a couple of Dino 246GTs.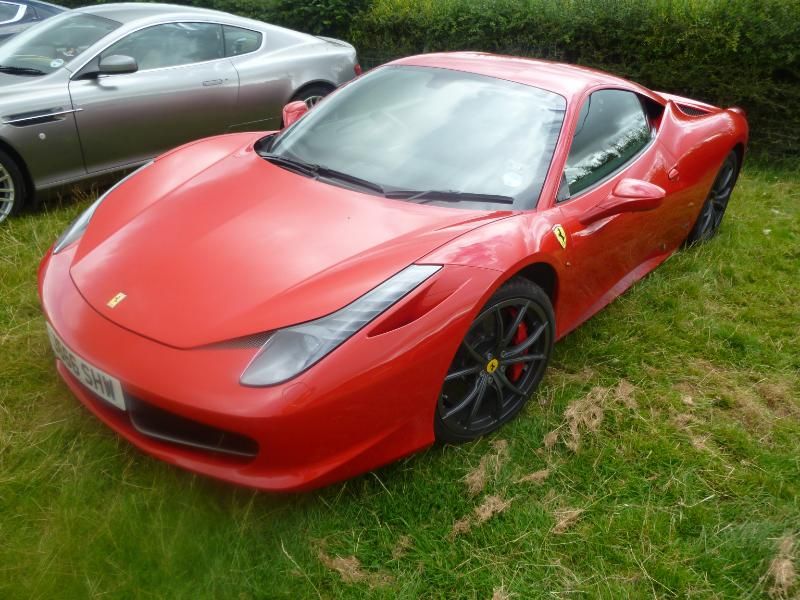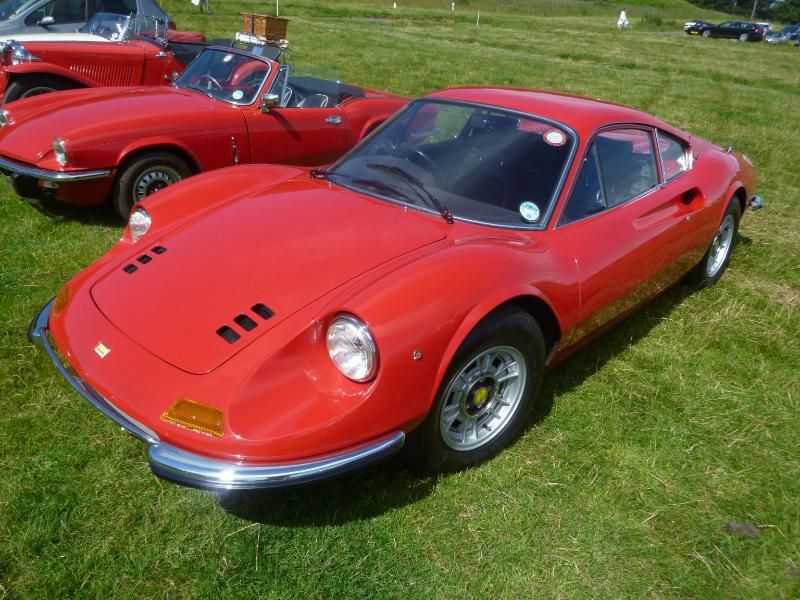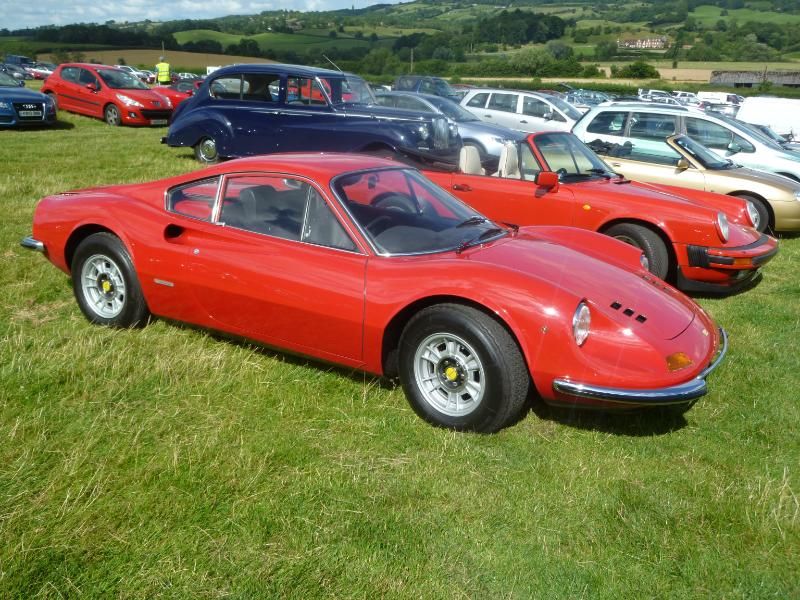 This car looked rather like the 330 P3, but the tax disc said Renault.
FIAT
Few Fiats at the event, but I did come across an X1/9 and a Barchetta.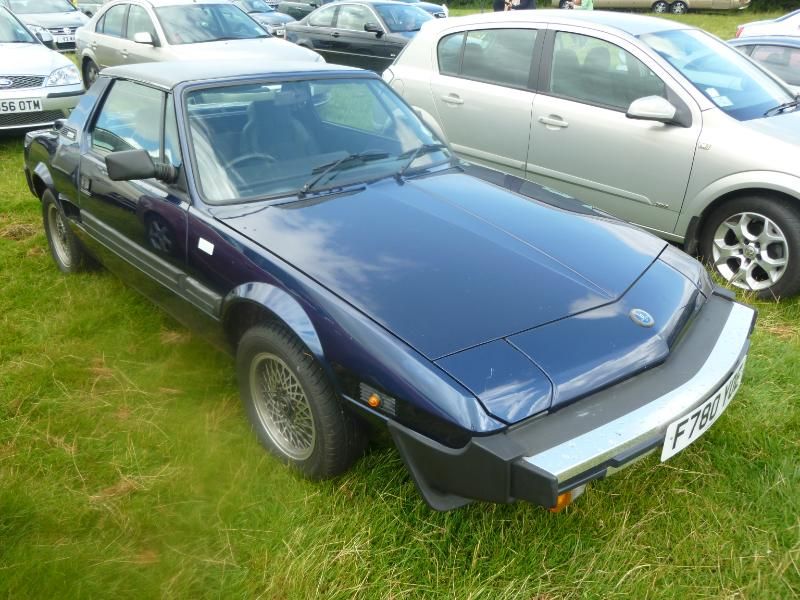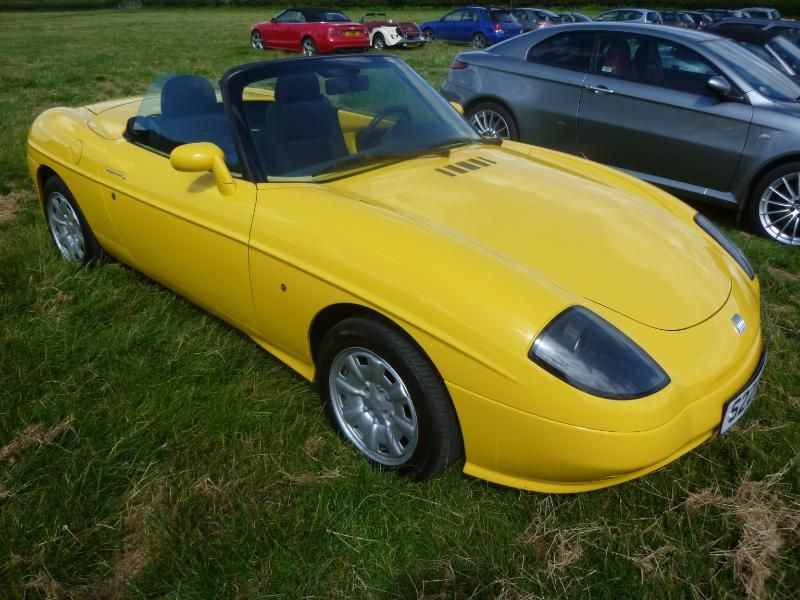 FORD
Among the Fords at the event were this rare Mark 2 Zephyr Convertible and an Anglia 105E from the late 1950s, early 1960s. Later cars included a Lotus Cortina and a Capri RS3100.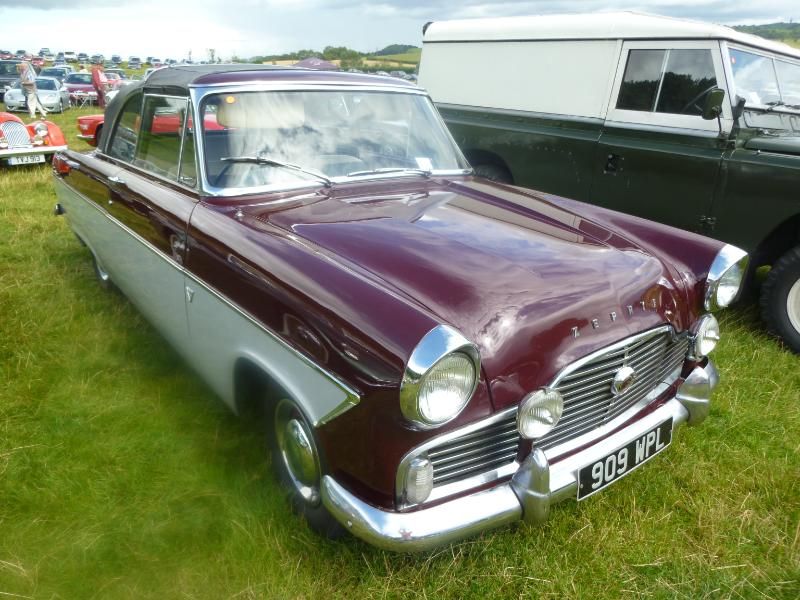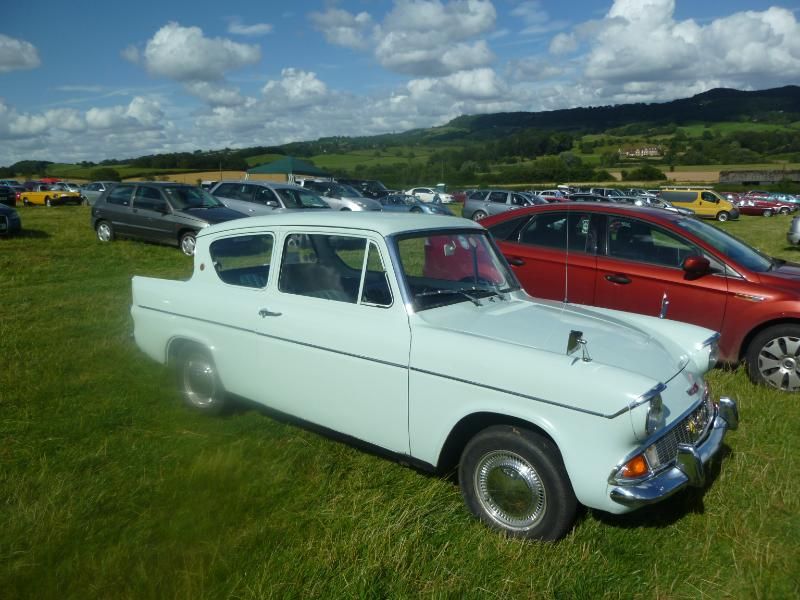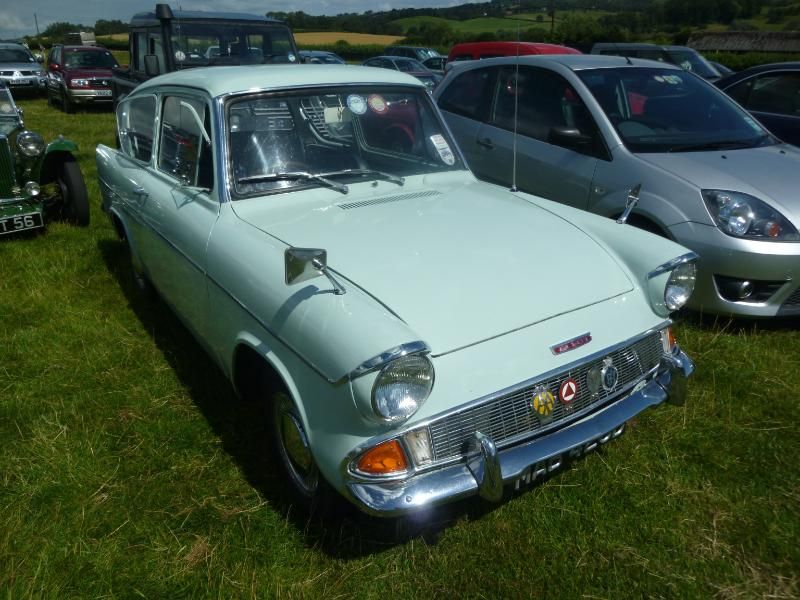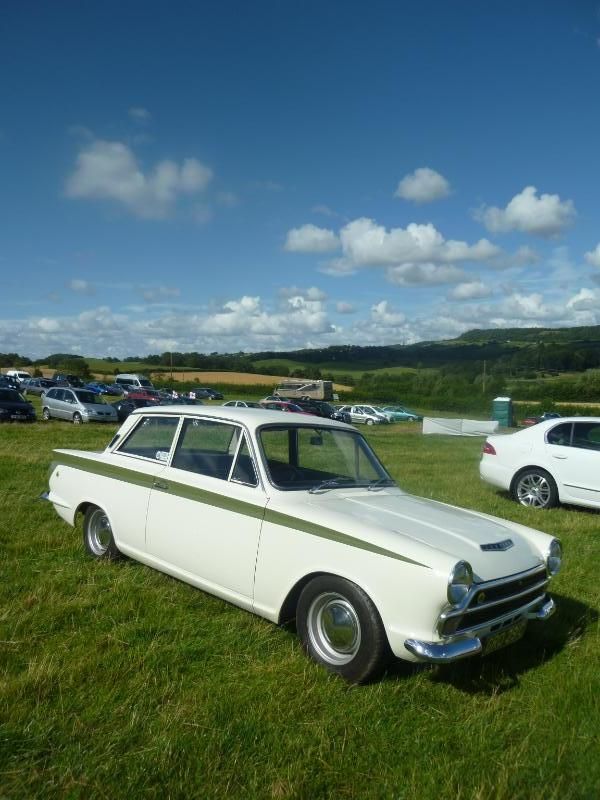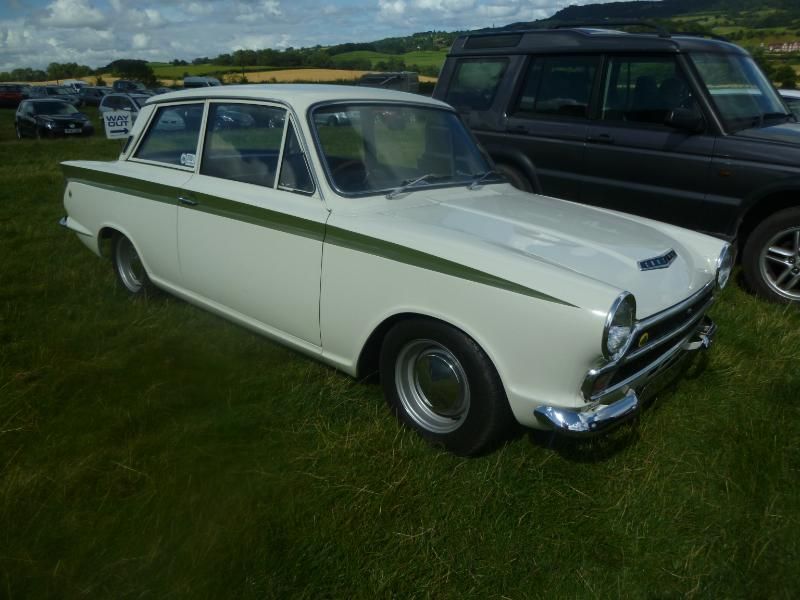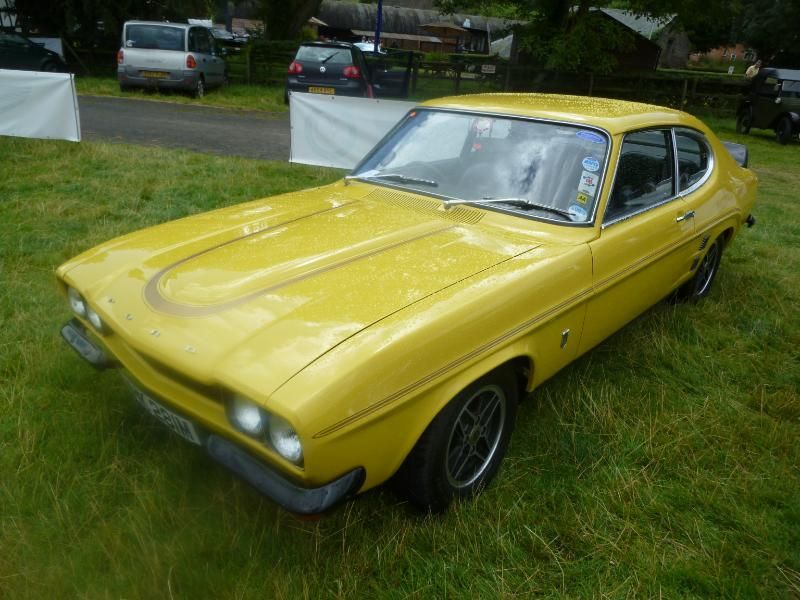 This Sierra Cosworth was immaculate, looking like it had never been used.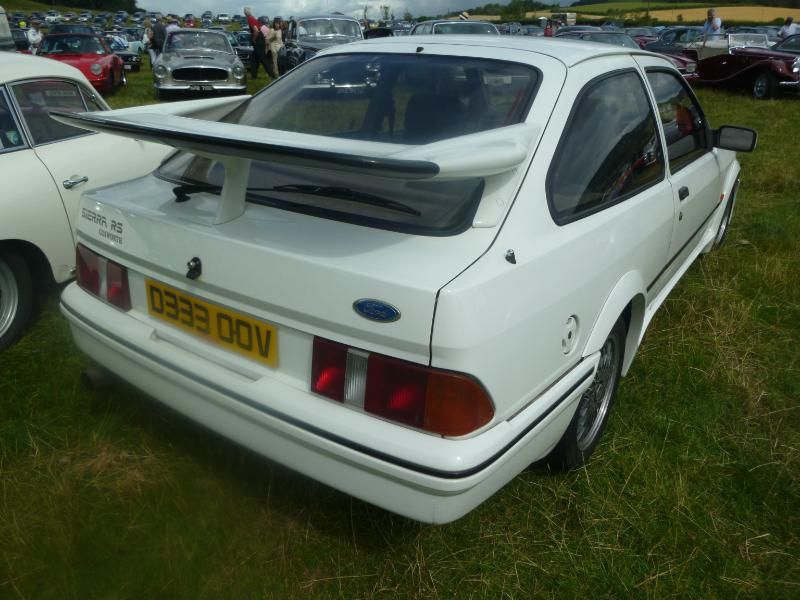 One of very few American cars at the event was this 1970 Ford Mustang.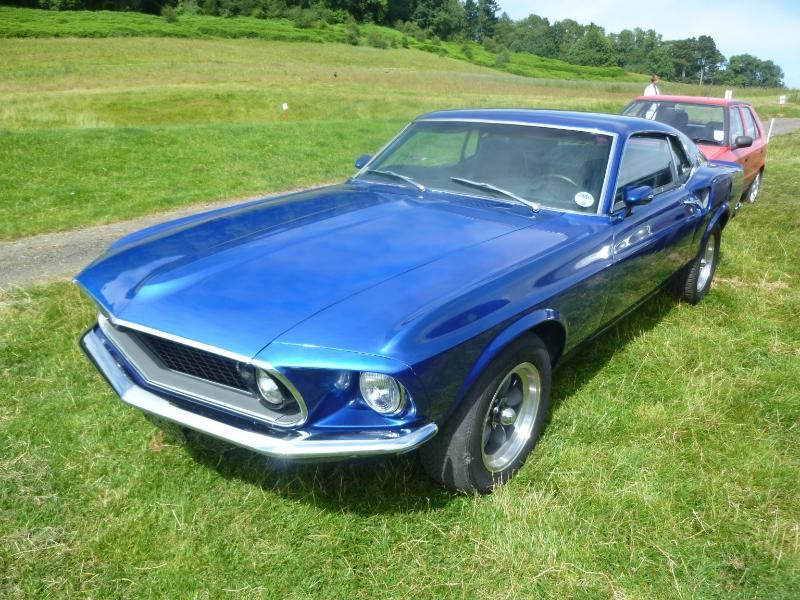 FRAZER-NASH
Along with a TT replica, there was a car which may look like a BMW 328, and indeed that is what it is, but it was badged Frazer-Nash.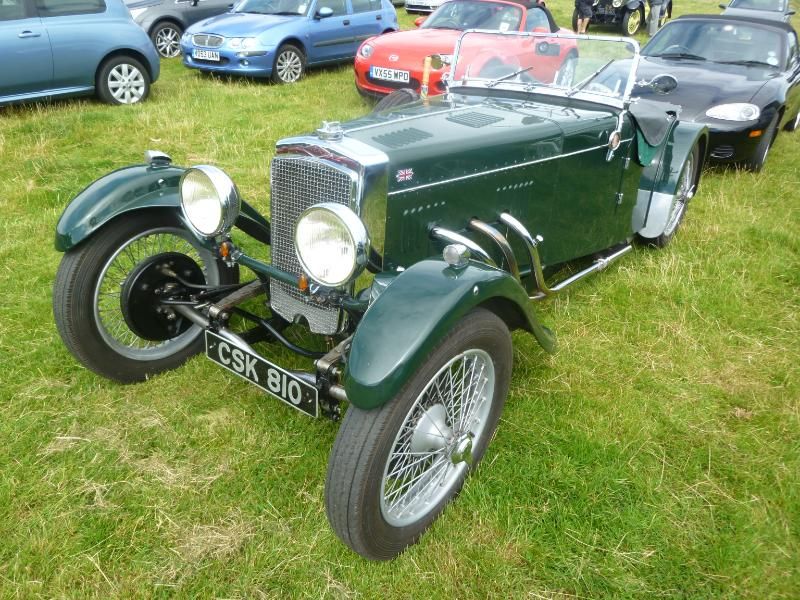 GINETTA
One of the rarer Ginetta models, the G21 was a larger car than the G15. It was based on Hillman Hunter mechanicals, clothed in a shapely two door coupe body.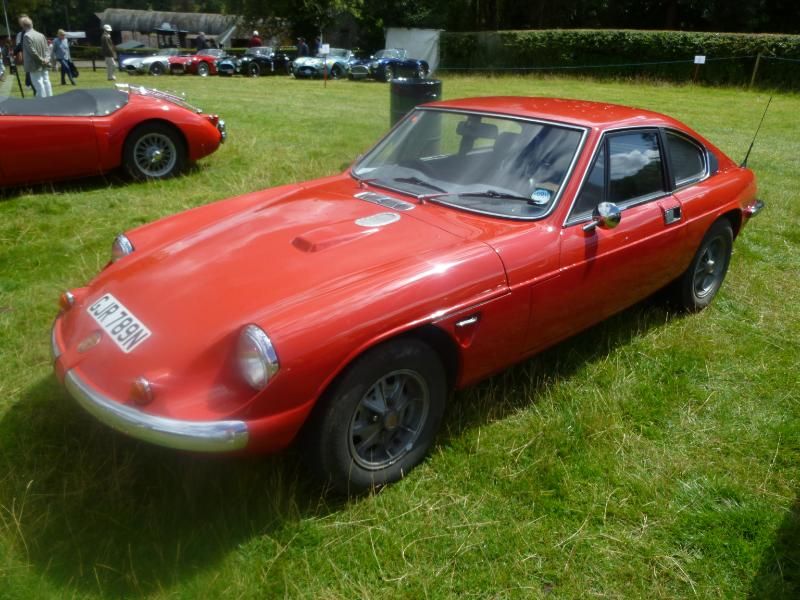 HEALEY
This 1950 Westland was rather nice and the Concours judges clearly agreed, as it was one of the 15 winning cars they selected. Just 64 of these cars were made between 1946 and 1950.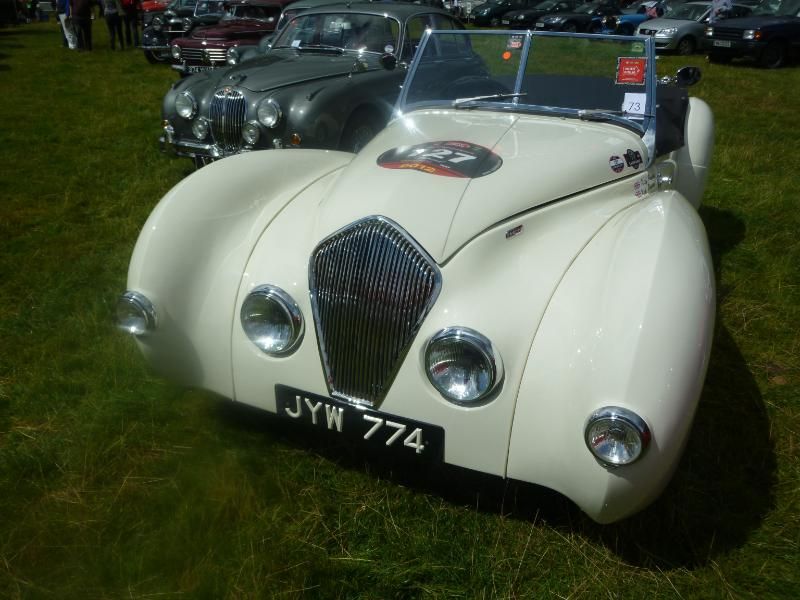 HRG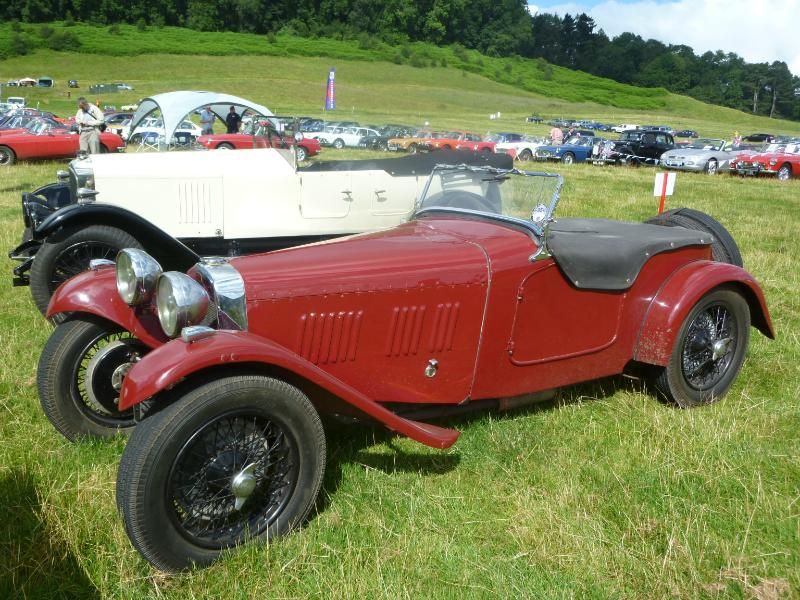 JAGUAR
Plenty of E Types, of course.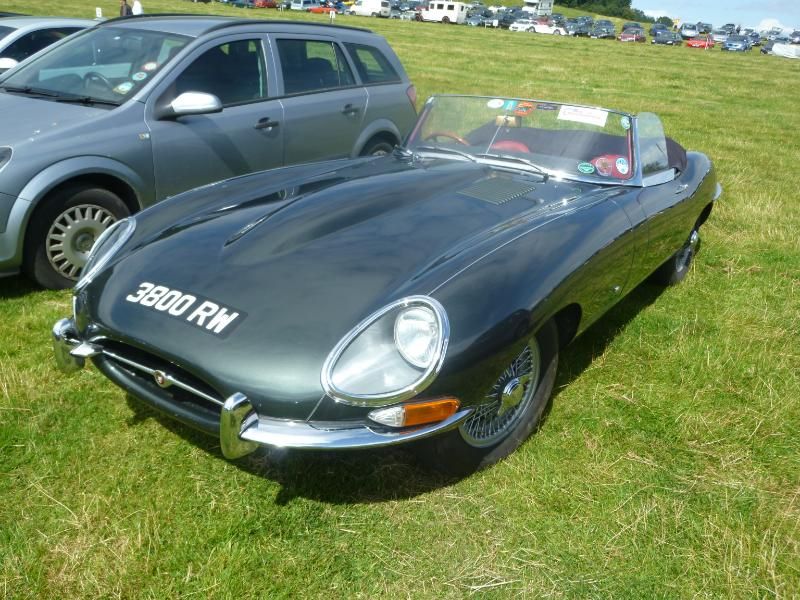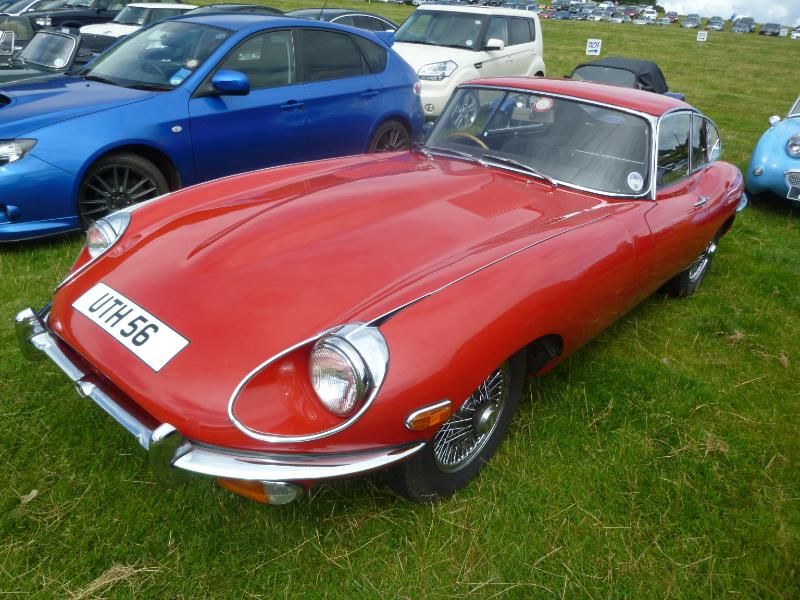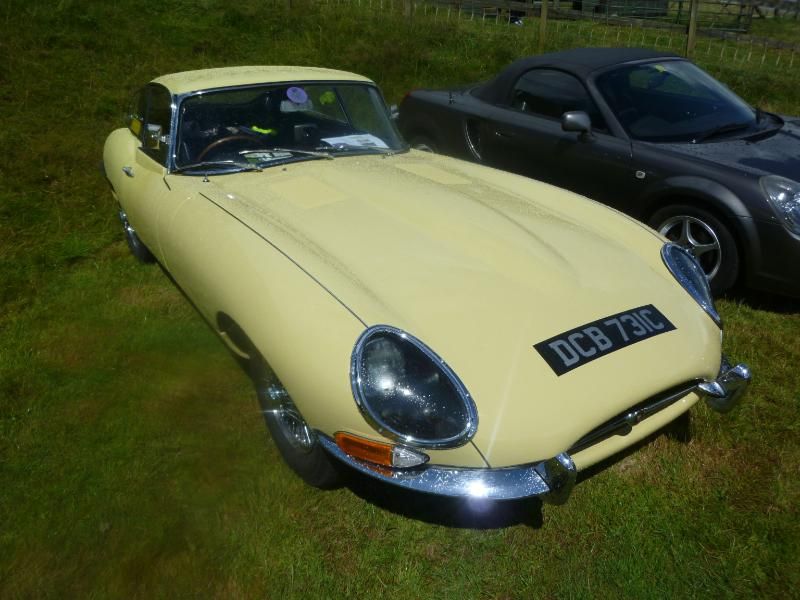 There were also some nice XJS cars, as well as a Mark 2 saloon and an XK120 .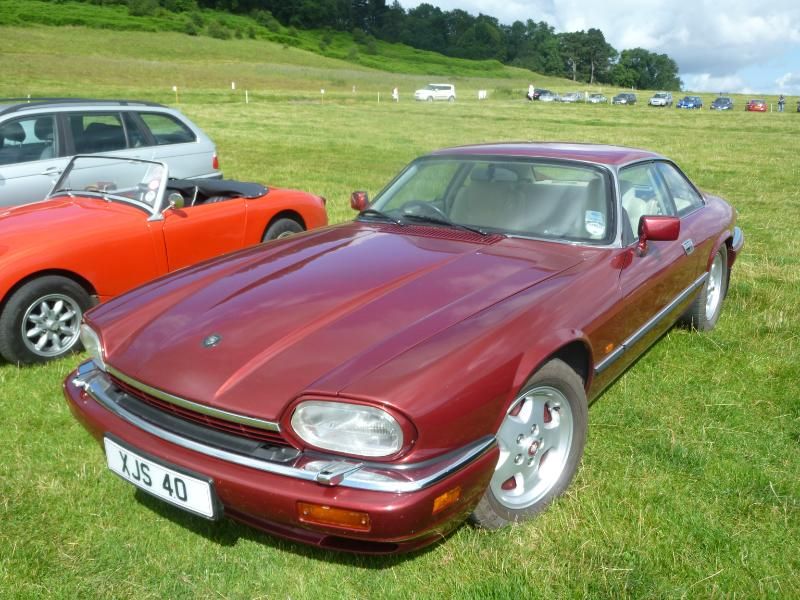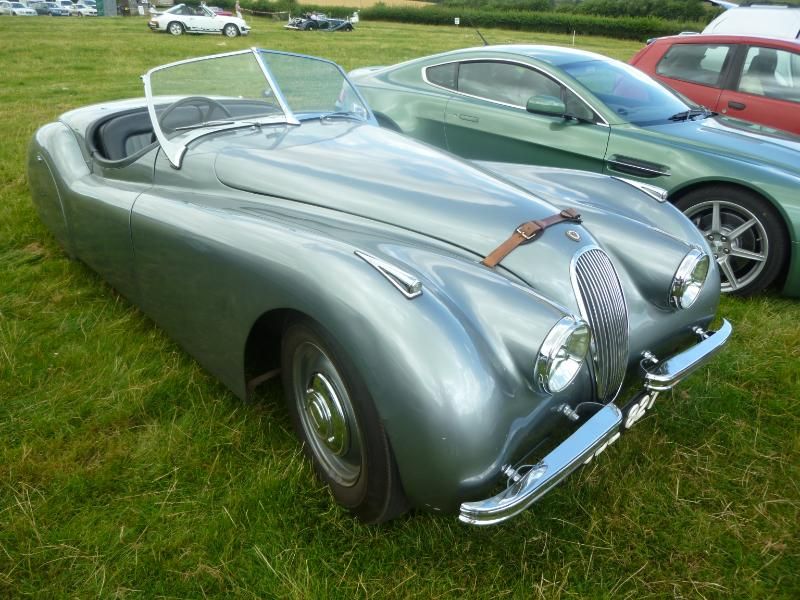 JENSEN
541S.
LANCIA
This Fulvia Coupe S3 is a regular at Shelsley, and it was joined by a particularly nice Aurelia GT.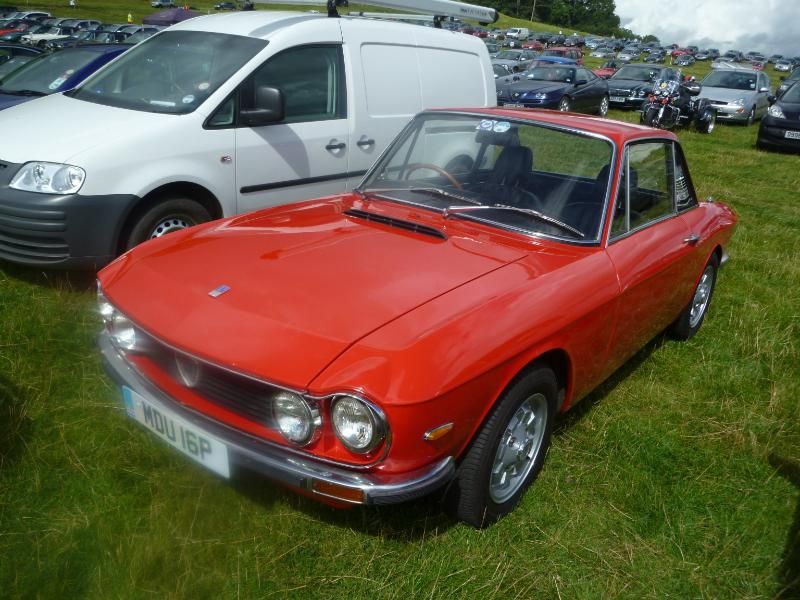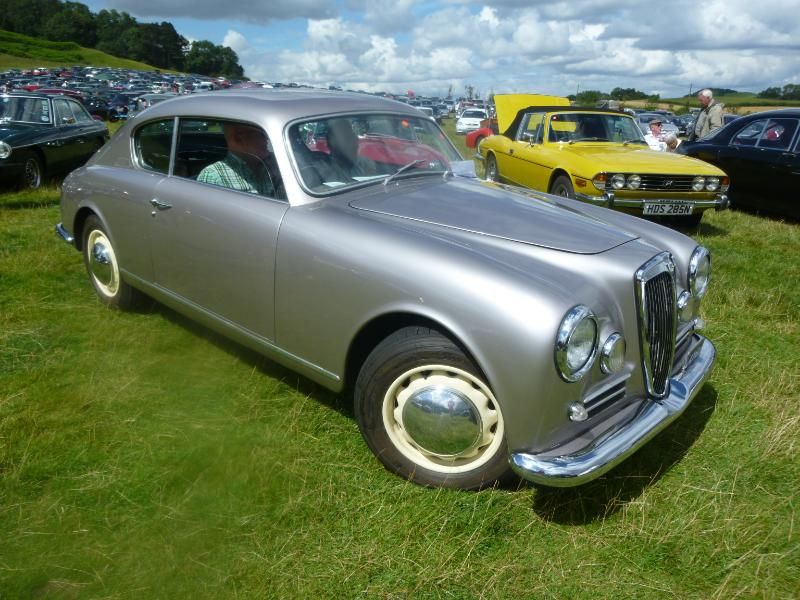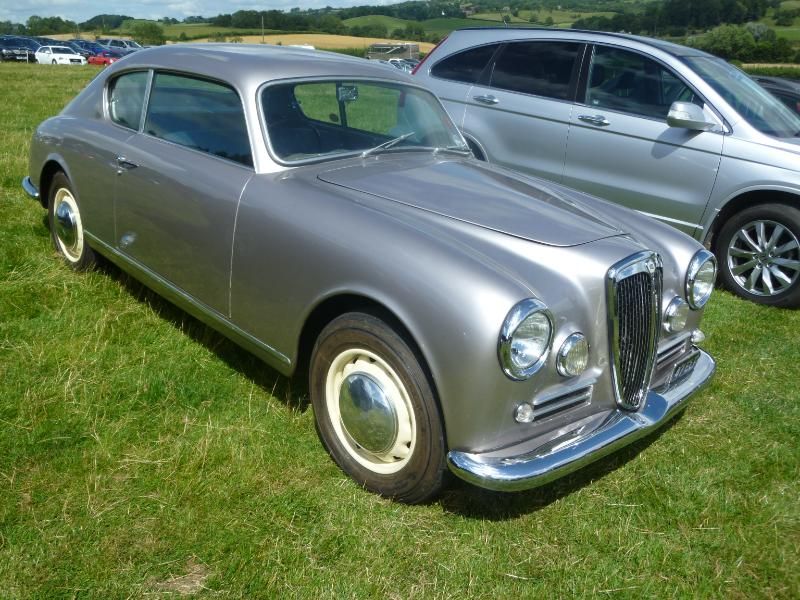 LEA FRANCIS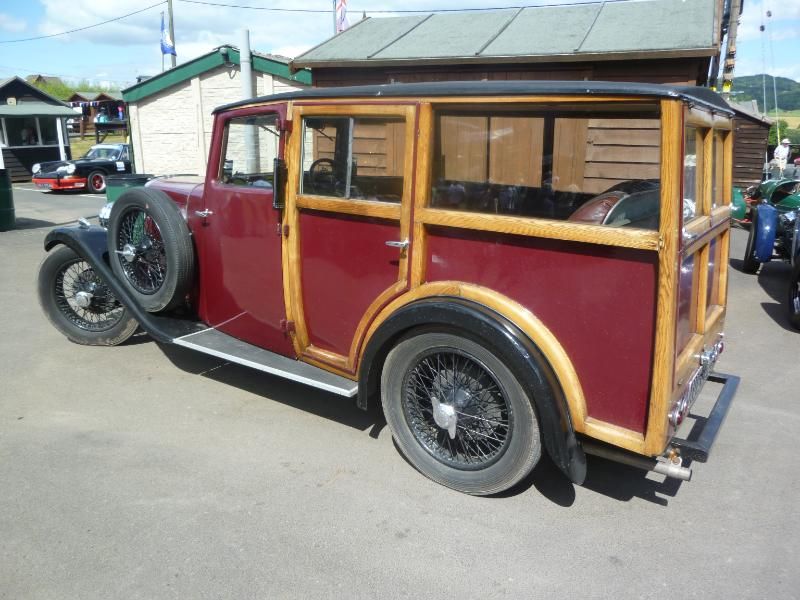 LOTUS
Rarest Lotus, without question was this, which is a one-off design. I had just come across it in the main car park, and spotted the Walker Elan badge when the owner arrived, so I was able to get a little more history. It is a one-off design produced by Radford, with an aluminium body, for a Swiss customer who owned it until a couple of years. At this point it arrived back in the UK and was acquired by the current owner who said that it had driven like a pig until a recent overhaul by Paul Matty.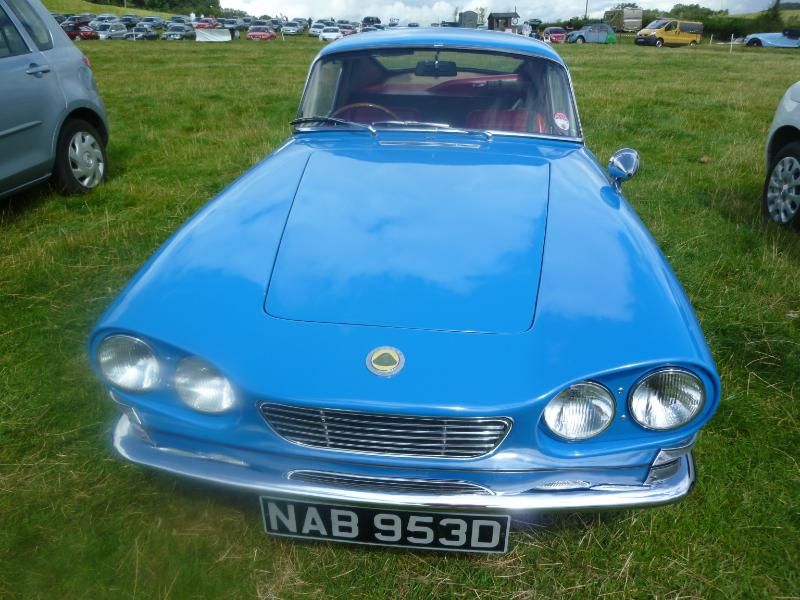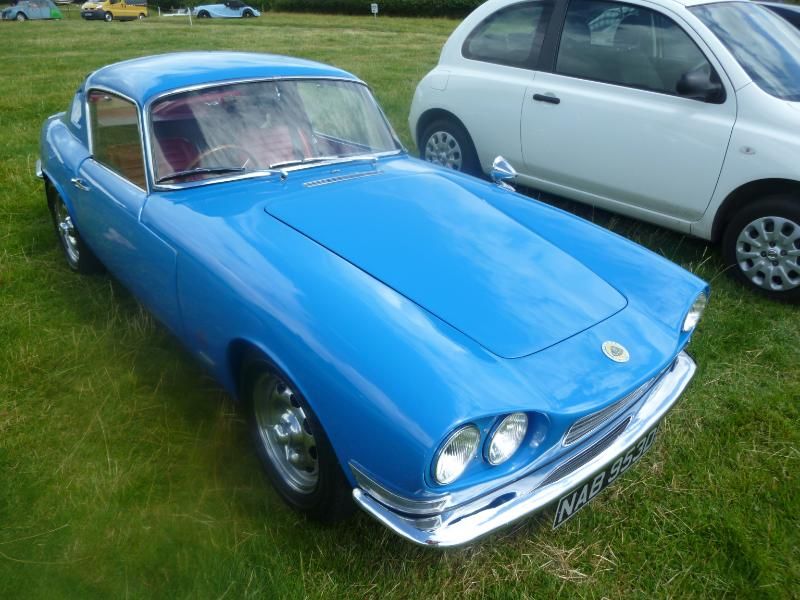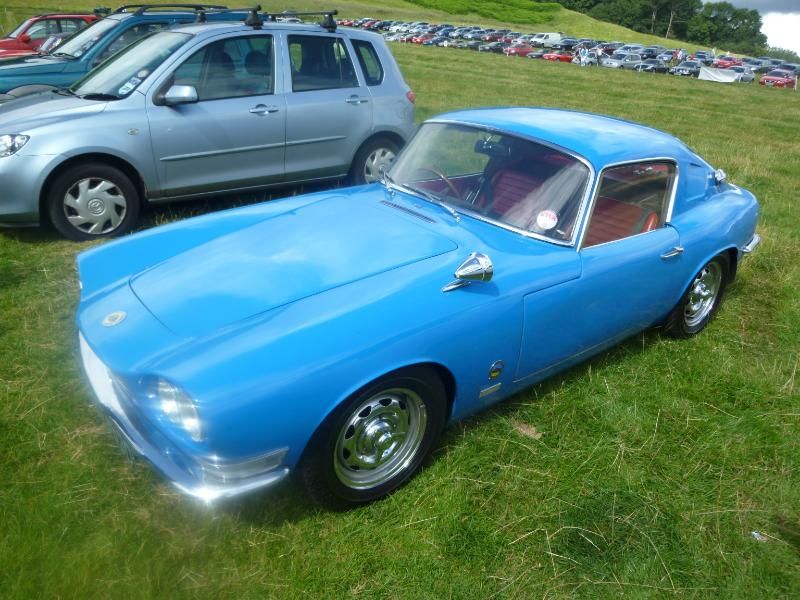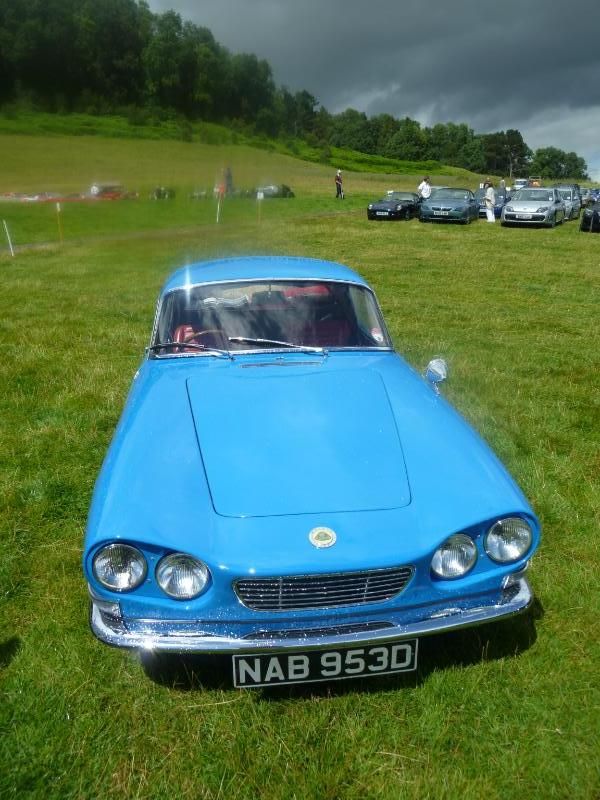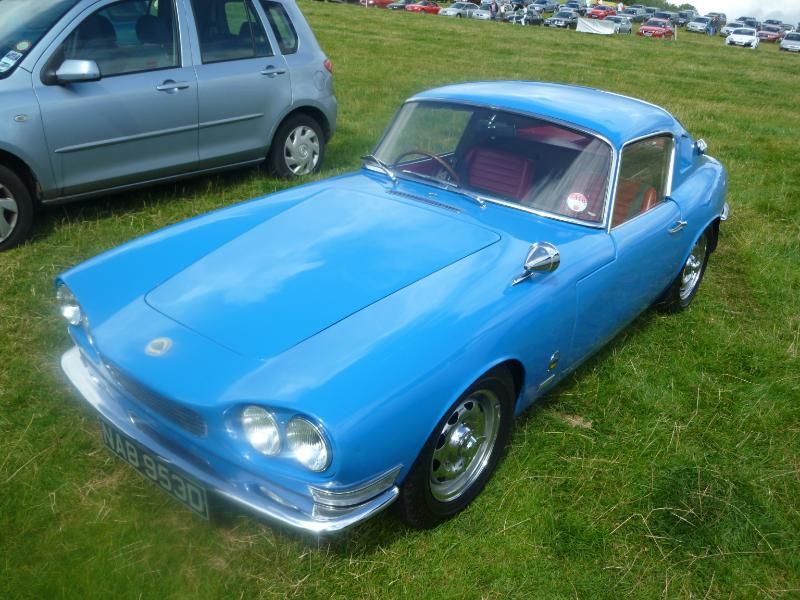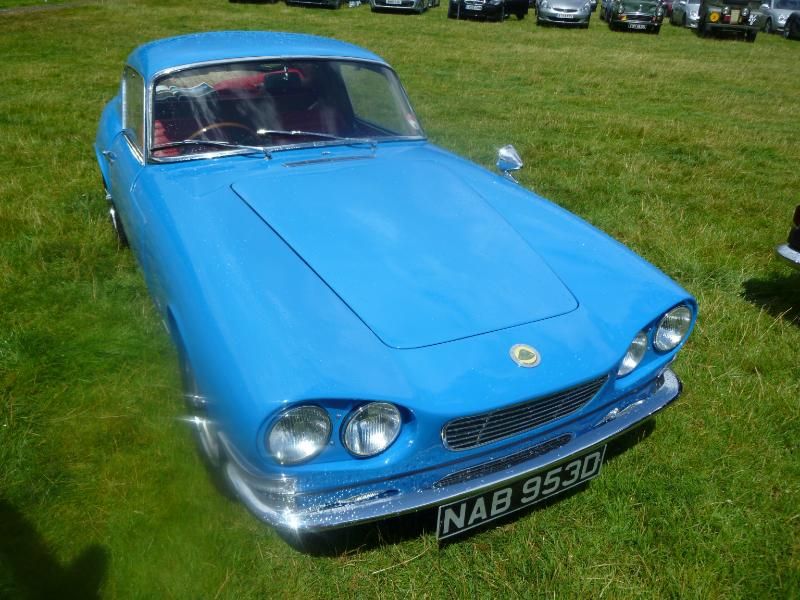 There were a good number of conventional Elans as well, an Excel and from more recent times, an Exige.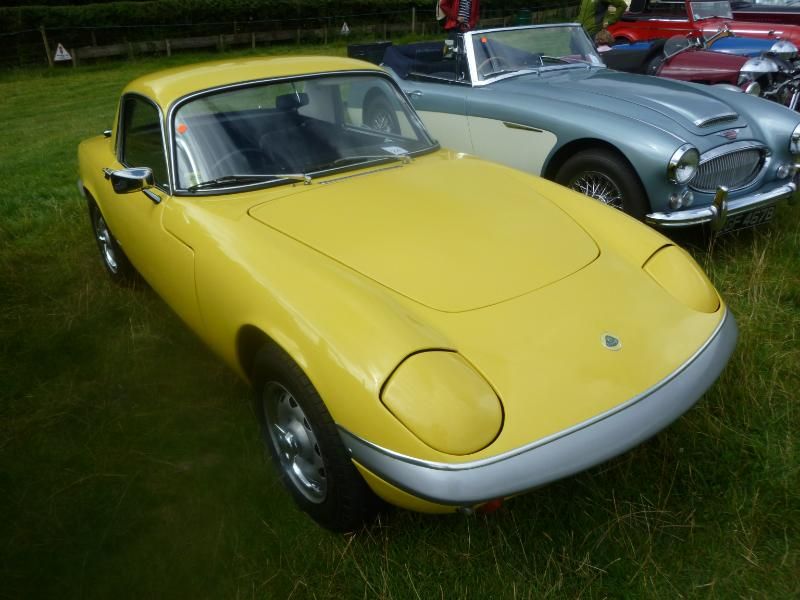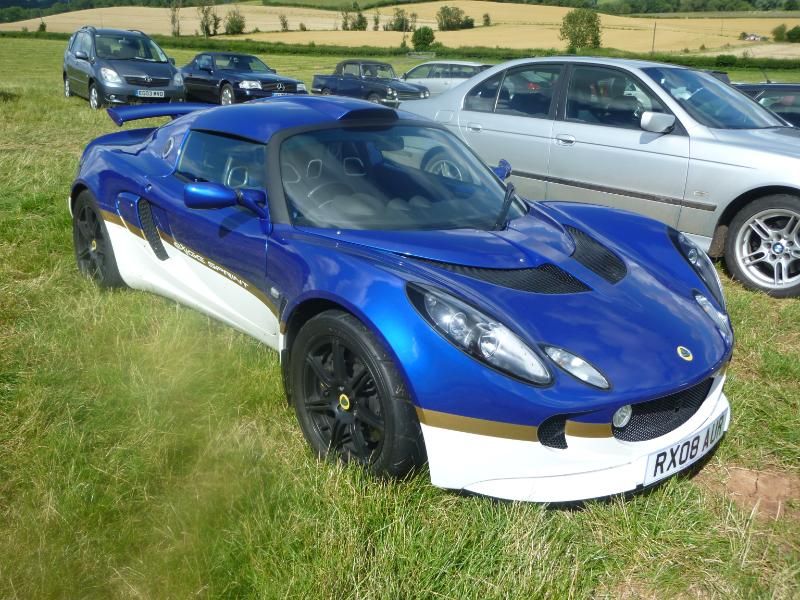 MAZDA
An example of the facelifted version of the first generation RX7. Definitely one of the rarer cars of recent times at the event.
MERCEDES-BENZ
This 190SL attracted a lot of attention. Not surprising, really, as it is a very nice car. There were a couple of examples of its successor, an early "Pagoda" 230SL and a late model 280SL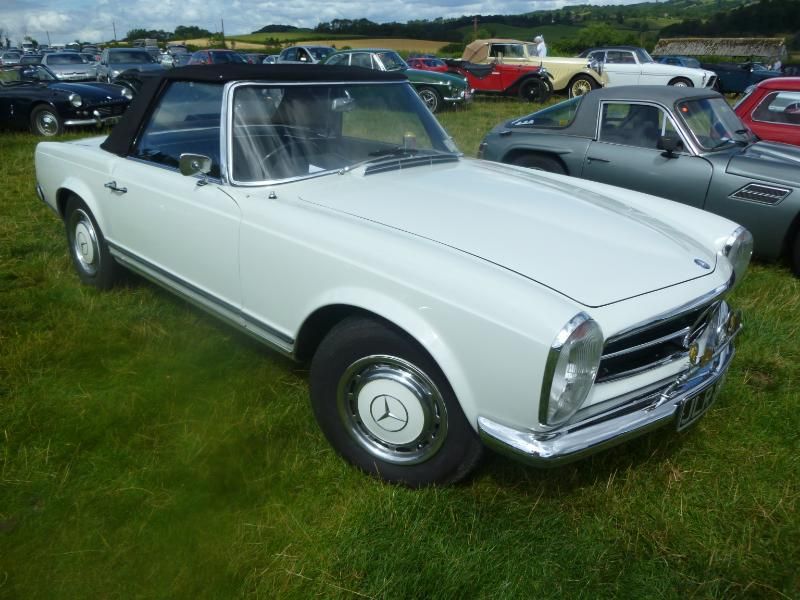 Fast attaining classic status is the W123 Mercedes and this 200T is an example of the less commonly encountered estate model.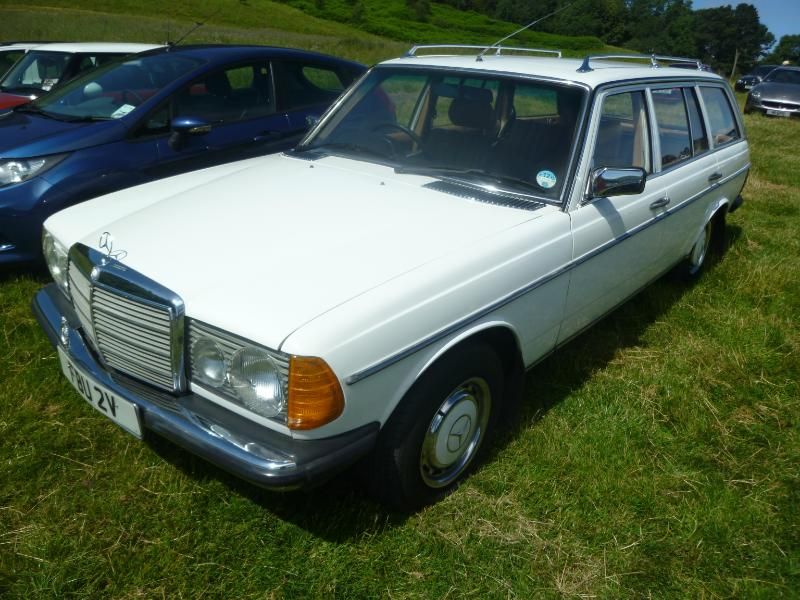 MG
As expected, there were a vast number of MGB models, with everything from the early "pull handle" cars to a couple of the final limited edition LE cars on display. There was also one of the special cars made in 1975 to celebrate MG's 50th anniversary. A number of them convoyed up the hill on Saturday lunchtime, and the organisers took some care to try to get them into chronological order. Even on the Sunday, when there was no special display, a good number of this popular sports car were to be found dotted around the car park.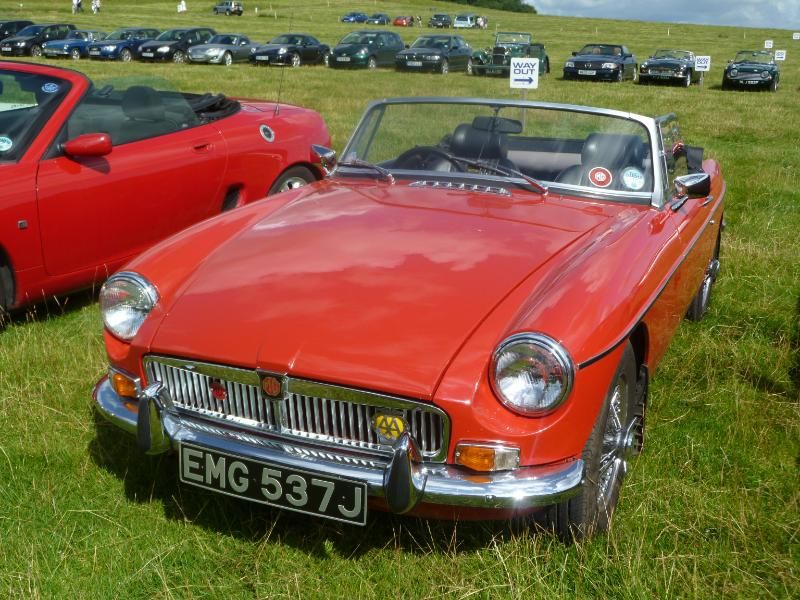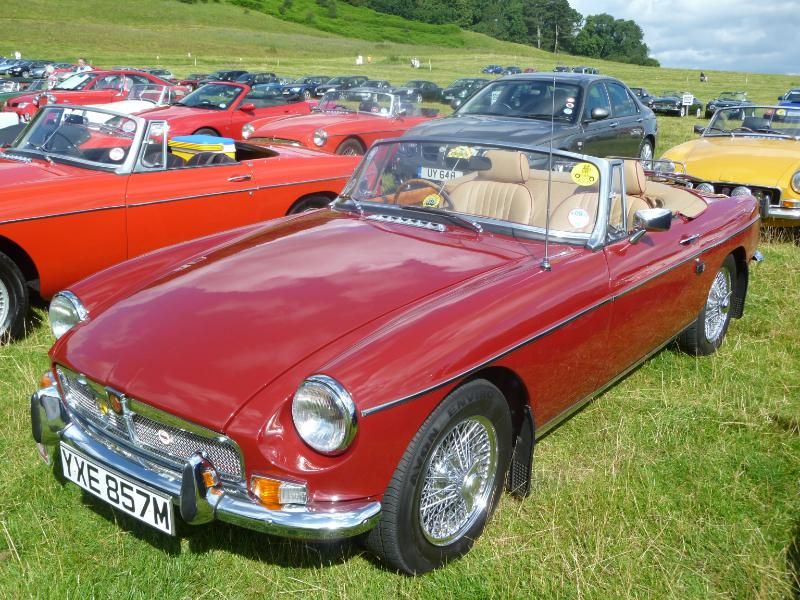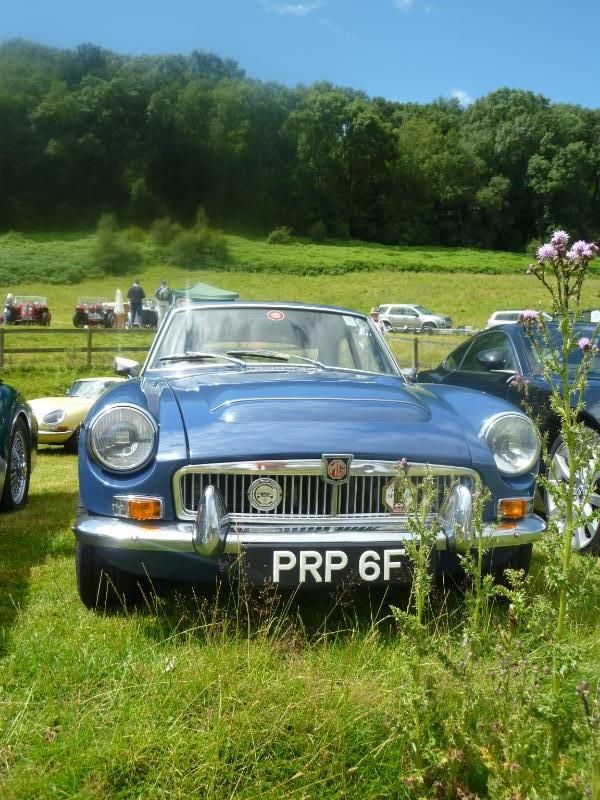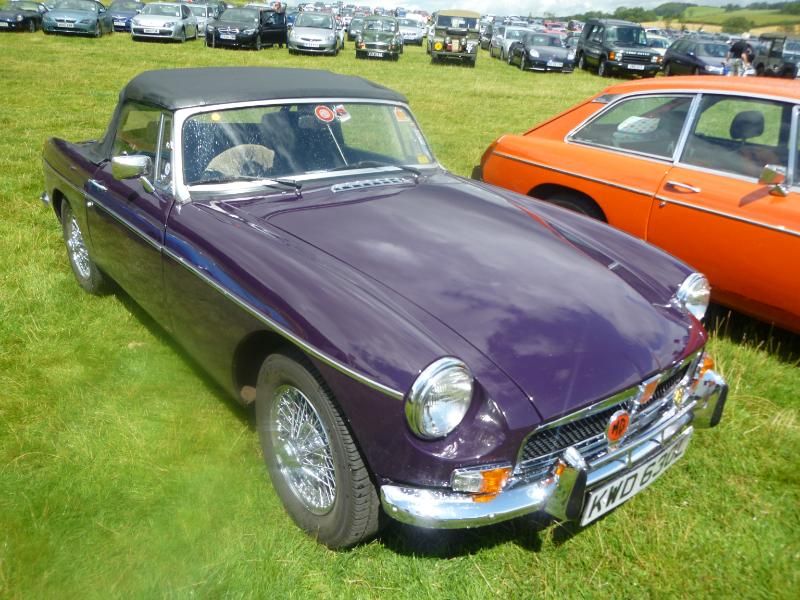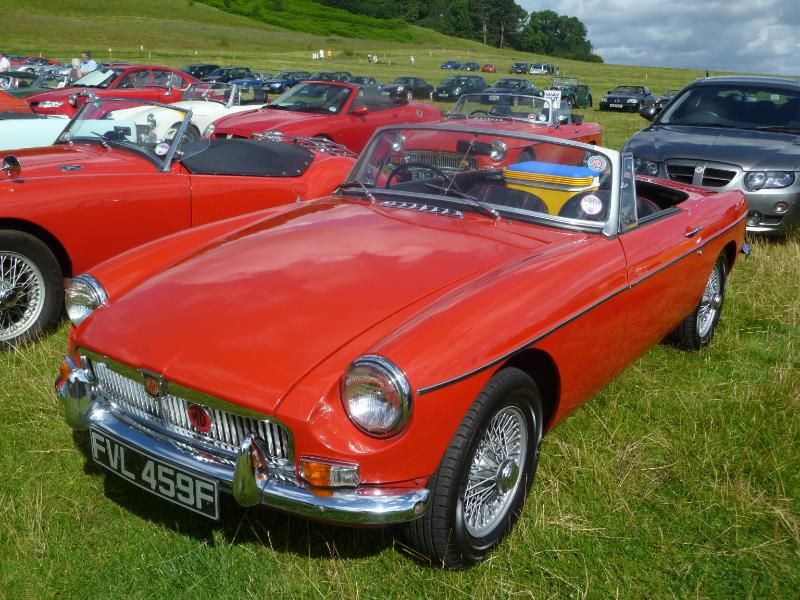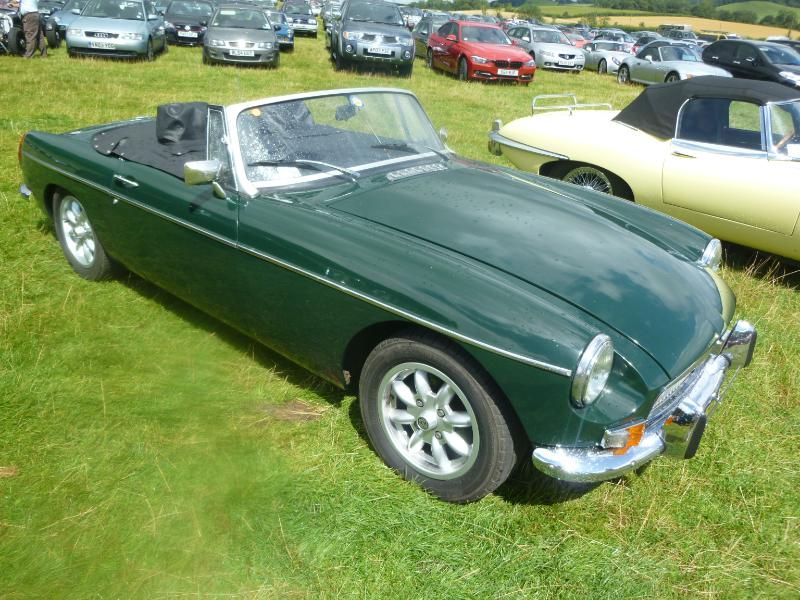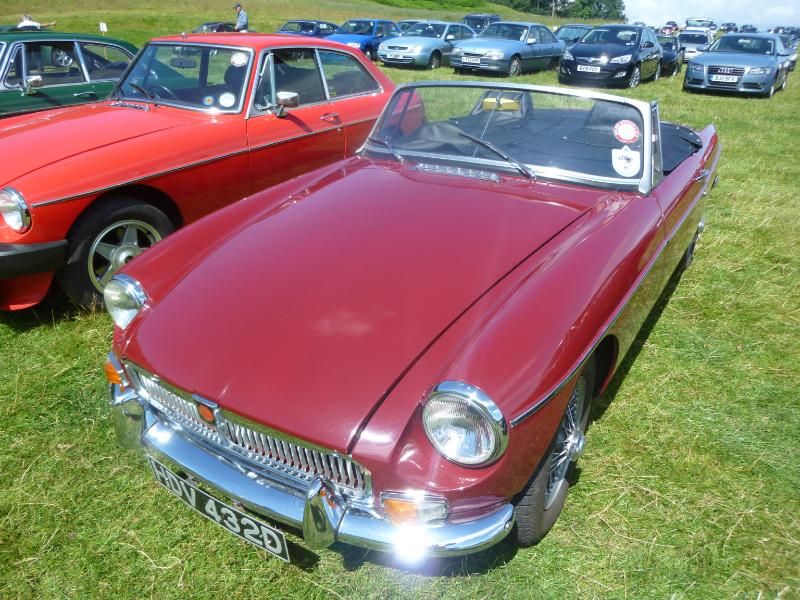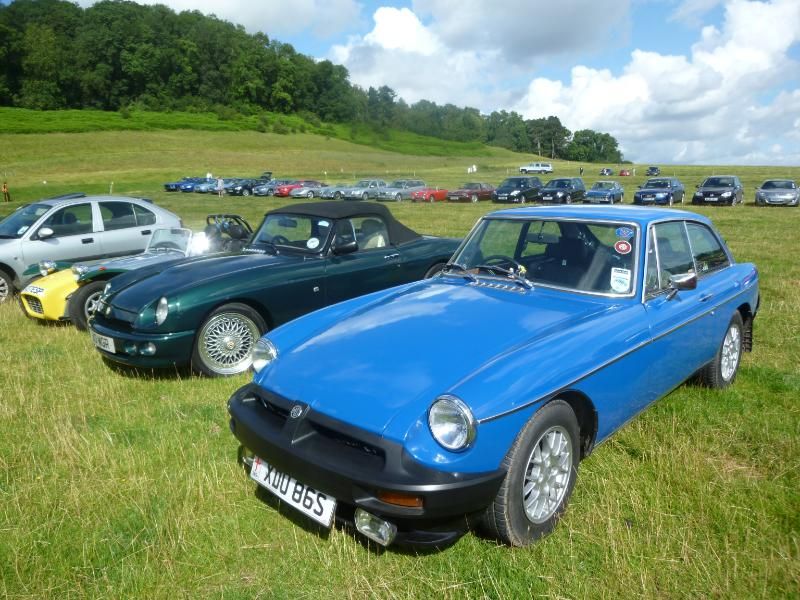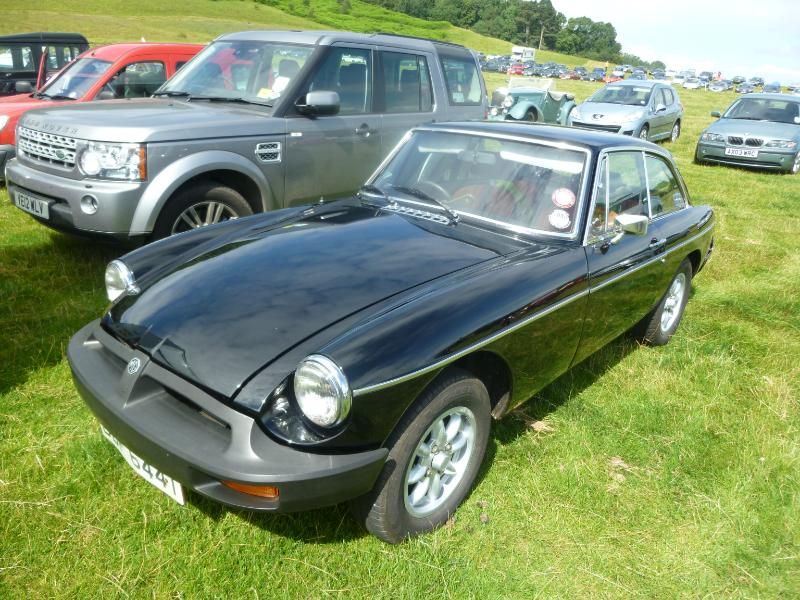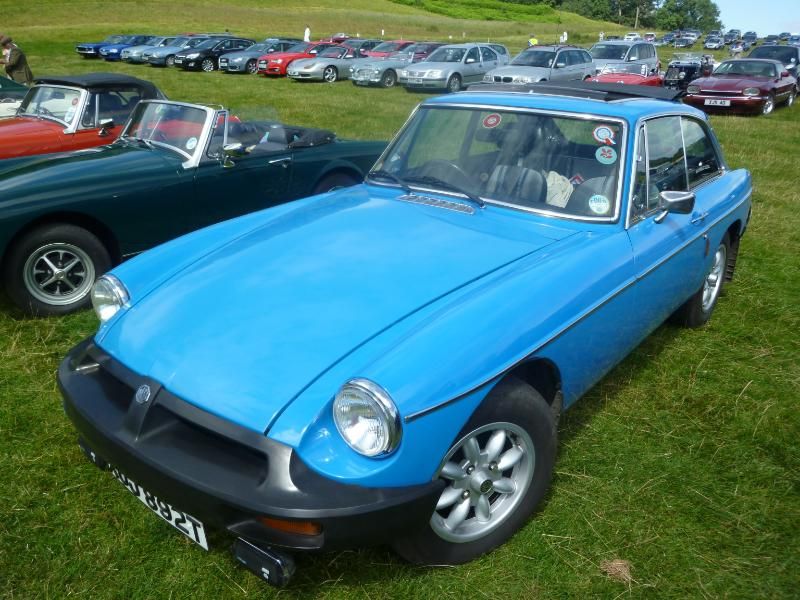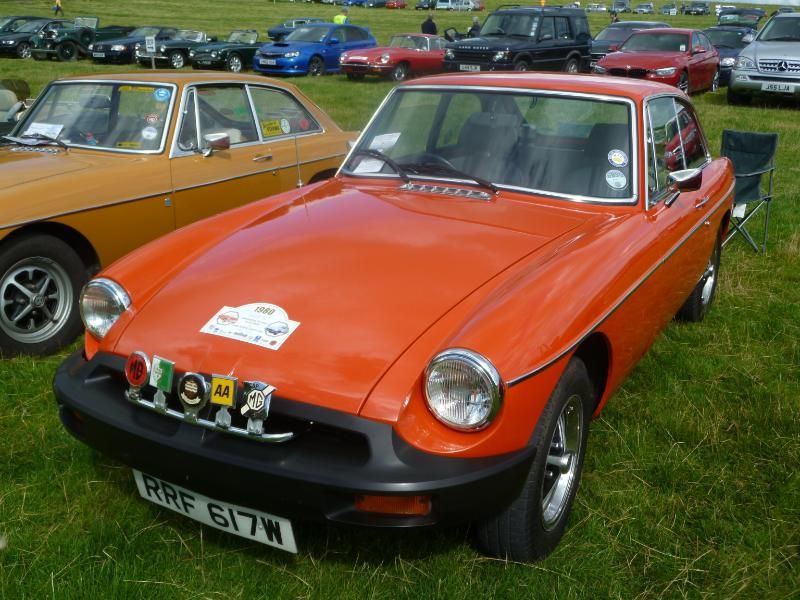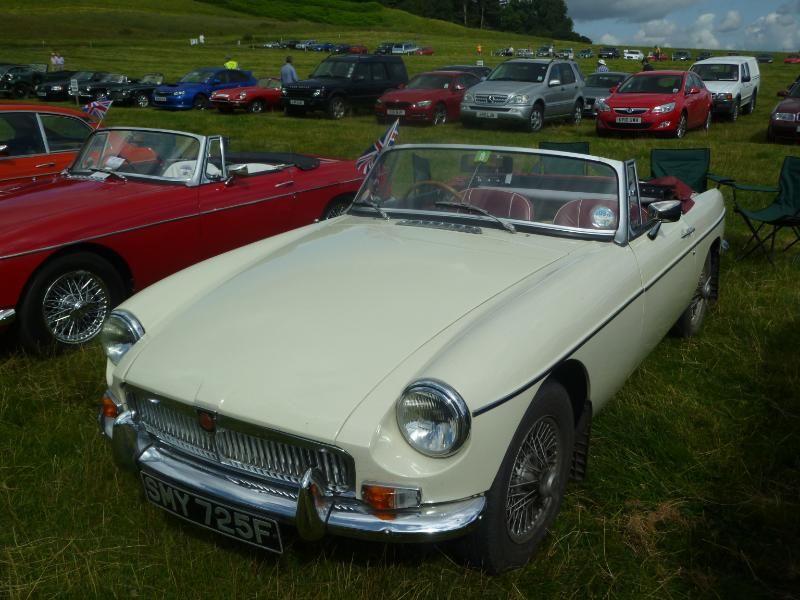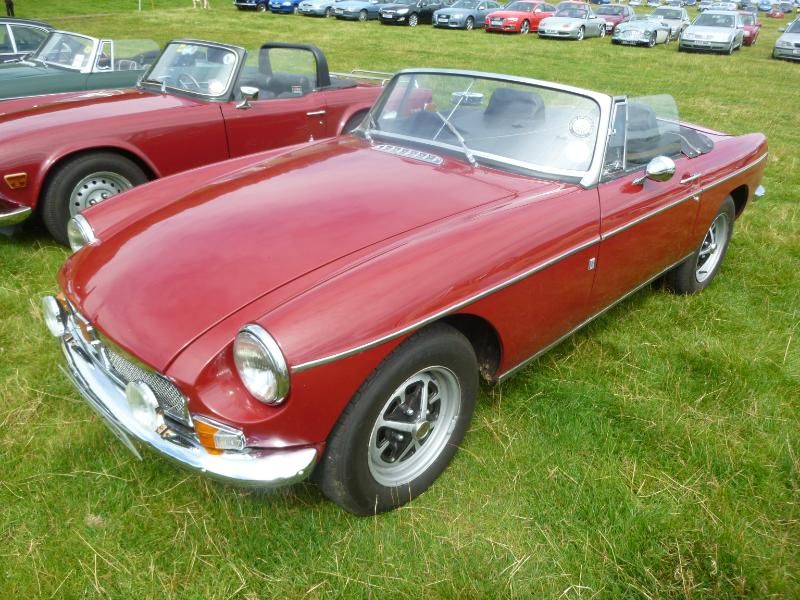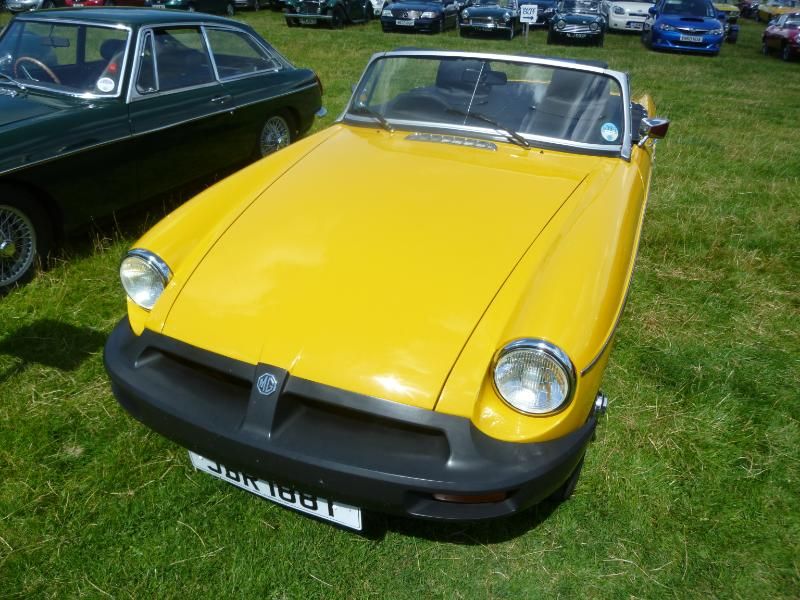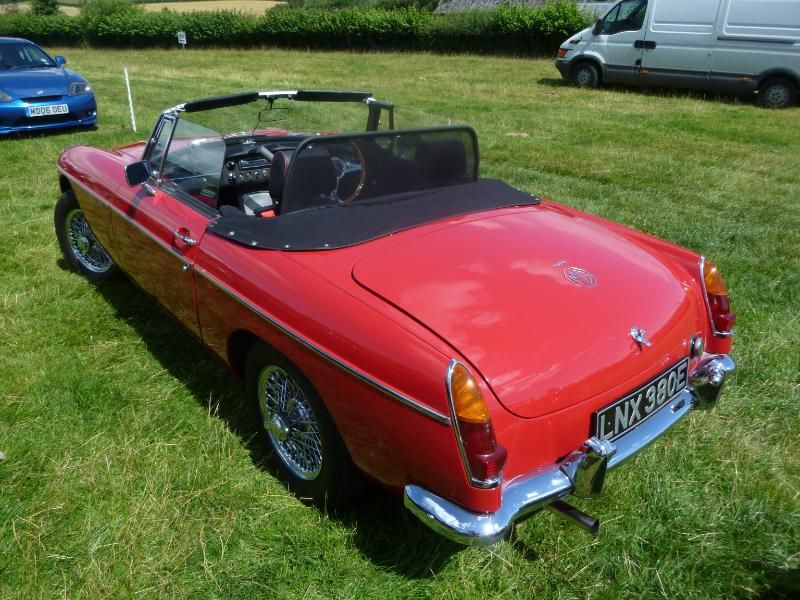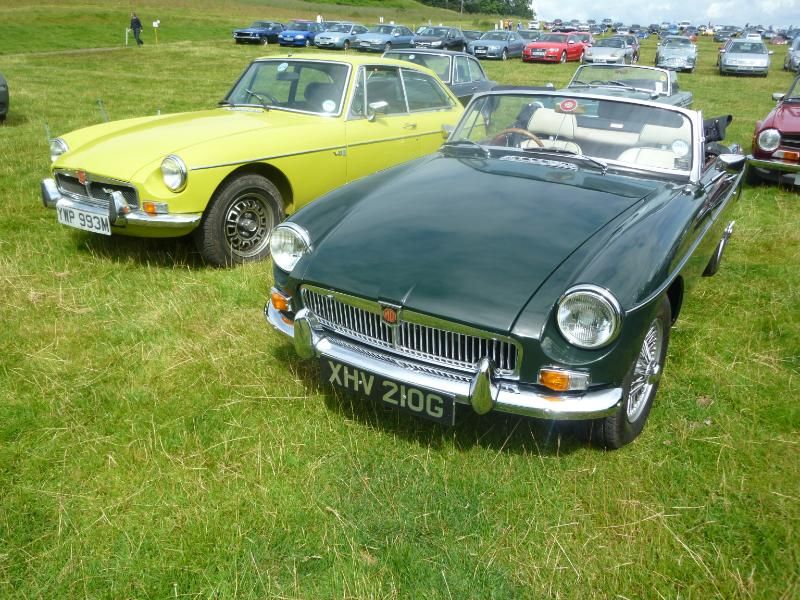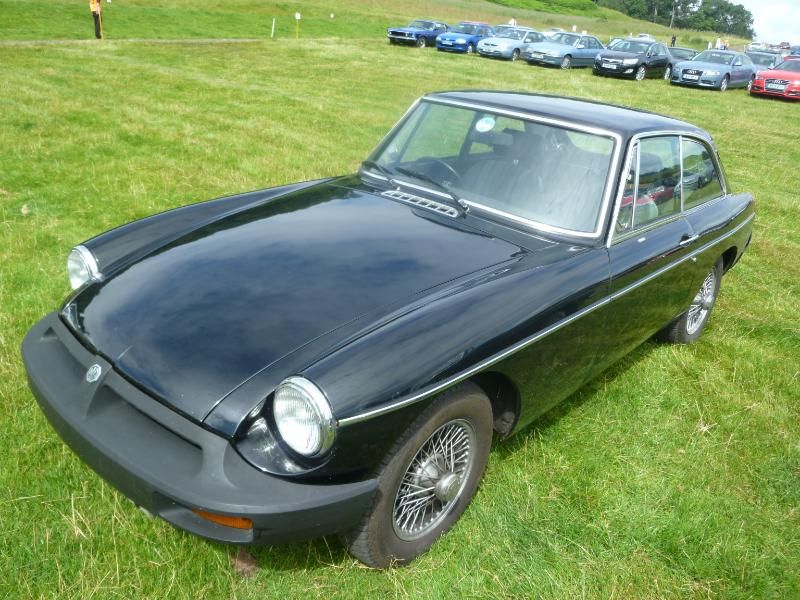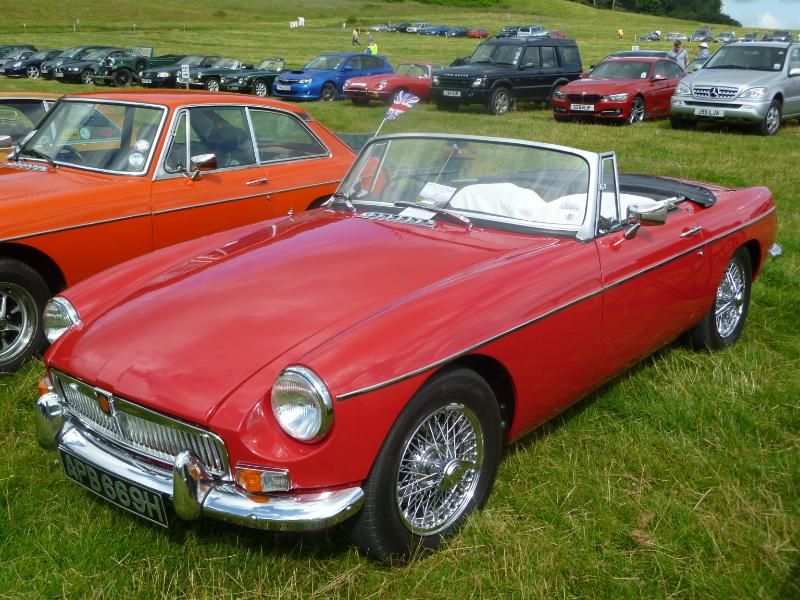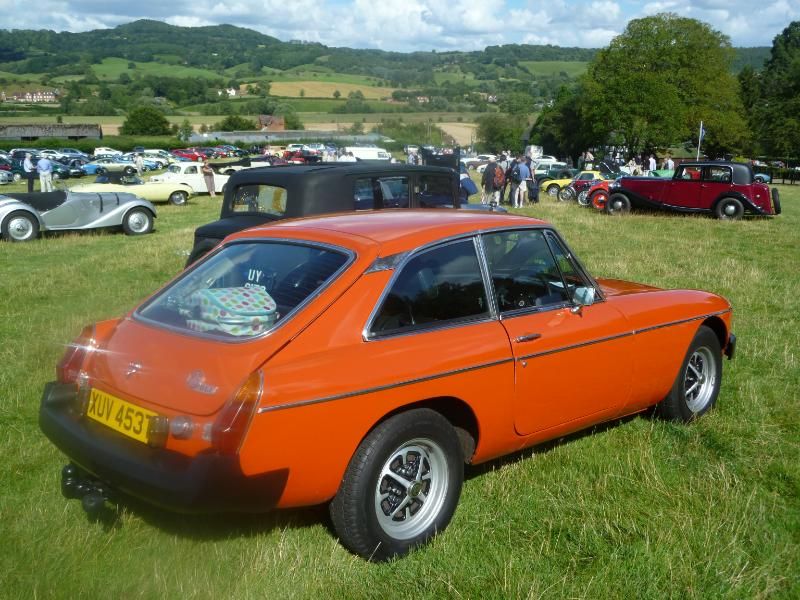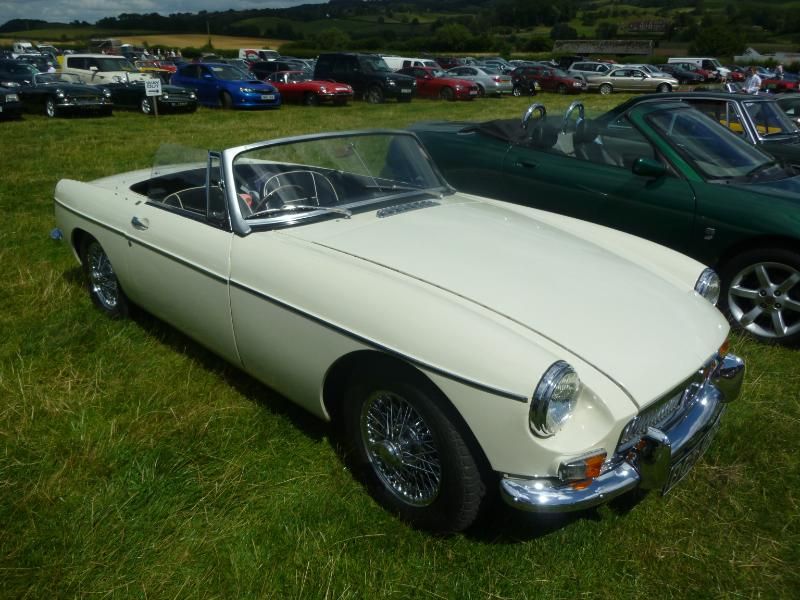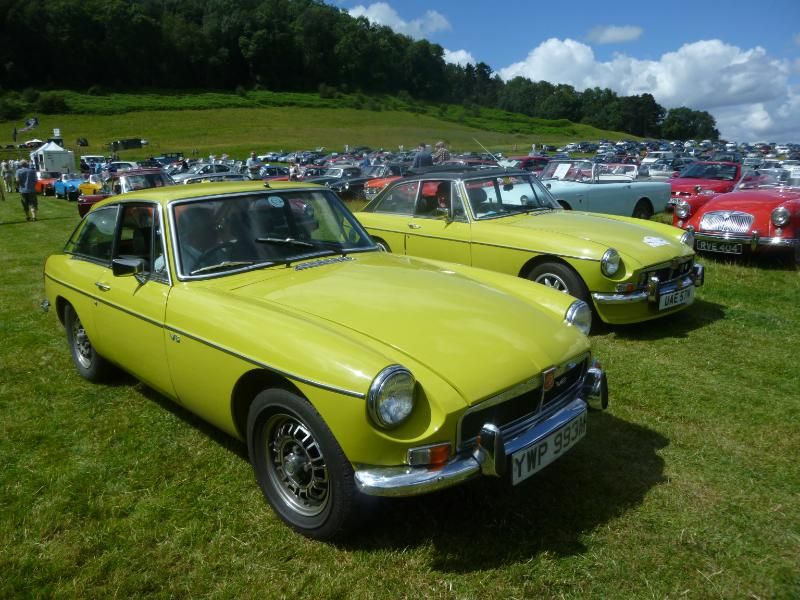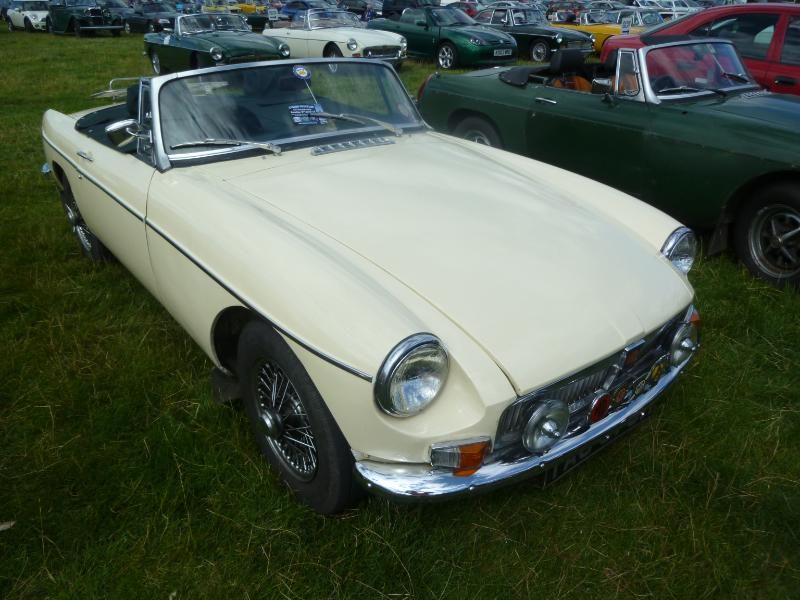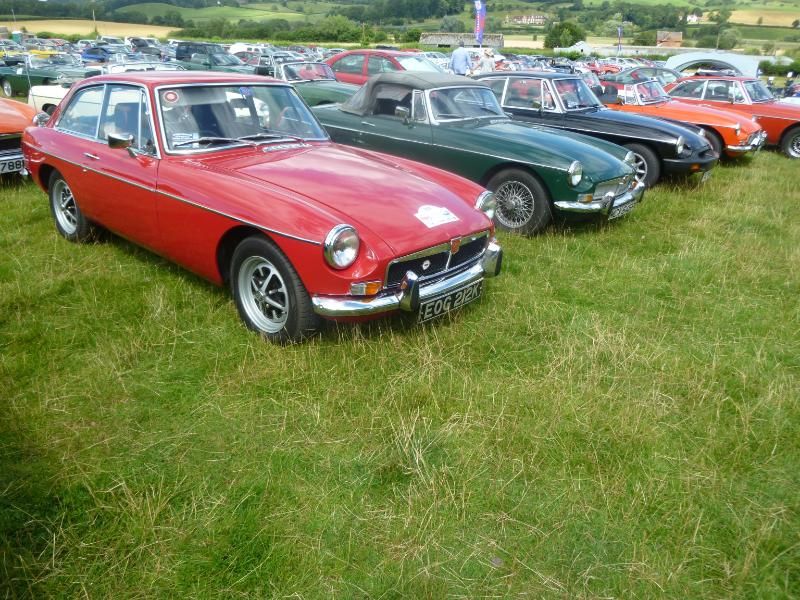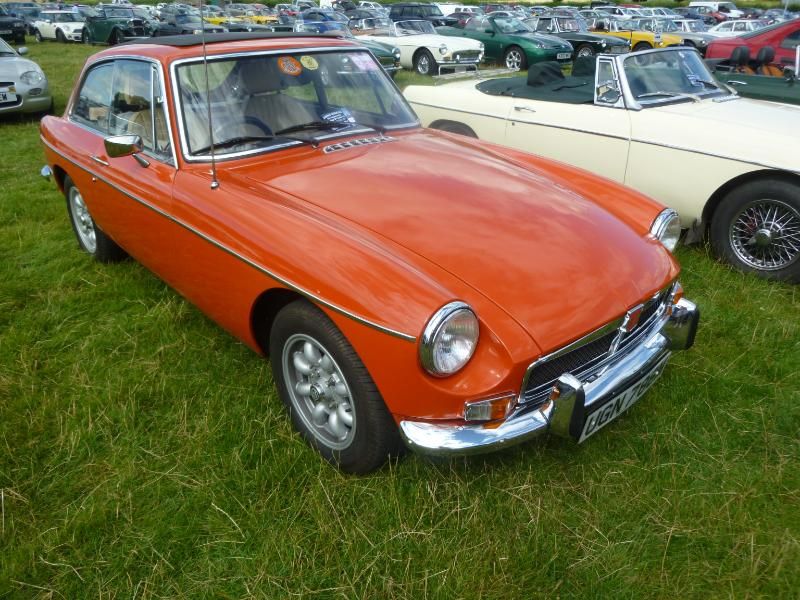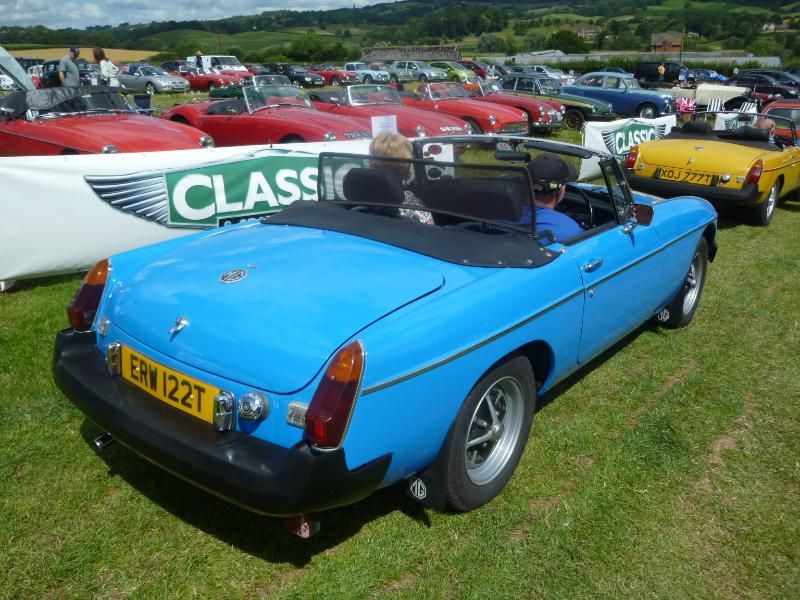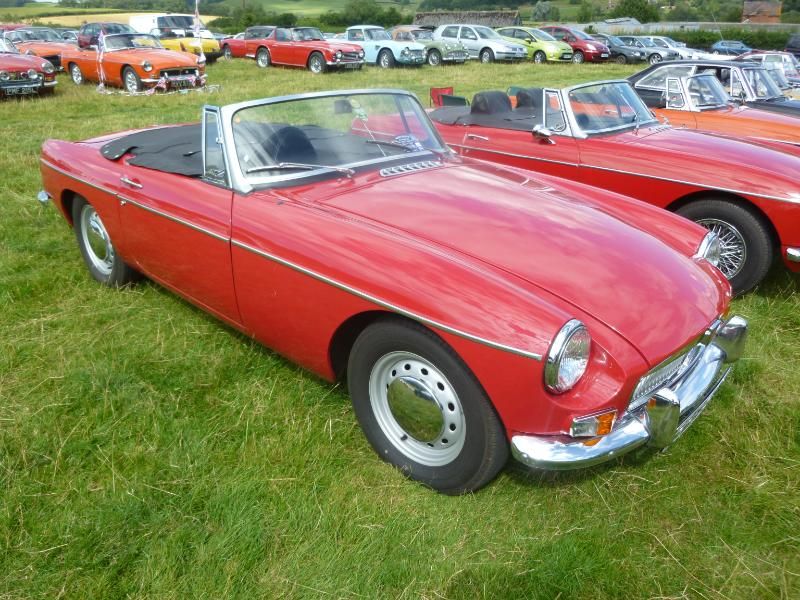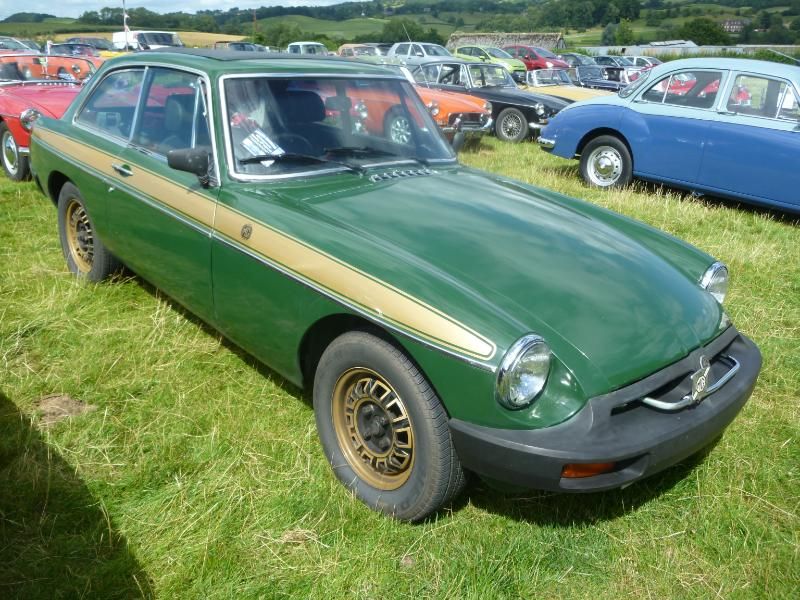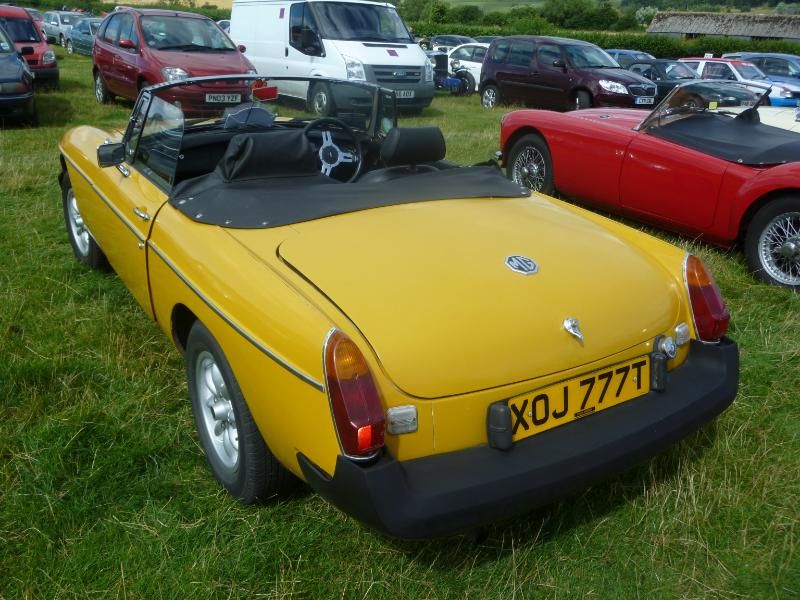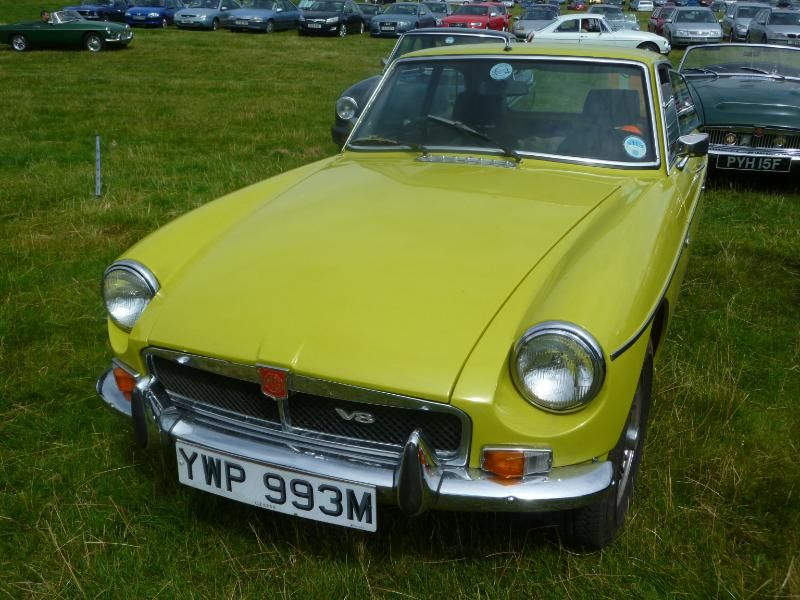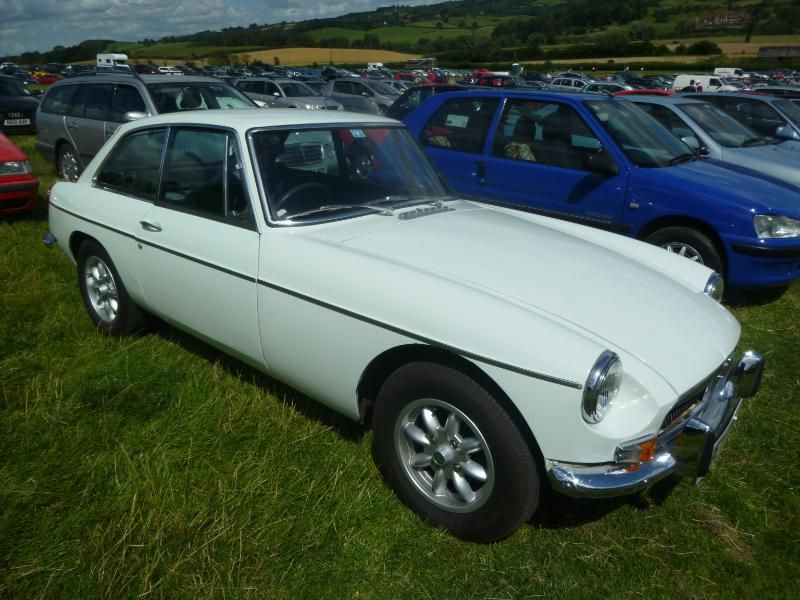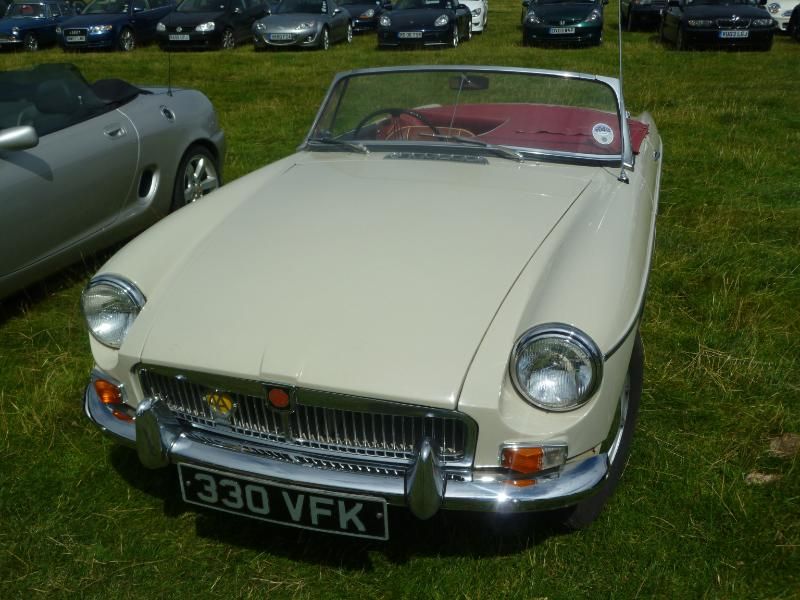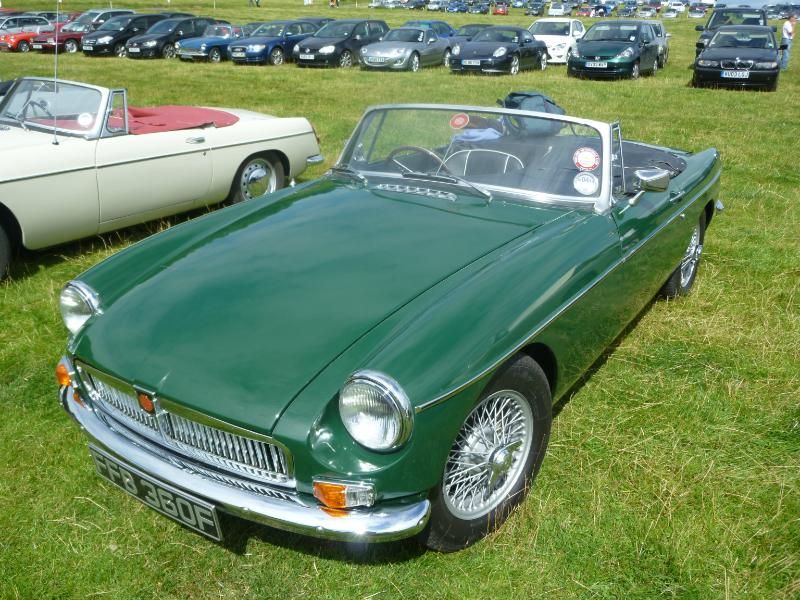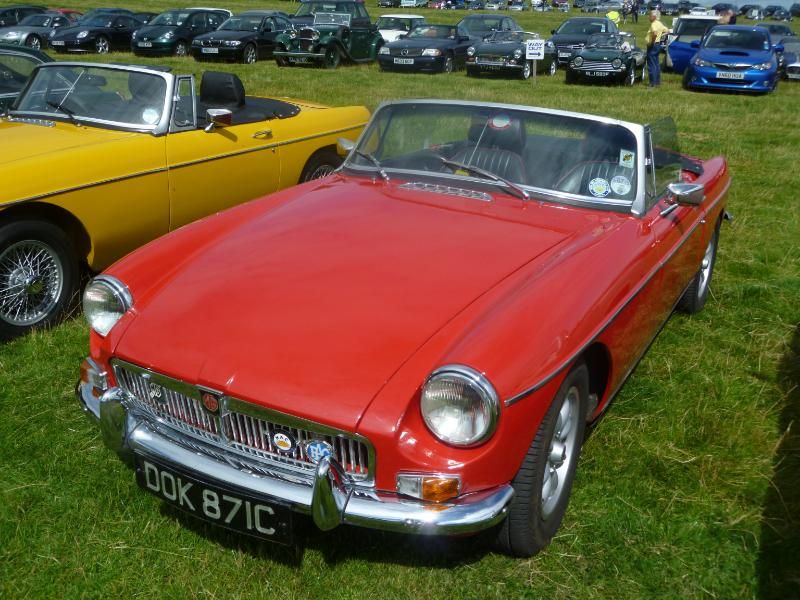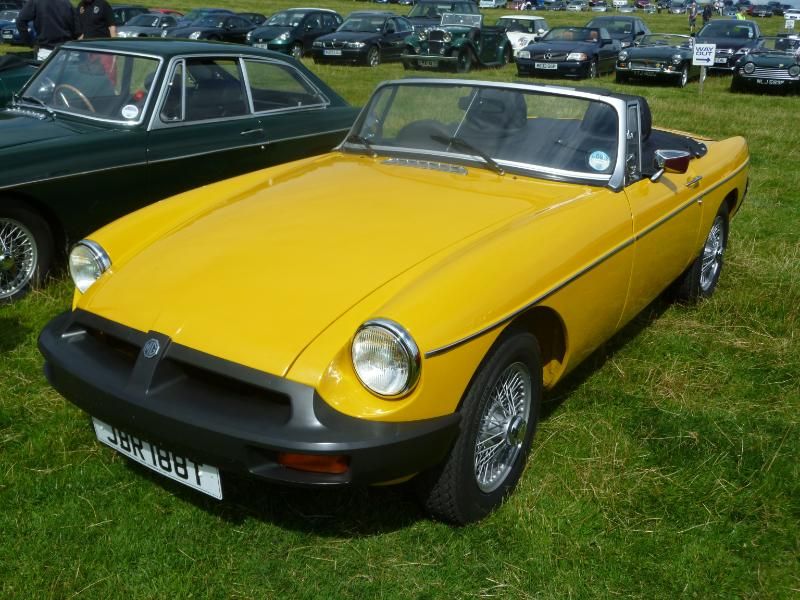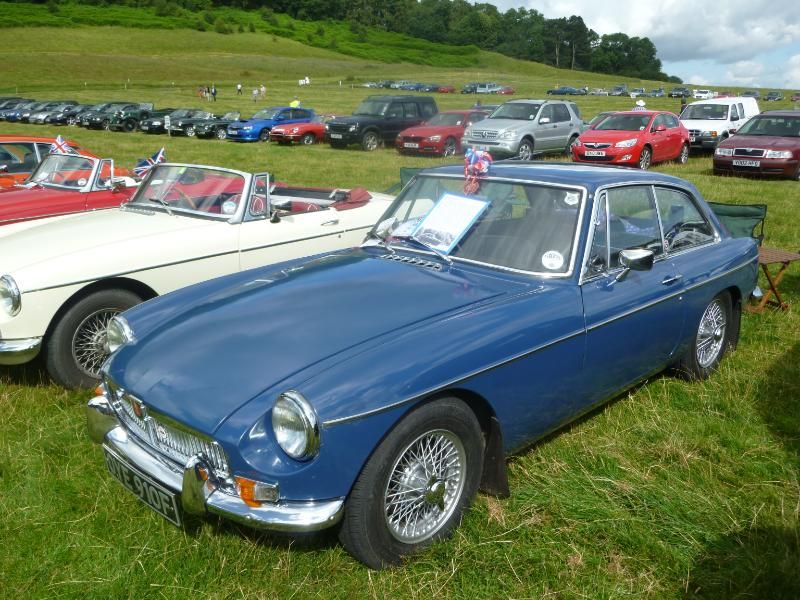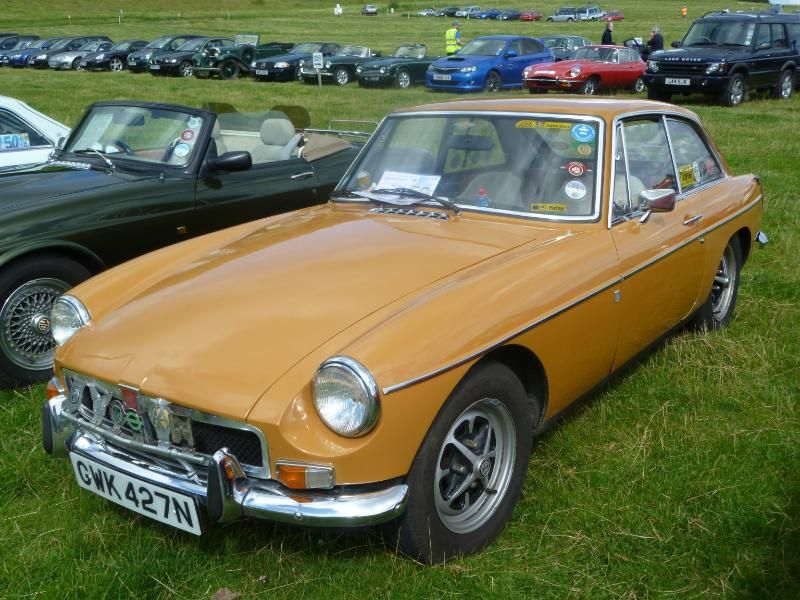 There were all sorts of other MGs that were parked up with the Bs, ranging from Cs and Midgets to the more recent F and TF cars.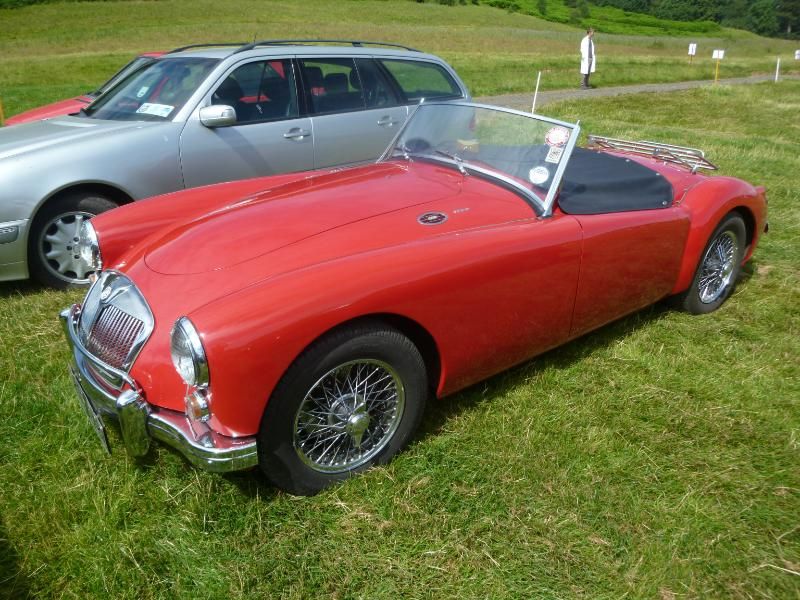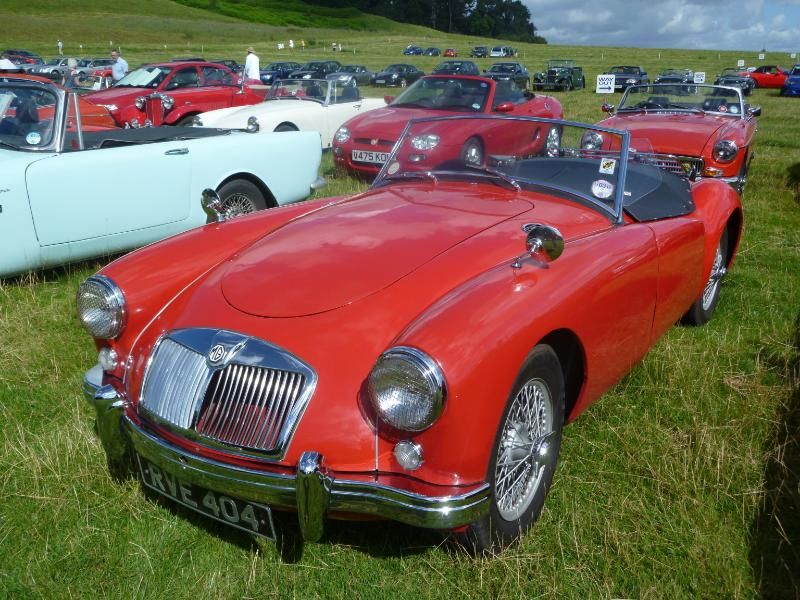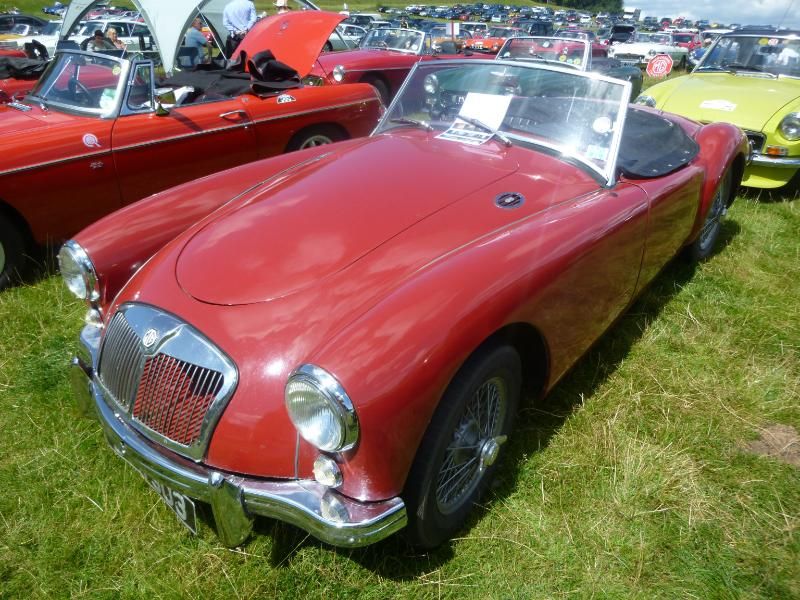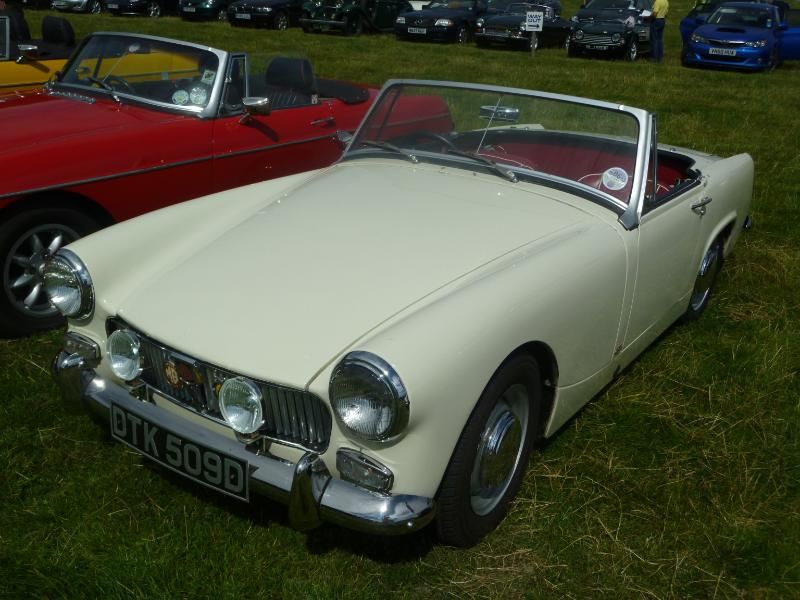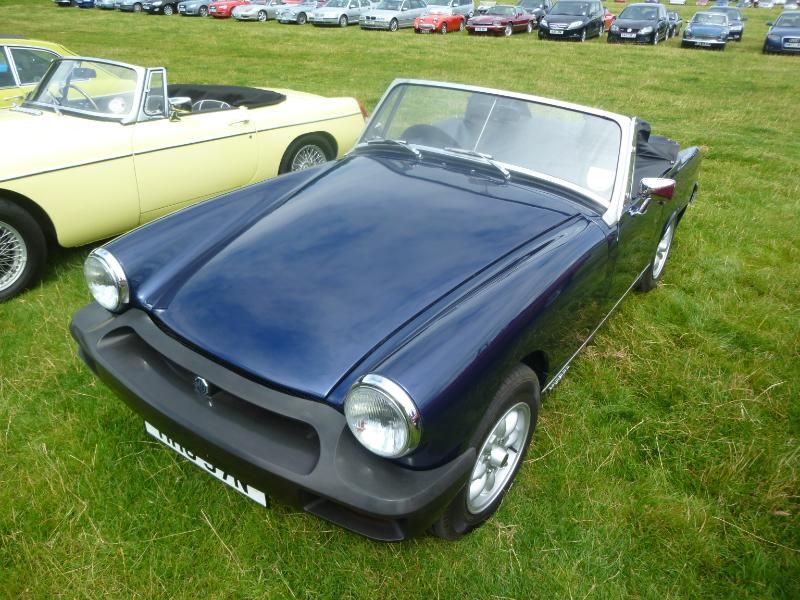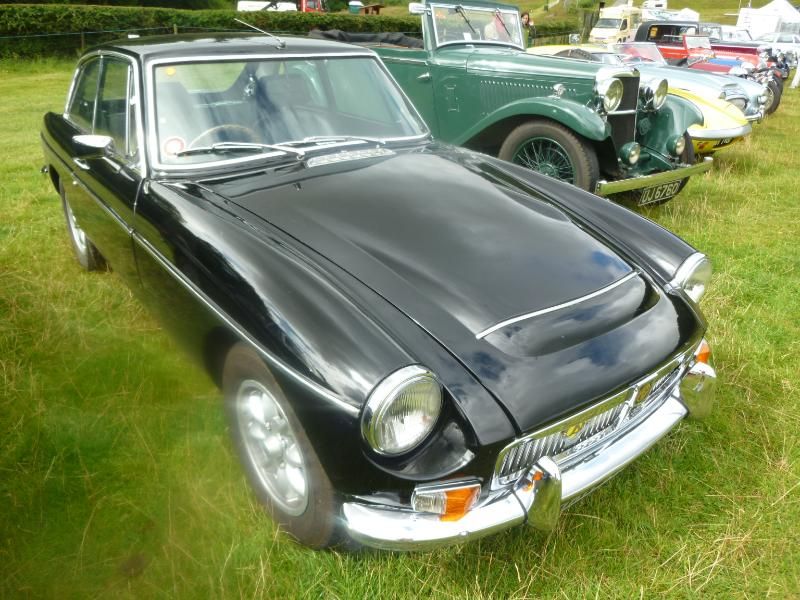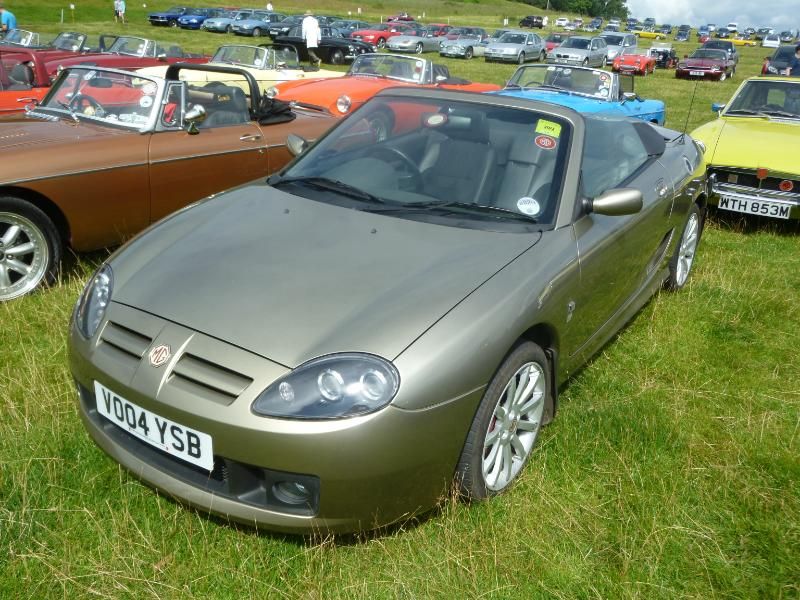 I was quite surprised to learn that of the 1973 RV8s that were made, it is believed that over 1700 of them have survived.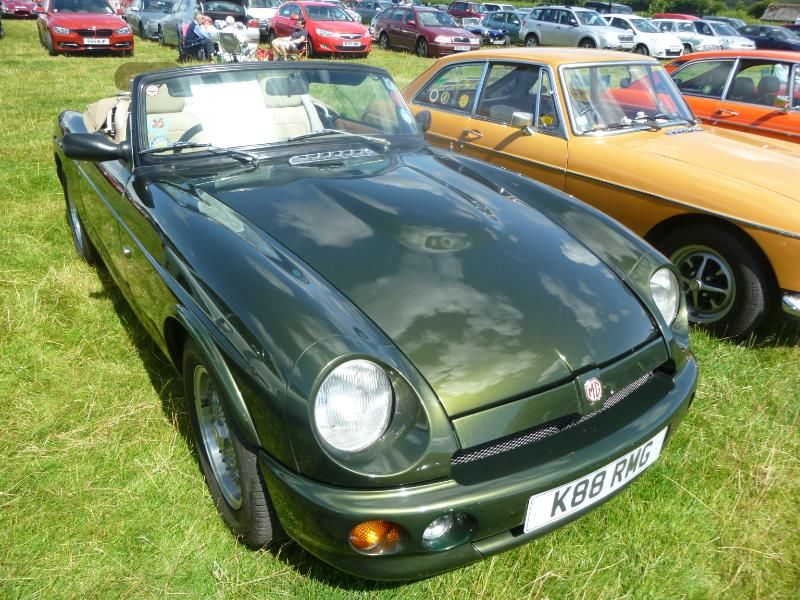 There were two very nice ZB Magnettes on show.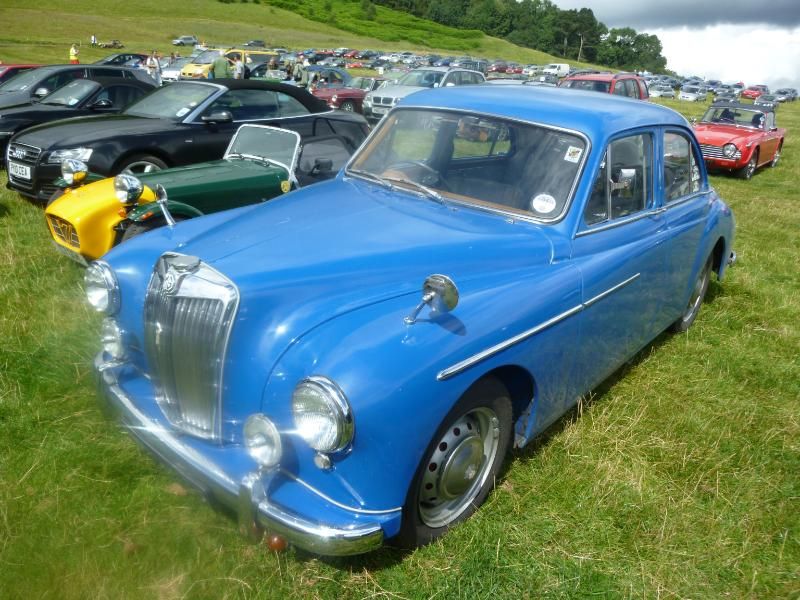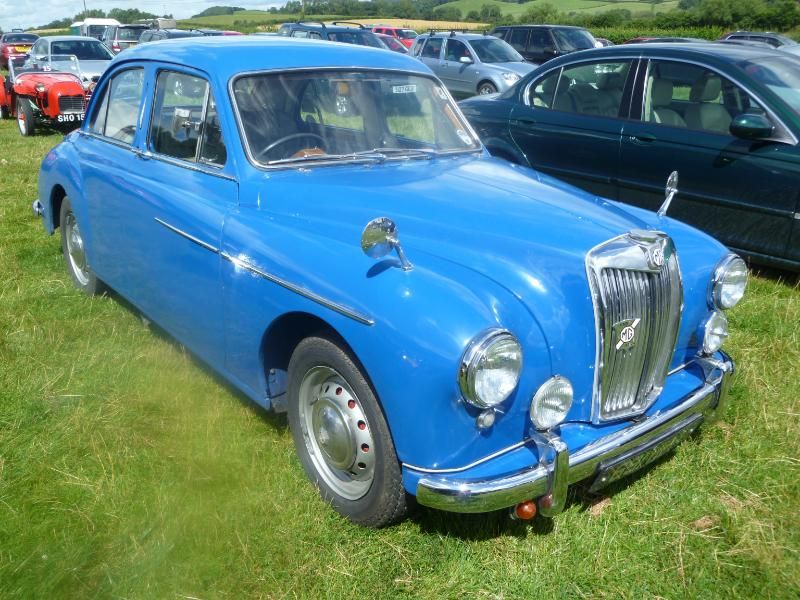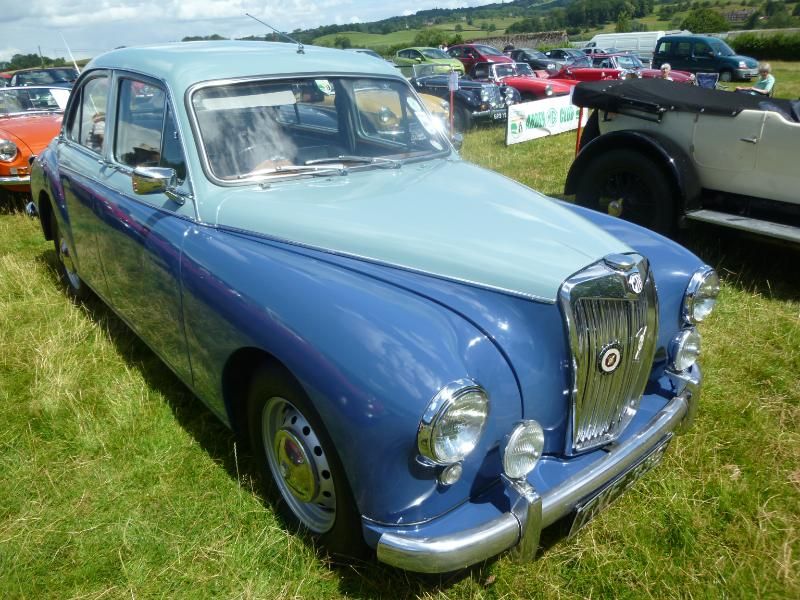 Earlier cars included the TC,  TD and TF sports cars.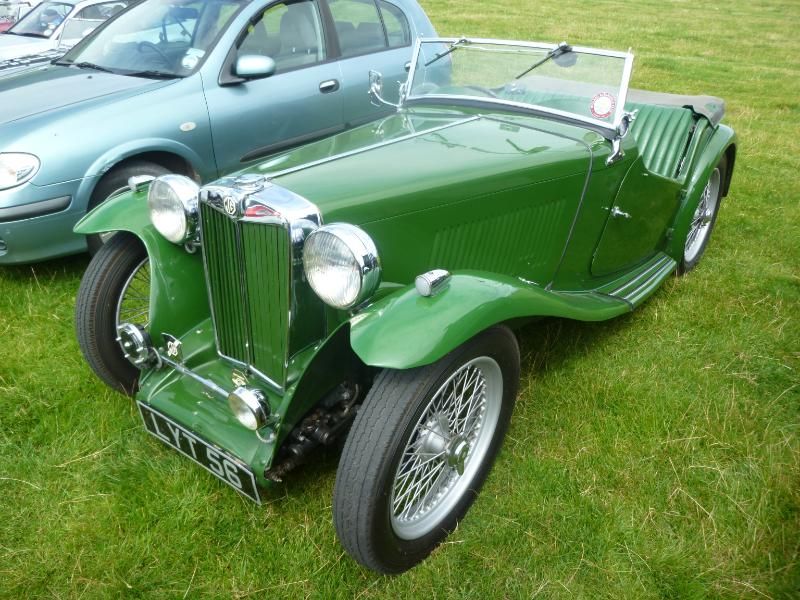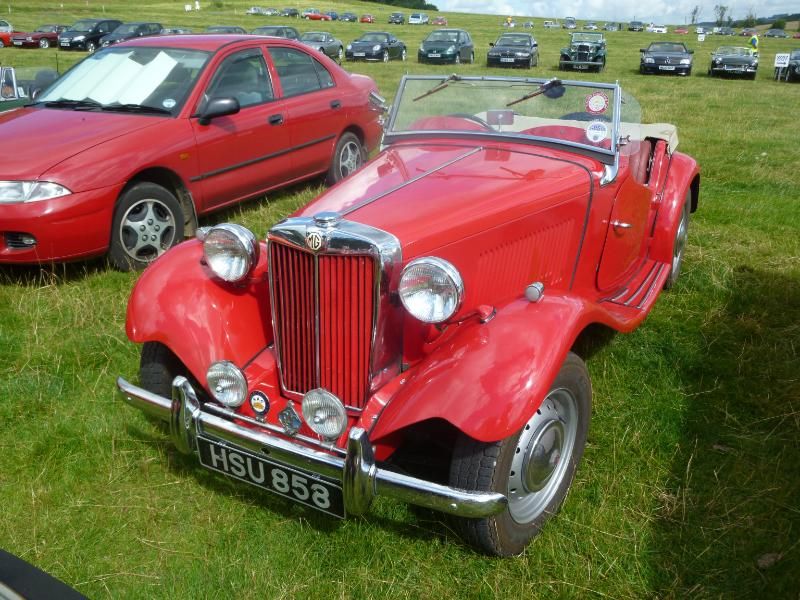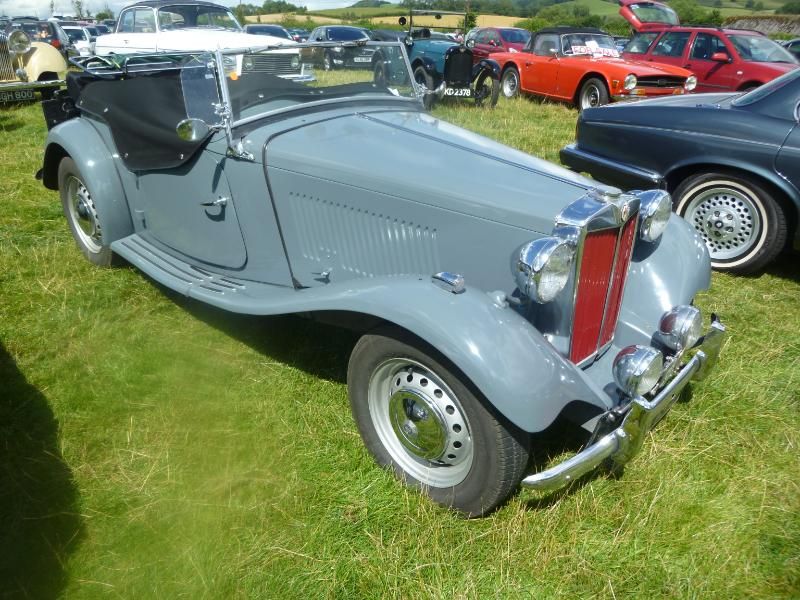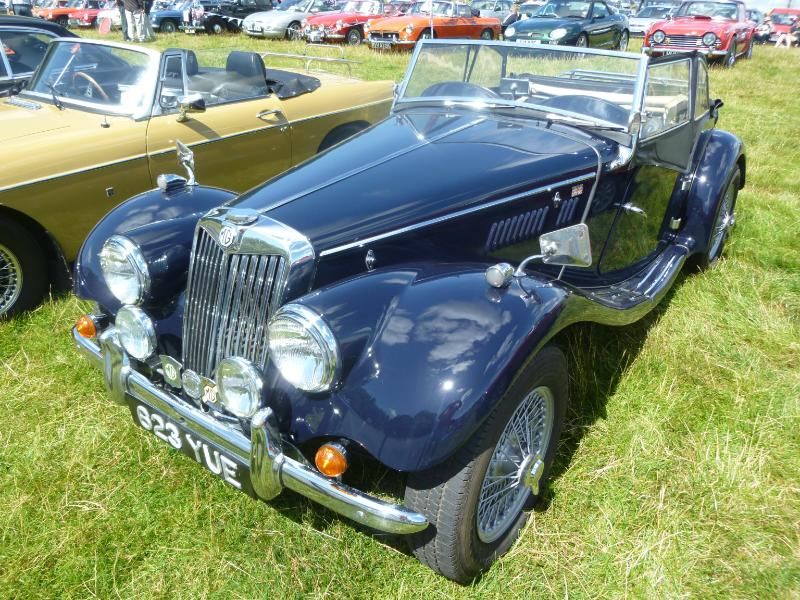 MINI
This fabulously presented 1960 Mini was a worthy concours winner and was probably in a better state than when it left the factory.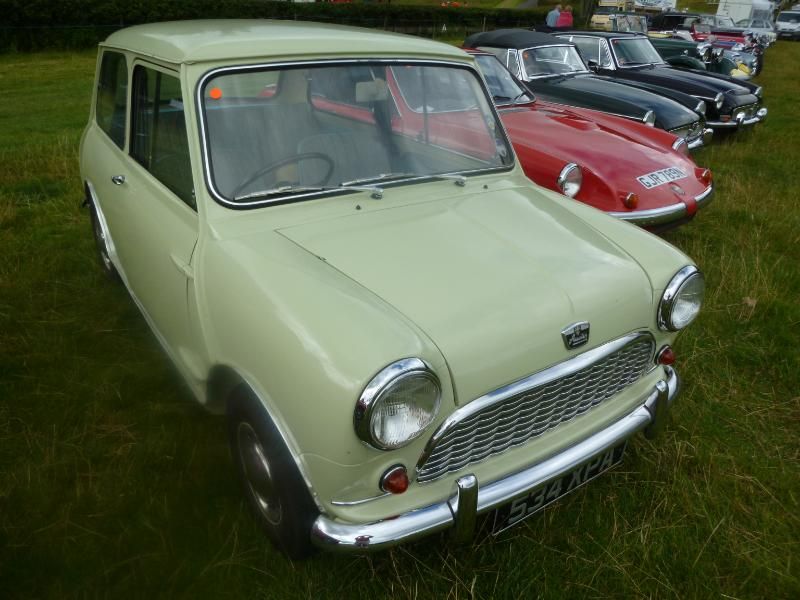 There were a few other of the classic Issigonis Mini on display including a late model PickUp, now very rare indeed.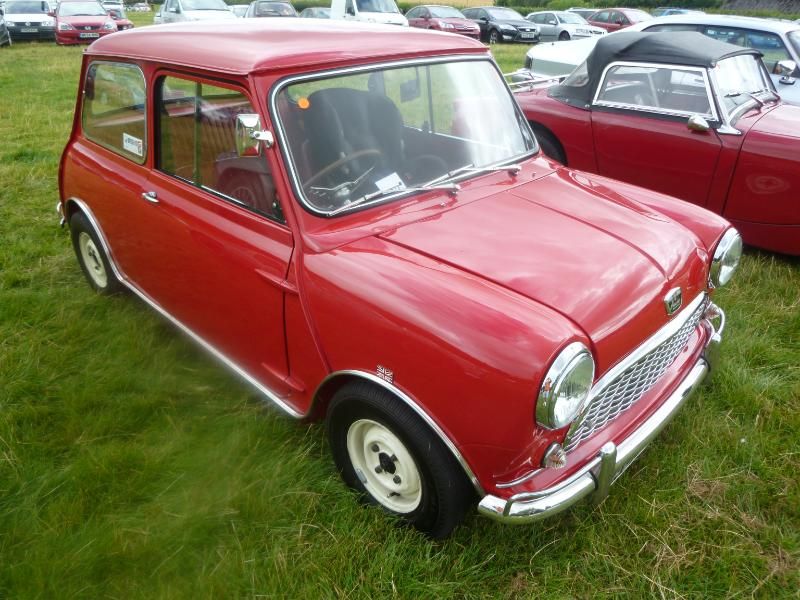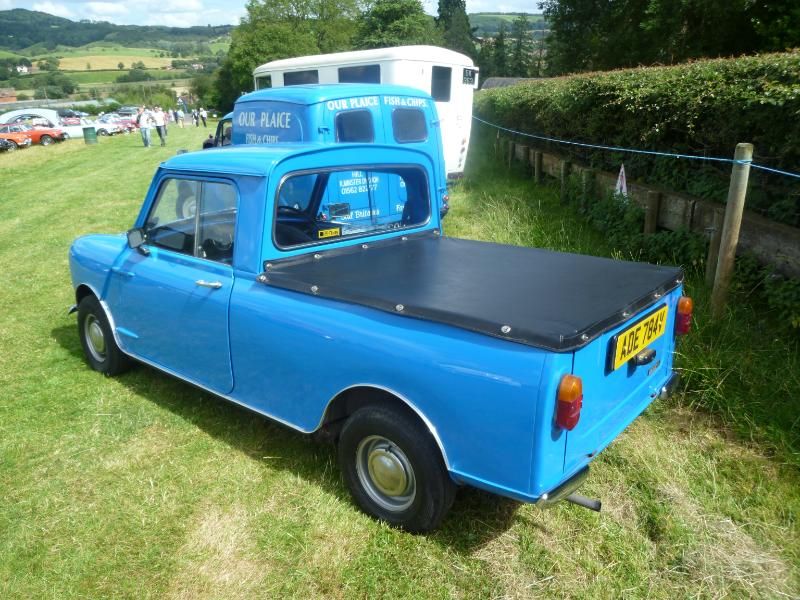 MORGAN
There always seem to be plenty of Morgans at Shelsley. It is after all only a few miles from the company's home. On this occasion the models ranged from some 1930s 3 wheelers, to a couple of flat radiator Plus 4s all the way to a brand new AeroMax, which made a particularly pleasing (and rather rude) noise when the engine was fired up.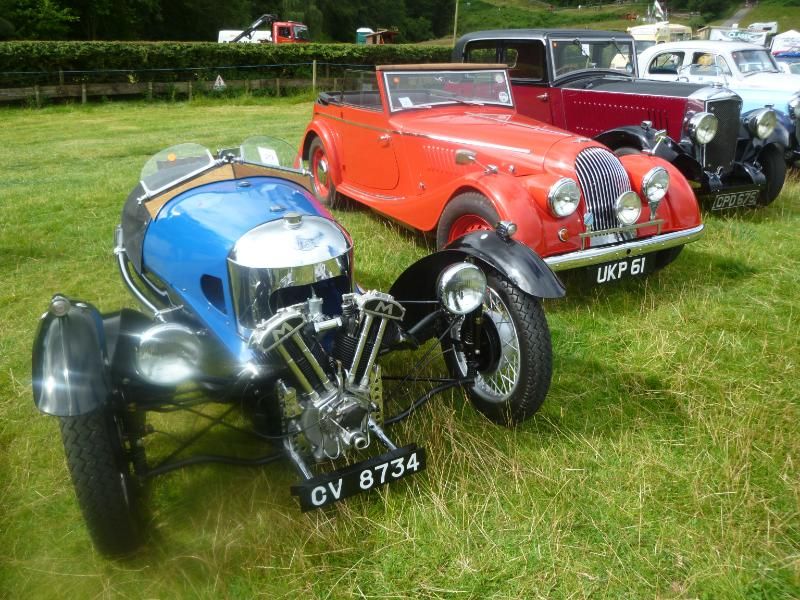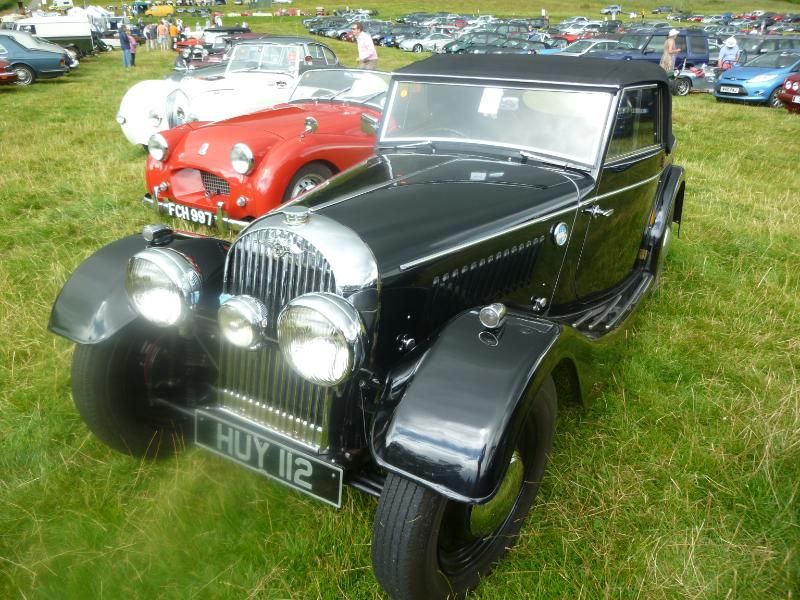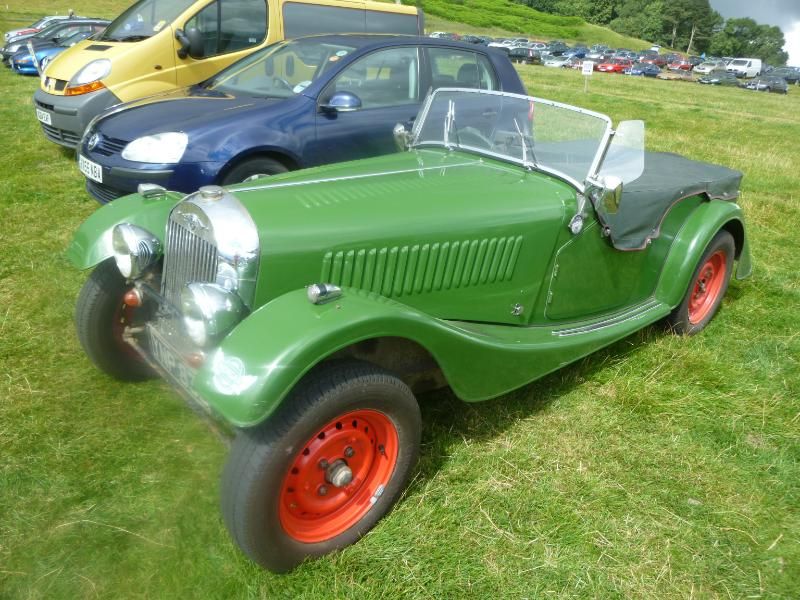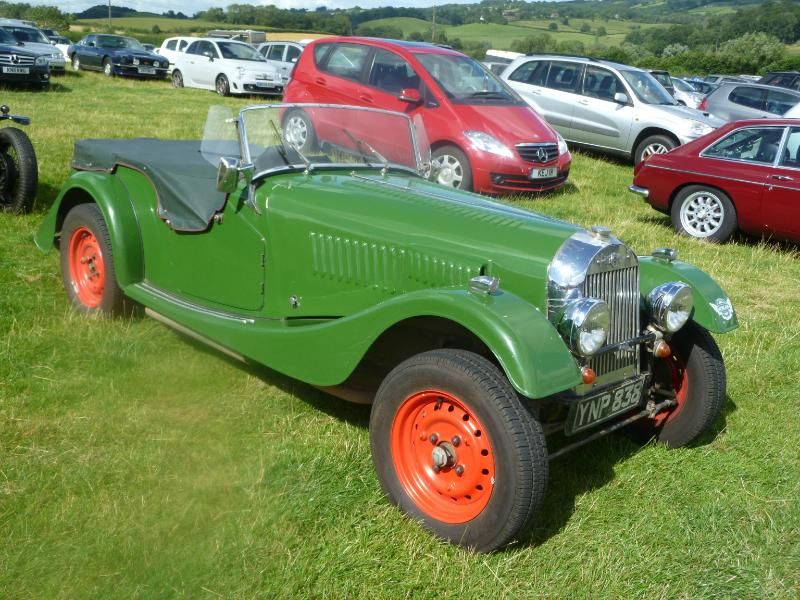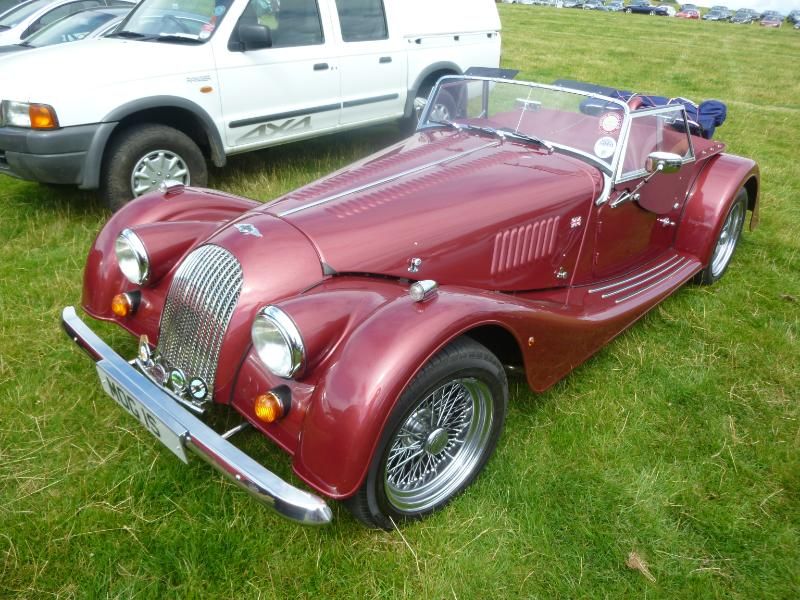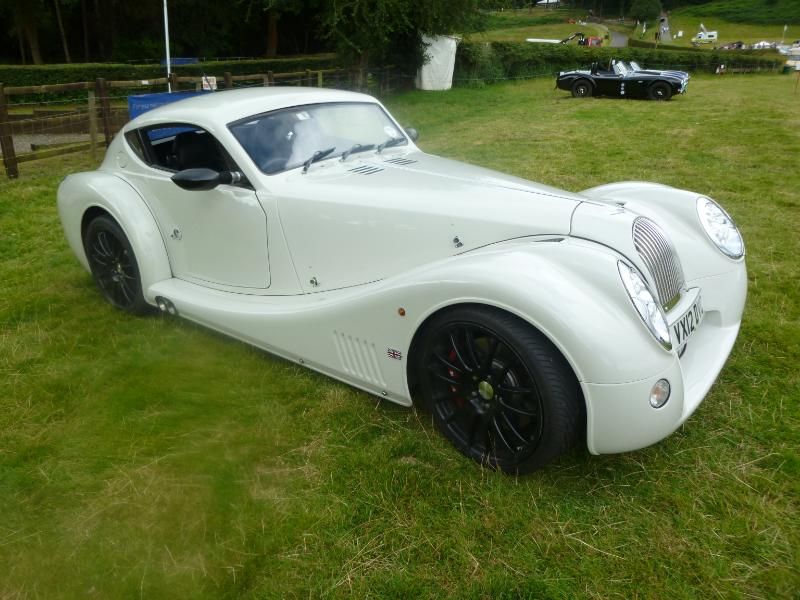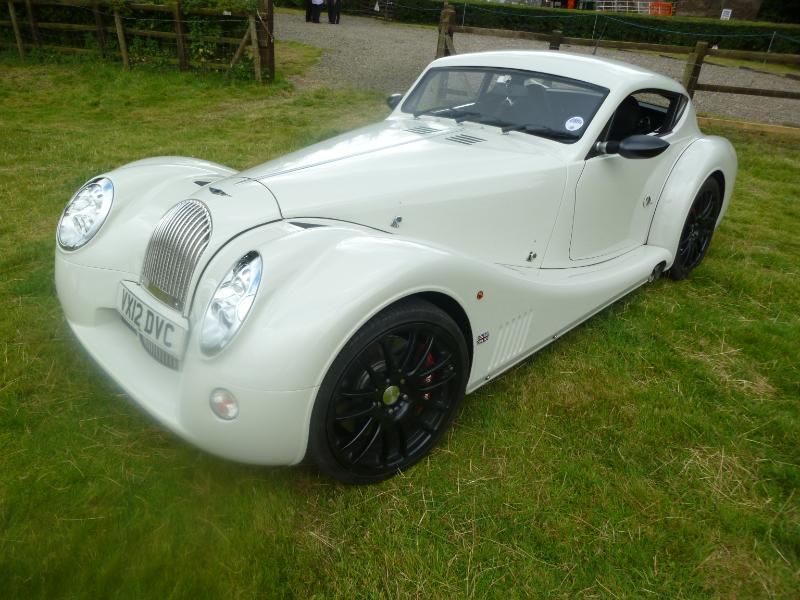 MORRIS
This was an early MM series Minor. Other Minors at the event included a well restored Van and there was an 1800S Mark 2.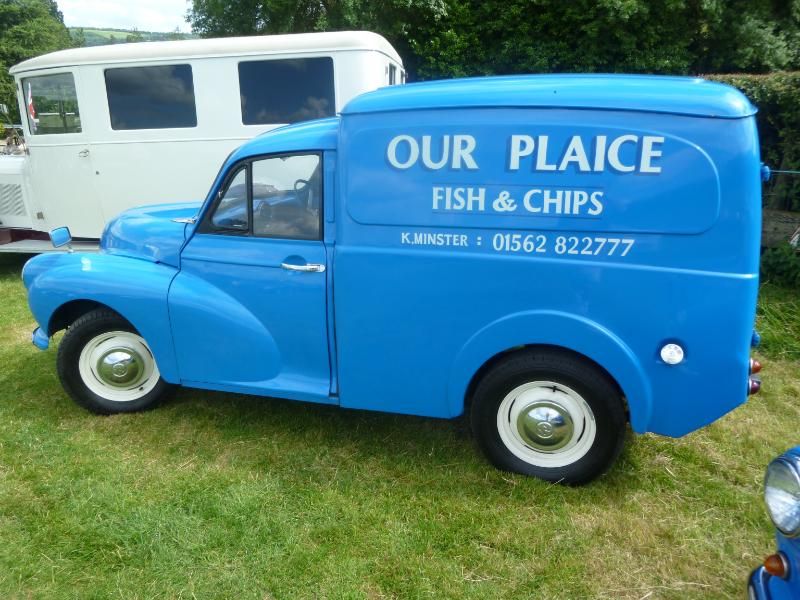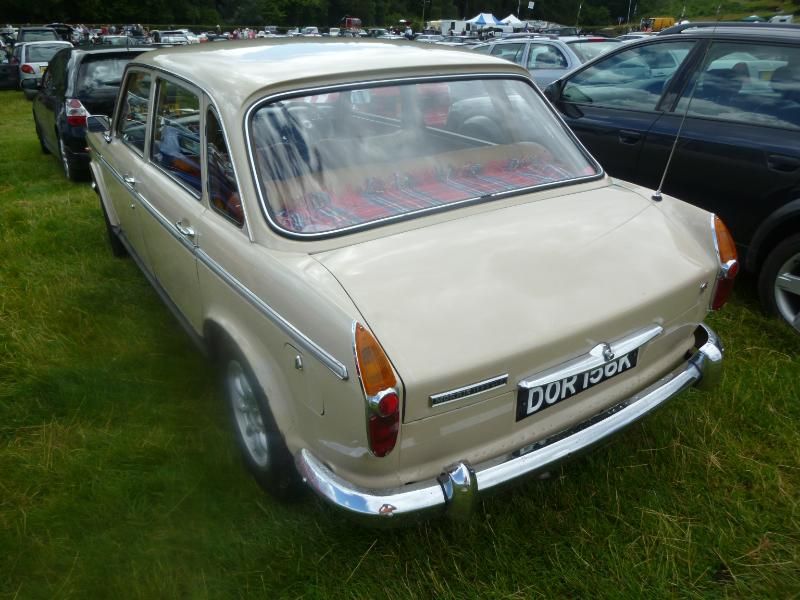 PEUGEOT
The 304 Cabriolet was rare even when new, and that is definitely even more the case these days.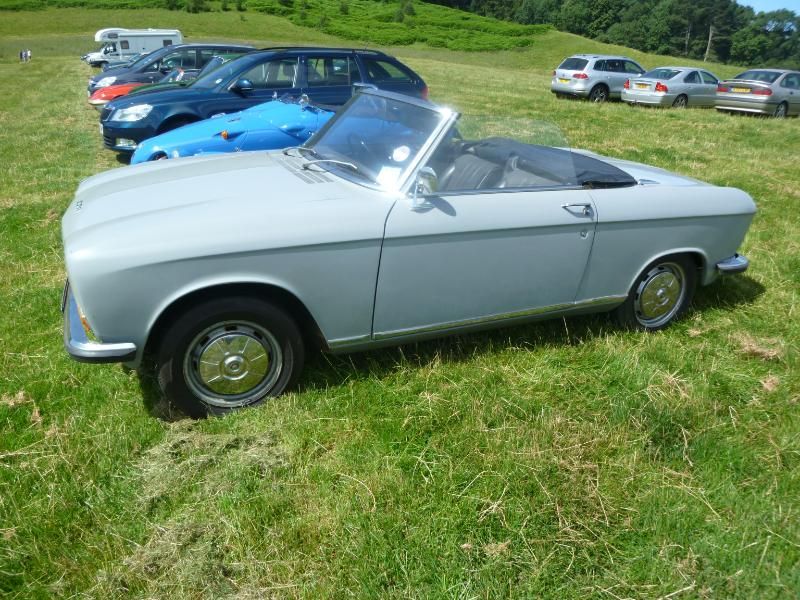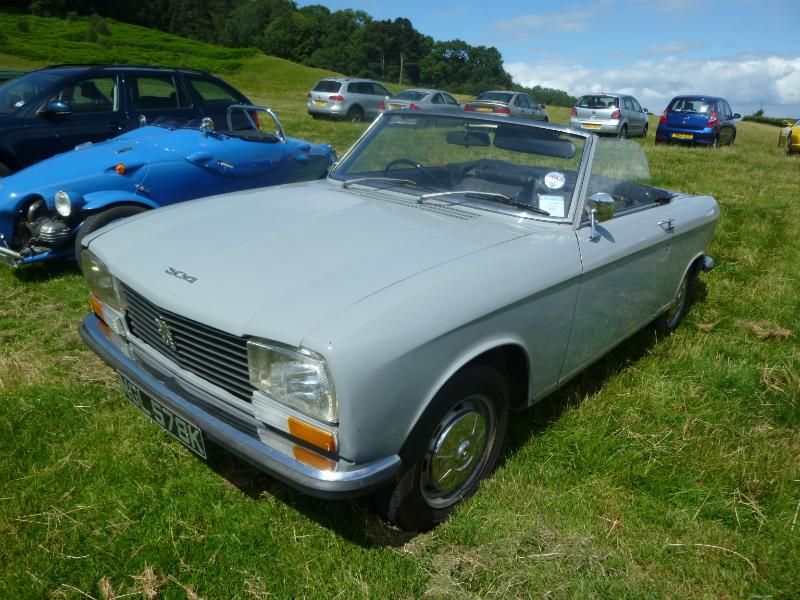 PORSCHE
Among the interesting Porsche at the event were a nice 356, a 944, several 911s and a 928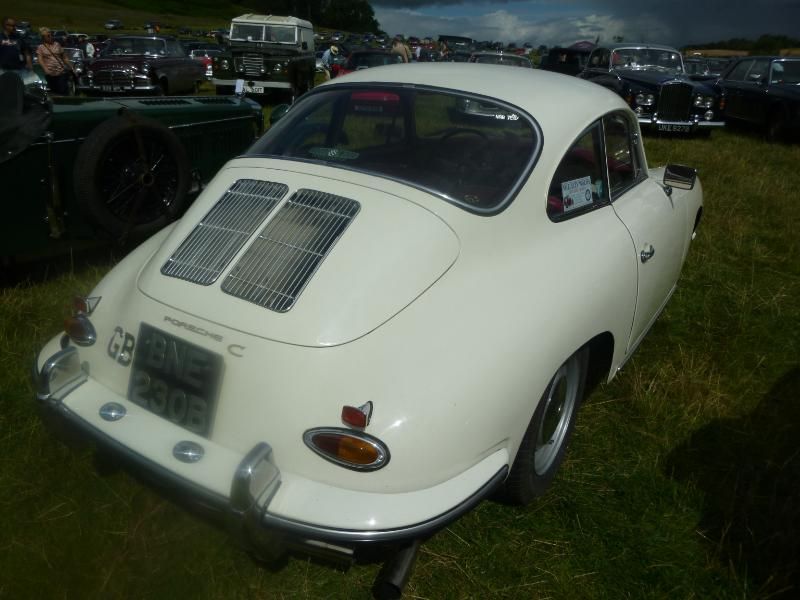 RAILTON

Yet again, the British Railton marque was represented at Shelsley, with a couple of cars there on the Saturday and four of them on the Sunday.
RILEY
A very nice Kestrel and from the post war period, an Elf and the 1.5 litre saloon.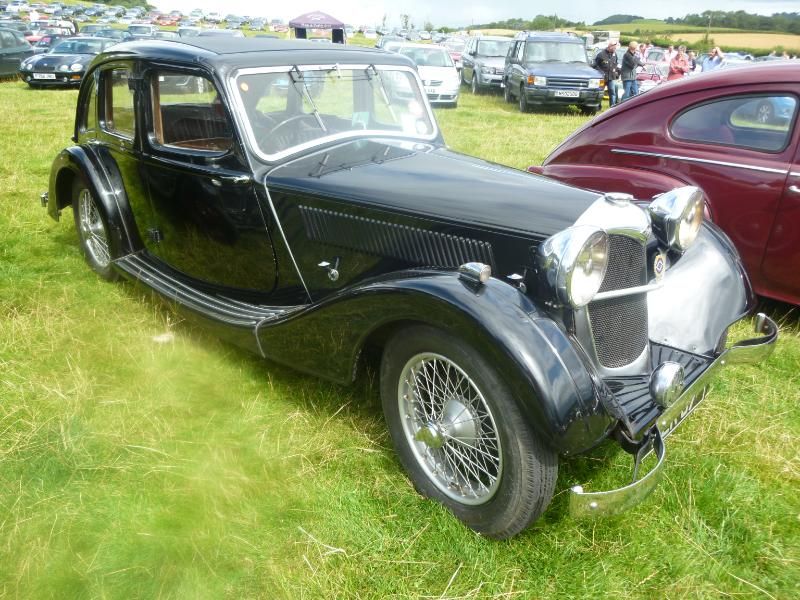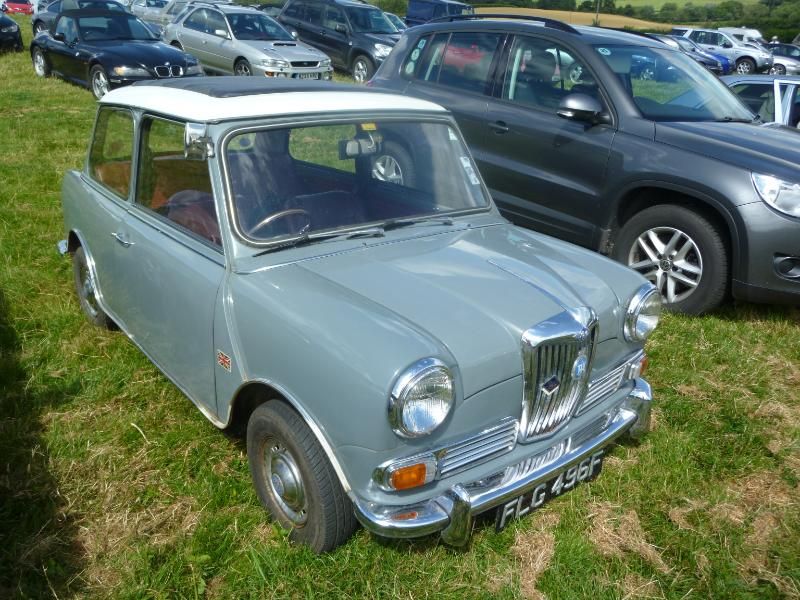 ROLLS-ROYCE
There were a couple of 40/50 "Silver Ghost" cars. The dark coloured one appeared to be one of the US assembled models.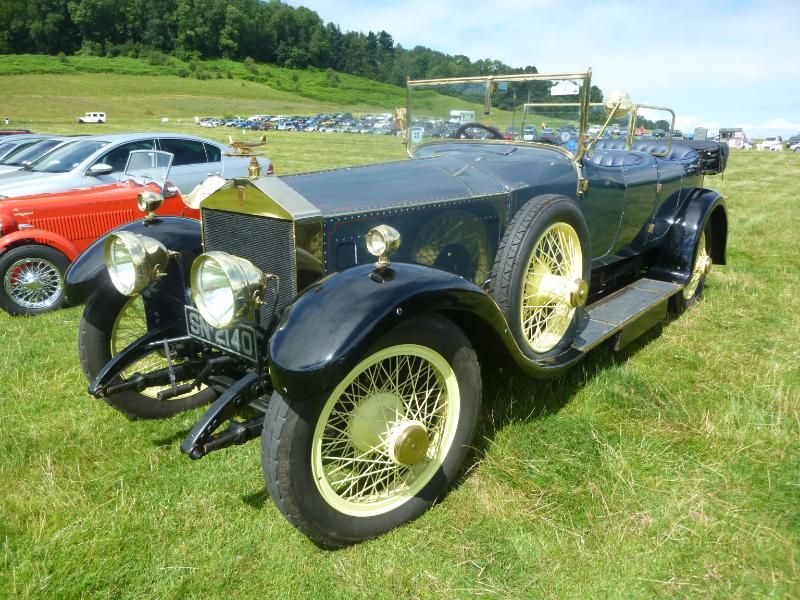 ROVER
This P4 model 100 was rather nicely presented.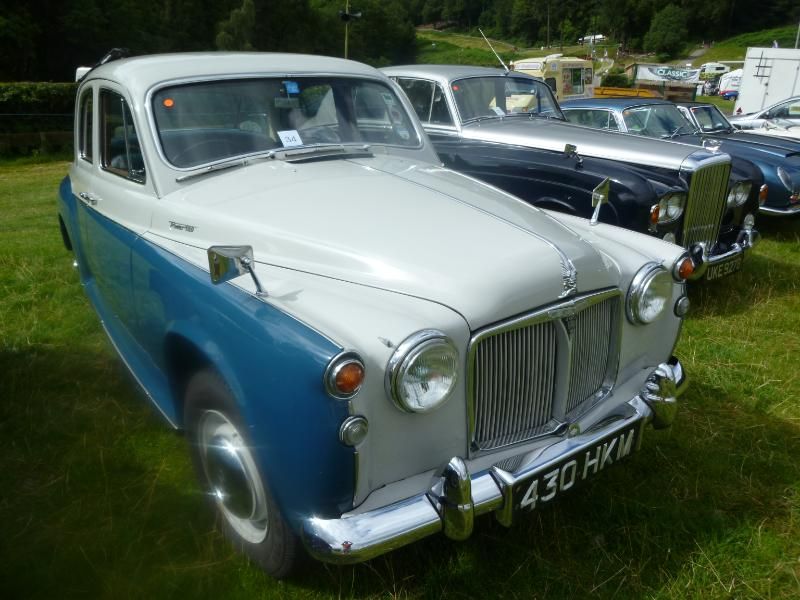 SAAB
An example of the early 99 Turbo, the car which really started the trend to adding a blower to get more performance out of an engine.
SINGER
One of my favourites in the Concours was this lovely Le Mans. It did not attract the interest of the judges, though.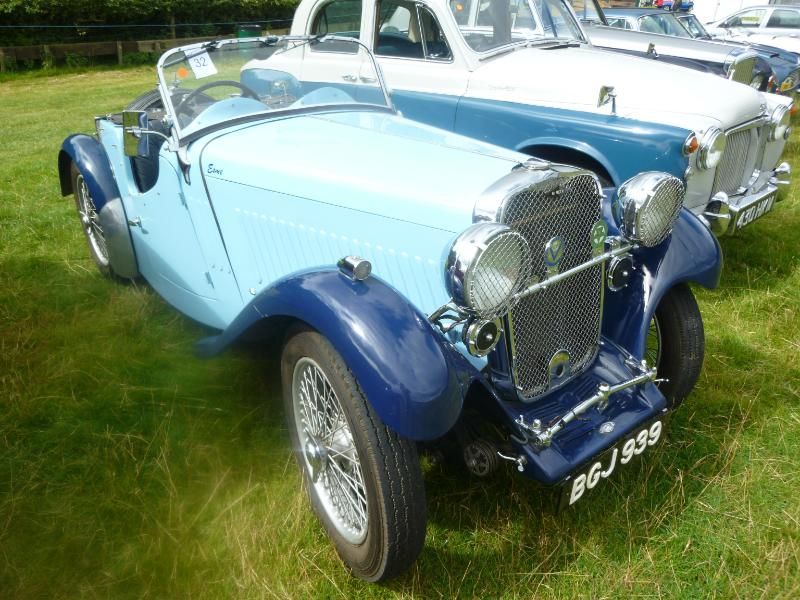 They did, however, single out this Sportsman Coupe, complete with its fabric body.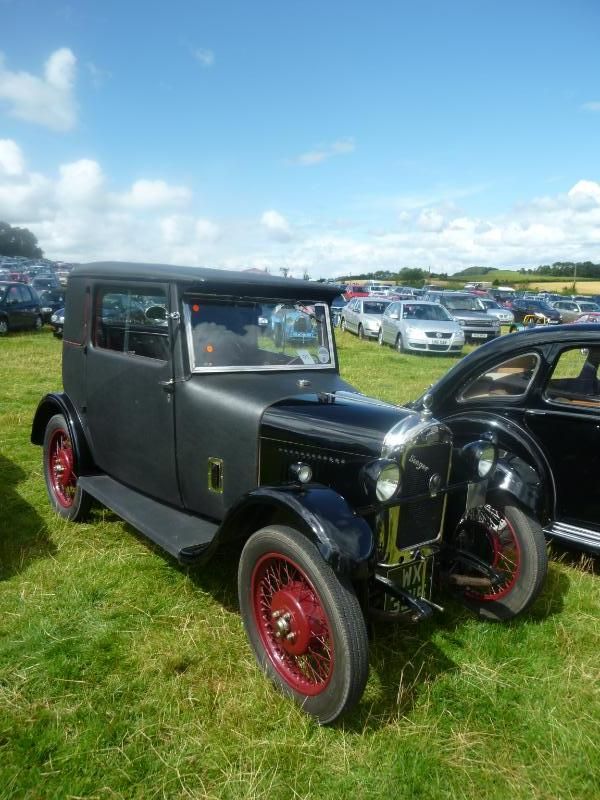 SUNBEAM
Marking the centenary of this British marque were a small number of early models, ranging from a Sunbeam 12 which has recently arrived in the UK having spent most of its life in Australia, and a simply fabulous 16/9, along with a couple of more overtly sporting models, one of which competed at Shelsley exactly 100 years ago, with considerable success.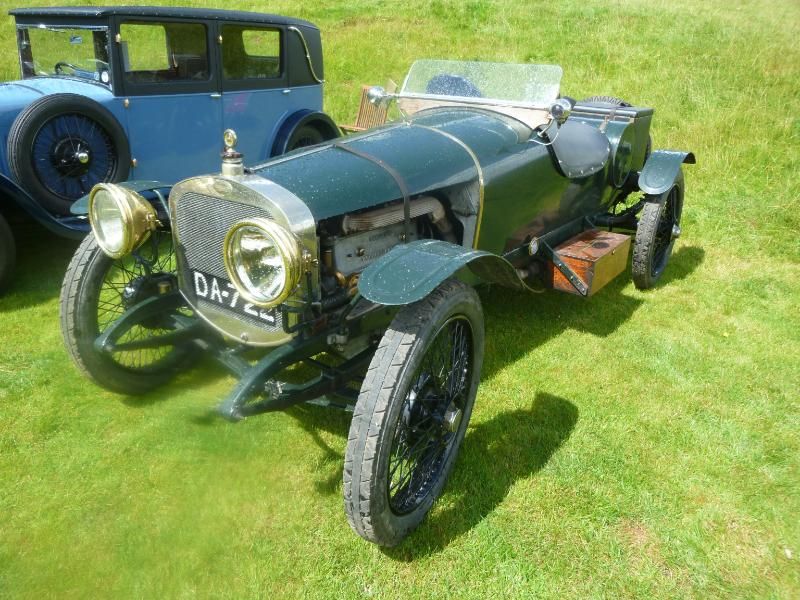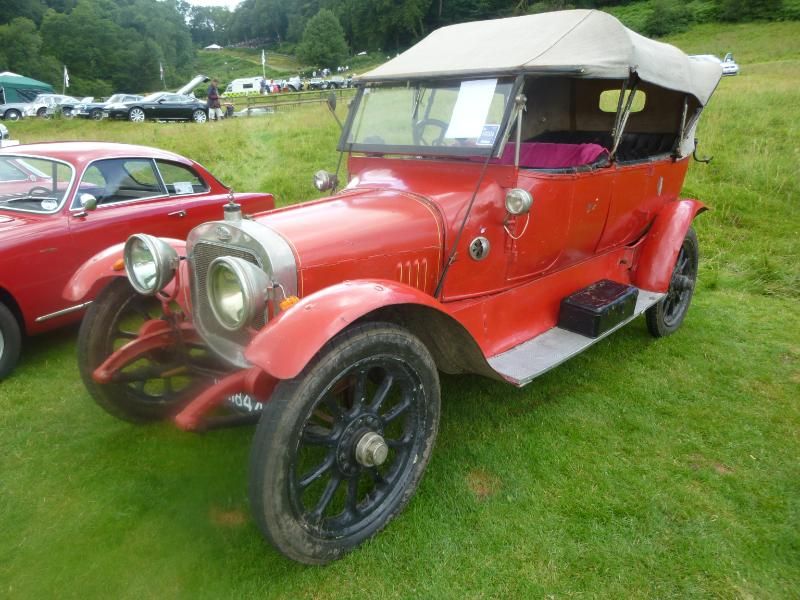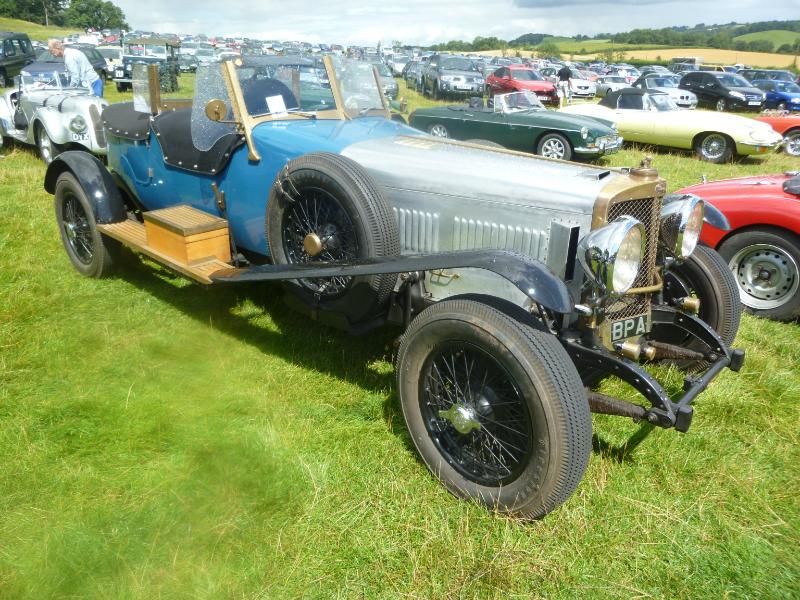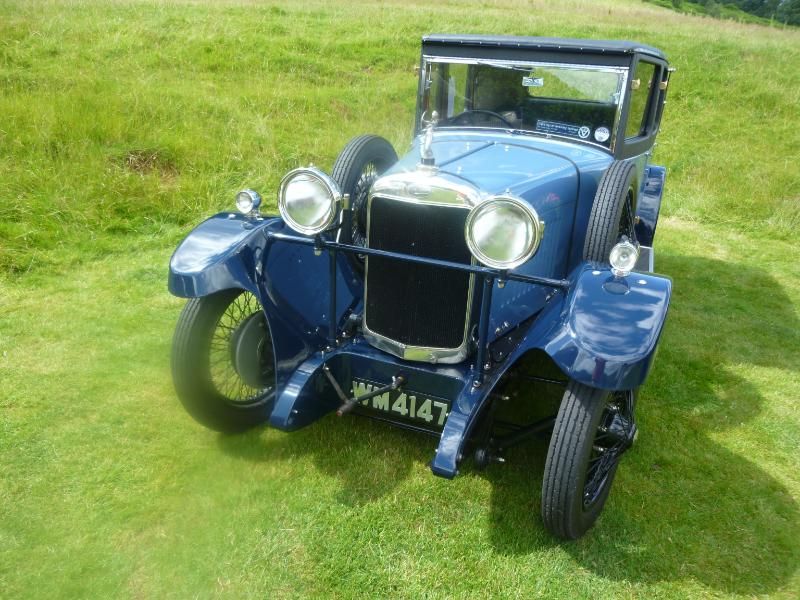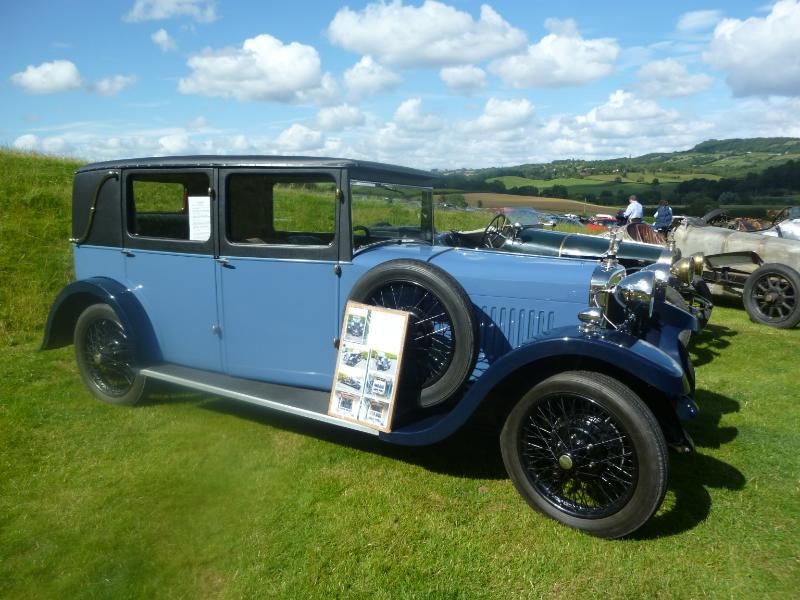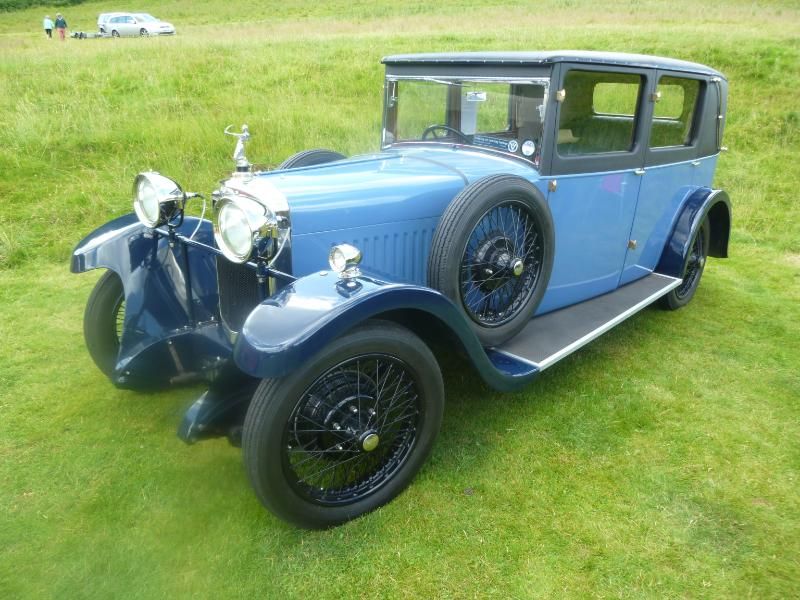 A more recent Sunbeams were the Alpine sports cars, produced as a rival to MG's A and B cars.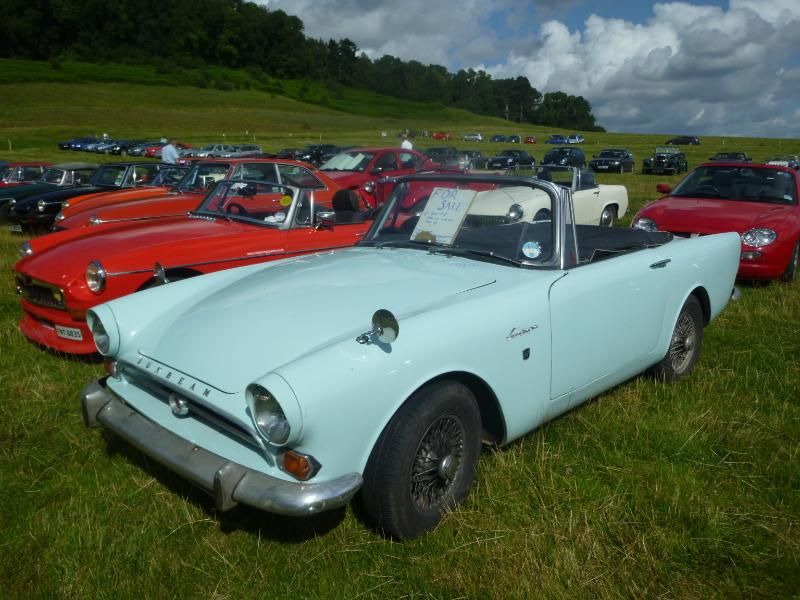 TRIUMPH
A wide variety of TR models covered every generation from early TR2s to the TR7/8 cars.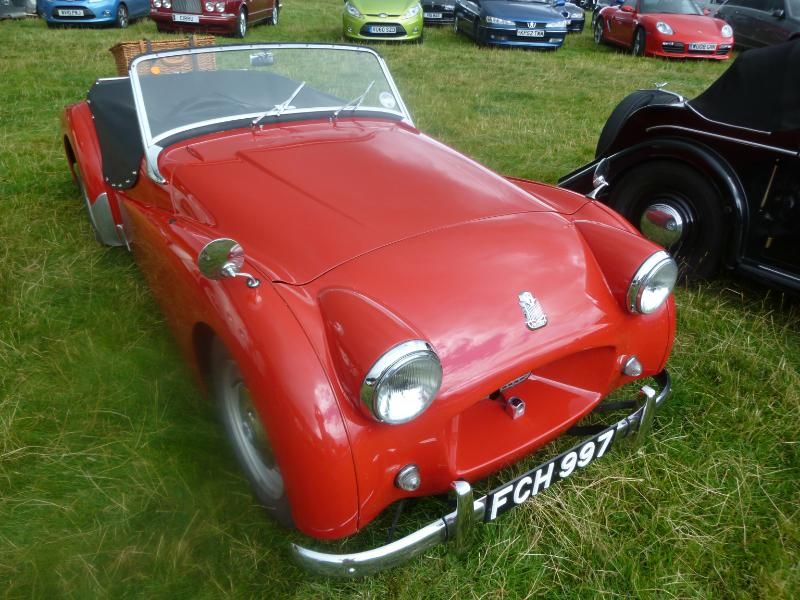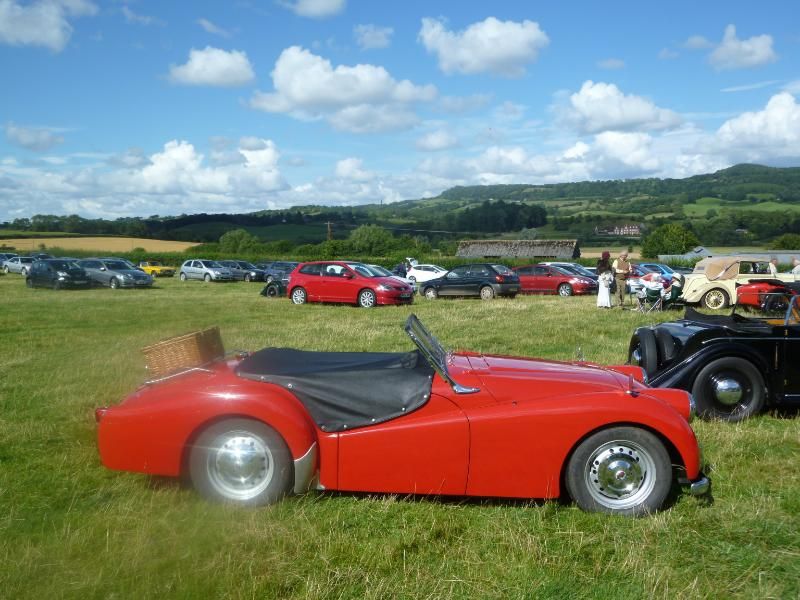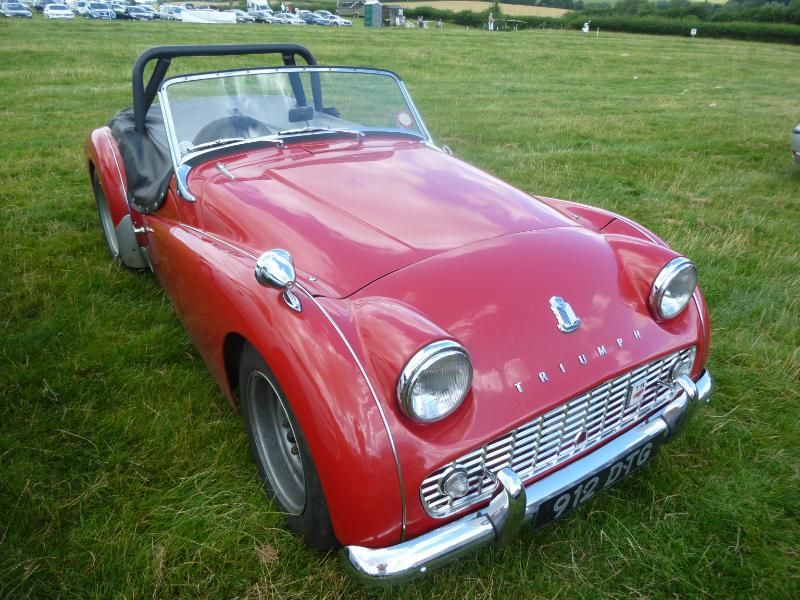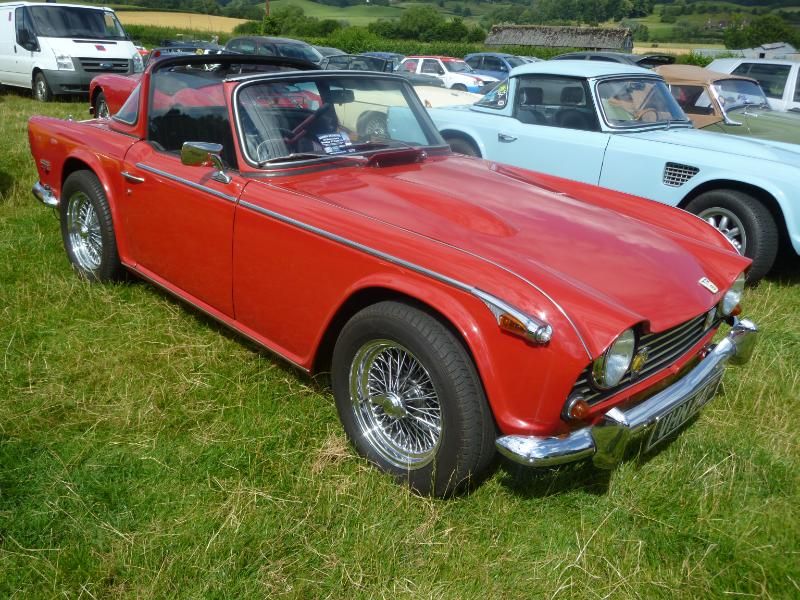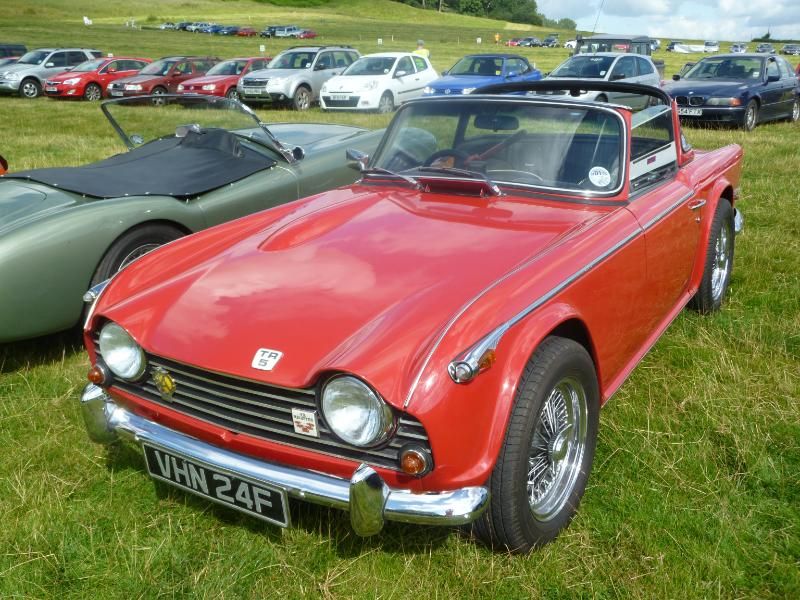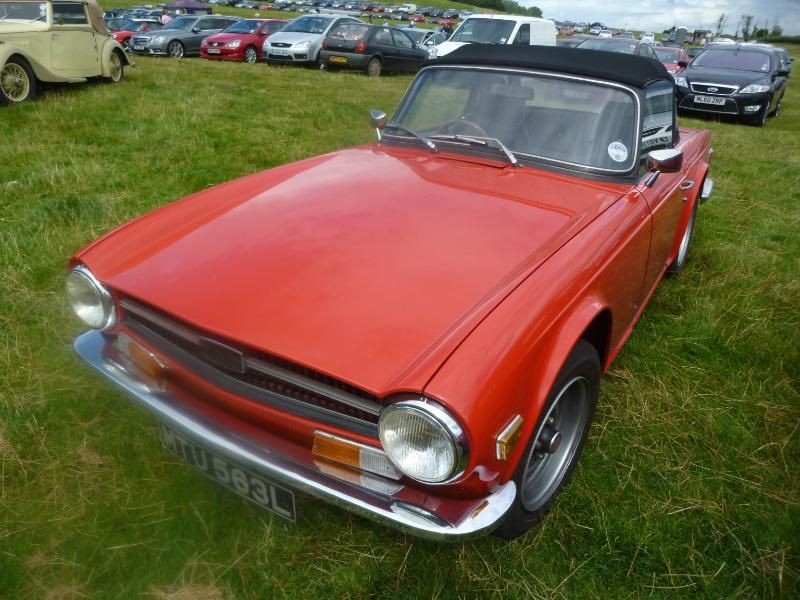 There were plenty of Stags on show, as ever at an event like this.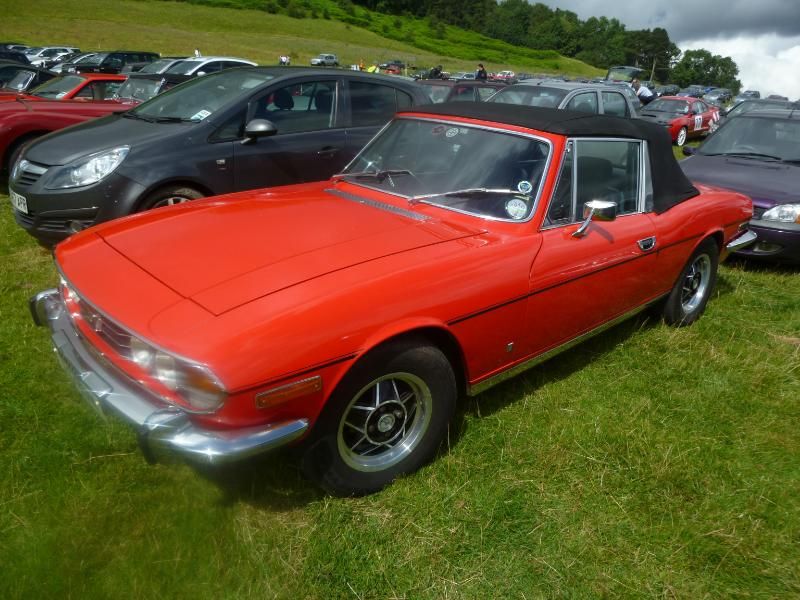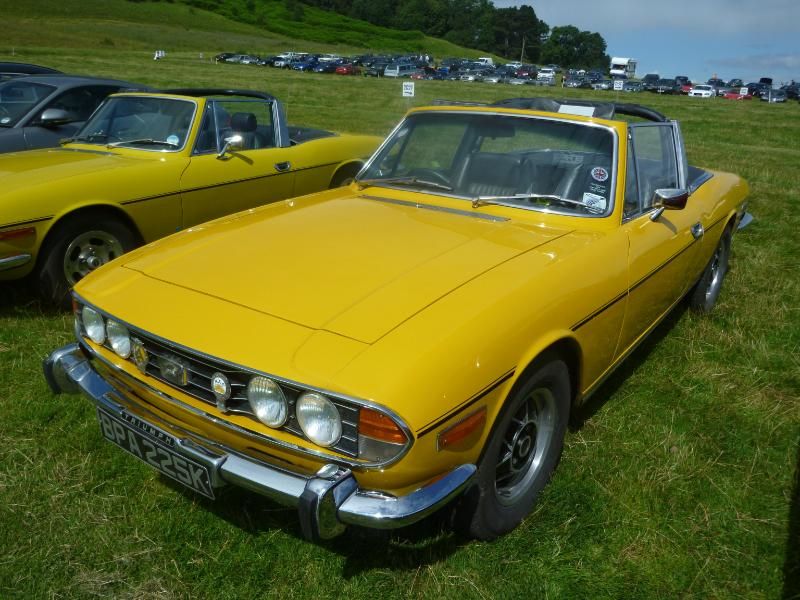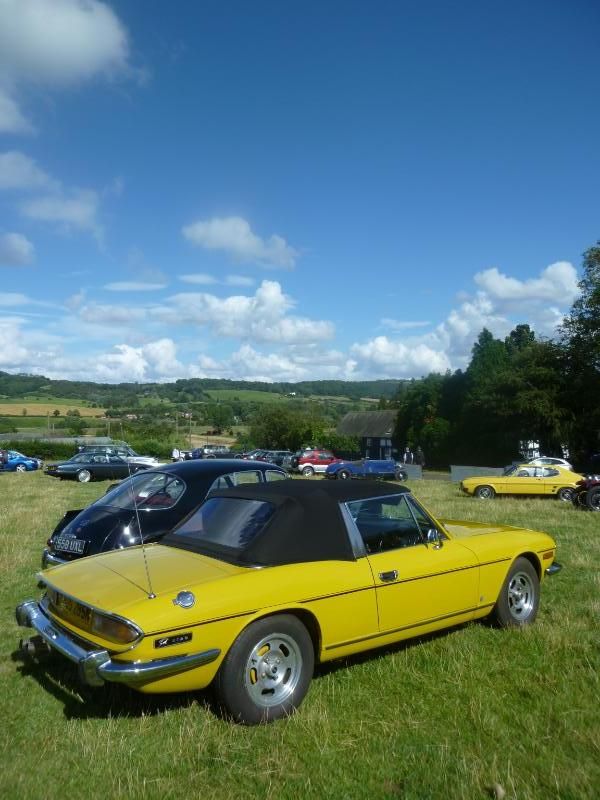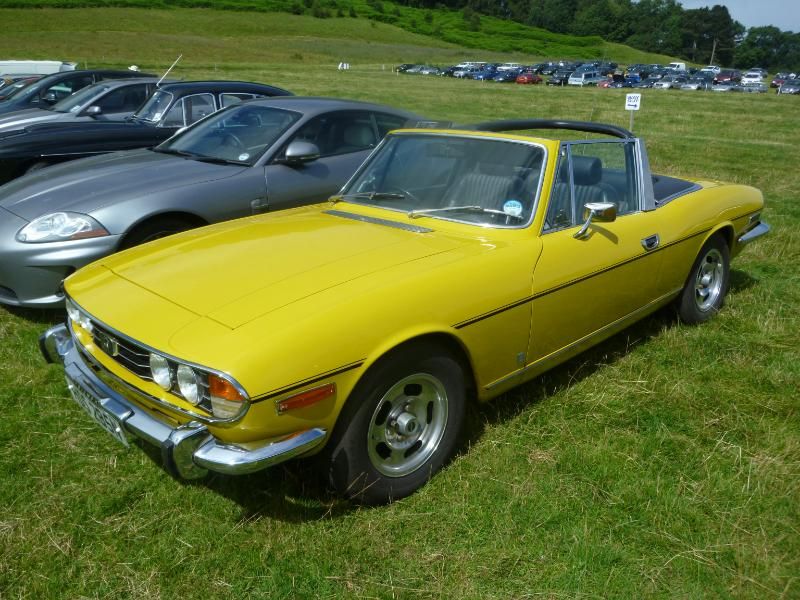 Spitfires included some early cars, now reaching their 50th birthday, as well as some of the much later Mark IV 1500 cars.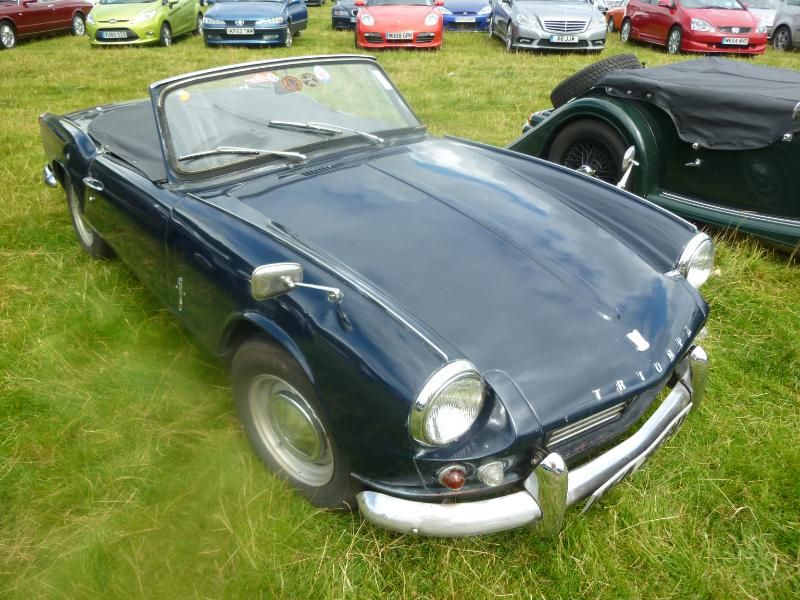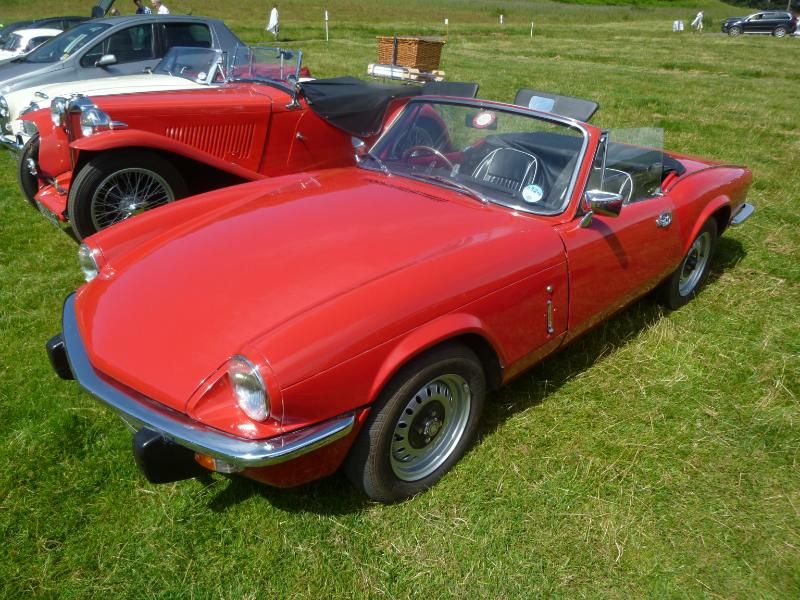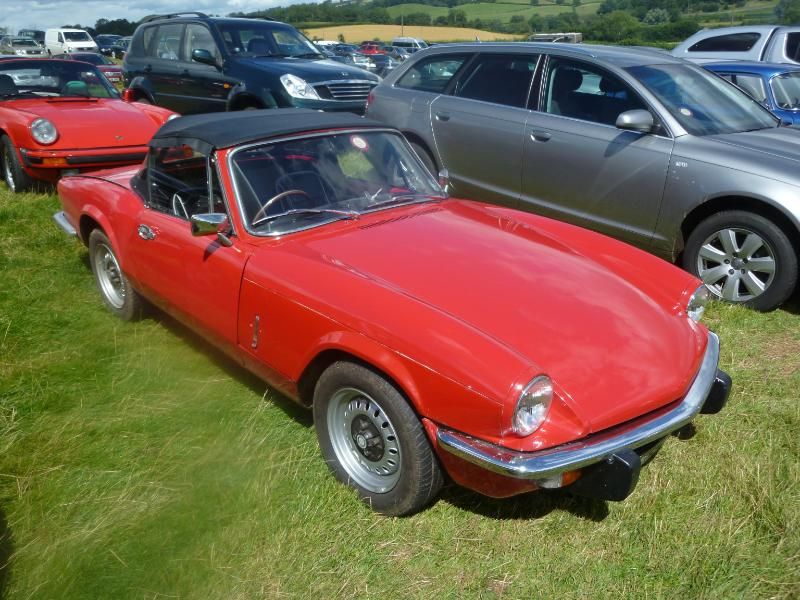 This Herald Convertible was particularly nicely presented and was joined by a Vitesse and a lone Dolomite.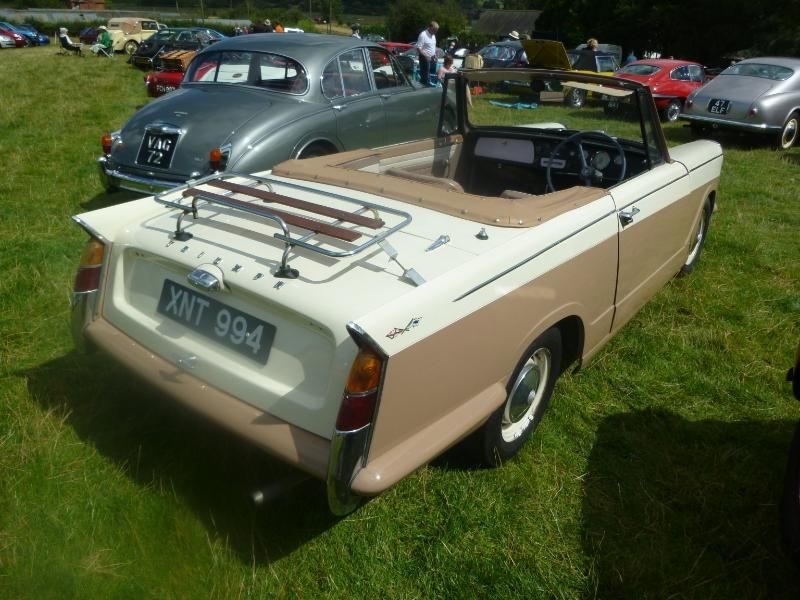 TVR
Several TVRs, of course, including a Series 2 Vixen from the early 1970s and a much more recent T350C.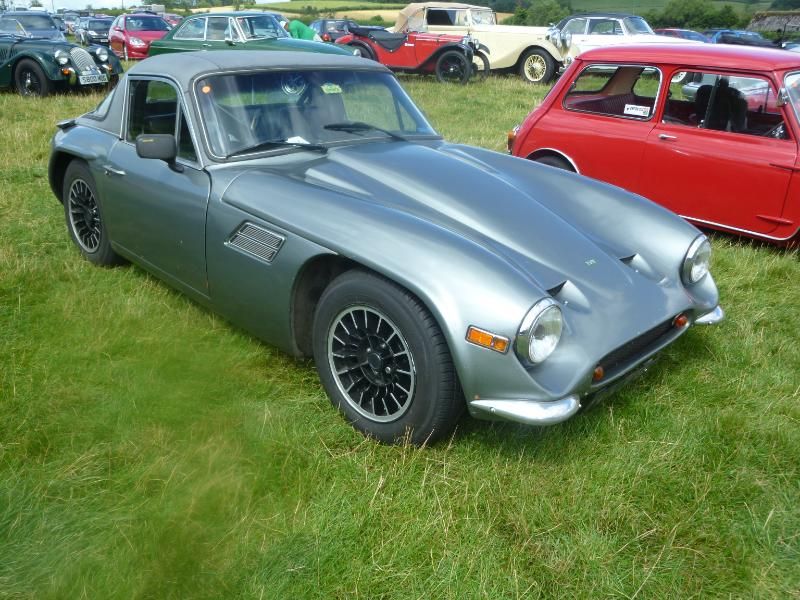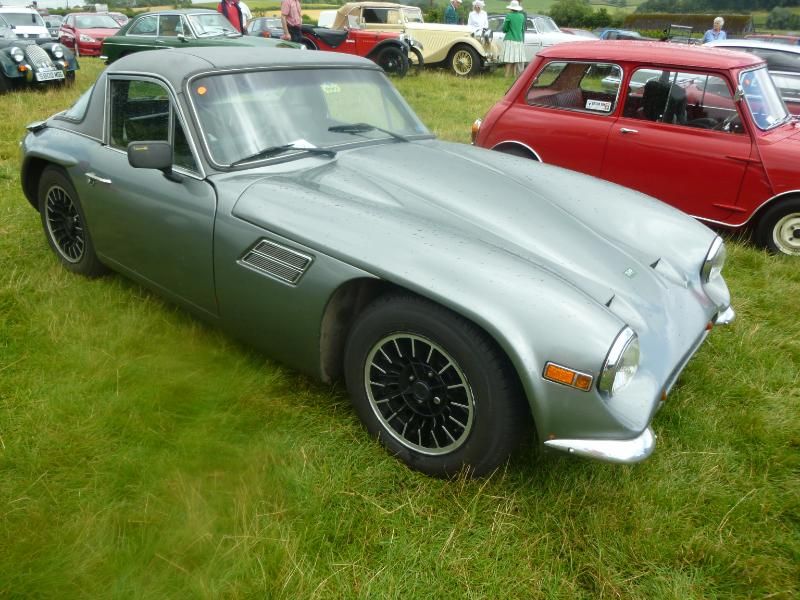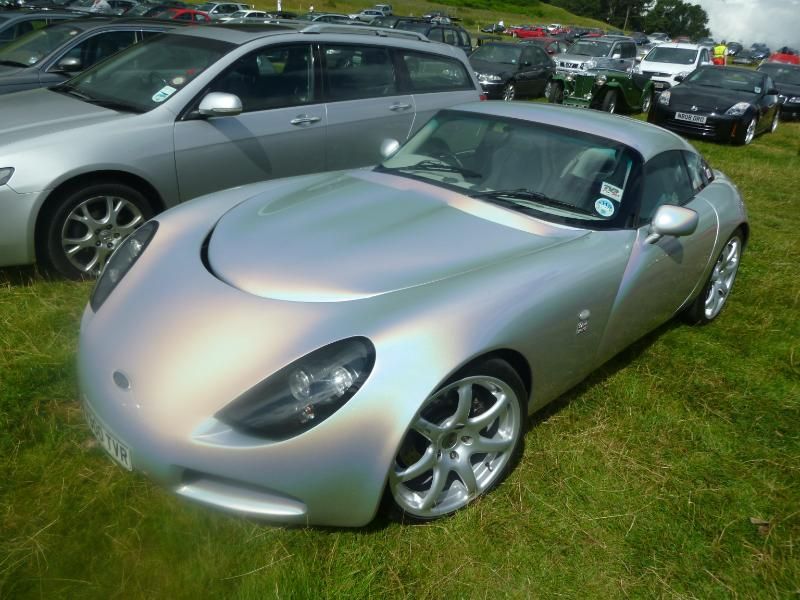 VAUXHALL
A 30/98 was joined by a couple of VX220 models.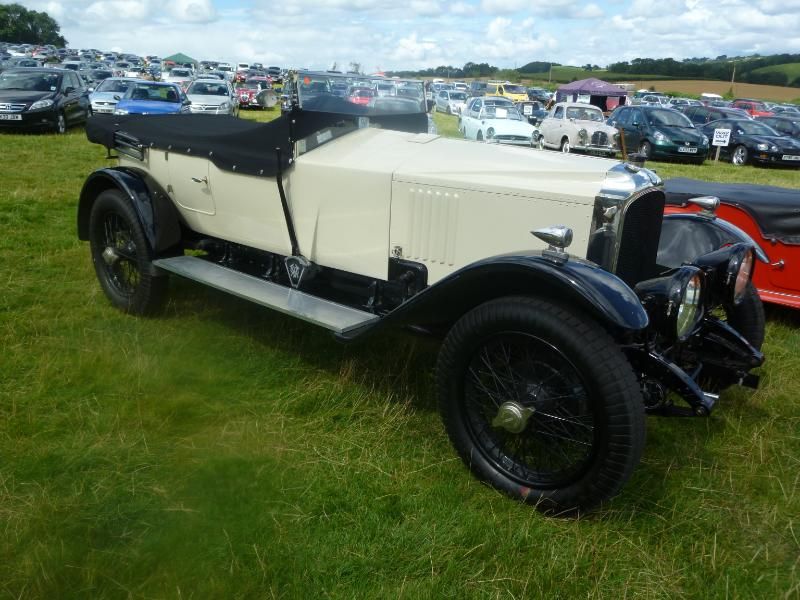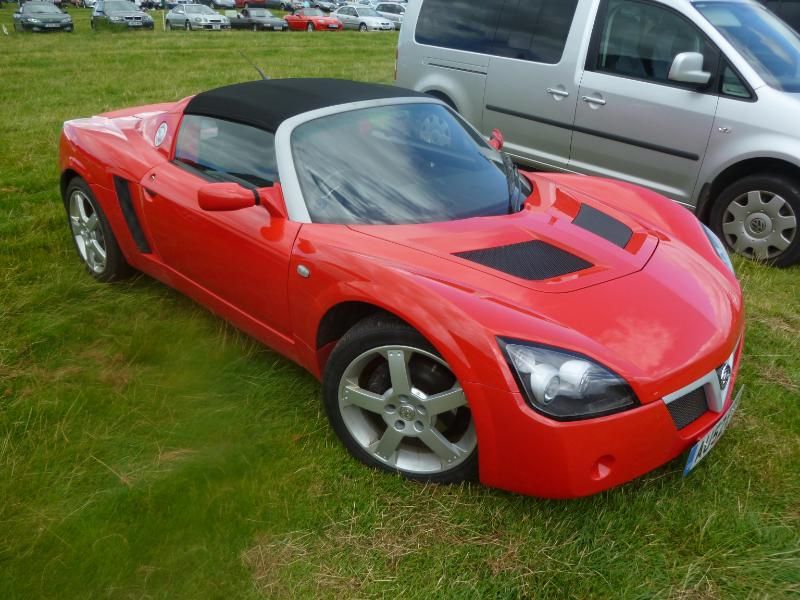 VOLVO
A PV544.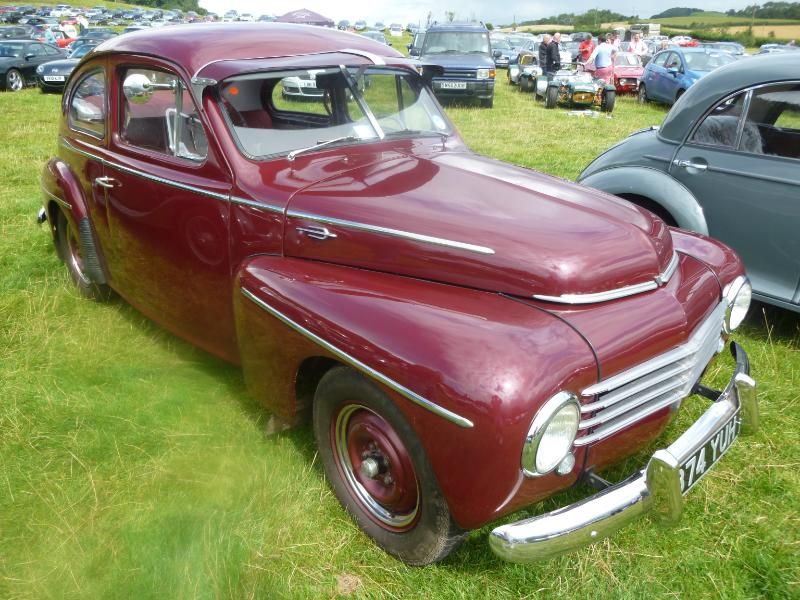 STRATSONE DISPLAY
As ever, Stratsone had a display of cars surrounding the two cottages at the bottom of the hill. This time the featured marque was Aston Martin. Highlight for me was to see an example of the V12 Zagato.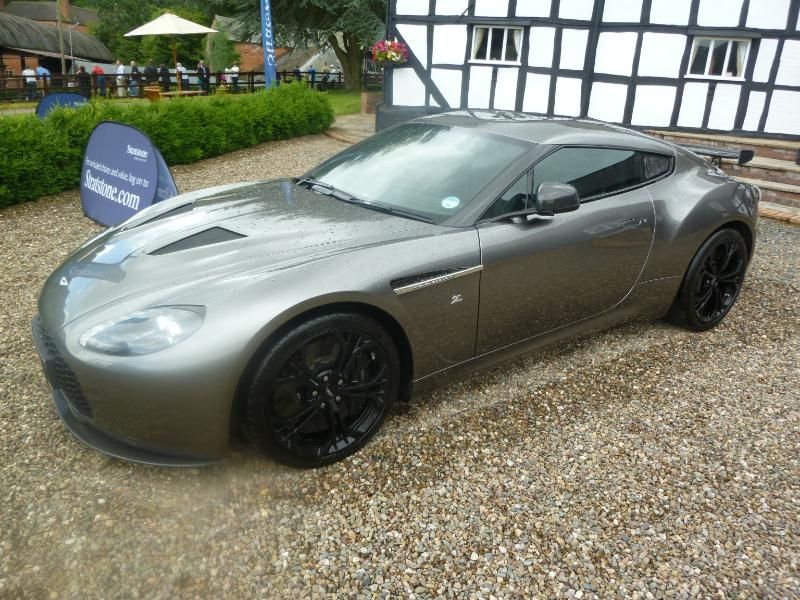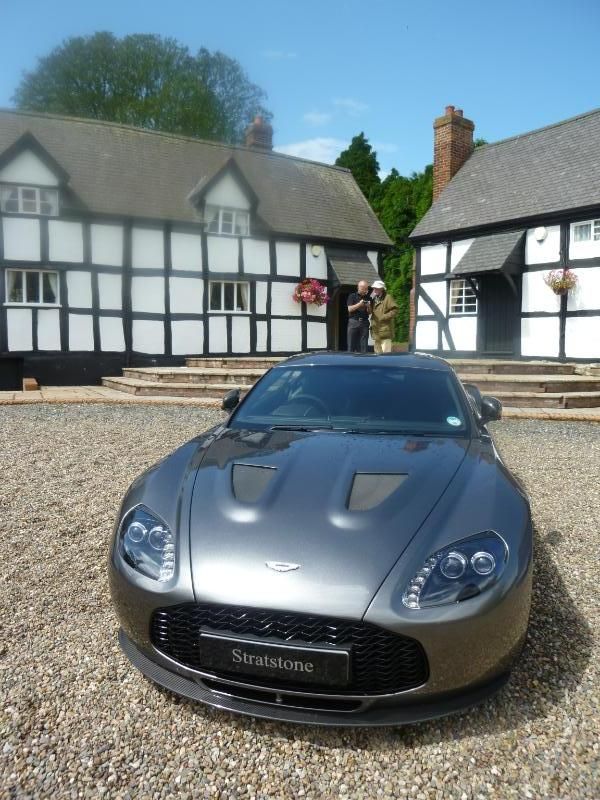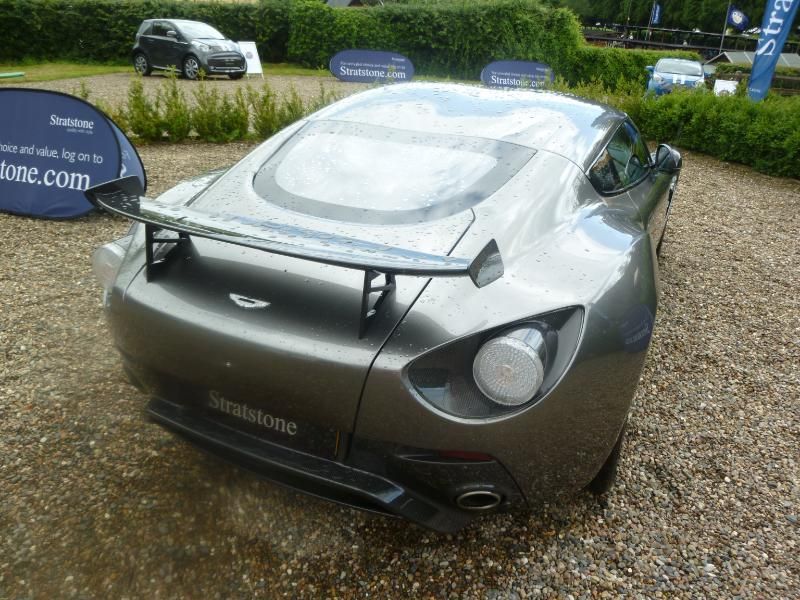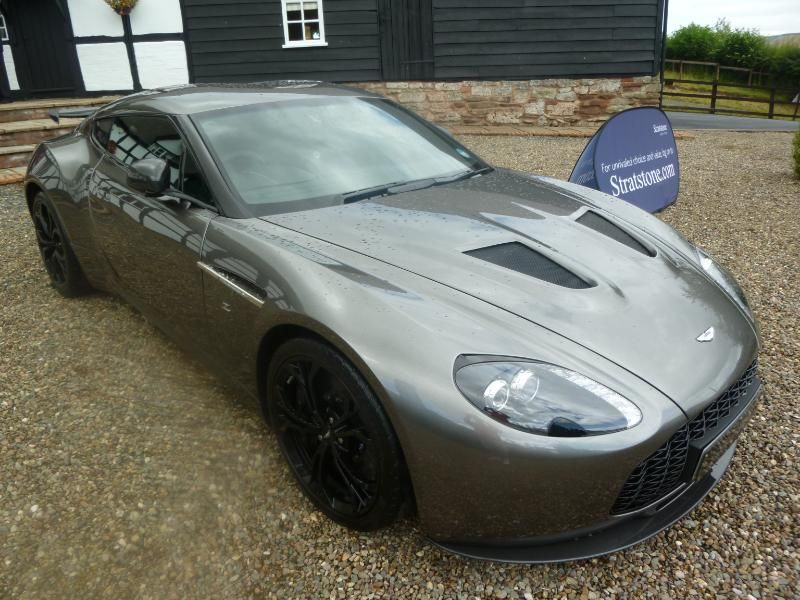 Other cars included a couple of Cygnets, a Virage, a Rapide, a DB9 and a pair of V8 Vantages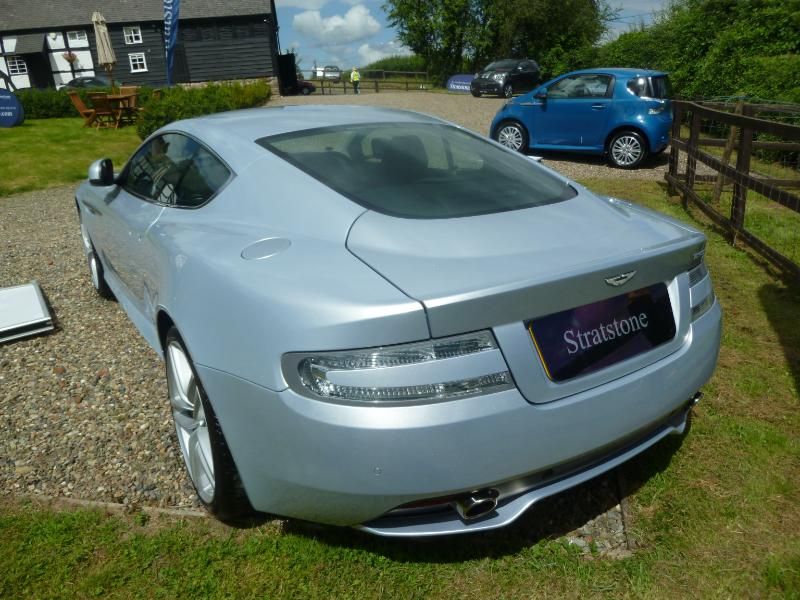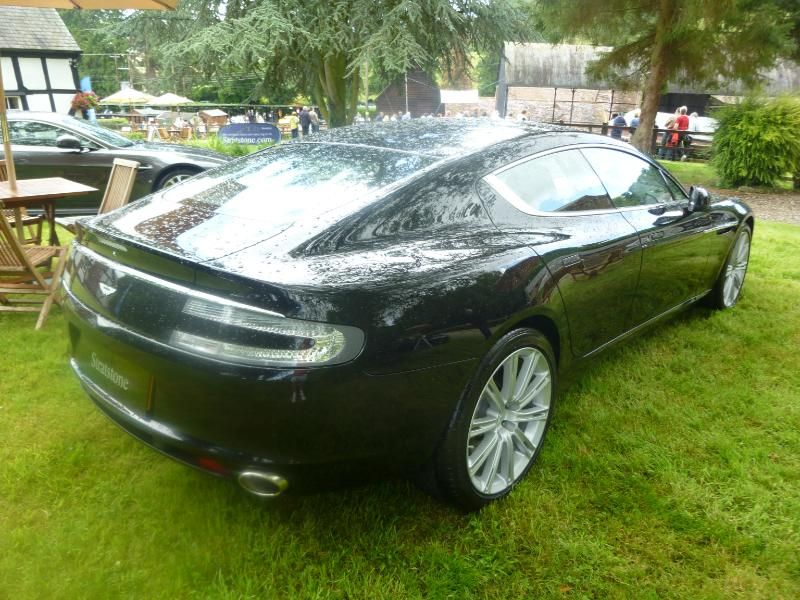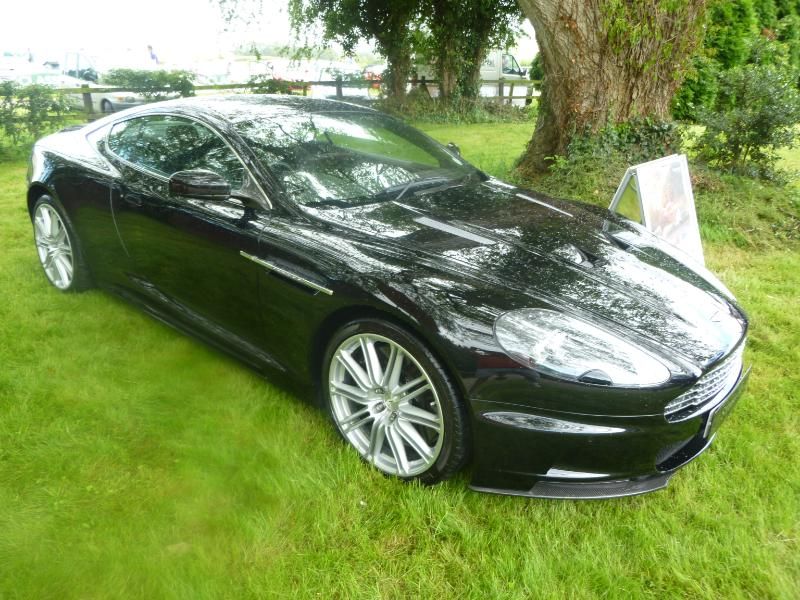 MILITARY VEHICLES DISPLAY
There were two separate displays: three military machines were parked up in the paddock on both days, and then a separate display on the Saturday included some smaller vehicles adapter for military use.
In the former category was a Universal Carrier which saw service in the Falklands, a Daimler and an Alvis.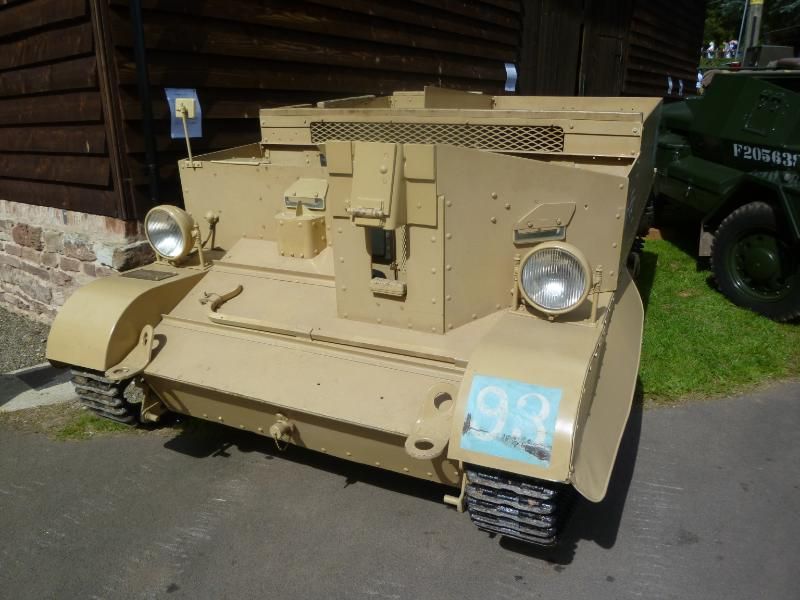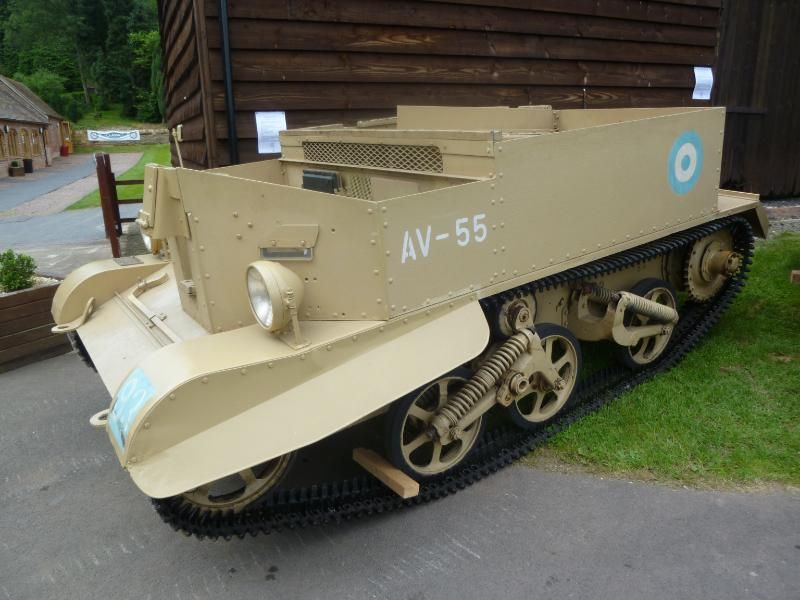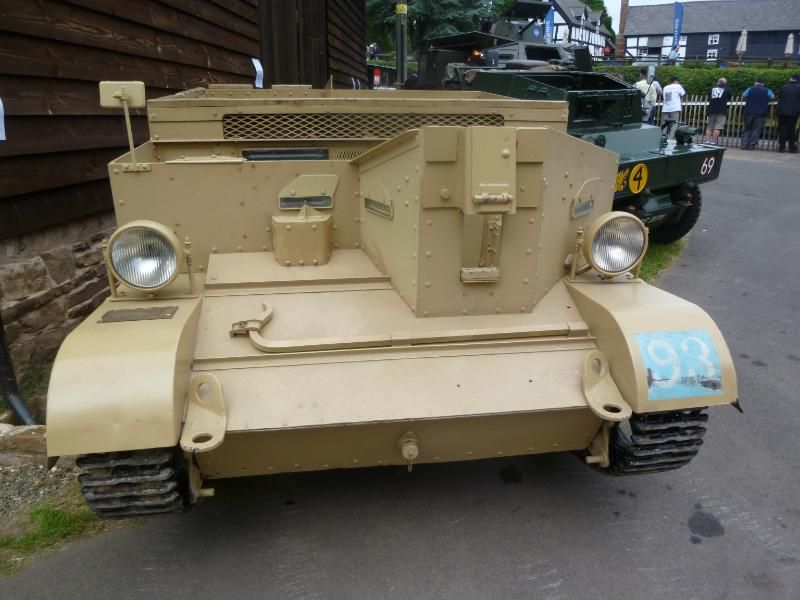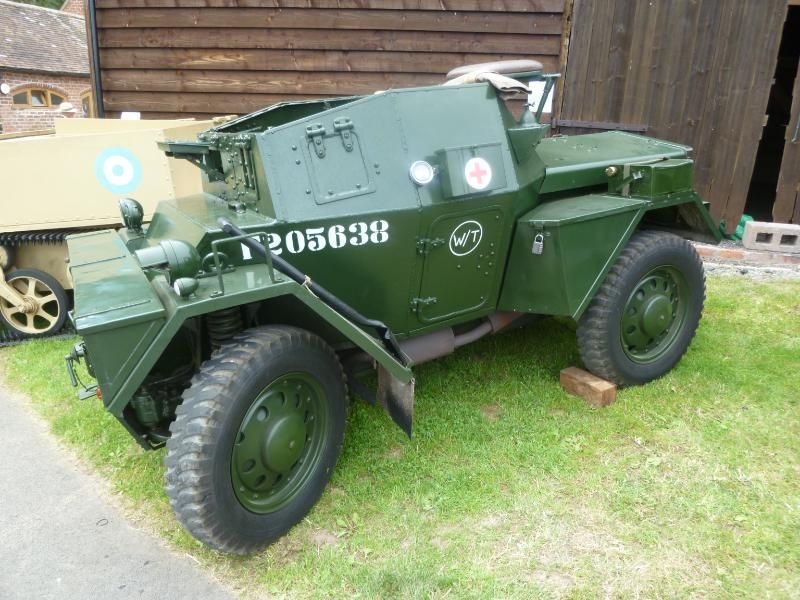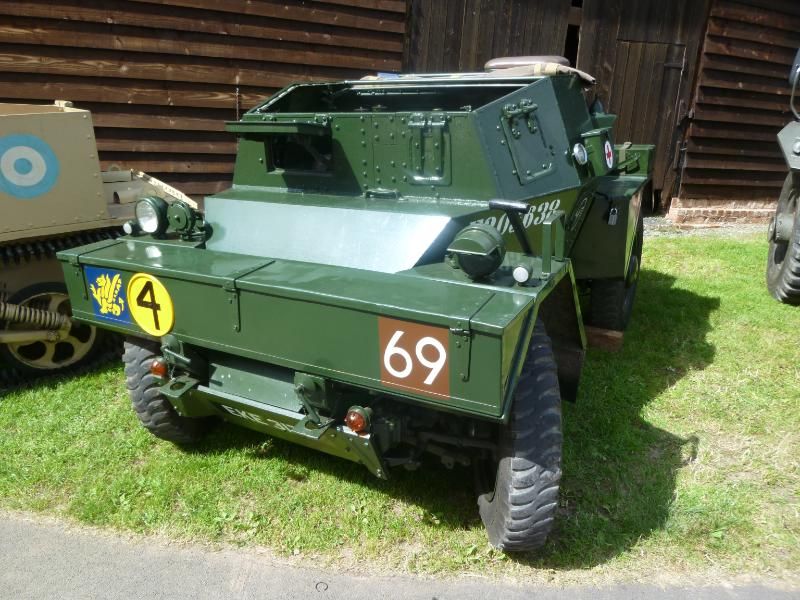 The latter included a couple of WW2 Jeeps, a motorbike and this splendid 1930 Talbot Ambulance. This last is believed to be the sole survivor of a series of such special bodied vehicles. Weighing 2.5 tonnes, it sports an aluminium body over a wooden frame.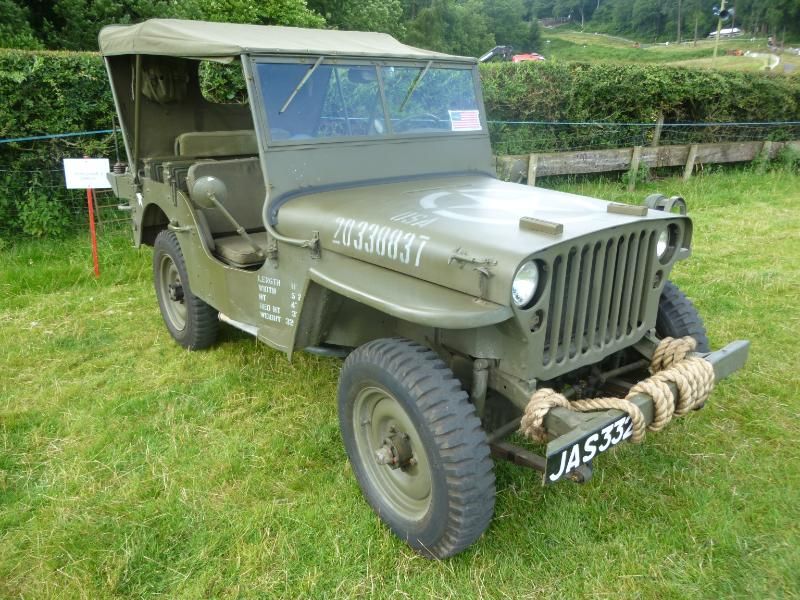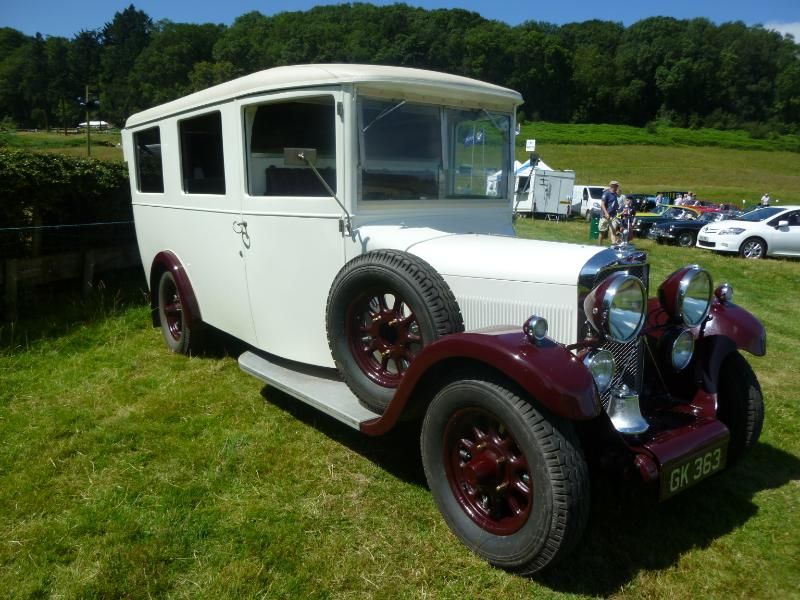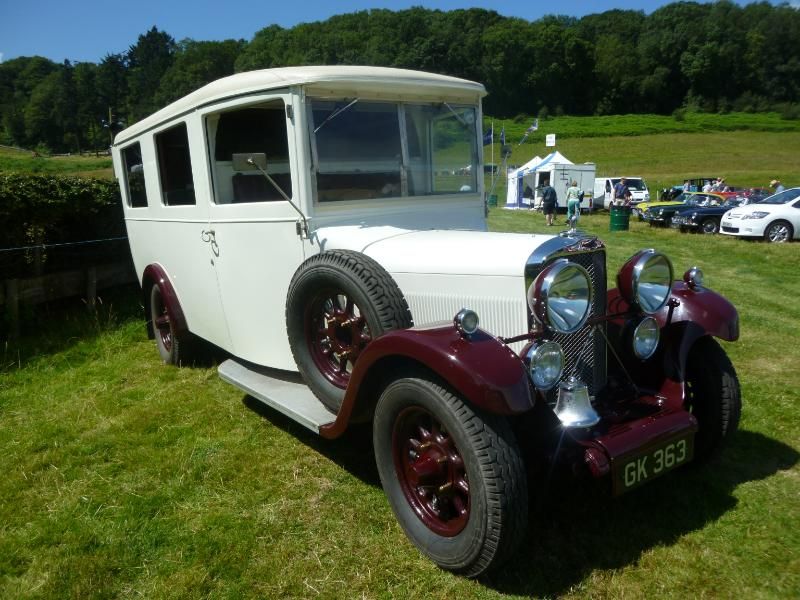 IN THE PADDOCK
Cars competing for honours on the hill are split into around 12 different classes. With a program of continuous activity giving everyone 2 practice runs in the morning (when the classes tend to be mixed up) and 2 competitive runs in the afternoon, there is always lots going on in the Paddock, with cars being readied, fettled and then waiting for the ascent. With good conditions, apart from the few minutes after the Sunday morning downpour, there were some very quick times indeed, and only one serious incident when an MGA Driver managed to spin, hit both the front and back of his car into the bank and end up with the car wedged in situ, which took some time to clear. Among the many competitors were these: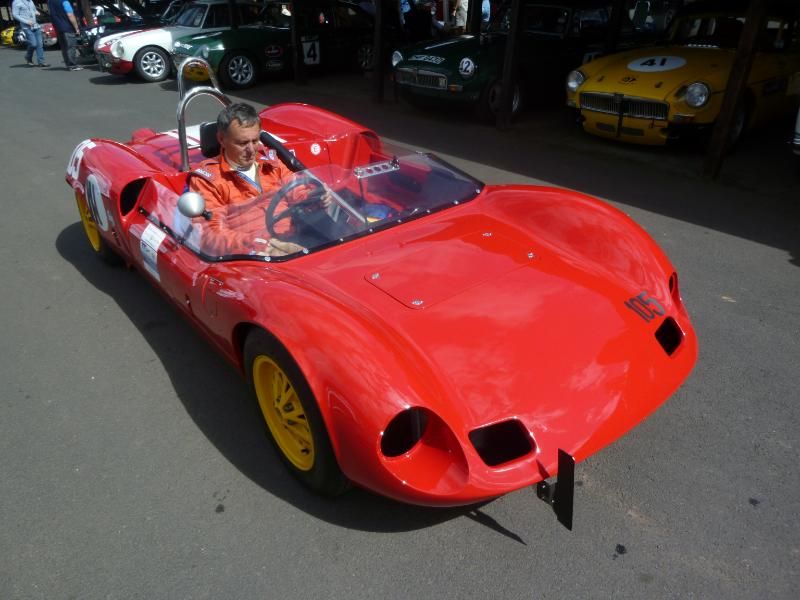 ALFA ROMEO
There were several Alfas competing on the Sunday, most of them Giulettia Sprint models, but the absolutely nicest one of the lot was this fabulous Giulia TZ Zagato. The commentators went into a real expression of delight every time the car took to the hill (remember the same guys rather liked Nick's rental new Giulietta when he took up the hill at Prescott last year!). A number of Giulia GTA and 1750 cars were in action on the Saturday.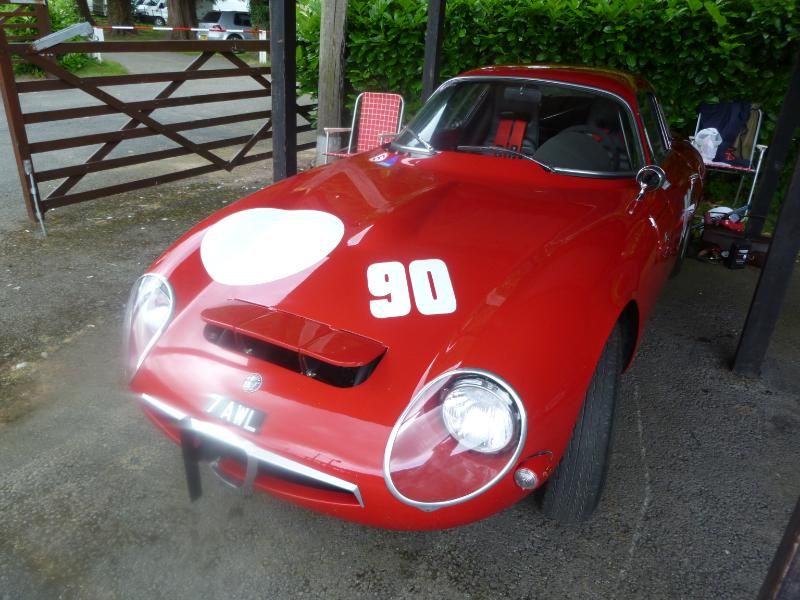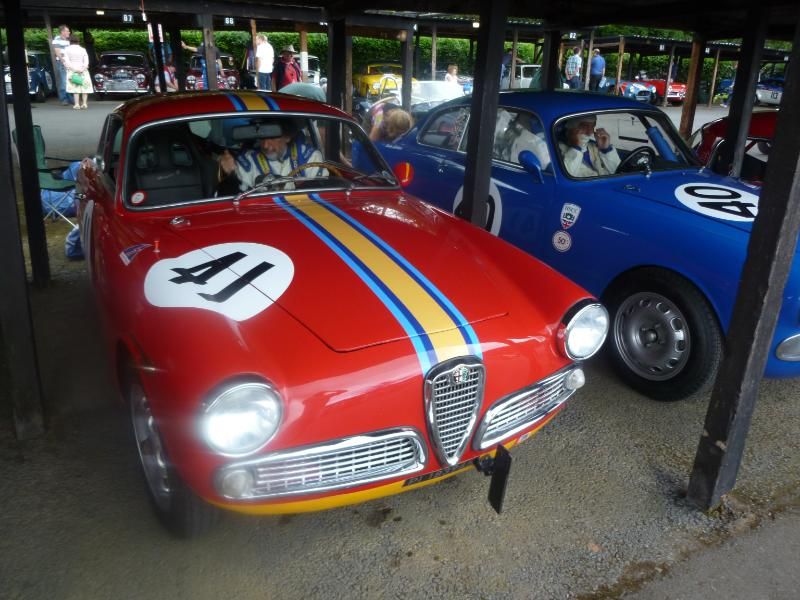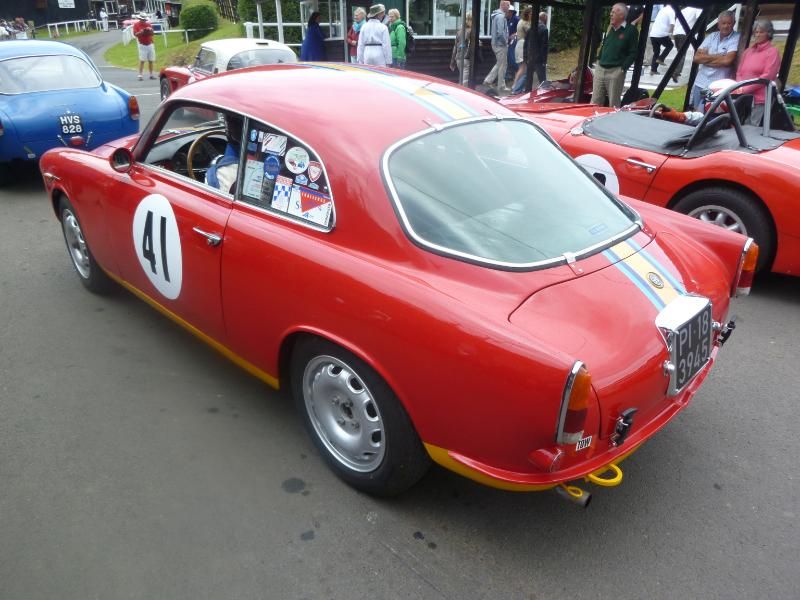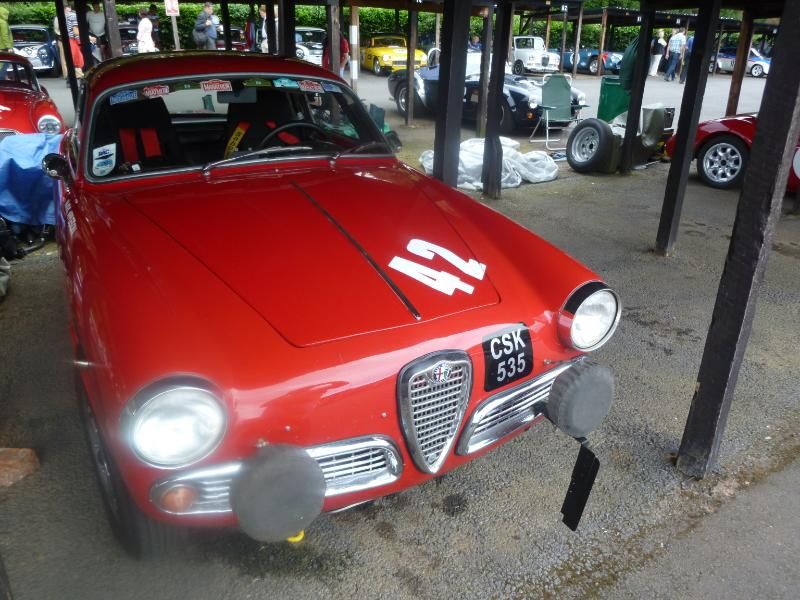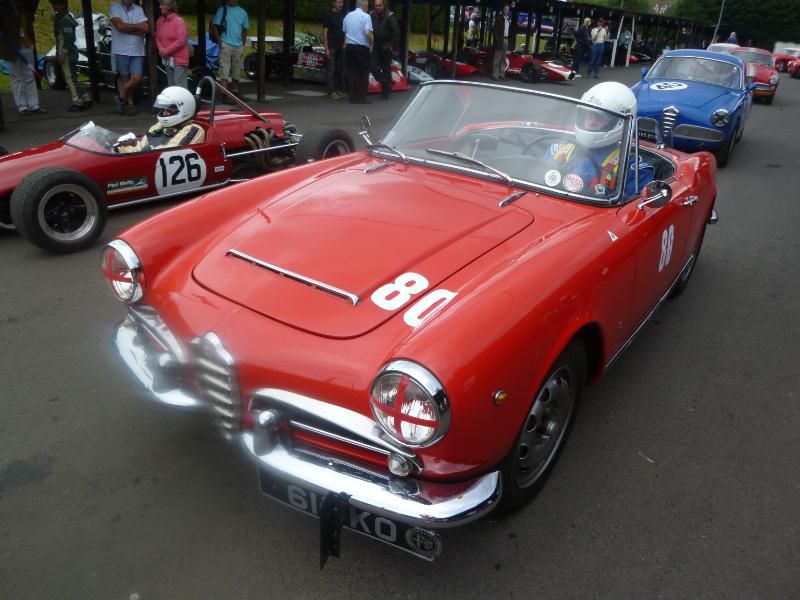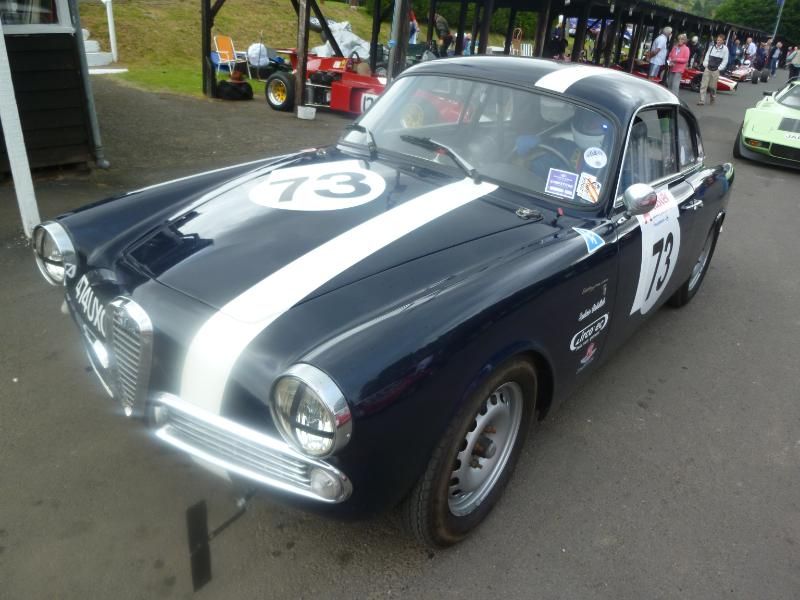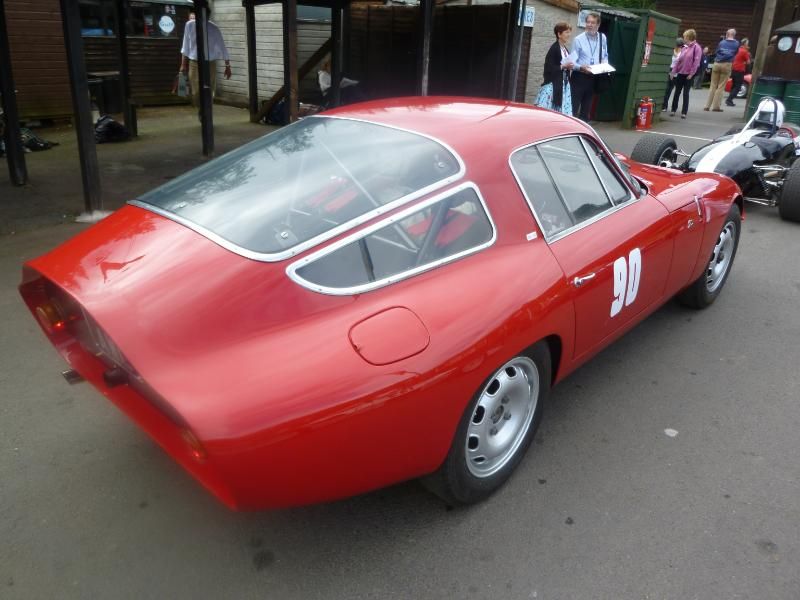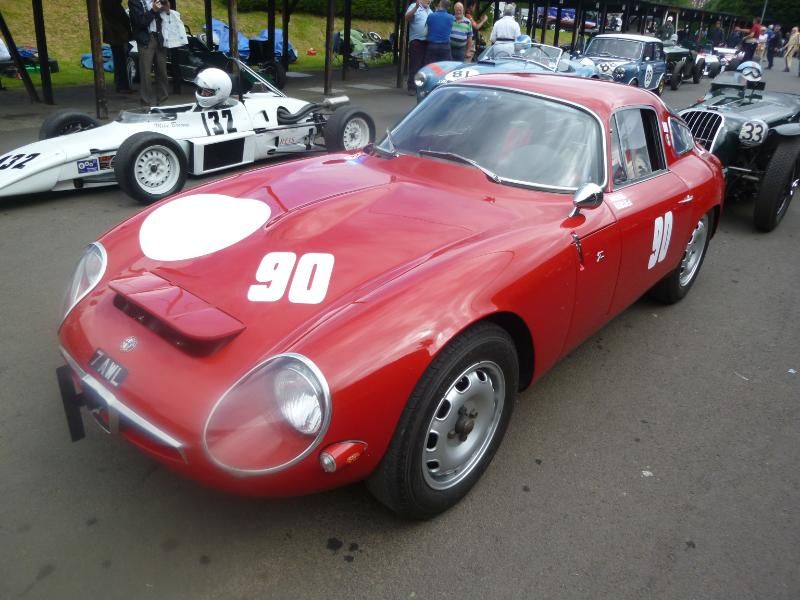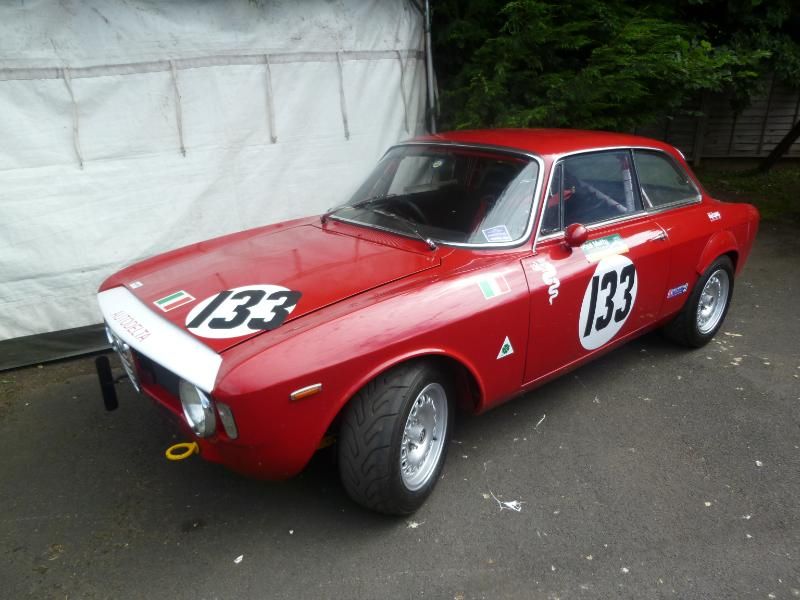 ASTON-MARTIN
This International model actually featured a Riley engine, somewhat surprisingly.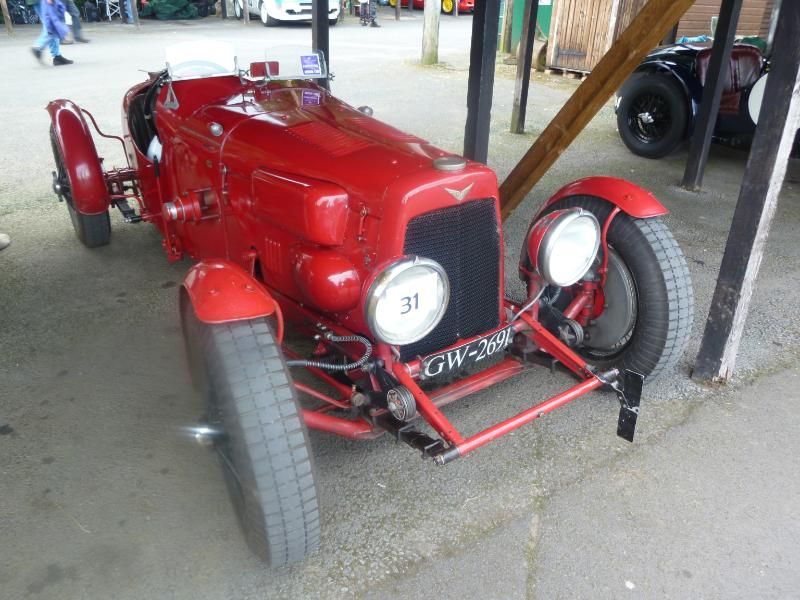 AUSTIN-HEALEY
A mixture of Big Healeys and Sprites.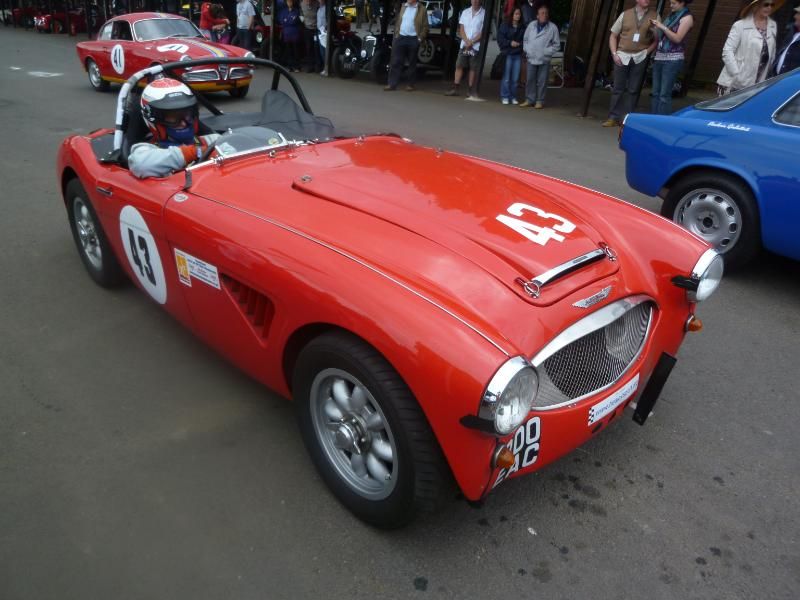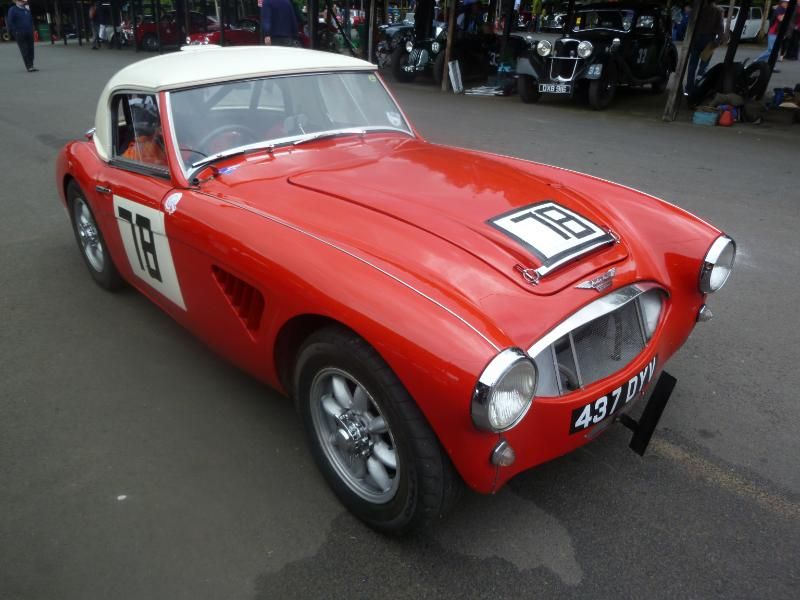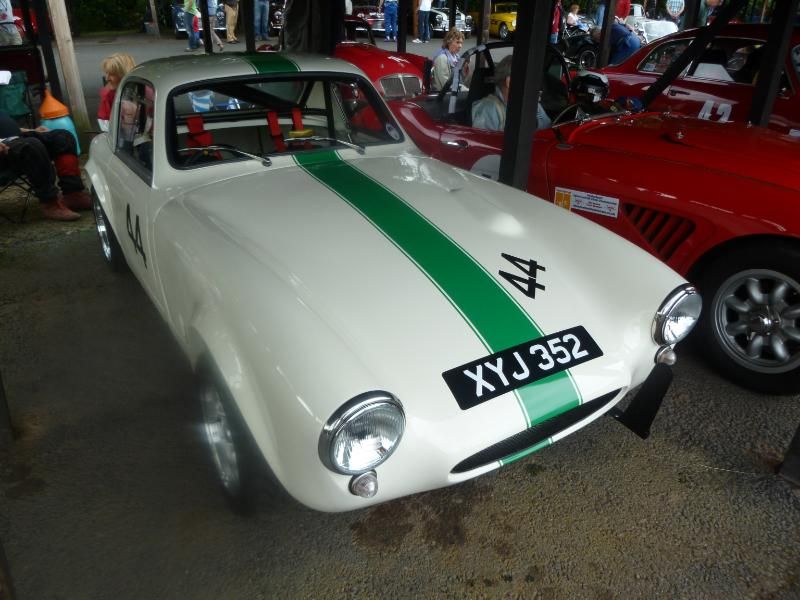 BUCKLER
CHEVRON
By some considerable margin, this was the loudest car at the event. In fact, it was probably the loudest car in the county. Surprisingly, it was far from the fastest, though, never getting better than a 33 second time, when fastest time of the day was under 29 seconds. There were an army of Chevron people fettling it between ascents, too.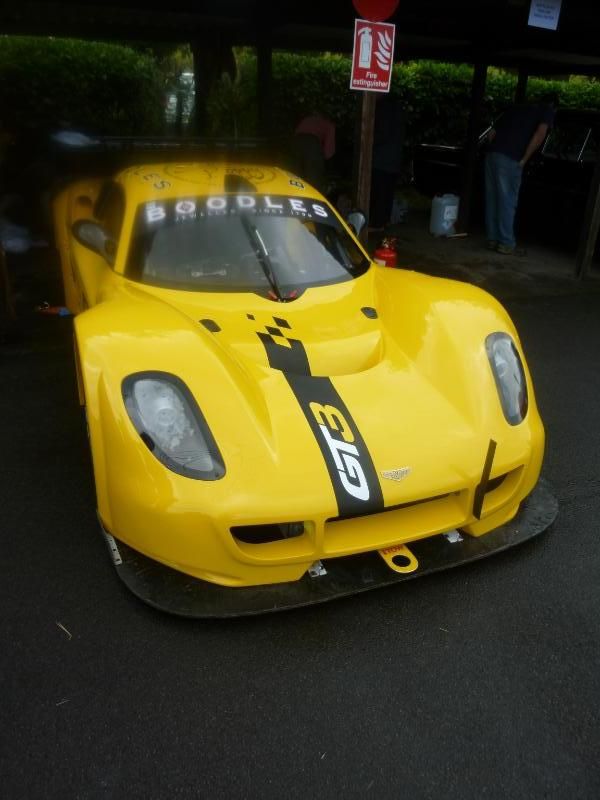 COOPER
Plenty of the 500cc Cooper cars and others of that ilk.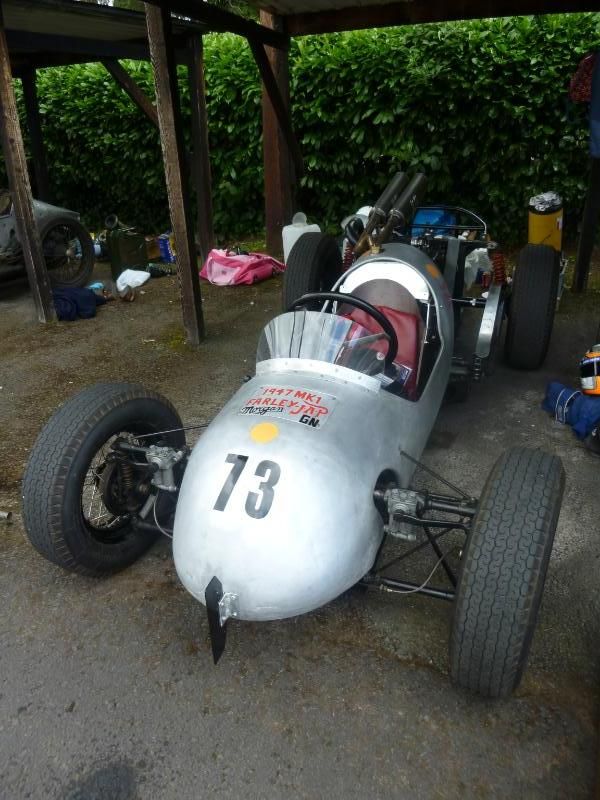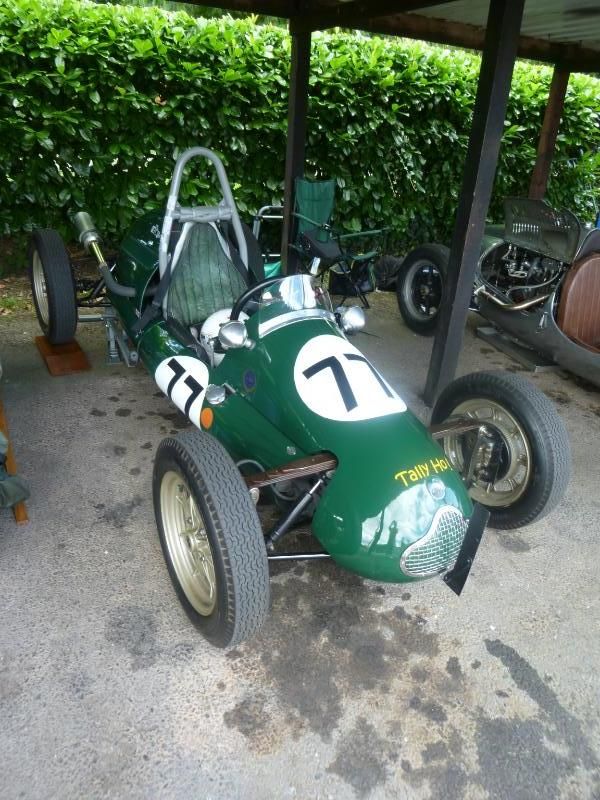 FORD
This Mark 2 Zodiac featured a Raymond Mays cylinder head which transformed the car from leisurely cruiser to quite a rapid machine. With bench seat, crossply tyres and a column gearchange, I would guess that taking up the hill at speed was quite a test!
GINETTA
A rare G16.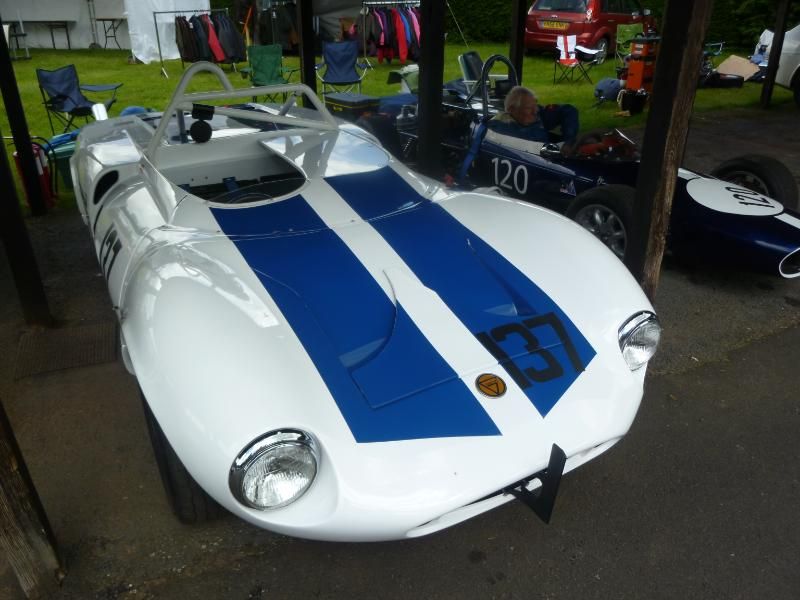 GN
The Spider staged another appearance. Its ascent on the hill was cut short at one point when the chain drive to the transmission snapped – apparently a not uncommon occurrence.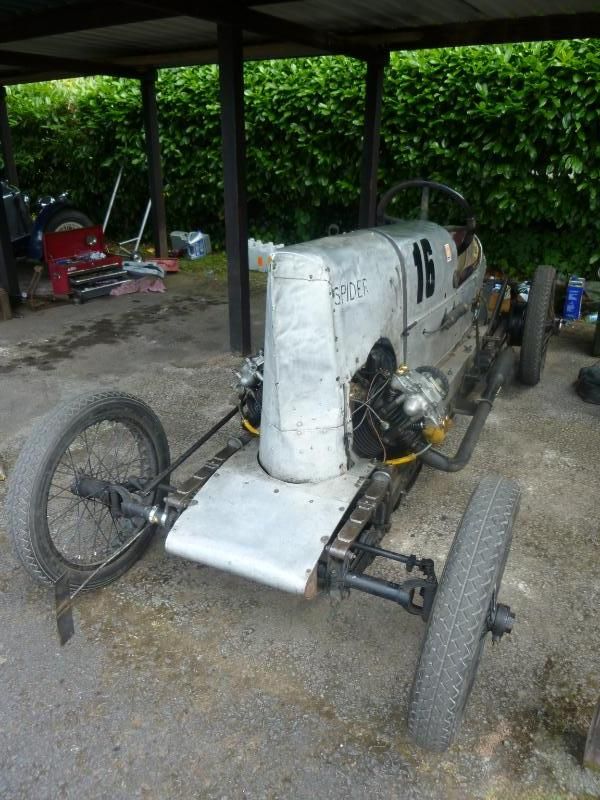 HWM-CHEVROLET
Simon Taylor had his trusty Stovebolt Special in action on both days, and as well as winning his class, he managed a personal best time of under 34 seconds on the Saturday.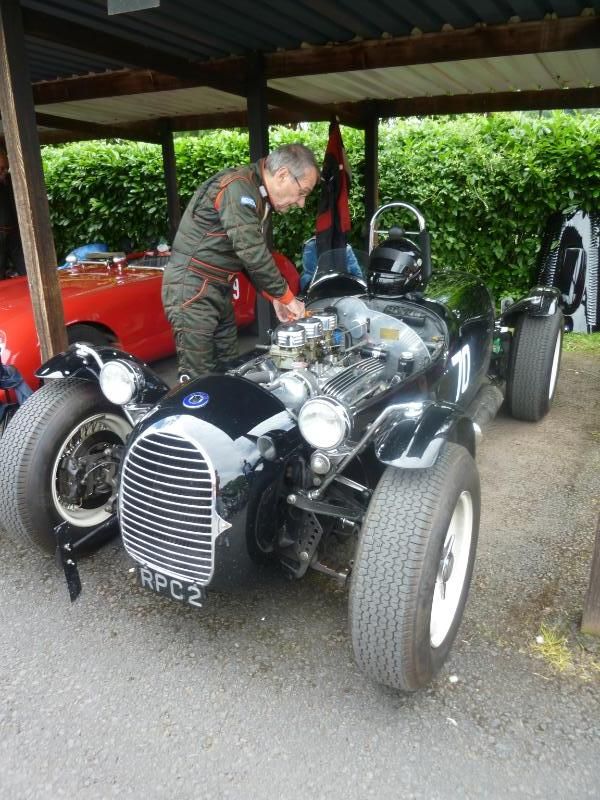 JAGUAR
This is a genuine Coombs Mark 2 3.8 model which got the commentators particularly excited as they said that it has been a long time since any Mark 2 has been seen on the hill.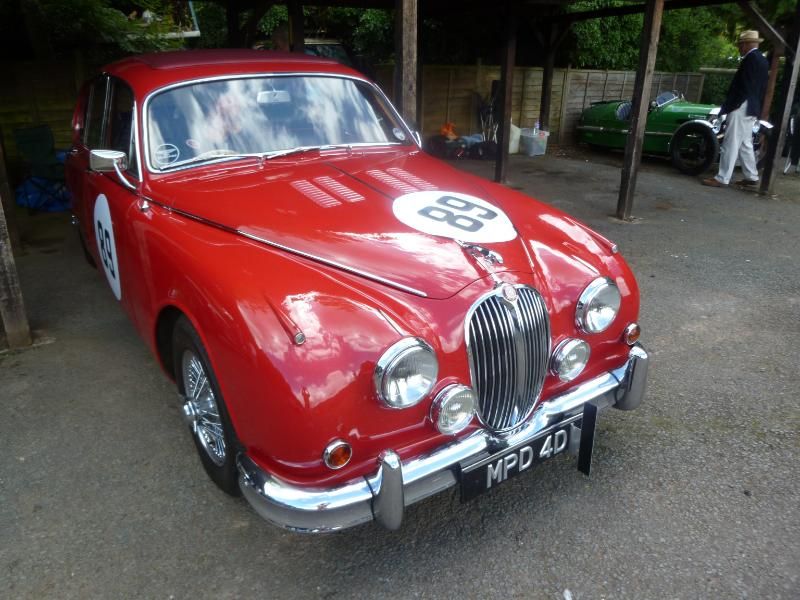 LAGONDA
This 4.5 litre car is on the large side, but it is still surprisingly agile up the hill, putting in some impressive times.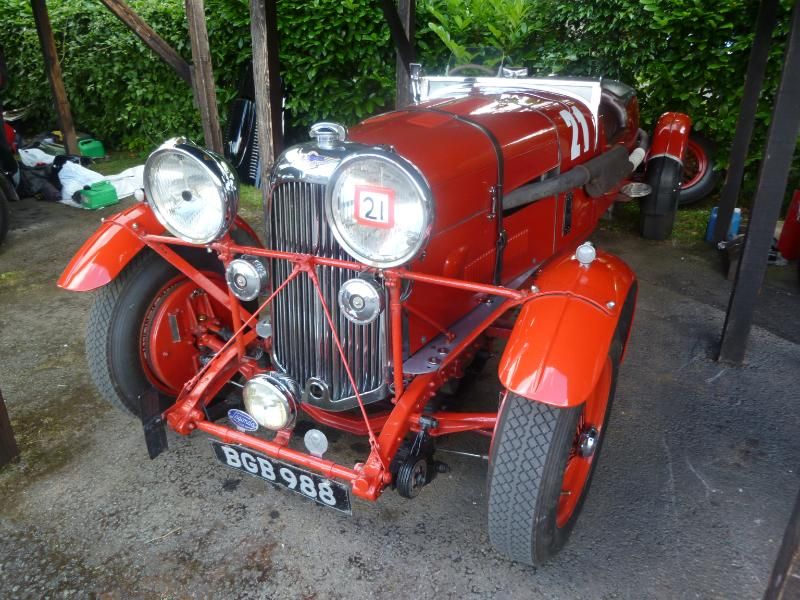 LOTUS
An interesting assembly of historic Lotus models, ranging from a Type 11 through several Type 22s to a couple of Type 51s, along with several Elans.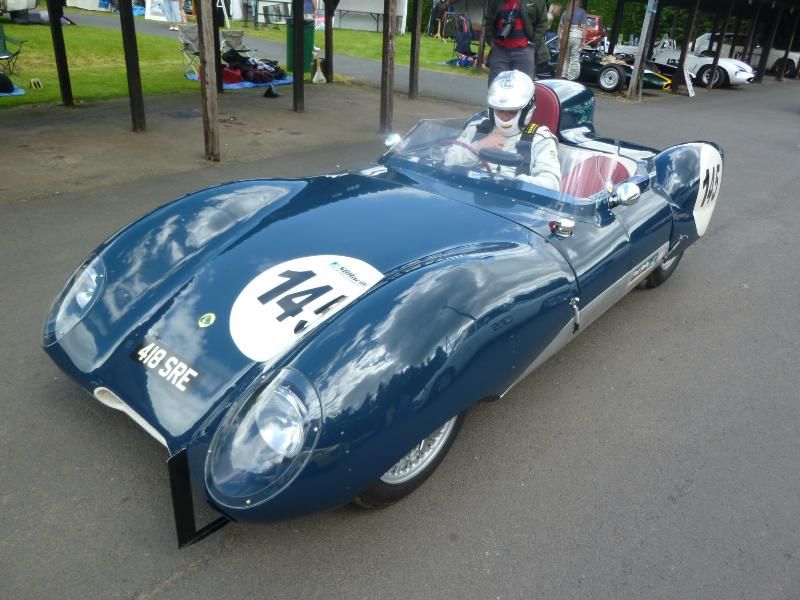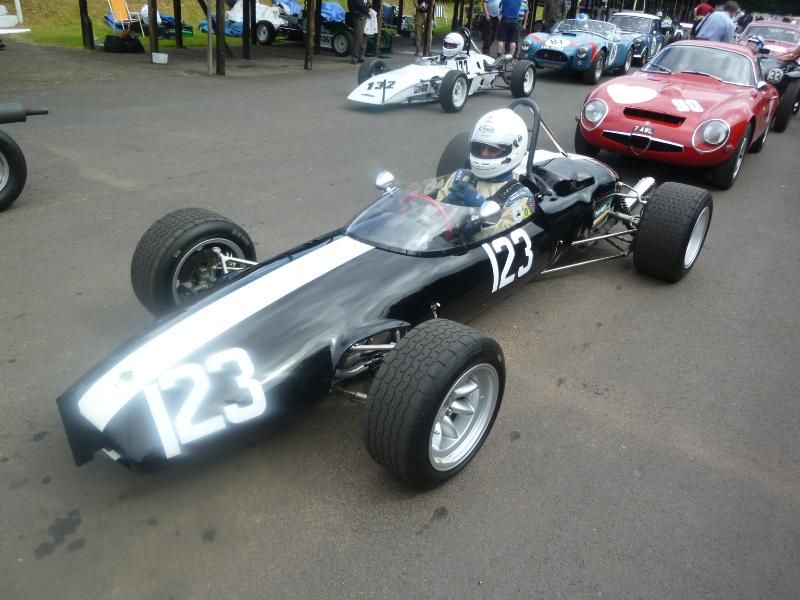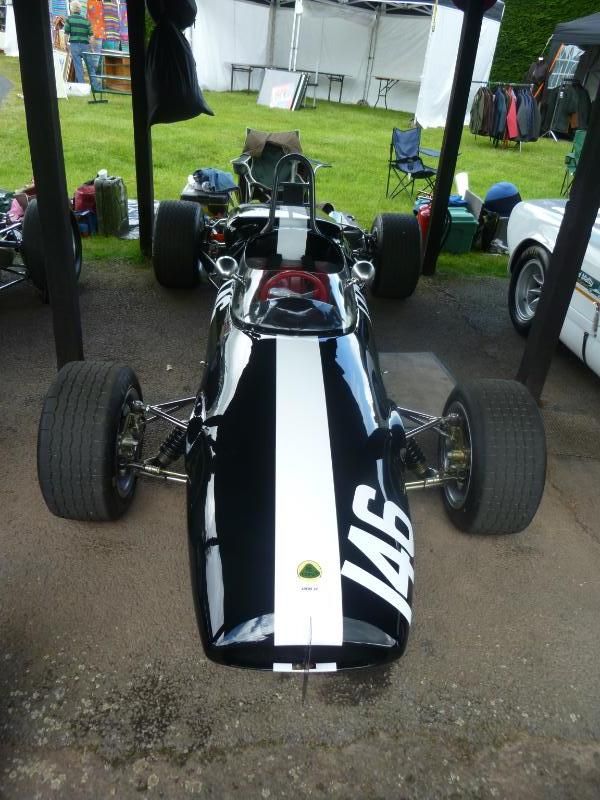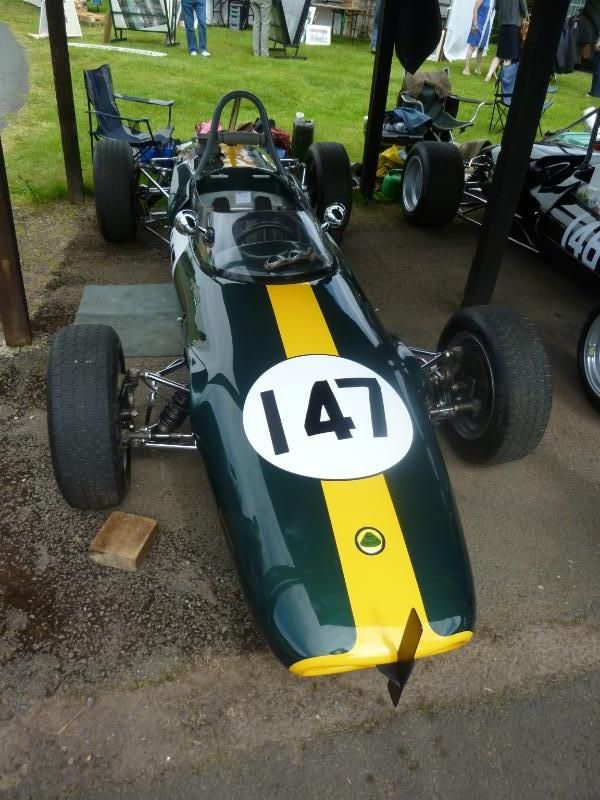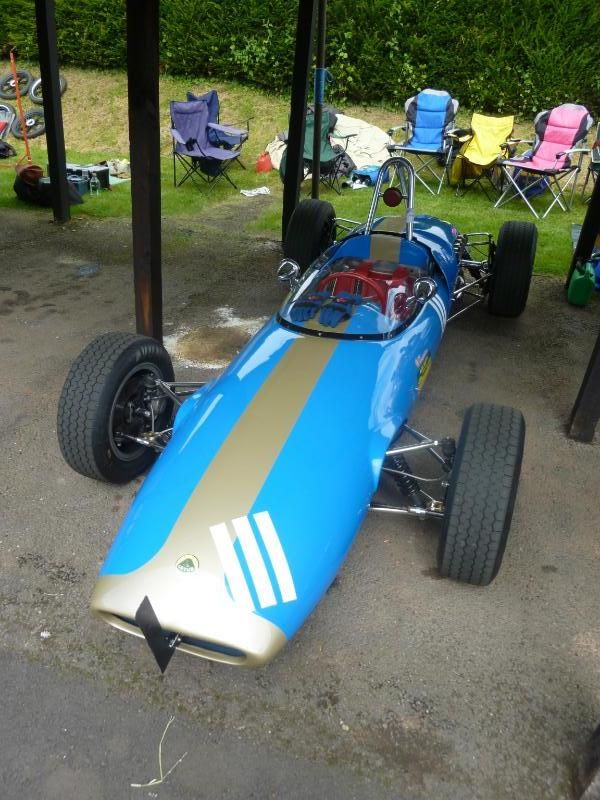 MERCEDES-BENZ
Another appearance for the W196 Streamliner recreation. The car was taken up the hill as a competitor and the noise is makes is something else, which definitely belies the modern straight six 3 litre engine that powers it.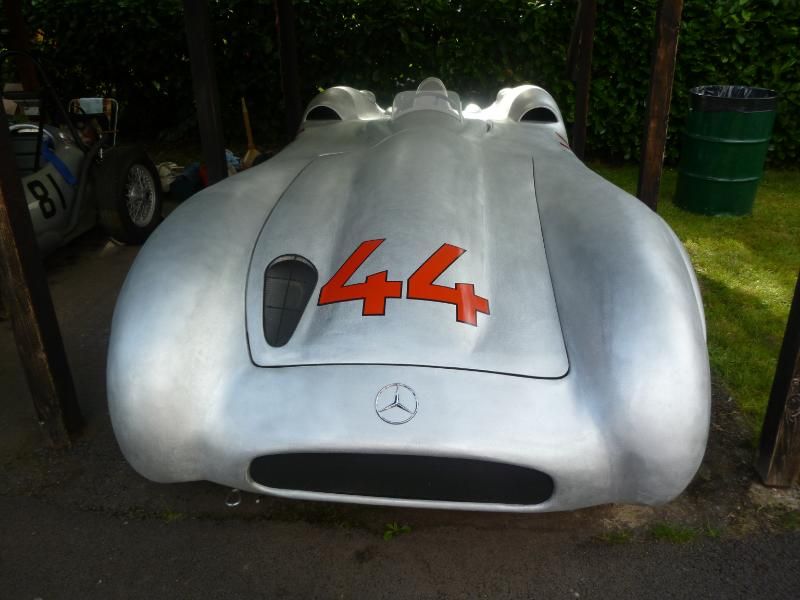 MG
There were lots of MGs of varying vintages. The pre-war models were particularly nice, featuring a couple of TAs and a supercharged PA and there was a whole class for MGA and MGB models.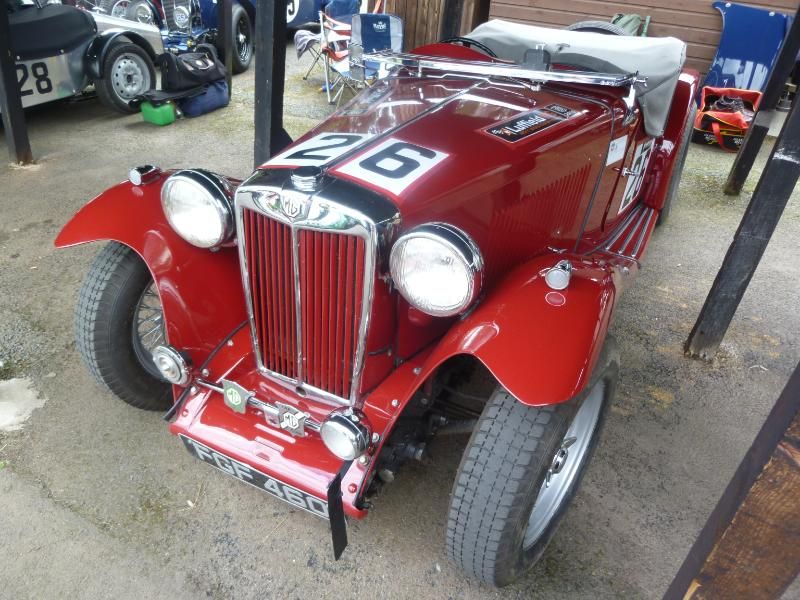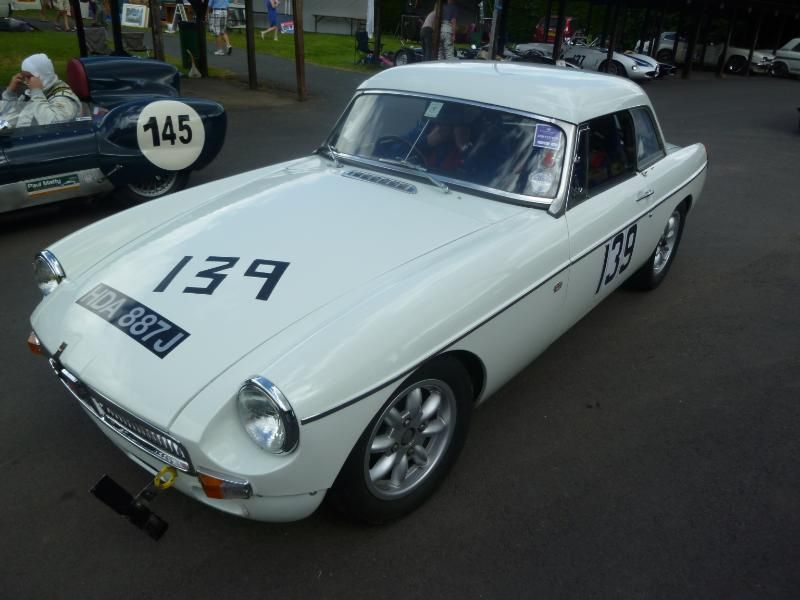 MORGAN
In a class for just this duo of 3 wheeler Morgans, one was twice as quick as the other on the Saturday, with the slower car almost grinding to a complete halt. It was fixed for Sunday when the times were far more even between the two cars.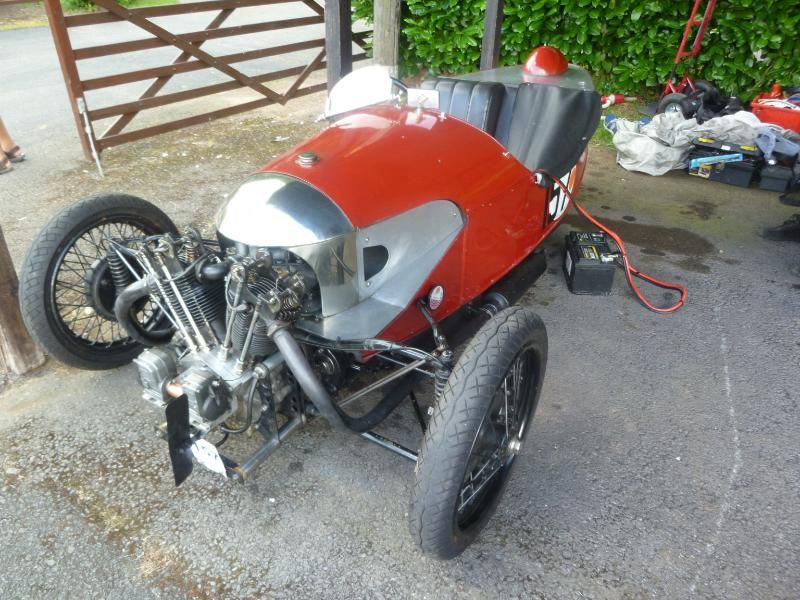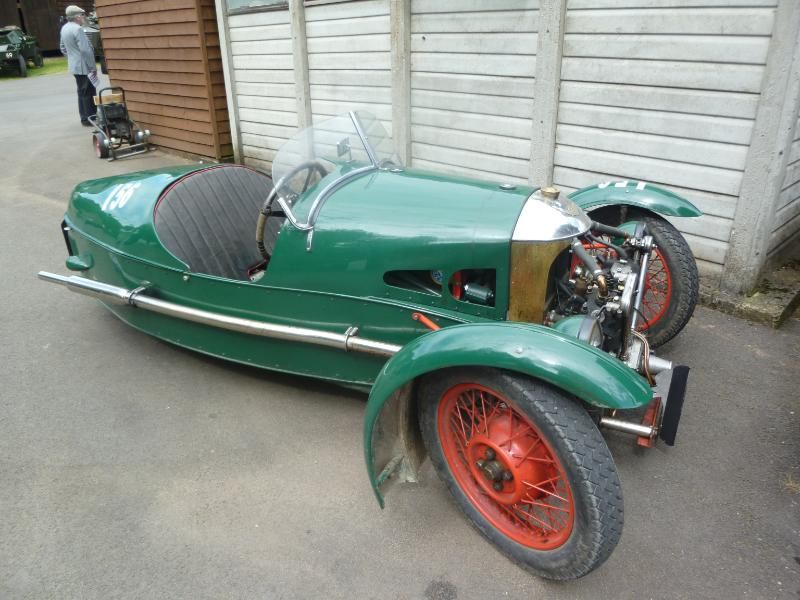 PORSCHE
RILEY
Among the more predictable Riley sports cars from the 1930s was this Elf.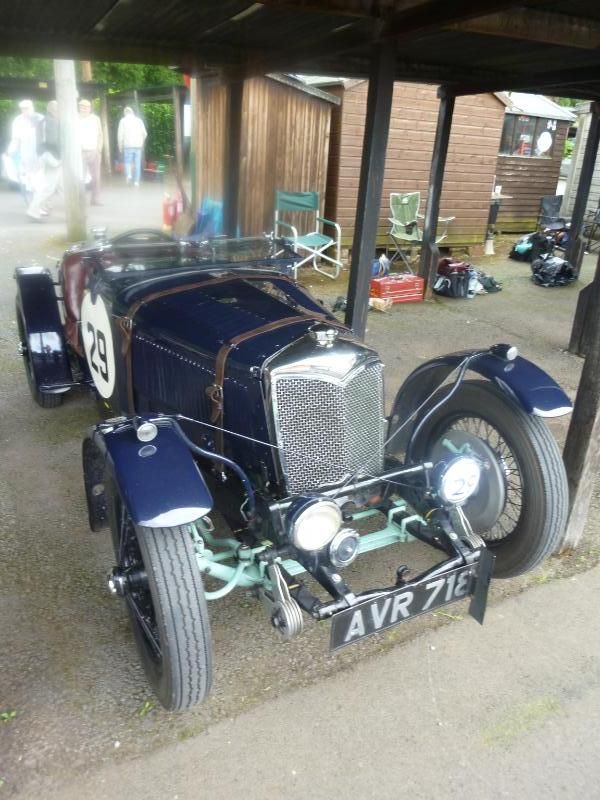 TRIUMPH
This much modified TR7 V8 put in some impressive times.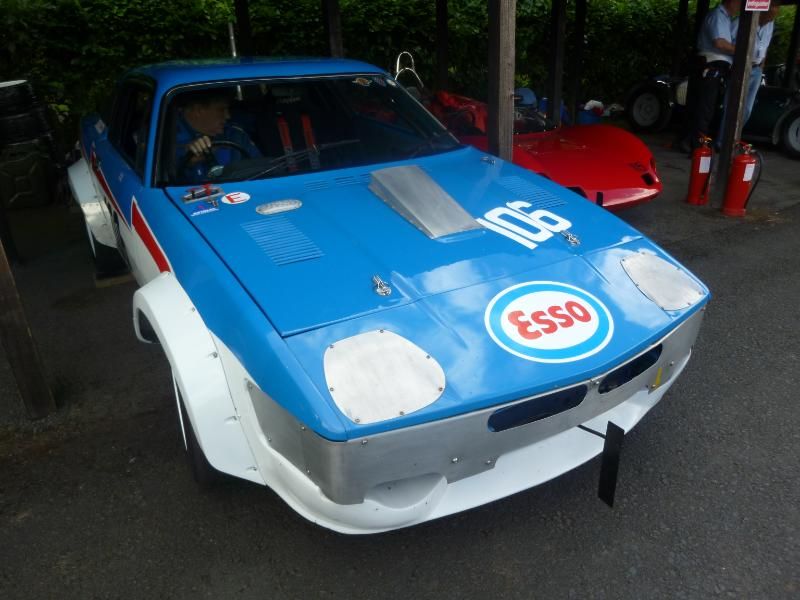 TVR
Only 1600cc meant that this Vixen was never going to set any records, but the driver appeared to having a lot of fun with his car.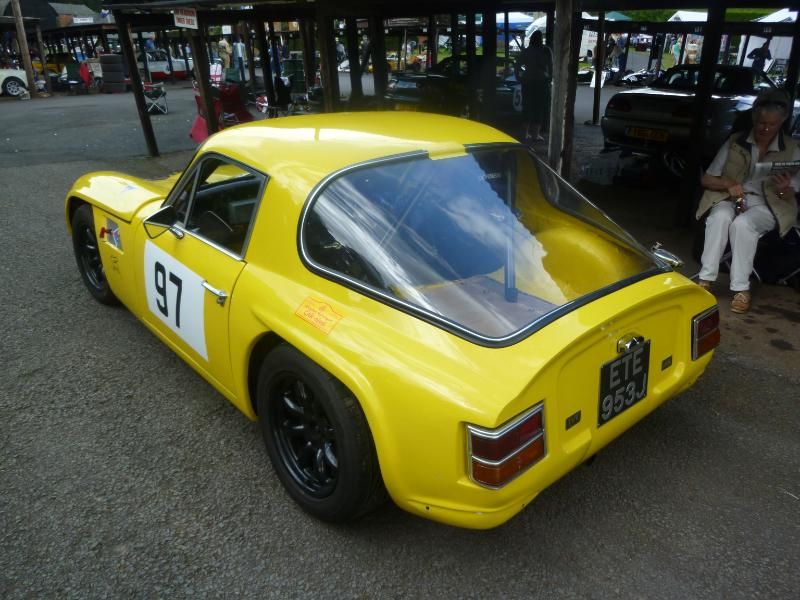 This was an excellent weekend, and one that plenty of other TheMotor forummers would have enjoyed, too. The next meeting at Shelsley is over the weekend of 18/19th August and on the Sunday (when I will attend) there is a special tribute to the 60 years of Lotus, with a wide variety of models including plenty of very rare cars promised. I can barely wait!
2012-08-01 19:27:52