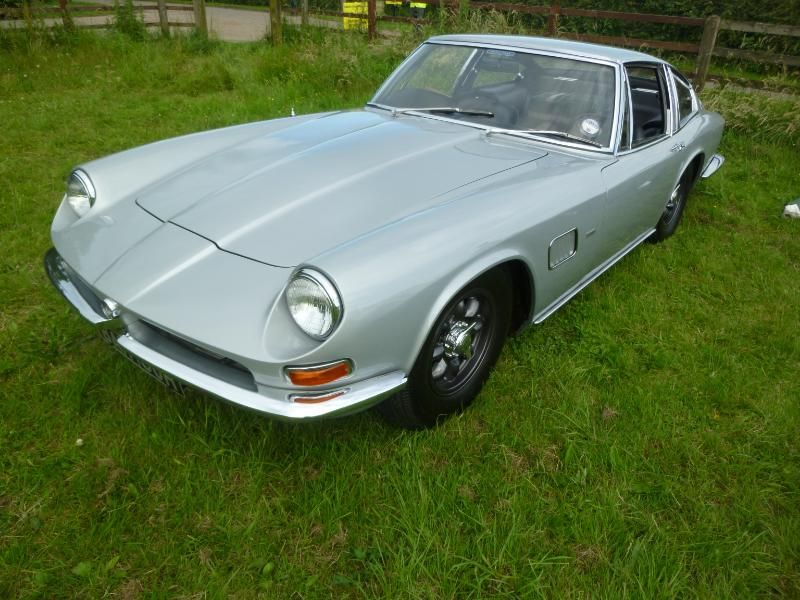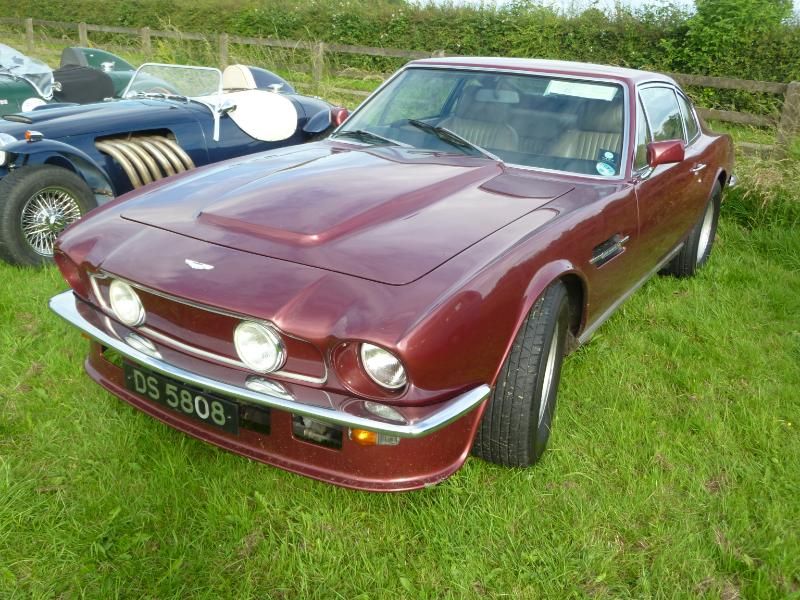 Whereas most motoring events take place at weekends, careful perusal of the UK calendar will reveal that during the long evenings of what, in 2012 at least laughably passes for a summer (!), there are a number more things to entertain the motoring enthusiast. The gathering I have just attended is one which came to may attention thanks to a reference by James Elliott in "Classic and Sports Car" earlier in the year when he itemised a whole series of "must not miss" events which included this one. The Walled Garden in question is at Luton Hoo, which a little of research informed me was just off junction 10 of the M1. Google maps suggested that this was 34 miles from the central London office, and therefore it look feasible for an evening's entertainment. I spent most of the day looking at the weather forecast and agonising over whether to attend or not. I suspect that so did a lot of other people, as the event publicity suggested that in previous years there had been between 6 and 700 cars there, and there were certainly nothing like that number this year.The five acre octagonal garden at the Luton Hoo Estate was designed by Capability Brown in the 1770s for Lord Bute, a Prime Minister who served during the reign of George III. They fell into disrepair during the Second World War, and by the 1980s had become very dilapidated. Plans are underway for a complete restoration to return them back to their full splendour. This event was created four years ago by Peter Madden, as a companion to the larger Classics on the Common which he also organises.The first 100 or so get to park in the Walled Garden itself, the next batch in the area immediately outside it, and the rest in an adjoining field. Many of those who were there were well prepared and well into their evening picnics by the time I arrived, and indeed many then made a relatively early exit. The event started at 4pm, but those 34 miles even without the impediment of undue traffic took me over an hour to cover, so it was around 6:30 when I got there, and looking at other pictures of the event, clearly a few of the more interesting cars had already departed. There was, however, plenty still to keep my camera and I busy for a good couple of hours, as this report evidences:
AC
Just 81 of AC's Frua styled 428 were made, of which 49 were Coupes, so to see 2 in one evening was quite a surprise. This is an elegant looking car, though to my eyes the even more rare Convertible version looks even better.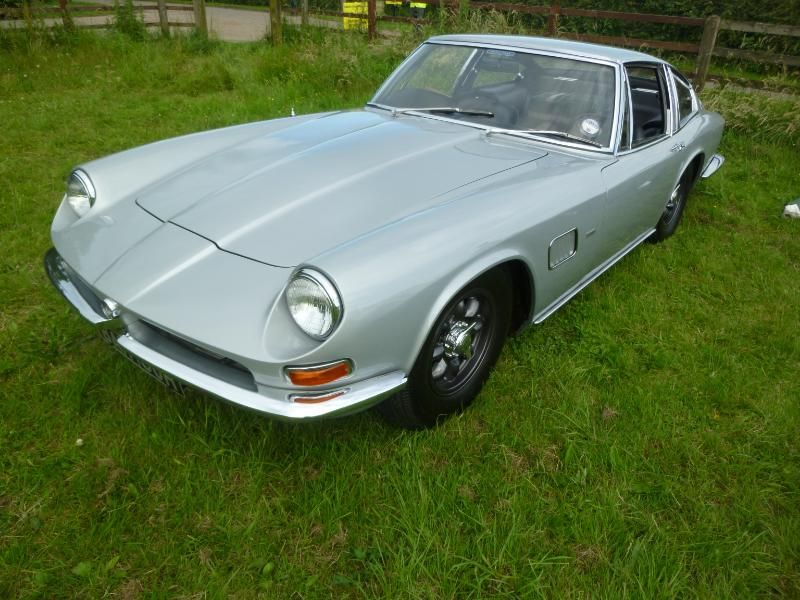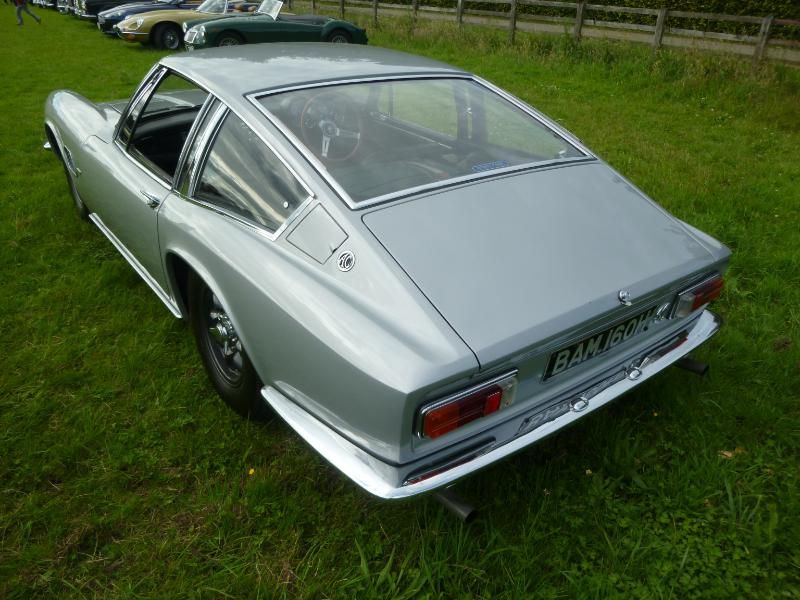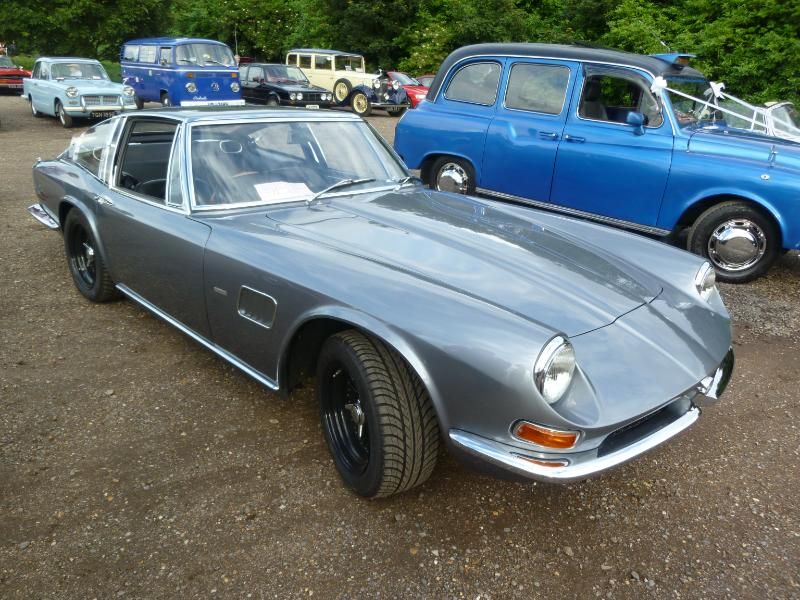 Also rare was this ME3000. First shown at the 1973 Earls Court Motor Show, it took more than 6 years to get the car into production, and then in the following 5 years only 71 were made before production ended in 1984..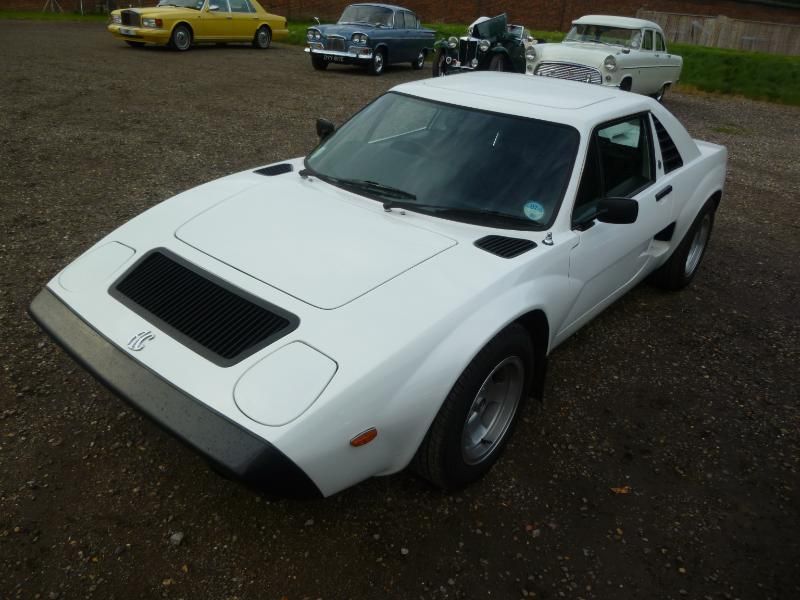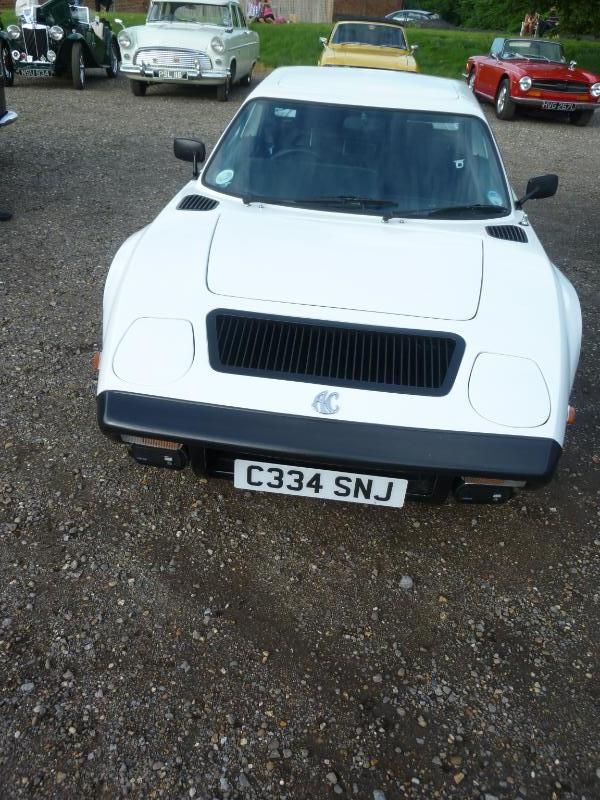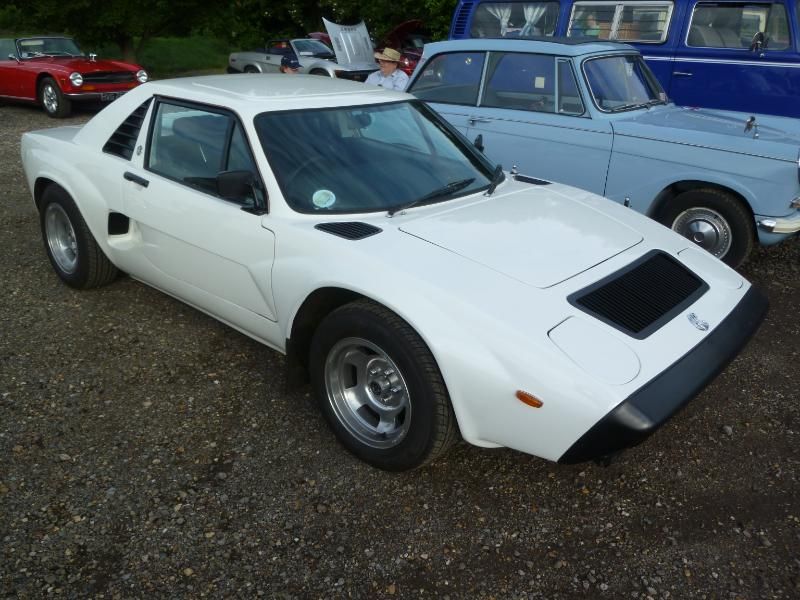 ALFA-ROMEO
A very nice example of the early 1750 Spider.
ASTON-MARTIN
This V8 Vantage was nice……..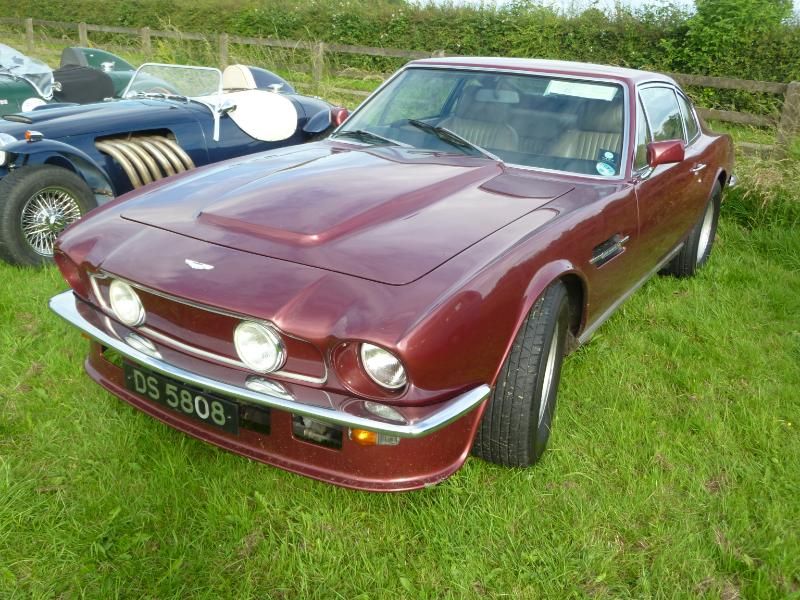 ……… but the duo of DB6s were even nicer.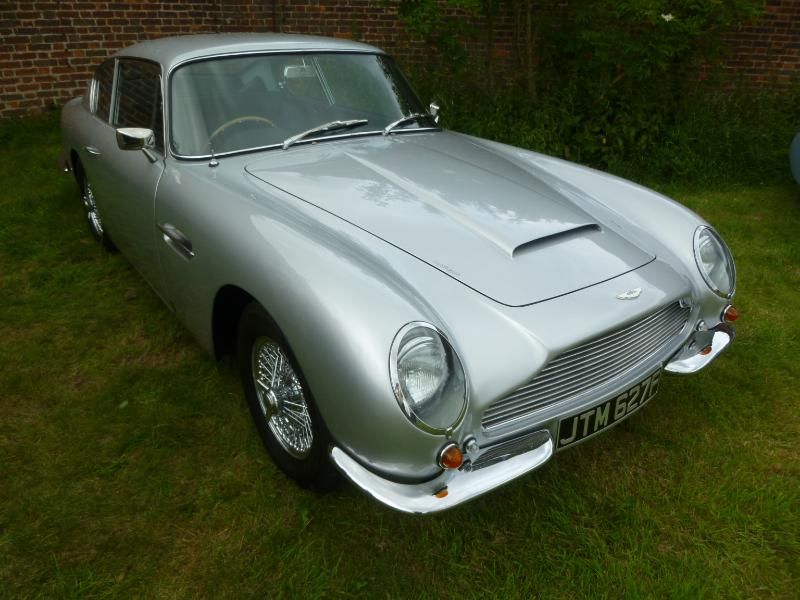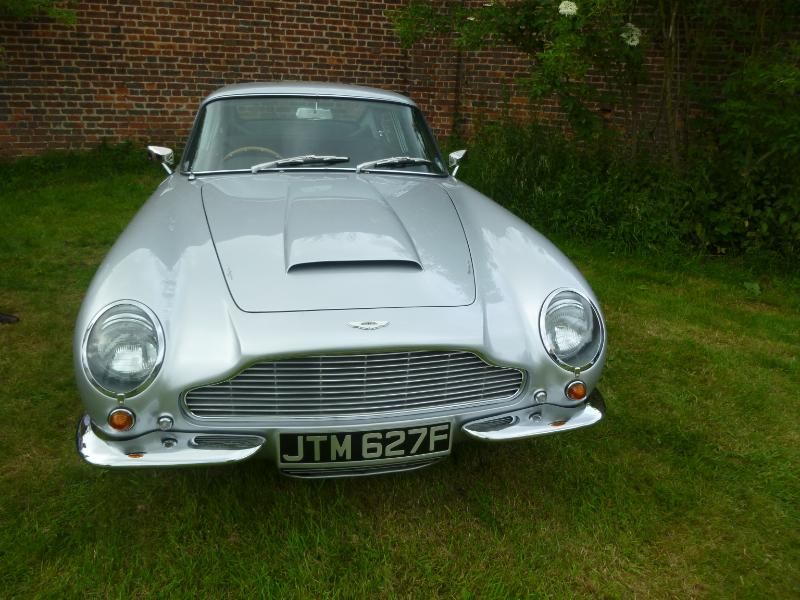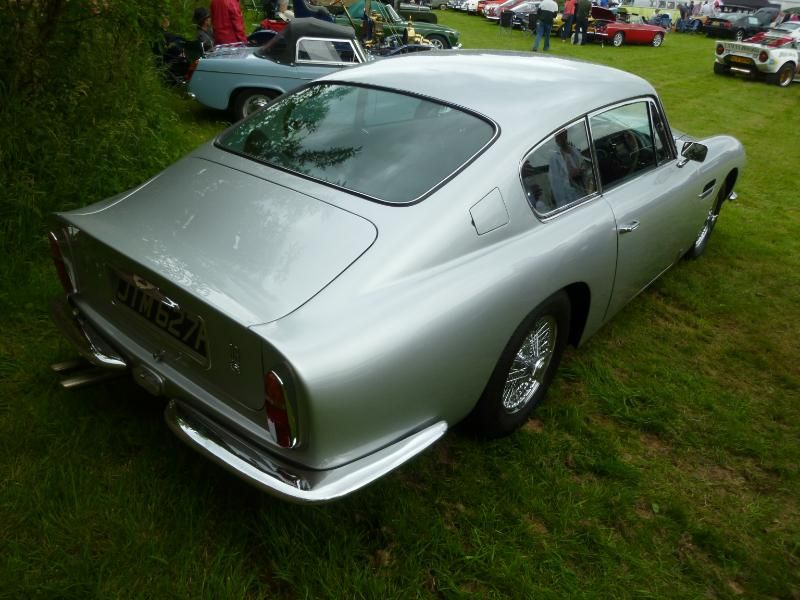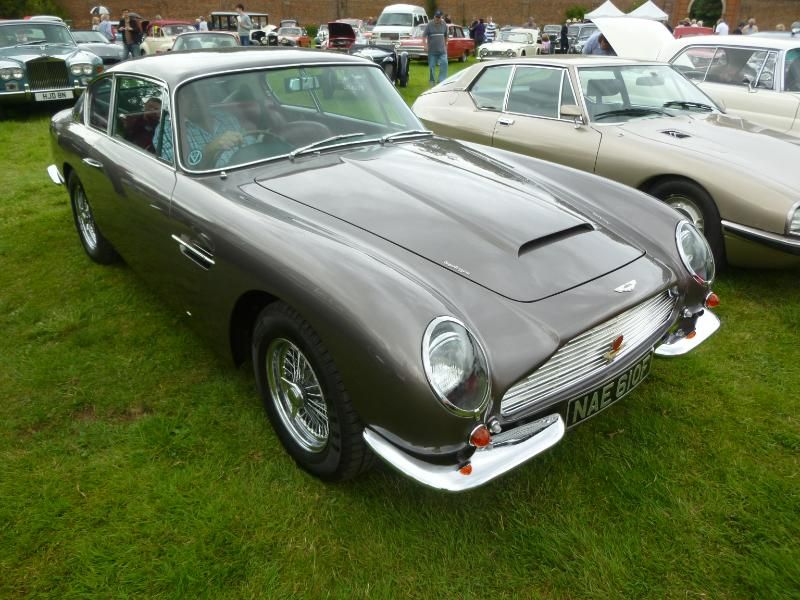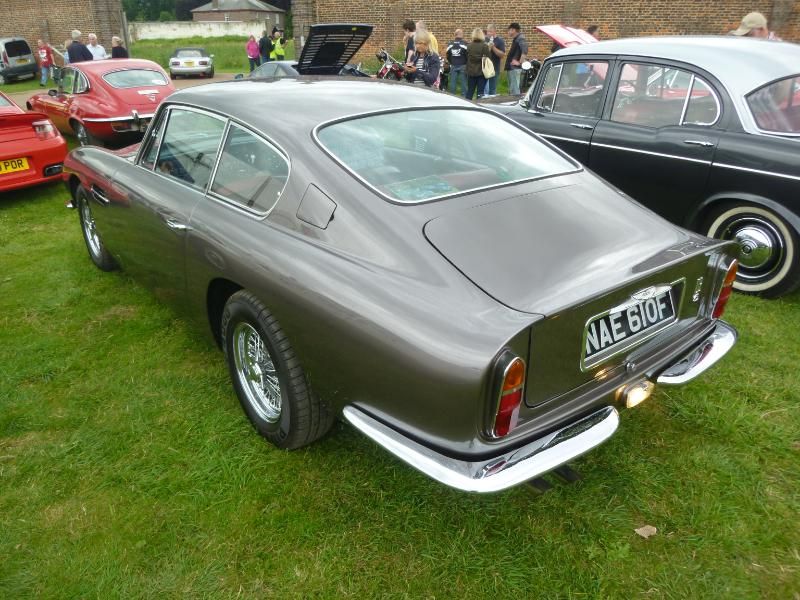 More recent was this Vanquish.
AUSTIN
There were several pre-war Austins present, ranging from a few of the diminutive Seven model, through this nicely presented and rare 1935 10/4 Tourer to some larger Twelves, which seem to have eluded my camera.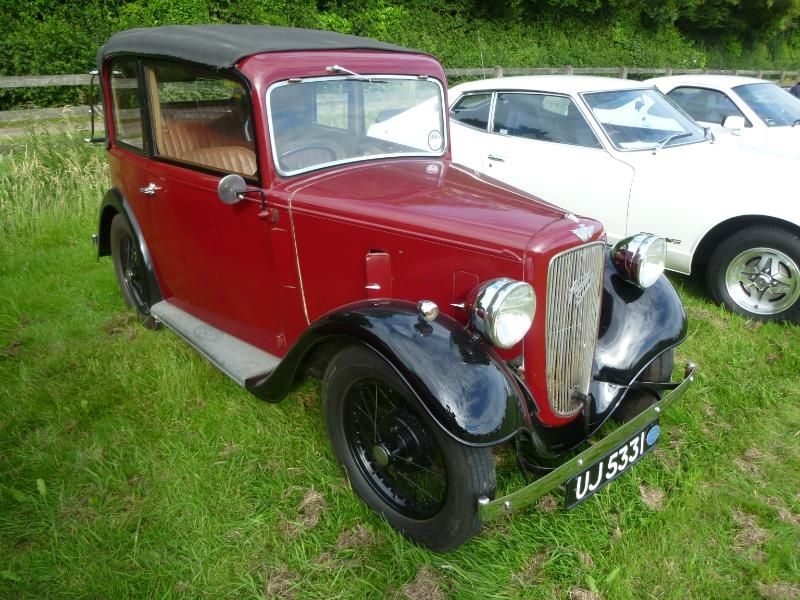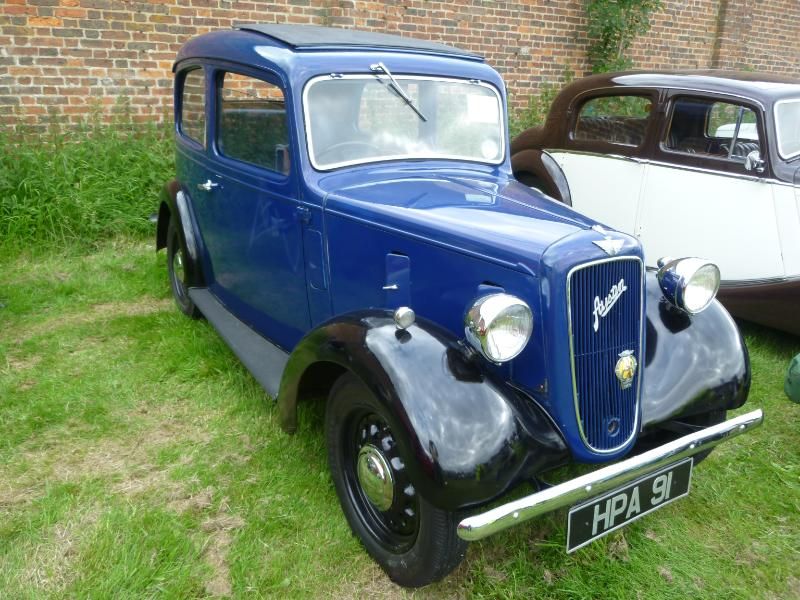 From the post war production was this mid 1950s A55 Cambridge.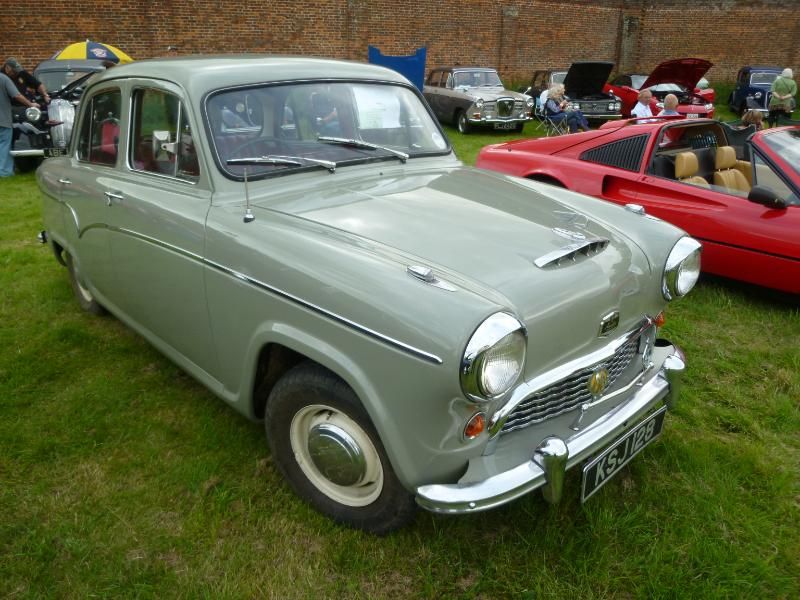 Another rarity was this late model Austin 3 litre. An elongated version of the ADO 17 "LandCrab", fitted with the 3 litre C series engine, this car had a troubled birth and then struggled to leave the showroom, finding life tough against the Ford Zephyr/Zodiac and Vauxhall Cresta, with barely 8,000 cars sold before BMC pulled the plug in 1970. Few survive. This one was in excellent condition.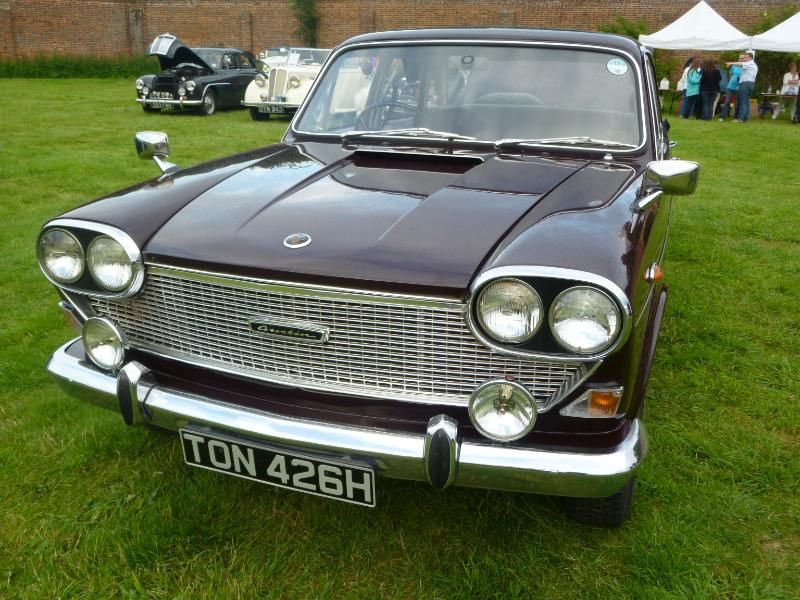 AUSTIN-HEALEY
A second generation Sprite, a car more commonly seen in MG Midget guise.
BENTLEY
During the 1990s, sales of Bentley overtook those of Rolls-Royce, but it was not like that in the 1960s and 1970s when the Bentley was outsold by something like 10 to 1 by the Rolls-Royce. That makes this Corniche Drophead a very rare car indeed.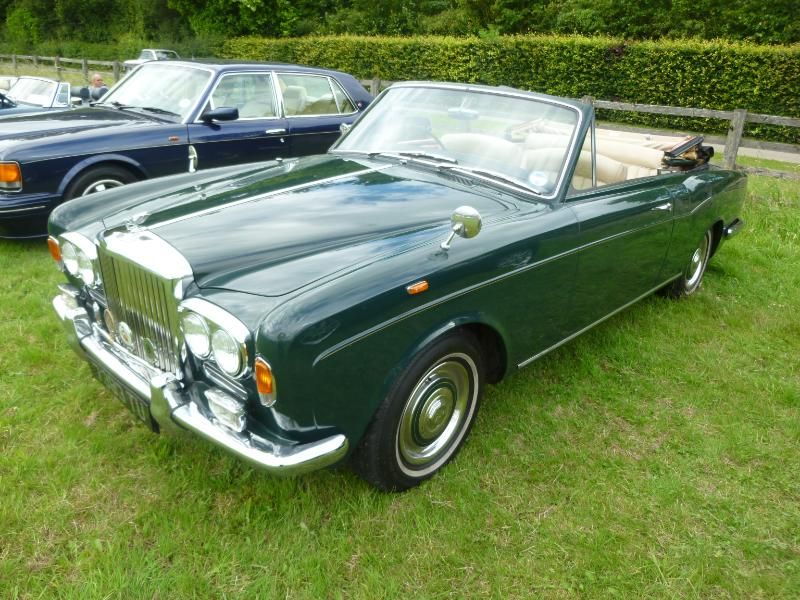 BMW
Only a couple of BMWs, but interest level of both was high: a Z1 and a 2002.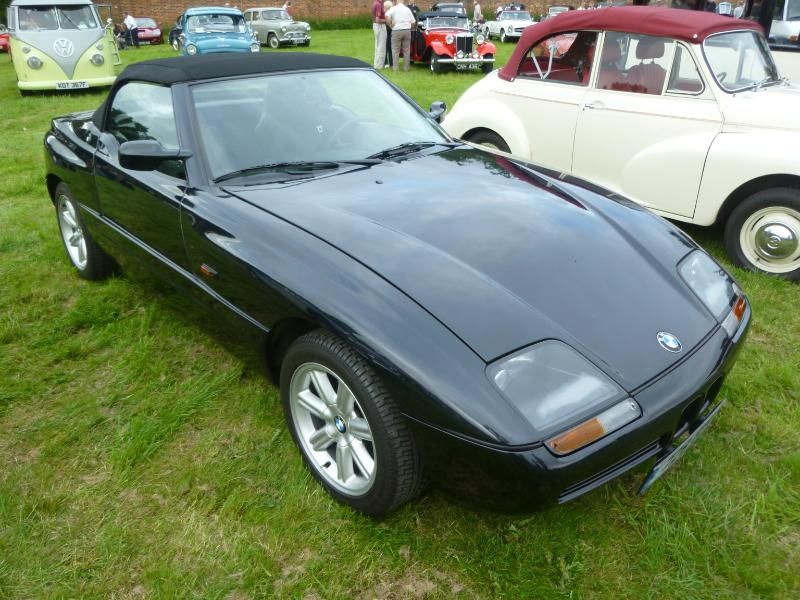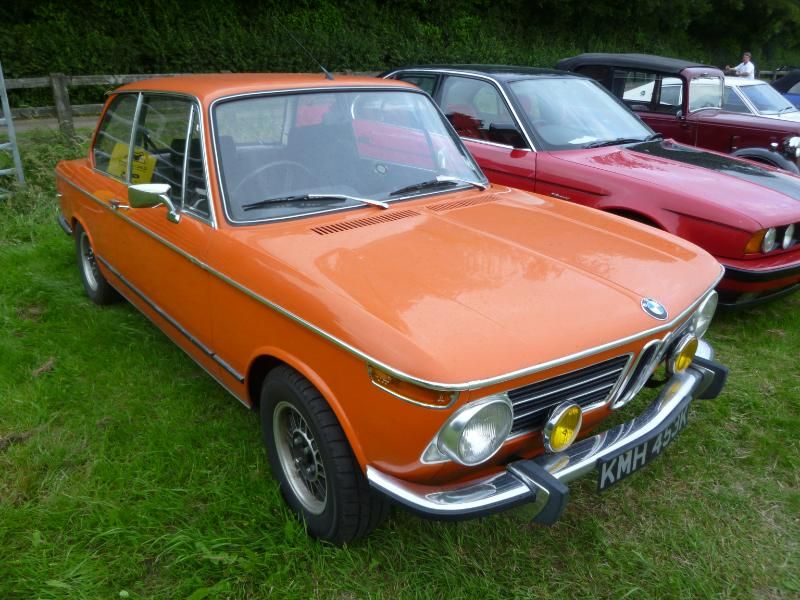 BOND
An example of the early Bond Equipe, an interesting glass-fibre bodied coupe based on Triumph Herald mechanicals.
BRISTOL
410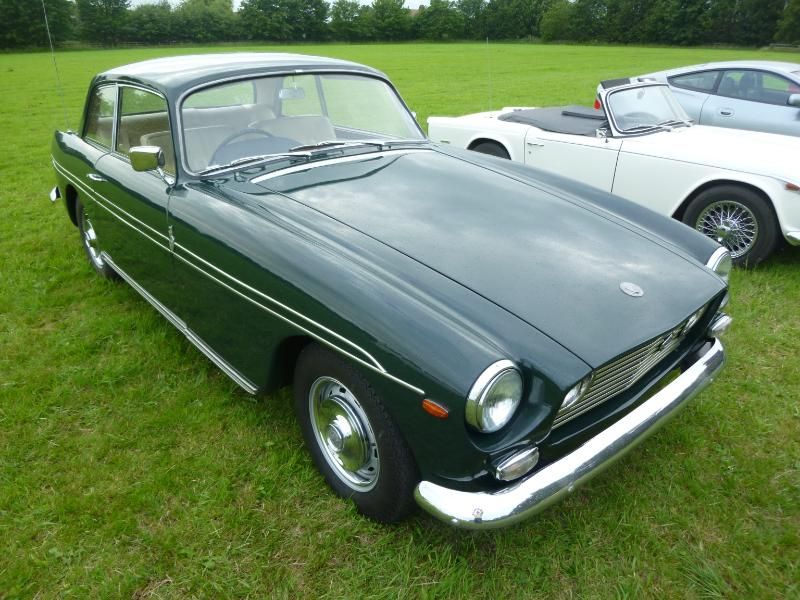 CITROEN
This Traction Avant belongs to Graeme Hurst of "Classic and Sports Car" and features regularly in the magazine.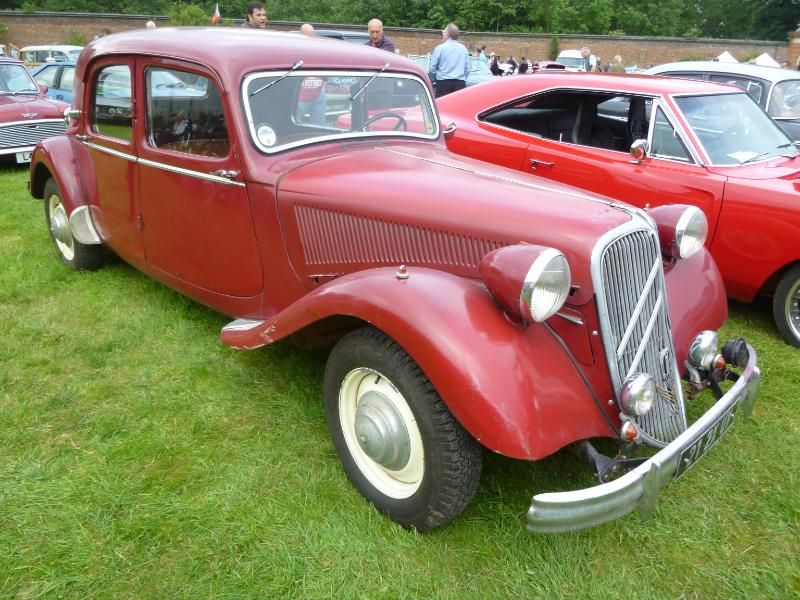 Nice though it was, it was probably put in the Citroen shade by this SM.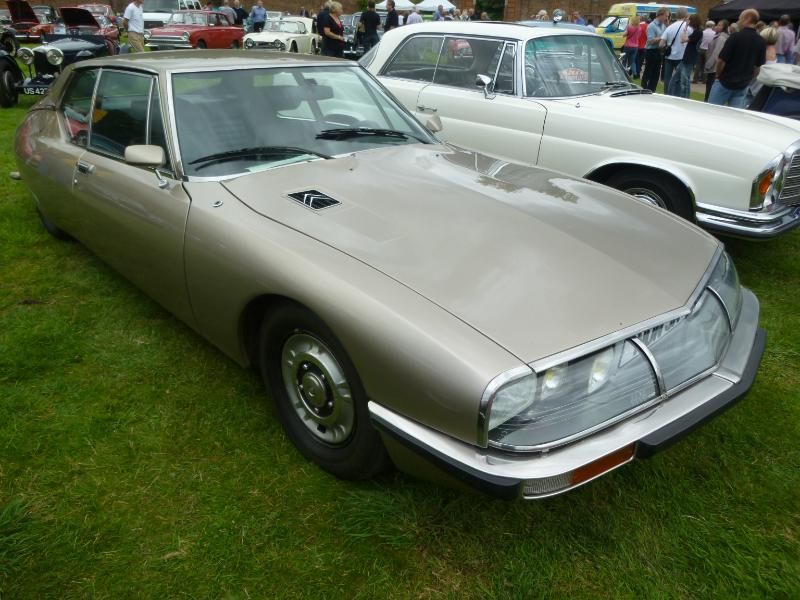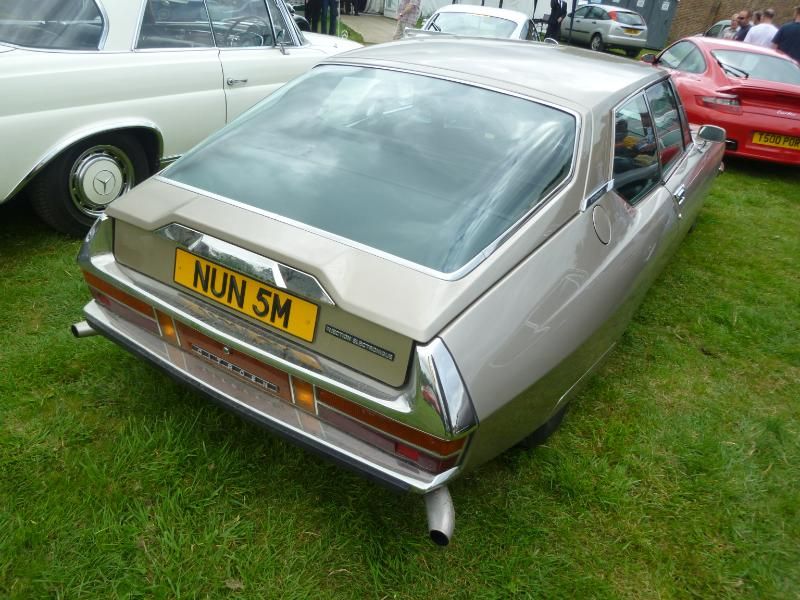 DAIMLER
Mark 1 Sovereign, a much rarer car than the Jaguar XJ6 which it so closely resembles.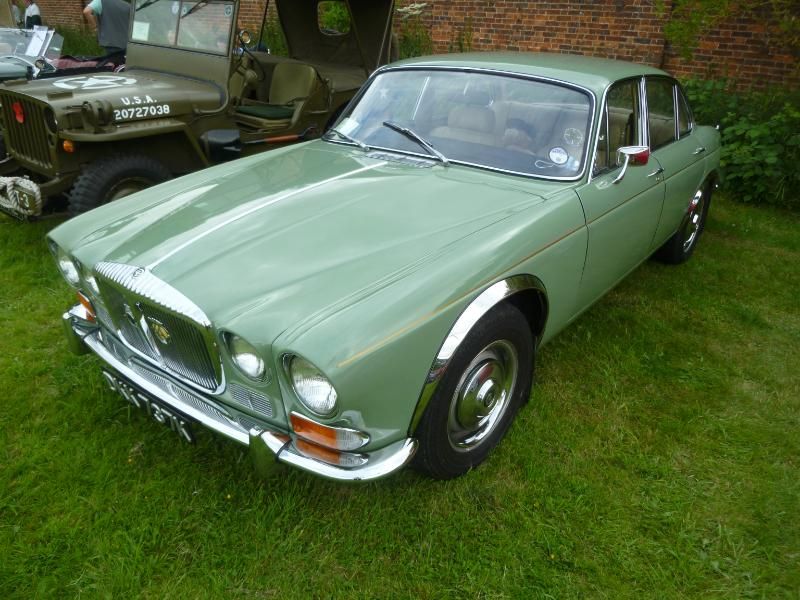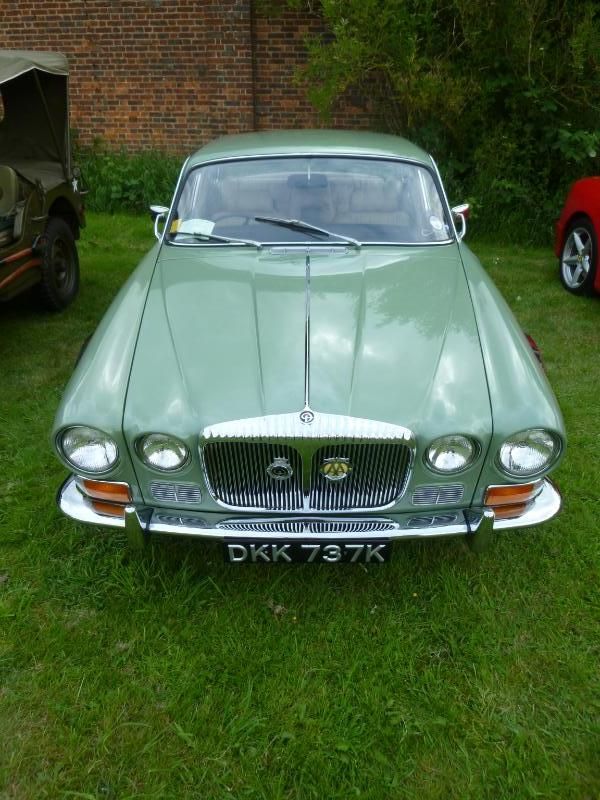 DELOREAN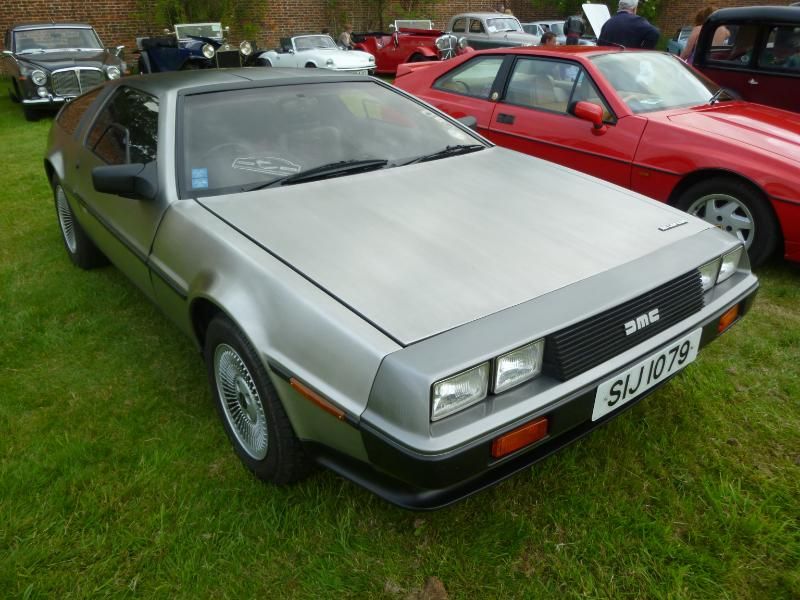 FERRARI
I was quite surprised to find a group of Ferrari owners at the event, with picnic spread before them, for as a breed they are notoriously elusive when there is the hint of rain in the air! Among the cars present in this group were a 328 GTS, a 550 Maranello and a couple of 360 Modenas.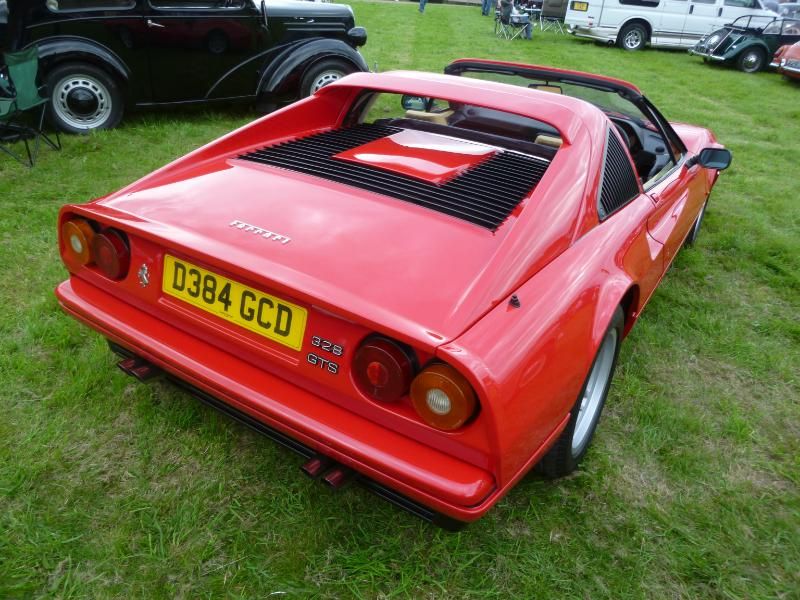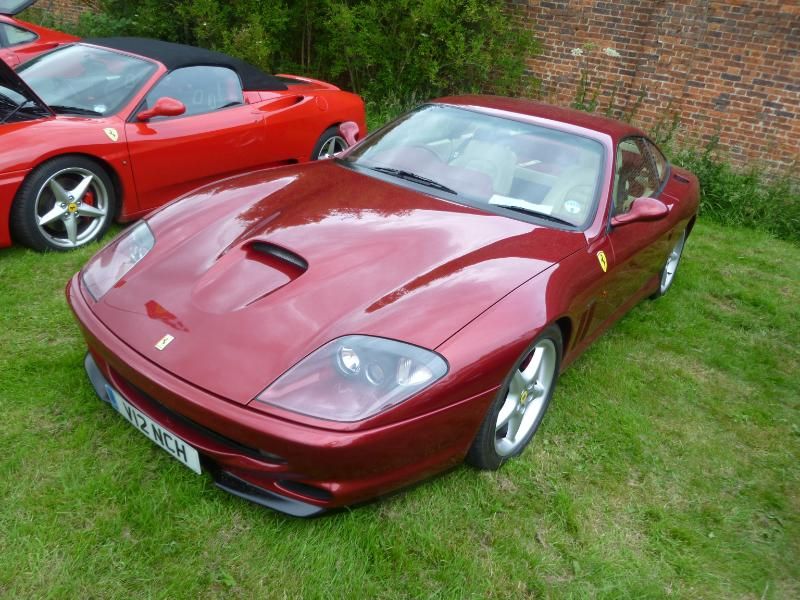 This 365GTC/4 was parked away from the others. Although there are a couple of other examples of this model which appear quite regularIy at events, I don't recall ever seeing a red one before.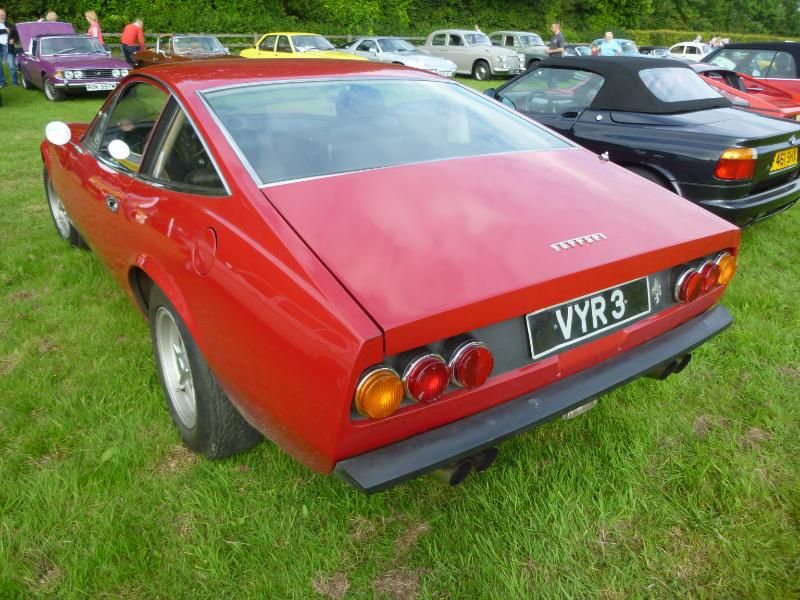 FIAT
A late model, which technically is not really a 124 Spider but a Pinifarina Spider Europa 2000.
FORD
A wide variety of old Fords were there, ranging from the pre-war Model Y to the E93A Popular and its replacement 100E Popular in not quite so basic de Luxe trim, a Mark 2 Consul through to a pair of Mark 1 Cortina GTs, a Mark 1 Capri and a Mark 1 Fiesta. All common in their day but now rarely seen apart from at shows like this.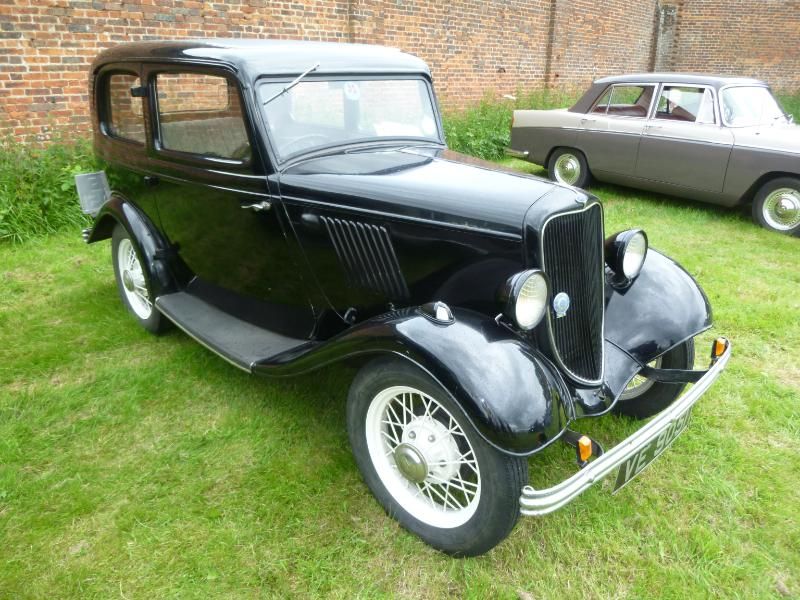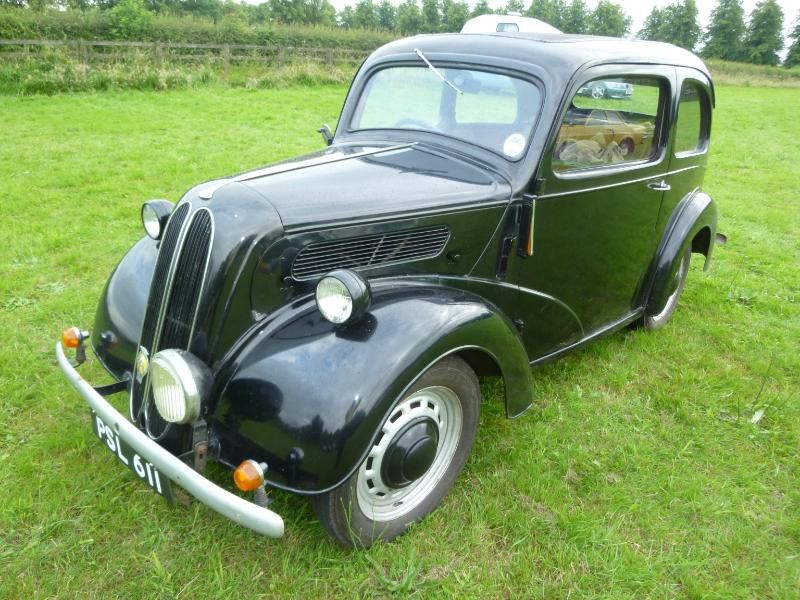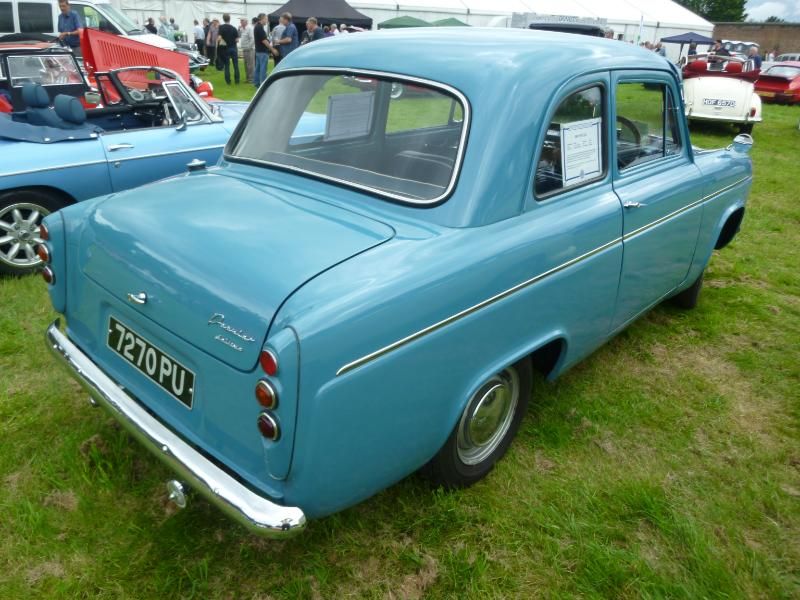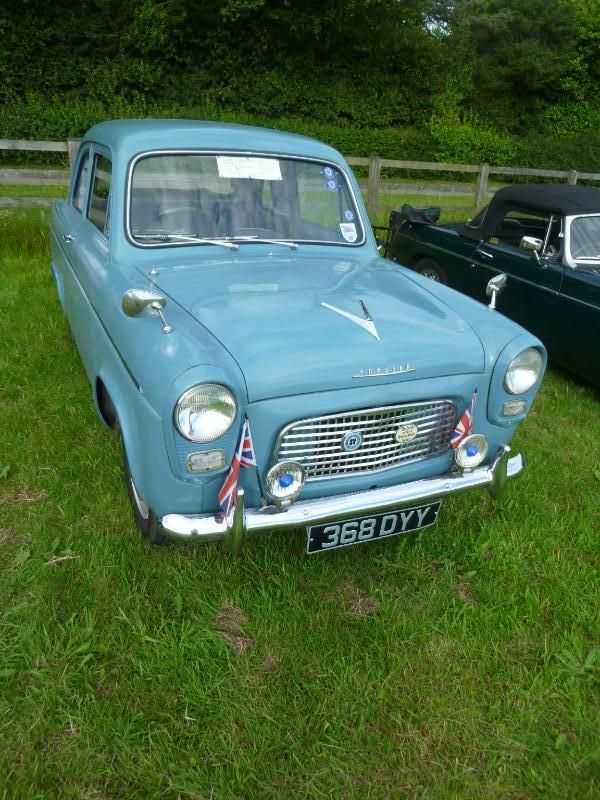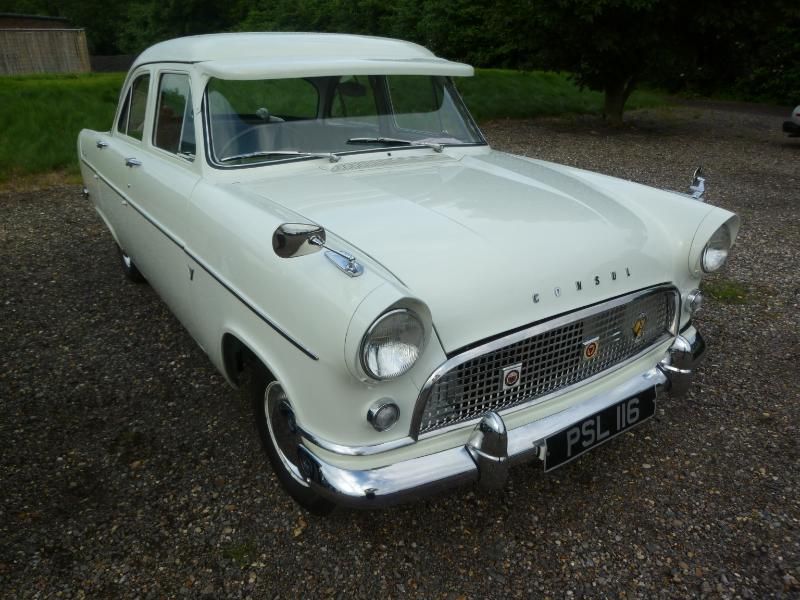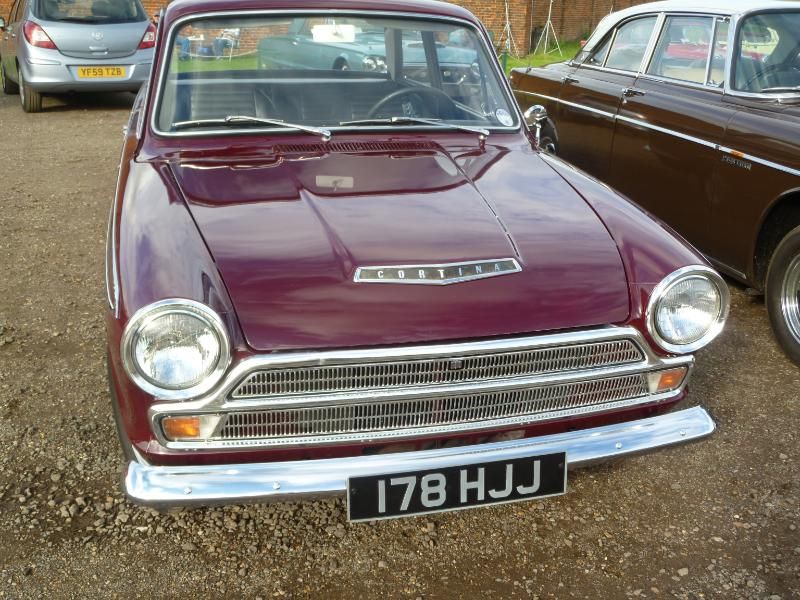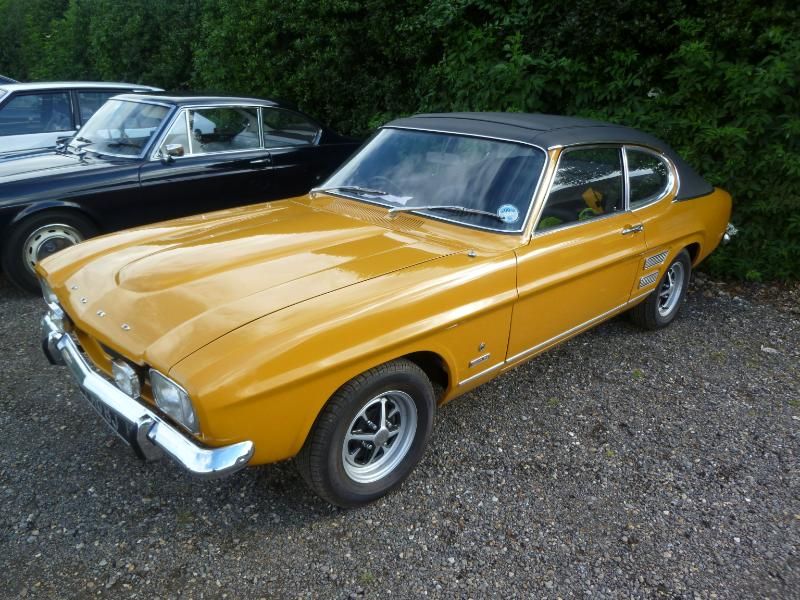 Representing Ford's American production was this Thunderbird, from the generation that is sometimes referred to as the "Squarebird". One look at the styling will tell you why!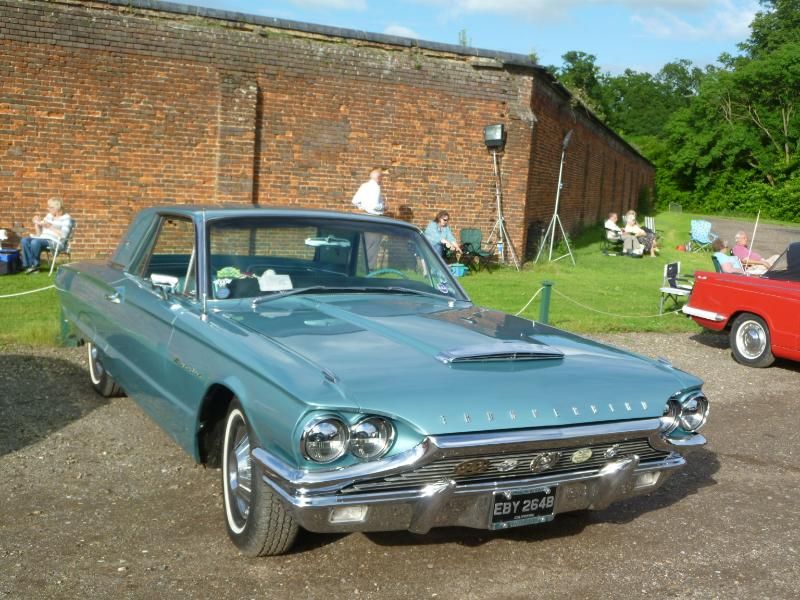 GILBERN
Not a marque that one sees very often, and when you do, it tends to be 3 litre Invader models that are more widely in evidence, but this is the car that preceded those, the GT.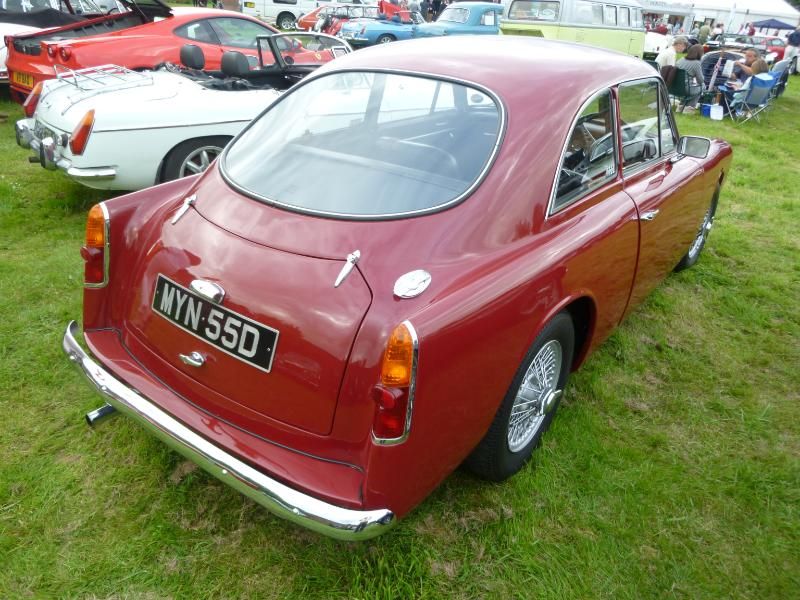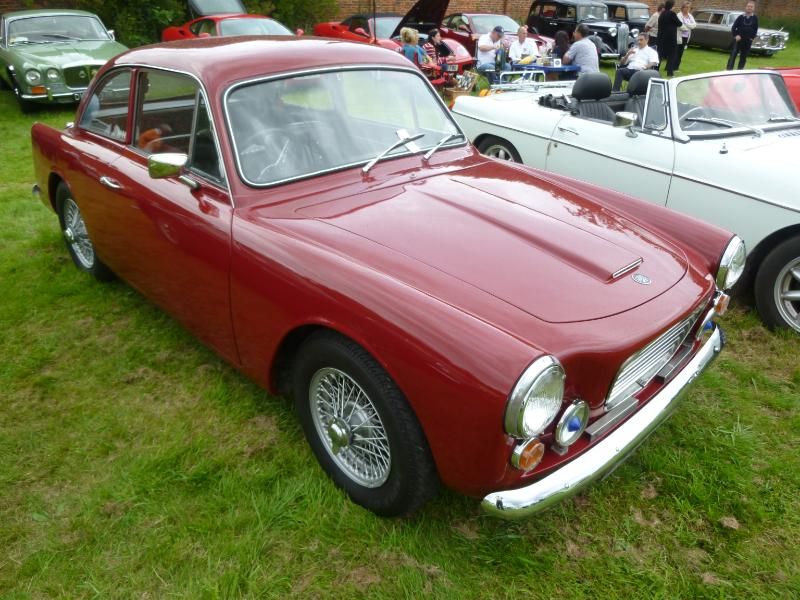 HILLMAN
Whereas the Super Minx was quite a popular family car in its day appealing to the middle class who wanted something that bit "better" than a Ford or Vauxhall, the convertible version only sold in small numbers and had a short production life. By no means a sports car, this would be rather nice for a leisurely meander on a genuine summer's evening on the back lanes of Britain.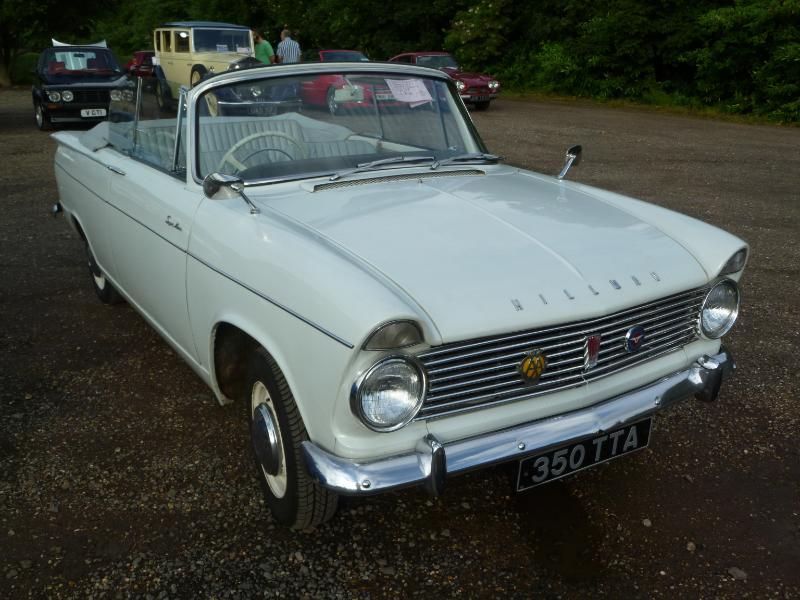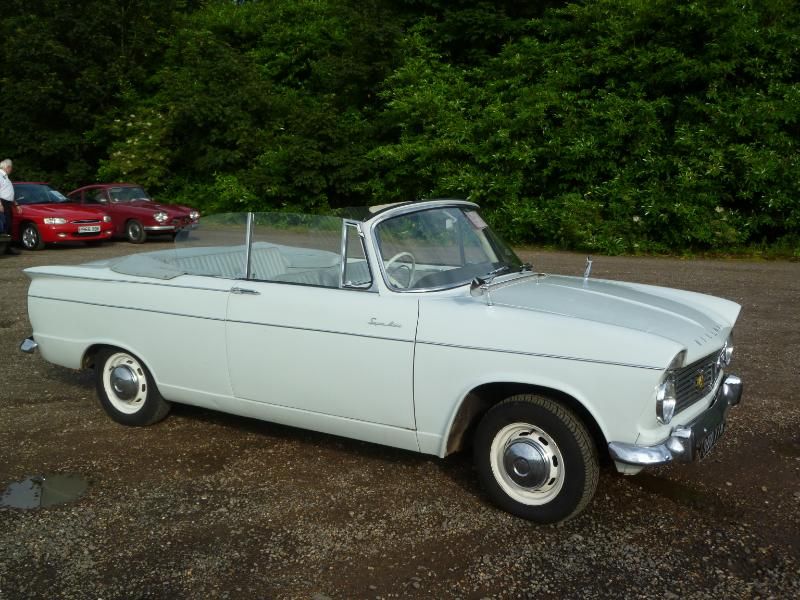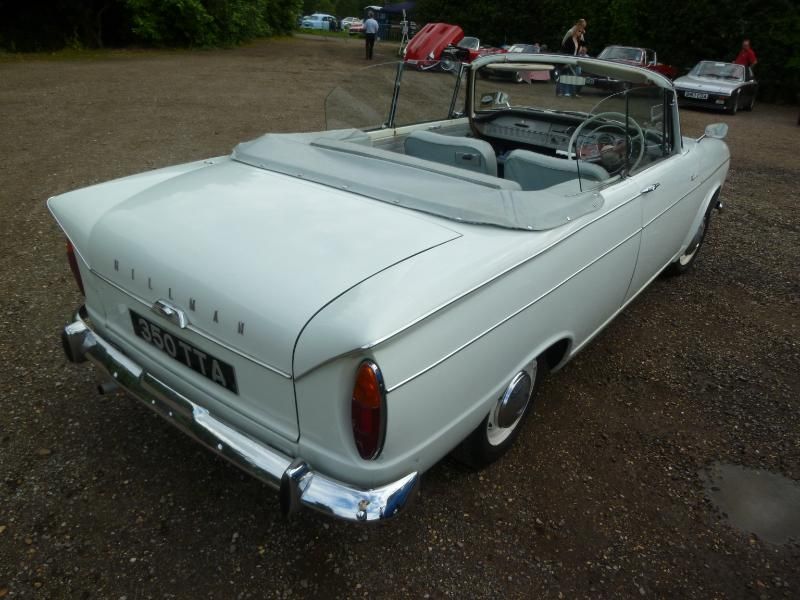 There was also an Imp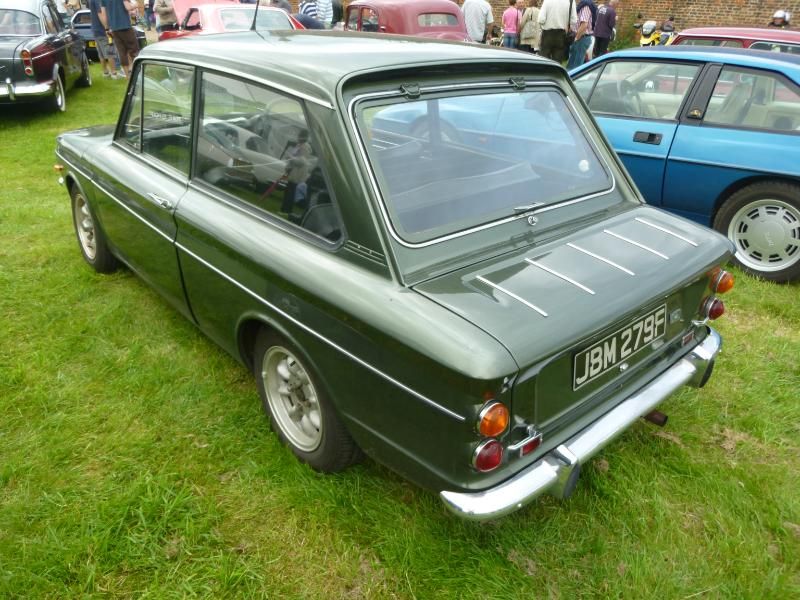 JAGUAR
The oldest Jaguar attending was this absolutely fabulous SS100. A supreme motor car indeed.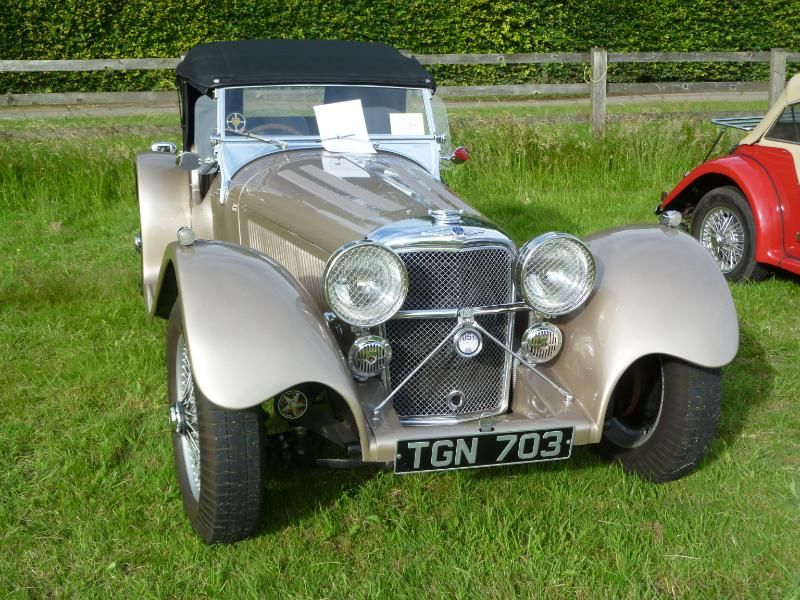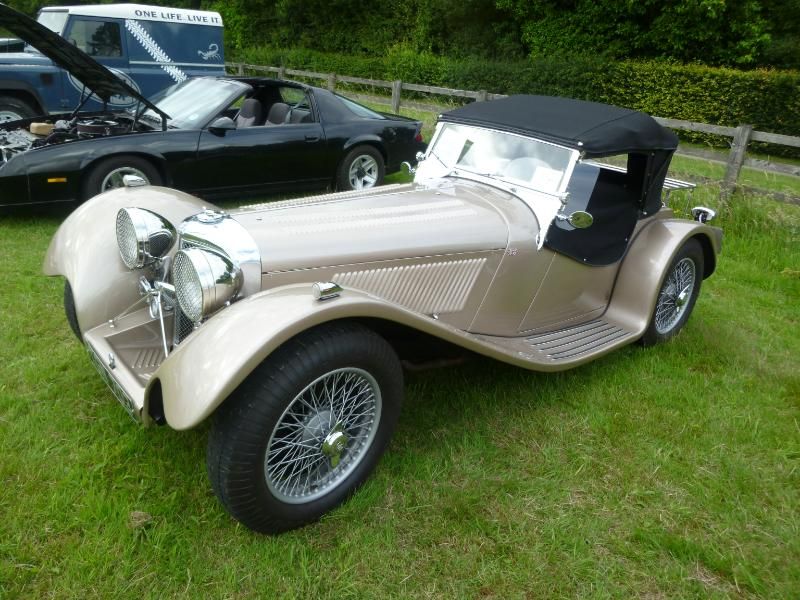 XK140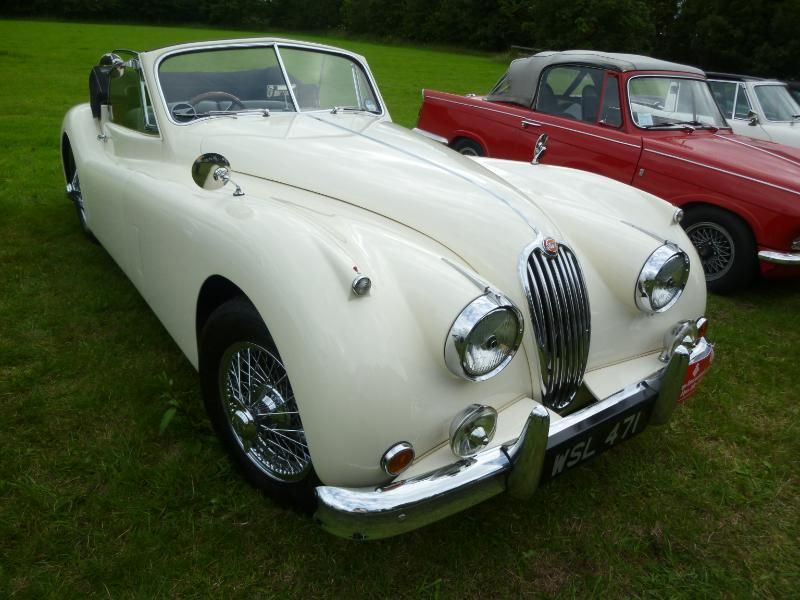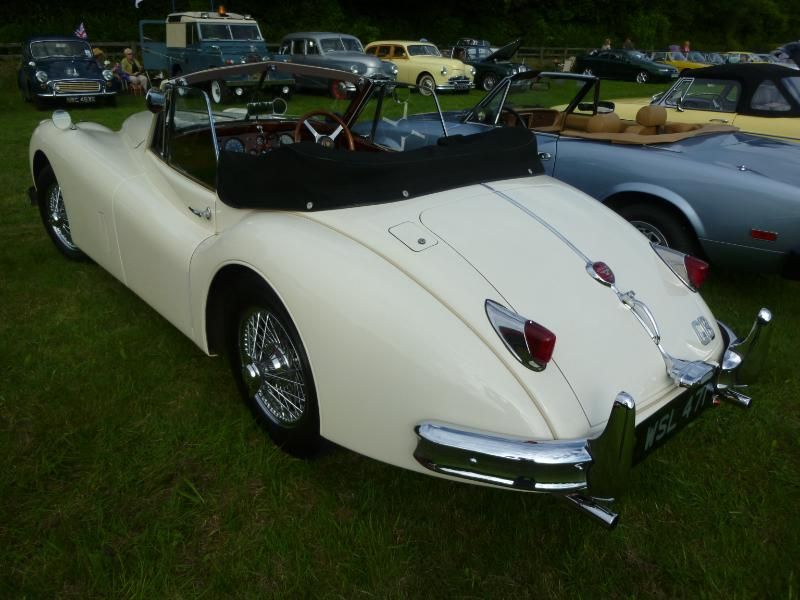 The E Type was well represented with several cars present, ranging from early Series 1 machines to the V12 engined Series 3.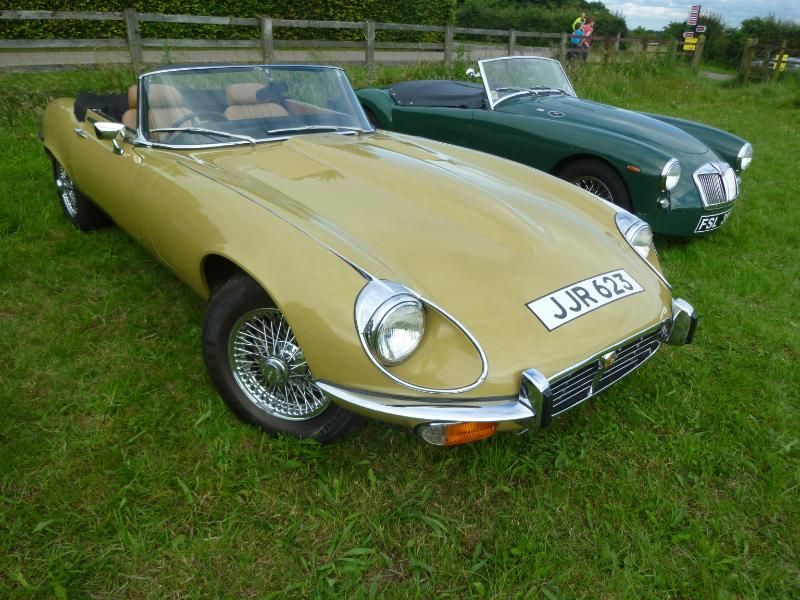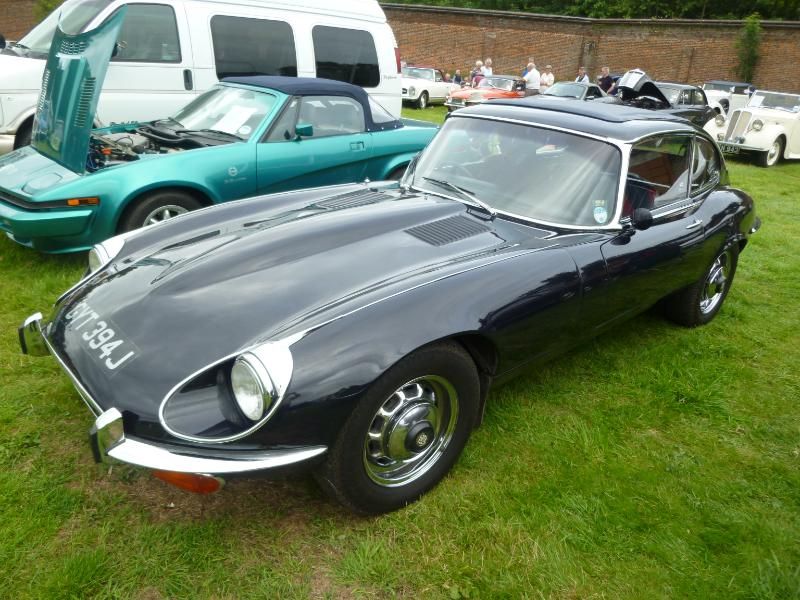 Mark 2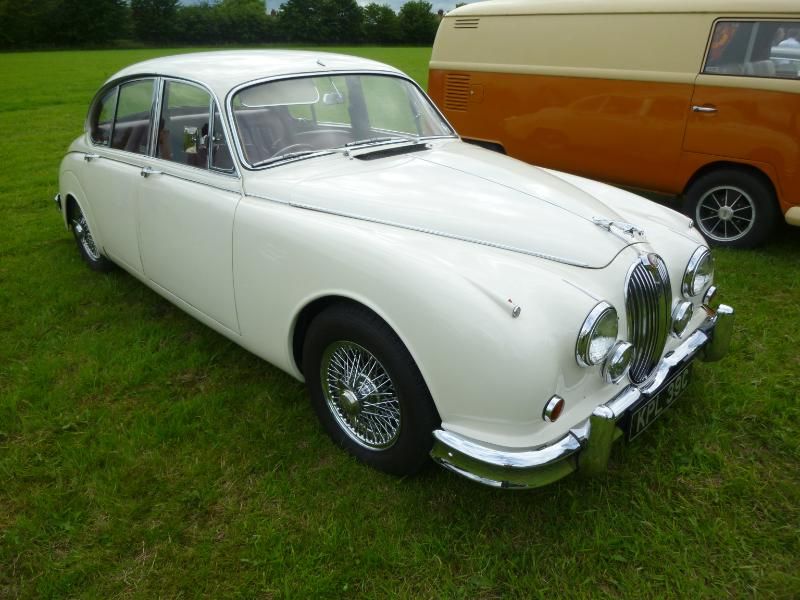 LANCIA
Among a series of nice Lancias present was this elegant Flavia Coupe, an equally lovely Series 2 Fulvia Coupe and a couple of Delta Integrale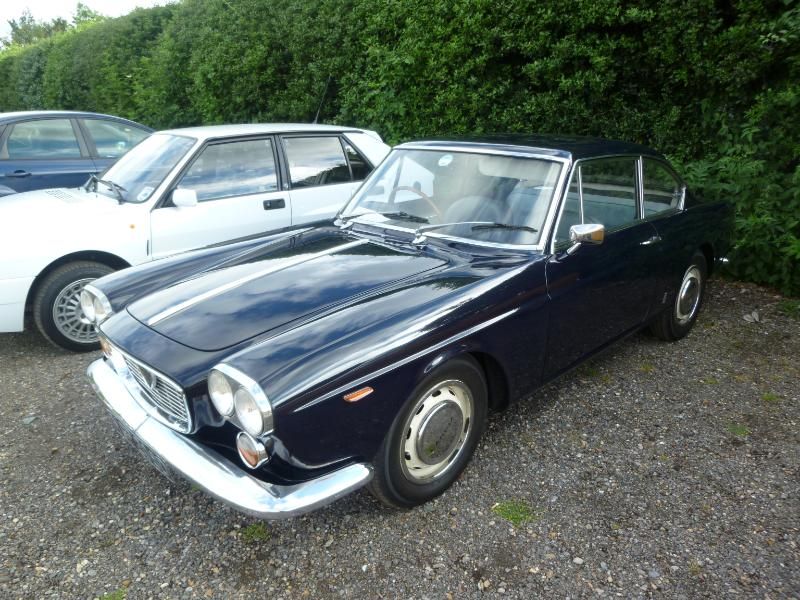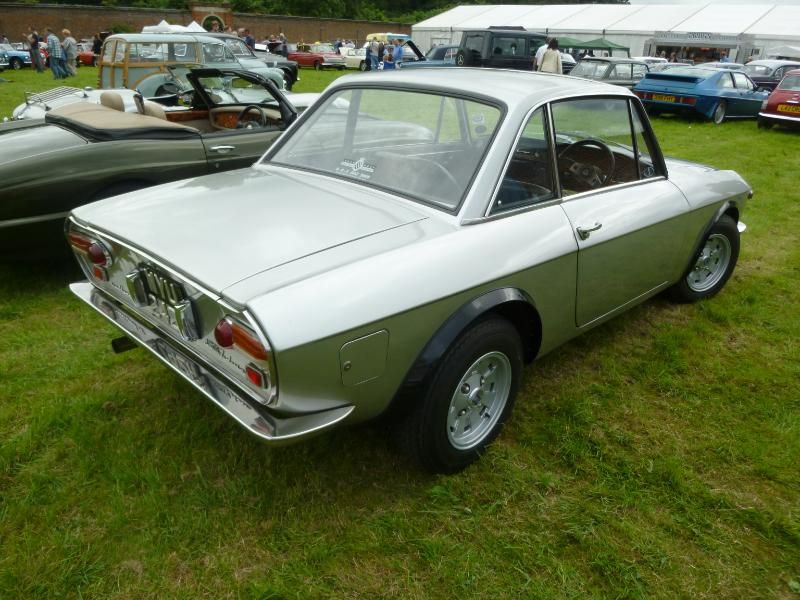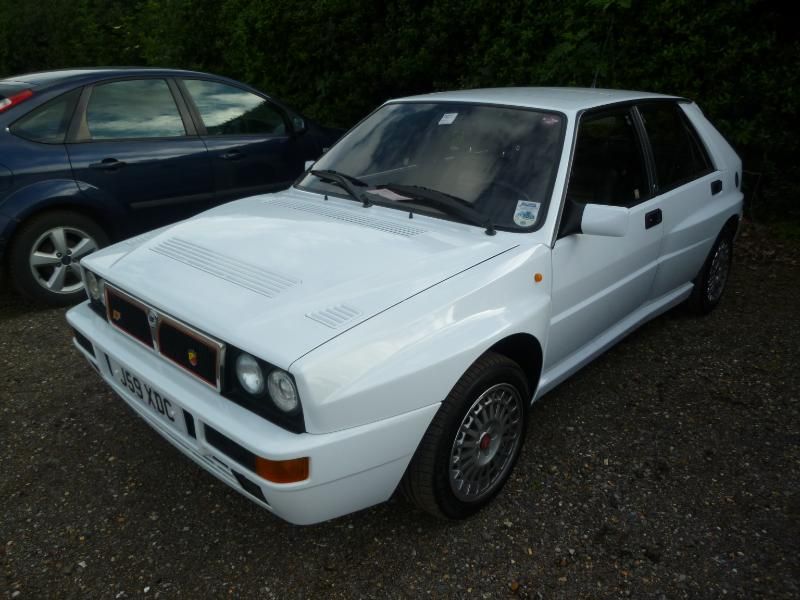 There was also a Hawk replica Stratos..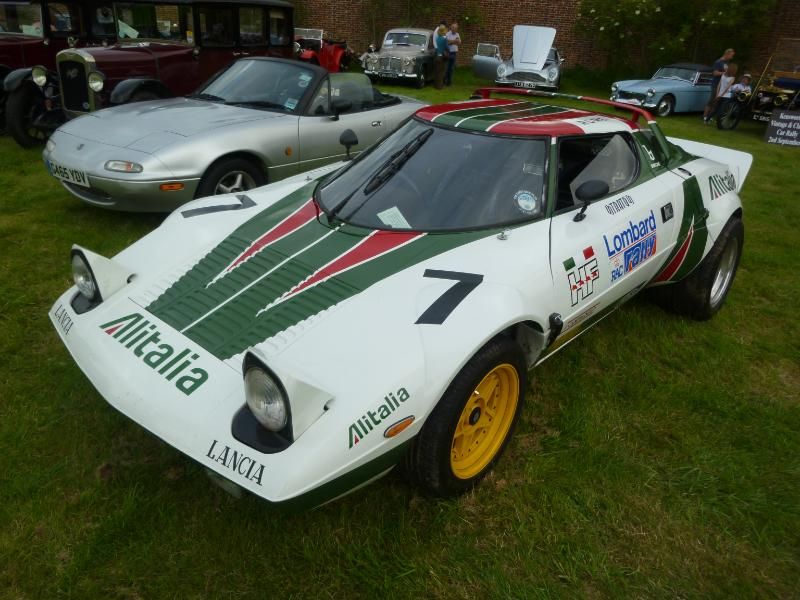 LOTUS
An example of the first generation Elite.
Plus 2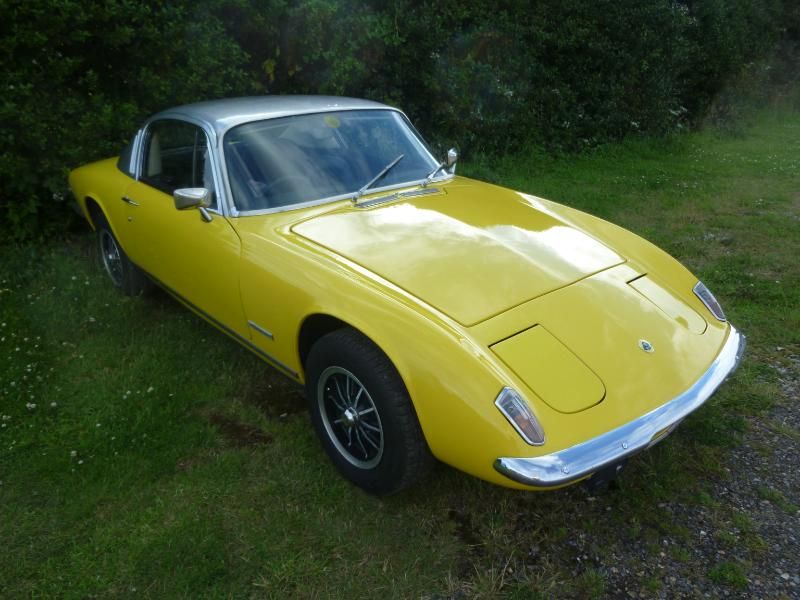 There were a couple of the Excel coupes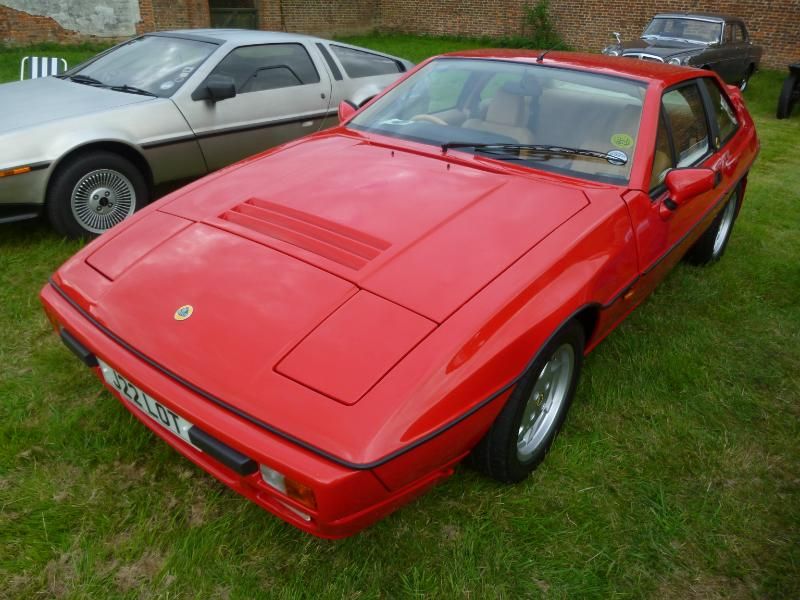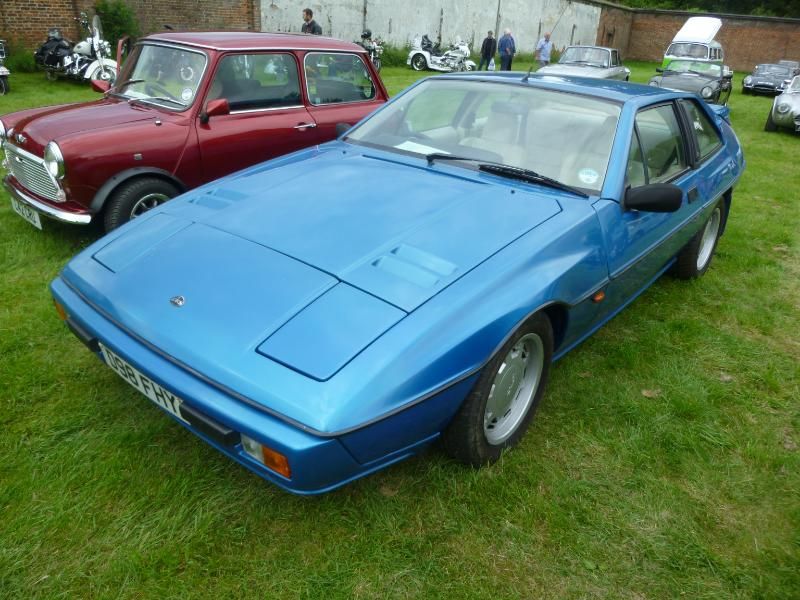 MERCEDES-BENZ
There were a couple of Mercedes here, neither of which are the sort of car you most often see at classic car shows. The newer of the pair was an entry level W123 model, the 200. These cars were beautifully engineered, and that is what you paid for, as the equipment levels were not luxurious and with this engine, it was no ball of fire, either (though the 200D and 240D were even slower!).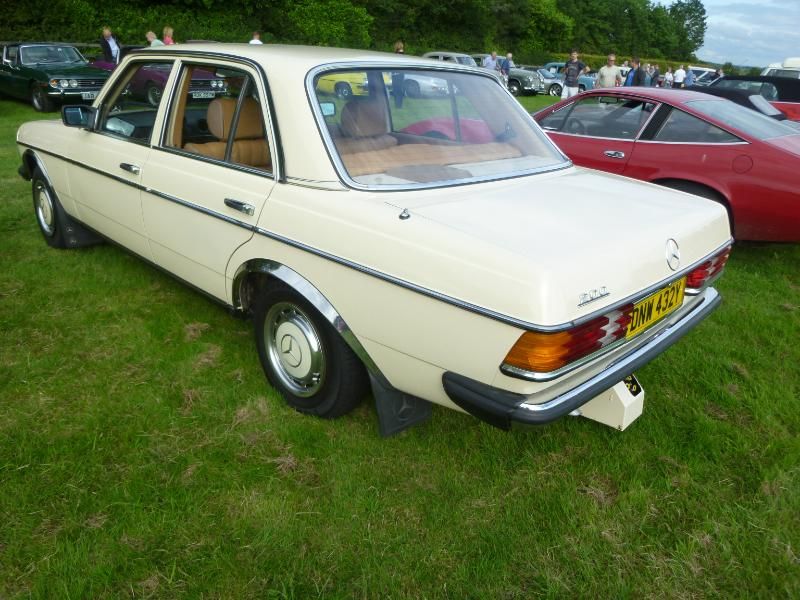 The older Mercedes was a 220S "Ponton".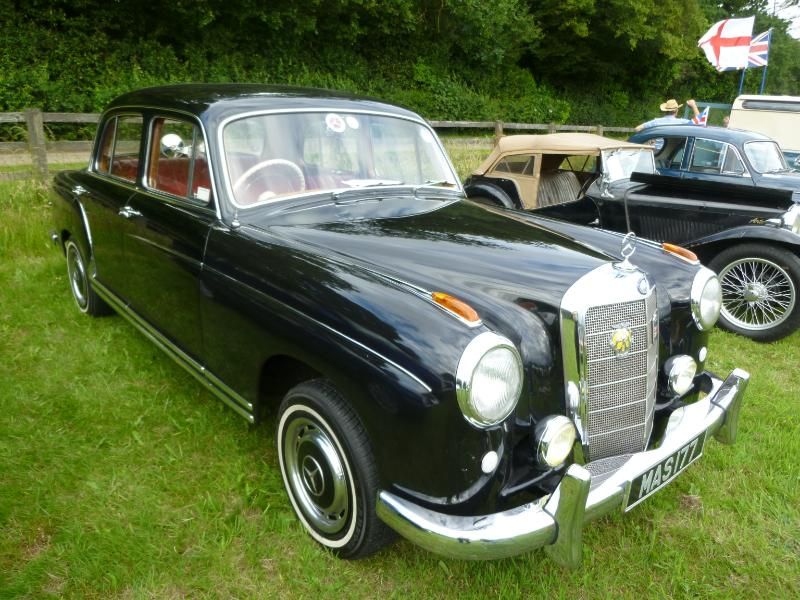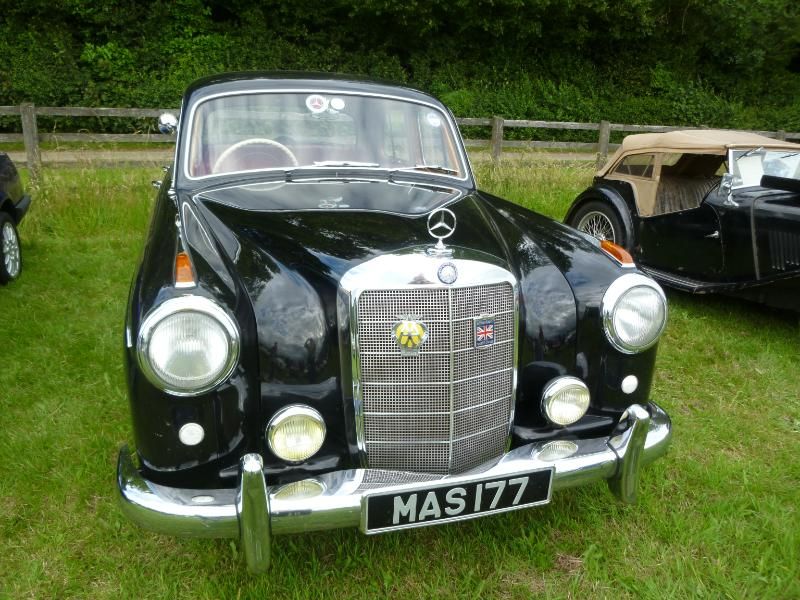 The third Mercedes was even better than these, though, a simply wonderful 220SE Coupe.
The fourth one was also nice, a "Pagoda" 230SL.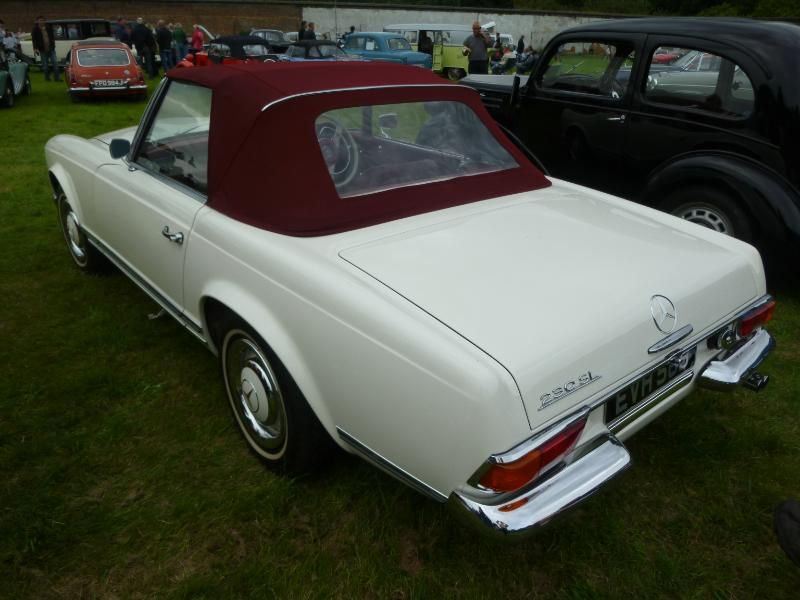 MG
This car looks like a 1950s MG TF, and indeed had there not been a notice on it to advise otherwise, that is how I would have described it,. but in fact it was built some 30 years later. My next thought was that it must be a Naylor, as that company built a number of TF replicas in the mid 1980s, using the BL 1700cc O Series under the bonnet. But it's not that either. It is one of just 4 cars built by Harper Roscoe in 1984, with a 1798cc B Series engine and some genuine MG parts. These cars were expensive in their day which is why the venture was abandoned after just 4 cars. It looked nicely done, though.
This pair are original TF models and there was a third car elsewhere at the event..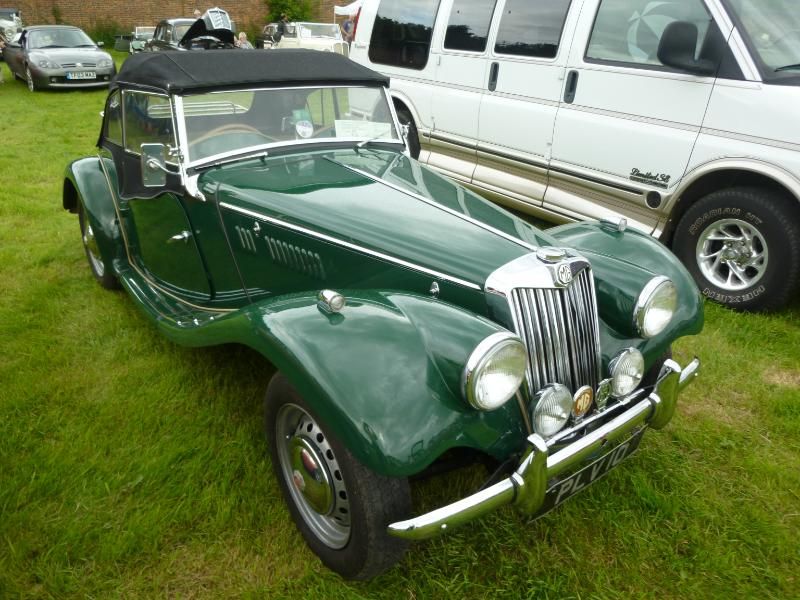 Older than even the original TF was this, a 1937 TA.
Older still was this one, a 1934 J2 Midget..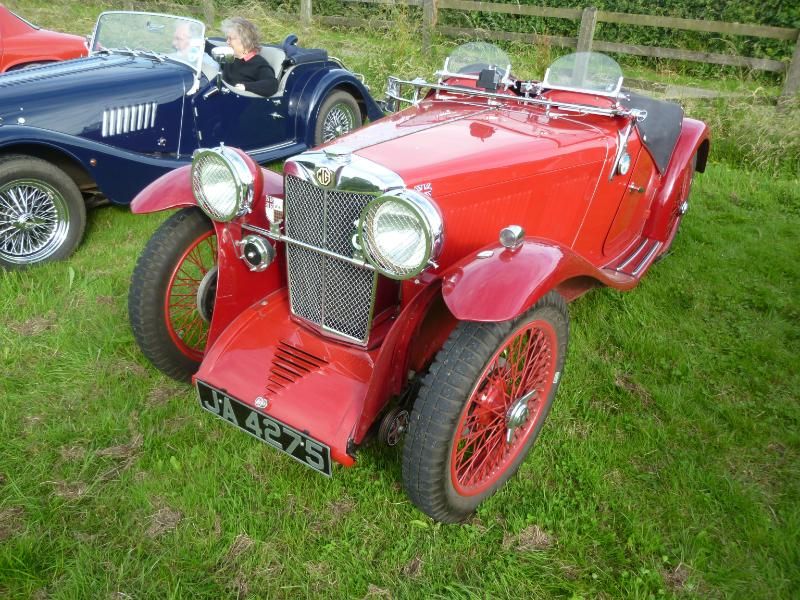 MGA
As befits a much loved sports car celebrating its 50th birthday, there were lots of MGBs present, including one of the GT LE models made in the final months of production.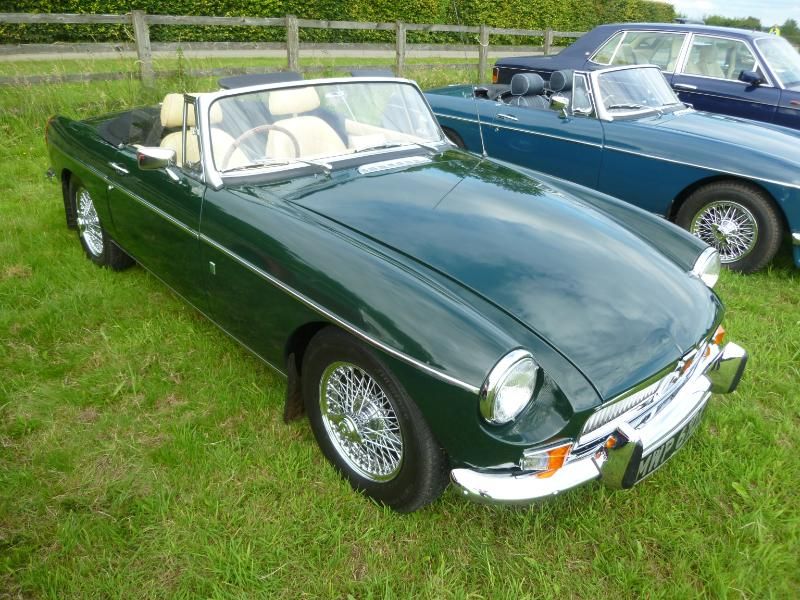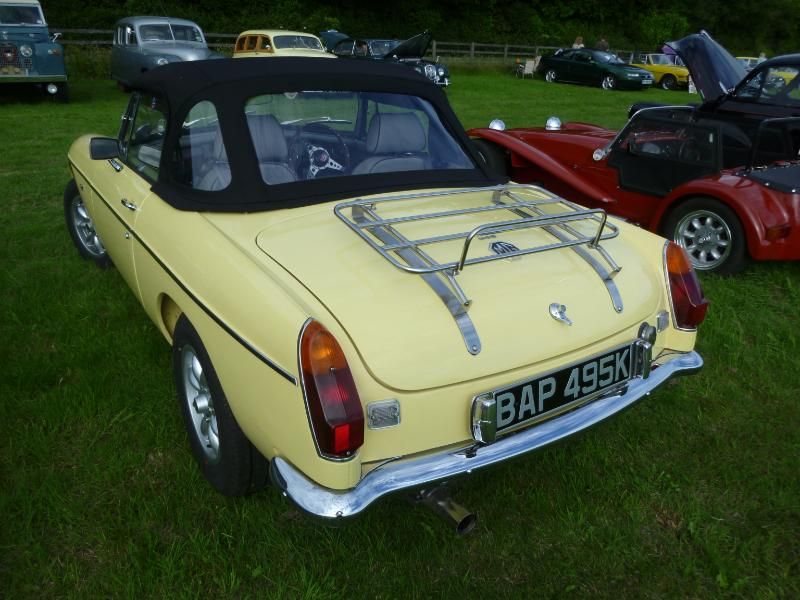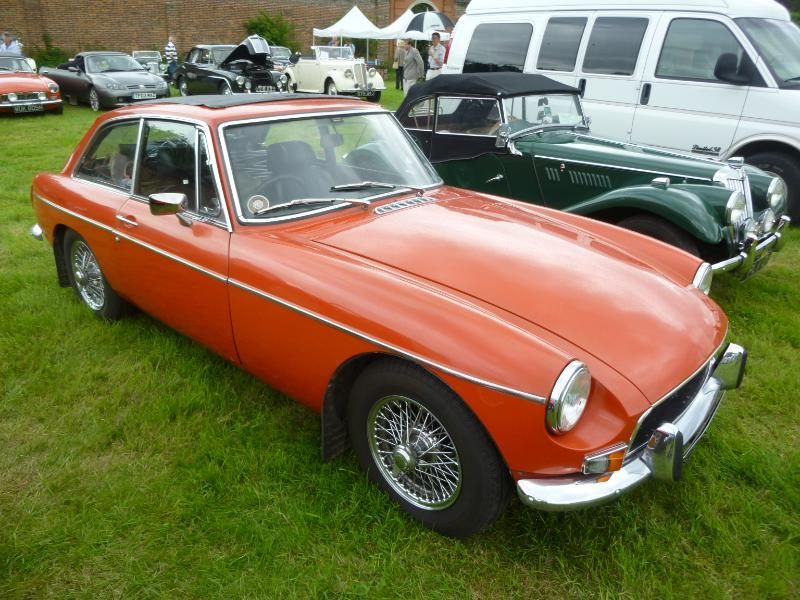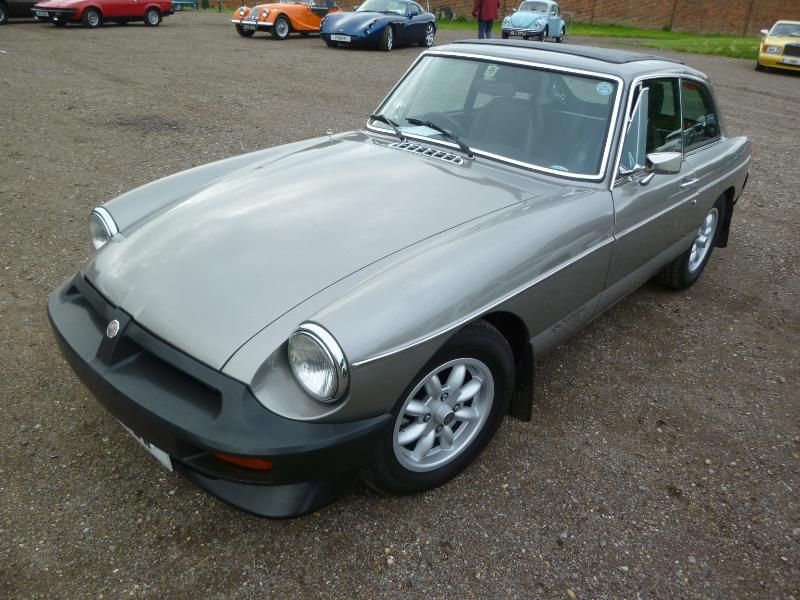 An early Midget.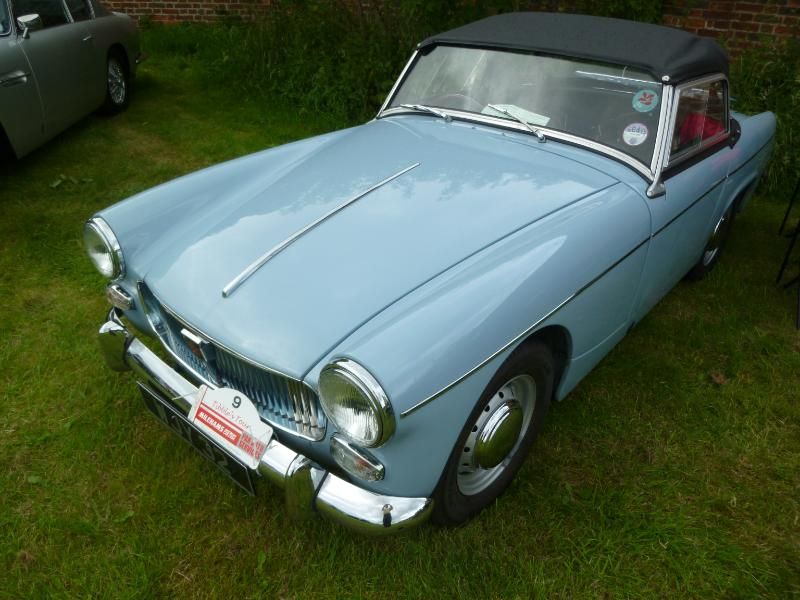 This Y Series MG was a popular sporting saloon in the late 1940s and early 1950s and appealed to the sort of car that of buyer who today would probably have a 3 Series BMW.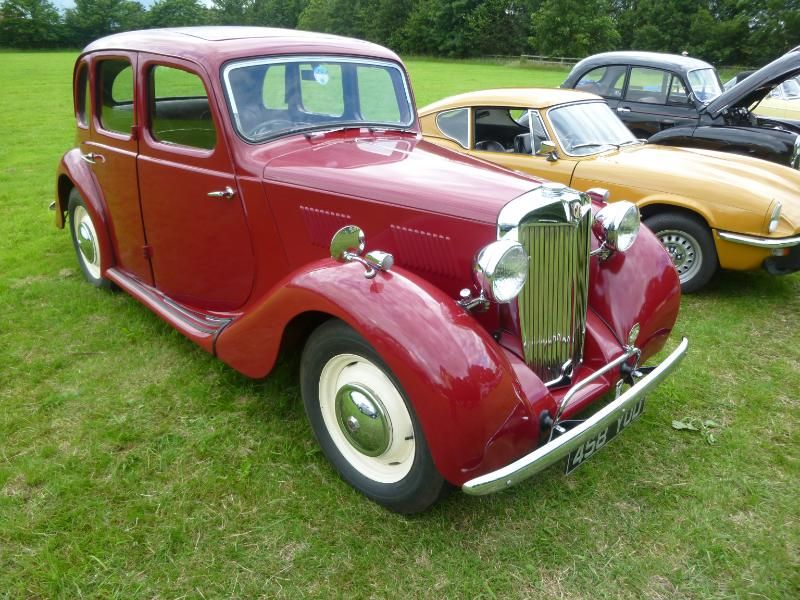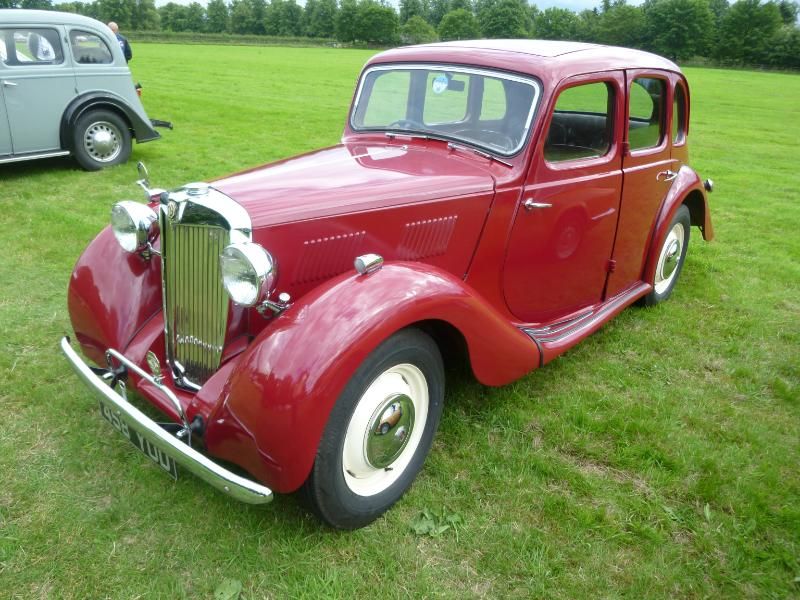 MORGAN
MORRIS
This Morris Mini Minor De Luxe dates from 1960 and so is one of the early cars with many of the period features such as the glass washer bottle under the bonnet. The present owner has carried out a meticulous restoration keeping the car as original as possible, having acquired it fairly recently from the stereotypical elderly owner who had parked the car up for a long time and finally conceded that he was not going to drive it again. The current owner said he only does about 500 miles a year in it, so it is and is likely to remain a pretty low mileage car.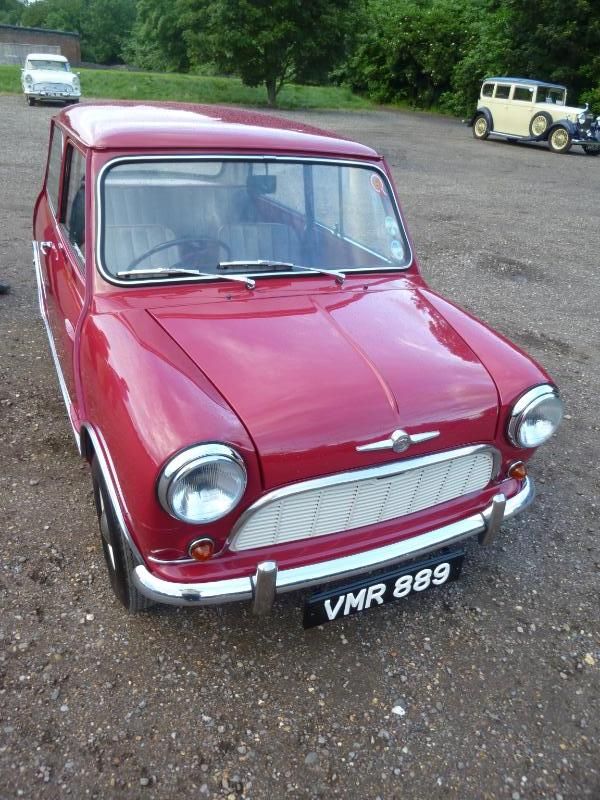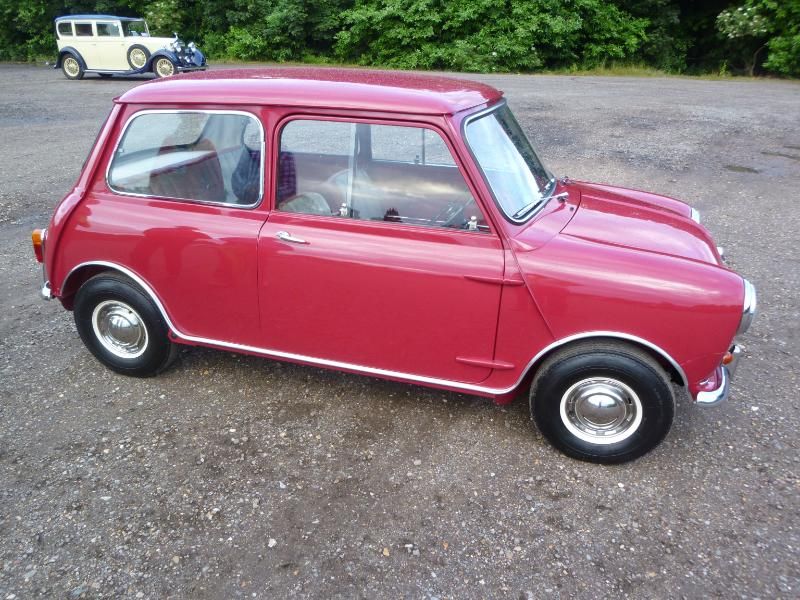 Among the Minors at the event were a couple of the Tourer model.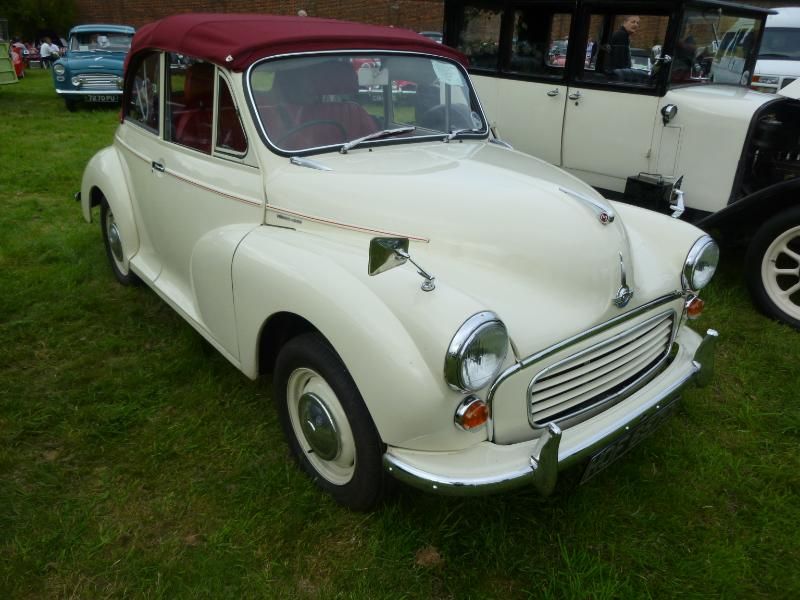 PORSCHE
Joining the 928 were a couple of recent 911 models along with a "classic" 911 SC..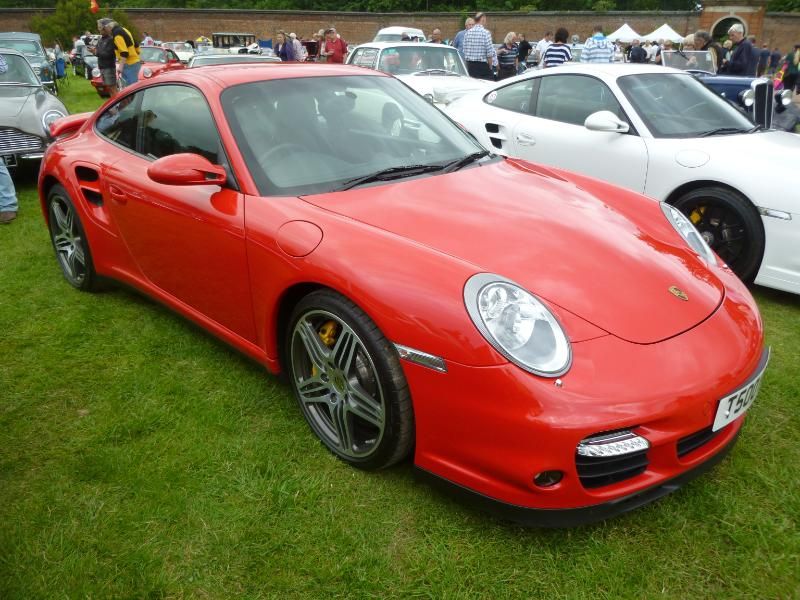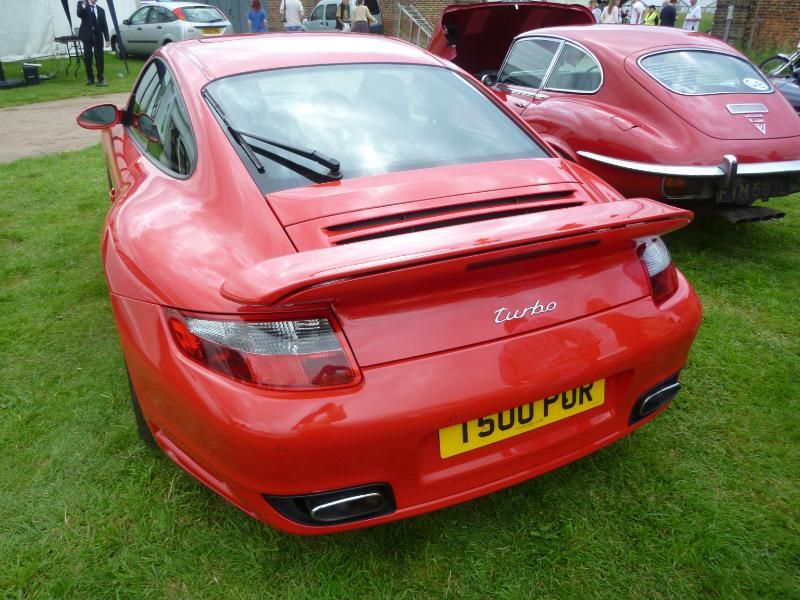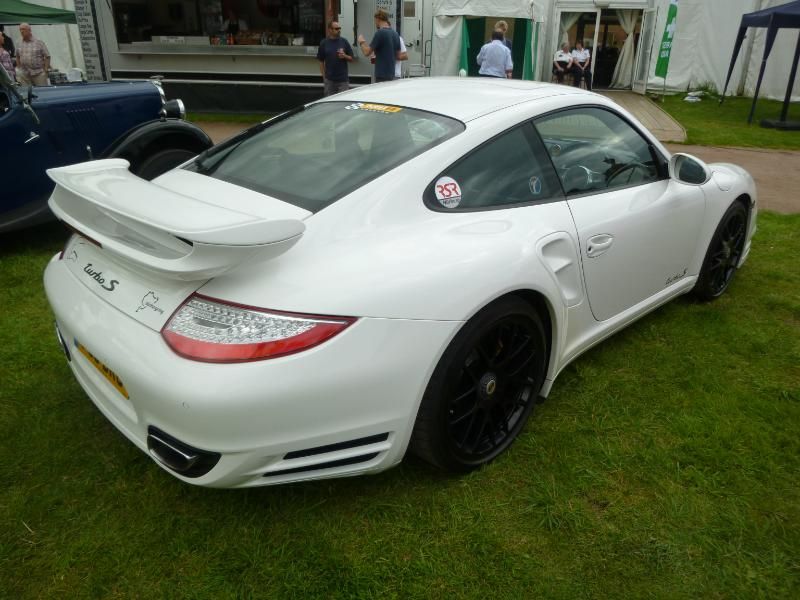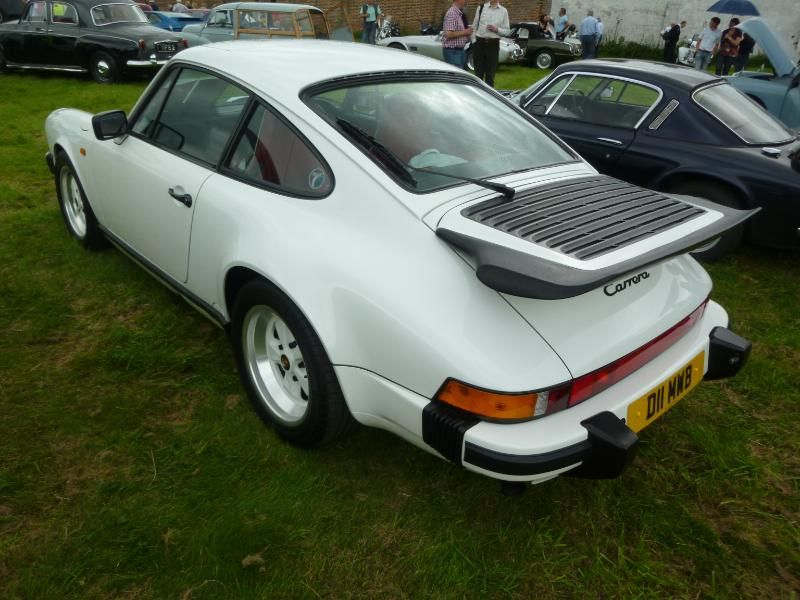 RENAULT
Based on the more popular Dauphine, the coupe and convertible Caravelle and earlier Floride models sold in relatively small  numbers in the UK when new, as they were expensive. That makes them rare now, but well worth seeking out for that something a bit different.
RILEY
A 1934 12/4 Special. .
ROLLS-ROYCE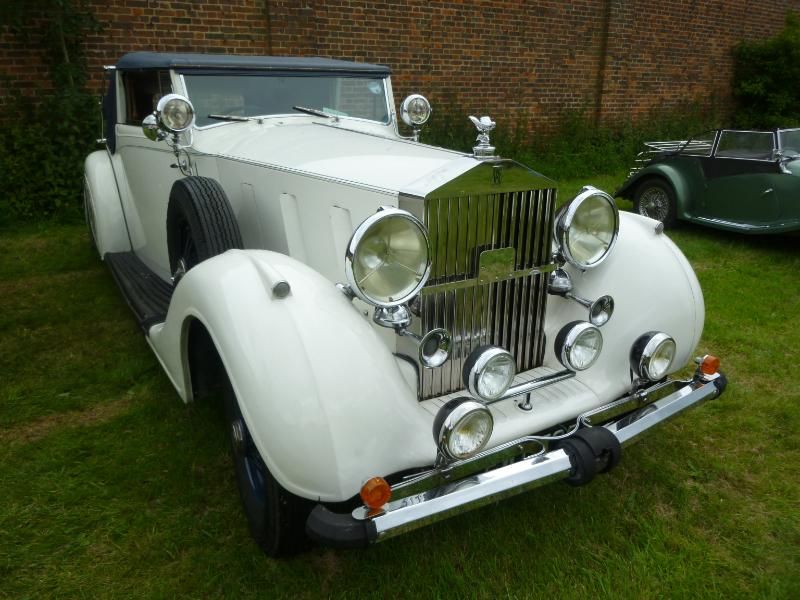 RONART
A very striking sight was to see no fewer than 6 of these Ronart Jaguars parked up in one corner of the field. Based on XJ6 or XJ12 mechanicals these cars had a pastiche body style and were made in the 1970s. Fun on a dry summer evening.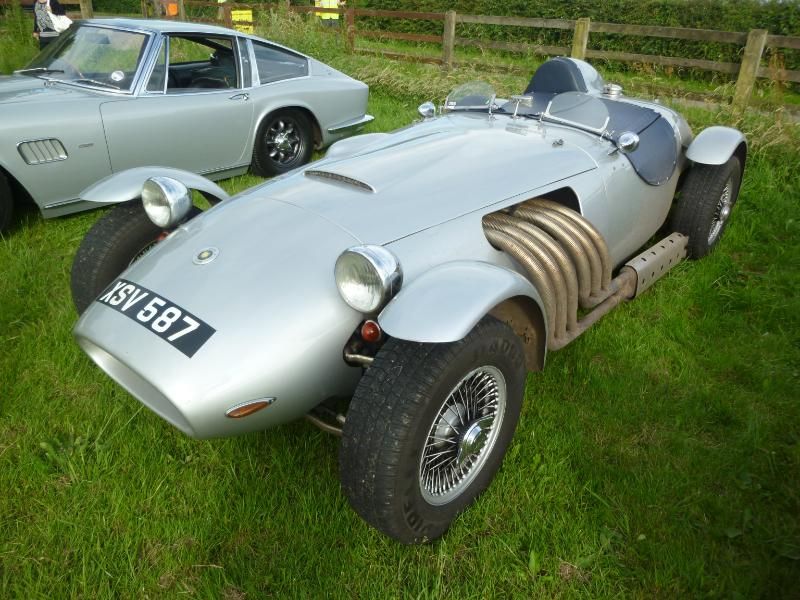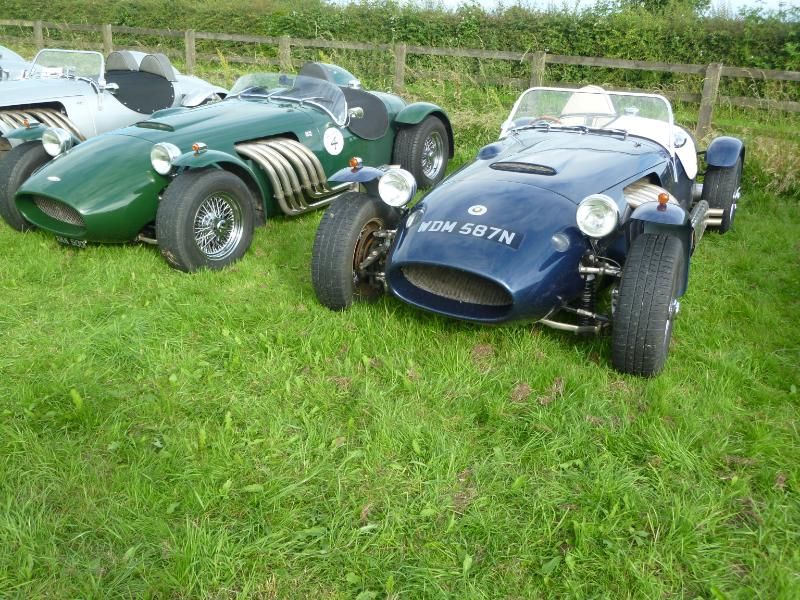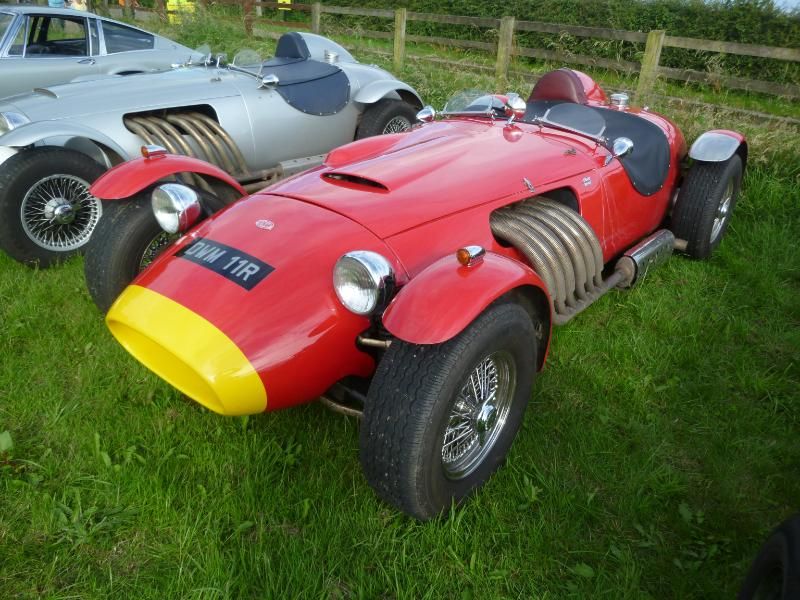 ROVER
Oldest Rover was this elegant P2 Tourer.
There were several examples of both the P4 and the P5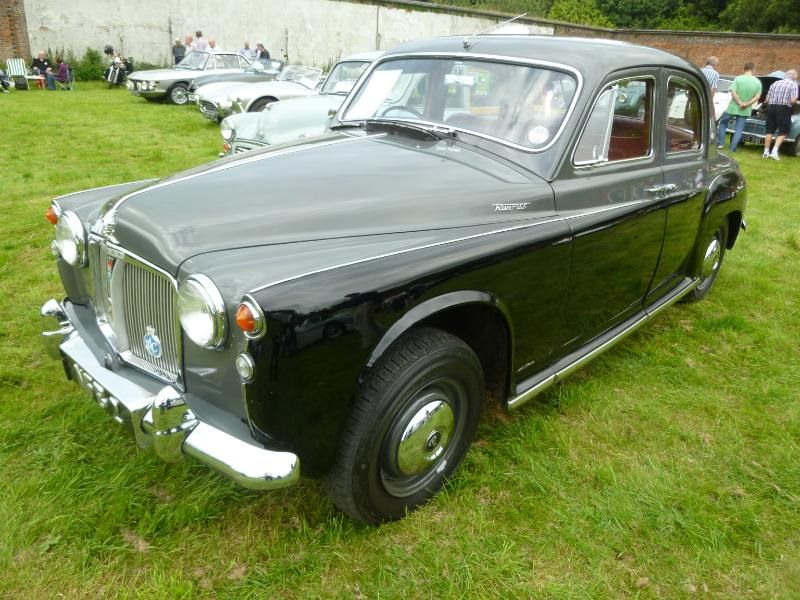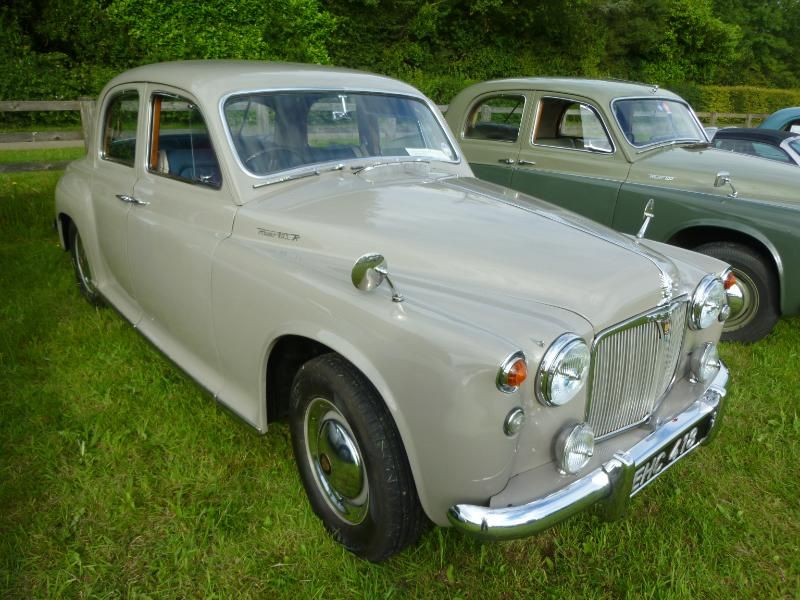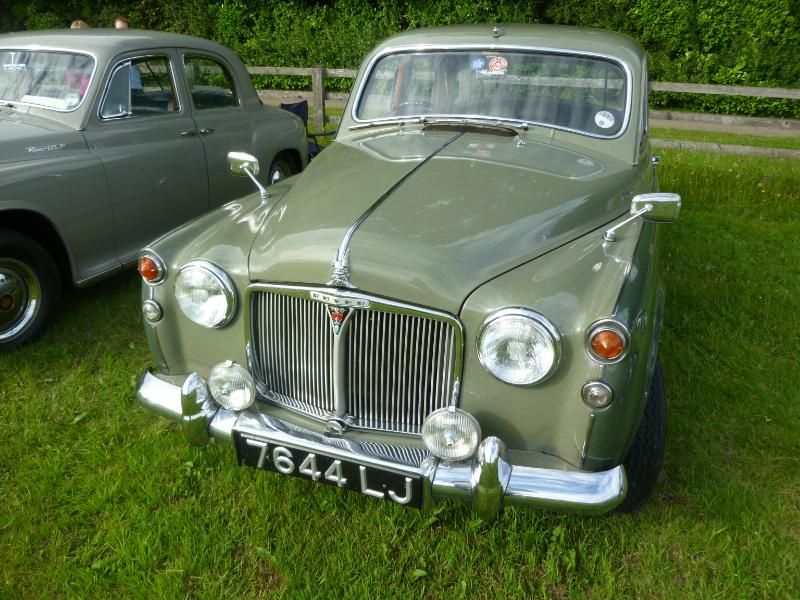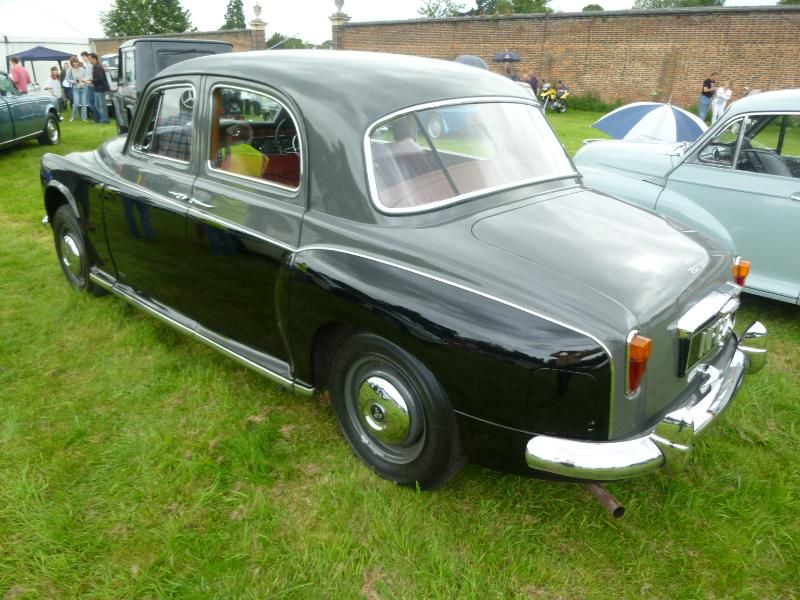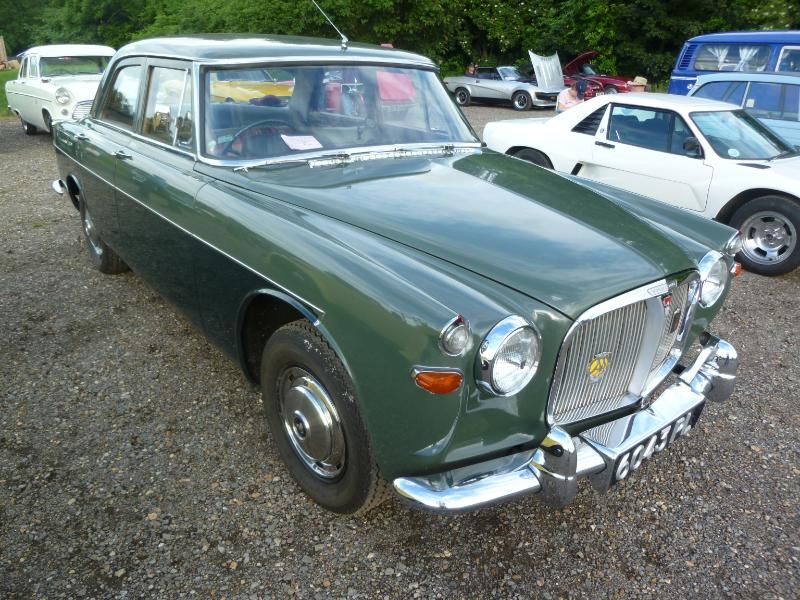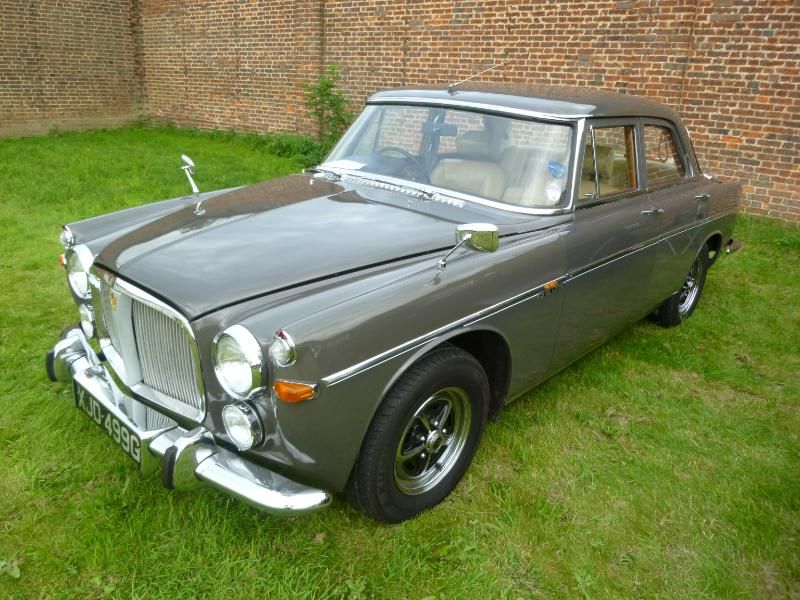 TRIUMPH
There was quite a group of Stags parked together, indicating that they had likely convoy-ed in together. This provided an excellent opportunity not just to enjoy this stylish 1970s tourer but also to appreciate the wide variety of colours in which the car was available, which are far more colourful than the sober array of greys and blacks which seem to be all people want these days.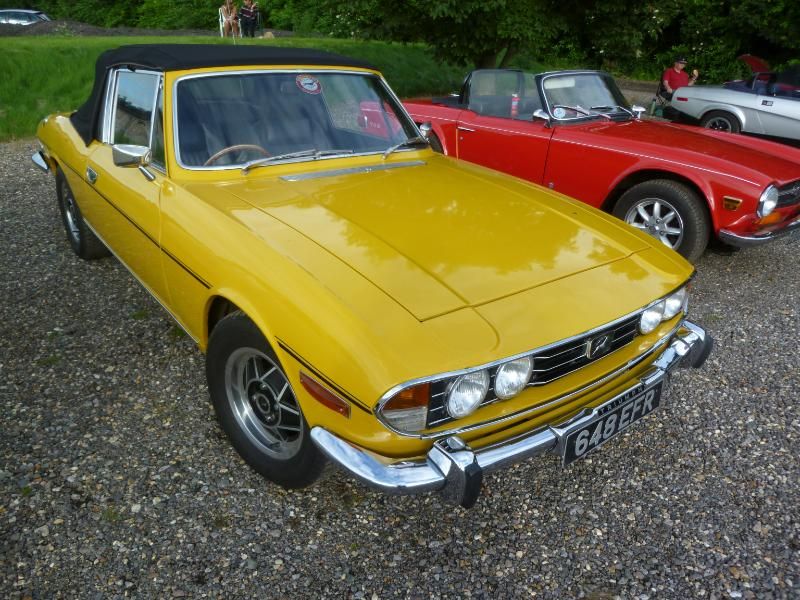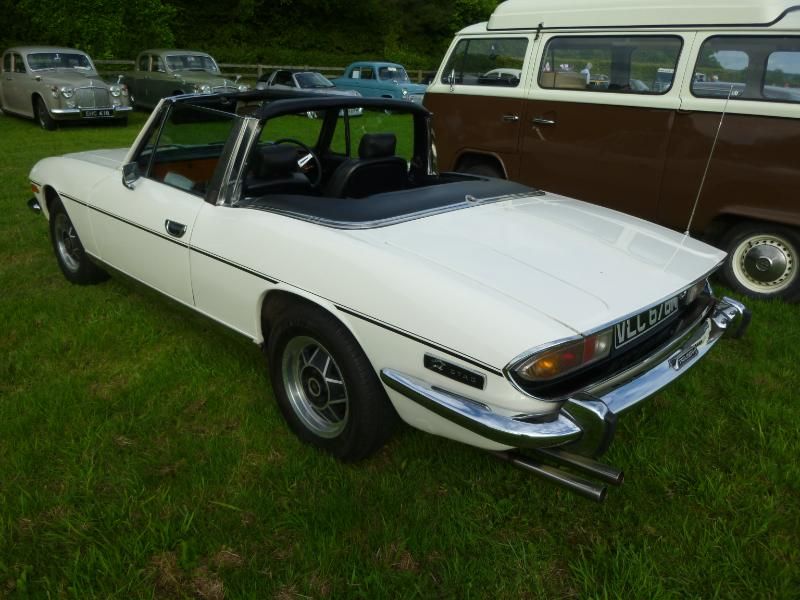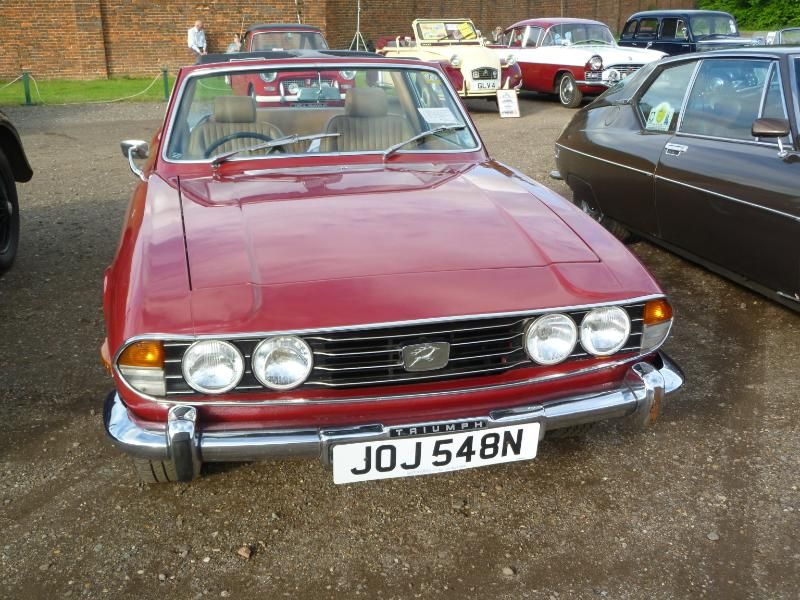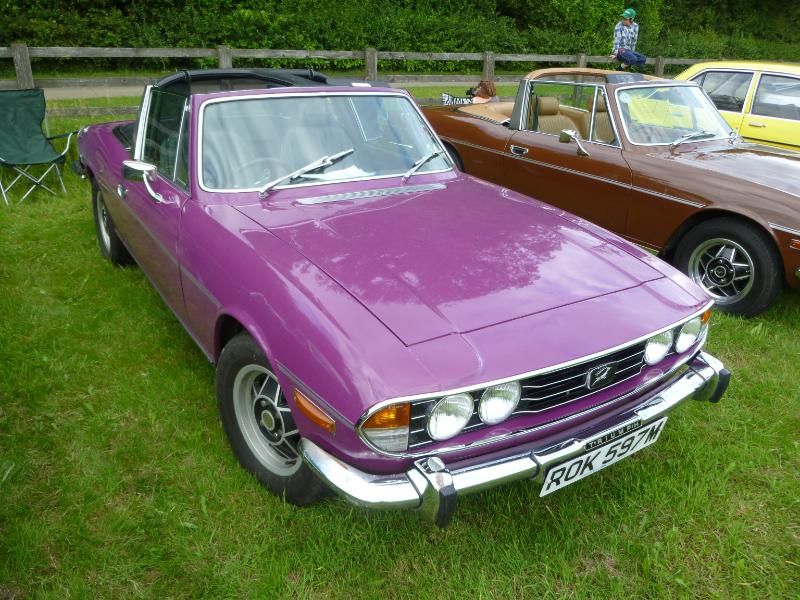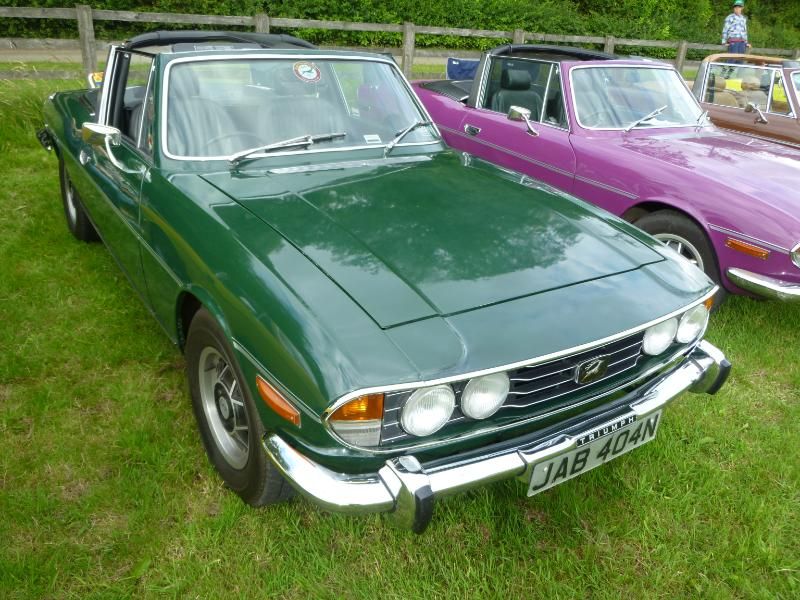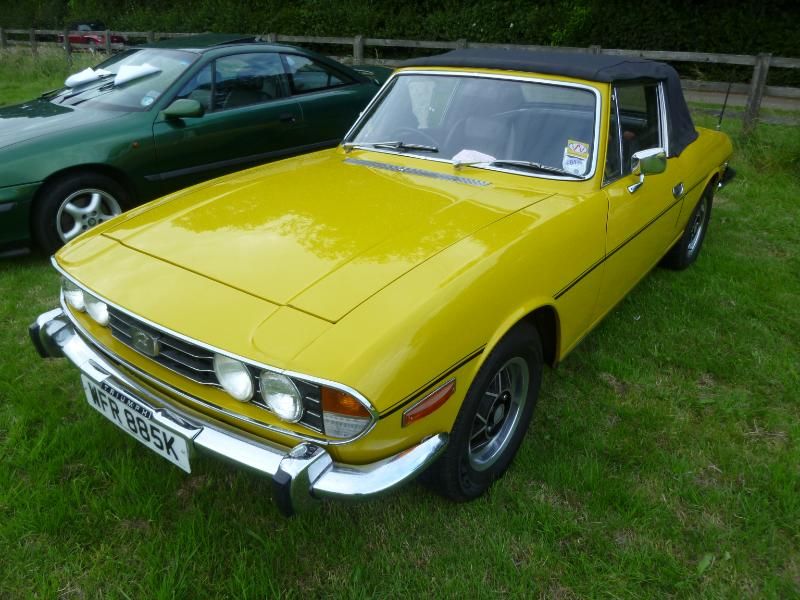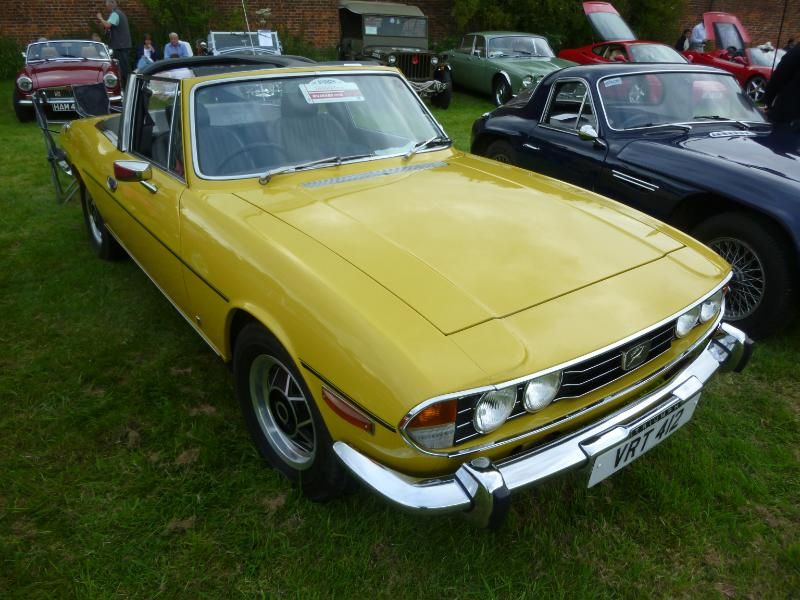 TRs were represented by a couple of TR6s and a TR5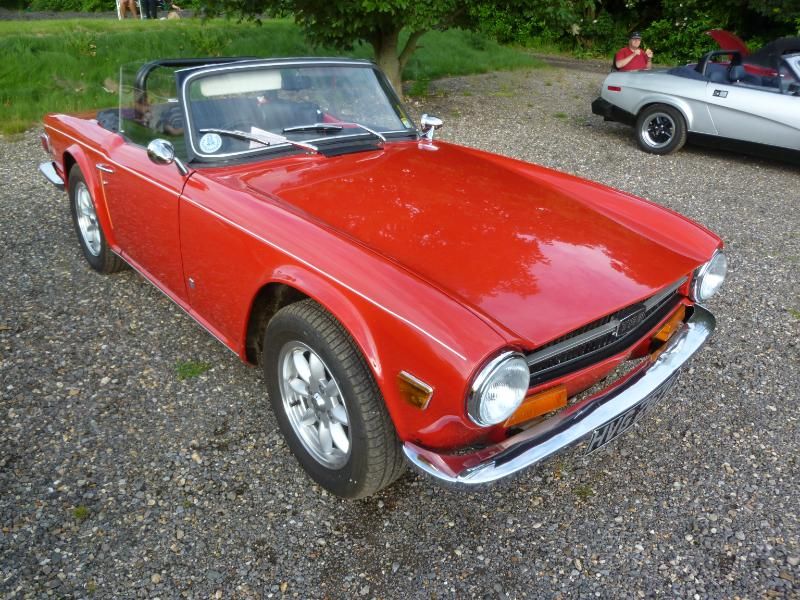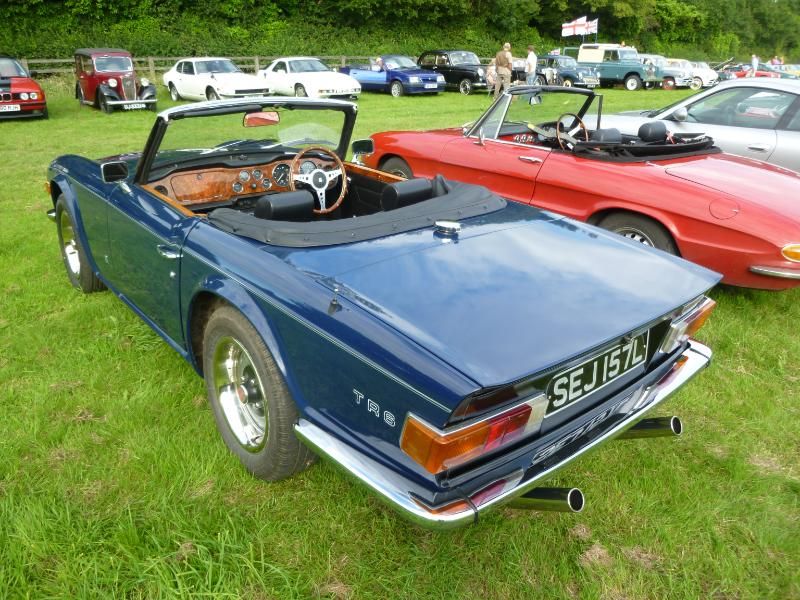 Among the smaller Triumph sports car was another 50th Birthday car, the Spitfire, with a couple in Mark 3 guise and there were a trio of the coupe GT6 cars.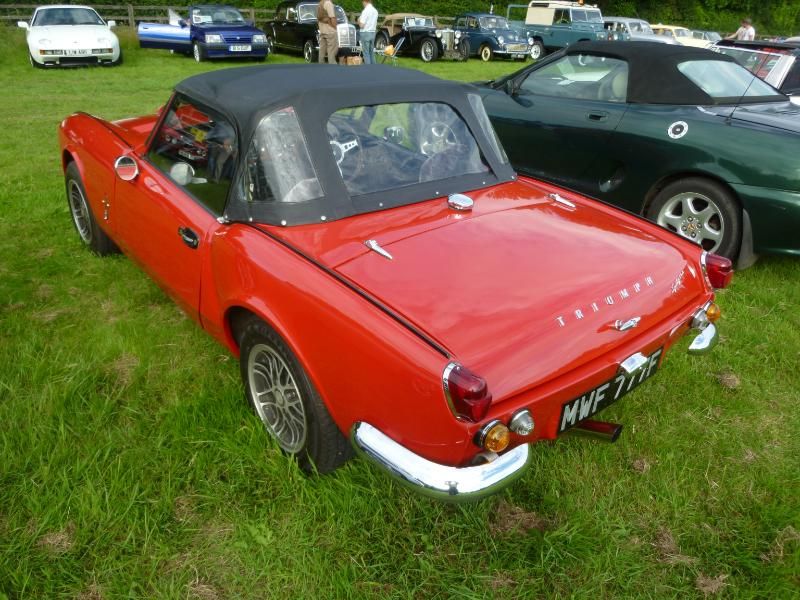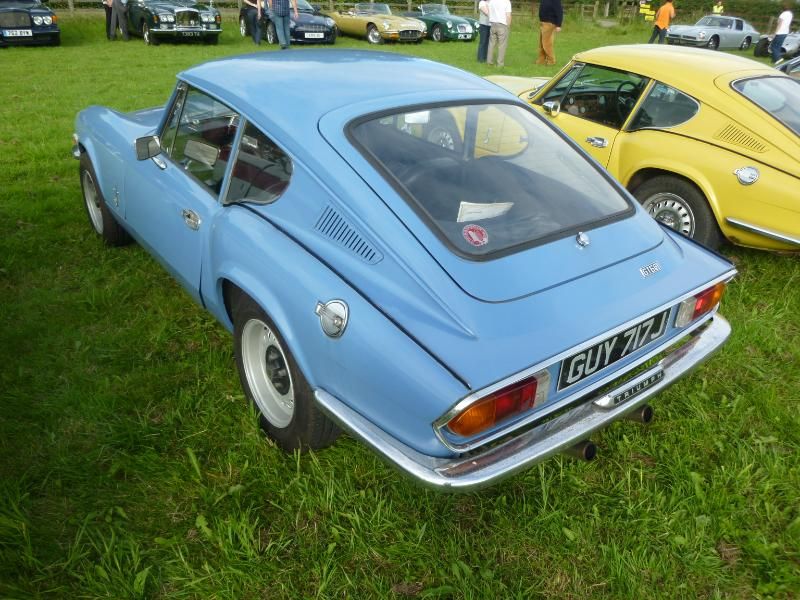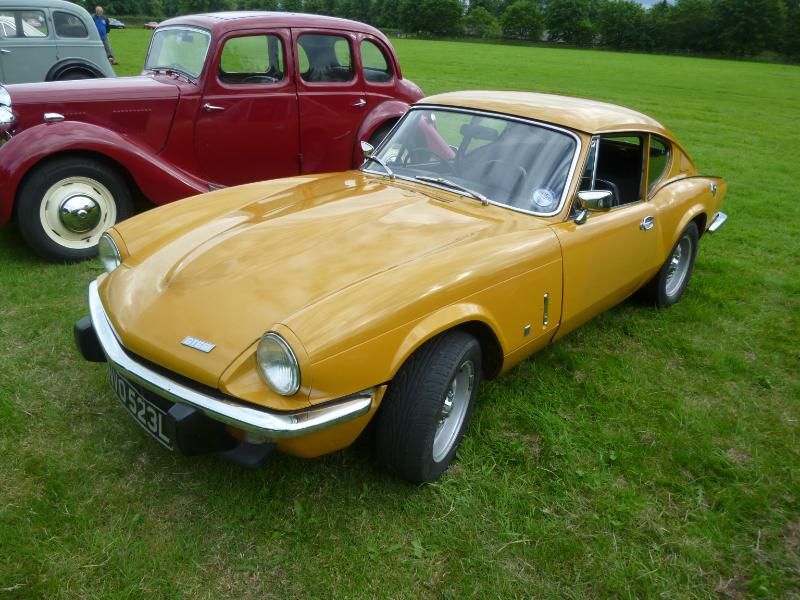 Finally among the Triumphs were both a Herald and a Vitesse Convertible.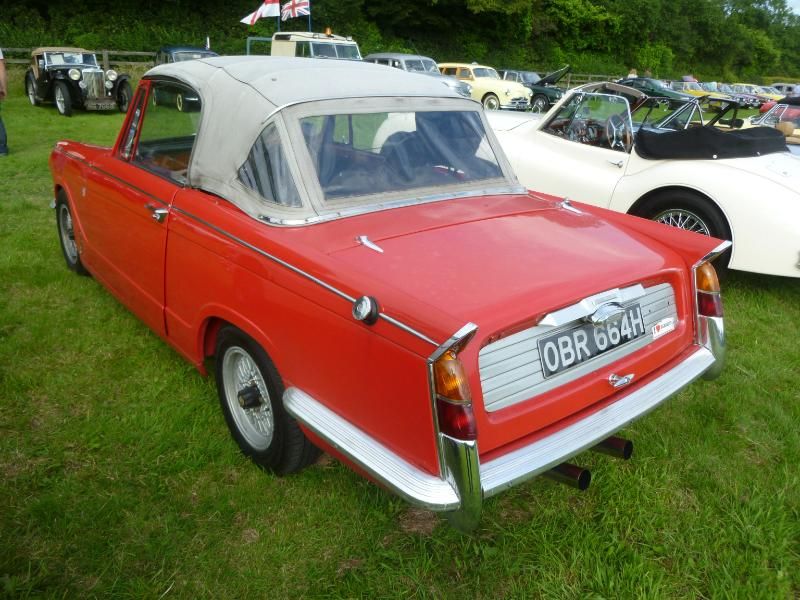 TVR
There were only a couple of TVRs at the event, and they represented pretty much the beginning and the end, with an early Grantura, one of just 63 such cars made, being by far the rarer of the pair. The more recent car was a Tuscan.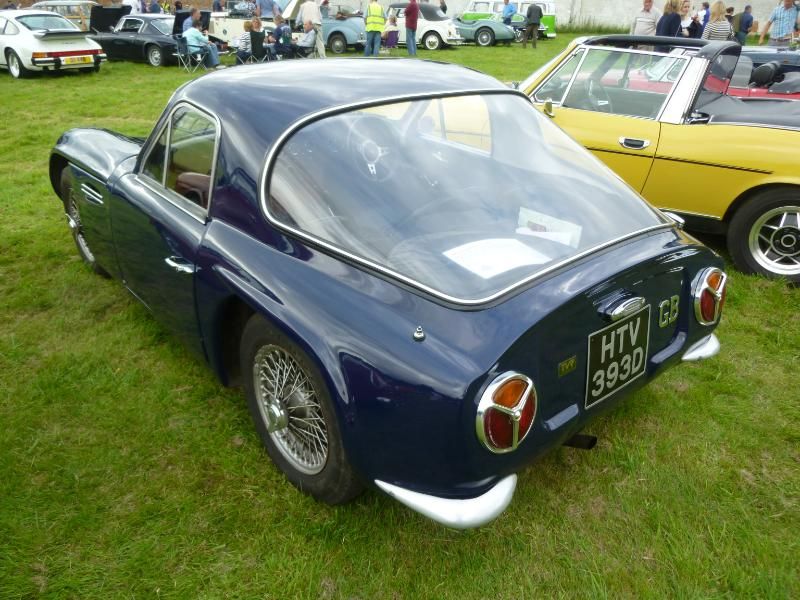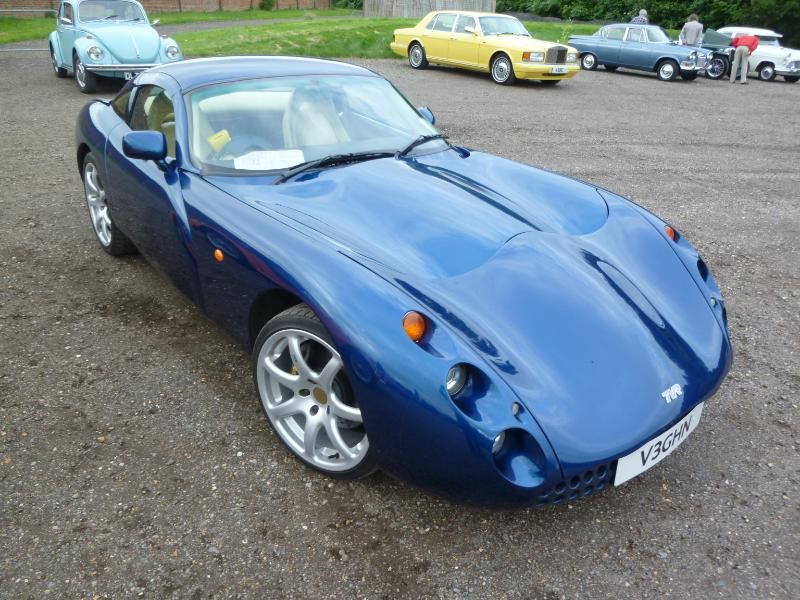 VAUXHALL
Luton is Vauxhall town, providing employment for many of the locals, so it should perhaps not have been a surprise to find quite an array of different models on show.
There were three pre-war cars there. The earliest was a 1937 Vauxhall 14/6 which denotes the six cylinder engine. It was joined by a couple of the later J Type 14s that first appeared in 1939. What made them really unusual was that they both had the larger 6 light body.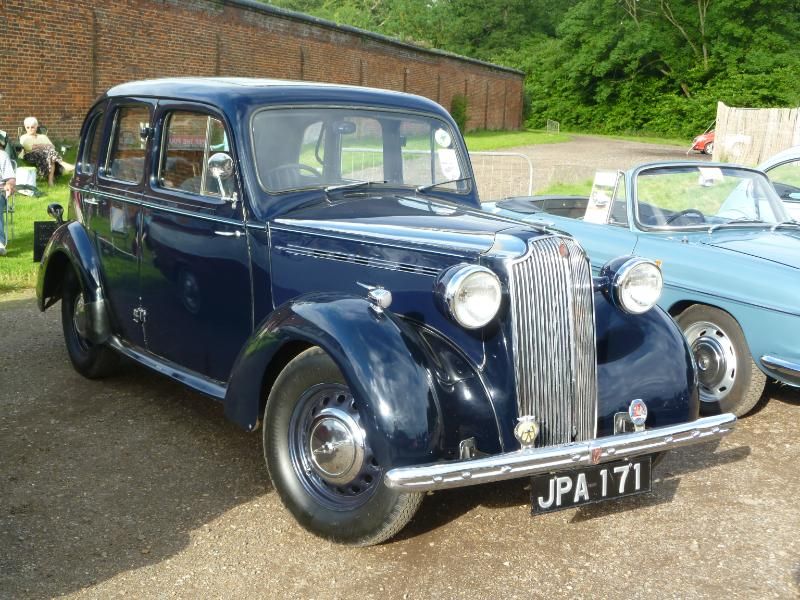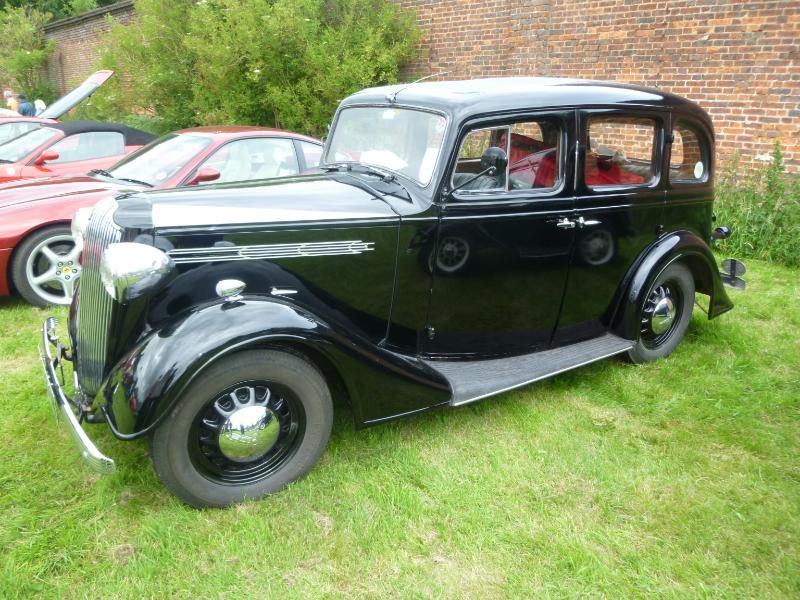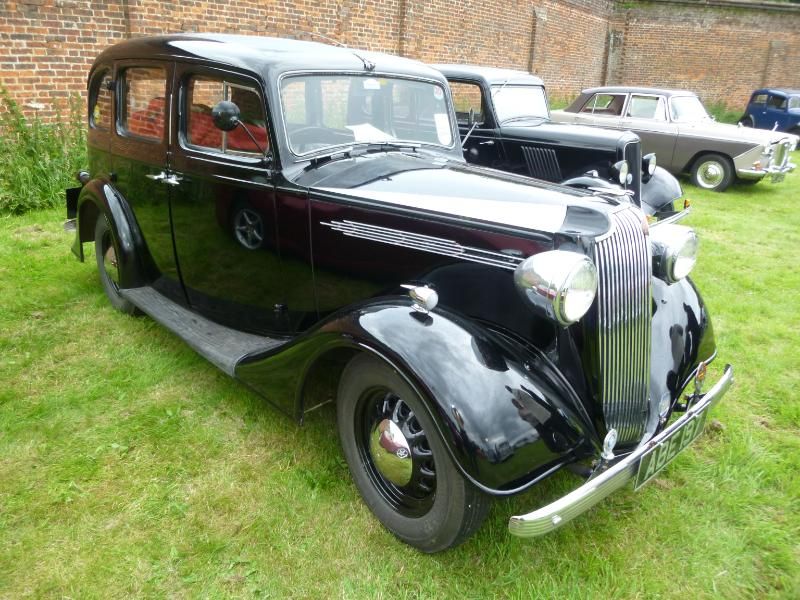 This Cresta featured at Race Retro in 2011, as part of the special display of 100 years of the Monte Carlo Rally. Having now sampled some of the roads up above Monaco, the idea of driving a wallowing barge like this with no power steering, column gear change and dubious brakes shows just brave the drivers were 50 years ago!
With even the newest Cavalier reaching its 17th birthday, this model, once so common on our roads has all but disappeared. Certainly that is the case for the first two generations to bear the name. There were representatives of each here, though, with a nicely restored Series 2 Cabrio joined by another appearance for the world's oldest Cavalier, which I had last seen at Cholmondley a few weeks ago. This was the car used for the press launch in autumn 1975. It is now privately owned and makes its appearance at all manner of events during the year.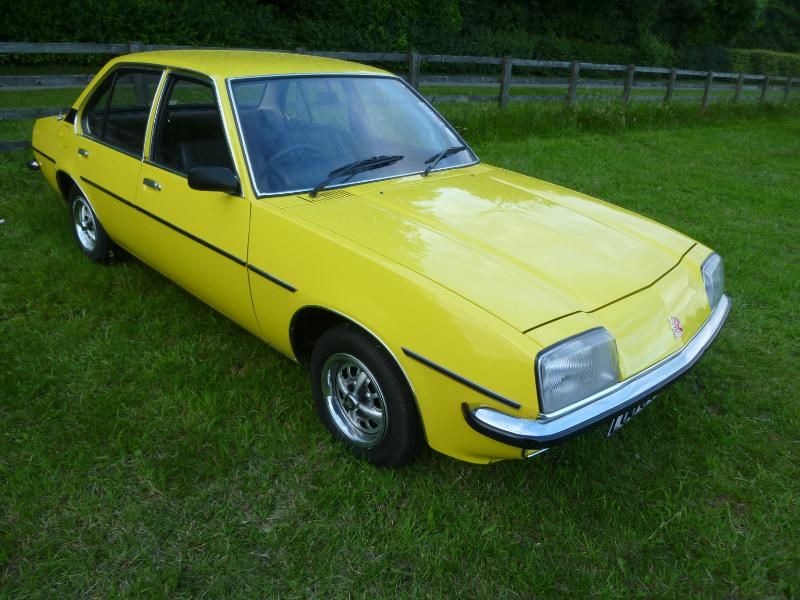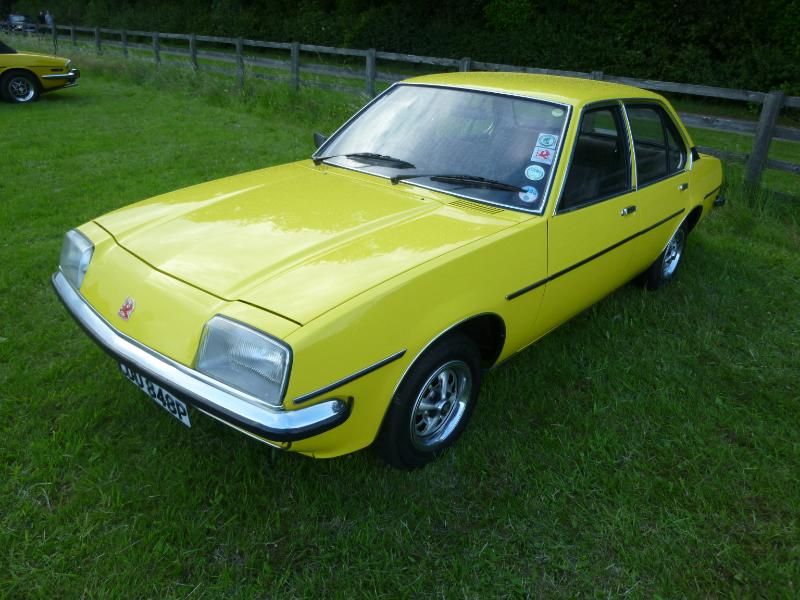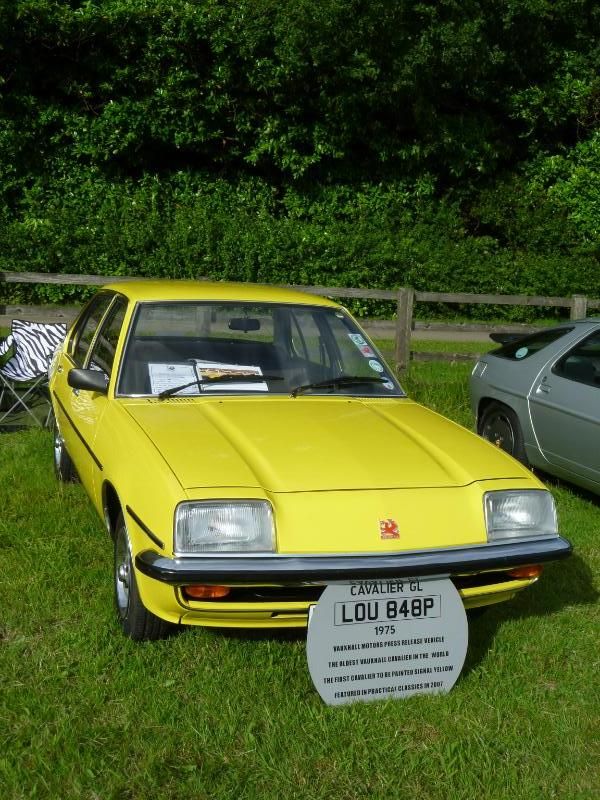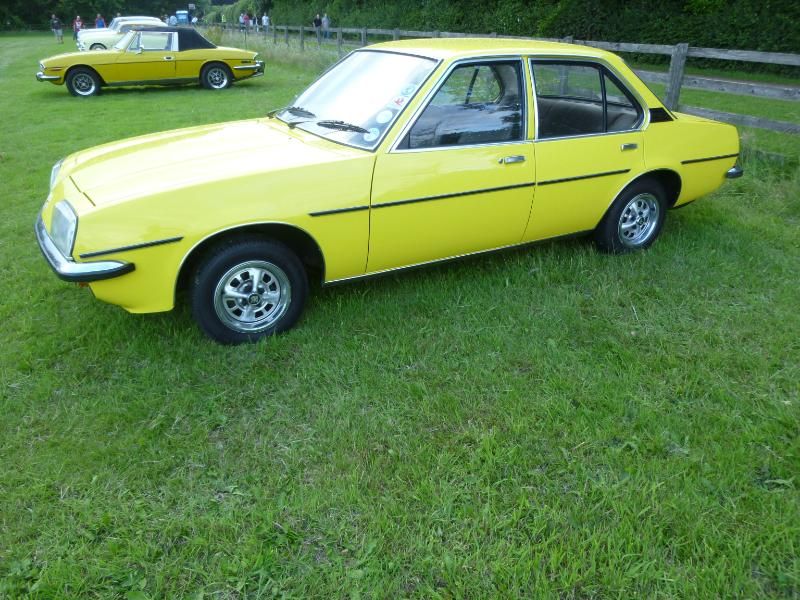 Also once a common sight was the Viva. This is an HC model, in SL trim, complete with very period vinyl roof.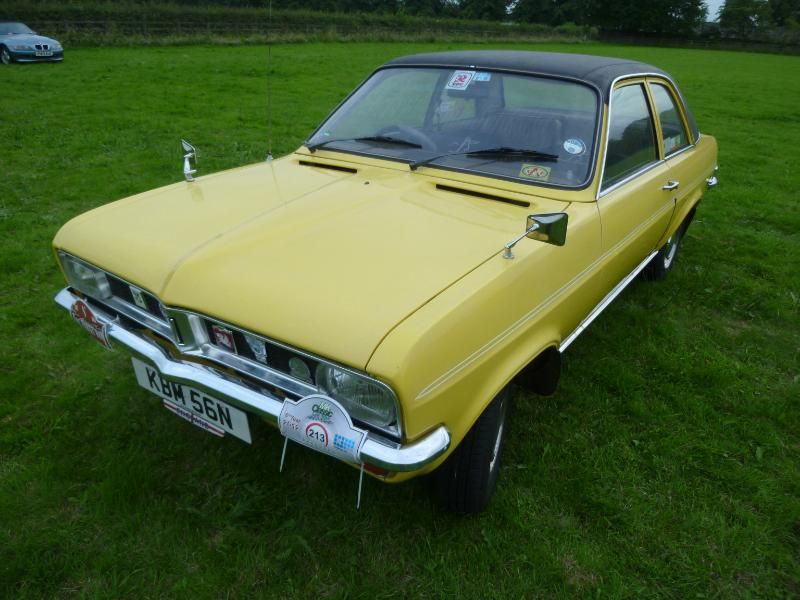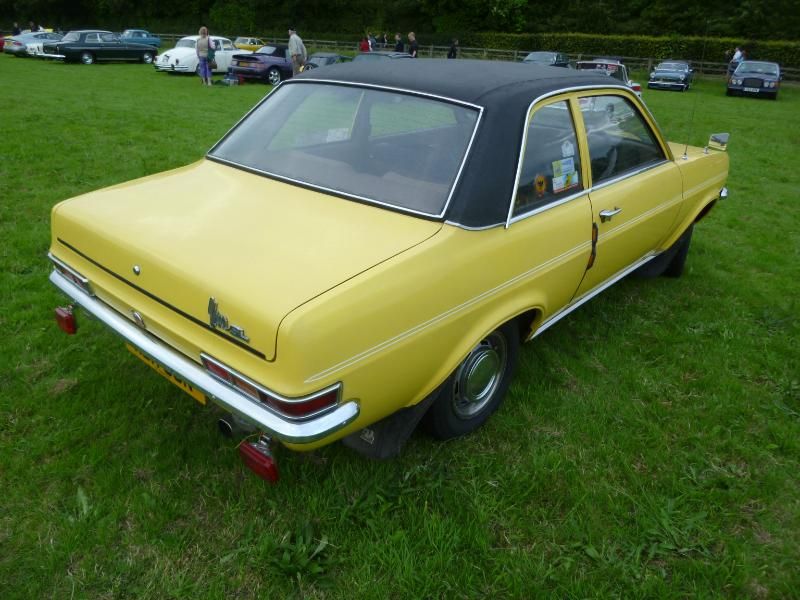 VOLKSWAGEN
A couple of classic Beetles.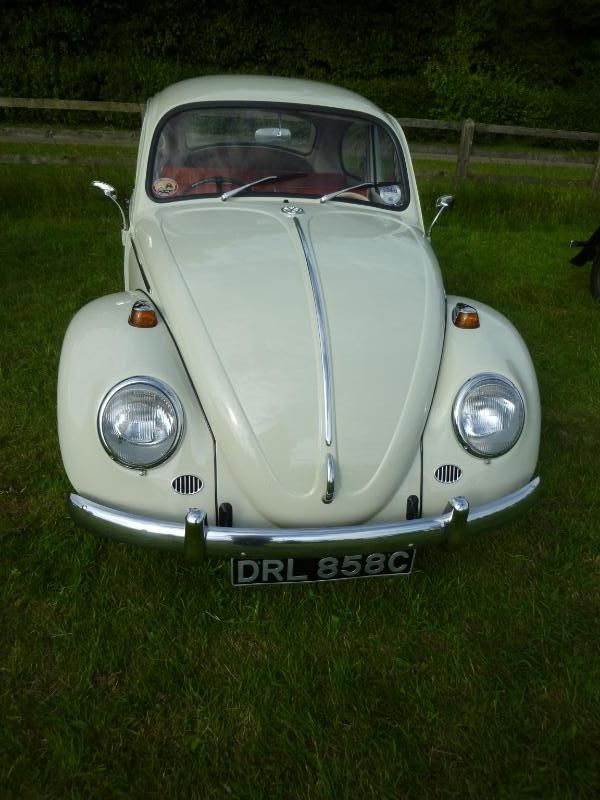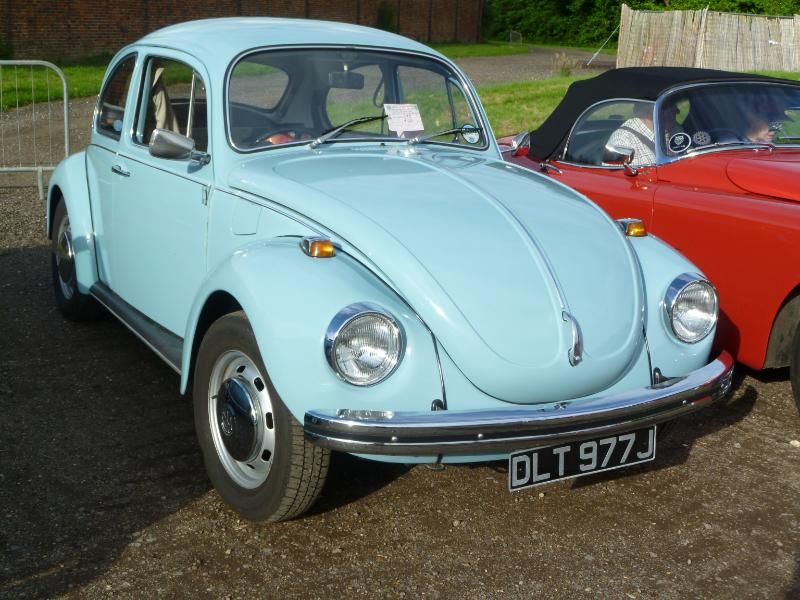 WOLSELEY

The 16/60. poshest of the Farina designed BMC mid-range cars offered from 1958 until production ended in 1971.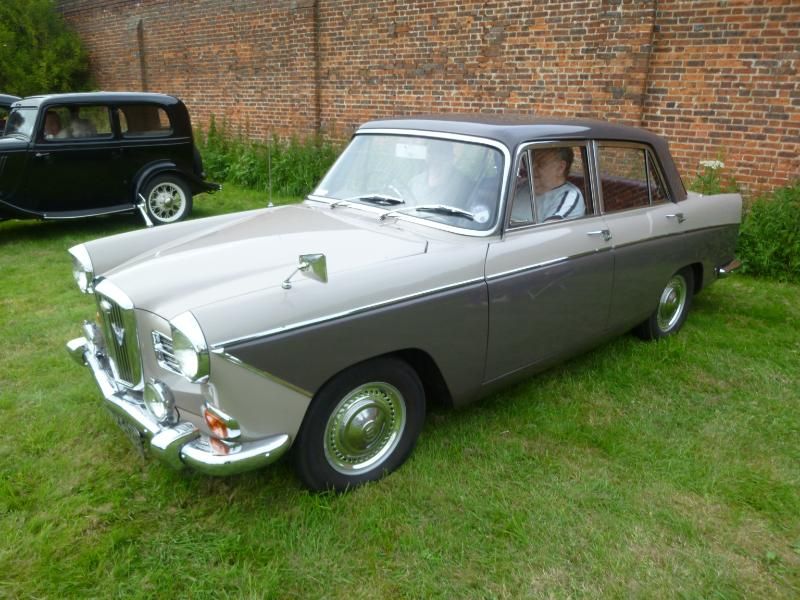 It was definitely worth making the trip north of The City, with plenty of interesting cars, and an excellent alternative to sitting in the hotel Club Lounge and sipping wine which is how I would doubtless have otherwise filled my evening. Just a shame that the weather put off a good 300 of the attendees who had been in previous years. Here's hoping that we actually have a summer in 2013 and then I will return to this event, for sure.
2012-07-17 20:04:26