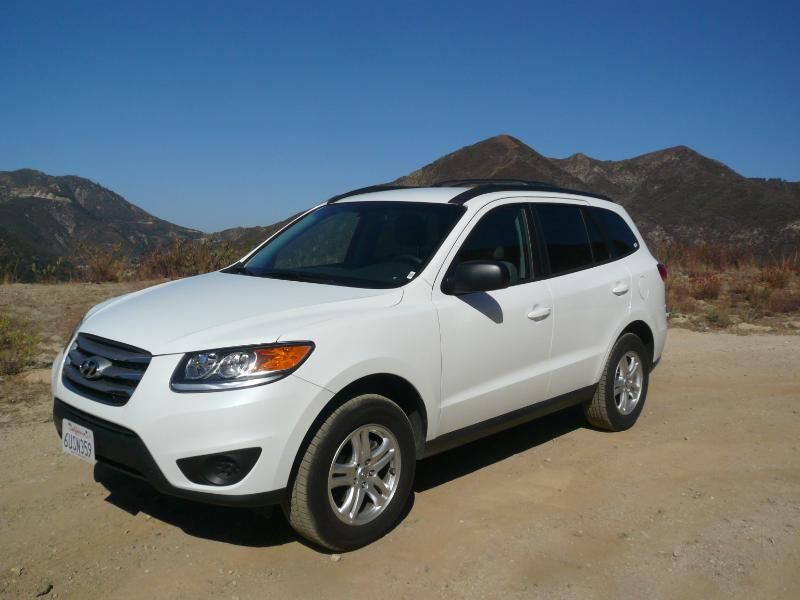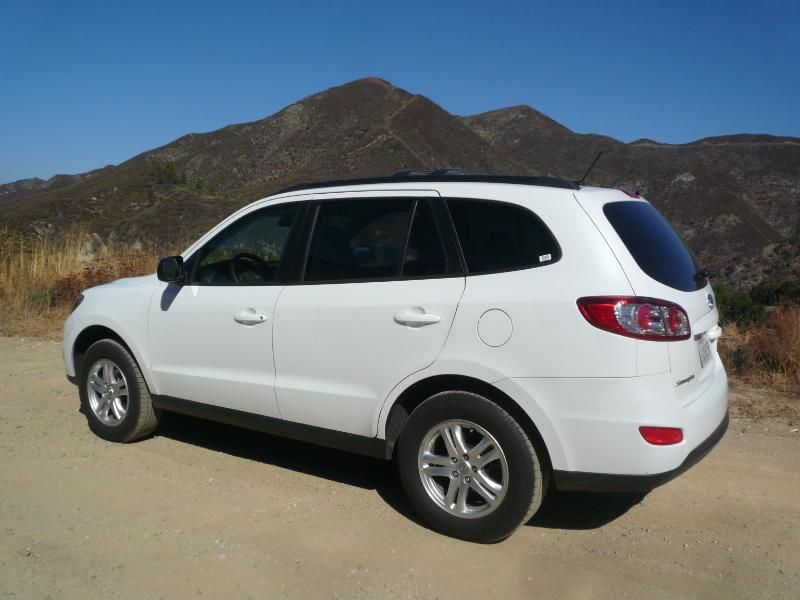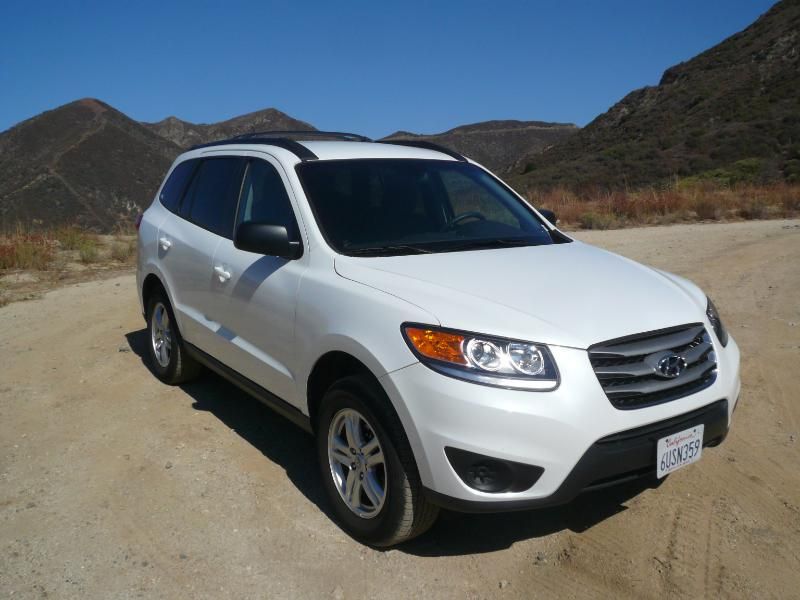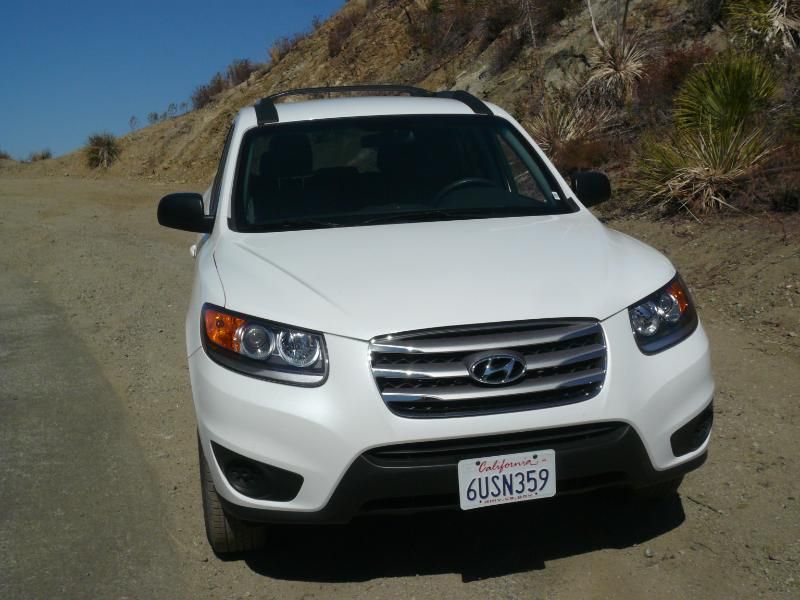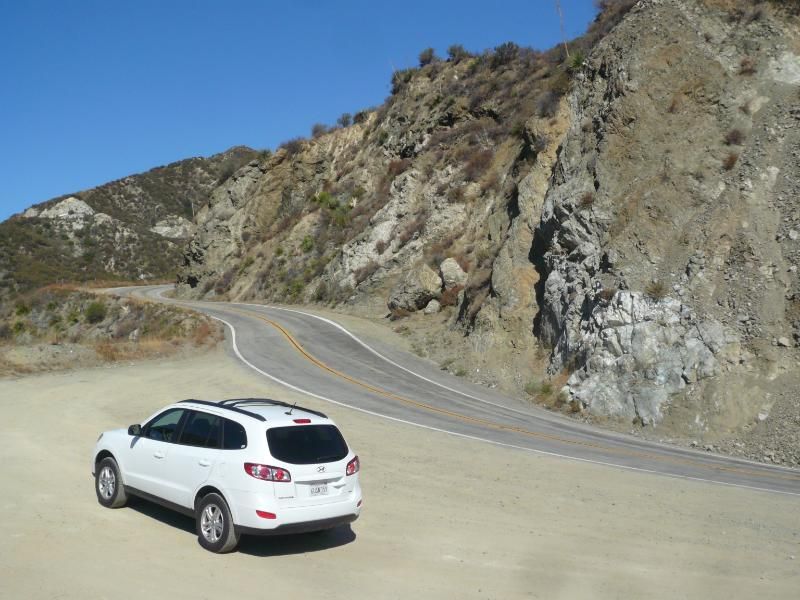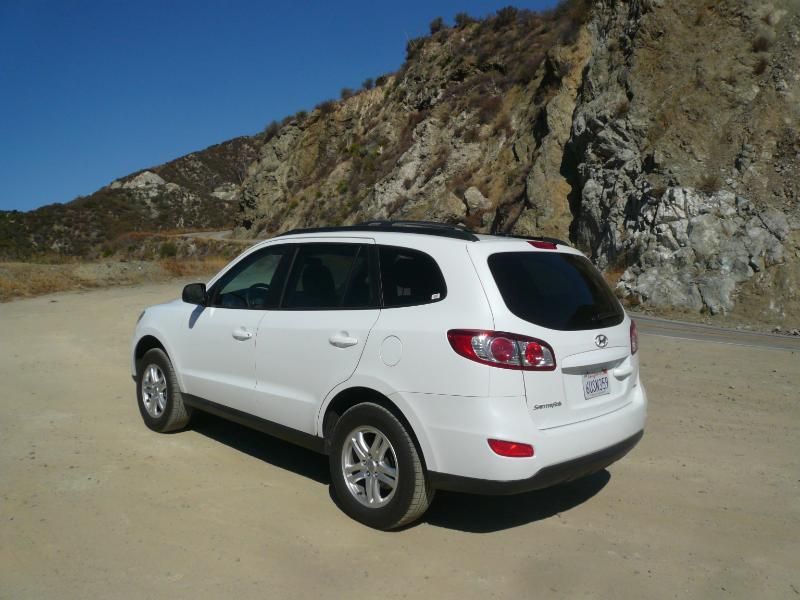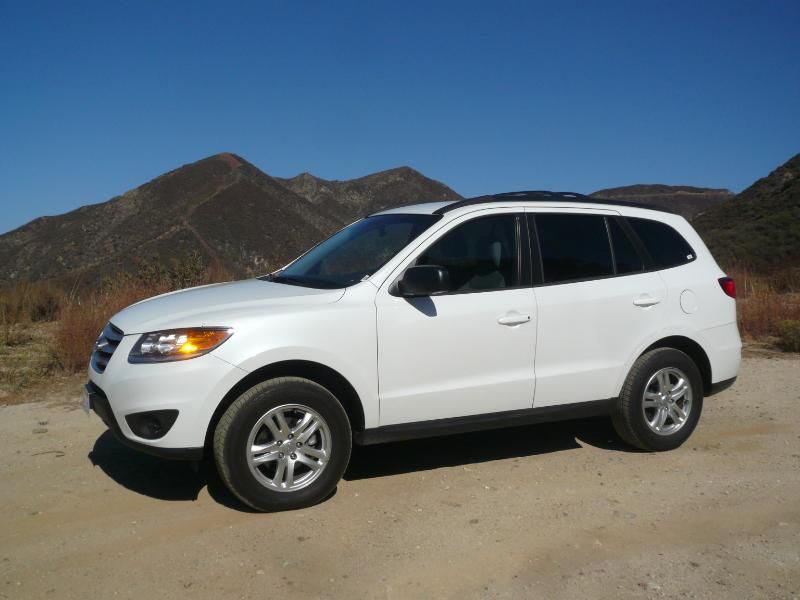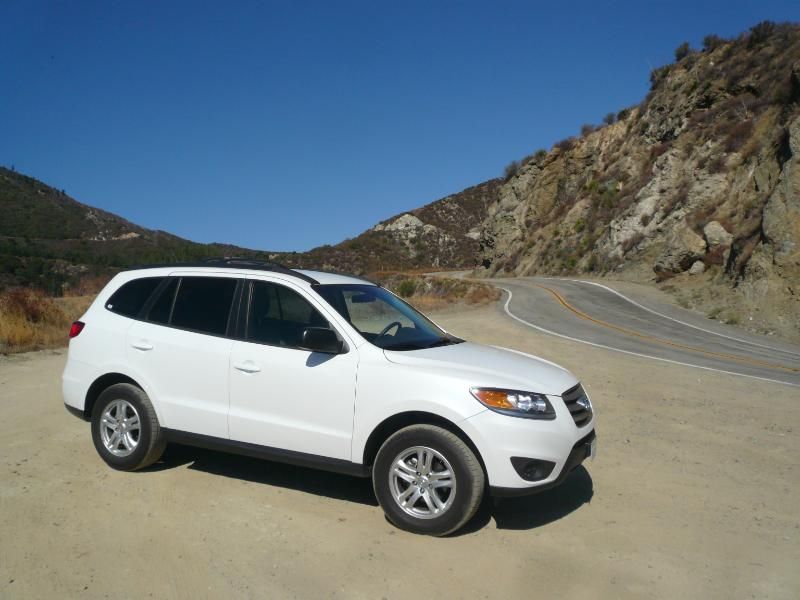 When the government funded Scrappage Scheme was in operation in 2010, a lot of publicity went to the fact that one of the big sales winners was Hyundai, with their diminutive i10 city car doing particularly well. As you see plenty of them on the road, I had assumed that this was most likely still their best-selling model at least in the UK. Accordingly, I was quite surprised to learn that in fact in recent months it was the product at the other end of the range which was selling in the greatest volumes. Yes, the large Santa Fe, one of those rather unassuming looking large SUVs, has been selling strongly. Perhaps that is not a surprise, as the second generation car, with a decent diesel engine is reputedly pretty decent to drive, plenty spacious enough and like all the Hyundai products, an excellent ownership proposition with both a generous warranty and a good record for reliability. Even the hacks at Autocar, not renowned for their enthusiasm for anything from Korea or whose tail will not slide on their regular tyre wearing antics rather liked the Long Termer that they had, where the Santa Fe's utility proved particularly invaluable. The second generation model was launched in 2006, with production only recently ending in favour of the third generation car which premiered early in 2012. The second generation "CM" model has also been Hyundai's best-seller in America, and so it seemed worth getting behind the wheel of one for a couple of days to find out what it was like.
The test Santa Fe had the 2.4 litre 4 cylinder petrol engine fitted, and whilst this might sound like a recipe both for sluggish performance and less than refined motoring, it was neither of these things. With 175 bhp in quite a large vehicle, for sure, this is nowhere near the fastest vehicle on the road, or even in its class, and I don't doubt that a fully laden Santa Fe would find hills something of a challenge. Driven one up, it was well able to keep up with the flow of traffic, and proved moderately brisk. Those who need more oomph could always go for the optional 3.5 litre V6 which will bring another 101 bhp. It is certainly a smooth unit and it remains decently refined unless you really rev it hard. All Santa Fe come with a six speed automatic gearbox, which is operated by a conventional centre console mounted gearlever, and which can be used manually if you push the lever over to the right, allowing you to flick up and down gears by pulling the lever back or pushing it forwards. Left to its own devices, the gearchanges are smooth and well judged. I can't comment on the fuel consumption, as for reasons too complicated to go into here, the deal with Hertz was to bring the vehicle back with a half full fuel tank. Although I did put some fuel in, trying to calculate the real consumption based on an approximate reading of the needle on the gauge is not going to give anything meaningful. I did cover something like 250 miles on what appeared to be half a tank, though. The brakes worked well, with no issues in operation and a very smooth and progressive feel to the pedal. A foot operated parking brake is fitted.
A vehicle of this type is not a sports car, so you don't really expect it to be huge fun to drive (although Mazda seem to have a good shot at trying within the confines of the class!), but at least the Hyundai was not cursed with completely over-assisted vague and feel-less steering as rivals at Toyota seem to think is appropriate. That in the Hyundai was perfectly OK, with some feel and in the case of the test car with its front wheel drive, its predictable handling. There are reminder stickers on the sunvisors of the higher centre of gravity so you would be unwise to push the car too hard, and anyway the increasing body roll would surely act as a further reminder, but the Santa Fe felt stable and well up to the curves of the highways in the San Fernando mountains up above Los Angeles, without causing me any concern. The ride is good, thanks no doubt to the long wheelbase and relatively soft suspension, but at no time did to feel to float or wallow unpleasantly.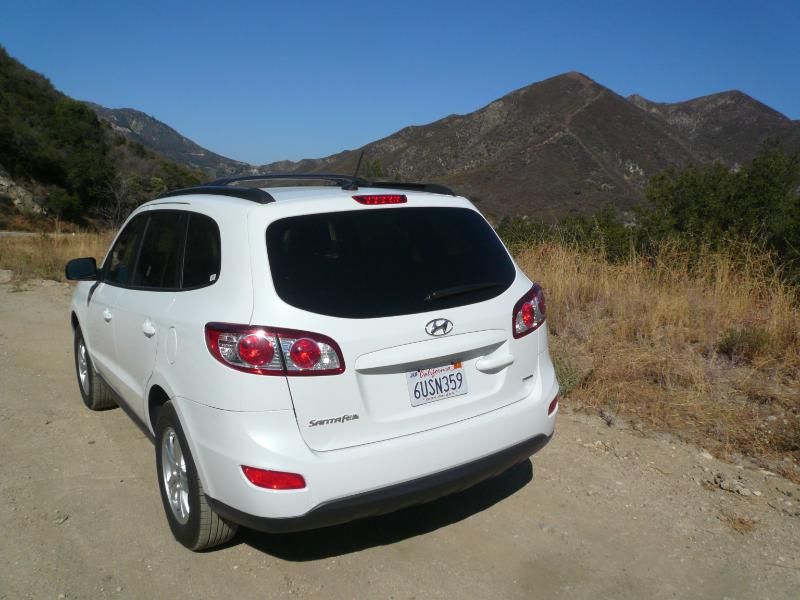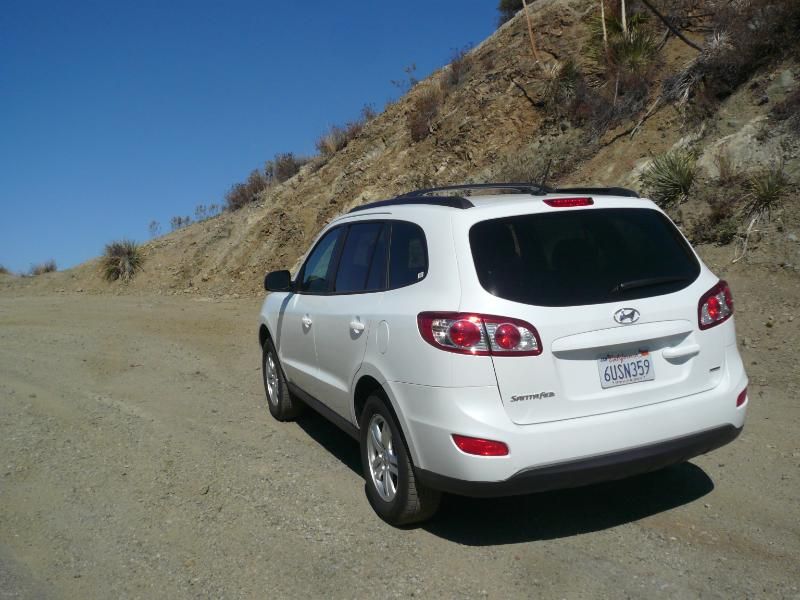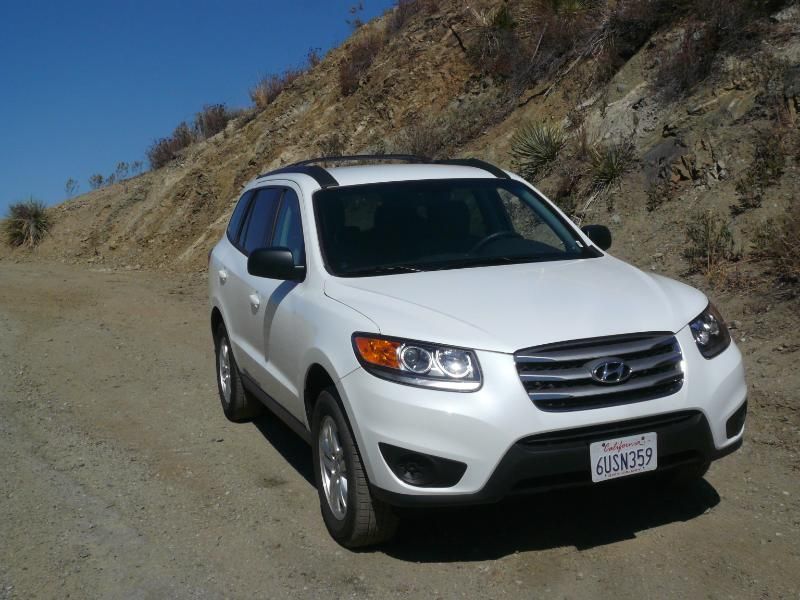 Evidence of the differing tastes of a market, or perhaps just the buyers within it, comes from how you will react to the fake wood veneer that is plastered around the gearlever surround and on the dashboard. Several US domestic reviews I read said that they thought this made the interior look classy. That's certainly not the word that came to my mind. I thought it look tawdry, cheap and nasty and ruining what was otherwise quite a well presented interior, though it has to be said that the plastic steering wheel does it no favours and there are some cheap feeling items, such as the switches to the lower left of the wheel, the door pulls and locks. That all said, the overall impression of the cabin is that it is neatly presented, avoiding the over-stylised look that is starting to bedevil more and more vehicles. The driver is presented with a single binnacle which shrouds the instruments: three chrome ringed dials, the central one of which containing the speedo is slightly larger than the outer pair and the right hand of which contains both fuel level and water temperature. There is a blue arc around the circumference of each dial which glows more strongly in the dark, but in all lighting conditions these instruments are very easy to read. Chunky column stalks operate lights, indicators and wipers. The centre of the dash curves outwards slightly back towards the driver and passenger. A silver backed central section controls the buttons and display screen for the audio unit and below this the two rotary dials and set of buttons arranged in a further circle for the air conditioning. The entire section is flanked by vertically stacked air vents which are just about far enough away from the driver's hand not to freeze the knuckles when the air conditioning is blasting cold air into the cabin. A small elliptical display area sits at the top of the central area and contains the digital clock, and is quite difficult to read at a glance. Repeater buttons on the steering wheel boss for some audio unit functions are joined by those for the cruise control. Three rather cheap feeling switches for the hill descent control are on the lower left of the dash.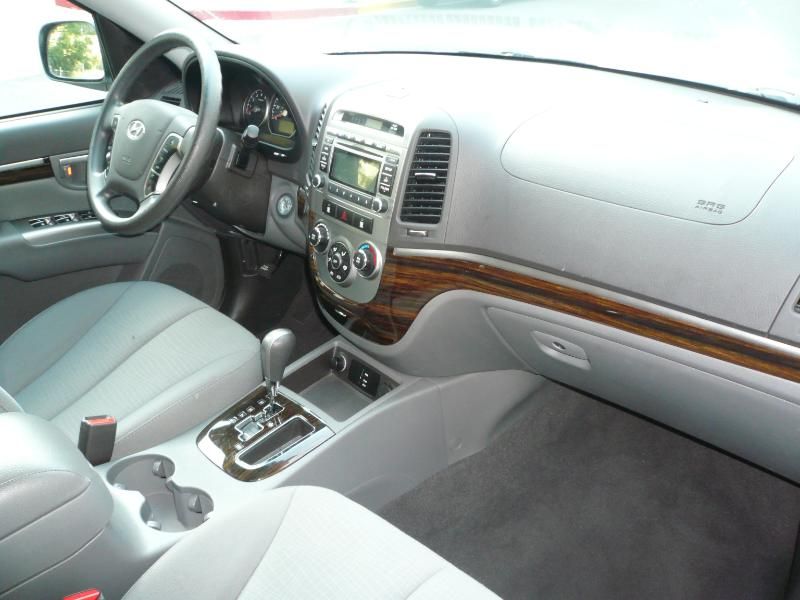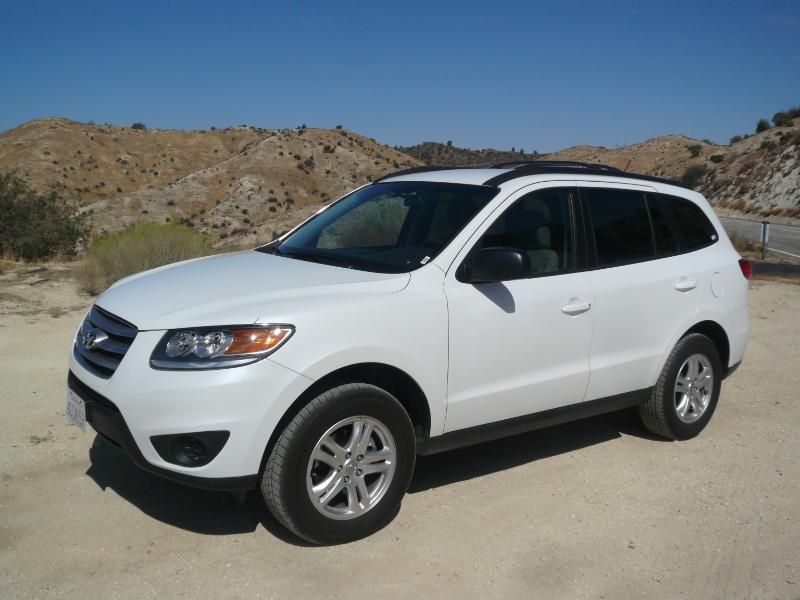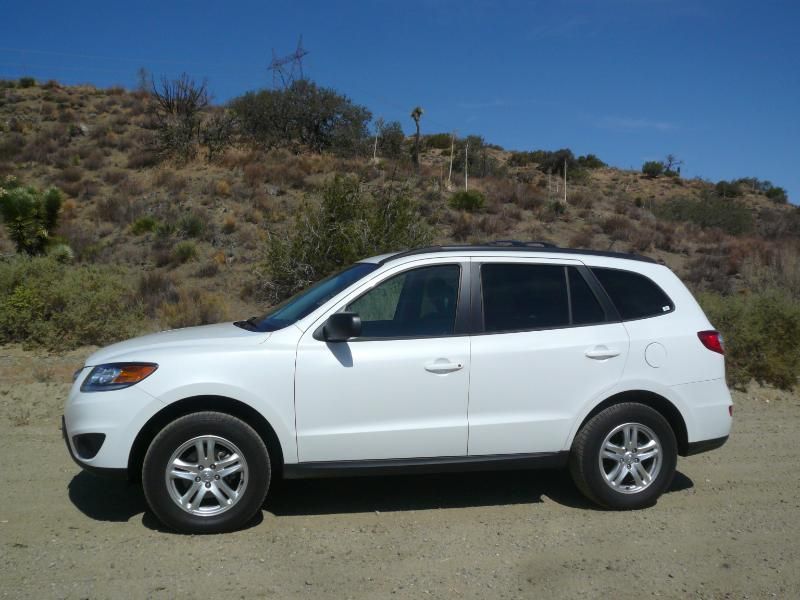 In the version I tested, seat adjustment was all manual, with a bar under the seat to go back and forth and two separate levers on the side of the seat to change the backrest angle in a series of steps (as Americans allegedly prefer, and I don't, wishing instead for a hand wheel and an infinite series of adjustments) and for seat height. The steering column also adjusts manually for reach, so it was easy to get a comfortable driving position. As with all SUV type vehicles you sit that bit higher than in a regular saloon car, and this slightly commanding feeling driving position is generally welcome. In the case of the Santa Fe it is not so large that you have to clamber up to get in and out. Once installed, the relatively boxy styling and generous glass area meant that visibility all round was good, with only a small blind spot from the door mirrors.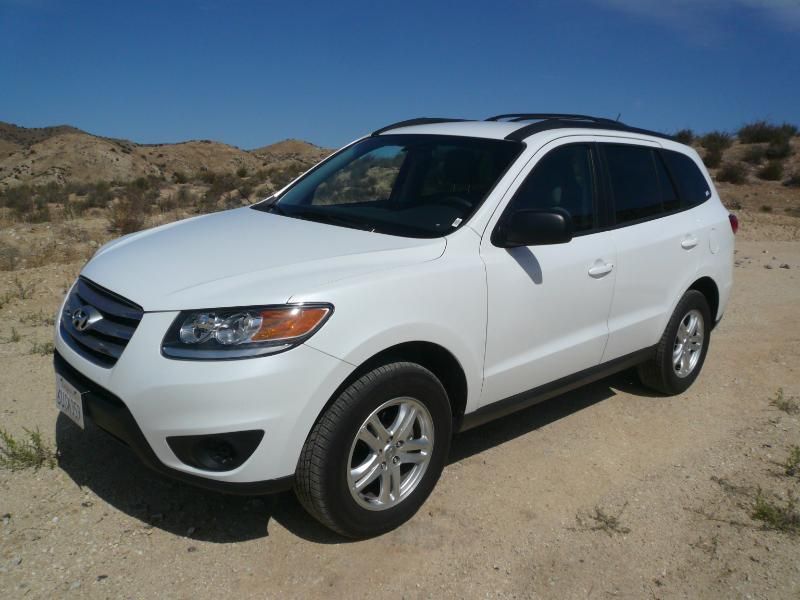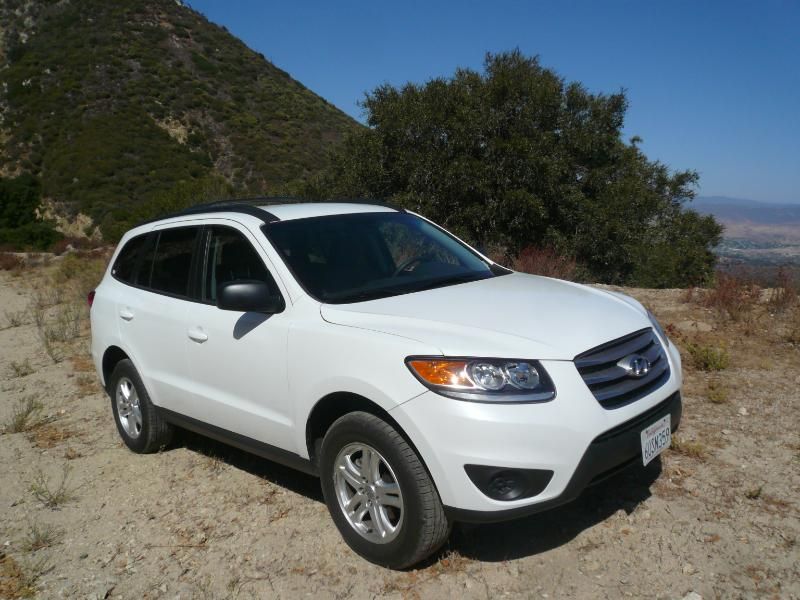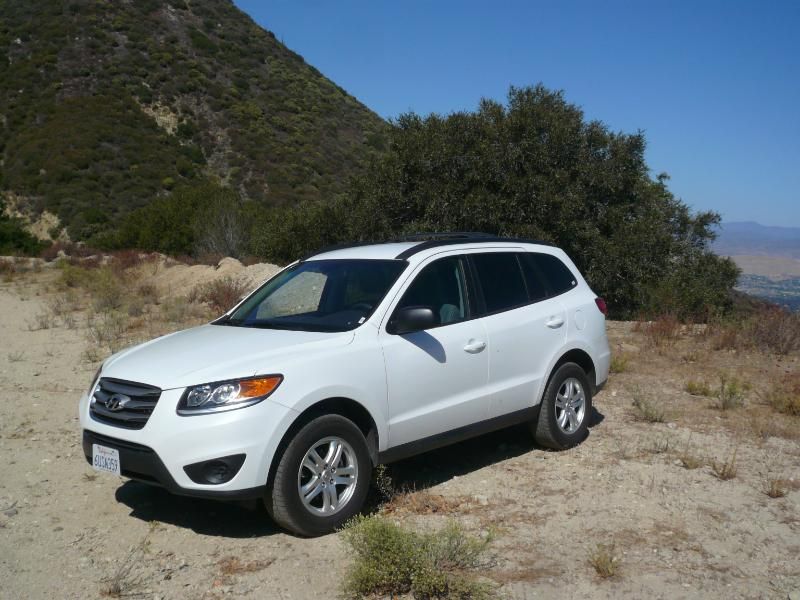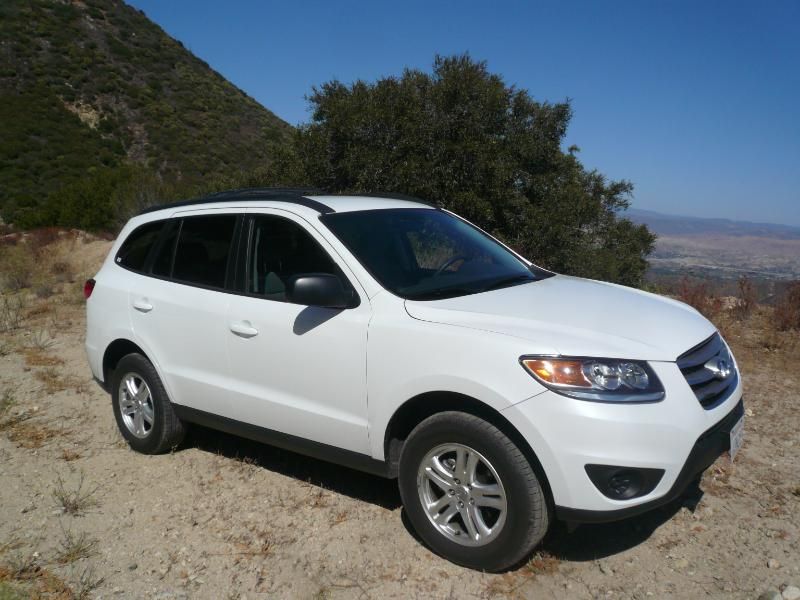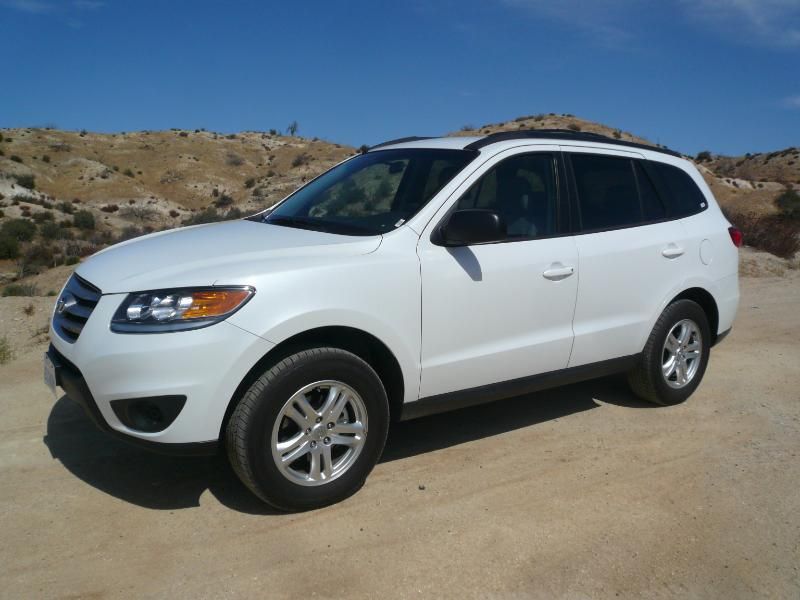 Although in European markets we would tend to categorise the Santa Fe as a large SUV, in the US it is really only rather a moderate size, and certainly on that basis, it provides generous levels of space inside. European markets were still able to order a 7 seat version but for the US the extra seating capacity was provided by the Veracruz and so Santa Fe was limited to 5 seats. That means a single row of seats across the back, in which passengers will find decent quantities of leg, head and shoulder room, and it means quite a decent sized well under the boot floor which is simply extra stowage capacity where the extra seat row would otherwise be located. The boot is a good size anyway, regular in shape and quite long from front to back. The rear seat backrest angles are adjustable to an extent. More cargo capacity can be made available by folding the asymmetrically split seats down, with the backrest dropping onto the seat cushion to create a long and flat load floor. Oddments space for front seat occupants is good, with ample door bins, a generous glove box, a lidded cubby on the top of the centre of the dash, a smaller lidded area at the bottom of the centre of the dash and plenty of space in two tiers under the central armrest. There are twin cupholders in the centre console. Rear seat occupants get door bins, and map pockets in the back of the front seats.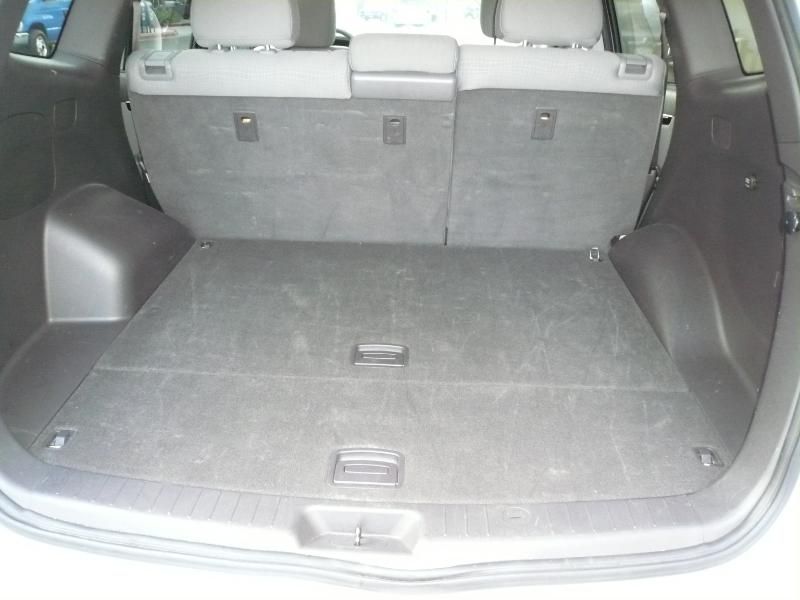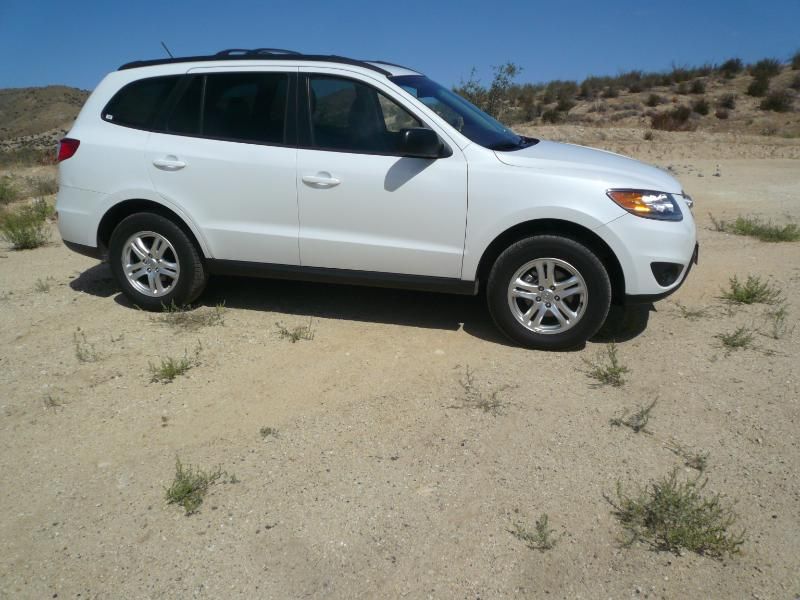 American market Santa Fe are offered in three trim levels: GLS, SE and Limited. The test car was an entry spec GLS, which brings with it hill descent control, cloth seats with lumbar adjustment, air conditioning, cruise control, an AM/FM and satellite radio with single CD slot, MP3 and USB connections and wheel mounted controls, rear privacy glass, roof rails and 17″ alloys. The SE adds a leather wrapped steering wheel, seats that are part leather, part cloth with the driver's chair with 8 way power adjustment, a compass, automatic headlights, front fog lights, roof rails, a rear spoiler and 18″ wheels. The Limited brings full leather upholstery, dual zone climate control, heated front seats, an upgraded audio unit and a sunroof. A Navigation system is optional on the SE and Limited and all models can be specified with a remote start feature. There are few other options, though the SE can be purchased with a Premium package which adds a rear view camera to the navigation system, a sun roof and the Infinity audio unit that features in the Limited model. All models are available with optional all wheel drive and the choice of either the 2.4 litre 4 cylinder or 3.5 litre V6 engine. A 2.4 litre GLS 2WD lists at $23,225 and the top spec AWD 3.3 V6 Limited at $30,925. You get a lot of vehicle for your money.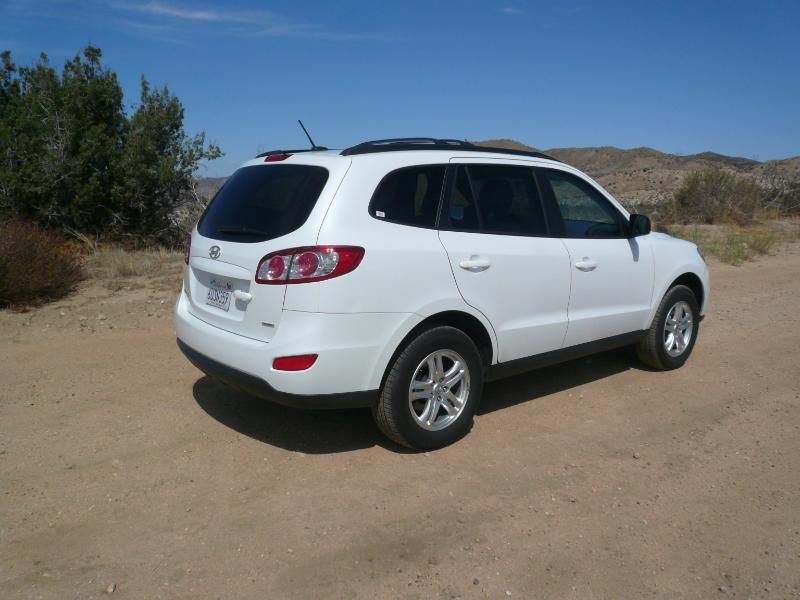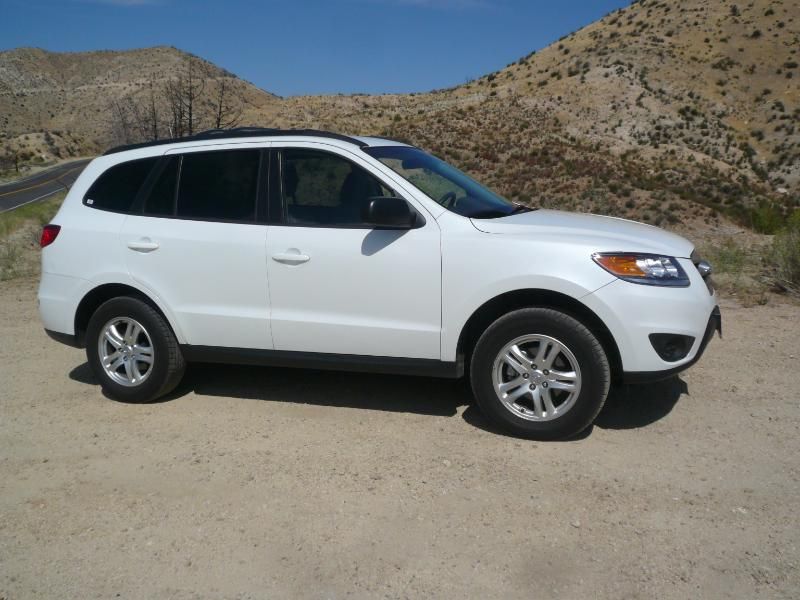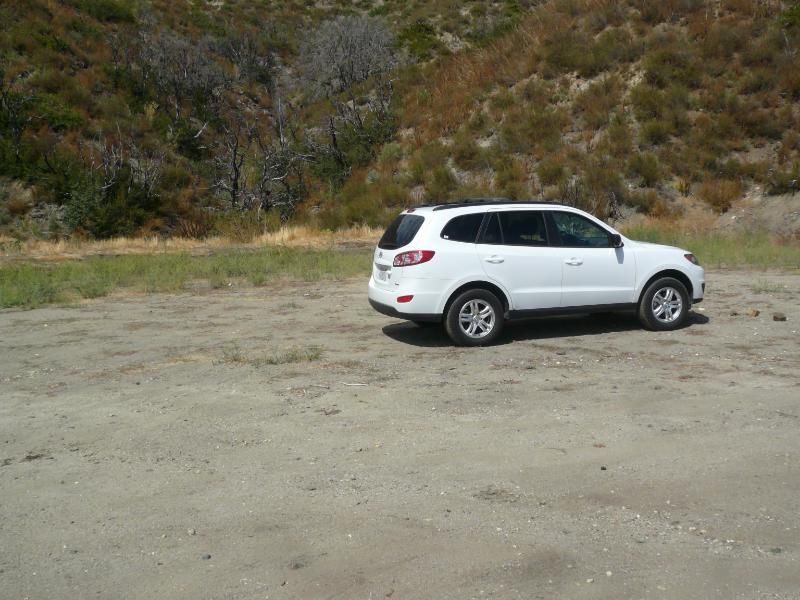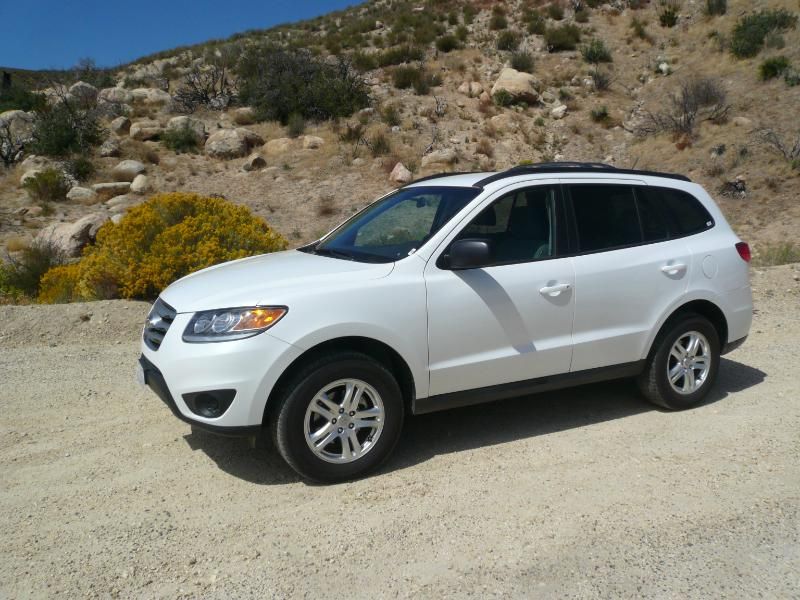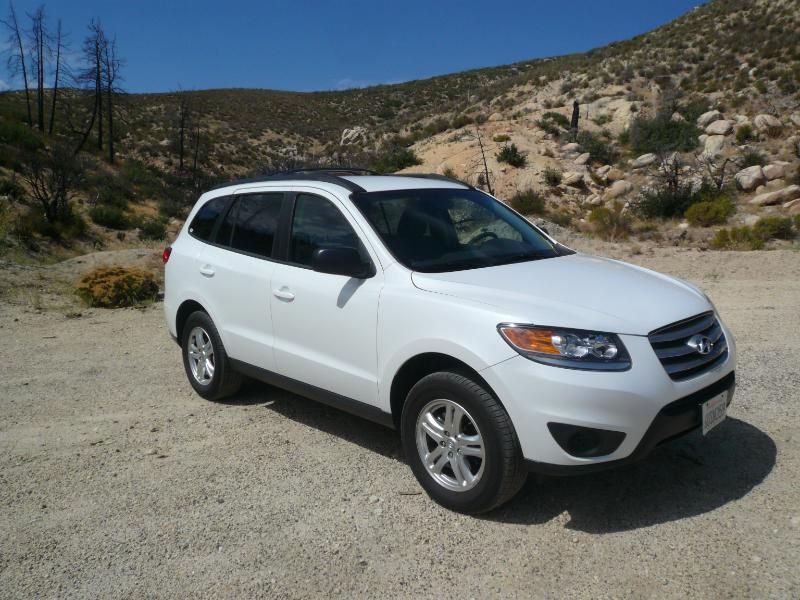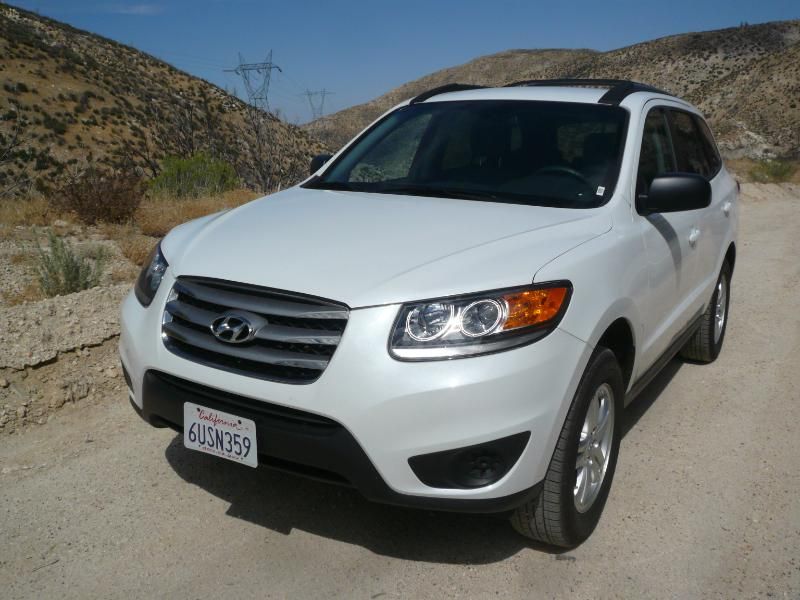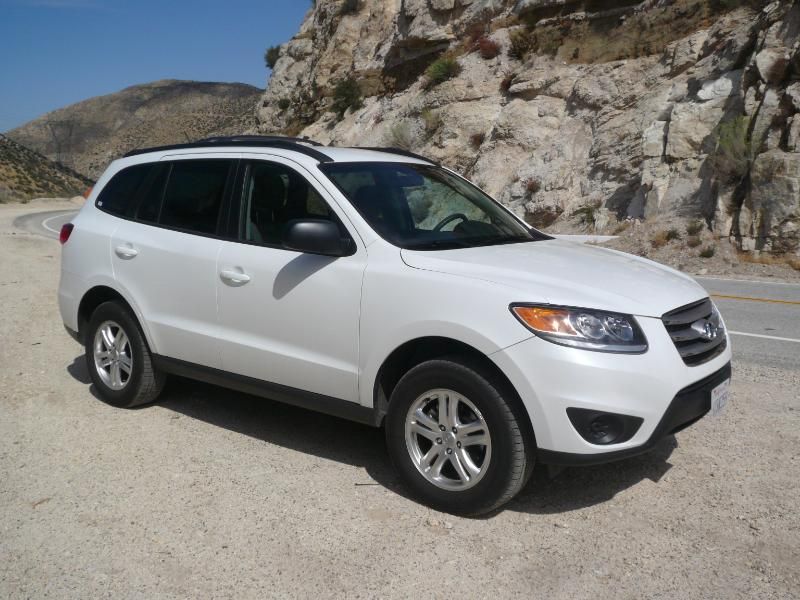 I used the word "unassuming" in the introduction to this review, and I think that sums up this Santa Fe pretty well. It is never going to stand out on the road, but given that means that it lacks the ever more gawky looks of some of its competitors, and indeed its successor, many will find that a Good Thing. What it does do is exactly what you want in a practical vehicle like this, without significant weakness. It goes, it stops, it is reasonably economical, pleasant to drive for an SUV, comfortable, quiet, spacious, well finished and likely to prove reliable for a long time. You might not notice what it does, but then that also means that you did not find any evident annoyances or idiosyncracies on what it did not do, either. For those looking for excitement, kindly seek elsewhere, but for those who just want the job of moving people and things, it is a decent choice.