America does not do estates cars. Not even when they are called "wagons" as is the American way. It was not always so, with the "station wagon" proving a very popular vehicle in the 1960s and 1970s for transporting the entire family and the vast amount of stuff which they always seem to want to take with them. There are plenty of classic "wagons" of this era from among others, Chevrolet, Buick, Ford and Chrysler, and survivors now are not only rare but prized as classics by many. During the 1980s the MiniVan took on the role of being the vehicle of choice for carting kids and their stuff to school, the mall, the soccer game and on road trips, and it was not long before all major manufacturers had at least one in their range. And then Ford launched the Explorer and it did not take long for the SUV to take an ever growing share of the market for commodious vehicles. Useful though these types of vehicle undoubtedly were, they were not a panacea, with a number of drawbacks including a less than cool image for the MiniVan and the rather crude driving characteristics of the truck-based SUVs, and so a new compromise, the CrossOver, started to gain popularity, combining much of the space and versatility of the MiniVan with the raised driving position and bulk of the SUV without its crude truck like manners. Where did this leave the traditional estate car? A small part of a dying sector, such that the traditional full-sized wagon, typified by the Crown Victoria and Grand Marquis Colony Park is long since dead, and just a few non-domestic makers continued to offer product into the twenty-first century. With the rise of the lifestyle and prestige estate car in Europe, Americans moan repeatedly when told that these models will not be sold in their market, as all the evidence suggest that on paper will not translate into sales volume. Accordingly, the past few years have seen Toyota Corollas sold only as sedans for over 10 years, Ford failing to replace the Focus Wagon, Audi ceasing to import A4 Avants, BMW abandoning their Touring models in favour of the X3 and X5, VW replacing the Euro Passat with an American model only available as a saloon and most recently, Hyundai deciding  to replace the Elantra Touring (the i30 Estate in other markets) with the i30 hatchback leaving just two cars of this type, the Acura TSX Wagon and the Volkswagen Jetta. This latter has a minority appeal in America in comparison to the commercially far more successful Jetta sedan, so it was quite a surprise to come across one parked up in the very furthest corner of the Hertz LAX facility. Indeed when I asked the Hertz agent if I could have it, he claimed he had not seen one on fleet ever before and did not even know the car existed. Later in the trip I did see a few more chez Hertz, along with various other VW, suggesting that they have bought a range of different models to add to their 2012/2013 fleet. The test car was brand new, having only 300 miles on the clock when I took custody of it for a couple of days.
When Europeans see the pictures of this car, the first reaction will be that this is a Golf Estate. And indeed the car I drove is very similar to models sold in Europe with that badge, but in America, Jetta is the big seller in VW's range to the extent that the Golf GTi is sold just as plain "GTi" and the sixth (current) generation Jetta appeared in America months before a European launch. My test car is clearly based on the Mark VI Golf, which also shared much with the previous Mark V Jetta, sold in America from 2006 – 2010. The American market cars are built in Mexico, and so they adopt the American specification that applies to other VWs sold in that market, though as it is based on the previous generation cars, it has yet to undergo the "cheapening" that afflicts the latest Jetta and Passat. It also means that the small capacity turbo petrol engines which feature in the European range are not available. Entry level cars in America come with a 2.5 litre 5 cylinder engine which puts out 170 bhp. In the SportWagen, as the car is badged, playing on its German heritage, that is the only choice of petrol engine, whereas the corresponding Sedan was also offered with a 2 litre turbo petrol. The 2.0 TDi diesel powerplant is also available. Start this Jetta up and your ears will tell you that they think this is not a regular 4 cylinder, and it clearly is not a 6 cylinder either. It is less obvious, say, than the 5 cylinder Volvos of yore, but there is a distinctive and not unattractive note to this motor, which never completely goes away, though it is actually a pretty refined unit whether it is at idle or when you are working it hard. There is an organ style accelerator pedal, which I like, but I know can occasion comment and indeed complaint from the less open-minded of motoring critics. Once underway, although you would never describe this Jetta as fast, thanks more to the weight of the thing rather than lack or power, it is moderately brisk and you are unlikely to feel threatened by a situation where you lack the power to do what is necessary. The test car featured the 6 speed automatic gearbox and this proved supremely smooth in operation, shifting between the gears completely imperceptibly. Fuel economy over a test distance of exactly 500 miles worked out at 30.12mpg US, which equates to 35.98 mpg Imperial, not bad for a car of this size and power. Although not the last word in excitement to drive, there are no complaints about the steering, handling or ride. There is plenty of feel to the well weighted steering, and the Jetta goes round corners just as you would expect from a modern well-designed front wheel drive car. There is minimal body roll and with a pliant suspension, the Jetta rides well over even some of the more challenging Californian roads. The brakes needed quite a firm push to get them to slow the car from even quite moderate speeds, but ultimately proved well up to the job. A conventional pull up handbrake lever is fitted between the seats. Overall noise levels are low, with engine, tyre and wind noise all well suppressed, so this is a comfortable and serene freeway cruiser.
Look inside the cabin and you will be in no doubt that this is a Volkswagen. The overall impression is one of high quality, with lots of soft touch surfaces, decent quality materials and the impression that the interior was designed as a whole so that everything fits together well. Build quality appeared exemplary as you would hope and expect. It is a bit sombre, though, dominated by the black finish to the dash, the door casings and the seat trims. There is judicious and tasteful use of chrome to ring the instrument dials and on the steering wheel boss, as well as a metallised finish around the gearlever and in a strip across the middle of the dashboard. Look a bit more closely and you will realise that this car has the same dashboard as the previous model (Mark V) Jetta saloon and the outgoing Mark VI Golf. That means a single instrument binnacle covering the main dials. There are two large instruments, for speedometer and rev counter, with small round dials for fuel level and water temperature set in the base of each of the larger dials. A digital display area between the dials conveys information from the odometer, trip meter and on-board computer. The column stalks are from the current parts bin supply, and utterly familiar to any driver of a recent VAG product, with wipers operated by the right hand one and indicators from the left. A dash mounted rotary dial to the left of the column does the lights. A satellite radio audio unit is mounted high in the centre of the dash and proved easy to use, with a touch screen meaning there was less need to use the buttons on the unit. There are wheel mounted repeater buttons for the more commonly used functions. In addition to AM/FM and XM radio, a CD slot as well as MP3 and iPod capability, it contains VW's Information System, which again proved intuitive and easy to use. The air conditioning controls are below are this, and operate via a trio of rotary dials and a series of buttons to direct heat to the rear screen and recirculate air in the cabin.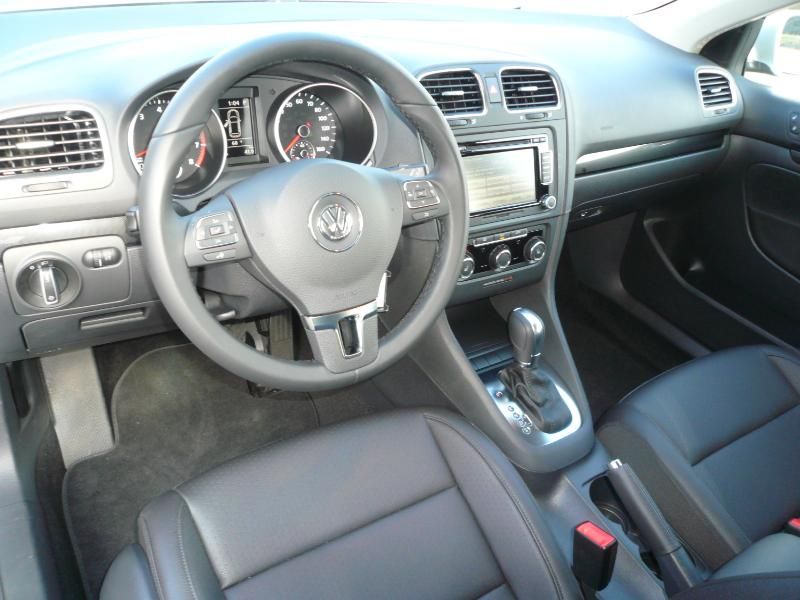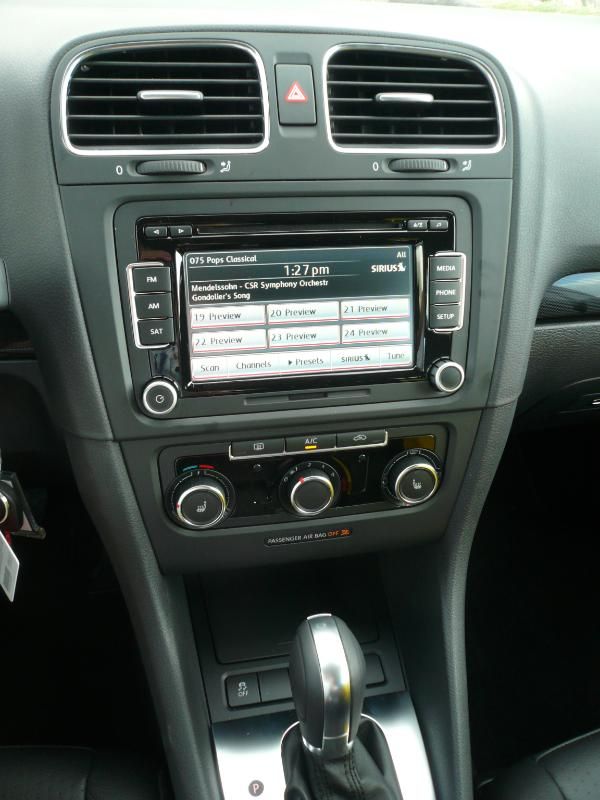 Seat adjustment in this car was all manual, apart from the backrest rake which was altered electrically. It proved easy to get a very comfortable driving position, and the seats were a pleasant place to be for a number of hours behind the wheel. With quite a large area of glass, and a relatively straight back to the car, judging its extremities was easy, so manoeuvering and parking was no hardship. The door mirrors were none too generous, though, so it was important to be super vigilant on freeways as there was quite a noticeable blindspot which could catch one out.  Rear seat passengers should have little to complain about, either. There is decent space for two adults and three will be happy enough on short journeys, with legroom bot going to be an issue unless the front seats are set as far back as they will go.The raison d'etre of an estate car, even a relatively small one, is for carrying capacity and versatility. The Jetta saloon has always been renowned for its commodious luggage capacity, but if you think of this car as a Golf rather than a Jetta then you will appreciate the extra space in the boot even with the seats up. A roll back load cover was fitted (Hertz usually take these out of US rental cars as a matter of course), but even with this in situ, there is a decent luggage space available. The rear seats are asymmetrically split. You can just drop the back rests onto the seat cushions, though you do not get a particularly flat load area if you do. The rear seat cushions do lift up, but the issue I found was that try as I might, I could not get the head rests out of the rear seats and with them still in place, the backrest will not fit into the area where the cushion had been. I am sure there was a trick I was missing, but in the absence of a handbook, intuition did not help me to figure it out. There is an additional quite thin stowage area under the boot floor. Roof rails are fitted as standard, so should you need more space, you could always start to strap things to the roof.  Inside the cabin there is a moderately sized glovebox, and decent door bins, as well as a cubby between the seats. The cupholders on the centre console are definitely to European size and may well trouble Americans with their predilection for bucket sized drinks. .
Jetta SportWagen is available with two engines and two basic levels of trim: S and SE. Gone are the days when base model Volkswagen are unbearably spartan, so even the S is quite well equipped. Among notable standard equipment is a tilt/telescopic steering wheel, wireless phone link, heated front seats with lumbar adjustment and power-reclining backrests, remote central locking, and heated power door mirrors. Also included are black roof rails, a split-fold rear seat with pass-through facility, trip computer, and power windows with all-around one-touch up/down operation. The SE adds standard automatic transmission, a leather-wrapped steering wheel, vinyl upholstery (aka "leatherette") to replace cloth, and an upgraded stereo with CD changer and satellite radio, plus iPod and digital-media connections. A sub-model called SE with Sunroof adds a full-length panoramic sunroof with tilt/slide front section, plus 17-inch alloy wheels to replace 16-inch steel rims with covers. The base TDI comes with all the SE features, aside from the engine, and is also available in a "with Sunroof" version. The top-line SportWagen is the TDI with Sunroof and Navigation, which unsurprisingly adds a navigation system, plus keyless entry/engine start.
Be in no doubt this is an excellent car. For sure it's not exactly exciting, but for someone who needs a practical car of this size, with ample room for a small family and their luggage, that drives well, and is nicely finished, the Jetta SportWagen absolutely hits the spot. Hertz rate it as a Group C car, the same as the desperately dull Corolla, the disappointing Civic, the rather inoffensive Sentra, Ford's over-stylised Focus, Chevrolet's well respected Cruze and my previous class favourite, the Mazda 3. I would choose this Jetta over any of them with no hesitation. And it's not just me. When I was doing my research for the data I needed for this report, I found that the editor of one of the US sites that I find particularly useful had not just written a glowing report on this Jetta, but he had put his money where his mouth was, and bought one for himself. You don't get much higher praise than that.