I have to admit that I have mixed feelings about the Autosport show, which takes place in early January at the NEC. A combination of the choice of venue and the fact that all tickets include a viewing of the Live Action Show in the Arena mean that ticket prices are far from a bargain, amounting to nearly £35 when you have added the booking fee, and that's before worrying about car parking and the cost of getting there, and yet, in January there is little else in the automotive calendar to provide a day's indoor entertainment in the UK, and my experience has always been that in among the miriad of trade stands, there do tend to be a few rare machines, well worth seeking out. Still deliberating on whether to attend, my mind was made up when I found a "2 for 1" deal on the tickets, and a willing companion with whom to meet up.
Having read the publicity material, the event promised much, now located at the other end of the NEC from where it used to be, not least as although the main part of the event is still the Autosport Show since the title includes "incorporating the Performance Car Show", an additional element which is organised through the Pistonheads website. That particular part proved spectacularly disappointing with precisely three cars on the stand, though I suspect that some of the Owners Club stands nearby were probably convened under the Pistonheads auspices, but overall there was a lot packed into the halls which meant that I was on site for most of the day, and present here a summary of what I saw.
2012 FORMULA 1 GRID
Tucked away in the middle of one of the halls was an area which contained an example of each of the 2012 Formula 1 cars, and which was periodically crowded out when the likes of James Allen was "interviewing" celebrities. I visited this part of the show late in the day, so I could actually see the cars, and record here that I don't think any of these high tech machines score many marks at all for aesthetic beauty. Indeed, I would go as far as to say that I think it was the gawkiest collection of racing cars perhaps ever. Anyway, here they all are:
In honour of their sponsorship, Vodafone also had a car on show.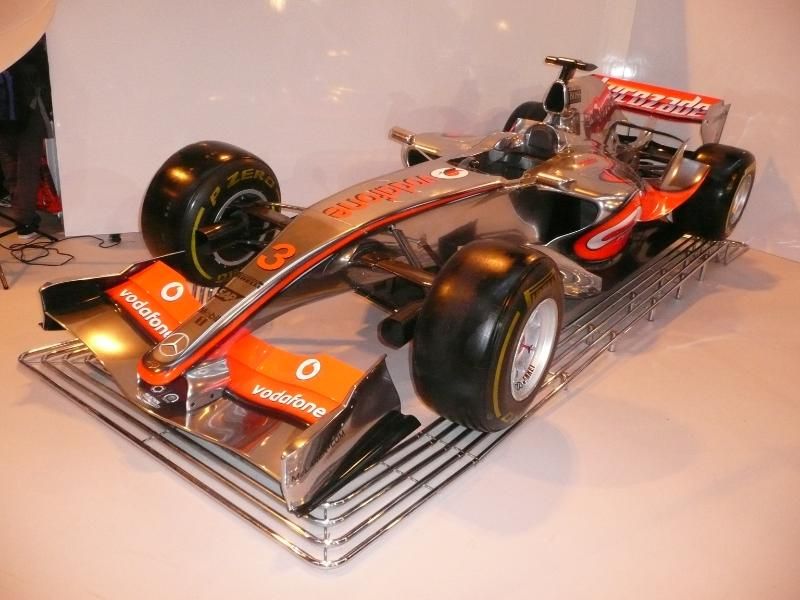 RICHARD BURNS DISPLAY
What should have been the centrepiece of another hall, but which in reality was just a rather large display area in among the trade stands was a collection of cars that were driven by the late Richard Burns during his rallying career.
SIR JACKIE STEWART DISPLAY
At least the Jackie Stewart display was at one end of a hall, and was easy to find. As this was only a few days after watching the rather excellent BBC program  which had given some of the history around his rise to fame, it was fascinating to see some of the iconic cars in which the Scot competed, with just about every significant car he had ever driven on display, ranging from the gamble he took signing for BRM, the Matra in which he won his first F1 title in 1969 and the Tyrell cars in which he won the title in 1971 and 1973, culminating in the racing team set up and managed by his son Paul.
BTCC CARS
An interesting collection of  saloon cars presented by the Historic Sports Car Club included many Touring Cars from the past, though it was a shame that they seemed like they had just been shoved together with no imagination paid in how to display them.
The glory days of the BTCC may be a fading memory, but the series is still very much alive with some surprising cars entered including an Avensis-based and a Proton-based machine, along with Jason Plato's MG6 car.
COYS AUCTION
Over 40 cars were presented in a roped off area, access to which could only be gained by paying for a costly catalogue. I do resent this, given the amount one has paid to enter the show in the first instance. There were some interesting looking machines included, and it was a shame we could not get that close to see them all. These are the ones visible from the perimeter.
Aside from these displays, the rest of the show really contained a mixture of everything from trade stands for everything from care products and consumables, to specialist and major manufacturers, along with some enthusiast and owners' displays.
ASTON-MARTIN
The DBR9 was joined by the striking (if far from beautiful) V12 Zagato
BAC
No sign of Mr Blarno, who I believe had been on stand duty on the Friday, but the product his company produces was certainly there.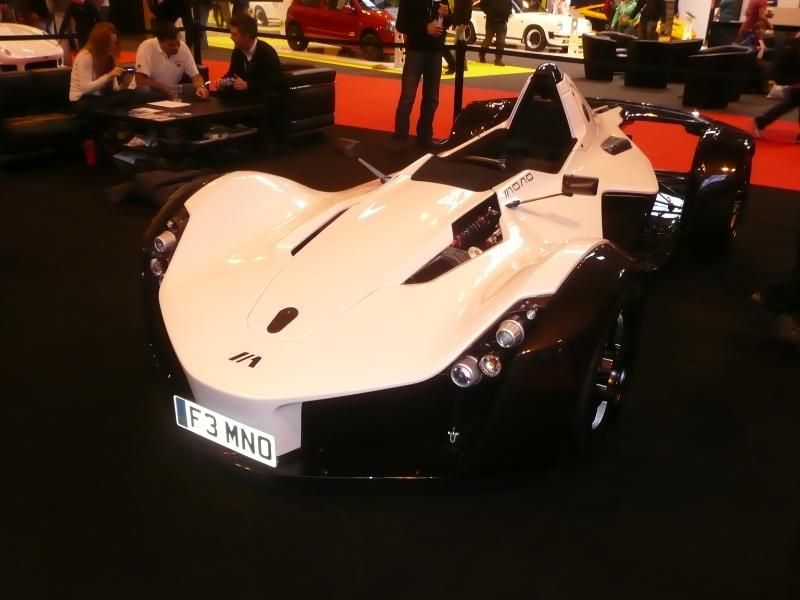 BMW
Not really fair to call this a BMW, as it has been "upgraded". Oh dear!
More interesting was this M3 based DTM car.
BOWLER
CATERHAM
A wide variety of models from the familiar Seven based machines to the more recent track day cars
CHEVROLET
The much loved Corvette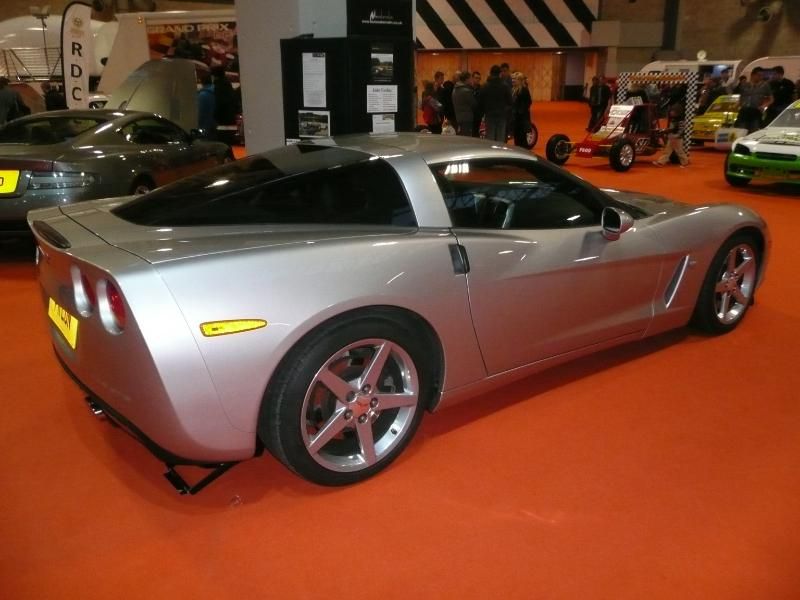 FERRARI
Making its UK debut was the F12 Berlinetta which featured on the Autocar stand
FORD
Lots of interest in the new Fiesta ST, though the display car was locked so you could not sit in it . I was told that it finally goes on sale on 18th February after a wait of several years for a very promising small sports hatch.
Ford's stand also featured a Formula Ford racer.
Among the owners club cars were some immaculate heritage models, such as the Sierra and Escort Cosworth and Escort RS Turbo of the 1980s and 1990s.
Rear wheel drive Escorts remain very popular in motorsport and there were plenty of these ranging from some genuine historic rally cars to more recent creations.
GINETTA
As well as a stand featuring the latest G40 and G50 cars, a number of other examples of this resurgent British marque were to be found scattered around the show.
JAGUAR
Sharing stand space with a brand new XF Sport Brake, also in police livery was this historic Mark 2 police car. It looks so small compared to almost any modern vehicle.
LAMBORGHINI
This is Lamborghini's 50th anniversary and there will be plenty of events to celebrate that fact in the coming months. A trio of cars showed some of their more extreme models, with the Countach attracting plenty of attention, though I was rather taken by the lovely Miura.
There were several other Aventadors in the show, most of which had been modified in some way or other as well as a few Gallardos.
LANCIA
Perhaps my favourite display of the entire show was this trio of the rarely seen LC2 Group C machines. When are you ever likely to see 3 of these cars together again?
LOTUS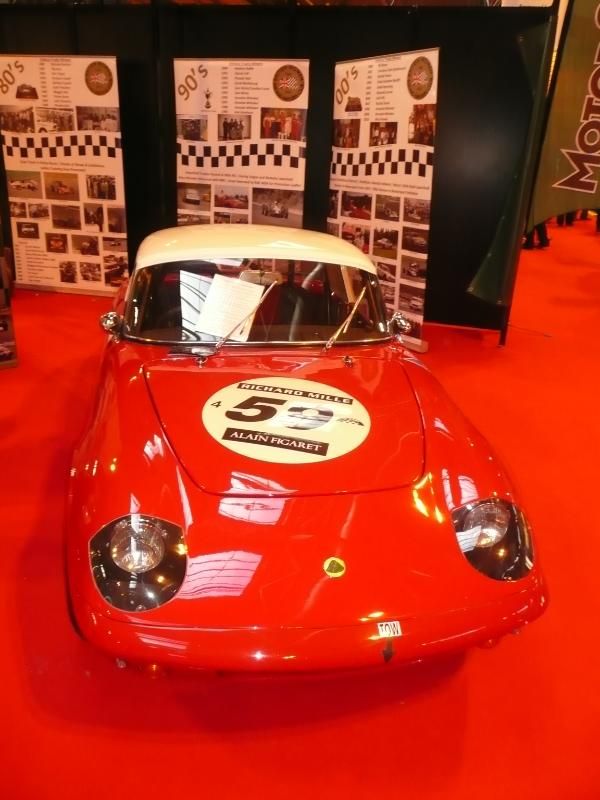 Racing heritage featured here, with a Lotus 25, a Lotus 72 as driven by Jacky Ickx and the Nigel Mansell/Elio de Angelis 94T which was split so you could see the construction under the bodywork. Sadly the camera missed this last one.
There were some more modern machines, as well.
MASTRETTA
Also featuring on the Autocar stand was the latest version of this Mexican sports car.
McLAREN
The new MP4-12C Spider.
MERCEDES-BENZ
An example of the C63 AMG Black Series, which featured  in front of a video screen on which Autocar's Vicky Parrott enthused about this tyre eating machine more than a little.
MG
Still a very rare sight on our roads, the MG6 may see a little more success with the imminent launch of a diesel model, which was premiered at this show.
MORGAN
The much praised 3wheeler
NISSAN
NOBLE
This M600 was a special carbon fibre edition.
Elsewhere there were a trio of the earlier M12 cars on display.
PEUGEOT
Another showing for the 405 T16 in which Ari Vatanen was kidnapped when participating in the Paris-Dakar rally.
PORSCHE
Also celebrating its 50th this year is the 911, and there was a display with a number of different versions of this car put on by the Porsche Owners Club.
There were some other models, too, ranging from the944 and 968 to the fabulous Carrera GT
PULSE
I confess I had no idea what this was. It turned out to be a one-off built in the mid 1990s, initially with a Jaguar XJ220 engine. It has recently been completely restored.
RADICAL
Making a name for themselves as supplier of track cars, one of which could just about be driven on the road (it is road legal, but you probably would not want to go far in it!), there were lots of Radicals both on their own stand and elsewhere.
RELIANT
This was to be one of the most unusual things we found. A Robin, but with a methanol powered engine more or less where the driver's legs go, so the seat was set back a bit. Cooling would be supplied by the open floor, and for the show, the barrel under the bonnet where the standard car's engine is located was charged up with beer. There is photographic evidence elsewhere of me sampling it!
RENAULT
This immaculate Clio is one of the press launch cars and still belongs to Renault UK.
SUBARU
Still a rare sight on our roads, the BRZ was the final car on the Autocar stand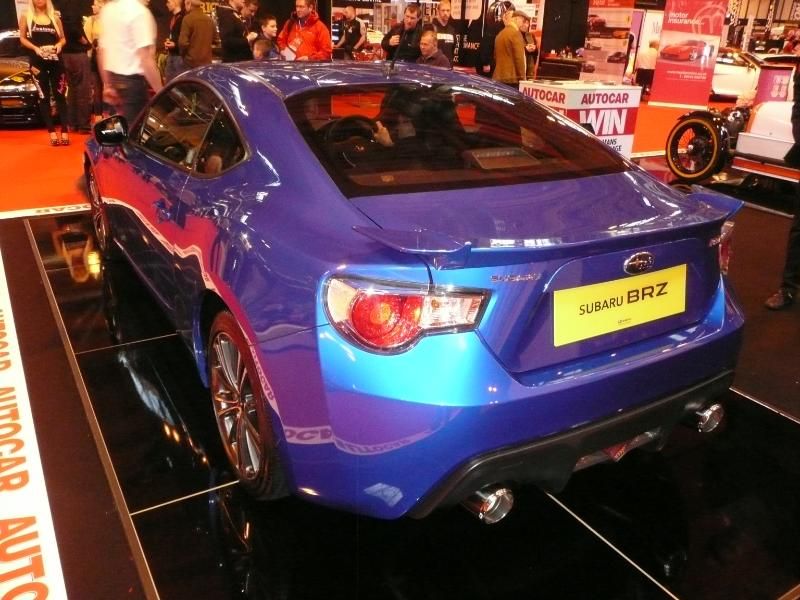 SUFFOLK
The only realistic way to get something that looks like a C Type Jaguar.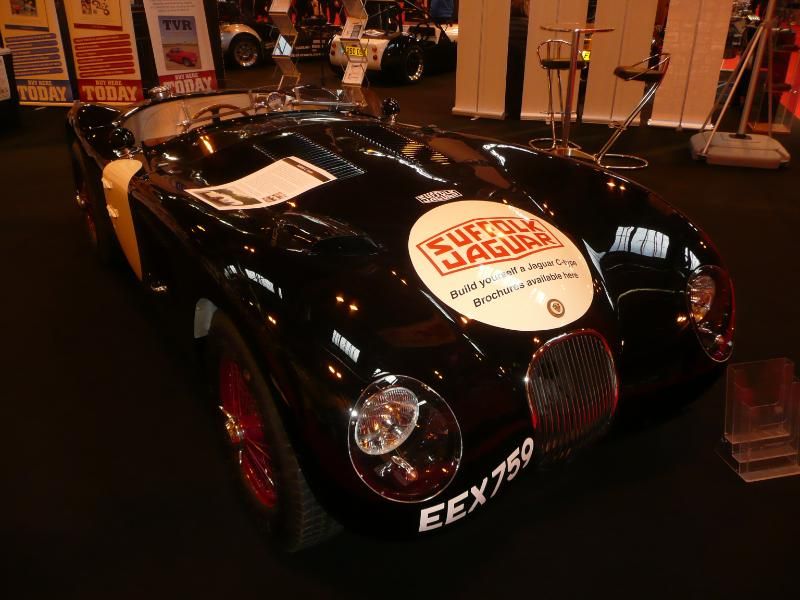 SUZUKI
Emphasis here was on the much praised Swift Sport, which struck me as a very nicely finished machine which hides is sporting credentials almost too well.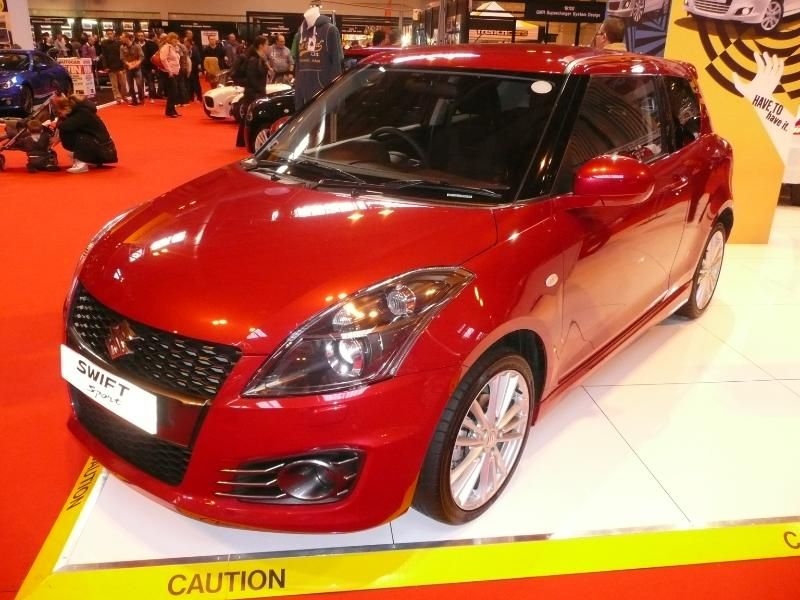 TVR
A couple of truly wild machines on the TVR Owners Club stand, a Sagaris and one of the utterly bonkers Speed 12 cars.
VAUXHALL
There were a number of the VX220 sports cars on show.
I rather liked this Chevette HS rally star.
VOLVO
The concept Polestar version of the S60 saloon.
ZOLFE
I enjoyed my day at the event, for sure, though if I had had to pay full price for the ticket, I think I would have justifiably felt rather short changed. I suspect that the decision whether or not to attend in 2014 will depend on the sort of deals that are available, or not.