To the lover of Classic Cars, Rétromobile probably needs no introduction. France's premier show for vintage, veteran and classic automobiles has been taking place in early February for well over 30 years now. The event occupies some of the halls at the large exhibition centre by the Porte de Versailles, conveniently located just inside the Péripherique and with tram and metro stops right by the entrance. It is not as large a show as the UK's NEC event or the gargantuan Techno Classica held in Essen a few weeks later, but it more than makes up for this with a reputation for presenting some really unusual and obscure vehicles among a collection of special displays and plenty of the sort of classics that attract enthusiasts and dealers from far and wide. I last attended in 2008, so was well over due a return visit.This year Rétromobile occupied 2 large halls, 2 and 3 in the complex, with vast displays from the domestic manufacturers and the big auction houses occupying Hall 3, and smaller displays and clubs in Hall 2. A bewildering array of trade stands were crammed into every corner, so all the space was occupied, and by the middle of the day the event did get quite crowded. Although people were leaving en masse from about 2pm, large numbers were still arriving and it was only in the last hour or so that things became quiet. Needless to say, I spent the entire day – 9 hours – there as there was lots to see, with plenty of oddities. There was an unsurprising dominance of French machinery, but plenty of other nation's automotive products were well represented, too, though I do not recall there being a single Japanese vehicle on display at all. Here are the highlights of what I saw:
ABARTH
Whilst it is the Fiat based models for which Abarth is most famous, a small run of Abarth-Porsche Carrera GTs were made, and this is one. Dates from 1961.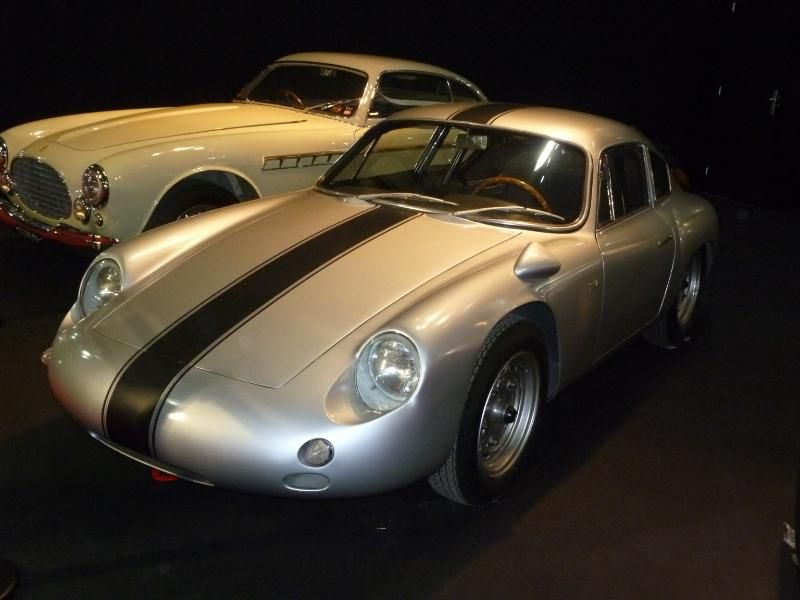 ALFA-ROMEO
I confess that I had no idea what this was, despite being reasonably knowledgeable on both marques whose badges adorned the front of the car. It turned out to be a 1958/'60 Alfa Romeo-Abarth 1000 Colani. he first tubular-chassis Giulietta, it was shown at Turin in 1958 with coachwork by Bertone. Subsequently rolled at Avus, it was rebodied in 1960 in spectacular style by Colani with shark-like nose, 'nostrils' in the bonnet and a Zagato-style 'double-bubble' roof.
No such problem identifying this one, though. An 8C2300, and perhaps my favourite car of the entire show. What's better, there were two of them!
There were plenty of other classic Alfas mostly from the 1960s, with the very striking Giulia SS and 1963 TZ occupying one stand.
Elsewhere I came across a couple of Giulia GT Coupe and the earlier Giulietta Sprints
Another very rare model was this 1953 Conrero Alfa.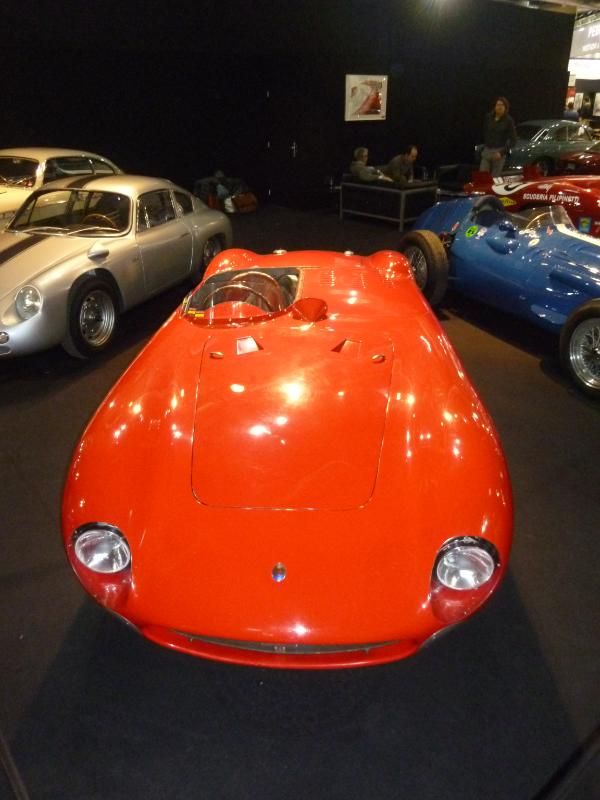 ALLARD
1950 J2
ARNOLT-MG
Based on the TD, a small number of these cars were made in 1954.
ASTON-MARTIN
DB2
DB3S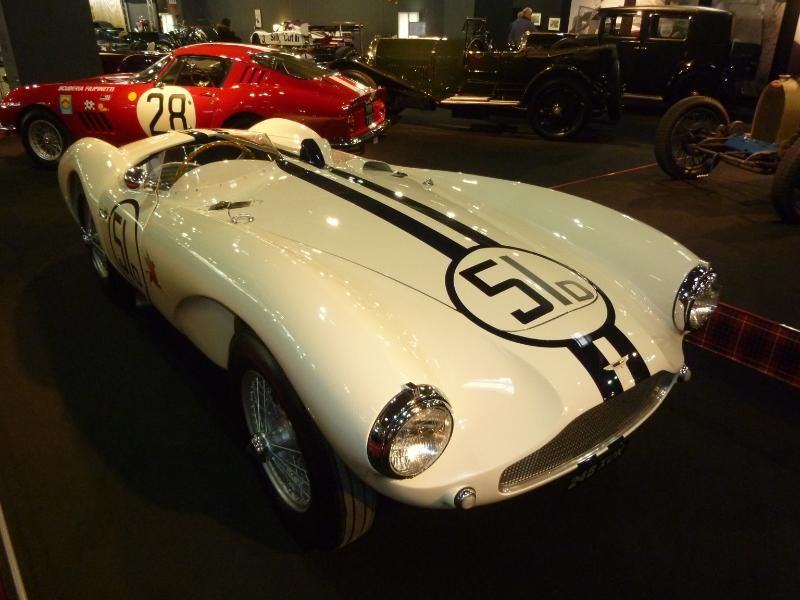 AUSTIN-HEALEY
Examples of the Big Healey included a 1956 100S model as well as the later 3000.
AUTOBIANCHI
Two examples of the diminutive A112 hatchback.
BENTLEY
Classic models included both a 1926 3.5 litre and a 1930 4.5 litre Sports Saloon
The famous 1938 Embiricos Bentley was making another public appearance.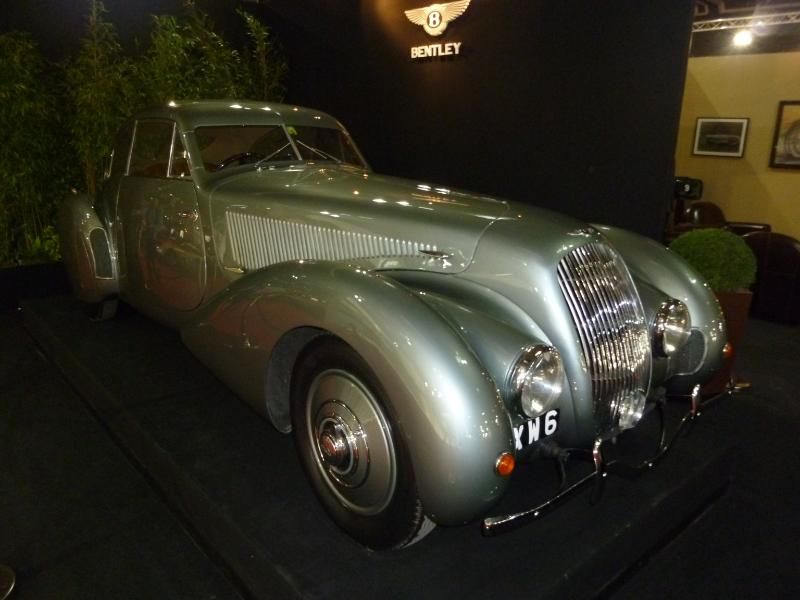 There were some glorious 1950s models up for auction.
BIZZARINI
BMW
A 4 car stand for BMW Classic, with a pair of concept cars flanking a lovely 328 and an equally nice M1.
Elsewhere was this 635 CSi
The 507 was up for sale.
BRISTOL
This Zagato bodied Bristol 406 is one of just 6 such cars made, of which it is believed that 5 survive.
BUGATTI
The very first car you saw on entering Hall 3 was this, a Type 18 and known as Black Bess. The only chain driven Bugatti, this particular car was owned by Roland Garros, and came to the UK after his untimely death in 1918. It was joined in the display by the plane in which he made the first non-stop flight across the Mediterranean Sea exactly 100 years ago.
There were plenty of other classic Bugattis to admire, including a number of Type 35s, a Type 37 and a Type 55.
1932 Type 51A
There were several Type 57s, too, including the one featured in the March 2013 issue of "Octane", an Atalante, one with vanVooren body and the ex Paris-Nice race car.
Type 59.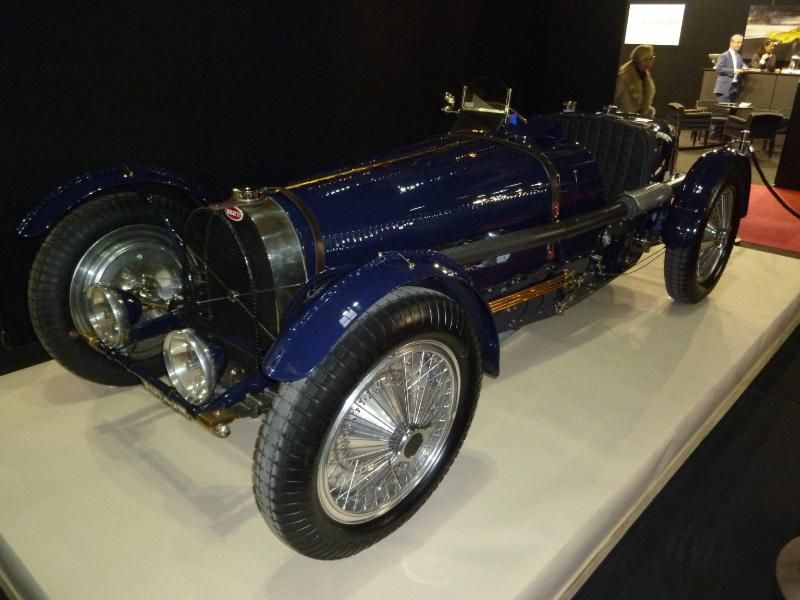 No sign of a Veyron, but Arcturial did have an EB110 in their auction area.
CADILLAC
1949 62 Series Cabriolet and a 1959 62 Series Convertible
CATERHAM
A busy stand in one corner of Hall 3 featured three brand new cars – the popular Seven based machines and the latest track day SP300.
CHEVROLET
Three different generations of Corvettes on show
CHRYSLER
A 1955 Ghia bodied model.
CISITALIA
A couple of 202 SC Gran Sport models, dating from 1948 and 1952
CITROEN
The main Citroen stand took Cabriolets as its theme, and there were all manner of different models ranging from familiar production cars to some rare one-offs. Newest of all was the DS3 Cabrio, a car only just going on sale.
The C3 Pluriel was perhaps the DS3's immediate precursor, and there was a Charleston version of this car which promised much and delivered disappointing sales figures.
This C Airscape concept dates from 2007 and is clearly based on the current C5. I think it looks good.
Conceptually similar was this CX Orphée, created in 1983 as a one off.
Also a one off was this DS based machine made in 1970.
The Visa Décapotable sold in small quantities in the mid 1980s, This one looked like it had never been used.
This funky AX-based design study was presented at the Paris Salon in '86, and reminded me a little of the Peugeot 104 'Peugette' roadster. Apparently 'Xanthia' means 'pleasure and vitality' and the compact two-seater offers the option of a pair of jump-seats in the cavity behind the driver. The technical spec is pretty much standard 1.4-litre AX, but the snazzy interior includes such advancements as a tyre-pressure monitor.
There were a couple of SM models, of course.
This fabulous model B12 Torpedo dates from 1926.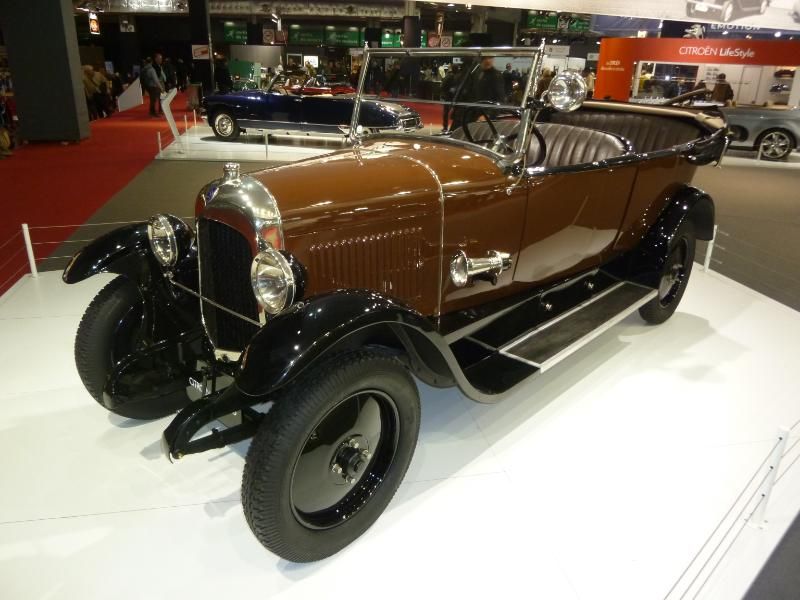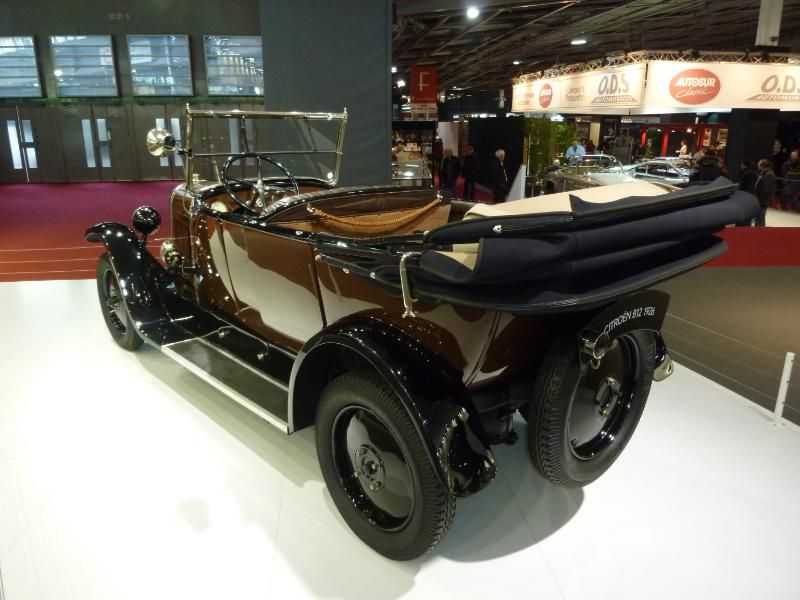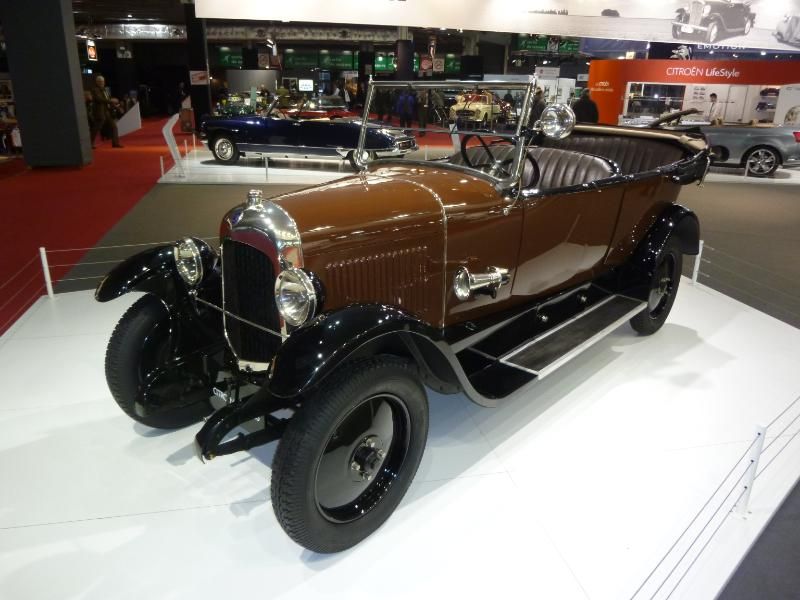 Other pre war Citroen included these
As well as a vast area of fabulous cars for sale, Swiss dealer Lukas Hüni provided a whole stand allocated to the iconic DS model, with three early cars forming the centre piece, and surrounded by later cars including a Safari, a Décapotable, a couple of Chapron Coupes, and with a 2CV Sahara added into the mix.
There were lots of other DS/ID cars elsewhere in the show, and these splendid machines rightfully still attract lots of attention and favourable comment.
This BX4TC has been beautifully restored to show what might have been, had Group B rallying for which it was designed not been abandoned just as the car was ready.
What a machine…………
There was a rather nice regular CX as well.
CORD
One of the most advanced cars of its time was this, the 1937 Cord 810.
DAIMLER
The SP250 "Dart" sports car
DARMONT
You could be forgiven for thinking that these cars are vintage Morgans, but in fact they are Darmonts, and there were four of them here at the show. The yellow car was a 1925/26 Special Competition Course A 'works' racer for the Darmont factory, with a unique water-cooled and supercharged 500cc single-cylinder engine, and was for sale, expected to fetch €50-80,000.
DELAGE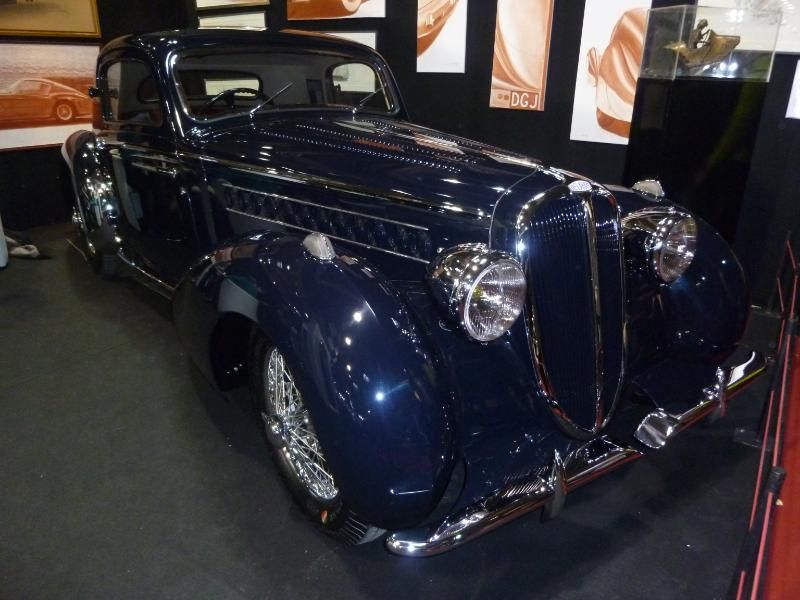 1937 D6-70 Cabriolet Grand Luxe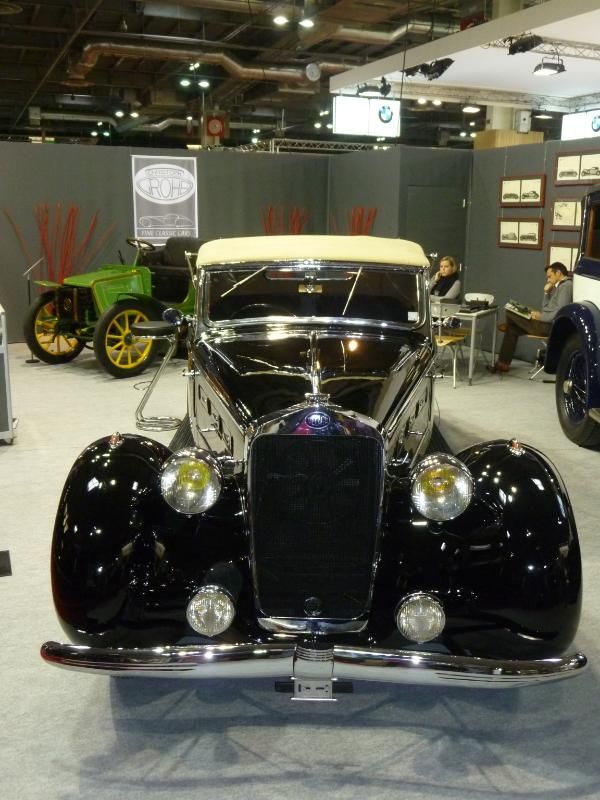 DELAHAYE
Figoni bodied Model 135
FACEL VEGA
A duo of the Facel III cars made after the disastrously unreliable Facellia was re-engineered.
FERRARI
There were all manner of different Ferraris spread throughout the show, many of them being offered for sale.
Early models included this 1953 340/375MM Berlinetta Competizione, a 1954 Mondial, a couple of 1952  212s with Vignale and Pininfarina bodies,  along with a 250 GT and a California
A genuine 1957 250TR Testarossa
This 1966 Scuderia Filipinetti Ferrari 275GTB/C was a crowd puller on the Fiskens stand.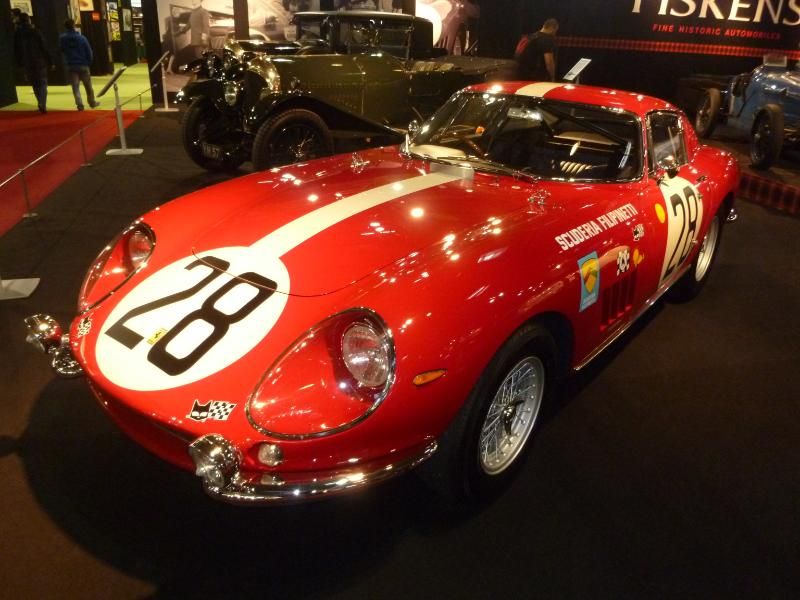 Other 1960s cars included a 250 GT Lusso and a 330GT
This trio of more recent Ferrari ranged form a 246 GT Dino through the lovely 365 GTB/4 Daytona to an F50.
Other racing cars were the 1969 512S and the Berlinetta Boxer based 512LM.
FERRY
1955 Ferry 750 Sport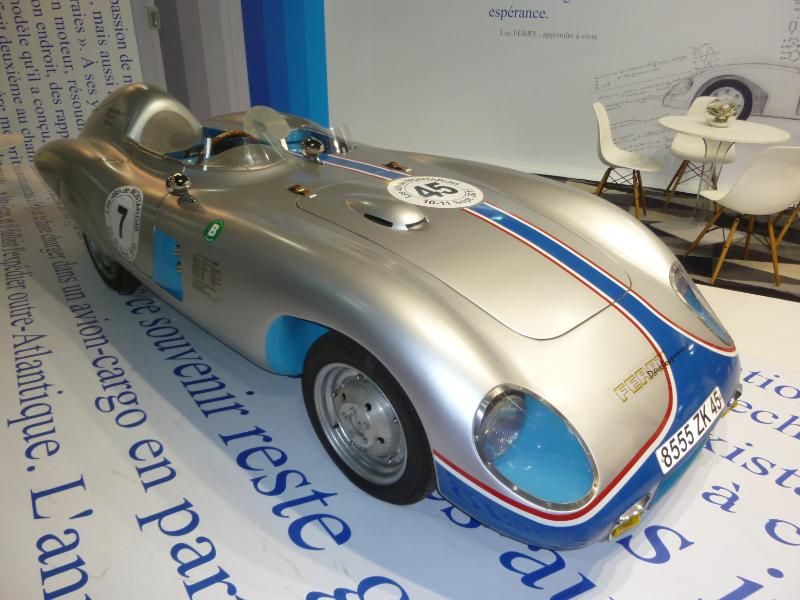 FIAT
This 1951 Fiat 1100E Stanguellini Gran Turismo Berlinetta has an Abarth-tuned, twin-Solex equipped 'four' to row along its 700kg – which is remarkably light considering that the attractive Bertone body (one of 20 produced) is all steel. This one is on offer from Marreyt Classics for a mere €135,000 (!)
Amazingly there was another Stanguellini 1100 model in the show, too, this one a 1947 Nazionale.
There were not many other Fiats, but I did come across a 124 Spider and a lovely Nuova 500 and Arcturial had an 1100 for auction.
FORD
Almost no Fords in the show, apart from a 1930s V8 and a couple of Mustangs which eluded my camera. I did snap this replica GT40, though.
HISPANO-SUIZA
1923 H6B Franay
HOTCHKISS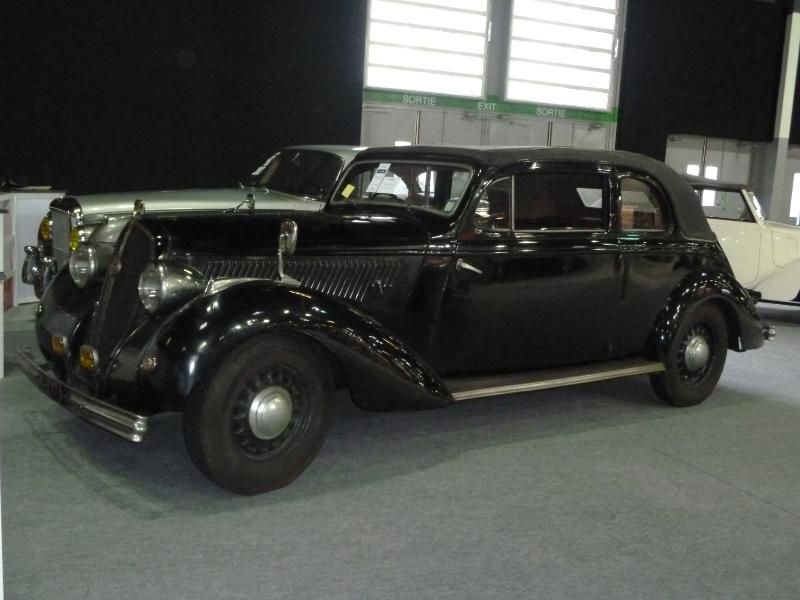 1939 686 PN Monte Carlo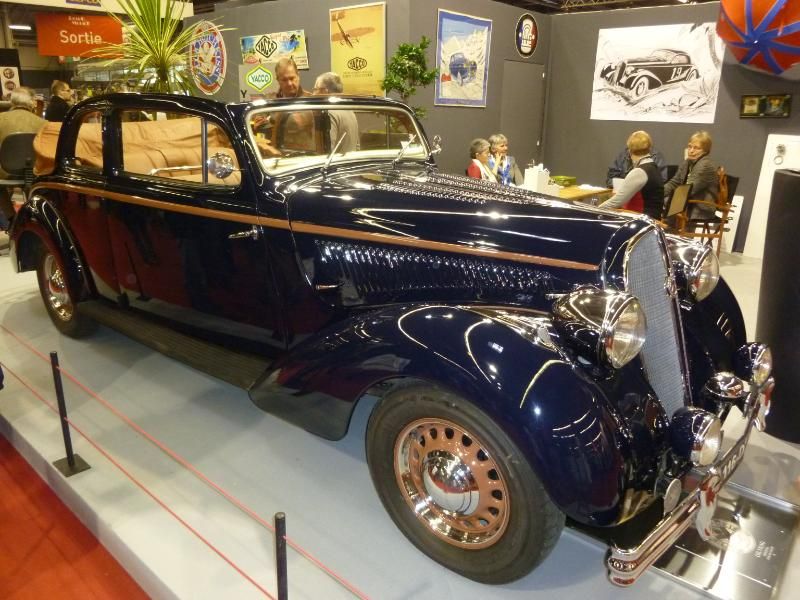 ISETTA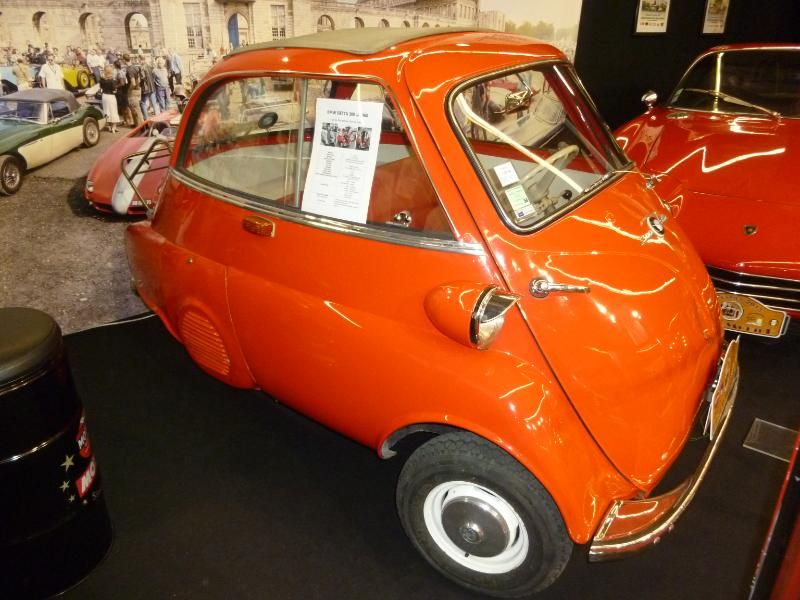 JAGUAR
There were a few E Types and XK models which seem to have escaped unphotographed, but I did snap this 1955 D Type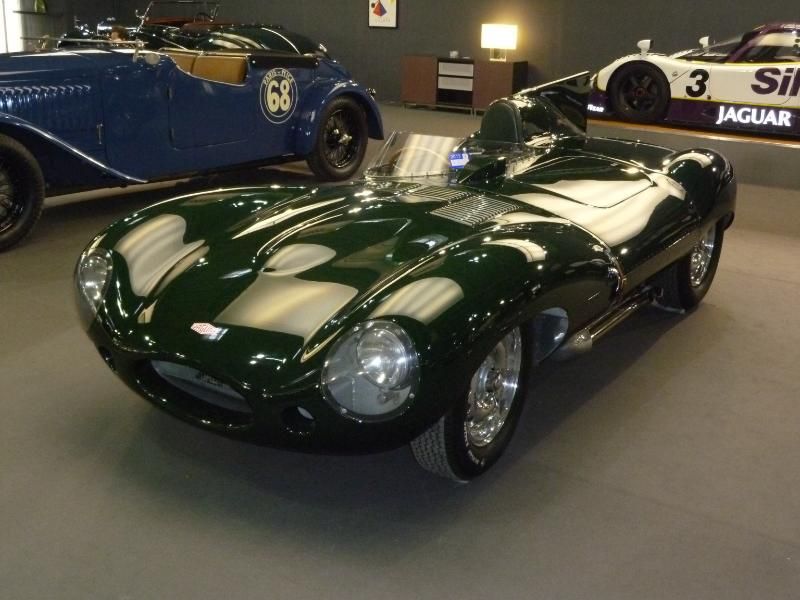 JEEP
LA SALLE
LAGONDA
One of a small number of V12 engined cars made in 1938.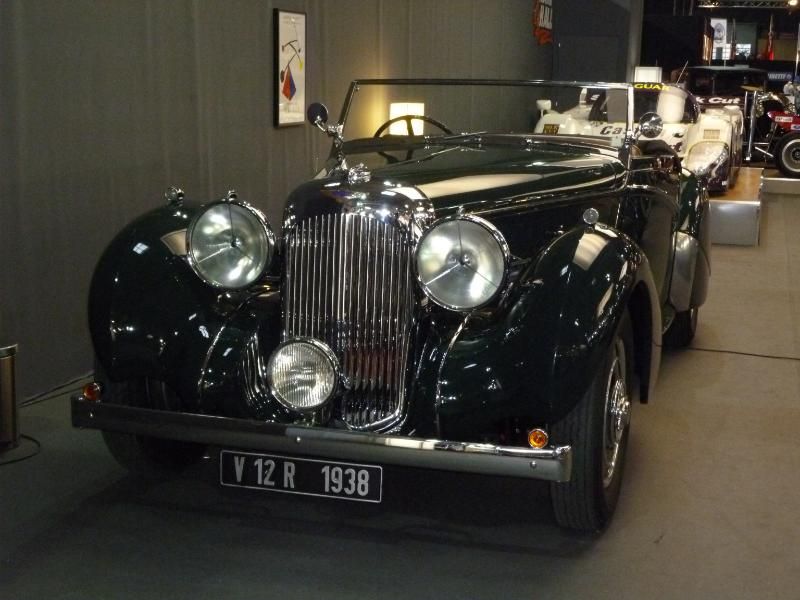 LAMBERT
A special display in one corner of Hall 3 contained 4 examples of a marque that I – and doubtless many others – had never of before. Dating from 1931 to 1949 and from a racer to a pick-up, the Bugatti-cum-Voisinesque cars are French, made by the long defunct Georges Lambert and proved an education even for even diehard enthusiasts.
LAMBORGHINI
The Flying Star, a concept car with bodywork by Touring dates from 1966. Very striking indeed.
Equally striking is the Corsica plated Miura.
Much earlier from Lamborghini's 50 year history was this 400GT
LANCIA
Among the variety of Lancia Aurelia were a fabulous B24 Spider, a rare B20 Special and in the auction area, the more commonly seen B20 GT.
Fulvias included a Berlina, the short-lived Vignale Convertible and a Fulvia Coupe.
This 037 road car was in the Arcturial auction area.
Stratos
LEYAT
Perhaps the most impressive display of all were the quintet of the bizarre Leyat Helica cars, on show celebrating the centenary of this most unusual approach to automotive design. Thanks go to the Lane Museum in Tennessee for sourcing three of the vehicles shown.
LOTUS
Just three: a Type 49, a Type 23 and a modern Elise
MASERATI
1955 150S
1956 250F
3500GT
MATRA
1970 M650
MERCEDES-BENZ
Mercedes Benz Classic paid tribute to pre-1914 sports cars, with three famous motor racing icons built by Benz: a Grand Prix racing car from 1908, the record-breaking 200 hp "Blitzen Benz" as it was known, of 1909, and a "Prince Henry" sports tourer from 1910. Moreover, a further "Prince Henry" vehicle is on display on the adjacent stand of the Louwman Museum from the Dutch city of The Hague. These two "Prince Henry" vehicles, restored in a common project, are believed to be the only Benz models still existing that took part in the Prince Henry rally of 1910.
Also from the Louwman collection was this 1894 3hp machine
One of the most numerous cars at the show was the 300SL "GullWing" with more than 10 on display throughout the halls.
This 300SC had been subject of a punctilious rebuild. Magnificent.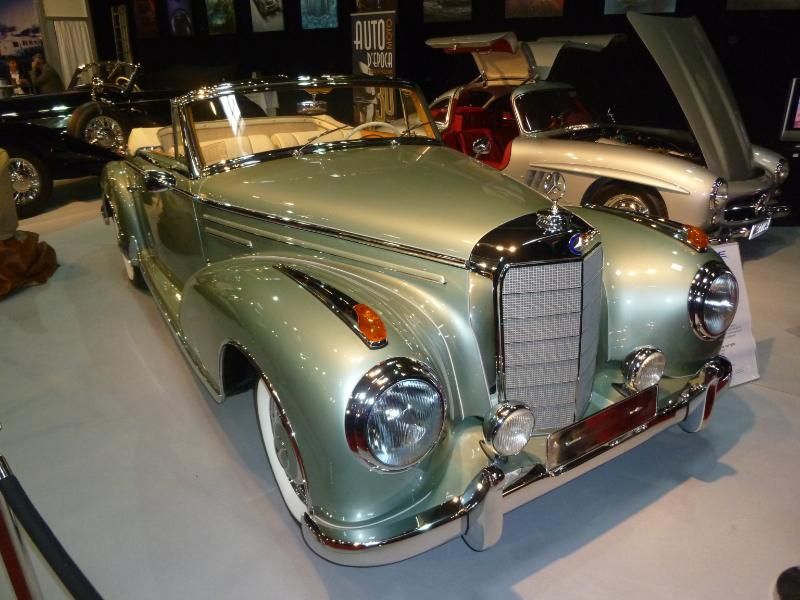 Equally splendid  was this 1937 model 540K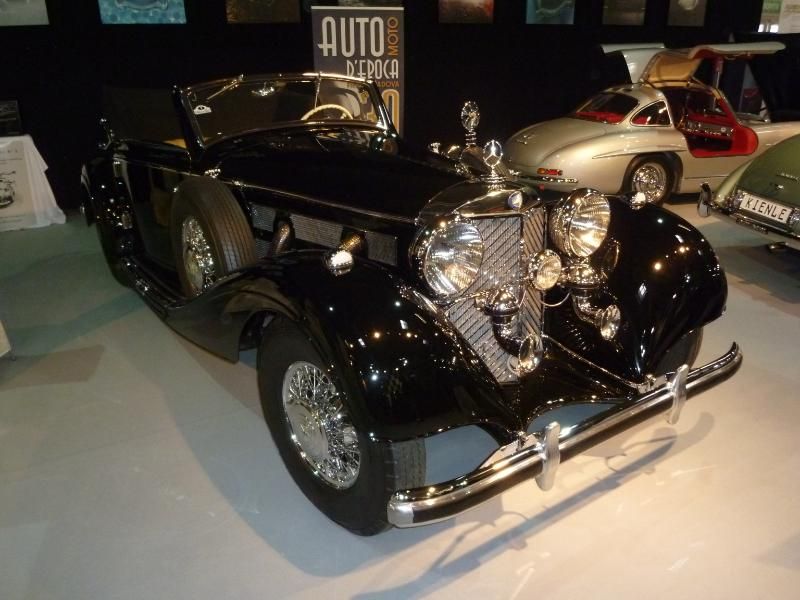 The later 230SL "Pagoda"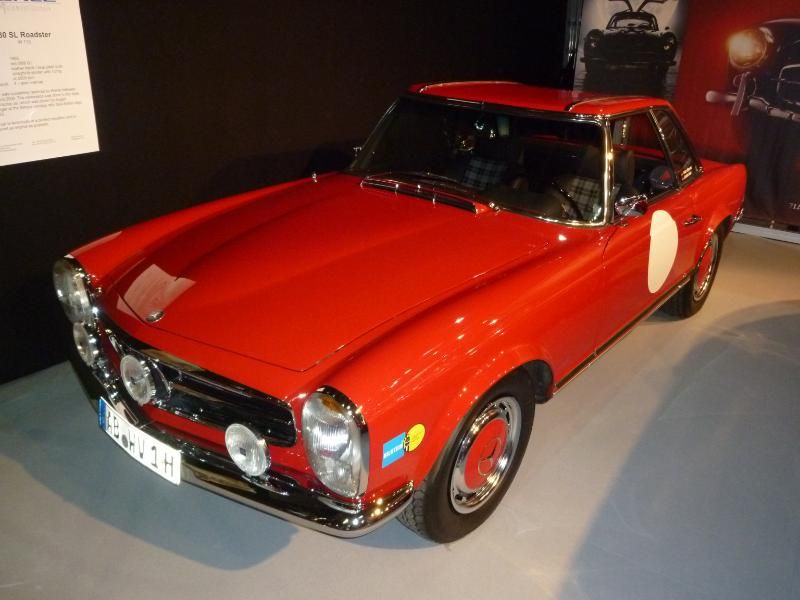 MG
There was a group of 1950s MG all crammed into a tiny area so you could barely see them, let alone photograph them. Elsewhere I did come across this V8 engined B GT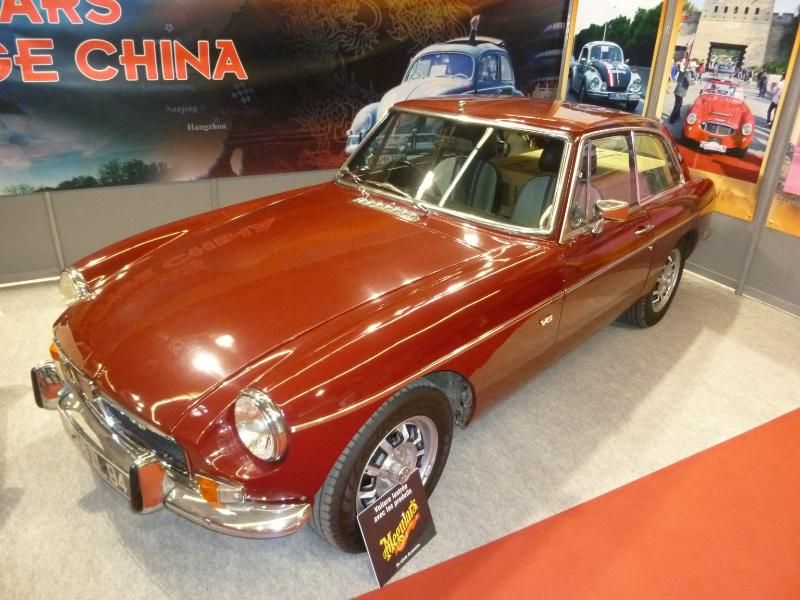 MINI
Classic Mini included a Moke as well as a duo of Coopers
MORGAN
A couple of Morgan, showing the classic style and the more recent AeroMax.
PANHARD et LEVASSOR
From the early days of motoring
The PL17, a family car offered in the 1950s.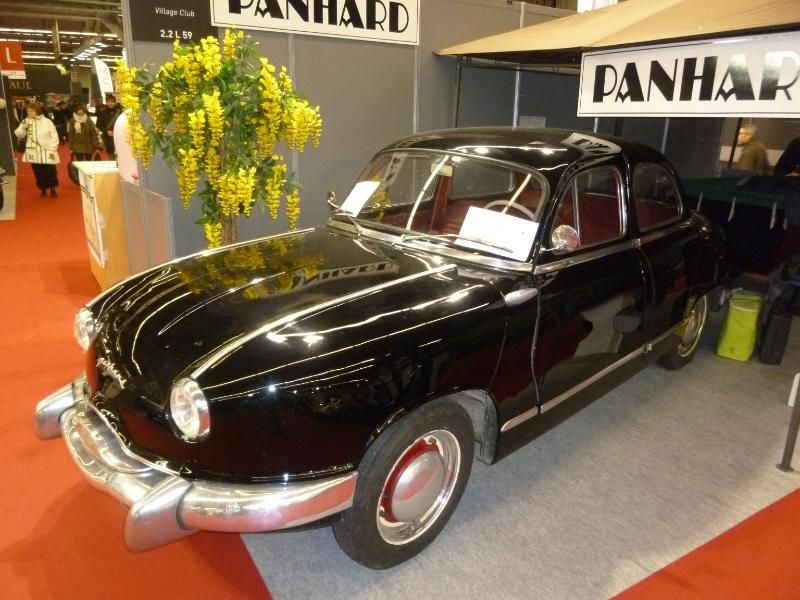 PEUGEOT
It is hard to believe, but 2013 marks the 30th anniversary of the launch of the "Sacré Numéro", the much loved 205. A special display in Hall 2 showed examples ranging from the Junior and GT cars, through the GTi and CJ cars to the thunderous T16 Group B rally machine.
In Hall 3, there was a vast stand, populated with cars representing a wide variety of different owners and enthusiast clubs.
A display of sporting coupe and cabriolets ranged from a 401 Eclipse, with its complex folding metal roof, through a 301D Coupe to a 205 GTi and CJ Roland Garros
This 601 was rather imposing.
The 1950s offerings included a Darlmat version and a Coupe model of the 203 and the 403 in cabriolet guise.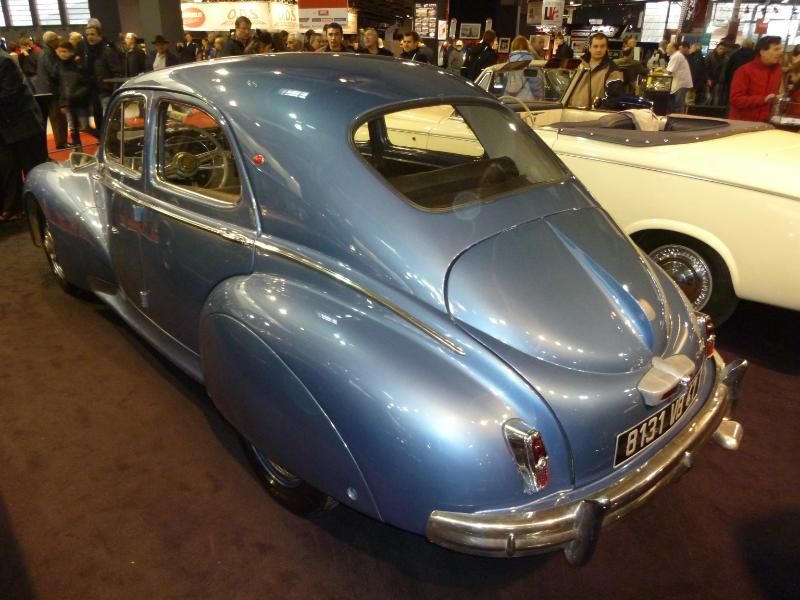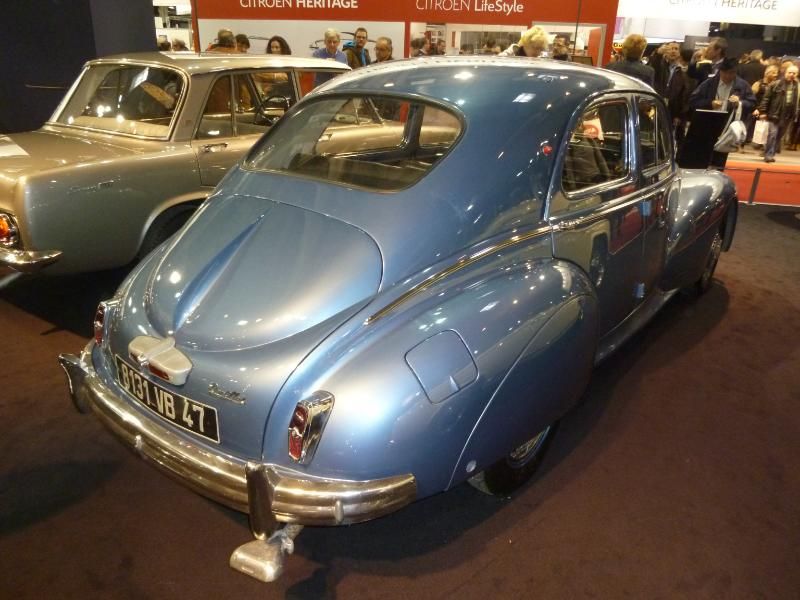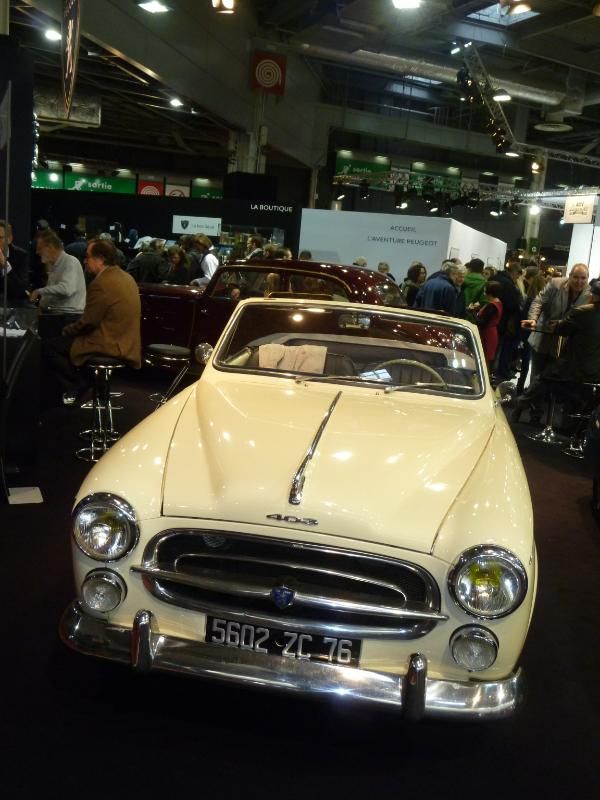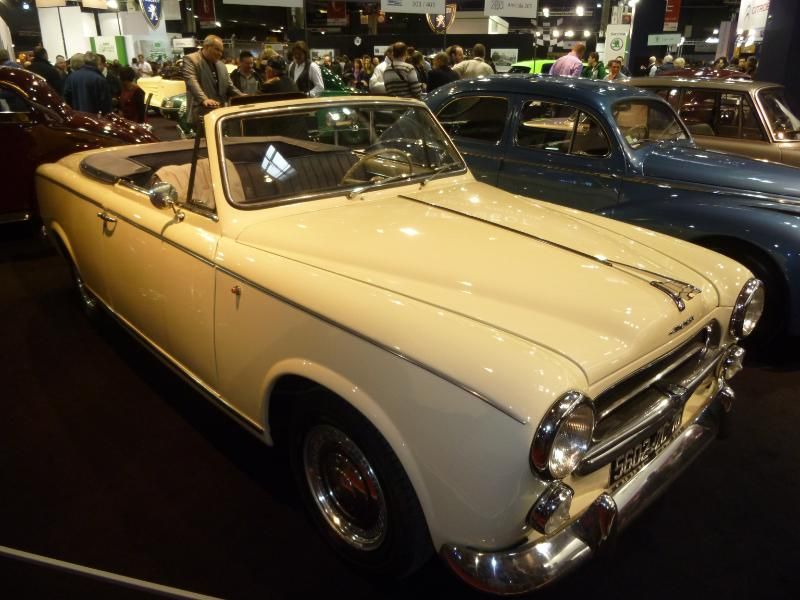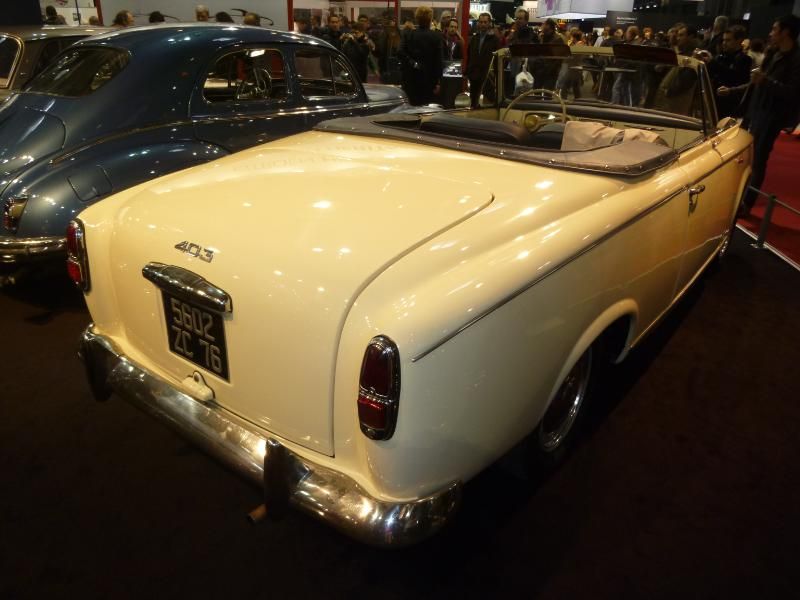 1960s cars included a 404 Coupe and a 304 Coupe.
The 1970s were represented by a 104 ZS, a V6 504 Coupe and a lovely 604.
Bringing things right up to date was a lurid concept for the recently launched 2008.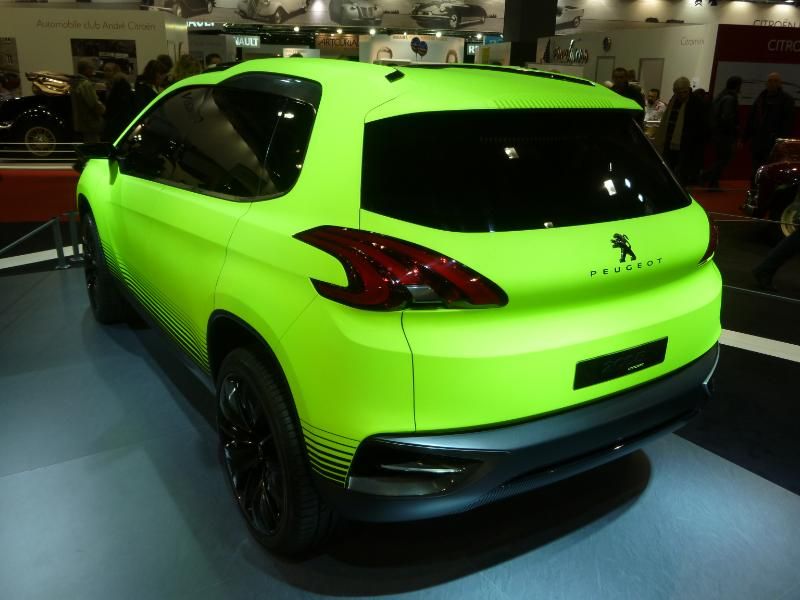 There was an open topped 402 in the Arcturial auction.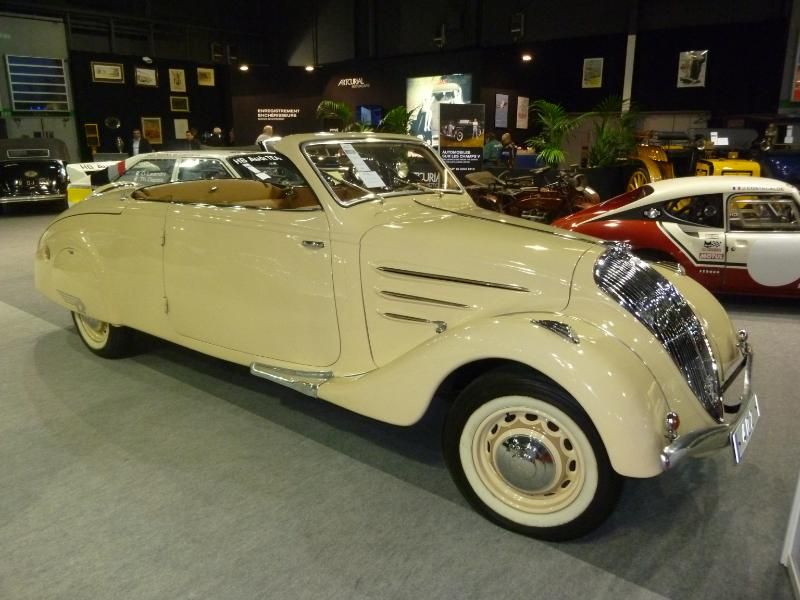 PORSCHE
In case you had not yet realised (and you will not forget as there will be lots of reminders during the year), this is the 50th anniversary for the ever popular 911 and the main Porsche stand featured an array of different 911-based models from a 1959  prototype to the latest 991 Carrera 4, with rally and racing versions (the 935) included in the display.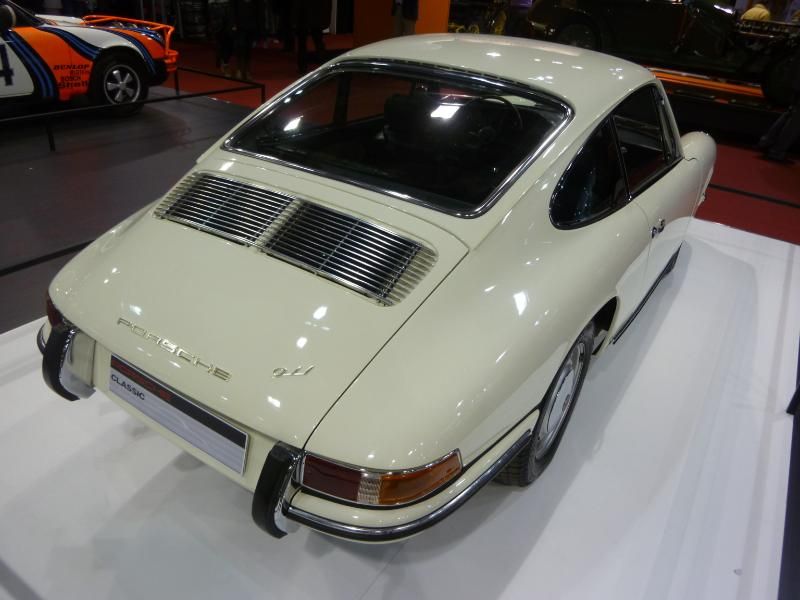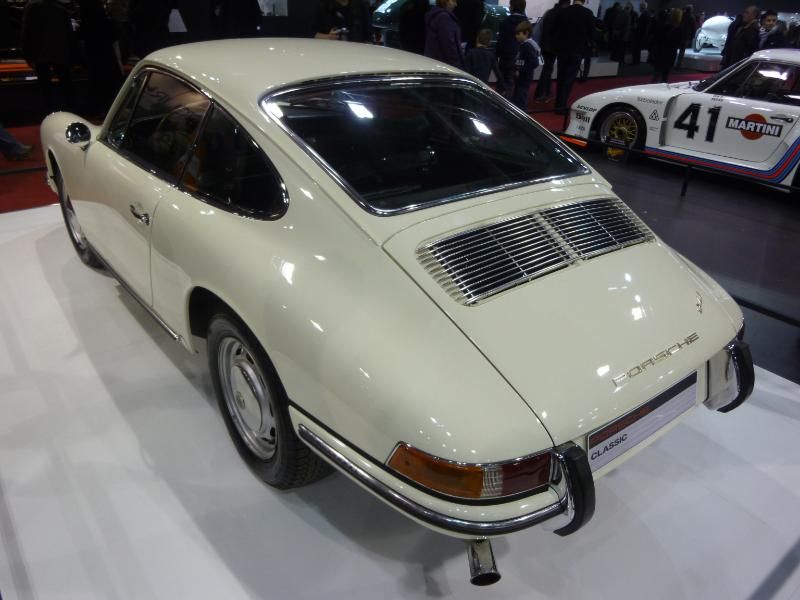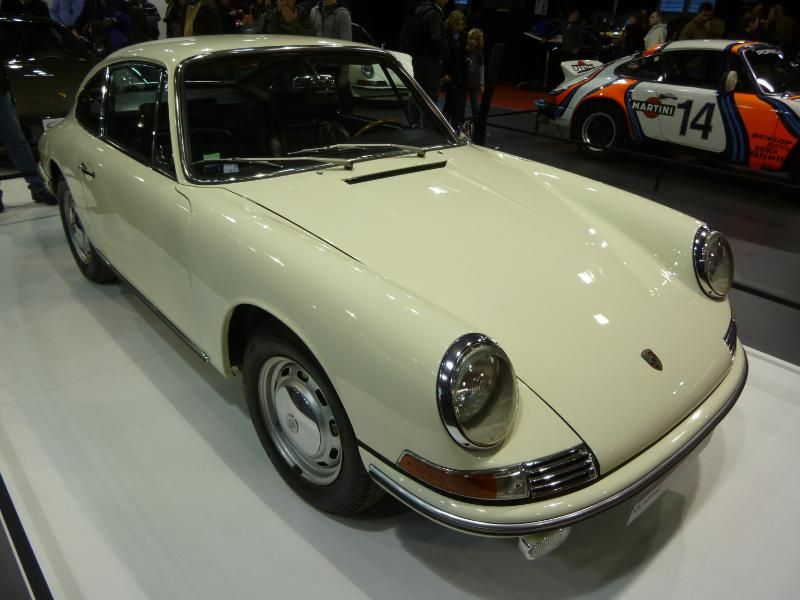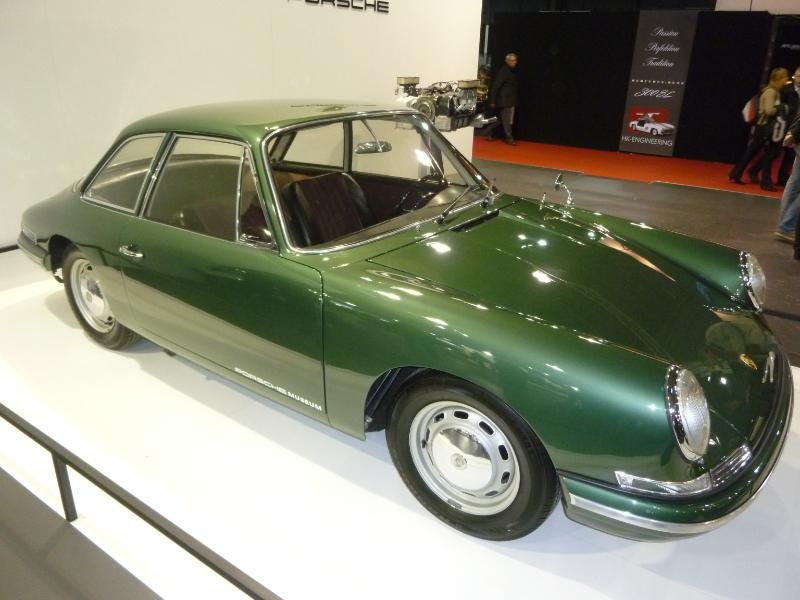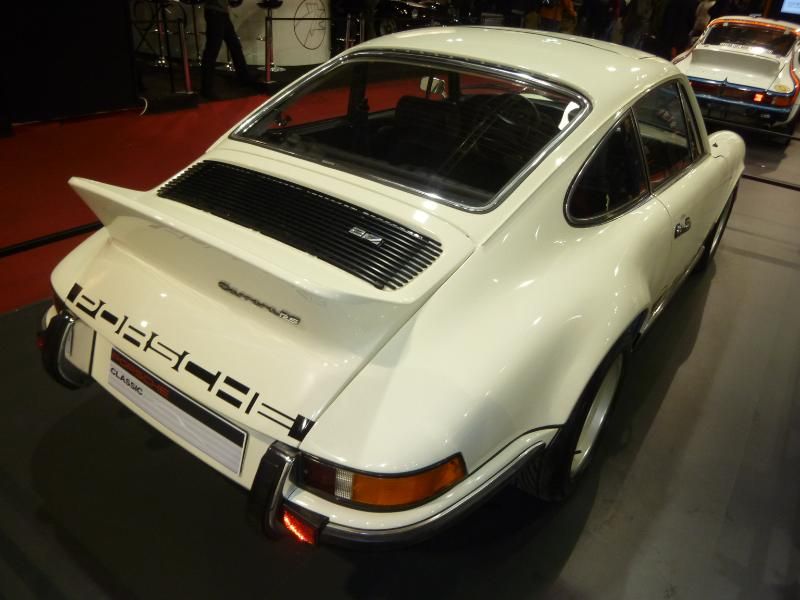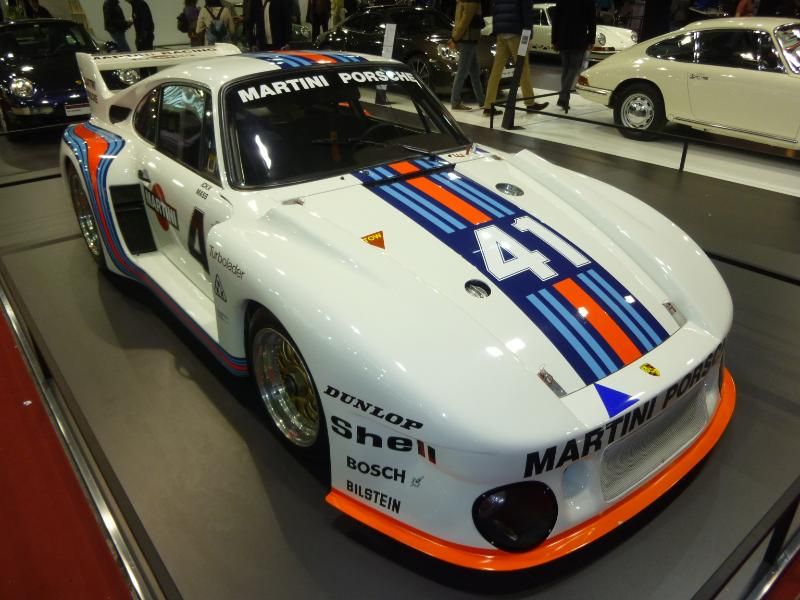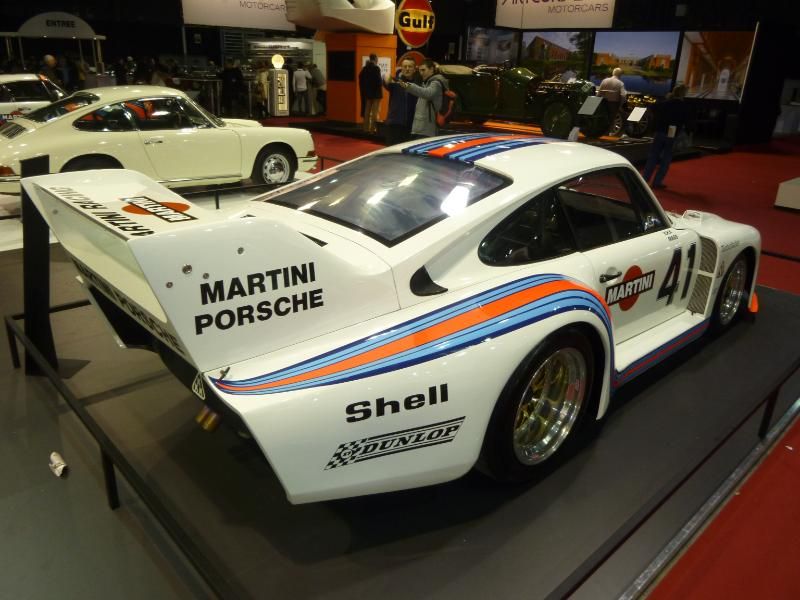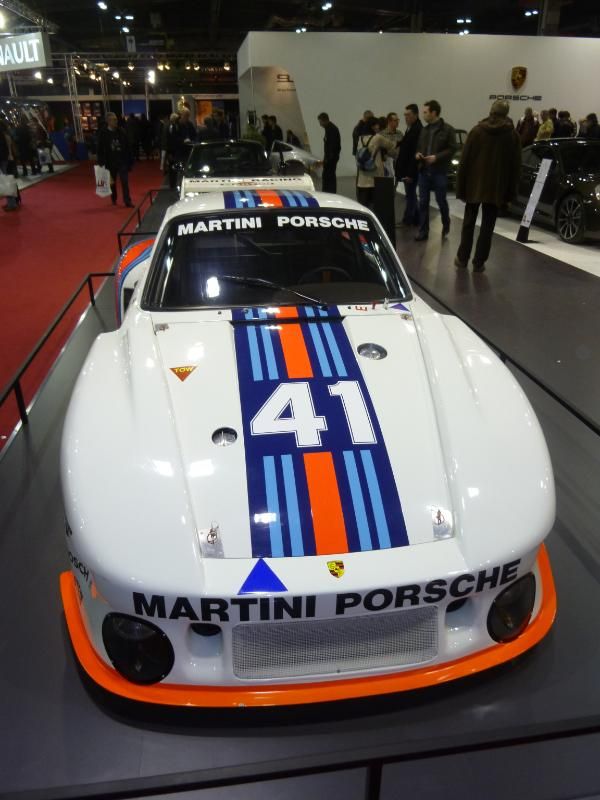 Needless to say, there were plenty of other 911s throughout the show.
This ex-Ickx, Bell and Mass 1982 Porsche 956 (chassis 001) was a striking sight to behold.
I also rather liked this 906 Carrera GT.
There were a few of the earlier 356 on show, too.
RENAULT
A large display stand for Renault, comprising all manner of oddities from their huge Histoire et Collection, many of which were new to me, not having even seen them in pictures before.
Perhaps the most unusual was this, a 1913 Renault Type DM 'Balayeuse' street-sweeper, powered by a 2.1-litre, four-cylinder engine with a three-speed gearbox and cable brakes. What intrigued me even more was that although it had French licence plates, it had a UK tax disc which expired in 1986.
Equally striking was this 1926 Type MH Six wheeler which was constructed to cross the Sahara in 1930, very much in the same way as the Citroen Croisiere vehicles did.
This R8 based model dates from 1963. Following the successful launch of the basic car in 1962, Renault looked at ways to make a more sporting version, and this attempt at a 'sporty' Renault 8 looked more like a hot-rodder's chop, though the more rakish shape gave a top speed just shy of the magic ton. This prototype was produced by Francois Landon's Service Compétition department, but the rival proposal by Amedée Gordini (more power, not so chic) eventually got the nod for production.
This Frégate based stretched limousine saw service as a presidential car in the late 1950s.
The basic 4CV was sold in a more potent form, the 1063, and this is such a car. "More" and "potent" are all relative terms.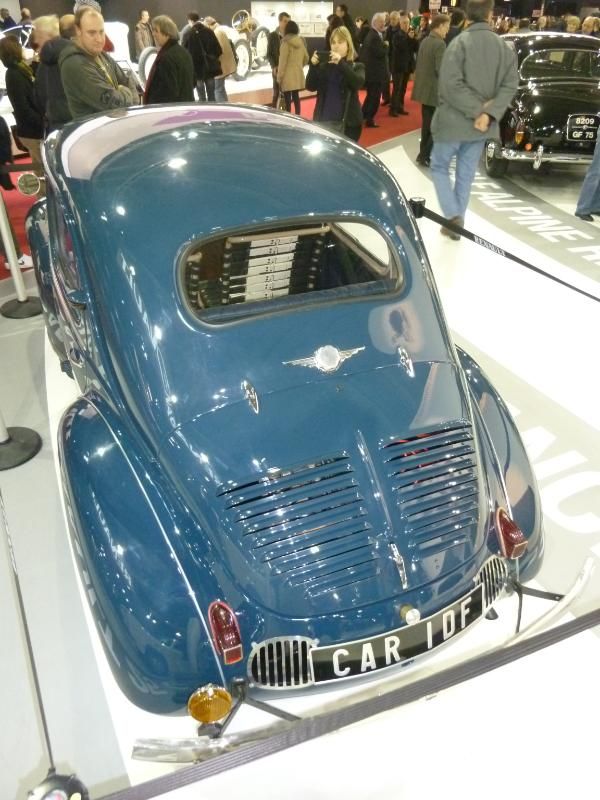 I had seen this 1937 Nerva Gran Sport before, as it had been shown in the Champs Elysées showroom once when I was there. Very imposing indeed.
Rather earlier is this 1913 Type DG "Victoria Rothschild"
The R9, a car that sold in huge quantities in the early 1980s, is largely gone and forgotten, but Renault reminded us that it had another life, as part of their American venture with AMC, which resulted in the Alliance, offered in convertible form as well as the regular saloon. This one dates from 1986.
Oldest Renault on the stand was this, a replica of the very first Model A.
In honour of the 20th anniversary of the Twingo, a trio of these little city cars were on show, with two examples of the first generation (one in leCoq limited edition guise) and a facelifted version of the second generation car.
This is the turbo powered Formula 1 RS-01 machine piloted by Jean-Pierre Jabouille in 1978/79.
Renault-Alpine was far from forgotten, and the stand included both an A110 and the 1969 A220.
RENE BONNET
ROLLS-ROYCE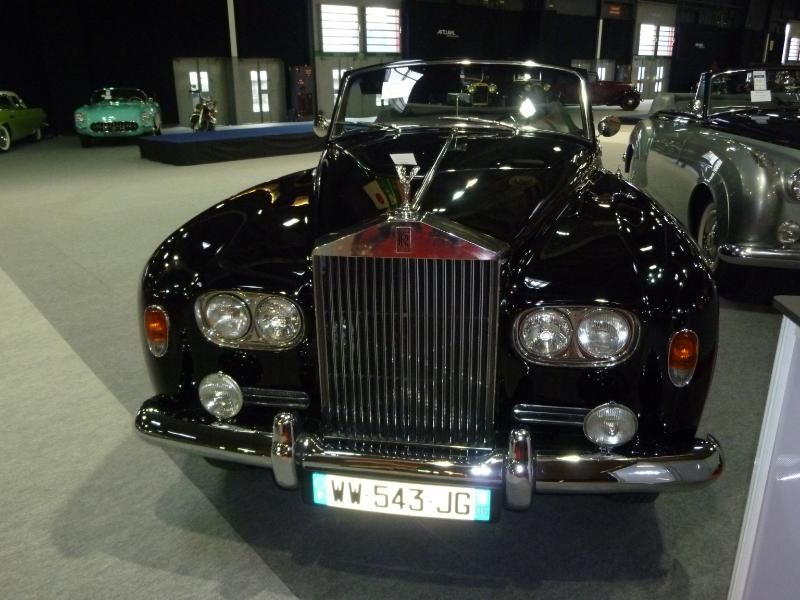 SALMSON
A little known French marque, this 1954 2300S was the last model made.
SIMCA
Definitely under-represented was France's often forgotten marque, the Simca., but there were 2 examples of the 1300/1500 Berline, a car which is also celebrating its 50th anniversary. The 1300 was tucked away on the huge Peugeot stand, whereas the 1500 Automatic had a small corner all to itself.
SKODA
There were 4 different vehicles on the Skoda stand, ranging from the Fabia WRC rally car and 1975 130RS Rally car which are reasonably well known to the more unusual duo of a 1964 Formula 3 single seater and a 1972 Skoda Type 720. This last is one of three built, and is powered by an overhead-cam 1800cc 'four'. The 630kg racer is said to produce 150bhp at a heady 8600rpm, giving a top speed nudging 140mph.
SPYKER
Also from the Louwman collection was this 1903 60HP model.
STUDEBAKER
One of the most elegant American designs of the 1950s, the Loewy designed Hawk pairs up with an XK120 in the Arcturial auction area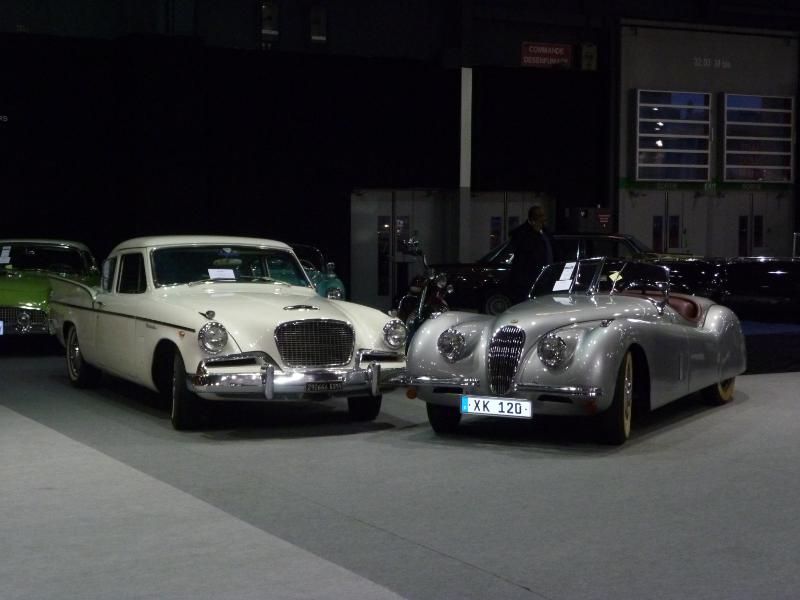 TALBOT
1939 T23 Cabrio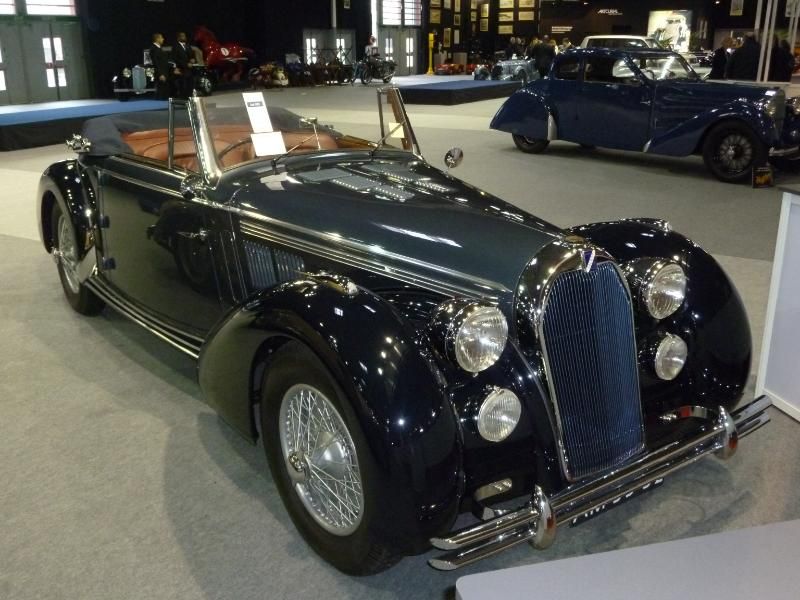 TRIUMPH
There were a couple of the much loved British sports cars in the event including a TR3, a TR6 and an early GT6
VANWALL
Dating from 1961, this is the only rear engined Vanwall ever built.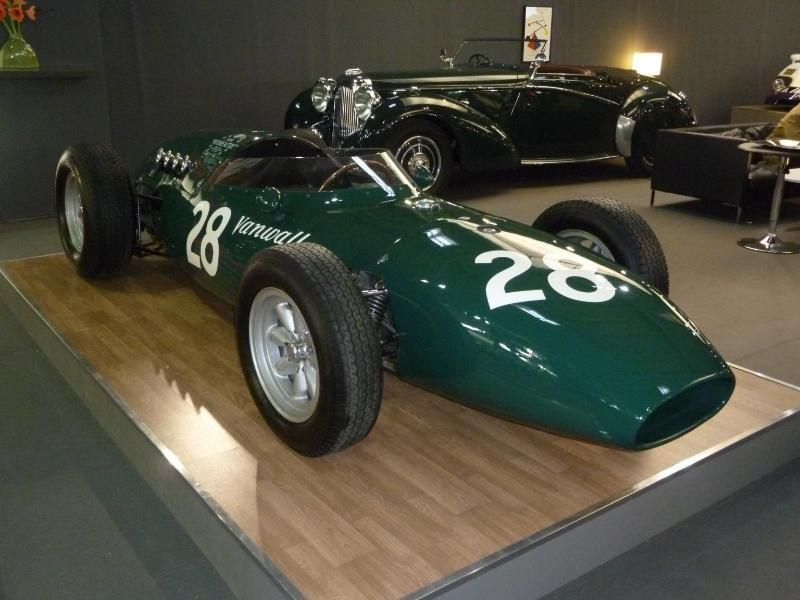 VOISIN
1927 C11
VOLKSWAGEN
A very nice Mark 1 Golf GTi.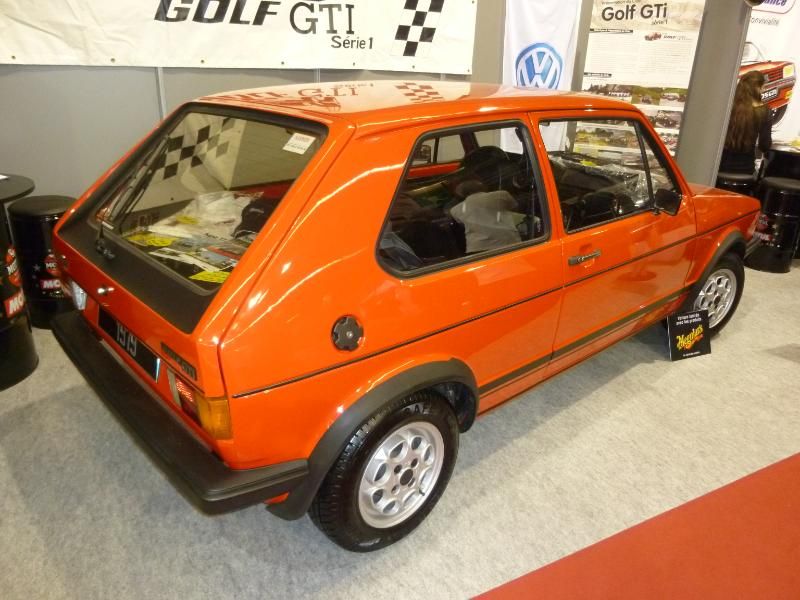 VOLVO
A real workhorse in its day, the 221 Estate is rarely seen in comparison to the 121/122/131/132 "Amazon" saloon models.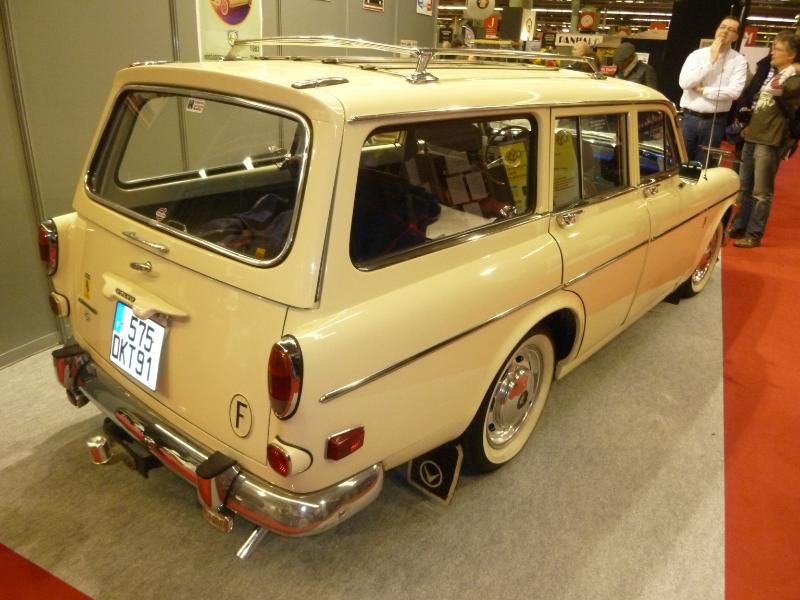 This really was an excellent (if rather chilly) weekend. Rather than using Charles de Gaulle airport, I flew in and out of Orly, which proved to be a double bonus, as not only is it closer to the event, but the rail link from CDG was closed for engineering work, whilst I had no such challenges in taking a combination of the Orlyval the RER and a tram to get to the event on the Saturday, and a similar journey to the centre of Paris on the Sunday. These logistics worked well, and if you book around Christmas time, as I did, you should be able to get Sale prices for the flight and hotel. Worth thinking about for 2014.