In the six years in which the Cholmondeley Pageant of Power has been run, it has built up a strong reputation. People love the variety of things to see and do, and the relaxed atmosphere which recaptures the early days of the Goodwood Festival of Speed before it became such a busy and over-crowded event. Sadly, also, it seems that no matter which weekend the Pageant is held, it is pretty much guaranteed that the heavens will open and everyone and everything will get drenched. In 2012 there was an added problem that the ground was seriously water-logged which made getting cars into the display area all but impossible and despite generous lashings of straw added to the main walkways, waders would have been more useful than boots let alone shoes. Whilst the organisers can do nothing about what happens in the skies above, they did promised that a lot of drainage work had been done, and mindful of the fact that this is such a good event, I enrolled Abarthisti for a Car Club Display area, and bought my ticket, and hoped the Weather Gods would be kind.
In the days leading up to the Pageant, it looked like once again, the event was going to be a wash out, but right at the last minute, the rain stayed away most of the weekend, making it soft but not boggy underfoot, and on the Sunday, the day I attended the sun shone most of the time. That made the unspeakably early start, necessitated to get the car in situ before the stated 8am deadline all seem worthwhile, and there was so much to see and do that I stayed until early evening. As well as a Paddock packed with a mixture of historically significant machines, racers, supercars and some downright bizarre creations, there were also bikes and rally cars, all of which ventured out onto the track to show what they were capable of doing, there were the Car Club Displays, an array of new cars from local dealers, afternoon air displays which included a trio of Lancaster. Hurricane and Spitfire, followed soon after by the antics of the Abarth Stunt Plane, there were rib rides and displays on the lake, there were bike displays and a pair of mad Aussies who were doing somersaults in their Honda buggies, there was a Wall of Death, more than enough food stalls to keep everyone full, and that's before mentioning the splendid grounds.  A lot to take in, then, and this report can only present some of the highlights, which are these:
PADDOCK CARS
AC
1958 Monoposto. Not quite the sort of AC with which we are all familiar!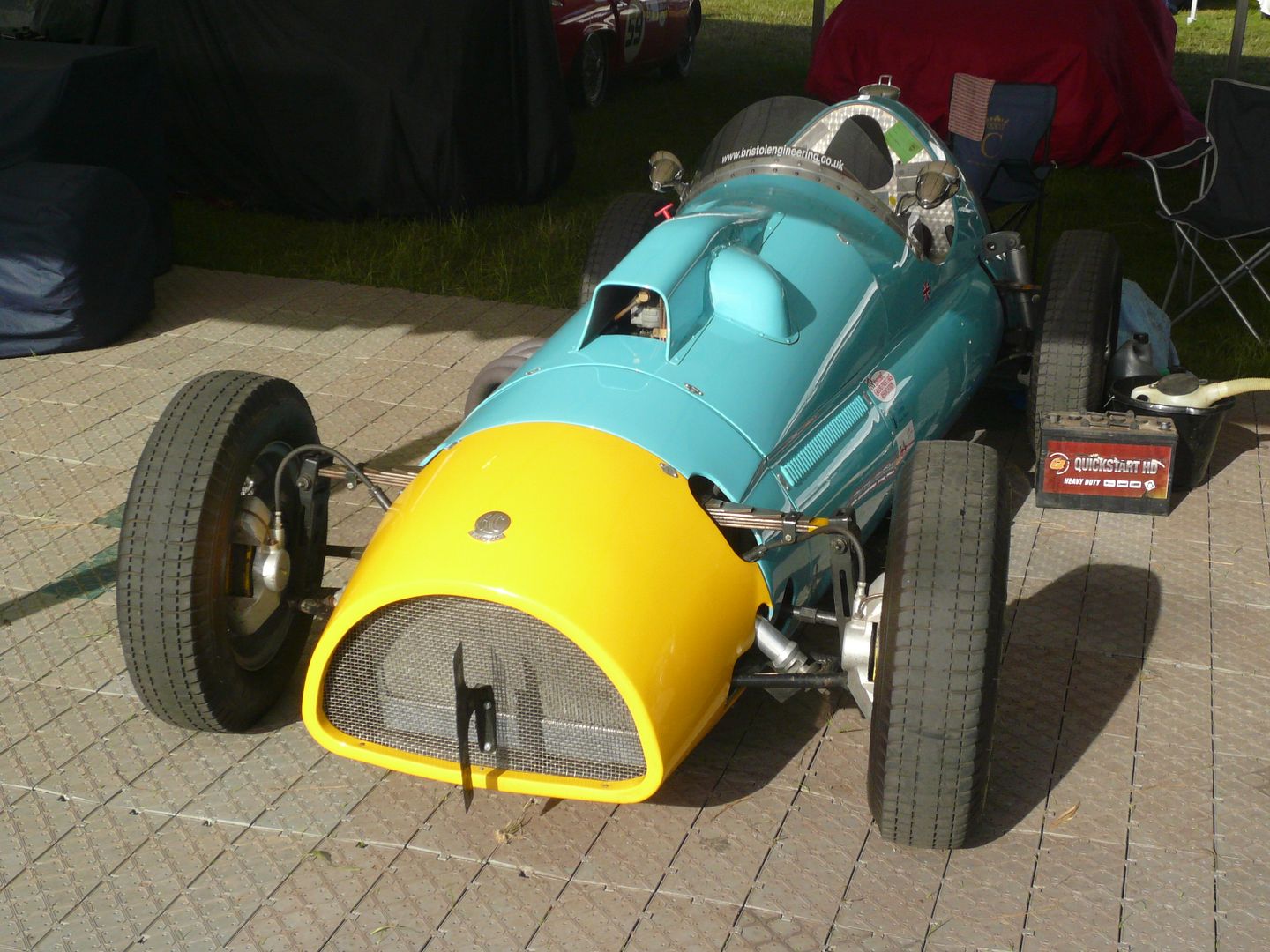 AERO ENGINED CARS
As in previous years, a collection of aero engined cars were among the most dramatic both when fired up and then when they set off with intrepid drivers trying to control these huge beasts on the narrow, tight and twisting track. Among them was the 24 litre Napier-Bentley owned and driven by Chris Williams, along with Mavis, his 42 litre Packard-Bentley. Shipped over from the German Technik Museum in Sinsheim were "Brutus", a 46.5 litre BMW and the 23 litre Maybach Zeppelin. Chris' daughter had the fun of driving her mother round the track in an Austin fitted with a 3 cylinder ariel engine. None of these cars are easy to drive around the circuit, with their prodigious levels of torque and lack of much control over anything, as well as their sheer size which is at odds with the tight turns and narrow confines of parts of the circuit making them a real challenge. Of these cars, after engulfing everyone in tyre smoke at the start line, as is his wont, Chris Williams' Napier posted the fastest run in the end, with a time of 81.90 secs.
ARIEL
Not the V8 model this year, but "just" the regular 3.5 model with its supercharged Honda engine. With a fastest lap of 61.18 seconds, it beat its nearest rival, the BAC Mono by a second, which went down well with the factory support personnel.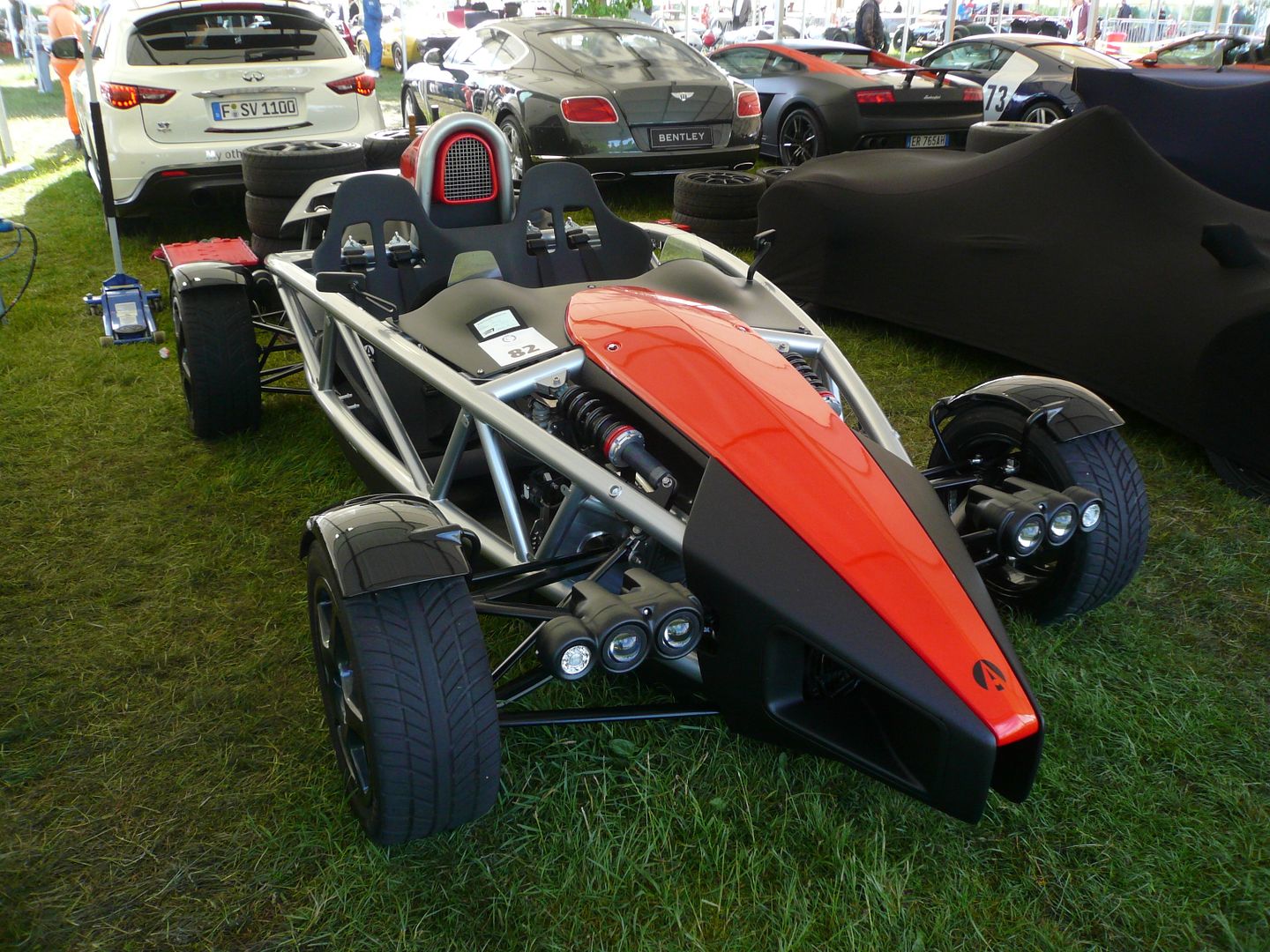 ARROWS
1980 Arrows A3
ASTON-MARTIN
In celebration of Aston Martin's centenary, there was a whole class for Aston cars, ranging from one of my (many) favourites of the day, an 1934 Ulster, all the way to the brand new V12 Vantage S.
AUDI
This 80 was built to compete in the French Supertouring series in 1990. Talk about  loud, you could not believe the noise, which was also very distinctive thanks to its 5 cylinder engine.
Sadly the trio of le Mans cars remained static exhibits throughout the weekend, but what a sight they still made. The three are the 1999 R8C 2000 R8 and 2009 R15TDi
BAC
Mono, competing for honours, and losing out to the rival Ariel Atom by a second.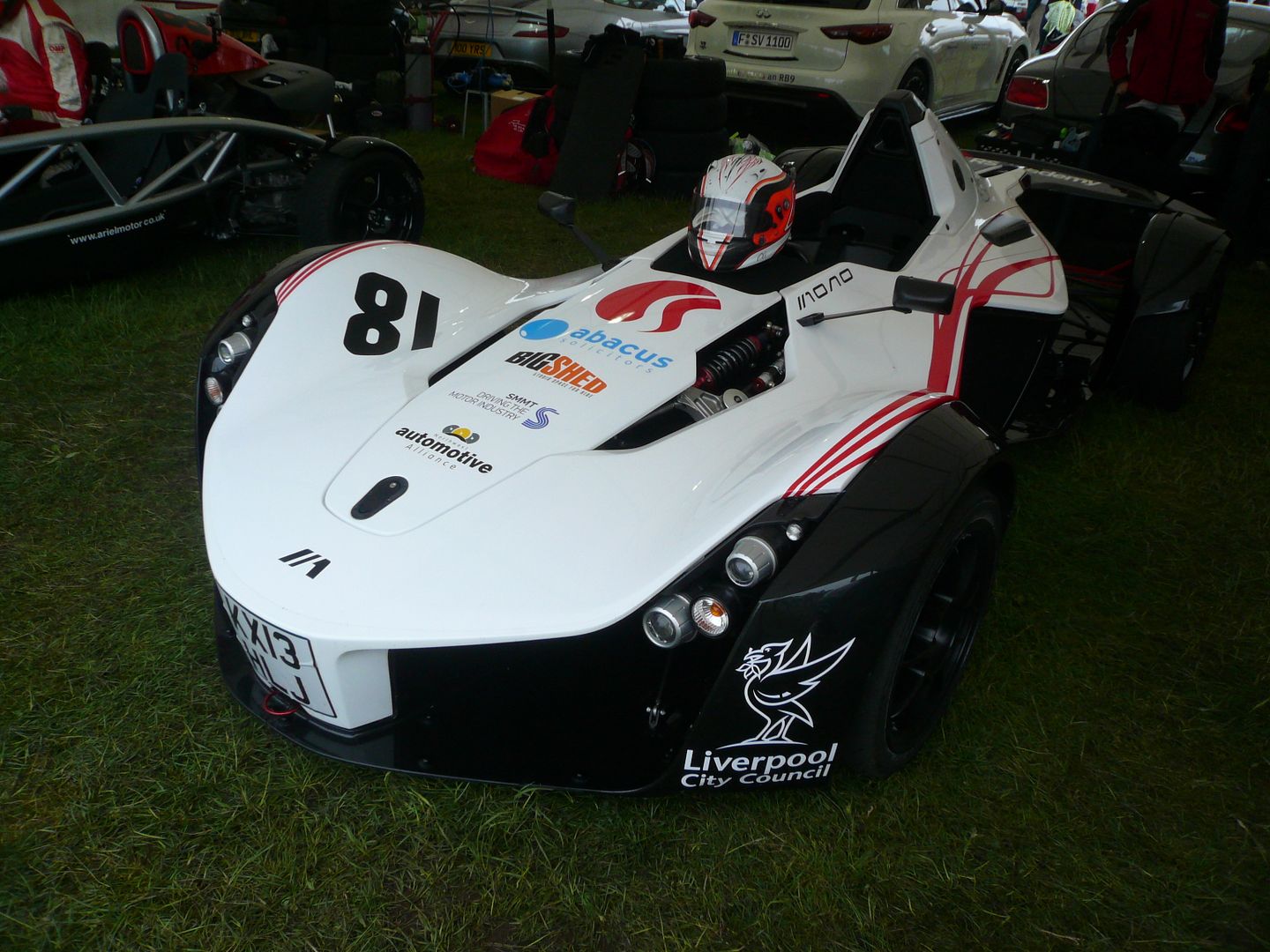 BENTLEY
One of the real highlights for most people was the chance to see not one, nor even two, but three of the 2003 Le Mans Speed 8 cars. One of them, the actual Le Mans winner made regular sorties around the circuit, driven by Guy Smith, in commemoration the 10th anniversary of the initial race success.
There were also a couple of classic 1930s Bentleys, one of which was the 1929 ex Tim Birkin "Blower" model, and the other was a Works 4.5 litre car. Both were absolutely fabulous.
The Ice Speed Record Continental GTC was also present.
BRM
Dating from 1968.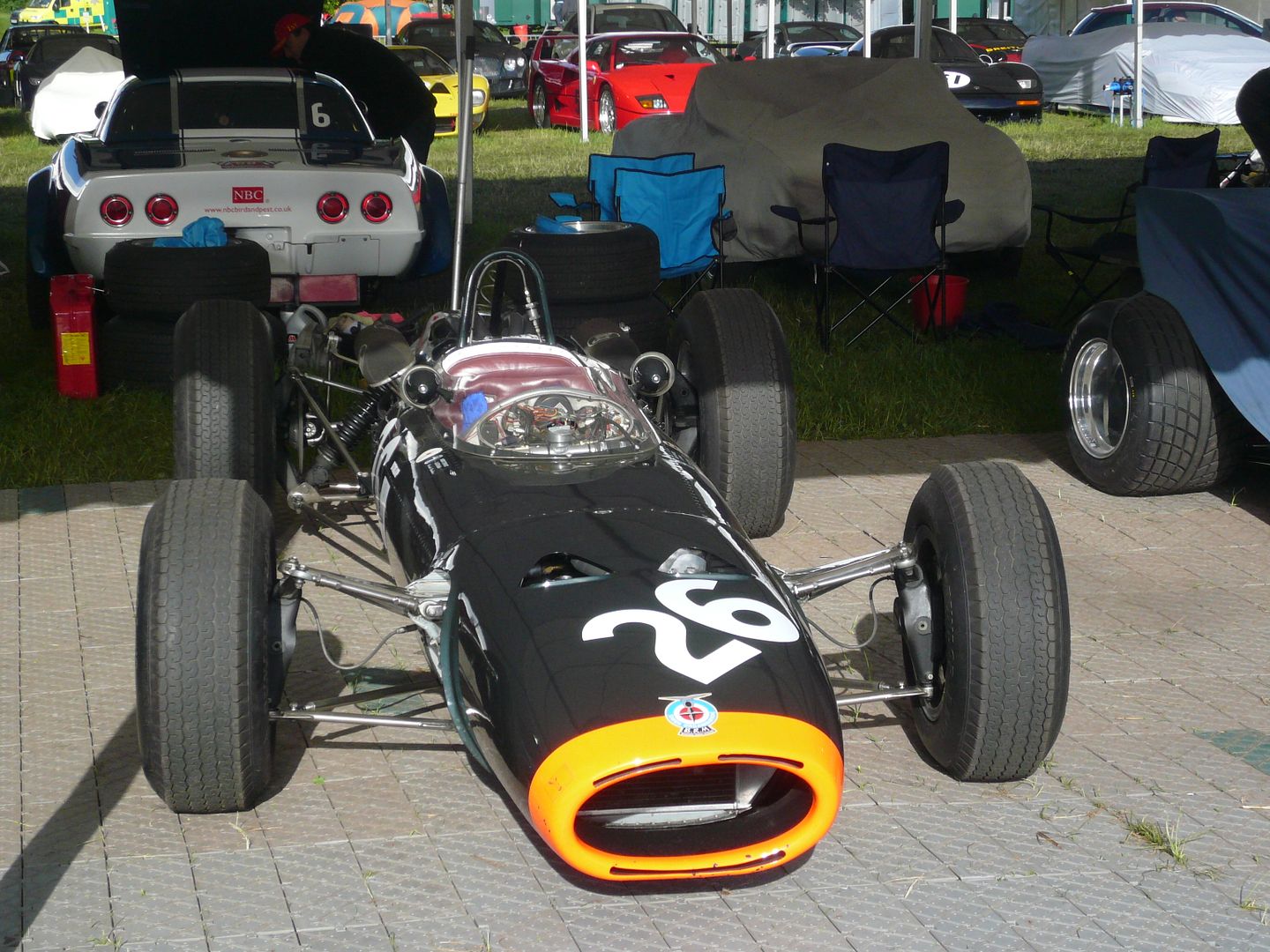 BUGATTI
A factory supplied car, the Veyron SuperSport Vitesse, and in a different colour scheme from the ones I have seen before, this car seemed to take the circuit in its stride, as it wooshed around. Technically very impressive, for sure, but lacking some of the emotion of the rest of the field. It was certainly attracting the crowds when parked up, though.
CHEVROLET
This 2009 NASCAR created a lot of interest when it was fired up. I amazed that the ground under it was no singed given the heat that it put out, as well as the noise.
CHEVRON
Possibly the loudest car of the day, and also one of the fastest, this GT3 is a particularly effective track machine.
ELVA
1963 Mark 1.
FERRARI
Slightly surprisingly, there were no new Ferrari in the supercar part of the Paddock, but there was this glorious 1989 F40 to enjoy.
FORCE
2005 Force PC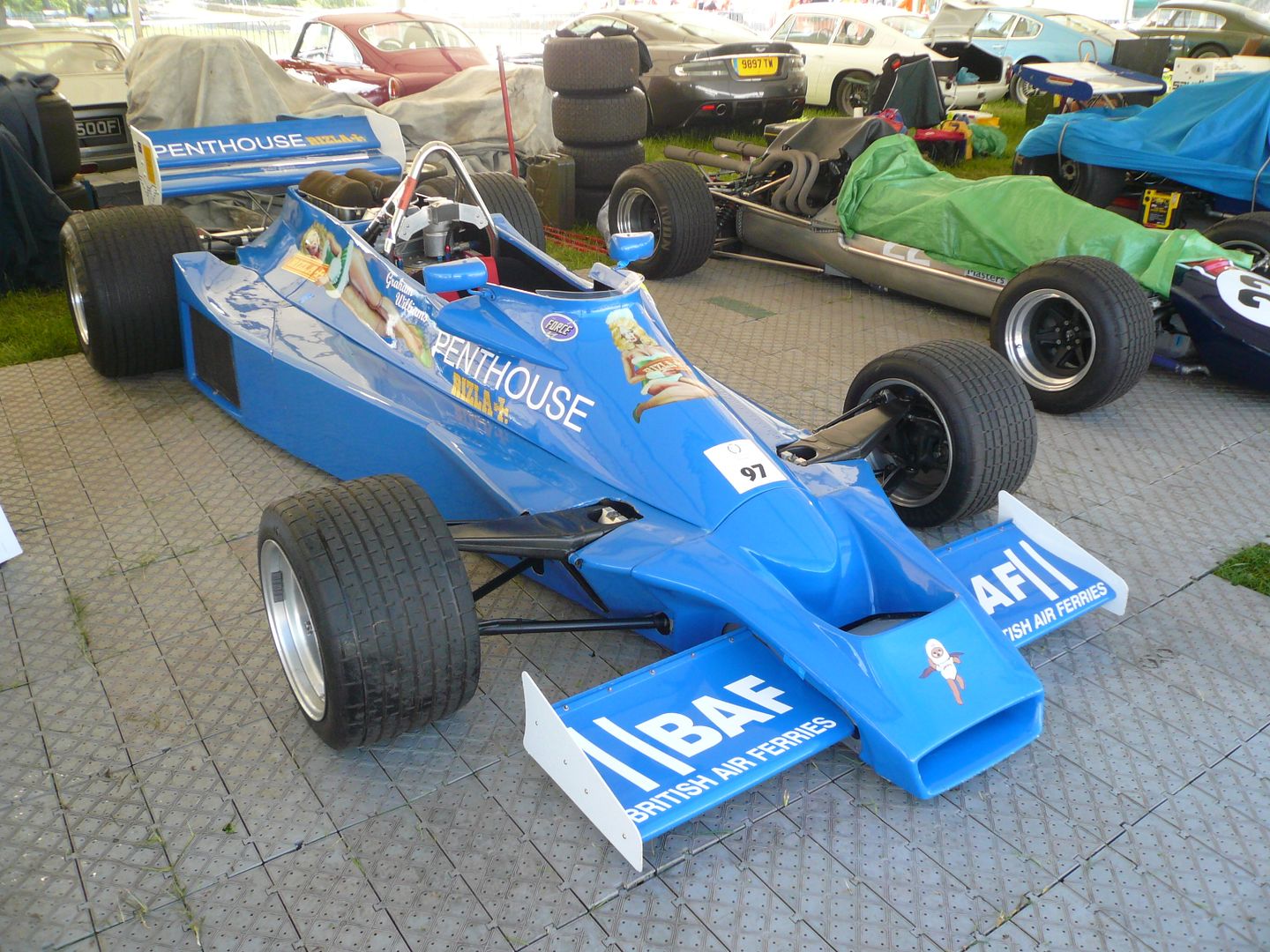 FORD
The original GT40 was joined by the modern recreation.
Another American beast was this Mach 1 Mustang.
FRAZER NASH
1948
GINETTA
The neatly styled G60 started life as the Farboud, and the rights to the design were bought by Ginetta a couple of years ago, since when they allegedly have put it into "production", though volumes are very low.
GRINNALL
The Scorpion, an unusual machine with its three wheels.
INFINITI
One of the more unlikely track contenders was this, the FX50 Vettel Edition. Big and ungainly it may look, but it made a great sound and the driver attacked the tricky circuit with more than a little enthusiasm.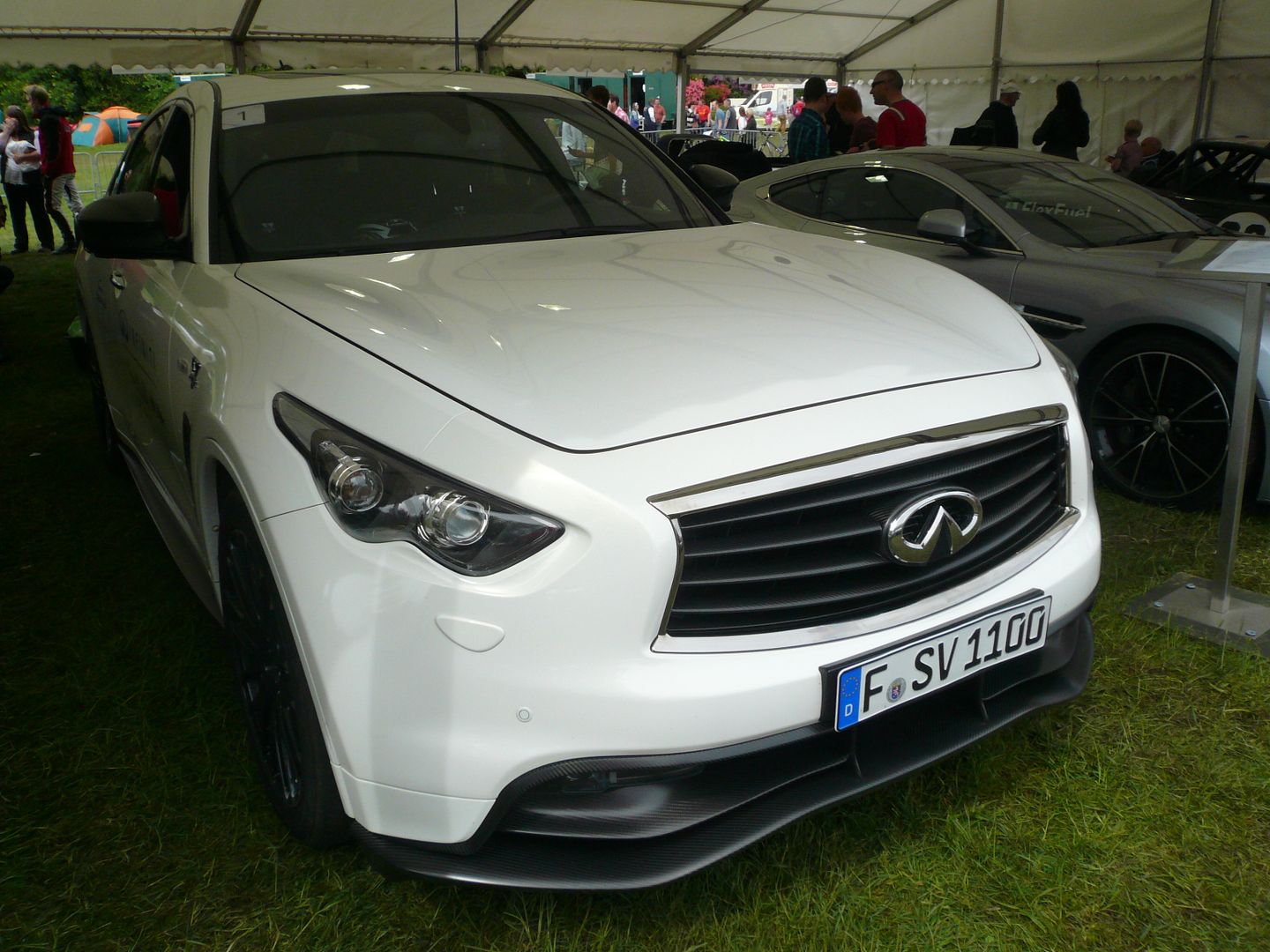 JAGUAR
The factory had sent along a new F Type. Of course. And why wouldn't they? Here was a chance for plenty of people to see and hear one for the first time, and for me to have yet another drool over one of the most covetable new cars of 2013.
Now nearly 60 years old was this fabulous D Type. Now owned by Peter Neumark, OKV1, a finned, short-nose model, this was the second D Type ever built and the earliest of a trio entered at Le Mans by the factory for 1954. It finished second in the 24-hour race that year.
From the 1990s were two models, each of which was splendid. An XJR15 was joined by the Martini liveried racing XJ220 which I had seen at this event last year.
Back in an earlier era was this works Mark 1 3.4 litre saloon from 1957.
LAGONDA
A 1935 Rapier based single seater racer.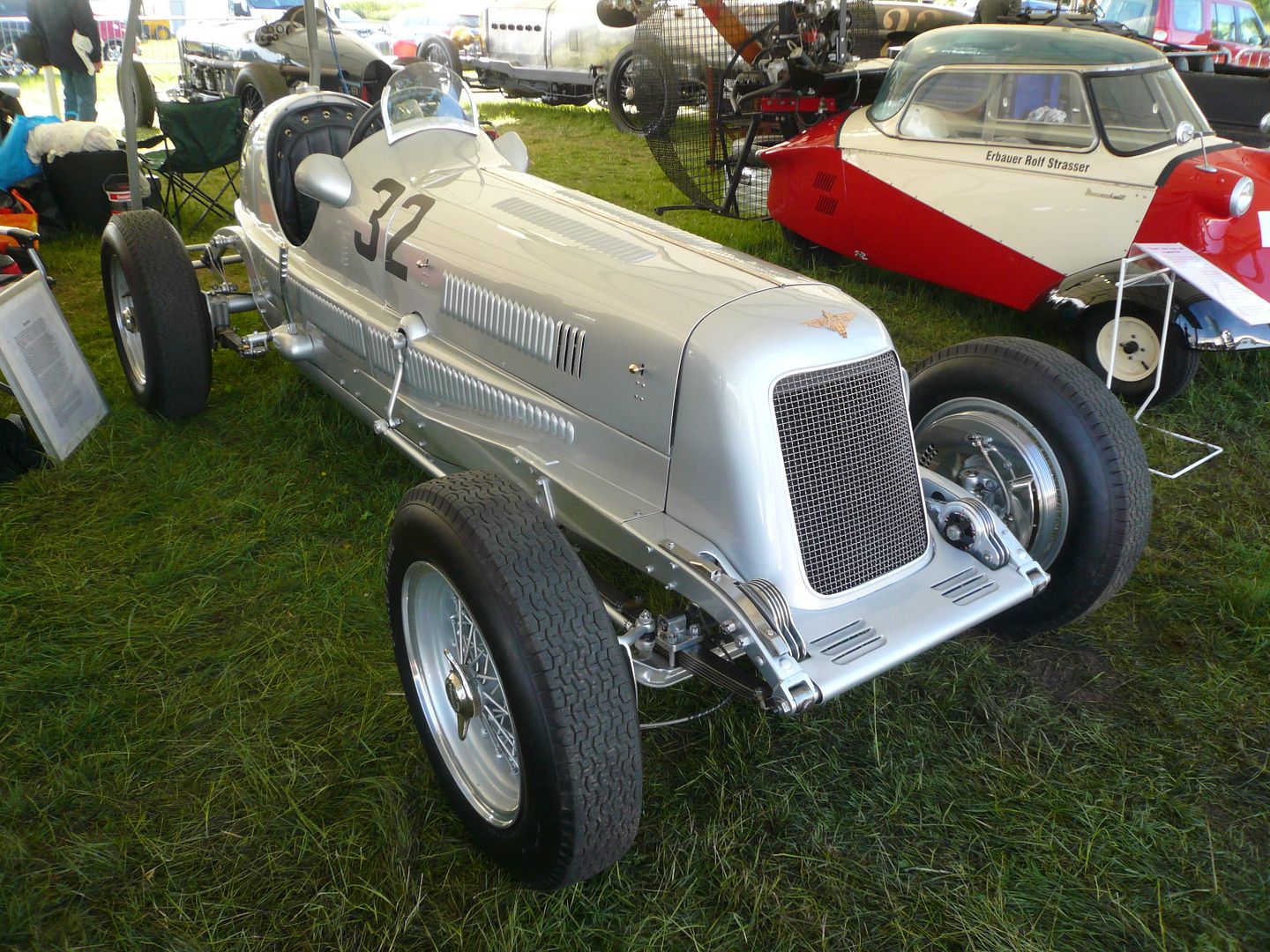 LOTUS
This 1991 Type 87 Formula 1 car was driven by Nigel Mansell when new. Not easy to get it around the course, it posted a fastest lap time of 63. 39 seconds.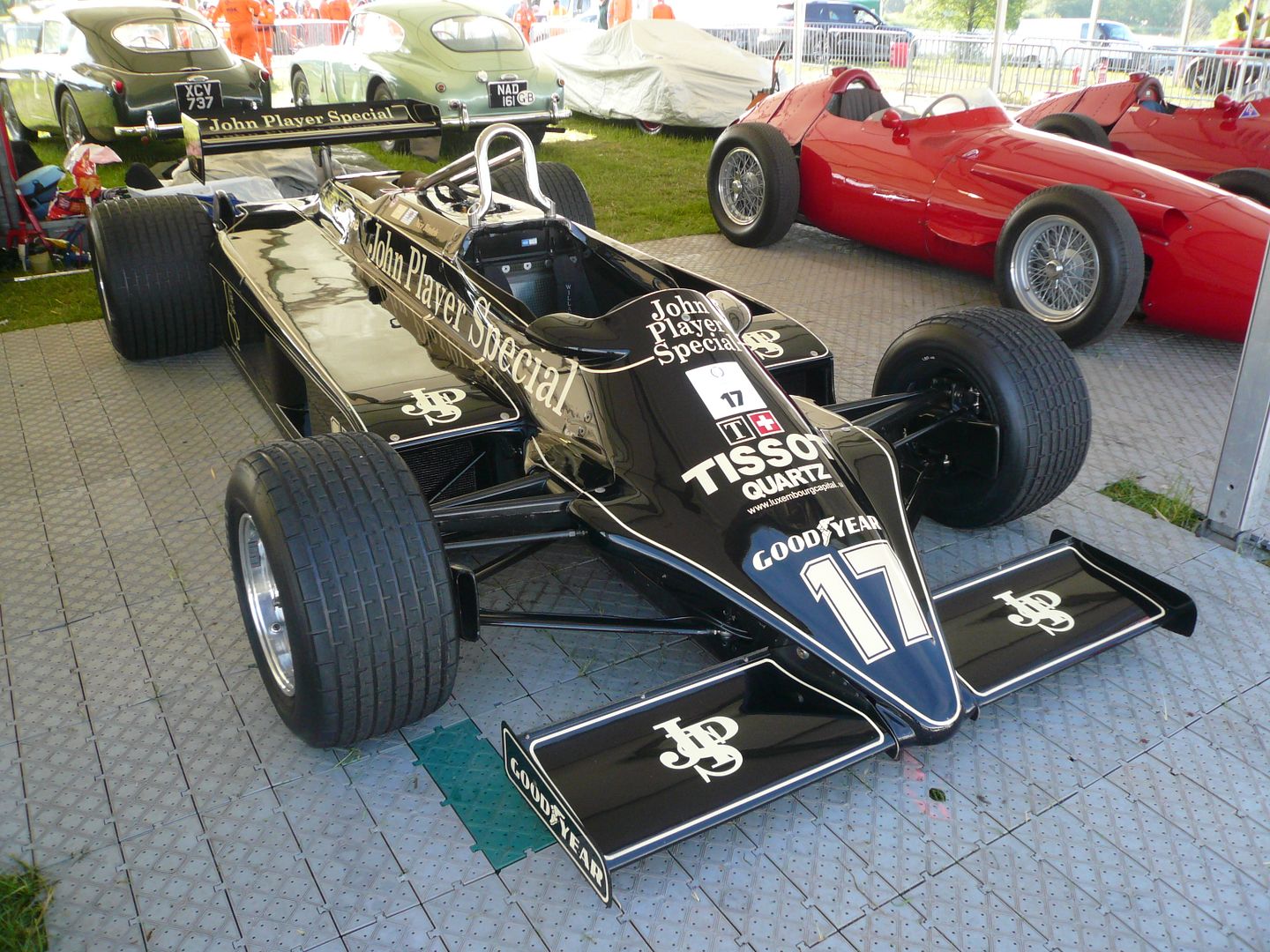 Nearly as quick was this Type 35 from 1966.
This Type 18 dates from 1961, and features an Alfa Romeo engine.
My favourite of the historic Lotus racers was this Type 23B.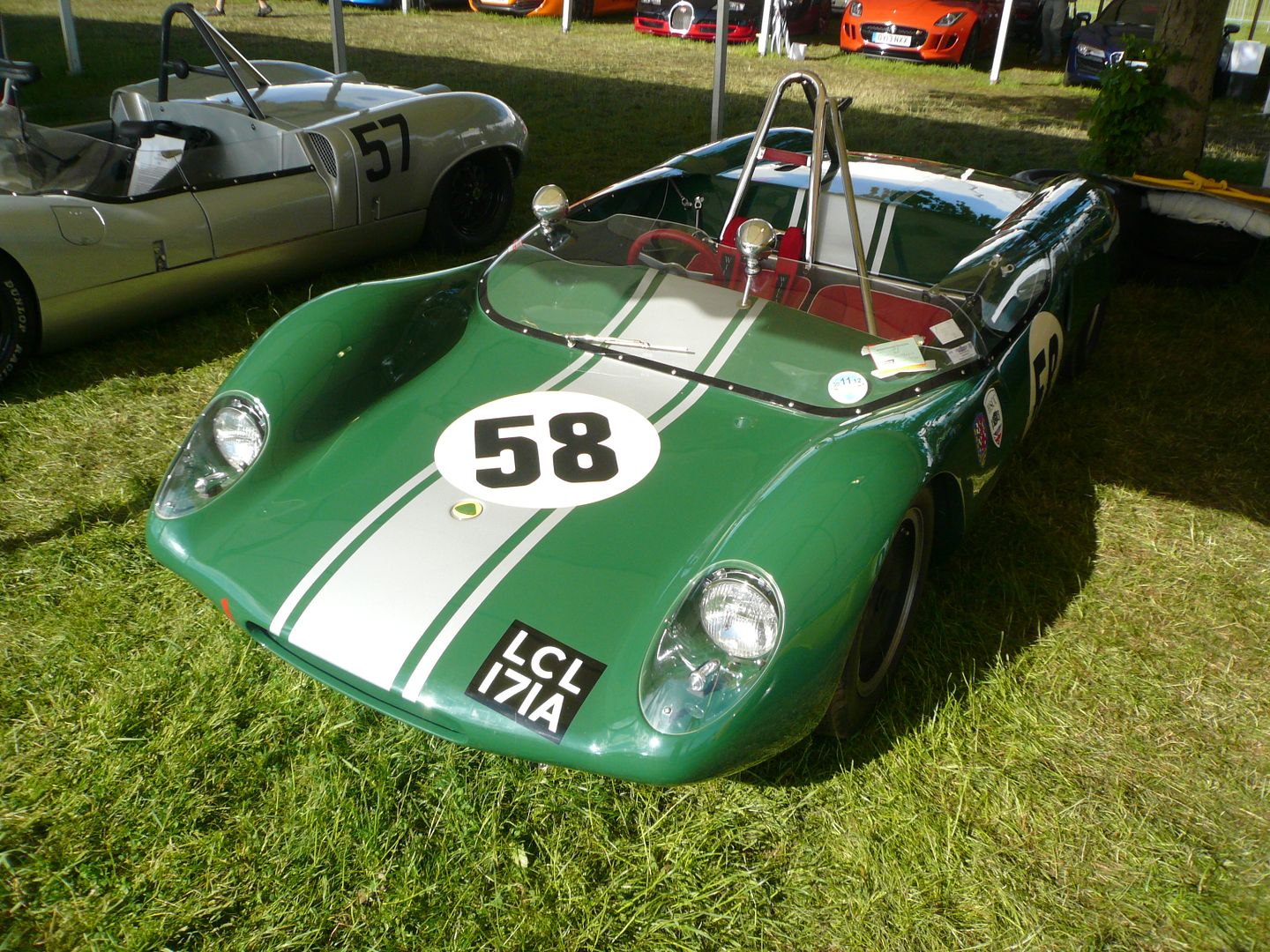 There were also some "road" cars in action, including DAD10, a famous 1960 Elite and an Elan.
MASERATI
Not one, but 2 of the iconic 250F were here, one of them belonging to Nick Mason, though I did not see him whilst I was there .
MAZDA
Another noisy beast was this rotary engined RX7.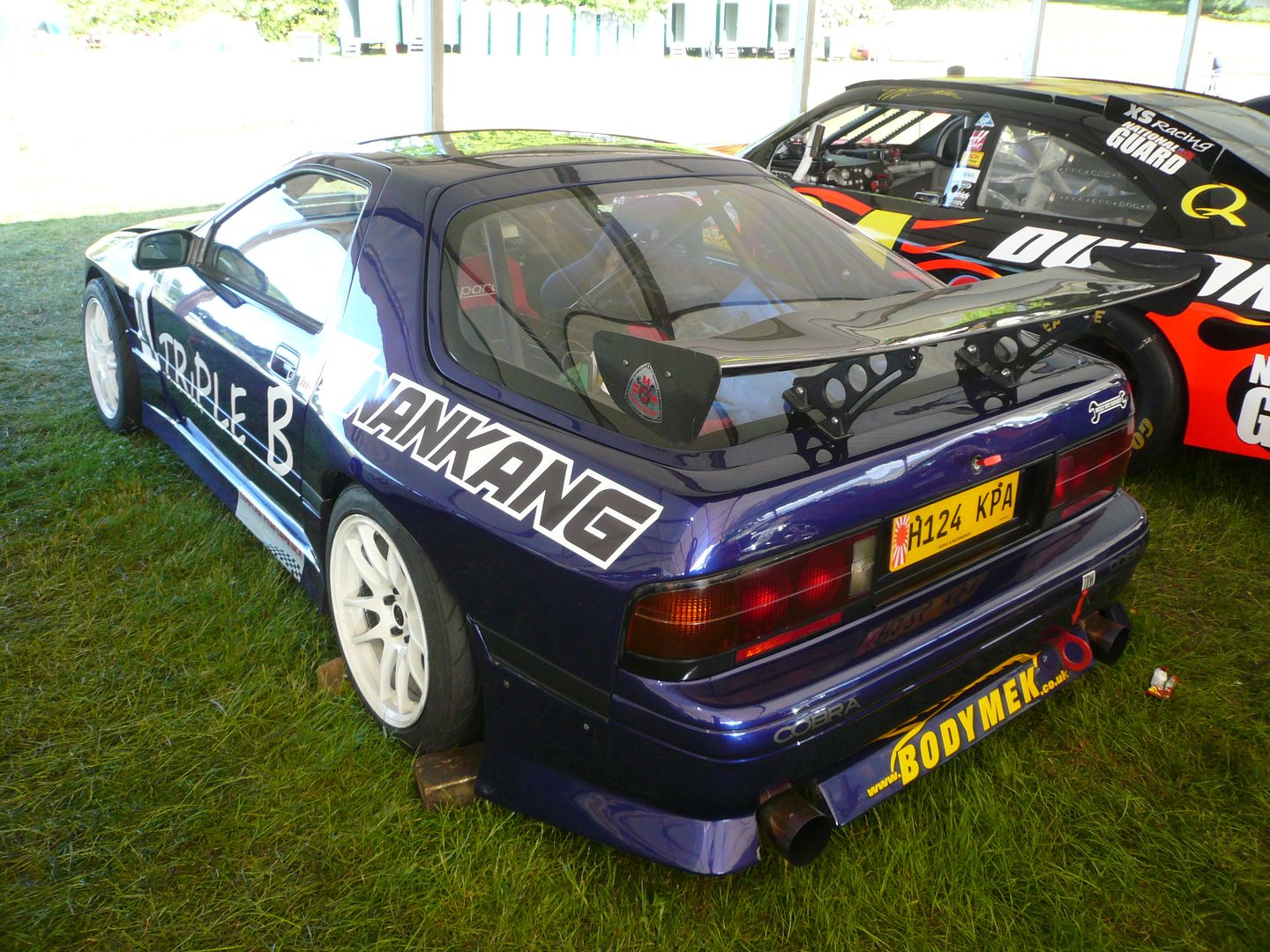 McLAREN
Almost ignored, as it was parked up next to the F Type and the Veyron was this 12C car.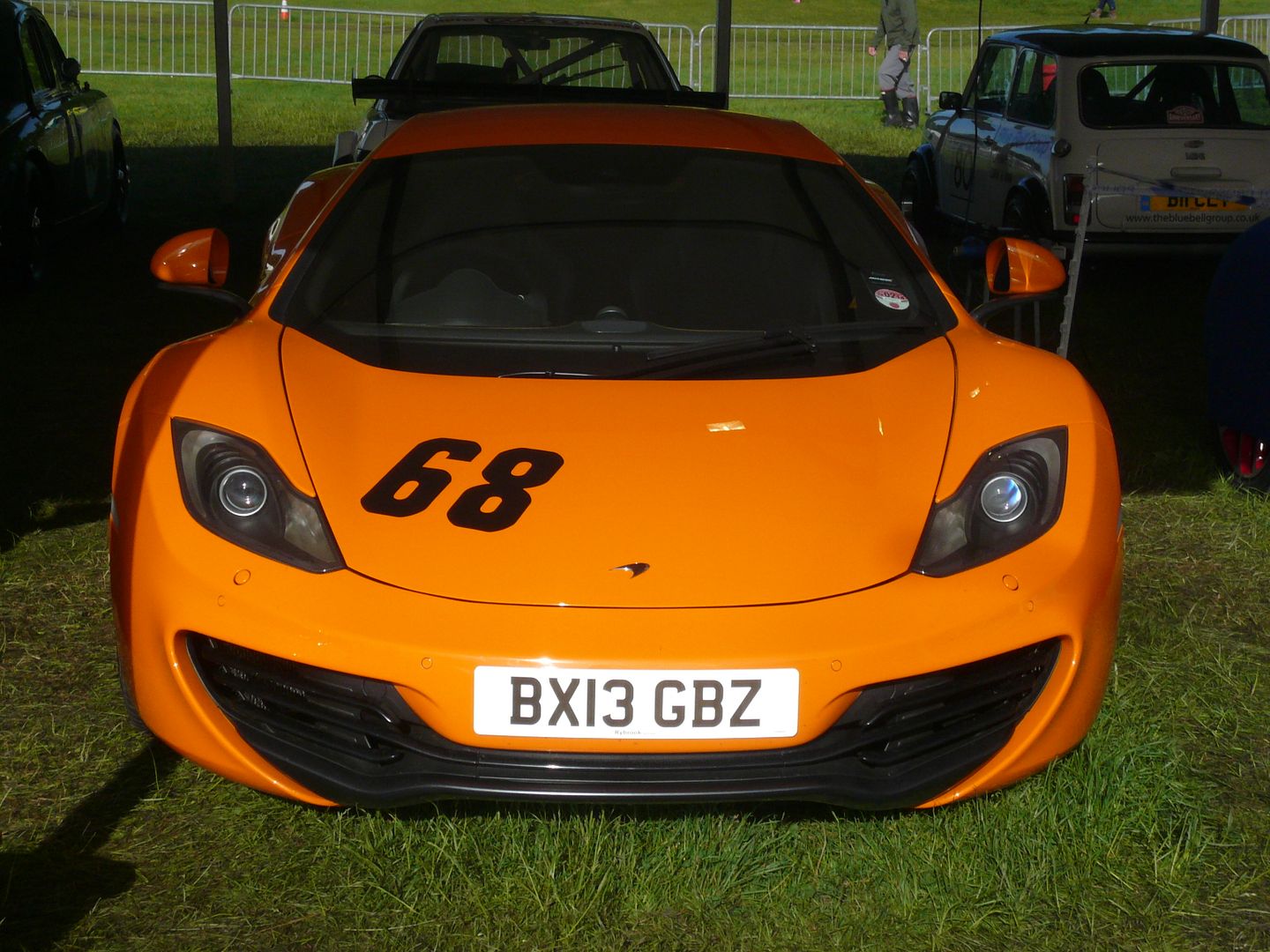 MERCEDES-BENZ
Another of the many stars of the weekend was this fabulous W125 replica that had made a trip over from its usual home in the Donington Collection. Not often that you get to see it in action, and what a sight!
MESSERSCHMITT
Just bonkers was this 1956 Kabinenroller fitted with a propellor at the back. Great comedy value, if nothing else!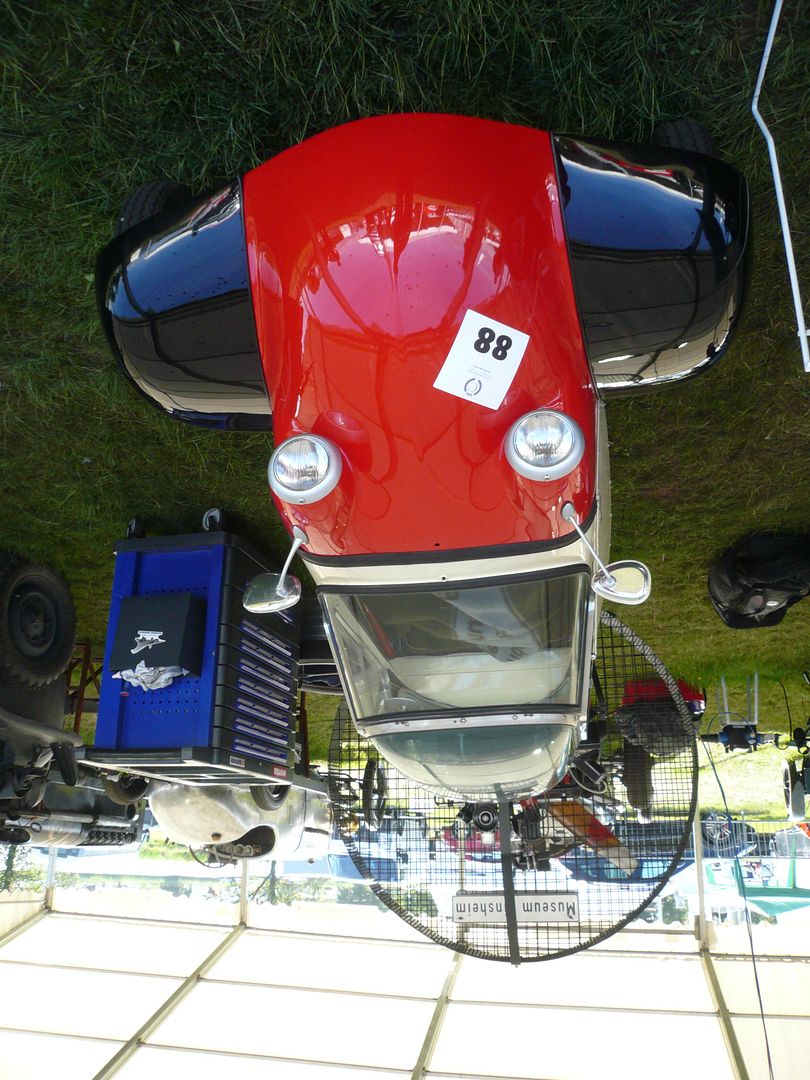 MISC
Just, well, err, what is this? !!
MORGAN
Needless to say, there was a Three-Wheeler tucked in among the paddock cars.
MOTOR BIKES
As in previous years, there was quite a collection of bikes, of all vintages, ranging from old to some more modern machines, and some with Side Car (of sorts!).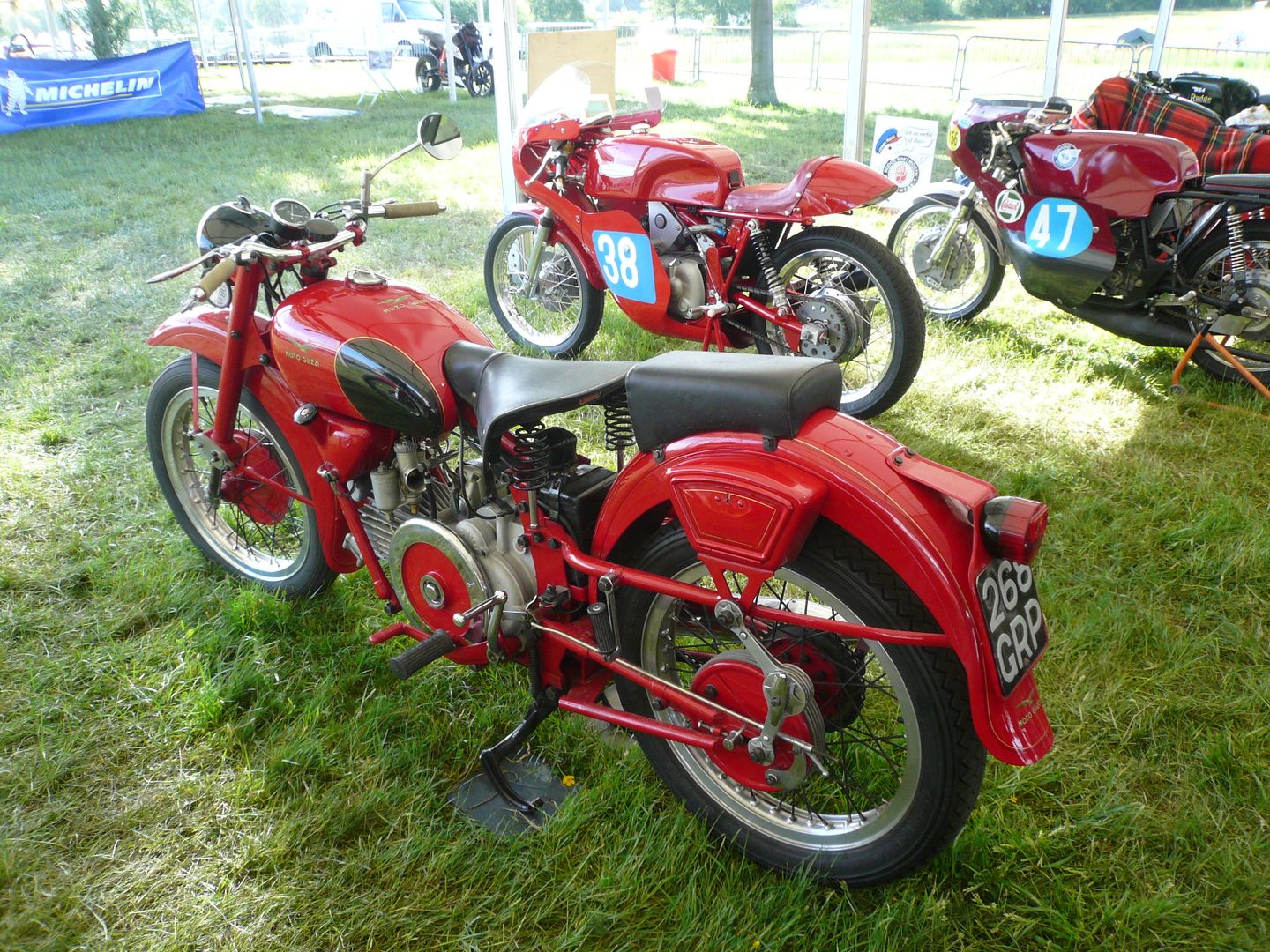 This one was at the event last year and is the longest wheelbase bike ever made. It was taken at rather sedate pace around the track, as manoeuverability is not that great.
NOBLE
I am still not sure that Noble have built more than a few of the M600. The lucky driver of this one was none other than Anthony Reid.
PORSCHE
The latest 911 Carerra 4S was joined by the Carrera GT.
RADICAL
Another of the specialist track day cars was this, a brand new RXC.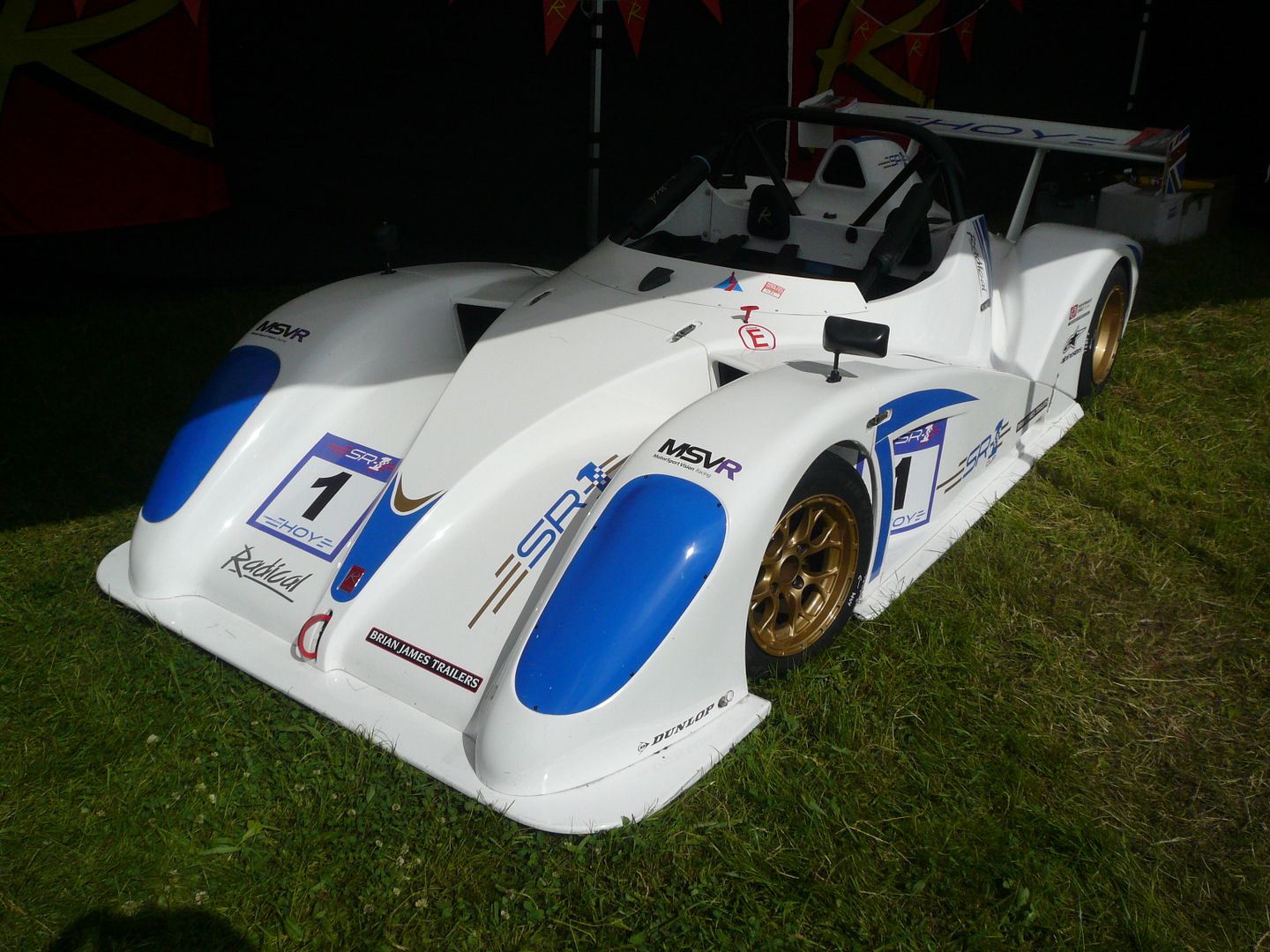 TOJEIRO
Jap engined racer from 1952.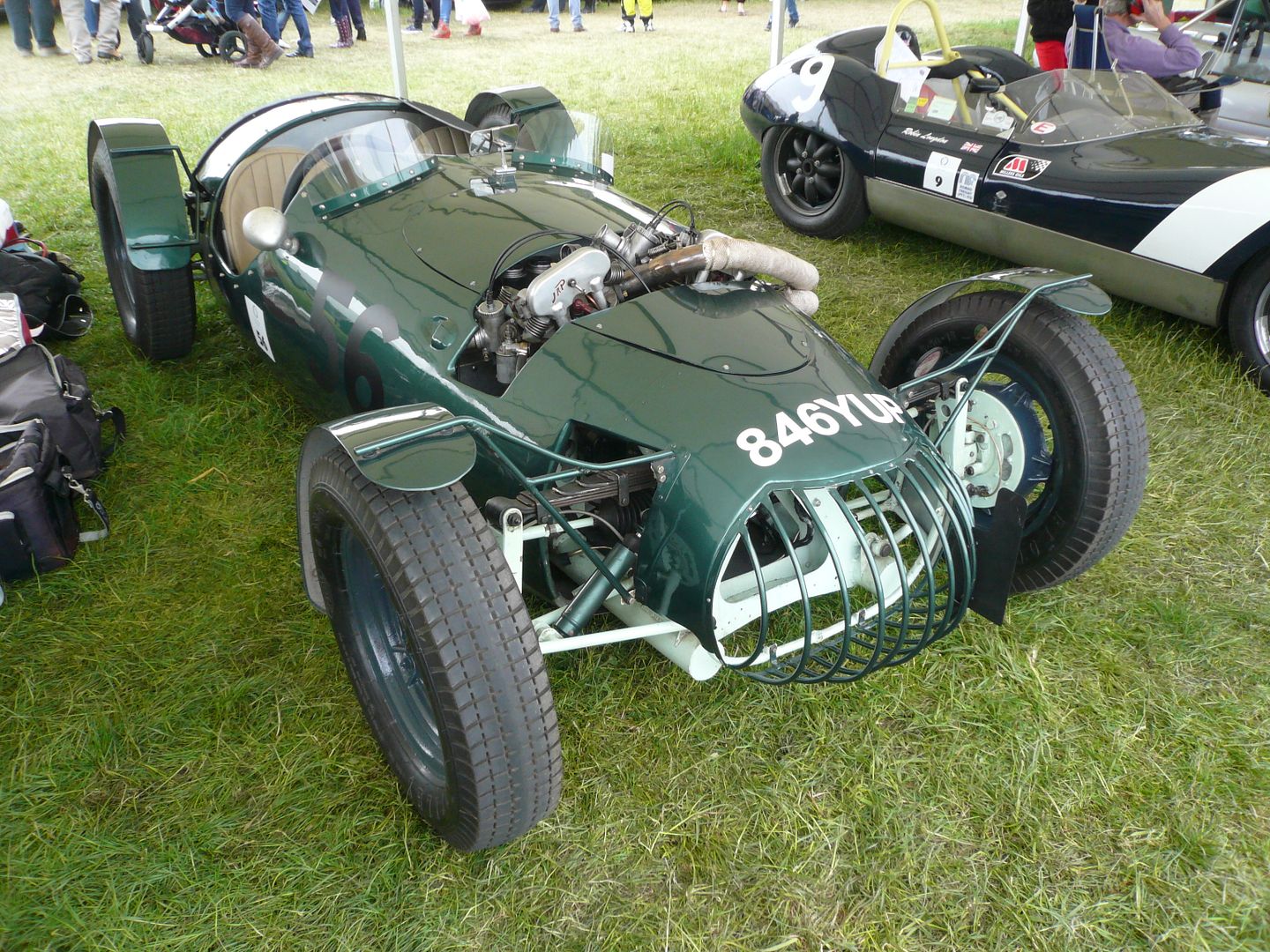 VAUXHALL
Or is it a Holden? This VXR8 Tourer was Steve Cropley's drive for the weekend, and when he was interviewed, he did say that despite the Vauxhall badges in the UK, this is really a product of his native land, and so it's really a Holden HSV.
VOLKSWAGEN
This 1941 Type 166 Schwimmwagen was making another appearance, after delighting the crowds last year. I was not aware of it taking to the lake as it did in 2012, but it was still quite a contrast to most of the other cars going round the track.
WILLIAMS
This FW06 car dates from 1980 and was driven by Alan Jones. It just seemed so small compared to modern F1 cars.
RALLY CARS
New for the 2013 was an extensive collection of Rally Cars. They had their own paddock area, and we were treated to the sight of many of them being exercised on the circuit at lunchtime.
CAR CLUB DISPLAYS
There were over 40 different Car Clubs who had applied for display space. A couple of the pitches were empty, but it is quite likely that they had been present on one of the other days of the event, and I know that the Abarthisti area would/should only have had one car in it on the Saturday
ABARTH
Slightly disappointingly, there were only 4 Abarthisti cars in our display area in the end: my 500, Ed Tan's 500C, Jan Vermeer's 595 and Shawn and Bev Yates' Punto Supersport. I am delighted to report that although we were situated right at one of the line of display areas, our 4 cars seemed to be attracting an unfair share of attention, with a constant stream of people coming up to them, inspecting them closely, and when any of us were around, asking lots of questions.
AC
The Greyhound is far more unusual than Ace and Aceca models of the same period, let alone the Cobra
AUSTIN-HEALEY
Lots of Healeys, dominated by the Big models, in both 100 and later 3000 guise, but there were some Sprites as well.
BENTLEY
Quite a contrast between the late 1940s R Type and the modern Continental GT Coupe.
FERRARI
A nice 550 Maranello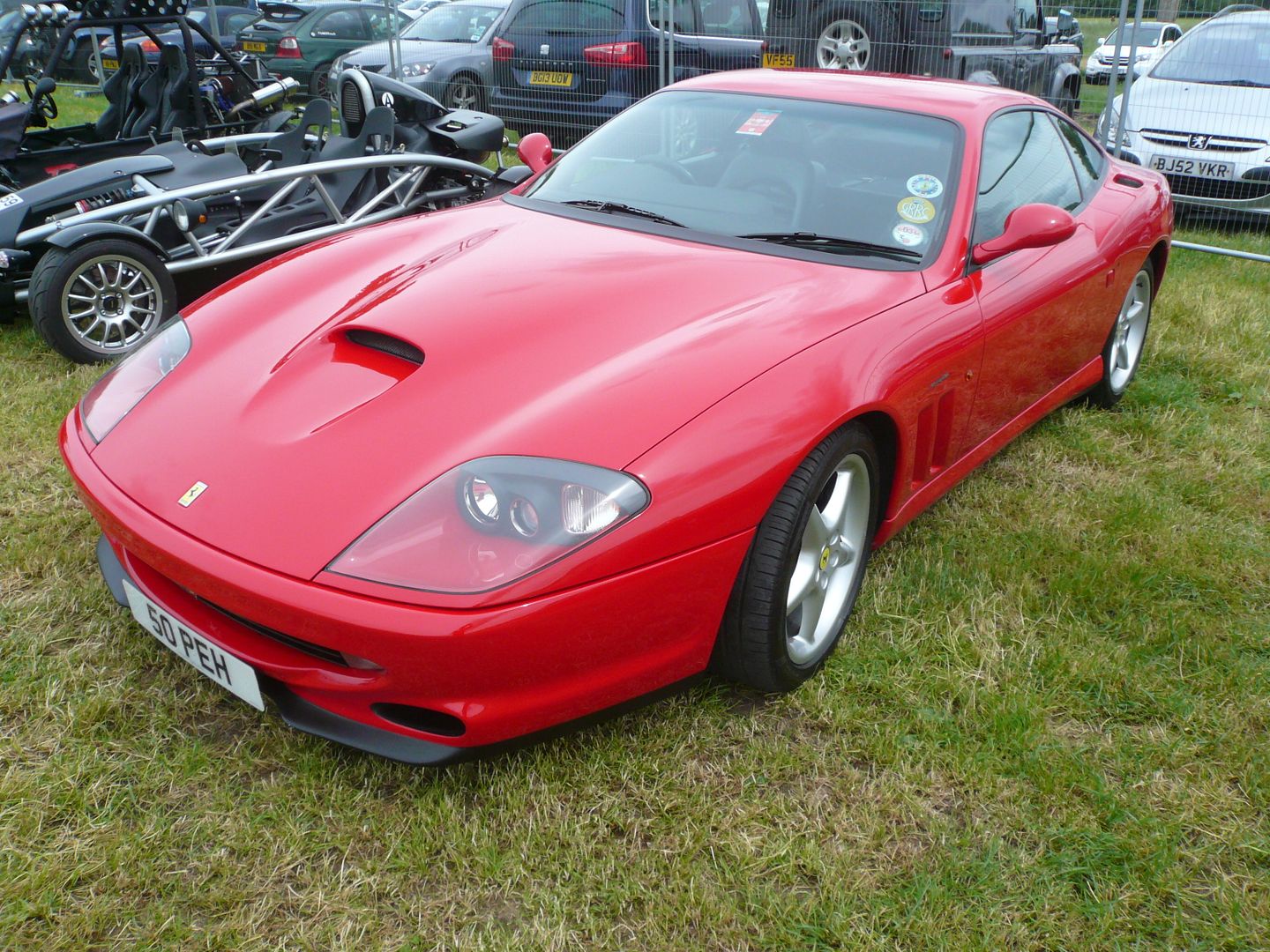 FIAT
A quartet of Fiat Coupes, all in different colours. This truly is one of those cars which became an almost instant classic.
FORD
A small collection of classic sporting Fords included a couple of Escorts and a Sierra Cosworth
One of the area clubs had a Mark 5 Cortina amongst its display cars.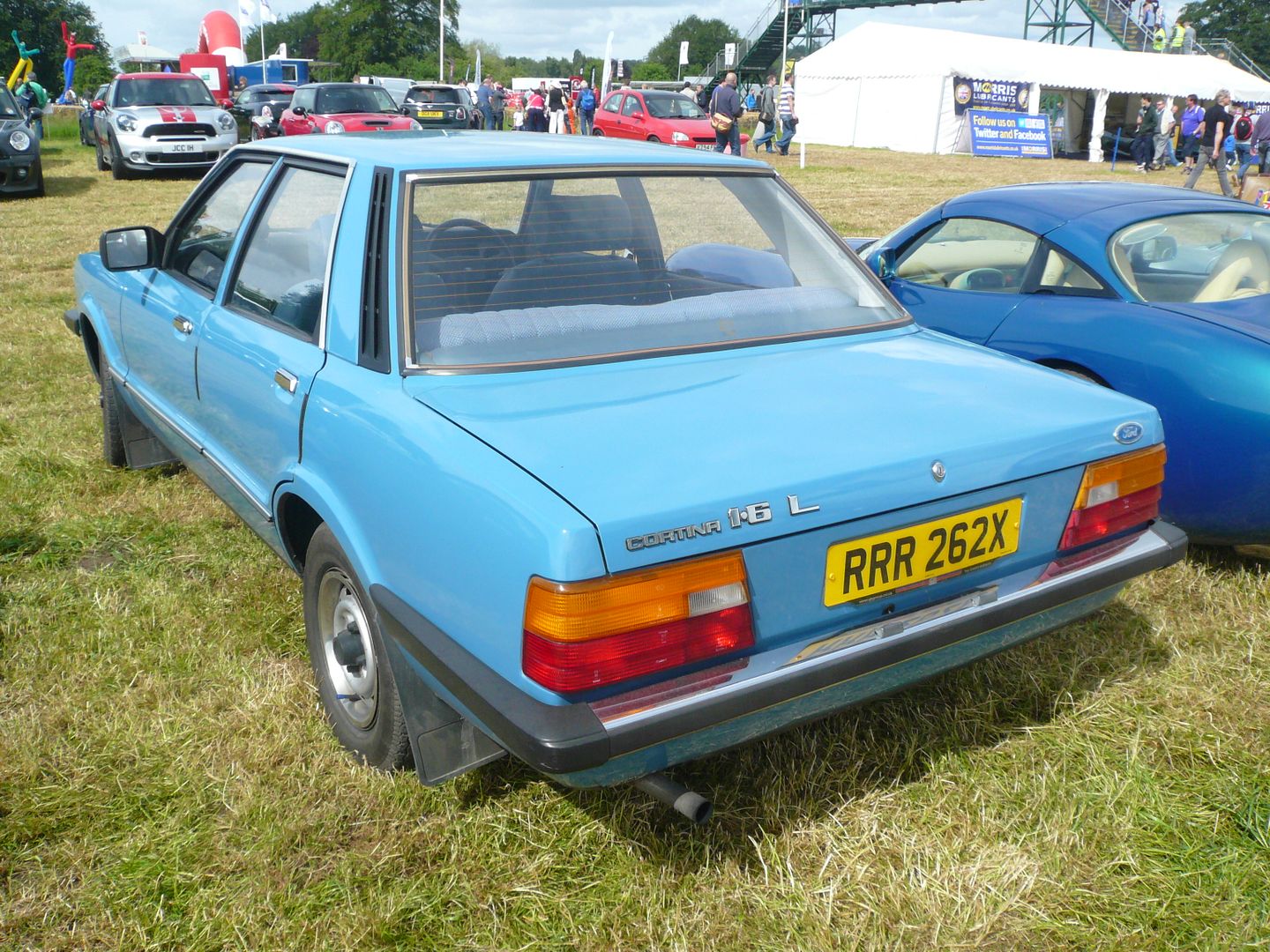 HONDA
An S800 Coupe, a little tiny sports car with a high revving 800cc engine. Very rare.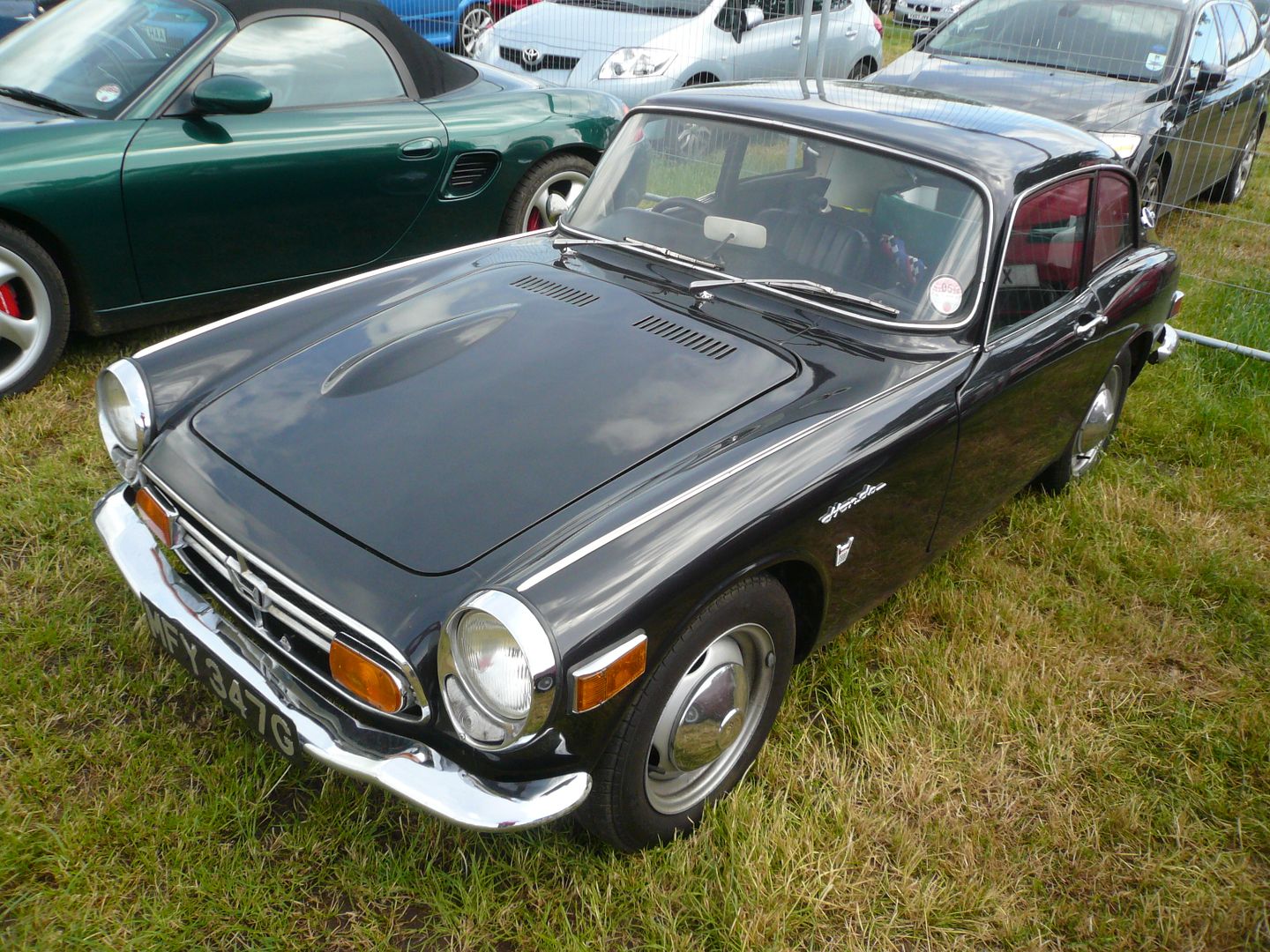 JAGUAR
There were plenty of E Types, and separately, a couple of more recent XK models and a Mark 2
LANCIA
The Lancia Owners Club had a mixture of Delta Integrale and Stratos (replica) models on show
LOTUS
No Lotus Club stand per se, but there were a few Lotus cars on some of the geographic clubs present, including an Elan a Plus 2 and the recent Europa.
MAZDA
Probably the rarest car of all car club machines was this, a 1973 RX3 Coupe. Mazda never sold that many of these in the UK, and the 1973 Fuel Crisis pretty well killed off sales of all their rotary engined cars, which was a shame as they never had the reliability and longevity issues that bedevilled NSU.
The MX5 Owners Club had probably the largest collection of cars of any Club, with a vast assembly of the three different generations of this popular modern sports car.
MG
TC
MINI
A rather nice Mini Cooper.
MORGAN
There was quite a gathering of Morgans. All bar one were relatively recent, with Plus Eights the dominant model, but there was an Aero and a Four Seater as well.
NISSAN
An array of Skylines and GT-Rs were largely in the "modified beyond belief" category, though this is a car which does seem to attract more than its fair share of modifiers, and few of them do so in anything other than a crass way. I took just this one picture!
RILEY
One of relatively few vintage cars in this area was this rather nice 9 model.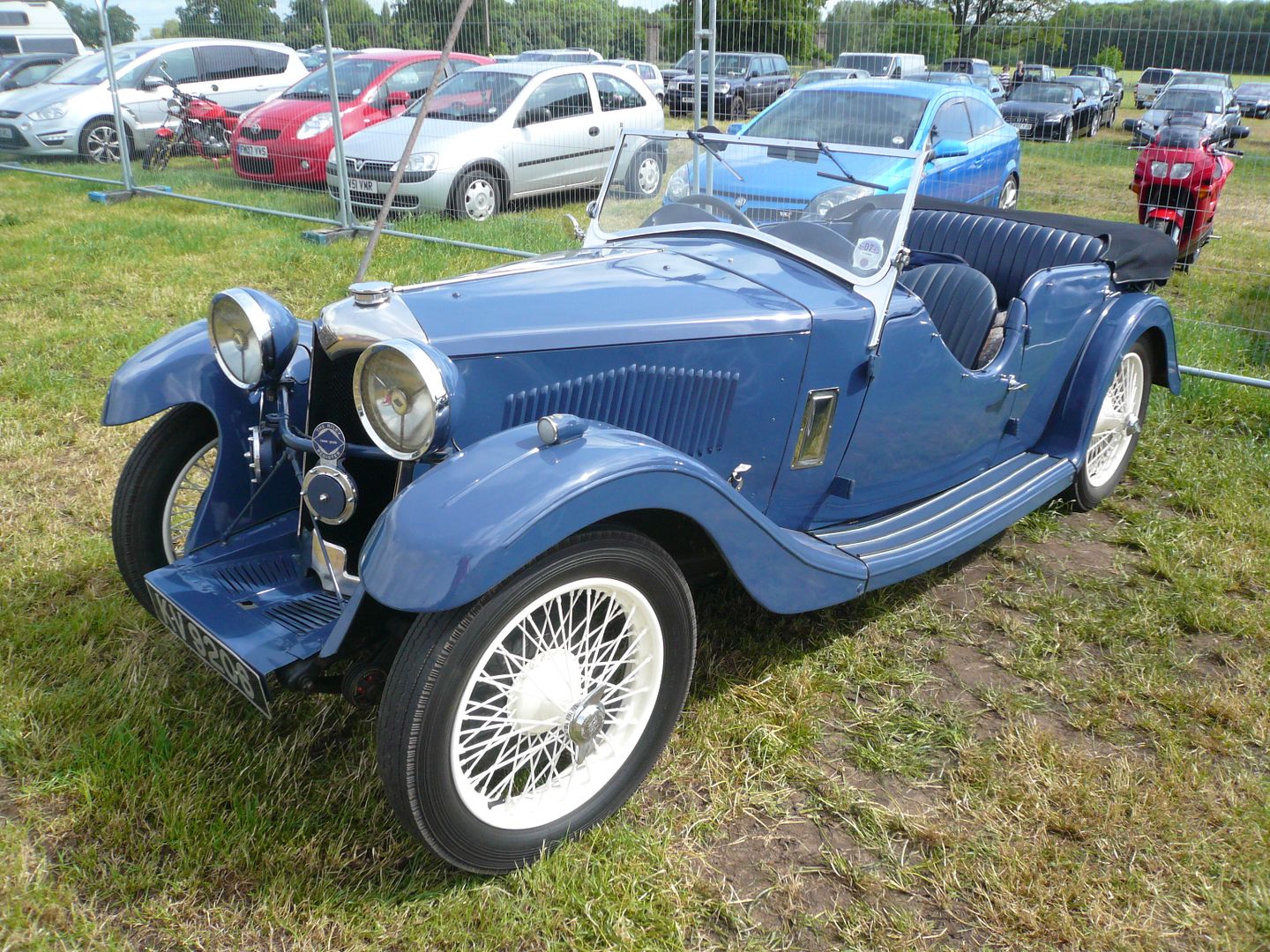 TRIUMPH
The local TR owners had an impressive display of cars which were mainly TR4s and TR6s, though there was also a nice TR2.
The Stag Owners had a quartet of cars, and then promptly sat guard over them all day, barely moving from their pitch.
Also on display were a 2000,  and both a Herald Coupe and a Vitesse Convertible
TVR
One of the most colourful and varied displays was provided by the TVR Owners Club, who had an array of different models from the past twenty or so years, including Chimaera, Griffith, Cerbera, Tuscan, Sagaris and T350
VAUXHALL
The Chevette and Cavaliers Owners Club display, at least on the Sunday, was confined to the latter, with a quartet of first generation Cavalier models on show, including the very first car ever made, which saw service as the (note the use of the singular definite article) Press Car, as well as the only surviving 2000LS and the neat Sports Hatch. There was also an example of the rather tacky Calibre limited edition model which came at the end of production life of the second generation car.
The local VXR Owners Club had a large display, with everything from Corsa to a couple of the Holden-derived VXR8s on show, all of them recent cars, and mostly modified in some way or other.
The Droop Snoot Club had an example of the short-lived Firenza and a couple of Chevette HSR models.
Also on show was this FD series VX4/90. I don't think that the ochre paintwork is an original colour for this car.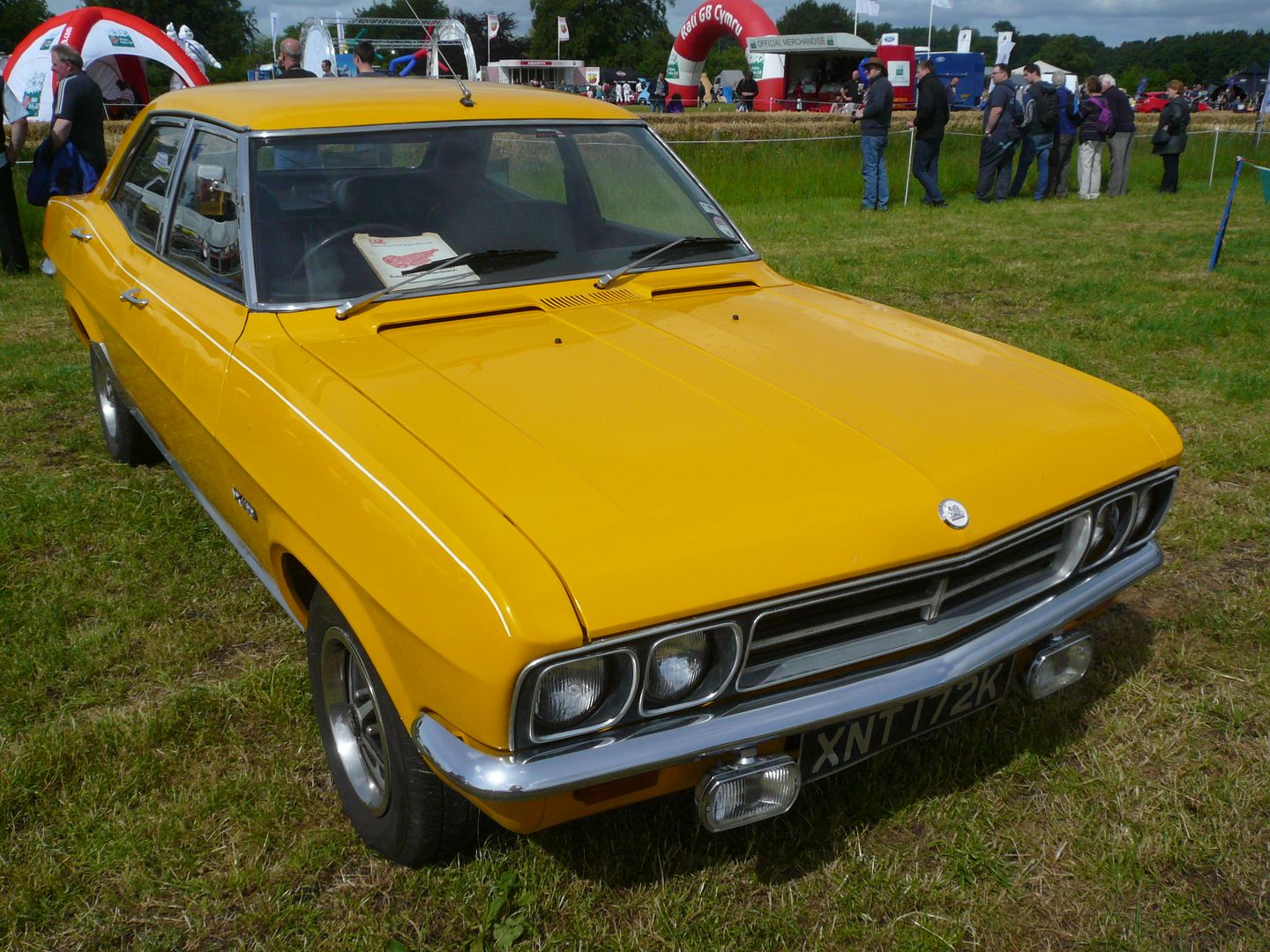 VOLKSWAGEN
This Mark 1 Golf GTi looked to be in excellent order.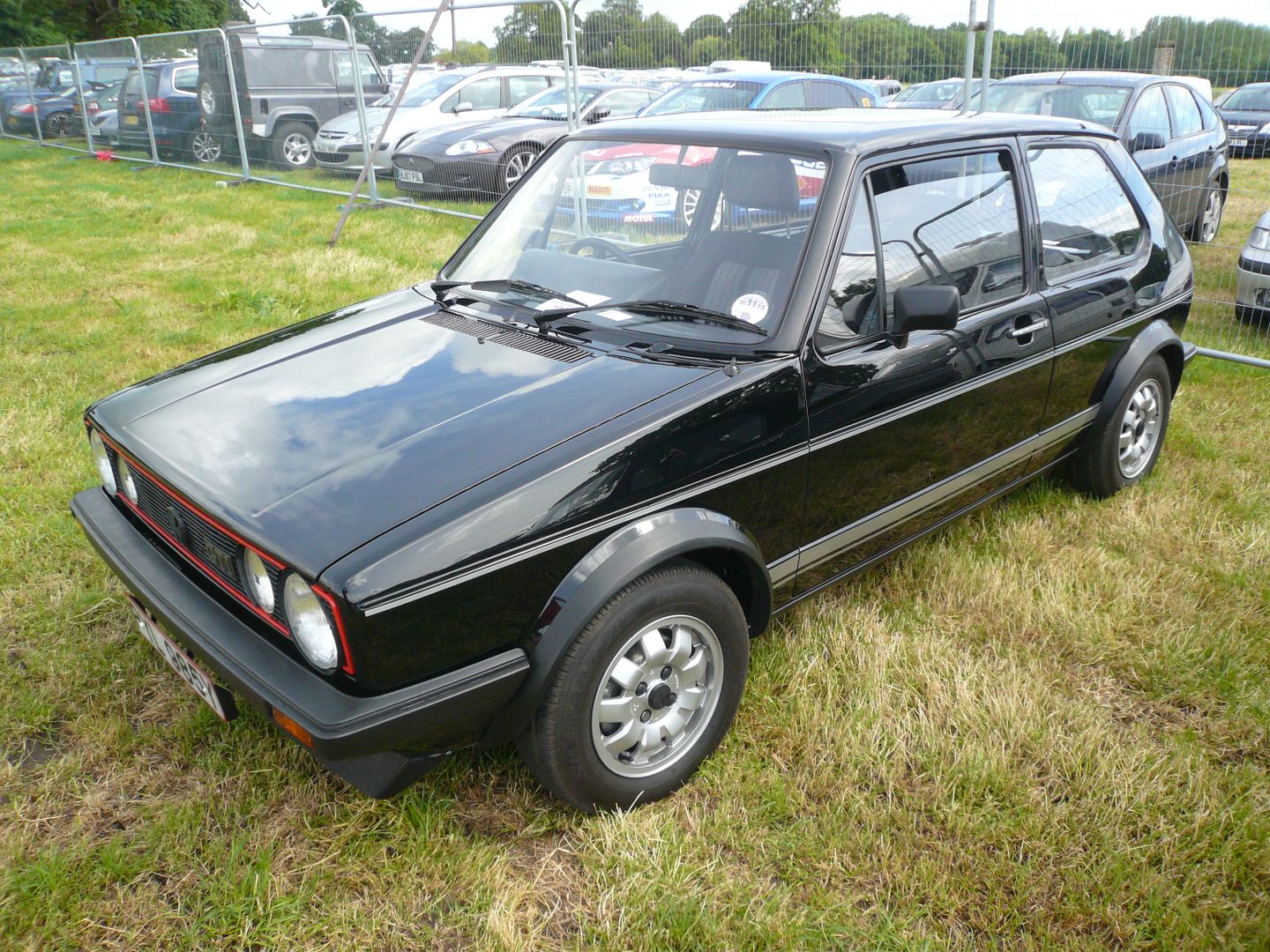 OTHER DISPLAYS
There were special displays to mark 2 notable anniversaries: Lamborghini's 50th and Aston Martin's Centenary. The former was quite restrained with 2 historic Lamborghinis joined by 2 new models, one of which, the Aventador Spider was making its UK debut.
The Aston display comprised a range of models from a DB4 Convertible through to the latest Vanquish.
There were just 2 classic Lamborghinis parked up by the duo of new models, a Countach and a Jalpa.
This glorious Derby Bentley 3.5 litre was parked up looking rather isolated, as if an array of other cars should have been present, but at least on the Sunday, they never were.
The AA brought along some vehicles from their historic collection.
SCD TV had a display comprising a disparate collection of cars ranging from a Jaguar XJ220 through an MG X-Power SV to the latest Morgan Three-wheeler
NEW CARS
There were rather fewer dealer display stands than in previous years, but this was a chance to have another sit in some current cars, and I availed myself of the opportunity.
ABARTH
Local dealer Bauer Millett had an array of Abarths from 500 to 595 and Punto Evo
ASTON-MARTIN
Separate from the historic display were an assembly of the current range, with Rapide, DB9, Vanquish and V8 Vantage all present.
BENTLEY
As befits the local manufacturer (Bentley Motors are based less than 15 minutes away from the venue), Bentley had a large and visible presence, complete with a sizeable hospitality suite for their customers and prospects. On show outside this were example of their latest range including the new Flying Spur.
BMW
BMW had examples of both brand new and more established models on show, with Andy Priaulx' DTM "3 series" acting as the centrepiece of the display.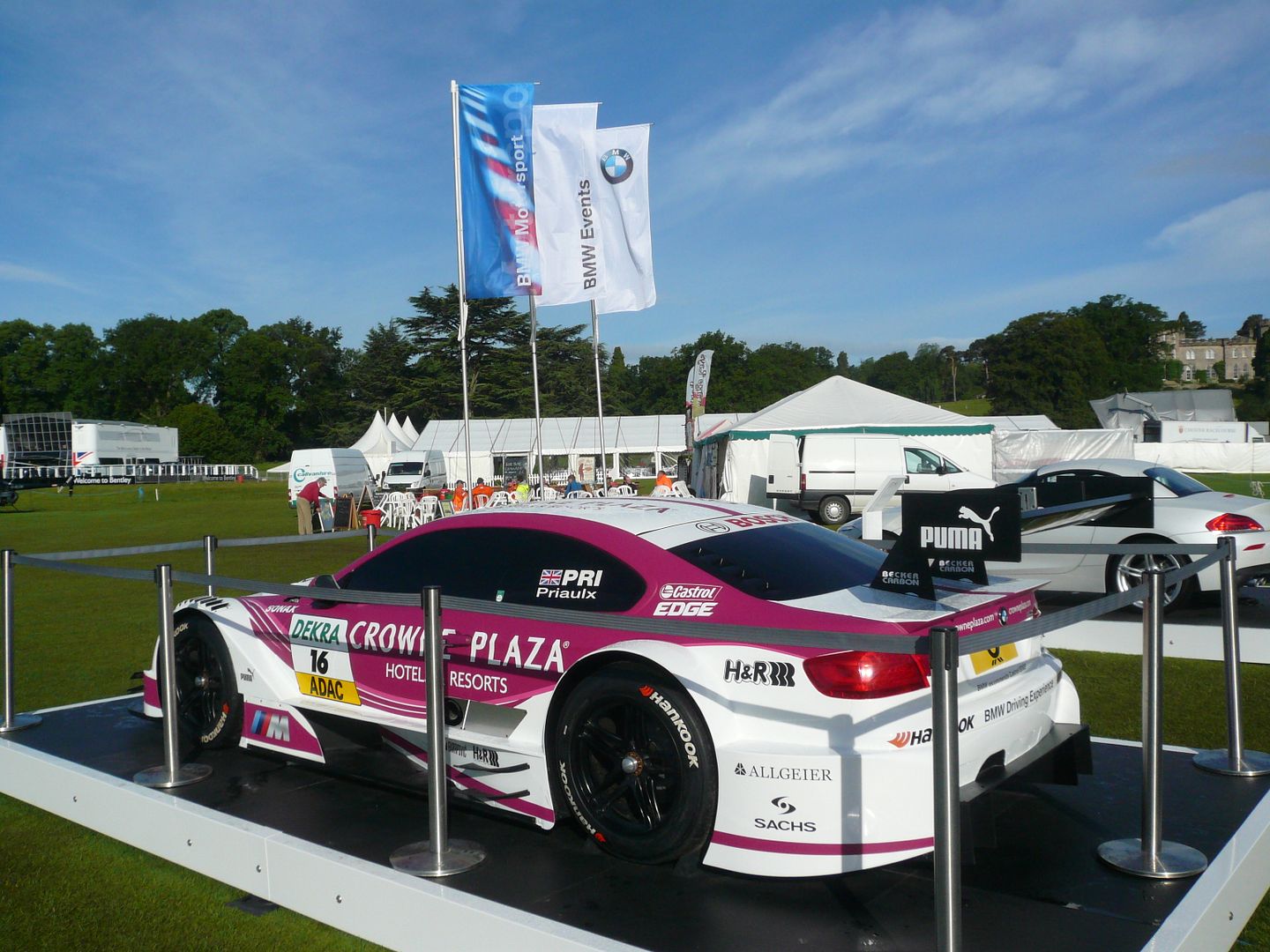 The M6 Gran Coupe is very nice, though the cream leather interior would probably no stay that colour for very long, but with a starting price of £97,100 before options, I suspect that this version of my favourite current BMW design is likely to stay a rare sighting.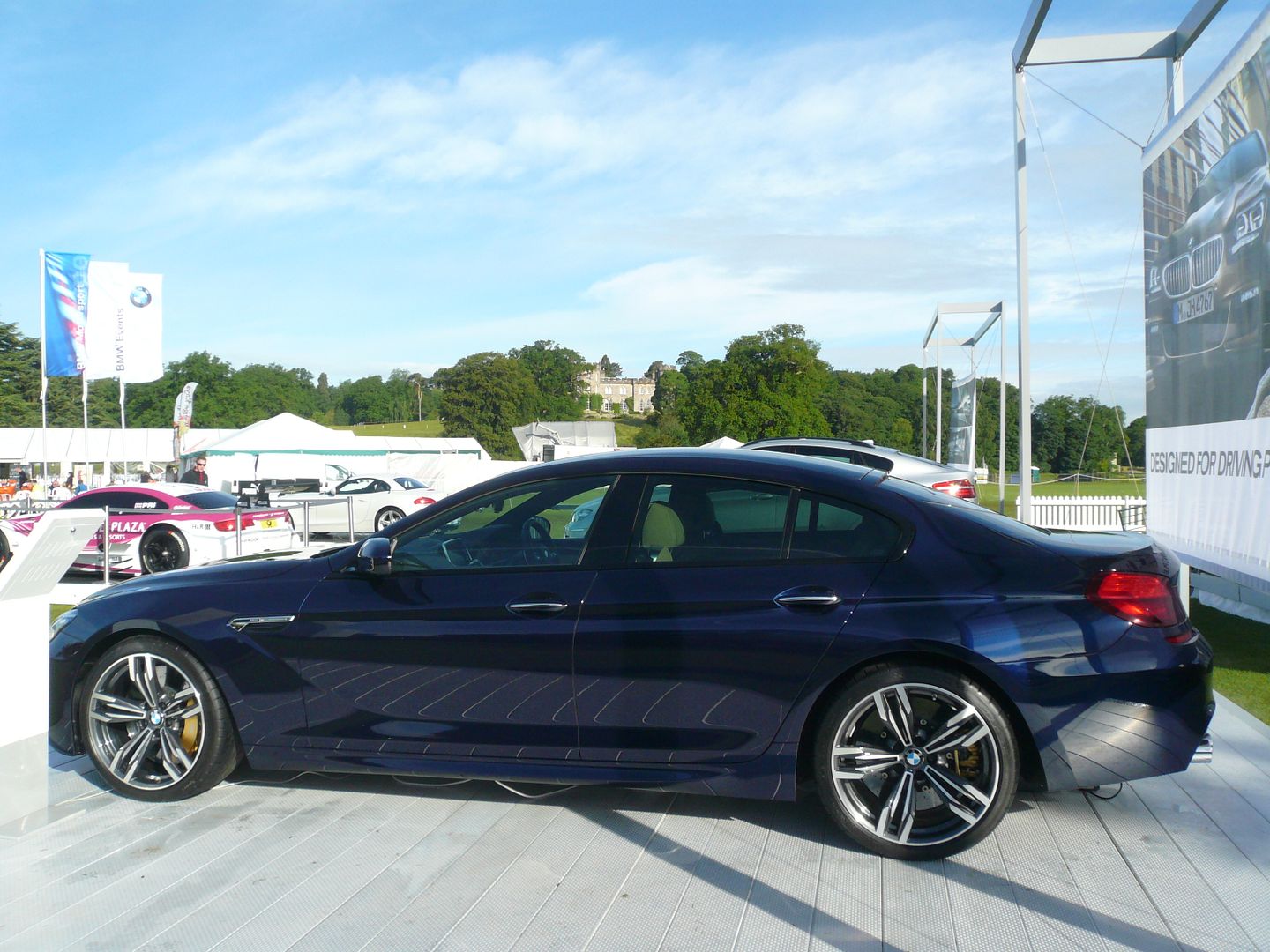 There was an example of the new 3 Series GT, which I predict we will soon be seeing on a daily basis. It is an impressively roomy car, though I am less than convinced about some of the detailed design features which make it looks a bit awkward from some angles. After the refreshing honesty from the sales representative at Canary Wharf, I got someone here who was utterly convinced that BMW not only have all the answers but that no-one else has. When she tried to tell me that even an entry level MINI (a First) is a thrilling car to drive, a point I can rebuff from personal experience of its rather gutless engine, and she then launched into how no-one else had impressive CO2 numbers like BMW, to which I suggested that whereas they had indeed led the way but others had largely caught up and there was now a leap frog game going on, she just got less and less credible. She did not take the clue that I drive an Audi to be an indication that I might not be quite so enthusiastic about the marque as her, and when I said that an M3 was not an option last year as the then CO2 rating was too high, she said that I should have had an M-Sport, as it is "just as good". She then went on to rubbish what she called "Nissans that she had never heard of" – which meant Infiniti, who were elsewhere at the event. Belief in your brand is great, but she was rather more blinkered than credible! I escaped at this point.
Fortunately I had grabbed the other pictures I wanted, so did not have to risk a repeat conversation with her!
CHEVRON
Chevron had a marquee with three examples of their very focused machines on display.
FORD
A choice selection from the vast Ford range concentrated on some of the most recently launched new models, so the latest Kuga was there, along with a Fiesta ST and a Focus ST.
HONDA
A vast display from Honda provided ample reminder that cars are only a part of the range of products that this Japanese giant produces. All manner of machinery was on show from a miniature lawn mower that directs itself to an array of bikes, quad bikes, generators, and of course the latest range of cars.
ICON
Icon were showing their upgraded Land-Rover Defender products.
INFINITI
No sign of the soon to be available Q50 here, so the display was confined to the current range, with examples of G37, M30d and the 2 SUV models of EX and FX on show.
KIA
For sure, Kia have one of the best looking ranges of cars on sale at present, and there were examples of most of the different models offered to UK buyers, from the diminutive Picanto to the large Optima saloon and Sorento SUV.
PORSCHE
The local dealer had a representative selection of the latest Porsche which included the recently released Cayman, as well as the 991 model 911, the latest Boxster, Cayenne and Panamera.
TWISTED
Second collection of modified Defenders were from Twisted, who had gone to the trouble of pre-empting the notorious Cholmondley weather with a covered display unit.
VAUXHALL
VXR was the theme for most of the vehicles displayed, with the recently revealed SuperSport Insignia being perhaps the highlight for many. The interior, despite all the criticism levied against it, is actually quite nicely done, and with staggering levels of performance available, this car will be an absolute bargain secondhand, as I suspect that depreciation levels will be simply terrifying. It won't be cheap to run, though.
More familiar were the Astra GTC and Corsa VXR cars, the latter in Nurburgring Edition guise.
The Adam was on show, in one of the more, let's say "imaginative" colour schemes. I am really struggling to like this car even as a static object, and I understand that the driving experience is unlikely to make one feel better about it.
OTHER CARS
I did not get the chance to tour around the car parks, but there were  a few other cars parked up which did attract my attention.
Most notable was this Ferrari 599 GTO.
Not that the Ultima and Lamborghini Murcielago SV that parked up adjacent to it were any less noteworthy.
Blessed with a combination of much better weather and relatively dry conditions underfoot, this was in many ways the most enjoyable Pageant of Power which I have so far attended. Sadly, I think the display areas were not as full as in previous years, as the challenges of the past probably deterred both Dealers and Car Clubs, though I was pleased to read that total public attendance figures were up and constituted a new record for the event. As it never felt unduly busy,  there is clearly scope to get more stuff to see and more people to see it without spoiling things, and I know that this is the organisers' goal for 2014. I will return to see how well they have met their objective.