One of the most comprehensive collections of cars in the UK can be found in the British Museum of Road Transport, also known as the Coventry Motor Museum. Located in the heart of the city centre, the museum was founded to celebrate the fact that Coventry lay at the heart of the British motor industry almost from its birth in the late nineteenth century for the following hundred years. Even the almost complete devastation of the city in the Blitz was little more than a minor difficulty, and production resumed in the late 1940s, and went from strength to strength in the 1950s and 1960s. With further consolidation of manufacturers from the 1960s, the number of marques continued to reduce, and gradually plants were closed, with the very last, the Peugeot facility in Ryton on Dunsmore, shutting up shop in 2006. That means that there are approximately 110 years worth of car production, as well a heritage in bicycle and motorcycle manufacture to research and enjoy in this museum which concentrates on vehicles that were produced in the city and its environs. The collection is vast, and only a part of it can be shown at any one time, which is reason enough why anyone should make repeat visits quite frequently. When I reveal that admission is free of charge, then there is a second reason to go, and often. To my shame, my last trip was in December 2007, when a small group from TheMotor.net spent a couple of hours discovering what was then on display before heading off for a festive meal. Despite continually intending to make a return visit, it was only when attending the Cyril Scott lecture given by renowned motoring journalist Steve Cropley in October 2013, when entry was via the back stairs so we saw little of the latest displays that a plan was hatched. It was decided that night that TheMotor.net's Christmas 2013 Meal and Drinks would start off with a repeat visit to the museum.
In the 6 years since my last visit, much has changed. Rather than just presenting an array of cars, with simple information boards to identify them, a lot of effort has been put on the backgrounds, with a vast array of period material and other exhibits to try to recreate more of the context in which the vehicles would have been seen when they were new. The work is not quite complete, with one part of the museum still undergoing something of a transformation, with some of the cars remaining in that area being wrapped up in large protective plastic bags. A good reason to go back, then……… This report presents what was on display in December 2013 in a sequence that more or less follows the flow around the museum.
THE FOYER
First car that you come across is this Hillman Minx. Property of the stereotypical one lady owner, it had been parked up in her garage when she gave up driving, and sat there for many years, until after her death, when it was extricated, and moved to the museum, where it was cleaned up, but has not been restored. What makes it particularly rare is that it features the Easydrive automatic transmission.
COMMERCIAL VEHICLES
The first hall, to the left of the main route around the museum contains a wide variety of exhibits, most of which would have had a commercial use rather than a private one.
First thing you see are a collection of tractors, of which the little grey Ferguson tractor will be a highlight for many. Harry Ferguson built his first tractor in Belfast in 1933, but it was not until 1946 when mass production began, after Ferguson entered an agreement with the Standard Motor Company, to use their factory on Banner Lane. The little grey TE20 tractors were a sensation when new, and are much prized now.  This is the 500,000th one made, and dates from 1956. It has a diesel engine, which had been fitted, initially against his better judgment, since 1951.
By 1957, Ferguson had sold his interest in he company, which was then owned by Massey Harris. The name Massey Ferguson was adopted in 1958, and new products appeared on a frequent basis, generally getting larger with every new model. There are examples of the tractors shown in a rack, and these are joined by the very last Massey-Ferguson tractor to be made in Coventry, before production moved to France, built in 2002, completes this display.
Having revolutionised the tractor, Harry Ferguson turned his attention to the car, and produced a very innovative 4 wheel drive prototype in the mid 1950s, the R4. Far too advanced for its day, it remained just that, a prototype.
The Fleetline was the last in a long line of buses manufactured by the Daimler Company and used by Coventry Transport Corporation, This particular bus was the last completed vehicle and was delivered to the Corporation in 1973. The Museum acquired this bus in 1986. The next year, Coventry City FC steadily progressed through each round of the FA Cup, until astonishingly, they made the final. Suddenly, various plans had to be drawn up – just in case the team won! Part of these plans involved potential celebrations, including parading a victorious team around the city. This bus was accordingly specially repainted and was used by the team as they made various tours around the city to celebrate their victory.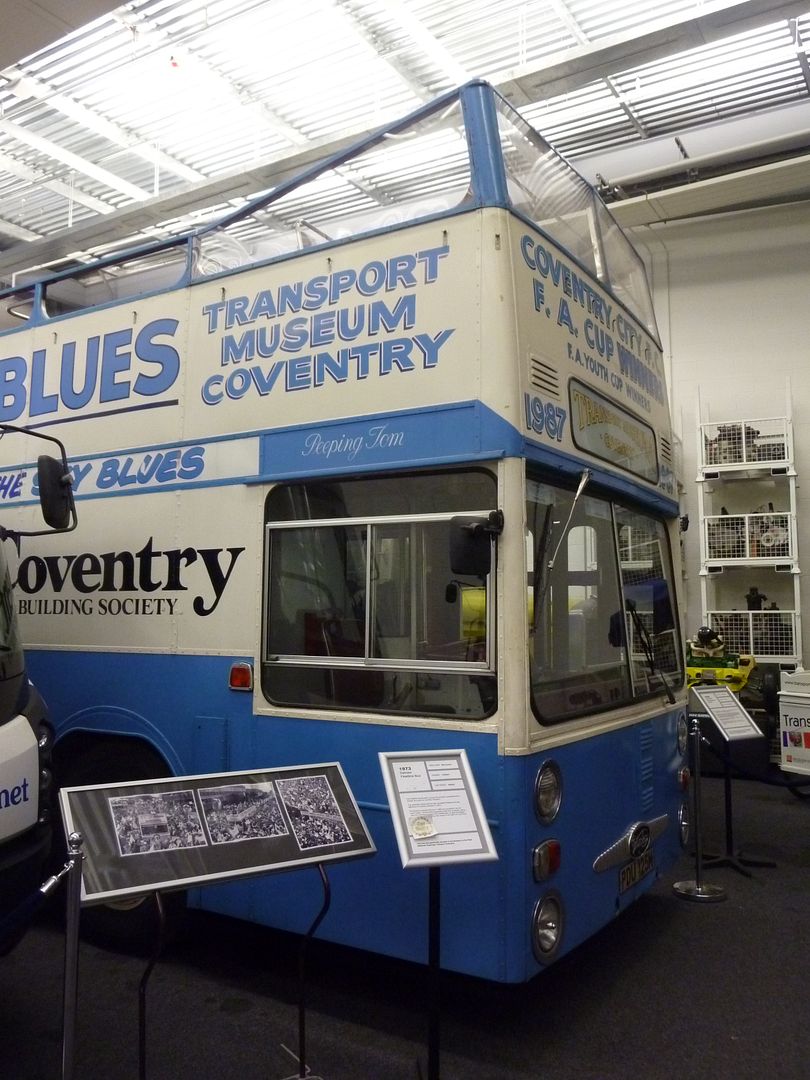 1948 Maudslay Marathon Mark 2 Coach
1956 Scammel Highwayman Articulated Tanker
THE DAWN OF MOTORING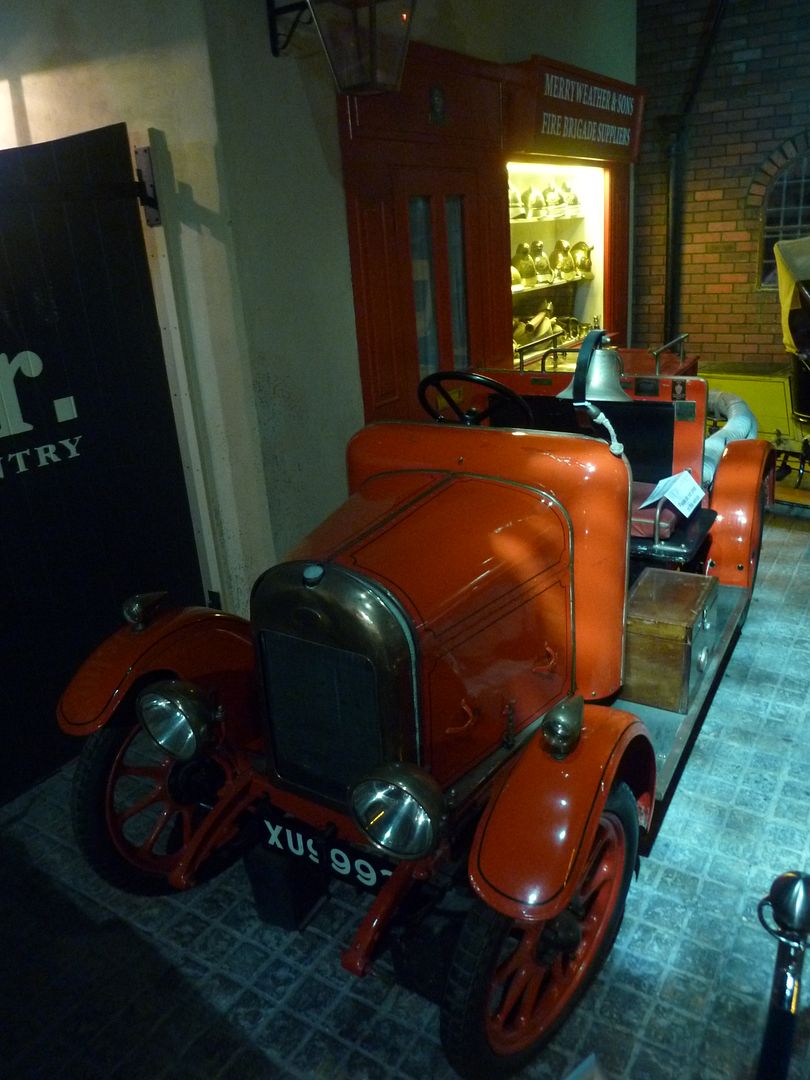 It was no accident that manufacture of the motorcar took off in Coventry, as the city had been producing bicycles for some time before that. There are a vast number of bikes on show, constituting almost a museum within a museum.
There are also some examples of horse drawn vehicles included in the display.
This 1898 Daimler is one of the first cars to have been built in Coventry. Its top speed was a heady 17 mph, and it cost £373 when new. The body is made of wood, and the body style is a Phaeton, which was meant to denote a sportier style.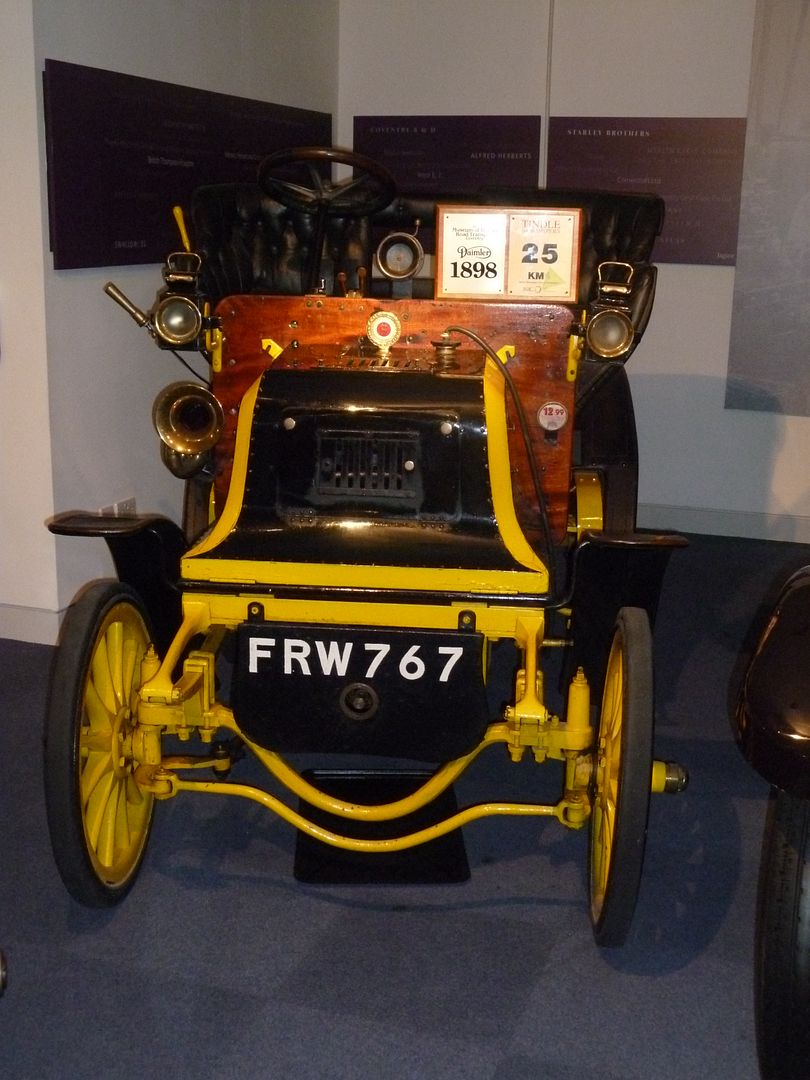 There was another early Daimler, this one dated 1897, as well.
This 1899 Crowden was made in Leamington Spa. It was not very safe as two passengers had to sit opposite the driver with their backs to oncoming traffic with no sides or restraints!
1901 Godiva
This 1907 Standard Roi de Belges is believed to be the oldest surviving Standard Car. It was originally exported to Australia in 1907 and was rediscovered on a tobacco plantation in the 1950s. It was restored in Australia and re-imported back to Britain in 1959 when it was donated to the Museum from the Standard Motor Company.
1911 Daimler A12 Tourer. This is the only surviving example of a 12hp version
1912 Crouch Carette. These were built in Coventry when there was a demand for smaller economic cars after the First World War. This car was not that reliable as the back wheel would bounce off the road on rough terrain, and as the only brake was on the back wheel, this made the car hard to stop sometimes
1910 Maudslay Tourer
1904 Rover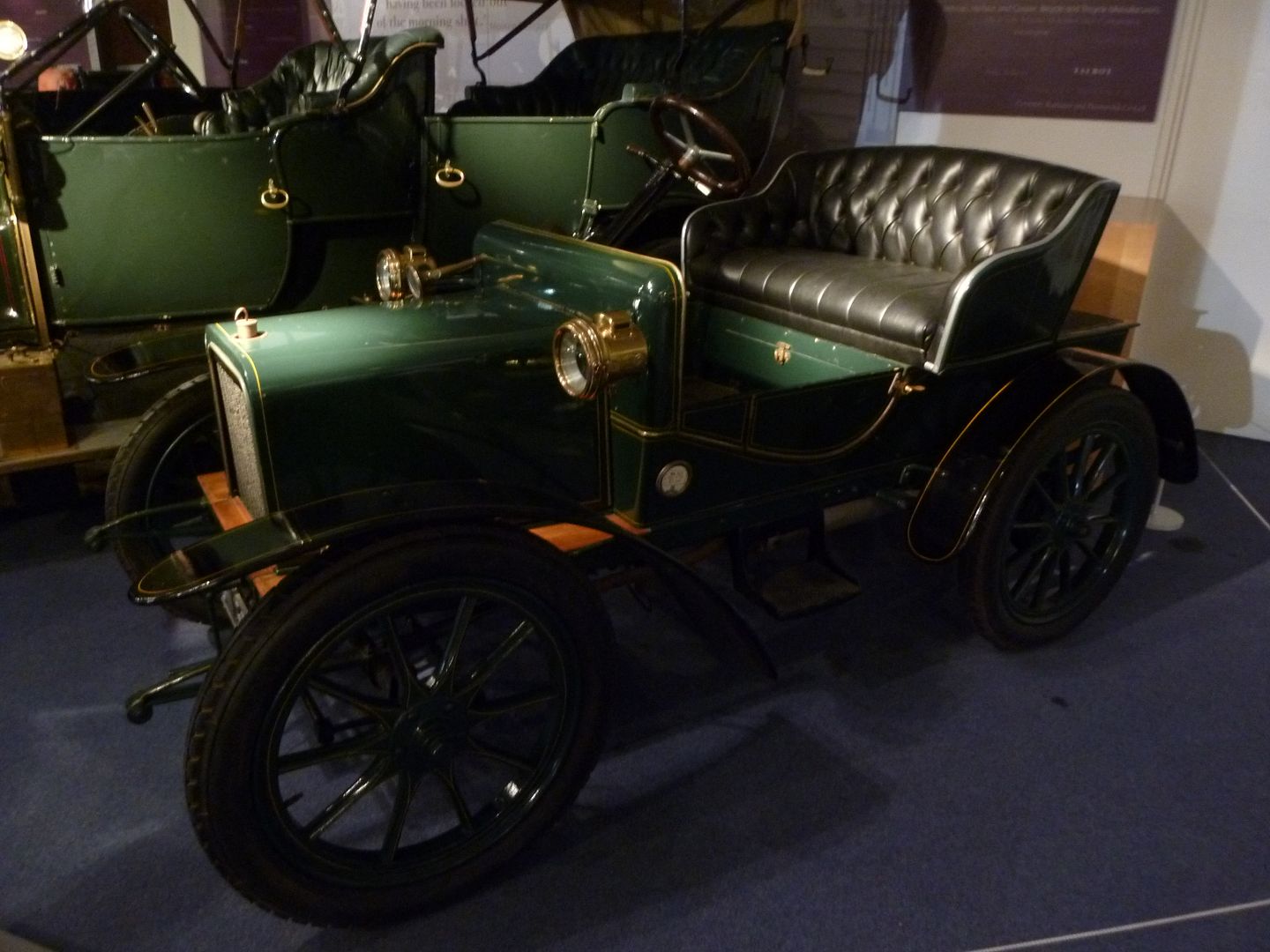 1904 Humber Forecar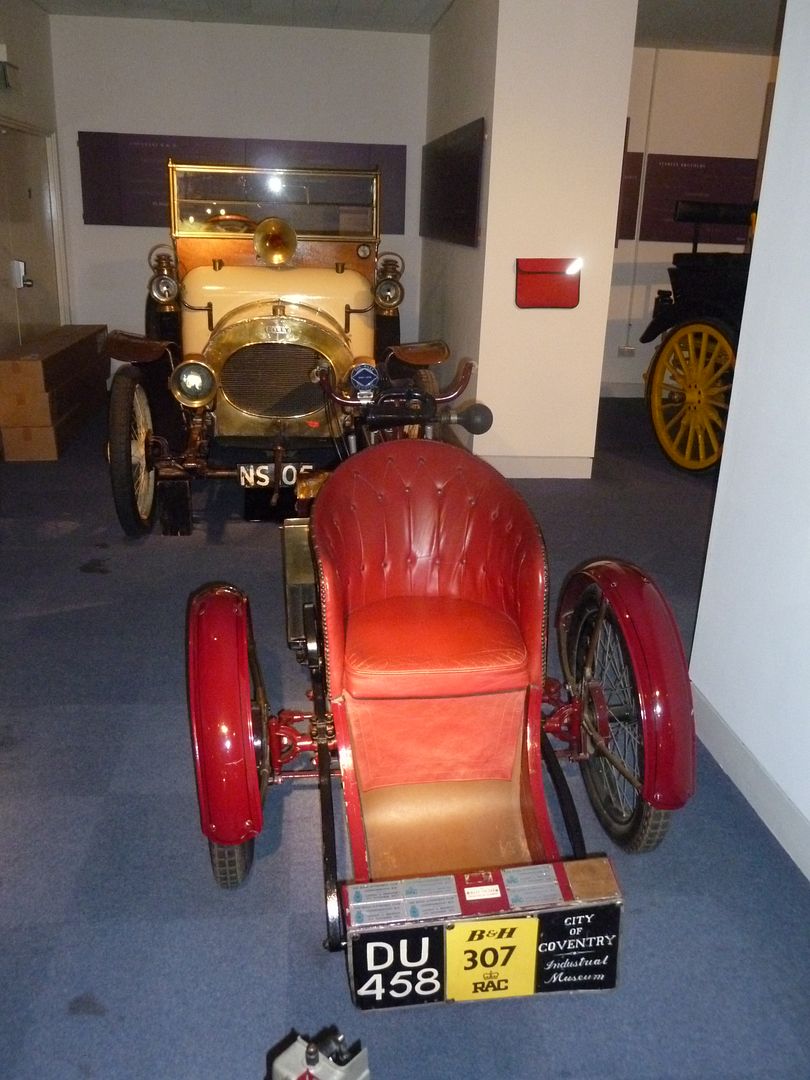 1910 Swift 7 hp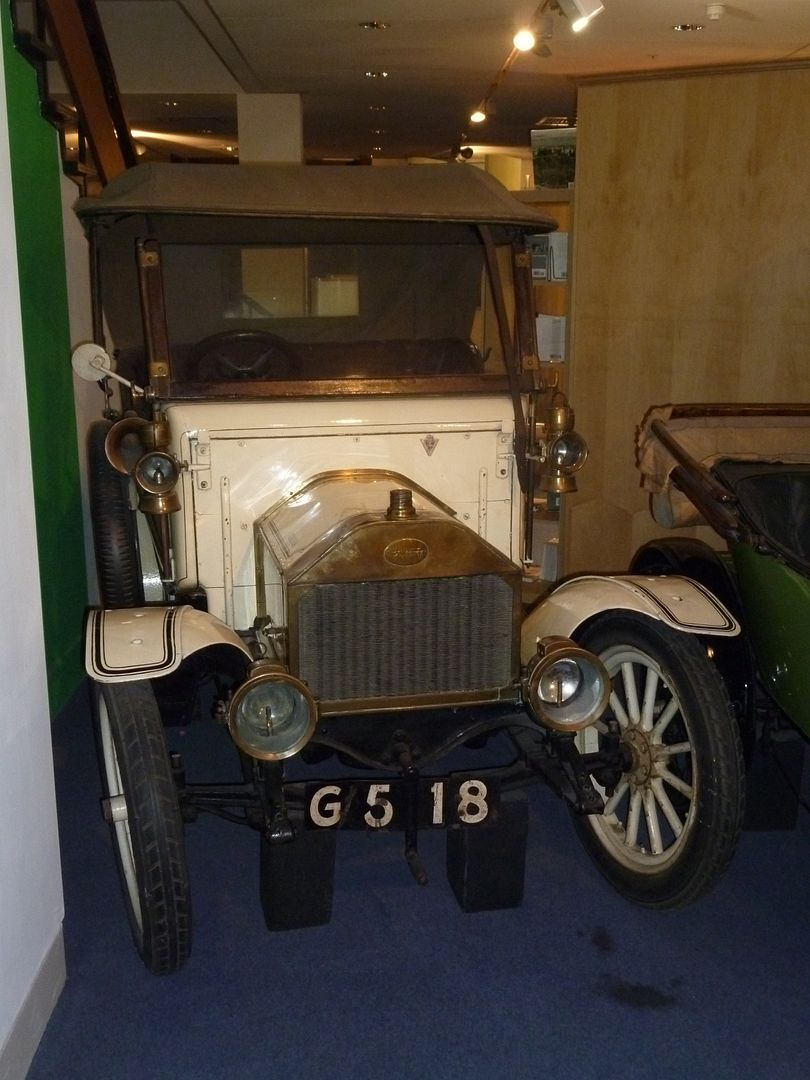 1913 Morris Oxford
1913 Swift Cyclecar
1921 Calcott Cabriolet
1925 Lea Francis 10/25 Tourer
1912 Armstrong Siddeley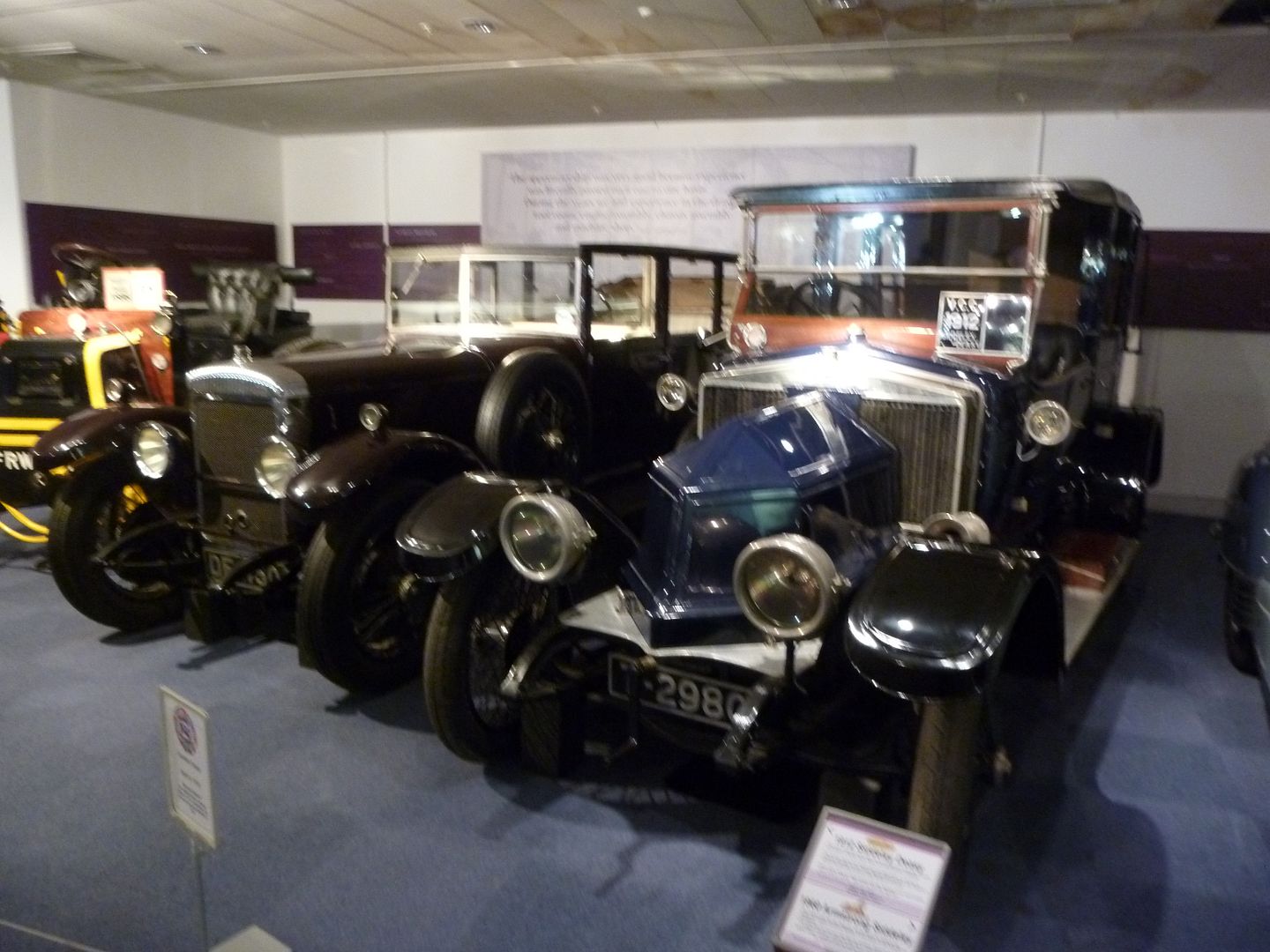 In among the vehicular displays, there are recreations of a period shop, and a bar. I was pleased to discover that the latter, still called "The Motor" remains!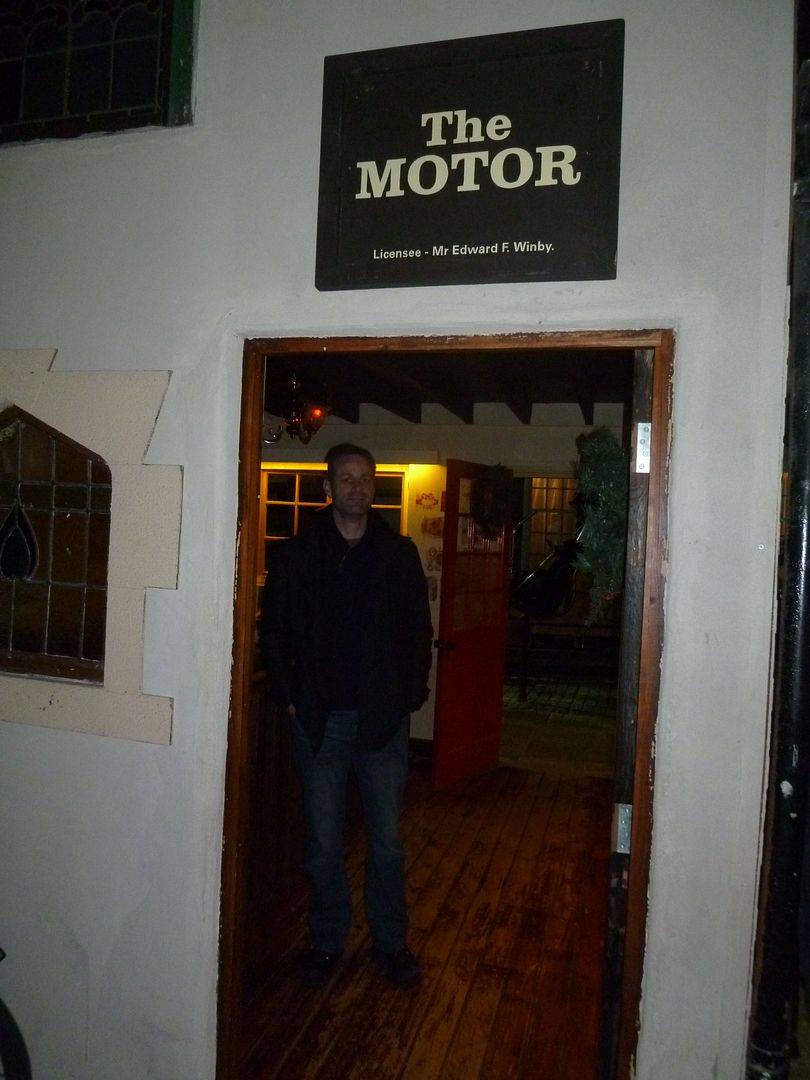 1934 Rover 12hp
A very imposing 1930 Humber
1929 Singer Junior
1920 Alvis 10/30
1934 Triumph Gloria
1935 Humber Vogue
A trio of cars show the evolution of the company that became Jaguar, from the early 1929 Austin Seven based Swallow, through the sensational SS1 Coupe to a 1957 Jaguar XK150.
Looking somewhat out of place in this part of the museum is this 1960 Armstrong-Siddeley Star Sapphire, one of the last models made by this long running manufacturer.
THE WAR
Coventry was hit very hard in the war, not surprisingly given the vehicle and aircraft works that were scattered across the city, and there are some very atmospheric displays that simulate scenes from the Blitz.
1937 Dennis Fire Engine. The Dennis Company started in 1895 building bicycles and light cars but by 1904 they built their first bus and in 1910 they sold their first fire engine to the London Fire Brigade. This particular fire engine saw use on the streets of Coventry during the bombing raids in World War 2.
This Hillman features the special features needed for the "Black Out", which tried to ensure that a moving car (for those lucky enough to be able to get any petrol) emitted no light at all.
POST WAR BOOM TIME
1952 Karrier K2 Fire Engine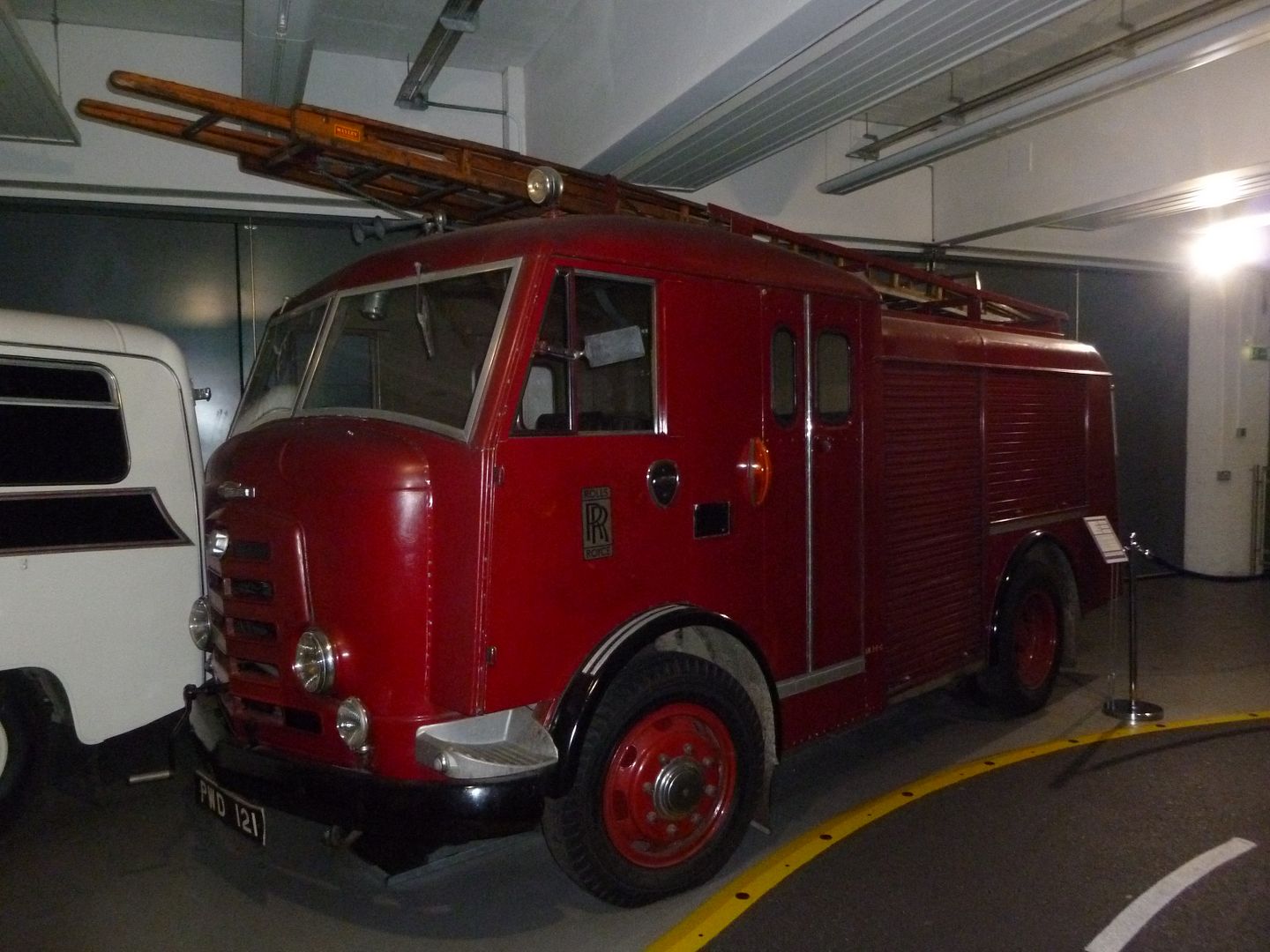 1949 Land Rover. The Rover bosses owned an American Willys Jeep for use on their farm but when it died they couldn't find a suitable replacement. They realised a need in the market for a farm vehicle that was versatile but not a tractor, and the Land Rover was born. This car here, was one of the first 1000 off the production line in Solihull and was put into use by the AA. A period AA box is displayed with the Land-Rover.
This 1952 Austin A40 Van was based on the A40 Devon and Dorset saloon cars, but had a longer wheelbase, and was popular as a light van for small businesses.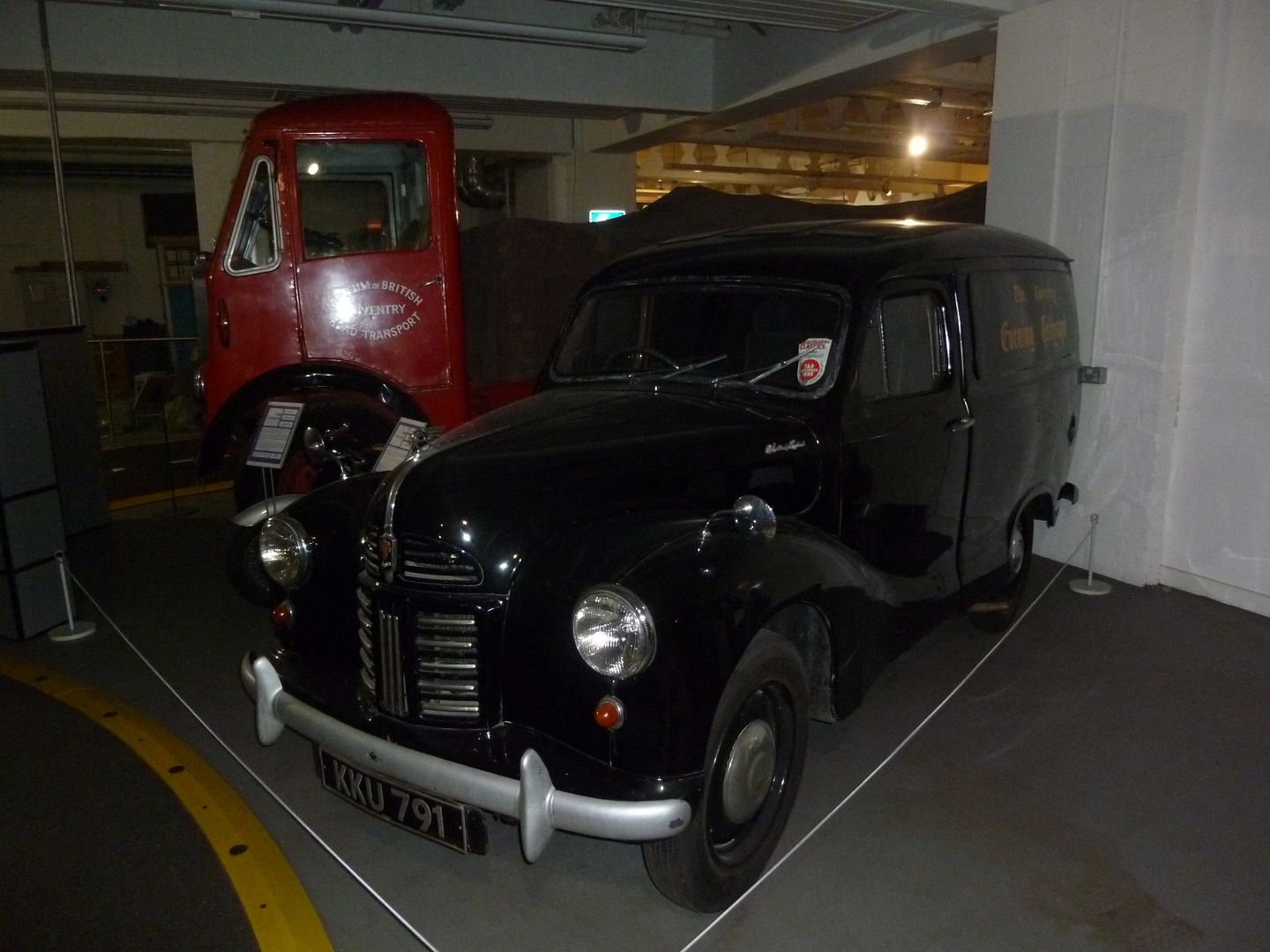 The post war Morris 8 Series M was little different from the pre-war cars, and was made until the Issigonis Minor entered production in 1948.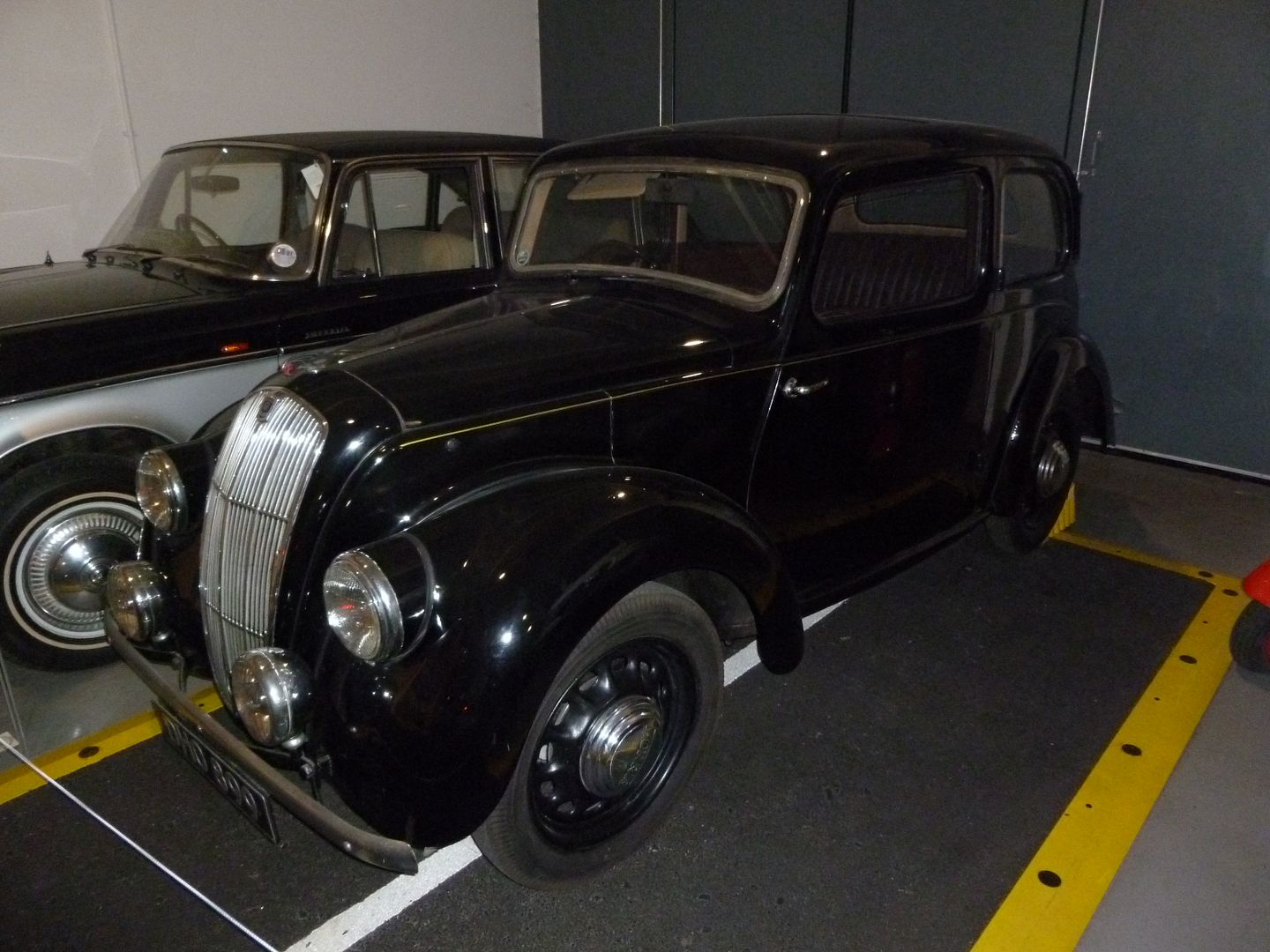 1959 Karrier in Ambulance guise.
The Imperial was the top model in Humber's range. This is a 1966 car, the last full year of production of the large Humber models.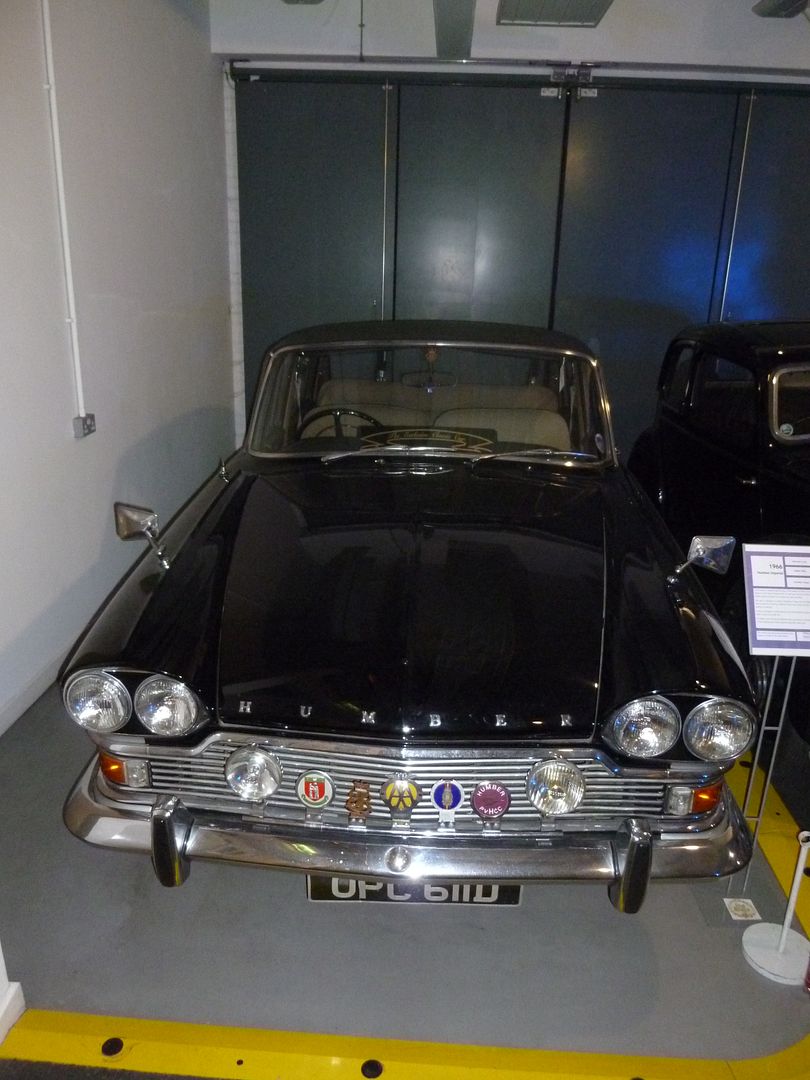 Phase 2 Standard Vanguard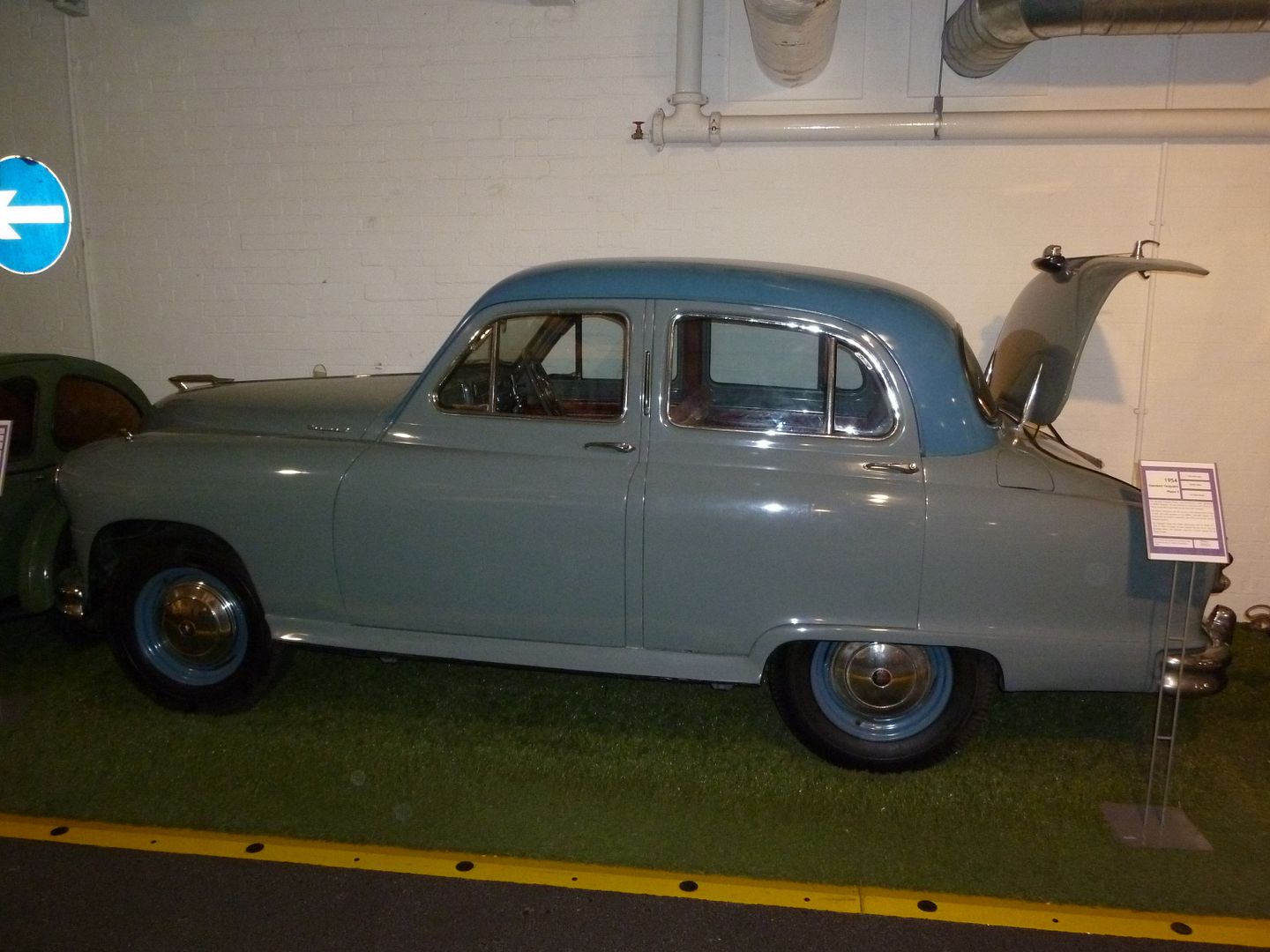 Some more period pieces include a 1938 Eccles caravan, and a bike with side car.
This early Morris Mini Minor is shown in a recreation of the scene that was used for the original The Italian Job. It is a little known fact that the scenes where the 3 Minis are chased through the tunnels were actually done in Coventry.
A central display area usually contains a number of Triumphs. Many of them were under wraps at the time of my visit, but some were uncovered, as you can see. "Star of the Show" is this lovely 1962 Triumph Italia, one of just over 300 of these Italian bodied Triumph TR3 models made between 1960 and 1962.
The TR7 was initially produced locally before the line was moved to Speke on Merseyside. This 1976 is one of the first UK market cars.
A 1977 Triumph 2500TC Police Car. The big Triumph was popular with the police as it was very fast (with a top speed of 139mph) and reliable. The only difference to the public version is the addition of the special police radio. This is one of the last cars made.
1967 Triumph 1300. This was a popular model with 113,000 cars produced at the Coventry Factory between 1965 and 1970
1974 Rover 2200SC.
1975 Reliant Scimitar GTE. These were made at the Reliant Factory in Tamworth, not far from Coventry. Sales were boosted when Prince Charles and Princess Anne purchased one.
A reconstruction of a factory line. Since 1868 there have been hundreds of car and cycle makers in Coventry, now there are just 2. When car production was booming around Coventry, a third of the population were employed in the car making process. 1972 Hillman Avenger GL. This was the last car to be developed by the Rootes Group before the Chrysler takeover in 1970. It was mainly built near Coventry before moving to Glasgow for the last few years.
A pair of Rootes Group cars feature in a recreation of a period showroom. As well as a Sunbeam Rapier Series 111, there is a 1964 Singer Gazelle Series V. In 1956 the Rootes Group (owners of Hillman, Humber, Sunbeam and Talbot names) took over the Singer Car Company and this car, based on the Audax series Minx, was the first model they offered. The Rapier was the top of the range "Sports Coupe" model in the range.
Parked up on a concrete ramp, intended to recreate the style of the inner ring road that was built as part of the city's reconstruction in the 1960s was this 1963 Humber Sceptre.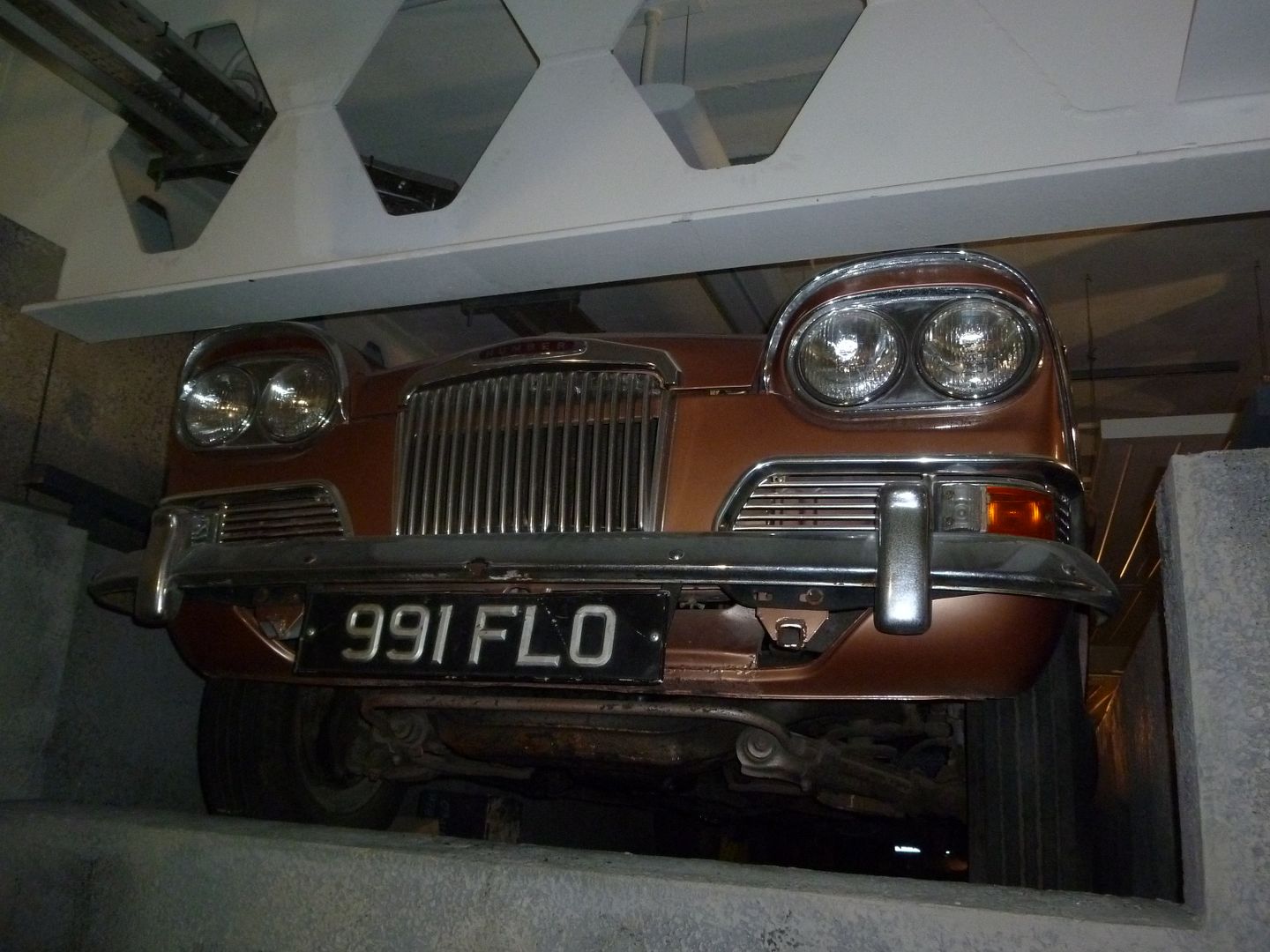 One of my favourite cars from the 1970s, the 1973 Triumph Dolomite Sprint, a car that was in many ways ahead of its time, combining a potent 16 valve engine with a well judged mix of sport and luxury fitting, at a very affordable price.
TO RESTORE OR NOT?
A small display highlights the dilemma facing many a museum curator, with a quartet of vehicles which as received by the museum were far from pristine. The debate was, and remains whether to retain their originality or whether to restore them, but losing some of what made them special in the first place.
1942 Hillman Utility Vehicle. These cars were built in Coventry initially as a military vehicle for World War 2, but after the war they were sold commercially. The owner took it to a garage in 1964 and the museum acquired it from the same garage in 1997. It has not moved since 1964!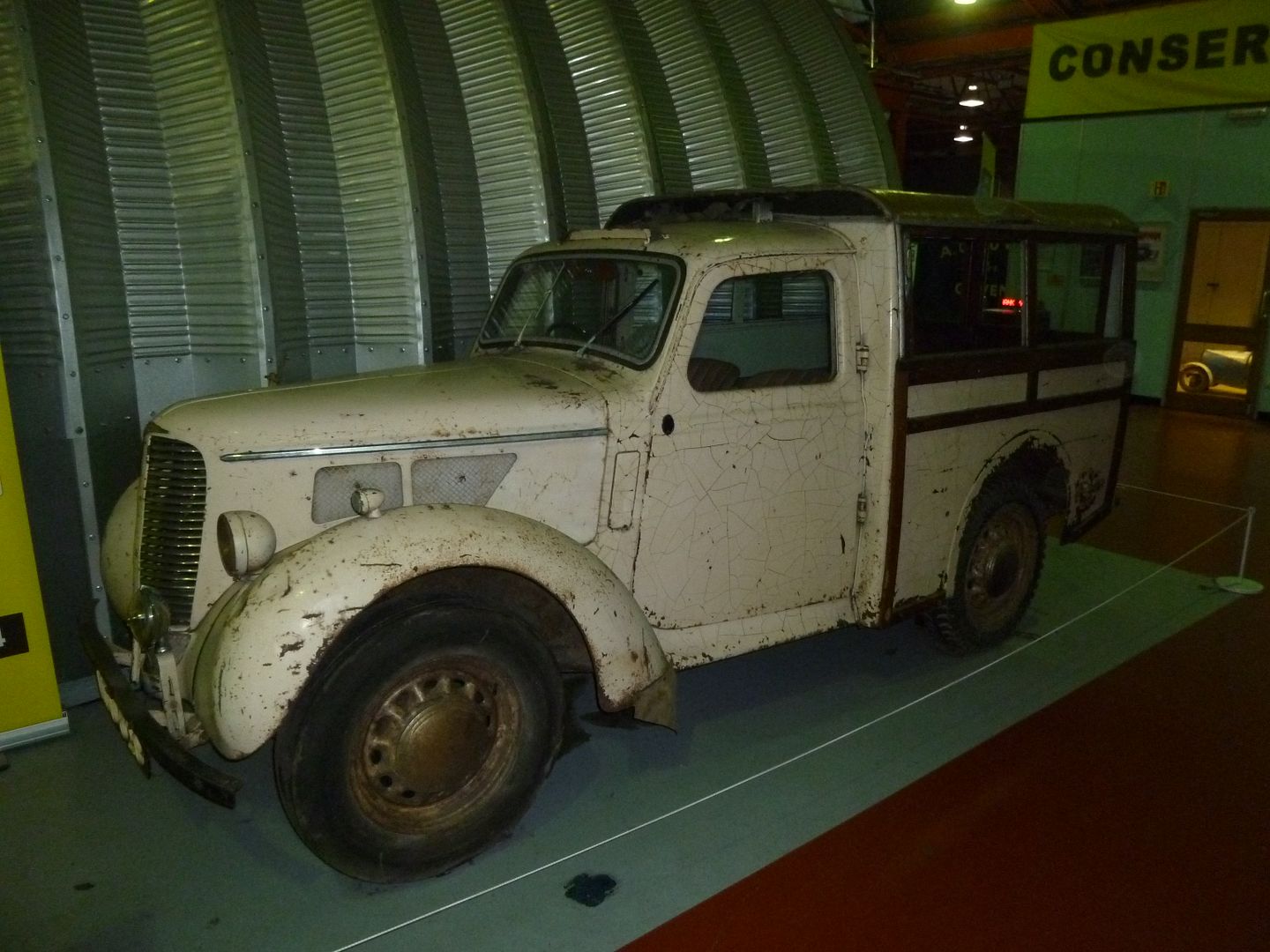 1924 Bentley 3 litre Open Tourer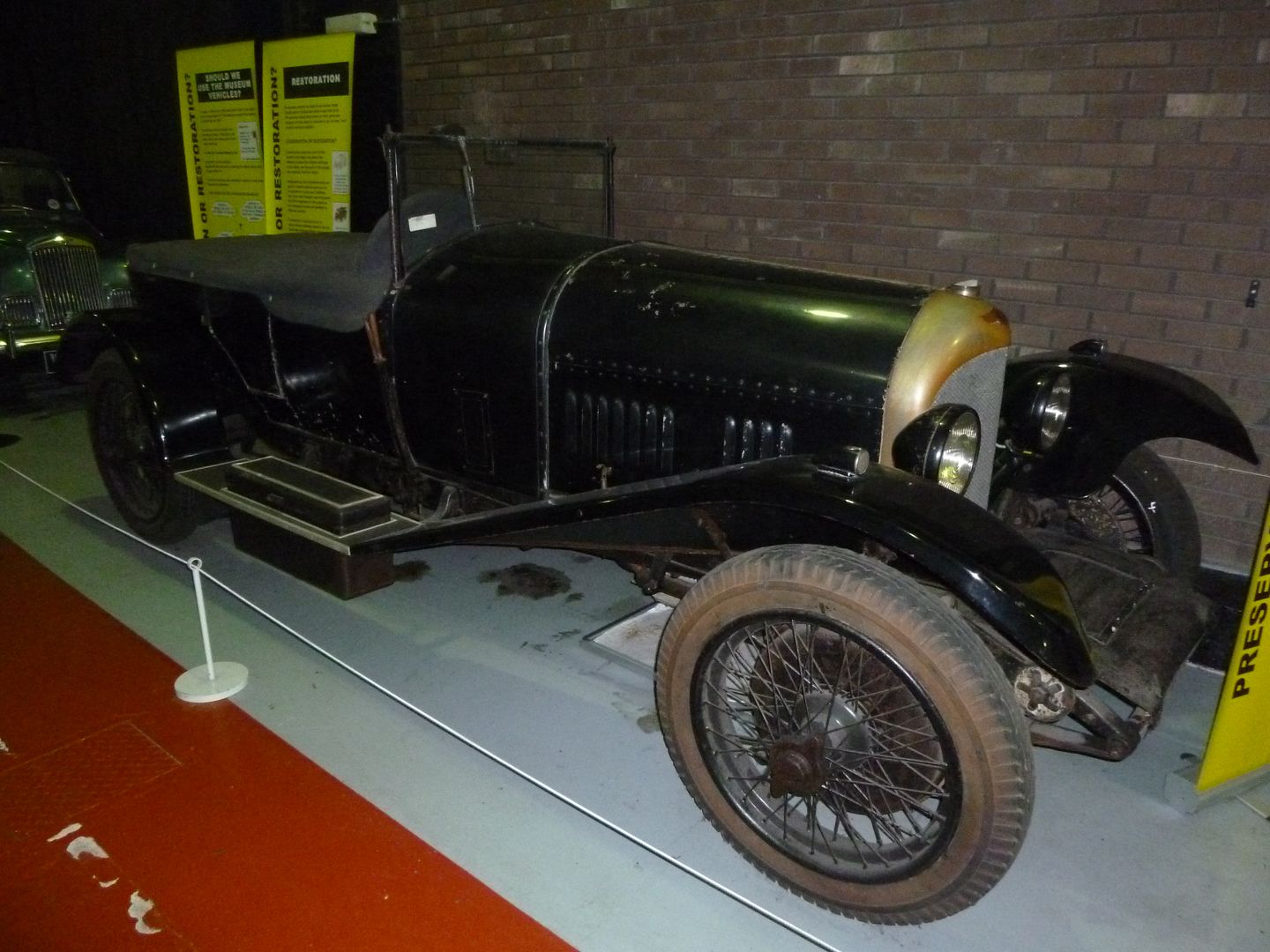 1955 Sunbeam Talbot 90 Mark 111 Drophead Coupe.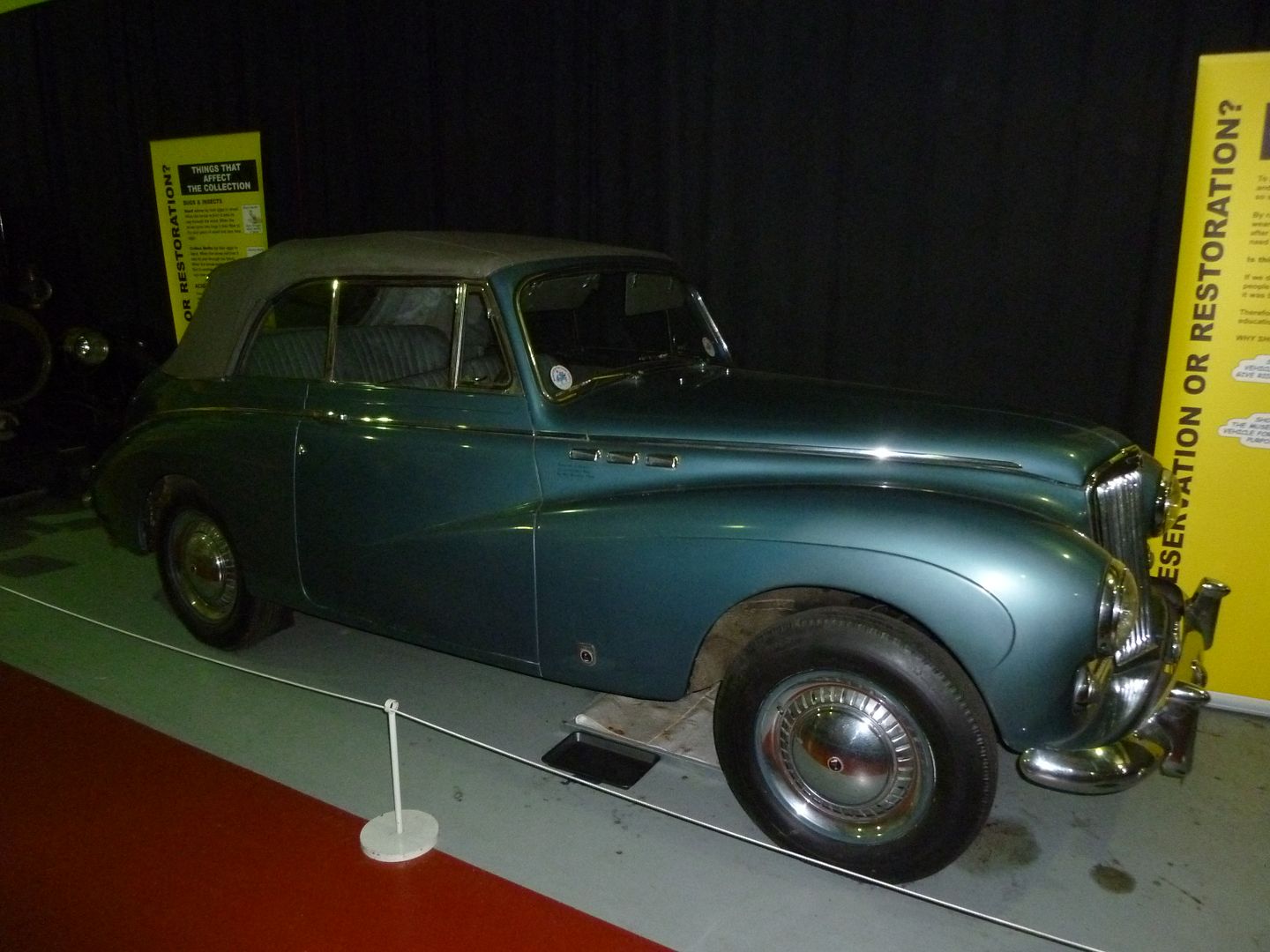 This 1956 model was based on the Commer van, based on the Hillman Minx. Built by well known coachbuiler Radford, its long time lady owner used to drive it all the way to the south of France on a regular basis.
1909 Maudslay Landaulette. These cars were built in Coventry before the First World War, but after the war car production stopped and they built lorries and buses instead
THE RECORD BREAKERS
This section of the museum will be a highlight for many, as 2 very important World Land Speed record holders are to be found here.
Thrust 2 claimed the record back for Britain following a successful run on 4th October 1983. Driven by Richard Noble, it is powered by a jet engine from a RAF Lightning Fighter and reached 633.468mph in Black Rock Desert, Nevada on that memorable day in 1983.
That was not enough for successful record holder, Richard Noble, who felt inspired to have another go. He concluded that rear wheel steering would be needed, and experiments were made using a specially adapter Mini. That car is on show as part of the display. On show with it is the Jaguar Fire Tender which went with the successful record breaking car.
The resulting car, Thrust SSC,driven by Flight Lieutenant Andy Green, broke the sound barrier on land, by achieving he remarkable speed of 763mph on its successful run on October 15th 1997 in the Black Rock Desert in Nevada. There is a simulator ride to show what it would have felt like to be on the successful run for Thrust SSC car, but we did not go on it this time. When the ride finishes, though, the wall at one end of the display opens and there is far more light, for which the photographer is grateful, as Thrust SSC lives in what is otherwise a rather a gloomy cave.
TIATSA MODEL CAR COLLECTION
When I was a teenager, I remember there being a small museum down a side street in the centre of Stratford upon Avon, which housed the Tiatsa model car collection. Thousands and thousands of diecast cars, presented in rows of display cabinets captivated me for hours as I compared those which I had (and indeed still have!) in my own collection, those which I knew about but which did not have, and all sorts of models that I did not even recognise. That museum closed many years ago, but it would seem that the collection remained intact, and a subset of it is presented now in a series of cabinets here. Attractively gathered together either by model manufacturer, and/or nationality of the original cars, there's lots here to assimilate. As well as the obvious Corgi, Dinky, Matchbox and Lledo models, there are cars from some brands you may have heard of, such as Solido, Norev, Polistil, Burago, Siku, Rio and Brumm, as well as loads of more unusual brands such as the Diapet cars from Japan in the 1970s and 1980s.
THE GHOST TOWN
When you get upstairs, you find a diverse display of more recent cars, branded "The Ghost Town". These represent the last marques that made cars in the city, and so the display is tinged with more than a little sadness. By 1980, just four marques were building cars in the city: Jaguar, Rover, Peugeot and LTI. All are represented in this gallery. The walls of the gallery are lined with reproductions of newspaper articles which charts the events since 1980, which led to a steady closure of plants, as manufacturers rationalised their production to other sites. It makes for quite a poignant display.
There are several Peugeot models. The former Chrysler UK group was rebranded Talbot in 1978, but initially new models were few and far between. That changed with the car intended to replace the Horizon, and planned to be called the Talbot Arizona, though  by the time it came to market, the decision had been made to call all models Peugeot, and so this medium sized hatchback appeared as the 309. There are not many left now, but in its day, it was quite well regarded. The model was built in Coventry and in France.
Far more popular at the time, though also now quite a rare sight, was the 405 and there is an SRi saloon and a GR Estate in the display.
Next Peugeot to be made in Coventry was the much lauded 306, and this is an early build car.
By the turn of the century, the Ryton plant was churning out 206s, and a couple of these are on show. The model was selling well, so it was a massive shock when in 2005, it was announced that the plant would close and that the successor car, the unloveable 207, would be sourced from France.
This is 1982 prototype of a Talbot Horizon Turbo that was conceived as a possible successor to the Talbot Sunbeam Lotus.
Another oddity is this, a 1980 Paykan. Based on the long running Hillman Hunter, the basic design lived on as the best selling car in Iran for many years after UK sales ceased.
Yet another car that you might not instantly recognise is this 1991 Baltic. This was only a design concept car which didn't make it into production. It was designed and built by MGA Developments in Coventry for the German Car Firm Bitter to show at the 1991 Frankfurt Motor Show
Other cars in the display include a Triumph Acclaim, the last car to bear the Triumph name, made from 1981 to 1984, and little more than a rebadged Honda Ballade.
Far more familiar is the LTI Taxi, a common sight on the roads of London and other cities.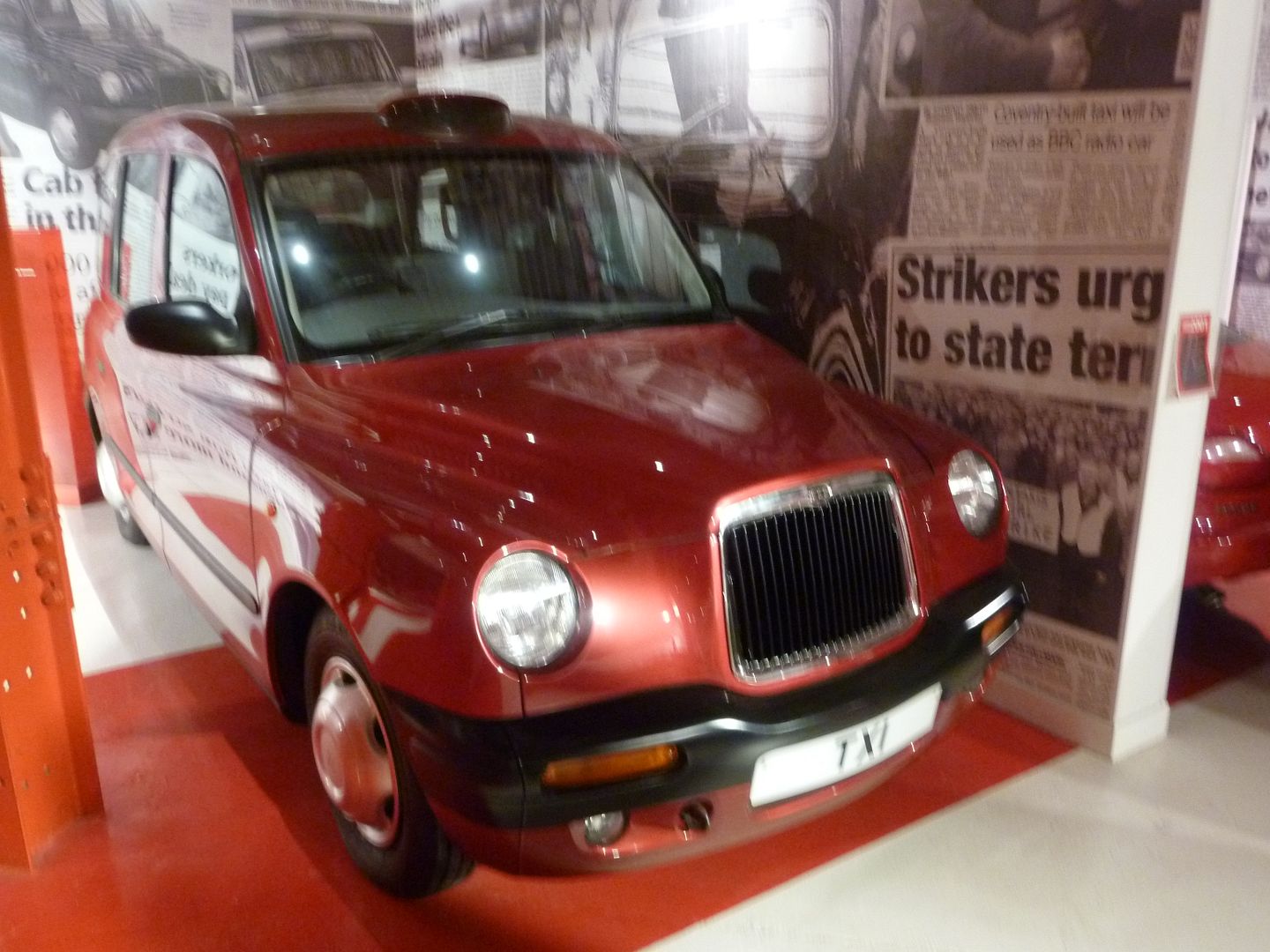 Jaguar also features in this hall, with a prototype version of the XK8 and the X Type both on show, along with a Daimler Sovereign version of the XJ40 executive saloon which made its debut at the 1986 British Motor Show after years of waiting for the replacement for the much loved Series 3 XJ Jaguars.
THE JAGUAR HALL
Sadly, when the small Jaguar Heritage Collection museum on the old Browns Lane site was forced to close to allow the bulldozers in for redevelopment, Jaguar announced that they had no plans to open a replacement facility, but the Good News is that they did say that some of the cars from their 300 strong collection would be made available to other museums. A few of them are currently on show at Gaydon, and then in October 2013, a new and more comprehensive display opened here in Coventry. And what a display there is, of some lovely cars, from the early SS days right up to the latest F Type.
Start point were a trio of cars from the early years, with a Swallow Seven, and an utterly gorgeous 1936 SS Airline Coupe, along with this very elegant 3.5 litre saloon.
It's hard to imagine just what a sensation this XK120 must have been when it was premiered in 1948. Compare it with the rehashed pre-war stuff that everyone else was producing, and this car must have seemed just so desirable. Although early production was all ear-marked for export, it must have been at the top of the "wants list" for anyone with the relatively modest amount of money that Jaguar wanted for it.
Follow on to the XK120 was the XK140 and then this, the XK150.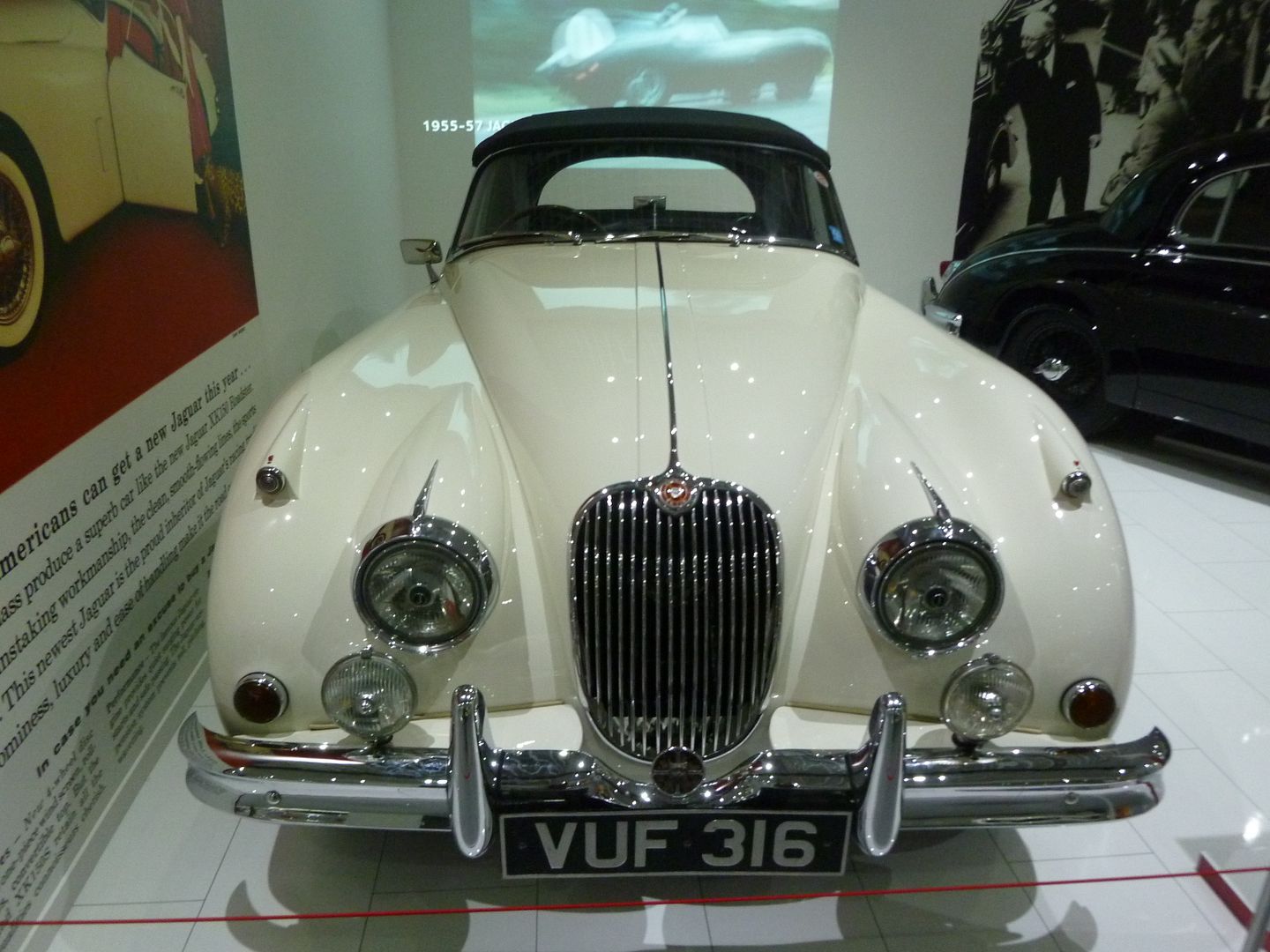 Other Jaguars of this era were the much loved 2.4 litre saloon, which again must have looked very modern when premiered in 1955, compared to this Mark V 3.5 litre saloon, staple of the range in the early 1950s. The small Jaguar car shown here is the later Mark 2 model
The 1960s display included an E Type, a later Mark 2 3.8 and the gargantuan Mark X.
This early XJ6 was Sir Williams Lyons' car.
Next trio included an early XJ-S, an XK8 and an S Type.
Bringing things right up to date were this duo of the concept C-X75 and the F Type Convertible. Sadly the former will not be built, but the latter has received rave reviews, and with the Coupe due to go sale early in 2014, Jaguar's problem is bound to be to build them quickly enough. After some rather turbulent times over the past 40 years, Jaguar looks like it is set for a very bright future.
THE MOTOR SPORT GALLERY
Although branded Motor Sport Gallery, the final hall on the tour contains an eclectic mix of cars. First ones that you come across when leaving the Jaguar display were a pair of Alvis, a 1928 Front Wheel Drive and a 1932 12/60.
A pair of Lea Francis models, both Hyper models from 1928 and 1929.
This 1954 Sunbeam Talbot 90 was a popular sports saloon which also enjoyed much success in motor sport.
Showing the evolution of the rally car were this trio, from the Sunbeam Lotus of the early 1980s, to the Peugeot 205 T16 of the ill-fated Group B era and the 206 of the twentyfirst century.
Other historic motor sport cars are loaned to the museum by Martin Stretton racing, and so what is on display will depend on whether a car is needed for action outside. There were a couple of Cooper racers on show at the time of my visit.
This car was in the news almost every day back in early 1981, as it was then the property of the late Princess Diana, and she was photographed driving it around when the press where following her every move in anticipation of her engagement to the Prince of Wales.  It is believed that the Prince bought this car for her soon after he attended the October 1980 launch event.
By the time that this prototype for the Aston Martin DB7 was constructed, Aston had built their new production facility at nearby Gaydon, so the model qualifies as "local" (ish).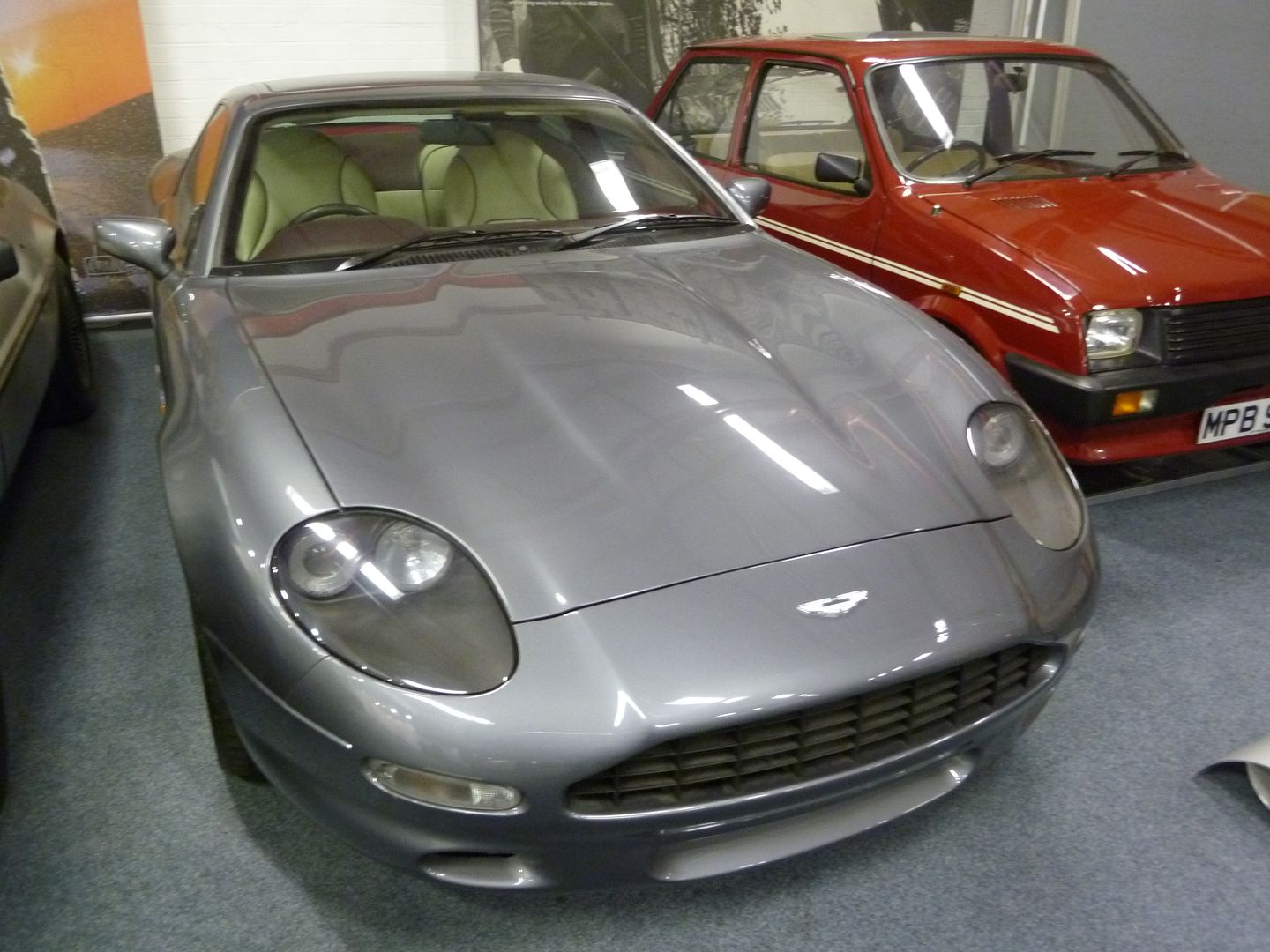 I am still not quite sure what the Coventry connection is for this 1982 De Lorean. These were built in Northern Ireland for the American Market but they didn't sell well. It has a Renault 2.8 engine with top speed of 135mph, and following its appearance in the much loved "Back to the Future" film, remains a firm favourite among visitors to the museum.
SPECIAL DISPLAY
To the right of the main entrance is an area set aside for a special display, and at the time of my visit, it was focused on World War 2, with an array of exhibits ranging from the 1943 Humber Staff car that was used by General Montgomery, to guns, and airplanes as well as a lot of material about how production was turned over to support the War Effort. This exhibition runs til 5th January 2014.
More details can be found at the museums' own website: http://www.transport-museum.com/