Having learned my lesson that "early" really does mean just that when describing the timing for the "Cars and Coffee" meeting that takes place every Saturday morning in Irvine, California, I decided to make a repeat visit, setting off at soon after 6am, which would see me onsite by 7am, and hopefully in time to see far more than previously. It was noticeable that only two weeks after the last visit, daylight seemed to arrive quite a lot earlier, too, so by the time I reached Irvine, it was fully light and I was ready to see what interesting cars would be on display. I even had one myself, Mr Hertz' finest BMW M5 and tried to park among the show cars, but the man on the "gate" was having none of it. He declared that 4 door sedans made after 2000 had to park in the main car park, which was fair enough until I came across a 2009 model year MINI Cooper which was among some far more exotic stuff. I think the refusal criteria should have excluded that as well! That said, there was far more to look at this time, but sure enough, by 8 – 8:30am most attendees started to make a move, and by 9am the car park was all but empty. This really is an early morning meeting.
AC
Cobra and Cobra replicas were much in evidence again, as they had been a couple of weeks previously.
I also liked this replica Shelby Daytona Coupe.
ACURA
What we knew as a Honda NS-X sported Acura badging in the US.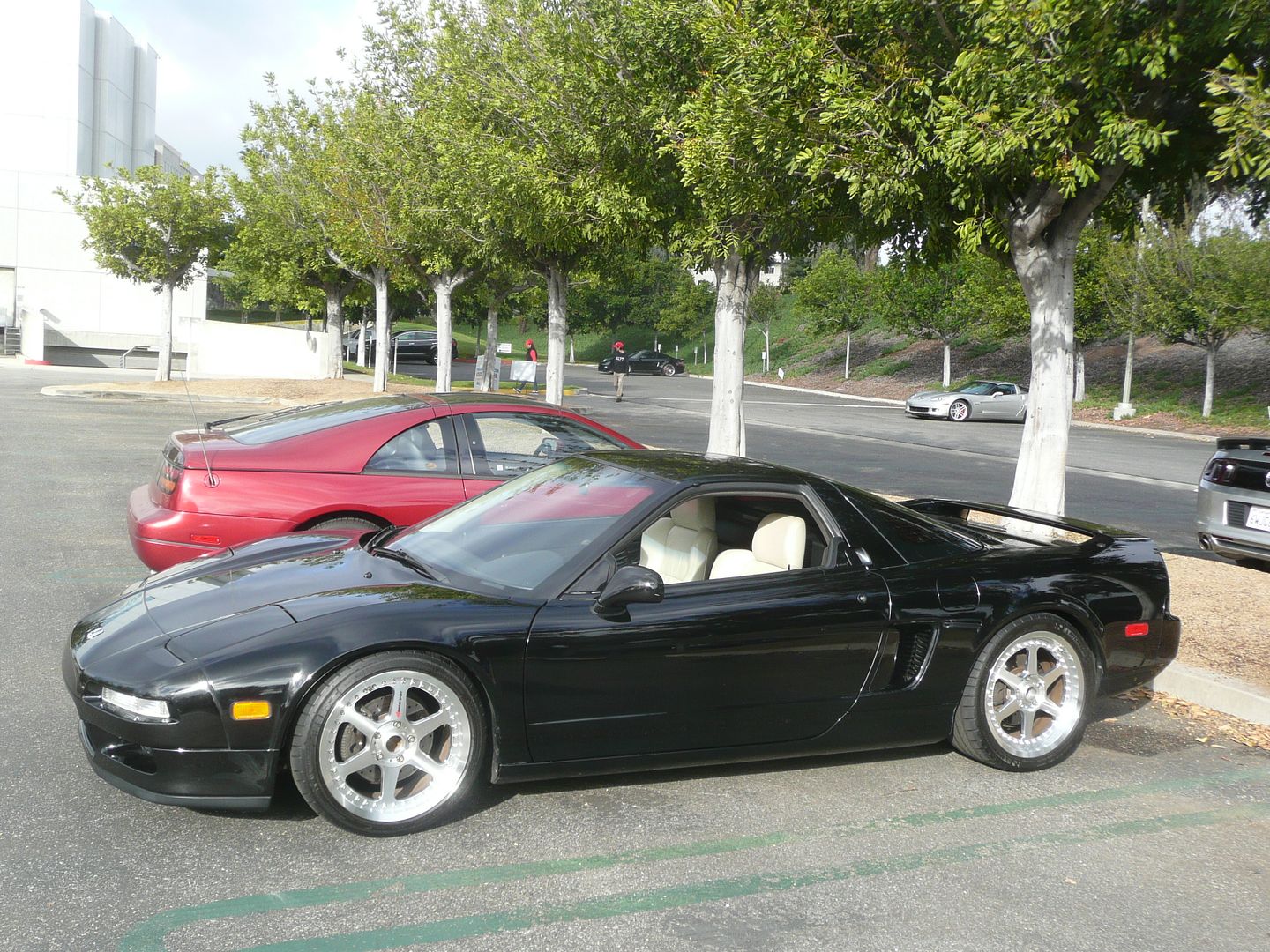 ALFA ROMEO
This rather nice "Duetto" bodied 1750 Spider had been present at the last event I attended. This is the car that I came across on the I5 freeway a couple of miles from the event, so i simply followed it to get the optimum approach to the event.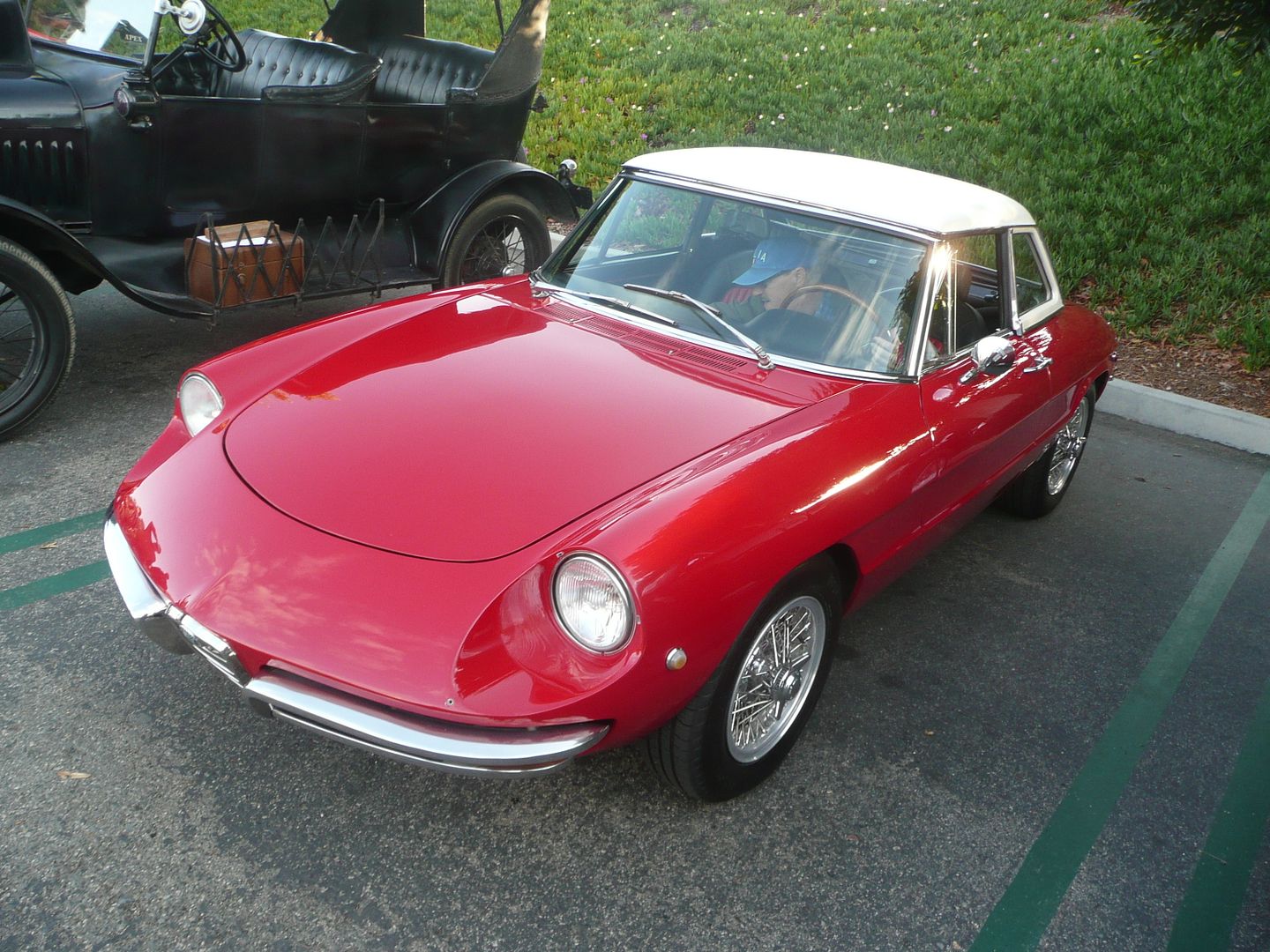 Also from the 105 series, there was also a nice 1750 GTV Coupe.
Predating these was a Giulia 1600 Spider, a really pretty sports cars from the mid 1960s.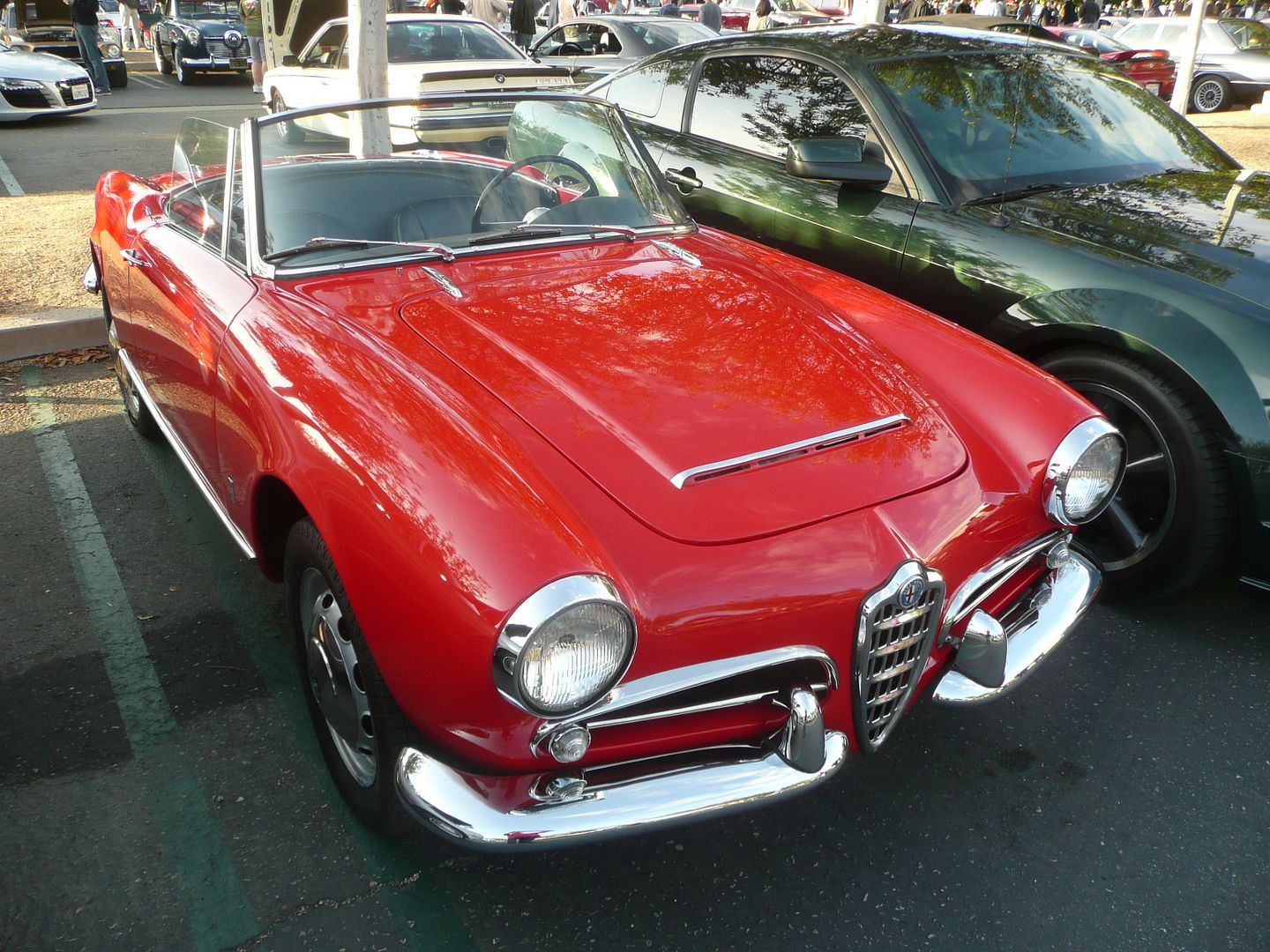 I was delighted to see a 164, the last Alfa model that was sold in the US. But, I was less delighted with what had been done to it. Frankly, for desecration like this, the owner needs boiling!
AUSTIN-HEALEY
You might think that all the Big Healeys that were originally sold in California have come back to the UK in recent years, but this is not in fact the case, and there are still plenty out States-side. There were several at this event.
BIZZARRINI
This was probably the highlight of the whole morning for me. It seemed to have everyone puzzled, though to help them out there was a sign in the windscreen to tell people what it was. Not that this seemed to enlighten them much, as I heard countless people saying that they have never heard of it. In case you are wondering, it is a Bizzarrini P538 Spider, and yes, it does have an American V8 in the back, so to many locals that made it "alright". Actually, I heard lots of comments on how pretty it is, too, and I agree. Supremely rare, I think I have only ever seen one of these before, and that was in a museum. The P538 or P538S was a rear mid-engined race car launched in late 1965 or early 1966 by Scuderia Bizzarrini of Livorno, Italy. At least two P538s were built with Chevrolet Corvette 327-cu.in. V8s, and two more with 4.0- and 3.5 litre Lamborghini V12 engines. Five-speed manual transaxles were used, with gearing specific to the race for which each car was constructed. Braking was via inboard four wheel disc brakes, with a fully independent suspension. The body was made of fibreglass over a tubular steel chassis.The first V8 powered car debuted at Le Mans in 1966, with Swiss drivers Edgar Berney and Andre Wicky, but records indicate that the team retired after three hours with a cooling problem. A second team in a production-based Bizzarrini A3/C, driven by Sam Posey and Massimo Natili, was disqualified after a pit lane violation, possibly while returning with serious frame damage. American Ferrari driver Mike Gammino then commissioned a Lamborghini 4.0-liter V-12 powered car, which he raced once. Bizzarrini attempted to build a second, 3.5 litre V12 car for Le Mans, but was unable to complete it before bankruptcy. Beginning in the mid-1970s and continuing at least through the 1990s, former Bizzarrini engineer Salvatore Diomante at Autocostruzione SD, Torino, began building continuation P538s on commission for private buyers. These may be distinguished from 1960s-built cars by the use of square as opposed to round tubing. The first two cars of this series using square-tube construction bear serial numbers #002 and #003; 3.5 litre V12 Van Horneff car also uses serial #002 (see below), and was last known to be located in England. Engines vary, but include Chevrolet V8s, Lamborghini V12s and possibly a six-cylinder Fiat. He constructed an unknown number, using original fiberglass body moulds, probably fewer than 8. Giotto Bizzarrini and his wife likely assisted in construction of the early cars, and they were built using some original Sixties Bizzarrini components as available. Records are not accurate, so no-one really knows how many cars were made, but it is clear that it was not many.
BMW
You just don't see BMWs from the 70s and early 80s at classic events very often, so it was good to come across this E12 model 5 series.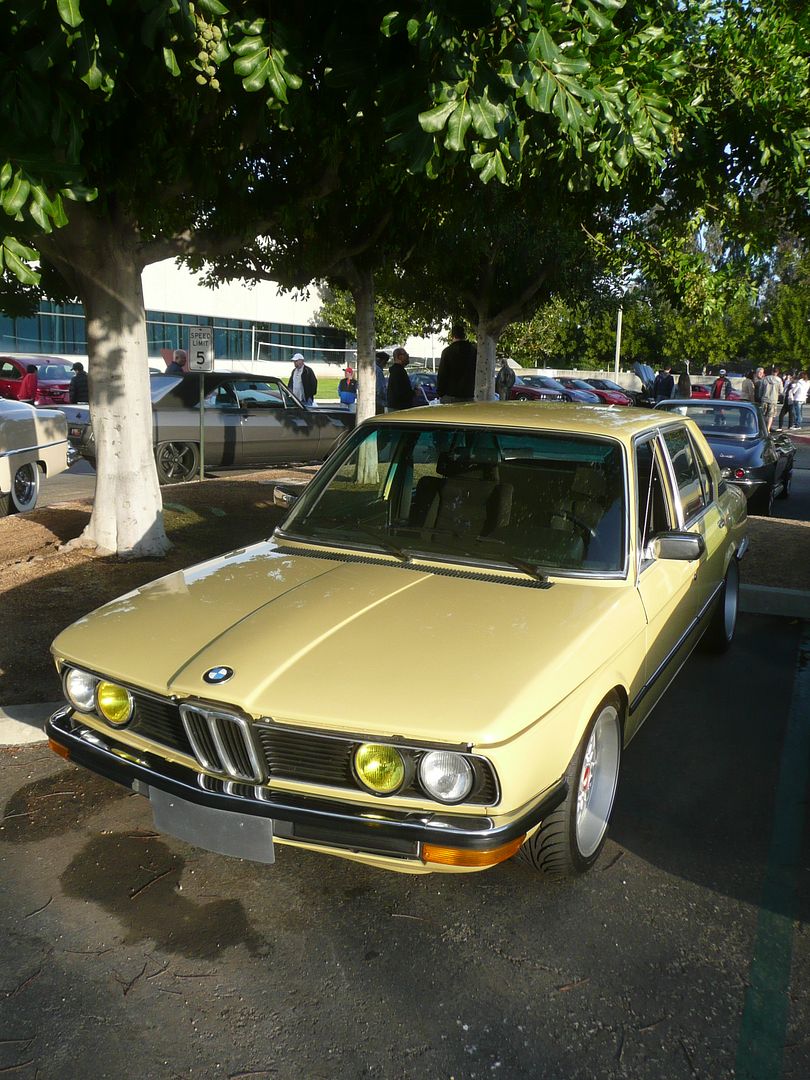 Parked alongside it was an E28 model 5 Series which proclaimed itself to be an Alpina. I was not convinced (but stand ready to be told it was!).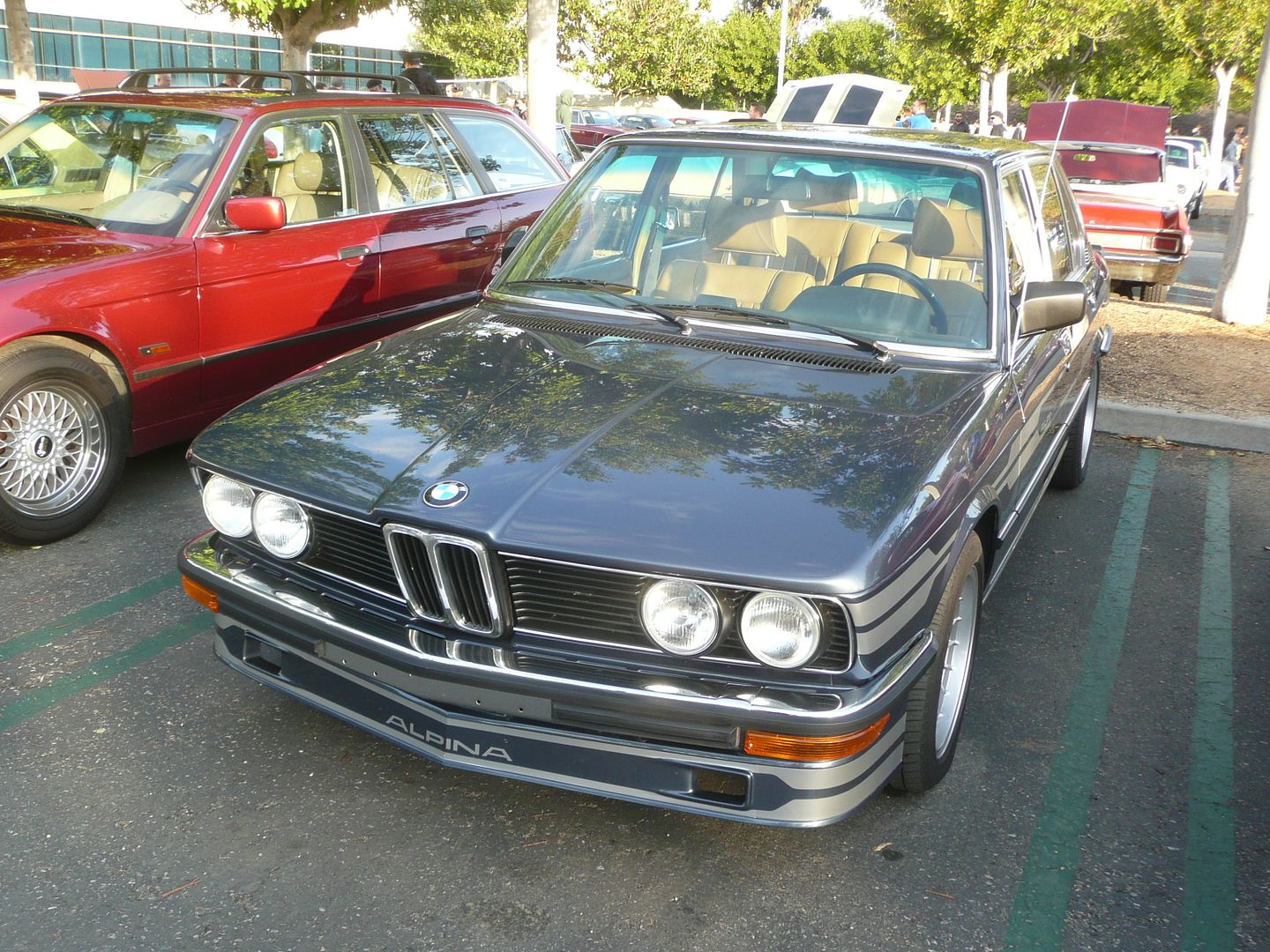 This E30 model M3 was stunning – very much like a similar UK car which frequents breakfast meetings near my abode.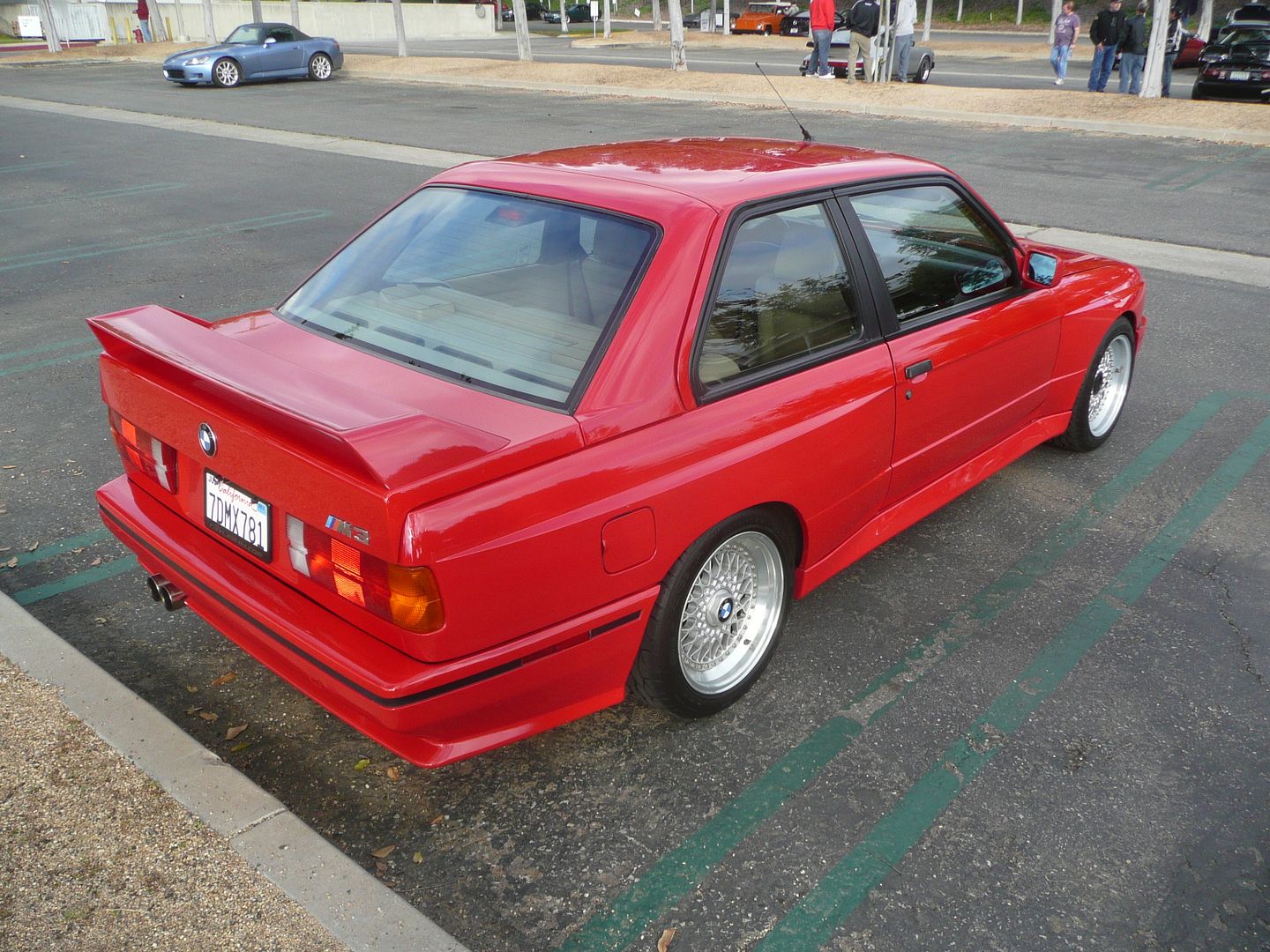 BUICK
I think this is a Wildcat Convertible, from around 1969, but stand ready to be corrected.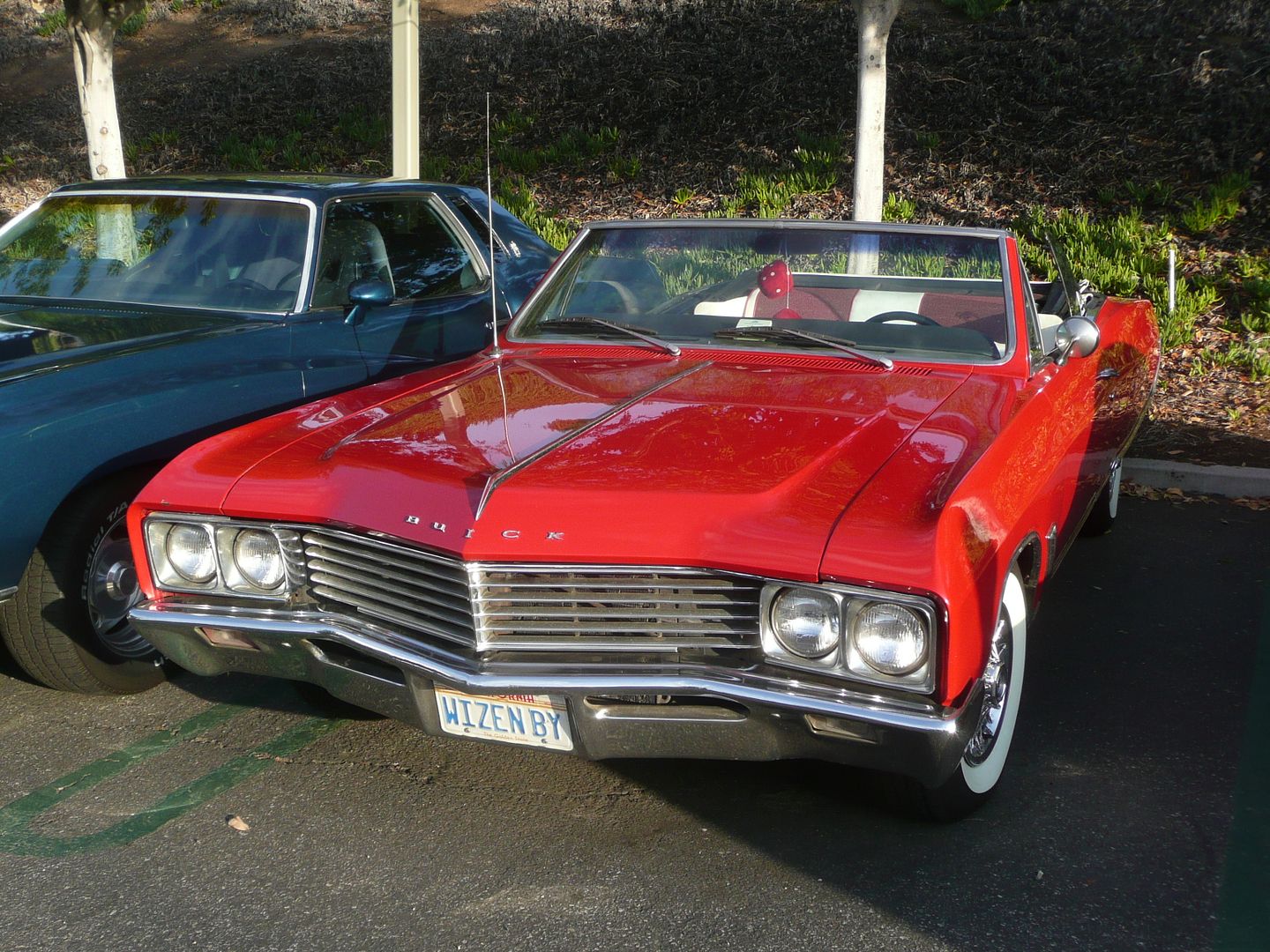 CHEVROLET
When I arrived, the first cars I spied were a whole row of Corvettes of every vintage from some C1 models from the 1950s through to more recent C6 cars. As I wandered around the displays, I came across even more. With a 61 year history, and an array of different models offered over 7 distinct generations in that time, there was plenty of variety, and an array of photos of these cars shows how it has evolved over the years. The C7 model is starting to appear on the roads sufficiently to be something you could reasonably expect to see most days, and it is true to say that it has enormous presence.
This 1969 Chevelle SS was quite a brisk car in its day, too.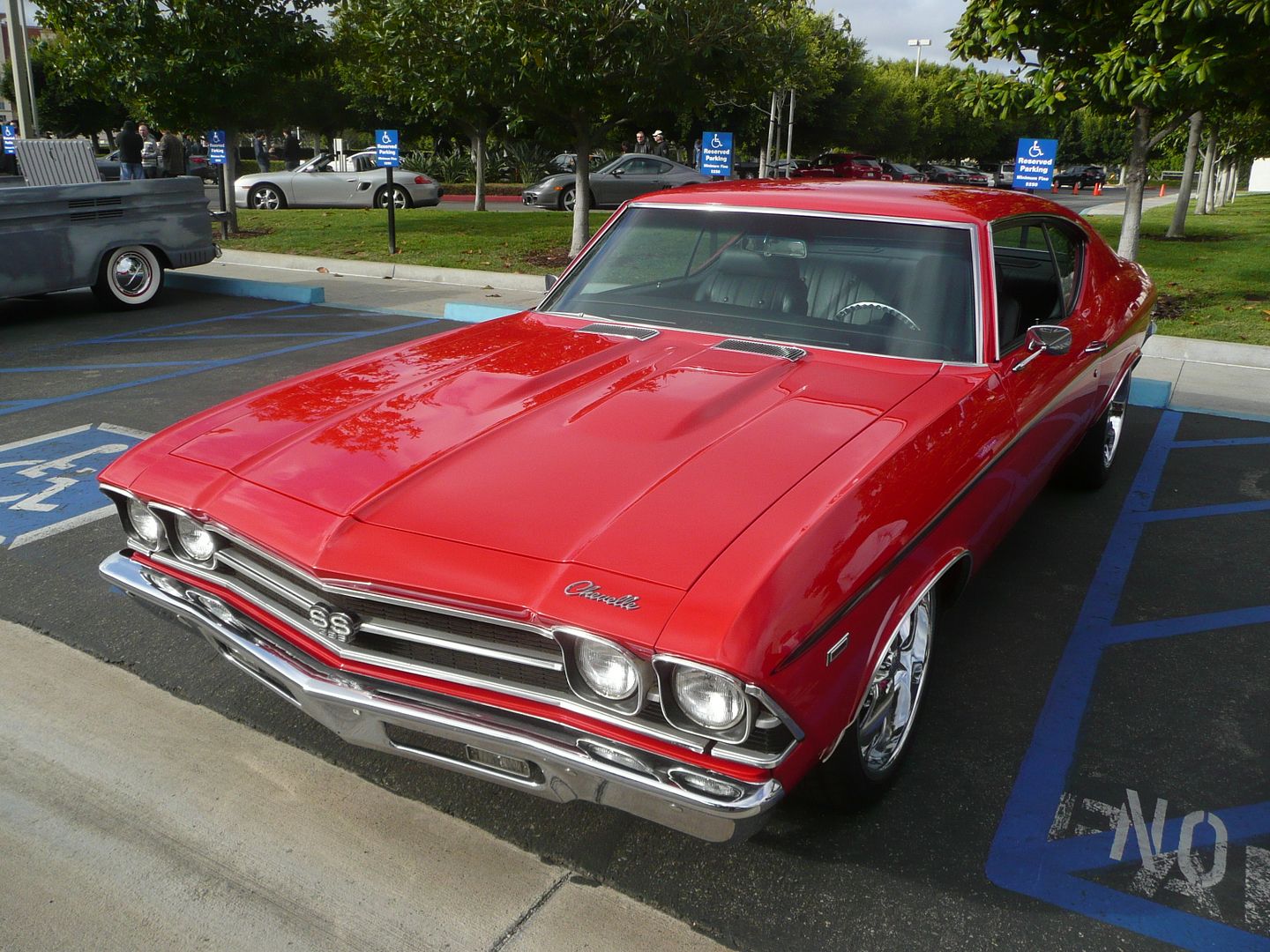 The Bel Air Nomad is one of the rarest and most prized of the "Tri-Star" Chevys made from 1955 – 1957.
CHRYSLER
A very imposing Chrysler Imperial. Early 1950s, I believe.
Not one, but two of the ill-fated Chrysler-Maserati were present. Launched at the 1986 Los Angeles Show, but not available until 1989, based on a shortened Dodge Daytona chassis,  these cars were upgraded with Maserati mechanicals (and a cylinder head that started out at Cosworth) and interiors. The end result was pricey, and most felt that the similar looking Chrysler leBaron Convertible was a more attractive proposition, which meant that the whole venture was not a success and did not last long, with just  7300 cars produced over less than 2 years.
DATSUN
Not well known in the UK, as they were never sold in Britain, Datsun offered a small sports car, initially with a 1600cc engine and later a 2 litre, very much in the mould of the MGB. These sports roadsters are quite collectible now, and for good reason.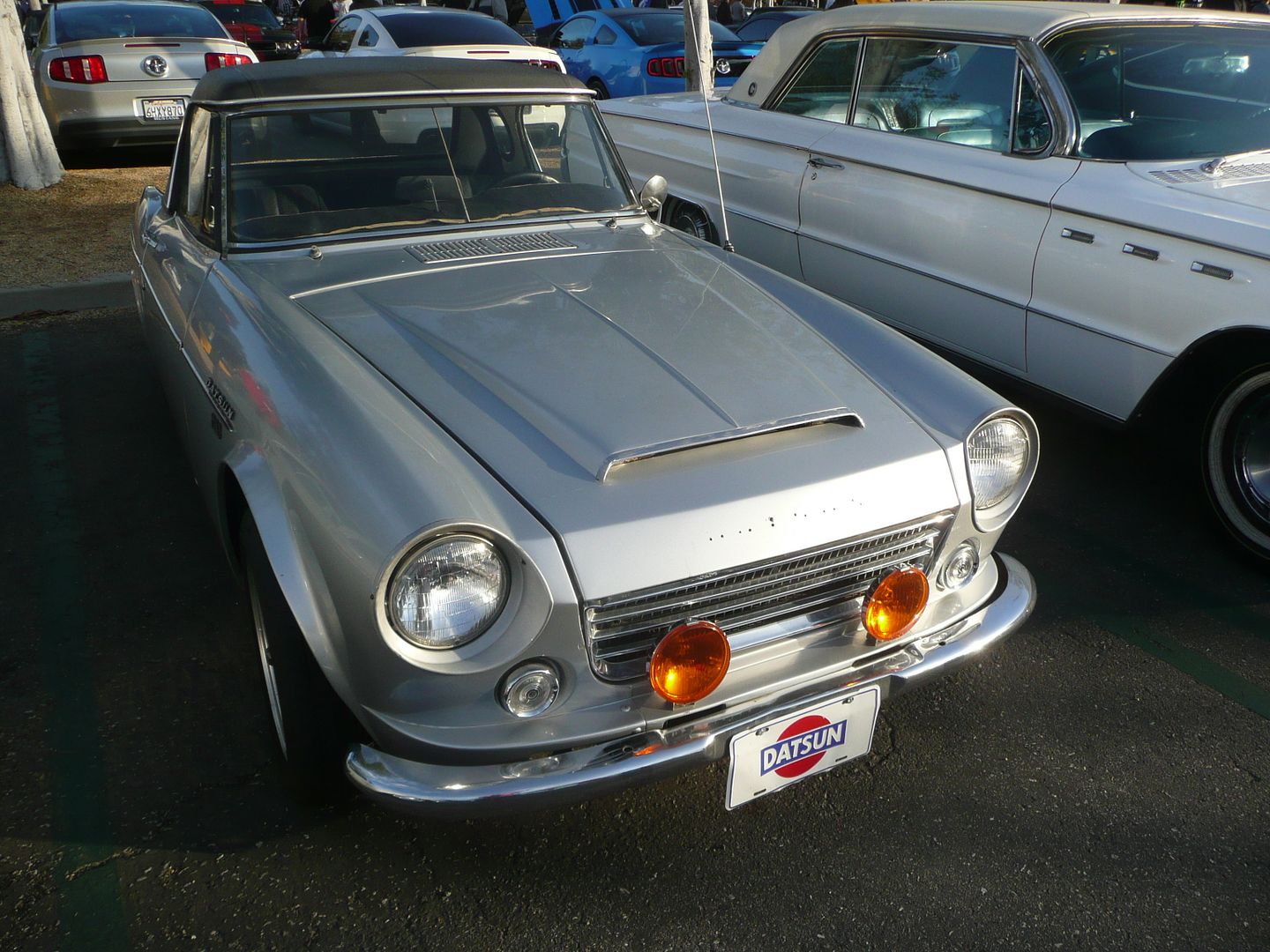 DODGE
The very first Charger was a fastback design, launched in 1965. This is one such car.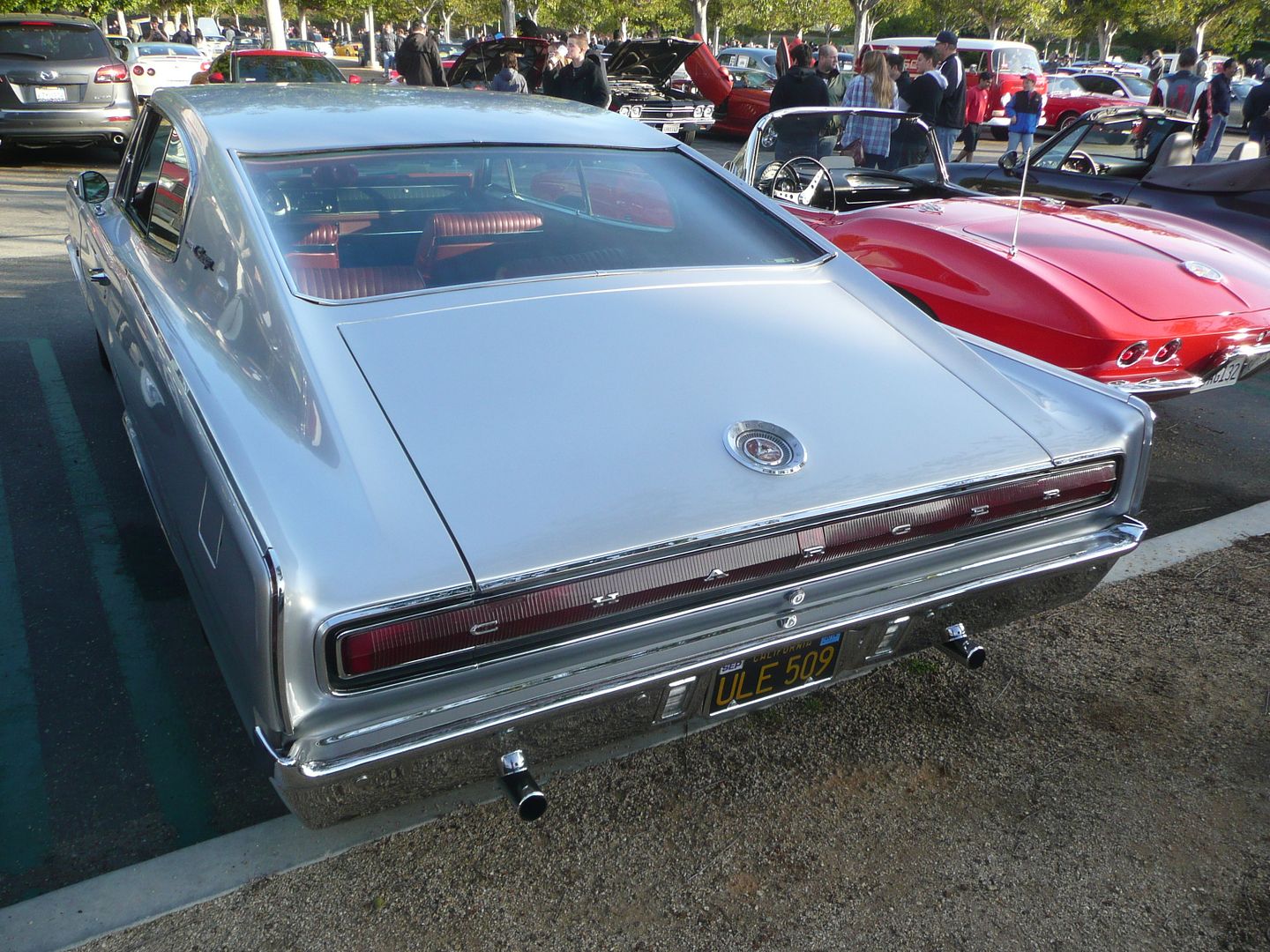 FERRARI
The 365 GT4 2+2/400i model was never officially sold in the US, but a few examples have found their way over the Atlantic in recent years. Here is a 400i.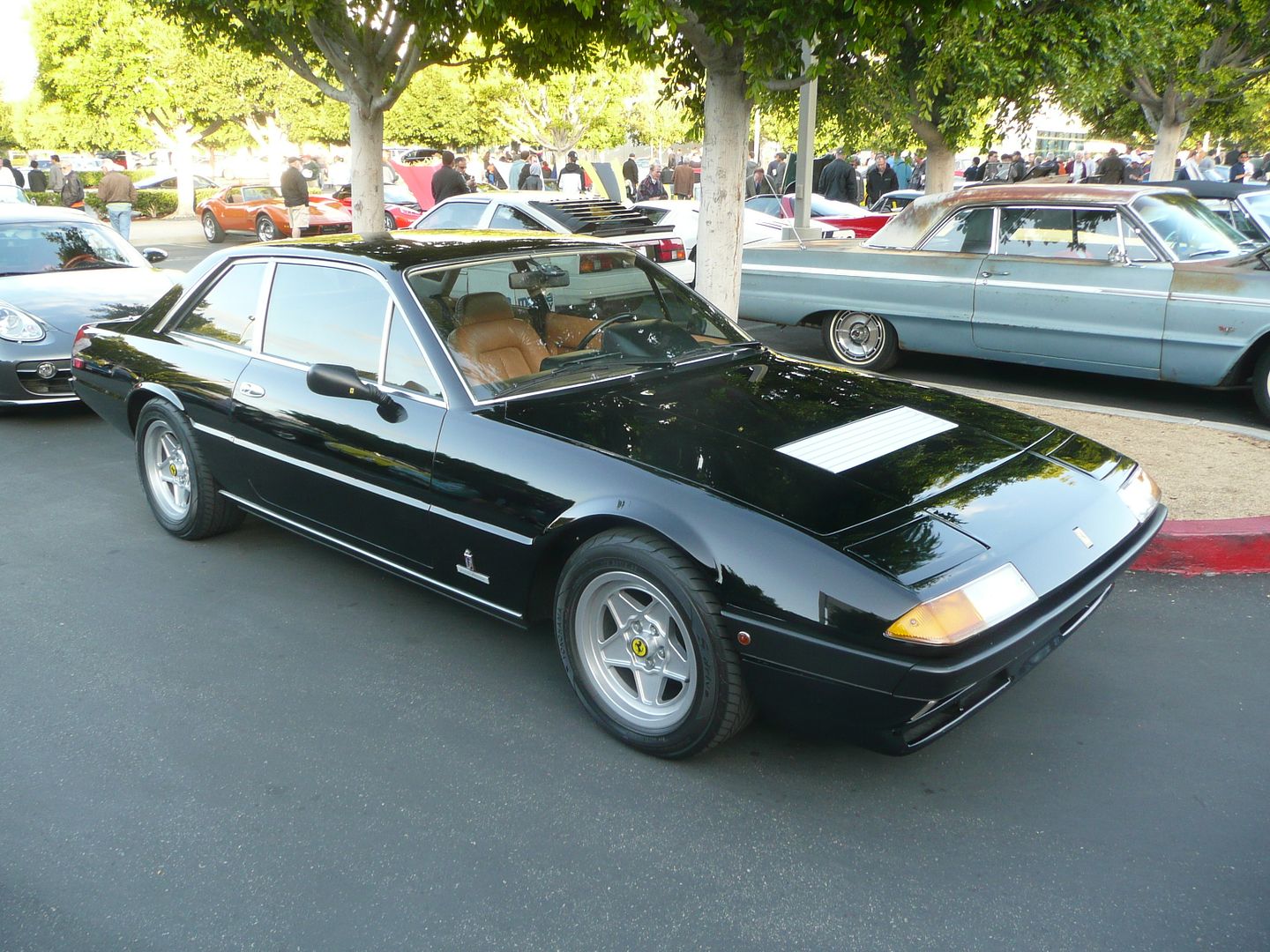 I was just in time to catch this 275GTB departing., One of the earliest cars to go, it had been crowded around its parking position, and next I knew, the owner had drunk his coffee, or simply timed out., and he was off. This was probably the most valuable car present. Judging by the plates on it, it has probably not changed hands for a very long time (those plates go back to the 1970s).
Attracting lots of attention was this F40.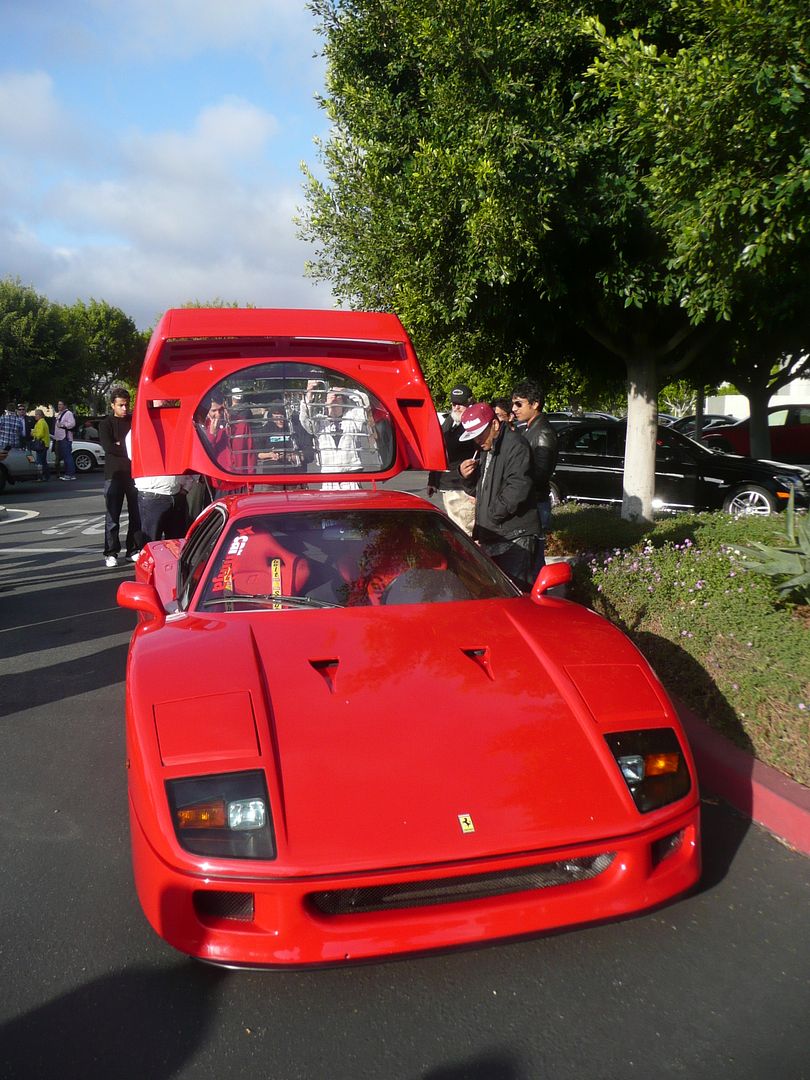 More recent Ferrari models included a 458 Italia.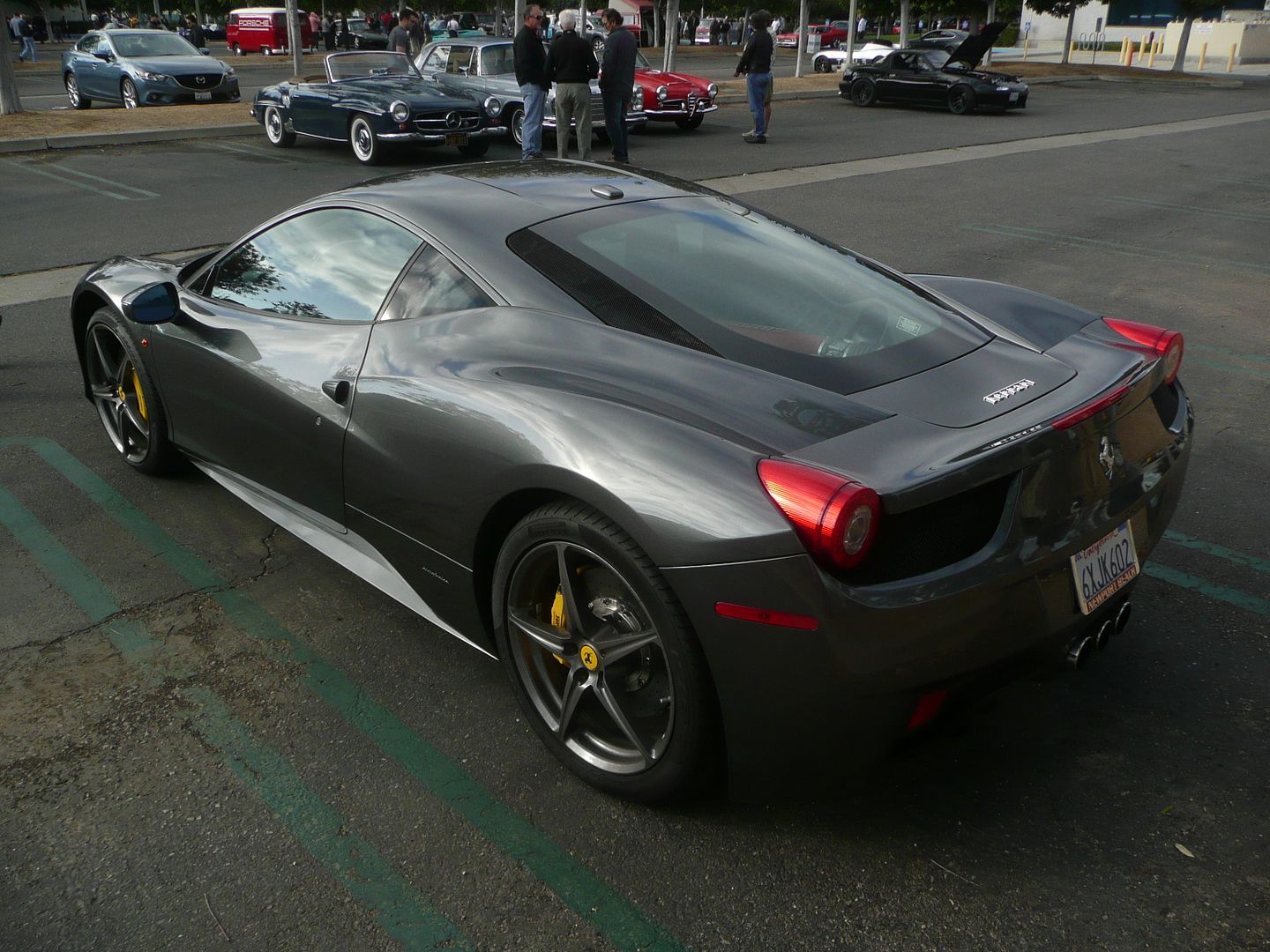 This Daytona Spider boasted plates advising that it is a real one. If it is not, then the conversion appeared very well done, but this being California, it is very likely it was one of the genuine factory produced cars.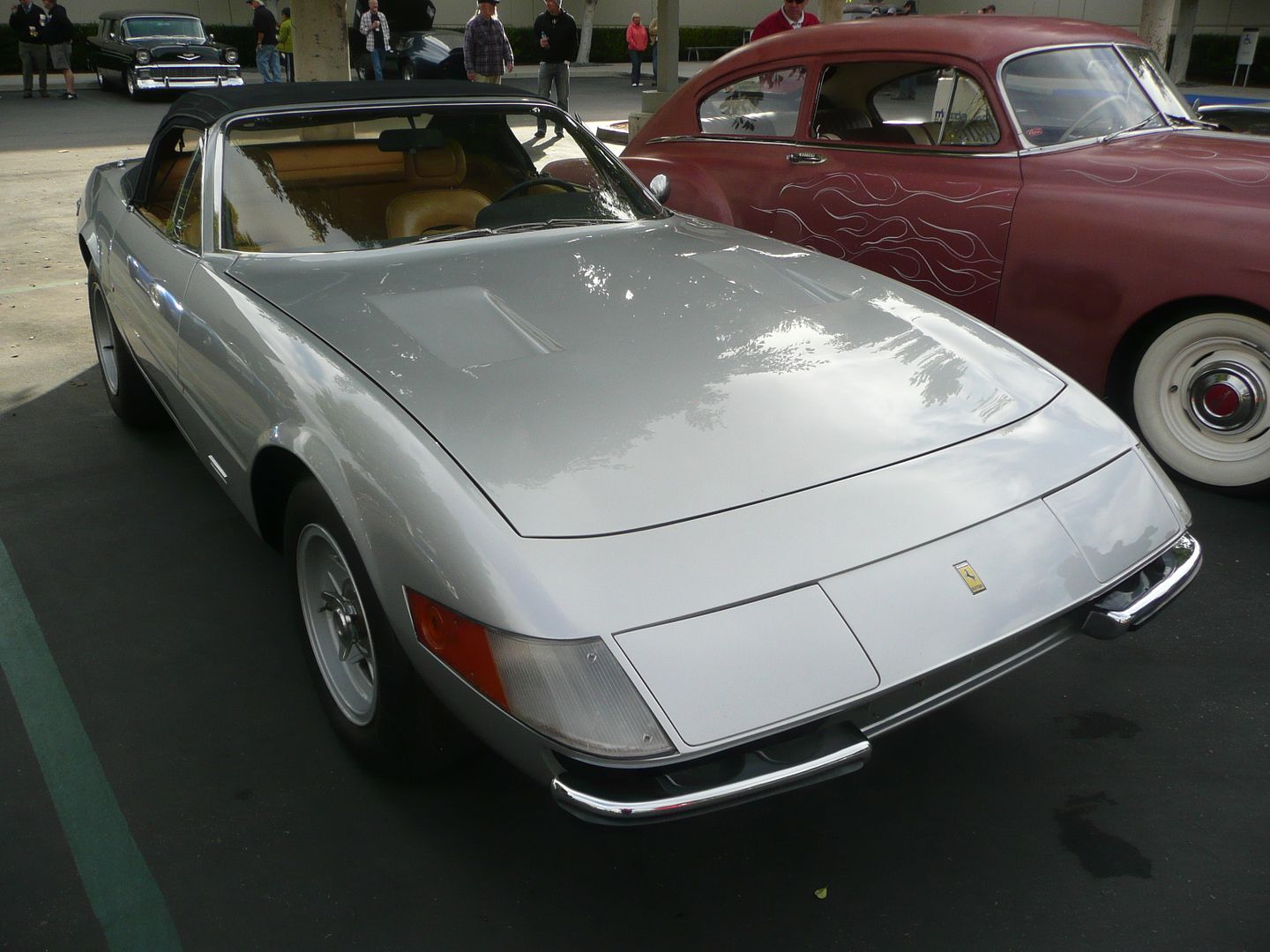 FIAT
Nice to see a 124 Coupe, in its original (and prettiest) guise.
FORD
Once again, there were quite an array of Mustangs from the first model, 50 years old this month, to the very latest cars, some of which were stock V6 and V8 cars,  but with Shelby cars were present as well as was the recent, and short lived Boss 302.
There were GTs present again, and these were pulling the crowds, as you might expect.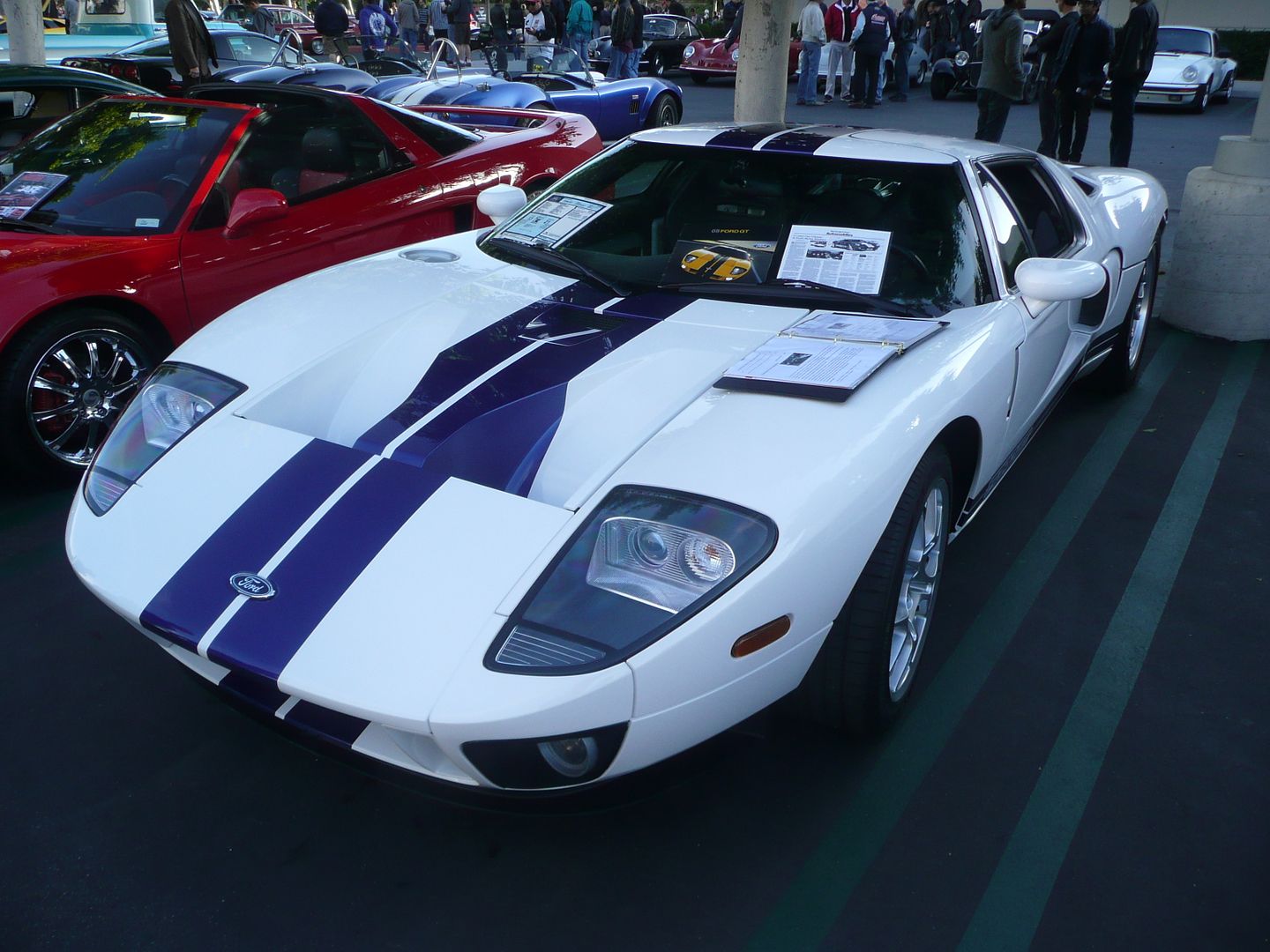 Another real rarity was this, a Ford Comète. This is a French built Ford, sharing much with the Simca of the period. It was made from 1951 to 1954. Intended as a luxury model in the range, the bodywork was built by FACEL who went on to offer their own cars, the Facel-Vega. The trouble was that the end result ended up costing 65% more than the Vedette on which it was based, and sales were correspondingly modest. It is a very rare car now, so I was pleased to see this one, complete with French plates.
Much earlier was this 1930s V8 Coupe.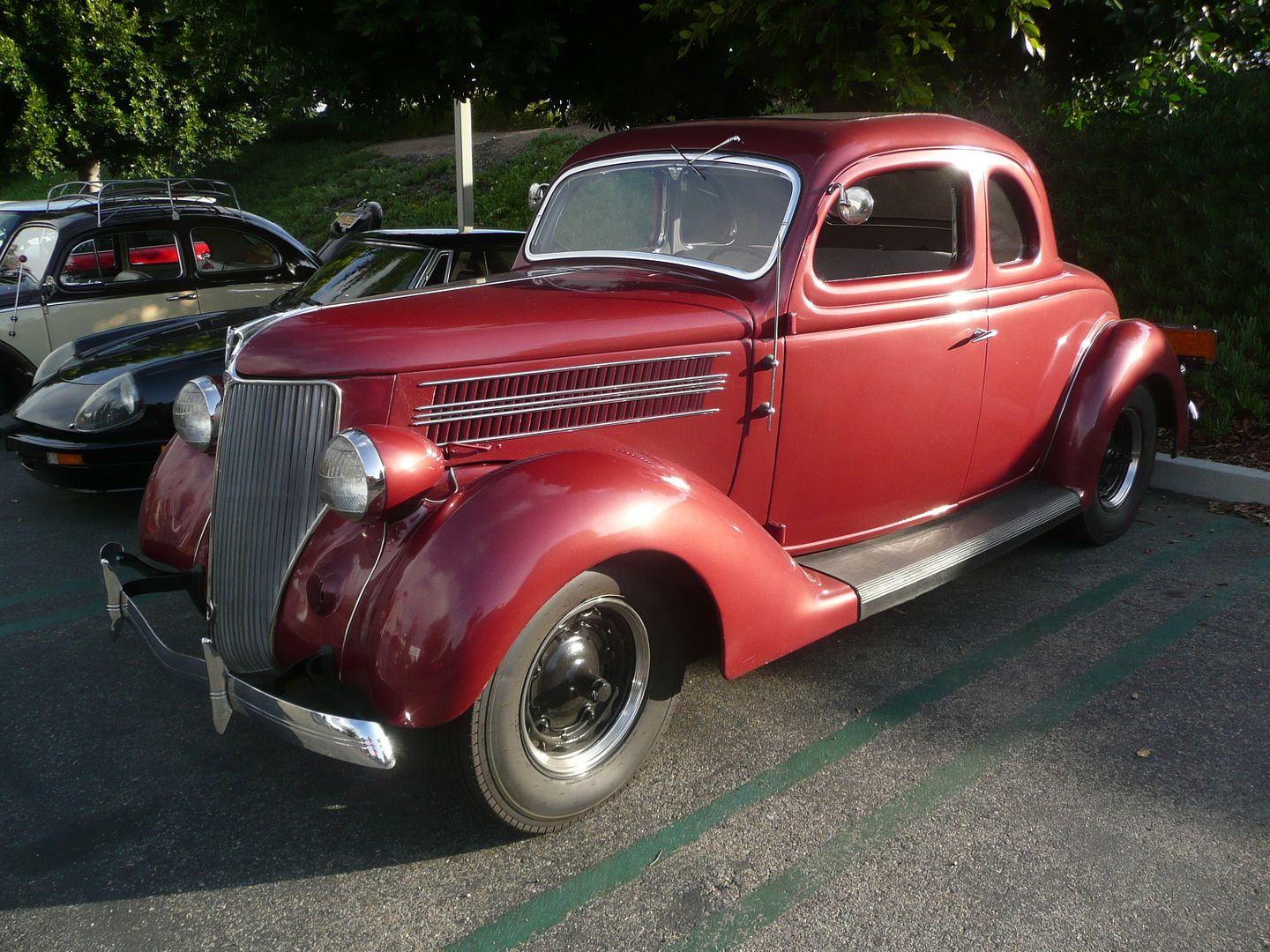 This late 1950s Skyliner had an elaborate metal folding roof. It proved too complex, weighty and expensive for the time, and the car was not a success.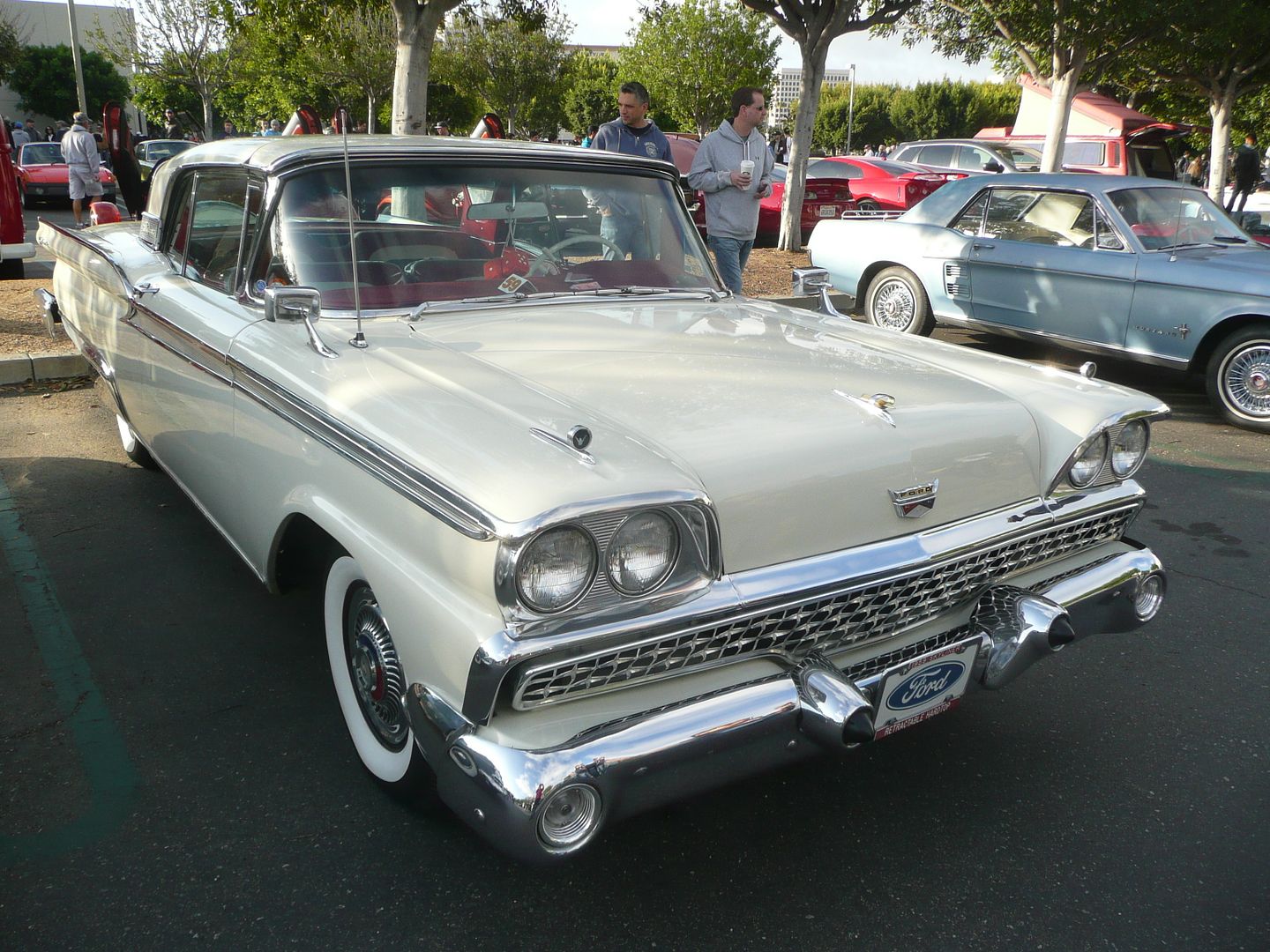 GOGGOMOBIL
Without doubt the smallest car, with the smallest engine present was this a 1958 Goggomobil 250TS Coupe. Not quite what you expect to see anywhere in America, but then events like this always generate the odd surprise or two!
JAGUAR
In America, the E Type was called the XKE, and it was a very popular car in its day. Although a number of them have come back to the UK, there are plenty still out in the US, as these examples testify.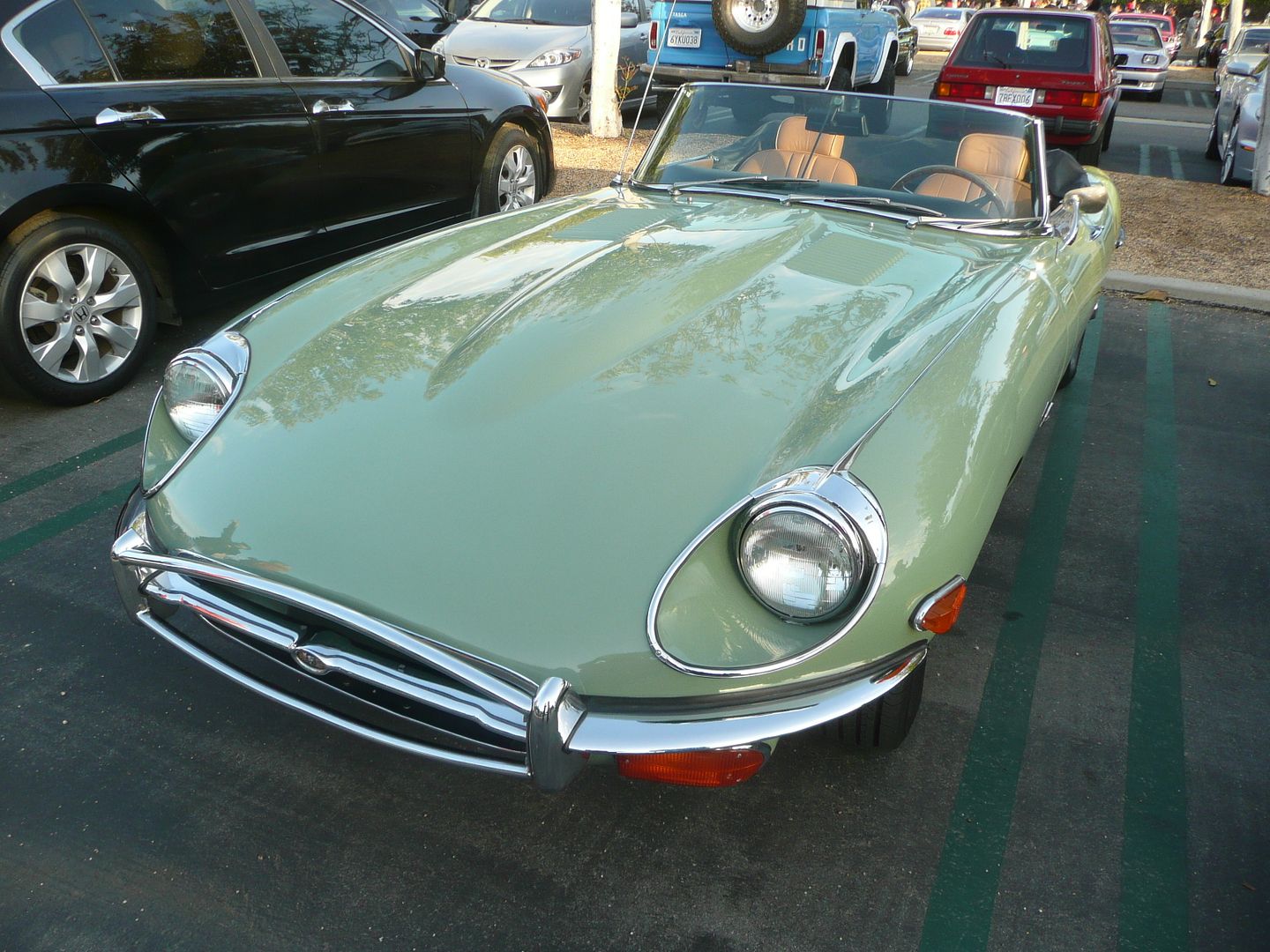 This XK150 sported UK licence plates.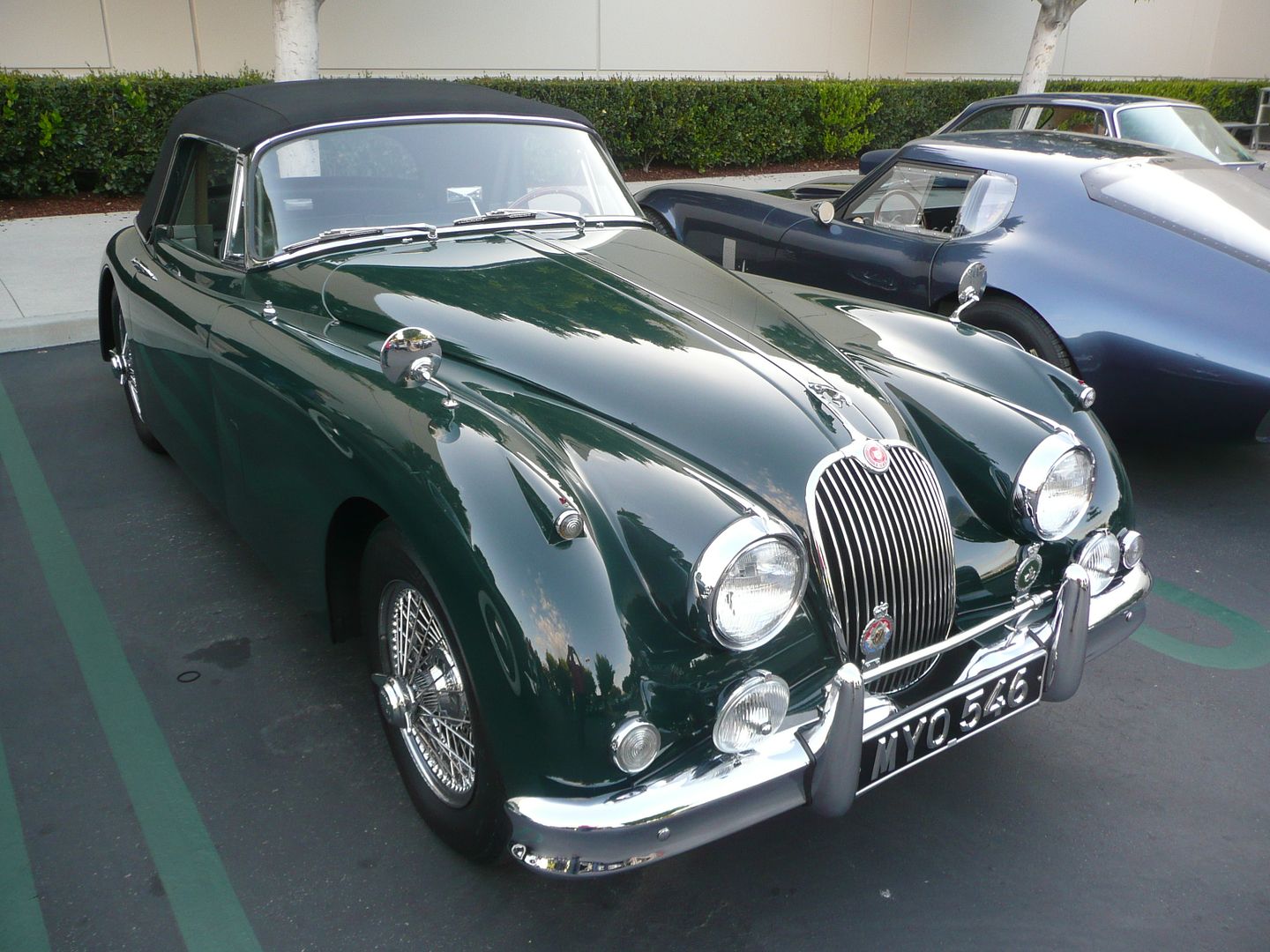 JENSEN
This Interceptor had been present at the event I had attended two weeks previously, and was parked in the same position,. It was one of the last cars to depart, so I suspect that it may belong to one of the organisers.
There was also a neatly presented Jensen-Healey. This car was for sale, priced at just under $10,000 dollars, which rather vindicates what I told a friend of mine whose late grandmother left a similar model, with less than 1000 miles on the clock from new, that it is not worth as much as you might like to think. In his case, I think the family has now decided to keep it, and once it is recommissioned, will no doubt have lots of fun with what is unquestionably a desirable and stylish British sports car.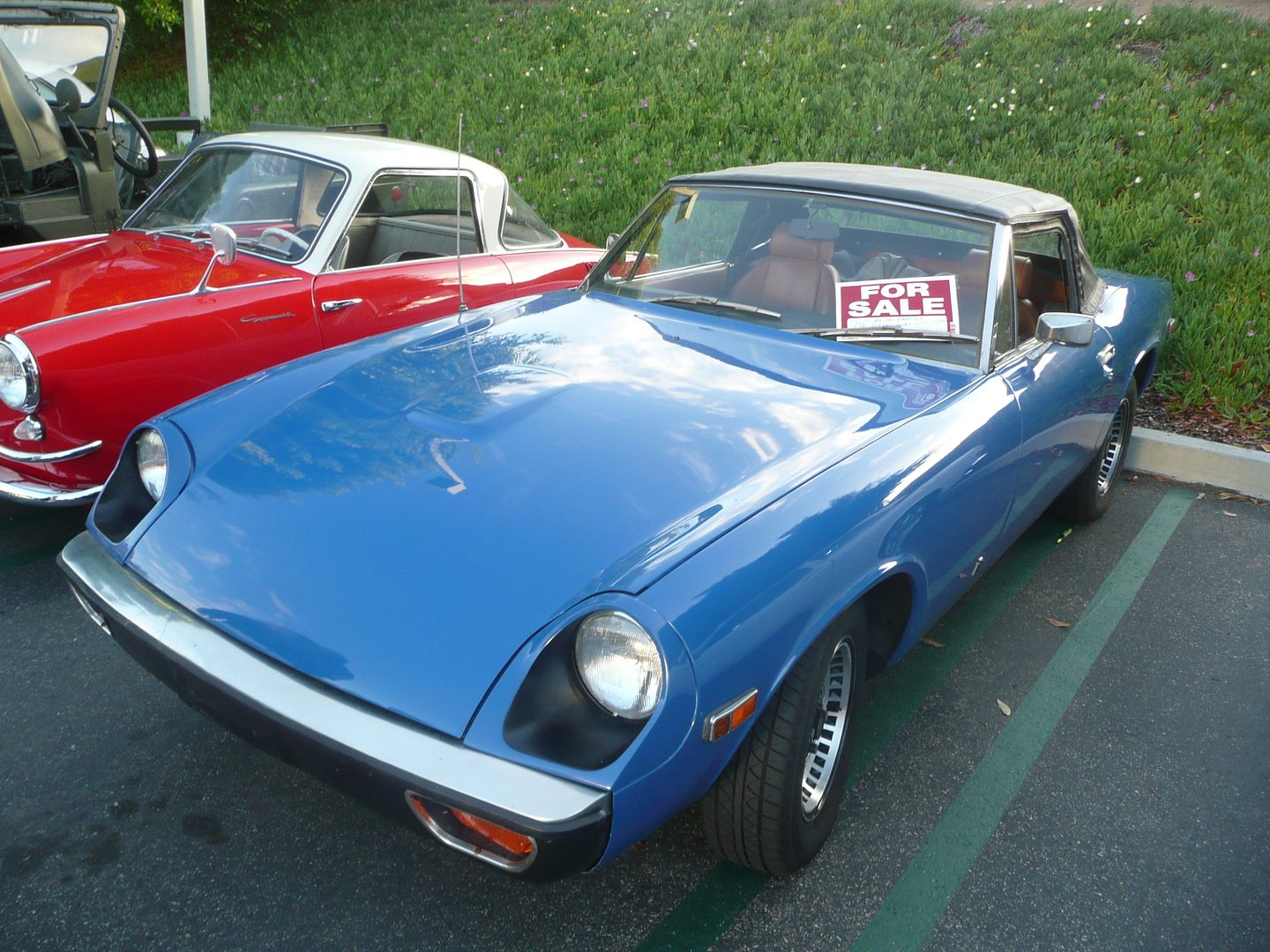 LAMBORGHINI
Having missed the Lamborghinis when I attended this event previously, I made sure I did not this time. There were only a couple in attendance, including this Murcielago and a Gallardo Spider.
LOTUS
Lotus sell a small number of cars in the US, with recent sales having been confined to the Evora model.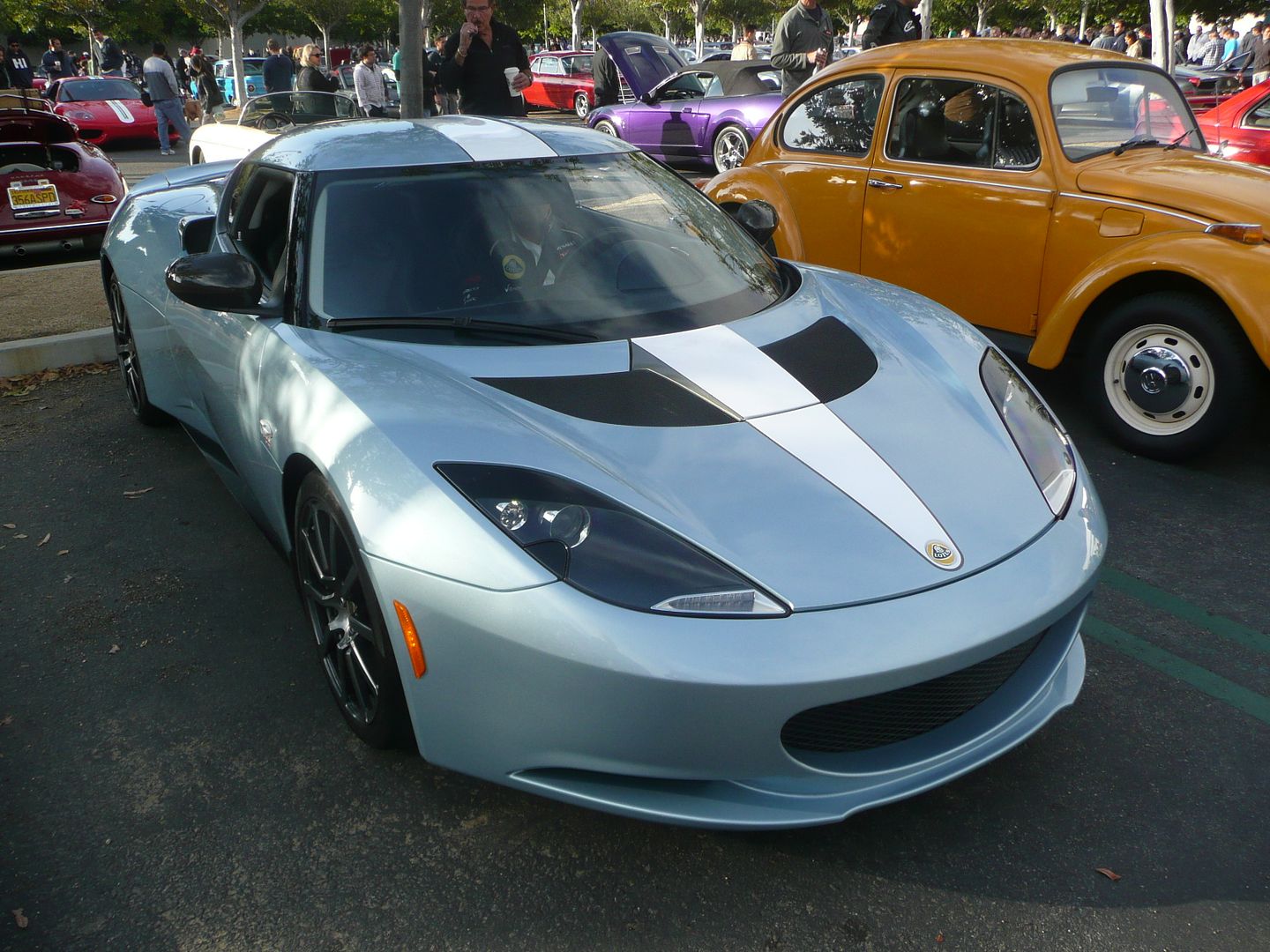 MERCEDES-BENZ
Classic Mercedes included a 190SL and a lovely W111 model 280 SE Convertible as well as this W123 240 Diesel.
OLDSMOBILE
Believe it or not, Oldsmobile had the best selling model in America for many years., before the Toyota Camry got a grip on the sales charts. This 442 Coupe was based on the big selling Cutlass of the early to mid 1970s.
PANTHER
Quite a surprise to come across this, a Lima, the small pastiche "sports" car based on Vauxhall Magnum components that was made from 1976 to 1982 before being replaced by the Kallista which had Ford mechanicals under a very similar looking body.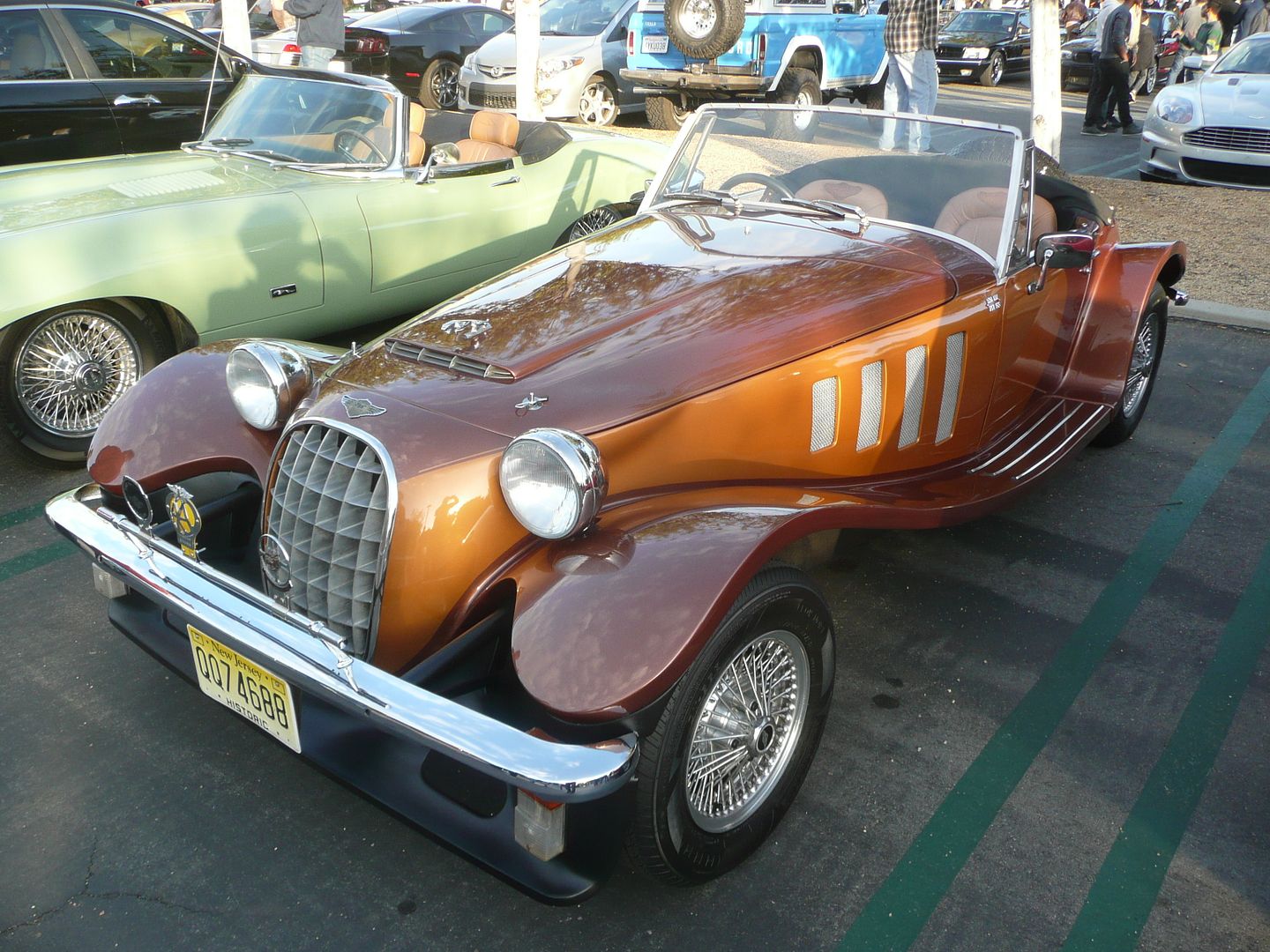 PLYMOUTH
Early 1950s de Luxe.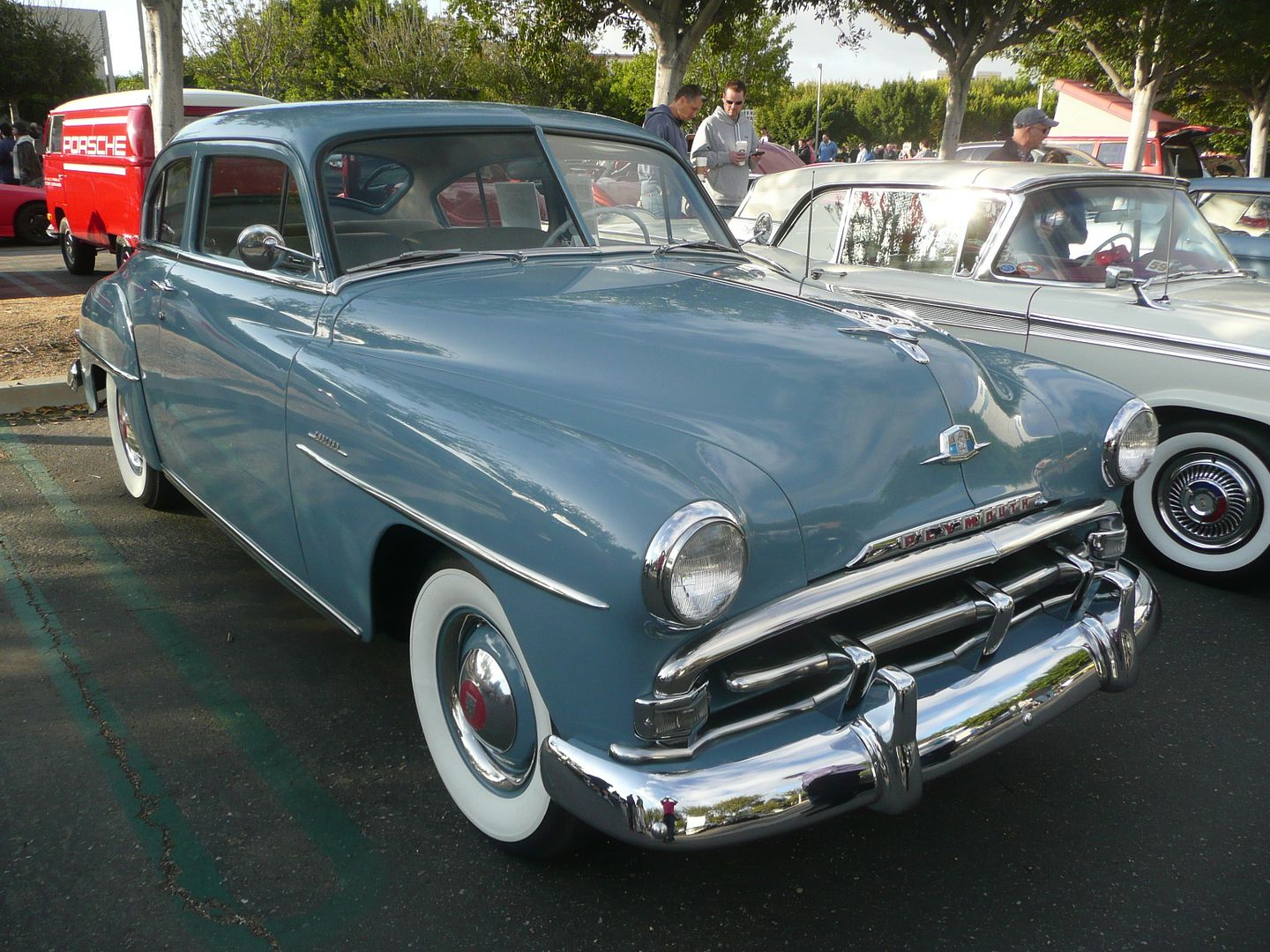 PONTIAC
This Pontiac le Mans Coupe was the sort of car that an American would have bought when a Brit would have gone for a Ford Capri – the stylish two coupe version of a regular 4 door sedan.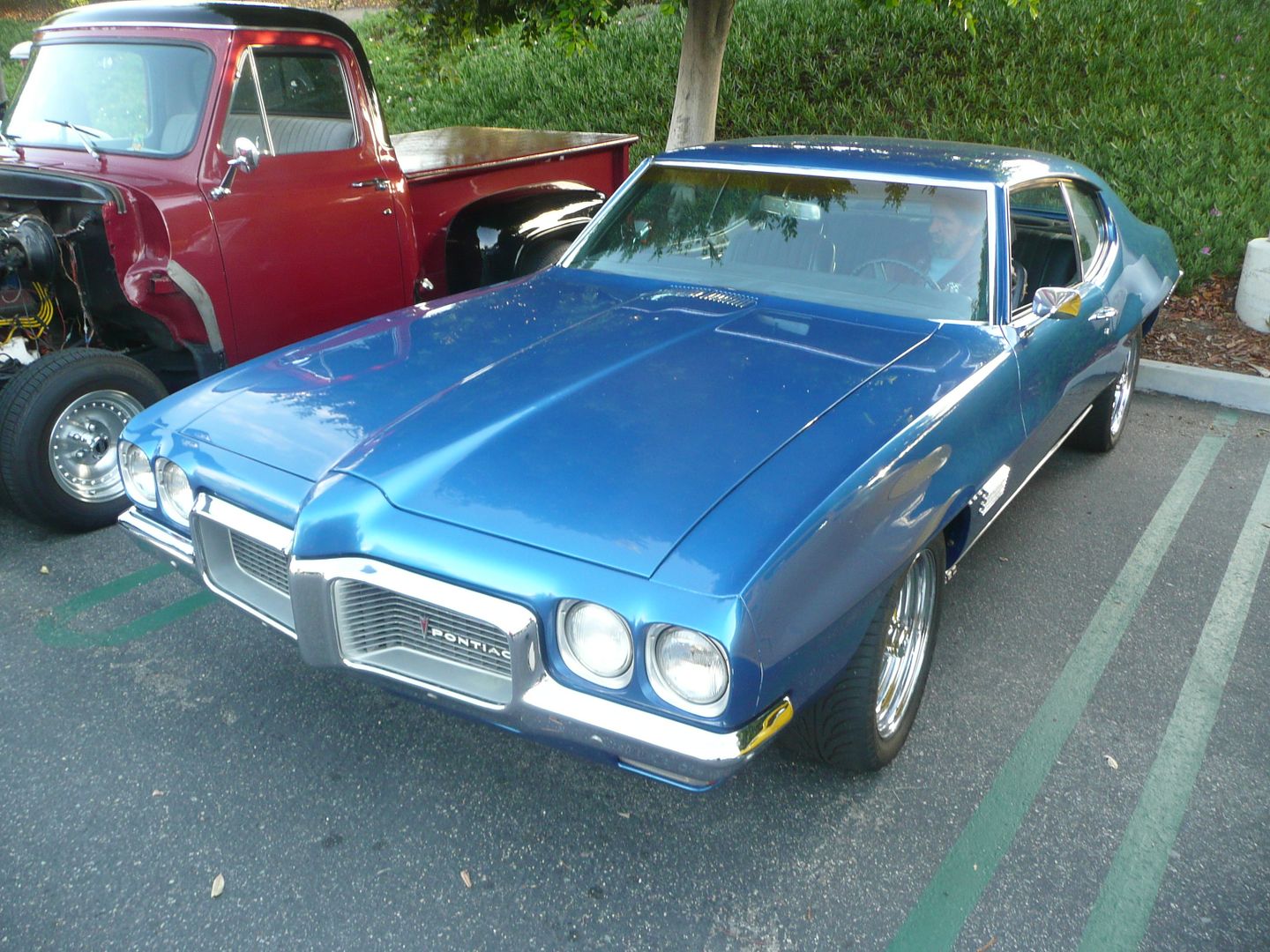 The Fiero was a short lived venture in the mid 1980s. A 2 seater mid-engined sports car, it was timed badly, as Toyota launched its MR2 at the same time, which was simply a better car in almost all respects. This is a late GT car with revised bodywork.
No questioning the sporting credentials of the GTO, which was Pontiac's offering the muscle car market in the mid 1960s.
Rather earlier was this Star Chieftain, a full-sized sedan from around 1960.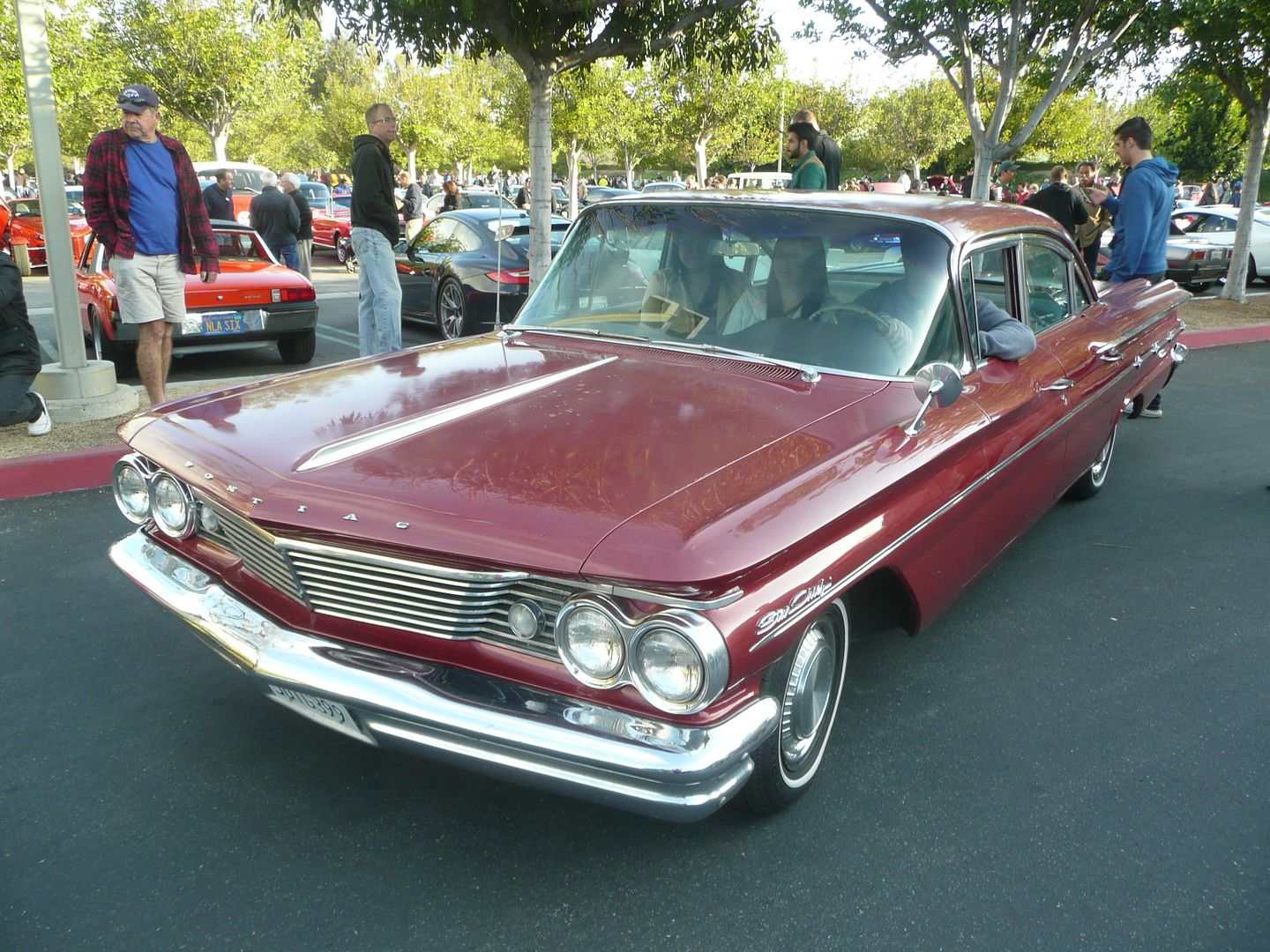 There was also an example of the 1980s model Firebird, in Pace Car livery.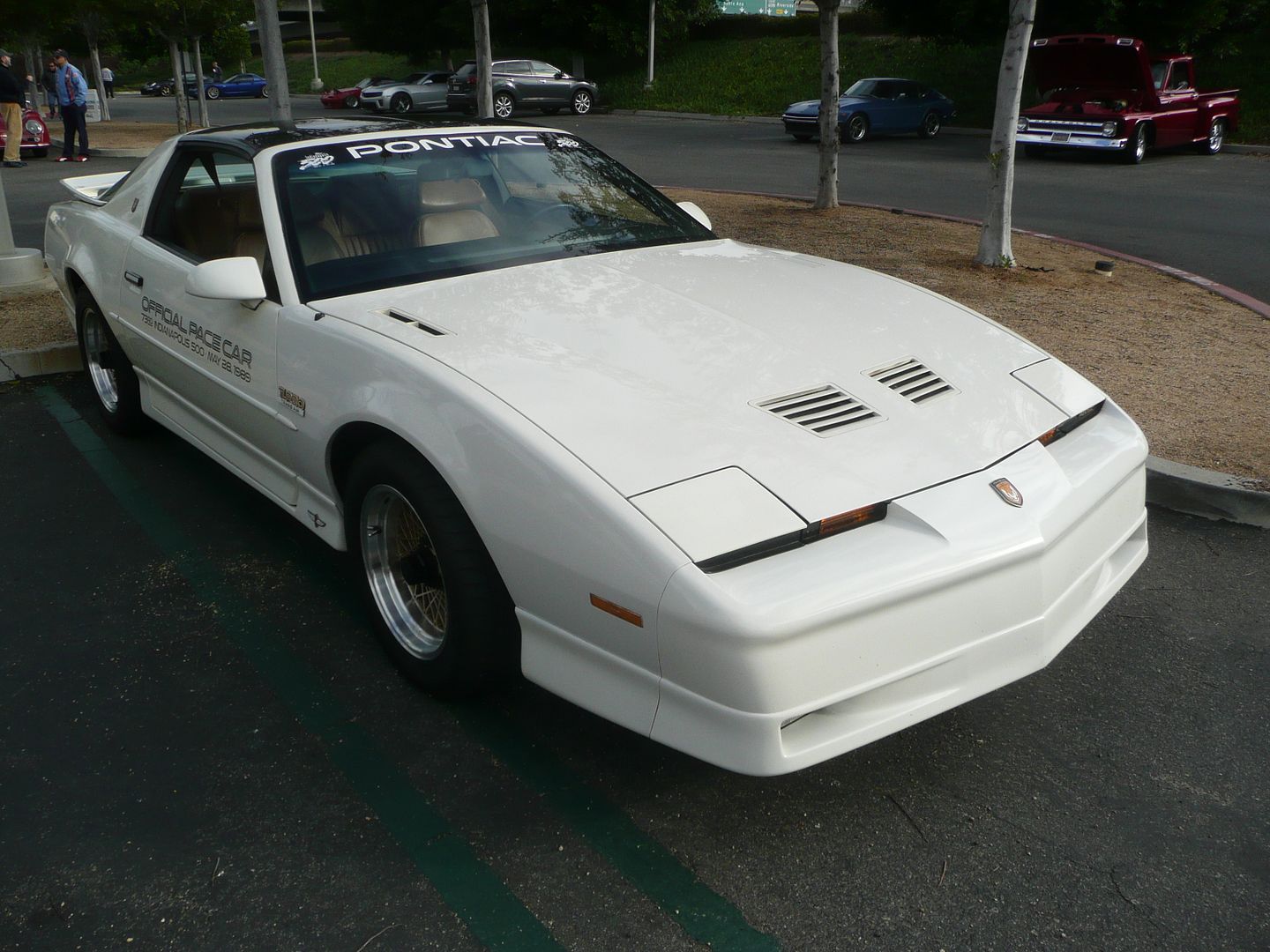 PORSCHE
There were lots of 911s on show, ranging from some early short wheelbase cars to the latest generation 991 cars.
There were plenty of 356 cars, too. Some were originals, and some were nicely finished replicas.
This 550 Spider looked like a lot of fun for a sunny day.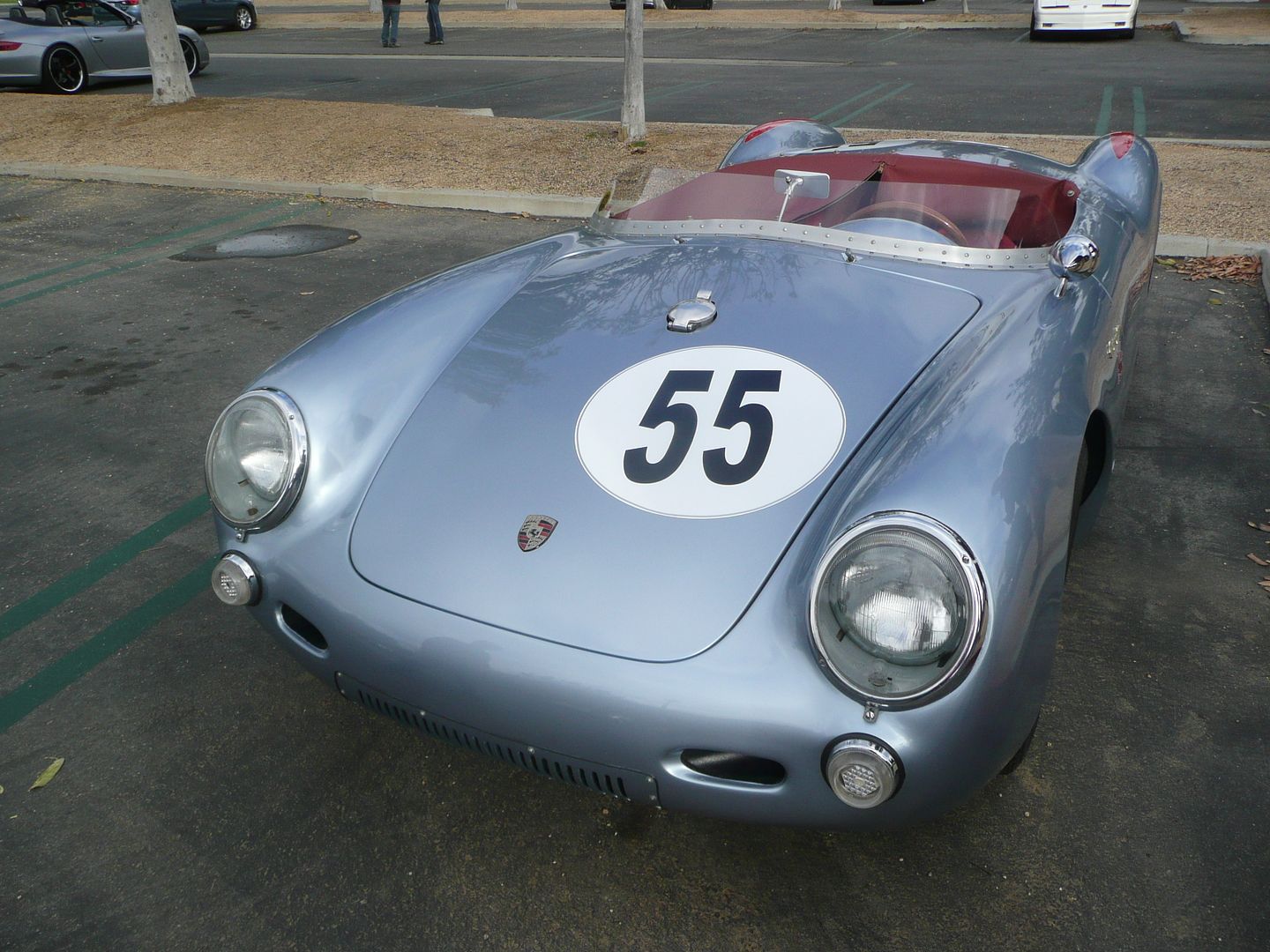 TOYOTA
I was delighted to see this, my favourite ever Toyota, the 2000GT. These cars are very rare and you don't often seen one.
TRIUMPH
There were also a number of TR models, proving that not all of these have been repatriated, either, with a couple of very nice TR6 catching my eye and the camera lens.
VECTOR
This has to be the other extremely rare car of the day, and it was the one that was attracting more attention than almost anything else. Just as the owner was preparing to depart, I heard a couple of lads next to me opine that it looked like a cross between a Lotus Esprit and something else. This comment did not go down well with the owner who barked back that it was like nothing else. Clearly that made him grumpy, as he was barely civil in responding to other questions, before driving off. I can tell you that he said that just 38 of these cars were made.  Some research after seeing this car elicited a bit more insight: The Vector W8 is an American supercar produced from 1990 to 1993.It was manufactured by Vector Aeromotive Corporation, and was designed by Gerald Wiegert and David Kostka. The company utilised the newest and most advanced aerospace materials in building the W8s, which they said justified applying to the car the term "Aeromotive Engineering." Just 19 W8s were produced, 17 customer cars and two pre-production cars, the prototype W2, and the two prototypes Avtech AWX3 and AWX3R, each with a mock up of a 7.0 litre DOHC TT engine). A total of 22 automobiles were produced by Vector Aeromotive over the life of the company. The car originally sold for $448,000 new. The W8 was essentially an upgrade of the same company's earlier prototype, the Vector W2, a prototype which was first produced in 1979, and extensively test by the motoring press and on the road, amassing over 100,000 development miles. The semi-aluminium monocoque chassis was epoxy bonded and riveted with an aluminum honeycomb floor pan, and 5,000 aircraft specification rivets were used in the car's assembly. Everything on the Vector was designed to last the life of the owner, assuming reasonable maintenance. The body was made largely of lightweight carbon fiber and Kevlar, known for its strength, and lightness. The car's level of fit and finish was well beyond that of its competitors. The car was based around a Rodeck resleevable, modified Chevrolet 5.7 litre V8 racing engine coupled to a custom three-speed transmission. The engine had twin turbochargers, and produced an advertised 650 bhp at 5700 rpm and 649 lb/ft (880 Nm) of torque on 8 lbs of boost. Boost levels were driver adjustable between 8 and 14 lbs and during dyno testing at the factory the engine put out 1200 bhp at 14 lbs of boost. One black W8 was sold to famous tennis player Andre Agassi. Since Vectors were hand built, each took some time to finish, but Agassi demanded that the company deliver his W8 as soon as possible. Vector delivered the car as promised. Company representatives told him that he could display it, but warned him not to drive it until the final work was completed. Wiegert and Vector Aeromotive refunded Agassi's US$455,000 purchase price after the car broke down, which brought the company negative public attention despite the circumstances. Repairs on Agassi's W8 were finished, and the car was resold. When the come up for sale today, they are available from $389,000 to well over $1.4 million depending on the condition of the car.
VOLKSWAGEN
One of the coolest display vehicles was this "Thing", better known in Europe as the 181 or the Trekka. These were only sold in the US for a couple of years, so they are not that common a sighting.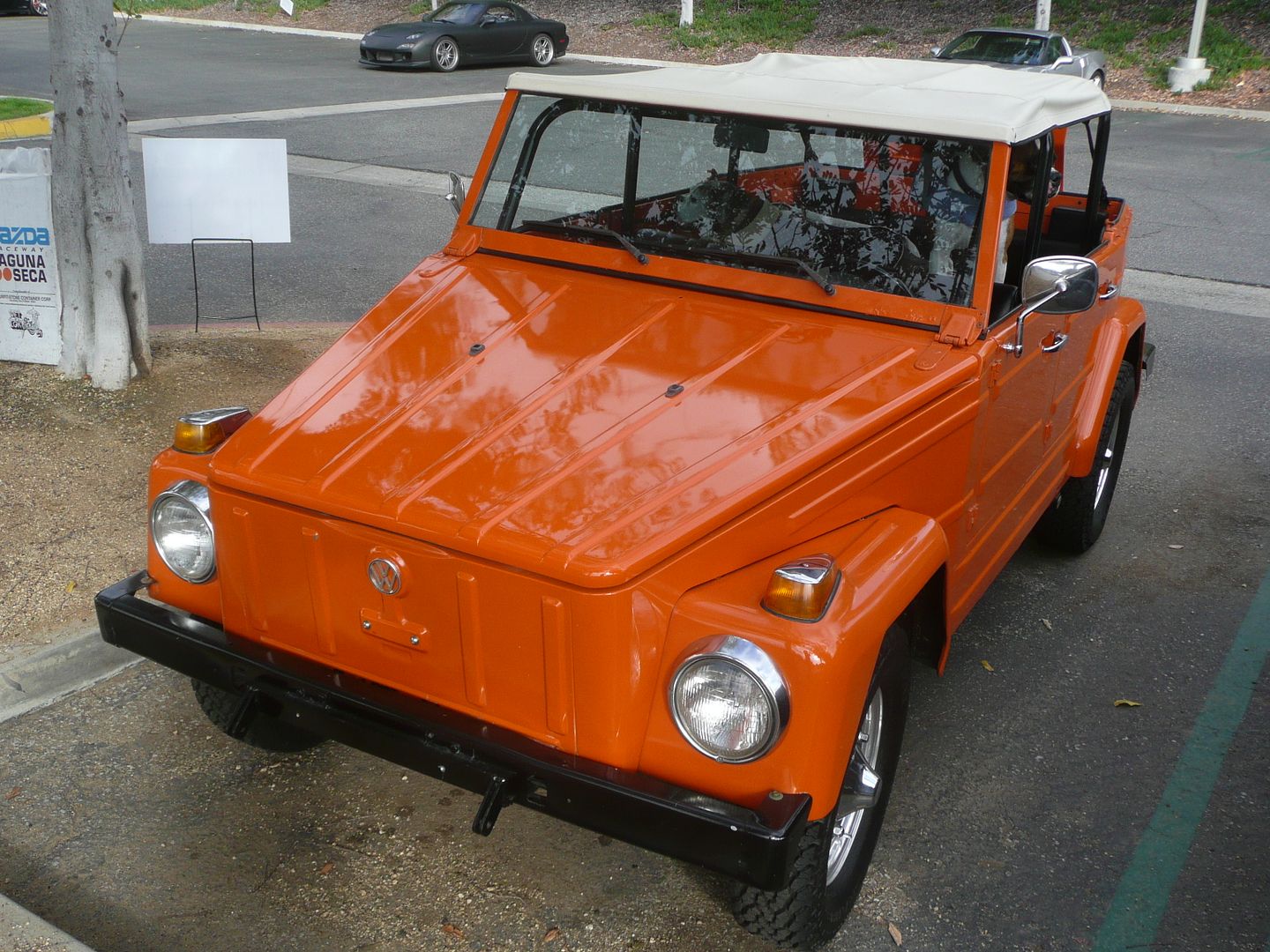 Sold in far great numbers was the Karmann Ghia, and this was a nice example of the more popular of the two different versions offered, the Type 1.
The Beetle upon which it was based sold in vast numbers of course, and a good tally of these cars still exist, including some of the Karmann Cabrio models.
As you will doubtless agree, this was a splendid array of very varied motor cars and well worth the early departure from my hotel. On the evidence of both this event and what I have seen depicted on the official website, I can be sure that subsequent trips to Southern California are likely to include visits to this event on a regular basis