For most of the 35 years during which there has been a Bristol Classic Car Show, the event has taken place in early February, initially at the now demolished Bristol Exhibition Centre, and more recently at the Bath and West Showground at Shepton Mallett. In 2010, when the weather conspired against the organisers, a reschedule moved the event to late April, which seemed to work quite well, and for four years the event has taken place then, so I was a little surprised to find that for 2014, the date was announced to be mid June, and hence clashing with a lot of other long established events around the country. The April date did also tend to coincide with "National Drive It Day", which meant that the areas surrounding the exhibition halls were crowded with all manner of interesting classics, adding greatly to the total of what there was to see in a day at the Show. Before the event, I did wonder how many of those welcome additions there would be in 2014. Diary pressures were such that I had to attend the 2014 Show on the Saturday, and yet what I found was an event that looked and felt little different to previous years, but a good deal warmer. There was quite an array of interesting stuff to see all around the halls, with around 1000 such cars attending on each of the show days, I later learned, and indoors there were lots of stands filled with displays from the same sort of clubs as have always attended this gathering. The sun even shone, so my visit ended up being a very pleasant day, and my camera was most definitely kept pretty busy as you can see from this report. For simplicity of presentation of what I saw, I have grouped cars by marque, regardless of whether they were indoors on a club stand or in the classic car parking areas. There's plenty to see and enjoy here.
ABBOTTS
Not a name you might recognise, but Abbotts of Farnham were a coachbuilder who produced a wide variety of different designs over a surprisingly long history. These days they are probably best known for the work they did producing estate versions of various Ford cars in the 1950s and 1960s, a business which was ended when Ford decided to build their own models in-house. This spectacular Mark 2 Zephyr from the late 1950s is a car I first saw earlier in the year.
Also on the stand was a 1930s Lanchester, converted by Abbotts into a nice drophead model.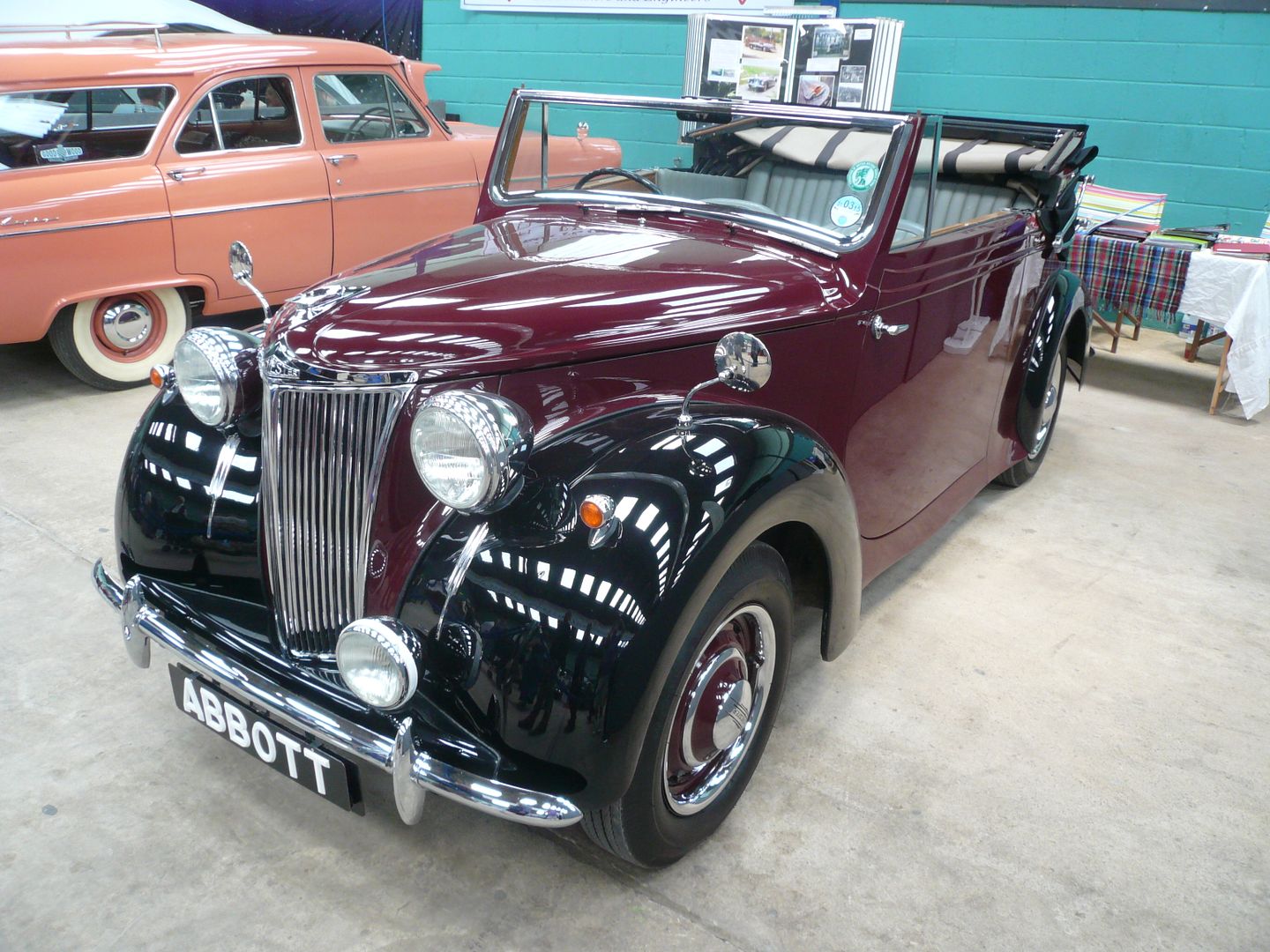 Parked up outside was this, a car I have never seen before, or even come across in pictures. It had an Abbotts badge on the back, and although the styling was a little awkward, it looked well executed.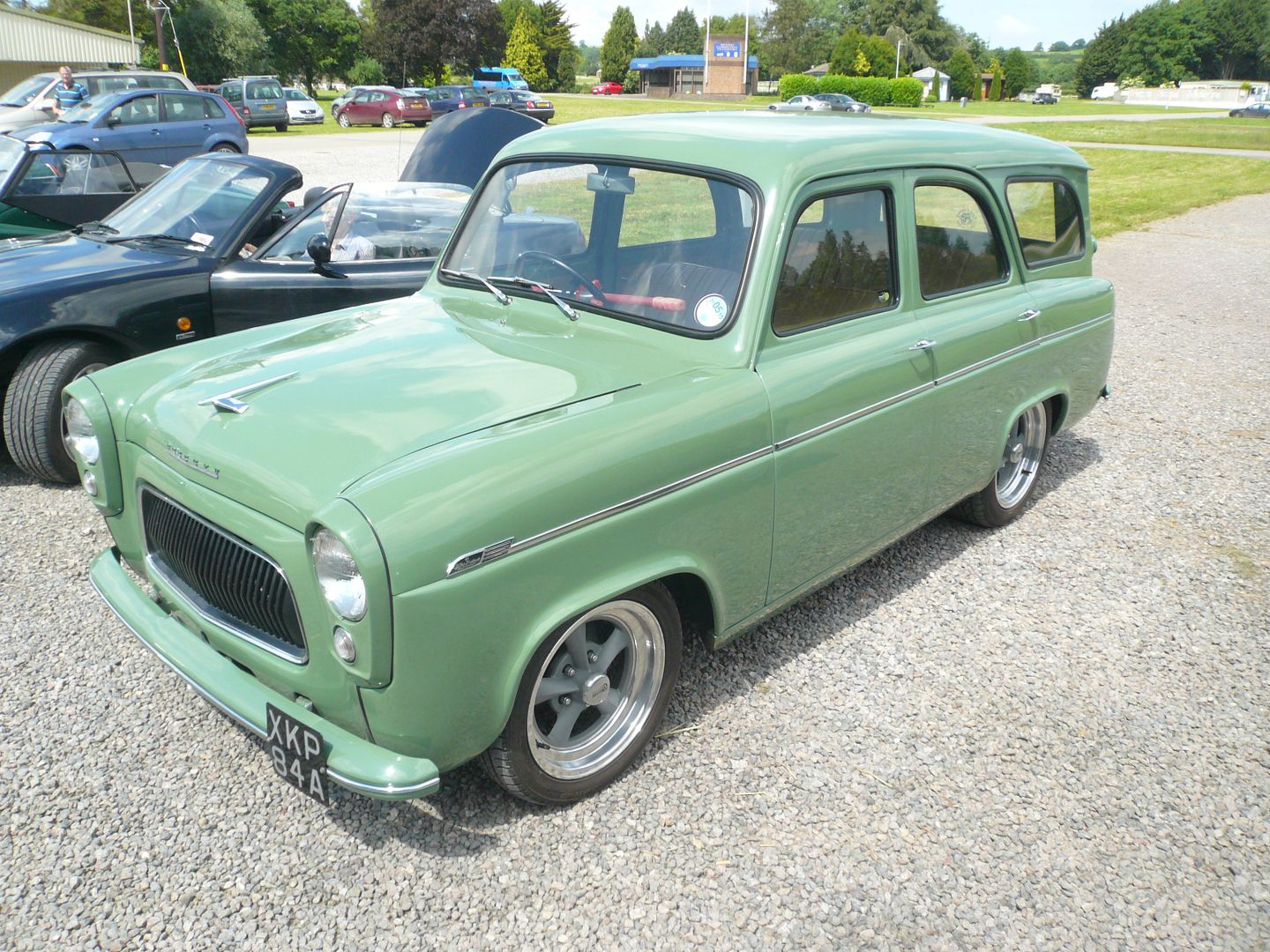 AC
There were a number of Cobra models on show. None of them were the mid 1960s originals, sadly, but they were all well presented models from various manufacturers.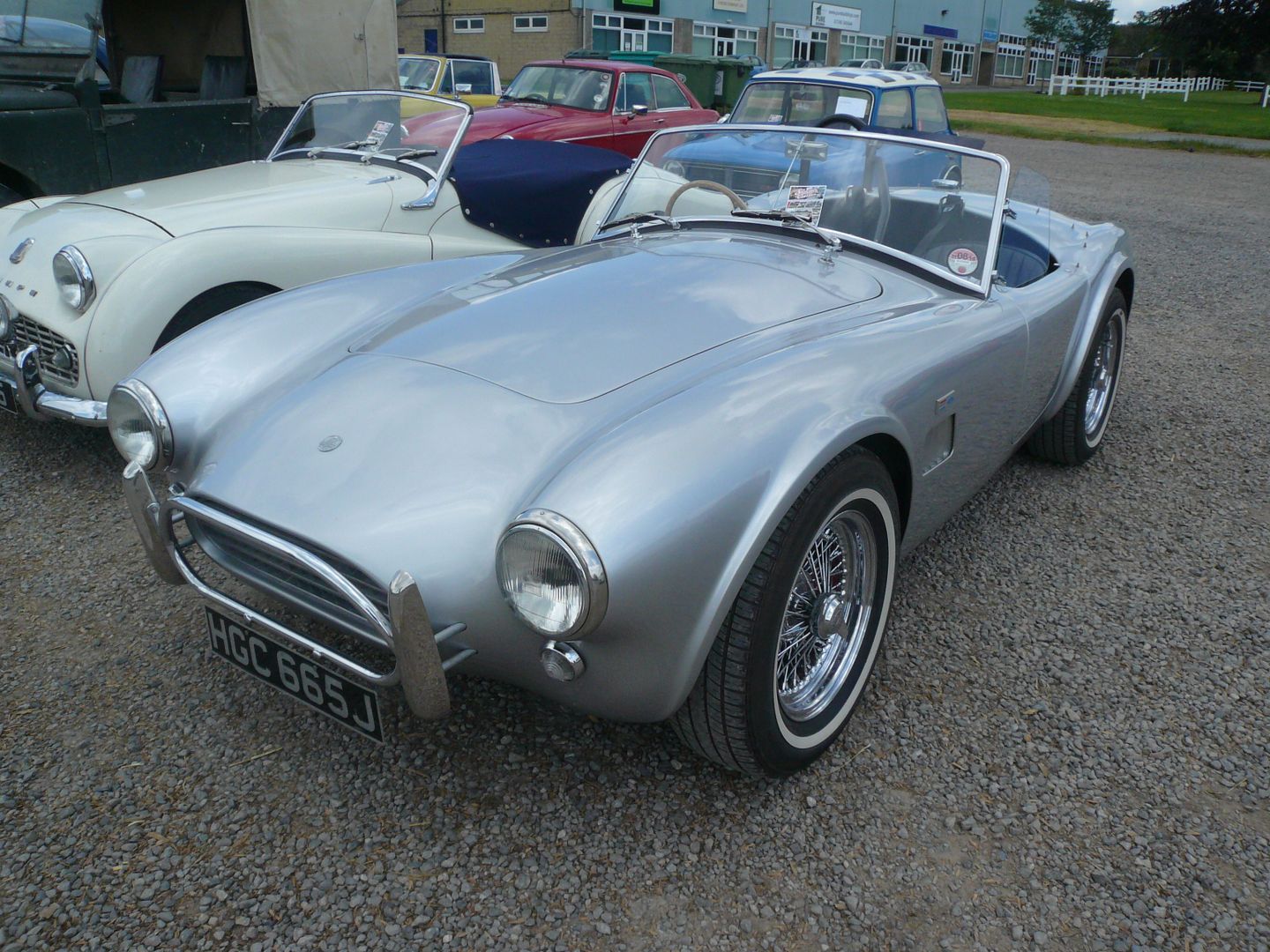 ALFA ROMEO
There were not many Alfa present, but there were a couple of 916 series Spiders in that very distinctive yellow hue.
Even more distinctive, though not necessarily for reasons that everyone would like, is the very bold SZ  Not that well regarded when new, these cars do have a lot of appeal now, and they still turn heads whenever they appear.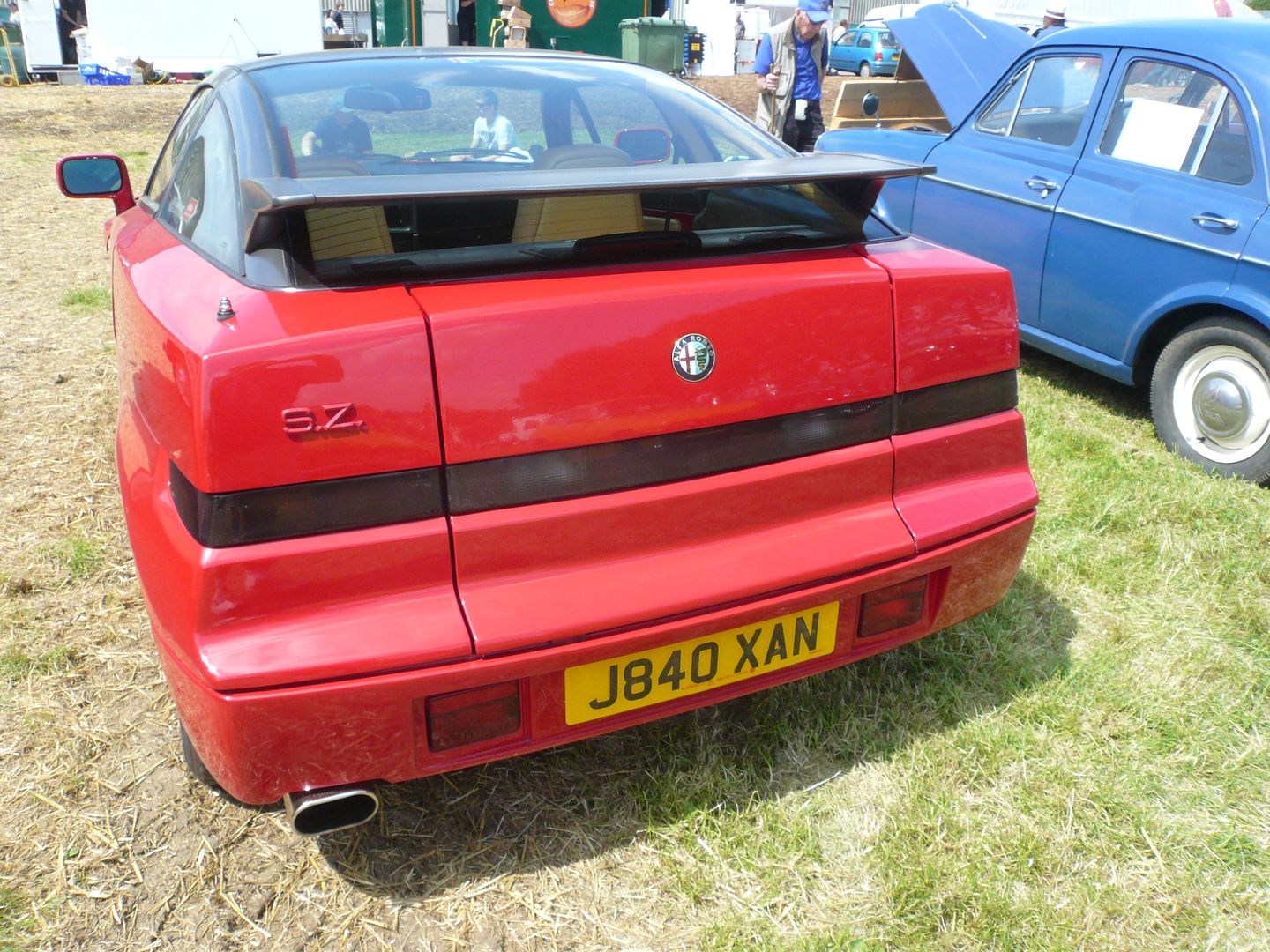 No such debate about the 105 Series cars such as this 1600 GT. There is pretty much universal admiration for these and prices are still rising steadily.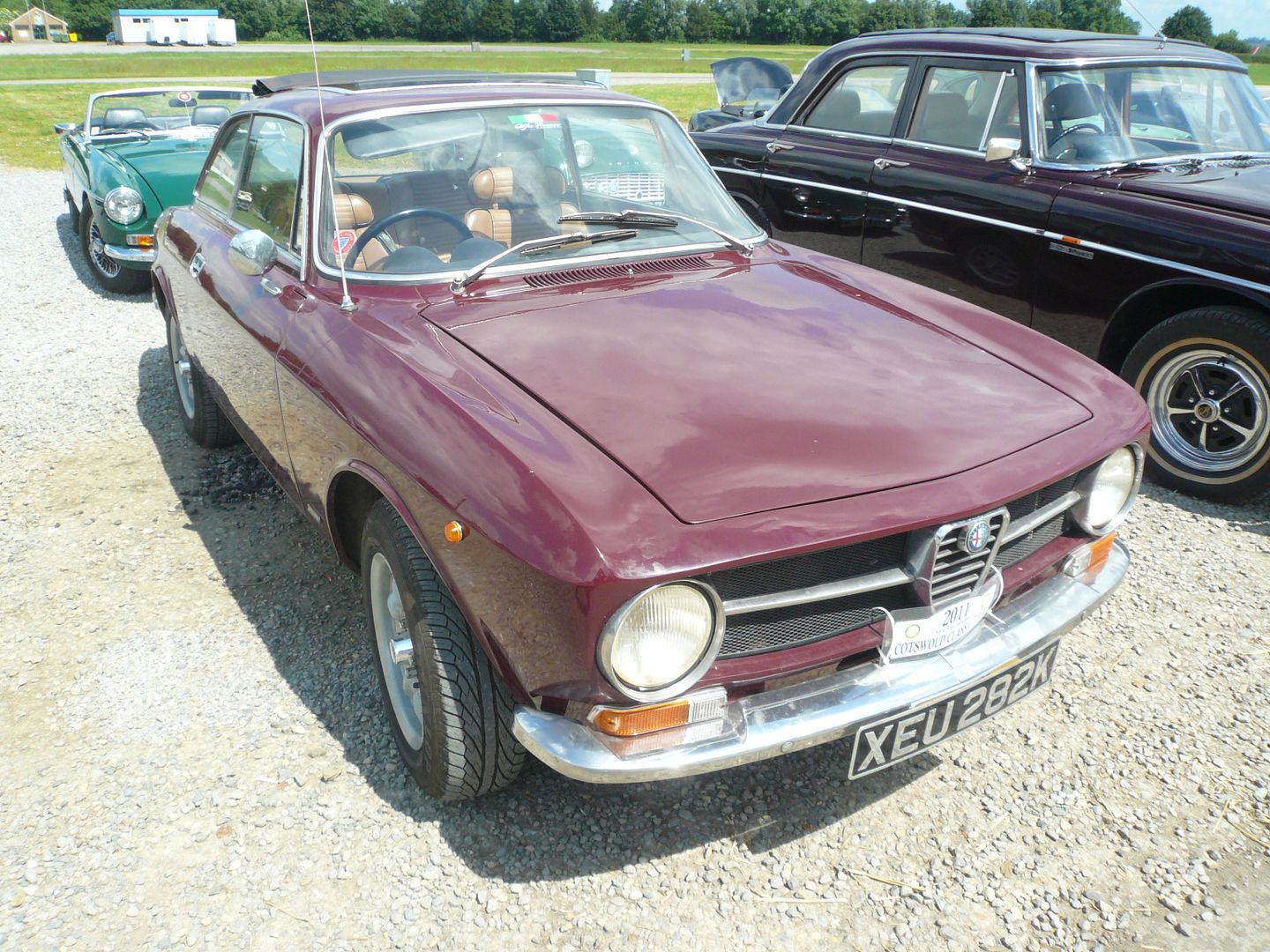 ALVIS
Three cars on the Alvis Owners Club stand. Best known model, probably, was this TC21/100 "Grey Lady". It was joined by a couple of pre-war cars including a Speed 20.
ASTON-MARTIN
The Aston Owners club had a nice collection of cars which ranged from a DB4 through a droolsome DB5 Volante and DB6 to the far more recent DB7 Volante.
Outside I came across a DB2/4 Convertible and this DB5, which looked particularly striking in its bright red paint finish.
AUDI
A couple of 1980s Audi models really caught my eye. This 90 had lots of appeal. This was the posher brother to the facelifted second generation 80, and it came only with the five cylinder engine. I always thought that the facelift and the neatly integrated body coloured bumpers made this car look rather neat, and of course the 5 cylinder engine was the same unit which when turbo-charged powered the urQuattro.
Also nice was this 200. This was the smart version of the 100, seen here in second generation guise. Again, a great ooking car in my mind. It was probably this era of Audi that really set my head in favour of the Ingolstadt product rather the Three Pointed Star or the Bavarian Wonder Machine. I remember trying very hard to make the maths up add on a second hand Coupe of this era, but (probably sensibly), I took another repmobile and bought a new house instead (which I still live in!).
AUSTIN
This Series 2 Allegro was parked up outside one of the halls. Although the car ceased production 30 years ago, and so the number of people who have ever driven one must be quite a small percentage of the driving population, whenever you see one parked up, you do get an awful lot of people who approach it, peer in and reminisce (not always totally enthusiastically!) about one that they owned or that their parents or relatives owned. Needless to say, those who drive them today are very enthusiastic, and most of them are honest enough to know that poor detailed execution and often shoddy build quality stopped it from achieving the sales success of the ADO16 cars that it was supposed to replace.
Although there was huge enthusiasm for the Metro when it was fist launched, it died away quite quickly, and relatively few have survived. This is a now rare limited edition Jet Black car, and it turned out that it was bought by a young enthusiast from the proverbial elderly owner who had not used ti much, even before he could drive. He has now passed his test, and the info card in the car stated how much he loves it.
This 310 Van is one of very few such survivors. This example saw service with Southern Electricity, and you can see where the roof has been plugged after the sign was taken off.
A couple of the ADO16 cars caught my eye: a Series 2 1100 and a 1300GT
Pre-dating that, but also styled by the same Italian styling house was the A40 Farina. This was an early example of the model.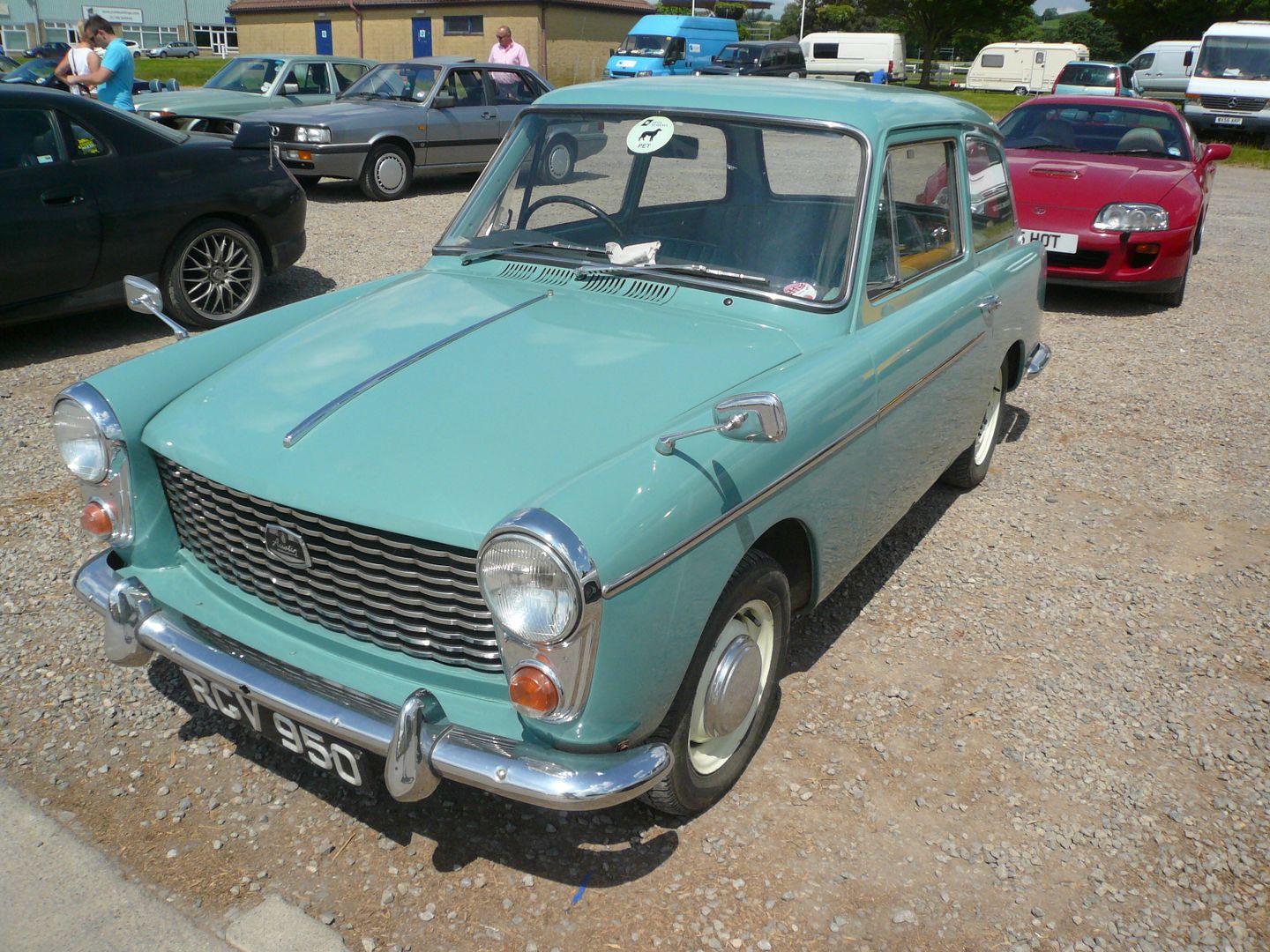 The Cambridge and Westminster Car Club has this rather nice A105 model on show. An upgraded version of the more basic Cambridge, the Westminster featured a six cylinder 2.6 litre engine and more luxurious trim.
This was a rare surviving estate version of the A60 Cambridge
Intended to replace the long running A60 range was the third of Issigonis' space efficient designs, and the one he often said he favoured the most, the rather ungainly ADO17 1800. This car celebrates its 50th birthday later this year, and the enthusiastic Land Crab Owners Club made sure we would not forget this with the messaging on their stand. They included 531NOF, the oldest known survivor and one of 18 pre-production cars that were made, in their display. One of the last Series 3 cars was also on the stand.
Pre-war Austins were also well represented, with a display stand from the Austin Ten Owners Club which included a 1933 10/4 Cabrio.
Larger than the Ten was the Fourteen, of which this was an example.
An early and unrestored Seven was on show indoors and outdoors I came across this later and well presented model.
AUSTIN-HEALEY
3000
Mark 2 Sprite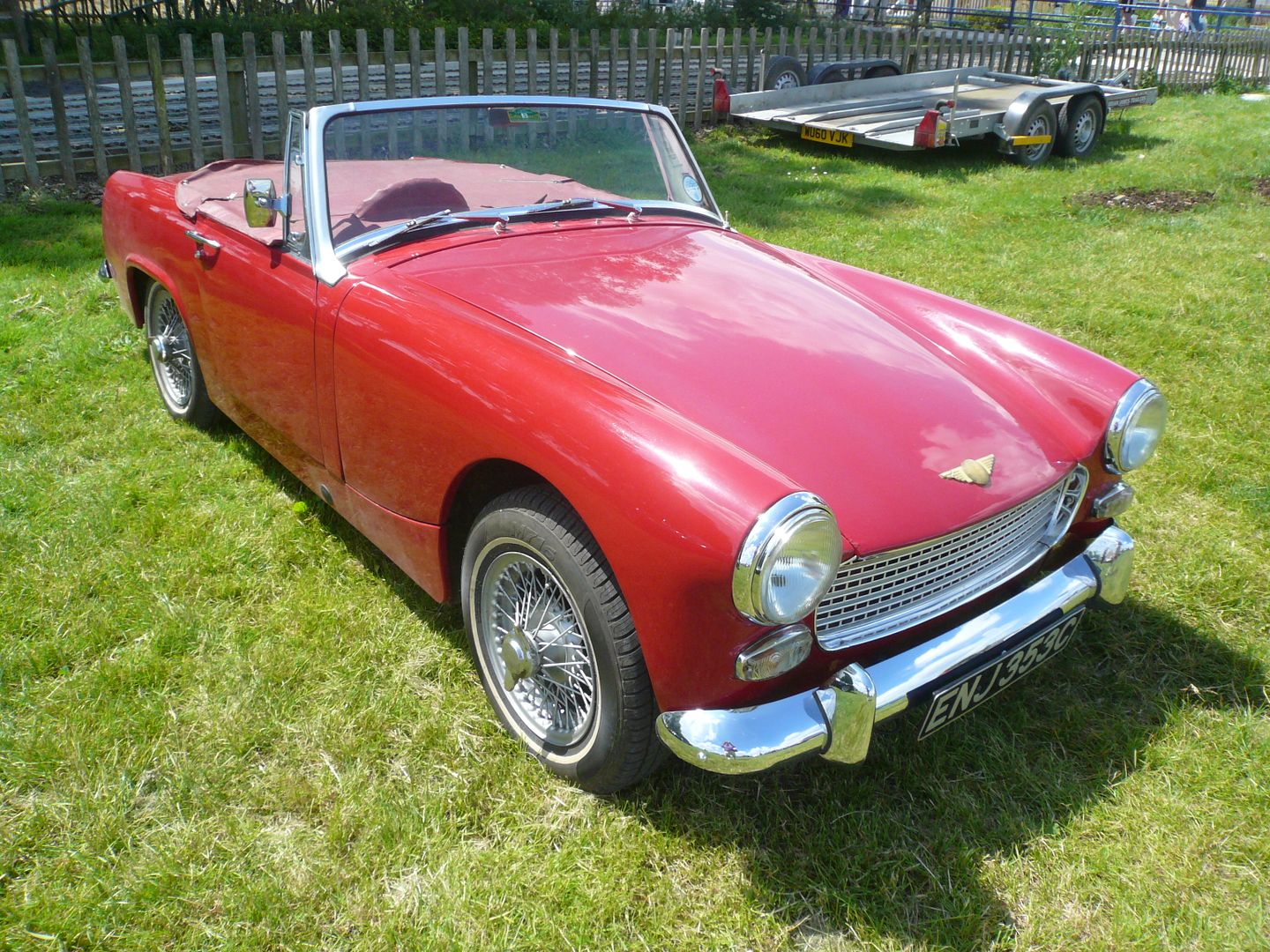 BENTLEY
By the time this Mulsanne Turbo was made in the late 1980s, Bentley had emerged from the darkest shadows of sister company Rolls-Royce to being the marque whose products were more in demand, a trend which accelerated throughout the 1990s and until the split of the two companies when they were bought out by BMW and VW.
Even more imposing was this mid 1950s S2 Continental.
BMW
There are very few surviving E21 3 Series cars on British roads, as this version of the 3 did not sell in large quantity. Rarest of the generation, by some measure, though, are the Baur converted Cabrio models like this one.
Pre-dating the 3 series was the 2002 and this is a relatively late car.
BSA
Probably better known for making bicycles and motor bikes, BSA did produce a number of light car designs in the 1920s and 1930s before being subsumed into the Daimler Group. This is a 1938 Light 6 Saloon
CHEVROLET
This was an interesting pairing of two 1940s Chevrolet models. Both were badged Fleetmaster, and showed how the regular 4 door saloon that was sold to middle America was adapted into a handy van for business use.
Not far away from that pair was a first generation Corvette.
Inside the halls, the Corvette Owners club had a number of later models, including a C2 Stingray, a C4 and one of the limited edition C5 cars produced to celebrate the model's 50th anniversary in 2003.
CITROEN
The Citroen Car Club focused on the GS models this year, with a rare GSA Hatch in X1 guise, as well as an even rarer GSA Van joined by a much earlier GS Estate. These cars had a certain appeal in the UK when new, though we always thought that they were somewhat under-engined, with just 1015cc in the early cars and a body that was as roomy as Cortinas that came with 1600 and 2 litre powerplants.
A couple of classic Citroen vans were on another stand: 2CV and the slightly less basic Dyane based Acadiane were here.
I caught this fabulous DS21 just as the owner was making a dash for the exit gate.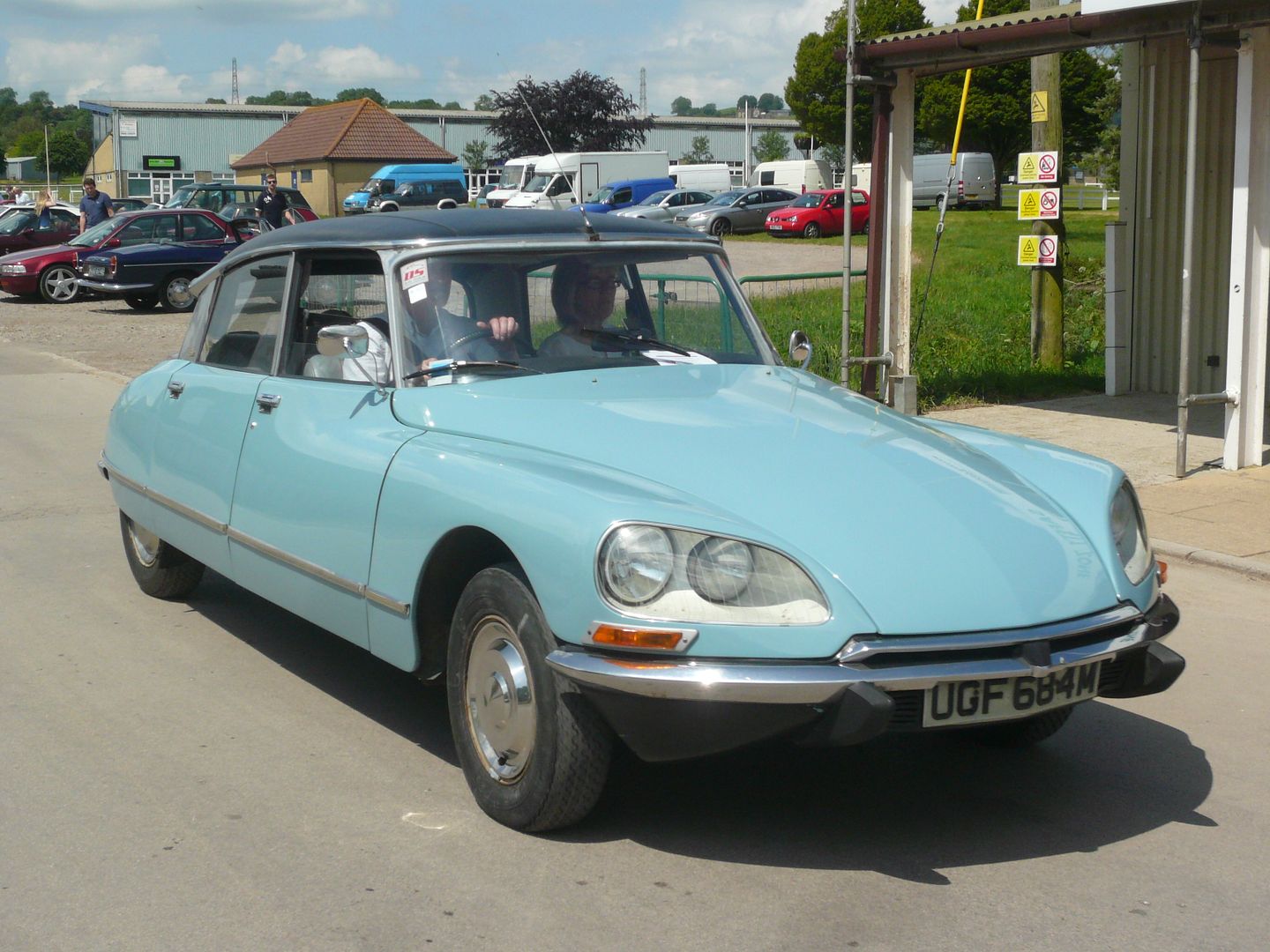 Over 2 million BX were built from 1982 to 1992., but most of them have been recycled out of existence now. Here is one that has not been.
DAIMLER
The fluted radiator grille tells everyone this is a Daimler, but I have to confess that beyond that, my recognition stops.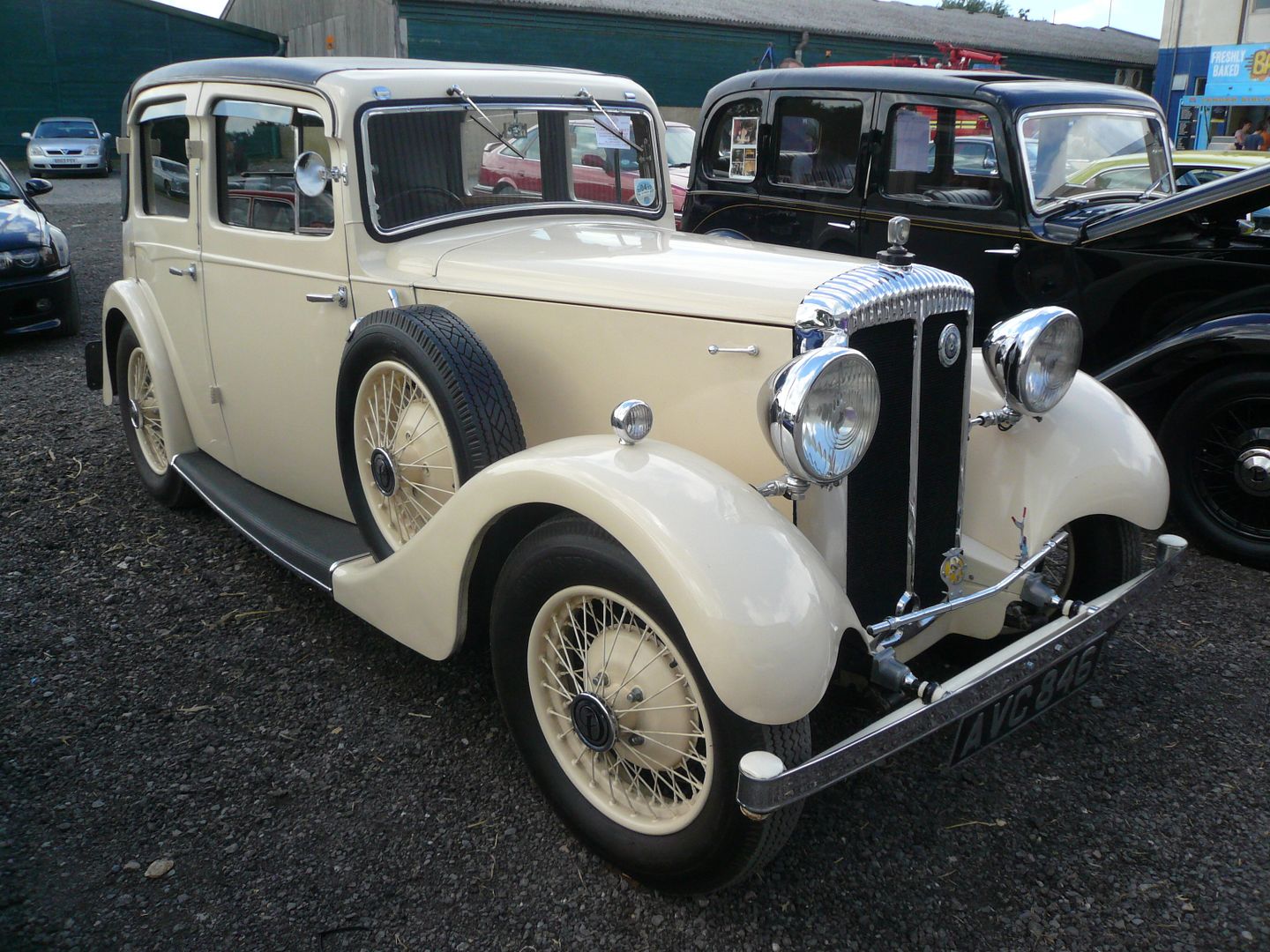 I do know what this one is, however. An SP250, more commonly known as the Dart, this car had to compete with the E Type Jaguar for buyers. Needless to say, few found in favour of the Daimler, though Quentin Willson has one now as well as an E Type and he rates it.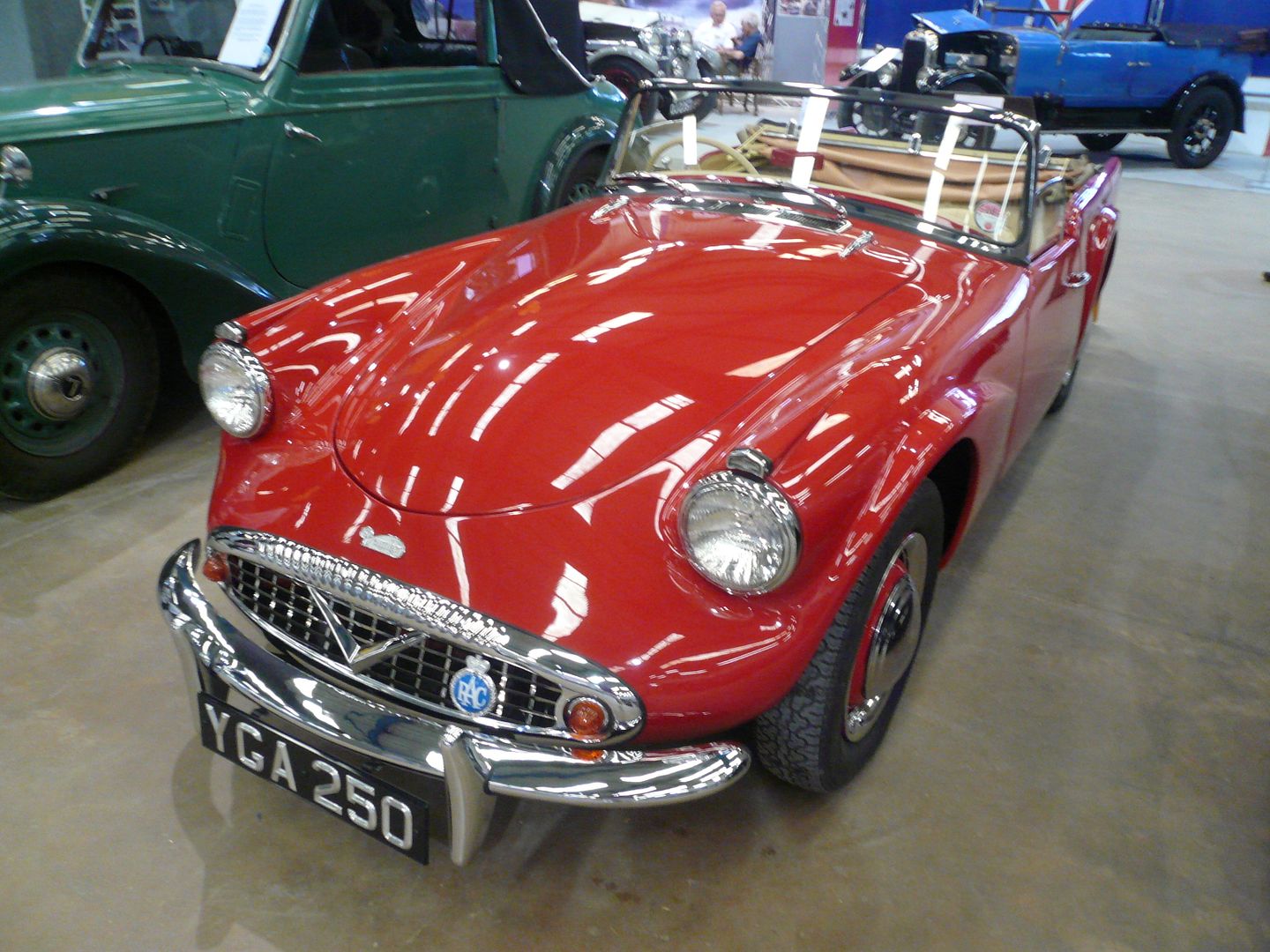 FERRARI
308 GTS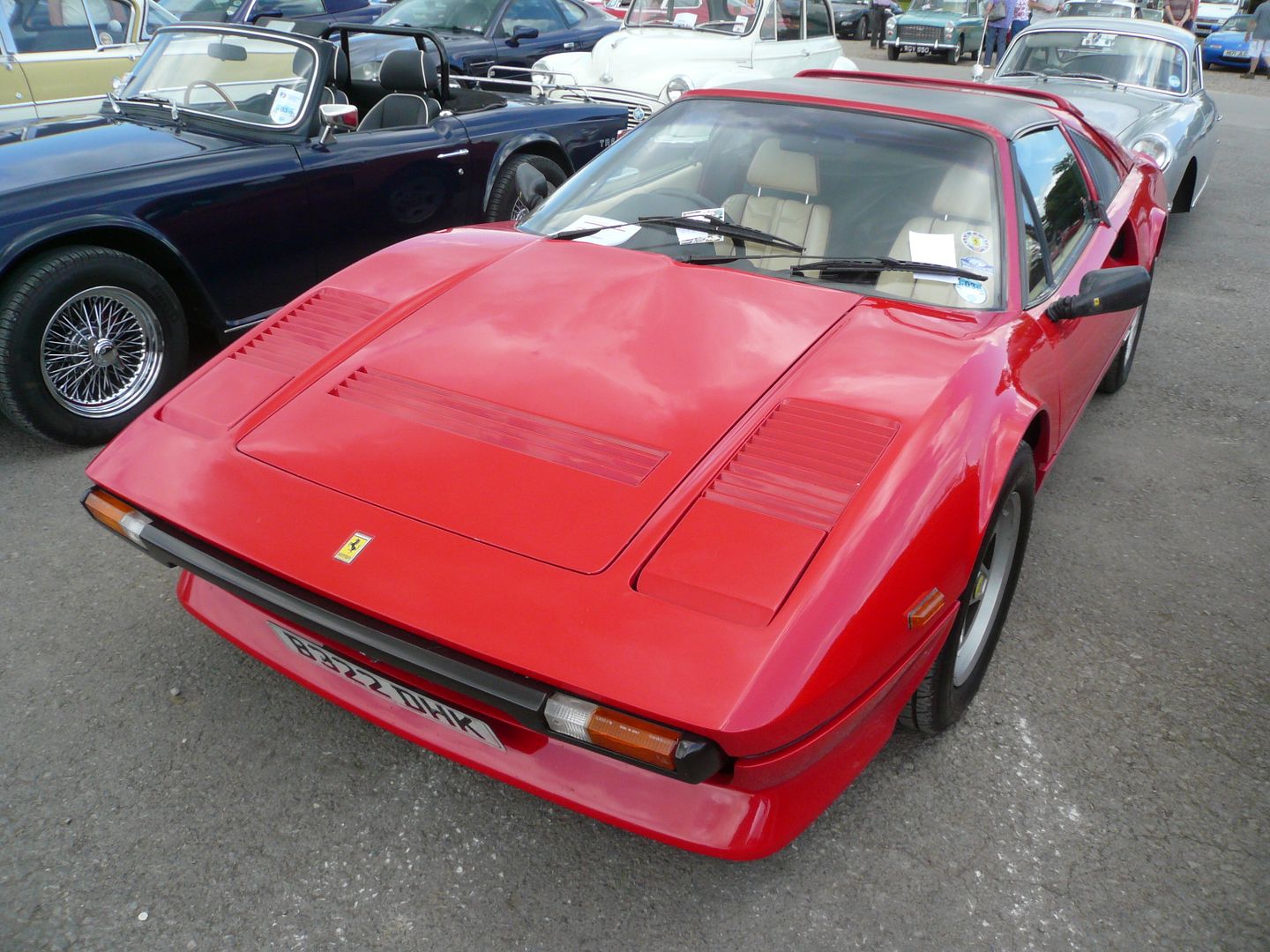 FIAT
One of my favourites of the day, and a particular car that I don't recall seeing before was this lovely 850 Coupe. These were quite popular when new as a stylish second car, but rust claimed most of them very quickly.
FORD
For most of its 6 years production life, the Mark 3 Cortina was Britain's best seller, cornering as much as 15% of the market. Over a million were sold and yet these days they are rare even at classic car events. I came across this Maize Yellow 2000 GXL car in the car park just yards from where I parked. This is a particularly rare car as it is an early model, and although the Mark 3 was launched in October 1970, a series of crippling strikes meant that few cars were available until well into 1971 and the advent of the K registration plate.
In 1973, the Mark 3 received a facelift which saw few changes to the outside, but a new and far less stylised dash was fitted, and the GXL trim was replaced by the E. This is one of those 2000E models.
There were of course a number of other Cortinas. It seems that the survival rate of the early cars is better than the later ones. There were a couple of Mark 2 saloons, as well as a Mark 1 and a Mark 5 all parked up outside and a number of each generation on rather busy stands inside. There are not many pictures of those as the owners seemed incessantly to be fiddling and interfering with their cars, defeating all attempts to get decent photos.
The Corsair sat above the Cortina in the range, and was offered from 1963 to 1970. It never achieved the popularity of the slightly smaller stablemate, but these days examples do pop up at shows like this. Here is a mid-spec example.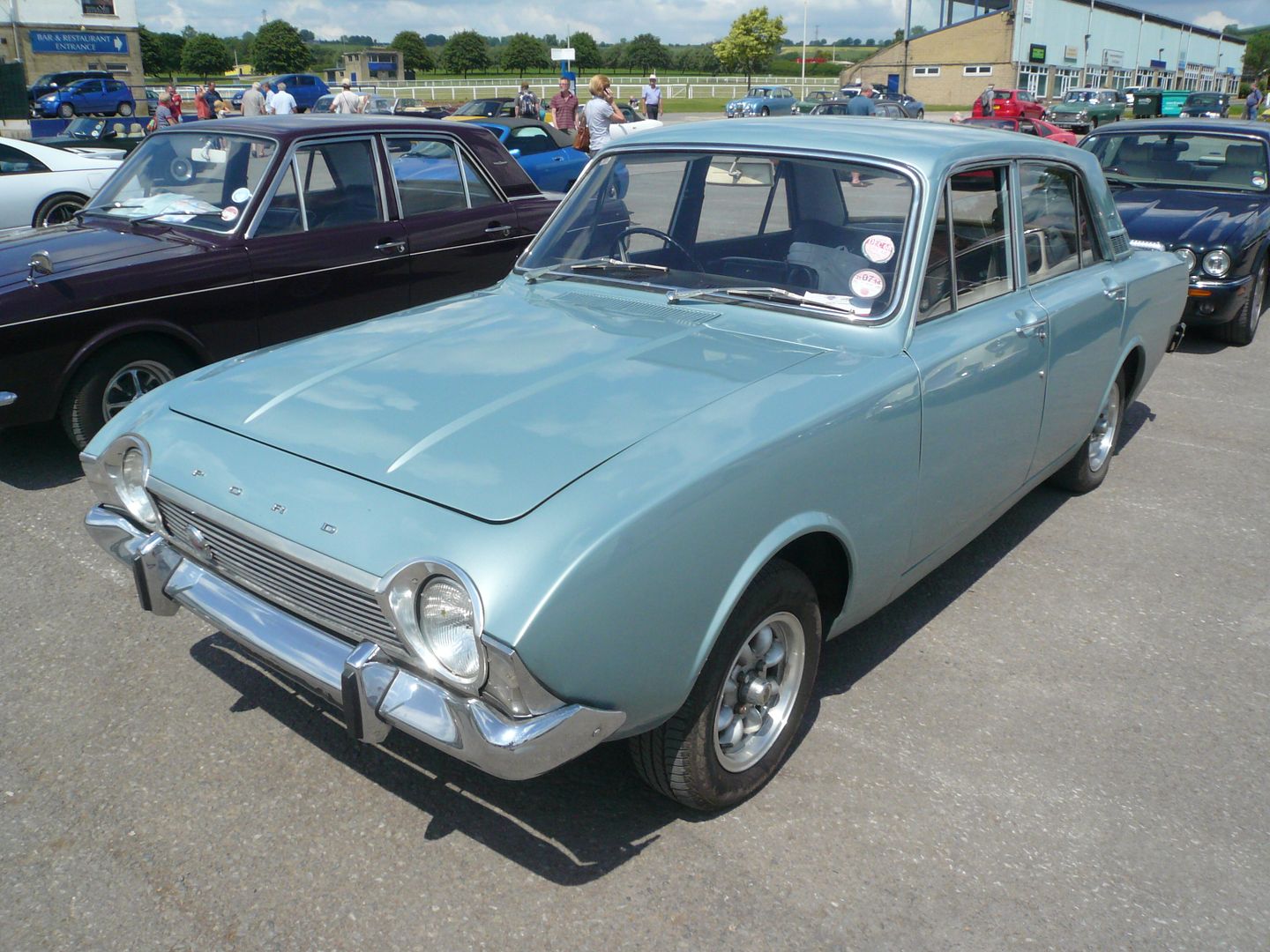 Equally commercial unsuccessful was the Consul Classic which was a relatively outdated design when it appeared in 1961. It only ran for a couple of years, with the coupe model, the Classic Capri soldiering on for a few months after the saloon was replaced by the Corsair. Here is one of the Capri cars.
Mark 1 Escorts are also rare these days. Most of them rusted badly, and of those that remain, may have been used as donor cars to recreate the high end RS and Mexico cars. It is always nice to see these, but it is also good to see the standard models, once a staple of our roads. This silver Mark 1 is believed to be the one of the oldest cars left. It was manufactured in 1967. before the January 1968 launch., and is still largely in original condition.
There were some Mark 2 cars as well. Again, it tends to be the performance oriented models that you see more frequently, and whilst these were present, I also liked seeing these pair of 1600 Ghia cars.
Even the Mark 3s are now 25 years old, and their ranks have reduced to a tiny fraction of what they were. Here also, it is the performance versions which have survived in the greatest quantity, such as this RS Turbo.
2014 marks the 40th anniversary of the Mark 11 Capri, and in honour of this, there was a stand indoors featuring three of these cars. This is the least often seen generation of Capri with the early models or the last of the line far more common than the series that run for just 4 years, to March 1978.  A second example of a car in the limited edition JPS style livery that was offered in 1975 was parked up outside.
There was a nice Mark 3 2.0S parked up outside as well.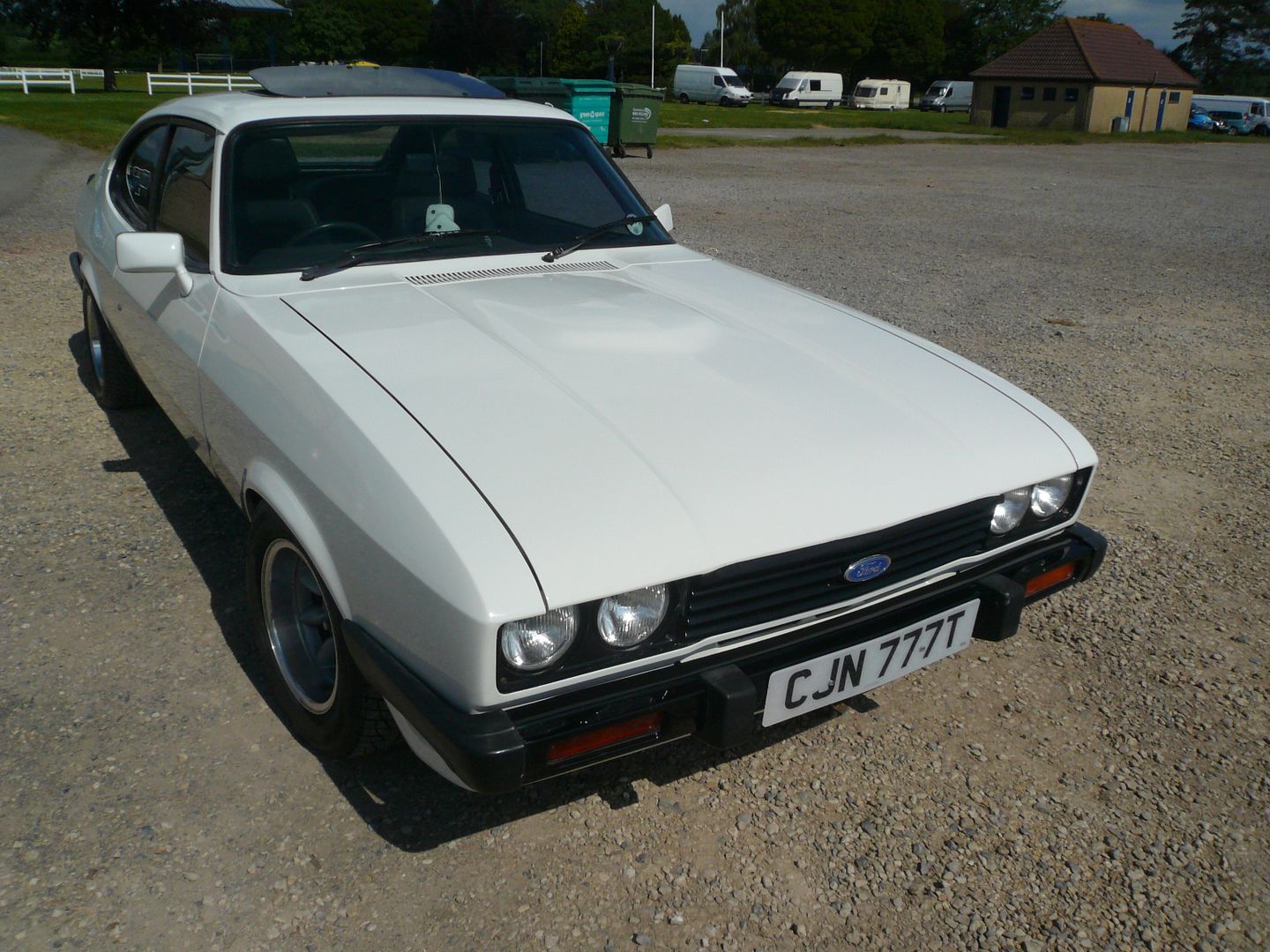 Among the larger Fords on show was this Mark 2 Zodiac.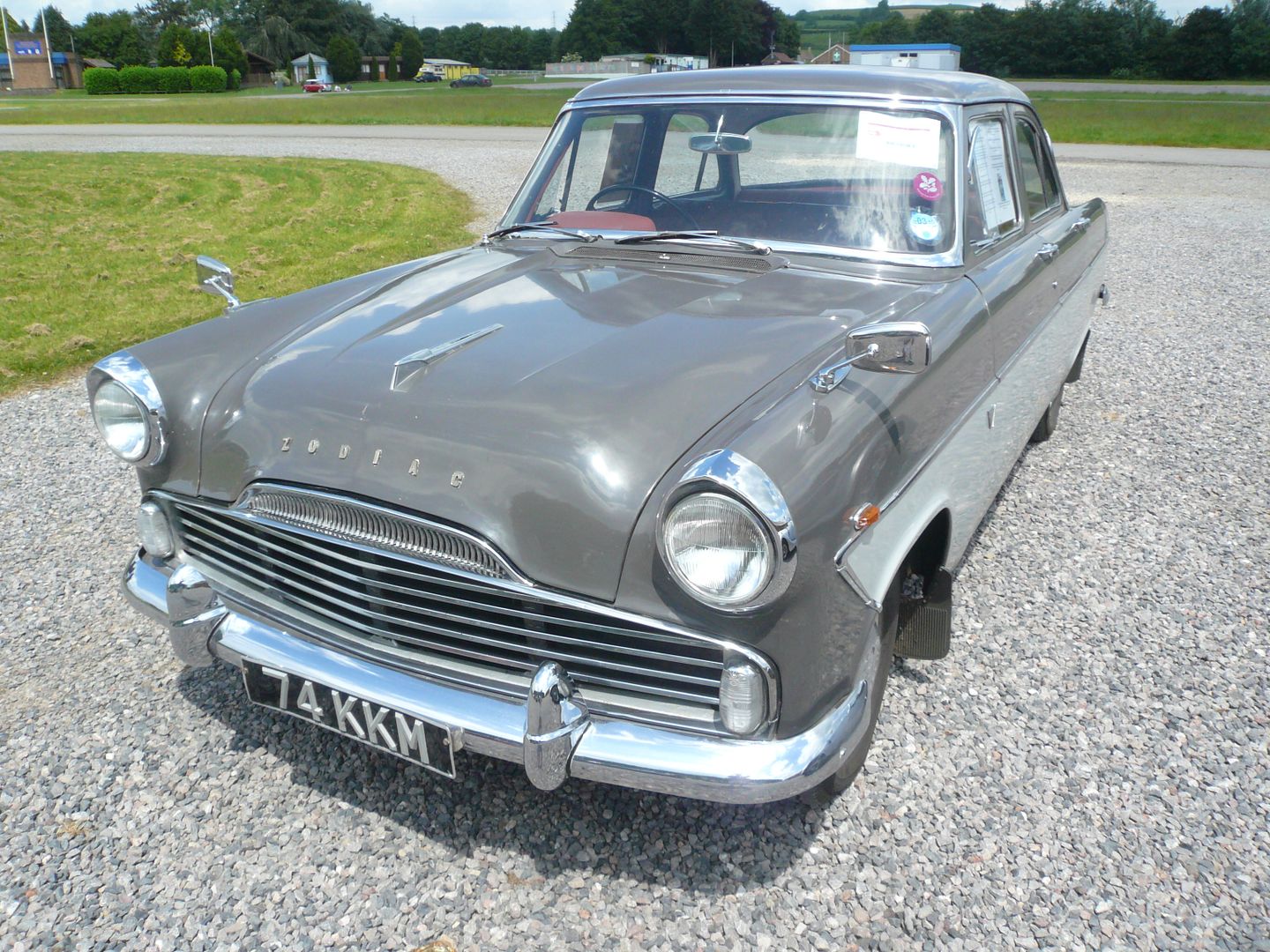 You don't see Mark 1 Consul/Granada cars that often, so it was nice to come across this one, a late model 1977 Granada 2 litre GL in what would have been a very rare colour in its day.
Roll the model generations on a couple and you get to the Granada/Scorpio that came initially as a hatchback. Launched in 1985, this was the executive car of choice for many in Britain, but now it is very rare indeed. The engines were upgraded a couple of years after production started, but even these were no match for the far smoother M Series unit and Honda based V6 in the competing Rover 800 or the GM powerplants in the Carlton and Senator, but this did not seem to be much of an impediment to sales.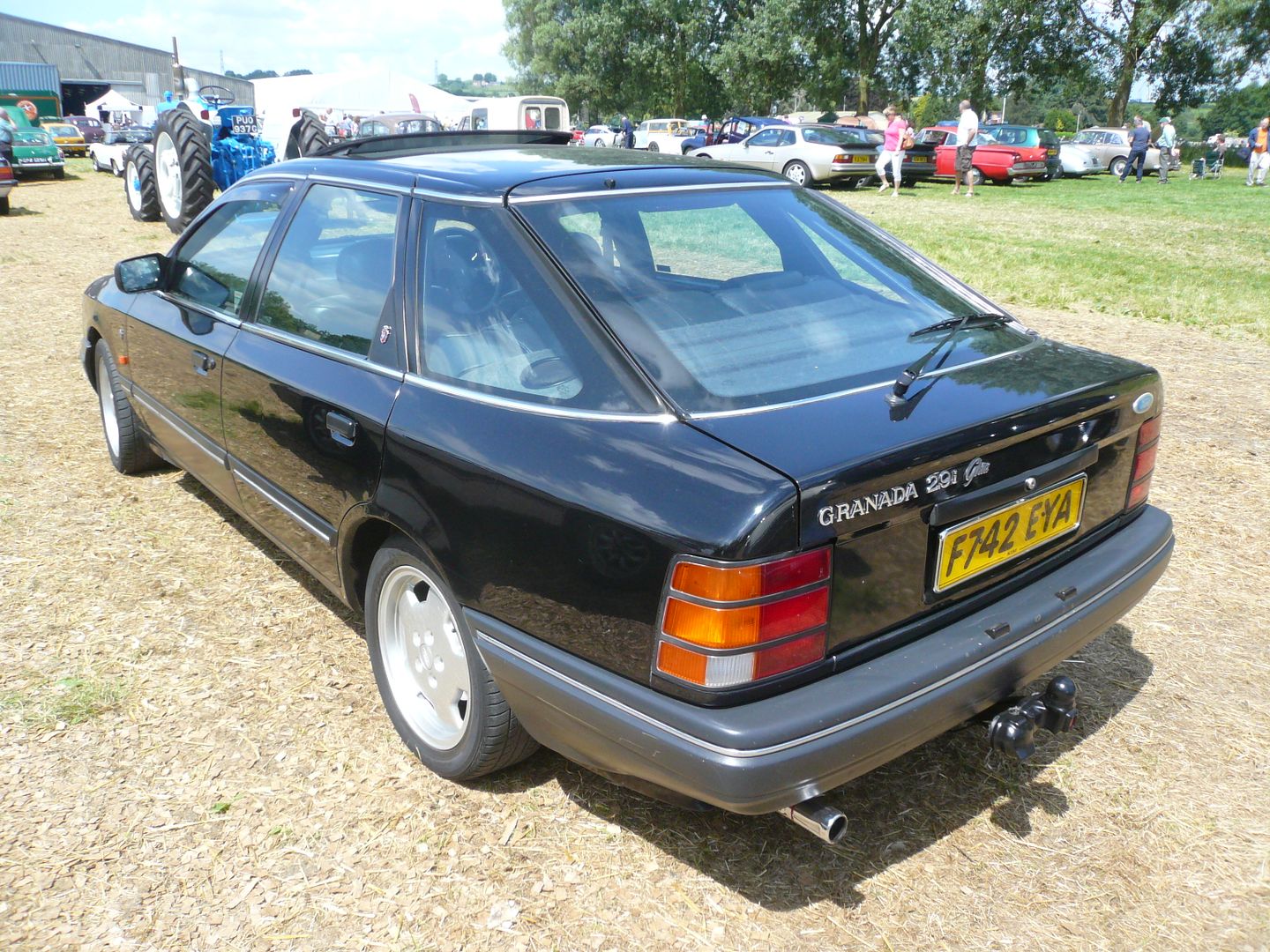 US models were not ignored, either. The V8 Ford Club has this rather splendid Tourer model on show.
There were also a few Mustang on show.
Sadly this is not a genuine GT40, but it is a very presentable replica.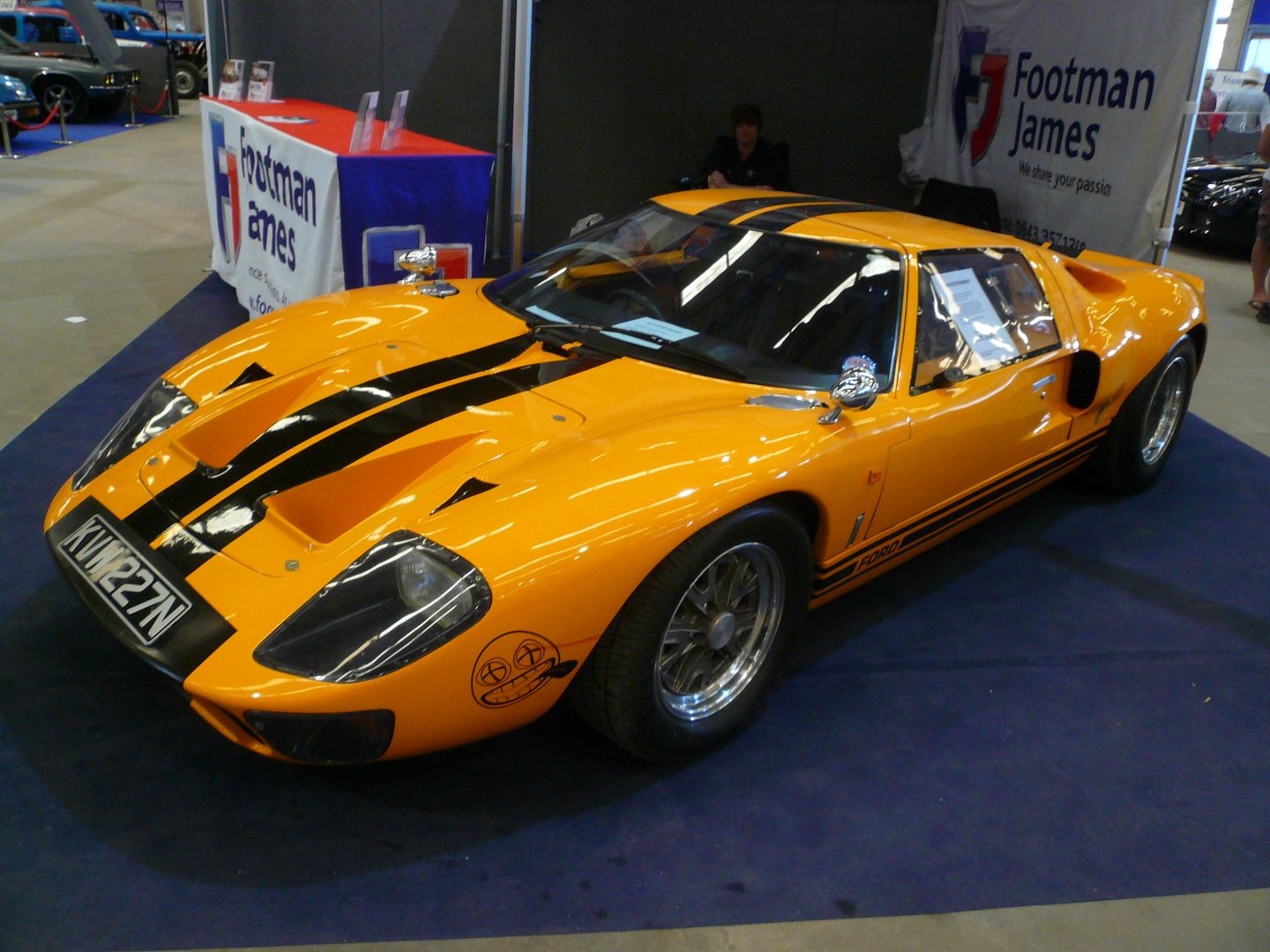 GILBERN
The very enthusiastic Gilbern Owners Club had three cars on their stand: an early 1800GT, the later Invader Series 2 and the final car made, an Invader Series 3. The Invader was a beautifully made sports tourer that commanded a price that was higher tan the E Type Jaguar, so. not surprisingly, it only ever sold in small quantities. Thanks to glassfibre bodies (and the fact that the club has the moulds for body panels) and the use of mechanicals from contemporary Fords, keeping the cars on the road is not as hard as you might imagine, and the survival rate is apparently quite high.
There was another Series 2 car parked up outside.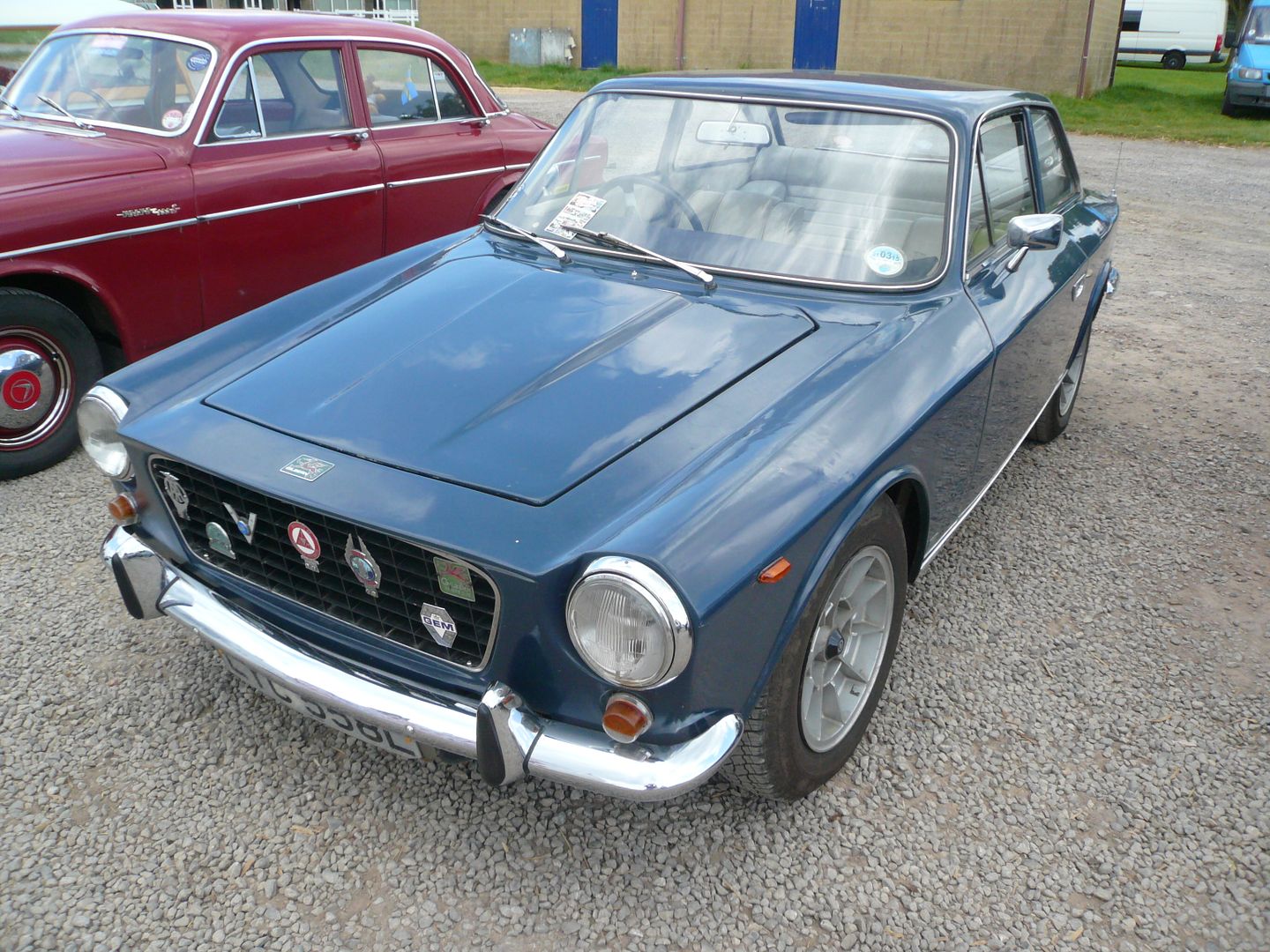 HEALEY
Few people realise that Donald Healey produced his own range of cars in the late 1940s, before he signed the agreement with Austin to produce the much better known Austin-Healey model. These ere expensive, but rapid machines, made in small numbers and consequently are rare now. Two such models were in attendance parked up alongside each other. The closed car is a 1951 Healey Abbott TB, and is one of 91 such cars made.
HILLMAN
The local members of the Imp Owners Club always make a special effort with the theme and background of their stand, and 2014 was no exception.  A 1973 Imp Super was parked up outside.
There are quite a few of the limited edition Avenger Tigers around and they appear far more often than the volume selling cars. These are very striking in their bright yellow paintwork.
This Avenger did appear to be a genuine GLS, the "luxury" top model in the range which featured such refinements as a vinyl roof (!) and rostyle wheels.
The "Audax" Minx was the mainstay of Hillman's range from launch in 1956 right through to 1967. During that time it evolved with almost an annual model update, and although most of the cars built were saloons, such as this early car. An Estate was added to the range and for a time there was a factory Convertible like this Series 3 example.
Hillman first used the Minx badge in the early 1930s and there was a 1934 Tickford bodied car on show in the halls.
HONDA
Not many Japanese cars have achieved much widespread interest and popularity among the classic car fraternity, but one that is steadily getting there, and deservedly so too, is the Honda S2000, and this was a nice example.
HUMBER
One of the many anniversaries being celebrated at the show was the 40th of the Humber Car Club. A diverse collection of cars featured on the stand including this one (which was not identified, and I am unsure of the precise model) which is a restoration still in progress.
There were a couple of Snipe models from the pre-war period. Initially called just Snipe, this was a 1948 car.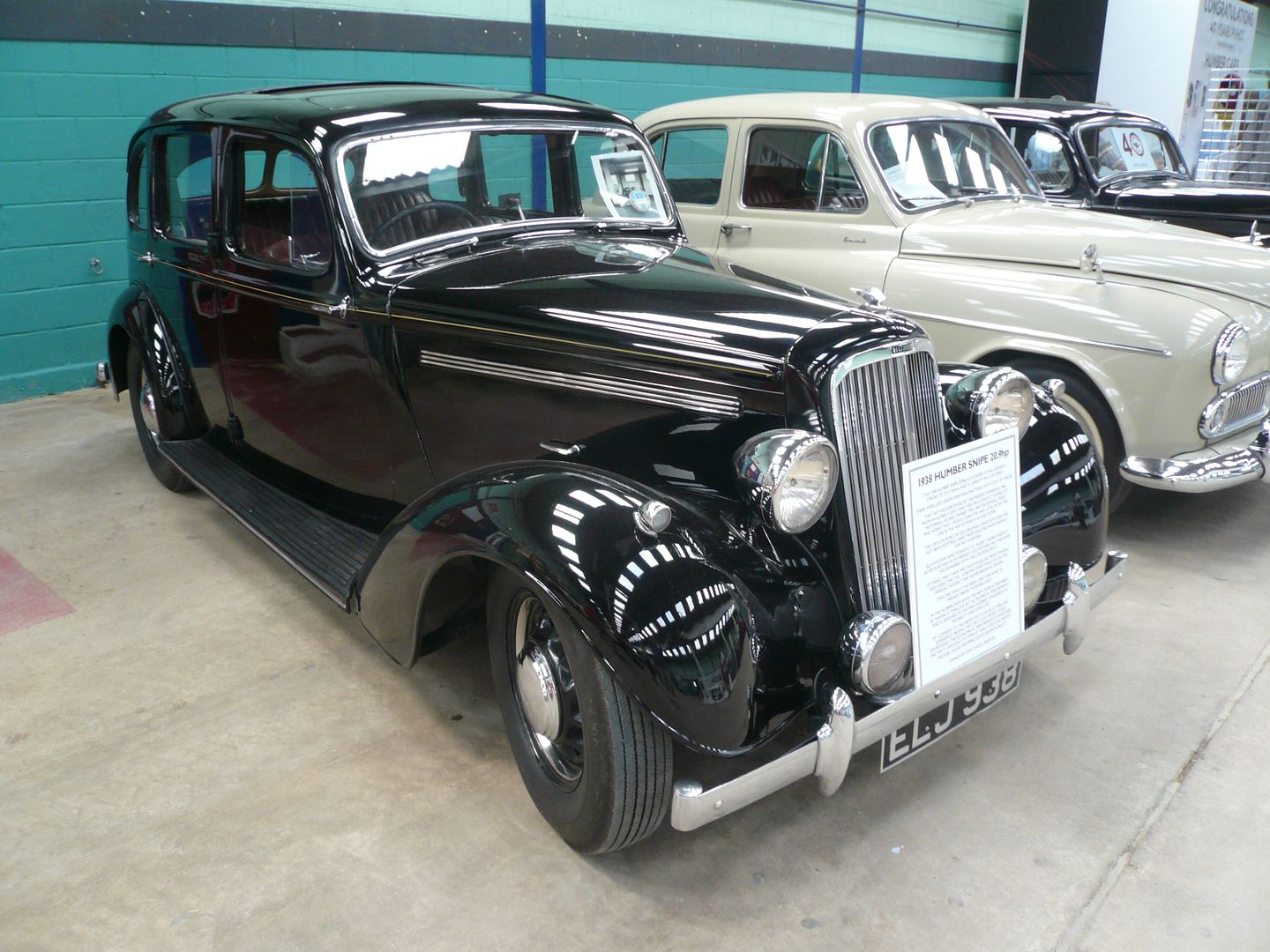 Plusher and more powerful models were given the name Super Snipe, and this one dates from 1952.
Representing the next version of Humber's main body style was this, a 1955 Hawk Mark VI, a luxury saloon that competed with the Rover and high end Wolseley and Riley models of the day.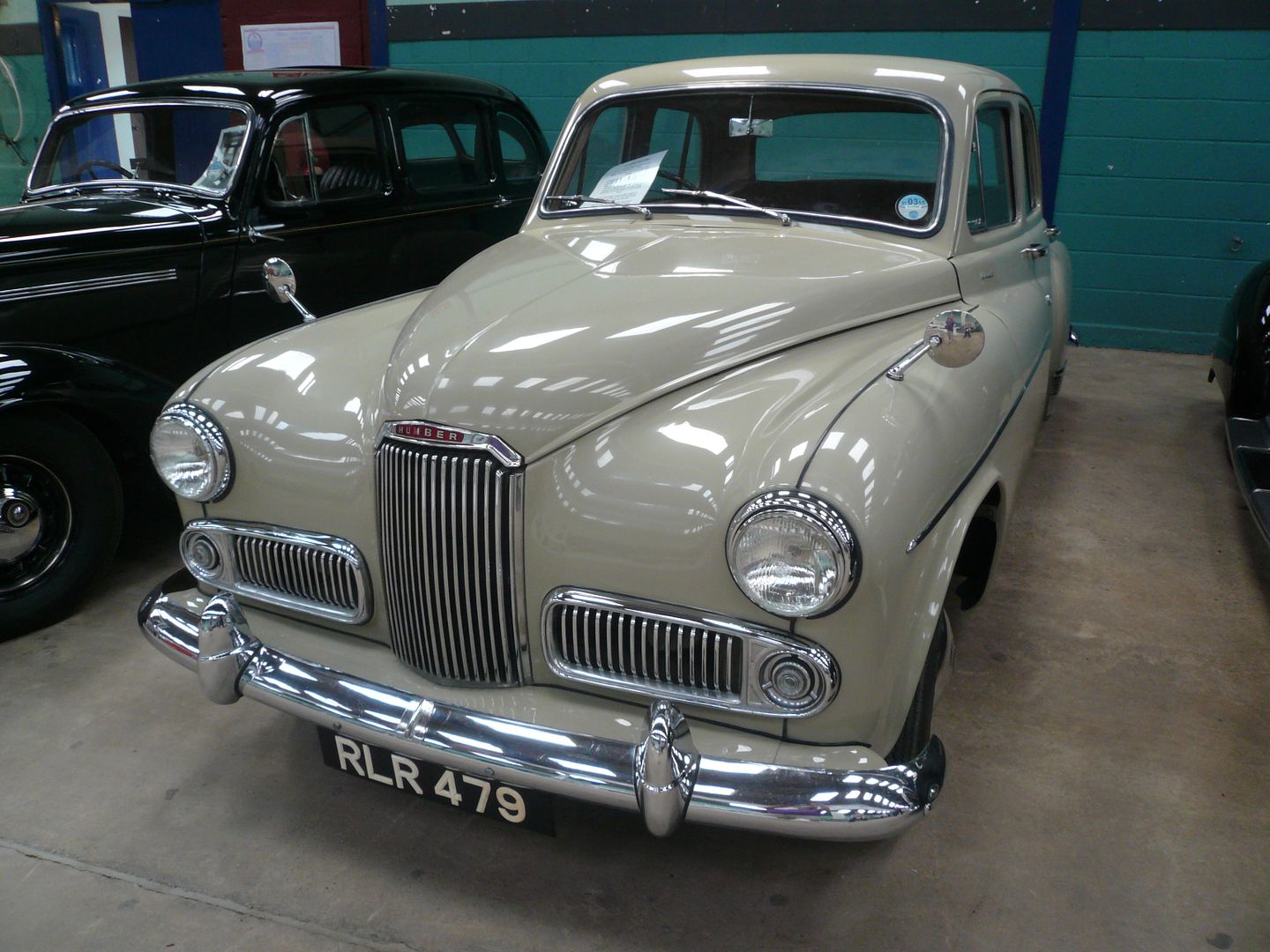 Parked up alongside it was an earlier car to bear the Snipe name, this is a 1938 20.9hp model.
The Sceptre first appeared in 1963. The design was initially intended as a replacement for the long running Sunbeam Rapier, but in the end Rootes Group had a change of heart, and kept the Sunbeam as a sporting two door car and badged up this Super-Minx based model as a Humber.
This Pickup was rather unusual. It turned out that it was based on the Pullman and had a hearse chassis. No other details were supplied
A later Hawk, one of the last of the large Humbers made, was on show elsewhere in the halls.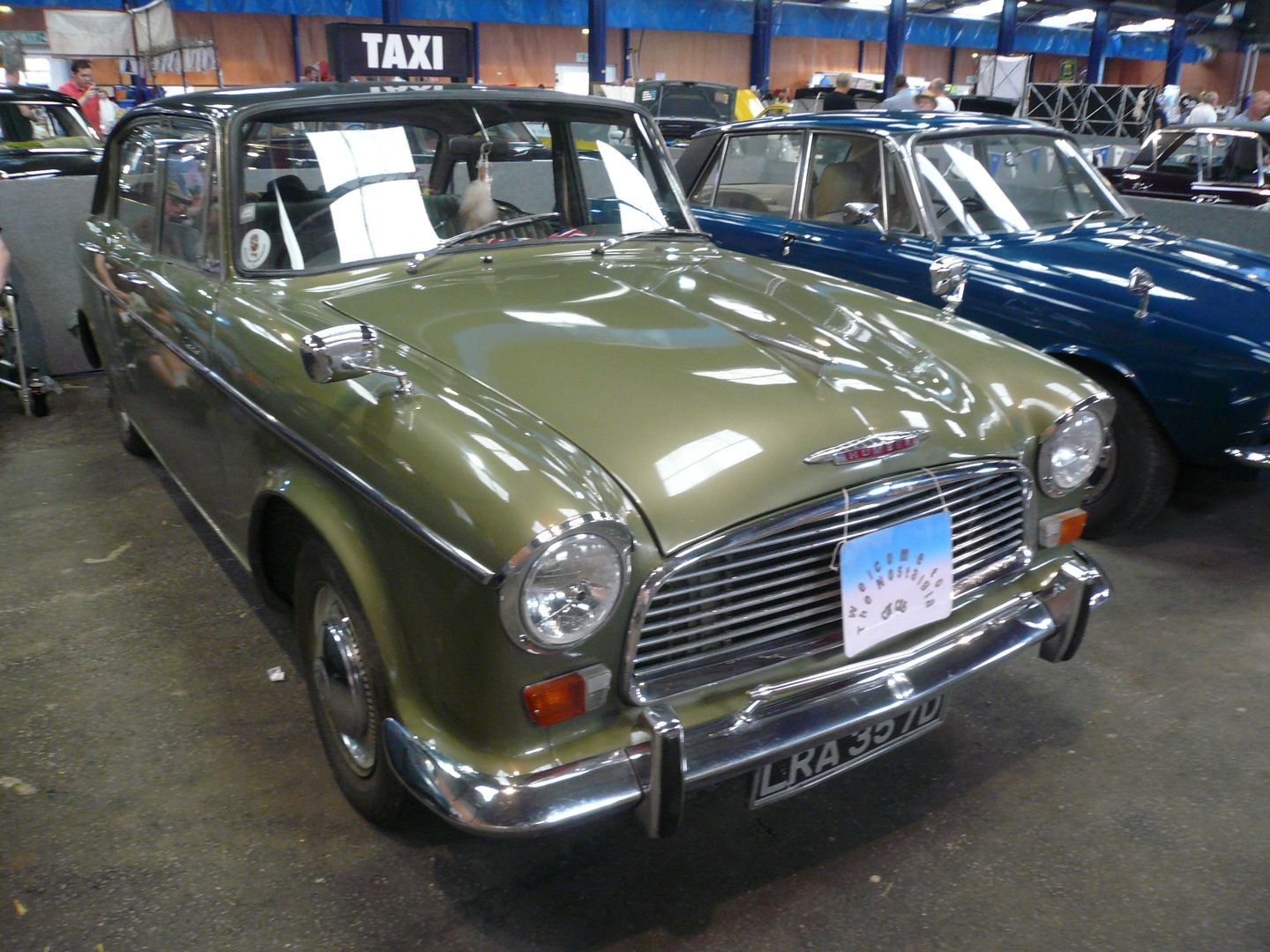 JAGUAR
There were very few Jaguars on show, with my camera only recording three: an XK120, a Series 3 E Type and a Mark 2 34
JENSEN
It is the Vignale styled Interceptor model that was first shown in 1966 for which Jensen is best known these days, and there were examples of this on the Jensen Owners Club stand.
There were also two of its predecessors to be seen. The 541 first appeared in the mid 1950s and combined slightly odd looks with a 4 litre Austin engine, meaning that this was perhaps an acquired taste at the time. It was replaced by the CV8, which also looked a little less than conventional.
Much to my surprise, there were two examples of the Jensen-Healey GT on show. This promising car was launched a matter of weeks before the extent of Jensen's financial difficulties became apparent in early 1976. Only a small number of these cars were made before production ceased later in the year.
JOWETT
The Jowett Owners Club had a stand with two cars on it, representing the last two models made by this Bradford based manufacturer. The Javelin saloon was notable for its contemporary US-influenced styling and advanced engineering with a flat floor engine which gave a low centre of gravity and hence excellent handling. Initial sales were buoyant, but the car quickly established a reputation for unreliability from which it never recovered. Even the launch of the more overtly sporting open topped Javelin  could not save matters and in 1954, production of both models and indeed Jowett as a whole, ceased.
LANCHESTER
A little known marque that got incorporated into the Daimler organisation in the 1950s, this is a 1939 LA14-2
LAND-ROVER
The Land-Rover Owners Club had a stand in the same position as usual, in one corner of one of the halls, and as ever, had crammed their vehicles in so they were difficult to see and appreciate and nigh on impossible to photograph. I wonder if they realise?
LOTUS
It was only when collating this report that I realised how feel Lotus cars were present. There was an early Exige, though.
MARCOS
The Marcos Owners Club had a couple of cars on show in the halls – an early 1800 GT and one of the many models that were produced in the renaissance of the marque in the 1990s, a Mantara.
This Mantula was parked up outside.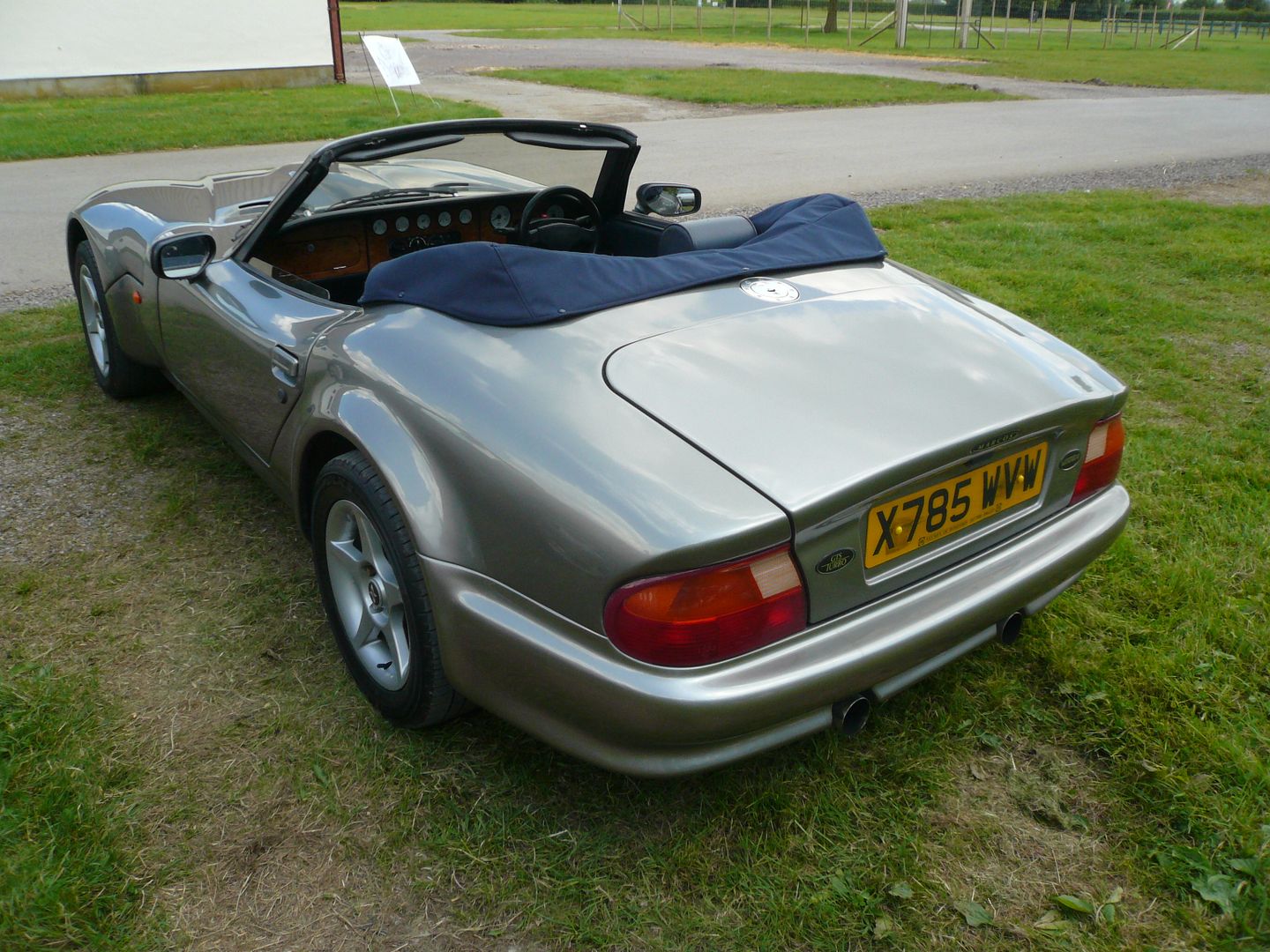 MAZDA
The MX5, the world's best selling sports car is another of those Japanese models which has acquired cult status, and there were a few of these parked up around the event.
MERCEDS-BENZ
The SLC version of the R107 tends to get unfairly forgotten these days, and whilst I would generally prefer the open topped car, this one was nice, too.
MG
You always expect to find a good number of the ever popular MGB at an event like this, and sure enough, there were lots of both Roadster and GT model.
This one might look like just another regular late model B, but it is not. This is one of 12 cars which started out life with the O Series engine in it. It was built as a development car in October 1978, and is one of 6 which was initially intended for testing North America, which probably explains why it also had air conditioning fitted and the O Series engine was fuel injected rather than fitted with the carburettors that went in other O Series cars (Marina and Princess). In the end, BL decided not to put this version into production, and the cars languished in a back corner for some time until the owner, a BL employee was able to buy it.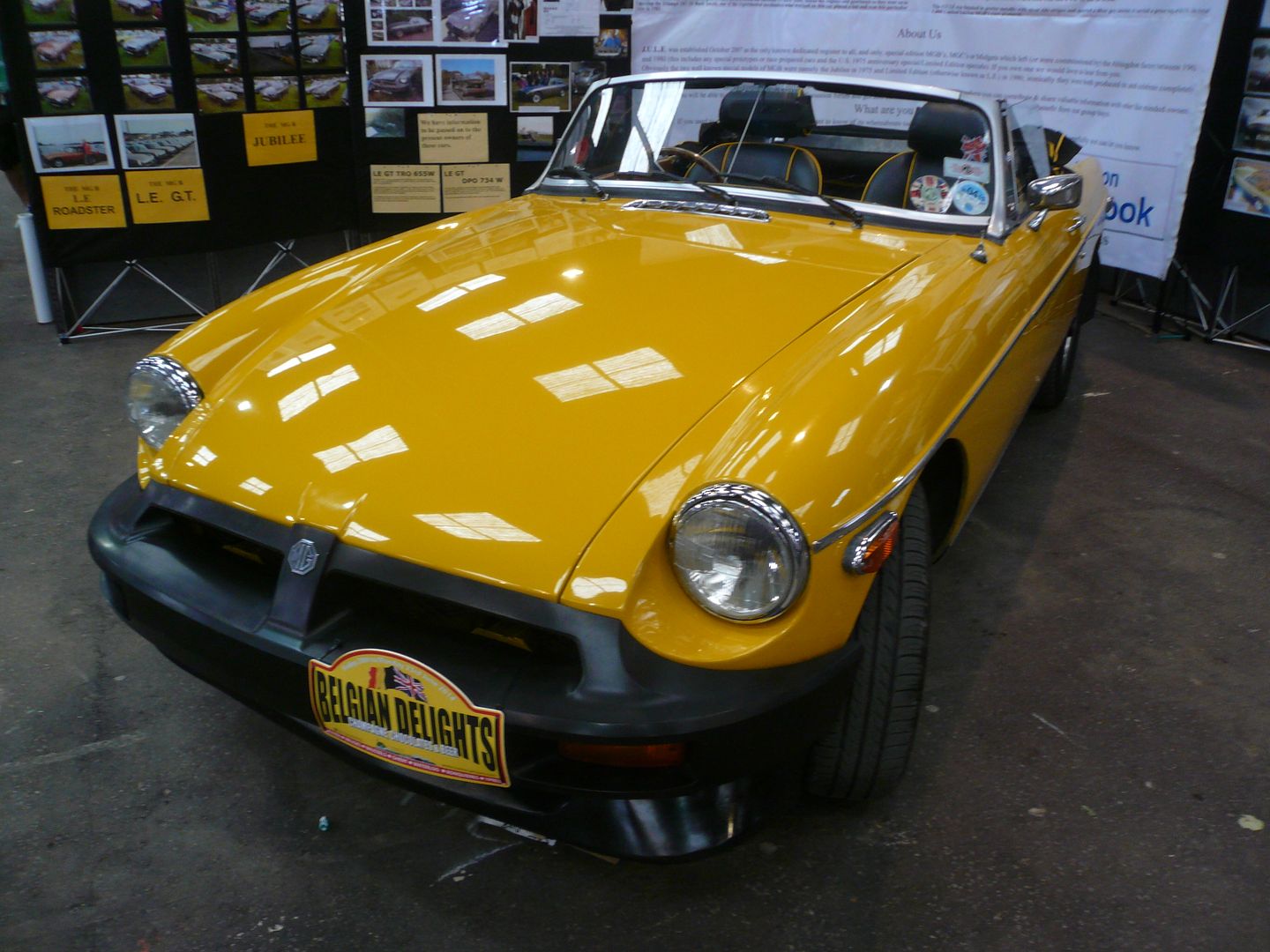 There were also examples of the 6 cylinder version, the short-lived MGC.
Of course the predecessor to these cars, the MGA was also much in evidence, including the rare Coupe version.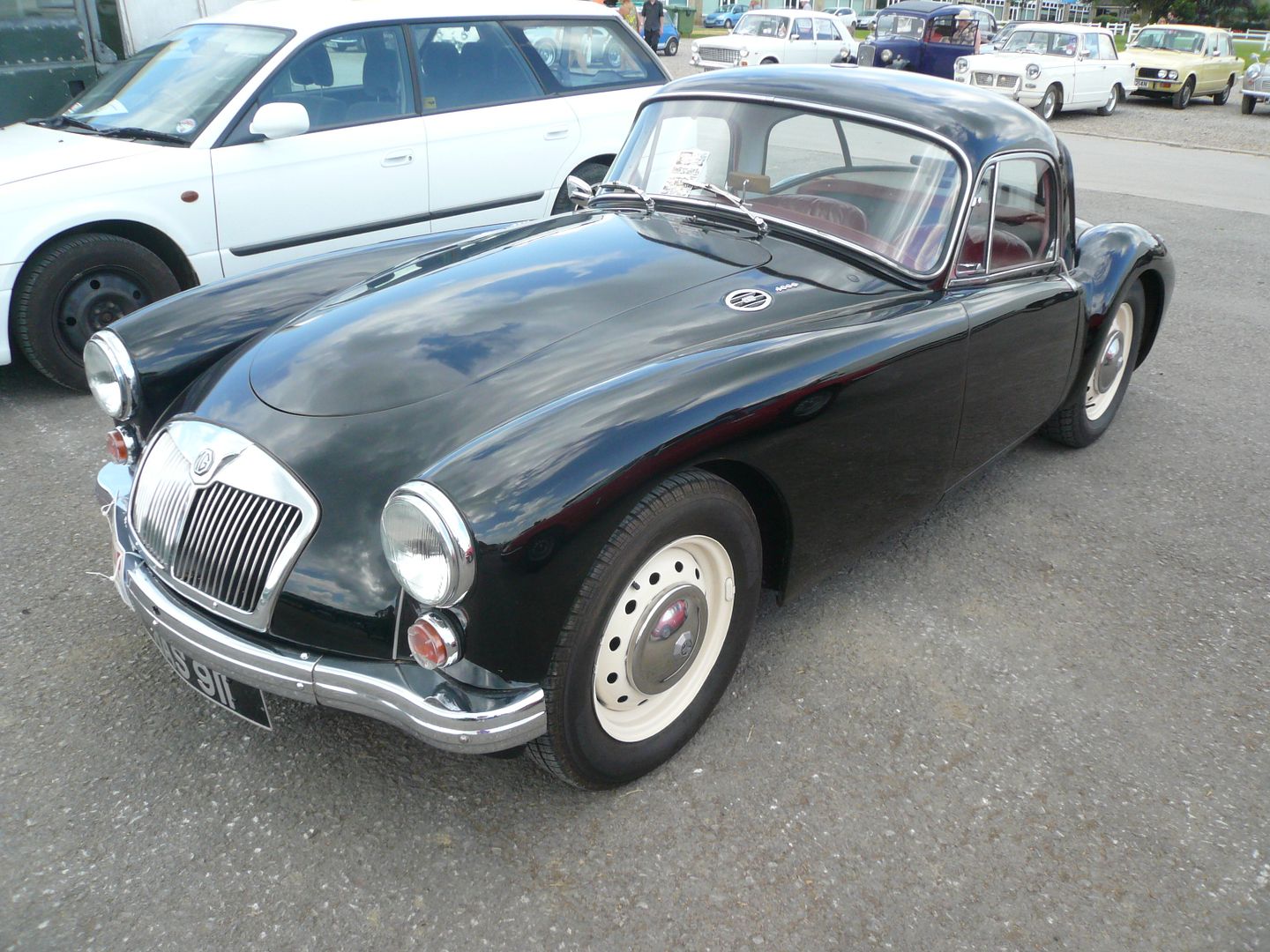 Predating the MGA were the T Series cars and outside there were a couple of  nice TD models, a car only offered for a short period of time from 1951 until 1954 when the longer TF supplanted it, a cream example of which was also on display outdoors. There were further examples of both inside the halls.
The MG Magnette of the mid 1950s was the sort of sports saloon that today's 3 series buyer aspires to. This is a ZB Varitone model, the facelifted car which appeared in 1955, with an enlarged rear window, more power and better quality trim.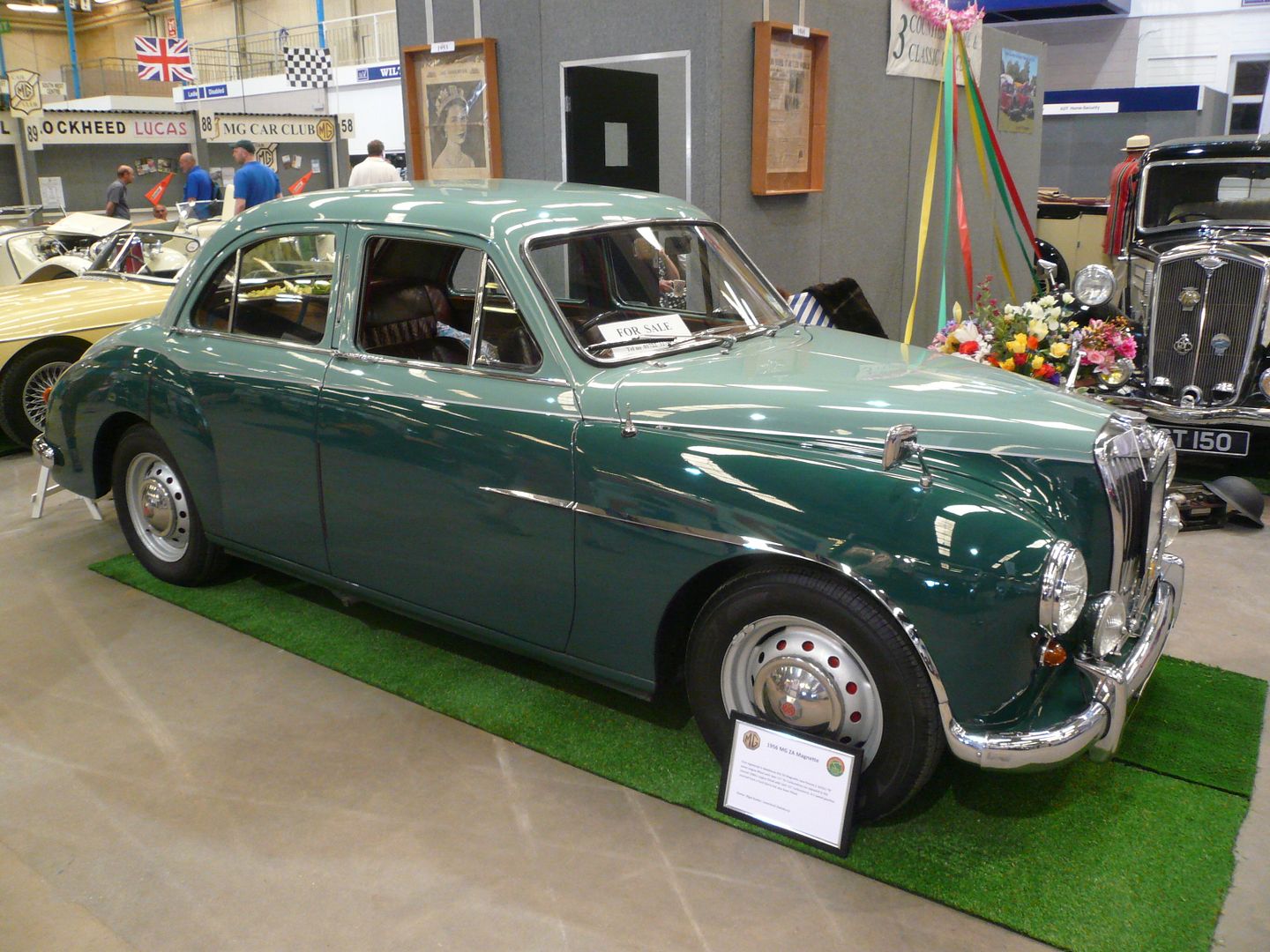 The Midget was also represented. This is another popular staple of the British classic car scene, and there are lots of these affordable and fun little sports cars still on our roads. Display cars ranged from early models through to one of the last of the rubber bumpered cars in the black paint which signified one of the last 500 Midgets built in 1979.
When the MG Metro appeared in 1982, the purists were horrified that their precious badge could be slapped on a small hatchback, but in fact that this little car was right in the tradition of early MGs, being based on a family saloon but made to go faster and better. Rust and lack of interest has claimed the majority of Metros, so it was good to see an example here.
There was an MG Maestro on show as well. This is a very original car, in pristine condition.
Going back to the early days of MG. there were once again, as has been the case in recent years, several of the 18/80 models on display, with a complete stand allocated to these cars. the green car is a Mark II Six Saloon, the mid-blue one a Mark II Six De Luxe Saloon and the dark blue a Mark II Carlton Drophead Coupe.
Displayed with them was an earlier model, a 1925 Bullnose Super Sports Salonette. Just 6 of these cars were made, and this is believed to be the only survivor. Hard to imagine now, but the 13.9HP generated by the 1802cc engine, coupled with a 3 speed gearbox made this a sporting saloon!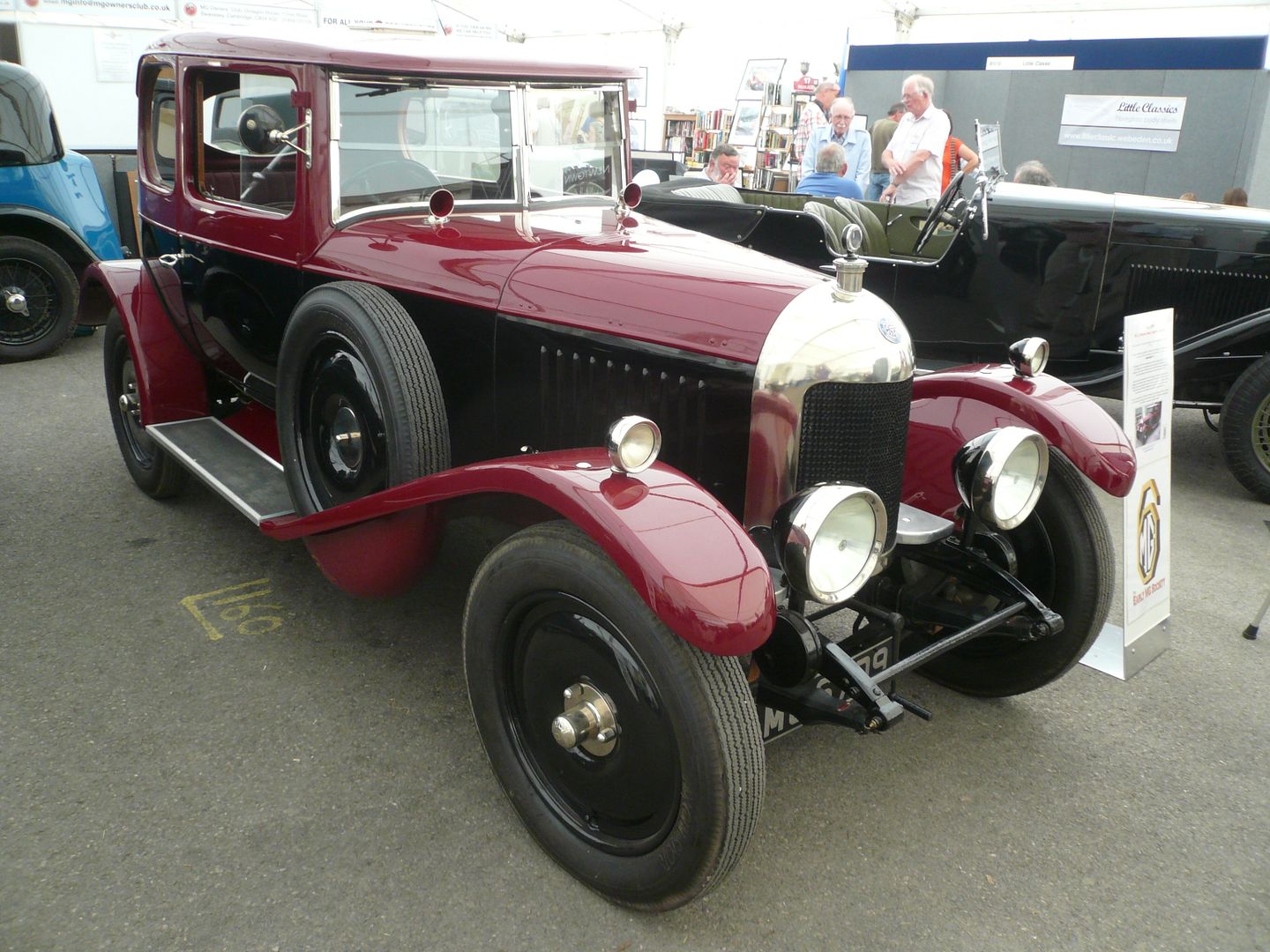 MINI
There were surprisingly few examples of the classic Mini at this event, but I did spot a couple of Cooper cars and a very early Austin Se7en version.
MORGAN
There was a sizeable grouping of Morgan cars parked up outside one of the halls, with cars ranging from the latest Three Wheeler through a series of Plus 4 and Plus 8 models from quite a wide time period, showing how slowly the styling of this evergreen has evolved.
A number of additional Morgans were to be found dotted around the classic parking areas.
MORRIS
Celebrating 80 years of the Morris Eight were a fabulous lineup of some of the different bodystyles which were offered on Morris medium-sized family car. Regular Saloon models were joined by Tourer, Drophead Coupe and even a Van. A most impressive display. There were a couple of examples of the later Series E model with a completely different grille as well.
Another Eight Tourer was to be found outside, along with a further Series E Saloon.
Far earlier than the Eights was this, a Cowley that I caught just as the owner was heading off.
A few minutes after spotting the Cowley, I came across this, which is a Ten. Slightly larger than the Eight, it sold in far smaller volume in the 1930s.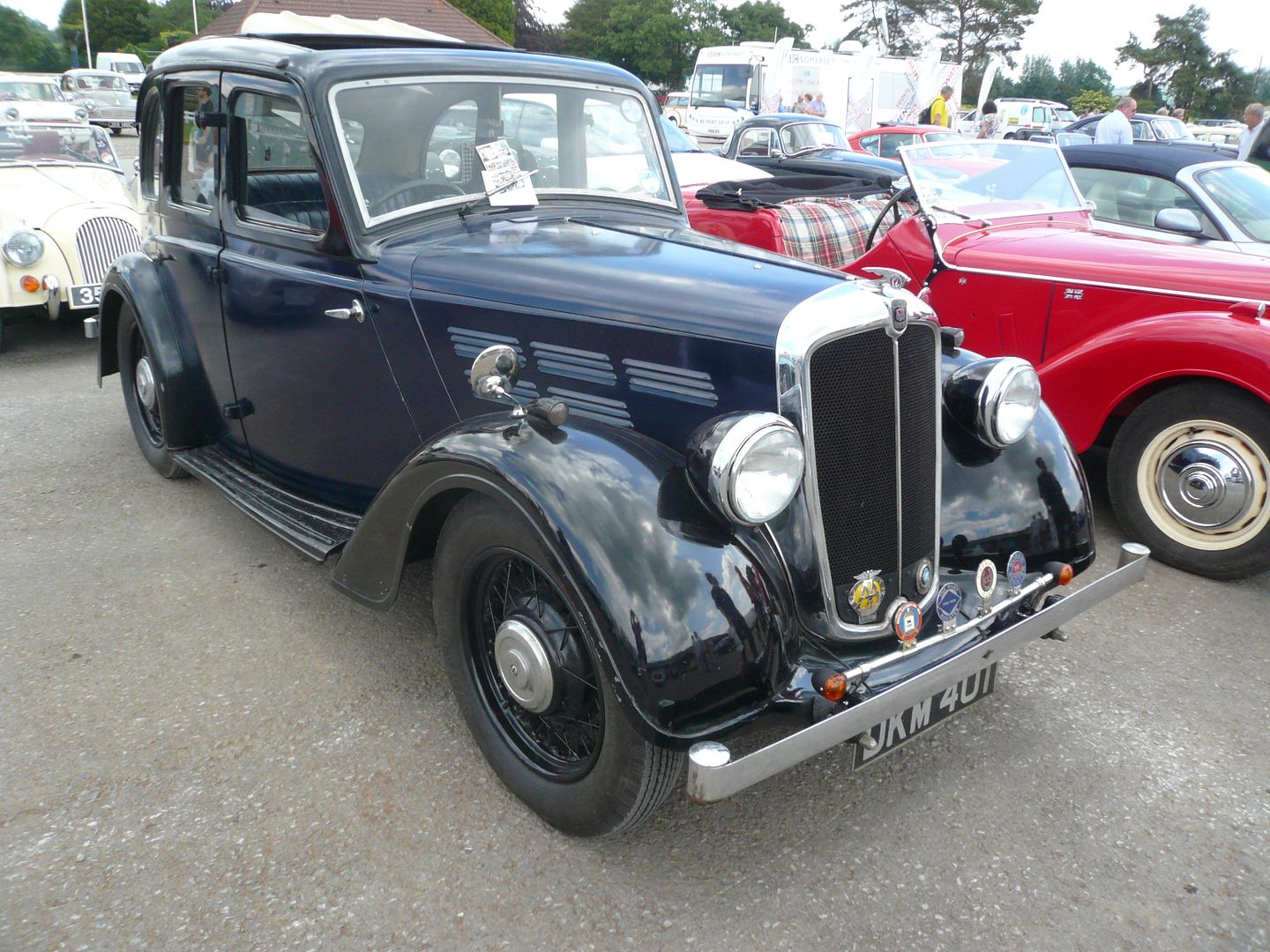 The Avon branch of the Minor Owners Club were another of those Clubs who have put lots of effort into the background on which their duo of  cars were presented. Several more Minors were to be found parked up outside.
Much derided by many to this day, and with some cause, the Marina does have an enthusiastic, if rather small, band of followers. This was the top spec 1.8 TC Coupe. which combined the twin carburettor B series engine from the MGB with the more practical Marina bodystyle of Saloon and Coupe.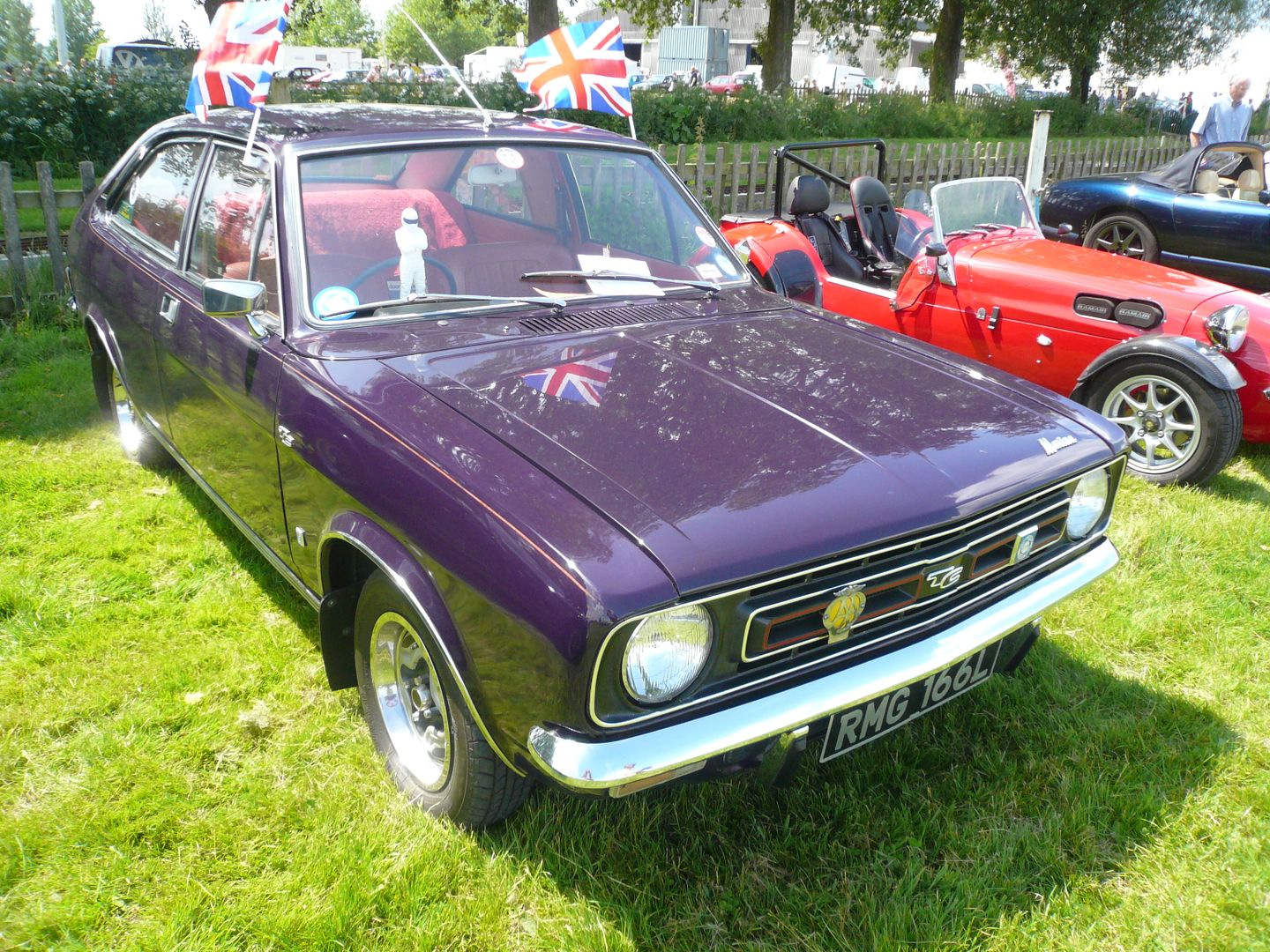 The Marina evolved into the Ital and there was a rare surviving Ital van on show.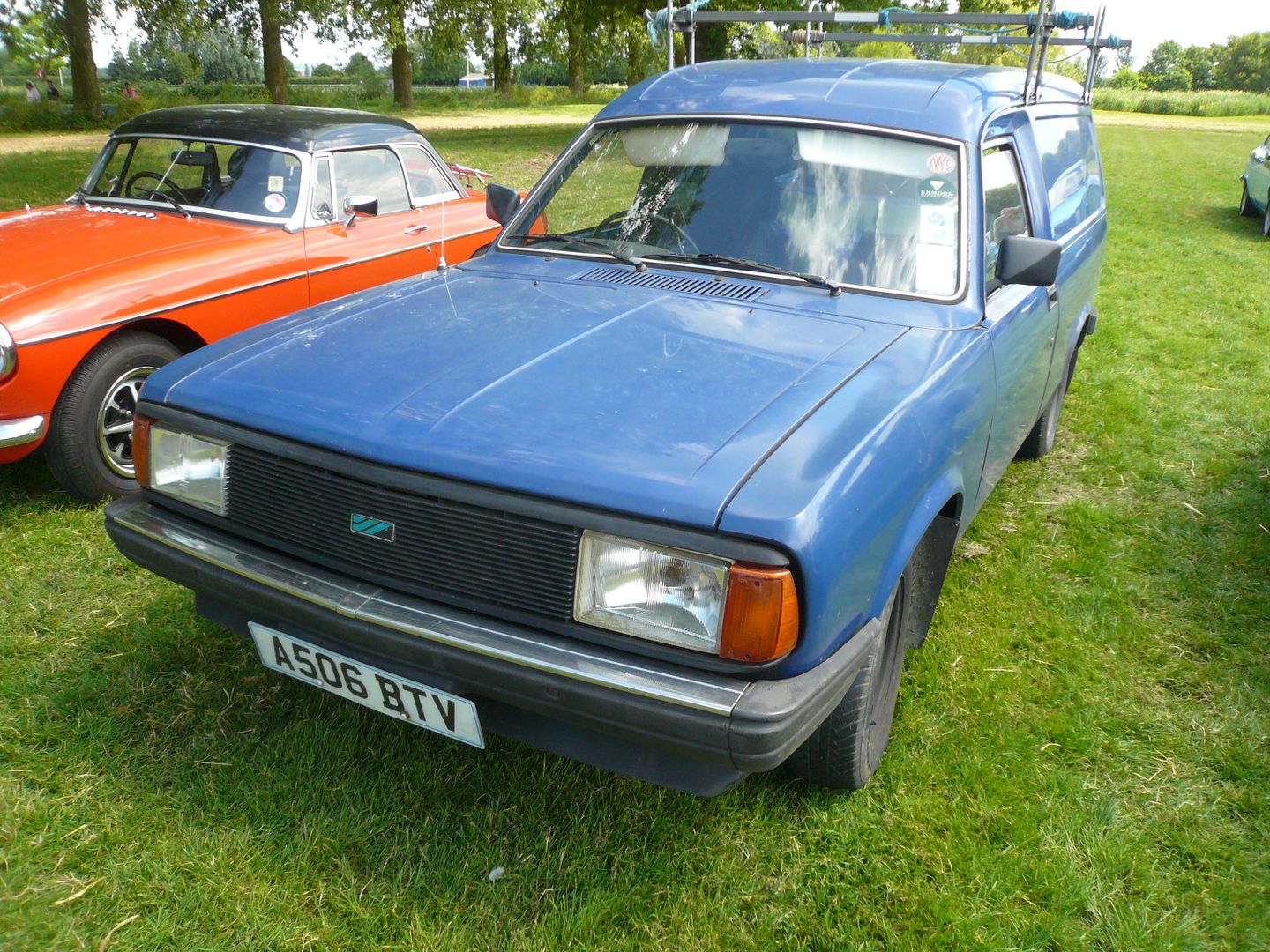 Although many would gravitate towards an Austin when asked to think of the ADO17 "LandCrab", this car was offered with a variety of different badges in the BMC stable, with a Morris 1800 being added to the range in 1966. This is a Series 3 car, and it differed from the Austin only in very minor details and which dealer would have sold it in the first place.
NISSAN/DATSUN
The Cedric and Gloria Owners Club (yes, there is one!), a stalwart of this event had a couple of cars on show. The 1969 Datsun 2000 is a car that they frequently show. This car spent its early years in what was then Rhodesia (Zimbabwe) before arriving in the UK, and is very rare indeed. It was joined by a 300C Saloon from the late 1980s.
OPEL
The Opel Manta Owners club had an interesting collection of cars, with both the original A and the later B model cars present. The former are very rare in the UK these days, and even the latter are not that common, as when these cars were new they always played second fiddle to the Ford Capri, even though in many ways the Opel was the "better" car. Of the B models, there was an early Coupe and the later 3 dr Berlinetta hatchback complete with obligatory late 1970s rubber faced bumpers.
There were a couple more late model Manta parked up outside. one of which appeared to be an Irmscher modified one.
Also outside, I came across a Monza Coupe. These large grand tourers were very capable machines in more or less their own niche in the market place.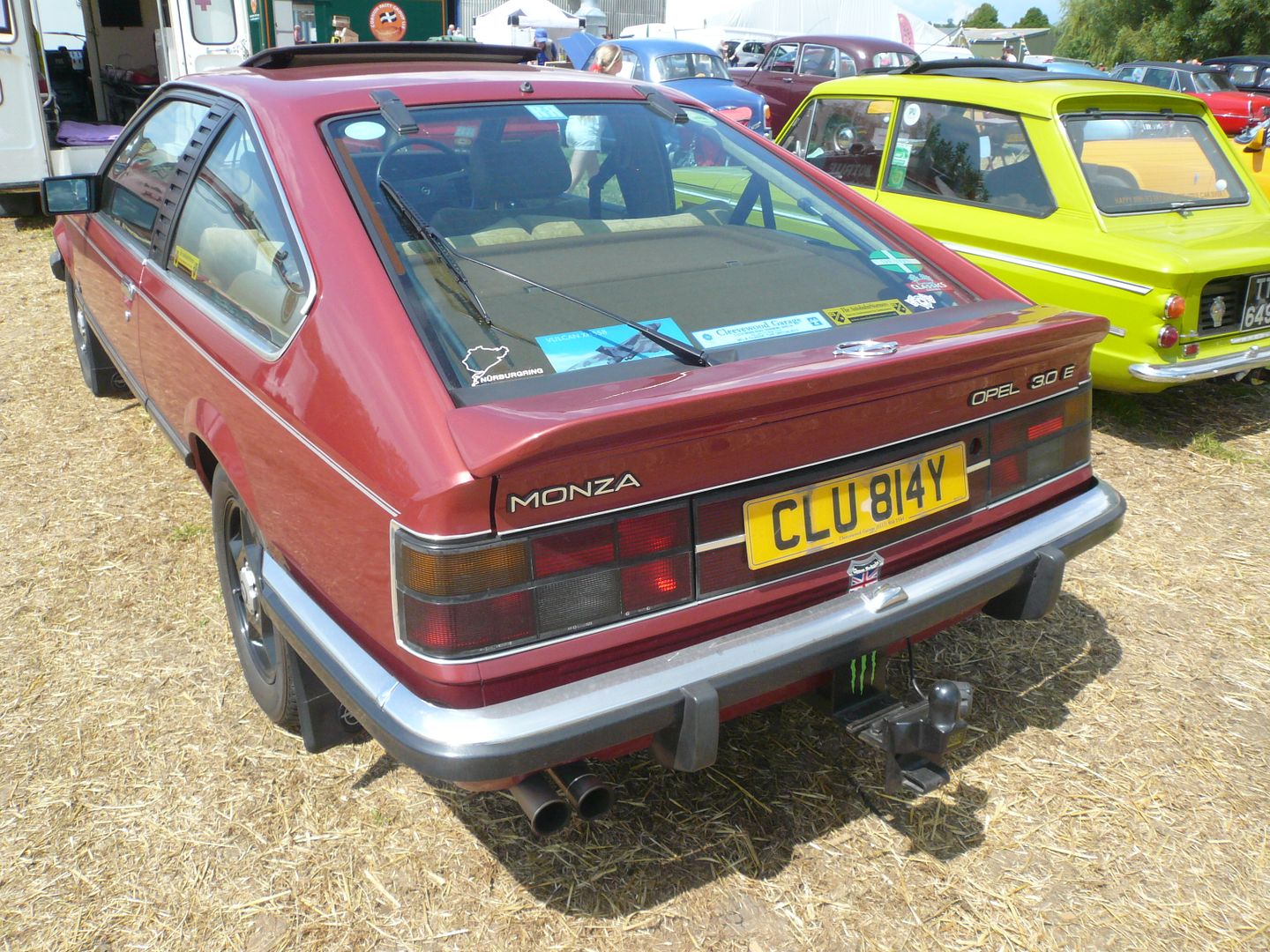 PANTHER
A trio of the Panther model that sold in by far the greatest volume – the car that started off as the Lima, with Vauxhall underpinnings in 1977 and mutated into the Ford-based Kallista in 1982. It can be quite hard to tell them apart at a quick glance. There were three cars on show, including one tightly packed into a cage, which defied photography!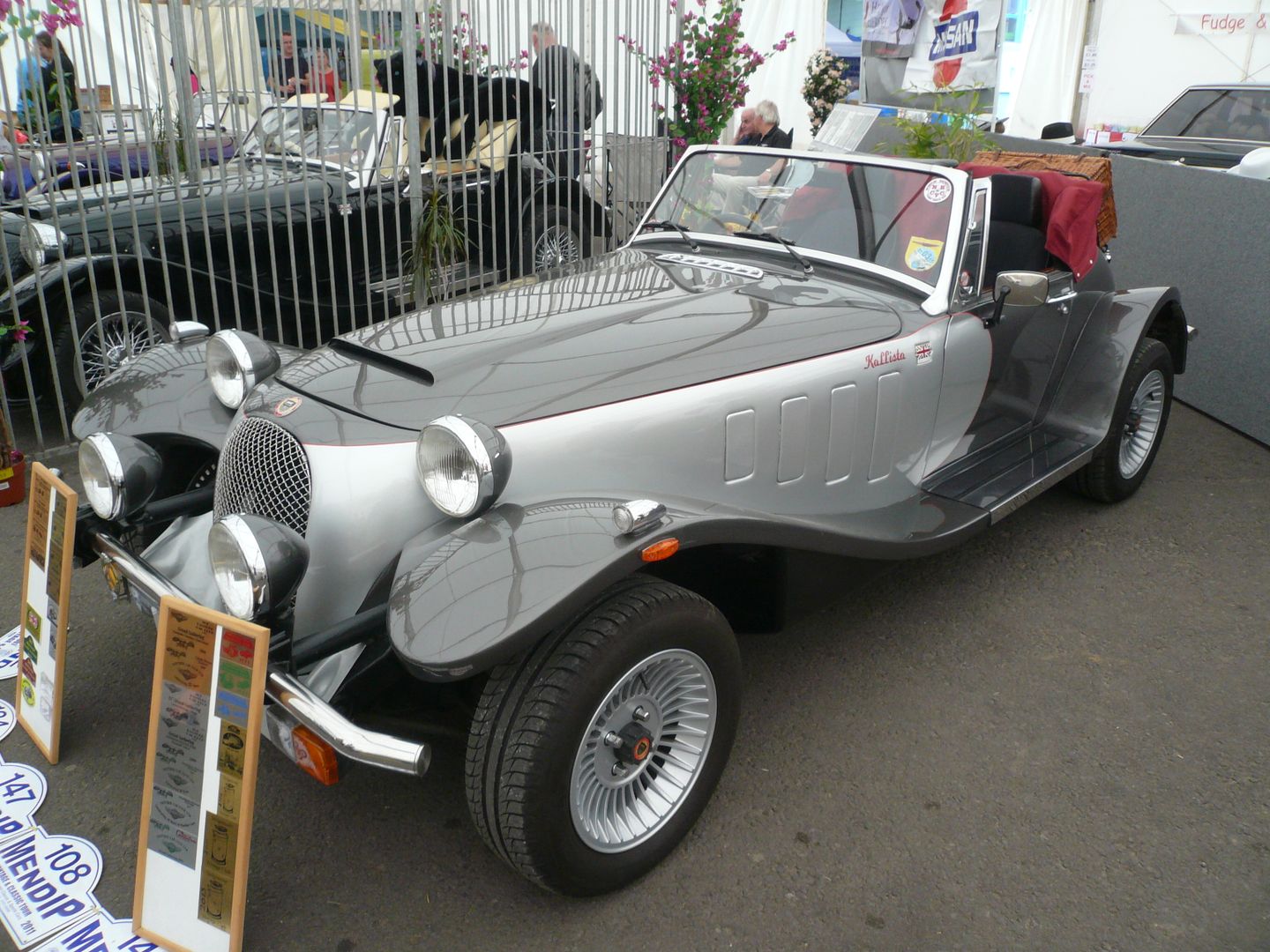 There was another Kallista outside.
PEUGEOT
This 205 was parked up by a gate, probably an event organiser's car, but then I realised that 205s are now a modern classic, and getting quite rare (especially non GTi models), and so worthy of a photo.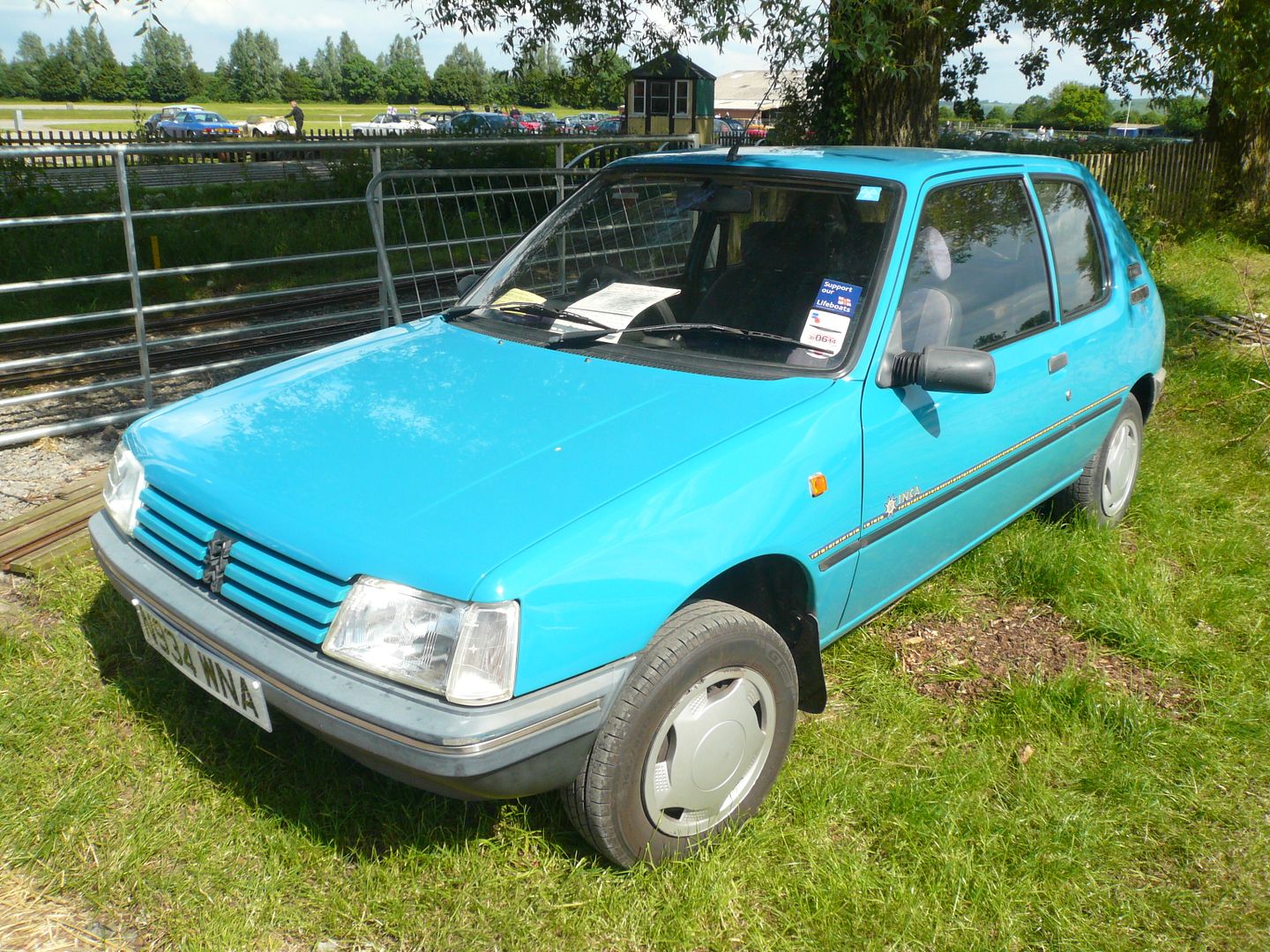 PONTIAC
One of the largest cars on display was this 1966 Parisienne.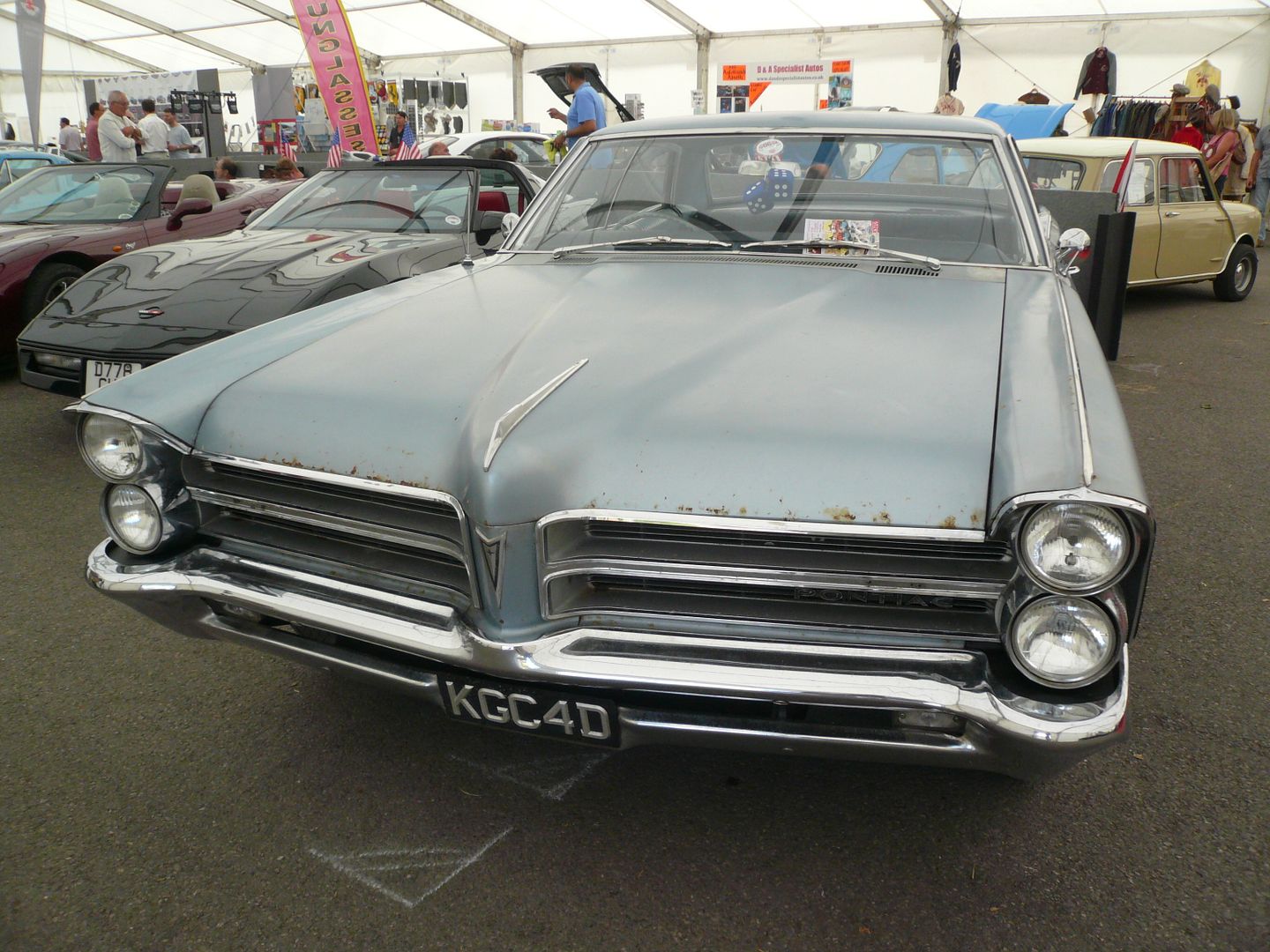 PORSCHE
There were very few Porsche present. I did spot this 944, though.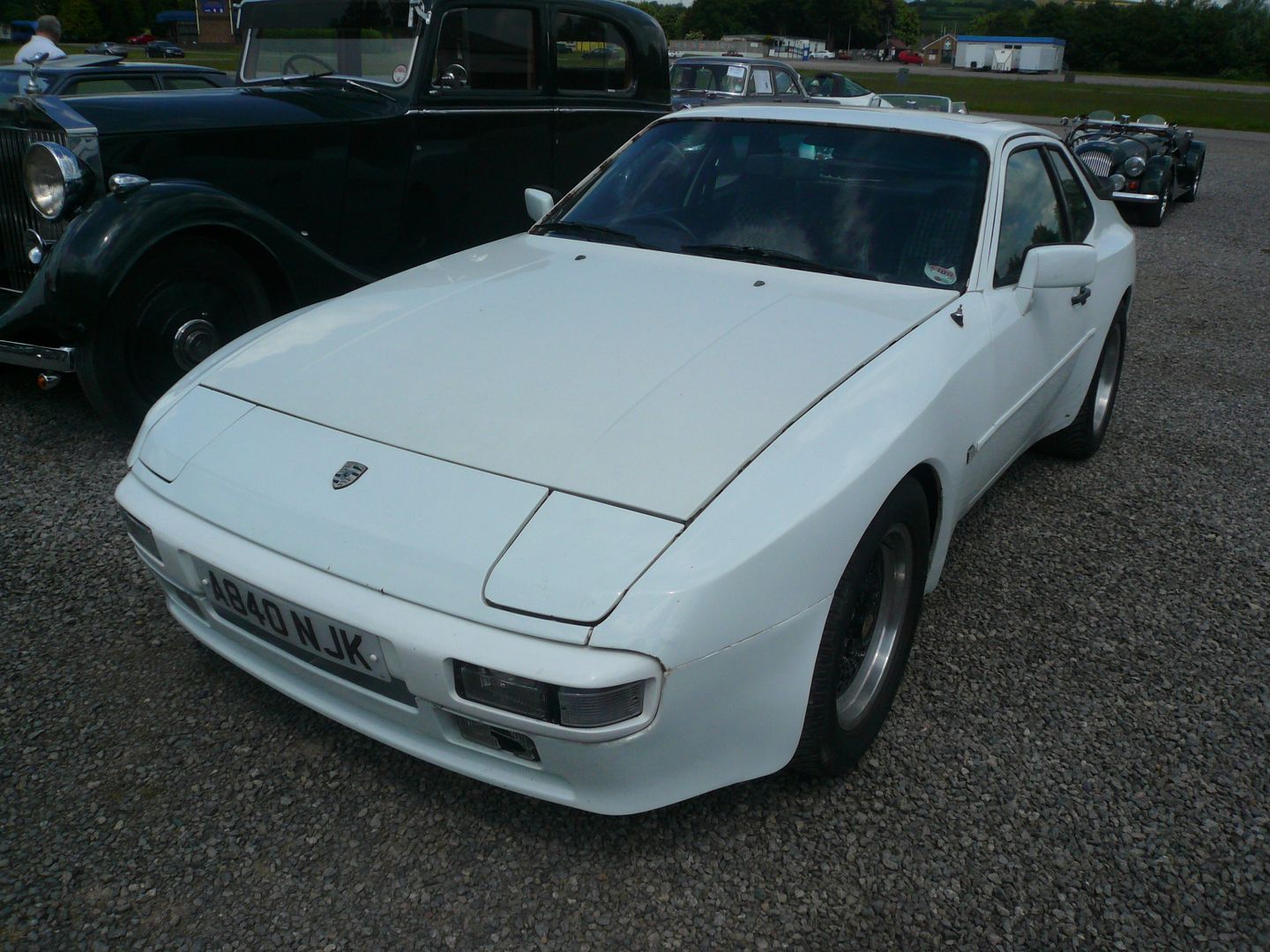 RELIANT
When someone says Scimitar, most people would think of the GTE, a shapely hatch model that sold decently from 1968 through to the mid 1980s, and there were examples of that on show, so as this 1973 SE5 and1975 car as well as the  facelifted SE6 car show, but in fact the hatch was preceded by a Coupe model, the GT, which shared the same sort of front end styling and many of the mechanicals and there was one of these on show as well. as was the open topped GTC that was added to the range for 1980.
RENAULT
The Sport Spider had a very short production life, as this car was very pricey when new, and even with the optional windscreen, it was not really quite practical enough for everyday use. That means that the cars are rare now, so it is always good to see one.

Very chic indeed was this Caravelle Convertible. Based on the distinctly mundane Duaphine, the stylish Bertone designed bodies on the car that was initially called Floride. Although the body styling did not really change, the underpinnings with updated to incorporate much of what was under the Renault R8 and the name was altered to be the Caravelle in all markets. It was costly in the UK when new, thanks to import duty, listing for £400 more than an Austin Healey Sprite. Brigitte Bardot owned one as did Princess Grace of Monaco.
RILEY
The Elf was an upscale version of the Mini, offered with a more capacious boot, upgraded trim and more power.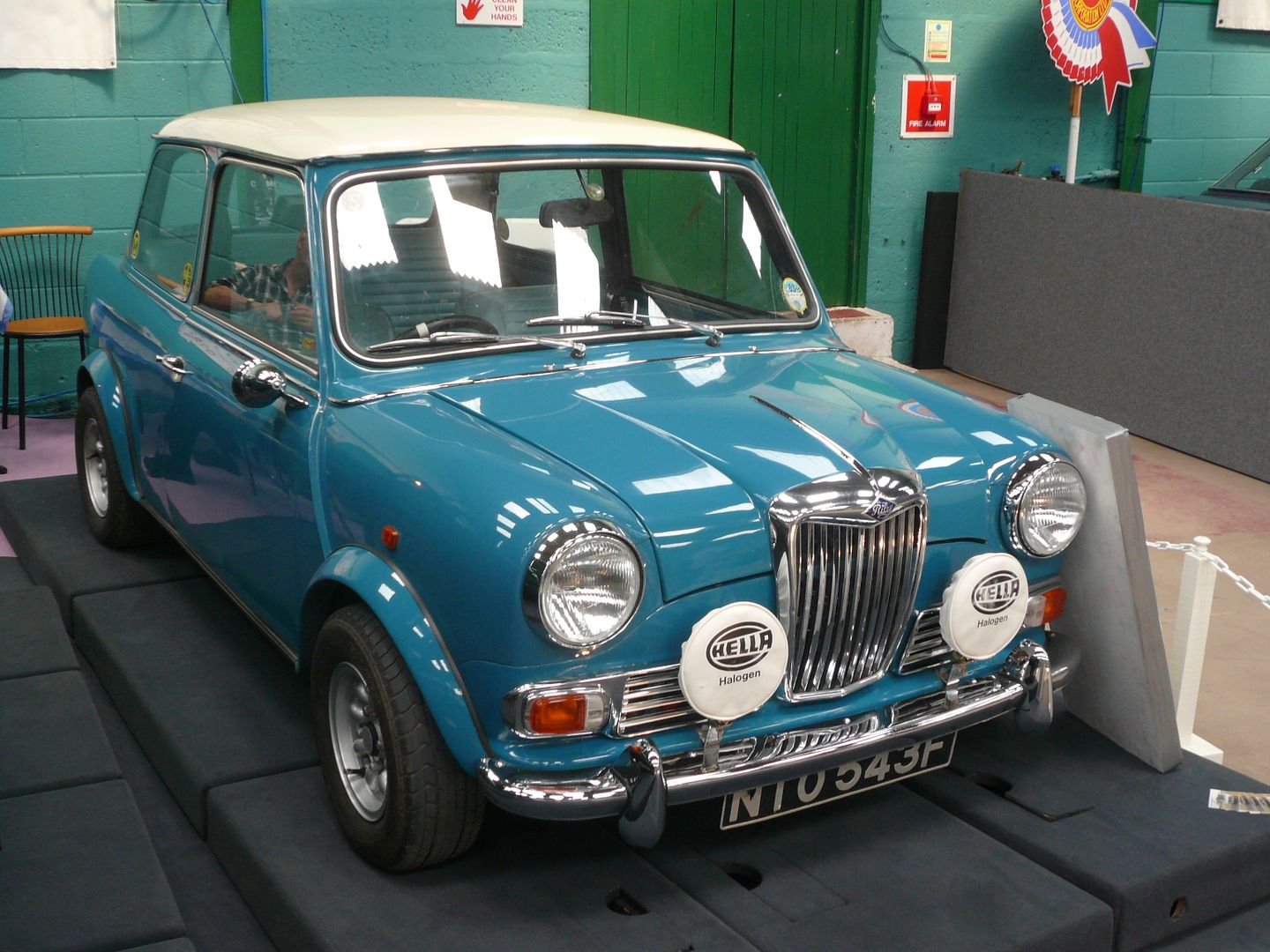 A couple of adjoining Riley stands featured a number of the popular RM series cars, with both saloon (RMA and RMF) cars on show, as well as the RME Tourer.
There was another of the RMEs on show outside.
Prior to the marque's acquisition by Morris in 1938, Riley produced a bewildering array of models (one reason why they ended up in financial difficulty) and it takes a real expert to identify them all. I am not that expert, but I believe that this is a Nine Sports of some sort from the 1930s.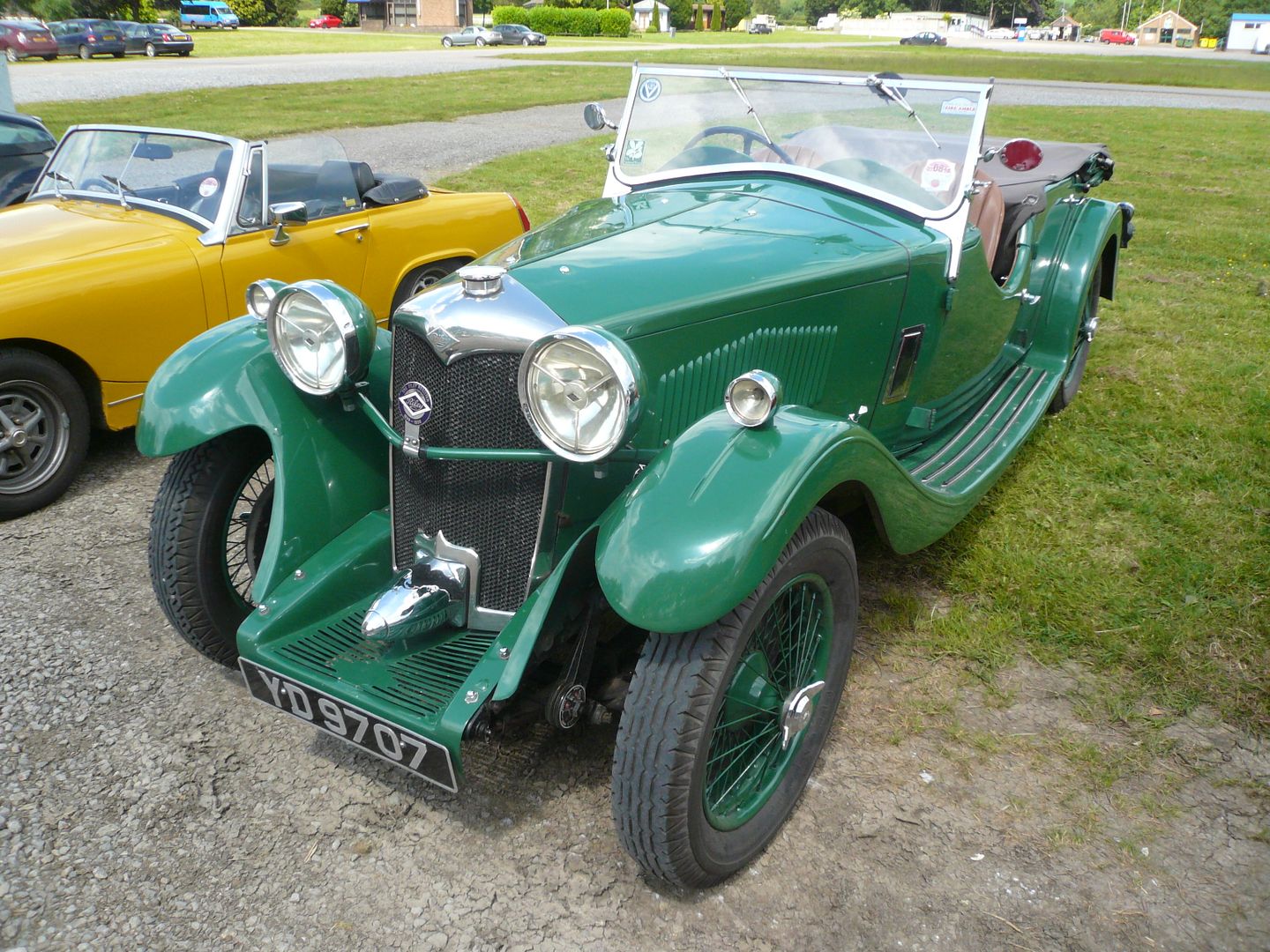 This one, very helpfully, was labelled., so I can advise that it is a 1927 Nine Monaco.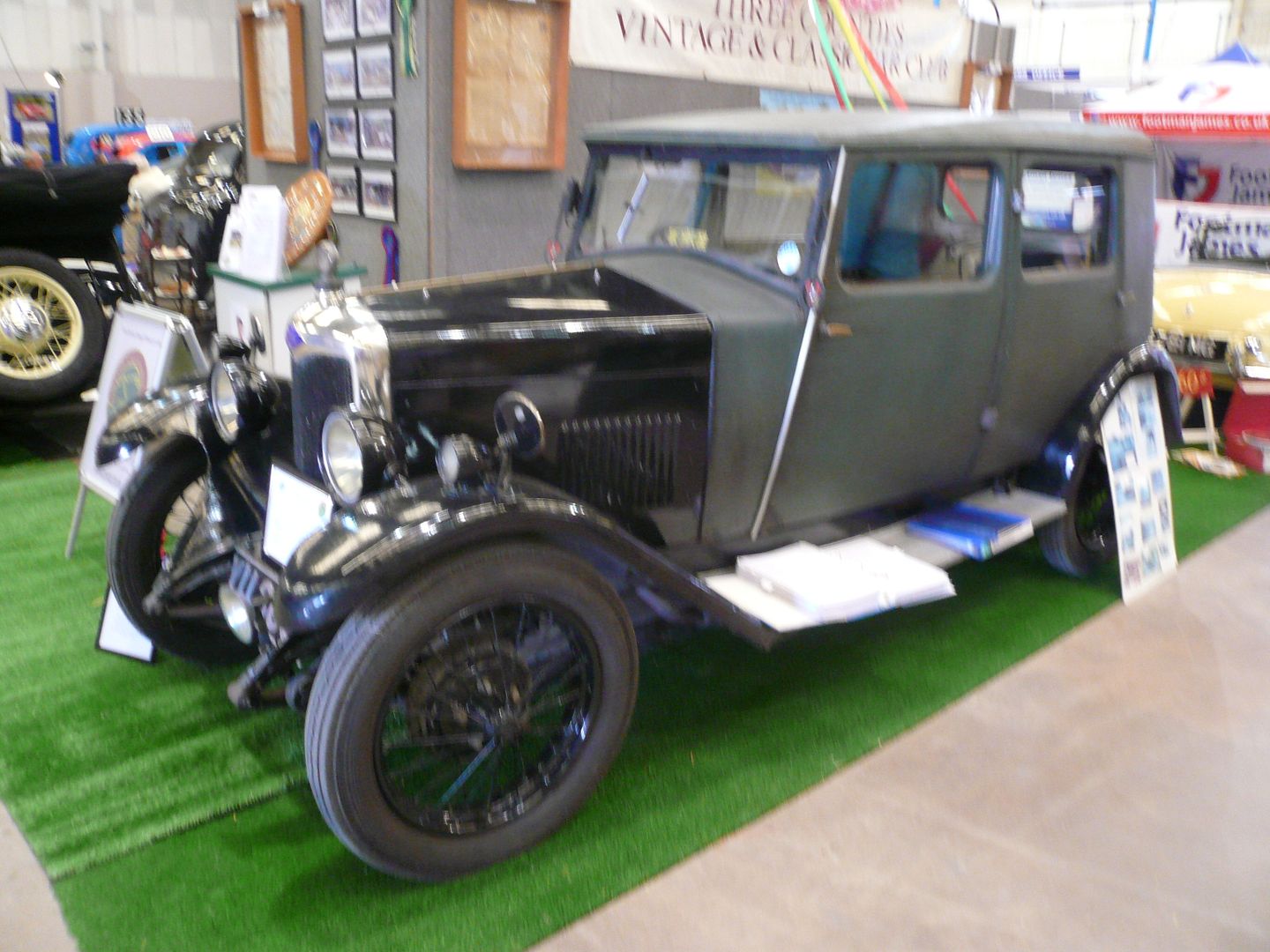 ROCHDALE
Of the two cars on the stand, one was familiar, an Olympic.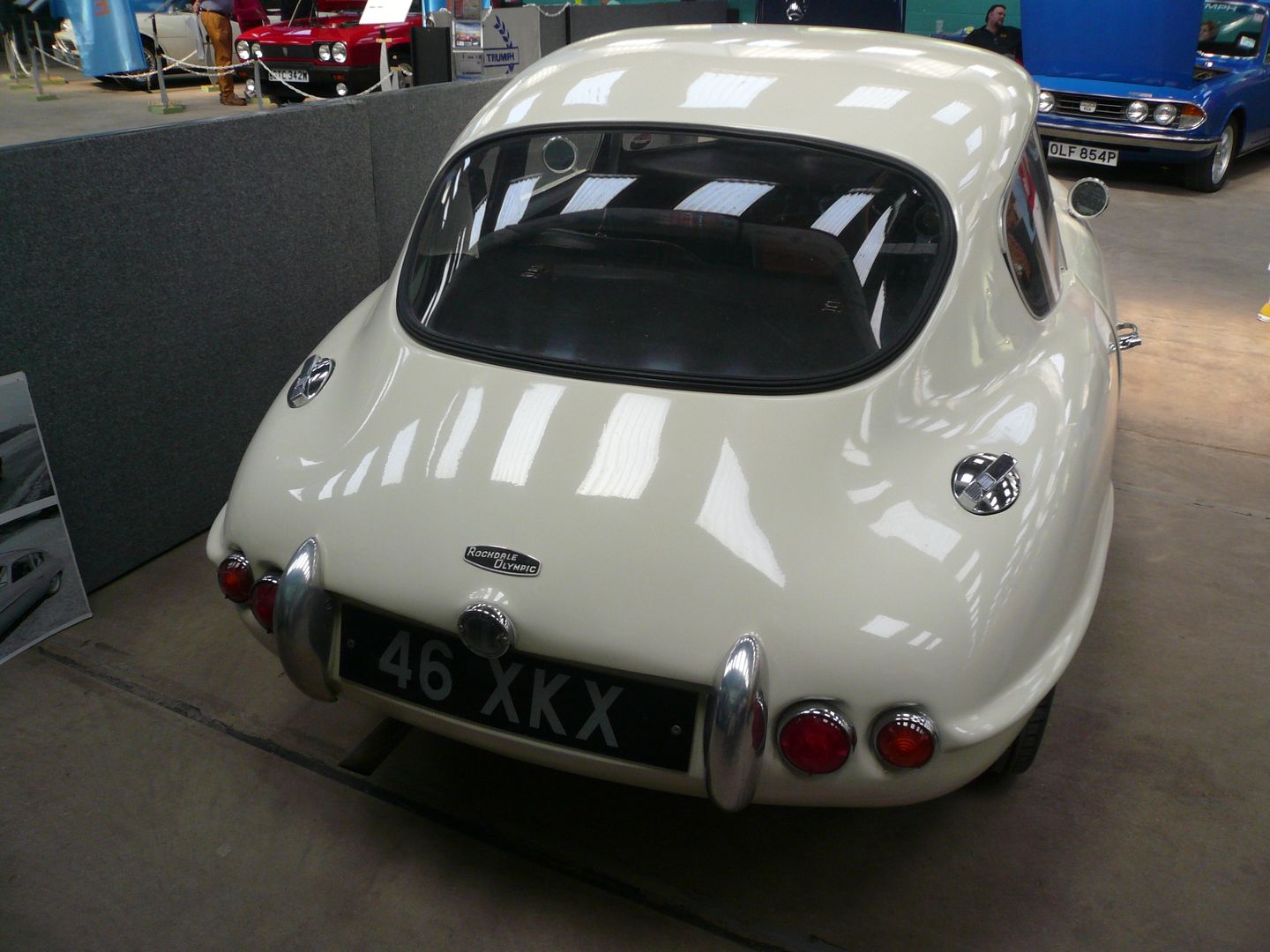 This was one I had not seen before, a Riviera, and it will be restored.
ROLLS-ROYCE
This Mark 1 Silver Shadow featured on the Attwell Wilson Motor Museum stand.
ROVER
Inside the halls, a whole lot of Rover Clubs came together to present an integrated display, in honour of the 110th anniversary of the founding of the marque. There were no really early cars, with the oldest being a pre-war P2 model. This was joined by the later P3, a P5, a P6 in highly desirable V8 3500S format, a facelifted SD1, the R8 200 Coupe and one of the last of the line, a 75 Tourer.
There were plenty of examples of the P6 Rover parked up outside, with a mix of 4 cylinder and V8 models present.
There was also a very nice P5 3.5 litre saloon and a rather earlier P4 car
SAAB
There was a nice assembly of cars on the SAAB Owners club stand. Oldest model was a late 96 car.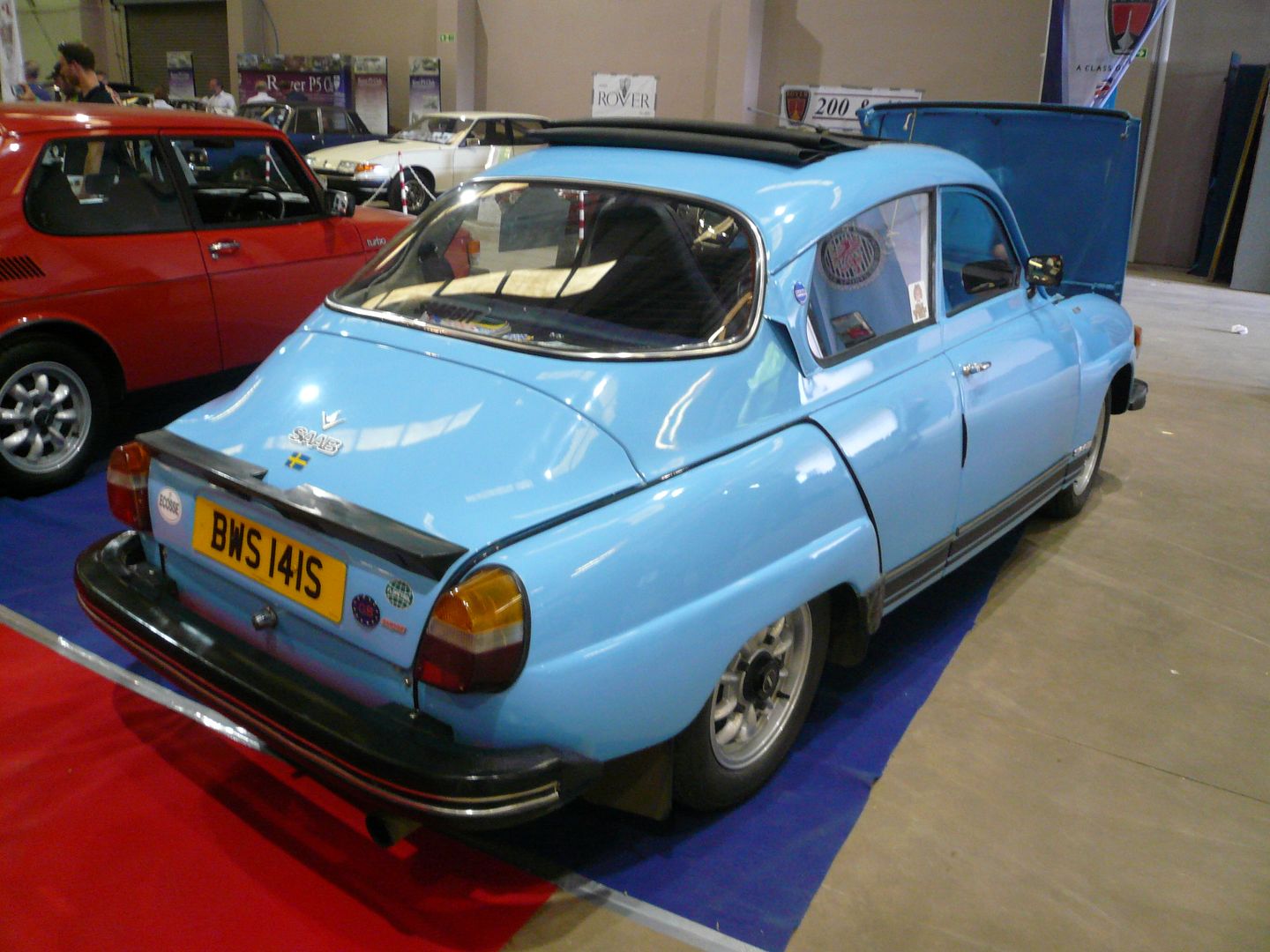 This 99 Turbo is one of the later models which was added to the range as a limited production model following the success of the initial 3 door hatchback car. 2 door saloon were offered in red or black.
The later 900 was not forgotten and there were a couple of the Cabrio models on show outside as well as one on the stand inside.
SINGER
By the 1960s when this car was made, Singer was little more than a posher Hillman. Accordingly, this Vogue was based on the Super Minx, but with nicer trim inside and more ornamentation outside to tell everyone you had bought the top of the range car.
STANDARD
A pair of Standards on the Standard Owners club stand, and both them were called ten. The early car was a 1934 model and the later model was from the mid 1950s when the very basic Eight was upgraded with more power and a few creature comforts.
Elsewhere there was a very period display with the rather bulbous Vanguard and a 1950s caravan.
SUNBEAM
The Stiletto was the top of the Imp based range, combining the fastback (it's a relative term!) body style with the more powerful engine that was also fitted to the Imp Sport., a couple of examples of which were also present
The Alpine was a mid-sized sports car aimed fairly and squarely at the competing MG products – initially the MGA and later the MGB. It never enjoyed anything like the success of the Abingdon cars, but it was in fact a capable and slightly more refined model that deserved a wider audience. This is one of the later models by which time the tail fins had been toned down and a more powerful engine installed.
The Rapier was a sporting version of the Minx. First of the "Audax" cars to launch, it appeared in 1955 and was offered in Coupe and Drophead forms. Although the basic styling did not change much over the next 12 years, many of the details did and there were plenty of mechanical upgrades. The Rapier Owners Club had a couple of cars on show, a Series 3 and a Series 5.
A Sunbeam of a very different sort was this 1934 25hp Light 6 Saloon.
SWALLOW
Making their first appearance at this event was the Swallow Doretti Owners Club, in honour of the 60th anniversary of this car. Built by an offshoot of the original Swallow Motor Car company – the majority of which ended up in what we now know as Jaguar – this car was based on Triumph TR2 mechanicals with an elegant new body. It was costly though, and only a couple of hundred were made in 1954 before the venture was ceased. The red car here has been the subject of a very thorough restoration from a pile of rusty bits to an absolutely stunning machine now.
TOYOTA
The 1993 Supra was quite a potent car in its day. It came at the time when insurance premiums for cars like this rocketed, making the vehicles almost impossible to sell, so there was no replacement offered when the Supra ran out of steam, and despite rumours more recently that a follow up car would come, none has yet emerged to this day.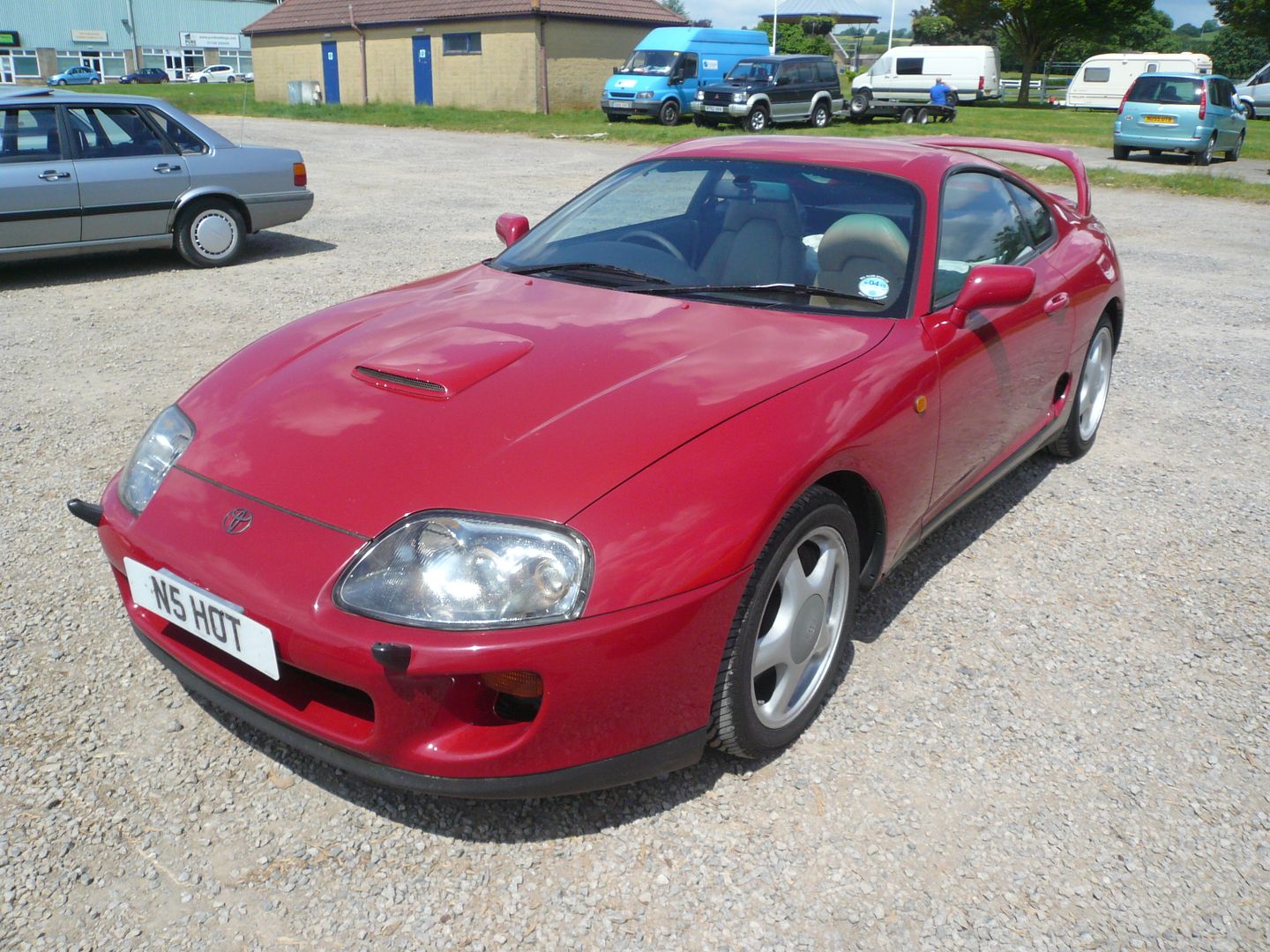 TRIUMPH
The Stag Owners Club had a single white car on their stand and a diorama that was supposed to resemble the snow at the Sochi Winter Olympics. Personally, I would have preferred to see an additional car – there was plenty of space!
Of course there were a number more Stags to be found parked up outside.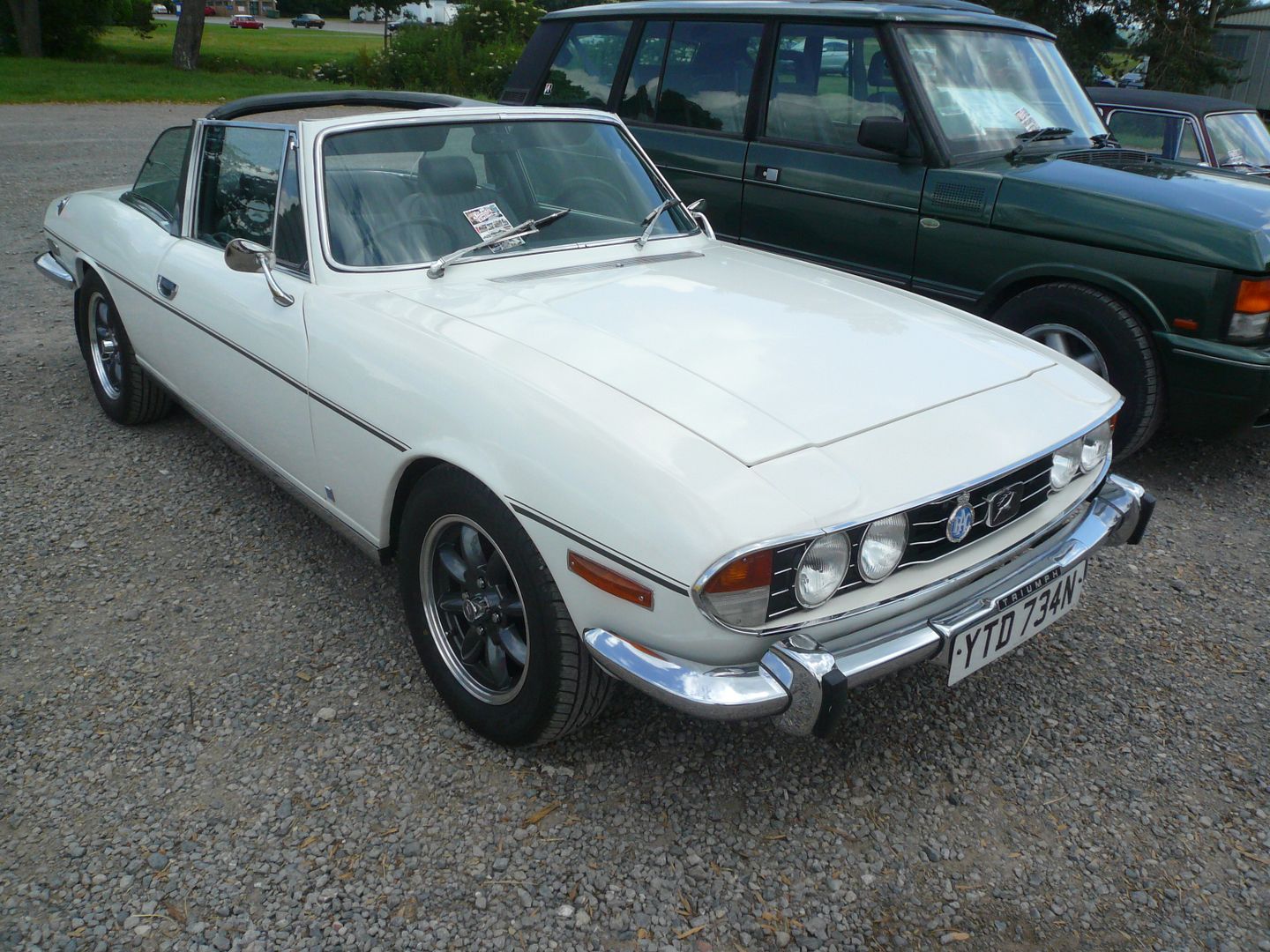 There only seemed to be the one Spitfire present.
There were, as you might expect a number of TR models on show, ranging from a TR2 through a couple of TR3b to a number of my favourite, the TR6
Representing the long lived 2000/2500 range were a number of cars: a couple of early 2000 Saloons were joined by a Series 2 2000 Estate and a 2500PI Saloon. Had I been working when these cars were new, it is highly likely that this what I would have been driving (if I could not have afforded a Lancia or an Alfa!).
The Herald was a very popular small car, offered from 1959 until 1971. Light and easy to drive, and particularly manoeuverable thanks to a turning circle that was almost at London Taxi levels, the car was particular popular with women drivers. A couple of  Saloon versions were on show.
The Vitesse was little more than a Herald with a six cylinder engine. Initially a 1600, this was later upgraded to a 2 litre, by which the swing axle rear suspension had been tamed to ensure drivers could more safely take advantage of the extra power.
The Dolomite was one of my favourite cars when I was a small boy, with the Sprint having particular appeal. It still does, especially in the iconic Mimosa Yellow colour that featured on the launch cars. So I always like seeing this neatly styled saloon at events such as this, and there are usually a few different cars to admire. This event was no exception, and as well as a Sprint, there were lesser Dolomites as well.
TROJAN
This little bubble car, a stalwart at the monthly Queen's Square Breakfast Club gatherings was attracting at least as much interest here as it does there.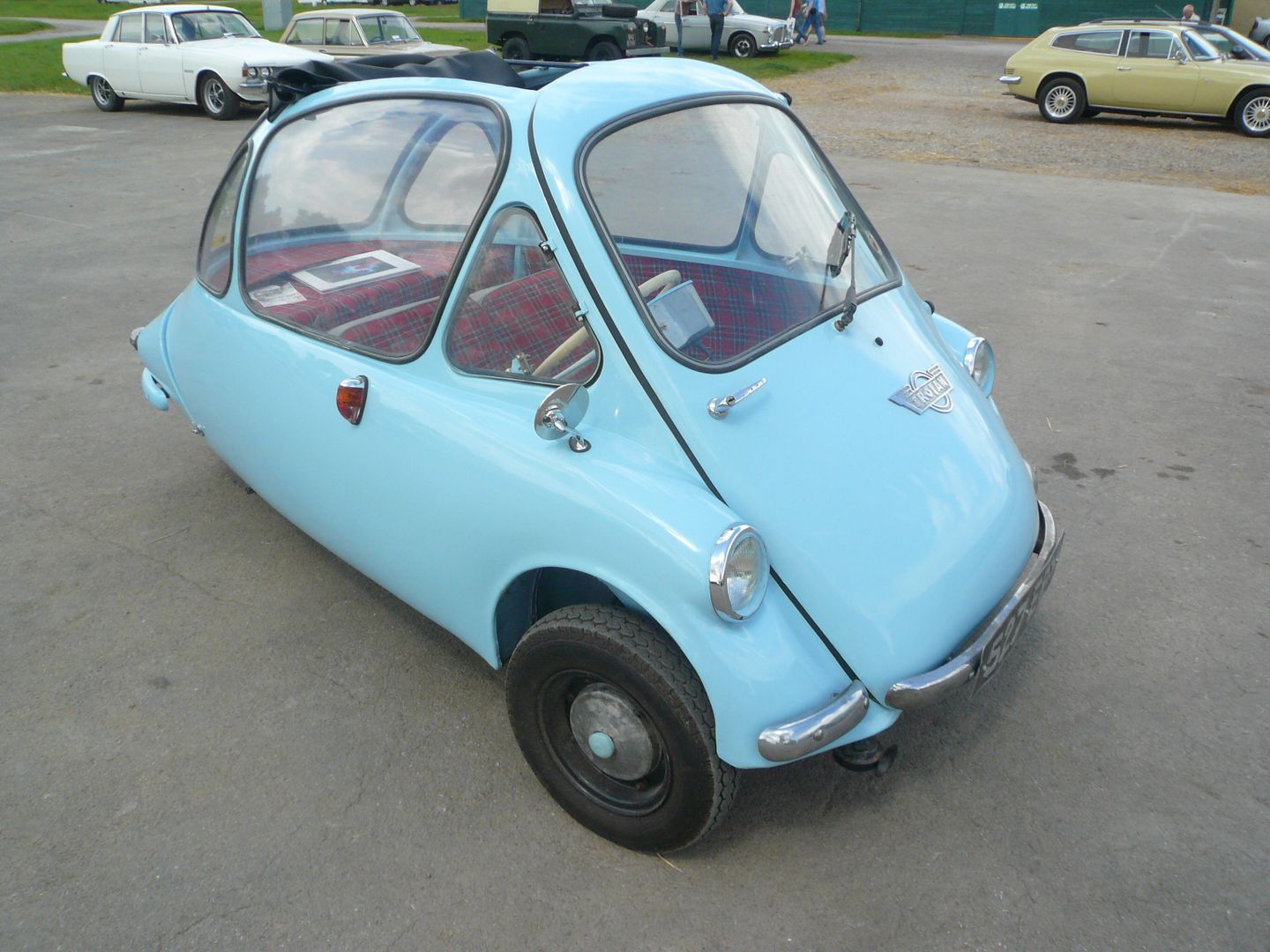 TVR
Needless to say, Britain's favourite hairy-chested sports car was well represented with S, a Chimaera, a couple of Griffiths and a T350C
VAUXHALL
The PA Cresta launched in 1958 was a blatant attempt at introducing some Americana into the hitherto rather staid Luton marque's line-up, and it worked. With lots of chrome, wrap around screens front and back, and some rather  bright two tone colour schemes, this car was very distinctive. Sadly, it was also not well built and with paper thin sheet steel, it rusted very quickly. A few do survive and they remain very striking even now, attracting plenty of attention, as was this example.
It's a long time since I last saw one of these, an FE Series Ventora. Pinnacle of the range of cars launched in 1972 that Vauxhall advertising wanted us to think of as the "transcontinentals", the Ventora combined the Victor body with a torquey 3.3 litre V6 engine and far more in the way of luxury fittings than you got in the cheaper models in the range. Sales were relatively slow, even when an Estate model was added to the range, and it was phased out in 1976, a couple of years before the Victor/VX Series gave way to the Carlton. Oh, and if you don't like the Ventora name, blame Murray Walker! He did once let slip that it was him and the ad agency he worked for who came up with the name for Vauxhall!
VOLVO
Every year there is a competition for the best club stand and this year the prize was award to the Volvo Enthusiasts Club, for their "Alice in Volvoland" effort. The stand featured Chris Tye's 1962 Jensen-built P1800, plus Gillian and Tony Whitton's '63 120 Estate and a couple of cars owned by club chairman Kevin Price: his '52 PV445 convertible and his '62 P1800, an original Saint car that he bought as a wreck and has had restored at vast expense, with work only completed last year. Also manning the stand were Colin and May Tatlow from Cornwall, who played the Mad Hatter and Queen of Hearts.
Another 120 Estate was to be found parked up outside, along with a late model 131 Saloon and a much earlier 122 B18S car.
It's not long ago that the stereotypical 340 driver was the sort of person most of us cursed, as these cars tended to be driven slowly and badly, getting in everyone's way. But then, as happens to almost every car, most of them disappeared, and you rarely see one now. This was a well presented 5 door 340.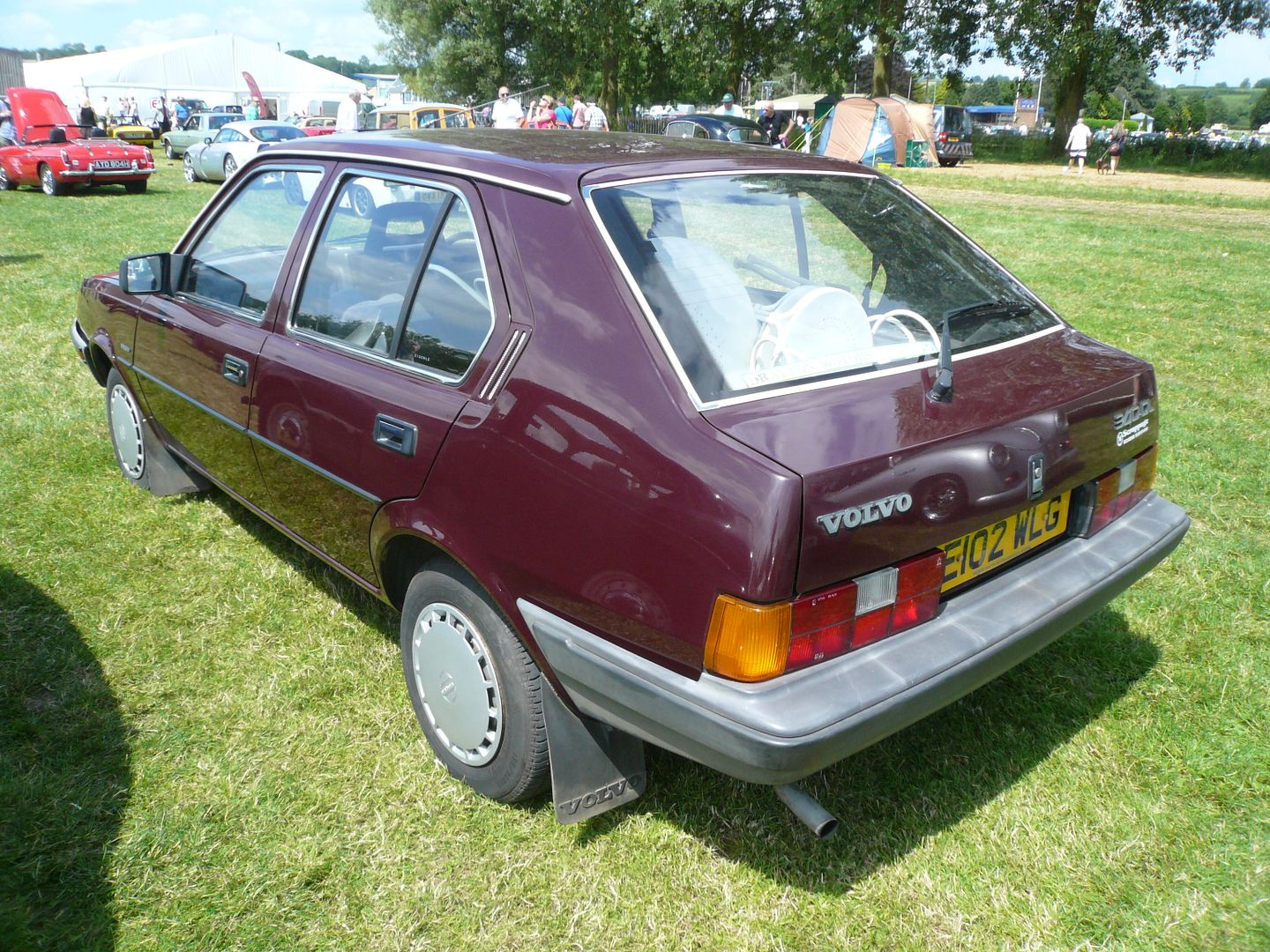 WOLSELEY
Sharing stand space with the Austin A95 Westminster was a Wolseley 15/60, the first of the long running Farina based cars in BMC's mid-sized range to appear. It ran (updated to the 16/60 in 1962) from 1958 until 1971.
On another stand were a pair of the larger 6/110 cars that topped the Wolseley range in the early 1960s.
The Wolseley Register had a number of very different cars on show. Largest of these, and by some margin was this vast 1938 21hp car. It was just huge in every dimension.
In complete contrast was this 1932 Eustace Watkins Hornet Special.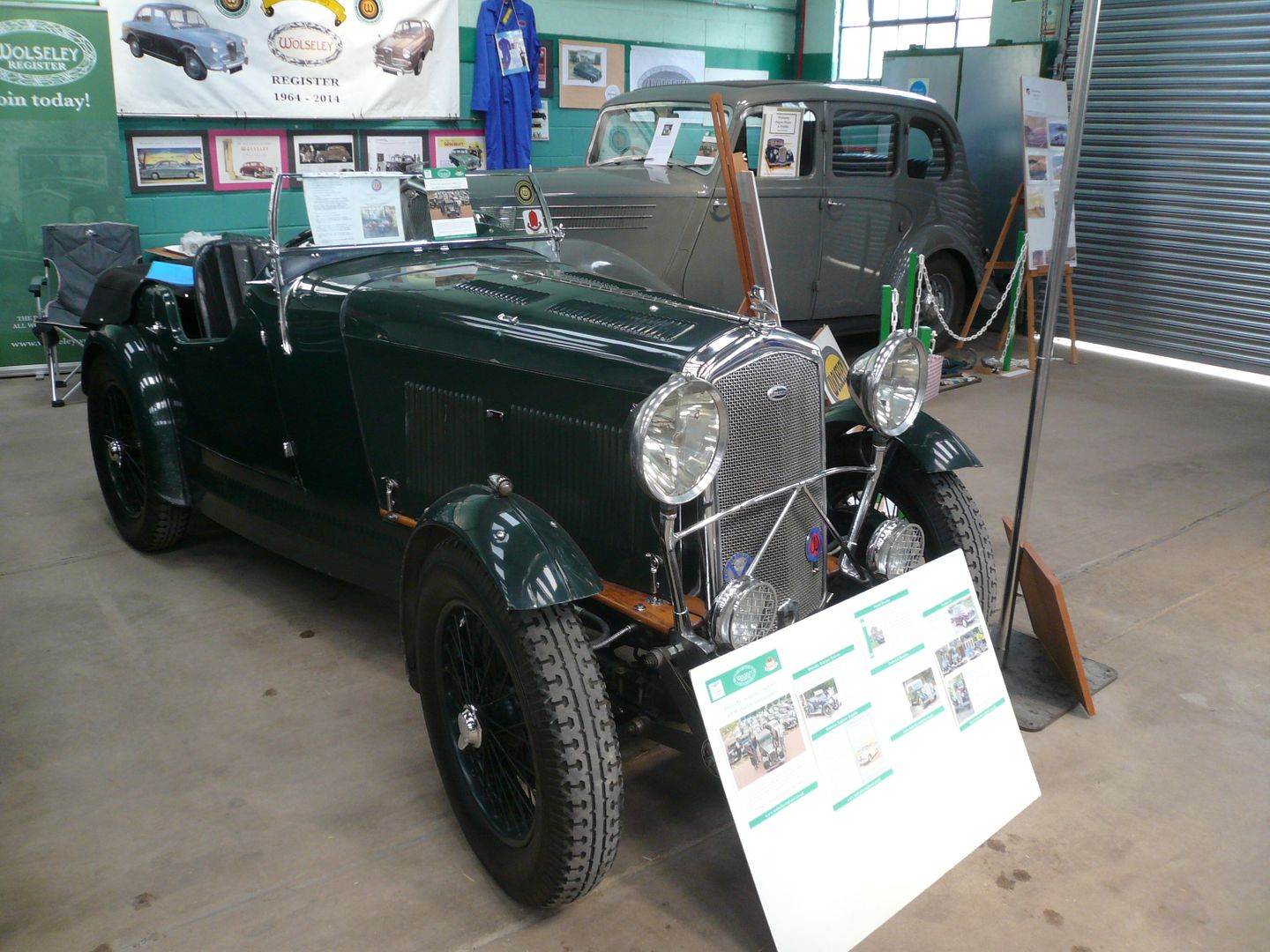 More typical of the sort of car we think of as a Wolseley was this more dignified 12/48 model. This 1946 Series 3 12/48 is typical of the sort of car that was produced immediately after the cessation of hostilities, based very much on the models that were being made before the world went to war.
After the event, the organisers announced that over 12,000 people had attended the show, their best ever attendance figures. That has to suggest that the change of date may just have helped rather than simply clashing with too many other things, so it will be interesting to see when the 2015 event will take place. It will be in my diary almost regardless of date, as it does make for a good day out more or less on my doorstep.