It's only a matter of weeks since the massive showing of several hundred Italian cars at Brooklands in early May, so you might think that it would be hard to get enough people to bring their cars along to create another similarly themed event, but as has been the case for many years now, Phil Ward and his organising team had little difficulty in assembling a fascinating and diverting array of cars to be enjoyed by their owners and other afficianados in the stunning setting of Stanford Hall, a country house on the edge of the Leicestershire/Northamptonshire/Warwickshire borders. This event started out life as a sort of Concours event, even if the visit by a certain trio of well known TV presenters a few years ago did their best to change the tone completely. Whilst there is some discrete judging of cars that goes on during the day, with prizes for a number of different categories of cars presented mid afternoon, for most people this is simply a chance to see a wide variety of cars from every recent Italian marque, to catch up with friends and fellow owners, and to enjoy the scenic background. In an attempt to widen the appeal, in 2013 the event was rebranded "Summertime Classics", with non-Italian machines equally welcome for display. That applied to the 2014 event as well, but the reality is that the vast majority of what was on show was Italian, and as you can see in this report, there was a lot.
ABARTH
A most impressive showing by my fellow Abarthisti, we amassed 43 cars. Parked in a new area of the site, I decided to arrange them so we had a line of 500s and a rather shorter row of Punto models. The final tally was 32 of the 500 and 11 Punto, and as usual, our cars generated lots of interest from the other attendees.
Among the Puntos, it looked as if there was only going to be one Grande Punto model, until mid-day when Lloyd Hartley arrived, swelling the total to two. Most of the rest were Punto Evos, but a few SuperSport cars were among the display as well, and we had a good mix of white, grey, black and red cars.
The 500 display was even more varied, with no two cars quite the same. A mix of 500 and 500C and later 595s in both Turismo and Competizione guise, painted in every colour scheme offered except the two tone grey, and supplemented by Dave Quinn's yellow wrapped car made for a colourful sight.
Sadly, there were no classic Abarths present at all, as Mike Foster had come in his Ferrari rather than the 1000TC and Middle Barton Garage were clearly busy elsewhere.
ALFA ROMEO
The brand new 4C Competizione was the star of the Alfa Owners Club stand, and needless to say it was attracting lots of attention, which is why I raced over to it as soon as I arrived, to get some pictures before it got mobbed.
Nice though it is, I still think that my absolute favourite Alfa of the day was something else. This orange AlfaSud Ti really stood out for me. I don't think I've seen this particular car before, which is not a complete surprise as there are still quite a lot of AlfaSuds on SORN, tucked away being restored, so fresh examples do keep emerging.
It was joined by a very nice Series 3 car as well, another model I really would not have minded just taking away with me at the end of the event.
I would also have been tempted by this really nice Sud Sprint. The early versions of this car look the best, with every facelift going in the wrong way visually.
The 105 series cars are also very nice, and there were a number of these on show, including several of the 1750/2000 GTV Coupes as well as a 1600 GT Junior.
There were also a number of the Spider cars that survived in production from 1966 right up to the early 1990s, with several examples showing the evolution through 4 distinct different phases.
Oldest Alfa at the event was the precursor to this, a 1600 Giulia Spider. This is an achingly pretty design, one of Bertone's best, in my opinion.
Also present with a single example was the Montreal, a high end car that was originally presented as a concept at the Montreal Expo in 1967, but which was later put into production. Feared by many for years thanks to mechanical complexity surrounding its V8 engine, this car is now finding increasing favour among those who love its striking lines.
There was no sign of the Alfetta Berlina, but there were a number of the very shapely Giugiaro styled coupe models, the Alfetta GT and GTV. As well as seeing the immaculate late model red car, which is a stalwart at events like this, it was nice to see some well presented early cars as well.
There was just one of the 116 Series Giulietta saloons on show. I have always liked these. They are rare now, with only a handful left on our roads.
Successor to that model was the 75, and there were quite a few of those on show. The last (for now) rear wheel drive Alfa, these cars ahve a much better reputation now than they did when new.
The only 33 on display was this well known car, a perpetual concours winner.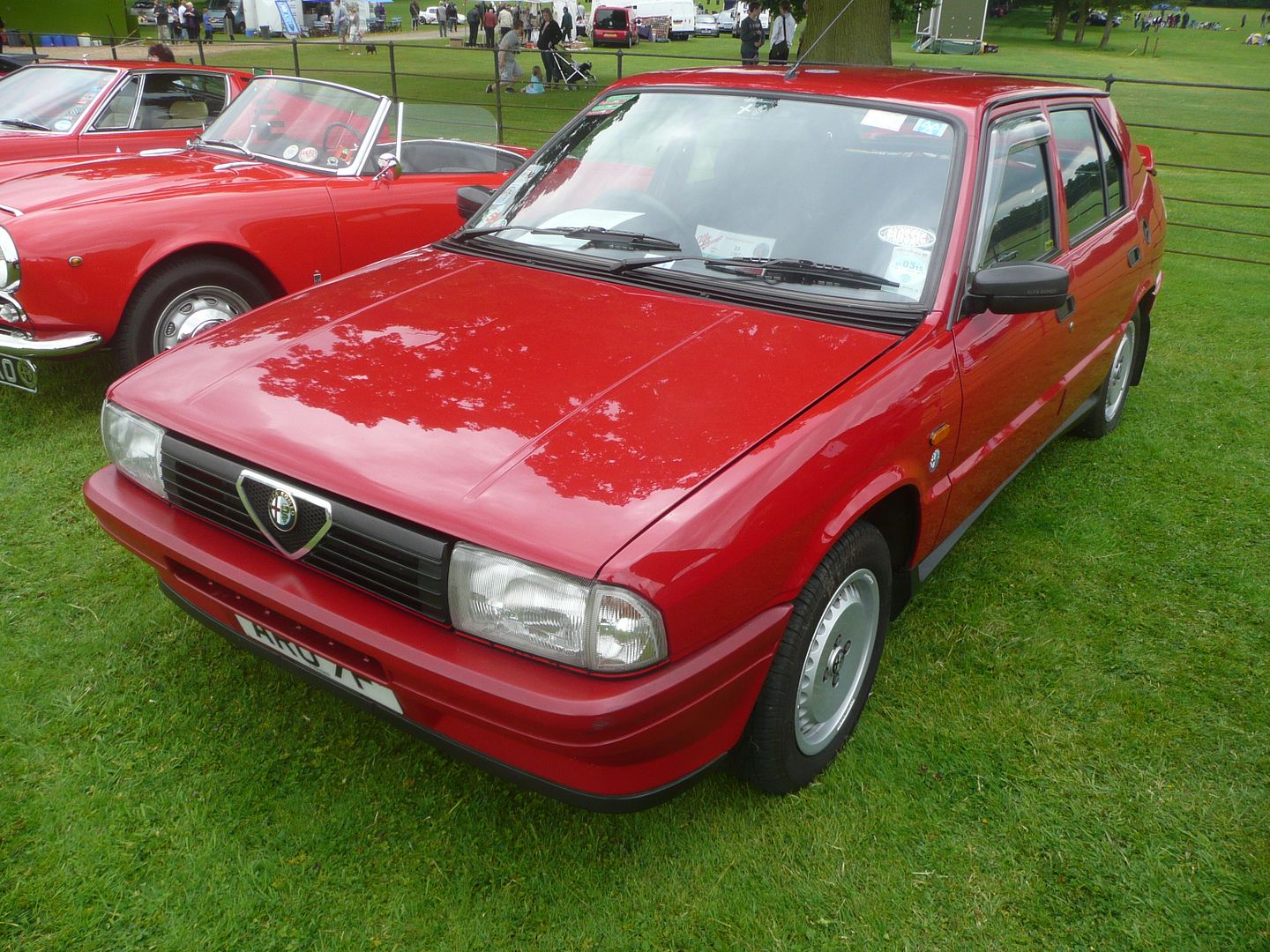 The replacement models, the 145 and 146 were hardly more in evidence, with just one of each of these distinctive cars to be seen.
There were several of the distinctive SZ models on show. Not that well regarded when new, these eye catching (if not exactly beautiful in the traditional sense) cars are now appreciated for what they are: a slightly eccentric classic with real character.
The 916 series GTV and Spider have definitely acquired modern classic status now, and there were quite a few of these cars on show, with the majority being Phase 1 and 2 cars, but there were also a few facelifted ones, easily identified by the different grille. The limited edition Cup cars were, as is often the case, well represented.
The big 166 always had to live in the shadow of the well regarded 156, which was a shame, as this was also a nice car in its day. I always preferred the facelifted front of the later cars, but there were none of those on show.
By contrast the revisions to the 147 were not, to my eyes at least, an improvement, with the slant eye headlights looking less convincing than the original shape. The GTA did not suffer this change, and looks all the better for it. This is one of relatively few cars where the body kit and styling changes really improve what was already a lovely looking car, to my mind.
The GT, Brera and Spider have now been out of production for a couple of years, so are going through that point where values continue to decline, but you can be sure that in years to come these models will be seen as classic just as all their predecessors are now seen to be.
That will doubtless also apply to the 159, and there were several Saloon and Estate examples of these on display.
There were a good number of current MiTo and Giulietta cars on show, too.
FERRARI
Some years have seen in excess of 200 Ferrari at this event. That was not the case in 2014, but there were a number of cars present, with plenty of variety to make up for the relatively small number of cars. Perhaps the nicest of all were the pair of 246 GT Dino cars. These cars are still increasing in value, with a car described by the auctioneer as a "real basket case, rotten as a pear"  going recently for over £130,000, even though it will probably need at least that much again spending on its restoration. the cars on show here should not need that level of expenditure. as they were in far better condition.
The Mondial has yet to capture the imagination of those who buy old Ferrari in anything like the same way, so you can still acquire these cars relatively cheaply. I am sure that their day will come, so may be it is a case of "buy now". This was a 3.4 litre model from the late 1980s.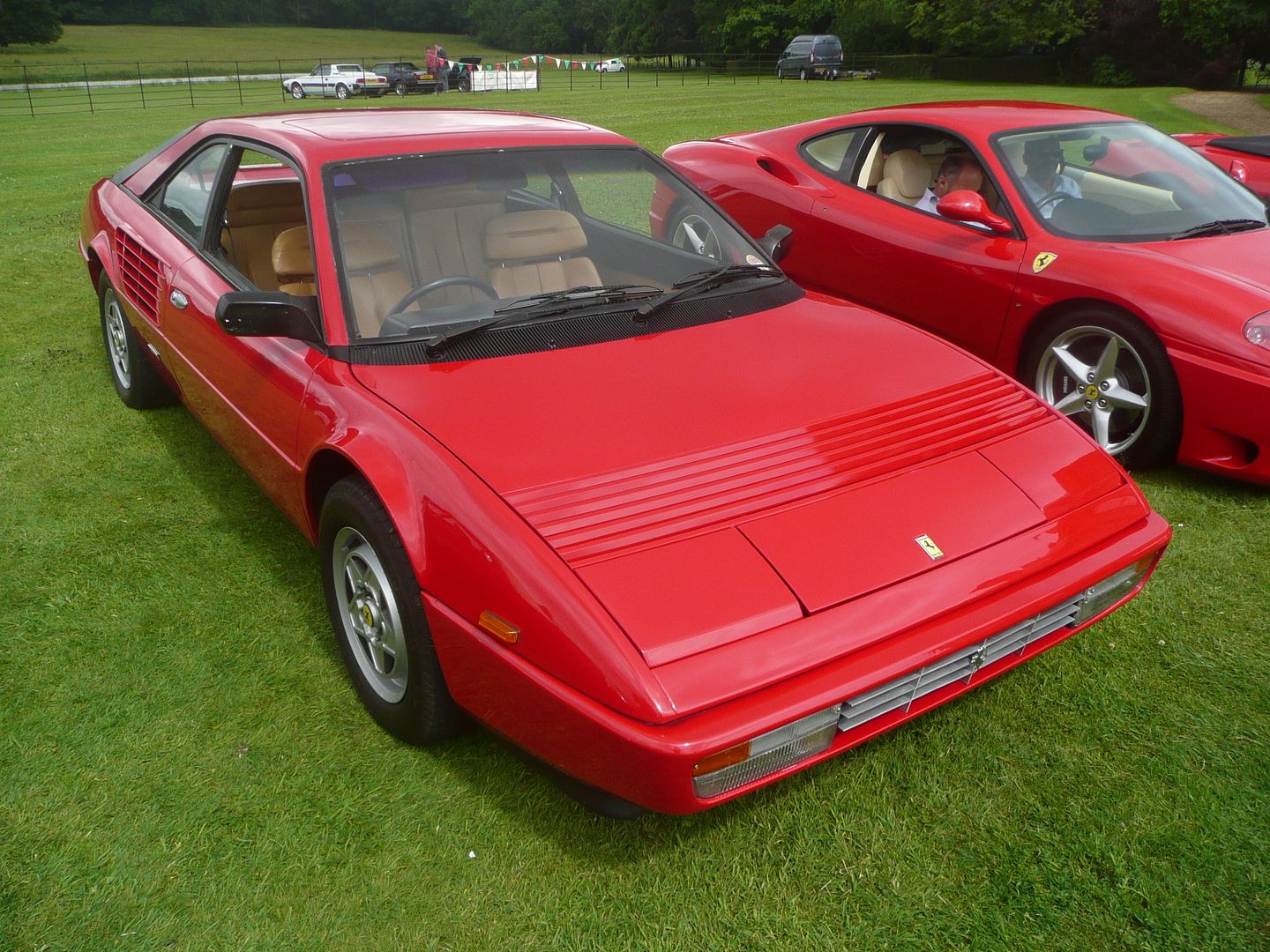 The 348 was given a hard time by the press, who were disappointed that it was not as good as the car it replaced and nowhere near up to the standards set by rivals including the Honda NS-X. Nowadays it is more kindly thought of. I seem to have missed getting a picture of Mike Foster's red 348 tb, but this black one did not elude the camera.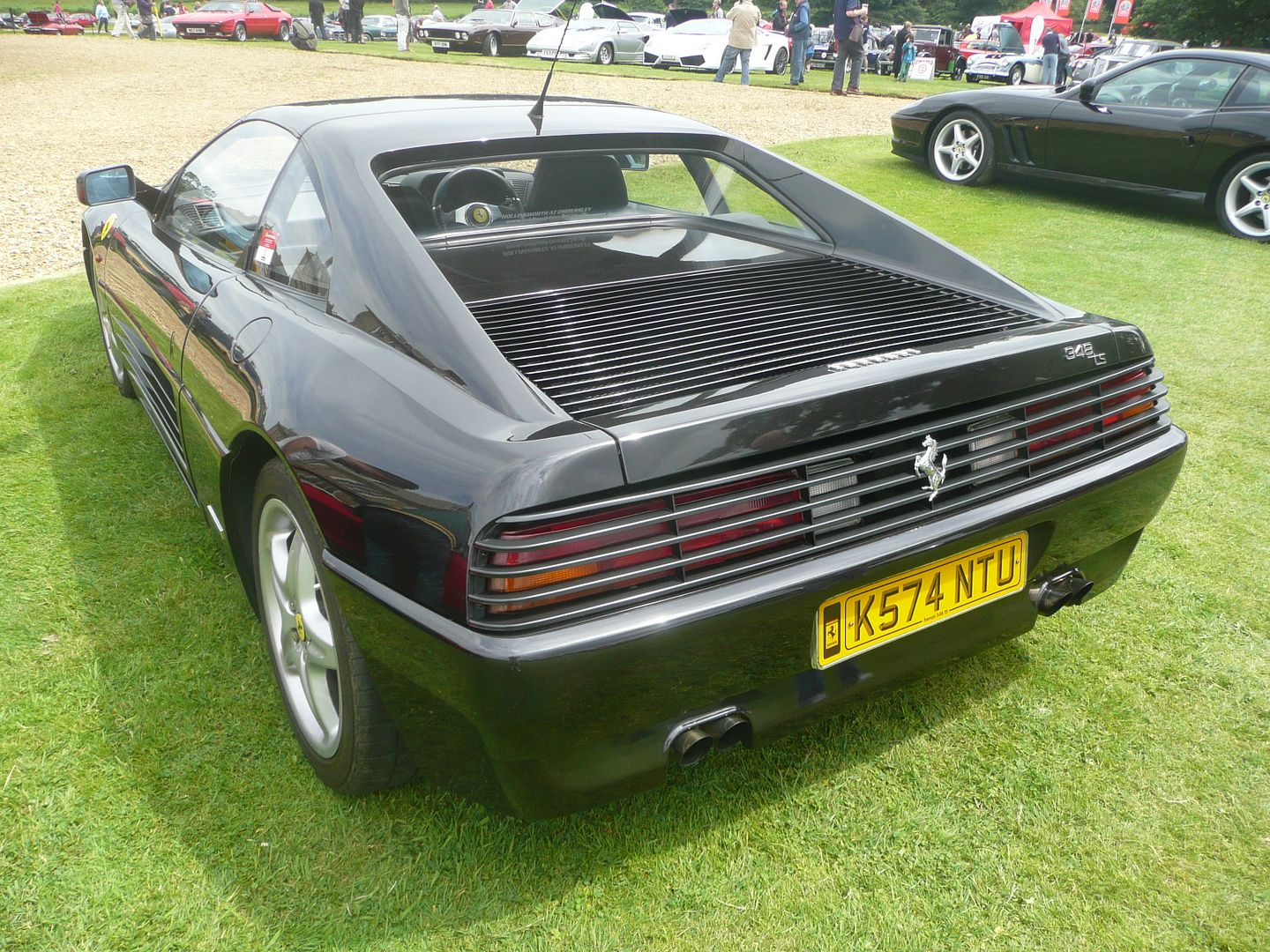 The F355 received a rave review when launched, addressing all the limitations of the 348, and accordingly, prices have never really dipped that low. Compared to the cars that followed it, of course, production volumes were relatively low. There were examples of all three available body styles: Berlinetta, GTS and Spider models present.
It was the 360 Modena which really marked a massive increase in production volumes, and these cars are still a common sighting in large cities such as London. I still prefer the looks of these to the later 430 models, an open topped version of which was also present.
Completing the array of 8 cylinder models was a 458 Italia. These are nice, but because the price has crept up steadily, they do not appear to sell in the same quantities as their predecessor.
There were a number of 12 cylinder cars present, too. I really was not taken with the wheel rims on this Testarossa.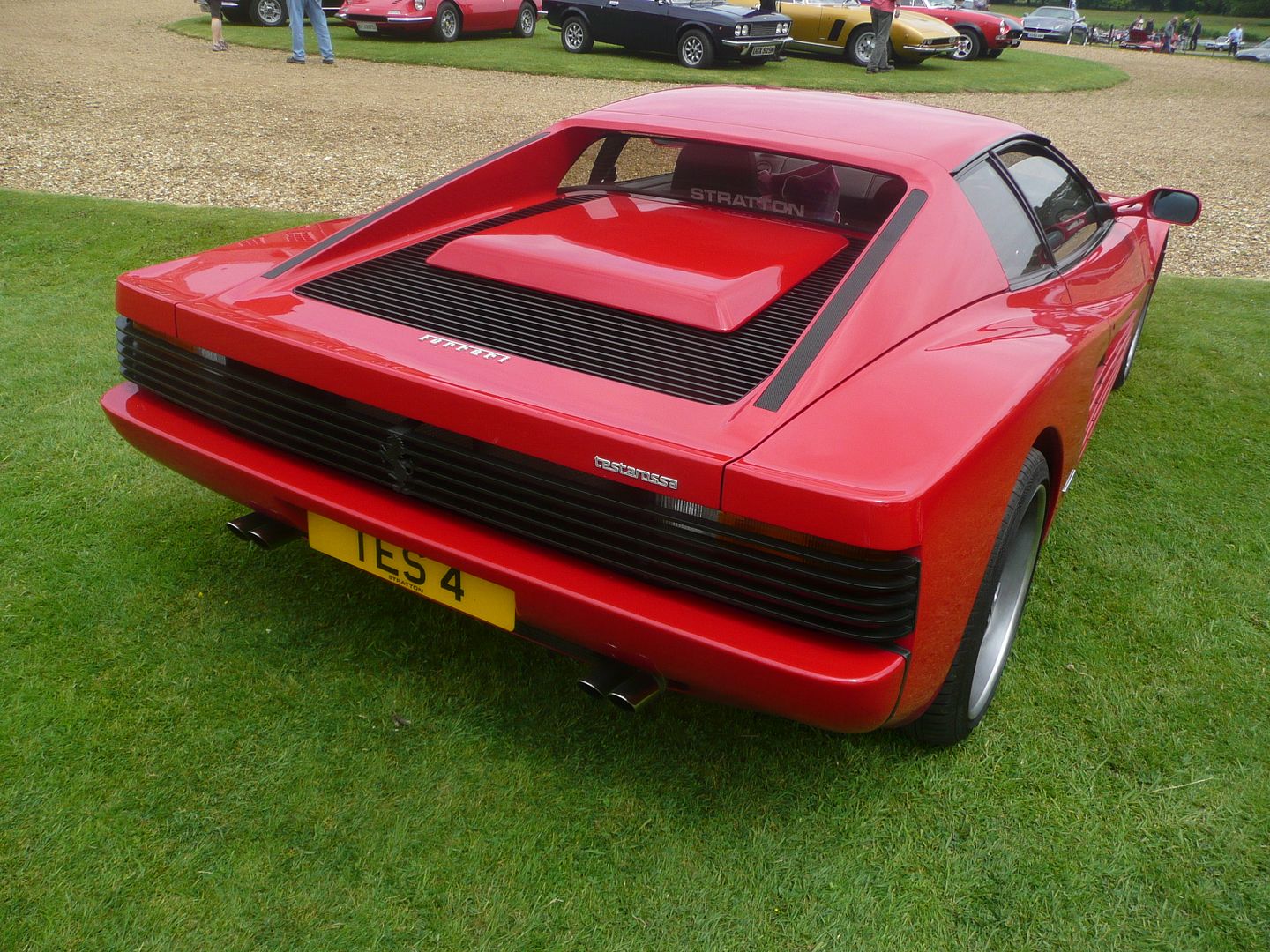 The 550 Maranello and 575 models still look good, in my opinion. It was interesting to see this car in the relatively rare shade of navy blue as well as a black one.
Also an unusual colour was the deep maroon of this 599 GTB. It was joined by the more commonly seen bright red colour as well.
FIAT
There's always one car that stands out at an event like this. In the eyes of the judges, it was a fastidiously restored Uno Turbo, which collected the overall "Best Car of the Day", and in many ways, it is hard to dis agree with their choice. There are precious few Uno models left on European roads (even in Italy), and Turbo models that are even close to the spec and appearance in which they left the factory are particularly rare, so this was a stand out car.
However, it was not my pick of the day. If it was my choice, I would have gone for this, a car that is incredibly rare, an Argenta. Most people at the event had never even heard of the Argenta. This was an update to the D segment 132, launched in 1982. The name was unfortunate in a market which had just gone to battle with Argentina over sovereignty of the Falkland Islands, though if the car had been really good, I am sure it would have transcended that problem. But it was a luke warm facelift of a basic design that was by then 10 years old, competing against much newer and impressive rivals, so needless to say it did not sell in anything more than handfuls. Undeterred, Fiat brought in three examples of the Series 2 car in late 1983, for Type Approval, and this is one of them, a Volumex, ie Supercharged car. It was joined by a 2.0 ie and 2.5ie car, long since disappeared. This one was assessed, but with so many Series 1 cars still in stock, its on sale date for the UK was delayed and delayed and by the time the Series 1s had gone, the Argenta was out of production, so this remains the only Argenta Volumex in right hand drive that was ever produced. The current owner has had it for over 25 years, having bought it – against all advice and recommendations –  when it was 6 years old and already quite rusty. He's gradually restored it, so it looks pretty smart now. The fuel pump failed three years ago, but now that is fixed the car is on the road, and it was fantastic to see such a rare machine. I was not the only one who thought this, as the car did generate quite a lot of interest among the cognoscenti.
Although the Argenta owner told me in the morning that he did indeed own 4 examples of the earlier 132, including a rare Bellini limited edition car, it was only when I went back to a new parking location to see three large white Fiat cars grouped together for photos that I discovered that he had brought a second rarity along: a Marea 20v Saloon. Whilst there are still quite a few Marea Weekends left, the saloon is very rare, and this is the most desirable of the range. Fitted with the 20v 2 litre 5 cylinder engine that was also used in the Fiat Coupe, this thing was quite a rapid car when new, and yet hardly anyone knew. I had one as a courtesy car and was mightily impressed (but then I was also very impressed by the 5 cylinder 125 bhp diesel that was also offered, which was miles better than any of its rivals as a diesel engine at the time and no-one much appreciated them, either!).
Third large white Fiat was a Croma Turbo. This was a facelifted car, and is yet another machine which deserved a better fate than what befell it when in production. An earlier top spec Croma ie Turbo was also present. These were very roomy cars, despite their relatively compact dimensions. I was shocked to be told that the Marea has almost the same footprint as one reason that car struggled in the market was that it was seen as half a size smaller than rivals such as the Mondeo and Vectra, and yet, the Croma easily seated five and had a huge boot. The Turbo cars were very rapid, too.
Those were far from the only rare Fiats. You don't see 128s very often. This lovely bright blue car arrived mid morning, and I recognised it immediately as the car which Michael Ward, photographer for Auto Italia magazine and son of event organiser Phil Ward, had sold late last year. Sure enough, Michael rushed over to it to see what had happened to it since he sold it. It now has a 95bhp  Delta 1500cc engine under the bonnet, so it is very rapid indeed, but it looks pretty standard, which is the sort of update I approve of.
There were a pair of other 128 derivatives on show, too. The 128 Coupe had a short production life before being replaced by the more practical 3P model and there were examples of each. The yellow 3P is a regular at shows like this, but this particular 128 Coupe 1300 SL was a car I had not seen before. It was very nicely presented indeed.
Precursor to the 128 Coupe was the slightly smaller 850 Sport Coupe and there was one of these on show. It was the same car as had been at Castle Combe the day before. Apparently unrestored, this one, unlike most which simply rusted away long long ago, is still in a very good state of repair which allows the owner to enjoy this stylish small car as and when time permits.
Another car which had been at Castle Combe the day prior was this Strada 65CL, one of very few survivors from the bottom end of the range. It was joined by a couple of other Strada models, a 130TC Abarth and Cabrio in limited edition Palinuro guise.
There was just one of the 131 Mirafiori cars, a late model 2000 Twin Cam saloon.
There were a number of classic Nuova 500s, and these little cars always attract lots of attention. It's no wonder that even there are quite a lot of surviving cars, you will have to pay around £10,000 for a really nice one now, and prices are continuing to strengthen.
Another Fiat whose value has really rocketed in recent years is the fabulous Dino. Good Spiders are now between £50 – 60,000 when they come up for sale, whereas a few years ago they were a third of that. Who can wonder, though? Drop dead gorgeous looks and a jewel of a Ferrari V6 engine make it super desirable.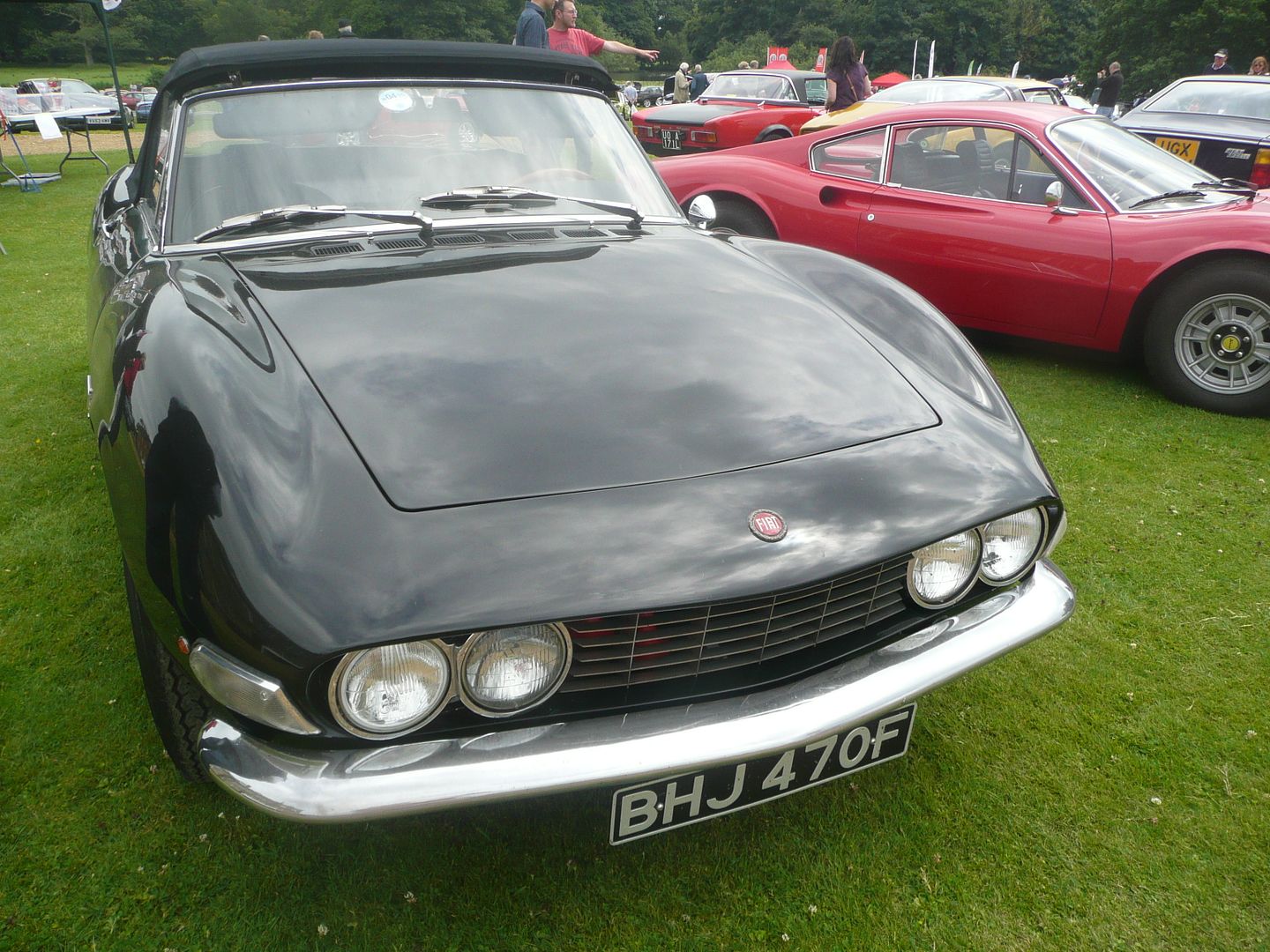 Will the same thing ever happen to the Barchetta? Somehow, I doubt it, though this car is certainly not lacking in the looks department, with far more visual appeal than in any of its immediate rivals. Few people now seem to know what it is, and the fact that the car was only ever available in left hand drive perhaps do not help matters.
The first generation Panda is still very much in evidence in Italy, as I observed once more on a recent visit to Tuscany. In the UK, you don't see them that often, but the evidence of this event suggests that there are still plenty of these cars around. There was great variety, ranging from a standard 45 model through the well-regarded 4×4 to several limited edition cars including the Sisley.
The Cinquecento and Seicento are great starter classics. Cheap to buy and to run, and simple to fix, these make excellent low budget fun cars as many have discovered, and with their bold colours, they are an eye catching sight at an event like this.
Among the sea of modern Fiats on show, many of which were modified (!), a few caught my eye and my camera.
There are still over 1000 Coupe models in the UK, I understand, and there are lots of very enthusiastic owners of this boldy styled machine. A whole line of them were gathered up along the banks of the lake, with a wide variety of colours in evidence. The cars comprised a mix of 4 and 5 cylinder machines, turbo and normally aspirated models and quite a few of the LE cars that were the "last of the line".
There had been half a dozen X1/9s in attendance during the day, but by the time I got to them with the camera, all that were left were a pair of Gran Finale cars, both in the same shade of blue.
As well as the concours winning Uno Turbo, there was this one, a limited edition Eleganza car.
Final Fiat on display was this 124 Spider Abarth. Yet another highly desirable model.
INNOCENTI
There was just one Innocenti this year. one of the very charming 950 Sports models. For those who are not familiar with these small sports cars, and there were a couple  staring at it whilst I was taking the photos, who clearly were baffled, this is based on the Austin Healey Sprite, but reclothed in an elegant Ghia styled body. The cars were never officially sold in the UK, though a few of the open topped cars, and even a couple of the Fixed Head Coupe models have been imported in recent years. I think they are utterly charming.
ISO
Just one Iso, too, the stunning gold colour Grifo that is quite often seen at Italian car events.
LAMBORGHINI
First Lamborghini to arrive was one of the most dramatic, a Diablo VT. These cars are at least as big a crowd puller as their predecessor, the Countach, and it does not take more than a quick glance to work out why. You cannot possibly make a discrete entrance in one of these, and the person who brought it most definitely did not!
There was a Countach as well. This is an Anniversary model, the last evolution of a model which was first shown as a concept in 1971 and which was in production from 1973 to 1990.
A further V12 car was this Murcielago. This turned out to be an early car from the 10 year production run, and it had the manual gearbox that was de rigeur in 2001, but which found less and less favour during the Murcielago's lifetime.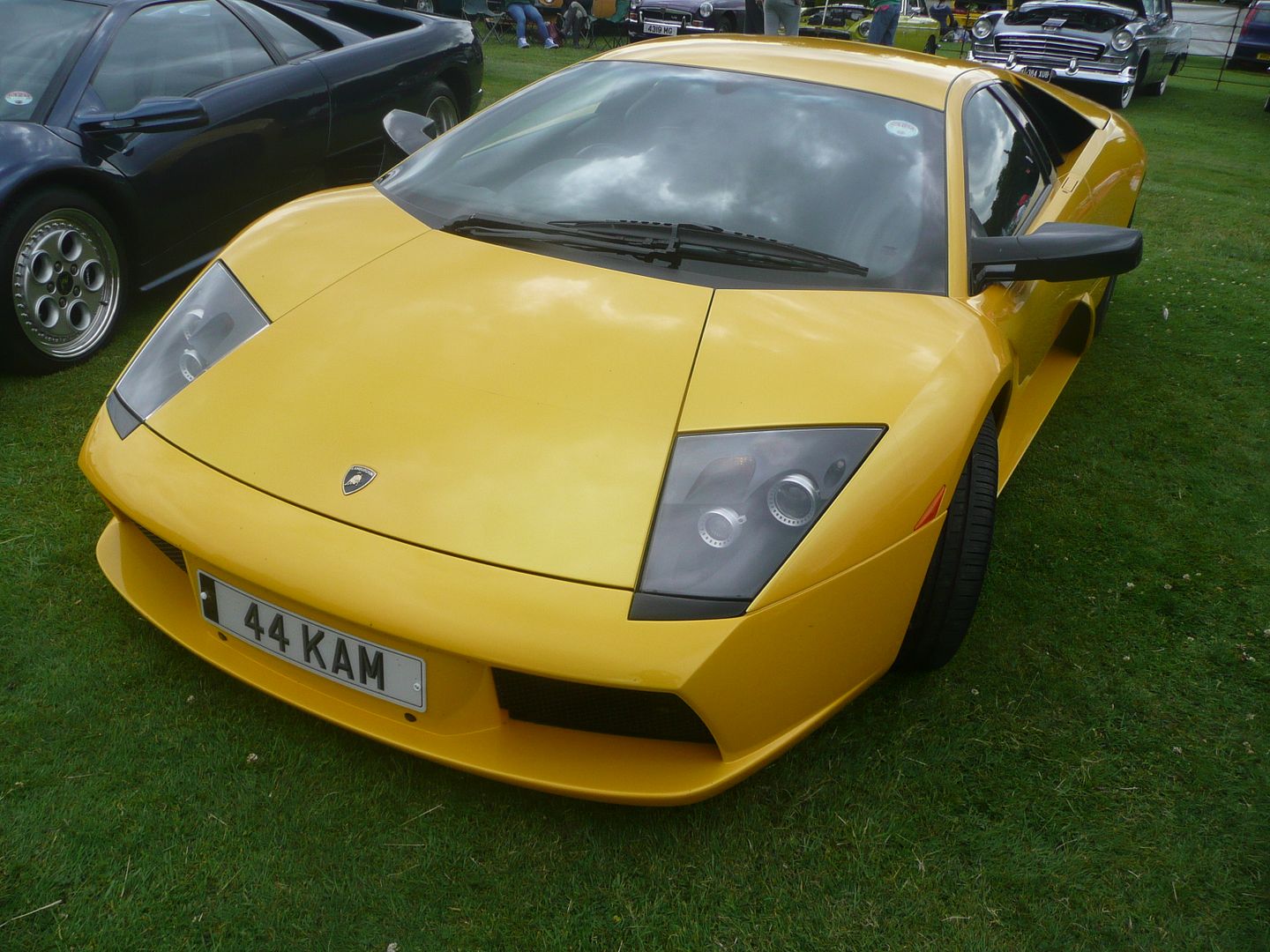 There was a Spider version present, too.
Needless to say, the Gallardo was here, too, With over 10,000 made over a 10 year life, this is Lamborghini's most successful model ever, and by some margin.
Much rarer was this Silhouette. This open topped car was the first evolution from the Uracco model. Just over 300 cars were made before it evolved into the Jalpa.
LANCIA
Rather sadly, I have to report that Lancia was significantly outnumbered by most marques, meaning that there were not that many of this once proud brand on show. But the cars that were present were really rather nice. Oldest models on show were from the Fulvia range, with the very pretty Coupe in both S2 and S3 guise.
Despite the reputation for rust which did much to kill off the marque in the UK, you often see plenty of Beta variants at Italian car events, but there were surprisingly few here. Rarest, for sure, was a Trevi, the rather awkwardly styled three-box saloon version that was added to the range late in the day. Joining it were a trio of  Coupe models, including an entry level 1300 guise and a late model car. There was also a Spider version present.
There was just one example of the Y10, a small but nicely finished car that was sold with Autobianchi badges in mainland Europe between 1985 and 1995, but as a Lancia in the UK. This was a relatively late model GT
The Delta was better represented, as you would expect, with most of the cars being the iconic Integrale cars, but it was good to see that there was also an ordinary 1300 hatchback among the display.
There was just one example of the saloon version of the Delta, the Prisma. This was a Symbol model, a limited edition car.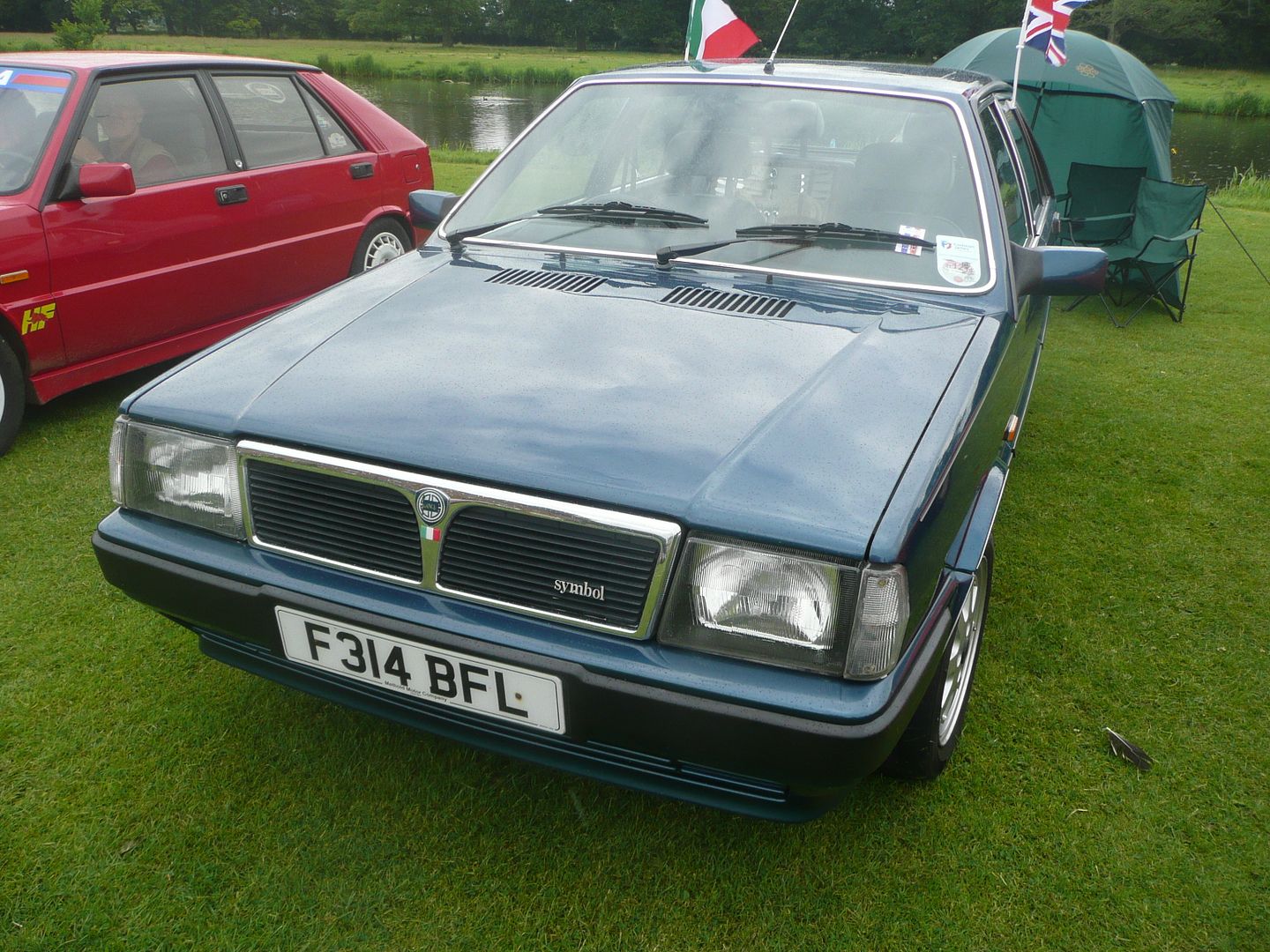 There was also one Thema, the very conservatively styled top of the range model sold from 1984 for 10 years, Lancia's interpretation of the Type 4 venture with Fiat, Alfa and SAAB.
Newest Lancia was one that in the UK does not bear the badge at all, a Chrysler Delta. This rather gawky machine never really hit the spot and I understand that production ceased earlier in the year.
MASERATI
Now that this event takes place a few weeks later than used to be the case, it is now too late in the year to be able to dovetail with the Maserati UK Club AGM which used to mean that there were a vast number of Maserati in attendance, Sadly, there were not that many cars, which was a bit of a disappointment in this, the marque's centenary year. Newest cars were a couple of the latest Ghibli. I had a good chat with the owner of the black car, who has had it for just a few weeks, replacing an Audi Q7. He clearly loves it. It was when he started it up that I was most impressed. This was a diesel model, but in start up, at idle, and as he revved the engine, it sounded anything but. Most impressive!
Although the new Quattroporte looks good, its immediate predecessor is, in my opinion, one of the best looking large saloon cars of recent times, so I always like seeing these, and there were several on show at this event.
From the Biturbo generation was this 222 Coupe and the later Ghibli Coupe
There were a number of 3200 and 4200 cars, still an elegant design with huge appeal.
NON-ITALIAN
Although the event was just as open to non-Italian cars as those from Italy, there were not that many cars from other countries on show. A local VW Club did have an array of models, most of them Beetles, and few of them that original, in a line at one end of the drive, and there were some other cars parked up in the central area, though I seem to have taken pictures of surprisingly few of them. Among the ones I did photograph were these, all of which turned out to be British classics:
Austin 10 Clifton
MG TD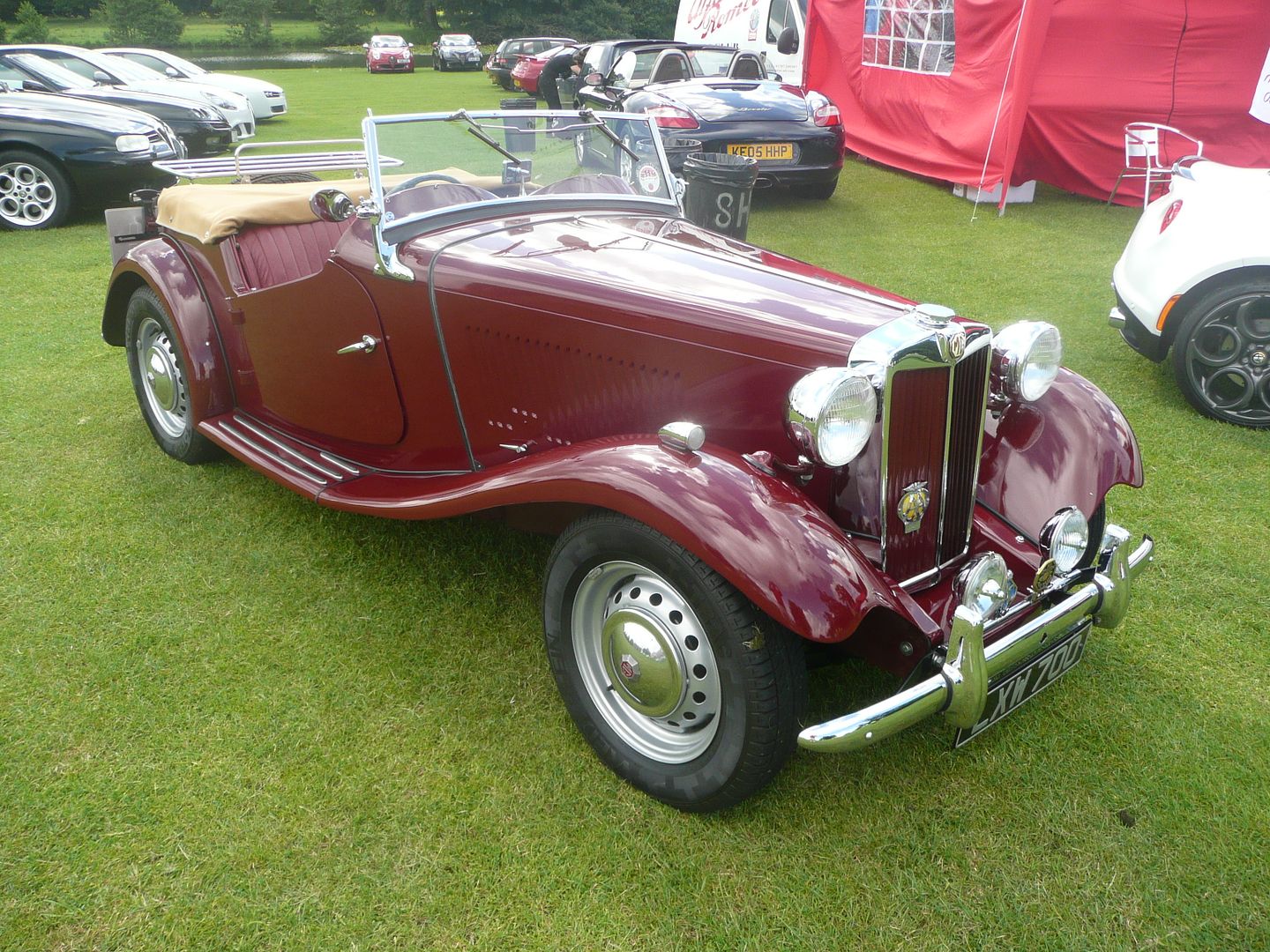 Triumph Mayflower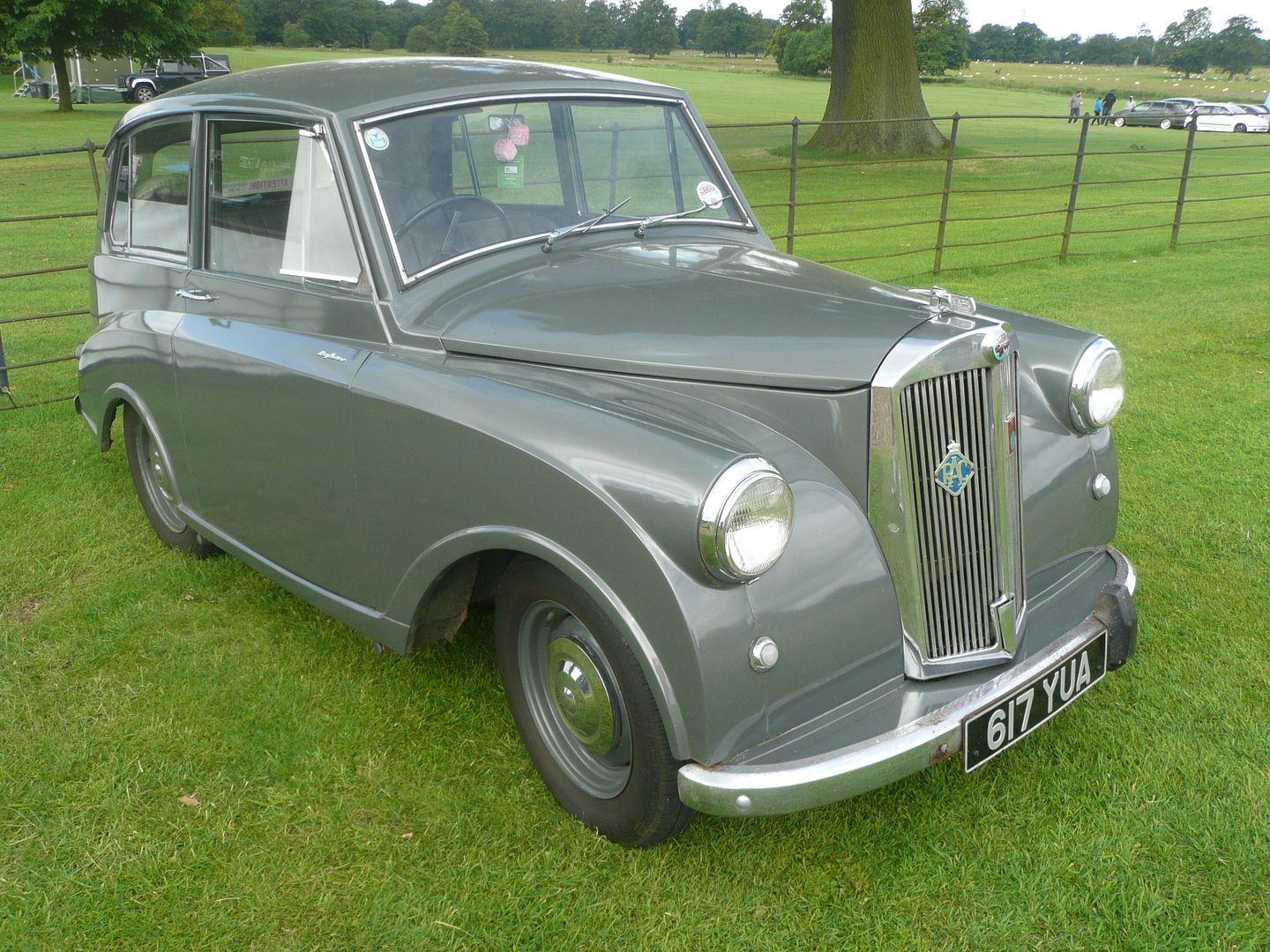 Triumph TR6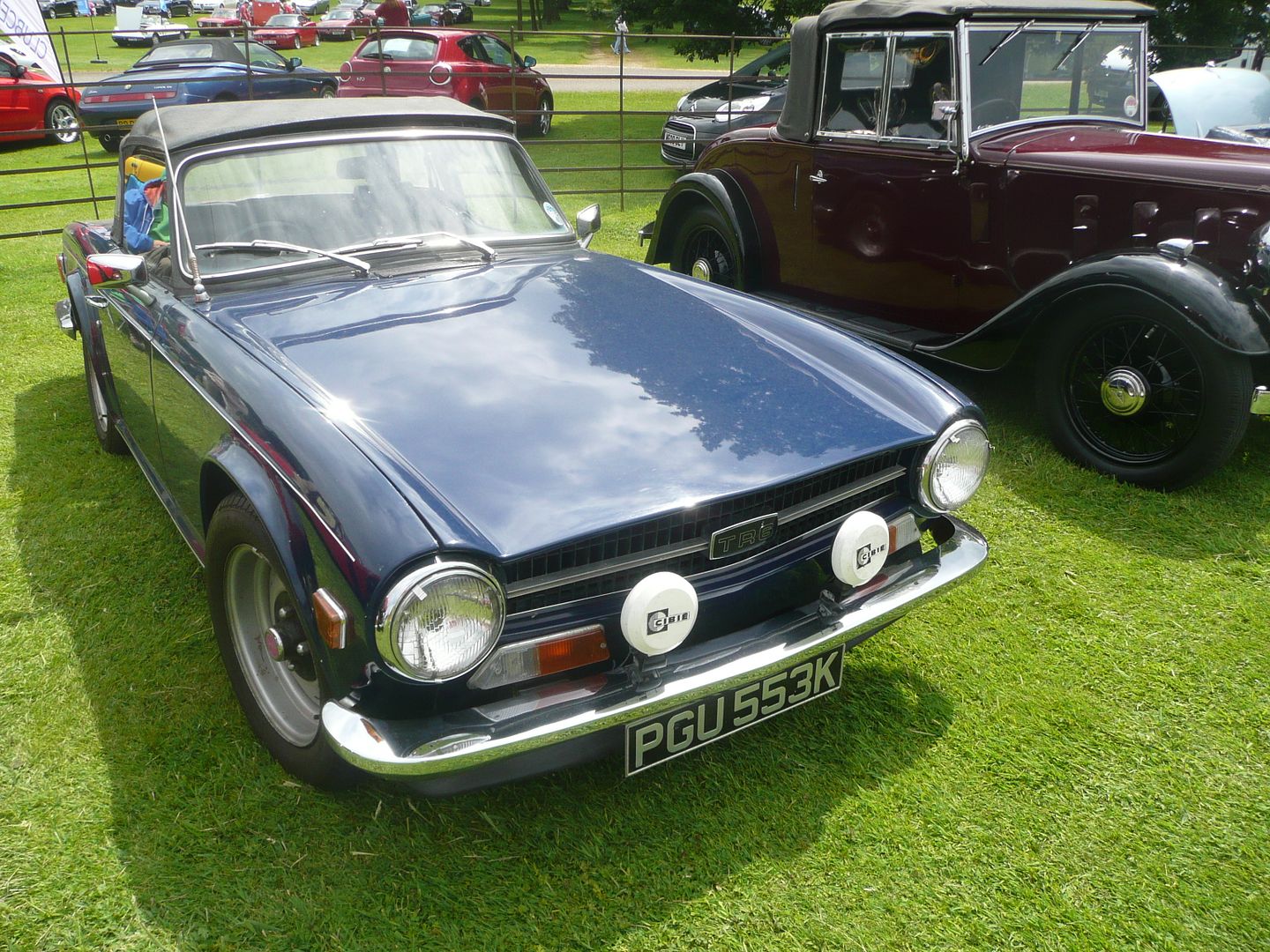 Not a display car per se, though in years to come, I am sure it will be a modern classic, was Andy Convery's Focus ST, which late in the day he moved from the public car park up to some other locations on site to be able to take some photos with the nice back drops of the setting, so I took a couple of pictures too.
Whilst the event lacked any of the real high exotic Ferrari, such as the Enzo that formed a centrepiece last year, there was so much to see that this will go down in my memory as one of the nicest events of the year. The variety of cars, including some very rare, if rather prosaic machines, the setting, the ambience and the friendliness of everyone present mean that this is a guaranteed entry in my 2015 diary just as soon as the dates are announced.