Over the years I have been to a great number of different car events in the UK (and beyond), but there are still plenty of the better known ones that remain an aspiration for my jam-packed calendar, where other reports I have read and photos I have seen tell me that I have been missing out, but somehow I've never quite managed to get myself along for the personal experience. One such is the "Classics on the Common", a huge display of all manner of interesting cars which gather on Harpenden Common for an afternoon and evening towards the end of July. I knew that the event, organised by the Harpenden Rotary Club, encompasses more than 1000 display cars, so it was likely to have lots of interest, and finally in 2014, my plan to keep the diary free for at least part of the later afternoon has meant that I could find out for myself just why others have praised this event. The Common is right in the centre of Harpenden, a small country town a couple of miles south of Luton, and easy to access by car from the M1, and by train.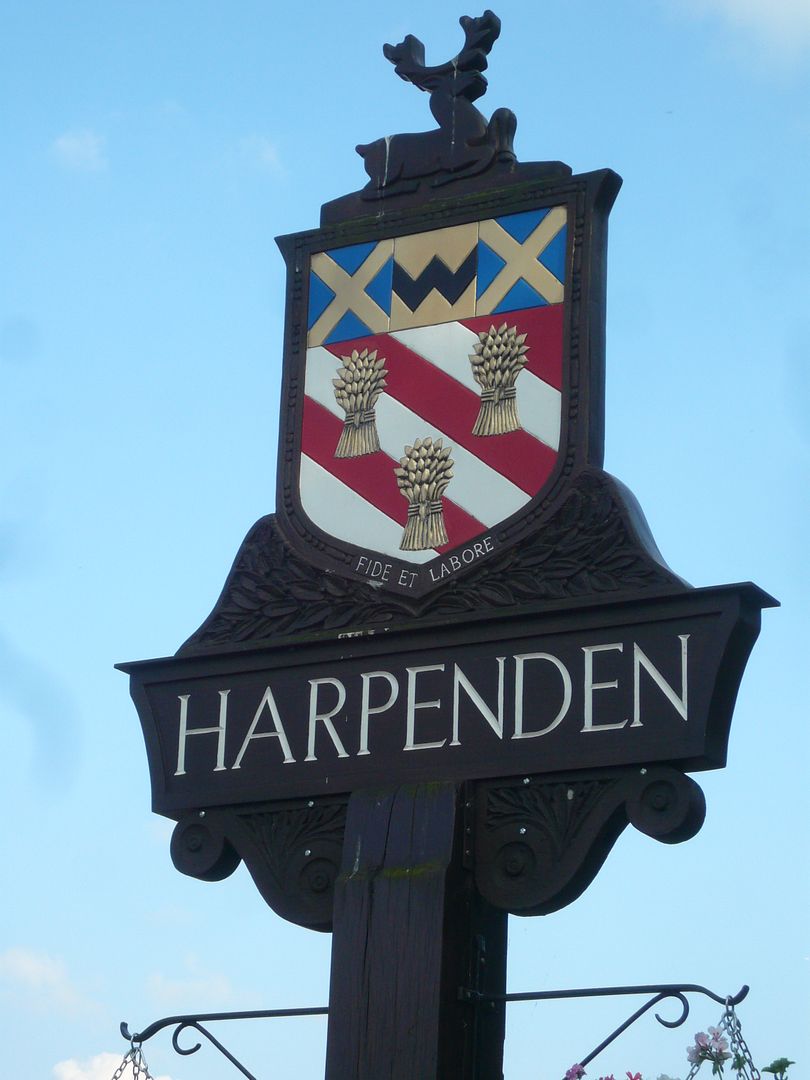 When I arrived, around 5:30pm, the event had been in full swing for three hours or so, but even so, the traffic was flowing, so I was able to drive past what was clearly a very crowded display area, park in the spectator car park, and make the short walk to see what was on show.  All display cars have to be pre-booked, and entries are limited to 1050 cars, a figure which is easily achieved, I gather, so you do find interesting cars parked up on the side streets and in the main car park, and this also covers anything recent, as any car must be at least 20 years old to get into the event. Not only did my diary plans work, but so did the weather, and I enjoyed a lovely sunny afternoon and evening. but that had two consequences, though: the event was absolutely heaving, and the long evening shadows made photography very challenging. Cars did start to depart from around the time I got there, but there were plenty still left at dusk fell, so once the sun was low enough in the sky, the camera got busier, but there was lots and lots of interesting stuff which did elude my camera altogether, I am sad to report. Here's what it did capture:
ABARTH
With the minimum 20 year old rule in place, no modern Abarths were on show, of course, but there was a fabulous 1000TC which more than made up for this.
AC
To my mind, the nicest AC present was one of the very rare Frua designed 428 Coupes. Around 70 of these were made, and whilst the survival rate is quite good, that's not that many cars for you to stand a chance of seeing one very often. The mid blue car that was here managed to escape before I could get to it with the camera, sadly.  I did get photos of a number of Cobra, or rather replica Cobra, models, though.
ALFA ROMEO
Spider
AUDI
There was a rare 100 Coupe which had been ruined by some awful and massively over-sized wheels, which my camera avoided all evening, but it had no such issues with this urQuattro.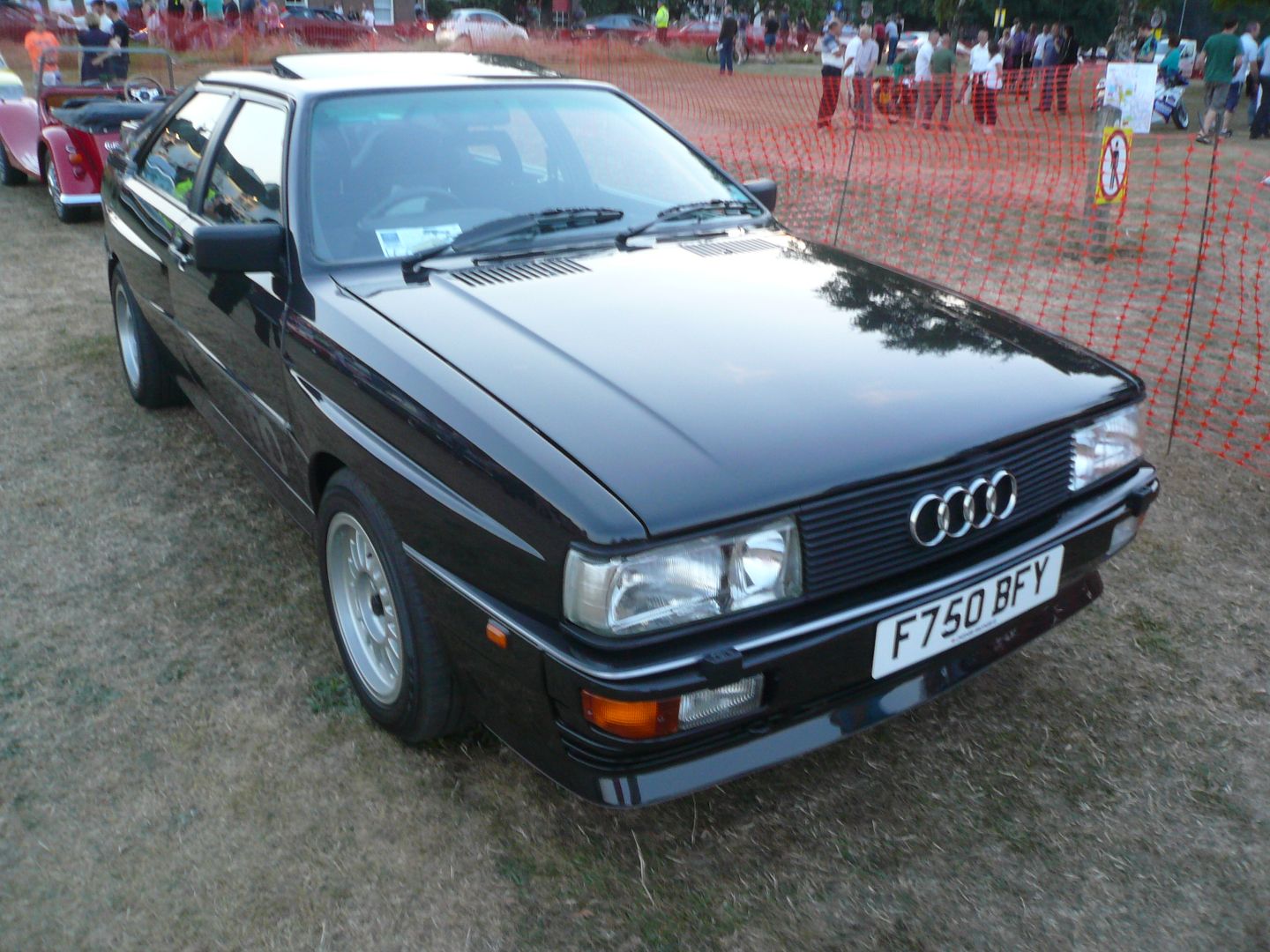 AUSTIN
Among the oldest cars at the event were a couple of 1920s model Seven, in Saloon and open topped guises.
This was a nicely preserved 1100 Saloon in the once popular Connaught Green, the same colour that featured on my mother's later Morris 1100.
Also styled by Farina were the large BMC cars of the era, of which this A110 Westminster is an example.
The A60 Cambridge was Austin's medium-sized family car of the early 1960s and a pair of these models were parked up together, so their owners could enjoy an early evening picnic.
The Maestro celebrated its 30th birthday last year, so no question about whether it qualifies to enter the event. This was a posh top of the range Vanden Plas version from 1987.
BENTLEY
This S2 Coupe looked very elegant indeed.
BMW
There were very few BMWs in evidence. This may now be a volume selling brand, but 20 years ago, it was not, and so the Bavarian marque tends not to feature that strongly at classic car gatherings. A very nice 3.0 CSL and a Z1 went some way to make up for the absence of anything else from the brand.
A local dealer did have a display across the road from the Common, including an i8, and this car was literally mobbed all evening, such is the interest in this very distinctive looking machine. Sadly, that means there are no photos of it.
BMW were kept afloat in the 1950s by the tie up with Isetta, giving them product to sell in far greater volumes than the "Baroque Angel" 501/502 and the expensive 503 and 507 sports cars ever could. This is an example of such a car.
BOND
Bond's first attempt at a full sized car, rather than the three wheelers for which they had become known was the Equipe. Based on the Triumoh Herald, the glass fibre gave it distinctive looks, and the car was quite popular in its day. It evolved quite quickly from the early models into this version, the GT4S.
BRISTOL
405 Convertible
CADILLAC
I don't think I've ever seen an XLR in red before. This was Cadillac's ill-fated attempt to rival the Mercedes SL which never had the sort of commercial success that GM hoped for.
Dating from 1989 was this massive Sedan DeVille. This was the era of the Cadillac that looked like it has been designed with a set square, and these cars are not particularly well regarded now, which of course makes them rare. They are very much of their time though, so it was good to see one.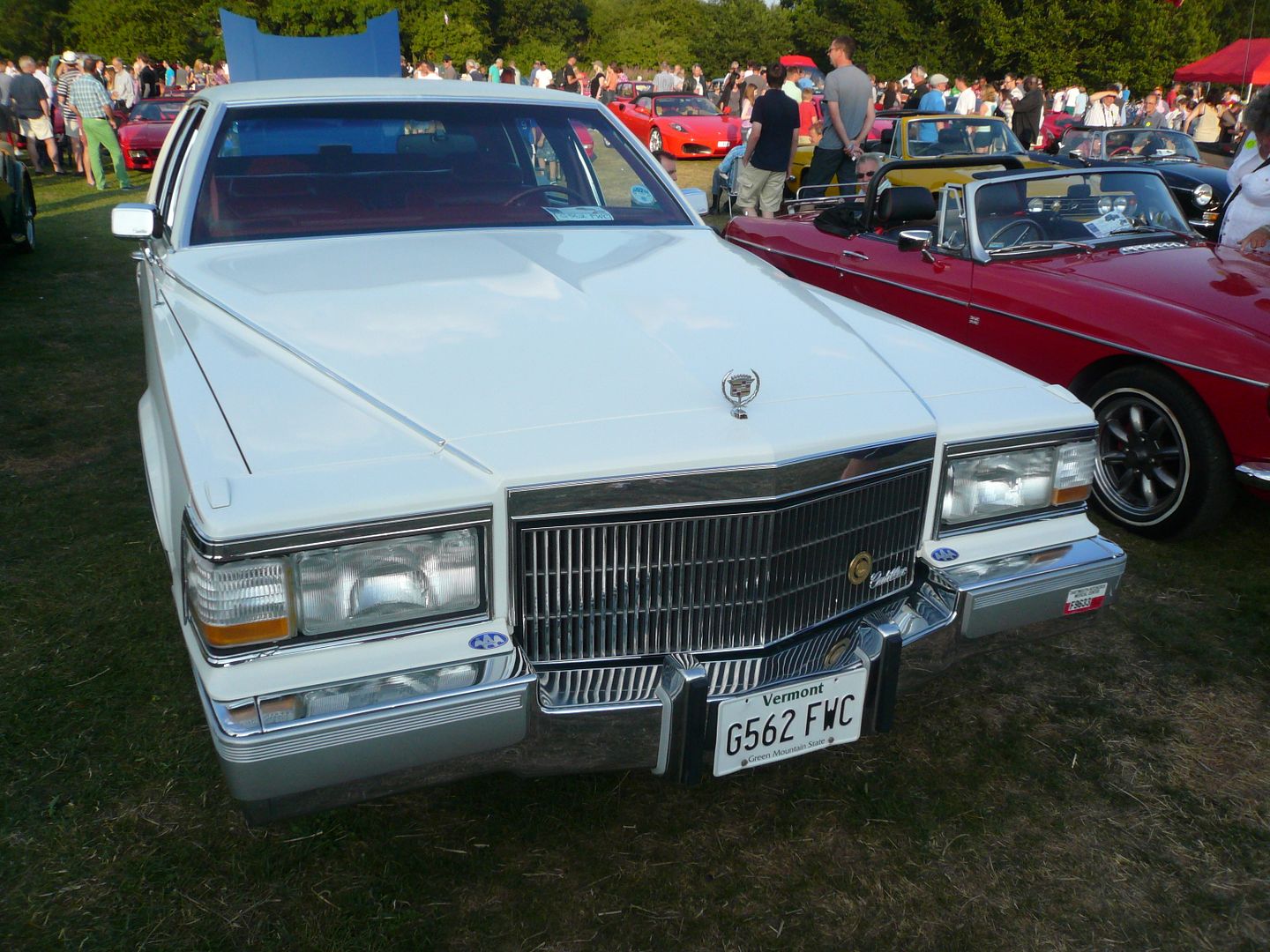 CHEVROLET
This Chevelle SS dates from 1970. A huge car externally, it did not appear that roomy inside, but that was not the point. This car was produced in  the height of the muscle car era, and what mattered was what was under the bonnet!
You could say much the same about the contemporary Camaro SS, an example of which was parked up across the street. This is a large car, with space just about for 4, but in SS guise, it is that 6.2 litre engine under the bonnet that makes it so magnificent.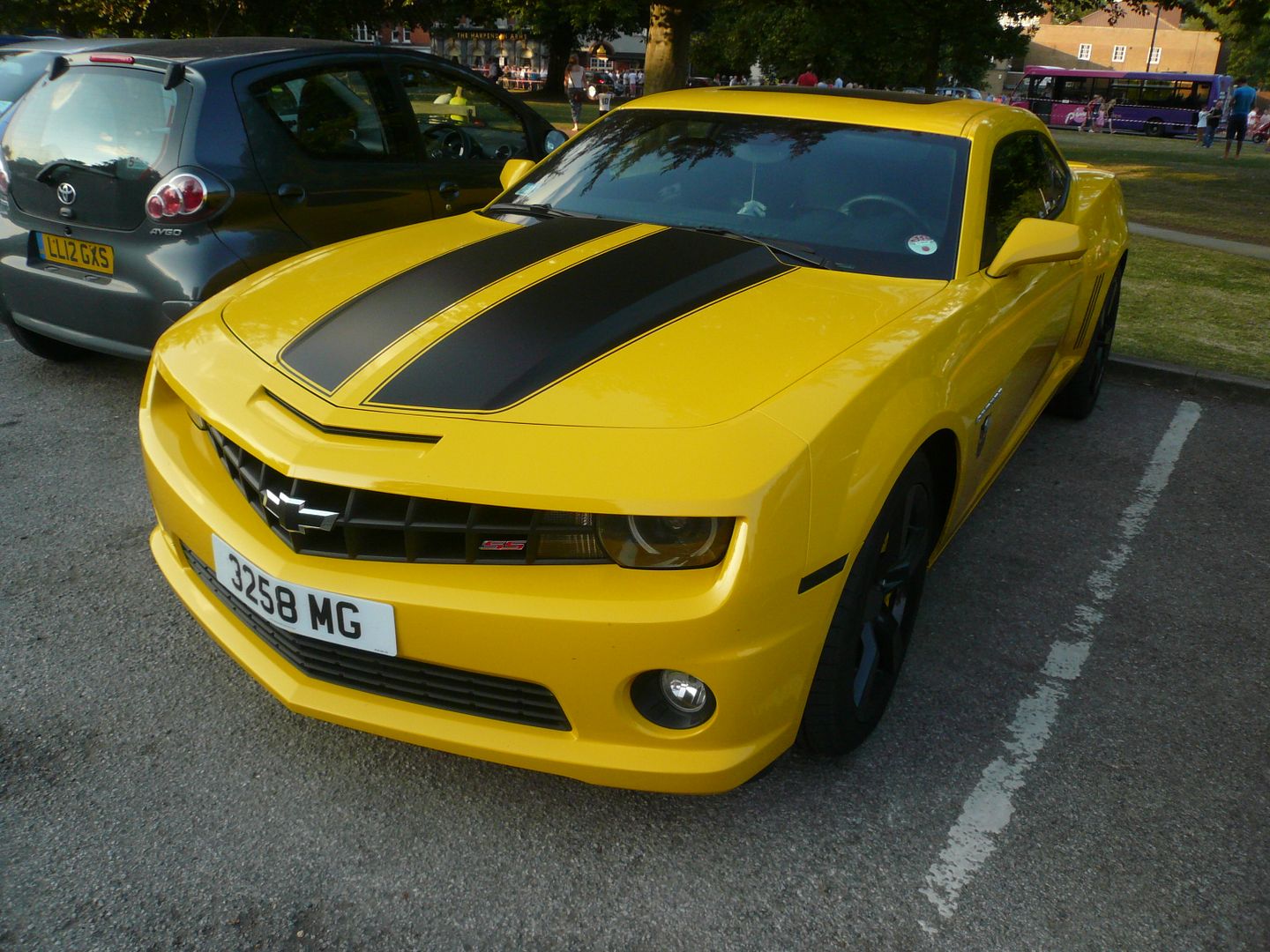 This Corvette dates from an era when although there were a lot of cubic inches under the bonnet, power was pitifully lacking. All show (lots of it) and not much go, therefore.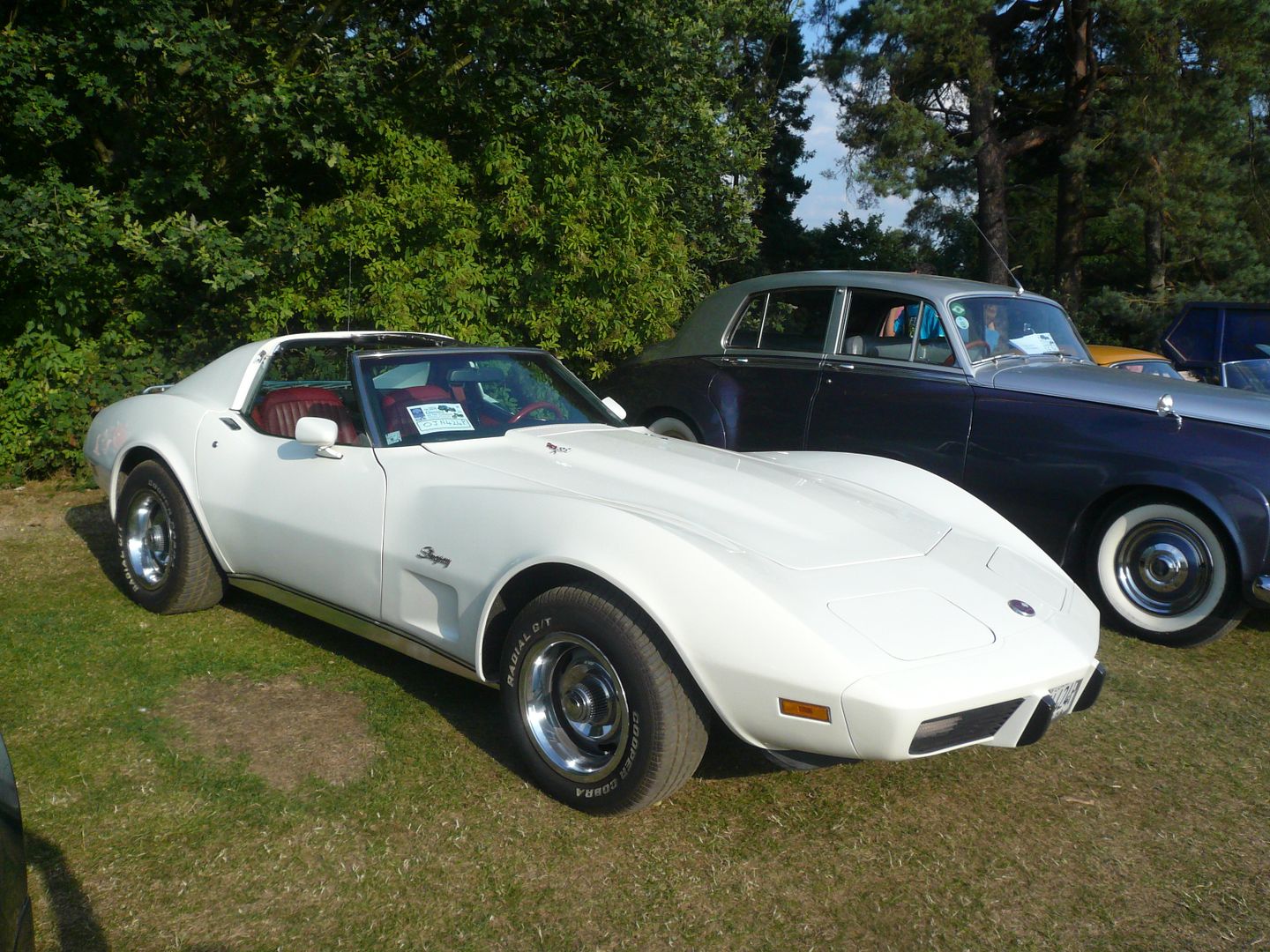 CITROEN
This fabulous, and very rare, Ami 8 was parked up in the spectator car park just a couple of rows from where I put my own car. No-one seemed to be paying it much attention, even though I would say that it is actually rarer than many of the cars that were in the main display.
There were a couple of the GSA hatchbacks present. One as the much loved Special model owned by Classic and Sports Car staffer David Evans, whilst the other was a top of the range Pallas SE.
Successor to the GSA was the Bertone designed BX, and these are quite rare now. This was one of a number of limited edition models produced, so called Meteor.
DODGE
There was no danger of missing this Charger, as the almost billious green paint (an original colour) made it extremely conspicuous.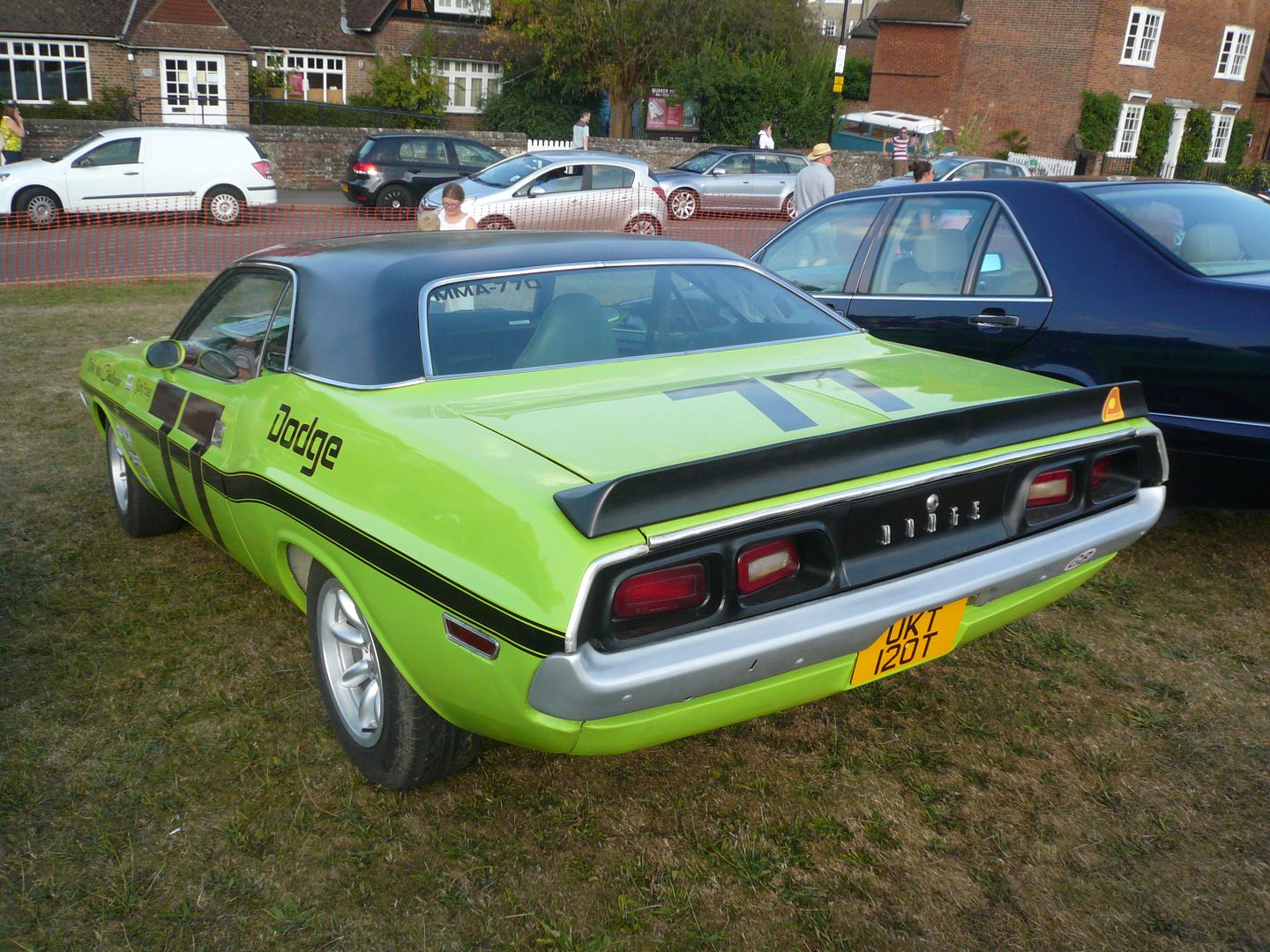 FERRARI
The local section of the Ferrari Owners Club had a very strong presence, with a sizeable group of cars gathered together at one of the Common. Attracting the most attention, not surprisingly, was the same F50 as I had seen 4 weeks earlier. According to the owner, unlike the F40 which he described as "dangerous" in unskilled hands, this one is easy to drive and is surprisingly docile in traffic. He did say that the huge rear wing cuts out almost all rear visibility, so parking it in confined spaces is not easy.
Parked alongside it was a 599GTO. Also a rare car, in this guise, it was attracting plenty of interest as well.
In the same group of Ferrari were a duo of F355 Spiders, a 360 Modena and a 458 Spider.
At the end of the row was the most elegant of them all, a 275 GTS.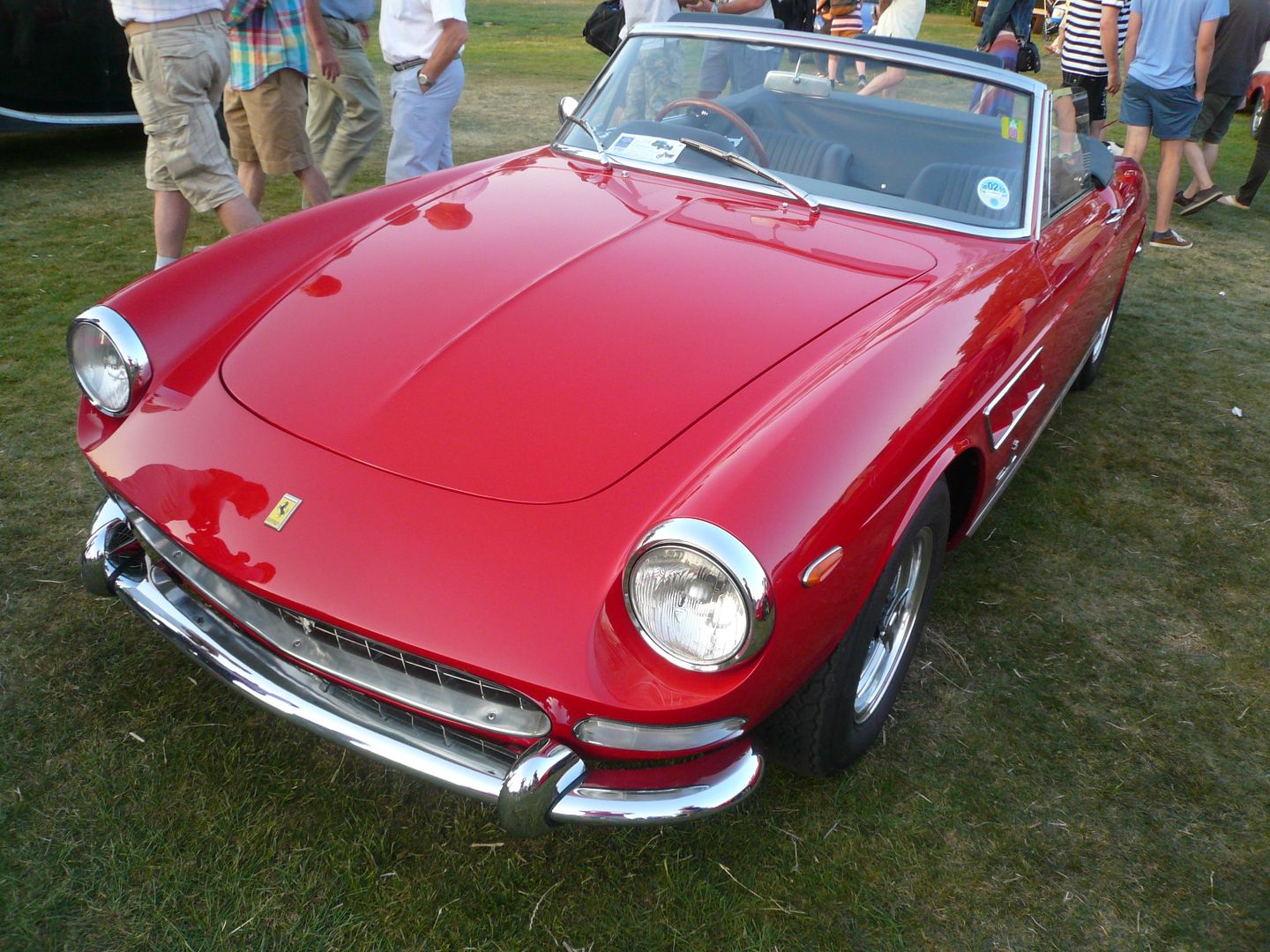 Parked up in another part of the venue were an F40 and a Dino 246GT. Both were also real crowd pullers.
Other Ferrari models included an open topped F355 GTS and a 360 Modena.
FIAT
The diminutive Nuova 500 always attracts plenty of attention these days, and this 500L model was no exception. Everyone seems to love these cute little cars, me included.
I am also a fan of the 124 Spider, and to my mind the first "AS" cars produced are the best looking of the lot, with their unfussy styling and simple chrome bumpers. Never officially sold in the UK, very few of the first generation cars have made it here, so it is always a pleasure to see one.
FORD
Cortina was the nation's best selling car for many years, but that was a long time ago now, with production having ended in 1982. However, it still clearly hits the nostalgia and reminisence buttons big time, judging by the comments you hear when standing by one. Not for the first time, it was the Mark 2 that was most evident, with several Estate cars among their number.
Escort had a longer life as a model name, lasting from 1968 to 1998. These days it is the first two generations that you see most often, mostly in sporting guise, and that was the case here, with an array of Mark 1 and Mark 2 cars, some of which probably left the factory in the form and model type as presented, some of which were doubtless recreations. Among the Mark 1 cars were a number of Mexico versions and Mark 2 cars included an RS1800 (?) and a genuine RS2000.
There were plenty of the "car that you always promised yourself", the Capri, though only one seems to have been captured by my camera.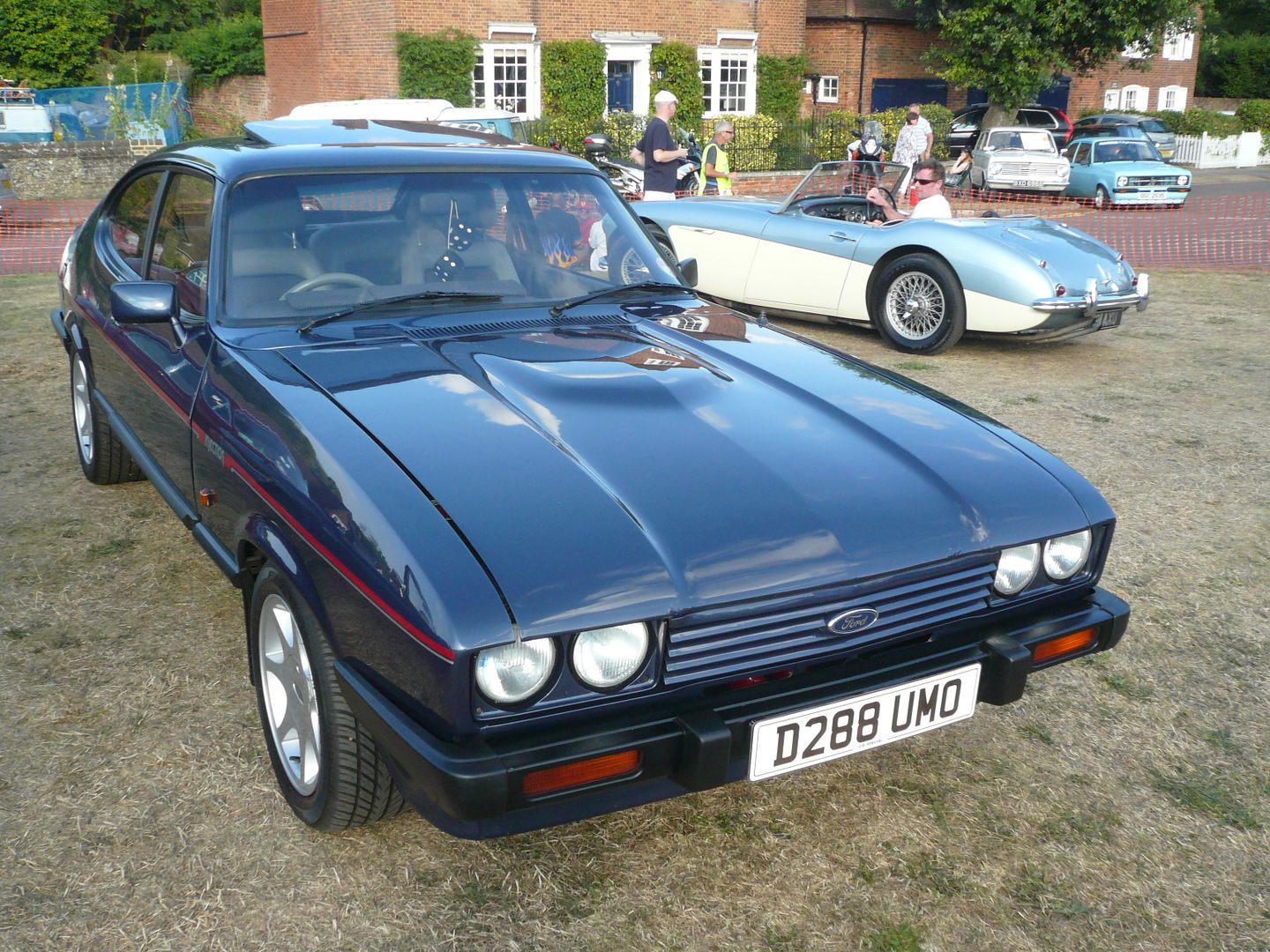 The car that used the Capri name for the first time was also present, with a couple of Consul Capri cars parked up next to each other in the middle of the Common. Notable more for the size of their boot rather than their driving dynamics when new, this short lived model – produced from 1961 to 1964 – is an eye catcher now, especially in the bright turquoise hue which adorned one of the cars.
It is not that often that you see an example of the regular Sierra hatchback, as relatively few seem to have survived, compared to its better loved predecessor, the Cortina, so it was quite a surprise to find a couple of well preserved facelift models here.
Among the Fiesta models on display were a couple of nice facelifted first generation XR2 cars.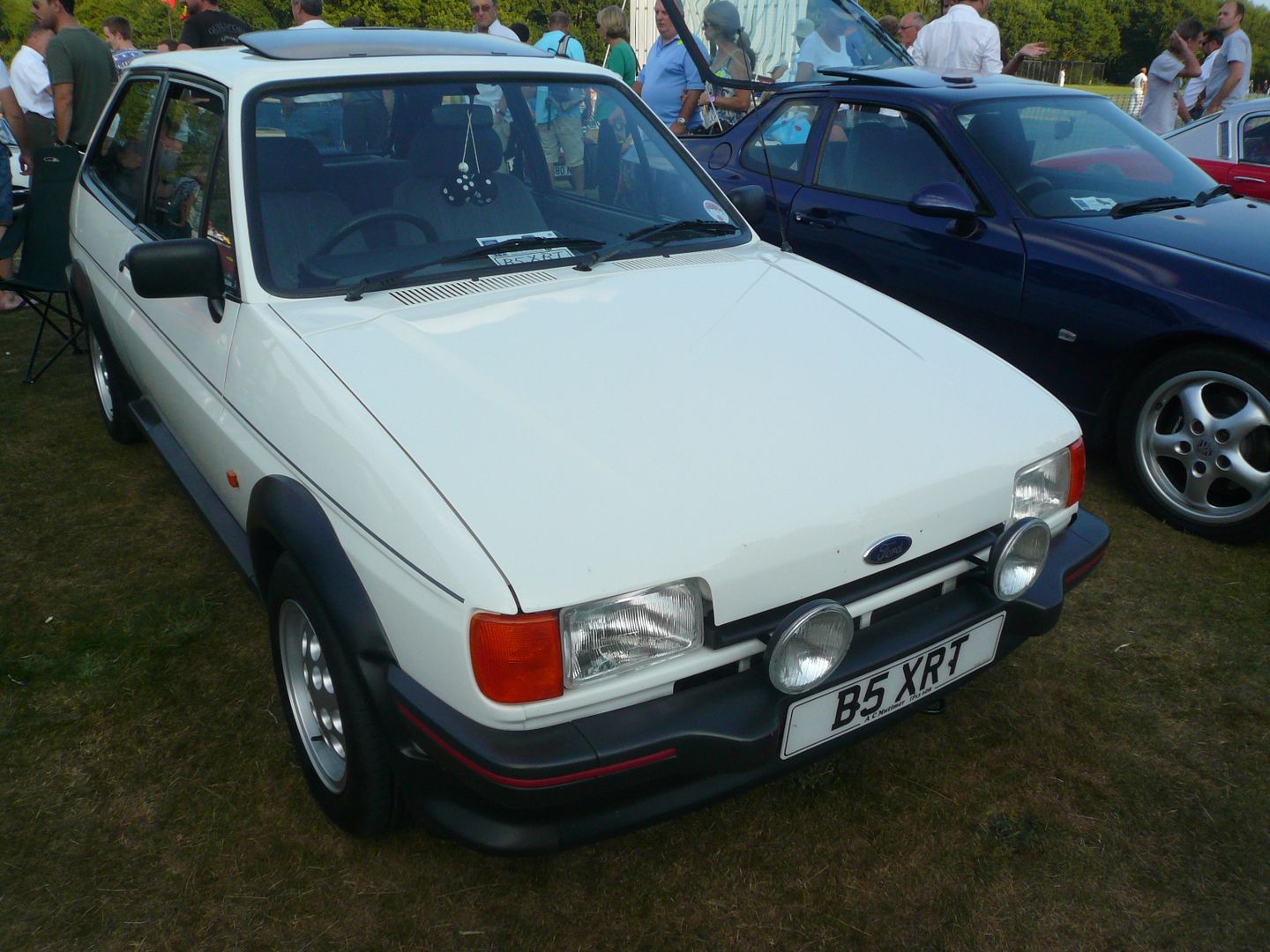 Sole Corsair present was one of the Crayford open topped models.
There were plenty of the Mark 2 Consul/Zephyr/Zodiac cars, including a very nice and now rare Convertible.
A lone Mark 1 Zephyr was also present.
Whilst Ford's small cars from the 1950s are still quite common, despite their cheap construction and planned short engine life, you don't come across the van versions very often, as these tended to be much harder worked. This is the Thames 300E, and was beautifully presented.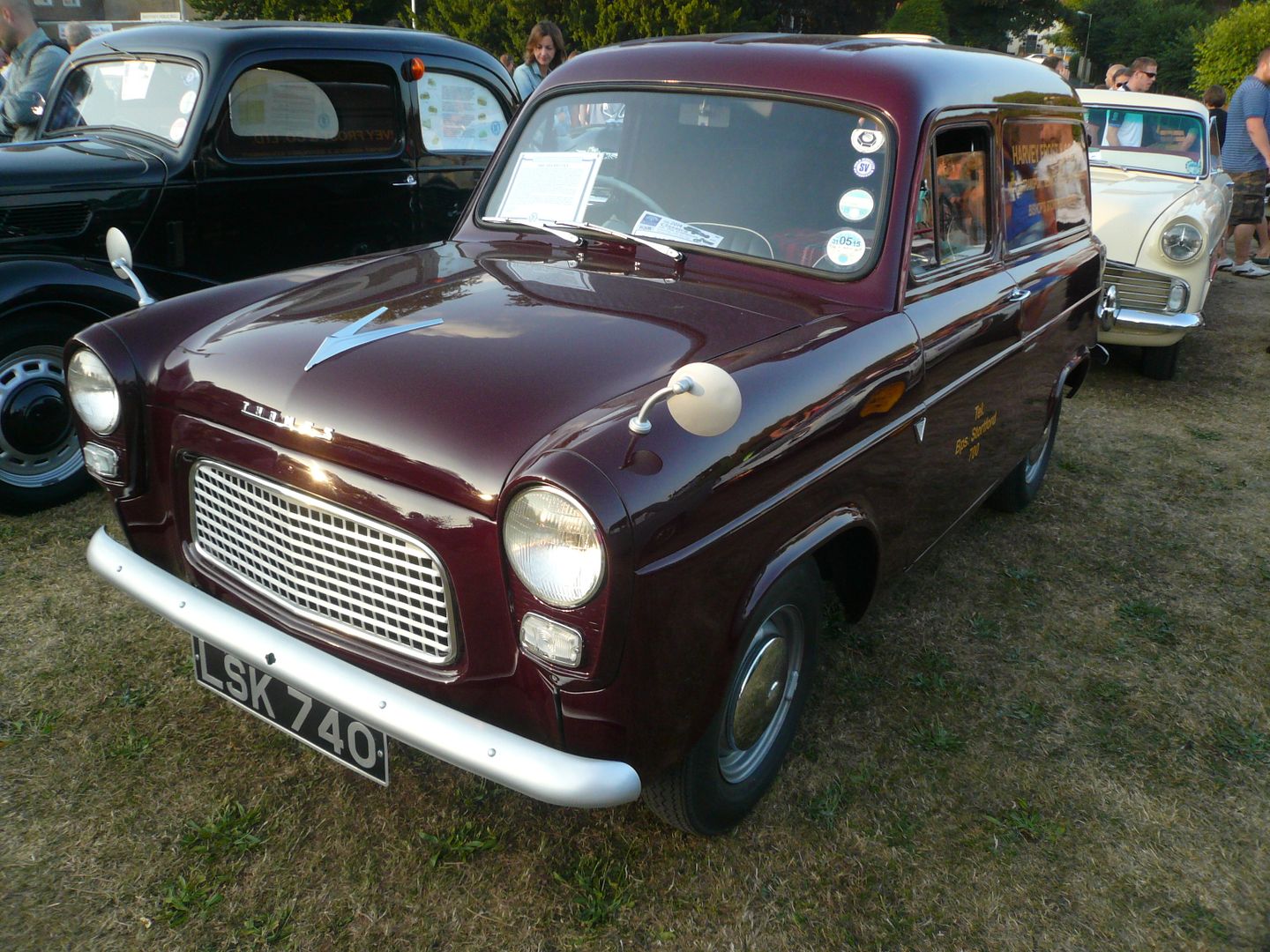 Even more basic than that was this, the "Sit up and Beg" E93A Popular. This truly was entry level motoring of its time.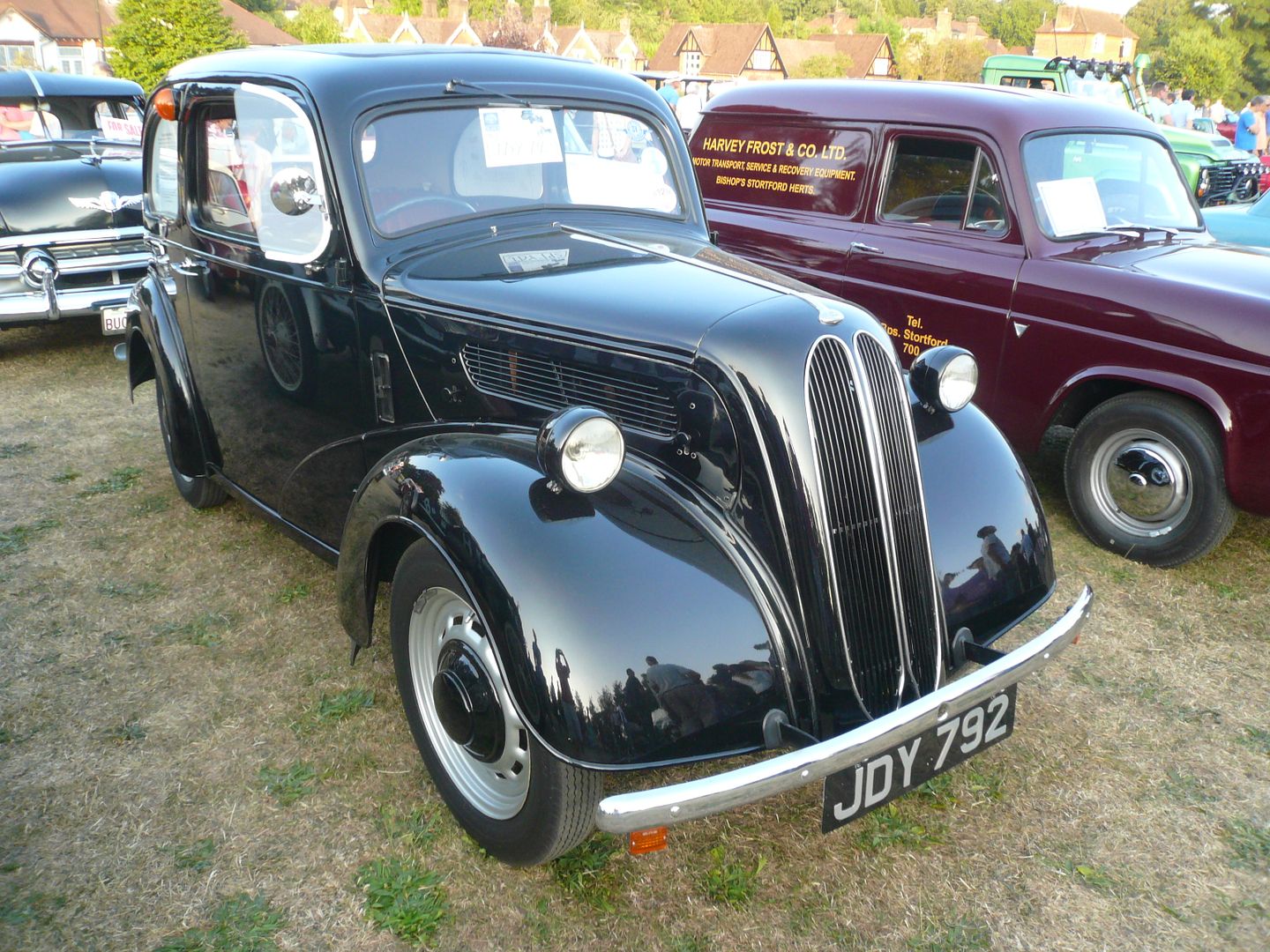 Another van based model was this, which started off as an Anglia Van from the early 1960s, to which windows were added, as a cheaper alternative to an estate car.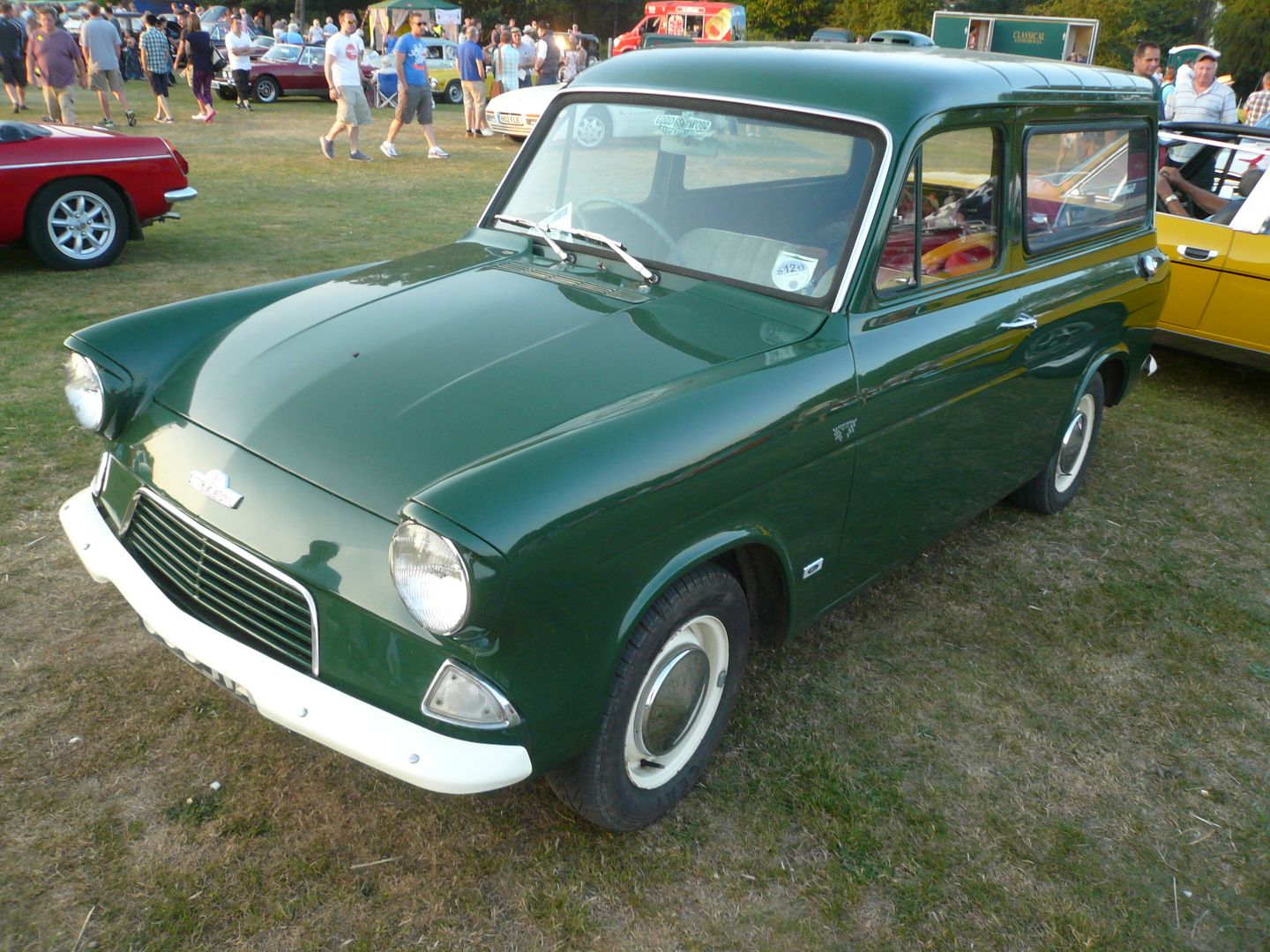 There were plenty of Mustang models on show, ranging some of the early cars, 50 years old this year, to some of the about to be superceded cars, some in Shelby trim.
Slightly larger than the Mustang was the car which had started out as a "compact" just 4 years earlier, the Falcon. Many of these have been converted to historic racers, so it was nice to see a road going one.
There were a couple of examples of the Thunderbird. An early model, in a lovely condition, was later joined by the version often referred to as the "SquareBird" thanks to its styling.
Final US Ford was this spectacular F100 Pickup.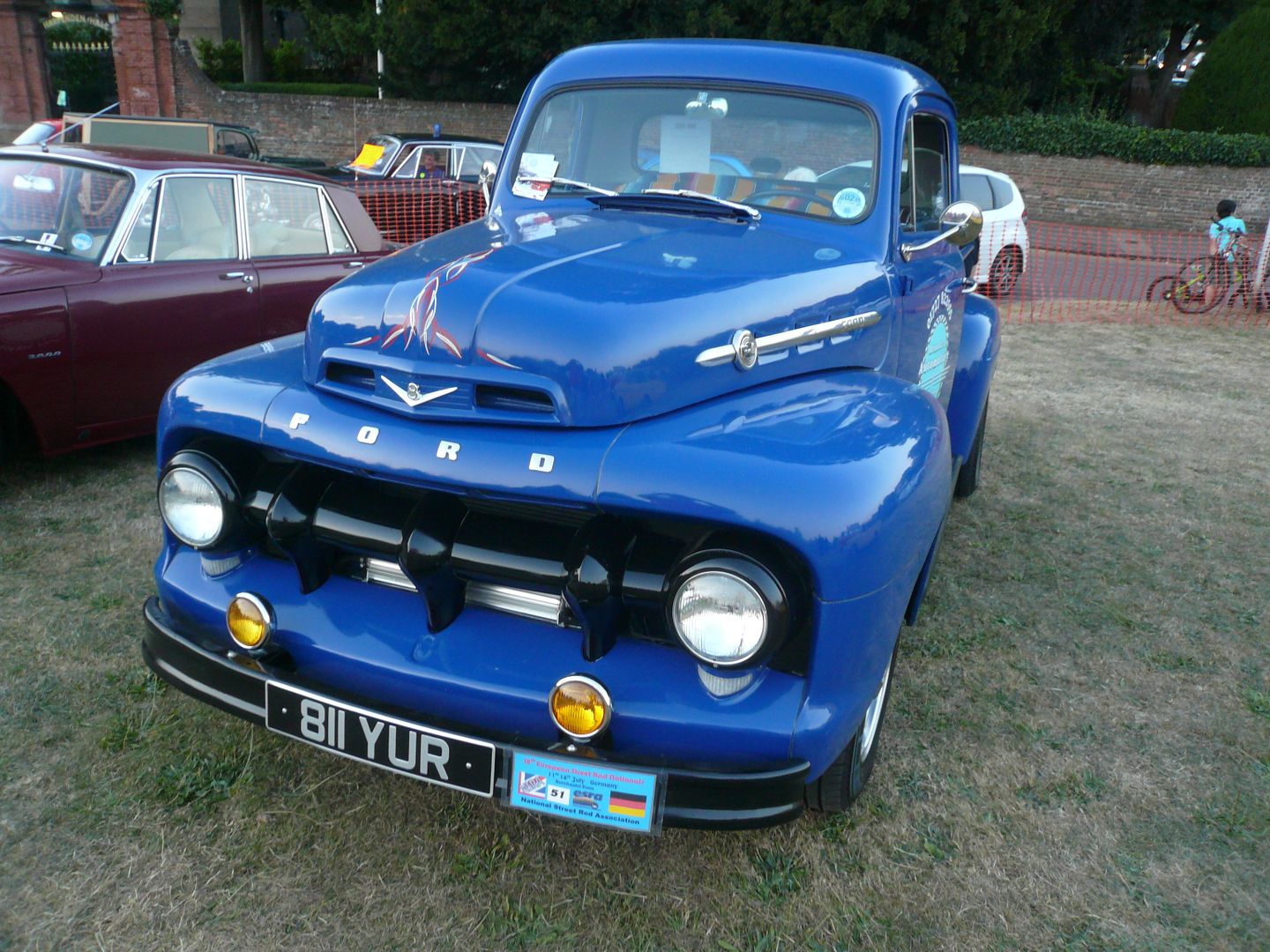 HUMBER
This Sceptre Estate brought back memories. For many years, the lesser Hillman Hunter Estate was part of my family. When we bought the last one, the plush Sceptre version had just been launched, and I can remember looking at one in the showroom, knowing that all those extra features that were part of the standard spec were not going to be on the Polar White car that my parents then drove my brother and I about in for over 10 years, before passing it on to me for a few months until the arrival of my first company car. Rust started to appear within months of buying ours, and by the time it was 11 years old, there was plenty of glassfibre holding it together, but it was still a very practical family car that served us well.
Prior to the launch of the Sceptre, Humber offered a range of large luxury cars, such as this Super Snipe.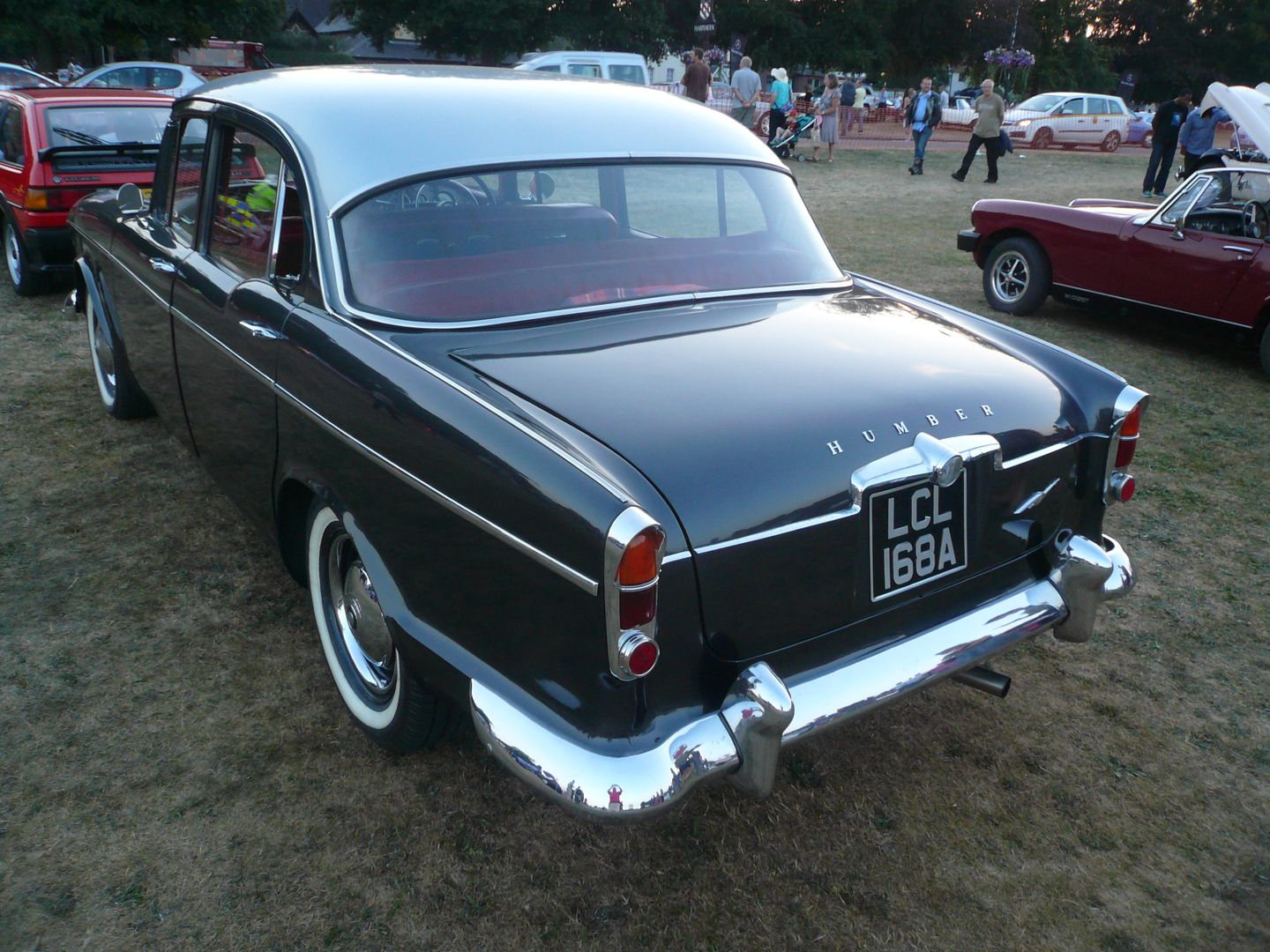 ISO
Not one, but 2 of the elegant Grifo were here. The gold car eluded my camera, despite being present til late into the evening.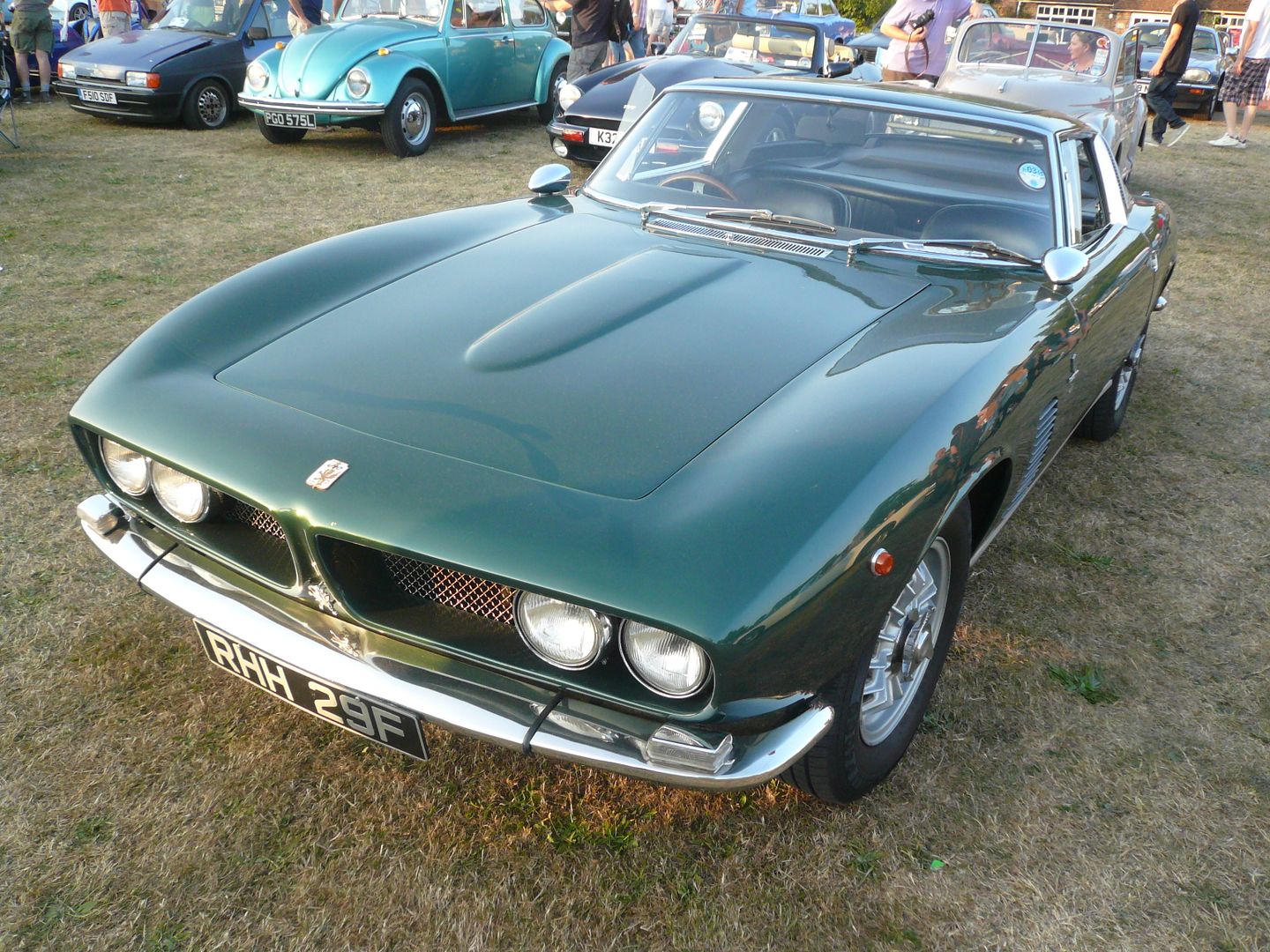 JAGUAR
A local dealer had a display of three cars parked up across the road from the Common. Whilst the XF SportBrake was indeed very nice, it was the other two cars which were attracting all the interest: an E type and an F Type.
There were several E Types in among the main display as well.
Also rather nice was this splendid XK150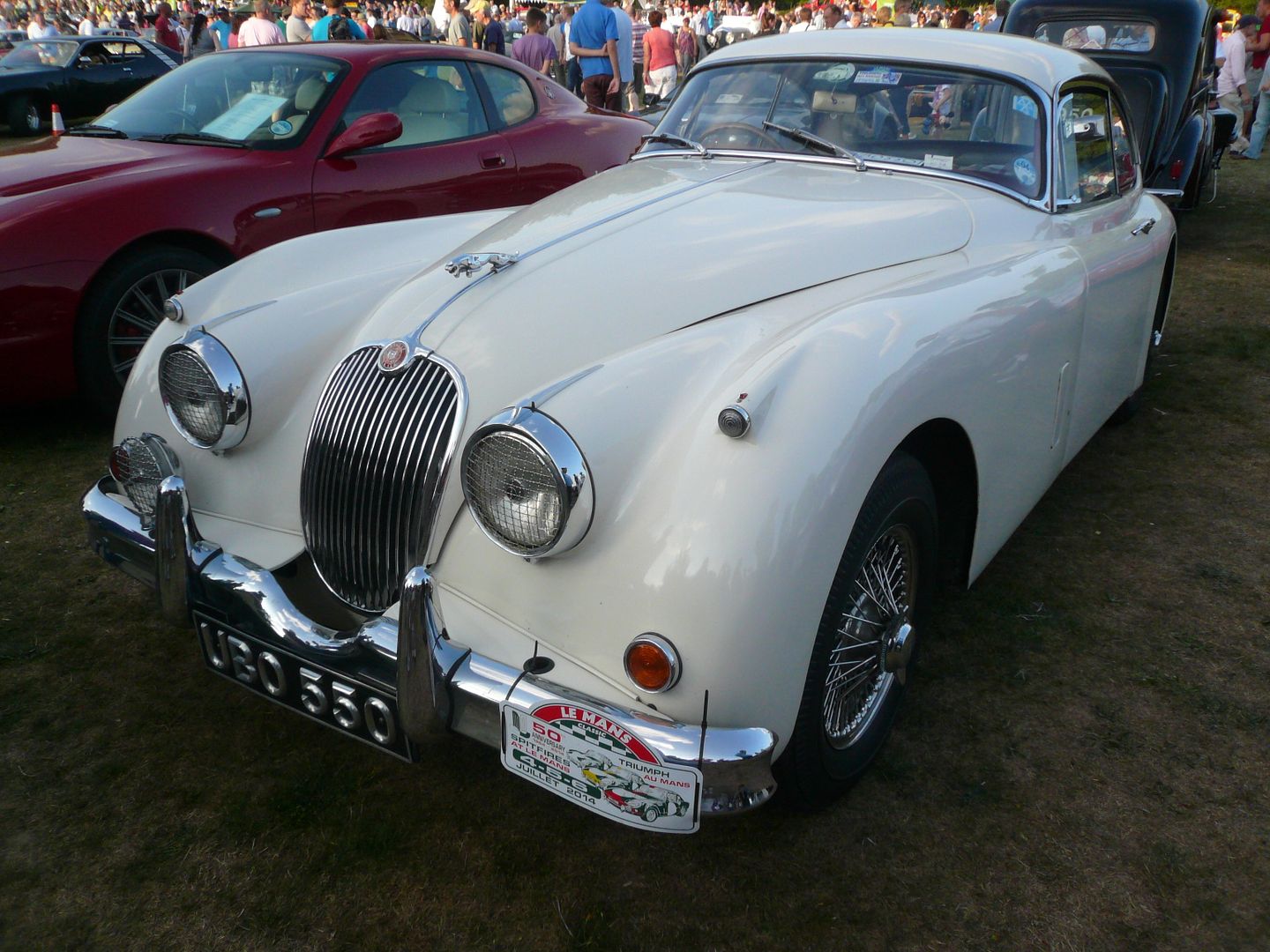 This is a 420, the car which was an amalgam of the old S Type with the 4.2 litre XK engine, produced for a couple of years until the new XJ6 was ready.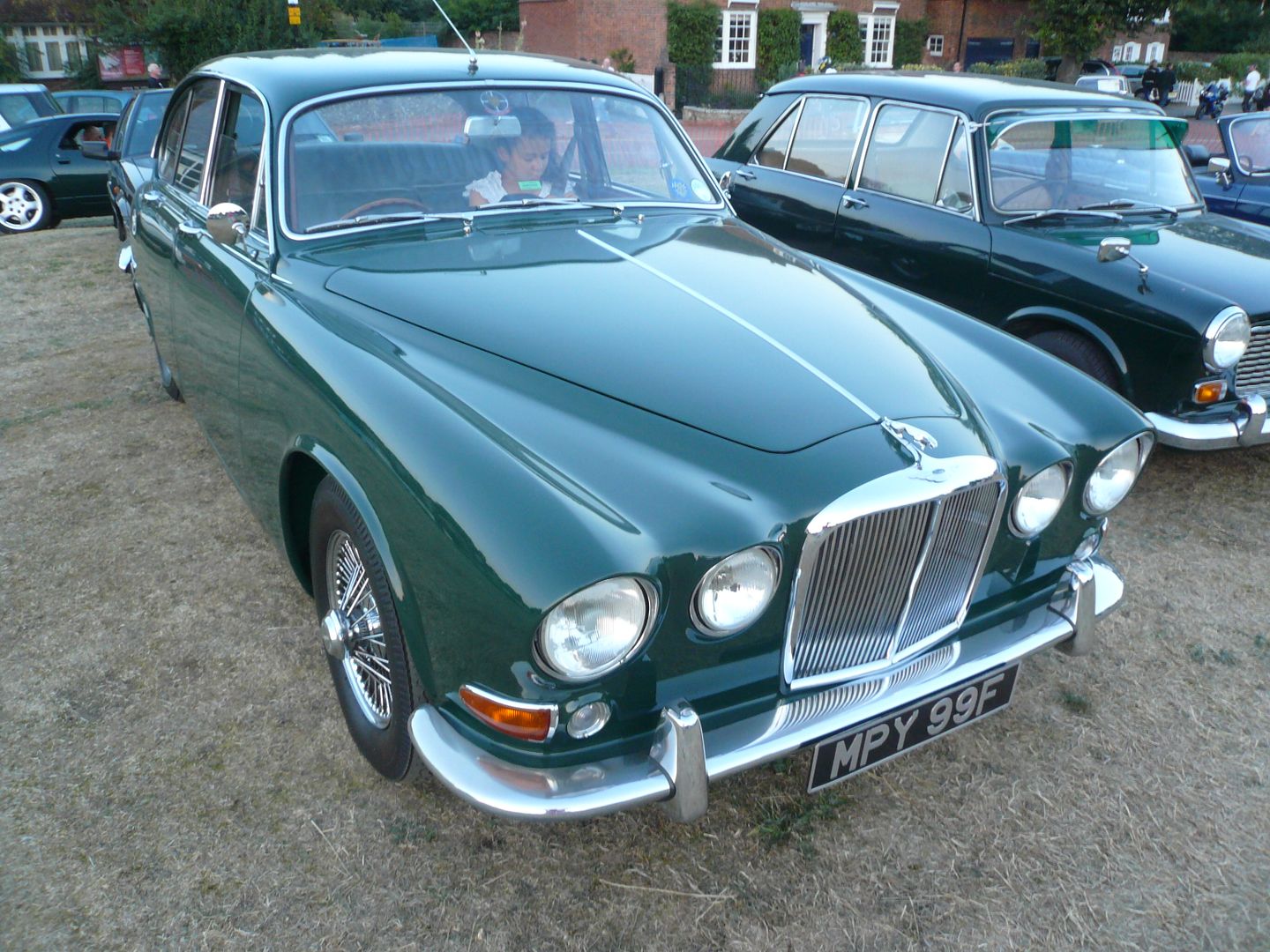 JENSEN
The 541 was Jensen's sole offering in the 1950s, and this is the 541R model, in period hue.
LAMBORGHINI
Falling foul of the "over 20 year" rule, this Aventador was parked up across the road from the main event.
LANCIA
The ever popular Delta Integrale was here, and this was one of the earlier cars before the wheel arches got ever wider to accommodate wider tyres.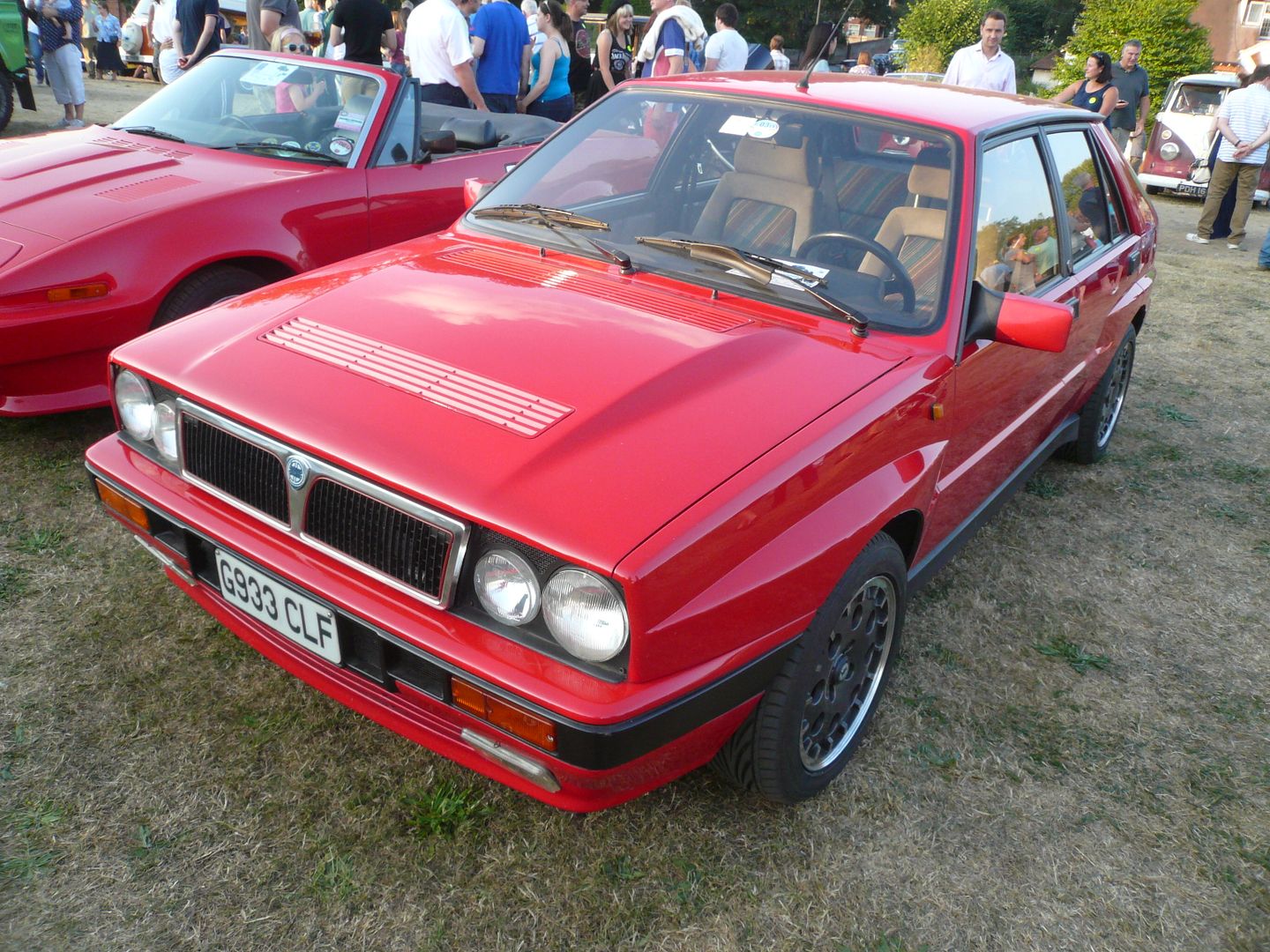 LOTUS
Quite a contrast in cars with the Elan badge, with one of the early Chapman designed cars as well as the front wheel drive M100 car of thirty years later.
MASERATI
My favourite of the Biturbo generation of cars was here, a Shamal. Around 350 of these V8 engined models were made, and they are just different enough in looks to ensure that the cognoscenti know that they are something quite special.
Equally rare was this, a Kyalami. The result of putting a Maserati engine into the De Tomaso Longchamps body, and tweaking it a bit, this car was not that well regarded when new.
MERCEDES-BENZ
A local dealer had a display of cars parked up across the road, next to the BMWs. One was attracting far more attention than any other, this fantastic 300SL GullWing, which seemed to have universal appeal.
Not that it was unrivalled in the desirability stakes, as there was a lovely "Pagoda" 230SL parked up alongside it.
This SLS AMG had to park away from the Common as well, as it is currently far too new to qualify for inclusion.
Also off site was this nicely presented "New Generation" W114 200, a car which typifies Mercedes in the 1970s, with excellence of the basic engineering taking priority over luxury or unnecessary fripperies and gewgaws.
Yet another splendid Mercedes was this W111 model 280 SE 3.5 Coupe. These are very well regarded, and it is not hard to see why.
MG
The MGB is one of the most popular classic cars of them all, so it was no surprise to find lots of them assembled here, in both Roadster and GT forms. There was also an example of the 6 cylinder MGC model.
There were plenty of examples of the smaller Midget, too. This is also a very popular classic, and this was a perfect day to take such a car out and enjoy open topped motoring to and from the event.
The TF had a relatively short production run, from 1953 to 1955, so not that many cars were produced, which is perhaps one reason why values have gone up so much. When it looks as good as this, it is not hard to see why.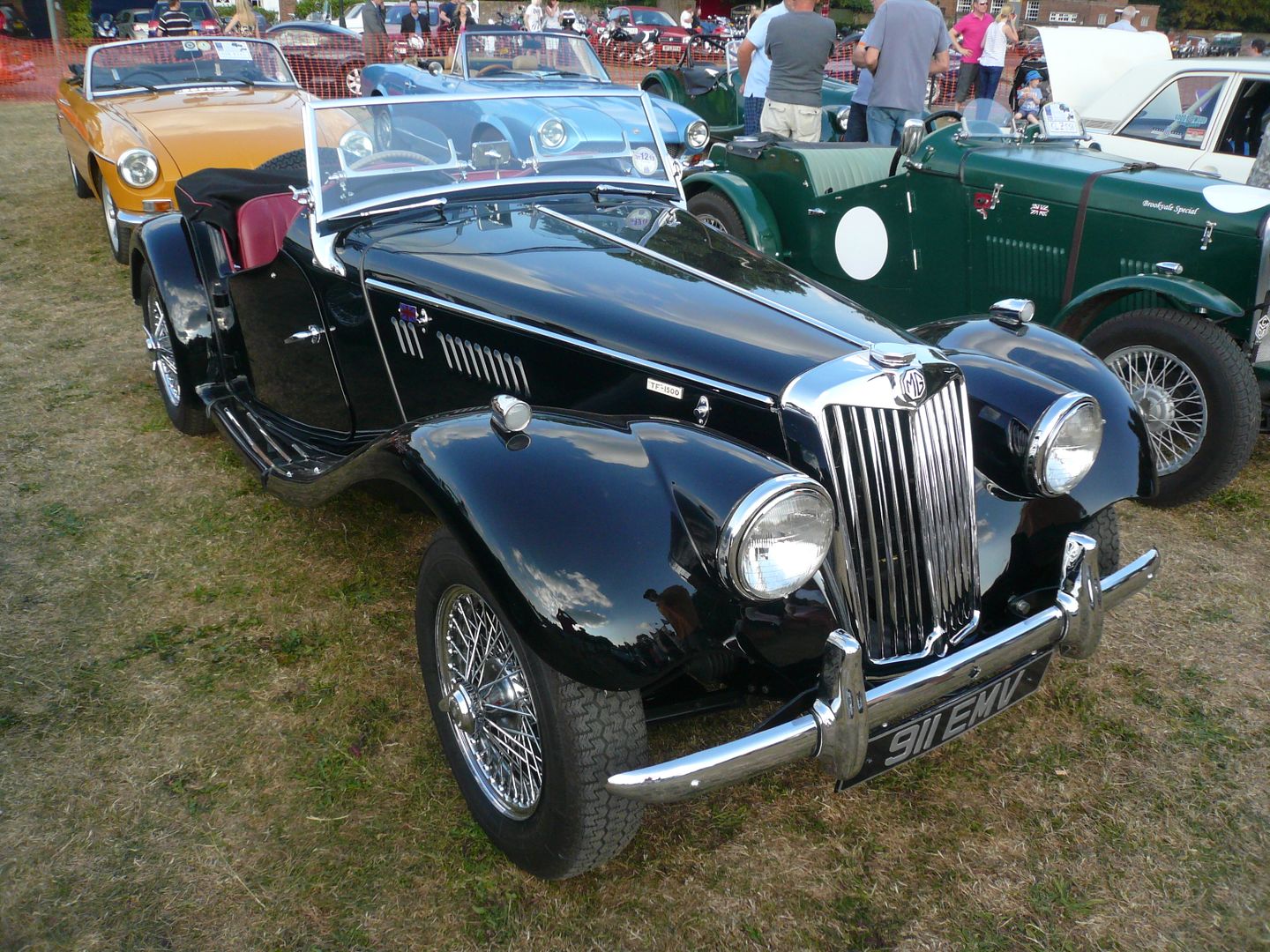 Contemporary with that TF were the Gerald Palmer styled Magnettes, a sporting saloon that would have been the sort of car that today's 3 series buyer would have aspired to. This is the later ZB model with more powerful engine and enlarged rear window.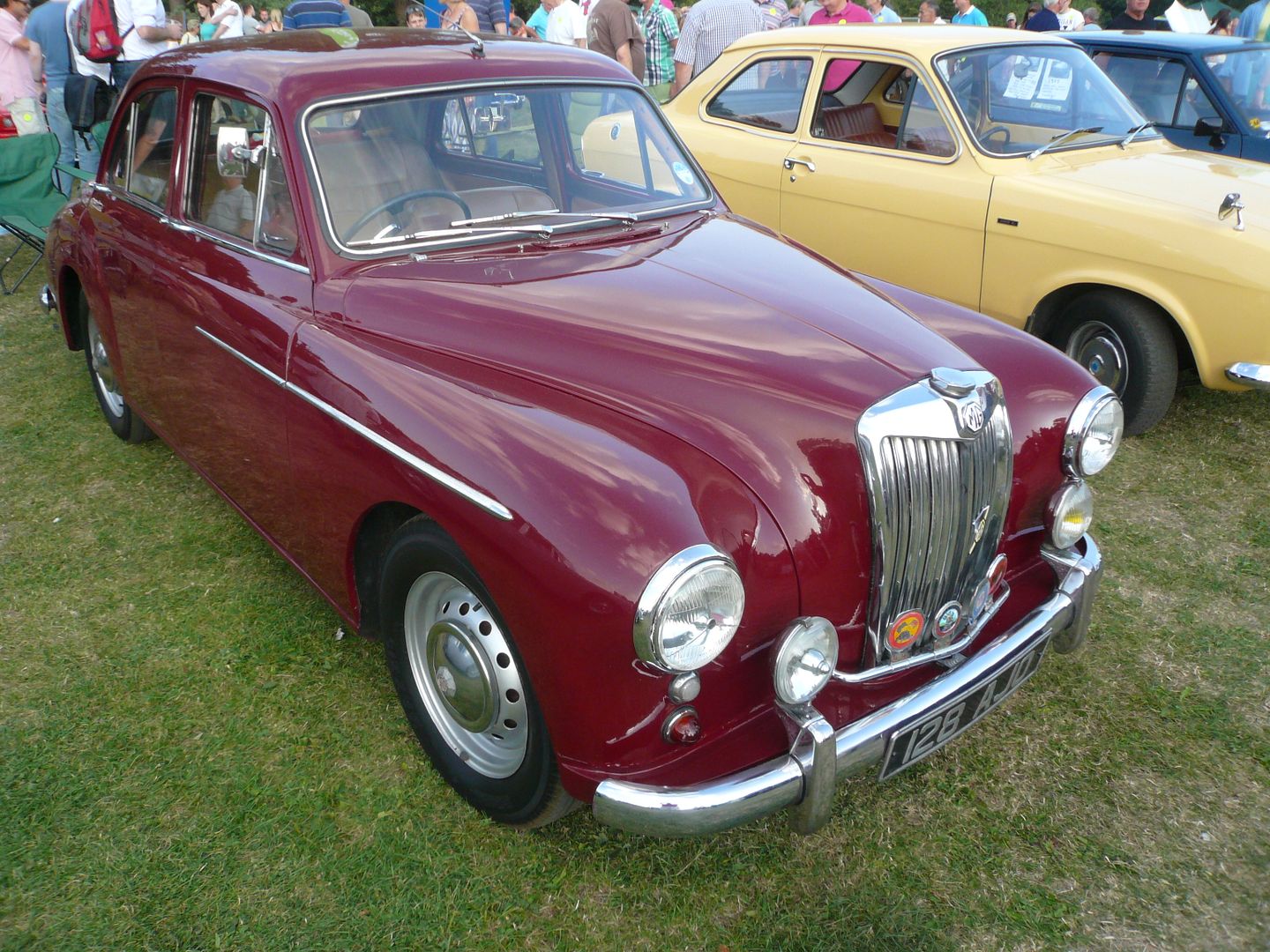 Successor to the TF was the MGA, and this was also present.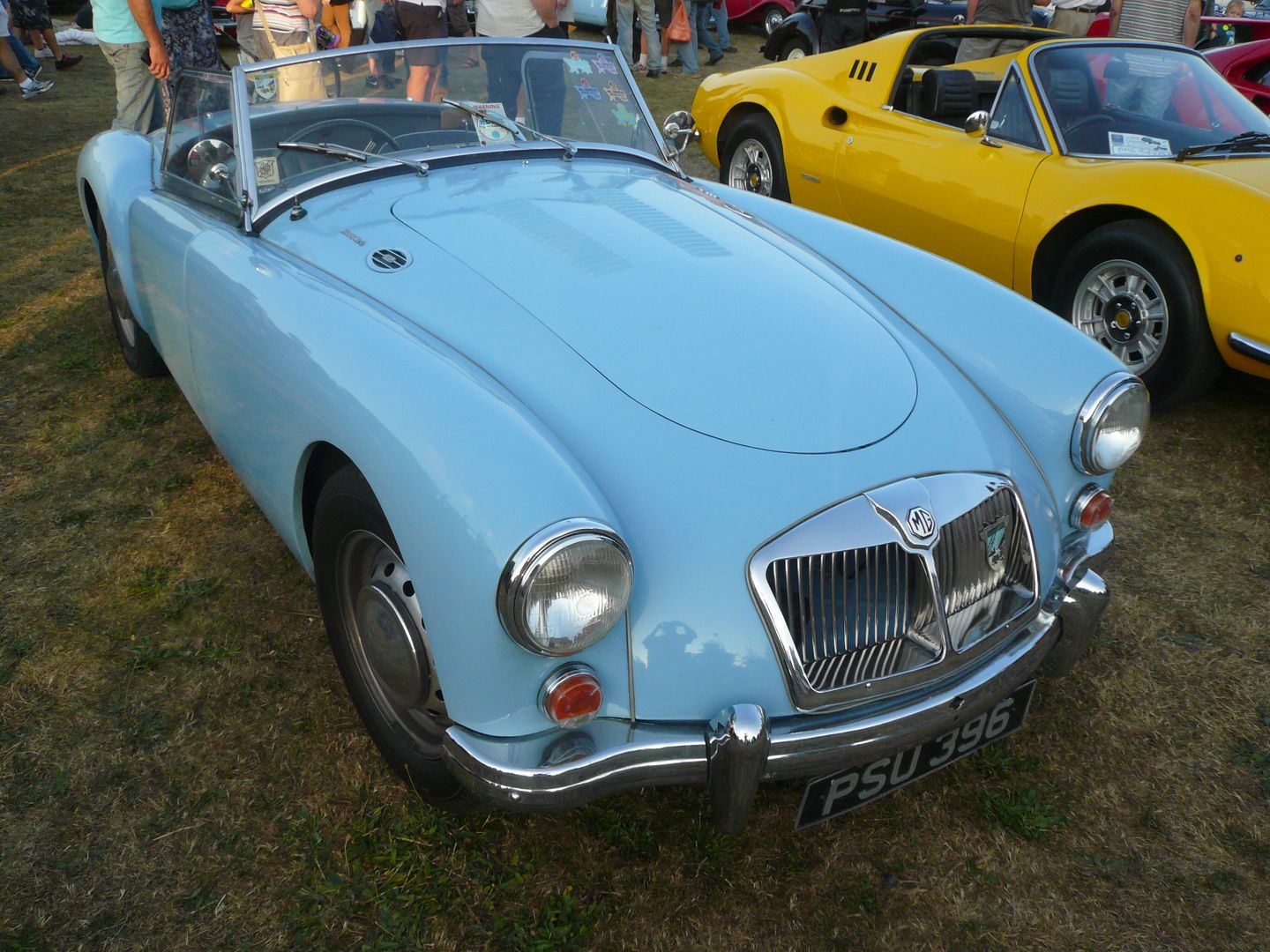 MINI
There were a number of classic Minis present, ranging from an early Saloon and the rarely seen Countryman, a Cooper S, as well as one of the last 1275GTs made, one of the Kamm produced Cabrios of the early 1990s and a number of the Cooper cars that kept sales buoyant in the last 10 years of production.
MITSUBISHI
One of the rarest cars at the event was this, a Cordia Turbo. This was a stylish small coupe model that Mitsubishi offered from 1982 for a few years, the early versions of which had the added novelty of a dual range gearbox, just as the smaller Colt hatchback did. Turbo models were available as well as a normally aspirated car, and whilst it looked quite neat, and apparently drove quite well for the day, sales were slow, as it was expensive. I can't recall when I last saw one, and this one was in excellent condition.
MORGAN
Among the Morgan sports car present was this one, a 4/4.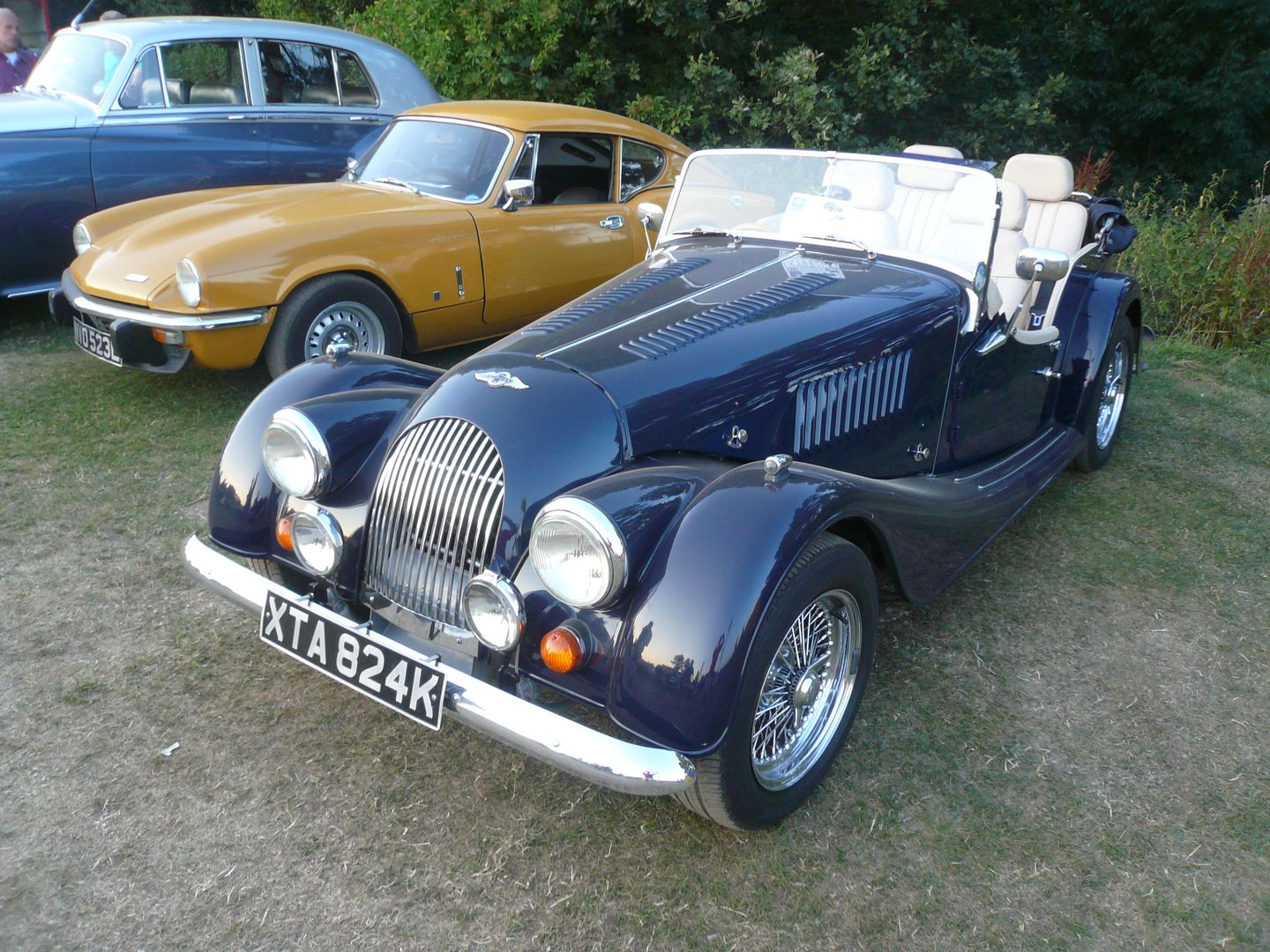 MORRIS
A very nice Flatnose Cowley from the late 1920s.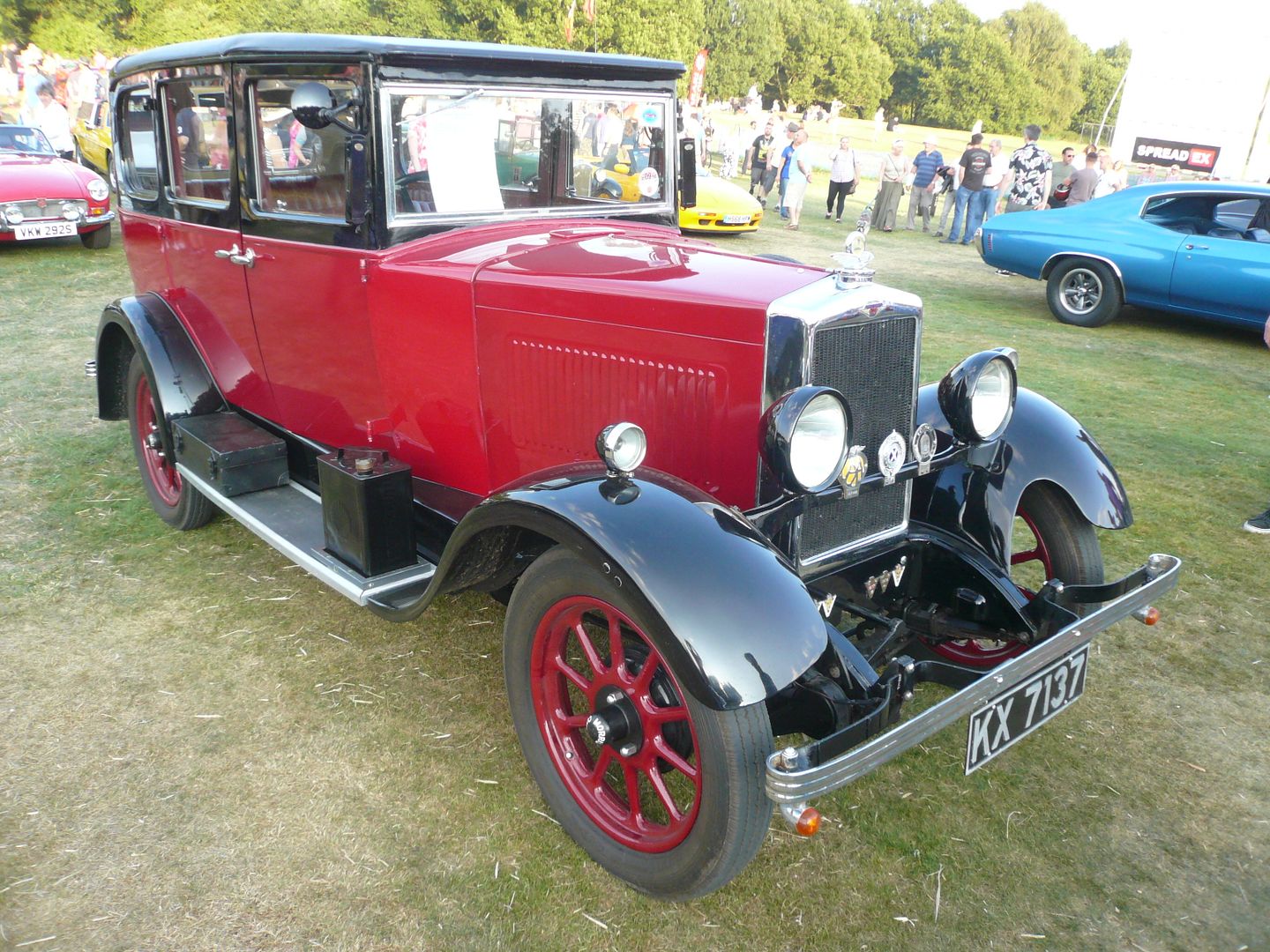 This Mark 2 1100 made a nice contrast with the earlier Austin 1100 model depicted earlier in this report.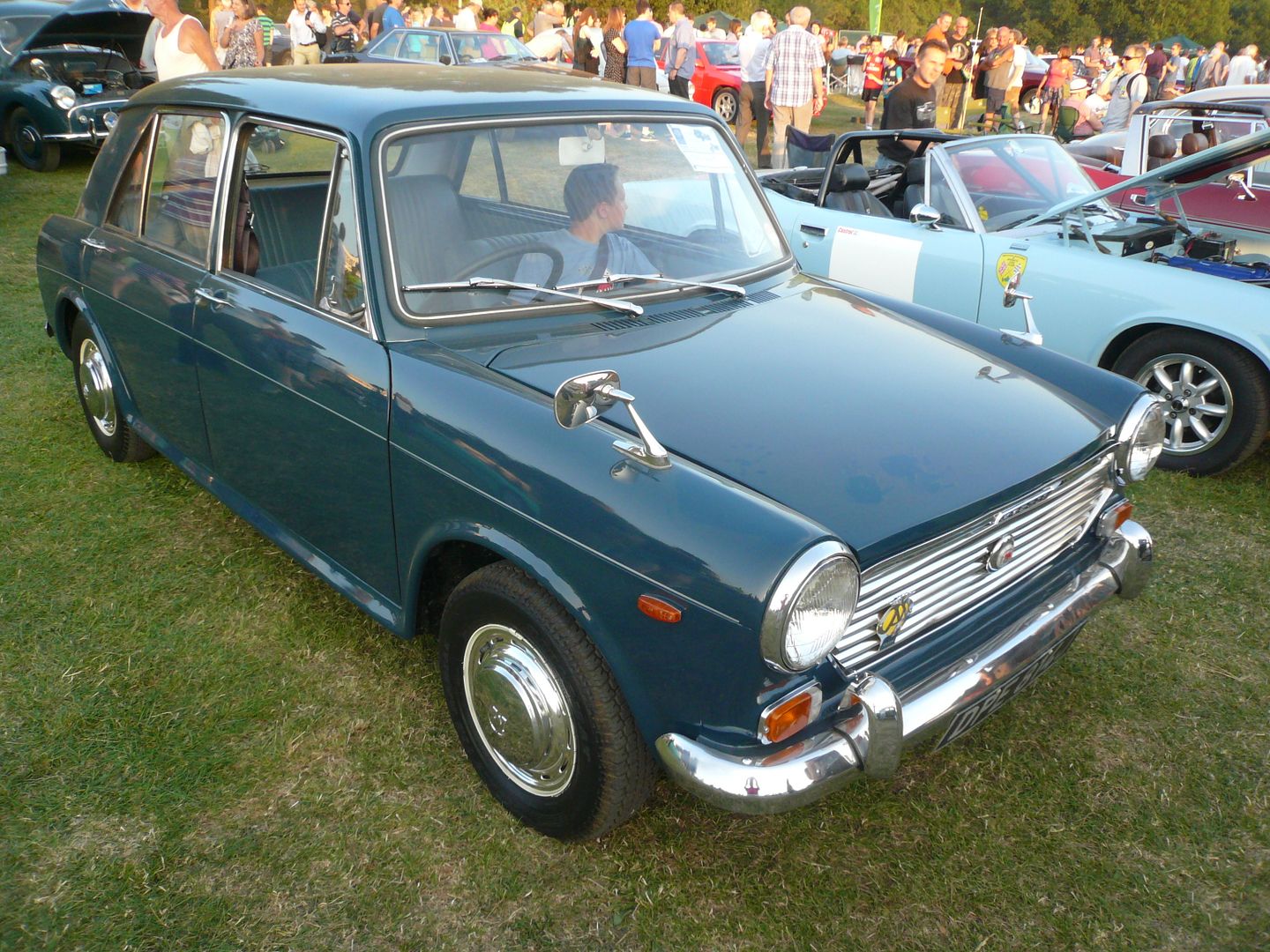 PONTIAC
One of the largest cars on show was this 1966 Bonneville Coupe.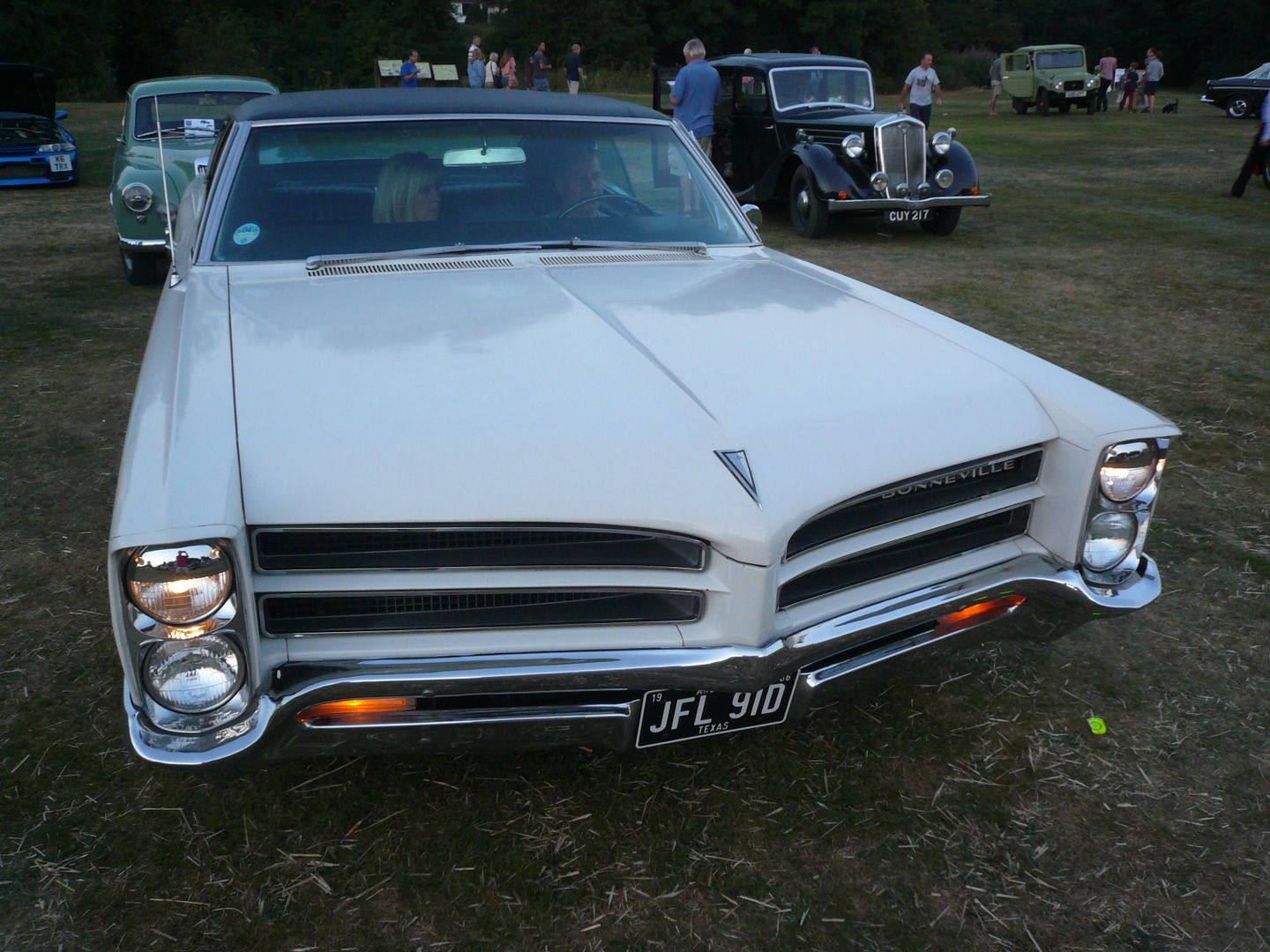 PORSCHE
There were a couple of the 928 cars here, a model which so often gets overshadowed by the 911.
The same could be said for the 968, of which this was a very neat example.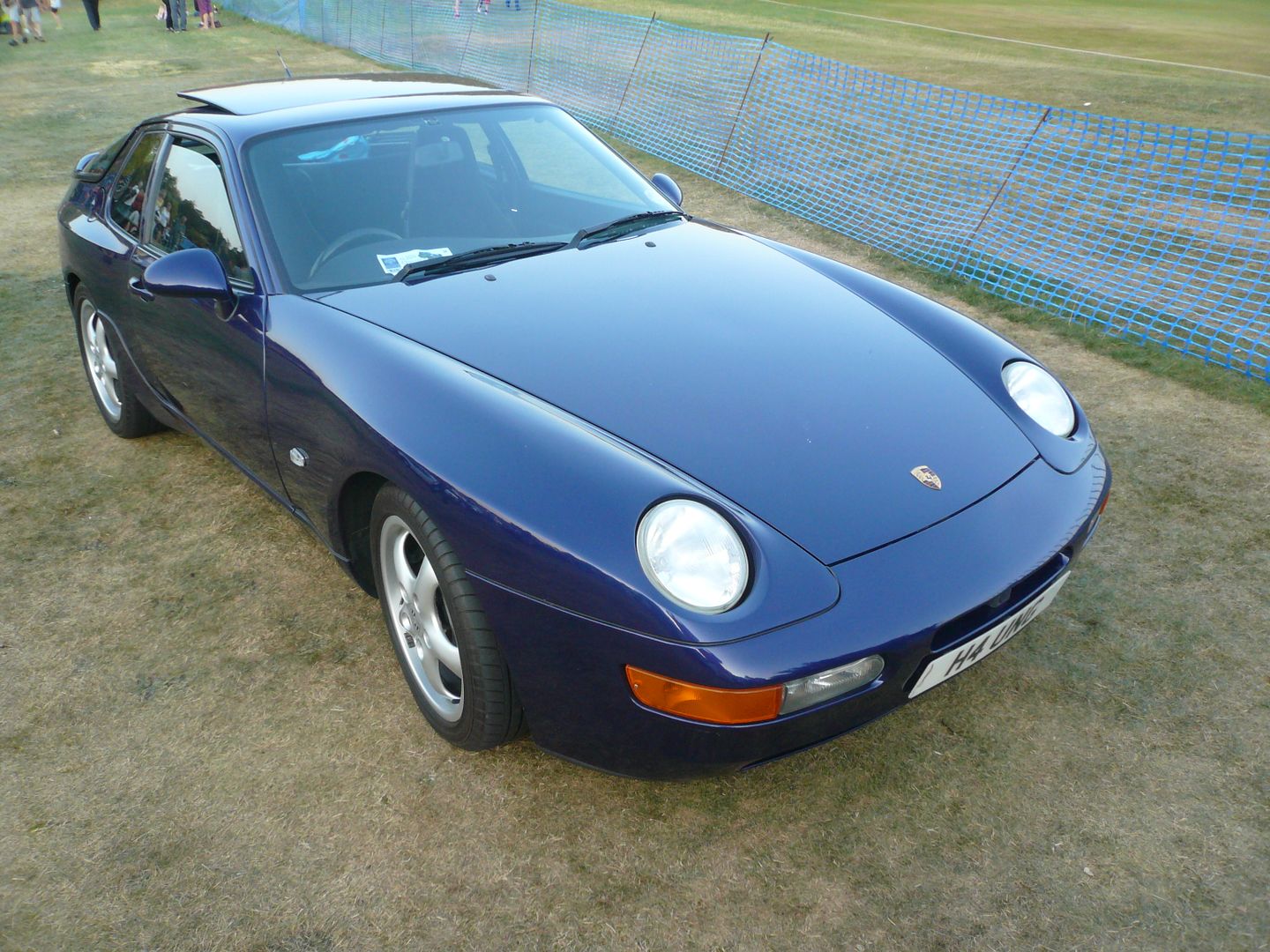 RELIANT
A nice Scimitar GTC.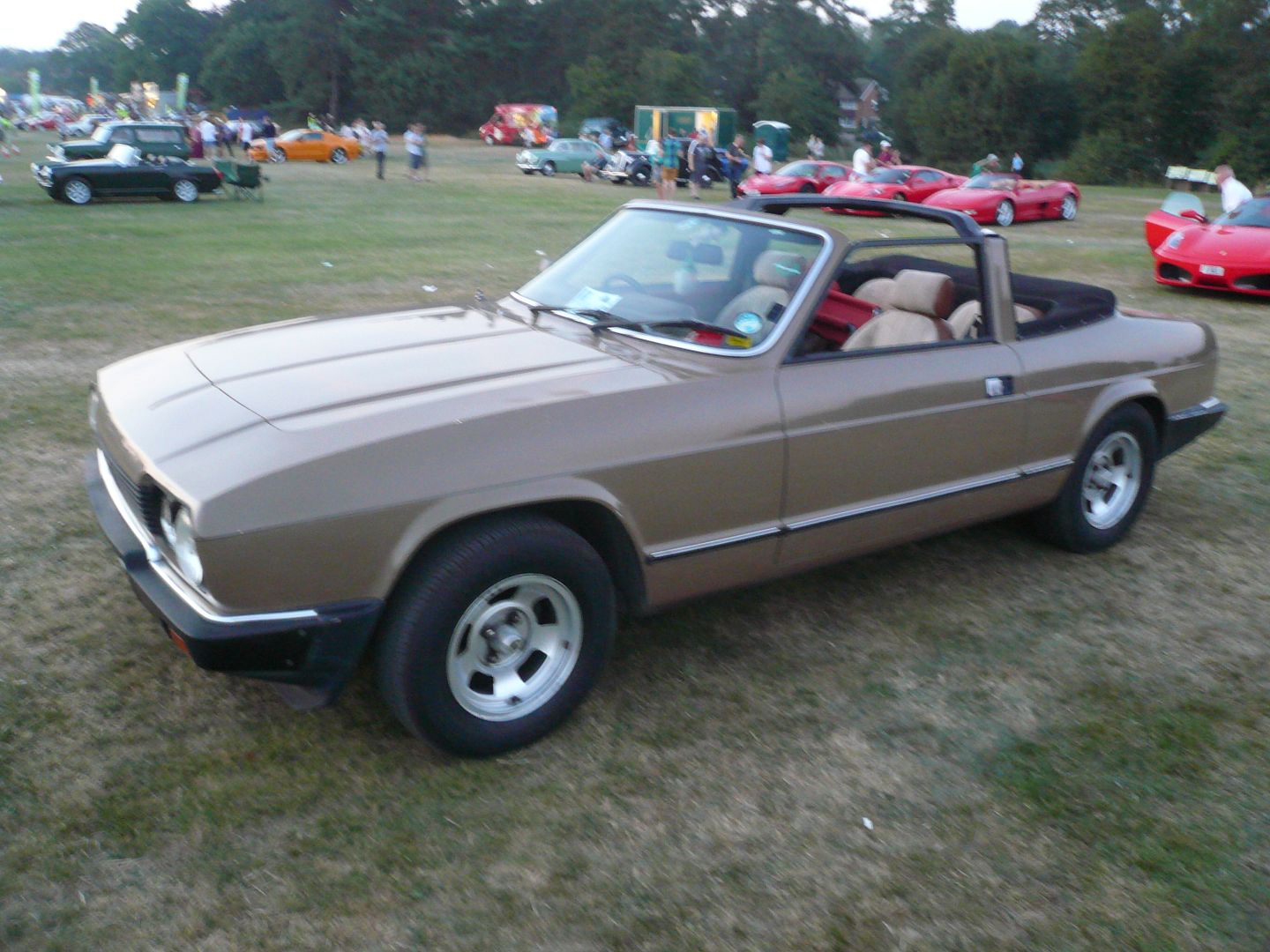 RENAULT
Another of the once popular but now rare family saloons that I found in the spectator car park was this R18 GTS. A late model Series 2 car, these all seemed to disappear from our roads very quickly.
In much the same sort of category comes the R5 "Supercinq", and I spotted this GTS model departing the event.
When you say that you saw a Renault Alpine, most people in the UK would guess you are either talking about the GTA/A610 cars of the late 1980s or the earlier A110, as these are the most common models of the marque, but this time, it was neither of those which were present, but the lovely A310.
ROVER
This Vitesse model SD1 was parked up in the spectator car park.
With a B registration plate, this is a very early P6 Rover 2000 indeed, dating from the first year of production.
SAAB
I only caught this duo of classic SAAB models as they were leaving. Both are rare in this country, the Sonnett, of course, as it was never officially sold in the UK, and the 95 because, although tough, well, they simply got scrapped a long time ago.
SUZUKI
Just scraping in under the 20 year rule was this Cappuccino, Suzuki's diminutive sports car of the early 1990s.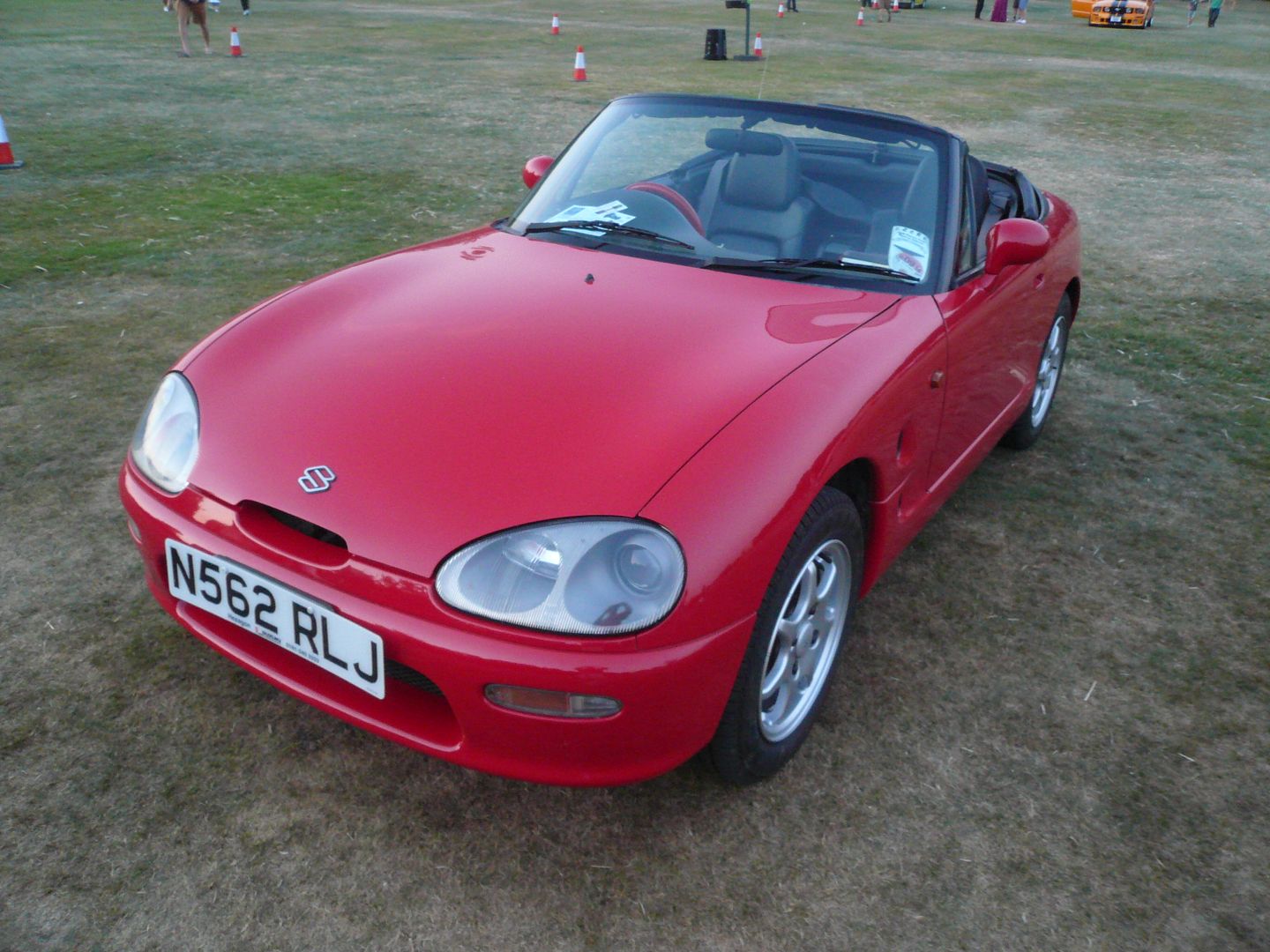 TALBOT
Another rarity – indeed a car that was rare when new as sales volumes were low in the three years it was on the market – was this Tagora. A 2.2 GL model, this one has covered a mere 23,000 miles in well over 30 years.
TORNADO
Only because I have seen this car before was I confident in its identity without looking at the badge. The model is called Tempest, and it is one of a handful of designs offered, as a kit car in the late 1950s and early 1960s.
TRIUMPH
There were plenty of TR models present, with examples of all the different generations of this popular sports car.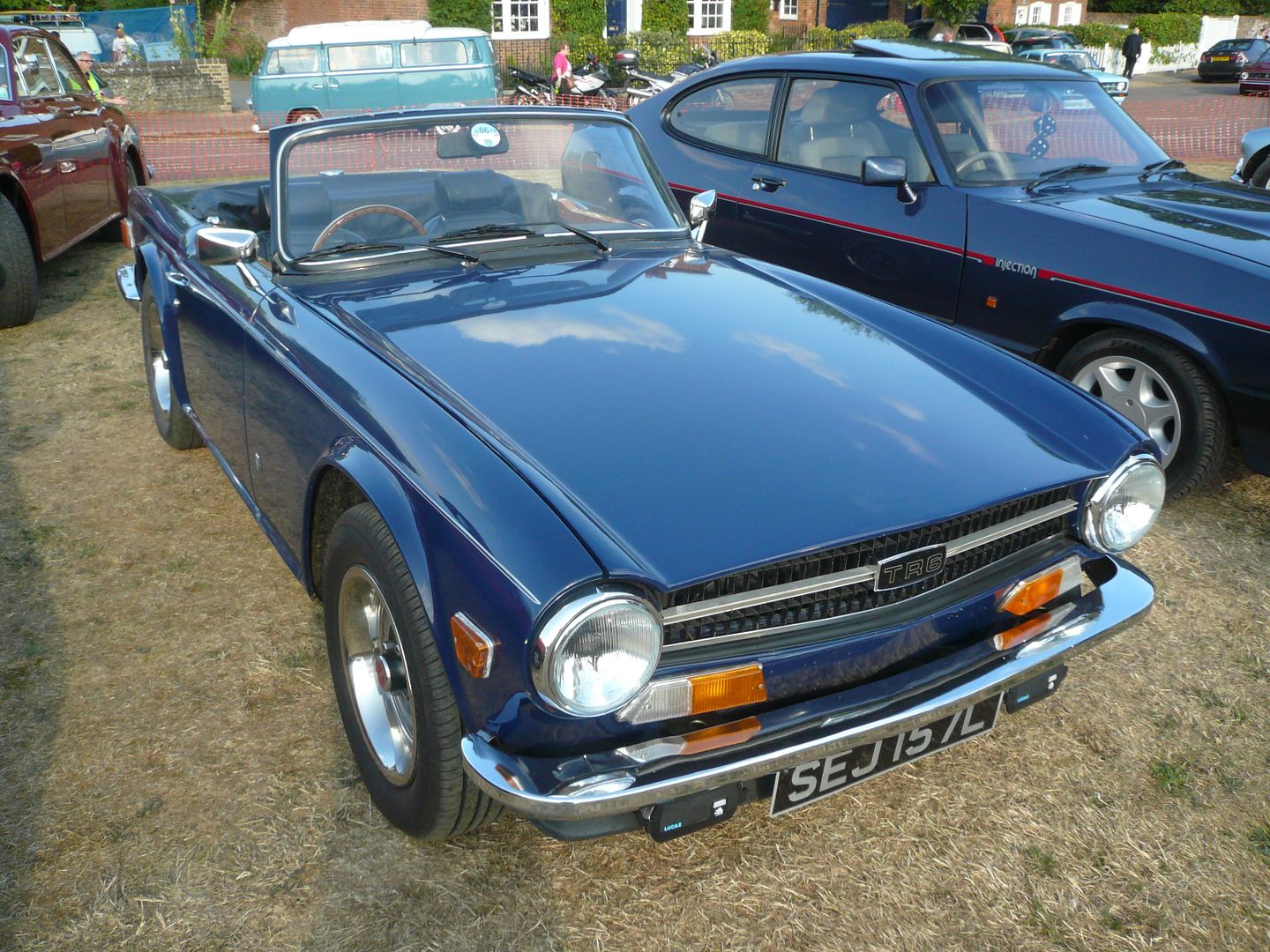 The larger Stag was also well represented, as you would expect.
Also evident were Triumph's small sports car, the Spitfire and its closed top GT6 version.
There were a couple of examples of the Series 2 version of the Vitesse. With a 2 litre V6 engine under the bonnet, this was quite a rapid car in its day, and was quite nicely finished, as well as being decently roomy.
TVR
This is an early model, a Grantura.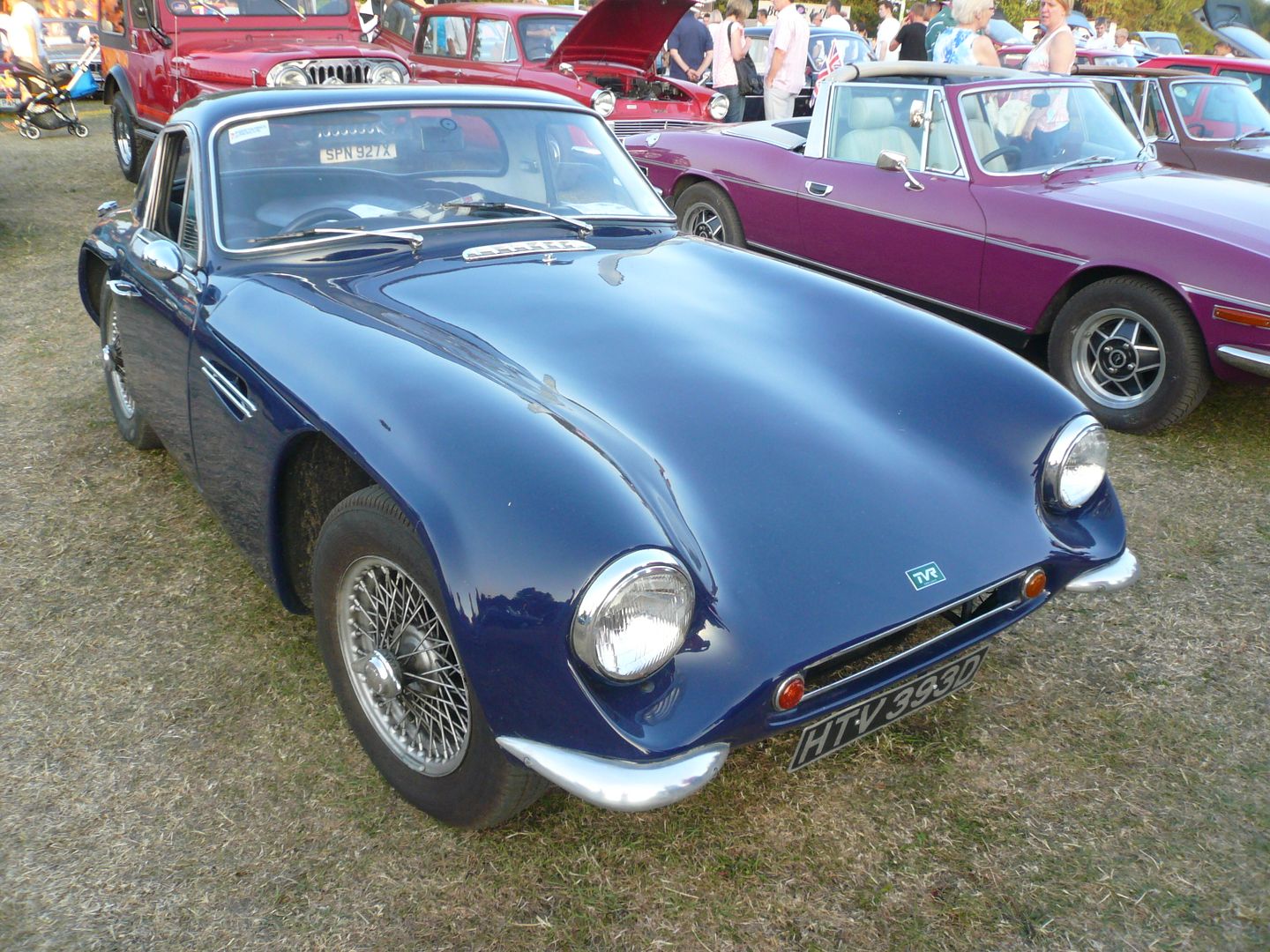 VAUXHALL
As the event is just down the road from Luton, once the home of Vauxhall, it was no surprise that the marque was well represented. Among the earlier models on show was this rather nice Fourteen.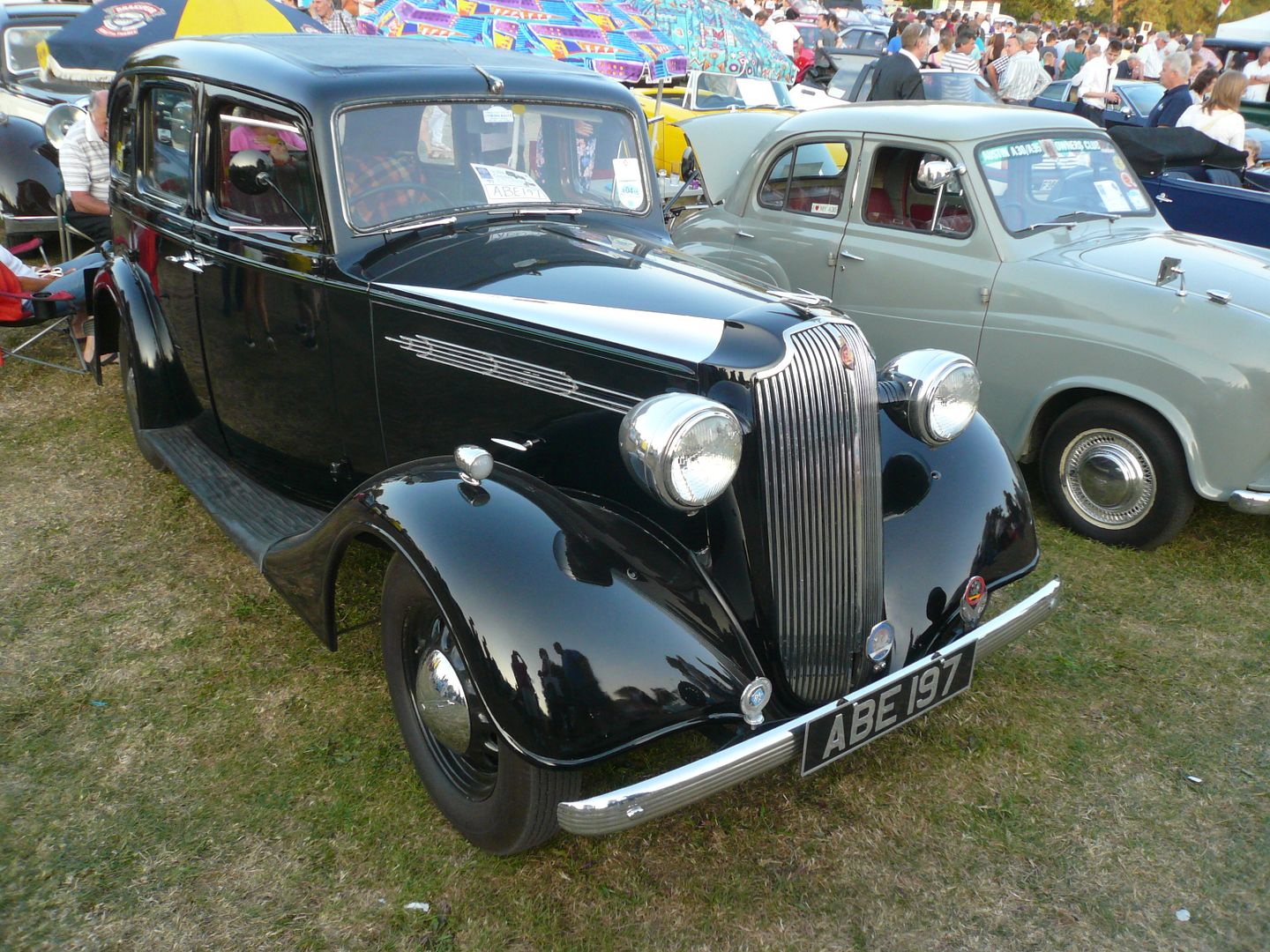 After the very Americanised styling of the PA Cresta, the PB model which appeared in 1962 was really rather restrained.
The Victor went through a similar transformation, with the result that the second generation FB car, such as this one, were also much less brash than the first models.
There were a number of HB model Vivas, including a couple of the GT cars. The GT was created in 1968 when someone decided to replace the rather stodgy 1159cc engine of the regular Viva with the new overhead cam 2 litre engine from the larger Victor, creating a rapid (by the standards of the day) car to compete with the Triumph Vitesse and Escort GT. Only 4600 were sold in the two years that the car was offered, so it would be stretching things to call it a success, but these days it makes for an interesting and rather different classic. There  were a couple of the regular HB models present as well.
Also bearing the Viva badge were the first such model, the HA, and the third generation car, the HC.
When you see a Chevette these days, it is more than likely to be one of the homologation special 2300HS cars, so it was good to find that at this event, there were 2 models which were not. Rarer of the two was a beautifully presented Chevanne. and there was also a regular Hatch model.
The oldest known Cavalier, a car used in the press launch in December 1975, was making another appearance. The owner of this car certainly does take it out and about quite a bit, as I have seen it several times this year.
VOLKSWAGEN
There were a pair of Golf Cabrio models, as well as (undepicted) some Mark 1 Golf GTi cars here.
With interest in early Golf GTi models now growing, the related Scirocco often gets unfairly ignored, so it was nice to see this well presented example of the second generation Coupe.
The Beetle was certainly not being ignored, and there were a number of this evergreen model present.
VOLVO
There were several of the P1800 cars present.
There's an awful lot which did not get photographed. Notable omissions include the second Iso Grifo, a racing Ferrari Daytona, a pristine Peugeot 504 Estate, several more American classics, a Lotus XI, a 1954 Cooper, a Dolomite Sprint………. I could go on. In some cases, the lack of a photo is because the car departed early and in others, it was that I simply could not get a decent shot thanks to the crowds or the shadows, which was frustrating, but at least I could see the cars with my own eyes, and enjoy them. I stayed until dusk, by which time only a few cars remained on the Common. but there were still crowds lining both sides of the main road, there to make the most of any departing vehicles, with a loud cheer going up when one of the Ferraris made a rather exuberant exit, and an even louder cheer when a police motorcyclist decided to set off after him! I hadn't bargained on quite how popular this event would be, and the photographer in me almost wishes that it was not such a sunny evening, but rest assured, I will be trying to ensure my diary can accommodate this one in 2015.