Maranello is Home to Ferrari and has been ever since Enzo started to produce his own cars nearly 70 years ago. Drive around in the area and it is quite likely that you will come across a Ferrari on "prova" plates, out on test, or one of the many cars that are offered by enterprising rental companies who, in exchange for a lot of Euros, will allow you to get behind the wheel for anything from 20 minutes to a lot longer. I suspect that most visitors will come to the town, though, as they want to visit the museum there, the Galleria Ferrari. Indeed, over 250,000 people a year do just that, so be warned that if you come in peak season, it can get pretty crowded. Even on a weekday in late April, when I went, it was not un-busy. I last came to the Galleria Ferrari in 2010  and thoroughly enjoyed the visit, so when in the area, it was pretty much a no-brainer to go and have another look. Although the site and layout was just as I remembered it, thanks to the museum's policy of mounting a series of temporary exhibitions, the majority of what I saw was completely different from the last visit, so it almost felt like a first visit.
Even as you walk up to the main entrance, it is clear that this is going to be something special, with more than a brief reminder of the fantastic racing history and heritage associated with the marque.
Once I had paid my admission fees of €13.00 (reduced if you buy a ticket to the Casa Enzo Ferrari as well), I was free to meander around the displays, and pay homage to the cars from a very special marque. Theme for the period of my visit was "California Dreamin", and you might wonder how that would translate into Ferrari, beyond the obvious link to cars with the California name or rich owners of some of the road cars, but it went far wider than that.
RACING WITH A US LINK
The first section of the museum contained racing cars, and these all had some link with motor sport in the US. The first car I came across was the 1952 car in which Alberto Ascari had competed at Indianapolis. This fabulous looking car sports a 4382 cc V12 engine.
Next up was the F60 Formula 1 car from the 2009 season, which was a year marked by the return to slicks and the advent of the KERS technology. This is the car in which Kimi Raikkonen won the Belgian Grand Prix.
Showing just how cars have evolved over the years was this 1979 312 T4 car. Jody Scheckter drove a car like this to the Drivers Championship that year and this one was driven by the late Gilles Villeneuve.
Wind the clock back a few more years and you get to 1971 and this 312 B2. This was Jacky Ickx' car for the 1971 season in which he won the Dutch Grand Prix. It was also driven by one Mario Andretti, a rising star who would come to real prominence later in the decade.
Sadly this is not an original car, but a faithful recreation. This is a 156 F1, the mid-engined Ferrari in which Phil Hill took the 1961 Drivers' Championship.
Not many people realise that Ferrari dallied with Indy cars, but here's one of the machines that they built for that purpose, the Tipo 637 Formula Cart Indy. This was 1986, and Ferrari was so frustrated by changes in Formula 1 that they threatened to pull out completely, hence the development of a car for an alternative series. Of course, they did not.
They did not completely waste their investment, though. as the engine from the Tipo 637 was used in this Lola T91/100 Alfa Cart Indy. Driven by Danny Sullivan, the best result the car achieved was a 4th place.
Bringing things right up to date was this 458 GT2, a car which won the World Championship from 2011 to 2013.
This F40 LM was developed as a customer race car. It was run both in the IMSA series in the US and the BPR in Europe.
Once upon a time, race cars were beautiful, before the days when form had to be sacrificed for function. This 330P is a case in point. Developed from the 275P, the engine was bored out from 3.3 litre to 4 litres. The car was raced both by the factory and privateers in 1964. Just three were built.
This 333SP dates from 1994. Developed for Sports Car Racing, it was based on F1 technology, and featured a 4 litre V12 engine. It won the Sebring 12 hour race in 1995, 97 and 98 as well as the Daytona 24 in 1998.
Based on the 512S, this 712 Can Am was used to contest the US Can Am series. It featured a 7 litre engine.
There were a couple of bikes featured in the display.
Run at Le Mans in 1974 was this 308 GT4/LM, a unique racer from Luigi Chinotti's North American Race Team.
The Serie Corsa Cliente F355 Challenge ran in Japan, Europe and America in 1995 using cars like this one.
The 512M ("M" standing for "Modificato" from the 512S) appeared in late 1970. It was made famous when driven by Steve McQueen in the 1977 movie "Le Mans".
Also with a Steve McQueen connection, as he once owned the car, was this 275 GTB4. It was once converted to be a Spider, but recently has been carefully rebuild as the closed Coupe model.
ENZO's OFFICE
A recreation of Il Commendatore's office, complete with a version of Enzo sitting at his desk features in the link from this initial area to other parts of the museum.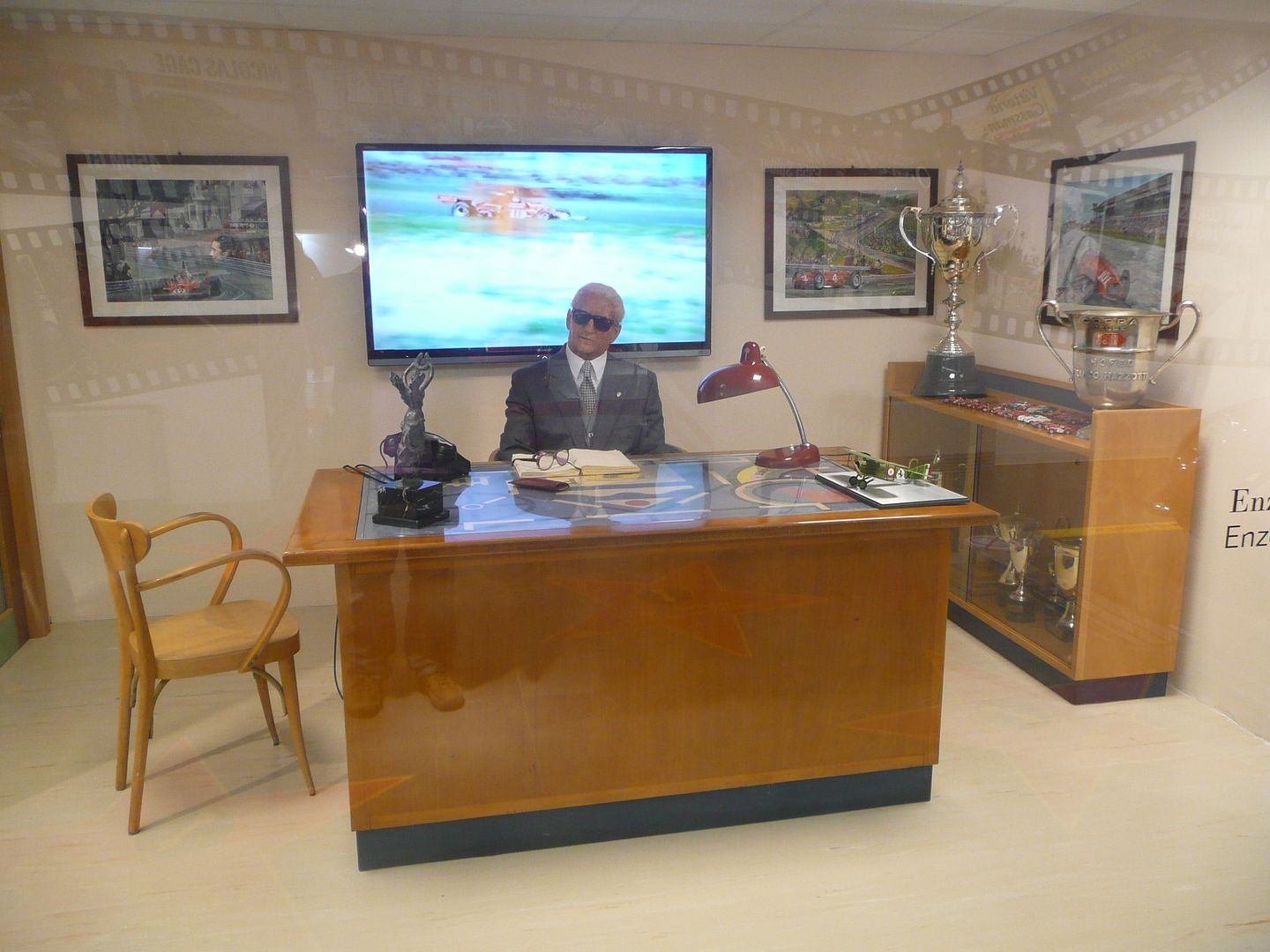 THE GRAND PRIX HALL
This display is one of the permanent ones, and so was as I saw it on my last visit, and it celebrates the fantastic record achieved by the Formula 1 team. Ferrari is the only manufacturer to have participated in all seasons of the Formula 1 Championship, and in that time has won 16 Constructors and 15 Drivers Titles. The display here concentrates on the cars from the most successful period of this long era, with an example of the cars used in every year from 1999 to 2008, a time when Ferrari won the Constructors Championship every year from 1999 to 2008 with the exception of 2005 and 2006, and the Drivers Championship from 2000 to 2004 and again in 2007.
As well as examples of cars from every season, there are vast arrays of trophies on show and a number of the engines are also displayed.
ROAD CARS
This is one of the fabulous 275 GTB4 NART Spiders. Just 10 were made, for the US market, ordered by Luigi Chinetti.
This 1958 250 GT California Spider was one of the long wheelbase cars. A short wheelbased model appeared in 1960.
One of the most beautiful cars ever made, in my opinion, the 246 GT "Dino" was made from 1972 to 1974.
This is one of the early "Plexiglass" fronted 365 GTB/4 "Daytona" cars.
Looking very like the earlier 250 GT/E, this is a 330 America. 100 of these were made for the US market, featuring a 4 litre V12 engine. Visually it was indeed identical to its antecedent.
The BB512 was the more powerful version of Ferrari's first mid-engined car, the Berlinetta Boxer, object of many a small boy's dreams in the mid 1970s.
The Barchetta version of the 550 was produced to celebrate Pininfarina's 70th anniversary. This is definitely a car for nice climates, as the roof is, well, little more than a joke. Without a roof, though, it looks fantastic.
No exhibition with California in the title could do without Ferrari's latest car to bear the name, and this is the very latest version, the California T
The SA Aperta.was based on the 599 GTB, and looks fantastic  Introduced at the 2010 Paris Motor Show, the SA Aperta was a one-off collection in honour of designers Sergio Pininfarina and Andrea Pininfarina. Only 80 examples were released. The SA Aperta used the higher performance engine from the 599 GTO.
Engines from some of Ferrari's recent hypercars were on show: Enzo and F40.
This mural shows some of the different numbers and names, and how they have been badged, on Ferraris over the years.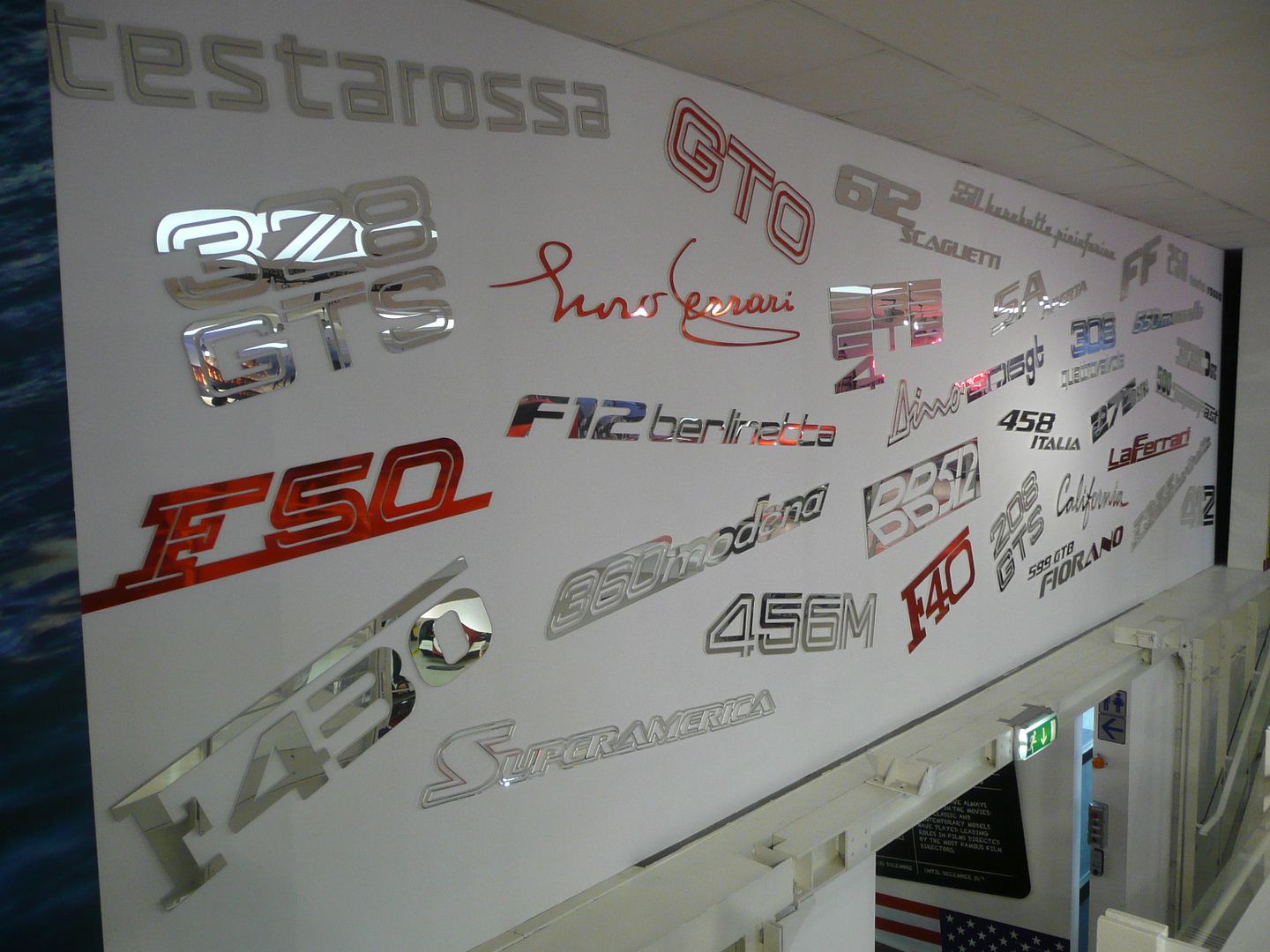 This Daytona GP4 car is one of 3 series of 5 cars which were produced from 1971 to 1973. Designed for customer competition, this car won the France Tour de Auto in 1972 and took class wins at Le Mans in 72., 73 and 74.
A 400 SuperAmerica, with several special build features for the first owner of the car.
This 212S Export Burano started as a 212 Export Barchetta, and was rebodied by Carozzeria Autodromo in 1953/54 for the film "The Racers".
Older still was this 166 Inter Berlinetta Touring. These cars were made between 1948 and 1950.
Just a 360 Spider, I thought, when I first saw this, then I looked again, and noticed that it is not! This is a special one off car made to be used by the Ferrari Chairman's wedding in 1999.
This Thomassina III is based on a 250 GT Coupe and is the third car made by the American Thomas Meade.
36 of these 500 Superfasts were made between 1964 and 1966. They cost twice as much as a Rolls-Royce, so were only affordable by the very wealthy. Peter Sellers had one and the Shah of Iran had 2.
This Colani Testa d'oro was based on a Testarossa chassis. With two turbos to boost its Flat 12 engine, it achieved 351 km/h on the Utah Salt Flats.
TECHNOLOGY HALL
The FF is quite different from any Ferrari that has gone before it, and many were unconvinced. I rather like it.
Yet more engines were displayed in this area.
Also on show was a 360 Modena.
As well as the exhibition halls, there is an F1 simulator (with a long queue!), a cafeteria, anew Ferrari store with all manner of official merchandise, and a book store. There is plenty here to keep everyone entertained for many hours. More details are available on the museum's own website: http://museo.ferrari.com/
WANT TO DRIVE ONE?
A number of rental companies are set out right next to the Galleria, and they had a range of Ferrari (and an interloping Gallardo) available, hoping to entice customers into taking one out to experience for themselves. Prices are not cheap, but may still be the lowest cost way of getting behind the wheel, on the public road.