There have been Hill Climbs at Prescott since 1938 and the appeal of the venue does not seem to have faded in all that time, thanks to a combination of generations of determined individuals who want to test themselves and their cars out against a superficially easy looking but surprisingly challenging in practice ribbon of tarmac which snakes up the Gloucestershire hillside, and the fact that there are plenty of people who want to come and watch. But with ever more competition for people's attention and presence, relying on past levels of interest is rarely sufficient these days, and so the organisers of the events program have needed to come up with new ideas to keep levels of interest in Prescott high. Their first venture in this regard in recent times has been the "La Vie en Bleu" event. held in late May, which puts a very special French theme onto the weekend. Run since 2007, it has been an enormous success, and now easily constitutes the biggest meeting of the year. Following up on that, a couple of years ago, it was decided to apply an American theme to the season finale, the Autumn Classic, and as word has got round, what started out with a few American cars in the Paddock and the Car Park has become something much bigger, with a complete transformation of the ambience of the entire venue. Each year has been better than the last and 2014 proved to be the best yet and a fitting end to another year of great events at this legendary location. I attended on both days, and was blessed with a mix of weather, including plenty of autumn sunshine, and here are the highlights.
THE AMERICAN THEME
The Paddock area contained a number of special displays, all consistent with the American theme, ranging from some historic competition cars to plenty of US road cars. Couple that with live music throughout the day, a Laurel and Hardy act and pair of Stars and Stripes-endowed Stilt Walkers doing a lot of "yeeeeeeeee ha" and there was a very different feel to the venue from the traditional Prescott meet.
"OLD YELLER II"
This famous car has been seen at Prescott a number of times before. Based on the chassis of a Buick Special, this one-off car was built in late 1959 at the legendary Hollywood Motors by Max and Ina Balchowsky who had raced cars in Sports Car Races since the early 1950s.  Max and Ina worked side by side on race cars at Hollywood Motors and they were recognised as the premier Hot Rod engine transplant specialists of that time, having first started racing with a borrowed XK120 Jaguar at the 1951 Reno Road Races. They just knew they had a much faster car in their highly modified, channeled 32 Ford Roadster, with a Buick motor, named the Bu-Ford Special. The Bu-Ford Special raced at Pebble Beach and other major Sports Car Races and that was the start of an incredible journey for Max and Ina in Road Racing and competing against the very best including many Factory Teams from Europe. The next car was a highly modified Doretti Buick and then they modified the Morgensen Special as that car earned the name Old Yeller I. Then they created this one, Old Yeller II, which was extremely fast from the start but had durability problems in the first five races. From that point in 1960, the Old Yeller II made racing history competing at all of the major International Sports Car Races as well as almost every other important California Sports Car Race in 1960. In 1960 Old Yeller II was driven by by many legendary drivers such as Carroll Shelby (Road America & Santa Barbara), Dan Gurney (Riverside International Raceway & Laguna Seca), Bob Bondurant, Billy Krause, Bobby Drake, Paul O'Shea, and Max Balchowsky himself. Many track records were broken with the Old Yeller II and the "Home Built Backyard Special" competed against the very best and newest Maserati Birdcage, Ferraris, Jaguars, and Porsches along with the road racing "Specials". The Old Yeller II continued racing from December 1959 until 1974 with the last SCCA race being a regional race in California. After this, Old Yeller II languished in a backyard in Fresno for several years where it was discovered by David Gibb in the mid 1970s. Mr. Gibb restored the Old Yeller II to a basic original configuration. The work being completed in Santa Barbara, California. The Old Yeller II started the Vintage Racing circuit and in the early 1990s, Ernie Nagamatsu bought the Old Yeller II from Dave Gibb and proceeded to restore the car to the most period correct configuration of 1959. The Old Yeller II is currently vintage raced by owner driver Ernie Nagamatsu and occasionally by featured guest drivers. Old Yeller II races at events including: Elkhart Lake Road America, Coronado Speed Week, Palm Springs Revival, Phoenix International Raceway, Willow Springs, Monterey Historic Races and the Old Yeller II has been featured at five Goodwood Racing events (Festival of Speed and the Revival Meeting Races) in the UK.
CHAPARRAL
Alongside Old Yeller II were a pair of early 1960s Chaparrals. Chaparral Cars was an American racing team which built race cars from 1963 through 1970. Named after a fast-running ground cuckoo that is commonly known as a chaparral or a roadrunner, it was founded in 1962 by Formula One racer Hap Sharp and Jim Hall, a Texas oil magnate with both engineering and race car driving skills. Jim Hall raced the front-engined Chaparral (retroactively called the "Chaparral 1") through 1962, bought from Troutman & Barnes (like the Scarab, the Chaparral 1 cars were built in California by Troutman & Barnes). Hall and Hap Sharp extensively modified their Chaparral, and eventually decided to build their own car. They obtained permission from Trouman & Barnes to use the Chaparral name, which is why all of Hall's cars are called Chaparral 2s. The two cars on show here were Chaparral 2 models. The first Chaparral 2-Series was designed and built to compete in the United States Road Racing Championship and other sports car races of the time, particularly the West Coast pro Series races that were held each autumn. Hall had significant "under the table" assistance from GM, including engineering and technical support in the development of the car and its automatic transmission (this is evidenced by the similarity between the Chevy Corvette GS-II "research and development" car and the Chaparral 2A through 2C models). First raced in late 1963, the Chaparral 2 developed into a dominant car in the CanAm series in 1966 and 1967. Designed for the 200 mile races of the CanAm series, it was also a winner in longer endurance races. In 1965 it shocked the sportscar world by winning the 12 Hours of Sebring in a pouring rain storm, on one of the roughest tracks in North America. The Chaparral 2 featured the innovative use of fibre glass as a chassis material. The Chaparral 2C had a conventional aluminium chassis. It is very difficult to identify all iterations of the car as new ideas were being tested continually. The 2A is the car as originally raced, featuring a very conventional sharp edge to cut through the air. It also featured a concave tail reminiscent of the theories of Dr. Wunibald Kamm. The first aerodynamic appendages began to appear on the 2A almost immediately to cure an issue with the front end being very light at speed with a consequent impact on steering accuracy and driver confidence.  As the car evolved, it grew and changed shape. Most call these the 2B, as raced through the end of 1965.  The cars on show here were a 2A and a recreation of the 2B. One of them made a number of sorties up the hill, and you knew when it was being prepared, as the noise was really something else.
There were plenty of American road cars, too:
BUICK
In the GM hierarchy, Buick sits above the mass market Chevrolet, Oldsmobile and Pontiac ranges, but below Cadillac. Although the outer panels might suggest otherwise, the post war Buick cars shared much with the other brands in the family, but it was felt important that they looked different. This was an era of optimism, with flash styling, lots of chrome and bold new two tone paint schemes, and significant annual revisions,  The Century was towards the top of the Buick range, using a nameplate which was kept in use until 2005. This is a 1956 model.
A complete redesign came in for 1958, and this is a Convertible version of the entry level model, the Special. As a period piece, this was absolutely perfect, laden with chrome and over the top details that exemplify the era.
Fifteen years later and the cars were even bigger, but the styling had been toned down a lot. GM introduced new styling across their  various brands in 1973, with cars which are often referred to as "Colonnade" thanks to the design of the side pillars. This is a 1973 Electra 225 Hardtop.
The last of the really big Buicks were the Roadmasters, a sister model to the Chevrolet Caprice. Launched in 1991, the cars ran through the mid 1990s, but their time was clearly up as even Americans started to view them as being just too large without offering the sort of space that could be gained by going for the emerging breed of SUVs. Sedan and Wagon models were offered, the latter complete with fake wood side panels.
CADILLAC
Oldest of the Cadillacs present was this V8 model from the 1930s.
The 62 Series of Cadillacs ran from 1942 to 1964, receiving frequent updates and new body styles. This one, dating from 1948 is the third model type to bear the name, and it bore a revised front end with a far less chrome laden grille than the cars of the previous year (yes, really!).
By 1957, Cadillac had reached the fifth generation of the 62, offering the latest model in a mixture of Sedan, Coupe and Convertible body styles. This one dates from 1958
Far more recent was this stretched Limo version of the de Ville.
CHEVROLET
What could be more American than the Corvette? America's popular sports car, it celebrated its 60th birthday last year, and there have been 7 distinct generations during that time, with a vast array of model variants keeping interest in the car high among new car buyers as well as the thousands of enthusiasts. There were a number of Corvettes here, with several examples of the second, third and fifth generations all on show.
There were a number of Chevrolets here from the early 50s, showing how the styling evolved quite carefully in the immediate post war period.
This 1957 Bel Air 2 Door is probably the best known and the most sought after version of what are known as the "Tri-Star" cars, the name given to the Chevrolet range of Sedans, Coupes, Wagons and Convertibles produced between 1955 and 1957. Bel Air was the top of the range model. I later found a 1955 210 model, the middle of the range version, parked up on the hill.
Chevrolet introduced a completely new body style for their cars in 1958. It was to last just one season, as even before it was released to the market, GM styling chief had seen what Virgil Exner, his opposite number at arch rival had planned for the Chrysler portfolio of brands and he ordered a complete rethink of GM's own designs in an effort to try to keep up. As before, the 1958 cars were available in a wide variety of models, as 2 and 4 door Sedans and Coupes, an open topped Convertible and as Estate (Wagons), with different model names used to signify the trim and equipment levels. This is a Brookwood.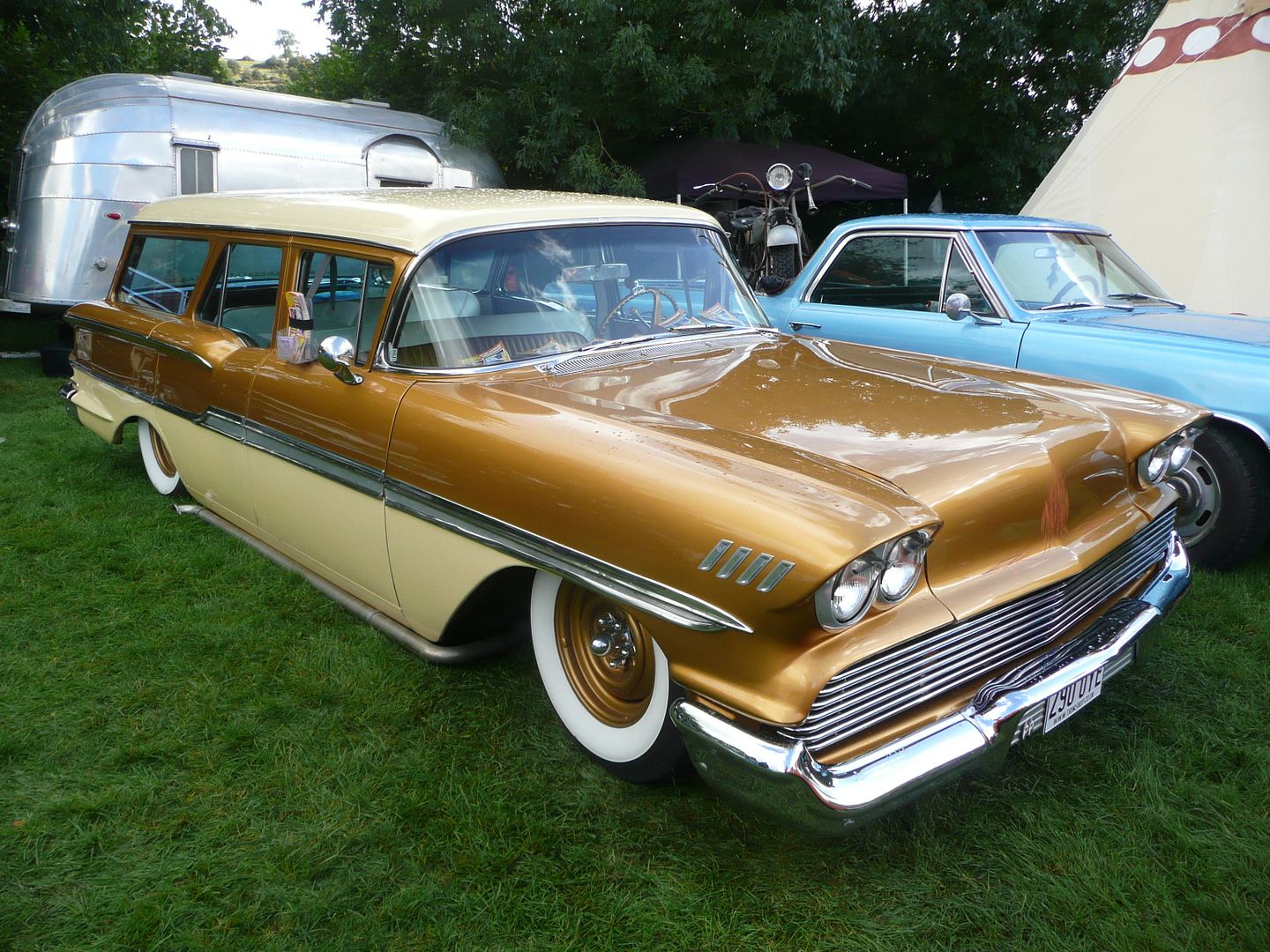 The result of that rethink for 1959, and continued on into the 1960 cars were a range of models with far more extreme detailing and fins like you had never seen before. This 1959 Impala, Chevrolet's mainstream Sedan makes the point perfectly.
Once the 1960s got underway, the fins were trimmed back and the styling was toned down a lot, so by the time that this 1964 Impala was made what you got was quite a different look indeed. This car was absolutely immaculate inside and I was surprised to learn that it is completely unrestored. Amazing!
The Camaro was Chevrolet's riposted to Ford's massively popular Mustang. It took three and half years after the launch of the Ford for this car to appear, but ever since then the two have locked horns, with each having their devoted and usually completed biased supporters. I am a big fan of the styling of the first generation Camaro, which ran from 1967 to 1970, so it was good to see a couple of these models at the event.
El Camino was the name given to Chevrolet's car-derived pick-up, a series that ran from 1960 through to the late 1990s, evolving in parallel with the saloon models. A couple of these were on show here.
If the El Camino was not large enough, then in the 1960s through to the 1980s, Chevrolet had the S10. This looks small now, compared even to the Colorado let alone the Silverado pickups which Chevrolet now sell.
This Cavalier Coupe was in the main car park. It bore a large notice in the front windscreen advising that it is believed that this is the only example of the car in the country. Quite why anyone bothered to import it is a bit of a puzzle, as this is not a car that I have really found anyone to rate let alone to express affection for. I've driven the Sedan version, and have to say it struck me as fairly unpleasant in many regards, with a particularly cheap and nasty interior. I guess in Europe it does at least have the novelty value which it lacks in America.
DODGE
Needing no introduction, Dodge surprised everyone when they took their attention grabbing Viper concept sports car and put it into production. Offered initially as an open topped machine a closed in GTS Coupe followed soon after, and it is this version which was then taken racing. There were examples of both present
Bringing things right up to date was this Challenger, seen in top spec SRT guise, which means the full-fat 6.3 litre V8 Hemi engine under the hood.
Today's Challenger, as is the case with its two arch rivals from Ford and Chevy, is a modern reinterpretation of a great bearing the same name from the late 1960s and early 1970s and so you can make the comparison, here is that 1970 car, also in R/T format.
ESSEX
Super Six
FORD
Needing no introduction even now, is the Model T, Ford's iconic model which put America on wheels and set the trend for mass production. A number of different models were on show here.
Having made his name, and mobilised America with the long running Model T, the ever creative Henry Ford was constantly looking for new tricks to continue to lead the American motor industry, as he knew that plenty of rivals would be quick to follow up what he had initiated. When the replacement for the Model A was premiered in 1932, he shocked everyone by offering the car with a V8 engine, something that none of his rivals had anticipated, let alone could they match in a car that was aimed at, and priced for the average motorist. These V8 cars, with their distinctive sloping grille were offered with a wide variety of different body styles, quite a few of which were represented at this event.
This 1938 Model 81A Four Door De Luxe pops up at all manner of events across the South West of England, and beyond.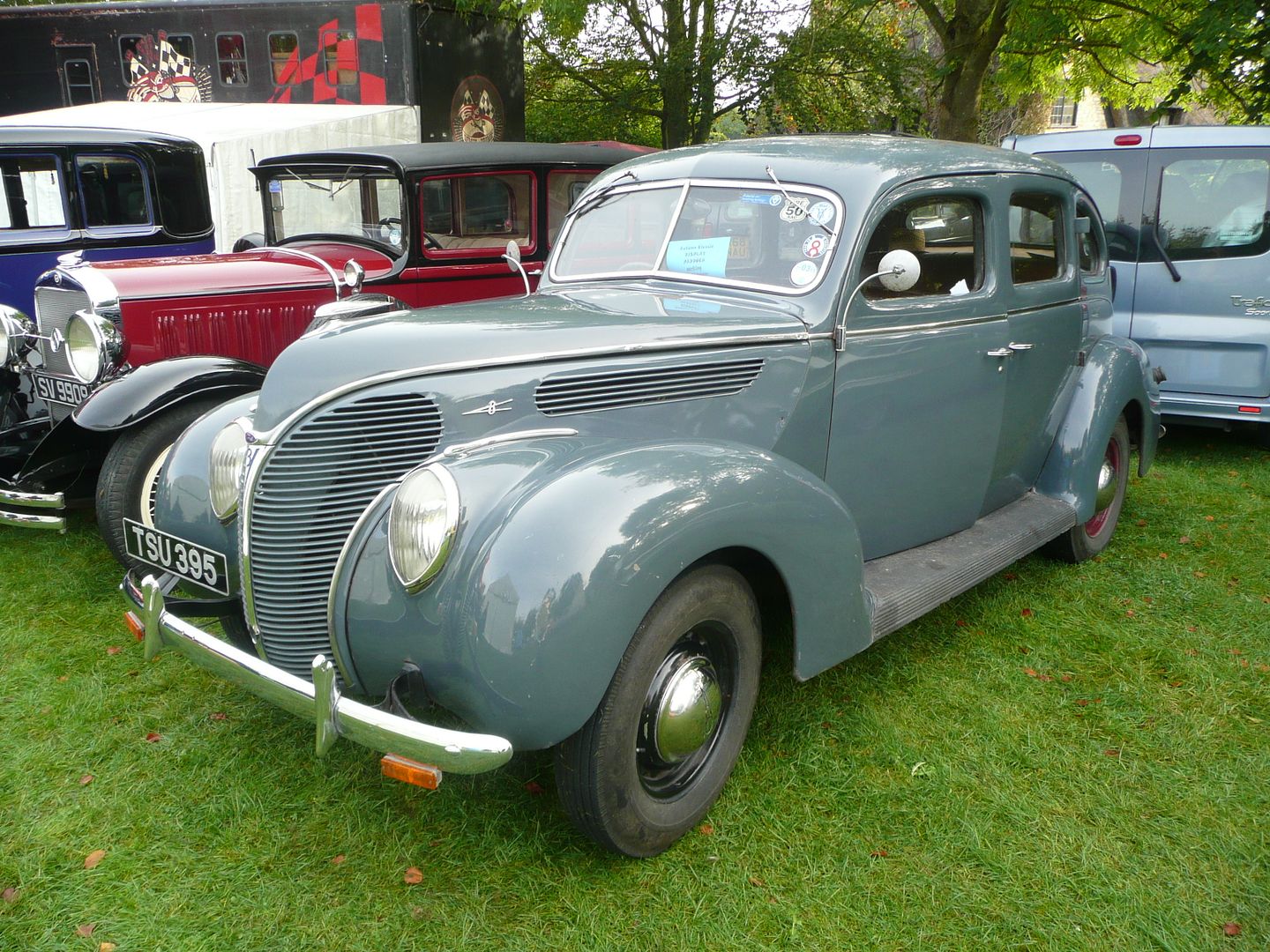 The 50th anniversary of the Mustang has been marked at a number of events during the year, and whilst there was no special recognition of this landmark here, there were lots of Mustangs of various vintages scattered around the display areas and in the car parks. Most of the cars came either from the very early years or were very recent, which is perhaps not too much of a surprise as these are probably the best loved eras of Mustang production. Even so, there was plenty of variety, with not just the early 1964.5 body styles in evidence, but some of the later first generation cars including a Shleby GT350 from 1959 and the Mach 1 model from the early 1970s which achieved fame after starring in a Bond film.
The just superceded Mustang was much in evidence, too. Although this car, like its predecessors, has never been officially sold here, quite a few have found their way to the UK.
This might look like a Mustang, and indeed that is how it started life, but it is now a Dragster. Boasting over 600 bhp, this 1968 model is taken by father and son, the Dark Riders Racing Team,  to events all over the country. It was, by some margin, the noisiest car of the whole event.
Whilst the mainstay of the Ford range in the mid 1960s was the Galaxie, a full-sized Sedan, Ford used all sorts of different names for their full-sized cars in the mid 1960s, often choosing a different name simply to denote a trim level. That is certainly the case for this one, an XL Coupe, which was effectively a higher spec and Coupe body version of the Galaxie. This one dates from 1967.
Ford introduced the SVT Raptor version of the big selling F150 truck for the 2010 model year. Intended for dedicated off-road use, the Raptor has a number of modifications to improve its off-road ability. It includes a full set of FOX shocks with 11.2″ of front suspension travel and 12.1″ of rear travel. It wears a wider body and wings than the standard F-Series truck. In a departure from the F-150, the Raptor wears no blue-oval Ford emblem on its grille (for the first time since 1981); instead, the grille has "FORD" spelled out in the centre. In 2011, a full four-door SuperCrew lift kit model was added to the standard 4+4 door SuperCab model. The Raptor is powered by a 411 bhp 6.2-Litre V8, shared with the Ford Super Duty. A 5.4 liter V8 was also available for the 2010 model year.
GMC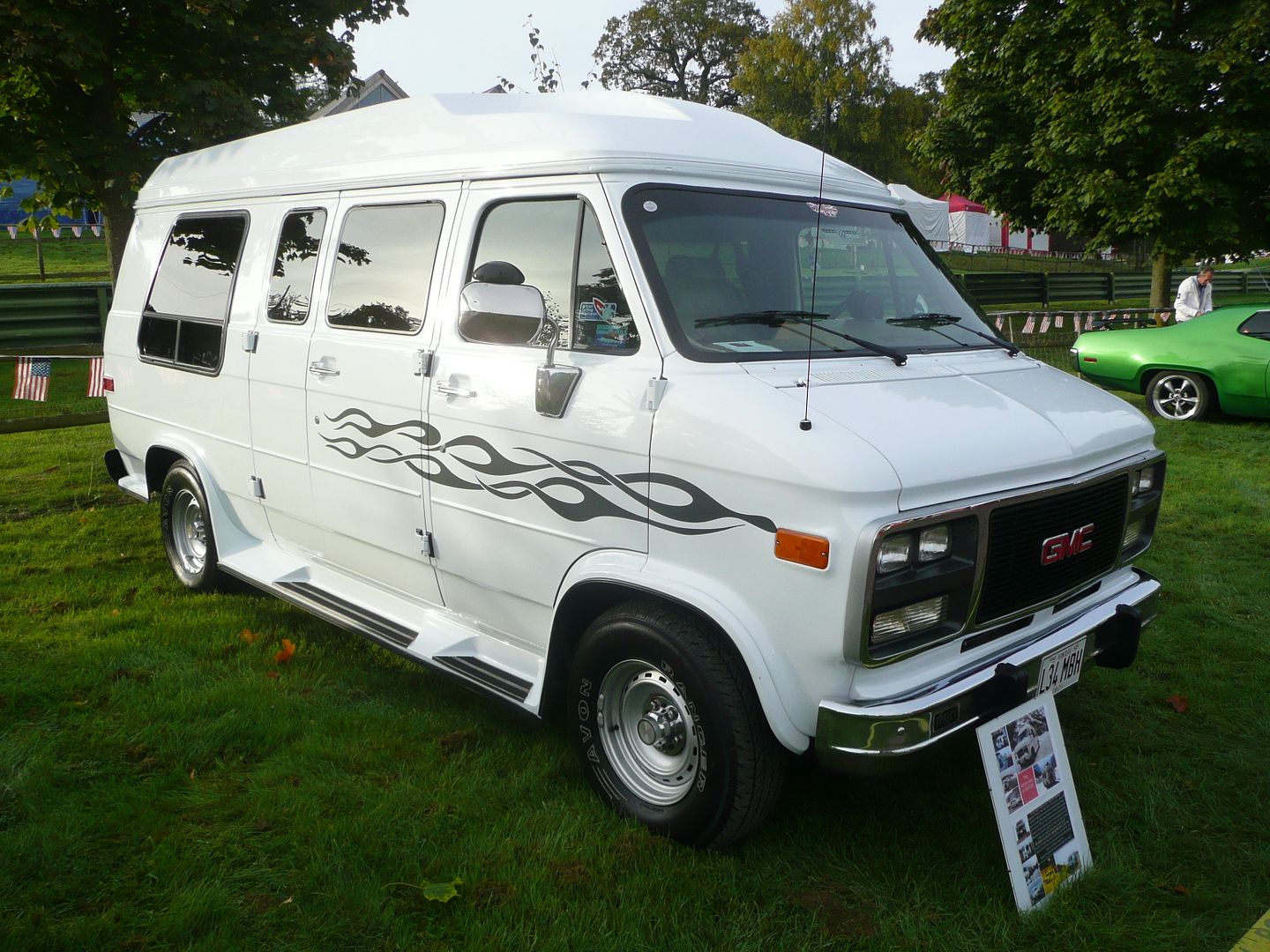 HUDSON
Terraplane
LENOX
I've seen this car at the event before, so I can't claim that I've never head of it, but I can say that I've never come across any other instance of the brand. This one dates from 1913.  Lenox was a Massachusetts company made cars between 1911 and 1917.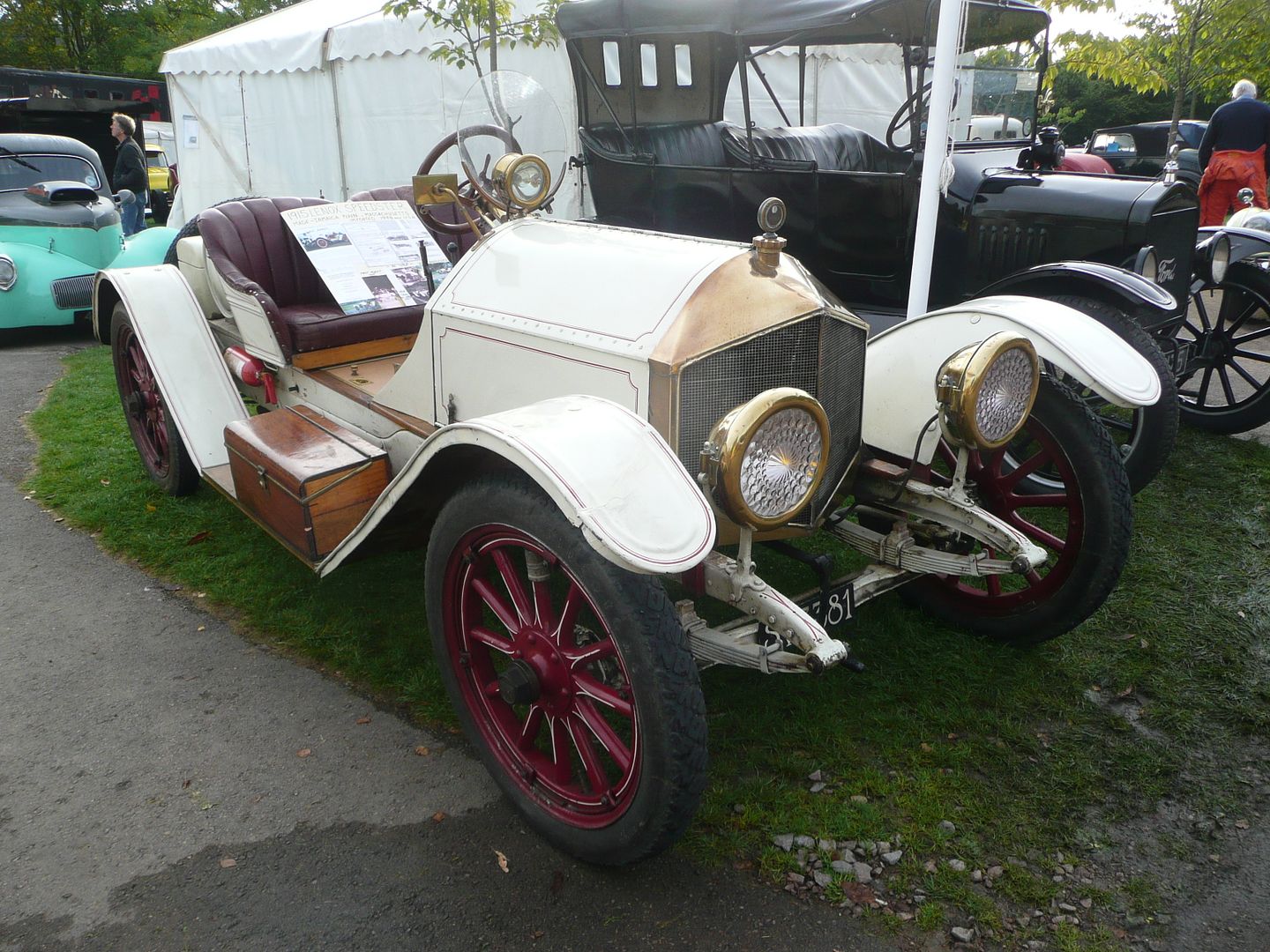 MERCURY
Mid 1950s Monterey Station Wagon
This is a 1965 Marauder Coupe. The Marauder name was first used by Mercury in 1958. Effectively an engine choice, the 383 Marauder engine was a potent 330 bhp unit that could be fitted in the Montclair and Colony Park models in 1958 and the Montclair only in 1959. In 1960 it became a special option for any Mercury. The 1963½ model in the full-size Mercury lineup was available as a 2-door hardtop with a forward-slanted "fastback" roofline, the reverse of the Breezeway roof introduced on other full-size Mercurys. This fastback roofline was developed for both the Mercury Marauder and the Ford Galaxie for NASCAR competition, and may have helped with the many 1963–64 Ford Mercury victories. In 1964, the Marauder became available in a four-door sedan, also with a fastback roofline. It was an option on the Monterey, Montclair, and Park Lane. Marauders also featured bucket seats, central consoles, and other trim items similar to those in the Ford Galaxie 500/XL. As it was common practice during that time to share components between Ford and Mercury, powertrain choices for the Marauder were identical to the big Ford, including 390, 406, and 427 cubic-inch Thunderbird V8s, (which Mercury labelled Marauder and Super Marauder V-8s) and a choice of 3 or 4 speed manual, or 3 speed automatic transmissions. After 1965, the Marauder name was discontinued, though it did get reused a couple times more before Mercury's complete demise in 2010.
OLDSMOBILE
This is a very special 1904 Curved Dash model. It belong to local lady Joy Rainey, and is the car which in April 2013 she drove Coast to Coast across America. As if that were not enough, in 2014 she returned to her native Australia and took the Olds on an even more challenging drive across the Outback.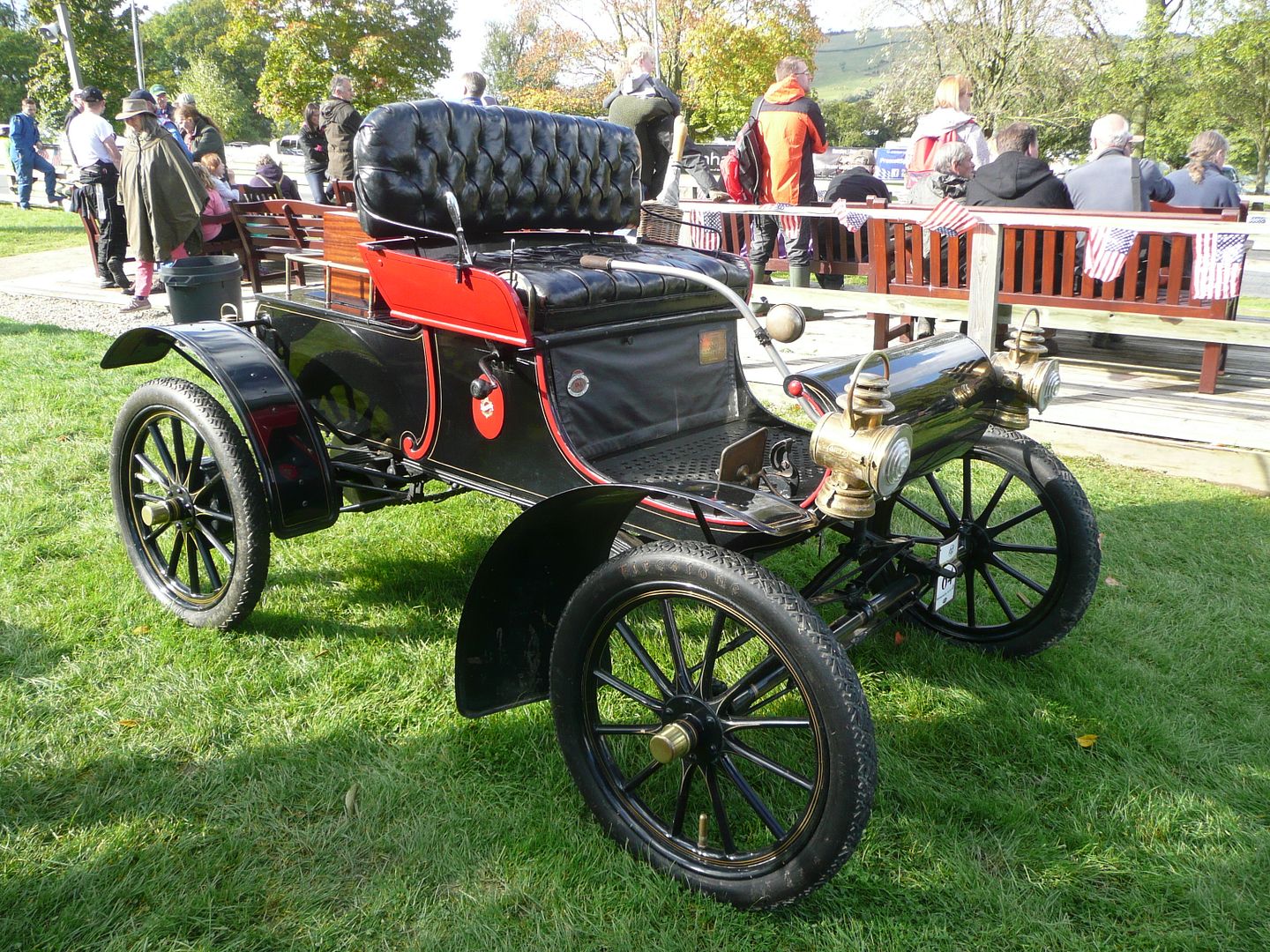 By 1969, when the Muscle Car phenomenon was its peak, Oldsmobile were selling cars like this, the 442. First introduced in 1964, the 442 was initially an option package for F-85 and Cutlass models, and a direct response to in-house rival Pontiac's GTO  The 442 appellation comes from the configuration of the car: a four-barrel carburettor, a four-speed manual transmission, and dual exhaust. It became a model in its own right from 1968 to 1971, then reverted to an option through the mid-1970s. Oldsmobile revived the name in the 1980s on the rear-wheel drive Cutlass Supreme and early 1990s as an option package for the new front-wheel drive Cutlass Calais.
PLYMOUTH
I've seen this 1947 Plymouth de Luxe at the popular Queens Square Bristol Breakfast Club meetings, and elsewhere. This is a very typical example of the sort of volume cars that were sold by all the US manufacturers in the late 1940s as the world recovered from the Second World War.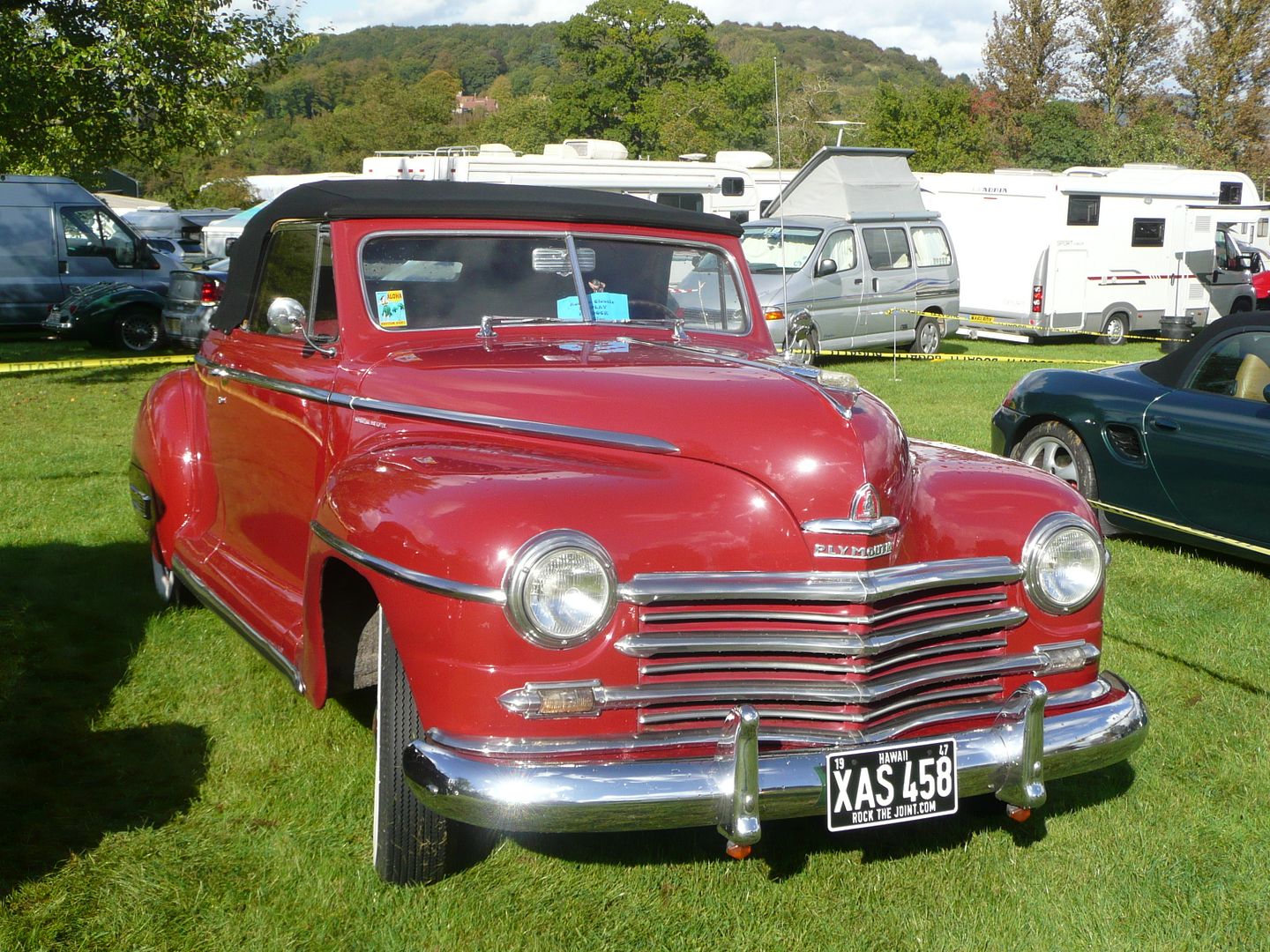 1956 Belvedere Sports Sedan
Automotive trends in the early to mid-1960s had all the US. manufacturers looking at making sporty compact cars. Chrysler's A-body Plymouth Valiant was chosen for the focus of the company's efforts in this direction, and the result, a Fastback Coupe called Barracuda, was released on 1 April 1964, meaning it pre-dated the Mustang by two weeks.. The Ford went on to outsell the Plymouth by a massive margin, but Chrysler Corp did not give up. A second generation of the Barracuda was launched in 1967, offered in a number of different body styles. This is an example of the second generation car.
PONTIAC
1950s Pontiac models mirrored the slightly cheaper Chevrolet models quite closely, as you can see by comparing this early 1950s model with the Chevrolet models depicted earlier in this report. This one dates from 1952 and is a Chieftain, the only model that Pontiac offered that year. The A-body Chieftain had replaced the Pontiac Torpedo in 1949 as Pontiac's smaller and lower priced model and was the first all new design produced by the marque since the War. At launch, the newly redesigned B-bodied Pontiac Streamliner was very similar (if not exact) in dimensions, engines, trim levels and options, the first time since 1934 that all Pontiacs had the same wheelbase. They had standard automatic interior lighting. The Chieftain was initially introduced with four models: Sedan, Sedan Coupe, Business Coupe and Deluxe Convertible Coupe. In 1950, a Catalina Coupe was added to the range while a station wagon was added in 1952, with the demise of the top of the line Streamliner wagon.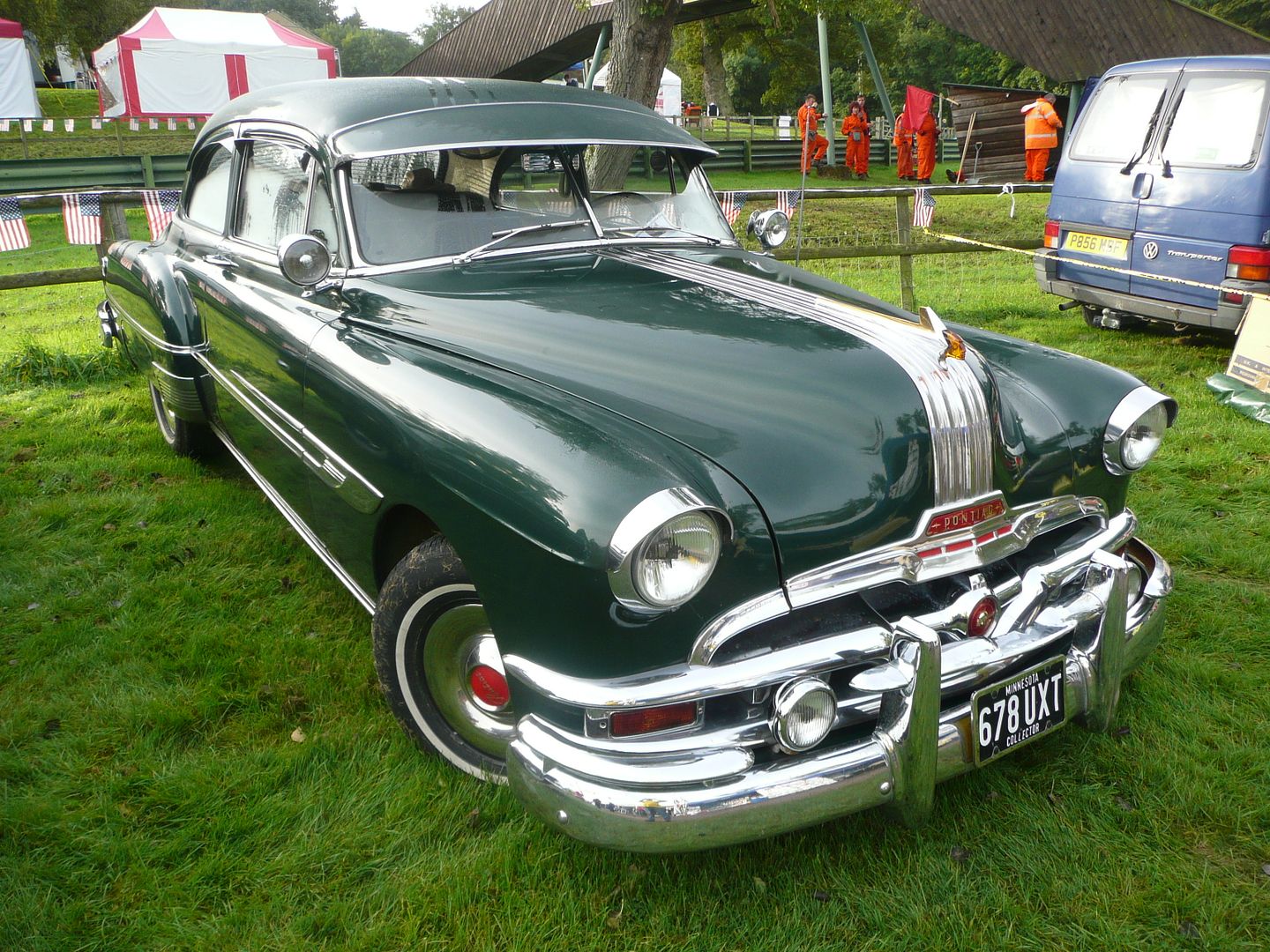 The Firebird was a parallel model to Chevrolet's Camaro, evolving in the same way as its sister car. There were a couple of examples of the Firebird here, a second generation car from around 1974 when the front end was changed with an impact absorbing plastic nose instead of traditional separate bumpers, and then in police livery a late model car.
RAMBLER
For the 1967 model year, all of AMC's intermediates took the Rambler Rebel name, which had been used between 1957 and 1960. The 1967 Rebels were a completely new design from the predecessor models, the Rambler Classic. The new Rebels were bigger and rode on a longer 114″ wheelbase allowing for more passenger space and cargo capacity. The new styling featured sweeping rooflines with more glass area, as well as a smooth, rounded "coke-bottle" body design. The Rebel was now available not only in 4-door sedan, 4-door station wagon, and 2-door hardtop versions, but also for 1967 as 2-door sedan (coupé) with a thin B-pillar and flip out rear side windows, as well as a convertible like this example. Although Rebels generally came with an efficient (by the standards of the day) V6 engine, an advanced V8 was offered as well, giving rise to the potent SST model. This one sports that V8 engine.
"RODS"
What could be more American than the Hot Rod? Although the formula was widely copied elsewhere, the USA has to take the credit for popularising the genre. A wide variety of different Rods were here, ranging from those with proportions close to the original cars on which they were based to those which were really so utterly different.
ROLLS ROYCE
What's this doing in the American section, you may well ask? Well, although we tend to think of Rolls Royce as a particularly British institution, albeit now under German ownership, in the 1920s the firm did also build cars in the US, in Springfield, MA, and this 1923 is one of those cars.
STANLEY
The Stanley Motor Carriage Company was an American manufacturer of steam-engine vehicles; it operated from 1902 to 1924. The cars made by the company were colloquially called Stanley Steamers. Several different models were produced. Early Stanley cars had light wooden bodies mounted on tubular steel frames by means of full-elliptic springs. Steam was generated in a vertical fire-tube boiler, mounted beneath the seat, with a vaporizing gasoline (later, kerosene) burner underneath. The boiler was reinforced by several layers of piano wire wound around it, which gave it a strong, yet relatively light-weight, shell. In early models, the vertical fire-tubes were made of copper, and were expanded into holes in the upper and lower crown sheets. In later models, the installation of a condenser caused oil-fouling of the expansion joints, and welded steel fire-tubes were used instead. The boilers were safer than one might expect – they were fitted with safety valves, and even if these failed, a dangerous overpressure would rupture one of the many joints long before the boiler shell was in danger of bursting, and the resulting leak would relieve the boiler pressure and douse the burner with little risk to the occupants of the car. There has never been a documented case of a Stanley boiler exploding in use.The engine had two double-acting cylinders side-by-side, equipped with slide-valves, and was of the simple-expansion type. Drive was transmitted directly from the engine crankshaft to a rear-mounted differential by means of a chain. Locomobiles were often modified by their owners, who added third-party accessories, e.g. improved lubricators, condensers, and devices which mitigated the laborious starting procedure, and so forth. Later, the Stanley brothers, to overcome patent difficulties with the design they had sold to Locomobile, developed a new automobile model with twin-cylinder engines geared directly to the back axle. Later models had aluminium coachwork that resembled internal combustion cars of the time but retained the many steam-car features such as no transmission, clutch, or driveshaft. They also had a fully sprung tubular steel frame. When they later shifted the steam boiler to the front of the vehicle, the resulting feature was called by owners the "coffin nose." The compact engine ran at considerable steam pressure, with the 10HP boiler described in 1912 as having the safety valve set at "650 pounds" (psi), with the burner set to automatically cut back when pressure reached "500 pounds". The twin cylinder steam engines were at that time 10HP, with 3.25″ bore and 4.25″ stroke, and 20HP with 4″ bore and 5″ stroke, and made extensive use of ball bearings. In order to improve range, condensers were added from 1915. A Stanley Steamer set the world record for the fastest mile in an automobile, 28.2 seconds, in 1906. This record was not broken by any automobile until 1911, although Glen Curtiss beat the record in 1907 with a V-8 powered motorcycle at 136 mph (219 km/h). The record for steam-powered automobiles was not broken until 2009. Production rose to 500 cars in 1917. This car, which has been seen at Prescott a number of times before, has that characteristic "coffin nose" look.
The second Stanley present was a later model dating from 1922 and it looks surprisingly conventional,  which means there is all the more surprise when it is "started" up.
STUDEBAKER
WHISTLING BILLY
There was another Steam Car present, the famous "Whistling Billy".  Dating back to the winter of 1904/05 the White Company built a steam works sprint car for the popular new motor racing on the dirt trotting horse tracks throughout North America. Many of these were one mile ovals so owners could compare any trotting horse across America on time over one mile. The car they created was called The White Flyer but soon it was renamed by the crowds "Whistling Billy" because of the howl that it made from its burners going down the straights. The engine was a 1905 compound 15hp White steam car engine with Stephenson's link motion but was soon modified to have a piston valve instead of a slide vale on the high pressure side because the slide valve could not be effectively oiled under the extra steam pressure required for racing which was initially 800psi. All Whites after 1907 had this modification. The cylinders were the same size but the standard cars were now termed 20hp for the 1907 and 1908 seasons. The steam generator for Billy was a 30hp mono-tube as used later in the 30hp cars of 1907 onwards. It basically has eight coils of half inch ID steel piping like the 20hp cars but has an extra circle of piping on each coil. White Company's advertising literature of the time maintains that most other parts were stock parts from the production cars. The vehicle was 14ft long and weighed 19cwt unladen (2128 lbs). The fuel was gasoline or kerosene. These days it is run using 80% gasoline with 20% diesel at present as this mimics the early very low octane gasoline. The car soon started winning races; on July 4th 1905 it took nearly 4 seconds off the World track record for the mile with a time of 48.35 seconds (about 74 mph). Webb Jay was the driver and he believed that he was driving the fastest car in the World. Six weeks later Webb Jay was seriously injured crashing into a pond when the Whistling Billy hit the barriers while he was unsighted through dirt from the other car in overtaking. He sustained nine broken ribs giving a flail chest, a broken leg, a broken arm and a head injury.  The New York Herald announced next day that he has "Sustained fatal injuries." He did however survive but he never raced again and Whites decided to pull out of motor racing. The White brothers set up Webb Jay with a White agency as recompense as they felt so sorry about his injuries. Charlie Bair, a wealthy sheep farmer from Billings, persuaded Whites reluctantly to rebuild Whistling Billy and sell it to him probably in a deal where he also purchased two 1906 White tourers and a 1906 White runabout. The repair and preparation for racing on the Pacific coast of America was reported in "The San Francisco Call" on 12 December 1905 with the driver to be Albert H. Piepenburg. Charlie did not drive the racing car or even the other Whites but employed drivers and mechanics. Whistling Billy was reported as having taken the Five Mile Track Record in 1906 as well as winning more races. I do not have much information for this year. Another report reads "On September 7th 1907 A.H Piepenburg in a White Flyer and Bert Dingley in a Thomas Flyer succeeded in making the mile in a minute flat. By an accident in the White, these two men were not able to compete in the race of the day."  I have no more reports of this accident to Billy but it seems that Al Piepenburg was also competing in his own 30hp White tourer at the race meeting. I believe that Piepenburg retired from track racing just two weeks after this as his friend Roy Rehm was killed on 21st September while racing a 50hp Matheson. Al was attending the racing while on his honey-moon.  Whistling Billy was rebuilt again in 1907 by Eddie van Luenen of Chicago- perhaps after the above accident. It was reported in a letter back to Charlie Bair that the car was now capable of two miles per minute in a straight line (120mph). Billy continued to win races including in 1907 the valuable Post Cup in Kansas City driven by Ralph Baker where it broke Barney Oldfield's previous records. On December 25th 1908 this newspaper article appeared; "One of the most spectacular accidents ever occurring in American automobile racing happened at Ascot Park, Los Angeles, this afternoon when the front tyre on the White racer Whistling Billy broke on a curve while Gus Siegfried of San Francisco was driving it at more than a mile a minute, the car turning three somersaults in the air a blazing ball of flame, and landing a broken wreck in the centre of the track where it was practically consumed by flames". No mention is made of the driver's condition. of this accident. Whites rebuilt Billy for Bair for 1909.  It is likely at this time that the 1909 engine was used with its double piston valves and Joy valve gear and this is shown by the shorter bonnet as this engine has the valves beside the pistons rather than between them. This engine is almost bullet–proof with few moving parts.  The steam pressure was then raised to 1200psi.  Whistling Billy then went on tour on the Pacific coast of America for the season's racing. In January 1910 the car was returned to Billings after a successful tour and Bair announced at a celebration dinner " Billy has taken 29 races since the car left Billings a little over a year ago and it has been entered for just 29 events with a clean record. The car is just about as fast a thing on wheels as there is in the country. It made a clean sweep of the records on the Pacific coast and beat machines driven by Barney Oldfield and Strang…" Billy continued to win races and take records including the 5 mile track record on a flat circular dirt track in 4.54 minutes at over 60 mph. By 1910 the motor racing was becoming part of the show rather than all of it over the weekends. Flying displays were now the great new thing. This started putting motor racing more into the background. The first wood tracks had been built and stone and concrete ones were coming soon. The long distance tours and rallies were still quite prominent in the USA partly as the roads were so poor. On July 9th 1912 at Portland, Oregon, Billy crashed and broke in half after going over an embankment 30ft high. and is seen in a photograph upside down, broken in half with the body crumpled beside it. The driver I believe was Chris Dundee but I have seen one report which stated that it was the usual driver Fred Dundee, his older brother. Anyway the driver sustained two broken legs and a broken arm, plus some broken ribs. Many assumed that this was the end of Whistling Billy's racing history but there is at least one report of the car racing in 1914. Whites had stopped producing steam cars by 1911.  It is said to have ended up rotting at the back of the premises of Charlie Bair's solicitor in Portland and then the bits being sent to a farm.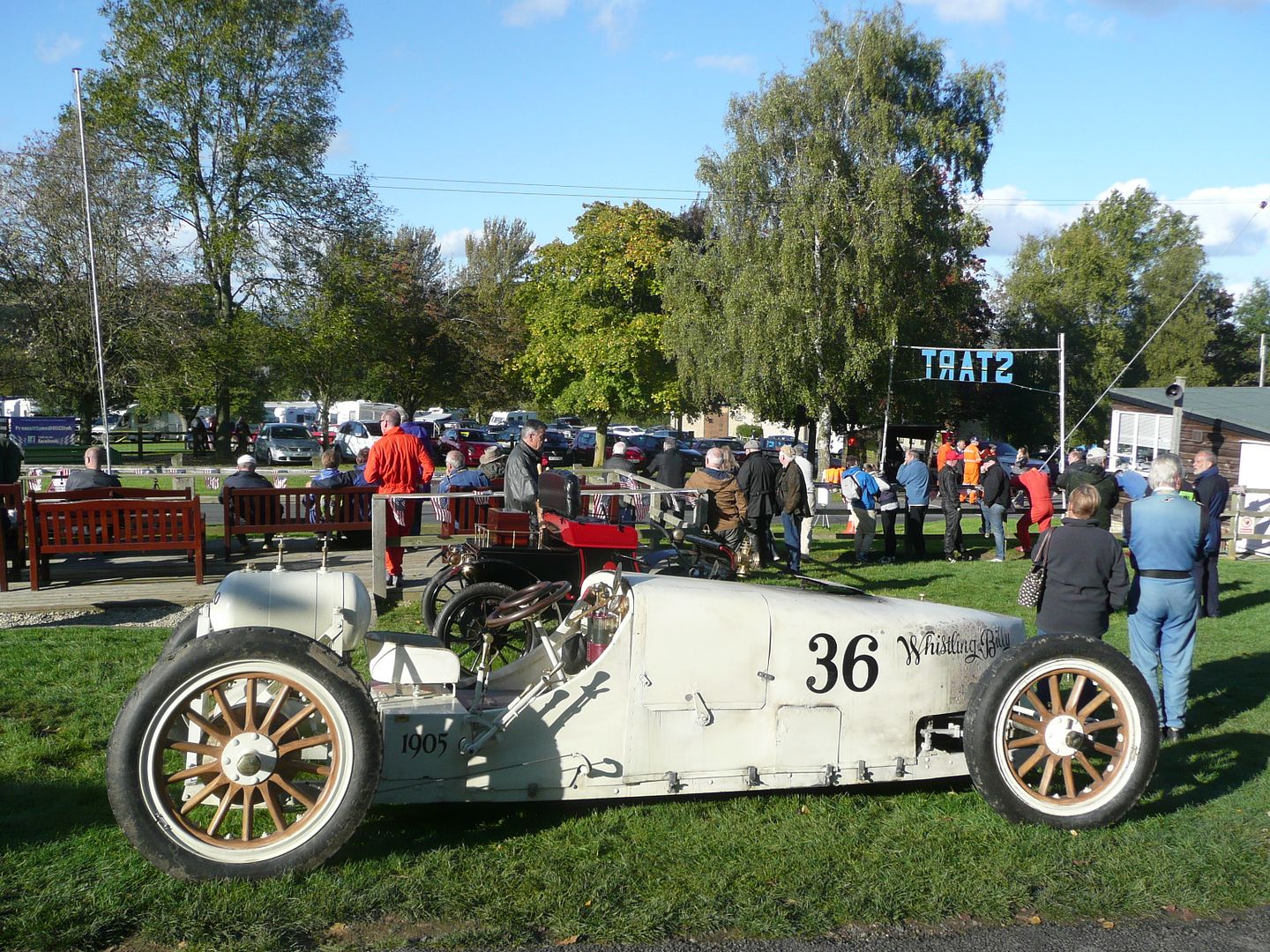 MOTOR BIKES
It was not just American cars which were on show, there was also a sizeable display of American motorcycles, most of them Indians, many dating back to pre-war years.
THE WALL OF DEATH
Set up at one end of the Paddock was the legendary Wall of Death, and several shows a day were held, all of which were free to watch. Although I have seen the spectacle in previous years, it is so impressive that I went again. Not once, but twice, once on each day. Fast moving, and because the whole structure shakes a little as the bikers gather speed up the wall, it proved impossible for me to get any good action shots that were remotely in focus, so content yourself with these.
ALSO IN THE PADDOCK
Although there was a very clear American theme, that did not really extend to the action on the hill. One look at the 1960 Dodge Coronet that put in a particularly spirited. but more than mildly alarming looking, performance would probably explain why. The hill is narrow, and has lots of tight bends, and large American cars designed for straight roads are not really the ideal hill climb car. So, the two days comprised a wide variety of cars in different classes comprising a mix of mildly modified road cars, some more recent than others and some purpose designed hill climb machinery. A selection of the cars I encountered in the Paddock follow in this section of the report.
ABARTH
There's quite often an Abarth 500 competing for honours at Prescott, but in the past it has always been a white one, with Cardiff plates. That was not here, but this later model 595 was, so whether the owner has upgraded his car, or it happened to be a different competitor, I am not sure.  A bit later in the day, I spotted a second Abarth, and this one was white, but it was a Birmingham-sourced car.
ALFA ROMEO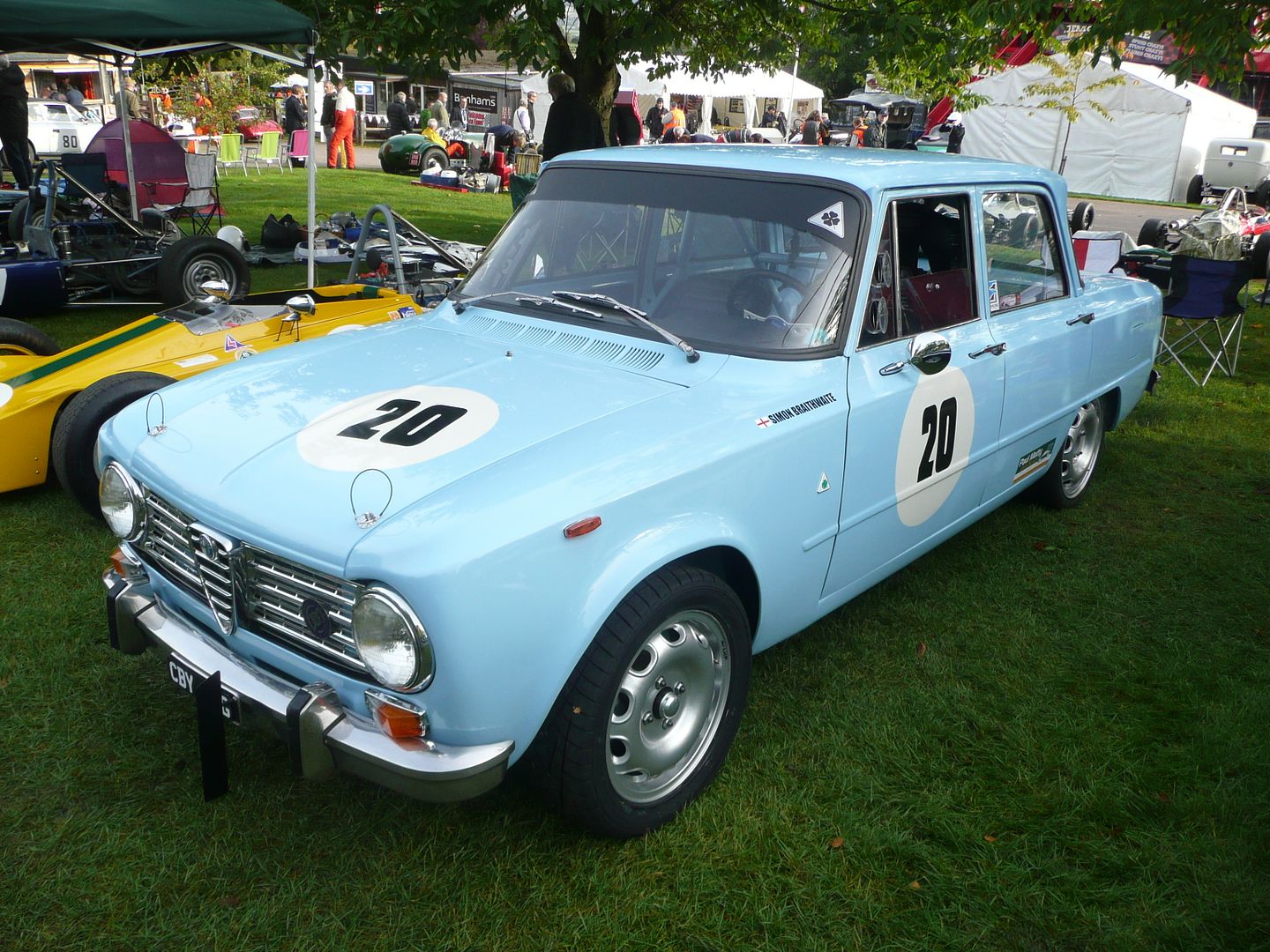 ALLARD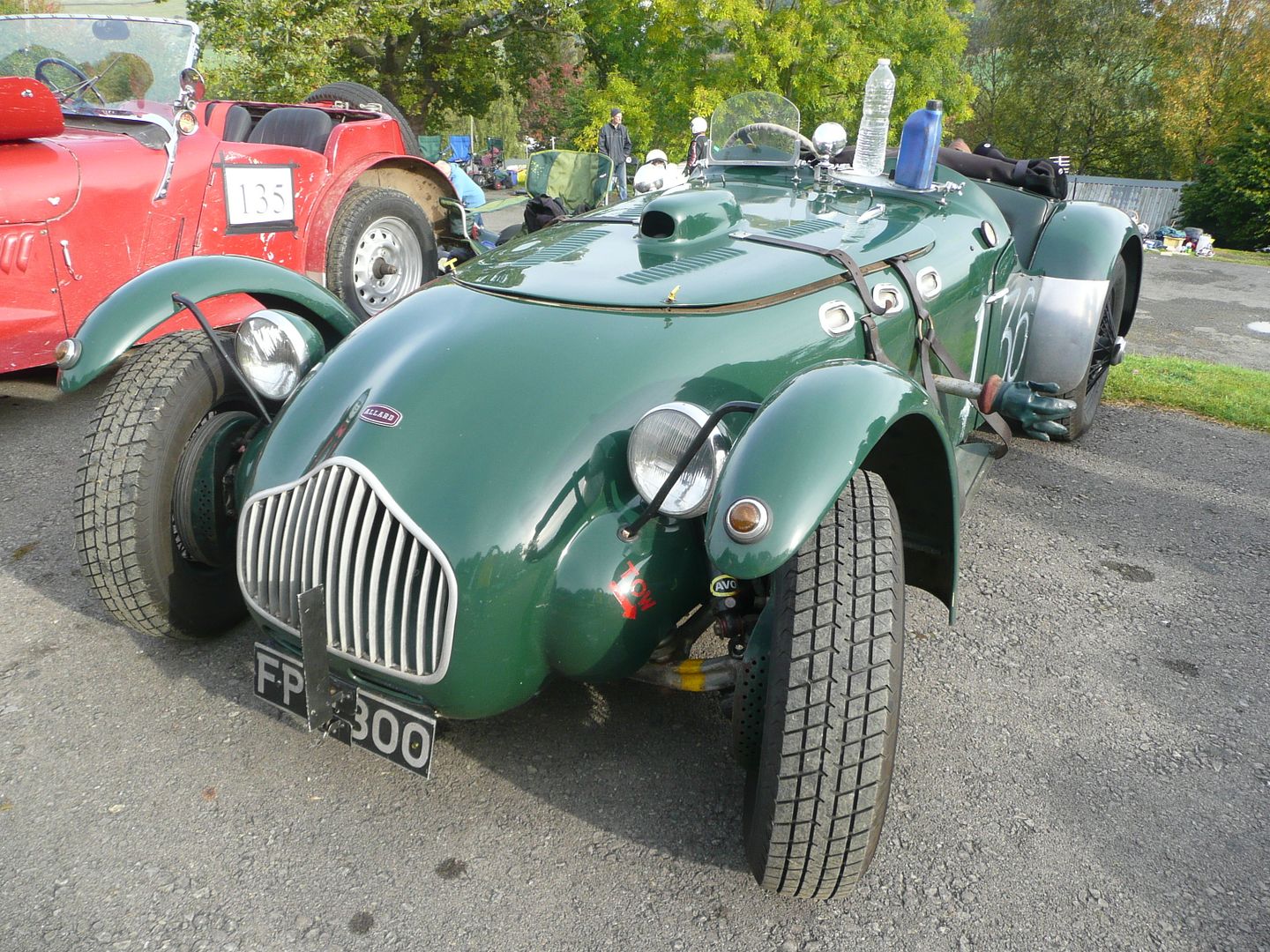 ASTON MARTIN
AUSTIN
AUSTIN HEALEY
BMW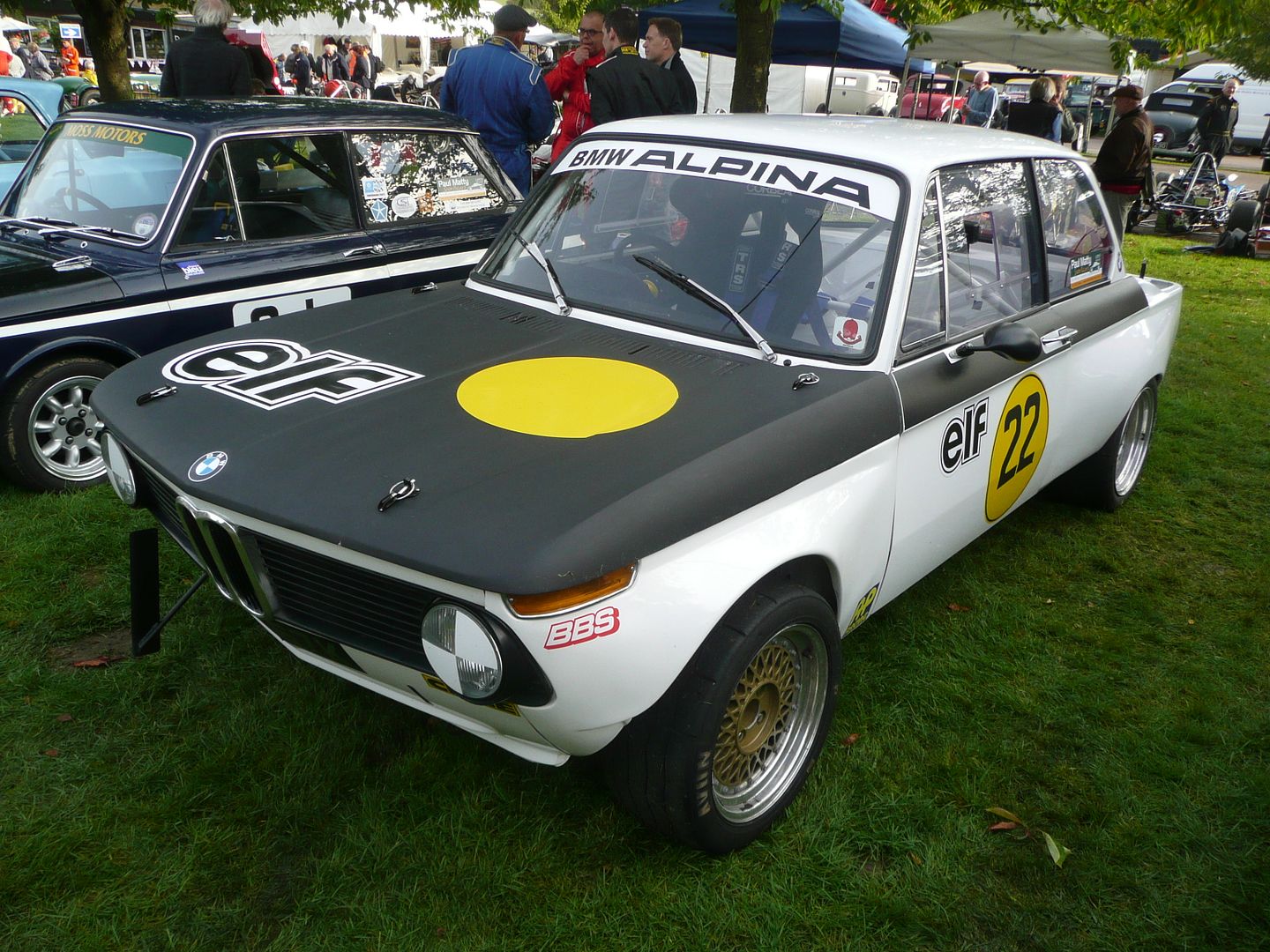 FORD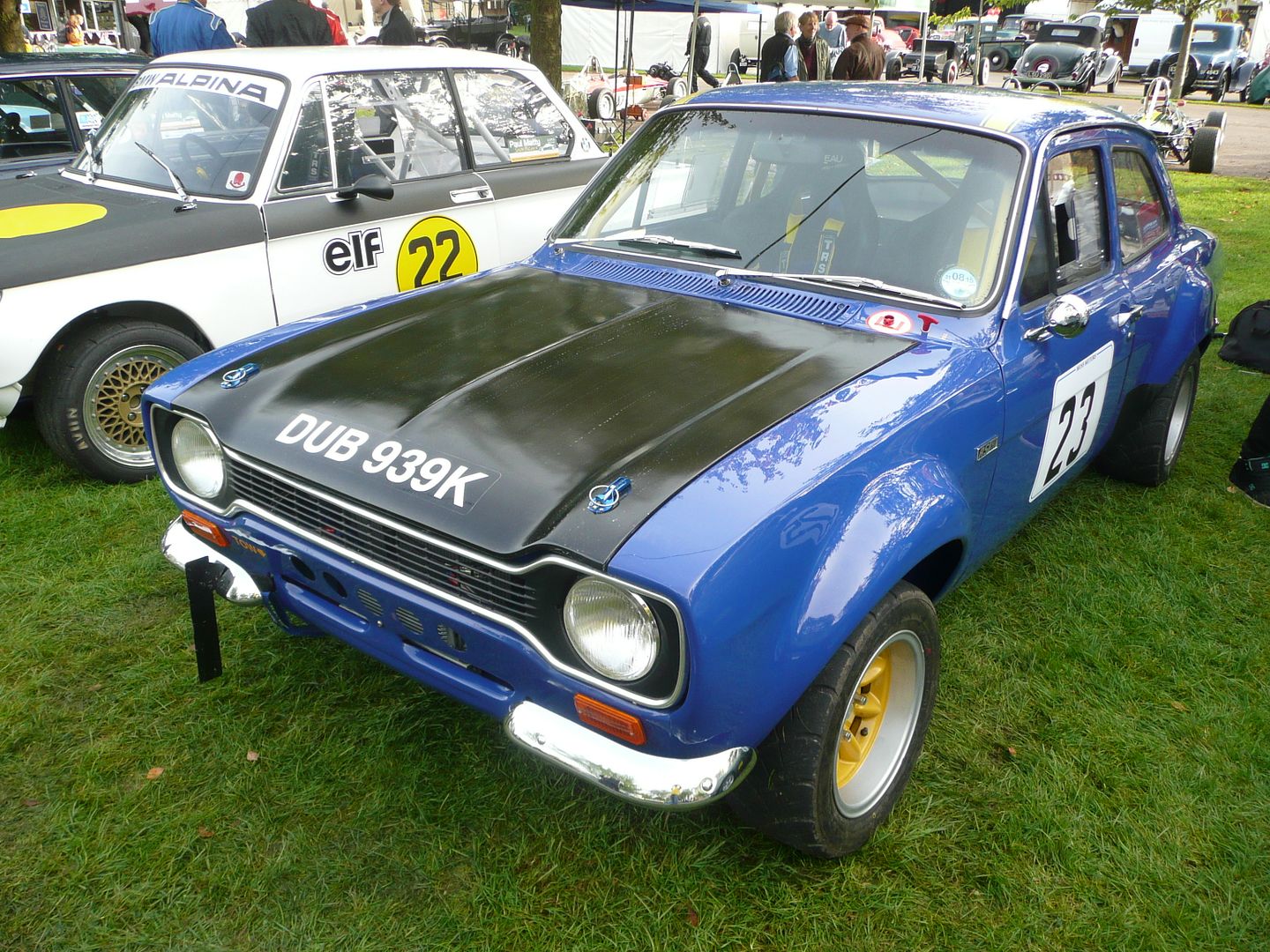 GILBERN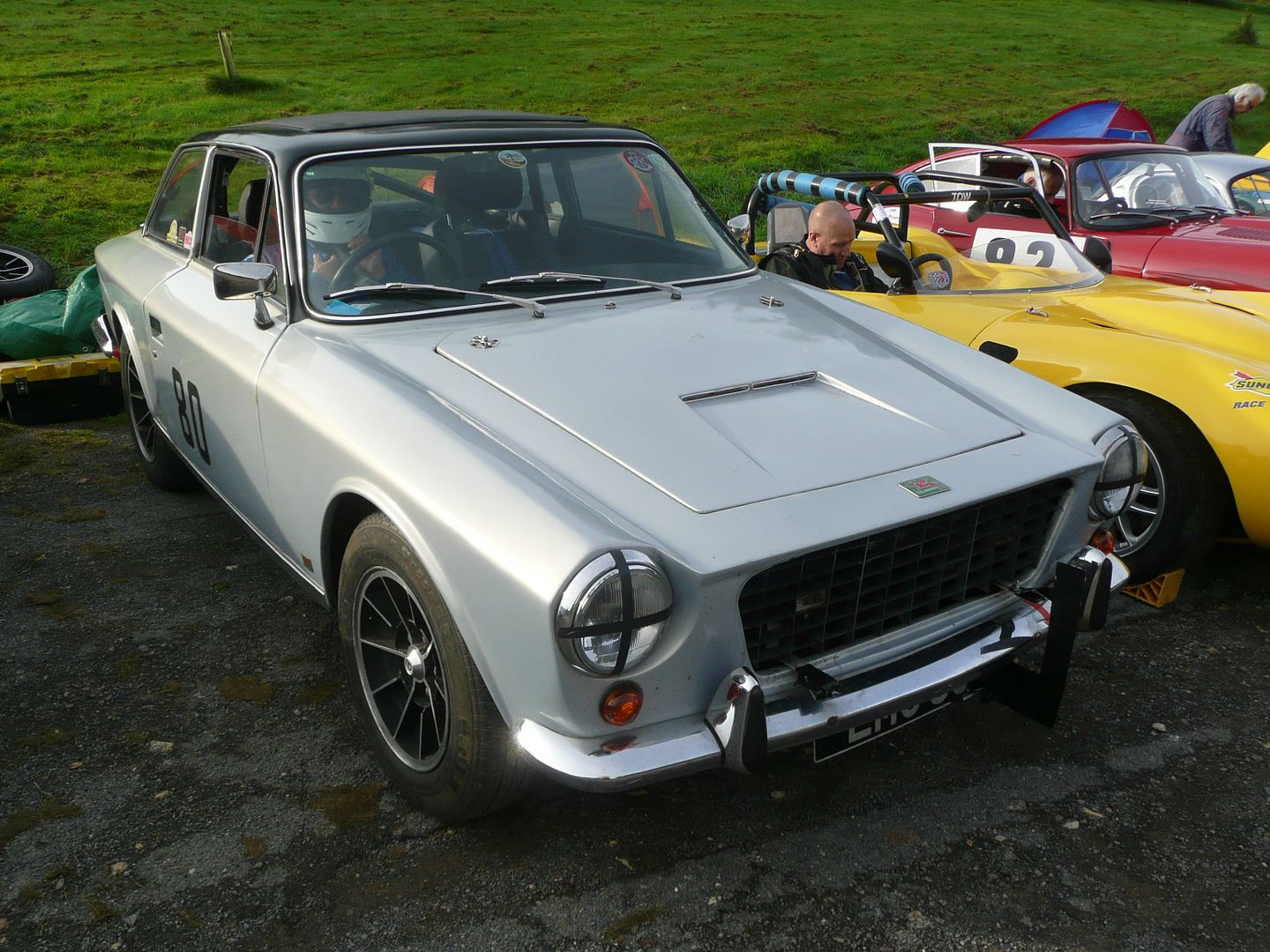 GINETTA
JAGUAR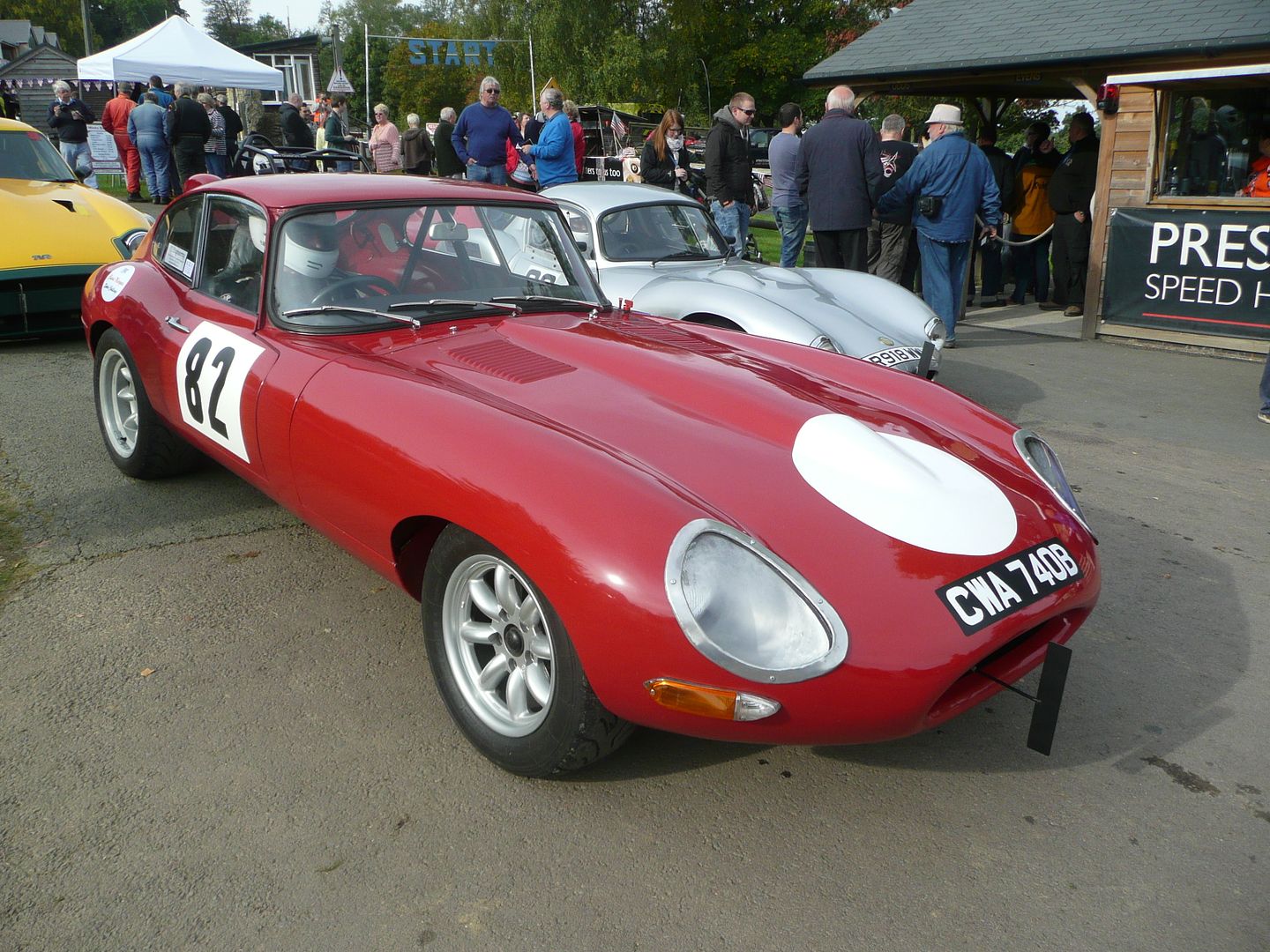 LOTUS
MG
PORSCHE
Among the varied classes of cars was one for Porsche and accordingly there were many different 911s in action.
RELIANT
SUBARU
TVR
BUGATTI
This being Prescott, home of the Bugatti Owners Club, it should surprise no-one that there were plenty of these French classics present. There was a complete class dedicated to these cars, with a mixture mainly of Type 13/23 Brescia and the later Type 35 models entered, as well as an array of cars which were there purely for display purposes. Some of the cars were amassed around the Museum, but there was also a dedicated parking area just by the new Clubhouse.
LUNCHTIME CAVALCADE
As is usually the case at this event, when time allows, a number of visiting cars get the opportunity to cavalcade up the hill. With course cars interspersed between the groups of different models, this was a great spectacle in its own right, with many of the cars which I had enjoyed seeing in static display able to give us an impression of what they are like when moving.
IN THE CAR PARK
At events like this it is always worth a tour or two around the public car park. I did that on Saturday, venturing up the hill and into the adjoining field and there was nothing really that capture my interest at all. Sunday was far better with a wide variety of cars worthy of a photo or two, based on their rarity or some other random factor. Cars that came in these categories included these:
ABARTH
I found this nicely presented 500 in the further extremities of the car park. No idea who it belongs to. It has plates suggesting it was sourced from TH White in Swindon, but there aren't many owners on Abarthisti in the Cheltenham/Gloucester area.  In my opinion, the white stripes are the "best" on the Pasadoble Red cars like this one.
ASTON MARTIN
I don't recall ever seeing a V12 Vantage in this particular colour combination before.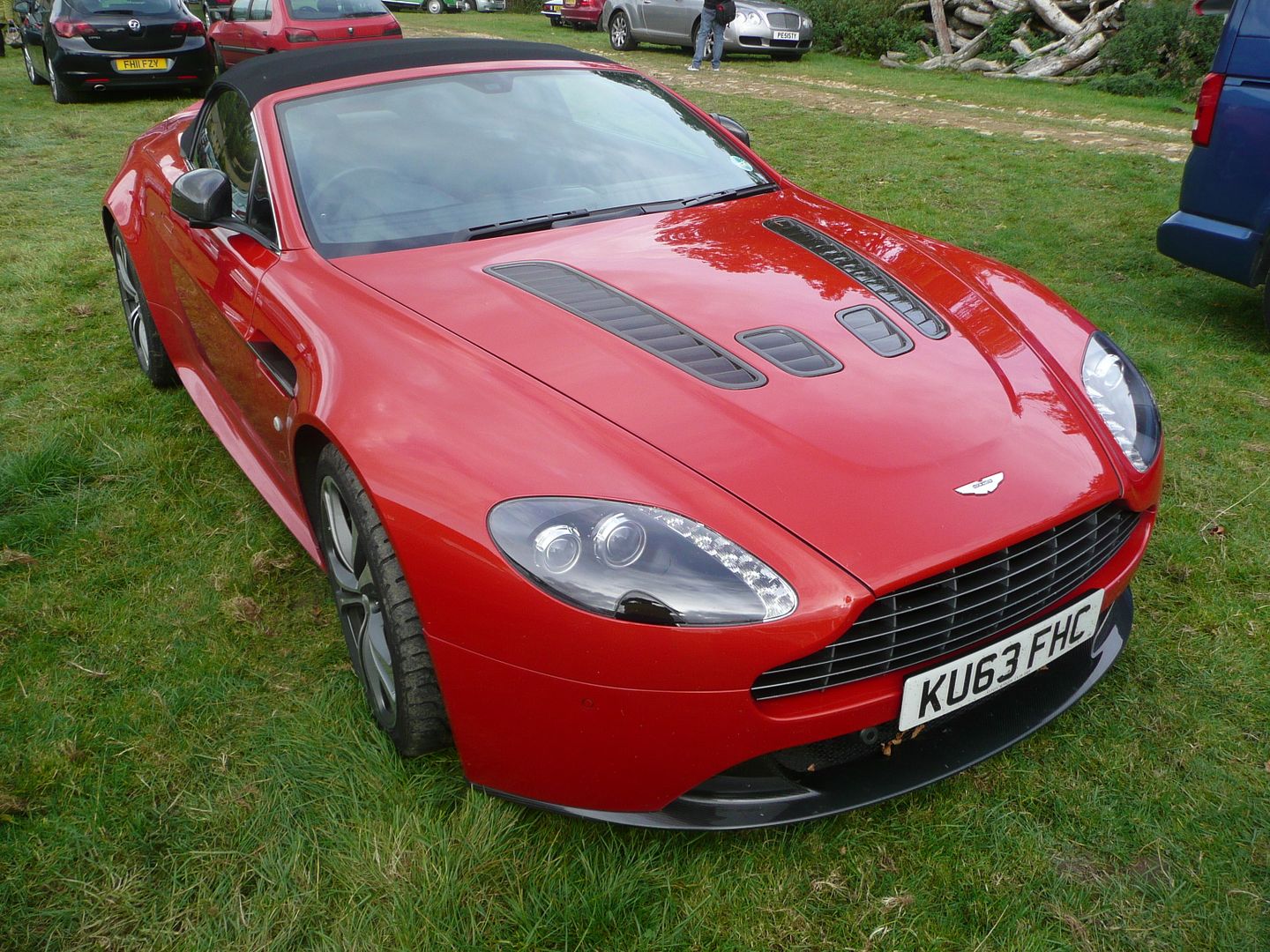 Also in evidence was this DB7.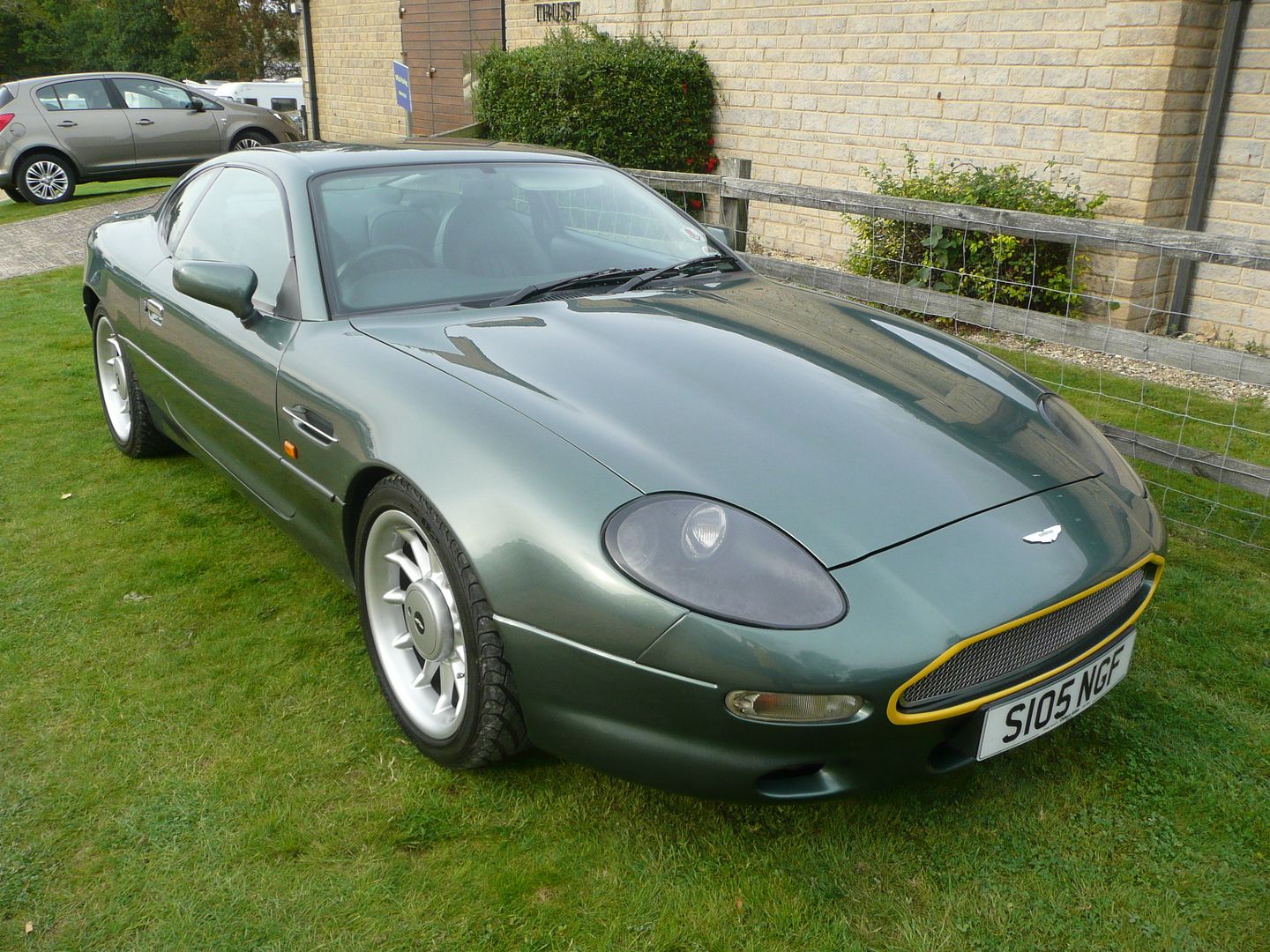 AUDI
One of my favourite cars from the 1980s, the urQuattro.
AUSTIN
An early Austin Seven, Herbert Austin's diminutive masterpiece which literally put Britain on wheels.
The Austin 101 Van was based on the far better known Morris J Van, differing only in matters of grille and badging.
AUSTIN HEALEY
As well as the Austin-Healeys that were competing for honours on the hill on the Saturday, there were a number of these much loved British classics in the car parks as well, with an100M and the later 3000 as well as the smaller Frog-Eyed Sprite all present.
BMW
I photographed this because GT versions of the current 3 Series are a rare sighting. When first launched there appeared to be some logic in offering a Hatch version of the 3, to compete with Audi's very popular A5 Sportback, but whilst not quite as brutally ugly as the larger 5 GT, this is not a pretty car and the market has not taken to it with any great enthusiasm. And now it has a more stylish, if slightly less accommodating in-house rival, the 4 Gran Coupe to compete with, it is likely to stay rare.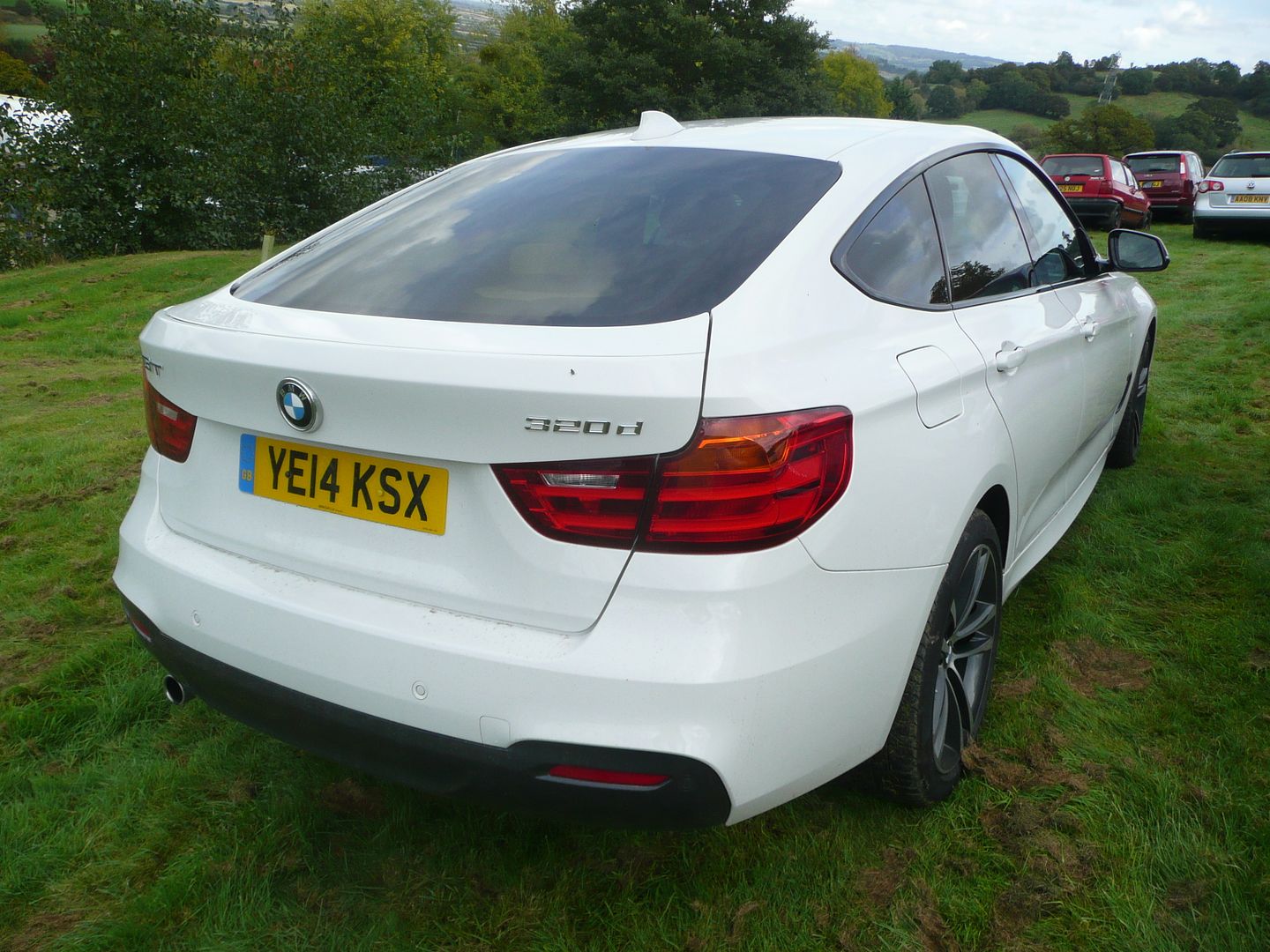 This Frazer-Nash 319 is a very regular attendee at this venue.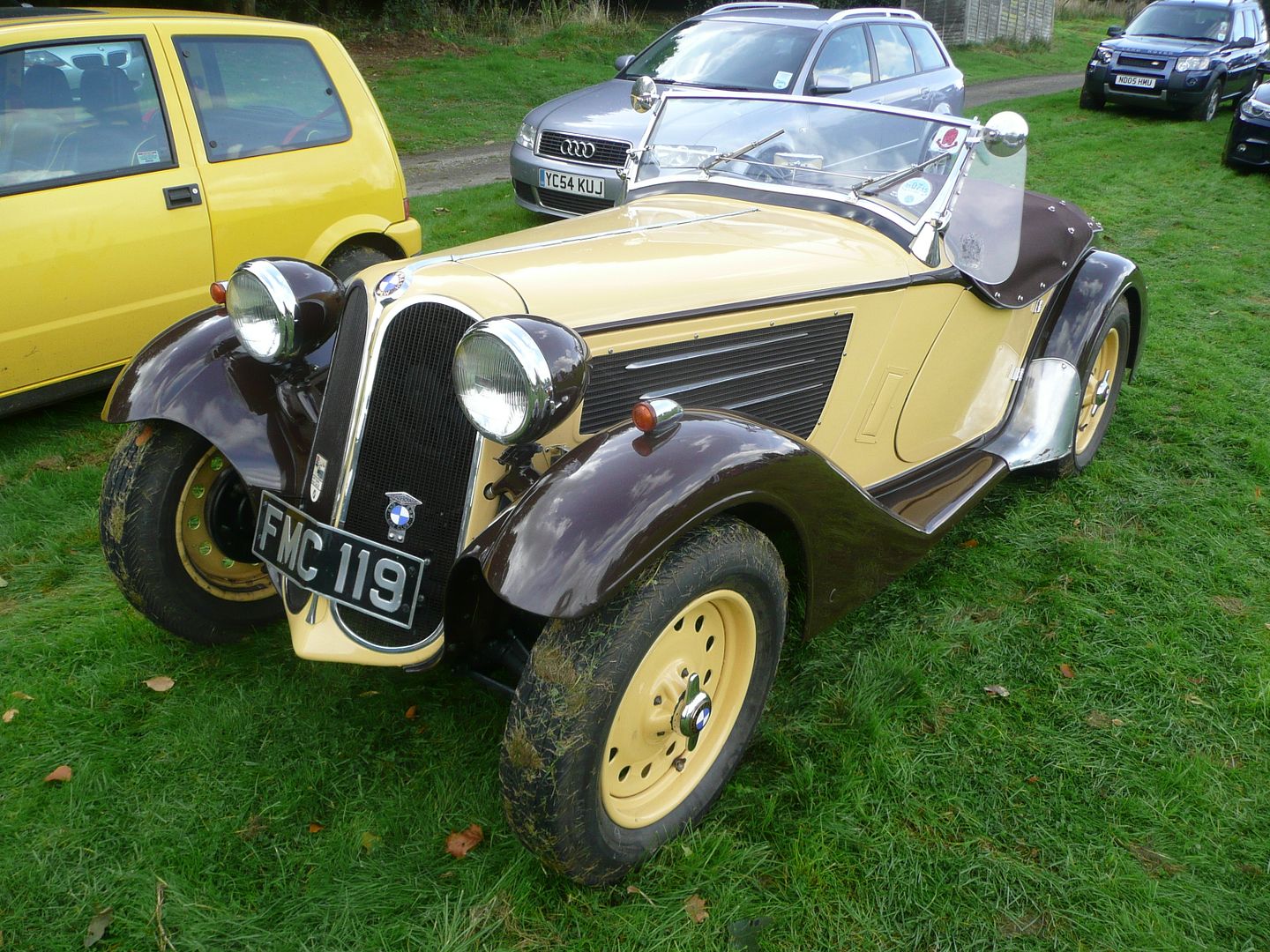 CITROEN
Making another appearance, just weeks after I saw it here at the VSCC event was this nicely presented 5CV car. Citroën made around 81,000 of these lights cars between 1922 and 1926. Originally called the Type C, it  was updated to the C2 in 1924 which was in turn superseded by the slightly longer C3 in 1925. The Type C was, and still is, also well known as the 5CV due to its French fiscal rating of its engine for taxation purposes. More colloquial sobriquets, referring to the tapered rear of the little car's body, were 'cul-de-poule' (hen's bottom) and 'boat deck Citroën'. Only open bodies were made with the original Type C, often nicknamed the "Petit Citron" (little lemon), due to it only being available in yellow at first, as one of the more popular variants. The C2 tourer was a two-seat version but the C3 was a three-seat "Trefle" (Cloverleaf) model with room for a single passenger in the rear. There were also C2 and C3 Cabriolets made. This particular three seater looked like it had been recently restored and was absolutely pristine.
Far better known is the 2CV and there were a couple of these present. Both were "limited" edition models from the later years of production, a Bamboo and an Early Grey.
A real rarity was this Acadiane Van. This was based on the slightly less basic Dyane. and was once quite a common sight, at least in its native France. Rust and the passage of time has claimed most of them, so survivors are few and far between. This one was far from concours, but it was still nice to see it.
DAIMLER
Once viewed with a certain amount of disdain, the SP250 "Dart" now has quite a following as an interesting and slightly quirky sports tourer from the early 1960s. When new it suffered in comparisons with the E Type Jaguar, which became an in-house rival once Jaguar acquired the Daimler company in 1960, but the reality is that these two cars were aimed at different sectors of the market. Quentin Willson has had one for over 20 years and writes enthusiastically about the car, so it can't be all that bad.
ERR…….
I confess, I am not sure what either of these are. I think the earlier car might be a Hotchkiss.
FIAT
An absolute hoot to drive, as I found out years ago when I got one as a loan car, the Cinquecento Sporting is that rare thing, an affordable entry level modern classic.
FORD
Although there are plenty of Mark 1 Cortina models still around, the Estate model is rare. as most of these cars had harder lives than the Saloon versions and hence simply wore out (or rusted away, or both), so it was nice to see this one, even if it was less than immaculate.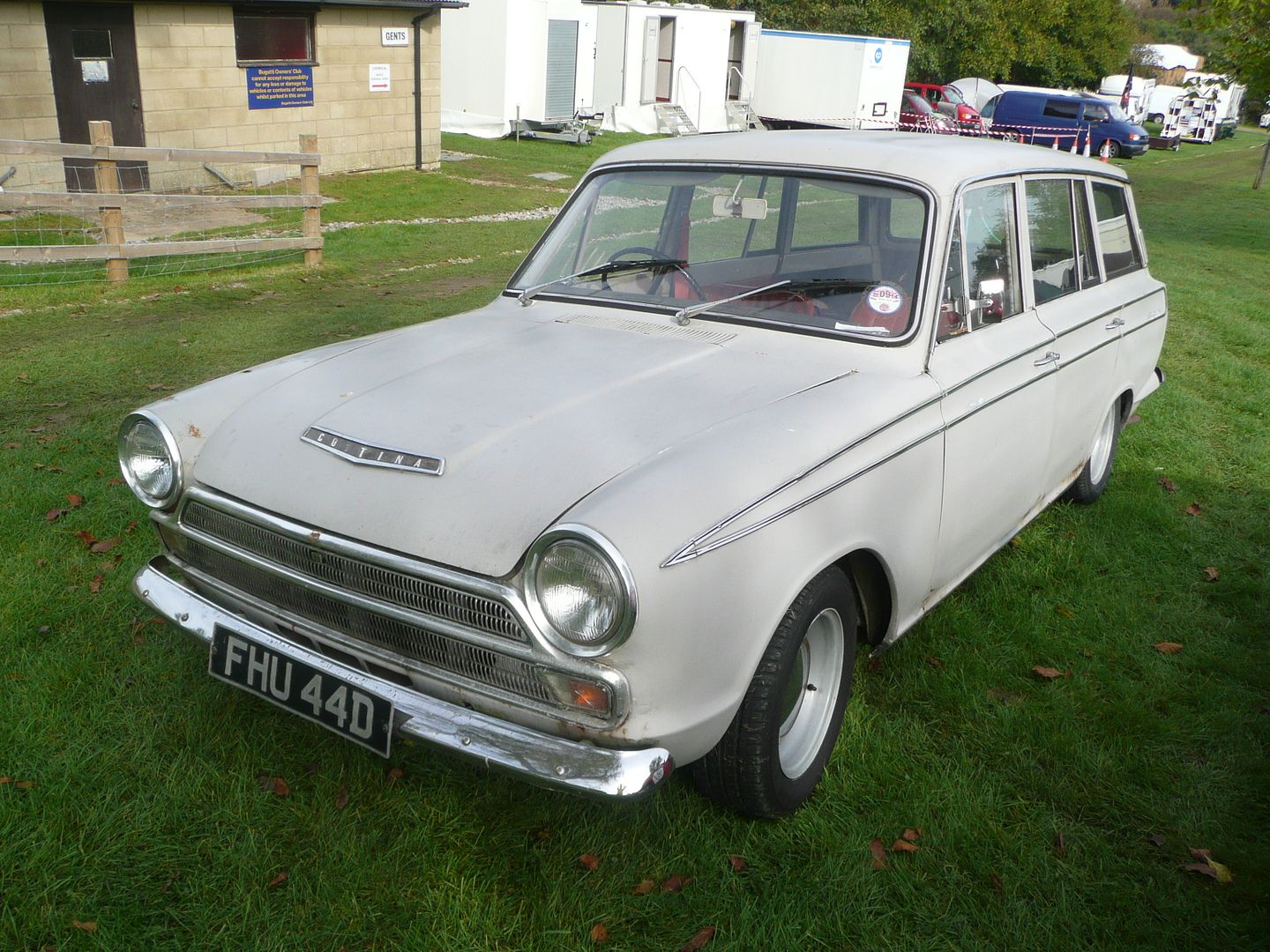 Capri RS3100
Focus ST 500 and the more showy and even faster RS
The Consul was the entry level version of Ford's large car, launched in 1950. With a relatively puny 4 cylinder engine under the bonnet, this was a roomy but very basic car, so it is no wonder that there are more survivors of its more luxurious and more powerful Zephyr stablemate. This one had clearly been modified a bit.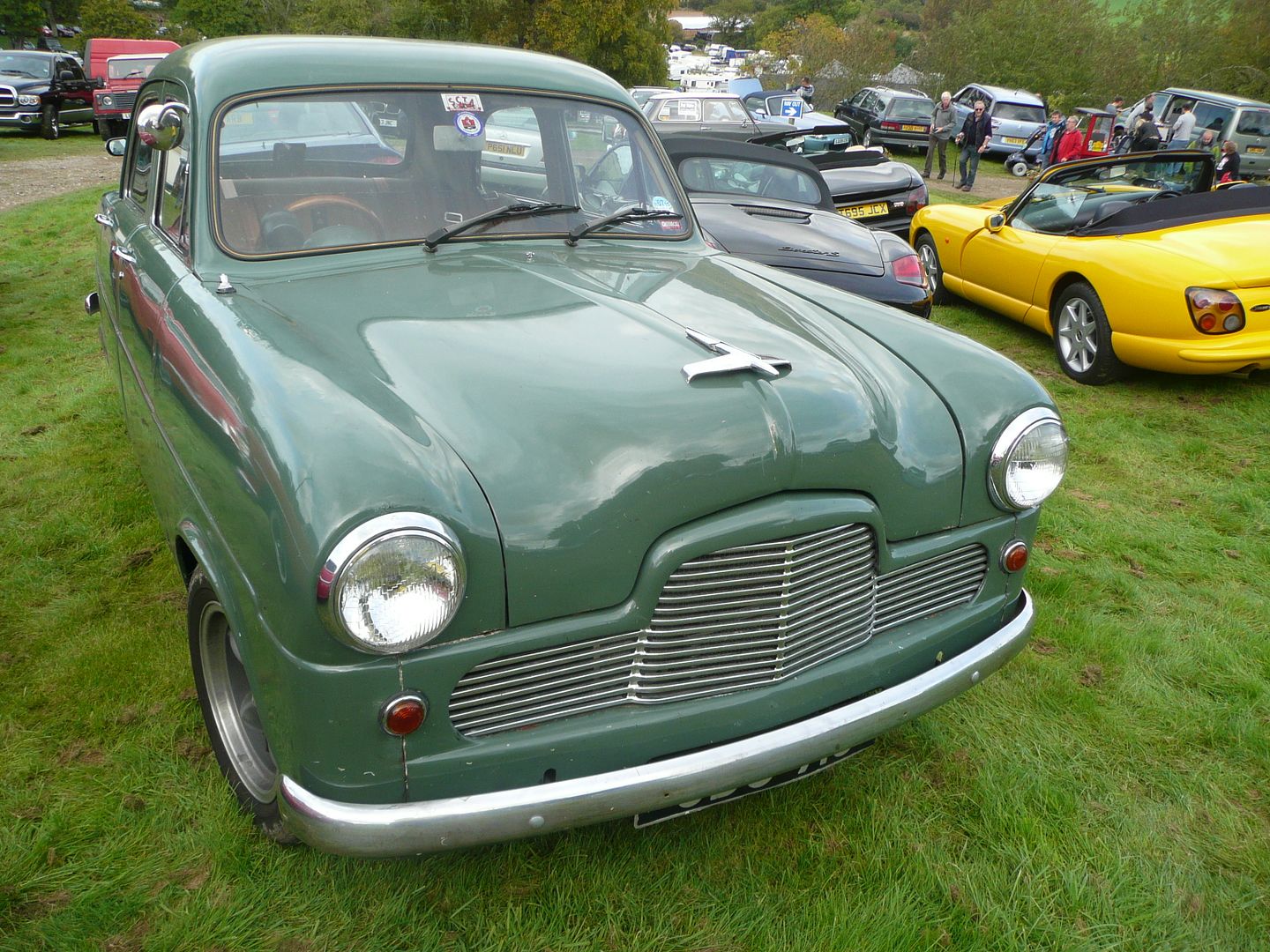 From the "someone actually bought one" category is this EcoSport, Ford's ill-received and rather cheap and nasty looking and feeling (and allegedly, driving) small SUV that was initially aimed at developing markets, and which brings developing market standards with mature market pricing. A revamp is apparently being rushed through after the trenchant criticism that the car received at launch.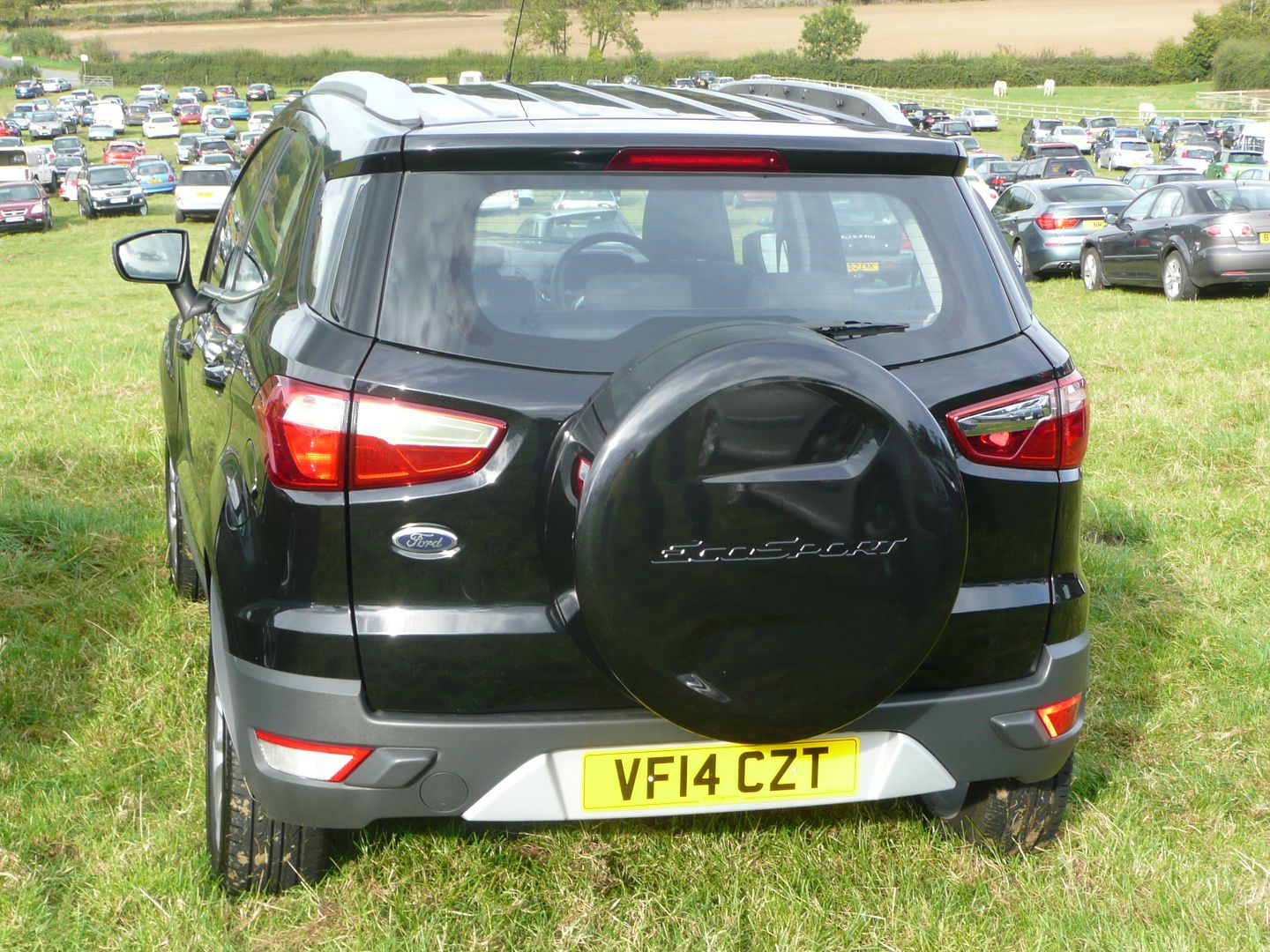 GILBERN
I took this picture from a carefully considered angle, as this Mark 2 Invader was in a pretty desperate condition, looking like it needed a lot of work to make it even presentable, let alone pristine. Maybe that is all in plan, as there is quite a following for these Welsh sports tourers. Gilberns were expensive when new, as unlike many low volume glass-fibre bodied cars of the era, they were well designed and nicely finished. You could buy them as a kit, to evade the dreaded Purchase Tax.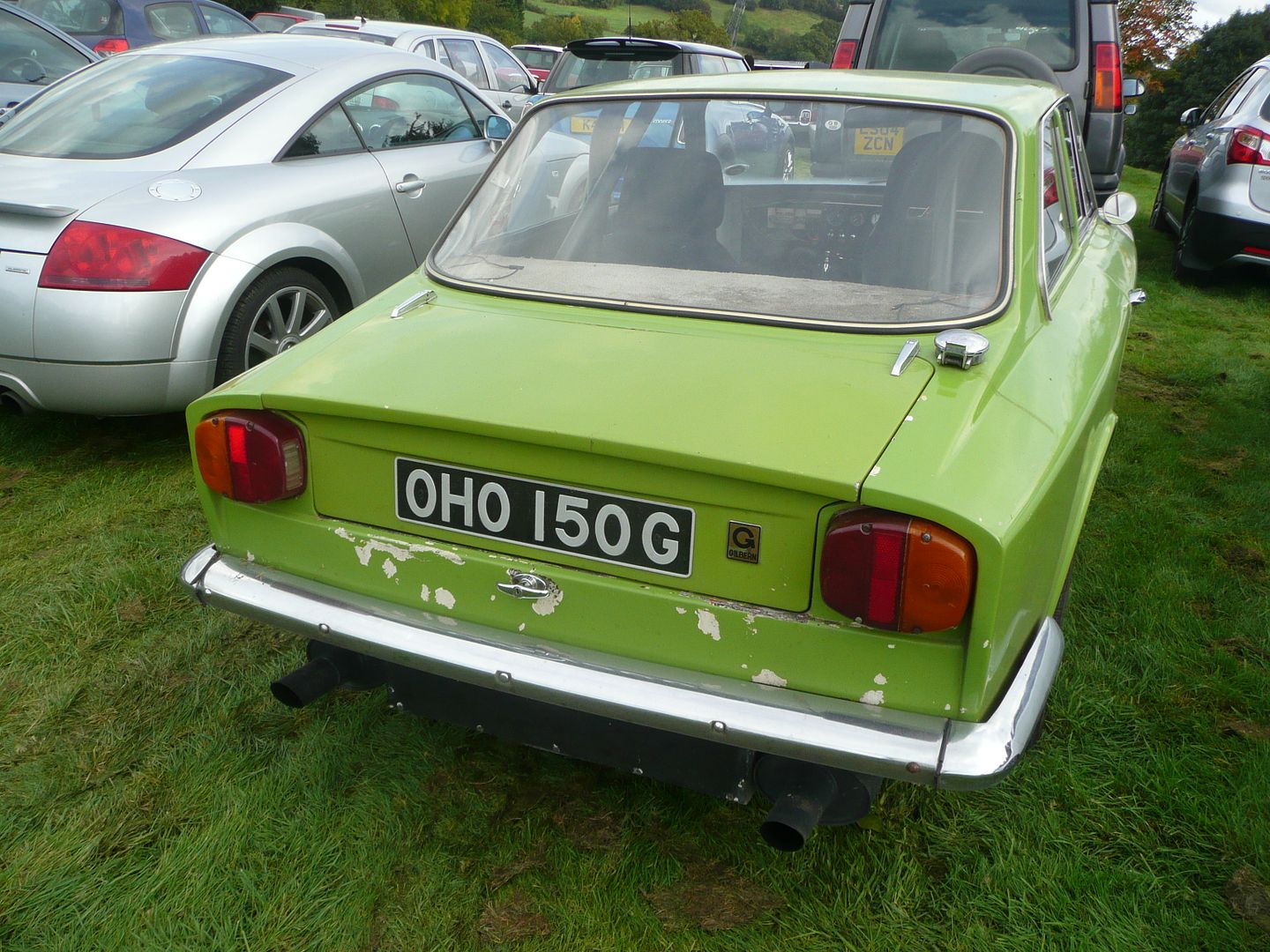 HILLMAN
The Super Minx was an upper medium sized family car that was launched in 1961. Intended as a replacement for the Minx, it ended up supplementing that car, positioned above it. The car spawned Singer Vogue and Humber Sceptre variants, and was offered as a popular Estate car and for a short time as a Convertible as well as this Saloon model.
JAGUAR
Often confused with the better known and much loved Mark 2, this is actually an S Type, the slightly larger and costlier half-brother which Jaguar added to the range in 1963 as a stepping stone between the smaller cars and the gargantuan Mark X.
From an earlier era was this lovely open topped XK120
The XJS-HE is one of those cars which is now coming into its own. Poorly received as a replacement for the much loved E Type, this was a very different kind of car. By the time that quality control had been improved in the early 1980s and the HE changes had reduced the prodigious thirst of the silky smooth V12 engine, this was actually a desirable GT that got better and better as the years rolled by. They are still available for not a lot of money, a situation which probably will not remain true for ever.
To my eyes, the Coupe version of the Series 2 XJ looks ever more elegant as the years pass by. Not particularly popular when new, these cars are truly lovely in my opinion.
LANCIA
I caught this one just in time, as literally minutes after taking these pictures, the owner appeared, opened the door, got in and drove off. It is a Flaminia Touring Coupe, one of three different Coupe body styles offered by three different Italian styling houses on the large Lancia chassis. The Touring version proved to be the most popular, with over 2000 made during its life time, far outstripping the number of Farina and the wacky Zagato Supersport cars produced.
A perennial favourite of mine, the Delta Integrale
LOTUS
Early Elan and Front Wheel Drive Elan S2
MERCEDES-BENZ
We are all quite used to AMG Mercedes now, especially after Mercedes de-based the name by applying it with the Sport qualifier to some rather ordinary cars, but when this C36 AMG was made, few people knew what an AMG was or realised that despite the rather innocuous looks, that this was a special car.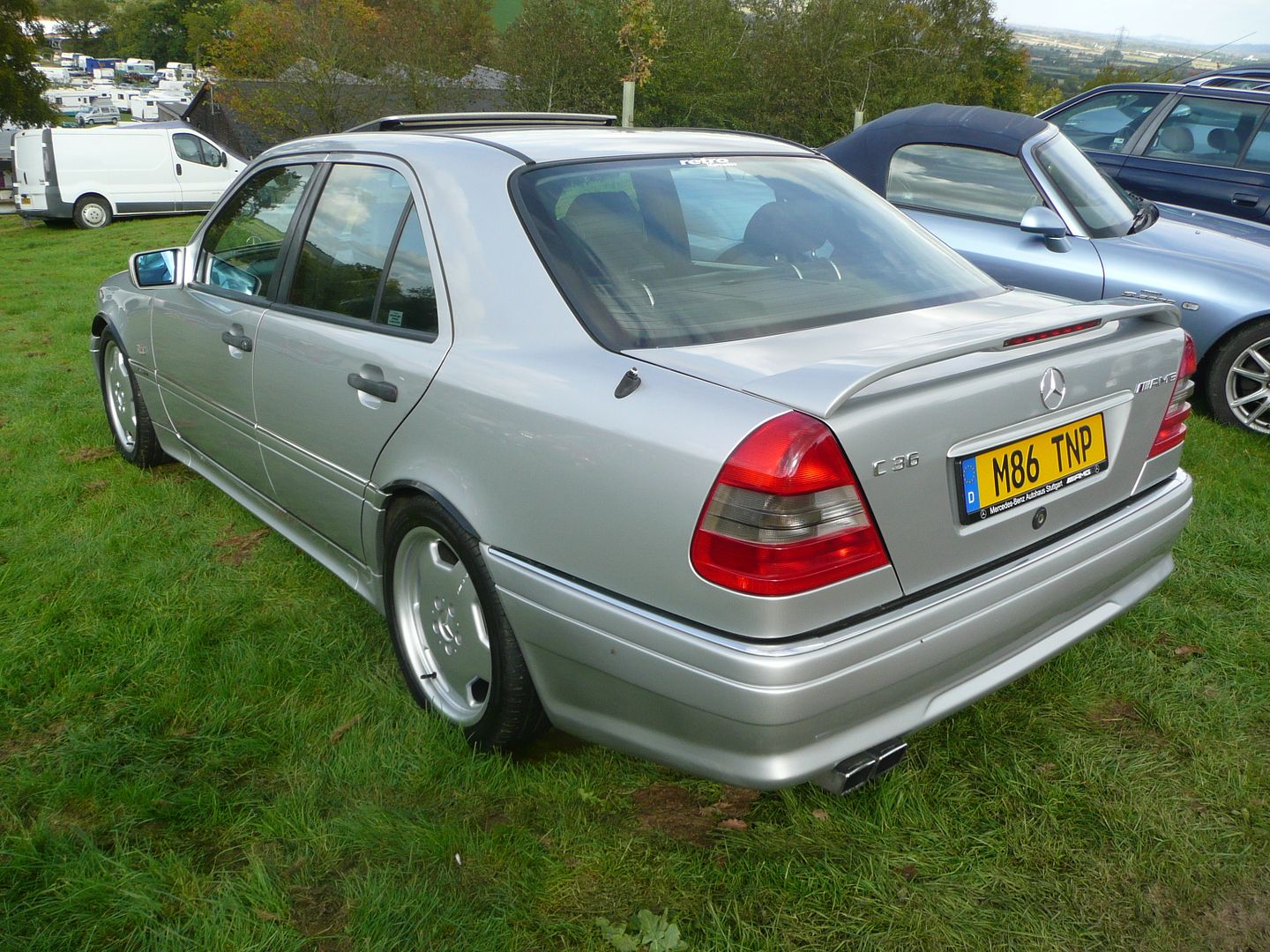 Mercedes revised the long-running R107 model in 1986, fitting new engines, which meant some new model names, with a 300SL taking over from the 280SL as the entry point in the range.
MG
No surprise to come across a number of examples of the evergreen MGB, in both Roadster and GT guise, as this is one of Britain's most popular classic cars, and there are literally of tens of thousands of them still around.
MORGAN
This is a 1930s version of the legendary Three Wheeler, a car which in its modern reincarnation is proving extremely popular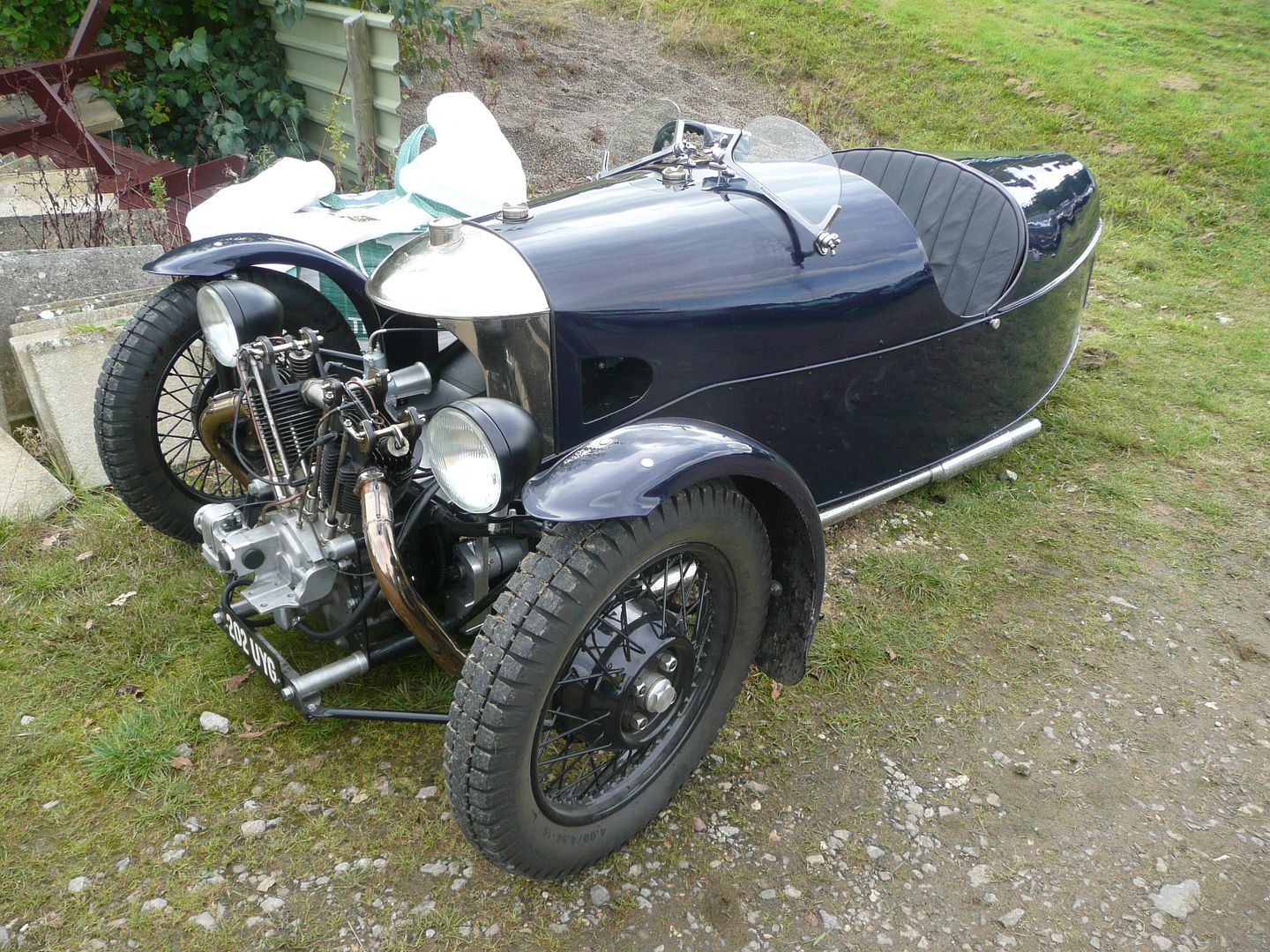 There were also a couple of examples of the best known Morgan body shape, the long running Plus 8.
NISSAN
GT-R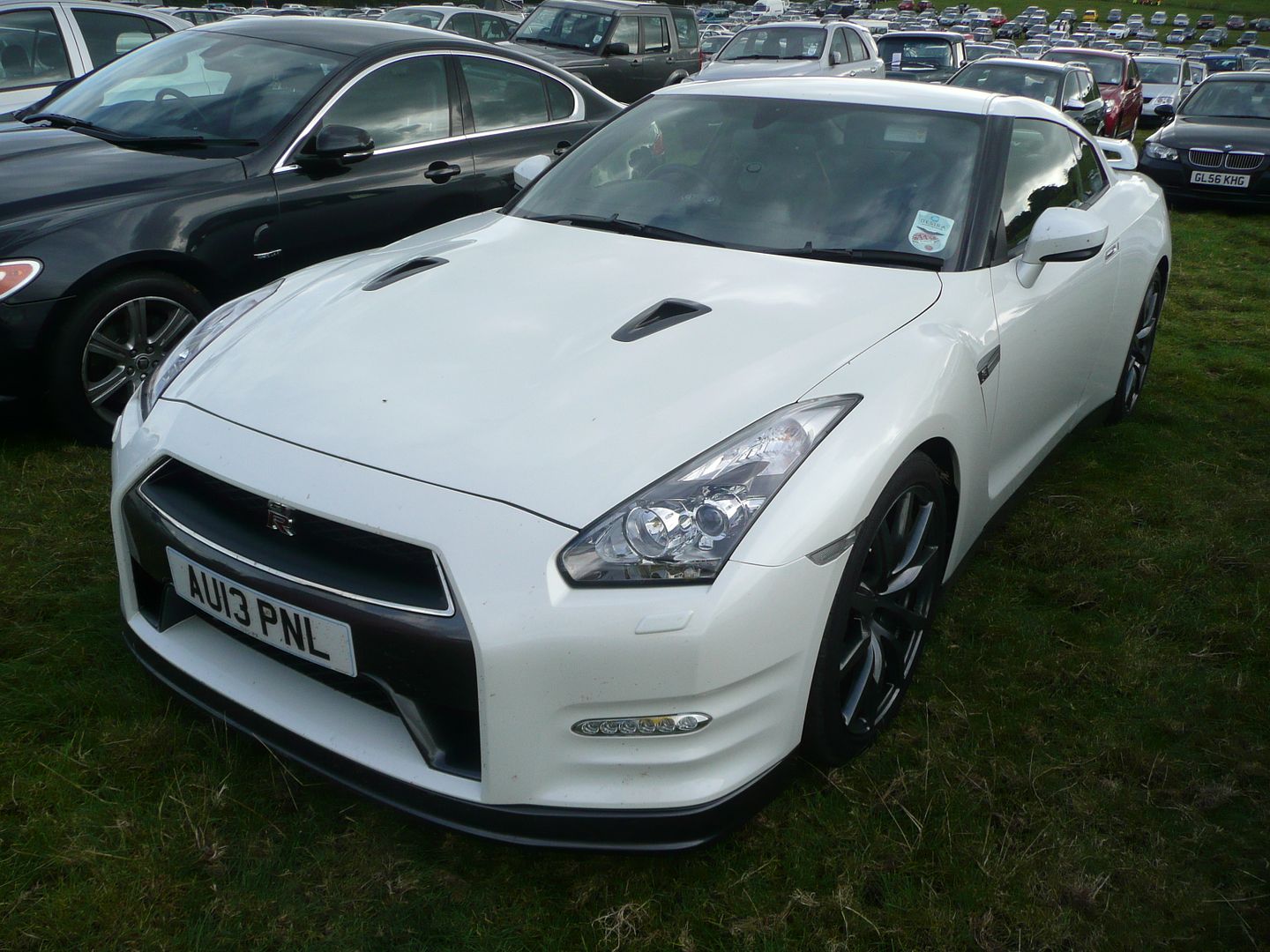 PEUGEOT
205 CTi
PORSCHE
On the Saturday, there was a sizeable gathering from the Porsche Owners Club, which meant that there was a line of 911 models parked up in The Orchard. Covering the distinct generations of this long running and much loved model, this was like a mini history lesson in a line of cars.
They were not there on the Sunday, but I did find another classic 911 Targa in the main car park along with a 912.
RELIANT
There were a couple of SE6 model Scimitar GTE cars here. The newer of the two, on a C plate (1985) was probably one of the last produced before this Tamworth-based brand concentrated all their efforts on the smaller SS1 sports car.
RILEY
Monaco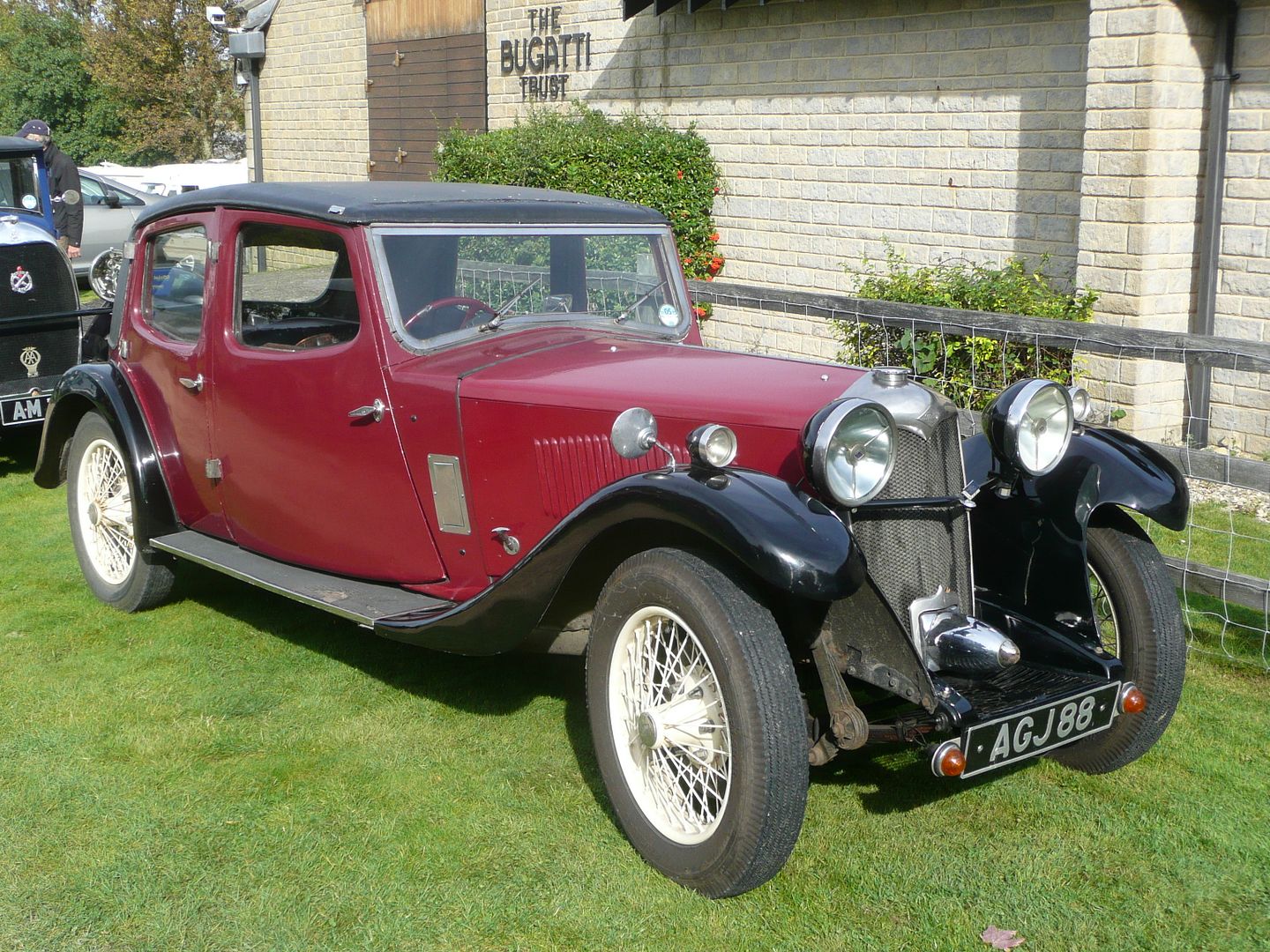 Not just a late model Elf, but also one of the last Rileys produced, as BMC killed off this marque in 1969. The Elf, along with its near identical looking Wolseley Hornet brother were based on the Mini, but with the added on boot, a larger 998cc engine (later offered in the Mini) and more luxurious trim were, I supposed, the Audi A1 of the day! A "premium" small car.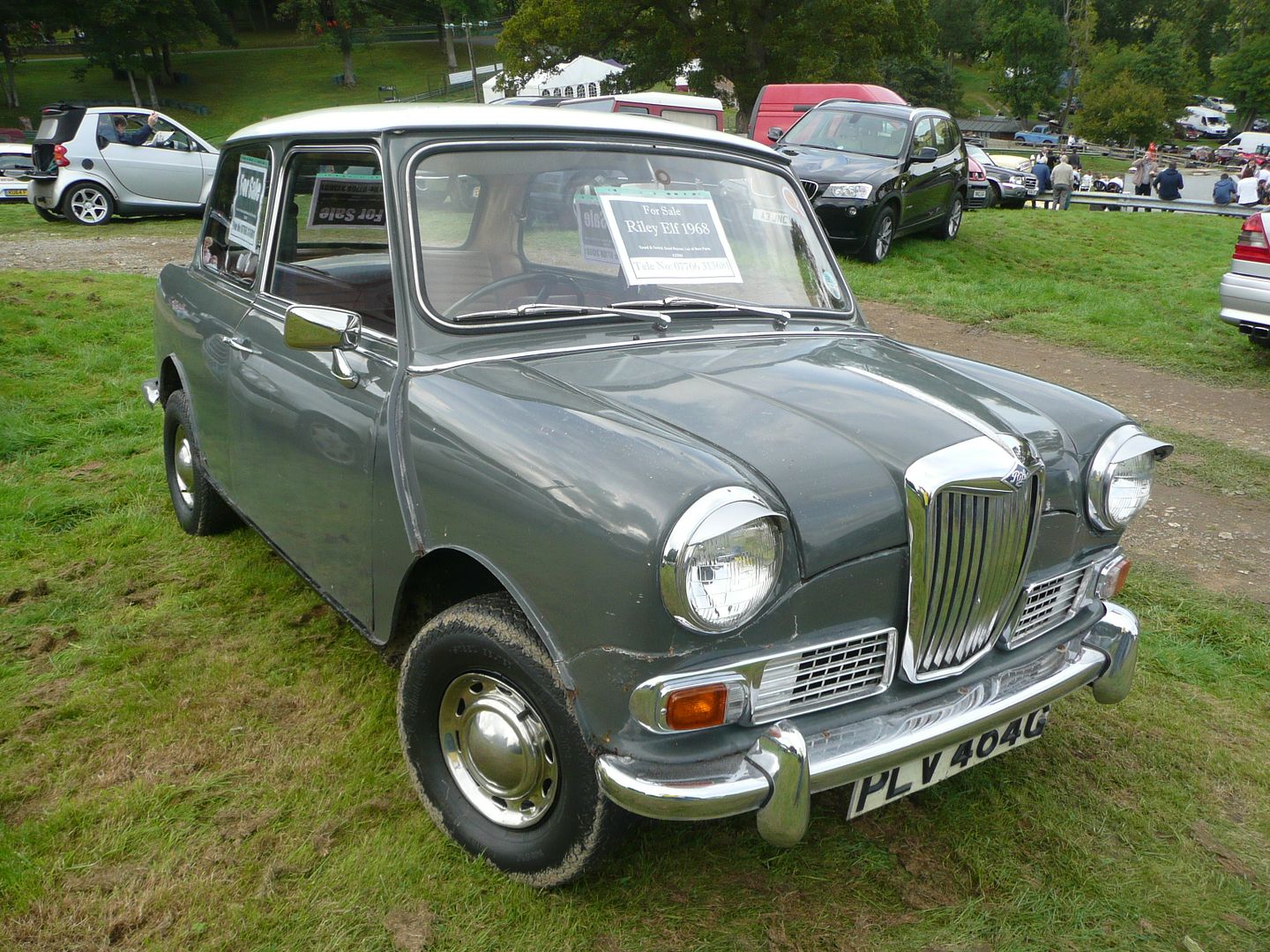 ROVER
By the 1930s, Rover had built the reputation which it retained for the next 30 or 40 years, as the sort of car that your Doctor or Bank Manager would buy, a cut above the mass market Austin, Morris, Ford and Hillman offerings. Although a number of different models were offered the Rover 14 was the most popular. A medium-sized four door car, it was made between 1933 and 1940 as a successor to the Rover Pilot 14. Civilian automobile production was interrupted in 1940 because of the war, but when the war ended in 1945, the Rover 14 returned to the market and remained available until replaced by the Rover P3 in 1948. For 1938 the traditional perpendicular form of the car was replaced by a mildly streamlined form which resembled the smaller Rover 10 and the Rover 12 but was slightly longer and featured a more rounded back end. The six-cylinder ohv engine had a capacity of 1,577 cc. With a maximum power output of 54 bhp, a top speed of 69 mph was claimed. The leisurely performance was addressed in 1938 through the fitting of a 1,901 cc engine. A marginal improvement in performance resulted.This car was first registered in 1939 and features that larger engine.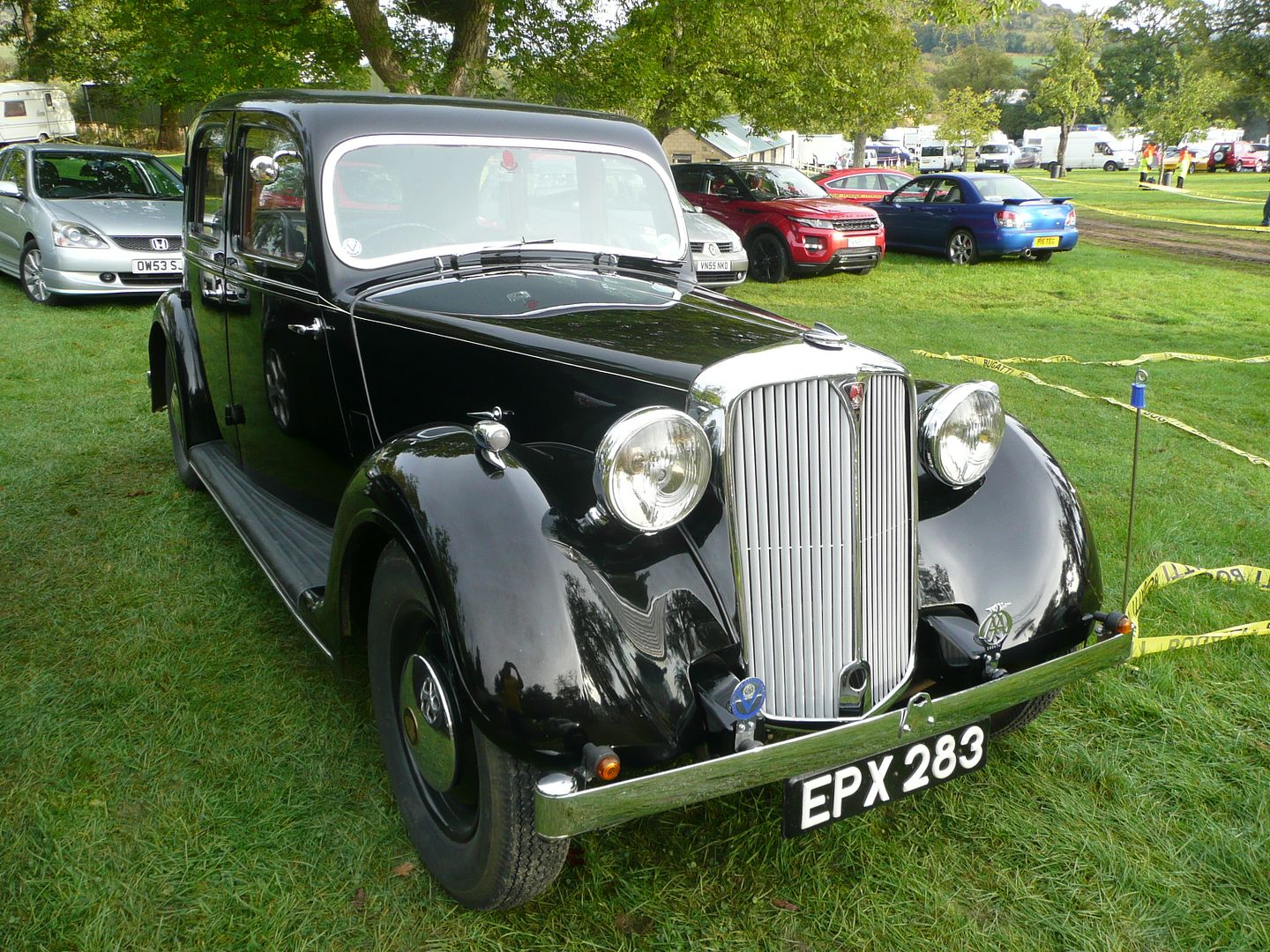 SAAB
Whenever I see one of these second generation 9.5 models, the metaphorical tear comes to my eye, as this car was barely launched when the SAAB organisation ceased production. By all accounts this was a good car, and it had much potential, but was cut off before it could prove its merit.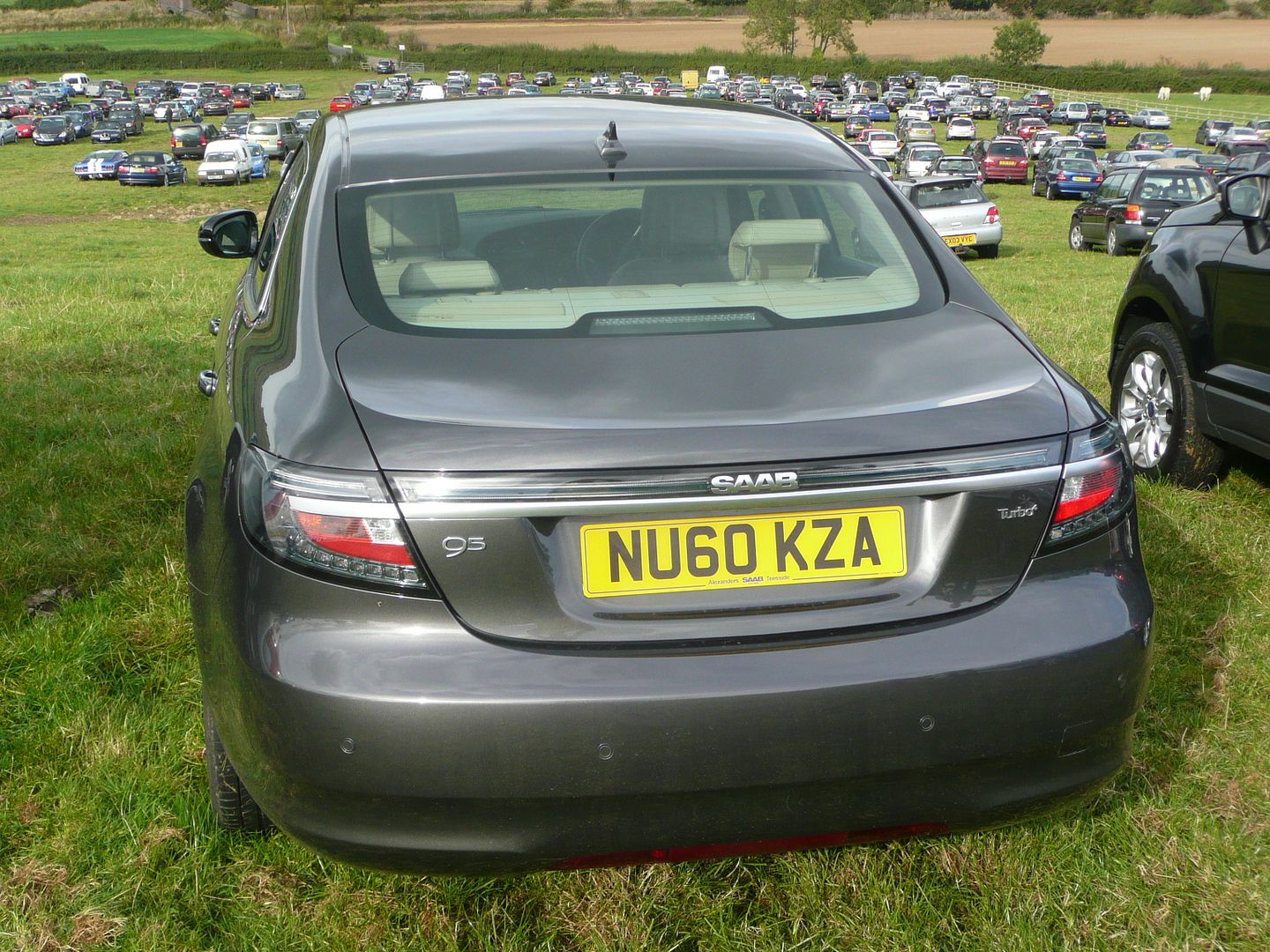 TESLA
A matter of days old, going by the 64 plate on it, was this Model S, Tesla's well received all-electric luxury saloon car which went on sale in the UK earlier in the year.
TRABANT
Although the vast majority of Trabant 601 cars produced were sensible 2 door saloons or 3 door estates, there were some other variants made as well, such as this Trabant 601 Tramp, which was launched in 1978. Most of these were sold in Greece. The Tramp was effectively a civilian version of the Kübel, a Jeep-like Trabi with no doors, folding roof, auxiliary heating system, and an RFI shielded ignition system which had been added to the range in 1966.
TRIUMPH
Triumph owners seem to have found somewhere else to go for the day (or another car to bring), as there only appeared to be this duo of TR3b and TR4 to represent the marque.
TVR
You always get a number of TVRs in the car park at an event like this, so the only surprise is that as far as I could tell there were only 3 present: a 400SE and a couple of the later Chimaera
VAUXHALL
One of the oldest cars in the public car park was this 30/98. This long running car was produced from 1913 to 1927, although it is believed that only 13 30/98s were made before war intervened  and these were all for  selected drivers, the last of these pre war cars, built in 1915 for Percy Kidner a joint Managing Director of Vauxhall. Actual production began in 1919. Also known as the E Type, the 30/98 name is believed to have been coined because the car had an output of 30 bhp at 1,000 rpm and 98 bhp at 3,000 rpm, though another explanation is that it had an RAC horsepower rating of 30 and a cylinder bore of 98 mm. Perhaps the most likely of all is that there was then a popular but heavier slower Mercedes 38/90. However it was found, the name 30-98 looked and sounded so well and the car proved popular. The 30/98s used the earlier Prince Henry chassis, but were distinguished by having more-or-less flat rather than V-shaped radiators. Laurence Pomeroy took the Prince Henry L-head side-valve engine, bored it out 3 mm, then cold-stretched the crankshaft throws 5 mm using a steam power hammer to lengthen the stroke.The camshaft was given a new chain drive at the front of the engine, high lift cams and new tappet clearances. The Prince Henry chassis was slightly modified and the whole given a narrow alloy four-seater body, a pair of alloy wings (front mudguards) and no doors. The first 30/98 was constructed at the behest of car dealer and motor sport competitor, Joseph Higginson—inventor of the Autovac fuel lifter—who won the Shelsley Walsh hill-climb motoring competition on 7 June 1913 in his new Vauxhall, setting a hill record in the process, having in previous weeks made fastest time of the day at Waddington Pike and Aston Clinton, but these were not racing machines but fast touring cars. The exhaust made a tranquillising rumble, there was no howl, no shriek, no wail, but there was the quiet satisfaction of knowing that if stripped for action, the car could lap Brooklands at 100 mph, and its makers guaranteed that. Most of them were built with a 4 seater open tourer body, like this one, though other body styles were produced as well.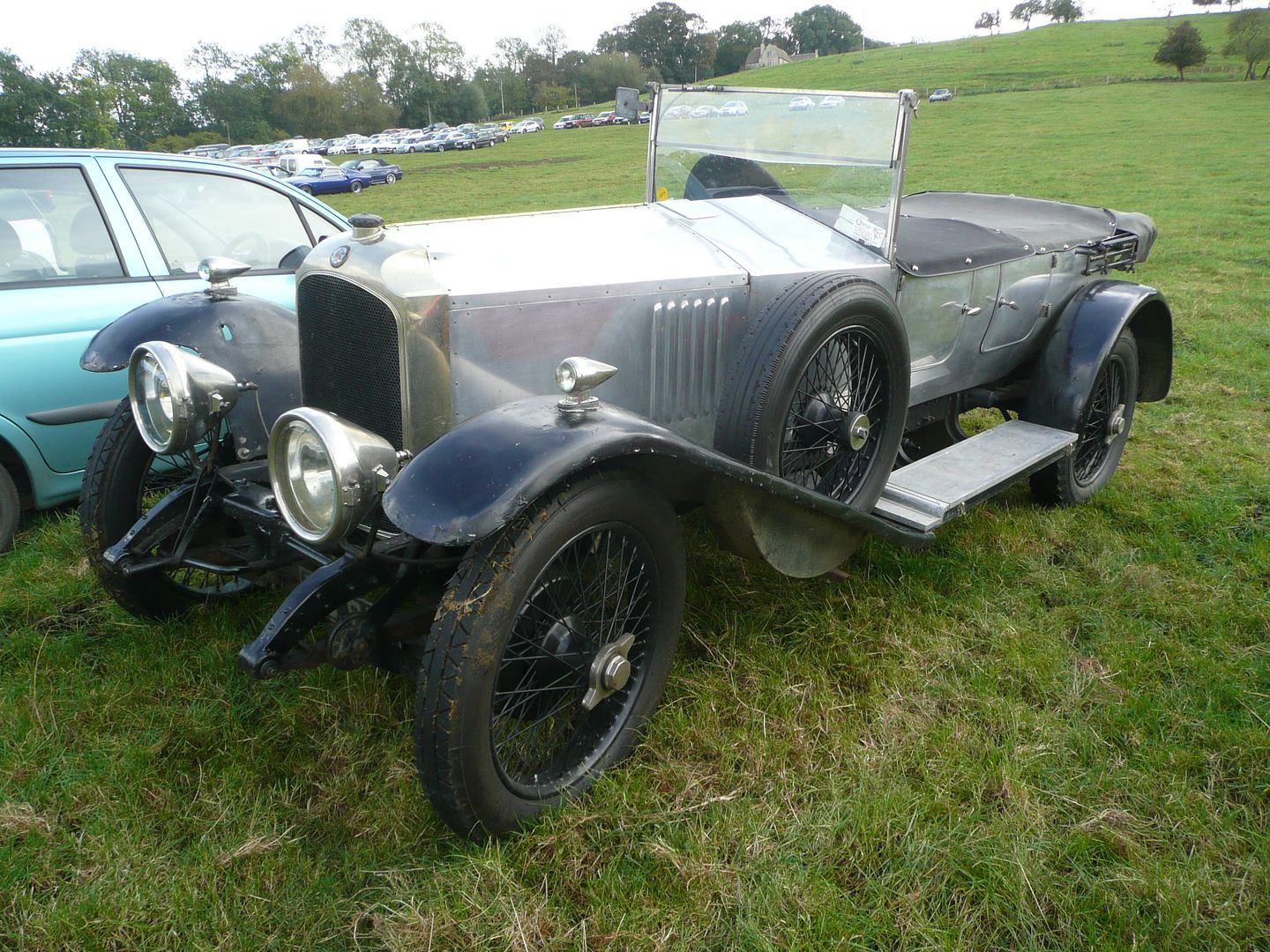 Needless to say, I very much enjoyed this event. It was a fitting finale to the Season at Prescott, and also one of the last outdoor events of a very busy 2014 for me. In previous years we've managed to amass quite a gathering of TheMotor.net attendees, but this year it was down to just three of us. We all had a good time, but it would be nice to assemble a larger group for the 2015 running of the event, dates for which have already been announced.