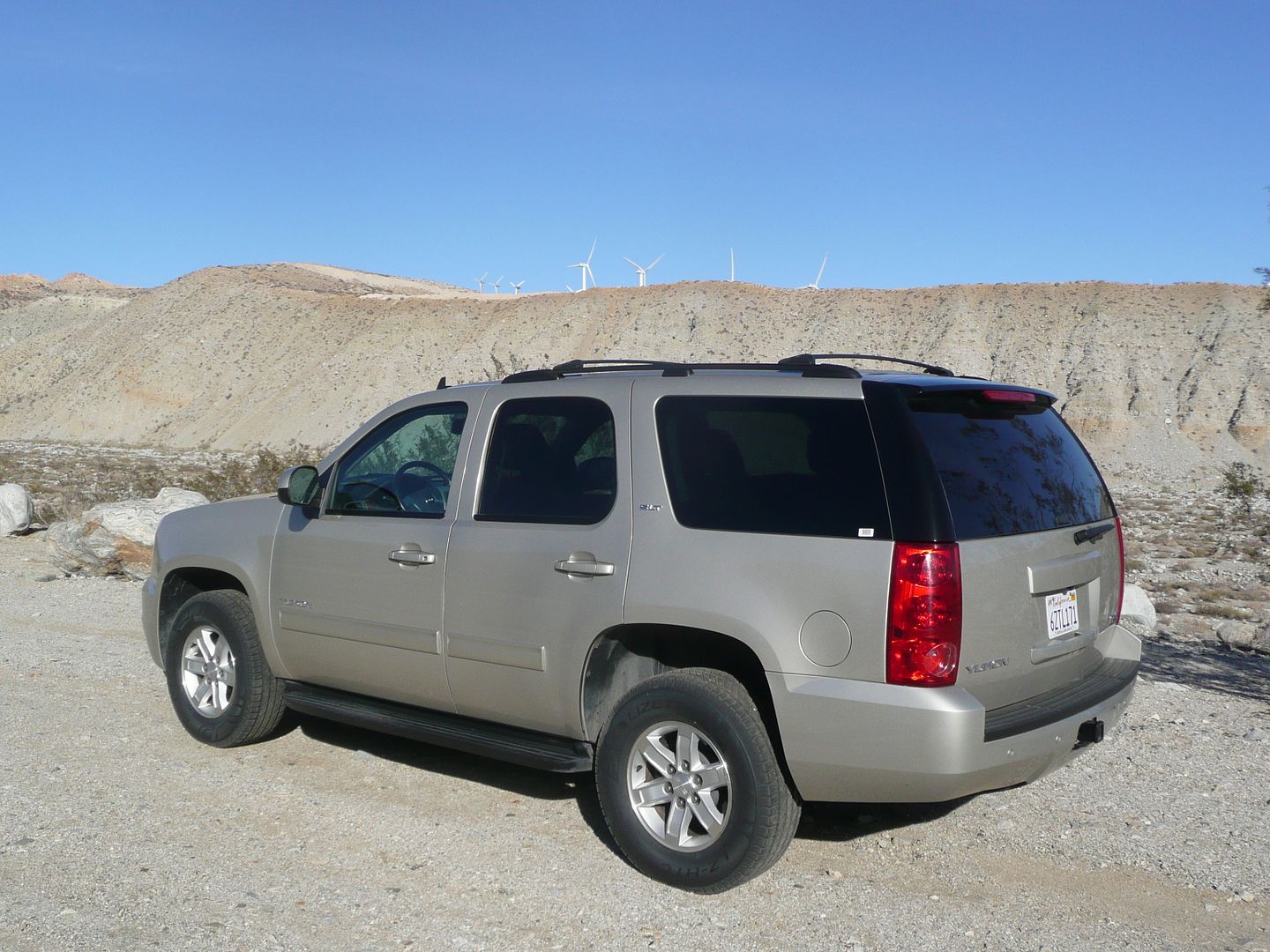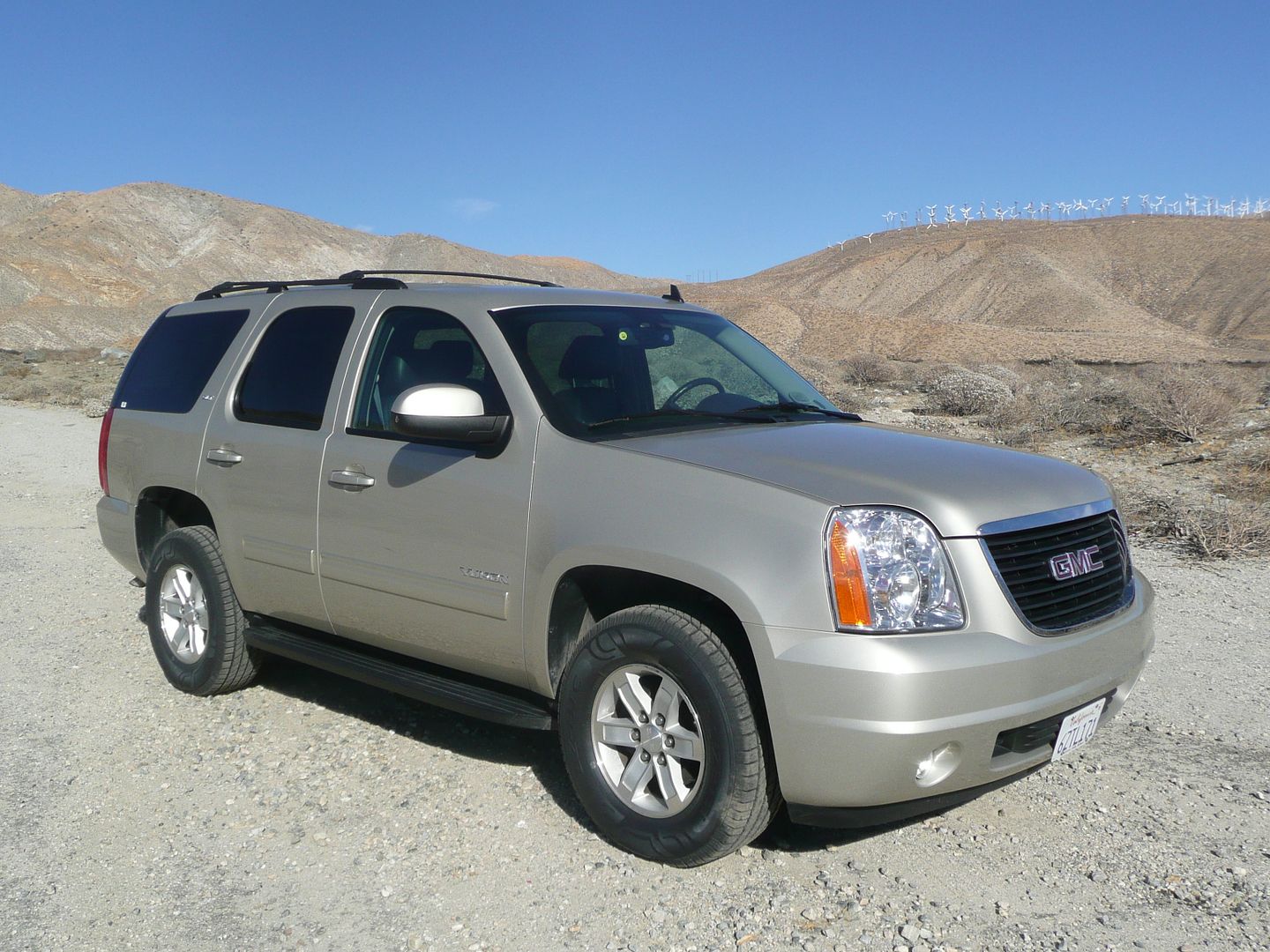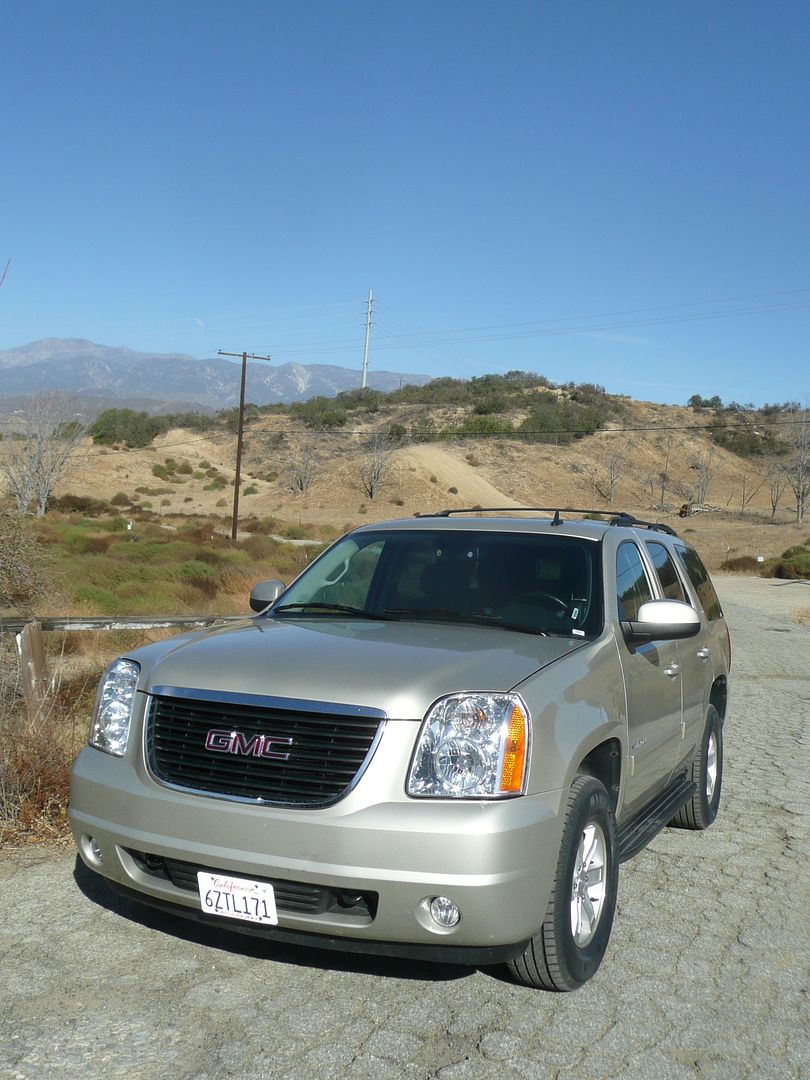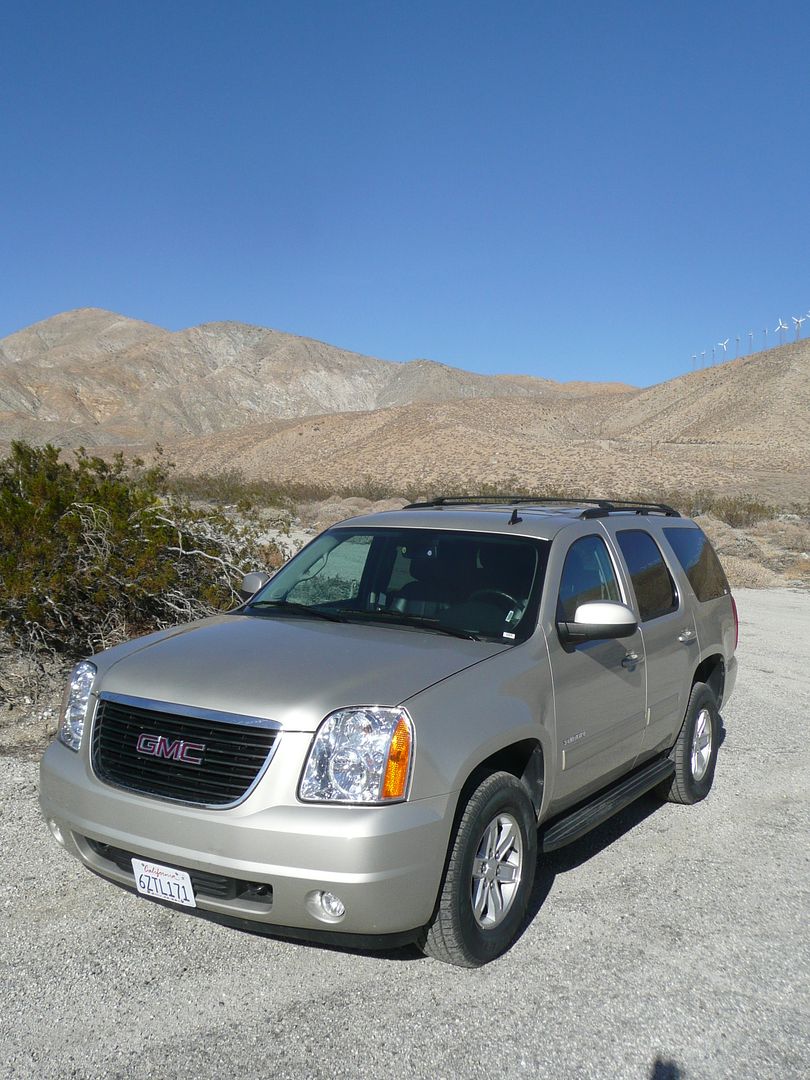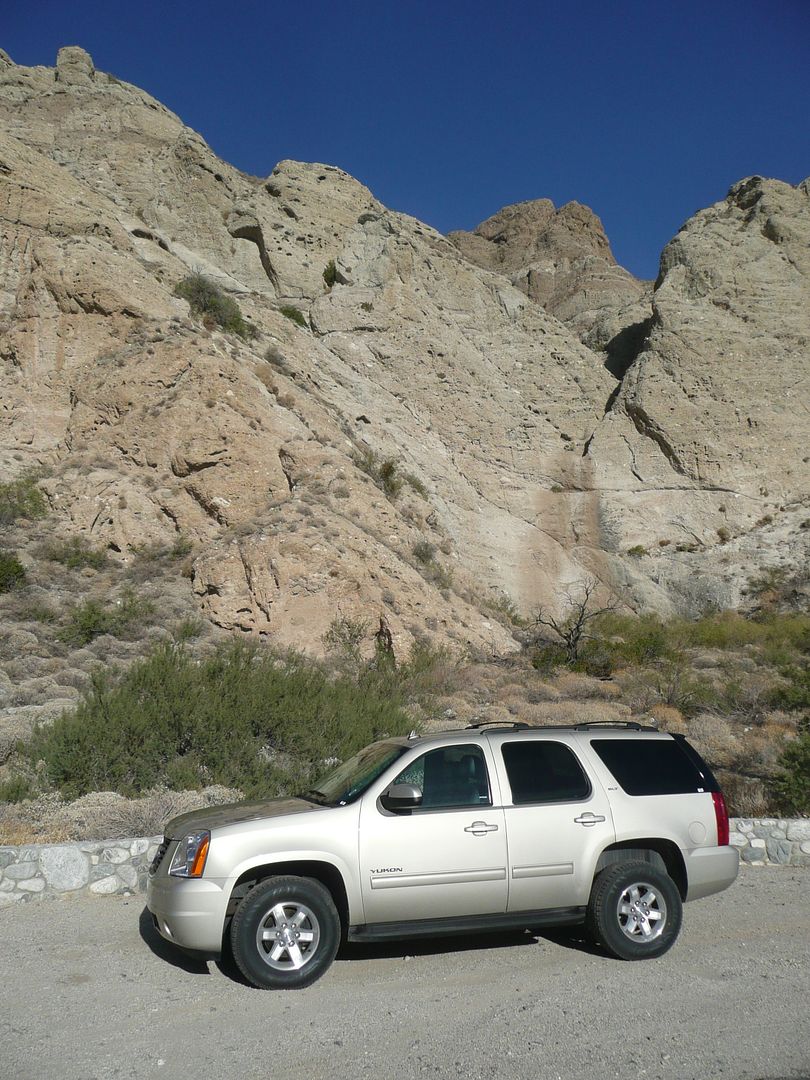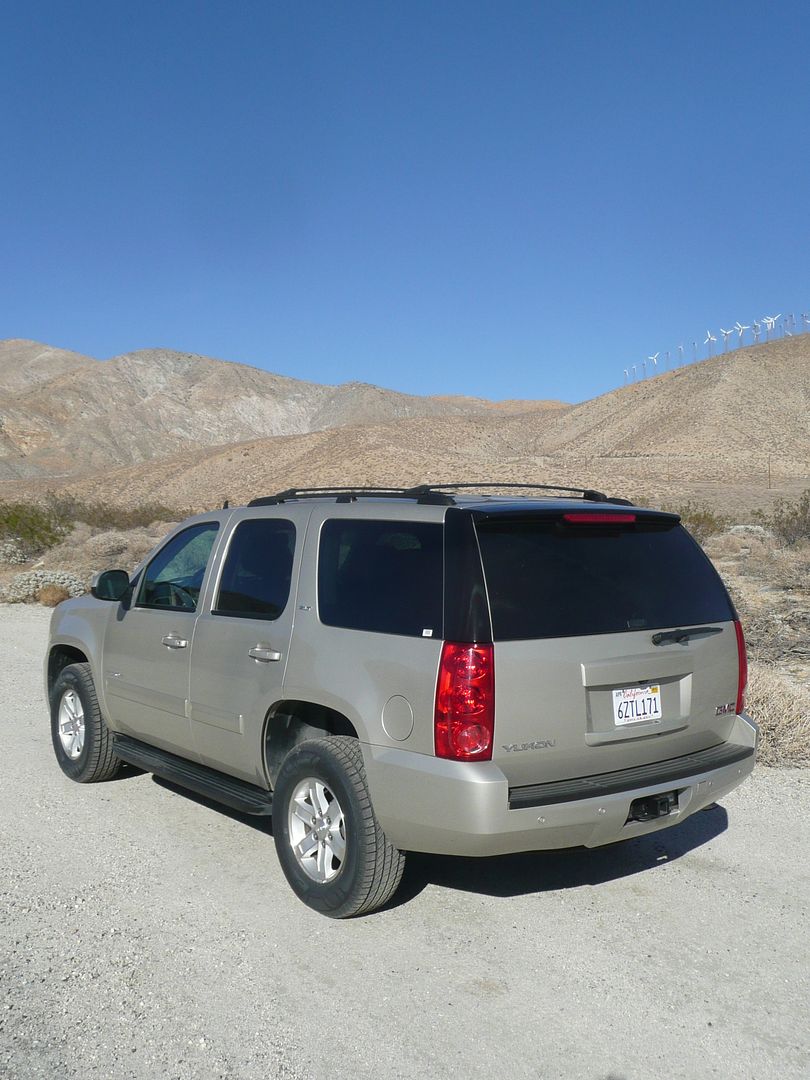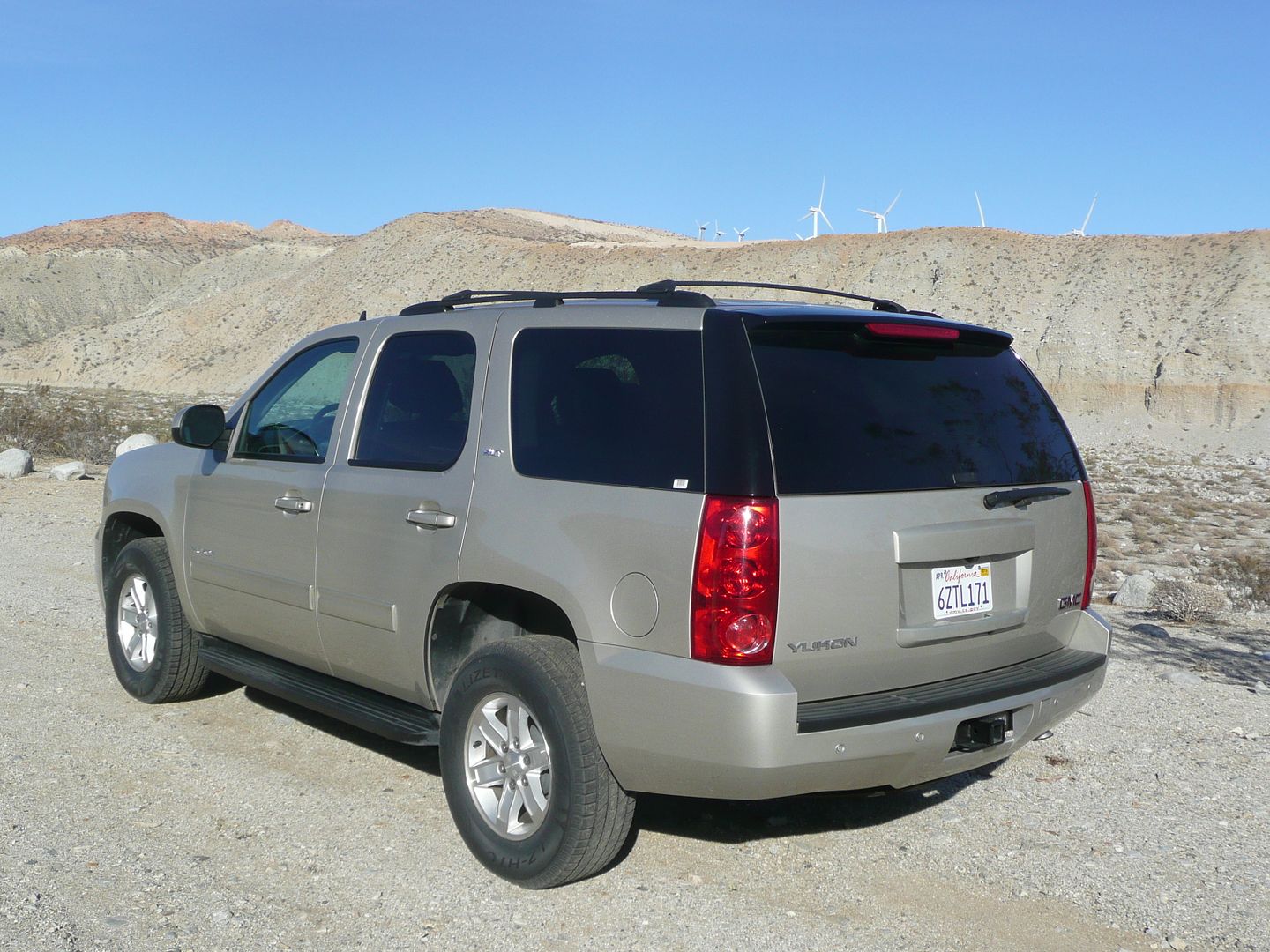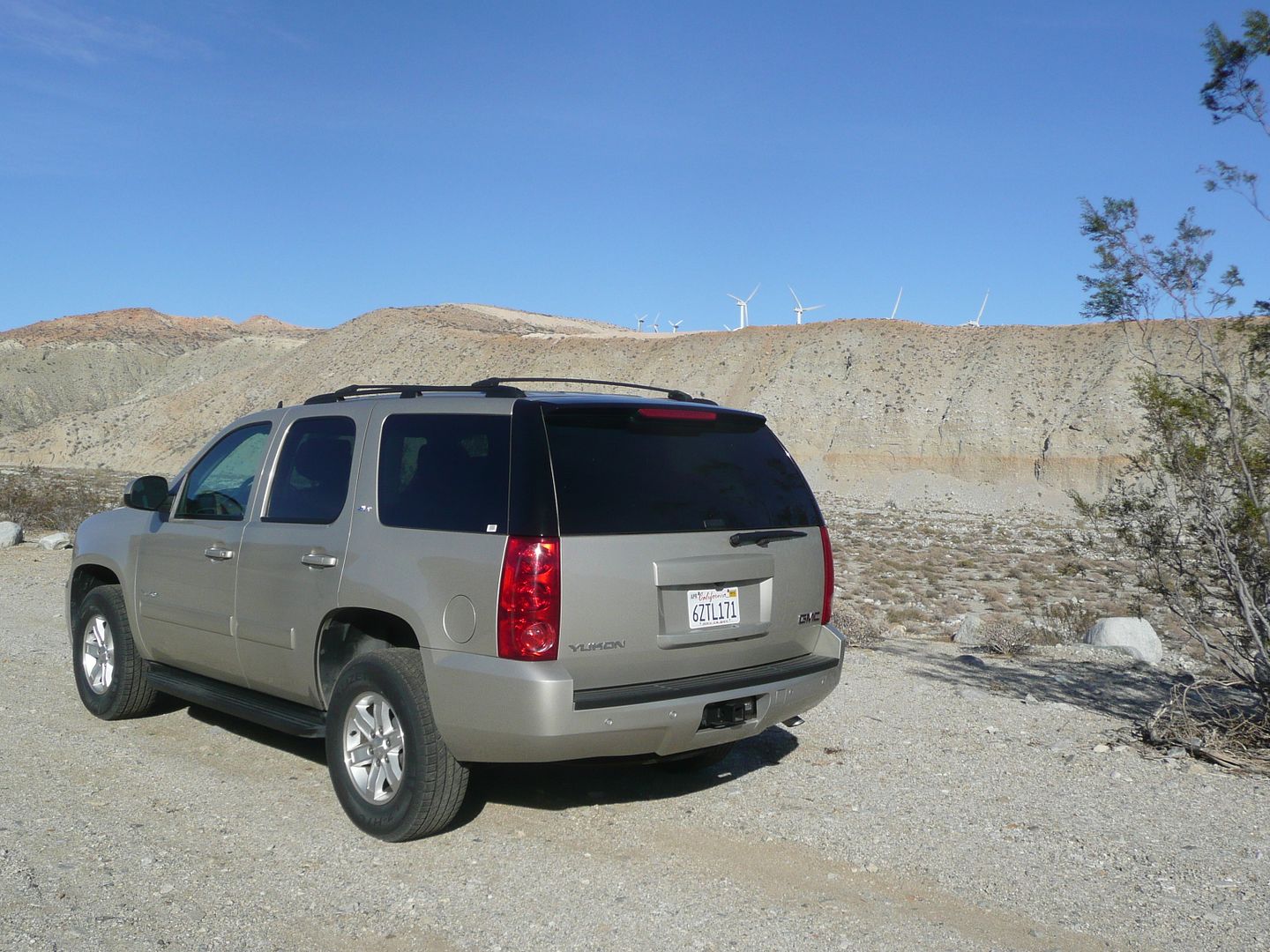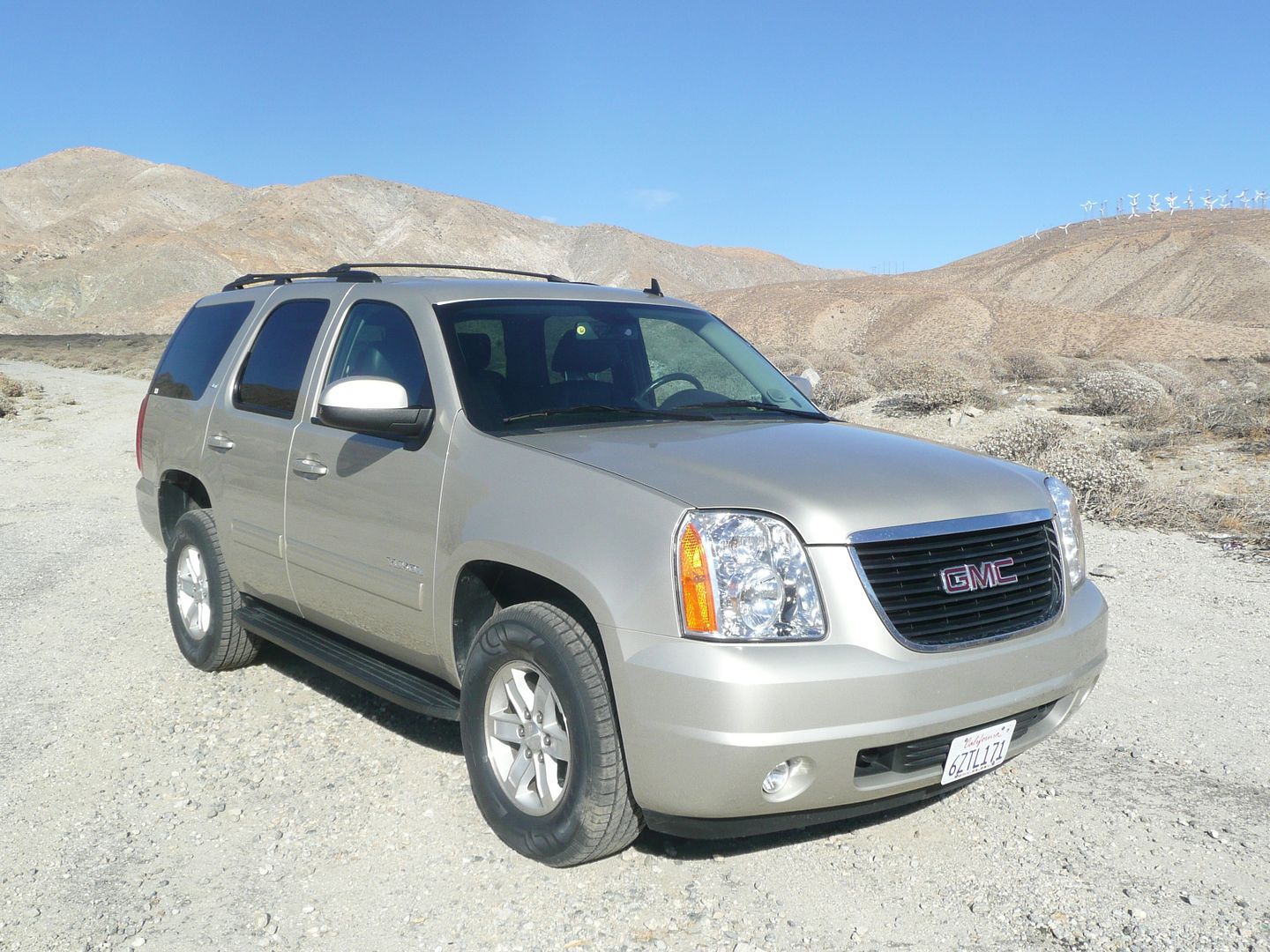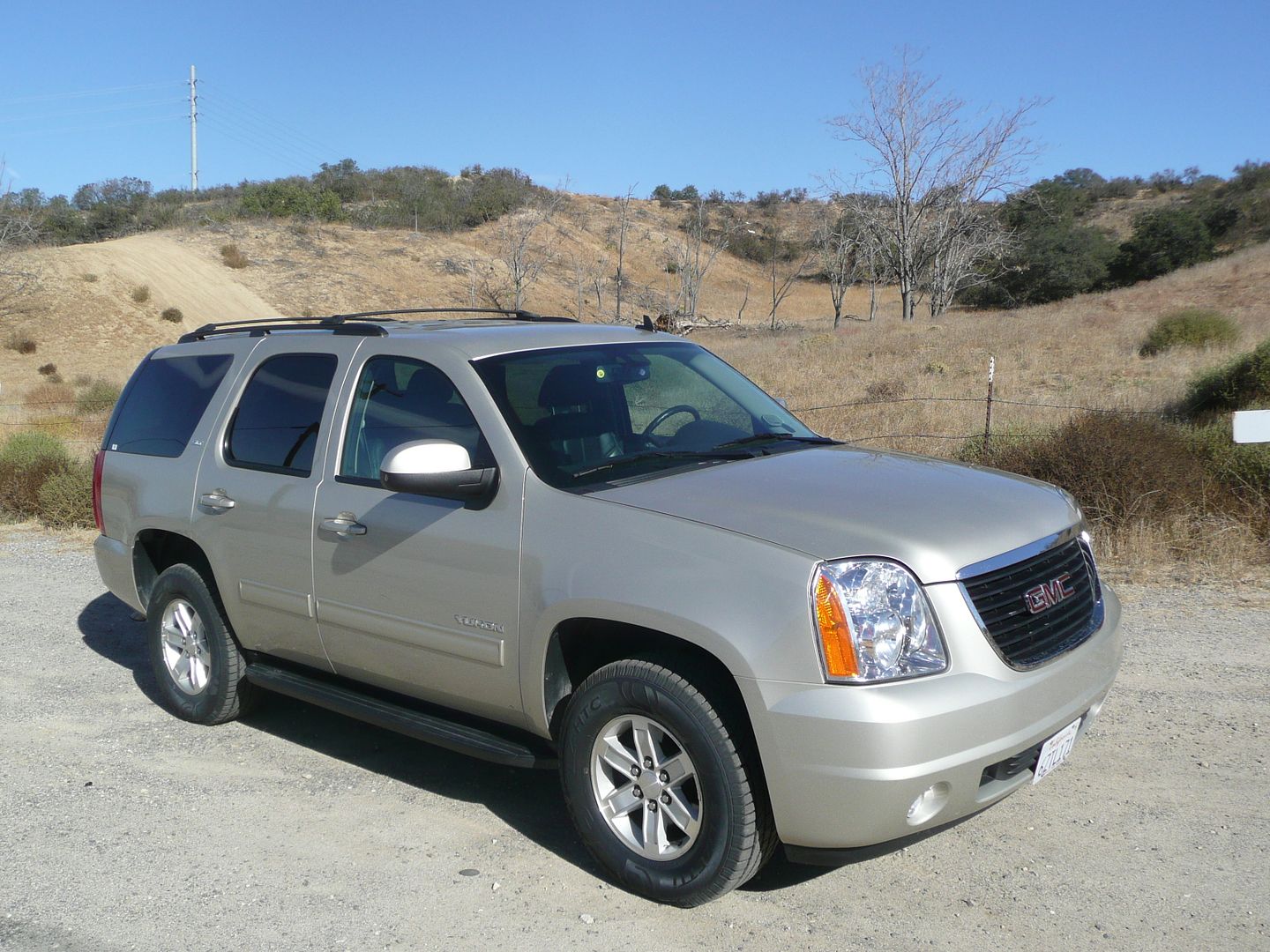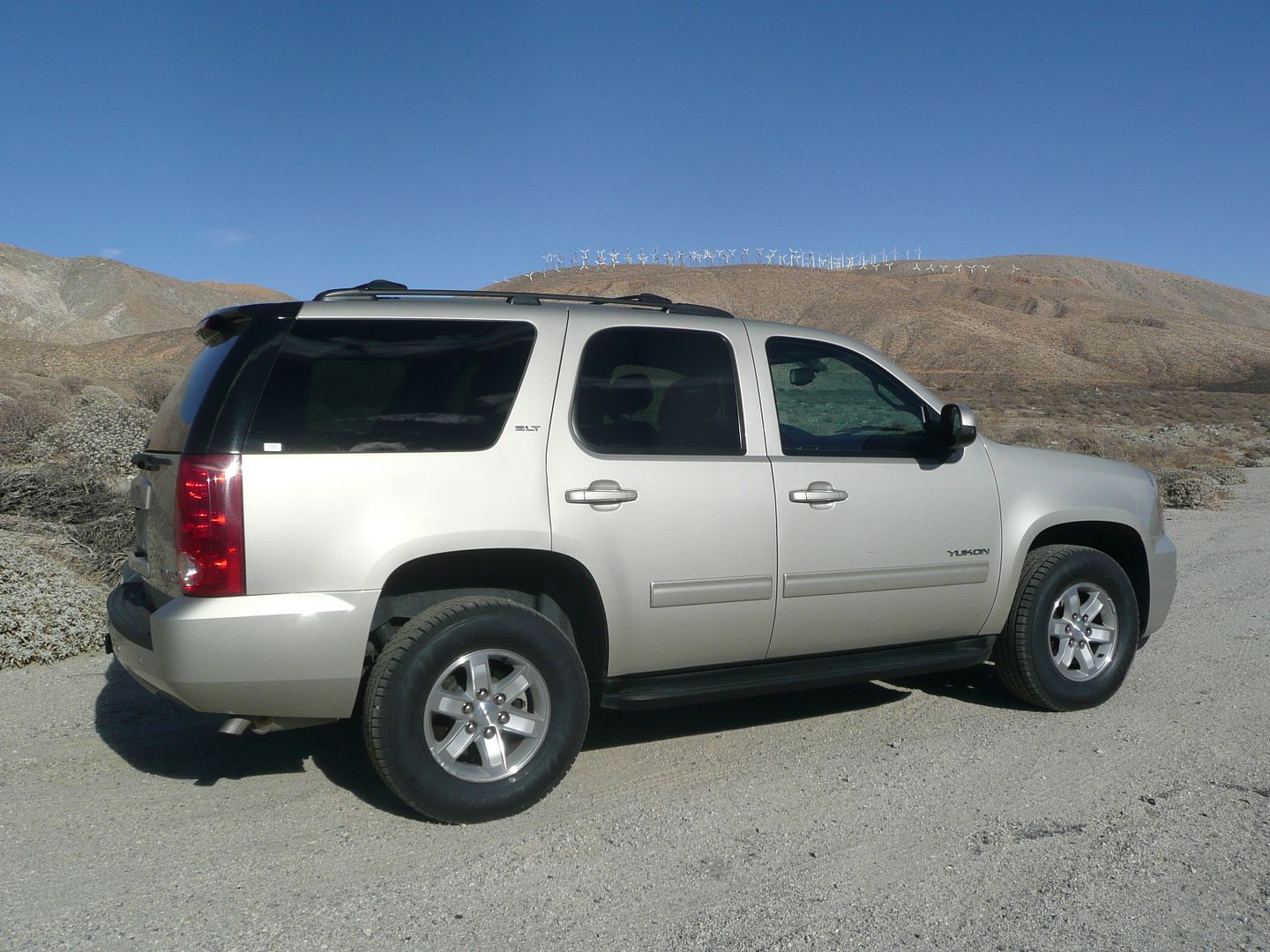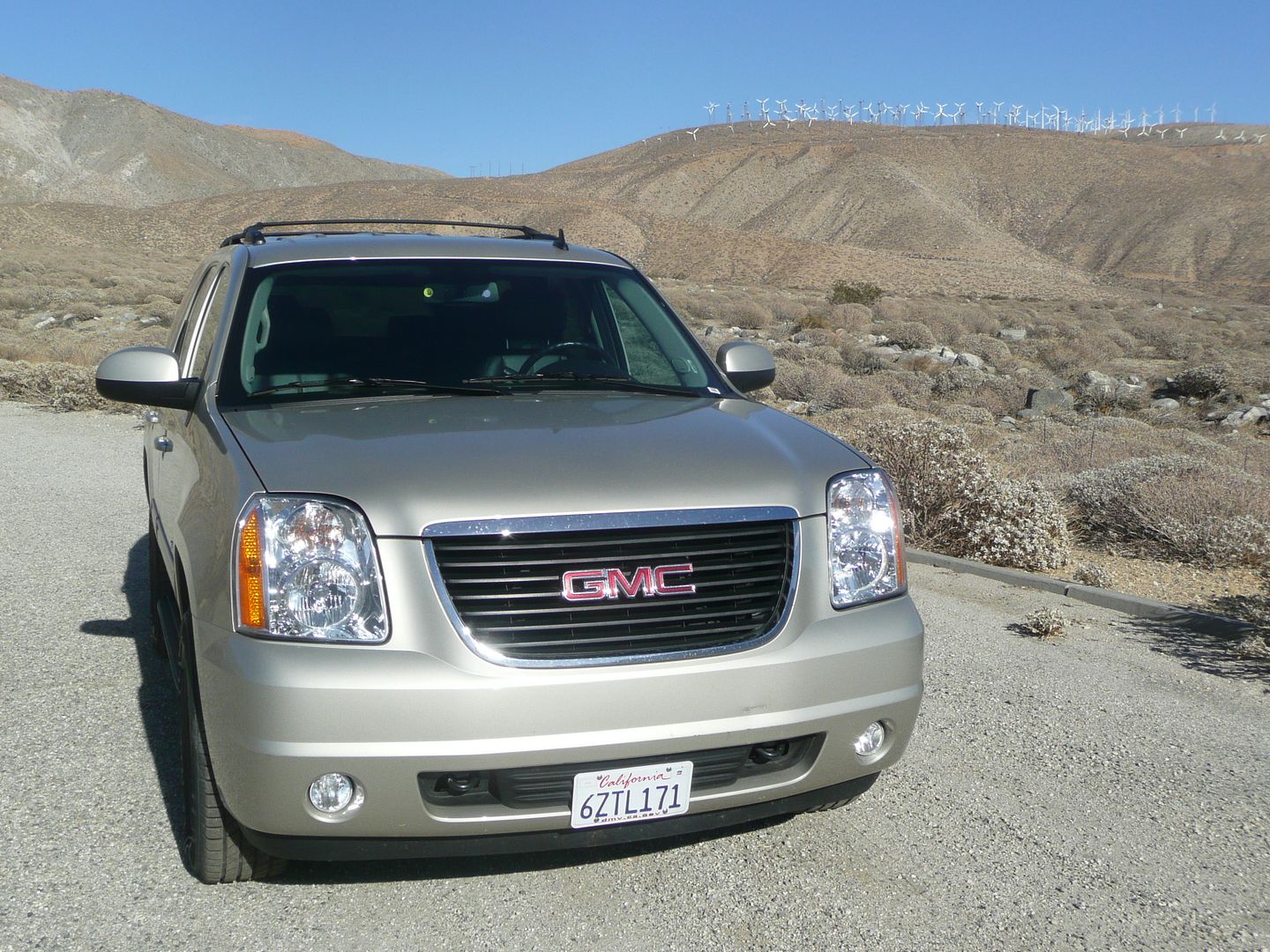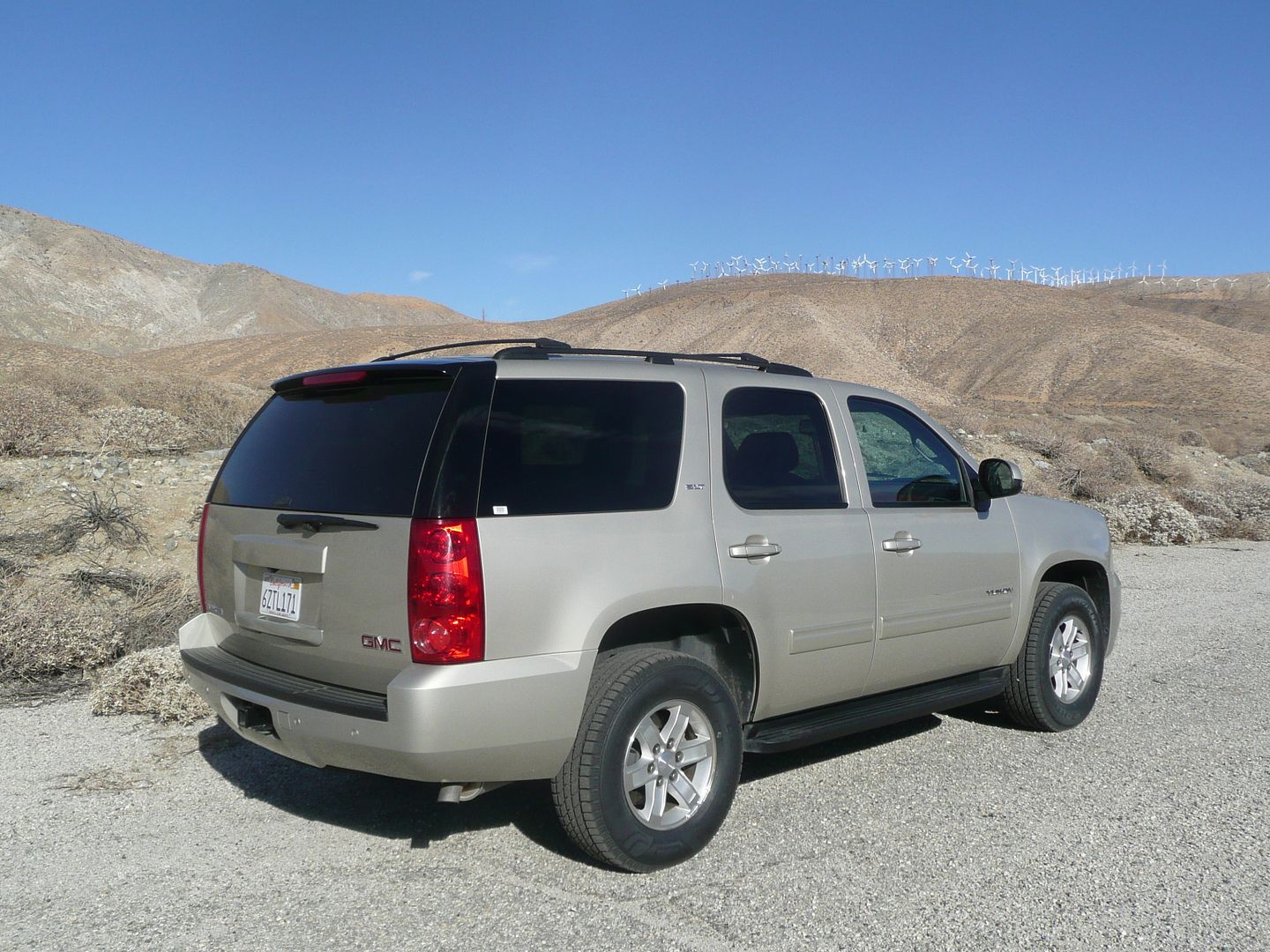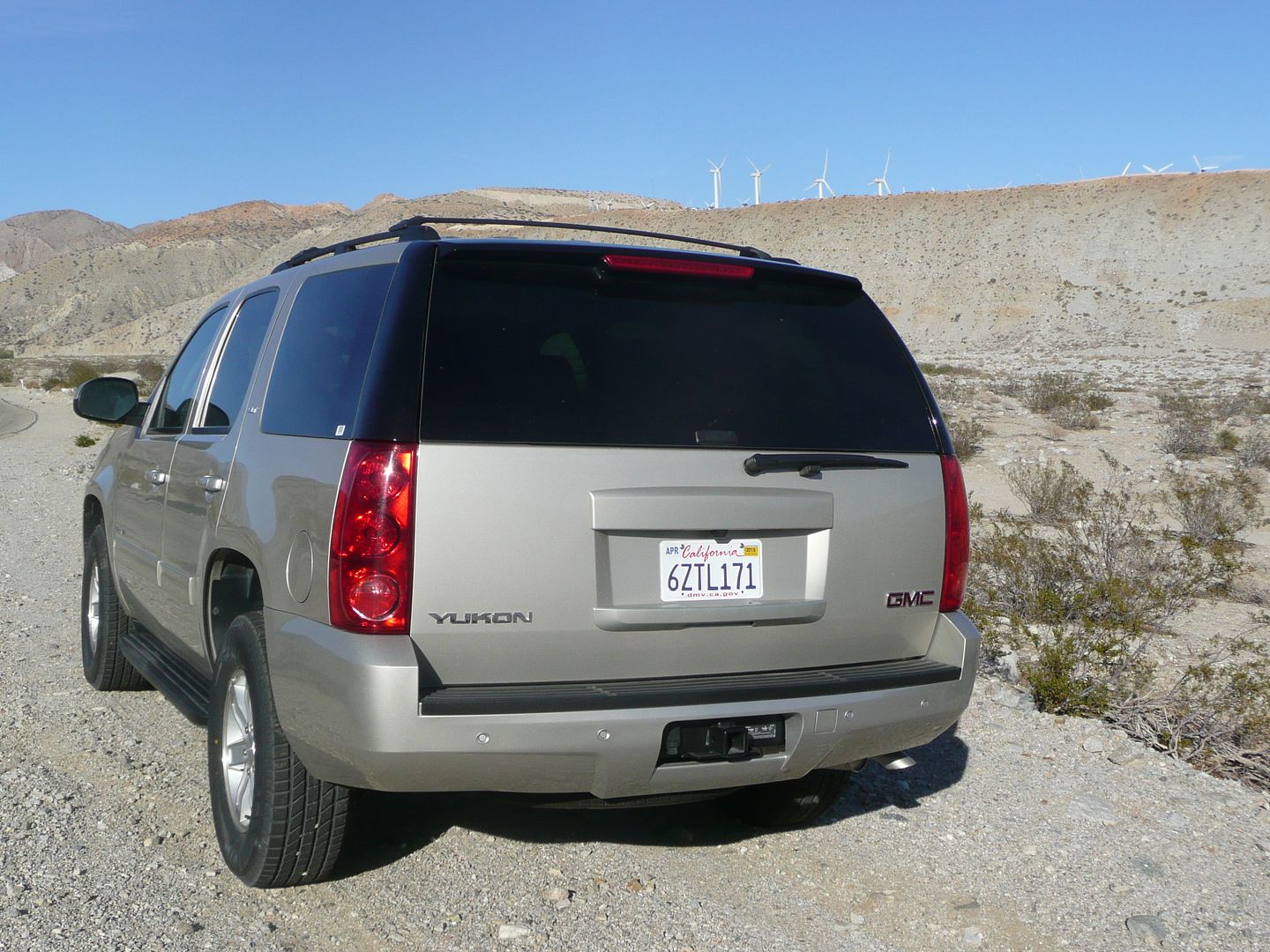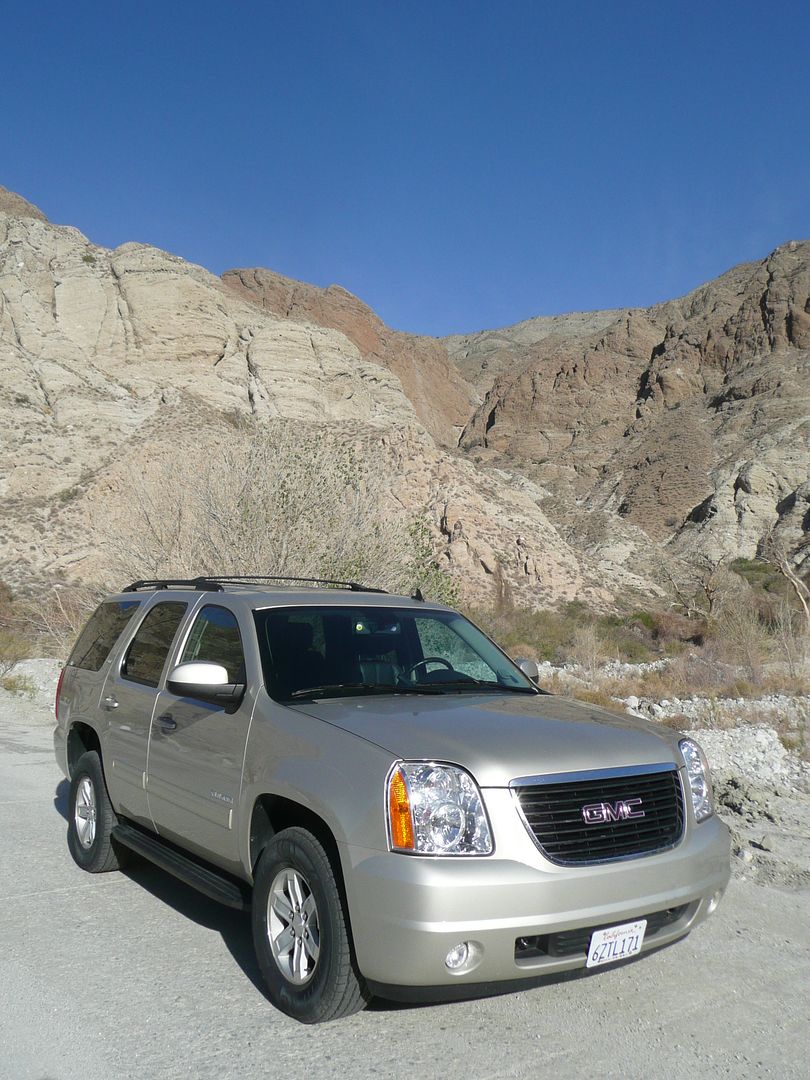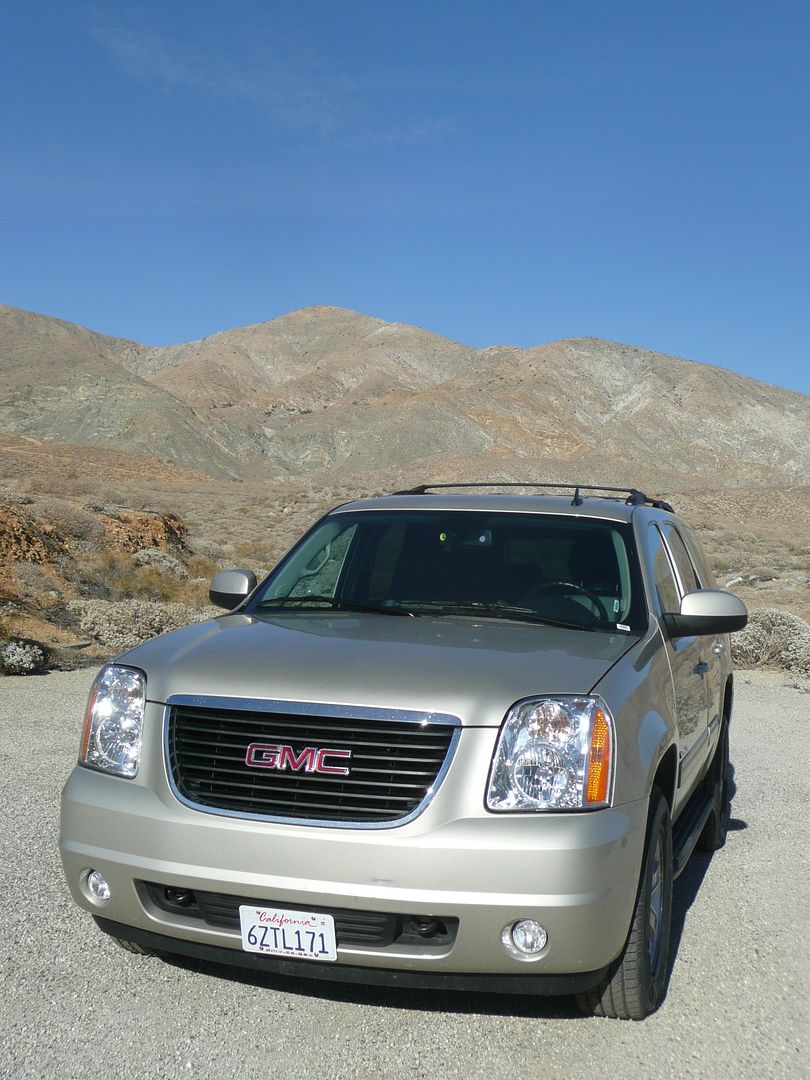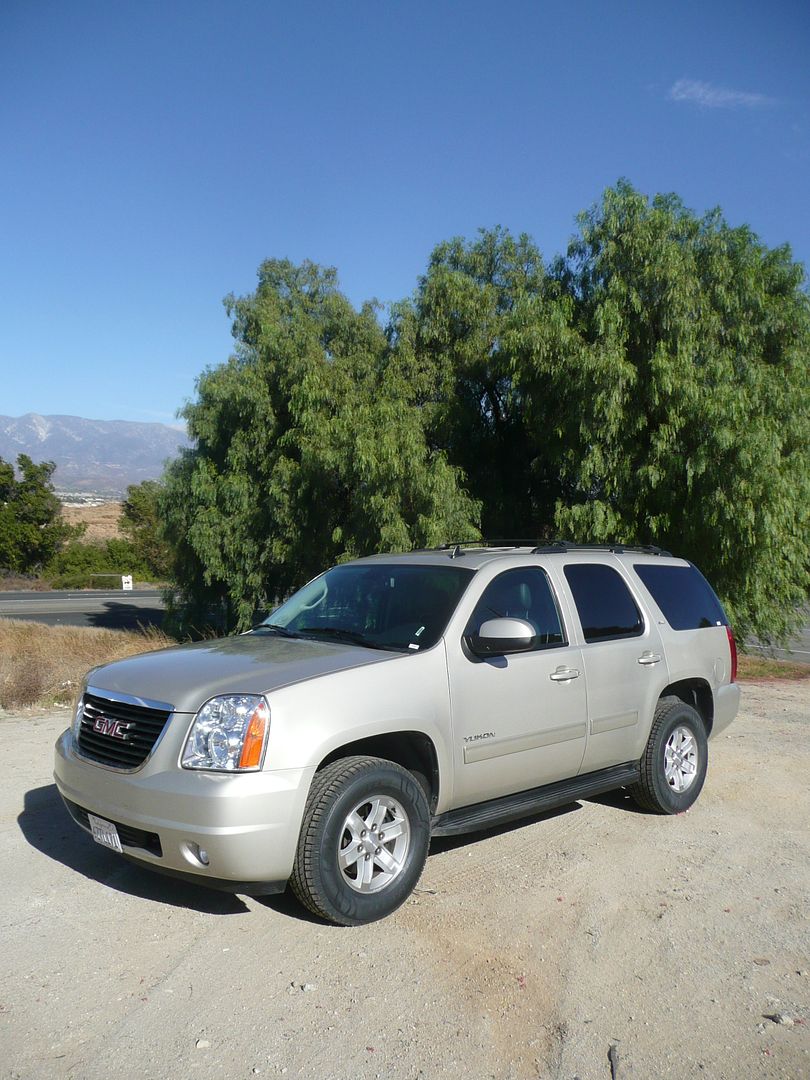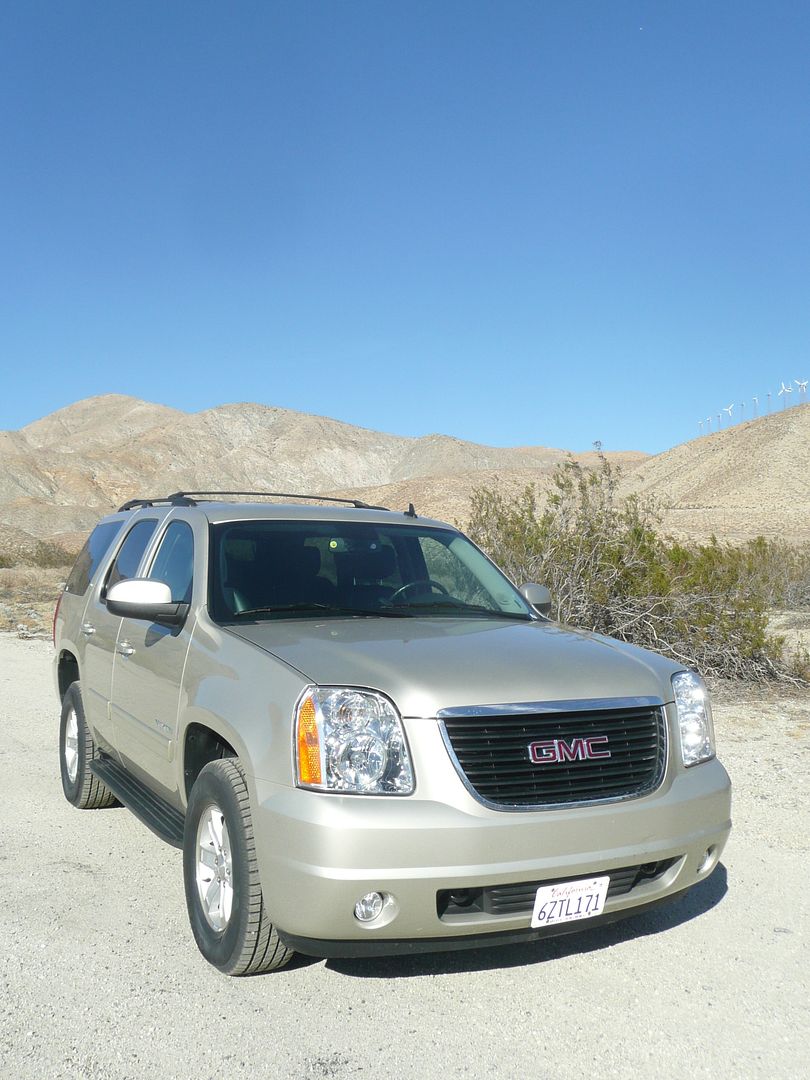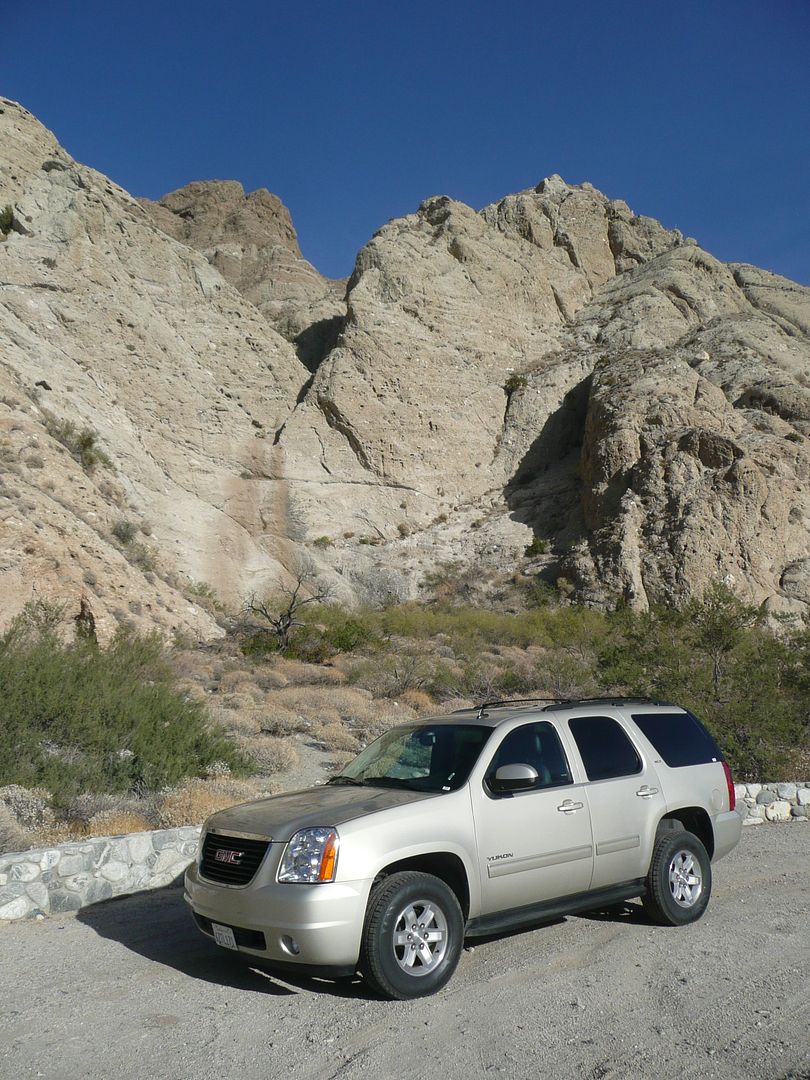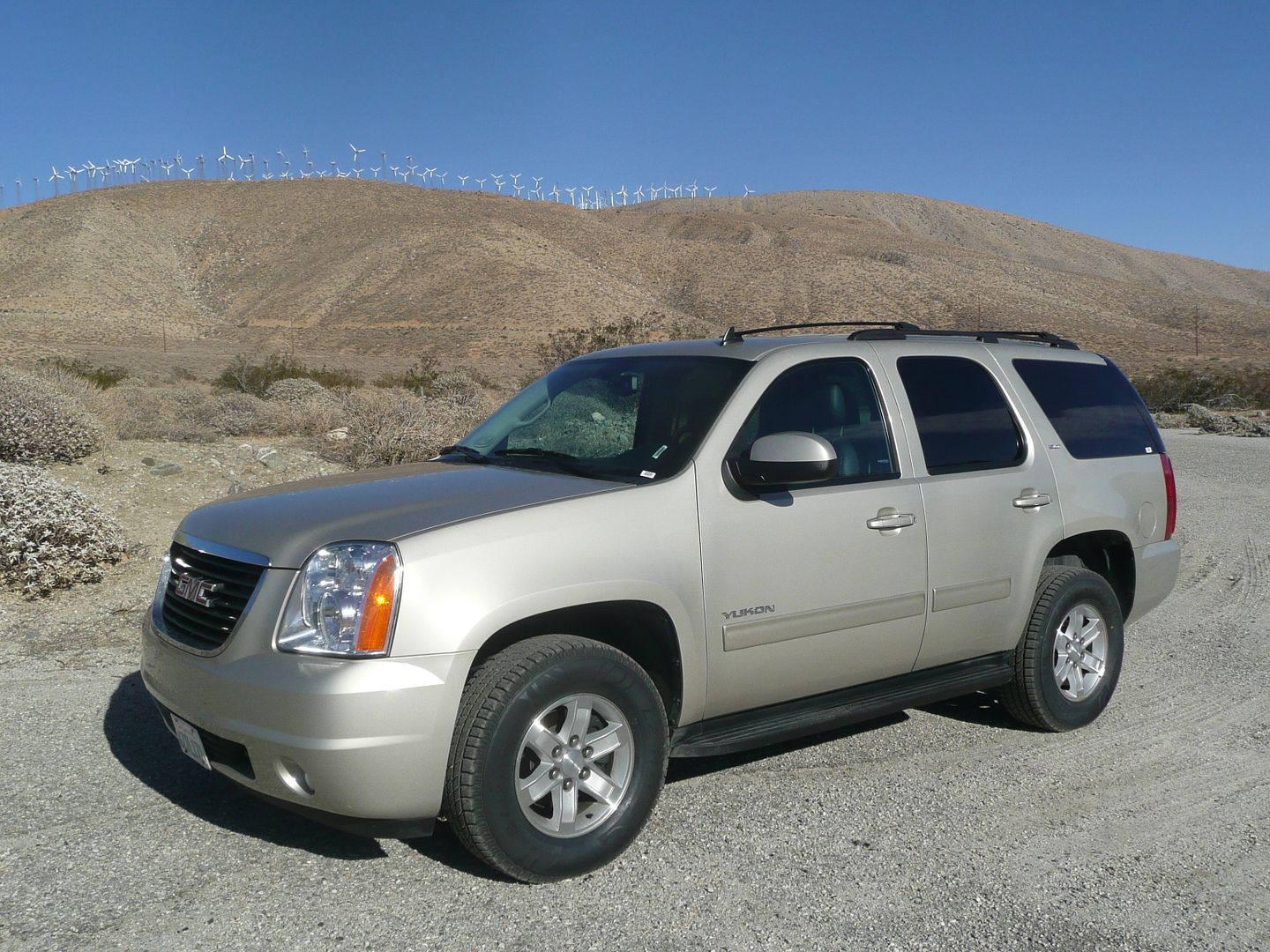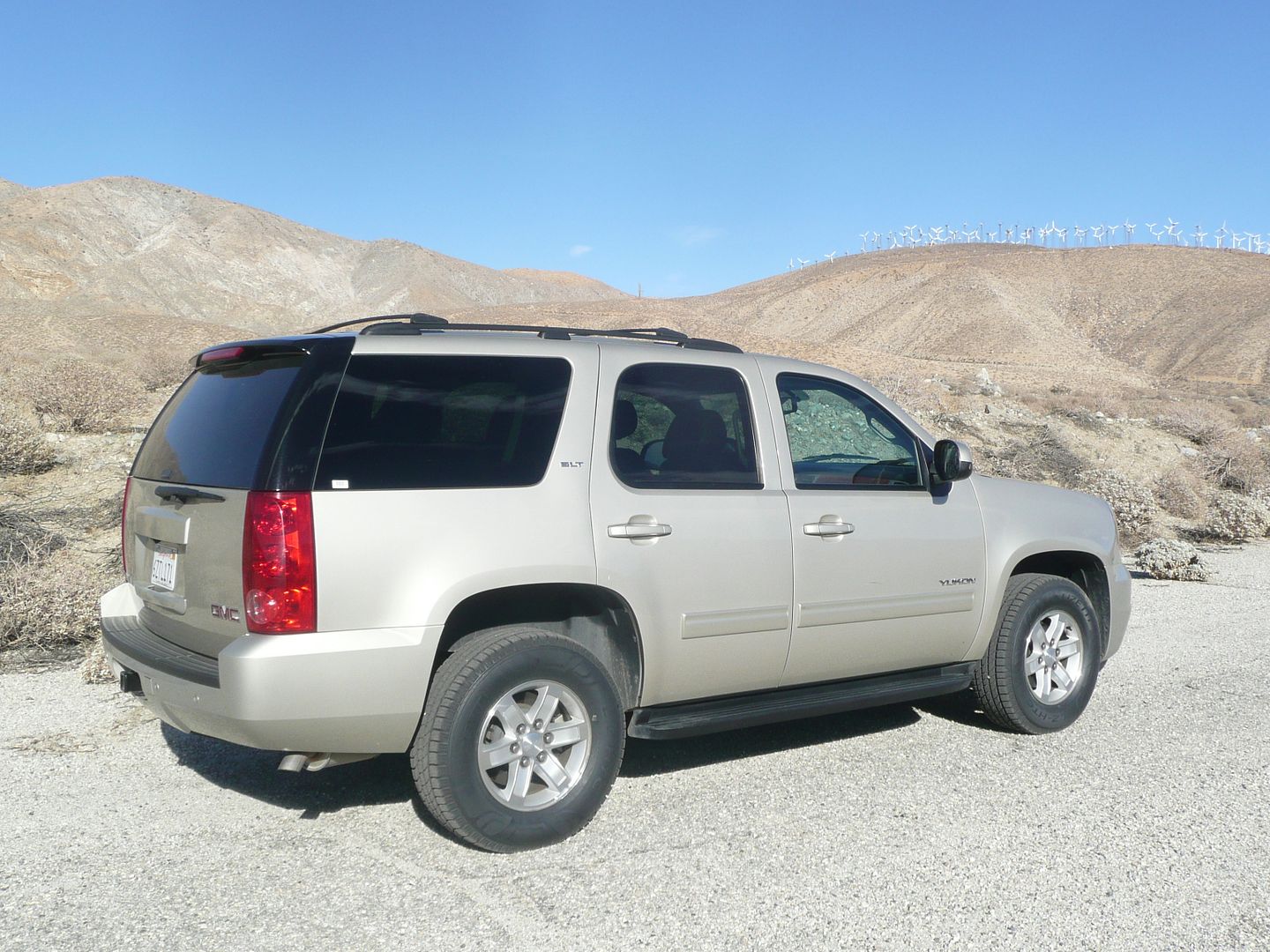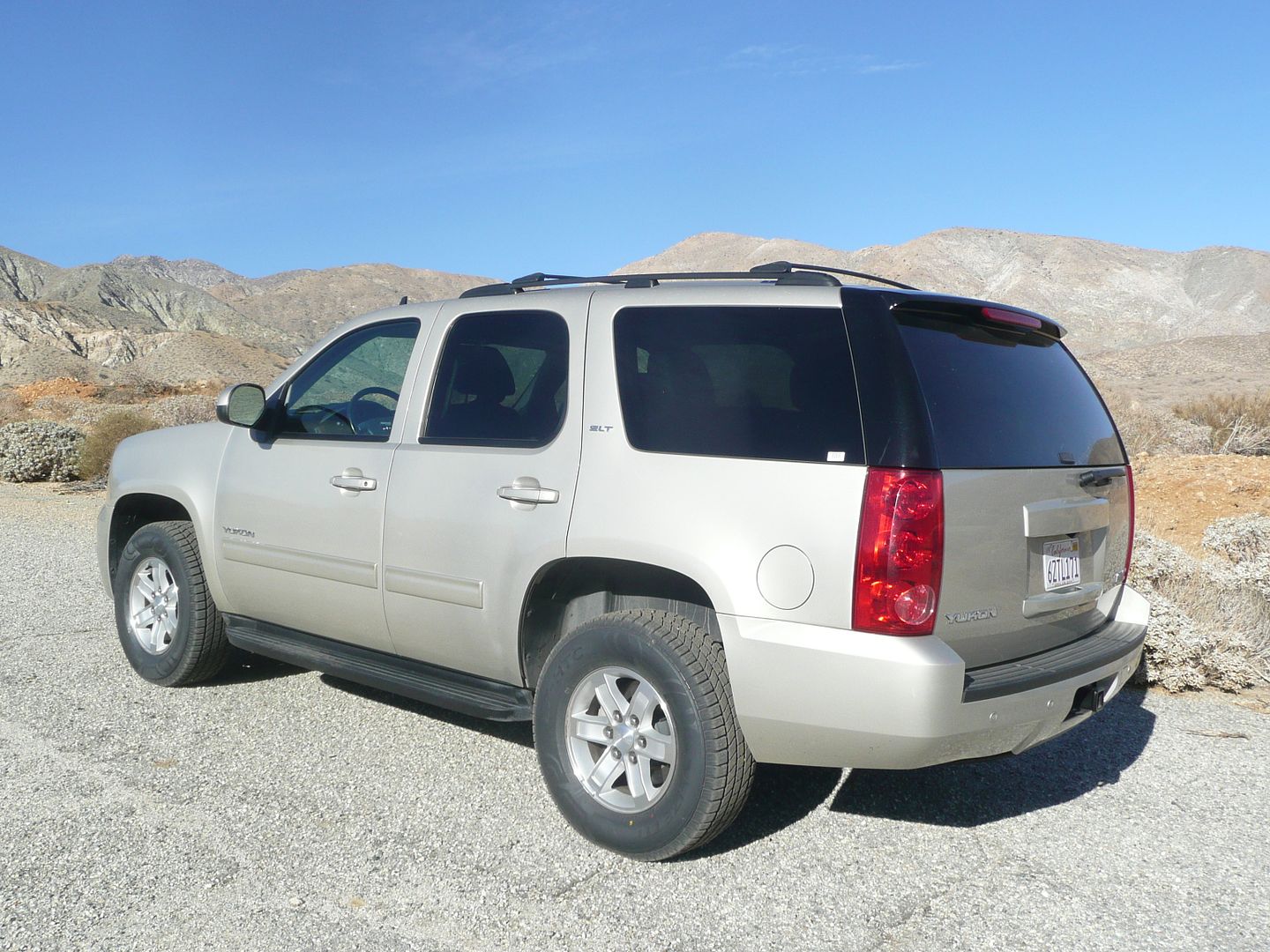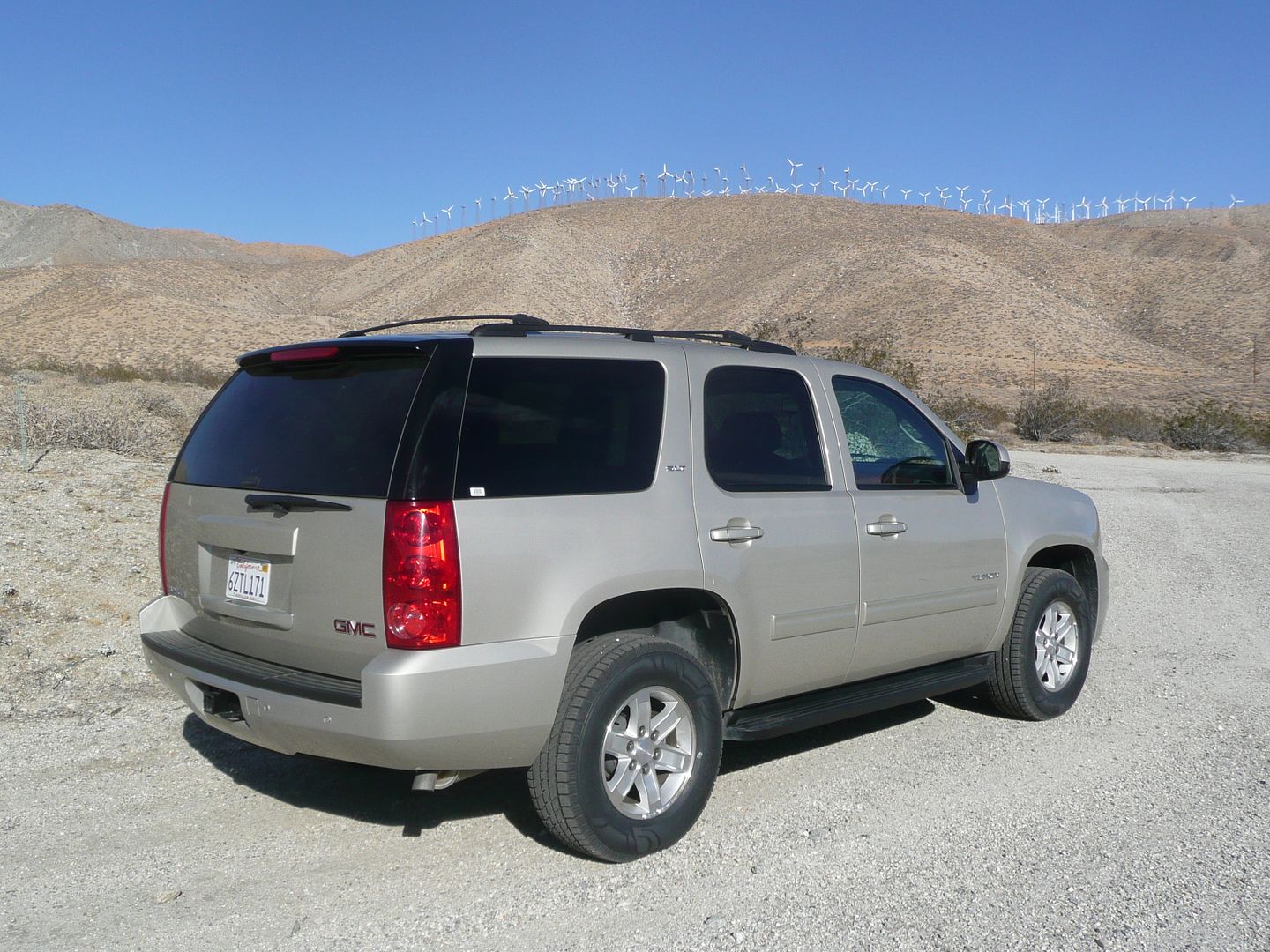 When General Motors were looking for a name for their new full-sized 1992 model SUV, they picked Yukon to put on the GMC models, thinking that their new vehicle would doubtless find favour with those who lived in, or aspired to the vast wilderness of northern Canada that bears the name. Very similar to the new GM T400 based Chevrolet that launched at the same time, for the first two years, the Yukon was only available as a 2 door product. That changed for the 1995 model year, when the Chevrolet equivalent took on the name Tahoe, to replace the Blazer badging that had been used up until that point, and when longer 4 door versions of both models were launched. As both were based on the larger Chevrolet Suburban, effectively a passenger-carrying version of the Chevrolet Silverado and GMC Sierra trucks, it should not have surprised anyone that GM decided to widen the appeal of these sizeable and commodious machines. Bodied on a truck chassis, the standard engine for both models was a 5.7 litre V8, offered with rear or all wheel drive, and these giant SUVs quickly became popular, as they had plenty of space for people and things and they could tow something nearly as heavy as a small house. GMC added a luxury version of the model to the range in 1998, the Yukon Denali, and that was the prelude to the hastily conceived and even more costly Cadillac Escalade which resulted from Ford Motor Company producing the Lincoln Navigator as a Luxury SUV. In 2000, GM launched the T800 based machines, with replacements for the Tahoe and the Yukon, which whilst still built on the truck chassis of the Silverado incorporated many changes including softer lines which were (marginally) more aerodynamic, and a new interior with more comfortable seats and a less rugged looking dashboard. Only the grilles and very minor equipment differences separate the Tahoe from the Yukon, and for the first time, there was an extra-long version of the Yukon, called the XL, to match the Suburban. The models climbed more upmarket, with things like StabliTrac stability system offered from 2003, and standardised in 2006, as well as XM Satellite radio, a Bose sound system and a DVD player being added to the cars during their lifetime. The next generation, the T900 models, appeared in late 2005 as 2007 model year vehicles, once again based on the Silverado and Sierra trucks, which were launched at the same time. Looking not unlike the models they replaced,  there were plenty of changes, again to try to raise the bar in a class which appeared perhaps to have peaked, as. let's face it, these are massive machines, and not everyone needs quite so much space, or quite such poor fuel economy. To counter the latter, a Hybrid version of the Yukon, was offered from 2008, using a technology shared with Chrysler who made it available in their rival Durango and Aspen products. Once again, the differences between the Tahoe/Suburban and the Yukon/Yukon XL models were largely cosmetic, and most obvious at the front, where the different grille and headlight treatments makes the two marques easy to tell apart. A new interior was intended to make both feel more up-scale, and mechanical changes made them slightly more economical, though these are not vehicles for anyone who is squeamish at the petrol pump. Sales of the Tahoe and Yukon remained strong, even as fuel prices rose in the early par of this decade, with the Chevrolet generally outselling the GMC by around 3:1. I've previously sampled a couple of T900 models, a Chevrolet Suburban and a Cadillac Escalade, so decided to complete the marque set by having a go in a GMC Yukon that Hertz made available, before the models disappeared from rental car duty, to be replaced by the next generation models, production of which started in early 2014, as a 2015 model.  Although there were a few of the T900 models produced as 2014 model year vehicles, this one had been on fleet for a while and was from 2013, but there were few changes made in the final months of production.
Standard engine in the Yukon is the familiar 5.3 litre V8, which puts out 320 bhp and 335 lb/ft of torque. Like many GM products, the Yukon bears badges saying that it can run an E85 mix of petrol and ethanol, though I've never, in the years I have been visiting America, ever seen any on sale. I suspect that it is only available in the Corn States? You don't expect an engine like this to be economical, as it has an awful lot of bulk to propel, so I was quite surprised when the fuel needle did not appear to have moved having driven nearly 80 miles. Mind you, the tank is rated at 26 gallons, so you would hope it does take a little while and fair few miles to drain. But then, of course, it made its inexorable way down the scale, and a quick glance at the trip computer revealed that there were times when it was covering less than 10 miles on a single US gallon. Just as well that fuel prices have recently fallen (a lot more noticeable in the US than in Europe), to around $3.10 a gallon in California. At the end of the test, which was 348 miles, I put in 18.4 gallons, which computes to 18.9 mpg US or 22.6 mpg Imperial. That's actually not bad, really, and can doubtless be attributed to the fact that I was one up, with no luggage, not towing and did a lot of the test miles at a steady speed on the freeway, so this is probably about as good as you are going to see. On the freeway, the engine was spinning at just 1500rpm at a steady 70 mph, so the tall sixth gear clearly helps somewhat. It does also mean that the Yukon is pretty quiet, with not much in the way of noise sources other than the audio unit for company. When you do need acceleration, though, the first reaction to the twinge from your right foot is to come down a gear, so the noise levels do increase a bit whilst the Yukon finds some more momentum, though it seemed quickly to go back to top gear again. Needless to say, the gearchanges are so smooth that it is only the change in noise level and the swing of the rev counter which lets on what has been going on mechanically.
This is not a vehicle which you will drive with gusto or much in the way of enthusiasm, though, as that is not its raison d'etre. It is a big capacious machine, tall and heavy with a relatively high centre of gravity, and you need to remember that the power assistance and the various electronic controls have been added to make sure it is easy to drive. And it is. For sure, it is large, though apart from the challenge of getting it out of a fairly tight space in the Hertz rental facility, it was never intimidating to drive. You just need to adjust your style accordingly. That means taking corners more slowly than you would in something smaller and nimble, for sure. There is plenty of body roll at modest speeds, and I was not going to test the ultimate grip levels, and my notes reveal the word "ponderous" from one point in the day, though I think that is being a little unfair. The steering is light, but not unduly so. Certainly it is easy to manoeuvre the Yukon at low speeds, though you do of course have to remember the sheer size of the thing. The parking sensors and reversing camera which projects an image onto the rear view mirror help here, and out of the road, the fact that you are noticeably higher up than almost every other passenger vehicle occupant does give that truly commanding feeling that many cite as the reason for buying SUV type vehicles. With lots of glass, and a generous field of view from the large door mirrors, all round visibility is good. I had no issues with the brakes, either, sometimes a worry on things of this size. Although there was no need to test them out in an emergency stop situation, there were a couple of times on the I10 freeway in the dark when traffic came to a rather abrupt stop, so a firmer push than normal in everyday driving was required and they did their job just fine. There is a foot operated parking brake pedal, to the left of the regular foot controls. The one dynamic that was not perhaps as good as you might hope for was the ride. With soft suspension, and none of the potential extra weight that the Yukon will often  carry, it proved rather wallowy, though when the surfaces changed, it did not always quite smooth them out in the way that you would want. It was not bad, but you would not award it a prize for pliancy and absorption, either.
The Yukon is a big vehicle, with the bonnet coming up to the upper part of my chest, so it's just as well that there are running boards to ease getting in and out. First task was to get comfortable. The large leather seat has electric adjustment fore/aft and for height, but a manual lever on the side of the seat for backrest adjustment. The seat is big and would accommodate someone with a much larger frame than me, but it proved very comfortable, and you could well imagine sitting on it for many hours (until the fuel ran out!), without discomfort. The column adjusts in/out and up/down with the help of a lever mounted on the lower surface, and you can also adjust the position of the pedals, if you want, with an electric switch on the dashboard. Once installed, you realise that you are a long way from any front seat passenger, as there is a massive console between the seats. The rear part of this serves as a central armrest, with a recess in the top surface which you could put small items, in, though there is a much larger such area in front of this, which was perfect for my camera, and there are also a pair of cup holders here. Lift the lid of the central armrest and there is a very deep cubby indeed, which is just as well, as the glovebox is surprisingly pokey and would barely cope with the small Owners handbook. There are also door bins for other odds and ends.
Surveying the rest of the interior of the Yukon, it all  looked very familiar to someone who  has driven its close relative, the Chevrolet Suburban, and a study of pictures of the two suggest that they are very similar indeed. That's not really a bad thing, as it is quite well done, especially by the standards of 2007 when the T900 generation of these vehicles debuted, even if one or two features such as the display graphics do look a bit old tech now in 2014, and for sure it is very "car like" as opposed to the more obviously truck inspired interiors that used to be commonplace in this class. The main dash moulding, finished in black, is made of decently textured and soft to the touch plastic, with a sizeable wood inlay on the dash in front of the passenger and on the doors. There's plenty of use of leather, not just on the seats, but also the steering wheel and the centre console, so the overall effect is quite good. It is all a model of clarity, too. There is a large cowl over the instruments, which comprise two big dials in the middle, for rev counter and speedometer, and a pair of smaller dials flanking them on either side, with water temperature on fuel level on one side and oil pressure and ammeter on the other. There is a digital display for the odometer and other functions in the base of the speedometer, and you can select from a number of menus by pressing one of the four buttons on the right of the instrument pod to cycle through these. Display for them is in old style dot matrix graphics. Also a bit old school is the column stalk, There is only one, and it is on the left of the wheel, as to the right is the very chunky gearlever. Beyond the normal operation for the indicators, this has a rotary sleeve and the need to twist the top forward for the washers, and is the sort of GM parts bin item that used to feature in all their models but which disappeared in most ranges a few years ago. Lights and the transmission selection for Front or All Wheel Drive operate from a pair of rotary dials on the dash to the left of the wheel. The centre of the dash contains a pair of air vents above the audio unit. This is also a bit old school, especially in its display graphics, but it proved easy to use, and I was pleased to find that even though the test car was not far short of 2 years old, the XM satellite radio was working. The dual zone climate control is set using a series of buttons some of which are presented as quadrants of a circle, and others in a rectangular bank. Again, easy to use. A row of switches, some of them blanked off, below this included one for the electrically adjustable pedals.
The reason why people buy vehicles of this type, above all else, is for their ability to carry people, stuff and potentially to tow a great weight as well. So you would expect the Yukon to be roomy, and it is. Though if your demands are really tough, you might find even this sizeable automobile to be not quite big enough. There are three rows of seats. In the SLT trim that I tested, with two large bucket seats up front separated by a  massive centre console area. Behind them is a rear bench which will easily accommodate three adults. It is not on sliders, though, so its position relative to the front chairs is fixed. Even so, there's ample leg room, plenty of shoulder width and enough height for even the gangliest of basketball player-sized occupants to get comfortable. There's a sizeable drop down centre armrest which has a pair of cup holders on the reverse size, and there are two MP3 ports, in a unit on the rear face of the centre console, along with separate climate controls for the occupants of this row of seats. They also get air vents in the roof, and their bits and pieces can be put in the map pockets on the back of the front seats or the bins on the doors.
Behind this row are more seats. Access is not too bad, as the middle of seats can be tipped forward to that with the backrest folded on top of the cushion, the whole thing sits vertical, leaving quite a reasonable space to clamber through. Once installed, though, there's not quite as much comfort as I might have expected. My first observation was that headroom is lacking, as I found my head in fairly firm contact with the roof just above the tailgate. There is no recessed well, so the seat is pretty much on the floor, which means that even for someone with my short legs, my thighs were not really on the seat cushion, but at a significant angle upwards, and even when in this position, there was not quite enough space for my knees and legs which were right up against the back of the middle row of seats. That really does mean that this row of seats is better suited to children than adults, though there are three seat belts, and you definitely could put full-sized people in here if you needed to. What you won't be able to do if all the seats are occupied is bring much luggage in the Yukon, as with all the seats upright, there is  next to no boot left. I guess that's where the roof, which has rails on it., ready for you to strap suitcases on, or the tow hook come in. However, fold one or both halves of the rear most seats forward, or if you struggle a bit longer, remove them completely, and you get a massive load area which is very deep, wide and long. Need even more space? Fold down the middle row, too. When both rows are folded down, they don't quite meet, so although they are all level, there are gaps between the rows. If none of  this is quite enough, GMC have a solution, called the Yukon XL. This gargantuan vehicle adds 20″ in length, and with 15″ of those added to the wheelbase, offering a bit more room for the middle row occupants and a lot more boot space.
GMC offer the Yukon with three different trim levels, a choice of 2 or 4 Wheel Drive and two different towing capability ratings, meaning that there is quite a range, even before you factor in the availability of the extended model, the Yukon XL. About 50% more buyers go for the regular one compared to the long one, and sales of both are approximately a third to a half of those of the equivalent Chevrolet Tahoe and Suburban. SLE and SLT models come with the 5.3 litre V8 and the top spec Denali, which is apparently very popular among buyers, has the 403 bhp 6.2 litre unit that you also get in the Cadillac Escalade. Even SLE models are decently well equipped, as you might hope for a $45,770 vehicle, with the standard spec including auxiliary power outlet, cruise control, vehicle anti-theft system, automatic headlights, a leather wrapped steering wheel, remote central locking, heated mirrors, an audio unit with AM/FM and XM Satellite radio, CD, MP3, AUX and Bluetooth with separate controls for the rear seat occupants, tri-zone climate control, with settings for the rear seat passengers, power adjusted driver and front passenger seats, the third row of seats. SLE models have cloth trim. For another $4330, the  SLT adds a reversing camera and parking sensors, universal garage opener, leather seats with the driver's seat heated. You will pay almost another $10,000 for a Denali. You can recognise one by the chrome mesh grille and the fact that there is plenty of additional chrome trim added to the rest of the vehicle. As well as the more powerful engine, this top spec trim also gains a power operated tailgate, remote tailgate release, door mirror memory, and upgraded Bose surround sound 10 speaker audio unit with hard disk drive, a perforated leather trim, cooling for the driver's seat as well as heating, heated rear seats, seat memory settings, separate middle row bucket seats as opposed to the rear bench. All models have roof rails and a built in tow bar an electrical take off point. The 1500 models can tow up to 7600 pounds, and the 2500 models 9200 pounds, very substantial weights indeed, and the sort of reason why you would normally need a large truck.
Although this was an example of a now superceded model, and the all new 2015 versions of the Yukon are just starting to arrive in Hertz' fleet, it was not hard to see why this vehicle, along with the Tahoe/Suburban have proved so popular. For what it sets out to do, which is to provide a lot of space for people and their stuff, with the ability to tow something very substantial, it hits the spot perfectly. Nicely finished, and decent to drive, if you need something that can do all those things, it has much to commend it. Of course, I don't. My life does not need this much space or towing capacity, but once in a while, it is nice to drive something this big that you just would not want anywhere near a European road, let alone a European petrol pump. I enjoyed my time with the Yukon, in a very different way from the more usual sort of rental car, as the assessment criteria are inevitably somewhat different.