Perhaps I should have guessed that the day after a large showing of Pistonheads and Supercars, the source material for the theme of the monthly Petrolhead Nirvana evening at Ace Cafe was not the time that a lot of people would choose to turn out to display their cars one more time. Factor in the change in weather that meant that following a day of lovely summer-esque sunshine, the clouds had returned along with a keen wind making it feel downright cold and the consequence was that when I arrived at the Ace Cafe, at around 6:30pm, I was greeted by an almost empty forecourt with a small number of bikes and just 4 cars in theme. Gradually, more arrived, but it was very gradual, and with the wind making it feel more like March than June, it was tempting to retreat back to the more welcoming surroundings of my hotel bar. But I persevered, and as the evening wore on, an array of cars did show up, though there were never enough to require more than one parking space beyond the perimeter of the venue. The criteria for this theme are a bit more elastic than some, so you do always get quite an eclectic variety, as this report evidences.
ALFA ROMEO
I've seen this 155 before. Decked out to resemble the DTM cars of the mid 1990s, it is a reminder of the glory days when Alfa were winning races with their mid-sized saloon car. In the UK, a similar machine won the BTCC championship in 1994, as a sticker in my 1995 Alfa proudly attested.
This rather nice 147 GTA arrived mid evening. Fewer than 300 of these potent 3.2 litre V6 engined cars were sold in the UK in what turned out to be quite a short model life, and very few of them were painted in this rather nice blue colour making it really rather rare.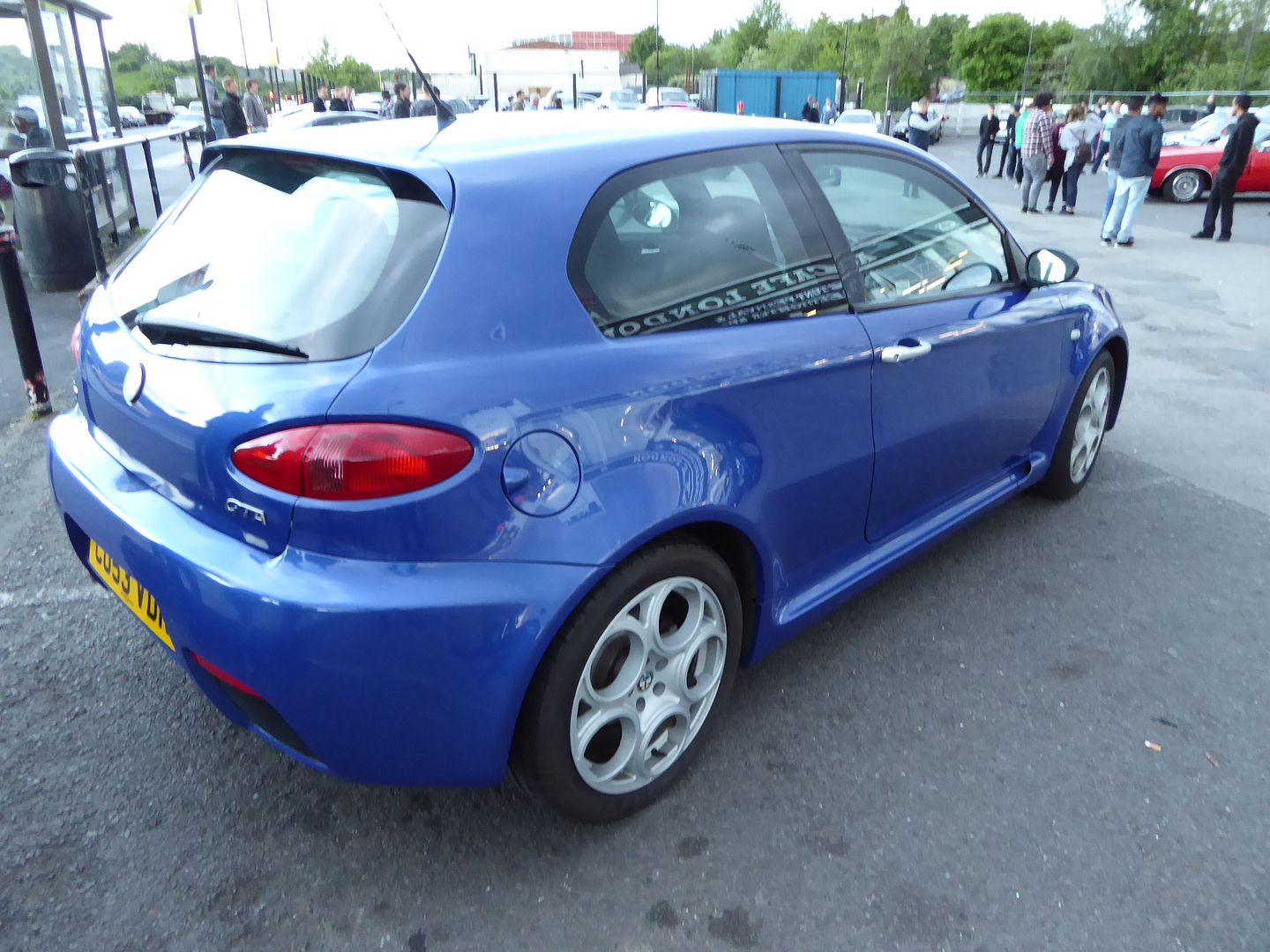 ASTON MARTIN
Hats off – proverbially speaking – to the couple who arrived in this V8 Vantage with the roof down. Given the rather blustery wind, actually, they would probably prefer hats to be kept on!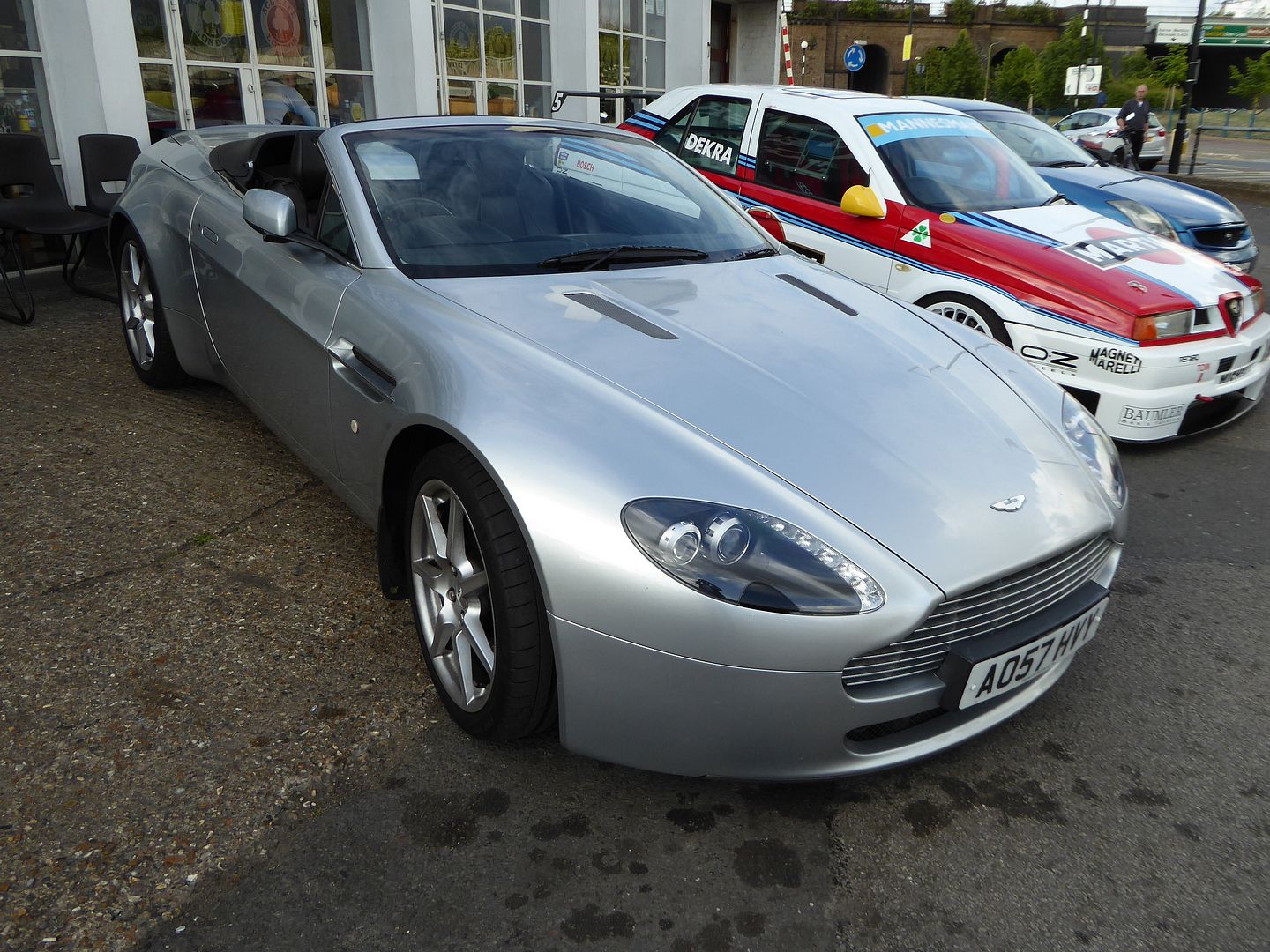 AUDI
Eight years since launch, and on the eve of a second generation car going on sale, the R8 is still a striking car that grabs people's attention, and that was certainly the case when this one arrived.
BMW
This i3 pulled onto the forecourt – completely silently, thanks to its electric propulsion – just before I departed. The driver is someone I've seen often at this venue and others, usually with a camera being used at least as much as mine, but this time he clearly had other things on his mind, as he headed straight into the building with no immediate opportunity to ask him about the car. I am sure there will be other chances.
More familiar a BMW was this E46 generation M3 Coupe.
DODGE
Old American cars are not something that you see every day in the UK, and they always create quite a stir whenever they do appear, and that is certainly the case for this one. It is a 1971 Dodge Charger R/T, one of the last of the true Muscle Cars, before a combination of emerging emissions regulation and concerns about safety and liability issues from ever more potent cars being in the hands of those not really capable of driving them at speed caused the concept to be watered down. I have to say that this one did not sound as raw as I was expecting but that is because the owner is still working on it. He's clearly finished his work in the interior, which looked factory fresh, even down to the white seat trim (fun keeping that looking clean for long!). This was one of the biggest crowd pullers of the evening, and rightly so too.
FERRARI
Although the evening weather was not great, it was not actually raining, so that meant that Ferraris – not renowned for making appearances at car events in the wet! – were always a distinct possibility. As it happens, just one made the journey to Ace, a 430 Spider.
FORD
Late arrival was this Focus RS. Dark blue is the least conspicuous of the colours in which Ford's road rocket was offered and it makes the car slightly less obviously "in yer face". Only slightly, though!
JAGUAR
One of the nicest cars of the evening was this lovely Series 1 E Type Jaguar. Sadly, the owner did not stay very long, but at least he came along and enabled those of us who were there to have a good look at this elegant motor car.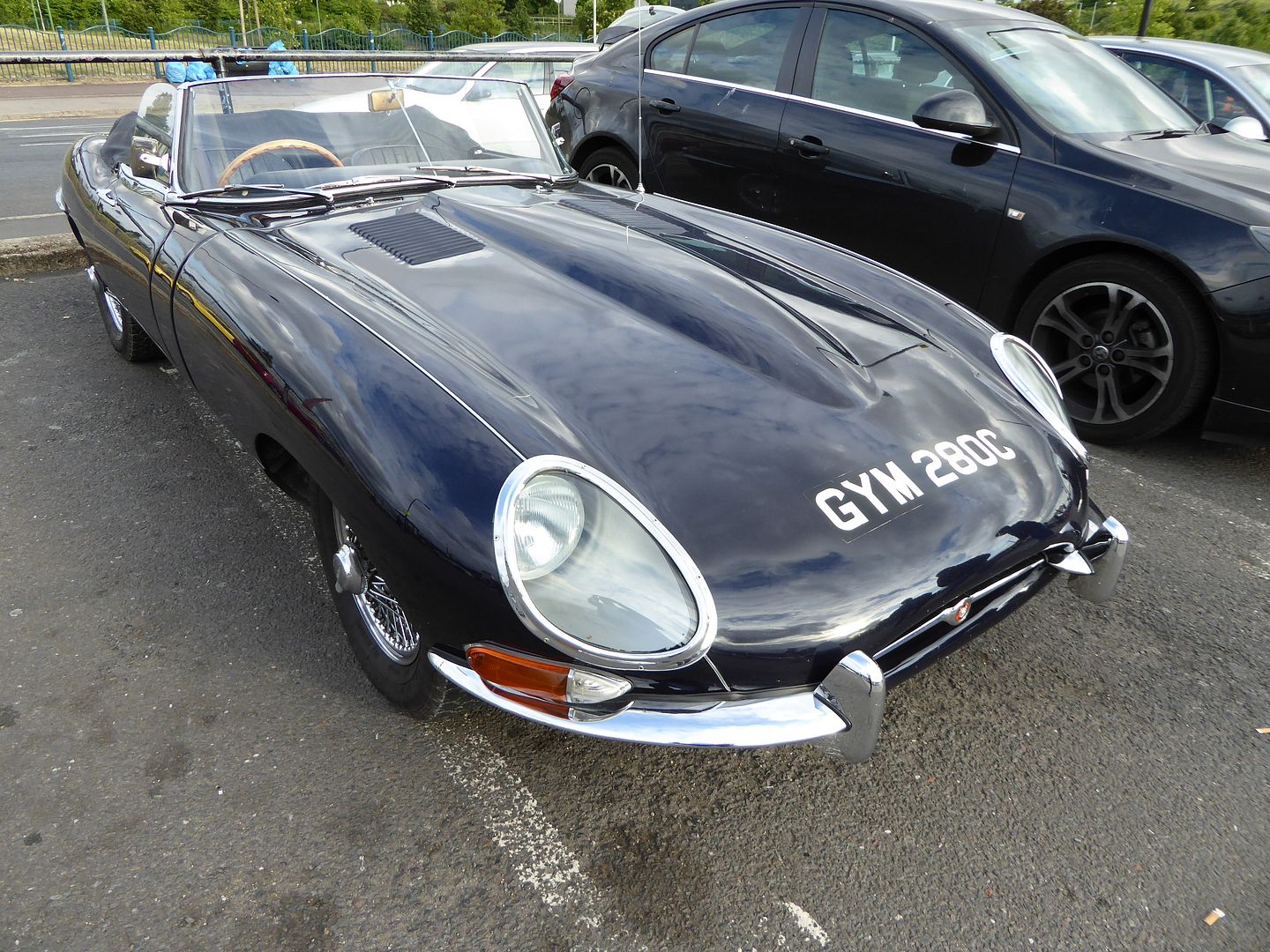 LAMBORGHINI
I've seen this bright green Jarama S at a number of events before, but this was the first time I got to talk to its owner. He has had it for a few years, taking possession of a "barn find" and gradually working on it to get it to its present condition. In some ways that has not proved as hard as you might imagine, given deep enough pockets, as he said that Lamborghini finally realised that focusing solely on their new cars was a missed opportunity and they have now got full details of parts of everything that they ever produced at the factory and much of what you might need is readily available. For a price, of course. Just 12 of the Jarama were produced in right hand drive, and no-one really knows how many of them are still around. There is a car with a chassis number just two away from this in the Isle of Man, and two other RHD cars are known of in Australia and Japan. Whether any more survive is unclear. The steel body on this one is in pretty good condition, with just the odd bit of paintwork bubbling. Mechanically, it is in fine form. The Jarama uses the same 4 litre V12 engine as was found in the Miura, Espada and its own direct antecedents the Islero and 400GT, and in the later S spec of this car it generates 365 bhp. Although 10 inches shorter than the Islero which the Jarama replaced in 1970 when that car ceased to comply with various US regulations, the car is still a full four seater and there is a decent boot, so it really is something of a Grand Tourer. You will be stopping quite frequently to fill up the 20 gallon fuel tank, though!
MASERATI
Unlike later in the week, at Italian Car Night, when Maserati was conspicuous by its absence, there was one here, a recent-ish GranTurismo.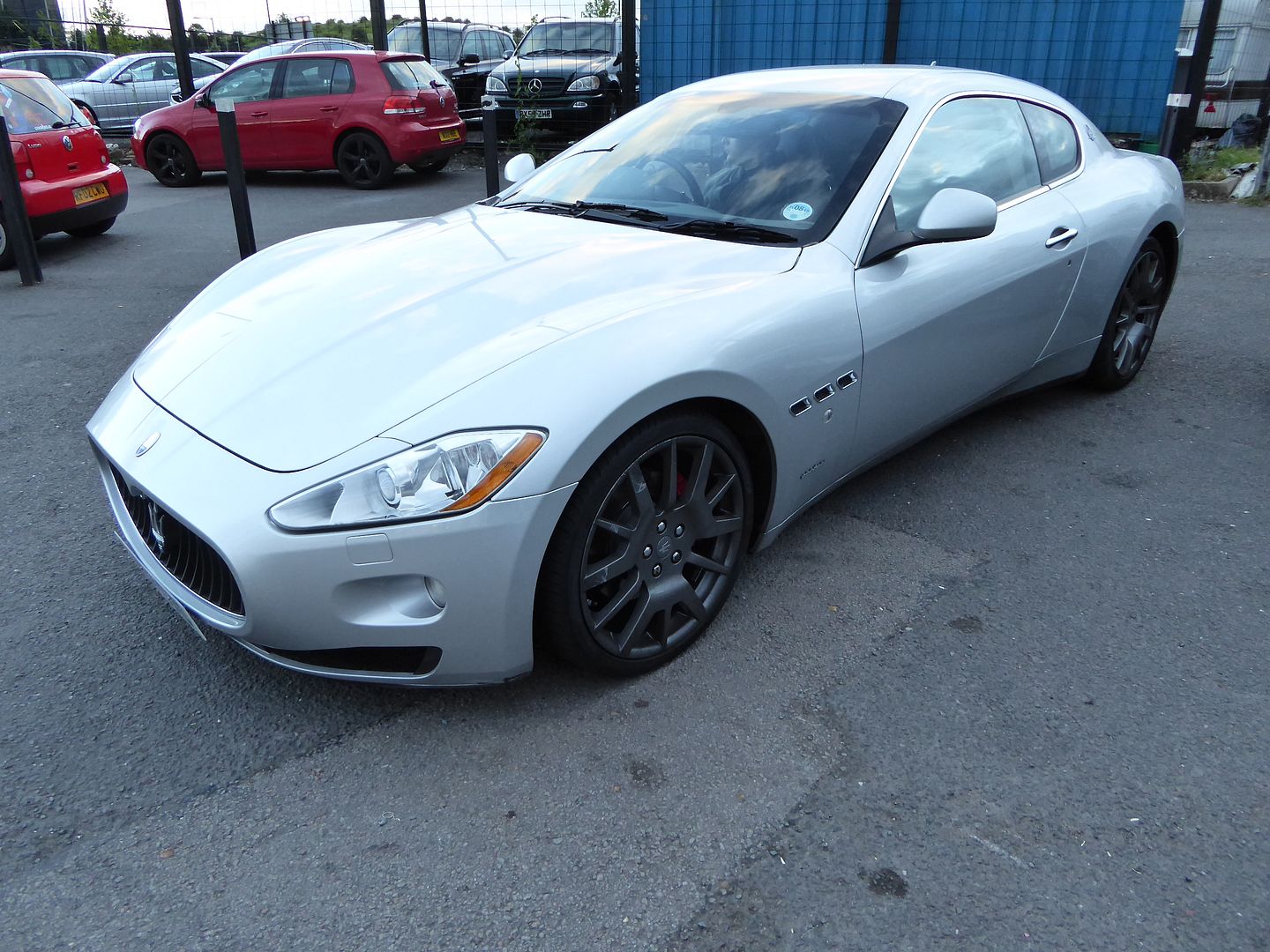 NISSAN
With five Nissans present, this was the best represented marque of the evening. Two of them were Skyline G350 Coupe cars, models better known certainly to the Americans as the first generation Infiniti G35 Coupe. Never officially sold in the UK. these were both grey imports that had been kept looking reasonably standard. Many, of course, have been extensively modified, both mechanically and appearance wise.
One that was sold here, a decade earlier, was the Sunny GT-R. A complete transformation of a dull but worthy family hatch, this was one of the most exciting of the hot hatches available at the time, but is largely forgotten these days and definitely a rare sighting indeed.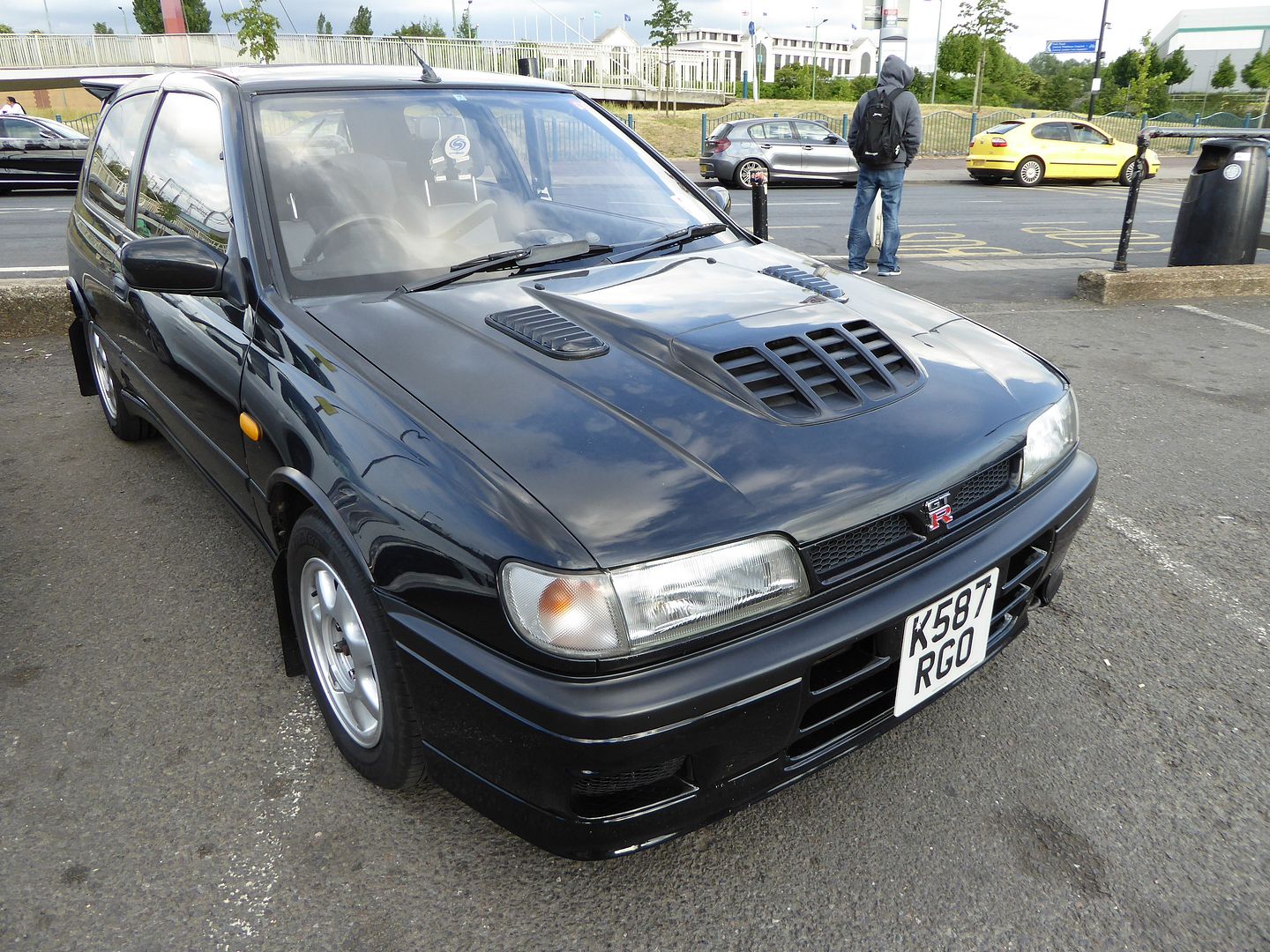 Final Nisan that I photographed (I missed out on a lightly modified 350Z) was a Skyline GTR.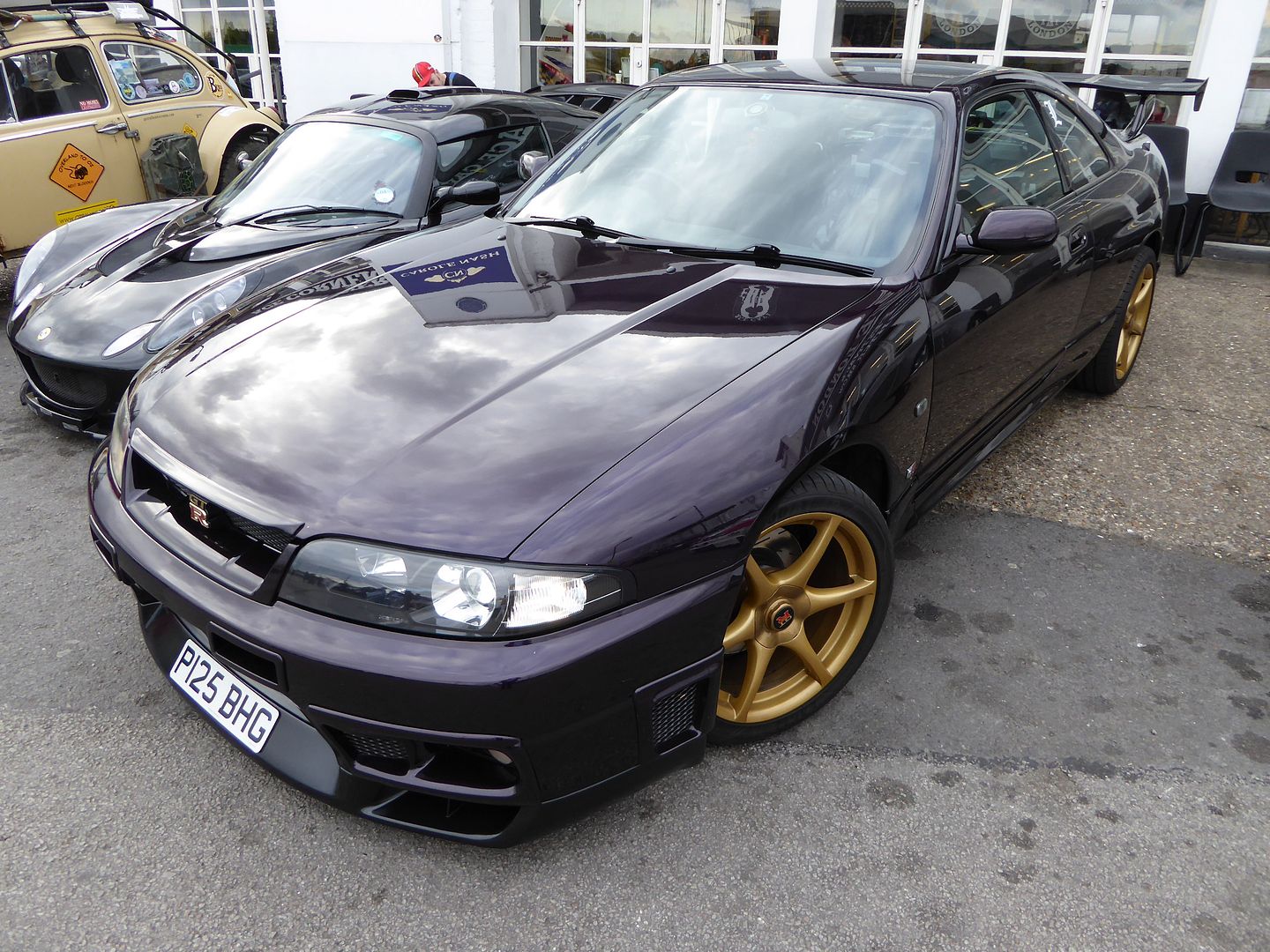 NOBLE
More dramatic even than the TVRs that you will come to a bit further down this report was this Noble M12 GTO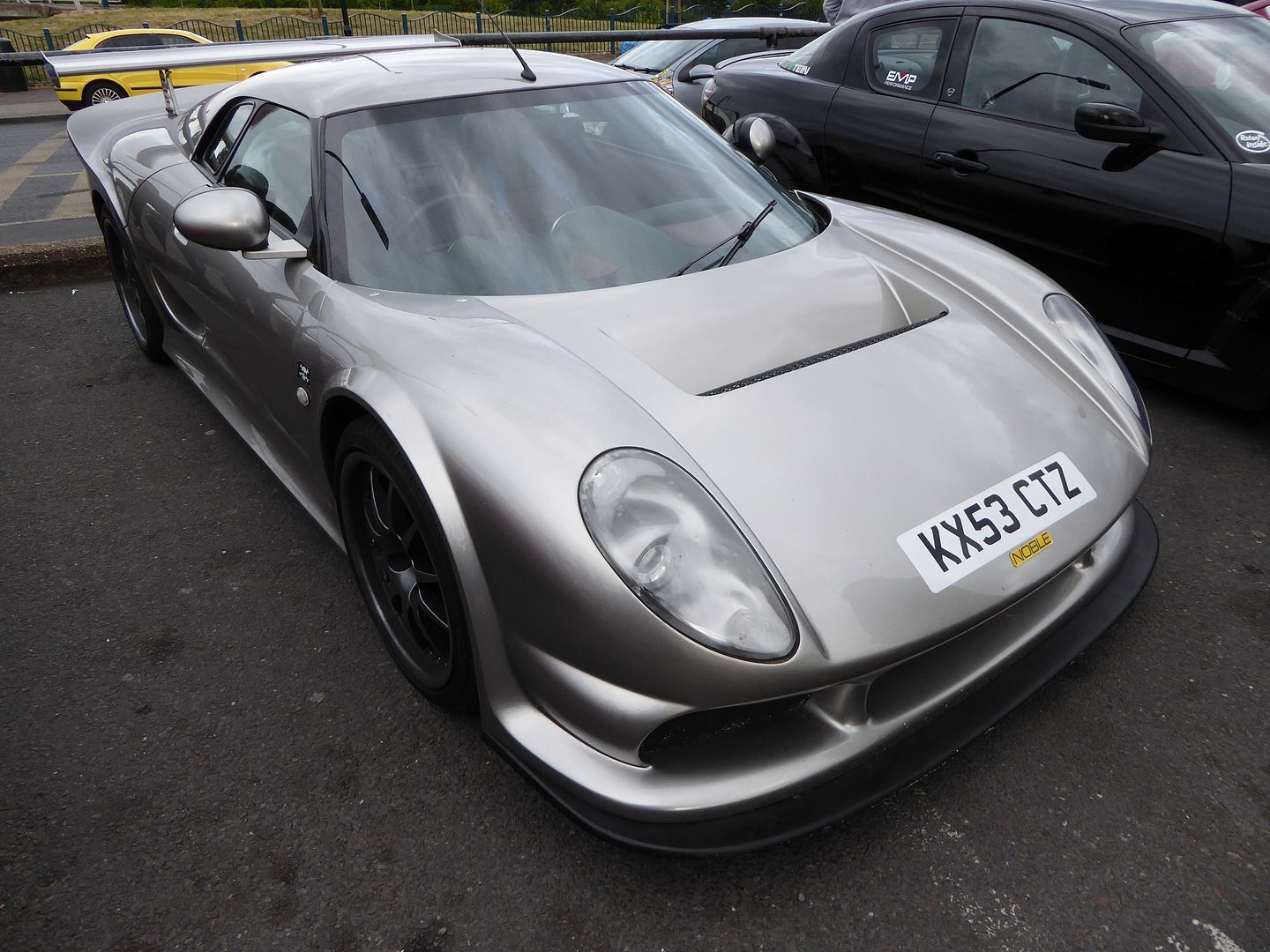 PORSCHE
This 991 model 911 Cabrio was one of those cars which was on site when I arrived. Surprisingly, it ended up being one of just two Porsche of the evening, the other being a 996 Turbo that arrived rather later.
TESLA
Unlike last month when there were three of the Model S present, there was just one here this time, a P85D version. The owner also has a Mustang, and he said that it would perhaps have been more in the spirit of the event to have brought that, as an all electric car hardly quotes as "petrol-head" anything. Do we need a new term?  "Battery-head" or "Hybrid-head" just don't have the same ring to them!
TVR
A couple of TVR models arrived in convoy, and a few minutes later a third arrived. To an extent the TVR is the sort of car that you expect a Pistonheads enthusiast to drive, so it is no surprise that these Blackpool built cars tend to feature heavily at an event like this, even if they were outnumbered by Nissan this month. The three models present were a Tuscan, and Cerbera and a 350T.
VOLKSWAGEN
Another showing for this Baja Beetle, which I have seen at Ace Cafe many times before. I know now that the Beetle is called Pedro, and even has his own Facebook page. Pedro is believed to have one of the most travelled existence of all Beetles. Starting life in 1969,  in California, he was acquired by his current owner in 2009, when she brought him to the UK and then set off on a epic adventure covering over 22,000 miles overland from the UK through France, Belgium, Germany, Austria, Slovenia, Croatia, Montenegro, Kosovo, Macedonia, Greece, Turkey, Iran, Pakistan, India, Nepal, Tibet, China, Laos, Thailand, Malaysia and to Singapore.  This incredible adventure is described in a book called "Beetle Drive".
Not perhaps the most interesting of evening assemblies of cars, but still well worth turning out for. As ever with Ace Cafe meetings, there is no real way of finding out what will be on display apart from by turning out and playing the waiting game.