Even more so with car events where no pre-booking is required, attendance is somewhat unpredictable with the good old British weather often having a significant bearing on whether people are keen and willing to get their automotive pride and joy out of the garage and to take it along for others to enjoy or not. It's not the only factor, for sure, but does make a noticeable difference, at almost any time of the year. When the forecast sunshine turned out to be a reality and not just a mis-interpreted weather system for the second Thursday of July, Italian Car night at the iconic Ace Cafe, I was hopeful that this would – as had been the case in June, when the occasion had been similarly blessed with some favourable weather – mean a bumper showing of cars, even if logistics were such that I would not be arriving in one myself.  Although my start point on exiting work was, on this occasion,  Stockley Park, so somewhat nearer than my more usual office haunts, the workshop I had been running just went on and on, so it was later than I had hoped for when I finally pulled up at the Ace, eager to see what was parked up. There was plenty, with the main forecourt full, though I was not quite in time to capture photos of a couple of cars which were pulling out as I arrived. One was a particularly nice white Nuova 500D, but there was plenty of other appealing machinery and lots of friends to keep me entertained til the light faded and everyone start to head away.
ABARTH
Although my own Abarth was parked up safely on the drive at home, there were plenty which had been brought out for the occasion, with a strong showing not just from Abarth Owners Club regulars but plenty of people making their first visit to the venue. As ever, it was the 500-based models that constituted the vast majority of the Scorpion badged cars on show, with a wide range of different version of the regular Hatch and the 500C, and a number of, 595 Turismo and Competizione cars, painted in many of the different colours that have been offered throughout the life of the model, and one of which sported some individual touches applied by its very proud owner just days before.
Sole Abarth Punto present was Lloyd Hartley's cherished Grande model which he had brought down from Doncaster, arriving in plenty of time not to miss out on the atmosphere and cameraderie of this event, as well as contributing variety to the cars shown.
Final Abarth model here was the mad 1700cc engined special version that always draws the crowds wherever it is shown. The owner lives not far from the Ace, so fortunately, he brings this amazing car along quite frequently, allowing plenty to get a good and repeated look at his machine.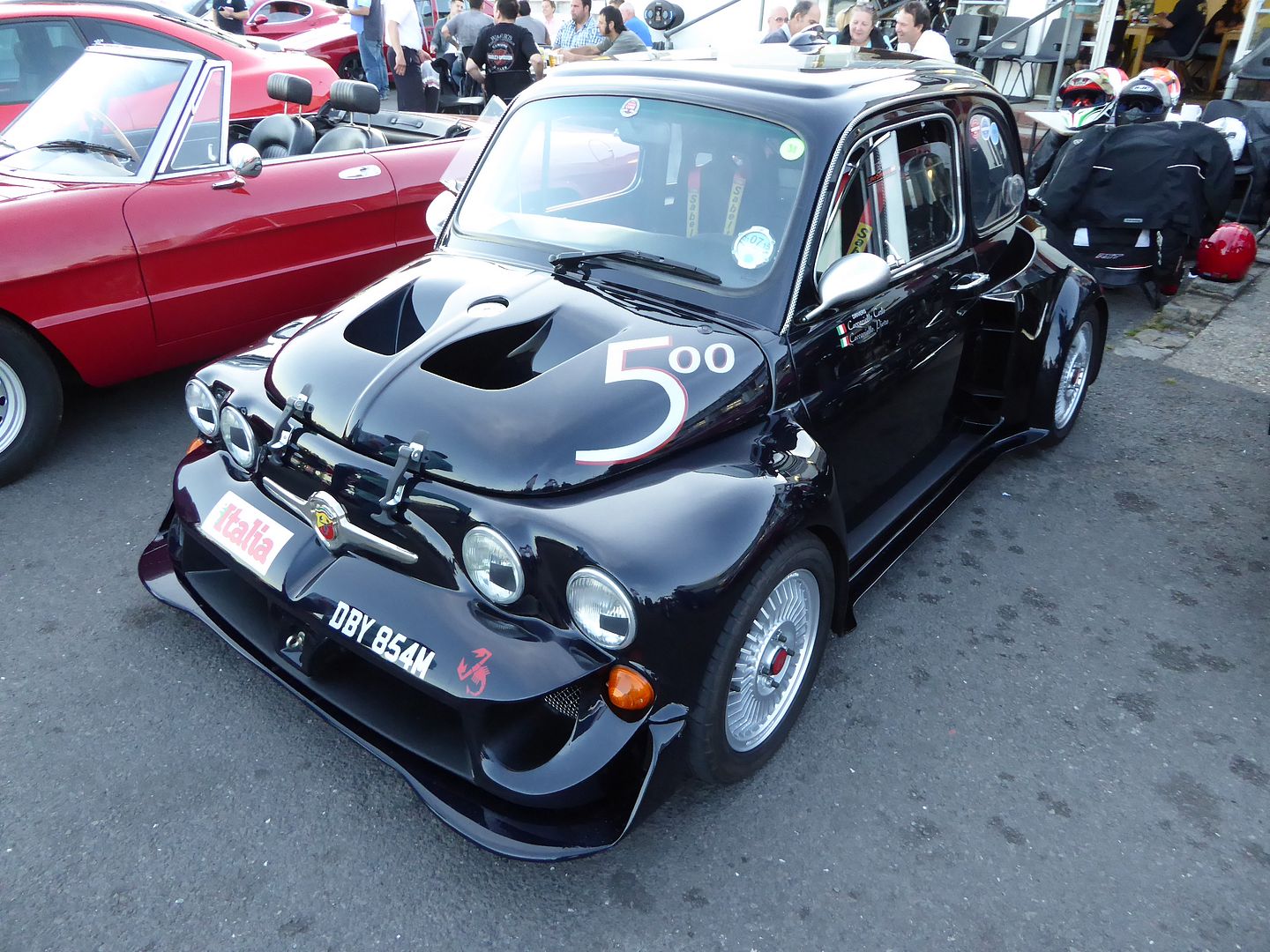 ALFA ROMEO
Slightly surprisingly, there were not that many Alfa models present. There was one fairly clear star among them though, as it always is whenever one of these appears. And that is true from a static point of view, and magnified if you are lucky enough to hear the V8 engine fired up. Yes, the 8C Competizione, a car which the motoring press did not particularly rate, but which everyone loves anyway. This particular example is a fairly frequent guest at the event.
It is also not uncommon for there to be at least one Alfa 75 gathered here. The last rear wheel drive Alfa for over 20 years, as the car was replaced by the front wheel drive 155 in 1992, this distinctively styled car has aged well, finding more friends now than it did when new.
Well known in Alfa circles, but not a car that I've seen at the Ace before is this 2000 Berlina. Conceived as a rival for the Lancia Flavia/2000 and BMW 2000 of the late 1960s and early 1970s, it shared its underpinnings with the far better known 1750 and 2000 GTV Coupes. The Berlina models are very rare now, this being one of few UK survivors.
That 2000 model was an evolution of the 105 Series Giulia, a range which first appeared in 1962. Impressively aerodynamic, with a cd of 0.34, despite the rather boxy looks, this sports saloon soon found popularity on the road and the track. Over the following years, a bewildering array of different models was offered, with a mixture of 1290, 1570 and 1750cc engines, and late in the car's life even a Diesel (though this was never offered to UK buyers). This one was badged Super, which is a version which  was introduced in 1965. It transferred the technology from the racing TI Super to a road car, to make the most successful Giulia saloon. Sporting the 1,570 cc engine with two double-choke Weber 40DCOE carburettors for a milder, but torquier tune than the 97 hp TI Super, it differed internally with a new dashboard with two large round instruments (speedo and tacho) and clock, a sportier steering wheel with three aluminium spokes and centre horn push, similar to that of the Ti Super. All-around disc brakes with servo were fitted as standard from the outset. The serpent crest of the Sforza family appeared in a badge on the C-pillar, a distinguishing feature of the Super. For 1968, there was a suspension update, including revised geometry and a rear anti-roll bar. The wheels were changed in size from 5J x 15 to 5J x 14, and tyres from 155/15 to 165/14. For 1970, further updates included dual-circuit brakes, centre-mounted handbrake lever to replace under-dash "umbrella handle", larger external doorhandles, and top-hinged pedals (the latter in left hand drive models only; right hand drive continued with bottom-hinged pedals to the end of production). In 1972, the model was rationalised into the Giulia 1.3 and Giulia 1.6 range. Giulias were relatively expensive in the UK  when new, and whilst the Coupe models sold well, far fewer Berlina models were bought here, but there has been a steady influx of cars from the continent in recent years, complete with left hand drive. This car, complete with "for sale" signs in the windows is a case in point.
Another well known car in Alfa circles is this fabulous Alfetta GTV6. The legendary 2.5 litre V6 engine, which had first been seen in Alfa's commercially unsuccessful big saloon, the Six, of 1979, was slotted under the bonnet of one Giugiaro's prettiest 1970s Coupes in 1981, at the same time as a facelift modernised the appearance with liberal applications of black plastic around the bumper area. With rear mounted gearbox to give perfect 50/50 weight distribution, which had its benefits on the handling, this was a very capable car, with huge appeal in the early 1980s to those who could afford the price tag which was rather more than you would have had to pay for a Ford Capri 3.0S, but worth every penny. in my opinion. This car – immaculately presented, as always – is a regular concours winner at Alfa and Italian car events.
The 916 series of GTV and Spider, which went on sale in 1995, were the spiritual successors to that Alfetta GTV. Styled by Pininfarina, these cars combined elegant styling and impressive driving characteristics (I should know, I owned a GTV for 18 months), and they have a strong fan base now, even though prices have yet to start that inexorable climb that has applied to other Alfa models with the GTV moniker. Seen here was a late model Spider with the modified front end.
It scarcely seems possible that the pretty 156 is fast approaching its 20th birthday, but it is. First revealed in April 1997, and going on sale later that year, this was a real rival to the 3 Series, which at the time of its launch, was judged to beat the BMW by some margin, though the press quickly changed their views, resuming their almost unwavering adulation of everything that comes out of Munich. There are plenty of people who disagree, of course. Seen here was one of the later 156 models in facelift form with JTS badging reflecting the update to the engine that also occurred during the model's production life.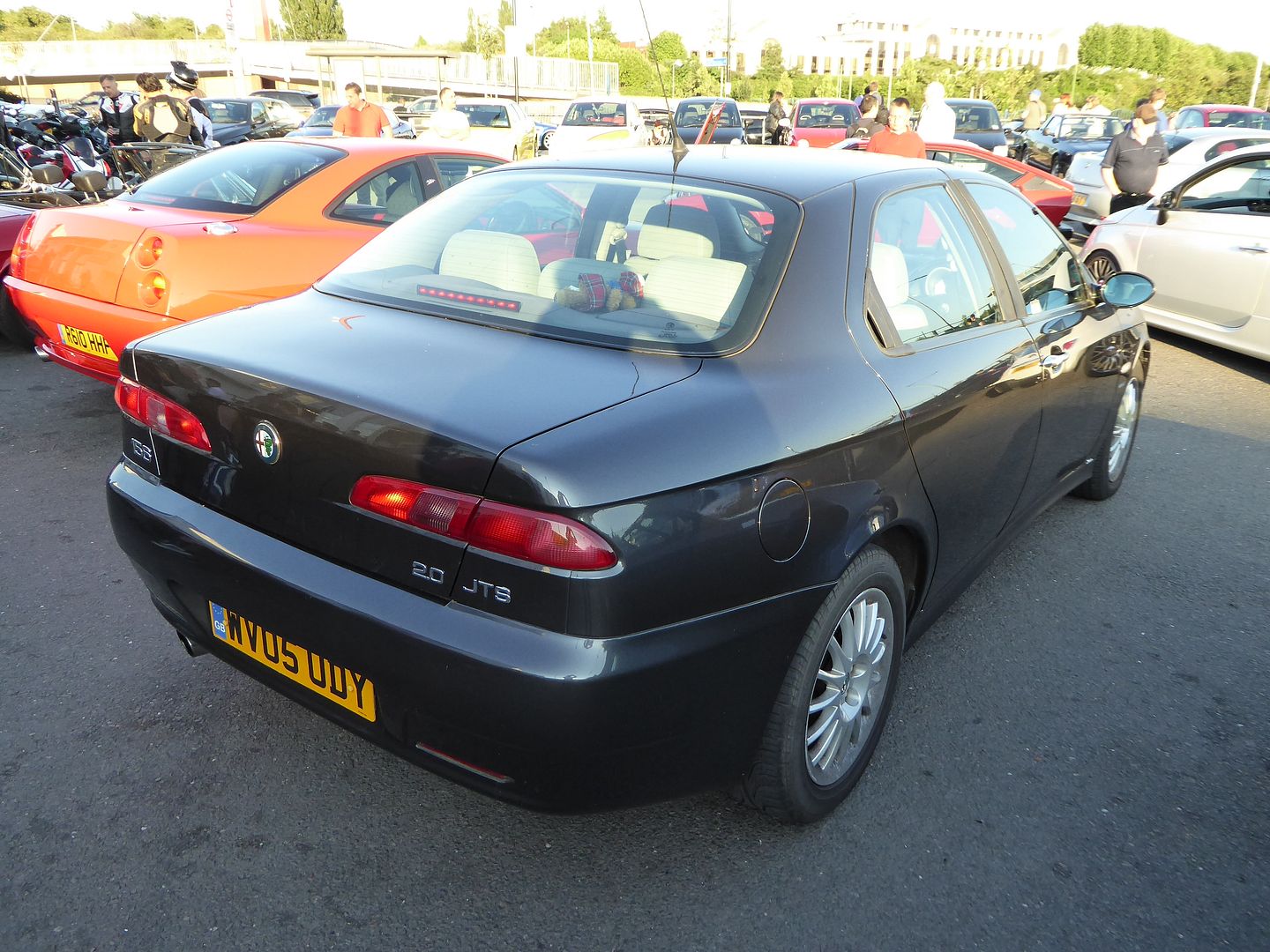 The GT was a true four seater, that was one of two models to replace the 916 series GTV. More practical than both its more costly sibling, the Brera, and the car it replaced, this was based on a mix of 147 and 156 componentry and underpinnings.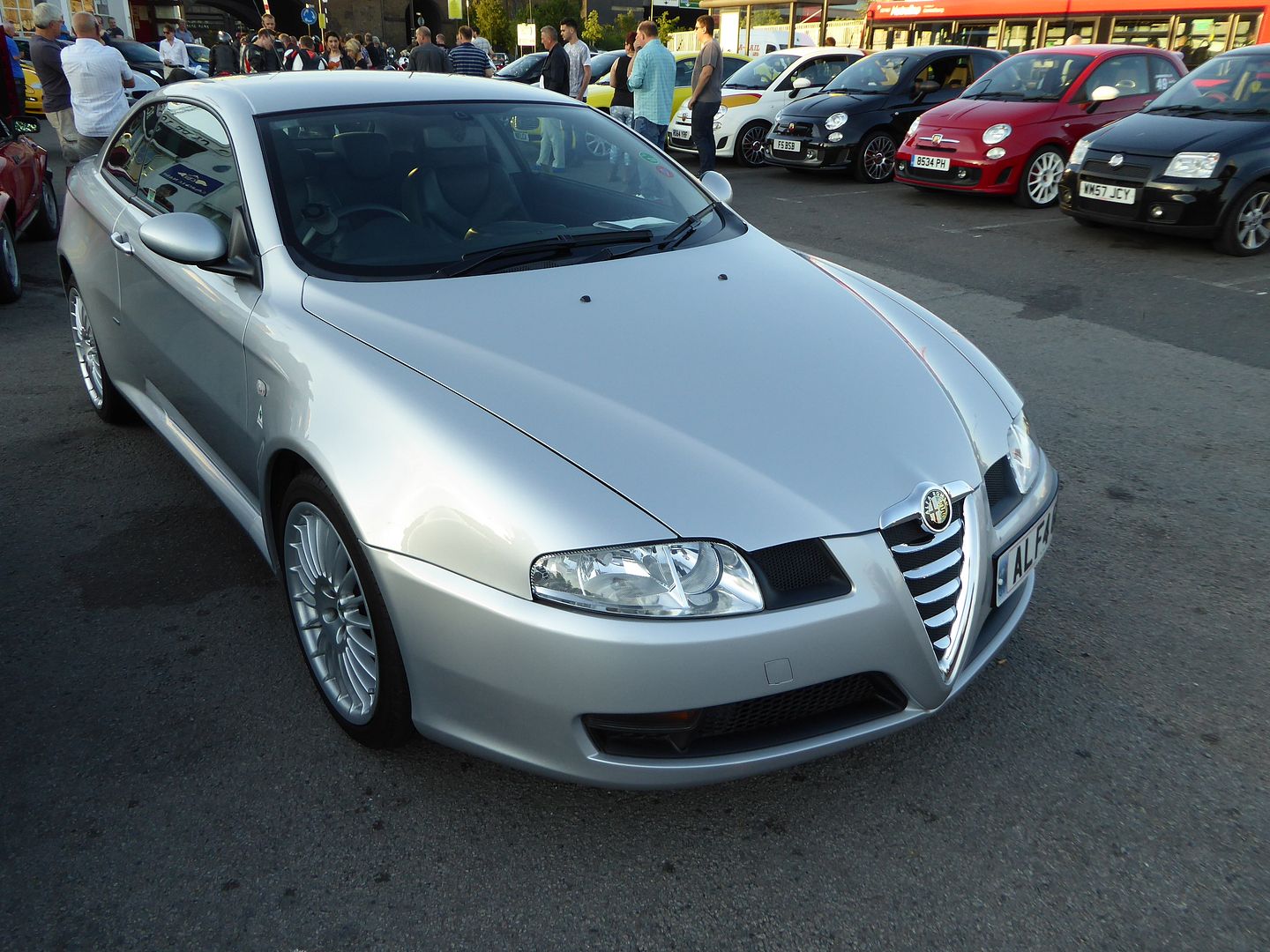 There were several examples of the small Alfa, the MiTo, present here. All the signs are that this car, based on the Fiat Punto platform, will be seen very much as true Alfa, with a dedicated following, much as has been the case for all the (larger) cars that have preceded it.
FIAT
There's nearly always something that is very rare at this event, and this time it was not one, but two very similar vehicles. They were not quite the same, as having being a few years apart, one was an 850T Van and the more recent one a 900T. Quite a common sight when they were new, these are pretty much extinct in the UK now, so it was particularly good to find two of them, and no surprise to see as the car park emptied out that they were moved around so the owners could get a number of photos of them together. Part of the 850 family that first appeared in 1964,  this overall shape was first offered as the 850 Familiare, a boxier and slightly larger heir to the Fiat 600 Multipla. It featured space for seven passengers in three rows, which made it suitable for groups including children and thin adults. It was too small to accommodate in comfort seven large adults. In Van guise, it was known as the 850T. The 850 Familiare and related 850T continued in production till 1976 long after the saloon version of the 850 had been replaced by the Fiat 127. In 1976 the Fiat 900T was introduced, retaining most of the body panels of the 850 Familiare, but featuring the 903 cc engine from the Fiat 127 (although, in this application, still mounted behind the rear axle). The 900T benefitted from significant enhancements in 1980, at which point it was renamed the 900E. A number of them were sold as camper vans, and in the UK, these were badged as the FIAT Amigo, and the 7 seater model was called the Pandora. Production finally ended in 1985.
Rather better known is the Nuova 500, Dante Giacosa's legendary small car masterpiece that was launched in 1957 and produced for 20 years. Survival rates of this super-desirable little car are good, largely thanks to the number that were sold in Italy and which have enjoyed salt free roads for most of their lives. I missed getting a photo of at least one of these, as it drove off just as I arrived, but there were a couple of other nice ones still on site when the camera was ready for action.
Fiat have enjoyed lots of success with their small cars and the 1993 Cinquecento proved that they had not lost their touch as the century neared its end. The 1100cc engined Sporting that was added to the range in early 1995 was a particularly inspired choice, as this gave enthusiasts on a budget the chance to buy a small and affordable car that would put a huge smile on their face every time they got behind the wheel. Twenty years on, these cars have an enthusiastic following.
To some extent the Panda 100HP, an example of which is seen here, can be thought of as the spiritual successor to the Sporting, once again combining fun to drive characteristics with an affordable price.
There are usually a number of examples of the Fiat Coupe, the distinctively styled model that Chris Bangle designed before heading off to BMW, present, and this event was no exception with a couple parked up.
Final Fiat model here was an X1/9, seen in Gran Finale form, a last hurrah for a car which by the time of its release in 1989 had been in production for 17 years.
LANCIA
Just two Lancia models were here during the evening, and slightly surprisingly, both were the same model, the Zagato styled Beta Spider, an open topped version of the elegant Beta Coupe that was made in the second half of the 1970s.
MASERATI
Just as Abarth Owners Club favours this event as one of its regular meeting venues, so do SportMaserati, so it is no surprise to find a number of these lovely cars here, generally all parked up together. Four of those gathered this time were the Coupe models of recent times, 3 of the lovely 4200 and one of its replacement,. the GranTurismo
There were also a trio of four door saloons, the Quattroporte seen in the Gandini styled Series IV that was sold in the mid 1990s and the more recent Series V car. I've seen the bright yellow one a few times before and am not persuaded that this a colour scheme that works on what is otherwise a very elegant design indeed, but, each to his own, as the proverbial saying goes.
Whilst the event was not quite as busy as you might have expected given the lovely evening sunshine and the long hours of daylight that apply in July, this was still an excellent evening, with lot of nice cars to enjoy and the pleasure of the company o f many Abarth owning friends. Let's hope for a repeat in August!