Attendance at the November 2015 monthly Queen Square Breakfast Club was significantly lower than those held earlier in the year, though there was still plenty of interest, as my report of that event attested. As things stood, that was likely to be the last of these popular early morning gatherings that I was going to be able to fit in my diary in 2015, as I had other plans involving a TheMotor.net Christmas gathering in Coventry over the weekend of the date for the December Breakfast Club. That plan fell apart at the last minute, thanks to the onset of a dose of flu, which would have meant I would have been there by myself, so I decided to stay at home, which freed my diary accordingly. It was not hard to decided to head down to Queen Square on the Sunday morning so as to ensure that there was some car event content for the weekend after all. However, the forecast suggested that whilst this would not necessarily be a rainy end to the year's Breakfast Clubs, it was certainly not going to be one bathed in winter sunshine. Indeed, as I left the house around 8am, it looked as if the levels of light were going to be very poor indeed, and that is how the whole morning turned out. Not actually raining, but extremely grey and murky. Thankfully, this was not a deterrent to quite a number of the event faithful, and whilst there were only a handful of event cars parked up when I arrived, more soon arrived. Many did not stay all that long, but plenty of cars arrived later than would be prudent on a sunny day, so there was plenty to keep me interested until around 11am. Here, then, are the highlights of the final Breakfast Club of 2015, and the fifth one that I managed to attend during the year.
ABARTH
It seems slightly self-indulgent to start with my own car, but the report is presented in alphabetical order, and that means that the first brand is Abarth. And there was only one of them here. Mine! My recently acquired 595 Competizione 180 to be more precise. I collected it at the start of September, which means that it missed most of the 2015 Events season, which explains why in the last three months, it has only covered 635 miles and it still has that new car smell inside it. It also has the attributes to put a huge grin on my face when I start it up, as the sound from the Monza exhaust is not what anyone unfamiliar with the car would expect. Although I did not linger by the car for long, I could see from various vantage points around the Square that plenty of people were having a good look at it.
AC
A popular car at events like this is the Cobra, or to be more accurate, the various Cobra "replica" and continuation series cars. Original Cobras from the mid 60s are rare and there just are not that many, whereas the replica models are far more numerous. There were three different ones here this month.
ALFA ROMEO
This was very much the month of the  916 series as far as things Alfa go. A duo of GTVs were parked up in the centre of the Square, and then later I came across another one, a second Cup example and looking at the photo, notice that there was a Spider either just arriving or departing as well. Based on the 3.0 V6 version, and inspired by a one-model Alfa GTV Cup race series, 419 of the Cup cars were made. There were 180 3.0 V6 24V GTV Cups, out of which 155 were RHD versions and there 239 cars with the 148 hp 2.0 TS available only in LHD. 3.0 V6 cars were only produced in red , while the 2.0 TS cars were mostly silver with a few examples in red. Limited edition plaques, that were made of silver, differed for the RHD and LHD versions, having red and black texts accordingly. The differences between the standard car and the Cup version were a factory standard rear spoiler, front spoiler, side skirts, wheel arch side vents and titanium-like finish 17″ 'telephone dial' alloys, whilst mechanically the car was the same as the regular 215 hp V6. The interior was different in that had leather-material upholstery.
The only other Alfa present was a model from the current range, a MiTo
ARIEL
There's not much weather protection in an Atom, so fair play to the owner who brought this along. There was no evidence of all the layers of clothing he would doubtless have had to wear whilst pedalling it to the event, either, so I have to wonder if he (or she, of course!) was still wearing it., trying to thaw out, as it cannot have been a warm experience bringing this machine to the event. It was generating plenty of interest, as Atoms generally do, though.
ASTON MARTIN
Attracting lots of attention, thanks no doubt in part to the fact that no-one missed its arrival thanks to the incredible noise it makes, was this V12 Vantage.
AUDI
There's a growing trend for groups of cars to convoy in and to park around one of the sides of the square where there are no entry points, so that they can keep a number of models, usually of the same marque, together. I suspect that is what had happened with this trio of Audi TT models, and that they had come early, as there was no sign of the owners of any of them when I wandered round to have a look almost as the first cars to inspect after I had parked up. Although each of the three generations of TT looks very much part of the same family, when you see the first generation model, you do realise how much the styling detail has changed since this car's launch in 1998. Two of the cars seen here were Coupe models and there was also an open-topped Roadster.
Other Audi models included a previous generation  S3, and the about to be superceded B8 generation  RS4 Avant
BMW
Three BMWs caught my attention, and in a way, these show the progression of the 3 Series line, and its immediate predecessor. Start point was the 2002, a popular 2 door Coupe that was created by modifying the 4 door 1961 "Neue Klasse" saloon, and then fitting progressively more powerful engines, to create something that would appeal to the true enthusiast. The most potent model that BMW offered in this bodyshell was the low volume production 2002 Turbo of 1973, but that was clearly not enough for the owner of this car, a regular at this event, as he has gradually being creating his own special machine. It now sports a V8 engine under the bonnet. With its bright orange paint and other distinctive touches, you could hardly miss it!
A little more subtle were the other BMWs here, both 3 Series cars. The E30 was the model around which sales really took off, being sold in the Yuppie-era of the mid to late 1980s, when suddenly everyone wanted, and decided that they could afford a car like this rather than an up spec "rep mobile" with which they would previously have contented themselves. That said, there are not too many of E30s left on our roads now, so it was good to see this neatly presented 325i 2 door. Joining it was a far more recent E92 M3 Coupe.
BOND
Most people seem to be having problems identifying this car, and even when they found the badge, the conversations I could hear suggested that they were little the wiser. It is, of course, a Bond Equipe GT4S. Bond had started making cars in 1949, with the launch of a small three-wheeler, and they produced a number of incarnations during the 1950s. Launched in 1963, the Equipe GT was Bond's first four wheel car, a sports car, with fibreglass two door body. Essentially it was a Triumph Herald chassis cab, complete with bulkhead, windscreen and doors, with the Triumph Spitfire 1147 cc engine The doors had slightly revised glass, to accommodate the fibreglass, fastback roof and rear assembly. The Herald's forward hinged bonnet was replaced with a revised version giving an excellent, clean sportscar-like appearance. This was replaced by the GT4S model in 1964, offering 4 seats, and an opening boot lid, and still powered by the same 63 bhp Spitfire engine. In front, the beautiful Italianate bonnet styling was somewhat compromised by the addition of the quad headlights from the Reliant Scimitar, flanking a cut-down version of the original Herald grille. A bonnet scoop was also added. A 75 bhp 1296cc engine was introduced in 1967 just one month after the same upgrade had been applied to the Spitfire,  and at the same time the front disc brakes were enlarged and the design of the rear suspension (one component not carried over unmodified from the Triumph Spitfire) received "attention".. This model was called the GT4S 1300.   During the life of this car, it was not uncommon to see Triumph Heralds modified by the fitting of a Bond Equipe bonnet, as all the side body lines matched perfectly. Less common were Bond Equipes, bizarrely fitted with Herald front ends. In August 1967, 19 months before the take-over by Reliant in February 1969, the new Equipe 2 Litre was introduced. Based partly on styling proposals by Trevor Fiore but mainly designed by Bond's own in-house designer, Alan Pounder, the doors had new skins and all external traces of the Triumph Herald were gone, with the exception of the windscreen surround. The Reliant Scimitar headlamps were retained, but were now incorporated into a more stylish, full width grille. At the rear, the Lucas triple-bullet tail-lamps were replaced and this version of the car began to resemble the later Reliant Scimitar SS1, which would not in fact appear for another twenty years. This model had the six-cylinder 95 bhp 2-litre Triumph Vitesse chassis and engine, giving a top speed of 100 mph. It was further uprated to the Mk 2 version in 1968, at which time a convertible version was also offered. Production ended in August 1970 when Reliant, which had acquired Bond in 1969, closed the factory. The GT4S was the most numerous, with 1934 cars made, as well as a further 571 examples of the GT4S 1300, but Bond also made 451 of the original models and 591 2 litre Saloons and 841 Convertibles.
CATERHAM
With barely any more protection from the weather is the Caterham Seven, and owners of a couple of these had also braved the cold to turn up in these iconic sports cars.
CHEVROLET
You can buy a Camaro like this SS Coupe "officially" these days, and a small number of cars have been ordered through the one UK approved dealer, but most of the cars that have come in have been personal imports. The SS sports a 6.2 litre V8 engine that develops over 400 bhp. I've driven both the Coupe and Convertible versions and loved them. But in America. Over here, even with cheaper fuel than it was, an average mpg that is unlikely to have a 2 as the leading digit, and the car's large size and slightly restricted visibility make it a less than practical proposition for most people.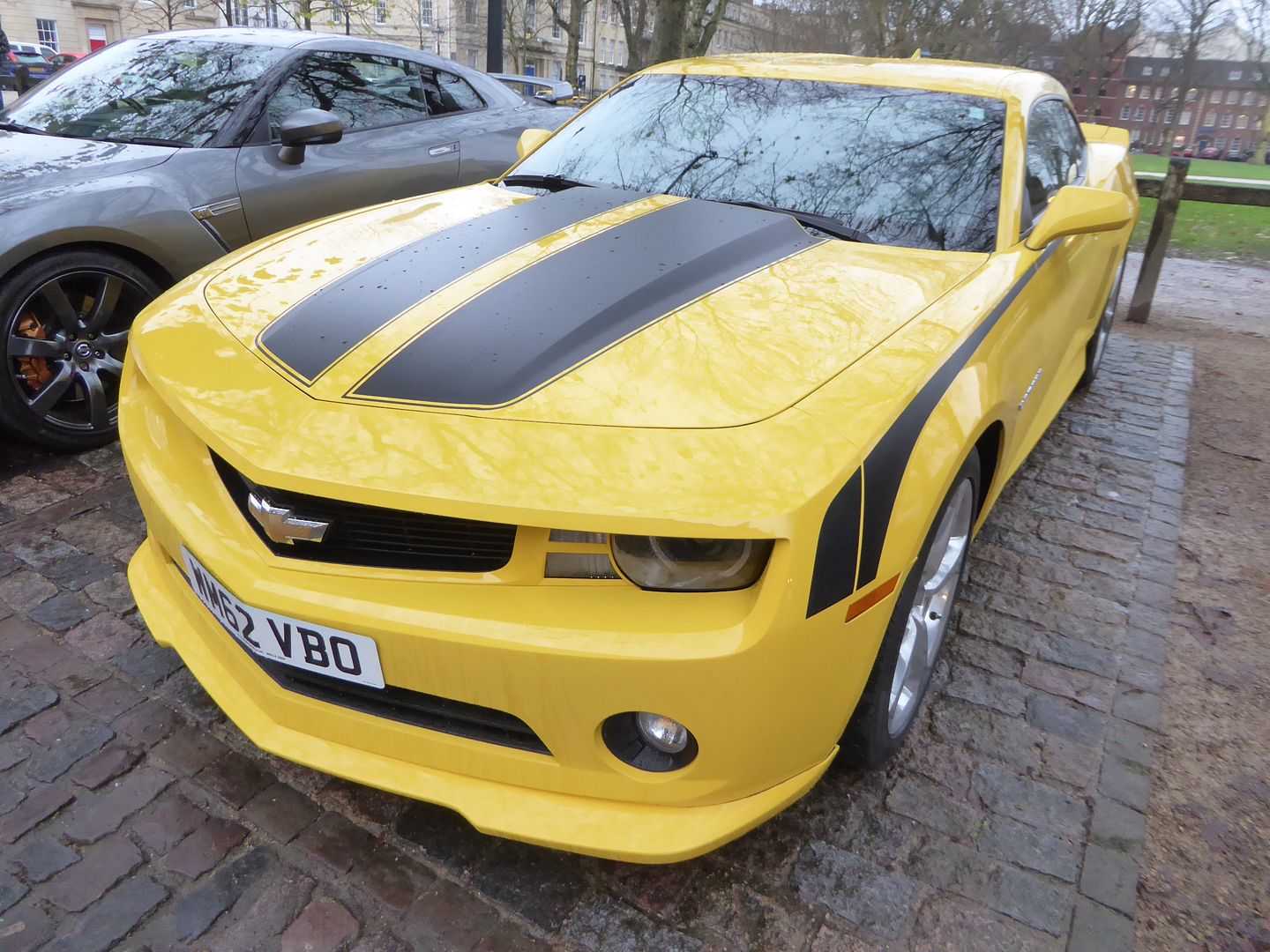 Two Chevrolets from the 1950s were here, too. The passenger car was a 1956 210 2 door model, and is seen here quite frequently., The 210 was the mid spec of a range of cars that are still very popular. It is the 1957 cars that are really valuable, leaving these slightly different looking cars from the year before somewhat in the shadow.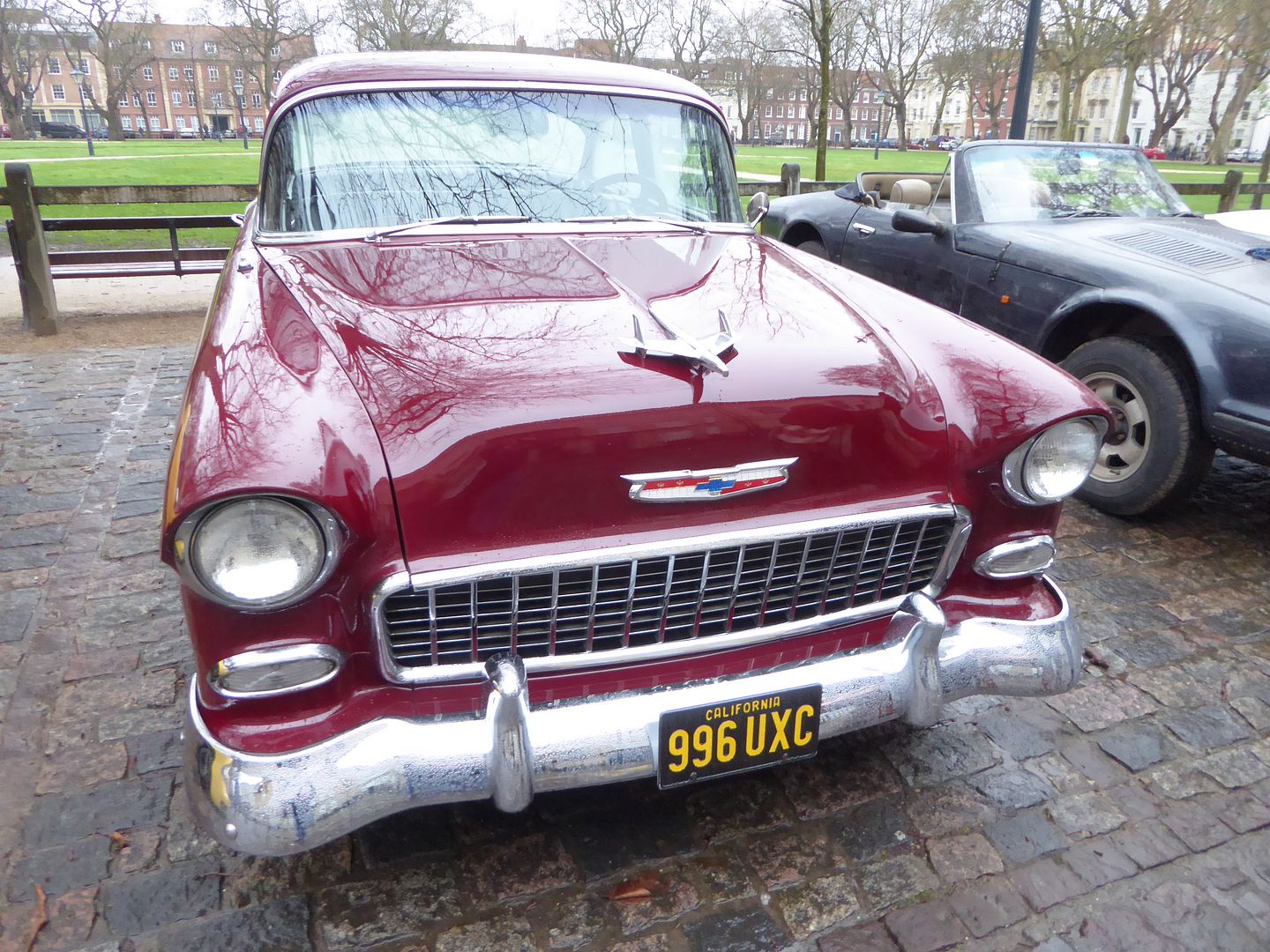 The other vehicle bearing the famous bow-tie logo was a Truck, specifically, a 1952 "Advance- Design". Chevrolet's first major redesign post-World War II, the Advance-Design series was billed as a bigger, stronger, and sleeker design in comparison to the earlier AK Series. First available on Saturday June 28, 1947, these trucks were sold with various minor changes over the years until March 25, 1955, when the Task Force Series trucks replaced the aging Advance-Design model. The same basic design family was used for all of its trucks including the Suburban, panel trucks, canopy express and cab overs. The Cab Overs used the same basic cab configuration and similar grille but used a shorter and taller bonnet and different bumpers. The unique Cab Over bumpers and bonnet required a custom cowl area which makes the Cab Over Engine cabs and normal truck cabs incompatible with one another while all truck cabs of all weights interchange. While General Motors used this front end sheet metal, and to a slightly lesser extent the cab, on all of its trucks except for the Cab Overs, there are three main sizes of this truck: the half-, three-quarter-, and full ton capacities in short and long wheelbase. From 1947 until 1955, Chevrolet trucks were number one in sales in the United States, with rebranded versions sold at GMC locations.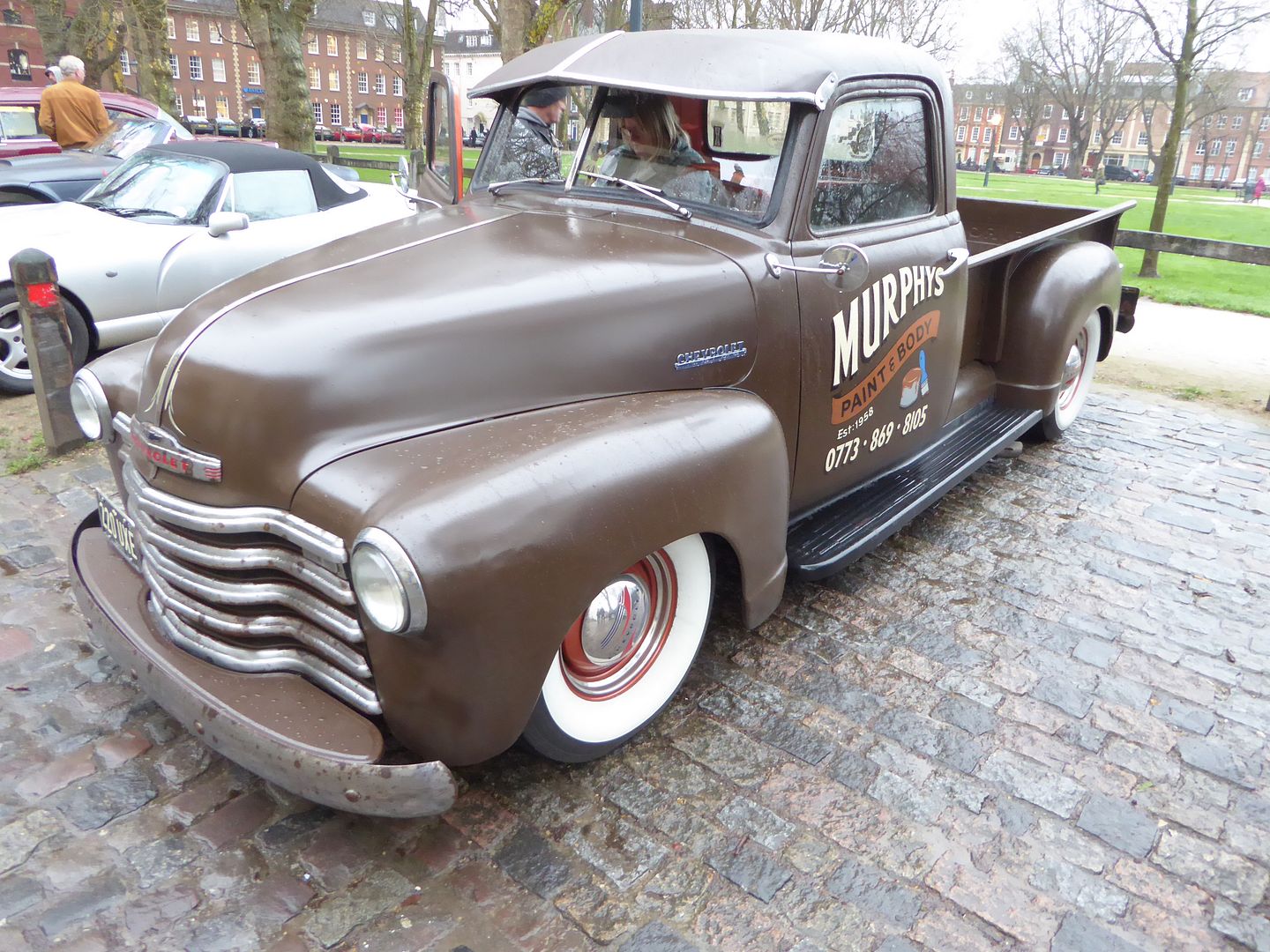 FERRARI
There were a couple of Ferrari models here this month, both of them Spider models, a 360 and the replacement for that car, the F430.
FIAT
This cute little 500L arrived late morning, by which time there were plenty of parking spaces, though a car this small could easily have been tucked into places that other cars could not squeeze into. A family of two adults and two children got out of it, proving that although the car is diminutive, it is not as impractical as you might think.
FORD
Oldest Ford models here were a duo of Mark 2 models, sometimes nicknamed the Three Graces, a Consul and a Zephyr.
Joining them was a customised version of the Mark 3 Zodiac. I don't recall seeing this particular car before, and it is distinctive enough that I would not forget it!
Two cars which do make regular appearances at this event were this pair of a Consul Classic 2 door and a Mark 2 Cortina Lotus
This car was badged Escort RS2000, but it lacked the characteristic sloping front end of that model which distinguished it visually from all other Mark 2 Escorts.
A definite rarity was this, a Fiesta 1.1L Bravo. Ford made a number of limited edition versions of their Fiesta in the early 80s and the Bravo was one of them. Or rather, it was two of them. The first Bravo was releasedin June 1981 and Ford made 3000 of them. There was a second model, Bravo 2 which came in April 1982, and 4000 of these were made. Both were based on the first generation pre-facelift car, and as well as the special badging, many of them had two tone paintwork.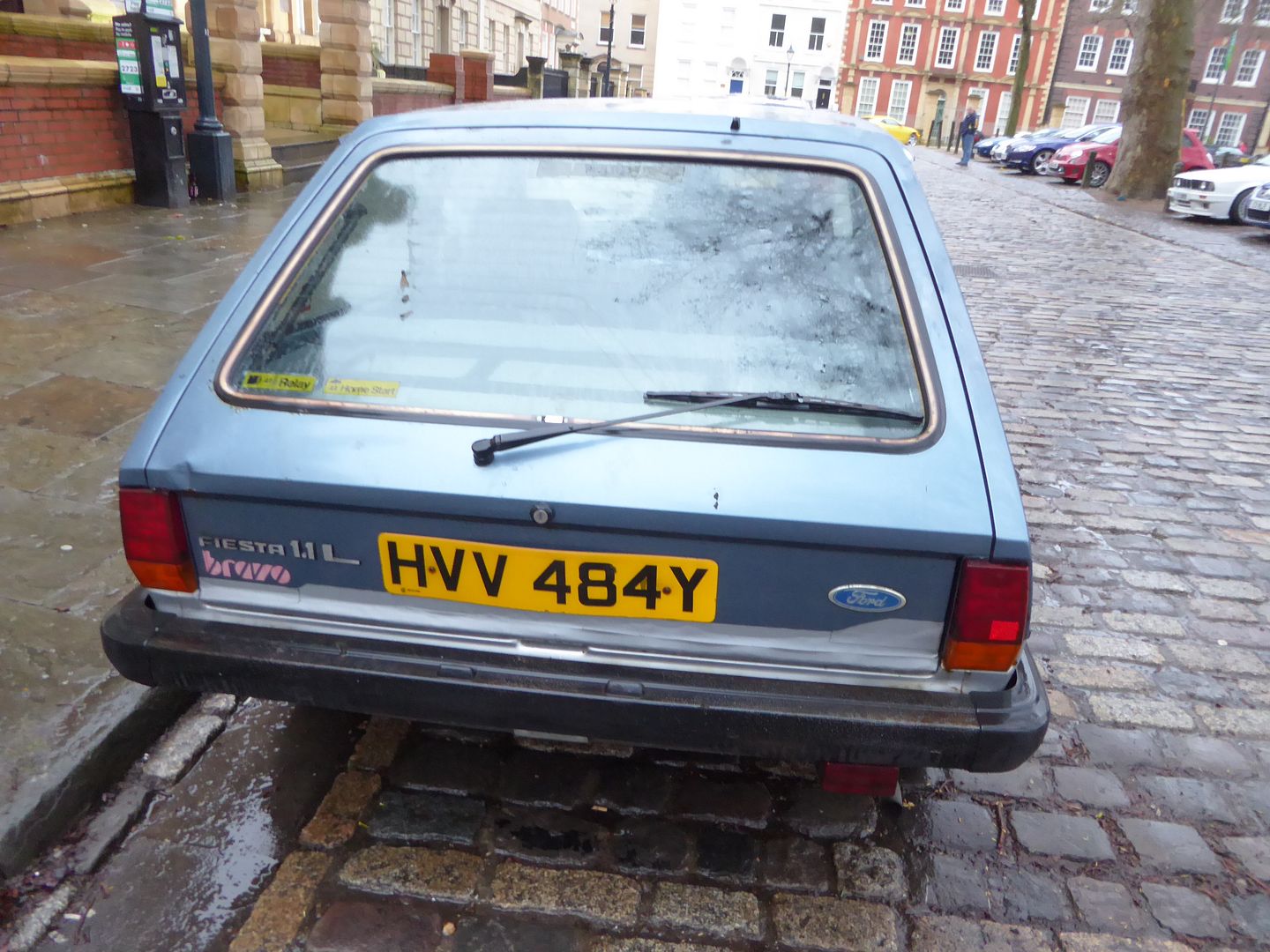 Also rare these days were a couple of other once common Ford models, a Sierra Estate and one of the facelifted Mark IV Escort Cabrio models.
There were plenty of more recent sporting Fords here, too, as is always the case. There was a first generation Focus RS as well as a couple of the second generation cars, a duo of the latest Fiesta ST models as well as a modified version of the previous model and one of the latest facelifted Focus ST cars.
Making another appearance at the event was the Econoline E Series Van which was here last month. Introduced for the 1961 model year, it was based on the compact Ford Falcon. The Econoline was sized roughly to compete with the Chevrolet Corvair 95 Greenbrier Sportswagon and Volkswagen Type 2, measuring 172.3 inches long. It was originally offered as a cargo van, an eight-passenger van with three rows of seats (which carried the Ford Falcon name) and as a pickup truck. A 165 lb counterweight was fitted over the rear wheels to balance the front-heavy vehicle, which  was sometimes removed by later owners. The body styling borrowed heavily from the, smaller, UK produced, Thames 400E which had been in production since 1957 and the 1956-64 Jeep Forward Control. Instead of the rear-mounted engine used by Volkswagen and Chevrolet, the first E-Series had a flat nose with the engine between and behind the front seats. Sitting the driver on top of the front axle with the engine near the front wheels is called, in the US, a "cab over", short for cab over engine configuration. In Europe it is called a "forward control" vehicle. Early models had a 144 cubic inch inline 6-cylinder engine with a three-speed manual transmission. Later models had 170 cubic inch  or 240 cubic inch engines with a three-speed manual or automatic transmission. It was an immediate success with utilities like the Bell Telephone System. In its first year, 29,932 standard vans, 6,571 custom Econoline buses, 11,893 standard pickups and 3,000 custom pickups were made. The success of the Econoline led to its layout being adopted in 1964 by the Chevrolet Van/GMC Handi-Van and Dodge A100 and the format would also be used internationally and sold by Mitsubishi, Nissan, and Toyota, and in smaller microvans called the Subaru Sambar and the Daihatsu Hijet.
Also representing Ford's US production from the 1960s was this 1967 Mustang Coupe.
This is the first example of the latest Mustang GT 5.0 I've seen in right hand drive form. We've had a long wait for these, as US customers have been able to buy them for well over a year. Heavy demand, with lots of people ordering the potent % litre version as opposed to the lesser 2.3 litre Ecoboost 4 cylinder model means that the Press are apparently not going to get their hands on them, customers being giving priority. I will believe that when I see it!
FURY
A kitcar, as you might imagine, this is known as a Fury or Fisher Fury, but some research suggests that the history of this model is more complex than that. The model present here looks like a Stylus RT. Launched in 1994, by Sylva Autokits, the first Styluses used a modified Fury chassis, but later a purpose built chassis was made to accommodate the lowered doors. The Fury had been launched by Sylva Autokits in 1991 and then sold on to Fisher Sportscars in 1994, and currently owned by Fury Sportscars who recently purchased the rights from BGH Geartech, based in Kent UK. The Fury has been very successful in competition with cars currently racing in many championships, including the 750 Motor Club's RGB (Road-Going Bike-Engined Kitcar) and Kitcar series. Many different engines can be fitted to the Fury, including all manner of car engines from the Ford Crossflow to Rover V8 and Cosworth Turbo. Motorbike engines have also been fitted and are popular for track cars due to the low weight, high power and built-in sequential gearbox for relatively little money. There are two versions of the Fury rear suspension: the Live Axle version uses the Ford Escort rear axle located using two trailing links in conjunction with a Panhard rod. Coil over shock absorbers are used to give good ride comfort combined with excellent handling and grip; the Independent Rear Suspension version uses the Ford Sierra rear hub assembly in conjunction with purpose built hub carriers forming the uprights between upper and lower wishbones. Once again, coil over shock absorbers ensure a refined ride quality and excellent traction. For the new Stylus, the front rocker arms were upgraded with needle bearings and the front lower arms got redesigned to prevent the lower ball joints being damaged. As with most Sylva models, various engines could be fitted. The design was updated in 2003, with the Stylus RT which made a more modern looking sportscar. The Stylus RT (Road & Track) used the SSC standard chassis, but with wider front suspension, and uses wheel spacers at the rear. The rear wing was developed at Swansea University in their motorsport department. The RT also has a full front splitter and a rear diffuser. These 3 aerodynamic aids are optional extras. SSC fitted quad style lights. A standard Stylus can be modified to RT specification. The design rights of the Stylus were sold to Specialist Sports Cars in 1996, who sold them on to Stylus Sports Cars in 2004 but this company went bust in 2008.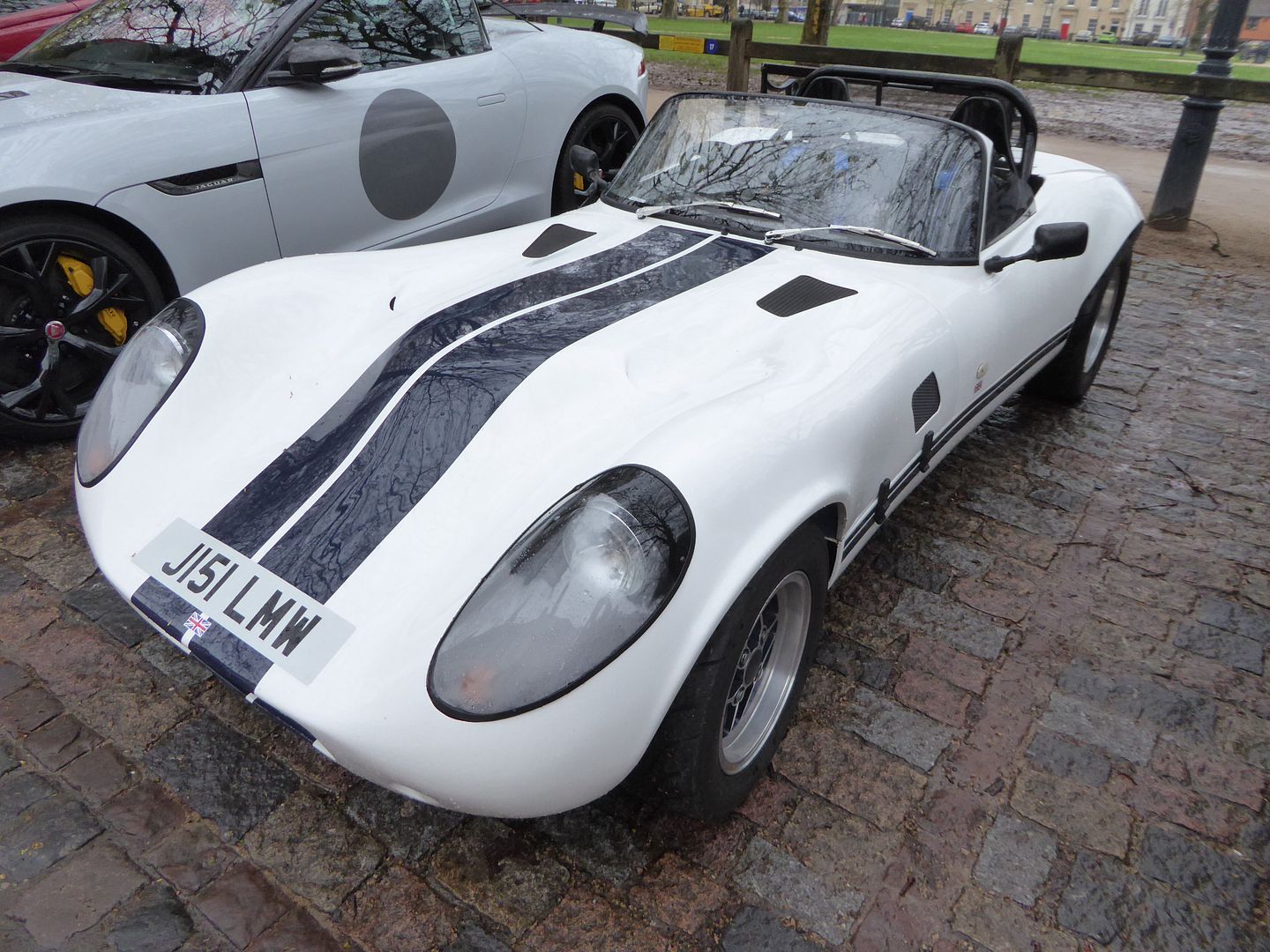 HONDA
This is an example of the fourth and final Integra model made. A small number of these were imported to the UK, all as Type R cars. The fourth generation Integra was introduced in Japan on April 13, 2001 and produced from July 2001 to July 2006. For North America, it was introduced as the Acura RSX in accordance with Acura's new alphabetical naming scheme. It also had an entirely new engine, the K-series. The Integra came in two models in the United States, the RSX and the RSX Type-S boasting the K20A2 engine from 2002 to 2004, while the 2005 and 2006 RSX-S came with a K20Z1. The RSX was sold as a Honda Integra in Japan and Australia, markets where Acura did not exist. The DC5 Type R (Japanese market only) came as standard with a K20A 220 hp 2.0 litre DOHC i-VTEC four-cylinder engine. The "i" in i-VTEC stands for intelligent VTEC, which employed VTC (Variable Timing Control) to advance or retard the cam timing within a 50 degree range. The Integra Type R came equipped with Recaro seats, four-piston Brembo front brakes, a close ratio six-speed manual transmission, a limited-slip differential, and a stiffer suspension. The car had quite a cult following, but In March 2006, Honda announced that the Integra would be discontinued in June after its final 300 cars were sold, due to the shrinkage of the coupe market. The reaction of the consumers towards the discontinuation, however, forced Honda to extend production until July 2006 and produce 150 more Integras. The Acura RSX was discontinued as well, as the RSX did not fit within the confines of Acura's re-structured market strategy.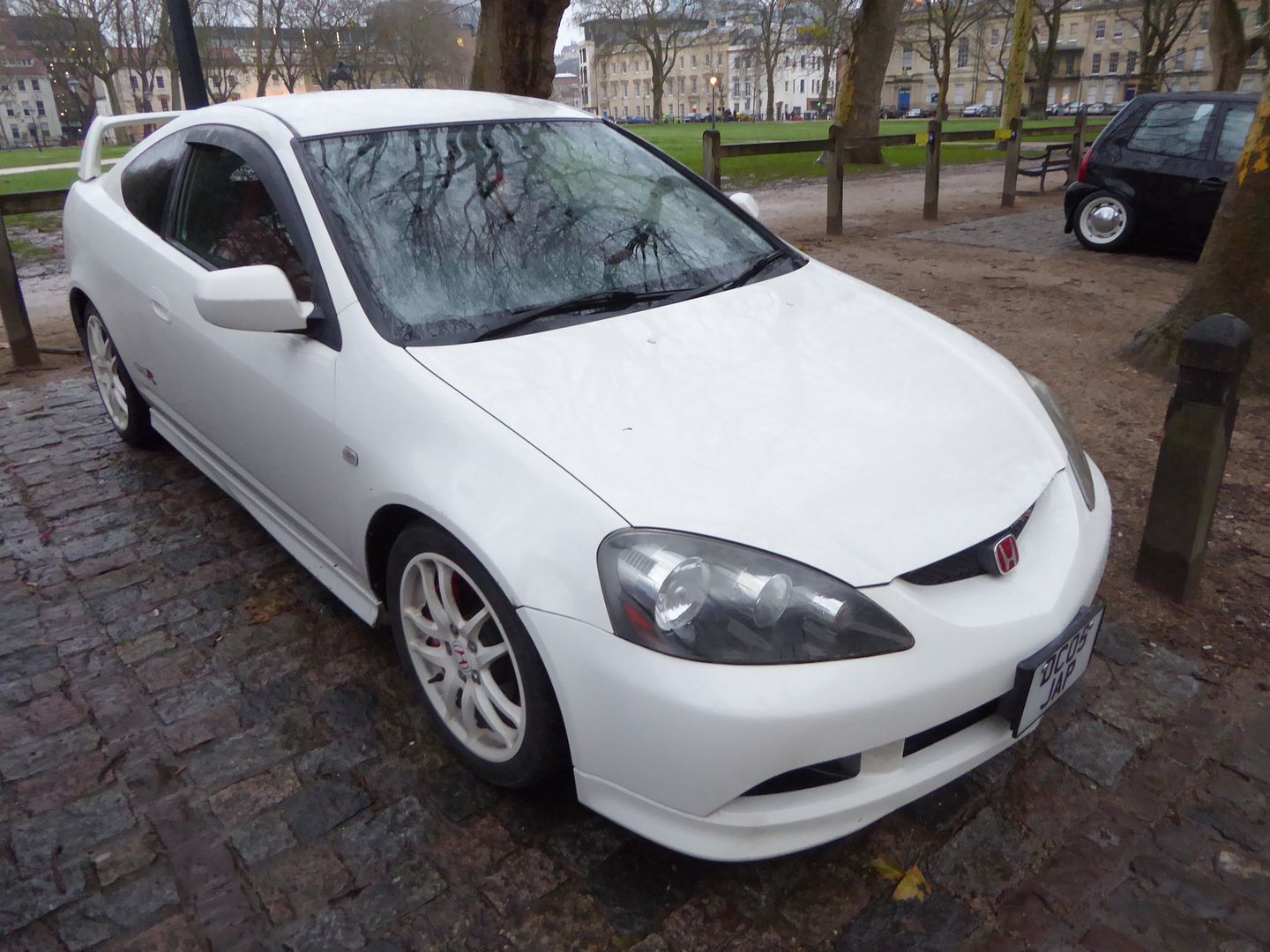 JAGUAR
I saw this F Type Project Seven driving round the Square as I was parking up. Needless to say, it was the first car I went over to inspect, and while I was doing so, I spotted a familiar black Mercedes C Class driving up. That car paused, the passenger window was powered down, and an excited Dan Grazier said, well, I won't use the exact words he used, but the gist of it was "gosh, is that really a Project Seven". He was back at this car, on foot, within what seemed like seconds. Whilst we were both admiring it, a gent arrived back at it, who turned out to be the owner. It emerged that he had only had it a matter of days, and that although he loved the car, he was less than enamoured of Jaguar's Special Vehicle Operations from whom he had bought it. It transpired that he had endured several months of broken promises on delivery dates, complete failure to return phone calls and a lot of guessing as to when he was actually going to get the car. He was due to take delivery of a Porsche 911 GT3 RS the following week, and he said that the Porsche buying experience had been massively less frustrating. This is the first project Seven I have seen in white, and it does rather suit the car. Less convincing is the roof, but the owner assured us that it is well engineered (and takes several minutes to fit!) and weather proof. Just as well, as he will have had plenty of need for that assuming he has been using the car this flood season aka winter! The project Seven was first shown in the summer of 2013, more of an indication of what could be done with the new F Type rather than as something which was going to be produced, but such was the clamour from enthusiasts that Jaguar decided to build a limited run of them, and even at a starting price of £130,000, there were more people who wanted to buy one than cars that Jaguar planned to make, with the car selling out before it officially went on sale. Just 250 will be built, 80 available to buyers in the UK, 50 in Germany and the balance to the Americans, who, it would seem, have been getting their cars first. The Seven in the name refers to Jaguar's seven Le Mans wins (two of them with the help of Ecurie Ecosse, of course).  Visually, it is easy to recognise from a standard F Type, with its abbreviated screen, its new front bumper, many aero mods (carbonfibre splitter, blade-like side skirts, rear diffuser and deck-mounted rear wing) and its nose stripes and racing roundels. The owner explained that he is not allowed to put a number on the roundel for road use, and he is also agonising over whether to put on a front number plate, as it would spoil the looks of the car.  The Project 7 starts as a standard V8 drophead, with its 5.0-litre supercharged engine modified to produce 567bhp, which is  25bhp more than an F-Type R Coupé and 516lb ft of torque (15lb ft more). Proportionally speaking, these aren't huge increases, but they're delivered via unique throttle maps that let you feel the extra energy from around 2500rpm and these figures do make this the most powerful Jaguar ever made. Combine this with the benefits of a 45kg weight reduction (35kg of this comes from that rather ungainly "get you home" hood and the seats have race-bred carbonfibre shells) and you get an  F-Type capable of  the  0-60mph sprint in 3.8sec. The top speed is electronically limited to 186mph or 300km/h, as with other F-Types. With the exhaust butterflies open (there's a special console switch), the car emits a superb growl-bark that turns into a magnificent crackle on the overrun. It's the one thing that makes you want to slow down, though we did not get the real benefit of this as the car was driven, carefully around the rough and cobbled surfaces of the Square. A lot of the engineering effort spend on developing the car was in rebalancing the suspension and aerodynamics for high-speed duty. Font negative camber was increased from 0.5 to 1.5deg, to encourage the front wheels to dig in, and rear torque vectoring – differential braking of the rear wheels – is there to make the car turn easily.  The car's rear-biased aerodynamic downforce was addressed by fitting side skirts and a large front splitter, while slightly reducing the effectiveness (and drag) of the bootlid wing.  Project Seven is fitted with all the top-end running gear: eight-speed Quickshift transmission, electronic differential, carbon-ceramic brakes, unique-tune adaptive dampers and its own special settings for engine management and chassis stability control. The Project 7 also has unique springs and anti-roll bars, the most prominent feature being front springs that are a stonking 80% stiffer, to cope with the potential force generated by the brakes and withstand turn-in loads at high speed on the soft standard Continental Force tyres. Engineers also moved the Sport and standard suspension settings further apart, to provide good options for short and long-distance use. The modifications are apparently most obvious on track, and Jaguar SVO reckon most owners will take their cars there as part of the limited mileage that they will probably cover in an average year.
A relatively late arrival at the event was this splendid XJ Coupe model. First shown in September 1973, at the same time as the Series 2 versions of the Jaguar XJ6/12 and related Daimler models, it soon became clear that this version was not ready for production, with problems surrounding the window sealing. The economic troubles unfolding in the western world at this time seem to have reduced further any sense of urgency about producing and selling the cars, so it was a further two years before XJ Coupés finally started to appear in Jaguar showrooms. The Coupé was based on the short-wheelbase version of the XJ. The elongated doors were made out of a lengthened standard XJ front door, with the weld seams clearly visible under the interior panels where two front door shells were grafted together with a single outer skin.  Even with the delay, these cars suffered from water leaks and wind noise. All coupes came with a vinyl roof as standard. Since the coupe lacked B-pillars, the roof flexed enough that the paint used by Jaguar at the time would develop cracks. More modern paints do not suffer such problems, so whenever a coupe is repainted it is viable to remove the vinyl. Today many XJ-Cs no longer have their vinyl roof, also removing the threat of roof rust. Some owners also modified their XJ-C by changing to Series III bumpers. This lifted the front indicators from under the bumper and provided built in rear fog lights.   Both six and twelve-cylinder models were offered, along with Daimler badged versions. However, the delayed introduction, the labour-intensive work required by the modified saloon body, the higher price than the four-door car, and the focus on the new XJ-S all contributed to a short production run of just two years. 6,505 of the 4.2 and 1,873 of the V12 Jaguar models were made, along with 1677 Daimler Sovereign and 477 Double Six models, making a total of 10,426. Nowadays, the cars are much respected for their elegant design.
LANCIA
Delta Integrale
LAND ROVER
Series 1 Station Wagon
I don't recall seeing this Discovery Pickup before. Definitely not a factory produced model, the conversion looked neat. It had a flat bed at the back, with nothing around the edges to hold any load in place, so I am not sure how practical it would actually prove to be.
LOTUS
Esprit GT3
MAZDA
There were probably more MX5 models here than anything else. The local section of the Owners Club always manages to bring together several cars, and they usually end up parking most of them together, much like the Audi TTs were, as evidenced earlier in this report. The ND model has been on sale for a few months now, and cars are starting to reach owners who had a long wait for them following a reveal in the Summer of 2014. One of these was here, as well as example of all the three previous generations.
McLAREN
650S Spider
MERCEDES-BENZ
Lone "classic" Mercedes this month was a nice example of the R107 380SL, a car which remained in production, visually almost unchanged from 1971 to 1989.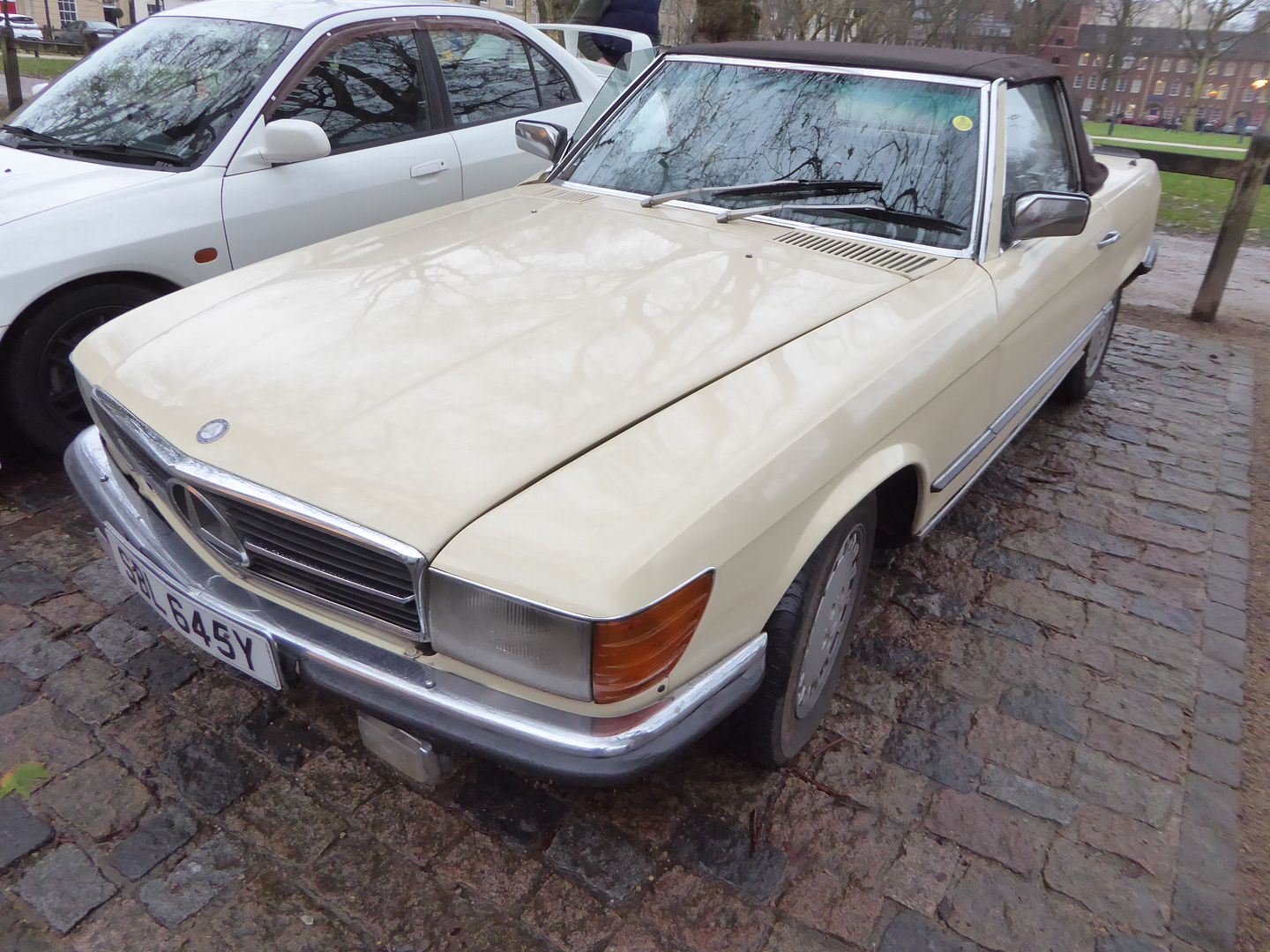 Mercedes hit the sport with the first CLS, a four door Coupe version of the E Class with more styling appeal, and a higher price. The second generation car, with its rather droopy rear end has not proved so popular, so you don't see them that often. This is brand new example, and a look at the back revealed  220CDi badging, a variant that was quietly added to the range a few months ago to provide a more tax-friendly version for those who like the style but not the costs of the 350 and AMG versions.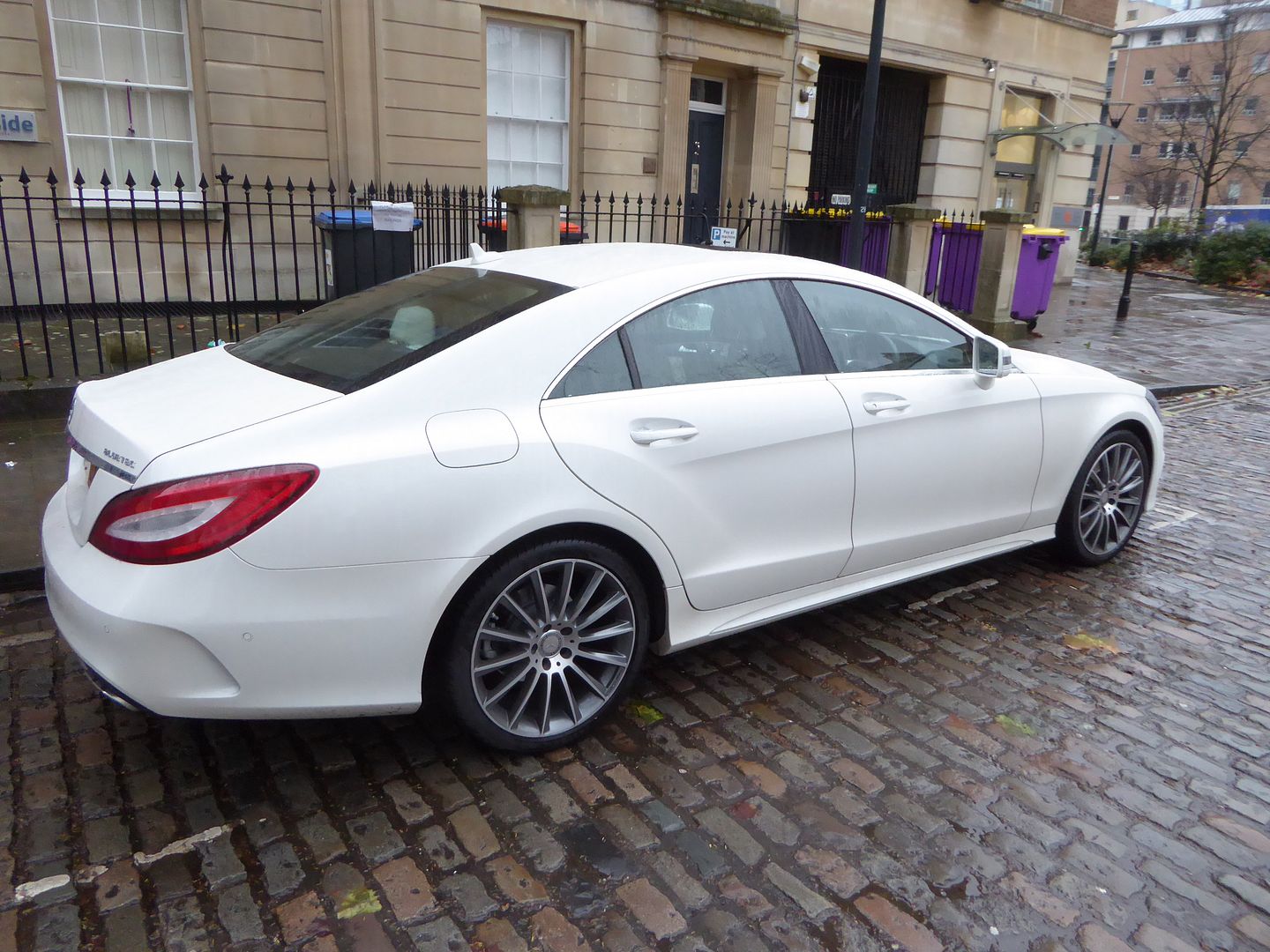 The latest AMG models were represented by the new for 2015  C63S and the same E63 AMG that was seen at this event last month.
MG
Three MG sports cars were here: an early MGB Roadster, a rubber bumpered Midget and an MGF
The ZS was based on the Rover 400/45, and is one of those cars where carefully thought through modifications can transform the rather humdrum into something rather special. ZS cars, especially the top spec ones with the 2.5 litre KV6 cars were really rather good, though not that many people realised it at the time. Seen here were examples of the Hatch model in both the original guise and also showing the 2004 facelift.
MINI
This is an example of the first generation MINI John Cooper Works  GP, the last Mk I MINI variant to be produced using the supercharged Tritec engine. This was sold as a light-weight, quasi-race-prepped John Cooper Works model, hand-finished by Bertone in Italy. It was offered as a limited-production run of 2000 cars during the 2006 model year, with 444 of those originally intended for the UK market, although ultimately, 459 were sold, even though the price was somewhat eye-watering. The GP featured more bolstered Recaro front seats but had no rear seats, which along with reduced sound-deadening, removal of the rear wash-wipe system, optional air-conditioning and radio, and other weight-reduction steps, resulted in a weight saving of around 40 kg (88 lb) compared to a Cooper S. Mechanically, it featured a less restrictive intercooler, recalibrated engine management, high-volume injector nozzles, and a freer-flowing exhaust system. Extra cooling capabilities lets the supercharged engine run longer on cooler temperatures for better track performance. This resulted in an output of 218 hp from a  faster revving engine. Additionally, the car had enhanced braking, suspension, and a smooth under-body for better aerodynamics. The whole geometry of the rear axle was modified with parts from the Mini Challenge race car to enhance the handling. In place of the rear seats there is a metal bar for a stiffer chassis performance. The car also offered many unique styling points, such as the red door mirrors, a carbon fibre rear spoiler, unique body kit, bespoke, 2 kg lighter four-spoke alloy wheels, and specialized badging. Available in just one colour scheme (Thunder Blue with a Pure Silver roof), each car was individually numbered and featured a decal on the roof along with a plaque on the dashboard. Although they were costly when new, they have held their value very well, and rarely come up for sale even now, nearly 10 years after they were new.
MITSUBISHI
One of the rarest cars of the day has to be this, a Colt Celeste. Sold in the UK from 1976, this neatly styled model was little more than a three-door coupe version of the Lancer, replacing the original Galant FTO which we never saw in the UK, and not to be confused the GTO version, which we did get. The Celeste was a rival to the four-cylinder Ford Capri, Opel Manta, and Toyota Celica, although it failed to catch-on in the way its rivals did, selling in far smaller numbers than they did. The car was launched in Japan in  February 1975, It sat on the same 2,340 mm wheelbase as the Lancer, but the overall length was up, at 4,115 mm. The Celeste was originally available with 1.4- and 1.6-litre options, a bigger 2.0-litre model was added later. There was another change  in April 1978; when a facelift introduced square headlights and bigger, less integrated bumpers, which heralded the coming eighties. Named accordingly, a top-of-the-line "GT System 80" version had appeared in November 1977, including every possible extra and special black and gold paintwork. This was trumped by the 105 PS 2000 GT introduced in June 1979, with a version of the 2-litre Astron engine already used in export cars since October 1975. Production of the Lancer Celeste ended in July 1981 and it was replaced by the front-wheel drive Cordia in early 1982. Although sales in the UK were quite limited, 650,000 of them were produced. In its home market, it was called the Mitsubishi Lancer Celeste, and it was also sold as the Chrysler Lancer in Australia, the Dodge Lancer Celeste in El Salvador, the Plymouth Arrow and Fire Arrow in the United States, and the Dodge Arrow in Canada. The 1979–80 Plymouth "Fire Arrow" came with larger 2,555 cc four-cylinder engine, but strangled by American emissions regulations it only offered 105 hp no more than the Japanese market 2000 GT. Because of the Arrow's long, narrow, aerodynamic, lightweight design and rugged suspension, it was used extensively in various types of racing including SCCA road racing, rally and drag racing. The Arrow body design was used on pro stock and funny cars in the late 1970s by noteworthy racers such as Ray Godman, Don Prudhomme, Bob Glidden and Raymond Beadle. Today, it's surprisingly sought-after by fans of Japanese cars from this era, which have now reached cool status thanks to the 'J-Tin' movement.  But in the UK, it is all but extinct with HowManyLeft suggesting that there are just 6 of them in the country licensed and around another 10 on SORN.
MORRIS
This was a beautifully presented version of that evergreen British classic, the Minor Traveller.
NISSAN
There were two of the potent GT-R cars here, one looking standard and one which had clearly received a number of modifications.
PLYMOUTH
This 1970 Roadrunner dates from the height of the Muscle Car era. Plymouth launched the Roadrunner in 1968, keen to capitalise on the growing enthusiasm for this type of car. Although Plymouth already had a performance car in the GTX, it wanted to reincarnate the original muscle car concept in a car able to run 14-second quarter mile times and sell for less than US$3000. Both goals were met, and the Road Runner would outsell the upscale GTX. Paying $50,000 to Warner Bros.-Seven Arts to use the name and likeness of their Road Runner cartoon character (as well as a "beep, beep" horn, which Plymouth paid $10,000 to develop), and using the Chrysler B platform as a base (the same as the Belvedere), Plymouth set out to build a back-to-basics mid-size performance car. Everything essential to performance and handling was beefed-up and improved; everything non-essential was left out. The interior was spartan with a basic vinyl bench seat, lacking even carpets in early models, and few options were available – just the basics such as power steering and front disc brakes, AM radio, air conditioning (except with the 426 Hemi) and automatic transmission. A floor-mounted gearlever featured only a rubber boot and no console so that a bench seat could be used. The earliest of the 1968 models were available only as 2-door pillared coupes (with a B-pillar between the front and rear windows), but later in the model year a 2-door "hardtop" model (sans pillar) was offered. The Road Runner of 1968-1970 was based on the Belvedere, while the GTX was based on the Sport Satellite, a car with higher level trim and slight differences in the grilles and taillights. The standard engine was an exclusive-to-the-Road Runner 6.3 litre V8 rated at 335 bhp and 425 lb·ft  of torque. Its extra 5 hp rating was the result of using the radical cam from the 440 Super Commando and a .25 raise in compression to 10.5:1 (vs. 10.25:1 with the 330 hp 383). When air conditioning was ordered, the cars received the 330 hp version, as the radical cam specs of the 335 bhp version didn't create enough vacuum to accommodate a/c; and there were concerns of overrevving which would destroy the RV-2 compressor. For an extra $714, Plymouth would install a 426 CID Hemi rated at 425 bhp and 490 lb·ft of torque. Combined with low weight, the 6-passenger Road Runner could run the 1/4 mile in 13.5 seconds at 105 mph (169 km/h). It would prove to be one of the best engines of the muscle car era, and the Road Runner one of the best platforms to utilise it. The standard equipment transmission was a 4-speed manual with floor change and Chrysler's three-speed TorqueFlite automatic was optional. Early four-speed '68 Road Runners featured Inland shifters, which were replaced by the more precise Hurst shifters during the course of the model year. Plymouth expected to sell 20,000 units in the first year but actually shifted 45,000 of the cars. It was updated for 1969 and then 1970 brought new front and rear end looks to the basic 1968 body, and it would prove to be another success. Updates included a new grille, a cloth & vinyl bench seat, hood, front fenders, quarter panels, single-piston Kelsey-Hayes disc brakes (improved from the rather small-rotor Bendix 4 piston calipers of '68 – '69 ), and even non-functional scoops in the rear quarters. The design and functionality of the Air Grabber option was changed this year to increase both efficiency and the "intimidation factor". A switch below the dash actuated a vacuum servo to slowly raise the forward-facing scoop, exposing shark-like teeth on either side. "High Impact" colors, with names like In-Violet, Moulin Rouge, and Vitamin C, were options available for that year. The engine lineup was left unchanged although a heavy-duty three-speed manual became the standard transmission, relegating the four-speed to the option list along with the TorqueFlite automatic. This was to be the second and last year of the Road Runner convertible, with only 834 made. These cars are considered more valuable than the 1969 version due to a better dash, high impact colours and more options including the new high-back bucket seats shared with other Chrysler products which featured built-in headrests. The 440 Six Barrel remained an option for 1970. The 1969 "M" Code Edelbrock aluminum intake was replaced by a factory-produced cast iron piece; however there were some early cars built prior to January 1, 1970 that were equipped with the left over aluminium Edelbrock intake from the year prior. Sales of the '70 Road Runner dropped by more than 50 percent over the previous year to around 41,000 units (about 1,000 ahead of Pontiac's GTO but still about 13,000 units behind Chevy's Chevelle SS-396/454). This would also be the last year of the Road Runner convertible with 834 total production. Only 3 Hemi (R) code Road Runner convertibles were built (plus 1 to CANADA). The declining sales of Road Runner and other muscle cars were the result of a move by insurance companies to add surcharges for muscle car policies – making insurance premiums for high-performance vehicles a very expensive proposition. Also, Plymouth introduced another bargain-basement muscle car for 1970, the compact Duster 340 which was powered by a 275 hp 340 4BBL V8 which in the lighter-weight compact A-body could perform as well if not better than a 383 Road Runner. Furthermore, the Duster 340 was priced even lower than the Road Runner and its smaller engine qualified it for much lower insurance rates.
PONTIAC
Another fabulous American classic, this is a 1969 Firebird. The Firebird was launched in 1967, along with the closely related Chevrolet Camaro, as GM's riposte to Ford's extremely successful Mustang. The cars quickly established a reputation of their own and cornered a significant share of the market for small personal sports cars. Minor changes were made in 1968. but a more significant update was made for 1969 with a new front end which was more like that on the Pontiac GTO, in advance of an all new second generation model being launched in 1970.
PORSCHE
There are usually loads of Porsche models here, with the 911 particularly well represented, This month, just two 911s were here, a 991 Turbo and a 997 Carrera
RELIANT
The Scimitar name was used on three different models by Tamworth firm Reliant. Best known, without doubt, is the GTE, a sport-hatch that was sold between 1968 and the early 1980s, along with an open-topped GTC that joined in for the last few years or production. The GTE was actually an evolution of the first car to bear the name, and it was one of those which was present here, as indeed this particular car often is. Reliant's first Scimitar was a coupé based upon the styling of a Daimler SP250 prototype (renamed the SX250) and the chassis of a Reliant Sabre, not perhaps the origins that you might expect. As the Sabre 6 began looking a bit dated, Managing Director Ray Wiggin had started looking for a new design. While at the 1962 Motorshow, he saw a car called an OGLE SX250: it had been designed by David Ogle (of David Ogle Associates, later known as Ogle Design) and it was based on the Daimler Dart SP250 chassis and running gear. The car had been privately commissioned by Boris Forter, managing director of the Helena Rubenstein Company (UK), who later had another one built for his girlfriend. Daimler didn't use the design, so Reliant approached Ogle and asked to buy the rights for it. Some subtle changes were made to the bodyshell and it was further modified to fit the Reliant Sabre chassis and running gear. Reliant launched their new car, the Scimitar GT in 1964, powered by a 2.6 litre Ford straight six from the Ford Zephyr / Ford Zodiac, but with triple SU carburettors as standard, so it now produced 120 bhp and propelled the car to a top speed of 117 mph. It was praised for its elegant lines and performance figures for a price of £1,292. The price included wire wheels and a luxurious interior with comprehensive instrumentation. Optional extras included a choice of De Normanville overdrive unit, electric sunroof and ZF gearbox. However, there were things which had been done to keep the cost down. Many components in addition to the engine were existing ones originally designed for competitor models, a point emphasised for buyers of the early Scimitars in which unfolding the sun visor involved knocking the driver's mirror out of adjustment. Even so, it sold well enough, and 296 examples were produced. In 1966 the SE4A was replaced by the SE4B, with a 3litre V6 Ford "Essex" engine. Quite a lot of work was involved in getting this unit to fit. As the Essex engine was shorter, it was mounted further back in the bulkhead to help improve weight distribution. The lower wishbones were re-positioned, the tower structures and cross members were re-inforced and an anti-roll bar was fitted. Other modifications included replacing the wire wheels with wider steel wheels as standard, and the fitting of a higher-ratio rear axle (3.58:1 instead of 3.875:1). The interior was updated to move with the times. There was now an all anti-dazzle black interior (including black instrument dial bezels instead of the previous chrome versions). The padded fascia board had crash pads at the top and bottom and improvements were made with the ventilation by fitting directionally variable ventilator jets, as used by Ford. 591 of these cars were built. A year later, in September 1967 the cheaper SE4C was introduced with a 2.5 litre version of the same engine and a reduction of £105 on the 'recommended retail price'. The engine differed from the one fitted on the Ford Zephyr 6 in that the Reliant engine came with an alternator whereas Ford buyers had to be content with a dynamo. Visually, this car was identical to the 3 litre model with just a badge on the boot to tell you it was the less powerful car. Just 118 of these were made, which meant that by the time production of the GT Coupe ended in 1970, just over 1000 SE4s had been produced.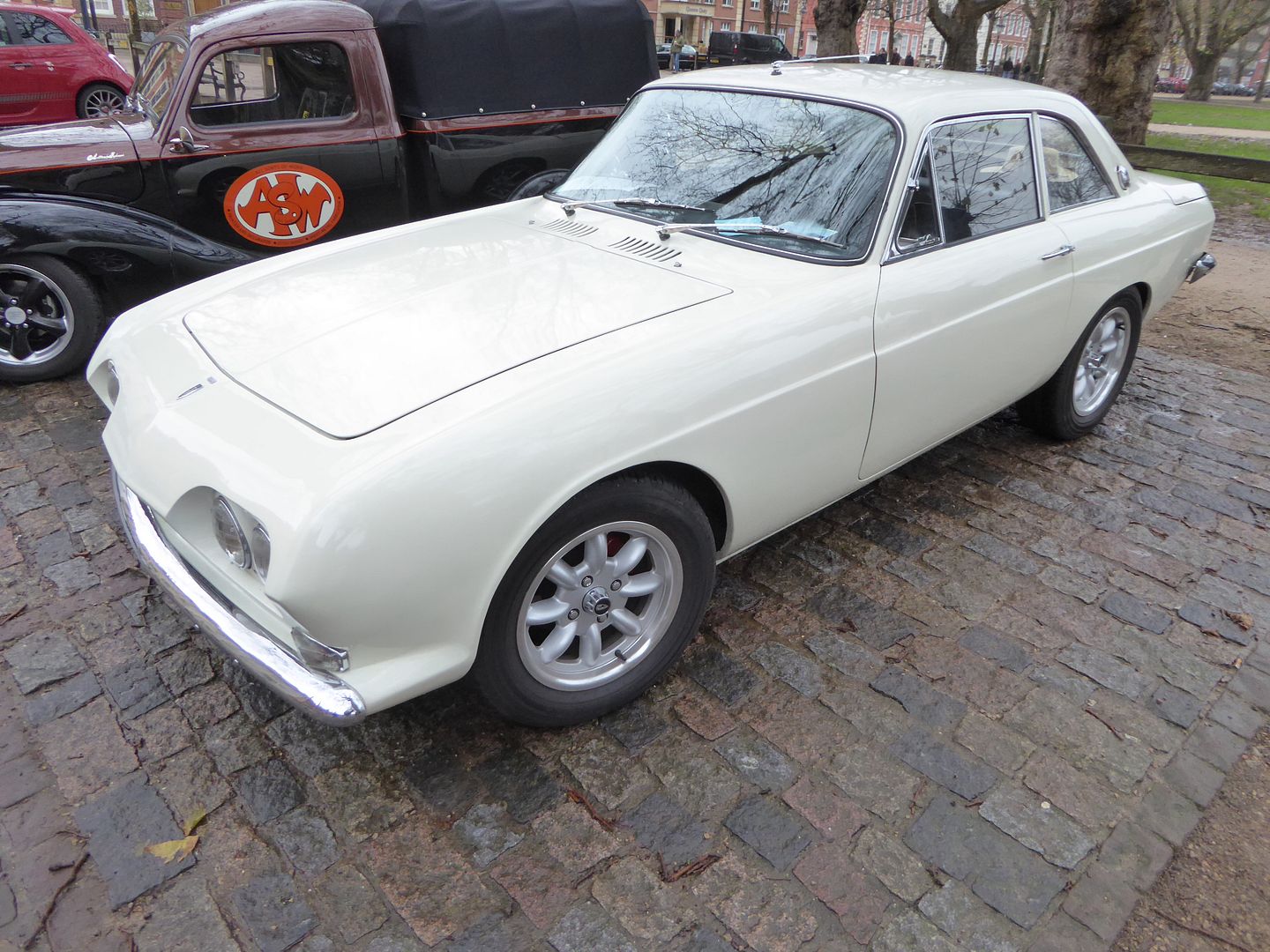 RENAULT
There was a nice collection of the second generation RenaultSport Clio RS models here, including a pair of Trophys, and there was another RS172 model elsewhere on the Square.
RILEY
The Riley OnePointFive is one of a pair of medium sized saloon cars, the Wolseley 1500 being the other, which was launched in 1957. Conceived as a potential replacement for the Morris Minor, because that car was still selling well, the model ended up only ever being offered with the more costly marques' badges attached (though Australians did get variants called the Austin Lancer and Morris Major). The Riley and similar Wolseley were based on the Morris Minor floorpan, suspension and steering but fitted with the larger 1489 cc B-Series engine and MG Magnette gearbox. As well as trim and badging, the twins were differentiated by nearly 20 hp, the more sporting Riley having twin SU carburettors giving it the most power at 68 hp. The Wolseley was released first, in April, while the Riley appeared in November, directly after the 1957 London Motor Show. A Series II model came out in May 1960. The most notable external difference was the hidden boot and bonnet hinges. Interior storage was improved with the fitting of a full width parcel shelf directly beneath the fascia. The Series III launched in October 1961, featuring revisions to the grille and rear lights. In October 1962 the car received the more robust crank, bearing and other details of the larger 1,622 cc unit now being fitted in the Austin Cambridge and its "Farina" styled clones. Unlike the Farina models, however, the Wolseley 1500 and Riley One-Point-Five retained the 1,489 cc engine size with which they had been launched back in 1957. Production ended in 1965 with 39,568 Rileys and 103,394 Wolseleys made.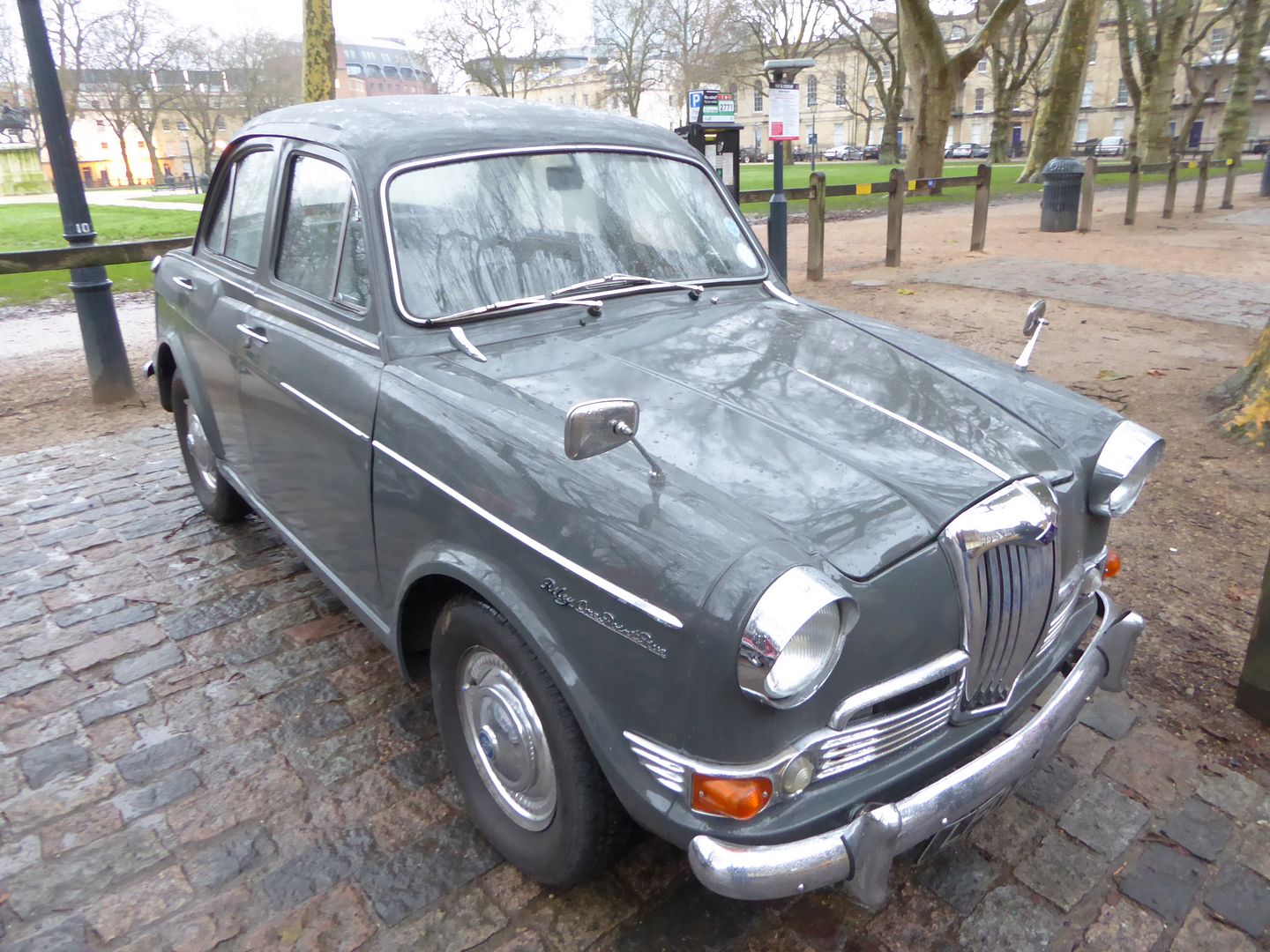 ROVER
In the early 1970s when this P6 3500S was new, this was one of the most desirable cars on the road. Rover had installed the lightweight Buick-derived 3.5 litre V8 unit under the bonnet of their P6 saloon in 1968, but for the first three years, it was only available with an automatic gearbox. Finally in 1971, the 3500S (S standing for Synchromesh, apparently, and not Sport) with a manual 'box was offered, and this became the sort of enthusiasts car with the sort of appeal that would be manifest these days by a potent BMW. It was popular a motorway patrol car, too, though the rather small boot was something of a limitation. Some cars got around this by mounting the spare wheel on the boot. Rover came up with another solution, working in partnership with Dunlop, with the Denovo tyre, a novel run-flat which allowed the owner to dispense with a spare wheel altogether. They proved about as popular then as BMW's runflat tyres are now!
SMART
There were two examples of the short-lived Smart Roadster here. Once the 2 seater Smart (later to be renamed the ForTwo) was established, Smart started to think about additional models in the range, and they showed the concept for a small sports car in 2000. Production versions of what were christened the Smart Roadster and Roadster Coupé were introduced in 2003, based on a stretched platform of the Fortwo with a full length of 3427 mm. The two variants were meant to be reminiscent of British sports cars such as the Triumph Spitfire or the MG B, but with modern refinements to make them more usable as daily drivers.  Both the Roadster and Roadster Coupé were available with a removable Targa roof or an electrical softtop. The Roadster was powered by 61 or 82 PS versions of the turbocharged 698cc 3-cylinder Suprex engine in the rear, engineered by Mercedes-Benz. The Roadster Coupé only had the more powerful 82 PS engine. A steering wheel with Formula 1-style gear paddles, to control the semi-automatic sequential transmission, was optional. Weighing as little as 790 kg (1,742 lb), the Roadster was meant to provide the emotion of driving a sports car at an affordable cost; but it ended up being little cheaper than a Mazda MX-5. Despite a projected break even of only 8-10,000 units per year, first year sales almost doubled this estimate. However, some Smart Roadsters leaked and production ceased due to the warranty work and other costs reaching an average of €3000 per vehicle. While a critical success, the Smart Roadster was, due to these costs, an economic failure for the company and production ended quite abruptly in 2006. Influential British motoring television show and magazine Top Gear praised the Roadster, awarding it Fun Car Of The Year for 2005. 43,091 Roadsters were built.
TESLA
This duo of Tesla cars arrived together, and then made several laps of the Square looking for somewhere to park. Although the Model S is starting to become a reasonably common sight on our roads – certainly in the places where I spend most of my time – it still pulls the crowds whenever one appears and parks up. People are intrigued by the concept, still, and no doubt impressed at the vast amount of space inside the car, as well as the beautifully finished interior. I am sure that the huge screen in the middle of the dash is a big talking point, too. One of the models that Tesla brought along was the top spec P90D.
TOYOTA
The Soarer is a "personal Coupe" model sold by Toyota between 1981 and 2005. In Japan, it was available at both Toyota Japan dealerships called Toyota Store and Toyopet Store, and it débuted with the Z10 series, replacing the Toyopet Store exclusive Mark II Coupe, and the Toyota Store exclusive Crown Coupe. A second generation, Z20 series was launched in 1986, based on the then new A70 Supra platform. This model was largely made for the Japanese market, but when thoughts turned to its succession, Toyota set their sights more globally. Following the design freeze of Lexus division's flagship LS 400 (Celsior) sedan, due in 1989, Toyota in 1987 commissioned its California design studio Calty to develop a new luxury coupe. In mid 1991, this vehicle debuted in the U.S. as the Lexus SC 300/400 and as the third generation Z30 series Soarer in Japan, replacing the Z20 series. The Z30 series Soarer shared the body and key components with the Lexus SC, with different interior features, powertrain configurations, and enhanced performance. The new Soarer continued some of the pioneering features of earlier models, such as digital dashboard instrumentation and integrated car systems control via the in-dash EMV touchscreen. It was also one of the first cars in the world to feature factory GPS automotive navigation system via CD-ROM. This generation Soarer was considered an expensive and extravagant luxury car in Japan. It was longer and wider than a Crown, while comfortably accommodating two passengers, with only modest space available for rear seat passengers. It did not comply with Japanese Government dimension regulations which made buyers liable for yearly taxes due to its size. The larger engines also obliged Japanese buyers to pay more annual road tax. From launch in 1991 until 2000 all models were available with a 4-speed automatic transmission. In addition, the sportier JZZ30 Soarer could be had with a 5-speed manual transmission. All models were available with a Torsen torque-sensing differential. Unlike their US Lexus equivalents, the Z30-series Soarer lineup never received a 5-speed automatic, and only the six-cylinder versions received variable valve timing (VVTi) engines, in 1996. Styling-wise, the Soarer received only minor changes during its 9-year production run, mostly external. The car was never sold new in the UK, in either Toyota or Lexus guise, but a handful have reached this country as grey imports. This is one such.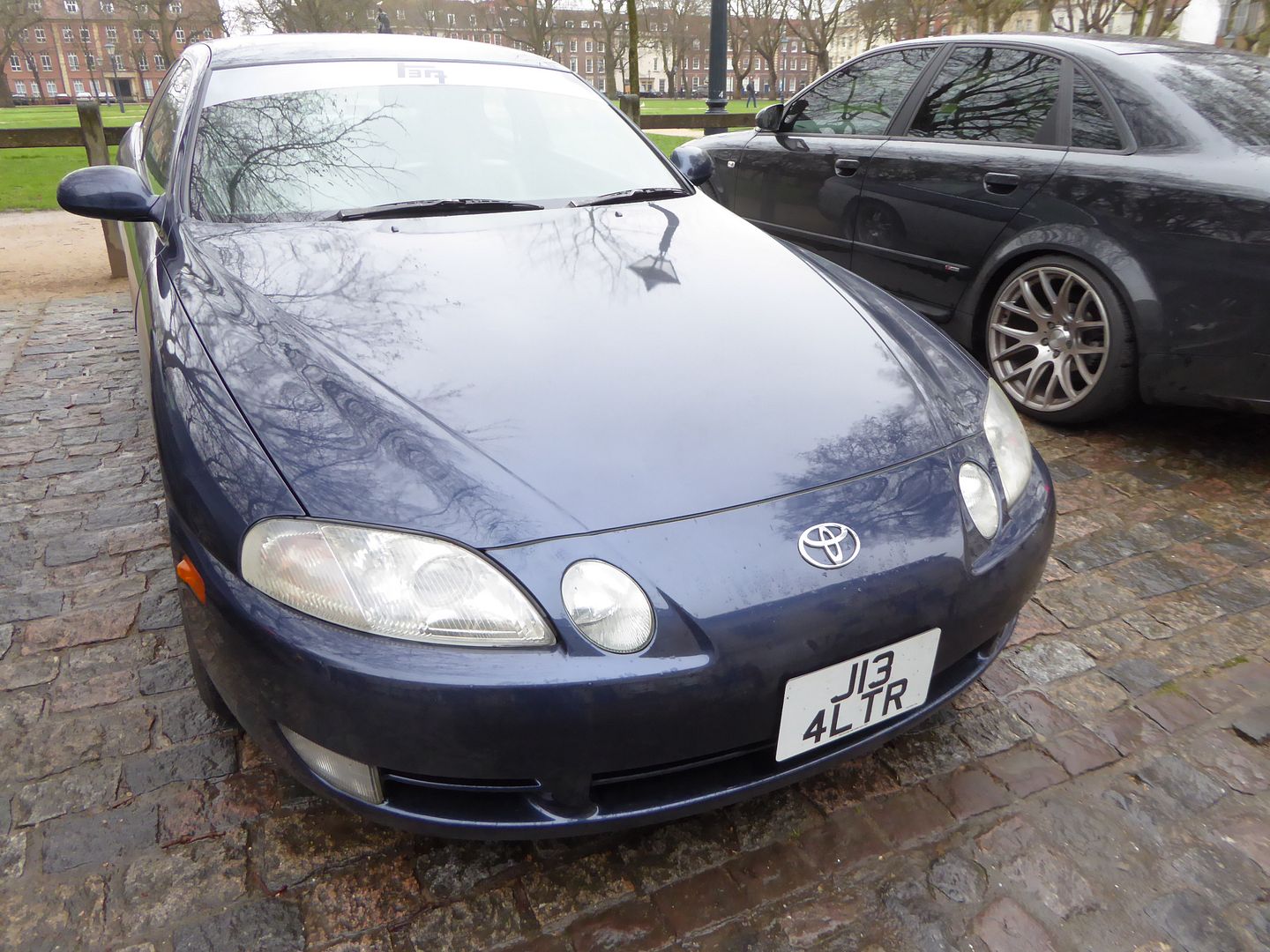 TRIUMPH
I've seen this distinctively painted Herald 1200 here, and at other venues in the area, before. With a colour like this, you're not going to forget it, let's be honest. The owners decided to enter into the sprit of the season with some additional ornamentation and decor. It proved quite a talking point.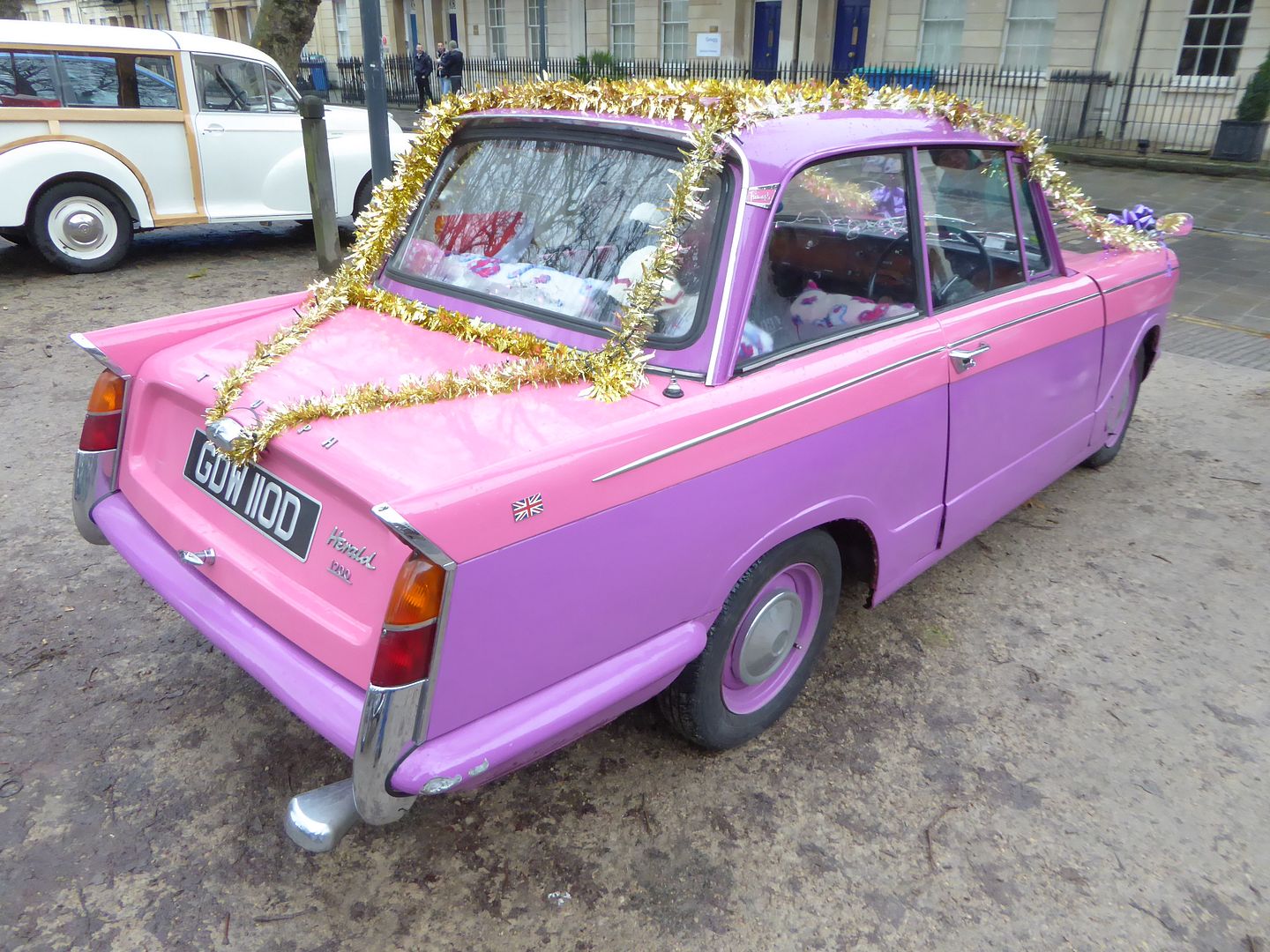 Also representing the Triumph marque was one example of the Stag, a very promising grand tourer that was sold between 1970 and 1977 but which failed to deliver on its potential once word got out that the engine suffered premature and expensive failures. There are known solutions to the various problems now, so prospective buyers need have no fears (provided that they look after the unit carefully), though this has not yet made the car desirable enough to the market for the prices to rise in the way that they have for many other contemporaries.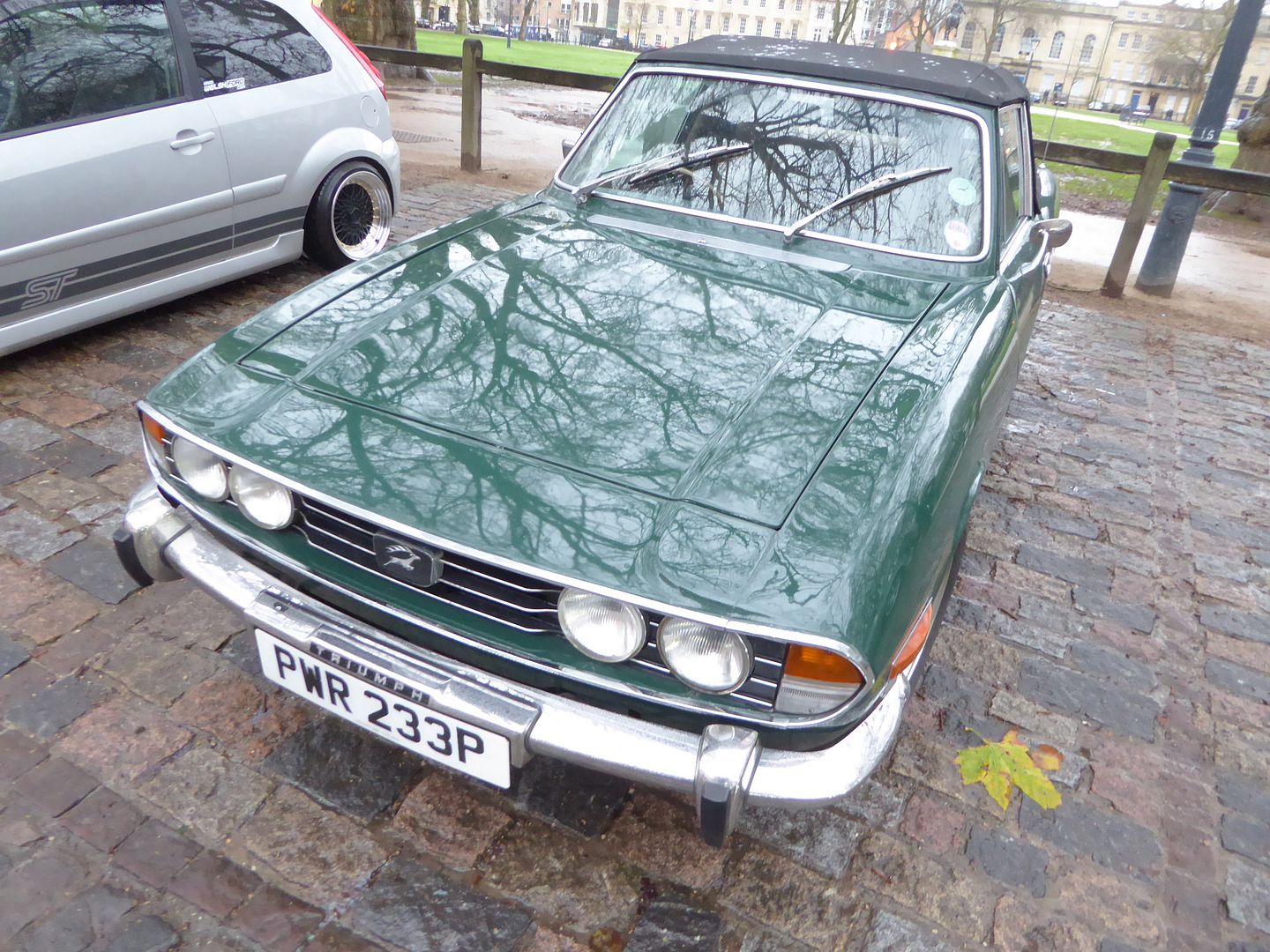 TVR
TVR launched the Oliver Winterbottom styled "wedge" shaped Tasmin in 1980, It was a dramatic departure from what had gone before, and it is fair to say that not all the potential buyers of a TVR were convinced. The first changes that were made included a 2+2 model (short lived), an open topped car and one with a smaller 2 litre engine, none of which made much of a difference to the appeal of the car. And then in 19983, TVR put the Rover 3.5 litre unit under the bonnet to replace the 2.8 litre V6 Ford engine, and the car, and its desirability was transformed more or less overnight. More and more powerful versions would appear over the next few years, and now these Rover-engined "wedges" are seen as desirable. This is a  350i
From a distance this just looked like a rather less than pristine V8S, but get up close, and you realise that it is a V8S with a difference. Sitting in raised suspension, the owners has done quite a lot to change the car from the way that it left Blackpool around 25 years ago. I overheard him say that the car has been sitting in a garage for quite a while, but it started first time when he decided to bring it, so look out for it again at future events!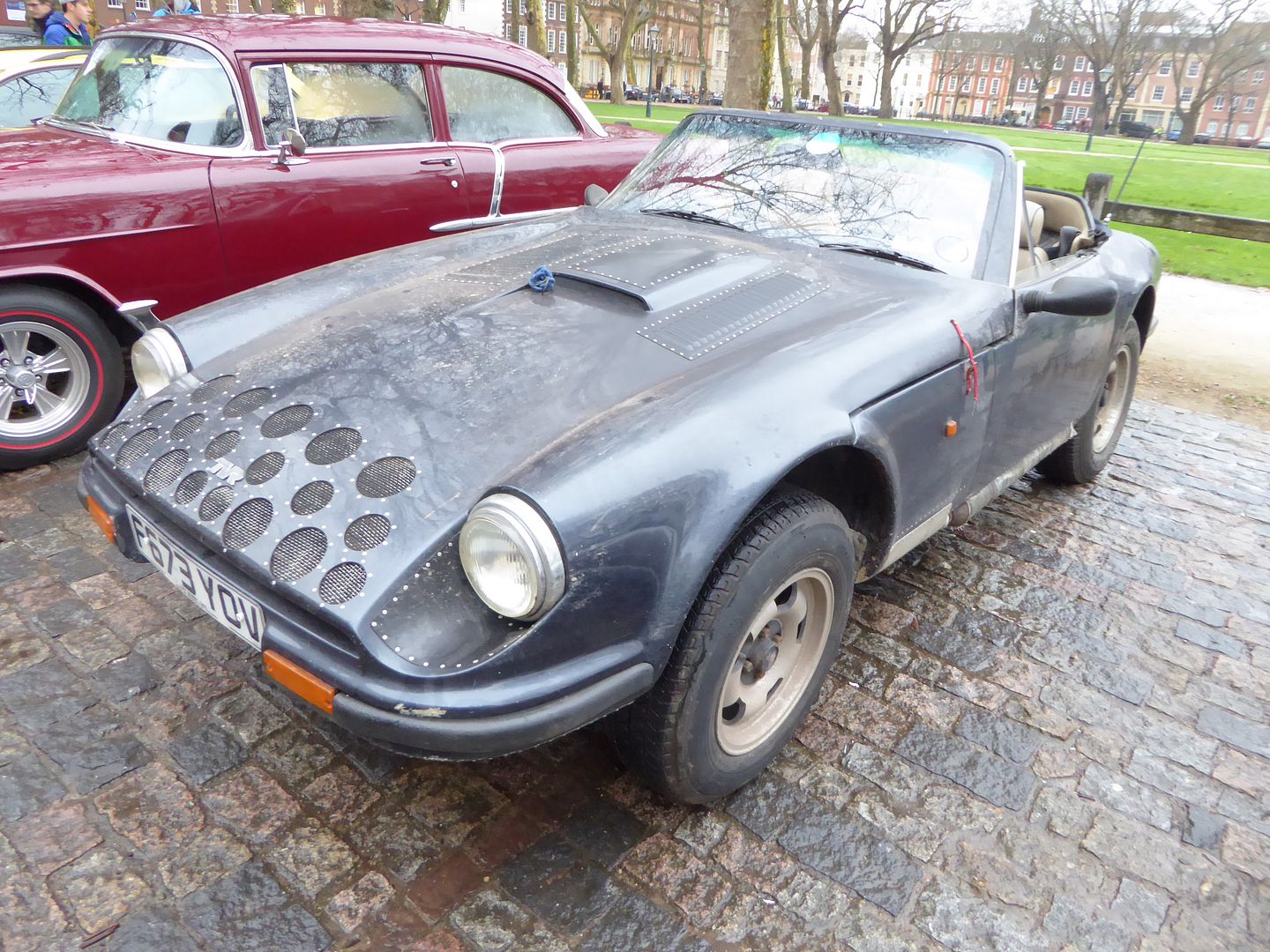 More familiar, and looking much like they would have done when built were this duo of a Chimaera and a Tamora.
VOLKSWAGEN
The first generation Polo, a neatly styled hatchback that was a derivative of the largely forgotten Audi 50, was finally replaced in late 1981 by a new model which looked more a small Estate car with its extended rear roof line. Once a saloon version, sold as the Polo Classic in some markets was in production, VW then turned their attention to something more akin to a conventional hatchback version, though to distinguish from the estate-like model, they called it the Coupe when it was launched in 1983. Initially it was only offered with the more powerful 55 and 75 bhp engines, but the entry level 45 bhp unit was soon added to the range. It then evolved in the same way as the rest of the second generation Polo, which was produced until 1994. A facelift came in 1990, with square headlights, new bumpers, a new interior and a number of mechanical updates. Over the years, lots of different model designations were used. Survivors are quite rare, even, though these cars were well built, as apart from the low volume supercharged G40 model, these were unashamedly unpretentious workhorses with no attempt to endow them with much in the way of sporting appeal. So it was nice to see this Coupe S model. It was far from original, but from this angle, that is not particularly obvious!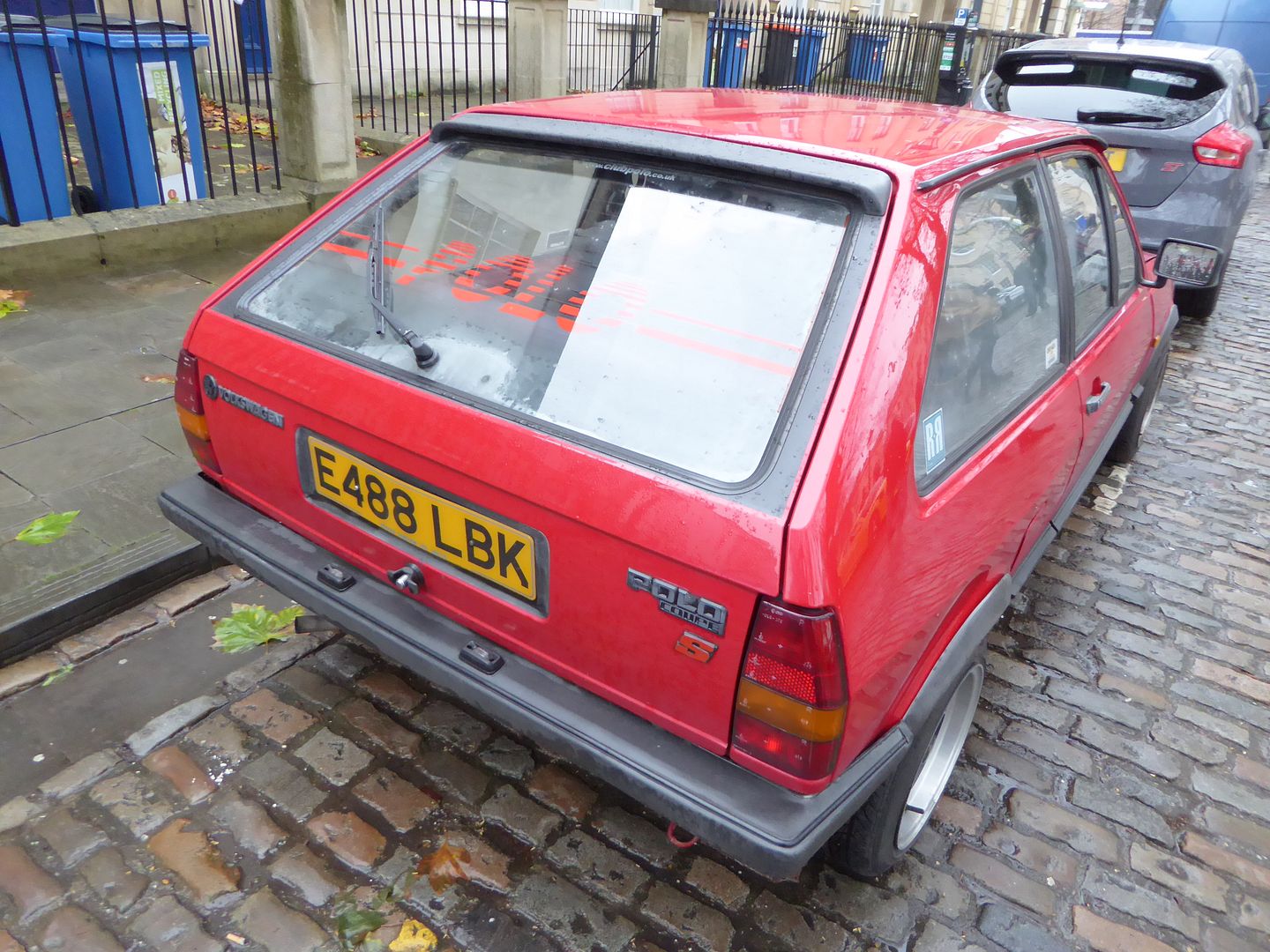 Much more sporting were the other two VWs here that attracted my camera. A fifth generation Golf R32 and a Scirocco R
Sadly the enthusiasts of the Queen Square Breakfast Club, or even the Avenue Drivers Club, which is the grouping who first starting meeting here some time ago, were not the only ones to come and have a look. No fewer than four traffic wardens made an unwelcome appearance around 9am, and they moved systematically around the Square. Most people who had parked on the pavement or in a kerbside location with double yellow lines were able to get to their vehicles and move them before the dreaded ticket was issued, but not everyone managed it in time. There was lots of dialogue with them, most enquiring as to whether Bristol's notoriously anti-car Mayor, Mr Red Trousers Ferguson, had got wind of the monthly meeting and had decided to intervene. They said not, and claimed that the tenants in the Square had asked them to come along. As almost all the buildings are commercial premises and completely unoccupied on a Sunday, this seems hard to believe. However, they did all, independently, say that they would be making an appearance every month in future. Whilst there was more or less enough space for everyone to get an officially sanctioned parking place this month, that will not be true when the event returns to the levels of busy-ness that were experienced earlier in the year. Will that put people off coming? We will have to see.