Even more than is the case for events where people have to buy tickets in advance, there is always an element of surprise in the "just turn up on the day" gatherings, and nowhere, it would seem, is that more the case than the various meets at the legendary Ace Cafe. Weather plays a huge part here, and a wet ad soggy afternoon does usually, but not always, act as something of a deterrent, even for attendees who live locally and who can make a truly last minute decision. Other events can also play their part, and I do recall going along when there was some major sporting event being televised on the same evening only to find that most people had given that priority over driving their pride and joy to a venue where others can enjoy it. And an early indication, for that time when those who are able to get along by 6 – 6:30 pm is no particular guarantee of what will happen in the hours that follow. When I arrived at the Ace Cafe for the August 2016 Italian Night, I was optimistic that it would see a bumper turn out. The European Cup had finished, the Olympics had yet to start, and it was dry, and yet as I drove past, seeking a parking place for my non-Italian car, it was clear that there were very few cars on the forecourt. Responses to the Facebook Event on Abarth Owners Club had given no clue as to how many Abarths were likely to show up, let alone any other marque. I duly parked up, and went to investigate what was already on-site, wondering what the evening would foretell. And here is the answer.
ABARTH
There might not have been many cars on site when I arrived but I had spotted even as I drove past that one of them was a new, yet to go on sale, Abarth 124 Spider. When I got close, I could see that alongside it was a Series 4 595 model, as well. It turned out that these cars had been brought along by Abarth UK, and three of their staff, from Marketing and Brand Management were there, which gave me the opportunity to talk to them as well as to see the cars they had brought along. There are just three 124 Spiders in the country at present, this white one in right hand drive and two red ones with left hand drive, None are road-registered, but Abarth UK are making them available to various of the dealers for presentation at events around the country in the coming weeks, to stimulate interest and demand in this new addition to the range. Not that they necessarily need to do much of that, as almost all of the launch allocation of cars, which should start to arrive in the UK around the end of September are sold, and it is likely that there will be quite a waiting list after that, as demand will exceed initial supply. That means no discounts, so anyone who wants one of these cars will be paying  from £30k for the privilege of a car which in the metal, I think, looks better than the Mazda MX5 with which it shares much under the skin. Initial reaction from the UK press has been that the changes that make an Abarth as opposed to the regular Fiat version are significant and make the car an absolute blast to drive. Autocar gave it 4.5 stars out of 5, a verdict they rarely bestow on any Italian car unless it comes from Maranello. The Abarth 124 Spider was developed in parallel with the Fiat model. It does cost a lot more, and there are those who think you don't get enough extra for your money, but those who have driven it will tell you otherwise. You do get more power. The 1.4 MultiAir turbo unit jumps up from 138bhp to 168bhp, while torque also increases by a modest 10Nm to 250Nm, which gives it a  0-62mph time of  6.8 seconds, which is half a second quicker than the 2.0-litre Mazda MX-5. The top speed is 143mph. It weighs just 1060kg meaning a power-to-weight ratio of 158bhp-per-tonne, and with the new Record Monza exhaust system it sounds great even at idle, as the Abarth UK staff demonstrated many times during the evening. The Abarth version gets a stiffer suspension setup than the regular Fiat 124 Spider, with Bilstein dampers and beefed-up anti-roll bars. Bigger Brembo brakes also feature, with aluminium calipers. It can be had with a six-speed manual or six-speed automatic transmission with paddles, and the latter gets a Sport mode for quicker shifts. The car seen here was sporting the 'Heritage Look' pack, which is a no-cost option. It brings a matt black bonnet and bootlid, plus red exterior trim detailing and is likely to be popular. The £29,565 starting price gets you standard equipment such as cruise control, climate control, Bluetooth, a DAB radio and satnav, plus Alcantara black and red (or pure black) seat trim. The automatic gearbox is a £2,035 extra, while an optional visibility pack brings LED DRLs, auto lights and wipers and rear parking sensors. There will be more powerful versions to come, including a monstrous 300bhp Abarth 124 Rally which was shown at Geneva earlier this year.
This was a first chance for many to have a close look at the latest Series 4 version of the familiar 595, with altered styling front and rear, new equipment levels and the replacement of the Blue and me audio system with a new uConnect with improved colour display screen.
The first Series 4 cars reached their owners starting from mid July and the Podium Blue 595C that was here had been present in July, but it was a first chance to see Janay Carter's new car, in the striking, and likely to be popular colour of Modena Yellow. Although there are some disgruntled owners of Biposto Record Edition cars who believed they were getting an (expensive) car in a unique colour scheme last year, only to find that the same paint would be available lower down the range a matter of months later, there are plenty of people who are very pleased to see yellow added to the palette, as there is no doubting that this bodyshape works well painted in bright colours.
Speaking of the Biposto, there was one of those here, as well. Carla and Jerry Rigden bought theirs a couple of months ago, to join the "regular" Competizione that Carla owned. This car attracts lots of attention whenever they show it, and this evening was no exception, with everyone realising that this is a very special Abarth.
Needless to say, there were lots of other 500s and 595s here, with a mix of specs, colours and ages, some from inveterate Ace Cafe attendees and others from those making a first appearance.
Although event regulars Daniel Ciercierski and Kai Kan were not here, there were several Punto owners who did make it, including Daryl Newbury, Steve Miller and Andrei Valentin which meant that there were examples of the Punto Evo and the later Punto Supersport to represent this relatively rare machine.
There was no sign of either Mike Kason or Carlo Cacciavello who often bring their classic Abarths here, but mid evening, we were treated to the arrival of an even rarer older model, this lovely 1600 OT. Abarth produced several tuned versions of the 850 Berlina, Coupé, and Spider, with ever increasing displacements. These constituted the OT series of Abarth cars—standing for Omologata Turismo or "touring homologated", which also included two-seater sports racing cars. The first was the  Fiat-Abarth OT 850, introduced in July 1964. Its Tipo 201 engine was the regular saloon's 847 cc inline-four brought from 34 PS to 44 PS; top speed went up accordingly from 120 km/h (75 mph) to 130 km/h (81 mph). The OT 850 could be distinguished from the standard Fiat model by its Abarth badging, an asymmetric front ornament with the Abarth shield on the right hand side and the "Fiat Abarth" script on a red field on the left, and wheels with cooling slots. From October of the same year it became available in two guises: OT 850 Oltre 130 ("Over 130"), almost unchanged from the initial model, and OT 850 Oltre 150, with a 53 PS engine, front disc brakes and a 150 km/h (93 mph) top speed. The Fiat-Abarth OT 1000 was introduced in October 1964. The engine displacement increased to 982 cc, it produced 61 PS and 58 lb·ft of torque. Front brakes were changed to disks. OT 1000 Coupé and Spider came along in October 1965. Compared with the saloon version, the engine was a more powerful Tipo 202 producing 62 PS and 79 58 lb·ft of torque. Top speed was 155 km/h (96 mph) for the coupé and 160 km/h (99 mph) for the spider. The coupé was facelifted in November 1968 concurrently with the regular Fiat 850 Coupé, receiving a full-width grille and twin round tail lamps. The  Fiat-Abarth OTR 1000 was launched alongside the OT 1000 Coupé, and based on the 850 Coupé bodyshell as well. Its type 200 engine had an all-new Abarth-designed cylinder head with valves arranged in a V instead of parallel—hence the R in the name, standing for Radiale, radial. The combustion chambers were shaped as two spherical caps, one around each valve; there was a inlet duct per cylinder, each fed by one choke of the two twin Solex carburettors. Abarth claimed an output of 74 PS at 6,500 rpm and a top speed of 172 km/h (107 mph) for the road version. The OTR was set apart from the OT 1000 Coupé by a rectangular front grille bearing the Abarth badge, needed for the front mounted radiator. That was far from the end of the story for in April 1966, Abarth introduced the OTS 1000. It used the OTR 1000 bodyshell, with a standard head OT 1000 engine but output upped to 68 PS  and top speed to 160 km/h (99 mph). The FIA homologated it in the GT class in 1966. Abarth later developed several modifications, including a new inlet manifold for two twin-choke Solex carburettors. This gave birth to the OTSS 1000 or OT 1000 SS. Both OTS and OTSS were restyled in November 1968 like the OT 1000. Larger capacity OT models appeared in November 1966 with the launch of the OT1300. Visually identical to the OTR 1000 save for the widened wheels, it used a Fiat 124-derived engine displacing 1,280 cc. Engine power was 74 PS and the top speed was 172 km/h (107 mph), both the same as on the OTR 1000, but thanks to the simpler engine the car was cheaper. It was restyled in 1968 together with the 1.0-litre OTs. Wilder still was the OT 1600 Mostro (model 136/C), an extreme variant based on the 850 saloon body, unveiled at the October 1964 Turin Motor Show and nicknamed Mostro, monster. It was fitted with a Tipo 236 1,592 cc twin cam, twin spark engine from the Fiat-Abarth 1600 Sport racing car. The 1.6-litre put out 155 PS and had a  top speed was 220 km/h (137 mph). The rear wings were greatly enlarged to clear wide rear alloy wheels.
ALFA ROMEO
Most numerous Alfa here, as there were several of them present, not all of which are depicted, was the MiTo. Known internally as the Tipo 955, the MiTo (the name allegedly standing for Mi-lano and To-rino, where it was designed and is built, respectively,  and a pun on the Italian word for "myth") this is the smallest Alfa ever made. A three-door only supermini, it was officially introduced on June 19, 2008, at Castello Sforzesco in Milan, going on sale a few weeks later, with UK supplies reaching the country after the British Motor Show in 2008. Built on the Fiat Small platform used on the Grande Punto, and also employed by the Opel/Vauxhall Corsa, the MiTo was intended to compete with the MINI and the newer Audi A1. Designed by Centro Stile Alfa Romeo, the design is believed to be inspired by the 8C Competizione. A range of engines has been offered since launch, though sadly the GTA Concept that was shown at the 2009 Geneva Show never made it to production. There is now a MiTo Enthusiasts group and you often get a significant number of  these cars on display at Italian car events.
Astonishing though it may seem, the 156 is only a matter of months away from marking its 20th birthday. When it was launched in 1997, to rave reviews, things looked very bright for Alfa. Striking good looks were matched by a driving experience that the press reckoned was better than any of its rivals. The car picked up the Car of the Year award at the end of the year. and when it went on sale in the UK in early 1998, waiting lists soon stretched out more than 12 months. Reflecting the way the market was going, Alfa put a diesel engine under the bonnet, launched a (not very good, it has to be admitted) automated transmission with the SeleSpeed, added a very pretty if not that commodious an estate model they called Sport Wagon and then added a top spec 3.2 litre GTA with its 250 bhp engine giving it a performance to outrun all its rivals. And yet, it did not take long before the press turned on the car, seduced by the latest 3 Series once more, citing build quality issues which were in fact far from universal. The 156 received a very minor facelift in 2002 and a more significant one in late 2003 with a new front end that was a clue to what would come with the car's successor. Production ceased in 2005. The car seen here is one of the first series, which to my eyes were the best looking.
By the late 1990s, Alfa was on a roll. With demand for the 156 exceeding supply, the 166 launched at the top of the range, their attention switched to a replacing for the slightly quirky 145 and 146 hatch models, which came with the 147. The new car made its debut in 2000 and impressed everyone with its class-leading looks and personality that ensured it claimed the Car of the Year award a few weeks later. Top of the range for some time was a 2 litre Twin Spark petrol model which went well enough, but lacked the real excitement that many were hoping for. Alfa addressed that, eventually, with the GTA model which they launched in 2002. Fitted with a 3.2 V6 engine which produced 247 bhp, it was the most powerful hot hatch available at the time, and the modifications to the body, including lower sills and wider wheel arches, if anything, made it look even better rather than endowing it with the sort of "after market look" that can afflict some high end performance versions of regular family cars. Performance figures were impressive, with the car able to achieve a top speed of 153 mph. It had a widened body by 15 mm at each side to accommodate the 225/45R17 tyres. Most models had a 6-speed manual transmissions; whilst a smaller number of other models used the semi automatic Selespeed system. Production ran through to 2004 and in total 5,029 147 GTAs were built, 1004 of which were Selespeeds. Only around 300 came to the UK, so this was never a common sighting on British roads.
Oldest Alfa of the evening was a rather nice S2 version of the 105 Series Spider. The S2 models were launched in 1970 as the 1750 Spider Veloce and this marked the first significant change to the exterior styling, with the original's distinctive elongated round tail changed to a more conventional cut-off rear, called the "Kamm tail", which offered better aerodynamics as well as improving the luggage space. Numerous other small changes took place both inside and out, such as a slightly different grille, new doorhandles, a more raked windscreen, top-hinged pedals and improved interior trim. 1971 saw the Spider Veloce get a new, larger 1962 cc, 132 hp engine and consequently the name was changed  to 2000 Spider Veloce. The 1600 Spider restarted production a year later as the Spider 1600 Junior, and was visually identical to the 1300. 1974 saw the introduction of the rare, factory request, Spider-Targa. Based upon the Spider, it featured a Porsche style solid rear window and lift out roof panels, all made out of black GRP type material. Less than 2,000 models of such type were ever made and was the only part solid roof Spider until the introduction of the factory crafted hard top.The 1300 and 2000 cars were modified in 1974 and 1975 respectively to include two small seats behind the front seats, becoming a "two plus two" four seater. The 1300 model was discontinued in 1977. Also, between 1974 and 1976, the early-style stainless-steel bumpers were discontinued and replaced with black, rubber-clad units to meet increasingly stringent North American crash requirements. 4,557 examples of the 1300 Junior were made and 4,848 of the 1600 Junior as well as 16,320 2000 Spider Veloces and 22,059 of 2000 Spider Veloce US version. There were also 4,027 1750 Spider Veloces produced.
FERRARI
There was just one Ferrari model here, and it was not red! It was an F355 Berlinetta, the model launched in May 1994 as an evolution of the Ferrari 348, where just about everything was changed, and improved.  Design emphasis for the F355 was placed on significantly improved performance, but driveability across a wider range of speeds and in different environments such as low-speed city traffic was also addressed, as the Honda NS-X had proved that you could make a supercar that could be lived with every day. Apart from the displacement increase from 3.4 to 3.5 litres, the major difference between the V8 engine in the 348 and F355 was the introduction of a 5-valve cylinder head. This new head design allowed for better intake permeability and resulted in an engine that was considerably more powerful, producing 375 hp. The longitudinal 90° V8 engine was bored 2mm over the 348's engine, resulting in the small increase in displacement. The F355 had a Motronic system controlling the electronic fuel injection and ignition systems, with a single spark plug per cylinder, resulting in an unusual 5 valves per cylinder configuration. This was reflected in the name, which did not follow the formula from the previous decades of engine capacity in litres followed by number of cylinders such as the  246 = 2.4 litres and 6 cylinders and the 308 of 3.0 litres and  8 cylinders. For the F355, Ferrari used engine capacity followed by the number of valves per cylinder (355 = 3.5 litres engine capacity and 5 valves per cylinder) to bring the performance advances introduced by a 5 valve per cylinder configuration into the forefront. 5. The frame was a steel monocoque with tubular steel rear sub-frame with front and rear suspensions using independent, unequal-length wishbones, coil springs over gas-filled telescopic shock absorbers with electronic control servos and anti-roll bars. The car allows selection between two damper settings, "Comfort" and "Sport". Ferrari fitted all road-going F355 models with Pirelli tyres, 225/40ZR 18 in front and 265/40 ZR 18 in the rear. Although the F355 was equipped with power-assisted steering (intended to improve low-speed driveability relative to the outgoing 348), this could optionally be replaced with a manual steering rack setup by special order. Aerodynamic designs for the car included over 1,300 hours of wind tunnel analysis. The car incorporates a Nolder profile on the upper portion of the tail, and a fairing on the underbody that generates downforce when the car is at speed. These changes not only made the car faster but also much better to drive, restoring Ferrari to the top of the tree among its rivals. At launch, two models were available: the coupe Berlinetta and the targa topped GTS, which was identical to the Berlinetta apart from the fact that the removable "targa-style" hard top roof could be stored behind the seats. The F355 would prove to be last in the series of mid-engined Ferraris with the Flying Buttress rear window, a lineage going back to the 1965 Dino 206 GT, unveiled at the Paris Auto Show. The Spider (convertible) version came later in the year. In 1997 the Formula One style paddle gear shift electrohydraulic manual transmission was introduced with the Ferrari 355 F1 adding £6,000 to the dealer asking price. This system promised faster gearchanges and allowed the driver to keep both hands on the steering wheel, It proved to be very popular and was the beginning of the end for the manual-transmission Ferrari.  Ferrari produced 4,871 road-going Berlinetta models, of which 3,829 were 6-speed and 1,042 were F1 transmissions. The Spider proved to be the second-most popular F355 model, with a total production of 3,717 units, of which 2,664 were produced with the 6-speed transmission and another 1,053 produced with the F1 transmission.  A total of 2,577 GTS models were produced, with 2,048 delivered with the 6-speed transmission and another 529 with the F1 transmission. This was the last GTS targa style model produced by Ferrari. This made a total production run of 11,273 units making the F355 the most-produced Ferrari at the time, though this sales record would be surpassed by the next generation 360 and later, the F430.
FIAT
There can be no question that this was the rarest car of the evening. When I saw it pull in, my first reaction was "I don't know what that is", followed by, "I suspect that it is a Moretti", as I know that this no longer extant Italian coachbuilder produced a vast array of different body styles for regular Fiat models in the late 1950s and throughout the 1960s. However, it turned out that I was wrong. When I got close to the car, I could see small "V" badges on the lower flanks, which led me to suspect it was in fact a Vignale bodied Fiat, and that is what it turned out to be. A Fiat 750 Vignale Coupe, to be precise. These were offered from 1960 for 4 years. Based on the regular Fiat 600, the engine was enlarged to 750 cc, and  Vignale offered three models dubbed the 750 Berlinetta, 750 Coupe and 750 Spider. The car turned out to be for sale, and is yours for the reasonable sounding £12,000. Recently imported to the UK, it has spend most of its life in the custody of one lady owner in the Rome area.
Arriving in a mini-convoy with the Vignale was this 130 Coupe. Also for sale, it was interesting to hear people's guesses as to how much might be required to secure it. Everyone was on the high side of current market valuations. Maybe that is an indication that prices will rise. And surely they must, as this is a supremely elegant car, looking like a much better resolved design that the Rolls Royce Camargue, which also penned by its designer, Pininfarina. I guess the issue now is the one which troubled it when new. It is a Fiat, and the market equates Fiat with smaller cheaper cars, not something that was a top of the range executive grand tourer, though the market has realised in the case of the Fiat Dino, which you could say was this car's predecessor, that they needed to think again. Looking very different to the 130 Berlina which had launched in 1969, the 130 Coupé appeared in 1971 at Geneva Show exhibiting a completely new 2-door body and a completely new interior, both the exterior and interior  of which  were the work of Paolo Martin at Pininfarina. The car won a design prize, attributed to Pininfarina, and this helped Pininfarina begin a new life after all those years relying on the "Fiat 1800/Peugeot 404/Austin A60" concepts. Pininfarina extended the Fiat 130 Coupé line with two proposals that were rejected by Fiat: the Maremma in 1974 (2-door shooting brake) and the Opera in 1975 (4-door saloon). Paolo Martin never got involved in these Fiat 130 Coupé variations, as he left the company soon after the design prize in 1971. The car was mechanically the same as the 130 Saloon, which meant it had a 165 bhp 3.2 litre V6 unit and a standard Borg Warner 3 speed automatic gearbox with the option of a 5 speed ZF manual. The interior was particularly luxurious by the standards of the day (and other Fiats). It was costly, though, and sales were modes, with 347 being sold in the first year. This ramped up to 1746 in 1972, but then fell steadily every year, reaching 4,491 when production ceased in 1977. There are thought to be fewer than 20 examples in the UK now.
Over the years, Fiat have produced a number of open-topped cars and there was a nice example of one of their more recent offerings here, the very pretty Barchetta. Developed between 1990 and 1994 under the project name Tipo B Spider 176, this small open topped rival to the Mazda MX5 was designed by Andreas Zapatinas and Alessandro Cavazza under the supervision of Peter Barrett Davis and other car designers at the Fiat Centro Stile, and prototyping was carried out by Stola. Production began in February 1995 and lasted until June 2005, with a brief pause due to the bankruptcy of coachbuilder Maggiora. The Barchetta was based on the chassis of the Mark 1 Fiat Punto. The Barchetta has 1,747 cc DOHC petrol engine fitted with variable camshaft timing, used for the first time in a Fiat production car, after being patented in 1970. The engine has 132 PS, and with a weight of 1056 kg (2328 lb) without air conditioning can accelerate to 100 km/h in 8.9 seconds and on to a top speed of 200 km/h (124 mph). It came in various trim levels which offered different features, for example, diamond cross stitch – patterned red leather instead of the standard black leather or fabric seats, alloy wheels instead of steel wheels, or fog-lights as an option. Arguably one of the biggest external cosmetic changes was made by the addition of the third brake light, first introduced by Fiat on the Lido and Riviera in 2000, and on sub models thereafter. The bodies were welded at ILCAS in Sparone Canavese, and final assembly was done in Chivasso by the coachbuilder Maggiora. After Maggiora's bankruptcy in 2002, Fiat relocated production of the Barchetta to its Mirafiori plant and resumed production two years later. The most notable changes were the revised front spoiler and rear bumper. Production of the car eventually stopped in June 2005, with around 57,700 cars having been built. Production of the Barchetta was limited to LHD cars only, even though the car was marketed and sold in two RHD markets, the United Kingdom and Japan.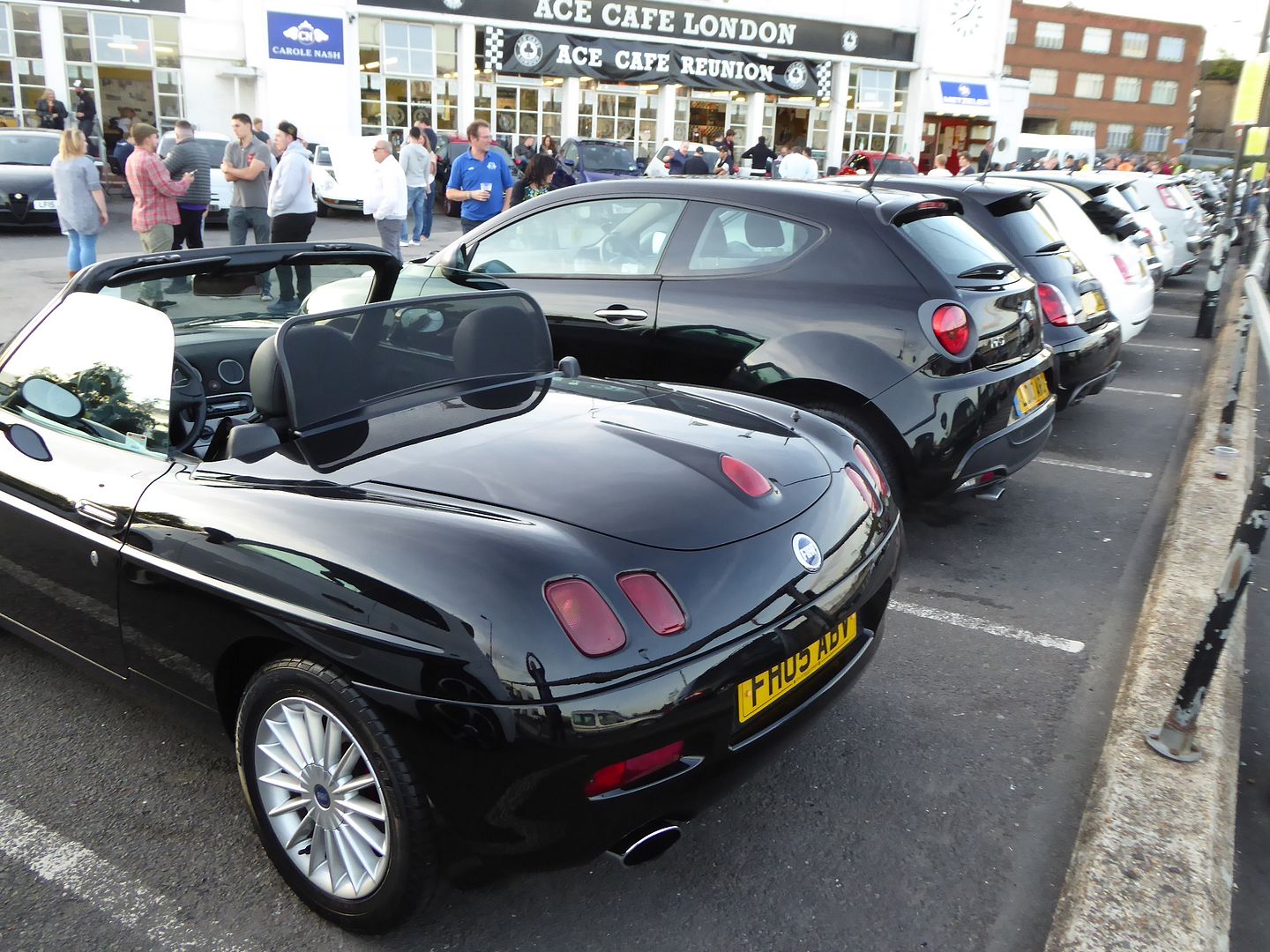 It is quite common for there to be several Fiat Coupe models here, many of them arriving in convoy and often quite well into the evening. This time there was just one, and it arrived much earlier in the proceedings. The Fiat Coupé, developed as the Tipo 175, was introduced at the Brussels Motor Show in 1993. It is perhaps best remembered for its distinctive, angular design, with unique scalloped side panels. The body was designed by Chris Bangle from Centro Stile Fiat, while the interior was designed by Pininfarina, and the car media headlines in auto magazines during 1992 after several spy shots were taken revealing the car on test. On its launch in 1993, the Coupé was available with a four-cylinder, 2.0 litre 16V engine, in both turbo (190 PS) and normally aspirated (139 PS) versions. Both engines were later versions of Fiat's twin-cam design and inherited from the Lancia Delta Integrale. 1996 brought in a 1.8 lire 131 PS 16V engine (not available in the UK), along with a 2.0-litre 5-cylinder 20V (147 PS), and a 5-cylinder 2.0-litre 20V turbo (220 PS). The turbocharged 16 and 20 valve versions were equipped with a very efficient Viscodrive limited-slip differential to counter the understeer that plagues most powerful front wheel drive cars. Additionally, the coupe featured independent suspension all round: at the front MacPherson struts and lower wishbones anchored to an auxiliary crossbeam, offset coil springs and anti-roll bar; at the rear, trailing arms mounted on an auxiliary subframe, coil springs and an anti-roll bar. The car was well received at launch, and the 5 cylinder engines just made it even better, with sales increasing slightly for a couple of years, but then they started to drop off, as Coupe models in general fell from favour. 1998 saw the release of the Limited Edition which featured red Brembo brake calipers at the front and standard red calipers at the back, a body kit, push-button start, six-speed gearbox, strut brace to make the chassis more rigid and Recaro seats with red leather inserts which offered better support than the standard 20VT seats. The LE was produced in Black (flat), Red (flat), Vinci Grey (metallic), Crono Grey (flat) and Steel Grey (metallic). The bodywork of the LE also benefited from titanium coloured insert around the light bezels and the wing mirrors. Each Limited Edition ('LE') Coupé was manufactured with a badge located by the rear-view mirror which contained that car's unique number (it is rumored that Michael Schumacher was the original owner of LE No. 0001, however when the question was raised to him personally he confirmed he had owned one, but a red one, while LE No. 0001 is a Crono Grey one). Originally a spokesman from Fiat stated only approximately 300 Limited Editions would be built. The final number  was much higher, perhaps as many as 1400. This angered many of the owners of the original 300 cars and almost certainly impacted residual values. The original number however was quoted by a Fiat UK spokesman, so probably that number only applied to the UK market. The numbered plaque on every Coupe features enough space for 4 numbers. In 1998 the 2.0-litre 5-cylinder 20V got a Variable Inlet System which brought the power to 154 PS. The 2.0-litre 5-cylinder 20V Turbo received a 6-speed gearbox and a large, satin gloss push starter button. In addition, the sills of the Turbo version were colour matched with the body paintwork. Fiat also released the 2.0 litre  5 cylinder Turbo 'Plus'. This model came with an option kit that made it virtually identical to the LE, except for minor interior design changes and without the unique identification badge of the LE. In 2000 Fiat released another special version of the Fiat Coupé. Featuring the 1.8-litre engine, it was only available throughout mainland Europe and marketed as an elegant and affordable edition. Fiat also made changes throughout the rest of the range: new seats, side skirts and wheels for the 2.0-litre 20V model, 'Plus' edition wheels on turbo models and Fiat manufactured seats on the 'Plus' that were virtually identical to the original Plus Recaro seats with the addition of extra airbags. The 2.0-litre 20V Turbo model is capable of accelerating from 0–100 km/h (0 to 62 mph) in 6.5 seconds and 6.3 seconds for the 20v Turbo Plus, with a top speed of 240 km/h (149 mph) or 250 km/h (155 mph) with later 6-speed gearbox. When production finally stopped in September 2000, a total number of 72,762 units had been produced. There are still well over 1000 units in the UK, so this is a Fiat which has proved durable as well as good to drive, and to look at.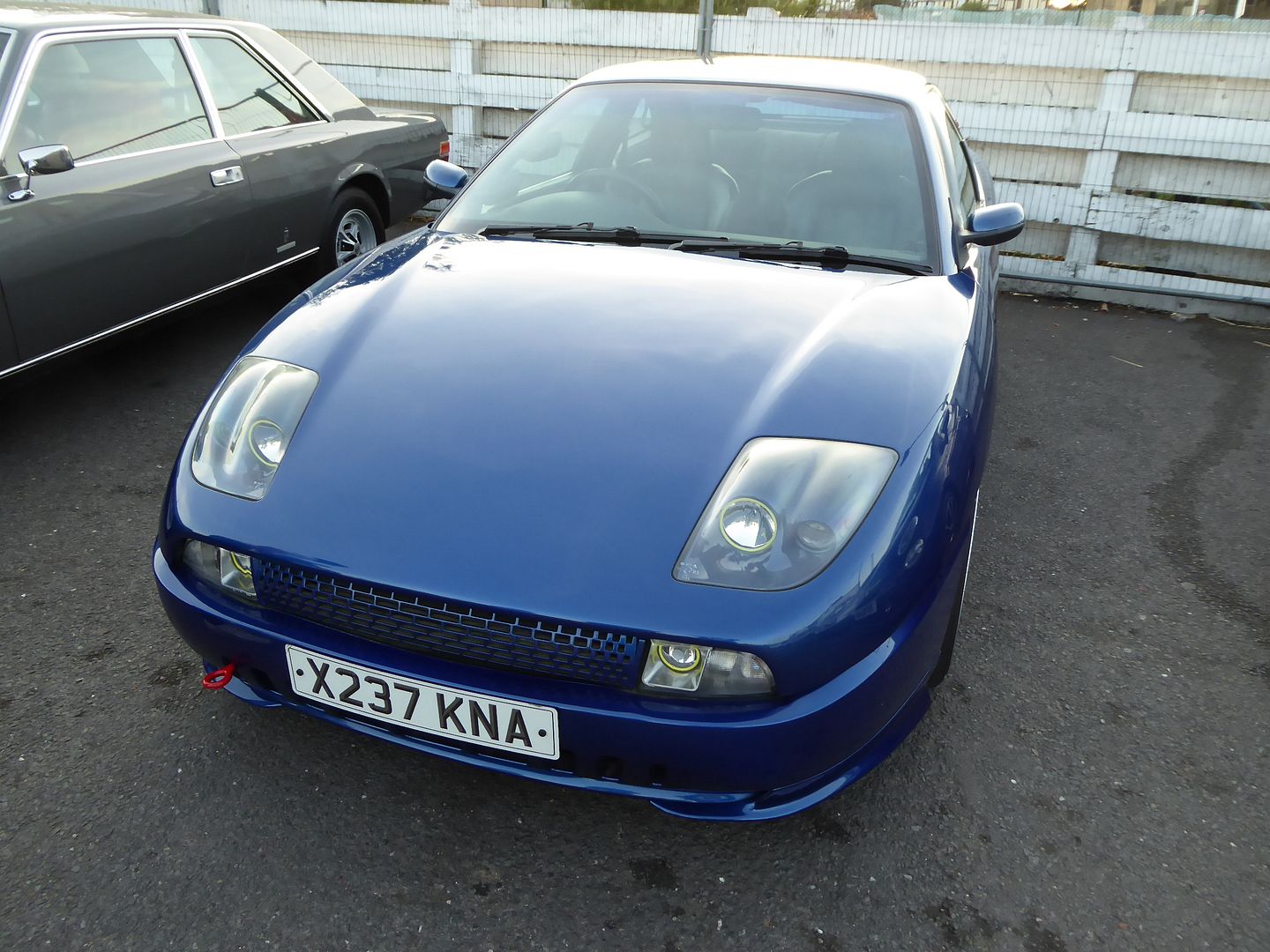 Representing Fiat's family sized cars was this 3 door Stilo. Developed as the Tipo 192, this C-segment model was launched in November 2001, at the Bologna Motor Show, to replace the Fiat Bravo/Brava, with the Stilo MultiWagon following in 2002, a successor to the Bravo and Brava hatches and the Marea Weekend.  Originally, its petrol engines were the 1242 cc DOHC 16 valve engine also powering the Punto and Lancia Ypsilon with an output of 80 PS combined with a 6 speed manual gearbox, a 103 PS, 1.6 litre with a 5 or 6 speed manual gearbox, a 133 PS 1.8 litre with a 5 speed manual gearbox and a 170 PS 5 cylinder, 2.4 litre engine combined with Fiat's Selespeed 5 speed semi-automatic gearbox, similar to the gearbox used on the Alfa Romeo 147 and Alfa Romeo 156. An 8 valve, 1.9 JTD unit with 80 PS, 100 PS, 116 PS, 120 P or 16 valve 140 PS and 150 PS diesel unit were/are also available. The Stilo's styling received mixed reviews, with many journalists and enthusiasts criticising it as being too bland and too German-looking (somewhat ironically as the styling of the preceding Bravo and Brava had been criticised for being too "Italian"). Critics also attacked the car's excessive weight and its semi-independent rear torsion beam suspension / twist-beam rear suspension, (like a previous generation Volkswagen Golf), which was seen as a step backwards from the acclaimed fully independent rear suspension used in the Bravo/Brava, and which resulted in handling many found uninspired and uninvolving. Although the Bravo/Brava IRS was prone to suspension bush wear. The engine range, particularly the 1.2 litre petrol, was also criticised for being underpowered. The car's fuel economy was also seen as poor for its class, a result of the car's heavy weight and the transmission, which used very long gear ratios. Another point of criticism was the Selespeed gearbox, which was seen as too slow in its reactions and particularly inappropriate for the high-powered Abarth version.  In the UK, different trim levels available were: Active, Active Aircon, Blue, Dynamic, Sporting, Abarth, GT, Prestigio, Xbox limited edition, Michael Schumacher and the Schumacher GP, with general modifications by British car specialists, Prodrive. Sales were sluggish from the start, and only got worse. As the model range aged, the range of available options was reduced. The Stilo was originally offered in some markets with a radar guided cruise control option; it included sensors in the front bumper and rear of the car to adjust the speed of the car according to other vehicles' speed. This was soon dropped as it became apparent that other interferences were creating undesired results for the driver. A keyless entry, named 'Easy Go', push button start, similar in function to Citroen's, Mercedes's and BMW Mini's systems, was also an available option. For 2006, the Stilo was updated with a new front grille, different seat fabric, a relocation of the electric mirror controls from the window control console to just behind the gear stick. The entry models also had the centre arm-rest removed (which when in the downward position prevented comfortable use of the handbrake as in the Audi A3) and the deletion of the rear air vent. The model was replaced in 2007 by the new Bravo, another sales disappointment. There is some interest in the stylish 3 door models these days, but the 5 doors have sunk almost without trace.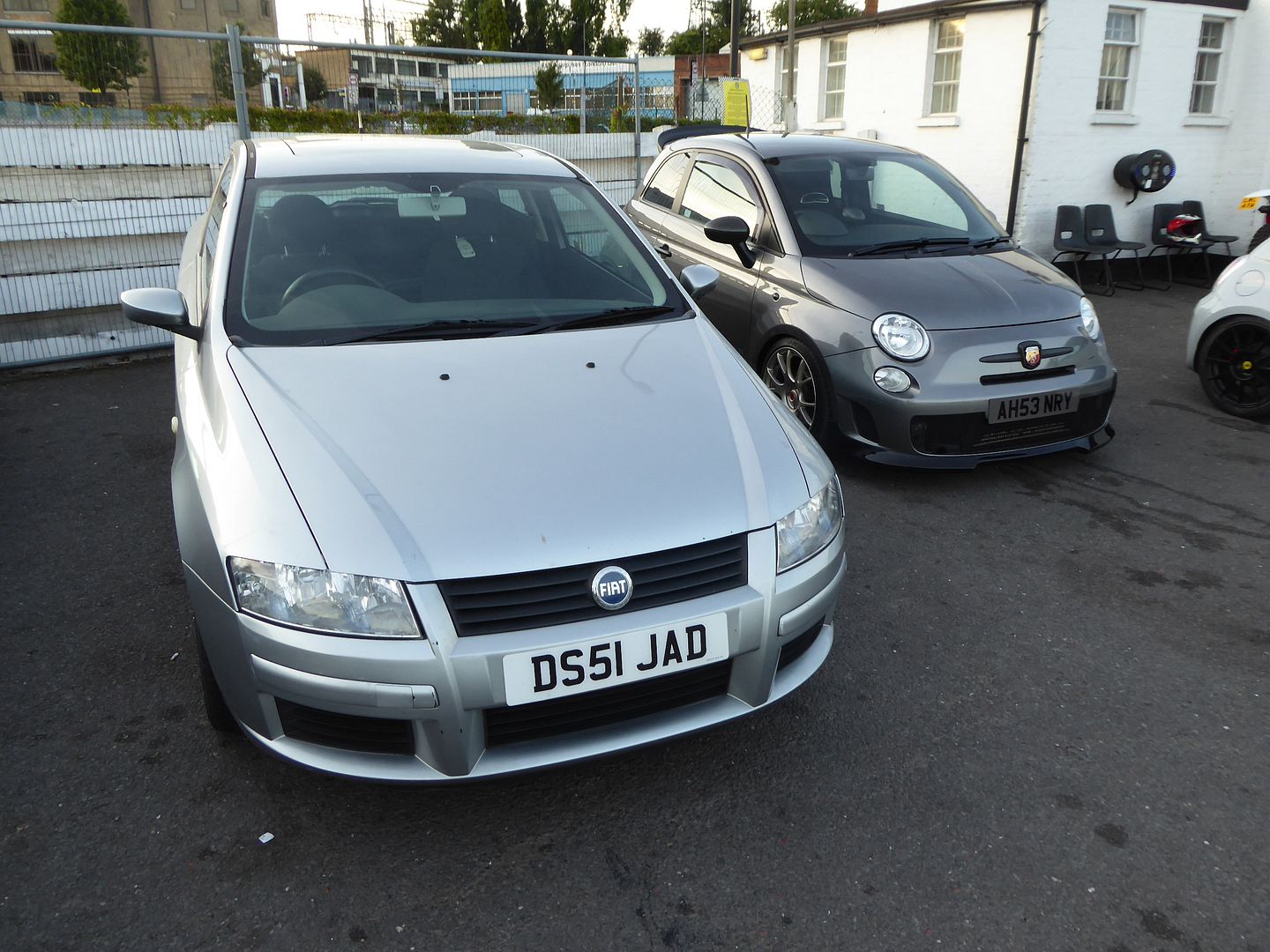 This lovely little 500C was brought along by Nico Vogli, who usually comes in his much personalised Abarth 595 Competizione instead.
Final Fiat of the evening, and one of the later cars to arrive on site was this beautifully presented Uno Turbo ie. There are quite a few of the older Abarth drivers who had one of these when they were new or nearly new, and who go all misty eyed when they see one. A rival to the Peugeot 205 GTi and Renault R5 GT Turbo, they are far rarer than either, with only a handful left in the UK, which is a shame, as they were a nice car, even if they never quite found the same level of appeal as the French duo did when new. The Uno had been launched in January 1983, as a long awaited successor to the popular 127, and despite fierce competition from the Peugeot 205, revealed one day later, it was accoladed as Car of the Year. Sales took off. This was the era when manufacturers were slapping a Turbo on just anything and everything, so it was no surprise that a few months after the launch of the Peugeot 205 GTi (which eschewed the Turbo in favour of a larger capacity engine), in April 1985, Fiat presented their challenger in the hot hatch market, the Uno Turbo ie, offering it solely with the three door body. Despite marketing claims that it was fitted with an engine "specifically developed for turbocharging" the Turbo i.e. model actually used a Ritmo/Strada-derived 1.3 128-series engine with Bosch multi-point fuel injection, Magneti Marelli electronic ignition and a water-cooled IHI turbocharger with an intercooler to reduce intake air temperatures. The resultant power plant was highly regarded and considered as more technologically advanced than many of its contemporaries. Engine capacity was initially stated as 1299 cc but this was revised early on in production to 1301 cc. In both forms the engine offered 106 PS (105 bhp) but owners report that the 1301 cc version was notably more responsive and had greater torque than the earlier 1299 cc unit. Cars built from 1985 to late 1987 were fitted with a Ritmo/Strada-derived 5-speed gearbox. This was then replaced by a newly developed 'C510' 5-speed gearbox, often referred to by owners as the 'Tipo style' gearbox, featuring a more durable differential and improved gearchange linkage. Ratios were unchanged between the two units. The Turbo i.e. offered significant performance improvement over standard Uno models and was capable of reaching 200 km/h (124 mph), thanks in part to the car's low 845 kg (1,863 lb) weight. Reliability was improved due to the reduction in maximum turbo boost pressure for mass-production from 1.0 to 0.6 bar conversely, it allowed tuners to modify the engine relatively easily to run 1.0 bar boost pressure for even greater performance without significantly compromising reliability. Externally, the Turbo i.e. model sported black plastic sill trims and arch extensions (similar to that of the 70SX model), plus a revised front bumper with foglamps and inlets/scoops to direct air to the oil cooler and intercooler. Decals were added along the side of the car, initially as "T U R B O" in large outline letters but then later in stripe form with "Turbo i.e." cut into the rear-quarter section and complementary stripes across the tailgate. This also deviated from the pressed steel tailgate fitted on non-turbo models as it was manufactured from fibreglass and incorporated a high-level spoiler to improve looks and aerodynamic performance. All body glass benefitted from a very light green tint. Suspension was lowered and uprated, 13″ alloy wheels with Pirelli P6 tyres were fitted and the brakes upgraded to vented discs on the front and solid discs on the rear to replace the drum units of the non-turbo models. Interior equipment was upgraded in the Turbo i.e. model with 'sports' seats, plush red carpet and an extended centre-console. Later models had red seatbelts in place of earlier black versions. Options on the Turbo i.e. model included polished Cromodora wheels, electric windows, manual sunroof and a 'digital' instrument panel, which used bar-graphs in place of dial gauges for fuel level, coolant temperature, boost pressure, etc., and a numerical display of speed that, in the UK market, could be switched between mph and kph at the press of a button. Such units were rare. An option on later first series Turbo i.e. models was called 'Anti-Skid' – a simple form of ABS that only operated on the front wheels and only once per ignition cycle meaning that if it was triggered during a journey it would not do so a second time until the ignition had been turned off and on again. Whilst it was an admirable attempt on Fiat's part at improving driver safety and reducing accidents, the 'Anti-Skid' system was largely regarded as ineffective and unreliable. Although built over 8.8 million Uno models, few have survived, so it was nice to see this splendid facelifted example here, a different car from the one which had been on show here the previous month.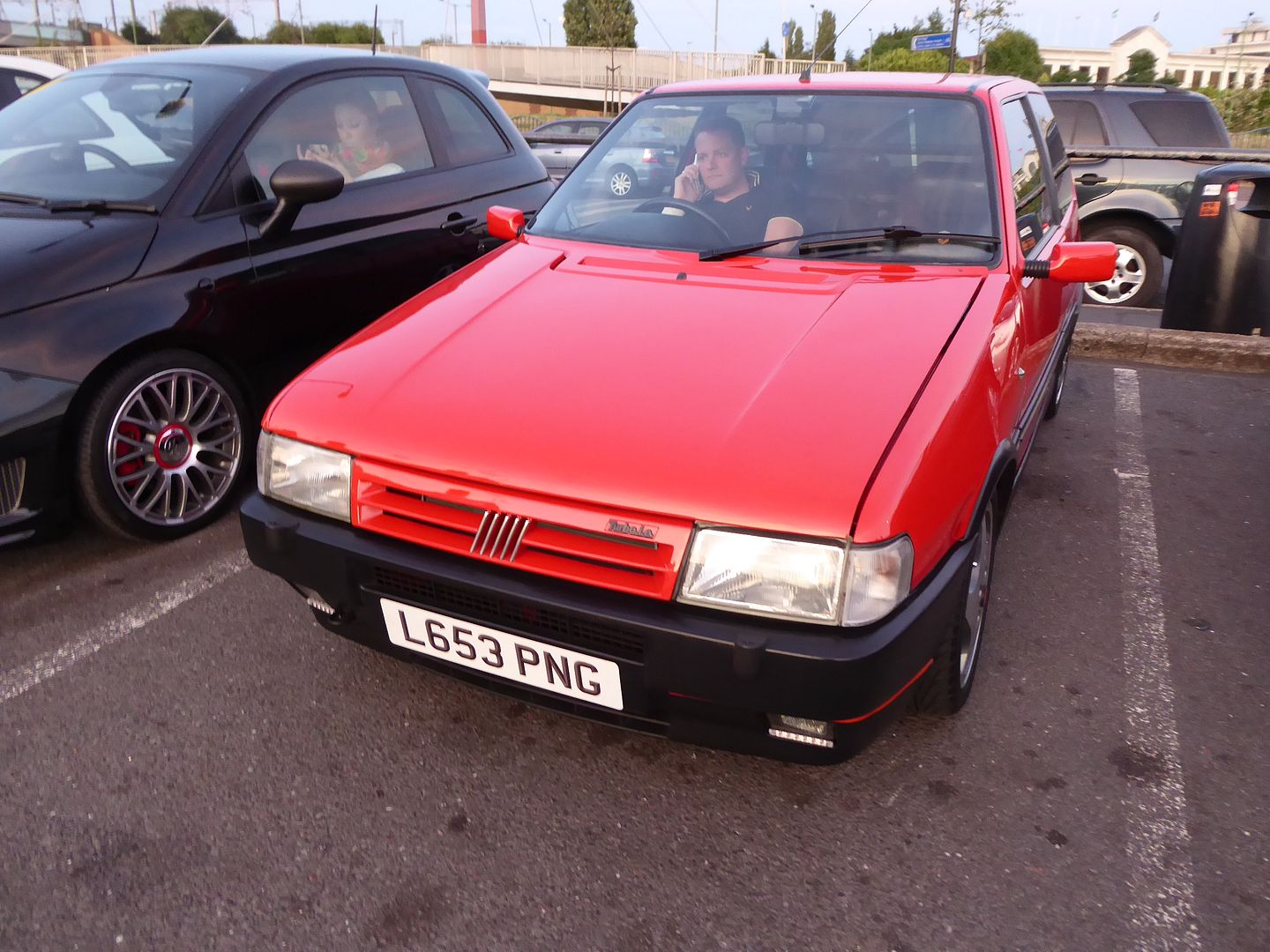 LANCIA
Sole Lancia of the evening was this Beta Montecarlo. First conceived in 1969, with a a final design completed by 1971 by Paolo Martin at Pininfarina, what was initially known as the Fiat X1/8 Project, was originally designed as Pininfarina's contender to replace Fiat's 124 Coupe, but it lost out to Bertone's cheaper design, which became the Fiat X1/9. Rather than scrap the proposal completely, it was developed further, when Fiat commissioned Pininfarina to build a 3.0 litre V6 mid-engined sports car. An X1/8 chassis was used as the start point, and developed for the first time in-house by Pininfarina and not based on any existing production car. Due to the 1973 Oil Crisis, the project was renamed X1/20 and updated to house a 2.0 litre engine. The first car to be made out of the X1/20 Project was the Abarth SE 030 in 1974. The project was passed to Lancia, and the road car was launched at the 1975 Geneva Motor Show as the Lancia Beta MonteCcarlo. It was the first car to be made completely in-house by Pininfarina. Lancia launched the MonteCarlo as a premium alternative to the X1/9, with the 2 litre twin cam engine rather than the X1/9's single cam 1300. Both used a similar, based on the Fiat 128, MacPherson strut front suspension and disc brakes at both front and rear. Lancia Beta parts were limited to those from the existing Fiat/Lancia standard parts bin, the transverse mount version of the Fiat 124's twin cam engine and the five speed gearbox and transaxle. MonteCarlos were available as fixed head "Coupés" and also as "Spiders" with solid A and B pillars, but a large flat folding canvas roof between them. Sales were slow to get started, and it soon became apparent that there were a number of problems with a reputation for premature locking of the front brakes causing particular alarm. Lancia suspended production in 1979 whilst seeking a solution, which meant that the car was not produced for nearly two years. The second generation model, known simply as MonteCarlo now, was first seen in late 1980. The braking issue was addressed by removing the servo, as well as few other careful mechanical tweaks. The revised cars also had glass panels in the rear buttresses, improving rear visibility somewhat, and there was a revised grille. In the cabin there was a new three spoke Momo steering wheel in place of the old two spoke one, as well as revamped trim and fabrics. The engine was revised, with a  higher compression ratio, Marelli electronic ignition and new carburettors which produced more torque. It was not enough for sales to take off, and the model ceased production in 1982, although it took quite a while after that to shift all the stock. Just under 2000 of the Phase 2 cars were made, with 7798 MonteCarlos made in total.
MASERATI
Some months you get 15 or more Maserati here, and others, such as this one, you get none at all.
So, despite the rather small number of cars on site til well past 6:30pm, this turned out to be a well attended evening once more, with plenty of variety and plenty of chance to see an array of Italian cars, some more familiar than others. Looking at the diary, I realise that this could turn out to be the last one I attend in 2016, at least with any prospect of daylight, as I will be on vacation in sunnier climes when the September Italian Night takes place (8th) and I have just booked a trip to Paris for the Auto Salon, which will see me flying out on October 13th. By November, although these events continue, turn out drops off noticeably, with the inside of the Cafe and the chance to catch up with friends for a chat taking more of a priority over just enjoying a lot of cars parked up.