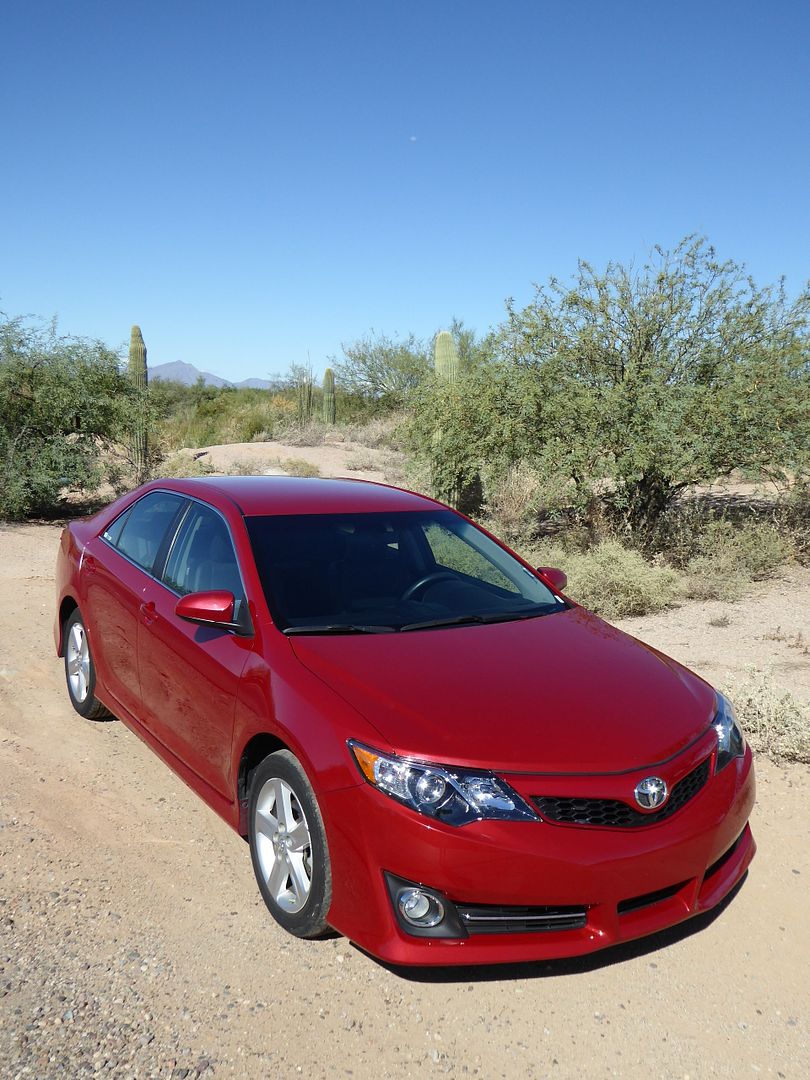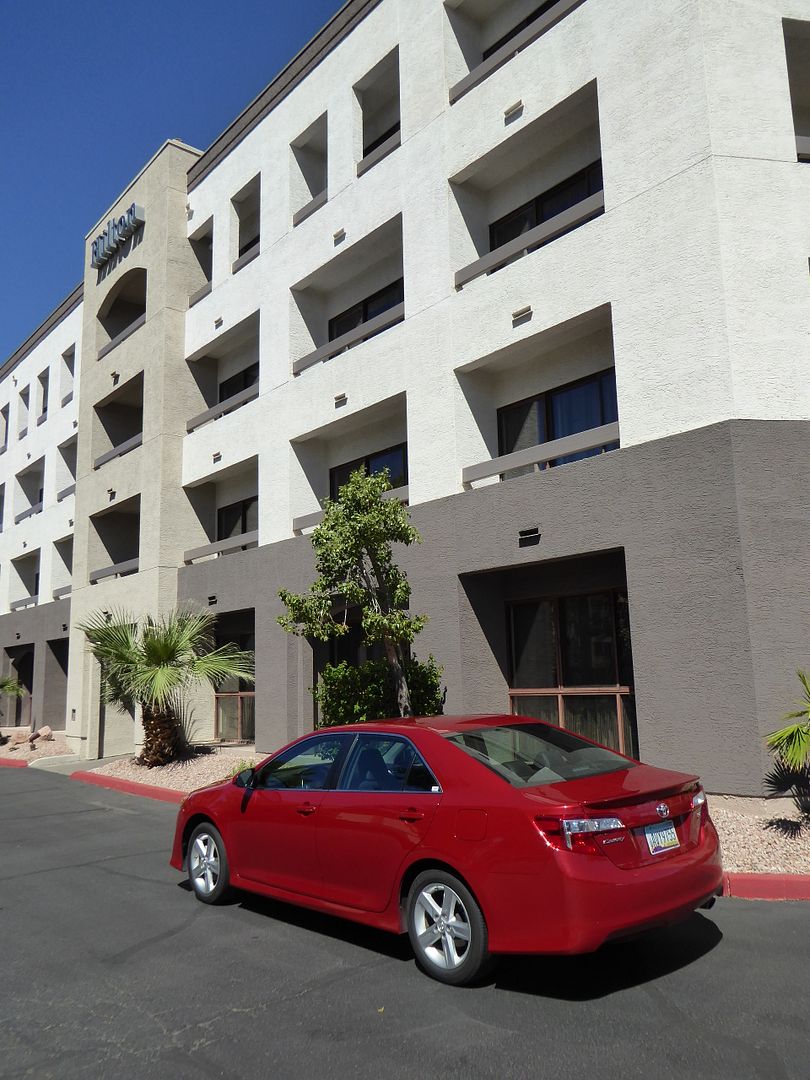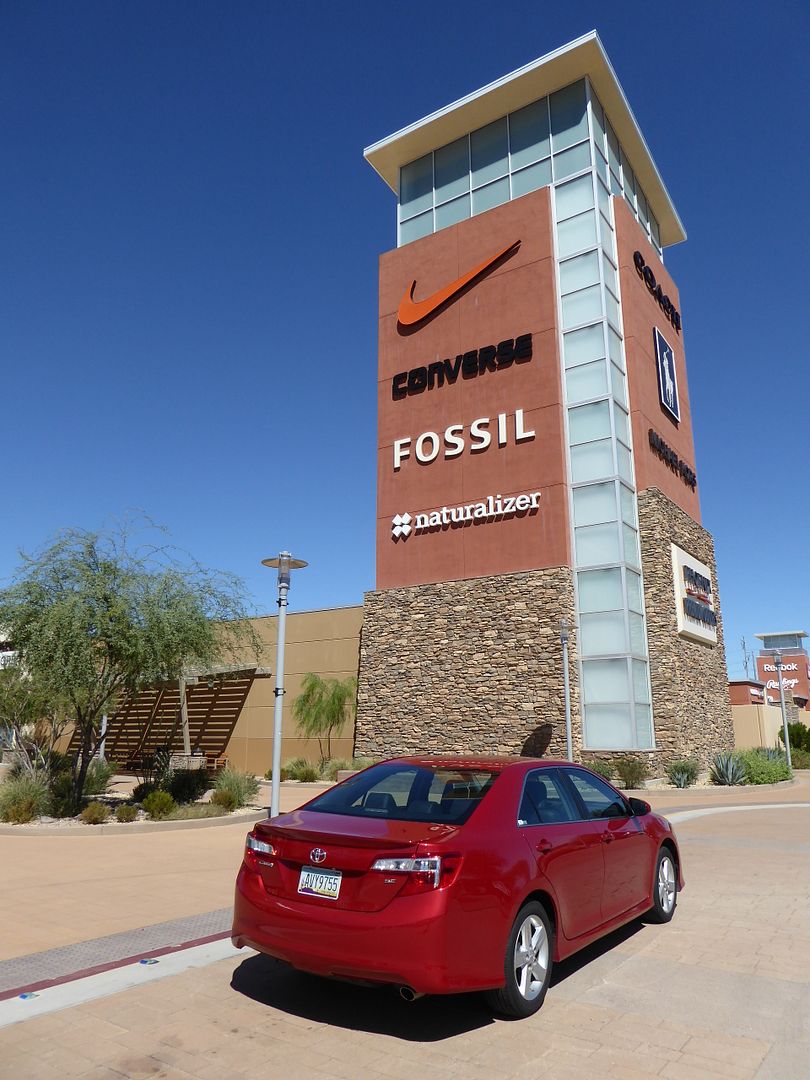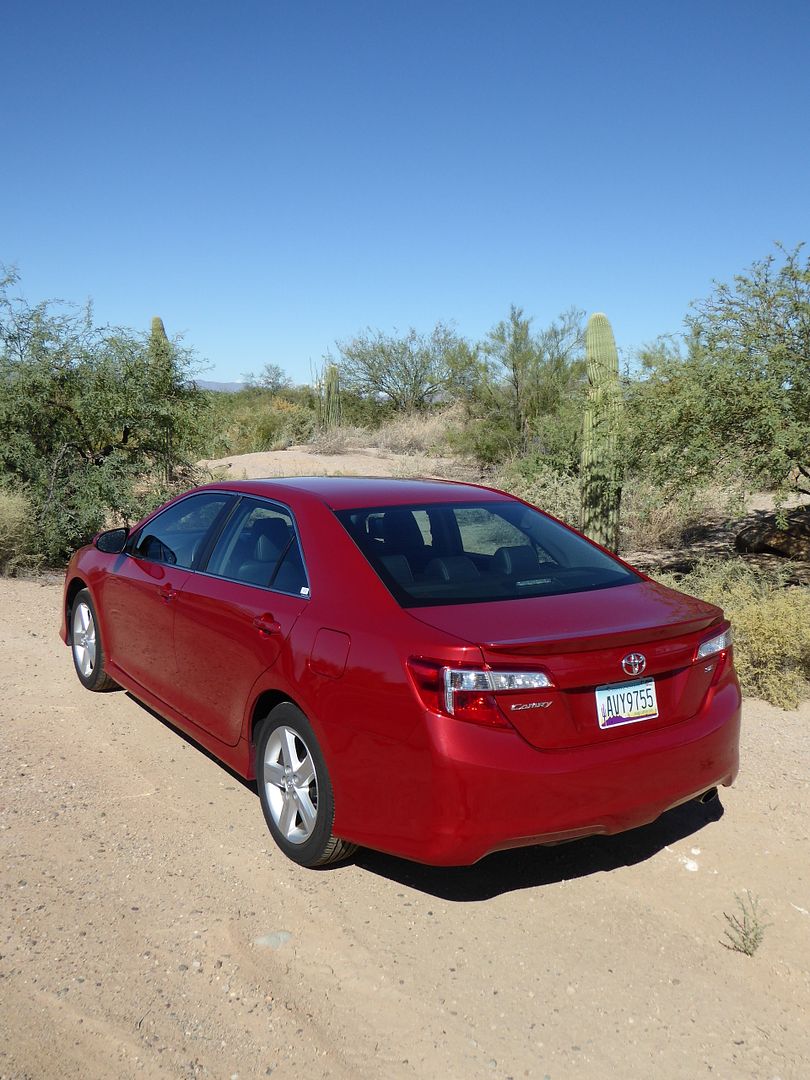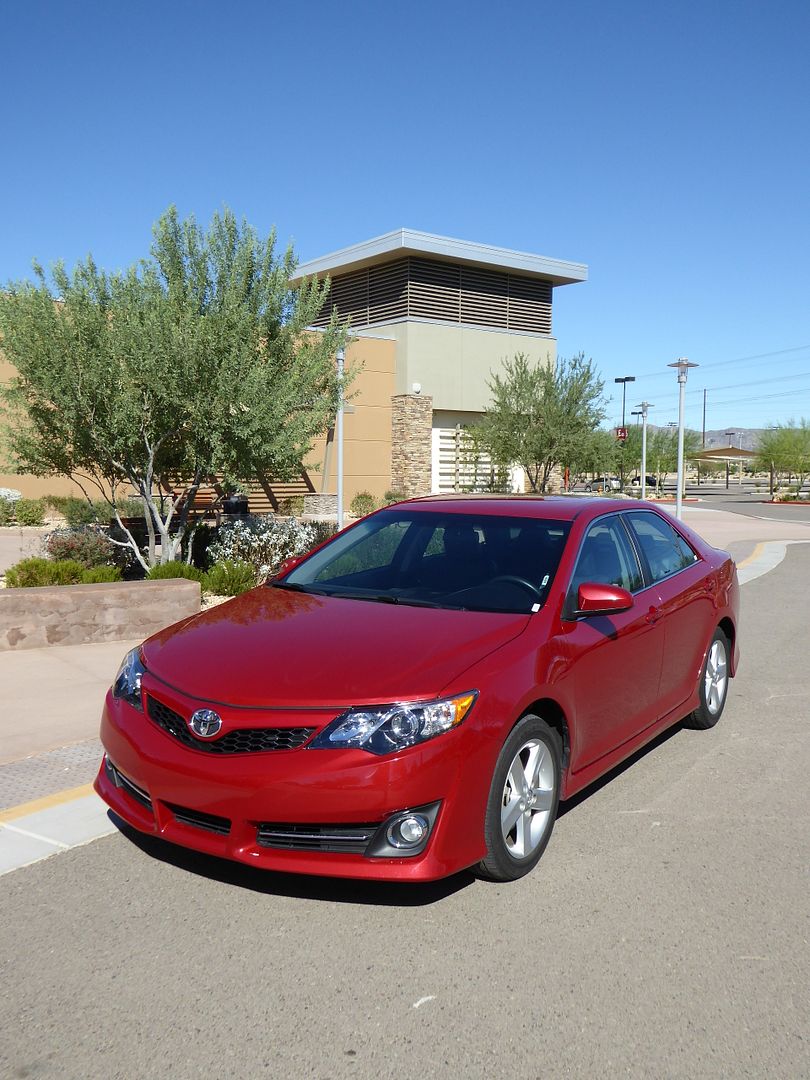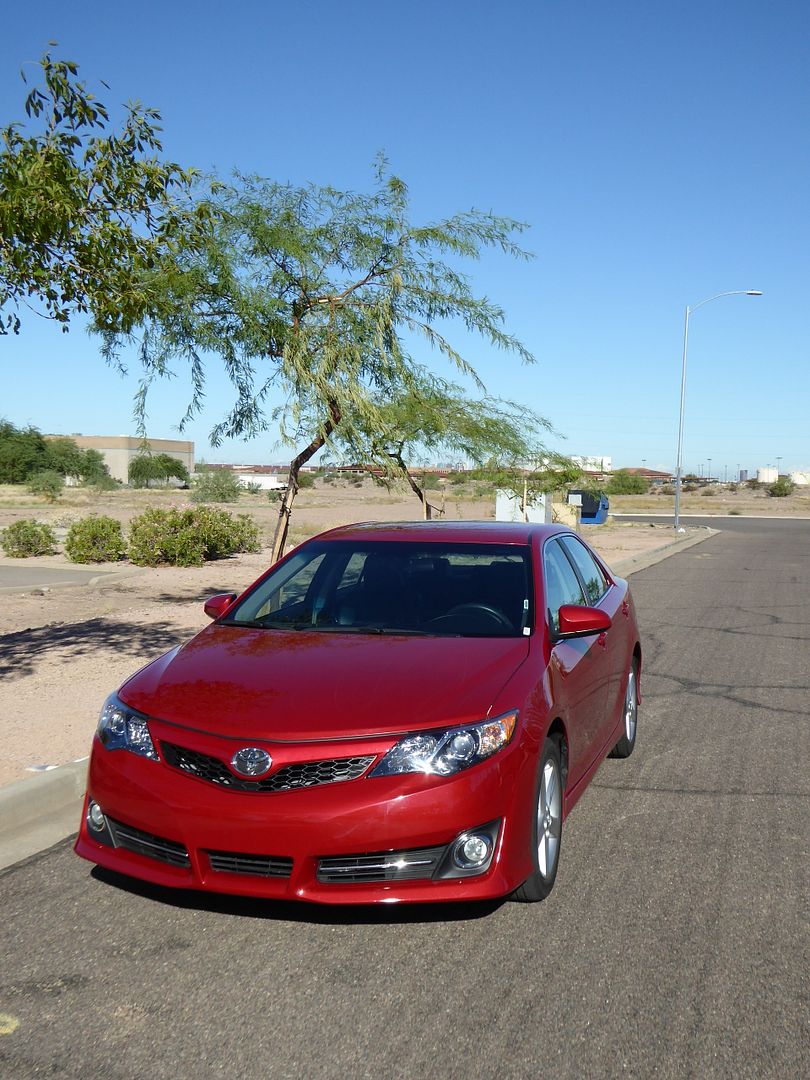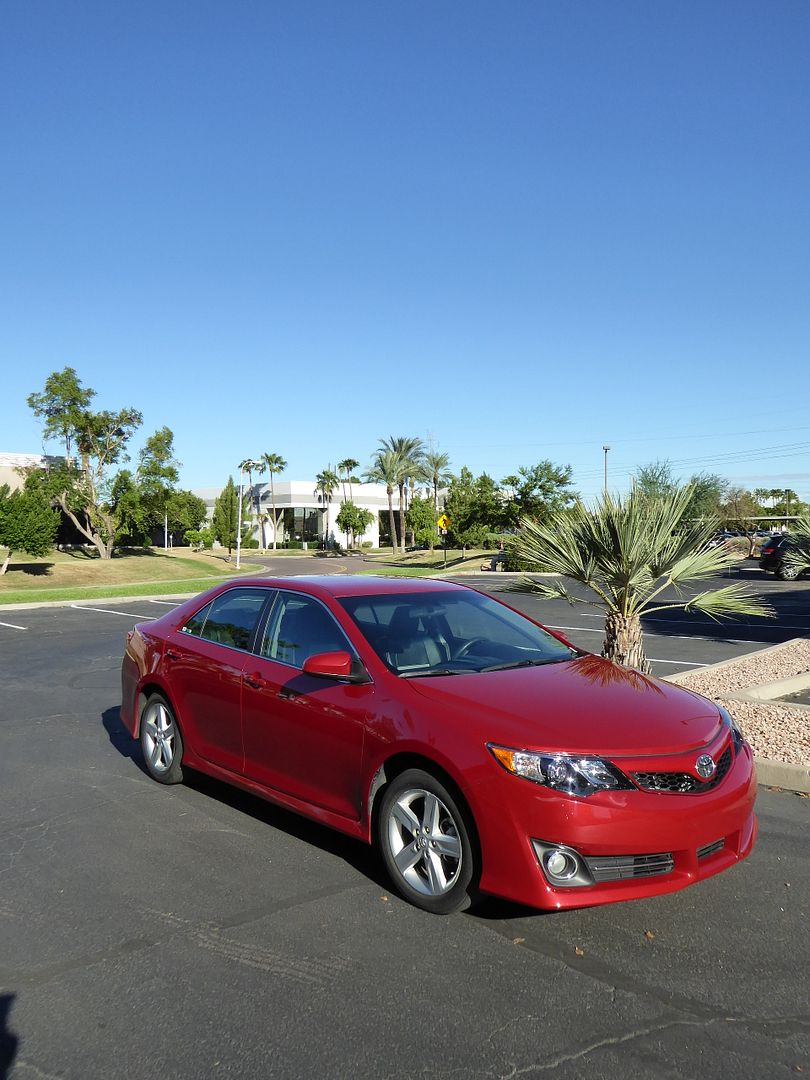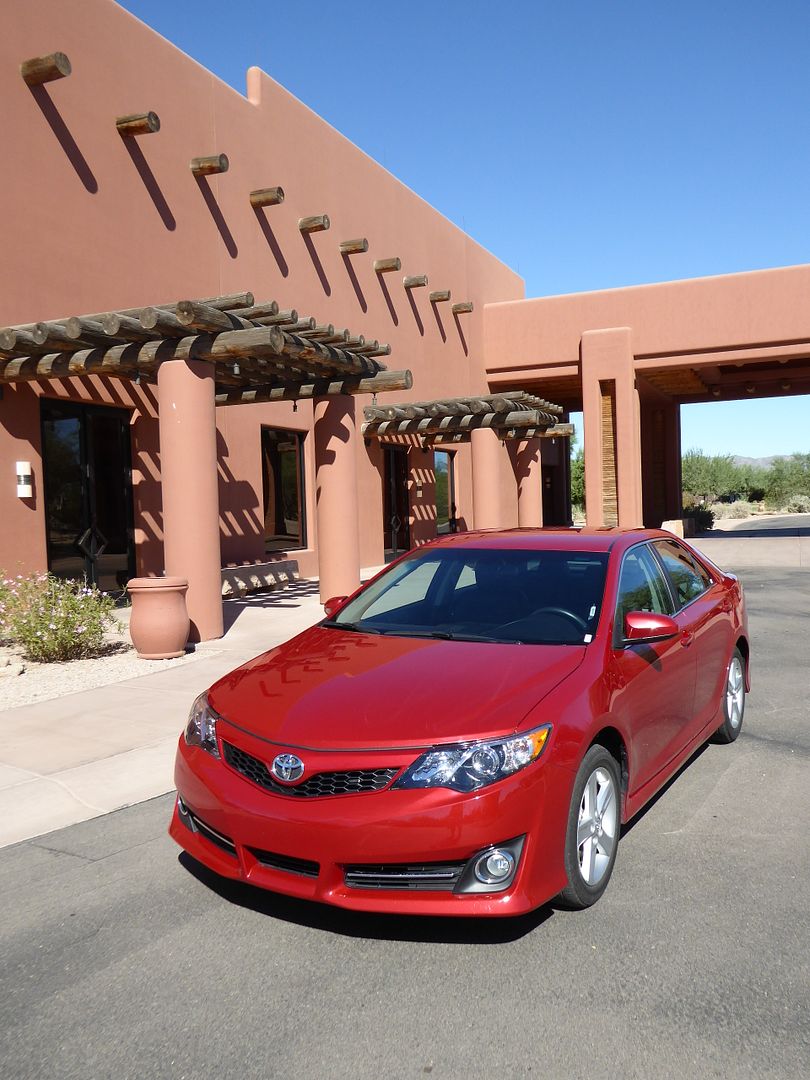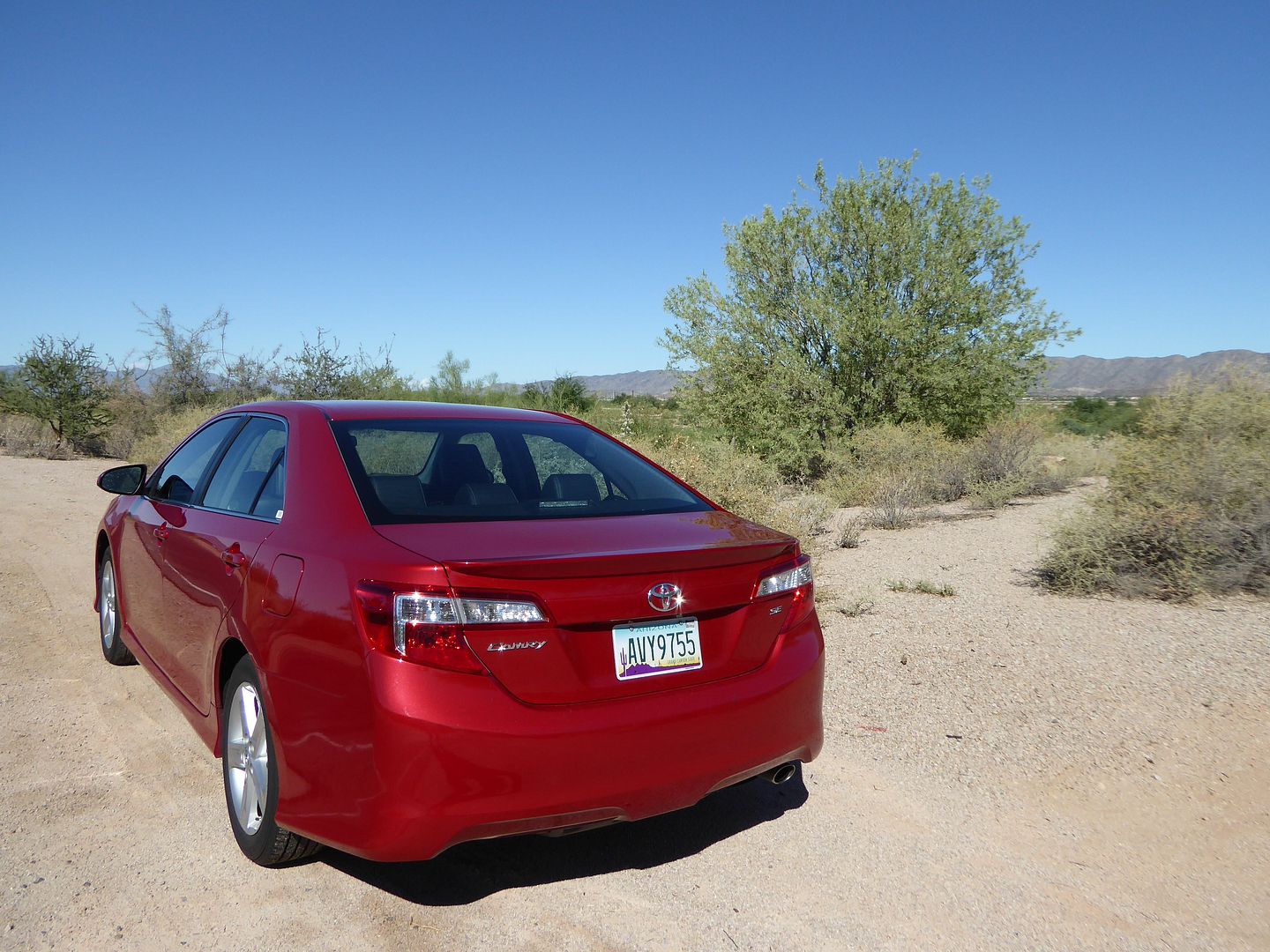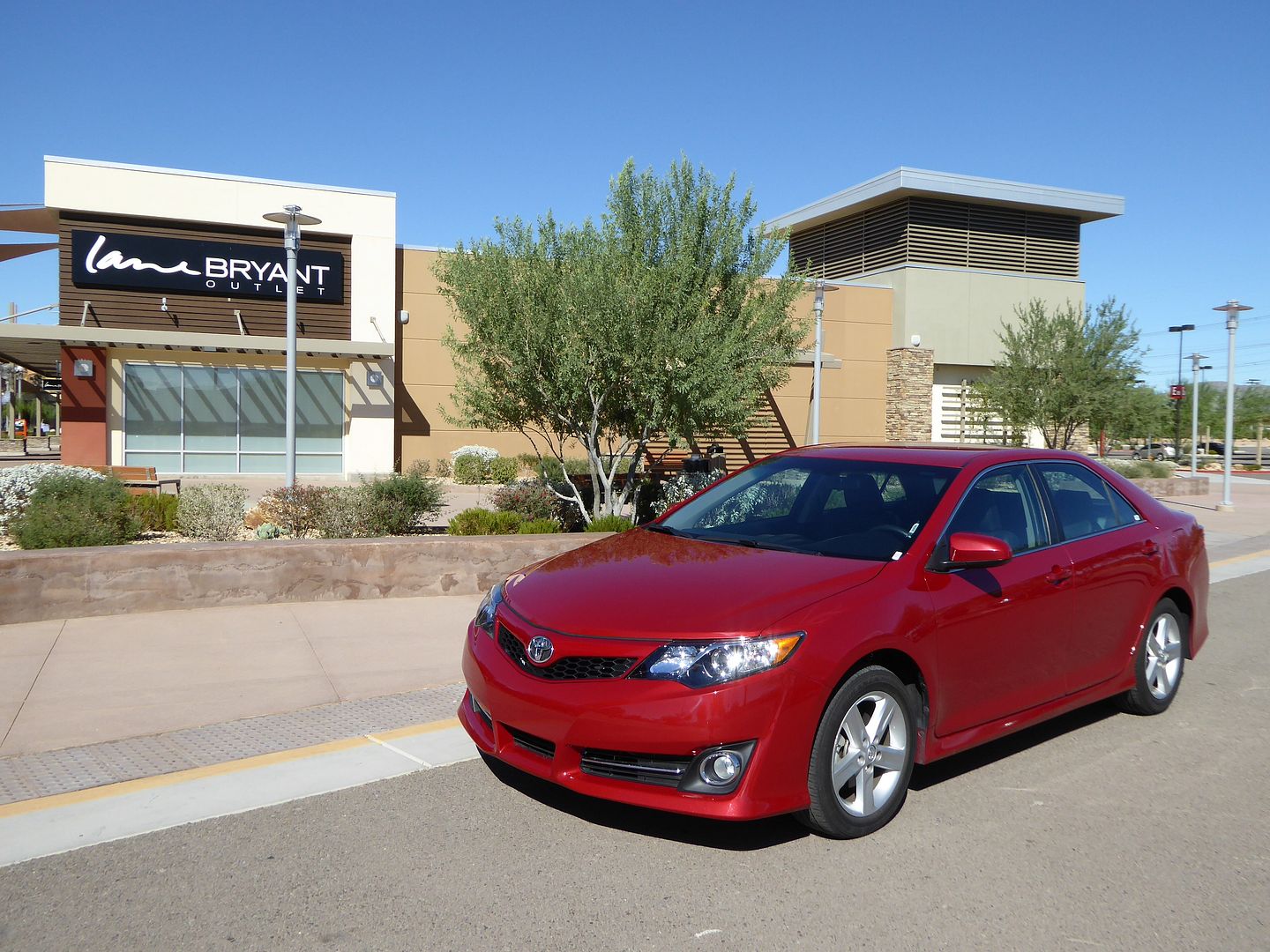 With so many different models offered to buyers in just about every significant market there is, and my enthusiasm to try as many of them as possible, my general rule is always to take something that I have not sampled before from the rental car company whenever possible. And in the US, where the fleets at the larger car rental firms such as Hertz, are vast, with well over 100 different model types included, even on a day when there does not appear to be that much choice parked up, it has always been possible to do so, even if I have ended up with a car that was perhaps not that high on my priority list to test. Until this one, that is. Tuesday evenings are one of the low points of availability at many a large US airport, and when I arrived in Phoenix, and wandered down to the Hertz floor of the shared car rental facility, I could see that there was not going to be much choice. I was not expecting there to be no choice, though. Not only was there no vehicle present in the spot indicated on the large board of pre-allocated cars, but when the person at the Gold Counter tried to allocate me a car, her first effort was met by "computer says no" (the car turned out to be declared not available for rent and I never even found out what that was going to be), the second attempt gave me a new location to go to, which also had no car in it, and the third effort gave me "a car". No choice. It was literally "that is the car". With the Gold Choice area completely empty – something I have also never seen before – the only option was to take whatever it was for the evening, and then to return the following morning (my chosen hotel is only 5 minutes away from the airport) to try again. Except the situation was no better the following morning, so I ended up having to keep the car for the full rental period of 24 hours. As the title of the review indicates, what I got was a Toyota Camry. Had it been a new one, produced since the very extensive facelift that was made to 2015 cars, then this would indeed have ticked off another car from the long list of models still to sample, but instead, I got what would appear to be just about the last of the 2014 models left on fleet. I drove a 2013 version of this model more or less exactly a year ago, and the only difference between that one and this was the previous test car was in LE trim and this one was an SE. It was also a different colour, the very popular and rather nice Barcelona Red Metallic which is available on most of Toyota's US range. If nothing else, I figured, trying to make the best out of my disappointment, I could get some more pictures for my photographic archive, and, well, it was a chance to reacquaint myself with the car which has been the best-selling passenger car in America for every year since people can now remember, so if I was going to double up on any model, perhaps it should be the nation's most popular non-truck.
Taking its name from an Anglicised phonetic transcription of the Japanese word kanmuri (冠, かんむり), meaning "crown", and following Toyota's naming tradition of using the "Crown" name for primary models, starting with the 1955 Crown, continuing with the 1957 Corona and 1966 Corolla (the Latin words for "crown" and "small crown", respectively, in case you weren't sure), the first Camry appeared in 1982, as a front wheel drive model that slotted in Toyota's range between the still rear wheel drive Corona and Cressida saloon models, designed specifically to try to stem the sales growth being achieved by Honda's Accord. It was one of the first Toyota models with front wheel drive, a transition that took place during the 1980s. A number were sold in Europe, including the UK, with some markets getting a five door hatch model as well as the rather neat but very conventional looking saloon. A second generation car came along in 1987, now offered with an Estate body, and fuel injected petrol and diesel engines were available in this range. Every five years or so since then, a new version has appeared, so the Camry on sale now is the seventh generation to bear the name. European sales ended some time ago, with Toyota deciding that they would use their Lexus branding for larger and most costlier models than the Avensis, but the nameplate is very much alive elsewhere in the world. The seventh generation car made its debut in August 2011, going on sale in America at the very end of the year. The body styling was all new, and to my eyes at least managed to combine something which is rather bland and unmemorable with the slightly odd, such as the tail light units which look like someone bit a piece out of them. Mechanically, much was carried over from the sixth generation car, with the same 3 engine choices available as were offered in the previous model. It is no surprise that Toyota chose not to deviate from what has been a winning formula for so long, with the model having been the best-selling passenger car in America for every year since 1997, with the sole exception of 2001. Given such success, with around 400,000 units a year bought in the US, it is hardly surprising that it is the American requirements which predominate in the design priorities for the car. An undoubted success with the buying public then, but the Camry has not fared so well in the hands of the US motoring press, though, who were fairly unimpressed with the model at launch, and who have continued to place the car near or at the bottom of comparison tests ever since. This sector of the market is fiercely competitive, with a number of excellent alternatives available, ranging from the Mazda 6 and Ford Fusion which score highly on a sporty driving feel, the VW Passat which has a prestige reputation even if the current Chatanooga built US market version is not quite as solid as the European models and the Hyundai Sonata and Kia Optima which offer all round excellence and a great ownership proposition. Further press hurt came when Consumer Reports decided in 2013 that they could no longer place the car on their "Recommended" list as the crash test ratings for offset frontal impacts no longer met their standards. Still recovering from the bad press of the floor mat debacle, Toyota moved swiftly to make changes, introducing a 2014.5 model as an interim, with extra crash protection included, beneath the skin. Sales barely registered Consumer Reports' disquiet, though, showing notable increases in 2013 and 2014 over previous years. The Camry remains the doyen of rental fleets, too, with large numbers of them to be seen at every Hertz, Avis, Dollar, Enterprise, Thrifty, National and any other franchise you can think of.
The SE is supposedly the "sporty" Camry. You can tell this as it has extended front and rear bumpers and slightly lower sills on the side and a sort of rear spoiler on the boot lid, intended to make you think that you have got something not quite as anodyne as the other versions. It also has slightly stiffer "sports" suspension, and some further equipment upgrades over the entry level $22,870 LE model. Seriously, though, who do Toyota's marketing department think that they are fooling calling this "sporty"? Whilst there are examples of very ordinary and bland looking cars out there which have been transformed in appearance (and sometimes in dynamics, as well), this is not one of them. To my eyes, the bodykit, if you want to think of it in those terms, looks faintly ridiculous, a bit like your rather staid maiden aunt suddenly donning trainers and a tracksuit bottom and thinking that she might be the next Paula Radcliffe. Some of the SE additions are welcome, though, as the entry level LE model is not exactly what you would call well equipped. It covers the basics and no more, with cruise control, auto-sensing headlights, an AUX power outlet, an anti-theft system, central locking, all-round electric windows, remote boot release, split folding rear seats, an audio unit with touch sensitive screen, AM/FM radio, CD, MP3 and AUX, air conditioning, and bluetooth connectivity. As well as the external styling additions, the SE brings with it front fog lights, paddle shifters, a leather wrapped steering wheel and heated mirrors, and a rear view camera. When new Toyota would have charged you just under $1000 more than for the LE version. Costing $25,810, the top trim level in the 2014 range is the XLE and this gets everything you find in the SE apart from the bodykit and spoiler, as well as power operated sunroof, fully automated dual zone climate control, power adjustable driver's seat and fake wooden trim on the dashboard which at least one of the US magazines say is among the worst they have ever seen. XM Satellite radio is an option even on the top spec XLE. Toyota do have an upgraded audio function called Entune, which is an option on higher spec models. It is allegedly easy to use, but relies on a data connection through your Smartphone (and uses bandwidth from your Smartphone contract, be warned) to deliver a range of services to the enlarged audio unit screen. It was not in my test car so I cannot comment from personal assessment. Plenty of other features, some of which you might expect to be standard at least on the top of the range model are available as cost options, including a fauxtex Leather or Leather and Suede seat trim.
Showing that even the US market has some concerns around fuel economy, efficiency and emissions, most of the rivals to the Camry have foregone the V6 engine options that used to gather plenty of column inches in press reviews, but a surprisingly small proportion of sales, in favour of lower capacity 4 cylinder models, with or without a Turbo. Toyota is one of the few not to have followed this trend, and this generation of Camry, in both SE and XLE versions could still be ordered with a 3.5 litre V6 engine, which added nearly $5000 to the price, and an additional 90 bhp under the bonnet. With 268bhp and 248 lb/ft of torque, by all accounts it is a very brisk car, but sad to say, these do not seem to be in the rental fleets, which concentrate on the far more popular 4 cylinder model. All the Camry's rivals feature engines of similar 2.4 or 2.5 litre capacity and class average power output from them is around 180 bhp, with cars like the Kia Optima topping out at 200 bhp. Regardless of trim level, the unit in the Camry generates 178 bhp and 170 lb/ft of torque, which makes it at or slightly below average, and a slight increase on the power that was delivered in the last generation car. Previous versions of the Camry had the option of a manual gearbox, but this one does not, with a six speed automatic being standard across the range. Whilst you might fear that a class average power output and a large body might make the Camry feel almost sluggish, in practice, it does not feel particularly deprived of what is needed to be able to keep up with the traffic flow and to be acceptably brisk. Of course it is no ball of fire, and with no more power in this "sporting" SE than the LE that I previously sampled, you are not going to win prizes in the Traffic Light Grand Prix, but the average Camry owner is not going to care about that one jot. What such a person wants is something which is quick enough, good on fuel, composed and comfortable. I previously described the LE version as "serene", noting particularly low noise levels. Whilst the engine was just as quiet in this model, there was such noticeable road noise, which seemed to be coming from the tyres that I actually stopped to have a good look to see if in this battle-worn (paperwork in the glovebox revealed the car had been in some form of accident last November) example with over 32,000 miles on the clock was suffering from bald tyres. Although the front ones were close to their wear bars, they were not ready to be changed yet, so I am not sure why this one seemed so much noisier than the previous LE rental. That was about the only discernible difference in driving from what I remembered from a year ago, except for the merciful substitution of the LE's unpleasant and oddly shaped plastic steering wheel with a much nicer leather-wrapped item. The suspension in the SE may be firmed up over the LE, but it would take extensive testing back to back to be convince that it makes much of a difference. The SE offers just as anaesthetised a driving experience as the LE did, and that was the phrase which came to mind at the time of driving that one as well. The biggest culprit remains the steering, which remains far too light and vague feeling, especially when close to dead centre. Granted, it is not as bad as that in the last Corolla I drove, which convinced me that the steering wheel was simply connected to a bowl of fresh air, but to all intents and purposes here, it was largely devoid of any sensation. The suspension still seems rather soft, so whilst this gives the Toyota a comfortable ride, something that most cars achieve more easily on the well surfaced roads of Arizona than in California where I had driven the LE, it means that there is still not an ounce of fun to be had with this car despite its psuedo-sporting badging and spoilers and sills. Many Camry owners would doubtless not want it any other way, as the more enthusiastic motorist would simply walk by the Toyota dealer, in quest of a Mazda 6 or a Ford Fusion, or indeed, just about any other rival product, all of which are "better" to drive than this car. But with acceptable levels of performance, a quiet cabin, good fuel economy, a composed ride, and no deficiencies in the brakes, as well as good all round visibility, those seeking a painless automotive appliance will have little to complain about.
Standards continue to rise in the design, appearance, and perceived quality of the interior of every car on sale, with cheap looking hard plastics not really being considered good enough even in relatively cheap cars any more. Toyota have had more work than most to do in this regard, as many of their products have used particularly hard and brittle looking plastics, which, in my experience, seem particularly susceptible to scratching in areas such as around the ignition key slot. So, when this latest "XV50" generation of the Camry was launched, much was made of its all new interior, which was described as being more "upscale" than what went before. I am sure that the US motoring press chose that word (one of their favourites, it would seem) and not the word "premium" quite deliberately, as there is no way that you would ever describe the inside of a Camry, at least not this Camry as "premium". It is better than what went before, but not by much and standards have moved on across the board, so I will still describe it as no better than average. The LE Camry that I tested was white outside and had pale oatmeal seat trim which meant that the interior was a curious and not very cohesive mix of black, grey, and oatmeal colours as well as a variety of textures. This one had black seats, and that meant that although darker inside, the visual impression was better with a mix of black and dark grey for the dash and door casings, with some rather gauche plastic attempts to look like brushed aluminium trim inlays on the door casings, the steering wheel boss, surrounding the audio unit and the passenger side of the dashboard. The leather steering wheel is a big improvement too, not just to hold, but also to look at, but even so, this is a very dull cabin, with no visual flair at all, although you cannot fault the way the elements actually fit well together, and even after 20 months hard rental car duty, everything looked like it was more or less new. Where it does all score, though, and unsurprisingly, is on ease of use. The Camry has a relatively simple and unfussy interior, and is utterly intuitive to use, which is not the case with an increasing number of cars where the Owner's Manual really has become recommended reading (or lots of trial and error!). A simple cowl over the instruments covers a central speedometer, flanked by a large rev counter on one side and smaller fuel and water temperature gauges on the other, both of which range over an arc rather than a full circle. All are clearly marked and easy to read at a glance. There are two tiny inset digital displays, the right hand one of which presents the odometer and the left hand the external temperature and water temperature. Atop the centre of the dash is a separate moulding area with the digital clock in it, which looks like the sort of the component you might have found 20 years ago. Below this is a touch sensitive colour display screen which shows audio unit selections. These are made using the buttons on either side of the display unit, and thanks to the relatively limited set of features in the unit, were simple to operate. This was an upgraded unit over the one in the LE, with not just audio functions and a projection of the rear view camera, but also some menu options to show graphically, usage patterns, average speeds and fuel consumptions and the like. Sitting below this are a couple of rotary dials and a few switches for the air conditioning. Even in SE spec, it is air conditioning and not automated climate control. Chunky column stalks are on either side of the steering wheel. That on the left operates indicators and lights, whilst the right hand one does the wipers. A separate and smaller one lower to the right is used for the cruise control. There are small repeater buttons for some audio unit functions and bluetooth on the steering wheel spokes. The one thing which caused me to reach for the Owner's Manual was the "Eco" light on the dash which seemed to be on most of the time, but periodically went out. It turned out that this is based on some computation was whether I was driving "economically" or not. You can disable it completely if you follow the instructions in the manual.
Cars in this class need to score highly on comfort and practicality and the Camry is not found wanting. Unlike the LE which evidenced over 30,000 miles of rental use most clearly when you looked at the oatmeal cloth seats, which were stained and grubby, suggesting that light colours might look like a good idea to lighten up the interior ambience, but are not necessarily that practical, the black trim of this SE looked far more presentable and is perhaps a more practical choice as it hides the abuse that such cars get whether on rental car or family duty. Seat adjustment is all manual, with a bar under the front seats for fore/aft and two levers on the side of the seat for height and backrest rake. As with most US market cars, the latter adjusts in a series of steps rather than the continuous adjustment favoured by Europeans. It seems that Americans prefer this as they always moan that a turn wheel is too much effort! The steering column had in/out movement as well as up/down, so it was not hard to find the right combination of wheel and seat settings, and to get comfortable. Rear seat passengers should have little to complain about, either. There is plenty of rear legroom, and headroom is not lacking either. The Camry is wide enough that three adults should fit across the rear seat, and with an almost flat rear floor, a middle occupant would not have to sit with their legs astride any transmission tunnel. Though the centre console between the front seats does protrude quite a long way back, it does at least include a recessed cubby for the rear seat occupants to use. They also get map pockets in the back of both front seats, bins on the rear doors and there are cup holders in the upper surface of the drop down central armrest. The boot is a good size, with plenty of space for family luggage, though it is not quite as capacious as many of its rivals. More room can be created by folding the asymmetrically split rear seat backs, though the aperture through the rear bulkhead is quite limited, so there is not that much height at this point. Inside the cabin, in the front, as well as decent door bins, there is a reasonable glove box, a cubby under the centre armrest, a recessed area in front of the gear lever, a small lidded area above the driver's left knee and a couple of cup holders in the centre console alongside the gearlever.
Forget any pretence of "sporting" as this is just marketing nonsense. This is not in any sense a sporting car at all, but like every Camry I have ever driven, it gets the job done, with no fuss, and no really significant weaknesses. The non appearance-related upgrades of the SE over the LE make the SE a better bet to my mind. So if you want a Camry, this is probably the variant to pick. But should you really be after a Camry at all? There is no flair here, no character, nothing to suggest that this is anything more than automotive white goods. Writing this once the car had been returned was not easy as the only thing that you really remember is that there is nothing to remember. Being utterly objective, yes, it is true that the family sized Toyota has no significant flaws, and years of perfecting the recipe have ensured that Camry ownership will be as painless as driving one. Clearly that's just what a lot of people are looking for, as sales of the model remain buoyant, with over 400,000 Americans buying one every year. But is that enough? Gone are the days when buying one of the Toyota's rivals meant that you were losing on some aspect that made the Camry such an obvious choice. That means that Toyota cannot afford to rest on their laurels. Always an excellent car, the Honda Accord has recently, on occasion, found more buyers in a month than the Toyota has, and the Nissan Altima, Chevrolet Malibu and Ford Fusion are not far behind in the battle for sales volume. Other competitors, such as the Hyundai Sonata and Kia Optima bring a touch of styling interest to the class, and the Mazda 6 is much more sporty to drive. Even the Chrysler 200, once the real runt of full-sized car Group Tests, has morphed into a good looking car that drives well. So being inoffensive is no longer enough. That is why Toyota applied a massive facelift, so comprehensive that the result looks like a brand new model, to the 2015 Camry, just 2 and a bit years after the debut of this model shape, in an effort, some would say almost a desperate effort, to try to lift Camry above its rivals. Whilst it is success in the showroom that matters, being placed last in every Group Test, which is what was happening, is going to rub off on the buyers sooner or later. Have the changes worked? Well, if Hertz actually give me the chance to choose my rental car as opposed to imposing one on me, hopefully I will get to find out sooner rather than later.