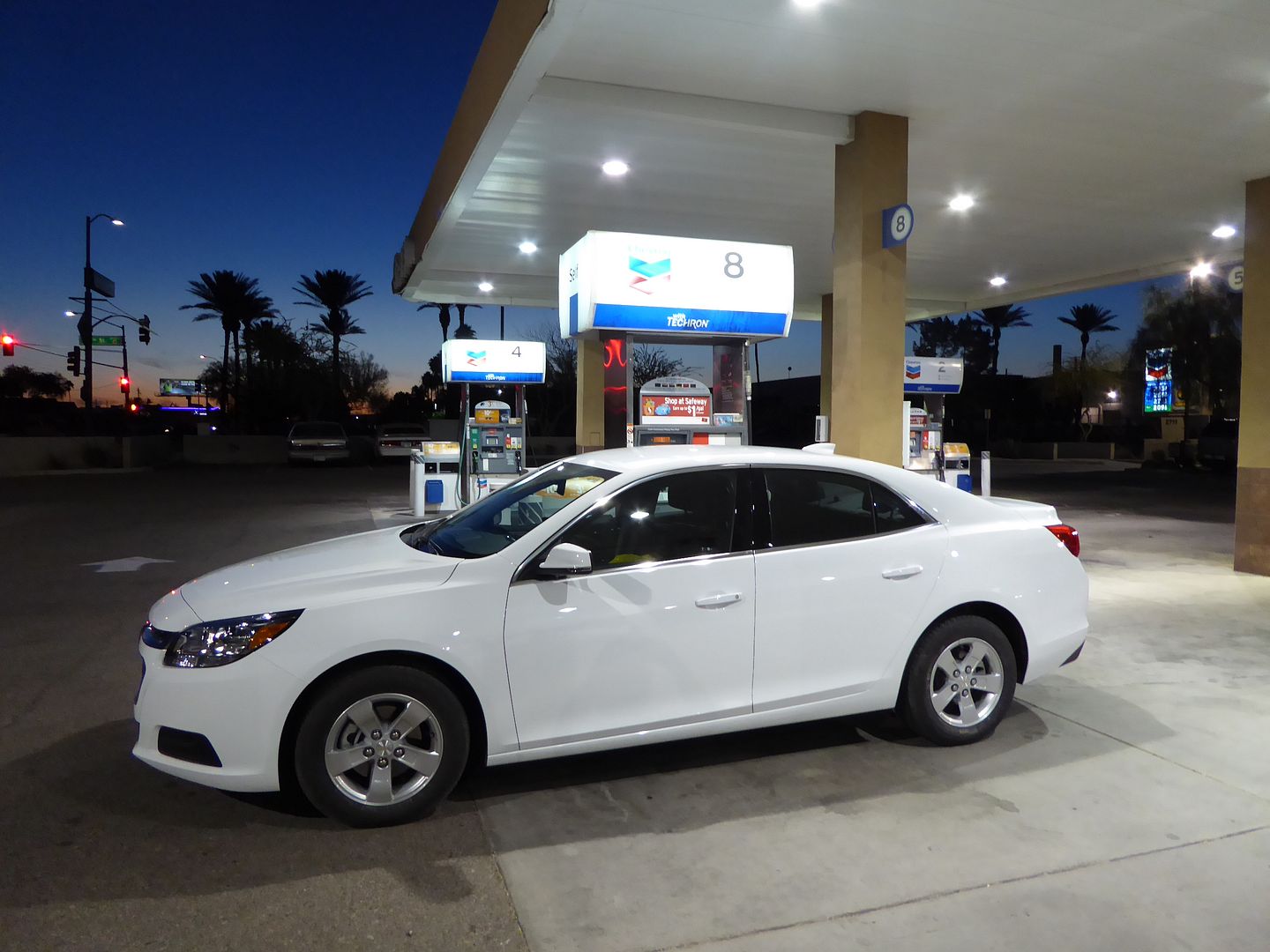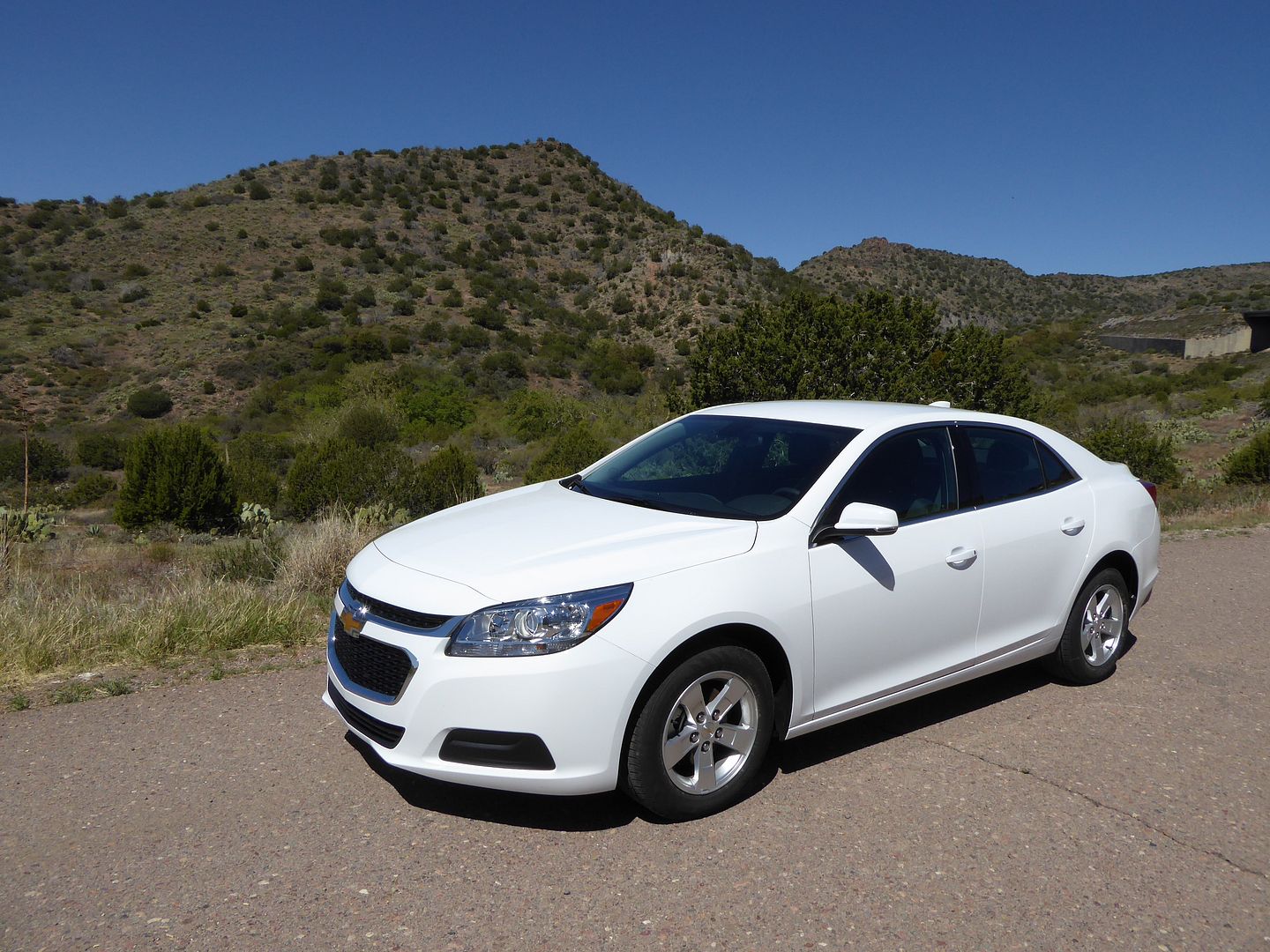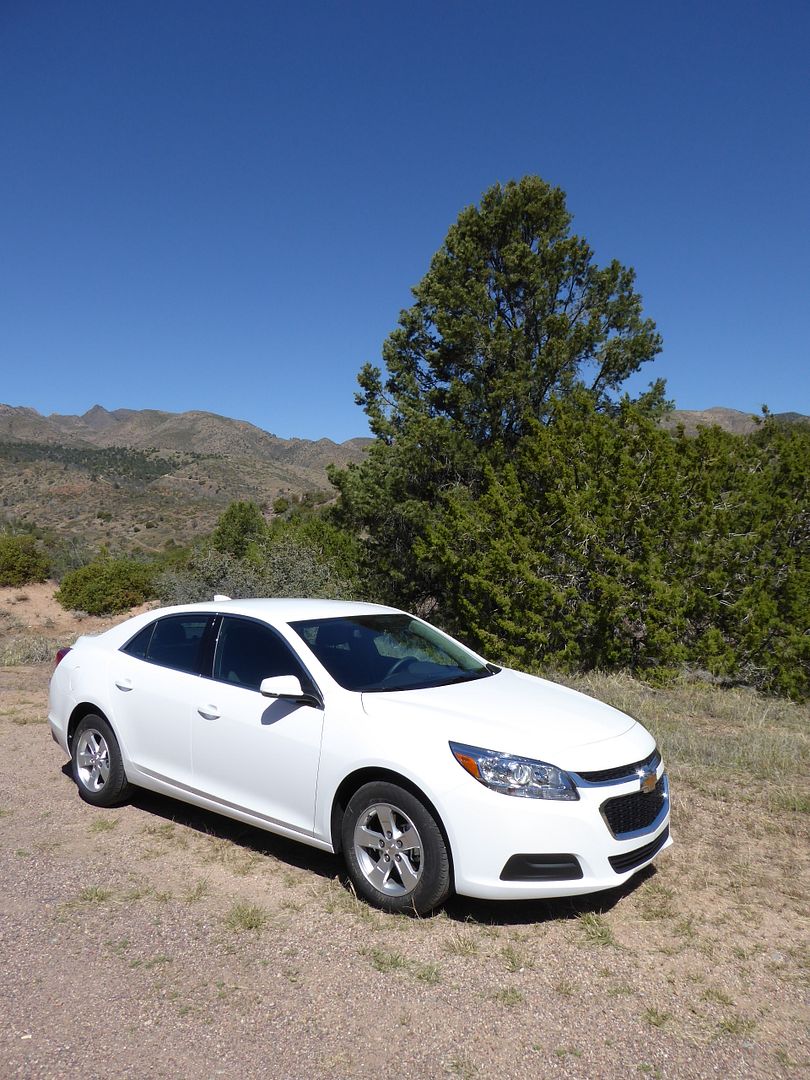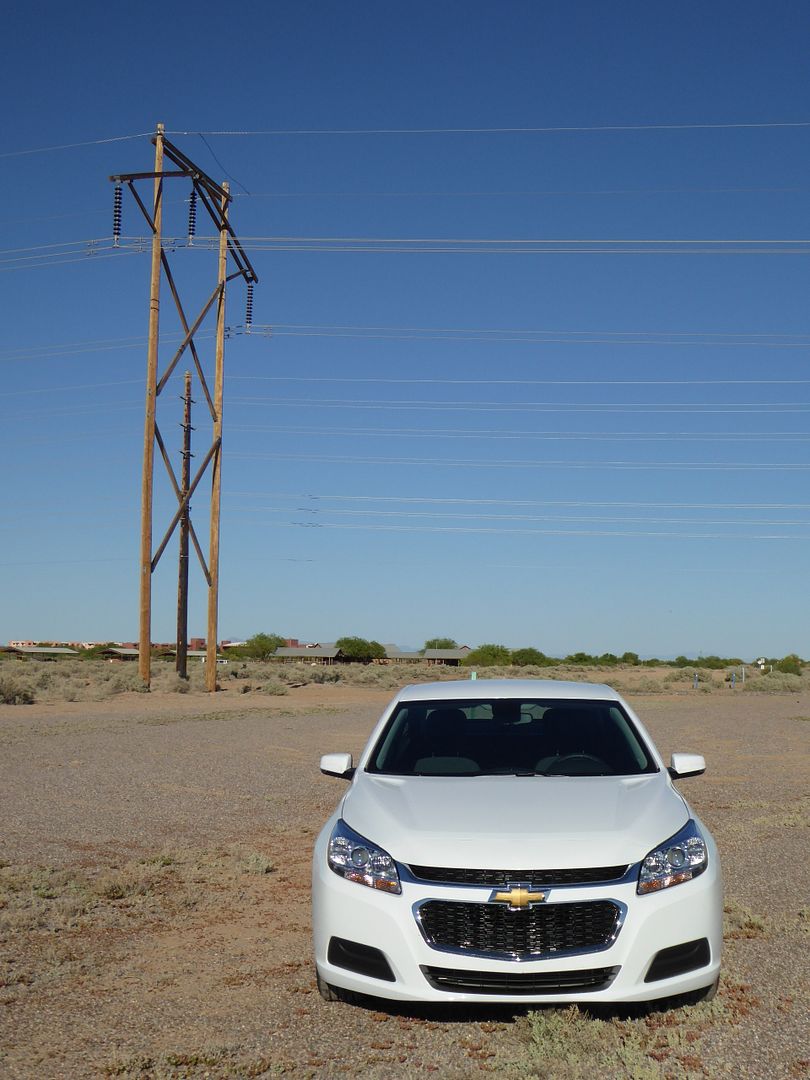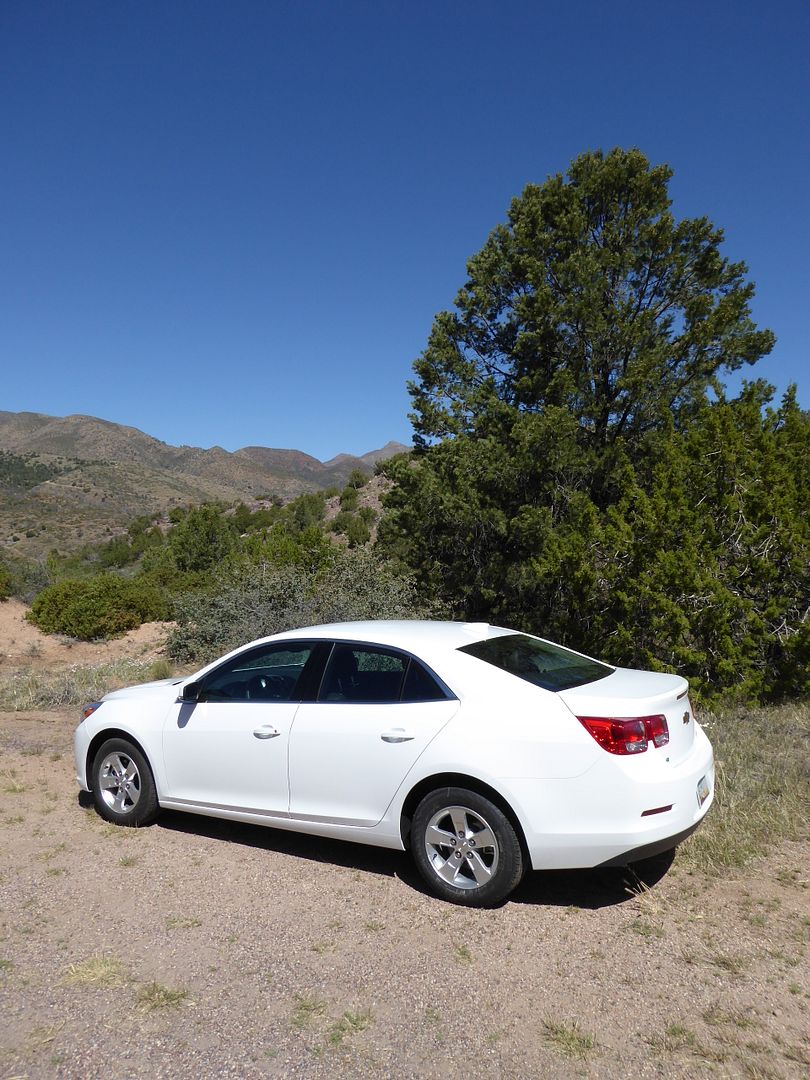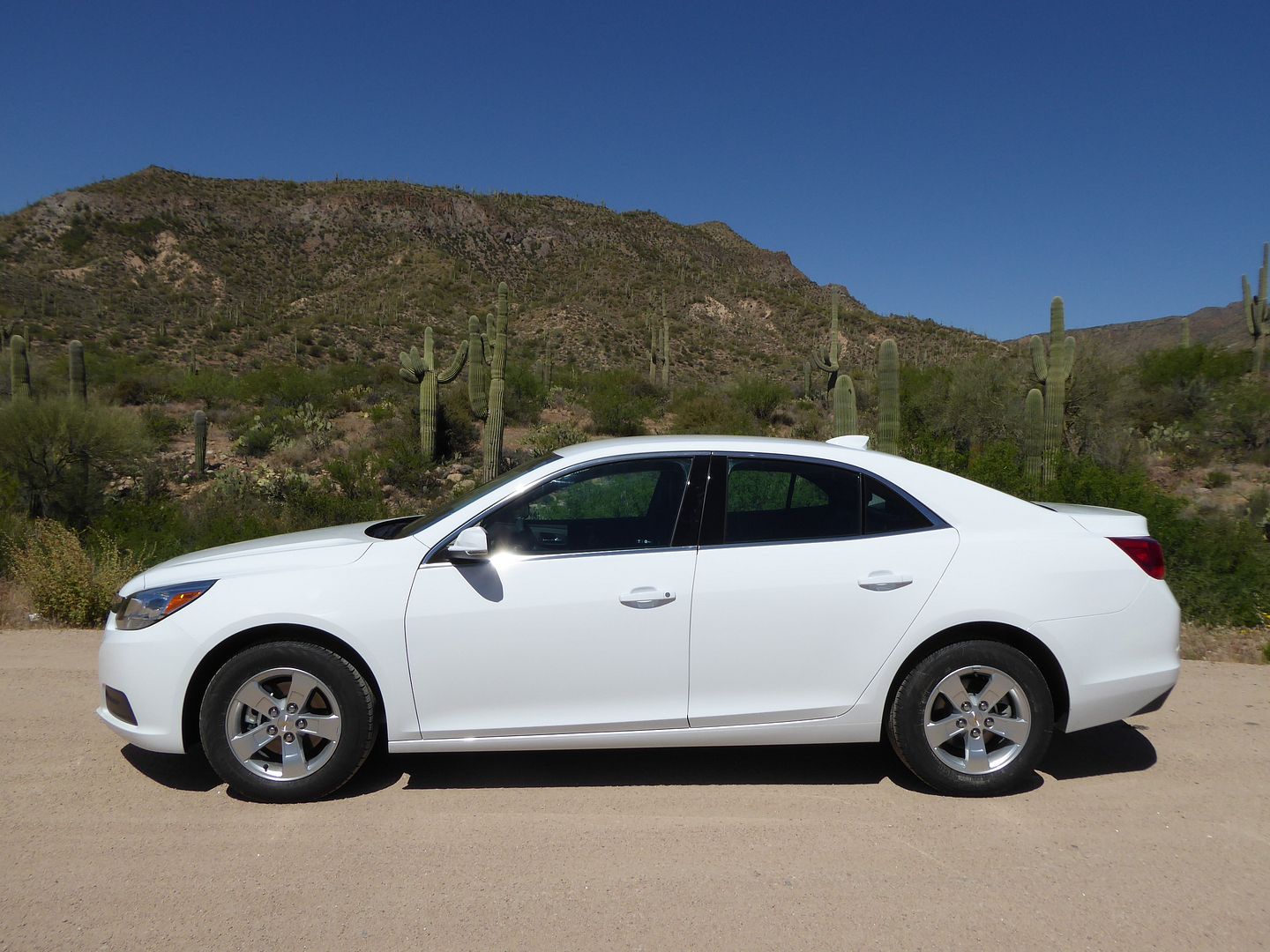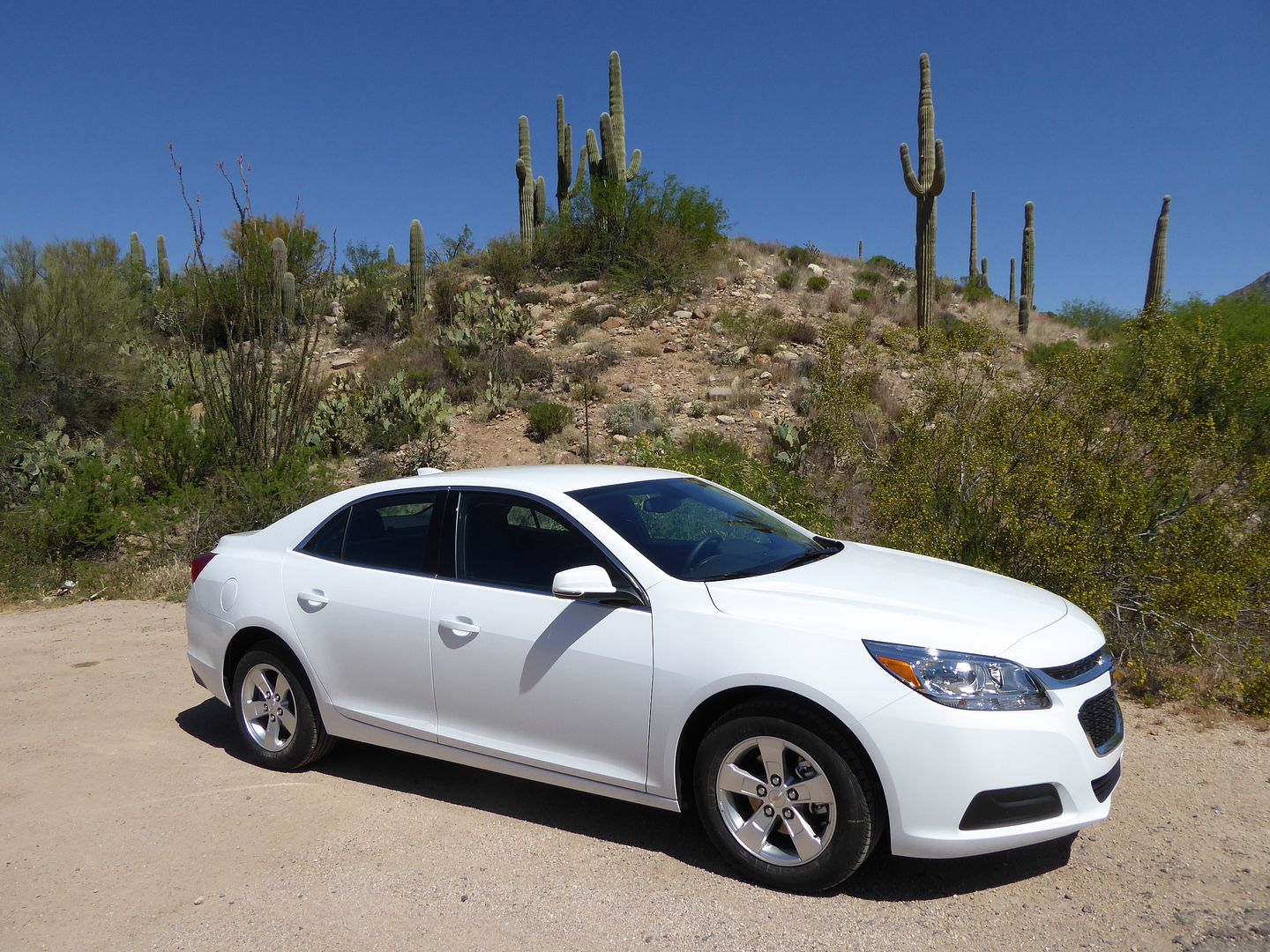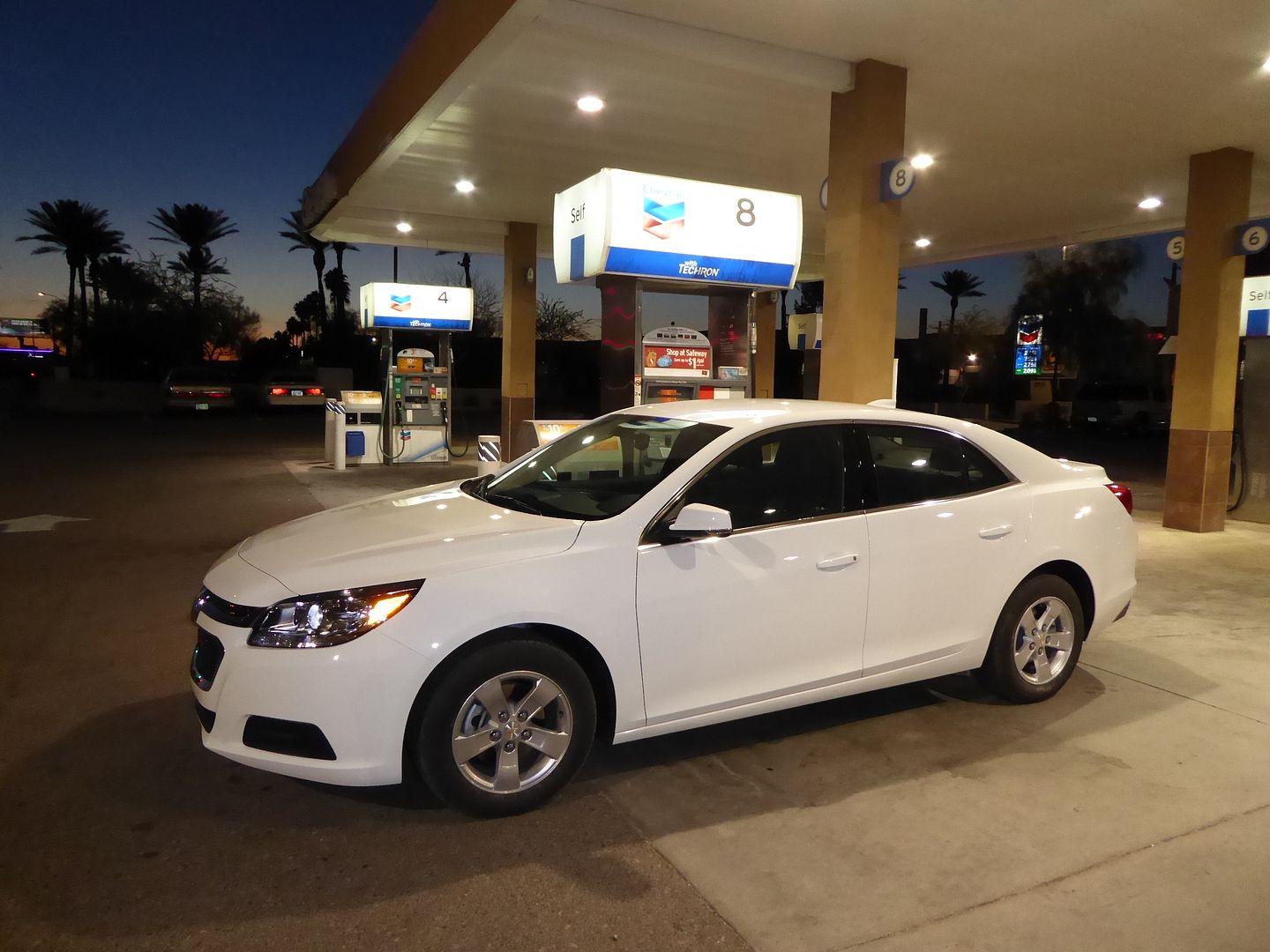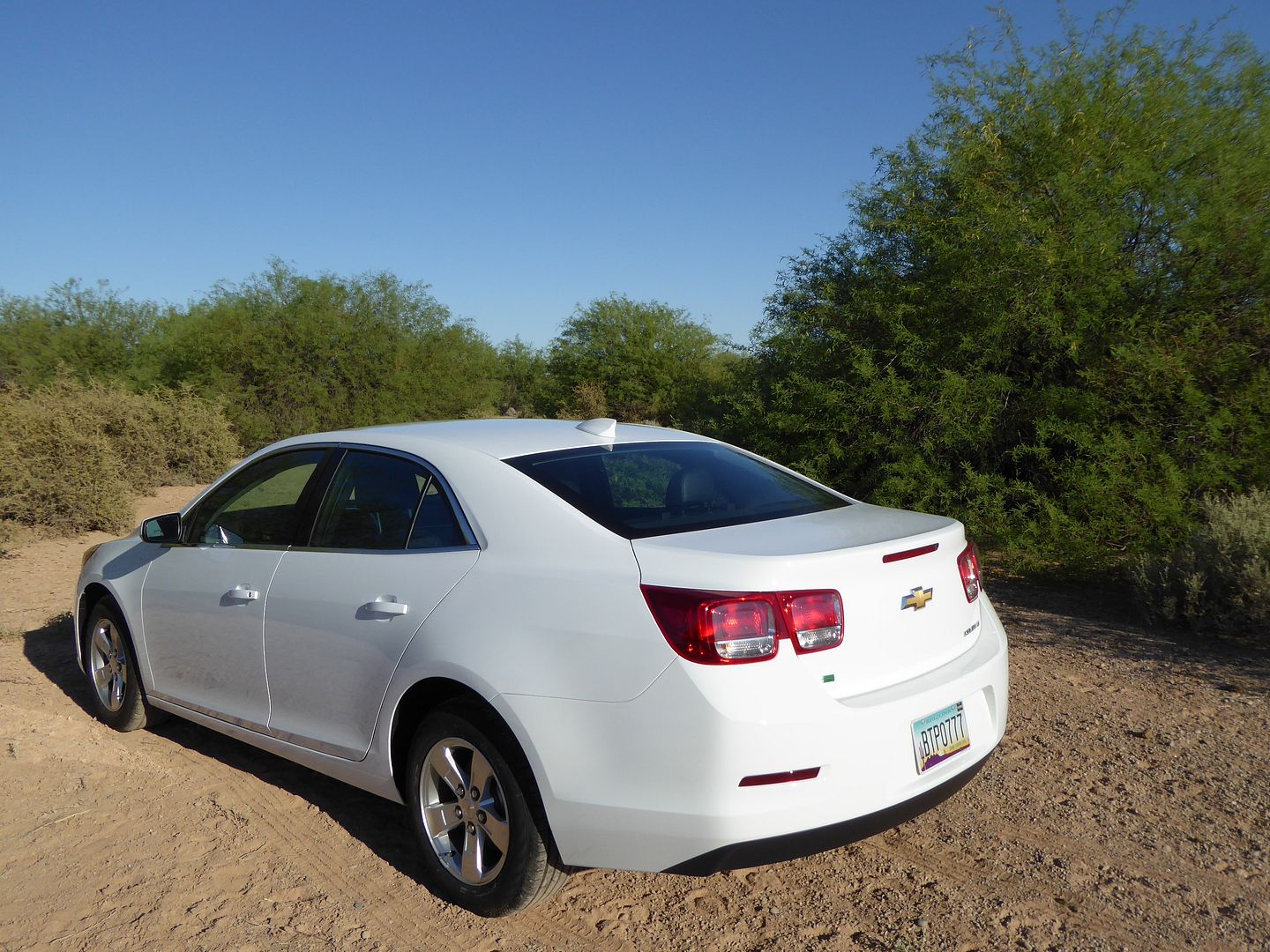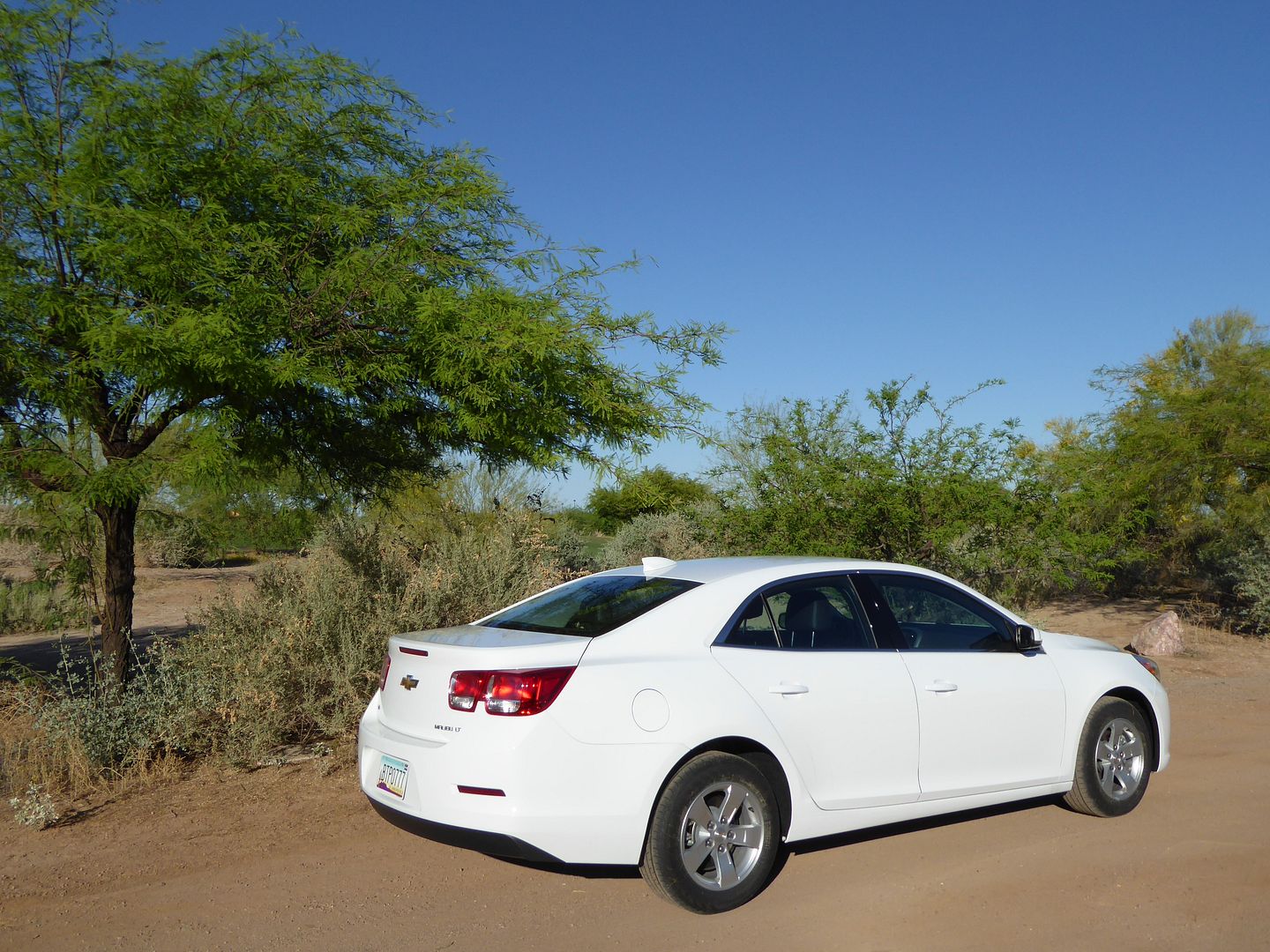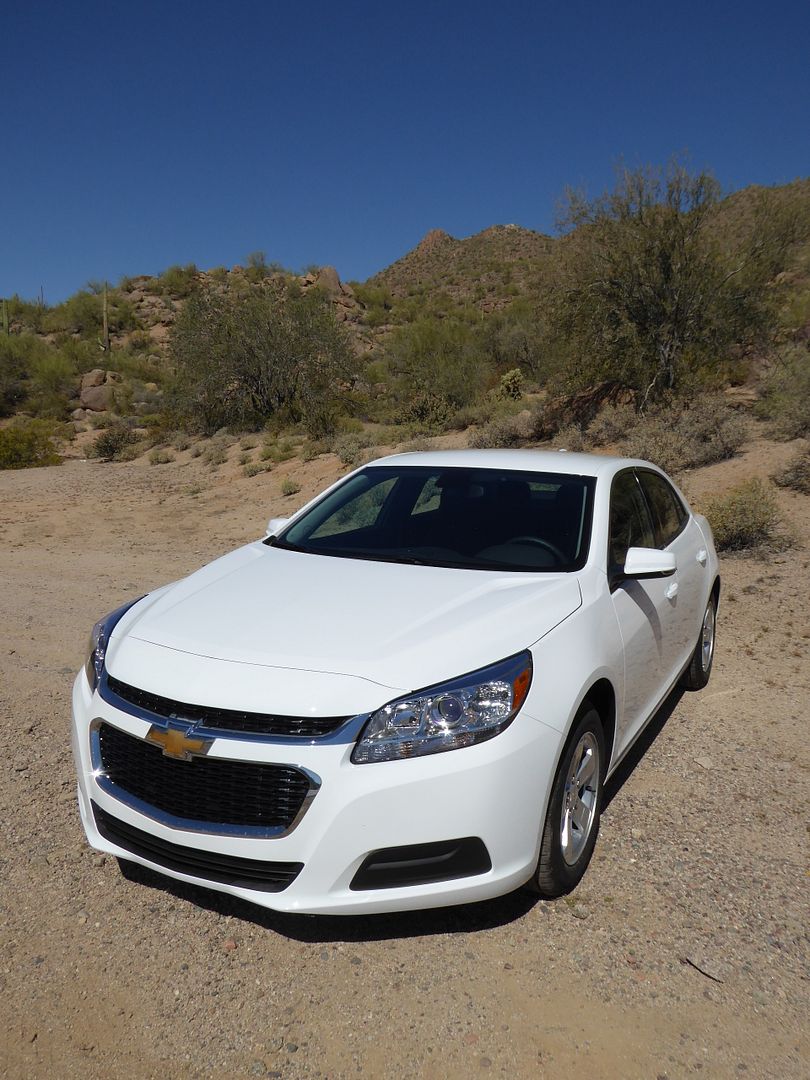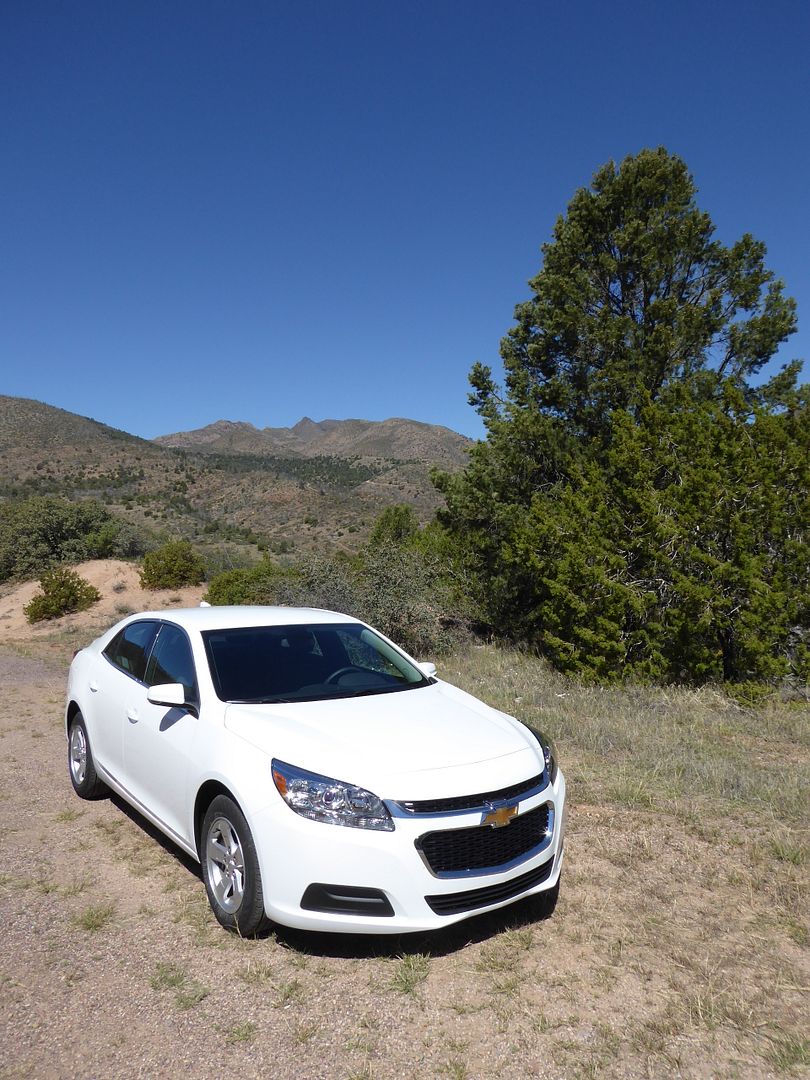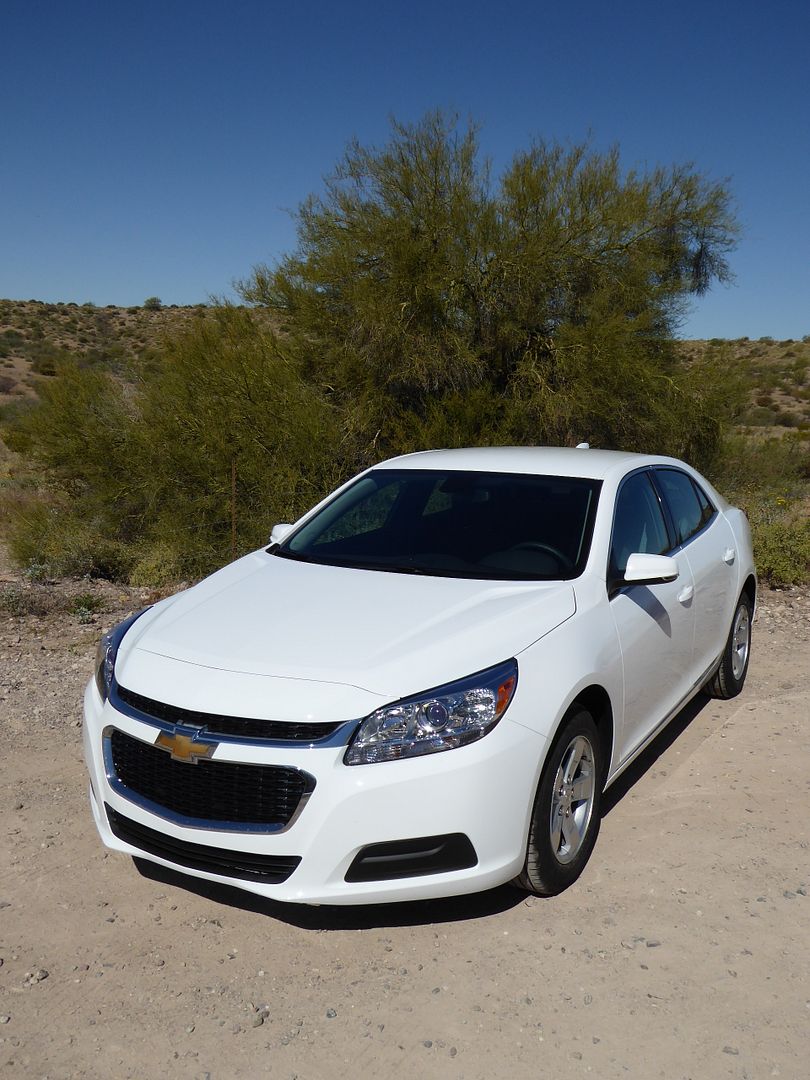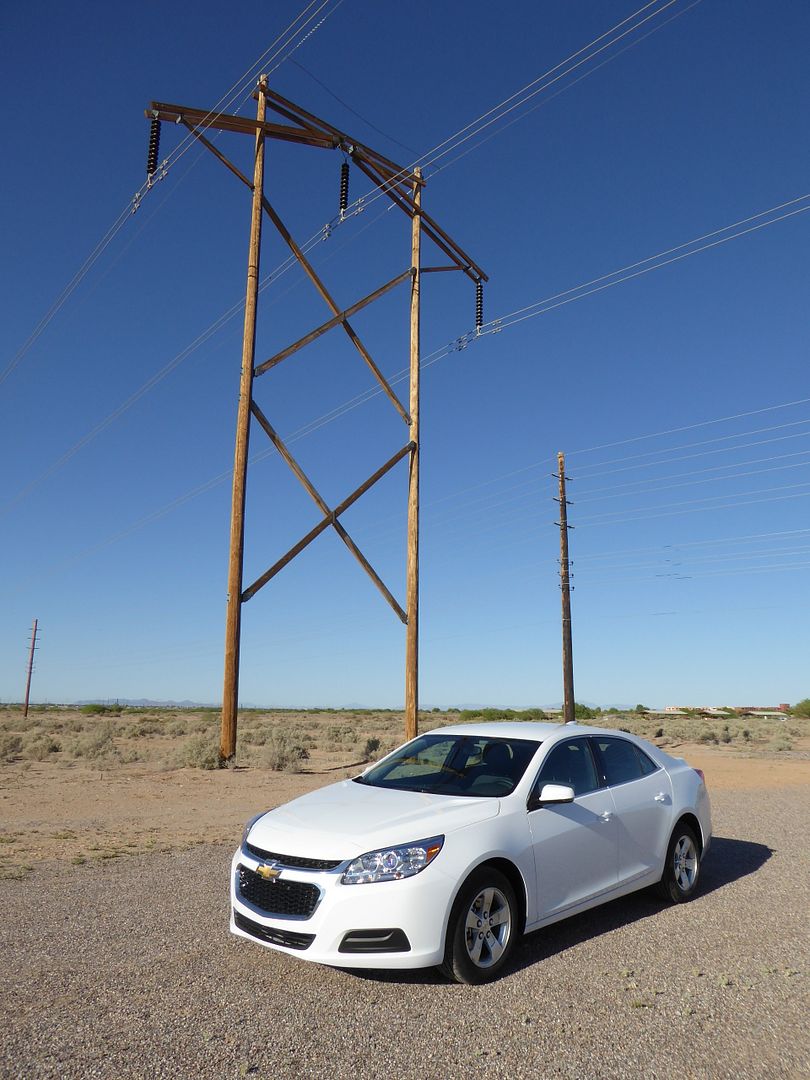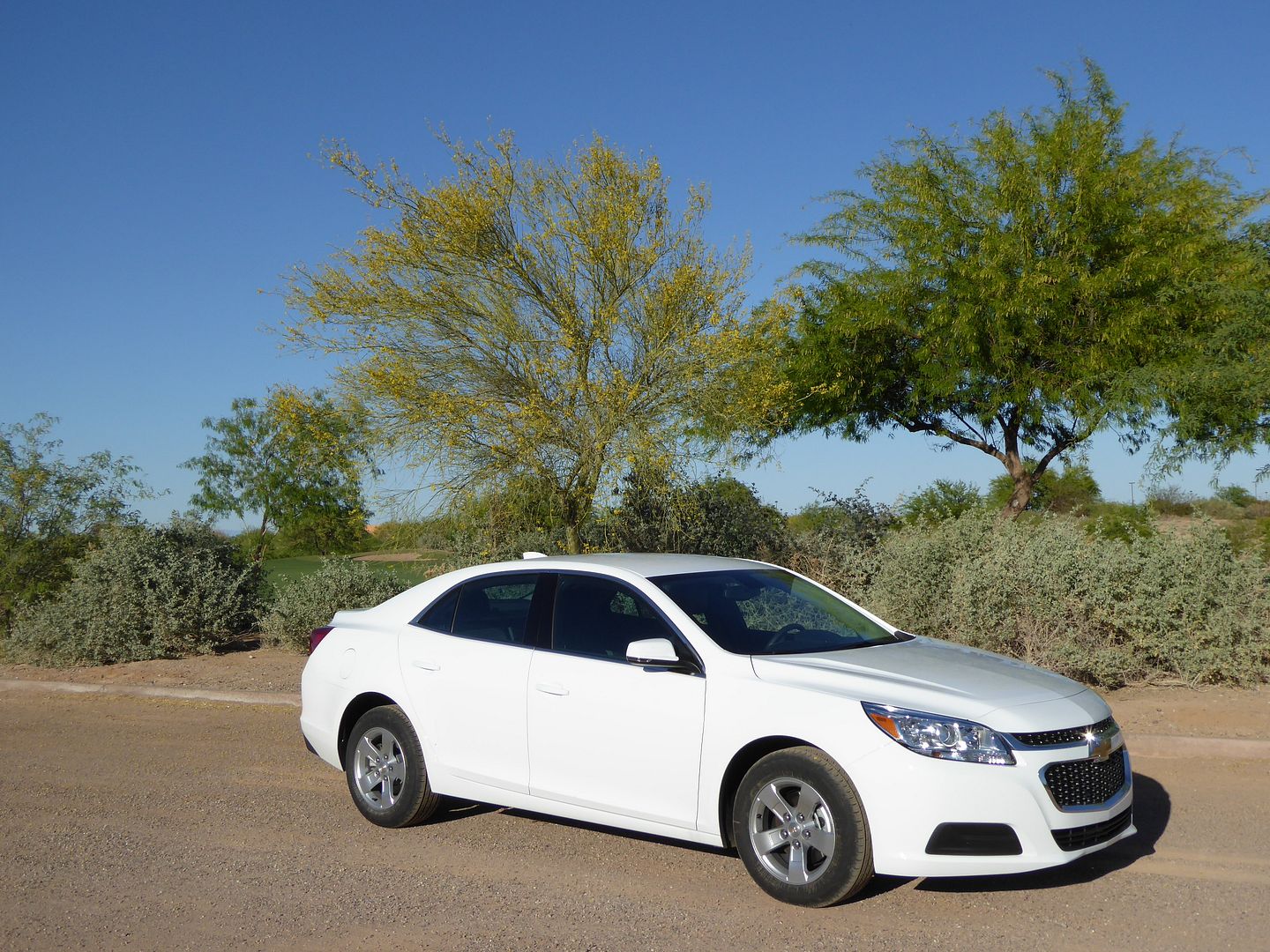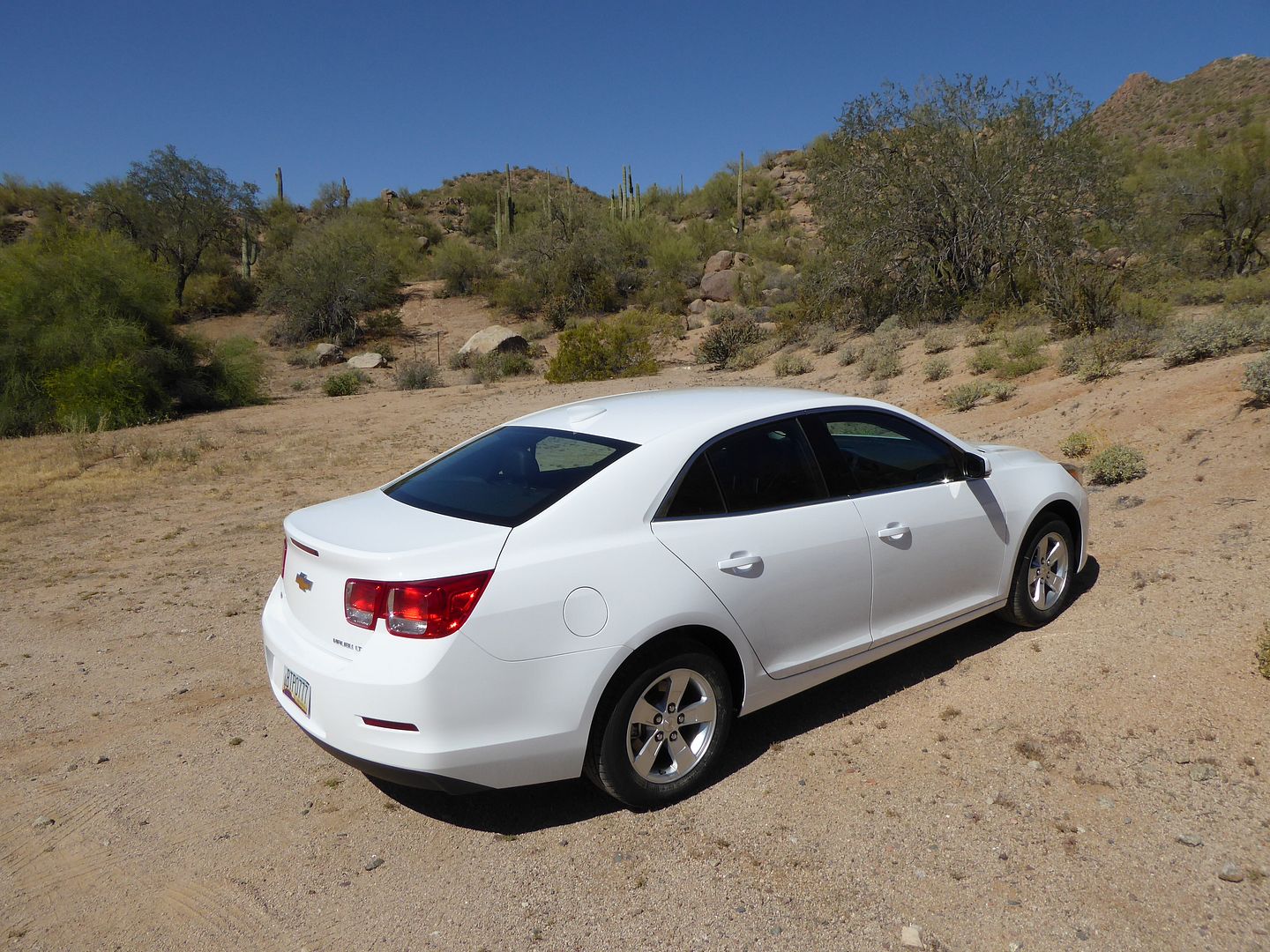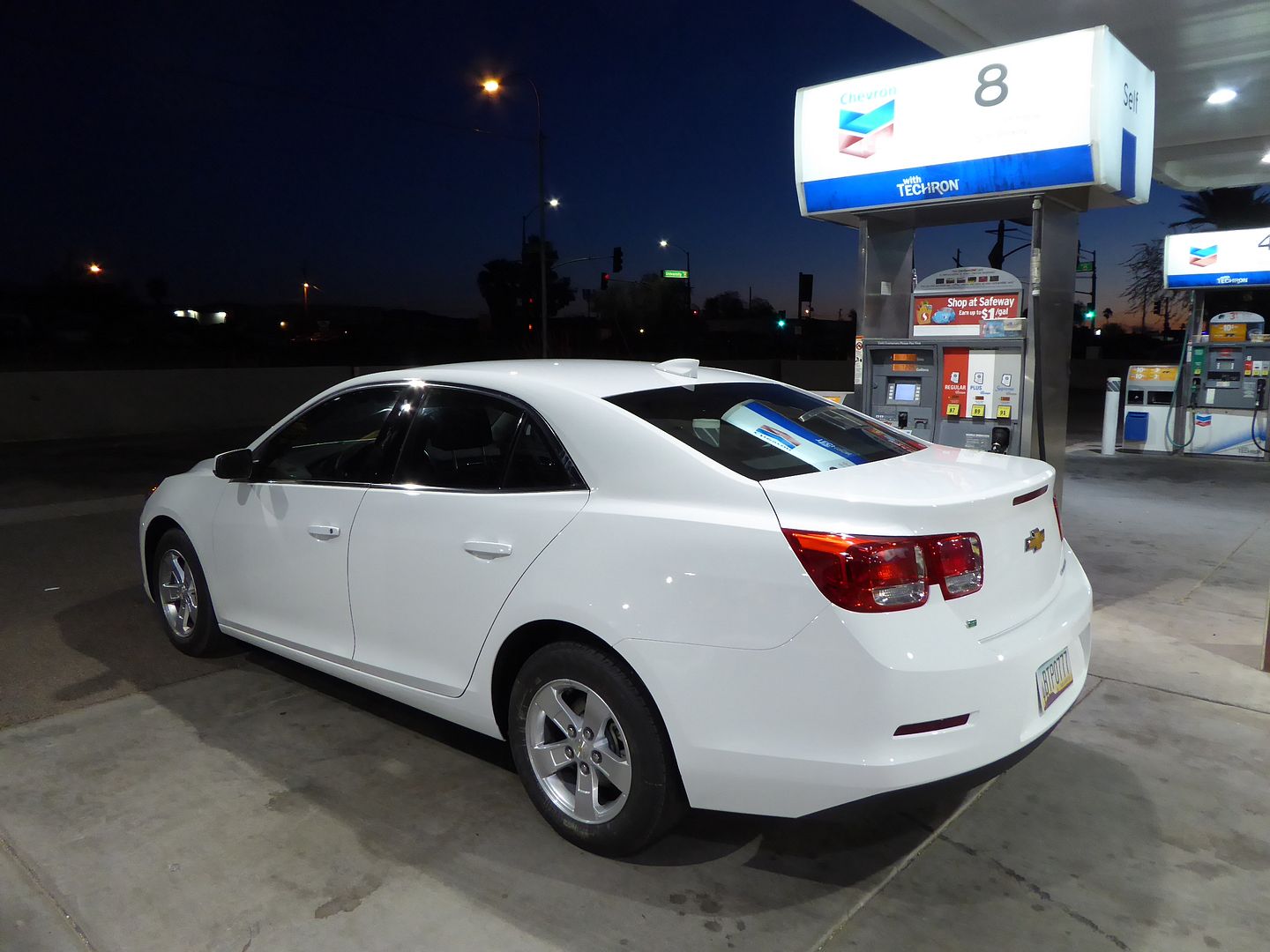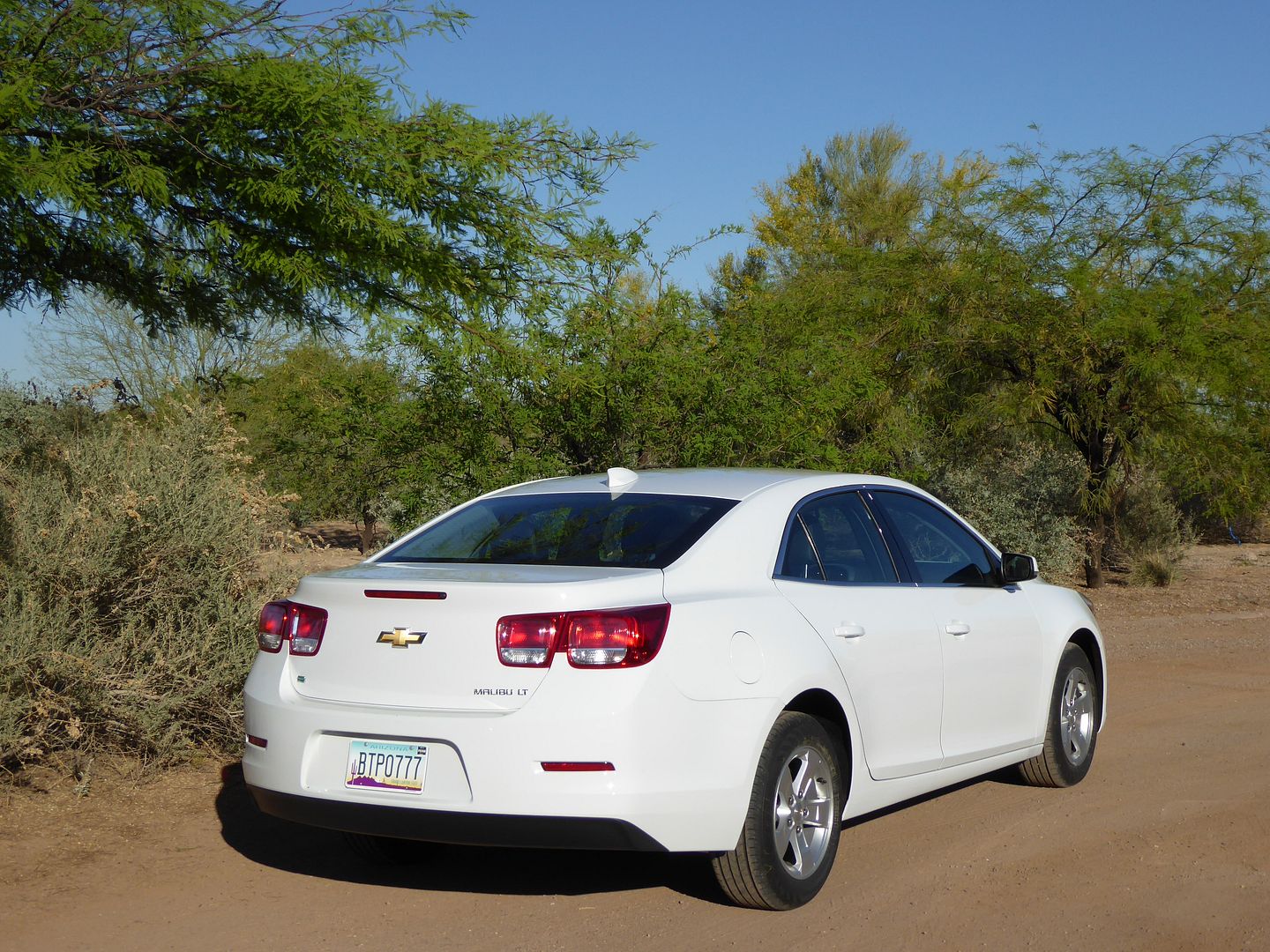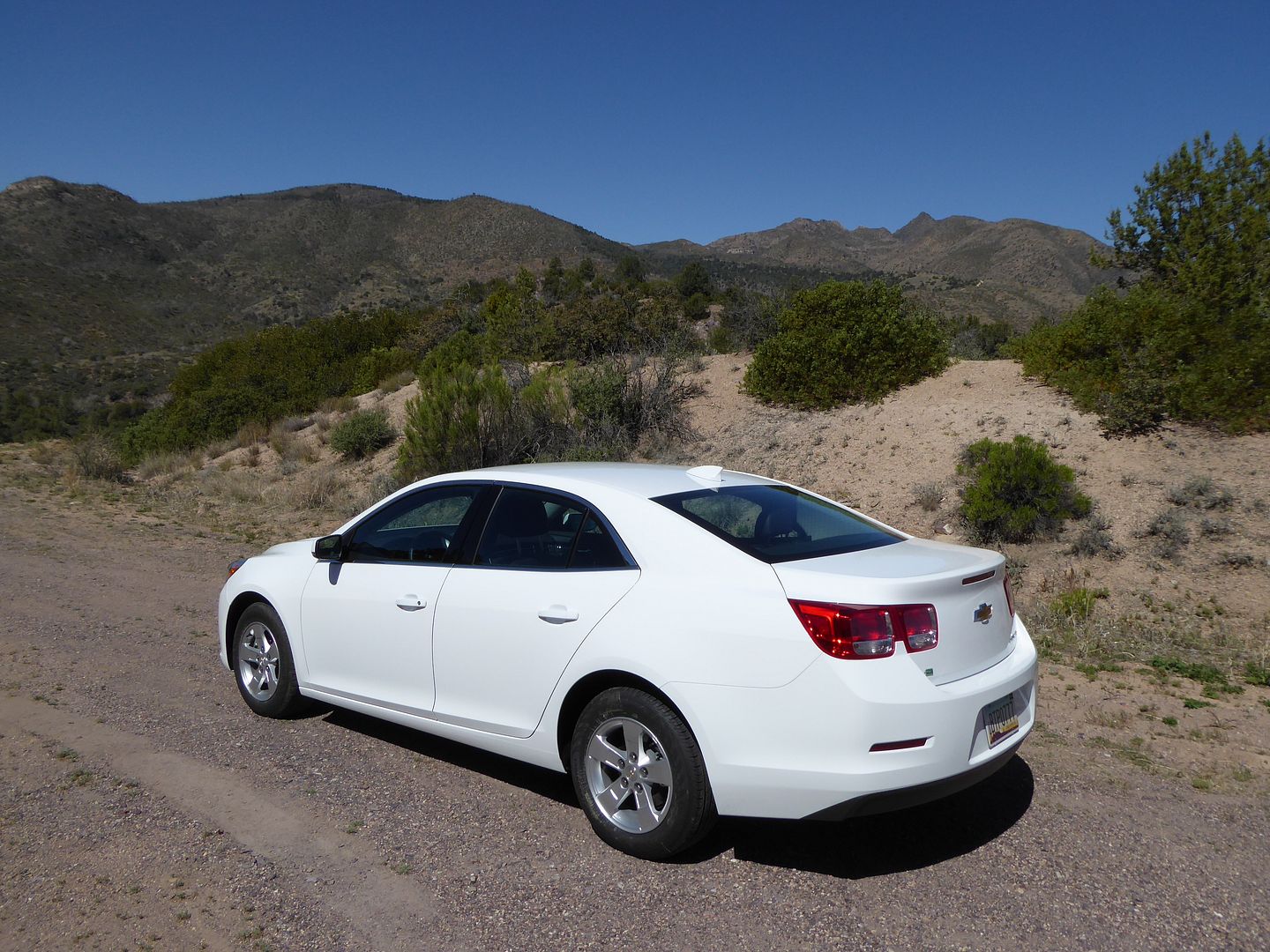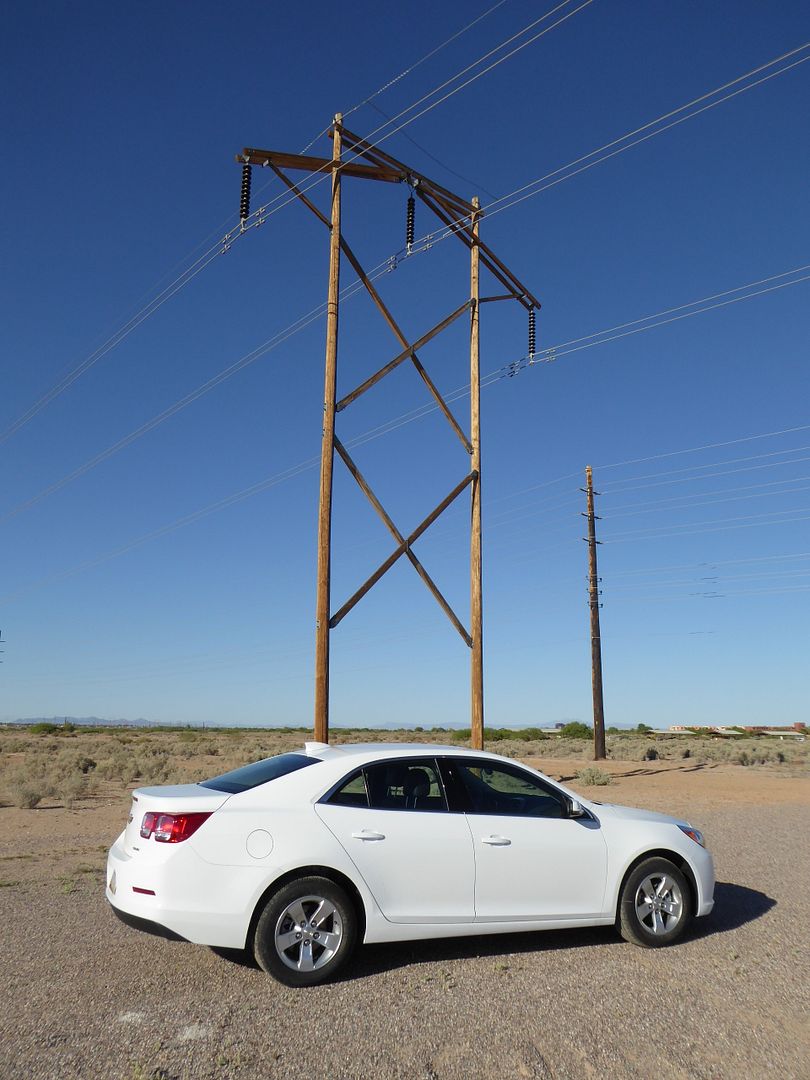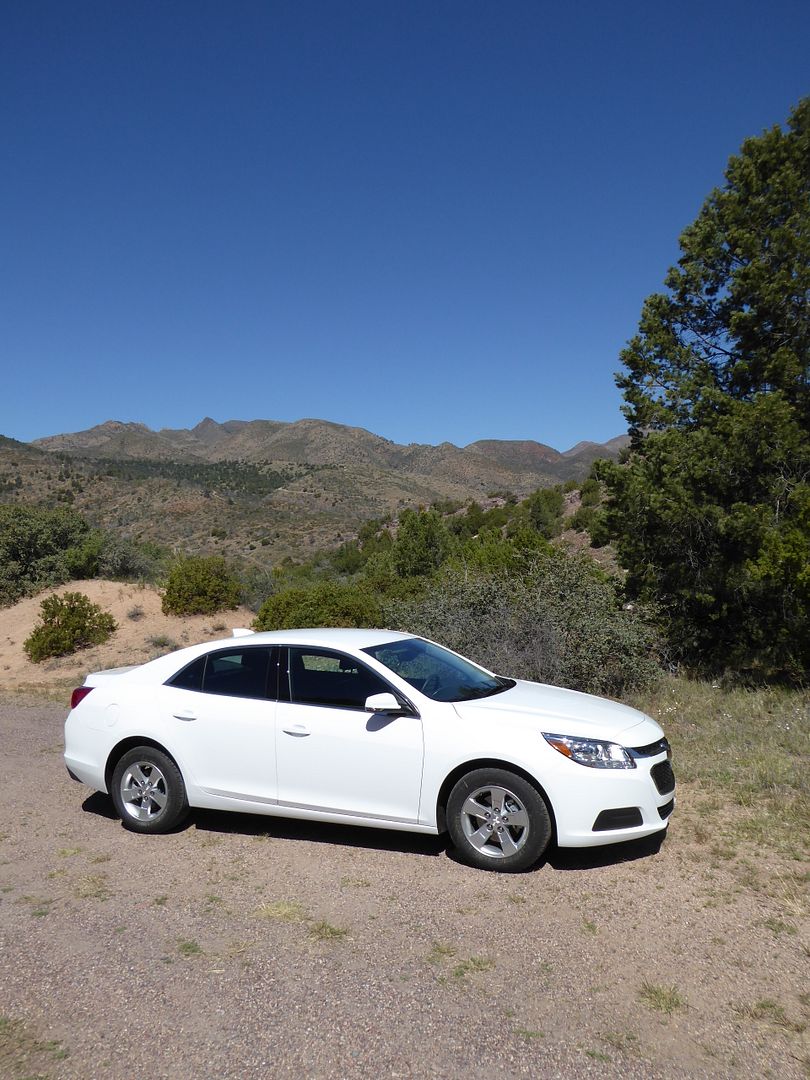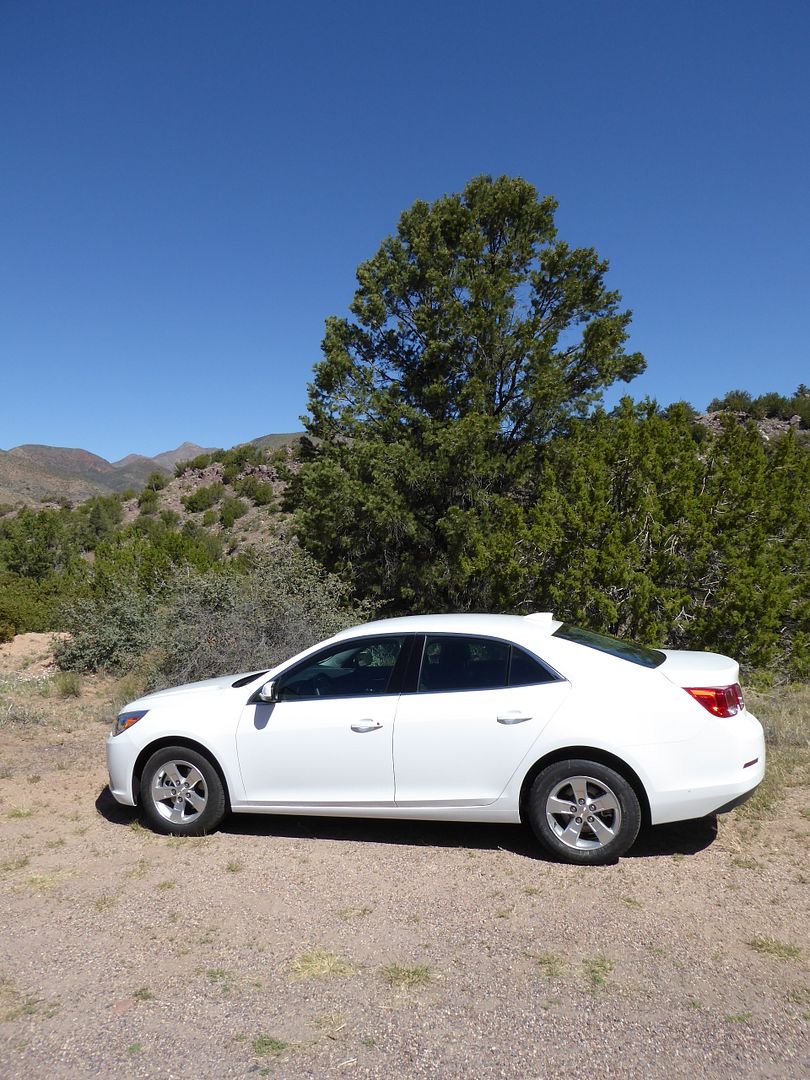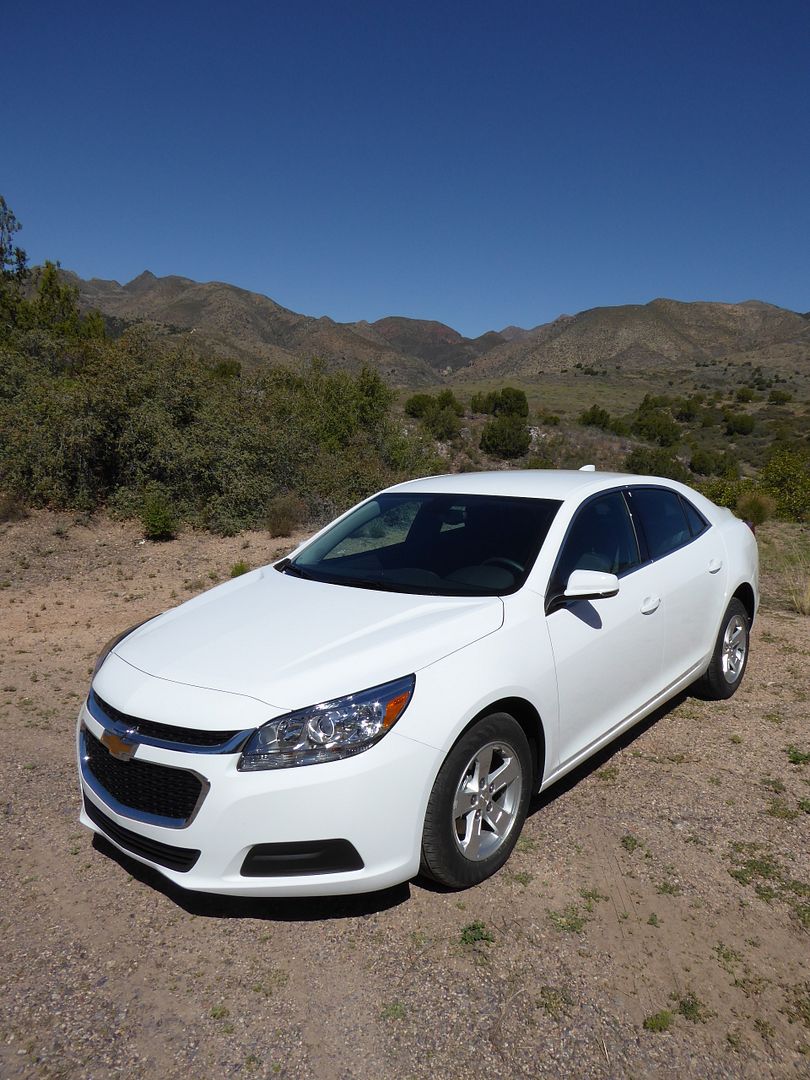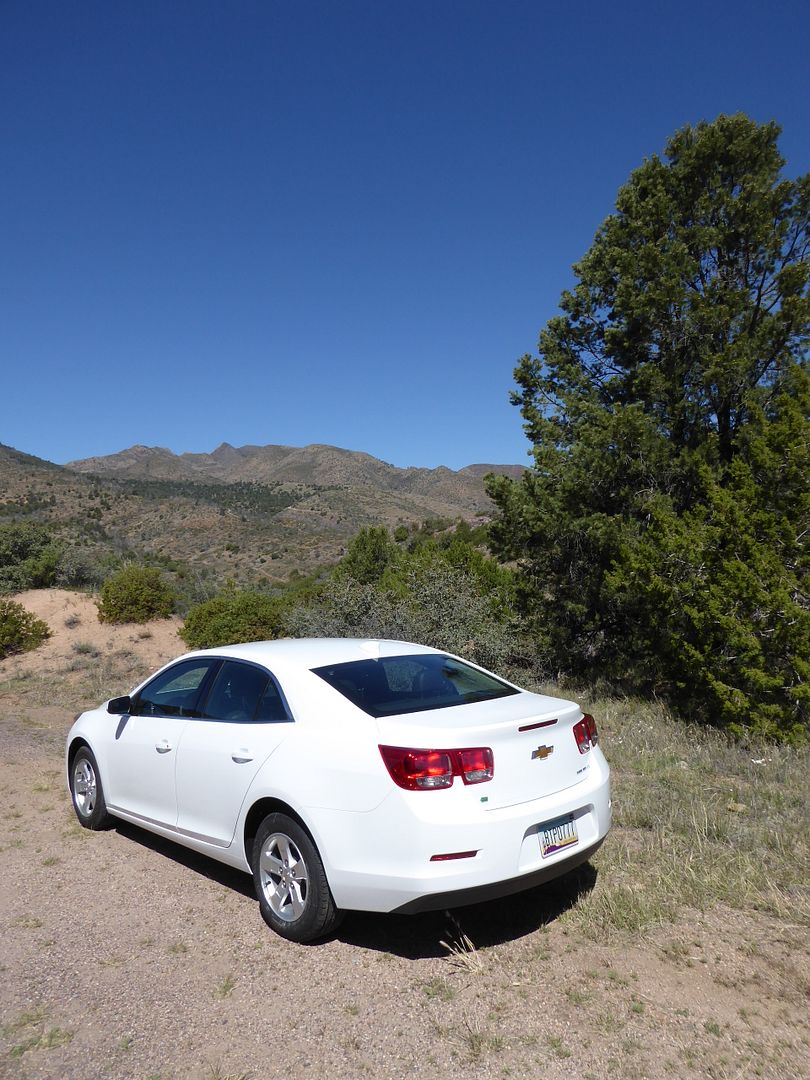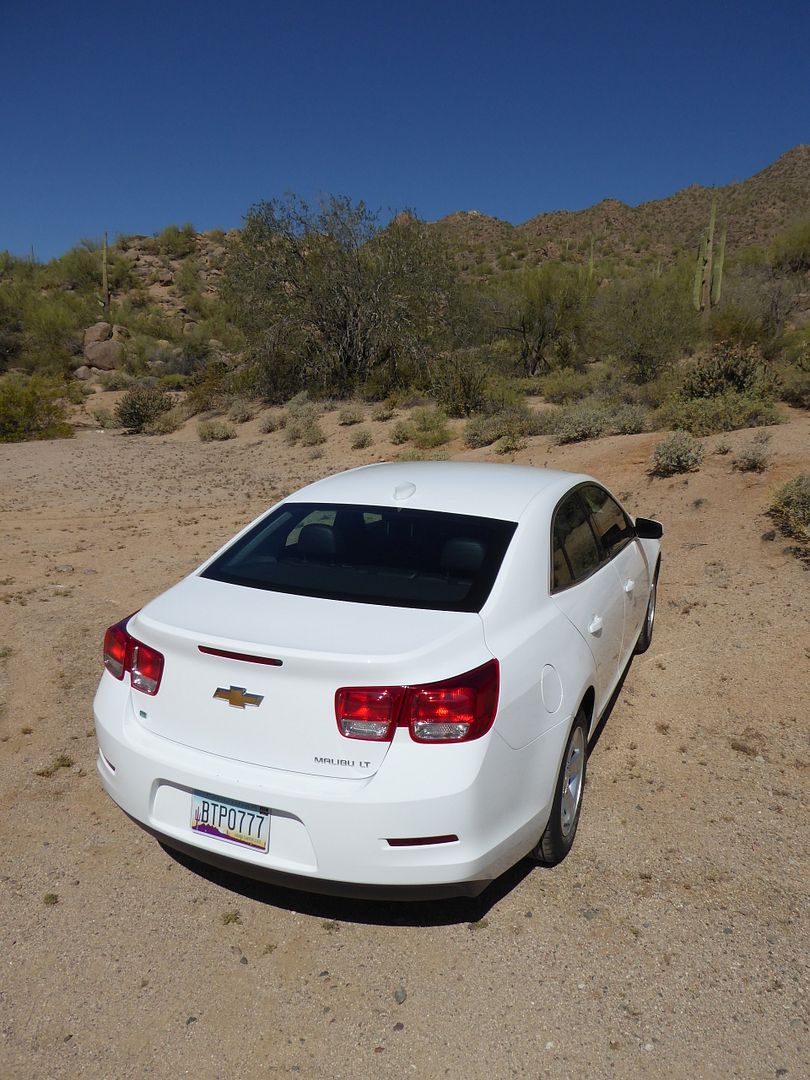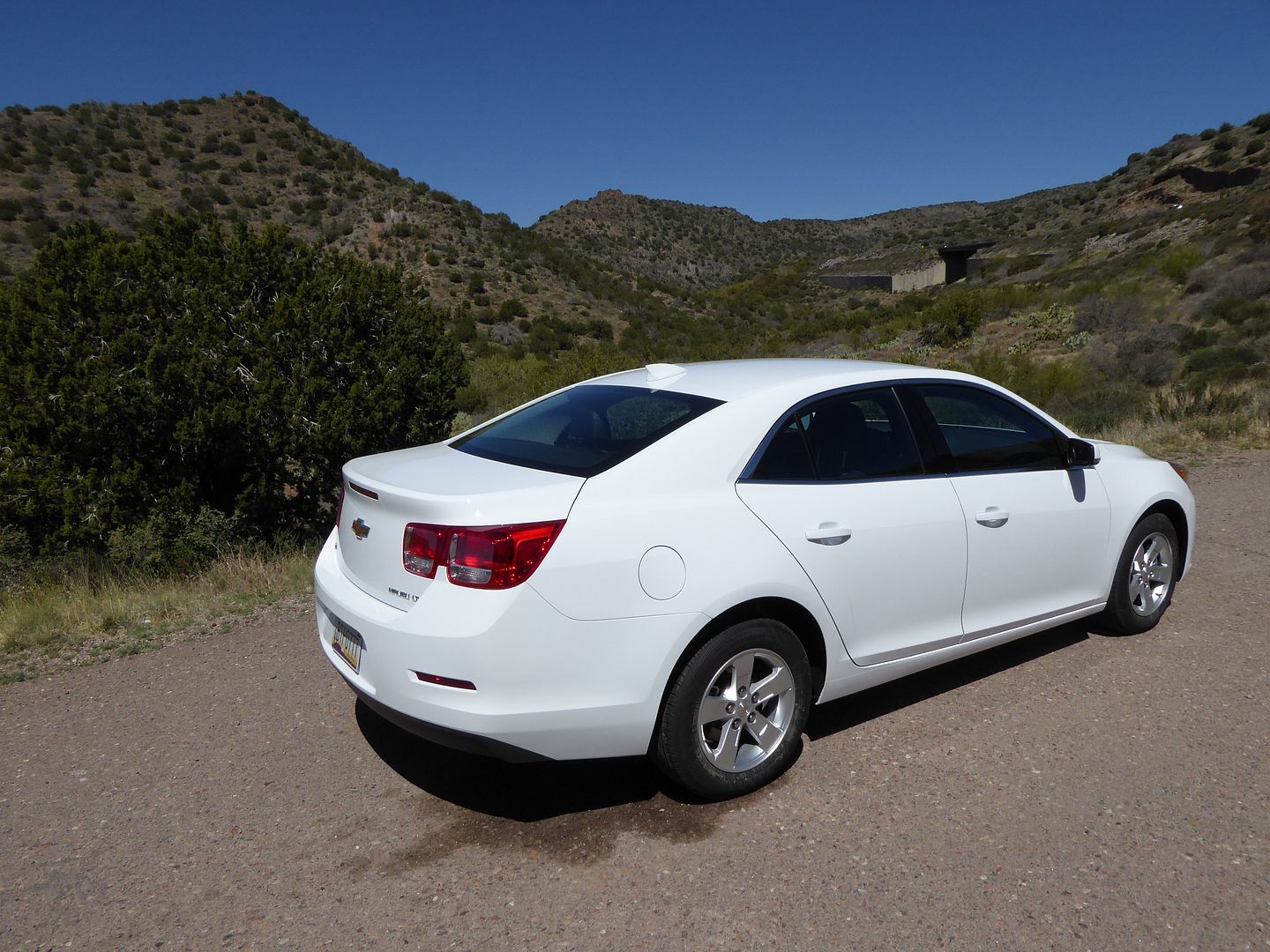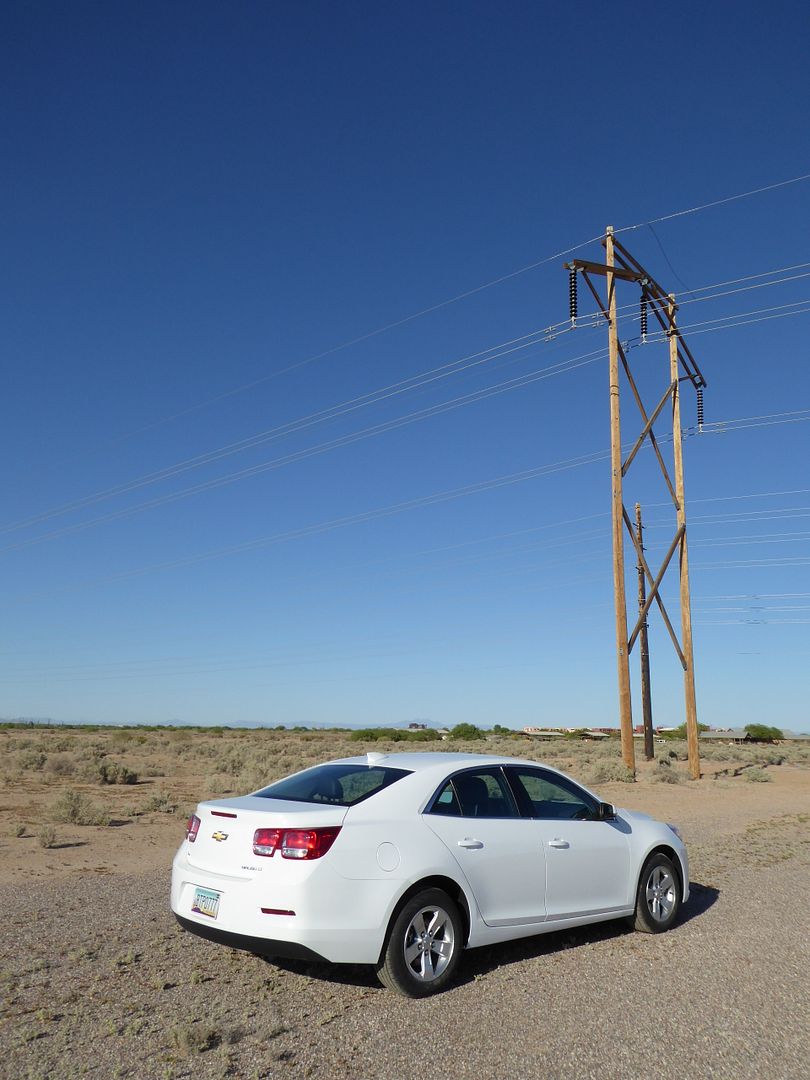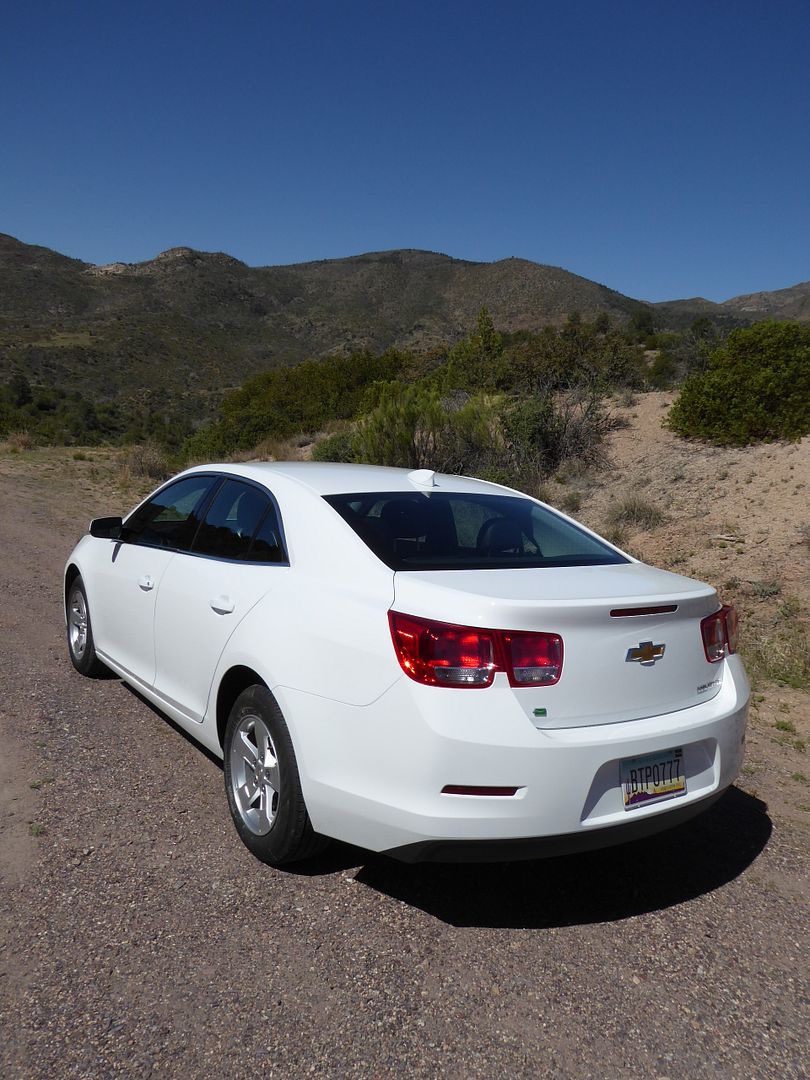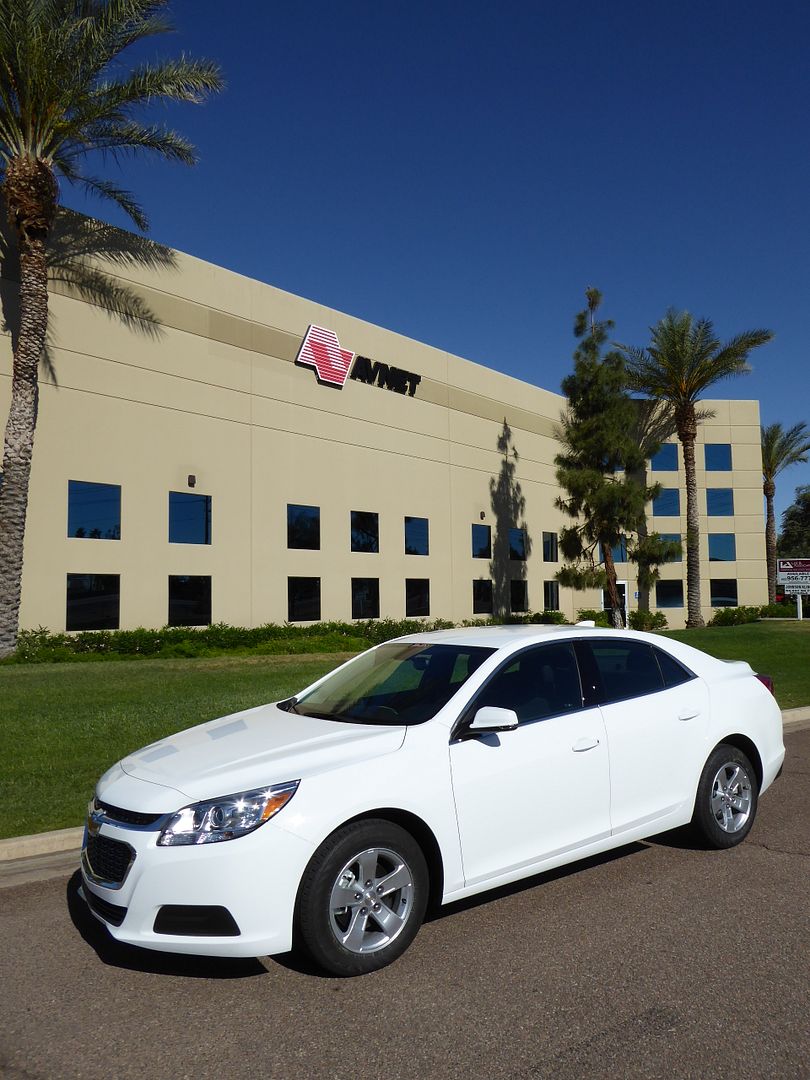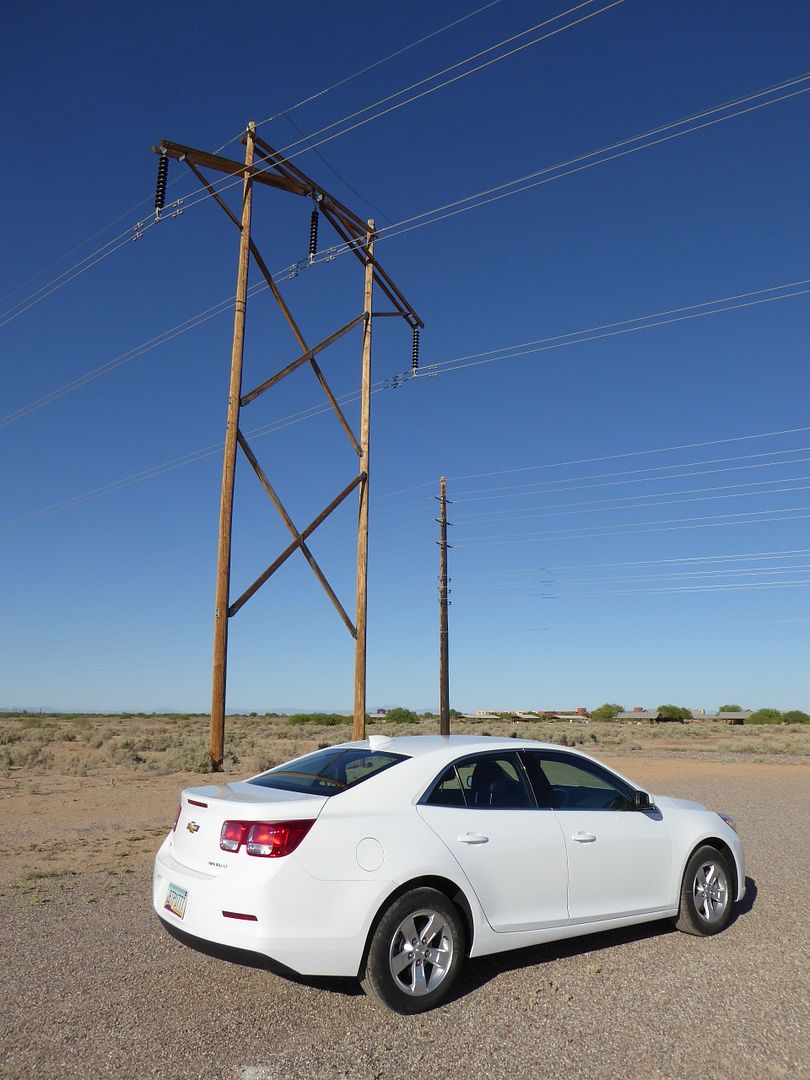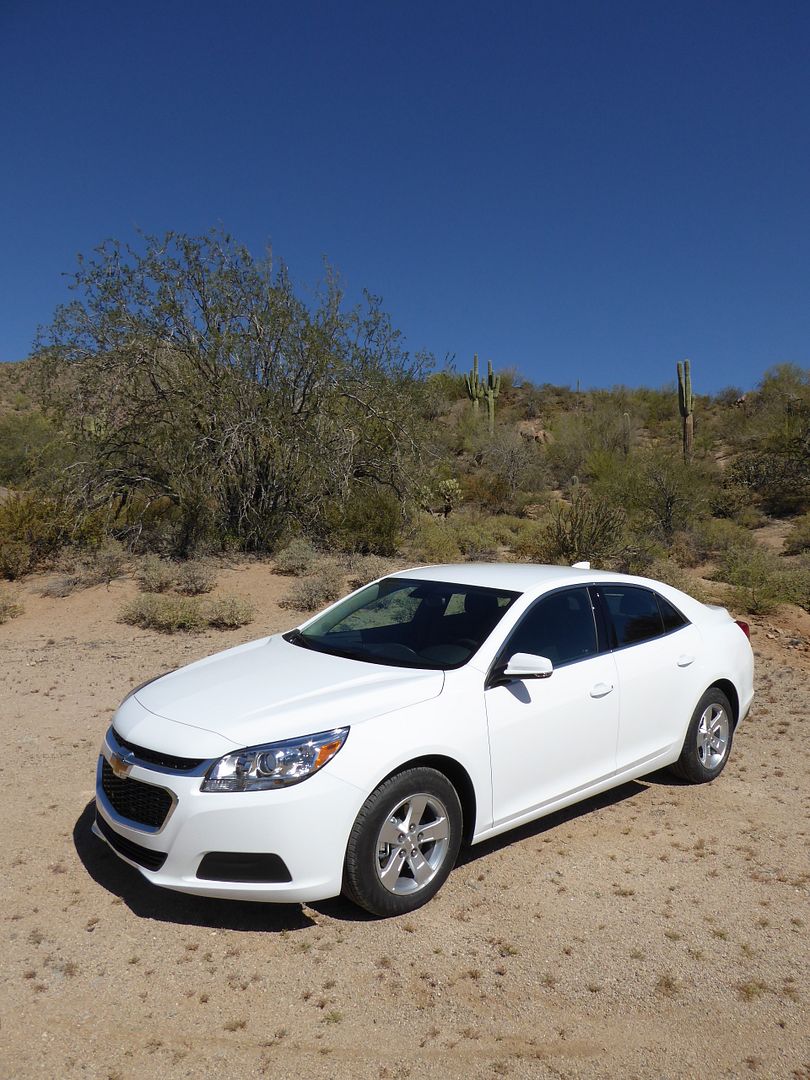 Chevrolet released an all new Malibu for 2016 as their entrant in the hotly contested full-sized saloon class, with design cues making it look like a slightly smaller version of their acclaimed Impala. This car is not it. And yet, it was brand new, with a mere 340 miles on the clock when I collected, and a key tag and paperwork saying that it was a 2016 model. So just when I thought I had understood the American market concept of model year which allows you to sell for example a 2017 car from the second week of January in 2016, so potentially running a single model year for only a week shy of 2 calendar years, then I was confused.  A bit of research turned up the fact that the all new Malibu, built on the E2XX platform, went on sale in late 2015, so at least the first cars have to be called 2016, and that although there is no badging on the car I had to say so, the old model, on the Epsilon platform, is now called the Malibu Limited, and is still offered, by GM Fleet, for fleet customers only, at least for 2016. This is far from the first time that Chevrolet has done this, with the previous 3 generations of Malibu living on for many months after the arrival of the new car, though on those occasions, the model took on the moniker "Classic", rather than Limited. So, to anyone who gets allocated a rental Malibu this year, don't be surprised when you find that it probably won't be the version you were expecting.
I had previously sampled the eight generation of Chevrolet to bear the Malibu name before, so given my preference to test cars without repeats, it may be a surprise to find this test review being presented. There were a number of reasons why I took this Summit White model, though. For a start, the Hertz facility at Sky Harbor Airport in Phoenix, although well stocked with cars, was not exactly endowed with lots of choice of different models. More importantly, Chevrolet had undertaken a range of alterations to the car since I had last sampled it, and I was interested in seeing what effect they had, and in contrasting the result with the experience on this same trip of two of the Malibu's deadliest rivals, the Ford Fusion and Hyundai Sonata. This generation Malibu was only launched at the New York Show in April 2011, with production starting in October that year, following a short 4 year production life of its predecessor, evidencing how significant its maker thinks it is to have fresh new product for this class of car. GM were clearly hoping to transfer some of the excitement from the highly successful Camaro, with the rear light cluster and the instrument cowls bearing more than a passing resemblance to those of their sporty car. It was not enough to fool the motoring press, though, who gave the 2012 Malibu a pretty hard time in their initial reviews. That Chevrolet released the car first in the eco-optimised models with the 2.4 litre petrol engine and mild hybrid eAssist system probably did not help matters. But the real disappointment came with the fact that there simply was not enough space in it, compared to the rivals. Such are the stakes for cars of this category that a program of revisions was rushed through, becoming available late in 2013 for the 2014 model year cars. Chevrolet may claim that these would have happened anyway, but I doubt it. You don't change your car just one year after launch unless you got some key elements of it wrong first time around. A new nose made the revised model easy to spot, with a rather awkward split grille treatment that has been applied with equally unimproving results to the Cruze and Equinox was probably not even necessary.  More significant was a new 6 speed automatic gearbox said to be more efficient, which along with the availability of a Stop/Start system on the 2.5 litre petrol models would improve fuel economy and changes to the shape of the seats liberated an extra inch or so more rear seat space.
I spotted a small green Eco badge on the lower left corner of the boot lid and wondered if I had received one of the eAssist cars, but a glance in the boot suggested that there was no space sacrificed to the mild hybrid battery system that goes with this engine, so it probably was a regular 2.5 litre mode, and sure enough the engine certification plate under the bonnet confirmed that is what I had got. However, also in the boot, I noticed a small removable cover in the trim, with a battery sign on it, and when I removed it, there was indeed a very small battery lurking behind. To find out what that was, I had to read the Handbook (yes, I know…………..). It turns out that this is used exclusively for the Stop/Start system. This is the first US domestic car I can recall with such a set-up. Now, as a European, I am very used to these system, but I know that Americans are not, and when you get a rental car in the US with it on (which usually means a German car), you can guarantee it will have been turned off. Surprisingly, it was still enabled on this test car. Not surprisingly, I left it on and enjoyed the benefit of a few saved Carbons of emission at Stop lights and a few less decibels of noise in the process.
Actually, saving engine noise is not something that you need to worry about much, as this has to be about the quietest car in its class. That struck me as I fired the engine for the first time and headed off on the short trip back to my hotel. Once underway, you can barely hear the engine at all unless you pass around 4500 revs. There is some road noise on certain surfaces, but on the better and smoother roads, that all but disappears, which is why I wrote the word "serene" in my notes to describe what it was like to travel at a steady speed on the freeway in this car. That's not to say that there is not some urgency available via your right foot should the occasion demand it. The 4 cylinder 2.5 litre engine generates 197 bhp and 191 lb/ft, and it is coupled to a 6 speed automatic gearbox. It is ample to give the Malibu decent levels of acceleration, and to remain refined while gathering speed. The engine was quite happy to rev, and I found it hanging on to the gears more than you might expect, sometimes, when accelerating, and this made the car appear decently brisk. There's plenty of torque, too, as if you lost speed, the gearbox did not simply change down and rev its way back again, but used the available torque to regain that momentum.  During my tenure, the indicated overall average fuel consumption as displayed on the trip computer improved from 25.3 mpg to 26.3 mpg, so I knew that I must have achieved better than that. I was slightly by how much fuel I had to put in to fill it up, though. The car required 7.2 gallons, after I had covered 195 miles, which computes to 25 mpg US or 32.35 mpg Imperial. That's a good 3 mpg less than I achieved in either the Fusion or the Sonata. But is it a fair comparison? Maybe not. I took the Malibu up Route 87 towards Payson to some of my favourite spots for car photography, and then returned to Scottsdale, where the car was parked up for a large part of the afternoon as I attended a Car Show, before sitting in urban traffic (though this is where the Stop/Start should have helped matters), so there were none of the longer distance steady speed journeys that would have helped the Ford, but then nor were there the steep gradients and tight bends of the canyon roads of Southern California. So, I can only present what I found and its context, and speculate that perhaps the car is not as parsimonious as its rivals. It is perhaps just as well that I did not take it on those twisty roads in the canyons above the place after which the Chevrolet is named, as this is not the most memorable or involving car from the driver's perspective. There's nothing wrong it: the steering is weighted enough, unlike a Camry, but it lacks the final edge that would make every journey something you would relish and enjoy. It is more about getting everyone there with a minimum of fuss. So the steering does the job. It steers the car. You can tell what the road wheels are going to do, and when you do get to a corner, the Malibu goes round it. Neatly, and with no drama, but ultimately with some understeer. It will remain composed while doing so with good levels of grip from its 215/50 R16 wheels, and it will smooth out the bumps, if there are any, and generally in Arizona there are far fewer than in California, so the ride is good. It brings me back to that "serene". Accept that this is not a sports sedan, by any stretch of the imagination, and you will be perfectly happy with it. It stops well, too, with a nice progressive feel to the brake pedal. There was a pull up handbrake between the seats, which I did not recall seeing on my previous test car, and sure enough, when I checked, the earlier version had an electronic button in the console instead. This would appear to be one of those re-contenting features to take a few $ of cost out for the fleet market. More regrettable, was the fact that unlike the Ford and the Hyundai, there was no back-up camera, so guessing where the back end was a bit of, well, a guess. The rear screen is not quite as steeply sloped as it is on those cars, but it is still such that you can't really judge anything behind the rear window. The door mirrors are on the small side, too, and there is no blind spot reduction feature here.
Inside, not a lot appeared to have changed. There are still those slightly odd looking false air vent grille strakes that go around from the doors around the cockpit and which glow a turquoise blue in the dark, and you still get a nicely finished cabin which uses a mixture of decent quality materials and textures ranging from leather inserts on the door panels and armrests to an unusual coloured wood inlay effect on the centre console. Look a bit harder, and the GM heritage is very clear, with plenty of parts that you will recognise from other models in the family. There are two large dials and these are inset into rectangular cowls which sit under an all embracing binnacle, which is a bit more interesting than you will find in most of its competitors. The instruments – a rev counter on the left and speedo on the right, with smaller water temperature and fuel gauges inset in their lower portion, are crisply marked and easy to read. Inset between them is a digital display area which you can alter by pressing the Menu button in the left hand column stalk and then twisting the serrated sleeve on the end of that stalk. It can show trip information, or your speed digitally, tyre pressure information and oil life and other service info, and there was an option market navigation which did nothing as this feature was not on the test car. That serrated edge proved quite rough and as this was the indicator stalk, a bit annoying. Wipers operate from a stalk on the right of the column, whilst lights are controlled by a rotary knob on the dash to the left of the wheel.
The central part of the dash has a colour touch sensitive screen for the MyLink system. Below it are the sort of buttons and control knobs for the audio system that you expect or hope to find, so you don't need to use the touch sensitive features of the screen. And below this are a double row of buttons for the air conditioning system. The MyLink proved easy to use, with a clear structure to the menus, and none of the frustrations that come from the equivalent Ford system, or indeed from the more sophisticated GM versions of this capability. There are small repeater buttons for the audio system on the steering wheel spokes and this is also where you will find the cruise control.
Front seat occupants of the Malibu have plenty of space, just as they always did, with the curve of the dash in front of the passenger further making the car look roomy. Both seats have an electric switch for height adjustment, but are otherwise manually adjusted, with a bar under the seat for fore/aft and a ratchet lever on the side for backrest rake. The seat itself proved well padded and comfortable, though I did not sit on it for extended period of times. The steering wheel telescopes in/out as well as up/down, so it was easy to get a good driving position. It was the rear seat that I wanted to assess, as this was the source of complaints from the model's release. Of course, sitting behind myself, so to speak, there is no problem, as I have the driver's seat set well forward anyway, but with a seat well back, legroom is not particularly generous. It may well be better than before, but we are only talking an inch or two. The Malibu is wide enough for three to sit across the seat and with only a, small central tunnel, even the middle occupant would be reasonably comfortable. Headroom was OK, though not particularly generous. My head did not touch the roof, but was close. There is a drop down central armrest, with cupholders and a small lidded cubby in its upper face. Rear seat occupants also get map pockets on the back of the front seats. As a family car, this would be OK but three long-legged teenagers would probably wish that you had bought something else, and indeed all of the Chevrolet's rivals have more space in the back. The seats, even on this LT spec car had partial leather trim, with cloth inserts. I did not think that there was an external boot release, failing to find it, but the Hertz return agent opened the boot without the key, so I asked her and she showed me a well hidden button at the right hand end of the high level brake light. The boot is not as big as on some of its competitors, either. It is a nice regular shape, but it is neither as wide nor as long from front to back as the one on the Fusion or the Sonata. The rear seat backrests do fold forward giving a flat and long load platform.  The test car had no spare wheel, but a tyre compressor unit mounted in the wheel well under the floor, There was a lot of space around this for odds and ends.  Inside the cabin, there is a modest glovebox, and a small cubby under the central armrest, as well as couple of very small cubbies and two cupholders in the central console, a lidded bin above the driver's knee and some very pokey door pockets, as well as the Malibu's party piece, the fact that the entire MyLink display screen conceals a cubby behind it.
Chevrolet made a few changes to the specification when the Malibu morphed into the Malibu Limited. As well as withdrawing four colour choices, but introducing three new ones, most of them concerned removal of some of the high end features, reinforcing the value proposition of the car as a Fleet special. The 2 litre Turbo engine is no longer available, and nor are the 18 or 19″ wheel options, the LTZ Premium trim package or any of its content which included things like seat memory, remote starting, keyless remote entry access and high intensity headlights. OnStar became standard across all models. There are three versions available: LS, LT and LTZ. All models come with the 2.5 litre engine a six speed automatic gearbox and Start/Stop technology. The entry level LS is not as stripped out as you may fear for a Fleet special. Standard equipment includes 16″ alloys, daytime running lights, solar tinted glass, cruise control, air conditioning, a 6 speaker audio system with AM/FM radio, CD player, MP3, and 2 Auxiliary power outlets with wheel mounted controls, split folding rear seats, a compass, and the driver's digital colour information centre display. The LT adds body coloured heated door mirrors with integrated indicators, premium cloth trim, projector headlights, the ice blue ambient lighting around the instruments and dashboard, GM MyLink with a 7″ colour touch sensitive screen including XM Satellite radio and Bluetooth and the "innovative storage" behind the unit,  Step up to a top spec LTZ and you also get 18″ alloy wheels, front fog lights, dual zone automated climate control, 8 way power adjustable driver's seat and heated front seats,  a USB port in the centre console, and a leather wrapped three spoke steering wheel and gearlever. There are prices quoted on the GM Fleet website, though I suspect that with any Fleet deal, what you pay will depend on how many you buy!
There was much to like about this Malibu Limited. It is not an exciting car, and nor really is it meant to be. But if you are looking for a worthy and practical vehicle that will get you and passengers from A to B quietly and comfortably, then it is not a bad choice. When you get one allocated at the rental car counter, there is no reason to be apprehensive. However, if faced with a choice of this car or its competitors, I would probably not pick it. In the absence of any Mazda 6 models in the Hertz US fleet, I think I would go for a Hyundai Sonata, though I have yet to sample the latest Kia Optima, and the previous one impressed me a lot. Then again, if you could find a Ford Fusion with the Ecoboost engine, that might right the wrongs of the old 2.5 litre unit that detracted from the one I sampled. There's plenty of other choice in this class, and all of it far better than it ever had been. I understand that the true 2016 Malibu, the E2XX platform based one, is significantly better than this model, so it may yet turn out to be the class leader. For now. Finding out if it is will have to be for another day, though.