When the car enthusiast is looking at upcoming events and planning the diary, it is almost inevitable that it is from the wide variety of static shows that take place across the country that take place every weekend, and, to a lesser extent, during the week, that selections will be made. And whilst it is almost endlessly diverting, looking at cars of every age and make, whether recent or not, let's not forget that the automobile was conceived to move from A to B to C, and an awful lot of cars give their owners plenty of pleasure from behind the wheel, so an event which incorporates a driving element ought to have plenty of appeal. Of course, in an era where there seems to be heavy traffic almost wherever and whenever you want to go places, as well as ever increasing restrictions. limitations and speed cameras to curb some of the fun, care is needed in choosing where to go to avoid a day of frustration and time spend with the Stop/Start system cutting in and out more frequently than the music on the radio changes to the next tune. But it can be done. It certainly was at the very start of 2017, when the first motoring event of the year that I attended was a Driving Day which started from Chepstow, and ended up on the Llangnydir Mountain Road near Crickhowell, in the company of a wide variety of lovely Italian cars, as organised by the South Wales Area of the Alfa Romeo Owners Club. So, when,  a few weeks before the turn of 2017, the ever enthusiastic leader of that Group suggested on Facebook, that the fact that New Years Eve fell on a Sunday had led him to thinking of marking the end of the year with a traditional Sunday Roast at a place that would entail driving on some interesting roads to get there, I was among the first to sign up to whatever he had planned. During the next few weeks, the Thinking Cap was clearly in permanent situ, and an event was born, which Pete, in his own inimitable style christened "The Italian Job: New Years Eve".
THE ASSEMBLY POINT
Start point for the day was at the Wyevale Garden Centre and Cafe on the outskirts of Cheddar, in rural Somerset, chosen because there was plenty of space, a cafe on site to allow to grab an early morning coffee and for its proximity to the start of the route. There had been plenty of interest shown on the various online places where the event had been publicised, but as always, the acid test is who actually shows up on the day. You don't really expect great weather on the 31st December, and when it dawned grey and damp, though not actually raining, it seemed likely that some might decide against coming. The participating cars were, after all, likely all to be Italian, and whilst the latest ones do not (despite what some wags still say at every available opportunity) rust in minutes, the older cars would perhaps be ones that owners might wish to keep in the dry. I was about the first to arrive, and found an empty car park, and a Cafe that had not yet opened, which meant that I had to retreat back into the village to find an available convenience (the consequence of a large cup of coffee at home, and a cold day!), and when I returned a couple of Italian cars were now in evidence. And no sooner had I started to talk to the owners, then more arrived, And more. And more. For the next hour or so, cars pouted in, some by themselves, others in little convoys. With a combination of people meeting long-established friends, and those who would become instant friends, as well as plenty of photos to be taken, it was inevitable that the timetable would get sabotaged right from the start, and the group was still in place at least 30 minutes after the planned departure. Over 40 Italian cars arrived during this time, with a nice variety of models and marques.
ABARTH
I had publicised the event on the various Abarth Owners Club Facebook pages, and whilst response from those who are relatively local was less than had this been in the South East, several had said they planned to come. And they did. Among the first to arrive were a pair of 124 Spider models, both belonging to people I had not met before. Kurtis Rowe, a local to the area, who owns the white car had only had his a few weeks, told me he had already covered 2000 miles in it. It was not long before there was comparison of the finer details of the two cars going on, with both enthusiastic owners looking at features of the other car. Needless to say, they were interrupted lots by others who wanted a closer look at a car which, a year after the first deliveries, is still not a particularly common sight on our roads, or even at events.
There were rather more of the 500-based cars here. Damien Ward and Clare Hepworth arrived in convoy, but somehow separate from Luther Jackson who had been with them when they had all left Swindon together. And it was not a case of a couple of minutes between their respective arrival times, but more like 30 minutes, which did not augur that well for the idea of driving a further 80 miles as a group, especially when it emerged that they had followed quite different routing to get to the rendezvous point. A couple of other 595 models appeared as well, Series 4 cars, allowing everyone to see the most obvious visual differences that have appeared in the evolution of the model.
Final Abarth here was an example of the Punto Evo. Not just "any" Punto Evo, mind, but one of the exceedingly rare Scorpione versions, of which just 10 reached the UK.  Launched at the Bologna Auto Show in November 2011, they were all distinguished by a two-tone Nero Scorpione livery enhanced by a special matte black paintwork for the bonnet and roof, with special glossy black graphics for roof and bonnet. The engine was the same as the standard Punto Evo Essesse, which meant a 1.4 MultiAir engine, developing 180 bhp at 5750 rpm and with 270 Nm of maximum torque at 2500 rpm, which resulted in a top speed of more than 216 km/h and accelerates from 0 to 100 km/h in just 7.5 seconds. There were mechanical upgrade, though, with modified suspension, floating, perforated and self-ventilated front disc brakes with oversized four-piston yellow brake calipers, perforated rear disc brakes, high performance front brake pads, front and rear Koni shock absorbers with FSD (Frequency Selective Dumping) valve and specially lowered springs. The exhaust pipe oversized in the centre segment was taken from the optional "Esseesse" kit. Inside, there were "Abarth Corsa by Sabelt" black leather seats, with red and yellow stitchings and matte black backrest, homologated and lightened in keeping with the car's racing spirit. You also got laser-treated aluminium kick plate with special graphics, stainless steel pedals, a leather steering wheel with double red and yellow stitching, just like the seats and the sporty Jaeger driving instruments. With only 10 on UK soil, you don't see one very often.
ALFA ROMEO
Numerically, there were more Alfa Romeo cars here than everything else put together. That was not a surprise. For a start this was an event conceived by the Alfa Romeo Owners Club, and in any case, although there are plenty of events where Abarth owners get close on numbers, Alfa tends to be the best represented marque of all the Italians at any gathering of cars from that country. There was lots of variety of models here, with cars covering the past 40 years or so, ranging from the early 70s to the very latest Giulia.  Alfa's much praised 3-Series challenger has been in sale in the UK since the start of 2017, but is still not that common a sight on our roads, so it created plenty of interest, and lots wanted a closer look at this car.
The oldest Alfa here was an example of the second generation 105 Series Spider. This long lived model was produced from 1966 for almost 30 years, in four distinct generations. It was only officially sold in the UK for a short period of time, and it was the Series 2 cars which were the ones offered in the mid 70s. These different from the early cars with their squared off Kamm tail that offered the practical advantage of a larger boot, though some bemoaned the end of the swoopy rear end of the earlier cars, which does look particularly elegant. Not that this car is anything other than a delight to behold, of course. It was the S3 cars where the contemporary plastic perhaps ruined the lines a bit before Alfa restored beauty with the S4 model, a car that was still selling well enough in America to keep the production line in action. Plenty of Spiders of all four generations have subsequently arrived in the UK, so these cars are quite often seen at Italian car gatherings, and despite their rather minimal rust protection when new, many owners have applied lots of their own to ensure that they can enjoy their cars even  in the wet and the cold.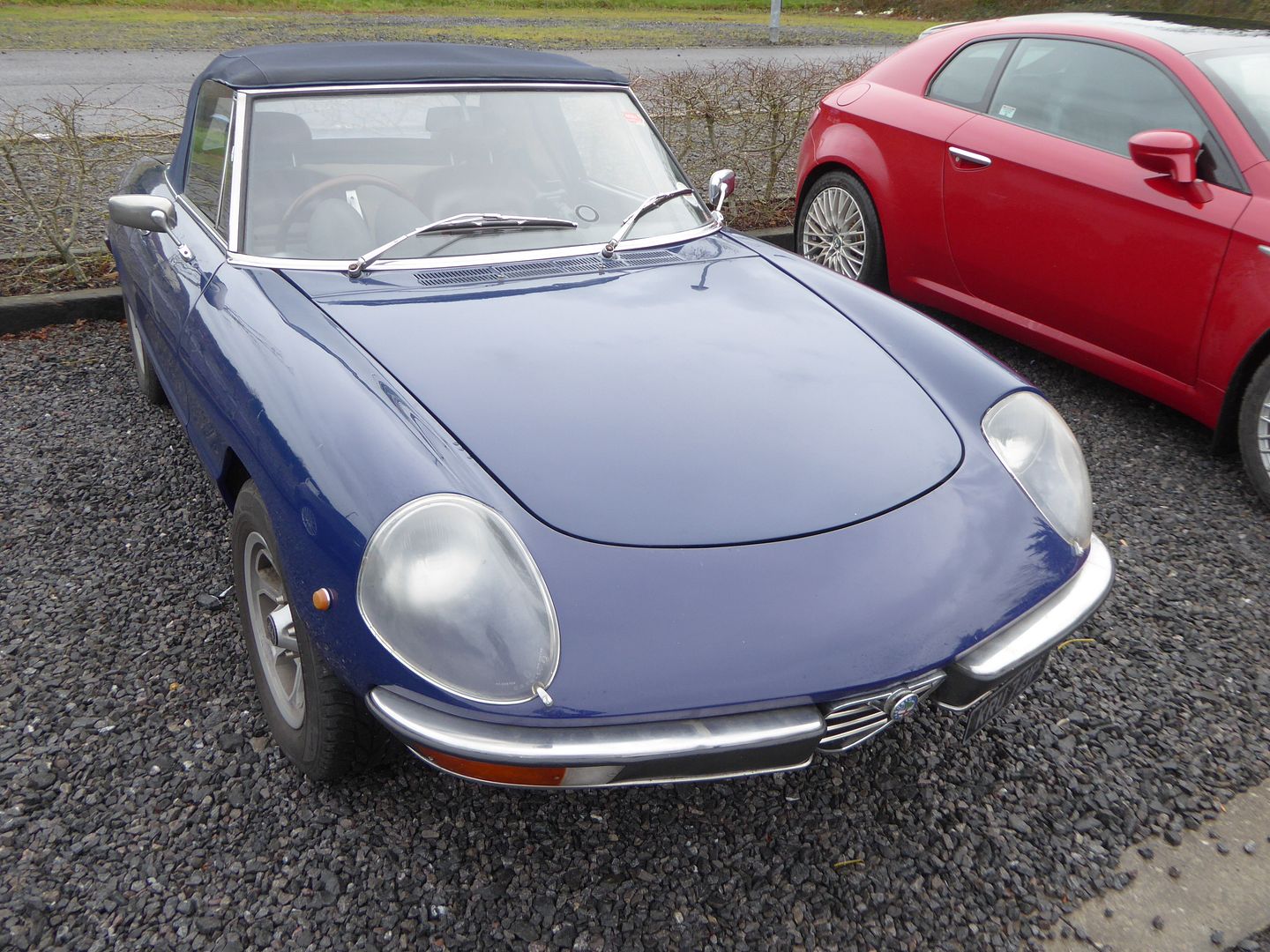 It was slightly sobering to realise that the next oldest model, albeit a bit more than  20 years the Spider's junior, was Daryl Staddon's fabulous 164 Q4. I say that as I owned an Alfa 164 from new for 4 years. Mine dated from 1995, and served me fantastically well for 160,000 miles before it went off to auction at the end of its lease, looking like it had done at least 100,000 miles fewer than the odometer said. It remains the car that I most regret letting go of, and of course, 164s are pretty rare now. Daryl's model is very special, as it is the absolute top of the line, a Q4 which means the most potent 3.0 litre engine and four wheel drive. This configuration was not sold in the UK, which is why his car is a left hand drive model. He's had it a few years now, and has made a number of subtle upgrades to it, to improve usability, durability and comfort. It featured in Auto Italia magazine earlier in the year, and was a hit with the team that wrote about it, and it remains popular with everyone who sees it in the metal, not just with me!
Chronologically next were the 916 Series of GTV and Spider models, and I had one of these, too. A 2.0 GTV Lusso followed my 164, and I enjoyed this stylish machine for the remaining 18 months of a lease that one of my colleagues had taken out. That car ended up covering a similar mileage to my 164, but over a lot more years, but is, according to DVLA records no longer with us. That's a shame, as values of the 916 cars, of which there were a couple of examples of the GTV and one of the Spider are now increasing, as people find the earlier 105 Series GTV and Spider models have rocketed way out of reach.
In the late 90s, Alfa looked to be on a roll, first with the 156 and then the later 147, both of which were showered with praise when new and both of which won the prestigious Car of the Year award. press enthusiasm waned, as is often the way, but that of the owners endured even to this day. There is a 156 in the background of some of the pictures, but annoyingly, I seem to have missed taking any where it was the centre of the shot. I did not make the same mistake with the 147s, though with both an original and the facelifted regular cars joined by a duo of GTA models, belonging to Craig Griffiths and Michael Woolford. Whilst the regular 147 had a long production life, the GTA cars did not, and only around 300 of them ever came to the UK so these were never a common sighting.
The next model to join the range was the GT, a stylish 2+2 Coupe which was one of a pair of cars that were intended to replace the 916 Series GTV models. The GT was the more spacious of the two, and arrived first in the market, with a mix of 147 and 156 underpinnings. It was voted as "most beautiful new car" at the time of launch in 2004, and it still looks really attractive from any angle today. I drove one when new, and it went as well as it looked, and that was the diesel version. The 3.2 litre petrol, with the Busso engine was the car to lust after and it only missed being on a short list of possible cars for me to own because production ended just before I was in a position to order a car to replace my lease car.
In the middle of the first decade of the twentyfirst century, Alfa worked with GM and SAAB to develop a platform which was intended to underpin a whole array of cars. GM's plans changed and they never used it, but it did form the basis of the 159 Saloon and Sportwagon and the sporting Brera and Spider. It was extremely strong, but also, sadly rather heavy, which meant that these cars always delivered in the looks department, but never quite had the sparkling performance that  would have made them really attractive alternatives that those beyond the Alfa faithful would take seriously. Sadly, the planned GTA model was a victim of the 2007/8 credit crunch. So, sales of all were decent, but not stellar. But those who bought them and owned them, or indeed who still own them, know that this was a car that was still something a bit special compared to the ubiquitous German rivals. As well as organiser Peter Edmunds' much loved Brera, there were a couple more examples as well as a Spider, and the 159 was represented by Mike and Tania's Berlina and a Sport Wagon.
Until the arrival of the Giulia and Stelvio, Alfa had effectively been competing in the market with just 2 cars, the MiTo and Giulietta. And whilst both still look great, a number of mild updates during their now long production lives mean that they are seen by many as a bit too venerable against their competitors. Those gathered here would, of course, beg to differ, asserting, as I would, that you should not believe everything you read in a motoring press whose prime mission is to sell copy, and perhaps try the cars for themselves. Certainly the owners of the example of both model types which were here are all fans of the cars, and so were the rest of us.
FIAT
There was only one Fiat here, but it was a really nice one. This is Anthony Zorzo's stunning 124 Spider which he acquired earlier in the year. Anthony and his father (who was not with him) are stalwarts of the Italian car scene in the Bristol area, and he has recently taken over the organisation of a couple of the regular meetings in the area. The 124, for which he had to wait a long time to take delivery, joins a long line of Italian cars in the family both past and present. My opinion, and shared by what I have heard many others say, is that the bright azure blue outside and tan leather inside is a winning combination to make this pretty little roadster look its absolute best, especially when the sun shines. But even on a grey day like this one, it was still a great looking car.
MASERATI
For a while it looked as if my Ghibli would be the only Maserati present. I ad done my best to make it clean, but an hour's drive down wet country roads meant that the flanks were little cleaner than they had been when I had set about it with bucket and sponge. Even so, there were plenty of people, including most of the Abarth fraternity who seemed to fall in love with it, relishing their first sighting of a car which some had not even realised I have in the stable along with the Abarth. I did catch event organiser, Pete Edmunds, more than once, have a good old drool over it, too!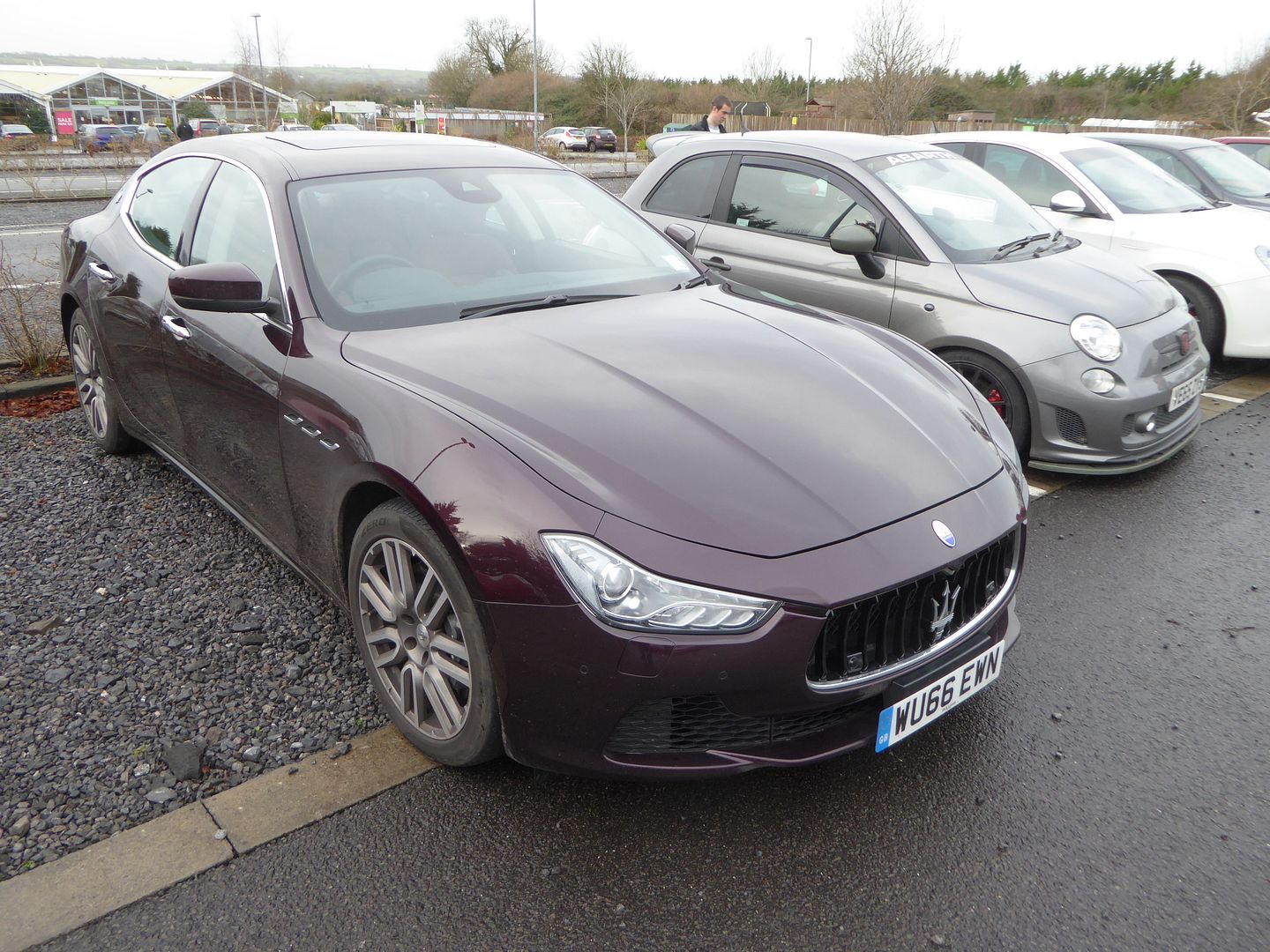 However, before we departed, a second car bearing the famous Trident badge arrived. This was Anthony Baddeley's gorgeous 4200 Spider. As if the looks of this voluptuous red open top are not enough to seduce you, then once he fires the engine, the exhaust will entrance anyone with a milligram of petrol in their veins. The car is referred to as the Masbo, and with its special exhaust and the astonishing noise that it generate, it is not hard to see why. Anthony did say that the car does need care, in wet conditions. The shorter wheelbase compared to the 3200 and 4200 Coupe models on which it is based means that the back end can snap out with little warning, as he has experienced a couple of scary times, so on the wet country roads which we would take, he knew he would have to exercise some restraint.
THE GORGE
Eventually, our organiser managed to persuade everyone that we really did need to start the drive, as his route, around the country roads of Somerset, covering 80 miles or so would take a couple of hours, and we did have a late lunch reservation that we needed to honour. With Pete leading, Italian cars poured out – thankfully a left turn so the cars did not get too broken up too much by interlopers – back towards Cheddar village, and then taking a right turn heading towards the Gorge.
Even on a grey day in December, the area around the man-made attractions seemed quite busy, but our luck was in when we got to the first large parking area, on the right. Save for one coach, it was empty, and the perfect place to gather all the cars for some more photos. Actually, although this was a large area, it was no big enough as by this time, the group totalled 44 cars, but with parking on the other side of the road as well, everyone could get parked up. For the next half an hour or so, there was lots of snapping of photos, with people resorting to scrambles up the rocks to get some more unusual angles (getting up was not too hard, getting down, not quite so easy!), and a few people decided to head up the gorge and back, allowing for some videos with great sound effects as those Italian exhaust systems reverberated off the rocks (the Masbo was the star, but there were plenty of aural pleasures as well!).
EN ROUTE
Photos done for now, we set off, up the Gorge. A couple of miles further on, and those at some mid-point in the convoy, as I was, started to see our group heading back towards us. Initially thinking that this was all in quest of more photos, we thought little of it, until we got to the point where people all seemed to be turning around. And the reason for this was because those who had gone further along the planed route had come to an unexpected "Road Closed" sign. That, of course, is always the hazard of a driving day.
This was the point when local knowledge would have been helpful. The alternative was to follow someone else and hope they knew  where they were going. I managed to follow a convoy of cars for some miles, with Craig Griffith's 147 GTA always in sight in front of me, as we headed down roads with little traffic, and little space to meet anyone. Eventually, we emerged onto the A303, at a point which I guessed might have been on the original route, but I later discovered it was not. But within a couple of miles, there was a large roundabout and on it was a Services Area. The convoy all pulled in.
THE POTTY STOP
Needless to say, this was a convenient (if you will pardon the pun) change of plan, as there were toilets there and for those who wanted it., the chance to refill with coffee. At this point, by no means all the cars were present, with around 50% of them nowhere to be seen, presumably having found some other routing. It was the chance, to get some more photos.
We set off again. And at the roundabout, I experienced what you always fear in a situation like this. The traffic lights changed just as I approached, meaning I was now the lead car, with no idea where I was supposed to be going. The cars ahead of me completely vanished before the lights changed, so I set off down the exit they had taken, but with no idea where I was now going. Clearly those following me assumed otherwise. Well, for a few hundred yards anyway, and then I  noticed that everyone else had turned right. I was now in a convoy of one. This was the cue to stop, and program the restaurant destination into the sat nav and just enjoy the drive and get ready for the inevitable comments about getting lost.
EVENT'S END AND FOOD
Sure enough, when I did reach the Brent House Carvery, there were lots of Italian cars in the car park. Close to 40 in fact, so it looked pretty clear that I was the last to get there. Some had been there a couple of hours, I would later find out, as they had cut out most of the driving once the "route closed" issue had been experienced and they had just gone direct to the pub.
Investigation of the whole car park before going revealed one car I'd not seen at all earlier in the day, a fabulous Delta Integrale. I did wonder if this belonged to someone who had been too late to meet with us earlier in the day and who had then gone straight to the lunch venue,  but it turned out that it belonged to one of the staff working at the pub, who also had a liking for Italian cars.
Although I was late, I was not too late, as people had not quite got as far as starting to queue up for the extensive carvery options that awaited us, so I could find a table spot and then line up for what turned out to be an exceptionally good lunch, well up to the star billing it had been given in the build up to the event. I was not alone in thinking this.
By mid afternoon, with everyone somewhat replete, it was time to head off back home. This was a memorable day for all the right reasons: good company, great cars and good food. A fitting end to my 2017 motoring year.