There have been Motor Shows almost as long as there have been cars. As well as giving those who attend the chance to see a wide range of available models, they have always been a popular place for manufacturers to showcase their very latest products. Every Show that I can recall from my childhood had more than the odd surprise, with either a new production car, or some futuristic concept model unveiled on the opening day, and this still seemed to be the case in recent times even when with the massive increase in published photos of camo-ed up prototypes, and leaks either official or of the rumour variety. But recently, many manufacturers have started to question the real value of the glitzy Motor Show, the costs for which have escalated somewhat. With more and more of our lives conducted online, they've all put a huge amount of effort into figuring out to get the maximum exposure and publicity using every social media trick they can think of. Many have decided that there is no business case for attending all the Shows that they used to support, choosing either a subset of the most notable international ones, or only to attend if they have something really significant to showcase. This has undermined the case for some Shows even to take place at all, as has been the case in the UK, where the closest we get to a national event is the Moving Motor Show that precedes the Goodwood Festival of Speed. The Paris and Frankfurt Shows are biennial, and indeed have been for a long time, and there is no international event in Italy, leaving the one held in Geneva as the only annual International Show in Europe. Taking place in early March, it has long been an important event, held in a "neutral" country, so there is no national dominance like you can get at Paris or Frankfurt. I've only missed one running in the last ten years (when I was on holiday in Australia, in 2012) and before that managed to attend a few times when I was working a few hours away in Zurich. I've always enjoyed it, whether visiting by myself or as part of a larger group – something which has generally been the case in recent years. The group bit was looking difficult for 2018, with one of my very best friends and keenest attendees getting married only a couple of days after the show, and so ruled out of attending, and almost everyone else finding diary challenges as well. Several months out, when planning an attendance usually starts, it's hard to get a real view as to how much new stuff will be on show, but as the event nears, the list always seems to get longer, but for 2018 that was not really the case, and indeed as the press days were upon us, it was apparent that although there were lots that was billed as "new", there was actually surprisingly little, certainly in the way of even relatively affordable production cars that was truly new,  as opposed to being an update or some limited edition version of the more familiar. Even so, I was excited for my day trip to see what was on display. I went mid-week, and this was clearly a wise decision, as I learned that only around 35,000 visitors would be in the PalExpo that day, whereas there had been over 80,000 on the preceding Sunday. It was pretty busy in the middle of the day, but by late afternoon, the halls did empty out and the last couple of hours (the show was open til 8pm – and not a minute later!) were pleasingly quiet which suited the photographer as well as the person who wanted to sit in some of the cars. There were quite a few notable absentees this year: Opel was perhaps the most obvious marque missing, with their stand area now given over to Aston Martin, but also not present were GM's Cadillac and Chevrolet, Infiniti, Lotus, MINI and DS. Here is what I managed to pack into the 10 hours that I was at the show, in alphabetical order.
ABARTH
Abarth did not have a completely separate stand this year, rather they occupied one corner of parent company, Fiat's stand instead, and with just two cars on show, their presence seemed rather lower key than has been the case in recent years. Both cars were "new", though the reality is that they are in fact variants of existing and familiar models.
The main highlight of the 124 GT, a new version of the 124 Spider is, of course, that hardtop. It's entirely made out of carbon fibre which makes it extremely light at 16kg, despite having a lined ceiling and a rear window with a defroster. Abarth claims it also improves the overall torsional rigidity of the 124, as well as providing better visibility. Installation is claimed to be easy, while the soft-top is retained. The new Abarth 124 GT also features a special Alpi Orientali Grey exterior paint finish, with customers able to opt for a matte black bonnet. A set of lighter 17-inch OZ alloys, along with gunmetal mirror caps, front spoiler, and an optional carbon fibre rear wing complete the exterior differences. The 124 GT is powered by the same turbocharged 1.4-litre four-cylinder engine that produces 170hp and 184lb-ft (250Nm) of peak torque as you get in the standard car . A dual-mode Record Monza exhaust is fitted as standard. 0-62mph (100km/h) is dealt in 6.8 seconds. Customers will be able to choose the Abarth 124 GT with either a six-speed manual or a six-speed automatic transmission. Deliveries start in the late spring.
The other Abarth on show was the 695 Rivale, the latest celebration of Fiat's partnership with Riva, which has already seen a special Riva version of the 500,. Described as being "the most sophisticated Abarth ever", it will become available either as a hatch or a cabriolet, with both of them featuring a two-tone Riva Sera Blue and Shark Grey paintwork. The new Abarth is also adorned with an aquamarine double stripe, satin chrome finish on the door handles and satin chrome moulding on the tailgate, various aesthetic elements inspired by the Riva 56 Rivale yachts and '695 Rivale' logos, joined by Brembo Brakes, Koni suspension, and 17-inch Supersport alloy wheels. Enhancing the nautical theme the new 695 Rivale features either a carbon fibre or mahogany dashboard, black mats with blue inserts, blue leather seats and door panels, carbon fibre kick plates, special steering wheel wrapped in blue and black leather and with a mahogany badge, blue leather instrument panel cover, and mahogany gear lever knob and kick plate. These are joined by the standard Uconnect infotainment with a 7-inch display, which is compatible with Android Auto and Apple CarPlay, and there is also a hand-written numbered plate that can be customised with the mane of the customer's yacht on request. Powering the new Abarth 695 Rivale is the same 1.4-litre turbocharged engine that makes 180PS (177hp) and 250Nm (184lb-ft) of torque, that features in the 595 Competizione, allowing it to go from rest to 100km/h (62mph) in 6.7 seconds and up to a top speed of 225km/h (140mph). Unveiled alongside the 695 Rivale is the Abarth 695 Rivale 175 Anniversary, created to celebrate 175 years of the Riva brand. It's available in 350 units, half of them coupes and the other half cabriolets. It features 17-inch alloy wheels with a special pattern, celebratory badge on the outside, hand-crafted details such as the two-tone colour – blue and black hand-stitched leather seats with a celebratory logo stitched onto the headrest, carbon dashboard silk screen printed with special logo, numbered plate, and other details that should attract the attention of Abarth enthusiasts.
ABT
ABT specialise in the tuning and modification of Audi models, and the latest examples of their craft were on show.  First up was the ABT version of the RS4 Avant. In standard form, the Audi RS4 Avant is less powerful than one of its main rivals, the Mercedes-AMG C63 S, but that's not much of a problem these days. ABT Sportsline's engine control unit, created for the 2.9-litre twin-turbo that's shared with the RS5 Coupe, increases the engine's output by 60 horses, from 450PS (444hp) and 600Nm (443lb-ft) of torque to 510PS (503hp) and 680Nm (502lb-ft). Perhaps this sounds like a modest upgrade, but at least now the Audi RS4 Avant can now wrestle with the Mercedes-AMG C63 S Estate in terms of power. The latter uses a larger 4.0-litre twin-turbo V8 making 510PS (503hp) and 700Nm (516lb-ft), so the two are evenly matched. In a straight line, the Mercedes needs 4.1sec to reach 100km/h (62mph) from a standstill, which is identical to the stock RS4, so with ABT's upgrades, Ingolstadt's super wagon should (probably) be faster. The tuner is offering other upgrades for the potent premium estate, such as a new suspension and sports stabilisers for both axles. Said to "exclude rolling motion during fast cornering", these work hand in hand with new 20-inch wheels, which can be painted in mystic black, glossy black, or matte black.
In case that's not enough, there's always the RS4-R. By fitting the 2.9-litre twin-turbo V6 engine with a new ECU and a high-performance exhaust system, the tuner's engineers have lifted the output to 530PS (523hp) and 690Nm (509lb-ft) of torque. This represents a 20PS (20hp) and 10Nm (7lb-ft) of torque increase over their previous RS4 project, and 80PS (79hp) and 90Nm (66lb-ft) of torque more than the stock car. Cornering performance is said to be enhanced by the sport stabilisers and height adjustable suspension springs. Those looking for a bit more will have to wait for the 'shock absorber setup', which is currently in development with KW. Alongside the 102mm carbon tailpipes, the super wagon also has a host of visual updates on the outside, such as the tweaked grille, bumpers, and rear diffuser. As a final touch, the Audi RS4 Avant rides on 21-inch wheels, shod in 275/25 rubber. More carbon fibre was added inside too, where the part-leather seats can also be found, in addition to other upgrades.
The third ABT model on show was the RS5-R, a tuned Audi RS5 Coupe, which is limited to only 50 units. The premium compact car's 2.9-litre biturbo V6 engine has received a few upgrades that allow it to produce 530PS (523hp) and 690Nm (509lb-ft) of torque. That's 80PS (79hp) and 90Nm (66lb-ft) of torque more than the stock model, enough for this Audi RS5 Coupe to complete the 0 to 100km/h (62mph) acceleration in 3.6 seconds, an 0.3sec improvement. The new ABT RS5-R also features an upgraded suspension with sport stabilisers and height adjustable springs, with the tuner claiming that a special coilover suspension is under development in collaboration with KW. Its head-turning ability has been enhanced by the special green shade, tweaked grille, front apron, side skirt add-ons, wheel arch vents, boot spoiler, and rear diffuser with incorporated quad exhaust pipes. The 21-inch wheels replace the standard 19-inch ones, and are wrapped in 275/25 tyres. Partial leather seats, with the RS5-R logo, ABT gear shift cover made from carbon fibre, '1 of 50' plaque, and other extras, complete the package.
There were further conversions also to be seen.
ALFA ROMEO
Alfa Romeo is celebrating the impressive performance of the Giulia Quadrifoglio and Stelvio Quadrifoglio by announcing Nürburgring Editions of both cars at the Show. Designed to pay tribute to their Nürburgring lap records, the special editions have an exclusive Circuito Grey exterior with carbon fibre accents on the grille and mirror caps. The models have also been equipped with black wheels that are backed up by a carbon-ceramic braking system. Moving into the cabin, drivers will find carbon fibre shelled Sparco racing seats with red contrast stitching. Designers also installed an individually numbered plaque and a leather / Alcantara steering wheel with carbon fiber inserts. Other highlights include a Harman Kardon premium audio system and an 8.8-inch infotainment system with GPS navigation as well as Android Auto and Apple CarPlay compatibility. Production will be limited to 108 units each and both models will be powered by a twin-turbo 2.9-litre V6 engine that produces 510 PS and 600 Nm (442 lb-ft) of torque. It enables the Stelvio Quadrifoglio to accelerate from 0-100 km/h (0-62 mph) in 3.8 seconds before hitting a top speed of 283 km/h (175 mph). Likewise, the Giulia Quadrifoglio hits 100 km/h (62 mph) in 3.9 seconds and tops out at 307 km/h (190 mph). The record-breaking Stelvio Quadrifoglio was on the stand.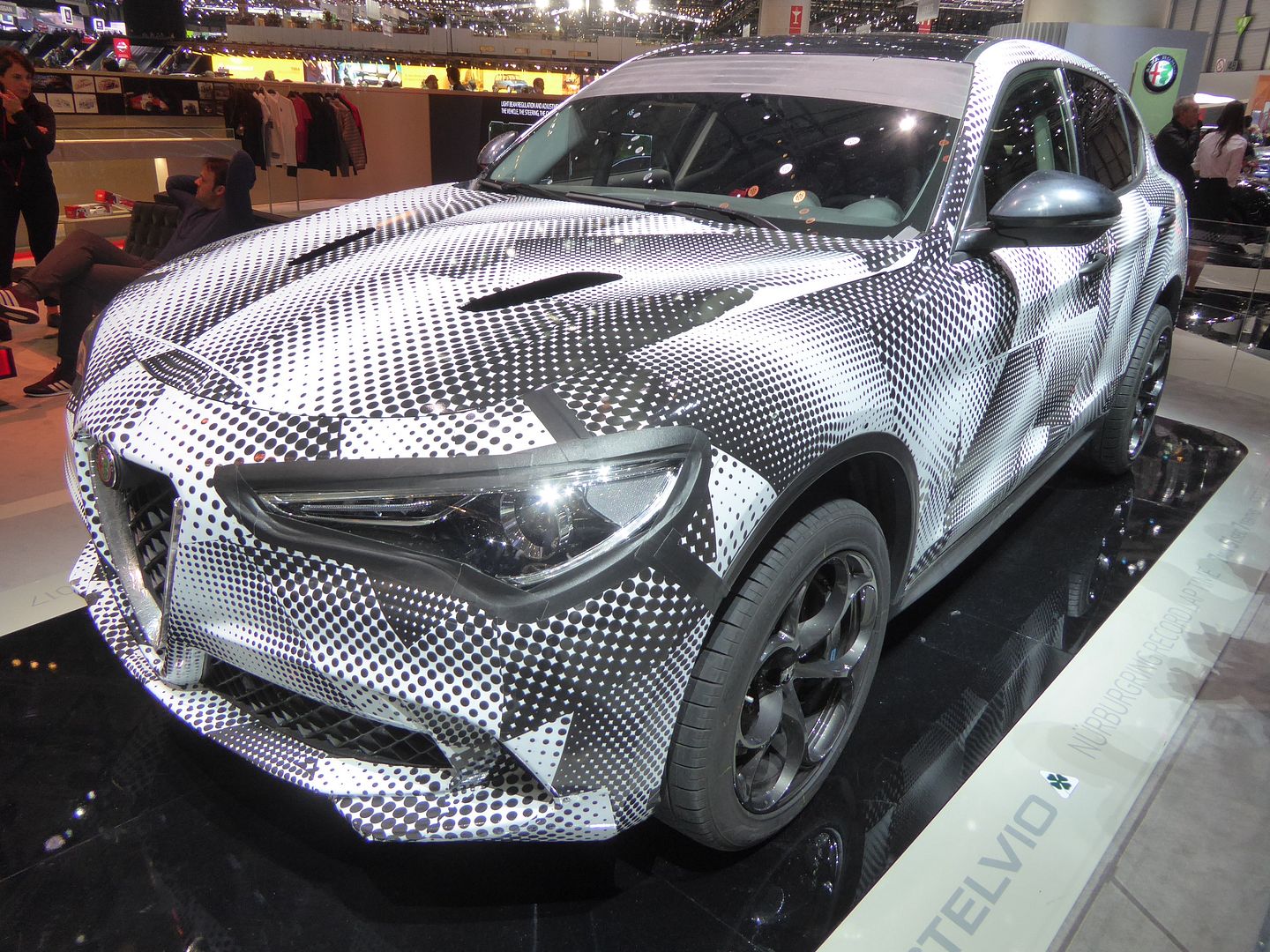 Alfa Romeo were also showcasing two Stelvios which come equipped with new options. The first model has a leather-wrapped dashboard and leather door panels while the other has the new Performance Pack. It includes an Alfa Active Suspension, a locking rear differential and aluminum paddle shifters.
The Giulia is now established and there were examples of the lesser models here, as well as the long-running MiTo and Giulietta.
Completing the display were a couple of examples of the 4C, introduced here as  the new 4C Competizione and Italia special editions. The Competizione is based on the 4C Coupe and it has a matte Vesuvio Grey exterior with a carbon fibre roof and rear spoiler. The model also has red brake calipers, an Akrapovič exhaust and 18- / 19-inch wheels with a dark finish. Interior changes are limited but include leather seats with microfiber inserts and red contrast stitching. Other special touches include a leather / microfibre steering wheel, a numbered badge below the handbrake and an aluminium "Competizione" badge on the dashboard. The 4C Italia goes in a different direction as it is based on the 4C Spider and has a Misano Blue paint job as well as yellow brake calipers. The model also has an Akrapovič exhaust and an exclusive "Spider Italia" sticker behind the doors. The interior largely echoes the 4C Competizione but drivers will find yellow contrast stitching, an "Italia" plaque and an Alpine premium audio system with a subwoofer. Production will be limited to 108 units a piece and both have a turbocharged 1.75-litre four-cylinder engine developing 240 PS. This enables the cars to rocket from 0-100 km/h (0-62 mph) in 4.5 seconds before hitting a top speed of up to 258 km/h (160 mph).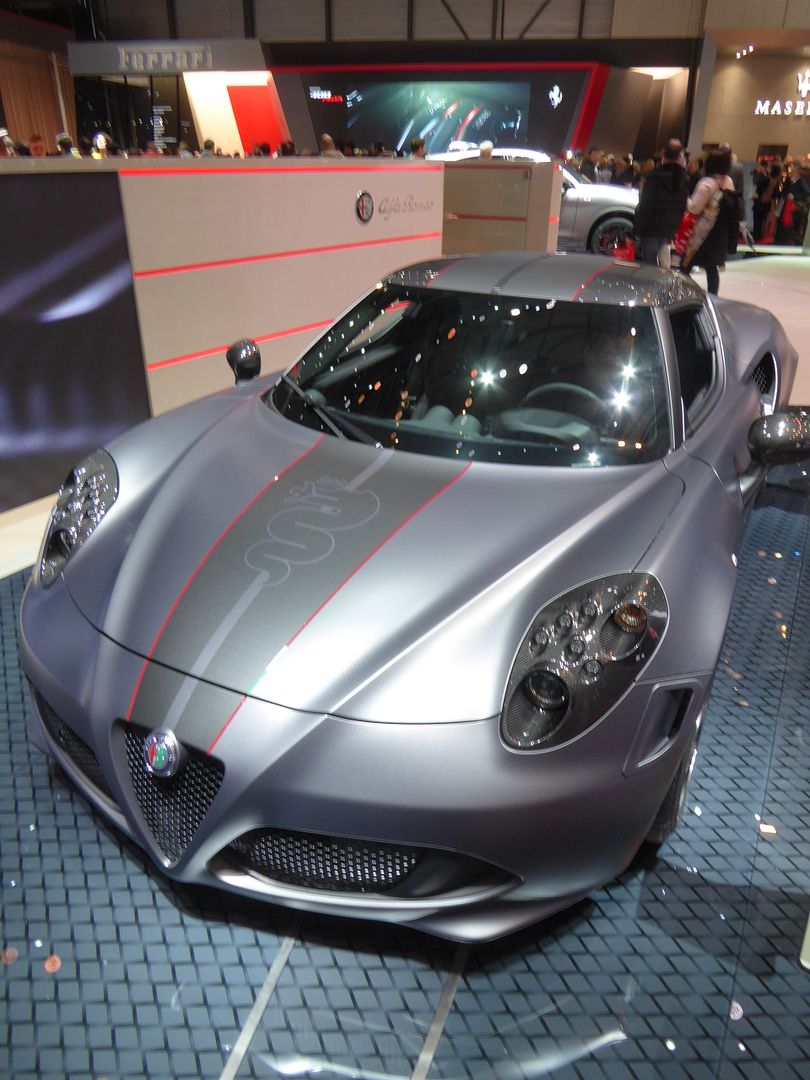 Not on Alfa's stand, but rather in a special display upstairs in Hall 1 were a couple of glorious 6C 2300 models from the late 1930s. Fabulous, both of them!
ALPINA
These days there is not much of a time lag between the introduction of a new BMW model and the arrival of the Alpina modified equivalent, so with various new BMWs have been launched recently, there were some corresponding Alpina newcomers to see.
To date, the only SUV-based Alpina has been one based on the X3, and with the arrival of a new BMW version of  this family-sized car, it is no surprise that an Alpina version was launched a couple of weeks ago, called, once again, the XD3. What stands out about this car – aside from the obvious exterior mods which include the bumpers, wheels and decals – is the performance. The XD3 comes with a quad-turbo 3.0-litre diesel unit, putting down 388 horses and a whooping 770 Nm (567 lb-ft) of torque with the help of an 8-speed automatic and a modded xDrive system. Zero to 100 km/h (62 mph) takes just 4.6 seconds, and the top speed has been unlocked to 266 km/h (165 mph). These numbers, by the way, reflect the performance of the LHD cars, whereas RHD models only get two turbochargers for 333 HP and 700 Nm (516 lb-ft) of torque, resulting in a 0-100 sprint time of 4.9 seconds and a top speed of 254 km/h (157 mph). Customers who would rather not wait until deliveries for the XD3 start (next year), can still opt for BMW's own X3 xDrive30d, which means hitting 100 km/h in 5.8 seconds and maxing out at 240 km/h (149 mph). Still, if it's diesel power you crave from the BMW X3, either version of the Alpina XD3 should satisfy your straight line needs quite nicely. As for when the roads become twisty, the German tuner will happily point to the SUV's custom sport suspension, with electronically adjustable dampers and active rear limited slip differential.
Other models on display included the B5 Touring and D5S as well as a B4 Convertible.
ARDEN
For those in the market for something British, but who aren't satisfied with the "standard" options offered by Jaguar Land Rover, then maybe Arden can help. This German tuner specialises in the UK's finest, and came to the 2018 Geneva Show with enhancements for two of JLR's top-of-the-line models. First of these is the Jaguar F-Type SVR, which already stands at the pinnacle of Jaguar's lineup. Arden takes it further by fitting it with a comprehensive aero kit, including a new front apron, grille, side skirts, rear apron… even new door handles. 21-inch wheels stand to reduce unsprung mass, mounted to a suspension lowered by 30 millimetres with grippy Continental rubber to help channel all the power to the tarmac. And make no mistake about it: Arden AR 23 packs a lot of power. 703 metric horsepower, to be specific (up from the standard 575), with 644 lb-ft (873 Nm) of torque to back it up. The 5.0-litre supercharged V8 features new forged pistons, an upgraded supercharger, a new intake system, and a remapped ECU. Arden has also upgraded the F-Type's interior with aluminium-coated textile, a leather and Alcantara steering wheel, and aluminium trim.
Those looking for more space and off-road capability may be drawn more to the AR 12 – Arden's take on the flagship Range Rover. It features a full wide-body kit, with front and rear aprons, side skirts, grille, and expanded wheel arches. The same engine has been similarly upgraded to 680 hp and 597 lb-ft (810 Nm) of torque, dropping 0.6 seconds off the 0-62 mph (0-100 km/h) time to come in at 4.9 seconds. Giant 23-inch alloys stand at each corner, with a suspension dropped by 25 mm and an interior enhanced by diamond-stitched leather upholstery, aluminium pedals, Alcantara trim… Compared to most of the other after-market modifiers, these cars are quite restrained.
ASTON MARTIN
Aston-Martin had a new location at the Show this year, upstairs in Hall 2, in the space vacated by Opel. This gave them a much bigger stand, so the cars could be displayed with far more room around them. Numbers on the stand were controlled, and there was quite a queue during most of the day, so I did not get as close this time as has been the case in previous years, but there were good views of the cars from the stand perimeter.
Centrepiece of the stand was the Valkyrie AMR Pro, which was making its world debut  Based around the already-insane road-going Valkyrie, the AMR Pro takes performance to new heights. If the claimed performance figures and times are achieved, it will be the fastest road car-based vehicle of its kind around a racetrack. Ever. Powering the Valkyrie AMR Pro is a naturally-aspirated 6.5-litre V12 engine sourced from Cosworth. Supplemented with an electric motor, grunt is expected to surpass 1100 hp but at this stage, no final figures have been confirmed. It is a similar story concerning the vehicle's overall weight. Aston Martin says it will tip the scales at roughly 1000 kg (2205 lbs) but has yet to give a final number for the production car. Either way, it will certainly exceed a 1:1 power-to-weight ratio and a top speed in the region of 362 km/h (225 mph) is expected. In person at Geneva, the aerodynamic elements of the Valkyrie AMR Pro really catch the eye. In fact, a fully-grown person could probably fit in each of the tunnels present within the rear diffuser. There are also numerous exposed carbon fibre elements across the exterior. Extreme doesn't even begin to describe it.
Painted in the same colour was an example of the new Vantage, the "entry level" model which was first revealed late last year, and which made its public debut at the Los Angeles Show in December. This would be the first chance for many in Europe to see the car in the metal for themselves.  Replacing a car like the previous-gen Vantage is an incredibly difficult task since that model was universally praised for its drop-dead gorgeous looks and whether Aston Martin have succeeded visually is a topic stsill generating debate. Everything is new on Aston Martin's latest sportscar, from the chassis to the powertrain and from the onboard technology to the clever aero agenda. Power comes as expected from the AMG-sourced twin-turbo 4.0-litre V8 that here makes 503hp (510PS) and 505lb-ft (685Nm) of torque. Paired to it is an eight-speed ZF automatic transmission, with Aston Martin hinting at a manual option later on. Aston Martin says they've mounted the engine as low and as far back as possible to ensure optimal center-of-gravity and that perfect 50-50 weight distribution. Dry weight is an impressive 1,530kg (3,373lbs). 0-60mph comes in 3.5 seconds (0-100km/h in 3.6) while top speed is 195mph (313km/h). The chassis is an evolution of the DB11's aluminium structure, with Aston Martin claiming that 70 percent of it is new for the Vantage. The rear subframe is now solidly mounted to make the driver feel more connected while the suspension employs double wishbones at the front and a multi-link setup at the rear. The latest generation of active dampers are also present, offering three modes: Sport, Sport Plus and Track. The new Aston Martin Vantage is also the company's first model to use an electronic rear differential (E-Diff). Linked to the vehicle's electronic stability control system, the new differential adapts its characteristics much more cleverly than a conventional LSD, making the car feel more composed, both on a straight line and while cornering. "Creating a worthy successor has been a challenge to relish and a huge source of motivation," said Dr Andy Palmer, Aston Martin boss. "I'm enormously excited by what we've created: a new Vantage that's more explicit in looks and intent, wrapping heart-pounding performance and dazzling dynamics into an everyday usable package. A true sports car with a sharper look and a keener dynamic edge, the new Vantage is the Aston Martin pure driving machine enthusiasts have been waiting for." Aerodynamics was also a key point to the design of the new Vantage; Aston Martin was able to employ all the latest tricks without littering the car's curvy bodywork. The front splitter is designed to direct airflow underneath the car, with the floor featuring special channels to continue guiding it into the right places and of course make sure that the airflow into the rear diffuser is clean and uninterrupted. Even the new side gills are designed to bleed air pressure out from the front wheel arches while the rear deck lid produces "a significant level of downforce". The order books are open, with prices starting from £120,900 in the UK, €154,000 in Germany and $149,995 in the US, and the first cars are expected to be delivered during the second quarter of 2018.
Both derivatives of the new DB11, namely the V8-powered Coupe and Volante, were on the stand.
Aston Martin's new Vantage GTE was also on display, ready for the World Endurance Championship (WEC). The race car is in its final stages of development and will make its racing debut at the 6 Hours of Spa-Francorchamps in May. It will also be put through its paces during the challenging 24 Hours of Le Mans in June as well. Dressed in its official livery, the Aston Martin Red Bull Racing F1 was also showcased here before competing in the 2018 FIA Formula One World Championship that kicks off on March 25 in Melbourne.
AUDI
One of the few new cars which had not been seen on public before was the latest Audi A6, the eight generation of a family which started 50 years ago with the Audi 100. There was just one example on show, on the display plinth at the back of the stand, although it as possible to get up close and have a look, and even sit in the car during the day. Production starts soon and the car goes on sale in different markets across Europe this June. With a design that's heavily inspired by the new A8, the new A6 is described by Audi itself as having "taut surfaces, clear edges and striking lines". Its styling would be best characterised as 'safe', and while some may not be able to distinguish it from the larger A8 unless both cars are side by side, that's no bad thing for the A6. The interior is very high tech: from the 10.1-inch MMI infotainment system to the 12.3-inch digital instrument cluster, both found in higher specs, to an 8.6-inch screen that waves goodbye to the traditional climate control buttons, the new A6 does away with convention and adopts what fighter jocks would call a "glass cockpit". As expected from an executive saloon that will soon be joined by an estate, aka Avant in Audi-speak, it also gets lots of leather and other high quality materials. The panoramic glass sunroof, ambient lighting packages, air quality package and premium stereo by Bang & Olufsen are optional extras, and front seats with heating, ventilation, and massage functions are available as well. For now, Audi keeps the engine lineup as simple as possible in Europe by offering one petrol and one diesel unit. Both of them have 3.0 litres in displacement and make 340PS (335hp) and 286PS (282hp) respectively. Fuel consumption is reduced with a mild-hybrid system that comes with both engines, along with an eight-speed automatic transmission and all-wheel drive. The TFSI petrol unit has an average consumption of 6.7-7.1 l/100 km (42.2-39.8 mpg), and emits 151-161 g/km of CO2, while the TDI diesel returns 5.5-5.8 l/100 km (51.4-48.7 mpg  and emits 142-150 g/km of CO2. I thought it looked good.
Positioned along side, on the same plinth was the latest A7, a car which was presented a few months ago and which is already on sale. There was just one example on show here.
The stand contained examples of the rest of the range. With so many models on offer, there was only one of each of the main body styles on show. There's a new second generation of the small A1 expected to be unveiled in the summer, so this was probably the last major Show where the current one would be displayed. It still looks good, to my eyes.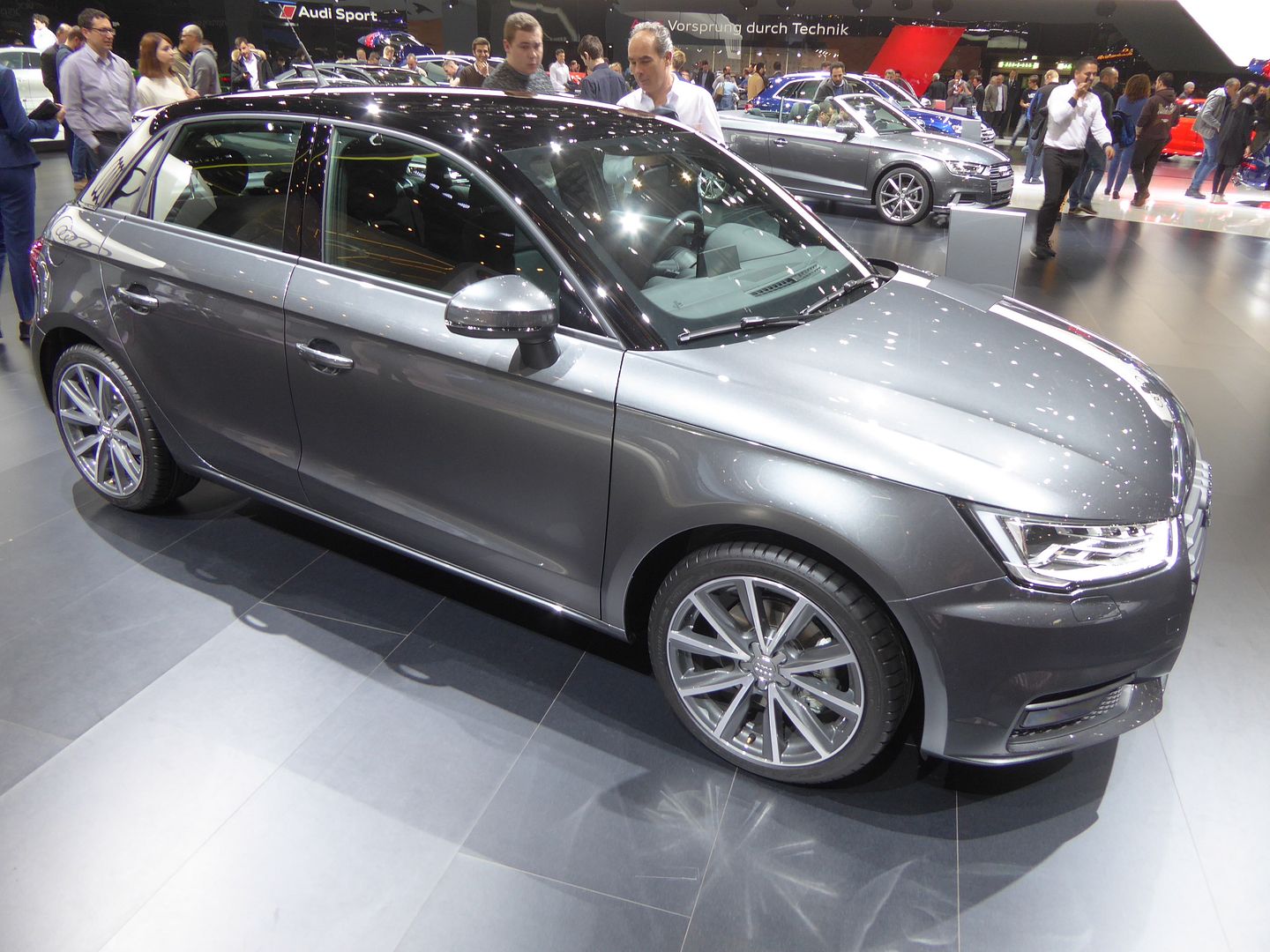 Up a size and you get to the A3 family, which has an expansive rang, with 4 different body styles on offer. Seen here were the 5 door Sportback and the recently released RS3 Saloon.
From the middle of the range, size-wise, are the A4 and A5 cars, with the A4 seen here in Avant g-tron guise, this being a version powered by liquified methane, which will be going on sale later in the year. It was joined by an A5 Cabrio and the top of the range RS5 Coupe.
The latest A8 was unveiled last year, going on sale only a matter of weeks ago, and so is still a relatively unfamiliar sight. The new styling cues link it closely to the latest A6 and A7.
The SUV models are an important part of Audi's range and there were examples of all four of them here, though I only seem to have photos of the larger pair, the Q5 and the Q7.
Representing the very top of the range was the R8 Spyder, seen here in  V10 Plus guise.
And finally, show-casing some of the things that Audi Sport can do, to personalise your car, was this TT RS.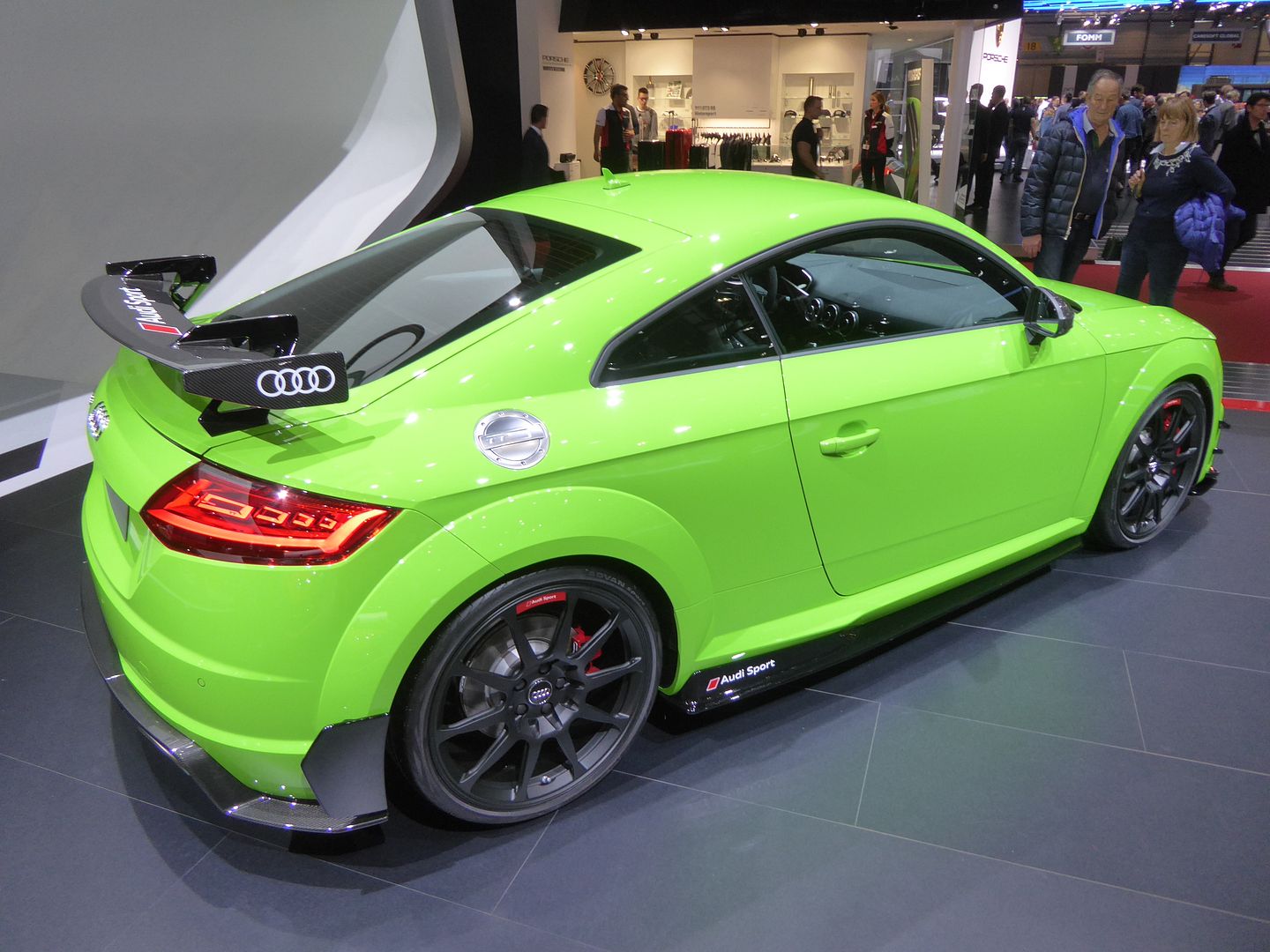 BENTLEY
Just weeks away from being received by the first customers is the new generation of the Continental GT, which was unveiled last year.
As predicted, the Bentayga has quickly become Bentley's most important car, and the range grows still further with new versions added to the original W12 petrol car and last year's diesel model. Making its debut here was a PHEV version.  Displayed with it was evidence that this British automaker has tapped into the talents of Philippe Starck – not for one of its vehicles, but for the charging dock built to accompany it. The Power Dock for the new Bentayga Hybrid was penned by the legendary designer and crafted from sustainable materials like pressed "eco-linen" with thermosetting resin and an outer case made from hot-pressure cast aluminium. With "tactile surfaces and inviting aesthetic," the dock is designed to encourage owners to charge their plug-in Bentleys whenever they pull into the garage. It also features a cable management system to keep all the wires tidy, further enhancing the aesthetically focused approach. "The relationship with a Bentley is not about bio-design or horsepower, it's a mental and sentimental relationship," said Starck, a longtime customer of the automaker's. "As always with my designs I wanted the maximum of intelligence with the minimum of materiality. I wanted it to be a modern art piece: durable, real and avant-garde high tech. It was also important for me that the unit was as sustainable as possible." The charger is designed to work with the new Bentayga Hybrid, a plug-in crossover which pairs a 3.0-litre turbocharged V6 to an electric motor to give it an electric-only range of over 31 miles (50 km). While it's the first, the SUV won't be the last electrified Bentley on the horizon. It goes on sale later in 2018.
It is not the only addition to the range, as also on show was a V8 version. As with other Bentley models, this one may well turn out to be the smarter buy. The 4.0-litre twin-turbo V8 kicks out 542 horsepower and 568 lb-ft of torque. As you might have guessed, that's less than the 600 hp and 664 lb-ft available in the 6.0-litre W12 with which it launched, but it's more than the V8 in the previous Continental GT's ever offered (even in 582-horse/531-lb-ft S spec). More to the point, it's the exact same output as the version found in the latest Porsche Panamera Turbo, which tells you a lot about where it comes from (as opposed to the previous Audi-sourced engine). Regardless of its source, it's enough to send the Bentayga V8 to 60 in 4.4 seconds and to a top speed of 180 miles per hour (as compared to the 4.0 seconds and 187 mph mustered by the twelve-cylinder version). The hundred-pound weight reduction does its part, but the Bentayga V8 still tips the scales at a portly 5,280 pounds – or about two and a half times the weight of the Lotus Elise built on the other side of the same country. Fortunately Bentley is offering a 48-volt active suspension system, along with carbon-ceramic brakes. They're not only the largest it's ever made, but feature the biggest front brake discs offered on any car in production: 440 mm, with ten-piston calipers up front (and 370 mm discs at the back). At 17 inches, those front discs are bigger than the wheels on most cars! No wonder the Bentayga offers wheels ranging from 20 to 22 inches. Along with the new engine option, Bentley's offering an array of new interior trims, including deep reddish-brown "cricket-ball" leather, carbon-fiber trim, and a steering wheel appointed in wood and leather. Expect the V8 option to reduce the Bentayga's price of admission, but not by enough to make it "affordable" to most of us, by any stretch of the imagination. It may be an SUV with a smaller engine, taking the marque once again into new territory – but it's still a Bentley, after all.
Also unveiled here before its global premiere at the 2018 Cheltenham Festival a couple of weeks later, was the Bentayga by Mulliner, Inspired by The Festival (yes, that's the full name), is a one-off design that celebrates Bentley's long-standing partnership with The Jockey Club. Bentley designers looked to the sport of equestrian when producing this bespoke Bentayga, fittingly painting it in Spruce, a modern take on the famous British Racing Green. Elsewhere, the SUV has been outfitted with the Blackline Specification and a set of 21-inch diamond-turned and black painted wheels. Custom touches also feature prominently in the cabin. For example, Cumbrian Green and Saddle leather is present alongside blue contrasting stitching on the door and seat quilting. Also featured is Bentley's Burr Walnut veneer with the so-called 'picture frame' cross-banding. A golden horse graphic has also been incorporated into the passenger veneer panel, while each seat features an embroidered horse and jockey emblem. "The Cheltenham Festival is widely recognised as one of the finest horseracing events in the world, and The Festival's unique sense of occasion is a perfect showcase for the world's most exclusive SUV, the Bentayga," said Mulliner's head of Technical Operations Uday Senapati. "The Mulliner team has been deeply inspired by the equestrian lifestyle, and this has encouraged us to use new materials and techniques for the first time on a Bentley in developing this one-off commission."
Completing the stand line-up was the Mulsanne.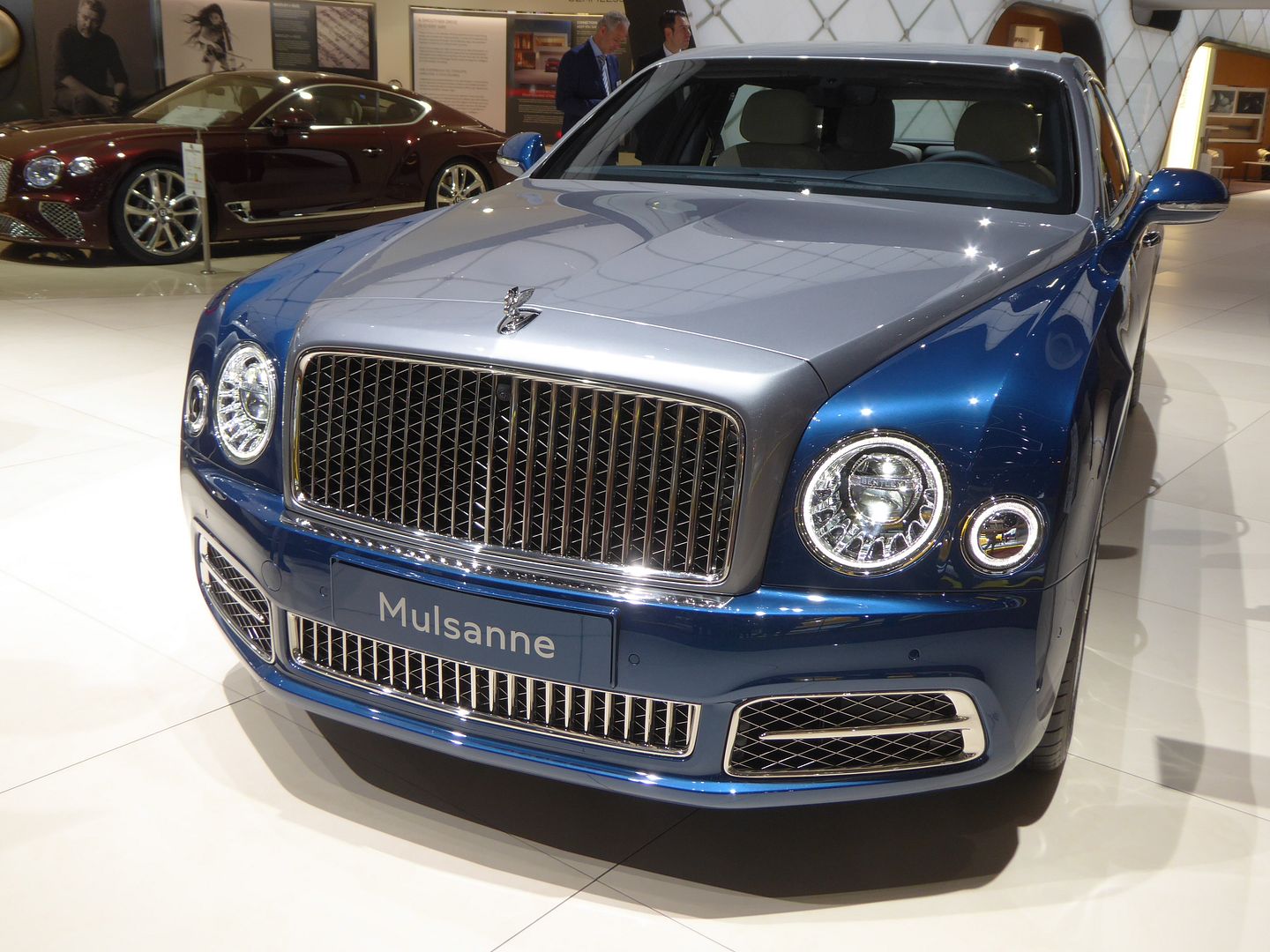 BMW
Perhaps the most interesting exhibit on the large BMW stand was the one tucked away at the back, in an area where the lighting (deliberately?) made life difficult for the photographer, even before contending with the dry ice which was blown around the car every few minutes, as the M8 Gran Coupe Concept. By unveiling the ultra-aggressive Concept M8 Gran Coupe at this year's Geneva Motor Show, BMW is looking to put the world on notice tat the Mercedes AMG GT4 won't have the market all to itself. According to BMW, the 'M' stands for "more", as in more of everything. Aside from being a dynamic four-door saloon, the BMW Concept M8 Gran Coupe is also meant to embody a new facet of luxury. "The BMW 8 Series will take over as the new flagship model of the BMW line-up and, as such, combines unsurpassed sportiness and elegance," said BMW VP, Adrian van Hooydonk. "The BMW Concept M8 Gran Coupe offers a look ahead to the most exotic and alluring variant of the new BMW 8 Series." Just like how the all-new CLS and A-Class helped Mercedes introduce a new design language to the range, so will the 8-Series help BMW do the same. Visually, it sits close to the road, it has a broad stance and a very mean, almost evil-looking front end (even more so than the 8 Series Concept) – let's hope all those features make it into production. Its profile design is thoroughly dynamic as well. The long wheelbase, long bonnet, flowing roofline and short rear make for a sporty coupe-like shape, whereas the muscular arches let you know from afar that you're staring at a performance-oriented product. Other styling and overall aesthetic details include the tapered shoulders, CFRP roof, aerodynamically optimised exterior mirrors, gold-coloured window graphic, hallmaker M gills, gold-coloured brakes, wheels and M twin tailpipes, and even the Salève Vert paint finish, which appears to change from green to grayish blue depending on the light. As for the rear-end design, there is a pair of sculpted taillights with black glass covers, a dynamic-looking bumper, prominent diffuser and the previously mentioned M twin exhaust pipes which really stand out. "The BMW Concept M8 Gran Coupe is designed to stir things up, to polarise – it should move you emotionally," argues Domagoj Dukec, VP of design for BMW M and BMW i. "With this car we want to reach people who are looking for something special and who want to stand out from the crowd. Here, BMW M is unmistakably taking luxury out of its comfort zone." The BMW Concept M8 Gran Coupe points directly at the upcoming 8-Series Gran Coupe and production M8 Gran Coupe, which will be introduced next year in order to round off the BMW 8-Series range.
Making another appearance at a major show, after Frankfurt, Los Angeles and Detroit, was the X7 iPerformance Concept. As the name implies, the concept has been created as a preview for the impending X7, which is likely to be revealed in 2018, and to be offered with several engines including a 4.4 litre twin turbo V8 offering 445 bhp. The X7 Concept brings with it what is politely called an eye-catching design, certainly which is  radically different in many ways from any current production SUV built by the automaker. From some angles, it is not that unattractive, with narrow LED taillights looking quite neat. The front is unquestionably the most talked-about aspect of the vehicle. BMW designers have fitted a truly ghastly chrome kidney grille which may actually make you feel sick in the stomach. The huge grille has divided opinion among those to see the concept in person, but the market for cars of the size seems not be deterred by what many of us think of as "vulgar", so I have little doubt that the production version of this car – expected later in 2018 – will sell well.
Third concept model on the stand was the Z4 that was first revealed at Pebble Beach last August. Boasting a fresh look, new underpinnings and a revised range of engines, the two-seat soft-top has been developed 
in a joint engineering programme with the new Toyota Supra, which will be offered exclusively in coupé guise. The appearance of the Concept Z4 came months before the reveal of the production version. This had been predicted to be at this Geneva motor show, but the finished article is not here, so we got the concept once again. While some of the more flamboyant design features will be toned down, the overall styling and detailing of the concept is claimed to be 
very close to the production car. Design boss Adrian van Hooydonk said the car "expresses the new BMW design language from all perspectives and in all details". The Concept Z4 is bigger than the current model, with a longer wheelbase and wider tracks. BMW rethought the proportions in a bid to provide it with a more focused look. "A shorter bonnet and crisp overhangs ensure the driver sits closer to the centre of the car than in previous BMW roadsters," said van Hooydonk. The approach signals BMW's determination to shift the Z4 further upmarket. During the car's development, BMW board members considered renaming it. However, the German car maker's naming system groups even numbers among its coupés and cabriolets, so the long-mooted Z5 badge was never seriously considered.  The Concept Z4 features another interpretation of BMW's signature kidney grille, seen recently on the Concept X2 and Concept 8 Series. In place of the customary vertical bars, the insides of the kidney grille feature a new mesh that van Hooydonk said was inspired by the functional treatment used on early BMW roadsters, including the iconic 328 Mille Miglia. The long bonnet, meanwhile, retains the clamshell design of previous Z4 models. On the concept, it features two vents. However, these are unlikely to make production. Certain licence has also been taken with the concept's windscreen, which does not have the sturdy surround of the production version, and the two metallic domes conceived to act as rollover protection will be replaced by more conventional rollover hoops on the production roadster. Although BMW has yet to officially confirm it, the new Z4 eschews the folding hard-top of today's model for a traditional fabric hood. Already sighted on prototype versions of the two-seater, the hood folds and stows underneath a dedicated tonneau cover at the rear of the cabin. BMW has provided a clear glimpse of the look and layout of the new Z4's interior. The production car will have a flowing dashboard and relatively wide centre console resembling those of the concept. Features such as the digital instrument panel and head-up display included in the show car will also make their way on to the new roadster. However, the brushed aluminium and carbonfibre trims will be replaced by more cost-effective composite plastic materials. Accommodation is said to have improved thanks to the car's increased overall dimensions. Boot capacity is also claimed to top the 310 litres of the outgoing Z4. The new Z4 is underpinned by BMW's CLAR (cluster architecture) platform. It is already used by the 2, 5 and 7 Series and is also set to be adopted by the upcoming 8 Series and the successor to today's 3 Series. The CLAR platform is allied to a multi-material body structure, featuring a combination of high-strength steel, aluminium and magnesium. Insiders suggest the new roadster will tip the scales at under 1400kg in its most basic form, despite the increase in dimensions.  The new Z4 will be offered with a choice of two petrol engines from the start of sales. The first is a turbocharged 2.0-litre four-cylinder unit expected to develop around 181bhp in the Z4 sDrive20i and 248bhp in the Z4 sDrive30i. The second engine powers the Z4 M40i and is the latest incarnation of BMW's B58 turbocharged 3.0-litre in-line six-cylinder engine. It is rumoured to develop the same 355bhp as it does in the X4 M40i. A full-blown M version of the roadster, running the BMW performance car division's 425bhp twin-turbo 3.0-litre in-line six-cylinder, has also been mooted, but it has yet to be officially confirmed by BMW. True to tradition, the three initial Z4 models retain the rear-wheel-drive layout that has been part of the two-seat roadster's appeal since its introduction in 2002. Buyers are set to be offered the choice of a six-speed manual or eight-speed automatic in combination with all engines.
There are now two different bodystyles available for the futuristic looking i8, with a Roadster having now joined the original Coupe model, and both were on show here.
Rather more affordable are the front wheel drive BMWs, the 2 Active Tourer and Gran Tourer. A minor facelift for both was presented here, though it would take an expert eye to spot the changes. Set to go on sale almost immediately, the updated models have been equipped with a new front bumper that has a larger lower air intake. The hatchbacks also have a revised grille and new dual exhaust system on models powered by a four-cylinder engine. Other notable styling changes include a more aggressive looking M Sport variant and a revised colour palette that now includes Jucaro Beige and Sunset Orange. The models can also be equipped with updated LED lighting units and an assortment of restyled wheels ranging in sizes from 17- to 19-inches. The interior largely carries over but drivers will find more comfortable front seats and updated upholstery. The cars have also been outfitted with the latest iDrive infotainment system and a new electronic gear selector for models equipped with the seven-speed or eight-speed automatic transmission. Under the bonnet, BMW installed the latest generation of diesel and petrol engines which feature higher pressure fuel injectors, lighter crankshafts and improved turbochargers. The company says these modifications help to reduce fuel consumption and emissions while also increasing performance by up to 7 PS and 10 Nm (7 lb-ft) of torque. The entry-level 216i has 109 PS while the 225i xDrive boasts 231 PS. On the diesel side, there's everything from the 216d with 116 PS to the 220d which has 190 PS. The 225xe iPerformance also returns to the lineup with a 1.5-litre three-cylinder engine, an 88 PS electric motor and a 7.6 kWh lithium-ion battery pack. It enables the model to accelerate from 0-100 km/h in 6.7 seconds before topping out at 202 km/h (125 mph).
New last year were the latest 5 Series models, and the latest Touring and M5 were on show here, the latter impressing everyone who queued up for a closer look or to sit in it.
One that people are still scratching their heads about, if not quite as much as they did with its ungainly antecedent, is the 6 Series GT, a model that was introduced late last year to take over from the 5 Series GT.
The imposing 7 Series was well represented with examples including the hybrid 750e and the regular petrol-powered 750i.
SUV models are important to BMW, like they are to almost every car maker these days. There was a new one here, the second generation X4. BMW practically invented the crossover coupe with the launch of the X6 in 2007. Seven years later, it rolled out not only the second-generation X6, but downsized the same formula into the smaller X4, which, whilst not received that well by the motoring press, has sold well. Following the updates to the X3 last year, it was little surprise that there is a new one launched here, which is both larger and altogether more advanced than the model it replaces. In its second iteration, the "sports activity coupe" has grown by over three inches in length and an inch and a half in width, riding on a 2-inch longer wheelbase. (Height remains about the same at 0.1 inches lower.) That hasn't stopped the engineers from trimming as much as 110 pounds off the curb weight, though, with a lower centre of gravity and perfect 50/50 weight distribution for optimal handling. The designers have also integrated LED head, tail and fog lights, and active air vents, and streamlined the shape to a slippery drag coefficient of 0.30. Under that slanted roofline, they've still managed to fit an 18.5-cubic-foot luggage compartment – which may not seem like much for a crossover, but it's still more than you'd find in a 3 Series sedan. Fold the rear seats down (in a variable 40:20:40 split) and that figure expands to over 50 cubic feet. And a proliferation of stowage areas help with the versatility aspect as well. The cockpit has been redesigned around the driver, with a lower instrument panel and a higher seating position for a more commanding view of the road ahead. The extended exterior dimensions translate to more legroom for the back seats, too, with a panoramic moonroof to enjoy the view out the top. There's an oversized 10.25-inch touchscreen, optional head-up display (now 75 percent larger), and both gesture- and voice-control functionality. And there's a wide array of active safety systems on offer, too – including active cruise control, lane-keeping assist, cross-traffic warning, parking assistant, around-view monitor… everything, in short, that you'd expect from the latest premium German offering. Globally, the new X4 will be offered with three petrol and four diesel engine options, ranging in output from 184 horsepower and 360. The xDrive30i packs a 2.0-litre turbo four rated at 252 hp and 258 lb-ft of torque to deliver a 0-62 time of 6.3 seconds and a top speed of 149 mph. The M40i performance model boasts a 3.0-litre turbocharged inline-six with 360 hp and 369 lb-ft for a 4.8-second 0-62 time and a 155-mph top speed. The lower-spec xDrive20i (with 184 hp) and three diesels with 190, 231, and 265 hp will garner most of the sales, though some will find the  M40d a tempting proposition, with 326 hp and a massive 501 lb-ft of torque to match the M40i model's top speed and come in just a tenth behind its 0-62 time (at 4.9 seconds) – but return much better fuel economy on oil: as much as 47.9 mpg on the Euro cycle instead of 31.4. All engines come mated to an eight-speed automatic transmission with all-wheel drive as standard. The Bavarian automaker will also offer an array of packages – including xLine, M Sport X, and M Sport – to help customers cater their vehicle to their taste. Wheels range in size from 19 to 21 inches, and further options from BMW Individual stand to make it even more personal.
It is only a few months since BMW first showed the X2, and this is just going on sale in European markets. A couple of examples were on the stand here.
There were plenty of other cars on the stand – including this (not very well focused in the photo!) M2.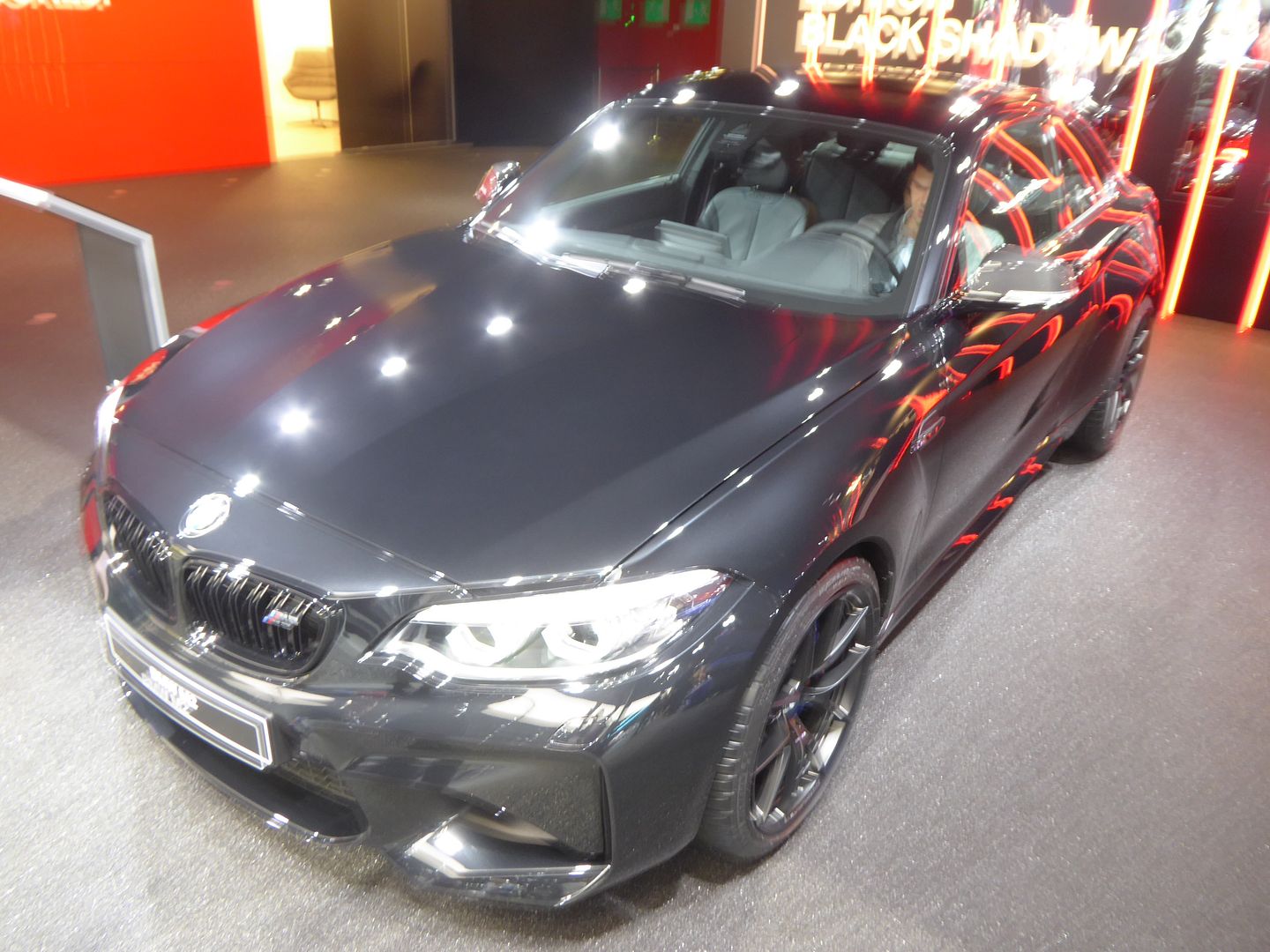 BRABUS
Brabus is of course one of the biggest names in the tuning business, and if you're any sort of Mercedes-Benz fan, you know that that seeing that big 'B' logo means you're dealing with a bunch of very fast, menacing-looking luxury cars. The very tip of the spear, if you will. Brabus have a huge stand at Geneva every year, with a mixture of their conversions of brand new cars and the rather more subtle updates to some classics on show. The tuner's three meanest saloons are what stood out most , and kicking things off is the Mercedes-AMG E63 S in Brabus 800 spec. This bad boy of a midsize premium saloon is pushing down 800 PS (739 HP) as well as 1,000 Nm (737 lb-ft) of torque, for an electronically limited top speed of 300 km/h (186 mph) and a 3-seconds flat 0 to 100 km/h (62 mph) acceleration time. To put it plainly, there aren't many four door cars that can keep up with something like this, which is why it costs over €250,000 ($309,700). Yet, if you're wondering what on Earth could be better than this savage E63 S, the answer is that very same Brabus 800 kit, installed on the Mercedes-AMG S63 S. While you might think that this wouldn't be as quick as the E63 S, and technically you'd be right, the difference is, simply put, insignificant. The S-Class-based Brabus 800, with the same amount of power and torque as the E-Class we just talked about, will hit 100 km/h (62 mph) in 3.1 seconds and max out at the same 300 km/h (186 mph) as its smaller sibling. So you basically get more car than you do in the E63 S, and with similar straight line performance. The only negative is the €359,000 ($444,000) price tag. Last and most definitely not least is the Brabus 900, which is based on the updated Mercedes-Maybach S650. This full-size limo is powered by a modded twin-turbo V12, massaged to deliver no less than 900 PS (888 HP) – it's enough to get it from a stand still to 100 km/h (62 mph) in just 3.7 seconds, while the top speed is in excess of 349 km/h (217 mph). All three models are also equipped with the tuner's body kits and customised interior designs.
In complete contrast were the Brabus-modifications to the G Wagen and their take on the Smart ForTwo, the Ultimate.
Among the classic models that were shown, were the 300 SL Roadster, the 230SL "Pagoda" and the oh-so-elegant W111 300SE Cabriolet
BUGATTI
Bugatti promised "a surprise" for the Show, and this was it, a slightly tweaked version of the Chiron. Baptised Bugatti Chiron Sport, it arrives with no change in power or performance data, but with "significantly improved handling and even greater agility", according to the Molsheim-based company. Thanks to the addition of new lightweight wheels, and increased use of carbon fibre, including on the windscreen wiper, the new Bugatti Chiron Sport is 18kg (40lbs) lighter. It benefits from a stiffer suspension too, with 10 percent stiffer shock absorbers, and modified steering that doesn't sacrifice the feedback.These changes take effect in the Handling mode, and are joined by the optimised rear-axle differential and Dynamic Torque Vectoring. The latter change is effective in all driving modes. On paper, the Bugatti Chiron Sport doesn't seem that impressive compared to the regular hypercar. However, the automaker claims that the new one "is five seconds faster than the base Chiron model" on the Nardo test track, adding that "it can reach its full handling potential even at cornering speeds in excess of 200km/h (124mph)". Its carbon fibre appliqués and special wheels are what set the Chiron Sport apart on the outside. In the cabin, it gets the 'Chiron Sport' logo embroidered on the central console, and the 'Sport' logo on the door sill strips, in addition to the anodised black finish for the engine starter button, drive mode selector, and marketing plate. The Bugatti Chiron Sport presented here was finished in Italian Red, adorned with visible grey carbon fibre, and boasting black-dominant interior with red contrast stitching. The hypercar can also be had in French Racing Blue, Gris Rafale, and Gun Powder as well. It's priced from €2.65 million in Europe, without tax, and from $3.26 million in the United States, including taxes, fees, custom duties, and transport. Deliveries will commence at the end of the year. This example is said to feature "all the options available", and as a result, it costs €2.98 million net in Europe, and $3.672 million gross in the United States, which probably made it the most expensive production car on display at this year's show.
CHELSEA TRUCK COMPANY
Mercedes stopped selling the G63 6×6 nearly three years ago. But the gargantuan vehicle evidently left a lasting impression. And aftermarket customisers have been only too happy to step into its shoes… all six of them. That includes Kahn Design and its Chelsea Truck Company, which arrived in Geneva with the monster truck you see here. Called the Flying Huntsman 6×6 Civilian Carrier, it draws on similar Kahn projects we've seen to date, but adds in a considerable dose of luxury – and room for a rather large family (or two). To start with, it's some 880 millimeters (nearly three feet) longer than the Land Rover Defender 110 on which it's based. And as you can see, it also has six wheels: retro-style 18-inchers in matte black with red accents, shod with Cooper LTZ tyres. And all of them are driven, with locking differentials and a high-ratio transfer case. What separates the "Civilian Carrier" as it's called from other such conversions is what the Chelsea Truck Company – which specialises in luxing-up utilitarian SUVs – has done to the expanded interior. The cabin space boasts nine seats to make anything this side of a Ford Excursion look cramped. There's more leather inside than an S&M convention, covering everything from the headliner and the instrument panel to the grab handles and knee pads. Pretty much everything is covered in what used to be cows, save for the machined aluminium pedals and the rubber floor mats. The windows are tinted but the roof is almost all glass. The cost of the conversion? A tear-jerking £249,995, or about enough to buy a fully loaded, top-of-the-line Range Rover SV Autobiography, and still have enough to buy a nicely equipped Range Rover Sport to go with it.
CITROEN
Leisure Activity Vehicle. That's what Citroën calls this type of compact passenger van, and it lays claim to having created the segment with the Berlingo Multispace back in 1996. 22 years later, it's rolling out the third iteration you see here. The new Multispace is the first in an array of small vans being produced by the PSA Group. They'll reach showrooms as the Citroën Berlingo, Peugeot Partner, and Opel/Vauxhall Combo. The Multispace is the Chevron marque's passenger version, bringing with it some of Citroën's signature quirkiness. Just look at the "airbumps" that debuted on the C4 Cactus and are quickly finding their way across the automaker's lineup. It also boasts 28 storage compartments, including a multifunction Modutop roof setup and a Top Box in the dashboard (enabled by moving the airbag into the headliner). Variable seating configurations aim to optimize the interior space, and loads of appearance customisation options will help buyers make the van their own. Citroën will offer the Berlingo Multispace in standard and extended wheelbases to accommodate five or seven passengers. An array of gasoline and diesel engines are on offer, ranging in output from 75 metric horsepower to 130. There's a new eight-speed automatic transmission, and an array of 19 driver-assistance systems on offer. The new Berlingo and its sister-models will vie for customers against the likes of the Ford Transit Connect, Chevy City Express, Ram ProMaster City/Fiat Doblo, Renault Kangoo, Volkswagen Caddy, and Nissan NV200. It's a highly competitive segment, as you can see, and the expanding European auto group is serious about defending its slice of the pie – and maybe taking a bigger one. The Citroën brand alone has sold over 3.3 million Berlingos in the past two-plus decades, over half of which (at 1.7 million units) were Multispace passenger versions. It sold over 165,000 Berlingo vans last year alone, making it the brand's top-selling model in 17 countries, and its second-best seller worldwide behind only the C3.
Also making its first show appearance was the revised C4 Cactus which was revealed a few weeks ago. This is the first European model to offer the company's new Progressive Hydraulic Cushion (PHC) suspension. The system debuted with the C5 Aircross and aims to give the more affordable C4 Cactus a buttery smooth and comfortable ride through a set of secondary hydraulic dampers in each corner which replace the conventional bumpstops at both ends. Citroen has opted for a more comfortable set of the regular springs and dampers in order to further cushion the ride quality. The French company has also redesigned the seats which are now filled with high-density foam for even more comfort over longer drives. Part of the update is of course the new exterior look of the C4 Cactus, which continues to feature the signature Airbumps, only now they're mounted just above the sills and are smaller in size. Other changes include new bumpers front and back along with physically larger lights all around, making the 2018 C4 Cactus look a lot cleaner. Citroen will offer 31 different exterior colour combos and a range of five alloy designs to choose from. Autonomous emergency braking, traffic sign recognition and a driver attention warning system are now part of the new model's equipment, along with blind spot monitoring, park assist and a rear-view camera. The infotainment features a seven-inch touchscreen display. Citroen has also added a new engine option in the C4 Cactus range with the 130PS 1.2-litre PureTech engine. The same engine is also offered in 82PS and 110PS versions while there's also a 100PS diesel. Sales start imminently.
Established models that were on the stand included the C4 Picasso and the more recent C3 and C3 AirCross.
CONCOURS d'ELEGANCE
A stand that I suspect was conceived to help fill the gaps caused by the number of new car manufacturers who were not attending, but who's complaining when you see the cars that were on it!
Voisin C26
Lamborghini Miura
CORBELLATI
The Geneva Motor Show wouldn't be the Geneva Motor Show if it didn't have some new European automaker promising the world with a new hypercar. And this year it's Corbellati's turn. Corbe-who-now, you ask? Corbellati. And no, I've not heard of them, either. But they're shooting for the moon. Building upon a decades-old fine art and jewellry business, the family is now preparing to unveil the Corbellati Missile. The design is highly evocative of classic mid-engined Italian sports cars like the Alfa Romeo 33 Stradale and Ferrari 330 P4, with a low-slung and rounded form. But its spec sheet is the stuff of pure fantasy. The parameters boast of a 9.0-litre twin-turbo V8, with an aluminium-alloy block, four valves per cylinder, a four overhead camshafts. It targets an output of 1,800 horsepower – all of it channelled to the rear wheels through a six-speed transaxle and (thankfully) a limited slip differential. With that much power in a carbon-fibre chassis (and carbon-fibre bodywork), Corbellati wants the Missile to exceed 500 kilometers per hour – or more than 310 miles per hour. An adaptive suspension and carbon-ceramic brakes aim to keep it all in check. That speed would be significantly faster than the Hennessey Venom GT and Koenigsegg Agera RS – cars that have been clocked at over 270 mph. Will Corbellati prove up to the task? I have my doubts, but finding out won't be a simple matter. There are only a handful of places in the world with uninterrupted, paved straights long enough to attempt such speeds. Bugatti has used the VW Group's Ehra-Lessien test track. Hennessey took to the runway at the Kennedy Space Center. Koenigsegg closed down a highway in Nevada. Who knows where Corbellati will try to back up its claim, if it ever gets to that. Maybe Porsche will rent them some time at the Nardo Ring in southern Italy. But we're probably getting way ahead of ourselves in thinking that we will even see this dream again.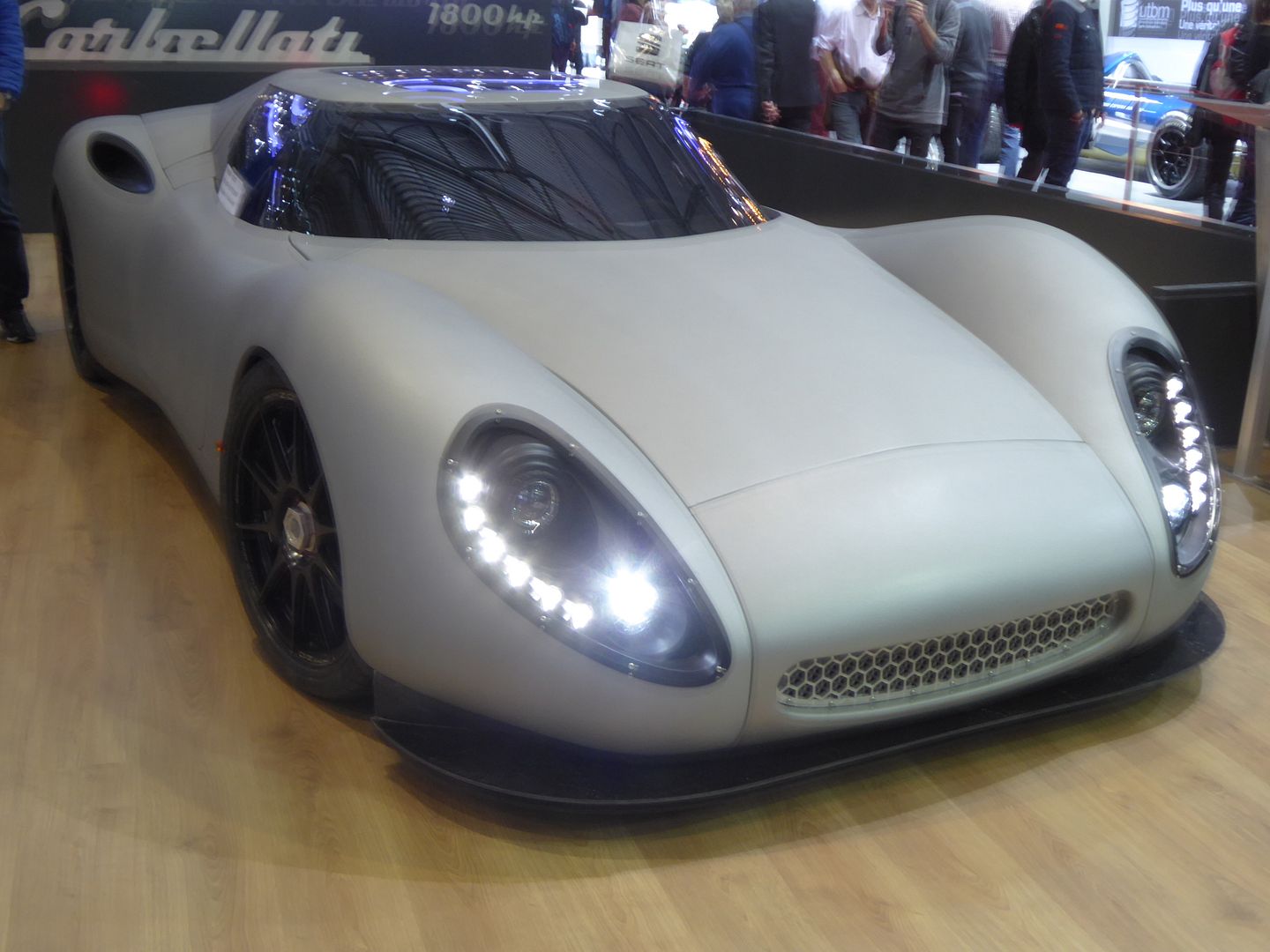 DACIA
Dacia produced an updated Duster last autumn, though you have to look quite hard to see the differences, from the outside. Inside, it is more obvious, as quality and equipment levels have taken a definite turn upwards, whilst still maintaining the value pricing.
The stand also included examples of the established Sandero, Lodgy and Dokker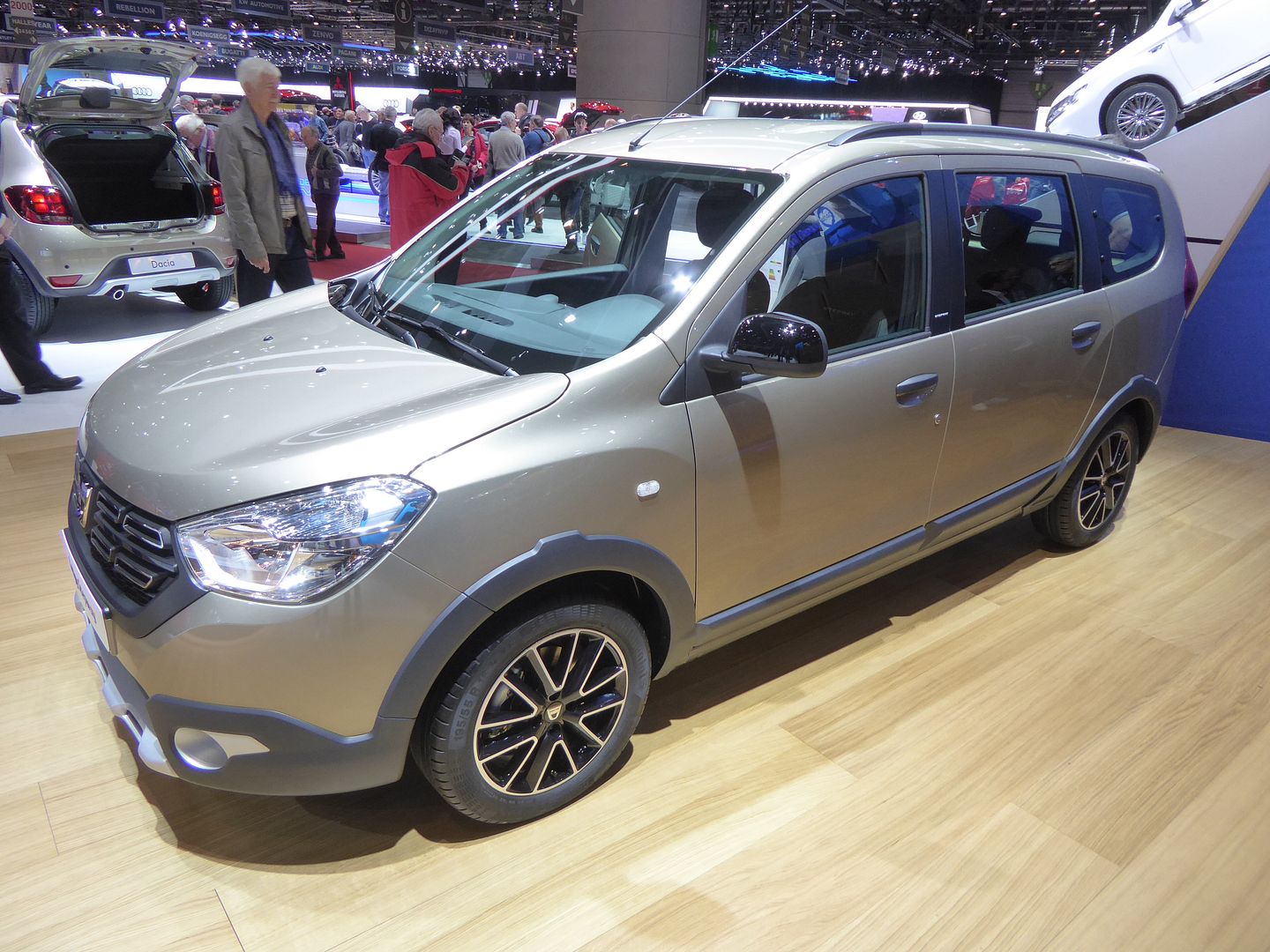 DAVID BROWN
David Brown Automotive promised something for new for the Show, and, unlike last year, when they had a totally different model,  it turned out to be a variant on their first offering, the Speedback. Dubbed the Silverstone Edition, the new version comes with more aggressive styling, which is supposedly inspired by "the dawn of the jet age and classic racers from the 1960s" and a revised V8 with 601hp. The DB Speedback Silverstone Edition is still based on the aluminium architecture of the discontinued Jaguar XKR, making use of the same supercharged 5.0-litre V8. In this case, power has gone up from the 510hp of the original Speedback to 601hp, thanks to a twin-scroll supercharger. The upgraded engine sends its power to the rear axle via a six-speed automatic gearbox and an active rear differential. The chassis now features a new suspension system for better handling and dynamics, as well as new brakes. A set of unique forged 20-inch alloy wheels, along with a new front grille pattern that incorporates LED driving lamps, extended side skirts, front spoiler and an enhanced rear diffuser are just some of the Speedback Silverstone Edition's exterior revisions. The bodywork is still made out of handcrafted aluminium. The two-seat interior is trimmed in high-end leather and mixes metallic inlays with an open-pore wood veneer finish. The sports seats are heated and adjustable while the extra space behind them is utilised as an extra luggage storage space. The more aggressive Speedback Silverstone aims to attract younger customers, at least 10 of them because that's how many examples DBA is planning to build.  Prices start from £620,000 in the UK.
Joining the new car on the stand were three examples of the model that was launched last year, the Remastered, an exceedingly plush recreation of the classic Issigonis-shaped Mini.
DODGE and RAM
There's always been a small. but enthusiastic market for American cars in Switzerland, so it was no surprise to find a couple of the FCA Group cars here, a Dodge Challenger and the rather larger (by European standards) RAM 1500 pickup.
DS
DS was not present in the show at all, which was something of a surprise, given that both Citroen and Peugeot were. There was, however, an example of their latest product, the DS7 Crossback, in the walkway from the airport towards the exhibition halls. It was locked up when I went past it both in the morning and the evening, but I understand that during the day, there was a representative patiently explaining that this would be the only DS that show go-ers could inspect. The car has just gone on sale in Europe. UK reviews have been a bit luke warm, noting that the car is not cheap, and whilst it has merit, it enters a very crowded marketplace and perhaps lacks a true differentiation to persuade many to select this rather than any number of rivals.
EADON GREEN
If you think that Eadon Green's Zeclat is the type of car that's meant to waft along on country roads like some type of bloated grand tourer, think again, because this is a completely different type of animal. This was definitely one of Geneva's weirdest supercars. It's powered by a naturally aspirated 6.2-litre V8 engine, which allows it to get from zero to 60 mph (96 km/h) in a blistering 3.6 seconds, thanks to 460 HP and 465 lb-ft (630 Nm) of torque. And yes, you don't need to look that close in order to see that it's based off a Corvette C7 wearing a custom exterior body. It's low, wide, and (supposedly) styled after aero cars created in the 1930s by French coach-builders such as Figioni & Falaschi, Bugatti, Chapron and PourTout – though, I will leave you to tell me if it lives up to those names. Inside, the Corvette C7's cabin is unchanged featuring the familiar driver-oriented cockpit, with hand-stitched leather, carbon fibre, piano black glossy surfaces and polished aluminium here and there. Aim it at the horizon and the 460 HP Corvette LT1 V8 unit will "convert power to speed in a safe and controllable way," says the coachbuilder. Meanwhile, the near 50/50 weight distribution, performance traction management, electronic limited slip differential and launch control system all play their part in making this car enjoyable to drive. Purists can even substitute the Zeclat's 8-speed paddle shift automatic for a 7-speed manual gearbox with Active Rev Match – a system for smooth gear change throttle blips. There are five different running modes to choose from: Weather Mode, ECO Mode, Tour Mode, Sport Mode and Track Mode – their functions being pretty self explanatory. Performance aside, potential buyers will be glad to know that, like the Corvette, the Eadon Green Zeclat has some decent connectivity options too, such as Apple CarPlay and Android Auto. Another tech-related function is the head up display, available with three different views.
E-MOKE
These are brand new all-electric Mokes, being produced in the Netherlands. They are the next chapter in the story of the Mini Moke which goes back to the early 1960s. The first design was a prototype for a light military vehicle, based on the American jeep style. Unfortunately, its small wheels and low suspension made it impractical as an off road vehicle. BMC decided to adapt the design for civilian use, promising an easy to maintain, low priced vehicle, ideal for leisure activities. The Moke eventually gained a lot of success as a beach buggy. It became a 'cult' vehicle in the Algarve, Côte d'Azur, Seychelles, Australia, USA and a lot of tropic spots in the Caribbean. The first Mokes were built at the BMC's Birmingham factory. 14 518 Mokes were made in the UK between 1964 and 1968, 26 000 in Australia between 1966 and 1981 and 10 000 in Portugal between 1980 and 1993. After these years, the production of the Moke was shut down. But now you can have a new one, which has a top speed of 70km/h and a range of 100km.
FENYR
This is another of those supercars that you are only ever likely to see at the Geneva Show, from a manufacturer you've probably never heard of,  W Motors. The Fenyr SuperSport was presented here in its finalised form, featuring a turbocharged flat-six engine that produces 800hp. The Dubai-based supercar maker has co-developed the Fenyr SuperSport with Magna Steyr while the engine is sourced from RUF. Measuring 3.8 litres in capacity, the mid-mounted turbocharged boxer unit is producing 800hp at 7100rpm and 722lb-ft (980Nm) of torque at 4,000 rpm. Paired to it is a seven-speed dual-clutch transmission that sends all this power to the rear wheels. W Motors claims that the Fenyr SuperSport is capable of a 0-62mph (100km/h) in 2.7 seconds, 0-124mph (200km/h) in 9.4 seconds and of a top speed of 245mph (395km/h). The sharp bodywork is entirely made out of carbon fibre and features active aero elements, the ceramic brakes utilise 420mm discs all around and the kerb weight is an estimated 1350kg (2976lbs).  The characteristic suicide doors of the HyperSport are also here. W Motors is producing only 25 examples of the Fenyr SuperSport per year. Each SuperSport costs from $1,4 million, with the company offering extreme levels of customisation to its customers in order to create a true one-of-a-kind supercar.
FERRARI
As is the case most years, the area around the Ferrari stand is one of the most crowded places in the whole show. It is possible to get on the stand, though you may have to be very patient and say the right things unless you have been invited, so for most, it will be a case of looking from around the perimeter, and waiting for those on the stand to get out of the way so you can get decent photos – not an easy, or a quick task! The car everyone wanted to see, of course is the new 488 Pista. Compared to the regular Ferrari 488 GTB, the new 488 Pista is 90 kg lighter at 1280kg dry, features a 20 percent improved aerodynamic efficiency and makes 49hp more from its twin-turbo V8 that now produces 711hp (720PS). These are some stunning specs to be honest, especially when you consider just how good the car it's based upon is. Ferrari claims a 0-62mph (100km/h) in 2.85 seconds, 0-124mph (200km/h) in 7.6 seconds and a top speed of over 211mph (340km/h). Ferrari has opted to call the new special series sports car "Pista", which is Italian for 'track', joining a celebrated line-up of hardcore models that includes the Challenge Stradale, the 430 Scuderia and the 458 Speciale. The whole bodywork has been reshaped, with the designers using innovations such as the S-Duct at the front and the unique edges of the front bumper and side sills that guide the air flow in -apparently- all the right places. The 3.9-litre V8 engine is essentially the same unit found in the Challenge race car and features specific valves and springs, a new cam profile, strengthened pistons and cylinder heads shorter inlet ducts, radiators with an inverted rake, a larger intercooler and more. It's also 18kg lighter than the standard engine. For the first time ever in a Ferrari, the new 488 Pista can be fitted with a set of optional single-piece carbon-fibre wheels that are around 40 percent lighter than the GTB's standard rims. A new generation of Ferrari's Side Slip Control System is also present (SSC 6.0) because who doesn't like to slide around a Ferrari with some help from the gods of Maranello. The new Ferrari 488 Pista will be offered along the regular 488 GTB until it goes off production, something that will definitely bum out the car flippers out there.
There were examples of the rest of the range here, too, ranging from the Portofino, which replaces the California T, to the GTC4 Lusso, now offered with a choice of V8 or V12 engines, as well as the 812 Superfast and the regular 488 GTB.
FIAT
There's a good chance that almost no one outside of Fiat knows all of the special versions of the modern-day 500. And to make it even hard, the automaker launched a new one here, called 'Collezione', which is said to celebrate the car's "timeless style and design", its "iconic status" and "ever-fashionable personality". In plain English, what we're looking at is another Fiat 500 special edition, available in both hatch and convertible body styles, and fitted with some colourful accents. Chrome trims on the front bumper, bonnet, and mirror caps, 16-inch alloy wheels, Collezione logo, and optional two-tone liveries, such as 'Primavera' (white and grey) and 'Acquamarina' (white and green) set it apart from the rest of the family. The city car can also be had in Taormina Ivory, Gelato White, and Blue Dipinto di Blu Blue. The interior of the Fiat 500 Collezione matches the colour of the bodywork, and this is where another Collezione logo is found, alongside the optional 7-inch UConnect infotainment system with Apple CarPlay and Android Auto. Music lovers can choose the Beats Audio Hi-Fi system from the options list too. Fiat offers this special edition with different petrol, petrol+LPG, and diesel engines, with outputs ranging between 69hp and 105hp. Also on display were three versions of the 500 Mirror. Each comes equipped with a 7-inch HD Live Uconnect infotainment system with Android Auto and Apple CarPlay compatibility.
There were new special editions of most of the rest of the range here, too. For the 500X, and available in City Look and Off-Road, the new Fiat 500X S-Design goes on sale this June with a number of exclusive features. The S-Design City Look is finished in a new matte Alpi Green shade, featuring polished steel details such as the front spoiler, mirror caps, side mouldings, door and boot handles, and taillight surroundings. It sits on 18-inch wheels, with a bi-colour finish and also features tinted rear windows. Fiat have replicated the dark details inside as well, where they can be seen on the dashboard panels and in the mouldings of the central tunnel and door panels. Specific S-Design seats round up the list of updates. Powering the Fiat 500X S-Design on display is the 1.4-litre MultiJet engine, producing 140 PS (138 HP), which is mated to an automatic DCT dual-clutch transmission. Pricing and availability have yet to be announced.
Similar treatment is also applied to the Tipo, with the S-Design featuring Metropoli Grey exterior with Bi-Xenon headlights and black accents. a Piano Black trim grille, new 18-inch alloy wheels, tinted rear windows, and a selection of four exterior colours. Leather and fabric trim with double stitching for the seats, steering wheel and gear stick knob, tactile finishes, Piano Black trim inserts, and upholstered door panels can be found in the cabin. Those interested in the special edition Tipo will get to choose between the 120 PS (118 HP) and 215 Nm (lb-ft), 1.4-litre T-Jet engine, 120 PS (118 HP) 1.6-litre MultiJet diesel, 110 PS (108 HP) 1.6-litre E-Torq petrol, and 120 PS (118 HP) 1.4-litre T-Jet LPG-petrol.
The 500L was updated last year, with a raft of changes and this family-sized car was on the stand as well.
Final Fiat on show was the 124 Spider in a new S-Design format. Opinions are still split as to whether the Fiat 124 Spider is better looking than the Mazda MX5, so the company is trying to settle the debate once and for all with this new version. The 124 Spider S-Design is a stylish roadster which has been outfitted with red stripes and unique 17-inch lightweight alloy wheels. The car also sports a small tricolour badge on the back and has an assortment of components – including the roll bar, mirror caps and A-pillar – decorated in polished steel. Besides the sporty styling touches, the model comes nicely equipped with leather seats and an automatic climate control system. Other highlights include a leather-wrapped steering wheel and a Keyless Go system. A turbocharged 1.4-litre four-cylinder engine resides under the bonnet and produces 140 PS and 240 Nm (177 lb-ft) of torque. When paired to the standard six-speed manual transmission, the engine allows the roadster to accelerate from 0-100 km/h (0-62 mph) in 7.5 seconds before hitting a top speed of 215 km/h (133 mph).
FOMM
Electric vehicles were front and centre at the Show, and whilst most of the attention was focused on mainstream brands, FOMM (First One Mile Mobility), a Chinese marque you've probably never  heard of, used to the show to introduce three concepts. The most interesting of the trio is the AWD Sports concept which is a compact two seat roadster which features LED headlights, a short windscreen and scissor doors. A few steps later, you arrive at the back of the car and see a nearly vertical fascia and a small diffuser. FOMM didn't have much about the model but the interior is incredibly stylish as it features exposed carbon fiber and a large metal center console. We can also see a bulky steering wheel and carbon fibre shelled seats with leather and Alcantara upholstery. Drivers will also find a digital instrument cluster and a widescreen infotainment system. Power is provided by four in-wheel electric motors which produce a combined output of 27 PS (20 kW) and 1,120 Nm (825 lb-ft) of torque. They are feed by four lithium-ion batteries which each have a capacity of 2.96 kWh.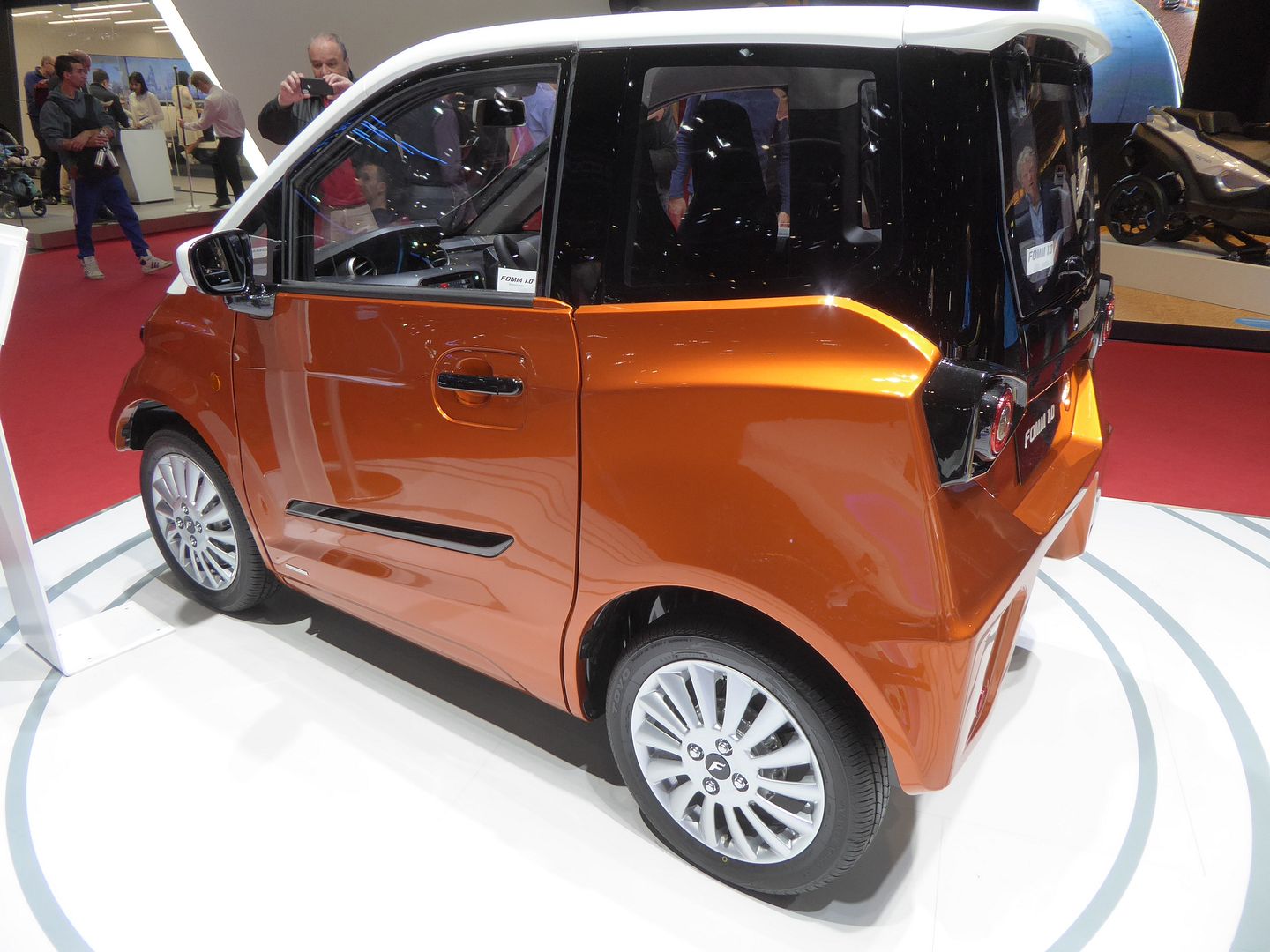 The company's second concept is an all-wheel drive scooter which has an eye-catching design thanks to its black and white exterior with blue accents. It has two 2.96 kWh lithium-ion batteries which power two electric motors that develop a combined output of 10 PS (7.5 kW) and 420 Nm (309 lb-ft) of torque.
Lastly, the Concept One is a compact electric vehicle with a front fascia inspired by Japanese Kabuki makeup. The car holds four, presumably tiny, people and can transport them up to 160 km (99 miles) on a single charge.
FORD
I visited the Ford stand several times during the day, as it was about the only one which was issuing free drinks – coffee, tea and water – and there was also a plentiful supply of chocolates. These were dispensed from a bar on the upper level of the stand, and there was the added bonus not just of chairs to sit on, but of views of the rest of the hall. There were cars positioned at improbable angles on the structure which led you upstairs.
The latest Fiesta is starting to become a common sight on our roads, and there are more models yet to come. These are the Active and the eagerly awaited  ST, both of which were on show here, along with the latest Fiesta WRC challenger.
Ford introduced a new Active version of the KA+ supermini here, featuring rugged styling and increased ride height, as well as new technologies into the range. The entry-level member of the Ford Active lineup benefits from additional rocker and wheel-arch mouldings and restyled front and rear ends which are now part of the entire KA+ range. These include a new mesh grille with chrome surround, standard foglamps and DRLs and redesigned bumpers "for a more assertive look". The new KA+ Active gets 23mm of extra ground clearance, an exclusive black finish for the front grilles and roof rails. Other exclusive features of the small soft-roader Ka+ include a set of unique 15-inch alloy wheels and the Canyon Ridge bronze metallic paint option. Ford has also tuned the new KA+ Active's chassis to match the increased ground clearance. The interior has been revised with a new grained finish on the instrument panel and dark charcoal trim materials. The company has also added chrome accents in areas regularly touched by passengers and the driver, such as the door handles, center console controls and air vents. Perhaps the most important interior update is the addition of the SYNC3 infotainment system which can be operated either by voice control or via its 6.5-inch touchscreen display. Android Auto and Apple Car Play is standard fit. The engine range includes Ford's new three-cylinder 1.2-litre Ti-VCT petrol with 70PS or 85PS, as well as the 1.5-litre TDCi diesel unit which produces 95PS. The new petrol 1.2-litre replaces the old Duratec unit, offering up to 10 percent more torque between 1,000 and 3,000rpm, as well as 4 percent better fuel efficiency. Both petrol and diesel models are paired to a five-speed manual gearbox. All models of the new Ford KA+ and KA+ Active will be offered with a long list of standard kit that includes power front windows and door mirrors, remote central locking, Hill Start Assist, Speed Limiter, six airbags, Electronic Stability Control and a Tyre Pressure Monitoring System. The new Ford KA+ and KA+ Active will go on sale later this year, with prices starting in the UK from £10,795.
With the introduction of the new Focus delayed until April, it was given a less than prominent presence here, leaving the larger Mondeo to remind us that Ford does still produce larger family cars that are not SUV-shaped.
Following a global debut at the end of last year, the new Ford Mustang Bullitt crosses the Atlantic, giving European customers the chance to own one of the most popular special versions of the American pony car. Instead of the 475hp of the US version, the Euro-spec Ford Mustang Bullitt is limited to 457hp (464PS) out of its uprated 5.0-lire V8 which is a little bit sad but not sad enough to spoil the excitement. The V8 engine features an open-air induction system, an upgraded intake manifold, 87mm throttle bodies and a control module calibration straight from the Shelby Mustang GT350 to produce 457hp (464PS) and 390lb-ft (529Nm) of peak torque. Paired to it will be a six-speed manual transmission with Ford's new rev-matching technology which blips the throttle as the driver downshifts. Customers will be given two exterior paint options: Shadow Black or the classic Highland Green. A set of 19-inch Torq Thrust-style alloy wheels, along with red Brembo calipers, chrome accents around the unique grille and windows, as well as a Bullitt-style fuel cap complete the exterior features. Inside you get the latest 12-inch all-digital instrument cluster, a white gearshift knob and green stitching on the seats and a premium 1000-watt B&O PLAY audio system. Ford will also offer as an option black leather-trimmed Recaro sports seats. European deliveries of the new Ford Mustang Bullitt will begin later this year. It was joined by an example of the original 1968 car on the stand.
Also with its origins in the US is the Edge SUV. a facelifted version of which was being seen in Europe for the first time  following its debut at the North American International Auto Show earlier this year. Billed as the company's "most technologically advanced SUV ever," the updated Edge has a new front fascia, a revised grille and restyled LED headlights. The crossover also boasts a new hood and an updated liftgate. Interior changes are relatively minor but include a redesigned centre console and a new rotary gear selector. Drivers will also find a "fully configurable 3D digital instrument cluster," an optional wireless smartphone charger and a new B&O PLAY premium audio system which has been specifically designed for the Edge. Drivers looking for something more stylish will want to check out the Edge ST-Line which features additional body colour trim and a black mesh grille. The model also has 20-inch wheels and a premium interior with aluminium pedals as well as perforated Miko-Dinamica seats. In terms of technology, the Edge gains a handful of driver assistance systems. New European features include Adaptive Cruise Control with Stop-and-Go, Lane Centring Assist, Evasive Steering Assist and Post‑Collision Braking. Under the bonnet, there's a new 2.0-litre EcoBlue bi-turbo diesel engine that produces 238 PS (235hp). It is paired to an eight-speed automatic transmission and a standard all-wheel drive system. Drivers who don't need as much performance can opt for a less extreme 2.0-litre EcoBlue engine with outputs of 150 PS (148hp) and 190 PS (187hp). The model will go on sale in Europe later this year.
Smaller Ford SUVs were here, too: the updated (again!) EcoSport and the Kuga, as well as the other versatile models in the range, the S-Max, Tourneo Connect and Tourneo Custom
Final Ford on show here was the exciting GT, deliveries of which are just starting.
GFG
GFG Style, together with Envison Energy, brought a highly efficient and fast sedan concept to the Show. The concept is over 5 meters (16.4 ft) long and stands 1.48 meters (4.85 ft) tall, boasting electric propulsion and a surprisingly accessible, well lit cockpit, with a panoramic view. In order to get in, the driver has to slide the windscreen forward by 750 mm (29.5 in), which then closes automatically along with the doors once the occupants are seated. Aside from the large dome roof and missing A-pillars, other standout features include the large 22-inch wheels, sharp horizontal headlights with a distinctive illuminated pattern, two spoilers and two air intakes on either side of the grille, plus an additional spoiler right underneath. One of the Sibylla's most interesting features though is its front stop light – yes, you read that correctly. Although no vehicle is obligated by law to feature such a thing, the Sibylla does, and can give pedestrians a sort of assurance when crossing the road, as they receive visual confirmation that the approaching car is indeed braking/slowing down. The interactive front grille can also share information regarding battery charge status, and not just movement alerts for braking or turning. Inside, there are multiple displays powered by Envision's EnOS platform, allowing this concept to provide its four passengers with outside environment info, such as the weather report, driving conditions, the location of the nearest charging point and so on. Now, if you think the steering wheel looks a bit weird, that's because it actually comes with aircraft-style yoke commands, while touch pads are positioned at thumb level to help the driver keep his or her eyes fixed on the road. The cabin is finished in Poltrona Frau leather, while the inside of the backrests comes with an innovative sensor, programmed to detect sudden changes in passengers' physical condition, such as variations in blood pressure and heart rate. Finally, in a straight line, the all-wheel drive, full electric Sibylla can hit 100 km/h (62 mph) in just 4.5 seconds thanks to its total power output of 400 kW (536 HP), aided by its four electric motors and 100 kWh battery. The all electric range is rated at 450 km (280 miles), whereas the maximum speed is simply said to be over 200 km/h (124 mph).
Displayed alongside was a concept from over 50 years ago, the Corvair Testudo, which was last seen at Geneva in 1963. The Chevrolet Corvair, produced by General Motors from 1960 to 1969, was a compact car intended to counter the increasing popularity of the Volkswagen Beetle. The Corvair was everything other GM offerings of the time were not. It featured a chaste, boxy design with a simple body and glasshouse, and minimal surfacing – no outrageous tailfins or chrome dagmars compromised its compact simplicity. It also employed a rear-mounted, air-cooled aluminium six-cylinder boxer engine; the only American-designed, mass-produced car to ever feature this kind of drivetrain arrangement. GM design chief Bill Mitchell was keen to expand formats and markets for the Corvair, and sent both Pininfarina and Bertone each a pair of Corvair chassis, with contracts to build a sporty European-style variant of the car. At Bertone, a young designer named Giorgetto Giugiaro was assigned the task of transforming the humble underpinnings into a modern sports car. His resulting design, a miracle of fast-track fabrication, was conceived and built in only two months. Nuccio Bertone was so proud of the design that he personally drove the car over the Alps to the 1963 Geneva Motor Show, where it became the star of the event. It was hard to believe what Nuccio Bertone introduced at his stand was underpinned by such humble mechanicals. The chassis on which the Testudo was built was shortened, and covered with a low-slung sports car body that was curvaceous in every way the stubby Corvair was not. And yet, to the trained eye, the Testudo's design was a transformation of the Corvair design cues, not a repudiation of them. At the front of the Corvair, the plain vertical fascia and headlight arrangement was surprising in its simplicity, quite a contrast to the baroque theatrics of the typical car of the day. The Testudo maintained this simple arrangement, but placed it at a rakish angle, and simplified it further by employing a single set of headlamps rather than the horizontal quads of the Corvair. The Corvair's strongest animating feature was a prominent shoulder line that ran around the perimeter of the car, drawing the eye along its boxy form. The Testudo continued this idea, but dropped the character line down to the waist, where it was made into a subtle fold and incorporated the top of the rear wheelwell and the front and rear bumpers. The boxy glasshouse of the Corvair was, like many cars of its day, generous, with whisper-thin pillars typical of the era before rollover safety standards were implemented. Giugiaro transformed this element of the design by designing a glasshouse with an enormous hinged canopy that created a cockpit-like atmosphere, and a curved glass hatchback at the rear. The only roof pillar to speak of was placed at the B-pillar position, but was more like a roll bar that also contained ventilation for the rear-mounted engine and the hinging mechanism for the glass canopies front and rear. The line of this bold pillar was integrated into the front fender, drawing the eye up from the headlights, over the front wheels and up around the cockpit canopy in one sweeping motion. The Testudo had the appearance of two shells fitted together – the upper one curved, the lower one less so. This gave the car its name – Testudo is Italian for turtle, as the car bears a faint resemblance to the languid reptile, especially from the rear views. But the choice of names seems ironic for a sports car, to say the least. The interior of the Testudo was a study in masterful mid-century Italian modernism. A pair of black bucket seats rose from the floor, and curved in concert with the roof pillars, creating a line that swept up like a wave from floor to canopy. The steering wheel was broad and rectangular, with clever leather grips at the sides. The IP and centre stack were a one-piece boomerang shape, with the instruments located on the stack and ignition, controls, and choke located behind the steering wheel. The Testudo won wide acclaim for its design, but was ultimately shelved as other GM projects were to take precedence. The Testudo also had the misfortune to be introduced in 1963, one of the great years for American sports coupes. The new generation split-window Corvette was introduced that year, as was the Buick Riviera and the Raymond-Loewy designed Studebaker Avanti. The Corvair's own design team was also working on sporty Corvette-like variants called the Monza GT and SS, which also owe a certain debt to the Testudo. The Testudo's ultimate realisation would occur in the cars its design influenced. The Lamborghini Miura and Alfa Romeo Montreal – both Bertone products – and the Ferrari Daytona have design elements descended from the Testudo. And Tony Lapine, the late, great Porsche designer, once stated that his celebrated design for the Porsche 928 was highly influenced by the Testudo. As for the car itself, it remained in Bertone's collection until bankruptcy forced liquidation in 2013. It was then sold at auction for €336,000. It remains in private hands.
HENNESSEY
This is another of those new name with ambitious plans. Hennessey Special Vehicles wants to be up there with the big boys, such as the Bugatti Chiron and Koenigsegg Regera, and they might have the perfect weapon to do get your attention: the Venom F5. Revealed at SEMA last year, the hypercar had its European premiere here. So, what is so special about the Hennessey Venom F5, you ask? That would be its ability to break the 300mph (483km/h) barrier. According to John Hennessey, this is "no question of if", "but a question of when". To meet their goal, Hennessey Special Vehicles, together with their partners at Shell and Pennzoil, made sure that it has the lowest possible drag, and that the chassis and panels can cope with the insane speed. Next, they strapped a new twin-turbo V8 engine to it, which delivers a whopping 1,600 horsepower, and after a lot of fine tuning, they finally completed it. Officially, the Hennessey Venom F5 takes less than 10 seconds to reach 300km/h (186mph) from a standstill, and under 30 seconds before it breaks the 400km/h (249mph) barrier. The claimed top speed is 484km/h (301mph). As expected with what could become the world's fastest production car, Hennessey will only make 24 units, and 10 of them have been already spoken for, despite costing in excess of $1.6 million. Will it succeed? Indeed, will we ever hear of it again? Who knows. There are plenty of brave efforts like this which sink without trace. Let's hope this is not just another such.
HONDA
No doubt about the stars of the Honda stand: the Urban and Sports EV Concept cars. This was not the first sighting of either, as the Sports EV Concept had been shown at the Tokyo Show last autumn, and the Urban EV had been at Frankfurt weeks earlier. It was my first opportunity to see them, both, and I was as taken with them as everyone else seems to have been. The Sports EV is a two-door, two-seat driver's car, with a long bonnet, round LED headlights, square taillights, an illuminated badge, cameras for wing mirrors, a compact interior and ultra-thin A-pillars. The Japanese automaker described it as a "concept model which combined EV performance and AI inside a compact body", aiming to provide the user with a "sense of unity" while inside the vehicle. It measures 3,895mm long bringing it pretty close to the 3,950mm Mazda MX-5. The Honda Urban EV Concept attracted a lot of praises when it was first introduced at the 2017 Frankfurt Motor Show. It didn't take long before the Japanese car maker confirmed that they will indeed build it, with Europe being the first region to get it in 2019, followed by Japan in 2020. Honda is already working on a dedicated platform for electric vehicles that will form the basis for the Urban EV. The company plans to retain most of its retro-inspired design, making the necessary adjustments for series production. Honda remains tight-lipped on the technical details. There are strong rumours that the Sports EV will follow it, in 2020. Fingers are crossed that Honda manages to deliver, in a sub- MX-5-size a fun mobile, boasting what's been characterised as a "highly responsive electric power unit".If the Japanese automaker can make it really fun to drive at a reasonable price, there surely won't be a scarcity in clientele.
Honda has also presented the NeuV (New Electric Urban Vehicle) concept, following its premier at the Consumer Electronics Show. This is a Smart-sized two seater designed to be used around the clock. Honda says that most privately-owned vehicles sit idle 96 per cent of the time. The NeuV however is able to operate as an automated ride-sharing vehicle when not being used by its owner. Additionally, the concept can sell energy back to the electricity grid when it's not in use and incorporates the Honda Automated Network Assistant. This means that the NeuV can detect the emotions of the driver and make music recommendations based on mood and provide various other driving recommendations.
There's been an exceedingly long wait for the latest CR-V to appear in Europe, as it is not far off two years since its debut in America and Japan, but finally the European spec models have been unveiled. On the outside, it sports a familiar design language, with a front end similar to those of other Honda vehicles, which many will think is not entirely a Good Thing. With this new version, for the first time, the CR-V is coming with a 7-seat option, said to offer "exceptional legroom". The SUV also gets two 7-inch displays, with one of them replacing the traditional dials, and the other serving as the infotainment system. Meanwhile, the electric tailgate boasts a system that prevents it from scraping against low ceilings. European customers will have to choose between two powertrains: the 1.5-litre turbo petrol engine, which works together with either a six-speed manual or an optional CVT, and a 2.0-litre hybrid. The latter was previewed last year in Frankfurt, using a 2.0-litre petrol unit with two electric motors, married to a single fixed-gear ratio transmission. Following its premiere here, there is still quite a wait before deliveries start,. Order books will open shortly after the show, as the first deliveries of the 1.5-litre models are expected to take place this autumn, whereas the first hybrids will be shipped in early 2019.
The FC-V Clarity was initially presented as a hydrogen-powered car, available on a lease in selected markets only. But now there are further powerplants available. The styling is, erm, well…….. distinctive.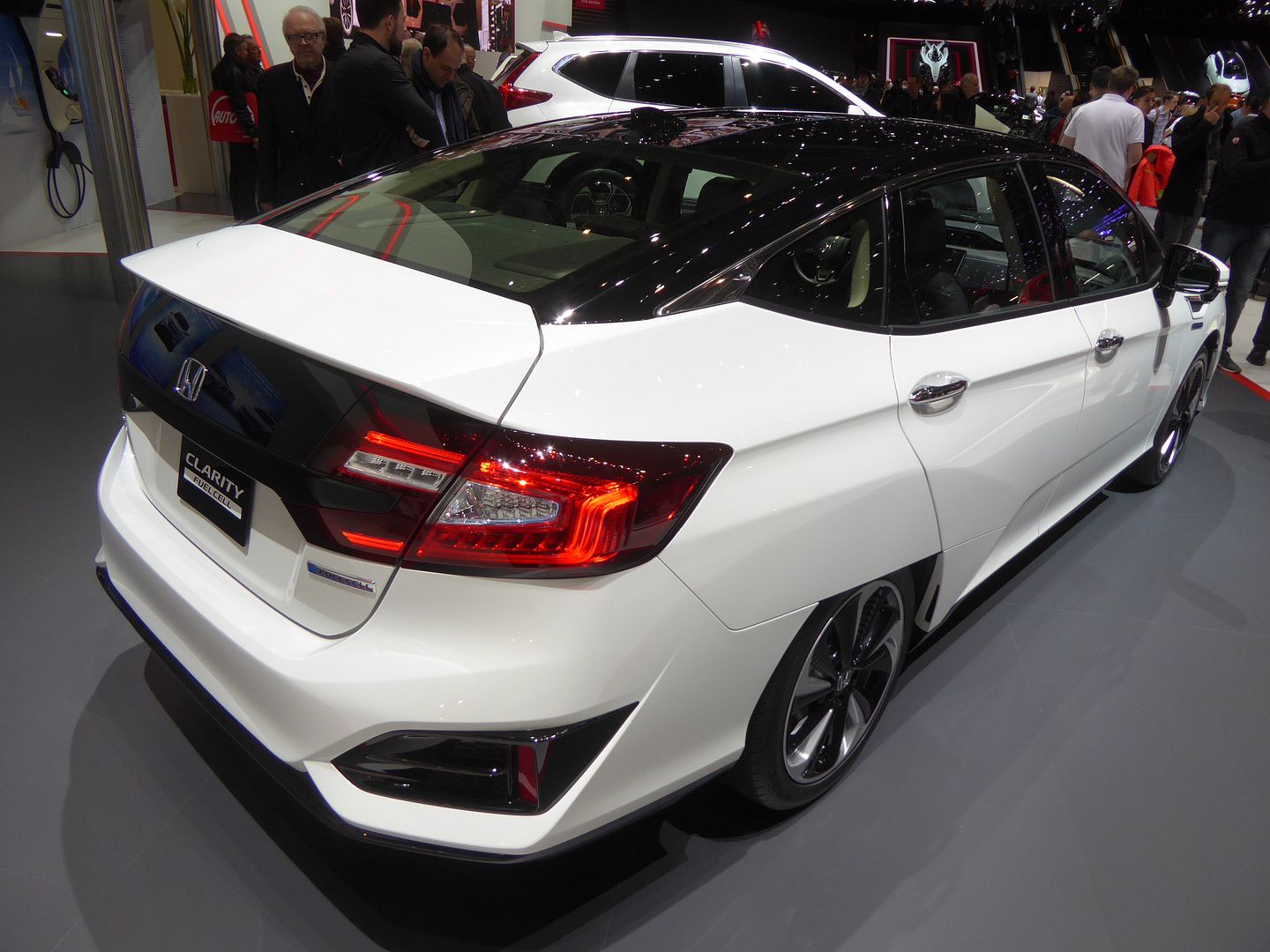 Smallest car in the current  line-up is the Jazz and there were several of them on show, including the latest Jazz X-Road which was making its public debut here. This version seems to be aimed at a particular type of customer. See how those black plastic mouldings swallow up the wheel arches and the side skirts? That's a sign of off-road prowess… Okay, on a more serious note, add the silver painted front and rear spoilers, and watch how the X-Road suddenly looks a tiny bit more capable than the regular Jazz – though only visually. These changes aren't going to keep you off the beaten path, since this is by no means the type of vehicle anybody would venture into the wilderness with. Besides, those 16-inch dual-tone alloy wheels might not appreciate being deprived of asphalt. Honda actually said it best, stating that the Jazz X-Road's features help protect it "from life's little bumps and scrapes." Other features include the "X-Road" floor mats and the presence of a 103 PS 1.3-liter petrol engine, mated to either a manual gearbox or an optional CVT automatic. In case of the regular Jazz (and we assume performance is pretty much unchanged here), the 1.3 i-VTEC engine helps the Japanese supermini get from 0 to 100 km/h (62 mph) in 11.4 seconds, if you go for the manual, and 12.3 seconds with the CVT.
There were lots of examples of the Civic here: in both  4 and 5 door format as well as the highly rated (if visually rather controversial), Type R.
If you thought the new Honda Civic Type R couldn't look more outlandish, then take a look at the hot hatch in TCR touring car spec. Built by JAS Motorsport, the new Type R TCR will replace the current Civic racer in the ever-growing touring car category. There's a huge front splitter affixed to a custom bumper with enlarged air intakes and a new vented hood. Elsewhere, the Civic Type R TCR receives prominent side skirts, flared wheel arches and a proper racing rear wing, not the boy racer one found on the road car. Like all other competitors in the TCR series, the car shares many key components with the production car, including its engine, which can be modified to around 330 hp and 300 lb-ft of torque. TCR entrants can also retain their standard manual transmissions or be equipped with a race-spec sequential. 25 examples are being made ready for the 2018 season.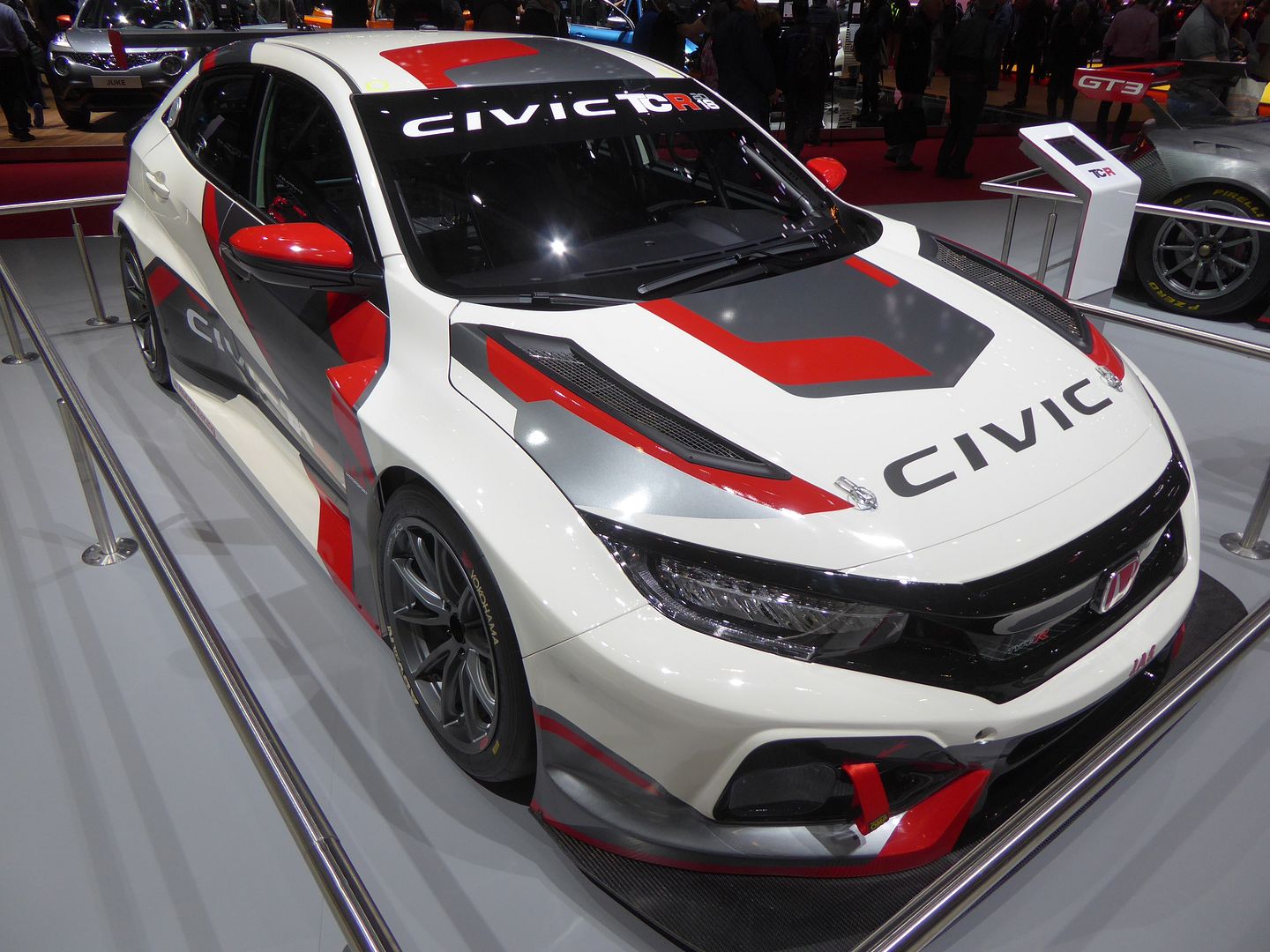 Final production model here is the HR-V, a smaller brother to the CR-V, and one which has so far failed to capture the public's imagination in any European market. Worthy but dull is probably the best summary.
Final car on the stand was an NSX GT3. This was first shown at the 2016 New York Auto Show, so it is not exactly new, but it always attract attention whenever it is shown. The most extreme version of the NSX sports a full carbon fibre exterior (no wrap) with orange accents on the front spoiler lip, rear wing and decals. When it's not busy looking good, the NSX GT3 is out racing, putting its custom bodywork and aerodynamic components to work, such as the previously mentioned rear wing, or the underbody diffuser and enlarged hood vents. Unlike the regular model, the GT3 doesn't use a hybrid all-wheel drive setup, as the 3.5-litre twin turbo V6 sends its power exclusively to the rear wheels with the help of a six-speed sequential racing gearbox. A few months ago, we learned that if you wanted to purchase the NSX GT3, you'd have to part with at least €465,000 ($540,000), which is quite a hefty sum.
HYUNDAI
Hyundai's unveiled the 'Le Fil Rouge' concept here, in an attempt to unify its past, present and future designs all at once. The new concept introduces the brand's Sensuous Sportiness theme, which will be embodied by all future Hyundai vehicles, from sedans to SUVs. The goal, aesthetically, is to create "emotional value and desirability" while achieving harmony between proportions, architecture, styling and technology. "Le Fil Rouge is a reinterpretation of Hyundai's design DNA that originated from the brand's historical Hyundai Coupe Concept in 1974," stated Hyundai design boss, Luc Donckerwolke. "Building on our long history of creating distinctive and sporty character in vehicles, we will open a new era for Hyundai design." This concept is said to have a proportional character based on the golden ratio – a mathematical ratio found in nature. This is achieved through a long wheelbase design, large wheels and short overhangs. Meanwhile, the dash-to-axle distance provides a comfortable driving position, whereas the high belt line completes the overall aesthetic. Other notable exterior features include how the front and rear pillars, as well as the roof, blend into the silhouette of the concept, whereas the interior design mirrors what you see on the outside thanks to what Hyundai calls 'Tube Architecture'. The cabin design differentiates between the needs of the driver and passenger. Where the front passenger seat is meant to maximise comfort and offer sufficient leg room, the driver's seat is designed with optimised ergonomics in mind. Also worth pointing out is how the wrap-around architecture of the cabin emphasises depth, in turn creating a calm and spacious environment for passengers, according to the Korean automaker. As for what type of technologies one might find on-board the Le Fil Rouge concept, there is a two-way air ventilation system, high-tech fabrics and a panoramic floating display with haptic feedback.
There were plenty of examples of cars you can buy now. There is now quite an array of different i30 models, with the regular 5 door hatch joined by the more versatile Tourer (estate) and the Fastback, as well as the i30N.
The small Kona SUV was released last autumn, and the range expands now with an EV version, making it the first electric sub-compact SUV to be offered in Europe. The new Hyundai Kona Electric will be available with two different powertrain configurations: the basic model will be powered by a 135PS electric motor that's fed by a 39.2kWh battery pack, giving it an estimated driving range of up to 186 miles (300km) on the latest WLTP cycle. The long-range version ups the ante with a 204PS electric motor paired to a 64kWh battery pack. Hyundai expects the long-range Kona Electric to travel up to 292 miles (470km) between charges. Hyundai says that both versions of the new Kona Electric require around 54 minutes to charge their batteries to 80 percent using a 100kW DC fast charger. Short-range models are capable of a 0-62mph (100km/h) in 9.3 seconds while the more powerful long-range Kona EV drops that time down to 7.6 seconds. In both cases top speed is set at 103mph (167km/h). Hyundai has added an adjustable regenerative braking system in the Kona Electric, enabling the driver to adjust the intensity of the system via the paddle shifts mounted on the steering wheel. The driver cluster is now all-digital, featuring a seven-inch high-resolution display while the infotainment system offers a wide range of connectivity features, including Apple CarPlay and Android Auto. A new dedicated center console hosts all the buttons for the operation of the car along with the shift-by-wire gear control, creating at the same time an extra storage space underneath it. The range of driver assistance systems is also very impressive and includes Adaptive Cruise Control with Stop & Go, Autonomous Emergency Braking with Pedestrian Detection, Blind-Spot Detection, Rear Cross Traffic Alert and more. "By launching our All-New Kona Electric, we are pushing our ambitious eco car strategy forward," said Andreas-Christoph Hofmann, Vice President Marketing and Product at Hyundai Motor Europe. "It's a car of no compromise – combining an SUV body type with electric-mobility. It represents Hyundai's progressive character. With Hyundai Motor, the future is now!"
This is not the first all-electric Hyundai, of course, with that honour going to the Ioniq, a model which is offered with three-different powertrain types.
Something rather different from all these models was the result of a joint effort between Hyundai and the Istituto Europeo di Design (IED). Called the Kite, this concept was created by 15 students as part of their thesis project for the Master in Transportation Design program. They worked with the Hyundai Design Centre Europe to create a lightweight dune buggy which can be transformed into a single seat jet ski. Hyundai hasn't said much about the concept but it is a futuristic open air vehicle which features LED headlights, dynamic bodywork and a massive taillight. The car also has a partially exposed suspension and massive OZ Racing wheels with off-road tyres. The unique styling continues in the cabin as the buggy has Sabelt seats, a 'floating' dashboard and a large steering wheel. The latter component has an opening for a smartphone which drivers can install to be used as an instrument cluster. Technical specifications are limited but Hyundai says the concept has a monocoque chassis and measures 3,745 mm (147.4 inches) long and 1,455 mm (57.2 inches) tall. The company also revealed the car is powered by four brushless electric motors which are located inside the wheels. There's no word on how the Kite transforms into a jet ski but, when it does, it's powered by an electric water jet turbine. This is Hyundai's second collaboration with IED as the duo previous unveiled the PassoCorto sports car concept in 2014. The company says projects like the Kite showcase their commitment to European institutions such as the IED and notes one of the students, Marco Gianotti, who worked on the PassoCorto is now an exterior designer at Hyundai Design Centre Europe.
ICONIQ
This is the Iconiq 7, a new electric MPV concept from China, looking very high tech with its closed grille and tiny lights. The vehicle was developed by none other than W Motors, famous for the Lykan Hypersport and the  Fenyr Supersport. It was designed by Studio Torinio, headed by Alfredo Stola, and it will be manufactured and marketed by Iconiq Motors, a brand owned by a Chinese company called Tianjin Aiking New Energy. Production is set to start in 2019 when the company wants to make 15.000 cars. Production will go up fast with 50.000 cars planned in 2022 and 110.000 in 2025. Much of the platform and drive line has been developed by part supplier Magna. Iconiq has announced the electric motor will deliver 224 horsepower and that range will be "more than" 400 km. The Iconiq 7 will be available in a four-seat VIP layout as well as a standard six-seat layout. Three versions are envisaged: VIP, Premium, and Entry. The latter is aimed at rental companies and State-owned Enterprises. It has been a while since we have seen a company aiming specifically at SEOs. The practice was common in the early 2000's but has since large disappeared. Perhaps Iconiq Motors sees a neglected segment there. When launched the 7 will have limited autonomous abilities, but in 2023 the company plans to launch a fully autonomous version. Indeed upgrades on a frequent basis are part of the plan, with a launch in 2019, the first upgrade in 2020, a new battery pack in 2021, and a facelift in 2022. That is a handy time table, customers might decide they'd better wait for 2022. There will be a fully autonomous model in 2023, which it seems that model will look a tad more futuristic than the normal 7.
ISUZU
Still finding favour among those looking for a tough and versatile pickup truck, the Isuzu D-Max was on show with no changes from previous years. Several were on the stand. It is fair to say that this was not the busiest part of the Show.
ITALDESIGN
ItalDesign is part of the Volkswagen Group these days, and this was, by all accounts, the star attraction at the Volkswagen Night, held for the press, was this stunning Zerouno Duerta from Italdesign. The company is staying tight-lipped about specifics but the Zerouno Duerta is an open air version of the Zerouno coupe which debuted last year. The two models are largely identical but the roadster has a unique back half which loosely echoes the Lamborghini Veneno Roadster. Removing the roof resulted in several major changes and the most noticeable difference is the buttresses that run from the passenger compartment all the way to the rear of the car. Between them sits a small window which gives us a peek at the Audi-sourced engine. Italdesign has been tight-lipped about the details, but as the car is closely related to the coupe version shown last year, there are plenty of conclusions that can be drawn. The most notable feature is the bespoke carbon fibre bodywork which is laid on top of a lightweight carbon fibre and aluminium chassis. The car's 20-inch aluminium wheels also appear to carryover and so does the carbon-ceramic braking system. Getting back to the engine, it is likely a naturally aspirated 5.2-litre V10 that produces 610 PS and 560 Nm (413 lb-ft) of torque. The ten-cylinder lump from Audi should be paired to seven-speed dual-clutch transmission and an all-wheel drive system like on the Audi R8. This setup enabled the coupe to accelerate from 0-100 km/h (0-62 mph) in 3.2 seconds and hit a top speed of 330 km/h (205 mph) so we can expect the Duerta to post similar numbers. Production will be extremely limited and reports have suggested the model will cost around cost €1.9 ($2.3) million.
Also on this stand was the Audi Pop.Up Next. With flying cars are all the rage these days so it comes as little surprise that Audi has joined forces with Airbus and Italdesign to unveil the Pop.Up Next concept. Billed as an "entirely electric, fully automatic concept for horizontal and vertical mobility," the model is an evolution of the previous Pop.Up and is based around an ultra-lightweight two-seat passenger cabin that can be attached to either a car module or a flight module. In order to fly, the car is attached to a drone-like structure which features four pods housing eight helicopter blades. Each blade is powered by a 26 hp (20 kW) electric motor which is feed energy from a 70 kWh battery pack. This setup gives the flight module a combined output of 214 hp (160 kW). It enables the module to hit a top speed of 74 mph (120 km/h) and travel up to 31 miles (50 km) before needing to stop for a 15 minute recharge. The car module is a skateboard-like platform that houses a 15 kWh battery and two electric motors that produce a combined output of 80 hp (60 kW). This gives the Pop.Up Next a range of 80 miles (130 km) on a single charge. The companies imagine the Pop.Up Next could be useful in large cities as visitors could arrive by plane and then hop into a vehicle with an air module already attached. The Pop.Up Next would then transport them downtown, where it would land on a car module and be secured with three titanium coupling points. The flight module would then detach itself and fly away to be recharged. The passengers would then be left in a fully autonomous car which would transport them to their final destination.
JAGUAR
The most important car on the Jaguar stand was the production version of the all-electric I-Pace. Jaguar have beaten a number of rivals to market with this car, the first real rival to the Tesla, with the car due on sale in the middle of the year. Pricing has been announced, and the car – whilst far from cheap – is significantly less money than Tesla will ask for a Model X 75D, the most obvious rival. Jaguar's electric mid-sized SUV is powered by two motors mounted on each axle, producing a combined 395hp (400PS) and 513lb-ft (696Nm) of torque. Feeding them is a 90kWh battery pack that gives the new I-Pace an EPA-estimated driving range of 240 miles. 0-60mph comes in 4.5 seconds while the top speed is rated at 124mph. Owners will be able to charge their I-Pace using both AC and DC power; a 0 to 80 percent charge can be completed in around 40 minutes via a 100kW public fast charger or just over 10 hours with a Level 2 230V/32amp home charger. It will be interesting to see how well it sells.
Joining the regular looking car was the I-Pace eTrophy, a high-performance electric vehicle which features an aggressive front fascia with large air intakes and a prominent splitter. The car has also been equipped with front fender vents, aerodynamic side skirts, and flush-mounted door handles. The hardcore treatment continues at the rear as designers installed a massive rear wing, a boot-mounted spoiler, and a large diffuser. Other notable features include a ventilated hood and lightweight alloy wheels which are backed up by a high-performance braking system. The pictures give us a few glimpses of the cabin and we can see the I-Pace eTrophy will come with a roll cage and a mesh window net. There only appears to be one seat. Performance specifications remain unknown but the original I-Pace concept had a 90 kWh battery and an electric motor that powered each axle. The motors produced a combined output of 400 hp and 516 lb-ft (700 Nm) of torque and allowed the concept to travel up to 500 km (310 miles) on a single charge. This is intended for a one-make Formula E racing series from late 2018 and iIn the build-up to the show, Jaguar named the first team to have signed up for the I-Pace eTrophy race series: US squad Rahal Letterman Lanigan Racing. The team is run and part-owned by Bobby Rahal, a three-time Indy car champion and former Indianapolis 500 winner, and former US chat show host David Letterman. The team currently runs cars in the US IndyCar Series and endurance racing.
Commercially, the most important Jaguar models these days are the SUVs, as these are the range's biggest sellers, and both of them were here, the recently released E Pace and the slightly larger F Pace. See them alongside each other, and they are quite easy to tell apart.
There were also examples of the three saloon models, the XE, XF and XJ.
With 575 horses on tap and one of the most beautiful shapes on the road, the Jaguar F-Type SVR is not lacking admirers. Still, this latest addition could entice some people even more. Marking its debut here, the new Graphic Pack gives Jaguar's flagship performance model an extra dose of racing appeal. The package includes a contrasting grille surround, mirror caps, and aero winglets, along with special hood and side graphics – all available in six distinct themes. Among those available is Corris Grey with Ultra Blue accents theme, although buyers can also specify the inverse. There's also Yulong White with Firenze Red, Santorini Black with gold, Caldera Red with black, and Indus Silver with black. Regardless of the combination chosen, they all come with carbon-fibre hood louvres and side vents. The packages were designed by JLR's Special Vehicle Operations division – under the watchful eye, we're told, of Jaguar's legendary chief designer Ian Callum. With or without the special graphics, the F-Type SVR packs a Jaguar's celebrated 5.0-litre supercharged V8. In this application, it's the most potent yet, channelling 575 ps (567 hp) to all four wheels. The result is a run to 60 miles per hour (96.5 km/h) in a scant 3.5 seconds and a top speed in excess of 200 mph (322 km/h).
JEEP
Reflecting the growing importance of the Jeep brand in the FCA portfolio, this was a huge stand, with a lot of cars on it, far bigger than the space allocated to Fiat, for instance. Making its European debut was the facelifted Cherokee, following its unveiling at Detroit a few weeks earlier.
Also being seen in Europe for the first time is the latest Jeep Wrangler – the JL Series, in Jeep speak. Set to go on sale in the EMEA region during the second half of the year, the 2018 Wrangler has an evolutionary design with a sweptback grille which can be flanked by optional LED headlights. The updated styling continues further back as the SUV has front fender vents, new character lines and larger windows for improved visibility. Three different roofs will be available including a Sunrider soft top and an improved three-piece Freedom Top. The latter roof is a hard top which has lighter panels and improved latches for easier installation and removal. Of course, the biggest change is the addition of the all-new Sky One-Touch roof. It's a fully automatic soft top which can be lowered at the push of a button. The Euro-spec Wrangler will be offered in Sport, Sahara and Rubicon configurations with either two or four doors. Sport and Sahara models come equipped with new Dana axles as well as a Command-Trac four-wheel drive system with a 2.72:1 low-range gear ratio. The off-road focused Wrangler Rubicon is more extreme as it has Dana 44 axles, Tru-Lok electric lockers and a Rock-Trac four-wheel drive system with a 4.0:1 low-range gear ratio. The improvements carryover to the cabin as drivers will find higher quality materials and new technology. Higher end variants offer an assortment of luxury features including heated leather seats, a heated steering wheel and an 8.4-inch Uconnect infotainment system with GPS navigation. Other niceties include a 7-inch LED display in the instrument cluster and an assortment of driver assistance systems such as park assist and rear cross traffic alert. Jeep declined to mention European performance specifications but the US-spec model will be available with three different engines including a new 3.0-litre EcoDiesel V6 that produces 260 hp and 442 lb-ft (598 Nm) of torque. Petrol options include a turbocharged 2.0-litre four-cylinder with 270 hp and 295 lb-ft (399 Nm) of torque as well as a 3.6-litre V6 developing 285 hp and 260 lb-ft (352 Nm) of torque. An original model was present, to show just how far the model has come over the years.
Established models include the latest  Compass, the Renegade and the Grand Cherokee, and there were several examples of each on display.
KIA
Star of the expansive Kia stand was the new third generation Ceed, shown in both five door hatch and the more versatile SW Estate guises. When it goes on sale later in the year, this all-new third-generation Ceed should strengthen the Korean automaker's presence within the European C-segment thanks to its improved comfort, convenience and safety features. Just like its predecessor, the third-gen car was also designed and developed in Frankfurt, and will be manufactured at Kia's facility in Zilina, Slovakia, alongside the Sportage and the Venga."The all-new Ceed offers a truly contemporary and recognisable design, and advanced technologies to enhance comfort, convenience and safety. Its new engines and suspension will make it more enjoyable and engaging to drive, and will continue to offer the same high quality that customers expect from Kia. This will be one of the most innovative cars in its class," stated Kia Europe chief operating officer, Michael Cole. The five-door hatchback will enter production in May, with sales scheduled to begin in Q2 of 2018 for LHD markets across Europe. UK buyers will have to wait a while longer in order to find out the Ceed's on-sale date, pricing and specs with regards to them. When it comes to looks, the all-new Kia Ceed is lower, wider and features a longer rear overhang than its predecessor. According to Kia, this helps the car exhibit a "more mature sense of athleticism." Gone are the rounded edges of the previous model, replaced by straight lines that complement the wider tiger-nose grille, lower air intake and standard 'ice cube' LED DRLs. At the rear, there is a pair of new LED taillights that supposedly offer improved visibility (and recognition), while the subtle rear boot spoiler helps with the road presence. At first, buyers will be able to choose between 12 paint finishes, as well as a selection of wheels ranging from 15-inch steel ones to 16-inch steel or alloys and 17-inch two-tone diamond cut alloys. Moving on to the interior, we get higher quality materials than before, plus more of a horizontal layout for the dashboard, mimicking the cabin architecture of other recent Kia models. Other design features include the floating touchscreen infotainment system, the centre console that's angled towards the driver and the metallic or satin chrome trim finishes. Buyers will also be able to choose between having cloth, synthetic leather or a genuine leather upholstery. Built on Kia's new K2 platform, the all-new Ceed is 20 mm wider (1,800 mm / 70.8 in) and 23 mm lower (1,447 mm / 56.9 in) than the outgoing model, while the wheelbase remains the same at 2,650 mm (104.3 in). In order to help the car look more sporty, the front overhang was shortened by 20 mm (0.7 in) to 880 mm (34.6 in) and the rear overhang was extended by 20 mm (0.7 in) to 780 mm (30.7 in). There's also a larger 13.9 cu.ft boot, more shoulder room for rear passengers, more headroom out in front and a lower driving position. While behind the wheel, the driver will be able to operate either a 5.0-inch or 7.0-inch touchscreen audio system, or an 8.0-inch touchscreen sat-nav system. There is also a JBL Premium sound system available as an optional extra, while the full Bluetooth smartphone integration, automatic lights and keyless entry are all standard. On the move, drivers can use the Drive Mode Select feature to choose between Normal and Sport modes, where the former leads to greater fuel efficiency and offers more relaxed steering inputs, whereas the latter enhances throttle responses and steering feel. The all-new Ceed also comes with a heated windshield option, which marks the first time this technology has featured in a Kia. Also available is wireless smartphone charging, heated and ventilated front seats and heated rear seats. As for its active safety tech, the Ceed boasts High Beam Assist, Driver Attention Warning, Lane Keeping Assist and Forward Collision Warning with Forward Collision-Avoidance Assist – all standard. Meanwhile, Lane Follow Assist (a Level 2 autonomous feature) is available for the first time on a Kia sold in Europe. Additional tech includes Smart Cruise Control with Stop & Go, Blind Spot Collision Warning, Rear Cross-Traffic Collision Warning, Smart Parking Assist, and pedestrian recognition with haptic steering wheel warnings for the Forward Collision-Avoidance Assist system. Power will come from a range of petrol and diesel options that include an updated 1.0-litre T-GDi (Turbocharged Gasoline Direct Injection) engine producing 120 PS, as well as a new 140 PS 1.4-litre T-GDi unit. A less powerful 1.4-litre MPi unit will also be available. The all-new Ceed will get an all-new 'U3' 1.6-litre CRDi diesel engine, offering a choice of two power outputs at 115 PS and 136 PS. Every engine will be mated with a six-speed manual transmission, although the newer 1.4-litre T-GDi and 1.6-litre CRDi can also be spec'd with the automaker's 7-speed double-clutch automatic.
The diminutive Picanto was refreshed last year, and the model gained a GT Line version to top things off and there was one of these on show here.
The Rio entered its next generation as well during 2017. and it also now gains a GT-Line version which was making its debut here.  Power comes in the form of a 1.0-litre turbocharged three-cylinder engine mated to a six-speed manual and rated at 118 horsepower – which isn't quite as much as you'd find in, say, the similarly sized Ford Fiesta ST, Renault Clio RS, VW Polo GTI, or even the more modestly powered Abarth 595. It'll also be offered with the 1.25- or 1.4-litre naturally aspirated four-cylinder engines, but those currently pack less power (at 83 and 98 hp respectively) and will come mated to a seven-speed dual-clutch transmission. Engines aside, the GT-Line model comes with sportier touches like a gloss-black and chrome grille, special 17-inch alloys, LED fog and daytime running lights, dual exhaust tips, chrome window trim, and gloss-black spoiler and side-sill trim. Inside you'll find combination synthetic leather and cloth upholstery with grey stitching, a flat-bottom leather steering wheel, and metallic and faux-carbon trim. Whether Kia will ever offer a proper performance version of the little hatchback remains to be seen. Maybe sister-brand Hyundai's new N division will have some wisdom to impart. But in the meantime, the new GT-Line model will go on sale across Europe in the spring.
It's barely been two years since Kia rolled out the current Optima. But the Korean automaker is already giving it a bit of an update, which was being shown here for European markets following its rollout back home. The refreshed Optima benefits from a new front bumper (and rear bumper on the sedan version), along with a chrome-trimmed tiger-nose grille, and new head, tail, and fog lamps. The cabin is also spruced up with a new steering wheel, satin-chrome trim, and upholstery options. There's a new drive-mode selector, with ambient lighting either switching with the mode selected or manually selectable. GT Line and GT models feature new LED fog lamps as well, along with gloss-black exterior accents, fresh interior trim, and dual exhaust tips. A new shade of red is introduced with the updated model, and there are new wheel choices across the board. The manufacturer has taken the opportunity to updated the advanced driver assistance features, too. But the bigger change may be under the bonnet, where Kia is offering new engine options. A 1.6-litre diesel replaces the current 1.7-litre unit, and there's a 1.6-litre turbo with 177 horsepower, slotting in between the base 2.0-litre engine and the top-of-the-line, 242-horse GT performance model. Both sedan and wagon versions will continue to be offered. They will be reaching dealers across Europe later this year.
There's now a comprehensive line-up of SUVs and examples of all of these were here, ranging from the new Stonic to the top-selling Sportage, the recently refreshed Sorento as well as the hybrid-powered Niro and the Soul which was shown in it s all-electric  EV form.
KLASSEN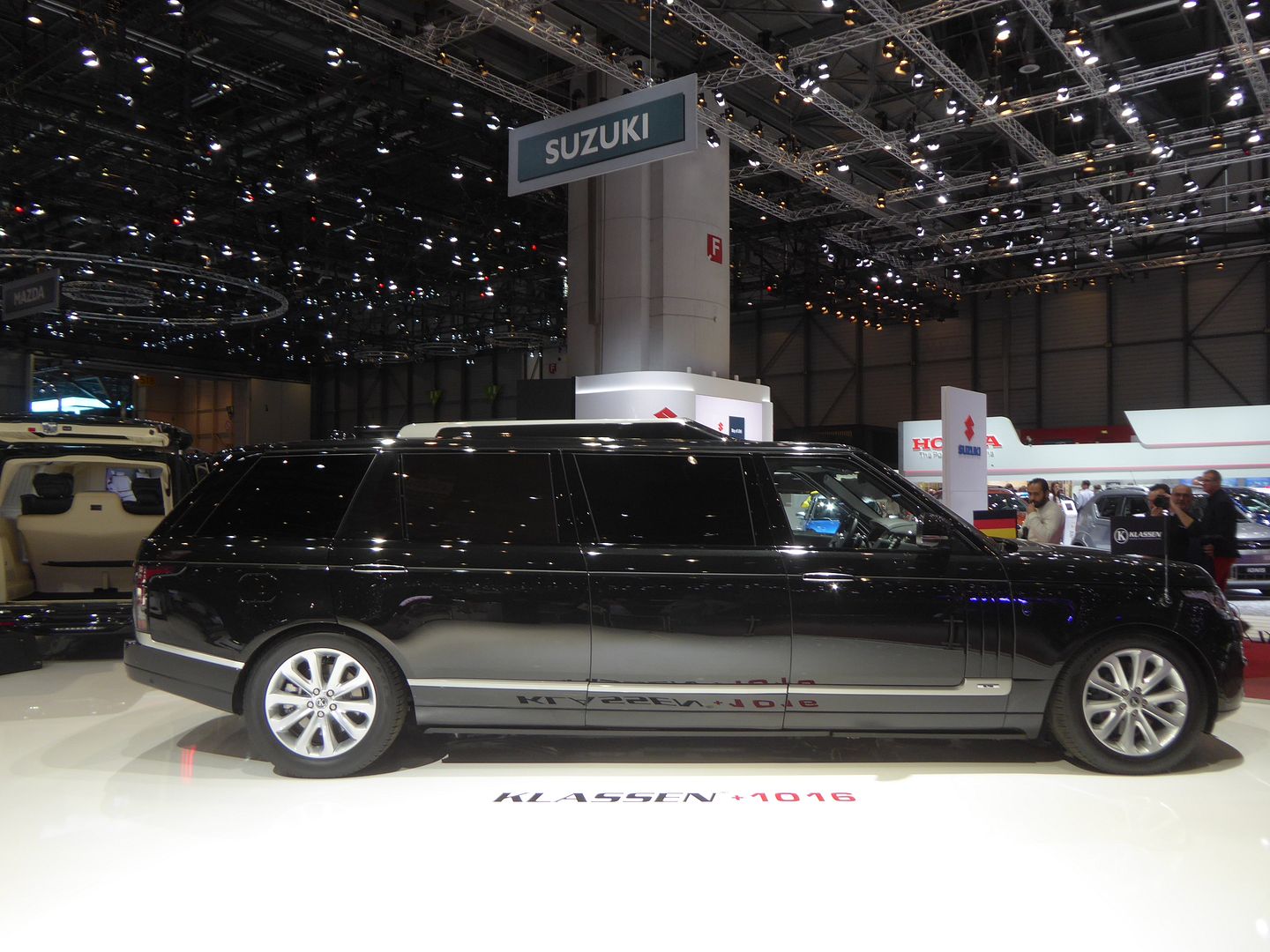 KOENIGSEGG
Always a popular stand, with a crowd pressing on the perimeter barriers, this Swedish maker had on display a trio of its ultra-exclusive hypercars, paying tribute to its past while celebrating its future at the same time. To that end, the Swedish exotic automaker brought two examples of its new Regera, and displayed an older CCX alongside them. The first of the two Regeras was done up in Crystal White with a clear carbon stripe up the front and over the top, highlighted by orange accents. It's also fitted with the optional Ghost aerodynamics package that increases downforce by 20 percent. The second is more streamlined and finished in Swedish Blue with Ocean Green accents inside and out. Both are customer-commissioned vehicles and wear the Tresex carbon-fibre wheels, shod with Michelin Pilot Sport 4S rubber. And of course they both pack Koenigsegg's advanced hybrid powertrain, pairing a 5.0-litre twin-turbo V8 rated at 1,100 horsepower with an electric assist contributing another 670 hp. Working in concert, they deliver a maximum combined output of 1,500 hp, all channelled to the rear wheels through the Koenigsegg Direct Drive transmission.
They constitute two of the 80 total examples that will be built, all of which have already been spoken for. That leaves prospective owners to seek second-hand models, which Koenigsegg is showcasing with a 2006 CCX that appeared alongside the two Regeras. The rare right-hand-drive example is powered by Koenigsegg's older 4.7-litre twin-supercharged V8, sending its 806 hp to the rear wheels through a six-speed manual transmission. It's been repainted in its original Royal Blue, and fitted with new natural-coloured aniline leather interior and basket-weave trim – all backed by a two-year factory warranty.
LAMBORGHINI
The Lamborghini stand had moved this year, to a new position at the back of the hall, between Bentley (who had not moved) and Audi (whose stand was reshaped a little to accommodate the Italian marque. Reason for the change was to provide a mix of display area for the supercars that all the fans (of varying ages) could stare at, and dream, from around the perimeter and a larger area for the commercially very significant new addition to the range, the Urus, of which there were three examples on display.
Attracting even more attention was the new Huracan Performante Spyder.  One year ago, Lamborghini unveiled the hardcore Huracan Performante. Now, the most driver-oriented version of the Huracan is getting an open-top version, which features a soft-top roof that takes 17 seconds to open or close and doesn't compromise the ALA (Aerodinamica Lamborghini Attiva) active aerodynamics. Its naturally aspirated 5.2-litre V10 develops just as much power as its fixed-roof sibling, which is 640PS (631hp) and 600Nm (lb-ft) of torque, or 30PS (30hp) and 40Nm (30lb-ft) more than the LP610-4 Spyder, from which it is also 35kg (77lbs) lighter. The 0 to 100km/h (0-62mph) sprint has dropped from the standard Spyder's 3.4 seconds to 3.1, which is 0.2sec shy off the Huracan Performante Coupe. Top speed is identical, though, at 325km/h (202mph). Just like the Performante Coupe, the new Spyder benefits from an enhanced suspension, more responsive steering, recalibrated ESC, permanent four-wheel drive, ALA active aero and revised ANIMA. The drive-mode system offers three settings, Strada, Sport and Corsa, with each one customising the setup of the dynamic systems accordingly. Deep pocketed enthusiasts can already order the new Lamborghini Huracan Performante Spyder in different markets worldwide, but they will have to wait at least until summer to take delivery. Prices start at €219,585 in Europe and £195,078 in the United Kingdom.
Final Lamborghini on show was the Aventador Roadster
LAND ROVER
The car I most wanted to see on this stand was the limited edition Range Rover SVport Coupe. But I was disappointed, as it was no longer there. Apparently, as soon as the press departed, so the car was removed from show. It is really annoying when manufacturers do this – and plenty of them are guilty of showing the same level of contempt for the paying customers by making it clear that they only really care about the press at shows like this.
That left a stand which had examples of the now rather extensive current range. Many of them were updated for 2018, with the latest and much praised infotainment system being one of the highlights. Models on display included the top or the range Range Rover, the Discovery and the Discovery Sport.
LEXUS
Star turn on the Lexus stand this year was a car which is likely to become the brand's best seller in Europe, the new UX. With the market for small luxury crossovers continuing to heat up, with models like the Audi Q3, BMW X1 and X2, Mercedes-Benz GLA, Acura CDX and Infiniti QX30 all vying for market share on the small, but rapidly expanding niche. it is perhaps no surprise that Lexus has now joined the fray with its own contender. Called the UX, it slots below the NX as the new entry level model in Lexus' lineup. The UX is the first Lexus built on the new Global Architecture – Compact (GA-C) platform that also underpins Toyota models like the Prius, C-HR, Auris, Corollla and Avensis – only this one is , naturally, a premium offering. The styling is pure "new" Lexus, of course, from the Spindle grille on back and the interior looks suitably upscale, drawing inspiration from traditional Japanese design. The premium compact crossover stretches just 177 inches (4,495 mm) long and rides on a 103.9-inch (2,640-mm) wheelbase, boasting a best-in-class 34-foot turning circle to help it manoeuvre around town. The electric power steering works with a MacPherson strut front suspension and double wishbone setup at the back. Though complete specifications have yet to be announced, Toyota's luxury brand will offer the UX with two powertrain options. The UX 200 packs a new 2.0-litre inline four rated at 168 horsepower that's mated to a direct-shift continuously variable transmission (CVT). Meanwhile, the UX 250h features a new hybrid powertrain with a combined output of 176 hp and all-wheel drive courtesy of an electric motor at the rear axle. There'll be an F Sport package available for both versions, bringing with it a sport suspension and a sportier appearance inside and out, while an Adaptive Variable Suspension and Active Sound Control system will be offered as well. Lexus will begin production of the new UX this autumn.
More familiar looking models from the range on show included the CT hatch, the rather disappointing IS executive saloon, the long wheelbase 7 seater version of the RX-L, as well as the brand new LS and the highly rated LC Coupe.
Final model on show was the LF-1 Concept, which was first seen at the Detroit Show in January. Lexus plans to launch a new flagship model to sit above its existing range-topper, the LX, and the new LF-1 Limitless concept previews how it'll look. The SUV has the footprint of a Range Rover but sits much lower, suggesting it could be a rival to the future Road Rover, which is due next year. It mixes familiar Lexus design traits, such as a large front grille that stretches to the car's lowest section, with new parts. These include a full-length light bar at the back and smooth door panels. Inside, the car places its infotainment system into a section of the dashboard and the instrument display is hexagonal in shape with a digital screen. Notwithstanding controls on the multi-function steering wheel, the cabin is free of buttons and switches and relies on its digital technology for auxiliary control adjustments. 4D satellite navigation and haptic control technology also star, showing the advanced level of cabin infotainment Lexus intends to put into its future production models. Lexus said the production car that will be derived from the LF-1 concept could use fuel-cell, hybrid, plug-in hybrid, petrol or even all-electric powertrains, suggesting it would be built in several variants to cater to different global markets. The LF-1 is labelled as a crossover with a heavy road bias, as evident from its low ride and profile. The concept, designed by Lexus's California design team, is described as a flagship model, hinting that it would be an SUV coupé to sit above the range-topping LX, much like the positioning of the Audi Q8 in comparison with the Q7.
LVCHI
Claiming that you can put down nearly 1,000 HP to go with a NEDC range of 311 miles (500 km) is no small thing, even in today's ever growing electrified landscape. Yet that's exactly what China's LVCHI Auto Venere promises, in a package that is said to be nearly production-ready. Unfortunately there is no indication of a production date, pricing or any sort of market information. Making the Venere go really really fast is a two-electric motor setup on each axle, powered by a 100 kWh lithium-ion battery pack to the tune of 992 HP. The car is expected to hit 100 km/h (62 mph) in under three seconds and max out north of 250 km/h (155 mph). At 5,118 mm (16.8 ft) in length, it's just shy of an S-Class, although bigger than a Tesla Model S, which is obviously a more appropriate rival since it too is fully electric. Unlike the Tesla, the LVCHI Venere is a little quirkier when it comes to its design. The front end works, don't get us wrong – it looks like a Porsche and a Tesla had a baby. The rear however? That might take a little more getting used to, although it's not necessarily ugly. The car's overall form factor is sleek and that tends to work for most people. As for the interior, it features a four-seat layout, a dual-tone white on blue theme, carbon fibre inserts and possibly no physical buttons.
MANSORY
The Geneva Show is always a good place to see the latest thinking from some of the more exuberant tuners and after-market customisers. Some of the notable names were absent this year, but pone of the most flmaboyant of the lot, Mansory was as evident as ever. This typically over-the-top customiser showed up with no fewer than nine enhanced high-end European vehicles, ranging from the Bentley Bentayga to the Bugatti Veyron – with a golf cart thrown in for good measure.
Possibly the most extreme among them is the Mansory Stallone – the tuner's take on the Ferrari 812 Superfast. The twelve-cylinder Prancing Horse is thoroughly transformed (for better or worse) with a full carbon-fibre body kit. Underneath the overwrought bodywork, the 6.5-litre V12 has been bumped up from 789 horsepower to 830, with torque rising from 718 Nm (or 530 lb-ft) to 740 Nm (546 lb-ft).
Arguably at least as exotic is Mansory's take on the McLaren 720S features a (relatively) less ostentatious aero kit, crafted from carbon fibre. The tuner has also applied its skills to the 4.0-litre twin-turbo V8 engine, raising output from a namesake 720 metric horsepower to 755 for a 0-62 time quoted at a scant 2.8 seconds and a top speed of 345 km/h (214 mph).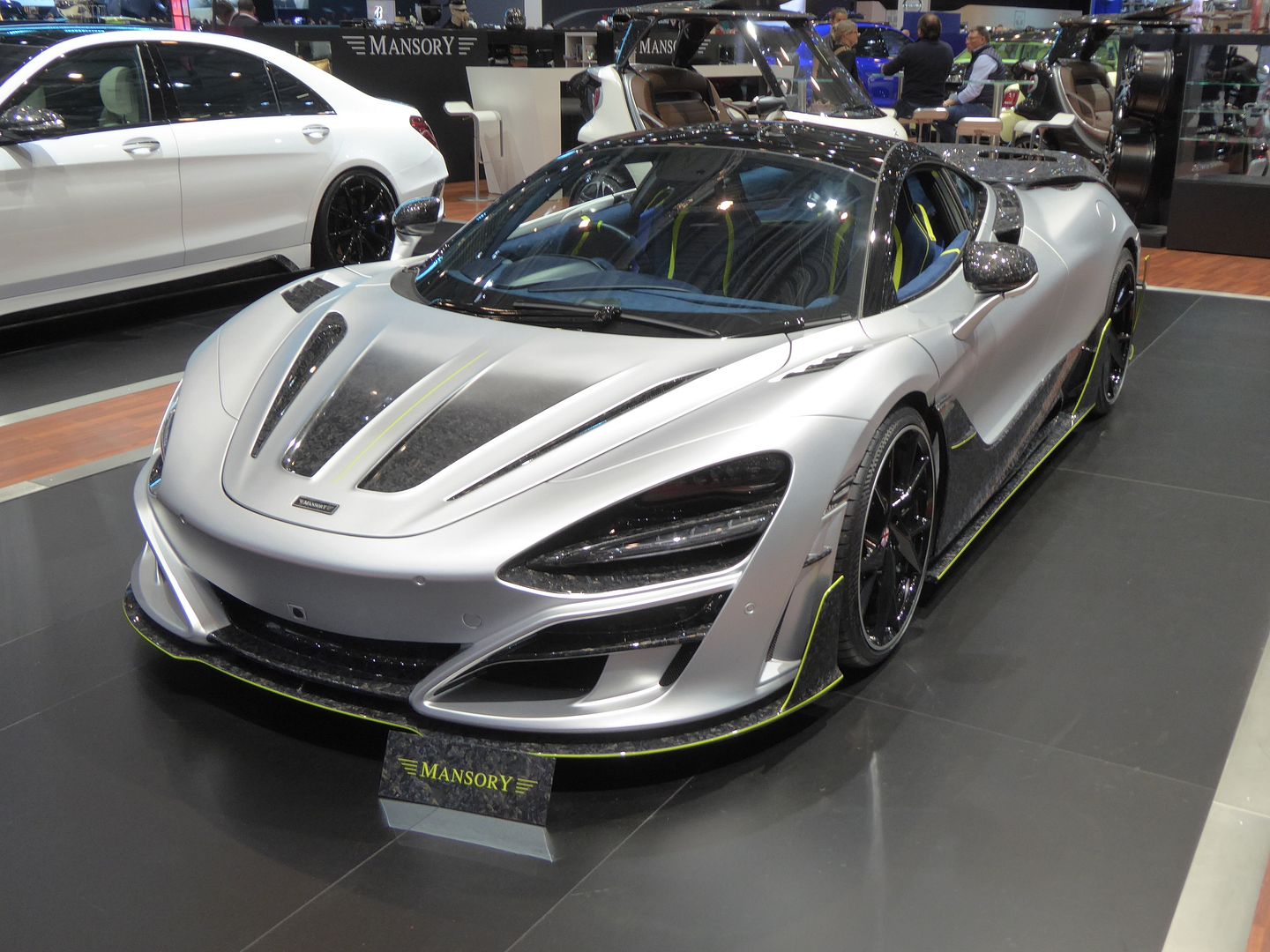 The Mansory Cyrus starts out as the Aston Martin DB11 in top V12 specification, but increases output to a nice, round 700 horsepower. That's said to be enough to drop the 0-62 time to 3.6 seconds and raise the top speed to 330 km/h (205 mph). As you can see from the images in the gallery below, Mansory has also applied a comprehensive aero kit and fitted oversized 22-inch wheels on a suspension dropped by 35 mm (1.4 inches).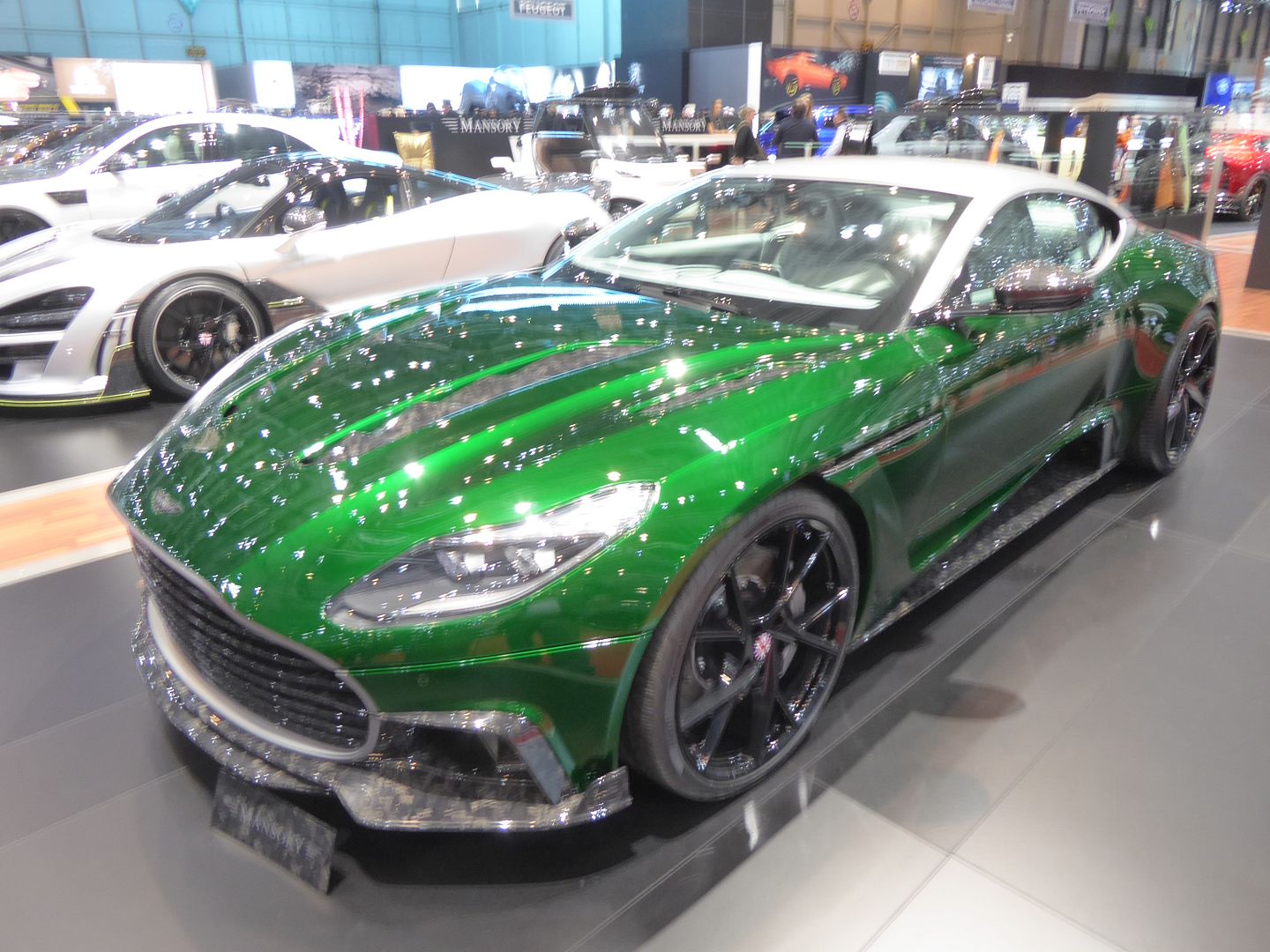 Meanwhile the Bugatti Veyron has been transformed into the Mansory Vivere Diamond Edition with a unique "marble collage" appearance. Commissioned by a private customer, it also features revised aero components, LED daytime running lights, forged alloys, and an interior bathed in aftermarket ambient lighting.
Those looking for more space may want to check out Mansory's enhanced Porsche Panamera Sport Turismo. The performance wagon features a full carbon aero kit, manufactured in-house, along with 22-inch alloys and a lowered suspension. Performance enhancements have been limited to increasing the twin-turbo V8's output by 35 horsepower and 30 lb-ft of torque.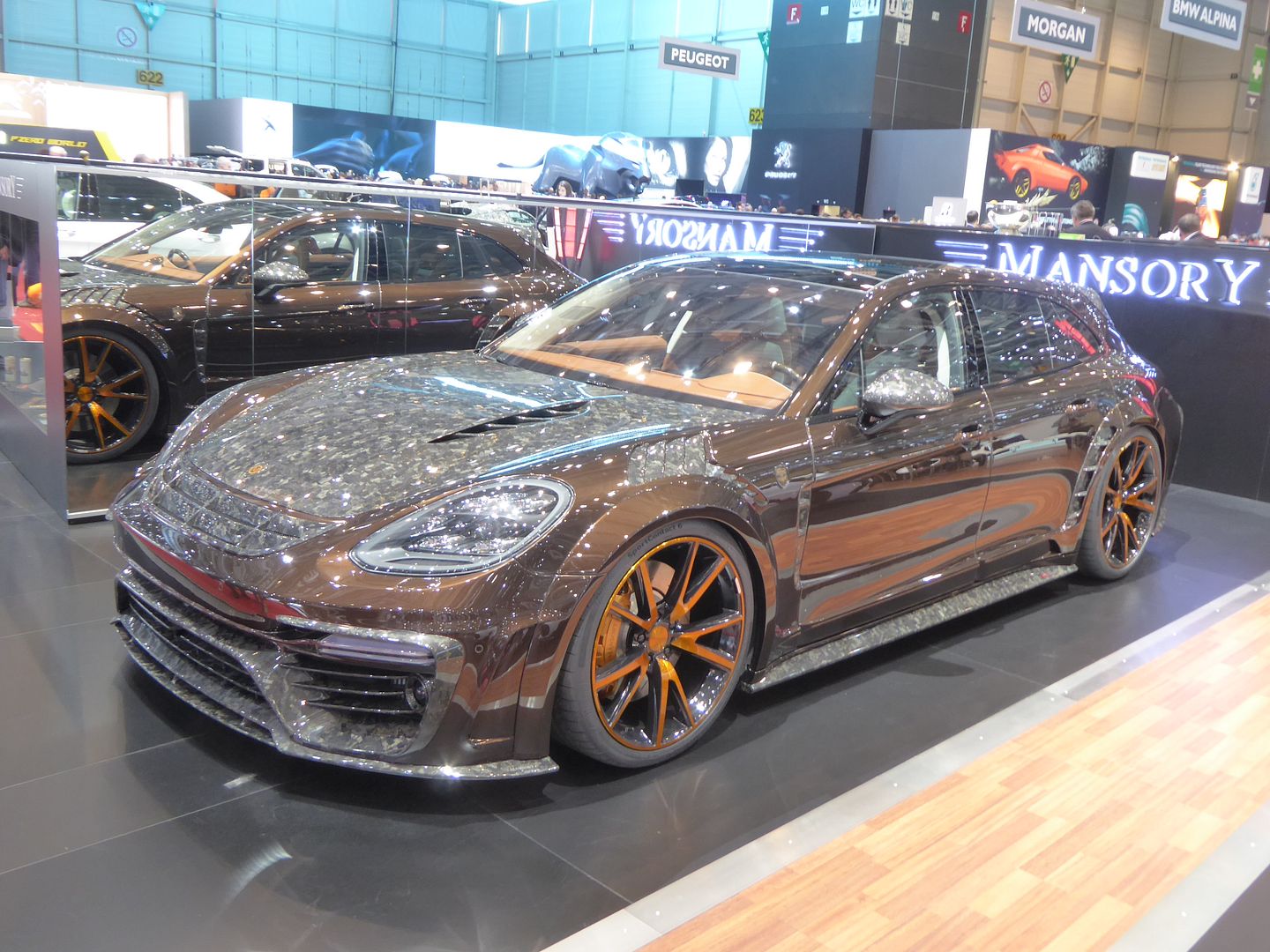 Even more spacious is the Bleurion Edition of the Bentley Bentayga, with blue-tinted carbon-fibre and giant 24-inch wheels. Based on the W12 engine, Mansory has increased output to 750 hp and 796 lb-ft of torque (1,080 Nm) to increase the top speed by 10 km/h (6.2 mph).
The Phantom Bushukan Edition takes Rolls-Royce's new flagship limousine even further with a two-tone yellow paint job and – you guessed it – a new aero kit. While it was at it, Mansory also upgraded the giant 6.75-litre twin-turbo V12 from 563 hp to 610, mounted a huge set of 24-inch wheels, and as with so many of its creations, retrimmed the interior as well.
Finally the Mercedes-AMG S63 sedan has been converted into the Signature Edition, with 710 hp (instead of 612) and enhanced visually both inside and out in typical Mansory style.
Alongside these enhanced exotics, Mansory is also showcasing high-tech and stylish the Garia golf cart. The vehicle is designed by the Mercedes-Benz Style studio and distributed by Mansory.
MASERATI
Maserati staged the European debut of the very dark Ghibli, Quattroporte and Levante Nerissimo Editions at the Show. Originally unveiled last year, the Nerissimo Editions are 'murdered out' models which feature a black exterior with black chrome trim on the grille, trident logo and side vents. The Ghibli and Quattroporte also have tinted LED headlights, while the Levante features black fog light surrounds and black painted skid plates. All three models come with either 20- or 21-inch alloy wheels with a gloss black or dark finish. Interior changes are limited but the Ghibli comes equipped with heated sports seats, a heated sport steering wheel and Dark Mirror trim. Likewise, the Quattroporte has piano black or carbon fibre trim as well as tinted windows, a rearview camera and a power boot lid. Lastly, the Levante Nerissimo Edition boasts heated sport seats, a four-zone automatic climate control system and power-adjustable pedals.
Besides the three special editions, Maserati showcased a handful of other models including a Ghibli S Q4 GranLusso with a Bianco Alpi exterior featuring 20-inch wheels and polished aluminium brake calipers. The model also has a stylish interior with red leather upholstery, Ermenegildo Zegna silk accents and ebony trim. Maserati's flagship sedan was also on display in Quattroporte S Q4 GranLusso guise. This particular model has a Blu Passione paint job and 21-inch wheels covering black brake calipers. The final car was a GranCabrio MC dressed in Bianco Birdcage paint. The model has 20-inch wheels and leather / Alcantara interior with carbon fibre trim.
MAT
Manifattura Automobili Torino (MAT) has the rights to build 25 units of the New Stratos (yes, that is the official name!), and they have brought the original concept to Geneva to preview it. Displayed alongside the legendary Lancia Stratos, the study remains unchanged, although it does have a new logo at the front, and the same Ferrari F430 Scuderia underpinnings. As per the official spec sheet, the New Stratos is powered by a 4.3-litre V8 engine that churns out 540PS (532hp) and 519Nm (383lb-ft) of torque. Performance wise, it needs 3.3sec for the 0-100km/h (0-62mph) acceleration, and 9.7sec to reach 200km/h (124mph). Top speed is said to be 330km/h (205mph), and the car can come to a complete stop, from 100km/h (62mph), in just 2.2sec. The small Italian company doesn't say whether the actual production model will keep the Ferrari F430 Scuderia powertrain, and if it does, there is a bit of a mystery here. Will it be made by MAT from scratch, using the supercar as a starting point, or will customers be required to bring the Scuderias in for the transformation? Either way, this will probably be an instant collectible, given its visual ties to the iconic Stratos, which not many could afford. It's been reported that it might sell from around £600,000 (~$830,000), in the UK, so this makes it some $300,000 more expensive than the original Stratos, which, by the way, comes with a racing pedigree, too. Billed as "a supercar for the daily use", the New Stratos will receive two more members: the GT racer and Safari, which MAT is previewing in a few renderings. Just like the 'regular' one, these too are designed by Pininfarina. Both of them have four circular lights at the front, and another two mounted a bit lower, reminiscent to the Lancia Stratos rally car. The other model adds an exoskeleton at both ends, spare wheel at the rear, spotlight on the driver's side, right above the door mirror, and smaller wheels.
There was an example of the original Stratos here for comparison purposes, too.
MAZDA
For now, the Mazda 6 is the largest saloon car that Mazda make, but the hint that they may be thinking about something to sit above it in the range comes from the Vision Concept, which was making its European appearance, having been seen elsewhere in late 2017, with its global premiere at the Tokyo Motor Show, and an appearance at Los Angeles a few weeks later. The Vision Coupe showcases Mazda's evolved Kodo design language and aims to strip away any unnecessary exterior components that could make its design somewhat fussy. Instead, Mazda designers have found inspiration from simple things, including Samurai swords. Like the exterior, the cabin is also very minimalist and features a centre console void of almost any buttons or switches. The three-spoke steering wheel is also free of a single button. The gauge cluster is quite traditional with three round gauges showing all the vital information. Mazda has yet to say whether or not it intends to bring the Vision Coupe into production, its gorgeous design certainly drew plenty of praise and it does look to be the perfect recipe for a large and luxurious sports sedan from the company.
The third generation Mazda3 is currently five years old, so naturally, the automaker is prepping its replacement, which will face some stiff competition in the compact segment. It shouldn't have any problems in attracting new buyers, though, if it looks anything like the Kai Concept. Presented at the Tokyo Motor Show last year, the sexy study reached European soil for the first time in Geneva. It remains unchanged since its debut in Japan, and that's a good thing, because, well… just look at it! It has a striking presence with a clean exterior, and it's simply gorgeous from any angle. We have to hand it to the Mazda designers, because they have created something truly interesting here. Now, if only it would remain the same when it hits production, but well, we all know it most likely won't. Compared to the current Mazda3, the Kai Concept has a slightly longer wheelbase. Thus, legroom for the rear passengers should be improved, and those inside will get to appreciate the brand's latest and greatest technologies. It is not known when the new Mazda3 will arrive, but just like its predecessor, it will be offered in two body styles: hatchback and sedan. The two will share everything, up to the C-pillar, including a new generation of SkyActiv engines. Despite having a new suit ready, in addition to a different interior, the new Mazda3 could sit on the same architecture as today's models.
The rest of the stand contained examples of Mazda models that you can buy now. And. without exception, they are all good looking. Indeed, this is – by some measure – my favourite of the Japanese brands. Mazda have ignored the current trend for zany and plain ugly styling that is afflicting most of their compatriots. The cars always were good to drive, and recent updates have focused on making the interiors feel more luxurious as well as adding the expected latest safety and infotainment kit, to keep the competitive. Why they don't sell in greater quantities remains one of life's mysteries. Regular hatch models shown ere included the Mazda 2 and 3.
Mazda showed a significantly updated Mazda6 at the Los Angeles Show in November, but as the US market only receives the saloon model, this was the first chance to see the updates applied to the elegant Tourer (estate) version. Starting on the outside, the estate follows in the footsteps of the facelifted sedan as it adopts a new mesh grille with a deeper and more intricate pattern. The grille is surrounded by restyled headlights which feature LED turn signals and newly integrated fog lights. Other changes include additional body-colour trim and restyled 17- and 19-inch aluminium wheels. The interior receives a modest refreshing that focus on technology and higher quality materials. First off, the car has been equipped with new seats which have thicker padding and wider cushions for improved comfort. The model also gains an 8-inch infotainment system, an updated instrument panel and upgraded door trim. Higher end variants offer an assortment of goodies including a seven-inch TFT LCD display in the instrument cluster and a new Active Driving Display which "projects vehicle information directly onto the windscreen." The Mazda6 can also be equipped with newly available ventilated front seats and a new luxury package which adds Nappa leather upholstery, Sen wood trim and suede-finish materials. The engine lineup has also been improved as engineers focused on increasing performance while decreasing fuel consumption and emissions. On the petrol side, there's a SKYACTIV-G 2.0 which has outputs of 145 PS and 165 PS. Customers can also order a SKYACTIV-G 2.5 engine developing 194 PS and 258 Nm (190 lb-ft) of torque. The entry-level diesel model has a SKYACTIV-D 2.2 engine producing 150 PS and 380 Nm (280 lb-ft) of torque. There's also an upgraded version which develops 184 PS and 445 Nm (328 lb-ft) of torque. Besides the updated engine lineup, the wagon features a revised suspension with new dampers and stabilisers that are now bonded to the bushing mounts. Mazda says these changes will help to deliver a "smoother, more linear" ride. Engineers also focused on improving NVH levels by reinforcing key points of the body and adding thicker floor panels. The company also installed vibration-absorbing material to the central tunnel and modified the internal structure of the cabin ceiling. On the safety front, the Mazda6 offers a wider range of i-ACTIVSENSE safety technologies. Highlights include an updated Mazda Rader Cruise Control system which now works at all speeds. Another notable feature is the 360° View Monitor which uses four cameras to display the car's surroundings.
Joining these were the CX-3, CX-5 crossover vehicles and the popular MX5 sports car.
McLAREN
One of the busiest stands of the show, as unlike some of their competitors, McLaren do welcome everyone to come and get a close up look at their cars. To ensure the best possible experience, they do limit numbers at any one time, which can mean something of a wait. As time was not on my side, I did not get close up this time, and had to look at the cars from outside the stand.
It takes a rather incredible set of wheels to grab attention at the Geneva Motor Show, what with all its show-stopping concepts and supercars. But you could certainly say McLaren managed to do just that with the Senna. Or rather the Sennas, I should say, in the plural. Because McLaren didn't just bring one example of their new Ultimate Series hypercar – they brought three, each one more tantalising than the last. On the stand there was not just the Senna GTR concept, but two more: one pale blue "standard" model (that term used here in a strictly relative sense), and another with the new carbon pack. The latter is one of five new themes created by McLaren Special Operations specifically for the Senna. The visible carbon-fibre option incorporates 67 hand-made parts and adds costs nearly £300,000 – just for the option, not including the car itself. Black Alcantara trim lines the interior, and the show car also features accents in the yellow and green of Ayrton Senna's native Brazil. It's also wearing a special set of centre-lock wheels with nuts colour-coded red and blue for either side… just like a race car. There'll be four more of these "themes" on offer from MSO to customers ordering the new Senna, and these will surely be seen in due course as well. It's only against the backdrop of the striking visible-carbon model and the GTR concept that the "base" Senna could be forgotten, but forget it we haven't. This third example wears a bluish tint called Vision Victory Grey – one of five core colours in which the Senna will be offered, along with Stealth Cosmos black, Trophy Kyanos blue, Trophy Mira orange, and Vision Pure white. But there'll be another 18 colours offered at no additional cost, and a further 16 from the MSO Defined catalogue. And that's before getting into other trim choices, or even step into the cockpit. In short, there'll be no shortage of configurations for Woking's new flagship. And with only 500 to be made, there's really no reason for any two to emerge exactly alike.
Whilst the new Senna and its GTR concept may have taken most of the spotlight on McLaren's stand, they were far from the only supercar the manufacturer brought out. McLaren Special Operations displayed this rather elegant-looking 720S, painted a unique shade called Atlantic Blue. Presented at the same show a year after the debut of the first MSO-customized 720S – called Velocity – the Atlantic Blue example shows an altogether more understated take on Woking's acclaimed supercar. In addition to the special paint, MSO's latest 720S features Dark Palladium trim, glossy visual carbon fibre, Zircon window surrounds, a titanium-finish exhaust, and black brake calipers inside twin-spoke alloys in Graphite Grey. The cabin is upholstered in saddle-tan leather with slate-grey stitching, grey Alcantara trim, and black leather accents. The car's also fitted with the Bowers & Wilkins audio, 360-degree park-assist, and track telemetry systems, as well as a vehicle lift to help it up ramps and over speed bumps without damaging the nose. "Every 720S produced by MSO is elegant and distinctive and a large part of that is because they are different in some way from all the others, with each car a unique expression of the owner's taste," said McLaren Special Operations director Ansar Ali. "At MSO, we celebrate that difference by showing cars like the Atlantic Blue 720S – a world of McLaren possibilities made stunningly real." Like what you see? It was specially commissioned for the Geneva show, but is available for purchase for the small matter of £281,260. Of course, MSO will gladly outfit yours just the way you want, and the manufacturer reports that few of the 1,500 examples of the 720S built to date have left the factory in Woking without some measure of MSO's customization. Order yours now, and you'll just have to wait until July (at this point) for your build slot to come up.
The stand also included the (slightly) cheaper 570S, now the oldest model in the marque's lineup.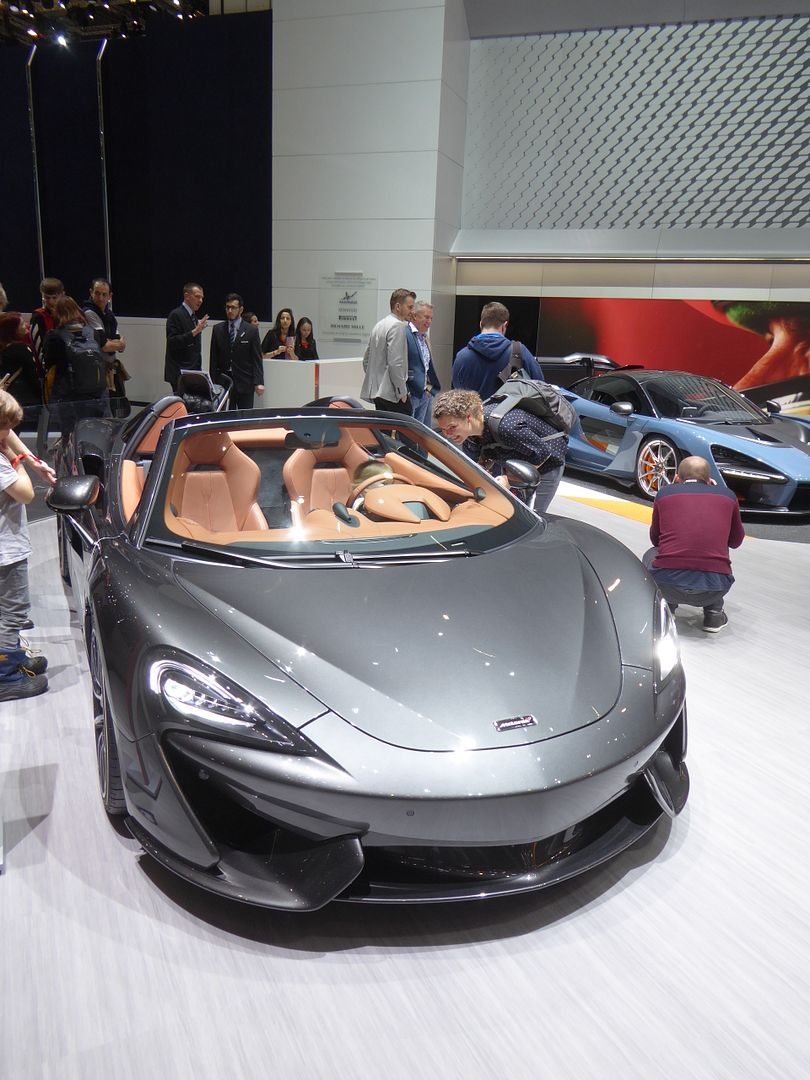 There was also a 570 Spider on the AutoDromo stand elsewhere in the show.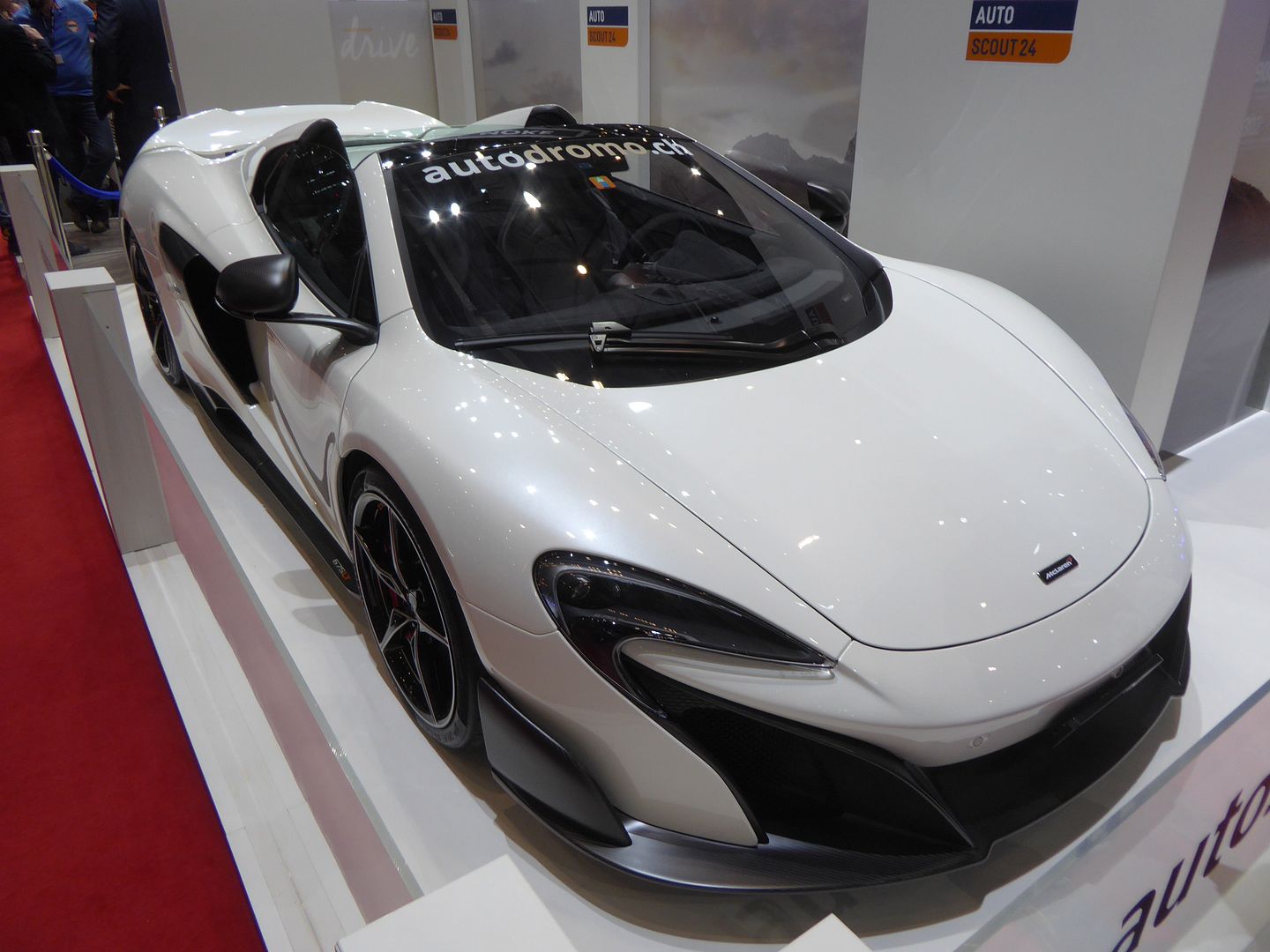 MERCEDES-BENZ
Mercedes will launch the EQ brand for their forthcoming all-electric cars, and in advance of that, they have been showing a number of Concept vehicles. One of them was here, the EQ A Concept, that was first shown at the Frankfurt Show six months ago. The production version is set to become the German car maker's second dedicated electric model after the EQ C when it goes on sale in 2020. The EQ A concept sports a smooth surfaced body, black panel grille and a series of distinctive light graphics in a styling treatment similar to that of the early EQ C. Conceived to directly rival the BMW i3 and an upcoming production version of the Volkswagen I.D. hatchback, the new EQ A is among 10 new electric models being developed in a €10 billion program at Mercedes and planned to go on sale before 2025. The initial EQ model, the EQ C was unveiled in concept car guise as part of a public debut for Mercedes' dedicated electric car EQ sub-brand at the 2016 Paris motor show. Recent trademark applications suggest Mercedes also plans more luxurious EQ E and EQ S models. Described as a central pillar in Mercedes' bid to become an electric car leader within the next decade, the EQ A is expected to be the volume seller of the EQ line-up with a price-tag of under €40,000. The second EQ model is also said to play an important role in the future of Mercedes parent Daimler's Car-To-Go car sharing division, with high level executives suggesting it will be offered on a short term drive away lease basis similar to today's Car-To-Go scheme as part of what is described in internal Mercedes-Benz correspondence as a global mobility eco system. Based around Mercedes' new MEA (modular electric architecture) platform, the EQ A follows the lead of the EQ C in adopting a conventional silhouette, with a defined bonnet line at the front, traditional glasshouse housing a five-seat cabin and a hatchback style tailgate at the rear. Secrecy surrounds the driveline layout of the EQ A, though Mercedes hints at a cheaper and simpler solution than set-up used by the EQ C, suggesting it will receive a single front-mounted electric motor with drive sent to the front-wheels via a fixed ratio gearbox.  However, a more performance orientated set-up, with a second electric motor mounted within the rear axle assembly and providing four-wheel drive capability similar to that seen on the EQ C is also possible, according to Mercedes-Benz sources. Mercedes has already confirmed the EQ C will be produced at its existing plant in Bremen, Germany, with other more upmarket EQ models, including the EQ E and EQ S, set to be assembled at its main manufacturing in Sindelfingen, Germany.
One you can buy now – well, soon, as it goes on sale later in the year, is the new AMG GT4, the AMG GT's four door sibling. This new member of the Mercedes-AMG family will be offered in three versions, at least initially, including the GT 53 4MATIC+, the GT 63 4MATIC+ and the range-topping GT 63 S 4MATIC+. The most powerful version of AMG's four-door coupe will use the biturbo 4.0-litre V8 engine, producing in that case 630hp (639PS) and 663lb-ft (900Nm) of peak torque. With the kind help of the trick all-wheel drive system, the Mercedes-AMG GT 63 S is capable of pulling a 0-62mph (100km/h) in 3.2 seconds, while flat out it'll do 195mph (315km/h). Opt for the "plain" 63 model and you'll get 576hp (585PS) and 590lb-ft (800Nm) of peak torque. 0-62mph (100km/h) is 0.2 seconds slower, at 3.4 seconds, while top speed is now just 192mph (310km/h). Both V8 models are equipped with AMG Cylinder Management that deactivates a bank of cylinders in the partial-load range and when the driver has selected the Comfort drive mode. The more powerful S version also comes with active engine mounts, which are optional in the regular 63 version. Entry-level GT 53 models are powered by the recently-launched plug-in hybrid powertrain that combines a turbocharged 3.0-litre straight-six engine with an electric motor for a total of 429hp (435PS). The electric boost is 21hp and 184lb-ft of torque. The petrol engine also employs an electrical compressor in addition to the regular exhaust gas turbocharger, effectively killing any turbo lag. 0-62mph (100km/h) comes in 4.5 seconds while top speed is 177mph (285km/h). V8-powered versions of the AMG GT 4 use the more responsive nine-speed MCT gearbox and a multi-chamber air suspension while the GT 53 version employs the regular nine-speed TCT transmission, as well as steel springs and adaptive dampers. Rear-wheel steering is standard on the 63 versions and an option on six-cylinder models. All models in the Mercedes AMG GT 4 lineup are fitted with the AMG Performance 4MATIC+ all-wheel drive which continuously computes the best torque split between axles, depending on driving conditions and the driver's inputs. The now-famous Drift mode is standard on the 63 S models, with AMG to offer it as an option in the rest of the range. Inside you get greeted by the usual pair of 12.3-inch digital displays for the instruments and infotainment but the new feature lies on the elevated centre console. The new GT 4 is the first model to feature colour display buttons that control the transmission modes, suspension, ESP, exhaust system, and more. The new control buttons are supplemented by the two capacitive switches for the driving modes and volume control. Mercedes AMG will launch the GT 4 in Europe late this summer, with pricing details to be announced closer to that date.
Also displayed on a special plinth on the stand was the Formula 1 car which enjoyed so much success in 2017.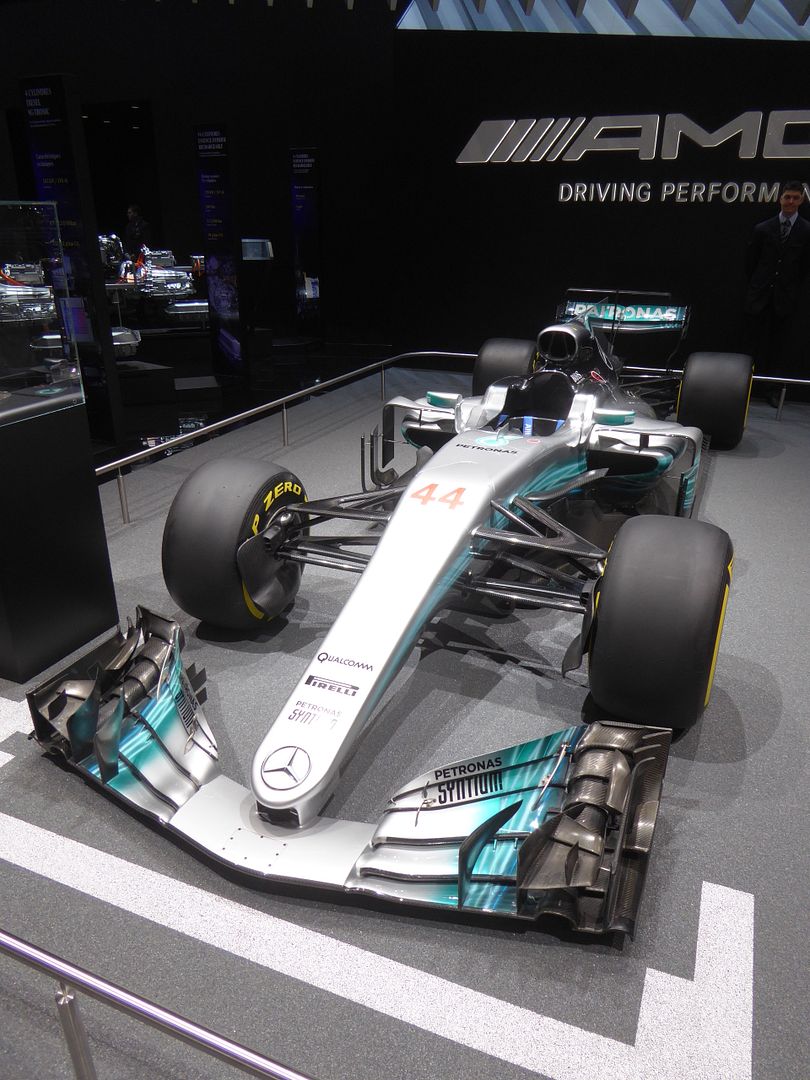 Commercially, the most significant new model on show was the latest  A Class, the fourth generation of the model, and one which received its official debut a few weeks before the show opened. Mercedes have told us that it is more mature than ever, with evolved styling, and packed with the latest technology, attributes it needs if it is to engage successfully against a slew of rivals led by the Audi A3 and BMW 1-Series. Early indications are that will be the most expensive of the three. At €30,231.95 ($37,416) in Germany, it's over €5,000 ($6,189) pricier than two of its main rivals, in entry-level form (Audi A3 starts at €24,650, while BMW's 1-Series from €25,150). That's without choosing any optional extras, and equipped with a six-speed manual transmission. Mercedes-Benz already has the order books open for fourth-generation A-Class in different European markets, limiting the offering at one diesel and two petrol units. More engines will be launched in the near future, but the most exciting variant is still to come – the AMG A45. Together with the aerodynamic updates, tweaked chassis and more than 400hp believed to come from a turbocharged 2.0-litre four-cylinder engine, the A45 AMG will probably take as little as 4 seconds to complete the 0-100km/h (0-62mph) sprint. A more tamed version of the car is also in development, under the A35 moniker. It will rival the Audi S3 Sportback, probably with some 300 horses, and will become the most affordable AMG car. There will be a whole raft of other derivatives, including the new CLA, GLA and B-Class, as well as the GLB crossover. I have to say I was rather underwhelmed by what I saw, with the new model managed to combine both rather bland and derivative styling with the sort of bling and froth in the details which characterise many modern Mercedes. It will be interesting to see how well it sells.
No doubt there will be a third generation B Class before long, but it was the second generation car which was on show here.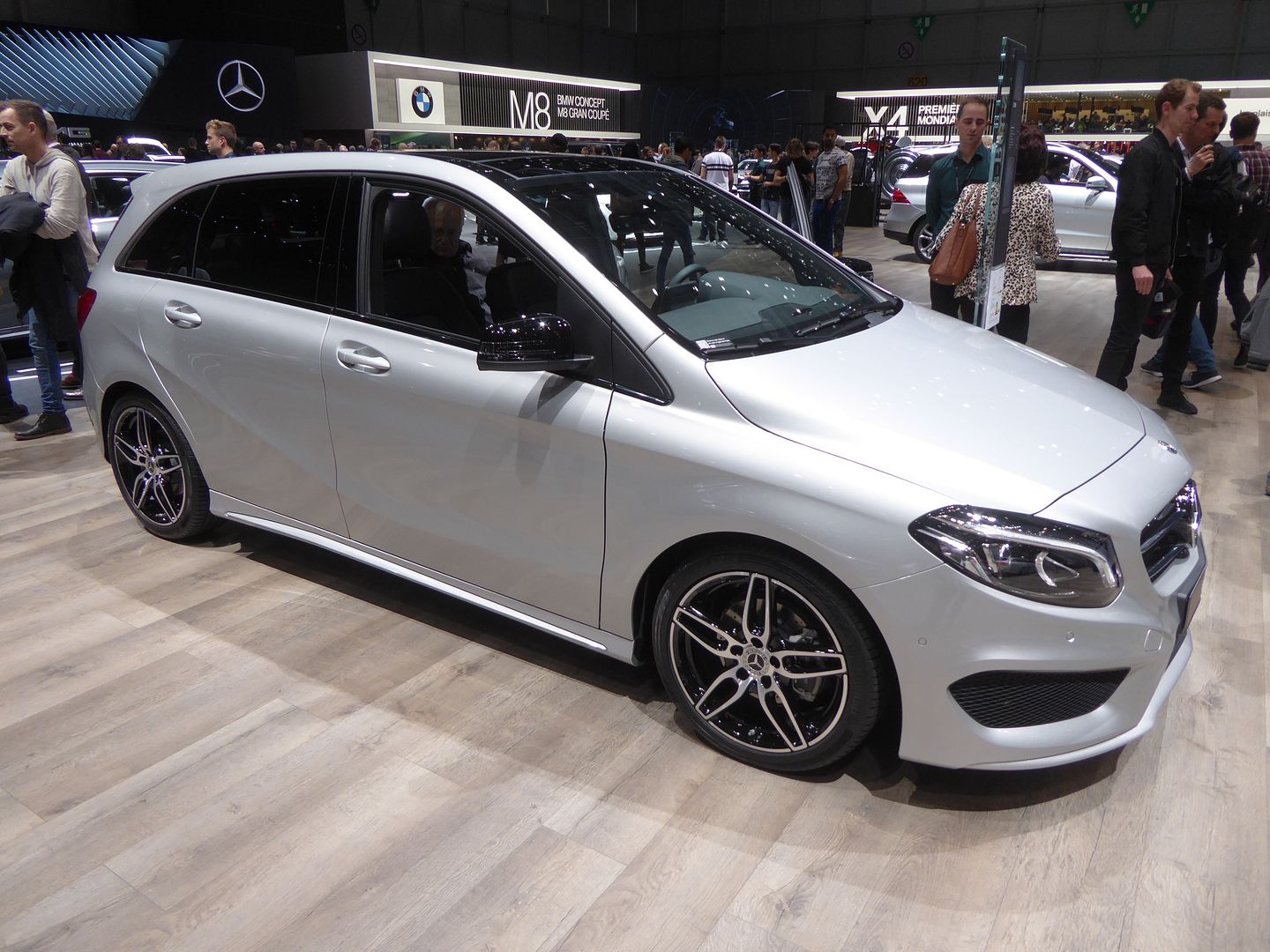 The launch of the new A-Class hasn't stopped Mercedes-Benz from upgrading the older CLA Shooting Brake, with the Night Edition package. Priced at €2,650 (equal to $3,234) in Germany, tax included, it adds new front apron, side sill panels, and rear apron, alongside the 18-inch multi-spoke alloy wheels, with an AMG-flair. The LED headlights, and a special Edition badge on the wing try to tell bystanders that this is not the usual CLA Shooting Brake. If you want more, you can opt for the extra Night Package that adds completely black AMG light-alloy wheels. The new look is characterised by black and white contrasts, top stitching on the Artico leather seats, carbon-look trim, and others. Those who don't want to wait for the new CLA to arrive can also get the current Shooting Brake in the Night Edition Starlight flavour. The somewhat brighter version comes with a diamond radiator grille and chrome pins, and wheels finished in titanium grey. The Night Edition package, on the other hand, will be launched for the four-door CLA as well, in addition to the GLA crossover and B-Class MPV too. Both versions will go on sale imminently.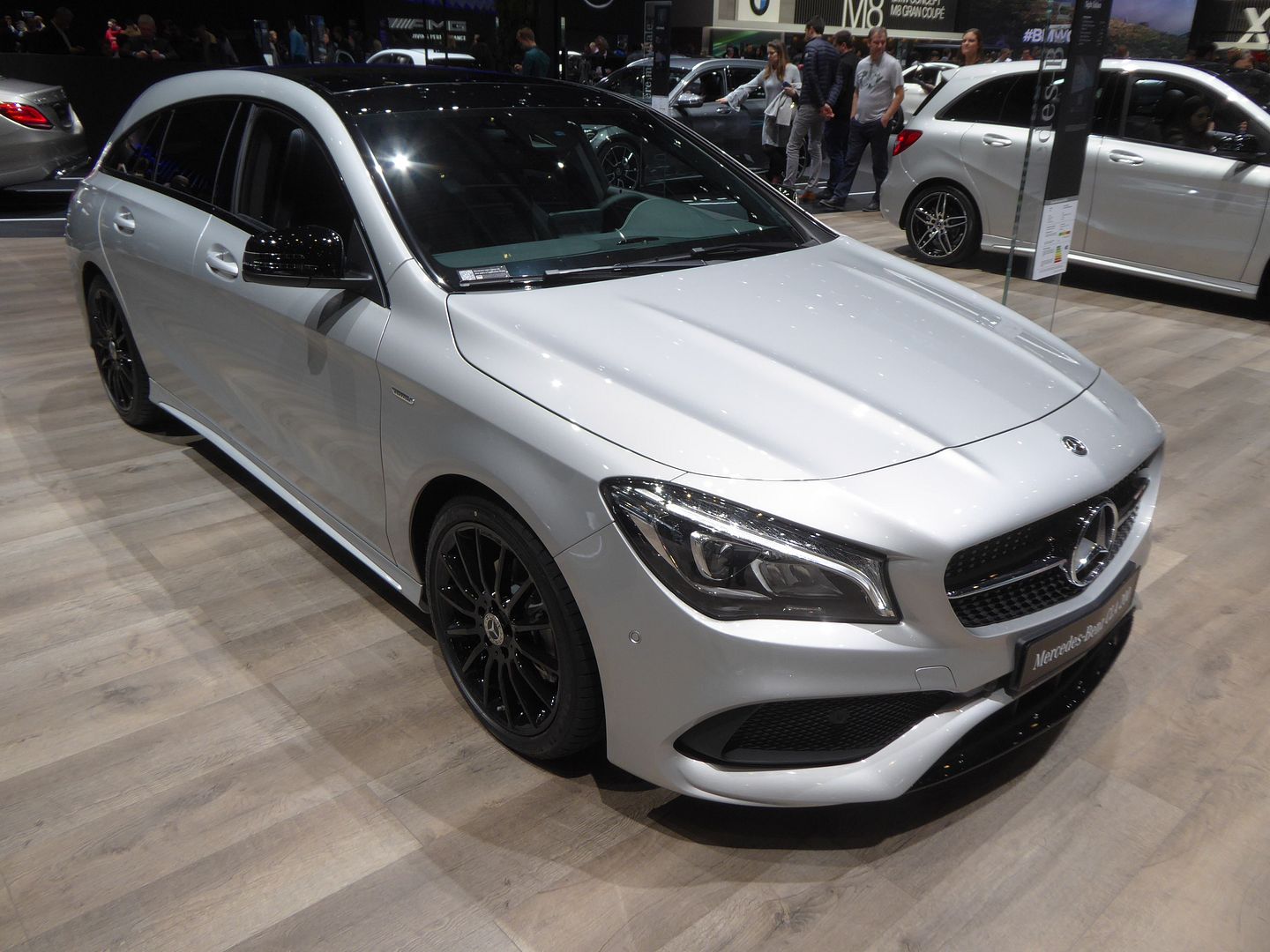 The C-Class remains one of Mercedes' best-selling models, and now, after a recent update, it's more S-Classy than ever. For some, the C-Class was always meant to be a sportier and more compact (a lot more compact) S-Class, a philosophy that also carried with it a smaller price tag. Now, by shoving even more technology into their facelifted sports saloon, Mercedes have basically future-proofed it until BMW comes out with their new-generation 3-Series. The changes are of course subtle, yet also significant, depending on which aspects of a car interest you most. For example, if the updated headlights don't tickle your fancy, then perhaps the available 12.3-inch digital instrument cluster will, thanks to its high resolution of 1920×720 pixels. Other changes inside include the new steering wheel with touch-sensitive buttons, an updated touchpad, updated head-up display and the optional 10.25-inch infotainment system, to go with improved voice control and a few new additions to its active safety systems. When it comes to performance, the C43 4MATIC version has been upgraded, with 23 more horses than before, bringing the total to 390 PS, coming from its 3.0-litre twin turbocharged V6, along with 384 lb-ft (520 Nm) of torque, which means it is capable of sprinting to 100 km/h (62 mph) in just 4.7 seconds if you opt for the sedan, and 4.8 seconds if your cup of tea is the Estate version. There were a number of different versions of the C Class on show including a C200 4Matic, a C220d Estate, the C300e and  an AMG C43.
There were plenty of examples of the E Class here, too, with all the bodystyles of Saloon Estate, Coupe and Cabrio on show. These can be quite hard to tell apart from the C Class, but thanks to my friend Nick Way, I can now reveal the easy way to distinguish them. It involves the crease down the side, which on the C Class is below the door handles whereas on the E Class, it goes through the doorhandles.
The new CLS was also on show here, a matter of weeks before the first cars start to reach their owners, following the debut late last year.
Another debut here, that you could easily have missed, was of new special editions of the facelifted S-Class Coupe and Cabriolet. Called 'Exclusive Edition', both cars come with more standard equipment and a few visual tweaks, with order books opening at the beginning of April. Among the on-board features are the LED Intelligent Light System with Swarovski crystals, two colour choices – Aragonite Silver and Rubellite Red – and 19-inch alloy wheels finished in Aragonie Silver or Himalaya Grey / Thulium Silver. The AMG Line can be had with 20-inch alloy rims with a black or high-sheen look, and the Cabriolet adds two soft top finishes, dark red or beige, which depend on the exterior paint of the car. The 'Exclusive Edition' lettering is visible inside, on the cup holder cover in the centre console, along with the light brown high-gloss sen wood, Burmester premium sound system, and Exclusive Package. With the latter, customers get Designo Nappa leather upholstery in several colours, with contrast stitching and piping, sun visors in Dinamica microfibre, Mercedes-Benz illuminated door sills, and others. Additionally, there are some special floor mats included as well. Both the 2018 Mercedes-Benz S-Class Cabriolet and S-Class Coupe Exclusive Editions can be combined with "almost any engine variant", says the automaker, and benefit from the entire range of updates brought forward with the facelifted models. Pricing and availability will probably be announced in the coming weeks.
For those who want the ultimate luxury sedan, when even an "ordinary" Mercedes-Benz S-Class won't do, then the Maybach version may be just the ticket. And now Mercedes has luxed it up even further. The updated Mercedes-Maybach S-Class made its debut here, with a restyled grille, two-tone paint options, a fresh set of wheels, and additional interior treatments. That new grille is inspired by pinstripe suits, and draws from the nose on the rather stunning Vision Mercedes-Maybach 6 coupe concept that debuted at the Pebble Beach Concours d'Elegance in the summer of 2016. The two-tone exterior finishes come in nine different combinations, and ushers in a new double clear coat applied by hand to make the dark colors shine even brighter. New 20-inch wheels come standard, and there are three new versions on offer as well – including the ones we first saw on the S650 Cabriolet. Those fortunate enough to buy one will also be able to spec two new interior color combinations: armagnac brown with black, and savanna beige with black. An array of top-stitching choices are also on offer in copper, gold, and platinum tones, along with a new Designo Magnolia trim package. Daimler reports having already delivered over 25,000 Maybach S-Class models around the world since their launch three years ago. Last year, one in every ten S-Class models was ordered in Maybach spec. Look for the 2019 models to reach US dealers late this summer in both S560 4Matic and S650 V12 specifications. With 463 and 621 horsepower on tap, respectively, they boast 0-60 times of 4.8 and 4.6 seconds. But while customers at this level clearly expect the luxury of instant acceleration, the Maybach S-Class is clearly about more than straight-line performance.
There were plenty of the larger SUV models here, ranging from the GLC and associated Coupe to the gargantuan GLS Class.
Final model on show here is the X Class, the pickup truck that Mercedes launched last year. Making its debut here is the new V6-powered variant of the X-Class, officially dubbed the X 350d 4MATIC. Many will feel that this engine is more fitting to an up-market offering like the X-Class, and will appreciate the claimed 258 hp and 550 Nm of torque thanks to its 3.0-litre capacity, turbocharger, and use of diesel. Peak torque is available between 1400 and 3200 rpm. Mated as standard to the engine is a 7G-TRONIC Plus automatic transmission. Mercedes claims that the gearbox operates with no interruption in tractive power during gearchanges, including on uphill gradients. As the name of the model implies, the brand's 4MATIC permanent all-wheel drive system is standard. Five different driving modes will be offered in the X 350d 4MATIC. The first, dubbed Comfort, is the default setting but at the flick of a switch, Eco, Sport, Manual, and Offroad models can be selected. A start/stop function is active in all driving modes except Offroad. In addition to these modes, three all-wheel drive modes are available. They include 4MAT for increased vehicle dynamics, 4H for greater off-road traction, and 4L (low range). With its 22 cm ground clearance, Mercedes says the pickup can climb gradients of up to 45 degrees and easily mass through water up to 60 cm deep. Like other X-Class models, the X 350d 4MATIC will be offered in two equipment lines, namely Progressive and Power. The first of these includes 17-inch alloy wheels, a leather-lined steering wheel, and an eight-speaker audio system. In Power guise, there are 18-inch wheels, LED headlights, and a host of interior upgrades. I was not impressed by the interior of the X Class I sat in – which whilst sporting many Mercedes design touches did little to disguise its far more humble (and much cheaper) Nissan origins.
MISC
MITSUBISHI
Star of the Mitsubishi stand was this e-Evolution Crossover Concept, which was first seen at the Tokyo Show last autumn and again at the Detroit Show in January. The pure-electric, four-wheel drive SUV coupé is billed by Mitsubishi as a "technology concept" car, previewing future electric powertrain technology and the ability to reach Level 4 autonomy, which allows the driver to have their 'mind-off'. Mitsubishi executive vice president Mitsuhiko Yamashita described it at its Tokyo unveiling as a "new evolution of the SUV" that proposes "a new direction for Mitsubishi Motors". The technology on the concept is all viable for production, but the firm has not yet decided if it will be used for an Evo model. The body of the new SUV is understood to preview Mitsubishi's upcoming rival to the Nissan Juke, due in 2018/19, albeit toned down from the overtly concept car styling seen here. What are Japanese stylists thinking?
Most of the production range is familiar, with models having been on offer for some years. The diminutive iMIEV is still available, and it is joined by the SpaceStar (Mirage in the UK) and related Attrage as well as a couple of family-sized crossovers, the familiar ASX as well as the new Eclipse Cross.
The Outlander is Mitsubishi's most important car, and they  took the wraps off the 2019 Outlander PHEV here. It looks virtually identical to its predecessor but there are some pretty significantly upgrades underneath the skin. Starting under the hood, the 2019 model has a new 2.4-litre four-cylinder Atkinson cycle engine that produces more torque than the previous 2.0-litre Otto cycle unit. Besides the new engine, the Outlander has been equipped with a next-generation plug-in hybrid powertrain which features a number of improvements. Detailed specifications won't be released until closer to launch but the company confirmed the model now has a 13.8 kWh lithium-ion battery which is 1.8 kWh larger than before. The company also said the output of the generator and rear electric motor have increased by ten percent. There's no word on the new ratings but the generator was previously rated at 93 hp (70 kW) so the new unit should produce 103 hp (77 kW). Likewise, the previous rear electric motor developed 80 hp (60 kW) and 143 lb-ft (195 Nm) of torque so a ten percent increase would raise those figures to 88 hp (66 kW) and 157 lb-ft (214 Nm) of torque. Regardless of the final ratings, the 2019 Outlander PHEV gains two additional drive modes. The new Sport mode promises to deliver "greater driving enjoyment on winding roads" while the Snow mode will help drivers facing slippery conditions. In terms of styling, there isn't much to report as the model has been equipped with updated LED headlights, rectangular fog light bezels and a modestly revised grille. The Outlander also gains a larger rear spoiler and new 18-inch alloy wheels. The subtle revisions continue in the cabin as designers added "all-new hip-hugging front seats" which can be upholstered in new quilted leather. Designers also installed a new instrument panel, updated switchgear and revised trim. The 2019 Outlander PHEV will go on sale in Europe this autumn.
Final model here was the long-lived Shogun.
MORGAN
2018 marks the 50th anniversary of the Plus 8 and to celebrate this half century, Morgan had both the very first car and the latest, the Morgan Plus 8 50th Anniversary Edition, on their stand. Peter Morgan and company first unveiled the Plus 8 prototype at the Earls Court Motor Show in London back in 1968. Some 6,000 units were built before the Rover V8 that powered it was discontinued in 2004, the Plus 8 dying along with it. The model was revived in 2012 on the aluminium chassis of the Aero 8, sharing its 4.8-litre BMW V8, but clothed in more old-fashioned bodywork than its more streamlined counterpart. With a weight of just 1,100 kilograms (2,425 pounds), it' could run to 62 mph (100 km/h) in 4.5 seconds and top out at 155 mph (250 km/h). With that naturally aspirated engine now out of production, the Plus 8 and Aero 8 will be the last models to use it. In the end, just 50 examples of the anniversary special will be made, done up in a lacquered blue finish reminiscent of the first Plus 8 built, with yellow accents on the grille, bonnet, and rear tow eyes. "This 50th Anniversary Edition is a fitting illustration of the Plus 8's beauty and finesse, coupled with raw exhilaration and capability," said managing director Steve Morris. "Performance has underpinned every one of the Plus 8s that have driven out of our factory gates for 50 years and we're excited to reveal the car in full in Geneva."
The second new versions of an existing model here was the Aero GT. It is based on the same aluminium architecture as the Plus 8 – in stark contrast to the wood frames it uses on other models – and are powered by the same 4.8-litre V8. The 367-horsepower engine has long since been abandoned by BMW, and is now being discontinued at Morgan as well. The main difference between the two comes down to bodywork. They're both two-seat roadsters (that's an optional hardtop fitted to the Aero GT). But while the Plus 8 looks decidedly old-school, the Aero GT has a relatively more modern design. There'll also be 50 examples of the special Plus 8, compared to just eight of the Aero GT (all of which have been pre-sold already). Along with the send-off of the naturally aspirated V8, the Aero GT also marks the end of the Aero 8 on which it's based. We wouldn't be all that surprised, however, to see the Plus 8 carry on with another (possibly turbocharged) engine as it moves into the next half-century of production as Morgan gears up to produce its electric three-wheeler.
That electric three wheeler, the EV3 was here as well- and we are told it will finally go on sale later this year – as well as the popular Three Wheeler.
MTM
MTM has a proven knack for tuning German cars – Audis especially. And it brought no fewer than three of Ingolstadt's finest to the Show, each with its own share of modifications. Not the least of them is the RS3 R, the tuner's take on Audi's smallest performance sedan. The pocket rocket packs a 2.5-litre turbocharged inline-five that produces 400 bhp and 354 lb-ft (480 Nm) of torque in standard form. But after MTM got through with it, the RS3 R kicks out a massive 572 ps and 672 Nm. The result: a sprint to 62 mph (100 km/h) in just 3.5 seconds and a top speed quoted at 186 mph (300 km/h). Joining it is the RS5 R coupe with slightly less power than the smaller sedan but with more torque. It's based on the new twin-turbo V6 model (not the old V8). But instead of 457 ps and 443 lb-ft (600 Nm) of torque in the standard model, MTM has increased output to 532 ps and 526 lb-ft (700 Nm) for a 0-62 time of 3.6 seconds and a top speed of 174 mph (280 km/h). At 3,648 lbs (1,655 kg), the larger coupe is a good 353 lbs (160 kg) heavier than the smaller sedan, after all. Along with the engine enhancements, MTM has also fitted the coupe with a four-pipe carbon-fibre exhaust system and a set of 21-inch alloys shod with Michelin Pilot Super Sport rubber. Potentially more tempting to fans of older machinery is the RS2 Avant wagon that MTM has restored to factory condition. Audi and Porsche teamed up for this car's development back in 1994 and only built 2,891 of them, so the ones that are still around are well worth preserving. The tuner took apart the 2.2-litre turbo five and rebuilt it, but left it with its original 315 ps and 516 lb-ft (485 Nm) of torque, capable as they are of dispatching the 0-100 km/h (0-62 mph) run in 5.4 seconds on its way to a terminal velocity of 270 km/h. It also repainted the bodywork, retrimmed the interior, and fitted a new exhaust, giving the little power wagon a new lease on life.
NISSAN
Remember Nissan's IMx crossover concept from last year's Tokyo Auto Show? In case you don't, here it is again, only this time in Geneva, it is wearing an updated grille, new black trim and wheels and a new dark gray body colour. Other upgrades, compared to the Tokyo car, include the integration of Nissan's Brain-to-Vehicle (B2V) technology, although aesthetically, it's the small yet noticeable changes that highlight the automaker's continuous work on this concept. "After the Tokyo Motor Show, my team and I continued to consider the IMx's potential,' stated Nissan design boss Alfonso Albaisa. "We asked ourselves if the basic concept of the IMx could be more SUV-inspired by making some relatively simple changes to details, accents and colour." "Taken all together, these relatively minor changes have combined to give the IMx KURO a completely different personality, and the addition of the KURO moniker reflects that. It looks purposeful and indestructible – which we think is an interesting position for this concept and the application of technologies that is showcased by the vehicle." The B2V tech featured in the IMx KURO promises to speed up reaction times for drivers, in turn leading to cars that can adapt on the move and make driving more enjoyable. If one could get this concept out on the road today, they would utilize its high-output electric motors (a pair at the front and rear), for a combined 320 kW (429 HP) and 700 Nm of torque. Thanks to a high capacity battery that's also been redesigned, the IMx KURO offers a driving range of more than 600 km (372 miles) on a single charge. The fully-autonomous Nissan IMx KURO can also park itself and connect to the local power grid, while acting as a "virtual" power plant by returning electricity to the grid. As for its interior design, the Japanese automaker went with trying to achieve a sense of openness. Just like the original IMx concept, the KURO version features a panoramic OLED instrument panel display, a separate, wood grain-patterned display, katanagre diagonal pattern on the seats and silicon-material cushioning on the head rests. Thanks to Artificial Intelligence technology, the driver is able to control the instrument panel with eye movements and hand gesture. Since this concept features an intuitive interface, there is little need for physical controls and switches.
Renault has proven a dominant force in Formula E. It's won the teams' championship in each of the three season so far, won the drivers' title in the second, and has scored 15 race wins – more than twice that of its nearest rival. That's all set to change in Season 5, however, when the French automaker steps out of the electric racing series and gives way to its corporate allies at Nissan. And when that happens, this is what the Japanese manufacturer's entry will look like. Showcased here, the livery for Nissan's forthcoming entry is draped over the shape of the new Gen2 chassis that the series organizers have revealed under the roof of the same Palexpo. The silver, black, and red livery looks rather striking to our eyes, and represents the first participating automaker to do so. "At first glance the season five Formula E car looked to our design team like an EV-powered supersonic bird in flight," said Nissan design chief Alfonso Albaisa. "Naturally this initial reaction from the team started us on a path that captured a sense of a form breaking free of resistance and gravity." Nissan touts itself as "the world's leading mass-market zero-emission vehicle manufacturer," and has dabbled in electrified racing before. It supported the DeltaWing project before branching out on its own with the similar ZEOD RC. But its attempt at a hybrid Le Mans prototype in the form of the GT-R LM Nismo didn't go as well. Here's hoping it can leverage its sister company's experience to better effect.
That reputation for electric propulsion comes from the Leaf, the world's biggest selling EV to date. A second generation model is just going on sale, and this was given a prominent place on the stand as Nissan looks to build on what they have achieved with the outgoing car.
The rest of the range were all here, too: Micra, Juke, Pulsar, Qashqai and the sporting 370Z and GT-R.
Rounding things off was the e-NV 200.
PAGANI
Another very popular stand for people to crowd around, is the one for Italian hypercar manufacturer, Pagani. With McLaren moving down-market and Porsche selling crossovers hand over fist, some automakers remain decidedly low-volume by nature and by design. But even a company like Pagani can reach new heights, and reach them it did last year. The Modense supercar manufacturer doesn't typically disclose exactly how many of its seven-figure exotics it sells or builds on an ongoing basis. But it has revealed that 2017 constituted a record year for its turnover. 29 percent more than 2016, in fact. And next year will be even busier: "We anticipate 2018 to be the busiest and the most rewarding year, with the delivery of 40 new vehicles to their respective owners," said Horacio Pagani. "We do not have plans to expand our new-car production capacity beyond 40 units, but strive to offer more services to the loyal members of our Pagani family of customers and giving them all our attention." To mark its success, Pagani brought two cars to the Show: a US-spec Huayra Roadster, and the one-of-a-kind Zonda HP Barchetta showcased at Pebble Beach last summer. The point is to showcase the range of possibilities open to the company's affluent clientele. Pagani isn't the only exotic automaker to post record results in 2017. Both McLaren and Lamborghini achieved better results than ever before, while Aston Martin reached a nine-year high. But those figures were counted in the thousands. Manufacturers like Pagani count theirs by the dozen, at most. Bugatti produced 70 Chirons last year at its factory in Molsheim, France. Meanwhile their mutual rival Koenigsegg has to ramp up production to about 20-25 per year in order to keep up with demand and cut waiting times.
PEUGEOT
Star of the Peugeot stand was the new 508, with several examples on show. I have to confess I had not realised that this is actually a hatchback. Not only does the 508 feature a "bold new low coupe design" according to the French automaker, but it also comes with advanced driver assistance systems such as the night vision system, which relies on an infrared camera to detect pedestrians during low visibility conditions. In the metal, the 508 is a pretty big breath of fresh air, according to our boots on the ground. Compared to its predecessor, the new model is more practical thanks to the fastback body style, but also more elegant, due to the sloping roof, frameless doors and high shoulder line. There were multiple 508 specs present  – Allure, GT Line, First Edition, each bringing something a little different to the table. For example, the First Edition model comes with black mirrors caps and black wheels, just like the GT Line, which boasts a sportier steering wheel inside, with perforated leather and a GT Line badge. Since we're addressing the interior, there's no escaping the fact that the new 508 probably has the most modern/futuristic cabin in its segment, although whether you like the design is obviously a personal preference, and that low-set small diameter steering wheel is a definite problem for me. Peugeot will initially offer five power units at launch for the 508, with two petrol options rated at 180 PS (177 HP) and 225 PS (222 HP), and three diesels, good for 130 PS (128 HP), 160 PS (158 HP) and 180 PS (176 HP). A plug-in hybrid version will join the range later on this year, as will an Estate version.
Displayed in one corner of the stand was the 308 TCR model.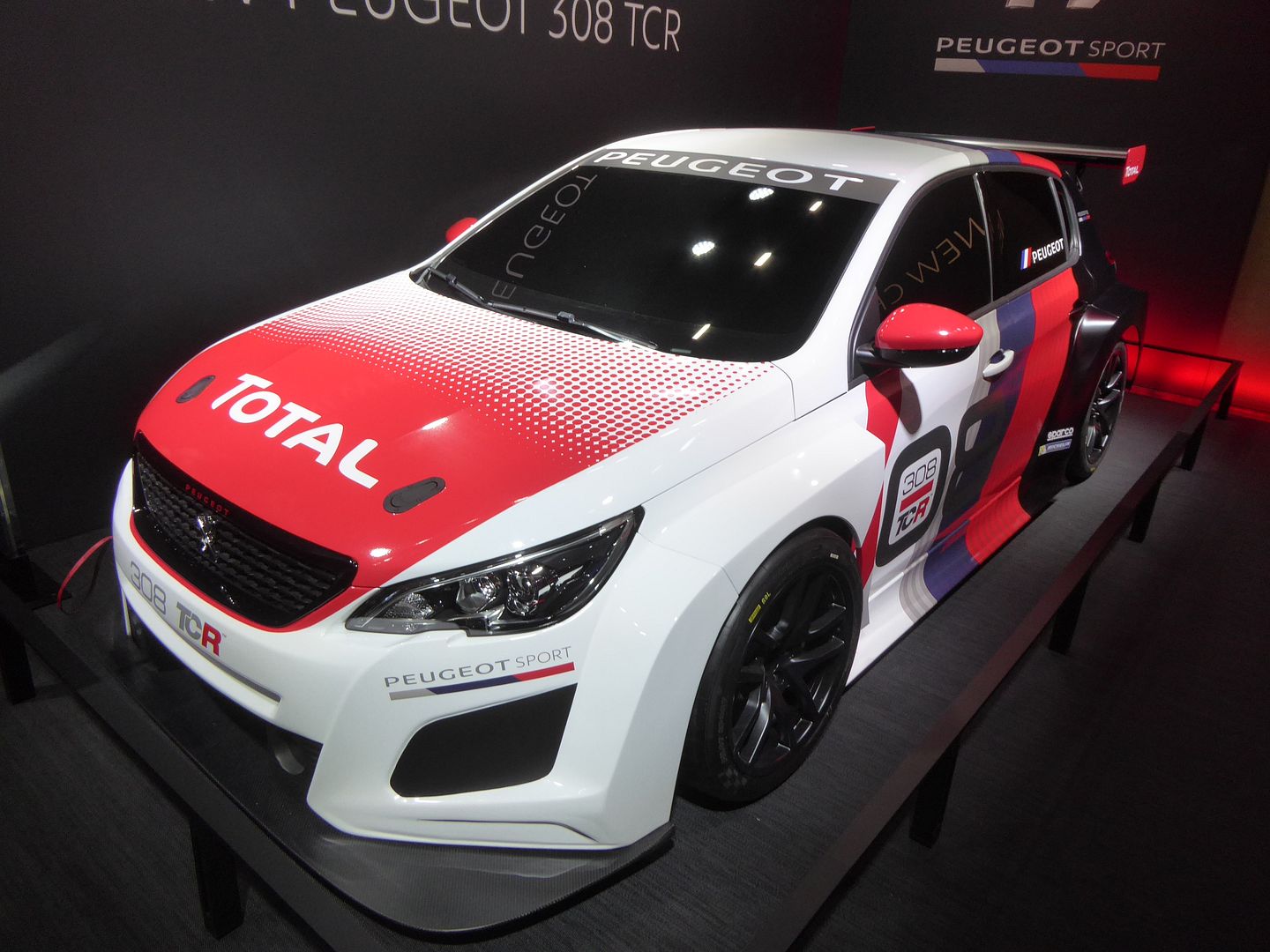 The rest of the range was represented by examples of most of the different bodystyles on offer, with a very definite family look evident in the SUV line, of 2008, 3008 and 5008.
PININFARINA
Studios like Pininfarina typically design cars (among other things) for other automakers. Like the HK GT concept, for example, revealed here. Pininfarina call this "the future of the car". It aims to set new standards of luxury for a GT, but in an environmentally sustainable way. It sits on a modular platform which can be adapted to create an entire model range of cars. The HK GT has gullwing doors, a 792 bhp electric powertrain, and thanks to a micro-turbine range extender, the ability to cover 600 miles between charges. It is said to do 0 – 62 mph in 2.9 seconds and top out at 155 mph. Its aluminium chassis pegs the weight to a relatively light 1860 kg.
But once in a while, they do something on their own. Pininfarina captured our imaginations at the show two years ago when it revealed the H2 Speed concept. And now it's putting it into production. The hydrogen-powered track car is designed (and will be built) by the famous Italian carrozzeria, with help on the powertrain side from its racing partner GreenGT. The Franco-Swiss outfit has been experimenting with clean propulsion systems for about a decade now, and its expertise will undoubtedly mesh well with Pininfarina's track record of designing and even producing world-class supercars. The carbon-fibre chassis underpinning the H2 Speed is derived from a Le Mans prototype, modified with a longer wheelbase and narrower track. It also has a higher-mounted cockpit to let the amateur millionaires (that are bound to buy this high-tech toy) see the track around them better. The bodywork, of course, is completely fresh. It features a closed cockpit, an air scoop on the roof, giant air intakes on the sides, a horizontal fin to keep it stable, and a big rear wing to help keep it planted to the track surface. The real novelty, though, is what's packed into that chassis and bodywork. The advanced hybrid powertrain incorporates four electric motors and a lightweight fuel cell. The system produces 653 horsepower – far more than the original concept. In a package weighing 3,130 pounds (1420 kg with bodywork), that's enough to send the track car rocketing to 62 mph (100 km/h) in 3.4 seconds, covering 400 meters (an approximate quarter-mile) in 11 seconds before reaching a top speed of 186 mph (300 km/h). Try doing that in a Toyota Mirai or Honda Clarity. The system drives directly to the rear wheels, with no clutch, shifter, or differential – just a torque vectoring system. All this while emitting nothing more harmful to the environment than water vapor. And it's faster to top up than an EV, taking just three minutes to top up the hydrogen tank. Along with GreenGT, Pininfarina worked with other top-notch suppliers to help fill the spec sheet. Michelin supplies its Pilot Sport GT 59M tyres for dry conditions, and P2L versions for wet tracks. And Sabelt crafts the lightweight seat shells and six-point harnesses that are placed in the exposed-carbon cockpit, trimmed in Alcantara. Like what you see? Better act fast, because Pininfarina will only make 12 examples. And though it hasn't said how much it will charge for each one, you can bet the sticker price will have a lot of zeroes in it.
POLESTAR
Occupying a separate stand, in some of the space vacated by Aston Martin's move upstairs was Polestar, Volvo's now standalone performance brand. There were two cars on show, both examples of the very attractive One plug-in hybrid coupe. This stylish new car is powered by a plug-in hybrid powertrain with a very impressive combined output of 600hp and 737lb-ft (1000Nm) of torque. The powertrain mixes a 2.0-litre four-cylinder Drive-E petrol engine with two powerful electric motors that are mounted on the rear axle. The only official figure we have so far is the all-electric range of the Polestar One, which is a very impressive 93 miles (150km). The new model is based on Volvo's SPA architecture but Polestar claims that around 50 percent of the One is new and bespoke to them. That includes things like the all-carbon bodywork and the trick Öhlins Continuously Controlled Electronic Suspension (CESi). The new Polestar One will be offered under the company's subscription service, which covers the additional costs of insurance, routine maintenance and depreciation. Polestar also said that they will outright sell their first product to those interested for a price between 130,000 and 150,000 euros. Production is set to begin in mid-2019 at a new factory in China, with Polestar to limit the output to 500 units per year, although this could change if customer demand is high enough.
PORSCHE
Star of the Porsche stand was a concept study representing an electrified Cross Utility Vehicle, or CUV for short, called the Mission E Cross Turismo. If you're the type of person who loves outdoor activities, making your way to the ski slope, that sort of thing, then the Mission E Cross Turismo is meant for you, with its flexible interior and load-carrying systems. The concept measures 4.95 meters (16.2 ft) in length, boasts all-wheel drive and an 800-volt architecture. Visually, it features a low-cut bonnet, vertical air inlets in the front, matrix LED headlights, robust wheel arch protection and door sills, an imposing front spoiler and increased ground clearance for some light off-roading. What Porsche is trying to do here is paint a picture with regards to what a Turismo model with the characteristics of a crossover utility vehicle could look like if it was put into production. With utility in mind, the CUV's backrests can be folded down and the boot features a rail system with adjustable and removable straps. Since we're discussing the interior, we need to point out how the dashboard emphasises the concept's width, and how the instrument panel is organised horizontally. Meanwhile, the freestanding instrument cluster is angled towards the driver and comes with three circular display graphics. Other interior features include how the centre console rises towards the dash panel visually, ambient lighting, the presence of Porsche Connect digital services, and the sporty and quite futuristic seats. Yet, it's the display technology that seems most impressive, with eye-tracking control available for the instrument cluster. Thanks to this system, this concept knows what the driver is looking at, bringing that particular image/display to the foreground, while others are made smaller. With a total system output of over 600 HP (440 kW), the Mission E Cross Turismo can accelerate to 100 km/h (62 mph) in under 3.5 seconds and reach 200 km/h (124 mph) in less than 12 seconds. According to Porsche, multiple accelerations are possible in direct succession without loss of performance, aided of course by the on-demand all-wheel drive system with Porsche Torque Vectoring. Also aiding driving dynamics is the adaptive air suspension which increases ground clearance by up to 50 mm (1.96 inches), while the Dynamic Chassis Control (PDCC) provides active roll stabilisation. The 800-volt architecture ensures that this concept's lithium-ion battery can offer a range of around 250 miles (400 km), with a charge time of just over 15 minutes. Altogether, the Mission E Cross Turismo's battery can be recharged using induction, a charging station or a Porsche home energy storage system.
The Porsche Mission E Cross Turismo might have been the star attraction at the company's press conference in Geneva but the automaker also revealed the new 911 GT3 RS. Based on the outgoing 911, the GT3 RS is a high-performance model which features a naturally aspirated 4.0-litre flat-six engine that produces 520 PS and 468 Nm (346 lb-ft) of torque. The engine is connected to a seven-speed PDK transmission which enables the car to accelerate from 0-60 mph in 3.0 seconds and hit a top speed of 193 mph (312 km/h). Since the model has been designed with performance in mind, it features a number of lightweight components. The fascias are constructed out of polyurethane, while the front trunk lid and fenders are made from carbon fibre. The model also has a magnesium roof, lightweight rear windows and lighter door panels with pull straps. The rear seats have also been removed and the car features less sound deadening material than mainstream variants. Buyers who want to reduce the weight even further can order the Weissach Package which costs $18,000. The package adds a number of carbon fibre components including the roof, sway bars and coupling rods. These components save approximately 13 lbs (5.8 kg) of weight which is roughly $1,385 per pound. If the Weissach Package doesn't bust your bank account, you can order forged magnesium wheels for an additional $13,000. They're a bit of a bargain, compared to the Weissach Package at least, as they weigh around 25 lbs (11.3 kg) less than the standard wheels. Even in base form, the 911 GT3 RS is pretty impressive as it features a 911 GT2 RS-sourced hood with NACA ducts to optimise brake cooling without increasing drag. The model also has a larger front lip spoiler, carbon fibre shelled seats and an Alcantara-wrapped steering wheel with a yellow centre marker at 12 o'clock. Other highlights include a titanium exhaust system, active engine mounts, an adaptive suspension and a torque vectoring system. The 911 GT3 RS will be launched later this year and pricing starts at €195,137 in Germany.
The stand contained examples of the rest of the range. It was busy right up until show closing time, so I was quite limited in the photos I could get, but among those presented here are the Panamera Sport Turismo and the latest third generation Cayenne.
RENAULT
This year marks the 120th anniversary of the founding of Renault, and there will be a number of special events during 2018 to recognise this. It was celebrated here by the presence of the very first car, the Model A 1898. Though it became the foundation stone for a huge industrial empire, the very first voiturette, designed and built by Louis Renault in person, was not originally intended for sale. In 1897, nineteen-year-old Louis Renault was working as a draughtsman with Delaunay-Belleville. This keen amateur mechanic, fascinated by the emergence of motor transport, set up a little workshop in a garden shed at the family home in Boulogne-Billancourt, and set about building a simple little car, of his own design, for his own personal use. By Christmas 1898 the voiturette was finished, and Louis invited a few friends round to see how it would tackle the steep Rue Lepic in the Montmartre district of Paris. Impressed by how easy it was to drive the car, several of his friends were keen to get one for themselves, and some even made a down payment on the spot! Two months later, the automobile manufacturing company Renault Frères was founded, marking the start of a great adventure. The lightweight, well-designed voiturette already showed many of the features of modern automobile engineering, with a front-mounted engine, transmission by shaft with universal joint, and a direct-drive gearbox patented by Louis Renault. It was unveiled to the public in June 1899. Then on 27 August, Louis and his brother Marcel took part in the Amateur Drivers' Cup event from Paris to Trouville, finishing first and second.
With autonomous vehicles developing quickly and captivating the imaginations of the public, the world's automakers have been hard at work dreaming up the self-driving vehicles of the future. This is Renault's vision, the EZ-GO concept which envisions a low-speed autonomous urban vehicle to shuttle individuals and small groups around cities. The Level 4 autonomous shuttle is designed to accommodate up to six passengers, with glass all around to provide unobstructed views of the cityscape around them. Ingress and egress are enabled via a huge door opening from the front and top of the vehicle when it pulls up at what Renault envisions would be dedicated "bus stops" specifically for the EZ-GO. At 5.2 metres (204.7 inches) long, 2.2 metres (86.6") wide, and 1.6 metres (63") tall – 1.8m/71" with the hatch open – the EZ-GO is a bit bigger than a MPV like Renault's own Espace or even than a larger, American-style minivan like the Toyota Sienna. But with only a single electric motor and a 300-kg (66-lb battery) to schlepp, it weighs just 1,700 kg (3,748 lbs). The French automaker figures it can get away with the low-output powertrain since the vehicle is designed only to travel within the city (not on intercity highways) at speeds no higher than 30 miles per hour (50 km/h). Four-wheel steering helps with low-speed manoeuvering. "We designed Renault EZ-GO to be an iconic symbol for cities. This electric, autonomous concept explores the positive potential impact of shared mobility for all," said chief designer Laurens van den Acker. "Visually appealing and integrated in the urban environment, it offers an unprecedented 360 degree 'open window' on the city and a convivial space for people to relax and enjoy the ride." Rather than pitching the vehicle for personal purchase and operation, Renault has designed the EZ-GO for transport companies (whether public or privately incorporated) as a complement to – not a replacement for – existing public transit platforms like buses, subways, and light rails. It could be on to something. And if it is, we could see vehicles like this running through our cities in the not too distant future.
Although there are no visual changes to make it obvious, Renault has modestly updated the Zoe for 2018, with the car now using a more powerful electric motor. Developed in-house and called R110, the motor is an evolution of the R90 that powers the current Zoe. It's rated at 109PS (107hp) and 225Nm (166lb-ft) of torque, a 16hp improvement. The 2018 Renault Zoe takes 11.4 seconds to accelerate from 0 to 100km/h (0-62mph), shaves almost two seconds off its predecessor's 80-120km/h (50-75mph) sprint, and can reach a top speed of 135km/h (84mph). Renault claims that with the 41kWh lithium-ion battery pack, which can be charged from 0 to 80 percent in as low as 1 hour and 40 minutes, the Zoe R110 has a total range of 300km (186miles) in summer, and 200km (124miles) during winter. "Thanks to this power boost, Zoe is even more responsive and versatile when used for journeys out of town", said the company's Assistant Programme Director, Elisabeth Delval. "In addition to being able to enjoy the pleasure of driving a Zoe, drivers will also benefit from the longest range available for a mass-market electric car." In addition to making the zero-emission subcompact hatchback a tad more powerful, the automaker has also launched a new colour especially for it. Called Blueberry Purple, it joins the new Blueberry Purple Pack on the high-end Intens grade, which adds a special violet finish for the dashboard, air vents, gear lever base, and speaker surrounds. The small electric model also features topstitching, black and violet fabric upholstery, and Android Auto compatibility for the R-Link Evolution infotainment system. Renault will open the order books for the new Zoe R110 in France next month, followed by other European markets shortly after.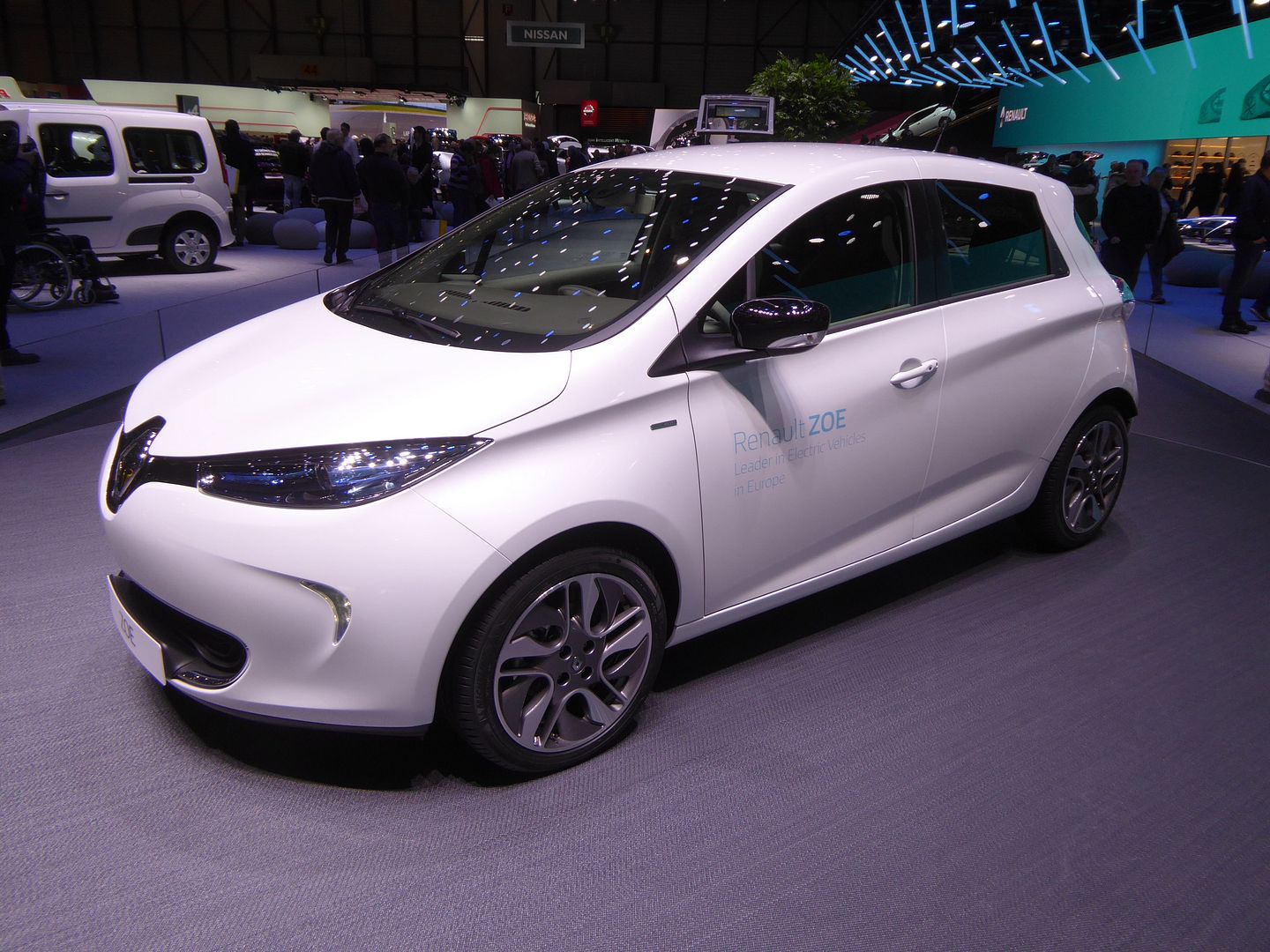 Also fully electric is the ZE version of the Kangoo.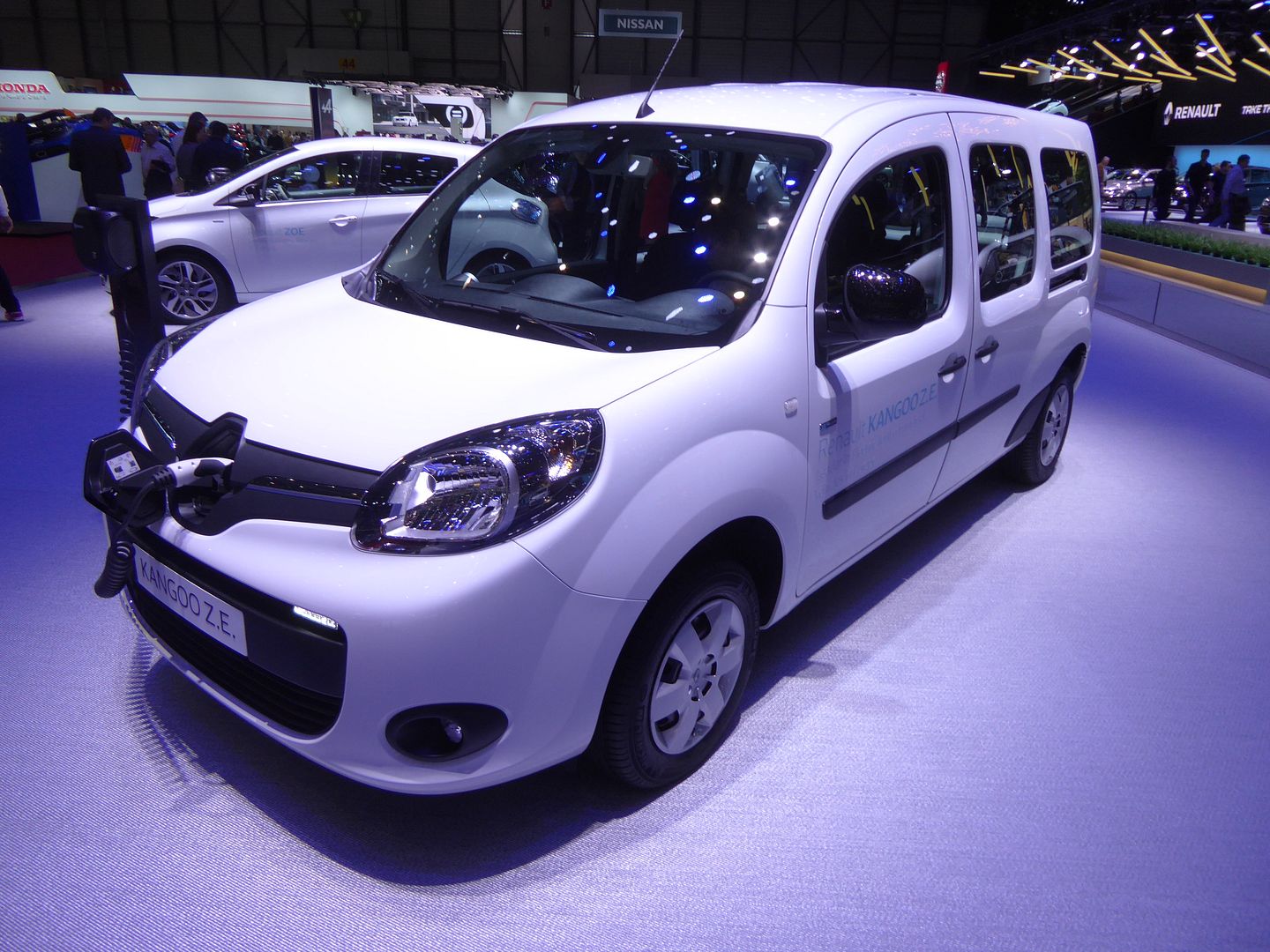 Familiar models from the range included the Twingo GT, a number of Clio and Megane models including the eagerly-awaited RS version, as well as the latest Scenic.
The Talisman took over from the Laguna a couple of years ago, but is not imported to the UK, so will be unfamiliar to British eyes. A  new version, the Talisman S-Edition was launched here. It won't break any speed records, but it should become more appealing for customers wanting a bit more power. Described as being "more sporty and powerful than ever", it uses the same 1.8-litre turbocharged petrol engine as the Alpine A110. It delivers 225PS (222hp) and 300Nm (221lb-ft) of torque to the front wheels via a seven-speed dual-clutch gearbox. Renault hasn't released any performance details so far, but the Espace, which is available with the same engine and transmission since last summer, takes 7.6sec for the 0-100 km/h (0-62 mph) acceleration. The average fuel consumption is 6.8 l/100 km (41.5 UK mpg), as per NEDC, and it emits 152 g/km of CO2. The engine can be had on the regular Talisman models, too, not just the S-Edition, but the latter comes with more gizmos. It's based on the Intens grade, to which it adds the 4Control Pack and Electronic Damper Control, full LED headlamps, Etoile Black side mirror casings, 19-inch wheels, extra-tinted rear windows, embossed chrome sills and 'S-Edition' badging. Inside, the Talisman S-Edition sets itself apart with the addition of black leather and red stitching, a leather-trimmed steering wheel, gear lever, and door inserts, aluminium pedal caps and aluminium inserts. There's also a black roof lining and red carpet mats with embroidered 'S-Edition' motif. Renault with start taking orders for the limited edition of the D-segment car across Europe in September, with pricing to be announced at a later date.
Larger models on show included the Kadjar and Koleos, which we do get in the UK and the current Espace, which we don't.
Final exhibit was Renault's Formula E car, the  Z.E 17, a single seater consisting of a SPARK SRT_01E chassis and the Z.E.17 powertrain developed by Renault Sport Racing at its engine operations base in Viry-Chatillon, France. It has a single motor with a high grade permanent magnet and a single inverter integrated with the motor, which generates a maximum power output of: 200 kW (270 bhp), though in race mode, this is down to 170 kW (230 bhp), as regulated by the FIA. Braking regeneration power is 150 kW, regulated by FIA. The electronics are a combination of an ECU developed by MAT (McLaren Applied Technology) and control software developed by Renault. The chassis comes from Spark, which is used by all series entrants. The tub is carbon-fibre, as are the front and rear wing including the spoiler, whilst the bodywork is a mix of  carbon-fibre and Kevlar. Michelin bespoke 18-inch treaded tyres are fitted. The front suspension is a mix of steel wishbones and pushrods. The batteries, bespoke for all manufacturers, weigh: 350kg, generate 600 Volts with a capacity of  28 kWh ( FIA rules), giving a range of approximately 25 minutes in race conditions.
RENAULT-ALPINE
Renault's reborn Alpine brand has been getting rave reviews for its new A110 and now, as promised, it's revealed new versions of its coupe. Following the success of the sold-out Premiere Edition, the A110 will now be offered in Pure and Legende trims. The A110 Pure is targeted at driving enthusiasts. It features one-piece Sabelt sports seats that weigh barely more than 13 kilograms (28.6 pounds) each and, combined with other weight-saving measures, helps keep the curb weight below 1,100 kg ( 2,425 lbs). It's not entirely stripped out, though, and still comes with features like air-conditioning and satellite navigation. Buyers can also add upgraded Brembo brakes and an adaptive exhaust system and can upgrade to the adjustable comfort seats. Those come standard on the Legende model, which is geared more towards every day driving and grand touring and comes with leather upholstery. Customers can also choose between two Focal sound systems and two wheel designs for each version, along with an array of new colours. Both versions use the same 1.8-litre turbo four producing 252 PS (248 hp) and 236 lb-ft (320 Nm) of torque. Power is sent to the rear wheels via a seven-speed dual-clutch transmission, and the A110 delivers a 0-62 mph (0-100 km/h) time of 4.5 seconds and a top speed electronically limited to 155 mph (250 km/h). Pricing starts at €54,700 for the A110 Pure and €58,500 for the A110 Legende.
Along with the new road-going models, Alpine also revealed the new A110 GT4, a track version developed by racing partner Signatech, with which it won the LMP2 category in the 2015 FIA World Endurance Championship. The GT4 model packs more power and downforce than the existing A110 Cup and features Brembo brakes, racing slicks, a sequential gearbox, competition-spec aero and a full roll cage, racing bucket with harness and fire extinguisher inside, while air conditioning is an option. The A110 GT4 will begin competing in select events later this year. The first customer examples will be ready for next season and existing owners of the A110 Cup will be offered the chance to upgrade their cars to GT4 spec as well.
"RETOUR AU FUTUR"
Another special exhibit, this was a fascinating and very eclectic display of unusual cars, mostly one-off and concept vehicles from the past 60 years.
When I  first saw this car, I certainly had no idea what it was. The answer is a Soletta 750, which made its debut in 1956 at the Geneva Motor Show. The creator, the Swiss Willy Salzmann, was not so much enthusiastic about the car itself, as he only wanted to exhibit his invention of the "flexible drive shaft to motor vehicles." Because he did not want his new construction in the accessories section, he built a car just around its elastic axis. The press reacted positively, but the Soletta project was not pursued. The prototype is now owned by the Swiss Car Register. It was a two-door, four-seat compact car. The vehicle had two identical doors. The driver's door was hinged on the rear-pillar and the passenger door on the front-pillar.
Alongside it was an equally unusual car, which I also did not recognise. This is the Belcar, made by the Wollerau (formerly A. Grünhut & Co.) company from Wollerau , who in 1955 started to produce cars. They chose the brand name Belcar.  Production ended in 1957, and only a few cars were made. Their only model was made under license from Brütsch. It was a three-wheeler, with two wheels in front and one wheel behind. The vehicle had a grid frame. There was a two-stroke engine from the Victoria works with 193 cc, though later an engine with 250 cc and 11.3 hp power was used. The open plastic body offered space for two to three people. One vehicle has been preserved, which is the one seen here.
Needing no introduction is the classic Issigonis-designed Mini which also featured in this display.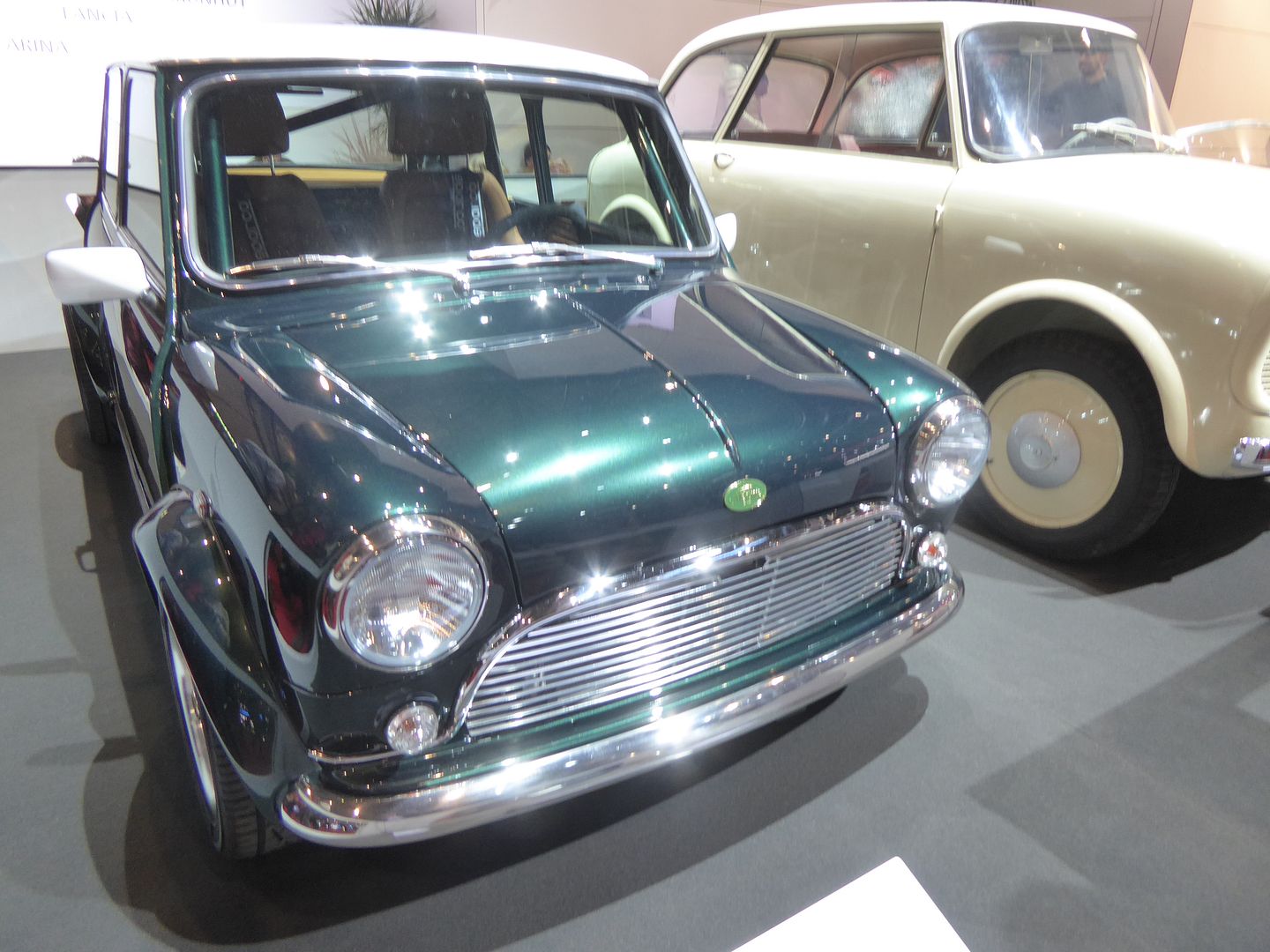 I've seen one of these before, so knew what it was. It is a Bizzarrini 5300 Spider. Supremely rare, I think I have only ever seen a couple of these before, one in a museum and one at a Cars and Coffee event in California. The P538 or P538S was a rear mid-engined race car launched in late 1965 or early 1966 by Scuderia Bizzarrini of Livorno, Italy. At least two P538s were built with Chevrolet Corvette 327-cu.in. V8s, and two more with 4.0- and 3.5 litre Lamborghini V12 engines. Five-speed manual transaxles were used, with gearing specific to the race for which each car was constructed. Braking was via inboard four wheel disc brakes, with a fully independent suspension. The body was made of fiberglass over a tubular steel chassis.The first V8 powered car debuted at Le Mans in 1966, with Swiss drivers Edgar Berney and Andre Wicky, but records indicate that the team retired after three hours with a cooling problem. A second team in a production-based Bizzarrini A3/C, driven by Sam Posey and Massimo Natili, was disqualified after a pit lane violation, possibly while returning with serious frame damage. American Ferrari driver Mike Gammino then commissioned a Lamborghini 4.0-litre V-12 powered car, which he raced once. Bizzarrini attempted to build a second, 3.5 litre V12 car for Le Mans, but was unable to complete it before bankruptcy. Beginning in the mid-1970s and continuing at least through the 1990s, former Bizzarrini engineer Salvatore Diomante at Autocostruzione SD, Torino, began building continuation P538s on commission for private buyers. These may be distinguished from 1960s-built cars by the use of square as opposed to round tubing. The first two cars of this series using square-tube construction bear serial numbers #002 and #003; 3.5 litre V12 Van Horneff car also uses serial #002, and was last known to be located in England. Engines vary, but include Chevrolet V8s, Lamborghini V12s and possibly a six-cylinder Fiat. He constructed an unknown number, using original fibreglass body moulds, probably fewer than 8. Giotto Bizzarrini and his wife likely assisted in construction of the early cars, and they were built using some original Sixties Bizzarrini components as available. Records are not accurate, so no-one really knows how many cars were made, but it is clear that it was not many.
Originally presented by Lamborghini at the 1967 Geneva Motor Show, the Marzal Concept was making its first public appearance for a very long time, following a fastidious restoration. Designed by Nuccio Bertone and Marcello Gandini as a potential four-seater Lamborghini, the Marzal never really caught on. Its gullwing-style doors, made mostly from glass, weren't to Ferruccio's taste, as he believed that a woman's legs shouldn't be there for all to see. However, that doesn't mean that some of its features weren't applied to some of Lambo's next vehicles, including the Espada, which came out the following year with similar exterior and interior (dashboard) cues. The Marzal show car uses a 2-litre inline-six engine for propulsion, which is basically half of the company's 4-litre V12 unit of the era, found in the Miura. It works together with a five-speed manual transmission to feed 175 horses to the rear wheels. Unlike most concepts, which tend to be locked away and forgotten, the Lamborghini Marval was actually driven publicly once. It was shortly after its Geneva presentation, during the Monaco Grand Prix, not as a racer, but as a pace car, by Prince Rainier of Monaco and his wife, Princess Grace. The Marzal Concept is not resting in the Lamborghini Museum, as it was sold at auction in 2011, for $2 million, to a private collector. It was probably my "car of the day" – just fabulous.
The second Bizzarrini model here was the Manta concept, dating from 1968. Built from Bizzarrini parts, the Manta was one of Giorgetto Giugiaro's first independent designs as an independent consultant. He used it to promote and launch Ital Design in Turin. The Manta is remarkable as it was built up from an ex-Le Mans racer and it is one of the first cars the world to use a triple seat arrangement. Inside the cockpit is an odd layout that seats the driver in the middle of the interior with a passenger on either side. The idea was copied from a Ferrari 365 prototype built in 1965 and it was later, more popularly revived with the mighty McLaren F1. With three people seated side-by-side it must be a particularly tight squeeze as much of the available passenger foot space is occupied by intrusive wheel wells. Giorgetto Giugiaro had a personal interest in the car from its inception and he drew up a plan with Giotto Bizzarrini to use his most developed chassis for a radical showcar. This chassis, borrowed from the P538 prototype, was a tubular steel design that was meant to endure the hardship of Lemans and the grunt from a fully tuned Chevrolet V8. Unfortunately Giotto Bizzarrini nor Giorgetto Giugiaro can remember exactly which chassis was sourced for the Manta. Many articles claim it was a Bizzarrini P538 chassis #3 from Le Mans. Giugiaro has said "we started working on a chassis the engineer Giotto Bizzarrini obtained by modifying a model of the Grifo Competizione which had a tubular structure. We therefore took this as the starting point for our research, with a view to constructing a vehicle for the 1968 Turin Motor Show." An angular body, somewhat of a 'folded paper' design, was fixed on the chassis and finished up in time for the 1968 Turin Motorshow. A coat of lime green paint ensured that everyone had to look twice. Roat & Track reported "Giugiaro has taken the plunge and got rid of the bonnet altogether, merging the letter-box nose with the screen and the roof in one firm, rising line. The tail cuts off pleasantly with a rising curve from below, but the bold simplicity is spoiled by the Miura-style lateral slats in front of the screen, and a pointless row of holes running below the doors from front to rear. The driver sits centrally (no hand signals) with a passenger seat each side of him, which may not be ideal or even necessary, while it certainly over-widens the car. Forward visibility can't be too good, and fixed side windows could be horribly claustrophobic. Giugiaro's solution may not be perfect, but at least he's had a go at the bonnet problem." Motor Trend's report included "one of the major stars of the exhibit – the 'Manta'. The car was built on the chassis of Bizzarrini's racing prototype, which took part in the 24 Hours at Le Mans in 1967. An extremely compact car, the Manta is only 13.6 feet long and its maximum height does not exceed 41.5 inches. The car is a three-seater, the driver sitting in a central and advanced position between his two passengers. The unusual width of the car (six feet, one inch) increases the impression of compactness. Lateral visibility is exceptional. Once again, Giugiaro, Turin's 28-year old boy genius showed new ways in car design." After the show the car was put on a World Tour that included the 1969 Los Angeles Auto Expo Road & Track again described the car "yet another 200-mph suppository in bright orange. A big Chevy inhabited the back along with a sort of baking tin for luggage while the lucky driver sat between his two passengers (birds, I should think) terribly close to the accident in front. Rosemeyer himself would think twice before driving that one in the wet. What with the weight distribution, venetian blinds on the nose and chrome bushbars on the rear, I am afraid that it wasn't my cup of tea." After the show, the striking orange pain with black and white stripes was again covered up with a more sedate metallic silver and the car stayed this way for most of its life. It was purchased before 2003 from Texan Alfredo Brener and the next owner, Ron, who paid for a two-year restoration. The resultant turquoise show car was first shown Pebble Beach Concours, where original details such as the orange engine vents could be admired once again. Some details were changed such as the side glass which did without the original. Deservedly, it still won first in class for Class U, Chevrolet Small Block with European Coachwork.
Also privately owned is the Lancia Sibilo, which belongs to Corrado Lopresto, renowned collector of unusual Italian cars and concepts. Based on a Lancia Stratos, this 1978 creation very nearly never made its planned debut at the 1978 Turin Show owing to the threat of anarchy loomed in the country, and armed guards had to protect the entrance to the Show, a reflection of the political instability that was Italy in the late 70s. Although this is a Lancia underneath, the car was produced only with tacit approval by the firm rather than any clearly declared support or statement that they had commissioned it. Bertone bought a Stratos, a full-house competition spec model that they acquired second-hand from Lancia Squadra Corsa, which would form the basis of the car. That such a car could be destroyed now seems like an act of sacrilege, but back in 1977/78, the focus had shifted to the Abarth 131 as the firm's rally car and works involvement with the Stratos had ended in 1977. Stradale versions were proving hard to sell, so when someone offered to buy a car, Lancia were not going to refuse! The platform of the donor car was extended, with 3.9 inches inserted into the wheelbase, but otherwise the Stratos underpinnings remained unchanged. All the drama comes on top with that dramatic looking body which was styled by Marcello Gandini. Is is completely formed from steel, and what Bertone was really trying to showcase here was how to integrate this with the car's glasshouse with no obvious dividing lines. It did not quite work, and Bertone were forced to resort of some tinted clear plastic panels that were glued into shallow grooves in the shell, then finishing the joints with an elasticated sealant. The very brown paint that was then applied inside and out merges the body colour with the window tints so that only the faintest of hairline cracks are obvious where the glazing merges with the coachwork. Thanks to the Stratos underpinnigs, the car is not just a static object, but can of course be driven, though visibility is – not surprisingly – something of a challenge. It is also not an easy car to photograph! Bertone claimed that the car featured deformable structures and complied with all relevant safety regulations of the time. In other respects it was a little less practical, with the entire back end needing two people to lift it for access to anything other than service items for which a service window was provided, There was never any suggestion of producing the car, even in small quantities, so it was to remain a one-off. The Sibilo made a number of show appearances in the late 70s before being consigned to Bertone's museum. It was one of half a dozen cars that was offered for sale in 2011 to appease the receivers, which is when Lopresto was able to buy it and to his credit, he has shown it several times in the last few years.
Third Bizzarrini here dates from 2005 and represents the most recent plans, following several modest attempts in the eighties and nineties, to resurrect the Bizzarrini name. VGM Motors, who had already constructed a Bizzarrini P538 replica, made this GTS as a modern interpretation of the 5300 GT, Bizzarrini's most prolific model. The car featured an Alpina-BMW engine. It was displayed at the 2005 Geneva Show. The plans came to nothing, though.
Final car was the Maserati Birdcage 75th, a concept car created and designed by a Pininfarina design team led by Lowie Vermeersch, including Jason Castriota and Giuseppe Randazzo under the direction of Ken Okuyama. It was first introduced at the 2005 Geneva Auto Show. It was named to honour the classic Maserati Birdcages of the 1960s and Pininfarina's 75th anniversary. The original car intent was discussed and pursued originally by Paolo Pininfarina, Pininfarina S.p.A, Franco Lodato and Peter Aloumanis, from Motorola during a business gathering in September 2004 at Pebble Beach, California. The Birdcage 75th is built on the carbon fibre chassis of a Maserati MC12 GT1 race car and shares many components, most notably the engine. The Birdcage 75th is powered by the Ferrari/Maserati F140 V12 engine from the MC12 and the Enzo, mid mounted at 65°. The engine has been tuned for the Birdcage and as a result produces around 700 bhp. The car's body was designed by Pininfarina to celebrate the company's 75th anniversary. A documentary called "Sleek Dreams" was filmed about the six-month design process. The exterior is made of carbon fiber with diffusers at the rear and two spoilers that automatically raise at speed. The windshield is made of perspex and extends almost from the front to the back of the car; this is a necessity because of the driver's low seated position—if the windscreen ended higher, they would be unable to see the oncoming road. This visibility problem is compounded by typical concept-car omissions like wing mirrors. The Birdcage also lacks doors; instead, a bubble canopy composed of much of the front bodywork can be raised, in a similar manner to the Bond Bug, Ferrari Modulo and Saab's 2006 Aero X concept car. However, since the lone demonstrator model lacks air-conditioning or any form of climate control, and the bubble provides substantial 'glasshouse effect', journalists (including evo Magazine's Harry Metcalfe) driving the vehicle were reportedly forced to keep the bubble slightly open on hot days to cool the car's interior. The cabin has a head up display (HUD) which is projected on to a clear panel raised in the centre of the dash. It shows information that would usually appear on dashboard instruments, including the tachometer and speedometer. Also projected is a digital image of Maserati's traditional analogue clock. According to designer Ken Okuyama the theme of the car is connectivity and "the centre of the steering wheel is a control device that is very similar to a cellphone". The car has a bluetooth headset for mobile phones designed by Motorola and several cameras so that the driver can "share [his/her] driving experience with others".
RIMAC
Rimac Automobili revealed its second electric hypercar at Show, and its name is C_Two. As promised by the Croatian manufacturer, the C_Two is significantly more powerful than its predecessor as it offers a combined 1,888hp (1,914PS) and 1696lb-ft (2,300Nm) of torque from its electric motors. The result of all this insane power is a 0-60mph in a breathtaking 1.85 seconds, a 0-100mph in 4.3 seconds and a top speed of 258mph (412km/h). We guess the fact that Tesla announced a 0-60 time of 1.9 seconds for the upcoming Roadster has something to do about that 1.85-second figure. As with the Concept One, each wheel of the C_Two is powered by its own motor, with Rimac using a set of single-speed gearboxes on the front and a set of two-speed gearboxes at the rear. The four motors work together via all-wheel torque vectoring. The whole drivetrain is fully configurable, offering everything from shutting down any of the two axles to a perfect 50-50 split. Feeding the motors is a huge 120kWh battery pack that features a liquid-cooled thermal management system, which keeps the temperatures down on fast-driving conditions such as track usage. Rimac claims a total driving range of 404 miles (650km) on the NEDC cycle. The new electric hypercar also features eight on-board cameras, a pair of LIDAR, six radar emitters, a dozen of ultrasonic sensors and an "exceptionally precise" GPS, with Rimac saying that the C_Two is Level-4 autonomous ready. Artificial intelligence is also present, with the car using facial recognition cameras to unlock and start without a key, and more. Production of the C_Two will start later this year, with Rimac planning to build just 150 examples.
ROLLS ROYCE
At first glance, there looked to be nothing new on the Rolls Royce stand, but dig a bit deeper and you find out that there was. And that applies to the Dawn, a model which has been in production for a couple of years. It is now the only Convertible in the range, and let's suppose you wanted a two-seater model from this marque, and Goodwood only makes the Dawn with four seats, what do you do? The Dawn Aero Cowling could be your answer. It's a specially crafted cover that goes over the rear seats of the Dawn cabriolet to give it more of a roadster-like profile. The unit is made of carbon fibre and aluminium to keep it nice and light, and is covered in the finest of leathers to match the interior. It even has storage compartments integrated into it to make it more versatile. And we gather that it's removable to transform the Dawn back into a four-seater when needed. The new option was shown here on a silver Dawn with a tan and silver interior and 21-inch partially polished alloys. The carbon-fibre "spine" is left exposed, and matches the book-matched trim on the dashboard.
Alongside it, Rolls-Royce showcased the extent of the customisation options available with three examples of the new Phantom. "The Gentleman's Tourer" draws its inspiration from the Phantom II Continental saloon from the 1930s, done up in a military aviation-inspired Iced Gunmetal paint with a satin silver bonnet. It features a three-tone leather interior and a dashboard "gallery" finished in Ruthenium – a Platinum-like metal a hundred times rarer than gold, typically used on timepieces. "Whispered Muse" and "A Moment In Time" take the forms of extended-wheelbase models, and are the first with completely unique, artist-designed galleries – both representing modern interpretations of the Spirit of Ecstasy emblem. "Muse" is painted in a newly developed crystal effect in Selby Grey and Palais Nemaskar Dawn, with a first-of-its-kind rose-gold hood ornament. "Moment" is painted in Blue Crystal and Milori Sapphire with a navy and grey interior.
RUF
Legendary Porsche tuner RUF had a number of their creations on show, among them the new CTR Yellowbird in its final production form. It may look like another modernised classic 911 but the new CTR Yellowbird is actually one of the most impressive supercars of the year, mainly because it rides on a completely bespoke carbon monocoque chassis, complete with race-derived inboard suspension. The new supercar keeps the narrow body of the original, with the bodywork finished in carbon. The front crash structure, as well as the integrated roll cage, is made out of steel. The extended usage of lightweight materials resulted in a dry weight of just 1,200kg (2,640lbs). Power comes from a RUF-built twin-turbo 3.6-litre flat-six engine that features dry-sump lubrication and produces a maximum of 700hp (710PS) at 6.750rpm and 649lb-ft (880Nm) of peak torque at 2,750rpm. Attached to the monster engine is a newly developed six-speed manual transmission that sends power to the rear wheels alone, just like the original Yellowbird did. With so much power on tap and such little weight to move, it's fairly obvious that the new RUF CTR will be a breathtaking car, at least on a straight line. The company claims a 0-62mph (100km/h) in under 3,5 seconds and a 0-124mph (200km/h) in under 9 seconds, while top speed is 225mph (360km/h). RUF will build just 30 examples of the new CTR, with prices starting at 750,000 euros (around $925k).
RUF had a nice surprise waiting for on their stand in the form of the all-new 2018 SCR. This deep green beauty may look like a 911 but the truth is different as it rides on RUF's own carbon fibre monocoque chassis and wears a full carbon fibre body shell that's reinforced by an integrated roll cage. Total weight is 1,250kg (2,755lbs). The German manufacturer has been building SCRs for 38 years now, but this marks the first time a RUF SCR isn't based on a Porsche platform. The new chassis, first seen in the new Yellowbird, also employs pushrod suspension on both axles, which means that the 2018 RUF SCR should offer mind-blowing performance on the road. Unlike the turbocharged CTR Yellowbird, the 2018 RUF SCR opts for a normally aspirated 4.0-litre flat six engine that produces 510hp at 8,270rpm and 346lb-ft of peak torque at 5,760rpm. A six-speed manual transmission is the only option, as it should be with this sort of sports car. The front bumpers features a set of round brake-cooling ducts on each side and an integrated oil cooler in the middle. RUF hasn't announced any acceleration figures but it's easy to imagine that their new model isn't going to be slow. In fact, it can top out at 199mph (320km/h). As for the price, well, there is no official information at this point but you know how the saying goes: If you have to ask, you probably can't afford it in the first place.
There were a number of other of RUF's creations on display
SBARRO
It would not be a Geneva Show without some of the wacky creations that are always to be found on the Sbarro stand, and this year was no exception.
SEAT and CUPRA
Cupra is the new stand-alone brand that Seat is creating, in an effort to try to replicate the success of the likes of Abarth, Alpine, and even Alpina and AMG. And to make the point, the new 296 bhp Cupra Ateca was presented here. It is powered by the Group's  2.0-litre TSI engine that produces 296hp (300PS) and 295lb-ft (400Nm) of peak torque, and is paired to a newly developed seven-speed dual-clutch transmission. The combination of the dual-clutch transmission with the all-wheel drive is a very effective one when it comes to straight-line performance: the Cupra Ateca is capable of a 0-62mph (100km/h) in 5.4 seconds and of a top speed of 152mph (245km/h). The hot SUV rides on adaptive suspension that can be configured through the Drive Profile modes: Normal, Sport, Individual, Snow, Off-Road and CUPRA. On the outside, the Cupra Ateca distinguishes itself from its lesser siblings with a more aggressive body kit that includes new bumpers, side sills, a rear spoiler and a new honeycomb grille. The front end proudly wears the new Cupra logo, which was met with mixed reviews by our readers. The exterior revisions are completed with glossy black details, matt aluminium Cupra letters, quad exhausts and a set of 19-inch alloys. Inside the cabin is dressed with lots of Alcantara and features aluminium pedals and glossy black trim details. Cupra will also offer an optional Performance pack which includes bigger Brembo brakes, carbon detailing inside and out, as well as leather seats. Customers will be able to opt for a set of exclusive bucket seats from mid-2019.
Cupra were also showing an all-electric 670bhp e-Racer racing car here. The Leon-based rear-wheel-drive e-Racer features a 65kWh battery and makes 402bhp of continual power, with a peak of 670bhp available. The car's chassis appears to be based heavily on the existing Cupra Leon TCR touring car that will race in this year's FIA World Touring Car Cup and other championships. The e-Racer is designed to showcase a new E TCR electric category, which will be launched by category promoters at Geneva. No date has yet been given for when the category will begin. Seat boss Luca de Meo described the e-Racer as "a true motorsport car" and called it the first fully electric touring car. The only mainstream EV racing championship currently operating is the single-seater Formula E series.
The Seat models present were examples of the complete range, including the Ateca and Leon, the well-received Ibiza and Arona as well as the diminutive Mii and the large Alhambra.
SIN CARS
If you're the type of person who loves spending time on the track, then it's possible you won't focus as much on a car's appearance as most people would. With the new Sin S1, it's probably best you don't get too caught up in its appearance, otherwise you probably wouldn't get very far with it, figuratively speaking. It's definitely more of a "form follows function" type of car. At its core, the S1 is an open top lightweight road and track car, with a modular design. Sin Cars calls it a "revolutionary street legal racing car." Buyers get to choose different types of engines, drivetrains, interiors and even body styles, and looking at the numbers, we can't help but be impressed – although let's take the powertrain options one at a time. Choosing between the plug-in hybrid, full electric and internal combustion versions can be as easy as looking at the performance figures for each and then figuring out which suits your driving style best. The plug-in hybrid model has a 24 kWh battery, working together with an 89 kW (120 HP) electric motor and a 255 HP 2.0-litre turbocharged engine, offering a range of 200 km (124 miles). The best part, the whole thing weighs just 220 kg (485 lbs). Going fully-electric means opting for at least an 89 kW (120 HP) motor, a sequential racing gearbox, and a 24 kWh – 48 kWh battery pack. The EV range can be anywhere between 200 to 400 km (124-248 miles). While both options sound good, wait until you hear about the internal combustion figures on this car. First of all, there are two power units to choose from: a 2.3-litre turbo and a 3.5-litre, the former good for 310 HP and 434 Nm (320 lb-ft) and the latter 365 HP and 570 Nm (420 lb-ft). In a straight line, the 2.3-litre version will hit 100 km/h (62 mph) in 2.8 seconds, whereas the 3.5-litre needs just 2.5 seconds. It's one of the quickest cars present at this year's Geneva Motor Show. Production is scheduled to commence in 2019.
The stand also included the previously seen GT4,and the R1 550.
SKODA
Skoda's vehicle expansion plan will continue with a new crossover slotting under the Kodiaq and Karoq, with the brand previewing the car with the Vision X Concept. Unveiled online before its media presentation at the Geneva Motor Show on Tuesday, the new study is of "compact proportion", and has a "crystalline exterior" design, in the firm's own words. What they're trying to say is that it sports a very familiar styling, being inspired by the larger Karoq and Kodiaq, with a few nips and tucks to highlight its concept nature. Notice the green-ish paint with black roof, aluminium trim, black accents, and front end that makes it instantly recognizable as a Skoda. Still, expect it to be significantly toned down for production, so you may want to forget those very slim LED headlights, shaved door handles, and other exterior accents. A sister car to the VW T-Roc and Seat Arona, the Vision X is longer and wider than either of the two at 4,250mm long and 1,800mm wide, though it sports a lower roofline.  More importantly, it rides on a stretched wheelbase that at 2,645mm, is 55mm longer than the T-Roc and 80mm more than the Arona's, as Skoda wants the Vision X to offer more space and practicality than its siblings, being aimed more towards families. Inside, the show car has a futuristic and funky look, with lots of different accents running alongside the dashboard, pillars, doors, steering wheel, central console, and seats. It also gets a tablet-like infotainment system, a two-spoke steering wheel, and what seems to be a digital instrument cluster. Described as "the first hybrid vehicle in Skoda's history to have a CNG- (compressed natural gas) and petrol-powered engine, as well as an electric motor", the new Skoda Vision X is reportedly emitting just 89 g/km of CO2 in concept form. It uses a 1.5-litre four-cylinder engine, which can run on CNG or petrol, backed up by a rear electric motor. More importantly, the concept will benefit from all-wheel drive. That's all the automaker is willing to reveal so far, but don't forget that it "provides a concrete view of the third member of the successful SUV family", according to the brand's boss, Bernhard Maier. Expect the production car to be revealed in the second half of 2019.
Last month, Skoda gave us our first preview of an updated Fabia. Now it's revealed the facelifted hatchback in full here. The refreshed Skoda Fabia has been tweaked inside and out. But the big news is what you'll find under the bonnet. Or rather what you won't: no diesels, no four-pots, just a 1.0-litre inline-three running on petrol and offered in four states of tune. Two naturally aspirated versions produce 60 and 75 horsepower, while two turbocharged units offer 95 and 110 horsepower, respectively. The Fabia isn't the first B-segment supermini to embrace the power of three, but it's kind of a big deal to see Skoda ditch the diesel. But such are the post-emissions-scandal times in which we find ourselves. "Boasting further improved economy and exceptional emissions performance, the state-of-the-art three-cylinder power units are on a par with frugal diesel engines for fuel efficiency," says the automaker. Along with the new engines, Skoda has equipped the refreshed Fabia with the latest infotainment and safety technologies. Available blind-spot detection, rear traffic alert, and automatic high-beam systems promise to make the new Fabia safer than ever before, while a 6.5-inch infotainment display provides better connectivity. There's new interior trim as well and a refreshed instrument cluster. And the entire package is differentiated from the outgoing model with updated styling and LED lighting both front and rear. The Czech automaker will once again offer the Fabia in both five-door hatchback and extended Combi wagon bodystyles. The updates ought to help keep the Fabia – introduced in its current iteration in 2014 – relevant and competitive for another few years before it needs replacement.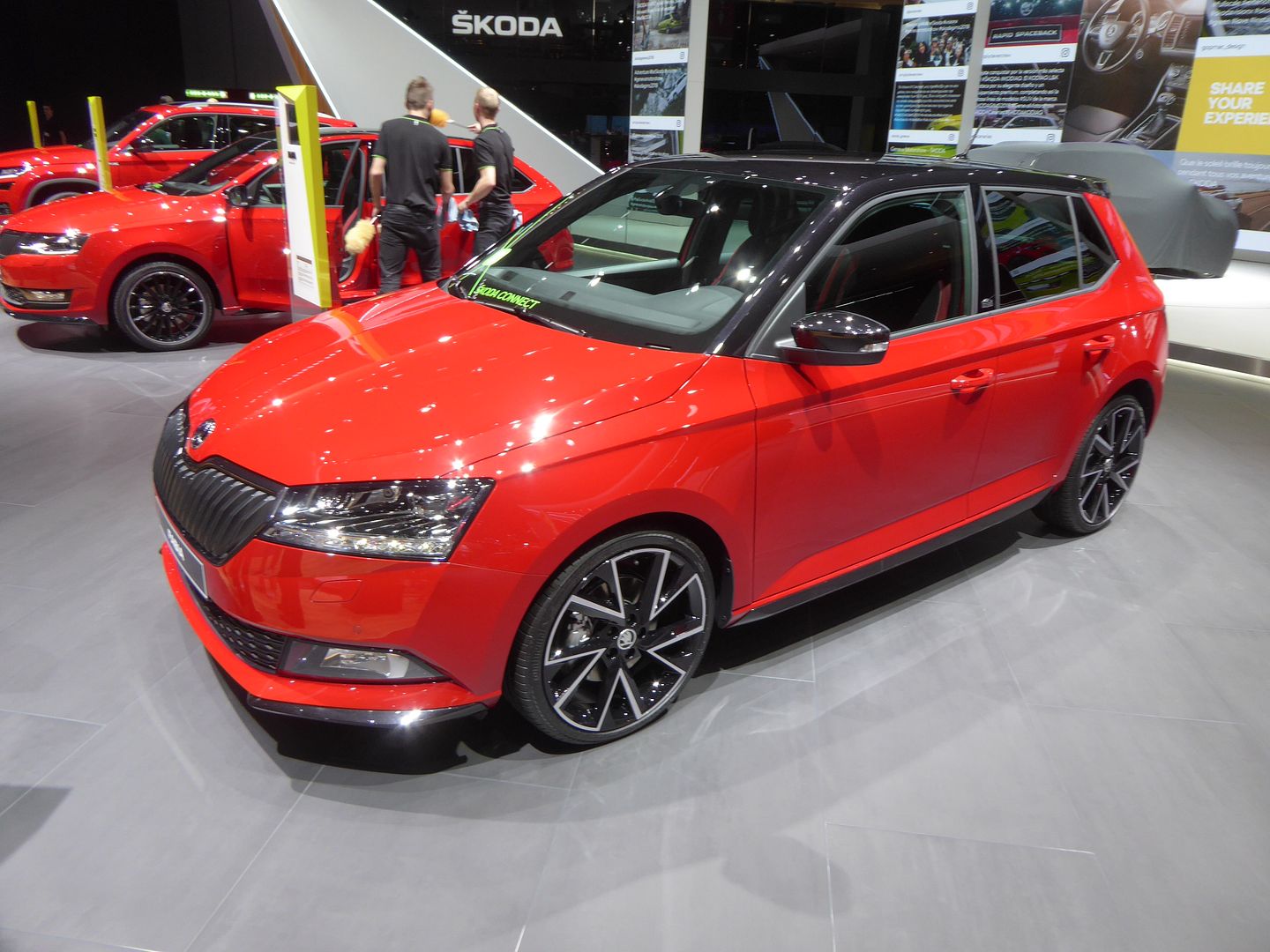 The slightly larger Rapid, seen here in Spaceback guise, was refreshed last year. It was displayed with the larger Octavia and Superb models.
The new Karoq, a replacement for the much-loved Yeti, was here along with the larger Kodiaq, which was shown in a number of versions including a new L&K model. The L&K edition borrows its name from the company's founders Laurin and Klement, and upgrades the midsize SUV with a host of upscale enhancements inside and out. Those include a chrome grille, full LED headlights, a unique set of 19-inch wheels, and a modified rear bumper. Inside buyers will find leather upholstery, piano-black trim, Canton sound system, aluminium pedals, and more. And of course there are special badges inside and out to designate this as the top-end model. Along with the luxed-up edition, Skoda is also launching new engines for the Kodiaq. There's a 1.5-litre engine rated at 150 horsepower, a 2.0 at 180 or 190, and a 2.0-litre diesel with either 150 hp or 190. A new seven-speed dual-clutch transmission also features.
SMART
There were a number of examples of the ForTwo and ForFour on the Smart stand. The attention was focused on the electric versions. Offered in the Nightsky Edition, the battery-powered EQ ForTwo Coupe and Cabrio are the first to go on sale this spring, from €28,255 ($34,800) and €31,515 ($38,816), respectively, in Germany, tax included. They will be followed by the EQ ForFour Nightsky Edition in the third quarter of the year, whose pricing will be announced close to its launch. Both of them feature a fast-charging function. All Smart vehicles with electric drive come with a 4.6 kW on-board charger as standard. This provides for fast recharging of a drained battery – in less than 3.5 hours at a wallbox or in under six hours at a domestic wall socket (10-80 percent in each case). Get ready to hear the word 'Brabus' a lot, as the tuner was responsible for adding the standard Exterior Style Package. It comprises of a high-gloss deep black-finished front spoiler and side skirts, with contrasting Pacific Blue elements, and roof-mounted spoiler, on the EQ ForTwo Coupe, with the EQ ForTwo Cabrio adding a black soft top. The side mirror caps sport a Pacific Blue colour as well, and the 16-inch alloy wheels, with a black look, wear Brabus' signature all over them. Rounding up the list of updates on the outside are the EQ and Nightsky logos. Inside, the three-door EVs have a two-tone look, with more Pacific Blue accents, Brabus sports pedals, door sills, 'Smart EQ ForTwo' shift lever knob, and 'tailor made' handbrake lever. Standard features include the Comfort Package, Stowage Space Package, and others. In the case of the new Smart EQ ForFour Nightsky Edition, this one shares some exterior detachable parts with the ForFour CrossTown. Pacific Blue accents are found on the front spoiler, side skirts, and rear underride guard. The interior is in the same vein as the EQ ForTwo Nightsky, with a dual-tone look, more Pacific Blue parts, and special EQ and Nightsky logos, in addition to the Brabus add-ons.
SSANGYONG
This Korean brand has gradually been refreshing their range with some slightly more conventional looking products, all of them of the SUV and Crossover type, which still sell largely because of the value they offer. Production cars include the Tivoli and XLV version, the Korando, Muso and gargantuan Turismo, and these were joined by a concept, called the e-SIV, which stands for Electronic Smart Interface Vehicle. It seems to tick all necessary boxes with regards to powertrain technology, connectivity and active safety systems. The e-SIV's shape and size will also dictate what SsangYong's next generation C-segment SUV will look like, blending a sloping roofline with the ruggedness of a proper utility vehicle, yet one that's also aerodynamically efficient. Inside, there is a user-centric interface, four independent bucket seats, a full length information display and a second-row centre console that allows passengers in the rear access to main console information. Visually though, the cabin is all about having a bright and modern ambiance, utilizing a Geonic pattern on the soft materials, to go with the ambient lighting around the instrument panel and door trims. When it comes to technology, the e-SIV has a lot of features going for it, such as its machine learning-based voice recognition tech, autonomous navigation and radar and camera sensors – at its best, this concept boasts Level 3 autonomous capabilities, once you add another sensor to increase the automatic lane and active driving functions. The connected car function in the e-SIV can not only monitor the SUV's battery remotely during charging, but will also predict the driving range based on the amount of charge. Then there is the telematics service, which allows for several functions to be controlled remotely – such as turning the power on and off, working the air con, car diagnostics and vehicle management, emergency driving and even driver safety support. As for the infotainment service, this is where machine learning speech recognition comes into play, working to manage music, radio and inter-connected home control. The SsangYong e-SIV concept measures 4,460 mm (14.6 ft) in length, 1,870 mm (6.13 ft) in width, 1,630 mm (5.34 ft) in height and has a wheelbase of 2,675 mm (8.77 ft). Thanks to its 140kW (187 HP) motor and 61.5 kWh battery, it can cruise for anywhere between 320 and 450 km (200-280 miles) between charges, at speeds of up to 150 km/h (93 mph).
STARTECH
In case you ever considered Land Rover's stylish Range Rover Velar model to be a little too low-key, here's a little something, making its global debut, from Startech that might turn things around for you. The German tuner started with the front of the Velar, where a new bumper was installed, featuring an integrated spoiler and larger air intakes. This front end design can be combined with both the production bodywork, as well as the 16-piece widebody kit, which adds another 60 mm (2.36 in) in width. Underneath the larger wheel arches lay the black 22-inch Startech Monostar M wheels, with a five double-spoke design. Look close and you will notice how the spokes actually extend all the way to the outer flange, making the wheels look even bigger than they already are. At the rear, there is a new insert to replace the production centre panel, a diffuser and integrated exhaust tips. Rounding off the visuals is the tuner's ride height lowering system, available for all Velar models with air suspension, lowering the SUV by 30 mm (1.18 in) while on the move. Another interesting mod you can order from Startech is the Sound XTRA module, available for all petrol and diesel versions of the Velar. What this electronic sound generator does is produce a virtual petrol V8 sound, without being "annoyingly loud," says the tuner. Finally, for the interior, customers can opt for fine leather and Alcantara upholstery, as well as matching wood and carbon fibre trim.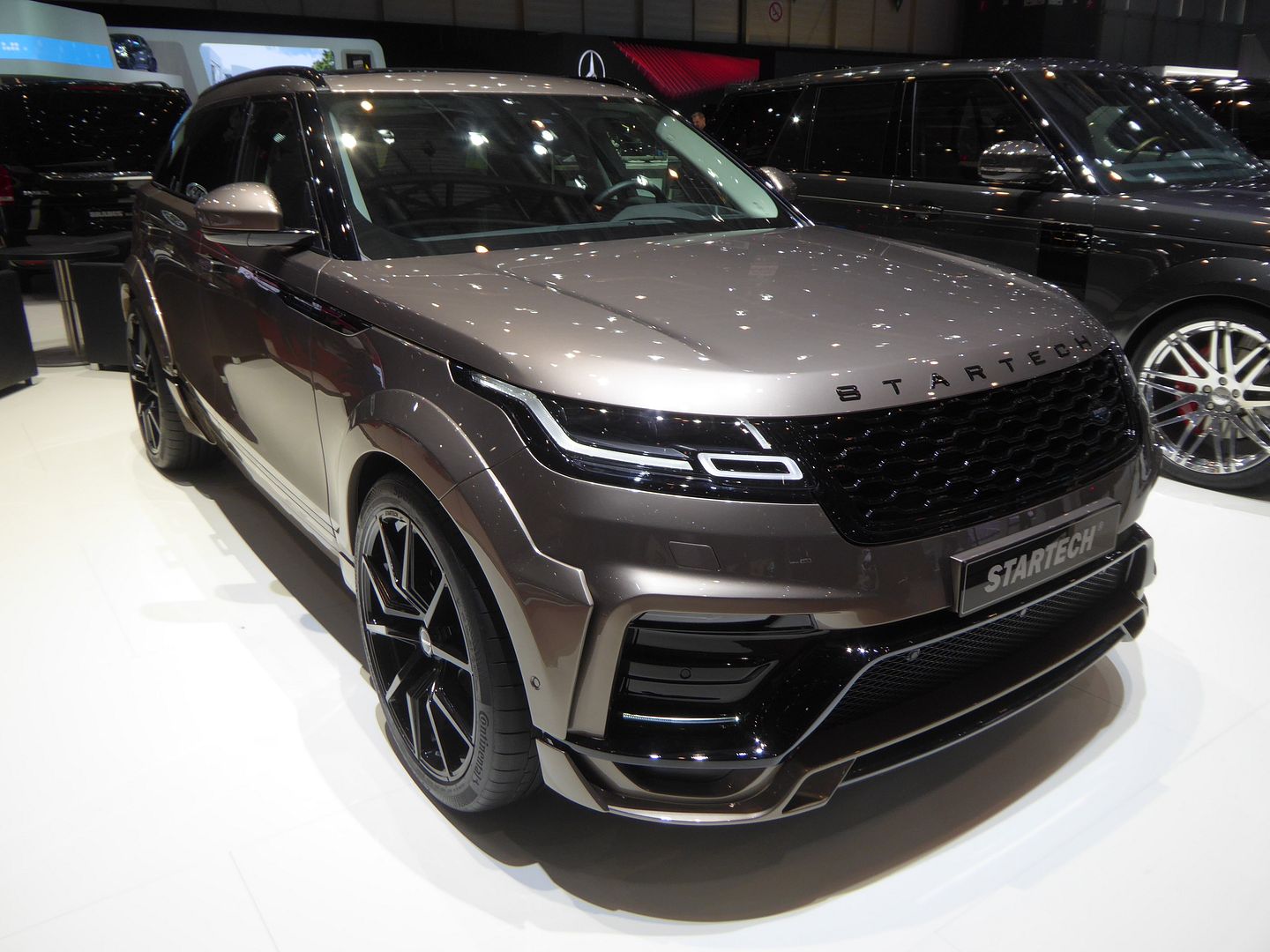 Startech focus predominantly on Jaguar/Land Rover products and there were examples of these on the stand, but they do modify other marques as well.
Harnessing its expertise with Mercedes engines, Brabus and its Startech division have boosted the output from the AMG-sourced 4.0-litre twin-turbo V8 of the Aston Martin DB11 to an impressive 610 horsepower and 590 lb-ft (800 Nm) of torque. That's not just more than the 503 hp and 498 lb-ft (675 Nm) in the standard V8, but considerably more than the 600 hp and 516 lb-ft (700 Nm) boasted by the V12 model. With that much power and twist channelled to the rear wheels though an eight-speed automatic transmission, the German tuner says its take on the exquisite British GT – dubbed SP610 – will rocket from 0 to 62 miles per hour (100 km/h) in just 3.8 seconds and top out at a very Brabus-like 193 mph (310 km/h). Along with the Brabus-tuned engine, Startech is offering its own new set of 21-inch wheels, along with a full aero kit made from carbon fibre and available in gloss or matte finishes. It also offers copious interior upgrades – you know, in case the "standard" cabin environment fitted by the craftsmen in Gaydon doesn't prove sufficiently luxurious for your tastes. This show car, for example, features a two-tone beige and gray leather interior with carbon-fibre trim, and a rather striking copper-tone roof and trim pieces contrasting with the dark gray bodywork.
SUBARU
Star turn on the Subaru stand was the VIZIV Tourer Concept, which is apparently "all about making family vacations fun". The concept features the automaker's Symmetrical AWD layout, a boxer engine, increased practicality and safety. It measures 4,775 mm (187.9 in) in length, 1,930 mm (75.9 in) in width and 1,435 mm (56.5 in) in height, has a 2,730 mm-long (107.4 in) wheelbase and can seat four adults. On the outside, it comes with a strong hexagonal grille, a forward-thrusting body and four well defined fenders. Despite its aggressive stance, the VIZIV Tourer is also said to have generous luggage space for increased utility and practicality. On the safety front, there are advanced driver-assist technologies such as the EyeSight driver system, which has been enhanced since its previous iteration, but also updated radar and navigation systems. The automaker's goal is to "pursue ultimate levels of safety" while aiming to make car accidents a thing of the past. Previously, the VIZIV nameplate has also been assigned to a Gran Turismo 6 race car, a crossover, a performance vehicle and a seven-seater design study, which went on to become the Ascent SUV. This particular concept should go on to spawn a production wagon, either compact or mid-size. A direct replacement for the Levorg is the first thing that comes to mind, though before anyone gets too excited, it has to be pointed out that the production cars that followed previous concepts bore very little resemblance to the concept.
Switzerland is, by some margin, the most important market in Europe for the brand, with customers valuing the standard all-wheel drive that is on every single model apart from one. And every model type that Subaru sells was on show here: the latest XV crossover is just going on sale, and the Impreza – updated a year ago – is also a relatively unfamiliar sight. These cars were joined by the WRX STi, Outback, Forester and the BRZ.
SUZUKI
Suzuki has refreshed much of the range in the last couple of years and seems to have come up with a lineup of cars which have reviewed well, each sitting slight out of the mainstream of fiercely competitive classes. The new Swift., with the eagerly awaited Sport version on a turntable display is the one which perhaps disappointed a little, as the bar was set quite high by the previous generation.
Also here were the Celerio, Baleno, Ignis, S-Cross, Vitara and the long-lived Jimny.
TAG HEUER DISPLAY
There was an interesting display in Hall 3, that small area that many people would perhaps even miss, put on by TAG Heuer, the only watch maker at the show. As well as show-casing their latest products, they used the occasion to announce new partnerships with stakeholders from the automotive industry. Also in the hall were five exclusive racing simulators, a bar open to the public, two VIP salons, a giant screen and a cabin for testing the new "Samsung Gear VR", which illustrates the many facets of TAG Heuer. There were also select sport/racing cars from different decades.
Bedelia
Ford GT40
The latest Aston Vantage
TATA
Tucked away in one corner of Hall 6 was Indian marque Tata, who had a trio of concept vehicles on show, the H5X crossover and EVision compact sedan, both of which are a far cry from its most famous vehicle, the ultra low-budget Nano. However, they represent the Indian firm's future, and since it's tied to Jaguar Land Rover as their parent company, both of them have a lot in common with the Discovery Sport, Range Rover Evoque and Jaguar E-Pace. That's because they share a version of their platform called Optimal Modular Efficient Global Advanced Architecture (OMEGA). Powering the H5X concept is a diesel engine, but despite being originally presented at the New Delhi Auto Expo last month and now here at Geneva, nothing else is known about it. The H5X has a quite funky styling with squared-off wheel arches, bloated fenders, slim lighting units, skid plates, and some plastic cladding that provide the must-have off-road look. Still, it's a bit longer, wider and taller than the Range Rover Evoque, and has a longer wheelbase, too, than the British SUVs on which it's based. Tata haven't said whether any of its two show cars actually previews a future production model. If they do, we guess the styling will have to be toned down a lot, especially in the H5X, but they might just be the ticket Tata needs to make it outside its home market, as the Nano is most definitely not a product they'd like to launch in, say, Europe or China.
Also here was the 45X. Think about a popular compact 5-door and you'll probably envision something like the Volkswagen Golf, or perhaps the Ford Focus. But what if there was another option, straight out of left field? The Tata 45X concept, unveiled a few weeks ago at Auto Expo 2018, would be a perfect candidate for such a task, specifically to woo us into hoping for the best with regards to what the production model will eventually look like. Thanks to the 45X's modern exterior and ready-to-pounce stance, we can easily envision it wafting along some nice European road, or perhaps blending in with all the other 5-door hatchbacks that populate most of the Old Continent's metropolitan areas. Noteworthy visual details include the large wheels, floating A-pillar aesthetic, a sweeping, Nike swoosh style shoulder line and a large design piece that wraps around the entire rear end, stretching all the way to the rear doors. The 45X concept measures 4,253 mm (167.4 in) in length, 1,850 mm (72.8 in) in width and stands 1,451 mm (57.1 in) tall, with a 2,630 mm (103.5 in) wheelbase. These dimensions make it about as long, shorter yet wider than a VW Golf, where the latter also has a smaller wheelbase than the Tata concept. As for the interior, it's a very clean design, with a Knight Rider-style steering wheel, an ultra-wide display for the sat-nav/infotainment, and a secondary one playing the role of centre console, from where you would adjust the temperature, probably driving modes too, things of that nature. It's of course unlikely that such a futuristic cockpit design enters production anytime soon, so expect the final version of this car to be a lot more 2028 than 2018.
TECHART
For some thirty years, the engineers at Germany's TechArt have been "enhancing" the performance and styling of Porsche's portfolio. Their latest effort is the Grand GT package for the new Panamera Sport Turismo had their world premiere here. This is a full-scale tune that allows customers to pick and choose from a variety of individual styling and performance options, including the exterior paint, with the display model showcased in a custom Racing Green paint. For a more aggressive stance, TechArt lowered the suspension and fitted the estate version of the Panamera with a wide body kit comprising of extended wheel arches, spoilers and vents, along with 22-inch Formula IV wheels, and carbon fibre exhaust tips. Moving on to the interior, the German tuning haus covered almost every corner of the cabin in custom-designed Nappa leather with contrasting colored stitching, from the door panels, console and dashboard to the footwells and parts of the floor. The showcar also gets TechArt's sport steering wheel, Alcantara roof line, and custom painted trims in body colour. A power tune that includes an ECU upgrade and a titanium sports exhaust system boosts the Panamera Turbo's 4.0-liter V8 from 550PS (542hp) and 567 lb-ft (768Nm) to 640PS (631hp) and 664 lb-ft (900Nm). As a result, 0-100km/h (62mph) now takes 3.4 seconds instead of 3.8 seconds, while TechArt says that from this point, it only takes 8.3 seconds more to cross the 200km/h (124mph) line.
Joining the new Panamera Sport Turismo GrandGT on the German tuner's stand were their offers for the 911 GT3, 911 R Cabriolet, 911 Turbo S, and the Macan SUV.
TECHRULES
Last year Techrules captured its fair share of attention with the debut of the Ren supercar. Now has returned to Geneva with the track-focused Ren RS. The Techrules Ren RS is based on the same architecture as the existing Ren, with its bodywork designed by Fabrizio and Giorgetto Giugiaro. Only now it's been redesigned for the track, featuring a single-seat cockpit design. Power comes from an advanced micro-turbine hybrid setup similar to what Jaguar tried with the C-X75 concept, however Techrules thinks it can actually make a go of it. The experimental powertrain mates a pair of electric motors at the front and another four at the rear, with a small diesel turbine engine serving as a range-extender. With a 28.4-kWh lithium-ion polymer battery pack, the Chinese startup says the Ren RS will produce as much as 1,287 horsepower (equivalent to 1,305 ps or 960 kW) and 1,725 lb-ft (2,340 Nm) of torque. That's said to be enough to send the hybrid racer to 62 mph (100 km/h) in just three seconds, en route to a top speed of 330 km/h (205 mph). A tank filled with 80 litres of diesel fuel will give it a range of 1,170 km (or 727 miles). A (relatively) lower-end version will also be offered with four electric motors instead of six, delivering 858 hp (640 kW/870 ps) and 1,150 lb-ft (1,560 Nm) of torque. Those are some impressive figures, and Techrules says it's in the process of forging industry alliances to extend its powertrain tech to other applications. Among them is a Memorandum of Understanding with CRRC to develop a similarly powered autonomous rapid transit train system.
TOPCAR
TOURING
Carrozzeria Touring Superleggera came to prominence a few years ago when they presented the stunning Disco Volante, a coachbuilt adaption of the equally gorgeous Alfa 8C, and they followed this up a couple of a years ago with a Spyder version of the car. There was an example of this on their stand here.
But now they are also unveiling plans for an all-new model. Called the Sciadipersia (Shah of Persia in Italian), it is based on the Maserati GranTurismo and features unique bodywork that makes it virtually unrecognizable. The donor car's aggressive front fascia has been replaced by a more conservative unit which is tapered and has chrome accents. The model also features new headlights and a ventilated bonnet. The styling changes continue further back as the Sciadipersia has custom wings, a distinctive greenhouse and eye-catching pillars with bright accents. Continuing to the rear, buyers will find a new window which resides above a bespoke boot and custom rear fascia. While the exterior styling is certainly unique, the cabin is virtually identical to the GranTurismo. Carrozzeria Touring Superleggera spruces it up a bit with premium leather upholstery and aluminium accents but there's not hiding the fact the interior comes from a model that debuted over a decade ago.Since the car is essentially a rebodied GranTurismo, it comes as little surprise that the Sciadipersia features a Maserati-sourced powertrain. Buyers need to provide the donor car so the coupe can be powered by various versions of the GranTurismo's naturally aspirated 4.7-litre V8 engine including the latest variant which develops 454 hp and 384 lb-ft (520 Nm) of torque. Production will be limited to 10 units and the conversion process will take approximately six months.
TOYOTA
Toyota had an expansive stand, and there was a mix of the familiar, some updated models, some brand new ones and a wide variety of concepts ranging from thinly disguised production-intended cars to the wackier flights of fancy. One you will be able to buy very soon is the facelifted Aygo, which is the entry level product in the range. Starting with the exterior, the model has been equipped with a new fascia which features recessed accents beneath the restyled headlights. Toyota says this change transforms the car's X-shaped front end into a "more powerful, three-dimensional architectural element." I just stood and gazed in disbelief, trying not to laugh! Additional changes are limited but the Aygo features new taillights as well as a revised colour palette that includes blue and magenta. Lastly, the model can be equipped with "technical-look" wheel caps or 15-inch alloy wheels. The cabin has a revised instrument cluster with new graphics and illumination. Most models have also been equipped with new upholstery and there's a "more premium colour scheme in Quartz Grey and Piano Black. Three different trim levels will be available and the mid-level Aygo x-play comes with air-conditioning and a 7-inch infotainment system. Moving up to the x-clusiv variant adds an automatic climate control system, partial leather seats and a suite of Toyota Safety Sense systems. The model also boasts a two-tone exterior and unique 15-inch alloy wheels. Toyota will also be offering two specials editions. The Aygo x-cite has a two-tone magenta exterior and 15-inch alloy wheels with a black finish. Inside, there are body-colour accents and special seats with magenta stitching. The Aygo x-trend goes in a different direction as it has black exterior with cyan accents and "sporting stickers." That theme continues in the cabin as drivers will find cyan details and partial leather seats. Power is provided by an upgraded 998cc three-cylinder engine that features a higher compression ratio, a new fuel injection system and an improved balance shaft to reduce vibrations when idling. Thanks to these and other improvements, the engine now develops 72 PS and 93 Nm (68 lb-ft) of torque. As you'd expect, the performance is pretty underwhelming as the dash from 0-100 km/h (0-62 mph) takes 13.8 seconds and the top speed is just 160 km/h (99 mph). On the bright side, the model consumes 3.9L/100km (72.4 mpg) and has CO2 emissions of 90 g/km.
The Yaris received its second facelift last year, and there were plenty of examples of the French built hatch on show here. They were joined by the Yaris WRC car.
While the new Supra concept might be Toyota's headline-grabber, the company also revealed the all-new Auris. Toyota are hoping that their Golf rival will impress far more people than the current one has, with its bold exterior styling, a feature that wasn't present in any of its predecessors. Overall length has been increased by 40mm, all of which has gone into the longer wheelbase while the overall height of the new Auris has been reduced by 25mm. The cowl height has also lower by a significant 47mm, resulting in a shape that's sleeker and to most eyes generally more attractive. Underneath the new bodywork lies Toyota's TNGA platform, which also underpins models like the Prius and the C-HR. The adoption of the new architecture gives the new Auris a lower center of gravity along with a more rigid body shell and a multi-link rear suspension, with Toyota claiming that the driving experience will now be more rewarding than before. The new Auris is also the first model to be offered with two hybrid options in its range, starting with the 120hp (122PS) 1.8-litre found in the Prius and C-HR and an all-new, more powerful 2.0-liter petrol-electric option with 178hp (180PS). Toyota says that the latter will offer an 'energised drive' and will feature steering wheel-mounted paddles for more engagement, while the base model will be powered by a turbocharged 1.2-litre petrol unit with 114hp (116PS).
There's a long wait before the new Auris goes on sale, with deliveries not expected until early 2019, so the current model was also on show, in both hatch and estate (Sport Tourer) formats.
Familiarity has not necessarily made many of us like the look of the latest Prius and C-HR any more than we did when they were first presented, but judging by the number you see on the roads, it is clear either that people don't mind the bold styling or are not deterred by it. Several examples of both were on show.
Toyota revealed here the Gazoo Racing Supra Racing Concept, giving us a preview of the actual Supra road car that's due in 2019. Along with the new racing concept came the official confirmation of the new Supra, with Toyota saying that "this concept heralds Supra's return in a fifth generation". As for the concept, it features a rather dramatic bodywork, including the wide fenders and the crazy aero kit featuring a huge rear diffuser and a fixed rear wing. Imagine the car without them and you will get a pretty good idea of what the new Toyota Supra is going to look like. "Yes, the Supra is returning," said Johan Van Zyl, President and CEO, Toyota Motor Europe. "This concept is a clear signal of our intention to bring back one of our most legendary sports cars to the market. This baby, developed by TOYOTA GAZOO Racing, is a thoroughbred designed for the race track." "The best way of taking our 'Supra Hero' into a new era. It has been made light, compact and, of course, fast." Composite materials have been used in parts like the front and rear bumpers, front splitter and rear diffuser, side skirts and rear wing. The same goes for the louvered bonnet while all the glasshouse is made out of plastic, because racecar. The interior is pure competition-spec as its fitted with a racing dashboard and a single bucket seat for the driver. A full roll cage, the inner door carbon panels and a quick-release steering wheel are just some of the concept's interior features. Although Toyota hasn't released any technical details yet, it says that the concept, which was created by Gazoo Racing, employs the classic front engine/rear-drive configuration and perfectly expresses the return of the fun-to-drive character in its models. The racing livery of the GR Supra Racing also has the number 90 on its doors, a historical reference to the Supra's codename. The actual road version of the new Supra will arrive in 2019, but if you feel impatient Toyota will release the GR Supra Racing concept in the Gran Turismo Sport video game this April.
Two further racing vehicles were here: a Tundra racing pickup and the latest le Mans hopeful, the TS050.
As a true pioneer of efficient driving, Toyota couldn't just show up to Geneva without busting out a few zero-emissions intelligent mobility solutions and there was a display of these at the back of the stand. The Concept-i range is made up of a series of individual vehicles, the smallest of which being the Concept-i Walk, a Segway-like contraption aimed at pedestrians. It uses a three-wheel layout, while having the front wheel extending out at higher speeds. It even has electronic safety systems that help it avoid obstacles, plus a range of anywhere between 10-20 km (6.2-12.4 miles). If you prefer four wheels, feast your eyes on the small Concept-i Ride, an urban vehicle that looks like a Smart ForTwo that just got back from the future. This funny-looking thing relies on AI to manoeuvre around autonomously, and according to Toyota, it can travel for anywhere between 100 to 150 km (62 – 93 miles) on a single charge. As for the biggest and most impressive vehicle here, it's the original Concept-i which Toyota first unveiled at CES in Las Vegas, last January. Designed at the automaker's CALTY research centre in California, the Concept-i is meant to anticipate the needs of its passengers so as to improve their daily commute. The car can be driven both autonomously as well as manually, while the AI system, dubbed "Yui", keeps a watchful eye over the driver's inputs and overall responsiveness. Apparently, Yui can use light, sound and even touch the passengers in order to communicate, using lights in the foot wells to signal whether or not the car is in autonomous or manual mode. Other features include the rear projector that warns about blind spot intrusions and the advanced head-up display.
VOLKSWAGEN
Volkswagen had a huge stand, as you might expect for the brand which sells more cars than any other across Europe. The range that they offer is vast, which meant that there was only space to have on show single examples of most of the models that are offered. Although there have been plenty of new products announced in the past few months, all of which were represented here, of course, there was nothing that was completely new, making its debut here. So that meant that star billing was given to a trio of three concept electric vehicles, all of which have been seen before, but which, even so, generated lots of interest.
Those of you curious to know what to expect from VW's flagship sedan of the near future, can turn your attention towards the I.D. Vizzion, a design study set to morph into a production car by 2022, serving as a replacement for the Phaeton. As a pure electric model, it would also act as Volkswagen's answer to the Tesla Model S. Of course, not all the technology show-cased by this concept will be available to the public within the next four years. In fact, VW says that a true, real-life I.D. Vizzion might be possible by the year 2030, so we'll have to wait a while for some features such as Level 5 autonomy and Artificial Intelligence. Yet, the I.D. Vizzion is one of the most important cars present at this year's Geneva Motor Show. The German automaker fully intends to move ahead with this technology, so in about a decade from now, we should have something a little bigger than a Passat driving us around autonomously. Meanwhile, we will be using only our voices and gestures in order to tell the car what to do and where to go. The way that works is via Artificial Intelligence technology. The car's AI will use algorithms in order to recognise, evaluate and interpret patterns, a process that will evolve over time. In order for AI to work, the program has to be able to draw its own conclusions autonomously, states V-Dub, and that's basically their vision for the I.D. Vizzion. This concept also moves past Level 4 autonomy and into Level 5, which basically means that it's smart enough to ditch not just the conventional steering wheel, but also the driver's seat, dash panel and foot pedals. The I.D. Vizzion is a fully autonomous vehicle exclusively, more of a home away from home for its owner/passengers. Once on the move, this concept relies on two motors, two transmissions, and a 111 kWh lithium-ion battery. In front, there is a 101 HP coaxial drive motor, whereas the one at the rear pushes out 201 HP for a total of 302 HP. The concept's zero to 100 km/h (62 mph) time is 6.3 seconds, its top speed is a Level 5 governed 180 km/h (112 mph), while its anticipated range is 413 miles (664 km) on the European cycle. Also, the best way to charge the I.D. Vizzion is over an inductive interface, however conventional charging via plug-in is also possible. Another major bonus regarding this concept is, simply put, the fact that it's been styled to look well. VW wanted to point out that just because we may not be driving our cars in the future, doesn't mean we'll be forced to stop caring about what they look like. Measurements for the I.D. Vizzion have it at 203.3 inches (5.16 m) long, 76.7 inches (1.94 m) wide and 59.3 inches (1.5 m) tall, with a ginormous wheelbase of 122 inches (3.09 m) – just a couple of inches shorter than on a long-wheelbase Mercedes S-Class. Aside from its sheer size, elements such as the illuminated VW badge, animated light axis, HD Matrix lights, coupe-line roofline, 24-inch wheels, rear LED strip and lack of B-pillars also help it stand out, as does the hi-tech rear window which doubles as a gigantic OLED display. As for the interior, it features a lounge-like atmosphere, no dash panel (voice and gesture control only) and the HOLOLENS technology, which projects a virtual interface via augmented reality. There are however manual commands in the shape of two rotary controls on the centre console, which passengers can use to fully stop the car if needed. In addition, this concept's virtual assistant is constantly looking to keep you informed with regards to your surroundings and arrival times and so on, as well as trying to keep you comfortable by, for example, adjusting the temperature for you. Passengers can activate three different travel modes in the I.D. Vizzion – Relax, Active and Family, a far cry from today's driving modes of Normal, Comfort, Sport, Track etc. Use Active mode and you'll be able to sit as usual, work, play and interact with the car. In Relax mode, a footrest extends out, relaxing music is played and the ambient lighting switches to a warm colour. As for Family mode, while VW didn't get into specifics, we assume it focuses on family time/communication between passengers.
With its unveiling at the 2018 Geneva Motor Show, the I.D. Vizzion Concept now takes its place within the I.D. family, alongside the Crozz, Buzz and the compact I.D, and the latter two of these were also on display.
The latest production model is the T-Roc, a family-sized crossover, which is sure to become a very common sight on our roads before very long. There were several of them on the stand.
The city-car sized Up! has been on sale for several years, but it is only now that the GTi version has been added to the range. Reports are that this is a cracking little car. Certainly the waiting lists already extend out several months.
The latest Polo went on sale a few weeks ago. You need to look carefully to distinguish it from the model it replaced, though under the skin more is different than you might think.
Lots of Golf models were on show, among them the Wagon and the GTi TCR.
Other cars included the Arteon, the Touran, the Tiguan and among VW Commercial vehicles, the Amarok and the Caddy.
VOLVO
Under Geely's ownership, Volvo is flourishing, with a widening range of vehicles in different classes, all packed with the latest gadgets and wrapped in sexy clothing. New models are coming at quite a rate at present, with the intent being to have replaced the entire range within a three year period. The latest model to join the family is the new V60. It's a premium compact wagon that has the Mercedes-Benz C-Class Estate, BMW 3-Series Touring, and Audi A4 Avant in its sights. With this newly launched, it probably helped to justify the brand's presence here, as Volvo is one of those brands which has said that they will only attend a limited number of Motor Shows. Clearly they want plenty of air time for this new car, which has the challenge of trying to lure customers away from the German establishment. With a styling similar to that of the larger V90, the new Volvo V60 is underpinned by Volvo's SPA platform. It joins the new XC60 in the '60' lineup, and it's equipped with plenty of driving assistance systems, including semi-autonomous driving. Sales of this all-new V60 in markets across Europe this summer, with a selection of traditional petrol and diesel engines, along with two plug-in hybrid powertrains. A Cross Country version of the V60 is also coming this summer, as an alternative to the Audi A4 Allroad, probably around the same time when the S60 four-door saloon will be unveiled too.
The 90 range is now well established, and is proving popular – and rightly so, in my opinion – so there were examples of the V90 and S90 here was well as the highly rated XC90.
The 40 range is in transition with the V40 now the oldest car in the range. It was joined by the new XC40 which has just gone on sale, to critical acclaim.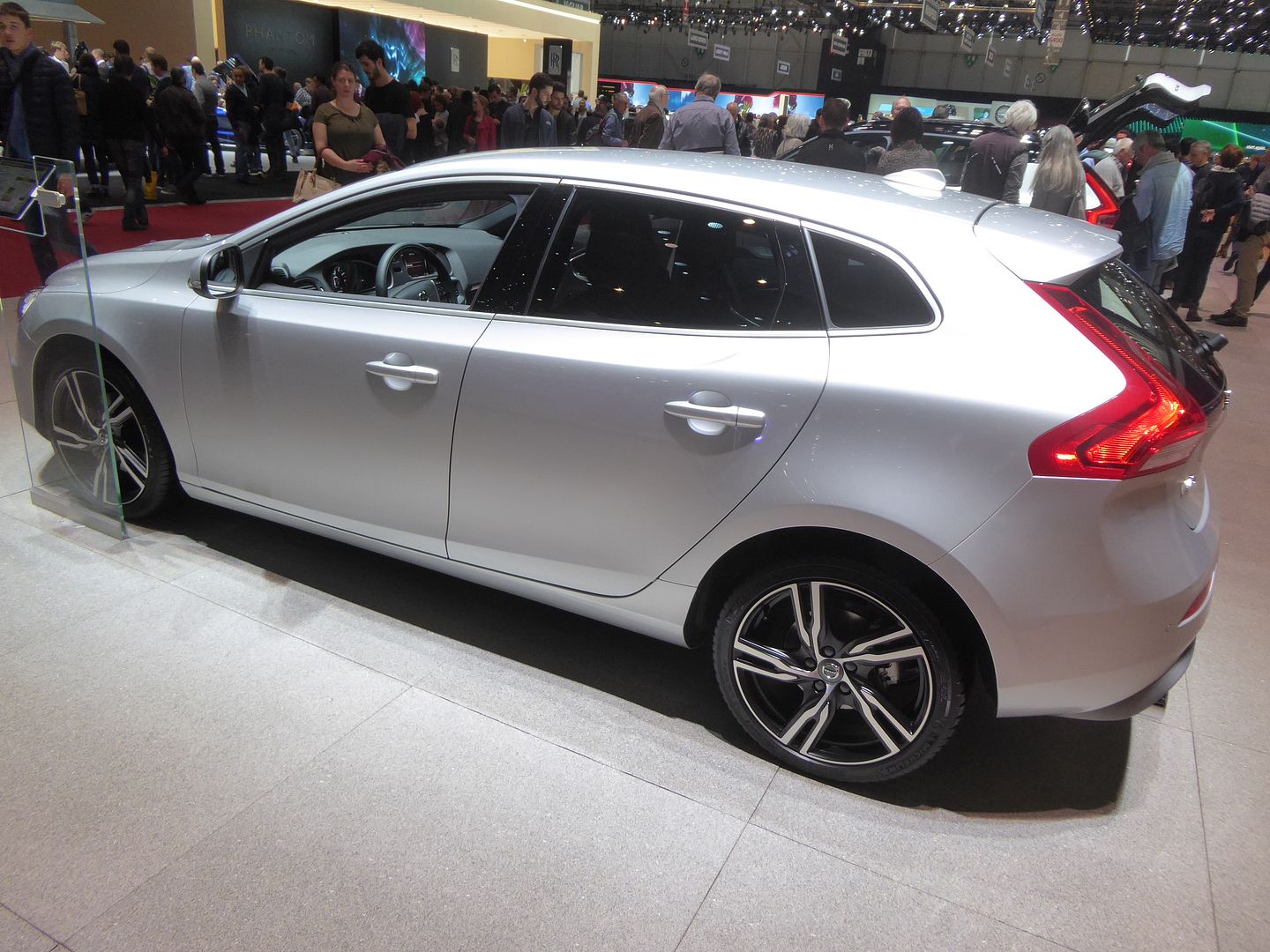 ZENVO
Think that McLaren F1 GTR converted to road-legal status by Lanzante is the closest you can get to a racing car for the road? Well, Zenvo's brand new hypercar that made its debut in Geneva is, the company says, the street legal version of its TSR track car, slotting between it and the TS1 GT. The TSR-S, in which the "S" stands for street, is powered by an in-house developed racing V8 with a 5.8-litre capacity and twin superchargers that put out 1177 bhp at a dizzying 8,500 rpm and more than 1100 Nm (810.7 lb-ft) of torque. With a dry weight of 1,495 kg (3,295 pounds), performance is, unsurprisingly, mind-blowing: the TSR-S accelerates from 0-100 km/h (0-62 mph) in just 2.8 seconds, 0-200 km (0-124 mph) in 6.8 seconds, and has an electronically limited max speed of 325 km/h (202 mph). The recipe for its construction may sound simple, as it utilises a lightweight steel and aluminium semi-monocoque with steel front and rear sub-frames and a carbon fibre body, but the two-seat, rear-wheel drive supercar from the small Danish manufacturer is a very complicated beast that, as the company claims, comes as close to a track car as possible. Its engine, for example, has three settings: Minimum, where only 700 bhp are available, Maximum, where you can exploit the full 1,177 bhp, and IQ. The last one is an autonomous, "clever" setting that is meant to provide a race car for the road driving experience, thanks to the traction control that continuously measures the tires' traction and adjusts power accordingly, so that the ideal amount of power is transmitted to the rear wheels. That's not all; in fact, there's a whole lot more. Like, for example, the seven-speed dual-clutch transmission that has helical-cut dog gears and two totally different setups. In Road, the changes are made electronically in order to provide a smooth operation. In Race, on the other hand, the changes are purely mechanical for a brutal, race-car-like feeling. Zenvo takes great pride in its revolutionary Centripetal Wing. That's because it can rotate between two axes so it can act both like an air brake when raised in the horizontal position, and a stabiliser during cornering, where it rotates relative to the hypercar's longitudinal axis, providing additional grip and stability. Moreover, its high pivot point makes it behave like an extra anti-roll bar, increasing rear-end stability. The design of the TSR-S is supposed to be influenced both by previous models as well as nature, as the company claims that the headlights are inspired by an eagle stalking its prey and the side hunches resemble a crouching lion that's ready to attack. The interior, on the other hand, adheres fully to the racing car theme. There are no sound system, sat nav, air conditioning or even airbags and the seats feature a carbon back and are manually operated. Almost every surface is done in bare carbon fibre, with Alcantara inserts only where necessary to reduce windscreen reflections. The digital instrument display is redesigned, with a horizontal rev-counter that's supposed to bring to mind racing cars from the 1980s, and a gear selection indicator – which, Zenvo says, are just what the driver needs to know when driving real fast. The last, but not least, feature that will make the TSR-S even more attractive to prospective customers is its exclusivity. Zenvo's annual production is a mere five units that are split between its three models.
Although not, perhaps, a vintage Geneva Show, the 88th one was still a memorable one, and well worth the trip. If the flight times work, as they did for me this year coming from Heathrow, you can do it all in a day, though it will be a very intense day, and you won't be able to afford to linger long on any stand or to queue up to get on any of those stands were they limit the number of people visiting at any one time. And you will probably get on the plane, like I did, pretty exhausted, wondering whether you will have enough energy to walk from the gate through the airport at the London end! But I did. That said, plans are afoot for a 2 day visit for 2019, The dates are already announced, and as soon as the hotels release their times, it is time to book up. Let's just hope for a few more new car launches as well.