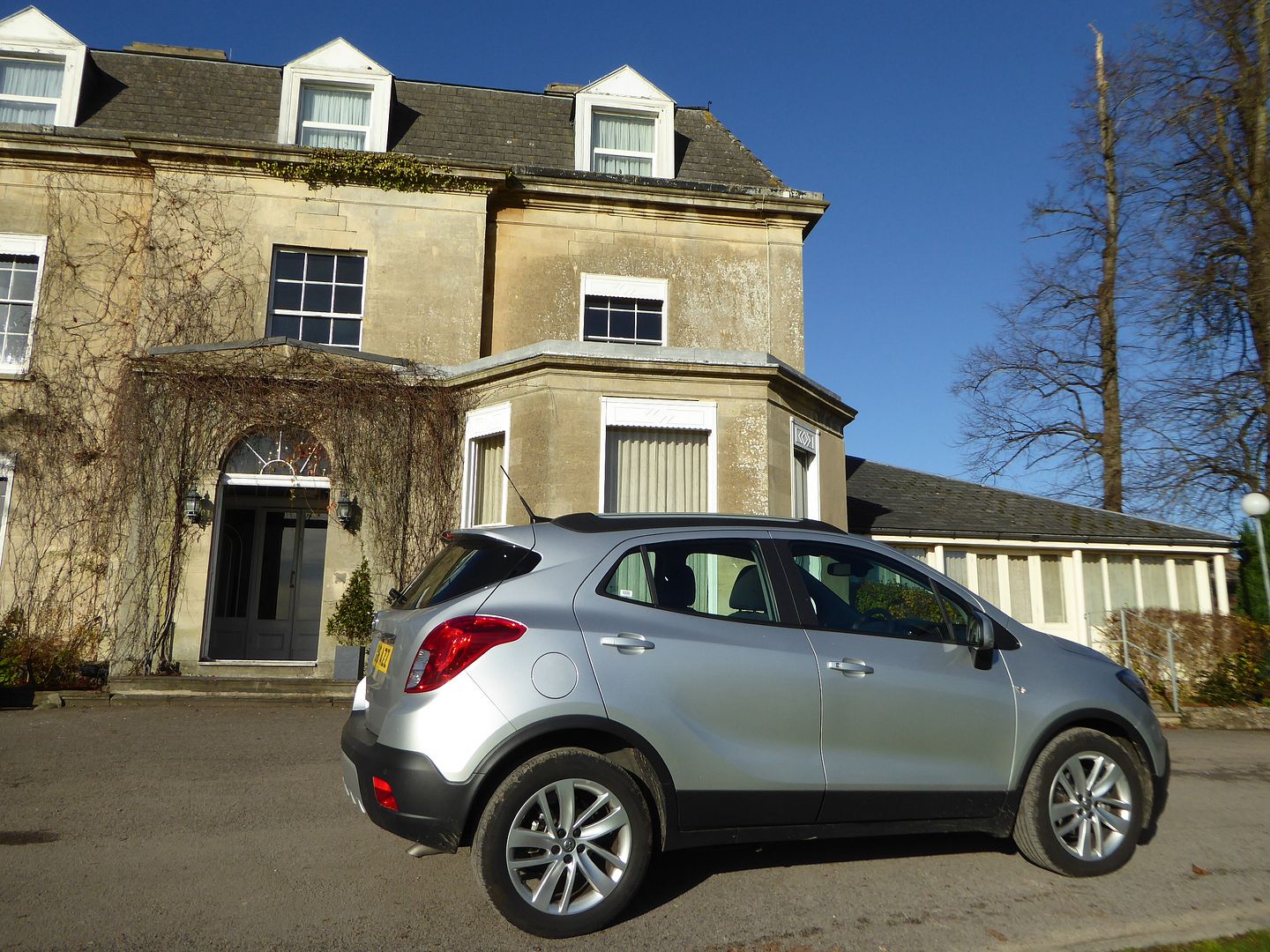 Arriving back in the UK after my November 2016 week of Californian sun, it was clear that I was going to experience some very different weather, at least for the first few hours back on UK soil, with torrential rain lashing the country. The forecast suggested that things were not going to get any sunnier in the following couple of days, either, so I must confess that I made less effort than usual to try to secure a rental car of choice, even though I was forced to go and visit the Gold Booth, as no car appeared to have been allocated to me. "Is a small SUV OK?" turned out to mean a Vauxhall Mokka, a car which I've never driven, so without asking for anything else, I took the paperwork and headed out into the wet to check the car out and prepare to head home. It was when I was so doing that It occurred to me that it is nearly 5 years since I last drove any product from the European part of General Motors. For some reason, Opel and Vauxhall cars, which are to be found in the car rental fleets of Europe just like most other volume-selling brands, have continued to elude me. The cars sell well, though, so it is clear that they must have some merit. Or so you would think. Here was my chance to find out.
The Mokka was launched in 2012, and was an obvious addition to the Opel/Vauxhall range, capitalising on the popularity of the Crossover type vehicle by coming up with a competitor to the Nissan Juke, Ford B-Max, Kia Venga and even the Skoda Yeti. Based on the Gamma 2 platform, the Mokka, available with a choice of front or all wheel drive, petrol and diesel engines and manual and automatic gearboxes, neatly straddles the traditional B-sgement Corsa and C-Segment Astra hatchbacks. GM adopted a less bold approach in the Mokka's styling than say the Nissan Juke, preferring something which adopted a lot of styling cues from the rest of the range, but with roof rails and a lot of plastic cladding on the lower flanks to try give it more of the "small SUV" look than is the case with some of its rivals. Despite muted enthusiasm from the press in their initial drives, it immediately found favour among buyers, such that by February 2013, over 80,000 had been ordered, with the 100,000 sales achieved in less than six months of production. By October 2014, over 300,000 Mokkas had been ordered in Europe, and in January 2016 Opel announced that more than half a million had been sold. An Americanised version of the car, called the Buick Encore was premiered at the 2012 Detroit Show, going on sale in January 2013. A cheaper Chevrolet version, called Trax, would follow. So it is clearly an important car, and in the UK, it has managed to enter the Top Ten Best Sellers list several times.
First impressions on opening the door were not that encouraging. It's not that the inside of the Mokka is all that bad, but it certainly looked somewhat old-fashioned, and hardly a premium product. The test car was an Exclusiv, which meant that there were a few items of equipment you might not have expected, which included a leather wrapped steering wheel, cruise control and all-round parking sensors. But you also get a large slab of plastic that looks rather cheap, an impression not helped by the use of a large slab of titanium coloured plastic that serves as an inlay across the width of the car. There is an old-style raised section in the upper central section of the dash, with graphics that look at least 10 years old. The instruments are contained in four chrome ringed dished dials under a single binnacle. Larger rev counter and speedo straddle the smaller water temperature and fuel level gauges. All have quite small and rather fussy markings. There is a small digital display area between the larger dials, but the info that can be show here seemed somewhat limited. There were twin column stalks, with indicators on the left and wipers on the right. GM seem to have abandoned the one-touch stalks that they embraced a few years ago, but these had a far more annoying attribute, which was a very serrated area just where you would usually push the stalk. It irritated me every time I had occasion to use the stalks. The central part of the dash contains an array of buttons for the audio system and the climate control. There are an awful lot of buttons, though once you have studied them all, they are quite intuitive to use, and I found no particular difficulty in changing radio channel. It is worth noting that a DAB radio is standard on this model. There are repeater buttons on the steering wheel hub for some audio unit functions, as well as the cruise control. Lights are operated by a rotary dial to the right of the wheel.
Getting in, I immediately noticed the vast amount of headroom. Even with the seat set up high, as it had been left, there would have been ample space for the occupants to wear a tall hat. I needed to set the seat lower. That is an all manual activity. There is a looped adjuster under the seat for fore/aft. It protrudes a long way, and I found that every time I moved my left leg back off the clutch it rubbed on the adjuster, which was irksome. Seat height is set using a ratchet style lever on the side of the seat and there is a turn wheel for backrest rake. The steering column has in/out and up/down adjustment. It was easy enough to get the driving position I wanted. Sadly, after a couple of hours on the seat, though, I had to conclude that it was not that comfortable. The seat felt like it had too much padding in it. There is plenty of space, though, with an ease of access, and feeling that you are not hemmed in which is one of the reasons why vehicles of this type are so popular.
There is a decent amount of space in the back for a couple of passengers, but thanks to the relatively narrow body, three abreast would be tight. Once again, headroom is abundant. With the front seat set well forward, as is the case when I am the driver, there is plenty of leg room, but with it set well back, then space is not that generous. It would prove fine for children, of course. The rear seats are fixed, as opposed to being on sliders, as is the case with some rivals. With the rear headrests up from the base of the seat backrest, rear visibility is seriously reduced, leaving a very narrow gap between them to see what is behind the car. Boot space is not that generous, either. The floor is almost flush with the tailgate opening, and the space is nice and regular, but it is simply not that large compared to some of its rivals. There is space under the floor for a few odds and ends. More space can be created by folding the asymmetrically split rear seats forwards. The cushion pulls up and cantilevers forward, and then the backrest drops down into the space created. You need to make sure the headrests are fully lowered, and if they are then the backrest does go almost flat creating a long and pretty level load bay. Inside the cabin, there is a split level glove box – neither part of which is very large, door pockets on all four doors, a large cubby area in front of the gearlever, a pair of cup holders and an open tray between the seats as well as a small lidded cubby over the driver's right knee.
As with most cars, there was no badging on the Mokka to indicate the engine, and nor were there any clues on the rental paperwork. It was clearly a petrol powered car, but beyond that, all I could conclude as I set off was that whatever unit it was, it was clearly not really up to the task. "Gutless" was the first word I wrote in my notes to describe the driving experience. It was closely followed by the word "noisy". Further research elicited that there were 1600cc under the bonnet, so the entry level petrol engine, which supposedly generates 113 bhp. You would never guess. The unit is lethargic from a standing start and even if you work it hard, never feels anything other than out of its depth. This version of the Mokka comes with a 5 speed gearbox, and that fact certainly does not help with the noise levels. Make no mistake, on the motorway, this is a noisy car. The engine is spinning at 3500 rpm at 70 mph, and I could not help but feel that an extra ratio would help to reduce the din from the engine. Of course you would have to use the gears even more than is already the case were one to be fitted, and you already need to make lots of use of the gearbox to get acceptable performance out of the Mokka. The gearchange is not bad, with a rather clunky feel to the change, though I found that slotting it into reverse required care, as it did not always engage cleanly. What was not so good was the clutch. The biting point on it was almost at the top of the travel. As the car had only done 10,000 miles, I cannot imagine that it was that worn, though it is possible it was badly adjusted.  You're not going to feel that the rather weedy engine spoils your driving enjoyment, as there other dynamics are not much better. The steering is light, and indeed I wrote the word "mushy" on my notes, though I have come across even worse cars. Apparently, Vauxhall retuned the suspension and steering for UK market cars. It is probably just as well that they did, as it still only meets a sort of "acceptable" level, as opposed to being any strong characteristic. I was not tempted to drive the car with any great exuberance, but even with moderate gusto, there was plenty of understeer and body roll evident when taking things like a swooping motorway intersection at prevailing speeds. At least the ride proved quite pliant, with none of the firmness you might get from a more sportingly-focused rival.
The brakes were not brilliant, either, with a slightly soggy feel to the initial travel on the pedal. There is a conventional pull-up handbrake between the seats, though it featured a rather awkward release button on its upper surface as opposed to a button in the end. Visibility was an issue with the rear seat headrests pulled out from their lowest position, with just a small area between them visible in the rear view mirror. The view was helped by the door mirrors, of course. All round parking sensors were useful, though judging the extremities of this rather stubby designed car was not difficult. Fuel economy for a test distance of 260 miles came out at 34.4 mpg. Considering that most of these miles were done a steady speed on the motorway, and in one direction along the M4, a moderate speed at that thanks to the truly awful conditions, that is not very good. A stop/start system is fitted, and operated relatively unobtrusively. There are no prizes for emissions, either, with this engine rated at a distinctly old-school 159 g/km of CO2.
Mokka is available to UK buyers with a choice of 2 petrol engines and 1 diesel, with 2 power outputs. This was the less powerful petrol, with a 138 bhp 1.4 Turbo being the other choice, whilst the diesel option now is the 1.6 litre "whisper" diesel which comes with either 116 or 136 bhp. All bar the entry level petrol cars have a six speed manual box as standard, and the option of a six speed automatic transmission. An All Wheel Drive option is available across the range. There are four trims available: Exclusiv, Tech-Line, SE and Limited Edition. Like many cars these days, you will have to study the long lists of standard features and options quite carefully to get all the items you want. Standard features on all models seemed very similar. The Exclusiv is the entry level model and it includes front fog lights, roof rails, 18″ alloy wheels (except the EcoFlex cars which get 17″ wheels), a leather wrapped steering wheel, cruise control, auto-sensing wipers, front central armrest, a DAB radio with CD player, USB, Bluetooth and wheel mounted controls, dual zone automated climate control, all round parking sensors, electrically folding and heated door mirrors. The main difference with the Tech-Line is a different audio system which incorporates Satellite Navigation, but otherwise has a very similar spec to the Exclusiv. The more costly SE brings leather seat facings, electrically heated front seats, sports front seats with ergonomic driver's seat, a rear seat centre armrest with drinks holders, an electrically heated steering wheel, a driver's sunglasses holder, alloy-effect door sill covers, dark-tinted rear windows and standard 18" alloy wheel with 215/55 R 18 tyres. Top of the range Limited Edition includes GM OnStar, a black roof and door mirrors, 19″ alloys and a tyre pressure monitoring system along with Morrocana Lighthouse – Dark Galvanised interior trim.
I really was not that impressed by the Mokka. The gutless engine, clunky gearbox, awkward clutch, high noise levels, mushy steering, old-fashioned interior, less than comfortable seat, restricted rear visibility and irritations like the rubbing seat adjuster and those serrated column stalks all counted against it. That's quite a long list, and with prices starting from just under £19,000 in a highly competitive sector of the market would be pretty fatal to the chance of success. And yet, as already noted, the Mokka has often broken into the British Top 10 Sellers. That's because few people would ever pay anything like full price for the car. Vauxhall dealers still rely on deep discounts and attractive finance deals to help shift their cars, so if you really don't care about that long list of things that I found not to my taste – and choosing either of the other engine options would probably remove some of them from the list – then you just may conclude that the Mokka is worth a look. I think that you would be much better off heading to the Skoda dealer to investigate a Yeti, but suspect that plenty of Mokka buyers still cannot accept that Skoda make good cars these days and Vauxhall make dull ones. A facelifted Mokka has just gone on sale. Called Mokka X, it has an all new interior, borrowing much from the latest Astra. Most of the other changes are cosmetic, and press reports suggest that the car is better than the one I tested but far from a class leader. If it is another 5 years before I drive another Vauxhall, I may never find out for myself. And on this evidence, I may not even be that upset if that proves to the case.