Hosting a car event at a venue where there is plenty to see beyond the cars that are there specifically for that event always seems like a good idea. But the reality is that for most of the larger events, there is then simply too much to see, such that, inevitably, I end up concentrating on the stuff that is there just for the day, declaring that I will return on some other occasion to see the base location itself. That's certainly been the case at Beaulieu, home of the National Motor Museum, which comprises many attractions on an expansive site which could easily (and indeed is intended to) engage you for a whole day with a special event taking place, as this is a venue that I've been to several times in the last few years, and not once have I managed to set foot in the museum, let alone see anything else. Whilst attending the SuperCar event in August 2016, I vowed to try to remedy this and did get the chance to see at least of the main venue itself. This report illustrates some of what I saw, though it is far from complete, with only a subset of what was in the museum actually depicted here.
NATIONAL MOTOR MUSEUM
It is of course, the National Motor Museum which constitutes the big draw for most people. The museum was founded in 1952 by Edward Douglas-Scott-Montagu, 3rd Baron Montagu of Beaulieu, as a tribute to his father, who was one of the great pioneers of motoring in the United Kingdom, being the first person to drive a motor car into the yard of the Houses of Parliament, and having introduced King Edward VII (then the Prince of Wales) to motoring during the 1890s. At first the museum consisted of just five cars and a small collection of automobilia displayed in the front hall of Lord Montagu's ancestral home, Palace House, but such was the popularity of this small display that the collection soon outgrew its home and was transferred to wooden sheds in the grounds of the house. The reputation and popularity of the Beaulieu collection continued to grow: during 1959 the museum's "attendance figures" reached 296,909. By 1964, annual attendance exceeded half a million and a decision was taken to create a purpose-built museum building in the grounds of the Beaulieu estate. A design committee chaired by the architect Sir Hugh Casson was created to drive the project, and the architect Leonard Manasseh was given the contract for the design of the building which was primarily the work of his partner Ian Baker. By 1972, the collection exceeded 300 exhibits.In a ceremony performed by the Duke of Kent the new purpose-built museum building in the parkland surrounding Palace House was opened on 4 July 1972: the name was changed to the "National Motor Museum", reflecting a change of status from a private collection to a charitable trust and highlighting Montagu's stated aim to provide Britain with a National Motor Museum "worthy of the great achievements of its motor industry". The opening of the museum coincided with the UK launch of the Jaguar XJ12 which made it an appropriate week for celebrating the UK motor industry. The museum is run by the National Motor Museum Trust Ltd, a registered charity. An unusual feature of the new museum building in 1972 is the National Motor Museum Monorail[6] passing through its interior. This was inspired by the light railway running through the US Pavilion at the Montreal World's Fair, Expo 67.
THE ENTRY DISPLAY
When you first enter the main building, there is an entrance lobby which houses a temporary exhibition, with vehicles grouped to either side of the main thoroughfare. At the time of this visit, the theme of this was Motoring Through the Decades, and it featured one car to represent each decade since the dawn of motoring.
Reminder that before there were cars, personal transport was down to the bicycles, and a number of early examples were the start of this display.
This car is one of the earliest surviving Fiats, and the oldest in Britain. Fabbrica Italiana Automobili Torino (FIAT) was founded by a group of Turin investors in July 1899 and began assembling cars in a temporary factory. This Fiat seats two adults in comfort, plus two children facing the driver, a layout known as vis-à-vis. The new founded company absorbed two smaller businesses one of which was a bicycle manufacturer which already had a prototype car, called the 'Welleyes'. The first dozen or so cars manufactured by Fiat in 1899 were derived from this prototype. A new purpose-built factory started producing cars from March 1900. Fiat grew to be an industrial giant and one of the world's largest motor manufacturers.
The Hispano-Suiza Alfonso XIII was one of the first sports cars. It was named after King Alfonso XIII of Spain, who was so impressed with the model that he ordered one as soon as he had road tested it. This car spent its early life in Ireland and has damage to the steering wheel that is believed to date from the Irish Rebellion of Easter 1916. Built in Spain to the designs of Swiss engineer Marc Birkigt, Hispano-Suiza was best known for its prestige cars and aero engines. An attempt to cater for the smaller car market in 1907 led to a 12hp model, the chassis of which was developed into the Alfonso XIII. The popularity of this model in France resulted in the opening of a Paris factory in 1911.
One of the most significant British cars. Introduced in 1922, the mass produced Baby Austin combined big car features with a low price and soon became a best seller. In just a few years the Austin Seven changed the face of British motoring and the fortunes of the Austin Motor Company. This car is a tourer or Chummy model. In 1919 Austin began a one model policy based around the large 3,610cc Twenty. This quickly brought the company to the edge of ruin. The launch of the Seven and the mid-size Twelve began a turnaround in the company's fortunes. The Seven revolutionised family motoring in Britain, providing a four-wheeled alternative to modestly priced motorcycle and side-car combinations. Austin soon became a motor industry giant and 290,944 Sevens were built between 1923 and 1939.
The Minx was one of the most popular saloon cars of the 1930s and the most famous Hillman model. It was first introduced in 1932 and underwent several updates before the larger, more modern 'Minx Magnificent' was launched in August 1935. 10,000 of the new model were sold before the end of that year. This car features the new style of grille and opening boot lid first seen in mid 1937. Hillman merged with Humber in 1928, both soon becoming part of the Rootes Group. There was much standardisation between the two ranges with Hillman generally producing the cheaper cars. The well equipped Minx was aimed at the growing market for family cars and remained a best seller throughout the 1930s. The Minx name continued in use on Hillman family saloons through the 1950s and 60s.
Over 21 million Beetles were built, making it the most popular car ever. Designed by Dr Ferdinand Porsche in the 1930s, it was adopted by Adolf Hitler as the Volkswagen or People's Car. Production for the civilian market started under British military control in 1945, passing back to German ownership in 1948. This car was presented to Edward, 3rd Baron Montagu in 1963 to mark the sale of 100,000 Volkswagens in Britain. Porsche started work on the design of a small family car with air cooled engine in the early 1930s. In 1934 his ideas were adopted by the German government, Hitler suggesting that the car should be streamlined and "look like a beetle". The cars were exported worldwide with assembly plants in 19 countries, where production continued long after ending in Germany in 1978. The last Beetle was built in Mexico during 2003.
Originally launched in 1959 as the Austin Seven and the Morris Mini-Minor, but known to millions simply as the Mini. The British Motor Corporation's new small front-engine, front wheel drive car was destined to become a classic. Production of the original Mini continued until 2000 by which time over 5 million had been built; the best selling British car ever. This October 1959 car is one of the oldest in existence. The Mini was the brainchild of Alec Issigonis who had previously designed the Morris Minor. It was the first car to combine a transverse mounted front engine and front wheel drive into such a tiny package, a formula many other manufacturers would eventually copy. The Mini was developed into estate, van and pick up versions whilst the tuned Mini-Cooper became a huge success in motor sport, particularly rallying.
Launched at the 1959 London Motor Show, where it was overshadowed by the BMC Mini and the Triumph Herald, Ford's new Anglia model went on to be a huge sales success. Over a million of the small front engine, rear-wheel drive cars were sold before being replaced by the Escort in 1968. The more powerful 123E Anglia Super was introduced in 1962, using the 1,198cc engine and all synchromesh gearbox from the new Ford Cortina. Anglia production moved from Dagenham to a new factory at Halewood on Merseyside a year later. Although not as technically advanced as some of its rivals, the Anglia set the pattern for Ford's products for many years after. Its four-speed transmission and high gearing was well suited to driving conditions on the new generation of motorways that were being opened in Britain during the 1960s.
Representing the 1980s was this Ford Sierra Cosworth. One of the most sought after Ford road cars and a 1980s icon. 5,000 Cosworth Sierras needed to be built to qualify for Group A saloon car racing (a process known as homologation). In the end 6,021 were made, with just 1,600 being sold in the UK. This car is standard apart from the BBR Racing prepared engine, which is claimed to produce 280bhp. The Ford Sierra RS Cosworth was first announced at the 1985 Geneva Motor Show. Cosworth Engineering of Northampton had a long association with Ford dating back to the 1960s, and developed the engines for the Sierra Cosworth. The new turbocharged double overhead camshaft YB engine was based around the existing Ford Pinto cylinder block. The even rarer and more powerful Sierra Cosworth RS500 followed 2 years later.
The most modern car of the lot is this current model Peugeot 108.
One into the main exhibition area, there are two floors of exhibits. Lots of them, with over 250 cars on display at any one time, and a vast number of motor bikes as well. The way it is designed you cannot see all of if from any one place, so there are plenty of surprises as you meander around in what may or may not be a logical flow. There are various themes evident in the groupings of cars, and the supporting exhibits, and there are relatively discrete notice plaques to tell you what you are looking at, as well as lots of other displays which give you a lot of insight into the history of motoring and how it changed society. Interactive displays as well as a short "time travel" ride all contribute to the experience. To look at it all properly would take many hours, something I did not have, so these are some of the highlights that were captured by my camera.
EARLY MOTORING
This 1903 De Dion Bouton Model Q 6HP is one of the original five cars that launched the Montagu Motor Museum in 1952. It has been in the Montagu family since 1913 when it was acquired from a tenant on the Beaulieu Estate. It was used as a works vehicle by the estate engineer Frank Wadley until the early 1930s when it was replaced with a Morris Cowley. It is a regular entrant in the annual London to Brighton run.
This unique vehicle represents the pre-history of motoring and is believed to be the oldest self-propelled passenger-carrying road vehicle still in working order. In the 1870s Robert Neville Grenville developed this steam carriage, with assistance from his friend, railway engineer George Jackson Churchward. The vehicle has a steel chassis with mahogany lagged vertical water tube boiler, as used on period fire engines. The original single-cylinder engine was replaced by a two-cylinder unit after the first trials. The carriage was capable of around 15 – 18mph. In the 18th and early 19th centuries a number of inventors experimented with steam powered road vehicles. The poor state of the roads did little to encourage development, although steam technology revolutionised transport when it was applied to railways and shipping. A number of engineers continued to experiment with steam powered road carriages whilst heavy traction engines were developed for agricultural and industrial use.
During 1885 and 1886 Benz developed his prototype 'Motorwagen', powered by a water-cooled single-cylinder engine with electric ignition. This design was patented in January 1886. In the summer of 1888 Benz's wife Bertha, accompanied by their sons Eugen and Richard, undertook a fifty mile journey from Mannheim to Pforzheim in the second prototype Motorwagen – becoming the world's first 'motorists'. Production versions of the Motorwagen were soon offered for sale to the public. In 1889 Benz appointed Emile Roger of Paris as his first sales agent. Whilst Benz had been developing his Motorwagen, Gottleib Daimler and Willhelm Maybach of Bad Canstatt had also been experimenting with motorised vehicles. The first Daimler Motorwagen was patented in August 1886. Together Benz and Daimler are credited as the inventors of the motor car.
This car is one of the first purpose-built petrol driven vehicles to run on public roads in Britain. John Henry Knight of Farnham, Surrey had this experimental car built by local engineer George Parfitt in 1895. It originally had three wheels. In 1896 the car was fitted with a revised engine and converted to four wheels. It was demonstrated at the Crystal Palace Motor Exhibition organised by the Self-Propelled Traffic Association. The 1865 and 1878 Locomotive Acts imposed many restrictions upon the use of powered vehicles on Britain's roads. These included the four miles per hour speed limit (two mph in town). In October 1895 Knight and his assistant James Pullinger were stopped in Farnham's main street for breaking these laws. He was fined a half crown plus 10 shillings costs – the first motoring offence in Britain.
This Daimler Cannstatt is a typical example of the 'Horseless Carriage' and it shows how closely related some early cars were to horse-drawn vehicles. It is very easy to imagine this vehicle being pulled by horses. This is one of a range of cars introduced by Daimler from 1895. In 1886 Gottleib Daimler and Willhelm Maybach successfully tested and patented a four wheeled motorwagen. They were only a few months behind Karl Benz who had patented his own motorwagen earlier in the year. Daimler concentrated on building engines until vehicle manufacture re-started in 1889. In 1890 the Daimler Motoren Gesselschaft was formed. Daimler engines were also produced under licence in Britain, France and Austria. Daimler (Coventry), Panhard et Levassor, Peugeot and Austro-Daimler all originated under these licensing agreements.
This car holds a significant place in British motoring history. John Montagu MP acquired it new in May 1899 and regularly drove it from the New Forest to London. That summer it became the first petrol-engined vehicle to enter the Palace Yard of the House of Commons. At the end of August 1899 John Montagu entered the Daimler in the Paris–Ostend road race. Together with C S Rolls, who drove a Panhard, he was one of the first two British drivers to compete in a European motor race. He finished third in the Touring Class. In April and May 1900 Montagu drove the car in the Thousand Mile Trial organised by the Automobile Club of Great Britain & Ireland. Intended to promote and publicise motoring to the British public, the event started and finished in London and passed through major cities of the Midlands and North.
This car was bought new by Queen Alexandra for use in the grounds of Sandringham House, Norfolk. It is one of a range of electric vehicles manufactured in the USA under the Columbia name and marketed in Britain by The City & Suburban Electric Carriage Co. of London. The body is a 'victoriette' fitted in Britain. Mr RGJ Nash acquired this vehicle for his collection in the 1930s and drove it regularly when petrol was rationed in the 1940s. The first practical electric road carriage was built by Magnus Volk of Brighton in 1887. By the beginning of the 20th century several manufacturers were marketing electric vehicles. They were clean and silent but the batteries were heavy and the distance between charges was limited. One charge of the battery gave the Columbia a range of forty miles.
This Model A was the first Cadillac to be brought to Britain. Frederick Stanley Bennett imported it, and drove it in the 1903 Thousand Miles Trial. Bennett subsequently became the official UK importer and was behind the standardisation tests of 1908 in which three identical Cadillacs were dismantled and then rebuilt from a mixed up pile of parts, proving the inter-changeability of the components. Created in 1902 by Henry Leland, Cadillac was built upon the remains of the original Henry Ford Company. From the beginning Leland insisted on the highest standards of precision engineering in order to build a quality mass produced vehicle; demanding that "We must make every piston so exact, and every cylinder so exact that every piston will fit into every cylinder". Despite these high production standards over 2,000 Cadillacs were produced in 1903.
This 1903 De Dietrich 24hp is a typical fast touring car of the early 20th century, with engine at the front and chain-driven rear wheels. Braking is on the rear wheels only. Originally owned by gold mining pioneer Sir Joseph Robinson, it was placed in a London furniture depository when he emigrated in 1910 and remained in storage until 1956. It appears regularly in the annual London to Brighton run for Veteran cars. De Dietrich is a French company with origins dating back to an iron works in 17th Century Alsace. In the 1870s Alsace became part of Germany and a new factory was built on French soil at Luneville in Lorraine. Car production started in 1897. From 1901 De Dietrichs were actually designed by Turcat-Méry of Marseilles, both companies building near identical cars. From 1905 a new company was formed and the cars were branded as Lorraine-Dietrich.
The 6hp De Dion Bouton Model Q (Populaire) entered production in 1903, and was the most popular imported car in Britain. Various versions were produced, powered by the company's successful single cylinder engine. This vehicle had a reverse gear, unlike some earlier models. French aristocrat Count Albert de Dion and engineer Georges Bouton formed a partnership in 1883. Early products included marine boilers and steam carriages. By the 1890s De Dion-Bouton were making steam powered tricycles and tractors. Petrol engines were introduced, leading to tricycle and motorcycle production, then a car in 1898. In 1902 the company claimed that over 30,000 of their engines were in service around the world. Many were built under licence in other countries. It is thought that as many as 140 manufacturers used De Dion-Bouton engines, including a number of British companies that assembled cars from imported parts.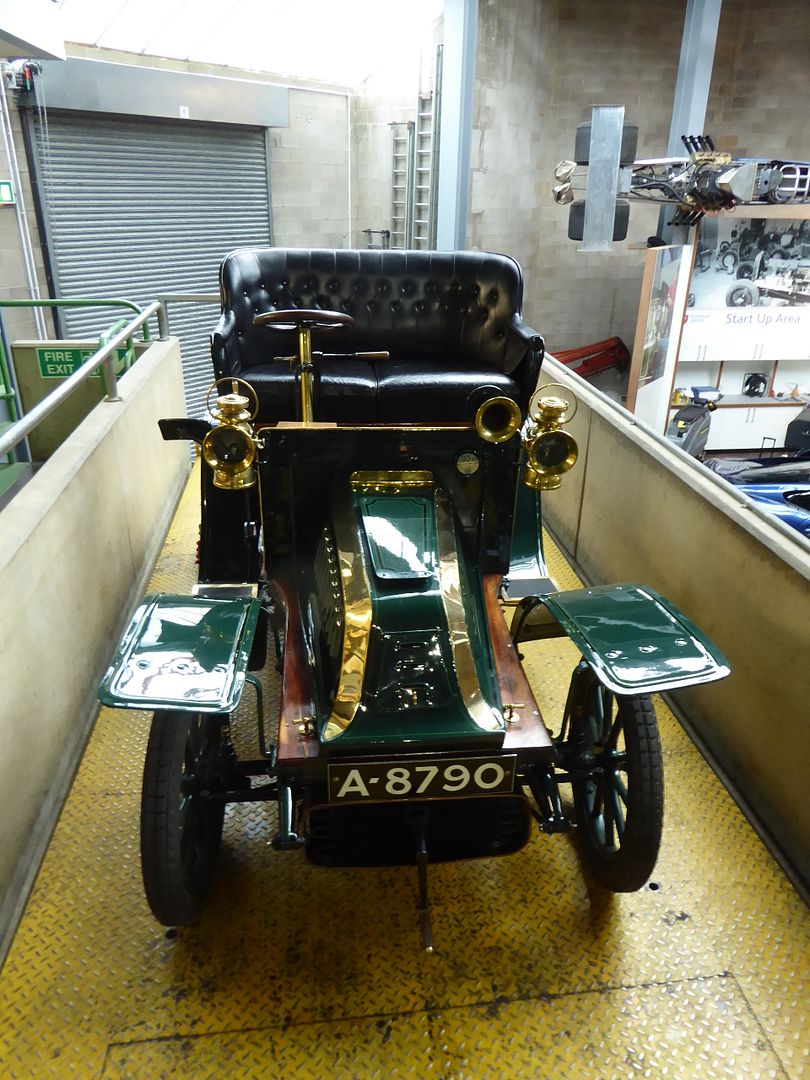 Colonel Albert Pope, former Civil War Officer, began his large manufacturing empire making pistols and went on to become America's leading cycle producer. He formed a new company called Columbia to make electric cars. He founded four companies to make a wide range of petrol cars and this Pope-Tribune 6hp was the smallest and least expensive. This is an early model with a single cylinder and shaft drive.
This 40/60hp Gobron-Brillié began life as a seven-seater touring car and was operated on chauffeur-driven charter trips between London and Paris by Westminster Bridge Garage. Around 1910 it was sold and converted for use as an estate fire engine and was fitted with a Merryweather Valiant steam pump. The increased weight of the fire fighting equipment led to the vehicle being fitted with stronger lorry wheels and solid tyres. Founded by Gustav Gobron and Eugene Brillié in 1898, Gobron-Brillié was one of the best known early French car manufacturers. They were famous for the opposed piston engines which were designed by Brillié. Although he left the firm in 1903, his engines continued to be used until the early 1920s by which time the company was known as Automobiles Gobron. The last Gobron cars were built in 1930.
THE TENS and TWENTIES
Termed by many 'the best car in the world', the Silver Ghost was first shown at the London Motor Show at Olympia in 1906. This particular car was originally a limousine supplied to Colonel Fergusson of Dundee. It was found in the mid-1950s as a breakdown truck at Berwick-on-Tweed. The reproduction bodywork was constructed by Leslie Willis in the style of a Barker Roi des Belges.
The Bugatti Type 15 was a longer wheel base version of the Type 13 and is one of the cars that helped to establish the Bugatti reputation. It is believed that this car was owned by the Bugatti family and was originally fitted with a saloon car body by coachbuilders Wiederkehr of Colmar. It is reputed to have been used on the Western Front during World War One. The two seat sports body was fitted after it was imported to Britain around 1920. This is the second oldest surviving Bugatti and the oldest in Britain. Italian designer Etorre Bugatti worked for a number of German manufacturers before establishing his own factory at Molsheim, Alsace in 1909. Car production started in 1910 with the Type13. Following World War One, with Molsheim now in French territory, Bugatti gained a reputation for building fine racing and sporting cars.
The 8hp model was an attempt by Humber to produce a low-cost car and lacked many of the more luxurious features of other Edwardian cars. However, it did share many mechanical features with larger Humbers. The clockwise running engine is cranked anti-clockwise to start, an idea introduced to protect the chauffeur's arm when using the starting handle. This car starred in the film Chitty Chitty Bang Bang as the car driven by Truly Scrumptious. Humber was one of Britain's earliest motor manufacturers and, like many others, had its origins in the bicycle industry. The company started in motor manufacture in Coventry during 1896, building French Léon Bollée three wheelers under licence. By 1900 Humber were building motorcycles, tricycles and quadricycles. Their first production car appeared in 1901.
The Ford Model T is widely accepted as the car that brought motoring to the masses. Contrary to popular belief it was available in colours other than black. British cars came in blue and green before black became standard in 1914. Black was the only colour of quick drying paint available at that time. In the 1920s grey, red and green were offered. Over sixteen million Model Ts had been built by the time production ended in 1927. The Model T was introduced in 1908. A moving assembly line was opened in 1913, reducing the building time by half and increasing annual Model T output from 170,000 to 202,000. Production line assembly reduced costs, resulting in lower prices which brought car ownership within reach of millions of people worldwide. Ford's first British factory was opened in Manchester in 1911.
Vauxhall's 'Prince Henry' was one of the first true sports cars and among the fastest of its day. Introduced in 1911 with a 3 litre engine, the 25hp 4 litre model became available in 1913. This particular car was purchased new by Mrs F A Cheverton from the Isle of Wight and was laid up in 1923, having covered only 15,000 miles. Rarely used since that time, the car is in remarkably original condition. Vauxhall gained a sporting reputation following success in the 1908 RAC 2,000 Mile Trial and other events. This led to cars being built for the 1910 Prince Henry Trials in Germany. The C-Type or 'Prince Henry' model was developed from these and is the most famous of all Edwardian Vauxhalls. Later the 'Prince Henry' was developed into the famous 30/98 model, one of the most iconic of all sports cars.
There was another example of the Austin Seven here.
Morgan, the most successful manufacturer of cyclecars, introduced its sporty new Aero model in 1920. For the first four years of production it was built only to special order. The Aero was continually improved and by 1927 was available with a choice of engine from Anzani, Blackburne or JAP as seen on this car. It was a popular choice for racing and trialling. HFS Morgan started the Morgan Motor Company in 1910. Morgan three-wheelers sold well, production reaching over 1,000 a year by the outbreak of war in 1914. They were successful both on the track and as an affordable runabout. The advent of cheap family cars like the Austin Seven and inexpensive sporting cars such as MGs led to a decline in three-wheeler sales by the 1930s. The first four-wheel Morgan, the 4/4, was introduced in 1936 and remains in production today.
Also from this era was one of the earliest of the production Aston Martin cars.
CARS of the 1930s
As well as building complete cars, Austin made the chassis of its popular small car, the Seven, available to specialist coachbuilders. By the end of the 1920s this market was a significant proportion of overall production. Probably the best known of these coach-built cars was that by Swallow of Blackpool. A two-seat tourer was introduced in 1927, followed by this curvaceous saloon a year later. This car is almost entirely original and had only one owner from new. It will not be restored. Swallow was founded in 1922 by William Lyons and William Walmsley as a manufacturer of motorcycle sidecars. The company later built bodies on Morris, Swift and Standard chassis as well as for the Austin Seven. Production moved to Coventry in 1928. From 1931 Swallow manufactured cars under the SS brand, eventually becoming Jaguar Cars Ltd. in 1945.
Auburn built some of America's best known and most stylish cars in the late 1920s and 1930s. The 851 Speedster, powered by a supercharged Lycoming engine, was introduced for 1935. The boat-tailed body was the work of Duesenberg designer Gordon Buerhig. All Auburn Speedsters were tested to over 100mph by the record breaker Ab Jenkins, as recorded by the autographed plate on the dashboard.
Entrepreneur Errett Lobban Cord rescued Auburn from obscurity in 1924. He acquired Duesenberg and the engine manufacturer Lycoming in 1926, before creating the new Cord marque in late 1929. Auburn was one of only two American car manufacturers to actually increase their sales figures during the great depression of 1931. After that Auburn's sales dropped and the 851 was to be the company's swansong, with production ending in late 1936. Cord and Duesenberg ceased production soon after.
Considered by many to be the best looking Rolls-Royce ever, the Phantom II replaced the Phantom I in September 1929. It was the last car designed by Sir Henry Royce. A new underslung chassis gave the car its distinctive low appearance and was available in two wheelbase lengths of 144 and 150 inches. This car was supplied new to Lord Beaverbrook and is fitted with a Sedanca de Ville body by Barker & Co. By the late 1920s Rolls-Royce was facing stiff competition from cars like the straight eight Lanchester and Daimler Double Six. The Phantom II was designed to meet this challenge. The new model's appearance at the October 1929 Motor Show came just days before the Wall Street crash heralded the start of global financial depression. Despite this, the Phantom II sold surprisingly well, 1,767 being built over a six year production life.
The Mercedes-Benz 36/220 is one of the most desirable vintage sports cars. The supercharged Model S was the first all new design to appear following the amalgamation of Daimler and Benz in 1926. Designed by Ferdinand Porsche, only 146 of the cars were built. This car was once owned by actor and writer Sir Peter Ustinov. Daimler (who sold cars under the Mercedes brand) and Benz, the two oldest names in the motor industry, merged in 1926. Dr Ferdinand Porsche was Technical Director of the new organisation. The Model S emerged in 1927 and was later developed into the famous SS, SSK and SSKL. The racing versions proved very successful in the hands of drivers such as Rudolf Caracciola, Otto Merz and Adolf Rosenberger, winning track events and hill climbs. Road-going cars could cruise easily at 80 or 90mph.
One of only fifty production supercharged, or 'Blower', Bentleys built. These were developed by renowned Bentley racing driver Sir Henry 'Tim' Birkin who felt the standard 4½ litre car lacked power compared with foreign rivals. The Roots type supercharger was designed by Amherst Villiers. The five Birkin racing cars met with only limited race success. Company founder W O Bentley disapproved of Birkin's ideas, stating that "to supercharge the Bentley engine was to pervert its design and corrupt its performance". Over half of the production cars were fitted with Vanden Plas four-seat tourer bodies like the Bentley team cars. The car on display was originally fitted with a stylish Vanden Plas drophead coupe body. Like the other survivors, it was later re-bodied as an open tourer. Bentleys won the Le Mans 24 Hour Race in 1924, 1927, 1928, 1929 and 1930.
This Riley Nine Monaco is a sporting saloon from the era.
Introduced in 1937, the H-Type Vauxhall Ten-Four was a major milestone in British car design being the first with an integral, or monocoque, chassis, also known as unitary construction. Other features which put the Ten-Four ahead of many rivals included torsion bar independent front suspension and hydraulic brakes. Fuel consumption was an impressive forty miles per gallon. Replacing the traditional separate chassis with an integrated body and chassis unit (monocoque) produces a very strong, yet lightweight, structure. Vauxhall brochures compared it to a box girder bridge. The disadvantage is that noise and vibration are easily transmitted to the body, so the interior of the H-Type was lined with layers of sound proofing material to counteract this. The H-Type sold well, a total of 42,245 being produced. It was the basis for post-war Vauxhall models such as the Wyvern and Velox.
The Talbot 105 is considered by many to be one of the finest cars of the 1930s. Available with a variety of saloon and tourer bodies, the 105 was powered by an enlarged version of Talbot's smooth six-cylinder engine, coupled to a pre-select gearbox. They were excellent touring cars, and also competed with success at Brooklands, Le Mans and in the Alpine Trial. The four-door saloon body fitted to this car is by James Young Ltd of Bromley. Talbot's talented Swiss-born chief engineer Georges Roesch saved the ailing company with the successful14/45 model of 1926. This set the pattern for a range of Roesch designed cars over the next ten years. Sadly, financial difficulties led to the collapse of the owning Sunbeam-Talbot-Darracq combine and Talbot, along with Sunbeam, was sold to the Rootes Group in 1935.
Few British cars of the 1930s were as futuristic as the Crossley Streamline. Advanced features included the aerodynamic bodywork, rear engine and independent front and rear suspension. Transmission was by Wilson pre-select gearbox. The Streamline had the radiator mounted at the front, requiring a powerful pump and lengthy pipe run to connect it with the engine thirteen feet away. Crossley built the Streamline under licence from Sir Denistoun Burney, designer of the R100 airship. Burney had established Streamline Cars Ltd in Maidenhead during 1930 and built twelve prototypes of his advanced rear engine car. Streamlining was very much in fashion at the time and these cars attracted great interest. Unfortunately the Crossley version of the Streamline was short-lived, being expensive to build and needing further development work. Just twenty-five were built, the car on display being one of only three known survivors.
MOTOR RACING
One of the significant changes to the display area made in recent years is this very striking way of showing some iconic cars from the world of motor racing on what appears to be a piece of track suspended high above the main display floor.
The John Barnard designed F310 was Ferrari's contender for the 1996 Formula One season and their first car with a V10 engine. Michael Schumacher achieved three victories, three second places and two third places, enough to take third place in the Drivers' Championship and second in the Constructors' Championship behind the dominant Williams team. Ferrari changed to the high nose configuration favoured by other teams part way through the season. Ferrari is arguably the most famous name in Grand Prix motor racing. Enzo Ferrari had raced cars in the 1920s, going on to run a team of Alfa Romeos as Scuderia Ferrari in the 1930s. Ferrari became a sports-car manufacturer in its own right in the 1940s and built its first Grand Prix car in 1948. Since then Ferrari has won more World Championships than any other team.
The McLaren MP4/21 was designed for the 2006 Formula One season by McLaren's Chief Engineer Adrian Newey. The team's drivers that year were Kimi Räikkönen and Juan Pablo Montoya. Pedro de la Rosa replaced Montoya mid-season. This show car now carries the livery of 2009 World Champion Jenson Button. The McLaren team was founded by Bruce McLaren, well known for his exploits with Cooper. McLaren-built sports racing cars were followed by the first single-seater, which appeared in time for the 1966 Formula One season. Bruce McLaren was killed in a testing accident at Goodwood in 1970 but his team lived on. World Championships followed for Emerson Fittipaldi (1974) and James Hunt (1976). McLaren merged with Project Four in 1980, the new McLaren International team going on to win numerous drivers' and constructors' titles over the next three decades.
This car was raced on many occasions by Allard company founder Sydney Allard. He drove it in the 1950 RAC Tourist Trophy at Dundrod, finishing the race despite gearbox problems. It later passed to EW Cuff-Miller, the Littlehampton Ford dealer, who continued to race it successfully. It was originally fitted with a 5.4-litre Cadillac engine, later replaced with a 4-litre Mercury with Ardun overhead valve conversion. It was one of a number of Allards owned by the late Brian Golder. London garage owner Sydney Allard had been a successful trials competitor in the 1930s. In the late 1940s he began manufacturing a range of specialist touring and sporting cars. The J2, and the later J2X, was a road-legal racing car introduced in 1950, most of which were exported to the USA for track use.
Jaguar won the first of three World Sports-Prototype Championship team titles in 1987. The XJR-8s were designed by Tony Southgate and built by Tom Walkinshaw Racing. The team won eight out of the season's ten races. This replica is a show car and was restored by its previous owner using many original race-car parts. It carries the markings of 1987 World Champion driver Raul Boesel. Jaguar was a major force in sports-car racing during the 1950s, winning the Le Mans 24 Hour Race on five occasions. From 1983, Jaguar provided engines for the Group 44 team in US sports-car races. Tom Walkinshaw began entering Jaguar-backed cars in World Championship events in 1985, going on to win the team title in 1987, 1988 and 1991. Two more Le Mans victories were added to the impressive total in 1988 and 1990.
There are plenty legends of motor sport displayed on the ground, with Formula 1, le Mans and rally cars all feature.
Connaught represented a glimmer of hope for British success in Grand Prix racing during the mid 1950s. Tony Brooks' win in the non-championship Syracuse Grand Prix of 1955 was the first all British victory in such an event for many years. The B-Type Connaught is sometimes still referred to as the Syracuse. This car, chassis B6, was driven without success by the Italian private entrant Piero Scotti. Connaught began with the production of Lea-Francis based sports racing cars in the late 1940s, going on to build single-seat cars to Formula Two specification from 1951. The Alta-engined B-Type was introduced for the new 2½-Litre Formula One regulations of 1954. Despite building well-engineered cars, the team struggled financially and with the withdrawal of funding by its major backer in 1957 Connaught disappeared from the Formula One scene.
British Racing Motors was established in the 1940s to build a British Grand Prix car. The result was the iconic Type 15, powered by a 1½-litre 16-cylinder supercharged engine, and the first car to use disc brakes in road racing. Although ultimately unsuccessful, the BRM was a stepping stone on the path to Britain's dominance of the sport in later years. Even with drivers such as Juan Manuel Fangio and Stirling Moss, BRM V16s met with little success, finishing in only one World Championship event, the 1951 British Grand Prix. This car, chassis 1/01, was driven to fifth place in that race by Reg Parnell.
BRM was founded by Raymond Mays and Peter Berthon, creators of the pre-war ERA car, with backing from the British motor industry. It became part of the Owen Racing Organisation in 1952, gaining 17 Grand Prix victories between 1959 and 1972.
500cc motor racing, later called Formula Three, became popular from the late 1940s. The small single seat-cars with motorcycle engines provided relatively inexpensive racing and launched the careers of many famous drivers. Cooper was the leading builder of 500s and soon progressed to building cars for Formula Two, Formula One and sports car racing. They began a revolution in racing car design when they applied the rear engine layout from the 500 to Grand Prix cars. Cooper racing-car production started in 1946 when John Cooper welded the front ends of two Fiat Topolinos back to back to make a prototype fully independent suspension chassis for 500cc racing. In 1947, John and his father Charles founded the Cooper Car Company with the first production 500s appearing in 1948. Cooper entered Formula One in 1957, becoming World Champions in 1959 and 1960.
The Lotus 49 was the first car to use the legendary Ford-Cosworth DFV engine, which also formed an integral part of the vehicle's chassis. It won its first race, the 1967 Dutch Grand Prix, driven by Jim Clark. This car, chassis R3, was built overnight for Graham Hill to drive in the 1967 British Grand Prix at Silverstone. It was sold after the 1968 South African Grand Prix and was raced with great success by John Love in Southern Africa until 1970. The origins of Lotus date back to an Austin Seven based trials car built by Colin Chapman in 1947. The first Lotus single-seat racing car was the 12, a Formula Two car of 1957. Lotus became masters of the rear-engine layout pioneered by Cooper and built a string of successful Formula One cars from the early 1960s onwards.
For the 1994 Formula One season, McLaren began a partnership with Peugeot as engine supplier for the Neil Oatley designed MP4/9 chassis. This is chassis number 4 which competed in all but four of the sixteen races that year. Its best finishes were second places for Martin Brundle in Monaco and Mika Häkkinen in Belgium, McLaren's best results that season. This was the first year since 1981 that McLaren failed to win a race. New regulations for 1994 banned the use of technical aids such as fly-by-wire throttle control, traction control, active suspension and anti-lock braking systems. Re-fuelling pit stops were made compulsory, adding to the excitement for television audiences. The 1994 Formula One season was marred by the deaths of both Roland Ratzenberger and Ayrton Senna at the San Marino Grand Prix.
The Porsche 917 is one of the most successful racing cars ever. This car, chassis 917-13, competed during the 1970 and 1971 seasons. In 1970 it appeared in the Steve McQueen film Le Mans, crashing during filming while driven by David Piper. The rebuilt 917-013 was raced by the JW Automotive/Gulf team during 1971, winning races at Daytona, the Österreichring, Monza and Monthléry with drivers such as Pedro Rodriguez, Jo Siffert, Jackie Oliver and Derek Bell. Porsche took just seven months to design and build the first 25 917s required to meet new World Sportscar Championship regulations in 1969. The cars were incredibly successful, winning nearly every race for the next two seasons. The 917/10 and 917/30 spyder, or open cockpit, versions went on to dominate the Can-Am Championship in North America. In this form the air-cooled, flat-12 engine was developed to produce over 1,100bhp.
Despite the introduction of the new MkIII Ford Escort in 1980, this MkII Escort was actually built by David Sutton Motorsport for Ari Vatanen to drive in the 1981 RAC Rally. Vatanen's second place in that event, combined with wins in the Acropolis Rally, Rally of Brazil and the 1000 Lakes Rally, was enough to secure him that year's Drivers' Championship. The RAC Rally was won by Hannu Mikkola in a turbocharged, four-wheel drive Audi Quattro, one of the new generation of supercars that would dominate the sport in the 1980s. The rear-wheel drive Ford Escort was one of the most successful rally cars ever. MkI Escorts with Lotus twin-cam engines started winning World Championship events in 1968 and, despite the arrival of sophisticated four-wheel drive cars, its successor was still competitive in 1981.
Audi launched the Quattro in 1980. Destined to become the first commercially successful four-wheel drive road car, it also started a revolution in rallying. The Audi Quattro A2 was one of a new generation of rally supercars introduced in 1983, built to the new Group B regulations. Stig Blomqvist drove this car, chassis R61, to victory in the 1984 Rally of Argentina, going on to win that year's Drivers' Championship. Hannu Mikkola used R61 to win the 1985 Hong Kong – Beijing Rally. Stig Blomqvist drove it to victory in the same event in 1986. In 1987 John Bosch used it to win the Indonesian Rally. He finished fourth in that event in 1988 despite three crashes. Less powerful Group A cars replaced Group B for the 1987 World Rally Championship, following a number of tragic high-speed accidents.
Used in over 70 sporting trials between 1954 and 1962, the M & L Special was built by Alfred Moss and Michael Lawson, father and uncle of racing driver Stirling Moss. The ultra-lightweight special, weighing just 7cwt (400kg), is built on an Austin Seven chassis fitted with aluminium bodywork. Power comes from a much modified Ford side-valve engine. Mike Lawson, usually accompanied by Ian MacKenzie as passenger or 'bouncer', achieved 24 first and second places with the M & L, making it one of the most successful trials specials ever. Sporting Trials became increasingly specialised through the 1950s and 1960s. Amateur-built specials, often Austin Seven based with Ford engines, were joined by specially constructed trials cars from manufacturers such as Dellow and Cannon.
MOTOR BIKES
A huge display of bikes from the last 100 years are on display here.
SPECIAL and UNUSUAL VEHICLES
Six of these distinctive vehicles were built between 1972 and 1974 to promote Outspan Oranges. They were constructed by Brian Waite Enterprises Ltd and incorporated many components from the popular Mini. Five were used for advertising in Britain, France and Germany while one was shipped to South Africa. Not surprisingly, the Outspan Orange is incredibly manoeuvrable, with a turning circle of just 16' 6". Two sub-frames are fitted to the short space-frame chassis, giving a wheelbase of 48 inches. Like an ordinary Mini, the front sub-frame supports the engine, automatic gearbox and front suspension. The rear sub-frame holds the rear suspension as well as the 200Ib of ballast that is needed to keep the vehicle stable. At speeds over 30mph the Orange has a tendency to roll. Like any motor vehicle, it can run out of juice!
This unusual vehicle is one of five bottle cars purchased by Worthington's brewery of Burton upon Trent in the early 1920s. They were built on Daimler 30hp car chassis. Worthington merged with its neighbour Bass in 1927, the bottle cars continuing to be used for promotional work for both brands throughout the 1920s and 1930s. The original 4,962cc Knight sleeve-valve engine was replaced with a Bedford engine shortly after the Second World War. This vehicle continued to work for Bass-Worthington until 1958. Motor vehicles have been transformed into a variety of unlikely body shapes to advertise a wide range of products including pencils, tea pots, shoes, batteries and tubes of tooth paste. The first bottle car is believed to have been built in 1906.
Ian Fleming's classic children's book about a magical flying car called Chitty Chitty Bang Bang was first published in 1964. Fleming's inspiration for the car was the 1920s racing car Chitty Bang Bang, owned and driven by Count Louis Zborowski. In 1968 the story was adapted for the big screen by children's author Roald Dahl. The film, produced by Albert 'Cubby' Broccoli of James Bond film fame, was Oscar nominated for its musical score. It featured a host of stars including Dick Van Dyke, Sally Ann Howes, Lionel Jeffries, Benny Hill, James Robertson Justice and Barbara Winds.
STREET SCENES
Jack Tucker's Garage is a recreation of the sort of thing you would find in an ever increasing number of towns and villages of Britain in the 1930s, and it is replete with artefacts and memorablia, as well as there being a 1930s Morris Eight  parked "outside". First seen in 1935, the Eight was the best-selling Morris to date and the most popular British car of the late 1930s. The Series II came out in September 1937, with mainly cosmetic updates. Although in production for only one year before being replaced by the Series E model, 59,000 Series IIs were built. This car has headlight masks and white edged wings to meet Second World War blackout driving regulations. Just as Morris built the Minor in the 1920s to compete with the Austin Seven, so the Eight was intended to rival the best selling Ford Model Y, launched in 1932. Not only did the new car resemble the Model Y, its engine was almost a direct copy of the Ford unit. The Morris Eight was available as a two or four door saloon and as a two or four-seater tourer.
A recreated street scene evokes an earlier period, with an "old" Sainsburys being the star features and linking in various other vehicles associated with everyday life.
Bearing more than a passing resemblance to an Austin Seven, the Datsun Type 14 was the first car to be mass-produced in Japan. This particular car was imported by Sir Herbert Austin in 1935 purely out of curiosity, though it had previously been thought that he was checking for patent infringements. There are a number of significant differences between the Datsun and the Austin. Either way, the appearance of a mass-produced car from Japan was a hint of things to come. Datsun's origins date back to the DAT of 1915. The Datson (son of DAT) name was adopted in 1931. This soon changed to Datsun, in recognition of the rising sun on the national flag. The parent company became the Nissan Motor Co. in 1933. Datsun built 3,800 cars in 1935. In 2015 Nissan production was 5,170,056 vehicles.
Electric milk floats were a familiar sight on Britain's roads throughout the second half of the 20th century. The Pony was originally designed by Brush Electrical Engineering for use around its own factory site in Loughborough. It proved so useful that in 1946 the company decided to market them. The manoeuvrable Pony was ideally suited to use in urban areas, with a range of about 15 miles when fully loaded. The open cab made it easy for the driver to jump in and out when making deliveries. It was available with other types of body to suit a range of delivery and industrial uses. The Express Dairy Company was the first to use electric floats in 1932. Their experiment with a small fleet of GV electric vehicles in London proved successful and led to the replacement of horse-drawn milk floats.
The three-wheeled Reliant 8cwt van went on sale in early 1938. These simple light delivery vehicles with motorcycle style girder front forks were at first powered by Austin Seven engines but these were soon superseded by Reliant's own updated version of the same unit. The 8cwt continued to be built after the Second World War, although the quoted payload was reduced to 6cwt in 1950. Reliant girder fork vans continued in production until 1956. Reliant was established in 1935 by Tom Lawrence Williams, previously the designer of the Raleigh Safety Seven three-wheeler. When Raleigh stopped making cars, Williams acquired the rights and set up a new company to make three-wheeled vans. The new vehicles incorporated parts marked with the letter R left over from Raleigh days. The Reliant name was selected simply because it also began with R.
Microcars became popular in the 1950s, at a time when there was still a shortage of raw materials. That popularity only increased amid fears about fuel supplies after the Suez crisis of 1956. Bubble cars, like the Isetta, built as four-wheelers on the continent, were sold as three-wheelers in the UK. This meant they could be driven on a motorcycle licence and were subject to a lower rate of road tax. Italian motorcycle manufacturer Iso started the bubble car craze in 1953 when it launched the Isetta. It did not sell well in Italy and the rights were sold to various foreign manufacturers, including a struggling BMW in Germany. Fitted with a BMW motorcycle engine the car sold in large numbers and saved the company. Isettas for the UK market were built under licence in the former railway works at Brighton.
The Bullnose Morris Cowley, and its more expensive, better equipped stablemate the Oxford, were among the most popular cars of the 1920s. Morris cars were originally built from bought in components. As production grew through the 1920s these outside suppliers were gradually absorbed by Morris. Annual sales grew rapidly, from 6937 cars in 1922 to 32,939 by the time this car was built in 1924. A year later Morris accounted for 41% of new cars in Britain. Like many others, William Morris started as a cycle manufacturer in the 1890s, moving on to motorcycles in 1902. Morris Motors grew out of his thriving Oxford garage business. The first Morris motor car, the Oxford, appeared in 1913. The distinctive rounded bullnose radiator remained a feature of Morris cars until 1926, by which time the company was a motor industry giant.
Albion introduced the A14 in 1911, a 4 cylinder model that could be built as a 10 – 20cwt light van or lorry, light bus, taxi or as a range of cars. Drive to the back axle was provided by shaft and worm gear rather than the chain drive more common on the company's vehicles at that time. This lorry was built in June 1914 and spent its working life in the Manchester area. It was rescued from a breaker's yard in 1958 and restored by Albion Motors for the then Montagu Motor Museum. It is restored as a brewer's dray. Founded in 1899, Albion stopped manufacturing cars in November 1913 and concentrated on commercial vehicles. Renamed Albion Motors Ltd in 1931, they became a Leyland subsidiary in 1951. The Albion name was dropped in 1972, after which all Scotstoun made vehicles were badged as Leylands.
Light commercial vehicle versions of the popular Morris Minor were introduced in 1953. Over 300,000 vans, pick-ups and chassis/cabs were built up to February 1972. The Post Office was the biggest operator of Minor vans, with dedicated fleets for both postal deliveries and telephone engineers. Postal vans had a number of factory fitted modifications such as internal partitions and additional locks on the side and rear doors. This vehicle was withdrawn from service in 1978, after eight years of use in the Epsom area. It was restored by apprentices at the Post Office's Kidbrooke Central Repair Depot in London. The first motor vehicles operated by the Royal Mail were Maudslay stores vans introduced in 1907. It wasn't until after the First World War that motor vehicles were acquired for deliveries. Today the Royal Mail operates 49,000 vehicles.
Harrods' fleet of electric delivery vehicles were once a familiar sight on the streets of London. The famous department store started using American-built Walker electric vans in 1919. During the 1930s Harrods renewed the fleet, undertaking the design and construction in its own workshops. Work started in 1933 and a prototype van was running by 1935. A total of sixty vans were built up to 1939. The 1 ton vans were powered by under-floor mounted batteries giving a range of sixty miles per charge. This van remained in service until 1970 when it was presented to the Museum. Battery powered electric vehicles have been in use since the very earliest days of motoring. Being silent and pollution free they are ideally suited to use as delivery vehicles in urban areas, where short distances mean their lack of battery range is less of a problem.
Few vehicles are more iconic than the red London bus. The RT type was built in large numbers and could be seen on the capital's streets for 40 years. The first 150 were delivered between 1939 and 1942. Deliveries restarted in 1947 with production continuing until 1954, although some did not actually enter service until 1959. Intended to be London's standard bus, nearly 7,000 RTs were built, mostly by AEC, although just over 2,000 ran on Leyland Titan chassis and were classified as RTL or RTW (with wide bodies). The last RT was withdrawn from London Transport service in 1979. This vehicle, RT1808, was delivered in 1950 and remained in service until 1976. It is fitted with a body by Park Royal, along with Weymann, a main supplier of RT bodies. Smaller numbers of bodies came from Saunders, Cravens and, for the RTL and RTW, Metro-Cammell.
The Trojan was an unorthodox car launched in 1922. Autocar reported that it was "like no other vehicle", while Light Car & Cyclecar described it as "the most unconventional of light cars". Designed by Lesley Hounsfield to be simple to both drive and maintain. It was powered by a unique four-cylinder, two-stroke engine that, the manufacturer proudly claimed, had only seven moving parts. It was mounted horizontally under the floor. The bonnet housed only the radiator and the fuel tank. Solid, non-puncturing, tyres were standard. Hounsfield entered into an agreement with Leyland Motors to build the Trojan in a former aircraft factory at Kingston-on-Thames. 16,800 cars and vans were built there between 1922 and 1928. Trojan Ltd then transferred manufacture to a factory in Croydon. Car sales gradually fell but vans continued to be built through the 1930s.
There was an interesting display of historic petrol pumps here, as well as a reminder of the AA phone box, used to call for help when you broke down.
Among the vast array of other automobilia items which are on show are several cabinets full of small-scale models such as this one.
SPORTS and GT CARS
A smaller and more affordable Ferrari arrived in 1967 as the Dino 206 GT. Dino was the nickname of Enzo Ferrari's son. 3,000 of the more powerful Pininfarina-styled 246 GT and 246 GTS were built between 1969 and 1974. Features included rear mounted transverse 195hp V6 four cam engines with Fiat transmissions plus all-round disc brakes and independent suspension. This example has only covered 13,000 miles (20,921 kilometres).
Regarded by many as Britain's supercar, the original Lotus Esprit, with angular styling by Giugiaro, was something of a sensation when launched in 1976. A decade later it looked dated and a re-design was masterminded by Peter Stevens, who later designed the McLaren F1, MG TF and Subaru Imprezza. The new car, although heavier than its predecessor, was more aerodynamic. A more rigid body and refinements to suspension gave improved handling. In turbocharged form, the Lotus Esprit had supercar 150mph plus performance. From the 1970s, Lotus began to move upmarket to compete with makers such as Porsche and Ferrari, a process that continued after the death of company founder Colin Chapman in 1982. Lotus was taken over by General Motors in 1986. Ownership passed to Bugatti in 1993 and to Malaysian manufacturer Proton in 1996.
Specialist car builder Jensen created a sensation when they launched the Interceptor at the 1966 London Motor Show. The aggressively styled car with body built by Vignale of Turin was powered by a potent Chrysler V8 engine. Other than a few with manual gearboxes, most were equipped with Chrysler's Torqueflite automatic transmission. The Jensen Interceptor, and its four-wheel drive derivative the FF, were aimed at the luxury car market. From the 1930s, Jensen Motors supplied car bodies for many of the larger manufacturers as well as building a range of commercial vehicle chassis. In the 1950s and 1960s the company established a reputation as a builder of sporty GT cars such as the 541 and C-V8. The Interceptor built on this tradition. Jensen survived until 1976, eventually succumbing to financial difficulties in the aftermath of the oil crisis.
The last of Jaguar's famous XK line of sports cars, the XK 150 was introduced in early 1957 in 3.4-litre form. The more powerful 3.8-litre model, seen here, appeared in late 1959. It was the first series production car with four-wheel disc brakes, a fact that Jaguar highlighted in its advertising. The company had used the Dunlop disc-brake system on its racing cars since 1952. The XK150 was available as both a fixed head and drophead coupe or as an open two seater or roadster. Like the XK120 and XK140 before it, the XK150 represented excellent value for money compared with its rivals. In 1960 the Aston Martin DB4 was priced at £3,968 and the Ferrari 250GT was over £6,000. In total 9,398 XK150s were built up to the end of production in 1961.
A true classic. The Jaguar E-Type was one of the most famous and desirable cars of the 1960s. Available as either a two-seat roadster or a coupé, the car offered racing car performance and stunning looks at a relatively modest price. This car is an excellent early example of the model. Launched in 1961 to widespread acclaim, the Jaguar E-Type was intended as a replacement for the XK series of sports cars with styling inspired by the famous D-Type racing cars. The original 3.6 litre engine was replaced by a 4.2 litre unit in 1965. A 2+2 coupe and automatic transmission option followed a year later. Stringent US emission regulations reduced the overall performance so a new 5.3 litre V12 engine was introduced from 1971. Modified and lightweight E-Types proved successful in motor sport both in the UK and internationally.
Arguably one of the most sensational sports cars ever built. American racing driver Carroll Shelby developed the Cobra from the AC Ace in 1962. They were built by AC in Thames Ditton and shipped to Shelby's works in California for installation of the Ford V8 engine. Initially these were 4,260cc but soon enlarged to 4,736cc (289 cubic inches). From 1965 the even more powerful 6,997cc or 427 cubic inch engine was an option. Even Shelby admitted the 427 was a handful. 1,008 Cobras were built, with only a small number being sold in Europe. This car was built to full competition specification and competed in a number of European races during 1966 including the Targa Florio. Later owners used it in club races and hill climbs in the UK until the early 1970s. It was later rebuilt into its current form with modified bodywork.
A couple of other cars here, which do not appear to be part of the permanent collection here, were a Lotus Europa and a TVR Grantura.
When introduced in 2010 Ferrari claimed the 599 GTO to be their fastest road car ever. It continued the famous marque's long tradition for front-engine, twelve-cylinder cars. The GTO was developed from the 599 GTB Fiorano, and is essentially a road legal version of the experimental 599XX track car (which was priced at an incredible £1.2 million). Only 599 GTOs were built and all were spoken for well before they were completed. Power comes from the F140C version of Ferrari's F140 family of engines first used in the Enzo model of 2002 and also fitted in the Maserati MC12. The 599 GTO is only the third Ferrari to carry the famous GTO name, the others being the iconic 250GTO of 1962 and the 288GTO of 1984. The 599 range was replaced by the F12 Berlinetta in 2013.
The Austin-Healey 100 was Austin's answer to Triumph's TR2 and became a big success on the American market. Launched in 1955, the 100M was a higher performance version of the standard model, incorporating features from cars that had raced at Le Mans in 1953. This car was delivered new to the Earl of Wharncliffe who competed with it in hill climbs and other speed events. Austin-Healey originated in 1952, when Donald Healey secured a deal with the British Motor Corporation to use the engine from the Austin Atlantic in a new Healey-designed sports car. The four-cylinder 100/4 was developed into the six-cylinder 100/6 in 1956 and the 3000 in 1959. The Big Healeys were successful in motor sport and took numerous class speed records. Importantly for BMC, they sold well on the North American market.
Launched at the 1967 London Motor Show, the MGC was the British Motor Corporation's replacement for the Austin Healey 3000. Based upon the sporty and popular MGB, it was powered by a newly developed six-cylinder engine shared with the Austin 3 Litre. This car was owned by a director of an MG dealership who used it until 1998. It is in original condition and has covered just over 20,000 miles from new. Outwardly the only difference between the MGC and MGB was a bulge on the bonnet to accommodate the longer engine. The suspension needed an extensive re-design to accommodate the engine which, combined with much greater weight, rather spoiled the handling. Although a capable motorway cruiser, the MGC proved to be something of a disappointment and production ended in 1969 after just 4,457 had been built.
A true enthusiast's sports car intended for road and competition use, only around 400 Frazer Nash cars were ever built. Frazer Nash owners became known as the Chain Gang because of the car's transmission system. A lightweight and mechanically efficient chain-drive system was used that enabled sprockets to be easily changed to give gear ratios suitable for different sporting activities such as hill climbs or speed trials. Model names such as Shelsley, Nurburg and TT Replica reflected famous motor sport events. Frazer Nash was founded in 1922 by Archie Frazer-Nash of GN cyclecar fame. The company was eventually taken over by HJ Aldington in 1929. Aldington continued building Frazer Nash cars in small numbers (only 32 in 1932) to customers' individual requirements. From the mid-1930s the company concentrated on importing BMWs from Germany, sold as Frazer Nash-BMWs.
The first of a long line of MG sports cars to carry the Midget name, the M Type was based on the new Morris Minor launched at the same Olympia Motor Show in 1928. In the 1920s, the Oxford firm Morris Garages established a business building Morris-derived sporting cars under the direction of Cecil Kimber. The introduction of the new Midget virtually trebled the output of MG cars, leading to production being transferred to new premises in Abingdon. The M Type established MG's reputation for affordable sports cars suitable for use in amateur motor sport. Within a few months of launch, M Type Midgets began to appear in races and major trials events. FM Montgomery drove a Midget to victory in the 1,100cc class of the 1930 Monte Carlo Rally. Midgets also won the team prize in that year's Brooklands Double Twelve race and entered the Le Mans 24 Hour Race.
The P-Type was a development of the MG Midget, introduced in March 1934, which built on a tradition started with the M-Type in 1928. This is very much the classic MG sports car look with cutaway doors, swept wings, running boards and slab fuel tank. Power was from a new, smoother running version of the MG overhead camshaft engine with three main bearings. This particular car was in everyday use for over thirty years. By 1935 MG had competition, both in terms of sales and on the race track, from the Singer Nine Sports. To counter this, the P-Type was upgraded with a 939cc engine to become the PB. The remaining stock of original cars, now called the PA, continued to be sold at a reduced price to clear. Like most MG sports cars, P-Type Midgets were enormously popular in club motor sport.
This Dellow MkII was used by the late Peter LeCouteur with great success for many years in trials events. It was a regular performer in classic trials such as the Exeter, Edinburgh and Land's End. The car was modified by the owner; a different cylinder head, modified camshaft and supercharging giving the engine a power output of over 80bhp, much higher than quoted by the manufacturer for the standard 1172cc Ford engine. The origins of Dellow date back to 1949 when Ken Dellingpole and Ron Lowe started series production of a small sporting car that was ideal for trials but also well suited to regular use on the road. The MKII, with coil spring rear suspension, appeared in 1951. Dellows were used in rallies and races as well as in many hundreds of trials events. Around 500 Dellows were built, with over half being exported.
RECORD BREAKERS
This Sunbeam began a new era of aero-engined Land Speed Record cars. The car was first raced at Brooklands in 1920 and two years later Kenelm Lee Guinness drove it to a new World Land Speed Record of 129.171mph/207.88kph on the Brooklands track. This was the last time Brooklands was used for this purpose. Then the greatest of all record breakers, Malcolm Campbell, bought the car, renamed it Bluebird and went on to set the first two of his nine records. At Pendine Sands in 1924 he attained 146.16mph/235.226kph and again in 1925 with 150.766mph/242.635kph.
Major Henry Segrave, winner of the 1923 French Grand Prix, became a serious challenger to Malcolm Campbell's established records. Segrave took the giant Sunbeam to Daytona Beach, Florida because it offered hard sand and a nine-mile (14.48 kilometre) course. The power unit was two V12, 435hp, 48 valve Matabele aero-engines with chain drive to the wheels. On 29 March 1927, a first run 200mph/321.87kph was reached but the car had to be driven into the sea to slow down. On the return run with new brakes, a record speed of 203.793mph/327.973kph was achieved.
Golden Arrow was Major Henry Segrave's answer to a renewed overseas challenge to British Land Speed Record supremacy. In 1927 Segrave had been the first man to exceed 200mph on land. Malcolm Campbell raised the record to 206.956 mph in February 1928 only to have America's Ray Keech exceed this by 0.5mph a month later in the 'Triplex Special'. Segrave was determined to retake the record for Britain. Officially named the Irving-Napier Special, Golden Arrow was designed by Captain JS Irving. It was built in the KLG spark plug factory in West London with support from many leading British companies. Power came from a Napier W12 Lion aero engine as used in Supermarine Schneider Trophy seaplanes. Irving hoped that Golden Arrow would be capable of 250mph. Golden Arrow was shipped to Daytona in February 1929 where Segrave made two 180mph test runs. On 11th March 1929 huge crowds gathered on Daytona Beach to watch Segrave make his two timed runs through the measured mile; 15.55 seconds on the first run, 15.57 on the second. The speed of 231.446mph exceeded Keech's record by 24mph. The following day an attempt to re-take the record for the USA ended in tragedy when the 'Triplex Special', this time driven by Lee Bible, skidded killing both the driver and a film cameraman.
The first car to (officially) set a Land Speed Record in excess of 400mph and the last to be wheel driven, Bluebird CN7 was one of a long line of speed machines associated with the Campbell family. Donald Campbell already held the water Speed Record. His goal was 400mph on land. Technical support and backing came from British industry. Designed by Ken and Lew Norris, Bluebird CN7 was powered by a Bristol-Siddeley Proteus gas turbine engine, as used in airliners, driving all four wheels. It was a massive and expensive project, costing an estimated £1,000,000 to build. A first record attempt at Bonneville in 1960 met with disaster when Bluebird, caught by a gust of wind, veered off course and somersaulted. Campbell escaped with minor injuries but the car was virtually destroyed. The project was revived and Bluebird rebuilt, this time with a distinctive high tail to aid stability. A new venue was found at Lake Eyre in South Australia. Bad weather meant that record attempts in 1962 and 1963 had to be abandoned. Eventually, despite mechanical problems and unpredictable weather, on 17th July 1964 a speed of 403.10mph was attained. Campbell's record was short lived. Rule changes meant jet propelled cars were now accepted. By the end of 1964 the record had been broken five times and was 133mph faster.
In 1960 Sydney Allard and his team of engineers set out to build this dragster, destined to be the first of its type in Britain. Although strongly influenced by the American drag racing scene, the car that emerged in early 1961 also had to comply with Royal Automobile Club regulations governing sprint and hill climb cars. This meant that, unlike the American dragsters, it had brakes and the engine was covered. Power came from a fuel-injected and supercharged 5.7-litre Chrysler Hemi V-8 engine. Although the early appearances of the Allard Chrysler in 1961 and 1962 were a little disappointing, the car attracted huge interest in Britain and the USA. A series of contests between the Allard and the famous American dragster Mooneyes was run in 1963. This led to the first British International Drag Festival being organised in 1964 and the establishment of the British Drag Racing Association. Drag racing had arrived!
On 25 August 2009, at Edwards Air Force base in California, Charles Burnett III drove the British Steam Car 'Inspiration' to a new Land Speed Record for steam power, recording an average speed of 139.843mph. The next day Don Wales, grandson of Sir Malcolm Campbell, drove the car even faster, setting a kilometre record with an average speed of 148.166mph. Altogether the team claimed five international and American speed records. The record that the team broke had been established at Daytona in 1906 when Fred Marriott drove the Stanley steam car 'Rocket' to a speed of 121.57mph. At the time this was the outright Land Speed Record and would stand for three years before it was broken by Victor Héméry at the wheel of a Benz. The record speed for a steam car remained unchallenged for 103 years.
POST WAR CARS
The Sunbeam-Talbot 80 and 90 were the first new models introduced by the Rootes Group following the Second World War. The larger engined 90 competed with some success in rallies. From 1950 the 90 MkII featured independent front suspension and further refinements to engine and brakes followed on the MkIIA of 1952. This car was the subject of a thorough four year restoration by previous owner Mr Tony Coombs. The Sunbeam-Talbot brand was created by the Rootes Group in 1938. The cars had nothing in common with Talbots and Sunbeams of the past, being based upon existing Hillman and Humber models. 1948 saw the introduction of the 80 and 90 in both sports saloon and drophead coupe form. The 90 met with great success in events such as the Monte Carlo and Alpine Rallies between 1948 and 1952.
Austin aimed this sports saloon directly at the American market at a time when British industry was under pressure to increase exports. The Atlantic featured American styling, steering column gear change and a power operated roof on the convertible version. Like other manufacturers, Austin spent the war years making armaments. In the late 1940s the British Government placed a huge emphasis on overseas sales. Companies were instructed to 'Export or die' and those that did not perform well were denied supplies of steel. Austin was a leading exporter and introduced the A90 Atlantic in 1949, initially in convertible form, for the American market. The small and relatively expensive car did not sell well in the USA and production ended in 1952 with just under 8,000 having been built. The engine went on to be used in Austin-Healey sports cars.
The Standard Motor Company was founded by Reginald Walter Maudsley in 1903. Named after a naval vessel, the Vanguard was designed as a world car and typified American styling of the late 1940s. One of the first really new post-war models, it has three-speed gearbox, steering column change, umbrella handbrake and bench seating. Launched in 1947, this robust and comfortable car was sometimes criticised for its looks, handling and proneness to rust. The engine went on to power the Ferguson tractor and Triumph TR sports car series. This car had one owner from new and has very low mileage.
The Javelin was altogether different in conception from any previous Jowett car. It had lightweight rigid unitary chassis-body construction. High gearing and a good aerodynamic shape made for responsive handling, with excellent acceleration and a high cruising speed. The compact engine enabled more space to be designed into the passenger and luggage compartments, without making the car too long. One disadvantage of the positioning of this engine, however, was access. It was easier to carry out maintenance on the spark plugs, for example, by removal of the front wheels. This example has been at Beaulieu since July 1968.
The Consul was a revolutionary car for Ford when launched in 1951. Along with the related six-cylinder Zephyr it formed the so called Five Star range and was Ford's first all new car for the UK market following the Second World War. It was the first UK Ford with unitary construction, overhead valve engine, hydraulic brakes, hydraulic clutch, 12-volt electrics and independent front suspension. Other 'modern' features included the body styling, bench front seat and column gear change. The standard Consul was a four-door saloon but this was joined by the two-door convertible in 1953, with a body built by Carbodies of Coventry. An estate version by Abbott of Farnham was also available. The Consul proved popular, with 231,481 being built before the larger MkII Consul, Zephyr and Zodiac range was introduced in 1956.
The Series MM Minor was part of a range of new cars from the Morris Motor Company that stole the show at the first post-war Earls Court Motor Show in 1948. Designed by Alec Issigonis, the Minor was developed from a prototype, code named the Mosquito, built in 1943. The Minor, and its big brother the MO Oxford, featured unitary construction, rack and pinion steering and torsion bar independent front suspension which contributed to excellent handling characteristics. Power for the MM Minor came from the pre-war Morris 8 side valve engine, with less than sparkling performance. Following the merger with Austin in 1952, the 803cc A-Series engine became available for a new Series II Minor, with a revised body featuring higher mounted headlights. This was replaced by the 989cc Morris Minor 1000 in 1956.
The British Motor Corporation introduced the compact Austin A40 in 1958. Originally only available as a two-door saloon, it was intended as a replacement for the A35 from which it was derived. In fact, it turned out to be a much larger car and the A35 was produced alongside it for another year until the Mini was launched. The A40 was the first BMC car to be styled by Pininfarina of Italy, a relationship that would continue for the next decade. The A40 Countryman, with split tailgate, was introduced in 1959, effectively becoming the first small modern hatchback. In 1961 a longer wheelbase MkII version was launched with more powerful development of the A-series engine and a revised grille. A larger 1,098cc engine followed in 1962. A40 production ended in 1967, with 364,000 having been built.
Inspired by the wartime Jeep, the first prototype Land-Rovers appeared in 1947. Rover then built forty-eight pre-production, or pilot, versions for testing and evaluation purposes before the launch of the production vehicles in 1948. R04 is the fourth of the pilot batch and one of the oldest surviving Land-Rovers. Planned as a four-wheel-drive agricultural runabout, the Land-Rover was quite unlike anything the Rover Company had built before. The engine and gearbox came from the Rover P3 road car. As on the Jeep, a transfer box transmitted the drive to front and rear axles. Body panels were made from aluminium, which was relatively cheap and in plentiful supply compared with steel, the use of which was restricted by the government. Production Land-Rovers were an instant hit. By the end of 1948 Land-Rovers were outselling Rover's road cars and were being exported in large numbers.
The Austin A40 appeared in 1948, replacing pre-war models such as the Austin Eight, Ten and Twelve. Available as either the four-door Devon or the short lived two-door Dorset, the A40 retained a separate chassis and incorporated independent front suspension. Styling showed a distinct American influence. The A40 became the Somerset in February 1952 and was restyled to match the A70 Hereford and A30. Hydraulic brakes and a column gear change were now standard, previously only available on the Devon in 1951. A total of 166,063 A40 Somerset saloons were built between 1952 and 1954, along with 7,243 drophead coupes. By 1954 the Somerset looked dated and a completely new A40, the Cambridge, with unitary chassis was introduced. This shared the B-series engine with the rival Morris Oxford, following the merger of Austin and Morris to form the British Motor Corporation (BMC) in 1952.
The international motoring press ridiculed the Citroën 2CV when it first appeared at the 1948 Paris Salon. The French public disagreed and orders for the ingenious, mechanically simple and, above all, cheap utility car flooded in. The 2CV remained fundamentally unchanged for four decades. Over 3.8 million had been built by the time production ended in 1990. There were also 3 million 2CV based derivatives such as vans, the Bijou and the Dyane. In the 1930s Citroën's managing director Maurice Boulanger instigated a design for a 'toute petite voiture' (very small car) that could carry two people, 50kg of potatoes and a box of eggs at 60kph over the worst roads in France. Prototypes were produced before the Second World War. Innovative features of the 2CV included inboard mounted front brakes, interconnected mechanical self-levelling suspension and easily detachable body panels.
Launched at the 1952 Motor Cycle Show, the Regal was the first Reliant passenger car. The three-wheeled, four-seater convertible had an aluminium body and was powered by a 747cc engine derived from the Austin Seven. The Regal name continued a royal theme started with the Regent van. With fuel consumption of around 50mpg and a road tax of only £5, the Regal provided a practical and economical alternative to the motorcycle combination. Reliant was established in 1935 by Tom Lawrence Williams, previously the designer of the Raleigh Safety Seven three-wheeler. When Raleigh dropped out of car manufacture, Williams set up Reliant to make simple three-wheeled delivery vans with motorcycle engines and front forks. Austin Seven engines were used from 1937 but these were soon superseded by Reliant's own updated version of the same unit.
Introduced in 1959, the Triumph Herald was a big contrast to the old Standard Ten that it was designed to replace. The radical design incorporated a separate chassis with bodywork styled by Michelotti of Italy. Bolt-on body panels allowed a whole range of alternative models to be produced relatively cheaply. The Herald had a tiny turning circle of 25 feet whilst the independent rear suspension produced handling that was praised by some and feared by others. The Herald's modern design set the pattern for a whole range of Michelotti styled Triumphs through the 1960s. The Herald was available as saloon, coupé, convertible, estate and van versions and with a six-cylinder engine as the Vitesse. The Spitfire and GT6 sports cars shared much of the running gear. Over half a million Heralds were produced up to 1971.
In the early 1960s the Rootes Group started Project Apex, aiming to design a small car to compete with the BMC Mini. The result was the rear-engined Hillman Imp. The overhead cam, alloy engine was developed by Coventry Climax and drove the rear wheels via a four-speed gearbox. Early Imps had an innovative, but unreliable, pneumatically operated throttle. Although tail heavy, the independent front and rear suspension meant Imps handled well. This is believed to be the first production car, chassis number 6. Hillman Imps, and derivatives like the Singer Chamois and Sunbeam Stileto, were assembled in a purpose built, Government backed, factory at Linwood in Scotland. Problems with reliability and quality control had an impact on sales. The planned output of 150,000 cars per year was never reached, and only 440,000 Imps had been built by the time production ended in 1976.
The British Motor Corporation introduced the compact Austin A40 in 1958. Originally only available as a two-door saloon, it was intended as a replacement for the A35 from which it was derived. In fact, it turned out to be a much larger car and the A35 was produced alongside it for another year until the Mini was launched. The A40 was the first BMC car to be styled by Pininfarina of Italy, a relationship that would continue for the next decade. The A40 Countryman, with split tailgate, was introduced in 1959, effectively becoming the first small modern hatchback. In 1961 a longer wheelbase MkII version was launched with more powerful development of the A-series engine and a revised grille. A larger 1,098cc engine followed in 1962. A40 production ended in 1967, with 364,000 having been built.
Launched in 1962, the Consul Cortina was a milestone for Ford and destined to be a best seller. Designed from the outset to be a competitive medium sized car at a low price, the Cortina was offered with a range of engine, transmission and body options. Its light weight made it the cheapest, fastest and most economical car of its class. The Consul part of the name was dropped in 1964. A whole category of medium size motor cars was soon known as the Cortina class. The Cortina proved to be a major marketing success, equally popular with family owners and fleet operators. 1,013,391 were built before the equally successful MkII appeared in 1966. This was followed by three more versions until the Cortina was finally replaced by the Sierra in 1982, by which time over four million of all five marks had been built.
One of many types of microcar that became popular in the 1950s and 1960s. The Peel P50 was an ultra-light, single seat, three-wheeler powered by a DKW motorcycle engine. There was no reverse on the three speed gearbox, but the car's light weight of 130lb (59kg) meant that it could be easily manoeuvred by lifting the rear of the car with the handle provided. The P50 was the World's smallest production car and the only one to be built in the Isle of Man. The austerity years of the 1940s and early 1950s saw a number of European manufacturers begin building small economical runabouts or microcars. Famous examples include those from Heinkel, Isetta (often referred to as bubblecars) and Messerschmitt. The Suez Crisis of 1956 and the resulting threat to oil supplies also contributed to the popularity of microcars.
The Rover 2000 was the first of the P6 series and did much to update the company's old fashioned image. The new model was far more cutting edge than anything they had built before. Innovations included an all new engine, four wheel disc brakes, a De Dion rear axle and many safety features. In the years that followed the P6 range grew to include the 2200 and V8 powered 3500 models. During the 1950s Rover's image was based on the solid, reliable and rather unexciting P4 Series or 'Auntie Rover'. In a break with tradition the new P6 Series combined the latest styling, engineering and safety ideas. Assembly took place in a new building at the Solihull factory whilst gearboxes and axles were supplied by a new factory in Cardiff. The Rover 2000 won the AA Gold Medal for Safety in 1965.
By Rolls-Royce standards, the Silver Shadow was quite revolutionary. When launched in 1965 it marked a clear change in the company's approach to luxury car building. Gone were the traditional separate chassis and coach built body, to be replaced by unitary construction, four-wheel disc brakes and self-levelling suspension system. It had taken nearly ten years to develop but the Silver Shadow would prove to be a winner for Rolls-Royce. Over 40,000 examples of the car and its derivatives were built up to 1995. The Silver Shadow was subject to continual development throughout its life. The engine was enlarged to 6,750cc from 1970. Two-door, convertible and long-wheelbase versions soon followed the saloon. The Silver Shadow was also available badged as the Bentley T type. A further improved Silver Shadow II with rack and pinion steering, came out in 1977.
Launched in early 1969, the Capri was seen by some as a European Ford Mustang. It was based on the best-selling MkII Cortina with which it shared many components. Unlike the Cortina, it featured rack and pinion steering. The Capri was available with four engines sizes and numerous trim options. 374,700 MkI Capris were built in the UK (they were also built in Germany) before the Capri II replaced it in 1974. Like the Cortina, the Capri had a long production life. The Capri II of 1974 received a restyled body and hatchback, with further refinement coming in the Capri III of 1978. Production of all Capri models moved to Germany in 1976. Sales fell in the 1980s, although the 2.8i model launched in 1981, aroused great interest. 1.9 million Capris had been built by the end of production in 1986.
When Volkswagen launched the sporting version of its successful and popular family hatchback in 1976 it started a new motoring trend. The Golf GTI, with its combination of practicality, performance and handling, was the first 'hot hatchback' and was soon copied by many other manufacturers. The GTI featured a tuned engine with Bosch K-Jetronic fuel injection, combined with uprated suspension and brakes. Right-hand drive versions were produced from 1978, a five-speed gearbox followed in 1980. In 1982 the Golf GTI received a more powerful 1,800cc engine in a bid to stay ahead of similar cars from competitors. By the time the Mk2 Golf reached production in 1984 the Ford Escort XR3i, Vauxhall Astra GTE and Peugeot 205GTi were well established as rivals in the booming 'hot hatch' market.
Intended to spearhead a transport revolution, the Sinclair C5 went on sale to a sceptical British public in January 1985. The electrically assisted tricycle took advantage of legislation introduced in 1983 that permitted electrically powered cycles with less than four wheels to operate on British roads without the need for road tax, driving licence or insurance. The brainchild of Sir Clive Sinclair, and developed in association with Lotus Engineering, the C5 could be pedalled or powered by electric motor that gave a range of 24 miles on one battery charge (40 miles with two batteries). 100,000 vehicles per year were to be built at a Hoover factory in Merthyr Tydfil, South Wales. A two-seater and a four-seat family car were planned to follow within a few years. By the end of 1985, amid rising concerns about the C5's safety, less than 9,000 had been sold and the project collapsed.
The Rover 75 was one of the last mass-produced cars from a British-owned manufacturer. This particular car was completed on 23rd March 2005, just two weeks before MG-Rover went into administration. It was bought six months later when liquidated stock was sold off and immediately put into storage by its new owner. It has never been registered for road use and has just one mile on the clock! Rover launched the retro-styled 75 range in 1998. It was developed with support from BMW, owners of the marque since 1994. An MG badged version was also available, called the MG ZT. Development continued following the sale of Rover and MG to the British-owned Phoenix Consortium for £10 in 2000. Following an agreement with Shanghai Automotive Industries, the Rover 75 was built in China from 2006 as the Roewe 75.
WORLD OF TOP GEAR
A separate exhibition area was added some years ago, which features many of the vehicles that first came to our attention in episodes of Top Gear. They are presented exactly as they ended up after filming had finished, and when you see them close up, you  realise that what looked like some rather crude engineering and plain bodging when we saw these vehicles on the show is indeed exactly how they are.
ON SCREEN CARS
A further display is for car which have featured on screen, be that in a tv series or film. Again, these are actual cars that were used, and the display changes from time to time, as many of these cars are required for temporary exhibitions elsewhere and also new cars come to prominence depending on what is popular. These were the vehicles featured during this visit.
THE HOUSE
I'd never actually been in the house before on any of the occasions I have visited, and I put that right this time, too. Palace House, once the gatehouse of the medieval Beaulieu Abbey, has been the Montagu family home since 1538. In an idyllic New Forest setting, overlooking the picturesque Beaulieu River millpond, Palace House was remodelled and extended during the 1800s and is now a fine example of a Victorian country house. Inside, its ecclesiastical heritage sets the grand gothic tone for a home bristling with character and adorned with family treasures, portraits, and memorabilia.
THE GROUNDS
It is well worth spending time just meandering around the grounds, using the vast number of paths which criss-cross the site. There are a number of separate and specific gardens including a Victorian Kitchen Garden, restored to its 1872 layout which supplied Palace House with seasonal fruit and vegetables and a Victorian Flower Garden which includes herbaceous borders and a sweet-smelling Rose Garden crammed with old-fashioned roses. There's also a Wilderness Garden, dating back to the 1770s, which was established by John, 2nd Duke of Montagu, to complement the alterations he was making to Palace House.
So whilst this rather brief tour of some of the attraction were better than missing out completely, it did simply wet my appetite for a proper visit, the last time I had done so being in 2009. It is definitely something to try to schedule for sooner rather than later.
More information can be found at the museum's own website: https://www.beaulieu.co.uk/