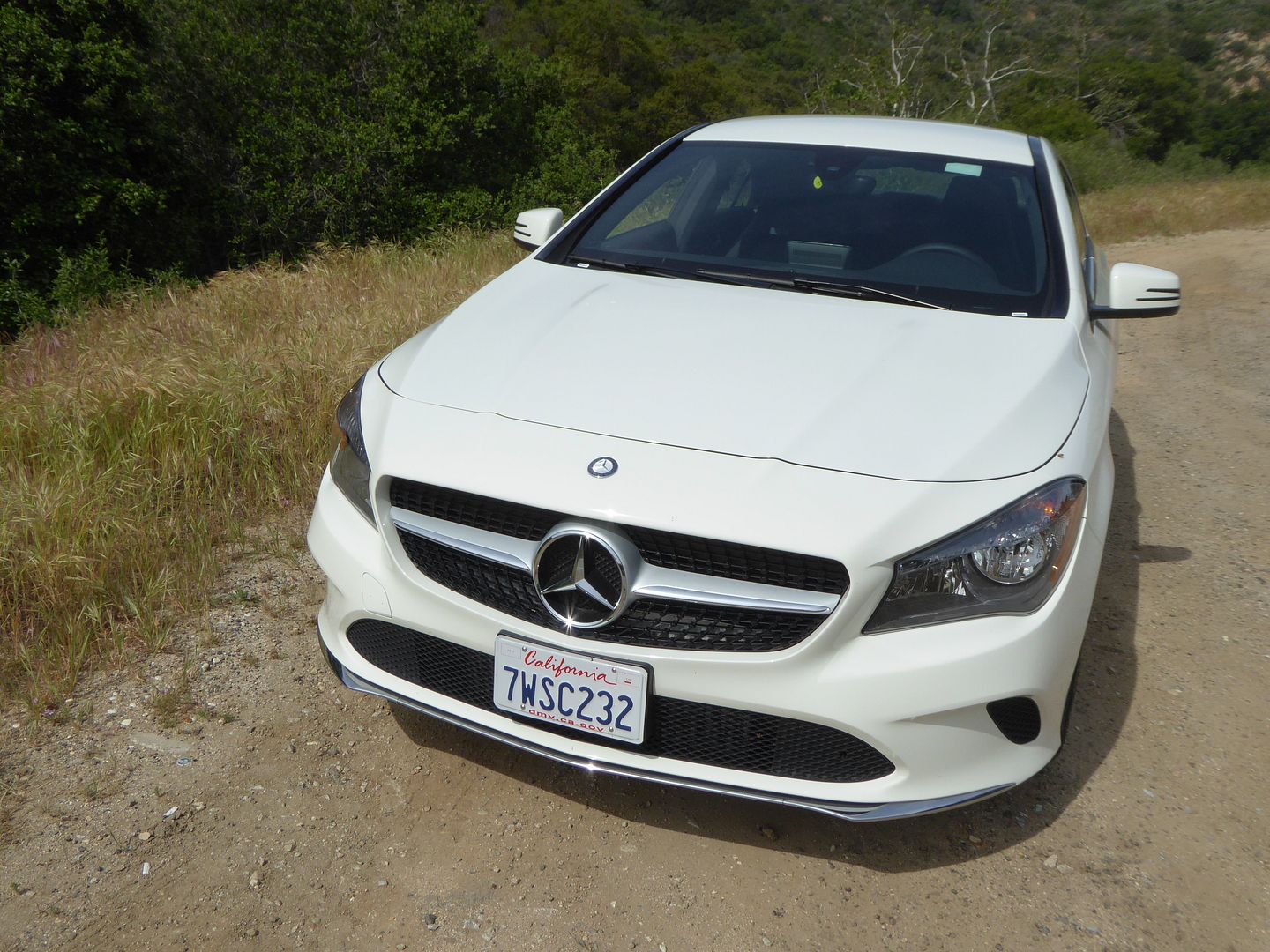 When the Mercedes CLA was launched in America in 2014, much was made of the fact that this was a Mercedes that you could buy for "under $30,000". Of course, when they said "under" they meant a heady $5.00 dollars under, and that assumed that you selected no optional extras at all – something which is pretty unusual for any Mercedes. Even so, it was a lower price point than had hitherto been available to Americans, who had been denied the A and B Class models that had given Mercedes entry into the much larger sector of the market than the ones occupied by their C and E Class ranges. Of course, if the Americans had been following the European press, they would not have got their hopes up that much. When the European press got to sample what is essentially a four door saloon version of the practical A Class hatch, but with a swoopy body that is reminiscent of the larger (and well regarded) CLS Saloon, their conclusions had been ones of profound disappointment, for all sorts of reasons. Given American expectations of any car, including its roominess, as well as its levels of acceleration and various other things which seem important to them, I predicted that the euphoria of that relatively affordable entry price would quickly be replaced with headlines which were less enthusiastic. And so it proved to be. I seem to recall a comparison test in one of the main US monthlies who used all the "C" words to describe it: Compromised, Cynical and even Cheesy were all epithets they used, as they placed it in a resounding fourth place, beaten by cars like the VW CC (understandable, but lacking the prestige badge, perhaps) and the Buick Regal (which is really a Vauxhall Insignia with one of the larger engines and some posher trim). With the BMW 1 series not sold in America, and the Audi A3 only available as a 5 door Sportback and with a hybrid power-train, rather than finding itself in a class of one, the CLA found itself competing with cars that were really a class larger, and frankly, a whole lot better. It has found a steady but not massive market in the US. Hertz have bought a number of them, and initially grouped them in the same category as the larger C300. I notice that they've now separated them, as whereas a CLA250 customer may have been happier getting a C300, I am sure that the converse was not true. They made the same change to the AMG models that they have on fleet. I sampled one of the CLA45 AMG models a few months ago. Although very fast, I was pretty disappointed in it in just about all other regards. I took an almost new white CLA250 to see how that stacks up where raw performance is not the be-all and end-all as it is for the AMG car.
Despite what its name might lead you to expect, the CLA250 comes with a 2 litre 4 cylinder petrol engine, which is good for 208 bhp. It is connected to a 7 speed automatic transmission. A manual is not offered to America buyers, but they can optionally have the 4MATIC All Wheel Drive system. The test car did not have it fitted. The engine seemed willing enough. It was a bit hesitant at very low revs, but once the turbo woke up, there was ample willingness evident, and the car had good, smooth acceleration. It is nothing like as fast as the CLA45 AMG, but then that car has not far short of twice the power, so you should not expect it to be. But for ordinary motoring, which included heading up on the 405 Freeway on the slog over the Hollywood Hills and a trip up the 14 to Palmdale, which also climbs peaking at over 3000 feet above sea-level, the CLA250 was fine. There's plenty of acceleration if you need it. The gearbox does a good job of trying to be in the right gear for the conditions, but if you think you can do better, there are paddles as well as the column change itself. This is the same gear selector as you get in other Mercedes models and is easy to use once you remember that you need to press the button in the end of the selector to put it into Park. I bemoaned the fact that the engine in the AMG model sounded about as interesting as my washing machine. It does not sound any better here, though it is quieter, and your expectation is not that this will be a rorty experience even if Mercedes do want you to think of this as a sports sedan. At speed, it is a relatively quiet and refined unit, and certainly seemed less coarse than how I remembered the same unit – albeit in a different state of tune – in the pricier C300 which I also sampled last year.
Fuel economy was pretty decent. I had the car for 2 days and covered 303 miles, before filling it up with 9.54 galls, which computes to 31.76 mpg US or 37.9 mpg Imperial. A Stop/Start system is fitted, and I left it on. Many Americans will doubtless turn it off, as they seem to resent these systems. It worked well and was unobtrusive. There are a number of different settings for the car, including Comfort, Eco, Sport and a Customisable mode, and these – selected from the COMAND system – do what you would expect to throttle response, steering weight and suspension settings. There was something of a difference, as I did test them out to see if I can detect any alteration. I did not try the car in ECO mode on the hills, but apparently you do have to work it quite hard as a consequence. The ride is not so punishing that Sport is unbearable, so you conclude that this is the setting for everyday use. Whilst the AMG car had a ride that was truly terrible, and that of the C300 was pretty poor thanks to its run-flat tyres, there are no issues here, even though the CLA250 came on chunky 225/40 R18 wheels. As to the other driving characteristics, I thought them pretty unremarkable, and my test notes are remarkably short as there was nothing much to say. The steering has some feel to it. The car does understeer when you tackle the corners with gusto, as you might expect from a front-driver, but the amount of body roll is minimised, so I think you could conclude that this is not really a car for enthusiasts, despite what its maker would want you to believe. It stopped cleanly, with no issues experienced from the brakes. There was a warning system, which meant that if it spotted something that it thought you had not seen, and were not braking hard enough, a chime alerted you. There is an electronic handbrake set with a lever in the lower left side of the dash. As this is an automatic, it is pretty much redundant. The one really bad thing out on the road is visibility or rather, the lack of it. This is a high waisted design, with a small glass area and a steeply sloped rear window. The door mirrors are next to useless, as they are far too small to show you anything much, though they did have a blind spot warning system in them. This turned out to be helpful on the freeway, where there was a significant blind spot, but the system also lit up every time you made an oblique change of direction, such as pulling out of a parking stop in a lay-by, when there had been no cars for more than 5 minutes, which was not terribly helpful at all. There is a rear-view camera which projects a view on the infotainment screen. Just as well, as although there is a stubby tail, as it drops away, you cannot tell where the car ends by looking for yourself. The CLA is small enough that is quite manoeuverable in parking spots.
The CLA looks every inch a Mercedes inside. It shares a lot of the design and componentry that you will find in other models in the range. Even in this entry level model, an effort has been made to make it look and feel a cut above the average. There is plenty of leather on the upper part of the dash and the door casings as well as the steering wheel and the seats and most of the upper surfaces feel soft to the touch. Look a little more closely, and you start to wonder, though. Just as I spotted with the CLA45 AMG, this is not up to Audi's standards. The way the dash meets the door casing, for instance, is awkward and mis-aligned, by design, and suggests that in fact Mercedes did not try or care that much about the premium experience. They thought the illusion and the badge would suffice. Frankly, they do not. Further evidence of the things to doubt comes from the Start Engine button on the dash to the right of the wheel which feels loose and ill-fitting. The AMG car was just as bad for this, too. The lower part of the dash is made of much cheaper plastics, though I can live with this. Then you look at what is presented to the driver. A curved binnacle covers the two large instruments. These are for the speedo on the right and rev counter on the left, with fuel gauge and water temperature set respectively in the lower portions of these as smaller dials. The main dials have far too many gradations between the marked up numbers making them fussy to look at, and all those extra lines do not make it any easier to get an accurate reading. You will be better off relying on the digital speed repeater which is one of the menu options for the display between the dials for that. There are a whole series of optional menus here, and you cycle through them using the various buttons on the left spoke of the wheel. The right spoke contains some audio repeater functions. Cruise control is operated from the lower of the two column stalks, both of which are on the left of the wheel, as there is a gear selector to the right. A few years ago, Mercedes reversed the position of the cruise control and the indicator stalk, so the one you use more often is the more prominent one. Wipers are operated by twisting the end of the stalk. Lights are a rotary dial on the dash to the left of the wheel. The centre of the dash contains a trio of the boldly styled circular air vents and is then dominated by the colour infotainment display screen which sits above them, looking like a stuck on iPad, positioned as if it were an after-thought, even though the car was launched with it situated like this. This has been upgraded for 2017, with a larger screen area and the latest software to drive it. It is a standard Mercedes unit, and despite the latest changes is still rather more cumbersome to operate than some. As an example, changing waveband from FM to XM Satellite radio was far more involved than it should, even by resorting to the thumb wheel for the COMAND system in the centre console, as you had to select several different items from menus to get the channel or frequency you wanted. It contained the three audio HD wavebands, and various car settings, such as the Driver Select which allowed you to switch between Eco, Comfort and Sport. It had the menu option for navigation, but if you select it, you just get a message pointing out that you cheaped out and did not buy the feature. There are various conventional buttons and knobs for audio functions in a bank below the air vents. And below these are a further bank of knobs and switches for the dual zone automated climate control. These are quite low down and a bit fiddly to operate as well. The centre console contains the COMAND wheel, which you can tilt forwards and back and from side to side, to move options around on the display screen. There was an optional large glass sun roof on the test car. Opening the blind increased the amount of light into the cabin. Without it, the overall ambience would be a bit funereal, as it was all black, with only a few dark grey metal inserts to brighten it at all.
Front seat passengers do not fare too badly. Getting in is not that hard, and once installed, there are electric motors which will adjust both driver and passenger seat in 14 different ways: fore/aft, backrest recline, seat height and angle of inclination as well as lumbar support. The seat backrests incorporate the headrests as a combined unit. There is a pull-out front bolster on both seats for those who want a longer cushion. Once you've found the perfect position, there is a 3 memory system to allow you to store it. I did not find the seat particularly comfortable, with padding seeming to be in all the wrong places. At least I could get the driving position I wanted. The column telescopes in/out as well as up/down, via a manual adjuster. The test car had the optional seat heaters as well, which might be useful for those in a far colder climate than I was. The seats were trimmed in what looked like leather but was in fact a leatherette substitute. The real cow hide is a cost option.
Of course, it is when you look at the rear seats when things really get difficult. The first problem will simply be to get in. The combination of the slope of the roof, the tumblehome on the doors and the actual size of the opening means that even someone of my size will have to bend in all sorts of un-natural directions to try to get in without bashing your head on the roof. That's only the beginning, as the back seats are unbelievably cramped. I don't think anyone can work out where all the space went to, but the sad reality is that this will be extremely cramped, in every direction, for anyone who's older than about 10. Legroom is in short supply, even with the front seats set well forward. Positioned nearer the rear of their travel, and there is next to no leg room at all. Headroom is even more limited. That curved roof means that headroom drops off just where you need it. And don't even think about trying to get a third adult in here. There's a massive central tunnel and the centre console extends well back, so any unfortunate asked to site here would need to sit with their legs very astride of the obstruction. The rear seats themselves have a high backrest with integrated headrest, which suggests that Mercedes want you to think that this car is more sporting than it really is. If you are child sized, you may find it all comfortable enough, though it will appear a bit claustrophobic, thanks to the high waistline, shallow side windows and high backs to the front seats. For adults, well one of the US motoring magazines described it as "actively unpleasant", and they are probably not over-stating the problem. There are modest bins on the doors and elasticated map pockets on the back of the front seats for odds and ends. There is a drop down central armrest, and there are cup holders that pull out from its front face, as opposed to the upper surface.
This car was with me at the end of the trip, which meant it needed to be able to accommodate my luggage. I forgot that when collecting it, but in fact there was not a problem. Luckily. The boot is not generous, but it is a reasonable size, and given that you would only likely have 2 people in the car, then it should be able to cope. The biggest issue will be that the shape of the boot lid means that the opening is quite small. It is narrow between the rear light clusters and there is not a lot of height, either. Getting the suitcase in was more likely to be frustrated by the size of the aperture than the outfight capacity of the boot. In the end, there was not a problem, though heaving it out was a bit more awkward. There is a bit of space for odds and ends under the boot floor. The rear seat backrests do fold forwards for some extra length. Inside the cabin, there is fairly meagre glovebox, bins on all four doors and a deep cubby under the central armrest. There is a larger hole for an extra cup holder in front of the standard-sized pair in the centre console. In the CLA45 AMG models, the gear selector is positioned here, but on this model, as it is on the dash, it frees the space up. Adequate but not overly generous for the sort of bits and pieces that you might wish to have handy.
Gone are the days of the under $30,000 Mercedes. For the 2017 model year, prices start from $32,400 for the base CLA250. With its 2.0-litre engine and seven-speed automatic transmission, the standard spec includes leatherette upholstery, remote start, split-folding rear seats, dual-zone automatic climate control, 14-way power-adjustable front seats with lumbar support for the driver, Bluetooth, HD Radio, a 4.5-inch instrument cluster display, an 8-inch display, dual USB ports, a leather-trimmed steering wheel, a rearview camera, Brake Assist, a push-button start, and Attention Assist, which watches for signs of driver drowsiness. You'll also get mbrace connect, which allows you to remotely access and control certain functions of your CLA from your smartphone or computer. There are many a la carte features and 10 packages available for the CLA250 ranging from $350 to $4,000. The Interior Package costs $1,650 and adds leather seating, leatherette door and dash trim, and ambient colour cabin lights. The Sport Package features 18-inch AMG-branded wheels, a chrome grille, perforated brakes with painted calipers, and sport body styling, for $2,300. For $4,000, the Sport Package Plus features everything from the Sport Package in addition to aluminium pedals; performance suspension, steering, and exhaust; and performance-focused cabin styling. The Night Package ($2,600) includes everything in the Sport Package, and adds black AMG wheels and gloss black exterior trims. The Multimedia Package retails for $2,480 and includes a rearview camera; advanced voice control for audio and navigation; a DVD player; and a five-year subscription to satellite radio, traffic, and weather. The Premium Package, which was fitted to the test car, costs $2,400 and adds heated front seats, auto-dimming rearview mirrors, keyless ignition, Sirius XM, and a Harmon Kardon premium sound system. Finally, the Driver Assistance Package ($2,500) includes adaptive cruise control, blind spot monitoring, and lane keep assist. Other options are available as standalone purchases. A panoramic moonroof costs $1,480. For $970, you can get a parking assist system that helps you parallel park. The only other "regular" CLA available in the US is the CLA250 4Matic. This starts at $34,400 and comes with exactly the same standard features just adding the 4Matic all-wheel drive. The top-of-the-line AMG CLA45 starts at $49,950 and comes standard with an AMG 2.0-litre engine, a seven-speed automatic transmission, and lower trim features. It adds a sport steering wheel with flat-bottom design, Dynamic Select drive modes, LED daytime running lights, Race Start function, and 18-inch wheels. There are also many a la carte features and packages available for the AMG CLA45 trim. They range from $350 to $2,800 and add things like a Wi-Fi hot spot, Race Mode, heated front seats, and a panoramic roof.
Slightly surprisingly, I have to say that for what it is trying to do, the CLA250 is probably a better car than its AMG guise. That model seemed to have focused solely on bhp and outright power to the detriment of just about everything else. The packaging limitations that it manifest are equally apparent here, and are inherent in the design. But this car rides better, which means that it has not shaken the car to pieces, so there were no squeaks and rattles (yet), and in aspiring to just be a small executive saloon, it is nearer the mark, with decent performance, economy and an acceptable driving experience. However, Mercedes have a huge problem. It is this: Audi have now built a four door saloon version of the A3, and they sell it in America. It is, in just about every regard that you can think of – unless you happen to prefer the Mercedes' swoopy looks in comparison with the rather staid Audi appearance – simply a better car. Better engine, better to drive, nicer inside, with a better quality interior and although not exactly roomy, you can at least get 4 adults in it and they won't hit their heads getting in it and they can sit comfortably once they are in, and the prices start a little lower. You'd have to be a real Mercedes devotee, or have got a phenomenal deal – to eschew the Ingolstadt product over the Mercedes. So: Compromised? Yes, for sure. Cynical? Perhaps. I am sure Mercedes could have built a better car, but they thought this would do. And frankly, it won't. I'm afraid this seems to sum up a lot of the current Mercedes range. Gone is the stolid engineering integrity and cautious design. In has come a style which is all about froth and glitz, but without the substance to back it up. The CLA exemplifies that, so yes, that probably makes it "cheesy" as well.