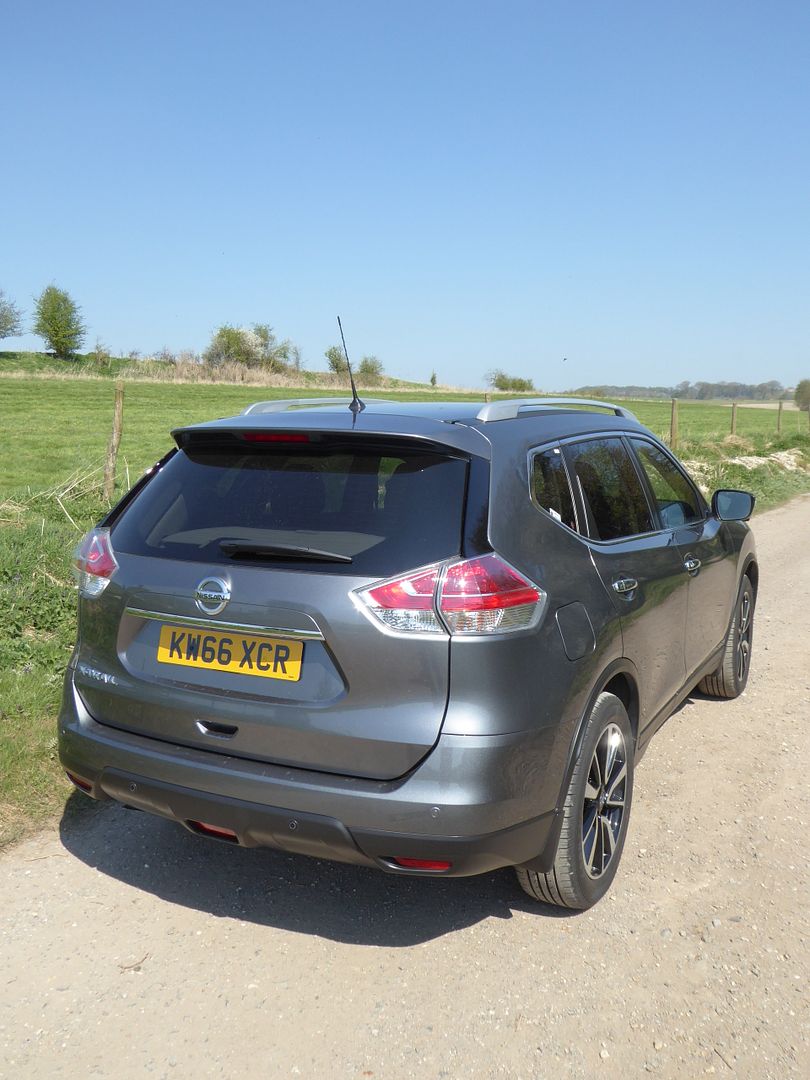 We're now onto the third generation Nissan XTrail. The first one was launched in late 2000, a very definite SUV, with chunky off-road looks, designed to capitalise on the emerging market for vehicles of this type, which had gradually been creeping into smaller sized cars, popularised by the Toyota RAV4 and early Land-Rover Freelander. It enjoyed considerable success, as the XTrail combined traditional Nissan virtues of reliability and dependability with something which looked tough and appealed to people who wanted a practical, roomy and versatile car that they could take on rough ground and even off-road from time to time. A second generation model appeared in late 2007, looking quite similar to the first, but with plenty changed under the skin. It moved from a platform that had been shared with the US market Nissan Altima to the Renault-Nissan C platform, used in most of the mid range models in both Renaults and Nissans of the era. Once again, it achieved a decent number of sales, and with this sector of the market continuing to grow, it was to no-one's surprise that after the industry average 6 year lifecycle, a third generation car appeared at the 2013 Frankfurt Show, going on sale in Europe in mid 2014. This one, which took styling cues from the rest of Nissan's Crossover range, the US market Murano and Pathfinder in particular, was more significant, as not only did it adopt the latest technology and the combine's CMF platform, but because it was conceived to replace not just the XTrail but also the US market Rogue. The American cars would continue to be called Rogue and would be trimmed and equipped to meet the expectations of the American buyer of course, and that meant different engine choices, but visually the cars would now be all but identical, whereas the first generation Rogue had used a completely different body, even though it was a similar size. Satisfying customers in all markets of the world with a single product, even with local variations around engines and trim, is not easy to pull off, as just about every manufacturer who has tried it in recent years has found out, but the economies of scale if you can do so are clearly advantageous. I drove the current Rogue in the US last year and whilst not exactly overwhelmed by it, found it to be a decent enough, practical sort of car, which is how the US market clearly also sees it, as sales have increased steadily and it is now frequently Nissan's best-selling car in that market. On returning from a US trip, Hertz allocated a UK spec XTrail for me, which I was interested to try, not only in its own right, but also to see how it works in the UK context and how different if would feel to the Rogue.
Whereas the first two XTrail models were conceived as SUVs this one is much softer of intent, a Crossover which sits at the top of the Nissan European range of family cars. It shares much with the oft-lauded Qashqai, and although you can see by looking at them that the two are from the same stable, it does still try to remind one more of its off-roader roots than the Qashqai, with its extra ground clearance. It is roughly the same size as its predecessor, and in top spec models, with roof rails still has some of the appearance that suggests utility and practicality, but the fact that the entry levels have foregone their standard all-wheel drive system tells you what you need to know about the target market segment. It is a little longer than the Qashqai in the wheelbase, and that frees up sufficient space for (optional) 7 seats, meaning that this is also the replacement for the old Qashqai +2 model. It makes for one of the cheapest 7 seater models on the market.
There are now three engine choices for the XTrail, a 1.6 litre petrol developing 163 bhp and either a 1.6 litre DCi Diesel which puts out 130bhp or, new from the middle of 2016, a larger 2.0 DCi unit with 177 bhp. The petrol engine is only offered in 2WD guise, whereas the diesels have a choice of 2WD or 4WD. All are familiar units from a number of other Nissan and for that matter Renault models. Not surprisingly, it was the more popular 1.6 diesel unit that was in the test car. It was coupled with the optional automatic transmission, which in Nissan's case means a CVT continuously variable unit, and the standard front wheel drive. The engine itself is fine. It is decently refined. There's not too much diesel noise when starting up, though as I paused at the exit barrier to the Hertz Heathrow for the paperwork check, you could certainly hear it was a diesel car as the sound ricocheted off the guard's cabin. Underway the car is pleasingly quiet. But you've got to get to that point and this is where the problem lies. It is that confounded gearbox. CVT transmissions can be quite effective, and indeed in some other Nissan models (they are used quite widely in the US range), they are, but not here. In fact, it completely ruins the car. Take off is sluggish, and you need to remember if you see a gap in the traffic that the XTrail is slow to get off the line and build up speed. It all feels a bit like cars used to 20 or 30 years ago, until you've got some decent momentum built, and then it is far less troubling. There is sufficient torque and the gearbox is not quite so clueless that mid-range pickup is reasonable, so you are less at risk when going for a gap to pull out and overtake than when looking to move off, say at a roundabout, but even so this is not a rapid car, and you need to remember that. Sadly, it is not a particularly economical one, either. I drove 243 miles, most of them at a steady speed on the motorway (and thanks to traffic, it was not even a motorway average of the legal 70 mph) and needed 34.22 litres to fill it, which computes to 32.2 mpg. For a diesel, that's not that good. My Ghibli beats that by 10 mpg most days. Even the use of the Stop/Start system which cuts in and out fairly unobtrusively in traffic did not help much. The rest of the driving dynamics are fairly unmemorable. Indeed, my notepad has few words on it, as very little came to mind. That of course means that nothing else jumped out at me that was disappointing, but nor does it mean that there was much that was commendable. The steering is light, but not unduly so. There is a certain amount of lean on corners and the Nissan tends to understeer, but you are not likely to be going that quickly, as the engine and gearbox do not encourage such behaviour. It does ride quite smoothly, even though the test XTrail was on some chunky 225/55 R19 alloy wheels. Its brakes do the job, though I found that the harder you pressed the pedal, the mushier the anchors felt. There is an electronic handbrake button in the centre console, in front and to the right of the gearlever. The test car was a 2WD model, and although I did not test it out, you could still take to moderately rough tracks in it, as there is enhanced ground clearance compared to less obviously SUV-related vehicles. Visibility is good using just the glass and the mirrors, but in Tekna trim you get plenty of assistance. There is a rear view camera which projects an image onto the infotainment screen, and you can even press a button to the side of the screen so it will project an instant image when you are driving along. There are sensors all round which beep, and there is a chime that goes off every time it thinks you have crossed a white line, though I did discover that if you are indicating, this silences it. There are plenty of times when you won't be, and motorway roadworks where it can still see the sort of burnt off white line as you sit between the rows of cats eyes were particularly frustrating.
You'd probably recognise the XTrail as a Nissan product even if the badge on the boss of the steering wheel were covered up, as not only does it use a number of components like steering column stalks and the layout on the wheel from other models in the range, but it just has that family look. There are plenty of soft touch plastics, and there are also plenty of different materials, textures and variants of black and dark grey, with just sparing use of some matt grey highlights around the steering wheel and air vents. There is a slab of carbon fibre on the dash in front of the passenger, as this is a top spec Tekna version and there is a gloss black setting around the infotainment unit in the centre console and around the gearlever area. There is a leather wrapped steering wheel. It won't win many prizes for imagination, but it is neat and uncluttered looking and proved easy to use. The instrument cluster comprises a pair of dials, with smaller gauges, for fuel level in the speedo and water temperature in the rev counter all proving easy to read. Between them is a digital display area which contained a compass-like graphic as well as the more obvious odometer and trip computer readings. There are two multi-function column stalks, that on the left operating lights and indicators, and the one on the right being used for front and rear wipers. There are lots of small and rather fiddly buttons on the steering wheel, as you get in every Nissan, and these are used as audio repeaters, for the cruise control and to alter the digital display in the instrument panel. The centre of the dash contains a pair of high mounted air vents and then the colour display screen for the audio and infotainment system, which has a touch sensitive screen, and some knobs and switches to operate it surrounding the unit. The array of knobs and buttons for the two-zone climate control are underneath this. The centre console comprises simply the gearlever and the electronic handbrake. It is quite a simple set up compared to what you find in some cars these days, and all the better for that. I did compare the dash with that of the Rogue I sampled in the US, and although the basic design is the same, there are a lot of detailed differences, such as the digital display in the centre of the instrument pack, there is a different audio/infotainment system, and the air conditioning controls are slightly different.
Tekna trim gives you an electrically adjusted pair of front seats, with movement in 8 ways, with the seat angle and height being things you can reposition as well as fore/aft and the backrest rake, and there is a lumbar support button as well. They are trimmed in a perforated leather, and come with seat heating. The steering column had a manual adjuster, and a good range of in/out as well as up/down movement to it, so it was easy to get the correct driving position. There is just the sensation that you are driving something a bit taller than a regular hatchback here, which you first notice as you get in (and out), and which is reinforced from how you sit and your view of other traffic. The seat itself proved comfortable, with support in all the right places.
The XTrail is available as a 7 seater. Sort of. Like most cars of the size, the 7 seats are not really all designed for use by adults, as even on short journeys, those in the rear-most row would be pretty cramped. The middle row presents no such problems. The seats are on sliders and are split asymmetrically, 40/20/40. There's quite a range of travel, so if you set them well forward and have the front seats well back, then there is not much leg room, but adopt less extreme a set of relative positions and there is plenty of space. The backrest angles can be varied from pretty vertical to well reclined, and you can set the three parts of the seat to different angles if you want. Needless to say, headroom is in plentiful supply. The floor does not suffer from much of a central tunnel so a middle seat occupant would not be too challenged in terms of where to put their legs. The central 20% part of the backrest can be dropped down as a sort of large armrest, and it has a pair of cup holders on its upper surface when you do so. To gain access to the third row, you pull the lever on the side of the seat, to slide it forward and then use the loop on the side of the backrest to pull the backrest forward. There is a modest space through which you then need to clamber. It will not be a dignified entry, or exit, but that is the least of the problems. There simply is not much space for occupants of these seats. The backrest does not extend very far up your back, and as the seat is relatively low, there is not much of a well for your legs, so it is a sort of "knees in chin" position, but that may help out with the real problem which is there is precious little leg room unless you can get the middle row occupants to sit well forward. Definitely a 7 seater only if at least some of the 7 are young children. On the Tekna trim of the test car, access to the boot was electrically assisted, with a motor which, rather slowly, opened and closed the sizeable tailgate. With all three rows of seats erect, there is very little bootspace, which is also an issue on cars of this size. Fold the 50/50 split third row down, though, and there is far more luggage room. The boot is not that deep between floor and load cover, but if you rolled that back, you have a lot of height available (at the expense of rear visibility). You can create more space by folding down the middle row of seats. The backrests drop onto the seat cushions, which results in a completely flat floor from the tailgate all the way to the front seats. Even if you position the middle row towards the rear of the slider's travel, though, there will be some gaps in the floor, between this row of folded seats and the rear-most row. There is additional space under the boot floor at the very back of the car, using what Nissan call the Luggage Board System, essentially a false floor. With this in place, the main floor area is flush with the bottom of the tailgate, but there is some extra space then available, though it is not that deep. You can position the board up higher, which will give a strong floor, higher up, but a deeper well underneath. Nissan refer to 18 different combinations of luggage space configuration. There are plenty of hooks and anchor points to help ensure your luggage does not move around. Roof rails are standard on the XTrail, so you could carry more if you took advantage of these. Inside the cabin, there is a reasonable sized drop down glove box, bins on all four doors. a cubby under the central armrest, a small slot over the driver's right knee and two other lipped areas in the centre console. Rear seat passengers get map pockets in the front seat backs.
As well as choosing your engine, transmission type and whether you want 2WD or 4WD, there are number of different trim levels available. Not all engine, transmission and trim combinations are available. UK trims start with the Visia, which covers all the essentials. It is only available in two wheel drive form and with a manual gearbox. Standard features include Hill Start Assist, 17″ Alloy wheels, an electronic handbrake, cruise control and speed limiter, 5″ HD full colour TFT screen combimeter, a 4 speaker AM/FM radio with CD slot, steering wheel mounted controls, AUX, MP3 and Bluetooth connectivity, ABS, EBD and Brake Assist, manual air conditioning with pollen filter, all-round electric windows, electric mirrors and a trip computer. Next model up is the Acenta, which, for an additional £2100 adds front fog lights, privacy glass, electric folding mirrors, a vast power panoramic glass sunroof, front and rear parking sensors, rain sensing windscreen wipers, an automatic dimming rear view mirror and dual zone Air Conditioning, 6 speakers for the audio system, and a leather wrapped steering wheel and gearlever. There is quite a jump, of around £2650 to the N-Vision, but there is a lot of extra kit included, with features being Satin roof rails, the Smart Vision Pack which includes Forward Emergency Braking, Lane Departure Warning and Traffic Signal Recognition; the NissanConnect Touchscreen Navigation and Entertainment System with 7inch screen; an upgraded audio system with DAB, the Around View Monitor, a one-touch automatic opening power tailgate; 19" Alloy wheels and a keyless start push button. The Tekna is the top of the range, and this was the spec of the test car. For another £2000, you get leather seats, heated front seats which are electrically adjustable for both the driver and passenger, the Blind Spot Warning system, Moving Object Detection, Bi-LED headlights, Automatic headlight levelling and High Beam Assist. as well as Intelligent Park Assist which means that the XTrail can steer itself into some parking spaces, side and head on. The Tekna trimmed 1.6 DCi 2WD with CVT as tested lists for £32,650 plus £575 for the Gun Metallic paint.
In essence, the XTrail is a sound enough car, but for me, the CVT transmission was just too frustrating for me to be able to recommend it in the precise form as tested. Put a manual gearbox in the car, and it could well be a different story. I suspect that the 2 litre diesel unit helps matters, too, as 130 bhp is really not that much for a car of this size and weight these days. Get past that, and whilst there are no stand-out features which will really wow you, nor is there anything that would annoy on an on-going basis. For sure the 7 seats are a bit limited in their usefulness for anyone other than small children, but that reservation aside, this is a practical vehicle that would be easy and painless to own, so you can see why it has proved popular. It has plenty of rivals, though, and I think any prospective customer would need to try several of them to decide which one suited best. Unless you really need the 7 seats, I can't help but think that a Mazda CX-5, Kia Sportage or Hyundai Tucson would top it on my hypothetical shopping list, though I've not sampled any of these in European spec yet. Meanwhile, as Hertz has a lot of them on fleet in the UK, if you do get offered one, don't fret. Whilst it does not lead its class like the Qasqhai does, it is a decent enough product that will get the job done for you.