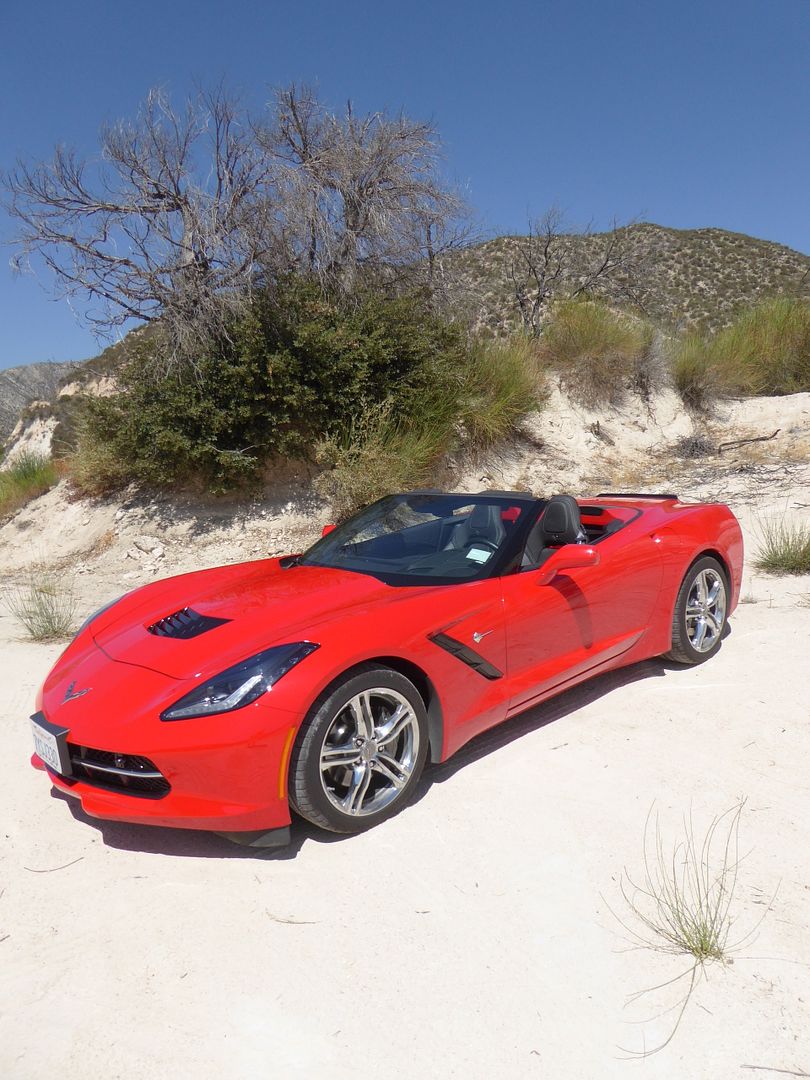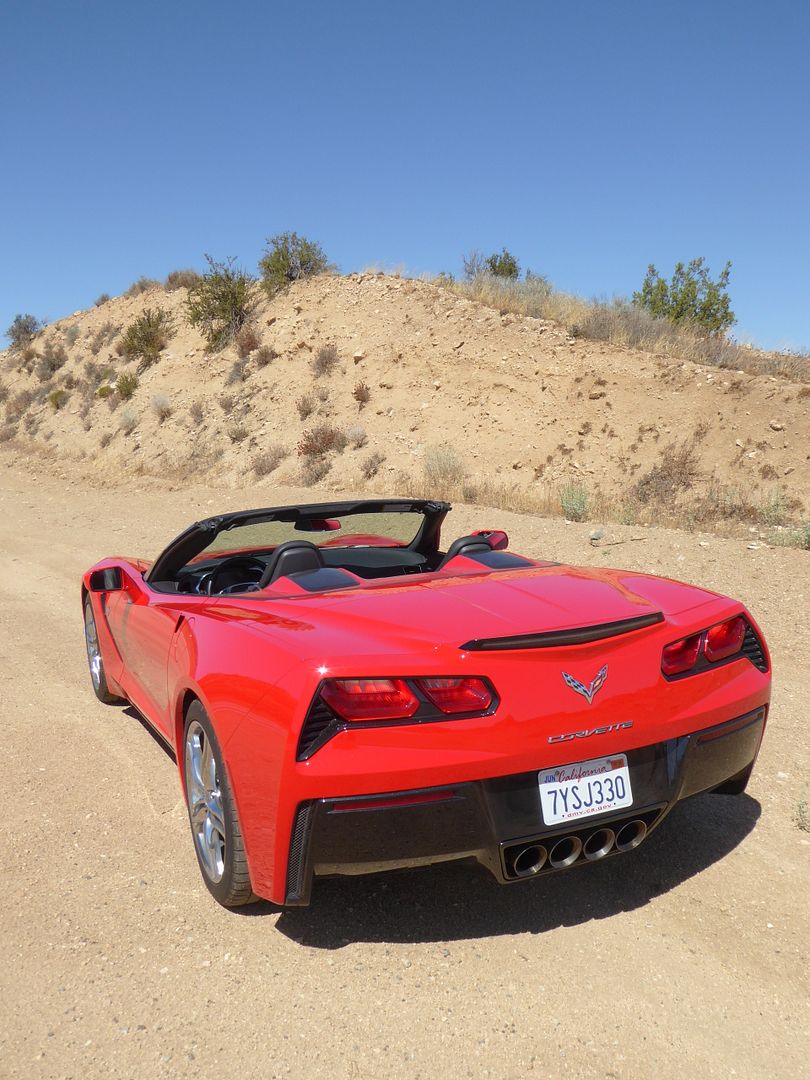 There have been Chevrolet Corvettes since 1953, during which time the model has really established itself as, to quote one of the advertising slogans used some years ago, "America's Sports Car". Car enthusiasts in America get as excited about new Corvette models just as Europeans do over Fast Fords, or Hot Hatches or even M model BMWs and AMG Mercedes, and if one were to count the number of times that a version of the car has starred on the cover of the US motoring mags, you would reach a big total indeed. It was not quite like this in the early days, with sales in the first few years proving sufficiently disappointing that GM considered axing the car, but a steady program of improvements in the mid-50s and a fervent desire not to lose out to the new Ford Thunderbird saw this all change. These days, the Thunderbird is long gone from the model listings, whilst the Corvette is still very much with us. It is now on its seventh generation, known to some as the C7, and this was first seen in January 2013, at the Detroit Show. Production started in September 2013 and the first cars were delivered to their excited new owners a few weeks later. Despite rumours suggesting that the C7 model would switch to a mid-engined layout, it retained the familiar front engine, rear wheel drive configuration. Much was new, with the latest and all-new V8 engine under the bonnet, and revised chassis and suspension aimed at making the car better to drive, while a concerted effort to upgrade the perceived quality of the interior was augmented by the incorporation of a lot of the latest technology and features which buyers have come to expect. As before, the regular Coupe model was first to appear, and this was then quickly joined by a Convertible, and the following years have seen more potent versions added to the range, with names that are now legendary among Corvette fans such as Grand Sport and Z06.
Initial press reports were very favourable. Whilst not everyone was totally enamoured of the styling – something which it perhaps took time to get used to – they all loved the way it drove, with most proclaiming in their comparison tests that this car was better than any rival, including the much-praised Porsche 911, even without comparing the price tags. The US press can still be very biased towards the local product – look at all those reviews telling us how the Cadillac CTS beats the 5 Series, A6 and E Class, something that has not fooled the buyers who even in the US are barely buying the domestic product! But the same sort of conclusions were printed when the Corvette came to Europe. You can order one in the UK, but it will be left hand drive, which is a major deterrent to volume sales, so you don't see them that often in Britain. But in America, they are reasonably common now. I still think they look striking, with lines that could – from a distance – be almost mistaken for some sort of Ferrari. But I really wanted to know how they drove. Hertz US took delivery of a very small number of Launch Edition Coupe models in 2014, but these did not stay on fleet very long, and I missed the opportunity to sample one. Earlier in 2017, having had a year of buying next to no GM products at all, some Stingray Convertibles arrived on fleet. Not in the quantity that they had of the old C6 car – a model which I enjoyed for a day's testing in Phoenix back in 2013 – but enough for me to more confident I should be able to source one. And during my September 2017 trip, the planets clearly aligned, as a bright red model was parked up right by the Gold Booth, and I found that it was unreserved, so in exchange for a few dollars of upgrade fee, I could have it for the day. Needless to say, I jumped at the chance.
Once the paperwork was sorted, I went over to the car, and the first priority was to lower the roof. Sitting in it, I looked around for a switch, and could not spot anything. Then I remembered that the last time I drove an open-topped Corvette, there was no electric switch, as the process was manual, with a release cunningly hidden under the edge of the metal cover that was easy to find when you knew where to look. But with no obvious releases on the header rail, I figured that it was not going to be a manual process after all. At that point, I spotted that there is indeed a switch on the dash, close in to the left of the steering column. You can't see it from when you are sitting in the car, but once you know where it is, you don't really need to. Holding it down, the lowering process began, with side windows retracting, the hood cover behind me lifting up, the back of the hood coming up first then the front coming clear of the screen, and going back, folding neatly as it did so, before it all disappeared into a well behind me, with the final act being the cover closing on it. It probably took about 20 seconds. I then drove the Corvette with the roof down all day, which you can do quite happily, even on the freeway, though you will probably want to raise the side windows to prevent undue buffeting.
Before I could set off, there were all the other adjustments of seat and mirrors to make. These are all electric, including the wheel adjustment. I set the desired position for each, but as I was later to find out, that was not enough, as the first time I stopped the car, the seat powered backwards, making it easier to get out, but also the wheel dropped, to its original position almost in my lap. Except it was not my lap, as I was now sitting a lot further back than I had been. After this happened a couple of times, I figured that I needed to store my driving position in the 2 settings memory system. First efforts were not successful, and I had to resort to the handbook, which was helpfully in the glovebox of the car, to make sure I did it properly. Still, on stopping the car, though, the seat went backwards, and it was irksome to have to press the 1 Memory button every time. Further reading of the handbook elicited that I needed also to reprogram the Exit setting. Despite sitting well forward, I did not need to power the seat back, so I set it to be where I was sitting, and then, finally, all was well. This was important given the number of times I would stop during the day, for photos, and to admire the views.
And now to the important bit. The driving. First you have to start the engine. It is keyless, with a large square silver button to the right of the wheel. Pressing that once is enough to wake up all 6.2 litres of V8 that are to be found under the bonnet of the Corvette. You will probably wake all the neighbours as well. Subtle, and quiet this most definitely is not. Even with the roof up, this would be a noisy experience, but with it down, you get full benefit. Things do quieten down a little if you leave it idling a while, as the engine warms up, but there is no way you could ever make a silent get away with this car. That being the case, you might want it to be a departure instead. And in this regard, the Corvette would doubtless oblige. There's 460 bhp available here, (you get an extra 5 bhp by opting for the optional automatic gearbox) and 465 lb/ft or torque, which is more than enough to make this a quick-feeling car. I really cannot tell you just how quick, as a combination of the volume of traffic, the laws of California, and a desire to preserve my liberty meant that I could only exercise a small fraction of what the Corvette is capable of doing, but claimed performance includes a 0 – 60 time of just 3.7 seconds. I certainly can state that with even modest application of the accelerator, you will feel thrusting acceleration, with the aural treat of hearing the 8 speed automatic gearbox making very fast shifts upwards. You can change the gears yourself if you want, using the paddles mounted behind the steering wheel, but for everyday motoring, the transmission makes a pretty good job of things itself. It did not matter what speed I was doing, if a burst of acceleration was called for, it was there, with all the indications being that far more was available. A Drive Mode selector, a dial in the centre console, allows you to change the settings for things like throttle response and steering weight. As well as being fast, the engine is an aural treat at all times, too. Chevrolet have got the balance right, meaning that it is not so loud and boomy that you would tire of it on even a moderately lengthed journey, but nor is it so quiet that you forget what you are driving. There is something so very satisfying about the rumble of a V8, indeed any V8, but this one, with its four purposeful exhausts just sounds epic. I was in and out of the car a lot during the test, taking photos, which meant that I got the chance to hear the engine firing up countless times, and I never once thought "that is too loud", instead, I spent all day thinking "that sounds SO good".
There is a price to pay, of course. That comes when you stop at the fuel pump. You don't expect this car to be frugal, and it is not. I drove the Corvette 198 miles, and needed to put 10.6 gallons of the highest octane fuel I could find (that's 91, in the US). Stabbing at the calculator, that equates to just 18.68 mpg US, or 22.3 mpg Imperial, which is about what I expected. Look at it this way: a large SUV will get through fuel at roughly the same rate, and you will not have anything like the fun that you did with a 'Vette. But be very clear, whilst the Corvette is (relatively) cheap to buy, compared to its performance, you will pay for it every mile you drive.
Making Corvettes that are fast in a straight line is something that Chevrolet have been doing for years. Where they have focused more recently is making sure that they are just as good to drive on roads that are not always straight. And they've done a pretty good job. This starts with the steering. It is well judged. Weighty enough to remind you of the responsibility of driving a fast car like this, but not too heavy to make a day behind the wheel feel like a tougher workout than you had at the gym, there is great feel, so you can tell exactly what the steered wheels are going to do. They, incidentally, are a different size from the driven wheels. You get 245/40 R18s on the front, and lower profile, chunkier and larger 285/35 R19s on the back. The suspension is leagues ahead of what used to feature, so this is a Corvette which goes round corners very well. There's no body roll, and plenty of grip. Canyon roads, where I took the car, are not the place to test out ultimate cornering speed (there are plenty of black lines on the road to remind you where people did push their cars too hard, with often dire consequences), but you can make real progress on those twisty and swooping roads without feeling at all worried that the car will let you down. There will be no issue on stopping, either. Massive discs are fitted, and these will bring the Corvette to a halt very rapidly indeed if you really need them to. In everyday motoring, very moderate pressure on the brake pedal was sufficient, and there was plenty of feel from the moment you just touched it. There's now an electronic handbrake, with the button to set it in the centre console. The best way of describing the ride is: "you can live with it". California's road surfaces are a tough test on any car, and so the fact that you could feel and hear a lot of the ridges, bumps and cracks in the Corvette was not really a surprise, but it was not so unsettling as to make me feel that you could not take the car on a long journey. You might be more troubled by the visibility if you have the roof up. With it down, there is no real problem, apart from the fact that the screen is shallow and set at quite an angle – though by sitting low enough in the car, this was not a problem. With no roof around you, you can see everything you want, and there are small door mirrors to help, as well as an all round camera system, which can project three separate images onto the central display screen when you are manoeuvering in a tight space, something you might find useful, as the 'Vette extends well forward, and all you can see are the humps and curves of the top part of the bonnet. Be aware that the Corvette is quite a wide car, so on narrow and twisting roads, you may find that you are more inhibited by how much road you can see than you would be in something that is physically smaller and narrower – a not uncommon problem with the supercar end of the market these days.
The interior of the C7 generation car looks quite different from what went before, with both a lot of the latest technology incorporated, and another very definite attempt to try to make the car look to be of higher quality, in an effort to match its rivals. Extensive use is made of leather, on the dash and the door casings, as well as the seats and the flat-bottomed steering wheel, and there are subtle aluminium-effect inlays. The dashboard is very much oriented towards the driver, with a swooping design that tries to wrap around the driver's side of the cockpit, with a feature made of a sort of grab-handle-esque effect that comes down to the centre console. The instrument dials have gone electronic on this car, with crisp new graphics a huge improvement over the previous generation car. A large analogue-style speedometer is at the left hand side of the cluster, with a digital repeater of your speed featuring right in the middle of the whole unit, which is the reading I found easiest to work from. Moving right, there is then an oil pressure gauge, the central customisable display which sits inside the rev counter, an oil temperature gauge and then a pair of stacked gauges for fuel level and water temperature. The central piece can be used to show a small piece of map from the navigation system, or other trip data. It's not really that useful as an adjunct to the navigation apart from for final details, I guess, such as turning in residential streets. What I did find more useful is the Head Up Display, which projects speed and speed limit, in a view just above the top of the instrument cluster, right in the easiest of lines of sight. The centre of the dash incorporates a new infotainment system which is several generations ahead of what was on the last car. It has an 8″ colour touch sensitive screen, and proved easy to use, and a vast improvement on some recent GM systems. As well as being the prime interface to the AM/FM and XM Satellite radio, this latest MyLink system has a series of Apps including Weather and Traffic reports, the navigation system and a whole array of settings for the vehicle, as well as a feature called the Performance Data Recorder which allows the driver to record statistics like speed, RPM, g-forces, and track times, and even audio and video of your drives directly from the car, to an SD card, and with Android Auto and Apple CarPlay, you can drive much of the whole system much like your Smartphone, whose data is now available through the MyLink system. Push a button to the lower left of the screen, and it slides up to reveal a useful cubby behind it. As the only remaining audio unit control is an off/off knob, this means that all that is needed underneath it are the buttons for the dual zone climate control, a collection of which are presented in a clear and logical grouping. These include buttons for both seat heaters and seat coolers. There are stock GM column stalks, used for indicators and lights on the left of the wheel and wipers on the right. Audio repeater buttons are on the spokes of the wheel, and the cruise control is from buttons set on the outer edge of the lower spokes. Whilst the interior is still not quite up to the standards of Porsche and Audi, it is a big leap forward in what went before, and needs no real excuses any more.
The Corvette is a strict two seater. And in Convertible guise, it is one where the occupants may need to think quite carefully about the amount of luggage they wish to carry. The boot is not that big. It is a regular box shape, accessible through an opening on the top surface, meaning that there is a very high sill to clear, to get things in. It is not deep from front to back, though there is a flap which you can pull down to get a bit more length in it if the roof is erect. I did not have my suitcase with me, but I am not sure it would have fitted. Inside the cabin, you may be able to squeeze something thin between the seat and the rear bulkhead, but if you have the seat well back this will not be an option. Otherwise, you will have to rely on a reasonable sized glovebox, very thin pockets on the doors, a shallow tray under the central armrest and the space behind the infotainment screen. So, a tourer for two travelling light. The two people should be comfortable, though, as I liked the seats. They are 8-way electrically adjustable, and sufficiently wrap around to hold you in place without grabbing you too firmly. You will have to learn the trick of getting in and out, as the screen does come well back, so this may not be a car for those who are not at least a bit agile, but that is true of any low-set sports car.
There are quite a range of Corvette models available. The base model of the current Corvette generation is designated as the Stingray, as an homage to one of the most legendary versions of the car. There are two additional models, the Corvette Grand Sport ($65,450) and the Corvette Z06 ($79,450). The main difference between models is performance, with standard features essentially remaining the same across the lineup. Each model is available in three different trims that add more features. The Stingray and Grand Coupe each have the 6.2-litre V8 engine, while the Z06 has a supercharged 6.2-litre V8. The Grand Sport boasts an additional 5 bhp from a performance exhaust and you also get a limited-slip differential, standard Magnetic Ride Control, upgraded wheels and brakes, and a sport-focused aerodynamic design. For the Z06, the main difference is that supercharged 6.2-litre V8 engine, and this version also includes the performance upgrades of the Grand Sport. For about $8,000, you can add the Z07 Performance package to either the Grand Sport or the Z06, which enhances the suspension and adds sport tyres and larger, more powerful brakes. All Corvettes come with rear-wheel drive and a seven-speed manual transmission, and you can substitute an eight-speed automatic paddle-shift transmission for $1,725. Each model is also available in a convertible version, which will cost you $4,000 on top of the base price. Looking at the sales figures, it would seem that the Coupe model outsells the Convertible by at least 5:1, and of the available colours, black is the most popular, with Torch Red, like the test car coming up next. As ever, there is no badging to identify the trim level you have. Entry level is the 1LT. Standard features here include: dual-zone automatic climate control; removable roof panels; eight-way power-adjustable front seats; leather upholstery; a nine-speaker Bose audio system; XM satellite radio; Bluetooth; a 4G LTE Wi-Fi hot spot; proximity-key entry; push-button start; a rearview camera; the MyLink infotainment system with an 8″ colour touch-screen display; an 8″ digital instrument display; Android Auto and Apple CarPlay.The 2LT/Z trim includes; heated and ventilated seats; additional power seat adjustments; a front curb-view camera; a 10-speaker Bose premium audio system; a colour head-up display; and coloured console and door panels. The 3L T/Z trim adds a custom Leather Wrapped Interior package, suede interior trim, a performance data recorder, Nappa leather seats, and navigation. Reading that, I think my test car was probably a 2LT, though it did have the Performance Data Recorder feature. In addition, there is a Z51 Performance Package available with any of the three trims. It adds a limited-slip differential and upgrades the wheels and brakes.
Be in no doubt, I absolutely loved my day with this Corvette. It was fun to drive, and fun to listen to. It ticked every box for a great rental car experience, and for the price I paid (a $40 upgrade fee over a Corolla), it was a bargain. Corvettes are special now, as they always have been. Several complete strangers came up to me during the day, to ask about it, and to tell me their Corvette stories. And driving back to Hertz, on the PCH, a convoy of a trio of other Corvettes caught up with me in traffic and their occupants first waved, and then talked to me as we sat at the lights. There are not many rental cars where that will happen. As to whether it really is as good as a Porsche 911, as the US press wanted us to believe? No, I don't think it is. But then, it is more like Cayman money, so perhaps that is not a truly fair comparison. Make no mistake, the latest 718 Cayman is an excellent car, and would be a lot of fun on a day like the one I had, so choosing between that and a Corvette would be a very tough decision indeed. If really pushed to do so, I think I would go American and take the Corvette. The Cayman may, objectively, be the "better" car, but it does not have a V8 under the bonnet, and it can never sound as good as this Corvette did. Provided you don't have more luggage than will fit in it, I would go as far as to say that the Corvette could well be my current favourite US rental car. It really is that good now.