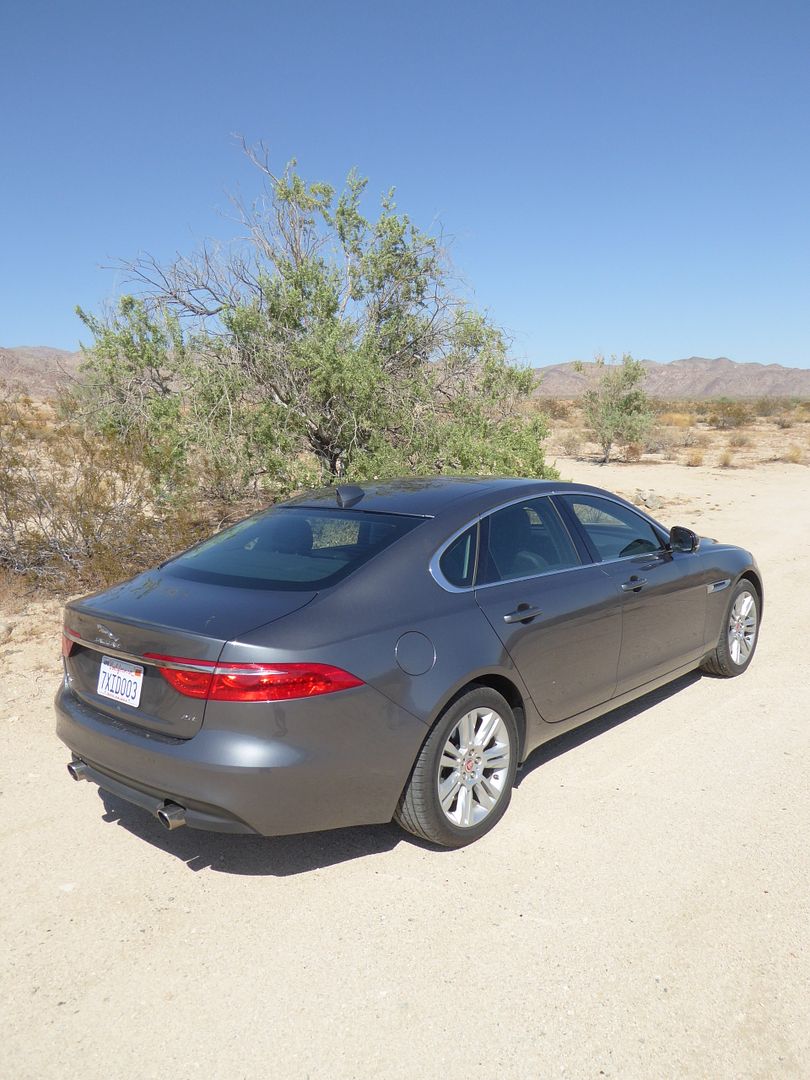 With all the excitement and publicity associated with the launch of the Jaguar XE, a clear rival to the commercially massively successful BMW 3 Series, Audi A4 and Mercedes C Class, the fact that Jaguar had a second new saloon to launch only a matter of weeks later got almost overshadowed. And when that car, the second generation XF broke cover in September 2015, it did not get the same level of publicity, doubtless for several reasons. For a start, the sector of the market in which it competes, whilst important, does not deliver the same sales volumes as the smaller cars do, and also because to look at, it was, well pretty similar to both the new XE and indeed the car it would replace, the first generation XF. But not to take it seriously was doing it a massive dis-service, as when the first drive reports appeared, it was clear that this was an excellent car, indeed, one which the UK press thought was right at the very top of its class. If you were feeling cynical, you might suggest that this was all down to timing. Of the three German rivals, the E Class and 5 Series were within a year of being replaced, and the Audi A6 was also a couple of years older, so on the basis that the latest product should top the class, perhaps its victories should have been expected. But it does not always work like that, and in an era when there are few cars that are anything other than very good, the only way to win is to be truly excellent. Since that time, the market sector in which the XF competes has seen a new E Class, a new 5 Series and the Volvo S90, and yet the British press at least are still saying that this is pretty much the best of them all. I drove a first generation XF, in Germany, in 2012, in 3.0D S spec and rated it very highly, so was keen to see what the second generation car would be like. Efforts to try to get any sort of test drive (or pricing, or even returned phone calls) from the local Jaguar dealer in Bristol all failed, which is one reason why I did not end up ordering any Jaguar to replace my Audi in 2016, so I knew I was going to be have to be a bit patient, and to find another way of getting behind the wheel of this car.
Earlier this year, Hertz in the US signed an agreement with Jaguar Land Rover which saw several of their products appearing in the fleet. When I was in the US in March, that meant the XE, Evoque and Discovery Sport, but I could also see a line of XF models parked up, waiting to be plated, so I was optimistic that these would still be available by the time of my September 2017 trip. And so it proved to be. There are not huge numbers of any of these cars on fleet, and when I perused the LAX facility, all I spotted was a rather nice burgundy coloured XE, which was the car I decided to go and ask for. Sadly it was allocated to someone else. But just as I set off to have another look, I spotted a freshly washed XF being parked up in the "Premium Upgrade" section of the facility – which meant that for a flat $25 a day over your reservation rate of a Corolla-sized car (as a Hertz President's Circle member, it is $35 a day otherwise), you can just take the car and go to the exit gate. I rushed over to it, before anyone else spotted it. That was a white car, with a cream interior, and there are some pictures of the inside of that car in this report. But I only drove it three miles, as once I left Hertz, the ignition warning light failed to extinguish, and a message said "battery not charging properly". Fearful that I could end up in the middle of nowhere with a car that refused to start, reluctantly I returned to Hertz, to see what else I could find. Luckily, there was an otherwise identical XF there, which the staff made available to me, even though it had been allocated to someone else. It had done a couple of thousand more miles since its arrival in fleet in April (11,600 as opposed to 9,800), and had a black interior, and was a rather attractive shade called Ammonite Grey. It is the car that features in this report.
Although you can now buy a 4 cylinder 2 litre 180 bhp diesel-powered XF in America, it is the petrol (gasoline) powered versions which capture the bulk of the sales, the exact opposite, of course, to the situation in Europe. And it was no surprise to find that the test car was a petrol model. Those familiar with Jaguar's latest naming convention would see the "35t" on the boot lid and would know the type of fuel as a consequence. For those who are less familiar, 35t means a 3 litre supercharged V6 unit under the bonnet, which generates 340 bhp. It is an excellent engine. Fire it up, by using the keyless starting button mounted on the centre console, and there is just that nice refined noise than you get from a good V6. Rev it harder and there is a nice sort of roar to it. It reminded in many ways of the supercharged engine in my old Audi S5, which endeared itself to me within a few hundred yards of driving the car, as this one did exactly the same. When you do fire the engine, the cylindrical gear selector rises up to stand proud of the console, so you can now rotate this to the desired position, and off you go. That gear selector was something of a novelty when it appeared on the first XF, but is now used widely across JLR products, and there is no wonder, really, as it is very easy to use. If you fail to return the car to Park, but the engine cuts out because you switched it off, it will return there for you. The only downside is that there is no manual control to go and up down the gears as you can with a conventional lever, if it is set up that way. Once underway, this engine impressed me more and more. It is smooth, and every refined, and also very eager, with plenty of acceleration available from whatever speed you are doing. The gearchanges are almost impossible to detect, so smooth are they. If you accelerate gently, noise levels are very low indeed. Push the accelerator harder and there is that edge to the engine note that any enthusiast will find very agreeable. It served as a reminder why petrol-power is still so appealing, in comparison to fuel from the black pump. The downside, of course, is that as well as a far worse emissions performance (the CO2 rating of this engine is 198 g/km, as opposed to 114 g/km for the 2 litre 180 bhp diesel), petrol units tend to be far thirstier than their diesel equivalents. I had the XF for 2 days, and covered 542 miles, and given that my travels took me onto roads where there are no fuel stations for miles around, made a couple of fuel stops when the tank was partly used up, just for peace of mind. At the end of the test, when I did the maths, I was pleasantly surprised to work out that the average fuel consumption was 28.5 mpg US, which converts to a very impressive 34.1 mpg Imperial. So, not quite the consumption penalty that you may fear. Granted that a lot of the test was done at a steady speed on the freeway, but there was also some hill and canyon work, and also an amount of crawling in the notorious LA traffic jams. The standard Stop/Start system no doubt helped there, but this excellent figure also reminded me of what can be achieved, without trying too hard, as my supercharged Audi was also better on fuel than you would expect from this sort of power output.
The good bits about driving an XF do not stop with its engine. The reason why it has been so well reviewed by the UK press is because of the class-leading chassis-engineering, steering and handling. And driving this car on the swooping bends of the canyon roads north of LA, it is not hard to see why it has been praised so much. I would say that Jaguar have got things spot on here. There is a leather-wrapped wheel that is good to hold, of just the right thickness (take note, BMW) and this is your interface to a steering set-up which is about as good as it gets these days. Perfectly weighted, there is lots of feel, and good feedback, so you know exactly what the steered wheels are going to do. Grip levels are good, and the XF goes around corners with the sort of relish that you would expect from a sports car, but may be not from an executive saloon. And this is delivered with no discernible penalty in the ride quality, which was also exemplary. The test car rode on 245/45 R18 alloys, and was just firm enough that it did not wallow, but nor did it crash over the many surface imperfections that make British roads look almost good in comparison. Steering, throttle, and transmission shifts can be adjusted using JaguarDrive Control, with settings that include Standard, Eco, Dynamic, and Rain/Ice/Snow, selected by using a button on the centre console. With brakes that are also well judged, with a nice linear feel to the pedal weighting, this really is a good car to drive. Visibility was as you would expect with a modern design. You can't see the back of the car, but there is a rear-view camera which can, which projected a nice image onto the display screen, so this made parking and manoeuvering a whole lot easier. There was a good field of vision from the door mirrors, but even so care was needed, as, like so many cars, there was a significant blind spot. Only one thing disappointed, and I have to assume that it was specific to this test car. That was terrible wind noise from the driver's door area. It was an exceedingly windy day around Palm Springs, as I found out when getting out of the car, but even so, that does not excuse the loud shreaking that came from the door at times. As it only seemed to affect the driver's side, I assumed that there was a gap in a seal somewhere, but could not spot it. I do so hope this was a one-off problem, as in other respects, the XF was a very quiet and refined cruiser, one that you could happily drive or sit in for long periods without feeling that you were doing so.
Open the door and look inside the XF, and it will appear very familiar to those who knew the first generation model. But look more closely, and there are plenty of detailed differences. That it has not changed radically suggests that Jaguar, and no doubt customer feedback, got it pretty well right, first time. The UK press do still comment that they think that the quality is not up to the standards of the German (or Swedish) competition, but I beg to disagree. What I found was something that made a good use of a number of materials that went well together, in a cohesive design, with no apparent issues in build quality, fit or finish. The top of the dash is leather trimmed, and the front face has a large inlay in front of the passenger in what looks like a sort of milled aluminium, which also features on the door casings. There are smaller inlays in a gloss black, and this also used on the centre console around the gear selector. Everything feels nice to the touch, especially the leather wrapped steering wheel, which was of just the right thickness. The outer air vents are, once again, only exposed when the ignition is on. When it is off, they rotate so a cover hides them from view, at the same time as the cylindrical gear selector sinks down so it is flush with its surroundings. There is a curved binnacle for the instruments, which comprise two large analogue dials, for speed and revs, with smaller gauges for water temperature and fuel level set between them surrounding a central digital display area which can be used to show various trip computer and vehicle info data points. You can decide what by using the buttons on the left hand steering wheel spoke. There is a digital repeater for your speed at the top of this area, which I found useful. All the dials are clear and easy to read, lacking the fussiness that a certain Stuttgart-based brand imparts to theirs these days. The centre of the dash contains an integrated colour touch sensitive screen, which is used for all the things you would expect: audio, navigation and various car settings. As far as the audio system goes, there is only a volume and on/off knob separate to this unit, so the only way of selecting waveband and programs is to use the screen, or the repeaters on the steering wheel. This was a bit clunky where you to find a satellite channel that was distant from the one that was playing (there are over 100 XM satellite radio stations available!). The graphics on the maps in the navigation system were very clear and easy to read. The first test car had the navigation programmed for a return to Hertz which it thought was not complete, and it took me quite a few minutes trying to figure out how to cancel a journey. As my routes for the two test days during which I had the XF were all familiar to me, I did not need to try to program, am unsure how easy it would be, but all the assessments I have seen suggest that this whole infotainment setup is one of the weaker points of the car, and whilst it is perfectly livable with, I tend to agree that other systems, such as Audi's MMI or Mercedes' COMAND are easier to use and faster to respond. Under this screen are the buttons for the dual-zone climate control. The other things you would use regularly – indicators, lights, and wipers operate from two chunky column stalks which were nice and positive in operation. Cruise control is selected from buttons on the right hand steering wheel spoke. And that is more or less it. There are some buttons for lesser used functions on the dash to the left of the wheel and a further set across the middle of the centre console.
A good quality leather-like trims the seats. These are 8-way electrically adjustable, with little switches to do this on the side of the seat. The seat proved very comfortable, with support in all the right places. There is also electric adjustment for the steering column, with it telescoping in and out as well as up and down. Once this was set as well, I had an excellent driving position. There's plenty of travel on the front seats, but unlike in the smaller XE where if those front seat occupants set their chairs well back, those in the back will really feel quite squeezed in, with the extra length of the XF, there is far less of an issue here. The combination of transmission tunnel and a rather large central cubby/armrest unit which comes well back does mean that there is not that much space for the middle seat occupant, who would have to sit astride this, but certainly two adults should be able to get quite comfortable here, with plenty of leg room, and even though there is a slope to the roofline, more than enough headroom. A drop down armrest contains two cupholders in its upper surface.
The boot is a good size, but it is not as big as the one you will find in rivals such as the Audi A6. It is neither as deep nor as long from front to back, but it would still likely prove commodious enough for four people's luggage. There is a space saver under the boot floor, and you could tuck the odd very small thing around it, but there's not much extra capacity there. The rear seat backs can be folded forward to create additional cargo length. Inside the cabin, you get a fairly modest glove box, bins on all four doors, a cubby under the central armrest which is well back and not as big as you might expect, and there is a recess under the bottom of the dash unit in front of the gear selector. Surprisingly, there were no map pockets on the front seat backs.
In the US, there are 5 different trim versions of the XF on offer, and most of them are available with either the 4 cylinder diesel or the 3 litre supercharged petrol engine. All Wheel Drive is a $3000 option on any trim level. The base XF starts at $48,250 and comes with an 8″ touch screen, an 11-speaker Meridian sound system, a USB port, Bluetooth, HD Radio, push-button start, 18″ alloy wheels, and emergency brake assist. Although this is a little cheaper than many of its rivals, many will think the spec is lacking a few of the features that they expect in a car of this class. That means that the XF Premium, at $50,350, is a more popular version. Premium trim adds a rearview camera, memory settings for the driver's seat, and a folding rear seat with a 40/20/40 split. Sitting above this is the XF Prestige, which, in exchange for your $54,900, brings standard leather and navigation, heated front and rear seats, a heated steering wheel, ambient lighting, a proximity key, 19″ wheels, front and rear parking sensors, and enhanced smartphone integration through InControl Apps. The R-Sport ($58,900) has a more athletic personality and features touches like aluminium interior trim and a stiffer sport suspension. It also comes with dual-zone climate control, satellite radio, lane keep assist, a driver attention monitor, blind spot monitoring, rear cross traffic alert, and automatic high beams. The ultimate performance model of the XF family is the S. The most notable highlight of this $63,200 trim is its 380 bhp supercharged V6 engine. The XF S also features an adaptive suspension that rapidly responds to changing road conditions, the ability to customise driving dynamics, leather sport seats, red brake calipers, 20″ alloy wheels, and unique body treatments and interior badging. As with any car of this type, there are a huge number of options and personalisation features available, so speccing a car is not the work of a couple of minutes. I did not go through all the options to work out what ere extra cost features of my test car, though clearly the metallic grey paint (Ammonite Grey, one of at least 5 different shade of grey offered) and the electric glass sunroof were items that Hertz would have paid more for, and some of the other things, such as the navigation and parking sensors were also not part of the Premium trim.
I really liked this XF. Indeed, I suspect that by the end of the year, I may well declare that it was objectively one of the "best" cars that I drove during 2017. That smooth and potent petrol engine helped matters, for sure, being preferable to a diesel – any diesel, no matter how good, frankly – but that was far from its only strength. It was genuinely good to drive, yet you also felt like you were in a luxury car as well as one that had appeal for the keen driver. As specified, it lacked nothing significant in features. So, for a car this good, why were just 291 of them sold in the US last month (August 2017) as opposed to 3710 Mercedes E Class, 3587 BMW 5 Series, 1380 Audi A6 and even 1200 Cadillac CTS? For a clue to that, I had to look at some of the US reviews. At first glance, they seemed pretty positive, praising almost everything about the car, apart from its clunky infotainment system. But then I spotted that one well-known site rated the car as 11th out of 15 in its class. And what did they rate as number 2? The Lexus GS. I've driven one of those – briefly, in the UK – and it was exactly as I expected. Nicely finished. but even in F-Sport trim soggy and tedious to drive, and I was shocked at the monthly lease cost (more per month than my Maserati!). If that's what the US press think, or indeed the US buyer is actually looking for, then yes, the Jaguar XF probably is not for them. But if you want a nice looking car, that is well finished, and excellent to drive, then it really is everything you were seeking. Is it good enough to topple the car that the US rate as top of the class? That car is the Audi A6, and I have driven that – albeit in TDi form. It is an excellent car, for sure. Where it scores over the XF, to my mind, is in its spaciousness, and it does have an even nicer interior. Other than that, it will be personal taste that tells you whether to select the Audi or the Jaguar.